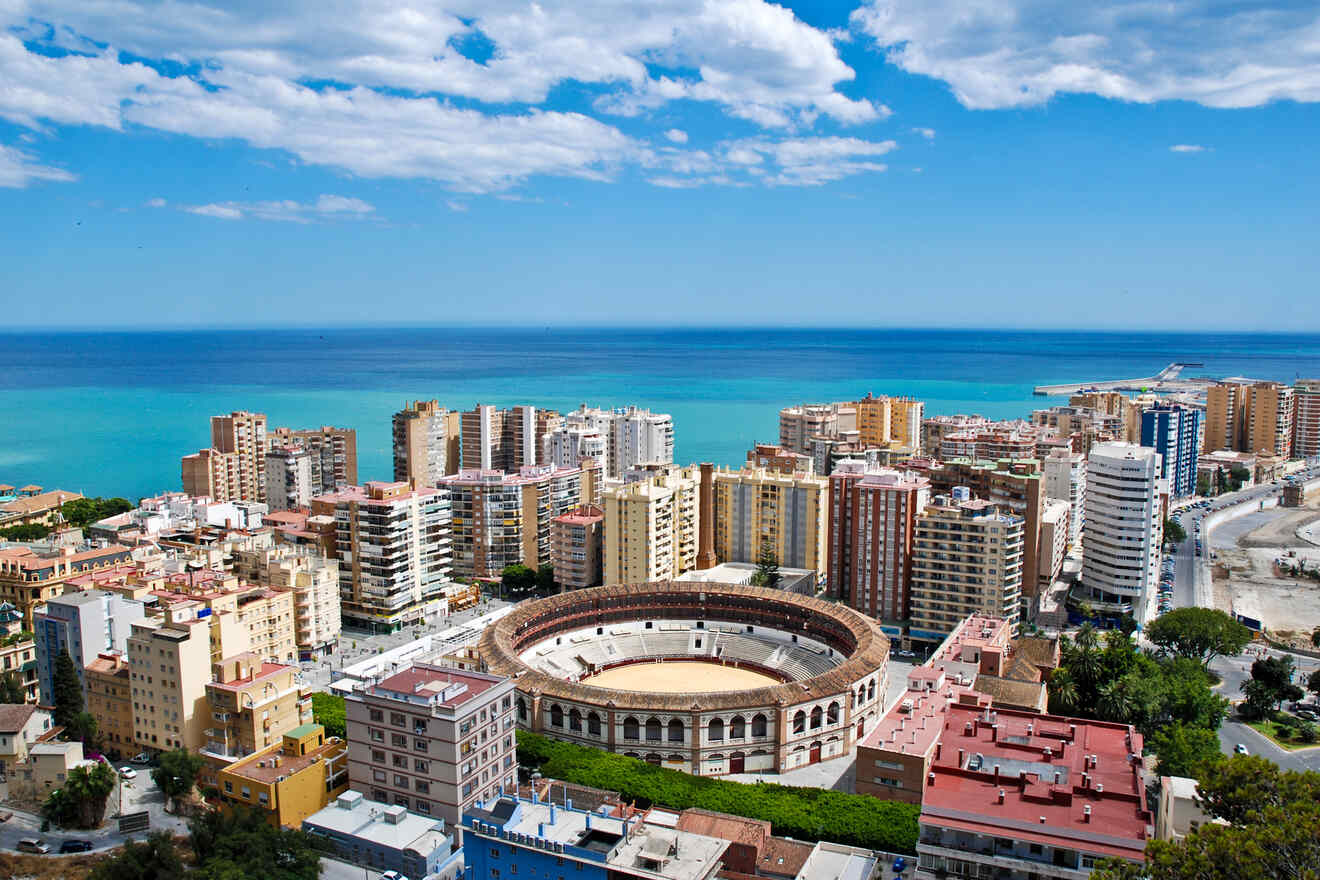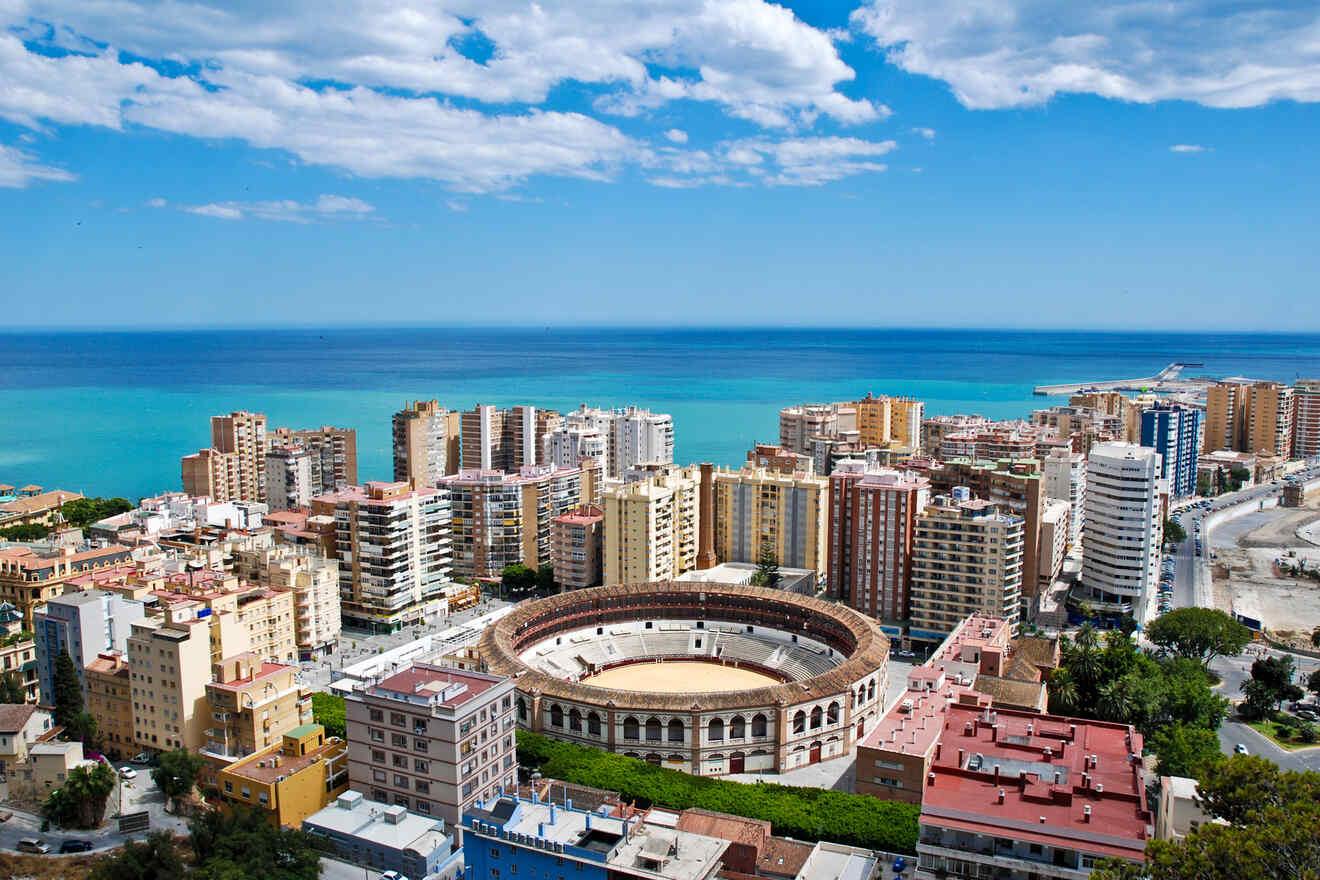 Hola Amigos! If you are reading this post, you are getting ready for an amazing journey through the south of Spain to Málaga, Spain! Be prepared to get a suntan, eat amazing tapas and discover history and art. Malaga is not only a city with a long history and incredible cultural wealth but also a city where you will find street art, museums, and nice beaches. It is a great combination of historical and modern city life.
Malaga is the second biggest city in Andalusia, and thanks to Malaga Airport, it is a good base to travel along the Costa del Sol. As the name would suggest, the weather is always nice and warm in Malaga so that you can visit it all year round, but if you're a beach lover, summer and fall would be excellent times to visit Malaga, Spain.
Even though Malaga is a small city, there are plenty of nice areas to stay in, and the good news is hotels and restaurants are relatively cheap compared to other popular cities in Spain! I do want to warn you about the importance of booking in advance here though. Hotels and hostels might be filled out pretty quickly as this is a very popular destination. Luckily, many resorts have free cancellation so it is better to be safe than sorry!
If you are already curious about where to stay in Malaga, let's get started.
If you are in a hurry
Malaga offers many nice accommodation options for everyone. Here are some of the best places to stay in Malaga in the city center sorted by price (all of them have great reviews, too!)
Here is a Malaga city map with all the 5 best areas that I will be talking about in this post about where to stay in Malaga, Spain for tourists: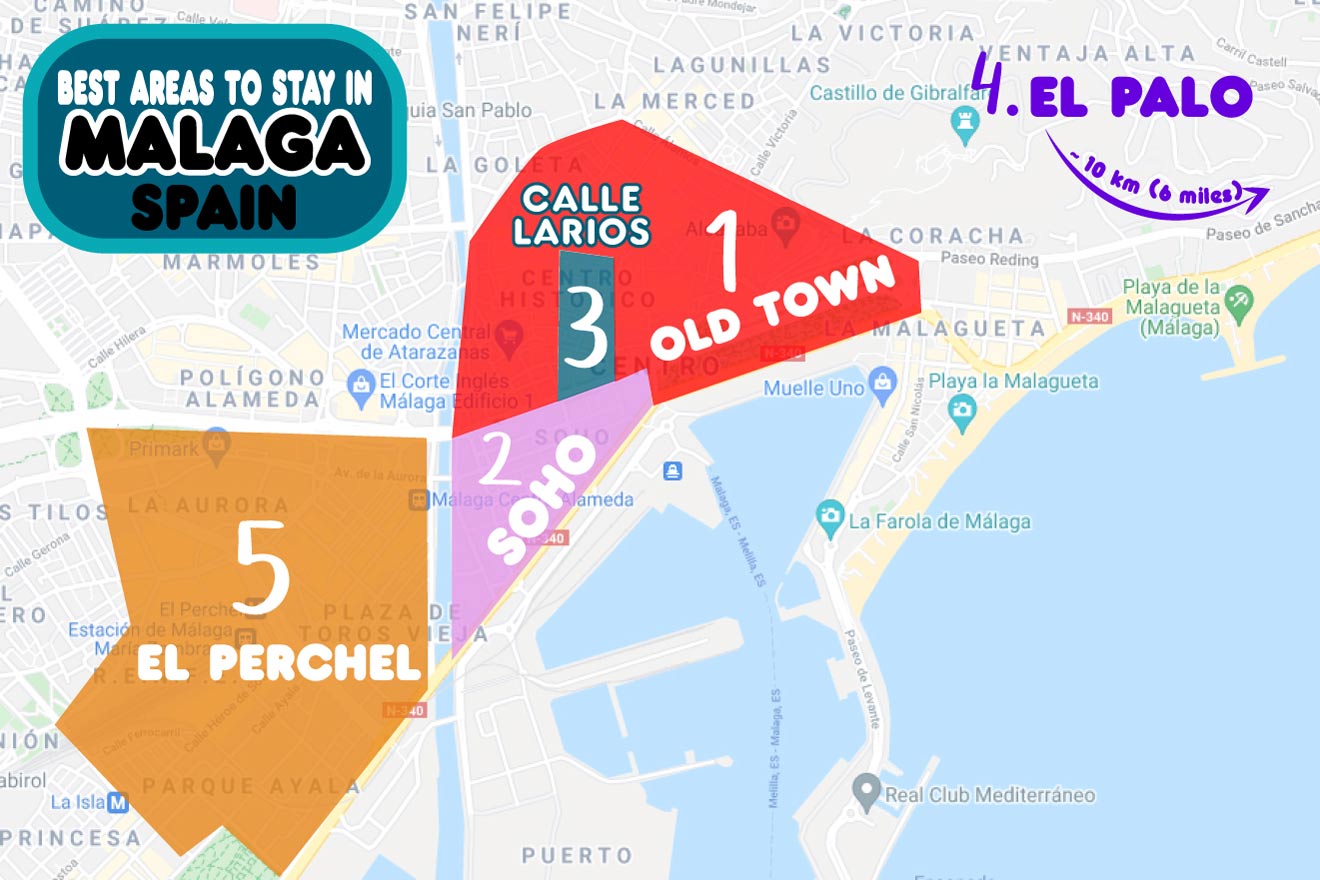 1. Downtown Malaga / The Old Town – first time visitors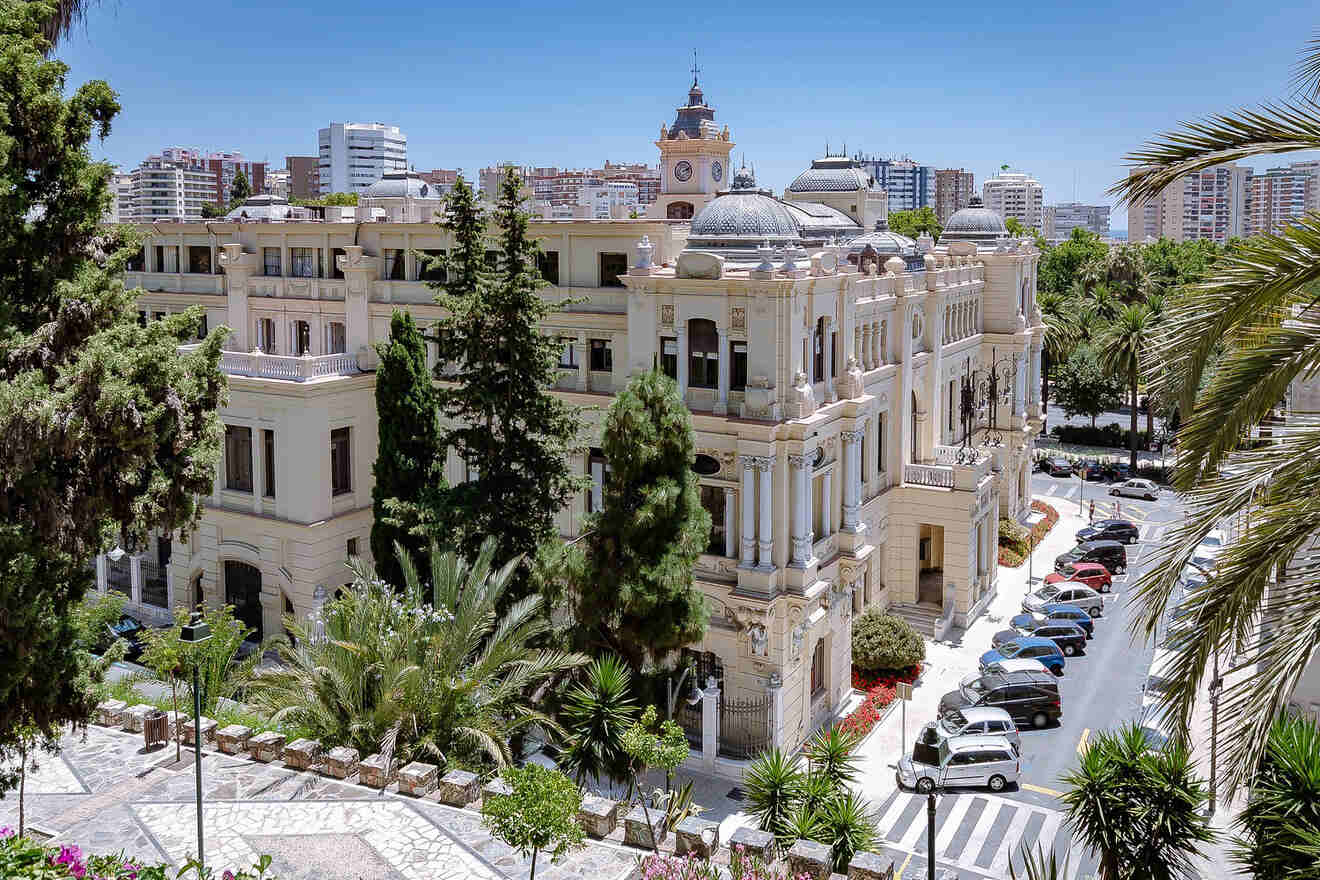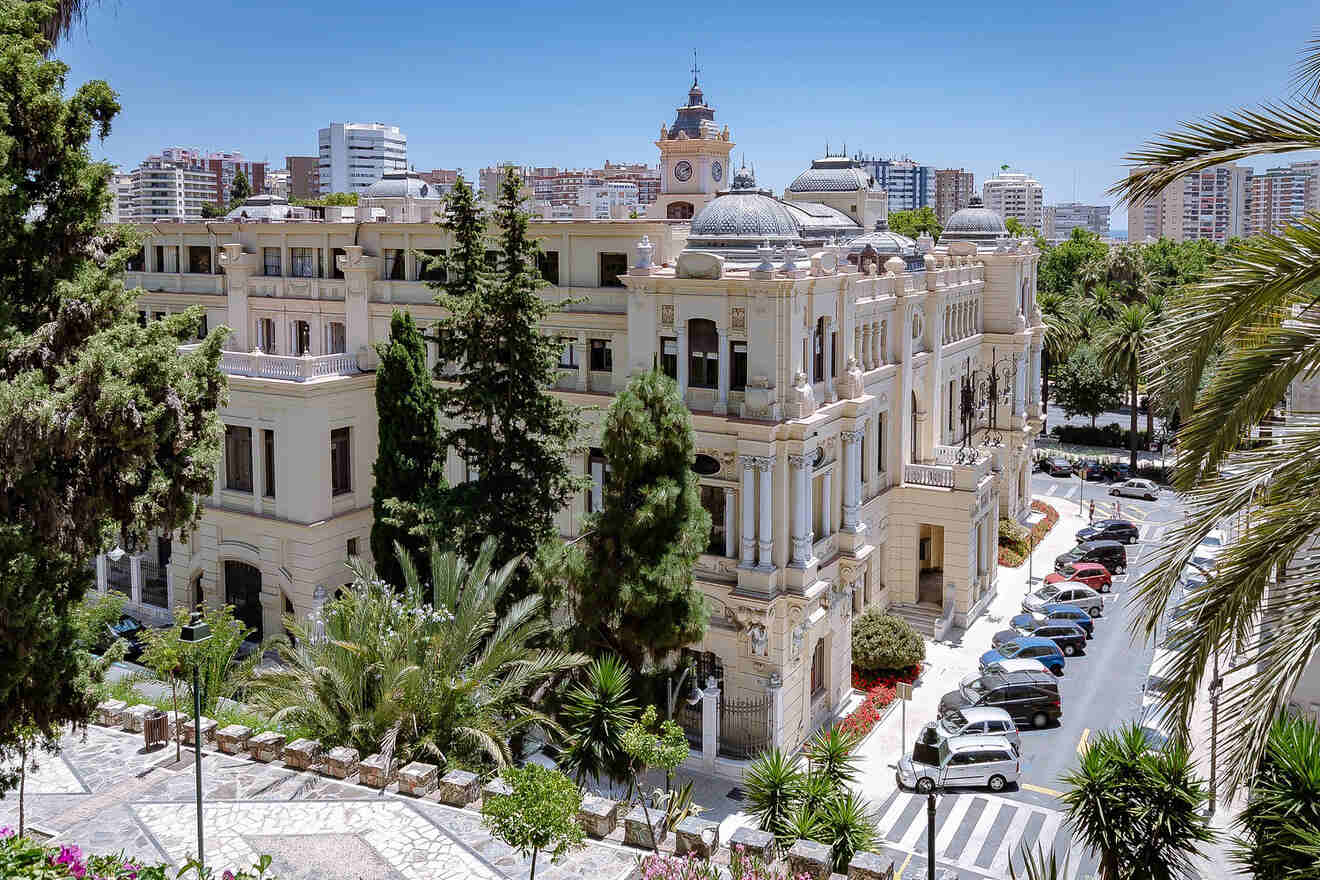 Downtown Malaga, also called Old Town or the city center, is the most vibrant area and where you should stay in Málaga for the first time. Many main attractions such as the Picasso Museum, Plaza de la Merced, and the famous wide shopping street, Calle Marques de Larios, are located here.
Stroll around downtown Malaga and take your pick of the many local wine houses, seafood restaurants, shops, and great bars. It is very easy to discover Downtown Malaga on foot, and you can easily go to other areas simply by taking the metro.
Thanks to booming tourism, you'll be able to find many accommodation options from luxury to budget in downtown Malaga. The great thing is prices are very reasonable, and you can even find stylish boutique hotels for an affordable price.
Let's have a look at some of my favorite places where to stay in Málaga Old Town, and don't forget to book in advance so as not to miss your ideal accommodation!
Luxury hotel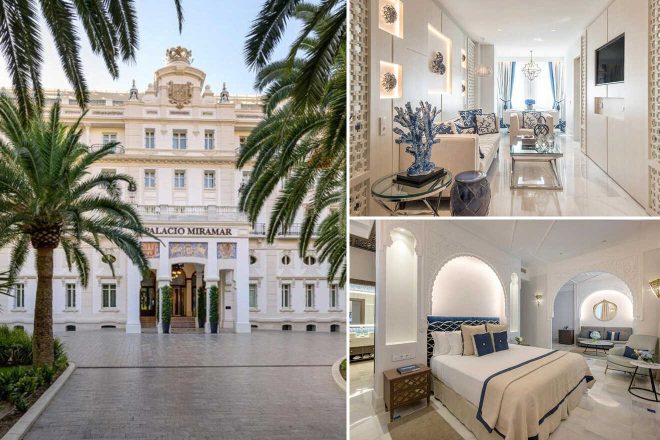 Located in the historic center, this luxurious 5-star hotel is one of the best resorts to stay in Malaga near the beach. Including a swimming pool, children's pool, a spa, and fully furnished, charming rooms, you will be sure to have a unique experience. This gorgeous hotel also has an amazing Mediterranean restaurant and rooftop terrace where you can enjoy cocktails with amazing views
Other accommodation in Downtown Malaga, Spain
mid-range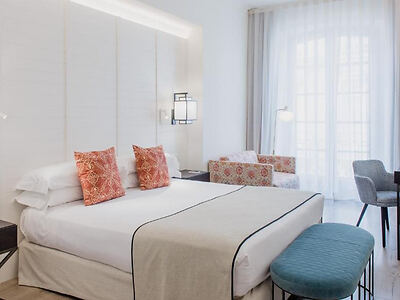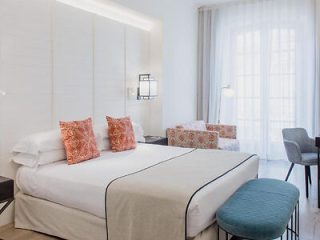 Located in the old town, the hotel has a rooftop pool and comfortable rooms with air conditioning. Airport transfer can be arranged from the hotel
budget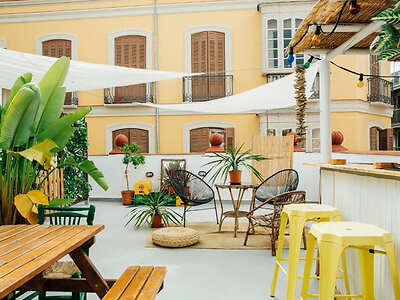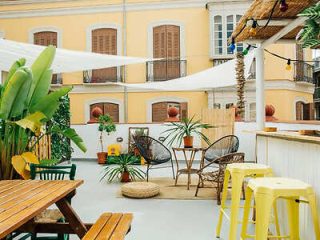 Great budget hostel in downtown Malaga. It has a sunny terrace and is near to museums and shops. Airport shuttle is available
airbnb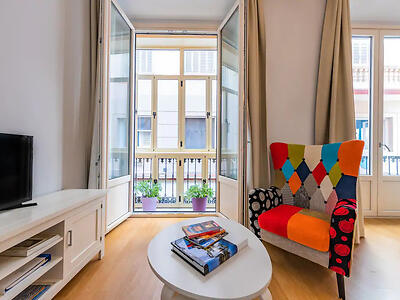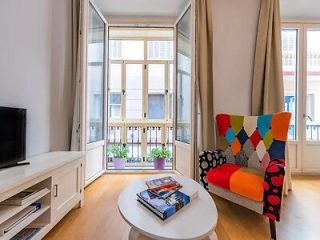 This Airbnb has a great location in Old Town Malaga. The modern, spacious room has lovely views of the city and is a great place where to stay in Malaga
Things to do in Downtown Malaga, Spain
2. Soho – the coolest area where to stay in Malaga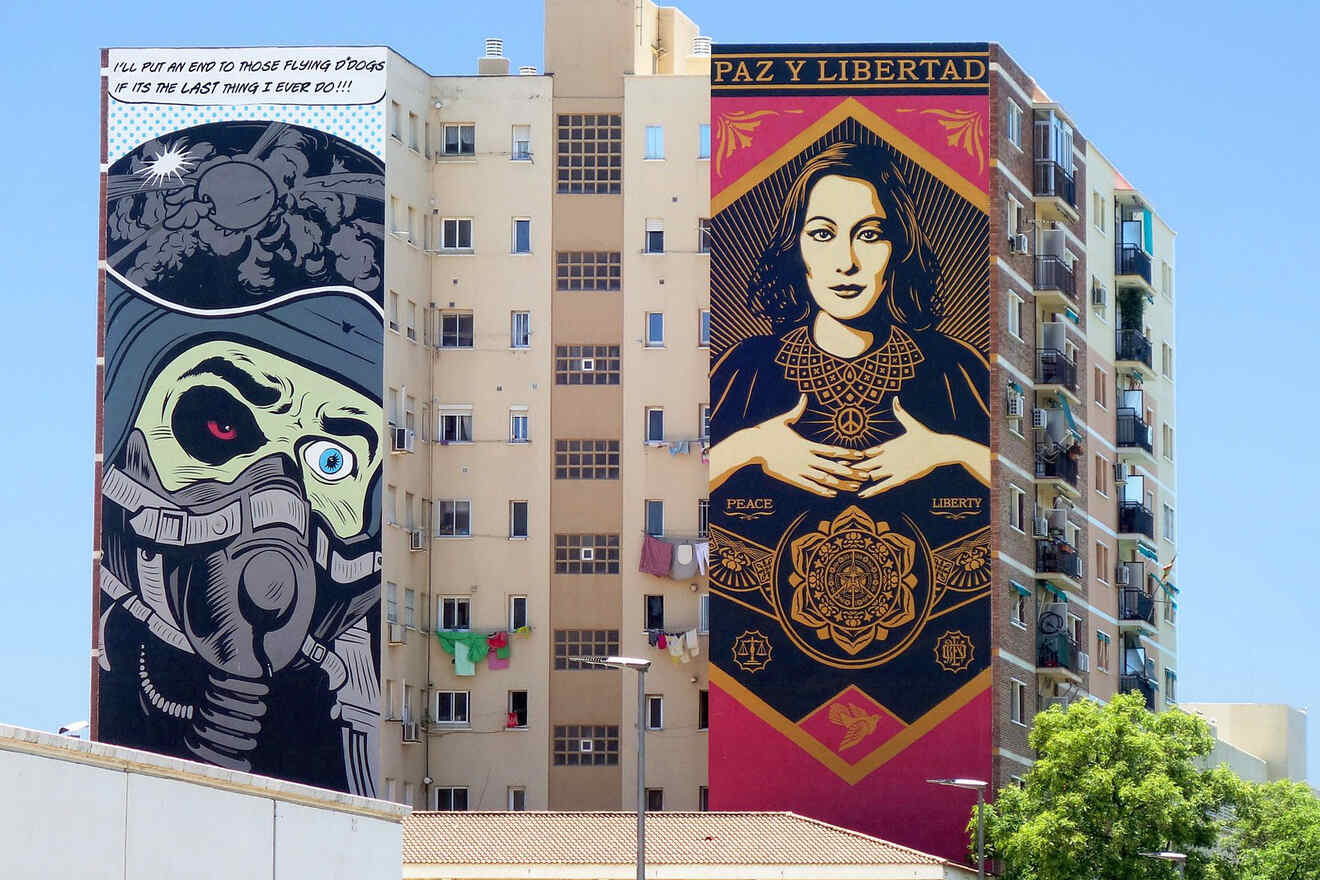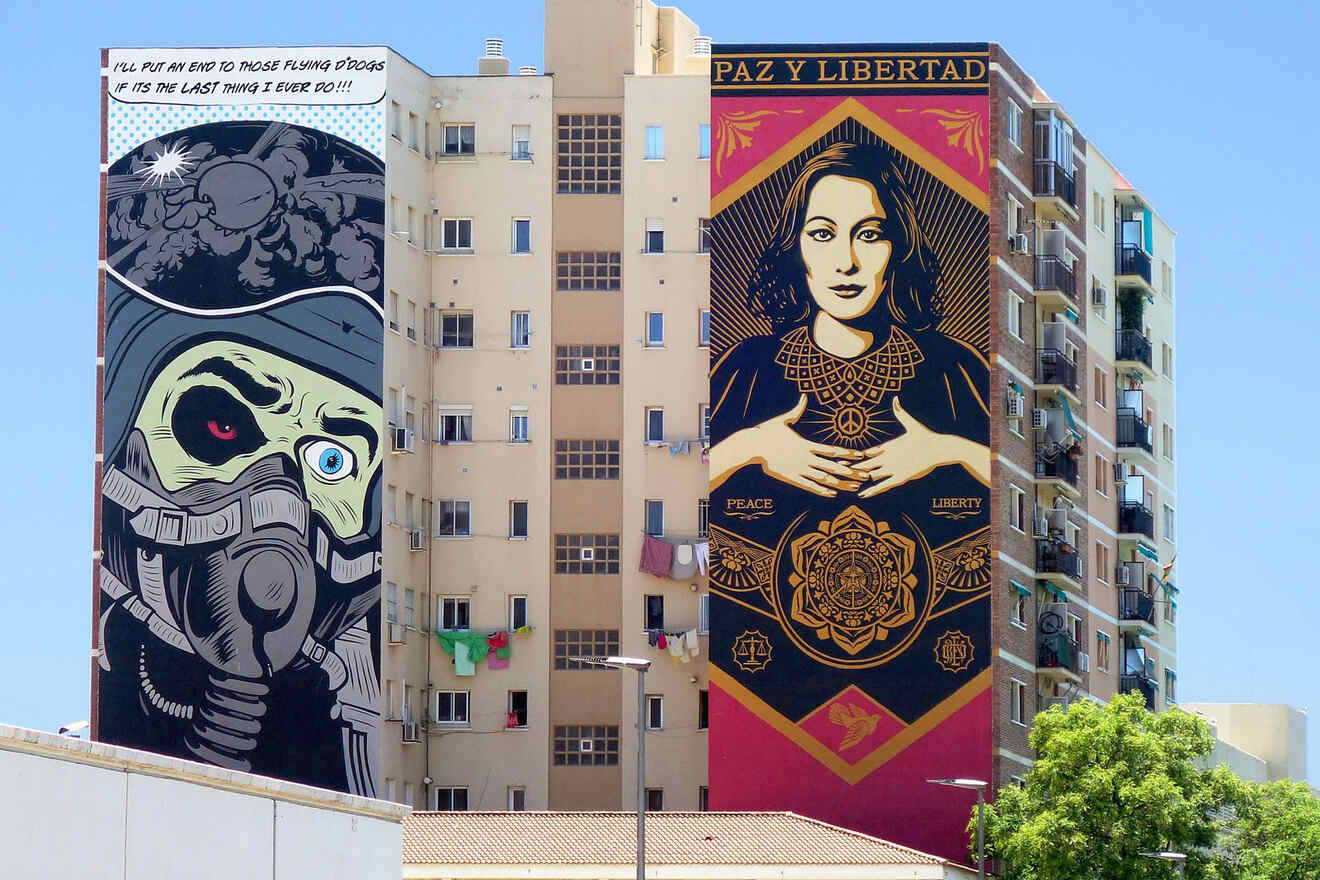 Located between downtown Malaga and the port, Soho is the coolest and trendiest area to stay in Malaga. The neighborhood reflects the bohemian and artsy character of Malaga, so if you are into street art, you can spend hours walking in the streets of Soho and chase all kinds of urban artwork. Check out this map of the works' locations available on Maus Malaga's website.
I highly recommend Soho for where to stay in Malaga if you like bohemian vibes and want to stay in an alternative area rather than a typical touristy area. By staying in Soho, you will still be a ten minutes walk away from downtown Malaga too. If you don't want to miss your hotel, make sure to book it now!
Luxury hotel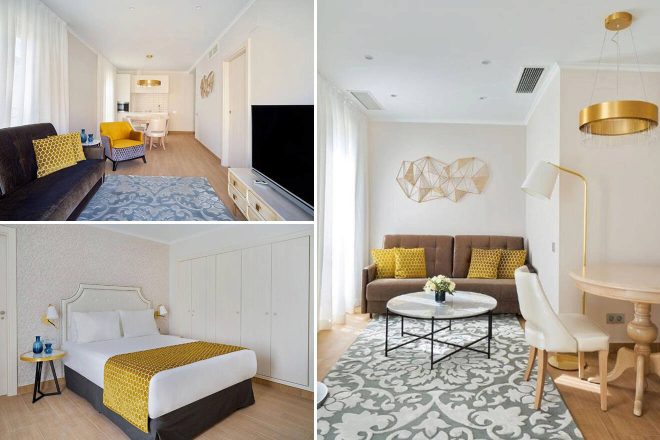 The 4-star hotel has an excellent location at the heart of Malaga city centre. It is just a 10 minutes walk to Misericordia Beach and Atarazanas Market and also 10 km (5 miles) to Malaga Airport. The beautiful, bright hotel rooms have amazing city views and free wifi. Family-friendly rooms are available too. This is a great luxury hotel to feel the Spanish vibe!
Other accommodation options in Soho
mid-range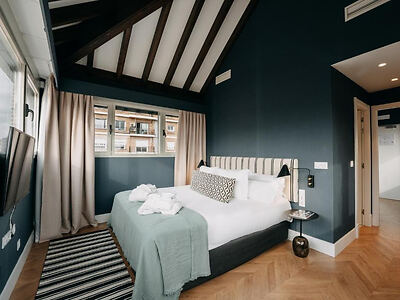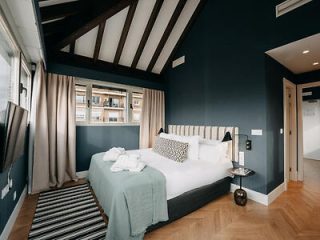 A boutique hotel that is located in the city centre of Malaga just nearby the Malaga Museum. Rooms have nice city views
budget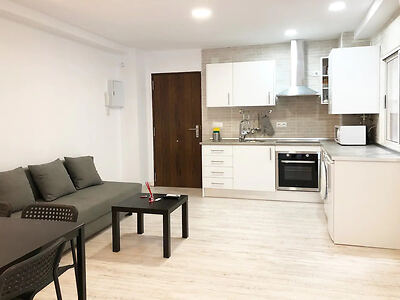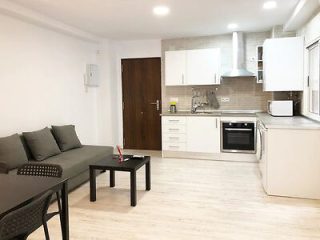 A family-friendly house that is near to the main attractions of Malaga city and has modern fully equipped rooms
airbnb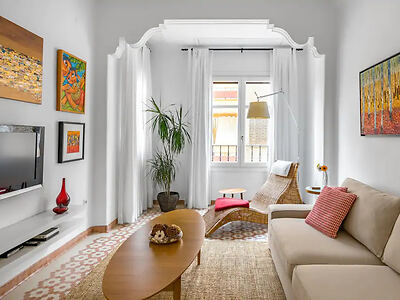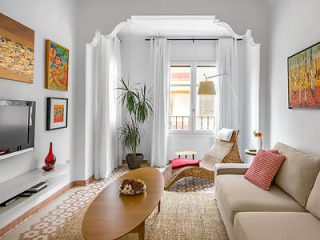 Centrally located in Malaga, Airbnb offers comfortable and spacious rooms with nice city views. Free Wifi is available
Things to do in Soho
Spend a day touring the Old Town in search of wine and tapas
Join a Malaga Bike Tour and explore the city by bikes
Go for a stroll by the water at Plaza de la Marina
Have a walk or picnic at the historical Parque de Málaga
Spot Monumento al Marqués de Larios and walk along the old town's street
Marvel at the street art and find the hidden artworks of Malaga
3. Calle Larios – best for luxury travellers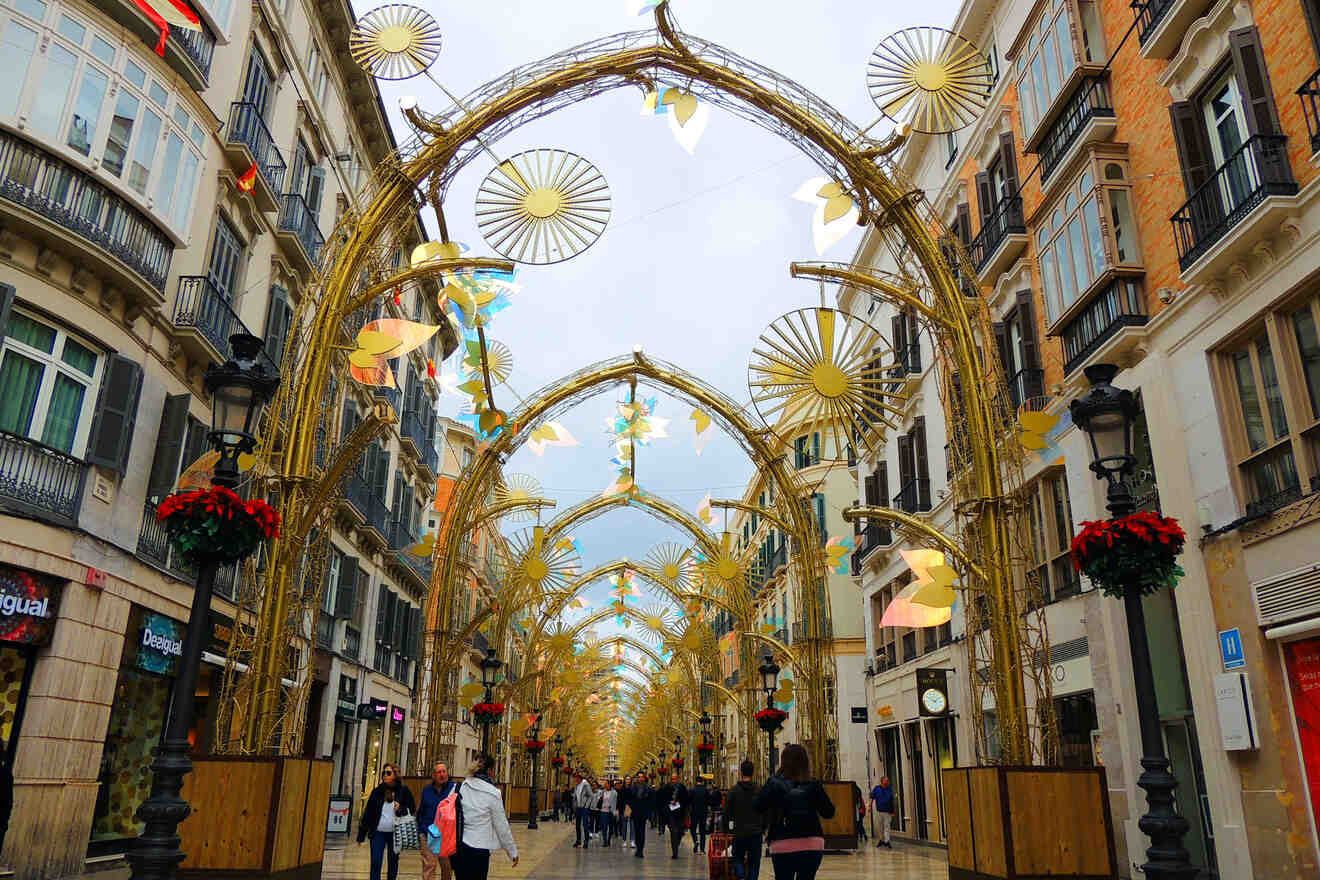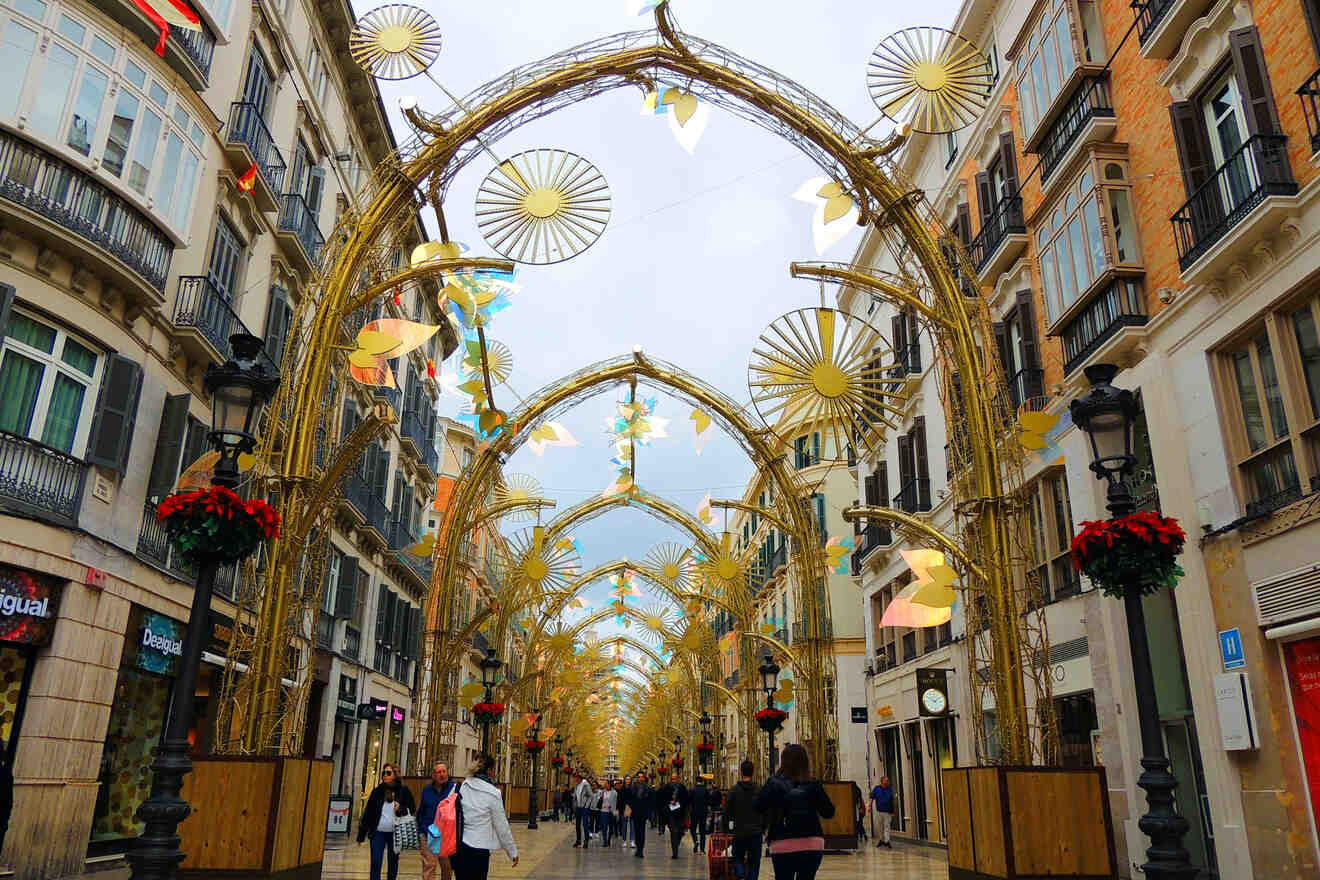 Calle Larios is the biggest shopping street in Malaga and runs through the heart of the downtown area. Beautifully symmetrical curved corner buildings inspired by the late 19th century Chicago architecture tower over the pedestrian-only street. Here you will find most of the big brands' shops and luxury boutiques. Shopping-lovers will go crazy in this street while checking the great number of shops.
Apart from being a chic shopping street, Calle Larios offers many fancy restaurants, boutique hotels, tapas bars, and trendy nightlife. Its location is also very central, so you can easily discover the city on foot. With a few minute's walk, you can reach the marina and enjoy the lovely sea view. For shopping and luxury-lovers, Calle Larios is definitely my pick for where to stay in Malaga.
Luxury hotel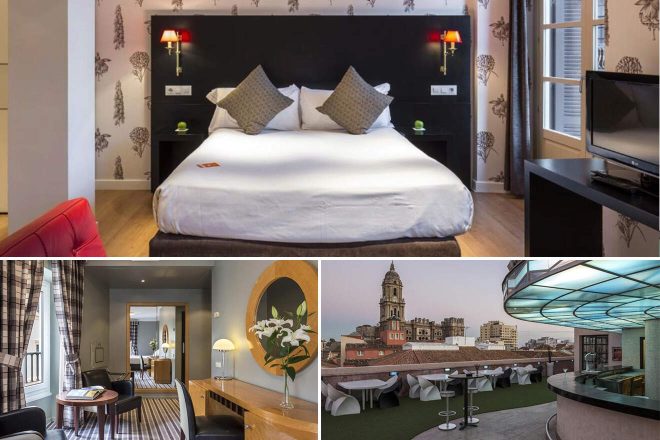 This luxury 4-star boutique hotel, located in Malaga city centre, is nicely decorated and has an amazing terrace where you can enjoy the city view at night. It's within walking distance to the beach, Malaga Cathedral, and Picasso Museum and is great for families and couples to feel Malaga's historical atmosphere
Other accommodation options in Calle Larios
mid-range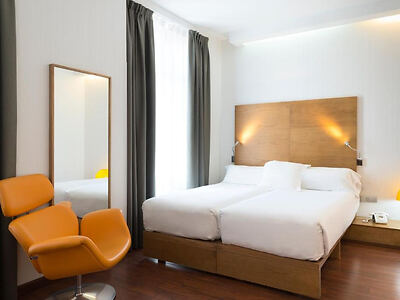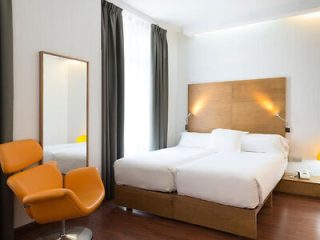 Just near Malaga Cathedral, this hotel offers free wifi and ipads. Guests can enjoy a good breakfast and Spanish style courtyard
budget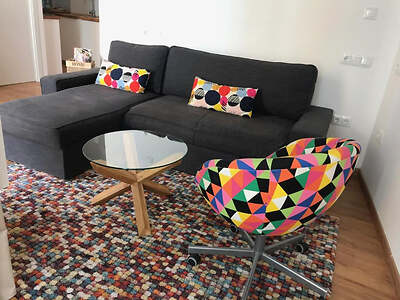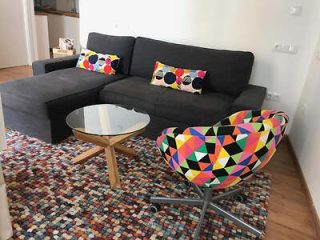 At the heart of Malaga city centre, the hotel offers free wifi, free parking, and fully equipped rooms. A nice hotel in the area
airbnb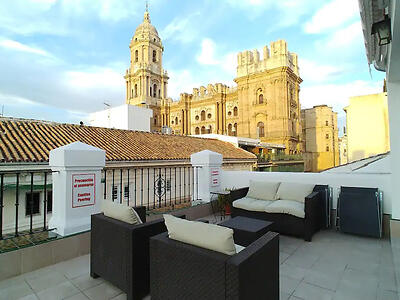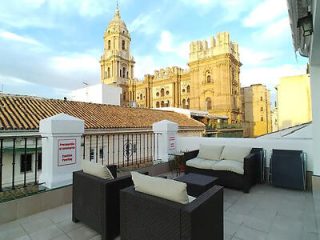 Great location and amazing city views. This Airbnb has a unique big terrace and fully furnished rooms. Also, great accommodation for families
Things to do in Calle Larios
Shop till you drop on famous historical Calle Larios street
Have a drink at El Pimpi's rooftop overlooking the Roman Theatre
Grab a coffee at La Canasta and try their delicious bakery products
Have an amazing Spanish dinner at Terraza de las Flores
Take a day trip to an amazing beach nearby at La Malagueta
Try some local wines with nice food at Taberna Monroy
Visit the nearby Roman Theatre
4. El Palo – best place to stay near the beach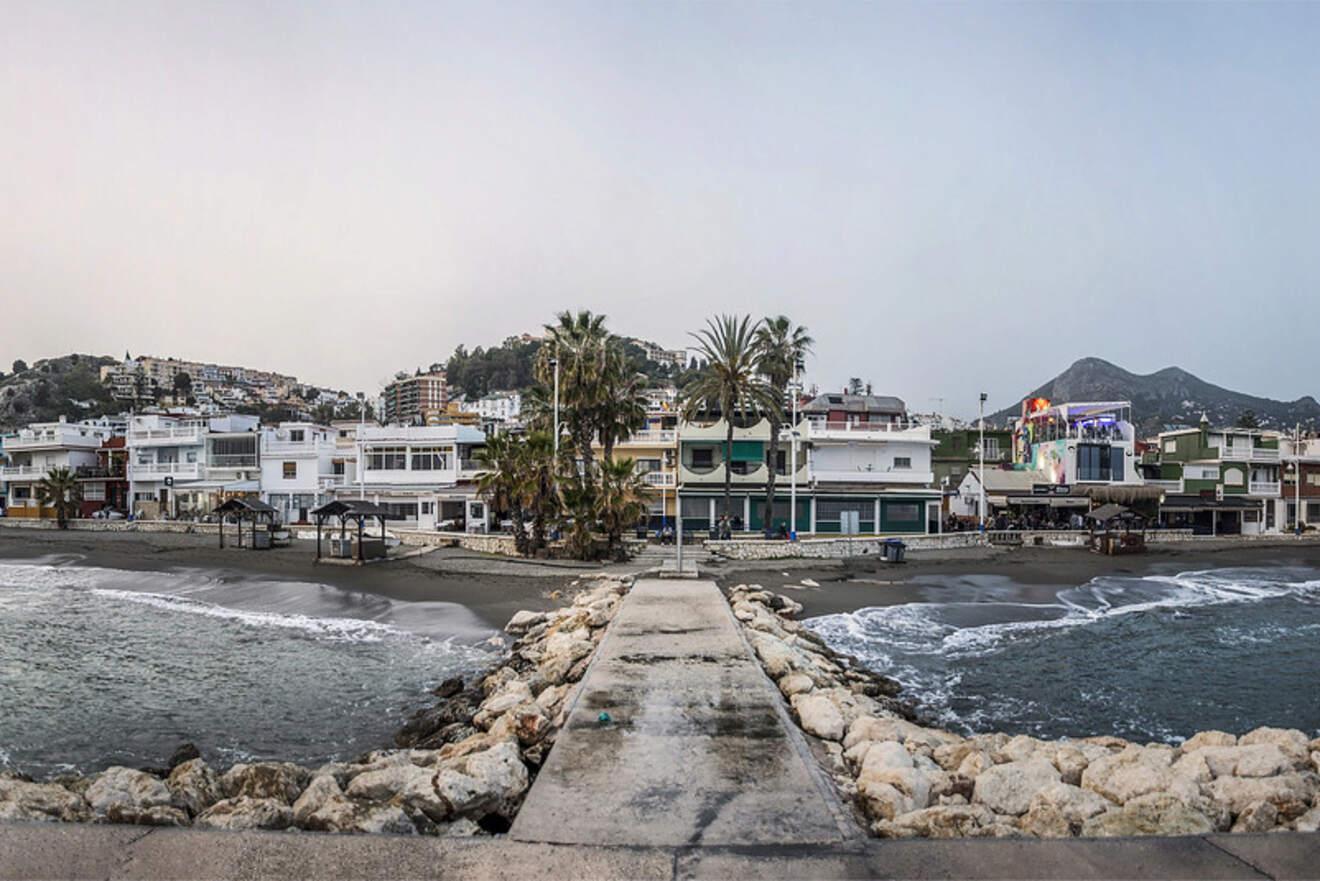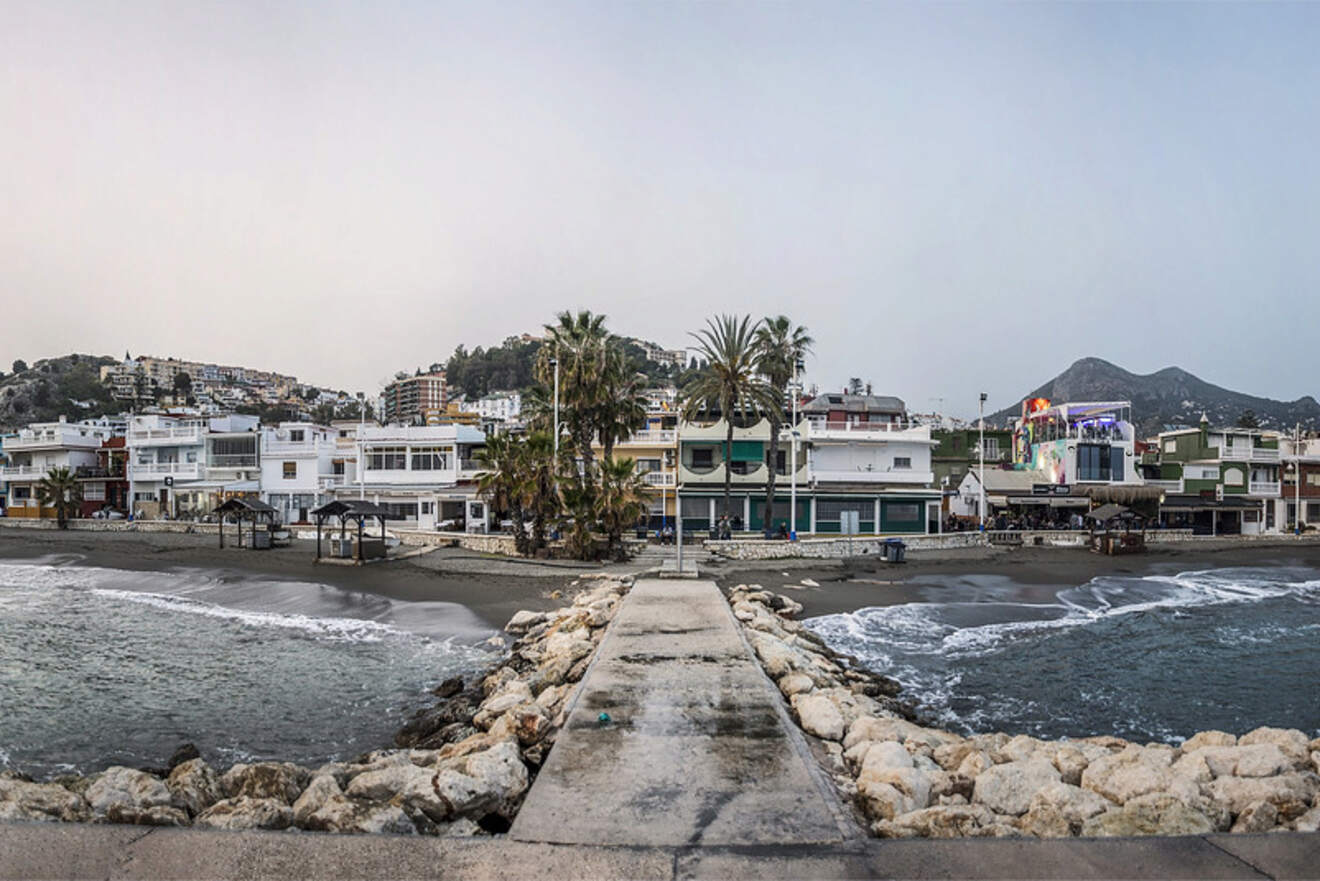 El Palo is located 10km (6 miles) east of the Old City. You might want to rent a car for this area. Don't worry, in Malaga, it is really easy and cheap to rent a car but if you don't want to drive, you can take public buses too!
After the drive El Palo will greet you with a very nice sea view. In this area, you will be able to enjoy local experiences, nice beaches, seafood restaurants, and a friendly small-town atmosphere.
Explore pristine hidden beaches and chill on the hammocks by the seaside. There are also many nice bars, cafes, and seafood restaurants along the beach. If you are picturing yourself having an ice cream or a cool drink while chilling on the beach, El Palo is definitely your answer for where to stay in Malaga!
Luxury hotel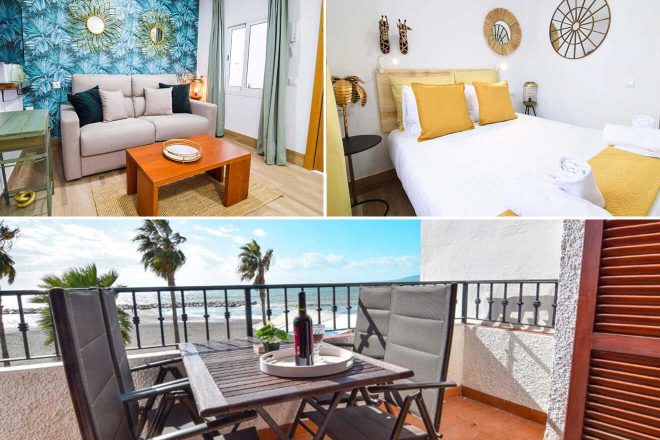 Located within 5 km (3 miles) of La Malaguetabeach, this tropical hotel offers fully furnished rooms including a kitchen, a flat-screen TV, and free Wifi. Guests can enjoy amazing Mediterranean views from their room balconies. One of the best places nearby the beach for families and couples to stay in Malaga
Other accommodation options in El Palo, Spain
mid-range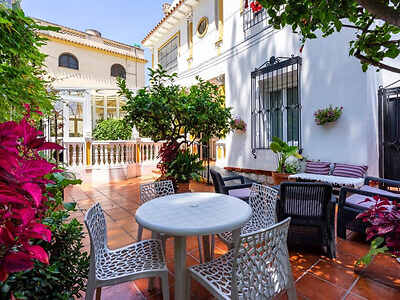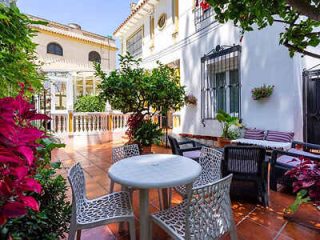 10 minutes drive from the Malaga city centre, this boutique hotel is near the beach and offers charming traditional rooms
budget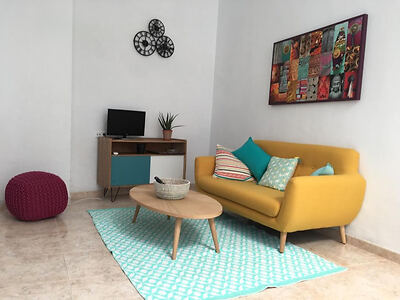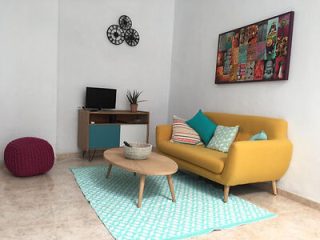 One of the best hostels in Malaga. Just a 5 minutes walk to the beach and easy access to Malaga city center and to the airport
airbnb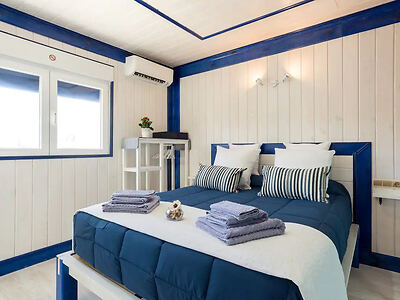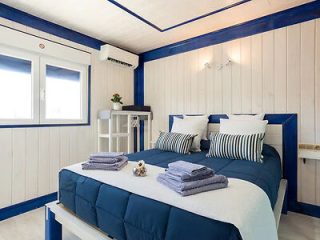 Airbnb near the beach which has a contemporary interior design and spacious room. One of the best accommodations in this area
Things to do in El Palo, Spain
Enjoy a relaxed beach time at Playas del Palo
Go for a drink in one of the local pubs by the beach
Eat paella at Canta el Gallo
Join a walking tour to discover the streets of El Palo
Have an interesting food experience at El Tintero
5. El Perchel – for those on a budget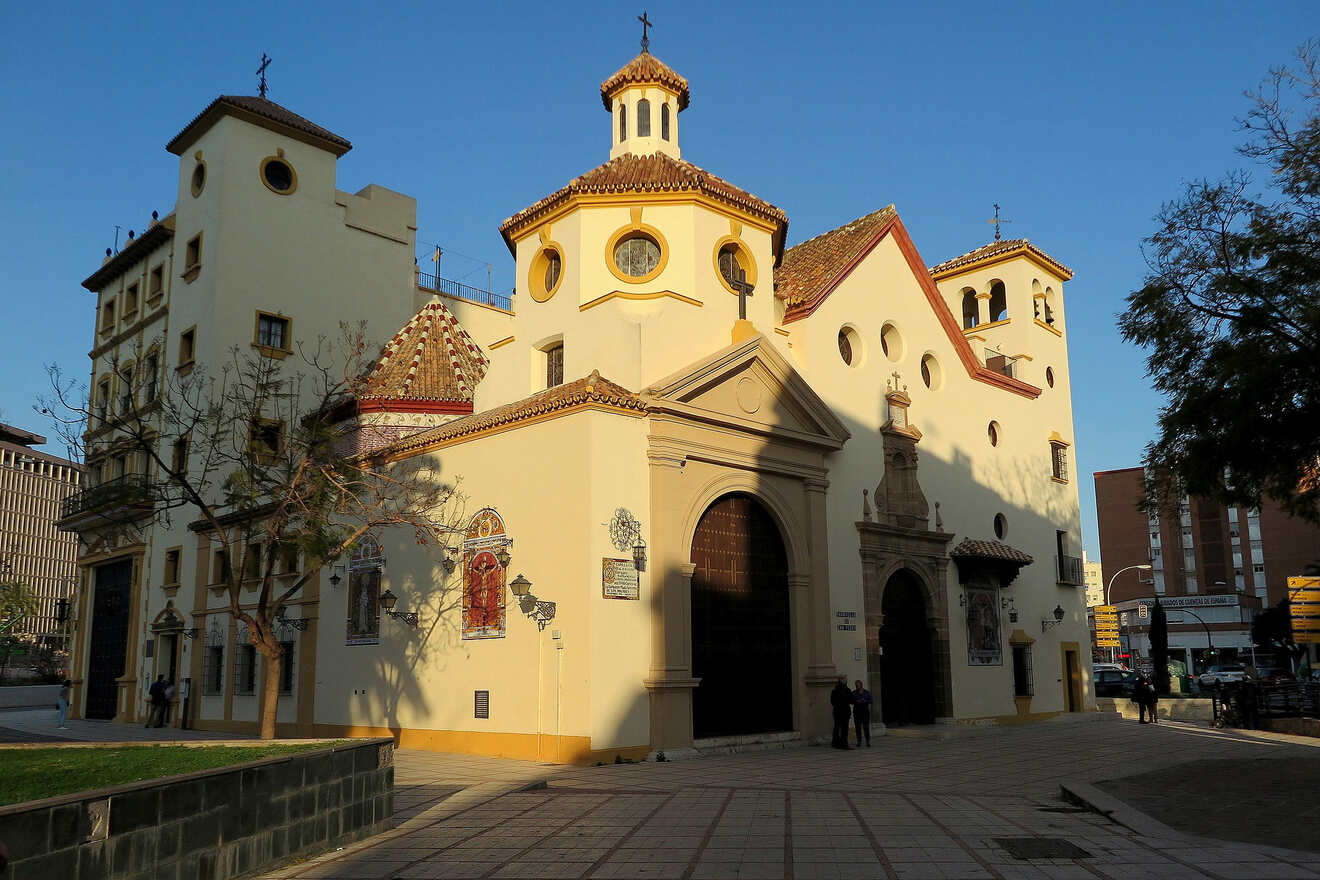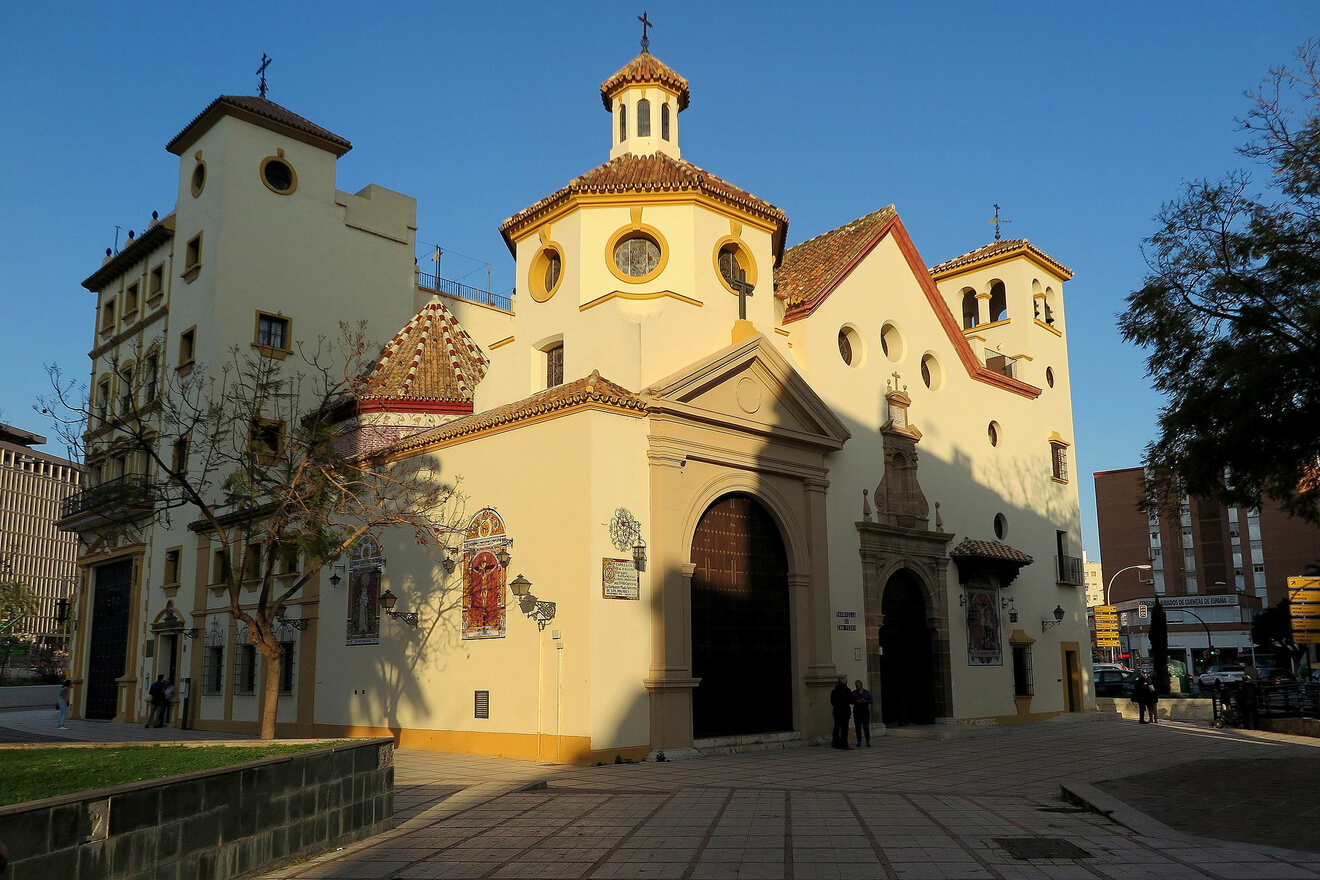 Although El Perchel is outside the center of Malaga, it is still just a few metro stops from downtown or 15 minutes drive west from the Oldtown. It is the oldest neighborhood in Malaga where you can have more local experiences. You can just simply enjoy a stroll along the old streets and have very fresh seafood in one of the local restaurants. For those who like discovering less known areas and trying local tastes definitely pay a visit to this area.
Since El Perchel is a less touristy area, it can also be called a hidden gem in Malaga, where you will find good traditional Spanish restaurants and boutique hotels and hostels for a better price.
Let's see the best hotels, hostels, and Airbnb in this area:
Luxury hotel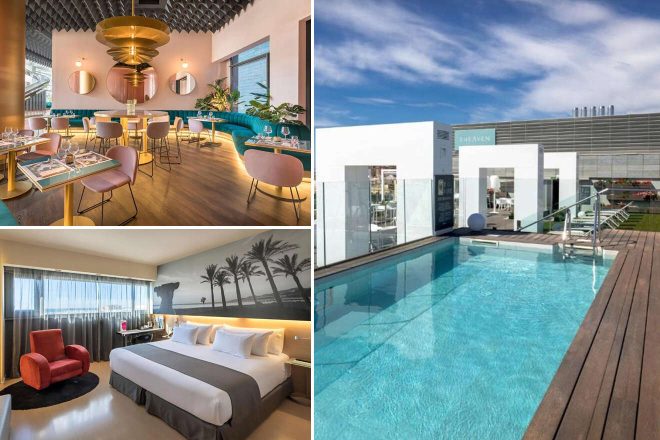 One of the best luxury hotels in the area. The 4-star hotel has direct access to Malaga high-speed train station and is a 10-minute walk from the old city centre. The hotel has an amazing rooftop pool, a spa, and a gastronomic bar. A perfect accommodation to stay in Málaga for luxury lovers
Other accommodation options in El Perchel
mid-range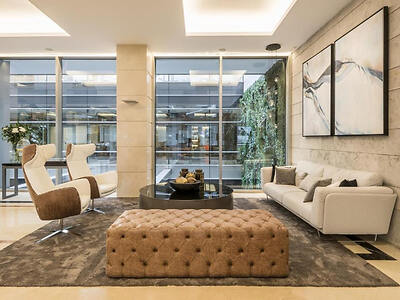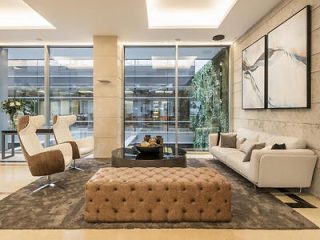 Located near Malaga city centre. Featuring an indoor pool and a spa, it is one of the nicest hotels in the area.The staff is friendly too! 
budget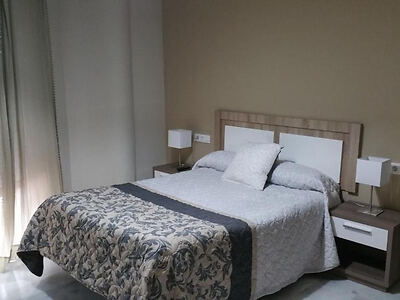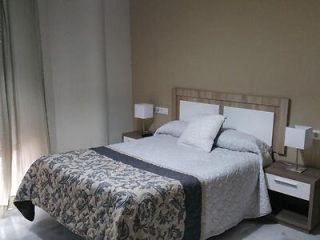 One of the best budget-friendly hostels in the area. Walking distance to Malaga Train Station, bus station and to the beach
airbnb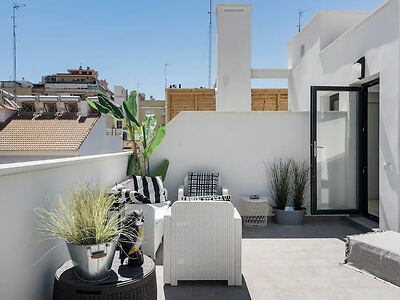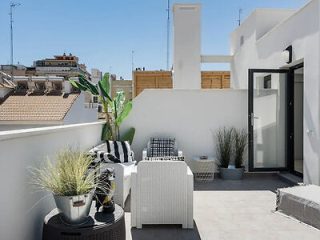 Luxury room near Malaga city center including kitchen, a terrace, free wifi, and private parking. Easy access to the old town and the beach
Things to do in El Perchel
| | |
| --- | --- |
| 👑 Luxury price: | €250 |
| 💵 Mid-range hotel: | €80 |
| 🛏️ Budget: | €30 |
| 🏠 Airbnb: | €80 |
| 💰 Accommodation prices: | Medium |
| 📍 Best Area: | Downtown Malaga |
| 🛎️ Best luxury hotel: | Gran Hotel Miramar |
| 👛 Best budget hotel: | Urban Jungle Hostel |
BONUS 1: Where to stay for nightlife – La Malagueta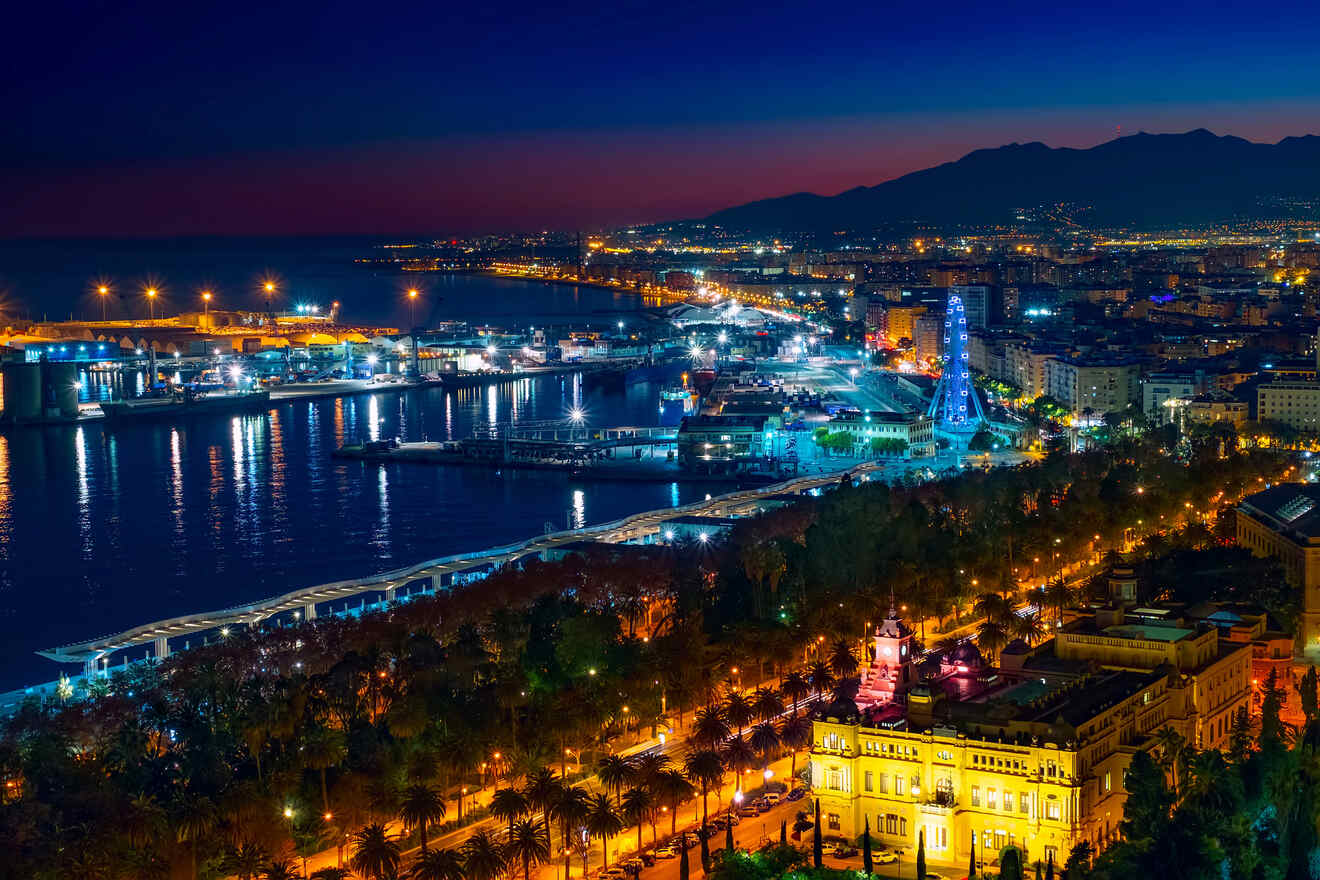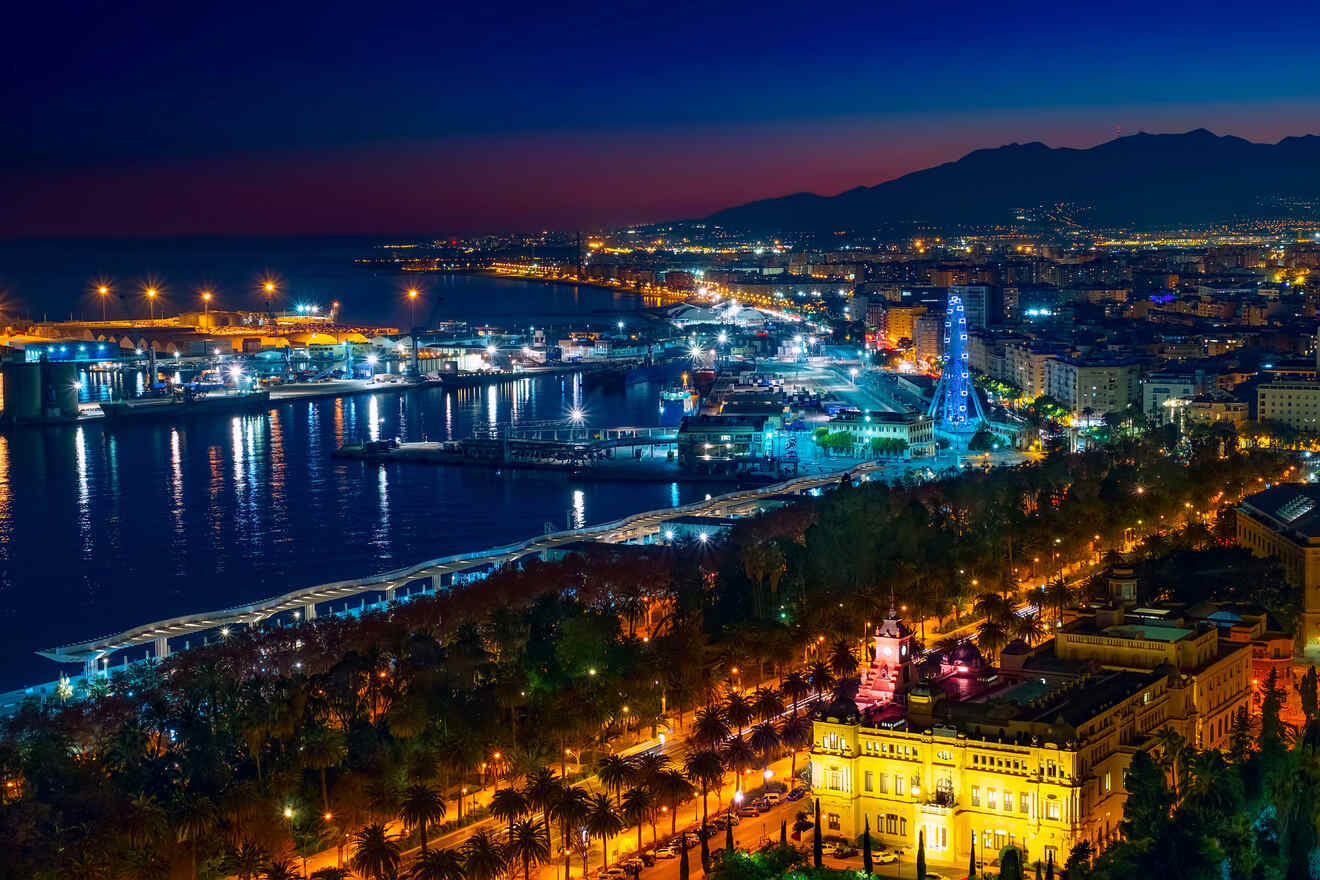 Located just a 15-minute drive or 20-minute metro ride from downtown Malaga, La Malagueta is an old fishing town and industrial area. It is a very colorful neighborhood with one of the most famous urban beaches in Spain (La Malagueta), restaurants, and vibrant nightlife. You will be able to find many gastronomic options, tapas bars, and clubs along the beach.
The nightlife in Malaga starts very late and lasts long. Even in the winter, you can go from restaurant to bar to club and end up having breakfast! As areas are very close to each other in Malaga you can stay in nearby areas like Soho and Old Town and come to La Malagueta for its nice beach, bars, and nightlife as well. But if you'd like to party all night long, you're going to want to stay right here.
The only 5-star luxurious hotel here is Gran Hotel Miramar but it is also one of the most luxurious resorts where to stay in Malaga. Here are my recommendations for the best places to stay in La Malagueta for each price range:
BONUS 2: 10 best day trips from Malaga, Spain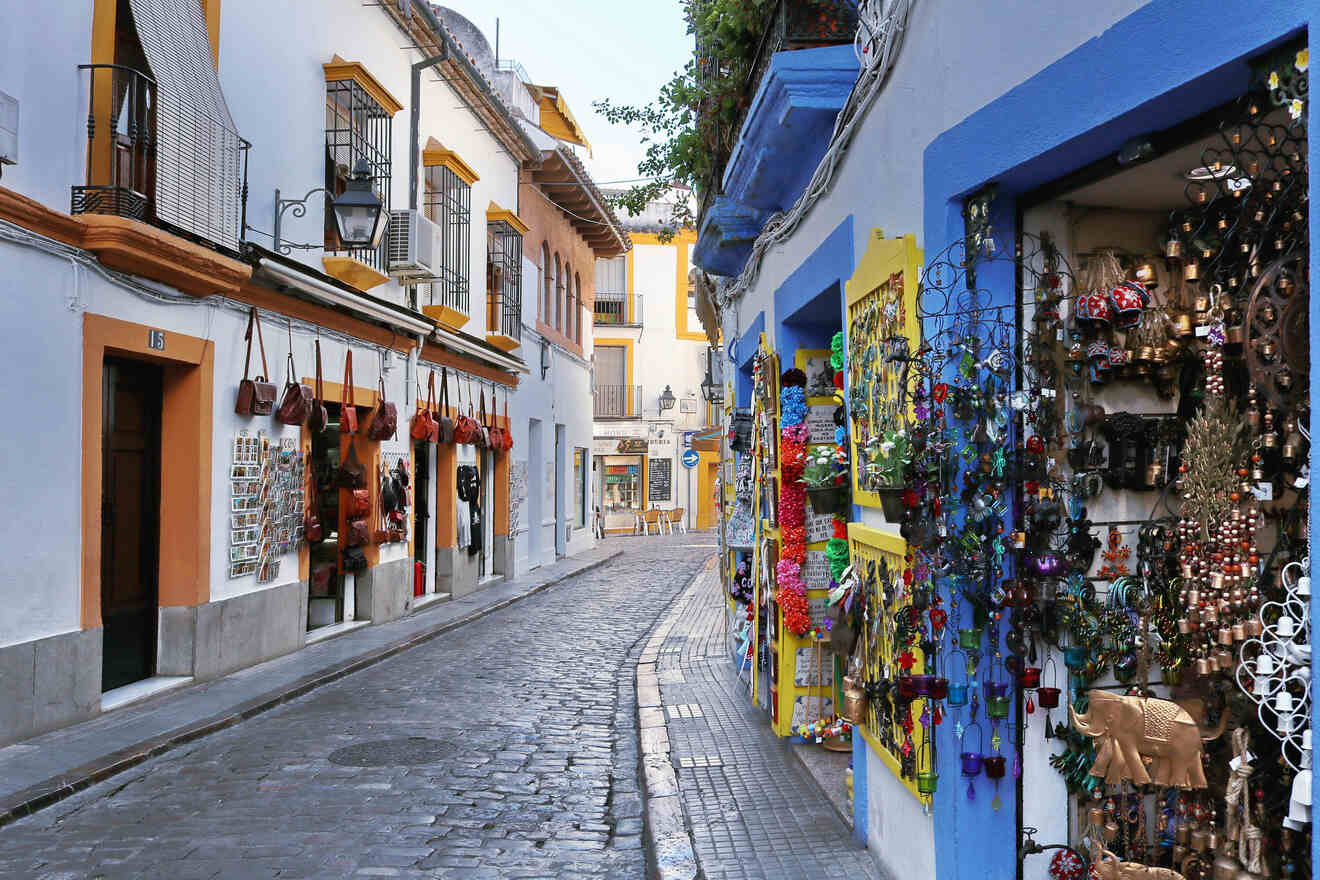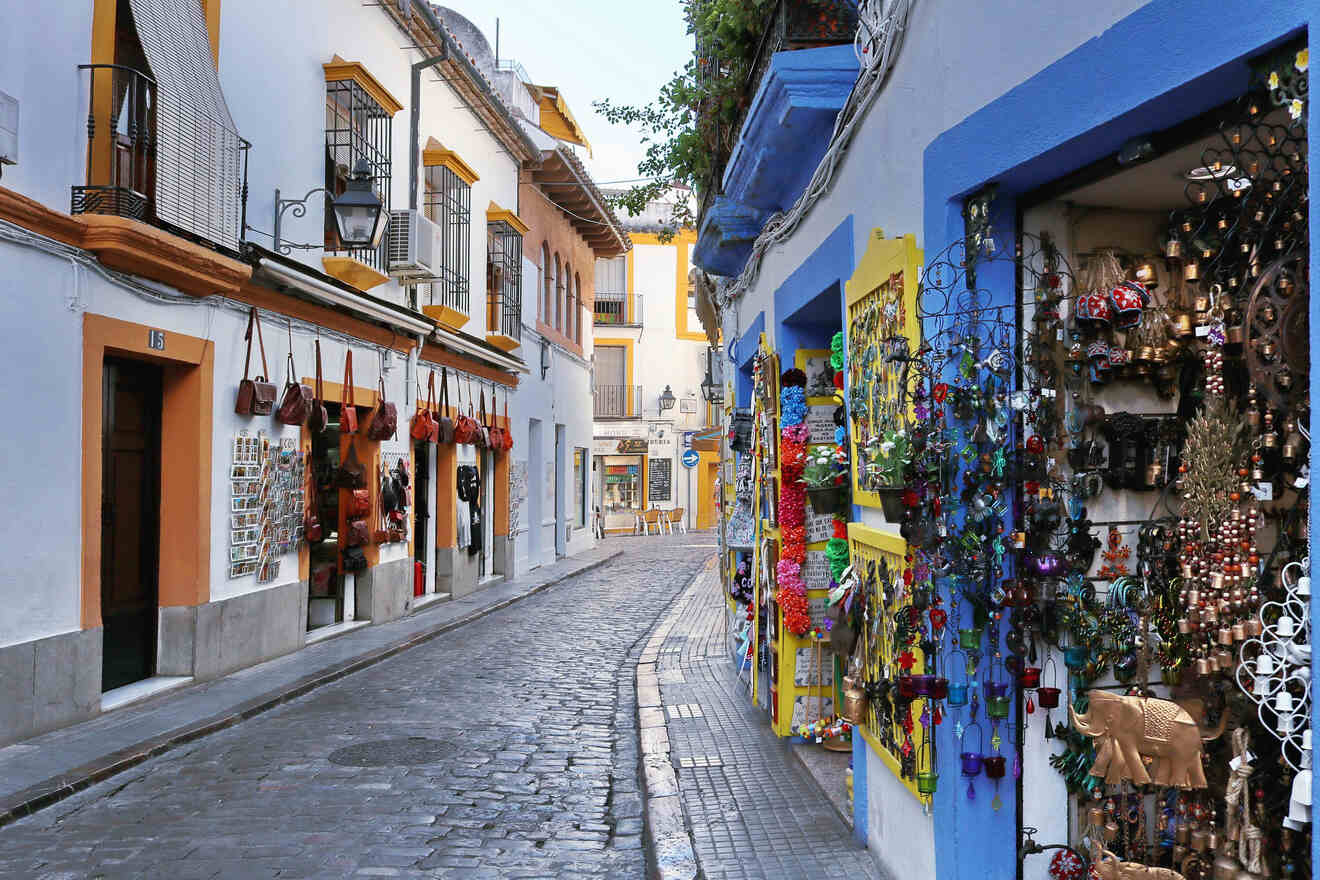 Malaga has a nice location to discover the south coast of Spain. If you are staying more than 3 days in Malaga, you can have day trips to some amazing areas around Malaga. For the locations, I will mention you can easily rent a car. Also for some of them, buses and trains are available.
1. Cordoba
Cordoba is one of the most popular cities to make a day trip from Malaga. It takes just 45 minutes by train from Malaga. In Cordoba, you will see Roman and Islamic ruins such as Roman Bridge, the beautiful Victoria Gardens, and Alcazar. There are so many nice historical streets to be discovered in Cordoba.
2. Marbella
Marbella is a 45 minutes ride from Malaga. You can rent a car or take a bus from the central bus station. Marbella is a picturesque old town with 30 km (20 miles) of pristine beach with an amazing Sierra Blanca mountain view. Make sure to take your swimsuit! There are also many museums and galleries where you will find works of famous artists Dali, Picasso, and Miro. You won't realize how the time passed while strolling on cobblestone streets!
3. Torremolinos
Torremolinos town is a great day trip option for families with children. You can go to Aqualand Torremolinos, Crocodile Park, or La Bateria Park and have fun with your family. You can also visit Carihuela Beach and Molino de Inca gardens. Torremolinos takes only 15 minutes from Malaga and buses are available too.
4. Ronda
Ronda is an amazing medieval town on the hilltop. The astonishing Puente Nuevo stone bridge offers amazing views over the entire area. You will be very impressed with the architecture and natural structure of this lovely town. It is one of my favorite day trip picks. You can take a train from Malaga and arrive at Ronda in 1h 30m.
5. Nerja
Neja is a beautiful beach town known for cave dotting. There are lakes and prehistoric paintings in the caves, and sometimes they even host concerts in them too. In Nerja, you will find one of the best beaches near Malaga. So, don't forget to take your swimsuits! Also, you will see many cliffs in Nerja which offer amazing views. The bus ride takes just an hour from Malaga.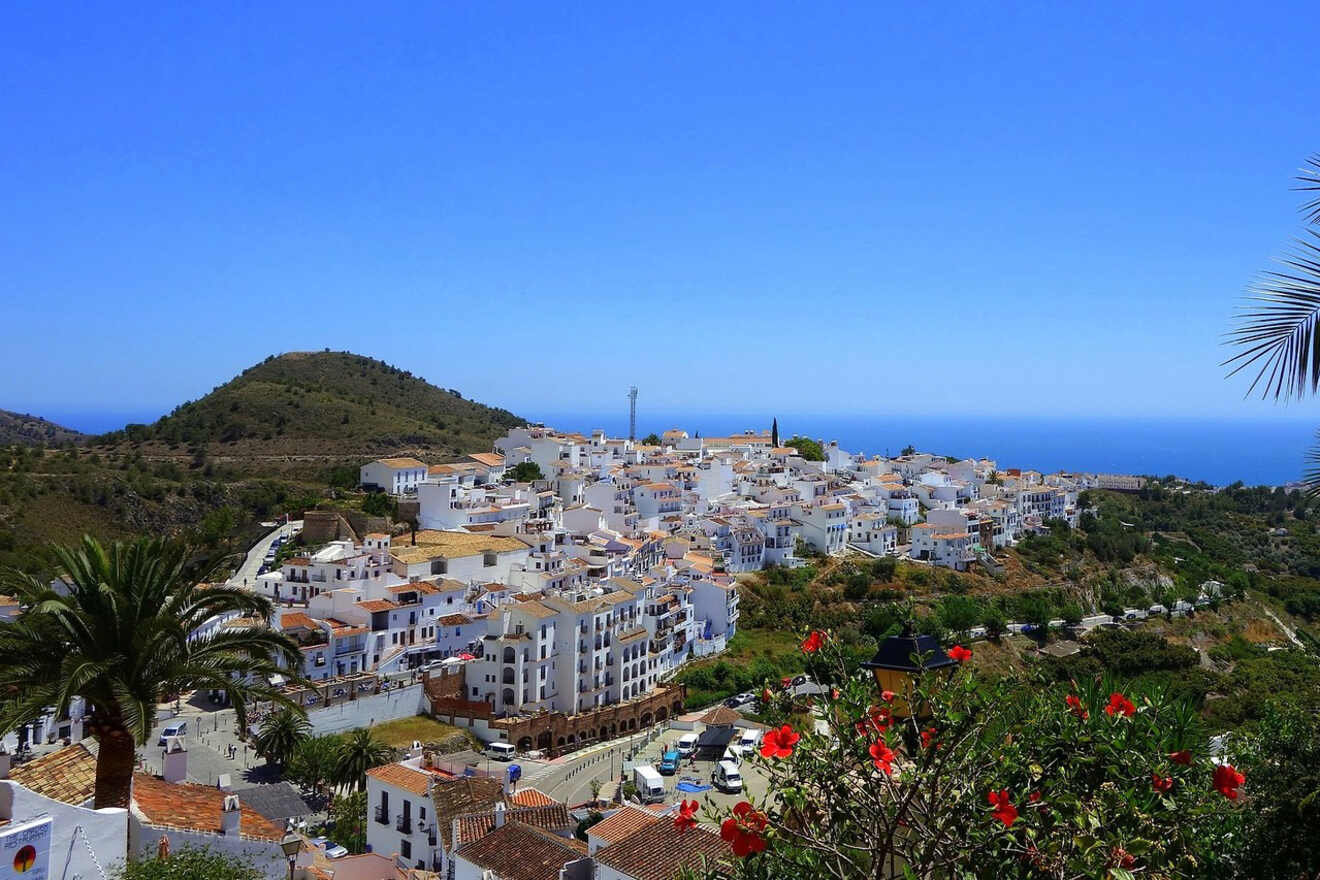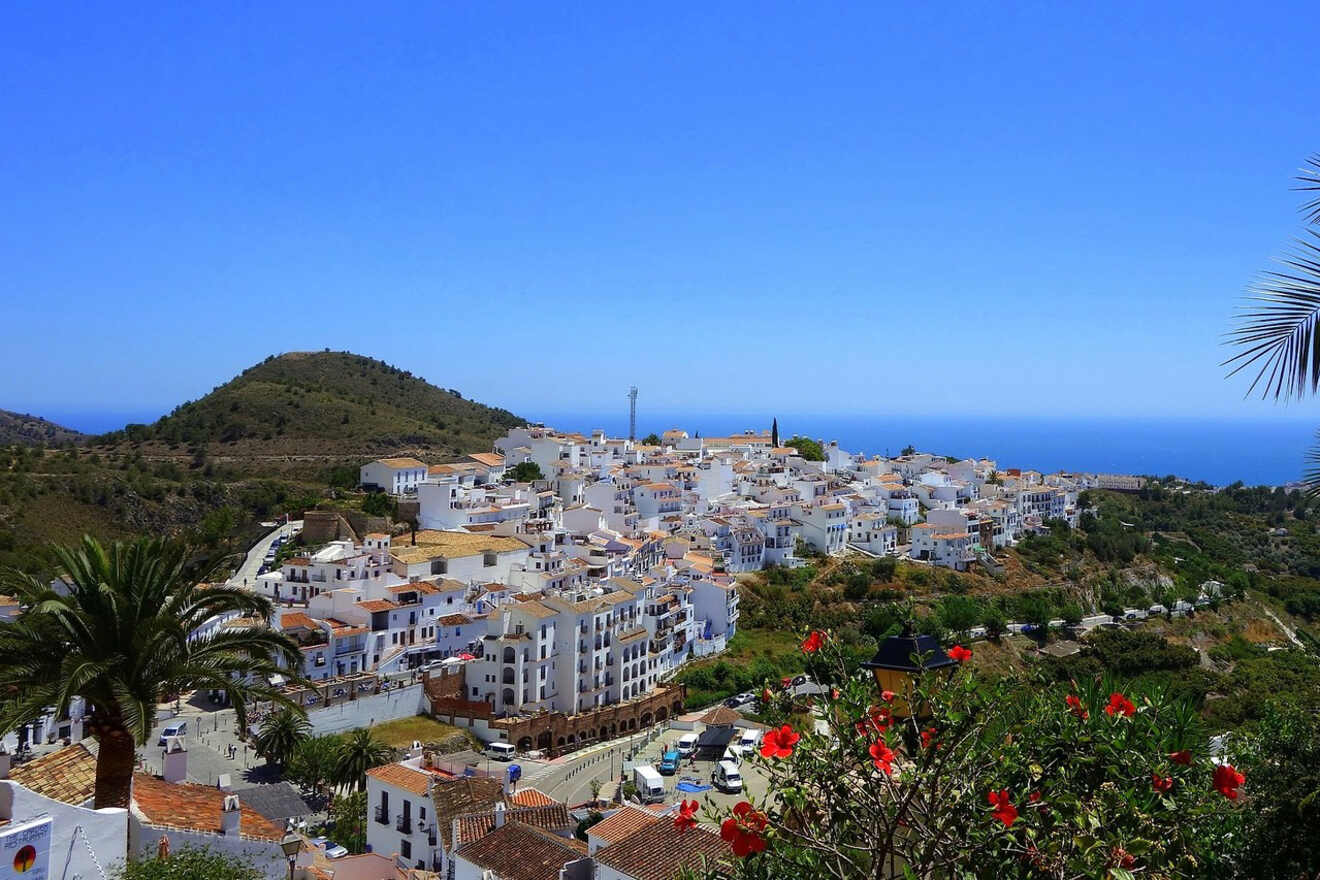 6. Frigiliana
Frigiliana is a beautiful Spanish village definitely worth a day trip. You will see cute white houses along cobblestone streets where you can enjoy hours of wandering. There are also nice shops, cafes, and bars on the way. If you want to spend some time in nature, the Sierras de Tejeda and Almijara y Alhama Natural Park are some nice parks around Frigiliana. The easy way to reach Frigiliana is by taking a 1-hour bus trip from Malaga.
7. Tarifa
Tarifa is one of the best areas to find delicious local seafood on the coast. It is also a charming old town with its standing medieval Moorish wall. Apart from the historic side, Tarifa is mainly popular for its nice beach. It is also a popular kitesurfing spot. You can take a bus from Malaga and arrive at Tarifa in 2h 30m.
8. Seville
Seville has numerous beautiful architectural landmarks. The Jewish Quarter, Alcazar Moorish Palace, and the Seville Cathedral are just a few of them. You can watch a flamenco show in Seville's famous Triana district and try gazpacho and amazing tapas in tapas bars. You can reach Seville by taking a train from Malaga. The journey takes about 1h 50m.
9. Granada
UNESCO-listed Generalife Gardens and the amazing Alhambra palace alone make it worth a visit to Granada. You will see beautiful Moorish architecture everywhere in Granda. From Arabic Quarter to the historic Roman neighborhood of Sacromonte there are so many things to discover in Granada. You can take a bus from Malaga which takes about 90 minutes.
For those who want to stay overnight in Granada, I have a great post covering all types of accommodation (luxury to budget) in the city. Click here to see the post.
10. Antequera
You can reach Antequera by taking a 50-minute scenic train journey. Just the train journey itself is so much fun and can be a reason for visiting Antequera. There are important ancient burial mounds and Moorish Castle in the town.
If you are looking for another holiday destination in Spain check out these posts for where to stay in Mallorca and where to stay in Gran Canaria.
Frequently asked questions about Malaga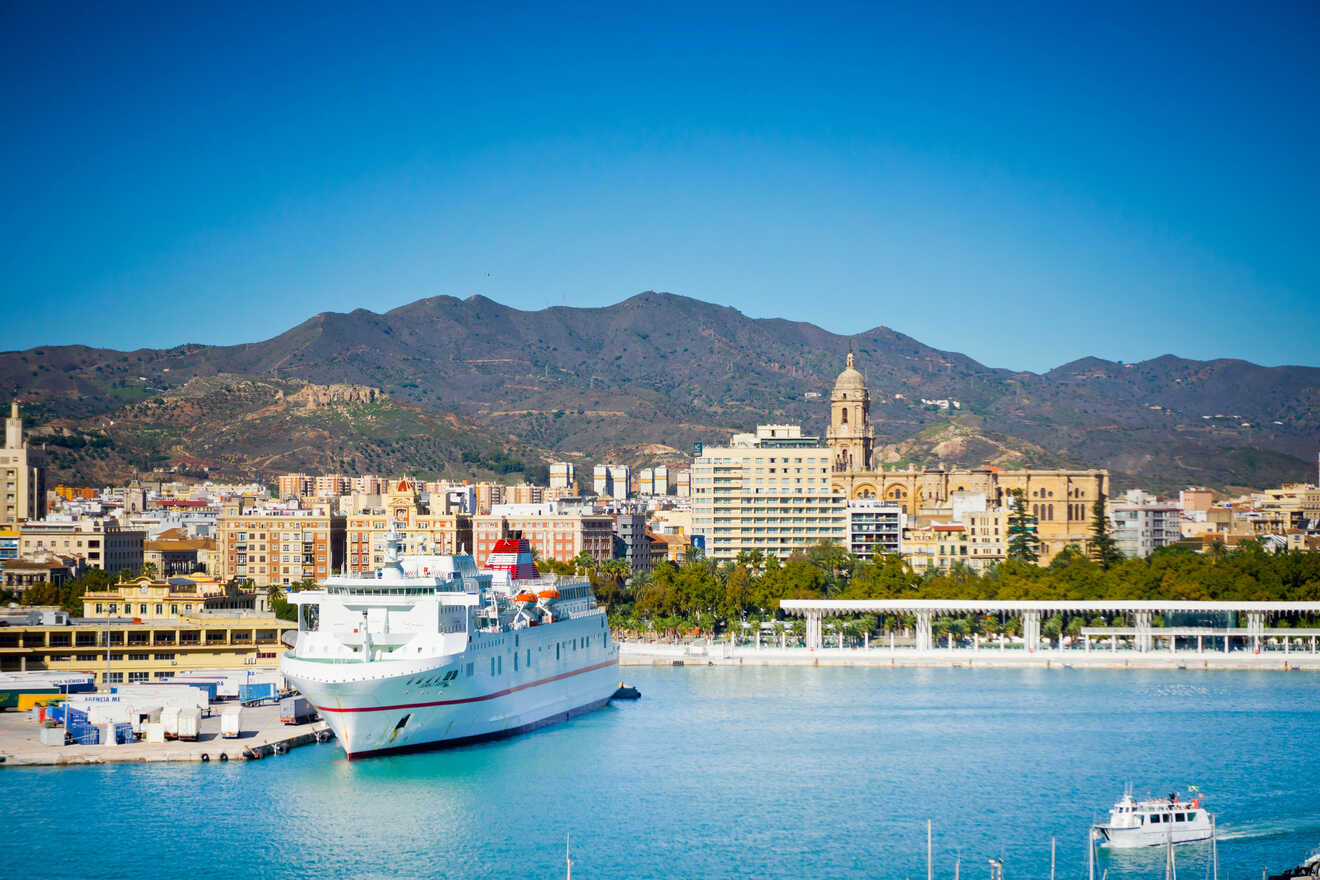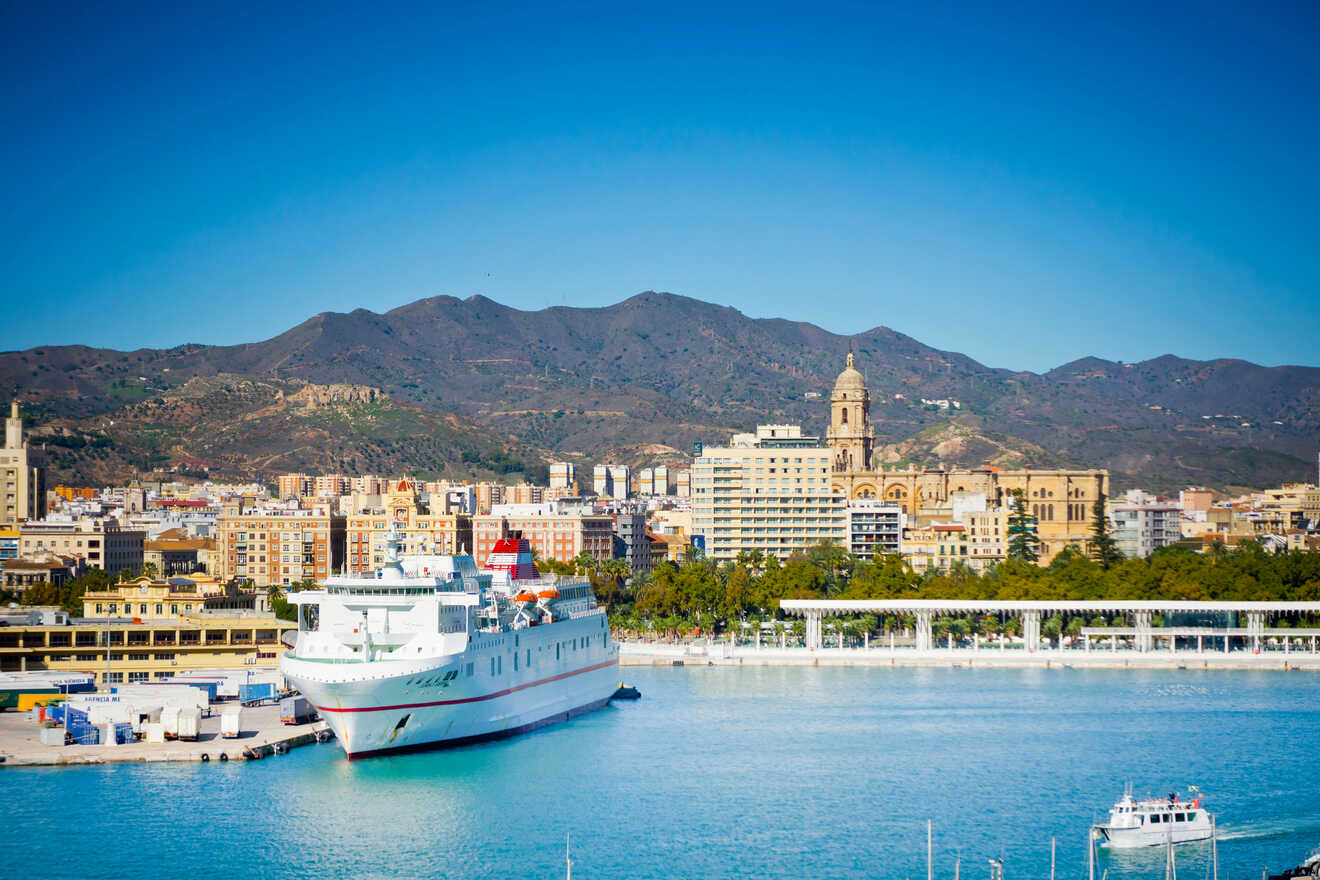 🗺️ Where is the best area to stay in Malaga, Spain?
Downtown Malaga is the best area to stay in for the first time. Just next to downtown Malaga, Soho is also a cool area to stay in Málaga.
🍸 Is there a strip in Malaga?
A 20 minutes walk away from downtown Malaga, Playa de la Malagueta is a strip of bars and many restaurants with trendy nightlife. 
🤔 Is Malaga worth visiting?
Malaga, Spain is definitely worth visiting for a great museum such as the famous Picasso museum, nice seafood restaurants, and historic streets. 
⏱️ How many days should I spend in Malaga?
2 days is enough to see the main attractions in Malaga. If you allow 3-4 days you can enjoy the beaches and areas around Malaga.
📷 Is Malaga very touristy?
Malaga is less touristy than anywhere along the Costa del Sol. Indeed, it is a very nice city worth a visit. 
✈️ Is there an airport in Malaga?
Yes, you can land at Málaga Airport which is just 10 km (5 miles) from the city center.
🖼️ What is Malaga famous for?
Malaga is best known for its most famous painter of art, Pablo Picasso. Malaga is also known for the charming coastline of the Costa del Sol beaches and history-loaded Old Town.
Conclusion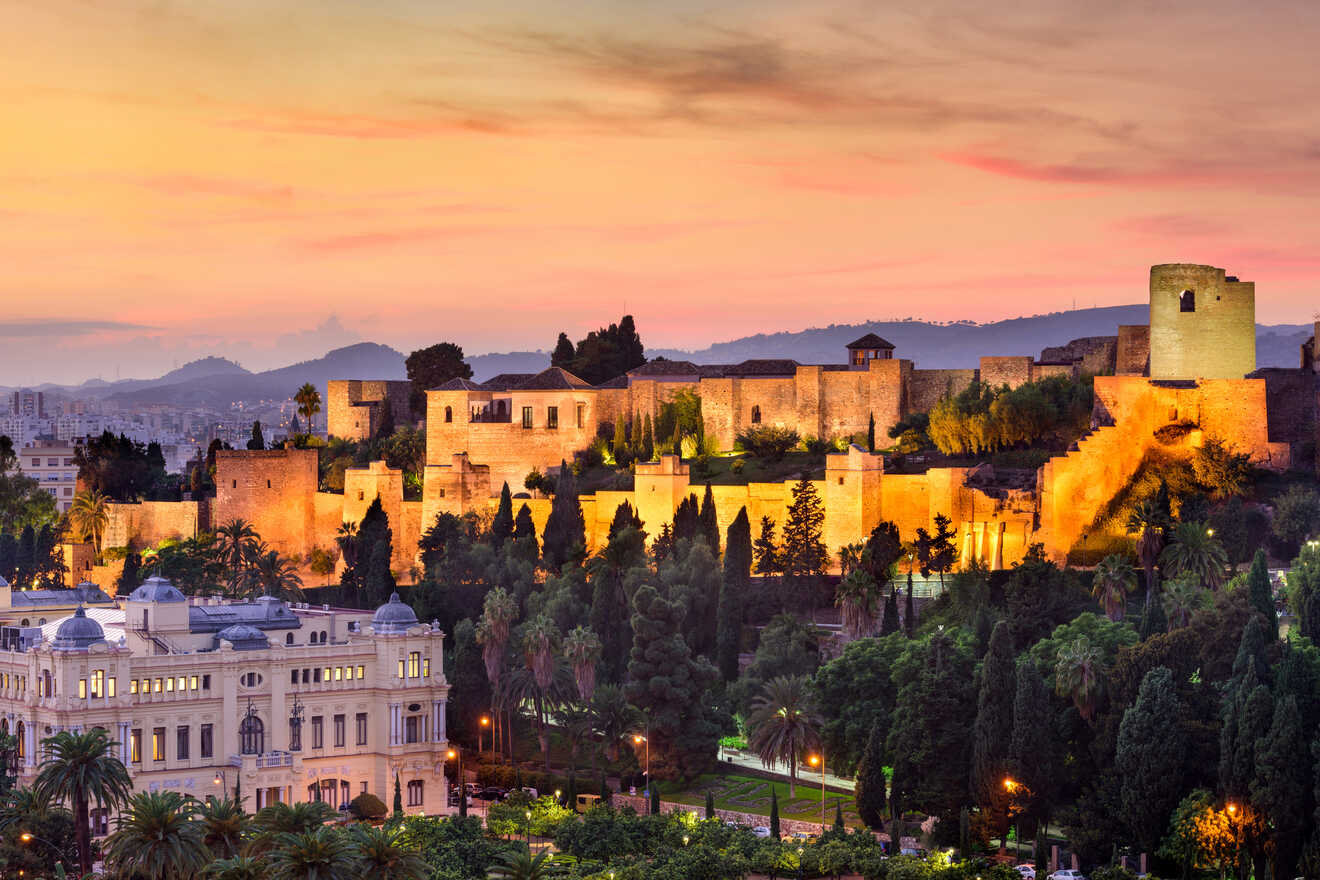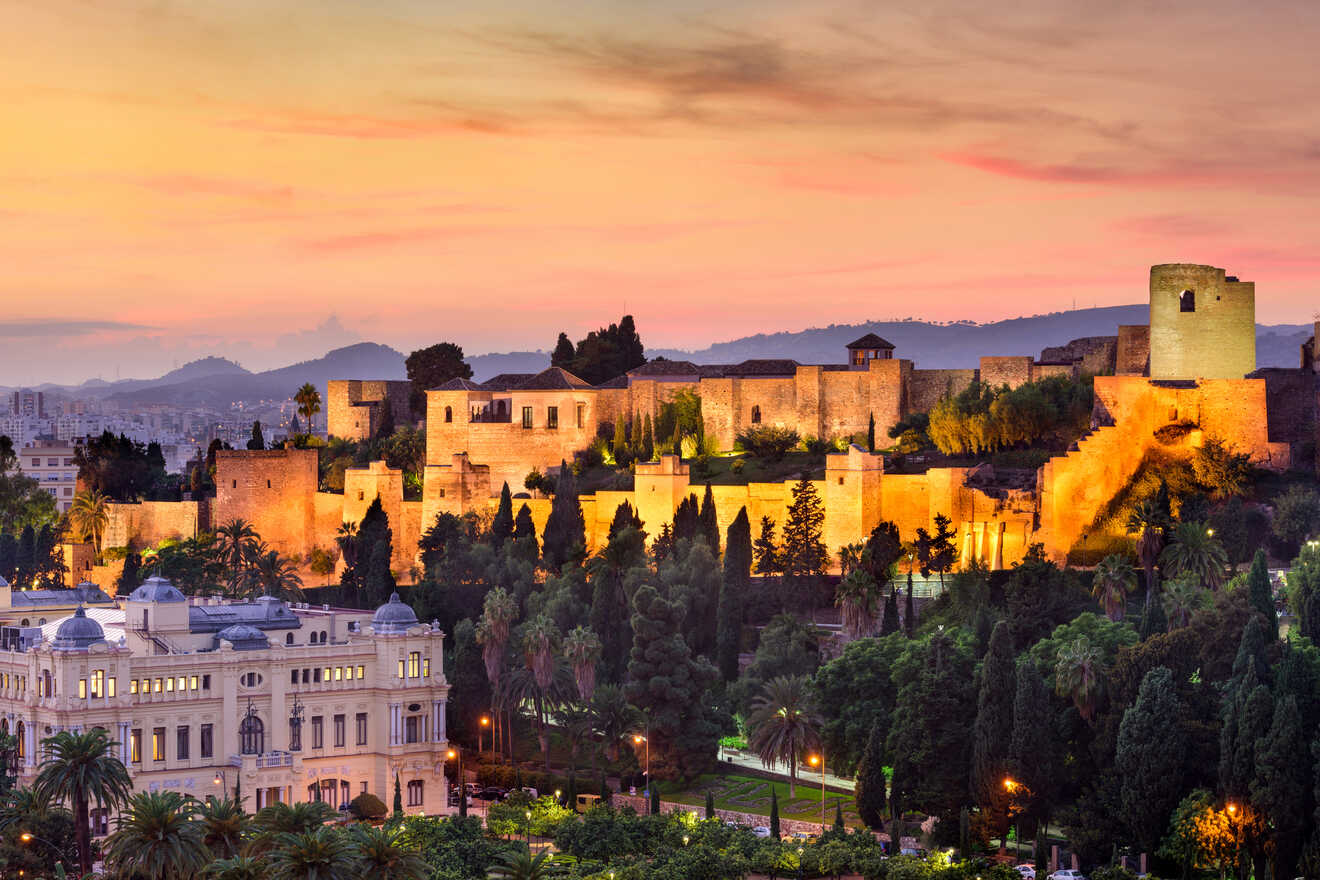 Malaga, Spain is an easy city to discover and offers many accommodation options from modern luxury resorts with a spa, to old boutique hotels and budget hostels. The important thing is to decide what kind of neighborhood vibe and places to stay you want for your Malaga vacation.
In this article, I covered the 5 best areas with the best places to stay in and gave you suggestions for hotels, hostels, and Airbnbs to stay in each area. I hope that this blog post helped you to find an answer to where to stay in Malaga.
Just a quick recap. Here are the best 2 hotels where I would definitely recommend you to stay in Malaga. Both hotels have a central location and amazing reviews:
Gran Hotel Miramar – One of the best luxury hotel in Malaga just next to Malagueta Beach
Molina Lario – Located in Malaga center, best boutique hotel with an amazing city view
I am sure you will have a great time on your Spanish vacation. You wouldn't wanna miss your perfect stay in Malaga, so make sure to make your booking now!
Don't forget to leave a comment below if you have any other suggestions or questions about Malaga or Spain! I'll be happy to reply to them!
Enjoy your time in Malaga,
Eylul
---
Pin it for later!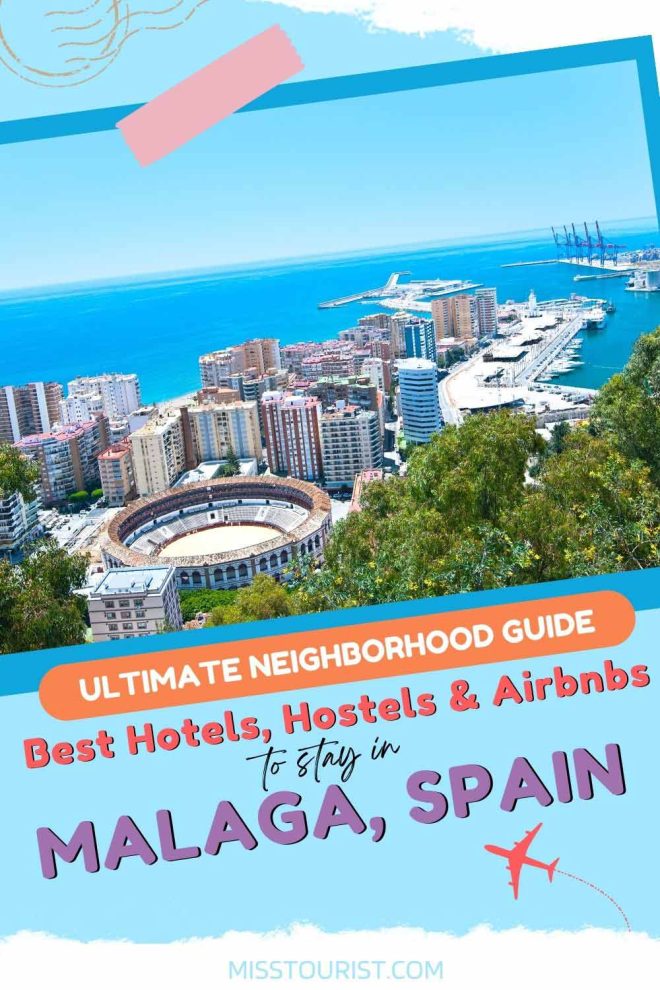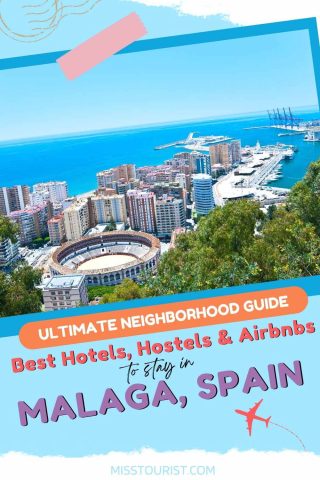 Pin it for later!