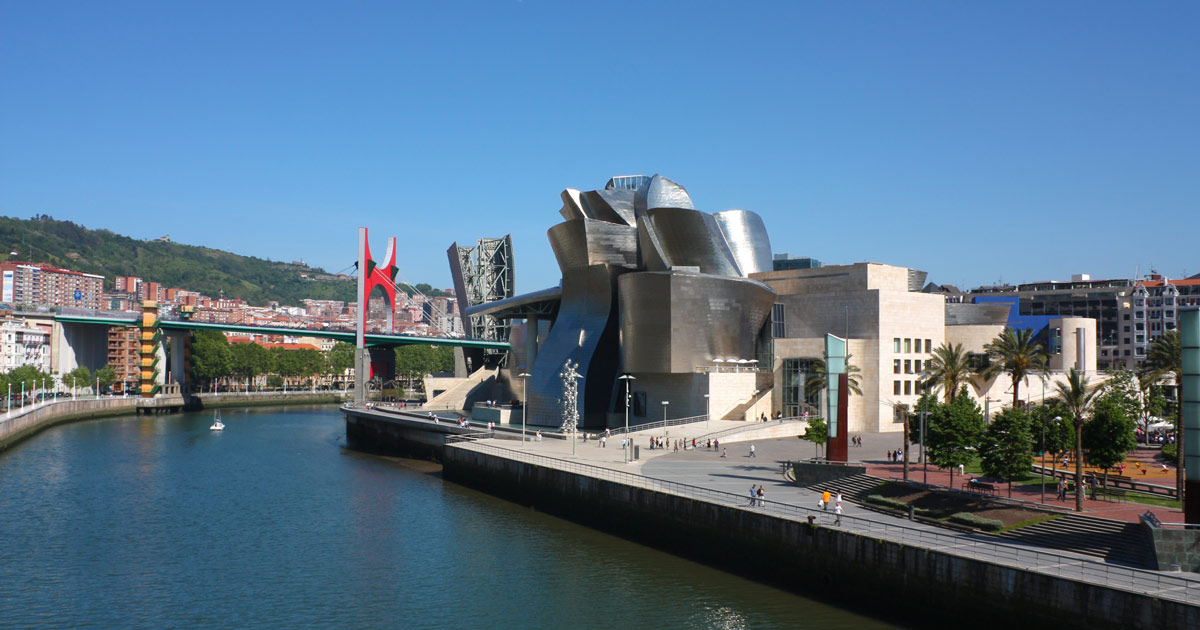 Ola chicos and welcome to Bilbao, the largest city in the Basque country, a region in the northern part of Spain with one of the best cuisines in the world and a unique architecture that you won't encounter elsewhere!
Located on the banks of the Nervión River, this city's history dates back to the 14th century. Even then, it was a central commercial hotspot because of the port. It has become a stylish city and a top destination, especially since the Guggenheim Museum was finished in 1997. This city is one of the best places to stay as it has that Spanish charm, and let's not forget about the delicious pintxos, their version of tapas!
Look at me, I'm all talk and no action! Don't worry, I know you're probably wondering where to stay in Bilbao during your holiday. It can be a tough decision, especially when you think about how many beautiful places there are in the Basque country. However, I'm here to save the day!
I've looked through many hotel lists in Bilbao, Spain, and chosen the best ones with amazing reviews just for you! But now you have to do your part as well and book them in advance. The city of Bilbao is one of the most popular in the Basque region, and the hotels sell super fast!
Vamonos, the tavernas are waiting for us!
If you are in a hurry
If you want to book your hotels where to stay in Bilbao now, here's a shortlist of all the best places to stay, all located in Casco Viejo
Here's a map that will help you visualize all the areas where to stay in Bilbao that I will be talking about in this post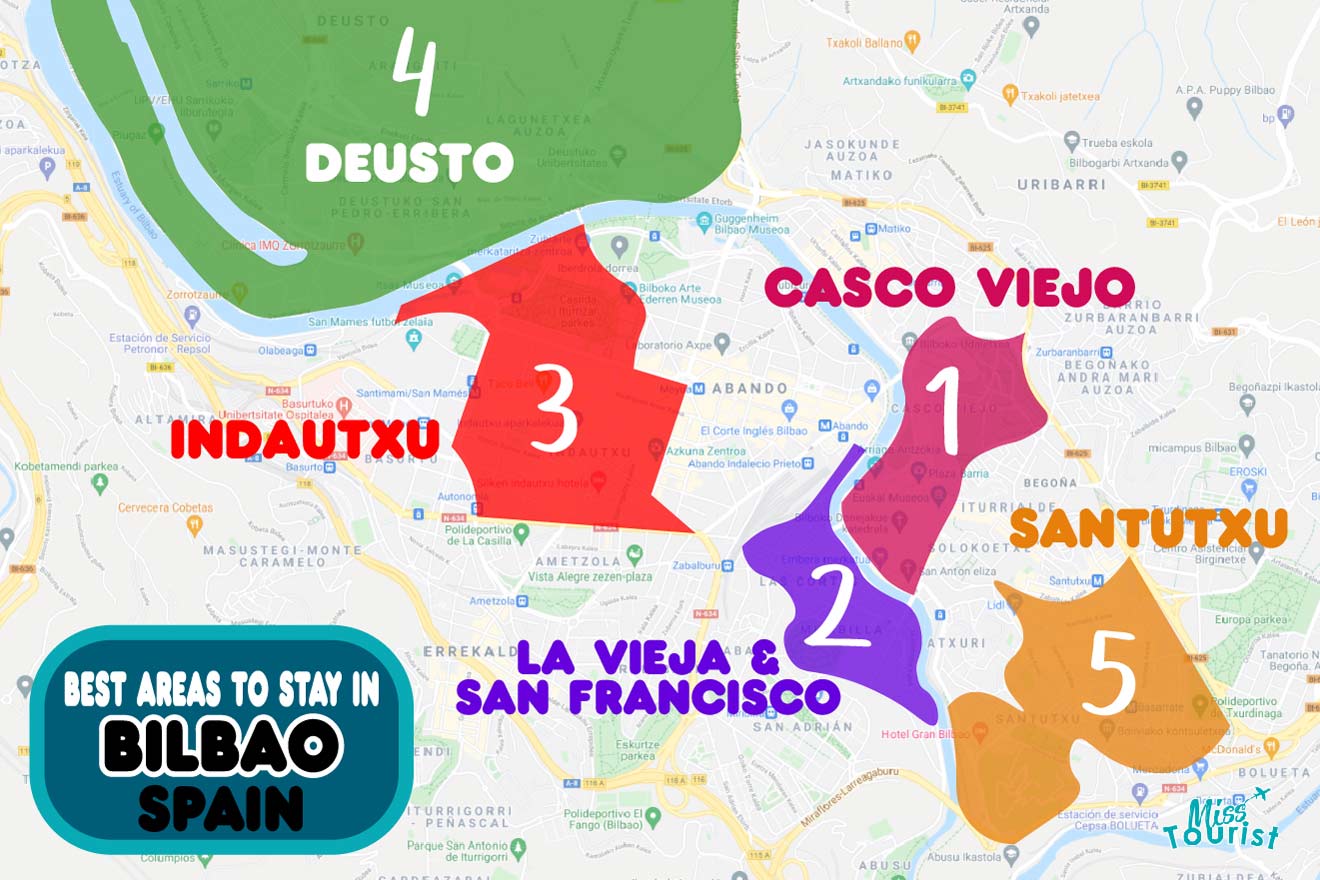 1. Casco Viejo – where to stay in Bilbao for the first time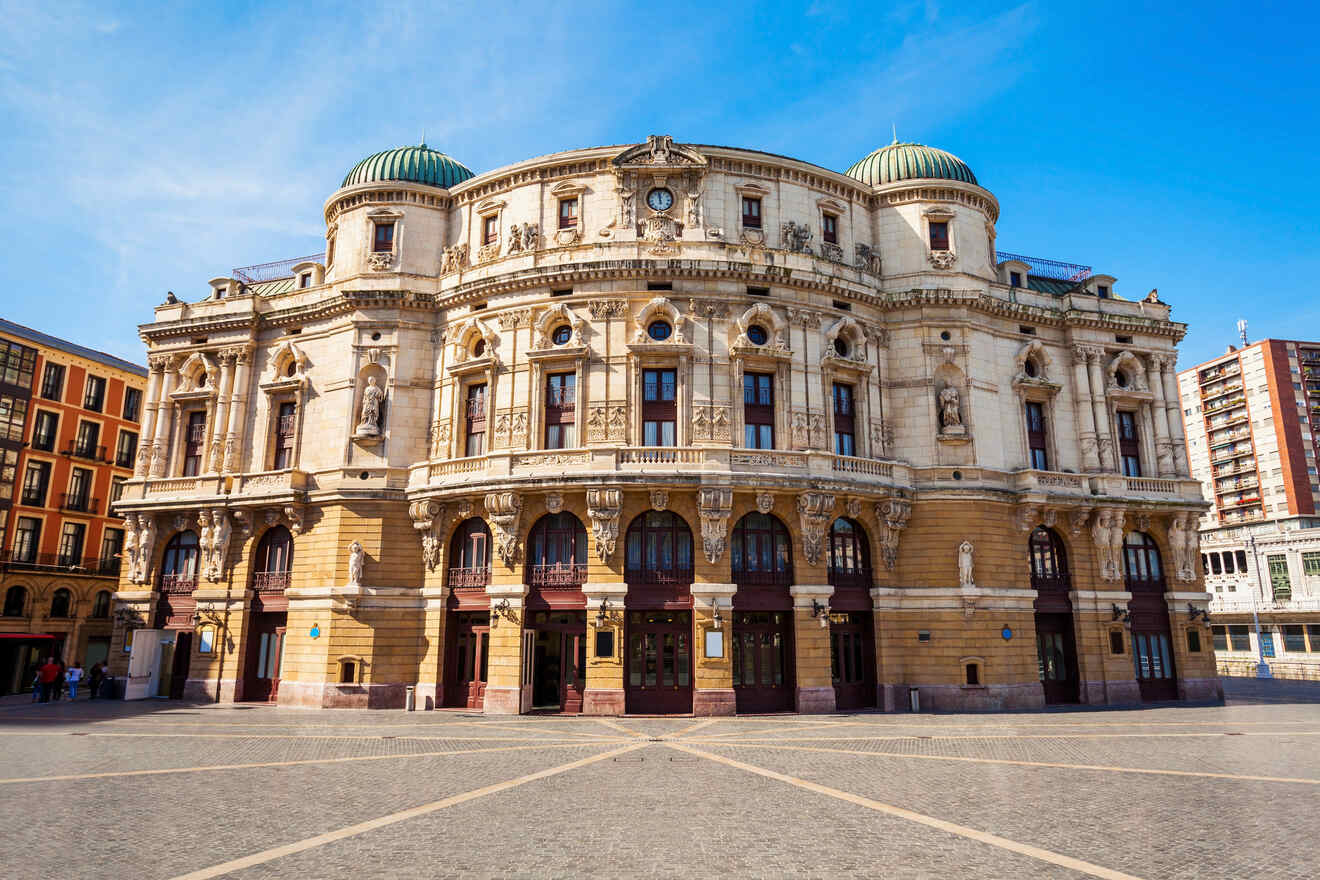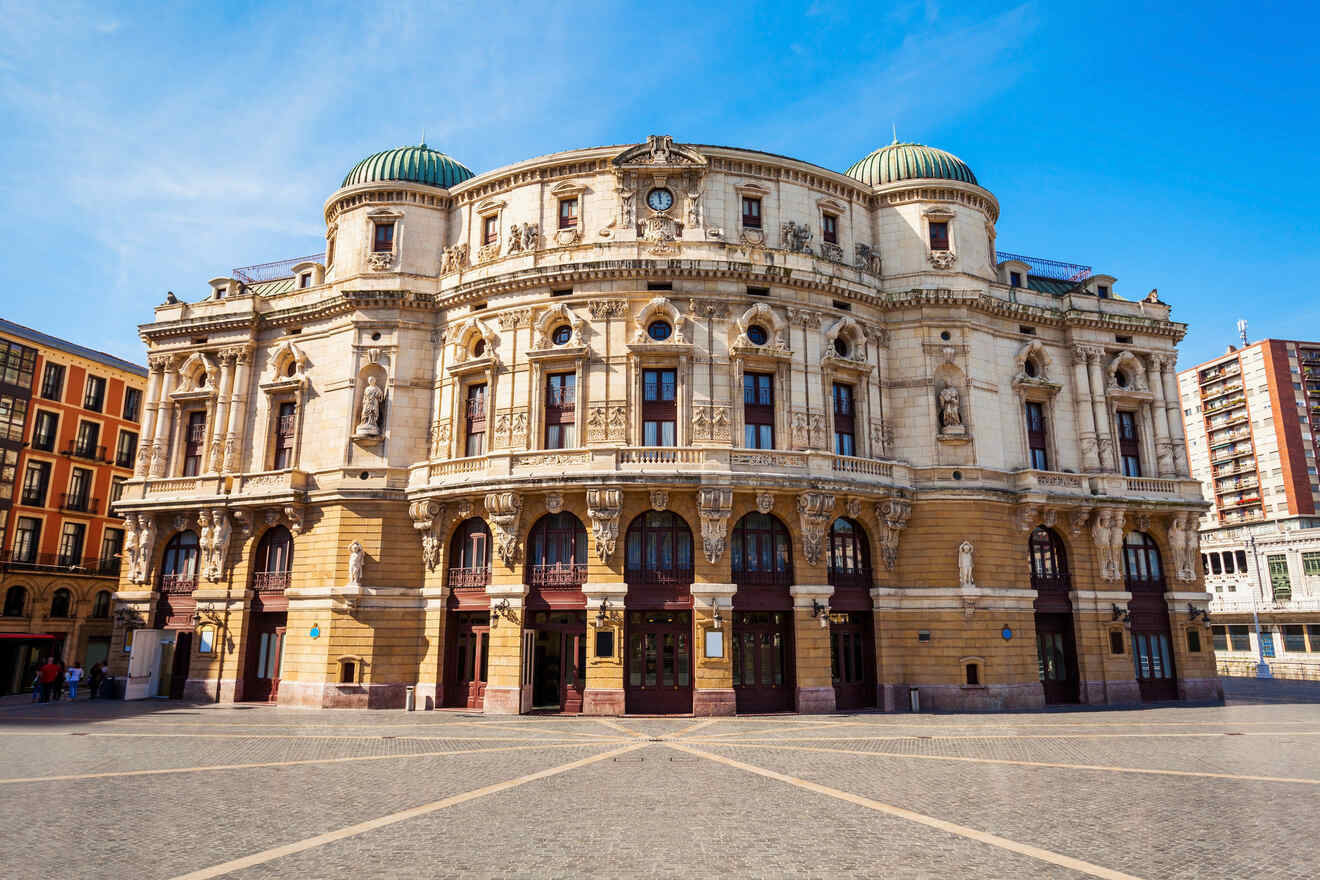 Welcome to the heart of Bilbao, where the medieval buildings and the Plaza Nueva look like someone took them straight out of the history book pages! Spanish people rarely let us down when it comes to unique architecture and design, and Casco Viejo is proof that the traditional looks never go out of style.
With a rich history dating back almost seven centuries ago, this popular neighborhood is where anyone who wants to learn more about the Basque culture goes. For those of you who have fallen in love with Spain as much as I did, I highly recommend making a stop in Madrid during your trip for some more interesting history.
A long time ago, Casco Viejo was a popular port area that connected Spain to other cities in Europe. Now it has become one of the most visited areas in Bilbao and a great place to stay if you're visiting the town for the first time. The city center is filled with amazing churches, museums, bars, and restaurants where you can eat delicious Spanish dishes. I'm sure pintxos (tapas) will be on everyone's menu!
You will see countless charming bars and lots of markets, but the star of the show here is Mercado de la Ribera, the biggest indoor market in Europe! It has more than 10,000 square meters of space, so try not to get lost!
Luxury hotel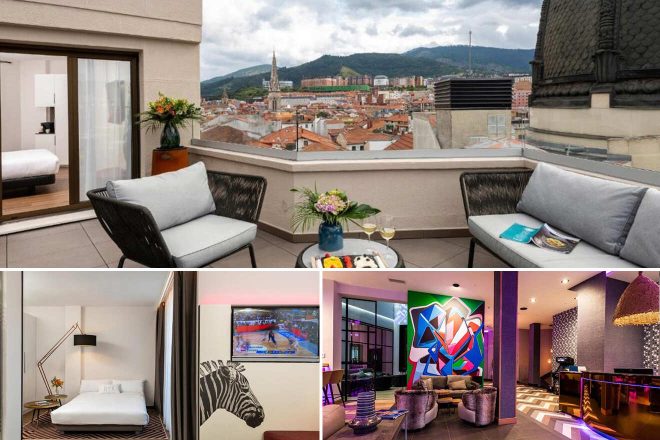 If you're too tired to go out at night and have a drink, don't worry! This luxury hotel in the Old Town has its own bar with a very modern, cool look! The spacious rooms have a lovely terrace with amazing views of the city where you can drink your coffee in the morning and maybe head to the gym afterward!
Other accommodation options in Casco Viejo
mid-range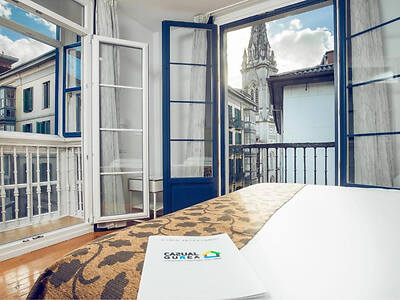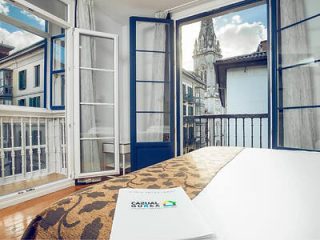 I love the decor of this Bilbao hotel that has amazing views of the cathedral, comfortable rooms, and a great location 
budget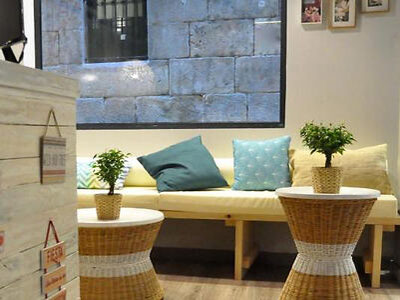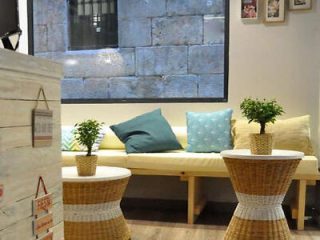 An affordable and friendly hostel located in the heart of Bilbao, this place has spacious rooms and a terrace
airbnb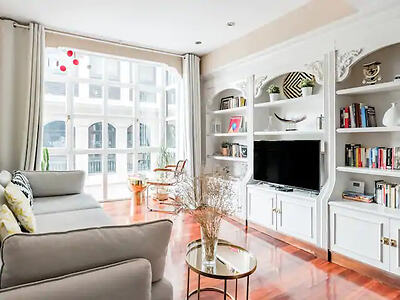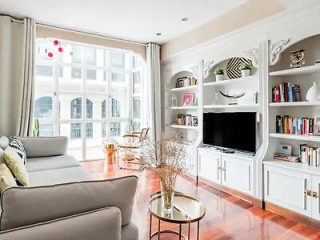 With a unique all-white design and a cute patio, this central place offers a kitchen, free wifi, and a washer
Things to do in Casco Viejo
2. La Vieja and San Francisco – best place to stay in Bilbao for couples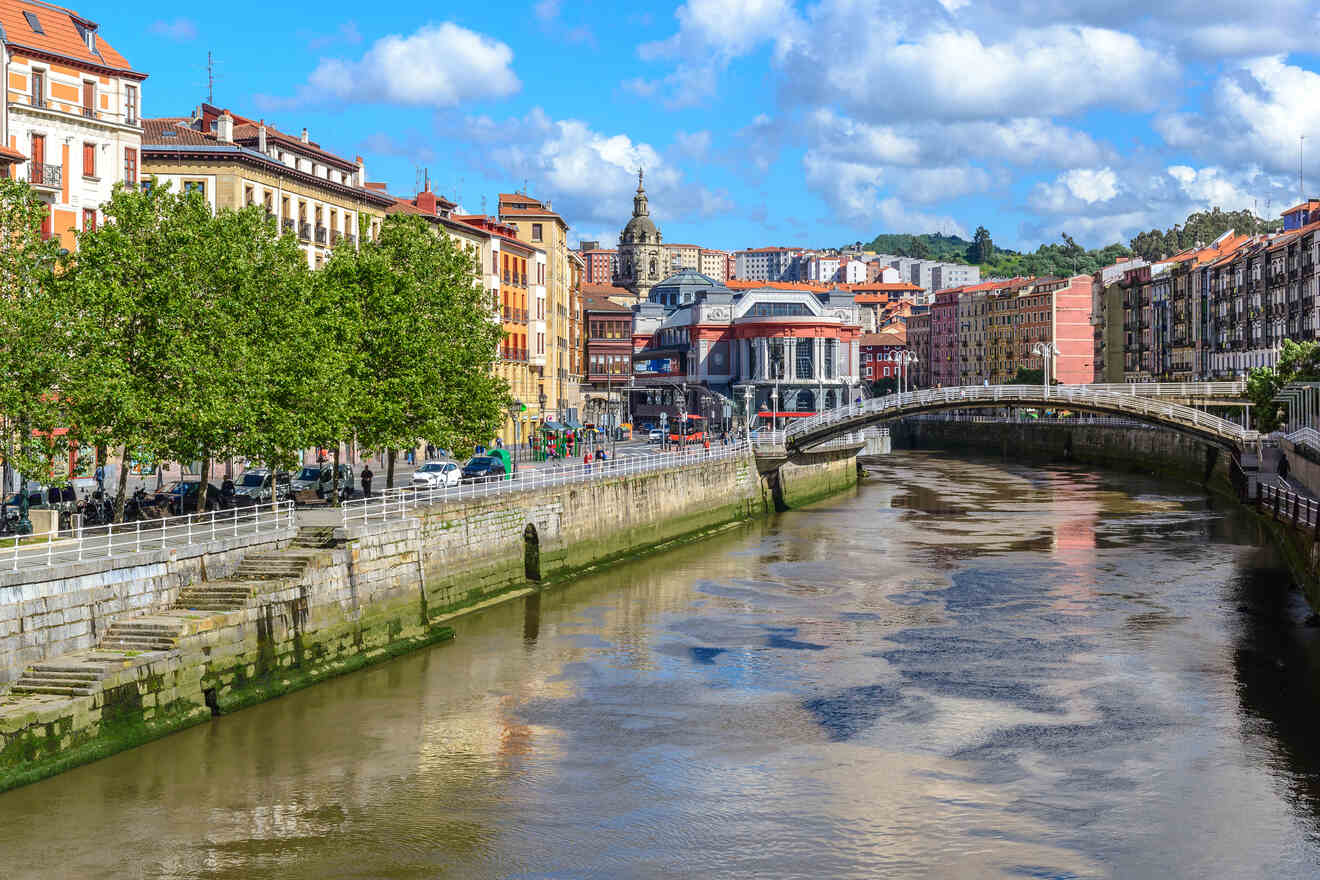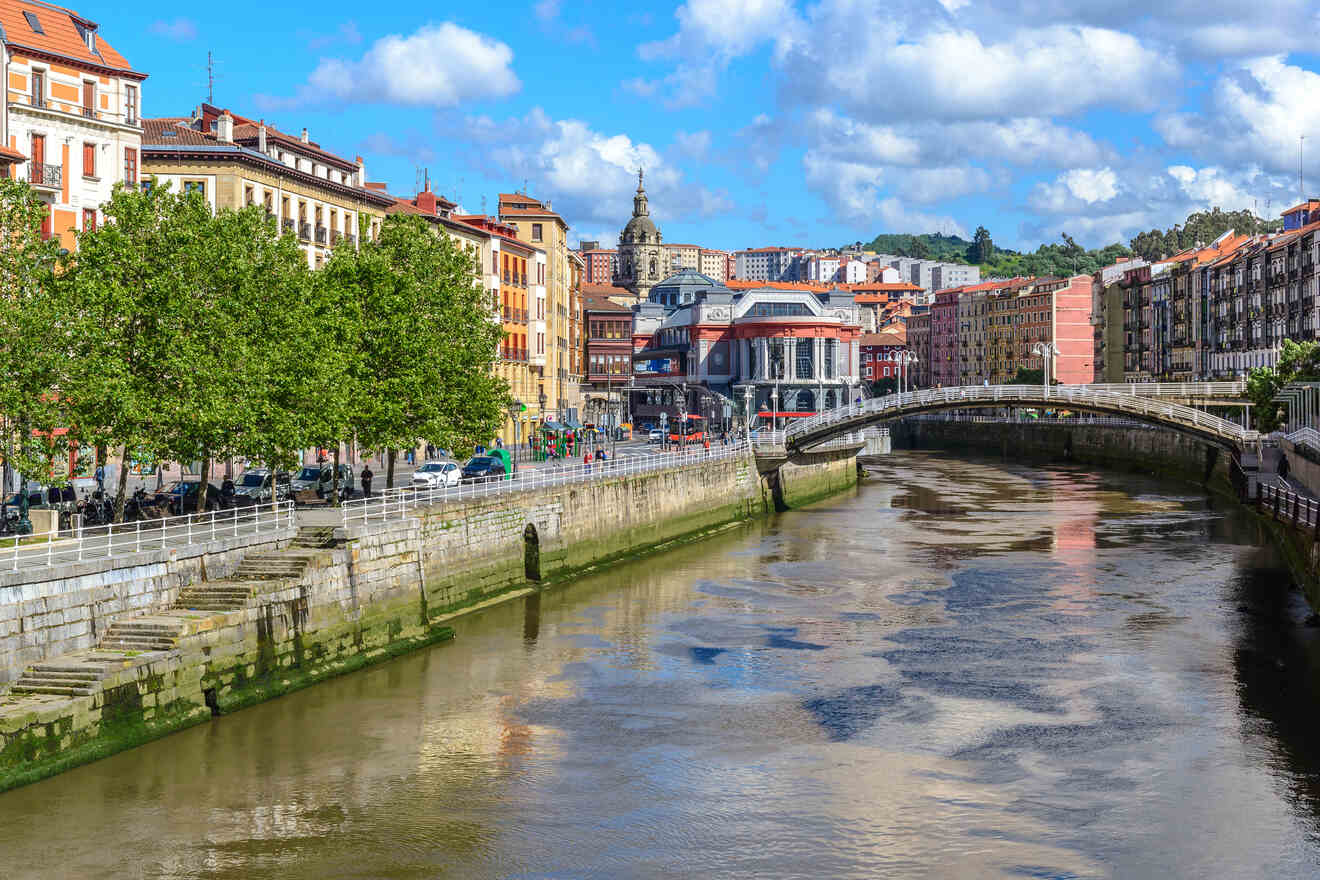 Located just across the river from Casco Viejo, these trendy and hip neighborhoods are one next to another. Their bohemian charm has attracted many young people and couples who love mingling with the locals and exploring the artsy side of Bilbao. Candlelight dinners by the river in the town's best restaurants and rooftop bars make La Vieja and San Francisco the perfect place to stay in town if you're traveling with your loved one.
In La Vieja (also known as "Bilbi") not only will you find many authentic local boutiques, but the areas are also home to Bilbao's best hotels. Remember you need to book them in advance though, this city's popularity has recently peaked, and the best spots book out fast!
Make sure you explore every corner while you stay in Bilbao la Vieja and San Francisco (don't mix it up with the famous one in California, hehe)! Both areas are full of street art and small galleries which showcase modern art exhibitions. You can't get bored in these areas because just when you think you have it figured out, another cafe or vintage shop will pop up on the way.
Although technically Bilbao La Vieja is older than Casco Viejo and used to be an important point on the map because of its port, only a small part of the old buildings were preserved. So now you'll get a mix of modern architecture with some unique vintage details. Either way, nothing can beat the romantic atmosphere of these areas and interesting people.
Luxury hotel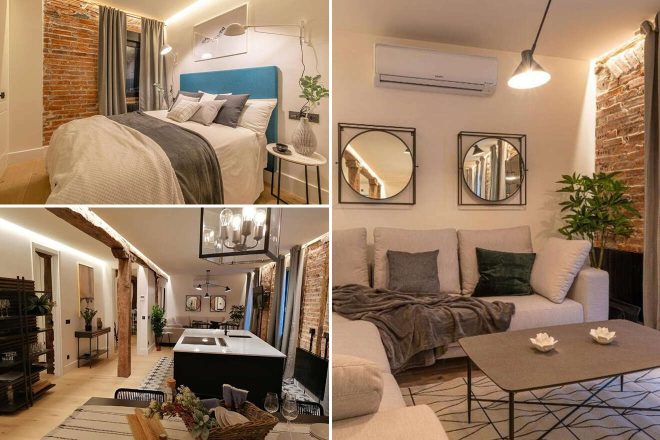 This luxury apartment feels so homie that you'll want to move here! Or at least copy its great interior design. It has a great location and I'm sure couples will love its privacy. Even though it's pretty chilled, it looks like it is also a perfect place for a fun night if you're traveling with friends! 
Other accommodation options in La Vieja
mid-range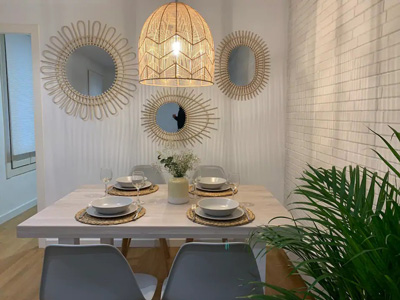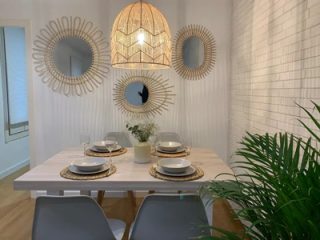 A lovely apartment in Bilbao La Vieja that has an authentic modern design, three rooms, a kitchen, and free wifi
budget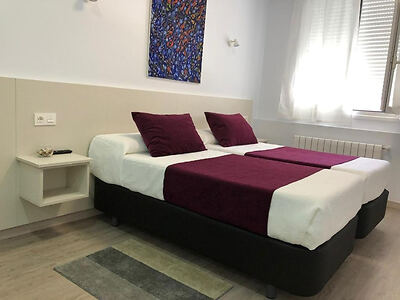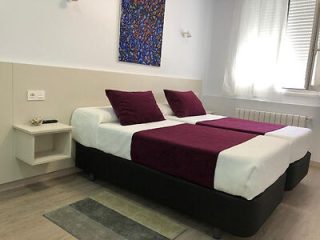 Enjoy your stay in Bilbao best affordable hotel that offers a great location, and spacious rooms
airbnb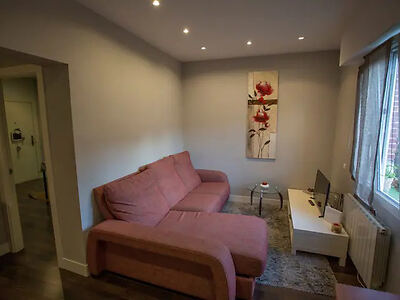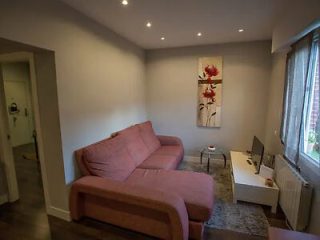 A well-equipped apartment that has two rooms, a nice backyard, a kitchen, and they offer free parking 
Things to do in La Vieja
3. Indautxu – where to stay in Bilbao for nightlife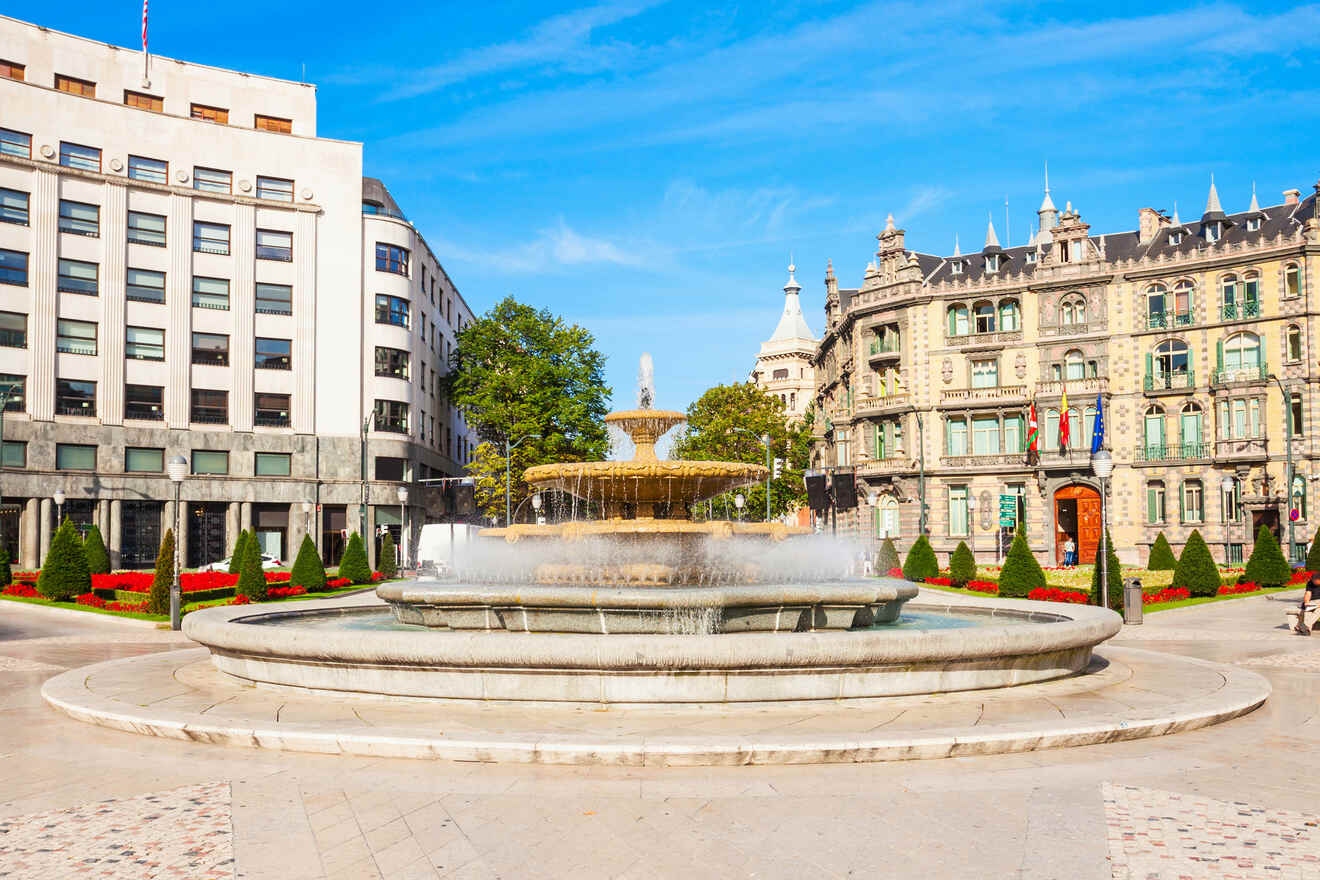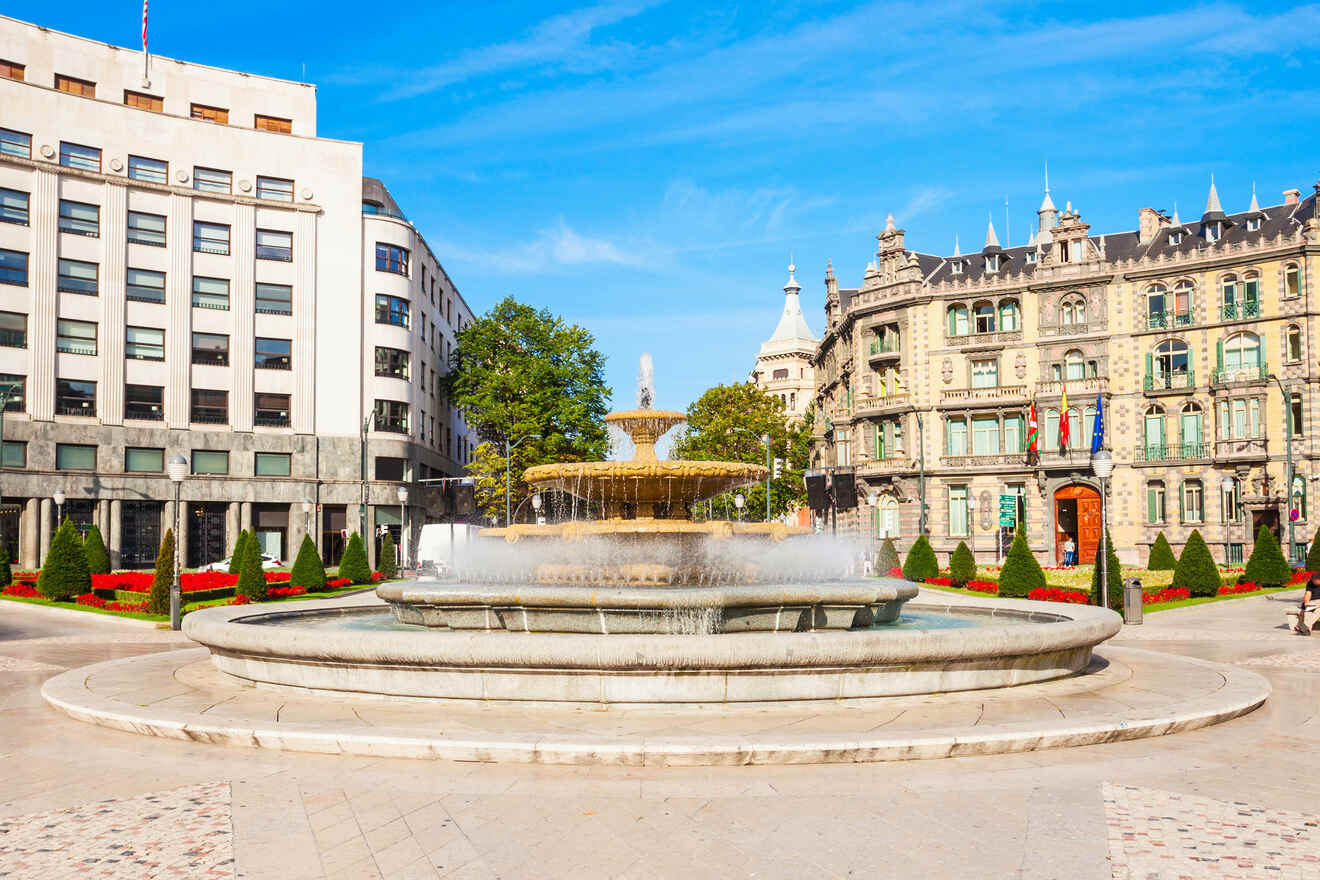 Located west of Casco Viejo, this area is popular among party travelers who love to roam the streets as the sun goes down! Indautxu lies next to the Abando area, where the Guggenheim Museum is located, Bilbao's pride and one of the city's top attractions. But that's for another day, one when you're not hungover after enjoying the nightlife and bars of this bustling area.
From local tavernas to Bilbao's top clubs, there is a place for every type of traveler in Indautxu, although many prefer bar-hopping, so don't be surprised if at night you see tons of well-dressed people with glasses in their hands, walking and laughing as they head to their next destination. Everyone is super friendly, so don't be scared to make new friends in town!
I know you'll also want to see some attractions located in this neighborhood once the alcohol wears off. So you can head to Palacio Euskaldun, it has a unique look, and it's set near the water. They usually hold classical music and rock concerts here, maybe if you're lucky you get to attend one as well! The Azkuna Zentroa cultural center is also located here, and there are tons of activities for both locals and tourists, from exhibitions to art workshops. It's worth a look!
Luxury hotel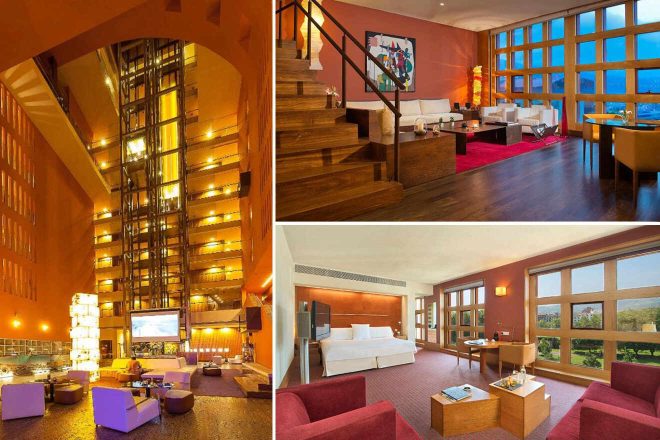 Relax in the heated outdoor pool of this deluxe, modern place to stay after a night of drinking in the town. While you're there, go enjoy the sauna and get a message. I'm sure you will feel like a new person! If you want to grab a bite, this luxury hotel has a restaurant and a stylish lounge area perfect for pre-drinks!
Other accommodation options in Indautxu
mid-range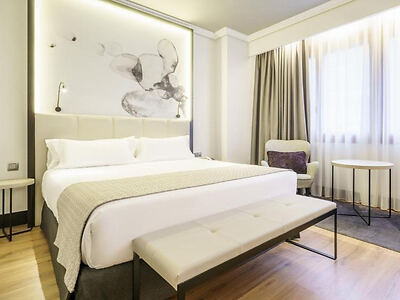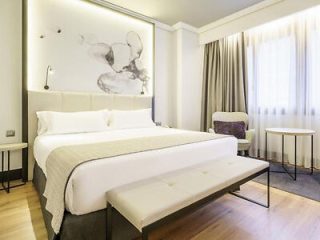 Enjoy the Basque cuisine at the restaurant of this hotel that offers great rooms, a fitness center, and a bar 
budget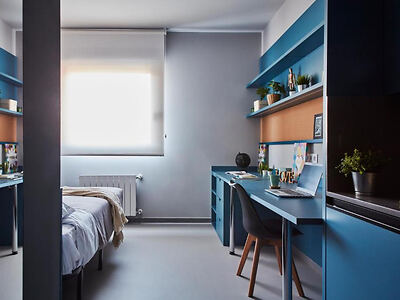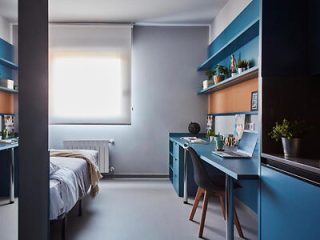 A friendly and affordable place to stay in Bilbao Indautxu that has cozy rooms, a gym, and free wifi
airbnb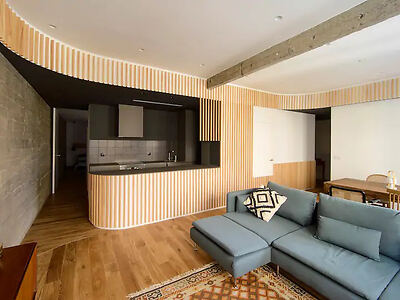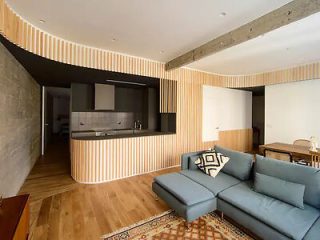 One of the coolest places to stay in town, this apartment is well-equipped, it has two rooms and a kitchen 
Things to do in Indautxu
4. Deusto – best place to stay in Bilbao for budget travelers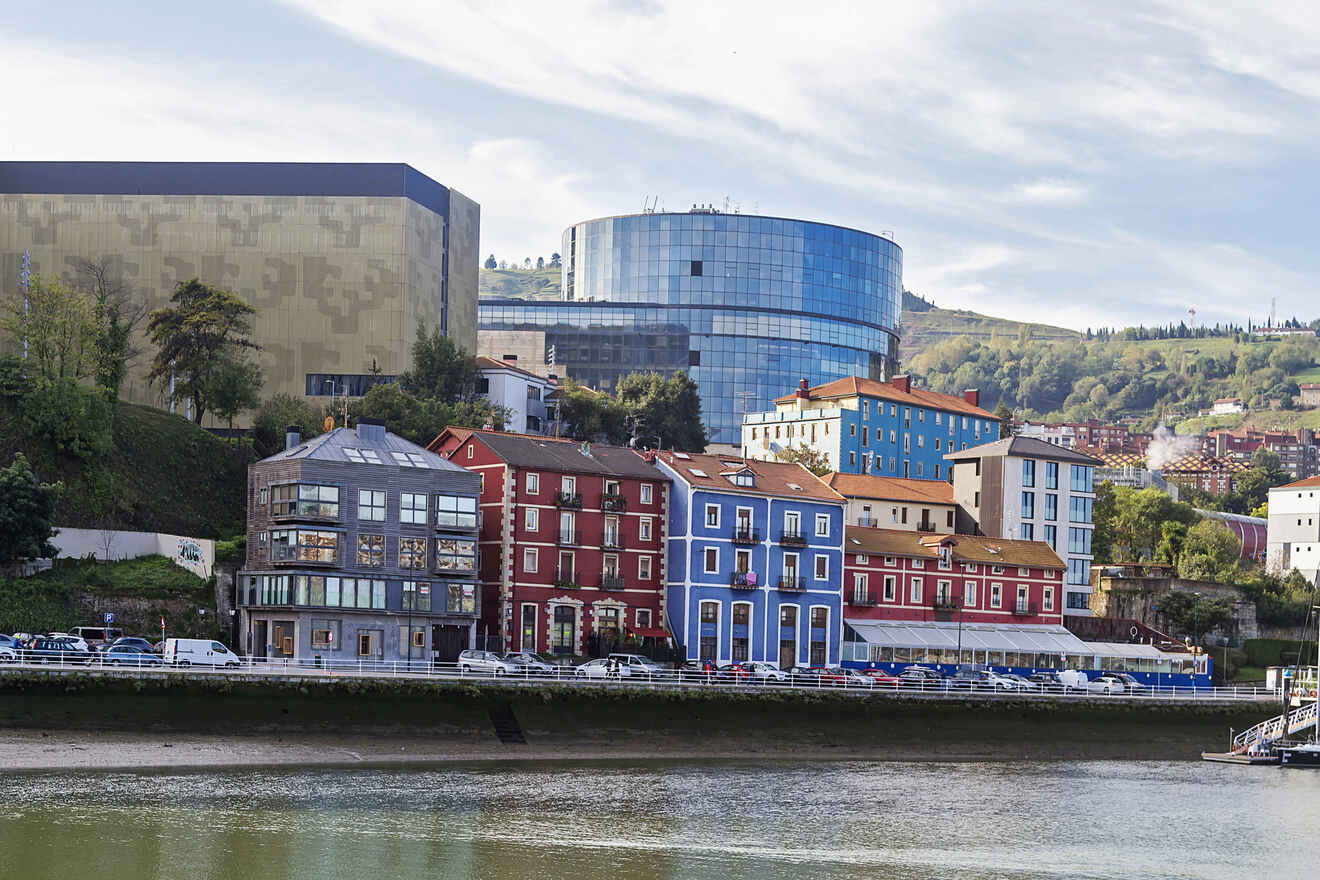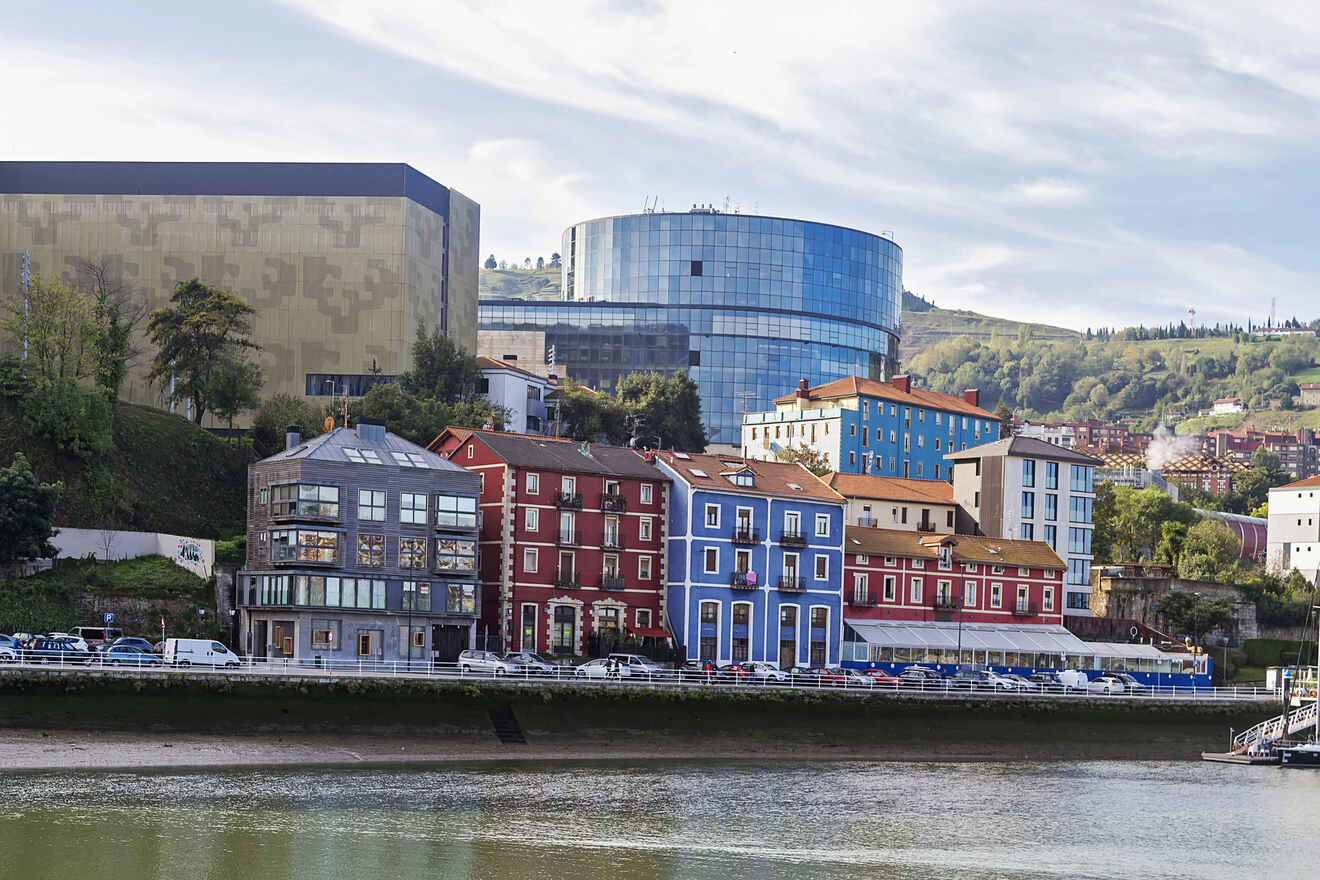 Located northwest of Bilbao's Old Town, this neighborhood is home to one of the city's largest universities, which means that you'll find the most affordable hotels here and lots of young friendly faces! Because the area is mostly occupied by students, restaurants and food prices also tend to be lower, making Deusto the best place to stay in Bilbao if you're traveling on a budget.
The university's campus is located on the riverside, and this is where all the bars are. This is the perfect place to go if you want to drink some cold beer or wine and eat some tapas at a fair price! This part of Bilbao is very chill and if you want to go out for a breath of fresh air, then head to the Botica Vieja Park, a lovely spot where you can have picnics.
Naturally, you'll also find some nightclubs here as it is a student area, but if that isn't your scene, there are plenty of boutique vintage shops that you can explore all day long! During the peak season in the summer, many tourists come to Deusto because it's really close to the northern beaches, so if you're traveling during those months and looking for where to stay in Bilbao, then this area is definitely for you!
Luxury hotel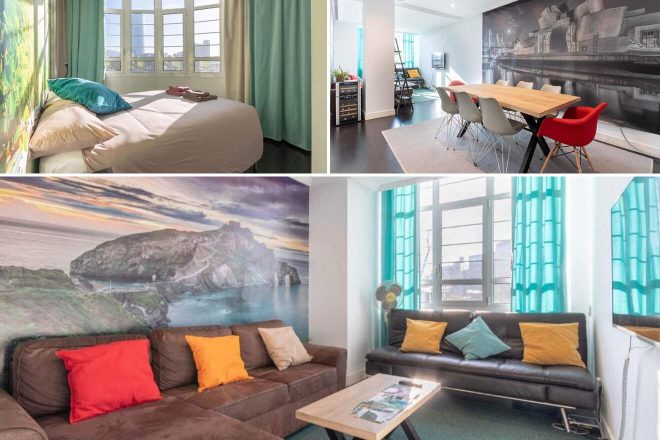 Enjoy a lovely view of the lake from this homie luxury apartment! With a central location in the Dusto area, this place is well-equipped and has three rooms with super stylish décor. There's a kitchen if you feel like cooking for yourself while spending a cozy night in!
Other accommodation options in Deusto
mid-range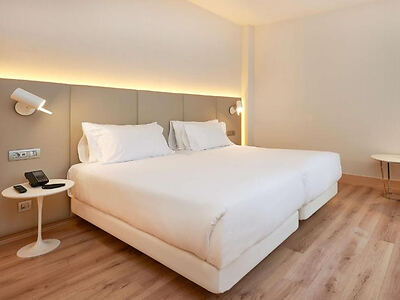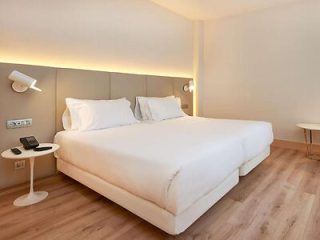 A great choice for your holiday in the city, this Bilbao hotel offers room service and has a restaurant
budget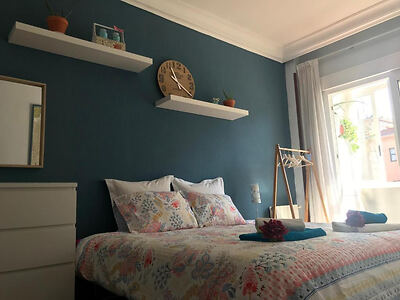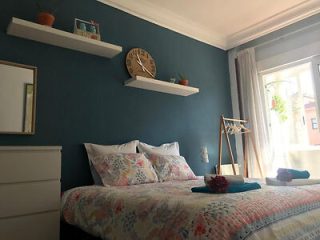 This affordable Basque farmhouse is the best choice for budget travelers. It has a terrace and a bar
airbnb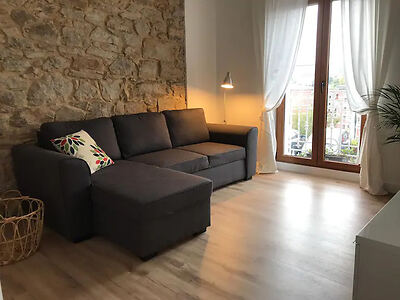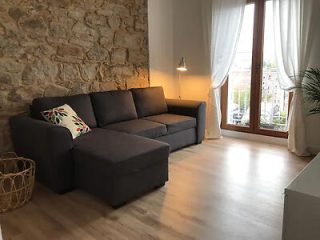 Relax in the backyard of this bright, well-equipped apartment that has nice decor and a kitchen 
Things to do in Deusto
5. Santutxu – where to stay in Bilbao for families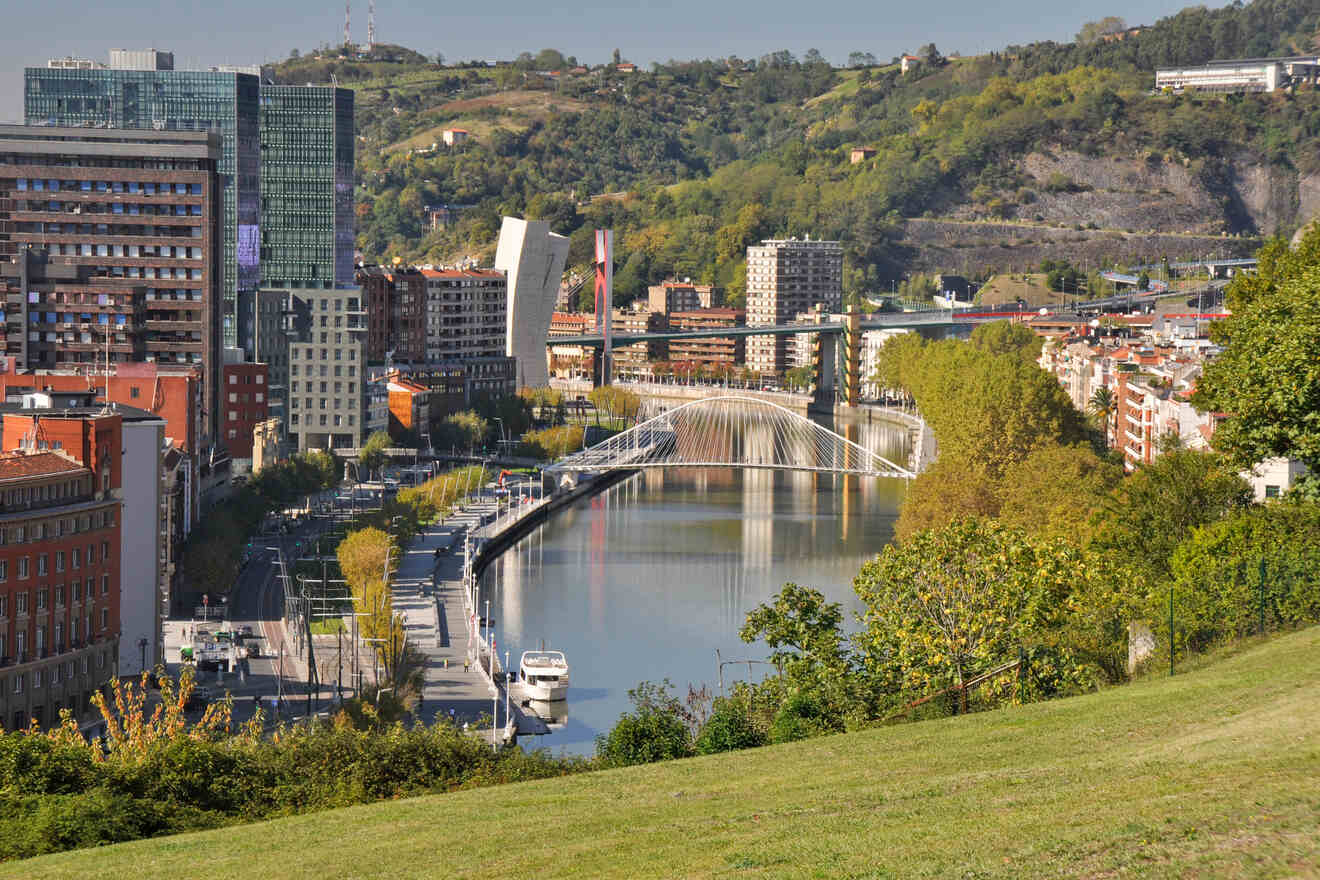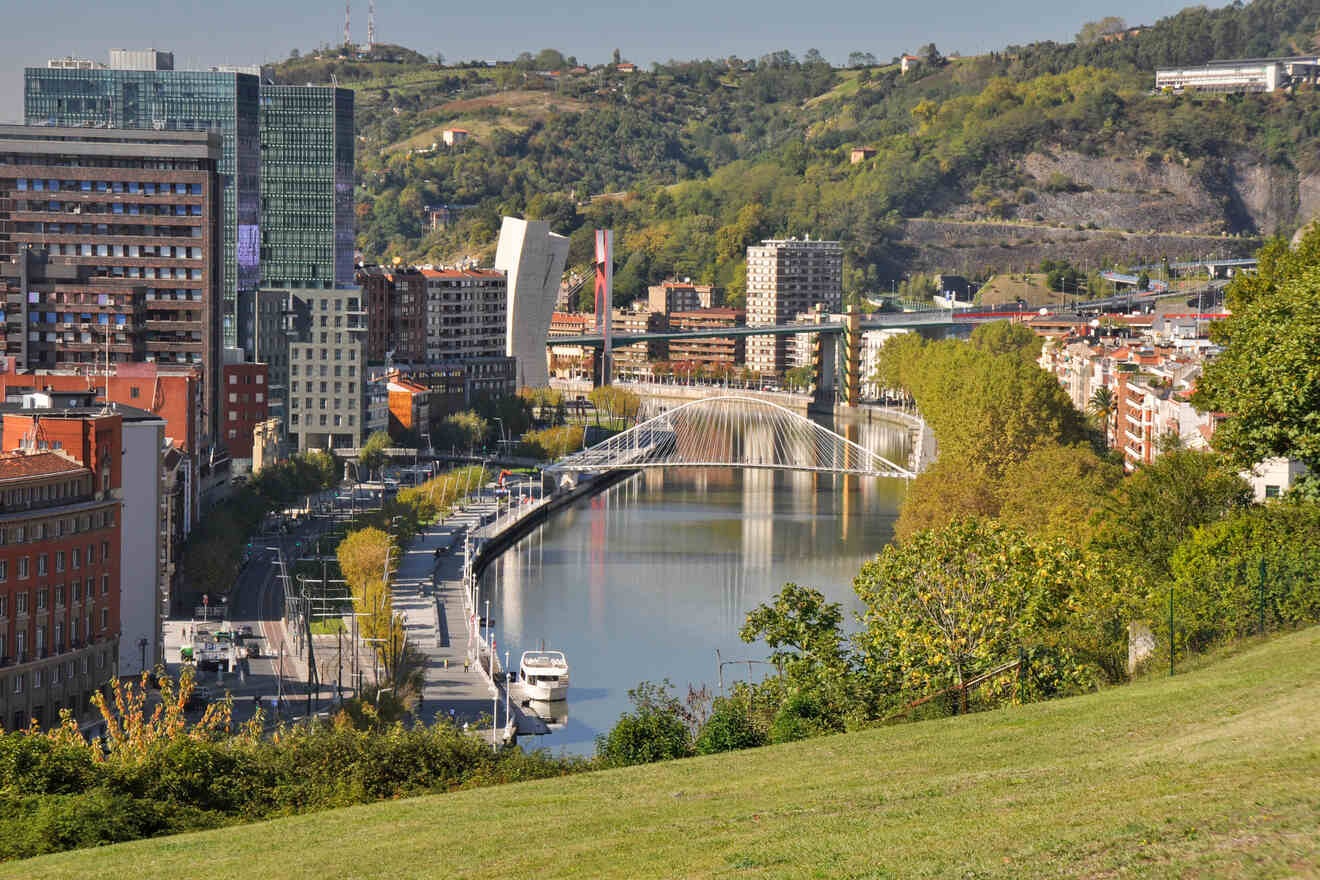 Located south of the Old Town, this residential neighborhood is very peaceful and calm, which means that if you're traveling with the family, Santutxu is the best choice for you. There are many green spaces where you can take the kids to play all day long and maybe have a picnic.
The Larreagaburu Park is nice, although it's quite hilly but I'm sure the whole family will love the adventure. I know I used to go crazy when my parents took us to these outdoor spaces. Remember to pack some comfy shoes and a snack that you can eat while resting and enjoying the best views of the city for a full day of fun.
If the kids don't get bored too easily, you can take them to the Museum of Sacred Art, who knows, maybe they'll enjoy it and learn a few new things during your holiday.
As you can see, for anyone looking for where to stay in Bilbao with the family, Santutxu is the top choice due to its open spaces and kid-friendly activities, like the escape rooms. I don't know why but they're a huge thing in this part of town, maybe they know many parents choose to bring their children here.
My favorite has to be Mad Mansion Escape Room, it's really fun and has different stories suitable for families and English speakers! I'm sure it will take you a while to leave this place after all the fun you'll have!
Luxury hotel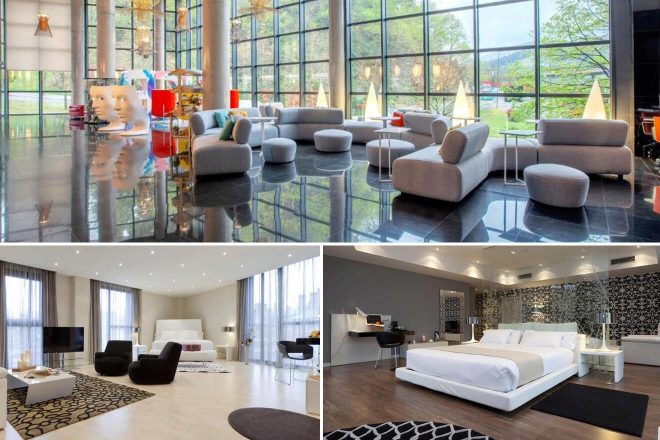 A perfect luxury hotel for your family getaway to Bilbao Spain! With a bright and spacious lounge area where you can relax before going to bed, this hotel has colorful décor, family rooms, and a great restaurant where you can have breakfast before heading out and exploring the city!
Other accommodation options in Santutxu
mid-range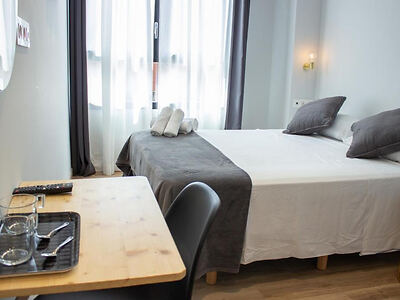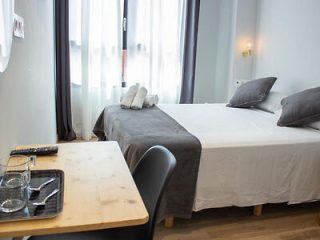 A simple and practical guesthouse that offers family rooms, good wifi, and a private bathroom 
budget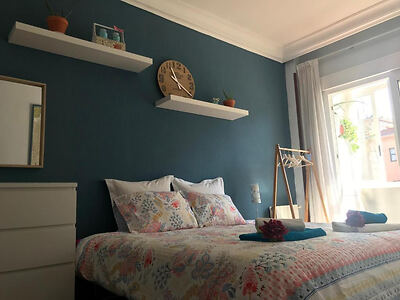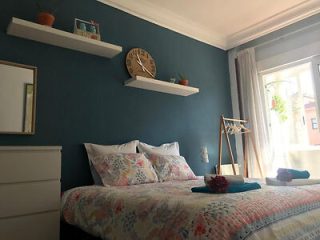 Enjoy your stay in Bilbao in this budget accommodation that has family rooms and an elevator
airbnb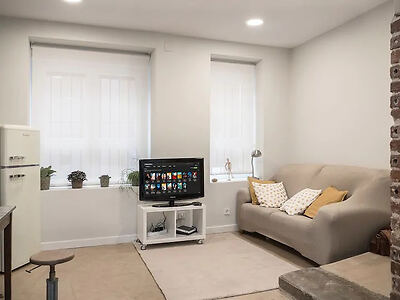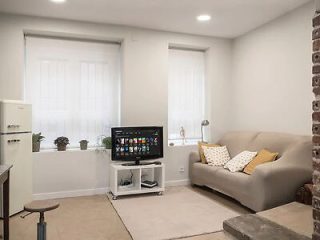 A Bilbao best apartment in the city that offers a good breakfast, a kitchen, and a washer 
Things to do in Santutxu
| | |
| --- | --- |
| 👑 Luxury price: | €200 |
| 💵 Mid-range hotel: | €130 |
| 🛏️ Budget: | €50 |
| 🏠 Airbnb: | €100 |
| 💰 Accommodation prices: | Medium |
| 📍 Best Area: | Casco Viejo |
| 🛎️ Best luxury hotel: | NYX Hotel Bilbao |
| 👛 Best budget hotel: | Quartier Bilbao Hostel |
Frequently asked questions about Bilbao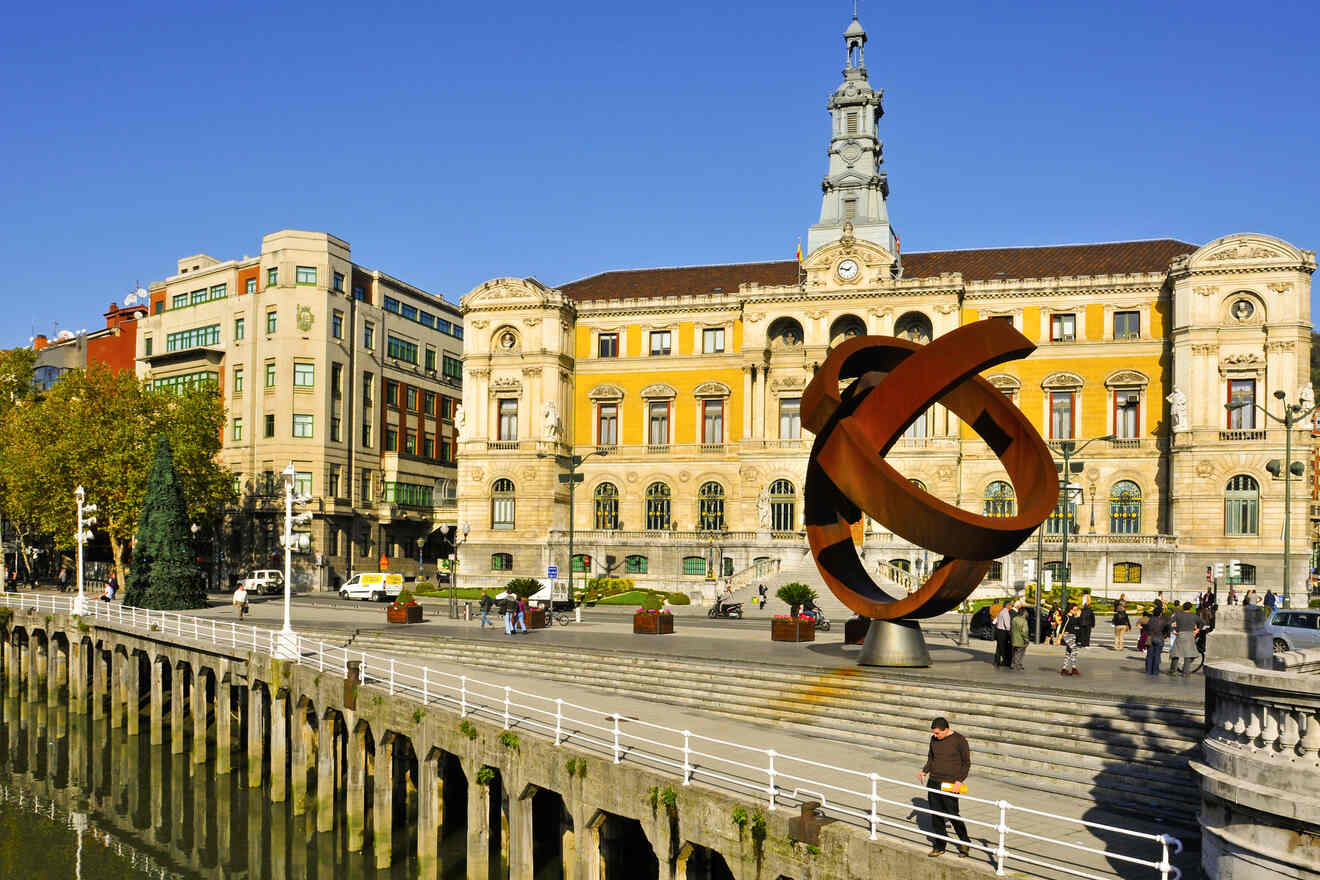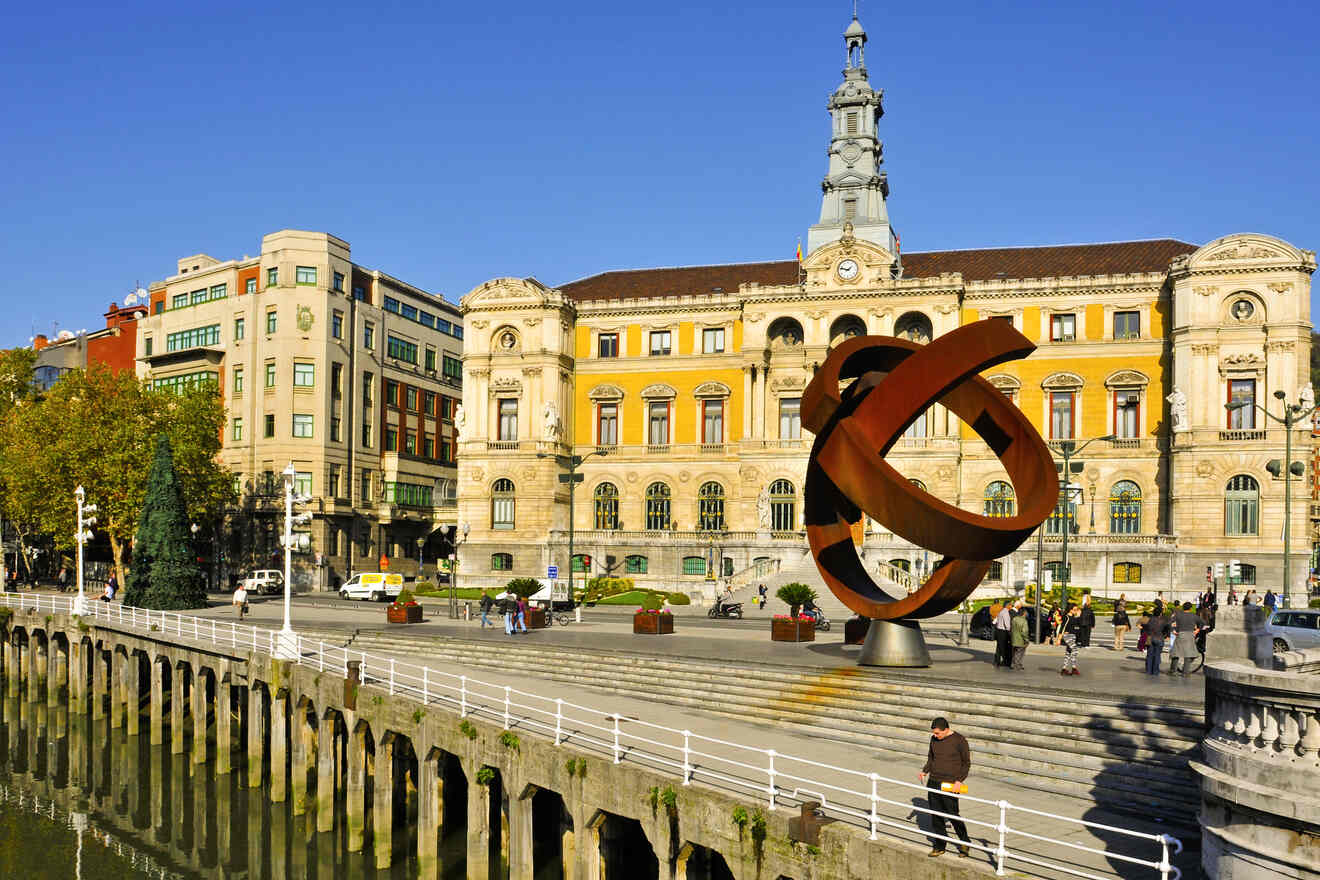 💛 What is the best area to stay in Bilbao?
If you're looking for the best area for where to stay in Bilbao then Casco Viejo (Old Town) is the place for you, this medieval neighborhood is filled with amazing architecture and attractions. The NYX Hotel Bilbao is one of the best hotels in Bilbao that has amazing reviews
🤔 Is it better to stay in Bilbao or San Sebastian?
If you prefer big urban cities with modern architecture, museums, and rich history, Bilbao is one of the best places to stay in Spain. San Sebastian is a small town with beaches and a very laid-back atmosphere.
📆 How many days should I spend in Bilbao?
You should spend between 3 to 4 days in Bilbao, that way you can explore all the big touristy spots like the Guggenheim Museum and still enjoy the nightlife of the city. 
👨‍👩‍👦 Which hotels in Bilbao are good for families?
If you're looking for where to stay in Bilbao with the family, the best hotels are Hotel Gran Bilbao, Pensión B4R, and Logan Rooms. They are well-equipped and have rooms big enough for the whole family.
🌅 What hotels in Bilbao have nice views?
Conclusion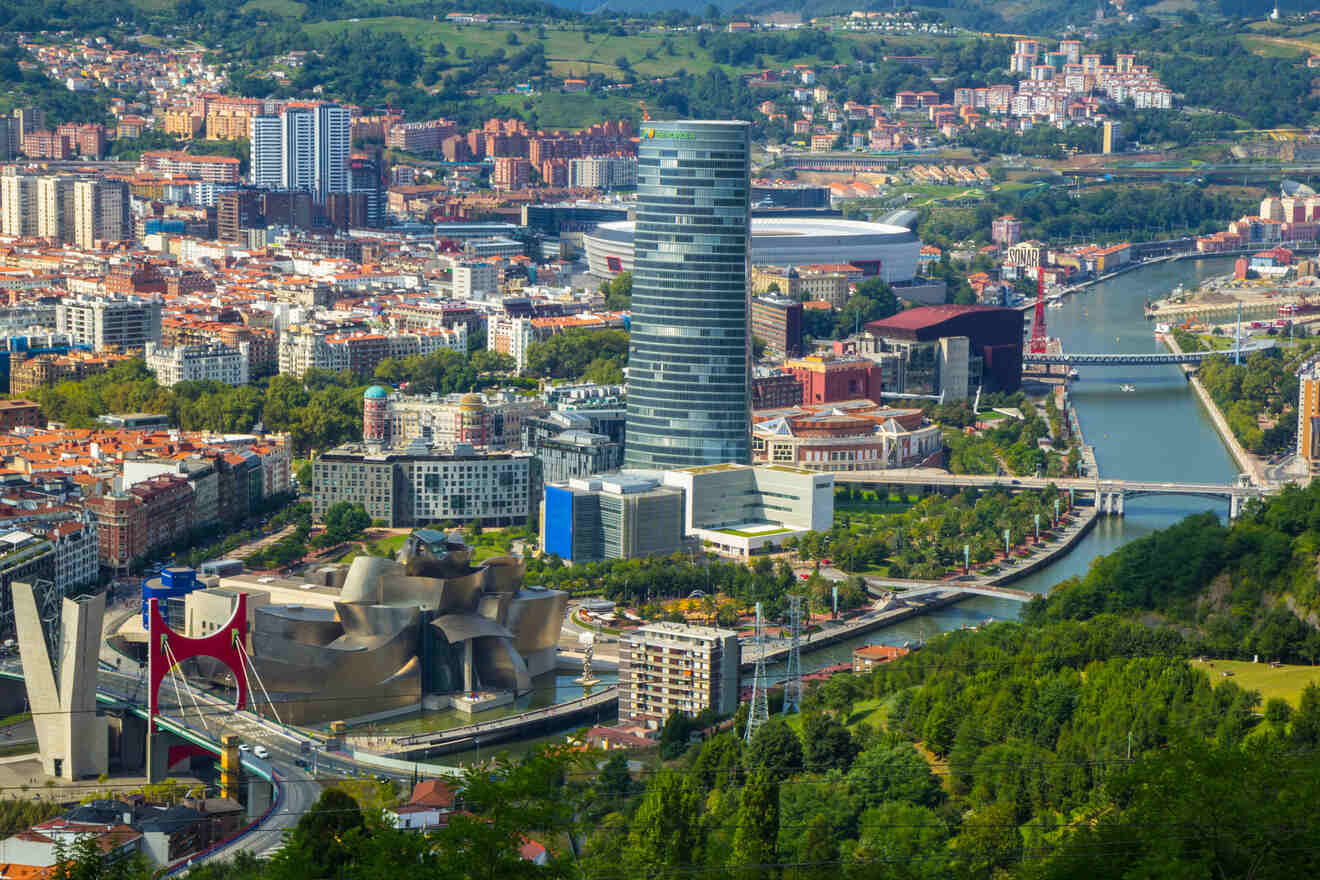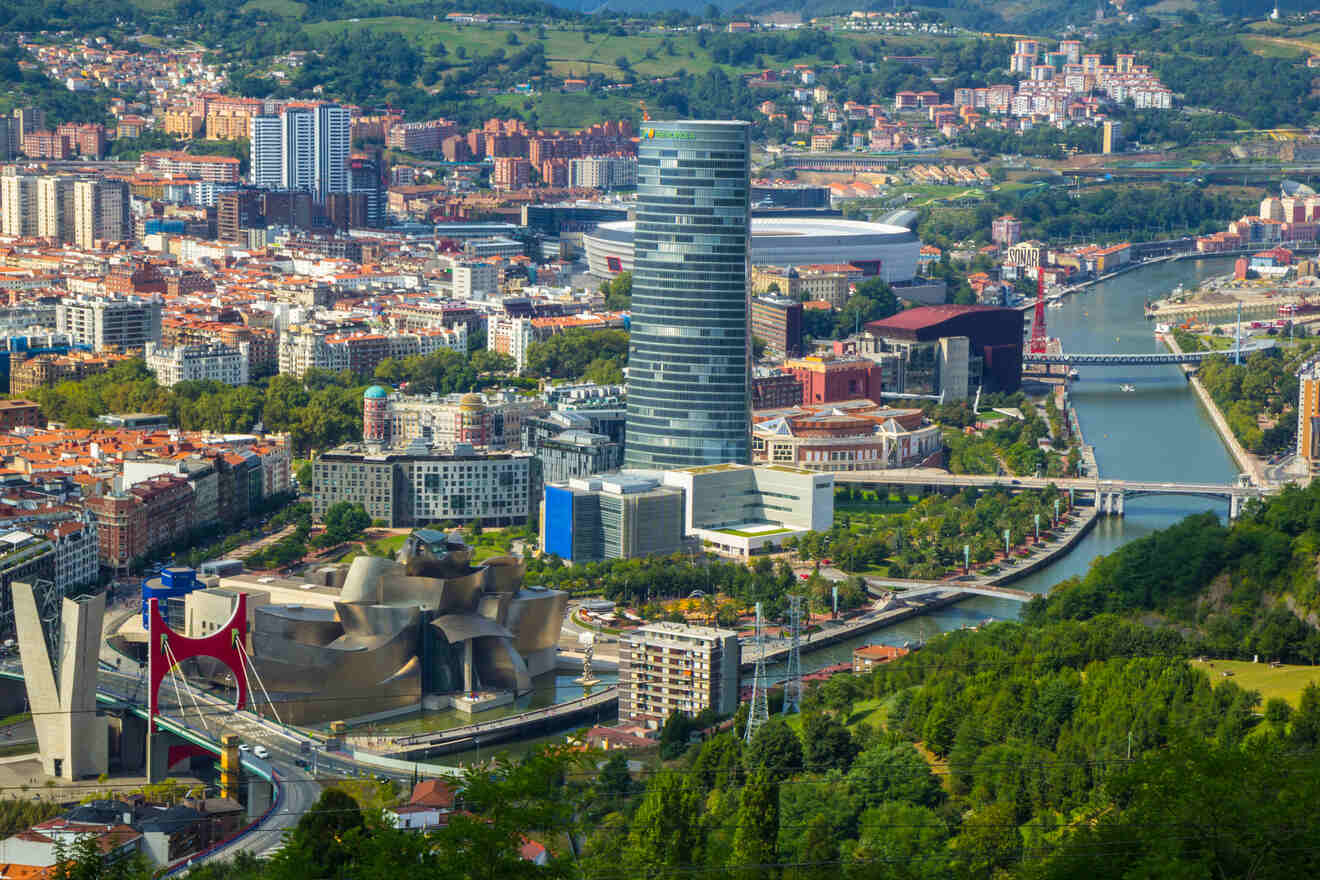 That's it from me, chicos! I hope this article will help you decide where to stay in Bilbao, the best hotels in the Basque Country, and which plaza to visit first!
There are so many amazing places to stay and hotels in this post, but I'll help you out a little more and give you my top two favorites, both located in the Old Town of Bilbao Spain.
Enjoy the amazing Basque cuisine in the city, make sure you visit all the big attractions like the Guggenheim Museum and explore the bohemian streets of Bilbao La Vieja. Don't forget to book your spots in advance as the best hotels certainly go quick these days! Lastly, don't be shy to leave a comment, I love reading them all!
Safe Travels,
Victoria
---
Pin it for later!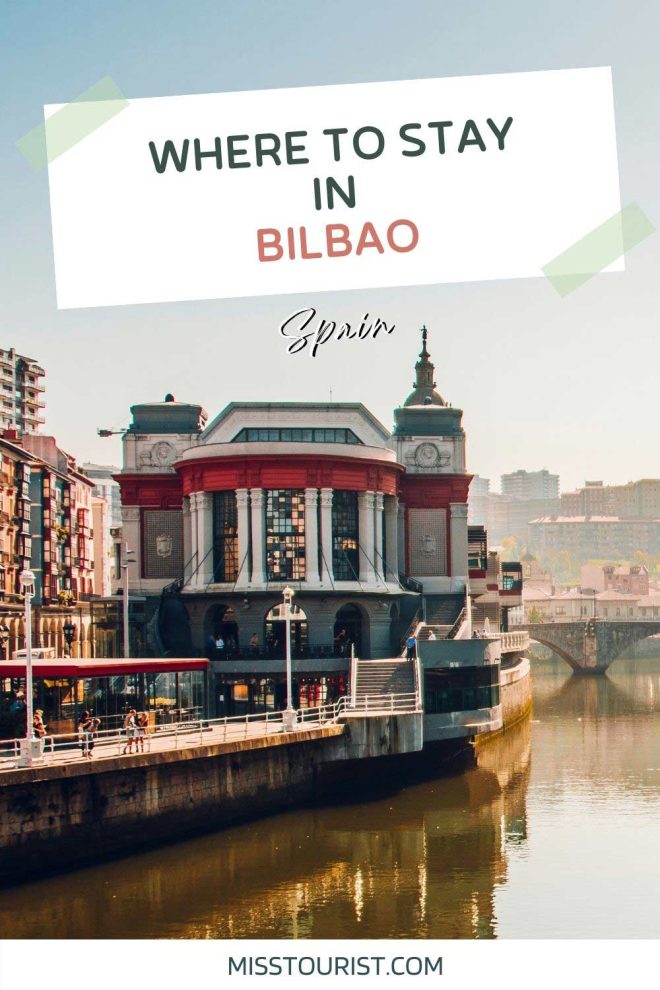 Pin it for later!