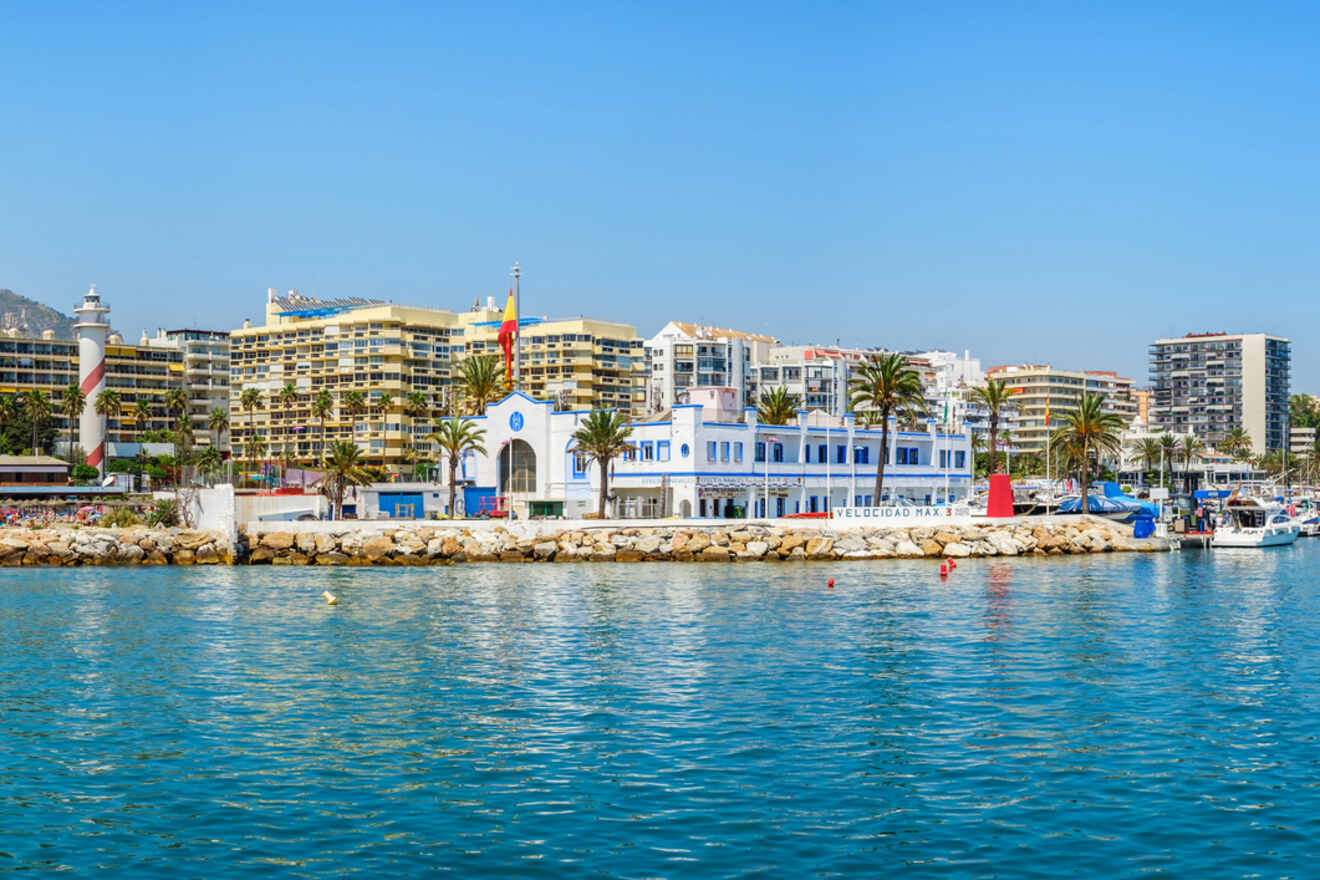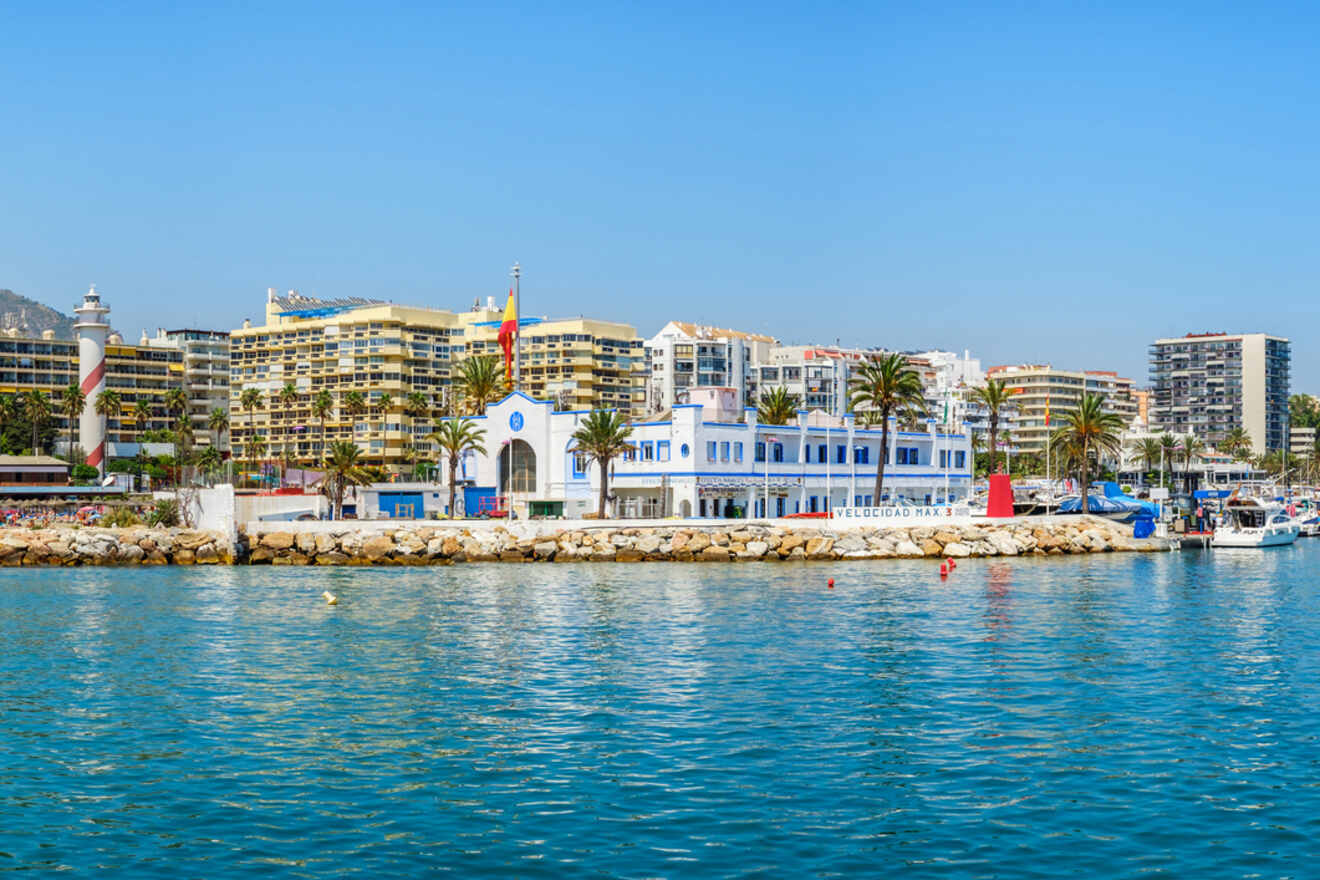 When it comes to beach holiday destinations, there are few places as popular as Marbella. This quaint little coastal city in Spain's Costa Del Sol region attracts hordes of tourists from all over the world every year. Don't be surprised if you run into famous celebrities during your time in Marbella, the likes of Audrey Hepburn, Grace Kelly, and Michael Jackson have all graced these streets in the past!
Whether you are looking for a chilled-out vacation with plenty of sunshine at world-class beaches and resorts lined with orange trees, lively nightlife where you can party from dusk to dawn, or a more urban vacation with a stay in a high rise with picture-perfect golf courses, Marbella has it all.
When thinking of where to stay in Marbella, there is no shortage of options. From 5-star celebrity hotels to cozy beach cabins, there is something here to suit every travelers' preferences and budget. Just make sure you book a few months before your trip so that you don't have to worry about those boring details when you arrive in Marbella.
Marbella is made up of a number of different areas, each with something unique to offer to travelers. So choosing the best location for your interests is the first step while figuring out where to stay in Marbella. Luckily for you, I have done my homework and am here to give you the low down on the best hotels in the top neighborhoods.
Let's go!
If you are in a hurry
Old Town Marbella lets visitors some of the old charms of the city while also being in close proximity to main tourist attractions and Marbella beaches, making it the best location to stay in Marbella. Here is a quick list of the best hotels you can book now if you don't have time to read the whole post:
Here's a handy map to help you understand the lay of the land and the areas of Marbella I will be talking about in this post: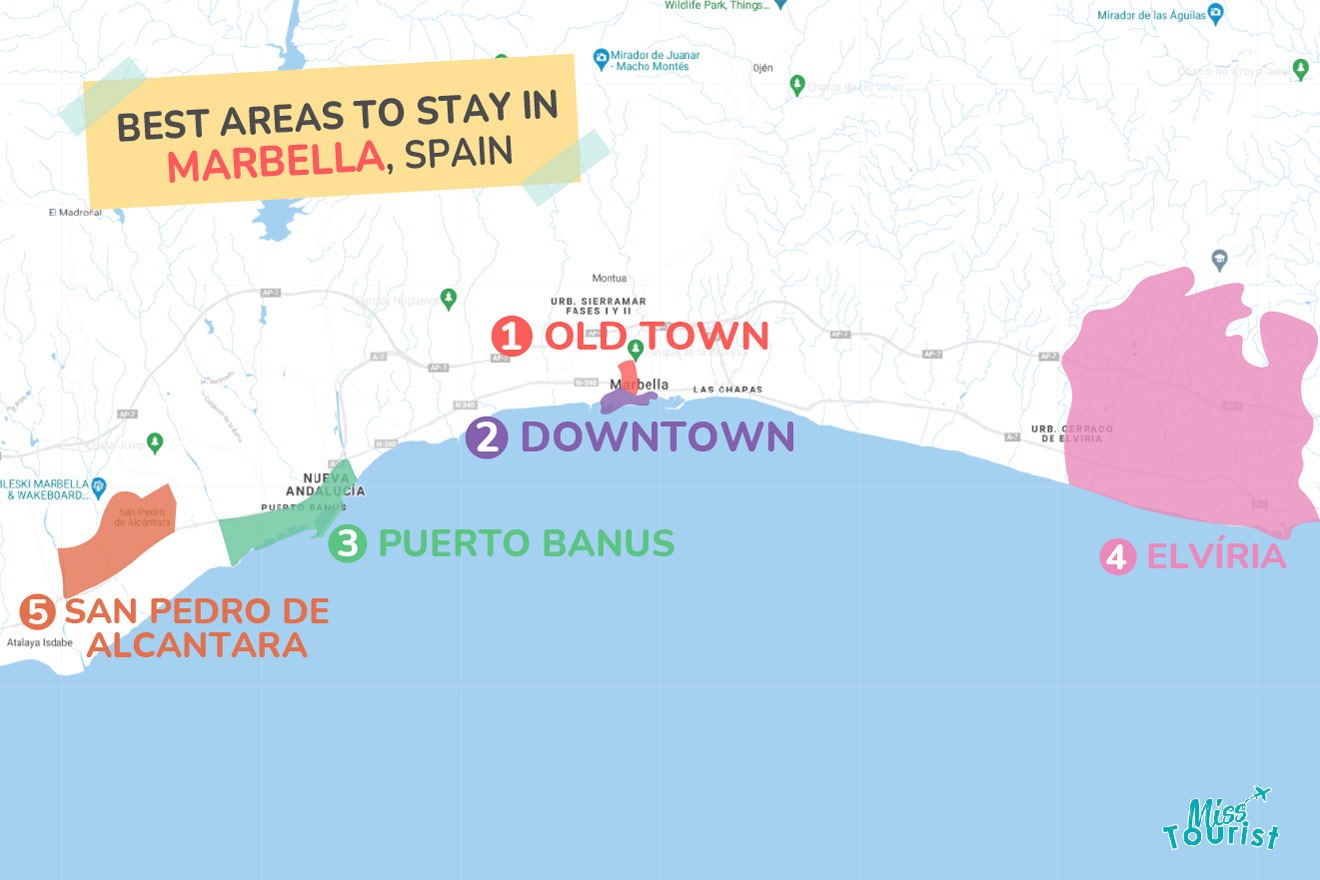 1. Old Town – where to stay in Marbella for the first time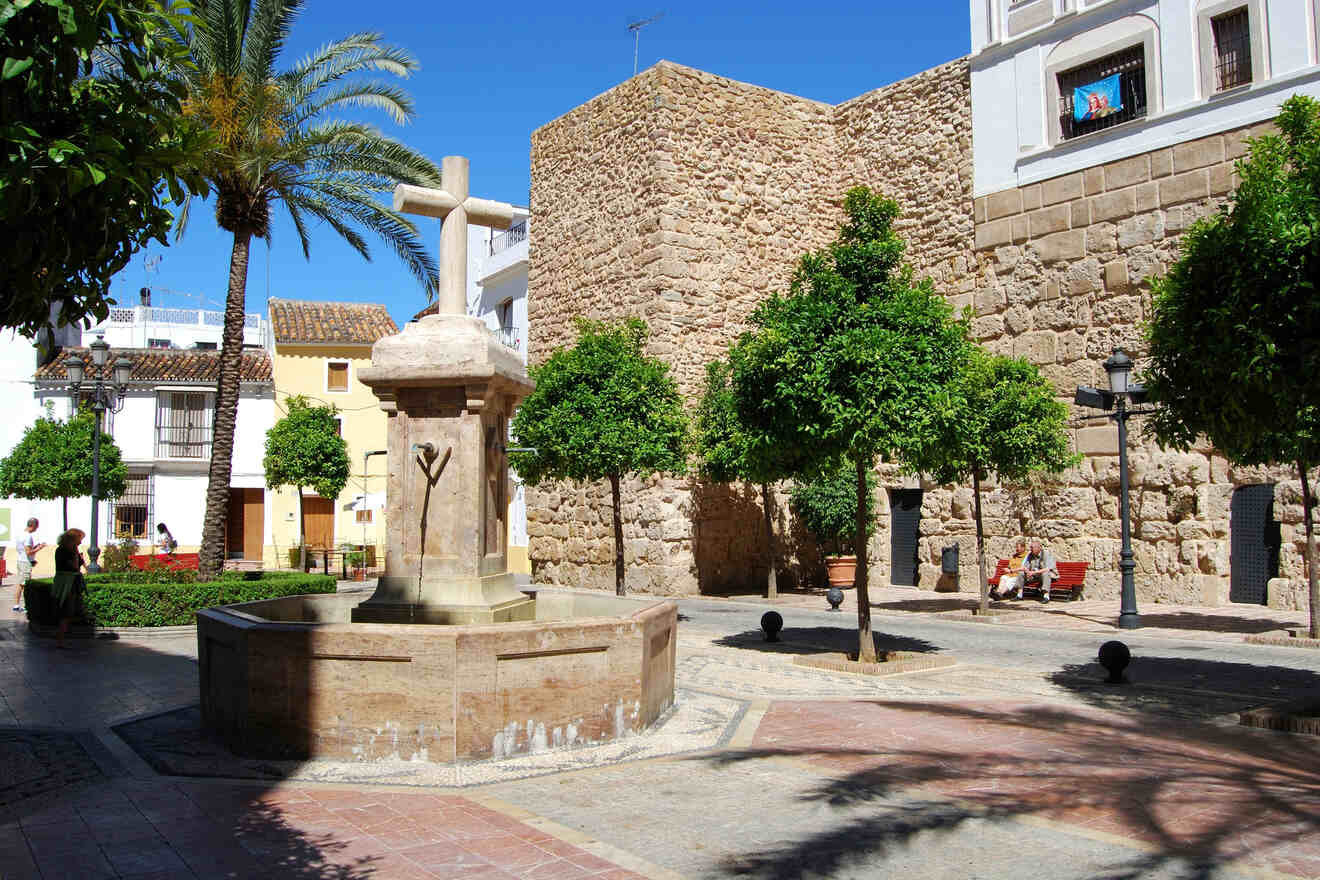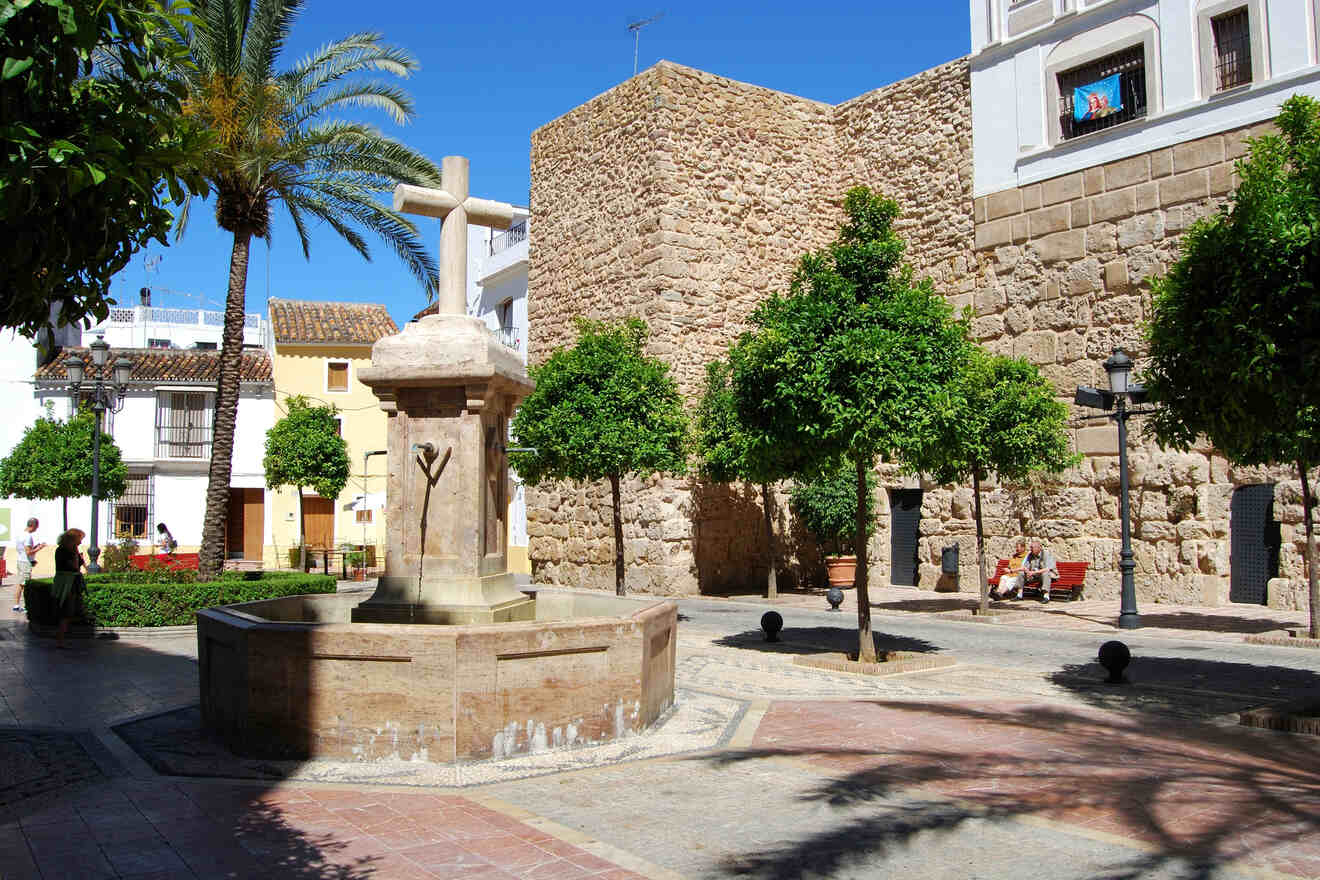 If this is your first trip and you're wondering where to stay in Marbella, then Old Town is the best location for you!
Old Town Marbella is a scenic neighborhood near the heart of the city. The winding, cobbled streets lined with cafes, streetside musicians, and quaint shops encapsulate the old charm of Spain that travelers from all over the world come to experience. The area offers a unique blend of culture, tradition, and historical attractions along with all the trappings of a modern-day holiday destination.
The historic city wall and cobblestoned winding narrow streets lined with whitewashed houses in Old Town are guaranteed to transport you to much simpler times. As this is the Old Town, this is where you can expect to find the majority of cultural attractions in Marbella and although it doesn't have any beaches of its own, you can easily walk to the beaches downtown, so don't worry about that!
Old Town Marbella is a great base for those of you like me who like to explore other areas while on holiday. While you can reach all the tourist destinations within the neighborhood on foot, there is also a bus network that is quite well-developed and connects the Old Town to the City Center, Playa Nagueles, and other major beaches and parts of Spain like Malaga.
Since this is such a popular place to stay in Marbella, make sure to book these hotels in advance, I don't want you missing out on your dream vacation because you were too late!
Luxury hotel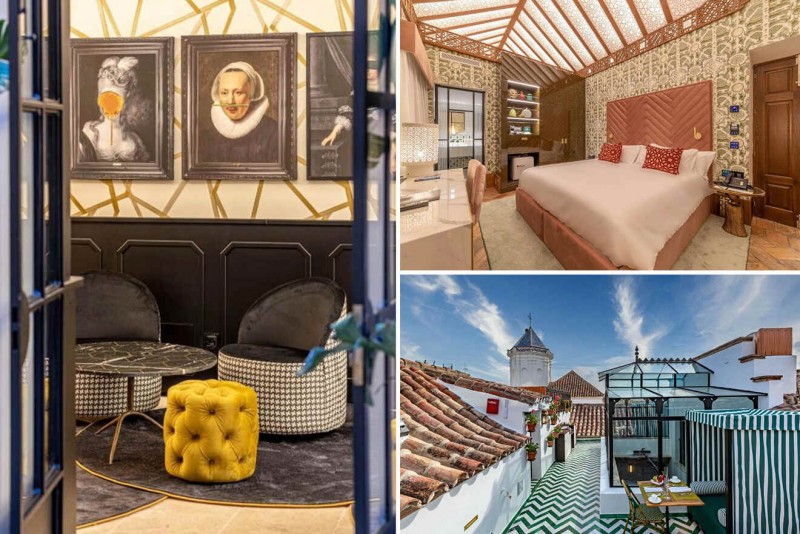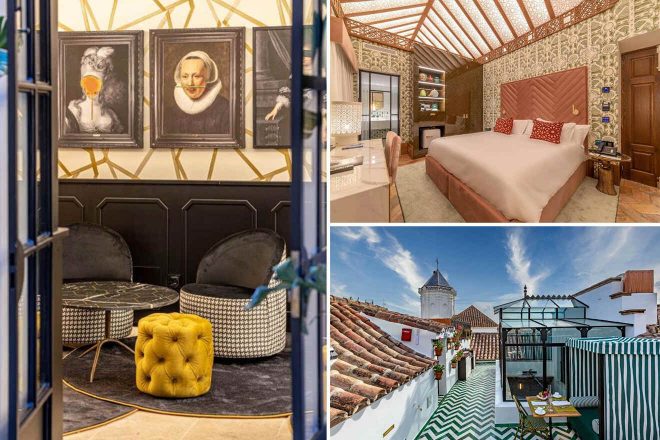 A boutique hotel with terracotta floors, sandstone baths, and luxurious linens that will make getting out of bed a tough task. The hotel is within walking distance of the beach as well as several cafes and restaurants, and has an incredible in-house restaurant too!
Other accommodation options in Old Town
Mid-Range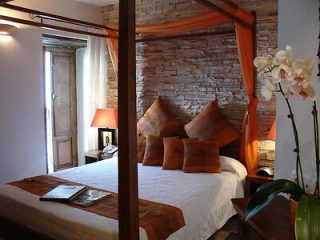 A boutique hotel with a rooftop terrace ideally located near the heart of Marbella
Budget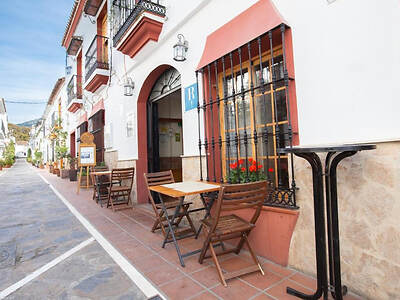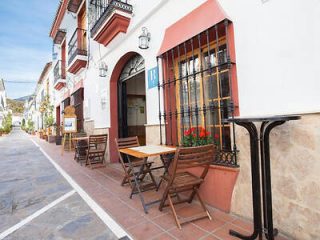 Lovely, spacious rooms in one of Old Town's famous cobblestoned streets
Airbnb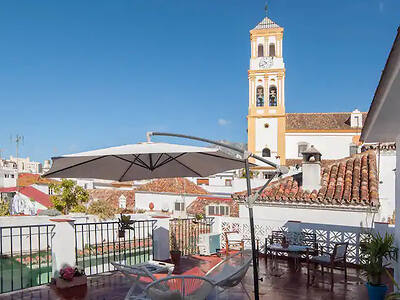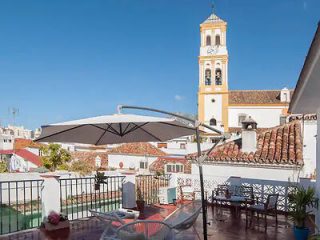 Hardwood floored terrace, and whitewashed floor tiles coupled with a lively interior for an all-around inviting look
Things to do in Old Town
See the Muralla del Castillo
Enjoy the tranquility at Represa Park
Check out the La Encarnación, Marbella
Go to Plaza de los Naranjos (Square of Oranges)
Learn something new at ​​Museo del Grabado Español Contemporáneo
2. Downtown – where to stay in Marbella for shopping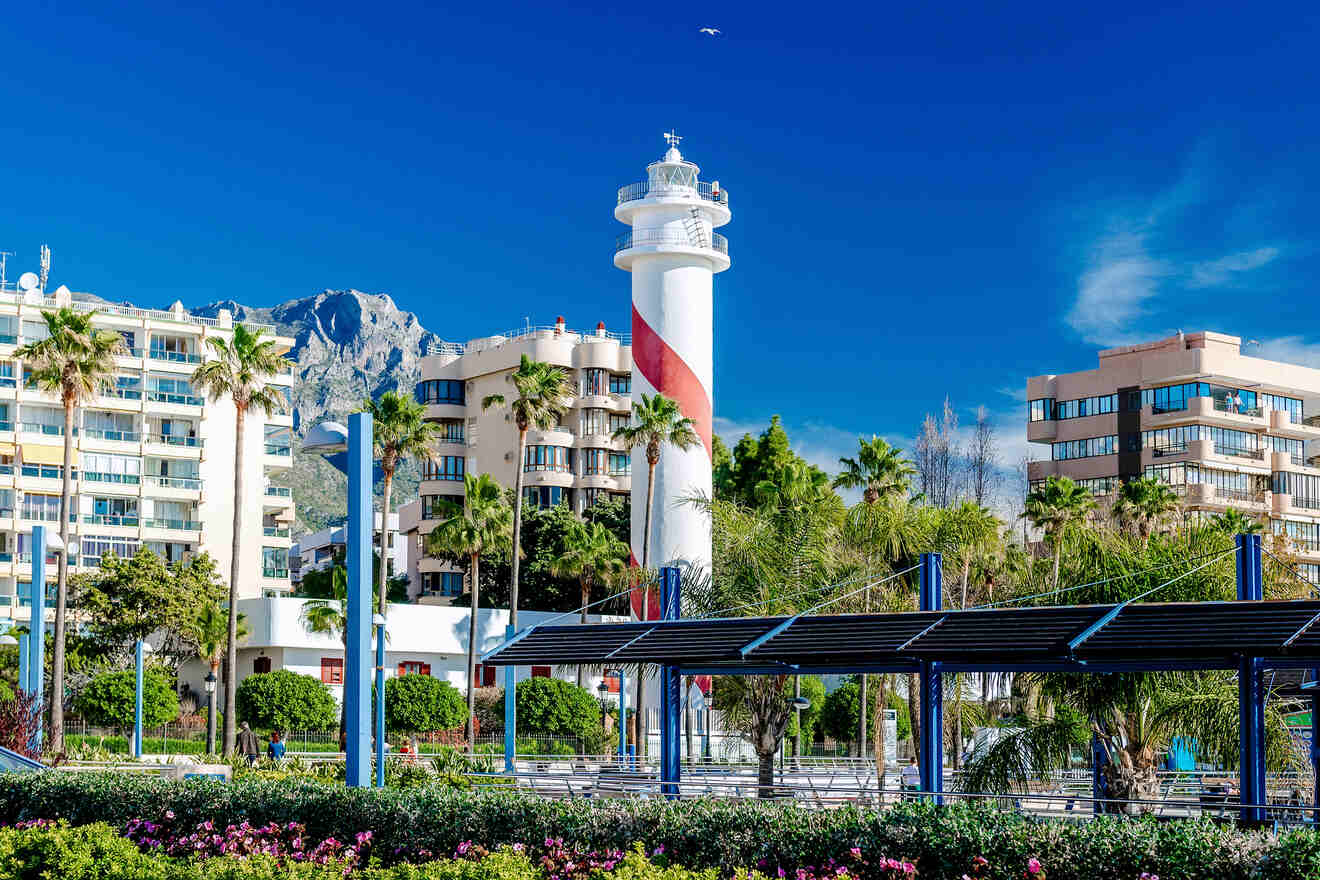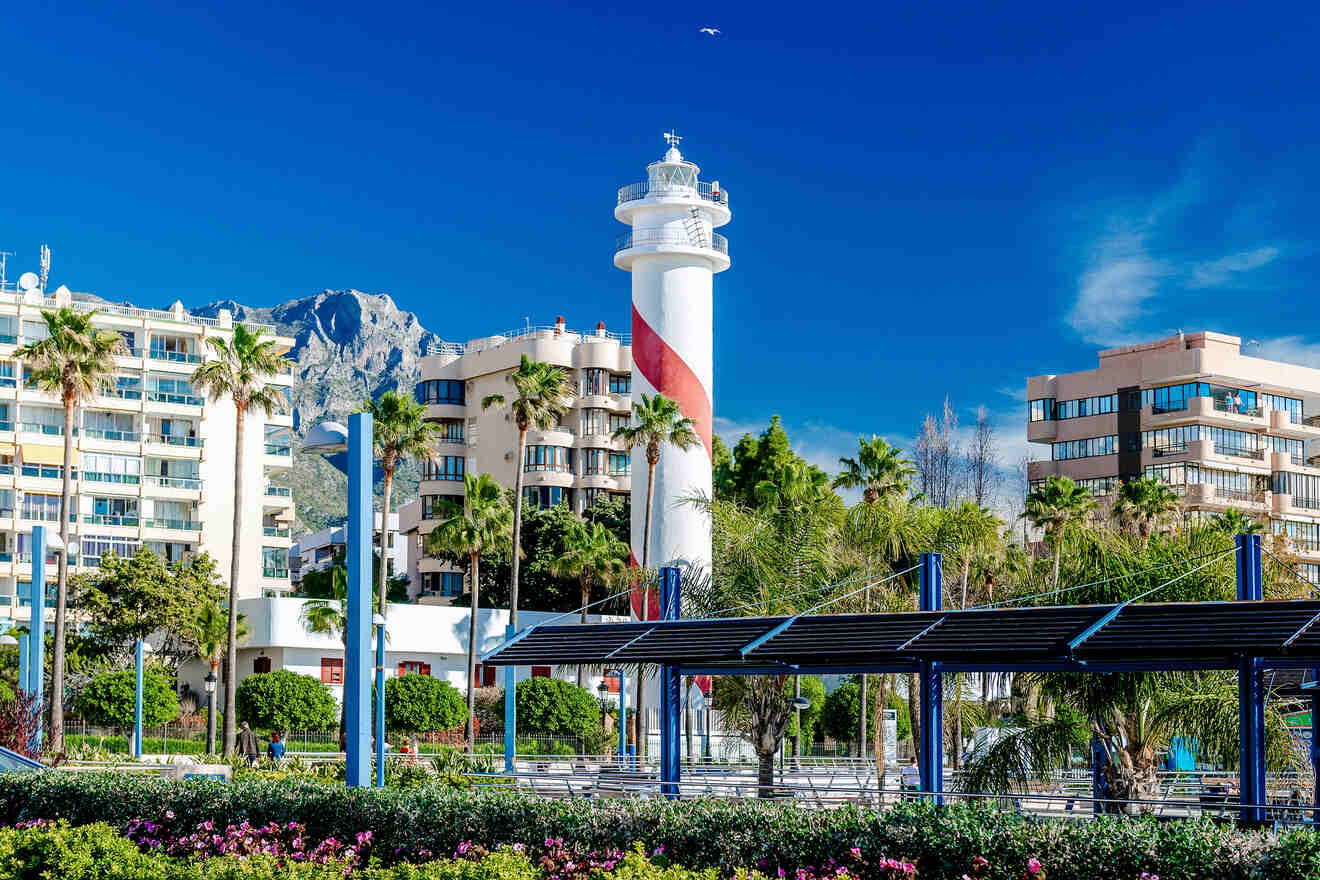 Just south of the Old Town you will find Marbella's Downtown area is ideally located near the city's main street Avenida Ricardo. This bustling mile-long street which ends in the heart of the city is lined with some of Marbella's most popular shops, restaurants, cafes, local markets, and even a wellness center.
I think a trip to Marbella in Costa del Sol is incomplete without a walk down this avenue. Here you get to experience the true essence of the city, especially at the local markets. While you are at it, be sure to pick up a little souvenir here to remind you of your time in Marbella. I am sure you will find plenty of unique options!
The streets of Downtown Marbella are unlike any others you've seen before. Lined with palm trees, flowers, and orange trees, the holiday spirit is in the air! It's so breather by a fountain in the lush green squares.
Something else that is unlike the Downtown areas of most cities, Downtown Marbella has its fair share of beaches such as Venus and Funny beach in close proximity (there's nothing funny about that)!
Luxury hotel
Hotel Lima – Adults Recommended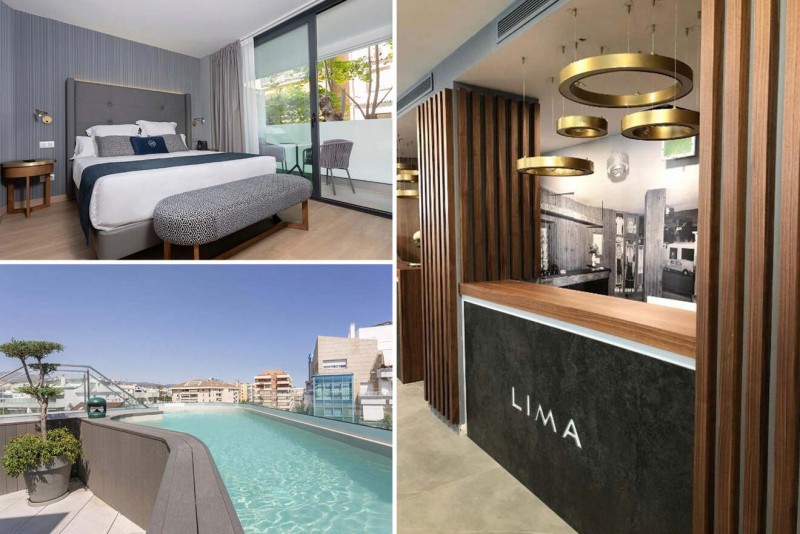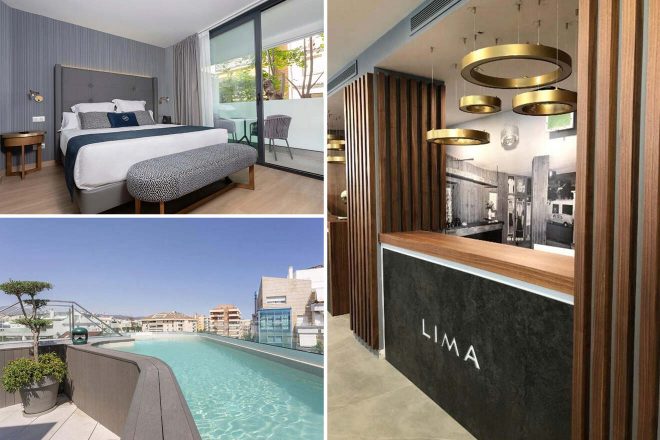 Ideally located just out of the city's main hustle bustle is the Hotel Lima, perfect for when you just want to relax and explore the city at your own pace. After you've spent all day in the numerous boutiques and cafes nearby, treat yourself for a long swim in the incredible rooftop pool!
Other accommodation options in Downtown
Mid-Range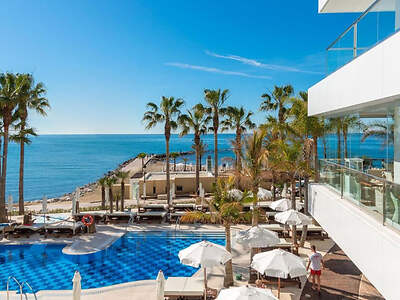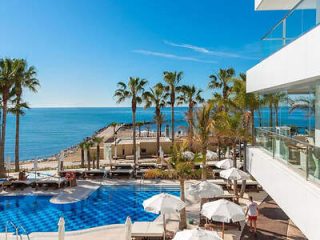 This adults-only hotel is located right on the beach and has one of the most incredible pools for a reasonable price
Budget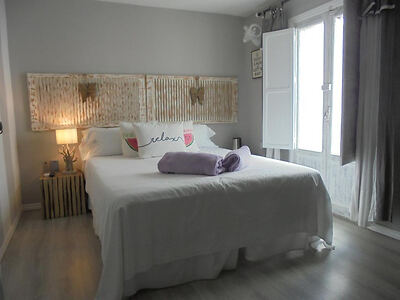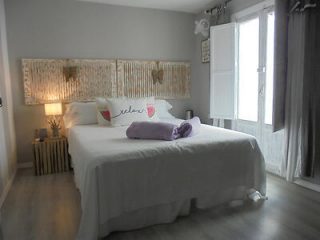 Eclectically designed rooms and lobbies. Beach and water sport activities, and local markets are all available within walking distance
Airbnb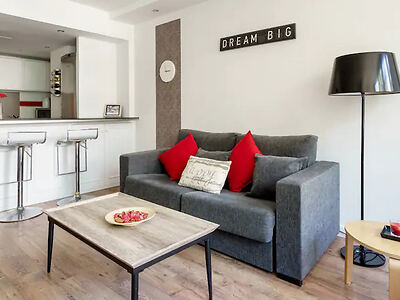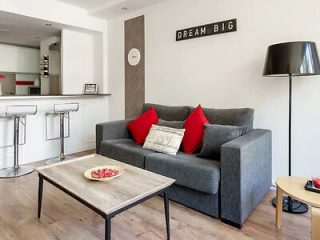 A modern apartment with a quaint charm that truly encapsulates the essence of Marbella
Things to do in Downtown Marbella
Admire the Dali Scriptures at Avenida del Mar
Stroll along Avenida Ricardo and stop to smell the flowers
Visit the Marbella Tower
Visit La Fontanilla at Alemada Park
Shop till you drop at the local markets
Soak up the sun at Venus beach
3. Puerto Banus – Marbella's playground for the rich and famous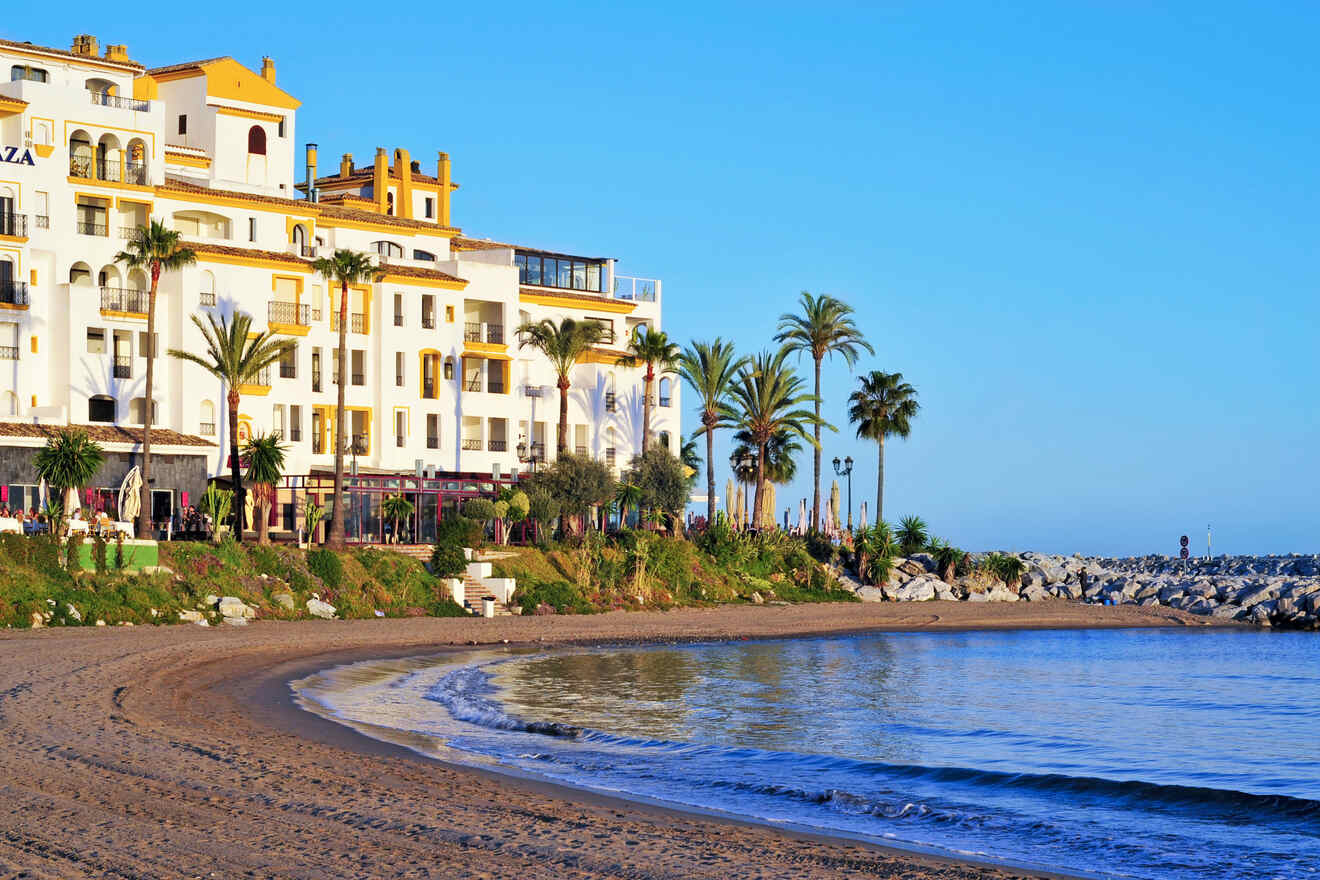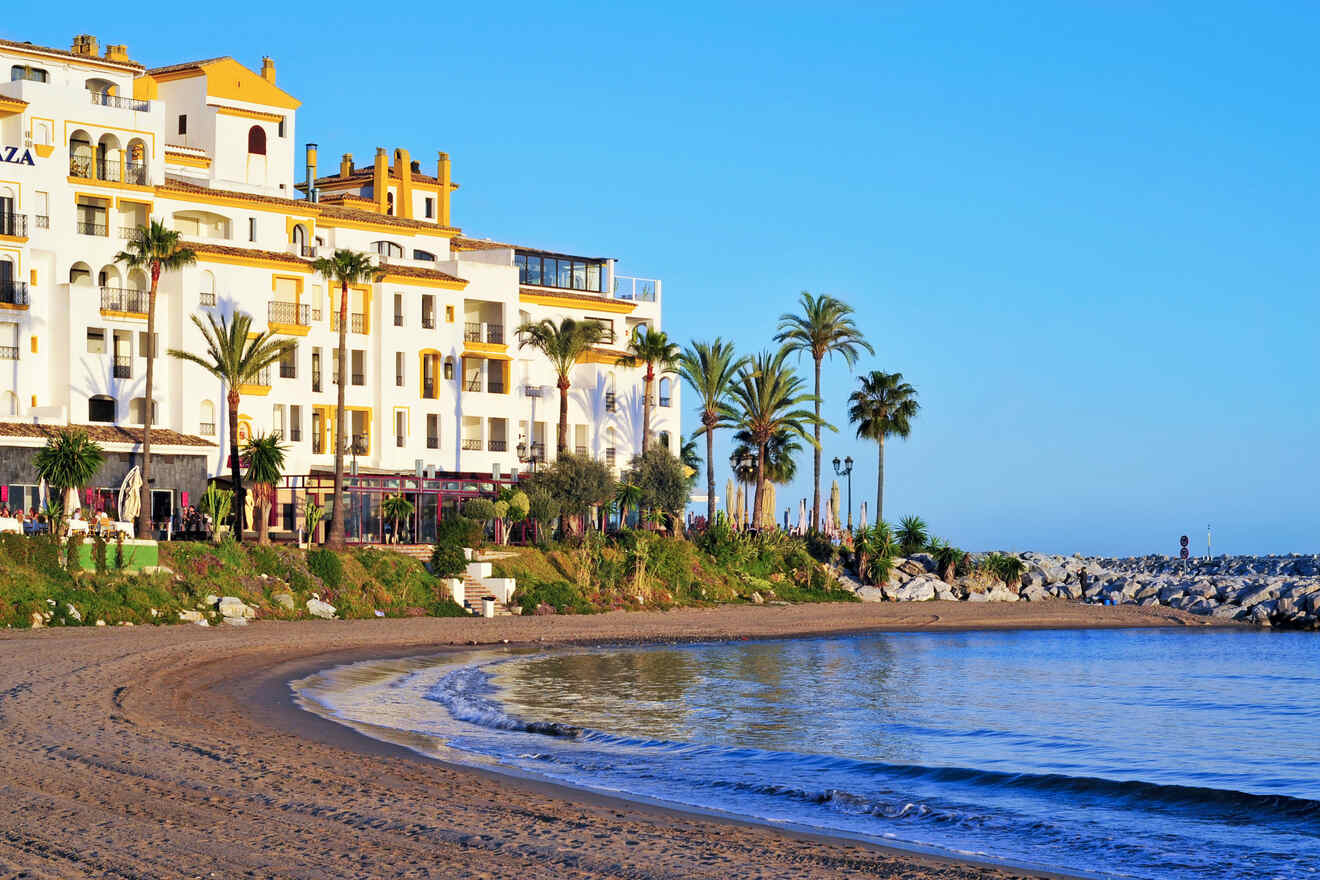 Costa del Sol in general, and Marbella in particular has a legendary reputation as one of the more luxurious holiday destinations, and most of this reputation stems from the ambiance and lifestyle provided in the Puerto Banus district 7 km (4 miles) west of Downtown Marbella.
With luxury beaches, restaurants with delectable menus, designer boutiques, shopping malls, clubs, and high-end spas, Puerto Banus is the ultimate destination for a luxury holiday.
Walking along the Puerto Banus marina, you will come across several high-end dance clubs where you can dance to your heart's content to some of the grooviest beats all night long. The choice of restaurants and cafes here is simply insane, and your only regret would be not being able to try them all. Head towards the dock to see lavish yachts that are more likely than not the party venues of the rich and famous.
There are plenty of places to stay in Puerto Banus, and while most places here are luxurious villas and apartments with everything from an outdoor swimming pool, beach area, and golf course, you can also find some mid-range and budget options too. If you prefer a luxury spa resort, check out my bonus below for the absolute creme de la creme, 5-star resorts on the Golden Mile, just east of here.
Here are your top 4 options for each budget in Puerto Banus:
Luxury hotel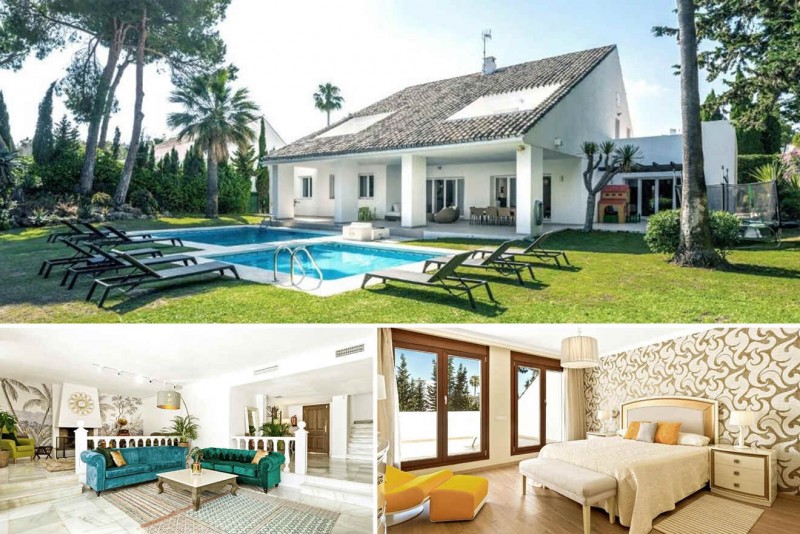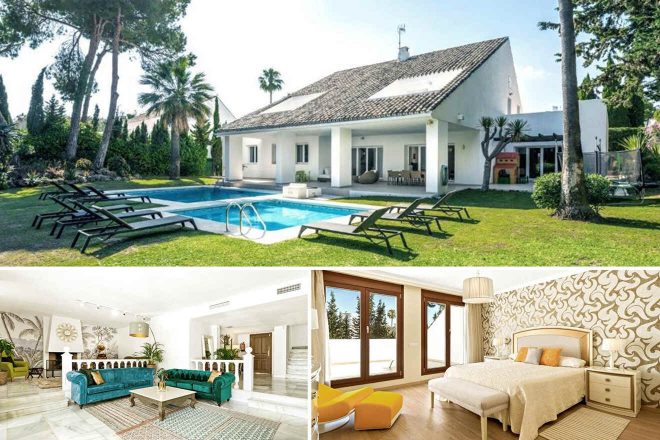 Enjoy the luxury and exclusivity that Puerto Banus is famous for at the private villas in Villa Marna. Each villa is equipped with the usual in-room luxuries, as well as an outdoor pool, barbeque area, and a furnished terrace.
Other accommodation options in Puerto Banus
Mid-Range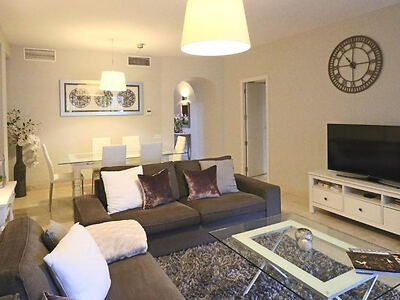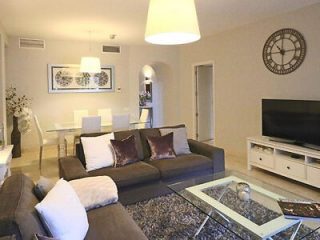 A 2 bedroom apartment with an onsite casino, bbq grill, outdoor pool, and free wifi
Budget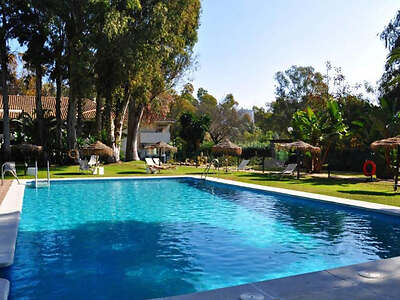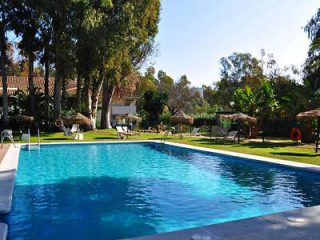 A modern 1 bedroom apartment with all the amenities to ensure a comfortable stay
Airbnb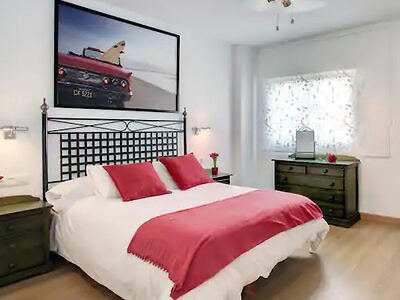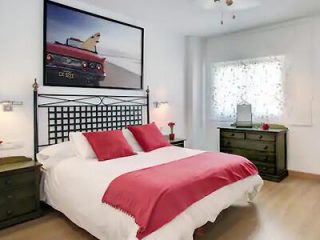 Beautiful apartment with the beach, various shops, cafes, and restaurants all within walking distance
Things to do in Puerto Banus
Charter a boat or a yacht at the harbor
Swim and sunbathe at Puerto Banús
Go shopping at the Banus Marina mall
Try your luck at Casino Marbella
​​Visit Villa romana de Río Verde
Have a drink at Havana Hemingway
4. Elvíria & Nikki Beach – where to stay in Marbella for beaches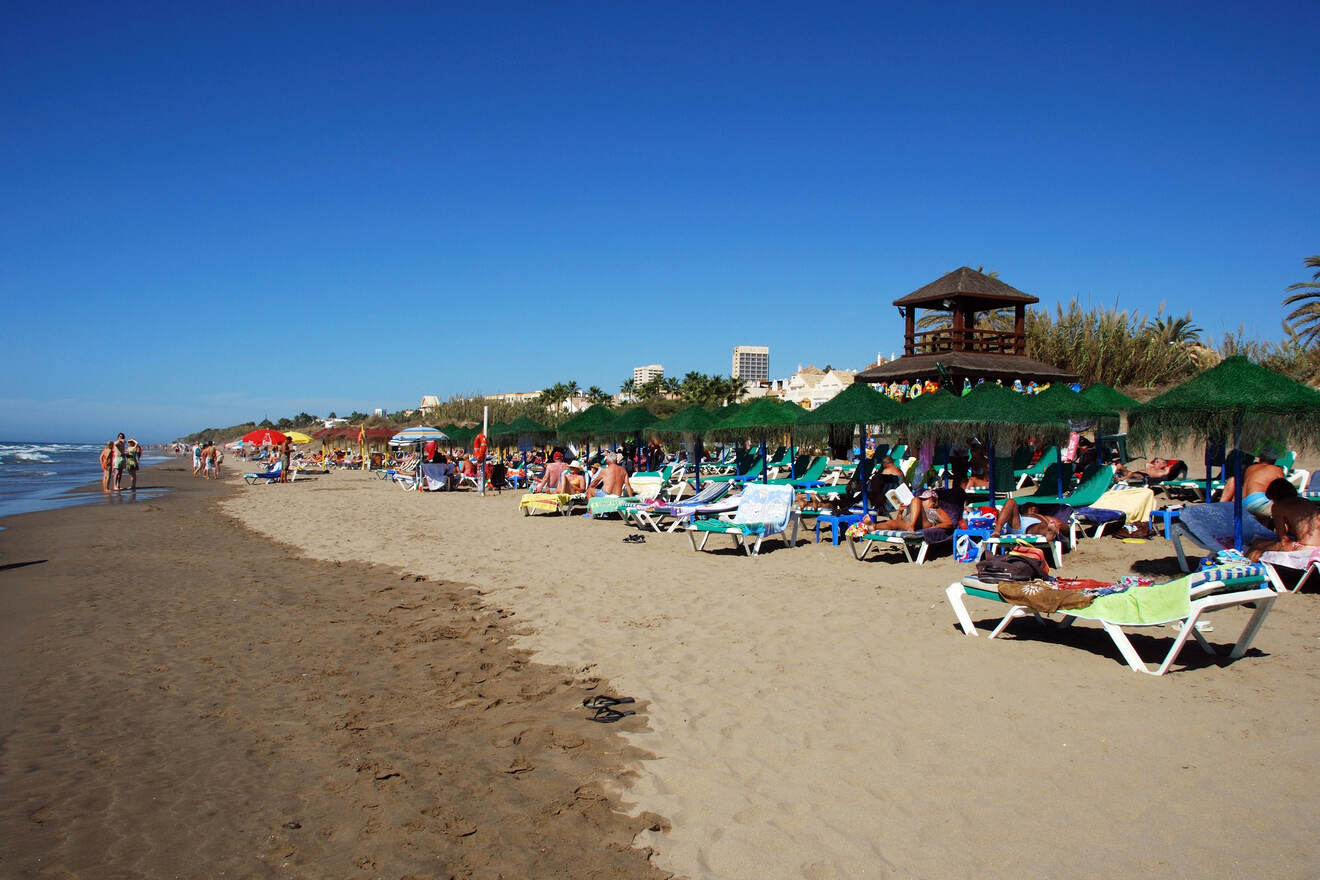 Located 10 km (6 miles) east of Marbella is probably one of the most relaxed of all of the Marbella districts, Elviria. Unlike most of the other towns and in Marbella and the Costa del Sol which were originally fishing villages, Elviria doesn't really have a town center. The district consists of a number of sandy beaches, golf courses, and upscale residential projects developed for vacationers just like you!
If you are looking for a relaxing and pleasant time in a quiet area in Marbella, then Elviria is the place to stay. It is home to several lovely beaches including Nikki Beach, a private beach club with a restaurant, bar, swimming pool, and a VIP terrace that offers a picture-perfect view of the Mediterranean Sea.
For those coming to Marbella for a romantic getaway or for some peace and quiet, then you can't go much wrong with Elviria. There are plenty of luxurious accommodation options available including spa resorts, beachfront rentals, and luxury villas with their own beach access that can be rented for both short and long-term stays. There are also some budget hotels and hostel options too where you can get a pleasant stay without breaking the bank.
One thing to note here is if you are planning to stay in Elviria, it might be a good idea to get a rental car, since getting around the neighborhood and to/from Downtown Marbella is mainly only through cars and taxis.
Luxury hotel
Marriott's Marbella Beach Resort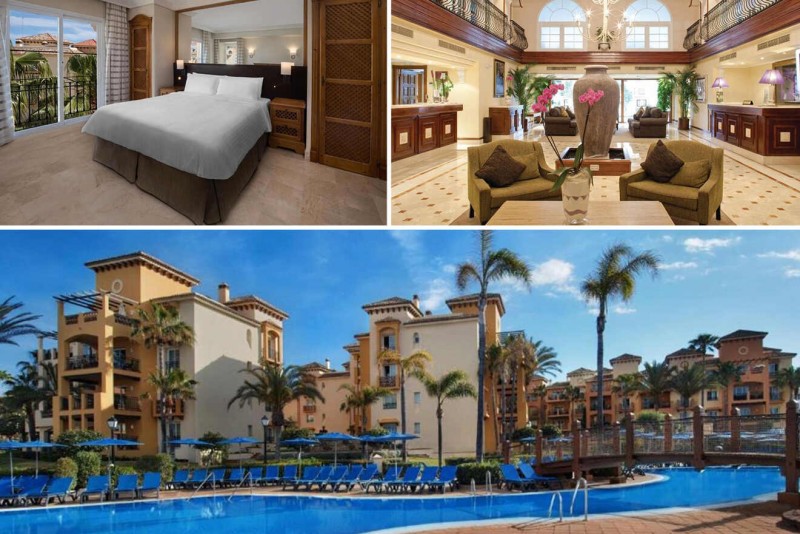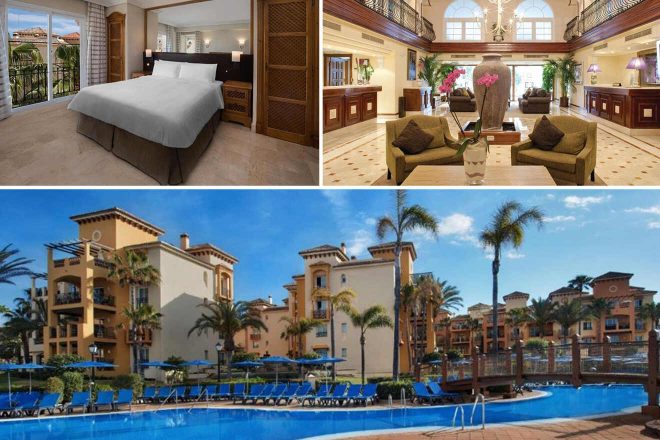 Villas at the Marriott Marbella resort are the epitome of luxury and elegance. Spacious rooms that are tastefully decorated are surrounded by sprawling gardens and walkways. Each villa also has beach access so that you can step out of your villa and directly onto the sand.
Other accommodations in Elviria
mid-range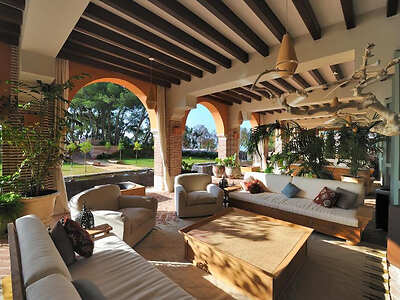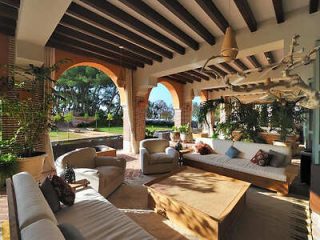 Tastefully designed rooms with balconies within an ideally located world-class hotel near the beach
budget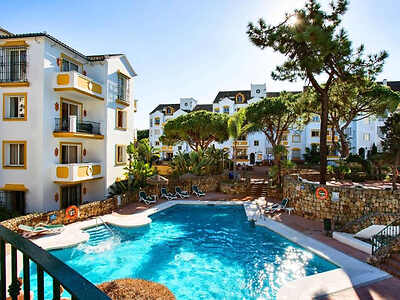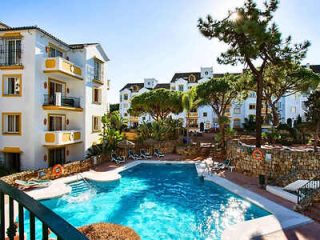 Exclusive aparthotel with a gym, hot tub, and 3 outdoor swimming pools at a budget price
airbnb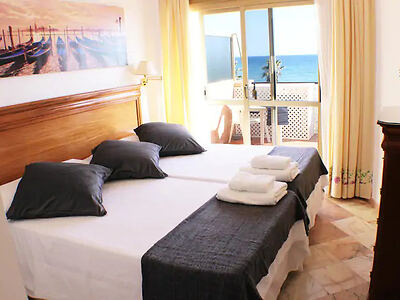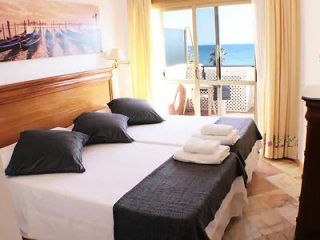 A tastefully decorated seafront apartment with a terrace for breathtaking views of the beach
Things to do in Elviria
Golf at the Santa Marina golf course
Have a blast at the private Nikki Beach Club
Relax on ​​Cabopino Beach or Playa de Calahonda
Rent a boat at Puerto de Cabopino
Have a bite at the Music cafe Marbella
See the protected sand dunes at Dunas de Artola o Cabopino
Go ziplining at ​​Aventura Amazonia
5. San Pedro De Alcántara – the best area to stay for families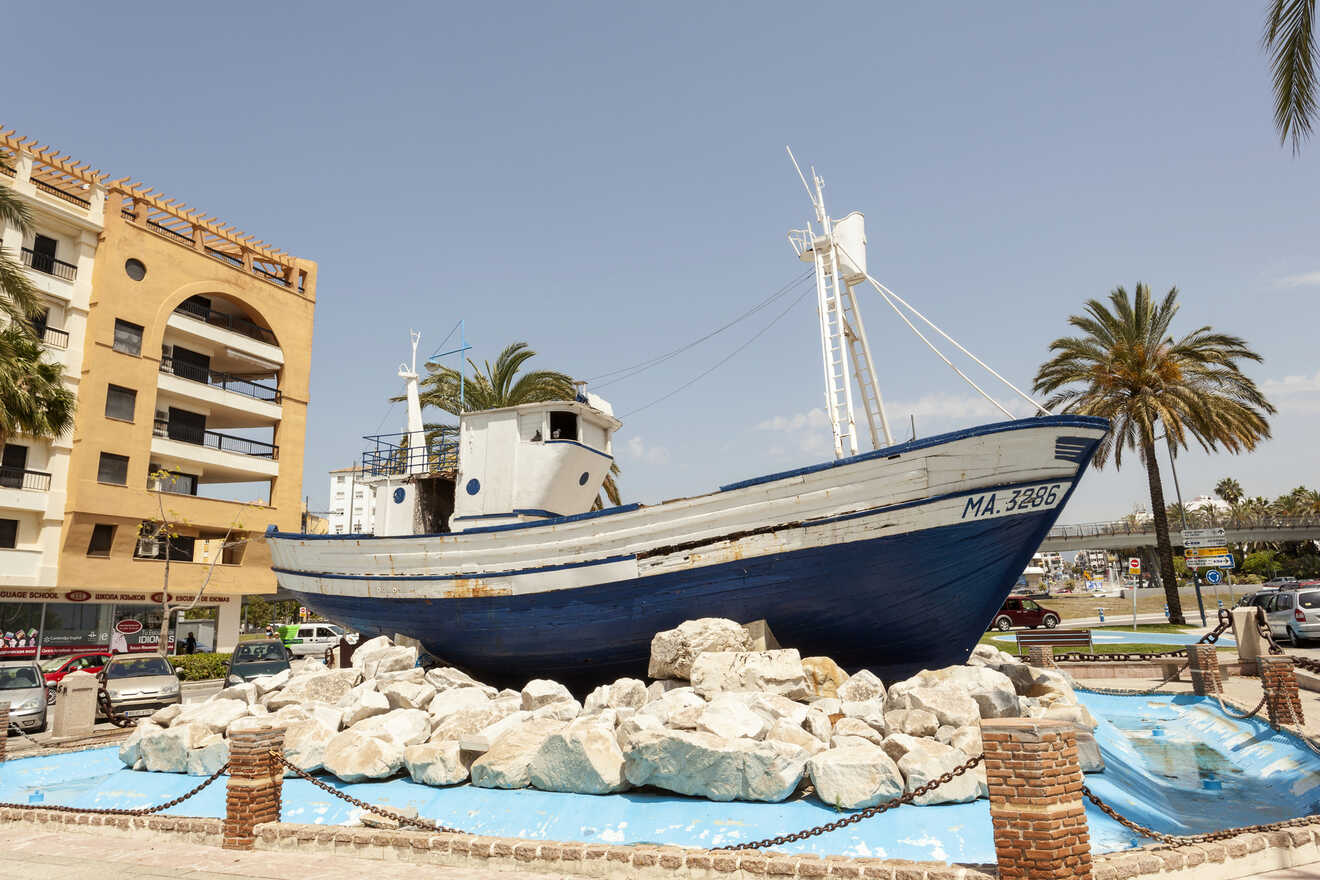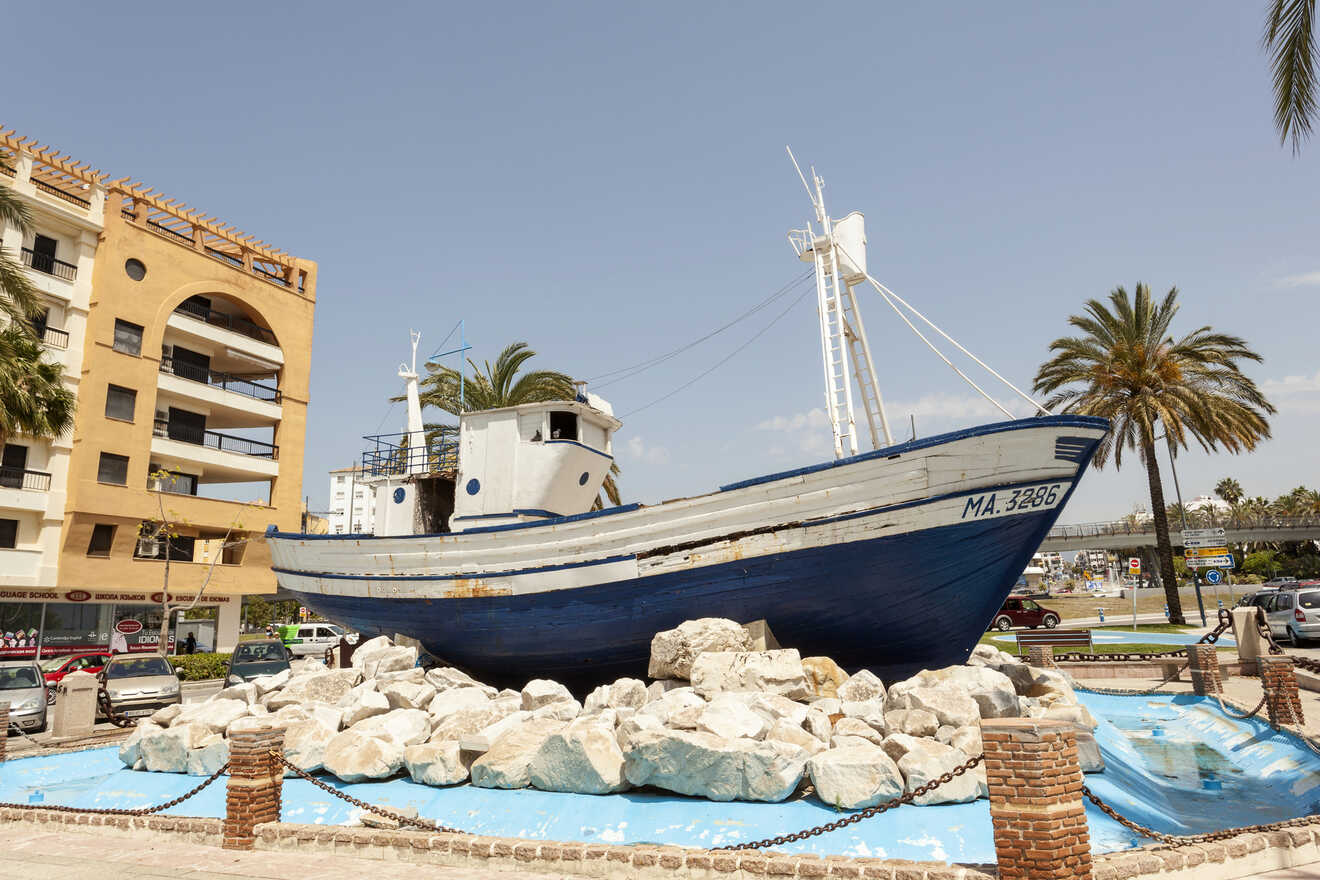 If beach day for you and your kids is more than just soaking up the rays, then head 10 km (6 miles) west of Marbella's Old Town towards the San Pedro beaches. The calm waters are ideal for a swim with the little ones, or if you would rather get an adrenaline fix, then you have the choice of engaging in water sports such as windsurfing, sailing, diving, surfing, and much more!
San Pedro is located just on the outskirts of Marbella and in addition to the beaches, San Pedro Alcántara has a lot to offer to both tourists and locals away from the glitz and glam of the star-studded parts of the city center.
The architecture of San Pedros is a sublime combination of historical Roman ruins and the more modern buildings in the district center. From Roman Baths and the Watchtower to some of the best golf courses and clubs in Spain, there is something to appeal to every type of traveler here of any age!
When it comes to the best hotels and accommodation choices in San Pedro Alcántara, you will be spoiled for choice. The district has lots of hotels, hostels, apartments, and resorts to suit every budget and preference, so let's have a look at the best ones!
Luxury hotel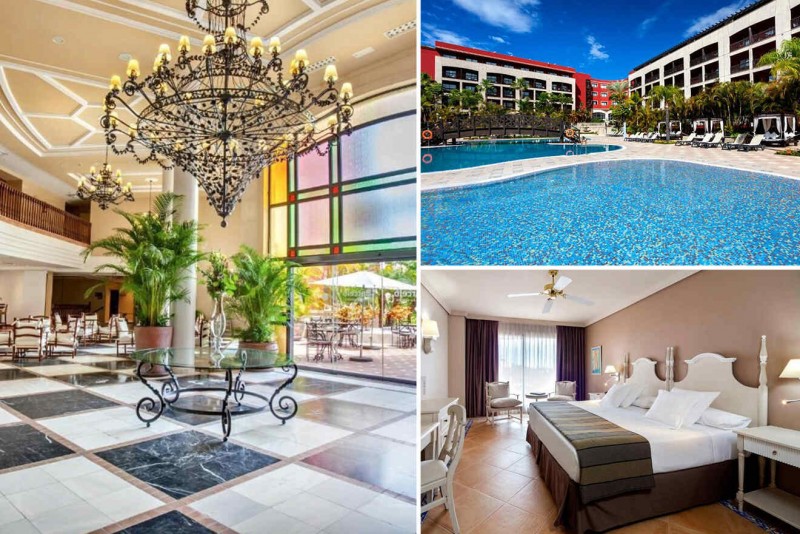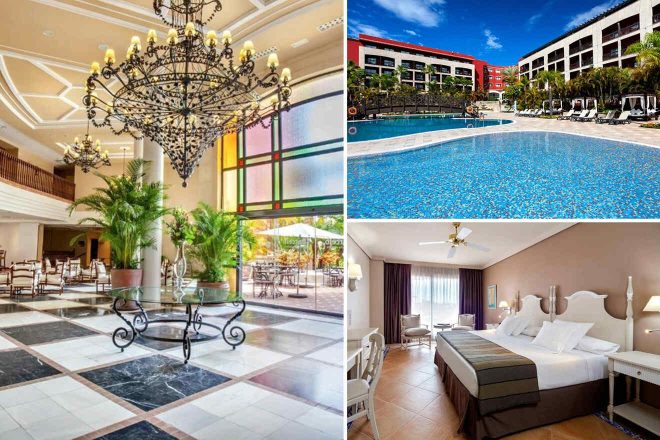 A short drive away from Guadalmina golf club is the Barcelo Marbella, the go-to luxury hotel for golf enthusiasts visiting the city. The hotel also offers various spa services, a Turkish bath, and a sauna to help you unwind and relax after a day spent golfing.
Other accommodations in San Pedro De Alcántara
mid-range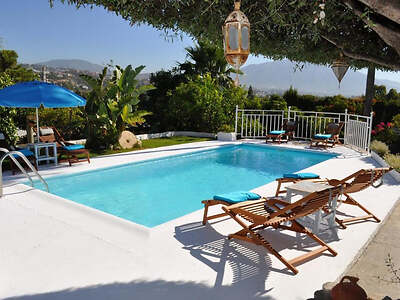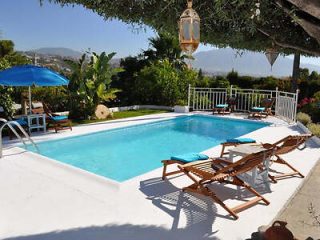 A quaint hotel with rooms artistically decorated to transport you to a more traditional Spain
budget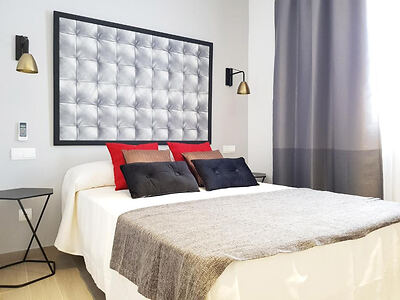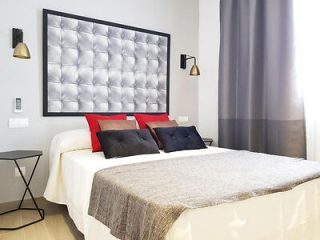 Boutique-style hotel with spacious rooms and modern common areas including terraces and lounges
airbnb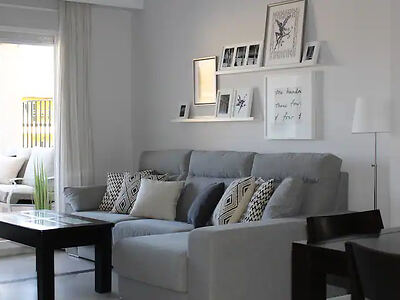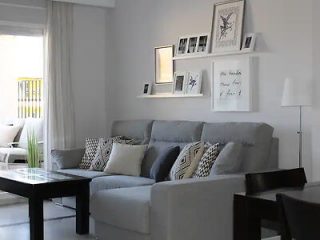 Live the high life in this gorgeous penthouse with most major attractions nearby including a great golf course
Things to do in San Pedro De Alcántara
Walk the Bulevar San Pedro and enjoy the playgrounds
Enjoy some water activities on Playa de San Pedro de Alcántara and Playa de Cortijo Blanco
Go Canyoning with the whole family
Play golf at ​​Atalaya Golf & Country Club
For a unique dining experience, take the kids to Marbella's Cheeky Butler
| | |
| --- | --- |
| 👑 Luxury price: | €200 |
| 💵 Mid Range: | €130 |
| 🛏️ Budget: | €50 |
| 🏠 Airbnb: | €150 |
| 💰 Accommodation prices: | Medium |
| 📍 Best area: | Old Town |
| 👪 Best area for families: | San Pedro De Alcántara |
| 🛎️ Best luxury hotel: | Hotel Claude Marbella |
| 🧳 Best mid-range hotel: | La Villa Marbella |
| 👛 Best budget hotel: | Hostal El Gallo |
BONUS: The most luxurious places to stay in Marbella on the Golden Mile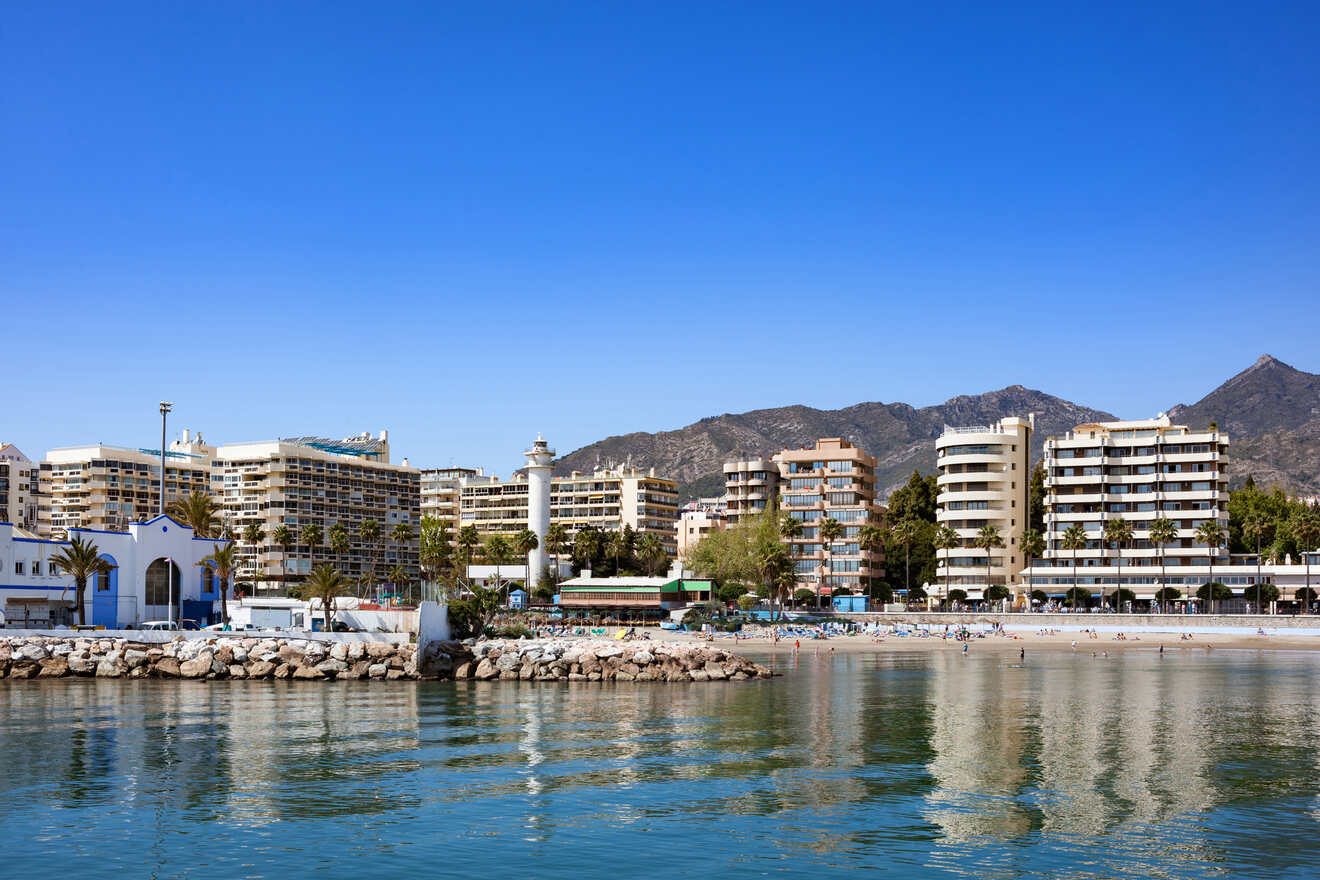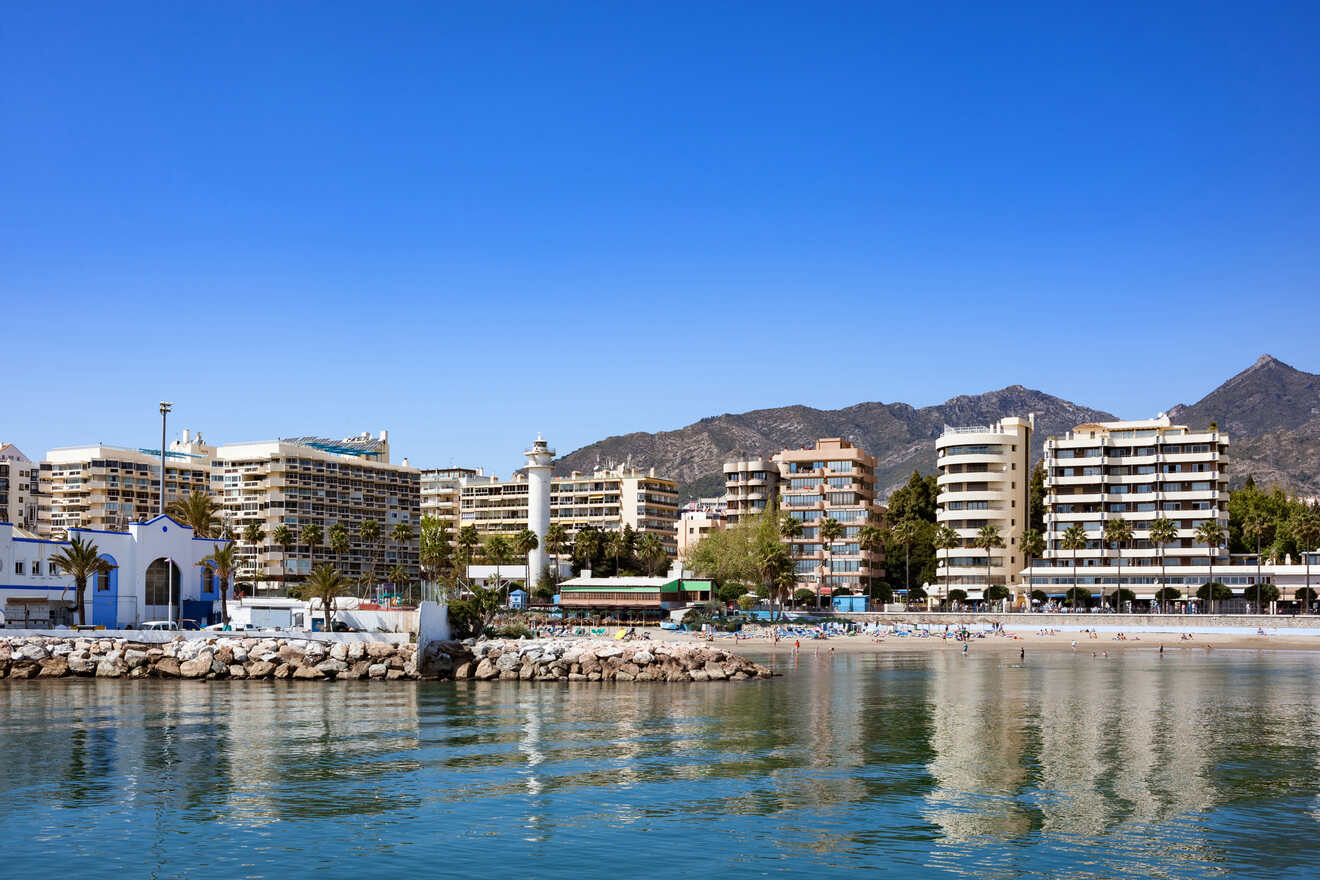 If you remember in the beginning when I told you that some of the world's biggest celebrities have spent their fair share of time partying in Marbella? Well, I'm sure you're probably wondering where those famous stars stay when visiting the city.
Many big names like Sean Connery, Simon Cowell, and even Vladimir Putin have bought flashy mansions in Marbella over the years and while they are spread out all over the city, the largest concentration of multi-million dollar properties are located along the palm-fringed stretch of the famous Golden Mile.
Marbella's Golden Mile stretches from the Old Town to Puerto Banus. Here you will not only find all the upscale condos lined with palm trees, luxury brands, some of the most world-renowned resorts and hotels in Costa del Sol, but you will also find some of the best beaches like Playa Nagueles.
Most hotels here provide the height of ultimate luxury to their guests with everything from a private beach area, to tennis courts, infinity pools, and Michelin star restaurants. That of course comes at a price and you are looking at upwards of US$800-1000 per night, but if you want to live like a celebrity on the beautiful beaches of Costa del Sol, here at the top 5 star resorts on the Golden Mile in descending price order!
Puente Romano Beach Resort – Puente Romano Beach Resort is quite possibly the absolute best place to stay in Marbella. If I stayed here I don't think I would ever be able to leave my gorgeous spacious room but there are so many reasons to do so! This beachfront hotel offers everything you could possibly dream of with several swimming poos surrounded by lush gardens and waterfalls, a 2 Michelin star resturant, complimentary access to a golf course, and a complete spa with a variety of treatments and a Turkish bath!
Nobu Hotel Marbella – Enjoy Marbella to the fullest at this 5-star hotel with a nightclub on sight! If you're here to party and want to do it in style, there's no better place to stay in Marbella than here! After you've danced the night away, spend the entire day recovering in the sun beds by the pool and great ready for another night with delicious Japanese-Peruvian cuisine at the social leisure area full of unique bars and resturants.
Boho Club – If a private villa in a spa hotel setting is more your speed, Boho Club is right for you. Indulge in the most relaxing stay in Marbella. With manicured lawns, spacious homey rooms, a palm-fringed pool, beach access, and even an outdoor gym, the boho decore of this luxury hotel screams comfort and relaxation in one of the hottest areas of Costa del Sol. Borrow a bike and head out to explore nearby areas like Playa Nagueles at your own pace.
Frequently asked questions about Marbella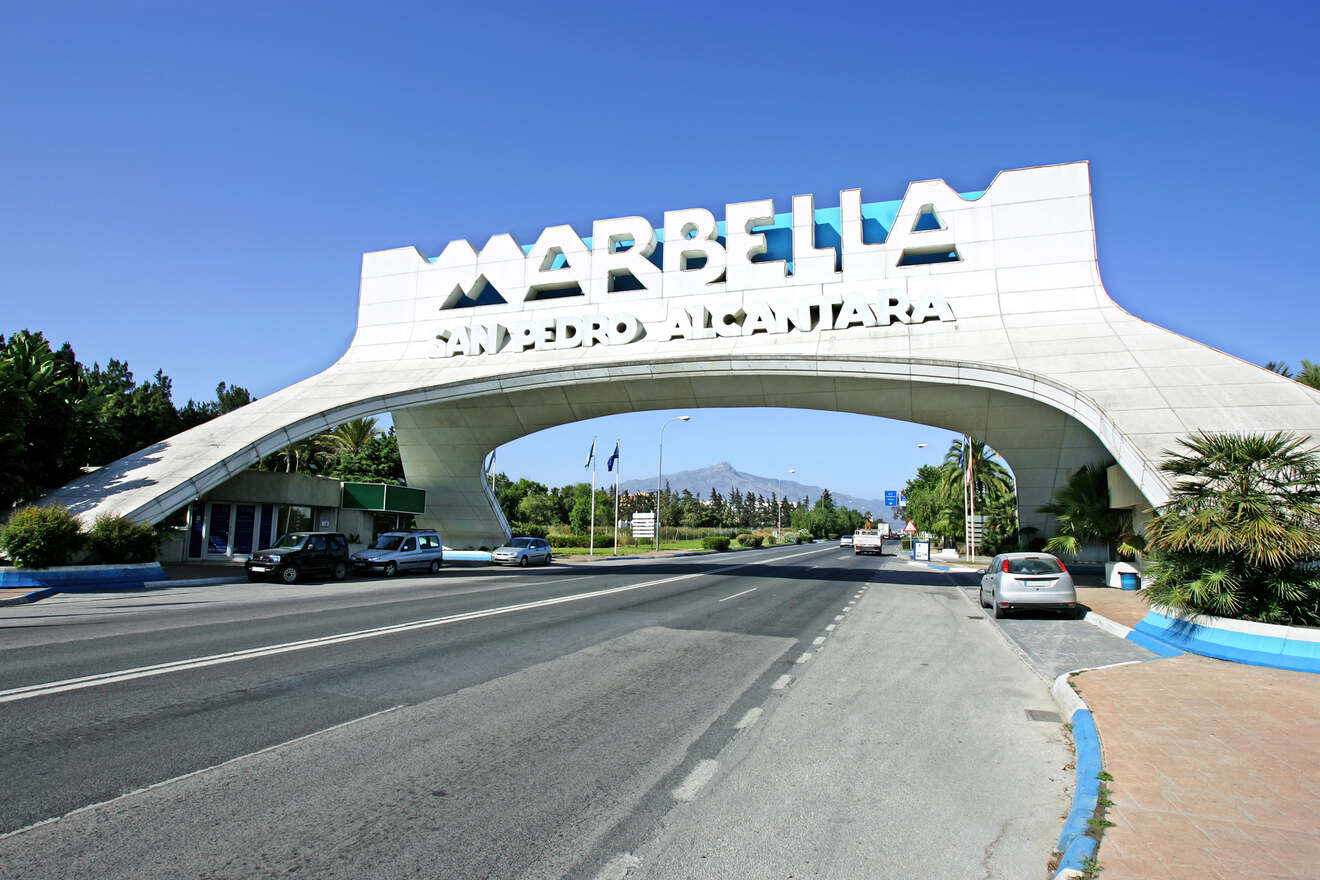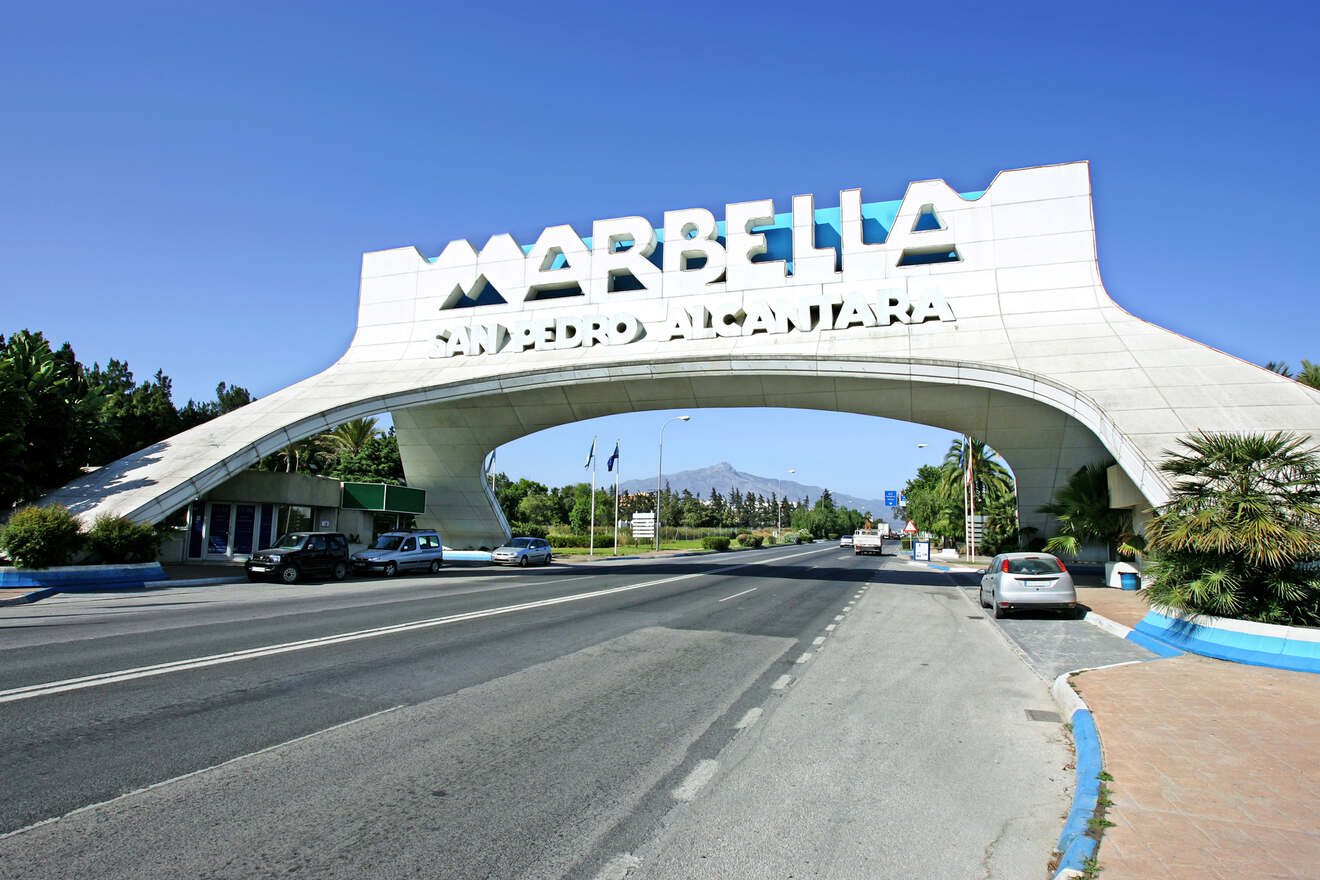 Conclusion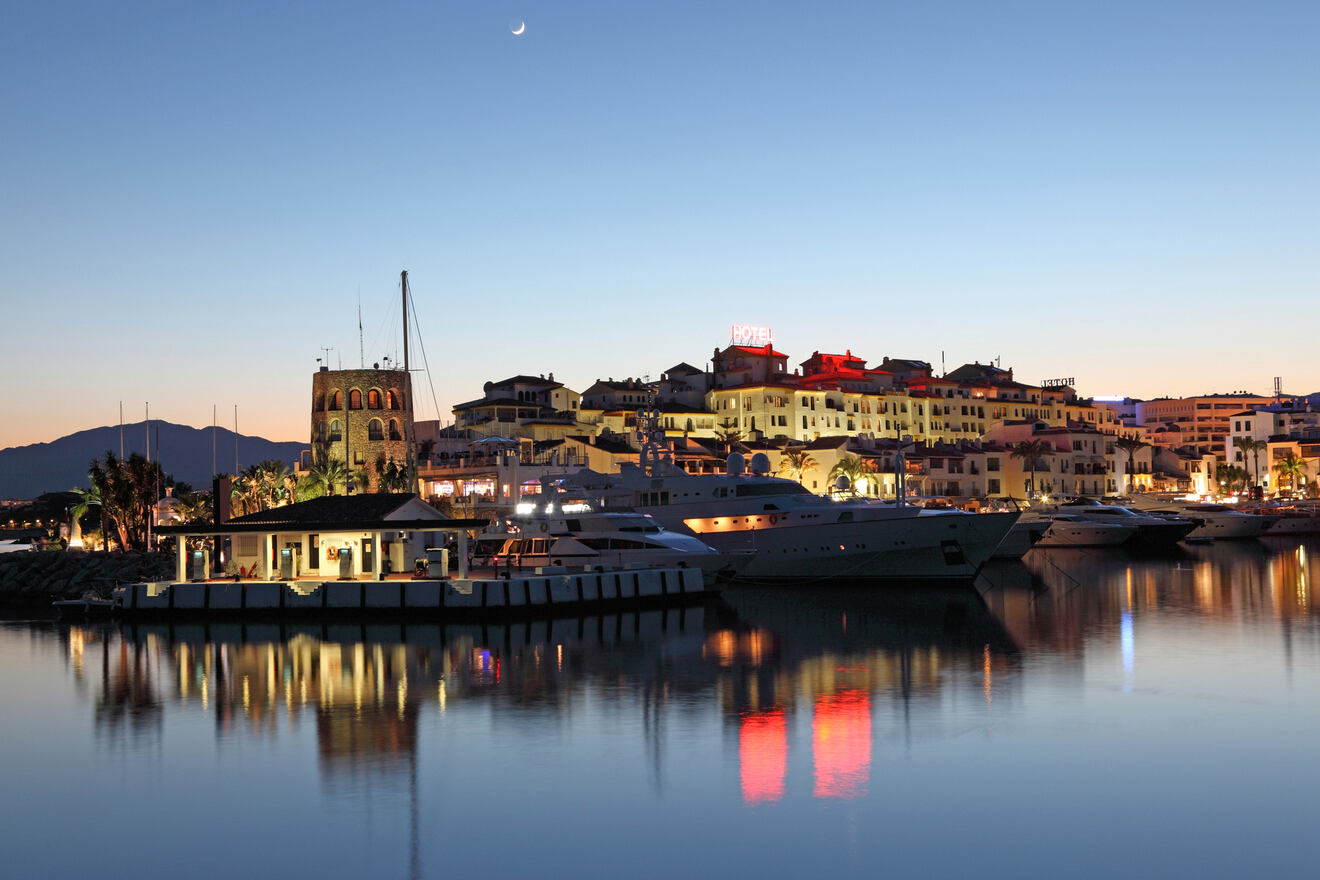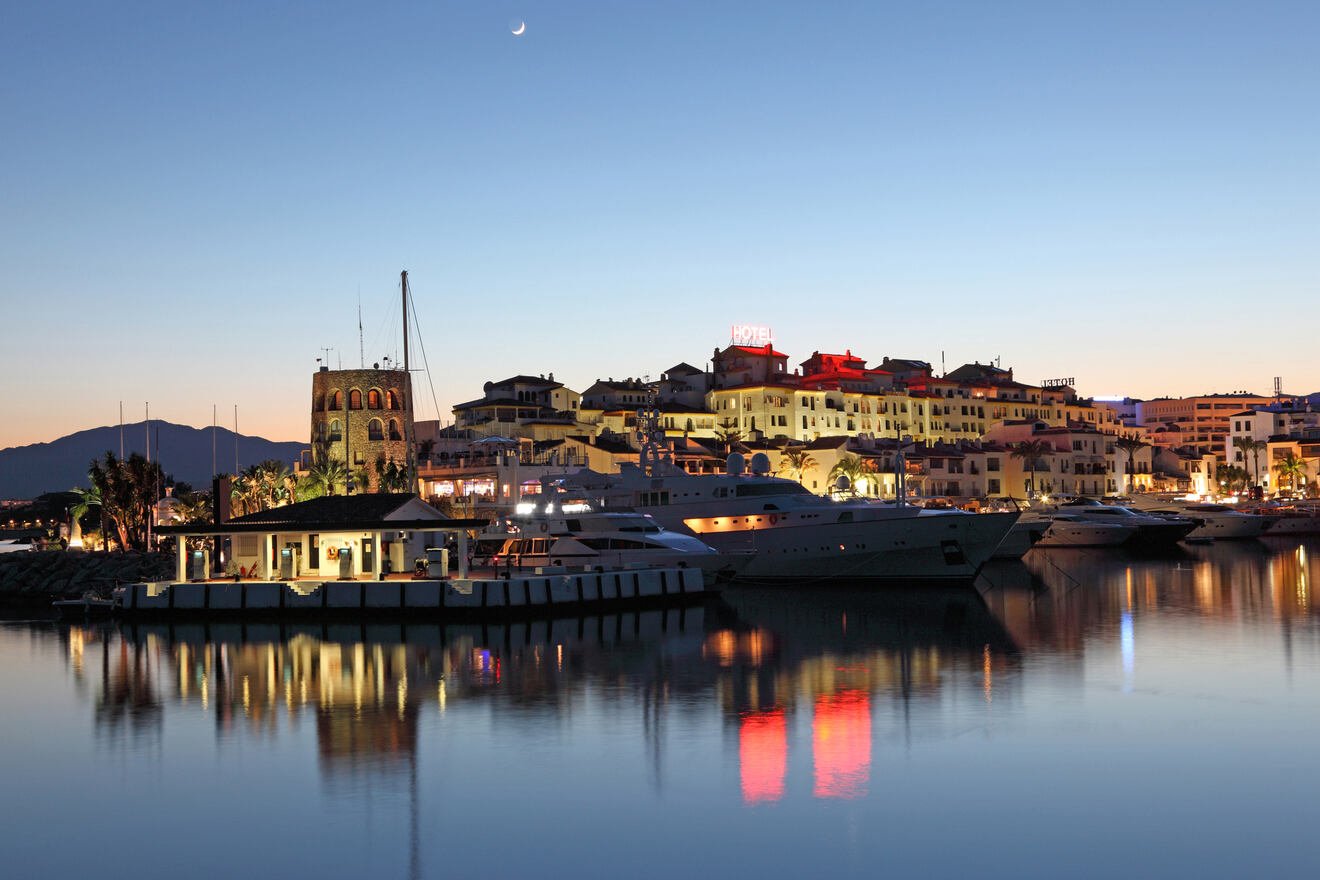 A vacation in Marbella will be one that you will remember for many years to come. From picture-perfect beaches, breathtaking views, a buzzing nightlife, and a number of historical attractions that embody this Spanish city's quaint charm, Marbella has a lot to offer. But to make sure that you have the best experience for yourself, you should know where to stay in Marbella.
There is no shortage of hotel options for your stay in Marbella and I have listed quite a few of those above for your convenience. My two favorite hotel choices though are:
Puente Romano Beach Resort – the most luxurious resort in Marbella with a 2-Michelin star resturant and spa on the Golden Mile
La Villa Marbella – A mid-range hotel with a rooftop terrace ideally located near the heart of Marbella
I hope this post helped clear up some confusion or questions regarding where to stay in Marbella. And if your stay in Marbella is part of a Spain tour or even a Europe tour, then do check out some of my other where to stay guides below for some of the best holiday destinations!
Enjoy the good life!
Kate
---
Pin it for later!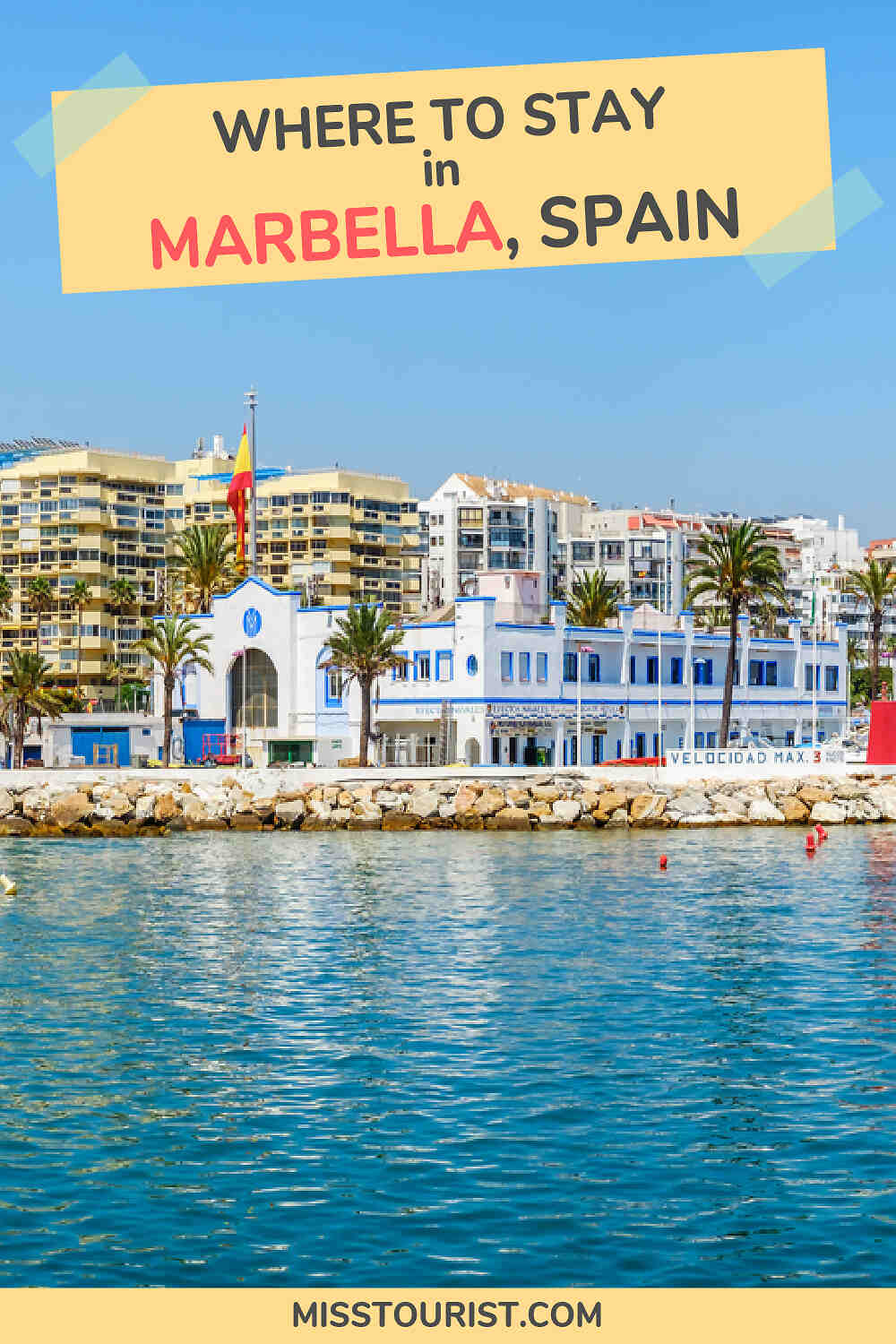 Pin it for later!