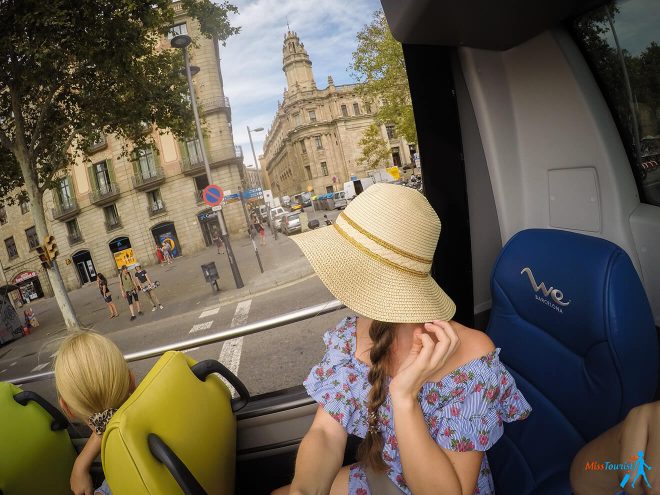 Barcelona has so many things to do, it might feel overwhelming!
If you only have a short time available to visit Barcelona and you want to see some of its highlights in style, I will tell you about one amazing tour I have recently taken.
The tour is called 360 SkyWalk: Land, Sea & Air and this is what it is about:
The tour takes 4 hours and it covers the main sights of Barcelona from three different points of view: Land, Air and Water. It is a one-of-a-kind tour that offer various activities. In fact it offers more than anything else I found on the market, at least for the moment!
Let's see what they include, one by one:
Land
Your tour will start in the heart of the city, at Passeig de Gracia, where your certified live guide will greet you. He will walk you through the modernist architecture of the city.. The most important things you will see are the masterpieces of Gaudi. The knowledgeable guide will take you to La Pedrera and Casa Batlló and tell you everything about them.
You will then hop in a comfortable Mercedes Cabrio convertible mini-bus and it will take you to the most well-known of Gaudi's buildings – Sagrada Familia!
Please note that you will see all the sights only from the outside. The tour is 4 hours and you wouldn't have enough time otherwise. You can come back anytime by yourself afterwards to visit the places you liked the most. For that, here are my tips on avoiding Barcelona's crazy queues.
What I really liked about the tour is that it felt almost private. The maximum size is 12 people, and it didn't feel crowded at all. I was really happy about it as I could also ask all my questions and our guide was more than happy to answer all of them.
Air
The best is still to come! Now it is time for the most exciting part – you will have a thrilling flight over the beautiful city of Barcelona and see it from bird's eye view!
Wait what? A helicopter flight is also included in the price of 100 Eur?
Yes, I was also surprised! This tour has definitely a great value for its money! Usually, just a helicopter ride alone is will cost a minimum of 70-80 eur (6 mins), 12 minutes – 120 eur and 40 mins – 320 eur per person.
Though the flight itself is quite short (6 minutes), it will be enough to take your breath away by the beauty of Barcelona's coastline and to take some epic shots like this: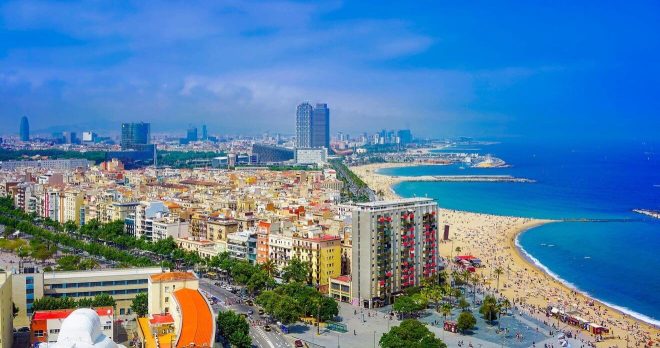 Upon arrival to the heliport, you will be taken through some safety procedures, you will fill in a couple of papers (do not forget your passport, you will need it!) and wait for your turn. Everything is very fast as this time is reserved for the group specifically.
Depending on how many people you will have in the group, there will be 3 to 5 passengers inside the helicopter. In my case, there was 4 people plus the pilot.
I was also very lucky to be seated in the front (it depends on weight and it is to be decided by the crew). But do not worry, the view is great from any point!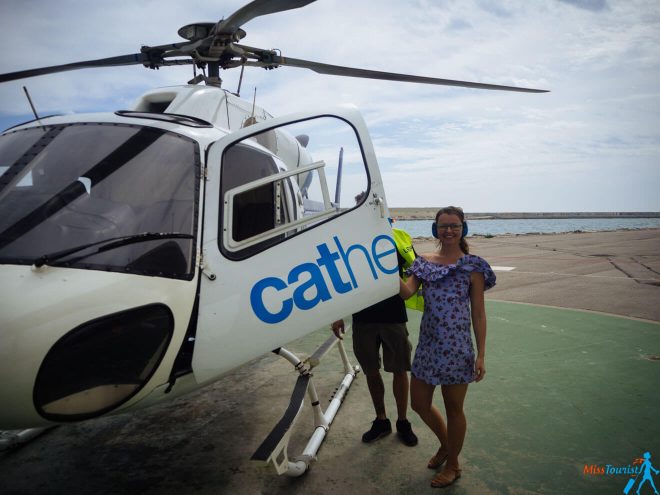 Sea
What is the best way to finish the perfect morning after the thrilling flight?
How about enjoying the breeze of the Mediterranean sea by sailing the coastline of Barcelona?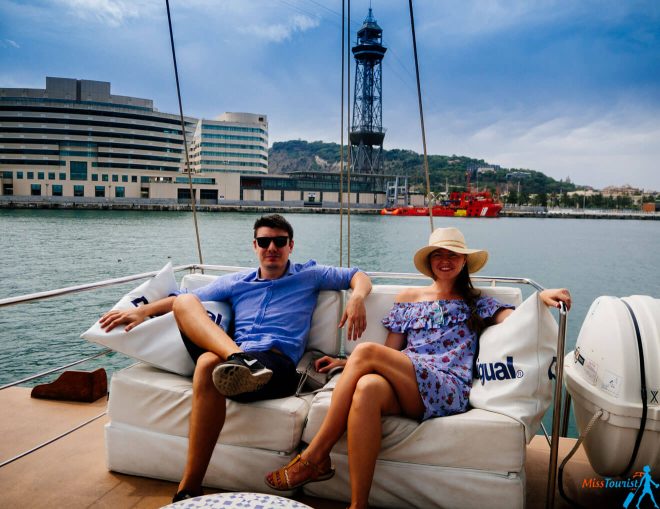 You will be transported by an open luxury minibus with leather seats and Wi-Fi (though I suggest you just enjoy the view) to the Barceloneta beach.
There you will sail along the harbor of Barcelona and simply relax onboard (the sailing trip is approximately 30-40 minutes).
A bar is available inside in case you would like to sip something refreshing.
My boat was a Turkish Goleta (they also call it a schooner) which is an open pirate-like boat. If you are in Barcelona from November to March, you will be offered a closed eco-boat.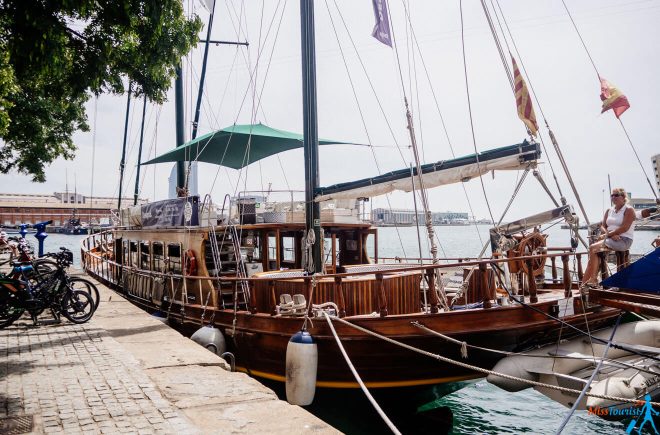 You will finish your tour just a couple of minutes walking away from Columbus Monument, which I highly recommend to climb up for yet another great view!
Not many people know that, but there is actually an elevator inside the column. You can read more information about it in my post 8 Unusual things to do in Barcelona.
In the nutshell
Duration: 4 hours
Price: 100 EUR (may slightly vary depending on the season)
Guide: Live certified guide
Includes: City tour, helicopter flight, a boat trip, private luxury minibus transportation between the places
Does not include: food, hotel pick-up, gratuities.
What to take with you: camera (a GoPro), comfortable clothing
Value for money, my score: definitely 10/10
I recommend booking through GetYourGuide as they have the best price guaranteed. If you find a better price, they will reimburse the difference!
Keep in mind that you do not need to print the ticket; you can just show it from your smart phone

---
Conclusion:
360 Skywalk tour is great if you want to discover Barcelona from multiple perspectives in a short time and impress your friends with fantastic pictures. Overall, I loved the tour and I can definitely recommend it for both adults and families with kids!
It is a fabulous tour that is definitely worth its money!
Let me know if you have any questions about the tour or Barcelona in general, I am always happy to answer!
Yulia
---
RELATED ARTICLES:
---
Pin it for later!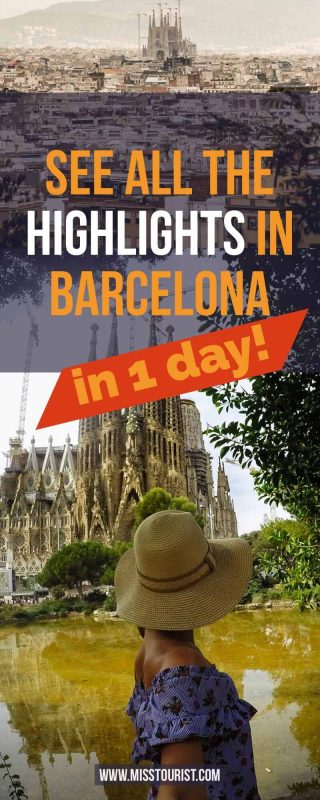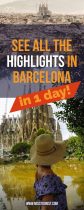 Pin it for later!