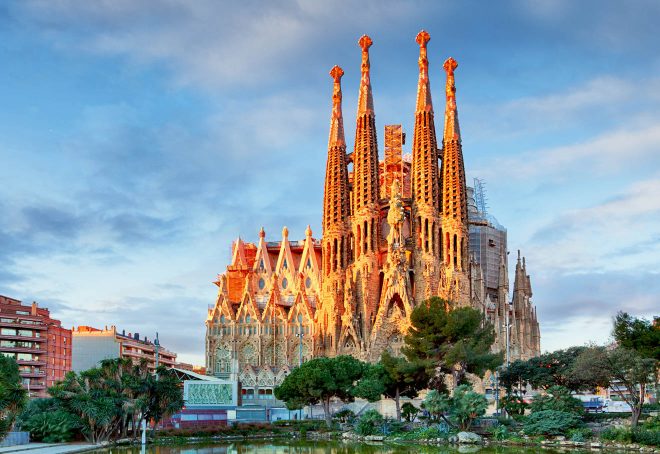 Barcelona is one of the most popular travel destinations and an amazing city that has something to offer for everyone!
If you are planning a vacation there, it is always best to book in advance because all hotels with good reviews always get sold out fast!
I, like many others, fell in love with Barcelona and visited it many times! Moreover, I even lived in the city for some time which allowed me to get to know it better (please read all my tips on Barcelona here).
Now, let me help you a little bit with areas of Barcelona where it is best to stay for a tourist.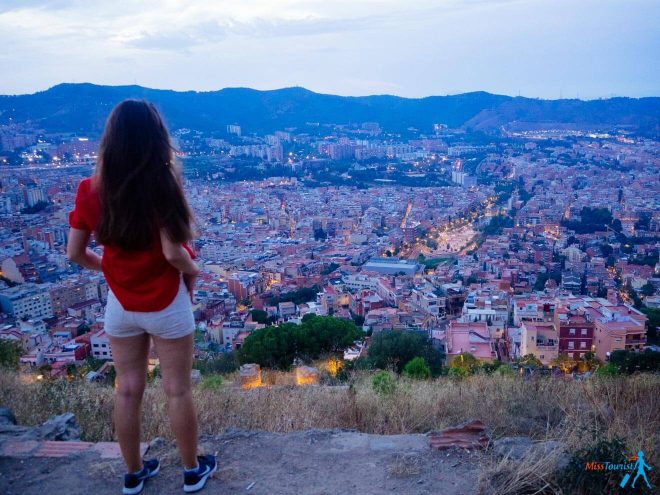 Barcelona is divided into 10 official areas named "districts" and each of them is extremely different from the others. In this article I will recommend 5 neighborhoods where you can stay if you are visiting the city for the first time or if you just want to be close to the most important attractions.
For each neighborhood/area I carefully selected some of the best hotels for every type of budget, be it 5-star hotels, middle-priced accommodations or hostels.
You should know that each of these neighborhoods have unique advantages, so choose the one that fits you most:
So, here we go –
5 Neighborhoods to stay in Barcelona and hand-picked recommendations for accommodations in each of them sorted by your budget:
And here is a video so you can better understand the atmosphere of the best neighborhoods in the city:
1. La Barceloneta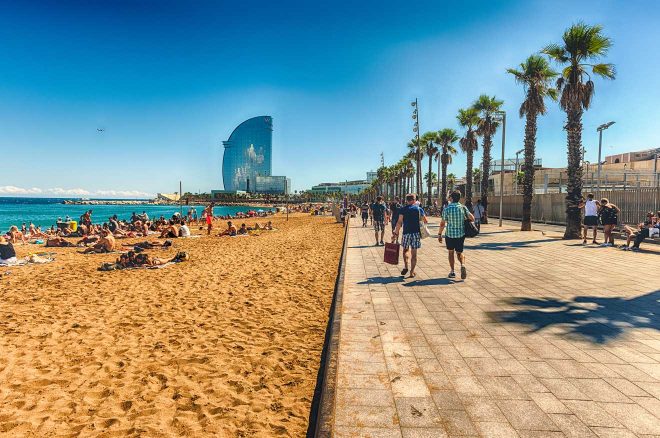 I am sure you heard about the famous Barceloneta before, have you? It is one of the authentic neighborhoods of Barcelona, on the beach and also the most demanded one amongst tourists.
Barceloneta is the perfect area for beach lovers! The city has a coastline of six kilometers of beaches and the very first one and most accessible is Barceloneta. This transformed it into a place full of tourists, but also of amazing seafood restaurants where you can get to taste the real Spanish cuisine!
Here are my recommendations of hotels – all of them have fabulous reviews, great location and is sorted by price for your convenience:

Luxury (US$170 and up)
W Barcelona is probably the most famous hotel in Barcelona and a landmark of the city, as you can clearly see it on the beachfront. It offers excellent service, amazing design and a unique view over the see and the entire city. The perfect place for a luxury, signature stay in Barcelona!
Hotel Arts Barcelona is another 5-star luxury hotel in Barceloneta that stands up with its cool outdoor pools, panoramic city views and incredible spa where you can completely relax after a day of exploring Barcelona. It even has its own hair salon and luxury boutiques and the spacious rooms will make you feel like a queen/king!
Middle (from US$110 to 170)
Hotel SB Icaria Barcelona is a 4-star accommodation located only 5 minutes away from the beach! The rooms are very clean and stylish and the entire hotel has many great facilities such as such as a very good on-site restaurant, bar and even a garden terrace.
NH Hesperia Barcelona del Mar is another cool 4-star hotel, only 4 minutes away from the beach, even though it is a bit more far away from Barceloneta beach (closer to Sant Martí neighborhood). This one awaits you with an amazing restaurants that serve traditional Spanish cuisine!
Budget (up to US$110)
As you might have already guessed, there aren't many budget options in Barceloneta, as it is one of the most popular and touristic places in the city. Still, I will recommend two places where you can book a room in case you want to be as close to the beach as possible. Hurry up to book them if you see them available for your dates!
Hotel Medium Renaixença is really close to the beach and all of them are nice and clean. The rooms are clean and spacious and you can even use the laundry facilities, lockers and padlocks!
Kalma Sitges Hotel is right on the beach, which is a great bonus. The staff is very friendly and the rooms are tidy. You will be close to many good seafood restaurants because you are so close to the beach!
2. Barrio Gotico / Gothic Quarter
Barrio Gotico means the Gothic Quarter and it is actually one of the oldest neighborhoods of the city, also known as the Old City Center. This is a very touristic area, buzzling of shops, museums and events, especially during the summer days!
The famous avenue La Rambla is the center of this neighborhood and you can also find the popular La Boqueria Market there – one of the most famous food halls in the entire city where you can go to buy authentic ingredients and food!
The Gothic Quarter is perfect for people who want to do sightseeing, especially those of you who are visiting Barcelona for the very first time. If you stay there, you will be close to the central area and most of the attractions.

Luxury (US$170 and up)
Because the Gothic Quarter is such a popular and touristic area of the city, the rooms are selling out very fast and that's why I recommend you book yours as soon as possible!
Hotel The Serras is a 5-star luxury hotel located right in the Gothic Quarter. I am sure you will fall in love with the infinity pool on the rooftop, the Michelin-starred restaurant and the amazingly decorated rooms! This hotel is actually the building where Pablo Picasso lived and started his career in 1896!
The Wittmore has amazing city views and extremely quiet rooms where you will be able to relax after a full day. I am sure you will also enjoy the on-site restaurant and bar where they await you with a wide range of tasty meals and different types of wine!
Middle (from US$110 to 170)
Catalonia Avinyo is a cool 3-star hotel with bright and modern decorated rooms. They even have a rooftop pool and their own gym in case you don't want to lose your shape during your vacation! Of course, you will be close to many restaurants, clubs and bars if you want to go out and have some fun!
NH Barcelona Barri Gotic is located right in the heart of the Gothic Quarter, but also very close to the beach. They have free WiFi, delicious breakfast options and lots of nice spots for shopping and dining around.
Budget (up to US$110)
Hostal Excellence is a good budget option in the Barrio Gotico. The rooms are clean and modern and you can even stay and relax in the lounge area. The 24-hours reception is a great bonus, as it will give you some flexibility in planning your stay in Barcelona.
My second budget recommendation is Hotel Inglés – this one is very close to La Rambla and Boquería market, so you can enjoy some of Barcelona's landmarks right near your hotel. The rooms are very simple and clean, perfect for a comfortable stay in the city.
3. Eixample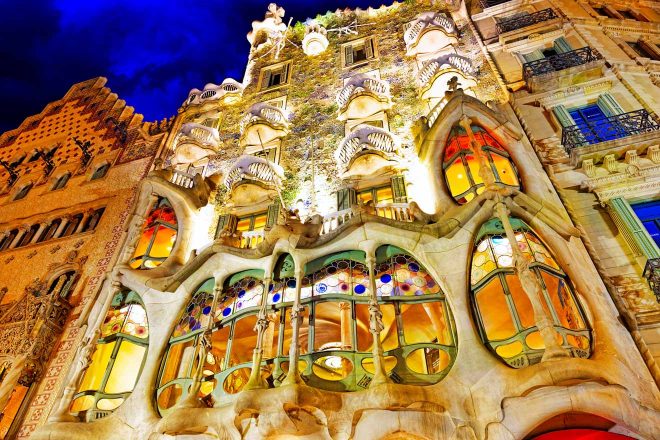 Eixample is a newer neighborhood than, for example, the Gothic Quarter. It was built on a grid system called "super block", it's very geometric and some of the best city planners worked on it.
This is the perfect spot to stay in if you want to be as close as possible to some of Gaudi's masterpieces such as Sagrada Familia, Casa Batllo and La Padrera.
Eixample is not as crowded, as it is made of large avenues where you can have a nice walk and discover the city. It is also very close to the city center and if you want to stay in some of the most gorgeous luxury hotels in Barcelona, this is the place to be!

Luxury (US$170 and up)
Monument Hotel is my first luxury recommendation and a gorgeous hotel located only 5 minutes away from Casa Batllo and La Padrera. Except being near some of Gaudi's masterpieces, Monument Hotel awaits you with an amazing gourmet restaurant with 3 Michelin stars. You should also know that this hotel is actually Enric Batllo's house from the 19th century, so you will literally stay in a monument!
When I said that Eixample has some of the best luxury hotels in the city, I wasn't kidding – Ohla Eixample is the perfect proof! You will be spoiled with a heated outdoor pool, a Michelin-starred restaurant and gorgeous, spacious rooms!
Middle (from US$110 to 170)
Ayre Hotel Caspe is an amazing hotel with gym, restaurant, bar and a cool outdoor terrace. The rooms are super clean and soundproofed, so I guarantee you will sleep like a baby here! Ayre Hotel Caspe is also very close to Gaudi's houses.
Bcn Urban Hotels Gran Rosellon is a cool and super modern 4-star hotel with middle-priced options. I am sure you will enjoy the seasonal outdoor pool, the awesome fitness center and the sun terrace!
Budget (up to US$110)
Sweet BCN Youth Hostel is a great budget accommodation located only 500m away from Gaudi's La Pedrera. The rooms and very simple and clean and the ceilings and floors are simply gorgeous! You can choose from private rooms and dormitory rooms, depending on your budget and preferences.
360 Hostel Barcelona Arts&Culture is another good budget hostel with nice rooms. You can also benefit from the shared kitchen where you can cook your meals. This hostel is super close to Placa de Catalunya (750m away), so you can rest assured that you are close to Barcelona's heart.
4. El Born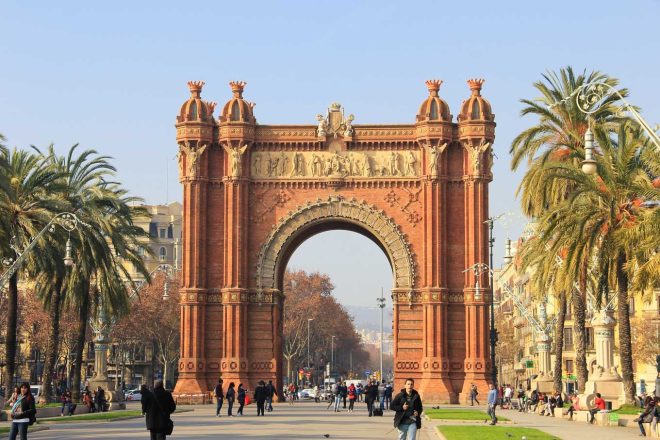 El Born is another historical area of Barcelona, but a little bit more modern than the Gothic Quarter. I recommend it for people who want to enjoy the city's nightlife.
If you pass right through the Arc de Triomf you will reach the beautiful area of El Born, a place rich in good restaurants and tapas bars. You can also find there Santa Caterina Market, a food hall almost as popular as Boqueria!
There aren't that many accommodation options in the gorgeous neighborhood of El Born, so I recommend you book yours as soon as you can:

Luxury (US$170 and up)
K+K Hotel Picasso 4* Superior is a gorgeous 4-star boutique hotel that awaits you with a rooftop swimming pool, contemporary décors and free Wi-Fi. You can also have some great meals at their on-site restaurant, or you can relax with a delicious cocktail at their amazing bar!
Hotel Banys Orientals is my second luxury recommendations and I am sure you will like the fact that the hotel is actually a building from the 18th century! The rooms are super chic and clean and they even have balconies where you can enjoy the view and just relax.
Middle (from US$110 to 170)
Exe Laietana Palace is actually a 4-stars hotel set in a gorgeous neo-classical building that has been refurbished. Each morning you can enjoy a delicious breakfast at the hotel and then proceed to discover the neighborhood and the city!
Hotel Oasis is my second middle-priced recommendation. The hotel has an overall cozy atmosphere and the rooms and nicely decorated. They even have an outdoor pool where you can enjoy your days of evenings when you don't feel like walking around. What more can you wish for?!
Budget (up to US$110)
Pension Ciudadela is my recommendation for every budget traveler that wishes to stay in El Born. The rooms are very simple and clean and they will offer everything you need for a good quality budget stay in Barcelona.
5. El Raval
In case you want to taste some of the real Barcelona life, with both its good and bad sides, El Raval is your choice! It is one of the most controversial neighborhoods of the city, as you will get to see there very clearly the multi-culturalism and gentrification of Barcelona.
El Raval is bursting with hipster cafes and cool shops and there are things happening every minute over there!
I recommend it to youngsters who don't mind the vivid Barcelona vibe!

Luxury (US$170 and up)
Hotel 1898 is a 4-stars hotel located right on the famous La Rambla street! It is actually a 19th century building that was restored and transformed into a luxury accommodation with a heated rooftop pool, a cool restaurant, a sun terrace and more!
Catalonia Ramblas 4* Sup is another 4-star accommodation, only 3 minutes away by walking from Placa Catalunya. You can taste the authentic Catalan cuisine, bathe in the awesome outdoor or indoor pool or get an awesome massage!
Middle (from US$110 to 170)
Leonardo Hotel Barcelona Las Ramblas is an amazing middle-priced accommodation that also has an outside swimming pool, awesome rooftop terrace and some delicious breakfast options, all for accessible, middle prices!
Gaudi Hotel – Do you want to stay in a stunning hotel in Barcelona where you will have a view of Park Guell on the terrace? Then this is the place to be! Gaudi Hotel has very clean and modern rooms, a great bar, laundry and ironing services and more!
Budget (up to US$110)
Hostal Operaramblas is a great budget hostel in El Raval, Barcelona. The rooms are tidy and decorated in a simple manner, perfect for relaxing and having a good night's sleep. You will also find many cool cafes and restaurants in the surrounding area!
Niu Barcelona is another good idea because it has a cute rooftop terrace, an awesome outdoor pool and you can choose from different types of rooms, depending on their size and types of bathrooms.
---
Type your dates below to see the rates for the available hotels:
---
Conclusion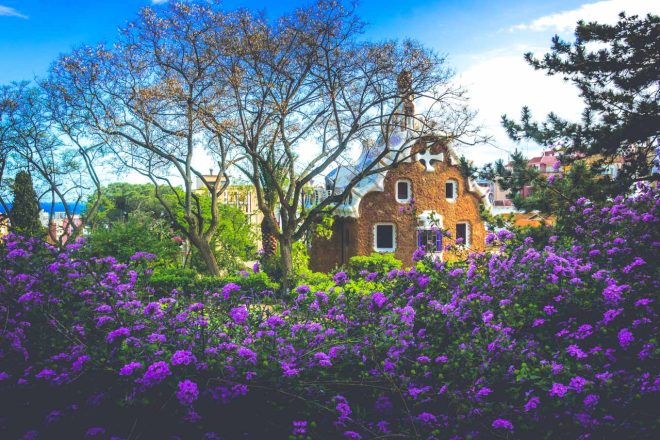 Barcelona is so unique and diverse, it was really hard finding only 5 neighborhoods to recommend! Each of these areas are very different from each other, and the choice really depends on your own preferences and budget!
In case you are traveling with kids, the best neighborhood to stay is either La Barceloneta, because they will be very happy to be so close to the beach, or Eixample, as it is more calm than the others.
The city is definitely worth visiting, I have spent 3 months there, and it still was not enough!
I hope my post helped you to decide on which area is the best for you to stay in and find your perfect accommodation!
NOTE: If you want to read my tips on things to do in Barcelona, how to avoid the crazy lines to Sagrada Familia, what to visit outside Barcelona and more, please click here.
As usual, do not hesitate to ask me any questions in the comments section below if you want to ask for additional information, it is always welcomed!
Yulia
---
RELATED ARTICLES:
---
Pin it for later!
Pin it for later!