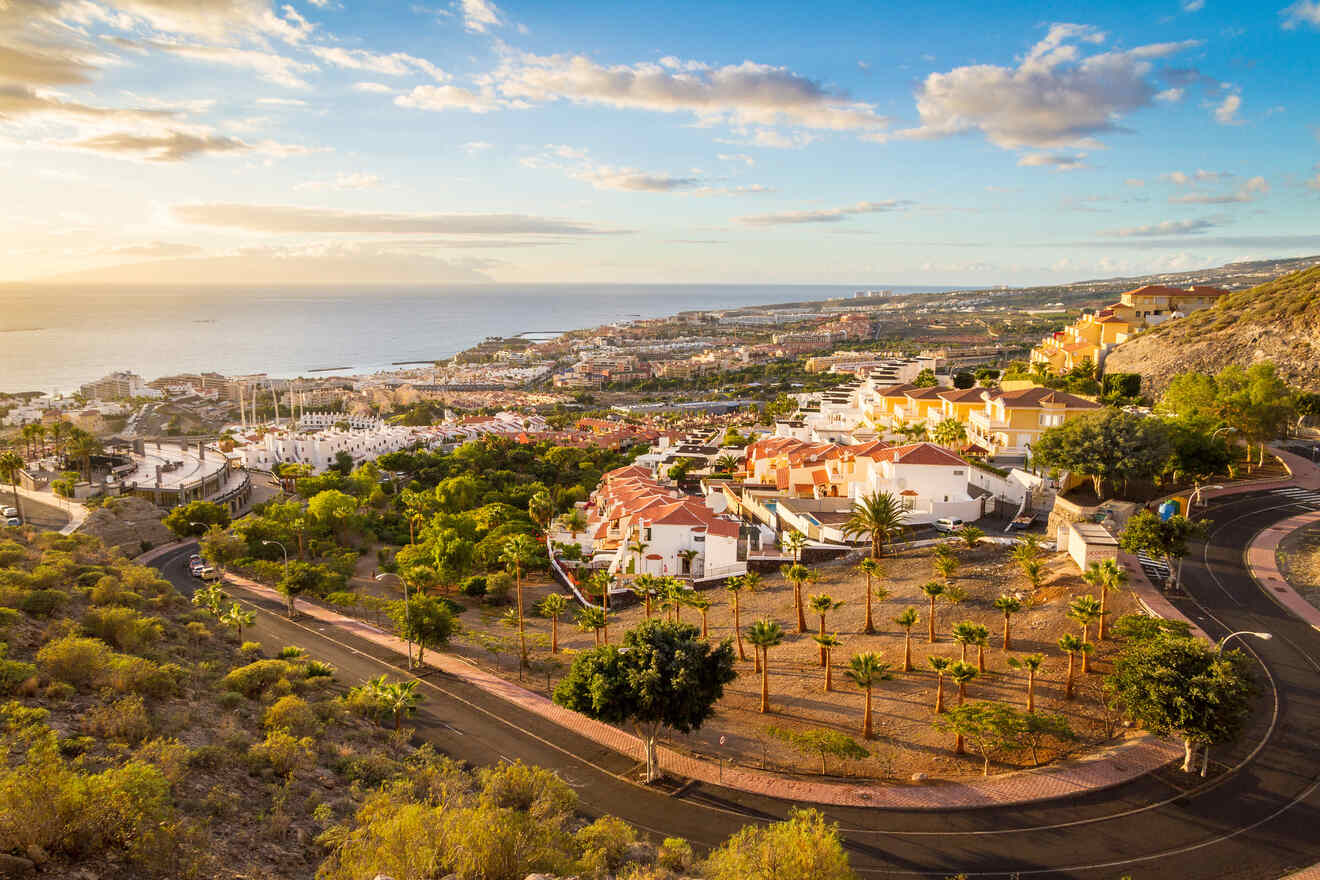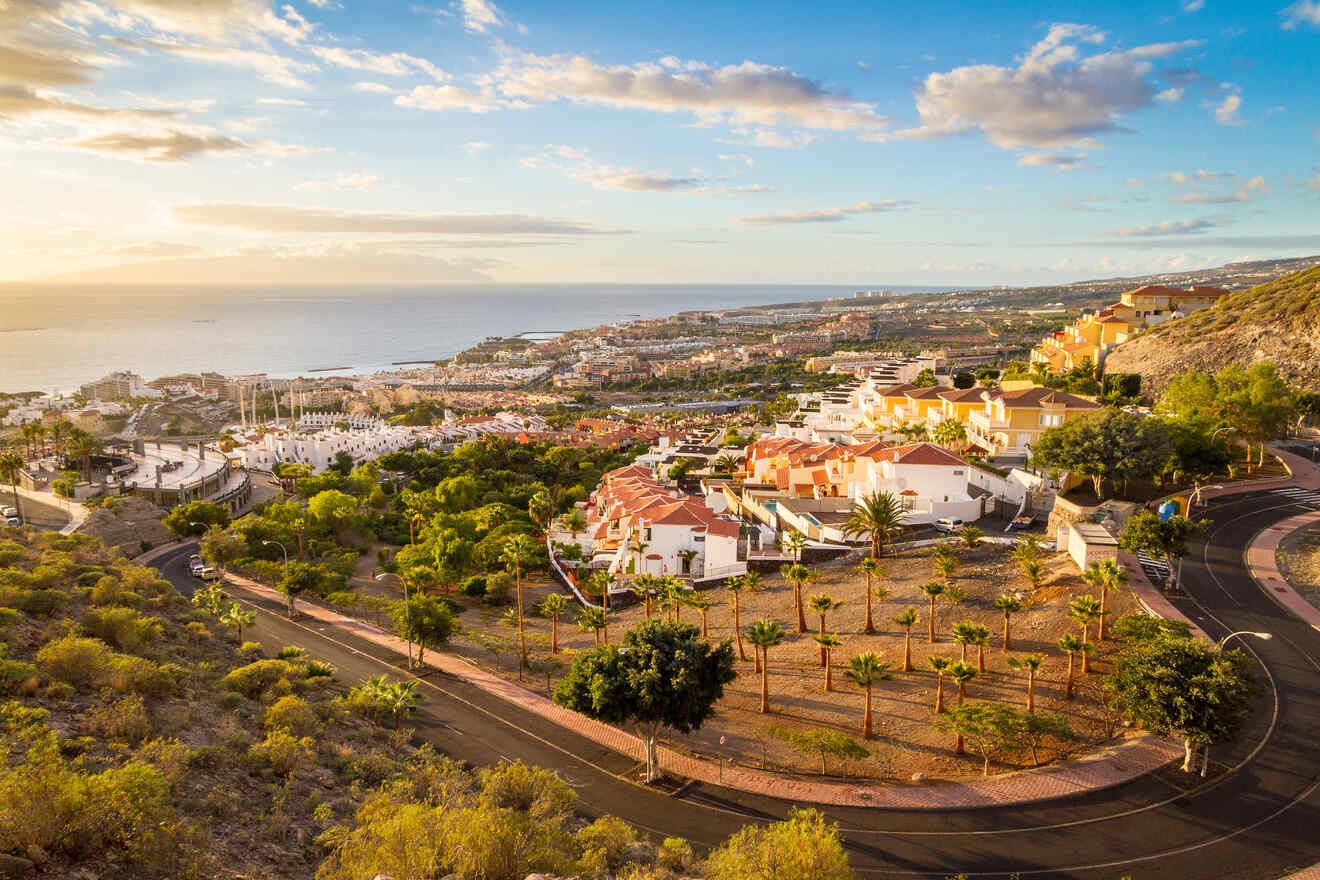 How exciting you are getting ready for an amazing holiday in Tenerife! Stunning beaches, turquoise sea water, amazing nature, and mouthwatering foods are waiting for you! The Canary Islands are volcanic islands in the Atlantic ocean and a part of Spain. Tenerife is the second biggest island in the Canaries and thanks to its proximity to Morocco, you will find warm weather all year round!
In Tenerife, you will find so many charming beaches from golden to volcanic sand and one of the first things you will notice is Spain's highest mountain, Mount Teide, which offers picturesque views from every angle. It is also not possible to forget the party scene of Tenerife too! Every part of the island offers different kinds of beaches and landscapes and that's why I recommend renting a car to discover the beauties of the island.
In this article, I will talk about the best places to stay to answer your question, "where to stay in Tenerife?". I want to remind you of the importance of booking in advance for the resorts here as they often have high demand. Plus, most of them have a free cancellation policy, so do not worry if you change your mind!
There is so much to discover in Tenerife and I can't wait to talk all about it. Let's get started!
If you are in a hurry
Here are the best places to stay in Tenerife from luxury to budget and also Airbnb. They all have great reviews and great locations plus easy access to Tenerife's beautiful beaches.
Here is a map of the regions of Tenerife that I will be talking about in this post, so you can easily visualize them:
1. Costa Adeje – where to stay in Tenerife for the first time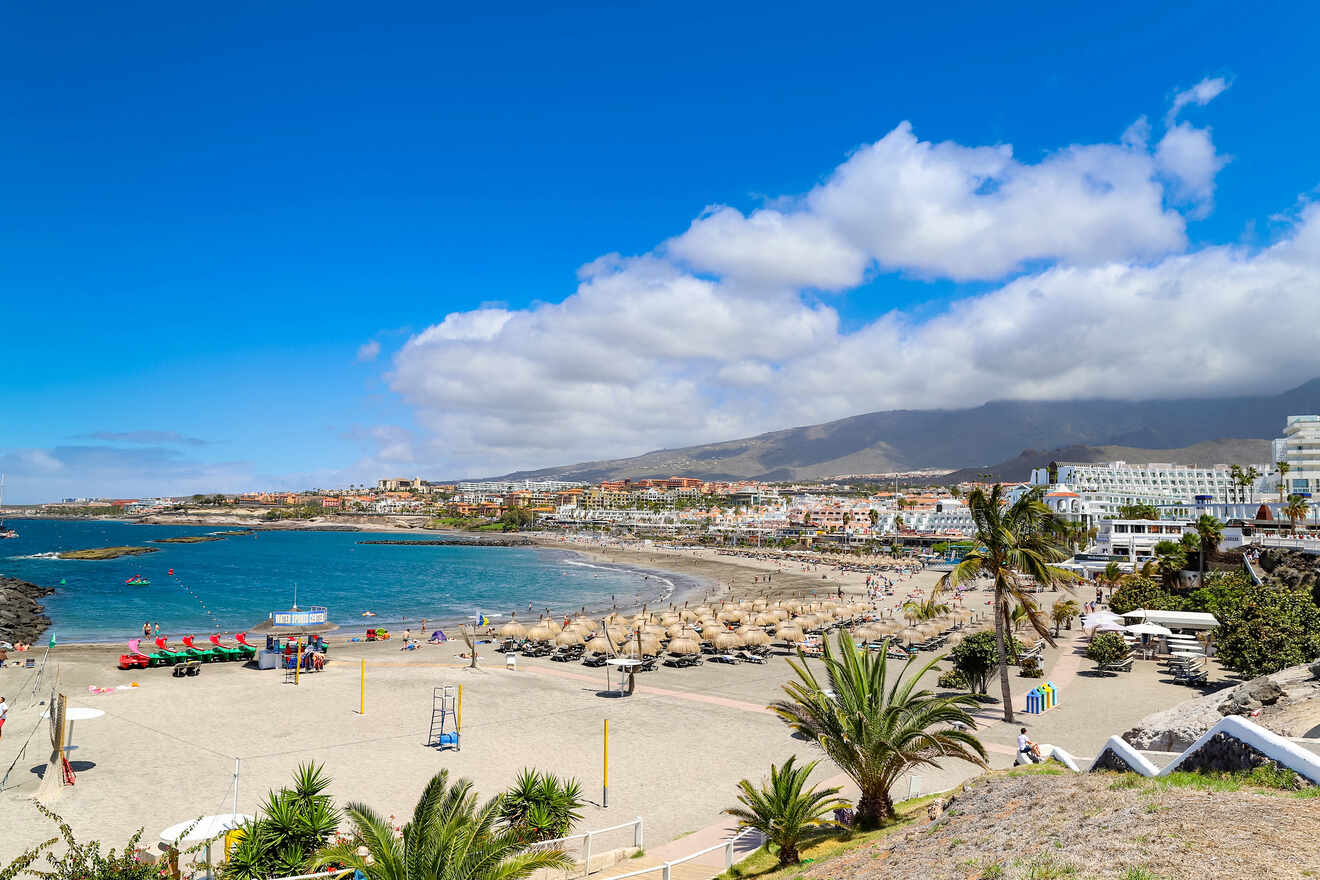 Located on the island's southwest coast, Costa Adeje is definitely my top pick for first-time visitors to Tenerife Island with its colorful atmosphere and abundance of things to do. Costa Adeje will greet you with stunning views of Mount Teide accompanied by amazing beaches to relax on. For this neighborhood you will want to fly into the Southern Airport, Reina Sofia.
In Costa Adeje, you will find some of the best traditional restaurants, cafes, beach bars, and shops on the island. One day you can enjoy beaches with turquoise water and a blue flag (a certification-award for cleanness), the next, you can find yourself hiking with beautiful landscape views. Plus, if you feel like joining a party, you can dance till late at night at the beach and resort parties at the famous and liveliest parts of Tenerife – San Juan and Playa Paraiso, located just north of the town. 
Being one of the best places on the island I highly recommend you to make a booking in advance if you don't want to lose your favorite place. Many places have a free cancellation option so don't worry if you change your mind. Here are the best places to stay in Costa Adeje.
P.S. If you feel like moving around a bit, the other 2 very popular areas to stay in – Playa de Las Americas and Los Cristianos (I will talk about them below) are located 5-10 min driving away!
Another great luxury accommodation option that is near Costa Adeje is the Bahia Principe Sunlight Tenerife. Located on Costa Adeje's coast, this hotel offers pools, dining, and entertainment. Guests can enjoy the air-conditioned rooms with private balconies, TVs, and en-suite bathrooms.
And, if you are looking for an adults-only resort in Tenerife, then you should check out Princess Inspire Tenerife. It has got 3 outdoor swimming pools and several bars and restaurants. The guests can enjoy their varied day-and-night entertainment program.
Other accommodation options in Costa Adeje
Things to do in Costa Adeje
2. Los Gigantes – prettiest part of Tenerife for local experiences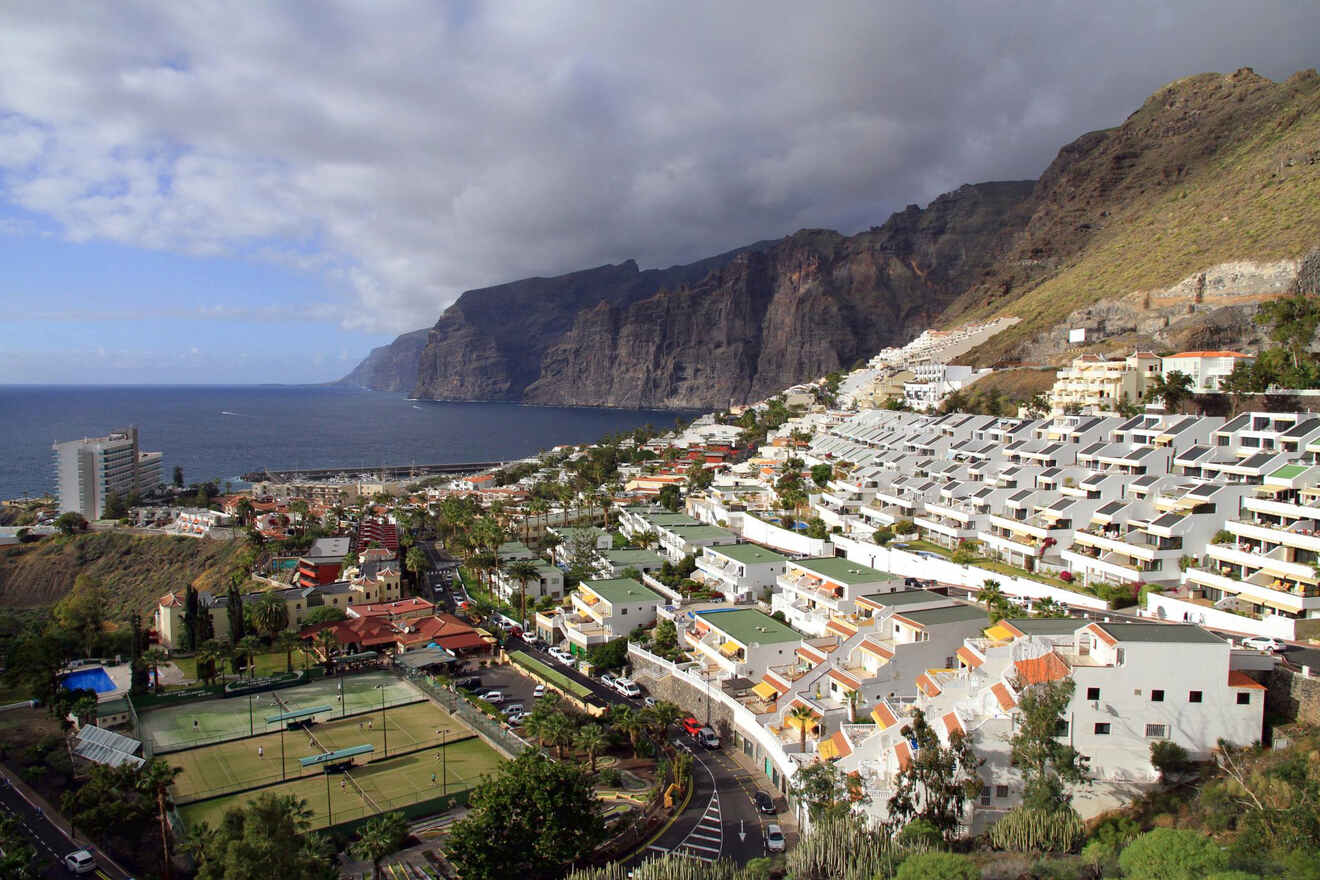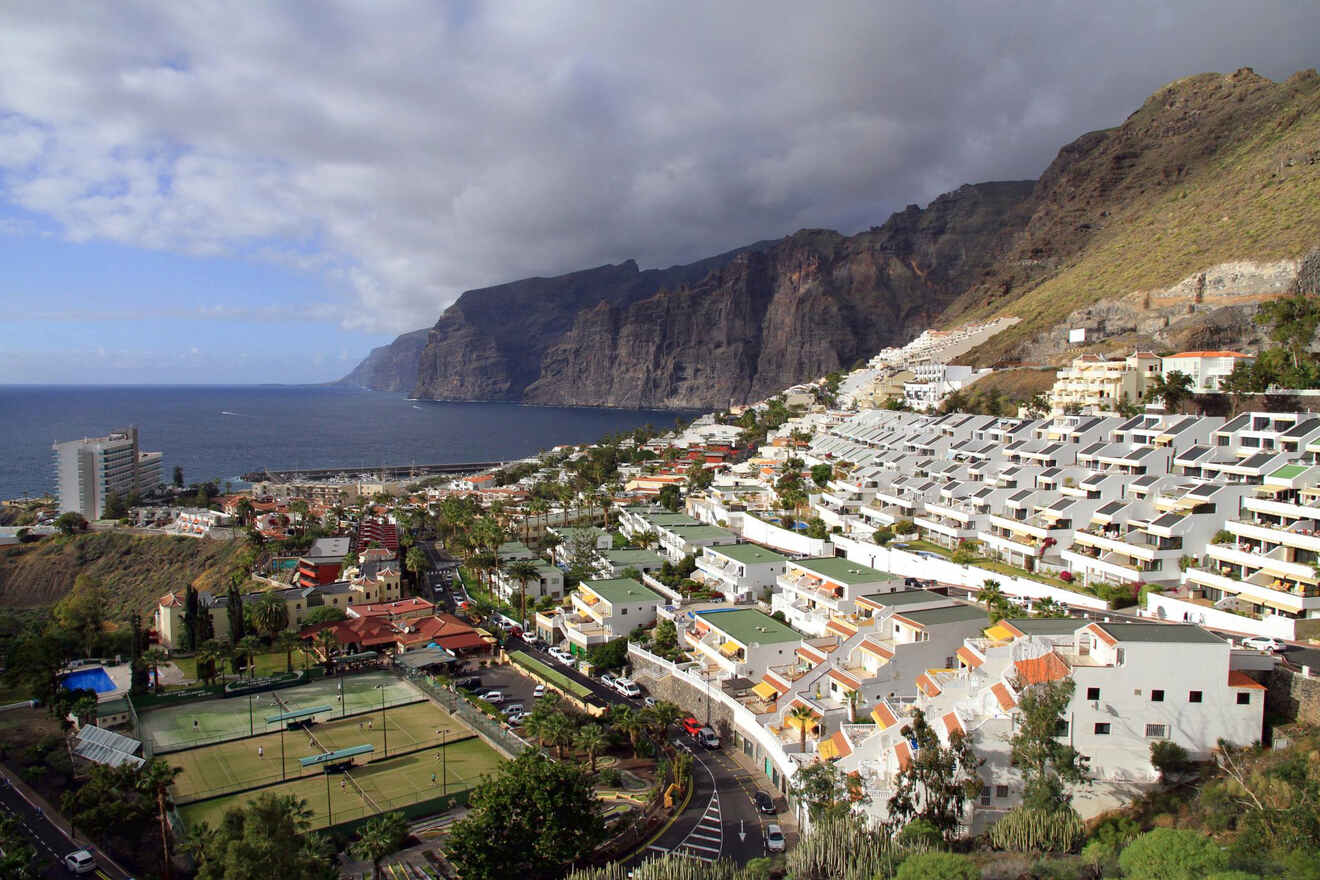 Los Gigantes is an old fishing village located on the South Coast of the island and a 25 min drive from Costa Adeje up north. Even though the village is getting more popular every day among travelers, Los Gigantes is still not as touristy as the other parts of the island and that's why I recommend Los Gigantes as where to stay in Tenerife for anyone looking for a local experience. To reach Los Gigantes, the Southern Airport, Reina Sofia Airport is more convenient.
The famous beach in this area is Playa de la Arena, one of the quieter parts of Tenerife surrounded by picturesque palm trees. Although there are only a couple of beaches in Los Gigantes, you will find nice local cafes and restaurants with a Spanish vibe. You can simply have a stroll to the harbor enjoying the nice view and check out the cute places along the coast. In Los Gigantes, you will also see amazing cliffs overlooking the shore at Puerto Santiago and you should definitely hike on these to enjoy the scenery!
If you want a more quiet and local vibe, Los Gigantes is a very good area to stay in Tenerife. Here you will not find very big resorts but you will be able to find enough accommodation for a relaxing stay. If you are looking for another holiday destination where you can learn more about local life in Spain you should check out Ibiza and Mallorca!
Other accommodation options in Los Gigantes
Things to do in Los Gigantes
3. Playa de las Americas – a town with great nightlife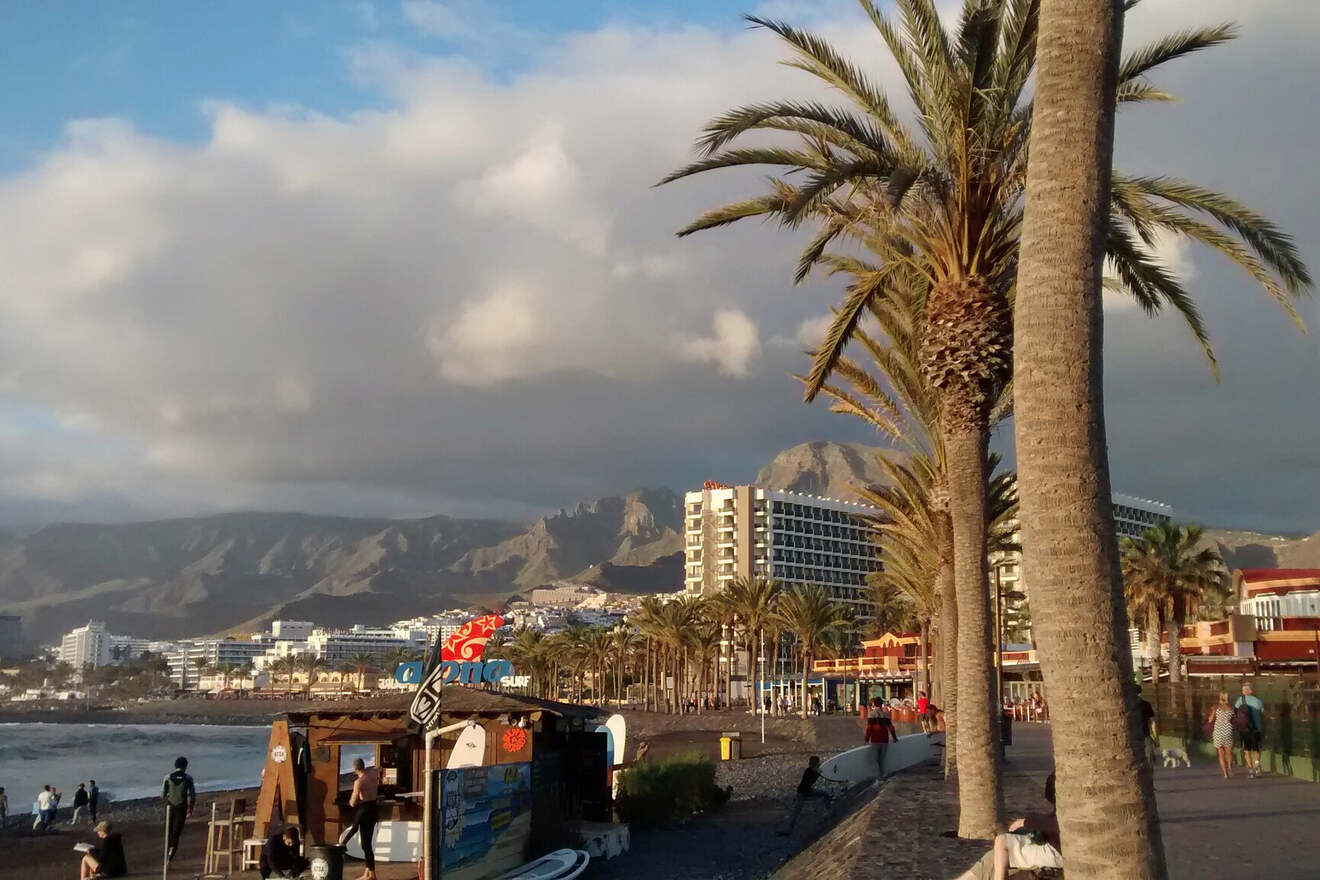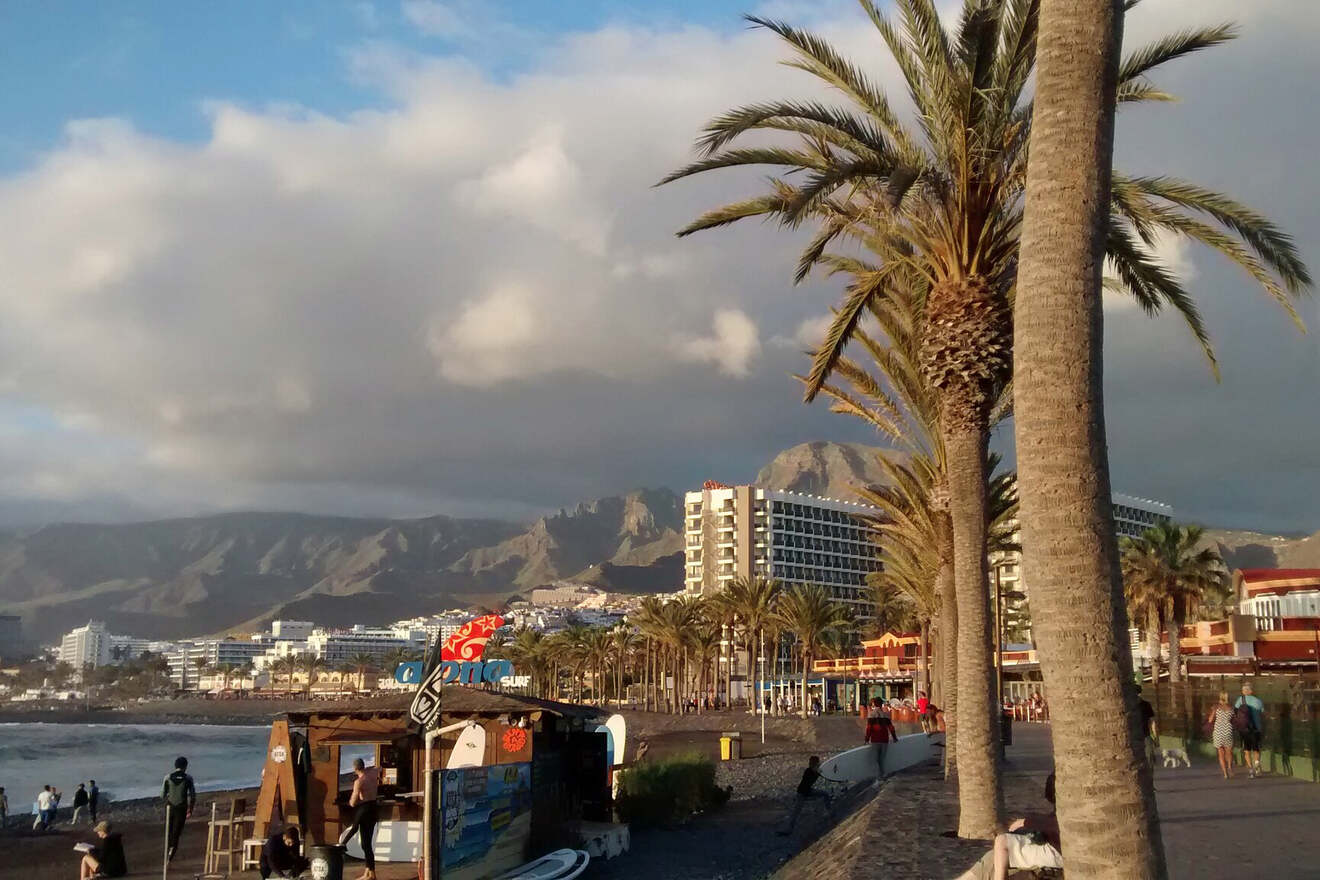 Situated just next to Costa Adeje, Playa de las Americas is the best place to stay in Tenerife for young couples. It is the busiest part of Tenerife with a lot of bars, restaurants, and clubs, and so many other things to do for young adults.
It will be very difficult for you to make a choice among that many options! Simply head to the main pedestrian street filled with bars and clubs and start your pub crawl. Continue along the street and end up in an epic club to finish off a great night of partying. 
Apart from the nightlife, Playa de las Americas offers very beautiful beaches too of course. After having a long party night you can choose one of these stunning beaches for a re-energizing swim in the crystal blue sea before doing it all over again the next night! Plus, if you are into sailing, Playa de las Americas also has perfect sailing conditions.
Other accommodation in Playa de las Americas
Things to do in Playa de las Americas
4. Puerto de la Cruz – poshest part of Tenerife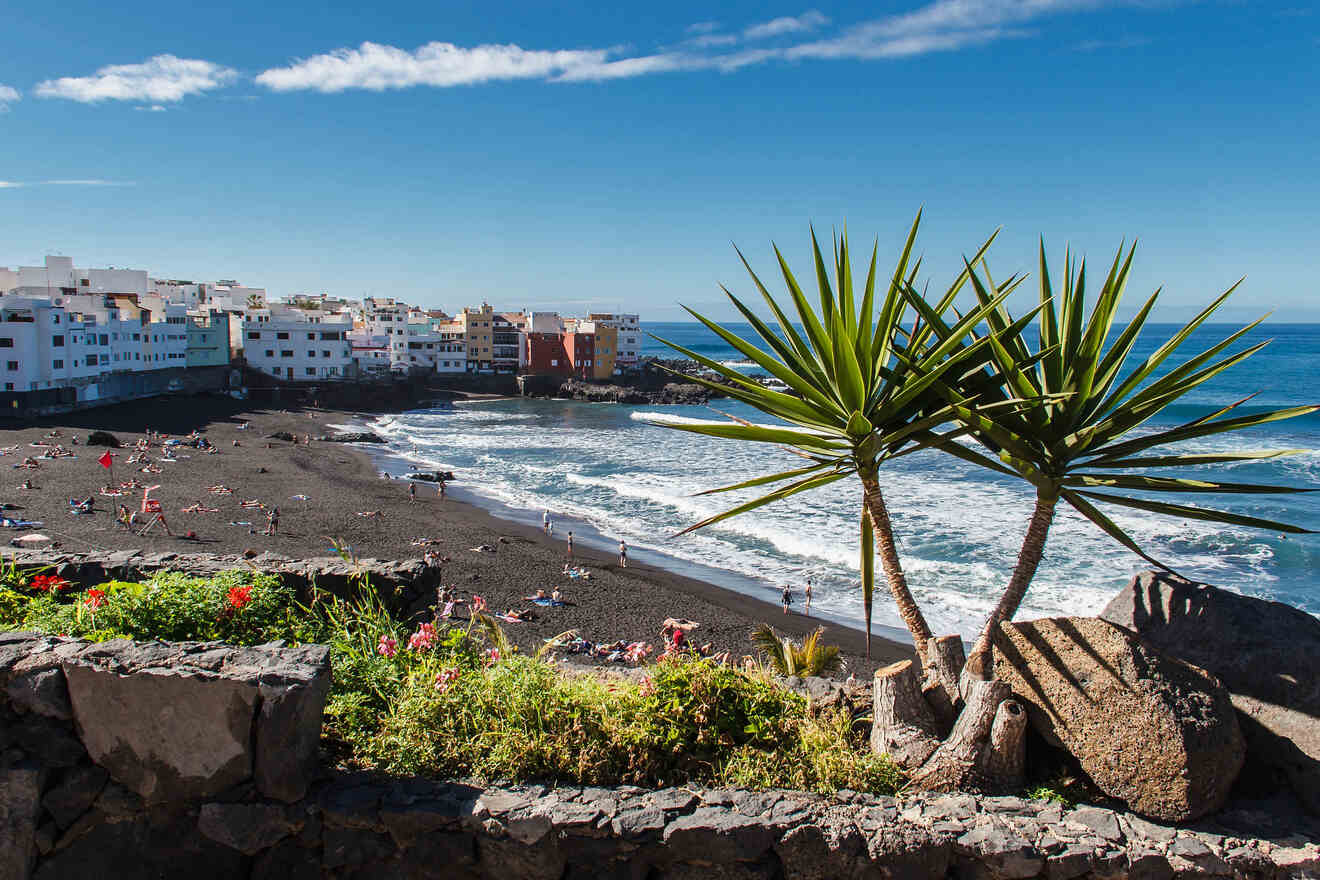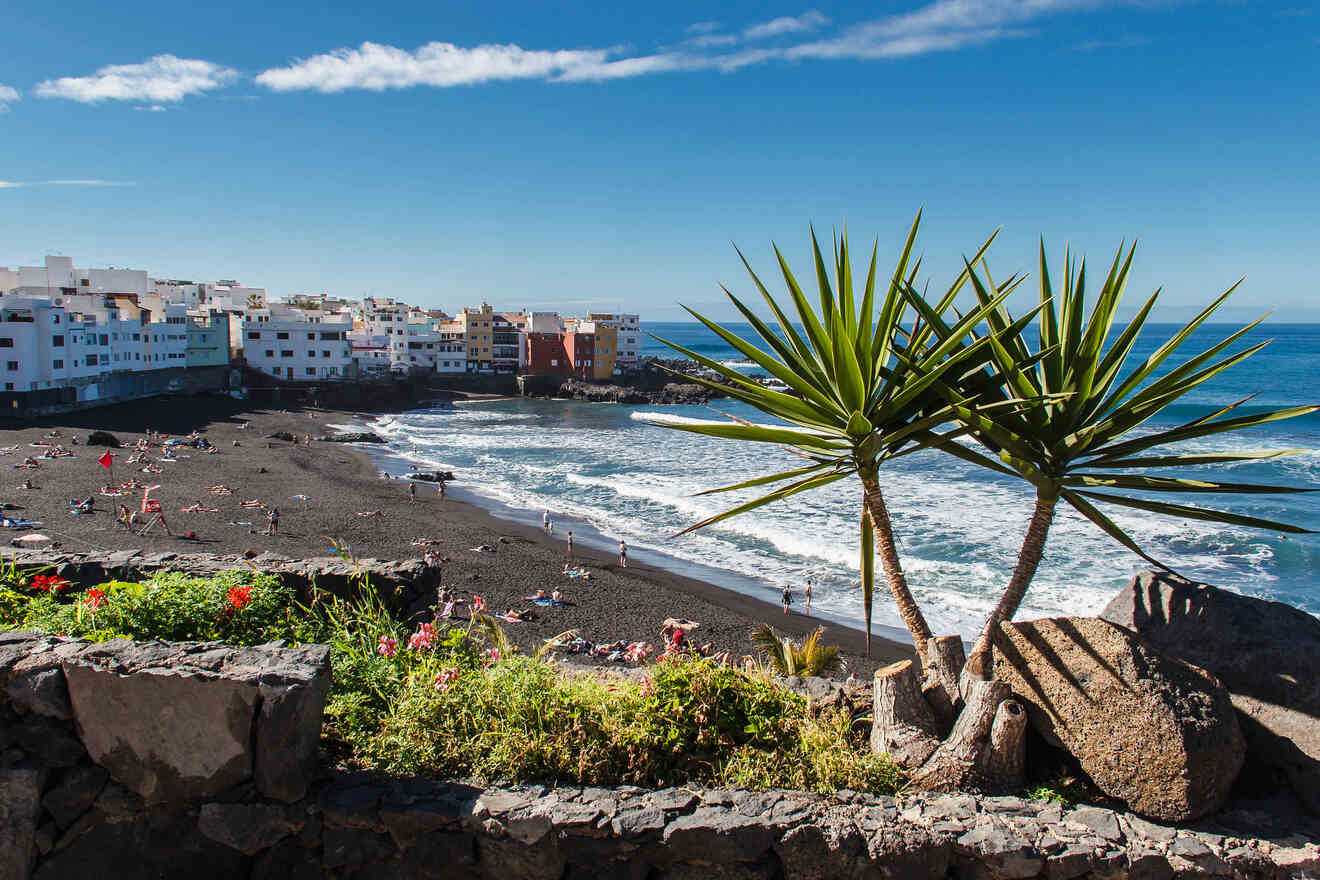 Puerta de la Cruz is the beautifully lush, green, and posh part of Tenerife. It is also the second biggest town and located on the north of the island, about an hour drive from Costa Adeje and the South Airport (North Airport is more convenient, if you can – 20 min by car).
Here you will find many charming, laid back beaches great for relaxing. In this area, luxury lovers should definitely visit Lago Martiánez and enjoy a cocktail by the luxurious swimming pools surrounded by palm trees for the ultimate experience.
The beauty of Puerto de la Cruz is, here you will not only find luxury resorts next to amazing beaches but will also have access to the green part of the island. Having a bit more rain than the other parts of the island, this area offers beautiful botanical gardens with many different types of plants and flowers. Tenerife's famous volcanic black sand beaches can also be found here. These volcanic sand beaches look so nice in photos so make sure not to forget your camera!
Puerto de la Cruz is my pick for luxury travelers as you will find more upscale resorts nearby the beach here. Some of these resorts are very popular among European tourists so don't forget to make a booking months in advance! Here are the best places to stay in this area.
Other accommodation options in Puerto de la Cruz
Things to do in Puerto de la Cruz
5. Los Cristianos – best region to stay in Tenerife for families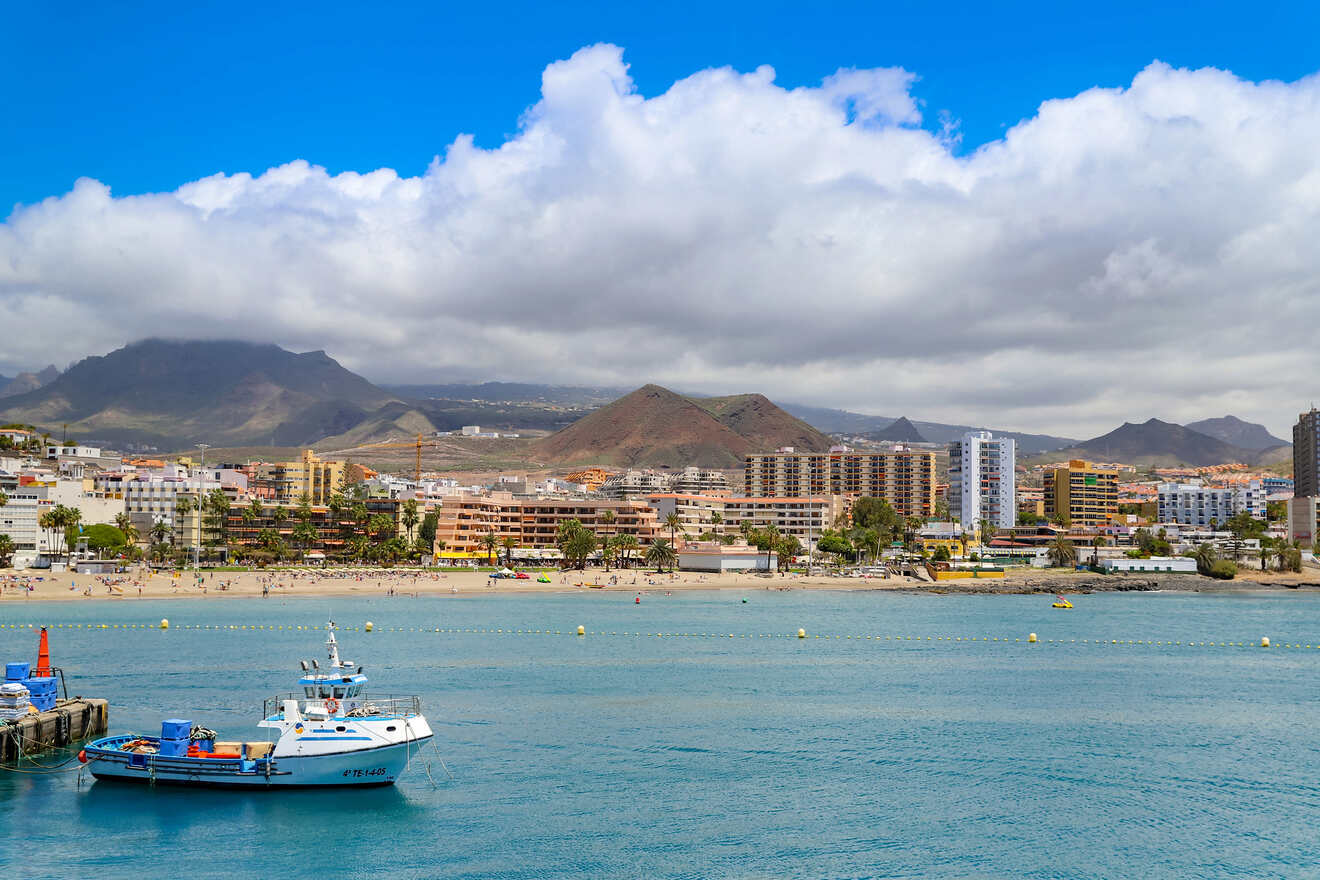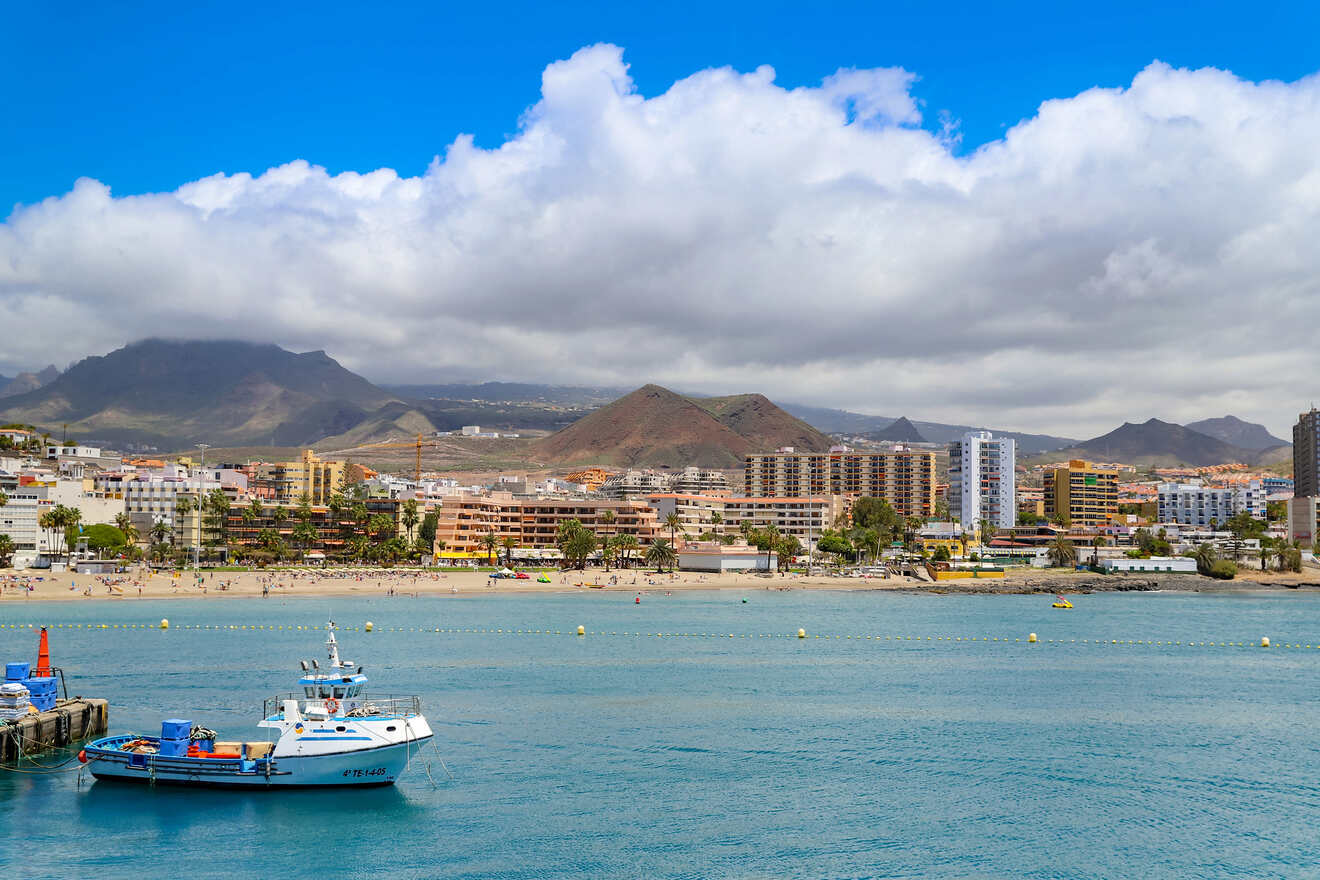 Los Cristianos is a beautiful resort town where you will find many family friendly resorts with great facilities. This area has a more relaxed vibe compared to the other towns in which creates a perfect setup to enjoy beach time with kids in this warmest part of Tenerife.
Here you will find many golden sand beaches, all kinds of restaurants and cafes, plus if you want to go out at night there are not many clubs in Los Cristianos but you will find nice live music bars. And hey, Playa Las America is literally a 5 min cab drive if you are feeling active! 🙂
Even though there are many big upmarket resorts in this area, Los Cristianos still maintains the authentic Spanish vibe. So I am sure you will have a great time if you stay in Los Cristianos with your families. You will also find family friendly attractions nearby such as aquaparks, a zoo, and some other activities that you can enjoy with your kids. That's why this area has the best places to stay in Los Cristianos for families. 
Los Cristianos has some amazing places to stay with kids in the budget – midrange categories but the best luxury hotels in this area are for adults only. So if you really want to spoil your family with an ultra deluxe holiday, check out the Puerto de la Cruz area instead.
Other accommodation options in Los Cristianos
Things to do in Los Cristianos
6. El Medano – where to stay in Tenerife for those on a budget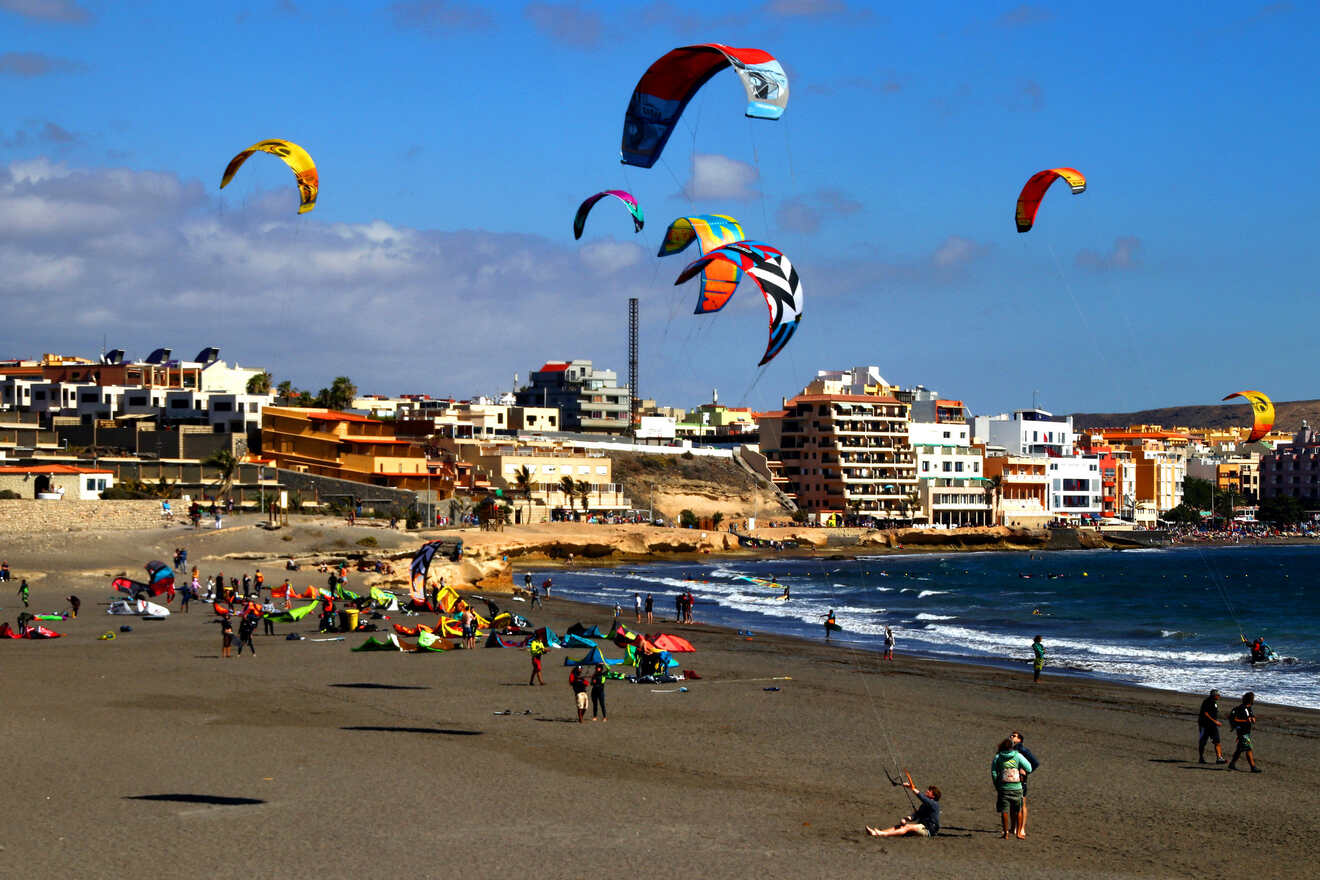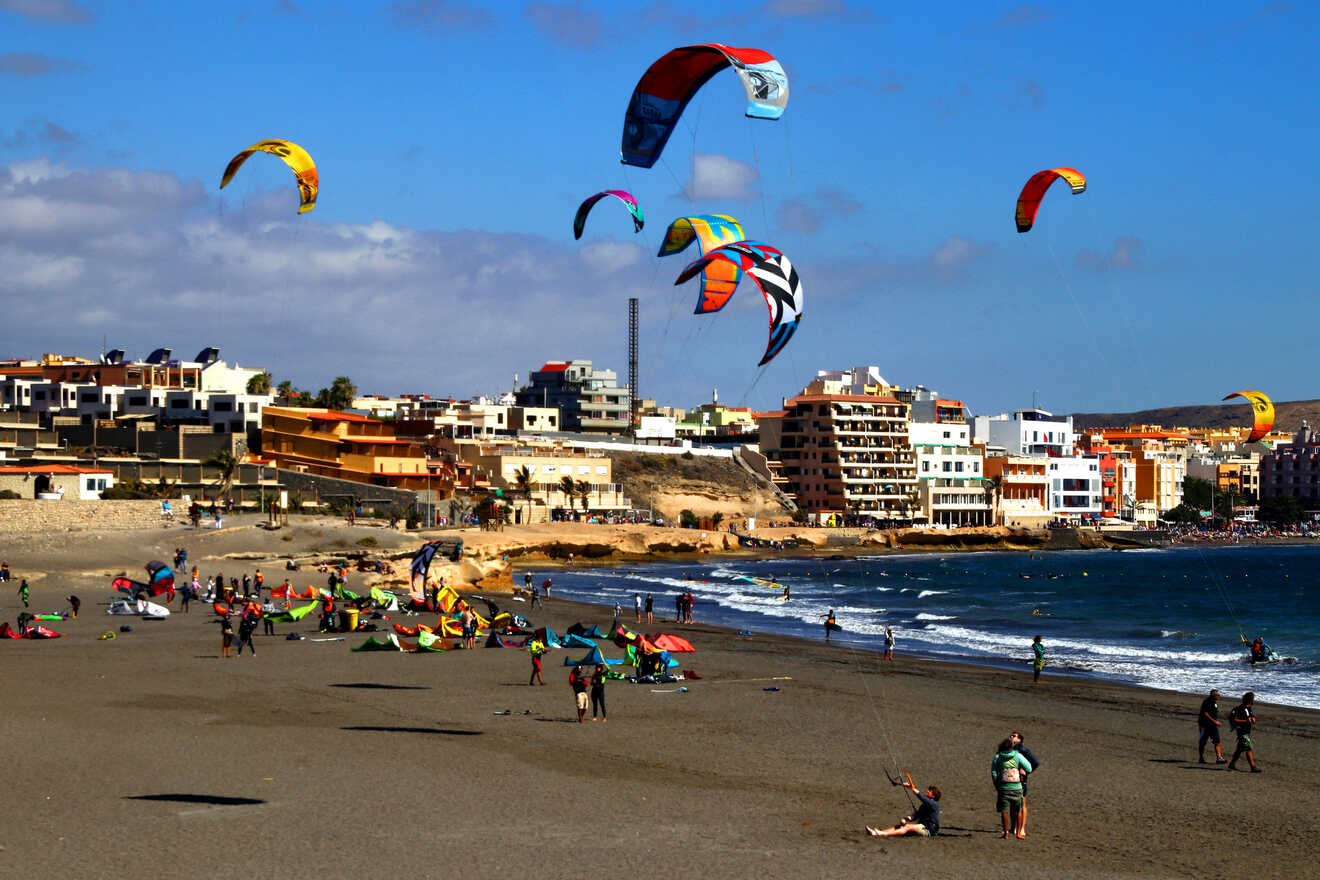 Located 5 km (3 miles) south of Costa Adeje and 10 minutes drive from Tenerife South Airport, El Medano is an adorable old fishing village that still keeps the traditional atmosphere. Here you won't get that touristy vibe as it is rather a quiet laid-back town. This area is my pick for cheap holidays to Tenerife because of the wide variety of budget accommodation options from hostels to great value resorts. Plus, you will still be close to the main attractions of the island!
El Medano is known for being a famous surf spot. Pro surfers come here to practice and also many travelers who want to take surf lessons visit this village. You will also find amazing Medano beach here. In El Medano, you will find hipster cafes as well as nice bohemian bars and restaurants, cool local pubs, and a great selection of shops. Here are some of the best places to stay in El Medano.
Other accommodation options in El Medano
Things to do in El Medano
BONUS 1: 6 things to know about Tenerife before your holiday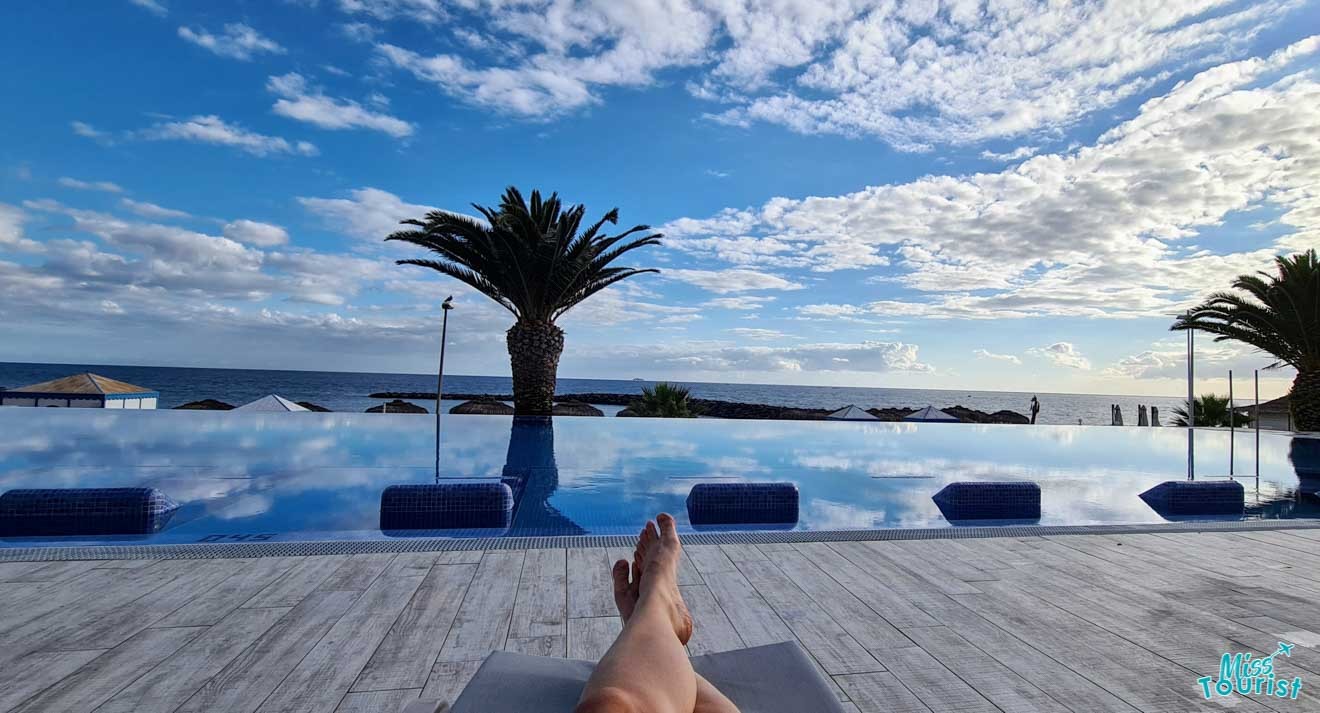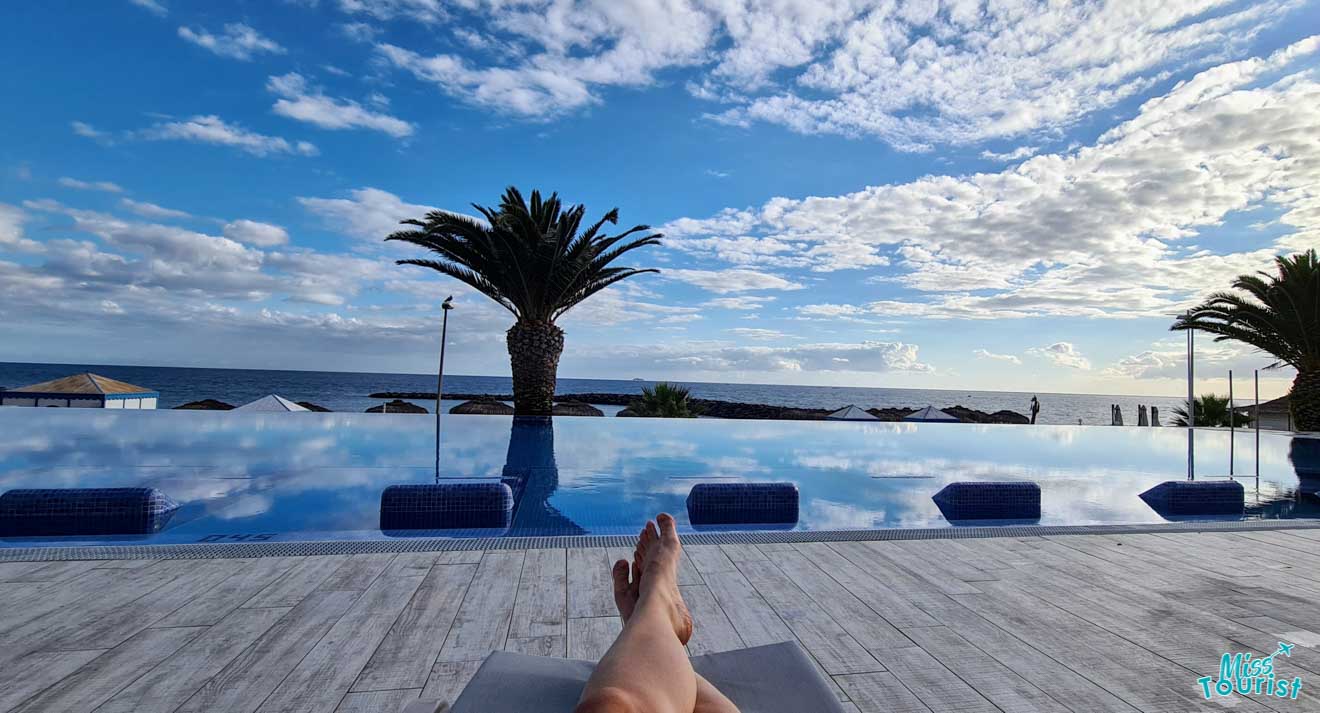 Tenerife is a big island and wherever you decide to stay you might want to discover other parts and activities on the island. Here is some useful information that will make your stay in Tenerife perfect:
1. Tenerife has two airports
There are 2 airports in Tenerife. The first one is Tenerife South Airport (Reina Sofia Airport) which is about 20 km (10 miles) from Costa Adeje. The Second one is Tenerife North Airport (Los Rodeos Airport) which is 10 km (5 miles) from the island capital Santa Cruz de Tenerife.
Although the island may seem small on the map, if you need to travel from one side to the other when you arrive you will either have to take a very expensive taxi (~100 EUR between airports) or catch a combination of busses that will take over 2 hours. Not exactly a relaxing start to your holiday! So, make sure to check where you will be arriving from when choosing where to stay in Tenerife.
2. Tenerife is closer to Morocco than to Spain
Tenerife is the largest of the Canary Islands which belongs to Spain and that's why many people think that it is close to Spain. However, it is actually closer to the west coast of Morocco! The shortest flight from Spain takes about 2,5 hours. Most frequent flights are from Barcelona and Madrid (3 hours). However, especially in summer time, there are frequent flights from the UK, France, and Germany to Tenerife.
There are also 2 ferry routes operating between Spain and Tenerife which are operating 4 times a week. Trasmediterranea operates from Cadiz to Santa Cruz de Tenerife once a week and Fred Olsen Express operates from Huelva to Santa Cruz de Tenerife twice a week.
3. Getting around in Tenerife
There are very limited buses operating on the island and taxis can be expensive. That's why the easiest way to get around in Tenerife is renting a car. There is a highway all around the island and connects major cities. Renting a car also gives you the freedom to explore deserted places on the island. However, for major cities, you can check out the timetables and routes from Tenerife's bus operator's website.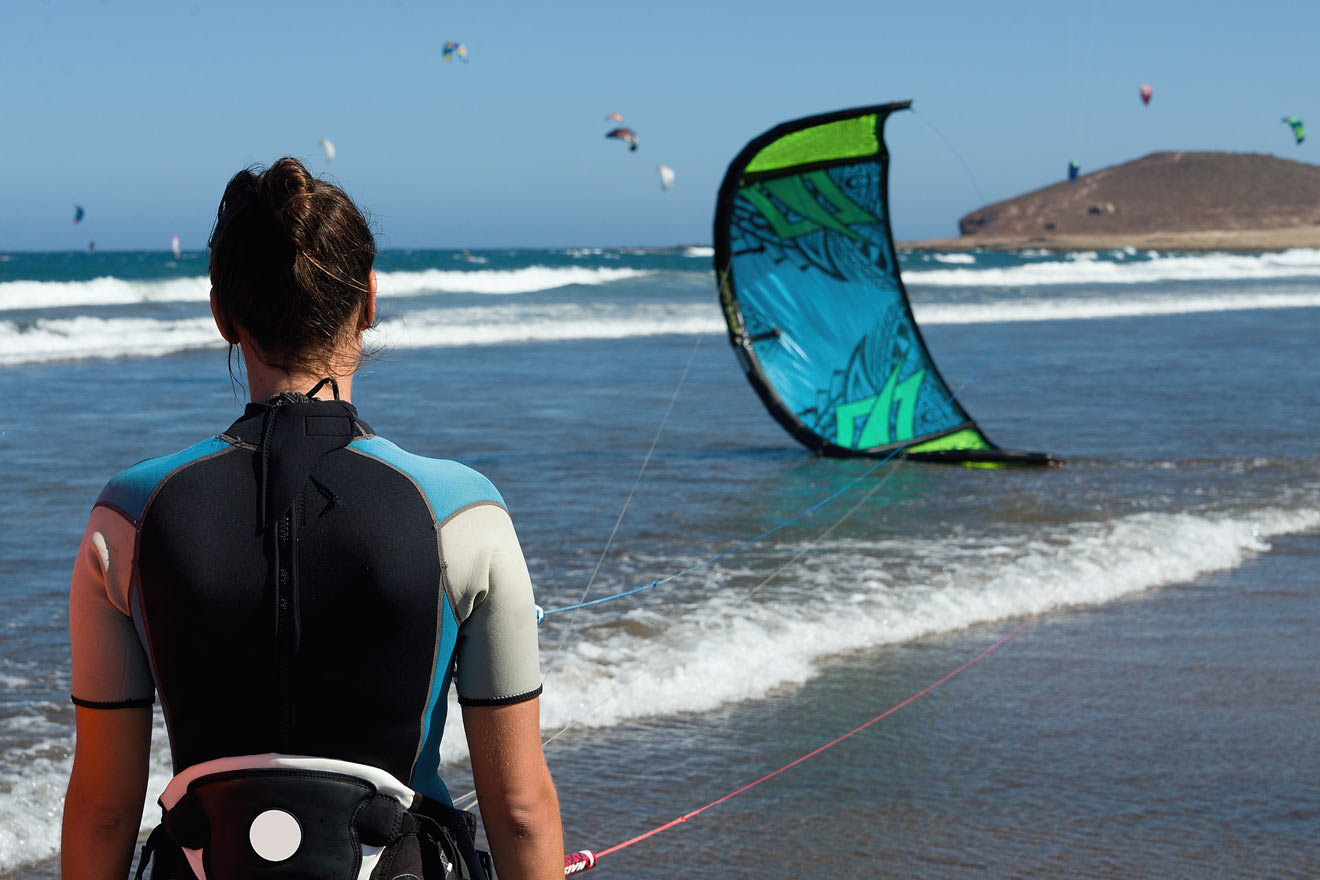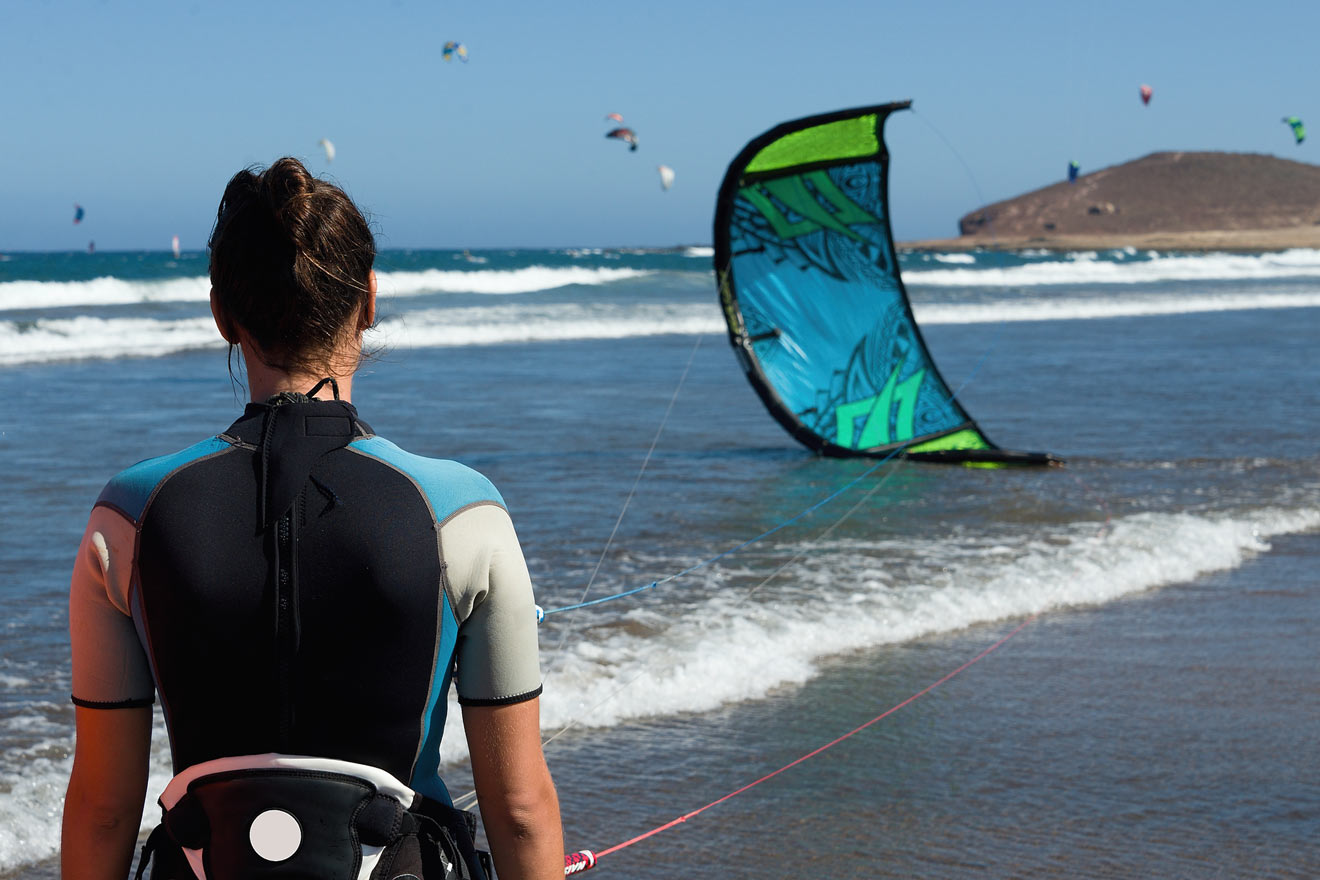 4. Tenerife is one of the best places to go kitesurfing in Europe
Tenerife has one of the best kitesurf and surf spots in Europe! Some people just visit the island to take lessons or practice surfing. El Médano is where you can surf in Tenerife and the best wind conditions are from January to September.
If you haven't tried before, Tenerife is a great place to start, so you might want to start your kitesurfing lessons here. If you want to try some other adventure activities, in the south of the island, you can do paragliding and you can also hike at Teide national park which includes Spain's highest mountain Mount Teide offering world-class hiking trails.
5. Tenerife is not in the European Union
Even though the Canary Islands are part of Spain, they are a Special Member State which means Canary Islands are not in the EU VAT area. So you don't pay tax in Tenerife.
That's why you can buy stuff around 10% cheaper in Tenerife and it's a great place to go shopping!
6. Carnival in Tenerife
Every year in February the Santa Cruz festival takes place in Tenerife. This carnival is the second largest carnival in the world after Rio de Janeiro. During the carnival, local people wear fancy dresses and costumes and dance on the streets. Street parties continue till the early hours of the morning and that's why some people specifically visit Tenerife in February to enjoy this carnival. If you want to be part of this amazing carnival make sure to make your booking in months advance.
If you are planning to hop on another Canary Islands check out this post for where to stay in Gran Canaria for some holiday inspiration!
BONUS 2: Other must see places in Tenerife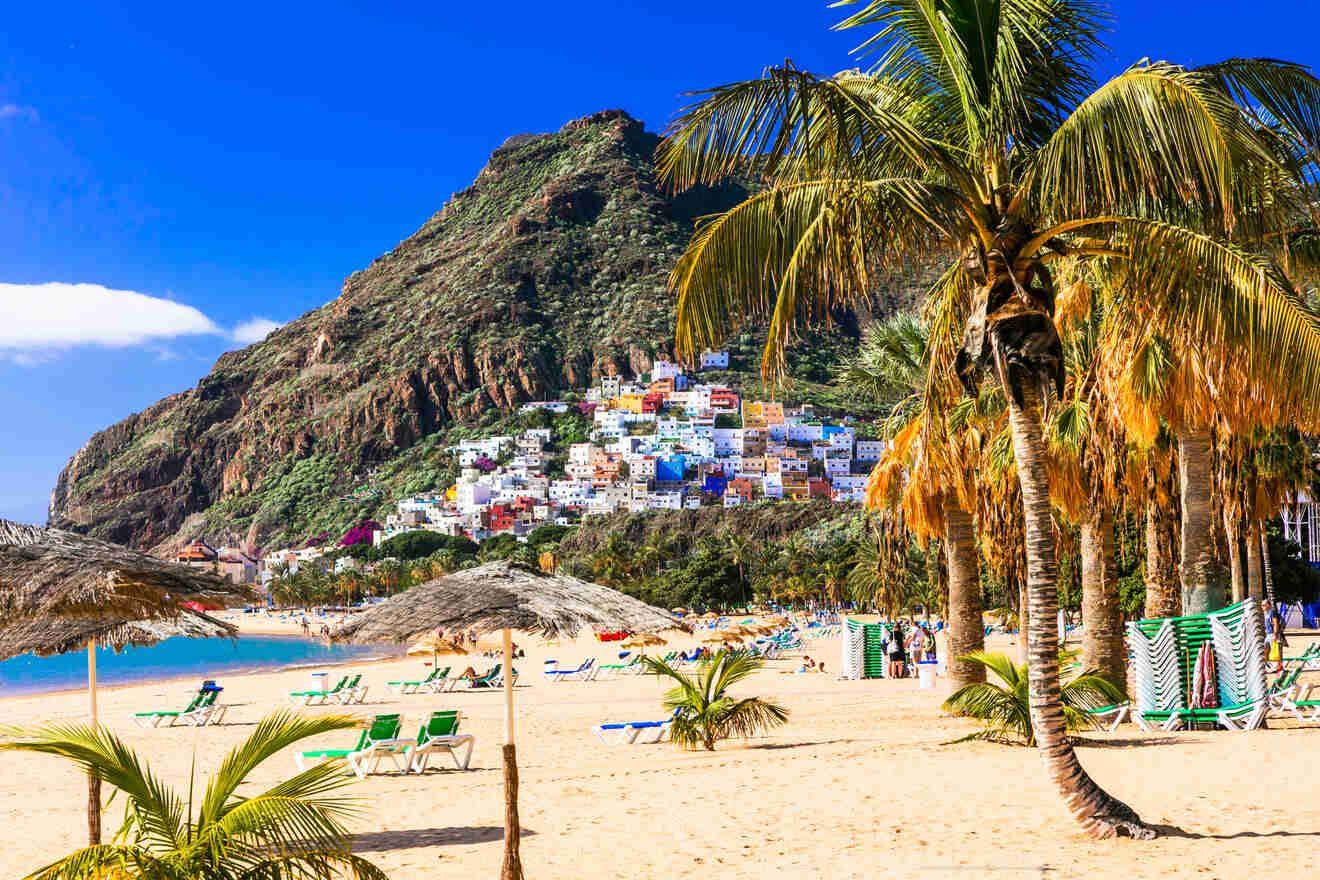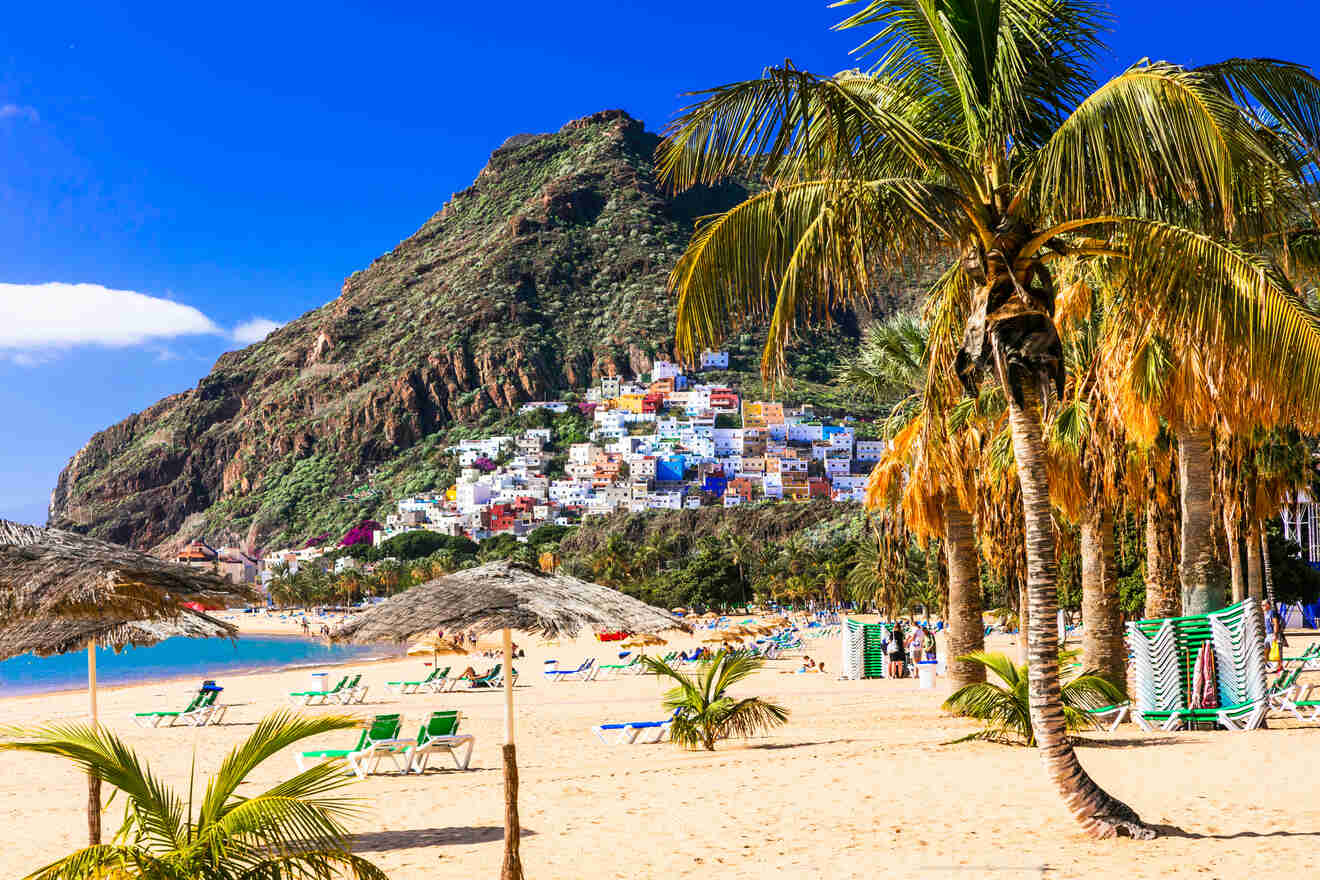 I've already mentioned the 6 best areas for where to stay in Tenerife and some things to know before you arrive. However, if you are looking for more info, I am happy to give you recommendations on some lesser-known places!
Here are some of my top picks that are sure to make your Tenerife holiday special:
Santa Cruz de Tenerife
Santa Cruz de Tenerife is the biggest city on the island and joint capital of the whole Canary Islands. Located in the northern part of the island and 20 minutes drive from Tenerife North Airport, the easiest way to reach Santa Cruz de Tenerife is by renting a car.
Having been surrounded by Parque Rural De Anaga mountains, the city offers spectacular views. There are also many museums, art galleries, and churches to explore in Santa Cruz de Tenerife. With a 10 minutes drive, you can reach beautiful quiet beaches Las Teresitas and La Laguna. Santa Cruz Tenerife definitely is worth a day trip!
La Laguna
La Laguna is the old capital of Tenerife and a 10 minutes drive from Santa Cruz (just above). You can also take local buses to reach La Laguna. It is a beautiful historical old town worth a day trip. With its cute colorful buildings, La laguna is a very photogenic city and also well preserved by UNESCO World Heritage Sites.
This old Spanish colonial city resembles Havana Old Town in Cuba. In La Laguna, there are many museums and churches to visit so grab your camera and enjoy discovering the adorable streets of La Laguna!
Puerto de Santiago
Puerto de Santiago is located between Playa de la Arena and Los Gigantes. Puerto de Santiago is a fishing village that offers a laid back atmosphere. You can simply enjoy a stroll along the coast of Puerto Santiago, watch amazing landscapes, and have delicious seafood in local cafes. It is a great place to relax and get away from touristy areas. You can spare 1 day of your Tenerife holiday to spend in Puerto de Santiago.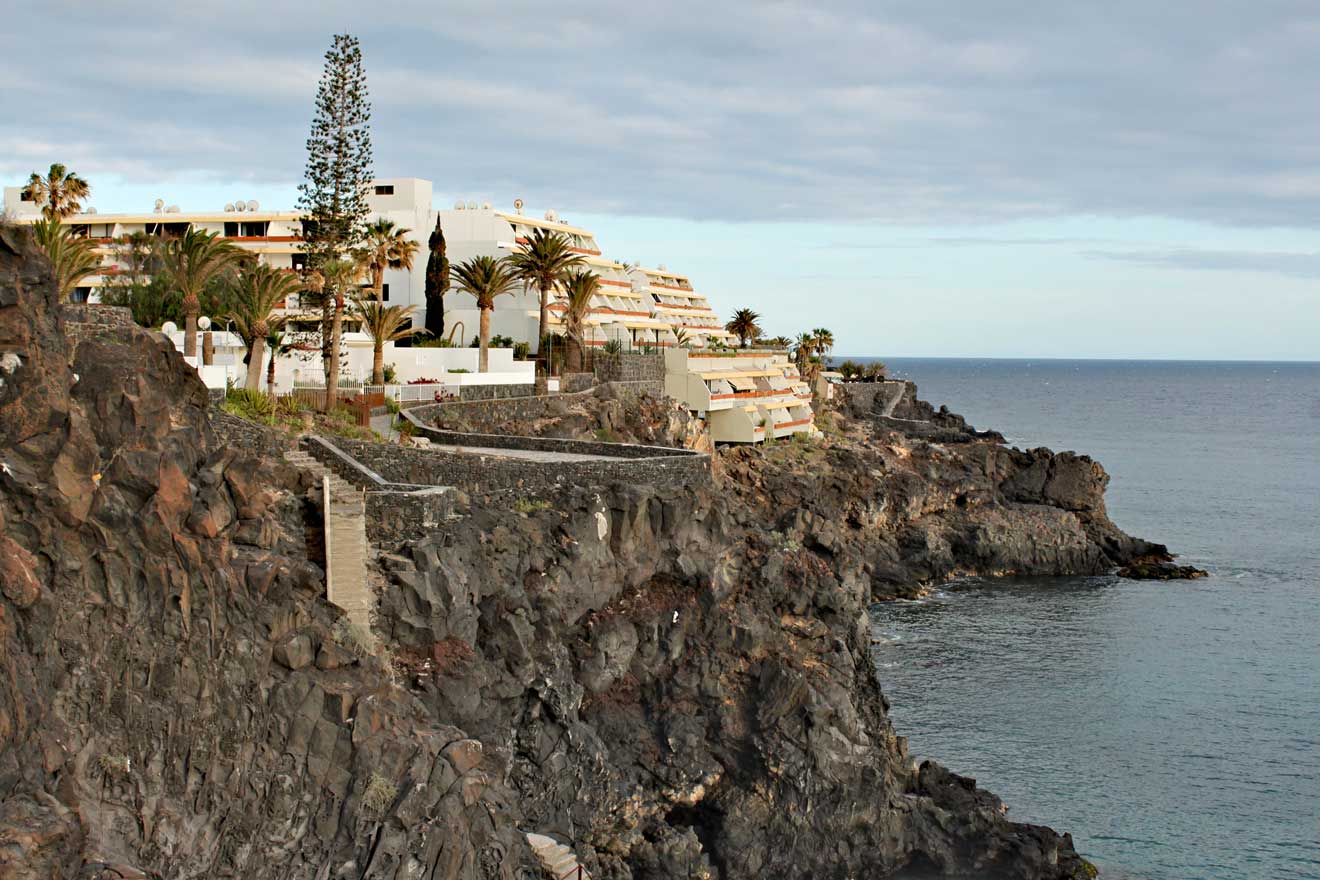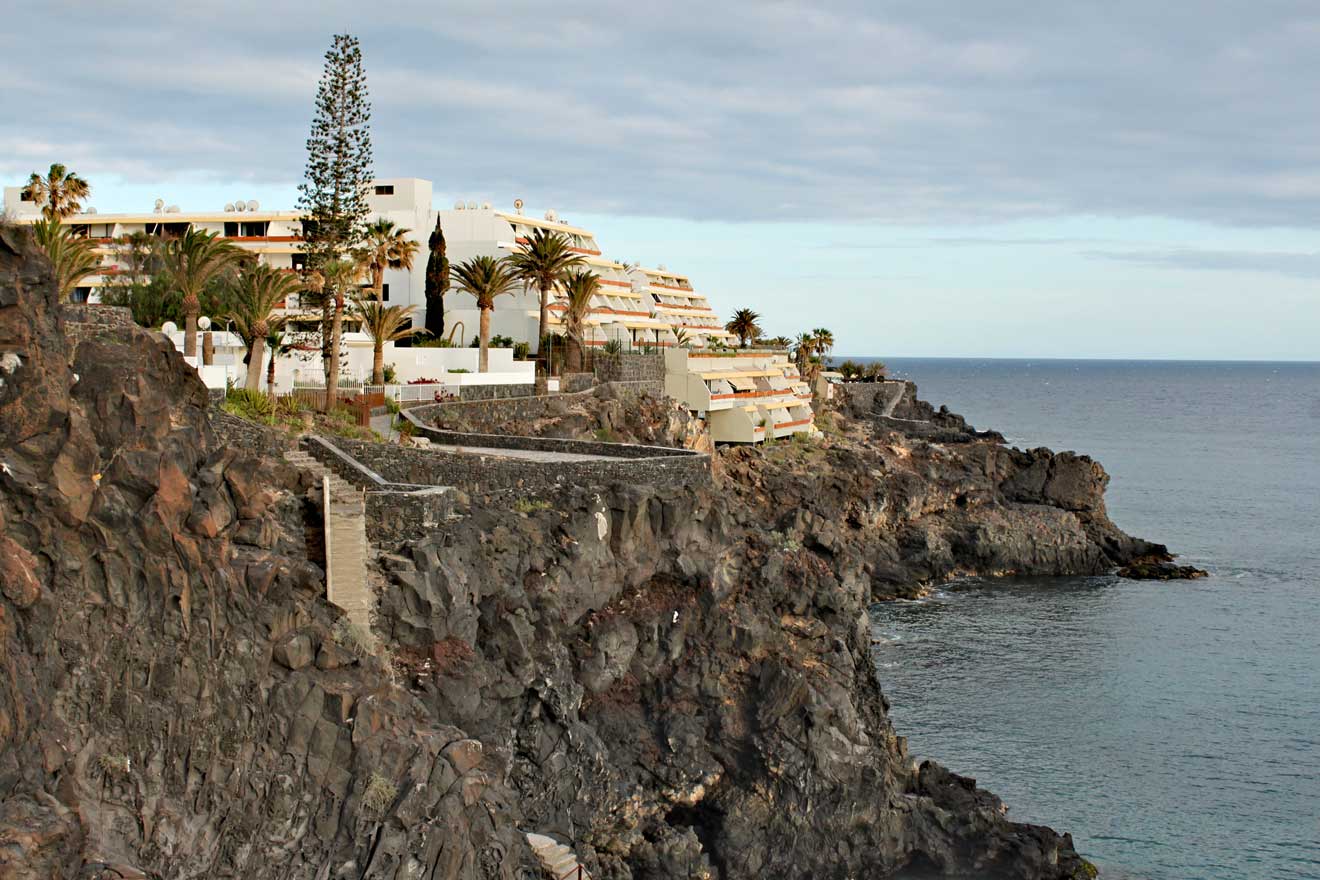 Costa Del Silencio
Costa Del Silencio is situated on the south coast of Tenerife and 10 km (5 miles) to the east of Playa de las Americas. Costa del Silencio means "silent coast". That's why here you will find quiet beaches. It is also a great place to watch dolphins and whales plus there are also many other activities possible in Costa Del Silencio. Outdoor lovers can enjoy hiking trails up to Montana Amarillo and golf fans can take golf courses in this town.
La Orotava
Located on the northwest coast of Tenerife and a 15 minutes drive from Puerto de la Cruz, La Orotava is an attractive affluent area surrounded by banana trees. In La Orotava, you will see buildings with great architecture, museums, and wine tasting places. Have a day trip to La Orotava and enjoy foods in Canarian style restaurants, try some local wines, and visit charming shops.
Callao Salvaje
Callao Salvaje is located 10 km (5 miles) south of Costa Adeje and the best place to relax on the beach. If you are based in Costa Adeje and looking for a quiet beach and avoid the tourist crowd, you can enjoy a day trip to Callao Salvaje.
Frequently asked questions about Tenerife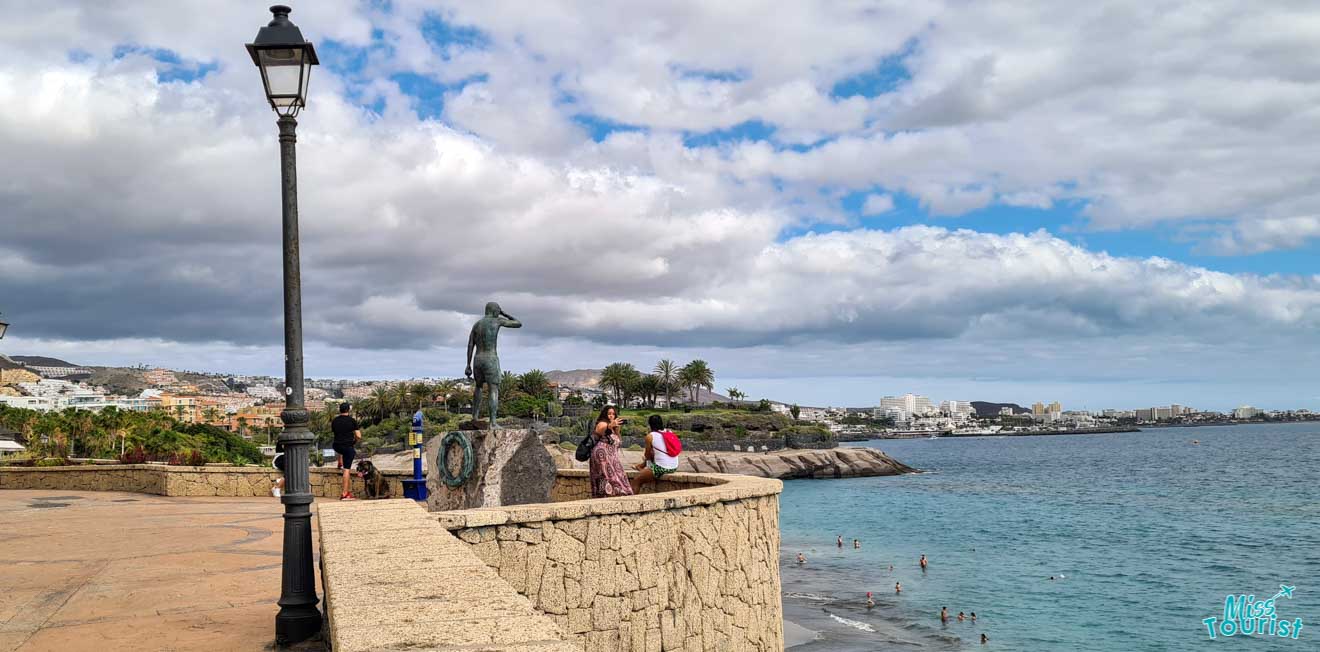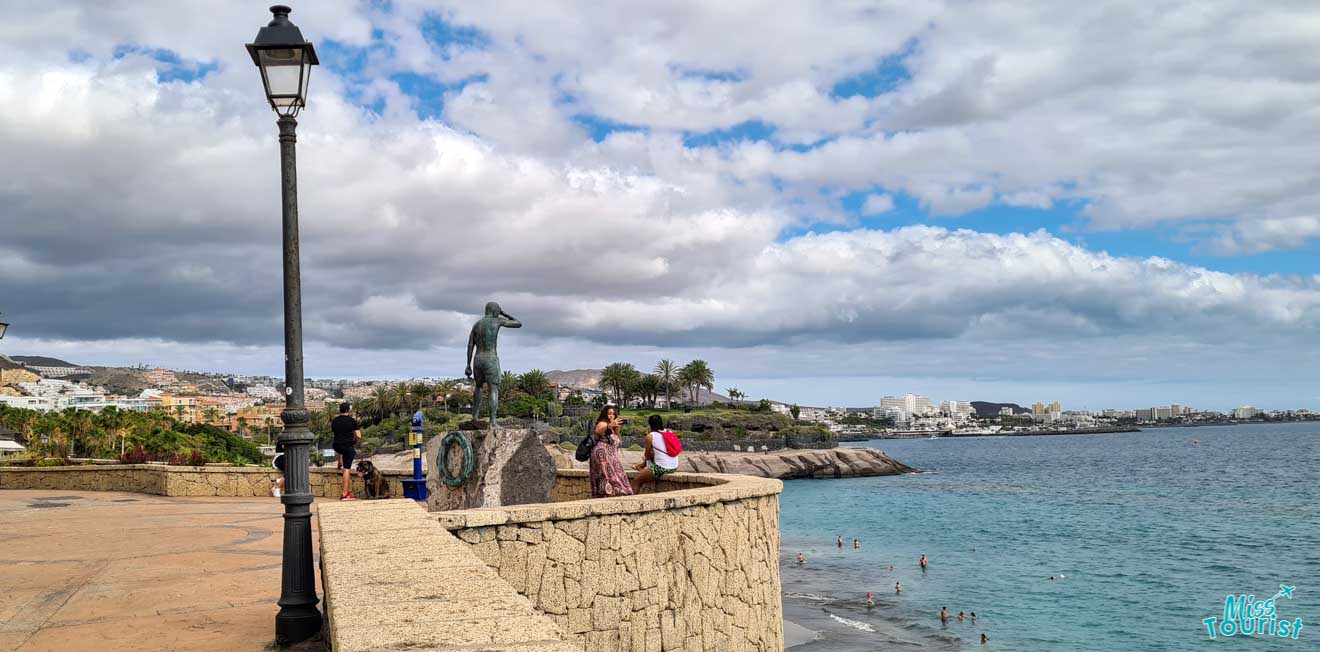 Conclusion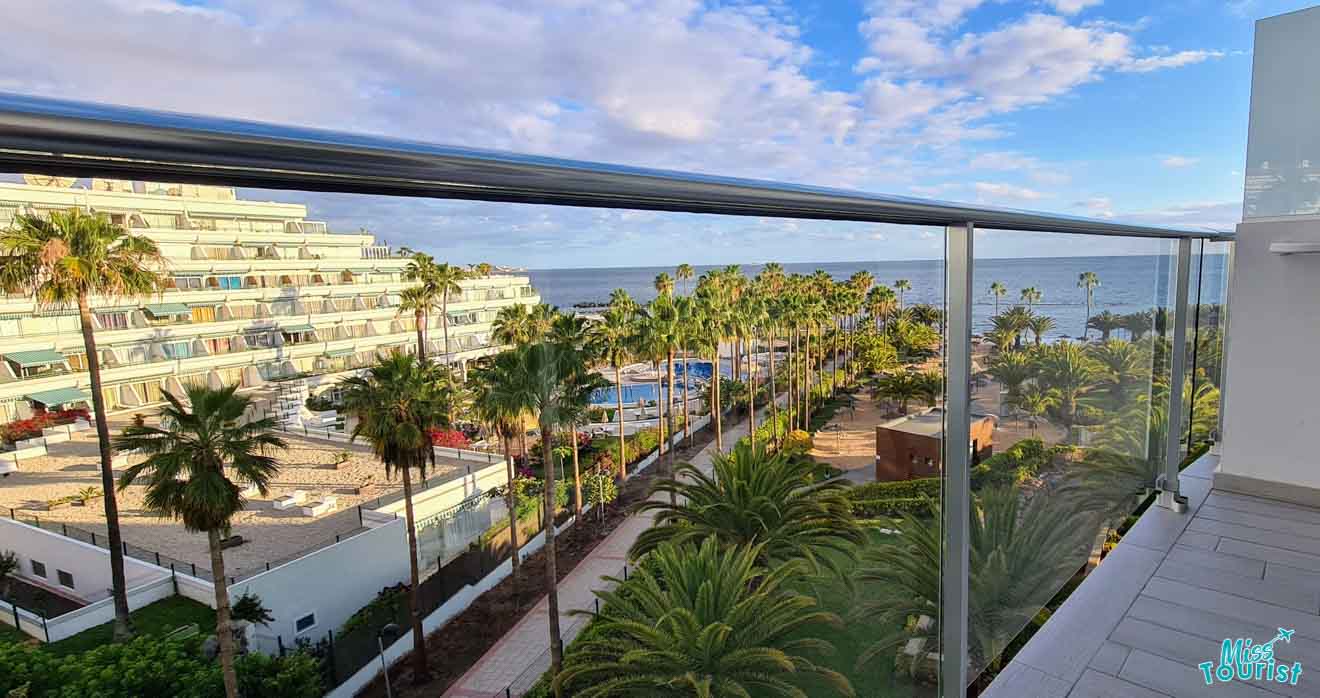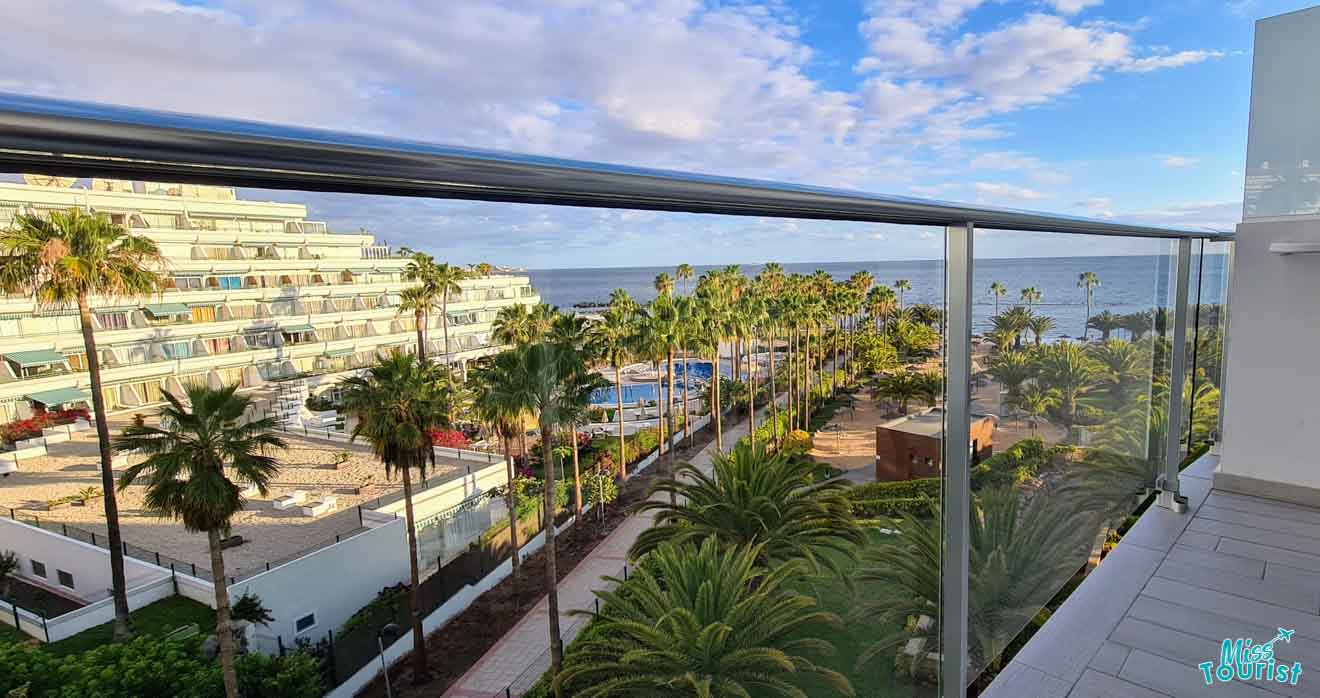 I hope that this post will be helpful to you in finding where to stay in Tenerife and you will enjoy your holiday. In this post, I mentioned the nicest areas to stay in Tenerife, with the best hotels and Airbnbs in each neighborhood.
To sum up, here are the best 2 resorts to stay in Tenerife where I would definitely recommend you to choose. They both have good locations and great reviews too!
Tenerife is one of the most famous holiday destinations in Europe, so, in order not to miss your perfect resort in Tenerife, make a reservation now!
Don't forget to leave a comment below if you have any other suggestions or questions about Tenerife! I'll be happy to reply to them!
Have a great holiday,
Eylul
---