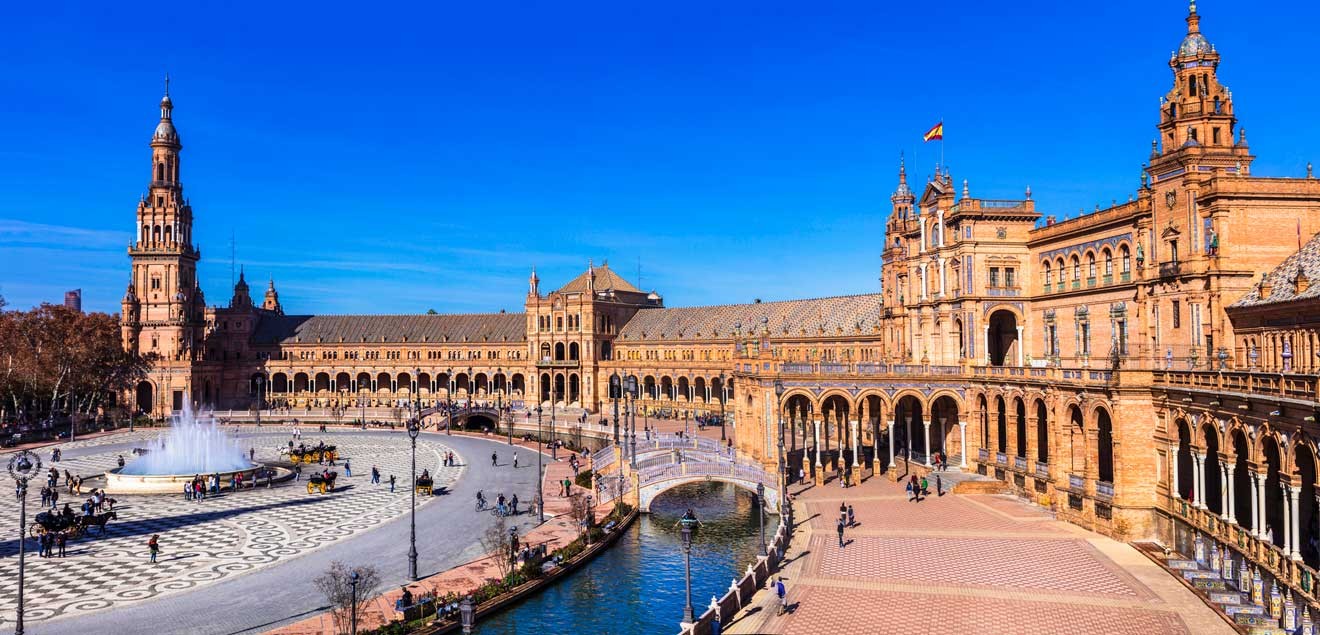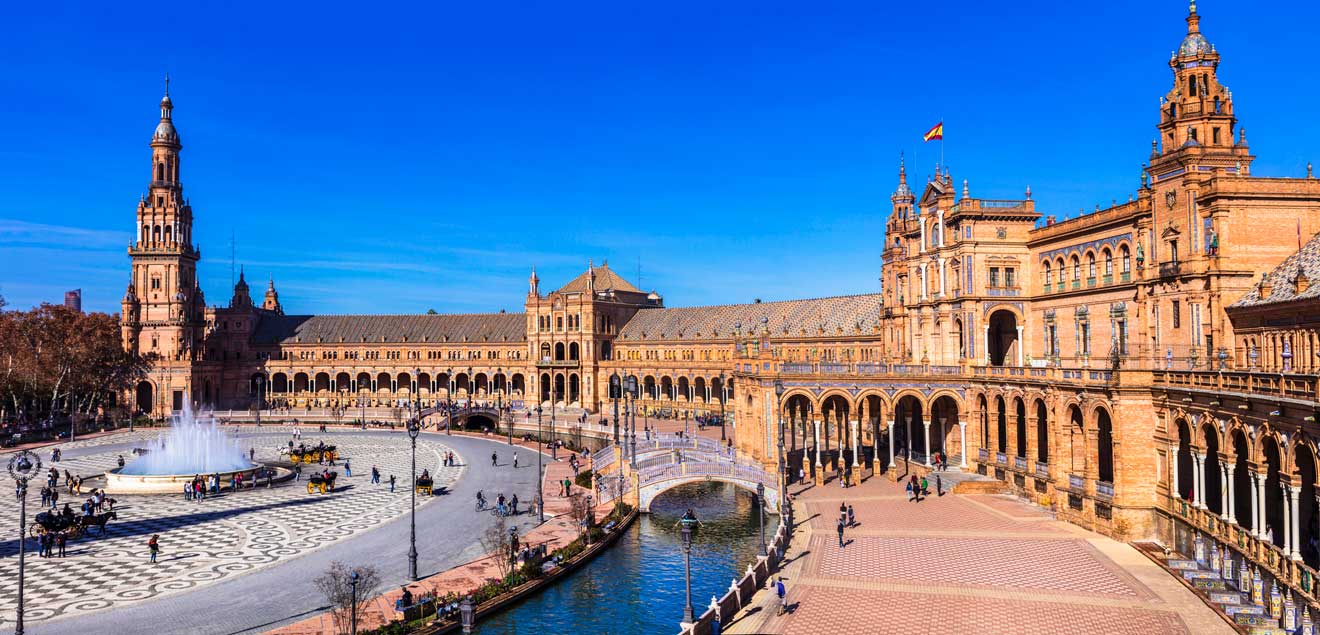 Seville is the capital of Andalusia and the 4th largest city in Spain. Although it is not as well-known as Madrid or Barcelona, Seville is one of the country's most important cultural centers. It has been referred to as one of the world's most beautiful cities (and I can certainly confirm that I simply fell in love with it as soon as I arrived!).
The city is located in Southern Spain, and it has a unique cultural heritage, and it gives a fantastic blend of Moorish (Muslim) and Spanish architecture. It is home to many landmarks, including the Seville Cathedral, the Royal Alcázar palace complex, and Plaza de España – one of the most beautiful squares I have ever seen!
If this is not enough, Seville is also famous for its food and drink, including the tapas (tapas originate from Sevilla!), jamón (ham), and Flamenquines.
Without further ado, let's talk about the best things to do in Seville:
1. Visit the Seville Cathedral & walk around Santa Cruz Area (Old Town)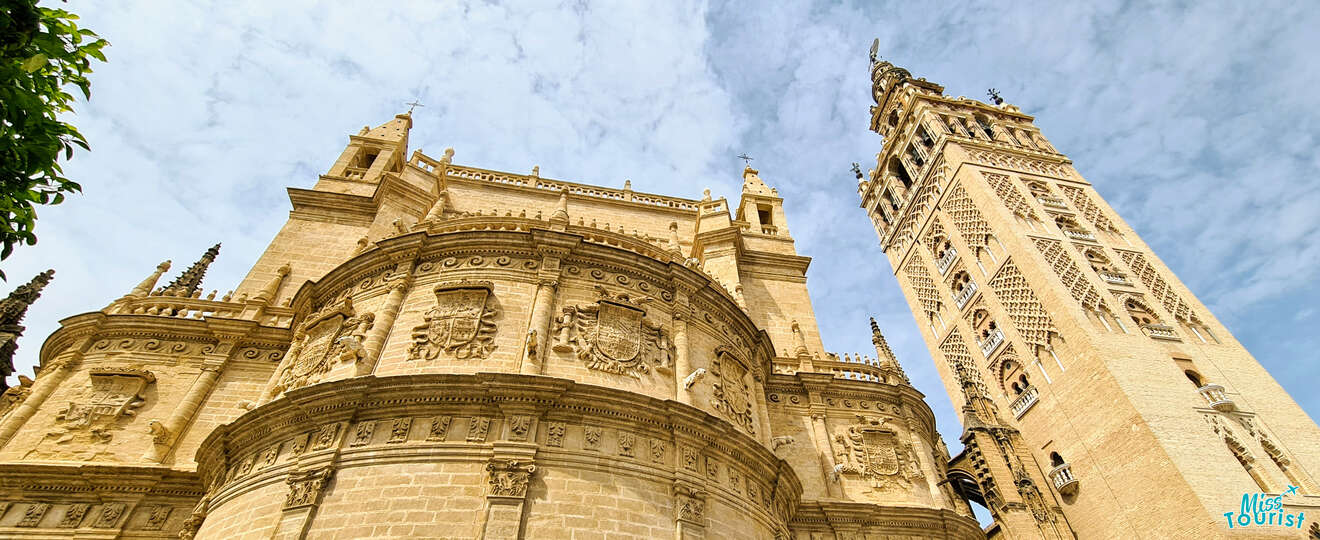 Among the many things to do in Seville, visiting the Cathedral is probably at the top of every tourist's bucket list. It's definitely in mine, as you can notice. Proclaimed the world's largest Gothic cathedral and the third Christian temple after St. Peter's in Rome and St. Paul's in London, the Seville Cathedral is a UNESCO World Heritage site that you can't possibly miss.
Nor should you miss climbing its famous La Giralda tower (the bell tower), from where you can admire the most amazing panoramic view of the city, exploring the Cathedral's court of Orange Trees, or visiting the tomb of Christopher Columbus inside the Cathedral.
It's a great idea to visit the Cathedral, climb La Giralda tower, and explore Santa Cruz. It's so charming! In the historic district, most houses have patios, backyards with fountains, and other unique designs.
PRO TIP: The Sevilla Cathedral has a couple of entrances. In case one is closed, definitely check the other side. You'll probably find another one open.
PRICE: Adults – 11€, students & seniors – 6€
2. Admire Plaza de España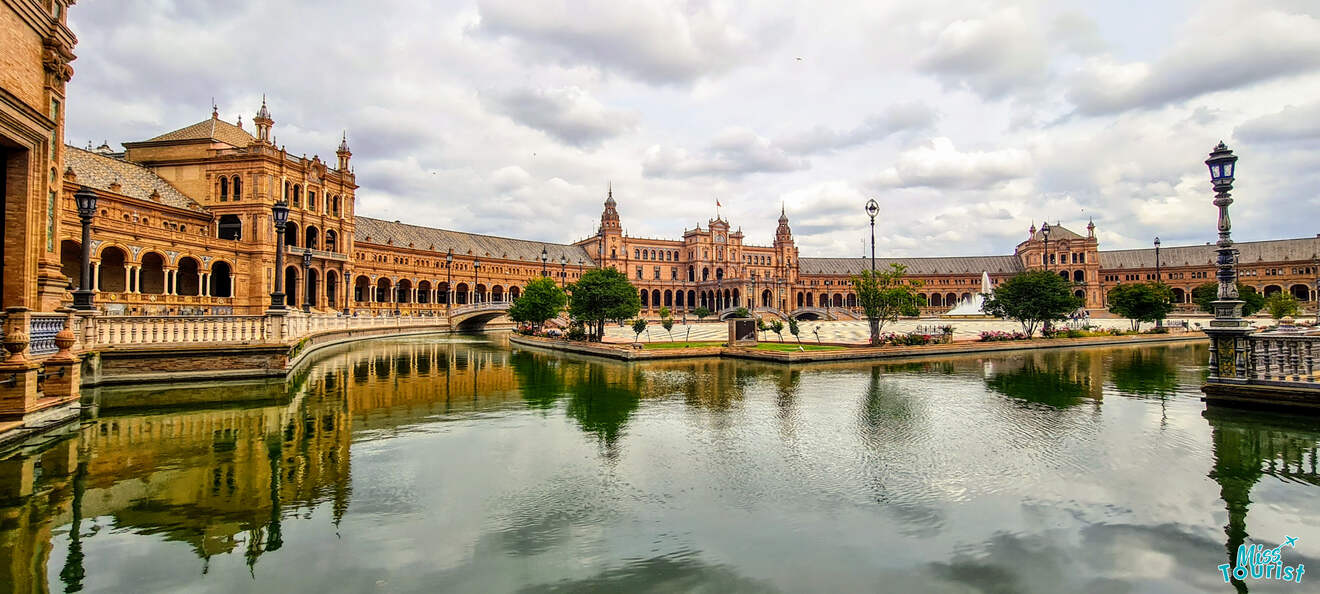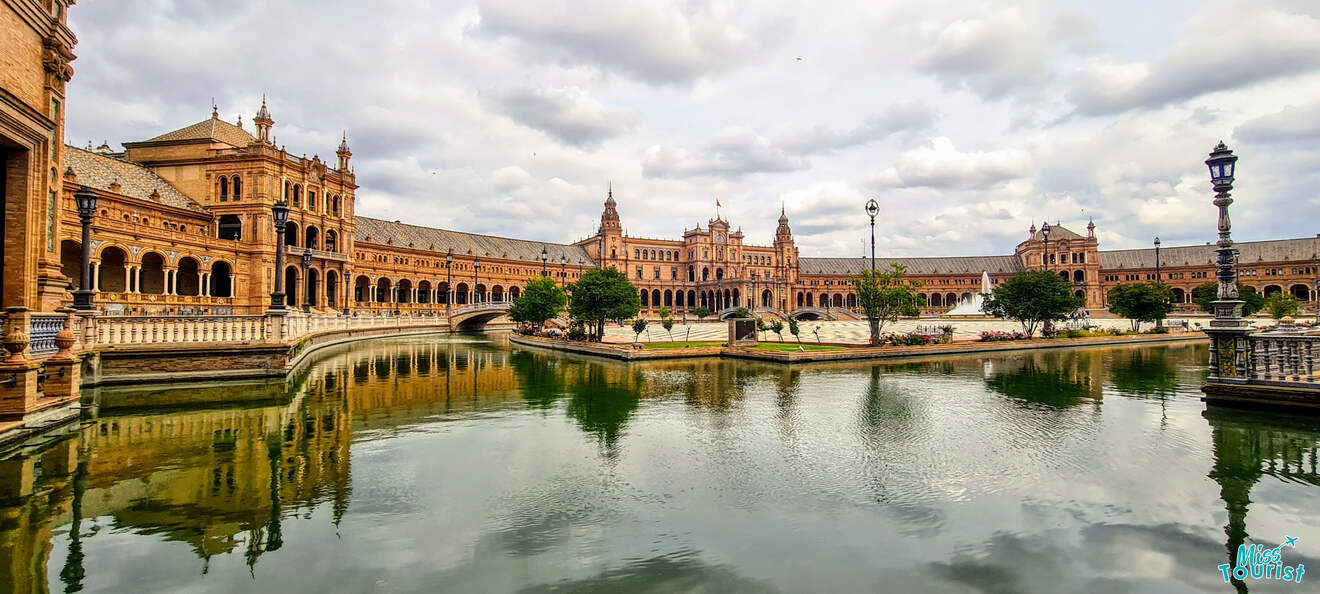 Plaza de España is a beautiful square located in the center of Seville. It has been widely regarded as one of the most beautiful squares in Europe because of its beauty and its history: it was built to promote tourism during the Ibero-American Exposition of 1929.
Elements from all around Spain inspire the building surrounding the famous Plaza de España. You can check your geography skills by going around the plaza and looking closely at the tiles. The 48 azulejo ceramic tiles are meant to represent the history of Spain, with a piece dedicated to each region!
Plaza de España is located only a 15 minutes walk away from the Old Town so that you can combine the 2 visits in one day. And if you want to travel in style as they did in the olden days, you can rent a horse carriage from the Old Town that will take you to Plaza España! Ole!
Note: The carriage "stations" are scattered around the Old Town, and you'll find one right next to the Cathedral, and the price is around 45€ for a carriage that can fit up to 4 people (you can always negotiate a little! ;).
There is also a super cute boat ride that you can take around the square (please note that they are closed during cold and rainy days). We did it, and it was so romantic, and you get to see the square from another view angle! It will cost you 6€ for a 30 minutes boat ride and 10€ for 1 hour.
3. Learn more about the city's history at the Royal Alcázar of Seville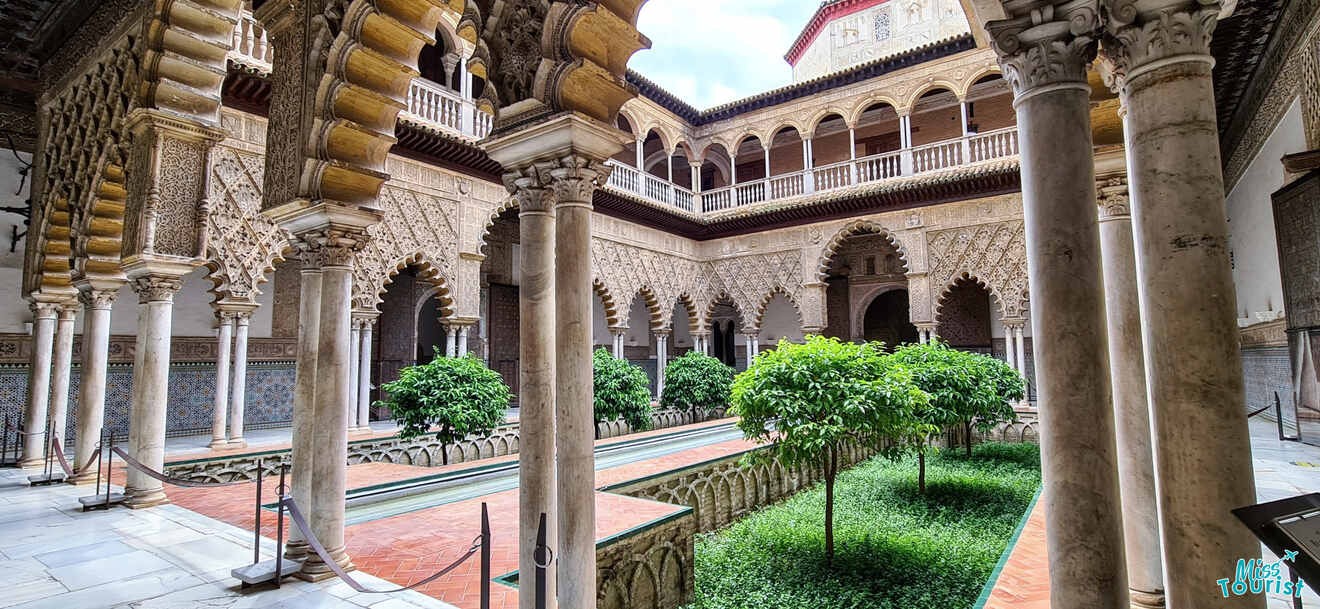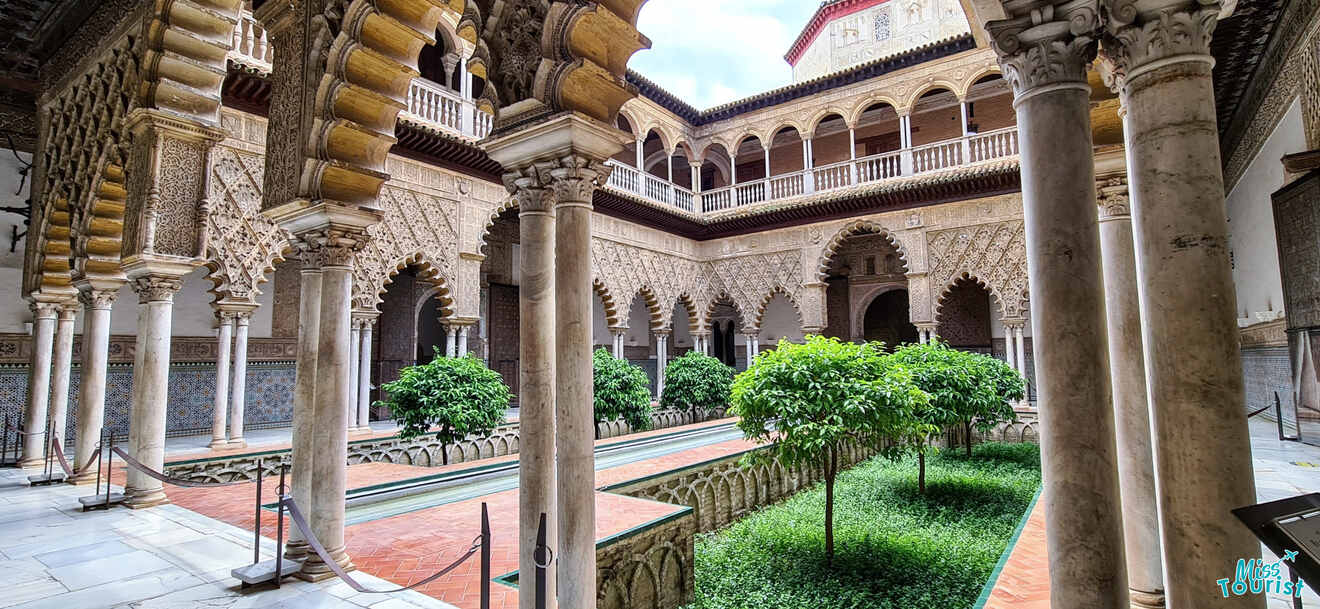 Situated just 2 minutes walking from the Cathedral, Royal Alcázar of Seville is a beautiful palace complex that dates back to the early Middle Ages, around the 11th century. Its mixture of Moorish, Renaissance, and Mudéjar architecture will make you fall in love with it! Every wall of the palace is different, with mosaics and carvings. No wonder it was named a UNESCO World Heritage Site years ago!
Also acting as the residence for the Spanish royal family, The Alcázar of Seville is Europe's oldest continually used royal palace.
I'm sure you'll be super fascinated with the Palace but take some time to explore the vast and beautiful gardens decorated with all kinds of water fountains and flower beds. You'll probably need 1 hour and a half, maybe 2 if you're feeling a bit tired, seeing the entire property with no rush.
PRO TIP: I remember it was pretty hard to find water fountains, so take a bottle of water with you.
NOTE: The queue is usually super long, so I recommend buying your tickets in advance if possible, if not you can buy them at the entrance which will cost 1,5€ less.
PRICE: Adults – 13,5€, students & seniors – 6€
4. Watch a flamenco performance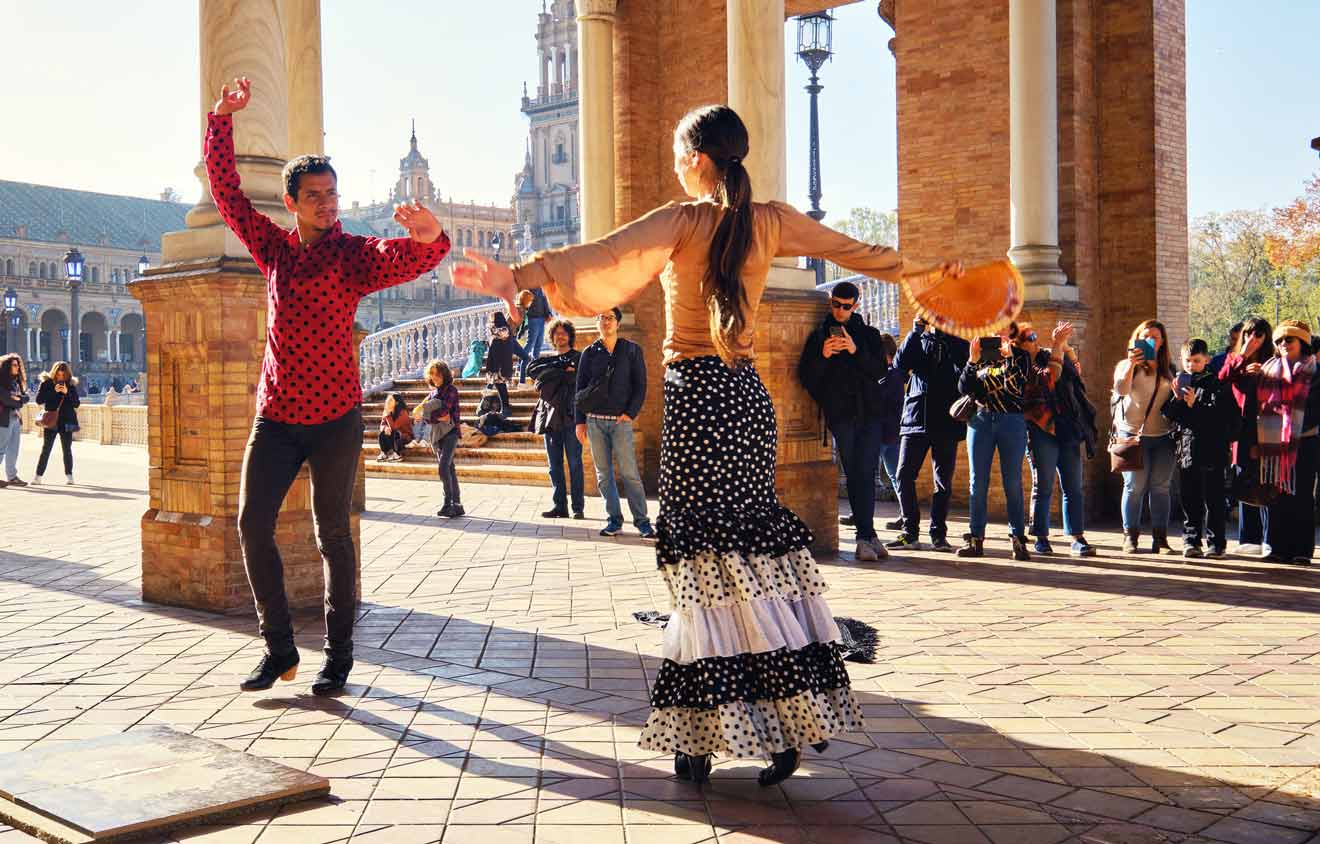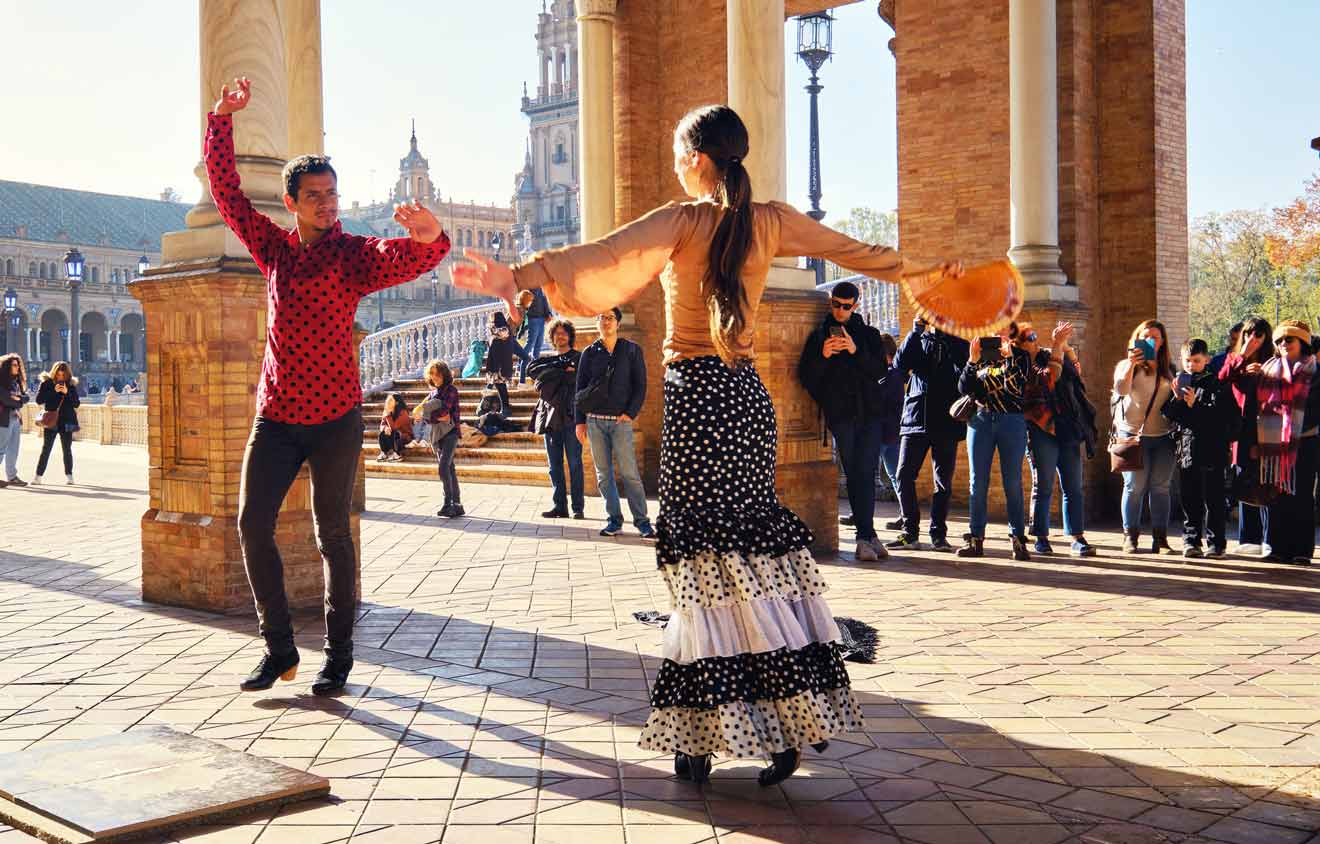 Flamenco is a style of music, dance, and song that originated in the Andalusia region of Spain but developed into a wide variety of styles worldwide. While there are many cities in Andalusia that claim it is the birthplace and the most passionate guardian of flamenco dance, the people of Seville will tell you that the best flamenco show in the world is performed right here in Seville!
Go to one (or several!) of the shows for a truly unique experience: get ready to watch your heart jump when you hear the drums start playing and clapping!
Because I visited the city during the covid time (all the measures were taken, and we followed all the rules), most of the flamenco shows including the most touristic popular ones were closed. We were lucky that at least one tiny place was open for a flamenco show and, to be honest, I am happy things turned out this way – it was a nice small place where I felt like I saw the REAL flamenco – the dancers were living the rhythm. I could see that the musicians did the show, not for money but for their passion for their profession.
Here is the official site of the place I have been to, called Pura Esencia. The price was 25€ per person (wine with refills included). Keep in mind that it is a pretty simple local place where no one except for the owner (charming!) speaks English.
If you are thinking about something more known, I have a list of the most popular flamenco dance shows below:
If you're super passionate about flamenco dancing, why not take a lesson from some authentic flamenco dancers? You can try the costumes and get into the spirit!
5. Try all the tapas and churros!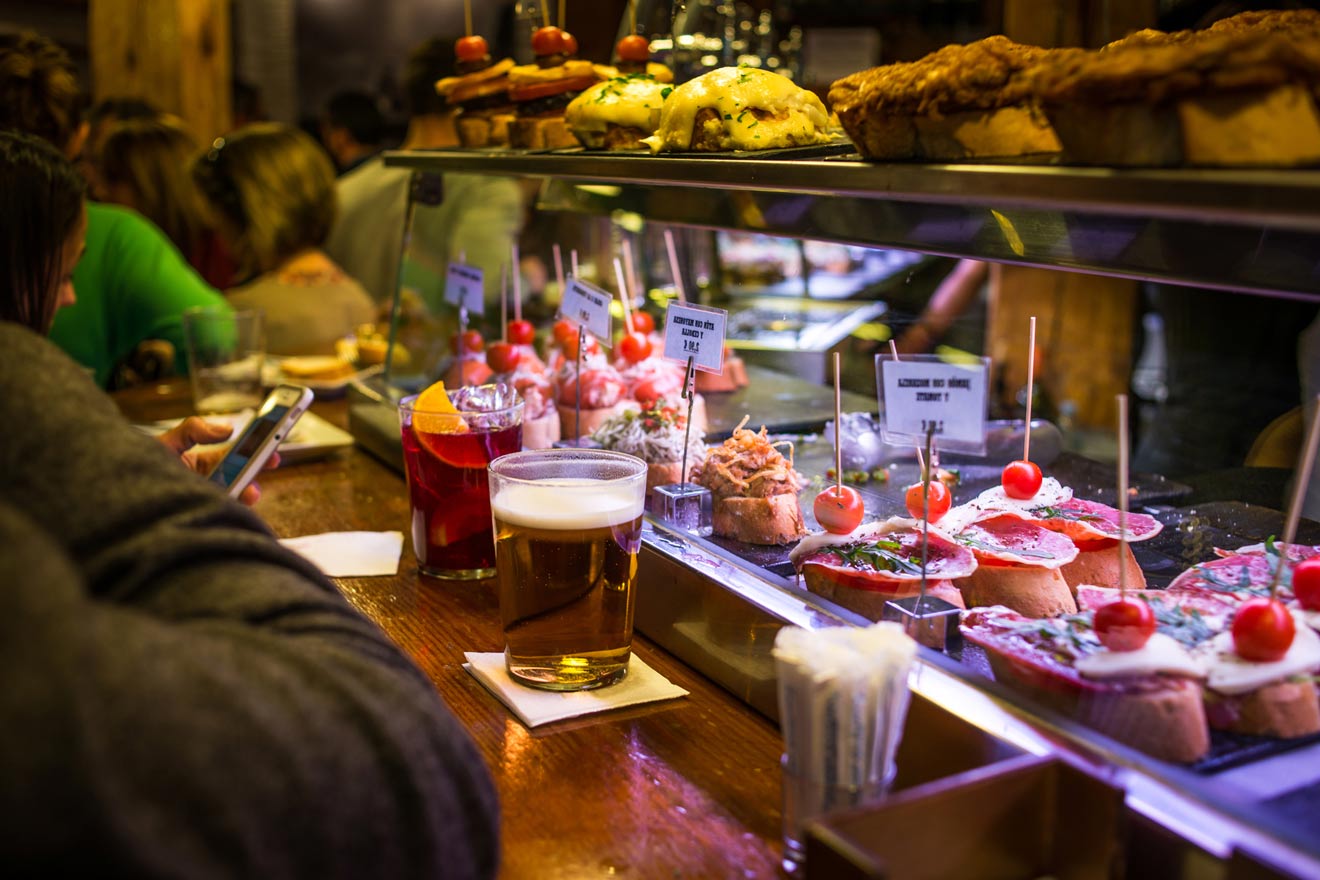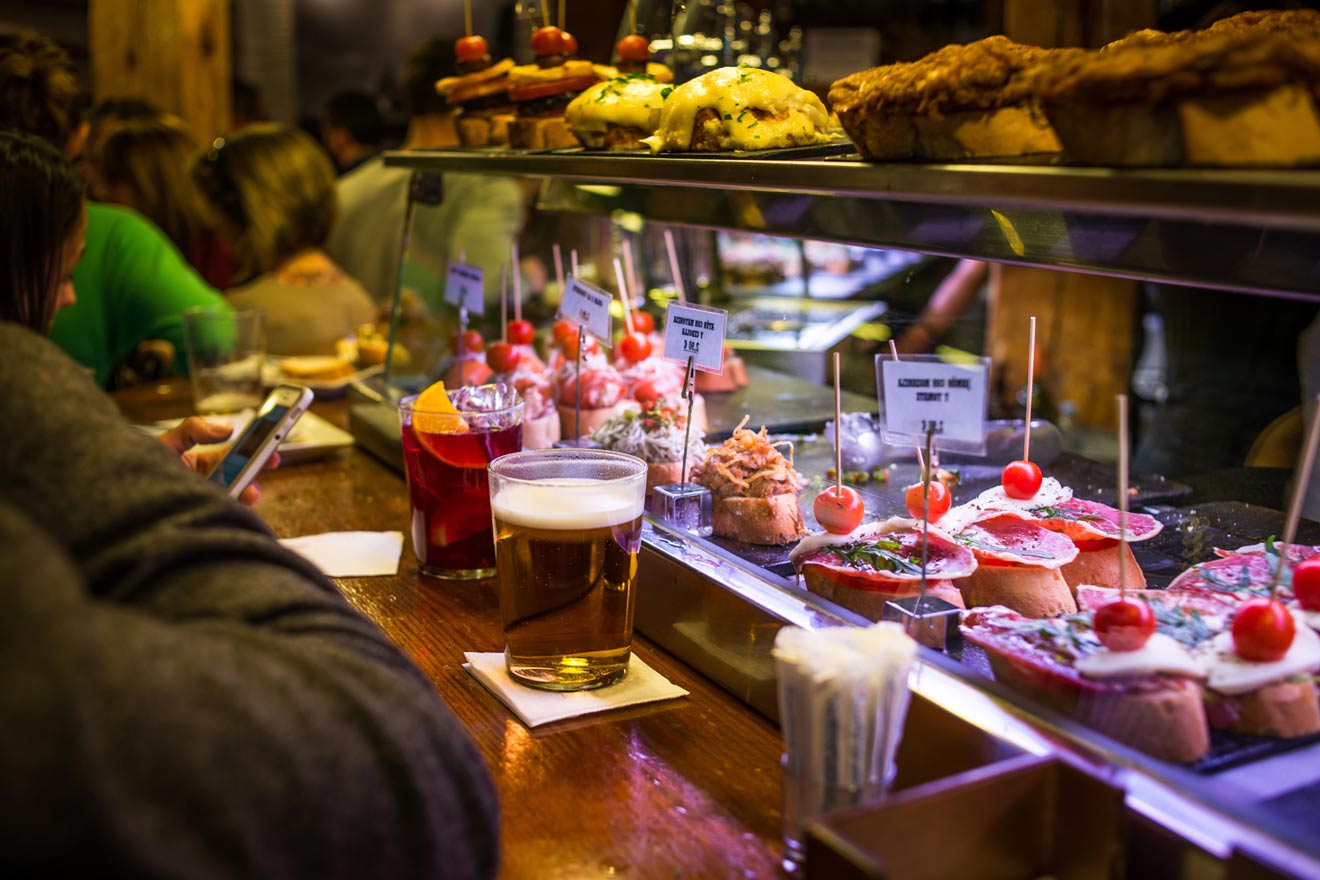 The best way to experience the culture of a local place is by trying the local cuisine. And Seville is no exception – here, local chefs have made sure to incorporate their region's heritage into every bite!
That means churros with thick hot chocolate for breakfast and jamón serrano for lunch or traditional tapas with cerveza for dinner. And the great news – I found the food to be relatively cheap compared to other cities in Spain.
Did you know that Seville is the birthplace of delicious tapas?
Let me explain the concept of tapas to you: the translation from Spanish means something like "to cover" (a drink). Some places serve tapas for free with any drink you order (usually something small). Most sites have them on the menu. Tapas don't necessarily mean small sandwiches – it is a small plate (think half a regular portion) of something. It can be both cold and hot. Usually, 2-4 tapas are enough to be full! Tapas can be either a great appetizer to share or a full meal if you combine a couple of them!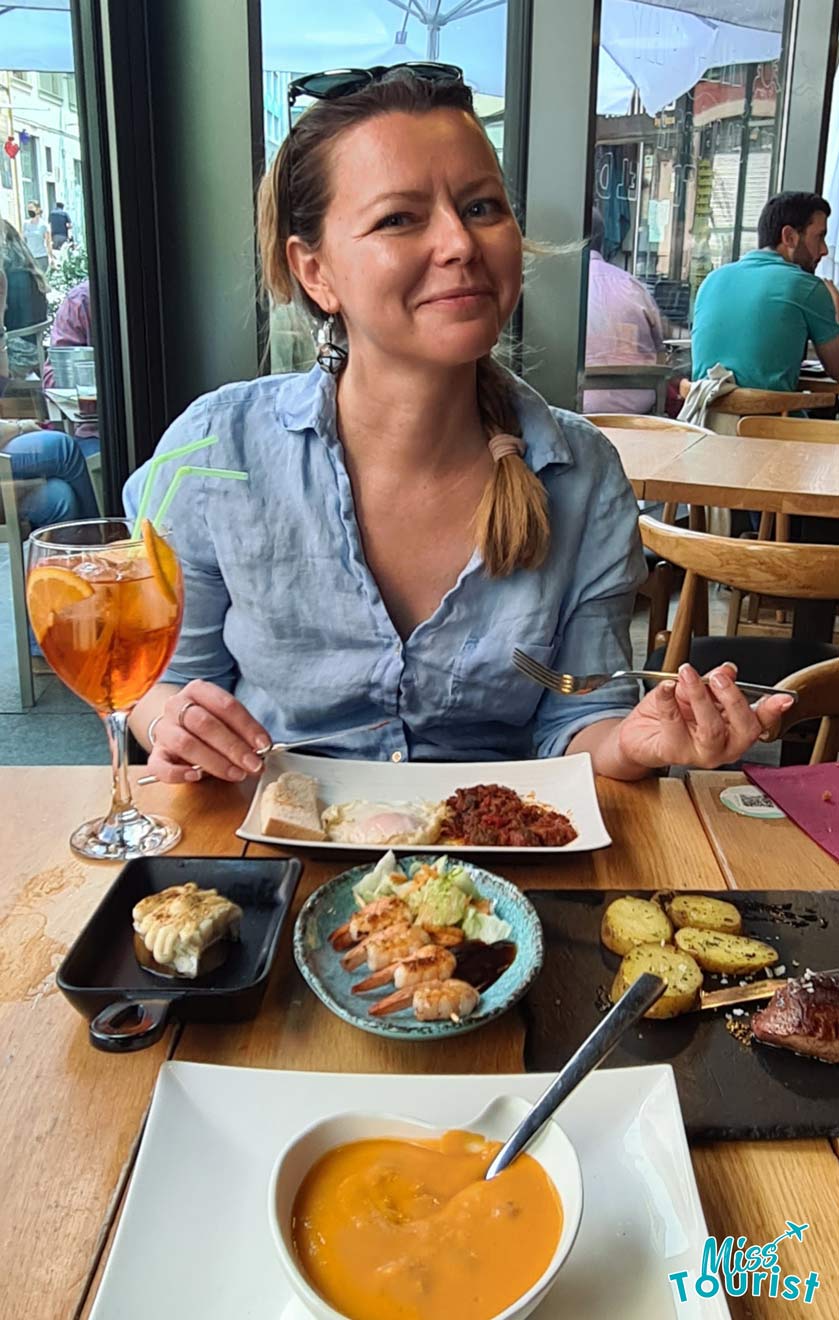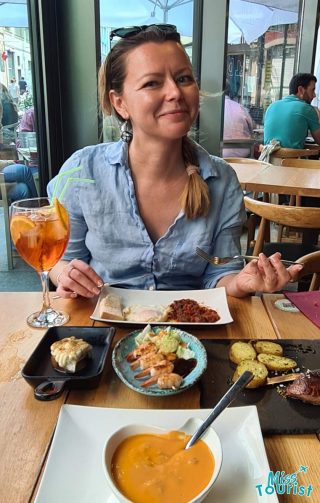 But enough with the explanation, the best way to understand is to try all the delicious food yourself! Let me give you a list of restaurants that were recommended to us by a super-friendly local (I also have some great suggestions for cool rooftop bars for you in #6):

Café-Bar Los Alcázares – This is my favorite tapas place in Seville! It's located in front of Las Setas, and it has an amazing selection of different tapas, and a menu with pics makes it easier to choose. Order 3-4 per person, and you will be full! They might have a line, but you can usually skip it if you don't mind sitting inside. P.S. It is very affordable as well.


More tapas bars:
Some other good restaurants (bodegas) are:
(keep in mind that most of the places above also serve full meals)
I also recommend getting outside of the city center – there are lots of nice places on the other side of the river with views!
NOTE: If you do not eat meat (like me), it will probably be a tiny bit harder for you to choose something from the menu, but don't worry, there are always some great options, just ask your waiter for recommendations! But if you are vegan, I will be honest with you, there is not much you can order from a traditional menu.
6. Enjoy a drink on one of the rooftops
When visiting Seville, we decided to see all the main tourist attractions, but we also wanted to let things flow a bit, be spontaneous, and discover this stunning city without too much planning.
I'm so happy we did that because we found some fantastic rooftop bars that you should include in your list of things to do in Seville! Here are my top 3 favorite ones: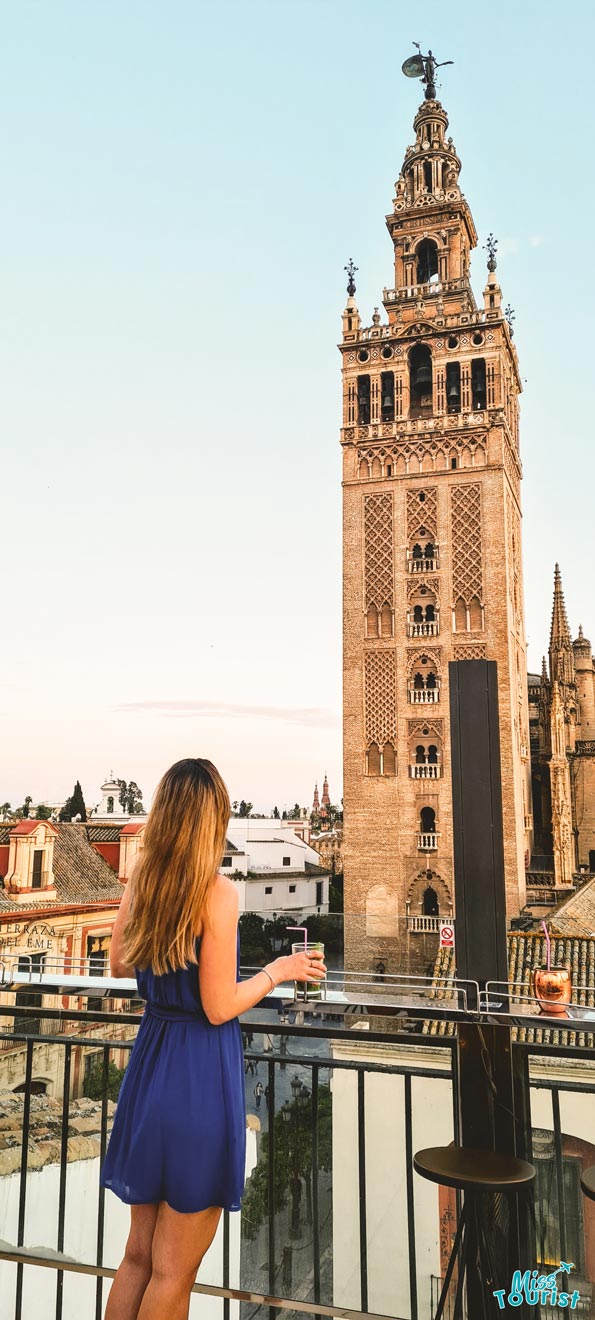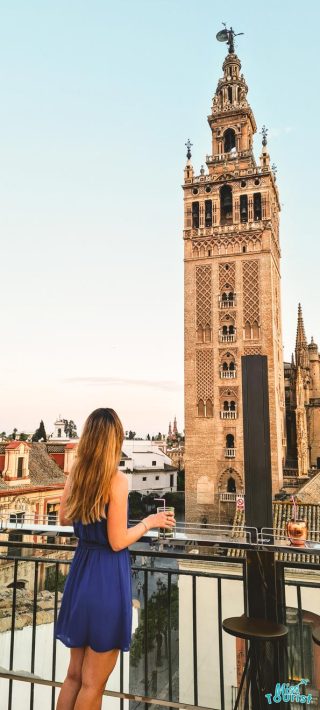 EME Catedral Mercer Hotel – This terrace offers a super nice view literally in front of the Seville Cathedral. As it's a fancy spot, the cocktails are a bit more expensive than you would pay in other places, 15€ each, but it's worth it for the view! You don't have to make reservations in advance, but I recommend grabbing a bite before you go there because they don't serve much food.
Terraza Doña María – Another fabulous place recommended to me by one of the locals, otherwise we wouldn't have known about it. It offers the same amazing views of the Seville Cathedral, but with the prices a bit lower. Cocktails cost ~7€.
Al Aljibe – Overlooking the Plaza Alameda de Hércules, this restaurant serves some delicious seafood dishes, and the prices are also pretty good. You can order a glass of sangria for 4€.
If you want to continue the party, there are tons of clubs and pubs around Seville, or you can join a pub crawl and have the best time!
7. Chill in Maria Luisa Park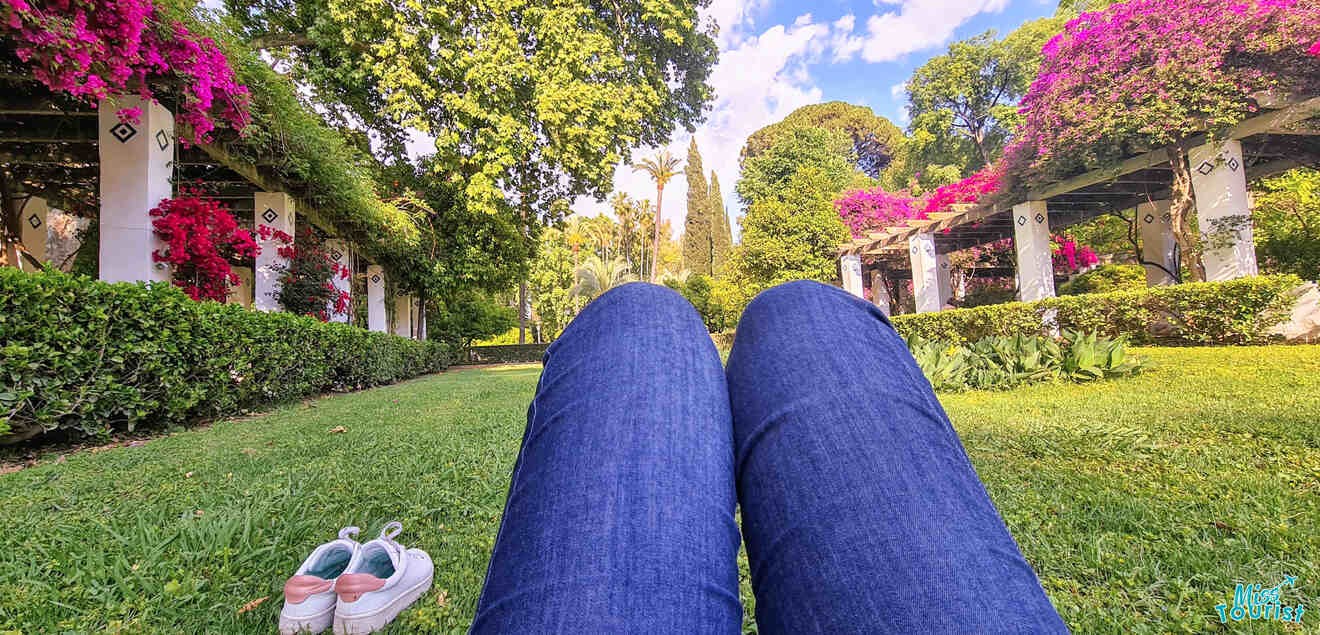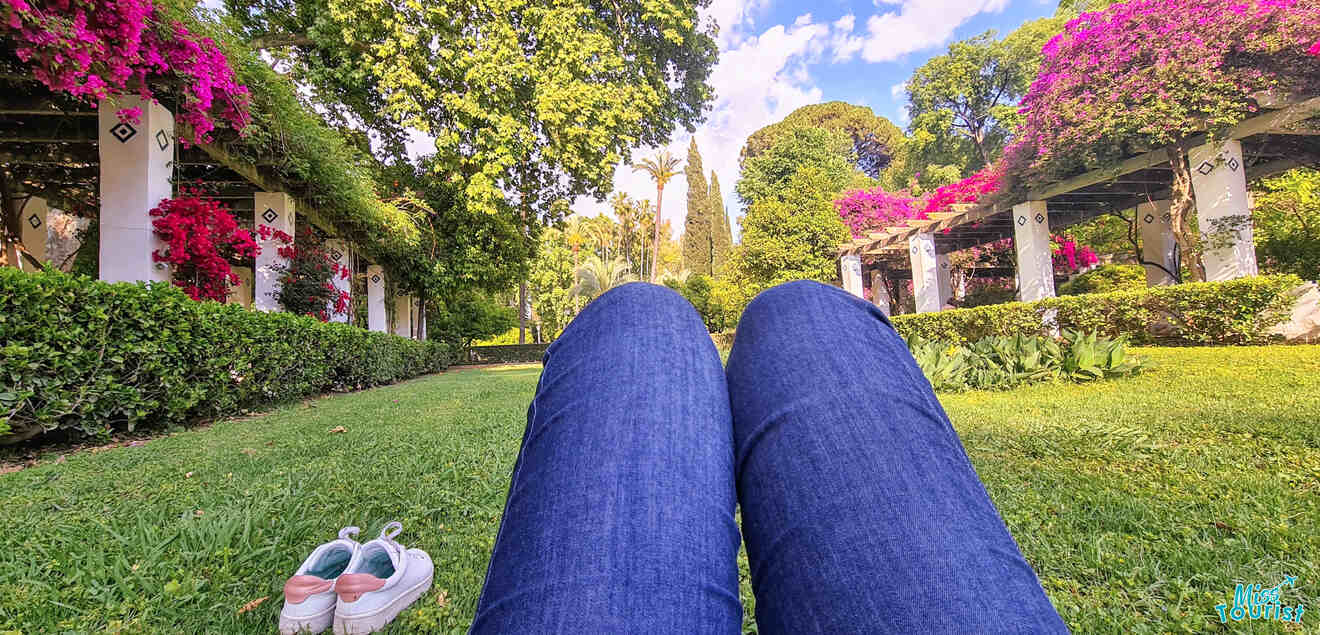 If you feel tired after exploring Plaza de España, there is a perfect place right in front of the plaza where you can relax on the bench (on the grass) and/or enjoy a drink in the shade!!
Parque de Maria Luisa (Maria Luisa Park) is a great place to take a stroll, sit down and have a bite to eat, and it is an ideal place for taking photos. The gardens, stunning fountains, and impressive sculptures will surely inspire you, as they inspired me!
As I was sitting in Parque de María Luisa, enjoying the small break, I noticed that there were also a couple of nice restaurants with a terrace where you could have a drink and groups of younger crowds chilling around them. You can try Muelle 21 and Iguana Terraza if you wish. Both look amazing and have great reviews.
8. See the vista from the Setas de Sevilla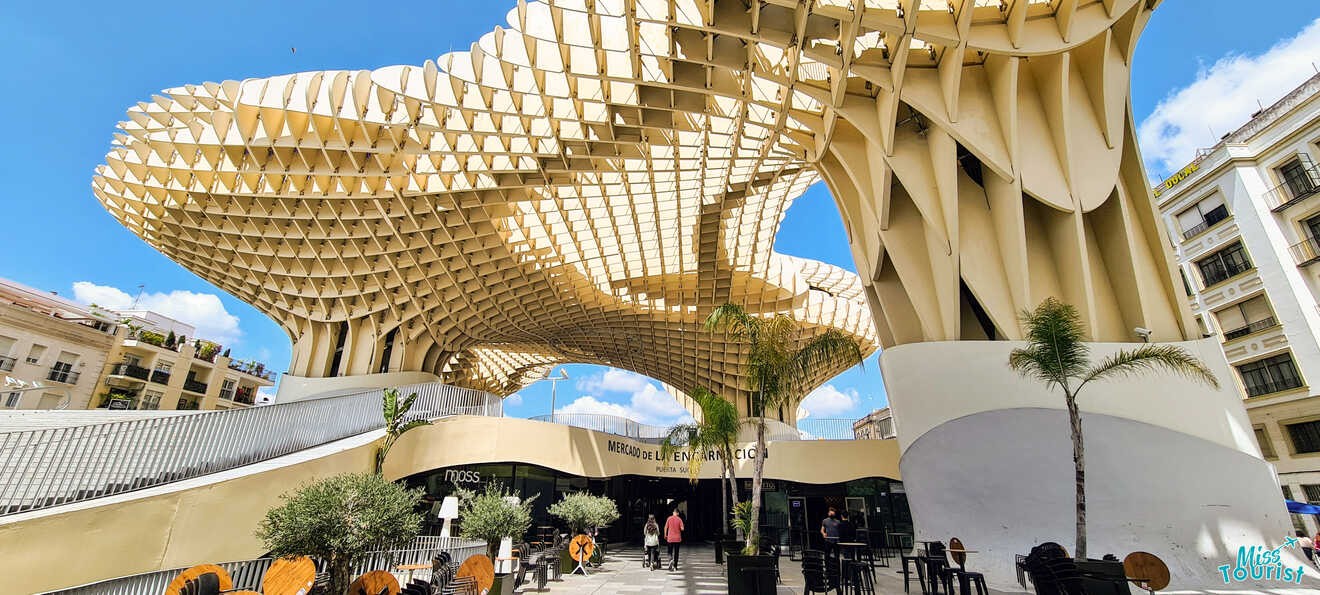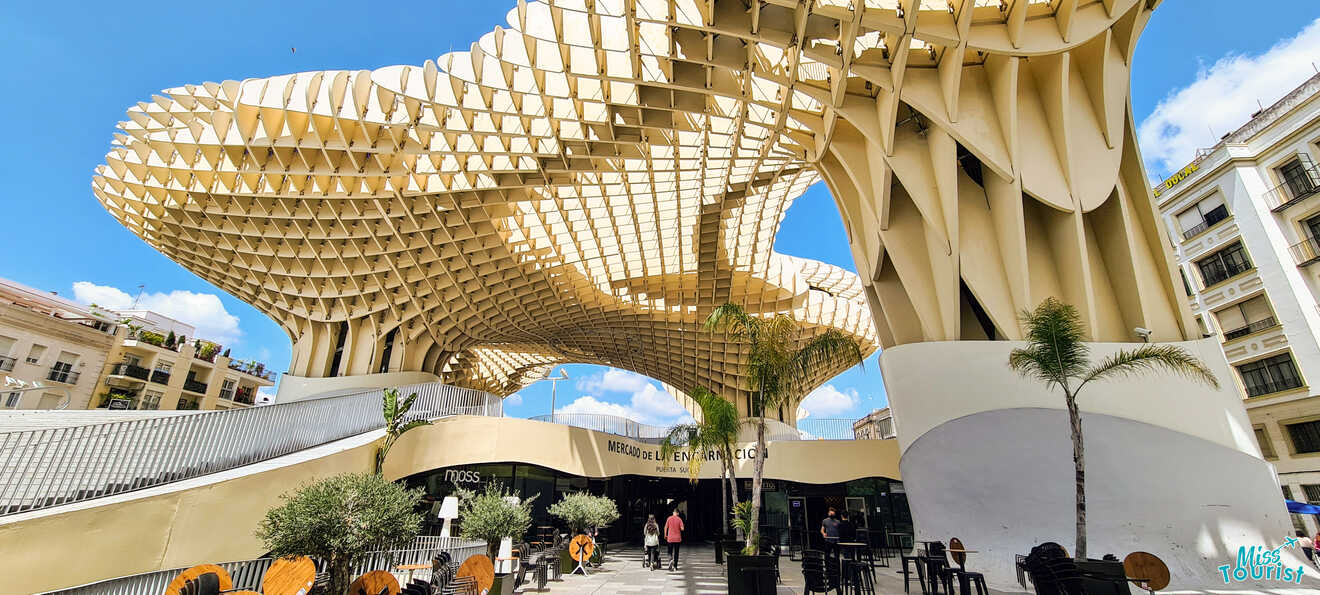 The Setas de Sevilla ("Mushrooms of Sevilla"), also known as Las Setas, or Metropol Parasol, is a network of concrete structures created in 2011 by German architect Jürgen Maye. They're located in La Encarnación square, and they're probably the most peculiar tourist attraction in Seville. And when they were built they caused many reactions among locals.
Las Setas (Metropol Parasol) is the largest wooden structure in the world!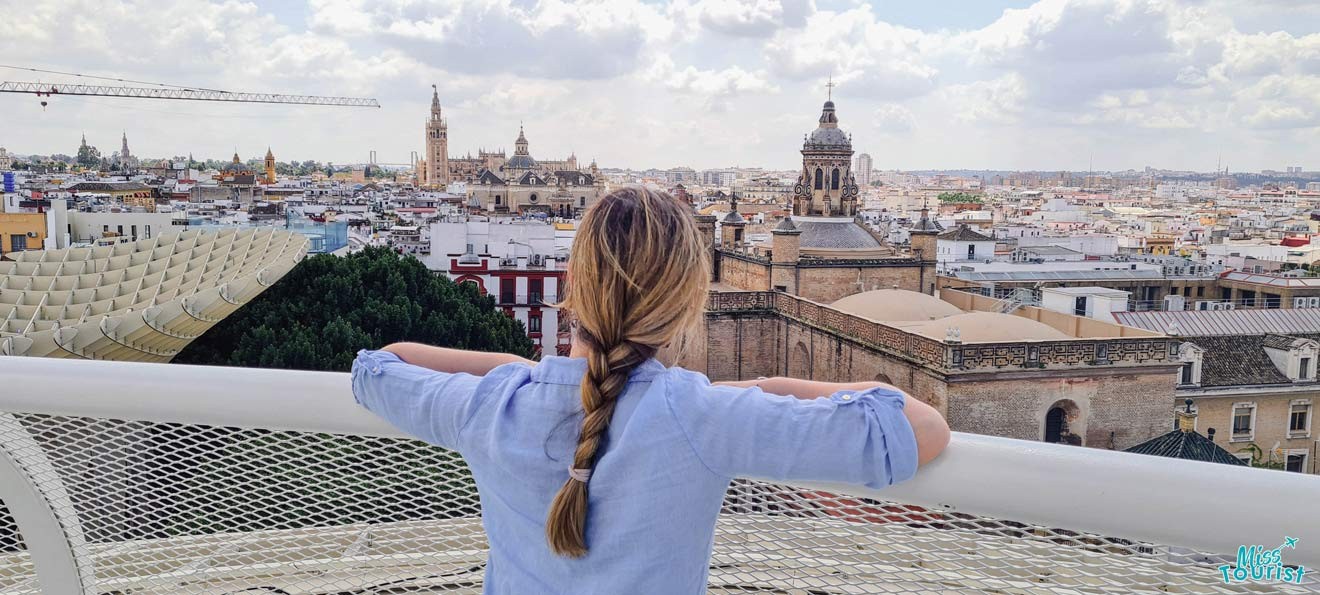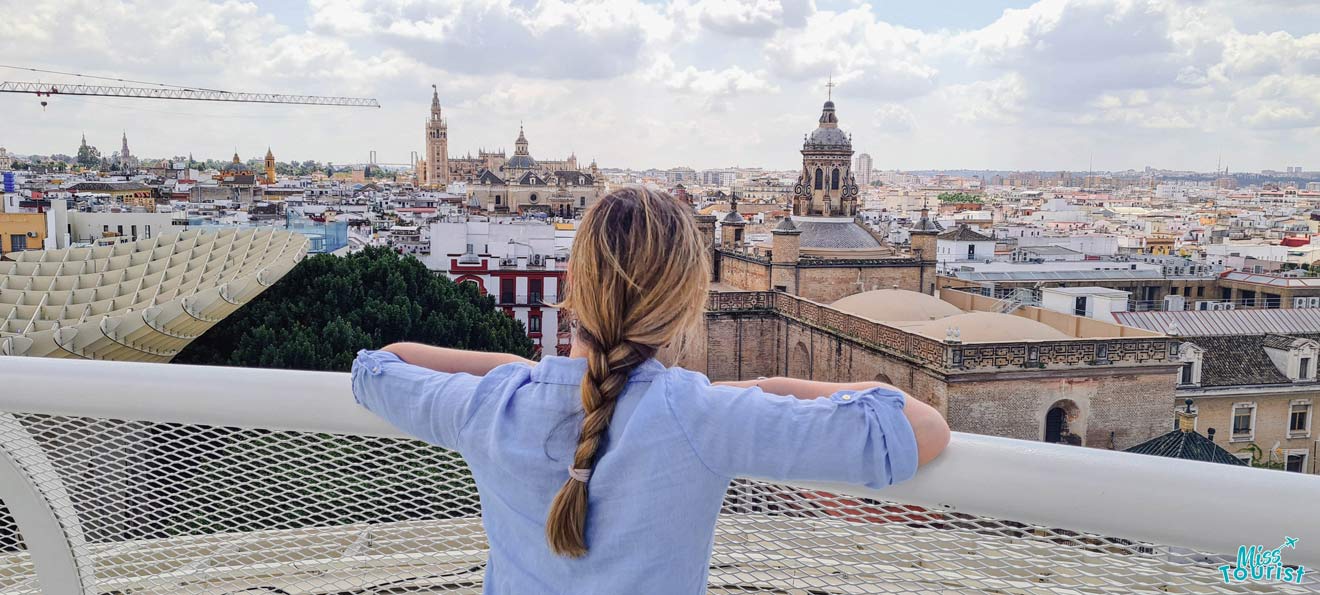 The terrace of Metropol Parasol is a great spot to visit during the sunset. Still, if you happen to be there during the day like I was, that is great too – the parasols are approximately 26 meters above the ground so you can see a 360-degree view of the whole city!
There is an Antiquarium Museum located downstairs that you can visit, it has ruins and artifacts from the Roman and Moorish periods. There is also a pretty big covered market and tons of shops and restaurants around the Setas.
PRICE: Adults – 10€, Free for children and disabled people
9. Go on a guided tour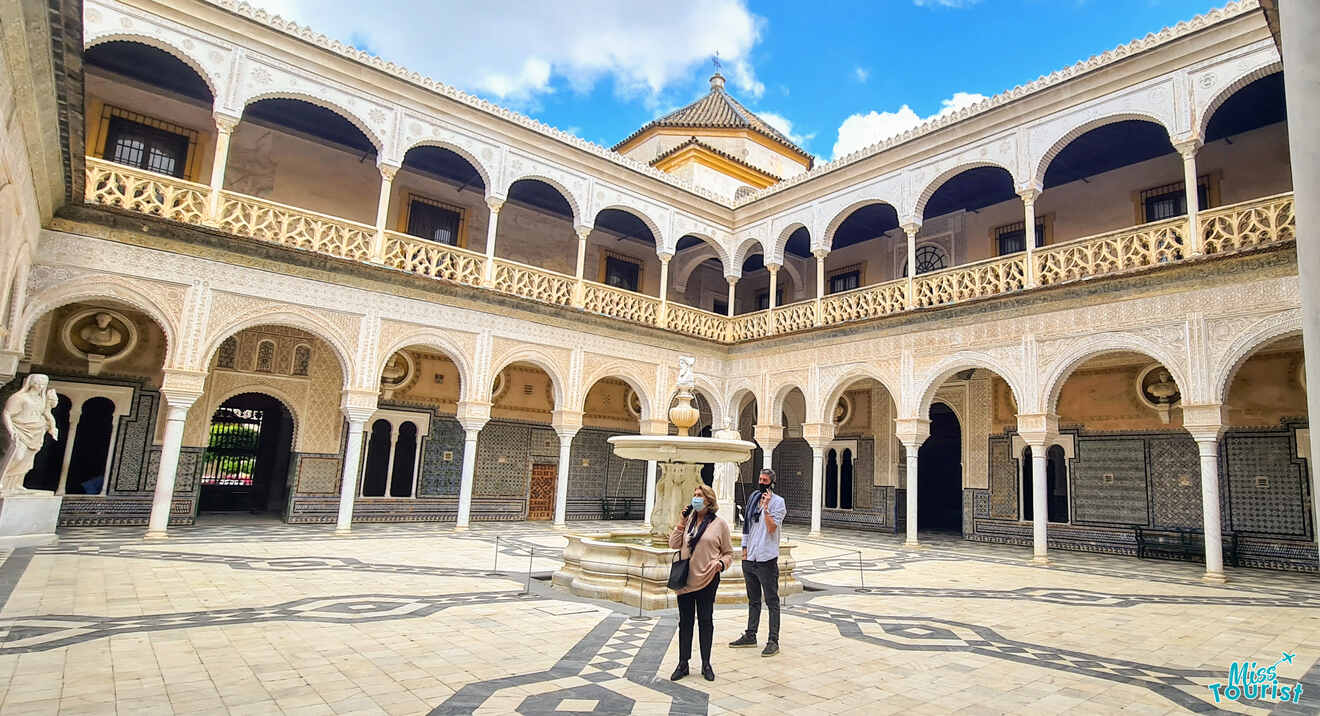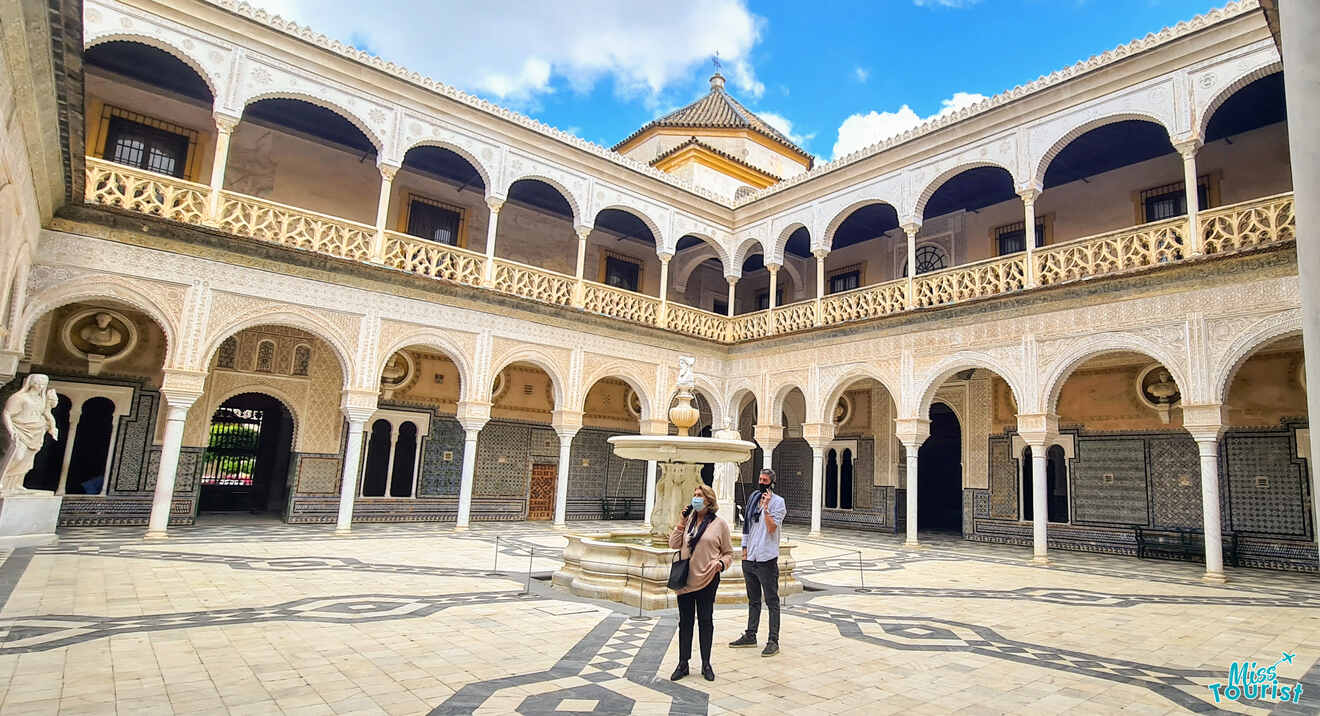 If you want to learn as much as possible about Spanish culture or Spanish history, I recommend going on a guided tour. I mean, even for those who aren't so interested in these things, guided tours can be a great way to discover the city without putting too much effort into it.
Here is a list of the best-rated guided tours in Seville. I chose different types for you according to your interest and budget:
10. Take lots of pictures at Casa de Pilatos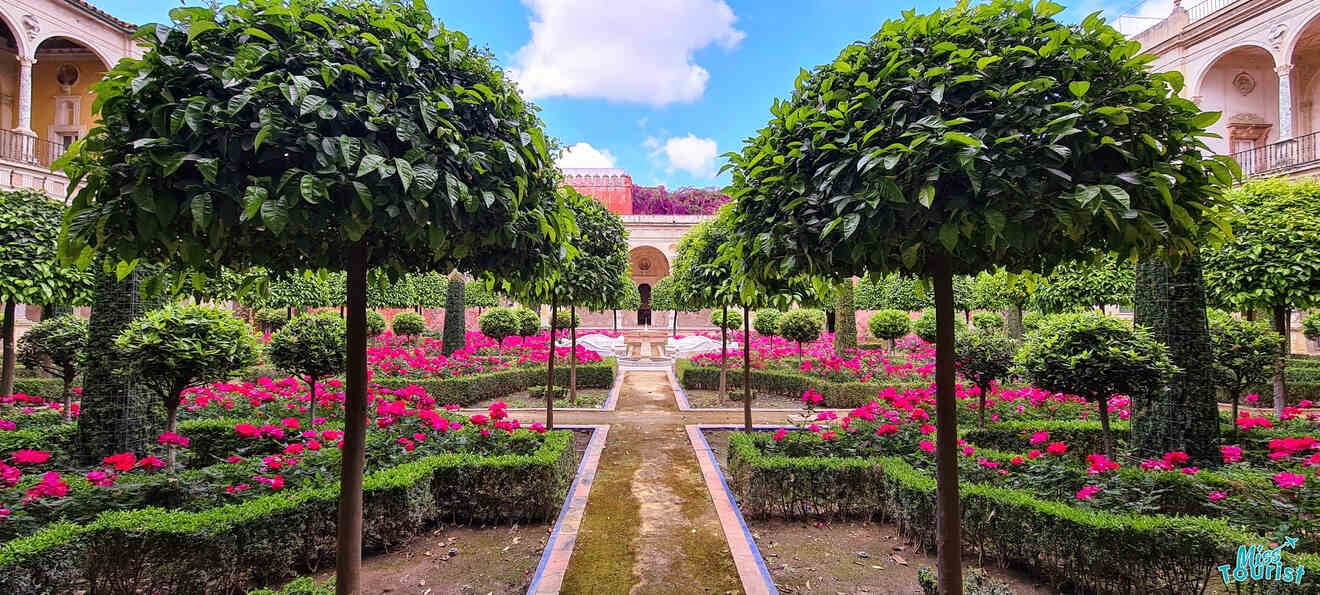 To be honest with you, I originally wanted to skip this attraction, but I am so happy we did not! You won't see any pilates happening here. My mind jumped to this thing when I first heard about it. However, it is charming and is worth a visit if you want to see some fabulous gardens and statues of Roman emperors.
Casa de Pilatos was built in 1540, and it's one of the most beautiful palaces in Seville (after Alcazar, of course). I'm sure its name (Pilatos) sounds familiar. Fadrique Enriques de Ribera, the man who ordered the building of this place, named it after the house of Pontius Pilate (the Roman governor of Judaea), which he tried to reproduce, as he took a great deal of interest in this during his pilgrimage to Jerusalem.
This place is a stunning piece of architecture combining different styles like Mudejar, Gothic, and Renaissance. Casa de Pilatos offers such a great insight into the history of Seville, and it's an excellent opportunity to see how aristocrats used to live so many years ago!
You'll fall in love with it as soon as you start walking around and discovering the marble columns, the busts of Roman emperors and Greek gods, and the gardens you'll wish to live here forever! Casa de Pilatos is nowadays partly inhabited and is the residence of the 18th Duchess of Medinaceli and her family.
NOTE: They have an audio guide with the tips, but I found it to be way too long and boring
PRICE: 12€
11. See the views of the city from Torre del Oro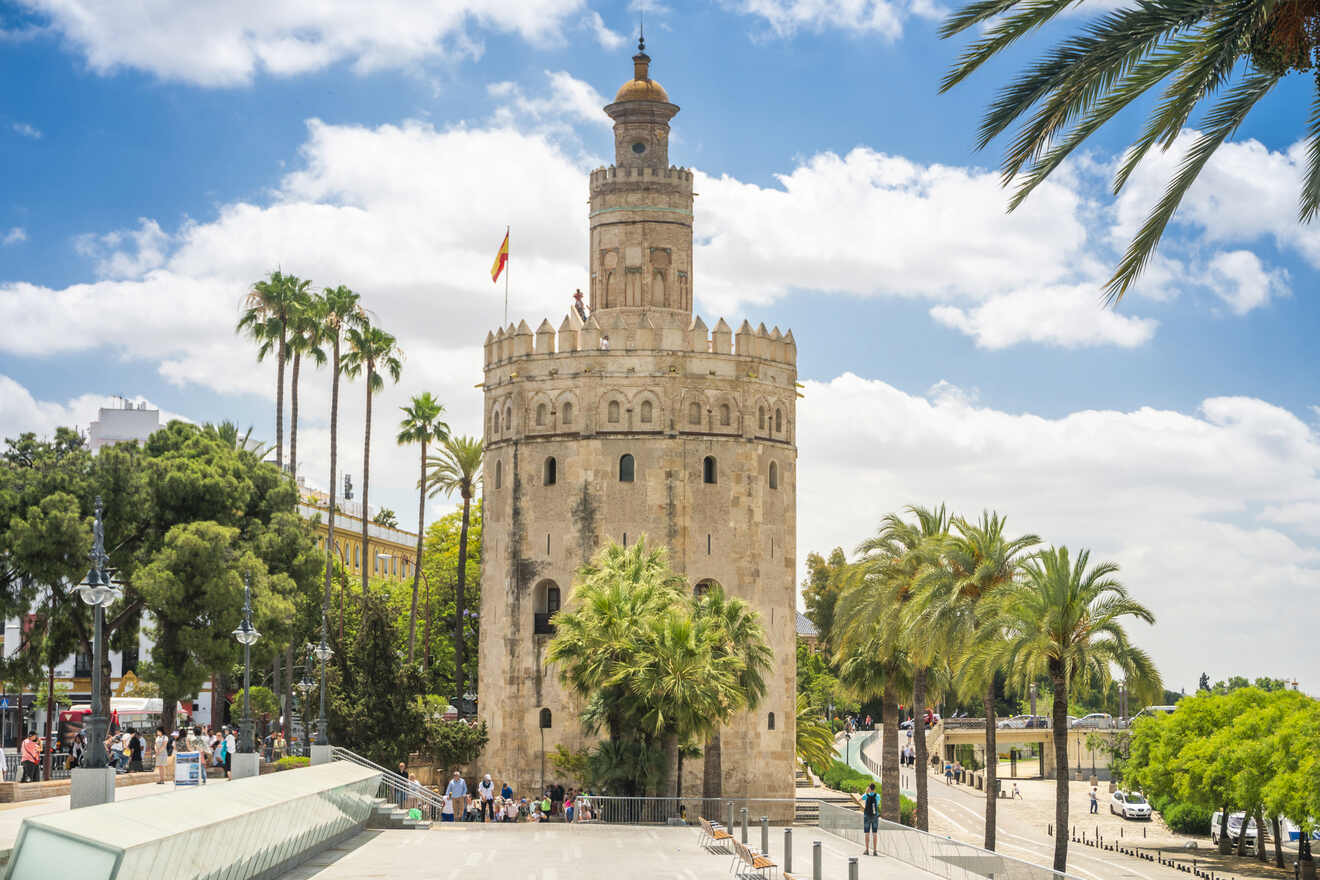 You can say that the whole city of Seville is like a big museum, filled with historical artifacts but of course, there are those places which are super important and have made it to history books. The Torre del Oro (Tower of Gold) is one of those spots.
The former watchtower is located on the left bank of the Guadalquivir river, near Plaza de Toros and it's 36 meters long. Now Torre del Oro hosts a Maritime Museum, which I recommend visiting if you are interested in the history of Seville as a port city. Also, the views of the city are pretty unique!
PRICE: Adults – 3​​€, students and children 1.5€
12. Discover the beautiful Triana neighborhood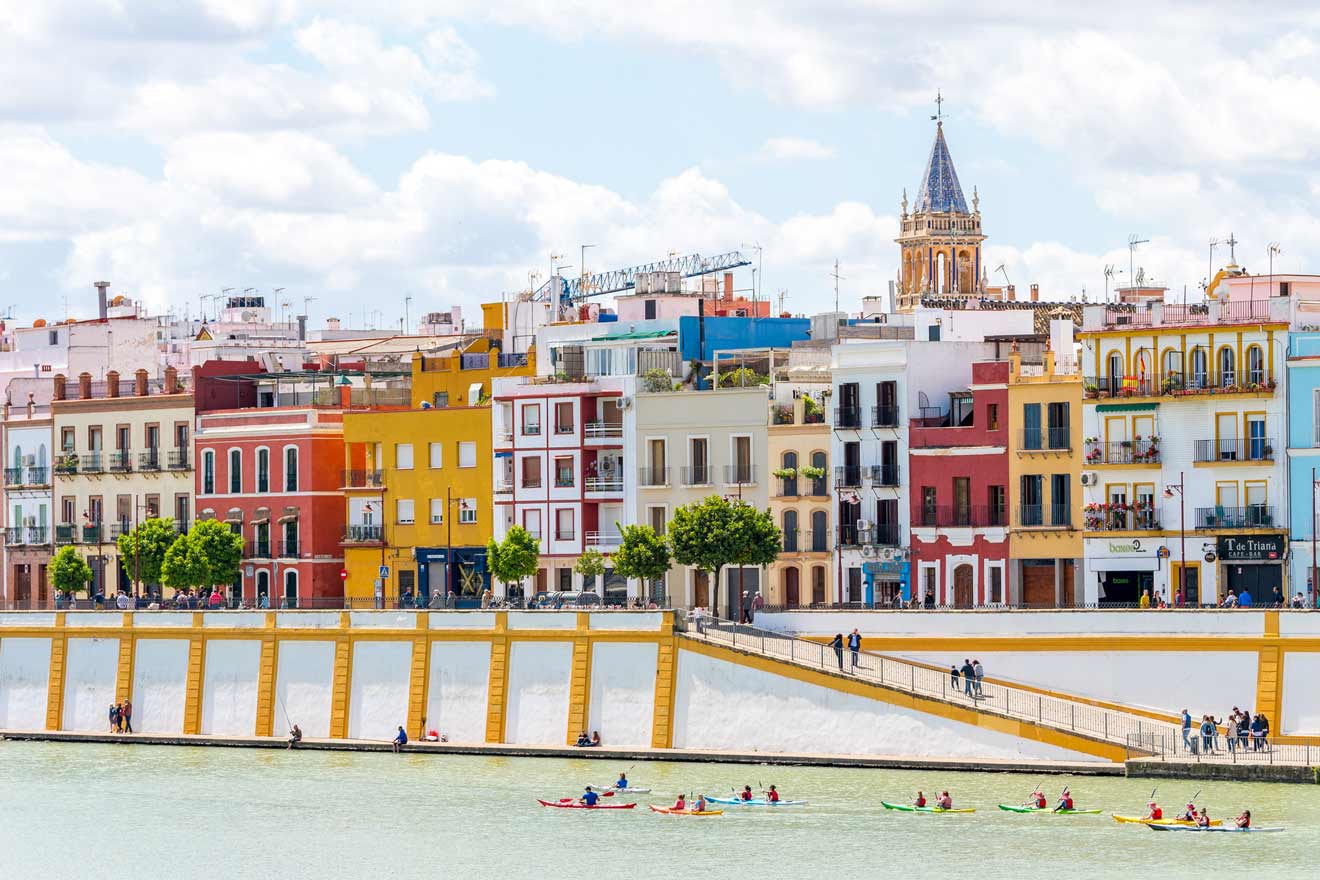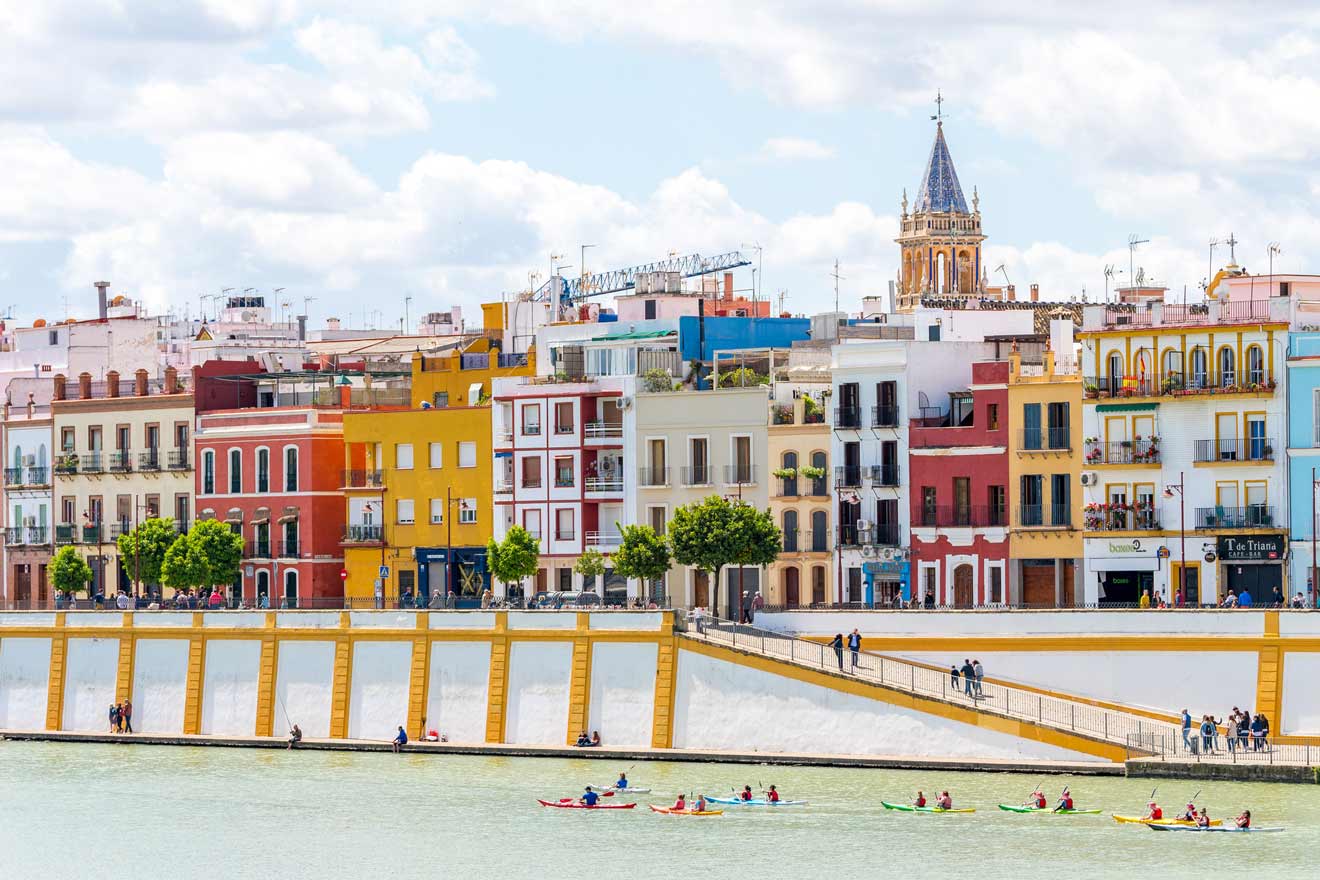 Right opposite the Old Town, across the Guadalquivir River, you'll find the Triana area more local. It even hosts a market (Mercado de Triana), so you won't find as many tourists. However, tons of restaurants are located on the river banks that offer some incredible views to the other, most known side of the city!
Triana hosts many flamenco shows (this is actually where I went to watch one, I've told you all about that in section #4).
Another big attraction in the neighborhood is Mercado de Triana, located just at the end of the Isabel II bridge. The food stalls offer super delicious food, vegetables, fruits, cheese, and other amazing products. Also, if you're vegetarian or vegan, Mercado de Triana will be like a paradise for you!
13. Take a tour of the Guadalquivir River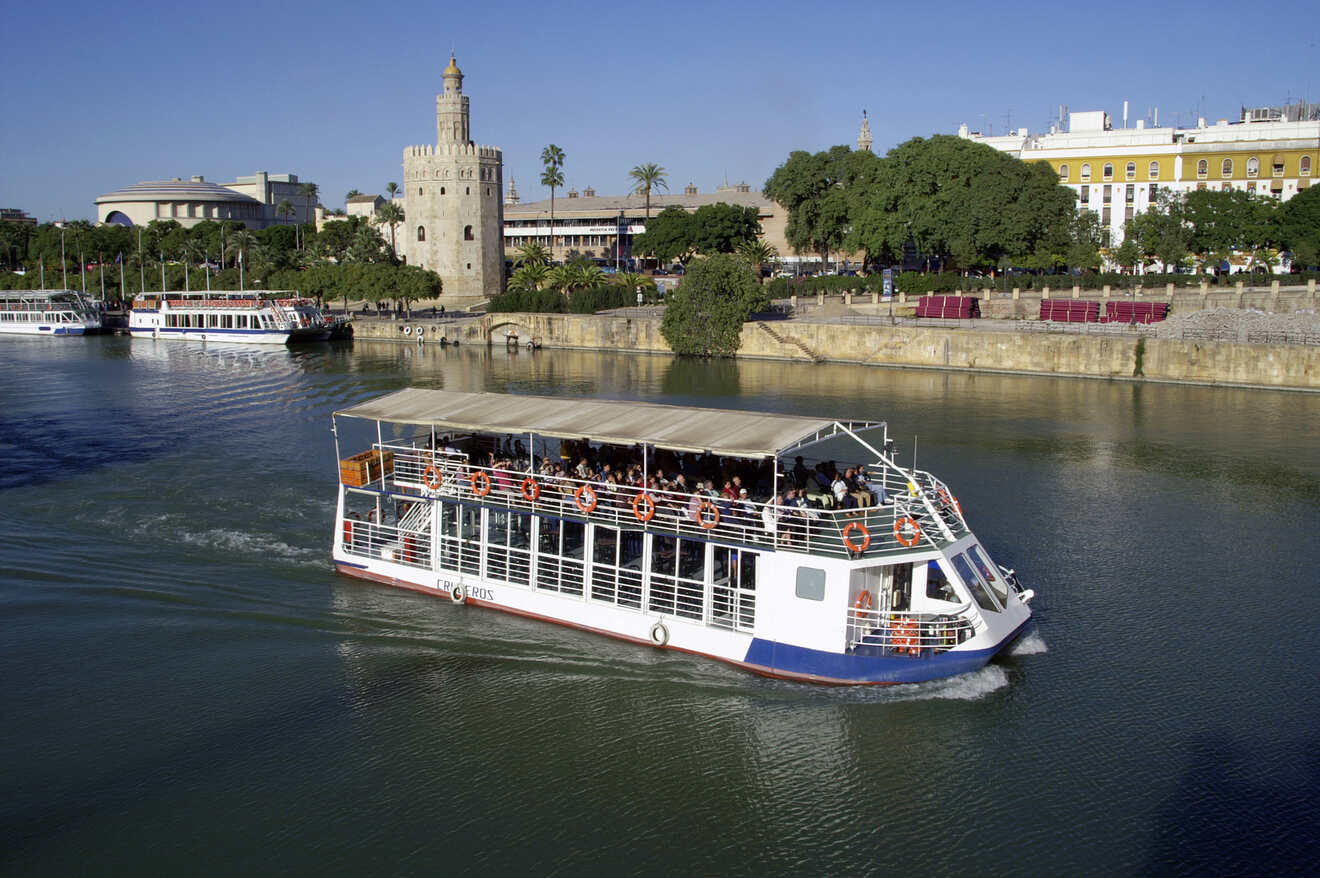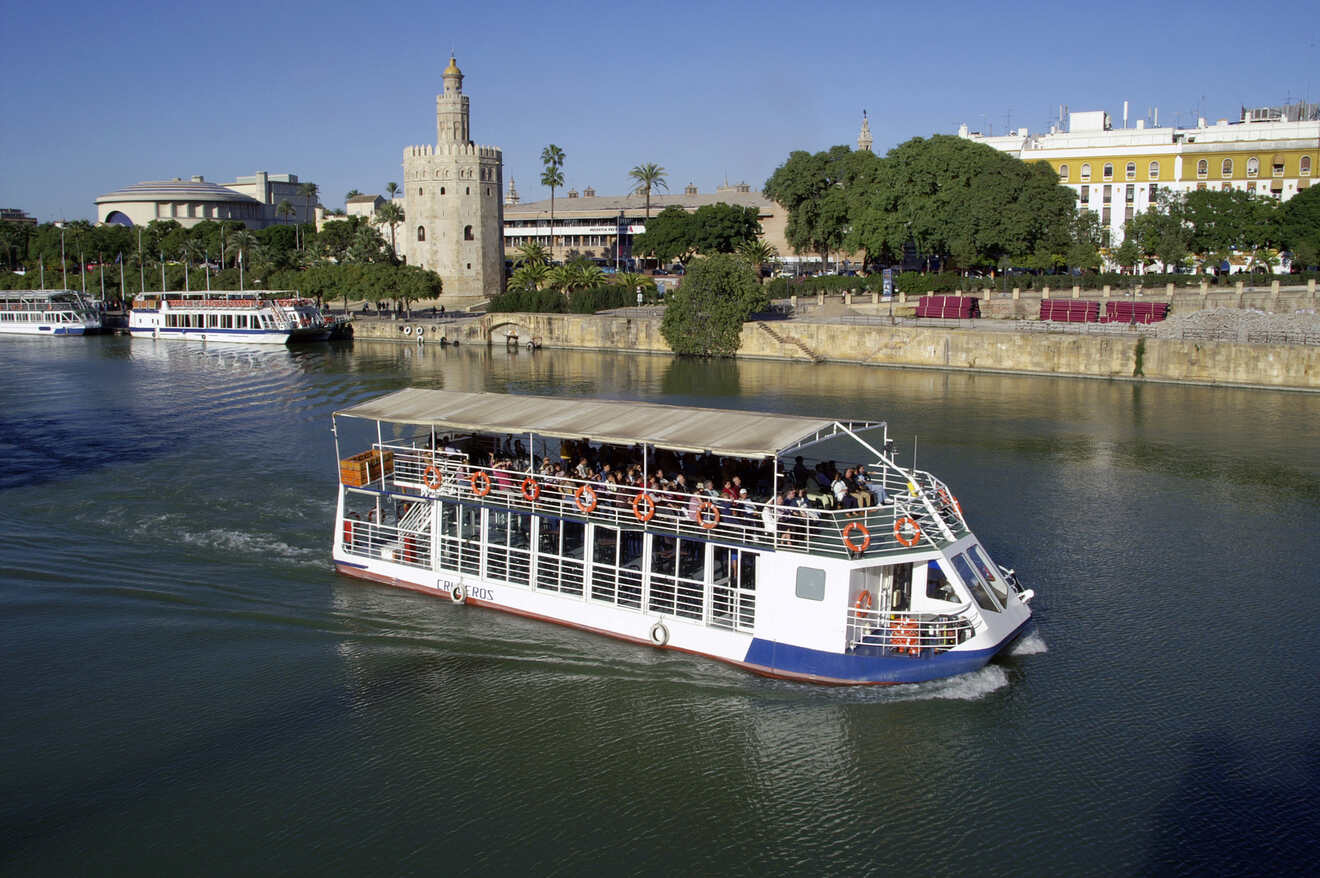 Guadalquivir River is the fifth-longest river in the Iberian Peninsula and the second-longest river with its entire length in Spain, flowing through many of the country's cities, including Córdoba, Seville, and Bonanza.
Taking a river cruise will definitely be the highlight of your trip, plus you don't have to go on a boat, there are also other activities like kayaking and even paddleboarding tours.
PRICE: for a 1,5h boat tour starts from 39€ (snacks and drinks included)
14. Brush up on your knowledge about Spain's history at one of the museums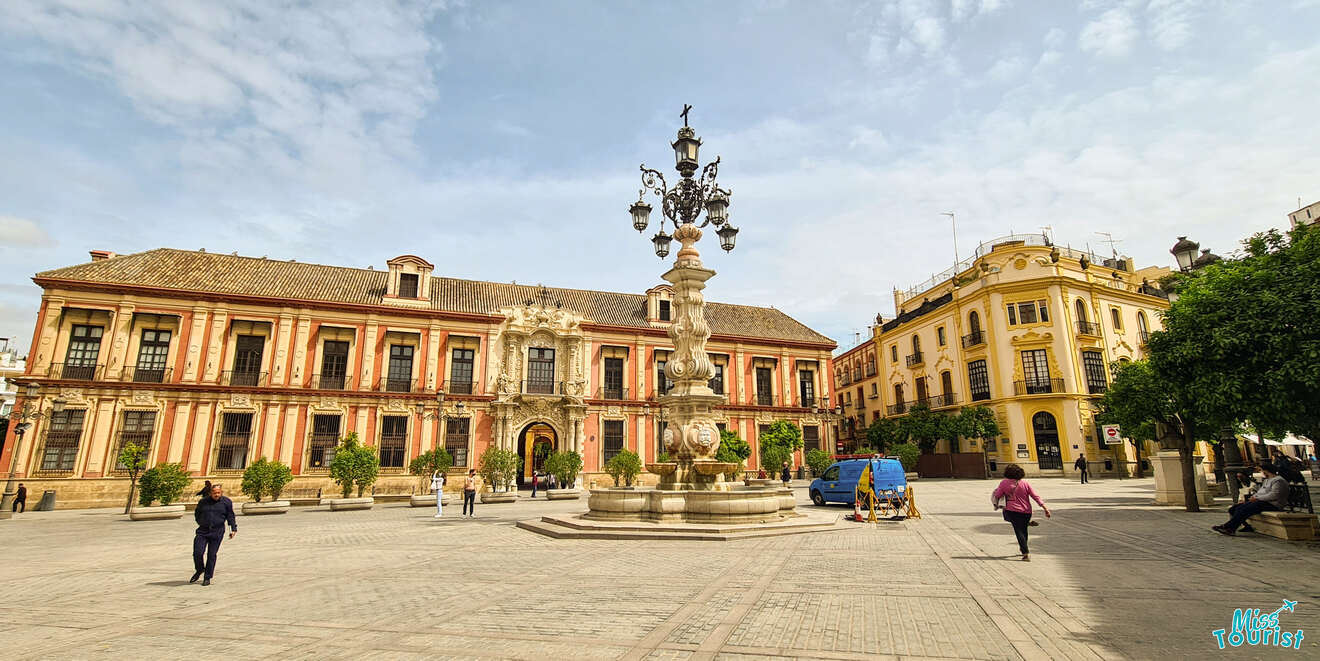 I don't know about you, but I enjoy visiting museums whenever I go to a new place, especially one like Seville. I've made a list of the best ones in the city that I think you shouldn't miss!
15. Things to do with kids – go to La Isla Magica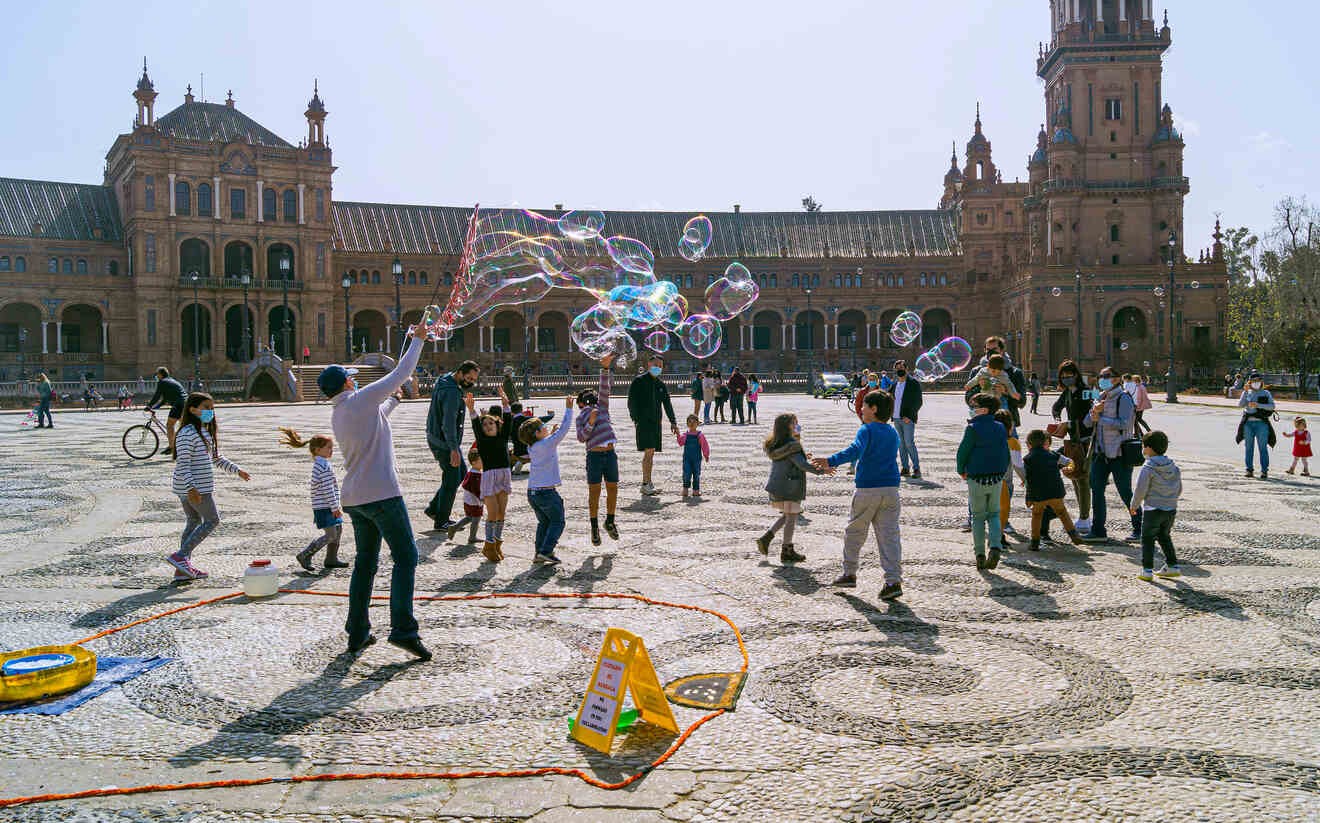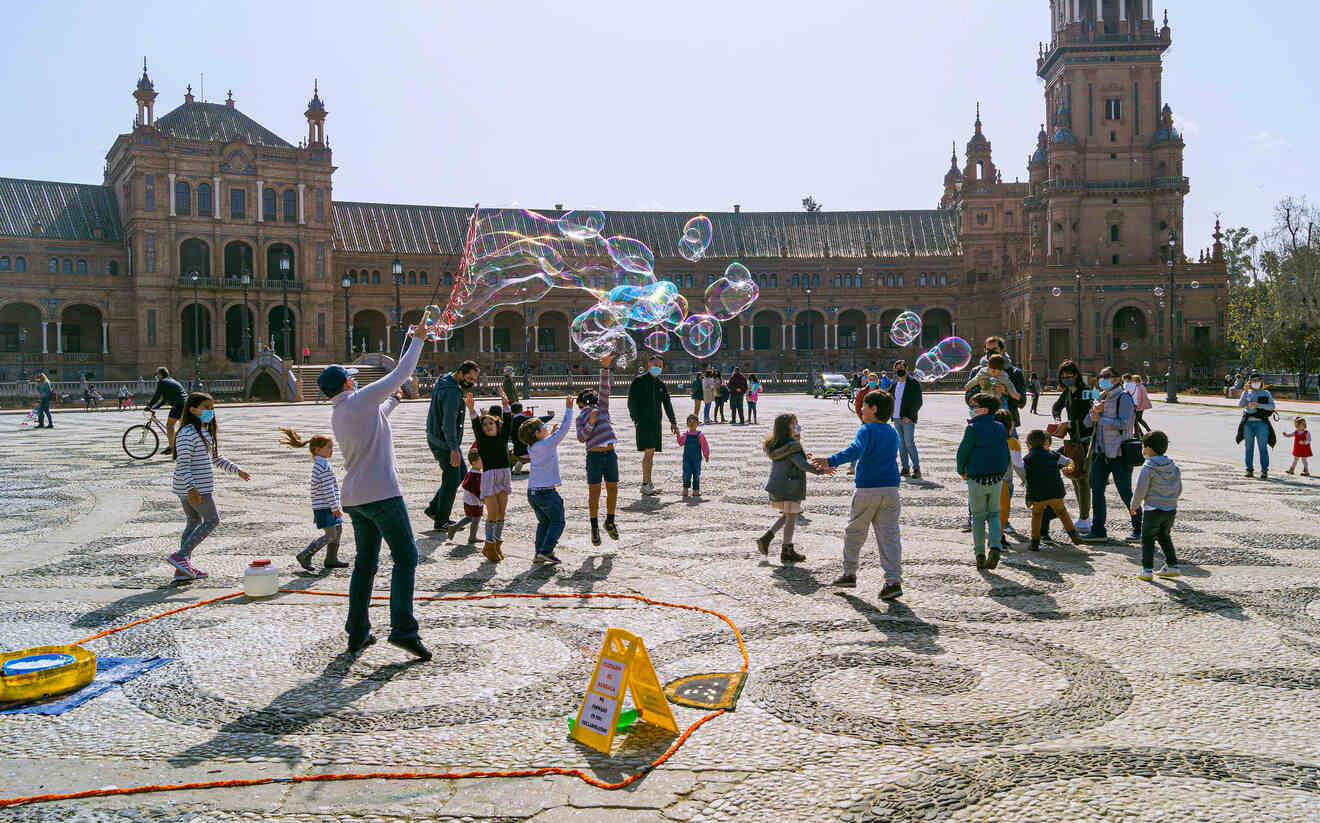 Most of the things mentioned above can be absolutely done with your little ones, but I'm sure at one point they'll want something a bit more entertaining! If that's the case, you can head to Isla Magica, an amusement park with activities based on Spanish discoveries during the 16th and 17th centuries.
It's a great way to teach the kids about the country's history while having the best time ever!
The park recreates important Spanish settlements like Amazonia and the lost city of El Dourado. La Isla Magica is also a water park, so you and the kids can cool off during those hot days!
NOTE: There are a few restaurants at Isla Magica so you don't have to worry about food
If you're looking for more kid-friendly things to do in Seville, here are some of the best ones (and don't forget about the churros!):
PRO TIP: About the city in general – I noticed that there are lots of narrow streets that are too small to walk with a stroller, take bigger roads if you are walking, or opt-in for a taxi if you are not feeling comfortable
16. Before your trip – watch movies that were made in Seville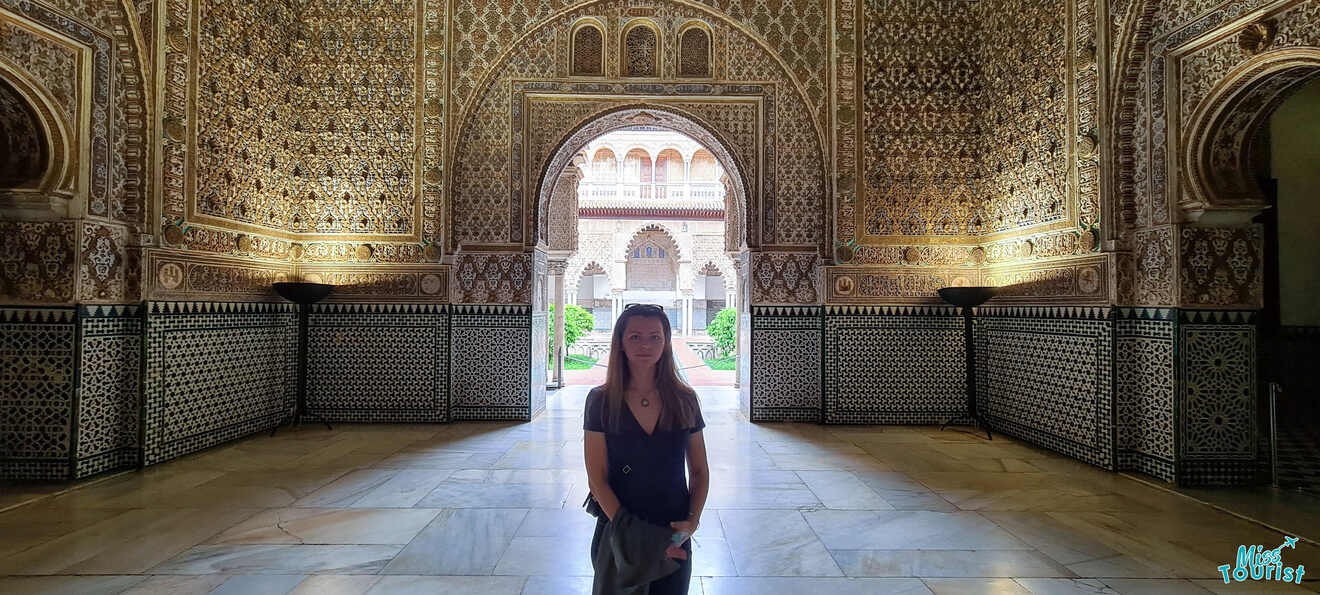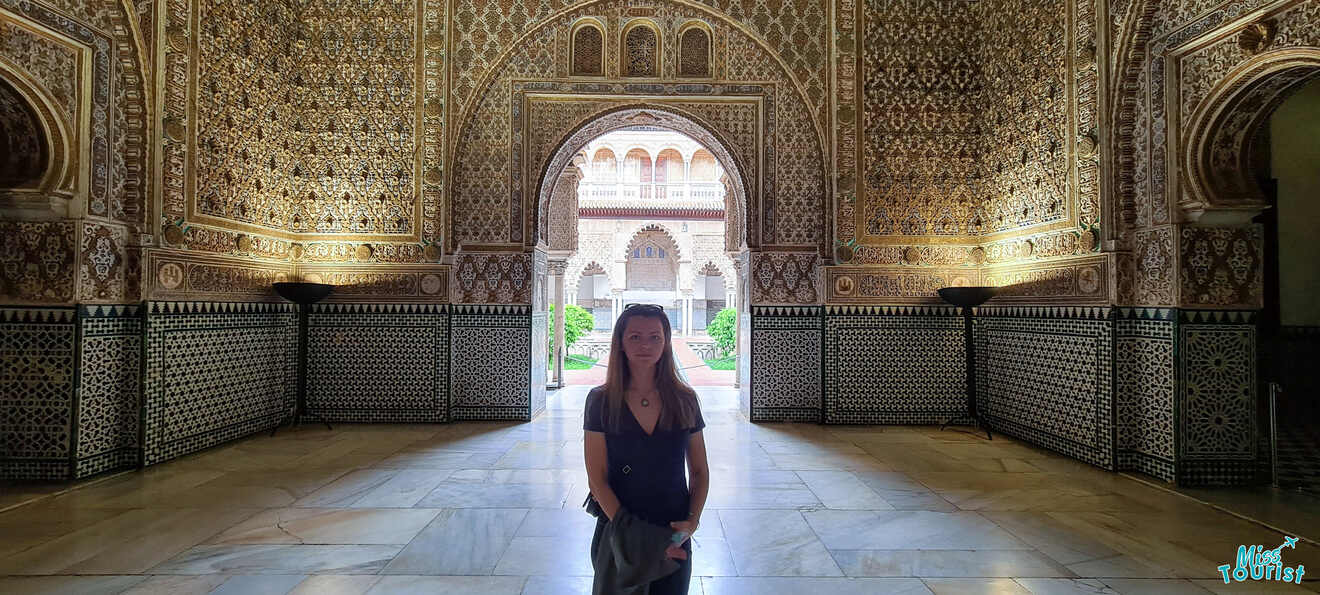 This Spanish city is a gold mine for any production company that wants to shoot different movie scenes here. The variety of styles, from the Moorish influence to the modern architecture and European streets, make Seville the perfect movie filming location!
You can play a fun game, watch some movies shot here before going on holiday, and then see if you can recognize some of them!
Here is a list of the most known movies I have collected for you (but if you are a big movie fan, I highly recommend going on a Seville movie tour where they will tell you all of the below plus much more!):
Game of Thrones – The crew filmed at the famous Alcázar de Sevilla, a famous gothic building that's also the site of the tomb of Christopher Columbus. The producers chose the palace to be The Kingdom of Dorne and the water gardens of Sunspear, so watch out for any of those scenes!
Lawrence of Arabia – They filmed the scene of Lawrence (Peter O'Toole) and Farraj (Michel Ray) arriving at the British army headquarters in Cairo at Plaza de España
Knight and Day – Casa de Pilatos, Maria Luisa Park and Plaza de España. Many scenes were filmed around these places when the 2 main characters, Tom Cruise and Cameron Diaz were running from the villains
Star Wars Episode 2: Attack of the Clones – Plaza de España became the set for the city of Theed, where Anakin Skywalker and Princess Padme Amidala, played by Natalie Portman (who went under the name of Sophie during her stay in Seville), are seen walking over the bridge and along the colonnade
Kingdom of Heaven – Alcázar de Sevilla was used as the palace of King Balduino in Jerusalem
The Dictator – Plaza de España, which was transformed into a palace for this movie which was located in the Republic of Wadiya and ruled by an eccentric leader, played by Sasha Baron Cohen
1492: Conquest of Paradise – Alcázar de Sevilla was used as the residence of Queen Isabella of Castile
Where to stay in Seville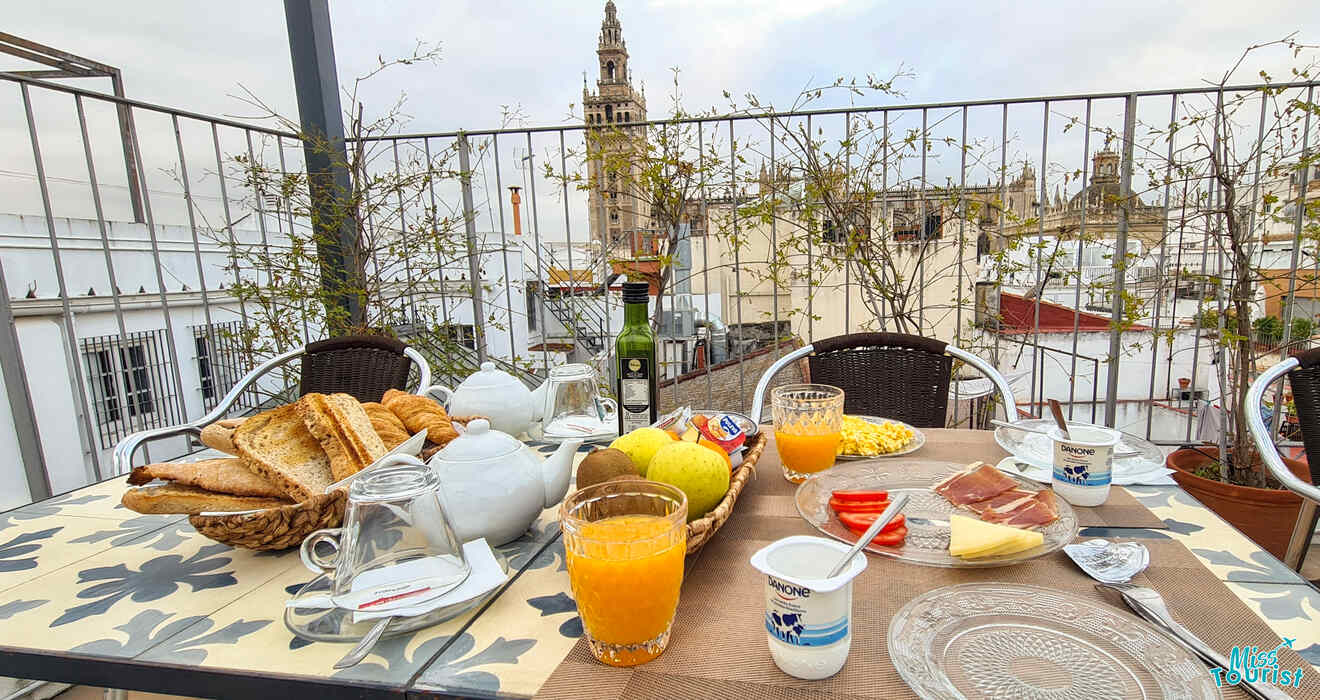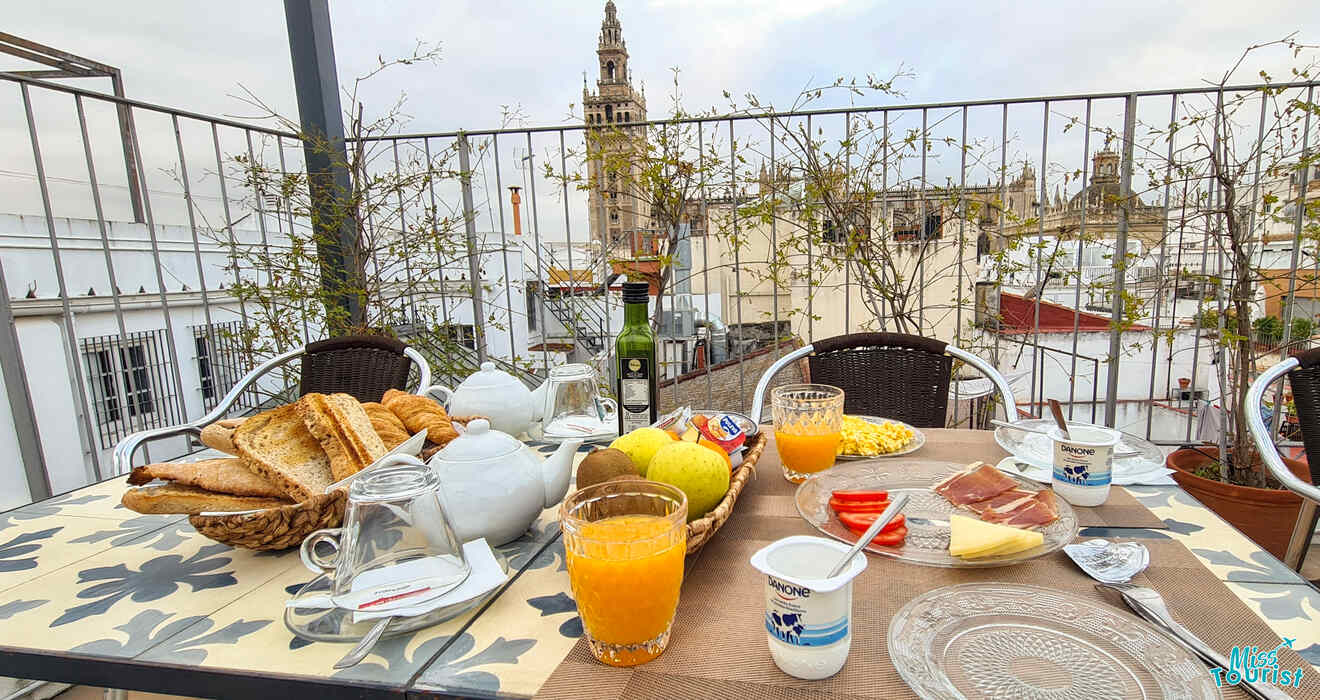 Now that I've talked about all the fantastic things to do in Seville let's see which are the best places where to stay in Seville. I have a whole post on this here if you want to look at all the neighborhoods and accommodation options, but I'll add some options here for every budget!
All the hotels are located in the Santa Cruz area (Old Town):
Luxury (US$100 and up)
Hotel Alfonso XIII – A famous hotel in Seville that looks like a palace, the design includes Arabic-style arches and ceramic tiles! This stunning 5-star property has an outdoor pool, free Wi-Fi, an on-site gym, and a beautiful garden where you can relax and unwind! The hotel is only a short walk away from the Archaeological Museum and the Museum of Fine Arts.
Casa de Colon – This luxury hotel was built at the end of the 19th century, and it has a stunning courtyard. Everything is nice and has that old vibe, but it might be a bit loud for some people as the room faces the street, and you have some restaurants with music, the road, and the church with a bell right in front. They have a great roof with a view where they serve breakfast.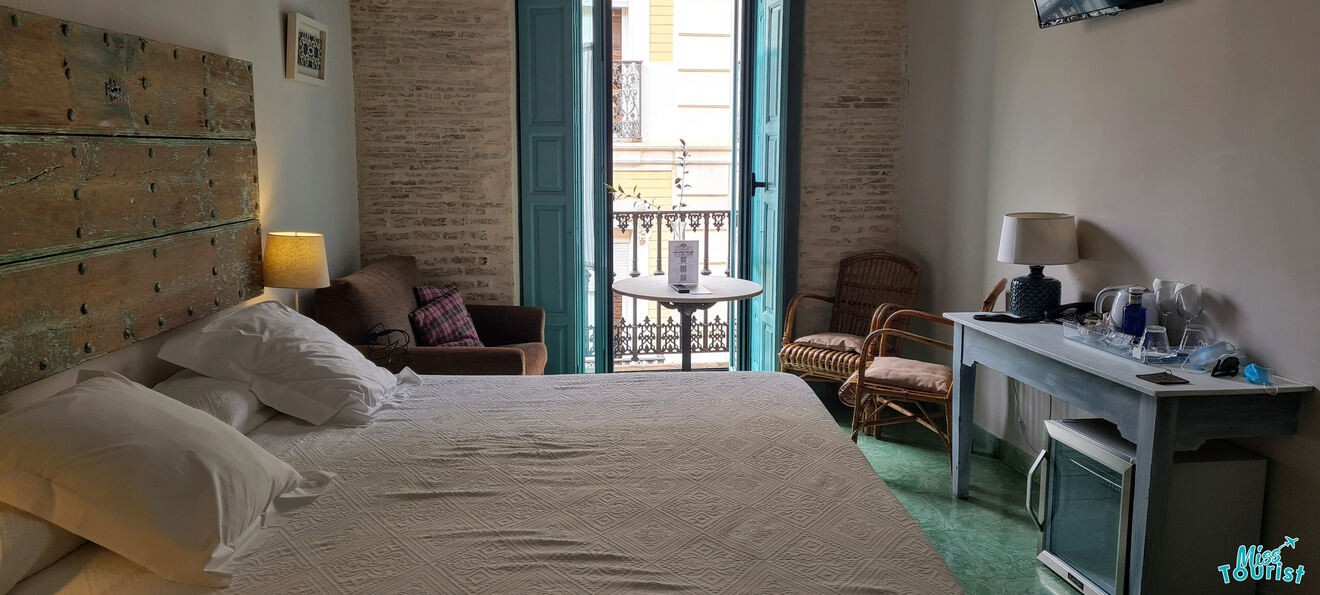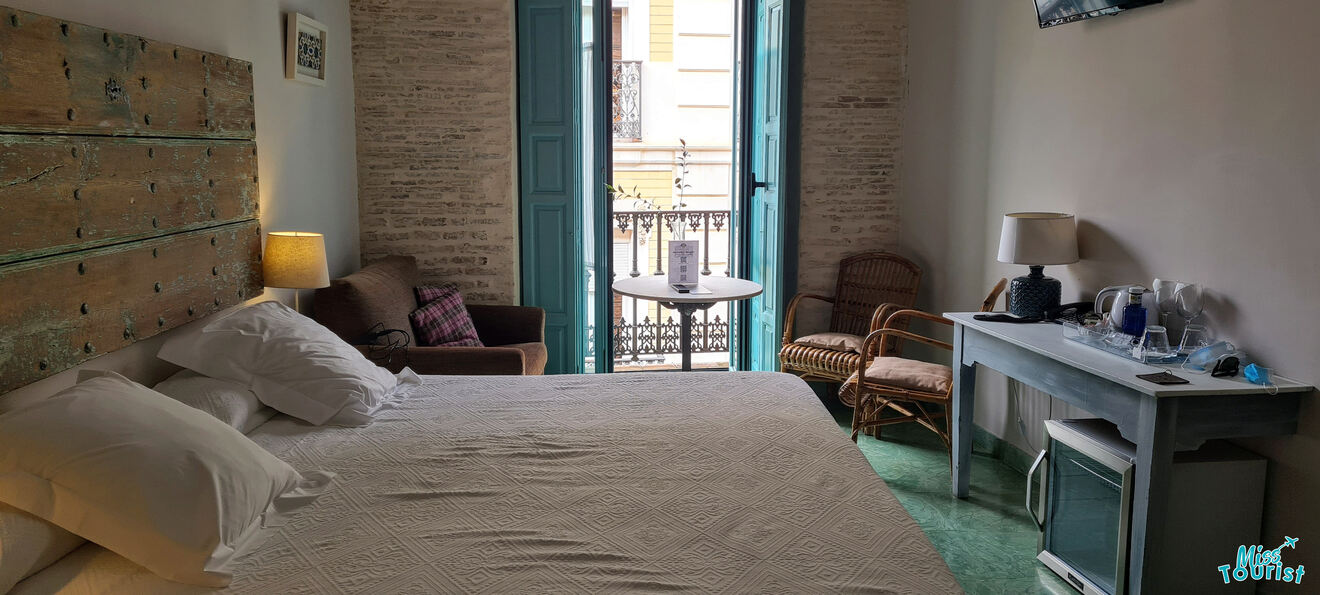 Mid Range (US$70 – US$100)
Hotel Rey Alfonso X – This 4-star hotel is located in the Old Center of Seville, just a short walk away from La Giralda tower and the tapas bars! Guests will have access to a swimming pool and a games room.
Hotel Doña Manuela – Chill on the rooftop terrace of this hotel in Seville that has family rooms and free wifi. All the main attractions, like Seville Cathedral and Alcazar Palace, are only 10 minutes' walk away.
Budget (up to US$70)
Oasis Backpackers' Hostel Sevilla – This hostel is one of the best options for all budget travelers and backpackers that want to stay in the old Jewish Quarter of Seville. Chill by the swimming pool and mingle with the other guests on the terrace! The hotel is also super close to Plaza de Armas and Plaza de Toros.
Samay Hostel Seville – Here's another great budget option to stay in Seville. This hostel is located super close to Seville's Alcazar Gardens, and it's a restored townhouse that offers cozy rooms and excellent service!
Practical information about the city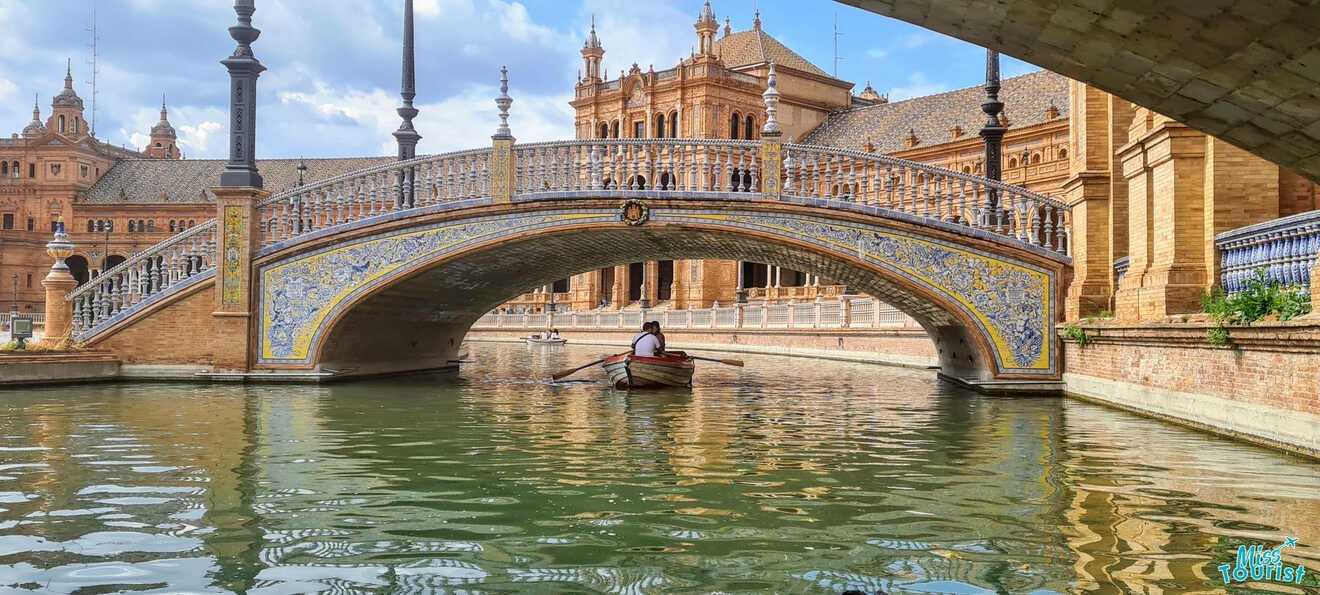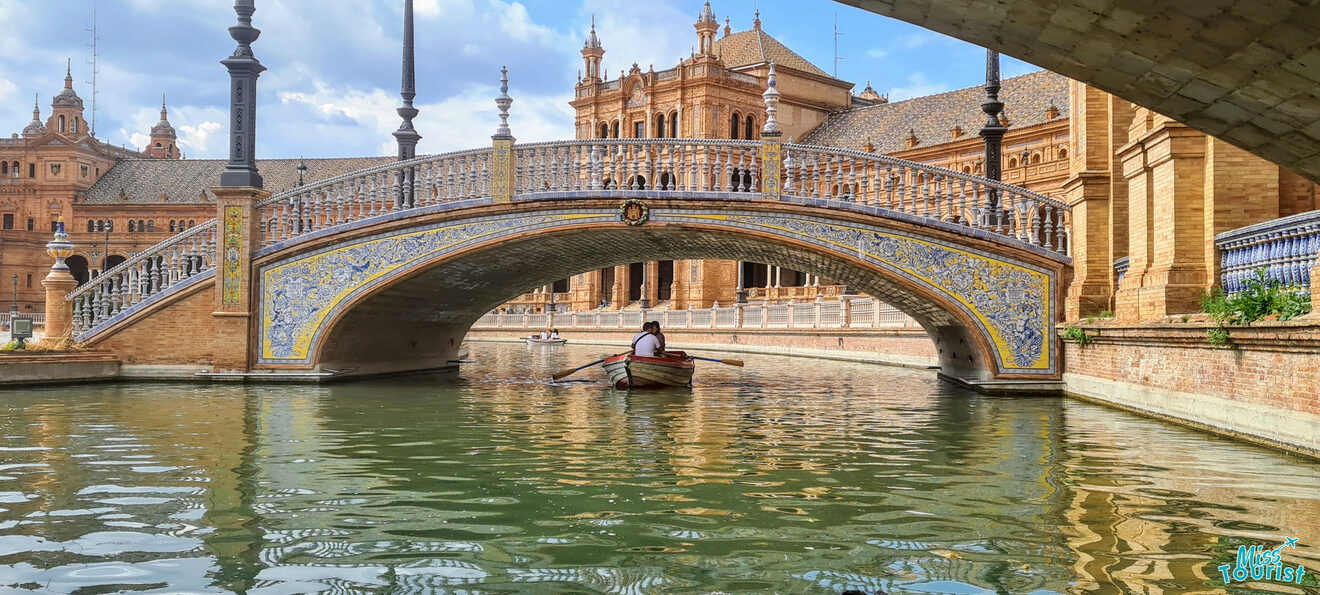 Okay, we've discussed the main things to do in Seville, the best hotels in the city, now I'm ready to tell you all the information you need to get around the city. So stick around if you want to find out ways to get from the airport to your hotel, cab prices, and more!
How to get from the airport
By cab
Of course, the easiest way to get to the city center from the airport is to take a taxi. The journey takes approximately 15 minutes and the price is around 25-30€ if you take an official taxi. However, I suggest you actually use one of the services below as it is usually cheaper – around 15-20€.
By Bus
To go from Seville Airport to the city center and vice versa, an urban bus transport line (Line EA) connects both locations, including Santa Justa Station (AVE train station). It will take 35 minutes to reach the city center by bus, and it costs 4€.
Transportation inside the city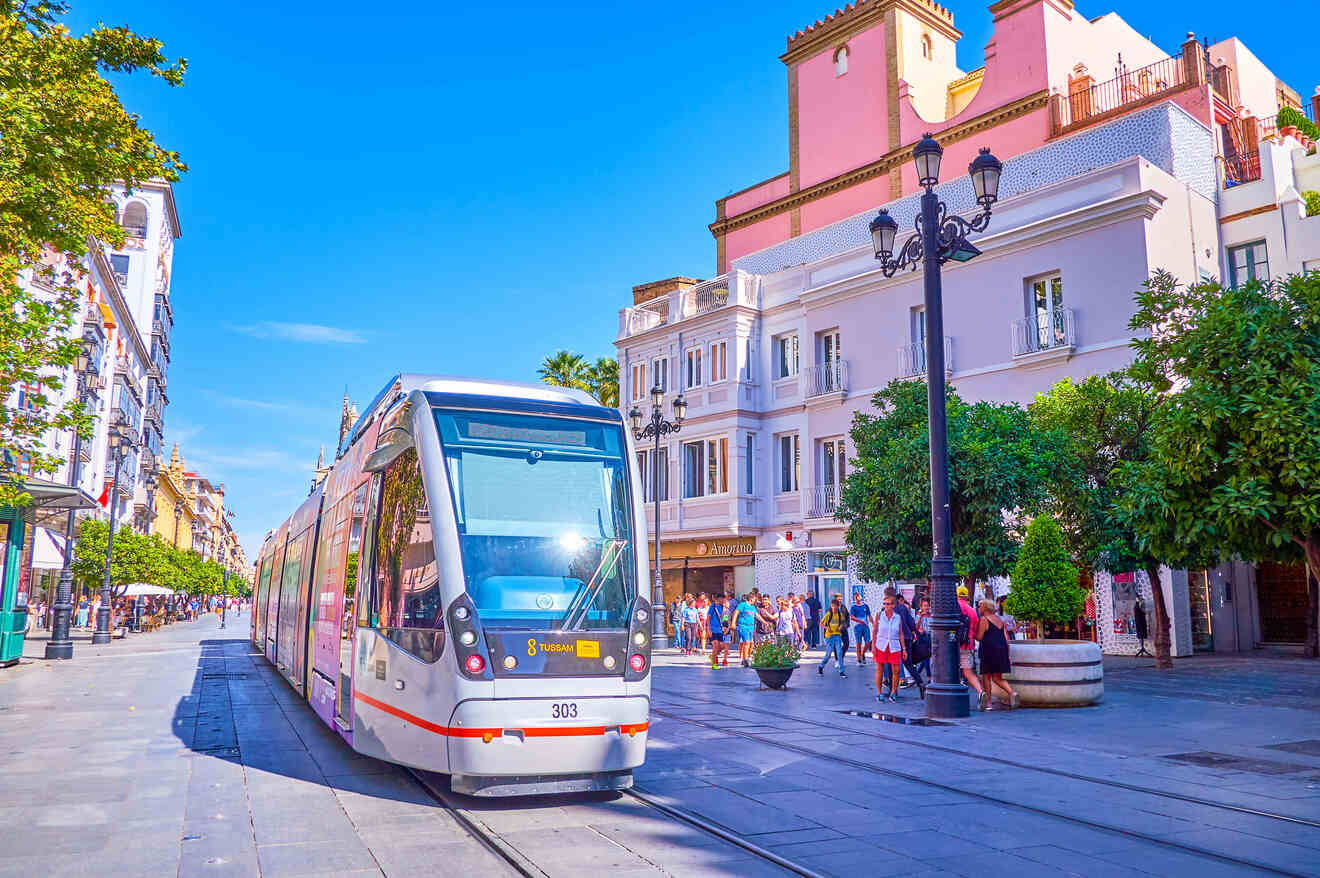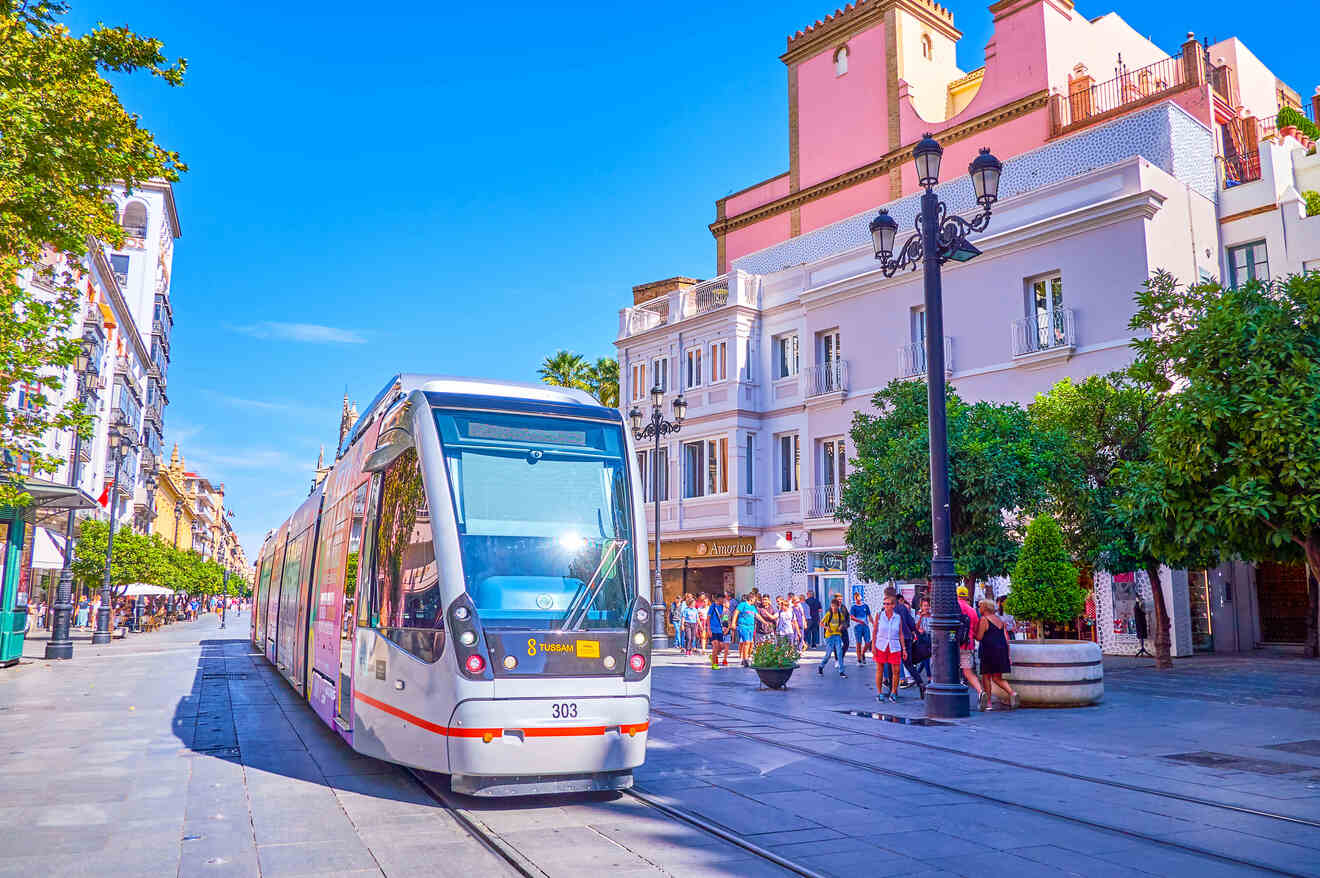 Metro
Seville has one metro line with 22 stations, but they are working on 3 more metro lines. Here is a map of all the stations in the city. Usually, people take the metro if they want to reach the suburbs of Seville.
Bus
The bus system is very organized, and it can help you reach most destinations pretty fast. City buses C1, C2, C3, and C4 run in, through, and around the center. You can buy your tickets from the bus driver or a kiosk. A single bus ticket costs 1.4€.
Tram
If you want to visit the attractions in the city center, you can also use a tram. The line connects
Plaza Nueva to Avenida de la Constitucíon (near the Seville Cathedral) and it stops at Archivo de Indias, Puerta de Jerez, San Sebastián and San Bernardo.
Scooter sharing
Renting a scooter does not have to be complicated. You can use electric scooter sharing! This means that you can pick up the scooter closest to you in the city (usually just minutes walking away from you) and park it at your destination. You don't need to bring it back to point A, how cool is that?
We used these 2 services, and sometimes you can ride your scooter for free for the first 10 to 20 min (for both, you have to download the app and find the nearest scooter to your location):
When to go to Seville
When visiting Seville, you should take into consideration the weather. It can get super hot in this area and while I'm sure most of you love the sun, walking around when it's so hot you can't breathe might not be so pleasant.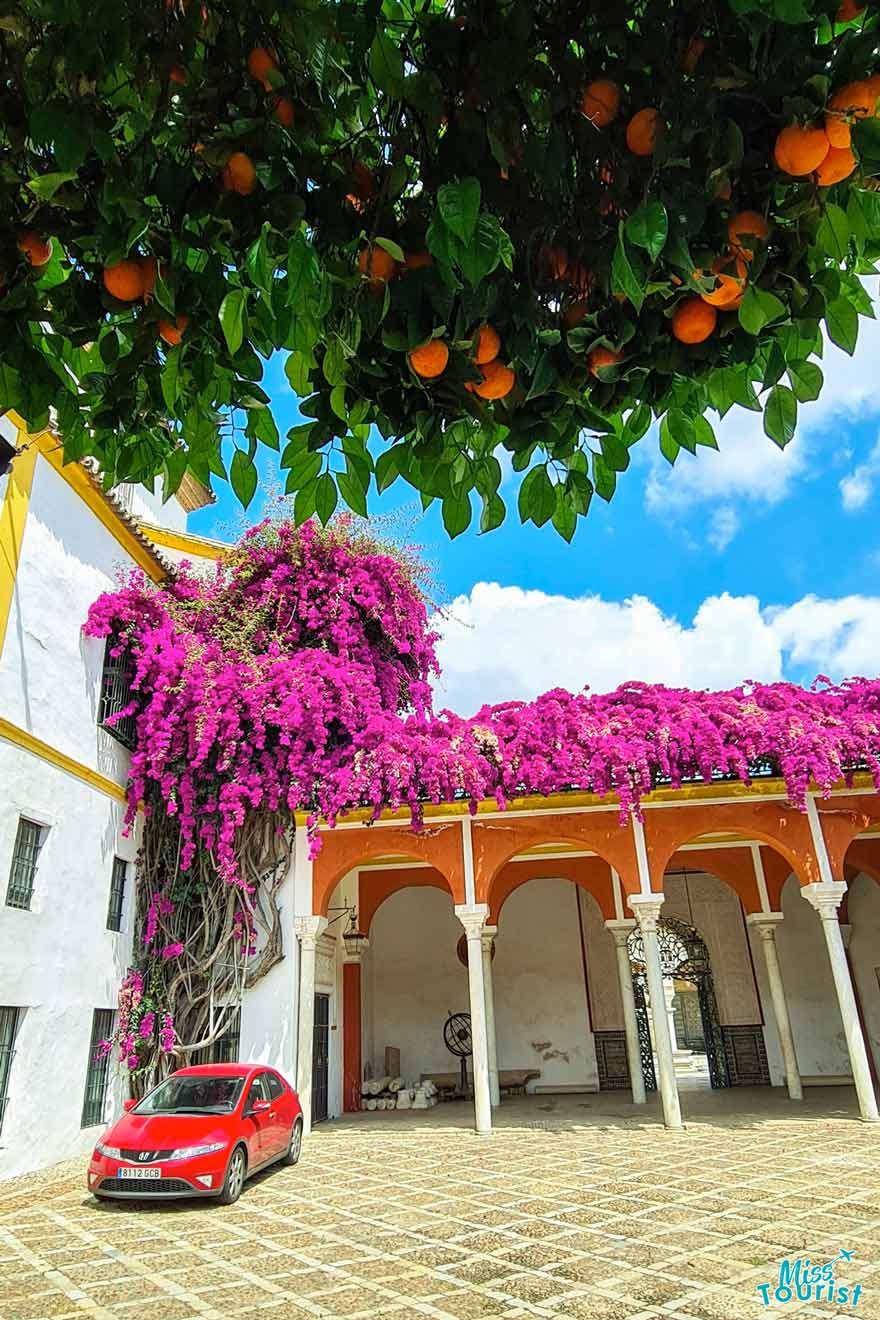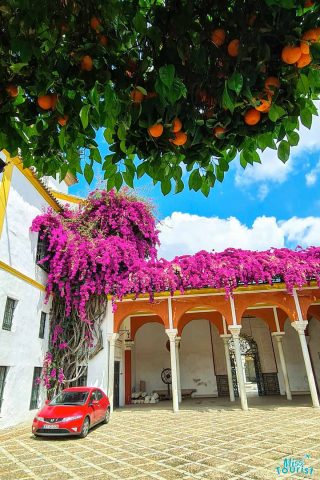 Spring (March – May): This is the best season but it is also the priciest. I visited in the mid of April and I loved it – it wasn't too hot or too cold, just perfect. Spring is also a great time to visit because that's when special events like the Holy Week and Feria de Abril take place
Summer (June – August): During this peak time, the city is packed with tourists, although it's super hot many people prefer to visit during summer so make sure you book your tickets for museums and other attractions in advance
Fall (September – November): As the high temperatures drop, so do the number of tourists who come to Seville. The temperatures are just perfect during fall, much like the ones in Spring, and the prices lower
Winter (December – February): Definitely a low season! During wintertime, you won't see many tourists, the temperatures are a bit lower but compared to many European countries, Seville enjoys much milder winters
During special events: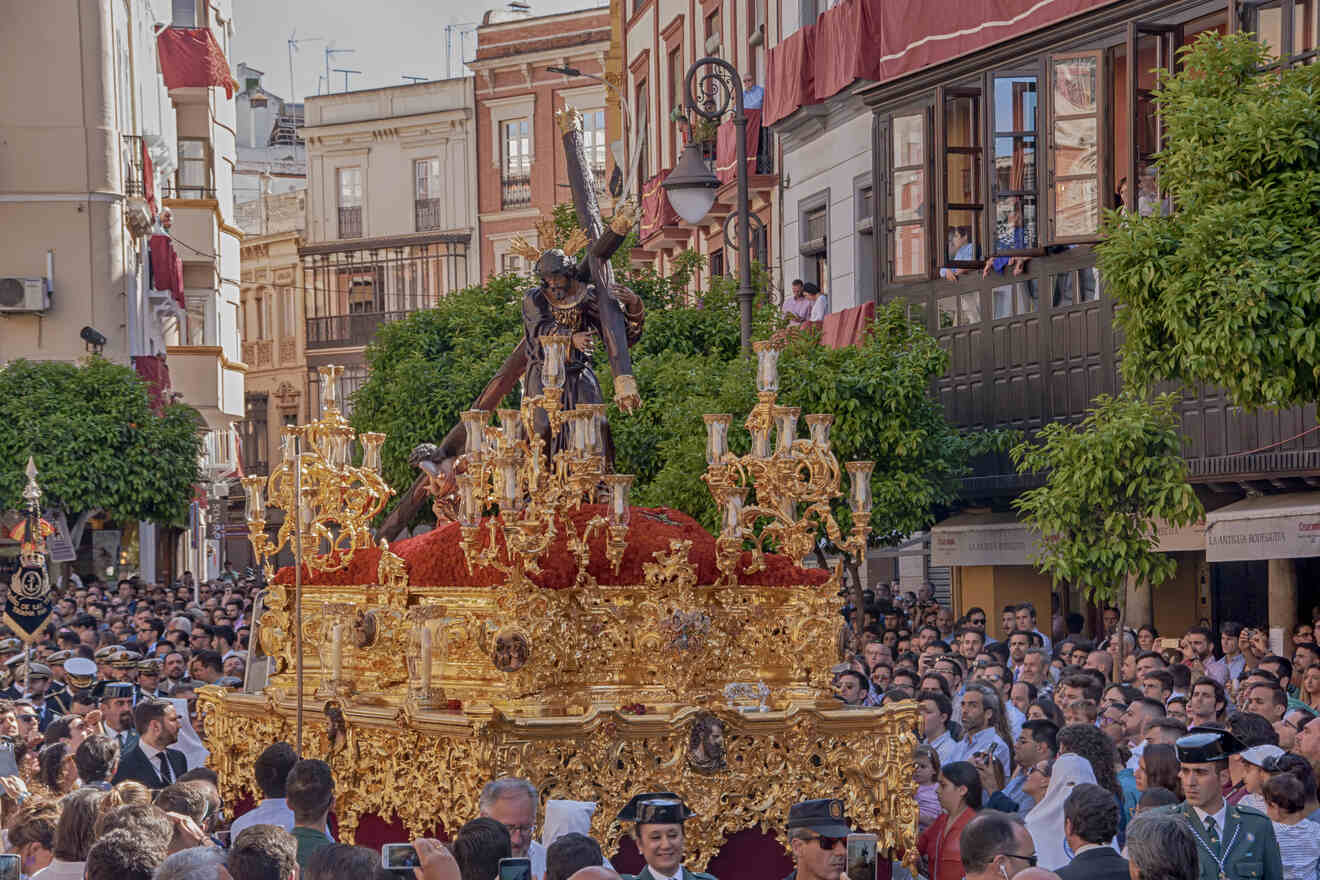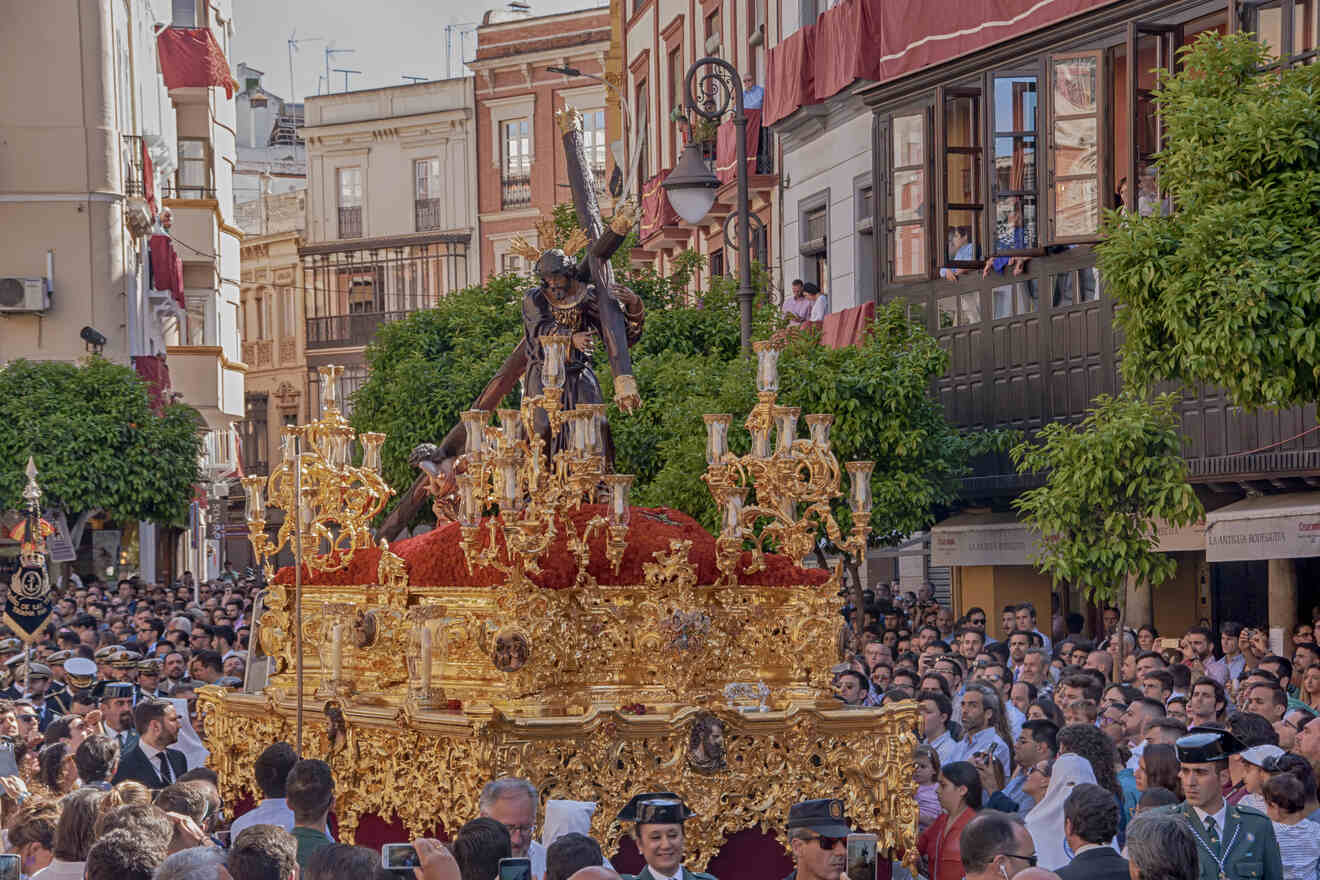 If you are very flexible with time and you would like to catch some festivals happening in the city, these are the main ones that you would surely enjoy attending:
Semana Santa (end of March, beginning of April)
During the Holy Week or Semana Santa, there are tons of religious parades on the streets of Seville. It's one of the best things to do in Seville if you're traveling during that time. You will see tons of works of art, by formidable sculptors, from the Baroque era to the present-day during la Semana Santa.
Feria de Abril (2 weeks after Easter, usually end of April)
Feria de Abril is one of the most significant fares in Andalusia – it is basically one big party for a whole week. It takes place in the Los Remedio area, southwest of the city, next to the river. The festivities start around mid-day and last until early evening. You will see parades, people in carriages, and horseback riding, plus lots of drinking, eating, and socializing.
Day Trips from Seville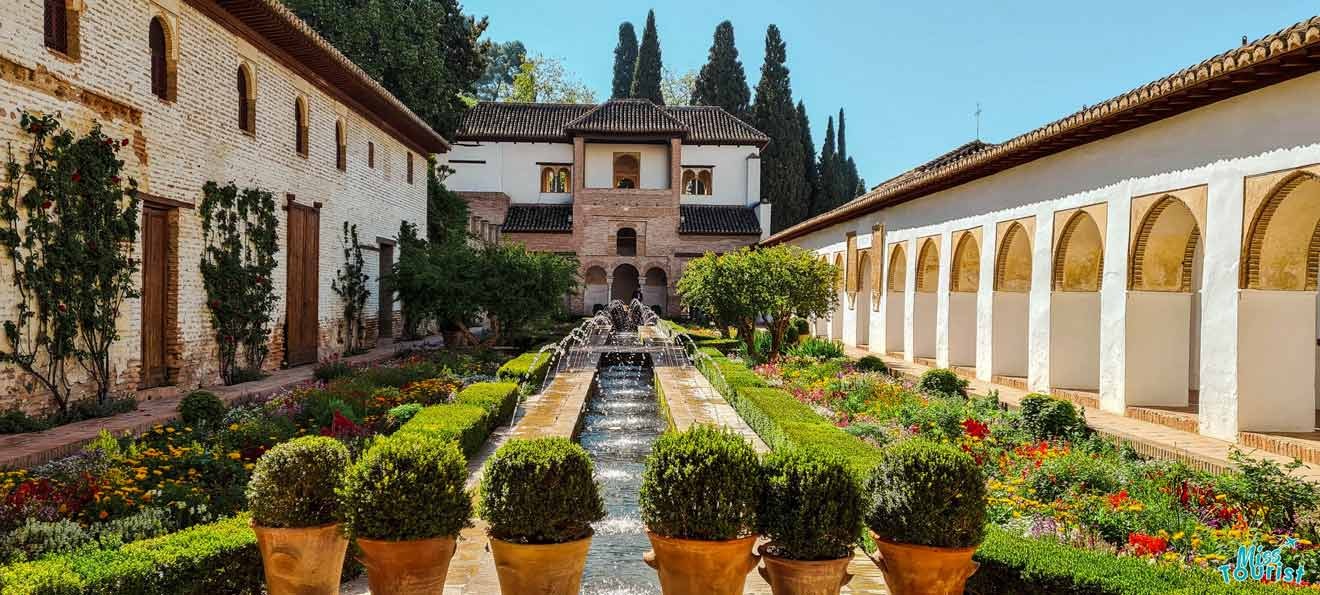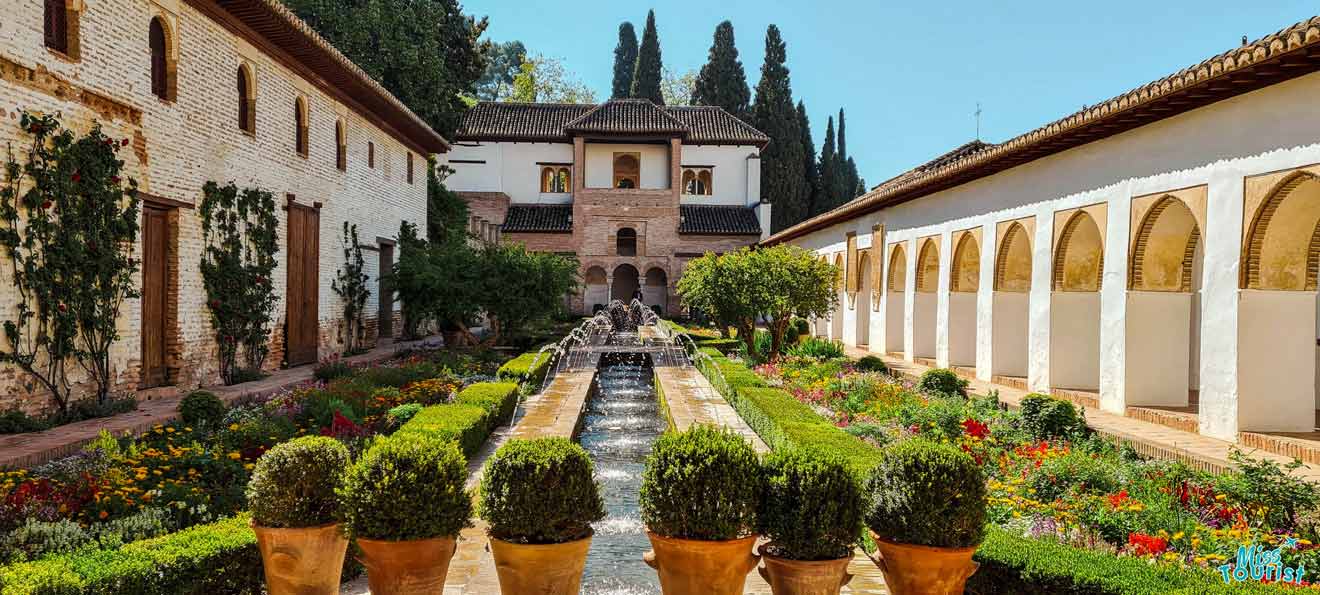 If you're planning a longer trip, you should add a day trip to your things to do in the Seville list. There are many locations around the city that are not too far and they're simply stunning!
Let's see which day trip suits you the best:
Cordoba: (do not mix it up with Cordoba in Argentina!) It will take you 50 minutes by train, or 1,5h by car to get here. Cordoba is located in southern Spain, and it's the birthplace of the philosopher Seneca! It's a beautiful city famous for its Mosque-Cathedral, its historic Old Town, a UNESCO World Heritage site, and many other things that you should check out during your day trip!
Granada: I have an entire post about Granada on my website, so check it out if you want to go there! The city is home to one of the most visited monuments in Europe, the Alhambra Palace! It will take you 3 hours by train or 2 h 40 min to get there by car.
Ronda: This city is so stunning, and it would make a fantastic day trip! Ronda is located a 2 h 40 min train ride away from Seville, and a 1 h 50 min car drive away.
Arcos de la Frontera: The whitewashed houses and stunning views will make you fall in love with this place was listed as a National Historic-Artistic Monument. It will take you 2 hours by train or 1,5h to get there by car from Seville.
Malaga: If you want to spend time at the beach then you should take a day trip to Malaga! I have an entire post about the city on my website, but some brief information:
The town is located ~2 hours 20 min away by both car and train.
Frequently asked questions about Seville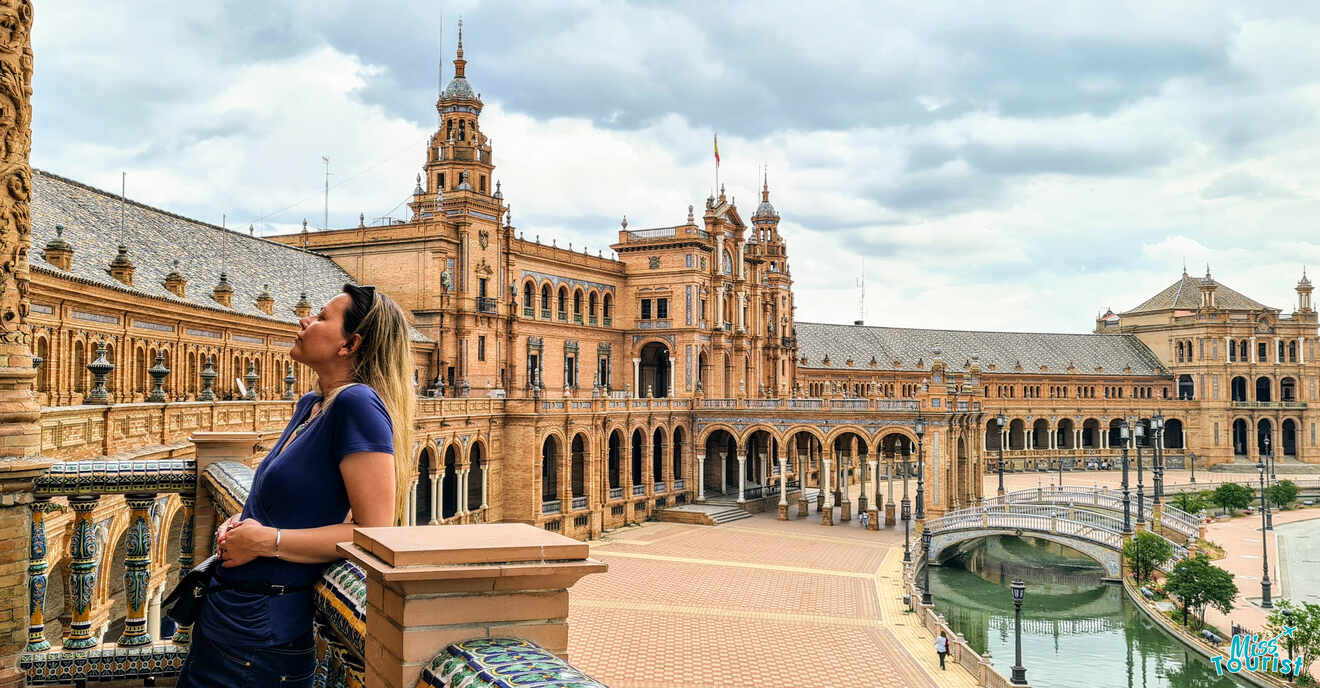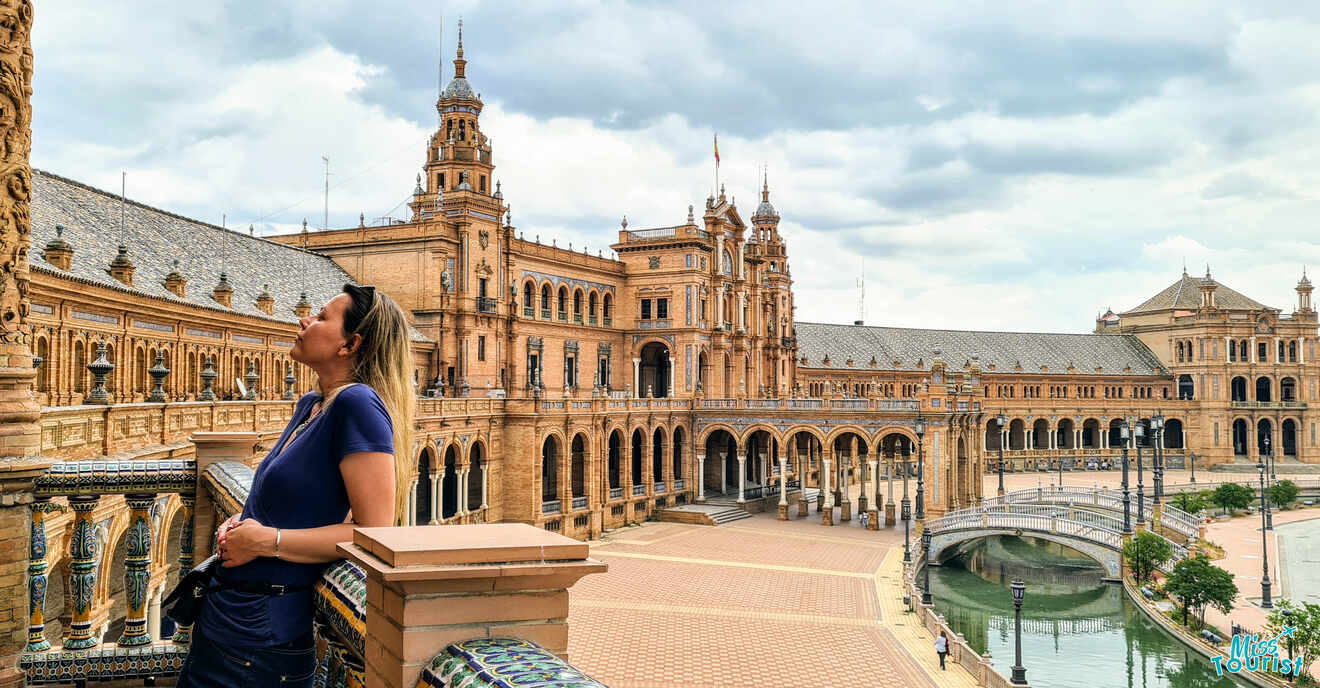 🤩 What should you not miss in Seville?
When you visit Seville, Spain, don't miss seeing the Cathedral, Royal Alcázars Palace, where you check out the tomb of Christopher Columbus, La Giralda (the Bell Tower), Plaza de Espana, and the Jewish Quarter (Old Town). 
👌 Is Seville worth visiting?
Yes, although Seville is not as famous as Barcelona or Madrid, the city is a stunning cultural location that hosts so many important attractions, like the Royal Alcazar Palace, Plaza de Toros, and magnificent Plaza de España.
🤔 Can you do Seville in 2 days?
Yes, you can fit the most important attractions into 2 days, but I would definitely recommend staying for 3+ days to see the city with no rush.
💃🏽 What is Seville Spain best known for?
Seville is famous worldwide for its culture, monuments, traditions, and artistic heritage. The city is also the birthplace of Flamenco! 
Conclusion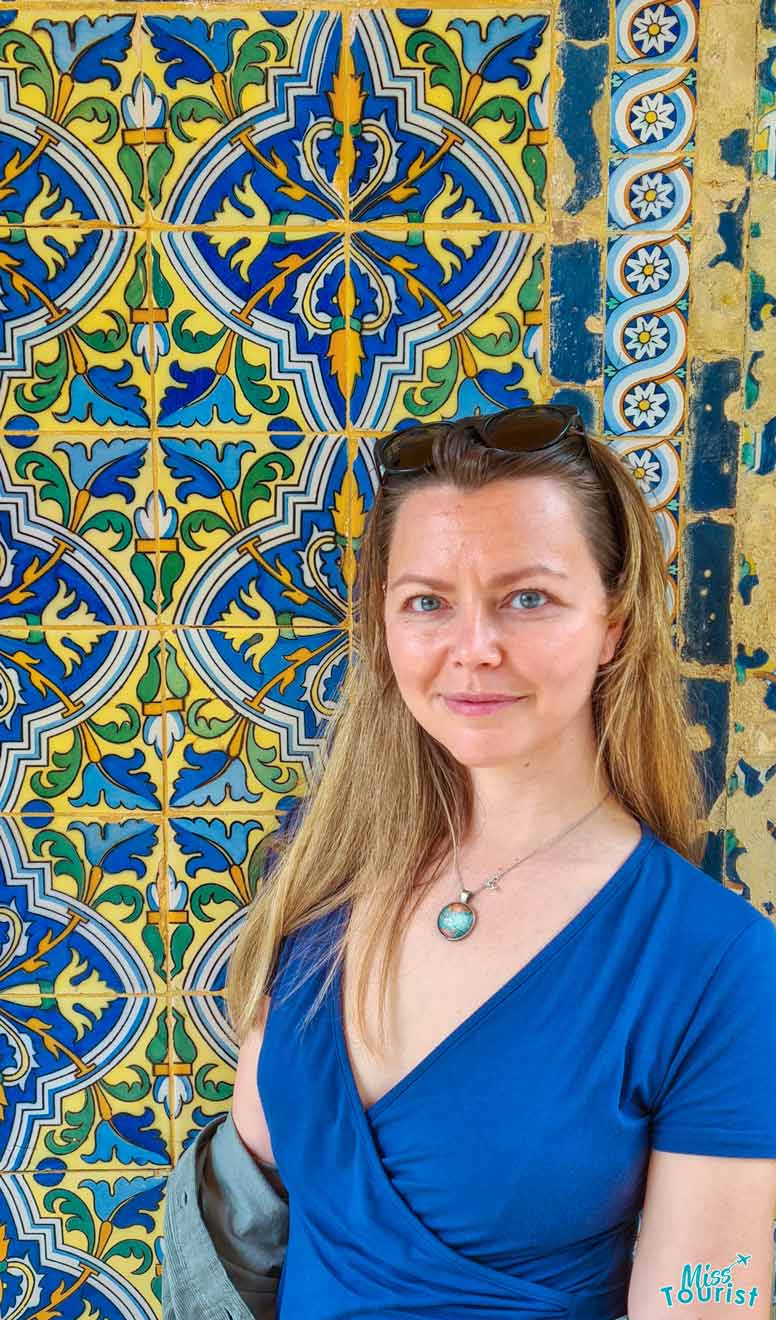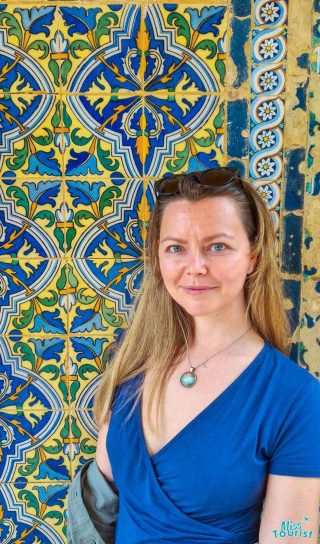 What a stunning city! I hope this post helped you decide which are the best things to do in Seville, Spain!

I know I tend to give so many details but I really think you'll benefit from all that info, it's better to be prepared when you visit Seville, trust me! In the first part of the post, you will find all the fantastic attractions in the city followed by some practical information about transport and accommodation.

Enjoy your holiday in this unique place! Explore the streets lined with orange trees, visit Seville Cathedral, learn how to dance from a flamenco dancer, and go on a boat tour! The list of possibilities is infinite!

If you have any questions or suggestions about other cool things to try in Seville, Spain, leave me a comment below, and I'll make sure to answer it ASAP!


Salud,
Yulia
---
Pin it for later!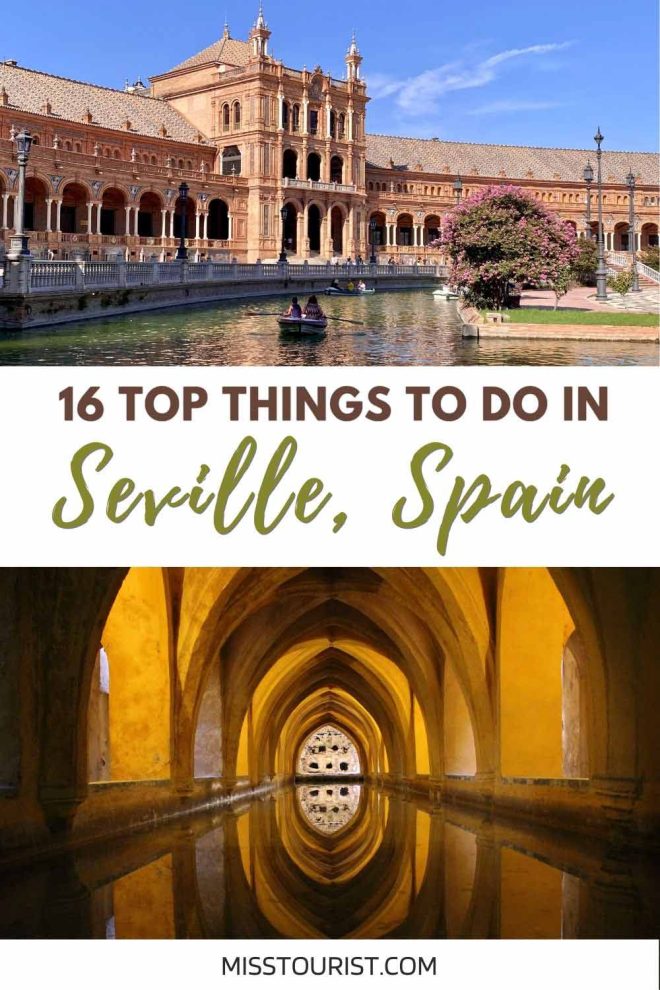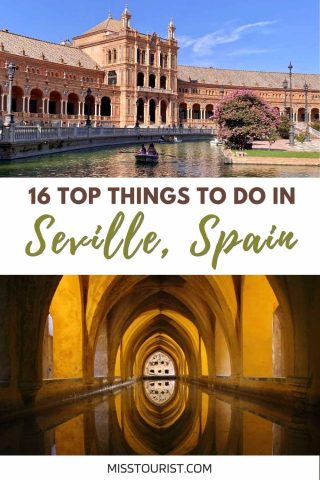 Pin it for later!