Barcelona is such an amazing city that can offer pretty much everything for all type of travelers.
Visiting Barcelona with kids? There are so many things to do with family in the city!
Prepare in advance and you will not miss out for the most colorful and fun places there.
Here are 25 things to do in Barcelona if you are traveling with kids (including some lesser known ones):
1. Sagrada Familia kids edition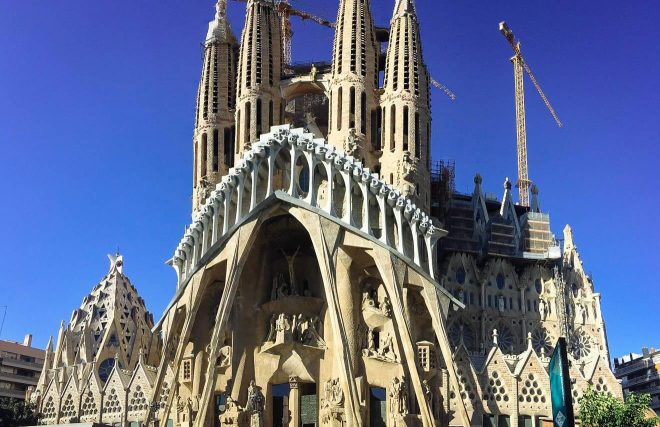 Did you know that there are children audio guides available for kids from 6 to 12 years old (€3.50)?
While you enjoy the stunning interior of the Gaudi's masterpiece, your kids will play their own game and learn about Gaudi in their own way. How cool is that?
Pre-book your tickets to skip the long line and to save some money. Please remember, that children under 10 enter free of charge.
2. Casa Battlo kids edition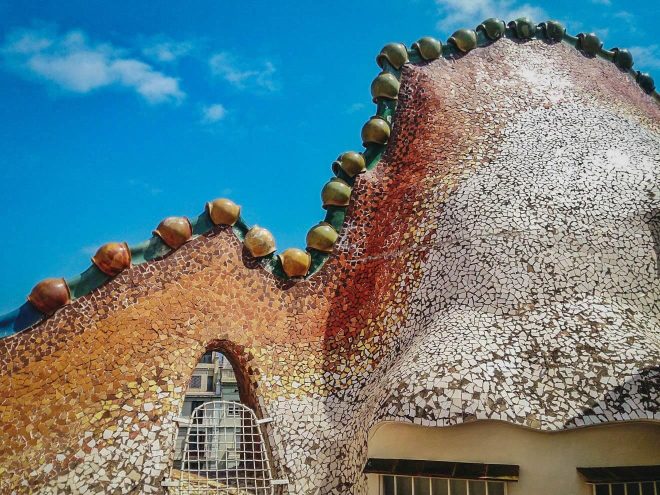 If you are going to Casa Battlo with kids, you will make their visit unforgettable by taking a dramatized theatrical tour of Casa Battlo. Either Gaudí himself or Lady Ramoneta – the Batlló family's housekeeper– will show you the nooks and crannies of the house.
3. La Boqueria Food Market and La Rambla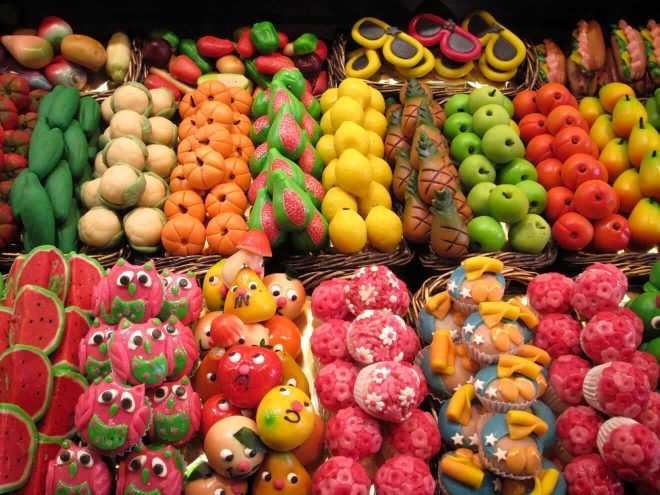 La Rambla – although not my favorite part of town, it is still a must see! Bustling with cafes, bookstalls, flower kiosks, human statues – it is worth rambling at least once! Why not my favorite? It is excessively touristy, the restaurants are overpriced and one of them even won a prize as the worst restaurant in Spain. By the way, do need eat at Las Ramblas, due to high demand all the food is frozen there.
La Boqueria (meaning butcher) which is just around the corner is a much better place. It is a local market with all kind of food (all fresh) that you can imagine. Inside is a riot of noise, colors and smells. Mouthwatering displays of fruits, vegetables, exotic fish, ham and cheese is an absolute eye candy! Take a break at one of the bars and treat yourself for a snack, your kids will love a colorful smoothie!
4. Magic Fountains show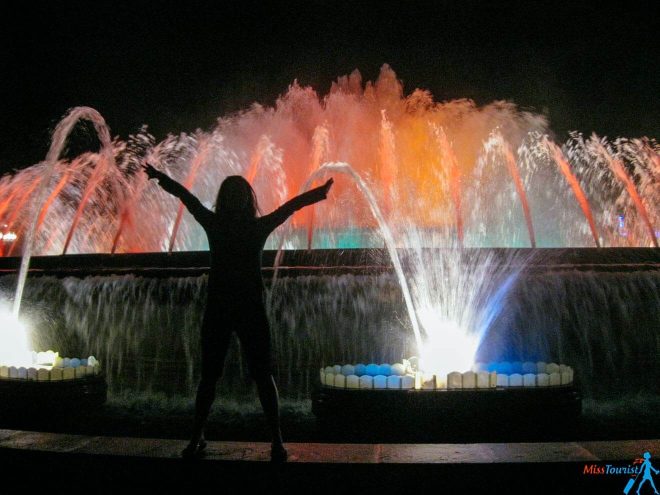 I remember I jumped with excitement the first time I saw the magic fountain show!
No doubts your kids will also love the show of water, lights and music! Located at Plaça d'Espanya, it features evening fountain shows every day, here is the schedule.
5. Park Guell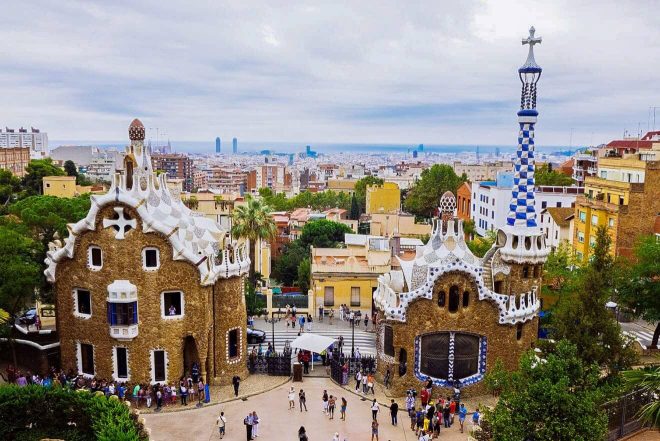 Hansel and Gretel style houses, your kids will truly feel in a fairy tale!
Beware that the place might be quite crowded and you can avoid all the hustle and make your visit enjoyable by reading this article. Make sure to walk around in the free area after your visit as well.
Watch this cartoon to prepare your kids for the visit
6. Ciutadella park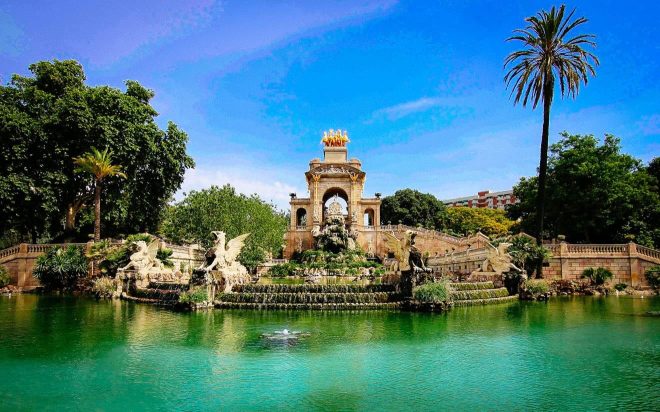 How about taking your kiddos to the most famous park in the city? Ciutadella Park has row boats, fountains, play areas and even a full size replica of a mammoth! It is always a good idea to make a picnic there. The Zoo (below in this list) is located inside the park too, but it has a separate entrance with a ticket.
7. Aquarium Barcelona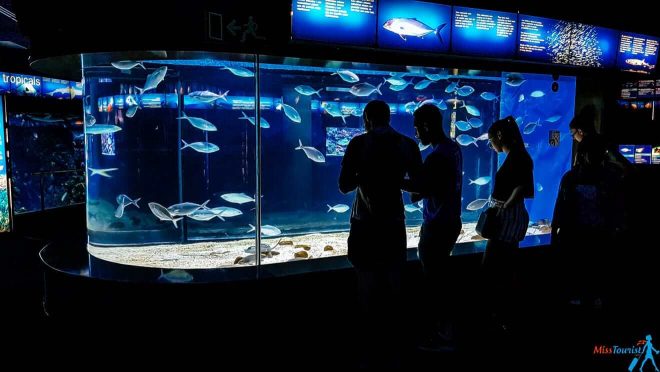 The Aquarium of Barcelona hosts Europe's largest sea tunnel, this Aquarium has a tunnel with big sharks, manta rays, moonfish, penguins and many others you can or cannot imagine! It also has lots of interactive space for kids to play.
Your kids will love it, even I did! 😉
In the summer time, Aquarium works until 9 pm, but I recommend visiting in the morning or afternoon to see the shows. There are generally no queues, but by booking online you will save 2€ per person (18 instead of 20€ for an adult, and 13 instead of 15€ for a child, really small ones (3-4 years old) for 6,5€).
Book your tickets on the official website.

8. Chocolate Museum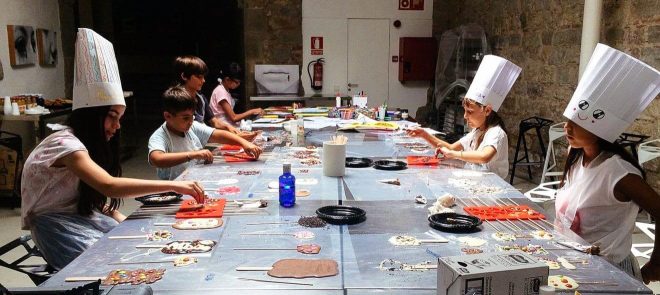 At Museu de la Xocolata your children can learn how chocolate is made, they can browse through various sculptures made entirely of chocolate. And the best part? They can taste it of course!
If your kids love chocolate (there is probably no "if" in this sentence), you can also take a chocolate walking tour. While your kids indulge their taste buds with chocolate and sweets in different shops, bakeries, and cafes, you can have some well-deserved parent rest.
9. Montserrat Mountain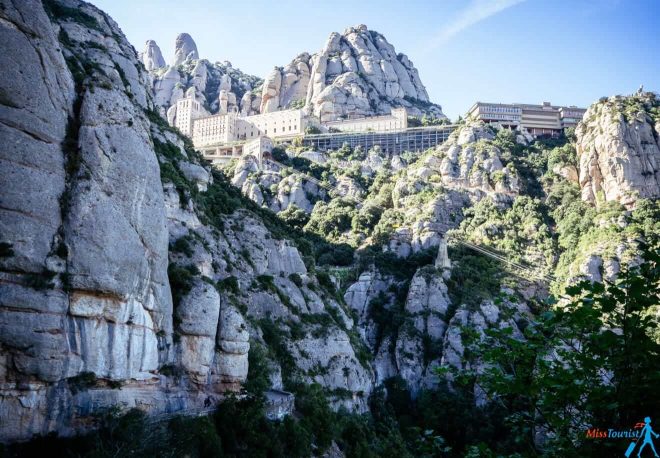 Montserrat is a rocky range located very close to Barcelona. Visiting this open-air museum with kids is definitely a great idea! They will enjoy the epic views, taking numerous cable cars and the choir of boys in the monastery.
More about information about prices and how to get there is in this post – Barcelona day trips out of the city.
10. Port Aventura Adventure Park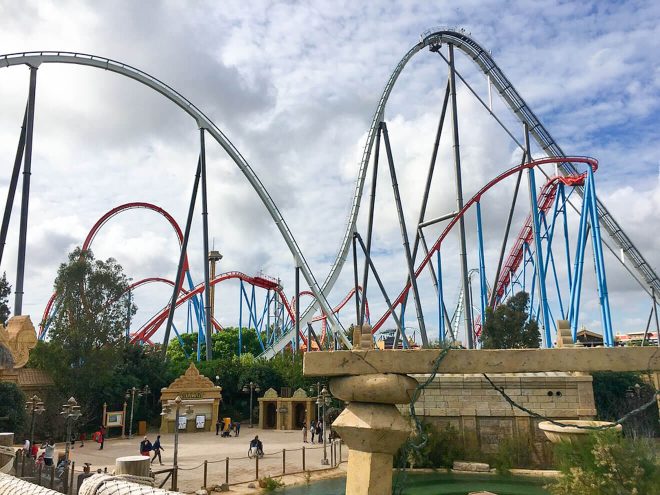 Your kids will remember the vacation for many years if you take them to one of the biggest adventure parks in Europe that is located very close to Barcelona! There are rides for all ages – from super cute Sesame street rides for 3 year olds to thrilling rides for teenagers (and yourself). It includes one that is the fastest and the tallest in Europe!
Price – you can get a very good deal with transportation included here, or a 20% discount if you are a Barcelona City Pass Holder.
11. Parc del Laberint d'Horta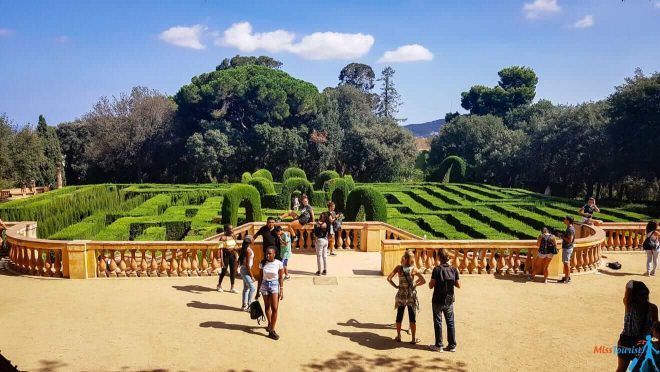 Try to find your way out of the labyrinth park with your kids!
This park is hardly known by tourists at the moment which makes it a perfect spot for a lunch or just some relaxation. A famous scene from "Perfume – The story of a murderer" movie was captured there, did you know?
Besides the labyrinth, the park has a beautiful 14th century house, a waterfall and many alleys to stroll around.
12. Poble Espanyol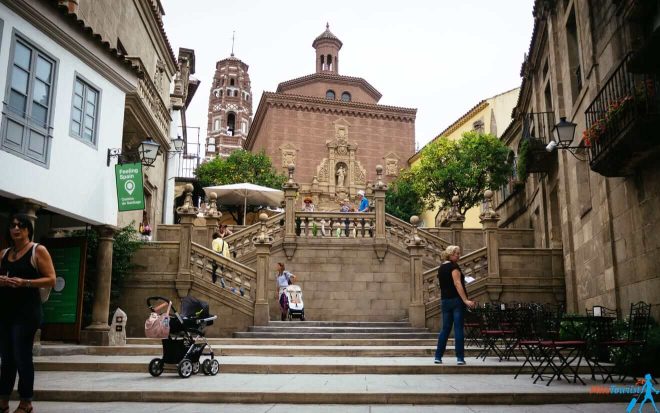 If you would like to visit all of Spain but you do not have enough time, you should stop by Poble Espanyol!
It will give you an understanding on authentic cuisines, crafts and the types of architecture in different regions of Spain. Located in a calm place with no traffic, it is ideal for both children and adults!
There are some amazing workshops where your kids can learn how they produced crafts back in the days!
The price at the door is 14€ for an adult, 7€ for a kid and 36€ for a family of 4. You can get it for 12,60€ here if you buy your tickets online (cheaper than on the official website). ). Also, you can get a 20% discount if you are a Barcelona City Pass holder (a card, that lets you get in Sagrada Familia and Park Guell with skip the lines, and many other great perks).
NOTE: Not many people know that, but after 8 pm you can get an evening ticket for just 7€ (you can only buy it there)! It is going to be darker, indeed, but the whole village is nicely illuminated, so it is an interesting experience as well.
There is a video guide (+3,5€), but I remember it did not have headphones, you can take them with you or listen to the information without it, though sometimes it can be hard to hear.
Poble Espanyol is open 365 days a week, on Fridays until 3 am, and Saturdays until 4 am (this is unbelievable for Spain!)
13. Barcelona beaches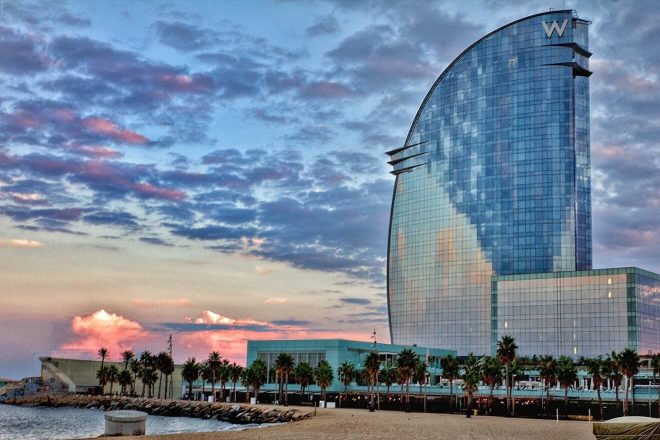 If visiting in the summer, then enjoying the Mediterranean sun on a beach is a very good idea!
La Barceloneta beach is the easiest to reach, but keep in mind it is also the most crowded.
The Olympic Village beach is also kids-friendly because it has a spider's web climbing structure and a playground.
Whichever beach you choose, please do not leave your belongings unattended, the pickpockets are professionals in Barcelona.
14. CosmoCaixa Science museum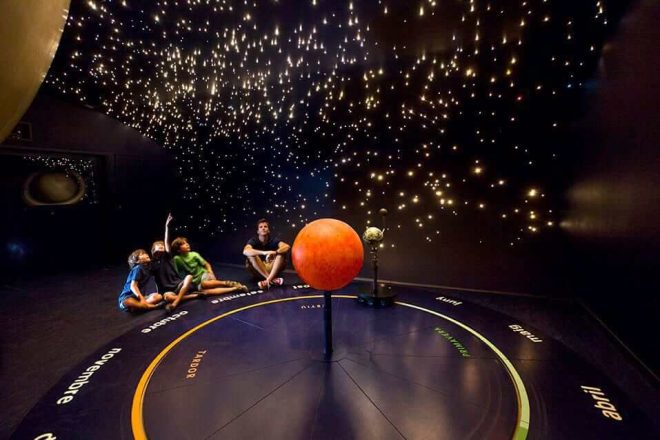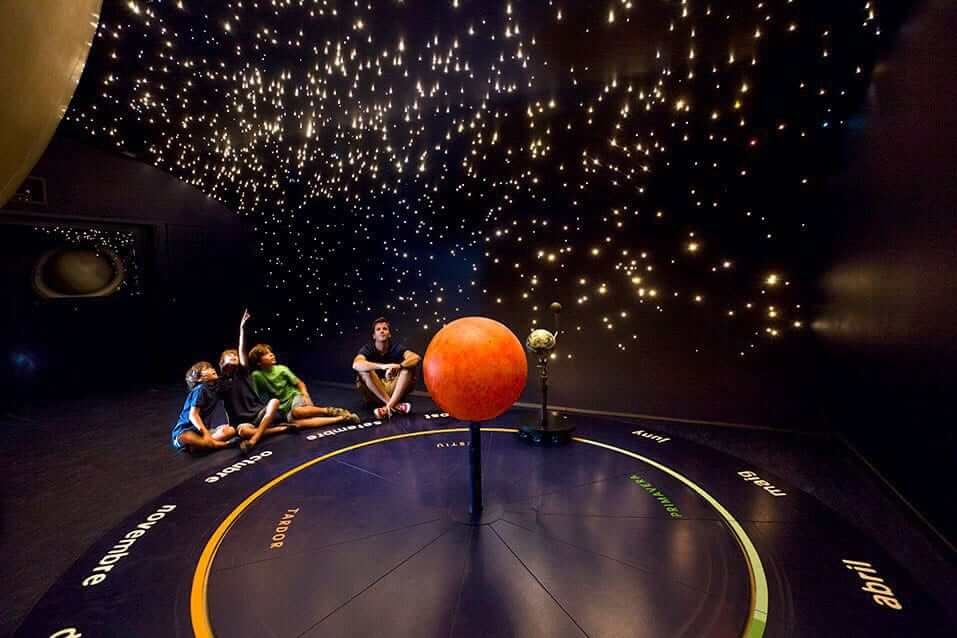 Your kids can go ahead and touch everything in CosmoCaixa Barcelona. It is a science museum and it is designed to stimulate people's knowledge of science through interactive exhibitions and fun activities.
Do not miss the Flooded Forest, the Geological Wall, the Room of Matter and the Planetarium. Booking in advance is essential.
15. Barcelona for Kids Family walking tour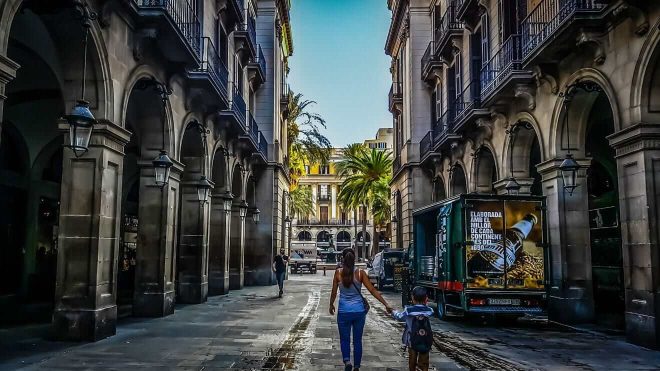 This tour is specially designed with 4 to 12 year olds in mind. This 2,5 hours walking tour will give them a chance to explore the legends of Barcelona's Gothic Quarter, visit traditional workshops, trendy candy stores and much more! Book it here.
16. Hop-on/Hop-off bus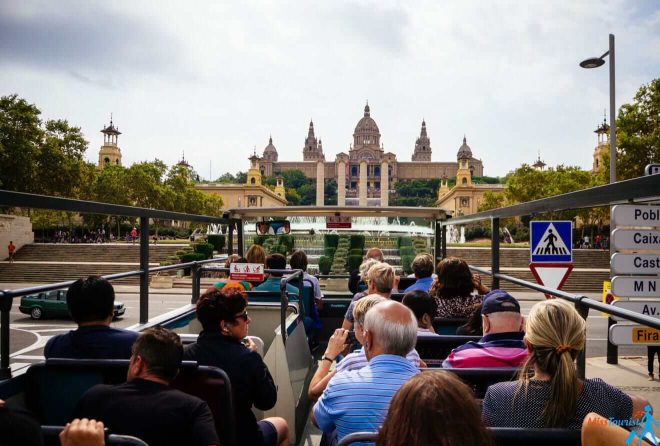 The Double-Decker tourist bus is probably the easiest way to get around the city with kids. Not much walking is required and you can stop where you want. They will love looking at the attractions from the second floor of the bus, feeling the wind and watching the trees that line the avenues!
The price is 30 EUR with or without the stroller, and there is no need to print it! Buy it here
Remember, there is also a great money saving tip for those using the Hop-on bus – you can get a Barcelona Pass that includes the Hop on Bus, Skip the line tour to Sagrada Familia, Park Guell fast track, transfer from and to the airport and 20% discount to numerous attractions. This is a REALLY good deal, check it out here.
NOTE: You will find many discounts if you take a map provided by Hop-on/Hop-off bus. It is usually 20% or a couple of euros off for popular attractions.  It is not much, but it adds up if you want to visit many things and if you are traveling in a large group/family. Remember – one book with discounts per person!
17. Virtual tour of Gaudi architecture in 4D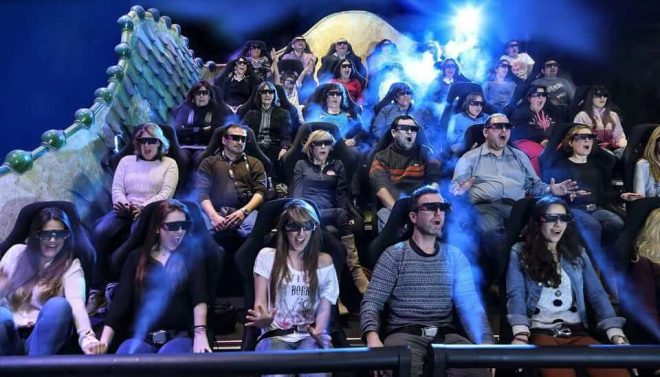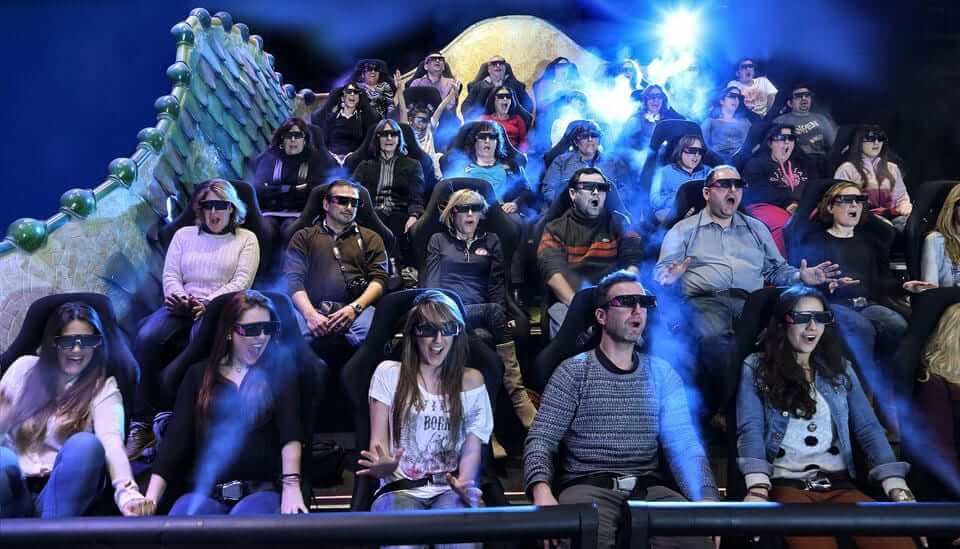 If your children are older than 6 years old, you can take them to G Experiencia for a thrilling ride where they will fly over Sagrada Familia (virtually) and see all other important sites in 4D.
There is a special kid's area where they can play and learn everything about Spanish genius and Barcelona landmarks.
18. Montjuic cable cars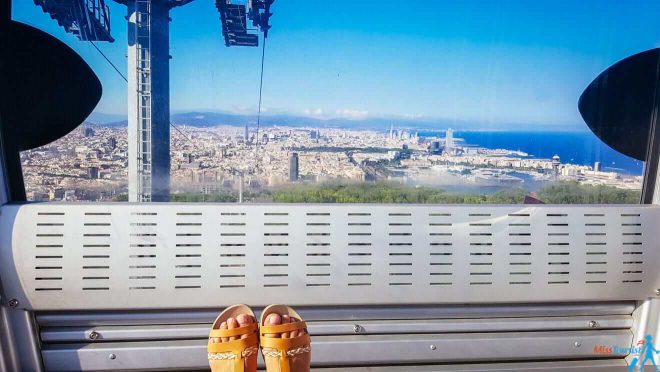 Hop in a cable car for some panoramic views over the rooftops to the Pyrenees beyond the sparkling Mediterranean Sea! We went on Saturday and we had a cable car just for ourselves! (12,5€ round trip for adults, 9€ for kids)
I am sure children will enjoy running around on the Montjuic hill castle while you enjoy fantastic views over the city.
The citadel of Monjuic is also highly recommended, it is 5€ to enter, 3€ for students and free for kids up to 16 years old. On Sundays after 3 p.m. everyone can enter free of charge.
You can either walk down yourself or get the round trip cable car ticket. Either way, don't forget to stop by the "mirador", it will give you a great panoramic view to the city, just like Google maps in 3D just that in real life! 😃
19. Tibidabo Amusement Park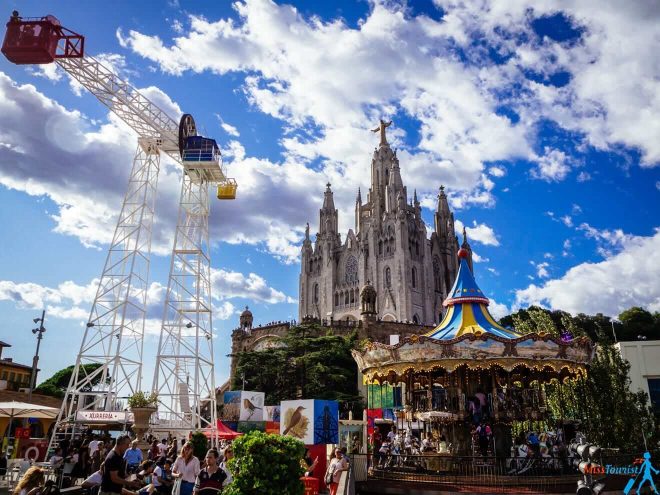 Tibidabo park looks like it will bring you back to the 70s, it is so charming and oldish!
But don't let this mislead you – all of the attractions are safe, some of them are brand new, they are made in this style especially. Hop on the magical carousel, thrilling rides or sparkling Ferris wheel to check out some of Barcelona's incredible panoramic views. To get 5% discount, buy tickets online in advance here.
Oh, and do not forget to visit the cathedral, and walk around the residential area a little bit, it is adorable!
20. Barcelona Zoo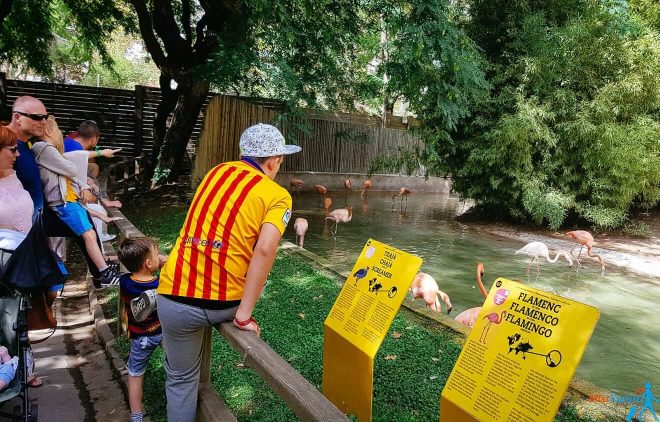 Enjoy the wildlife in Zoo de Barcelona with 2 000 animals of around 300 different species.
I recommend visiting in the morning when they organize activities for kids 4-11 years old where children will see how the dolphins are fed and meet a zoo vet.
Most open activities are scheduled for the weekends and holidays, you can check the schedule here. Take some lunch with you (or buy it inside), there are many pretty lunch spots where you can relax.
Book your tickets with 10% discount here, full price is 22 – 24€ for adults depending on the season.
21. Illa fantasia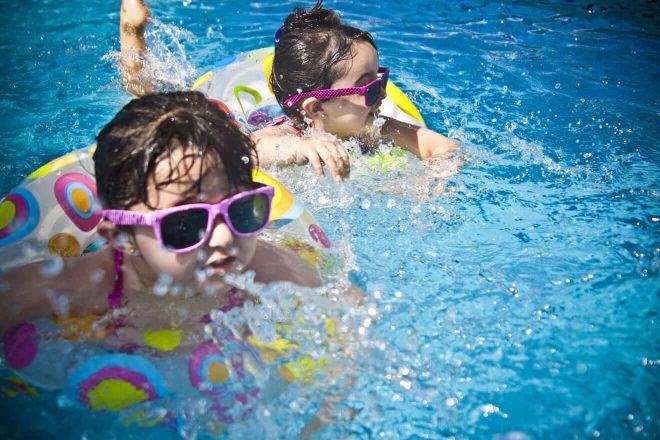 Illa fantasia is a water park near Barcelona with 22 attractions and 3 macro swimming pools. Enjoyment of the whole family is guaranteed!
28€ for an adult and 17€ for a kids who is less than 120 – 90 cm, if your son/daughter is shorter than 90 cm, he/she gets in for free. Buy tickets on the official website here.
22. Barça Football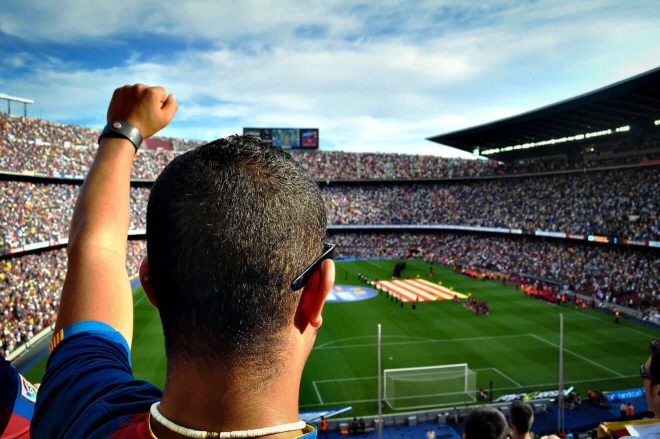 If you have boys (or daughters that are into football), it would be very exciting to take them to one of the soccer games, it is very safe! The stadium is huge, but tickets get sold out fast. Make sure to buy your tickets in advance!
If matches start too late for your kids to attend, you can always take them for a tour of Camp Nou, it is during the day and there are no crowds of football fans!
23. Marineland
Marineland is a family water park with slides and splash pools for children. It also has shows featuring dolphins and exotic birds.
Beware that it takes about 1 hour 30 minutes to get there from Barcelona with a free bus, so it is quite a ride that is not recommended for very small kids. The price is 24€ if you buy your ticket online and it is closed during the winter months.
24. Catalunya en Miniatura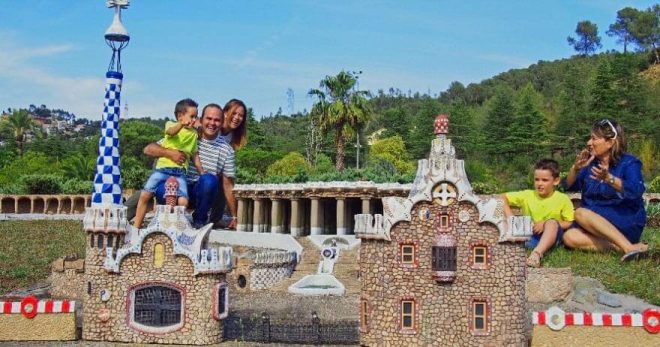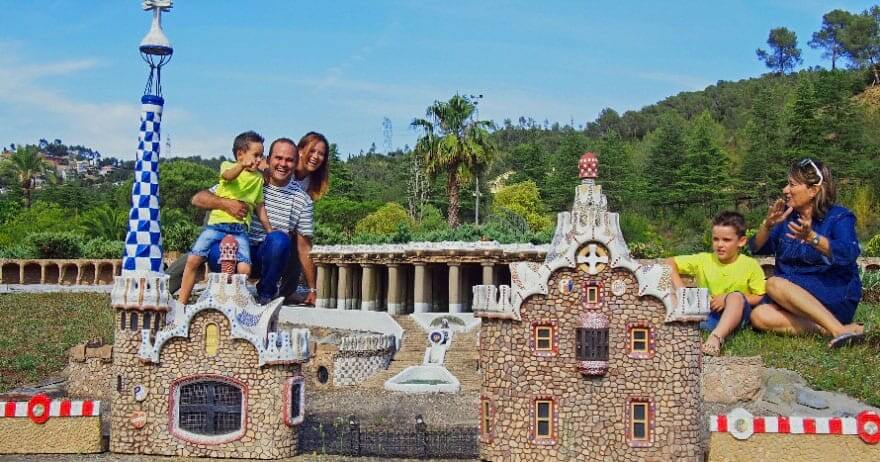 Feel like a giant at Miniature Catalonia Park! Climb on the ginger bread houses from Park Guell, touch the peaks of Sagrada Familia and many more fantastic photo opportunities.
The prices and the information on how to get there (outside the city) is here.
25. Aqualeon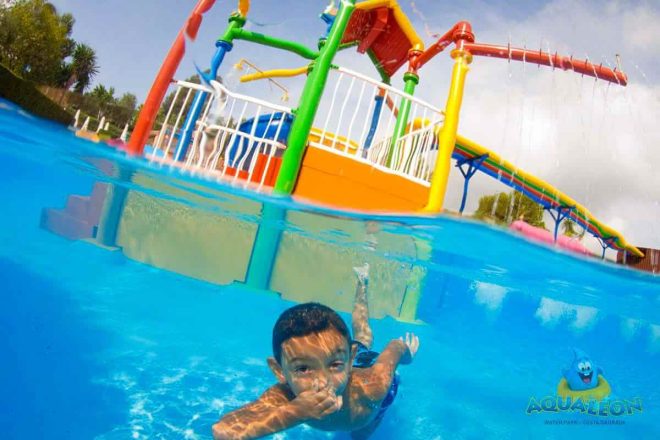 Aqualeon is another water park with pools, giant slides, tunnels and a bus safari tour that passes lions, tigers and bears!
The ticket is 26€, it is also about 1,5 – 2 hours from Barcelona (the bus is 6€ round trip).
Barcelona Family hotels
Here are the kids-friendly hotels and apartements suggestions I have carefully crafted for you. All of them are located in the city center and all have fabulous reviews. They are sorted by price category for your convenience. Click the link to check the rates for your dates.
Luxury (US$ 300 and up):
Hotel Pullman Barcelona Skipper is a five star establishment located in the city centre of Barcelona. It is situated within walking distance from the beach, so if you are travelling with your eager to swim children, this is the perfect location. Another great place to stay with your children is Ca La Maria Barcelona, which offers a wonderful terrace on which you can spend quality time with your family. It is located near the famous La Rambla Street.
Middle (US$ 150 – 200): 
Ella Guest House Barcelona is a wonderful accommodation option that disposes of a nice terrace where, at night, you will hear the birds sing. You can hardly believe that you are in the middle of Barcelona! Another option to be taken into consideration is Hostel Martinval, which is perfect if you are travelling with your children, as you will not need to walk large distances on foot to reach the top tourist attractions.
Budget (up to US$100): 
Pension Mariluz, which is situated in the Gothic neighborhood of Barcelona and has been reviewed by past guests as the perfect choice for a wonderful vacation. Another great budget choice for your vacation is Suites Marina – Abapart, which puts at the disposal of its guests an apartment equipped with every household item you would need to make you right at home. It is situated a couple of hundred meters from the famous Sagrada Familia.
---

Conclusion
There is so much to do and see with children in Barcelona! You will see that children are loved in Spain and Barcelona is a very child friendly city!
In this list, I combined things that would be interesting for kids and would in the same time embrace the incredible Catalan culture. I hope you will have the time of your life in the capital of Catalonia!
Have you been to Barcelona already?
Please let me know if you have any questions, I will be happy to reply!
Yulia
RELATED READ:
5 Places in Barcelona With The Longest Queue And How to Skip The Line
6 Mistakes to Avoid Before Visiting Sagrada Familia in Barcelona
See all the highlights in Barcelona in 1 day! (Includes a helicopter flight!)
---
Pin it for later!
Pin it for later!