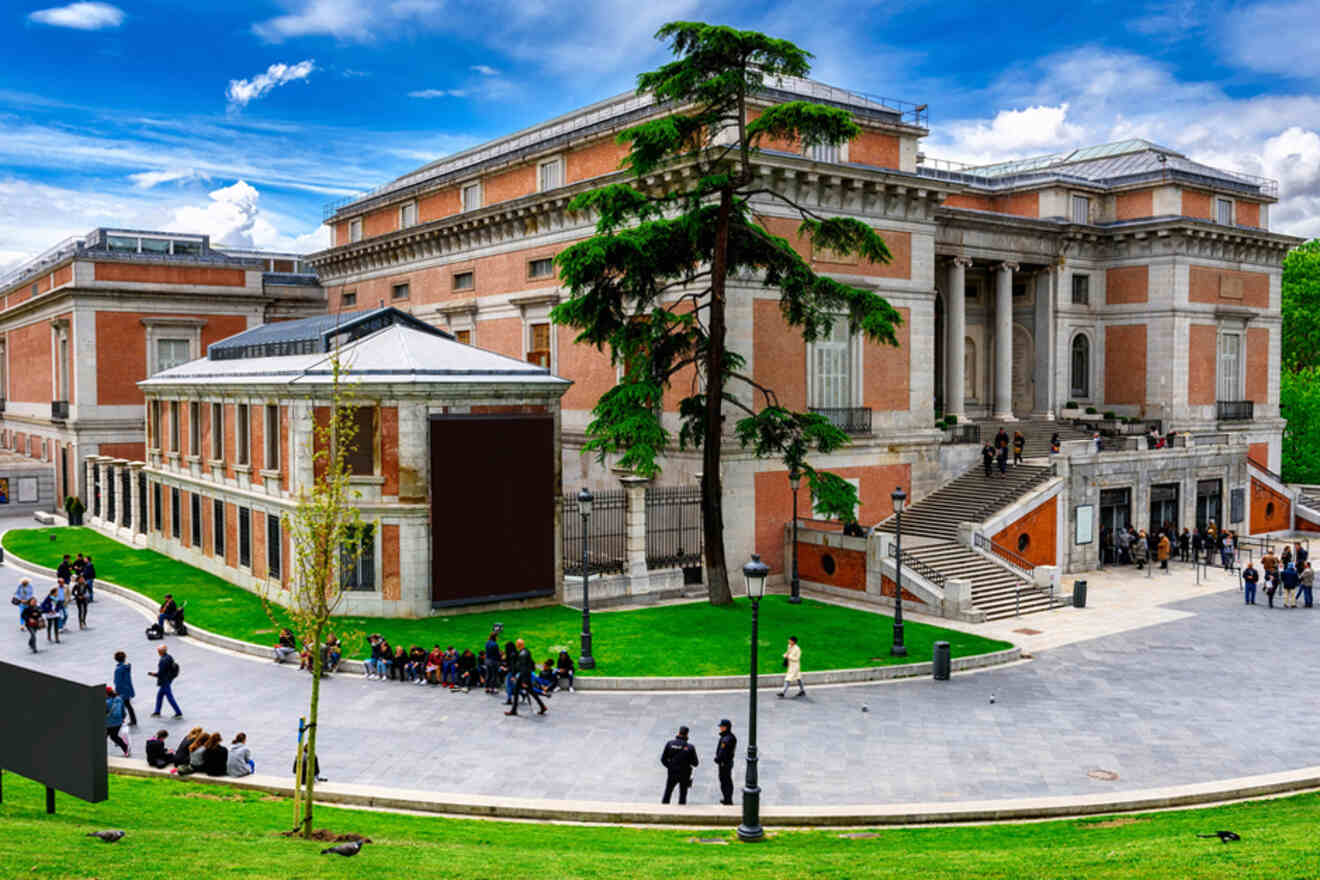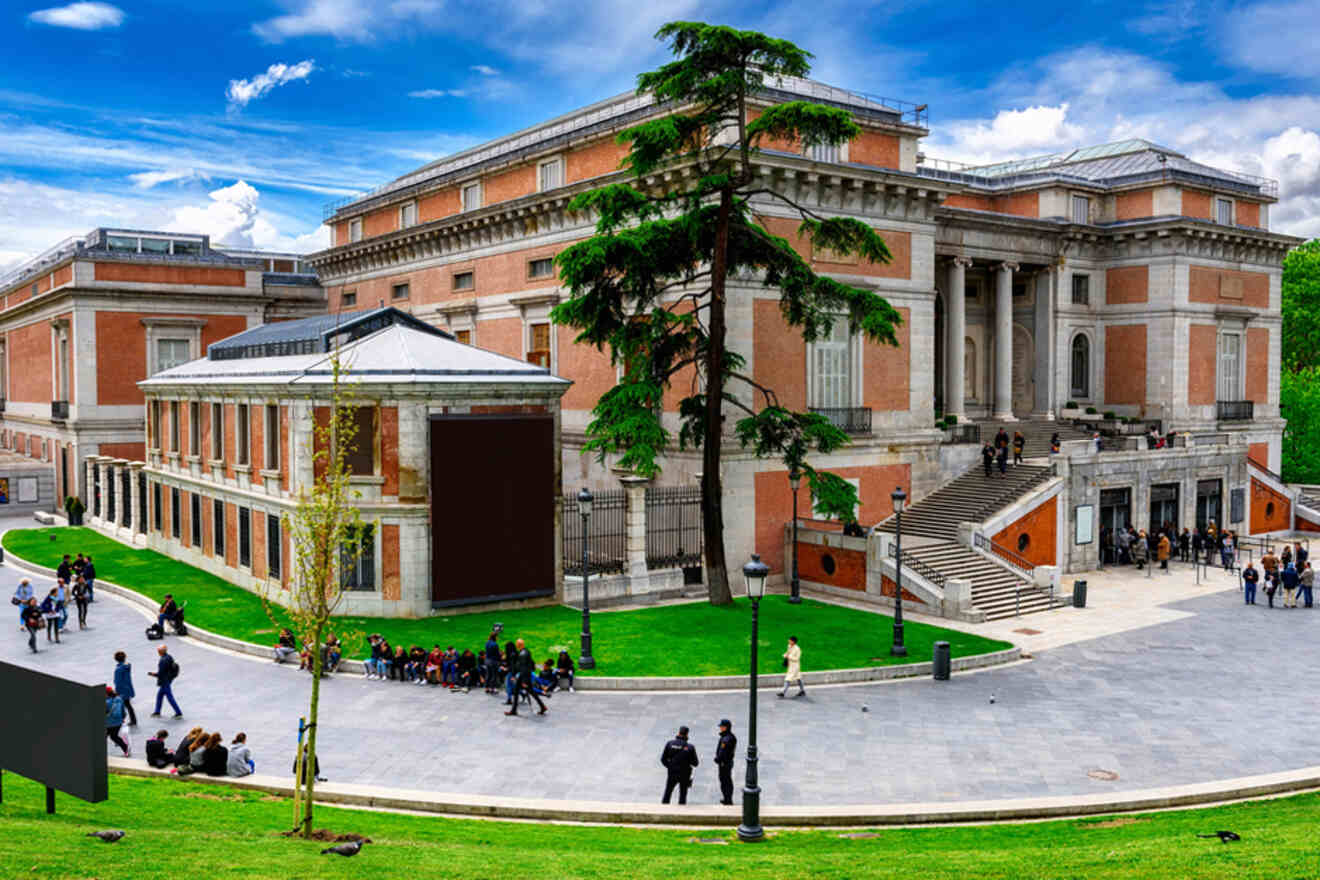 Hola, art lovers! Are you ready to step into the universe of Francisco Goya and admire some masterpieces by El Greco? Museo Nacional del Prado hosts some incredible paintings, and you're so lucky if you're headed there!
You're even luckier that you've landed on this page because, in this post, I'll help you find the best Prado Museum tickets! After a very in-depth (and rather long) research, I put together this carefully-curated guide that has information on ticket types, guided tours, combo packages, and other important things like opening hours, facilities, and so much more!
Yep, I came prepared and ready to tell you that after digging around the web, I found out that it's super important to buy your tickets to the Prado Museum in advance! This place is super famous, and the tickets will surely sell out fast!
That being said, I guess we're ready to dive in!
Vamonos!
If you are in a hurry
If you are here just to get your tickets, here are the best links to do so:
| | | | | | |
| --- | --- | --- | --- | --- | --- |
| | Adult Entrance | Kids Entrance | Guided Tour | Cancelation Policy | |
| Official Website | €15 | Free | €25 | No Refund | Book tickets |
| Headout | €18 | Free | | No Refund (valid 1 year) | Book tickets |
| Tiqets | €18 | Free | | >24-hour free cancellation (+%12) | Book tickets |
| GetYourGuide | €20 | Free | €34 | No Refund | Book Tickets |
Why buy in advance?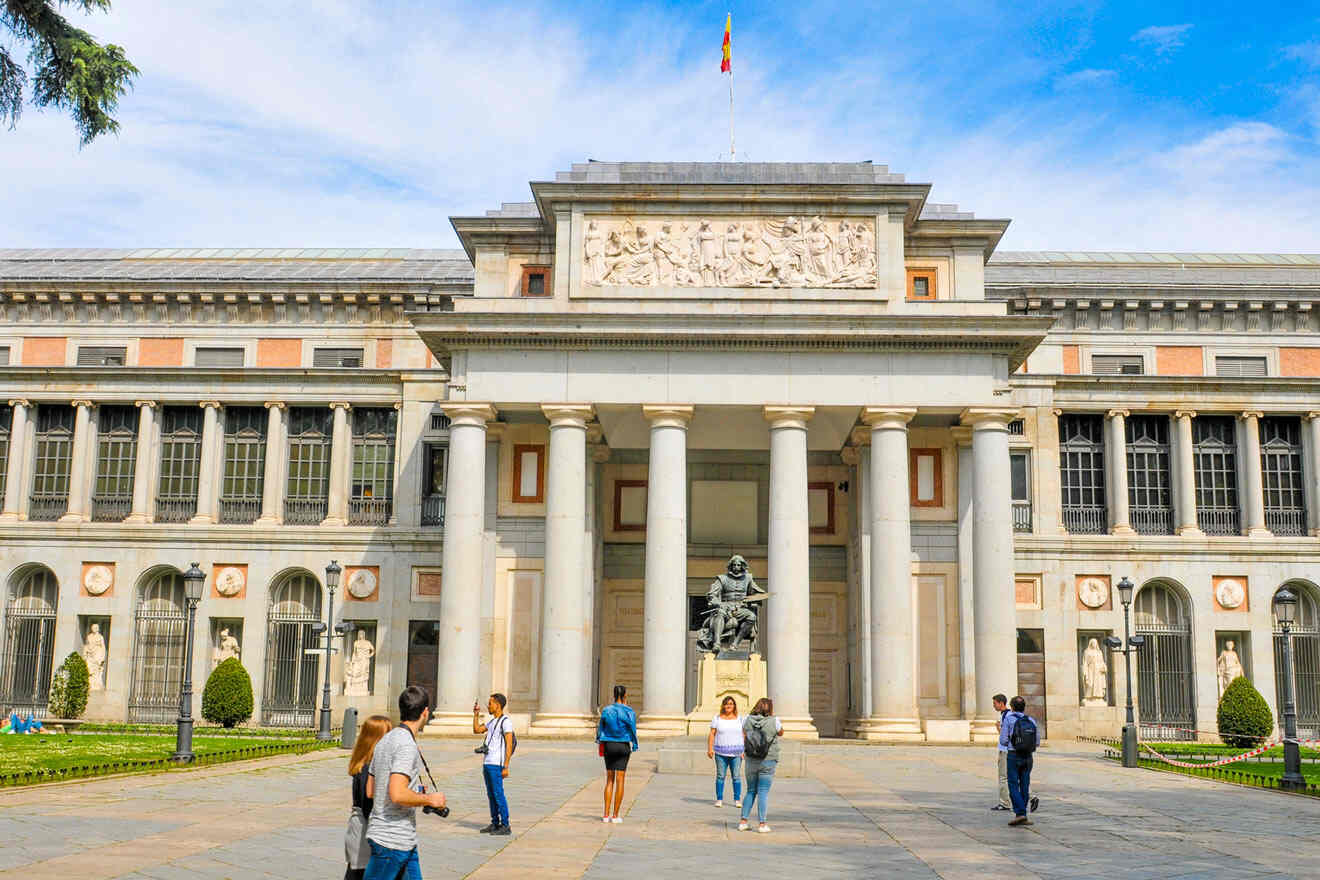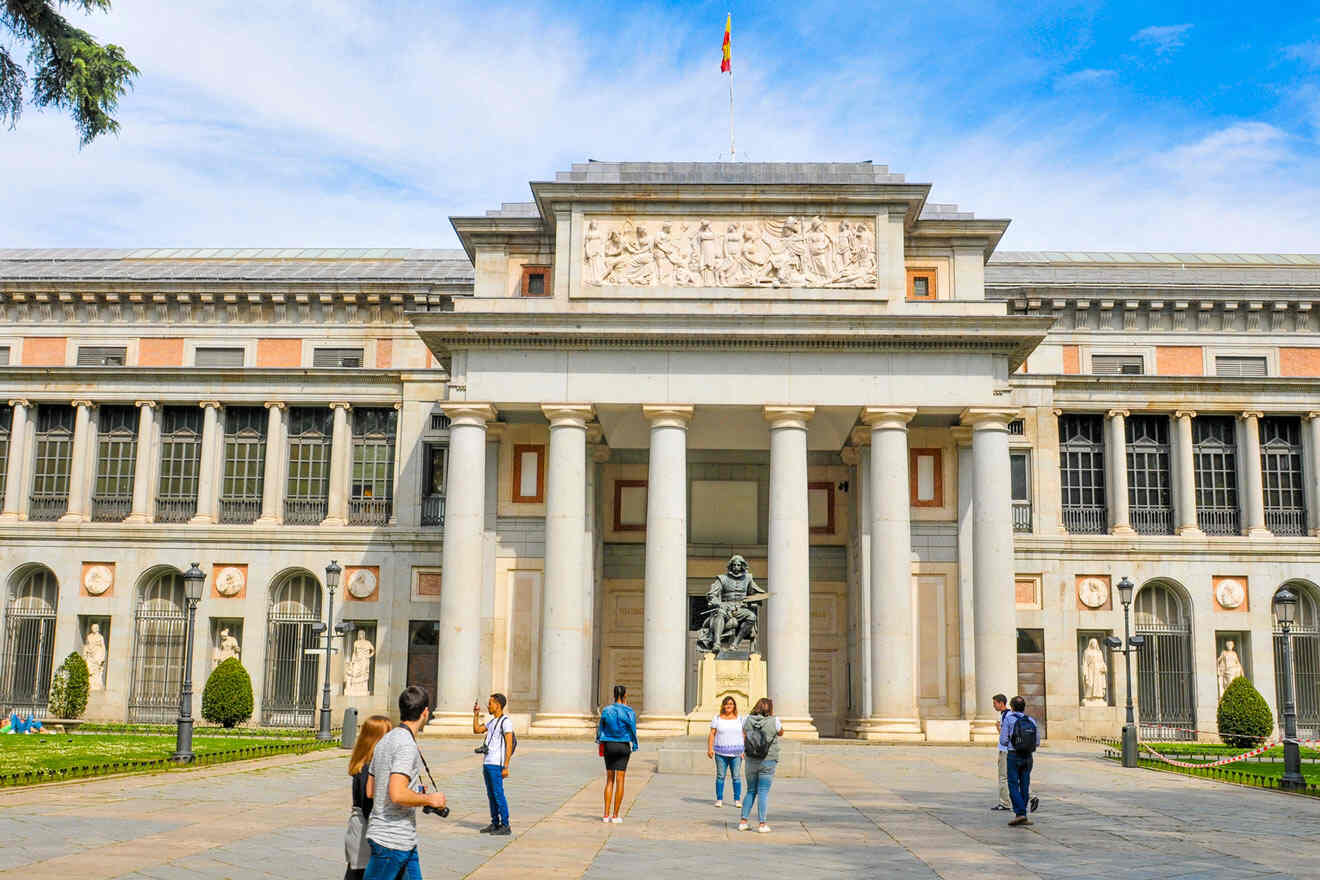 As one of the most famous art museums in Madrid, Museo Nacional Del Prado gets many visitors throughout the day! This means that the lines to buy tickets on-site can get rather long, especially during the peak season (June, July, and August).
That's why I highly recommend buying your tickets for the museum in advance. You'll avoid standing out in the hot Spanish sun waiting for a chance to get in and wasting precious time that you could spend exploring the city!
1. Different types of tickets
Below you'll find all the different types of tickets that you can get to visit Prado Museum and see its famous artworks! So let's have a look!
General entry tickets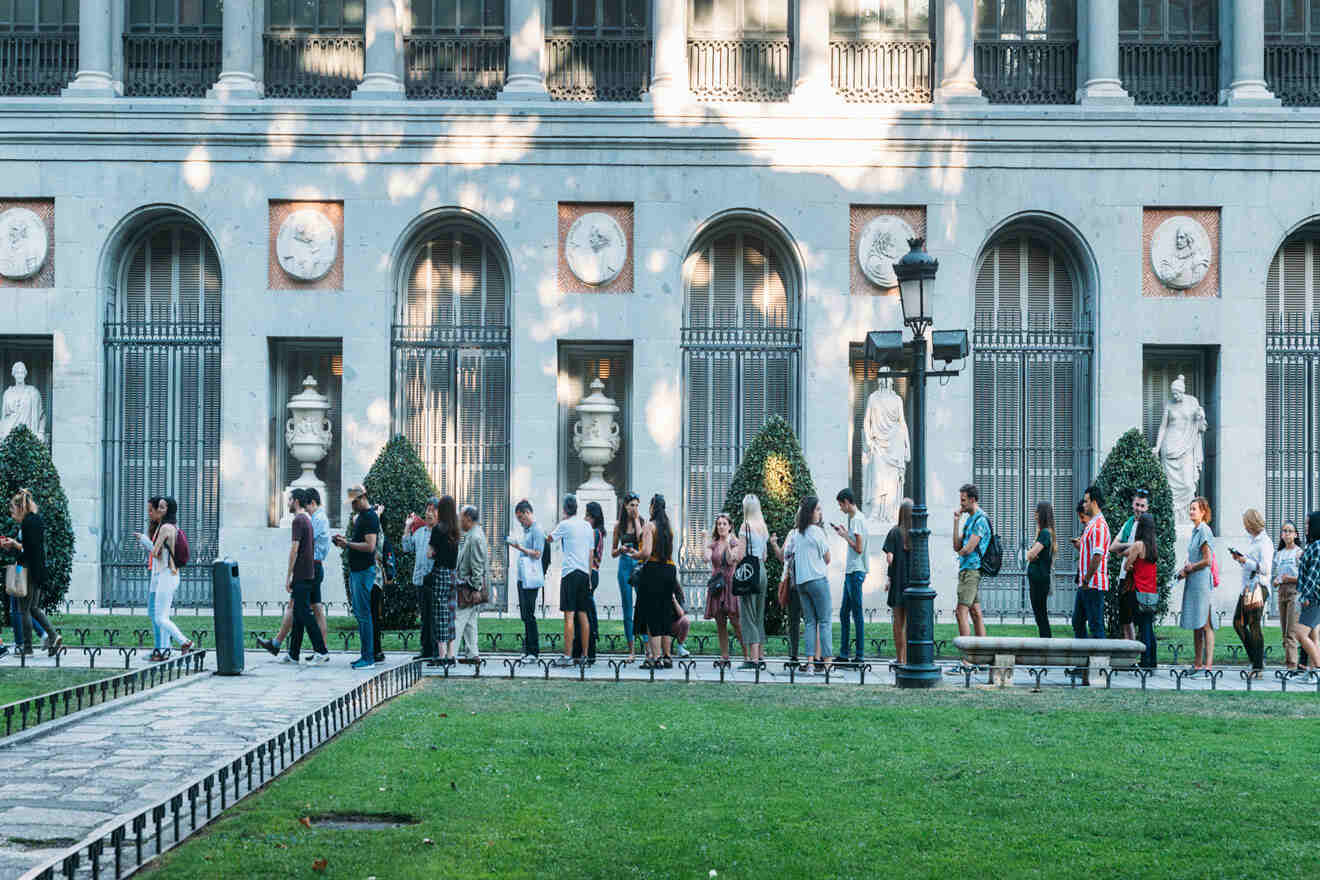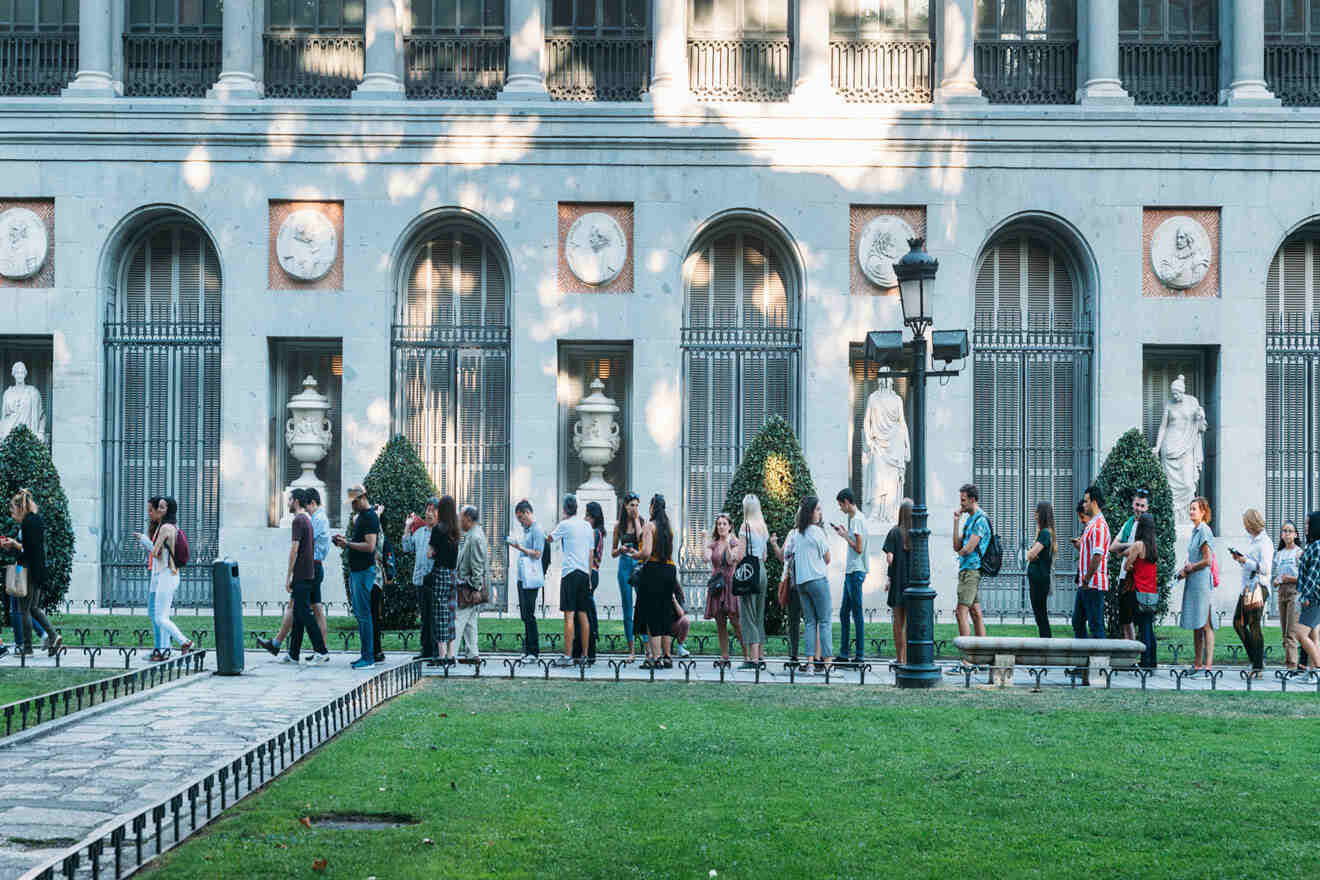 If you want to explore Prado Museum and see its extensive collection at your own pace, then I'd recommend buying the general exhibitions time pass which is the skip-the-line ticket, meaning you won't have to wait in that long line to buy your ticket, you'll just have to scan it and that's it!
With these ones, you'll get to see an abundance of Spanish masterpieces by artists like Murillo, Peter Paul Rubens, El Greco, and Diego Velázquez.
The most affordable place to buy your Prado Museum tickets is from the official website, where you'll pay €15 (US$16) for adults, while people under 18 years old can visit it for free.
These tickets offer access to the:
Permanent Collection
Regularly rotating temporary exhibitions
Audio Guide (+€5/US$6)
Visitor's Guide Booklet (+€9/US$10)
But (and this is a big but) these tickets are non-refundable, meaning that you won't get a penny back if you cancel your visit.
Don't worry, though, this is where I come to save you! There is another place where you can buy your tickets for the art museum. Tiqets sells the same general skip-the-line ticket but with a much better cancellation policy that gives your money back if you cancel at least 24h before your visit!
However, the catch here is that you'll have to pay €5 (US$6) extra if you want this option, so around €20 (US$22) in total.
Another alternative would be Headout which sells tickets that are valid for 11 months from the date you purchased them and cost €18 (US$20). And basically, with these tickets, if you can't make it on the date you initially picked, you have the whole year to visit the attraction and not lose your money.
P.S. If all these websites are sold out, you can also try GetYourGuide.
Price: €15
Guided tour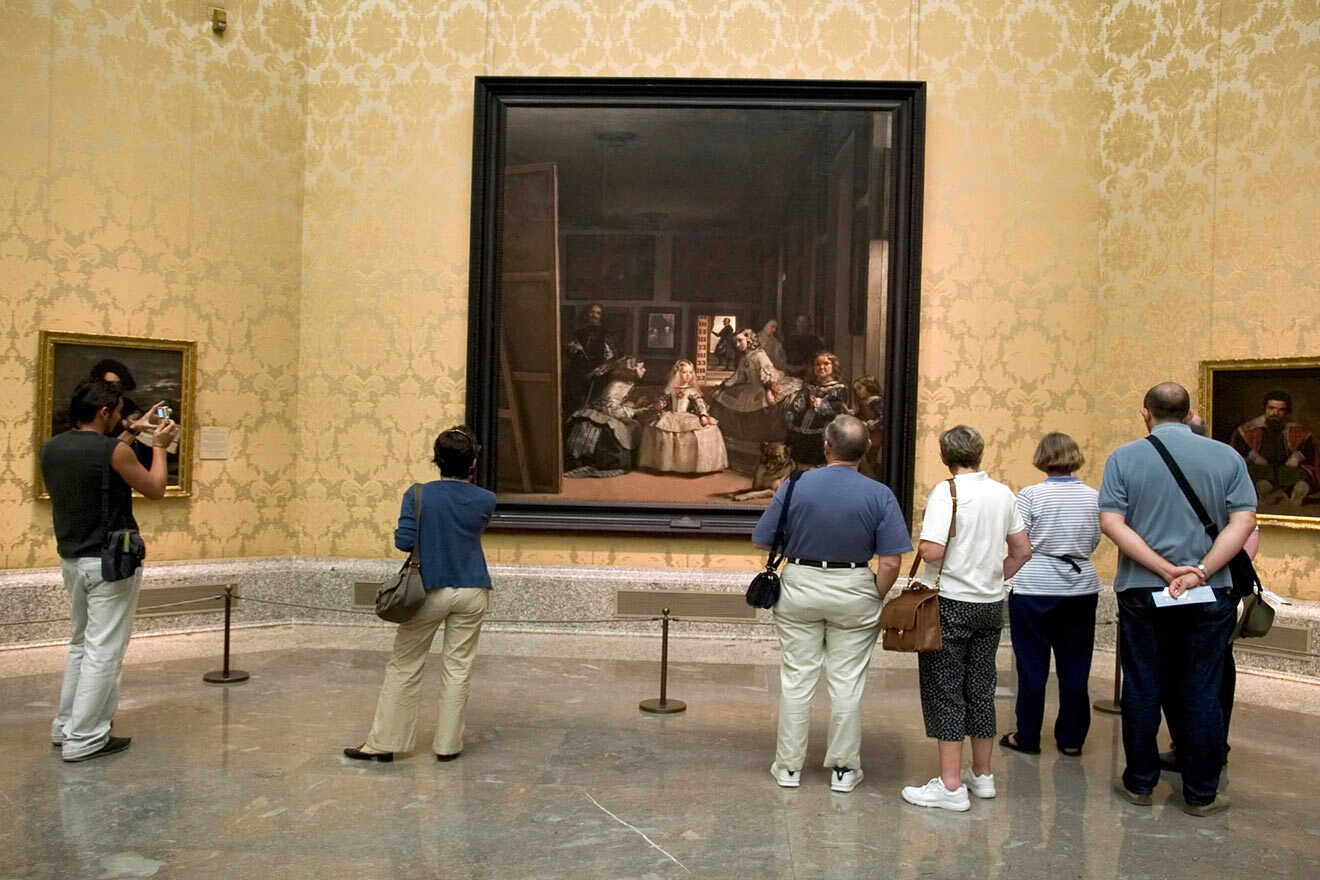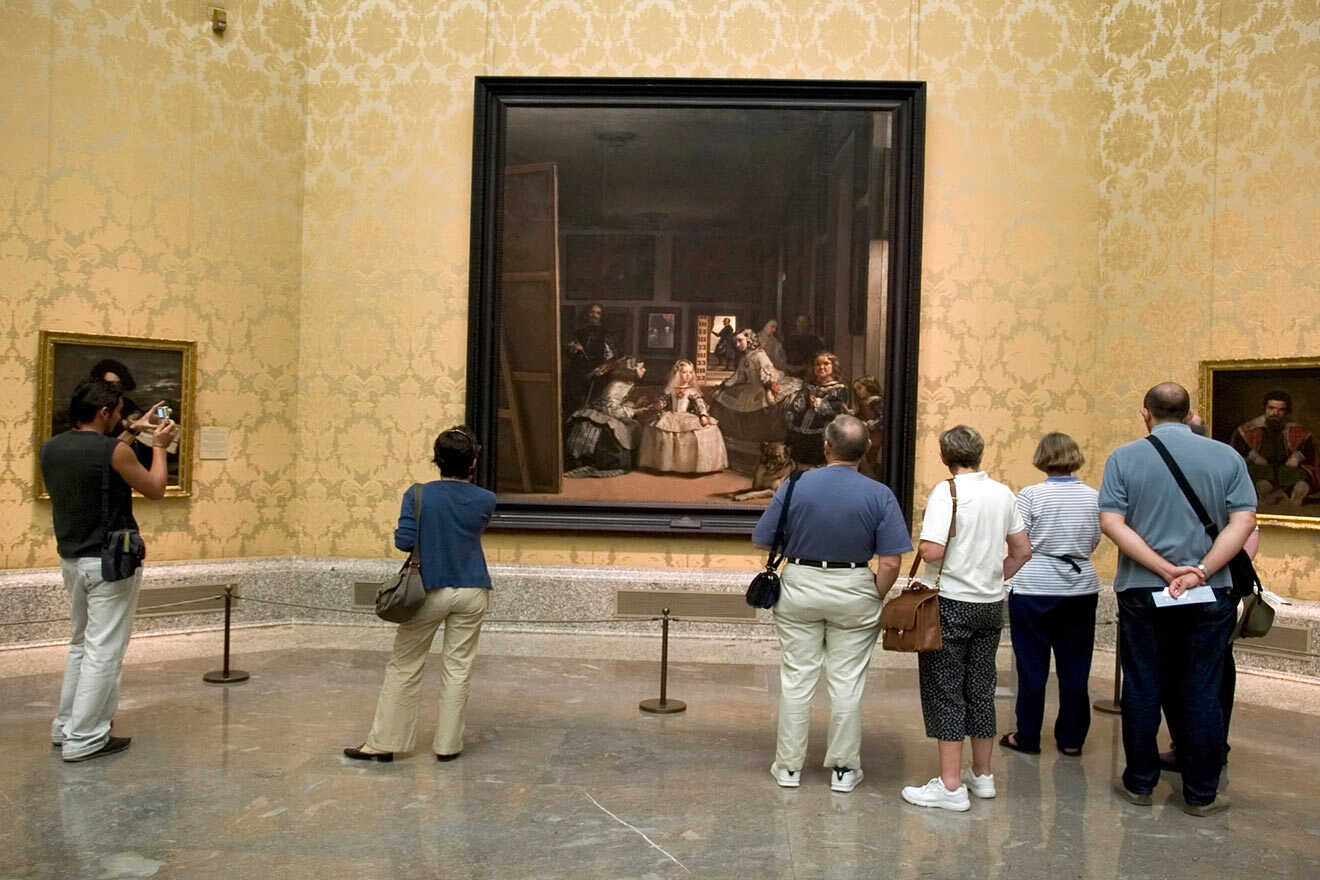 If you'd prefer to be guided around the art museum and have a trained professional tell you all about its extensive collection and cool facts about Spanish art, then you can join a guided tour!
The museum offers these tours, and they usually cost around €25 (US$28). However, you can't buy these tickets from the official website. You can buy a general entry ticket, and then once you get to the museum, book a guided tour from the ticket counter.
Alternatively, if you want to be prepared and know for sure you've reserved your tour for one of the most popular attractions in Madrid, you can book it in advance from one of the best resellers. GetYourGuide offers a great guided tour that lasts around 2h. Tickets cost €34 (US$37) for adults and €29 (US$39) for children.
What's great about these tickets is that they are refundable, meaning you can cancel and still get your money back as long as you do it at least 24h prior to your visit.
GYG Price: from €34 for adults, €29 for kids
2. Combo tickets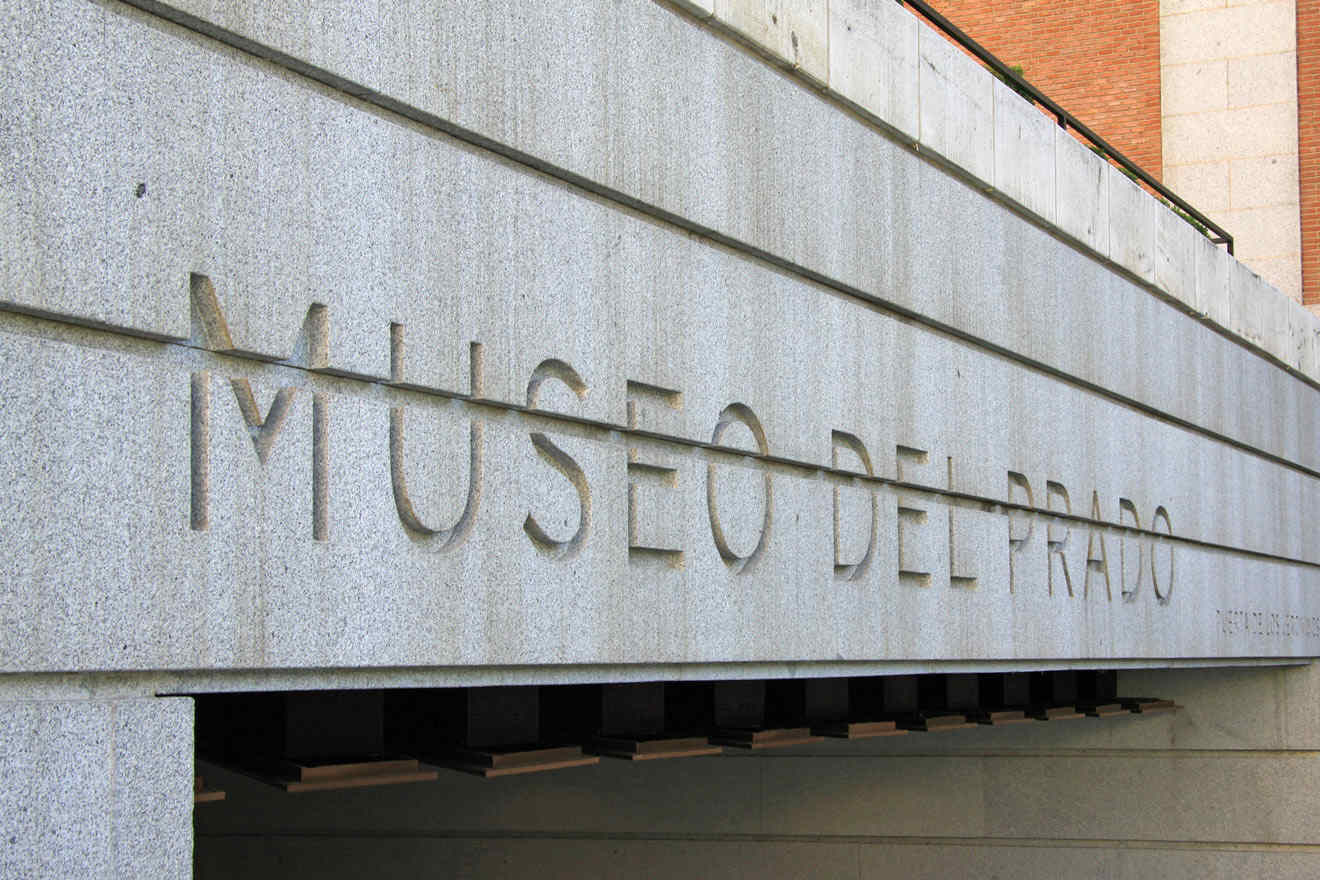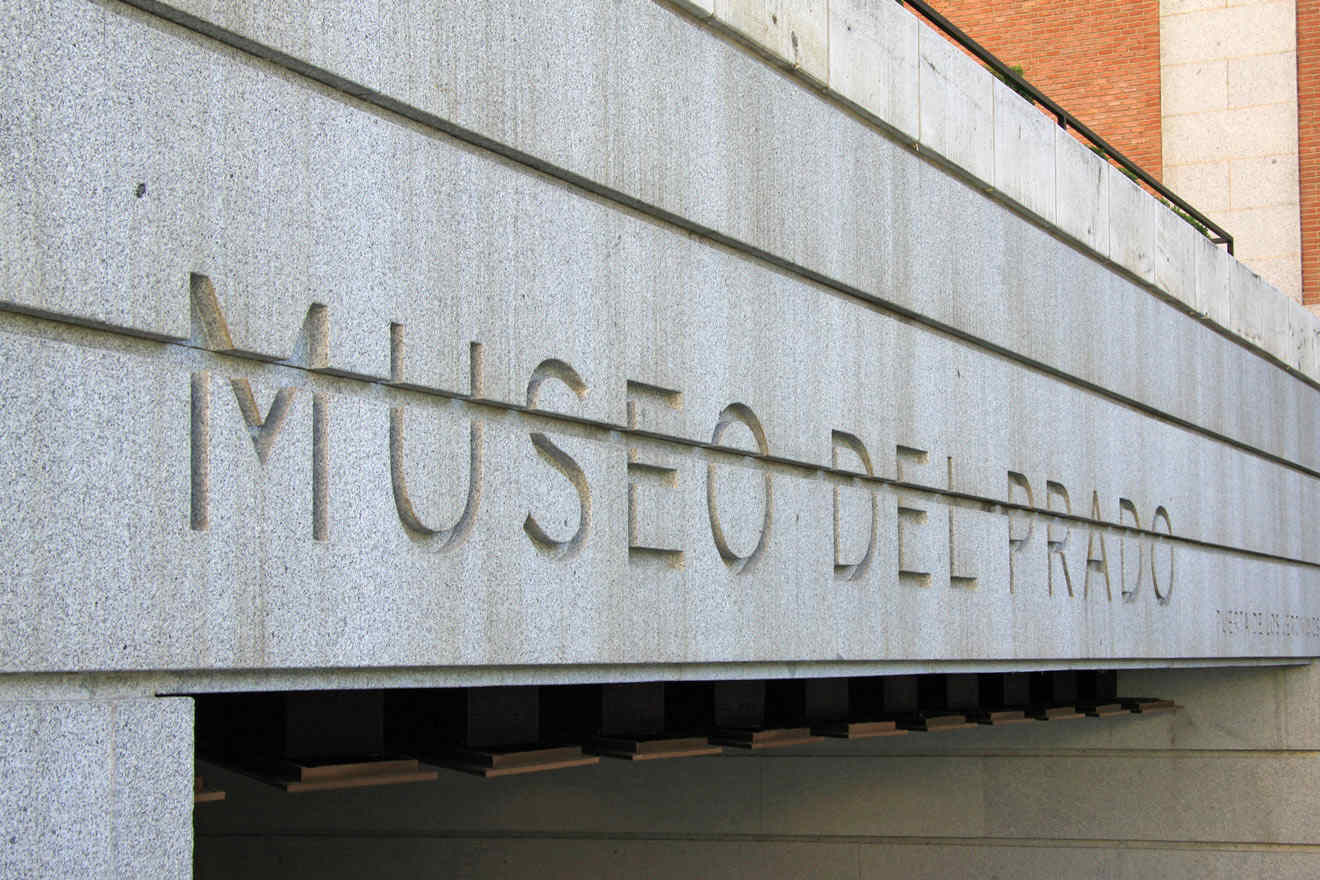 Planning to see as many attractions as possible while you're in Madrid? Well, I might've found a solution for you to help save some time and not spend hours buying tickets for each attraction (I know how dreading that can be)!
I've found 3 amazing combo tickets that include the Prado Museum plus 1 or 2 more of the major attractions in Madrid. All you gotta do is click a few times, and voila, you've secured your spot for these unique places from a single website.
Curious to see which are the combos? Let's check them out:
3. Buying tickets at the entrance (not recommended)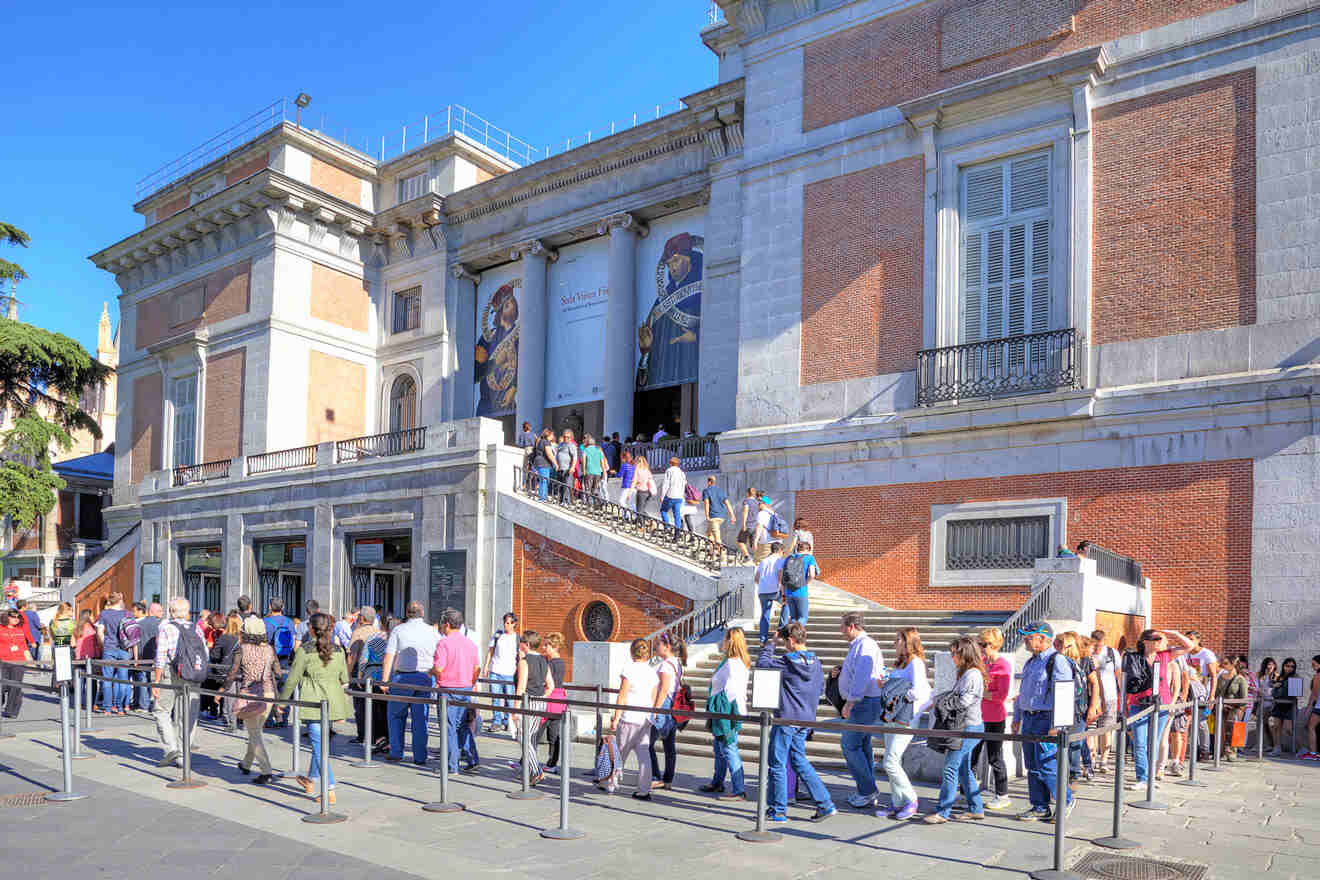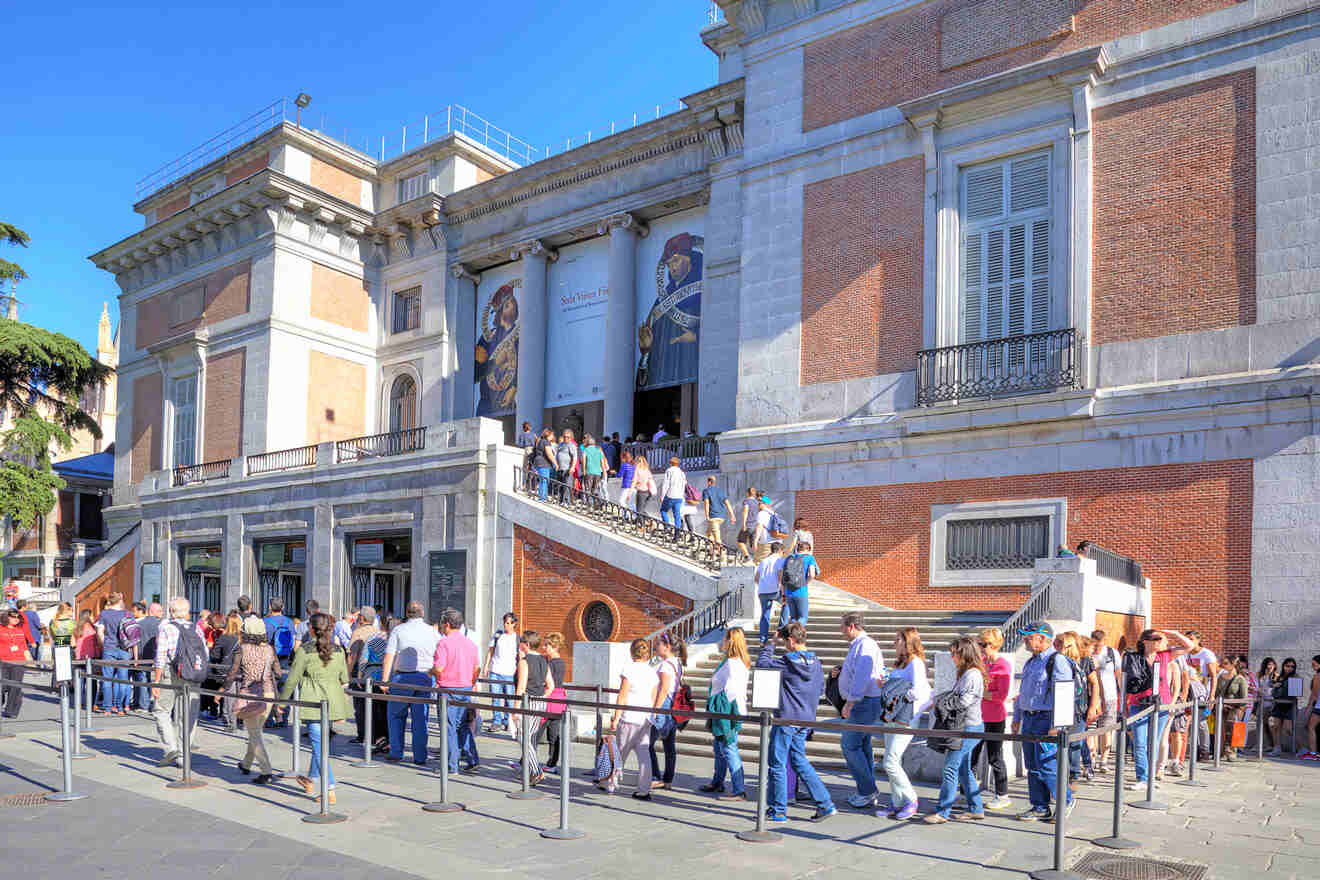 Unless this is a super spontaneous trip and you didn't get the chance to plan anything in advance, I wouldn't recommend buying your tickets from the ticket counter (especially if you're visiting during the summer months: June, July, and August).
That's because you risk spending a lot of time in a queue in the sun (if you're coming during summer time) to get inside!
So definitely avoid doing that.
And even if you wake up on the day and decide to visit the art museum, you can buy your tickets online at least 45 min before your visit! Which I'm sure sounds great for all spontaneous travelers who prefer buying everything last minute.
4. How to visit Prado Museum for free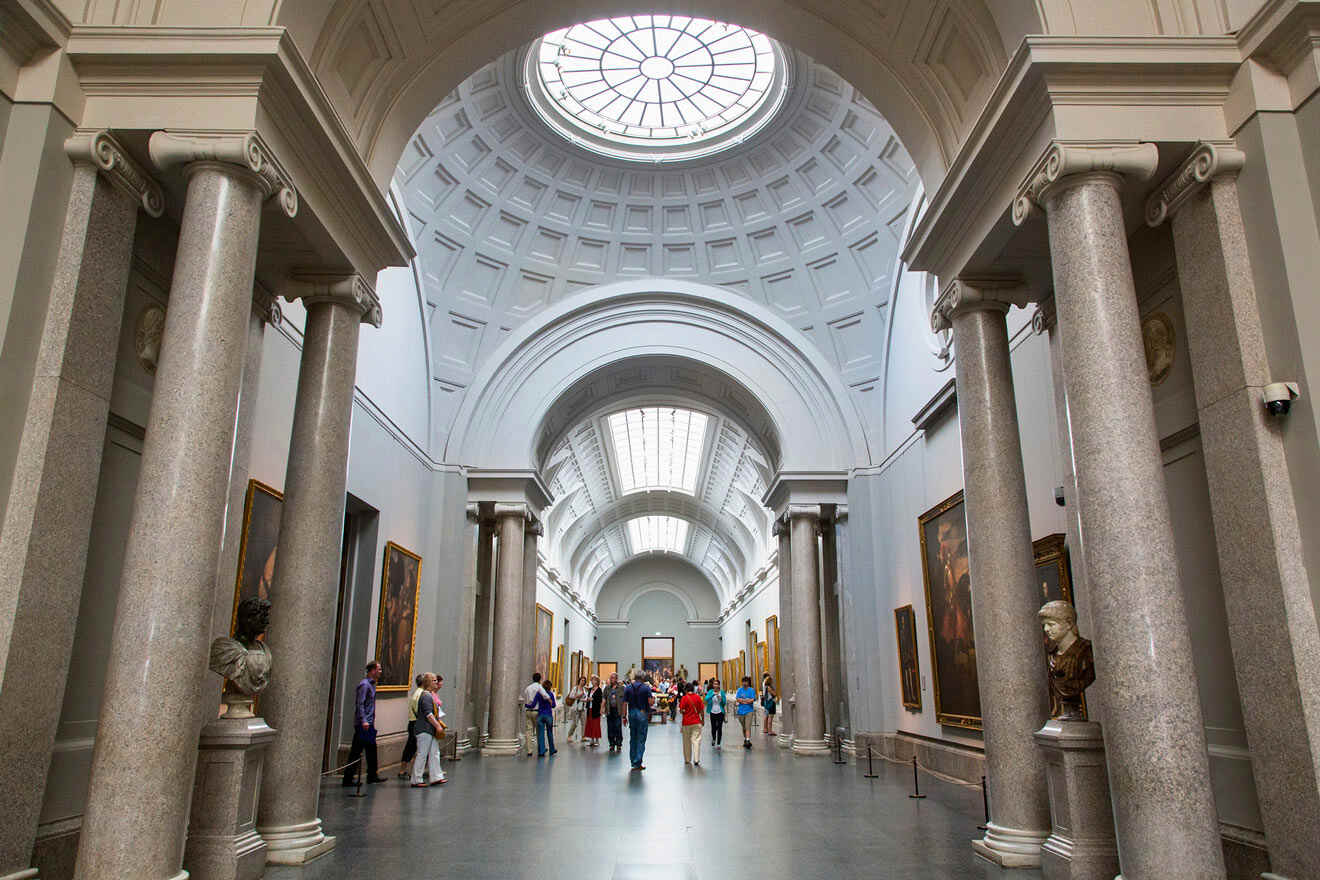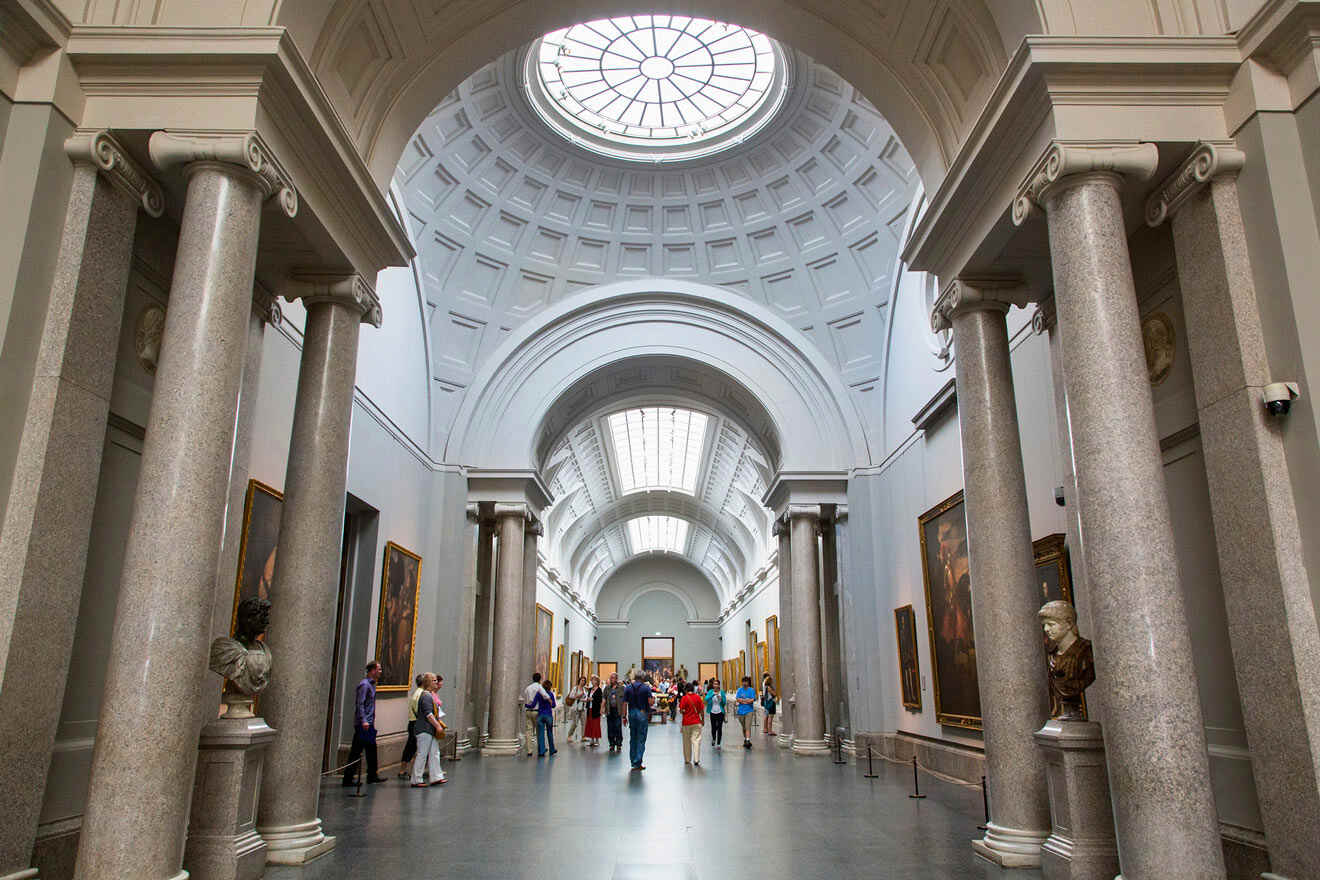 If you're traveling on a tight budget, then you'll love this! And even if you're not, I'm sure you wouldn't mind sparing a few euros!
The art museum offers these window times when you can visit the museum for free! Here are all the times when you can do that:
Monday to Saturday from 6 PM to 8 PM
Sundays and Bank Holidays from 5 PM to 7 PM
All day on October 12 (Columbus Day), November 19 (Museum Anniversary), and May 18 (International Museum Day)
Important things you should know about Prado Museum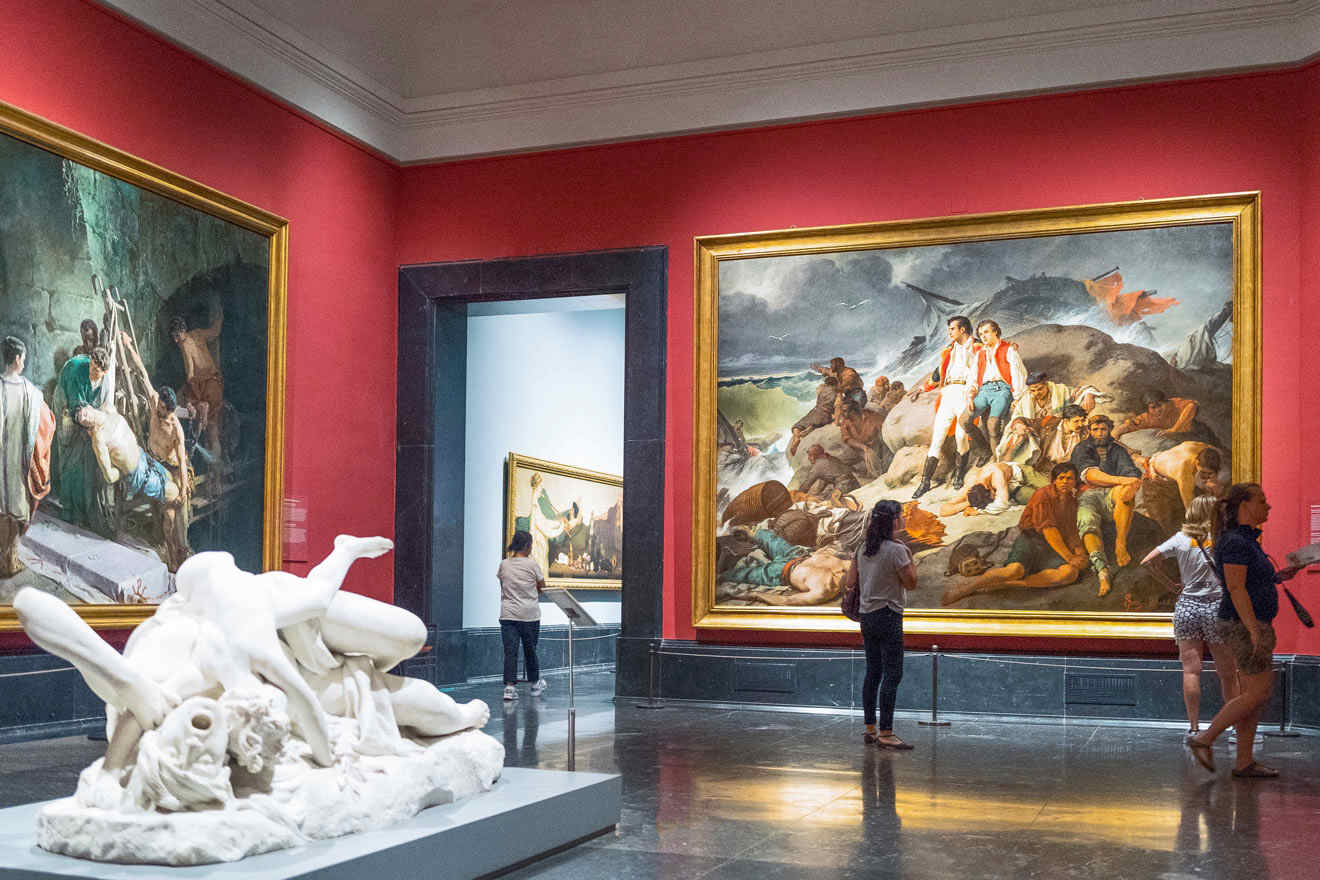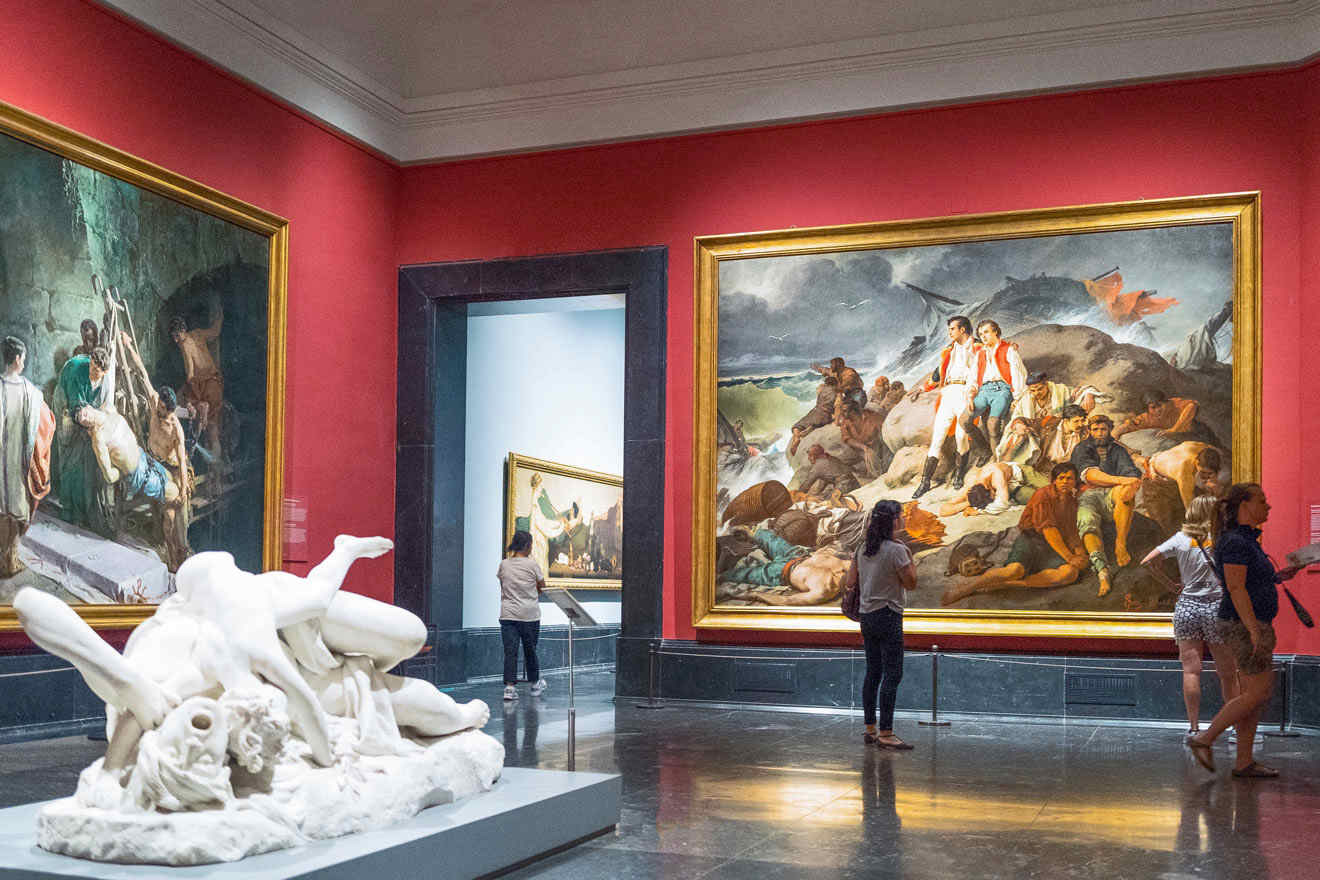 I know that when we're traveling, there are a million things to keep track of! And it's easy to forget about opening times, what to bring or not with you and other things.
But don't worry, I'm here to help you out with everything I can, so let's check out all the main things to keep in mind before visiting Prado Museum:
Opening hours & best time to visit
Here are the Prado Museum hours:
Monday to Saturday: 10 AM – 8 PM
Sundays & Holidays: 10 AM – 7 PM
Reduced Hours: 10 AM – 2 PM (January 6, December 24, 31)
Closed: January 1, May 1, December 25
The best time to visit is at 10 AM, when the museum opens, as there won't be too many crowds so early in the morning. Alternatively, if you're not an early bird, you can also visit the museum between 2 PM and 4 PM.
How to get to Prado Museum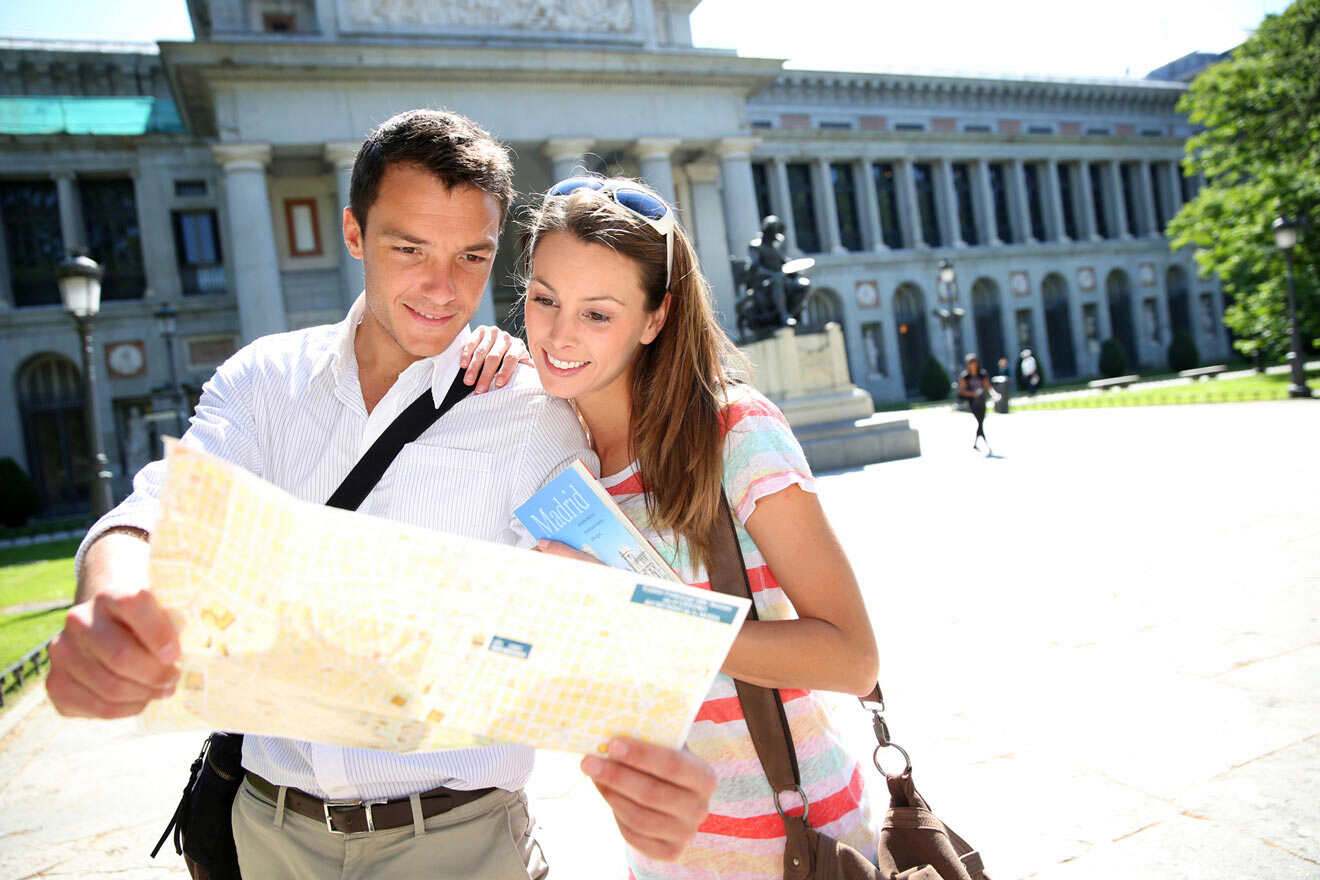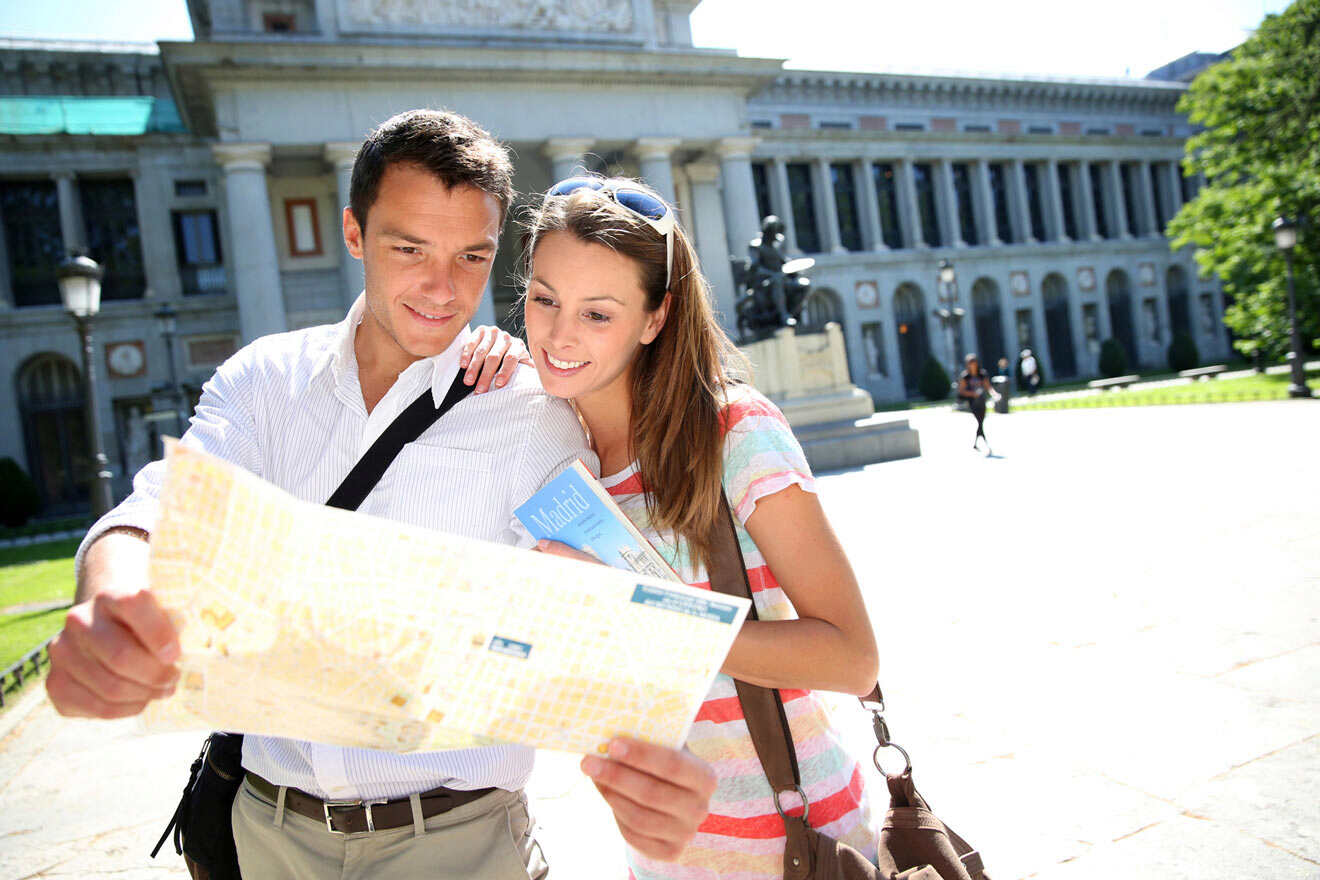 Prado Museum is set in Madrid's central area, and here are all the ways that you can get to the museum:
By bus: You can use buses 001, 10, 14, 27, 3.4, 37, and C03 to get there, and the nearest stations are Prado Museum – Botanical Garden, Prado – Atocha, and Alfonso XII – Jardín Botánico, Plaza de Cibeles
By subway: The closest subway station are Art Station, Banco de Espana Station, and Retiro
By bicycle: Here are the closest streets to the museums with BiciMAD stations 1 Espalter Street, Calle Jesus 1, Calle Almaden 28
Entrances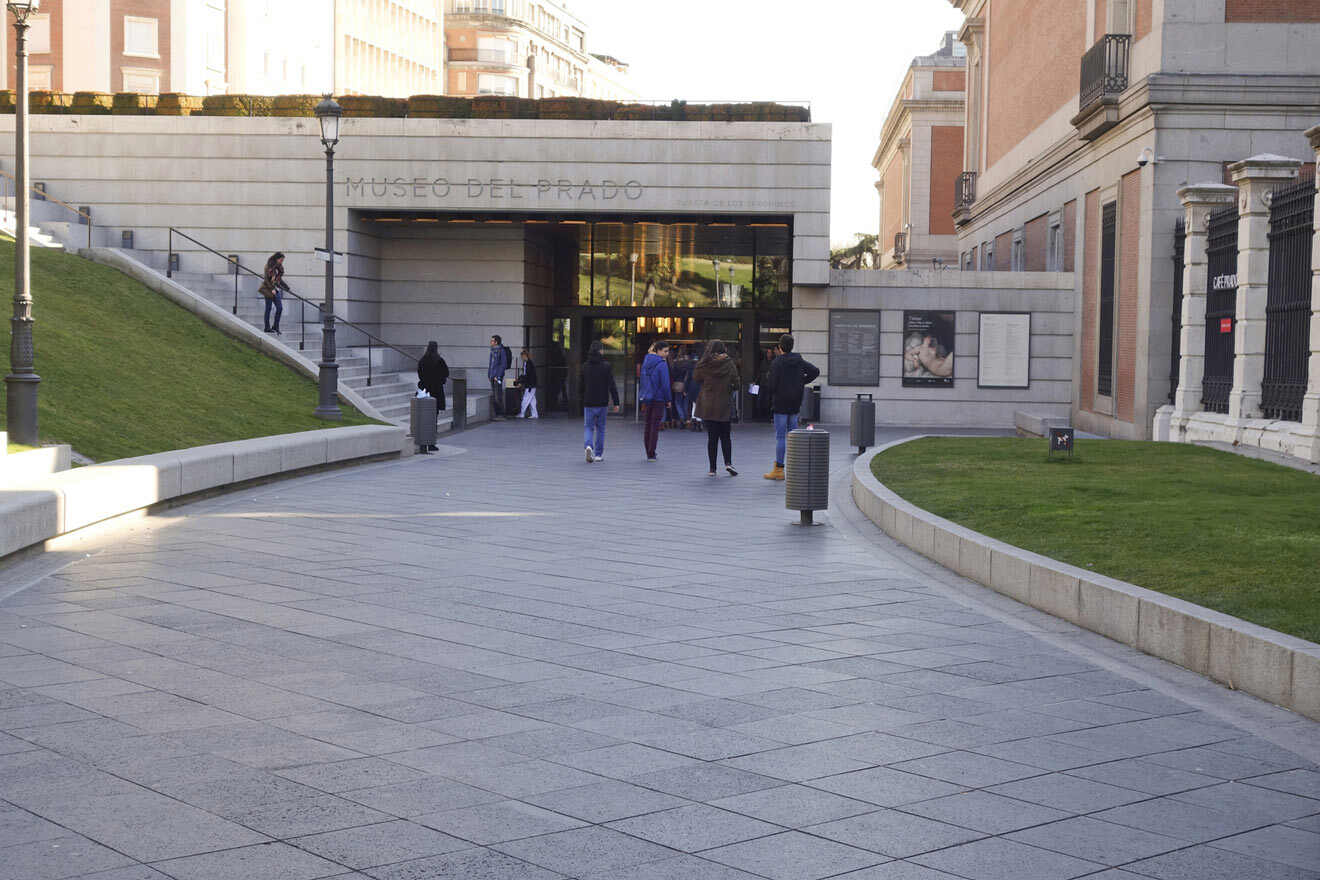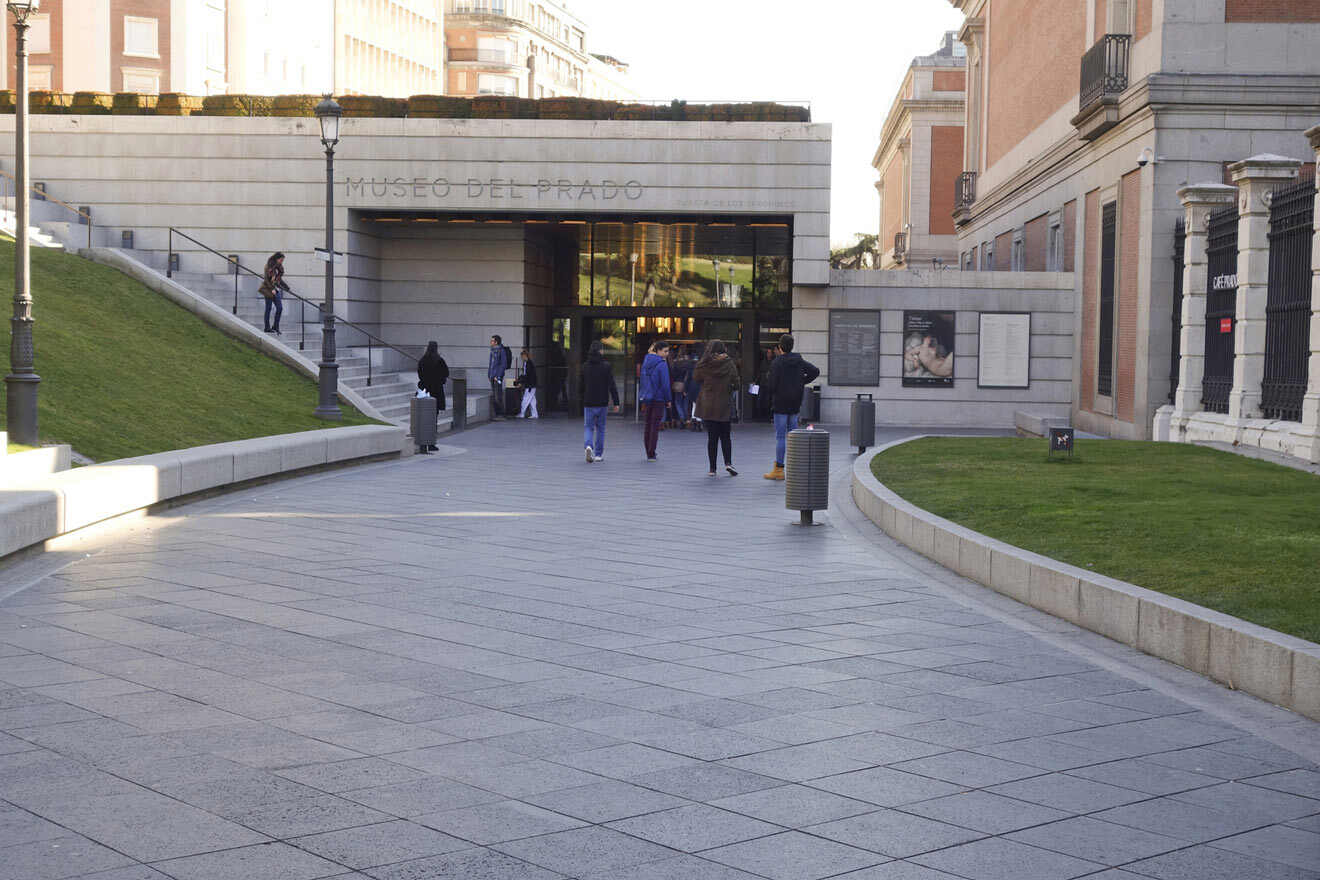 The museum has 4 different entrances:
Puerta de Velázquez is the main entrance right in front of the museum, and it's for people who have pre-booked their tickets online
Puerta de los Jerónimos on Felipe IV Street (this entrance is usually for people with reduced mobility and baby carriages)
Goya Entrance on Felipe IV Street (for all visitors)
Puerto de Murillo near Plaza Murillo (for education group)
What to bring (or not bring)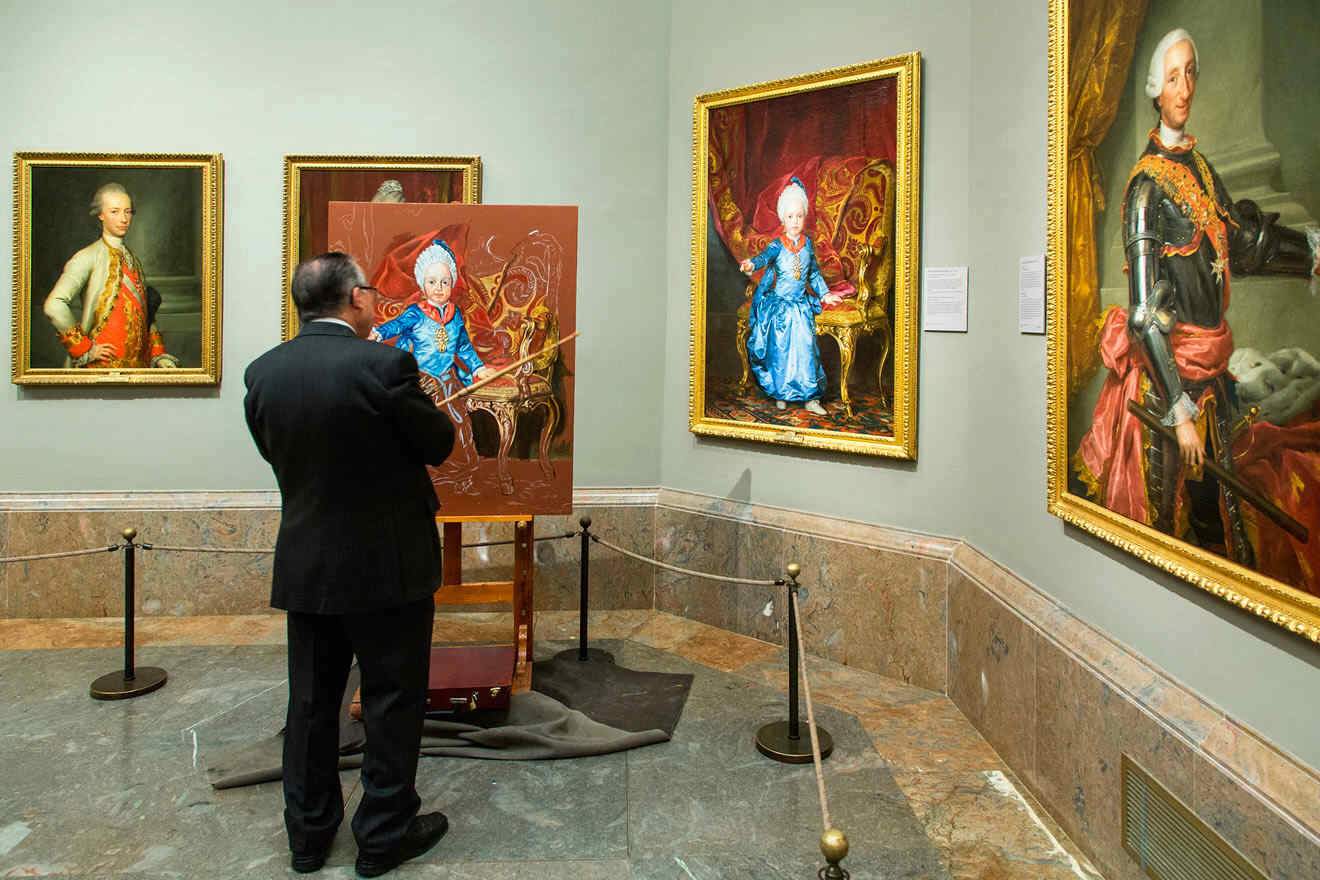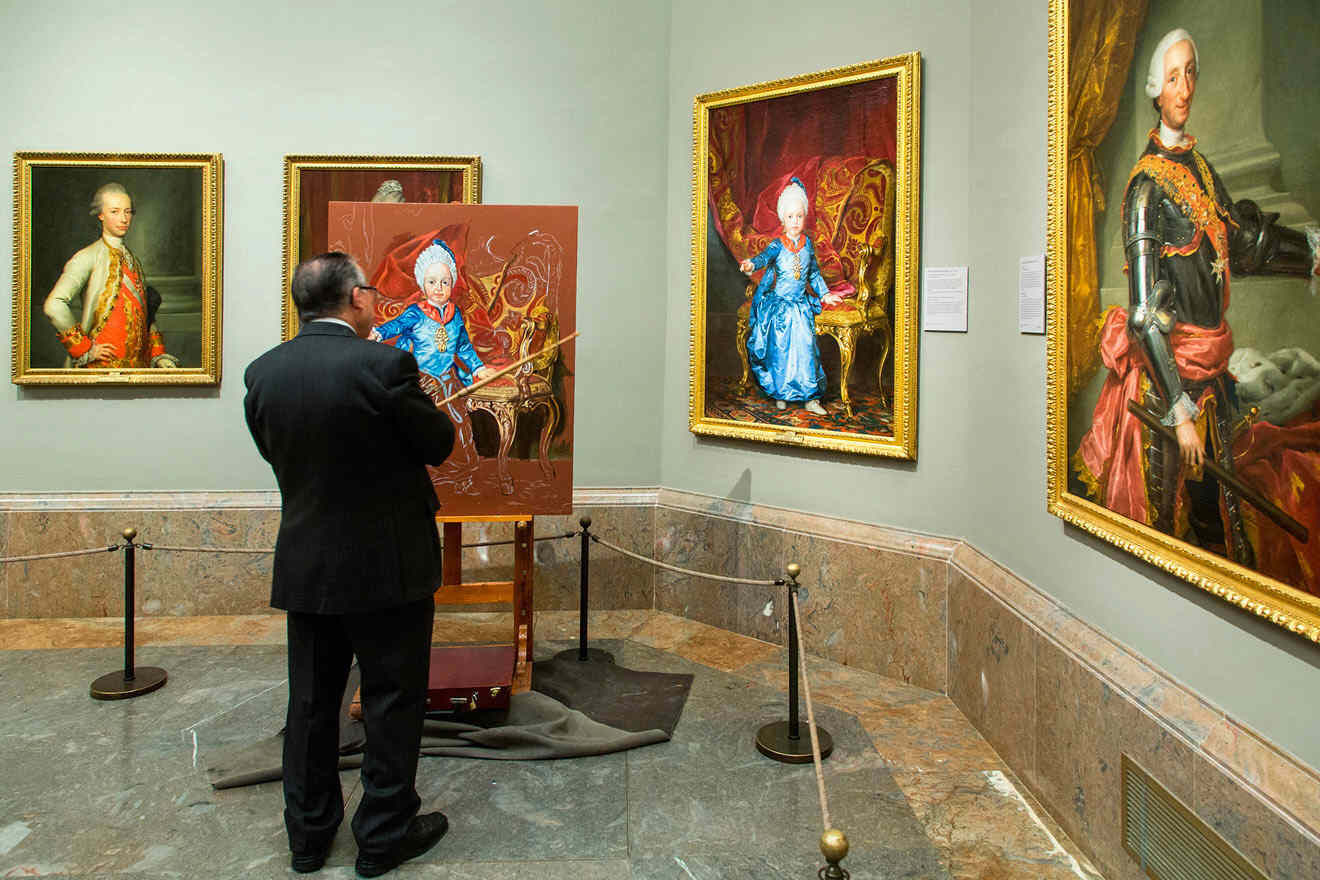 ✅ Tickets: you'll need to show your confirmation email so that you can pick up your tickets
✅ ID: bring any form of official identification
❌ Camera: you can't take pictures or videos inside the museum
❌ Drinks & Food: only allowed in designated areas
Facilities inside Prado Museum
Toilets: there are multiple toilets inside the museum, and you can check them out on this map.
Accessibility: the museum offers adapted toilets, accessible lifts, ramps, platforms, and wheelchair rental, but you can find more about that and how to contact the staff on the official website.
Lockers: you can leave any item that you cannot take with you in the lockers (which are set at every entrance) for free.
Gift Shop: Meadow Shop that you can find in the Jerónimos Lobby (floor 0, Jerónimos Building) and South Jonica Gallery (1st floor, Villanueva Building)
Café: Coffee Meadow, which you'll find in the Jerónimos Lobby (Jerónimos Building, floor 0), and Ionian Gallery Tearoom that you'll find in the Iónica Sur Gallery, Villanueva Building, 1st floor.
FAQs about Prado Museum tickets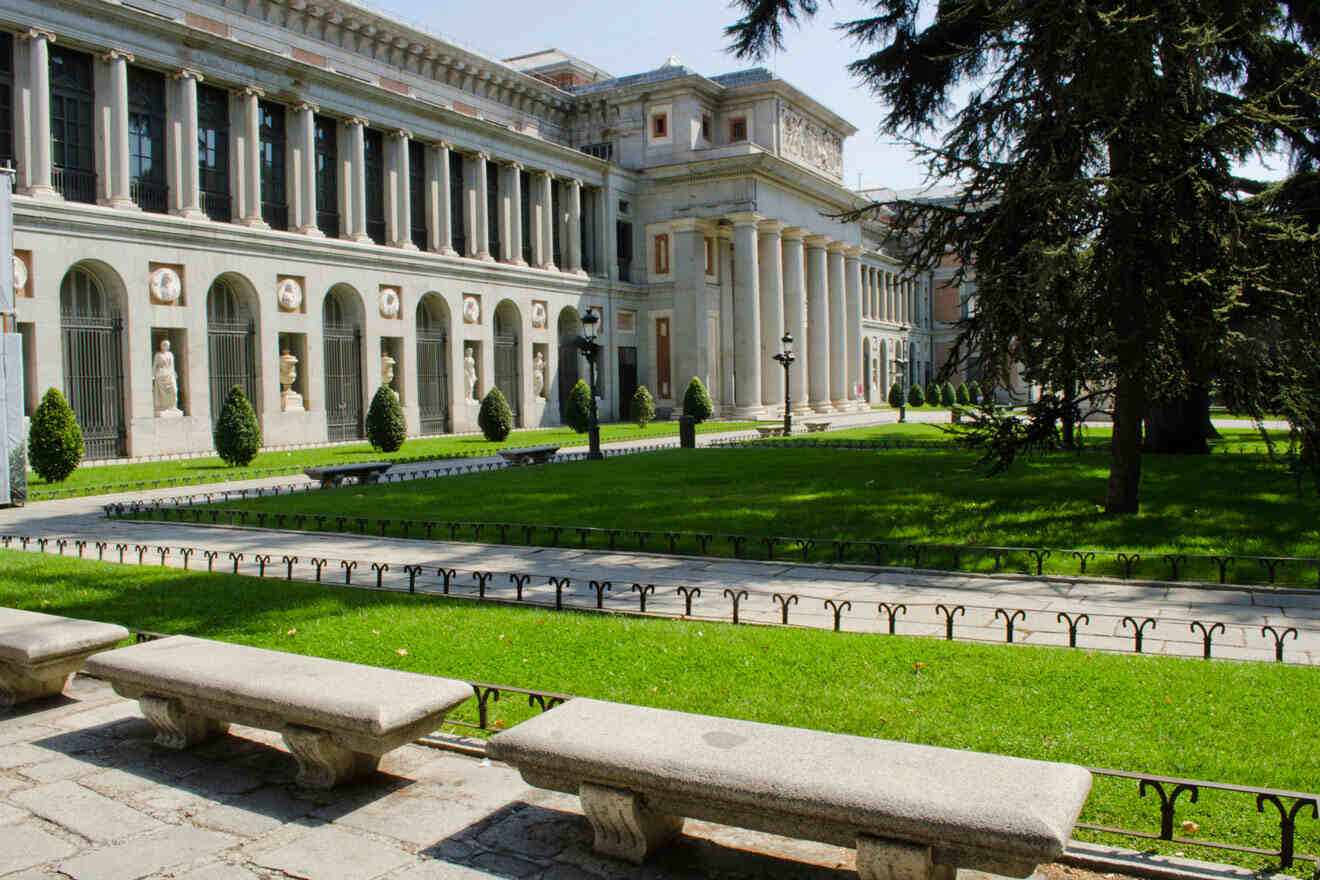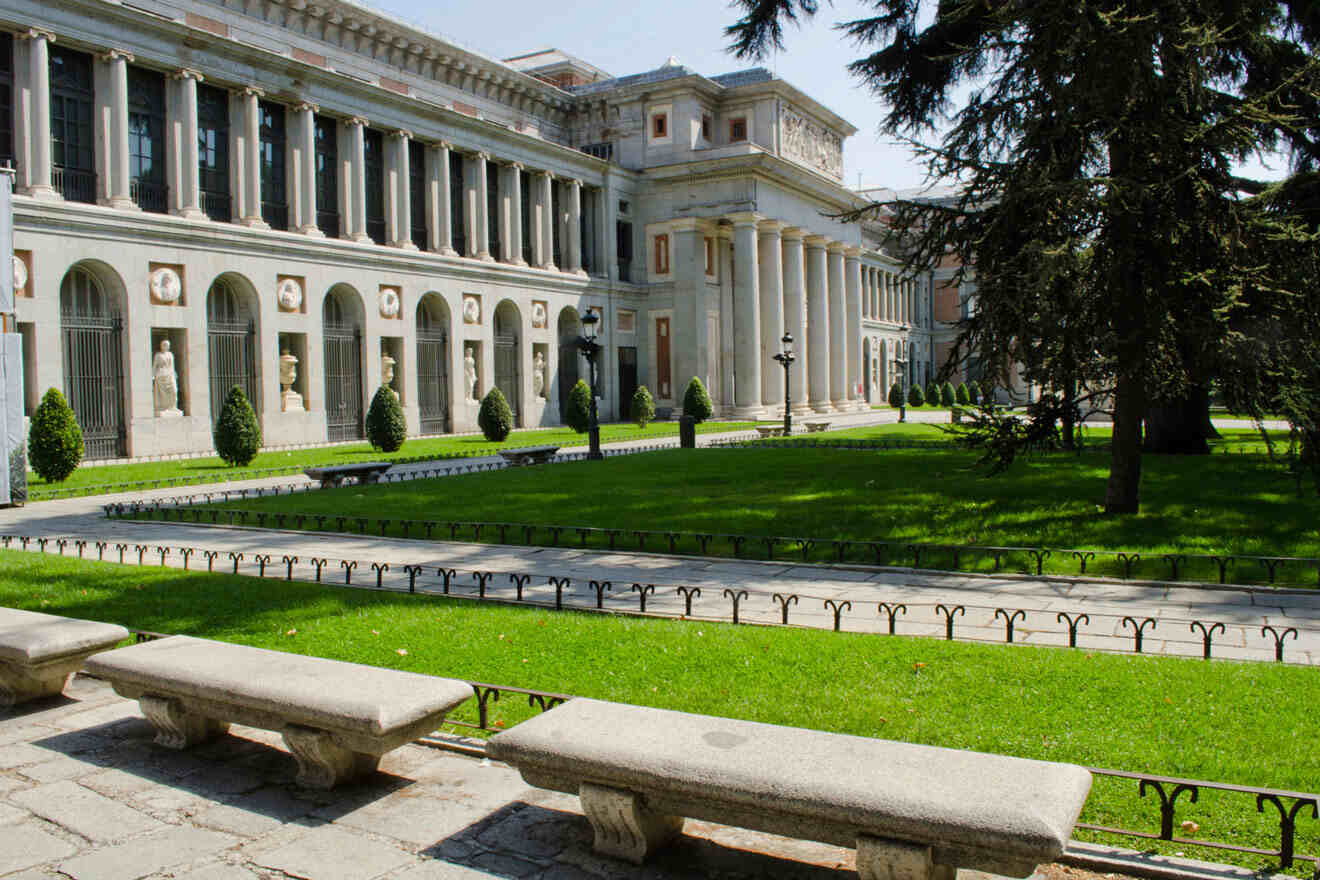 🎟️ Do I need to buy tickets in advance for the Prado Museum?
Yes, I recommend buying your Prado museum tickets in advance as the lines for this attraction can get super long. The best place to buy your skip-the-line tickets is on the official website or Tiqets. 
🖼️ How long is the Prado Museum tour?
Usually, the Prado Museum guided tour can last around 2h.
👗 Is there a dress code for the Prado Museum?
No, there is no dress code for the Prado Art Museum.
💰 Can you visit Museo del Prado for free?
Yes, on certain days and certain times: on Mondays and Saturdays from 6 PM to 8 PM, on Sundays and Bank Holidays from 5 PM to 7 PM, and all day on October 12 and November 19.
Conclusion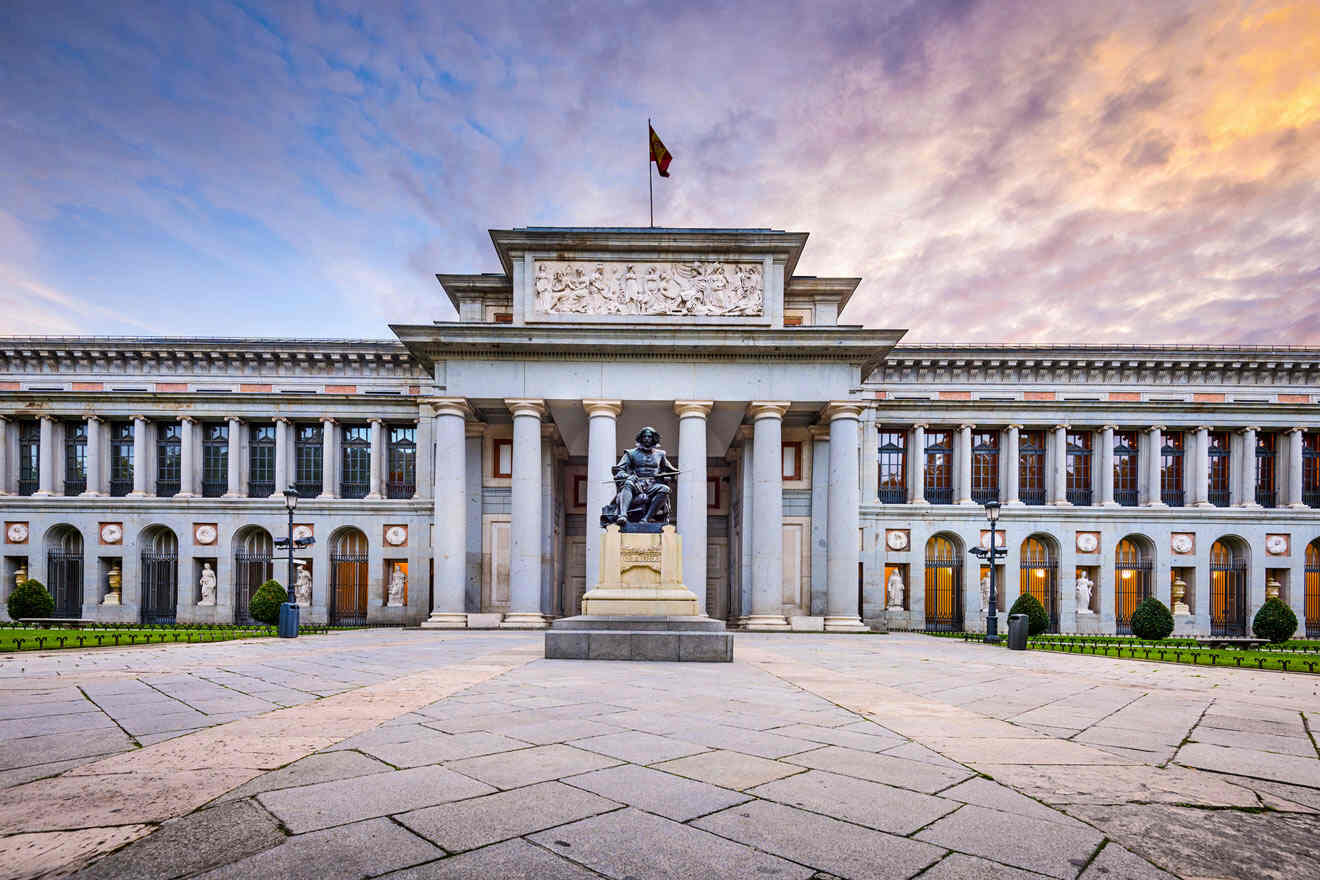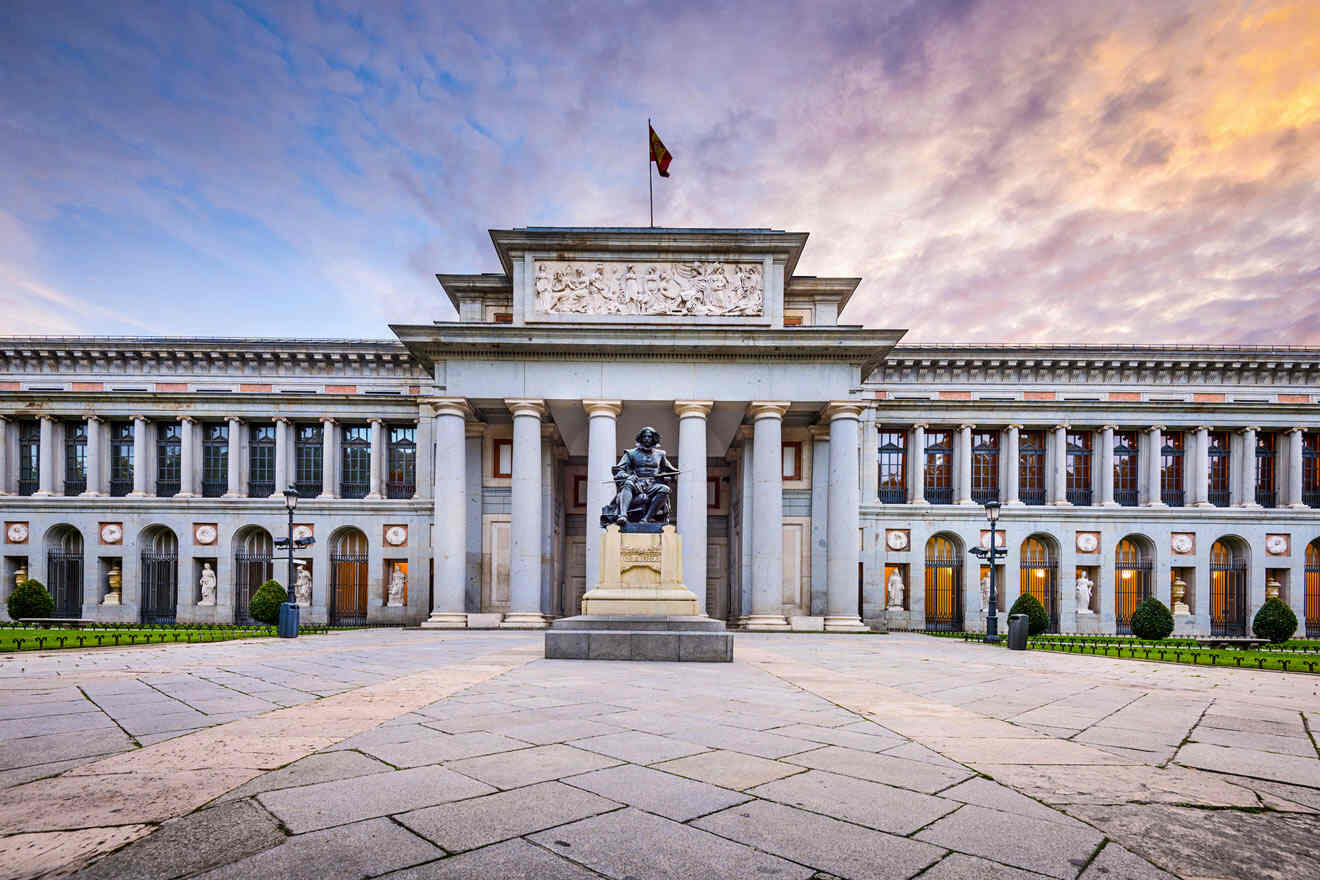 Phew, that was a lot of information! Hope you managed to stick with me and find out all those super important details about Prado Museum tickets!
Today we've gone through many things, from which types of tickets to get, guided tours, combo packages, facilities, and so much more information that you shouldn't miss out on!
Whether you've decided to get your ticket from the official website, book a tour with GetYourGuide or get one of the combo tickets from Tiqets, I recommend buying your favorite in advance as the museum is so popular with tourists!
I hope this super resourceful guide helped you decide which tickets you should buy for the Prado Museum. I made sure to add all the important information, but if I missed anything or if you've got any other questions, just leave me a comment below, and I'll answer ASAP!
Safe travels,
Victoria
---
Pin it for later!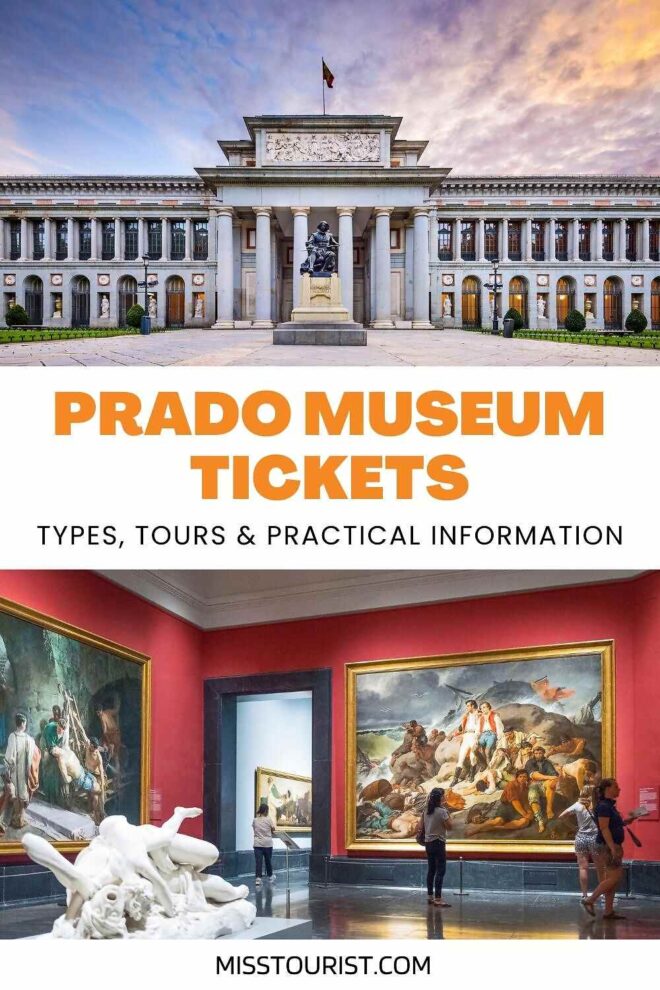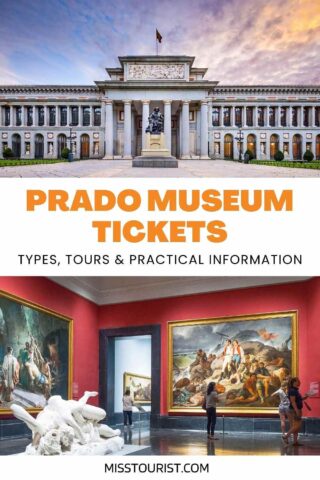 Pin it for later!