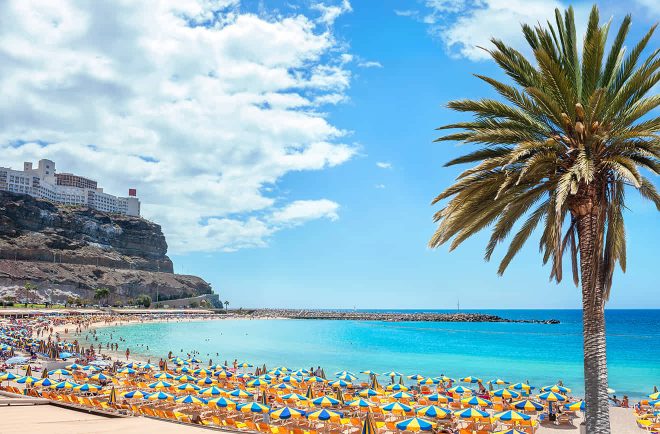 As the second most populated island on the Canary Archipelago, Gran Canaria offers an impressive diversity in terms of culture, landscape, and climate. But the variety of the island continues with its accommodation options which is why I am writing this article – to give you a full list of recommendations of the best places for where to stay in Gran Canaria.
It's no surprise that the island has been a holiday destination all year round for many decades. I mean… it gets an average of 320 sunny days every year! However, Gran Canaria's northern part is different from its south of the island, so in this article you will find out my tips for staying in each of its most popular resort areas.
If you are not sure which part of the island will best suit your travel needs, start reading my short breakdown of areas in Gran Canaria below. You will find out some more info about the best places to stay on the island depending on what kind of experience you are looking for.
Once you have decided on the area you want to stay, you can glance at the hotels or apartments that match your needs for that long-awaited sunny escape. Either you want to spend your days on the beach, sample some Spanish food with friends and family or dance until the early hours, Gran Canaria has it all.
In the list below I've included various options for travelers in the most popular cities, neighbourhoods and villages on the island of Gran Canaria to help you plan your holiday well and know where you want to spend your days.
If you are in a Hurry
Here is my selection of hotels in Gran Canaria, along with guest lofts and family-friendly apartments, from luxury to reasonably priced that won't break the bank.
Here is a handy map to help you visualize where to stay in Gran Canaria. These are the best areas to stay in for visitors and I will be talking about each one in this post.
1. Las Palmas de Gran Canaria – for beaches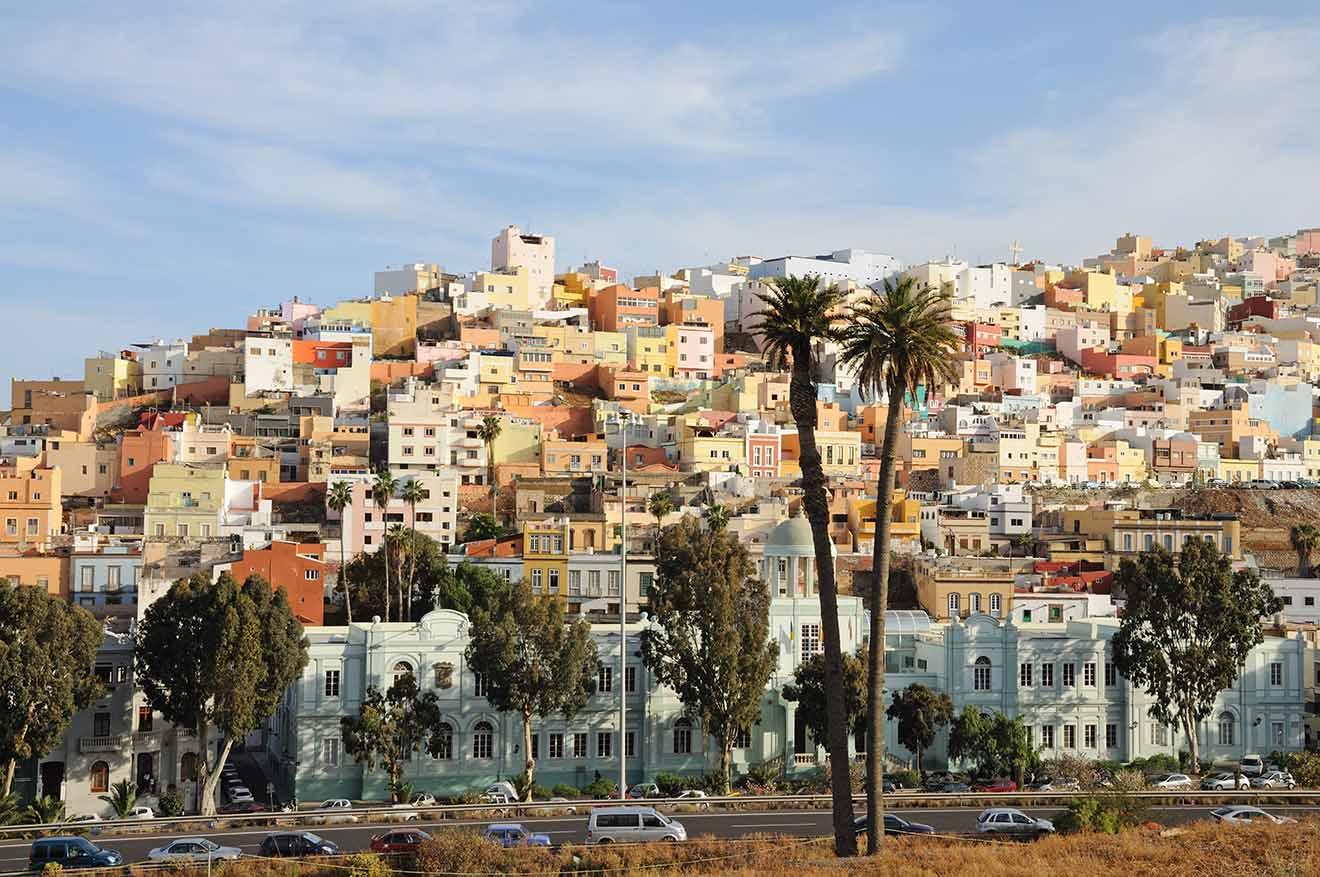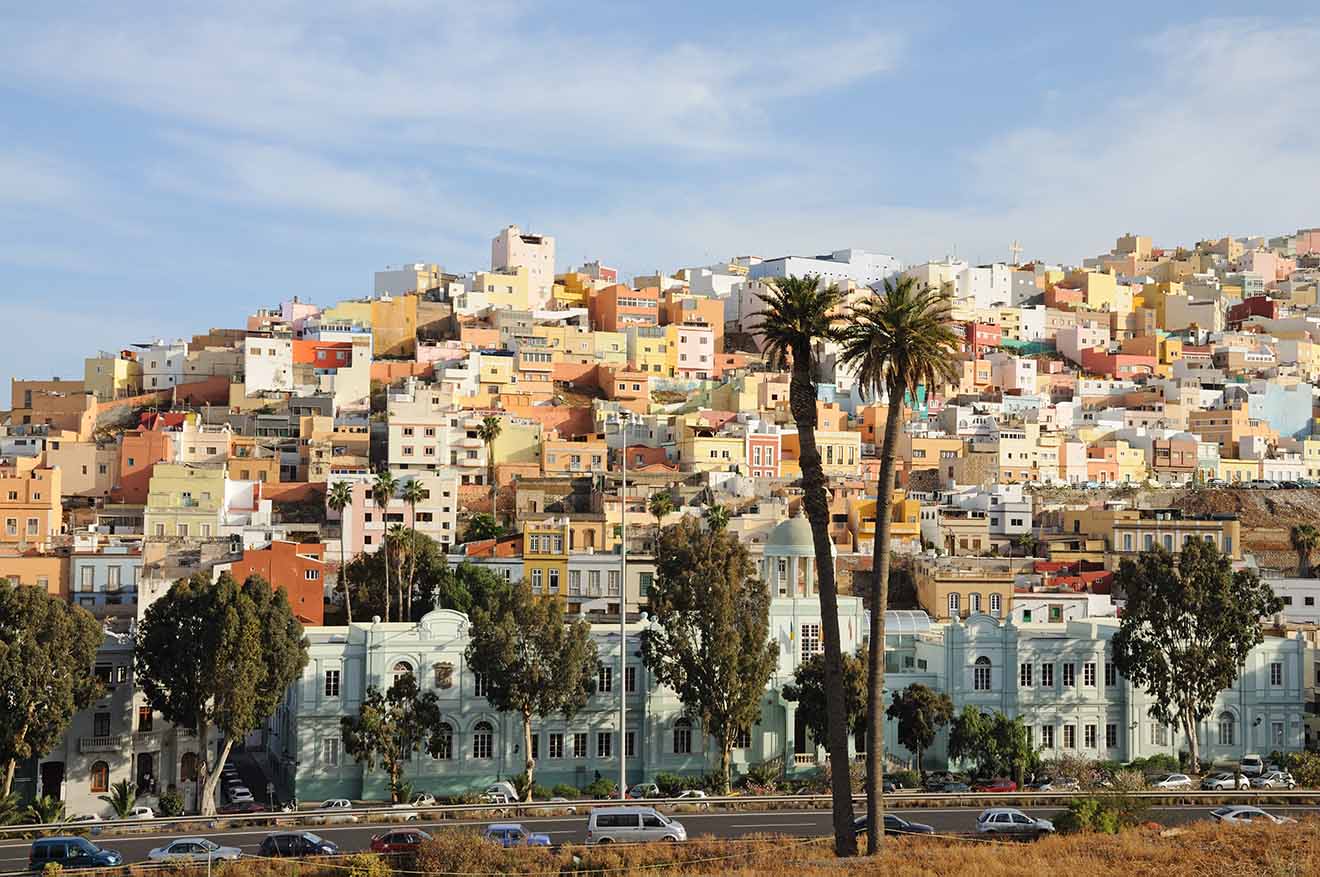 If you are looking for beautiful beaches with a mix of culture, history and plenty of shops, the capital Las Palmas de Gran Canaria is one of the best places to stay on the island. The beach is not the only attraction here – the cosmopolitan capital offers trendy bars, high-street shopping, and historic monuments as well.
Las Palmas de Gran Canaria boasts plenty of beaches with extensive golden sands, making it a great choice for beach lovers who want to lay on the beach all day long. One of the most famous beaches is Las Canteras Beach, which is surrounded by discos, pubs, bars and restaurants. Las Canteras is also a great spot for windsurfers and kite surfers, because the south end of the beach has no reefs and the waves are ideal for surfing.
Apart from beaches, Las Palmas has plenty of sightseeing opportunities such as museums, churches and art galleries. La Vegueta, the oldest quarter of the city, is the perfect place to explore in the mornings while it's still not so hot. After wandering around the old part of the city, you can rest in some of the cafes while admiring the charming cathedral.
Other accommodation options in Las Palmas de Gran Canaria
Best things to do in Las Palmas de Gran Canaria
Visit the famous Las Canteras beach and promenade famous Paseo de Las Canteras
Explore the botanical gardens of Jardin Canario or Doramas Park
Hike Roque Nublo for the most iconic views of the city
Explore Poema del Mar, the best aquarium in Gran Canaria
Climb up to the top of Catedral de Santa Ana for panoramic views
Explore the history of the Canary Islands in Museo Canario
2. Maspalomas – for a fun experience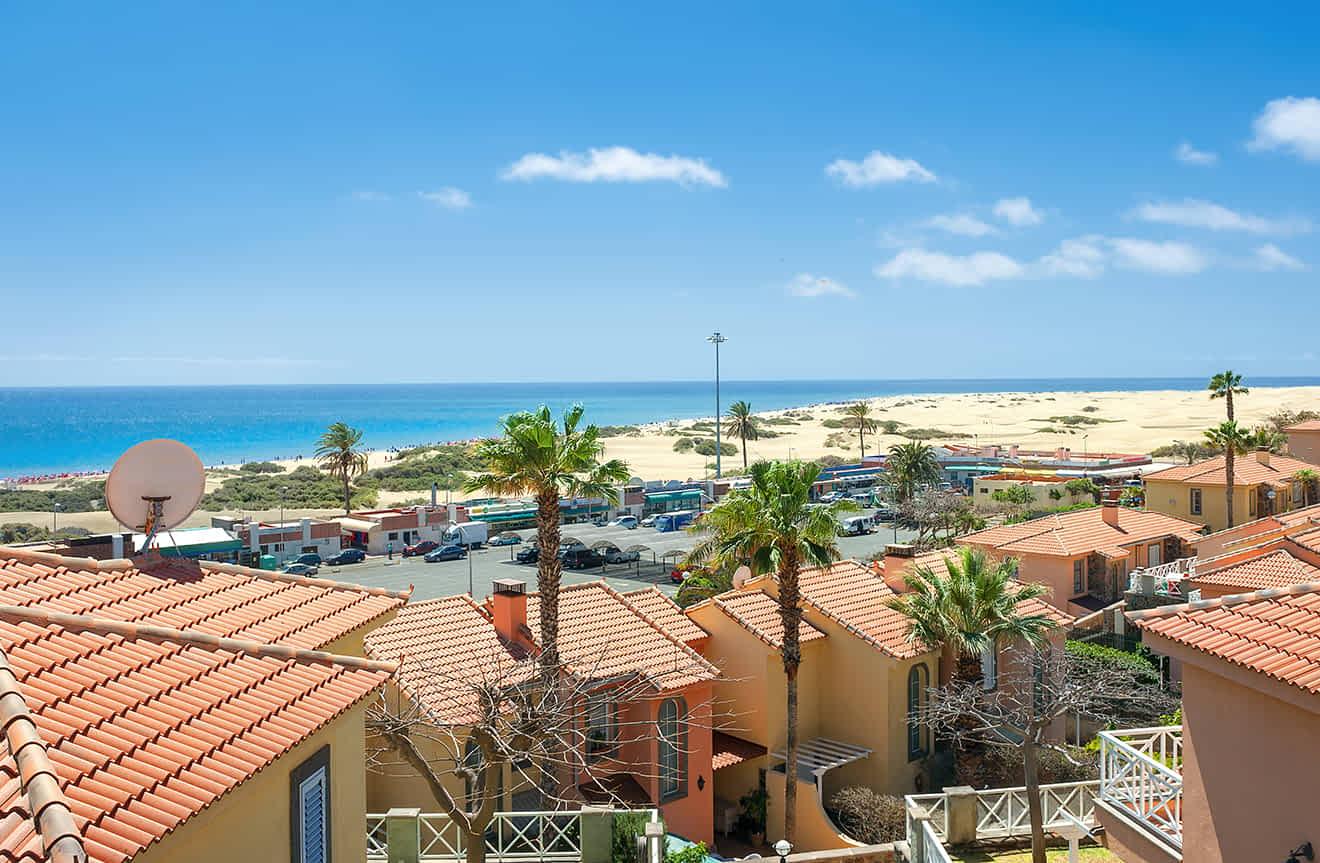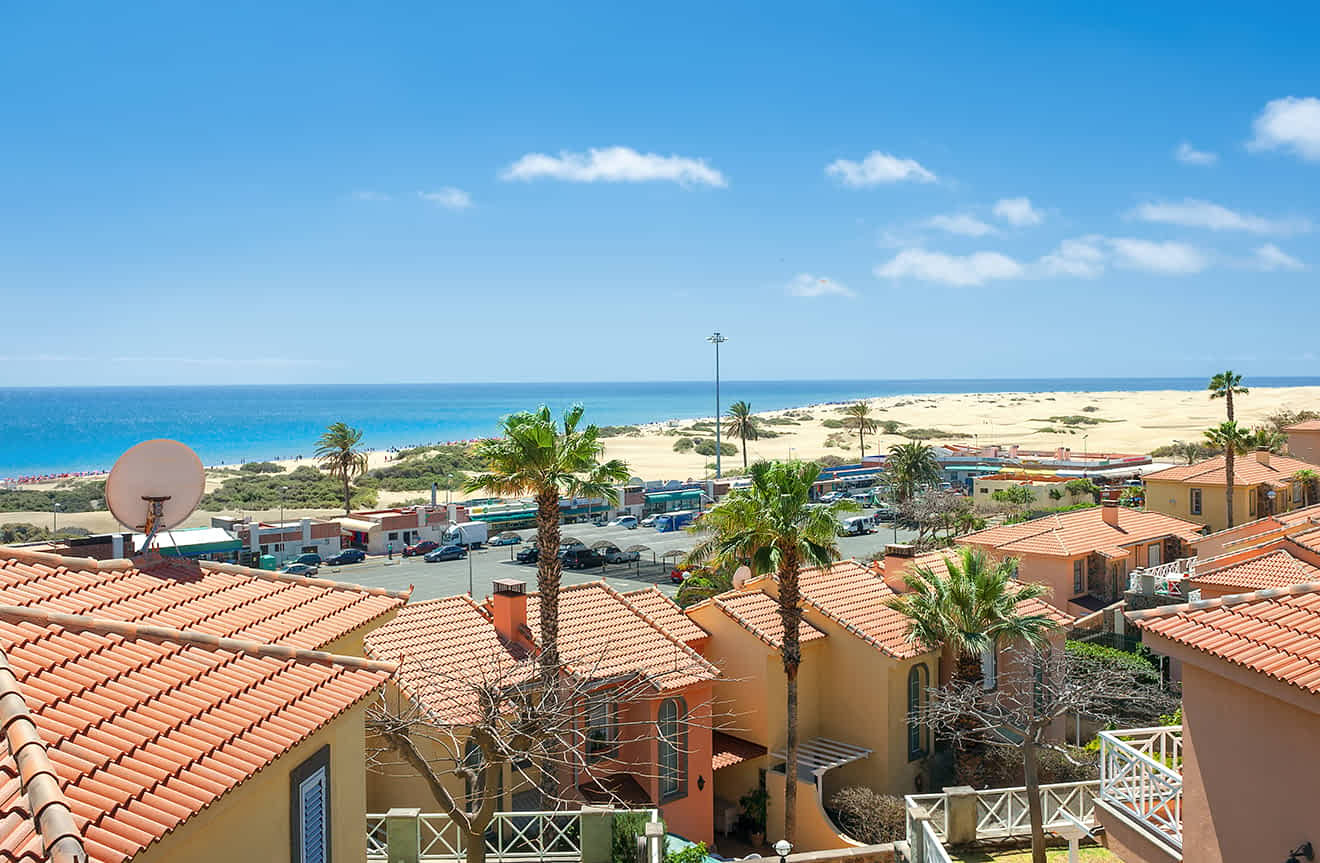 In the south part of the island of Gran Canaria, you will find Maspalomas. This popular resort town is known for its huge stretch of sand dunes which make it stand out from the other places to stay in Gran Canaria. Children will enjoy climbing and rolling down on them.
Maspalomas is all about fun – you can choose from plenty of activities here, such as trying some water sports or even paragliding. Or you can just sit back and relax with a cocktail in a beach side bar.
Standing proud above the sand dunes, Maspalomas Lighthouse or El Faro is another important icon of the very essence of Maspalomas that is well worth a visit. You can walk up the stairs to the viewing area to get breathtaking ocean views and snap some photos. If you wish to eat or drink, there are some lovely places that offer international as well as local cuisine.
But that's not all – Maspalomas has some amazing water parks and theme parks that allow you to spend fun time with family. For the adrenaline seekers, I suggest the Aqualand Maspalomas (a water park with a multitude of slides) or Holiday World (an amusement park with roller coasters, wheels and toy cars).
Other accommodation options in Maspalomas de Gran Canaria
Top things to do in Maspalomas
3. Playa del Ingles – for nightlife and clubbing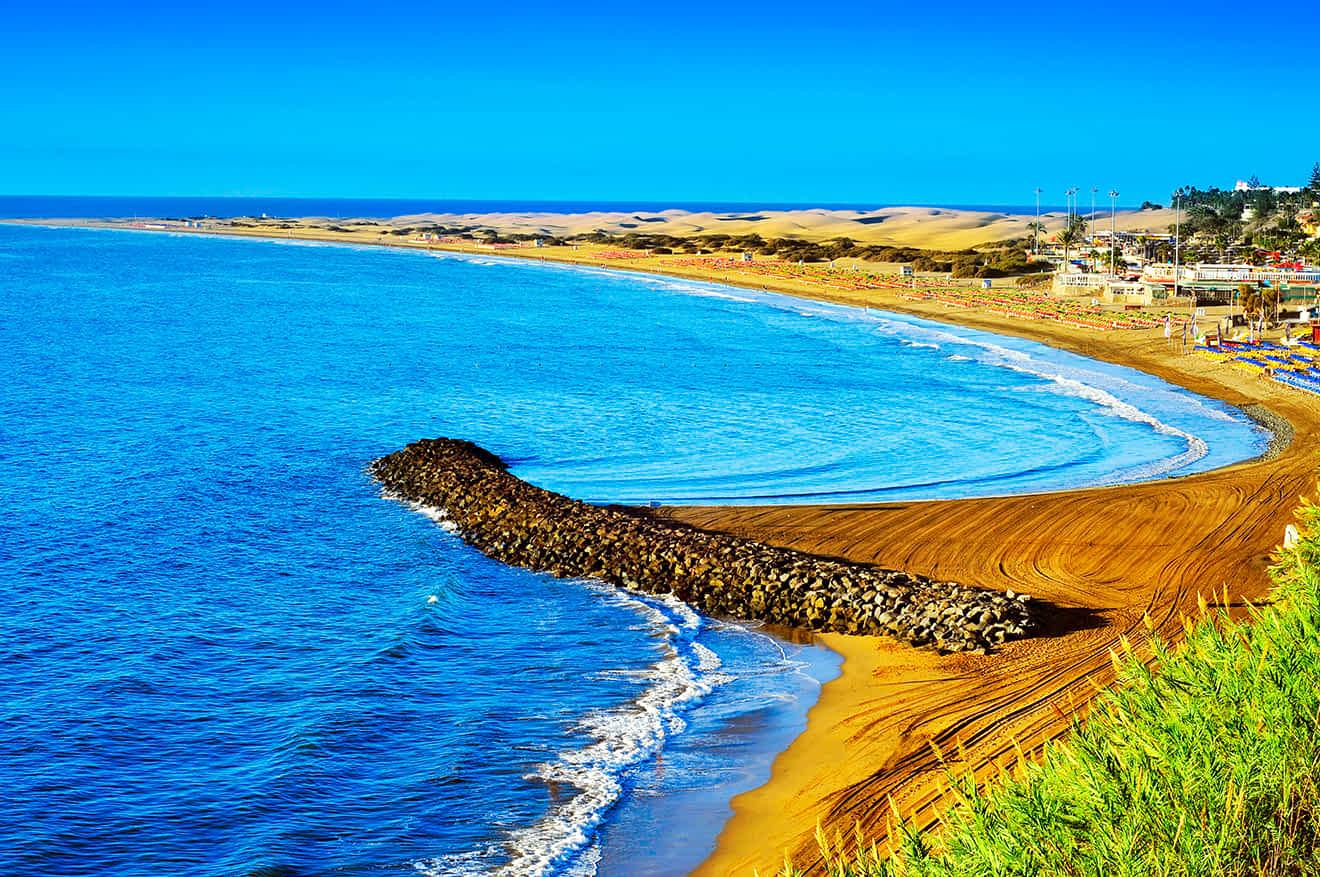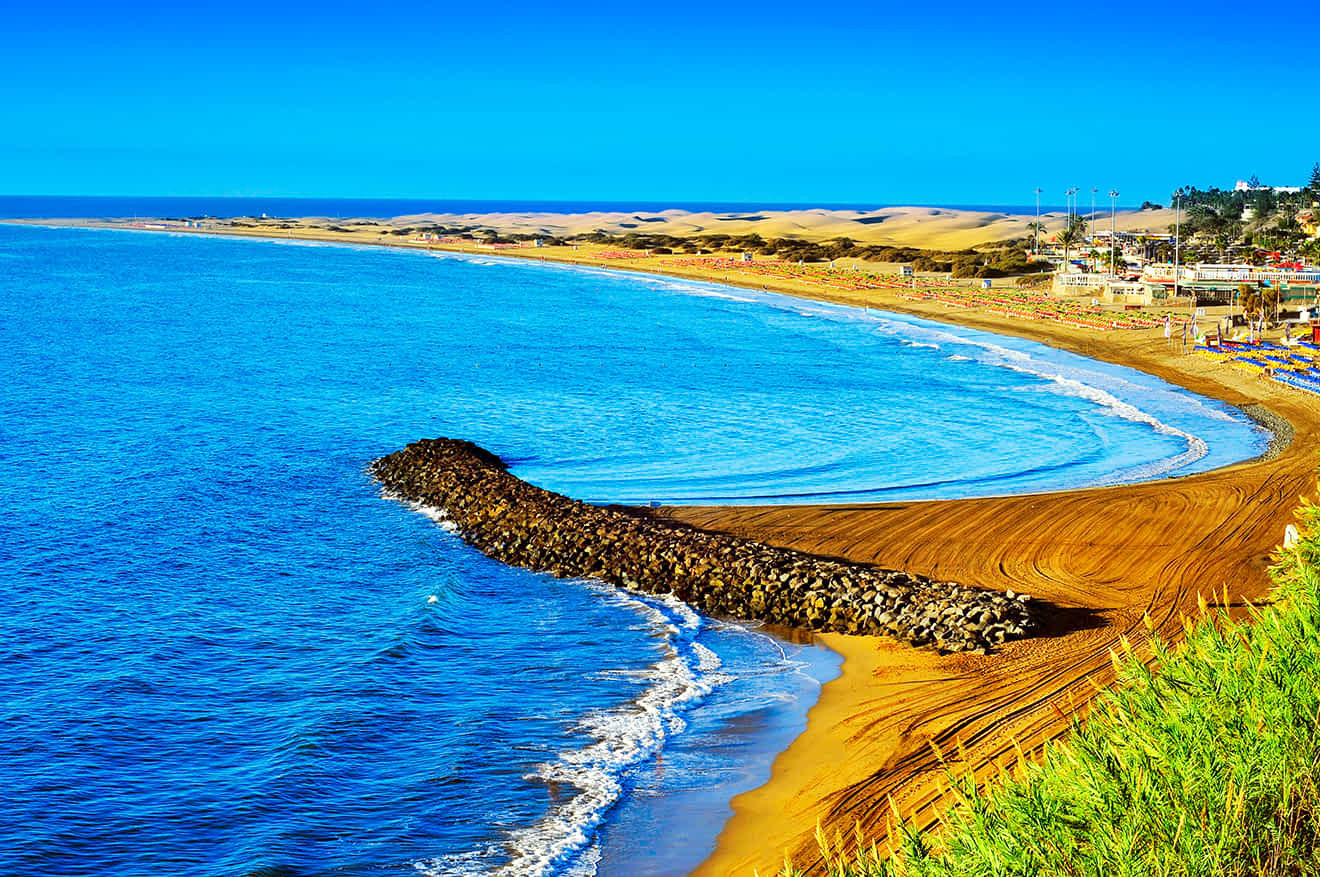 If you are a night owl looking for where to stay in Gran Canaria, then I recommend Playa del Ingles. Although Playa del Ingles is not as popular for its nightlife as Tenerife or Lanzarote, it does hold some of the most famous nightclubs.
During the day, this area is peaceful and relaxing but when the night comes, it transforms into a vibrant night scene. The promenade is lined up with bars, shops, pubs and nightclubs that produce boisterous music until sunrise. Why not embrace the local, popping nightlife with a cheeky cocktail at Atelier Cocktail Bar or try the more laid-back Tipsy Hammock Bar ?
Playa del Inglés is the real heaven on earth for shopaholics. Can you imagine 12 shopping centers all in one place that sell everything, from electronic goods to tacky souvenirs? Moreover, the centers such as Kasbah Shopping Center, hold many restaurants for a bite to eat as well as trendy bars and clubs with a wide variety of drinks.
So, if you are all about dancing the night away, then Playa del Ingles is the number one holiday resort in Gran Canaria for you.
Other accommodation options in Playa del Ingles de Gran Canaria
Top things to do in Playa del Inglés
4. Gran Canaria Puerto Rico – for families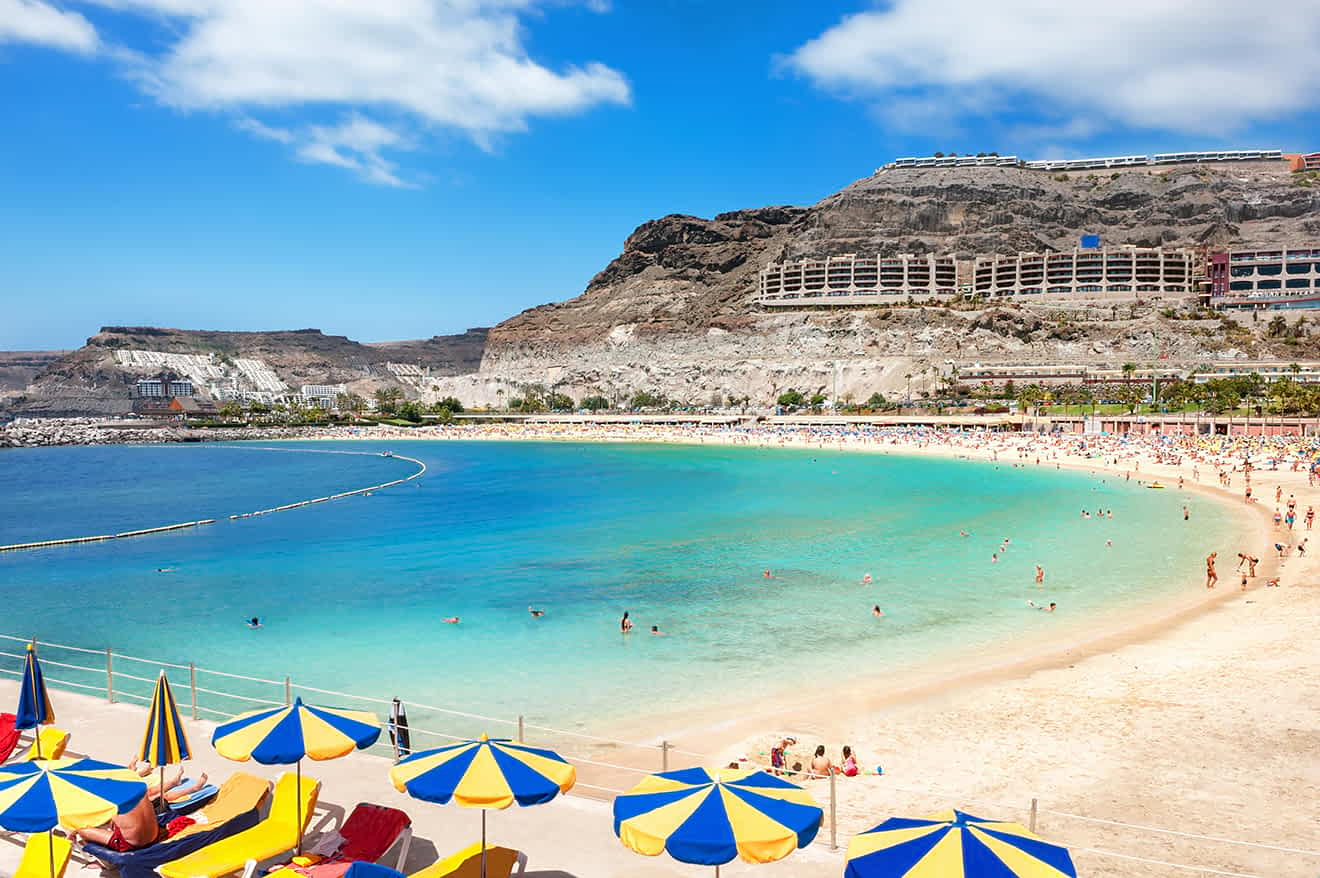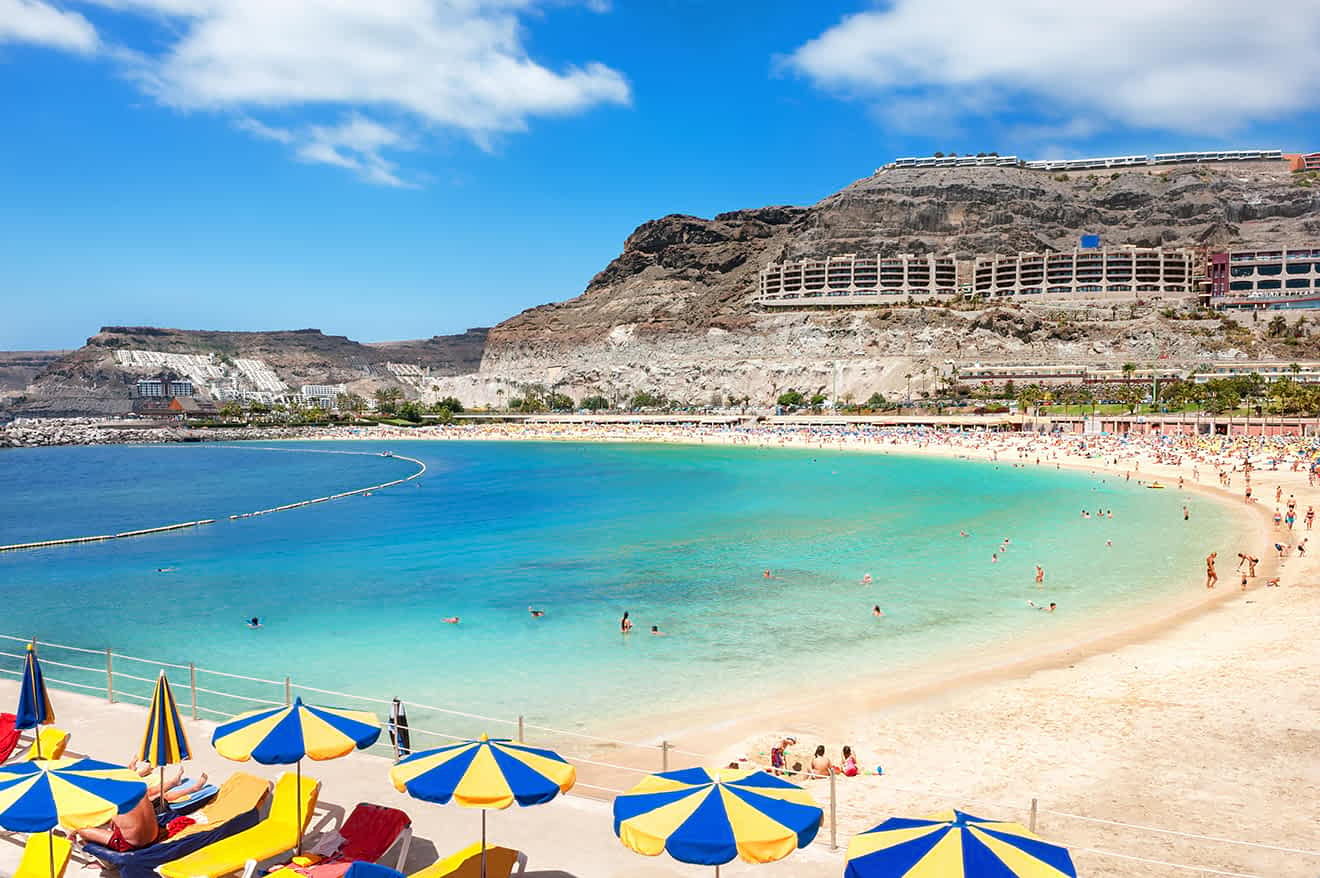 Located in the south west, Puerto Rico (don't mix it up with another Puerto Rico – the country/US territory) is the best family friendly resort to stay in Gran Canaria. Playa Amadores is also a family friendly beach that will keep your kids occupied while you enjoy the chill beach vibes. It's a great choice for toddlers and young swimmers, since the water is calm and the sand is soft and warm.
Puerto Rico has a lot of exciting activities for your children to spend their energy which is why it makes the best family holiday destination. Your kids will definitely love a day trip to Ocean Fun Park, a water park that guarantees a fun-packed day.
Teenagers can entertain themselves with water sports, but you can also take a boat tour to explore dolphins and whales. How cool is that?
The promenade in Puerto Rico is filled up with bars, restaurants, outdoor activities such as a mini golf course and trampolines, and two public swimming pools, so it's no wonder it's one of the best places to stay for a family holiday.
From Puerto Rico, you can easily reach Arguineguin, a fishing village where you can have all the comfort you need. Just a short taxi ride away, your little ones can walk through the botanical gardens and witness a dolphin show at Palmitos Park.
Other accommodation options in Puerto Rico, Gran Canaria
Top things to do in Puerto Rico Gran Canaria
Chill out in the sun at Playa Amadores, Gran Canaria
Spend a few fun hours at Angry Birds Activity Park
See amazing creatures like dolphins and whales at Puerto Rico Harbour
Visit the Puerto Rico Market and buy some tasty local food
Get yourself to Xtreeemz for some 70's and 80's music
Indulge into scuba diving or snorkelling with Blue Water Diving
5. Puerto de Mogan – for couples


Puerto de Mogan is quite different from the other places to stay in Gran Canaria I mentioned above. It's still a touristic place that has remained untouched and has not lost its typical local taste.
Puerto de Mogan, or as locals like to call it, Little Venice of Gran Canaria makes the best romantic getaway on the Canary Islands. Yeah, it really reminds me of Venice with the series of small waterways and canals running through the place!
With its picturesque streets accompanied by a historic architecture and bougainville flowers, Puerto de Mogan invites couples for a romantic walk. Playa de Mogan is a nice, quiet beach where you will always find your own remote shelter to lay down and rest in tranquillity. With everything at hand, this quiet, little fishing village is a great place to relax with your partner.
The numerous hotels close to the beach offer the most breathtaking sunset views and the charming marina is well-known for its postcard worthy houses. Why not top it off with a romantic dinner at an Italian restaurant? I suggest eating out at Caravaggio Italian Restaurant, a fantastic little gem that promises a lovely atmosphere on the island.
Other accommodation options in Puerto de Mogan Gran Canaria
Top things to do in Puerto de Mogan
6. San Agustín – for a quiet holiday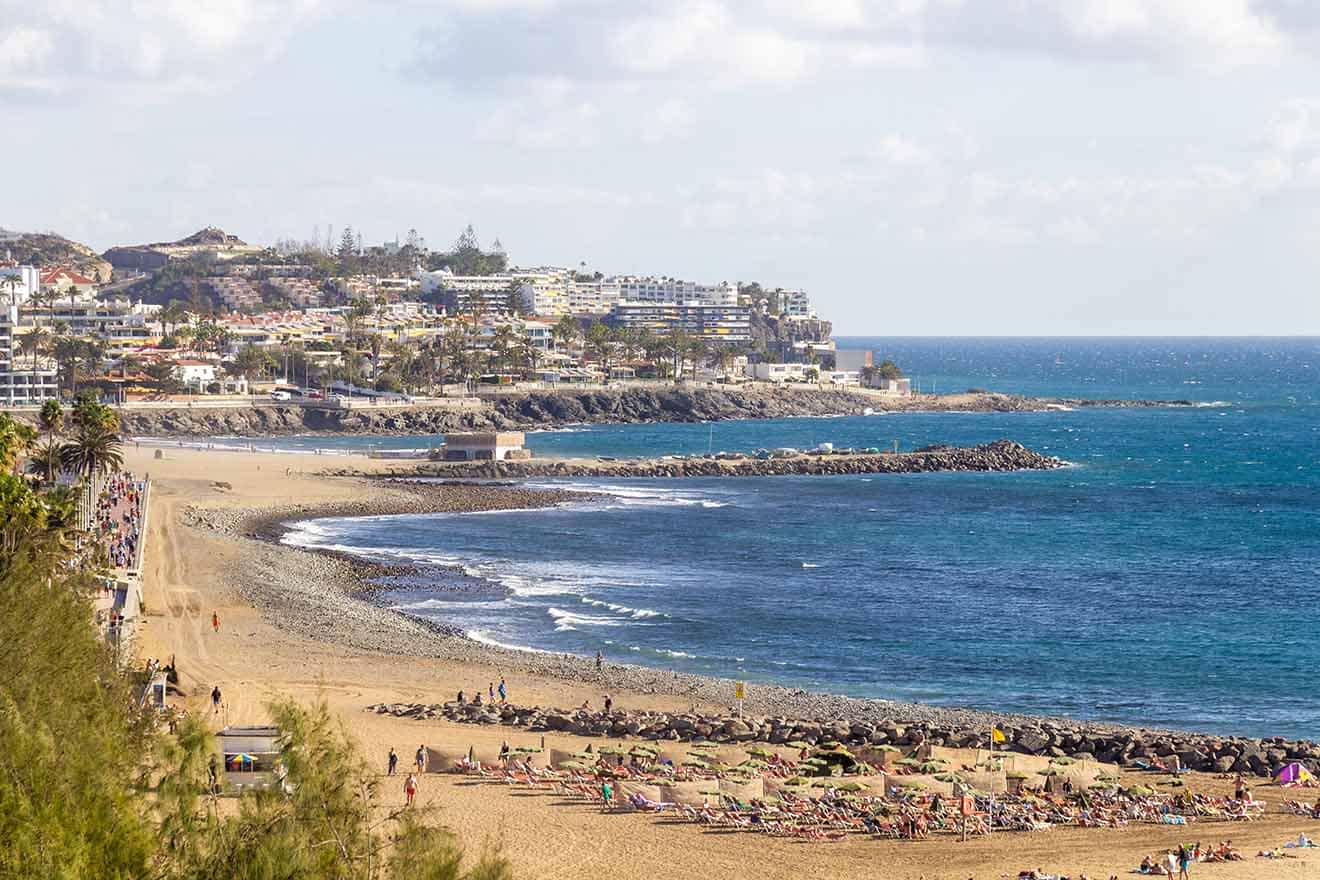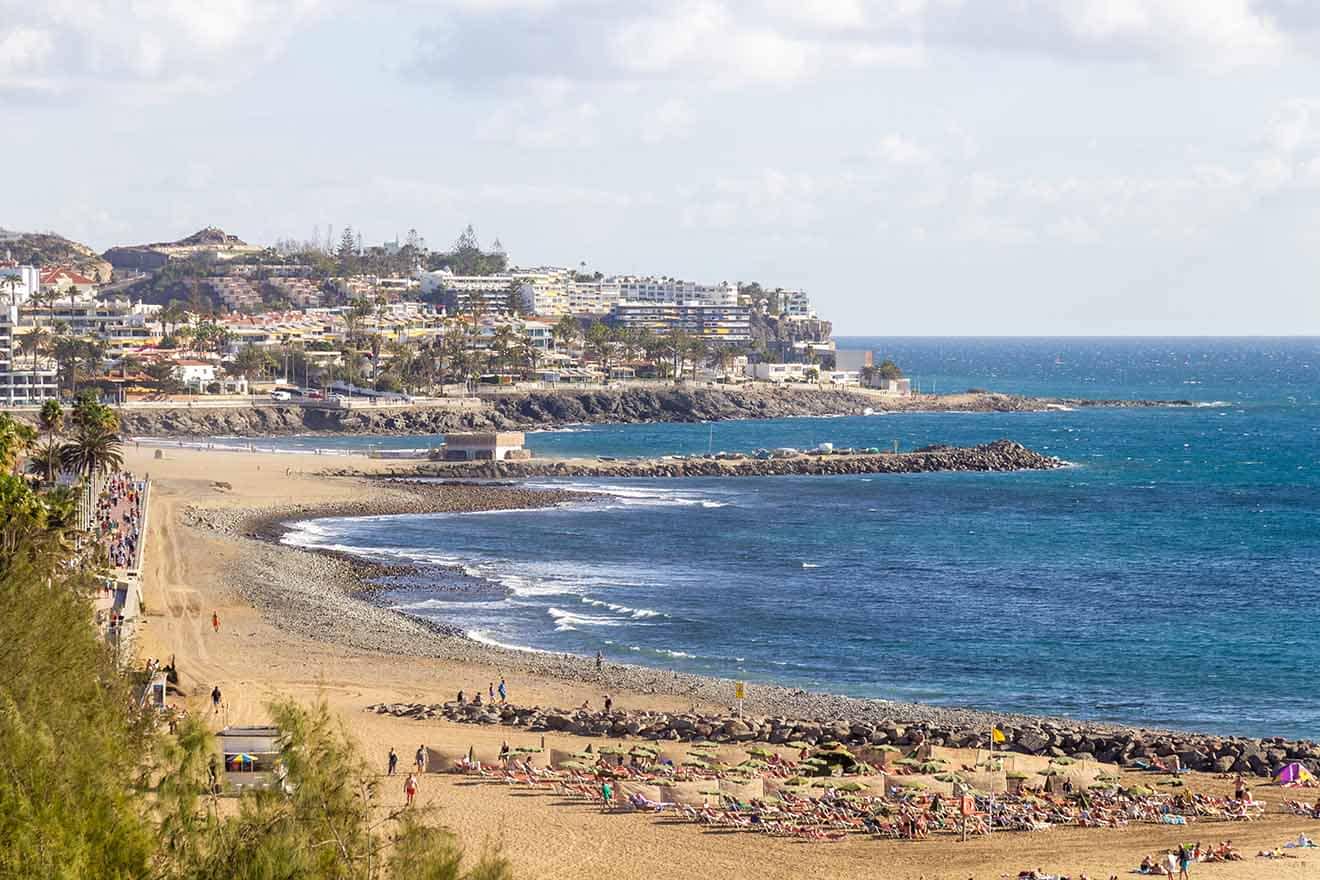 Just a short drive from both Maspalomas and Playa del Ingles, you will reach San Agustin, the best holiday choice if you want to relax and escape the big crowds on the island. This town has much calmer and quieter beach, with unique, darkly colored sand.
Here you will not struggle to find an empty spot, as it provides plenty of room both for tourists and locals. Since the beach is very well protected from the waves, it's one of the best places for scuba diving and snorkelling. Along the promenade, you will also find a wide selection of bars, cafes and seafood restaurants.
San Agustin offers the best of both worlds – the very much needed relaxing holiday with the opportunity to discover the best nightlife, only a few minutes away. Despite being a popular tourist hotspot, it has remained a pretty chilled out area for those who want to have some time alone and enjoy someone else's company.
So, if you are looking for something more laid-back, San Agustin is the place to stay in Gran Canaria.
Other accommodation options in San Agustin de Gran Canaria
Top things to do in San Agustin
Have a romantic seaside picnic on a black volcanic sandy beach
Head to Playa de Las Burras for the best surfing waves
Take in the beautiful scenery at Strandpromenade San Agustin
Sample international cuisine at Sapore di Mare Gran Canaria
Experience the wild west at Sioux City
Explore the area of San Agustin on an adventurous coastal tour
BONUS: Best Hotels by Interest/Type of Travelers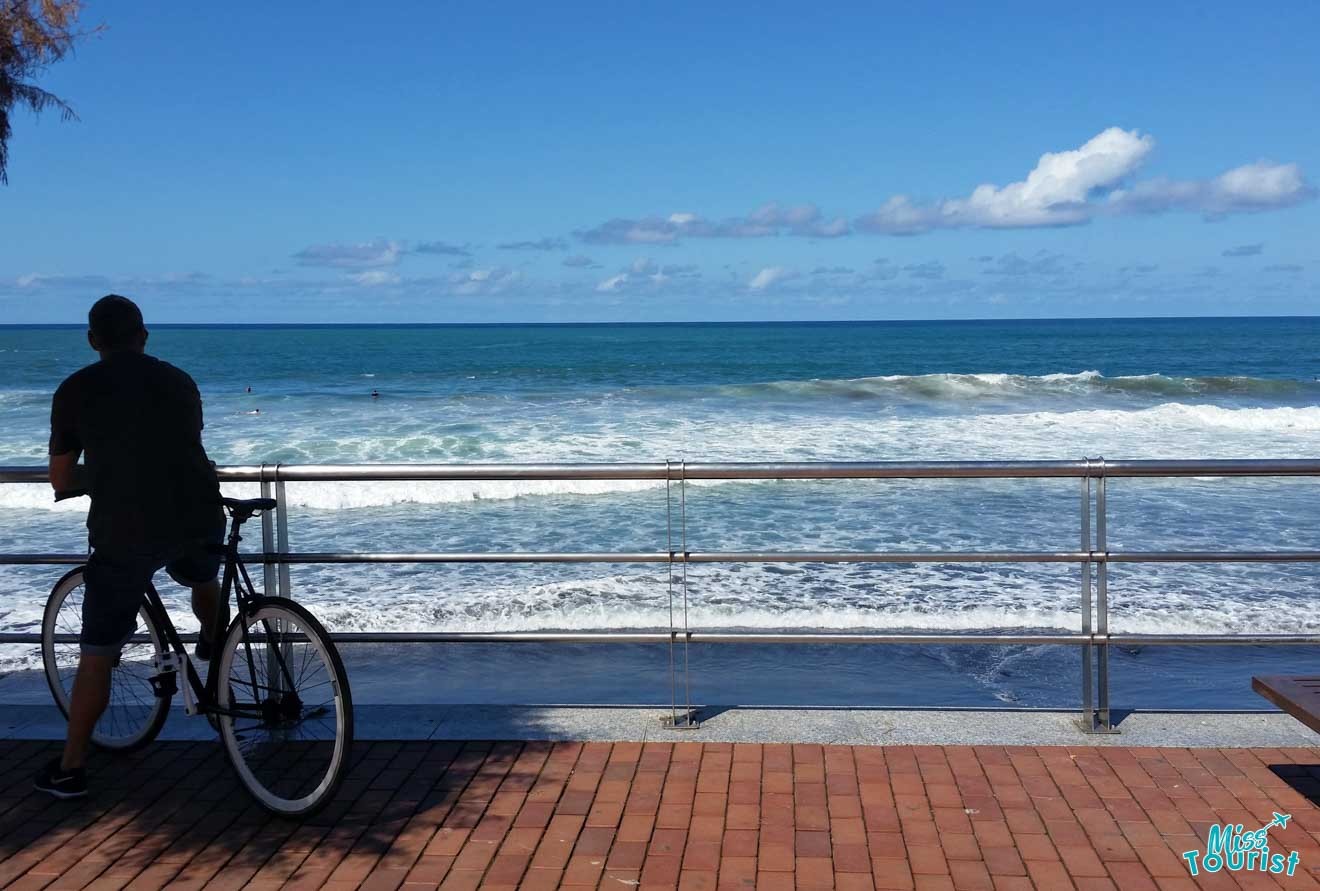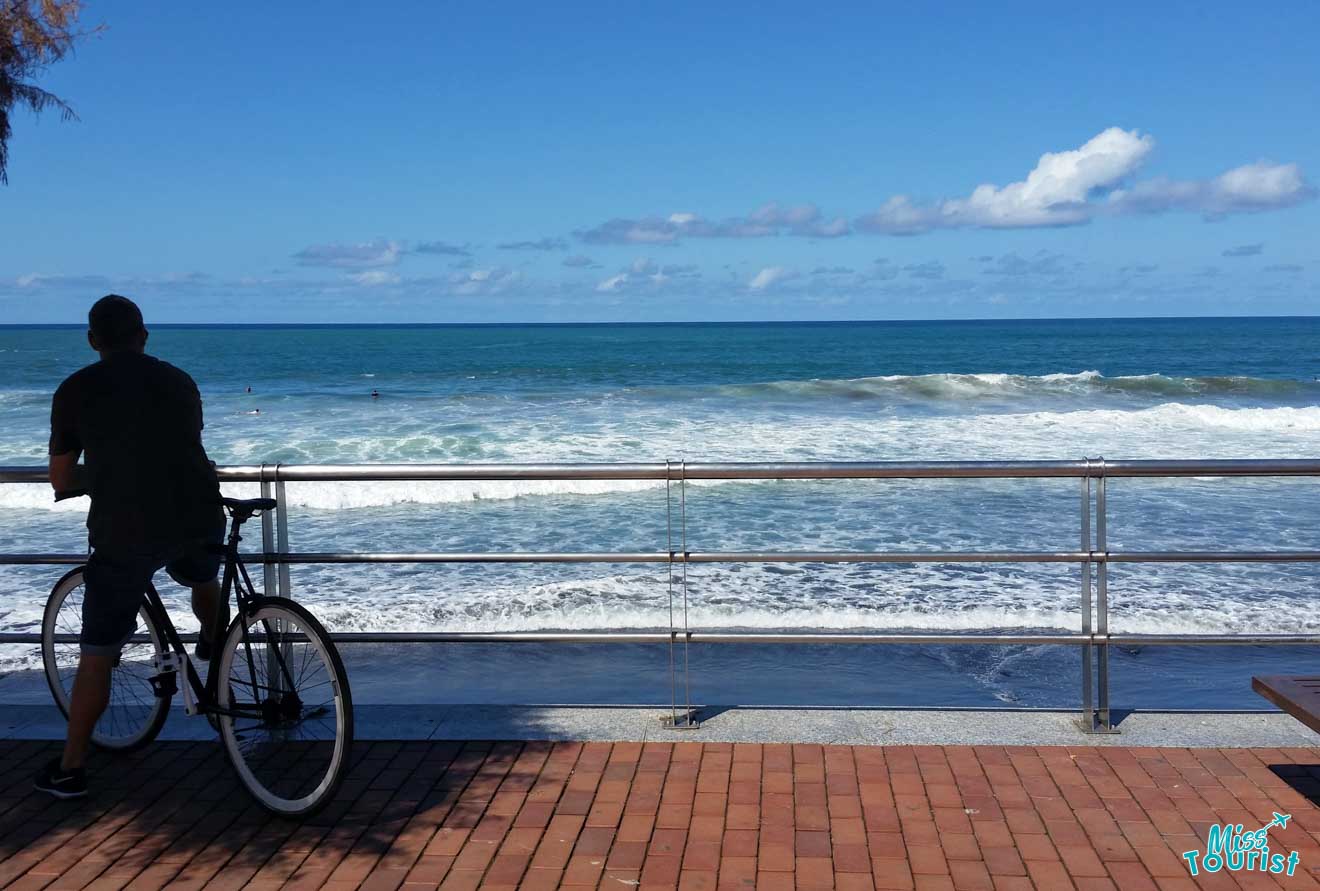 Gran Canaria is the place to come if you want to soak up some sunshine while laying on a sandy beach, dance until the early hours, or spend family time exploring theme parks and water parks. There are so many reasons why anyone could visit the island and so as a bonus I decided to list the most common types to help you choose your place even faster:
Family vacation
Being among the sunniest places for where to stay in Gran Canaria, Puerto Rico draws families to enjoy the calm beach and crystal clear waters all year round. Thanks to the wide range of entertaining activities, such as dolphin watching cruises, glass bottom excursions, thrilling rides and exciting water slides, it makes it even more popular when visiting with families.
Here are some of the best family-oriented hotels:
Shopping and nightlife
Playa del Inglés is the go-to place if you fancy large shopping centers with a variety of boutiques and shops. Here you will find Kasbah, Yumbo Centrum, and Plaza. But that's not all. Playa del Ingles is known for the best nightlife on the island of Gran Canaria, and nightlife here takes place in these major shopping centers. Yeah, it's true! These shopping centers transform into nightclubs after dark. 🙂
Adults only hotels
If you are looking for impeccable scenery, charming amenities, maximum level of comfort and tranquillity, and romantic meals, – all of these without children around, check out these adult friendly hotels below. Set in a romantic location, adults only hotels allow you to relax and reconnect with your loved one in privacy. So why not make this vacation all about you?
Conclusion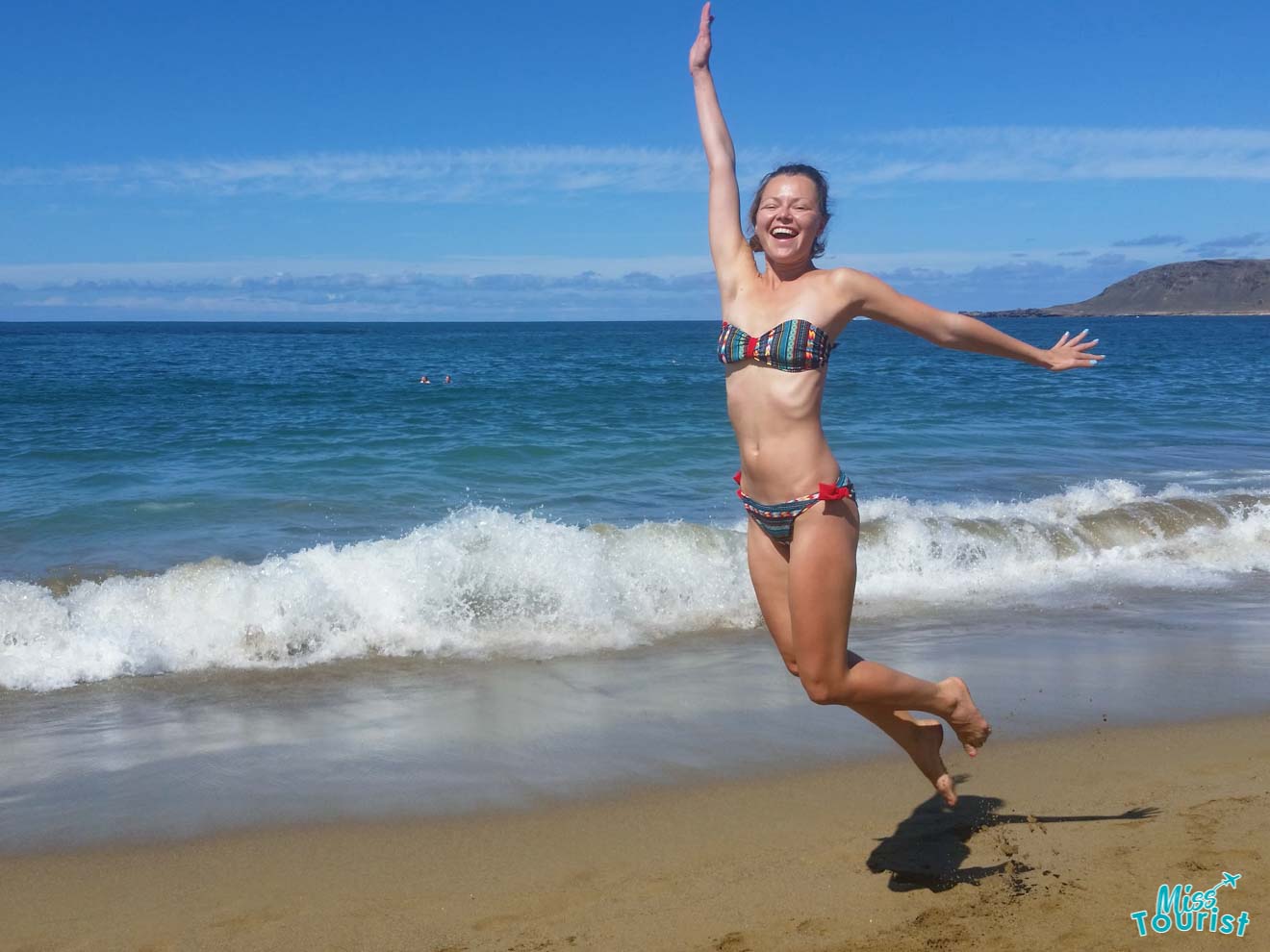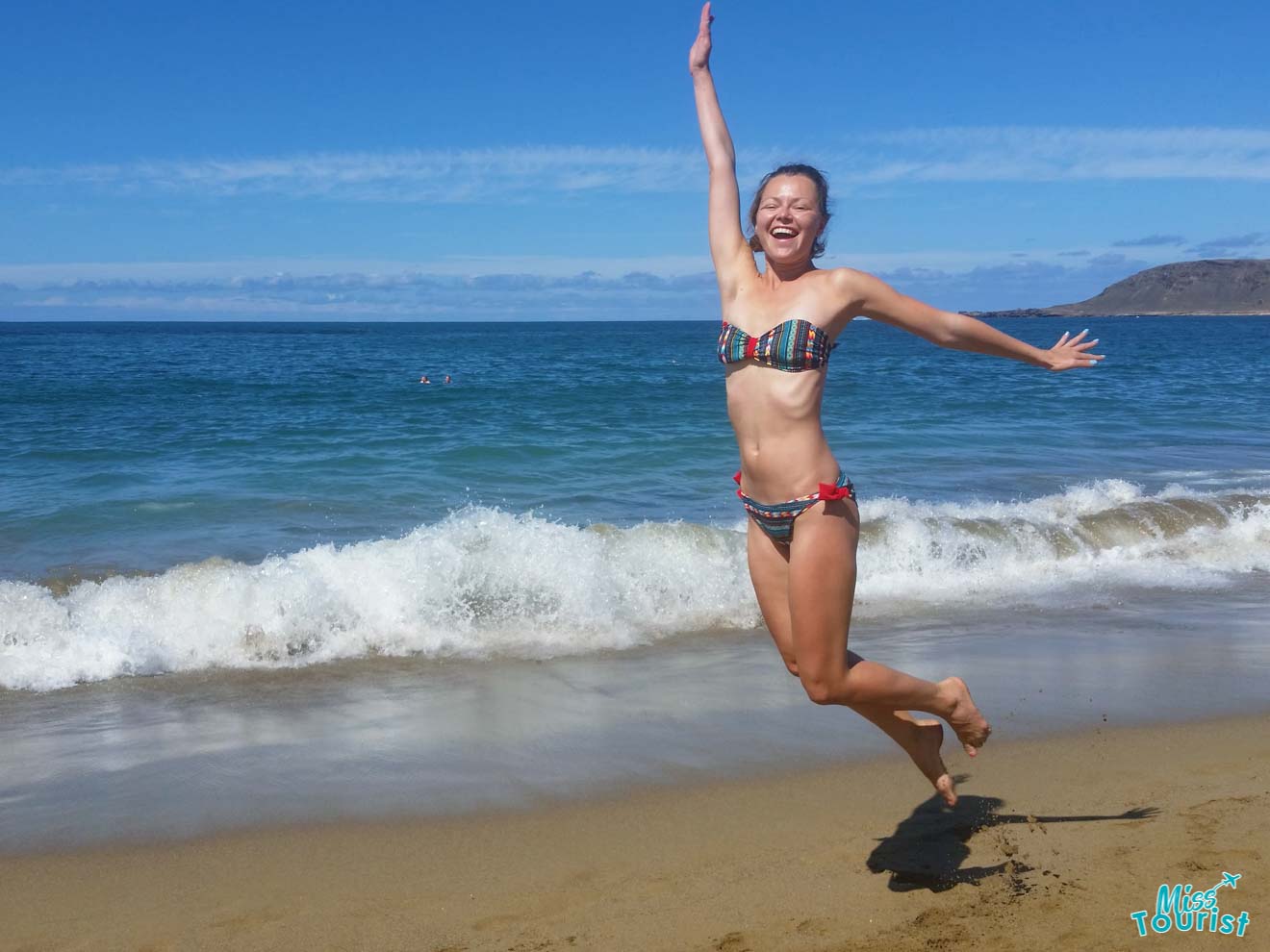 As you have seen from my list, you have plenty of mid-range and budget accommodation choices, comfy Airbnbs and outstanding hotels when trying to decide on where to stay in Gran Canaria. This island has so much to offer that you won't get bored easily on your holiday in Gran Canaria. From fantastic beaches to unique villages, premium hotels and peaceful resorts, Gran Canaria will give you the best experience you could possibly think of.
Las Palmas, Playa del Inglés, Maspalomas and Puerto Rico are the best and most liveliest resorts on the island of Gran Canaria, whereas Puerto Mogan and San Agustin in my opinion are the best for those seeking a holiday at a slower pace and with less crowds.
To wrap up, I recommend booking a room at Santa Catalina – it will make your holiday escape exceptional. It's just a great place to relax by the quiet pool area and extensive gardens. The wellness center provides hot tubs, Turkish baths, and beauty treatments to make you feel pampered. Another option is Club Vista Serena which is located in an intimate environment and provides spotlessly clean apartments, just a few miles from the beach.
I hope you enjoyed reading my article one where to stay in Gran Canaria. Please share it with friends and family if you found it useful. Also, don't forget to comment if you want to share your thoughts or if you have any questions.
Enjoy your journey to Gran Canaria and get back home safely!
Yulia
---