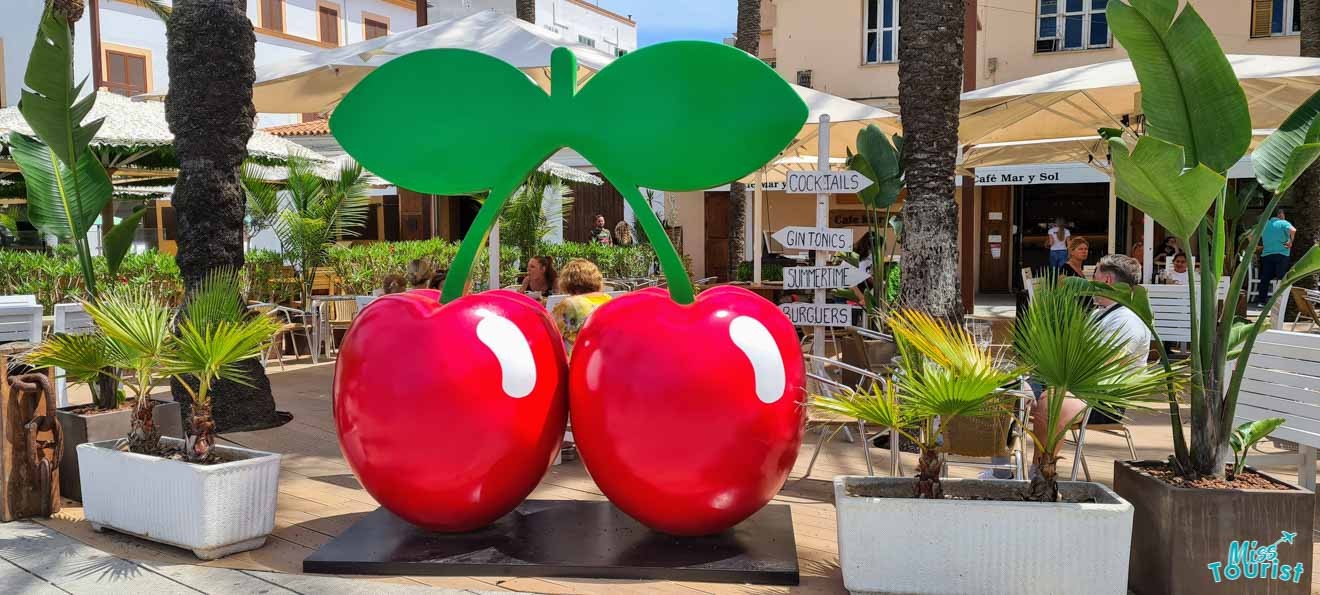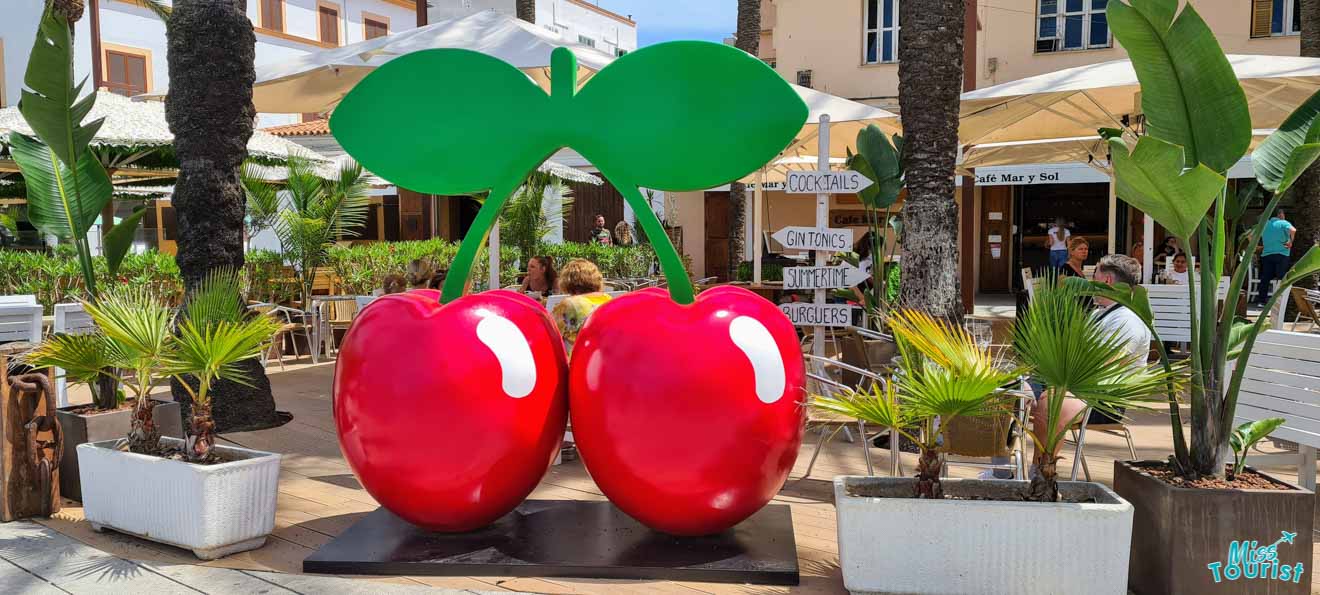 If crazy summer parties, phenomenal nightlife, and beautiful beaches are your holiday dreams, then Ibiza is the place to be. From the warm embrace of the sand to the ice-cold taste of beer, Ibiza has everything you can imagine for a wild vacation!
Despite being known as a popular party spot, it also has some of the most amazing sand beaches and offerings of nature for everyone to experience, even if you're not into partying. That's why it's important to pick where to stay in Ibiza carefully depending on your interest.
Ibiza town is the best place to stay in Ibiza for the first time as it offers a little bit of everything the island has to offer. However, if you are visiting solely to party, you can't beat Playa d´en Bossa. If you prefer to look for something away from the clubs, Cala Talamanca
and Santa Eulalia are good options, whereas if you are traveling on a budget, you should check out San Antonio.
Make sure to stick around until the end of the post for my bonus sections with some tips for your trip and the best day trips around. Here's one now, you NEED to book your hotels here in advance, especially in the summer as the prices are high and places book out super quickly!
From the hip and modern to relaxing and soothing, there will be a lot to cover since the island of Ibiza is huge, so get your party moves set and ready!
If you are in a hurry
If you really want to know the best hotels in Ibiza from the get-go, then this list is for you.
Here is an Ibiza map with all the 5 areas I will be going through in this post to help you visualize them: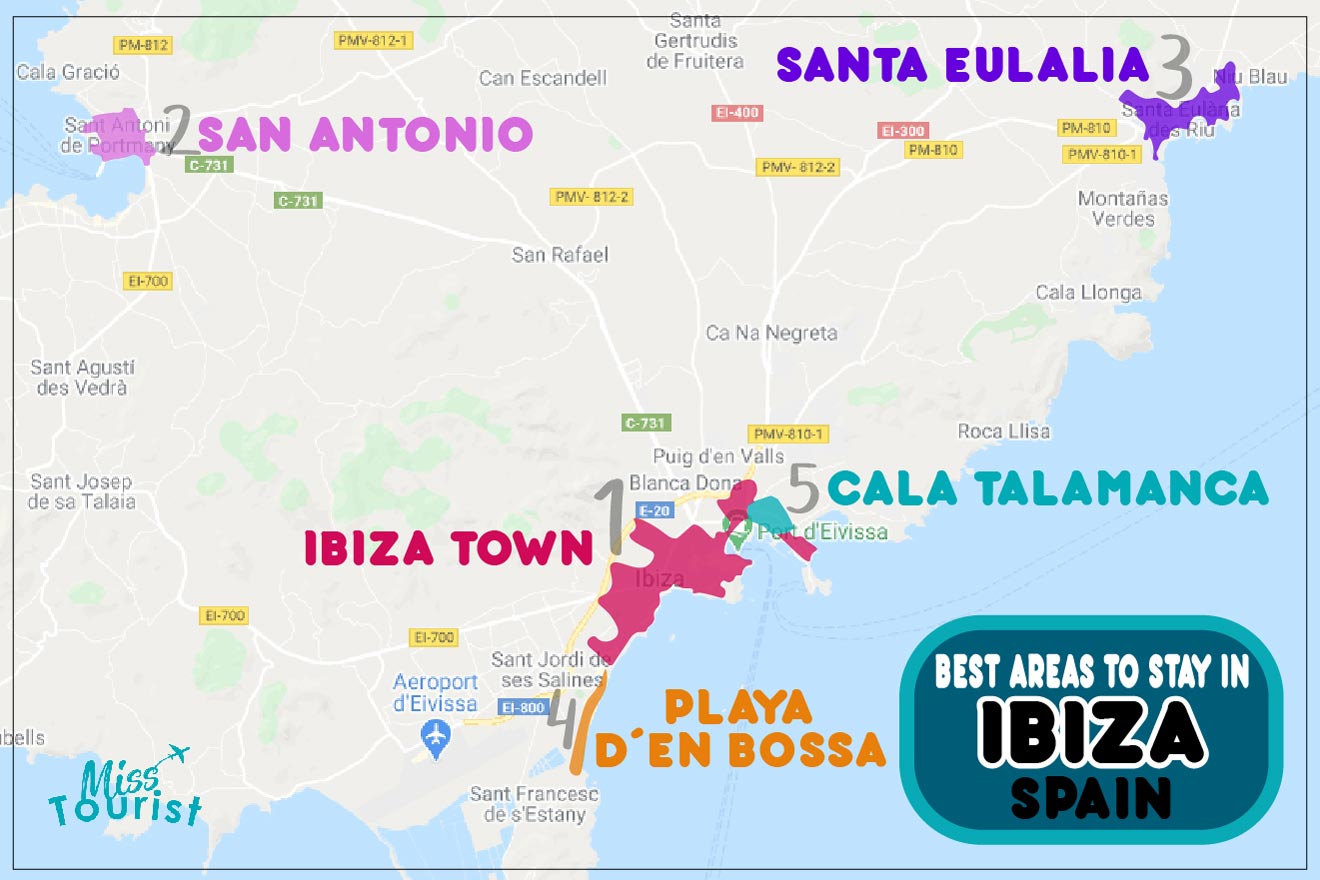 1. Ibiza Town – where to stay in Ibiza for the first time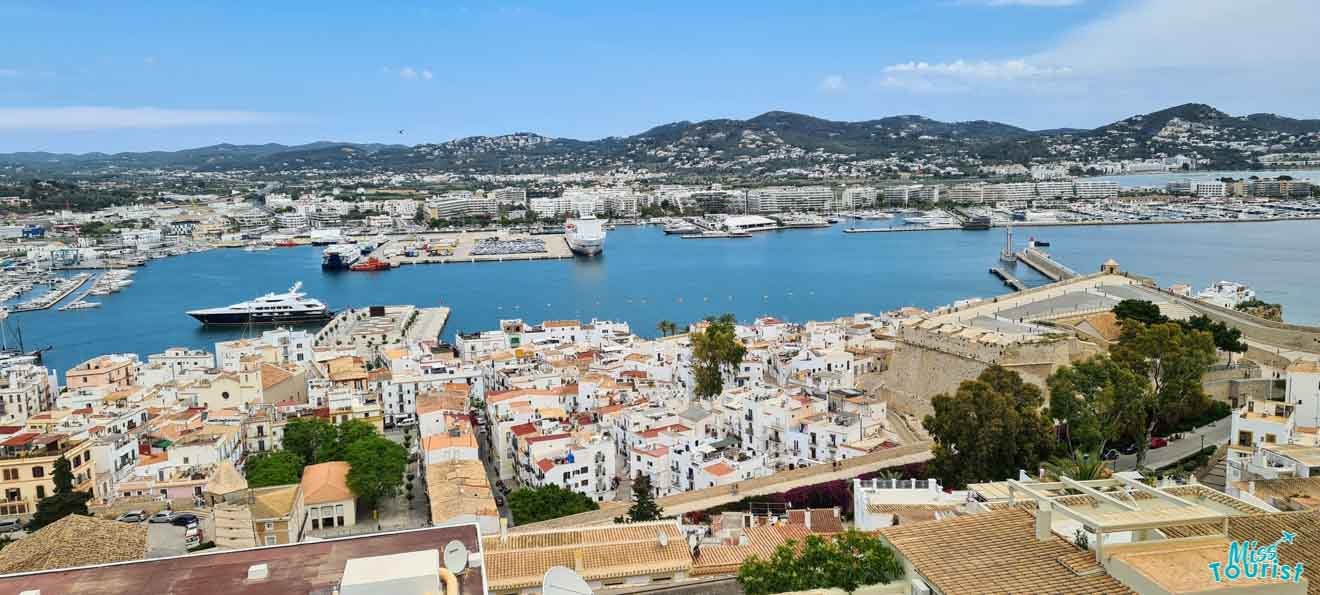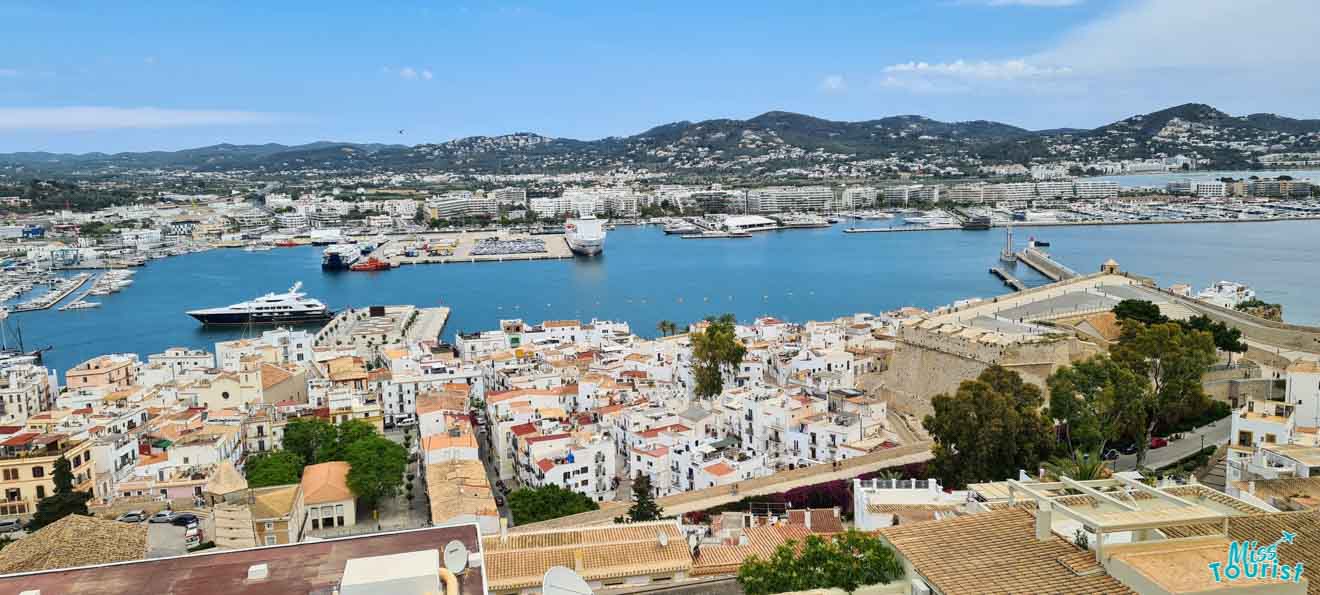 Ibiza Town (also known as Old Town Ibiza) really does have something for everyone. Its cobbled streets are lined with historic structures and artifacts from the past such as The UNESCO World Heritage site Dalt Vila.
Food lovers will be glad to know that Ibiza Town has a lot of restaurants and you may also visit the beautiful De Ses Salines beach, where guests can enjoy warm swims and lively atmospheres.
Additionally, nightfall is when the town really comes alive. The city center has multiple bars and clubs such as the famous Pacha, where decorated DJs from around the world like Calvin Harris and David Guetta host events and parties.

With the perfect blend of past and contemporary offering diverse choices of activities to do and electric nightlife, Ibiza Town is the best place to stay if you are a first-timer.
Luxury hotel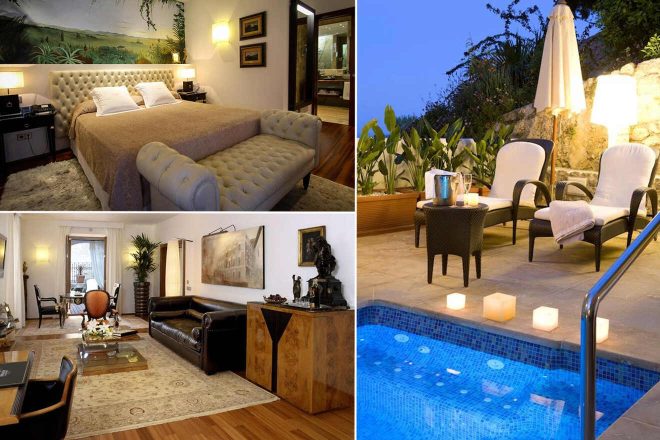 A 5-star hotel in Ibiza Town that takes you to another realm of experience with its luxury offerings. Enjoy a room fit for royalty with a private balcony, breathtaking Mediterranean sea views, and an outdoor swimming pool. This accommodation is for those who want one of Ibiza's best places to stay during their vacation.
Other accommodation options in Ibiza Town
mid-range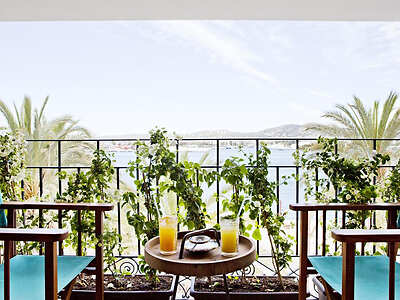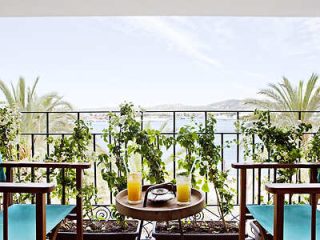 Great value apartment with spacious rooms, relaxing gardens, free wifi, and flat screen TV for relaxation
budget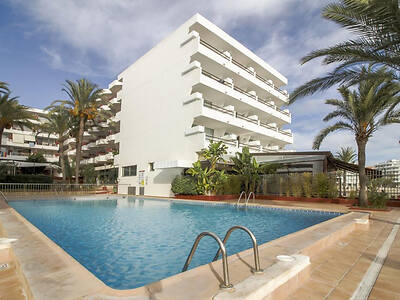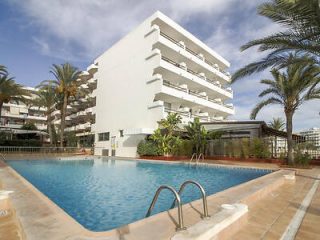 A budget-friendly option with an outdoor swimming pool, sun terrace, and sea views balcony
airbnb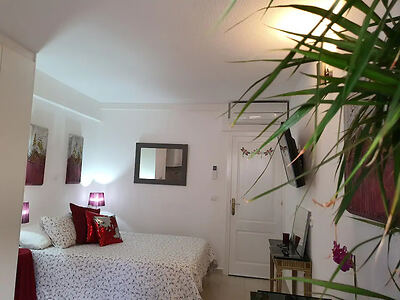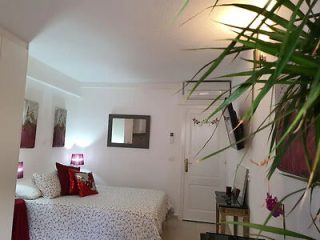 Chic Airbnb with a cozy room, air conditioning, free wifi, and a stunning beachfront location
Things to do in Ibiza Town
2. San Antonio – where to stay in Ibiza for budget travelers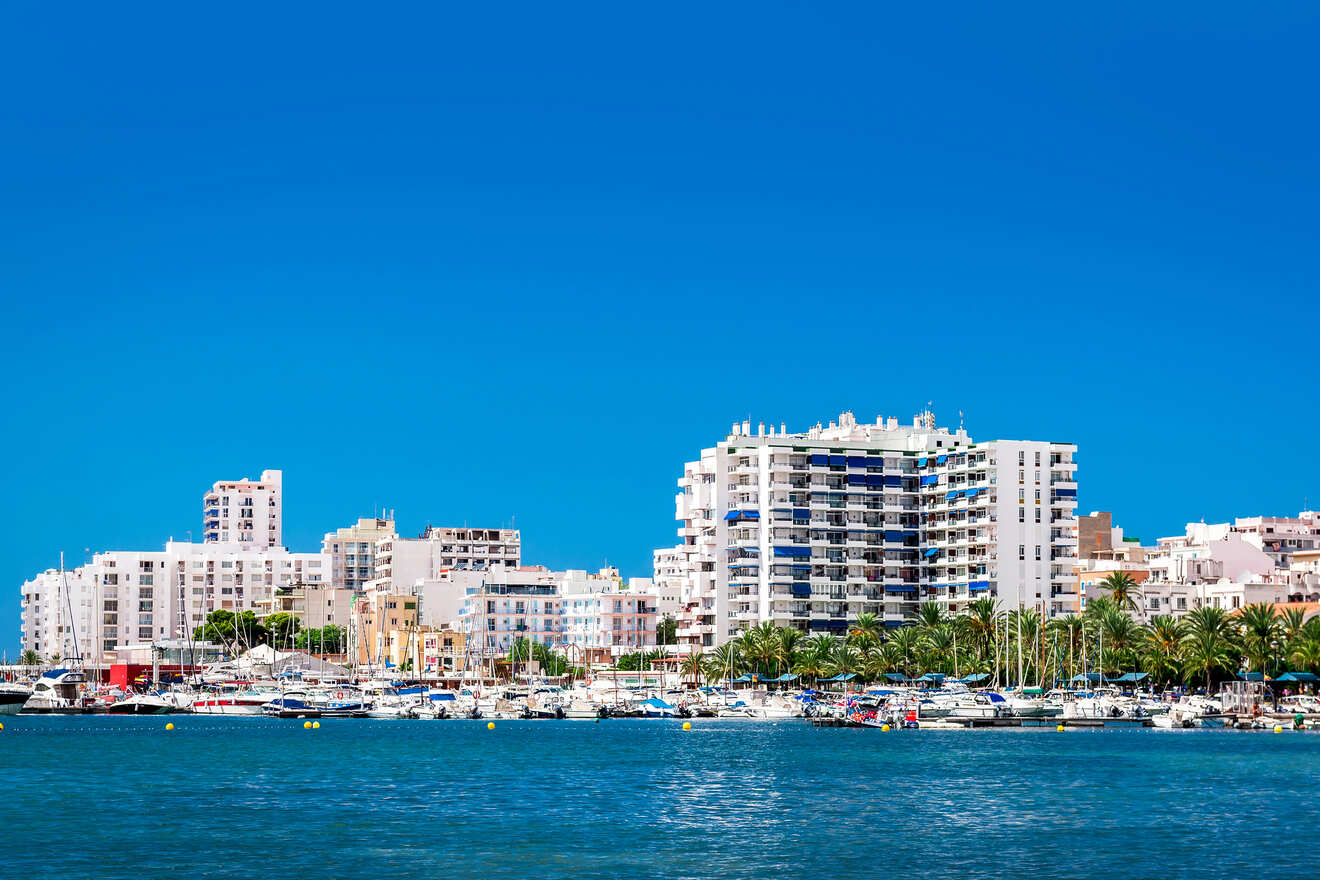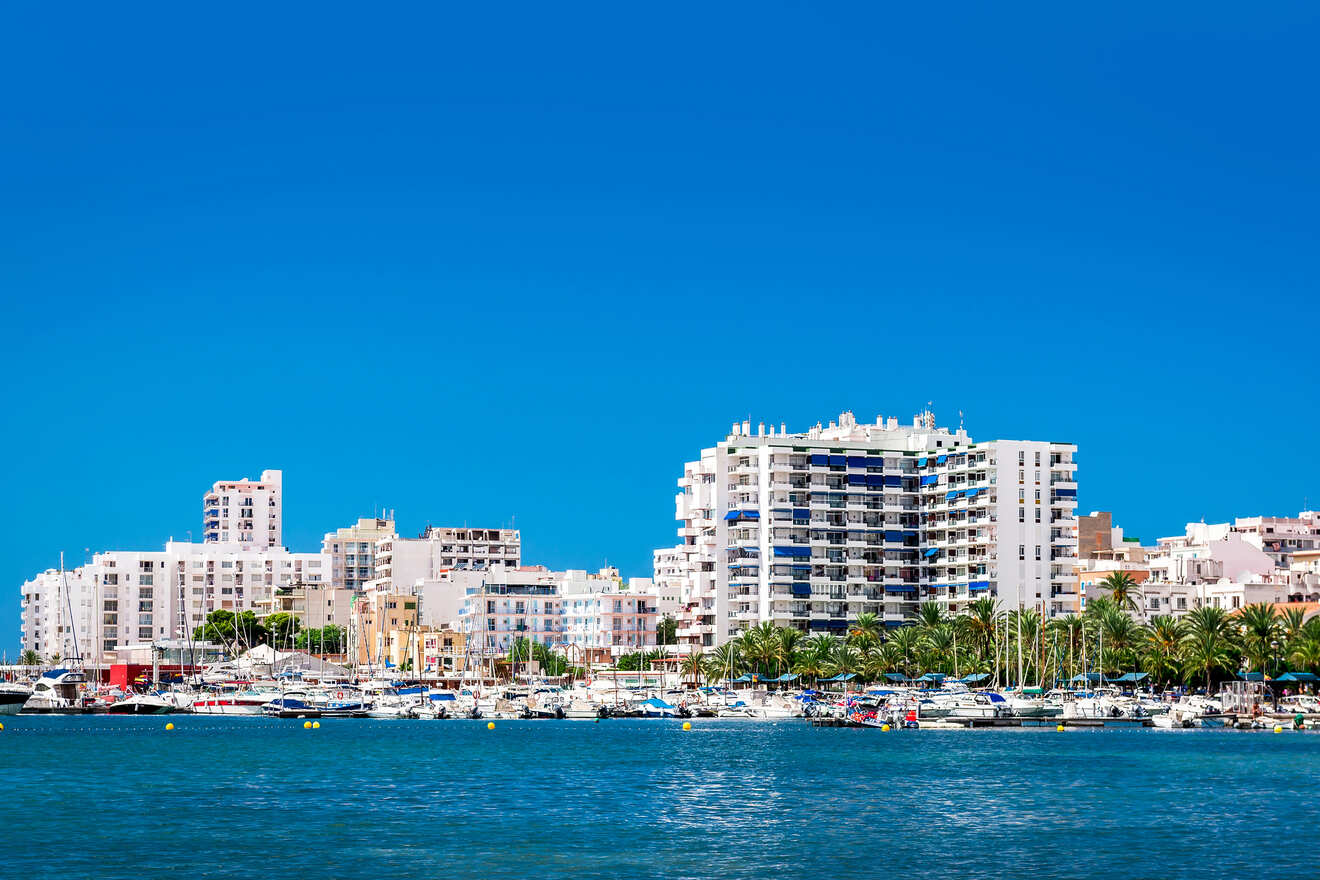 Clubbing and partying can be expensive activities for some. Let alone the cost of resort hotels and fancy restaurants. Budget travelers may be daunted at the thought of expenses when staying in Ibiza Town. But thankfully, there is a budget alternative to Ibiza Town – San Antonio!
San Antonio (Sant Antoni De Portmany) is situated across the northern coast of Ibiza and is accessed by either cab or bus from both Ibiza Town (20 mins) and the airport (25 mins).
It is a part of Ibiza best for budget travelers because of its cheaper selection of accommodations when compared to its counterparts. Fortunately, it does not cheap out on things to do and sights to see as it is the home of some of the most popular sites in Ibiza.
The vibe of San Antonio isn't any different from the rest of the island either. When the sunset draws near, you can check out the famed San Antonio Sunset Strip and fall in love with the beauty of nature.
Luxury hotel
Can Vistabella Boutique Resort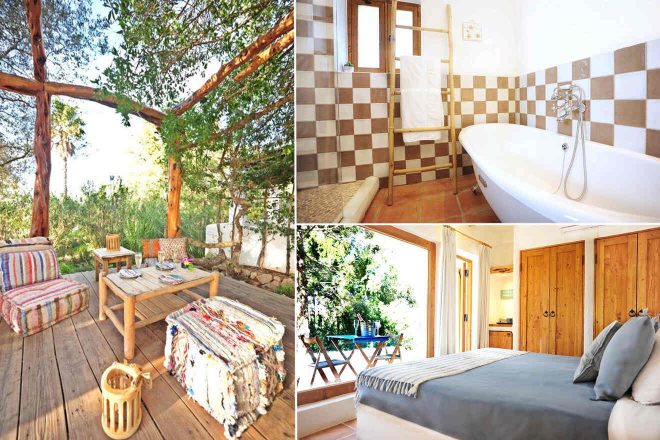 Spacious rooms with a living room akin to that of a bungalow, this 4-star beach resort caters to those who want to relax while experiencing the best San Antonio has to offer. It also has a restaurant, outdoor spa, free parking, and a bar inside where couples can enjoy a romantic time.
Other accommodation options in San Antonio
mid-range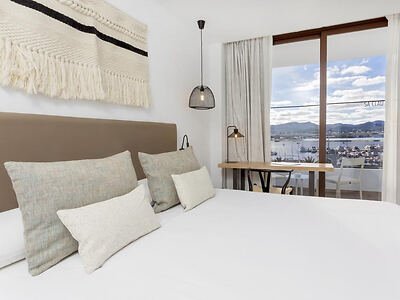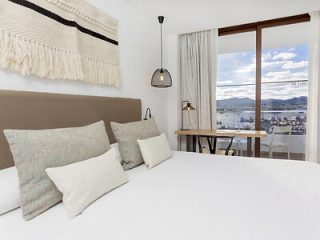 Clean, modern suites with relaxing white sheets, flat-screen TV, and chic decor
budget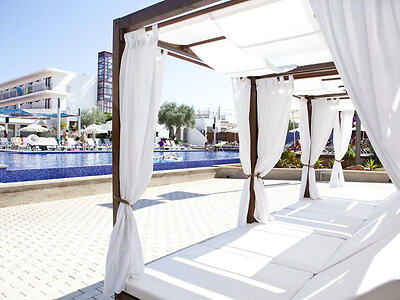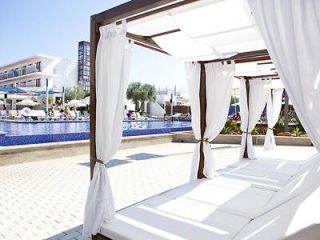 A cheap alternative that feels like luxury thanks to its contemporary design and outdoor swimming pool
airbnb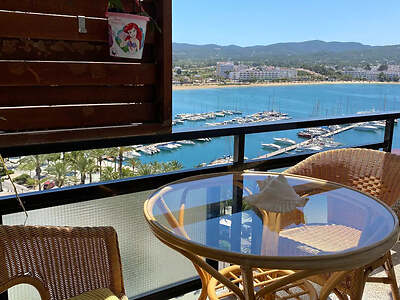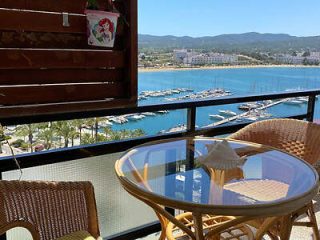 Cozy Airbnb with a private balcony overlooking San Antonio's port and ocean
Things to do in San Antonio
3. Santa Eularia des Riu – where to stay in Ibiza for families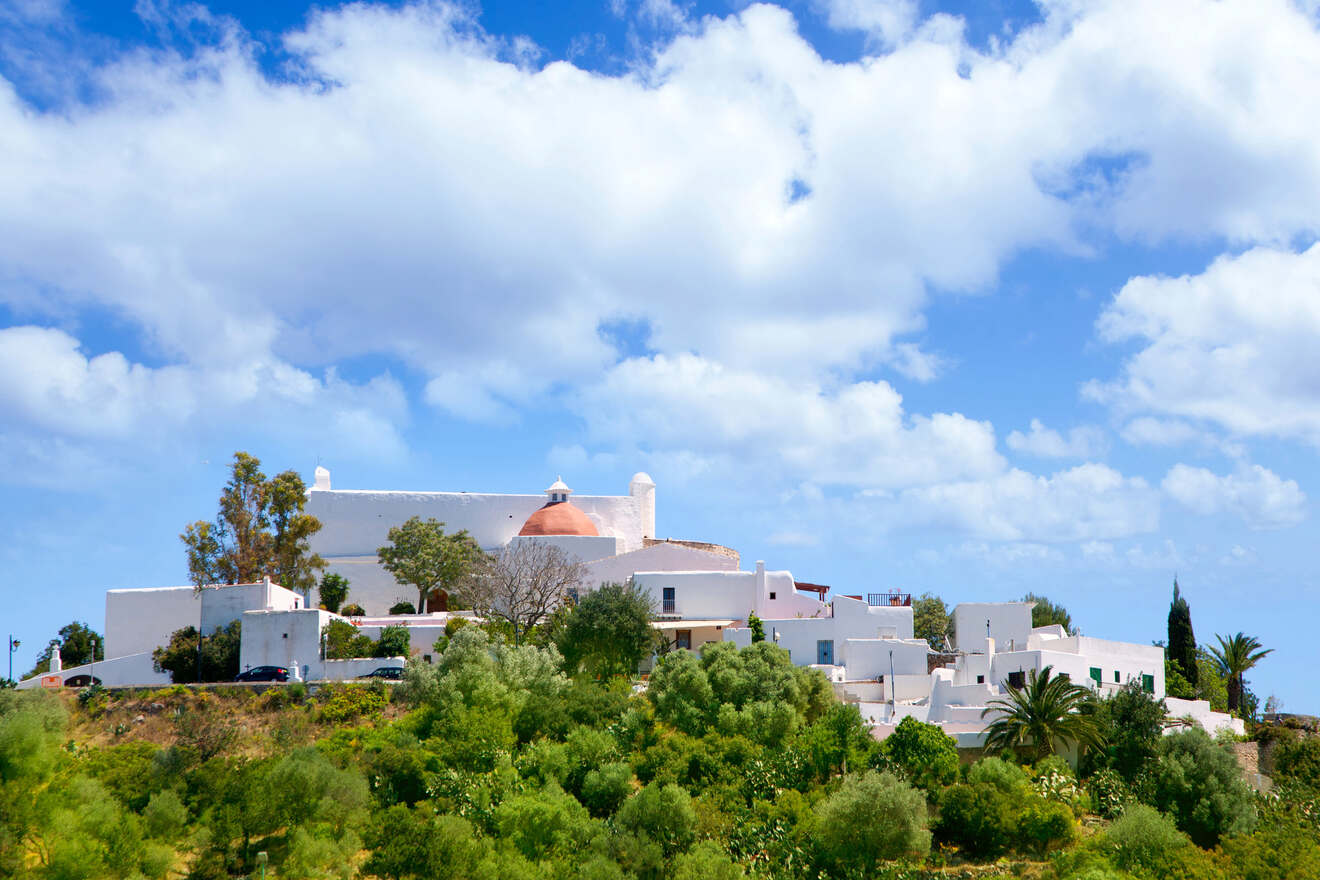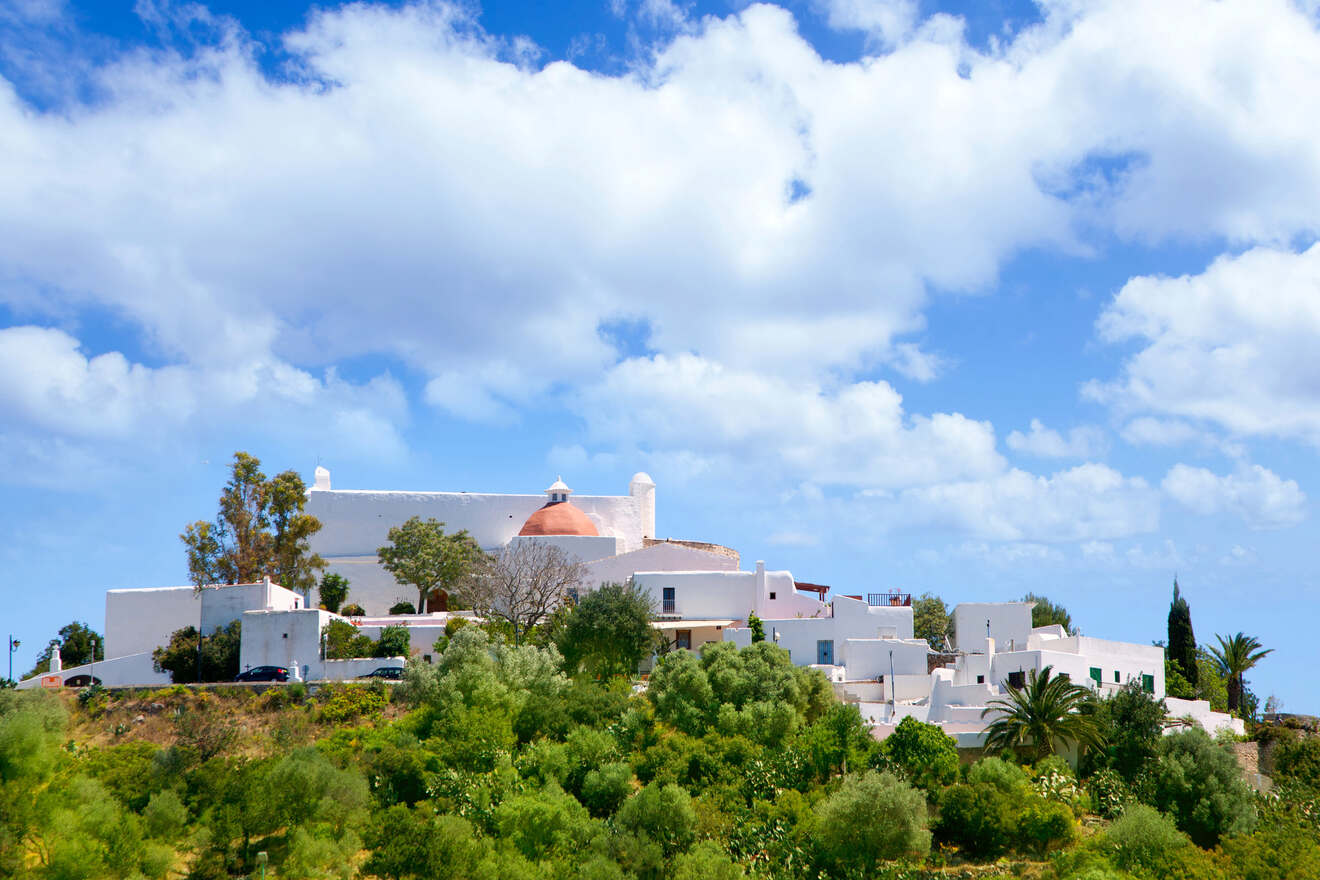 If you are traveling with your kids and family, chances are you won't want to party. Though some of Ibiza's most famous experiences are derived from those activities, there are still many family-friendly things to see and do in Santa Eularia des Riu!
Santa Eulària des Riu (also known as Santa Eulalia) is a beach resort town that is 20 mins drive east of Ibiza town and relatively quiet compared to its party-centric neighbors like San Antonio. It is filled with resorts featuring huge swimming pools, slides, and play areas perfect for your kids.
Suppose you decide to enjoy the day outside of your beach resort or hotel. In that case, Santa Eulària des Riu also has its own playground right on the town's white sandy beach. Children and adults alike will surely appreciate the beauty of this town, making it an excellent option for those seeking a low-key, family-friendly holiday in Ibiza.
Couples can enjoy their alone time at one of their beach bars – though not as wild as San Antonio and Ibiza Town, it's still a great place to take time off from the kids.
Luxury hotel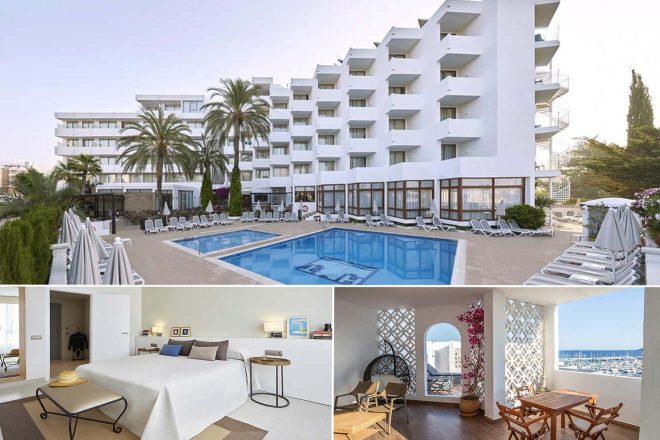 4-star resort hotel with a minimalist aesthetic, calming decor, spacious rooms, and clean sheets. It also gives you access to a private terrace where you can watch the sunset with your little ones. A true luxury experience at Ibiza's family-friendly Santa Eulalia.
Other accommodations in Santa Eularia des Riu
mid-range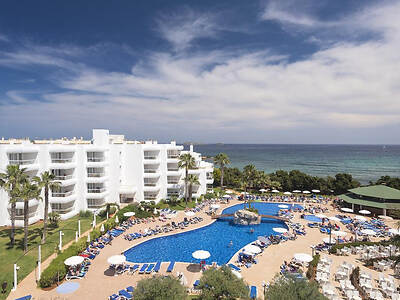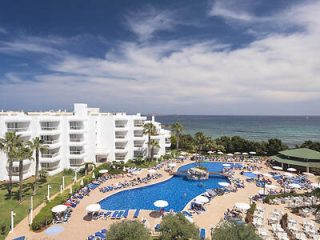 Cozy room with beach-style decor, outdoor pool, and a play area perfect for kids
budget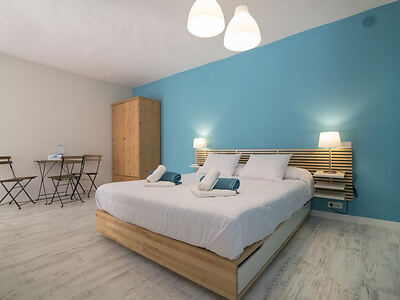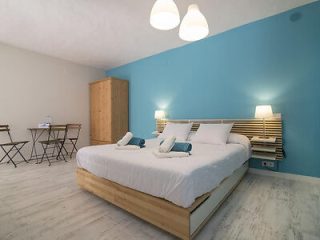 Its spacious rooms feature free wifi, outdoor restaurants, and a swimming pool
airbnb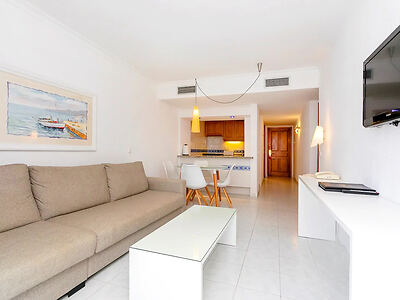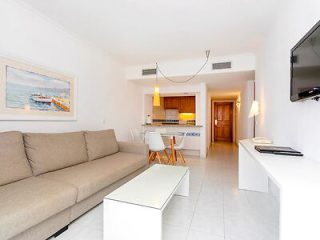 Family-friendly apartment with a large couch, flat-screen TV, air conditioning, and dining table
Things to do in Santa Eulària des Riu
4. Playa d'en Bossa – where to stay in Ibiza for partying


Of course, we cannot talk about Ibiza without mentioning its trademark crazy nightlife with some of the best parties in Europe. Playa d'en Bossa (or en Bossa Ibiza) is the island's nightlife capital, and for good reason. Most of the beach bars and clubs are located here, and it's just a 5-minute drive south of Ibiza Town. On top of that, it is also where the longest stretch of white sand beach can be seen.
Nightowls and party lovers should be looking at Ushuaia Ibiza Beach Hotel, Playa d'en Bossa's busiest outdoor beach club. While waiting for the night to come and the party to start, chill by the outdoor pool with sunset views while music plays and drinks roll in.
Once the night has settled in, it's time to get funky! In Ushuaia Ibiza Beach Hotel, you may come across some of the world's famous DJs who occasionally visit the island to host events. Make sure to book ahead of time, though, since once a DJ has announced that they will be playing in the area, accommodations will be hard to come by.
Luxury hotel
Fantastic location right on the beach with 2 beautiful outdoor swimming pools and suites embracing modern design. It also features a spa, gym, hot tub, sauna, and private beach. The Hard Rock Hotel Ibiza offers avid partygoers a comfortable place to rest after a wild night out in the clubs.
Other accommodation options in Playa d'en Bossa
mid-range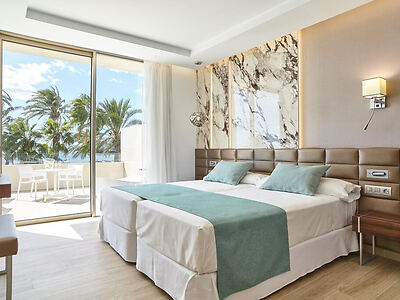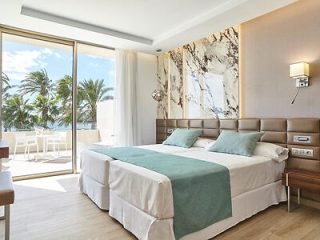 Enjoy the wind as you relax in your outdoor hot tub and spacious swimming pool
airbnb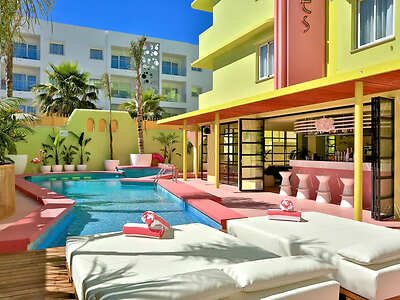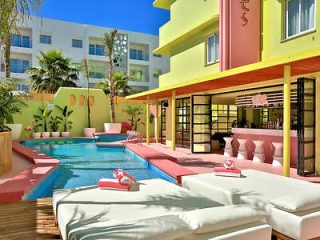 Airbnb with clean rooms, air conditioning spa facilities, free wifi, and inhouse bar
Things to do in Playa d'en Bossa
5. Talamanca + Cala Talamanca – where to stay away from the clubs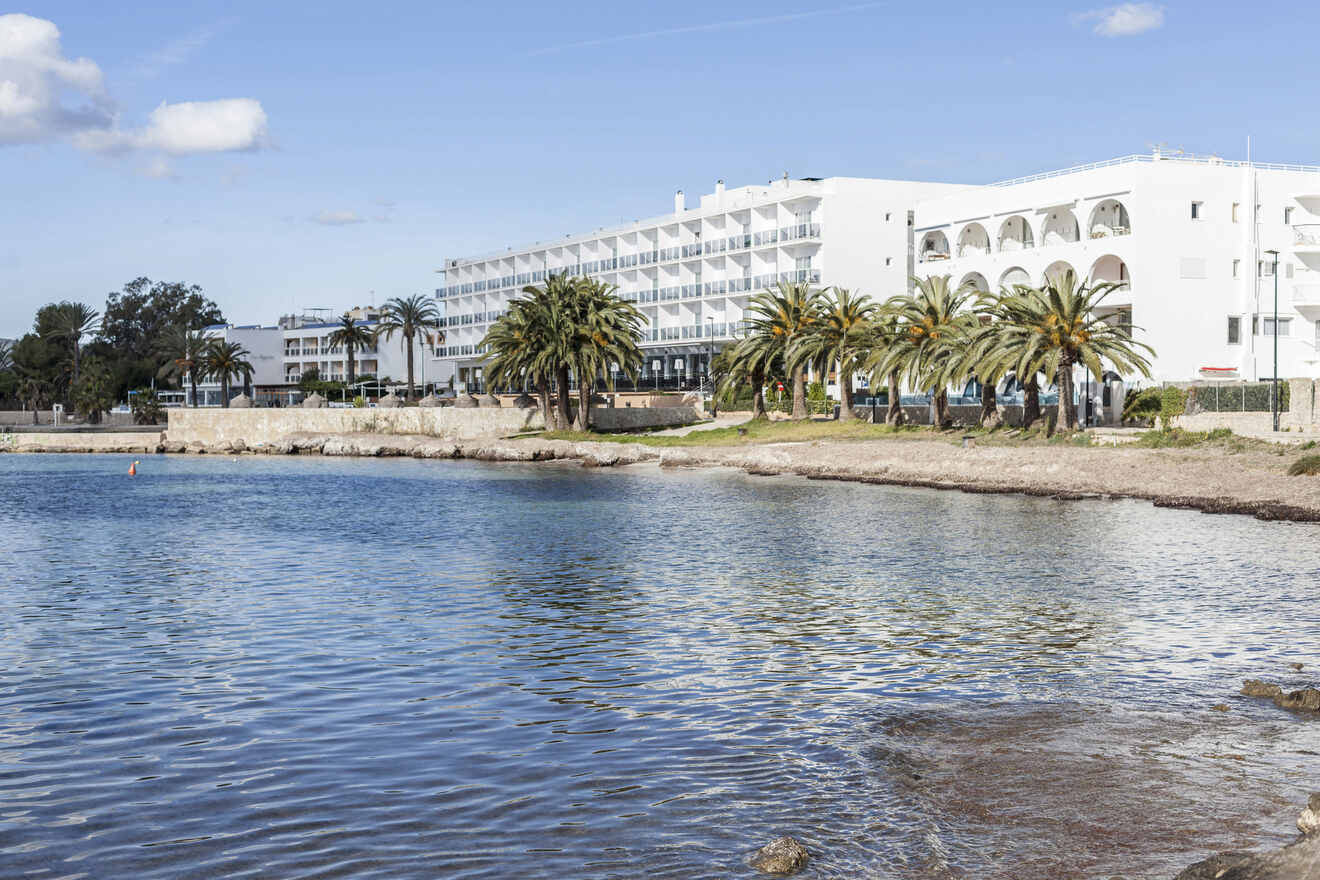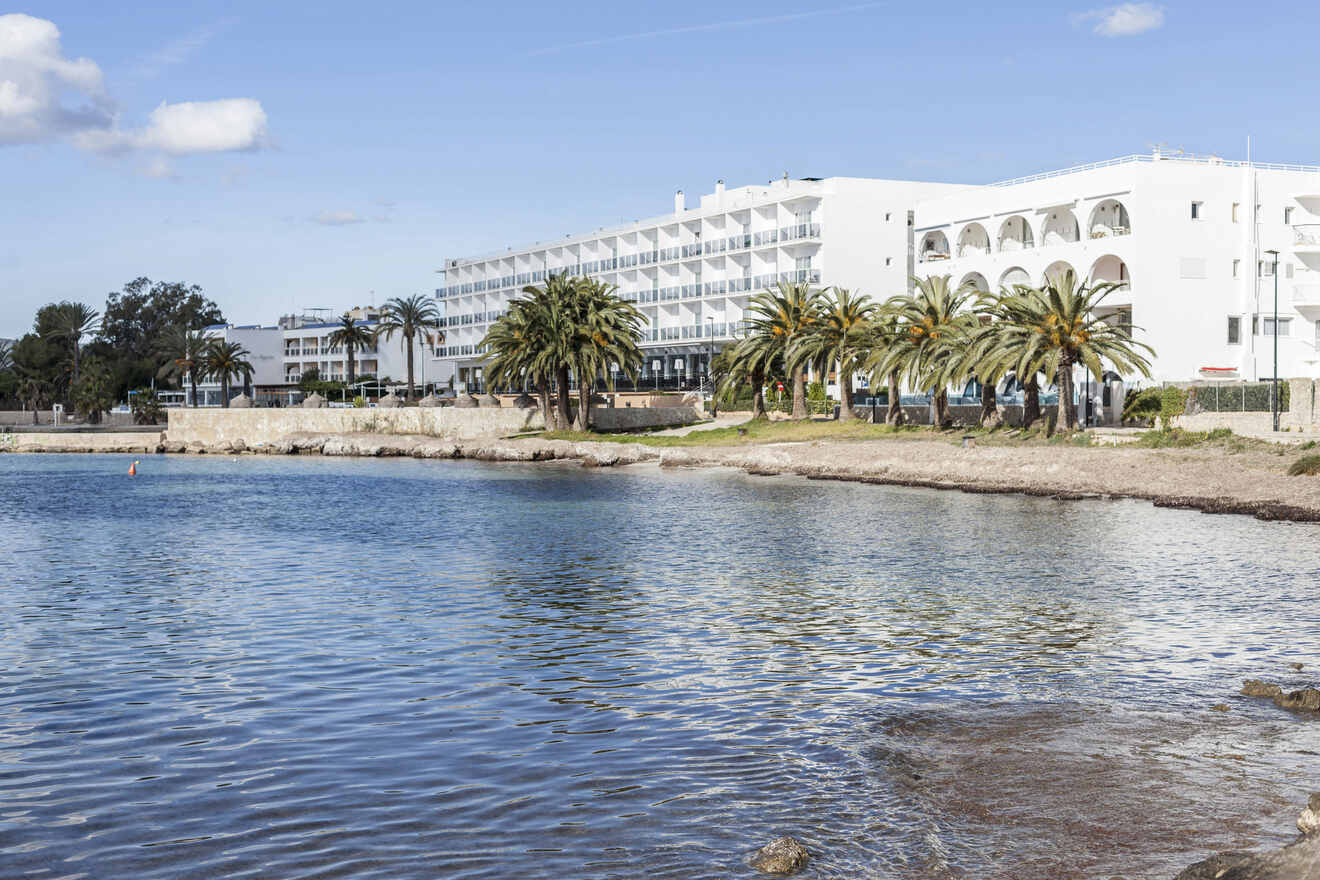 The neighborhood of Talamanca is just a 2 minute's drive from the heart of Ibiza and includes two great areas full of accommodation options.
Talamanca port with its waterfront bars and restaurants is a great choice for where to stay in Ibiza for older couples away from the clubs.
Alternatively, Cala Talamanca (Talamanca Beach), is a long walkway of sand, home to various beach bars, restaurants, and clubs. If you are the type of laid-back person or couple who would rather relax right on the beach while hearing the waves crash, then this is the best place to stay.
Talamanca has all the things you need for a relaxing time in Ibiza without having to get involved in the loud music and lively crowds of Ibiza Town every day. At the end of the day, make sure to take in an astounding view of the sunset and the aroma of good vibes.
Luxury hotel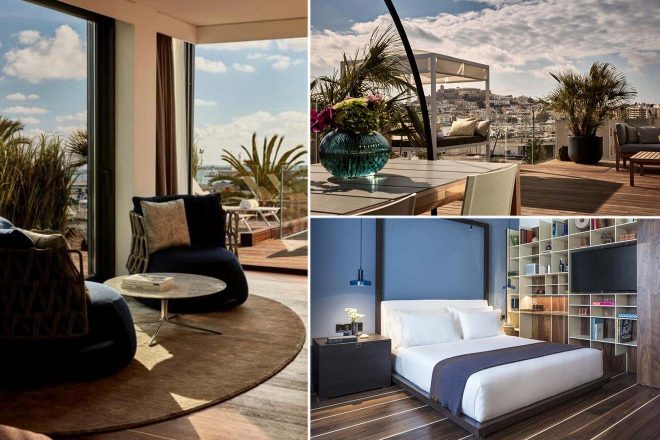 This 5-star resort hotel is embossed with an elegant interior and a light breezy design throughout. It also has fine dining restaurants and bars where the sunset of Ibiza can be appreciated. It is completed with an outdoor swimming pool that overlooks the Talamanca port for a stunning nighttime swim. The best place to stay if you want to relax in style.
Other accommodation options in Talamanca
budget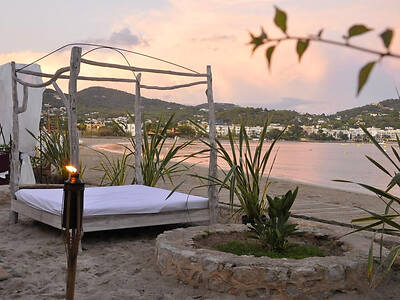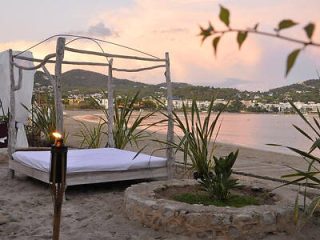 Cozy air-conditioned suites overlooking the beach with its own restaurant along with the tropical trees
airbnb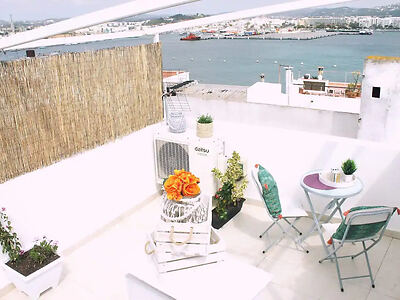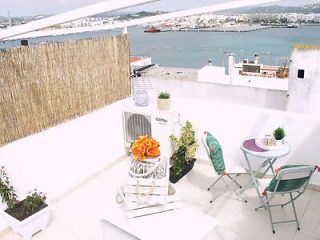 Airbnb with air conditioning, chic looks, and a cute rooftop for relaxation and de-stressing
Things to do in Cala Talamanca
BONUS 1: How to get around Ibiza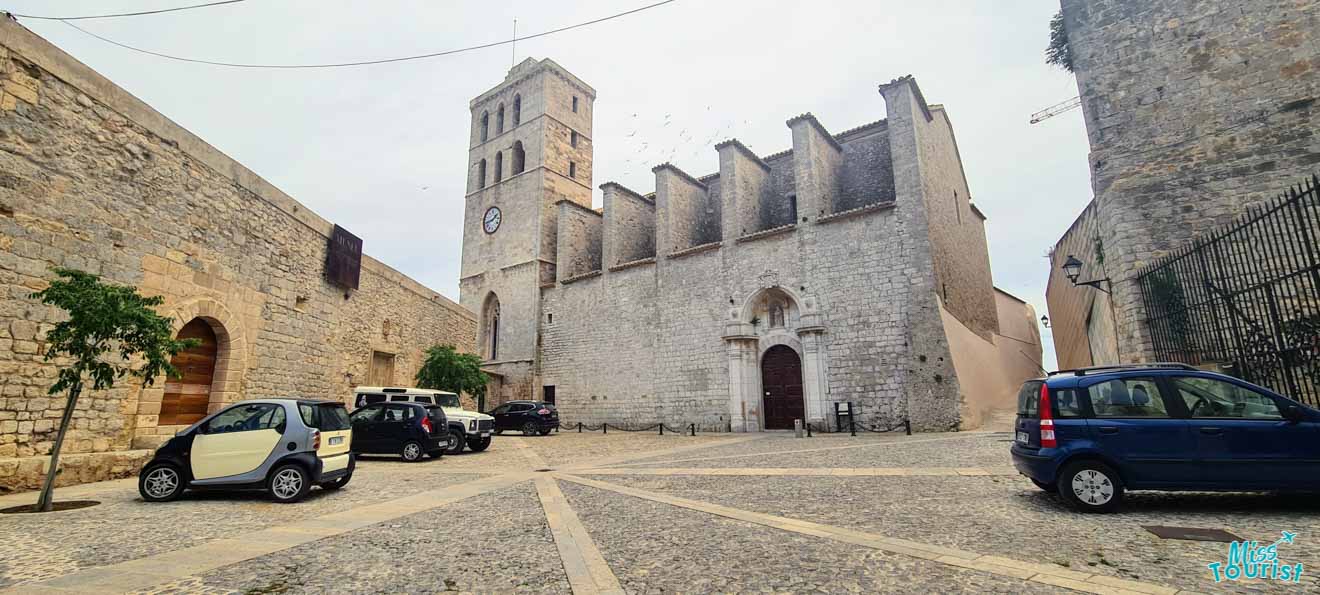 Ibiza is a relatively small island. Though it's one of the largest in the context of the Balearic Islands, it still is, after all, just 550 square kilometers of land. It's a compact yet wonderful island full of endless things to do and parties to enjoy. Luckily enough, getting around Ibiza shouldn't be too difficult because its transport network is well-connected and easy enough for tourists to understand. And lastly, it's affordable! Let's take a closer look at the different ways how to get around Ibiza:
Getting around Ibiza is fairly easy because of its size and well-built transportation system. With tons of choices and cheap options, I can guarantee that you won't have any problems visiting the places and towns in Ibiza!
BONUS 2: Best day trips around Ibiza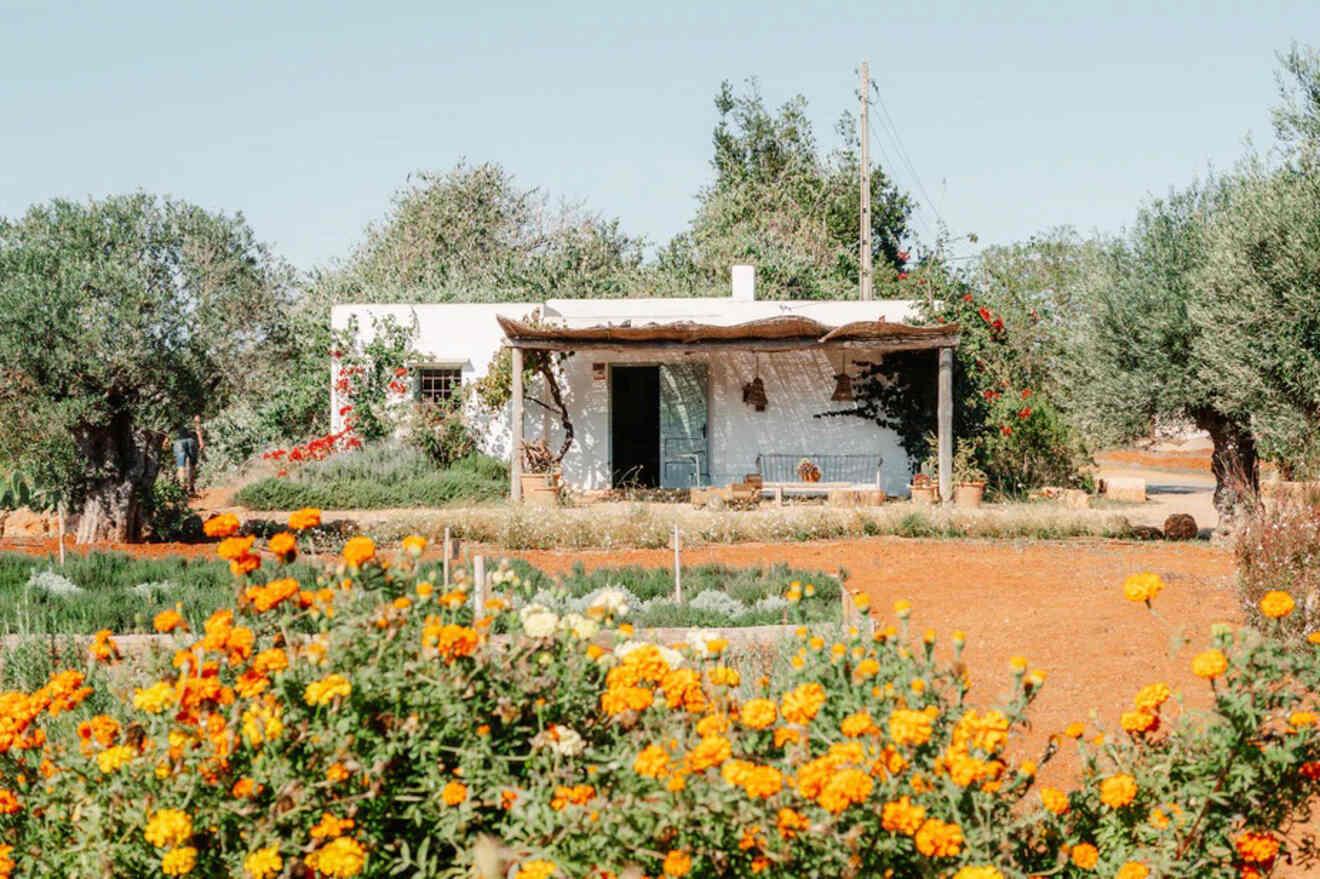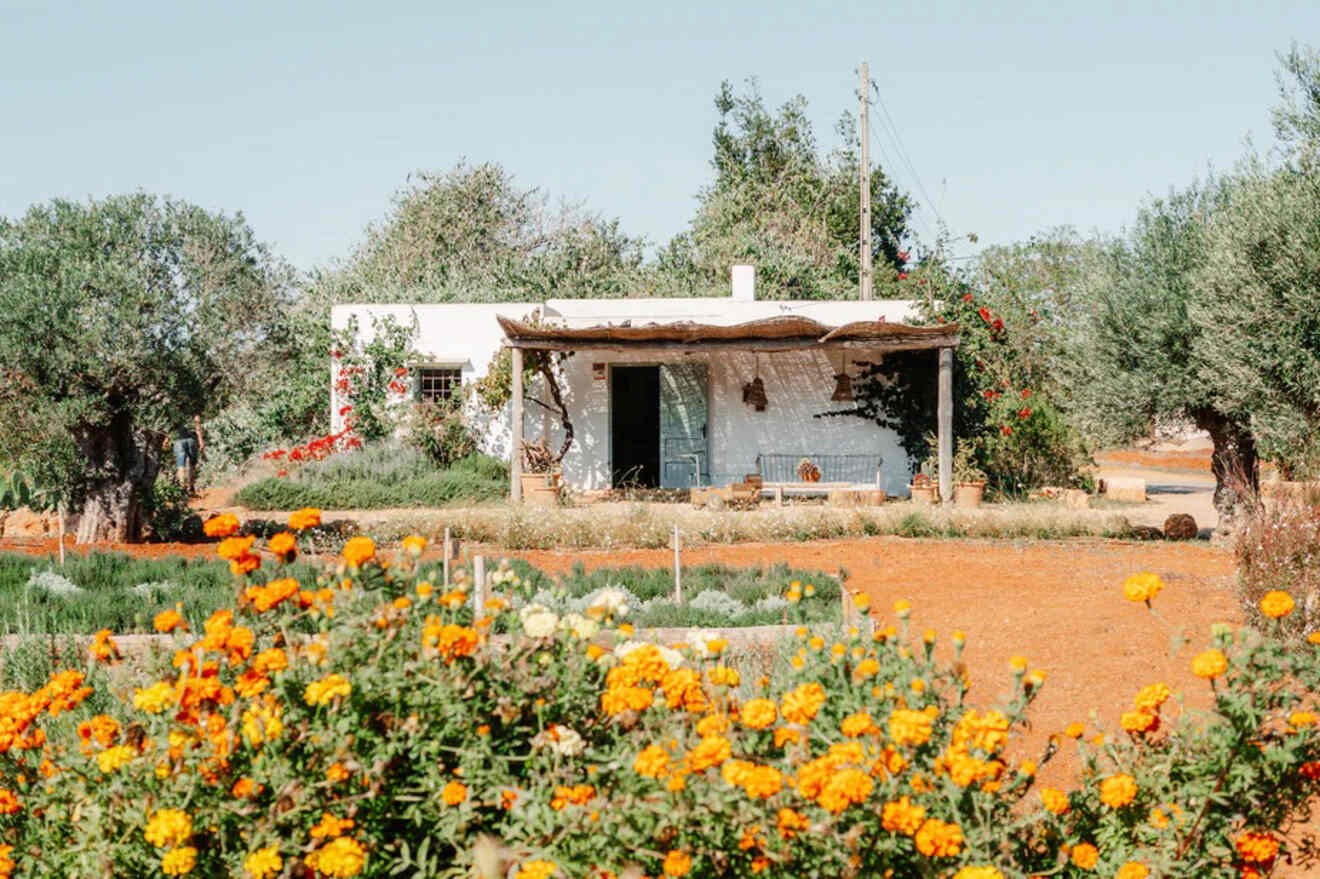 It's easy to forget about Ibiza's wonders during the daytime when you are dazzled by its nightlife. Here are some activities and more places you can visit during your holiday at Ibiza island:
1. Visit the most beautiful island in the Balearic Islands – Formentera.
After a 45 minute scenic ride across the water, you will find yourself in the island paradise that is Formentera. This tiny island is just 20km across and full of bright red rocks which contrast with the pristine white sands of turquoise beaches. Keep your eyes peeled for the brightly colored lizards that also inhabit the island and make sure to have your camera at the ready as you'll never want to stop snapping pictures of this photogenic place.
2. See more of Ibiza's beaches at Cala Tarida and Cala Llonga.
Just 20 minutes away from San Antonio is Cala Tarida, a sheltered bay for those who wish to swim, boat, and dive. Cala Llonga is yet another wonder of Ibiza that should not go unnoticed. Cala Llonga is also home to some of Ibiza's most stunning sandy beaches frequented by a bustling community of tourists and residents alike. If you haven't had enough of your summer beach fix, then Cala Tarida and Cala Llonga are a must-visit during the day.
3. Enjoy a food trip at Santa Gertrudis.
Santa Gertrudis is a small village located right in the center of Ibiza. It hosts a diverse selection of bars, restaurants, and chapels within walking distance of each other. You can eat, relax, pray or do whatever your heart desires here!
4. Stay active and enjoy Ibiza's stunning views on a hike.
Ibiza isn't only praised for its sandy beaches. It's also an excellent spot for hiking. Choose any of the incredible hikes suiting all abilities and get ready for an adventure. I recommend the hike from Calo des Moro to Punta Galera as a quiet option with easily accessible paths passing through the beautiful coastline of Ibiza.
Frequently asked questions about Ibiza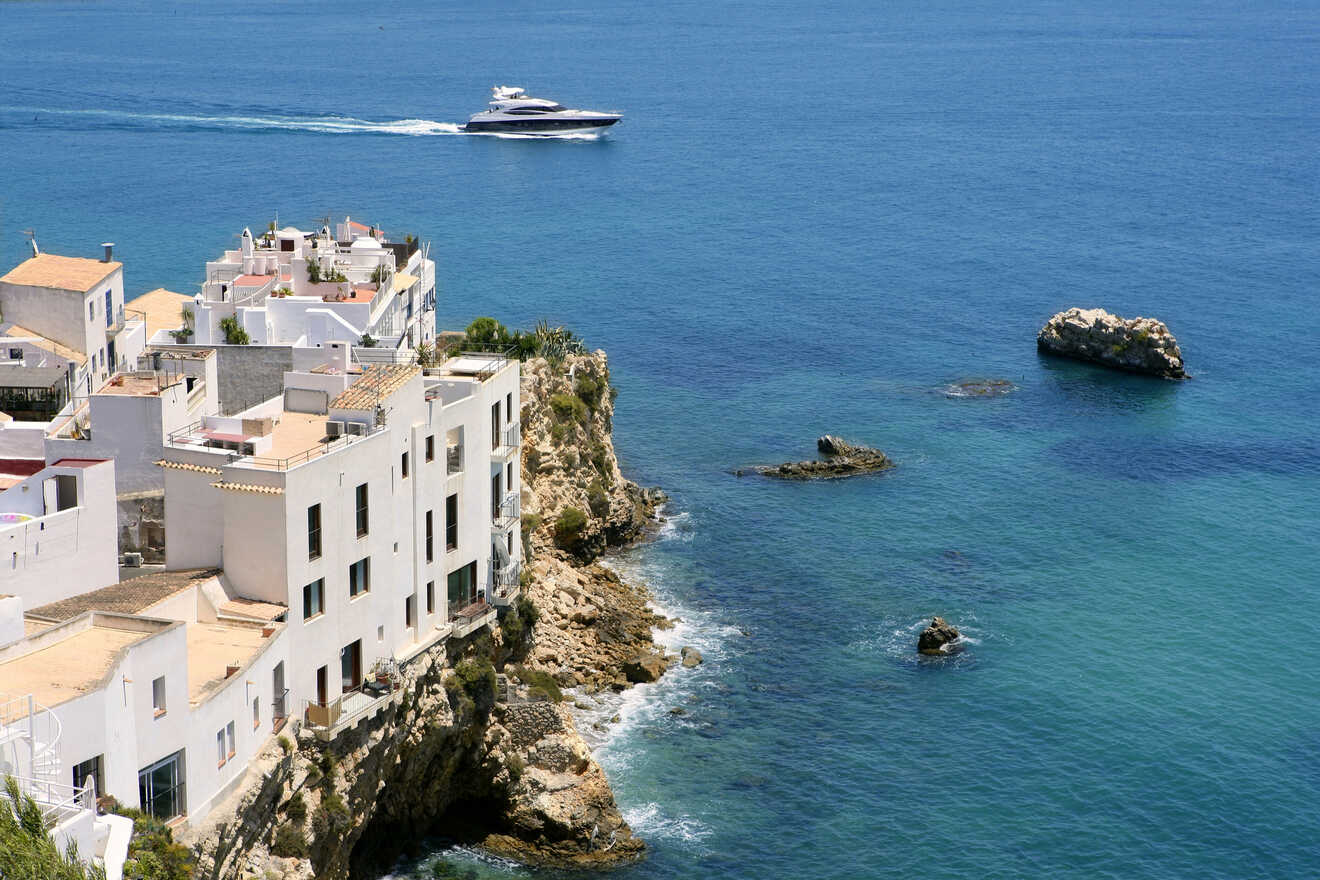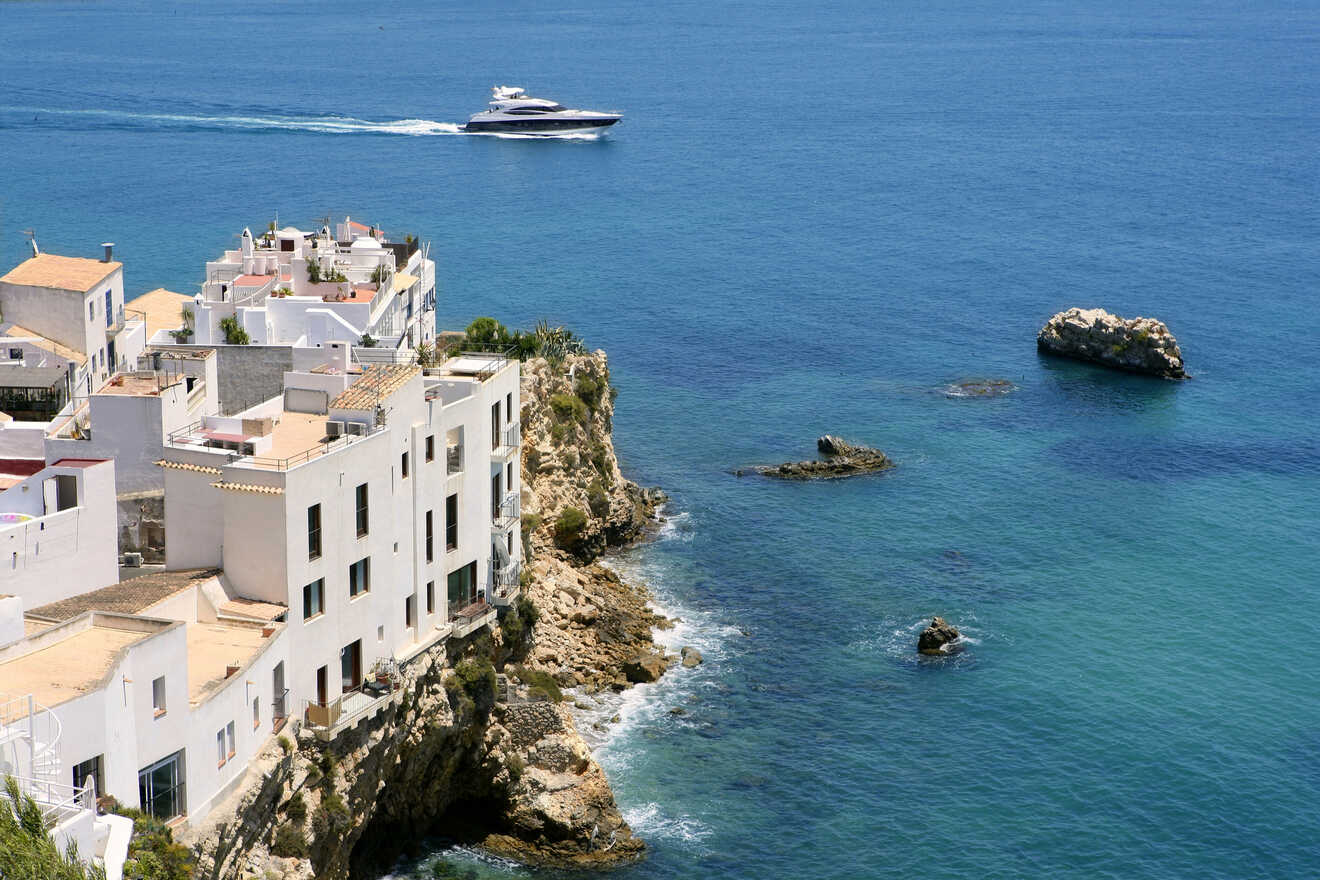 🏡 What is the best area to stay in Ibiza? 
The city center – Ibiza Town (or Old Town Ibiza), is the best place to stay on Ibiza because of its unrivaled old-world charm and jaw-dropping architecture from another century. It is also paired with an atmosphere that roars at night with its shining lights and lively community.
🌲 Which side of Ibiza is best?
The south side, where Old Town Ibiza and City Center are located, is the best place to stay because of the number of activities to do and attractions to see.
🎉 Where should I stay in Ibiza for clubbing?
If you are all about the nightlife and clubbing culture of Ibiza, then Playa d'en Bossa is the place to stay. On top of that, it still has beautiful beaches like De Ses Salines.
🏖️ Where should I stay in Ibiza without a club?
A popular spot in Ibiza for relaxing and without a club is Cala Talamanca area. There are some clubs and bars on its outskirts, but it is generally far away from the sandy beach where you can rest peacefully. 
Conclusion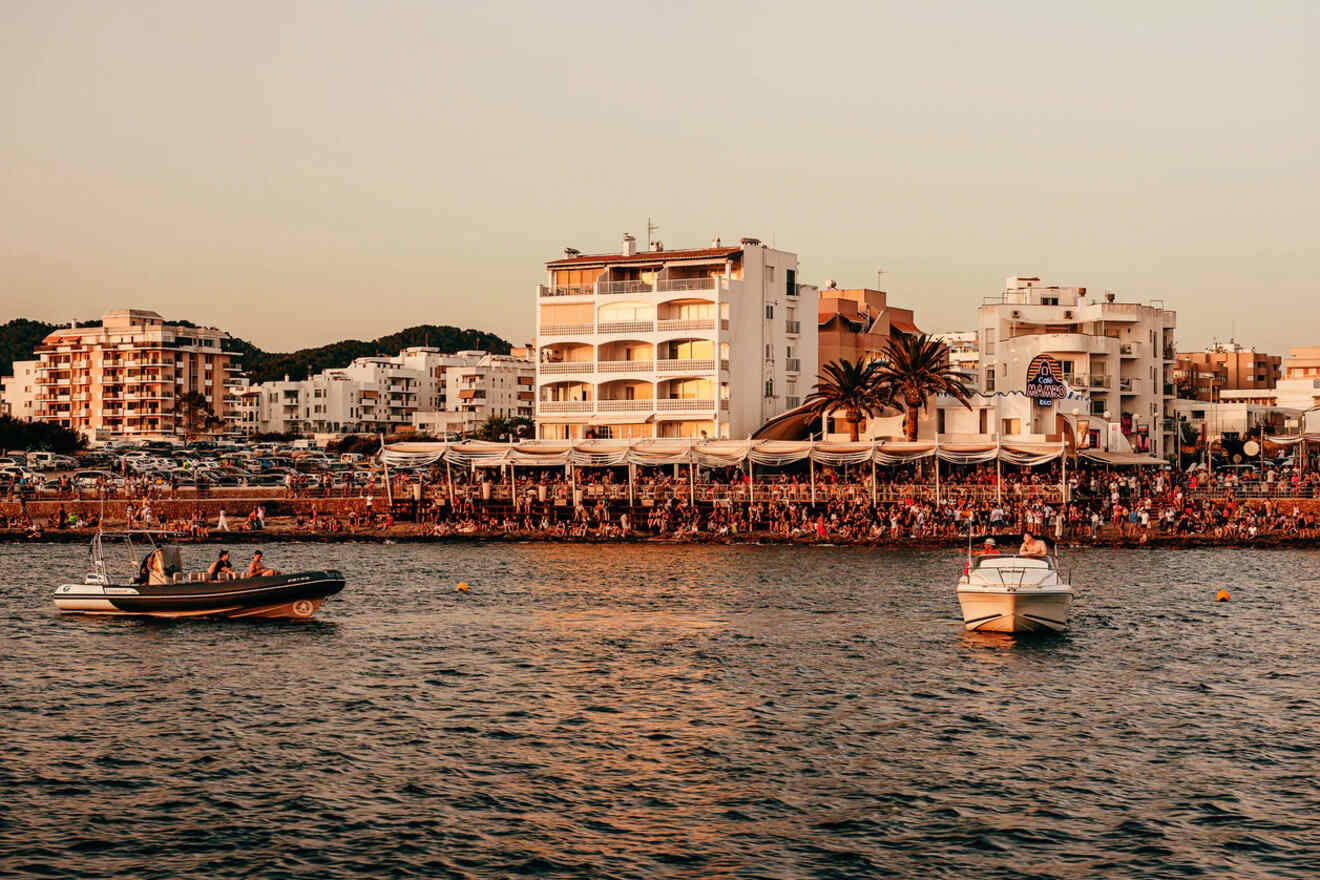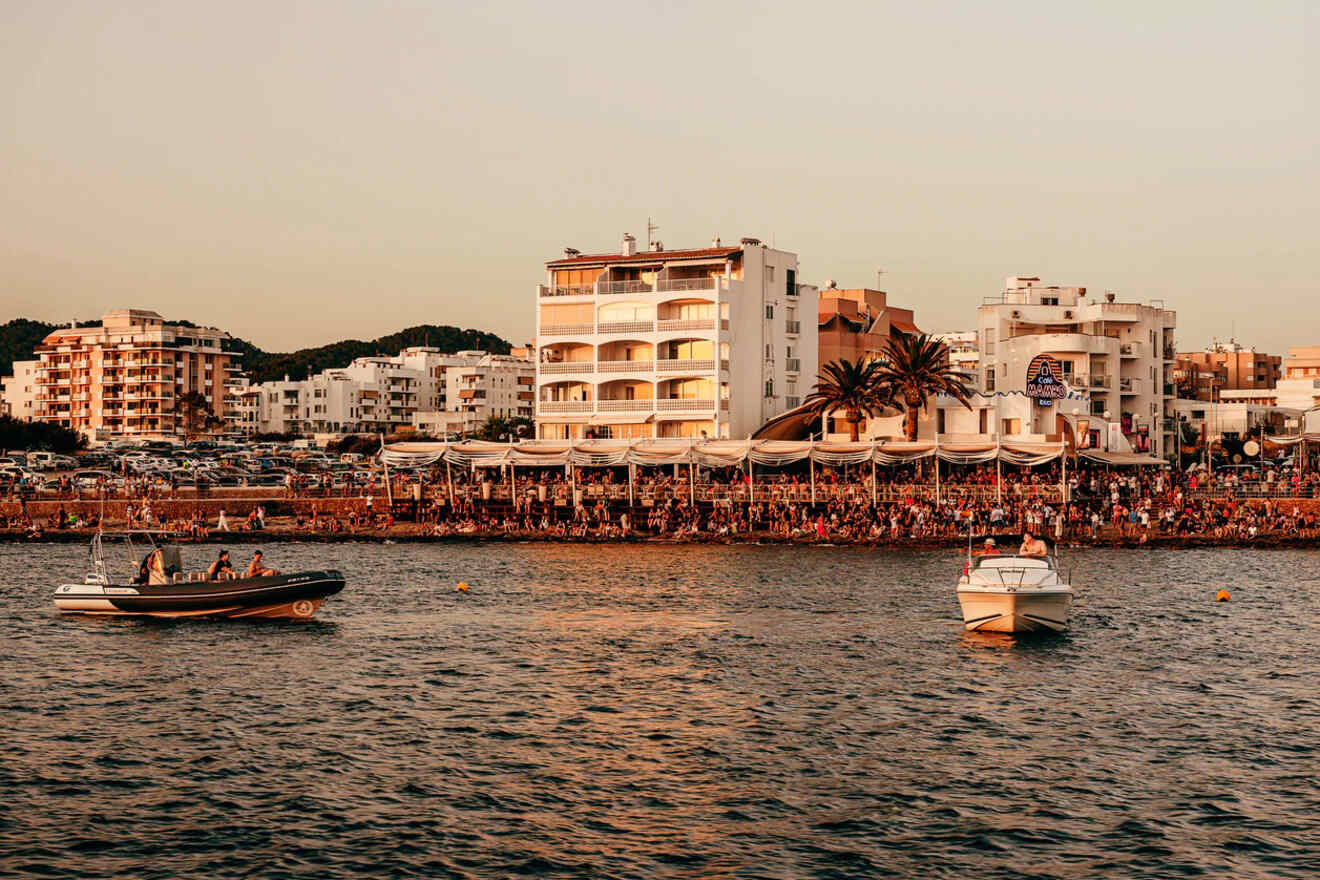 Hooray! You have finished reading my where to Stay in Ibiza guide! Thank you for reading, and I hope you are finally set on which neighborhood or town is right for you before you visit Ibiza.
In this guide, I have shown you the best areas for each interest! Moreover, I have also recommended accommodations and hotels that suit every budget to make it easy for you to choose the best places to stay in Ibiza.
Here are two of the best hotels in Ibiza you should book immediately for their quality and great locations:
Ibiza and its culture indeed are one of a kind, and because of its insane nightlife, it has become one of the best party spots in the world. If you're stopping off in Barcelona after your Ibiza trip, check out our guides for where to stay in Barcelona and where to go out. It's perfect for those who cannot get enough of Spain's beautiful scenery and diverse culture.
Also, make sure to plan ahead of time since Ibiza is a crowd favorite year-round. Accommodations are running out fast, so be quick with bookings! If you have any thoughts, questions, suggestions, or anything you would like to share with me, please do so in the comments below. I will happily read and respond to them!
Stay safe and party hard in Ibiza,
Kate
---
Pin it for later!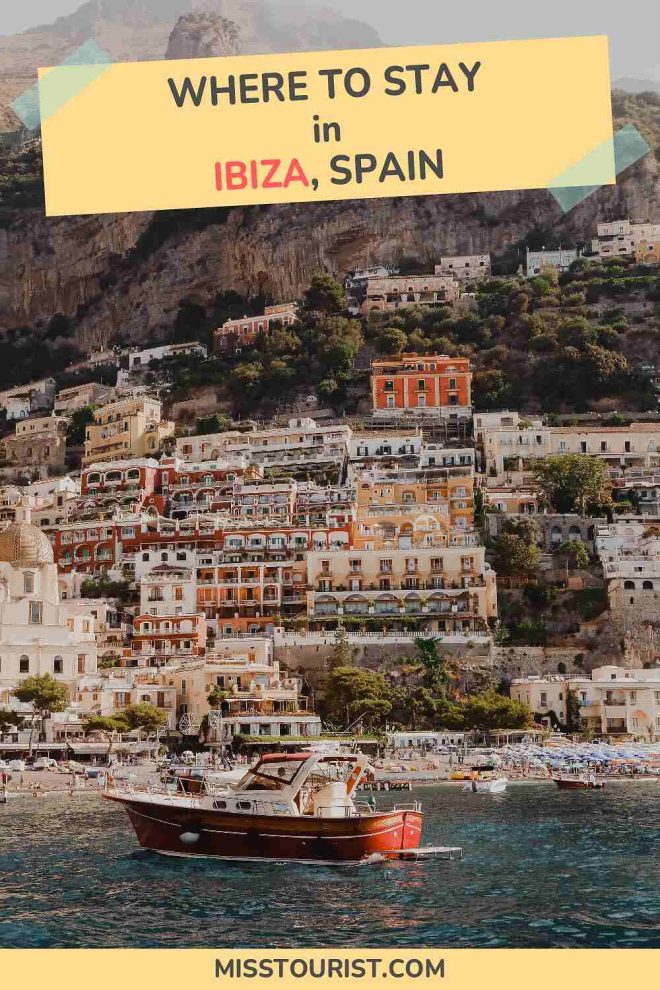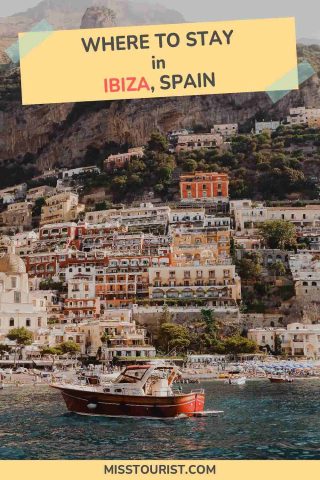 Pin it for later!