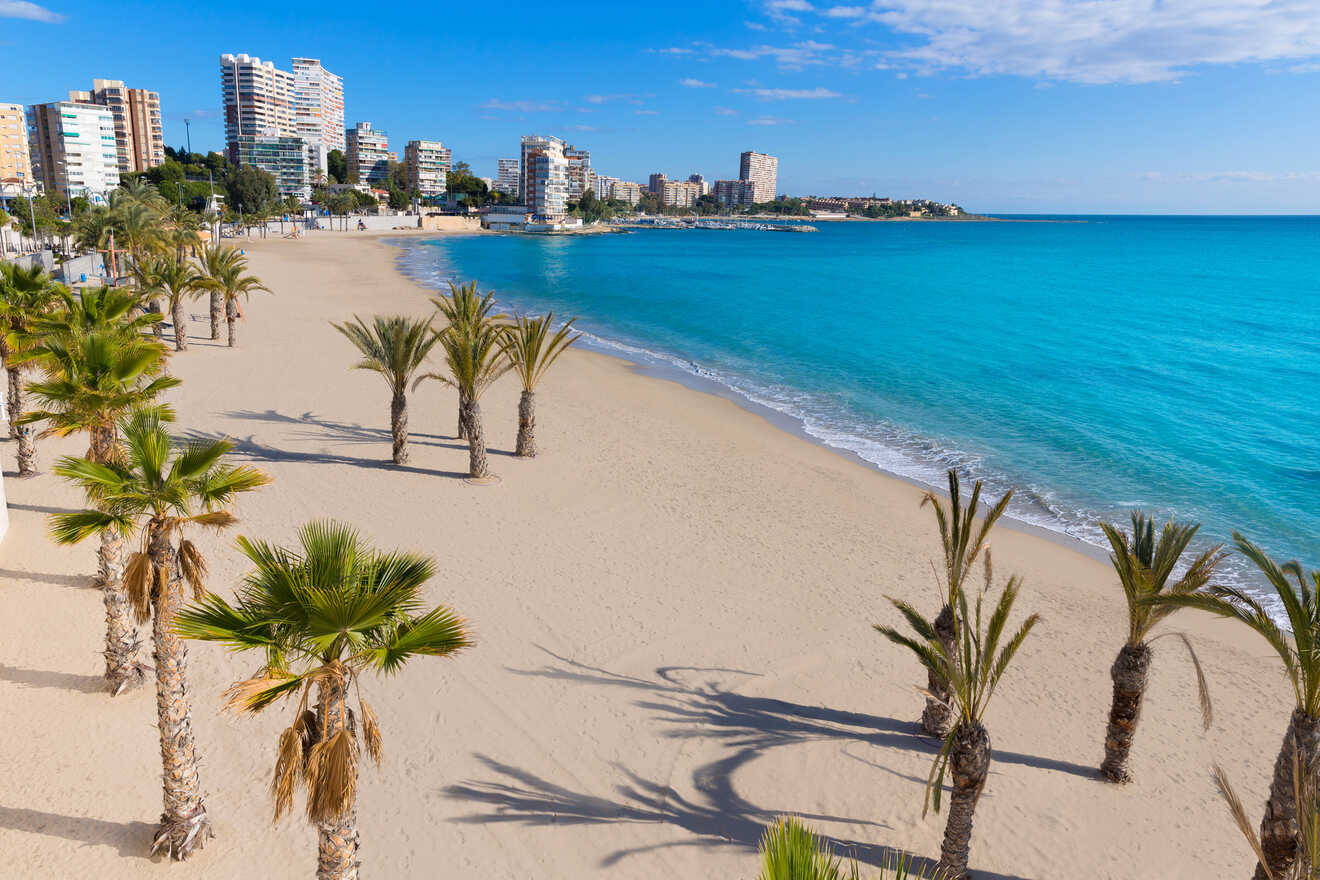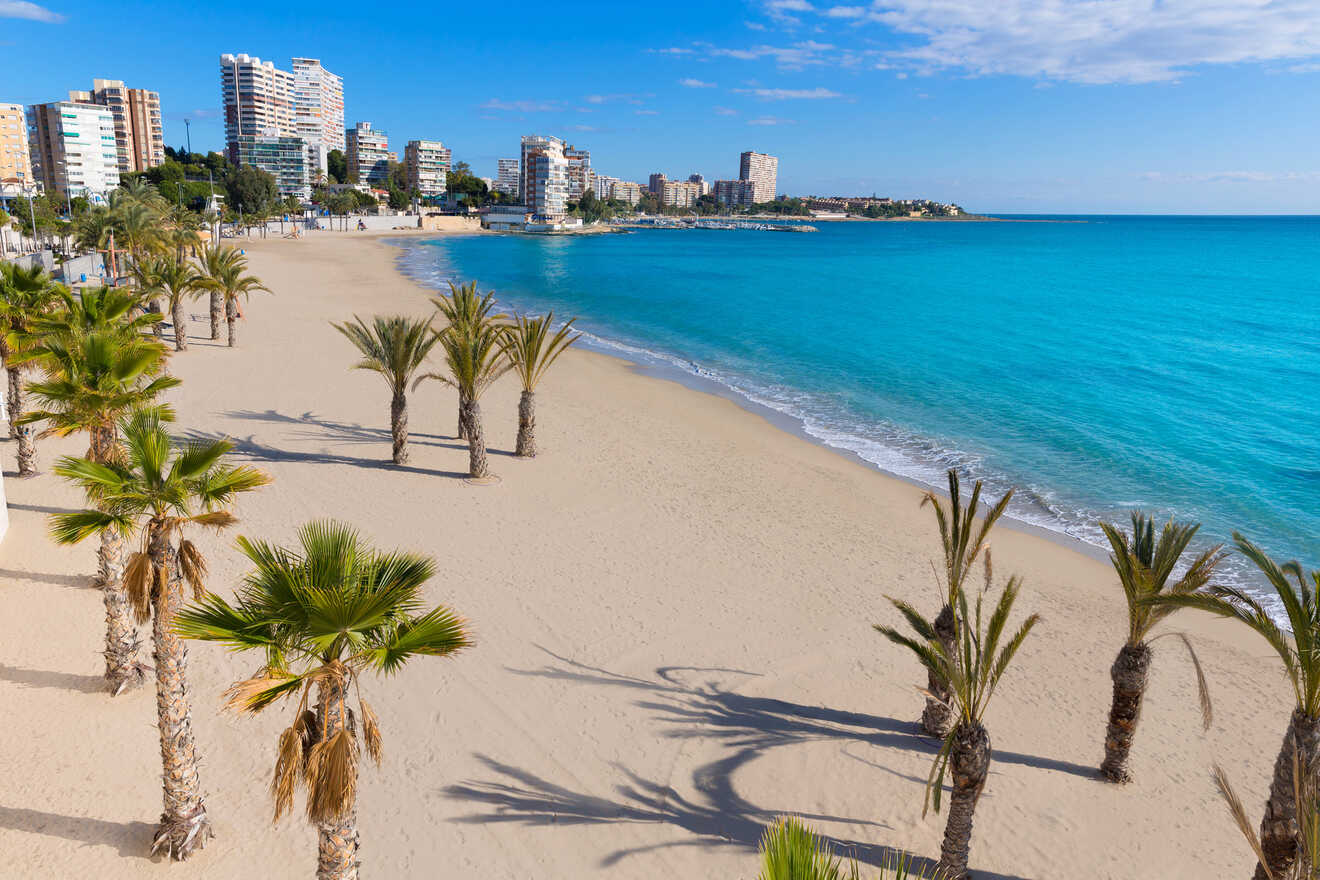 This fabulous port city that's located in Spain's southeastern Costa Blanca is a dream holiday destination! The Romans named Alicante "Lucentum," which means "City of Light," and they sure were on to something because this town is filled with rays of sunshine and high temperatures, the 2 most important things for people who want to hit the beaches here!
Alicante has something for every type of traveler! History, amazing beaches, fun nightlife, and amazing cuisine which you'll be able to try in all the restaurants! And in this post, I'm going to help you put together the best holiday ever!
I've looked through many hotel lists, for where to stay in Alicante and chosen only the best of the best for my readers! From luxury to budget hotels to accommodations in the centre, after you finish this post, I'm sure you'll know which neighborhood and hotel to pick! Just make sure you book your hotel in advance. We all know how fast all the hotels sell out in these resort towns!
So let's go, the beaches are calling us!
If you are in a hurry
If you want to book now there's no reason to wait! Here's is a shortlist with the best hotels for where to stay in Alicante, all located in El Centro (Old Town):
Here's a map that will help you visualize all the areas for where to stay in Alicante that I will be talking about in this post:
1. El Centro (Old Town) – where to stay in Alicante for the first time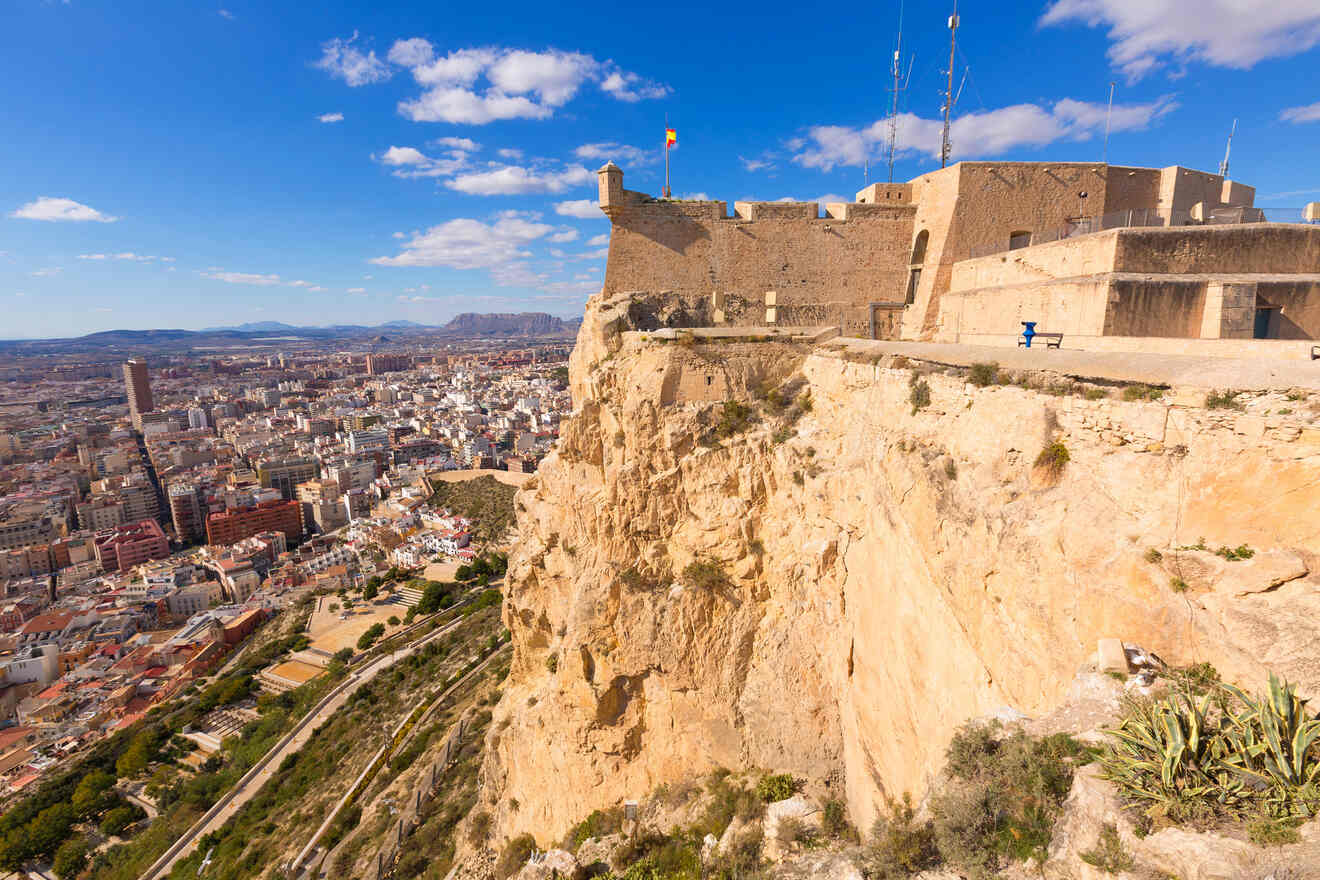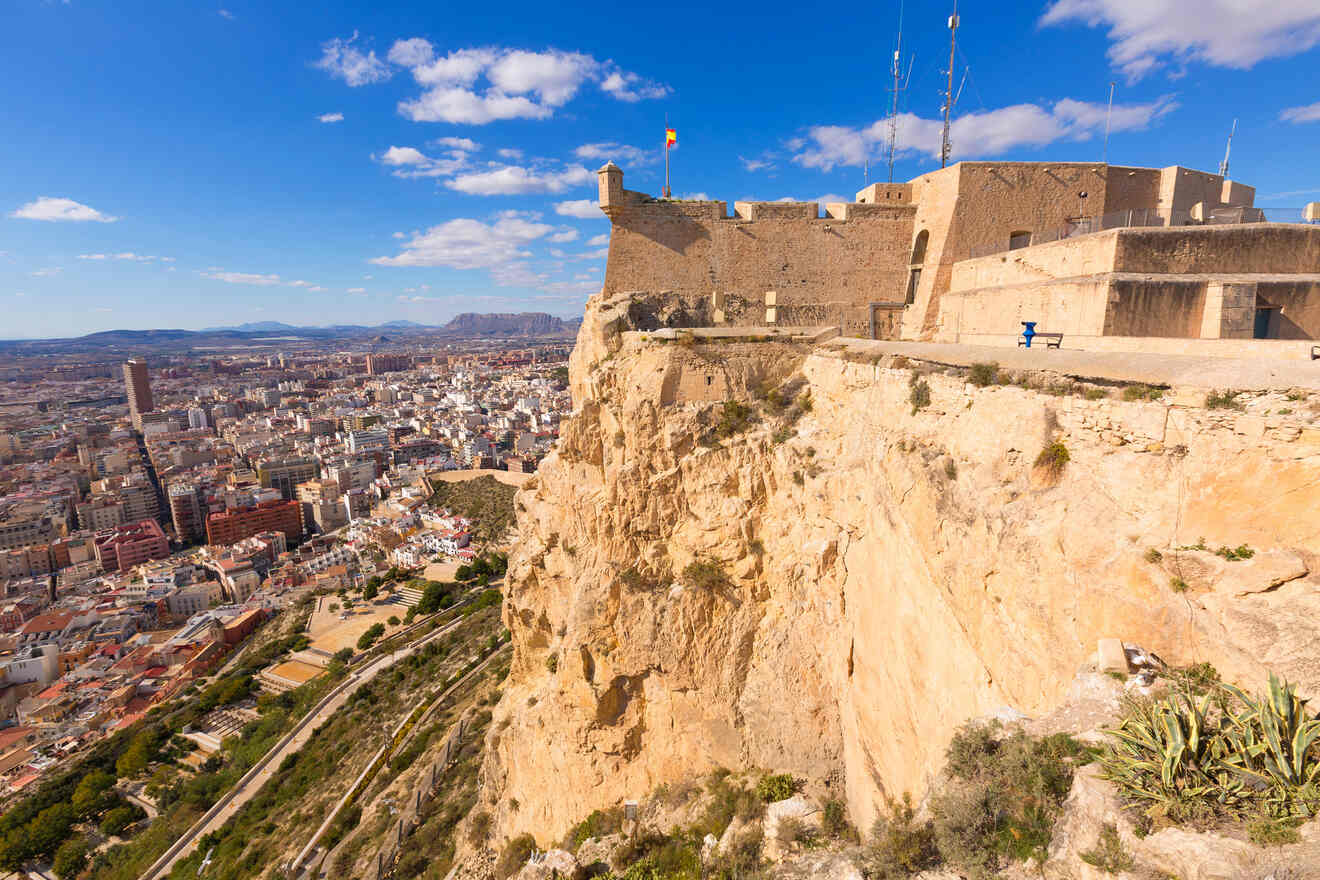 Are you looking for the perfect location for your first holiday to Alicante? Well, look no more. Because I've managed to find you the best neighborhood in the city! El Centro, or the City Center, is a historical destination home to the Old Town of Alicante, meaning it's a great place to dive into the culture and past of this town in Spain and enjoy its charm!
The City Centre is located just 12 km (7 miles) away from the Alicante airport. As the neighborhood's name suggests, most attractions in The City Center (Old Town) are historical. Although the main one, the Santa Barbara Castle, is not located in the neighborhood premises, it's super near to El Centro. Situated on Mount Benacantil, the castle offers stunning views of Alicante from above!
You'll also find other attractions like museums, galleries and let's not forget about the amazing restaurants that serve the most delicious seafood! But the City Center (Old Town) is a great place just to walk around and explore the area on foot.
That way, you can admire the neoclassical architecture and the narrow streets that make such a good picture spot! And if you like historical places as much as I do, make sure you also visit Valencia, you can just go to the Alicante train station, and get there in under 2 hours!
Now let's see the best hotels in this amazing location, remember that you'll have to book in advance if you want to avoid high last-minute prices!
Other accommodation in El Centro (Old Town)
Things to do in El Centro (Old Town)
Visit the Maca Contemporary Art Museum of Alicante, the former Casa de la Asegurada Museum
Check out the historical Santa Barbara Castle
Take some funny pictures on Mushroom Street in the heart of Alicante
Take a trip to the local Central Market and buy delicious fruits
See the coolest statues at the Museum of Figueres
Spend a day with the family at the Children's World Amusement Park
Admire the historical architecture in the streets of Alicante city
Visit the San Nicolás Cathedral and of Basilica of St Mary of Alicante
2. Postiguet Beach – best place to stay in Alicante for nightlife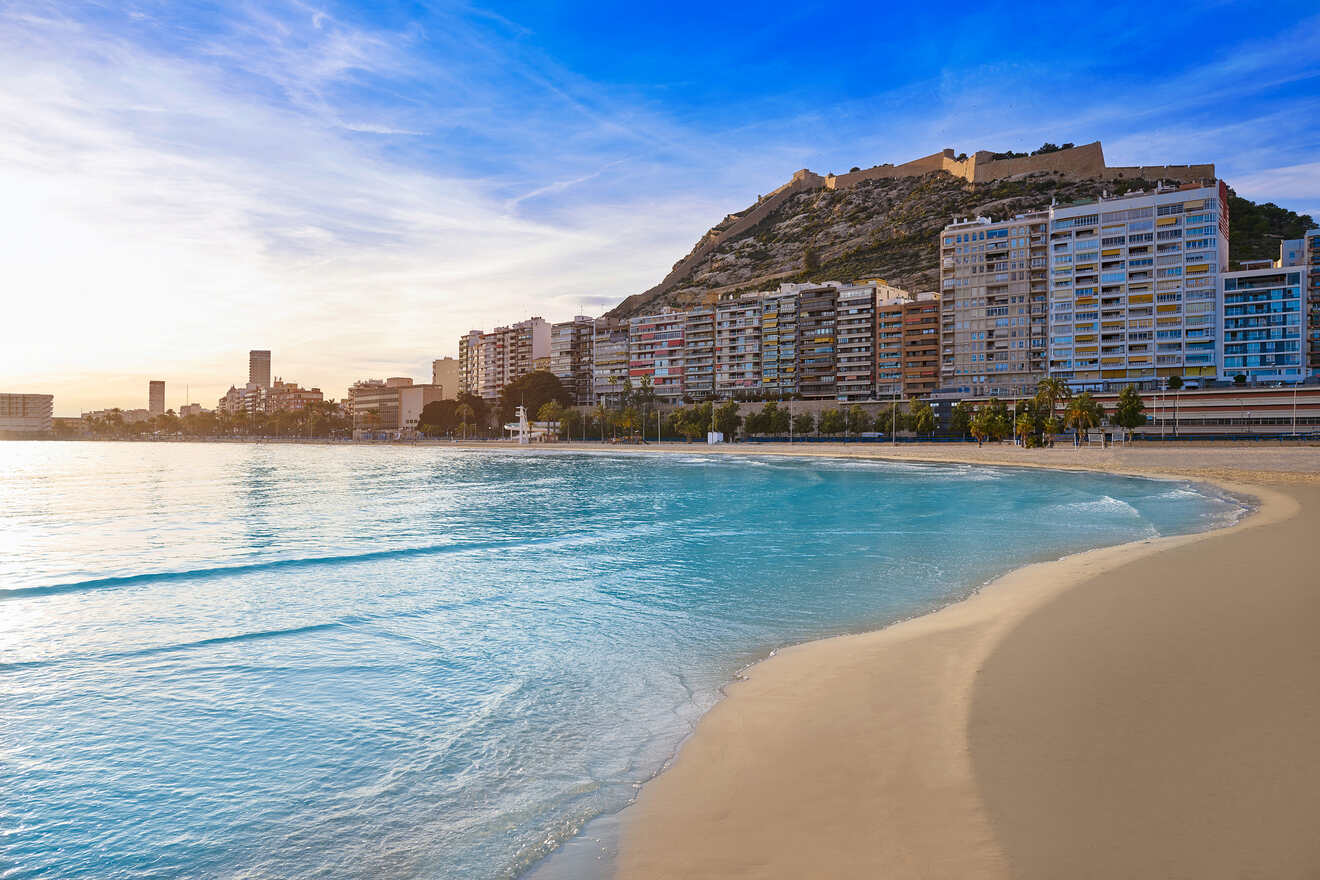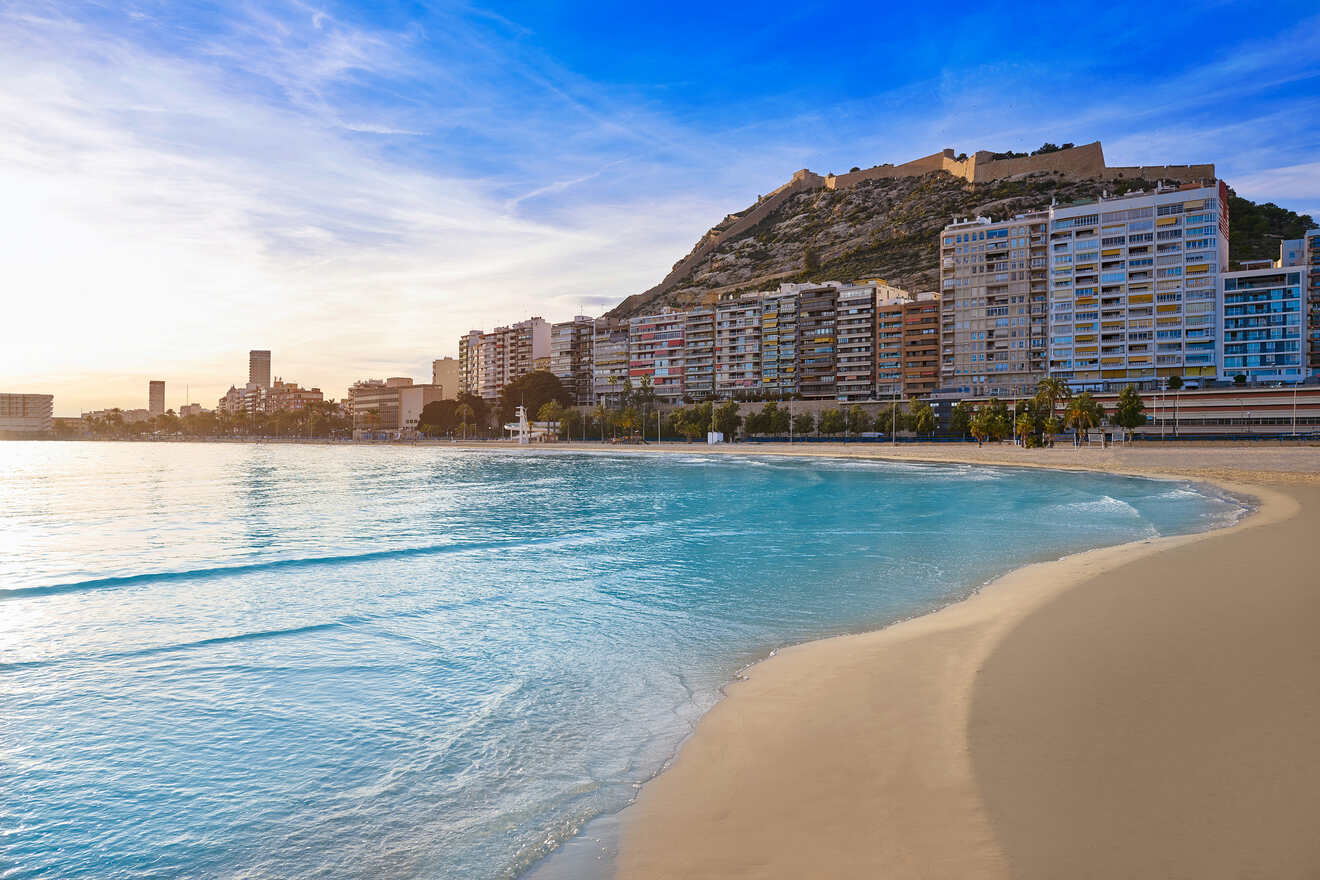 Located less than 1 km away (1 mile) from El Centro (Old Town) the area around Postiguet Beach is a great place to stay in Alicante for travelers who want to enjoy the city's nightlife during their trip. It also has great travel connections as the Alicante train station is just 30 minutes away on foot and the Alicante Airport is just 13 km (8 miles) away.
The beach itself is super nice and features views of the Santa Barbara Castle. And if you want to visit the castle all you have to do is go into a tunnel and get on an elevator which will take you up through the mountain, and voila! You're there!
If you're looking for where to stay in Alicante to enjoy its nightlife then this popular tourist part of the city is the perfect spot. What better way to end a full day spent swimming and sunbathing than with a drink at one of the bars or restaurants which are located within walking distance of Postiguet Beach. So get ready to dance while wearing your sandy shoes and enjoying the sea breeze!
There aren't so many beaches in Alicante and Postiguet Beach was actually the one that made the city famous among its Spanish visitors. Now since the 1960s and 1970s, everyone wants to come and stay near this beach! And if you're loving the nightlife in Spain then I definitely recommend visiting Ibiza, I'm sure you've heard of this party destination!
Other accommodation options in Postiguet Beach
Things to do in Postiguet Beach
Sunbathe and swim all day at Postiguet Beach in Costa Blanca
Drink lots of cocktails and enjoy the nightlife in Alicante at Xiringuito Postiguet Bar
Explore the Puerta del Mar Square
Get tipsy on local Spanish wine at Andrew Vinoymas, Wine Bar
Go through the tunnel near Postiguet Beach and take the elevator up to visit Santa Barbara Castle
3. Cape Huertas – where to stay in Alicante for families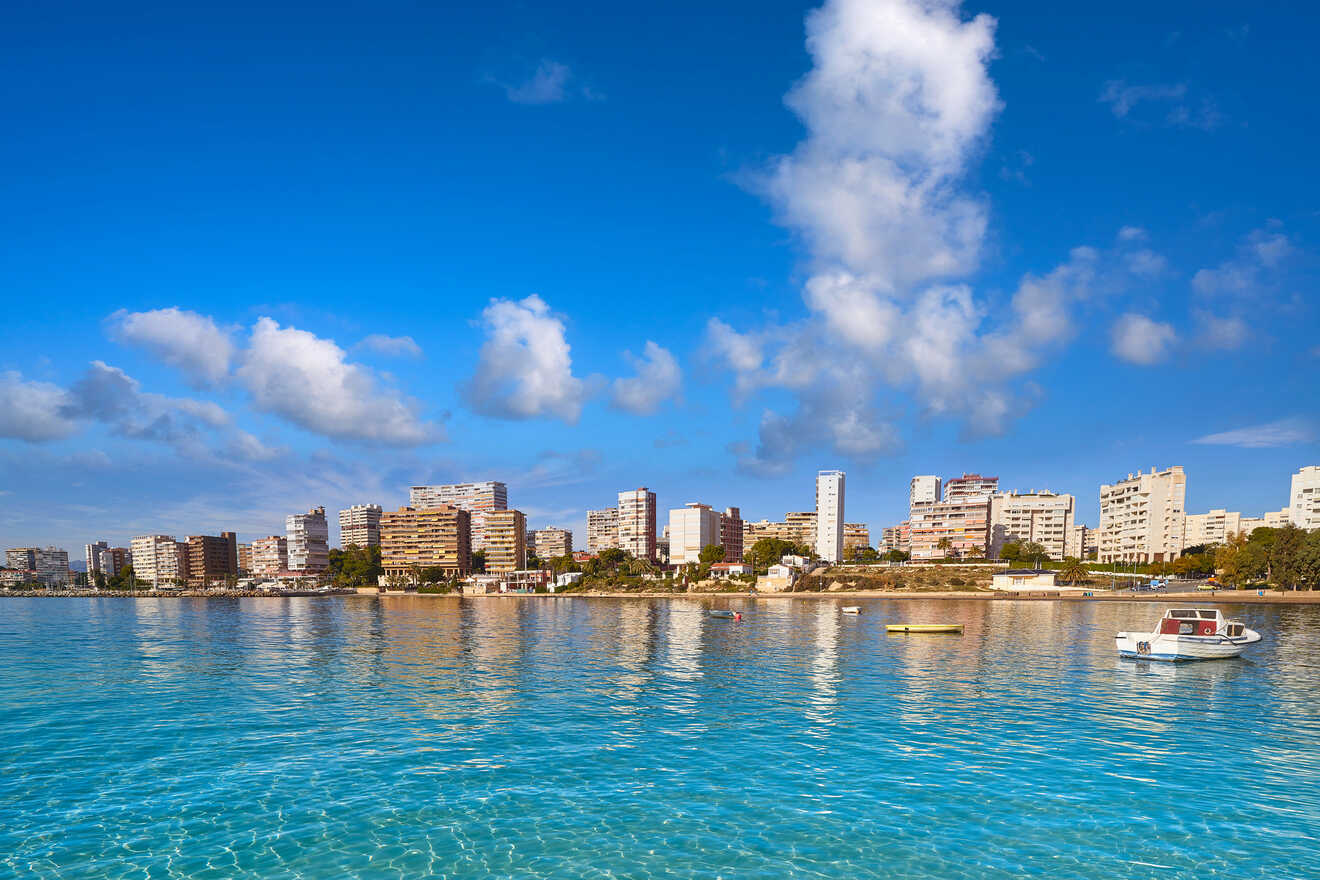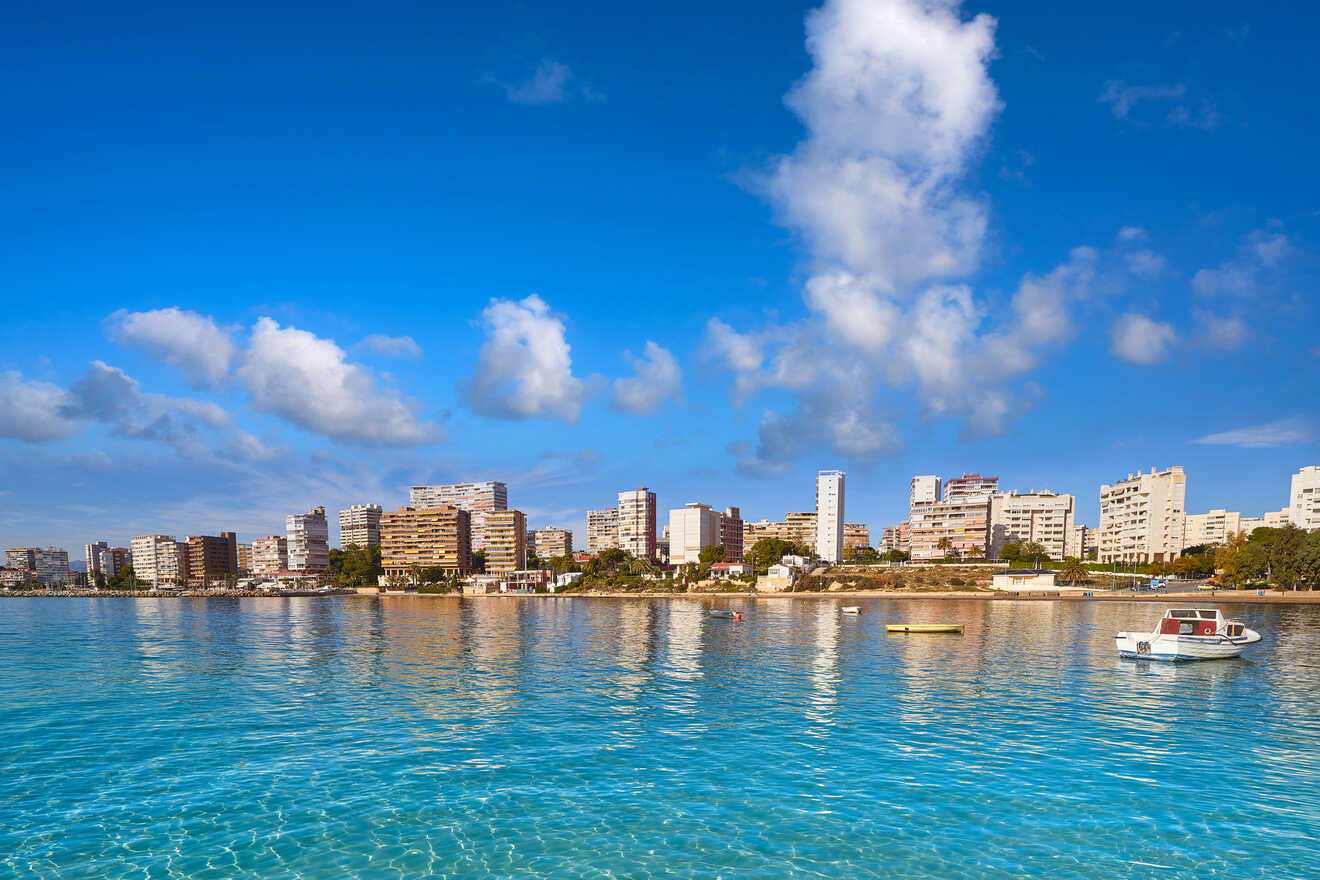 Located 7 km (4 miles) east of the City Centre in Alicante, this residential neighborhood is the best holiday destination spot for any family who is traveling to the city!
Here the beaches were left in their natural state, and they're less crowded than in Postiguet, making it perfect for people traveling with their kids. Plus the views of the Mediterranean are simply stunning and who doesn't love a good view!?
Here most attractions include the hiking trails, many beaches, and some coves that you can explore. I'm sure that everyone, from the kids to the adults, will be happy to participate in the family-friendly outdoor activities in this coastal destination in Spain!
Cape Huertas (or Cabo de las Huertas in Spanish) is also a great place to stay in Alicante if you're a nature lover and you don't care so much about staying in the City Center or being close to all the main attractions. Don't get me wrong, I love cities, but sometimes I prefer these types of tranquil spots.
Since not many tourists prefer this neighborhood as their holiday spot, the prices of the hotels and restaurants located here are much lower than in the Old Tow or Postiguet Beach which of course is another plus if you have a big family!
Other accommodation options in Cape Huertas
Things to do in Cape Huertas
Catch a sunset at Cala de los Judíos in Costa Blanca
Sunbathe on the soft sand at Cala de las Nereidas beach
Have a picnic in the family-friendly La Calita beach
Explore the hiking trails and coves in the area
Go on a trip to Venecia Shopping Center and buy some souvenirs
Have a family dinner at Turkish Restaurant Costablanca
4. Albufereta – best place to stay in Alicante for history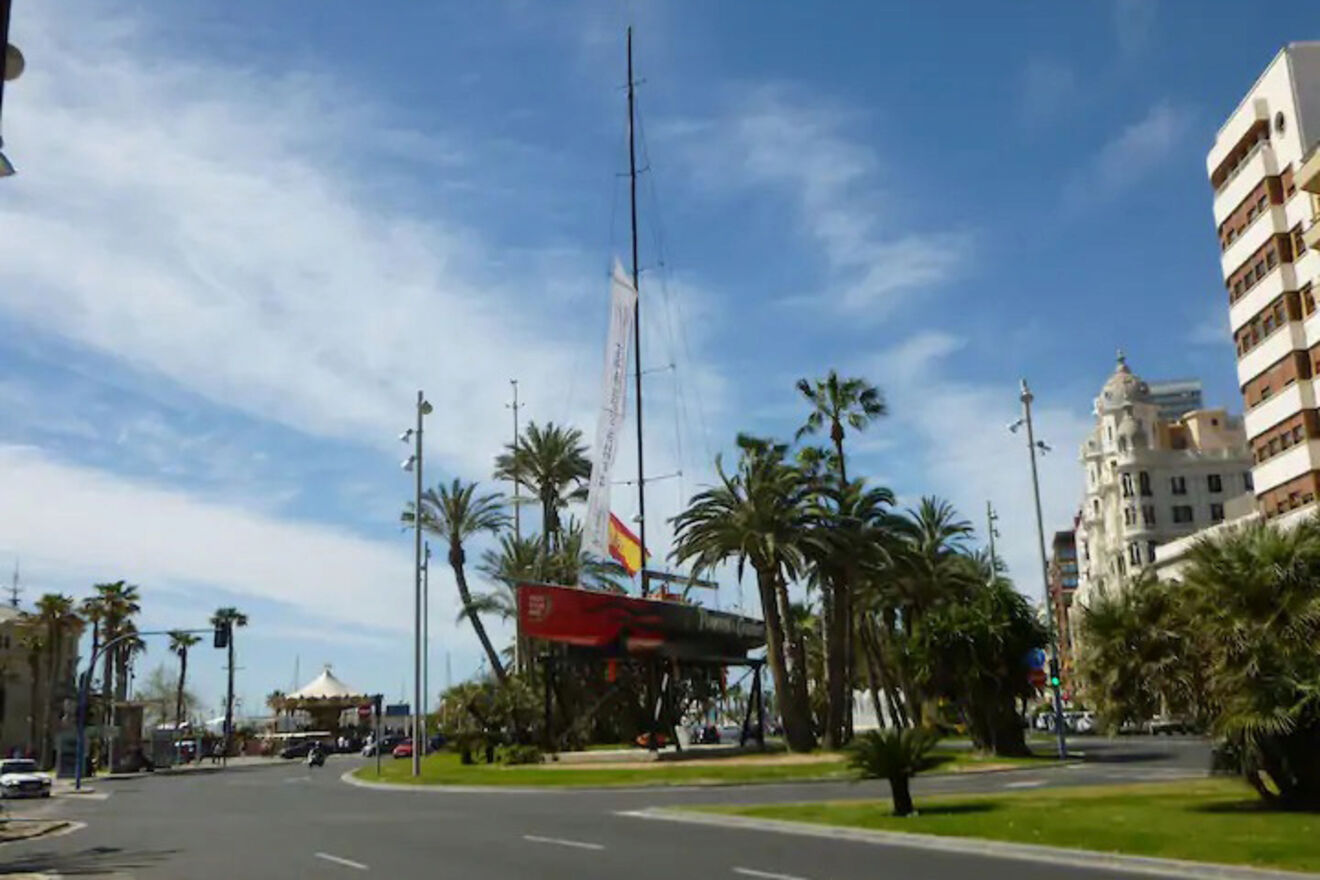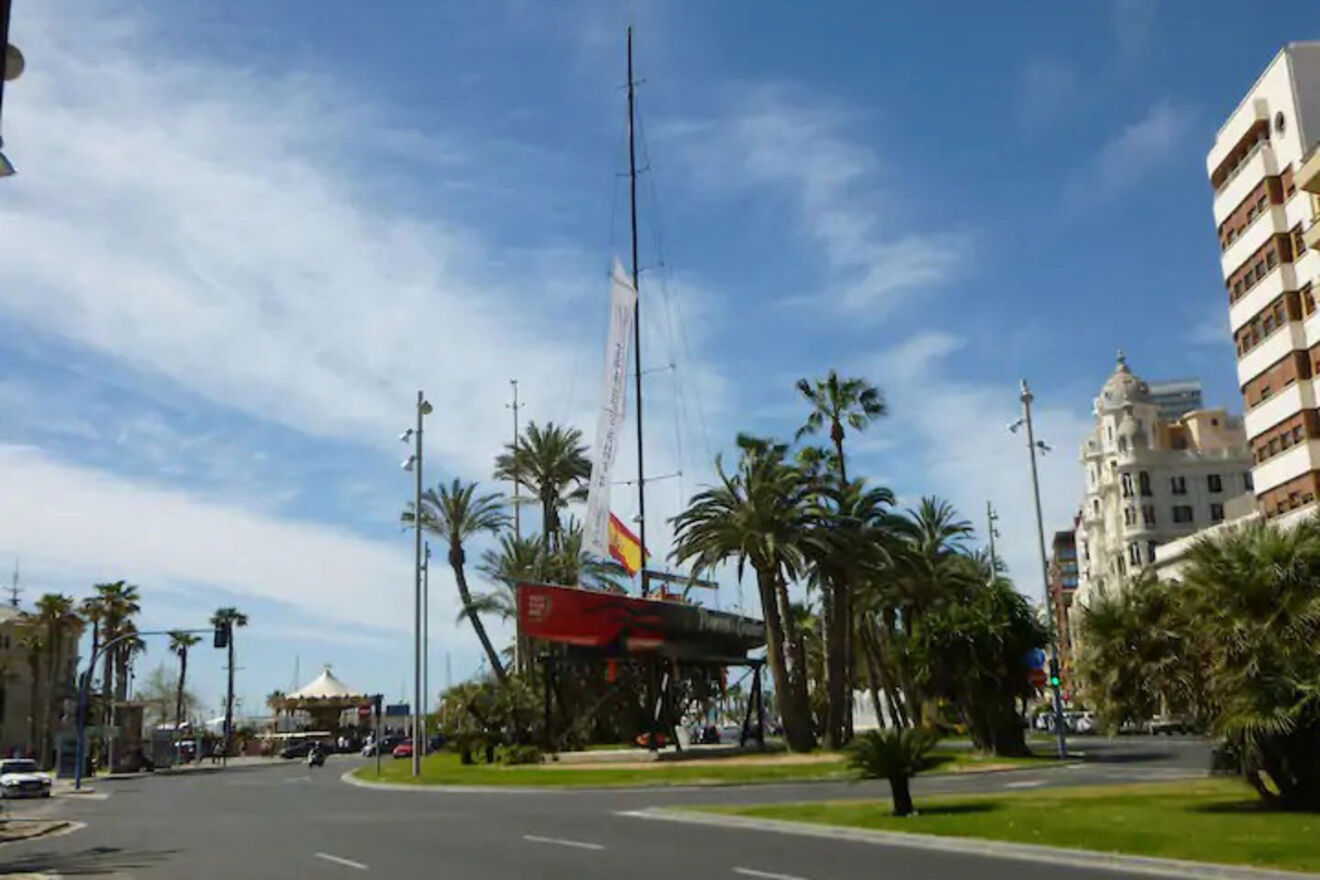 Located 6 km (4 miles) east of the City Center (Old Town) in Alicante, this neighborhood is another great place to explore the historical part of the city during your trip! It is believed to be a former Roman Harbor and they even discovered some ancient settlements here!
One of the biggest attractions in Albufereta is the Lucentum ruins of Tossal de Manises, one of the most important archeological sites in Alicante. These ruins date back to the 4th century B.C when the Roman Empire occupied land in the Iberian Peninsula. I'm sure all my history lovers' will book their hotels in this destination ASAP!
There's also Albufereta Beach, where you'll mostly find local people, which is the best-case scenario for travelers who aren't fans of the crowds! And you'll be happy to know this isn't your everyday beach, it has an EU Blue Flag certification, meaning it's famous for its cleanliness and safety.
Featuring some stunning views of the Mediterranean sea, amazing historical local attractions, cool restaurants, and located just 19 km away from the Alicante Airport, this destination is an awesome Costa Blanca place to stay in Alicante!
Other accommodation options in Albufereta Beach
Things to do in Albufereta Beach
Visit the Lucentum ruins of Tossal de Manises archeological site
See the beautiful Santiago Tower Fortress
Take the kids to the fun Family Amusement Park in the neighborhood
Check out the Cacholi Tower fortress
Go for a stroll in the local Presidente Adolfo Suárez Park
Enjoy some sunbathing and go for a swim at the Blue Flag certified Albufereta Beach
5. Santa Pola – where to stay in Alicante for adventure junkies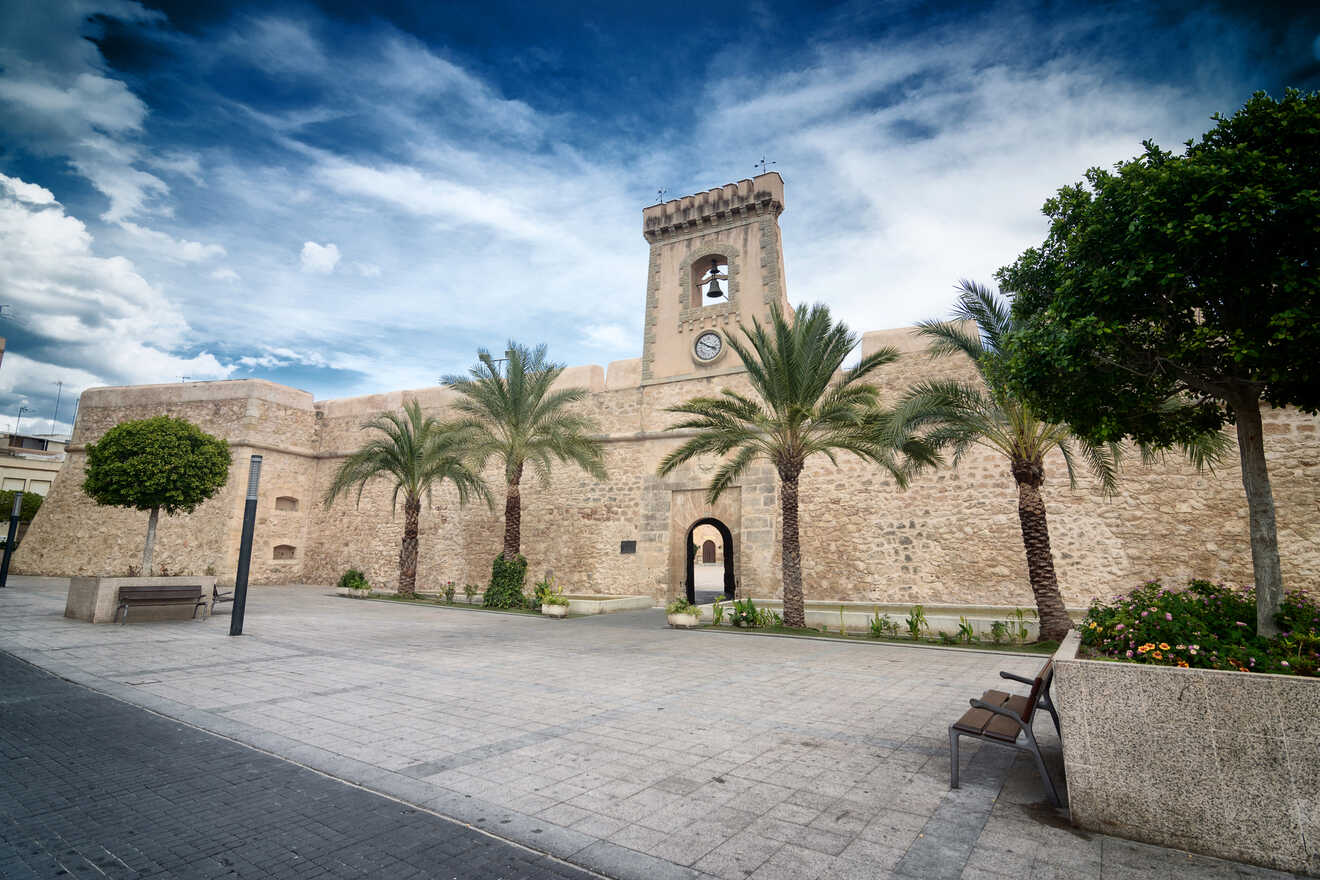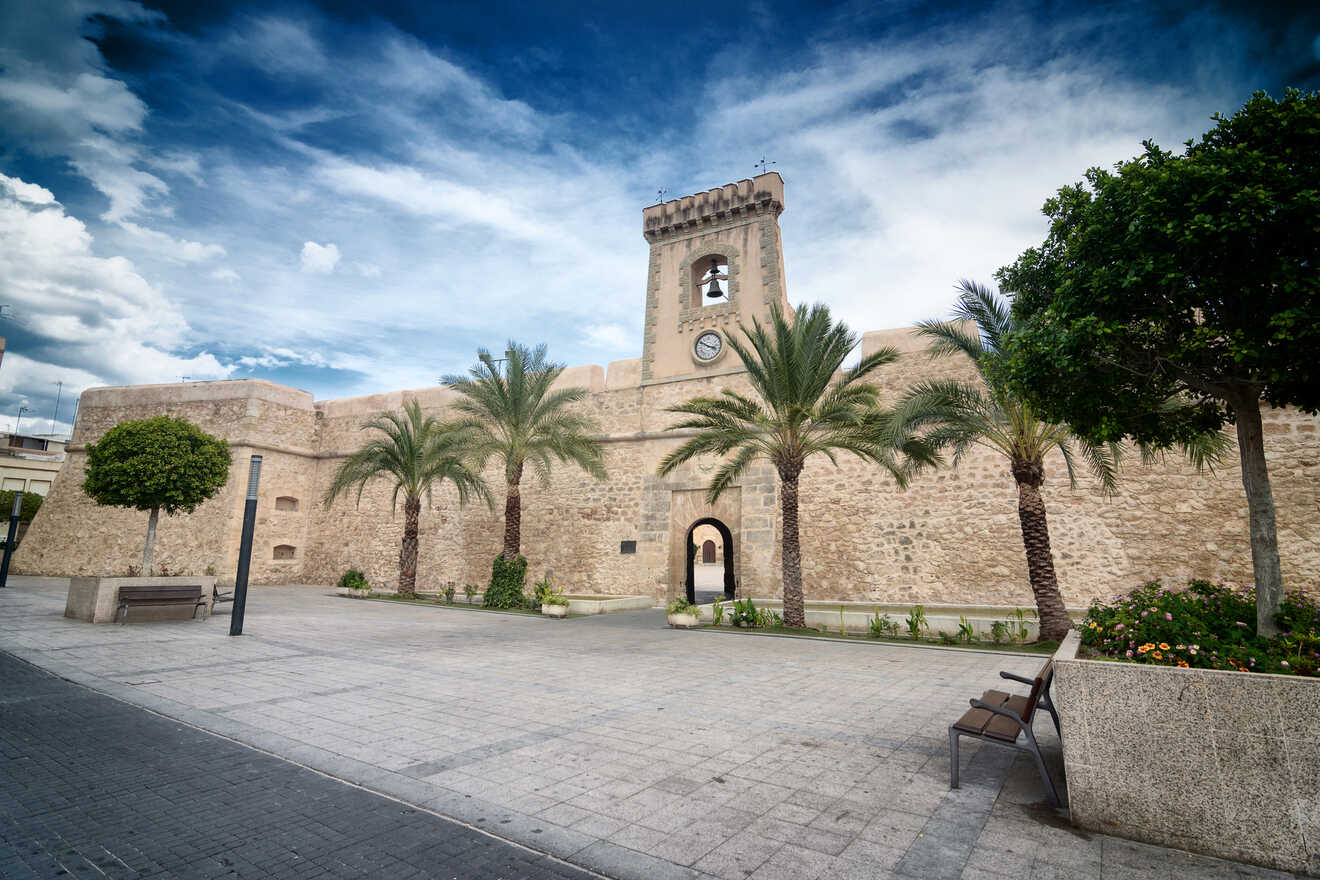 Located 20 km (12 miles) south of the City Center of Alicante, and 13 km (8 miles) away from the airport, this coastal town makes a great destination for people planning an adventurous trip!
Although you won't be so close to all the attractions and restaurants in the City Center, you can always rent a car or take a bus to travel back and forth but I'm sure you'll enjoy the local spots and restaurants in Santa Pola as well.
Famous for its beaches, this area near Alicante has that coastal charm and is more tranquil than the other places where to stay in Alicante. But it's packed with cool activities that you can try, like windsurfing, scuba diving, and paragliding to please your adventurous soul.
Besides the natural spots you can visit, there are also other activities like adventure parks and historical places, like the Castillo Fortaleza De Santa Pola 1558 fortress and castle.
Other accommodation options in Santa Pola
Things to do in Santa Pola
Enjoy a beach sunset at Cala Santiago Bernabeu
Learn a new sport as a couple with Be Watersports Santa Pola
Explore the Santa Pola Port
Try paragliding with Parapente Santa Pola
Visit the Castillo Fortaleza De Santa Pola fortress
Try some cool activities with Pura Aventura Spain
Check out the Santa Pola Aquarium
6. San Juan Beach – best place to stay in Alicante for beach fun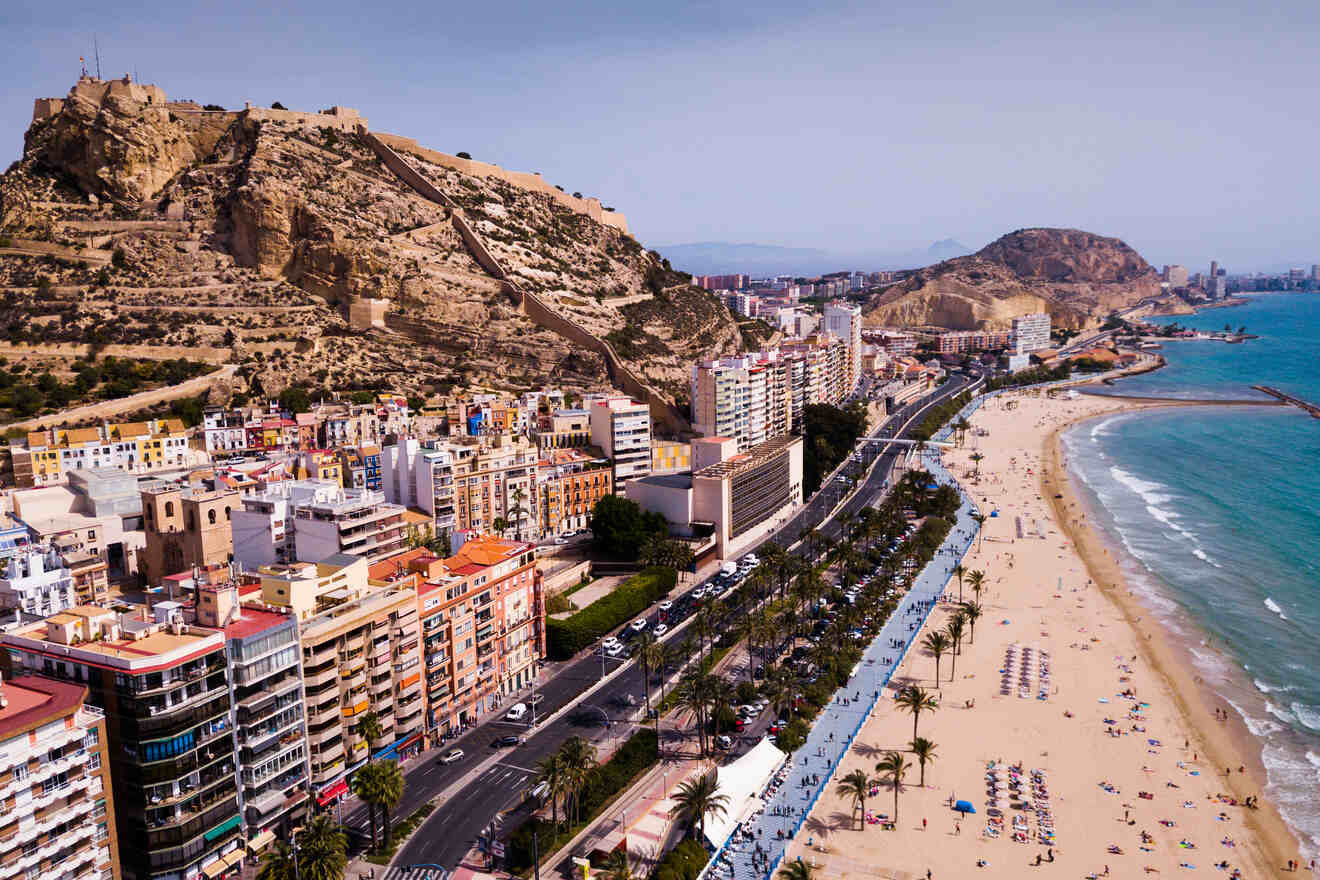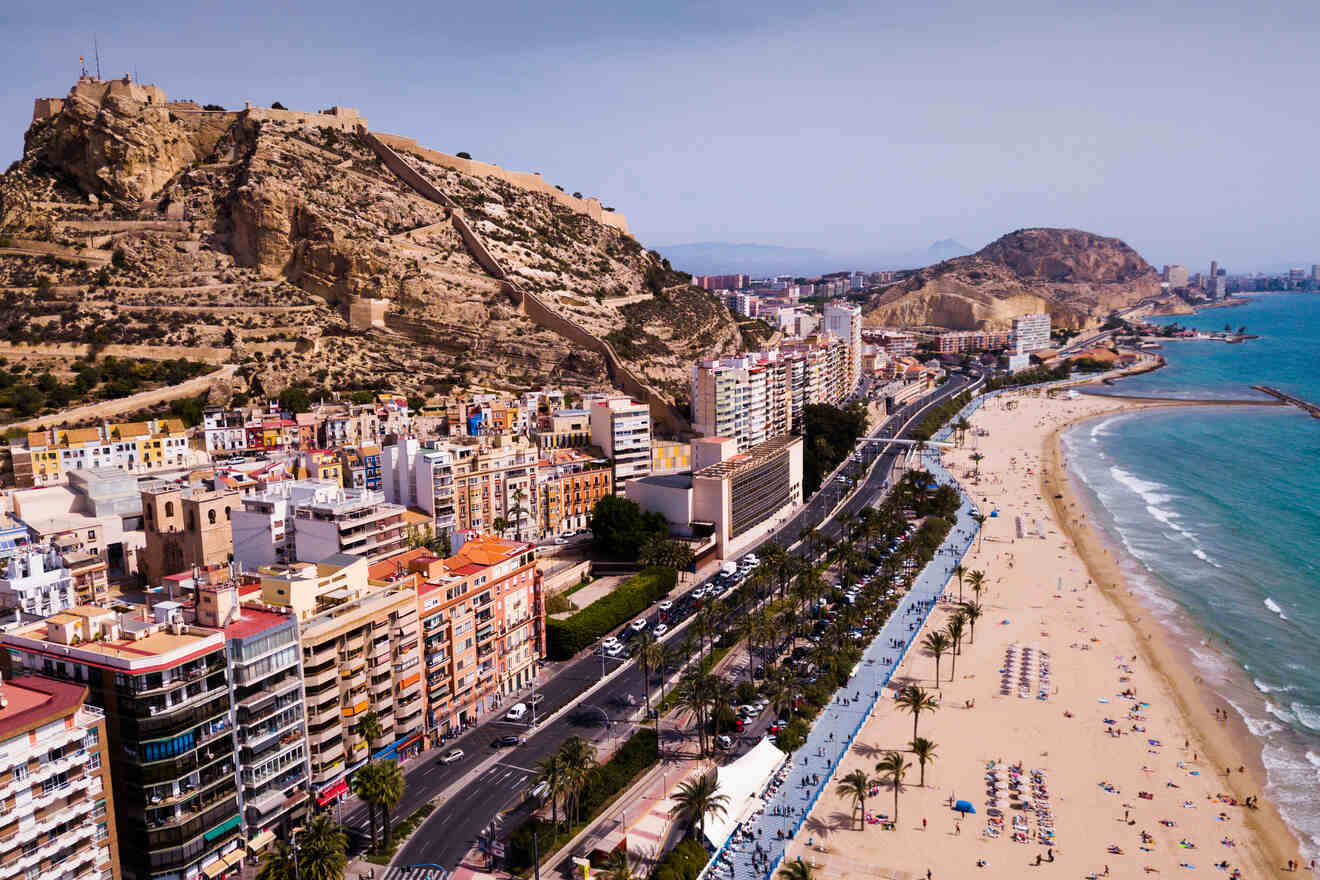 Located 10 km (6 miles) northwest of the City Centre in Alicante, and 20 km (12 miles) away from the airport, this area is perfect for travelers who want to spend most of their time sunbathing and playing volleyball on the sandy beaches!
San Juan Beach is one of the most popular ones in Alicante and one of the best places to stay in the city. You won't have time to get bored here as there's always something to do involving some type of beach sport or drinking in the beach bars at night.
Surf schools, kayaking, and windsurfing, all these cool activities will be waiting for you at San Juan Beach, most of them are located within walking distance from each other so you don't even have to walk for too long to find them. Alternatively, you can hit the Alicante Golf course if you're a player.
You'll find a wide range of cool hotels and restaurants here so let's see which are the best places to stay in Alicante, San Juan Beach for you.
Other accommodation options in San Juan Beach
Things to do in San Juan Beach
Try windsurfing on San Juan Beach
Learn surfing and paddle surfing with Aloha School
Go to the Alicante Golf Course and play some golf
Visit the Cypress Tower in town
Spend a whole day sunbathing on San Juan Beach
Grab a drink at the local Texaco pub
BONUS 1: Elche – best location near the largest mangrove in Europe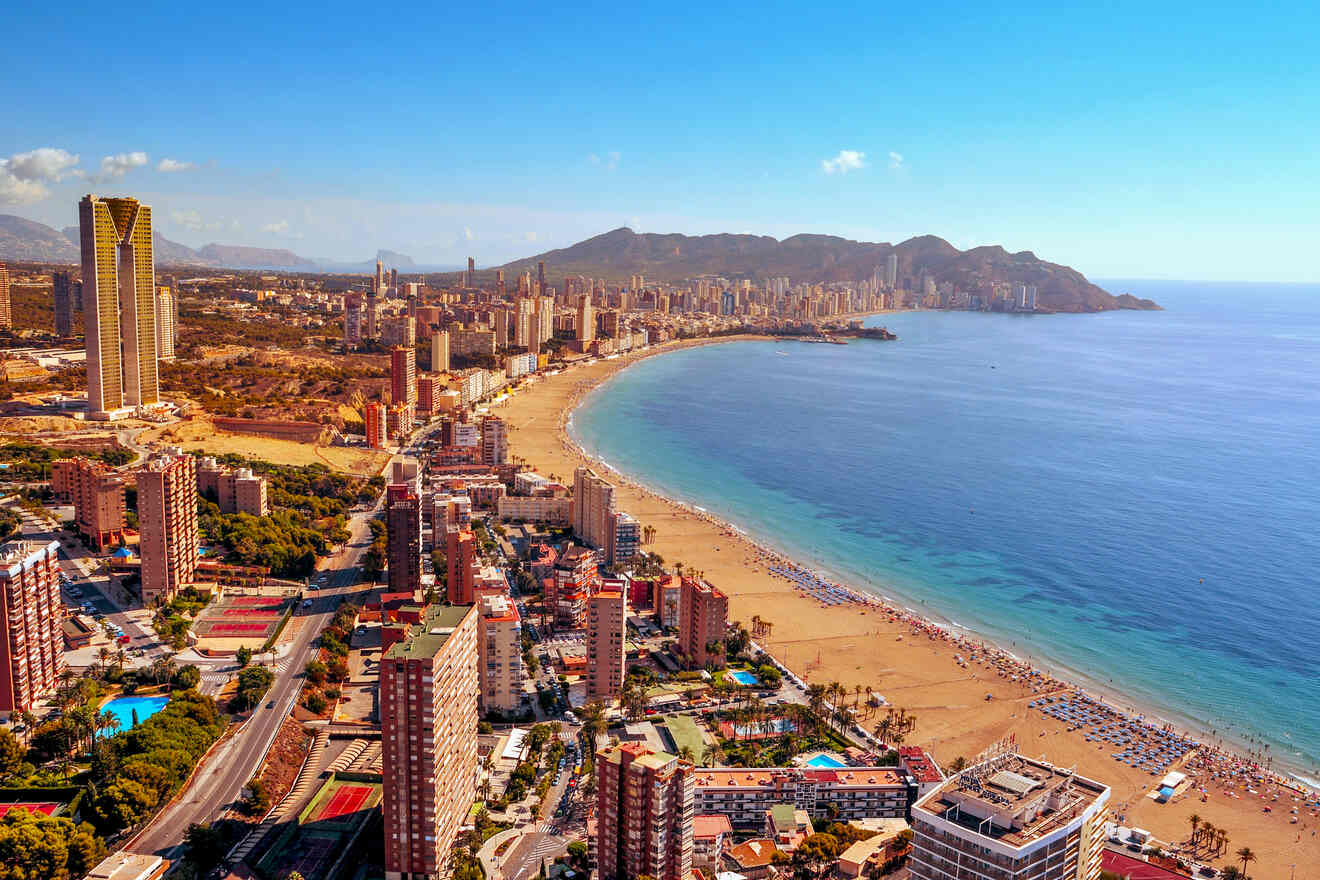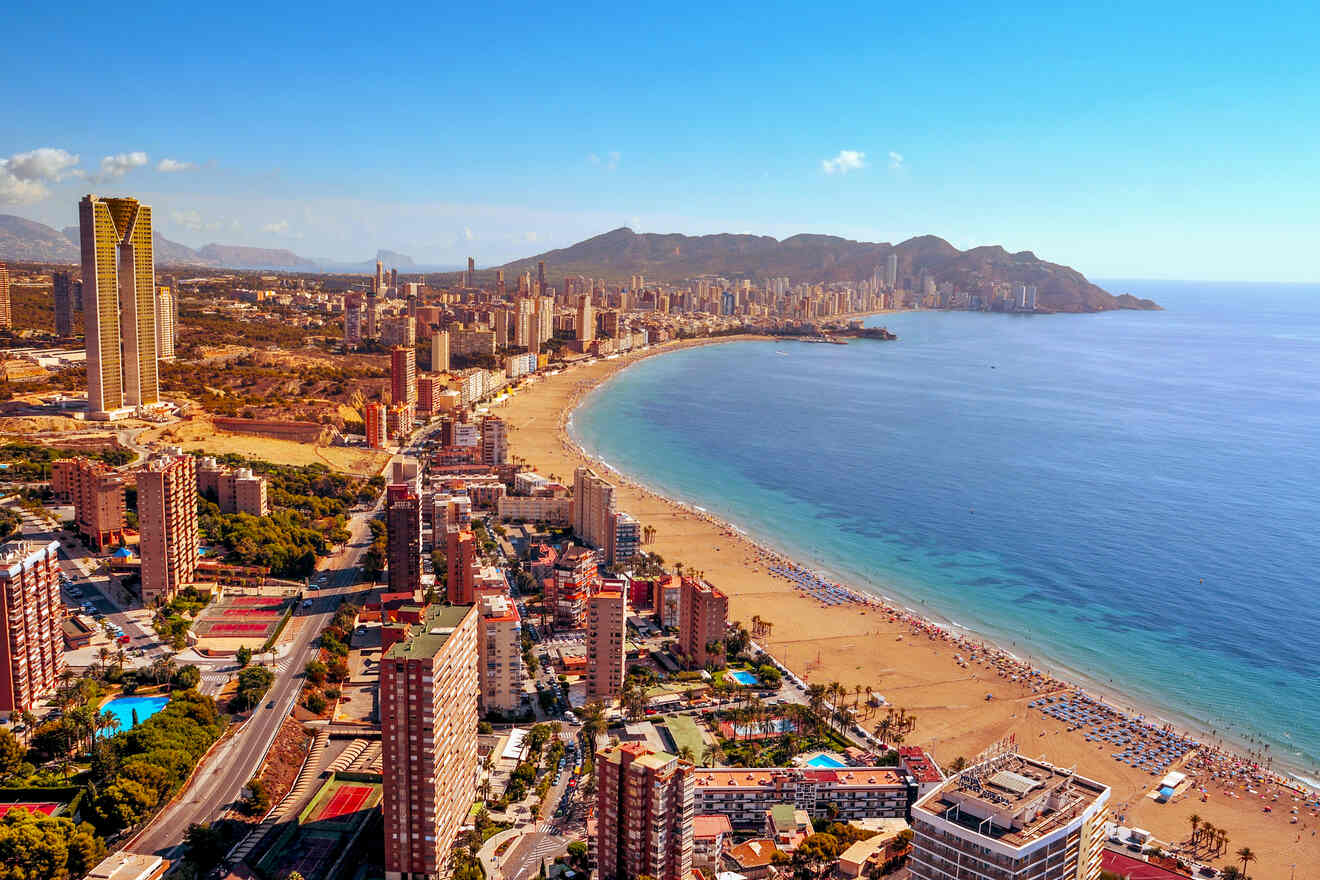 Elche is a city located 30 km (19 miles) away from Alicante, famous for the Palmeral de Elche, which is a place filled with palm orchards and has been named a UNESCO World Heritage Site. The trees were planted in Roman times and since then they underwent modifications in the medieval period but survive today!
Palmeral de Elche is the largest mangrove in Europe, and once you see it you'll understand why it was named a UNESCO World Heritage Site, its beauty is mesmerizing!
I'm sure many of you will want to spend a day or two in Elche, that's why I thought it would be a good idea to find some nice places to stay in town. It's easy to get to Elche from Alicante, you can go to the train station, and you'll be there in just 30 minutes!
Luxury: Huerto del Cura Elche – What better way to enjoy the palm orchards trees in Elche than to stay inside the Palmeral de Elche area? Admire the views of the lush garden by the pool of this luxury hotel with a restaurant. The rooms are super spacious and modern, and there's even a spa center on-site where you can relax!
Mid-Range: Jardín Milenio – Another amazing hotel that's located inside the Palmeral de Elche area! Go for a dip in the swimming pool at night and drink your morning coffee on the little terrace while looking at the beautiful palm orchards trees. The accommodation has a sauna on-site and a bar.
Budget: Hostal María – A great budget option where to stay in Elche, Spain for a night or 2, that offers its guests air-conditioned rooms with a flat-screen TV. The accommodation also has free wifi and free parking spots for travelers.
Airbnb: Elche Loft – This spacious loft is perfect for a short stay in Elche! It also has a little patio where you can relax or drink your coffee and a backyard. The accommodation also has a kitchen and free wifi.
BONUS 2: Benidorm – a family resort town near Alicante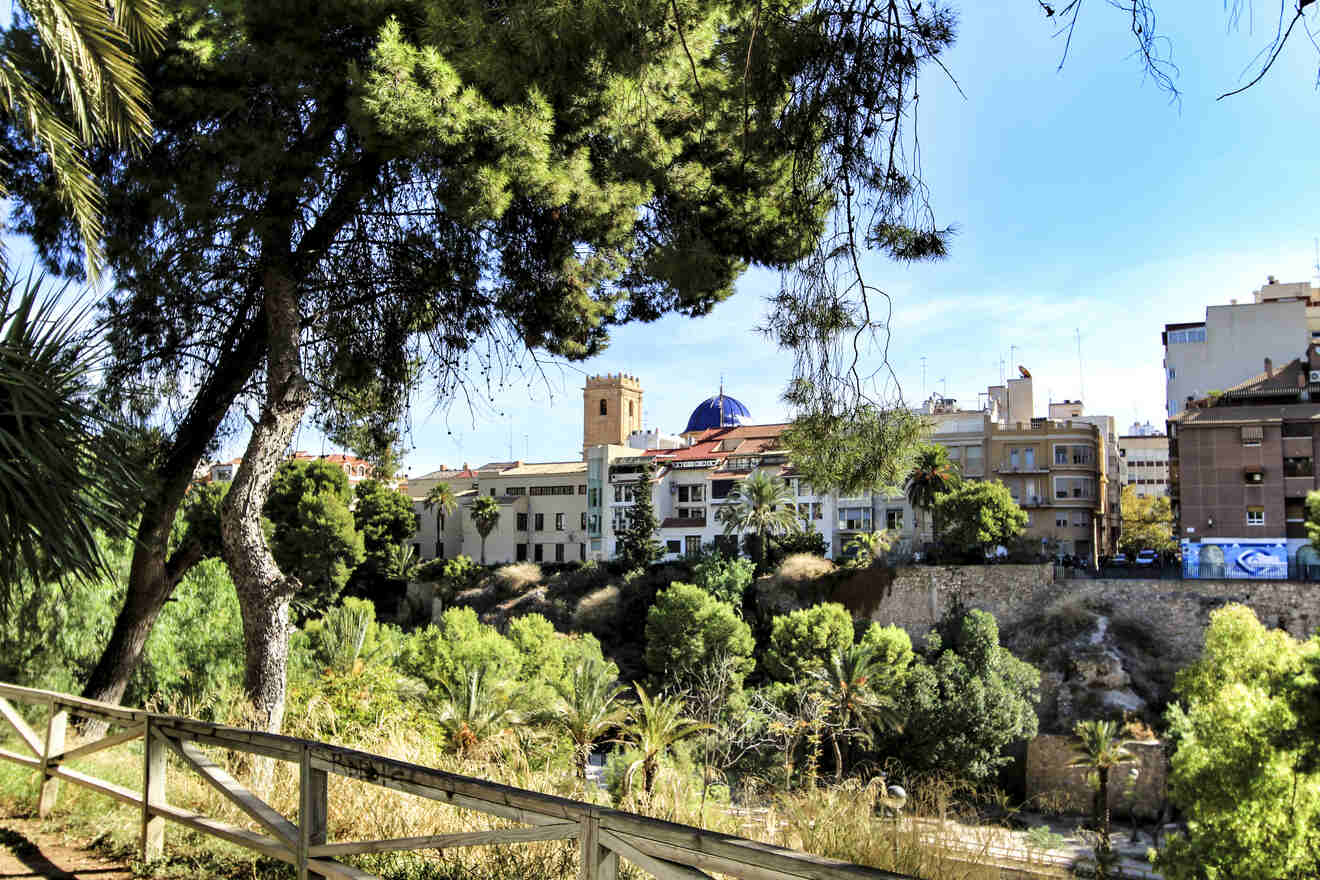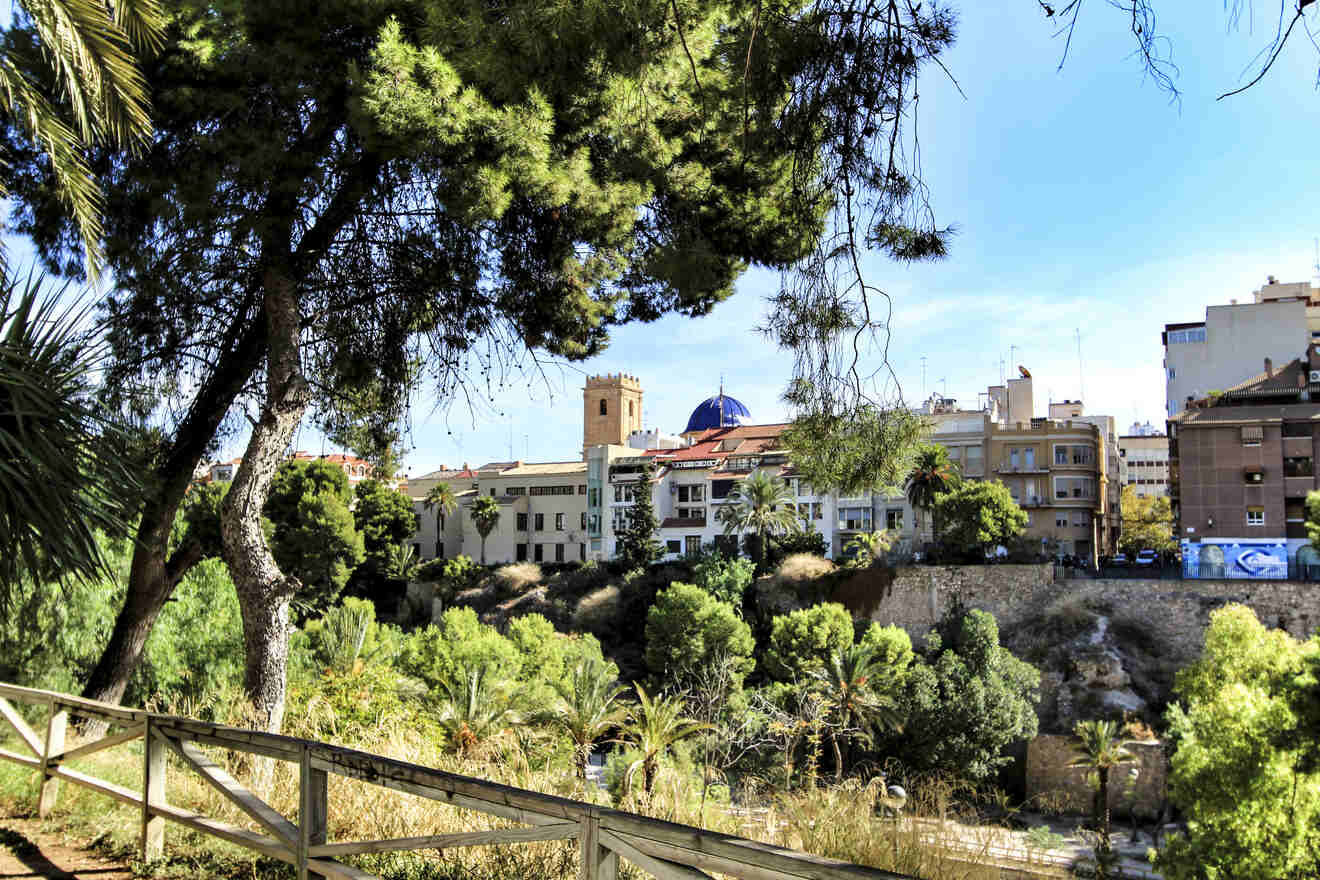 Benidorm is a resort town located 45 km (25 miles) northeast of Alicante, which has become a top tourist attraction in the last few years, especially for families visiting this part of Spain. If you're traveling with the little ones and you're looking for another trip near Alicante, then Benidorm is the place for you.
Benidorm has many cool attractions that are just perfect for your kids, and I'm sure you'll be looking for hotels to stay in town so here's a list of the best accommodations in Benidorm. The prices here are for two rooms and a family of 4 to help you pick the best one for your budget.
Luxury (US$200 and up)
Hotel Deloix – Featuring 5 swimming pools and a spa & wellness center, this luxury Benidorm hotel is perfect for your family getaway. The rooms are super spacious and they have balconies. Enjoy the Spanish sun by the pool and play with your kids all day long!
Mid-Range (US$100 – $US200)
Magic Robin Hood – A medieval-themed hotel? Count me in! It will be hard to make your kids leave this cool accommodation. Because who doesn't love to go on those waterslides all day long and play in the game adventure area? This Benidorm hotel has family rooms and a restaurant on-site.
Budget (under US$100)
Princesa Hotel – For the little princess in you! While the kids play in the playground, the parents can relax at the hotel's spa center or you guys can enjoy some fun family time by the swimming pools and go on all those waterslides!
Alania Costa Blanca – I love the Balinese-style bungalows of this hotel! Have fun with the kids going on the waterslides or you can take them to play in the designated children's playground. The hotel has a spa center and it offers an airport shuttle paid service.
Frequently asked questions about Alicante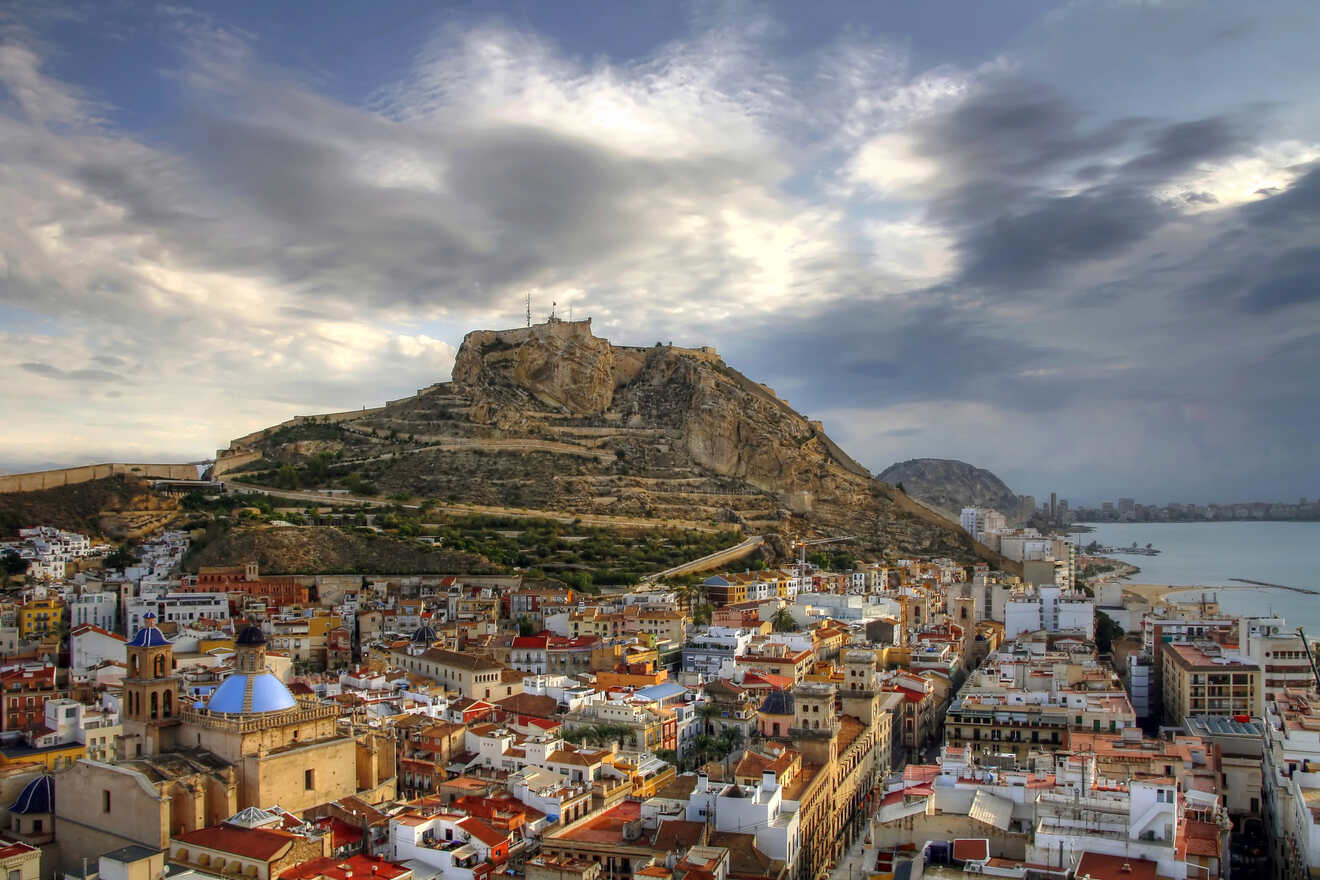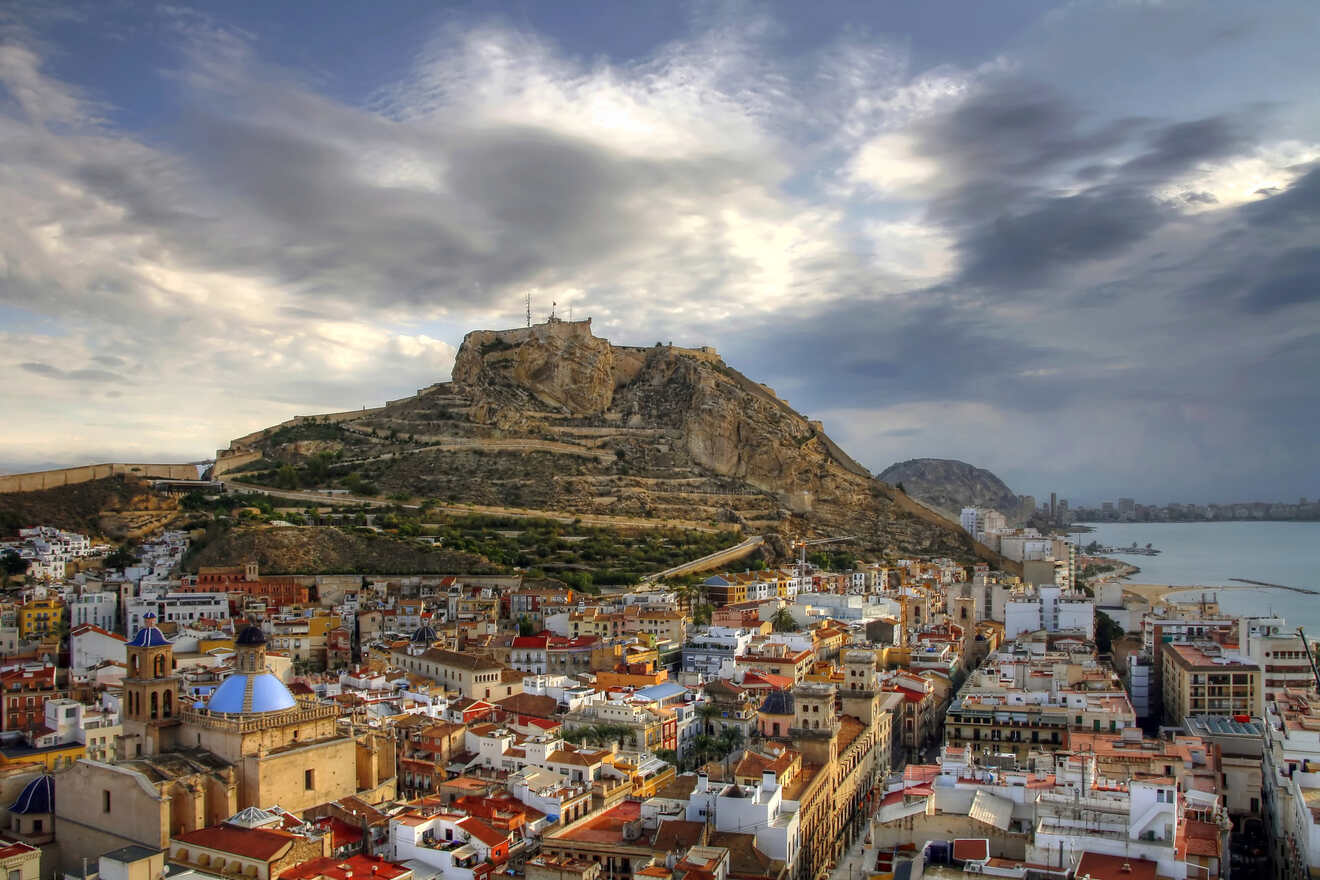 Conclusion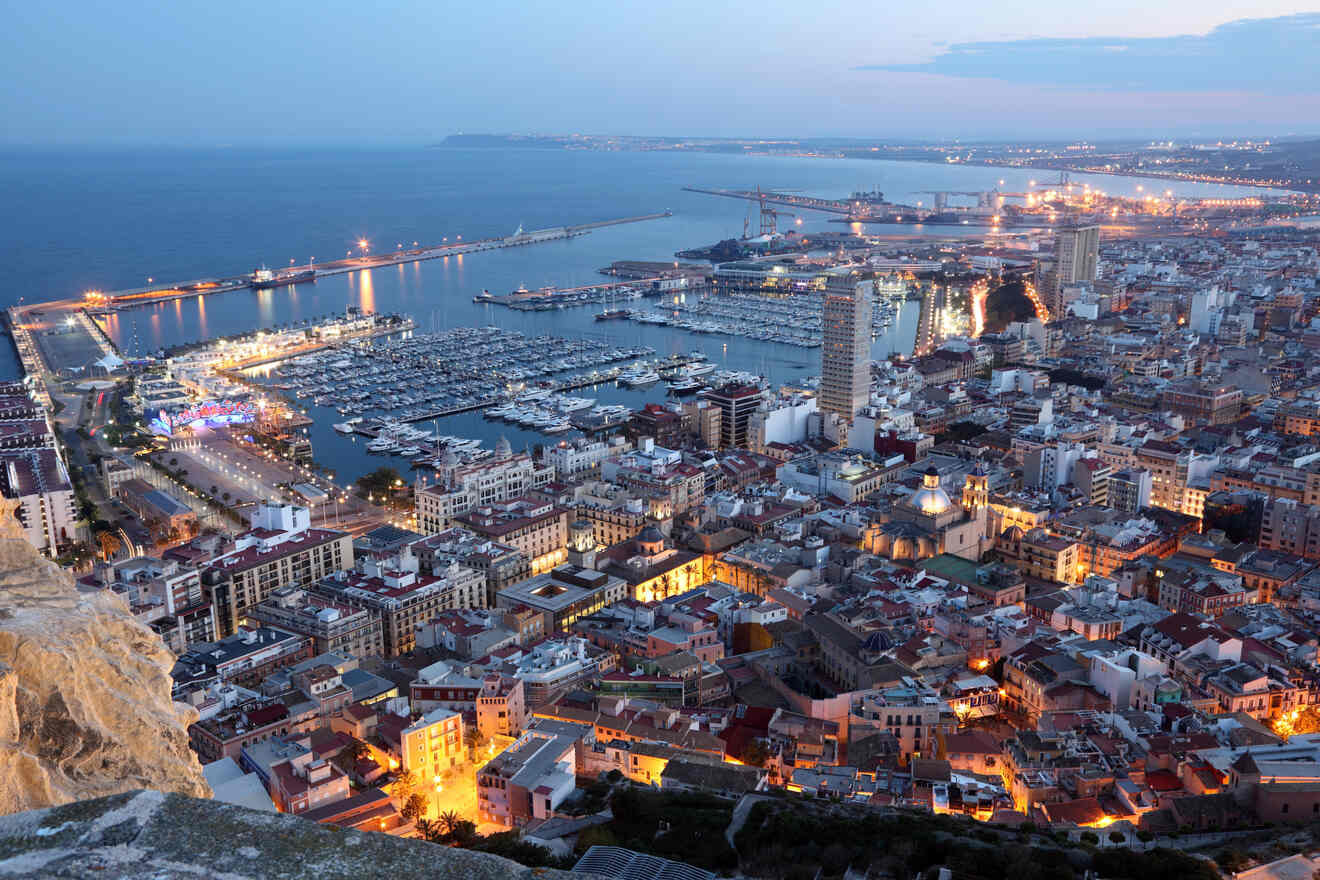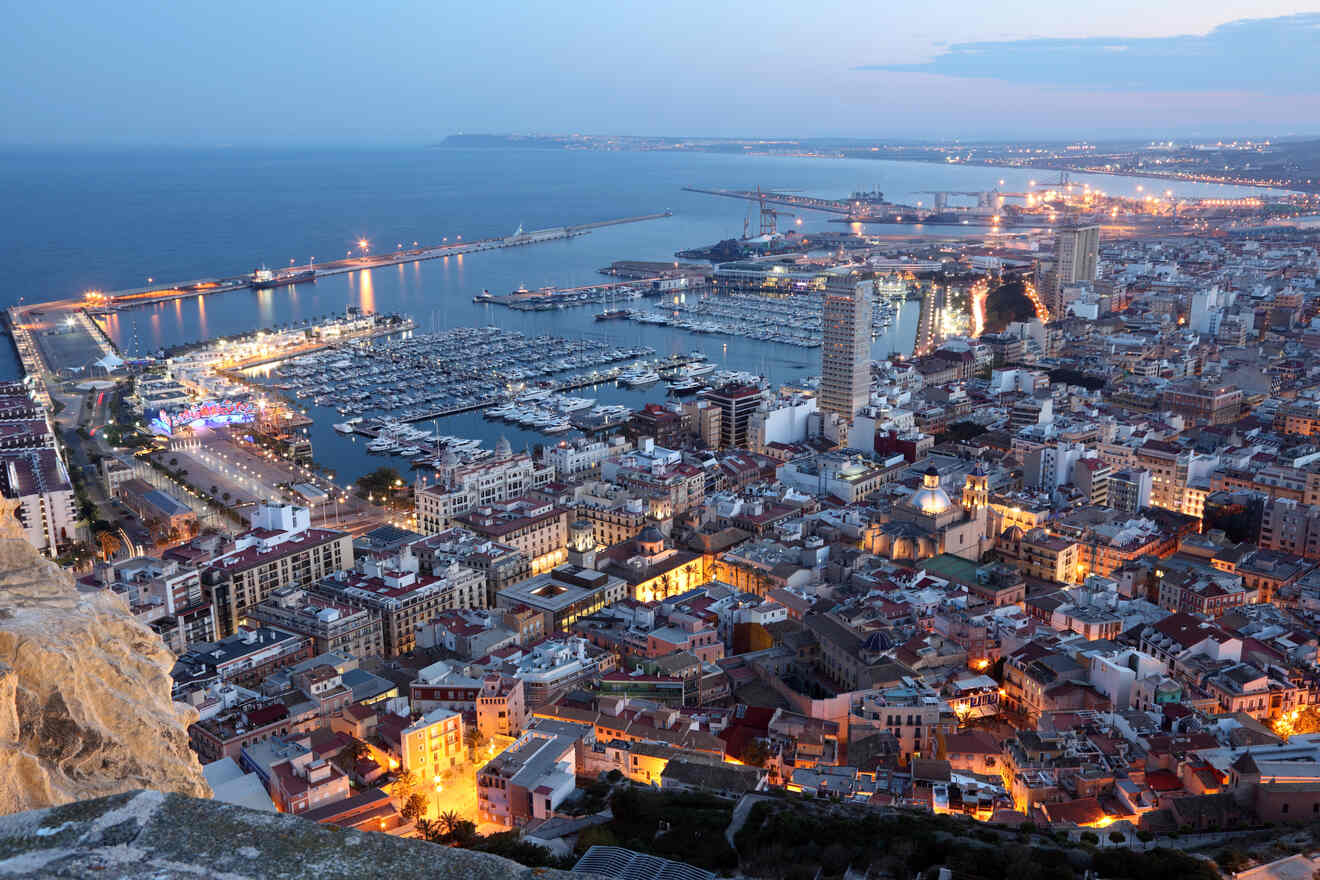 Are you already on your way to the airport? I won't be surprised, because Alicante has that effect on people, you want to get there ASAP! I hope this post helped you decide where to stay in Alicante and which neighborhood and hotel to pick.
There are so many options and hotels to stay in Alicante in this post that I'm sure it can be hard to decide but here are my top favorite ones both located in El Centro (Old Town):
Now that you've got most of your trip figured out, there's only one thing left to do and that's to book your favorite hotel in advance. That way you can avoid the last-minute booking, which by the way, it's not so fun to do, especially when the prices go up!
I hope you have the best time in Alicante! Enjoy the Spanish sun, and the delicious food at all the restaurants, and make sure to head to the train station and visit some cool spots near the city like Elche and Benidorm, you won't regret it! And I'll want to hear all about it so leave me a comment below if you want to tell us, I'll be happy to reply!
Safe travels,
Victoria
---