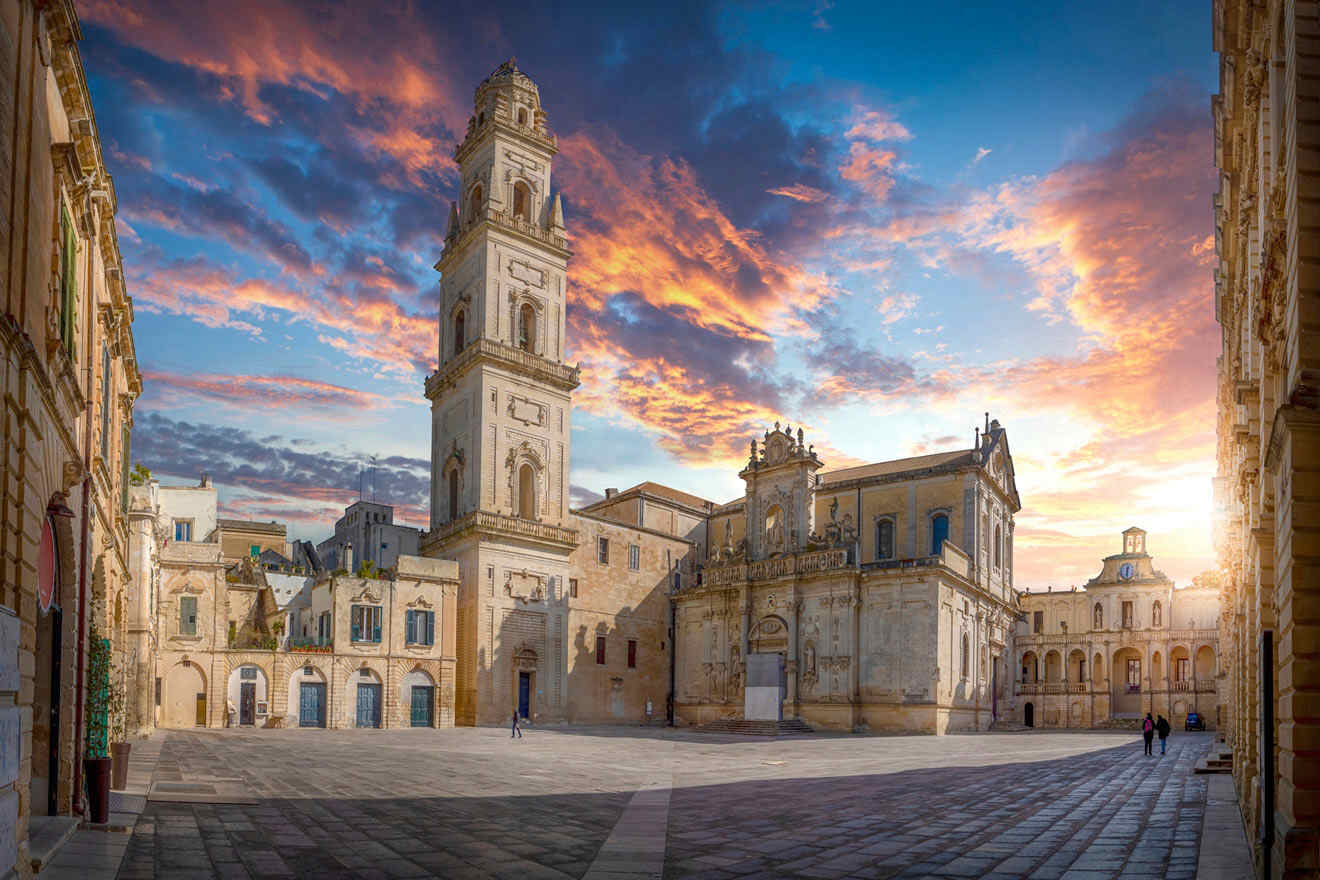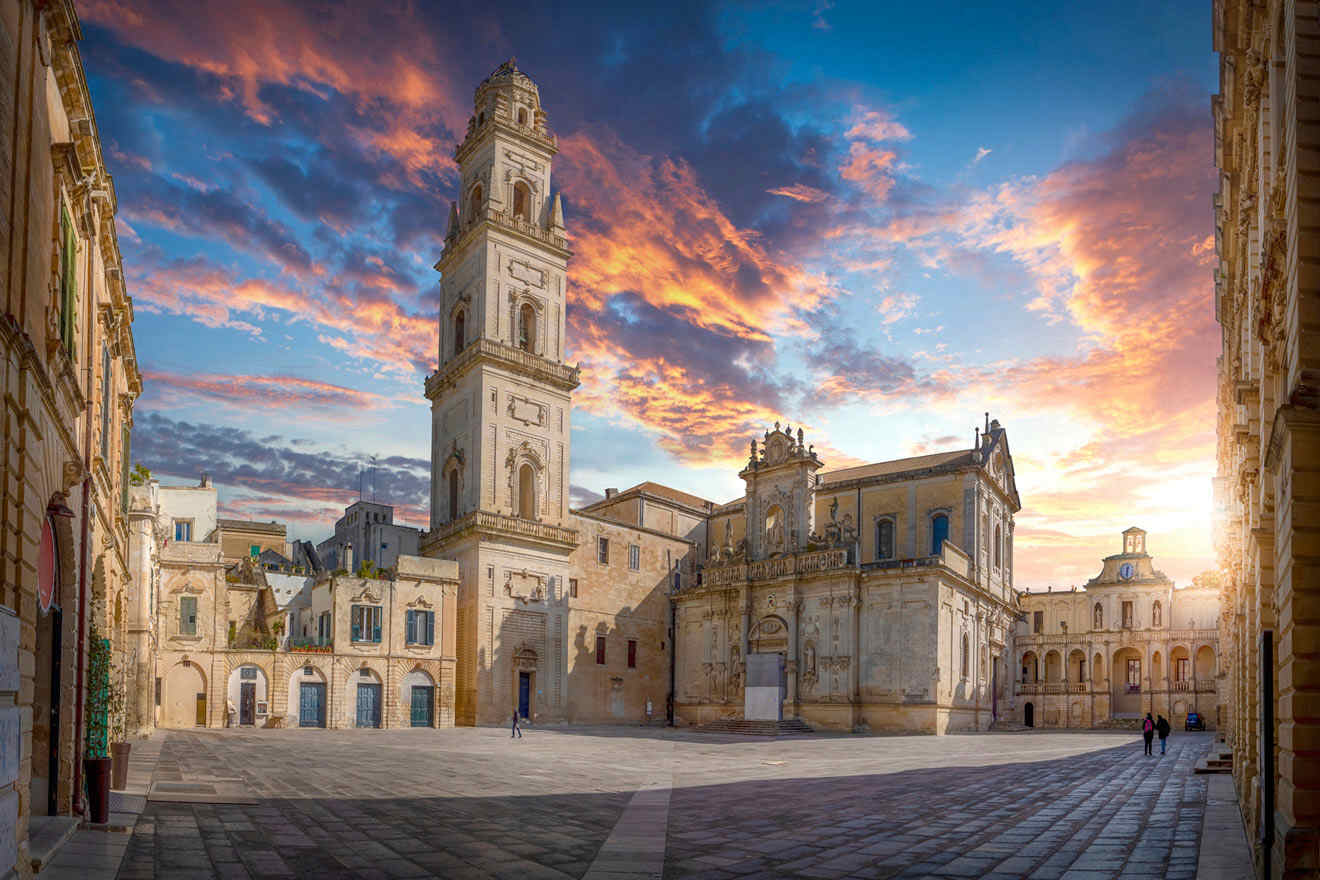 There's such a sophisticated atmosphere that reigns over Lecce! It may be from the Baroque buildings or narrow streets, but once you get here, you'll feel like you're in a whole other world!
I was on a trip there, and I can't wait to help you on your quest to where to stay in Lecce! The Historic Center is the top area in town, where you'll find the main attractions and great hotels. But don't worry, there are a few more that I've included for budget travelers, families, relaxation, and a place near the train station; Mazzini, Leuca, San Pio, and Ferrovia.
So excited to discover them all again with you! And since Lecce is famous for its gorgeous villas, I also made a bonus with some unmissable boutique hotels in Lecce.
The main thing that I would be wary of is booking your hotel in advance. Lecce is one of the most popular towns in Puglia, and I'm sure the good accommodation will well out fast (telling you from experience).
Let's start, everyone!
If you are in a hurry
Here's a short list of the best hotels in Lecce for those of you who are in a rush and can't read the whole post. All are set in the Historic Center:
Keep track of all the areas that I'll be talking about in this post with this super useful map that I've included below: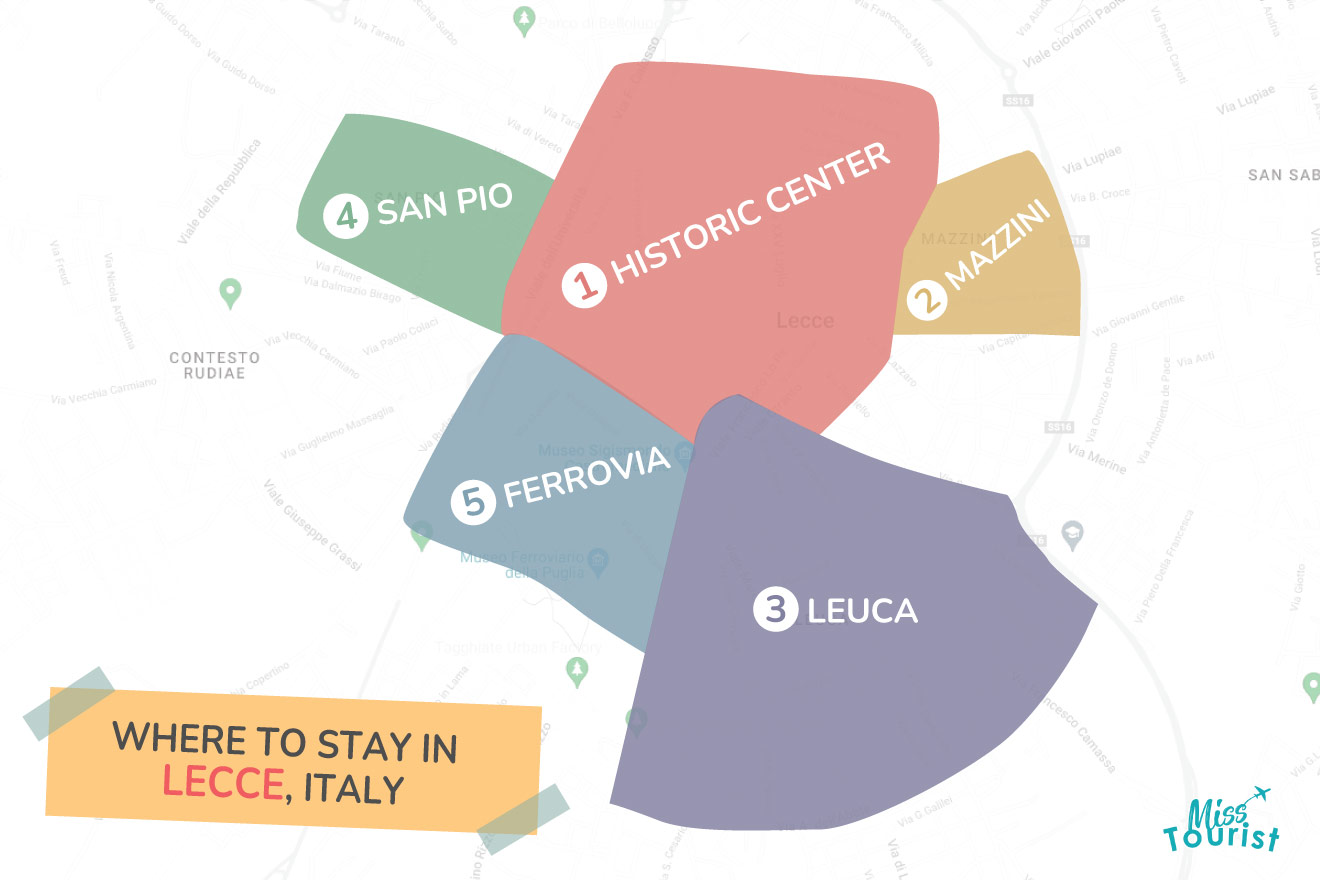 1. Historic Center – where to stay in Lecce for the first time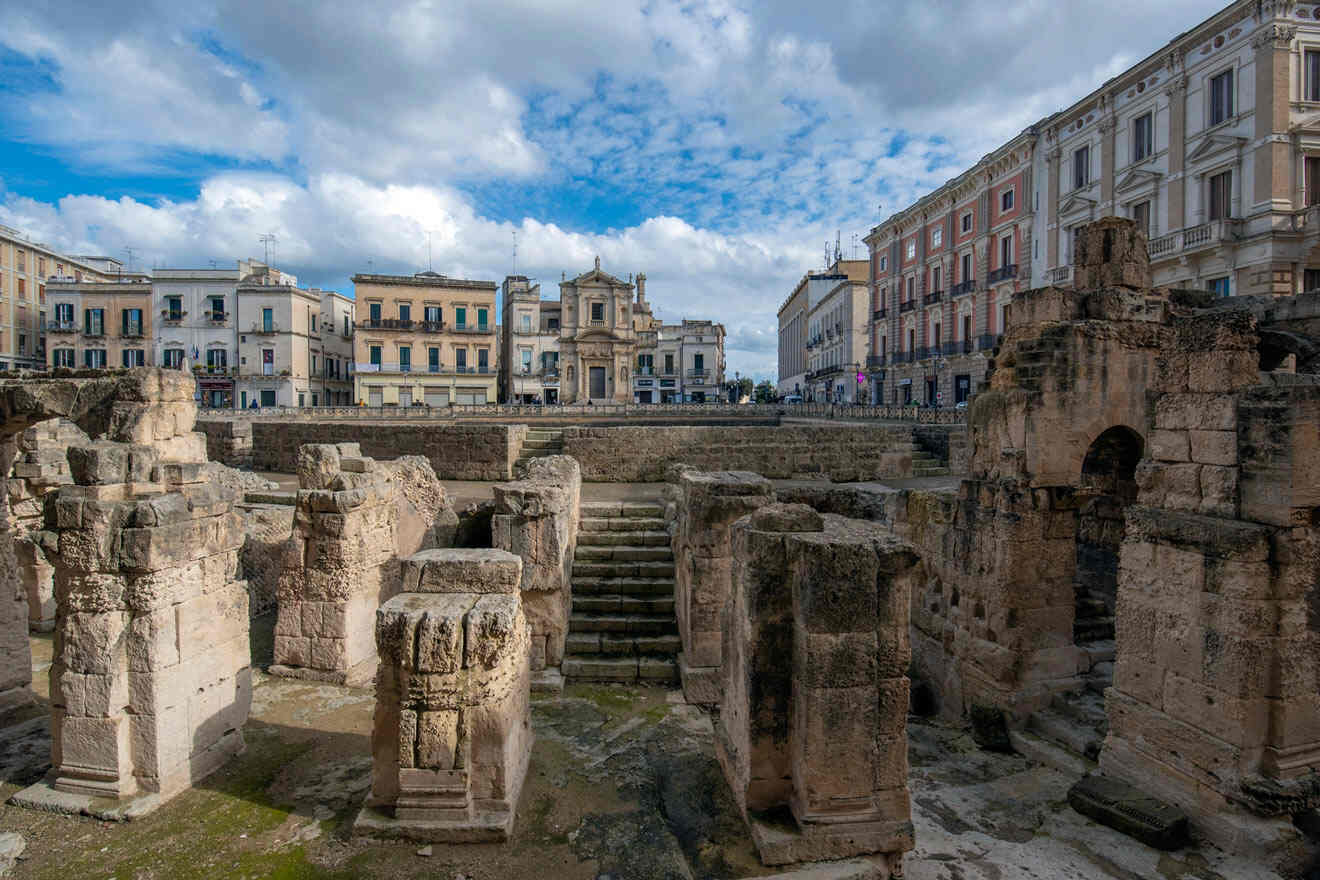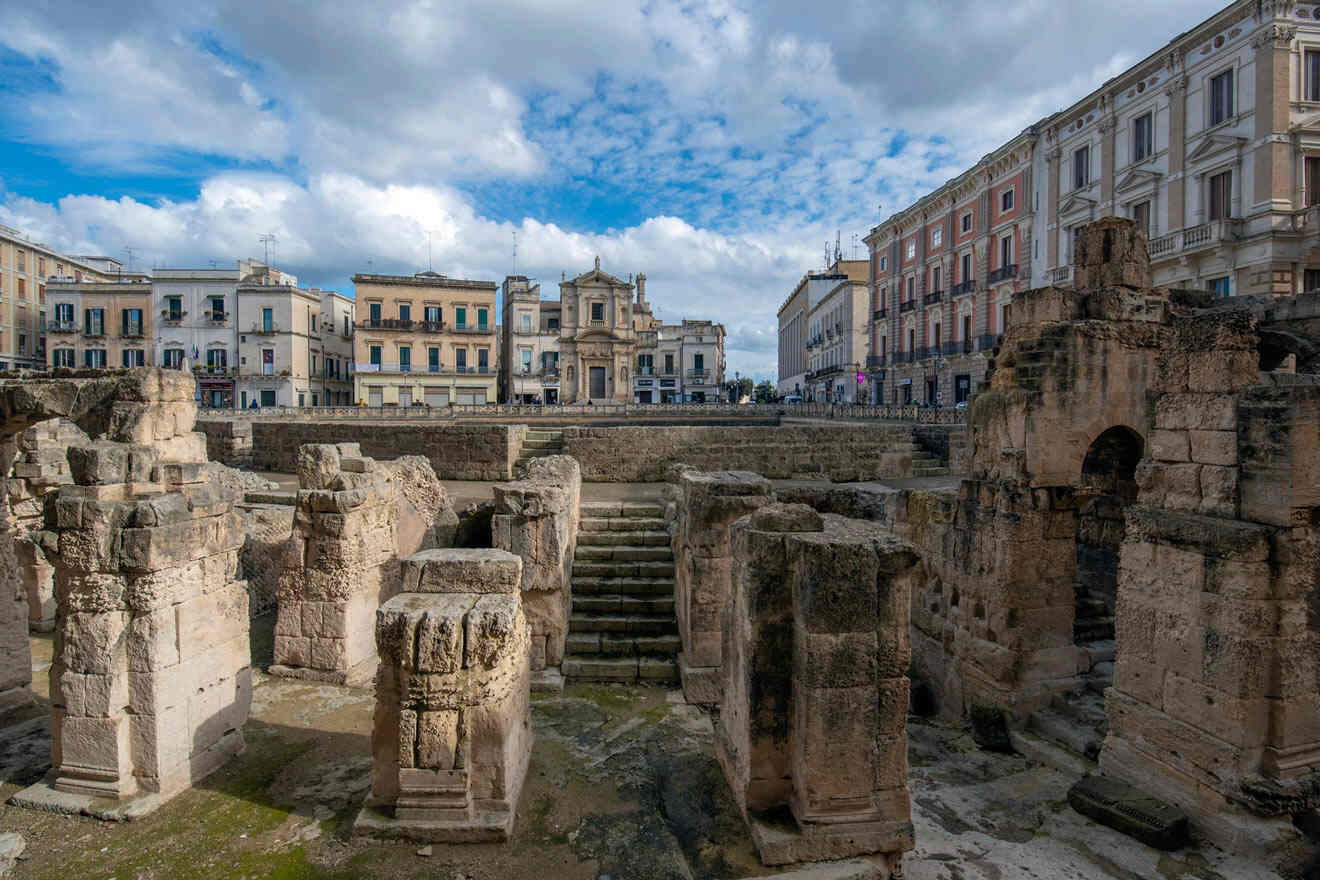 Warning: this city is known for making people want to move here and never leave!
There, I said it! Lecce is one of my favorite places in Italy, and its Historic Centre is one of those areas that you'll fall in love with the minute you arrive!
Lecce's Historic Center is filled with historical sites and Baroque buildings that are such incredible works of art! Although small, you'll definitely get the chance to wander on the narrow streets. That's what I did all day long while I was there, and it was such a dreamy experience.
Lecce really transports you in another timeline, especially with its attractions that you'll find in the Historic Center, like the Lecce Cathedral, Piazza del Duomo, Basilica di Santa Croce, and the Roman Amphitheatre! I've got a whole post on the best things to do in Lecce, so definitely check it out if you need some guidance!
Additionally, you can book a guided walking tour of Lecce to find out all about the history and the architectural, cultural, and historical significance of Lecce's main attractions.
As you can imagine, this beautiful city in Puglia gets many visitors, so I highly recommend booking your hotels here early!
PRO TIP: While you're exploring this part of Lecce, look for hidden shells in all the walls. Once you see one, it'll be easy to spot them all!
Luxury hotel
Pollicastro Boutique Hotel, Historic Center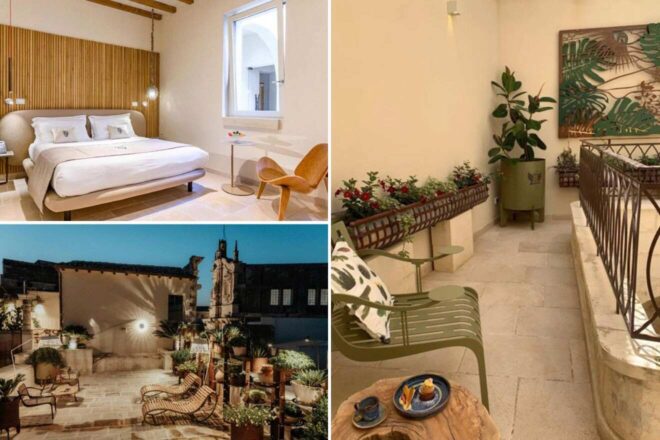 This fabulous hotel is set within walking distance of all the attractions, and it features incredible modern rooms with stone walls, vaulted ceilings, stylish furniture, and air-conditioning. They also have this amazing roof terrace where you can admire the city views!
Other accommodation options in Historic Center
mid-range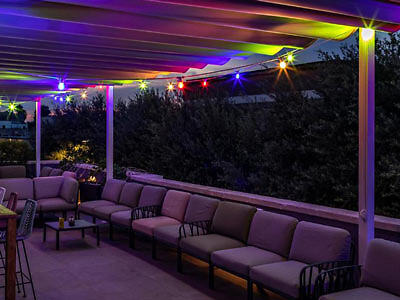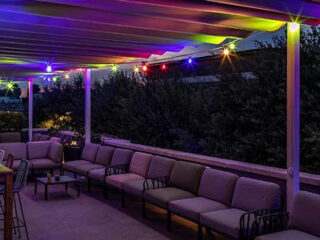 Party like an Italian in this hotel that has a good location, a bar, a restaurant, and a terrace
budget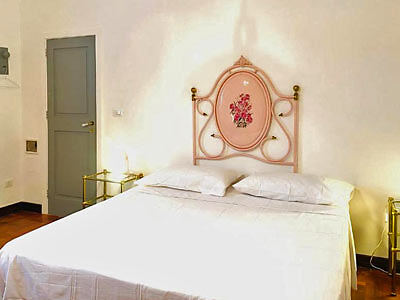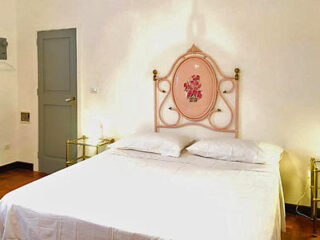 Set in the historic heart of the Old City, this affordable hotel offers family rooms and a breakfast
airbnb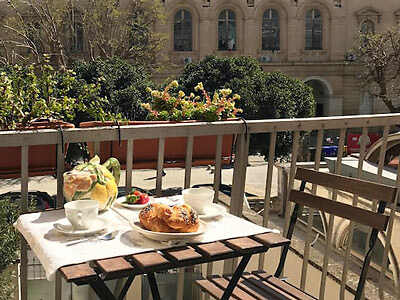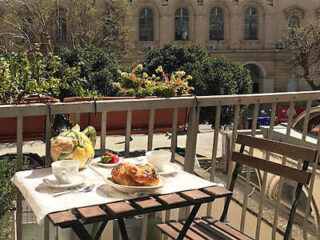 A lovely place in the city centre with only three rooms, amazing views from its balcony, and a kitchen
Things to do in Historic Center
2. Mazzini – best place to stay in Lecce on a budget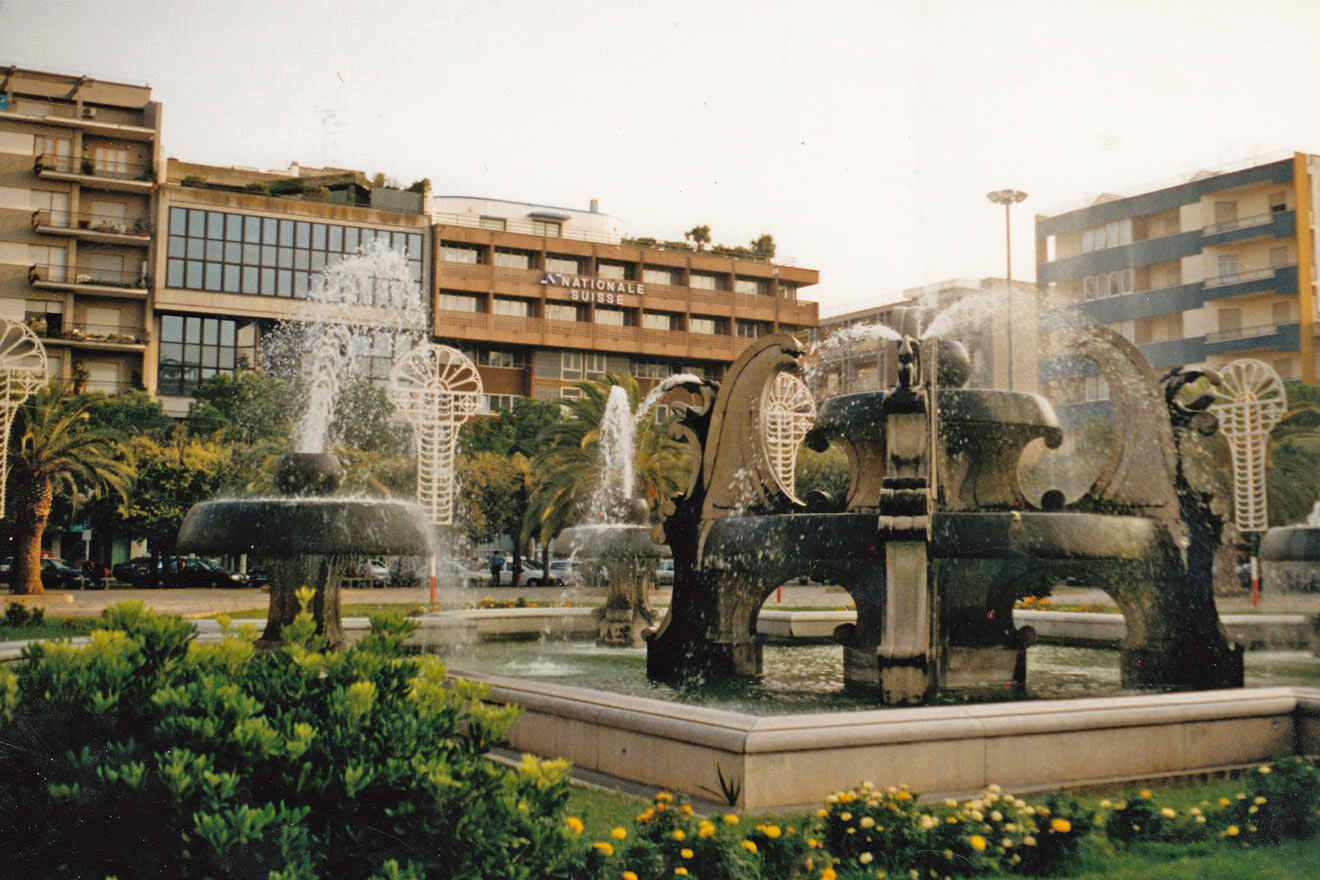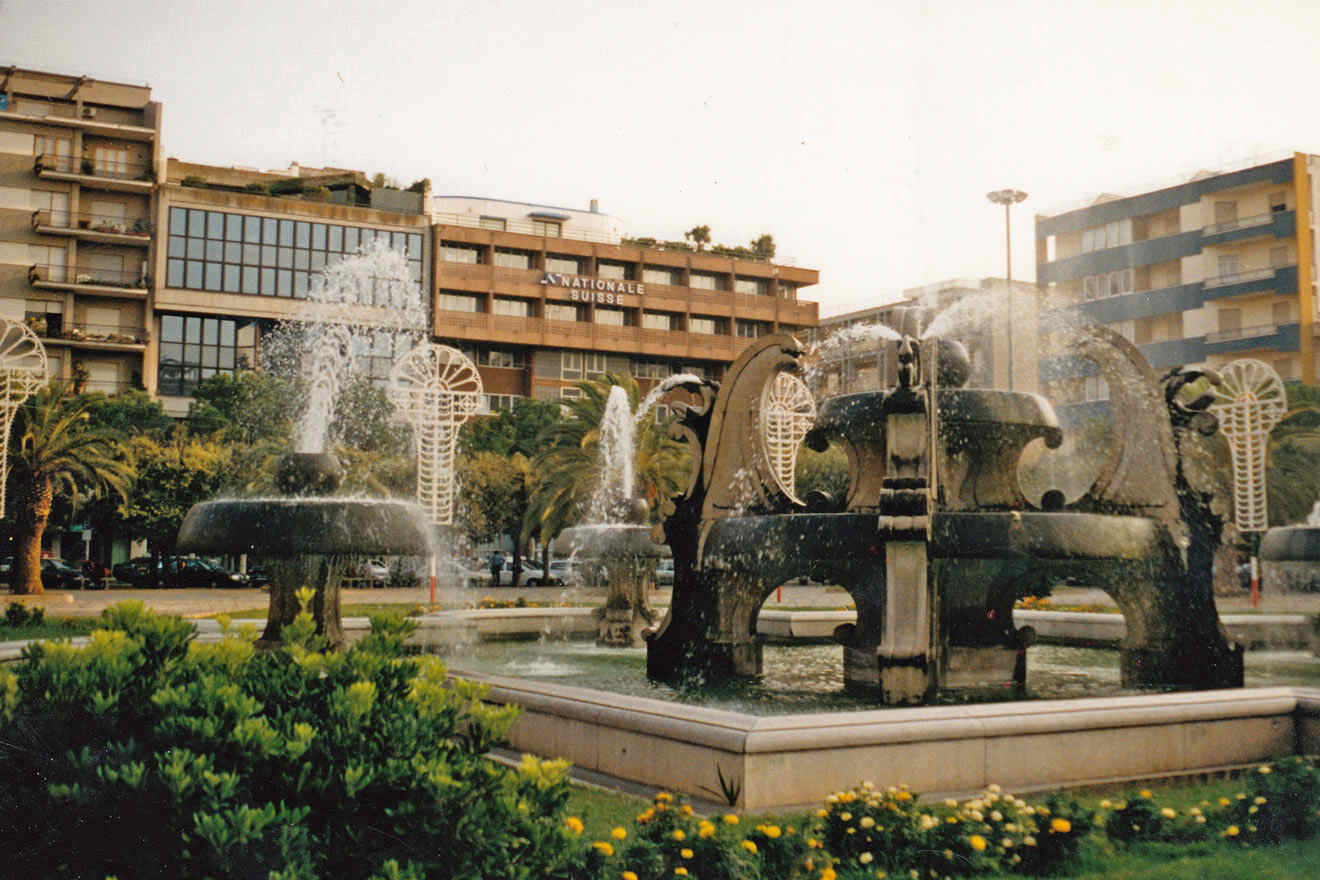 Listen, I know that staying somewhere like Lecce's Old Town is super dreamy but not so cheap!
When I came to Lecce, I also booked a hotel outside of the Historic Centre as it was much more affordable and there was just a 15 min walk to get there!
If you're in the same situation as me, then check out this area which is set within walking distance of central Lecce! Literally, just 7 minutes away!
Mazzini is a small area near Piazza Mazzini, with a more residential feel, which has lots of stores, bars, and even some clothing shops.
It's the perfect place where you can find some affordable Lecce hotels that are set just a short walk away from the main attractions like Santa Croce Church and Santa Chiara Church.
Luxury hotel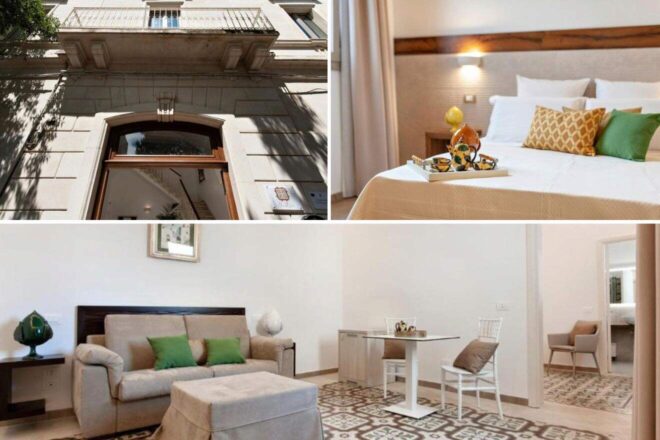 A gorgeous hotel that has great value and which comes with spacious rooms that have modern furnishings, a private bathroom, and air-conditioning. The accommodation offers breakfast, a terrace, and a hot tub where you can relax!
Other accommodation options in Mazzini
mid-range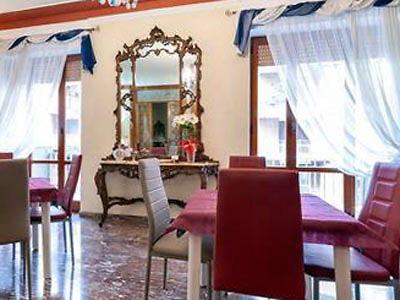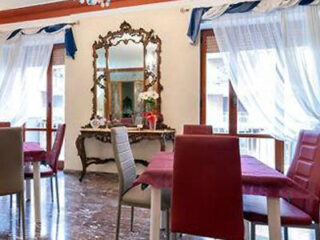 This small hotel has a chic design, rooms with a balcony, private parking, and a yummy breakfast
budget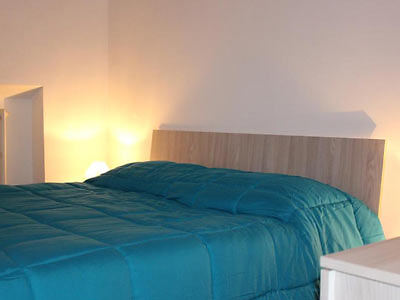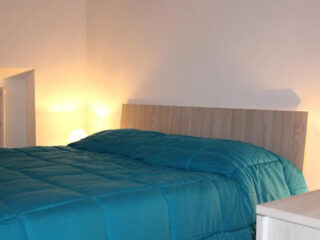 An affordable place near the Historic Center that offers rooms with a private bathroom and free Wi-Fi
airbnb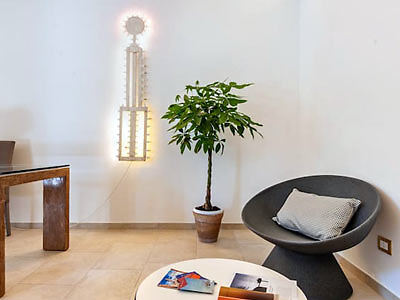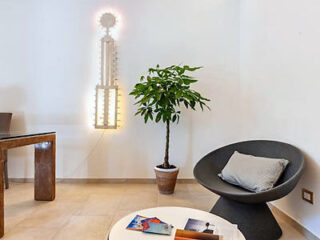 Perfect for a couple, this condo has a great location, air-conditioning, and a private hot tub 
Things to do in Mazzini
3. Leuca – where to stay in Lecce for families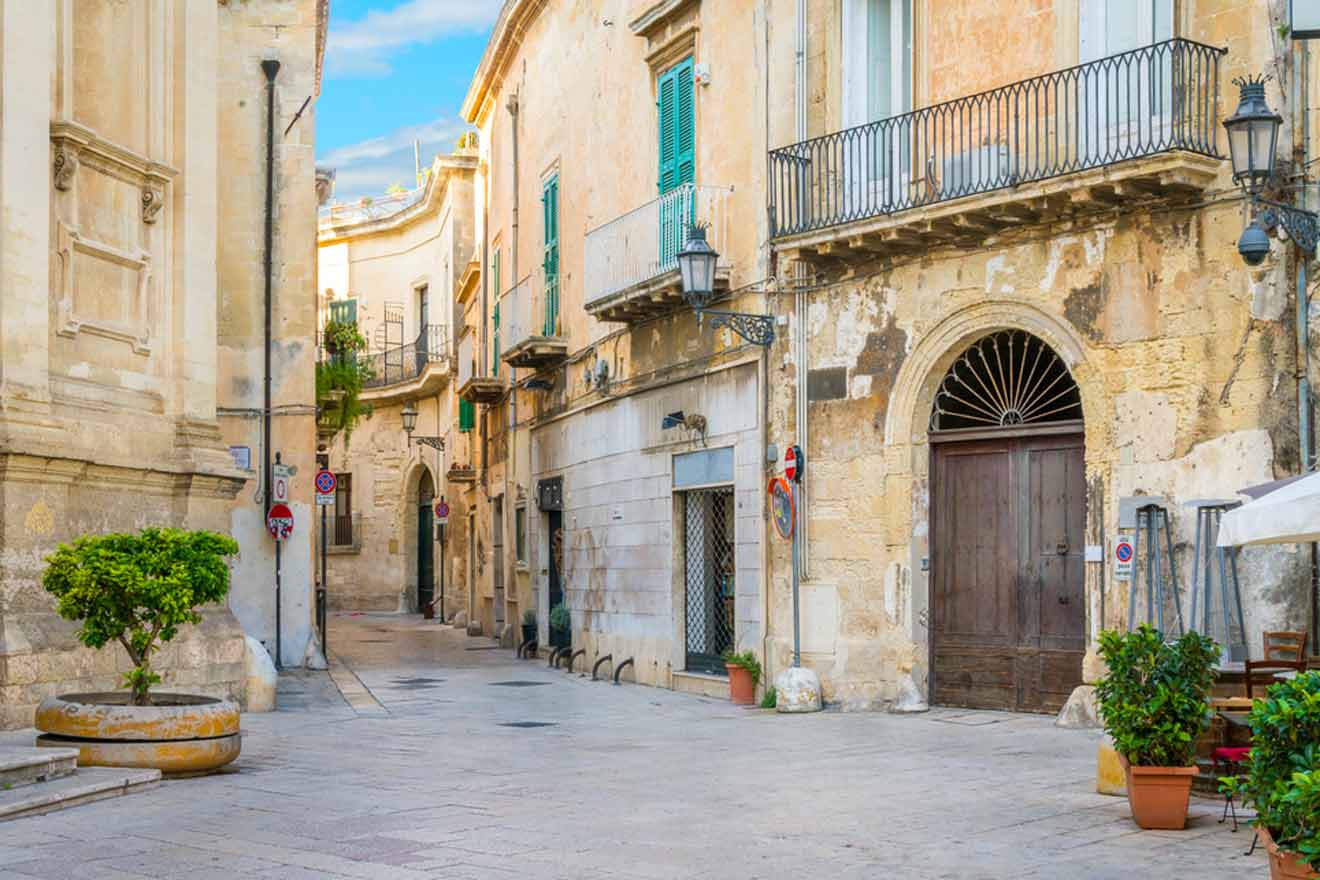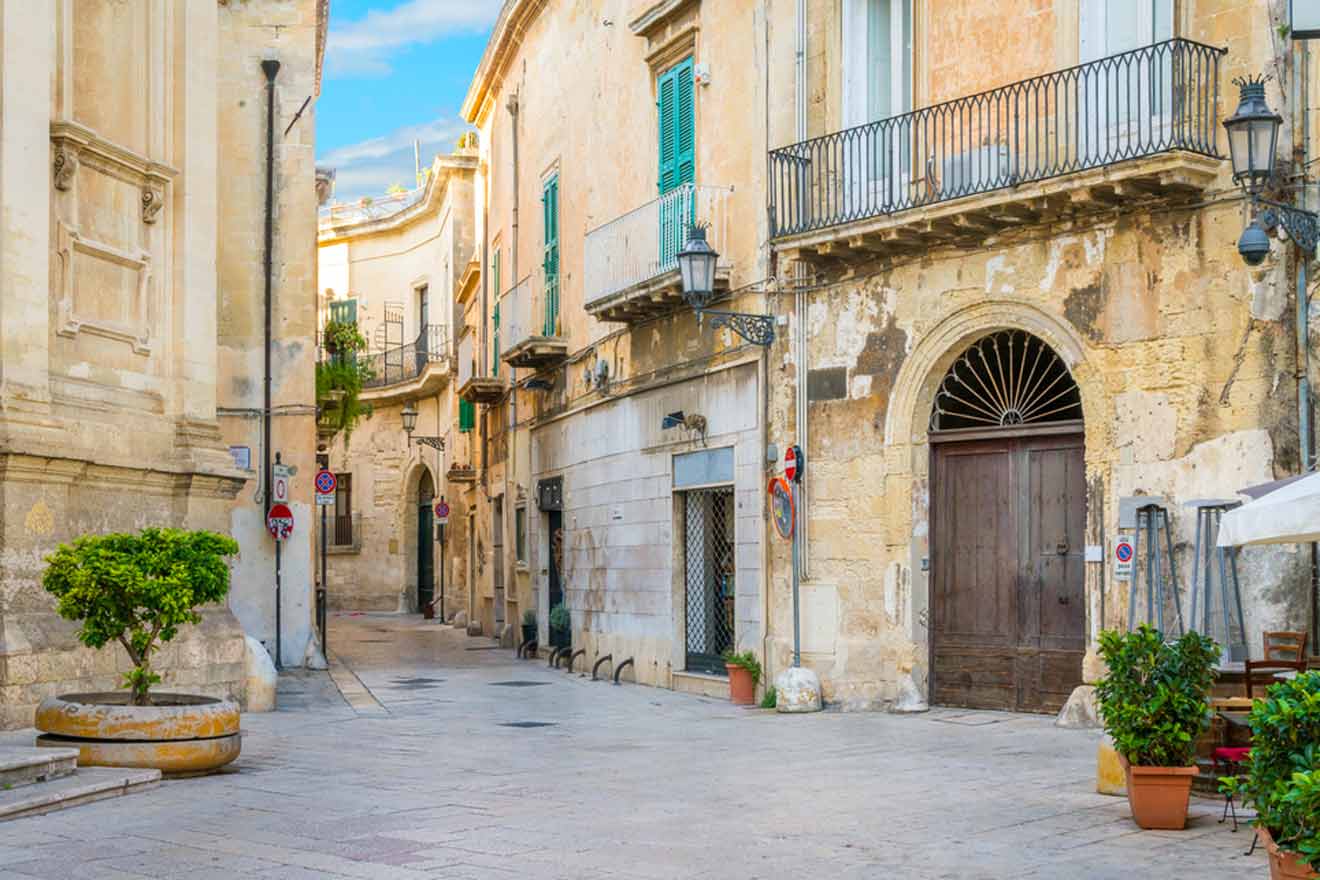 Planning a family trip to Lecce? Then I'm guessing you'll probably want to stay in an area that isn't as crowded as the Old City while at the same time is set near it!
In that case, check out Leuca, a small area that's set a 15 min walk away from the Historic Center.
With a more residential feel, Leuca offers a tranquil environment where tourists can relax and get a peek inside the life of Lecce's locals!
Although there are not many attractions, except a really cool museum that you should check out, here you will find a handful of restaurants and bars where you can grab a bite and a drink after a day out exploring Lecce's attractions!
There are no luxury hotels in Leuca since it's such a small area, and there are only a few options. But if you really want to stay in a fancy place, then check out Palazzo San Lazzaro, which is set in Mazzini (section #2 of this post).
Other accommodation options in Leuca
mid-range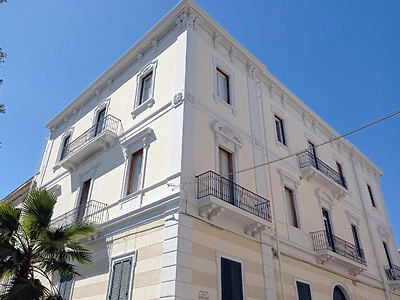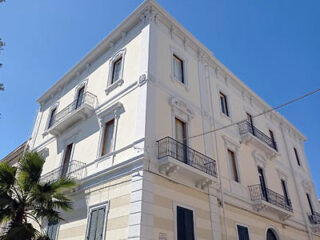 A great hotel that has family rooms with tea and coffee makers and that offers breakfast
budget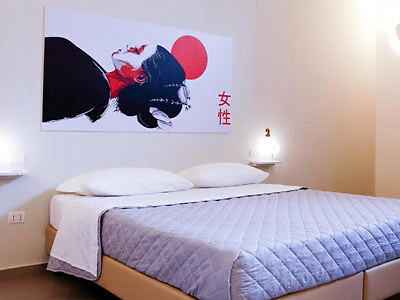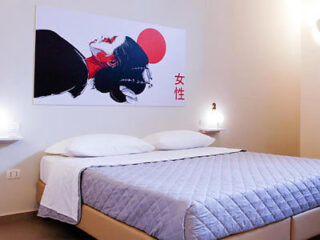 Perfect for budget travelers, this hostel comes with a terrace, an airport shuttle, and private parking
airbnb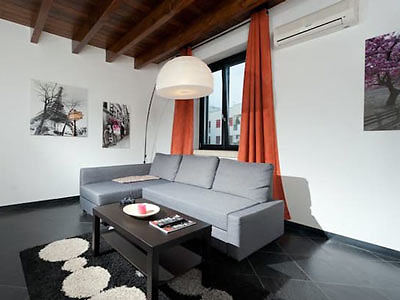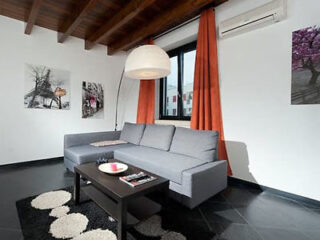 You'll love this home which is great for families as it has a lot of space, a hot tub, a kitchen, and TV
Things to do in Leuca
4. San Pio – best place to stay in Lecce for relaxation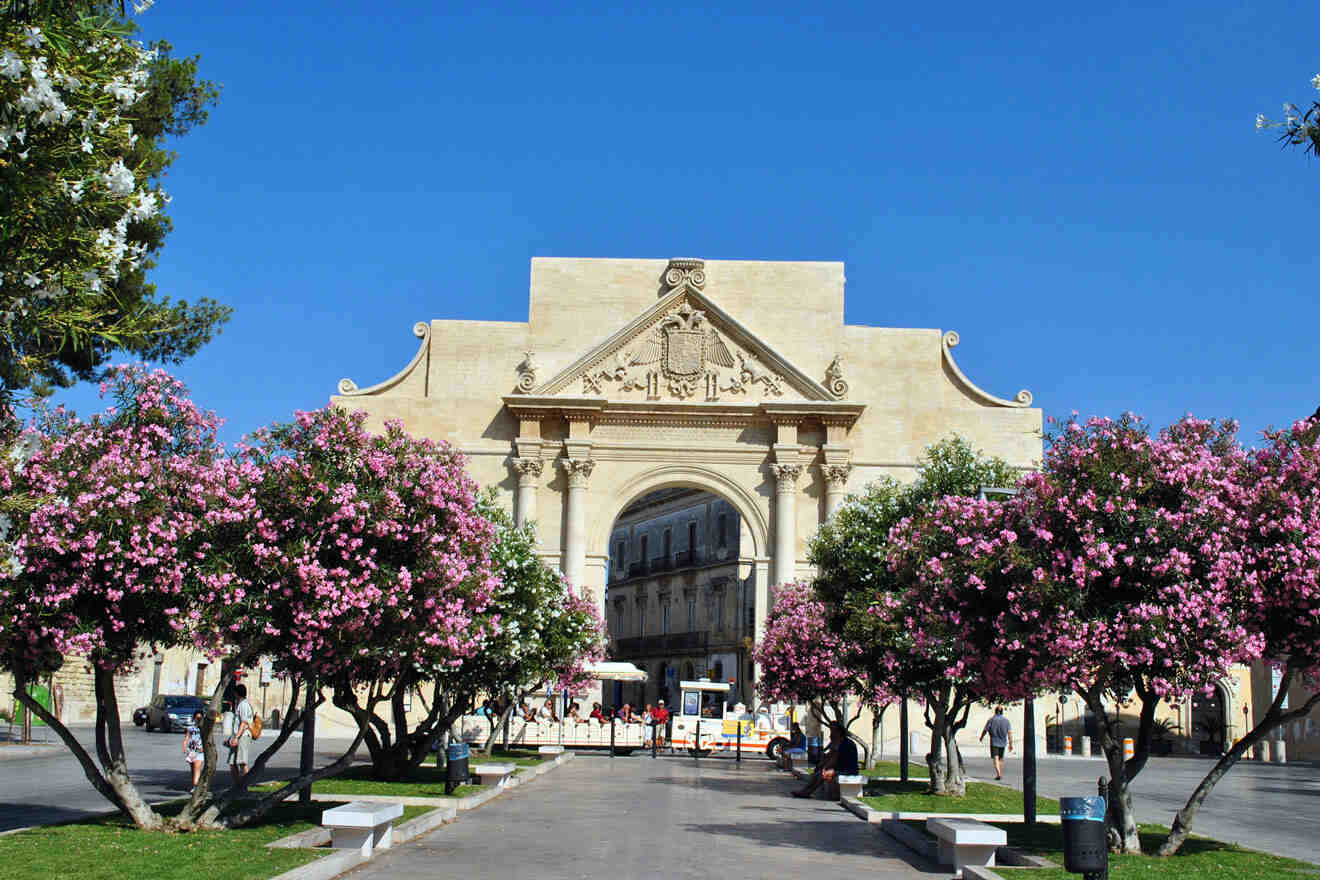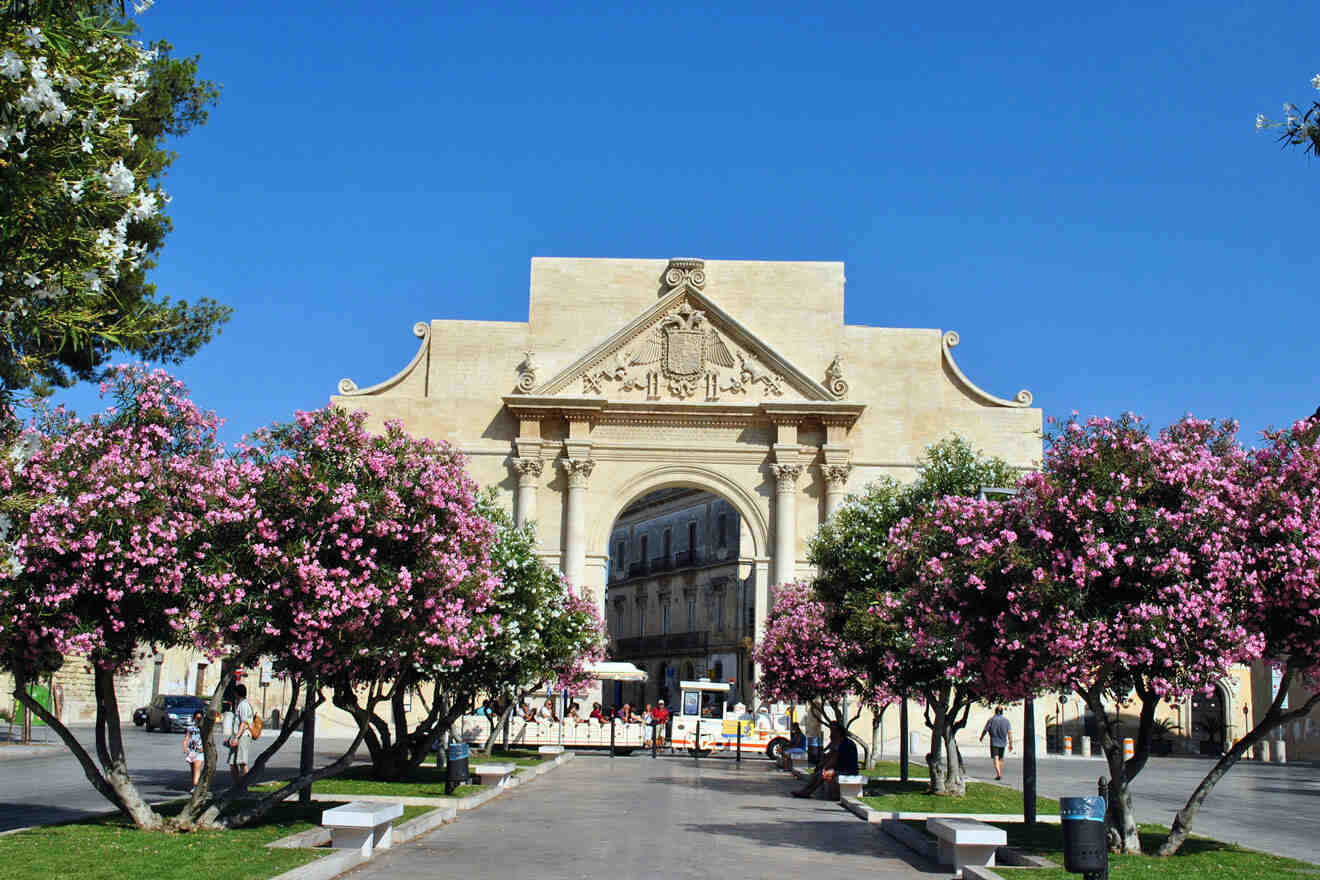 Right near Porta Napoli, an old arch from the 16th century, which served as the city walls gate, you'll find the San Pio area!
It's a residential area right near the city's Historic Center, great for people who want to lay low this holiday and not stand in the middle of the crowds all day long!
I've walked around San Pio, and it's so interesting how once you pass through the gate from the Old Town to San Pio, it's like you're in a whole other world, the real one, I would say, where modernism reigns over!
You'll definitely find more affordable accommodations here, a few restaurants, and some shops from where you can get groceries! I highly recommend doing that if you're staying for a while in Lecce. That's what I did, and I managed to spare a few euros!
Luxury hotel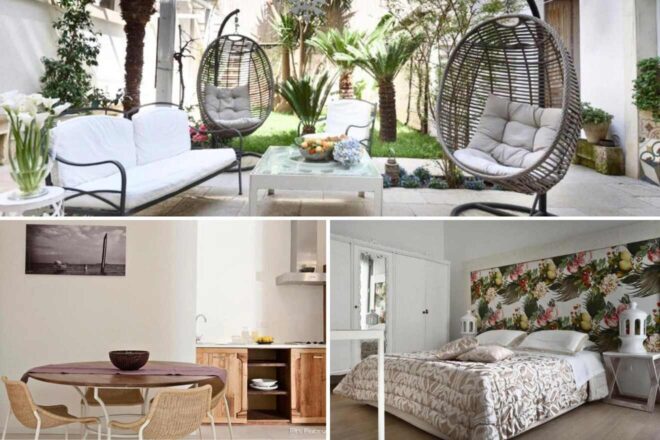 What a gorgeous Palazzo that has a great location near the Historic Center and a lovely terrace where you can relax! All the rooms feature a beautiful design, simple yet with taste! They also offer a free airport shuttle and buffet breakfast!
Other accommodation options in San Pio
mid-range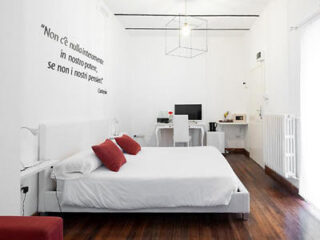 A great hotel with spacious rooms, bikes to rent out, and a spa center where you can relax
budget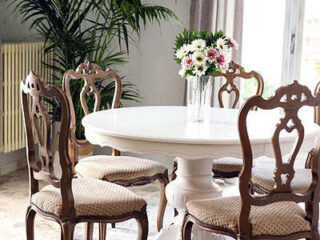 This modern yet super affordable place offers rooms with a balcony, a terrace, and breakfast
airbnb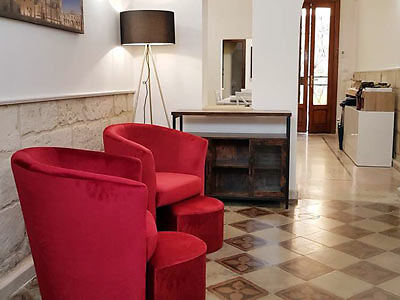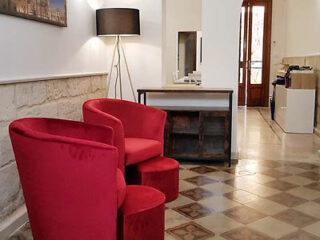 Perfect for couples, this studio comes with a kitchen, free parking, and a private balcony 
Things to do in San Pio
5. Ferrovia – where to stay in Lecce near the train station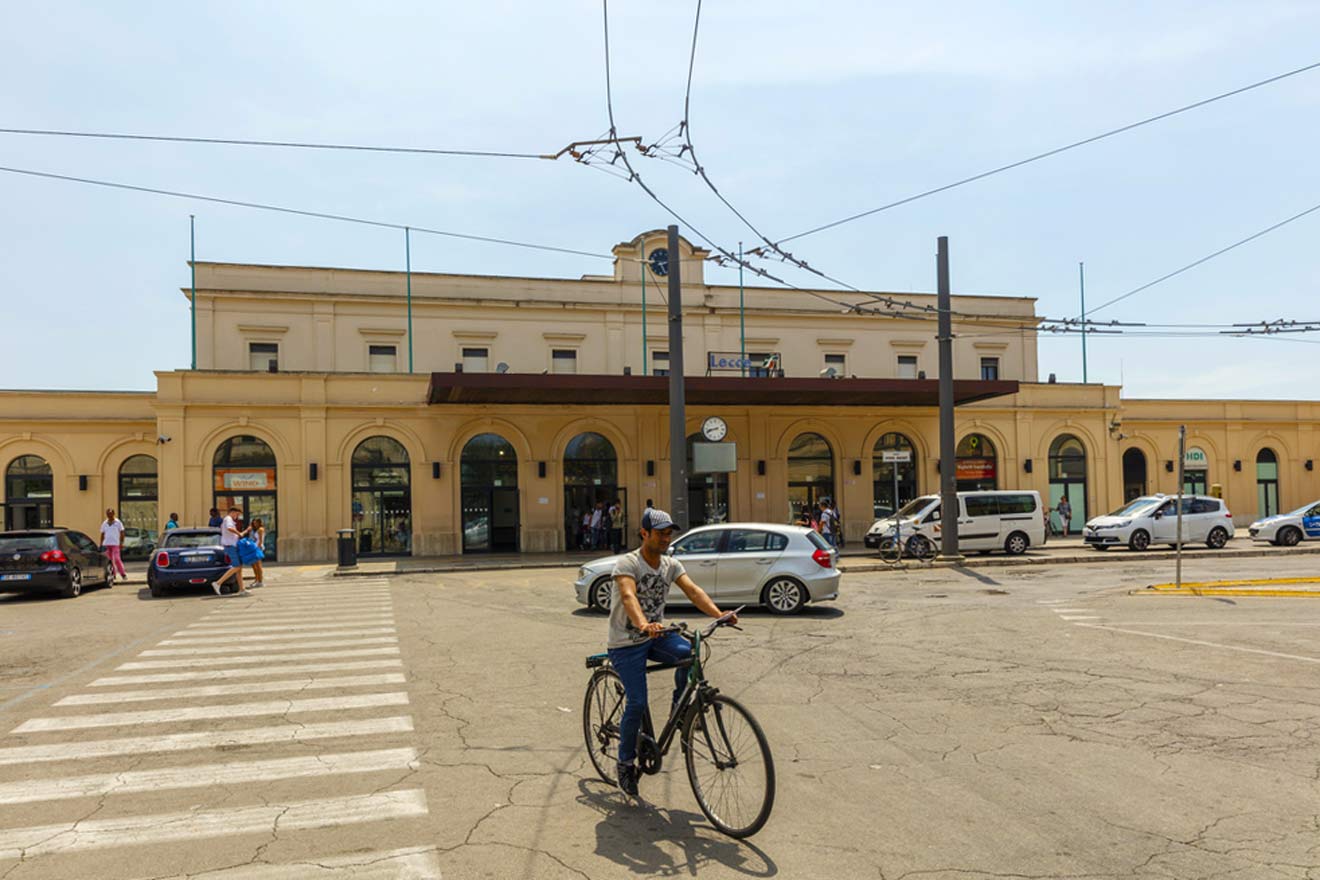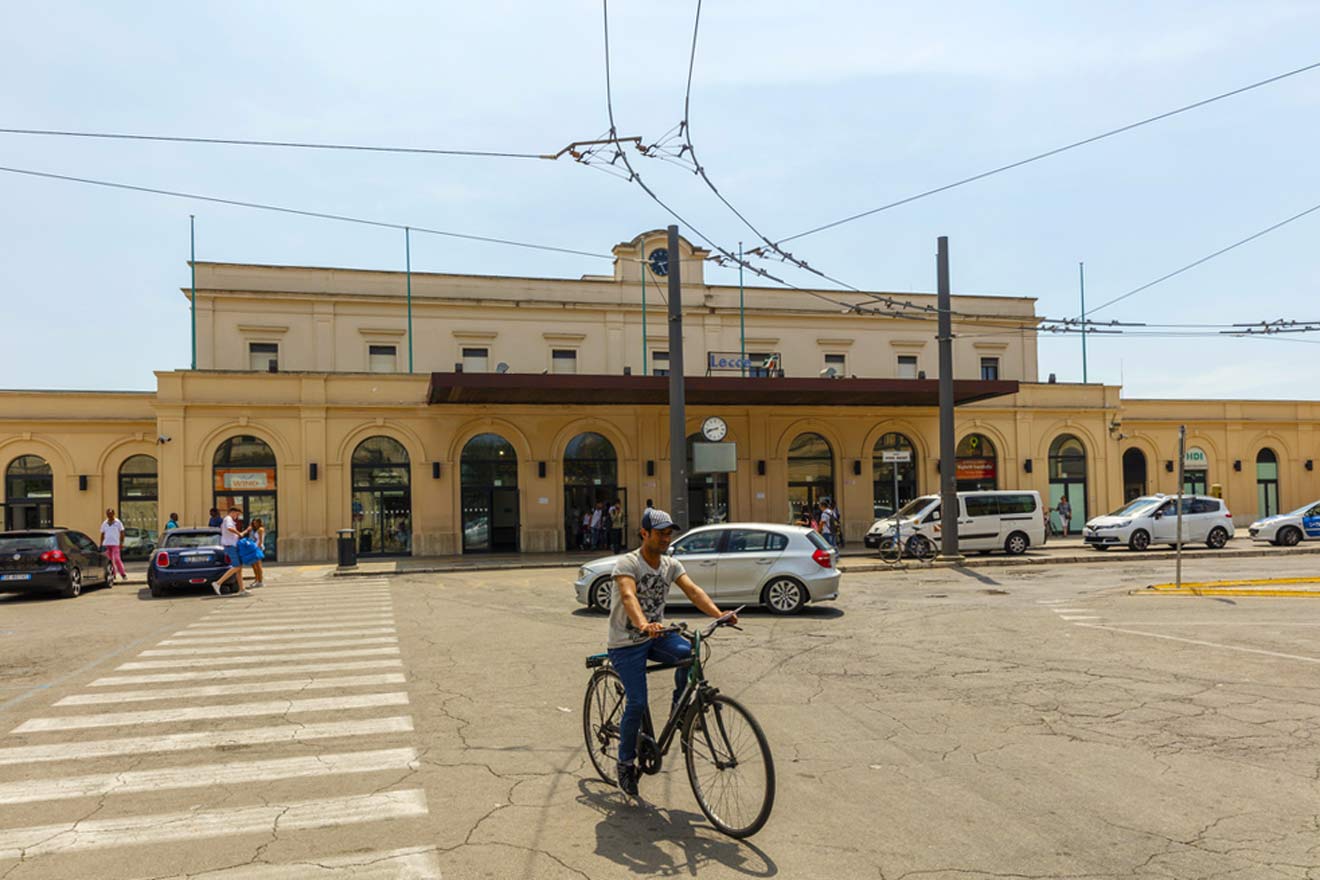 If you're planning a trip to Lecce, then I'm sure you're thinking of visiting other towns in Puglia as well!
And although I would recommend renting a car as you can't reach all the places by using public transport (telling you from experience), I know that isn't affordable or convenient for everyone!
During my trip, I used the train service, and it was ok, especially from Lecce, where they've got a bigger station! This brings us to this area, Ferrovia, where the train station is set!
From Lecce Railway Station, which is set in this area, you'll find trains to Gallipoli, Ostuni, Bari, and many other spots. By the way, if you're headed to any of these towns, check out my post with the best things to do in Ostuni and in Bari.
Ferrovia is about a 15 min walk from the Historic Center, which is not too bad! It has some stores and a few restaurants. I would definitely find a place to stay here if you're planning to take day trips around Puglia!
Luxury hotel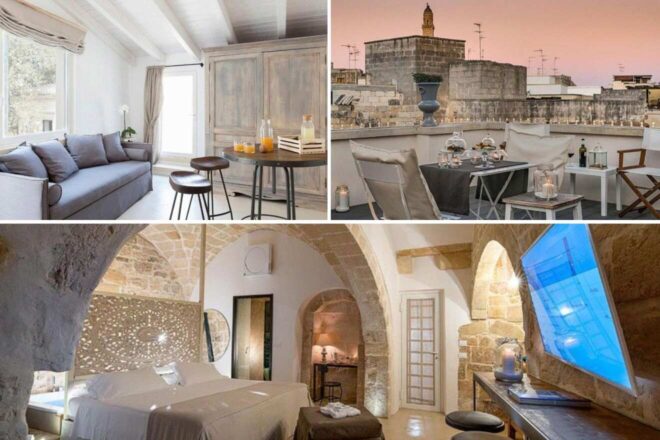 Relax in the spa center of this amazing accommodation which has a great location and such a stylish design! I love the wood furnishings and the rooms, which are beautifully decorated, and some even have a terrace. Start your morning with some yummy Italian pastries and espresso, and head out to explore the city!
Other accommodation options in Ferrovia
mid-range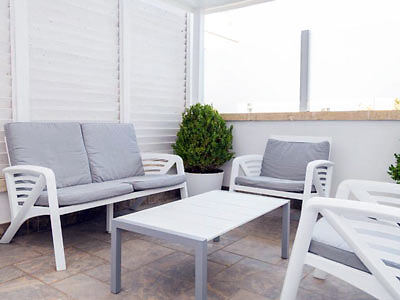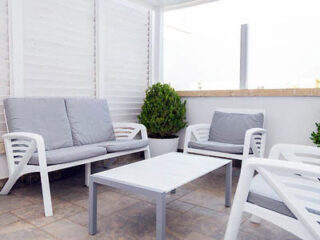 Offering some amazing city views, this hotel provides family rooms, breakfast, and free Wi-FI
budget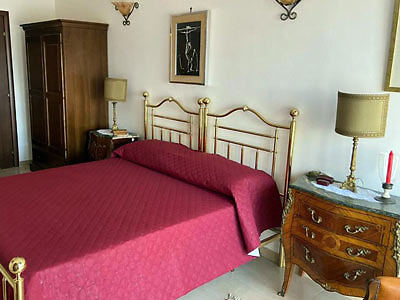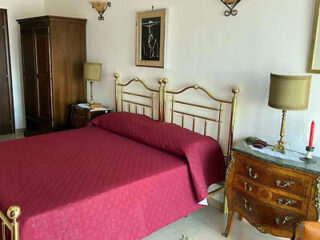 If you like antique furniture, then this place is for you! It offers an airport shuttle and breakfast
airbnb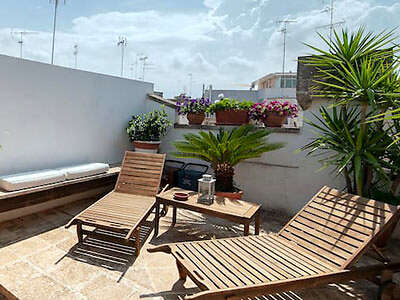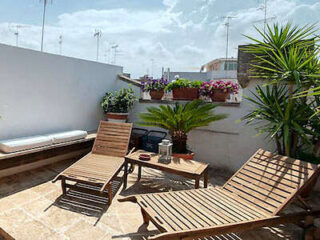 You'll never want to leave this gorgeous place that offers so much space, unique furnishings, and a balcony 
Things to do in Ferrovia
BONUS: Best boutique hotels in Lecce
I know we've seen quite a few hotels in all the gorgeous Lecce areas but you know me, I can't stop until I've made every reader happy, or at least most of you!
The city's history and past have granted its people lots of incredible villas and palazzos! Most of these have been transformed into chic boutique hotels. Since I saw some of these places while I was visiting Lecce, I thought you should all see the top ones.
I listed them below from most to least expensive, and the prices start from €200 to €1,300: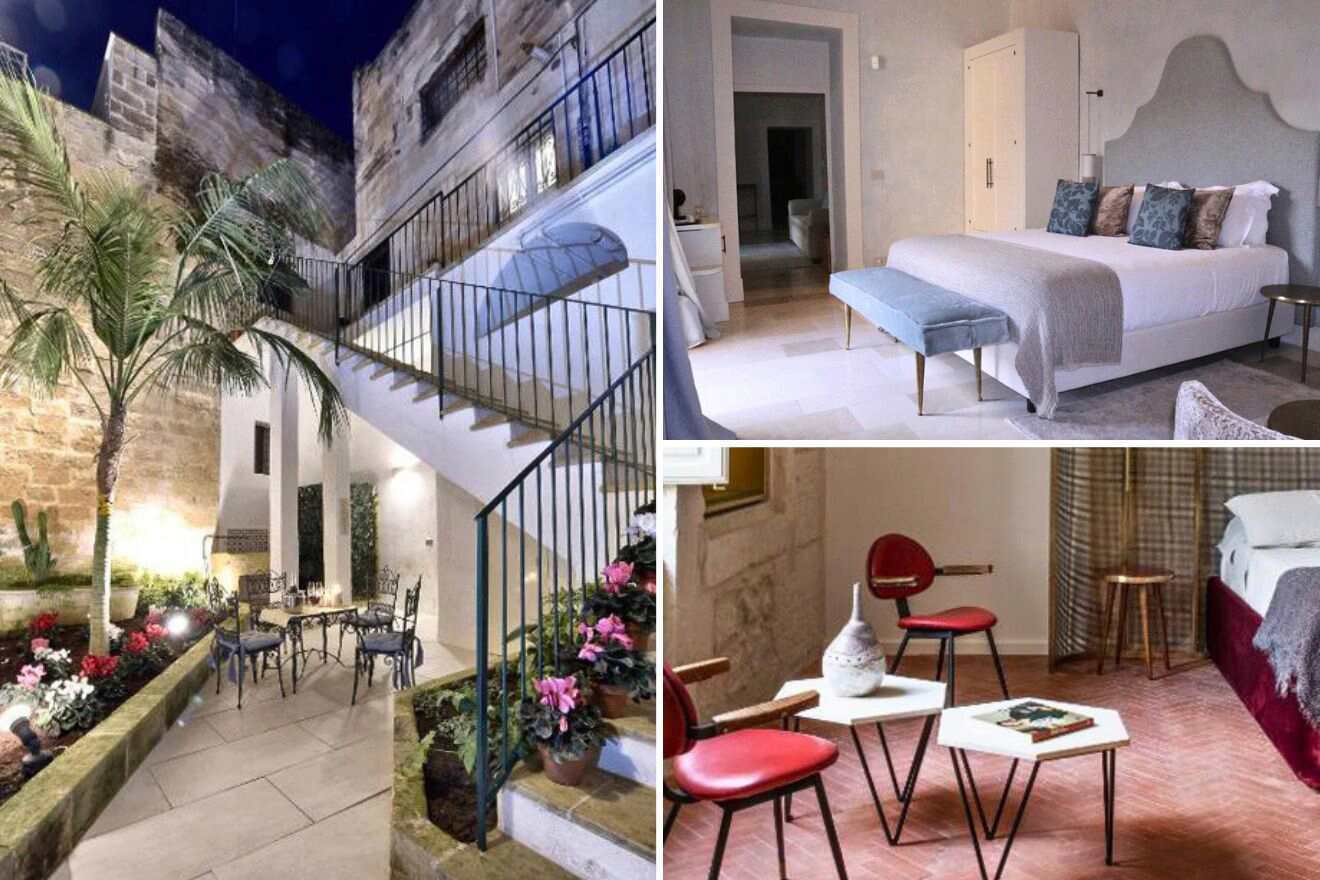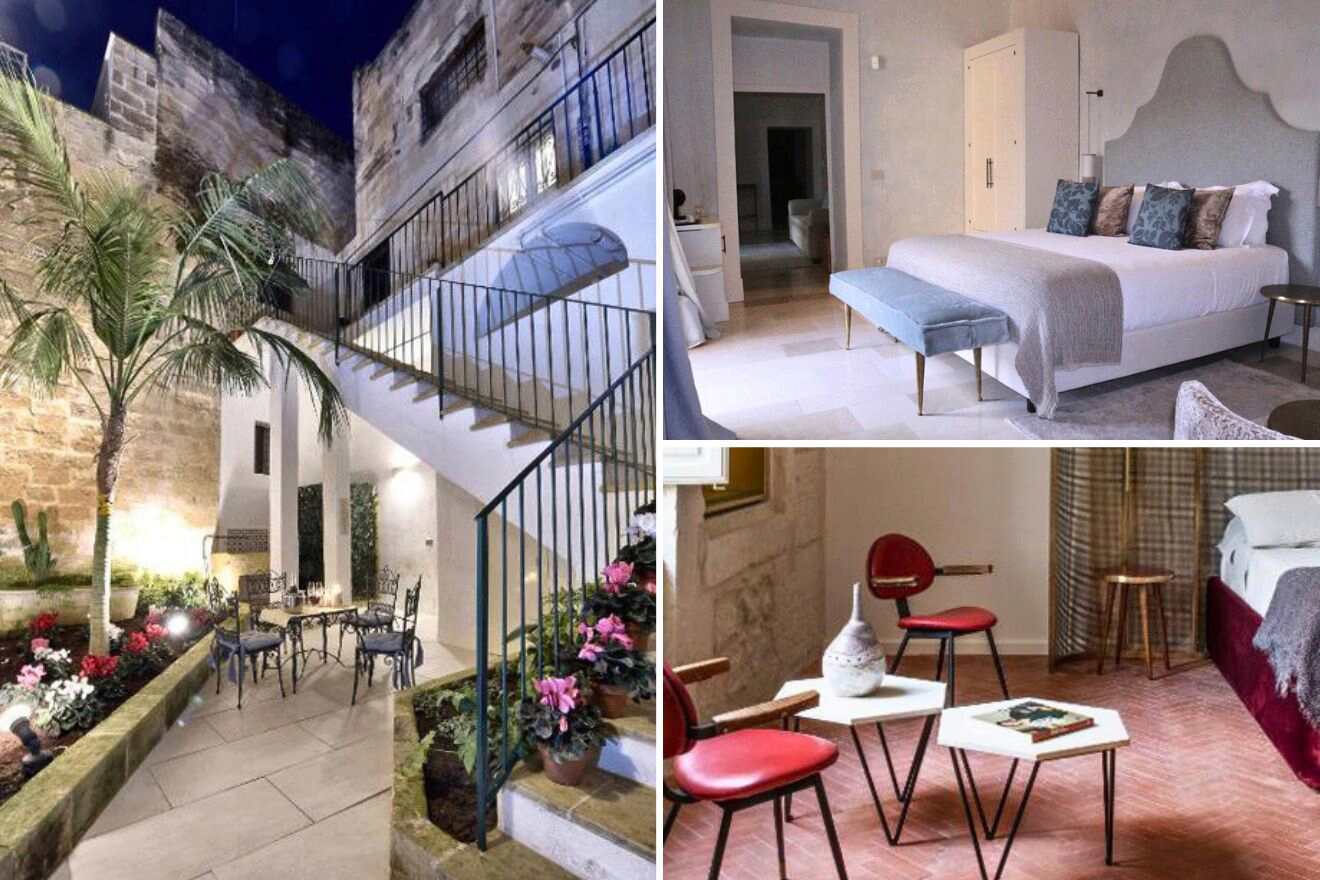 FAQs about where to stay in Lecce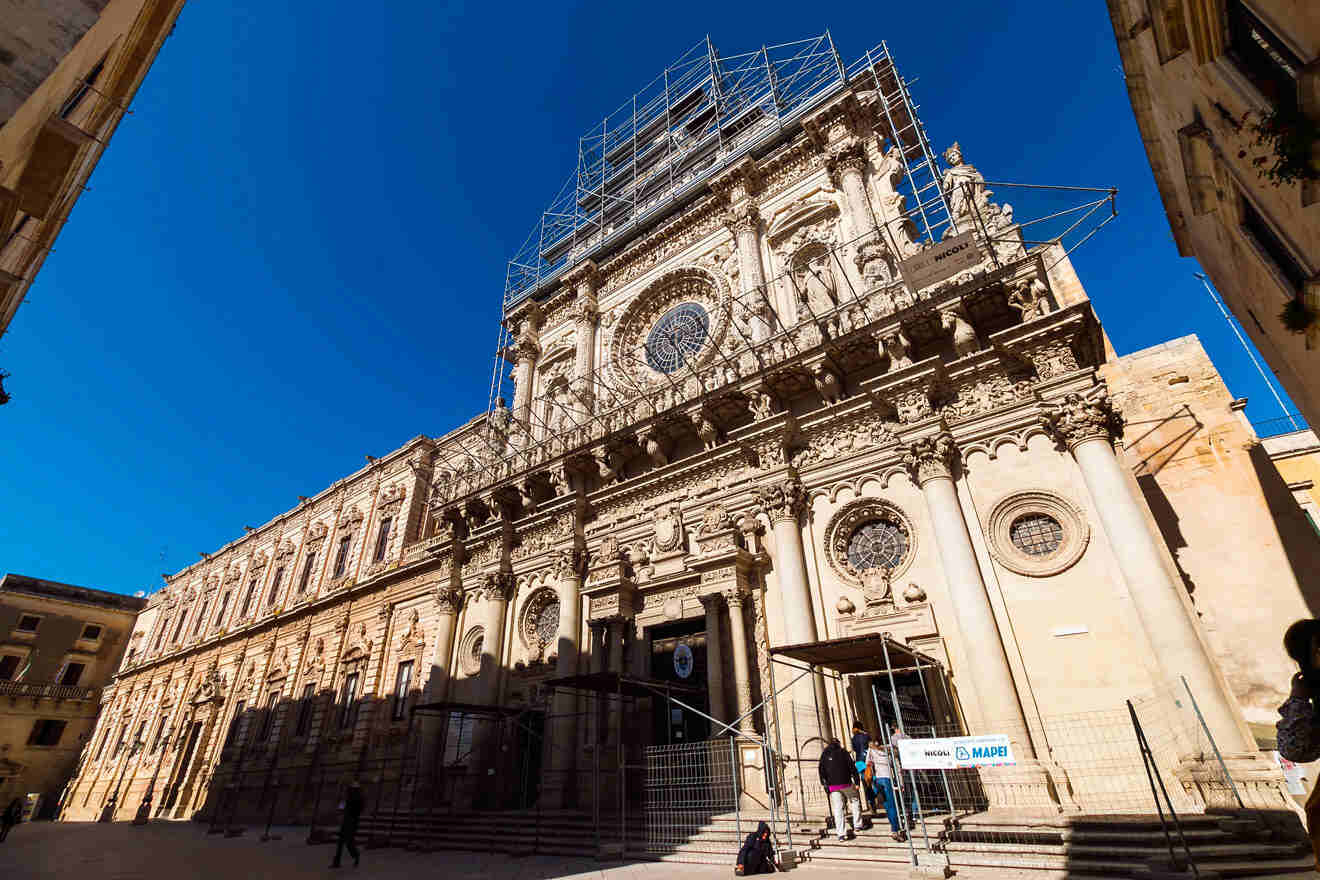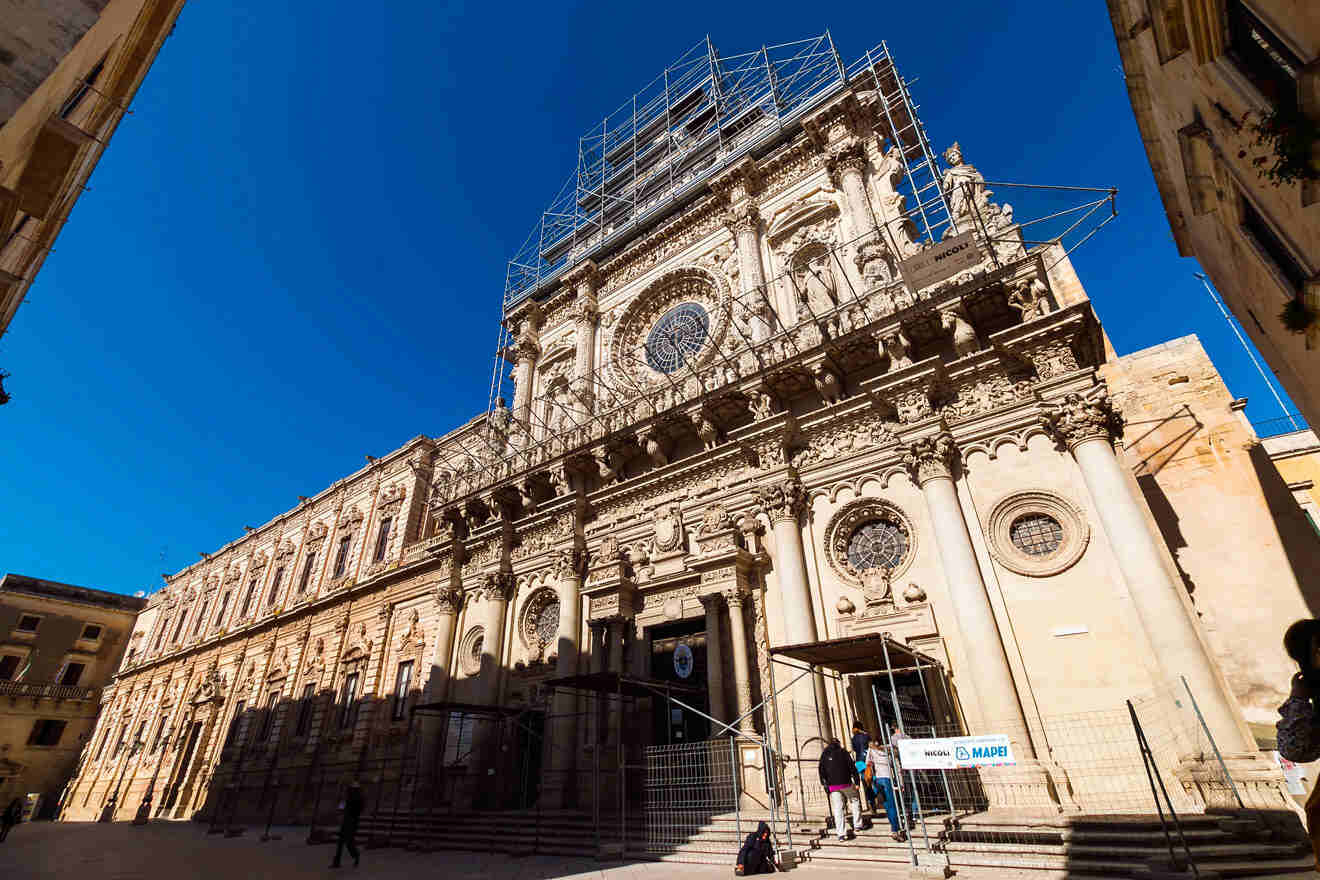 🏛️ Which part of Lecce to stay in?
The Historic Center is one of the best areas to stay in Lecce as this is where you'll find all the attractions and great hotels like Pollicastro Boutique Hotel.
📅 How many days should I stay in Lecce?
I would recommend spending 3 to 4 days in Lecce. That way you'll have time to visit all the attractions and maybe take a day trip too!
🤔 Is it better to stay in Bari or Lecce?
The cities are super different! Bari has a port city with a bigger population, while Lecce is super historic and has these gorgeous Baroque buildings. I would recommend both!
🏨 Which are the best hotels in Lecce?
Conclusion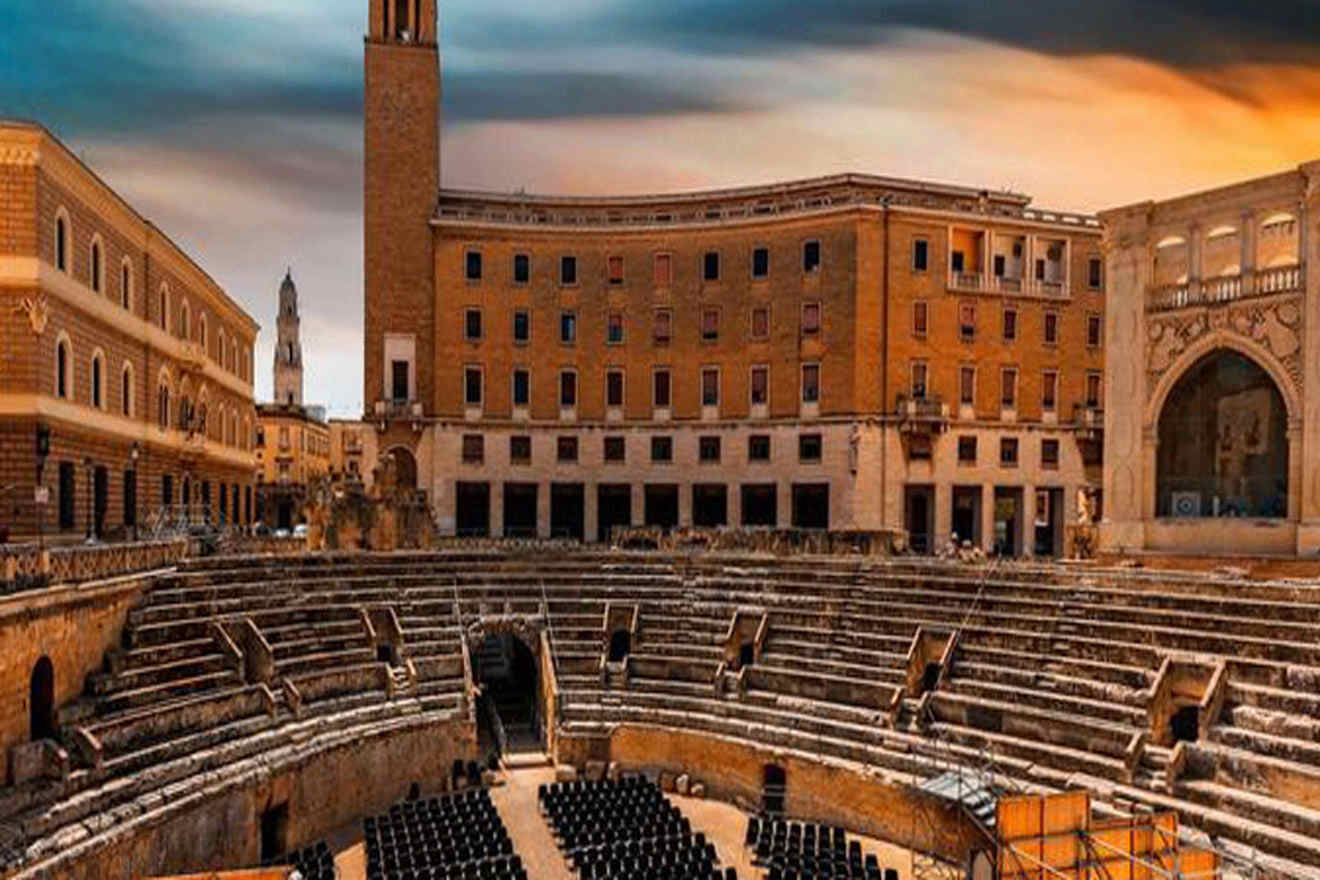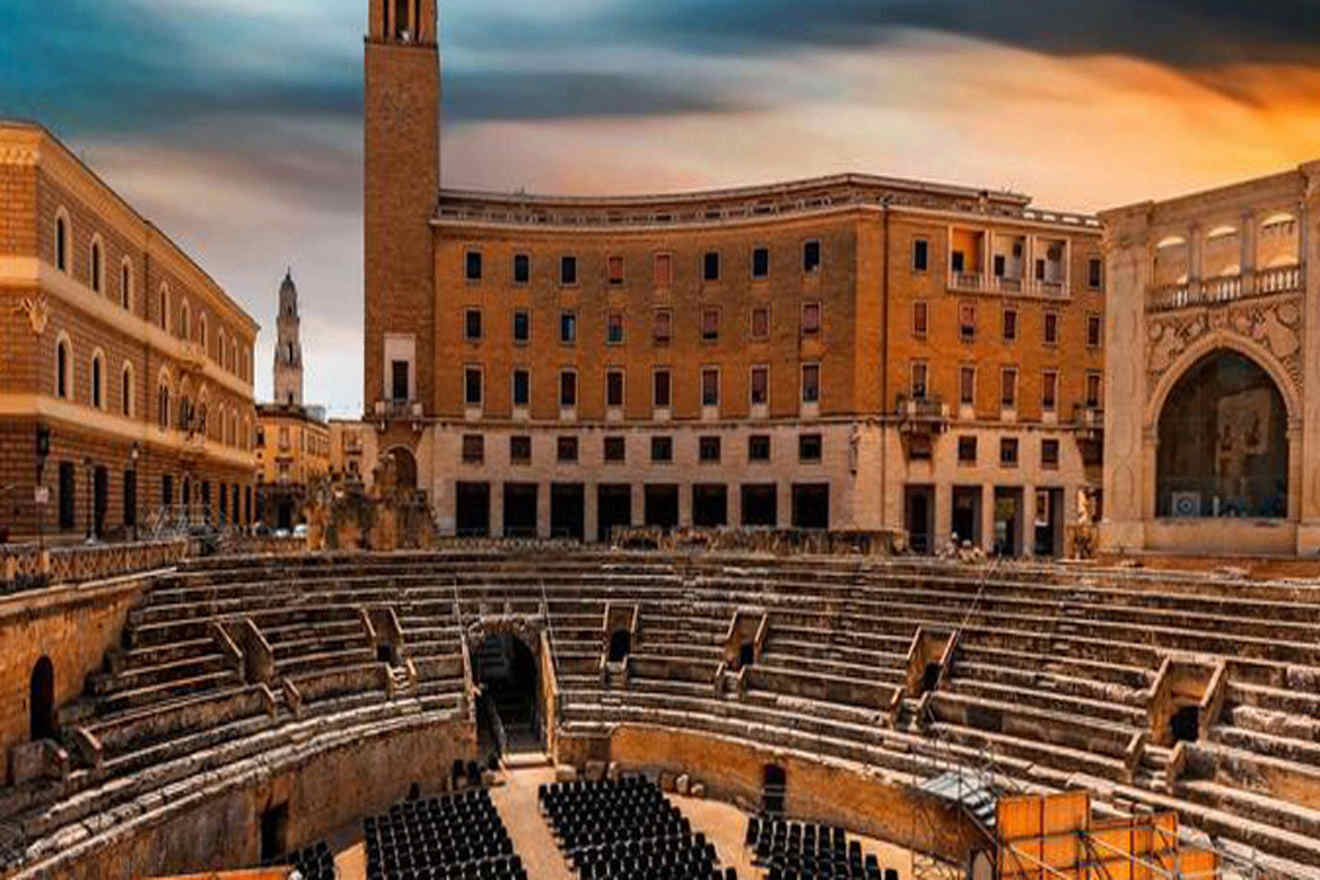 Who's feeling super excited to visit Lecce?
I hope this post on where to stay in Lecce, plus some fabulous boutique hotels helped you with planning your trip!
As I said in the intro, I know from experience, when I booked my accommodation in Lecce, that the really great ones sell out super early. That's why I recommend booking early!
Talking about choosing a hotel, I know that is such a daunting process for some, so if you need a bit of help, here are my 2 favorite options:
There you have it!
I wish everyone a fantastic trip, and once you arrive in Lecce, just let yourself be carried away by the city's magical atmosphere! As always, I'm around for any questions, just drop them below, and I'll answer ASAP!
Safe travels,
Victoria
---
Pin it for later!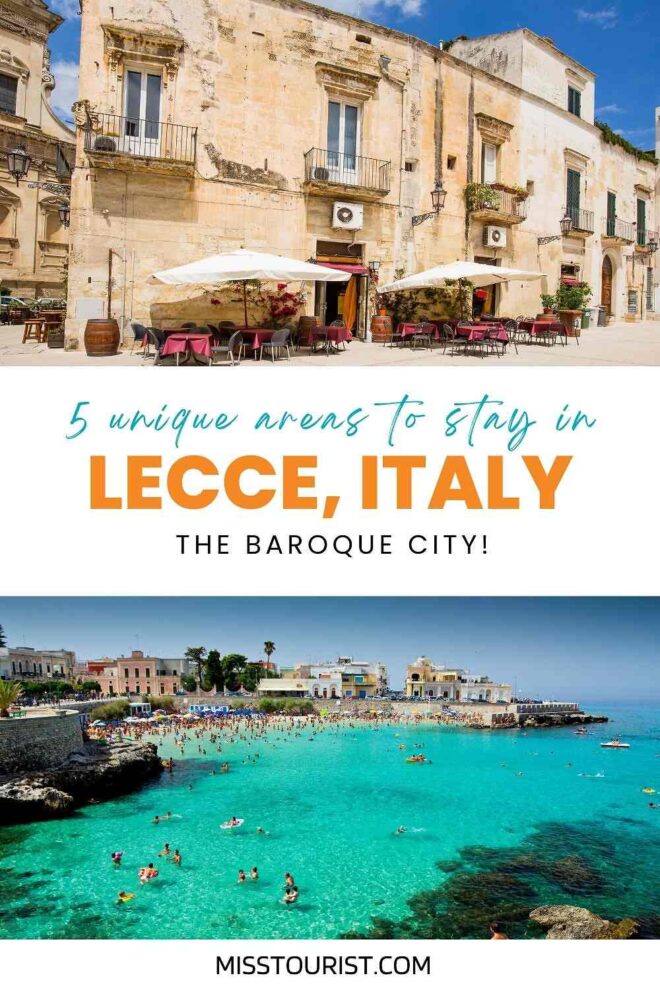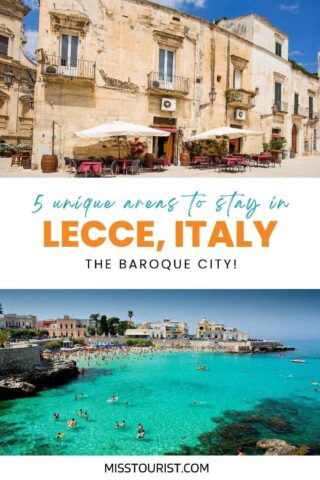 Pin it for later!