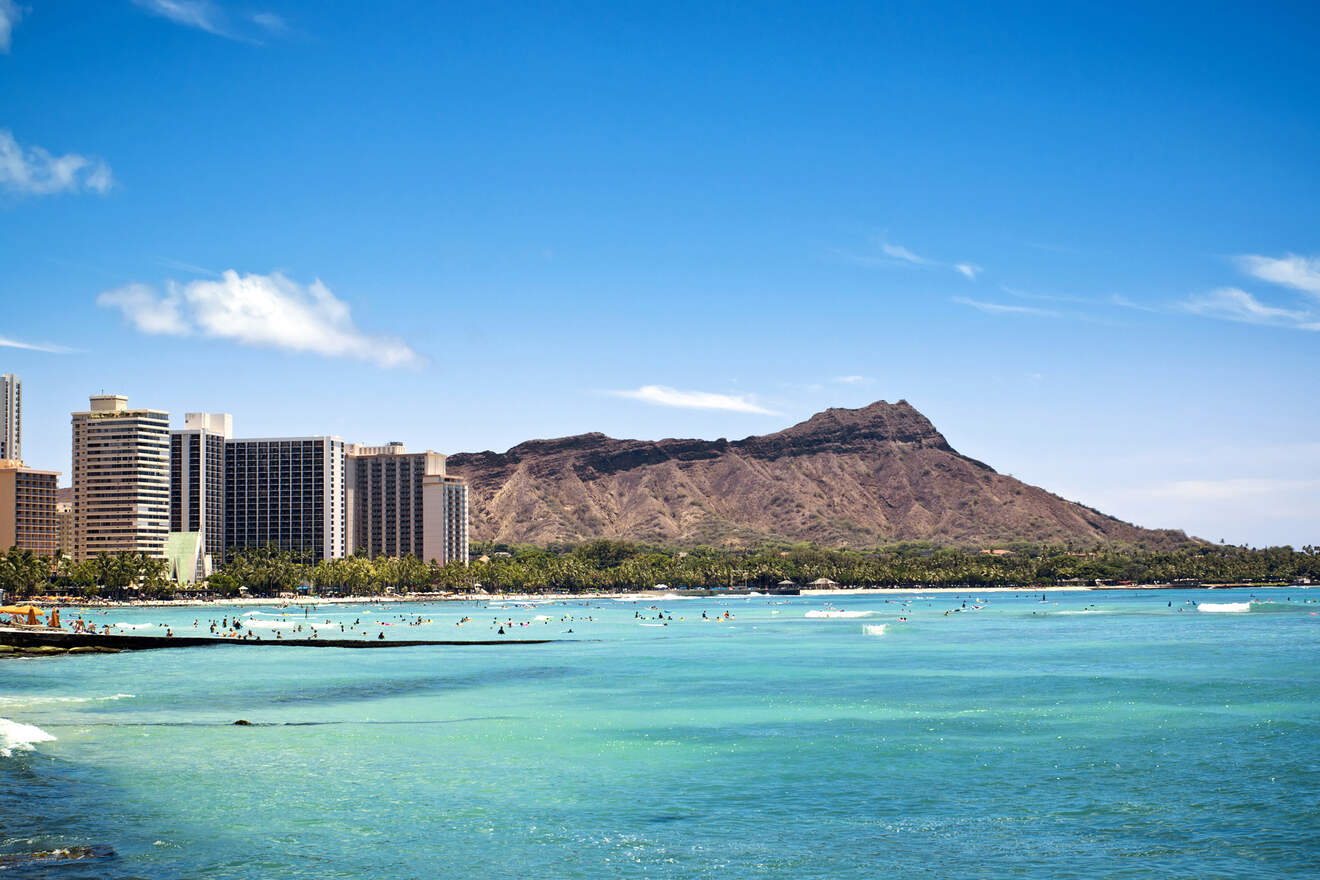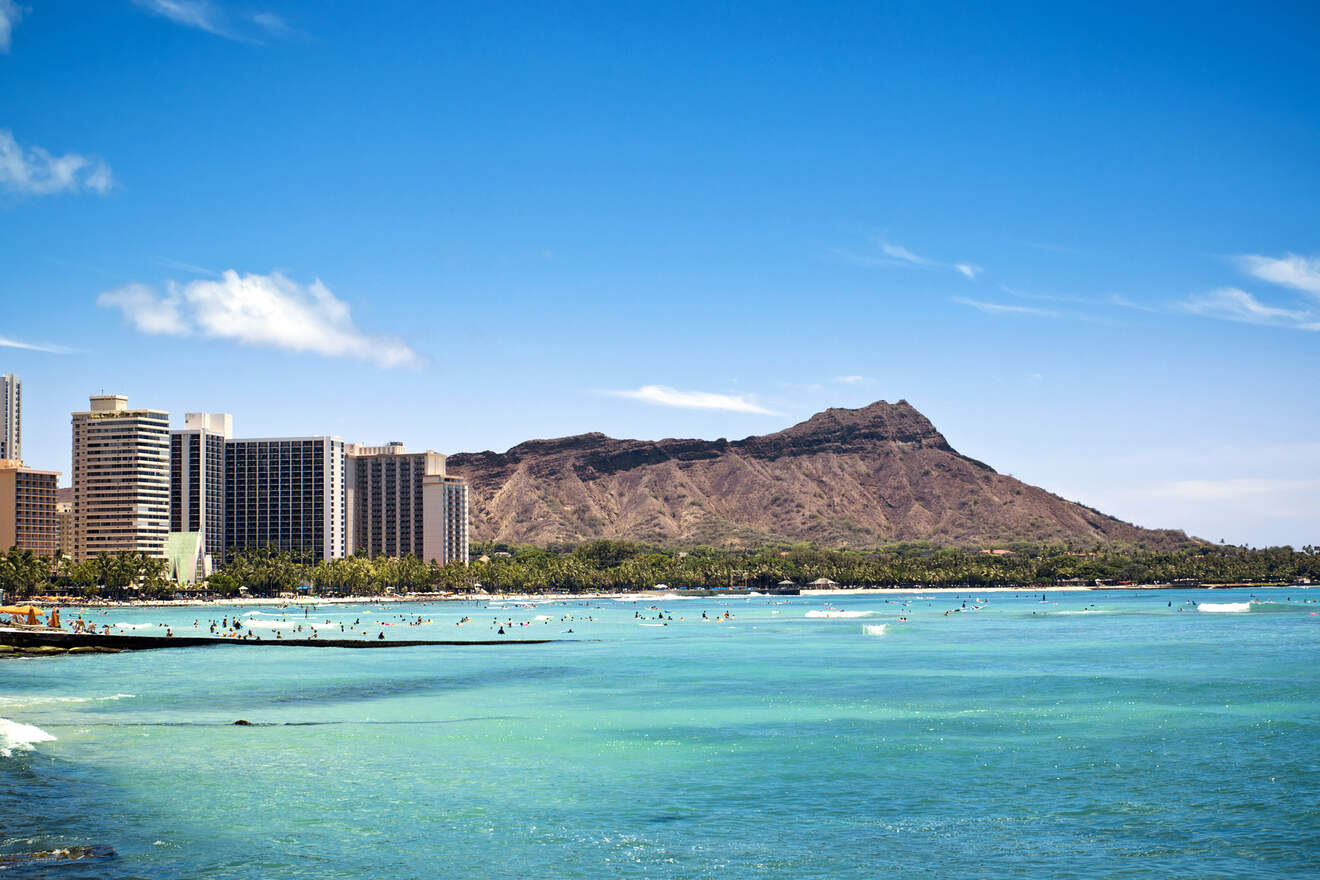 Aloha friends! You are landing on a dreamy holiday destination and one of the most beautiful places on Earth. You may be wondering, can a tropical island really offer dreamy white sand as well as scenic black sand beaches, the best surf waves, calm crystal clear water, and an epic snorkeling scene all at the same time? For sure! I know you will fall in love with Hawaii!
Hawaii is one of the rare places where you can not only find so many natural beauties such as waterfalls, active volcanoes, rainforests, and rainbows, but you can also do all kinds of activities like hiking, diving, surfing, snorkeling, and sailing. That's why I don't know a person who would not enjoy this amazing island!
Hawaii is a state in the United States of America and consists of 7 stunning islands. In this travel article on where to stay in Hawaii, I will talk about the 5 best Hawaiian Islands where you can have an unforgettable holiday. Each of the islands has its own unique vibe and offers different types of accommodations. I have gone through hundreds of hotels to find you the best ones for each price range.
Before we start, I just want to let you know that Hawaii is a popular and expensive travel destination. In order not to miss your favorite place and get better deals on hotels make sure to make a booking in advance. Many of the hotels have free cancelation so don't worry if you change your mind!
Shall we start discovering Hawaii?
If you are in a hurry
Here are the best places to stay in Hawaii from luxury to budget. They all have great reviews and ideal locations!
Here is a map about where to stay in Hawaii with all the 5 islands I will be talking about in this blog post, so you can easily visualize them: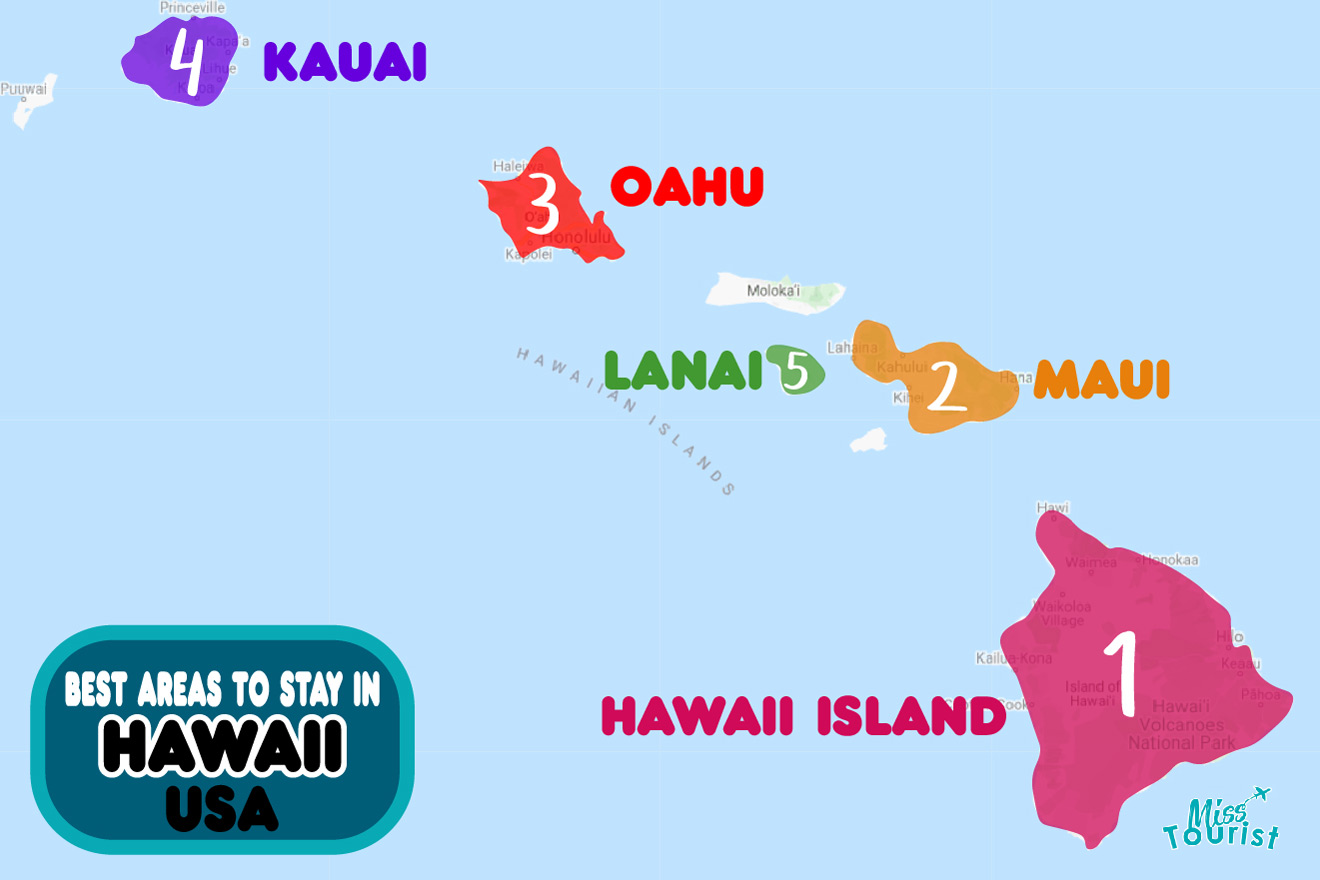 1. Hawaii Island / Big Island – where to stay in Hawaii for the first time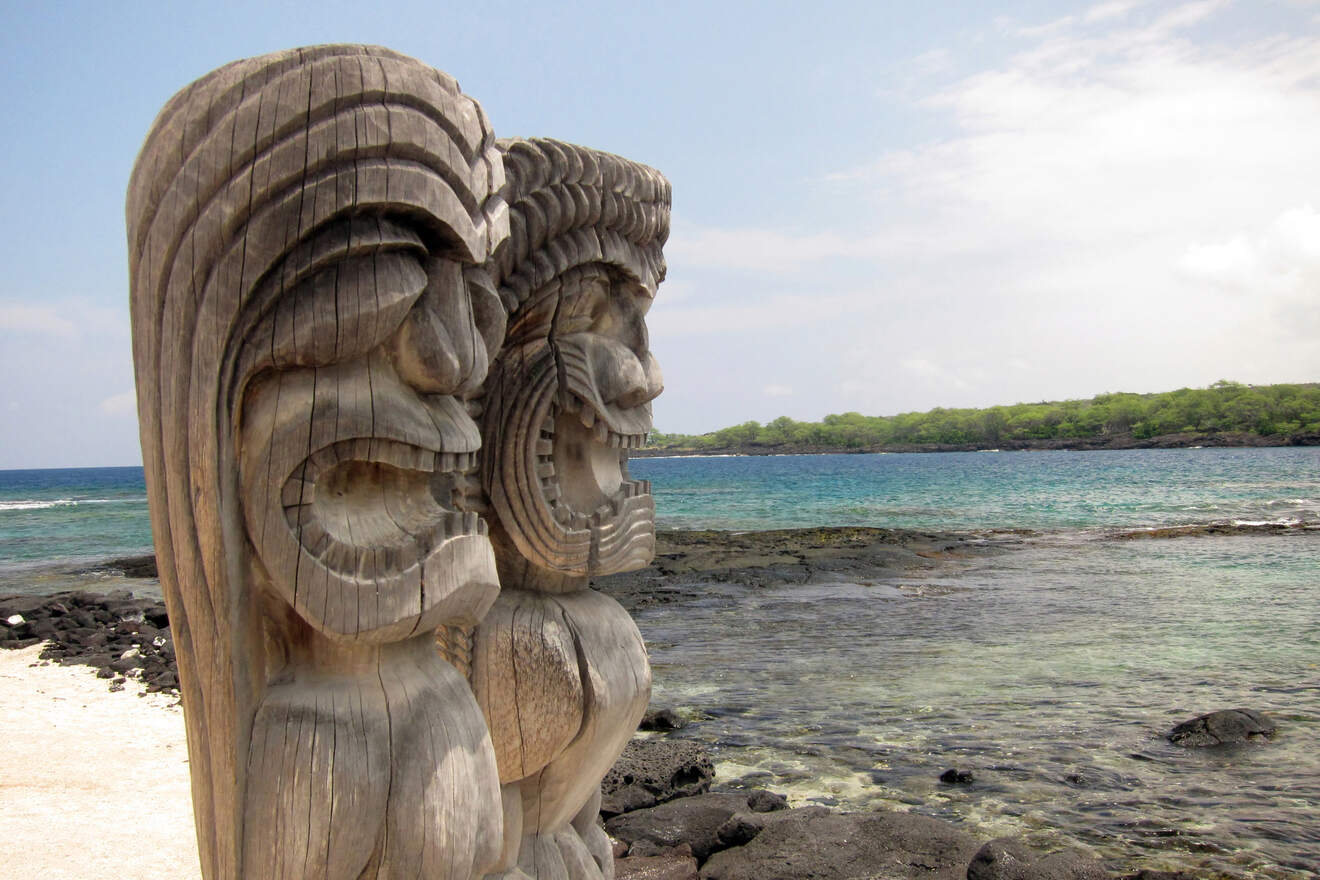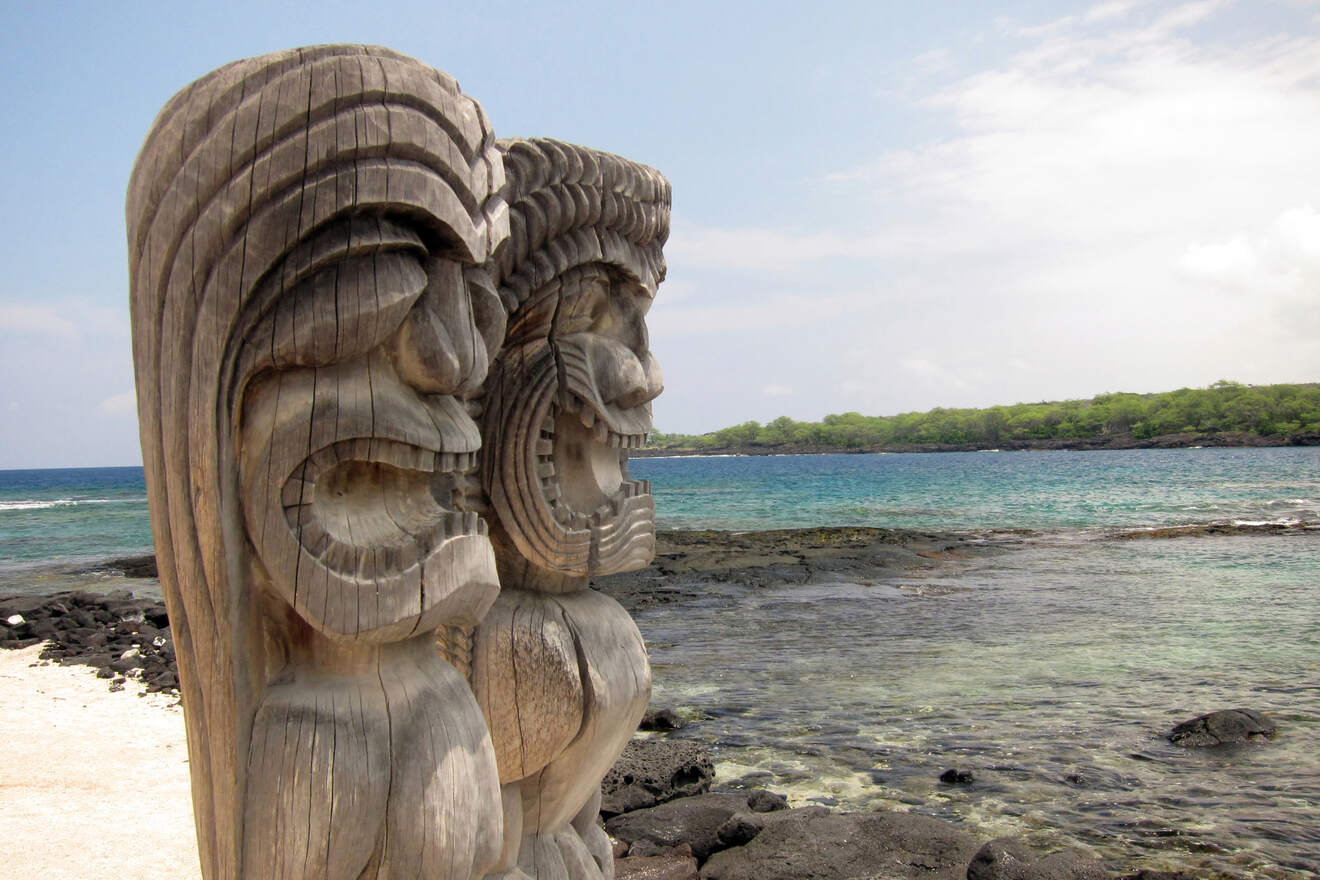 Hawaii Island, also known as the Big Island, is a perfect island to choose if you are visiting Hawaii for the first time because you can find a bit of everything here. Whether you are an adventurer, beach lover, luxury traveler, or family traveler it is impossible to be dissatisfied on the Big Island.
On the Big Island, one of the must-do activities is hiking amongst some incredible natural beauty at the Hawaii Volcanoes National Park and seeing amazing lava flows, crater lakes, and rainforests. Other days you can head to the beautiful beaches, enjoy swimming in the crystal clear water and if you are lucky, you can spot dolphins and whales on the coast! Sounds so exciting right?
You will be able to find amazing restaurants and bars as well on the Big Island so do not forget to have some delicious island poke bowls and shaved iced whilst your here! If you want to explore all parts of the Big Island you can split your holiday between the east and west side.
Here I have picked the best hotels for you but before talking about them I want to remind you of the importance of making a booking in advance as these hotels sell so fast! If you miss out or if you are looking for even more cool accommodation options you can check out this post for the best Airbnbs in Hawaii as well.
Luxury hotel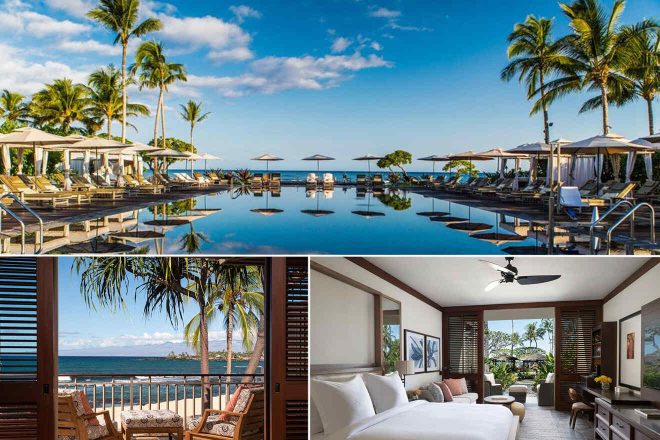 Four Seasons Resort is the best beach resort on the big island. This gorgeous resort offers an amazing outdoor swimming pool with an ocean view, very spacious rooms, a nice bar where you can enjoy tropical cocktails, and a great breakfast. You can also enjoy their enormous spa by having a massage or relaxing in the hot tub!
Other accommodation options in Hawaii Island
mid-range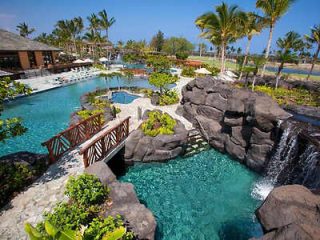 This amazing hotel features a swimming pool with an artificial waterfall, fitness center, a bar, and a restaurant
budget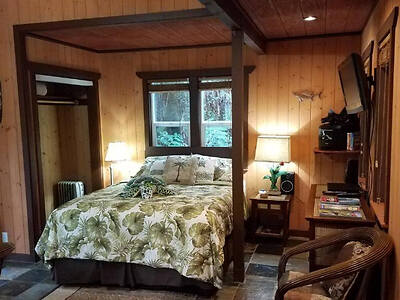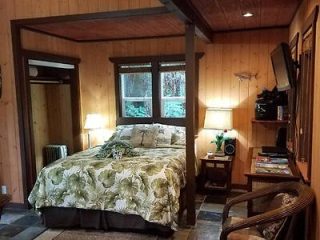 Set within the rainforest, the hotel is just 15 minutes drive to Hawaii Volcanoes National Park
airbnb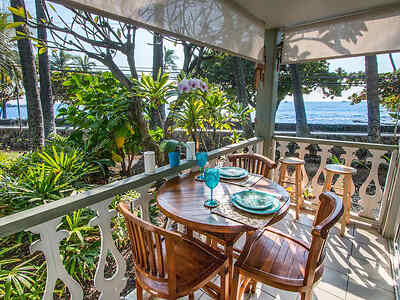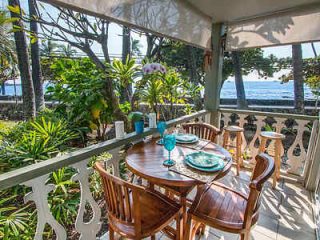 An amazing oceanfront house which enables you to watch dolphins from your terrace. Within walking distance to the shops
Things to do on Hawaii Island
2. Maui – best place to enjoy the beaches in Hawaii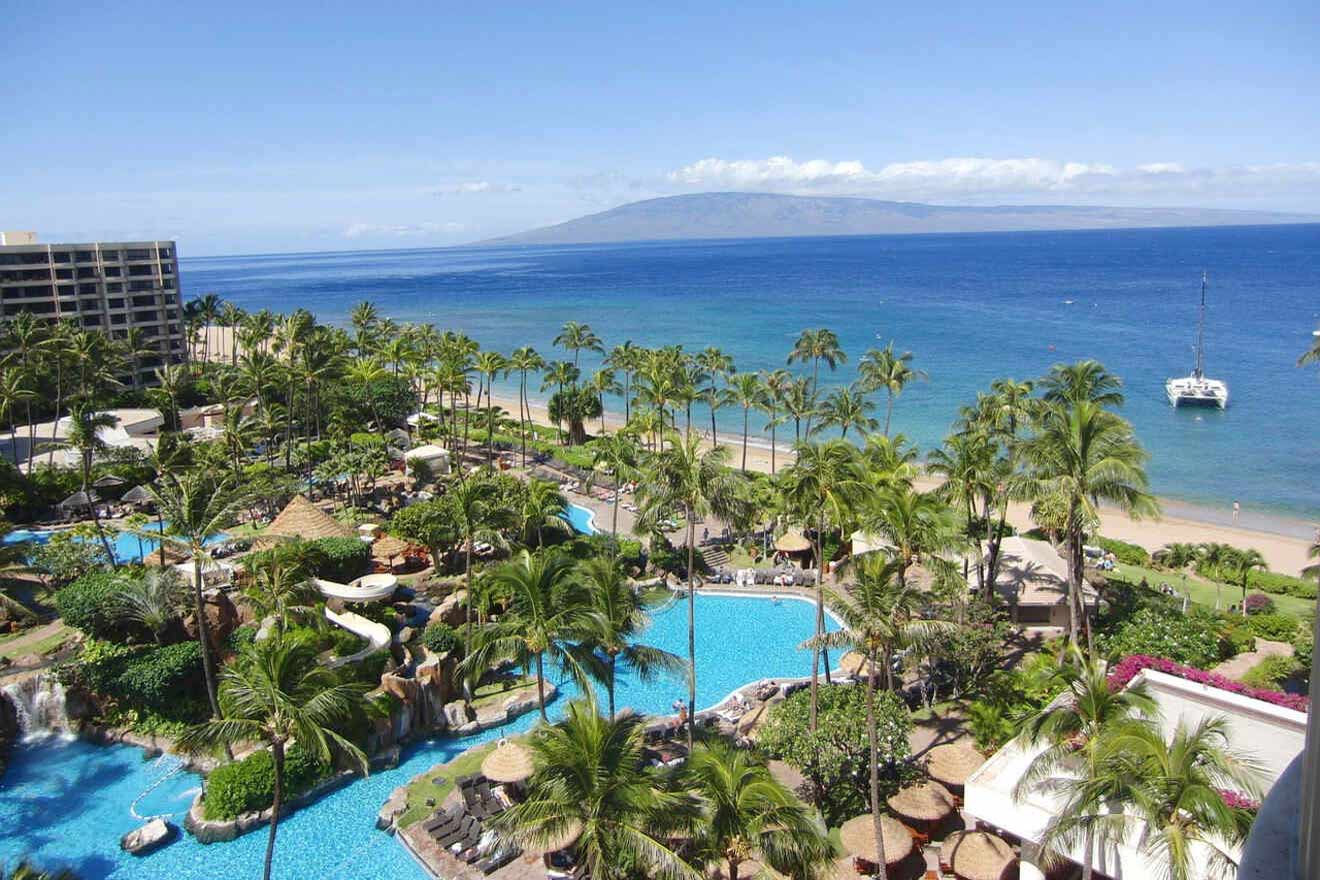 Maui is one of the most popular islands in Hawaii and also home to stunning beaches with amazing aquatic life. If you're picturing yourself in powdery white sand beaches surrounded by palm trees, my answer to you for where to stay in Hawaii is definitely Maui!
Maui is offering all the water sports activities you can ask for such as diving, surfing, and sailing. It is heaven for seeing coral reefs and I am not even mentioning the incredible color of the water! I'm sure you will instantly realize this when you step into Maui. Make sure not to forget your camera for this one!
This island has a more laid-back vibe compared to other islands but still has enough restaurants, bars, and shops that can satisfy you. Also in Maui, you will be able to find glamorous beachfront hotels, gorgeous Airbnbs, and nice budget hotels.
I found out all the best ones for you beach bums but if you are looking for more, check out these unique Airbnbs in Maui. Lastly, I know you wouldn't want to miss your perfect place to stay so don't forget to make a reservation in advance!
Luxury hotel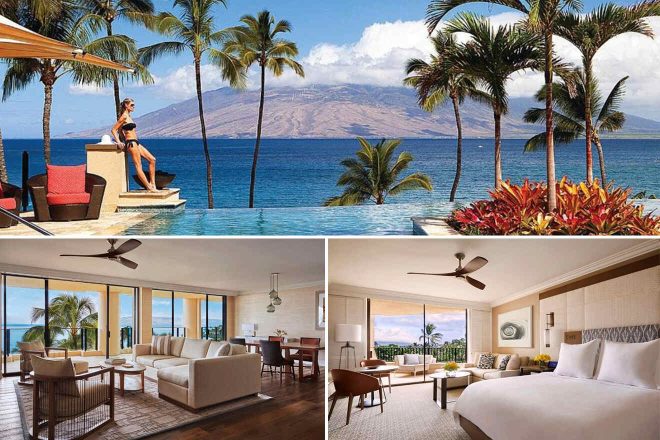 Four Seasons Resort Maui is an amazing resort overlooking the beach where you will enjoy great sunsets. The luxury beach hotel offers 3 gorgeous swimming pools, a great fitness center, a spa and wellness center, a bar, and a restaurant. As it also offers kids facilities, the resort is also a nice place to stay for families in Maui.
Other accommodation options in Maui
mid-range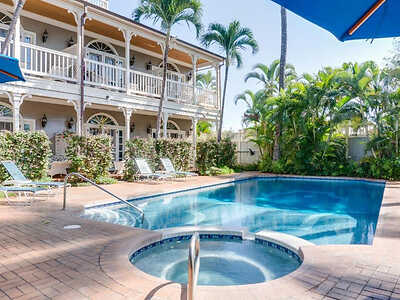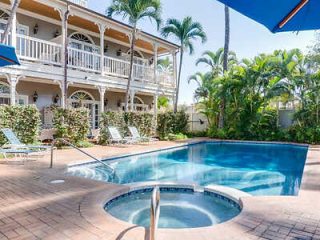 Surrounded by palm trees this hotel in Maui features a big swimming pool, spacious rooms, free wifi and parking
budget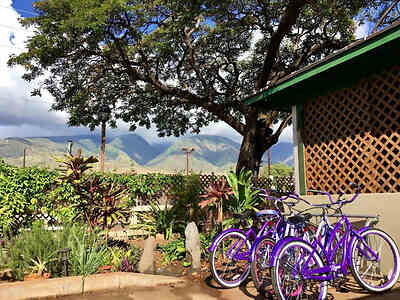 The best budget place to stay in Maui. Located right at the beach the hotel offers clean rooms with free wifi
airbnb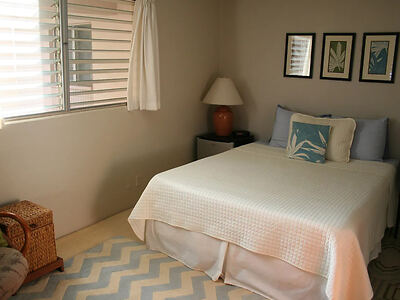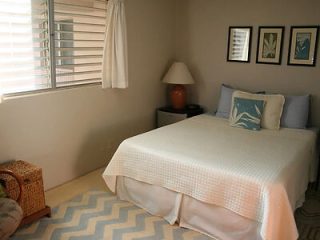 Gorgeous oceanfront Airbnb which has an amazing swimming pool with an epic view plus, its within walking distance of cafes
Things to do in Maui
3. Oahu – where to stay in Hawaii for sightseeing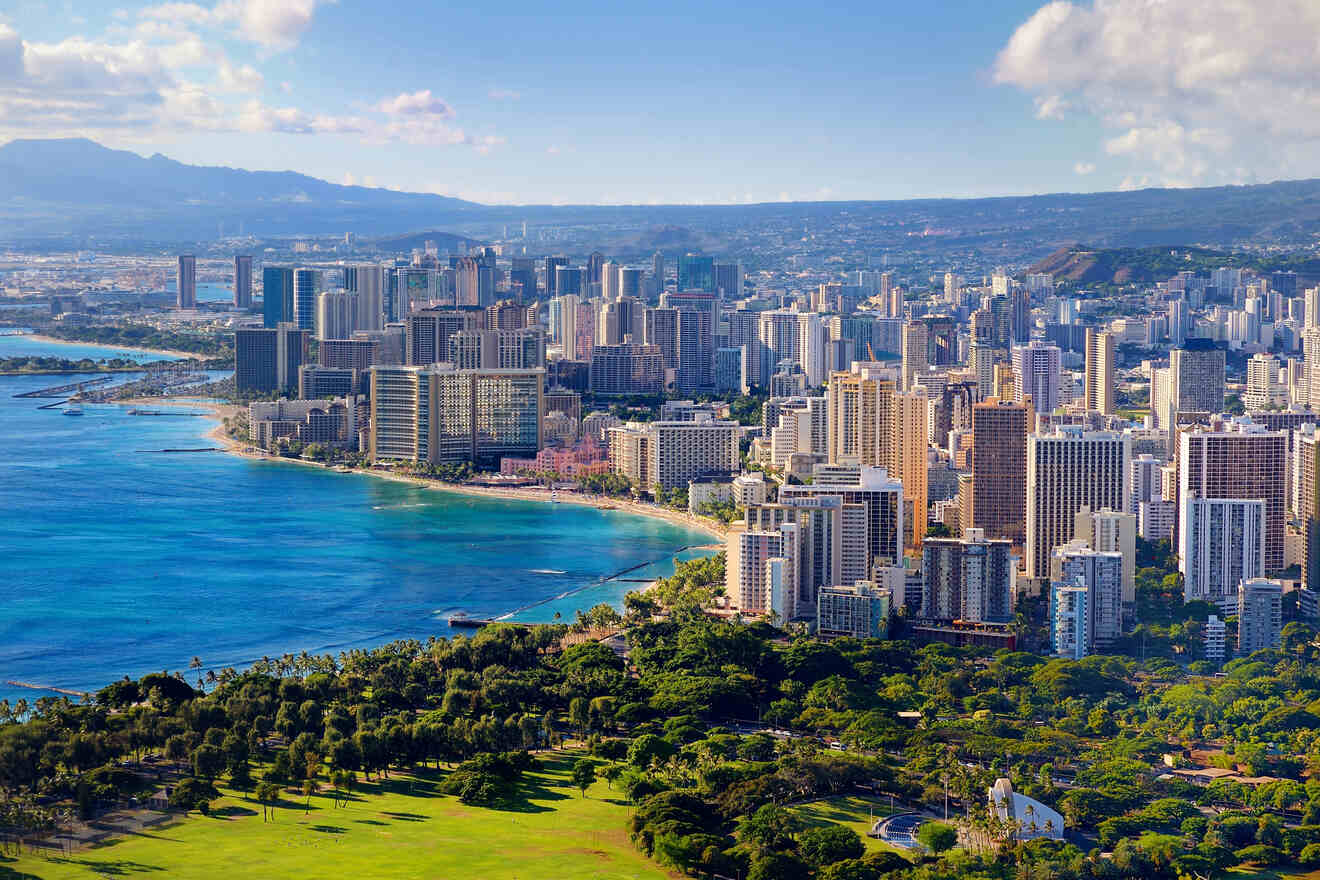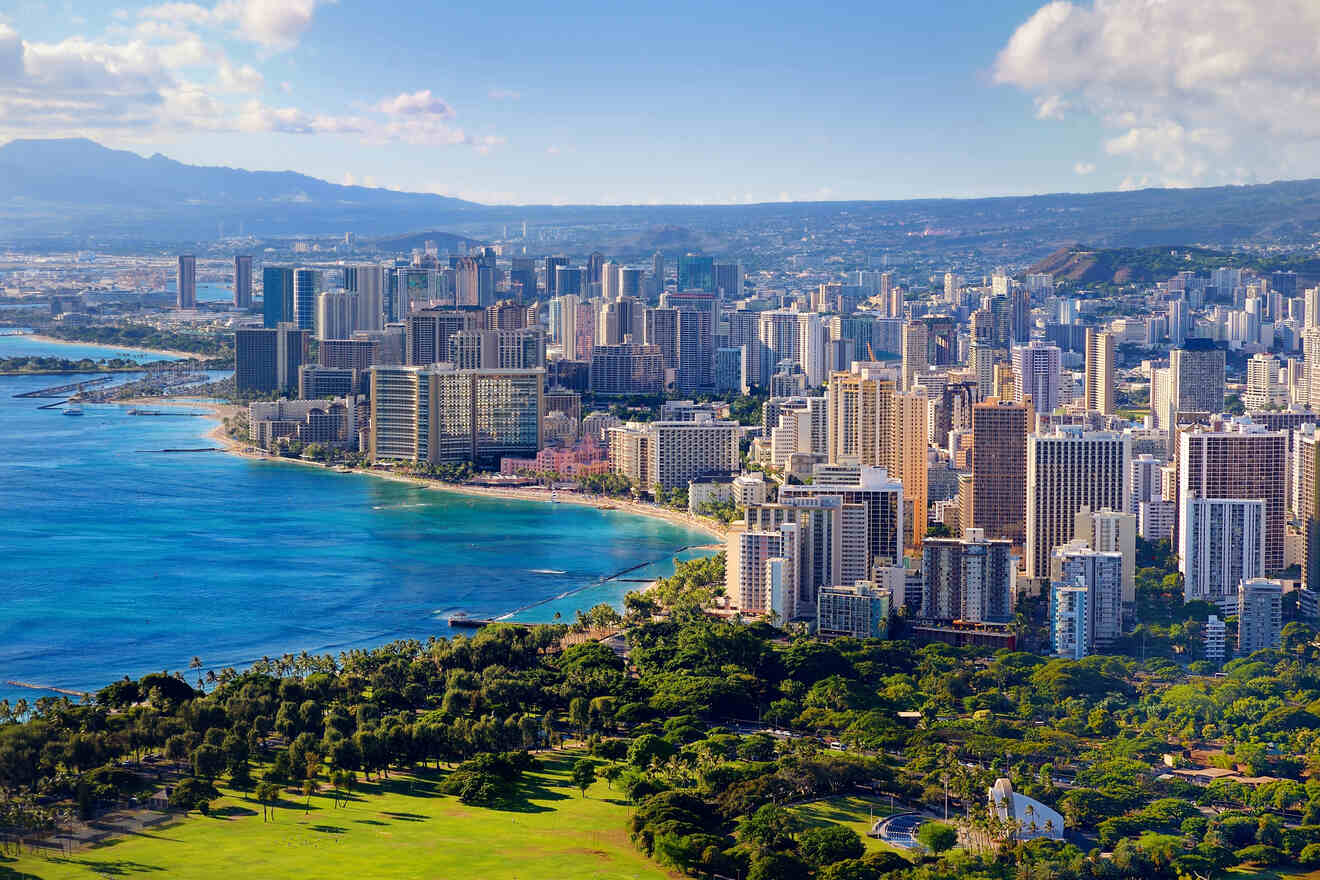 When you step into beautiful Oahu Island be prepared to see a surf scene straight from a movie, epic nightlife, and amazing landscapes. Oahu is also home to Hawaii's capital city Honolulu and the famous Waikiki Beach. You will have so many nice photos in Oahu!
Start your sightseeing by discovering the historical monument Pearl Harbor, then check out the countless museums and art galleries. Once you are done, it is time to discover the island's natural beauties. Hike to Diamond Head to enjoy amazing views, spend some time having a beautiful tropical cocktail at Waikiki Beach, then continue discovering the island's stunning beaches.
I don't think you will have difficulty finding a nice dining place in Oahu either as it offers an epic food scene. Finally, when it gets dark, hit the town to check out the vibrant nightlife in Honolulu. What more could you expect from a perfect vacation spot?
Oahu offers numerous accommodation options for all budgets. I picked the 4 best places to stay for you but if you want more check out my dedicated post for where to stay in Oahu.
Luxury hotel
Right at Waikiki Beach, this luxury hotel is one of the best hotels to stay in Oahu. Waikiki Beach Tower offers an amazing outdoor swimming pool overlooking the ocean, a fabulous spa with a wellness center and a hot tub as well as a big fitness center. You can enjoy the amazing island of Hawaii view from your room's balcony plus the hotel's spacious rooms are very suitable for families too!
Other accommodation options in Oahu
mid-range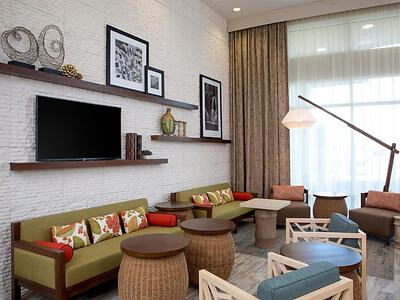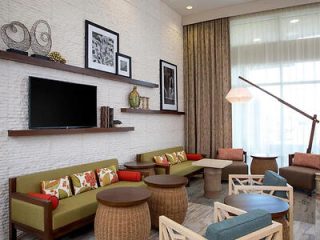 Nice Hawaii hotel which features a great swimming pool, a very good breakfast, free wifi and parking
budget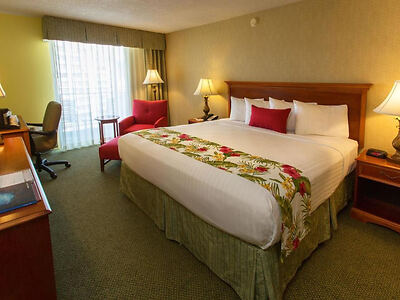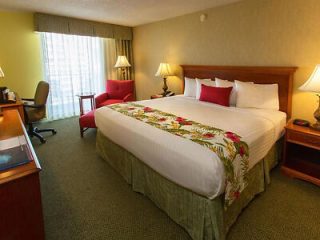 This centrally located hotel has an outdoor swimming pool, a fitness center, and rooms with a coffee machine
airbnb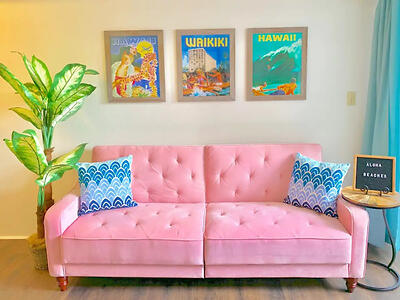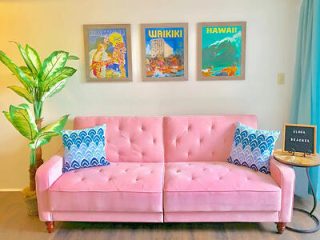 Beautifully decorated Airbnb which has fully furnished rooms and an amazing ocean view. Great place to stay for families
Things to do in Oahu
4. Kauai – if you want to spend some time in nature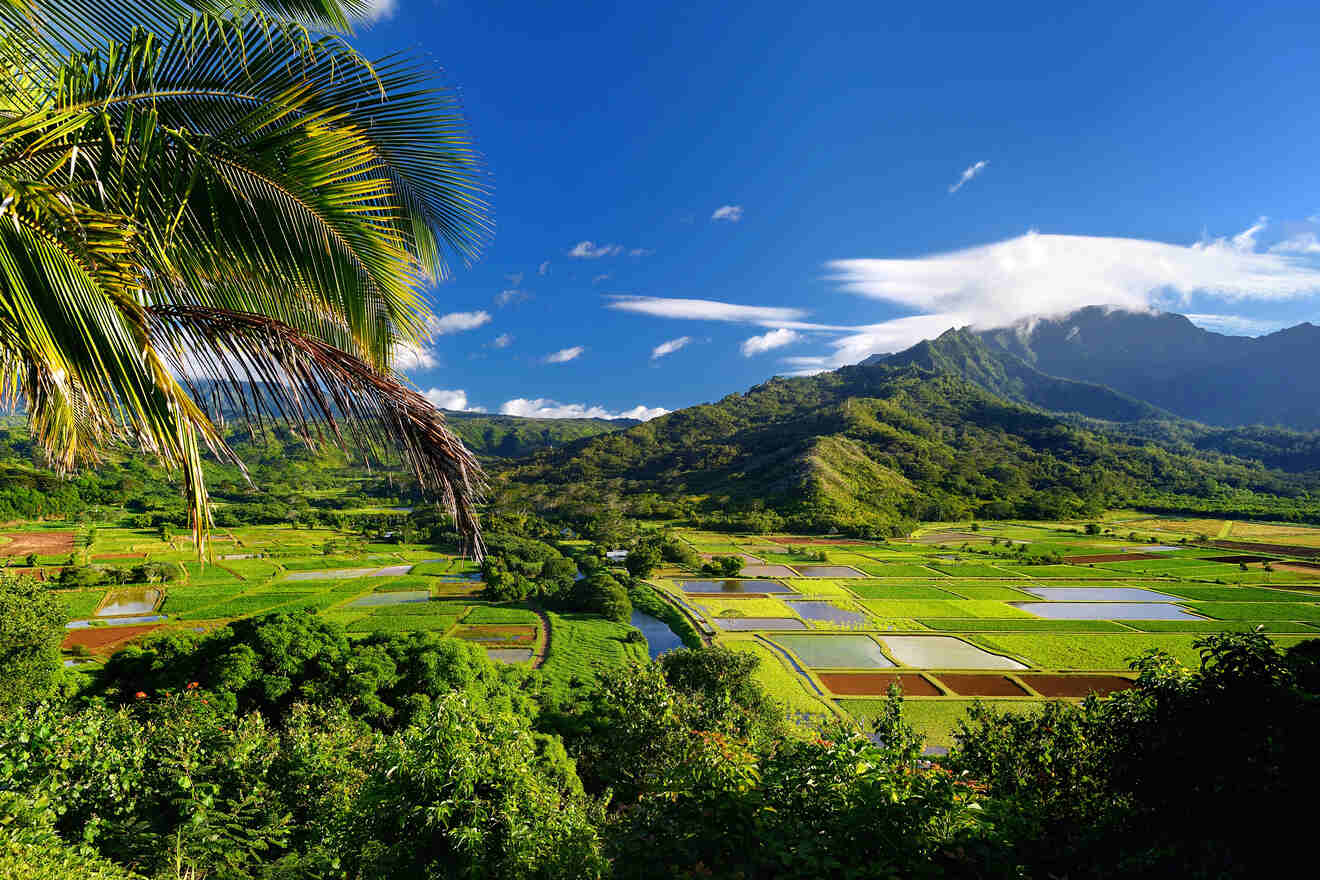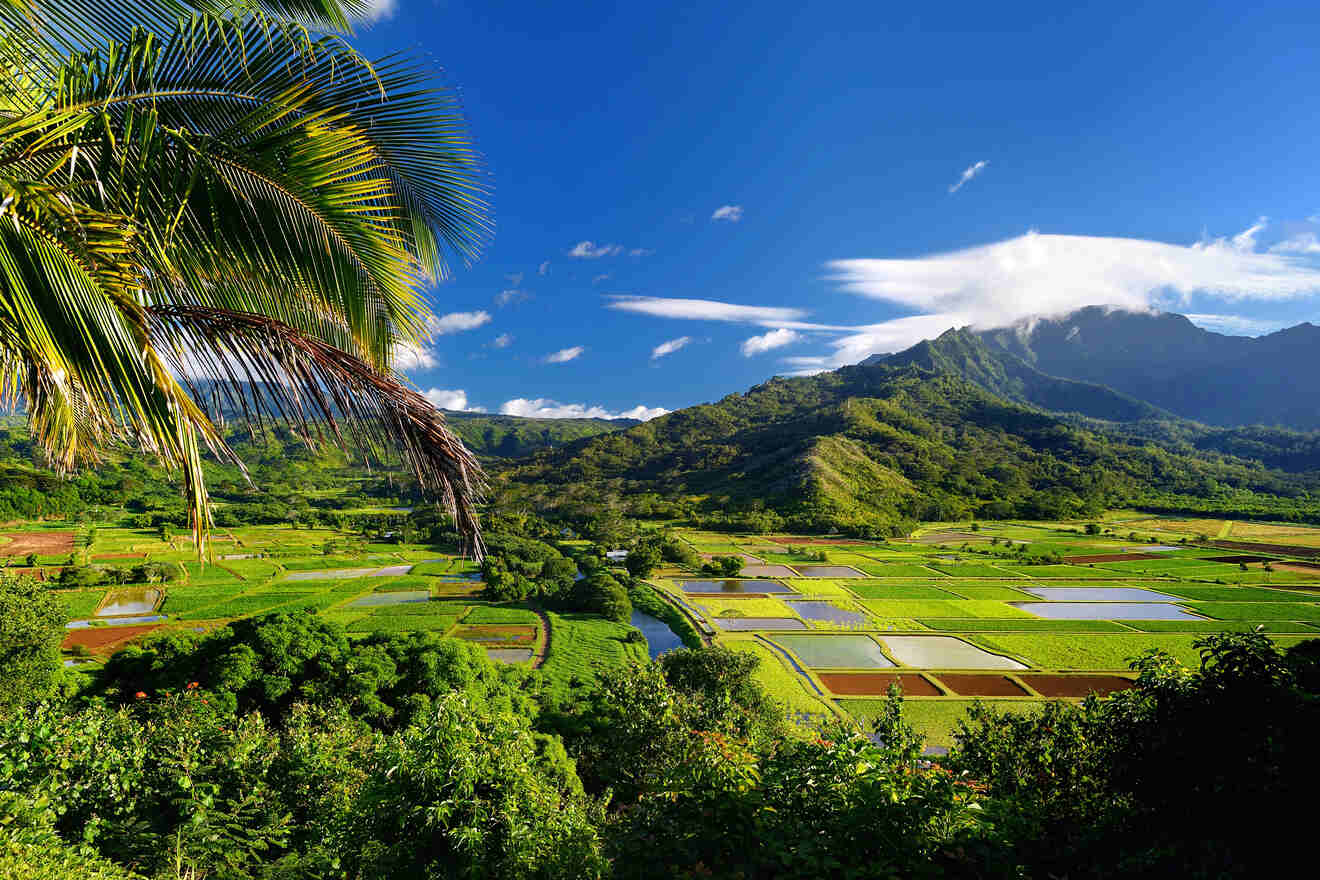 Kauai is a charming Hawaii Island and where you should stay if you are looking for epic tropical landscapes. Get ready to discover cliffs, hike in canyons, chase waterfalls and enjoy beautiful beaches!
Thanks to its incredible nature, Kauai offers a great selection of outdoor activities. One day you can kayak in secluded canyons, next you can go on a boat tour to explore amazing coasts, and every minute in between you can simply relax on the beach and snorkel to see colorful fish. In Kauai, you will also find a must-visit in Hawaii – Na Pali Coast where you can enjoy a boat trip for the best views of this spectacular region.
In Hawaii Kauai, you will find a more local and less touristy vibe too so it's also a great choice if you're looking for a bit more of an authentic experience. If you want to spend time doing outdoor activities in nature for sure my answer to where to stay in Hawaii for you is Kauai!
Here are the best places to stay on this charming island.
Luxury hotel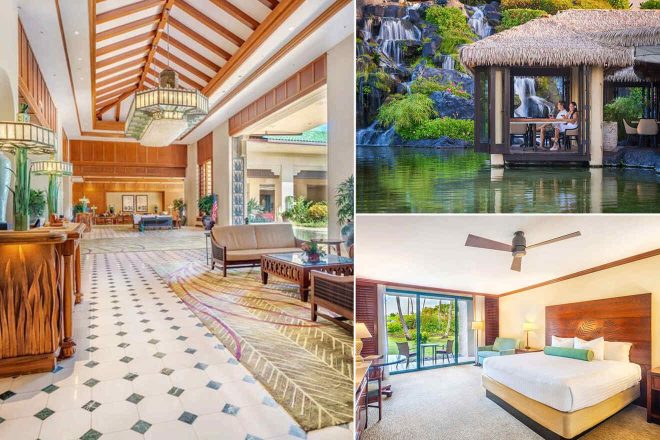 The gorgeous beachfront hotel has a very large swimming pool surrounded by palm trees, 7 different restaurants, a fabulous spa, and very spacious rooms with a coffee machine and ocean view. In the Grand Hyatt hotel, you can take golf courses, play tennis and enjoy water sport activities. This amazing luxury hotel also has beautiful rooms for families. 
Other accommodation options in Kauai
mid-range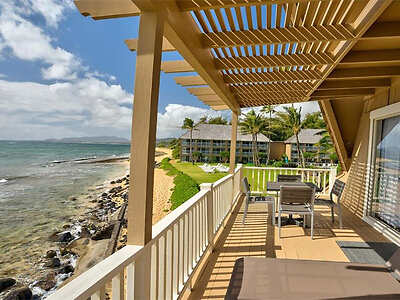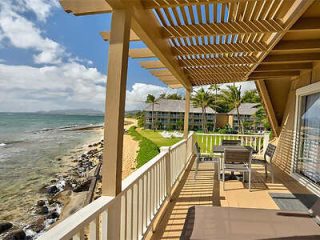 Right at the beach, this nice hotel has spacious rooms with a garden, a swimming pool, a bar, and a restaurant
budget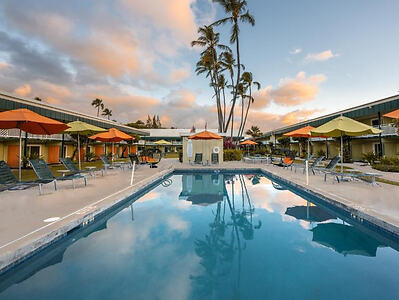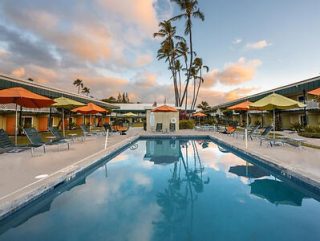 Centrally located beachfront hotel which offers spacious rooms, a swimming pool, a bar, and on-site parking
airbnb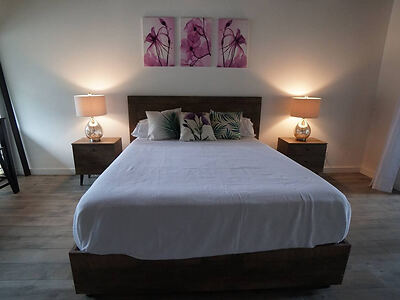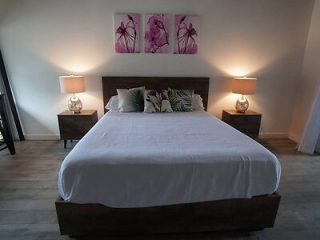 Centrally located studio with an ocean view and a swimming pool. Beaches and hiking trails are nearby
Things to do in Kauai
5. Lanai – where to stay in Hawaii for couples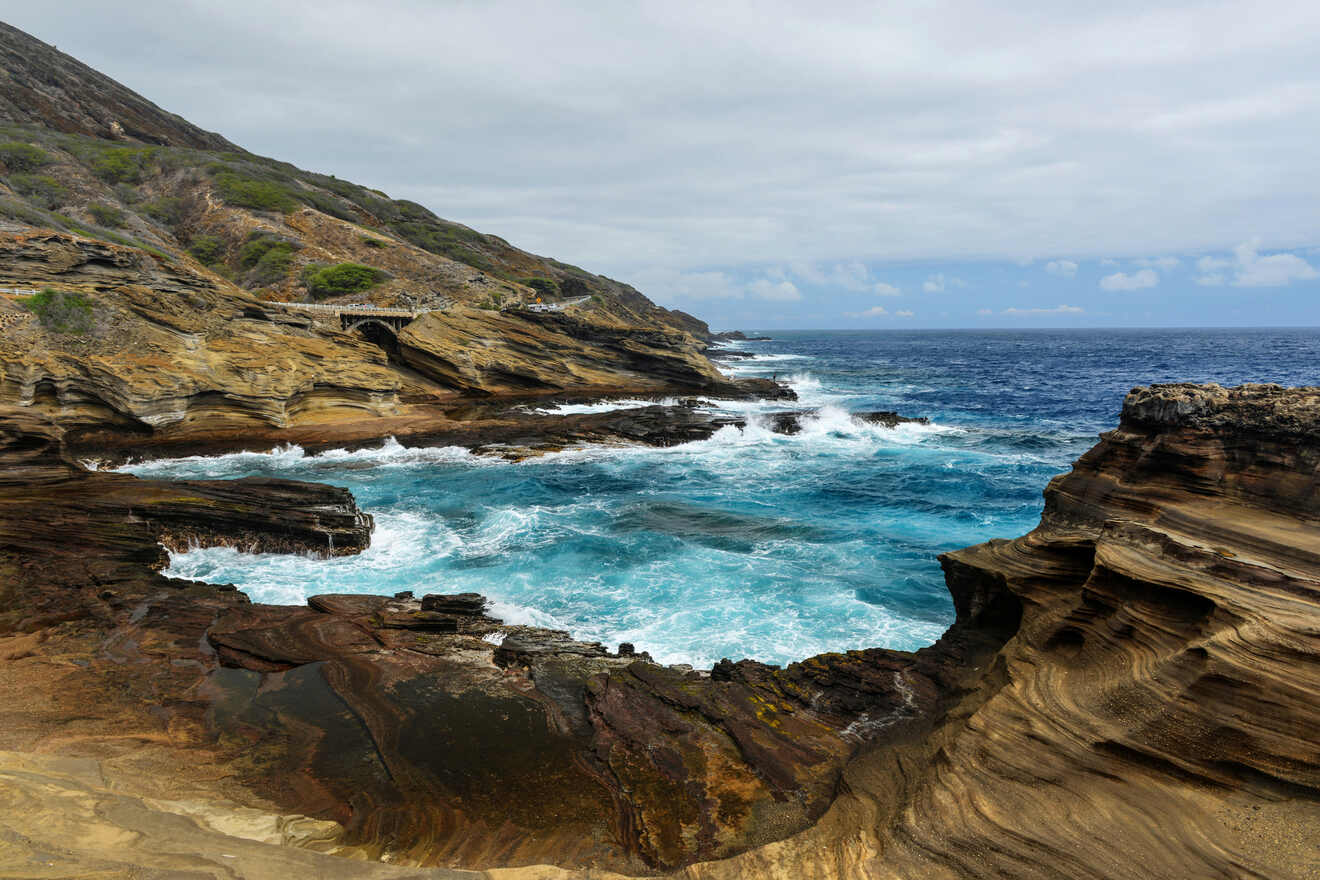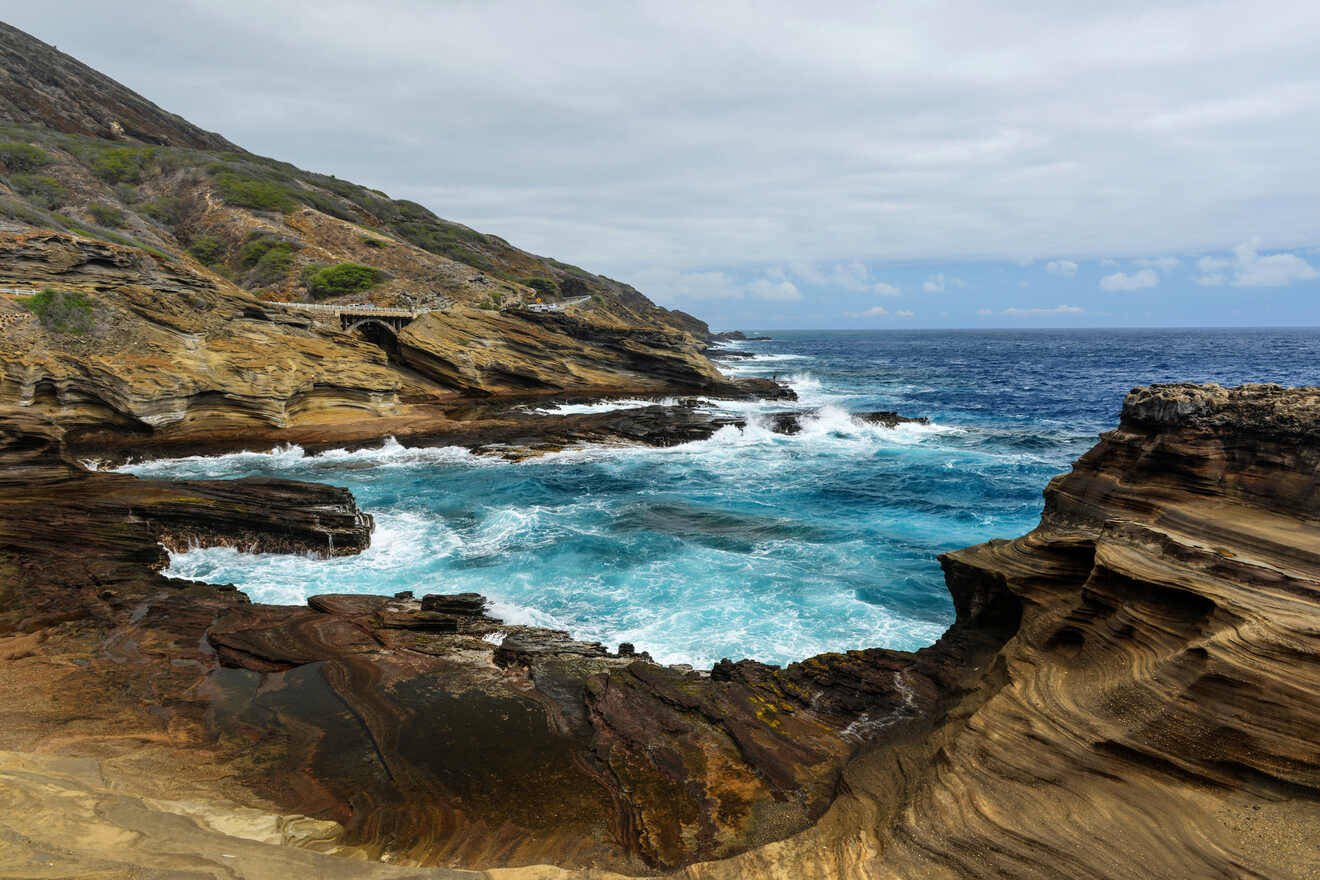 Lania is a Hawaii Island for a perfect tropical getaway for couples with its luxurious beach resorts where you will be able to find more secluded hideaways. On this island, you will have more privacy and still, you will be able to benefit from the fun activities of Hawaii.
In Lanai, you can swim with dolphins, and enjoy postcard-perfect beaches without the tourist crowd. Lanai is the place to go if you're looking for that famous isolated beach photo. You know the ones – a single person on an empty beach, surrounded by palm trees, during the sunset. Perfection! I bet you already want to teleport yourself there, I sure do!
Having mentioned those lush beachfront hotels in Lanai, here are my top 4 accommodation picks for you to have an unforgettable tropical holiday.
Luxury hotel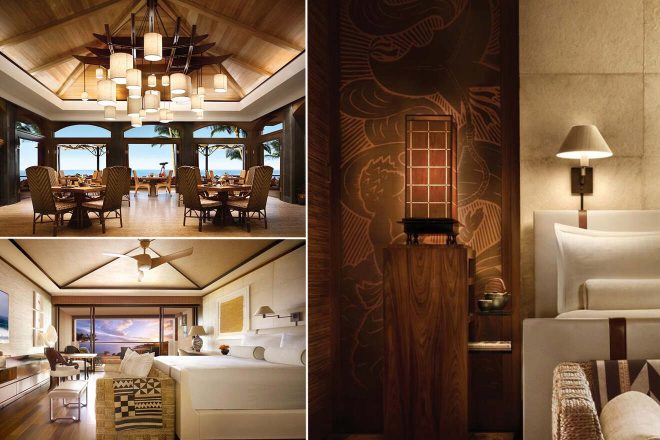 Four Seasons Resort Lanai is a perfect island getaway for couples. You can relax on the private beach, enjoy the big swimming pool and have nice meals in their restaurant with a perfect view. The resort's spacious rooms have all you need to enjoy a romantic holiday. You won't ever want to leave this luxury resort!
Other accommodation options in Lanai
mid-range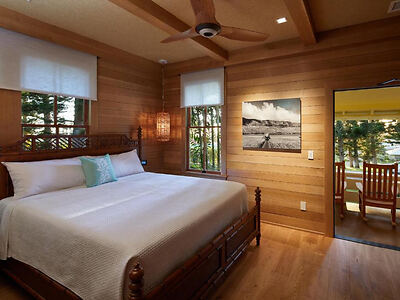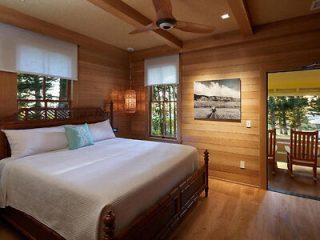 Centrally located inside nature, the historic hotel offers a great bar and a nice breakfast
budget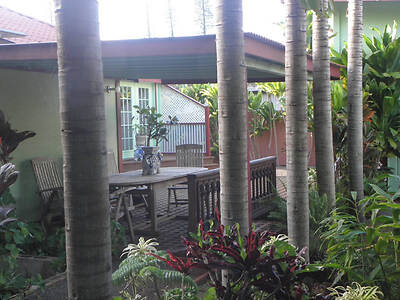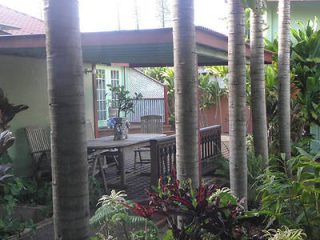 A lovely place to stay at the heart of Lanai offering easy access to the main attractions of the island
airbnb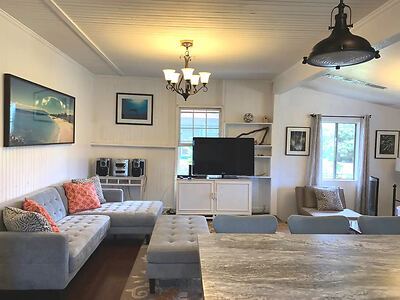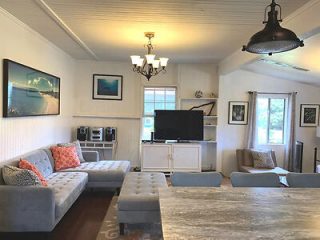 Fully furnished, beautiful Airbnb that has an amazing big open kitchen and a large garden
Things to do in Lanai
| | |
| --- | --- |
| 👑 Luxury price: | $350 |
| 💵 Mid-range hotel: | $220 |
| 🛏️ Budget: | $140 |
| 🏠 Airbnb: | $290 |
| 💰 Accommodation prices: | High |
| 📍 Best Area: | Hawaii Island |
| 🛎️ Best luxury hotel: | Waikiki Beach Tower |
| 👛 Best budget hotel: | Hakuna Matata Maui |
BONUS: How to get around the Hawaii Islands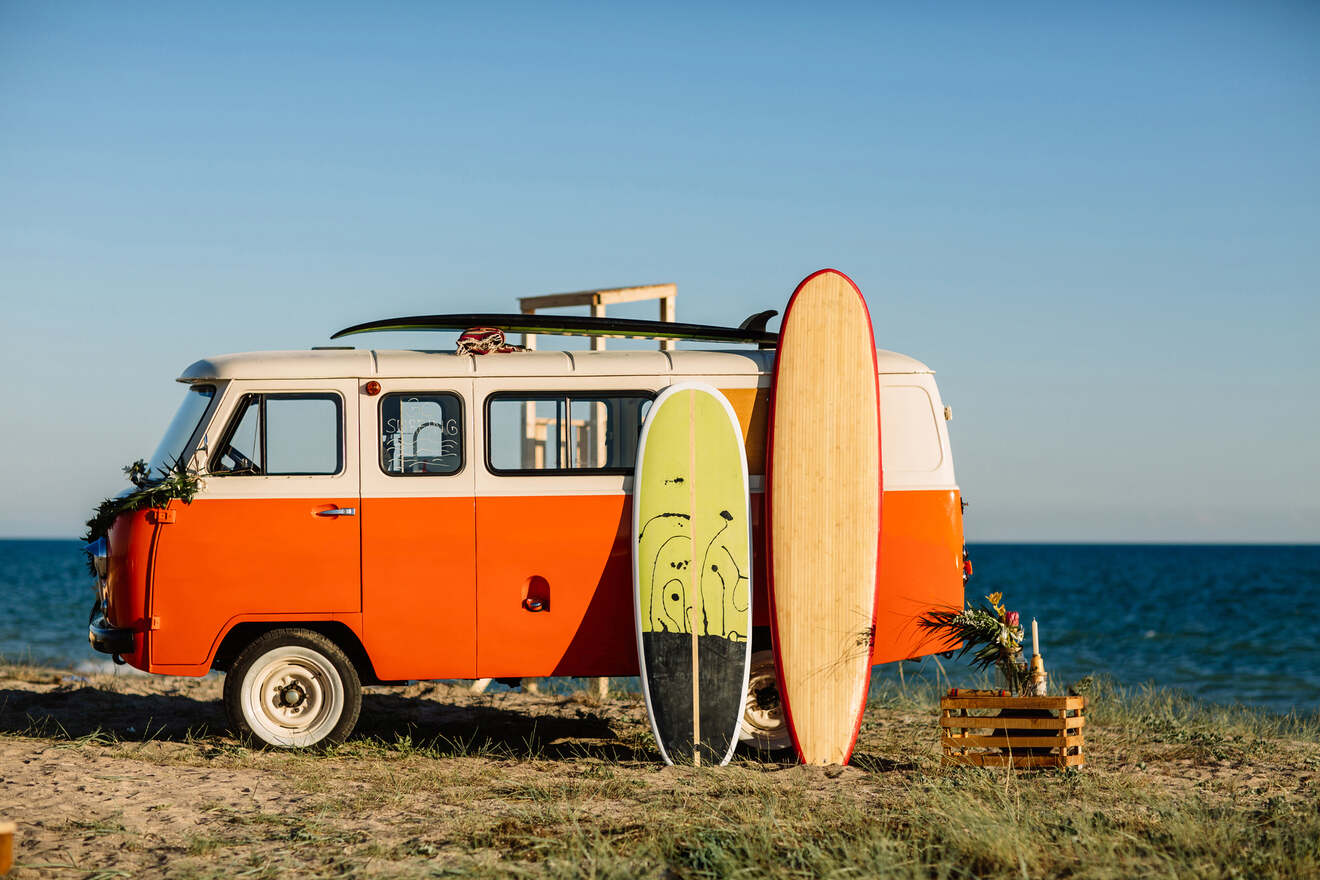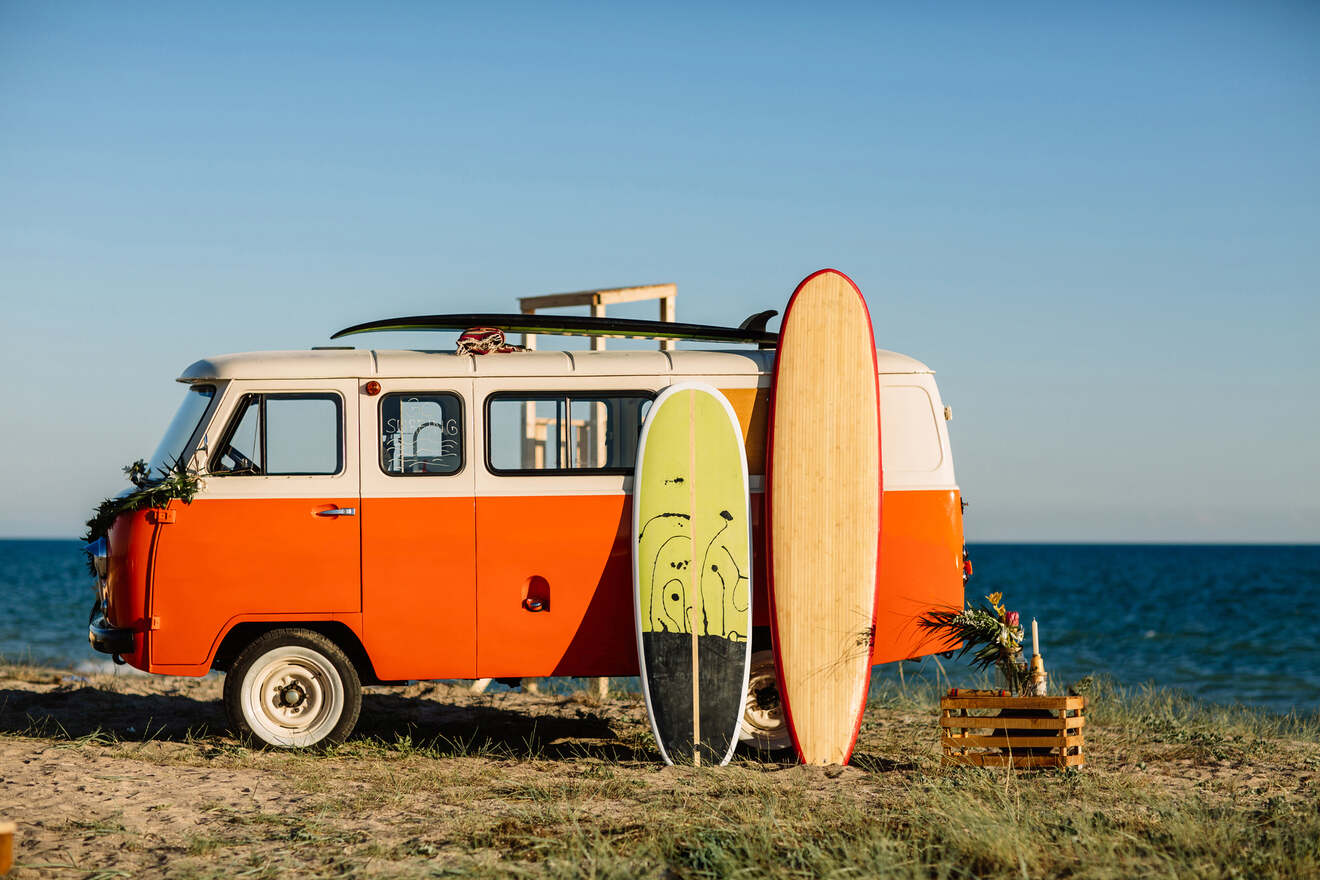 On islands like those in Hawaii, you have a chance to go and explore volcanoes one day and to deserted beaches or a canyon the next. There is so much to fit into your holiday regardless of where you stay, and that's why figuring out the transportation system is crucial.

Here I will give all the options you can use to get around in each of the Hawaii Islands. I will also mention transportation options between the islands for those of you who can't get enough and want to check out more than one island.
On-Island Transportation
Renting a Car
All the main Hawaii Islands have a large surface area and landmarks are spread around the islands. That's why I highly recommend you rent a car which will give you more flexibility and freedom. In Hawaii Island, you can easily rent a car from the airports but you will also find rental car offices in major cities.
Take note that especially in high seasons, it might be difficult to find a car. That's why I highly recommend you to make a booking in advance to be on the safe side. This will also allow you to get better deals. Once you get your car you will be able to discover hidden beaches and secret gems of Hawaii more freely.
Taxis and rideshare apps
It is easy to find a taxi in all the touristy areas simply by calling the cab company and you can also always request a taxi from your hotel too. All taxis have a meter so you don't need to bargain.
Another option is using rideshare applications. You can simply download Uber or Lyft to your mobile and request a ride. Just keep in mind that they are not permitted for airport pickups.
Public Transportation
The only public transport in Hawaii is by bus and it is available on the following islands. You can check routes and timetables on their websites.
Oahu – The bus and Waikiki Trolley
The Big Island – Hele-On Bus
Maui – Maui Bus
Kauai – Kauai Bus
There is no public transportation available on Lanai Island.
Transportation between Hawaii Islands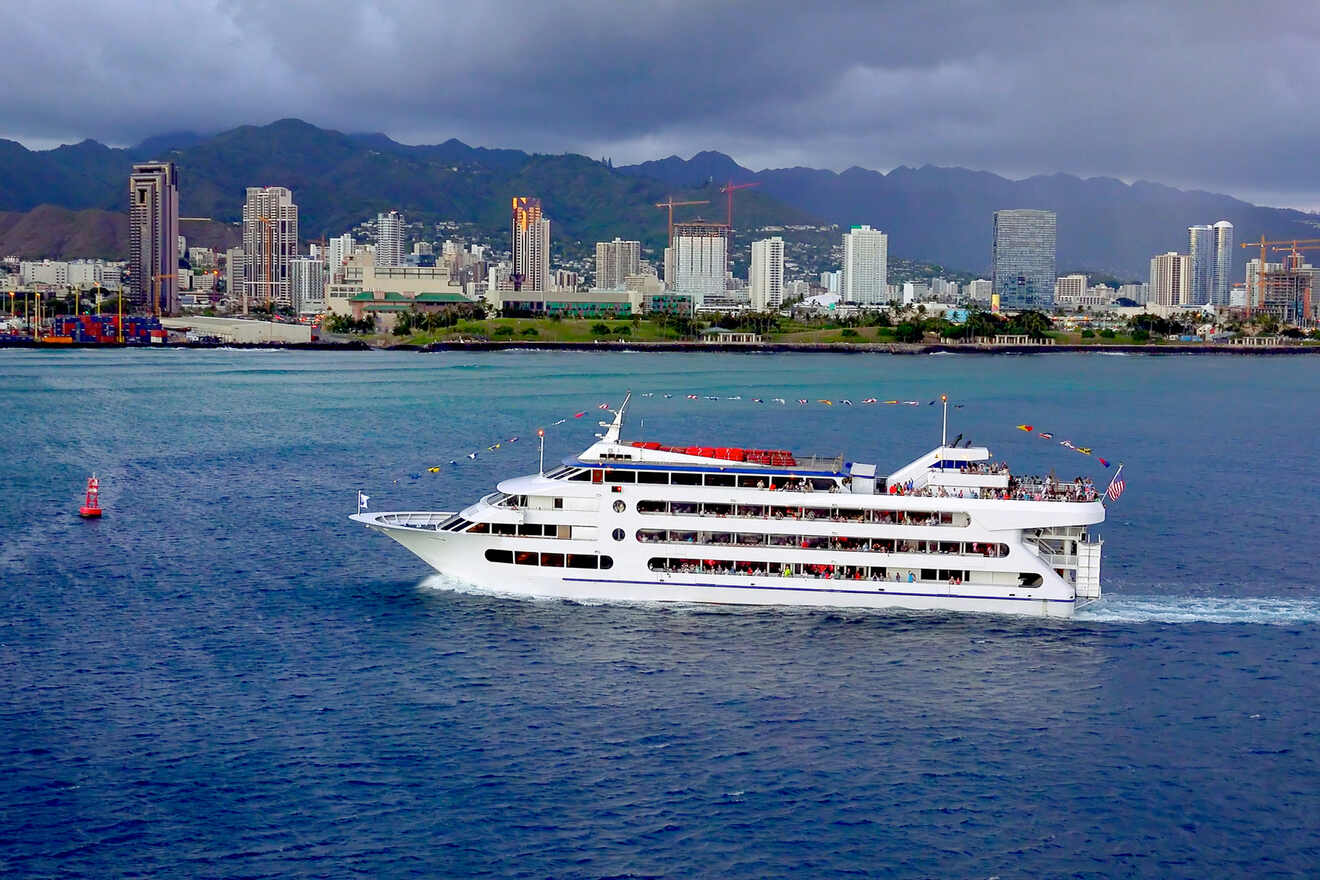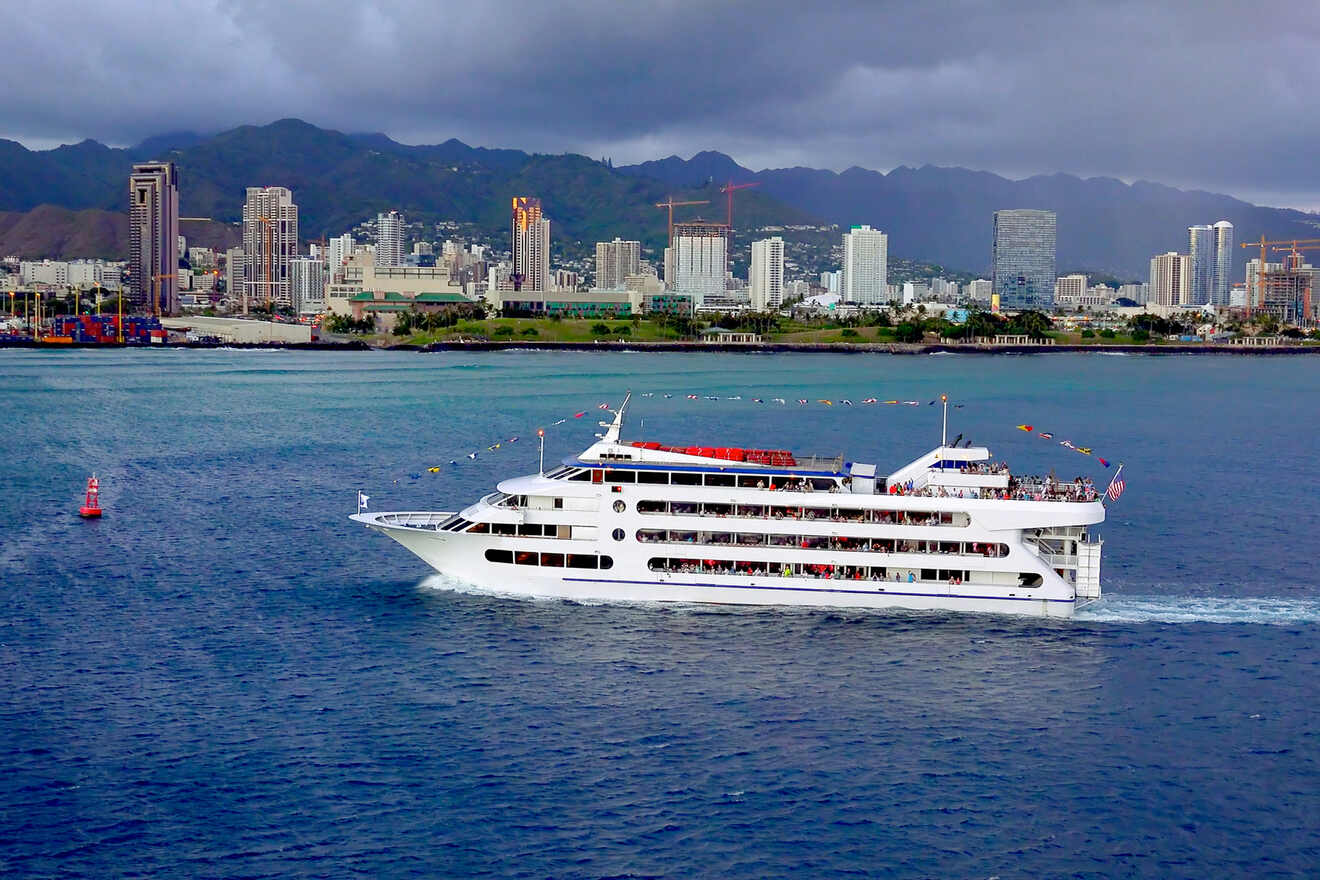 Flights
All Hawaii Islands have their own airport with two airlines; Hawaiian Airlines and Mokulele Airlines operating between the Islands. Flights are quite frequent and it is possible to find a flight almost every day. So if you want to hop onto another island during your trip it is very easy by plane.
Ferries
The only inter-island ferry service is the Expeditions Lanai Passenger Ferry between Lahaina Harbor in Maui and Manele Bay in Lanai. They also offer golf packages with Manele Golf Course on Lanai. You can check out the timetables on Lanai Ferry's website.
Tours
There are many sightseeing cruises and guided tours that are available between the islands. It can be a good option if you do not want to deal with arranging transportation. On many tours, everything is organized for you. They book all your hotels and transport between them so you don't need to think about anything!
If you have limited time you can choose daily trips and if you are feeling adventurous, take helicopter tours to hard-to-reach destinations such as Kilauea Volcano on the Big Island and Na Pali coast on Kauai. For those who like sailing, snorkeling, and sightseeing tours from Maui to Lanai are another great option.
Frequently asked questions about Hawaii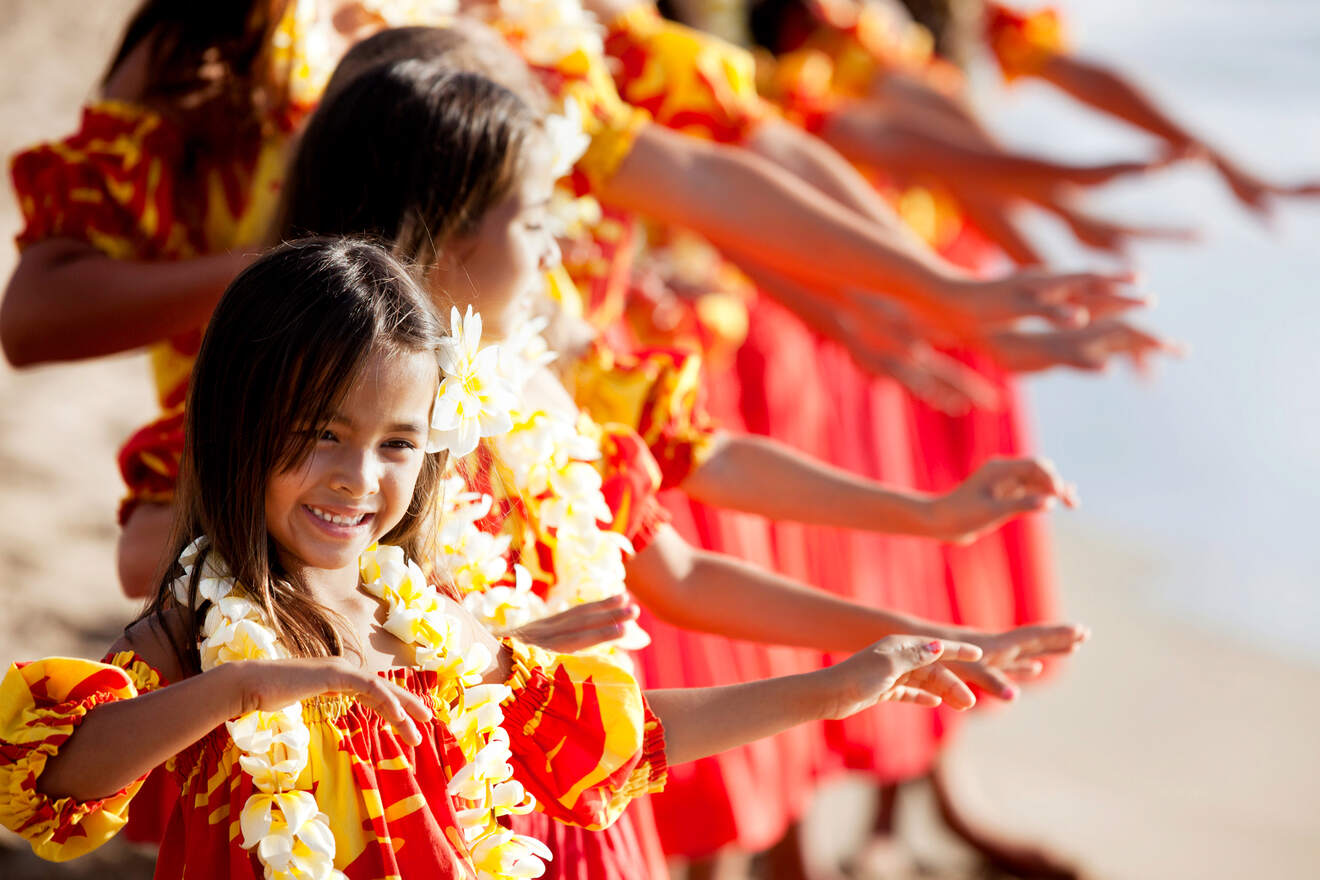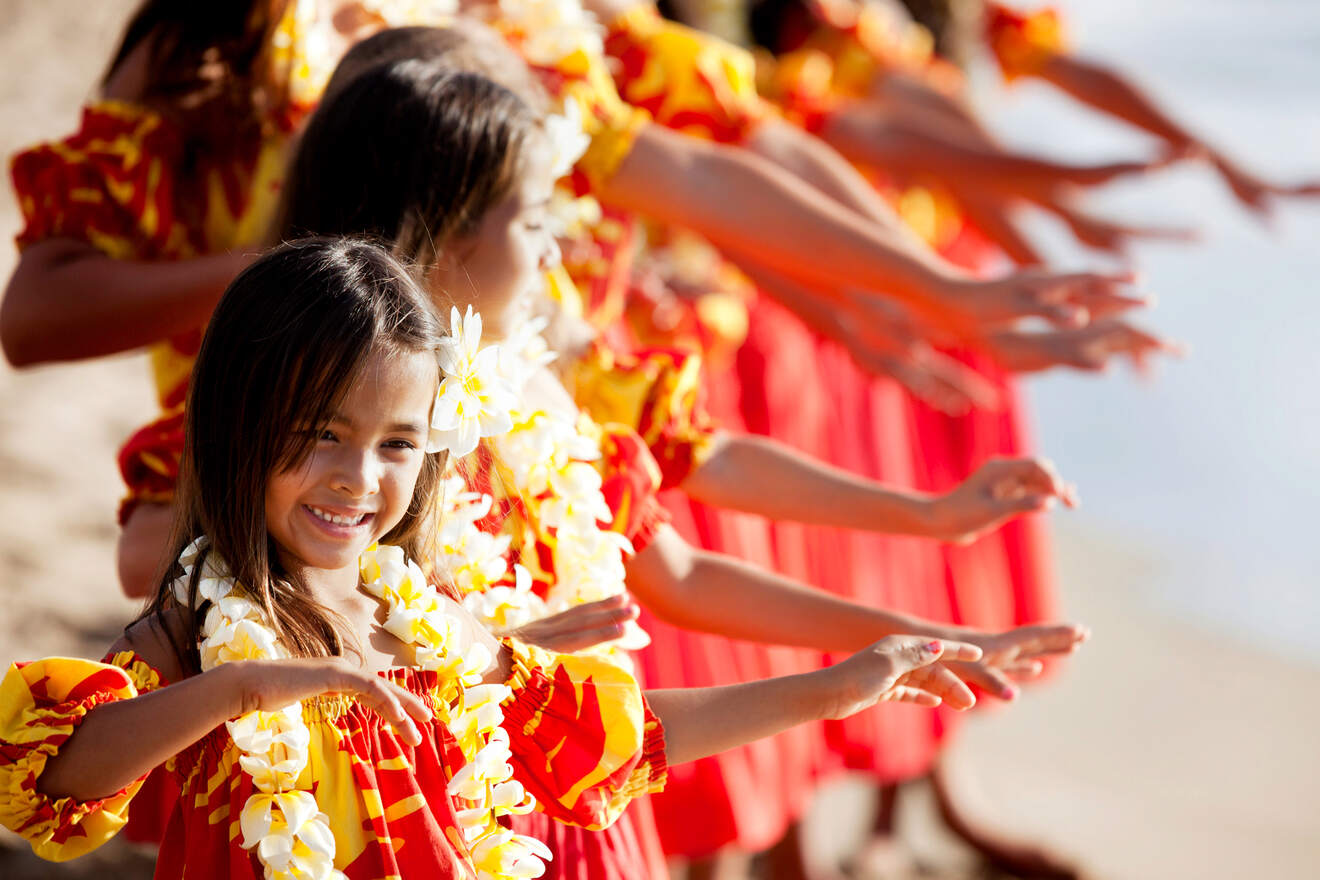 🗺️ Where should I stay in Hawaii for the first time?
If you are a first-timer you should stay on the Big Island as you will find a bit of everythingthere in terms of nice beaches, outdoor activities, good bars, and restaurants. Four Seasons Resort and Hilton Grand Vacations are some of the hotels with great locations here. 
🏝️ What island is the best to stay on in Hawaii?
The best island to visit is Big Island if you are looking for a little bit of everything.  If you're just looking for stunning beaches, stay in Maui, or for sightseeing, Hawaii Oahu is a good option.
🤔 How many days in Hawaii is enough?
I recommend you to stay at least 5 days – 1 week. This time will allow you to discover many parts of the island. 
⏱️ What is the best time of year to visit Hawaii?
The best time to visit Hawaii is between March – September as the weather is nice and there are a few rainy days.
💸 What is the cheapest time of year to visit Hawaii?
Hawaii's low season is between September – December. In this period you can get better deals on hotels.
Conclusion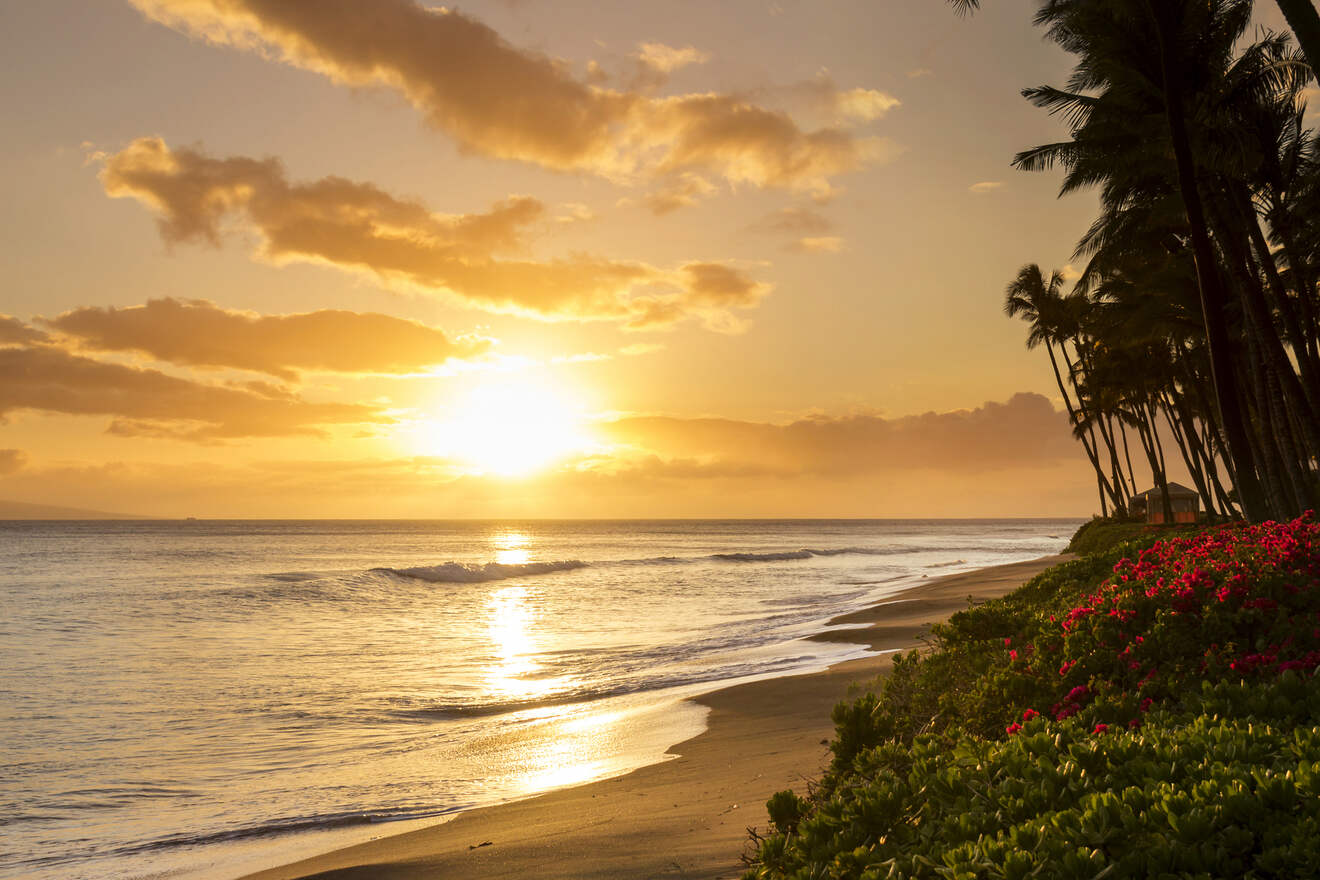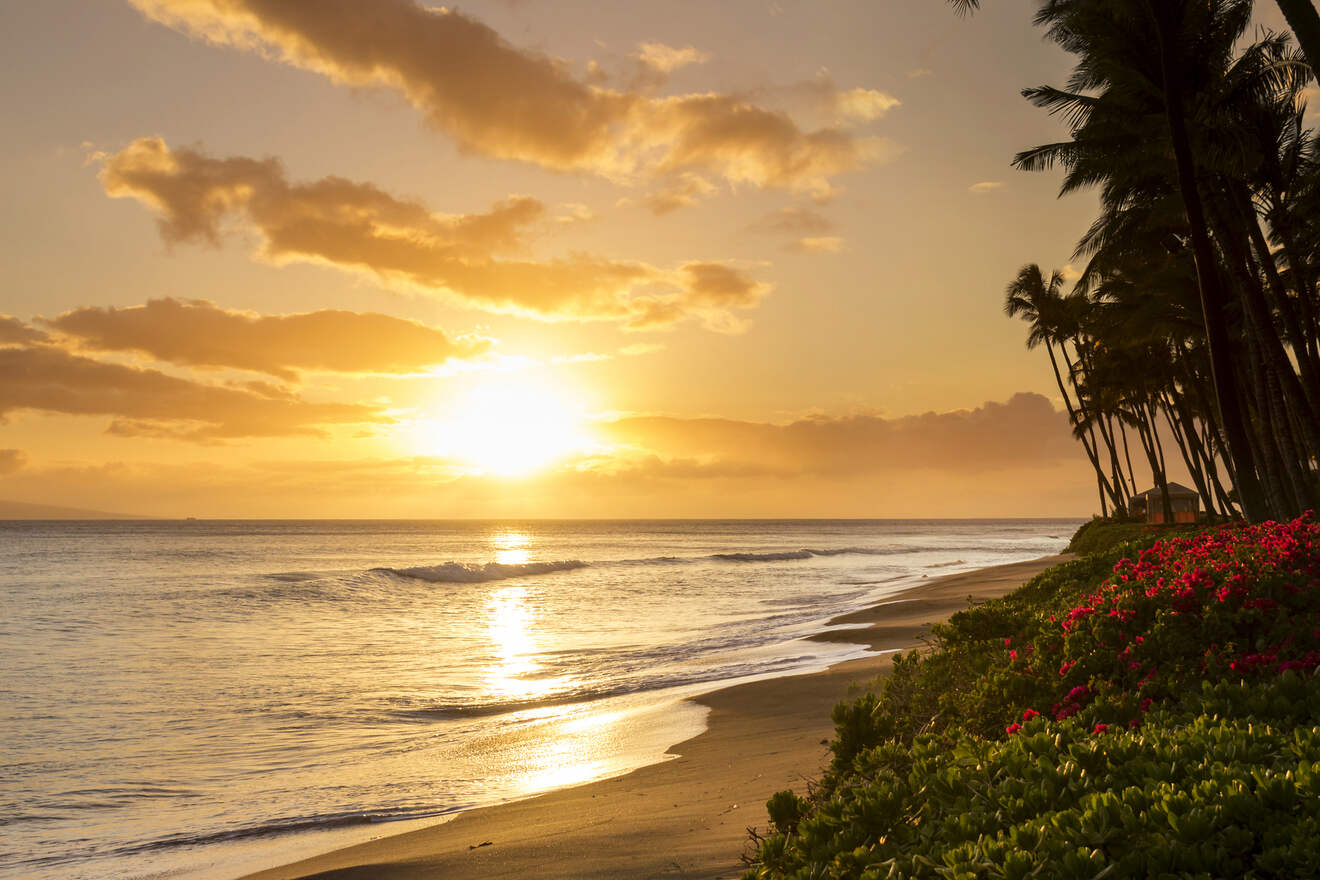 It is the end of our island hopping and I hope you enjoyed the journey with me. I talked about the best places to stay in Hawaii with the hotels from luxury to budget as well as Airbnbs on each island and gave travel tips about the activities you can do there.
As I've already mentioned, Hawaii Big Island is the best island to stay in for first-timers but all the islands offer so many nice activities and amazing landscapes so if you are interested in doing a specific activity, I suggest you pick an island depending on that.
I hope this Travel guide on where to stay in Hawaii helped you to find the hotel to stay in and you've already started to think about which beachwear to take with you!
To sum up, here are the best places to stay in Hawaii, where I would definitely recommend you to choose. They both have good locations and great reviews too!
Hawaii is one of the most popular travel destinations in the world and I know that you don't want to miss your ideal place. That being said, do not forget to make a reservation now!
As a person who is in love with surfing, Hawaii is my dream destination and I am sure you will have a wonderful holiday there! If you have any other suggestions or questions about Hawaii Islands please leave a comment below. I'll be happy to leave a reply to them!
Wish you an amazing holiday,
Eylul
---
Pin it for later!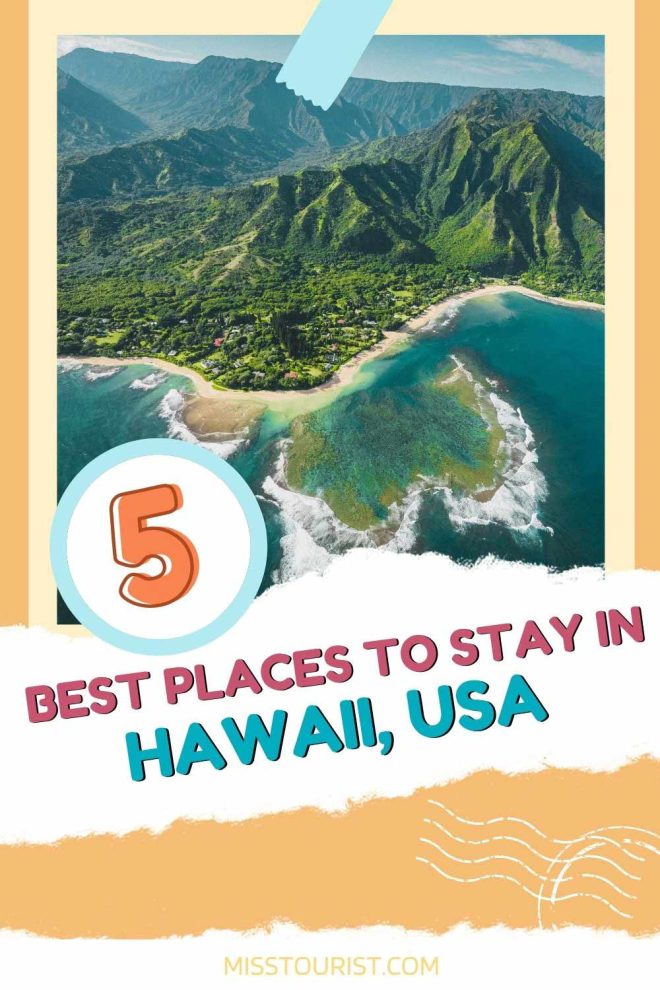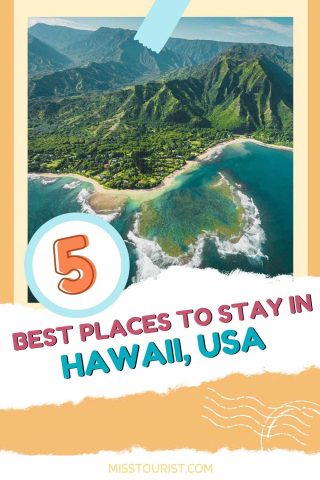 Pin it for later!