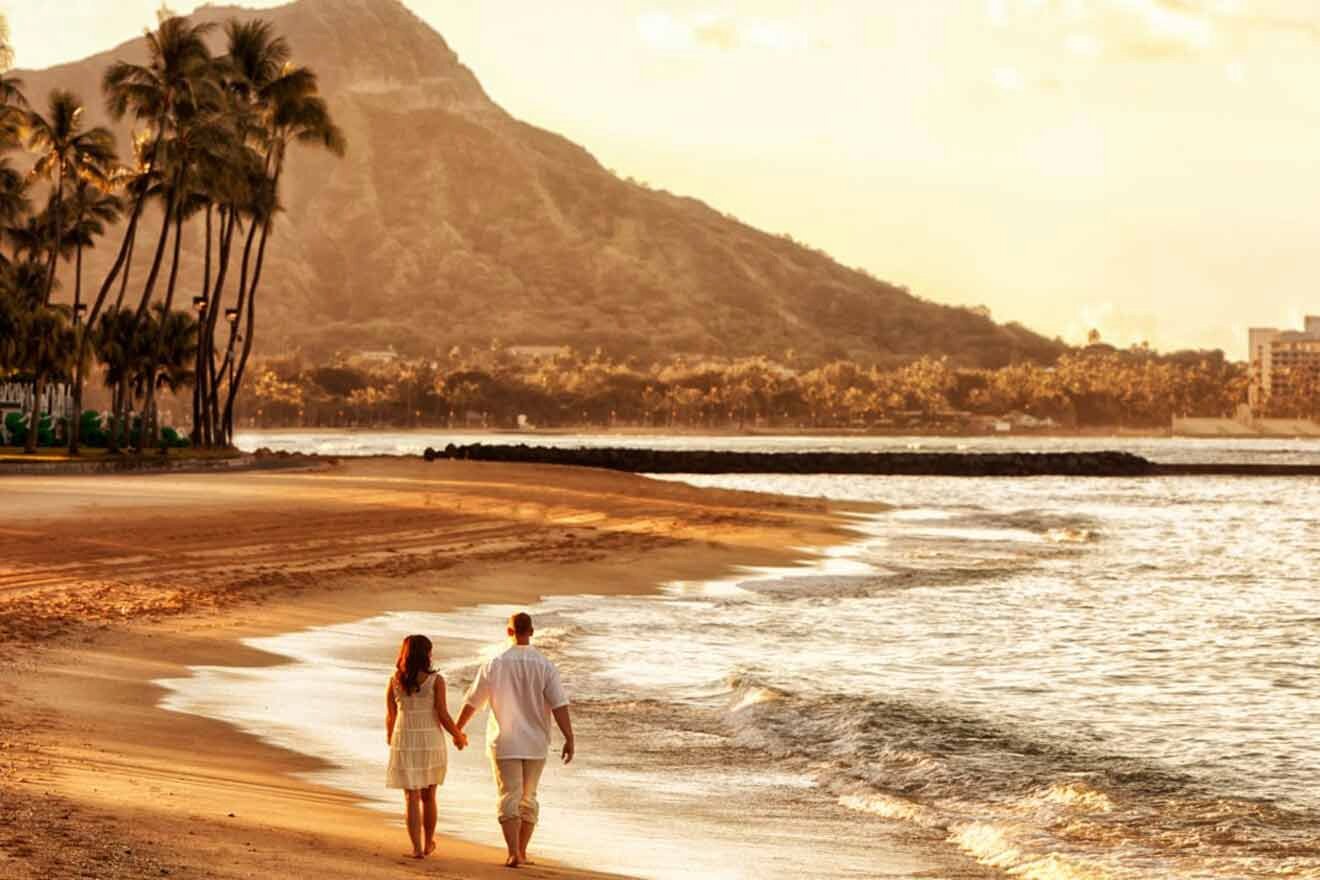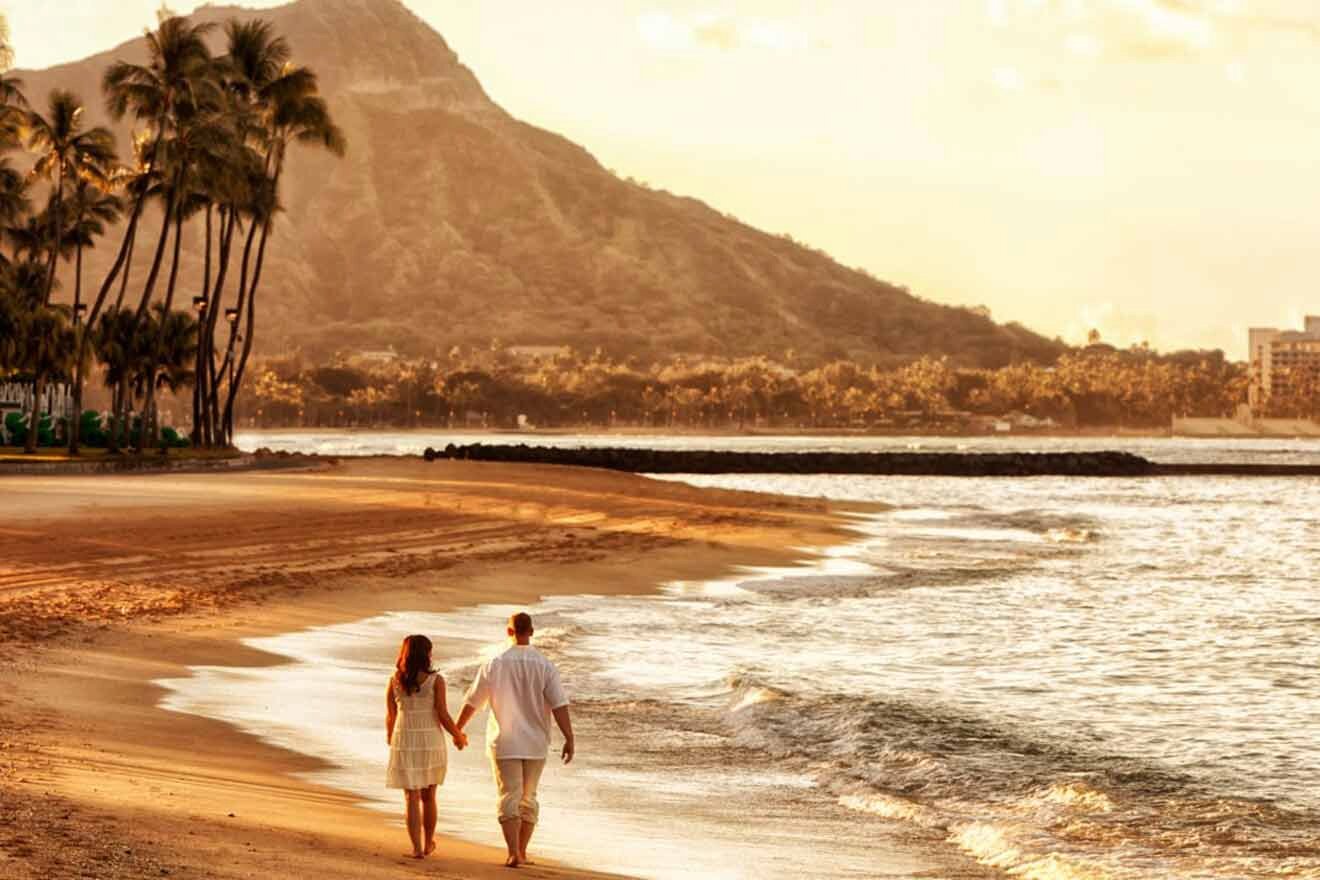 Are you looking for romantic Waikiki hotels for your next couple's vacation? I am more than happy to tell you that I've been looking and searching for the best romantic hotels in Waikiki for couples so you and your plus one can have the most wonderful time in Waikiki!
This post is organized starting with the most expensive and luxurious hotels first; and let me tell you, all 15 options are so incredible, and I can assure you, you will find the hotel of your dreams here!
Waikiki and Honolulu, in general, are some of the most popular destinations in the world, especially for couples since they offer such a romantic setting; and the hotels on this list are the best Waikiki hotels out there, so you want to make sure to book your hotel room as soon as you make a decision!
Let's dive into the best hotels in Waikiki for couples! Shall we?!
If you are in a hurry
Need to book your perfect romantic getaway fast and can't read the entire article? I've got you. I've gathered the top 3 options for the best hotels in Waikiki for couples:
1. Halekulani – with views of Diamond Head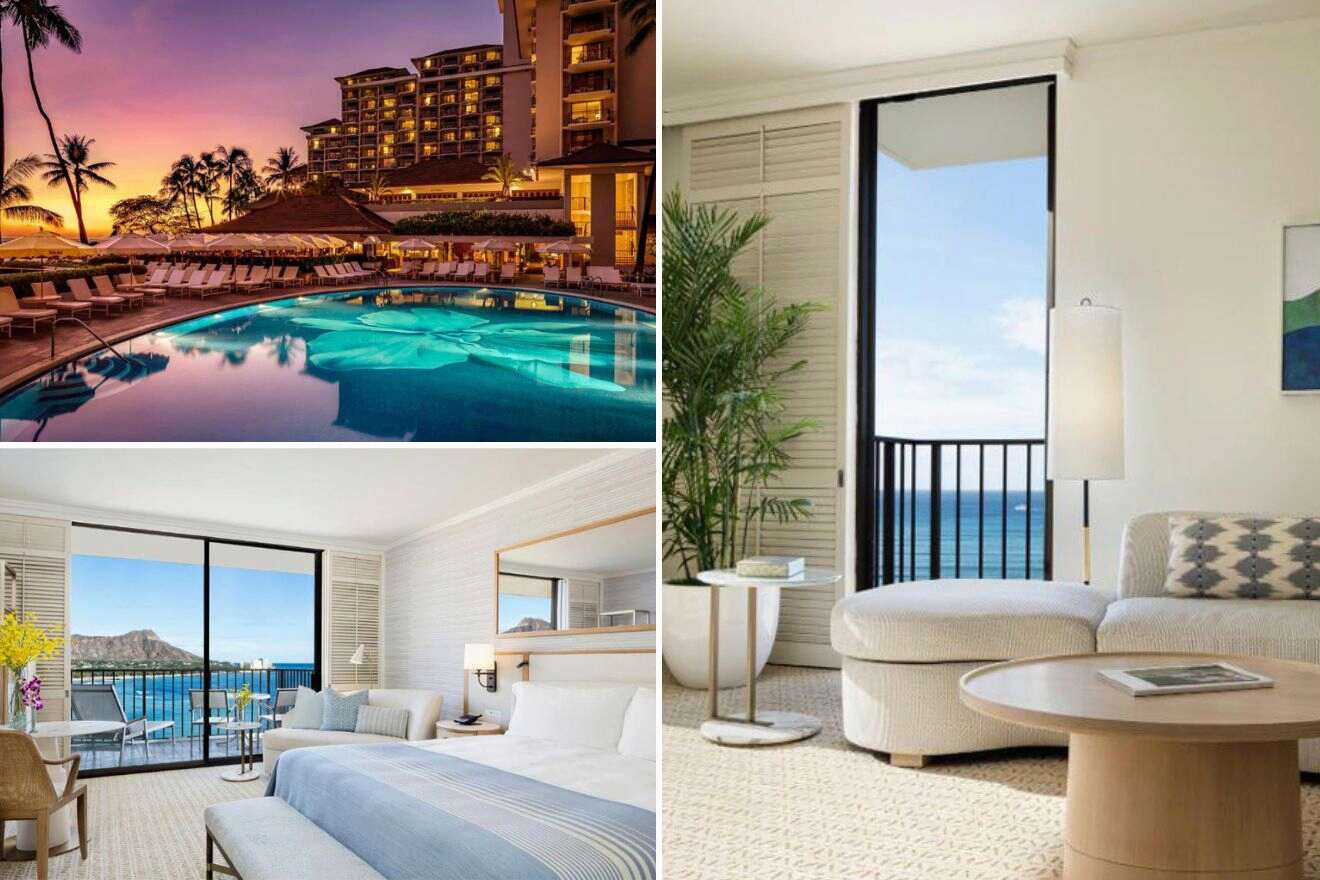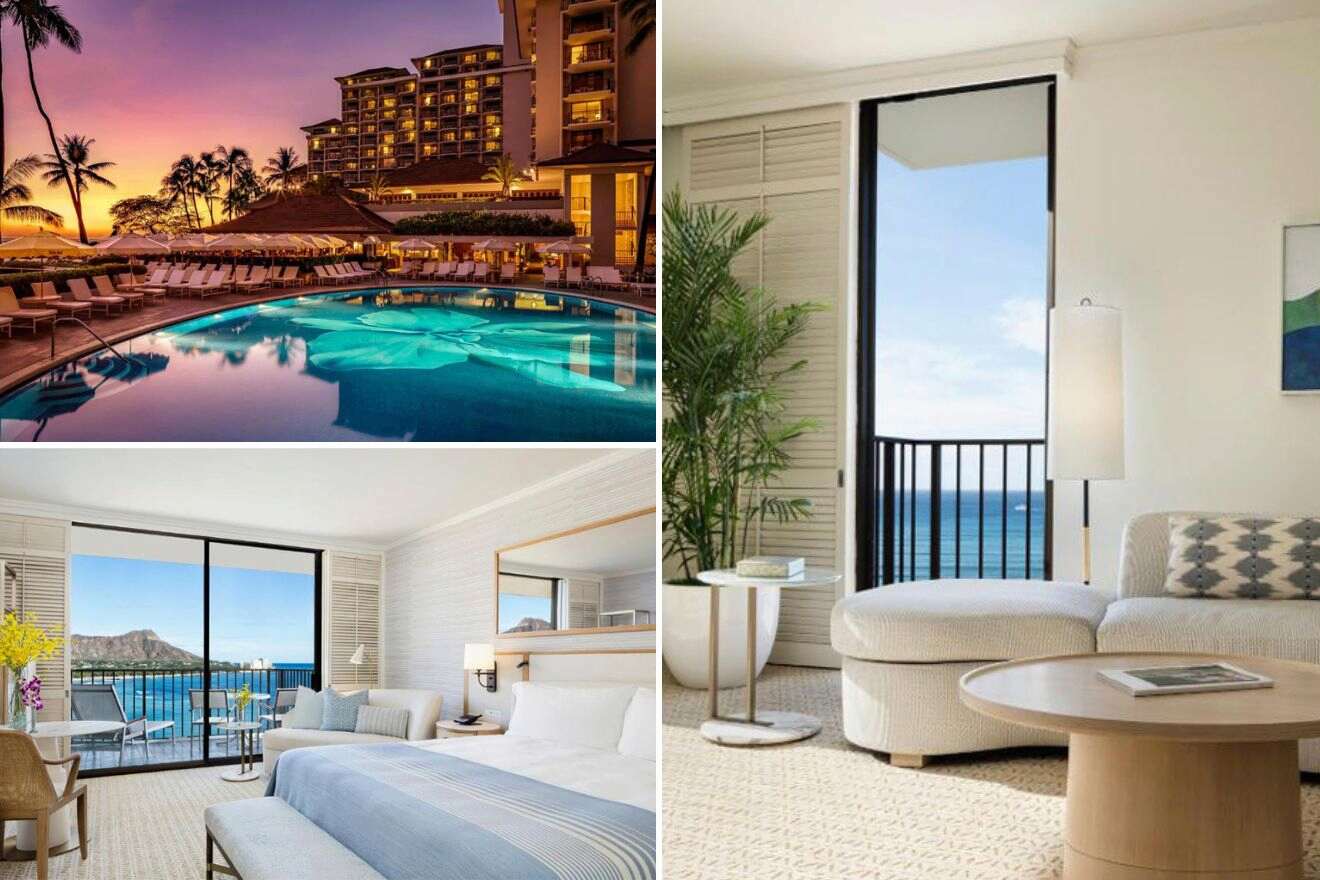 Imagine arriving with your beloved partner at this paradisiac romantic hotel located by the world-famous Waikiki beach, and the first thing you notice is that the hotel overlooks Diamond Head and the most beautiful deep blue Pacific Ocean; so romantic! This hotel offers an on-site spa, perfect for a relaxing couples massage, and 3 onsite fine dining restaurants to enjoy a romantic dinner on the hotel's terrace on a warm summer evening!
You will feel fantastic in any of the hotel's spacious guest rooms; as you'll have your own private lanai and enjoy some beautiful views. The hotel also offers complimentary fresh fruit and signature chocolate, which you and your partner could enjoy with a glass of wine while relaxing in your private soaking tub.
2. The Ritz-Carlton Residences – a hotel with great views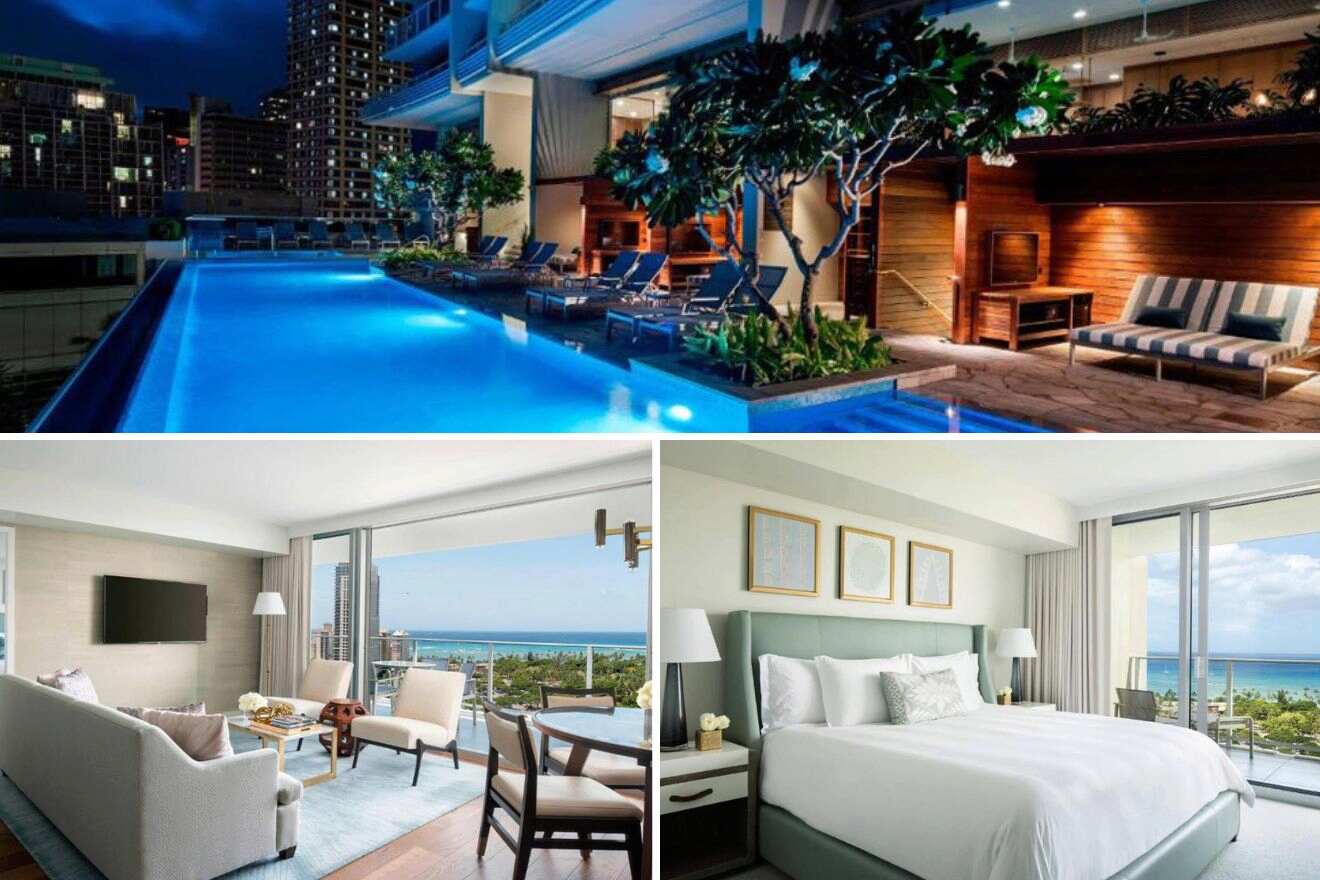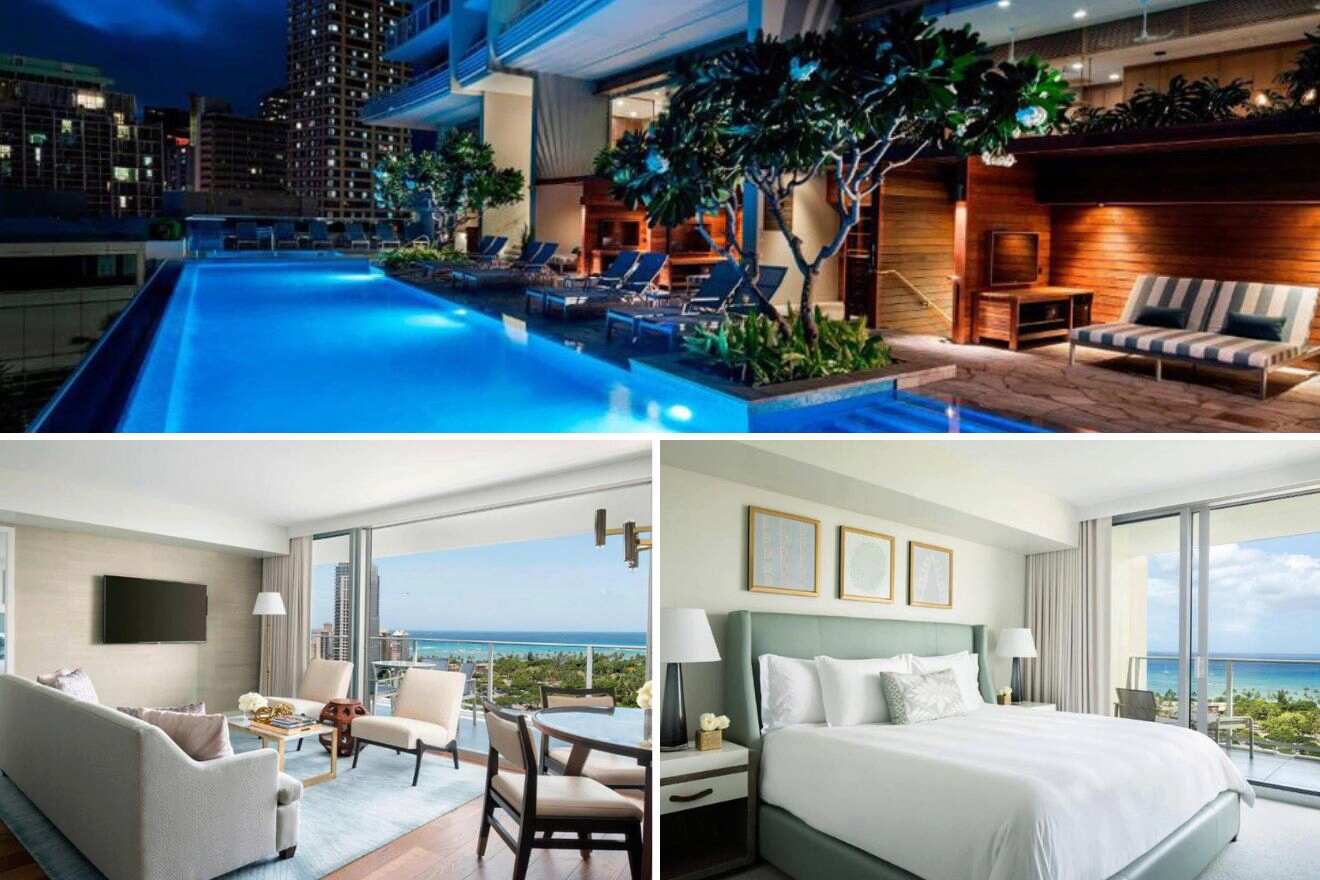 This is the perfect hotel for couples looking for a vibrant and luxurious vibe on hotel grounds since it comes with two infinity swimming pools with private cabanas, a fitness center, and a spa center offering many beauty services. The hotel is centrally located and has Ala Moana Shopping Centre just a 10 minutes drive away, and the beautiful beaches are just within walking distance. The perfect combination between city and nature!
The hotel rooms have all the amenities you need for a perfect vacation. I highly recommend staying at their Grand One Bedroom Suite with Ocean View; it comes with a bedroom and a separate living room area, a private balcony where you can enjoy a romantic sunset as a couple, and a private kitchen for homemade meals!
3. The Kahala Hotel – for the unique romantic dinners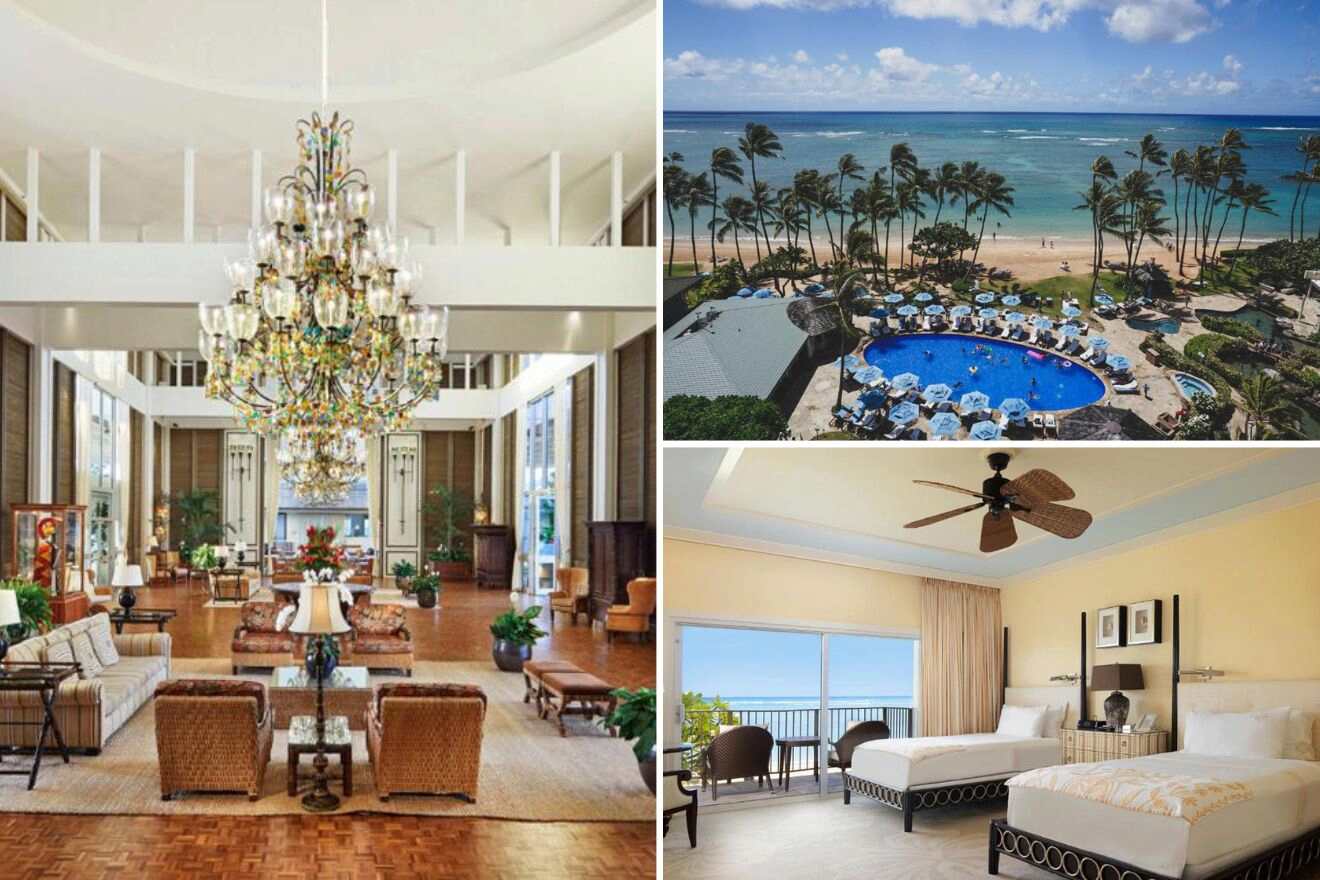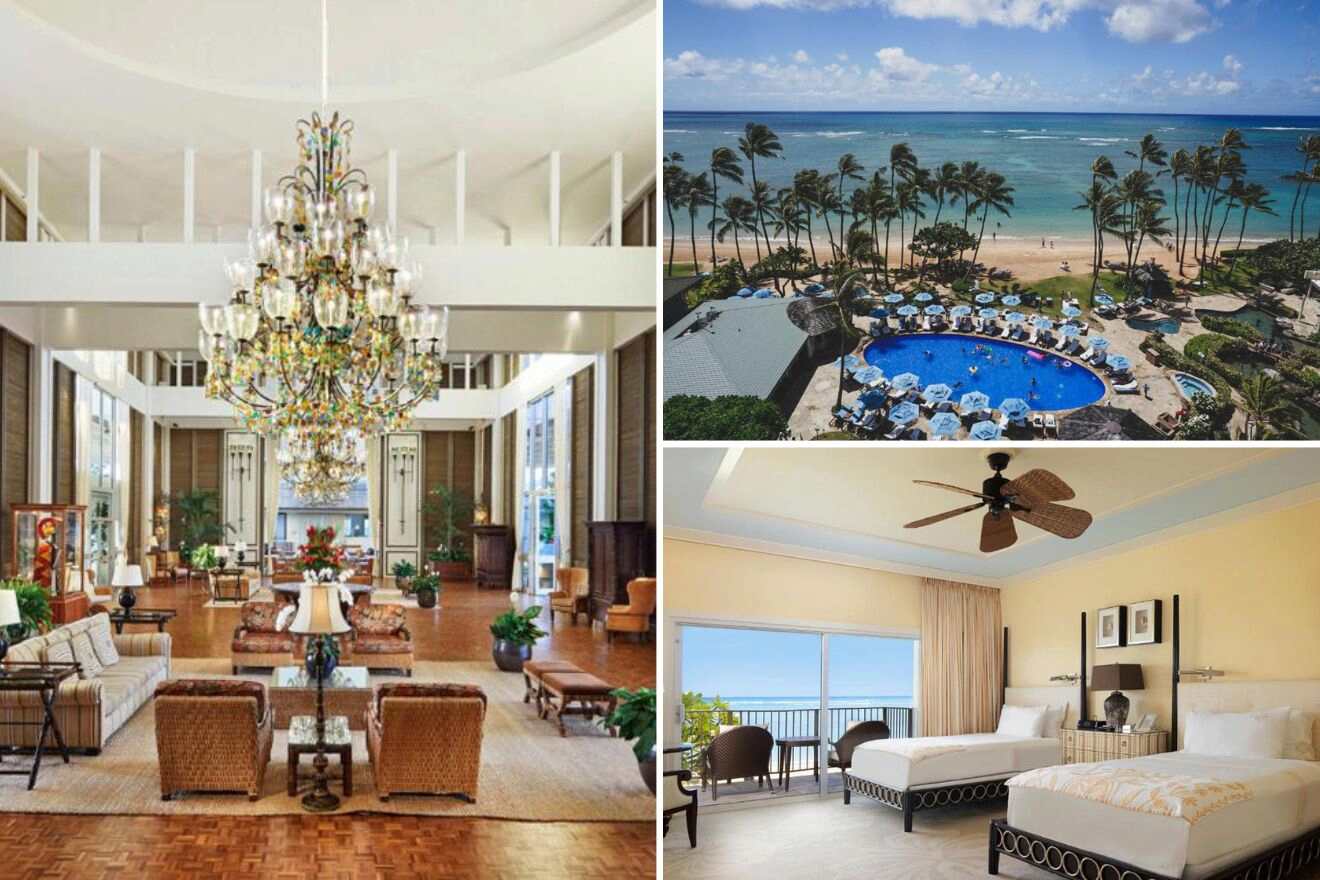 This is one of the best luxury resorts in the area and would be perfect for couples looking to spend some time alone relaxing in a hotel located in a secluded and private area by the beachfront! This hotel offers the most amazing onsite restaurants and a complimentary breakfast served every morning to your room so you can eat it in bed with your special someone!
Have fun with your partner, either trying water sports, enjoying a live music event, or relaxing by the outdoor swimming pool! This resort offers spacious rooms with the most comfortable beds, and I recommend staying in their Suite with OceanFront View for extra comfort. It has a seating area, a private bathroom with a bathtub, and a private balcony with stunning ocean views!
4. Trump International Hotel Waikiki – for a relaxing holiday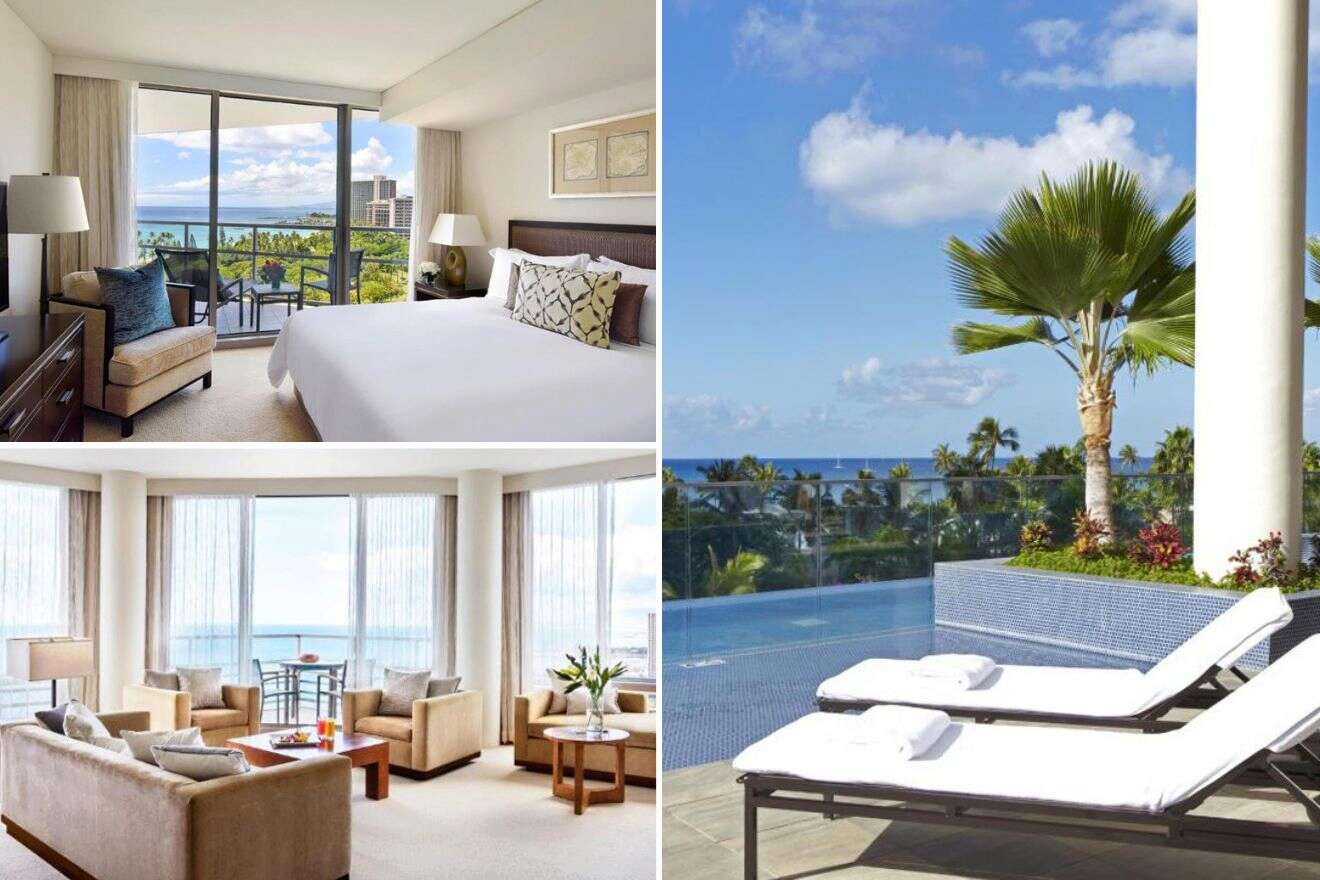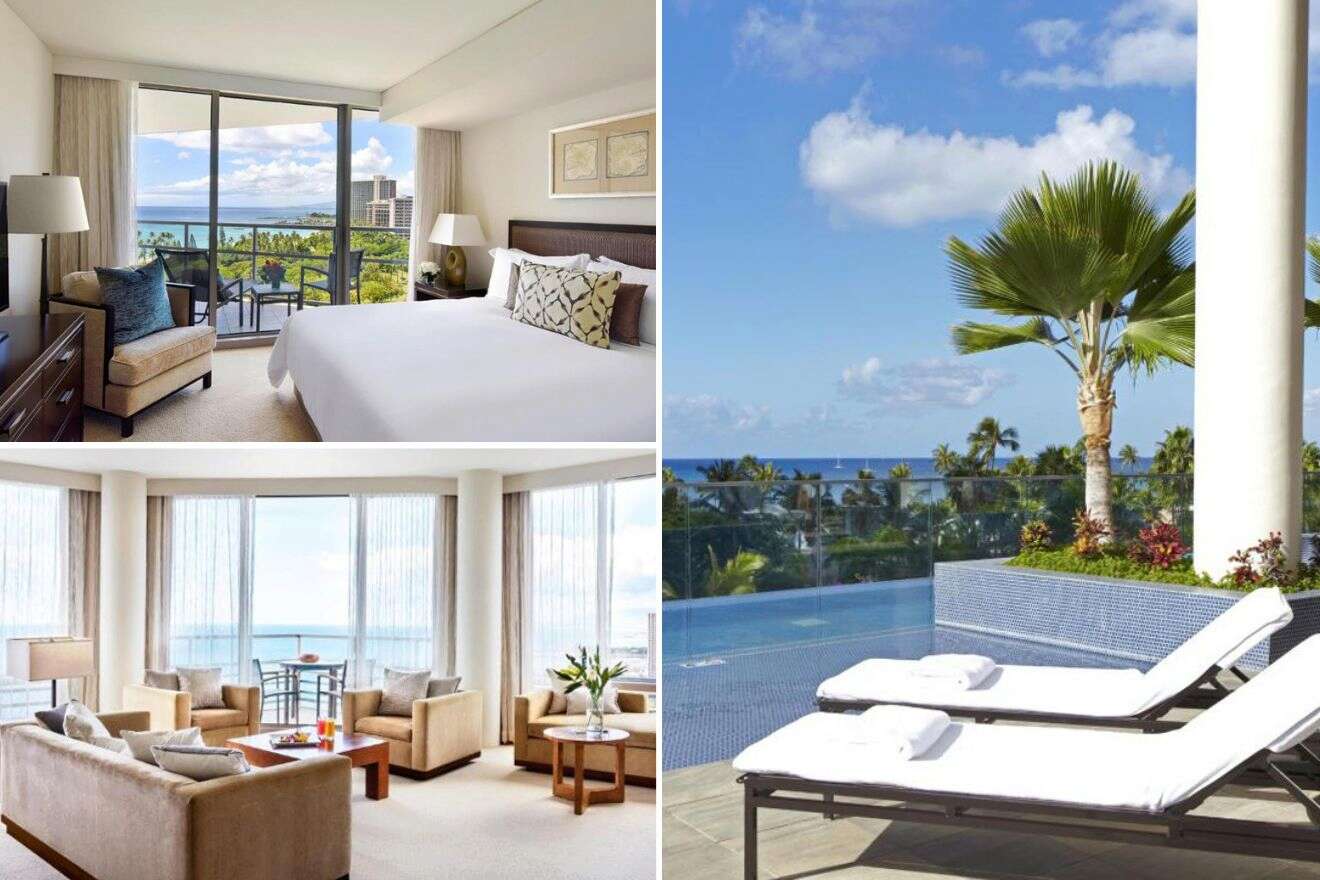 This modern luxury hotel mixes traditional Hawaiian elements with a contemporary twist, and it's perfect for couples looking for a relaxing retreat with modern amenities. This hotel's spa offers full-body treatments and comes with a jacuzzi and an outdoor pool, so you and your significant other can relax in style after heading to any of the hotel's onsite restaurants to enjoy a delightful dinner by candlelight.
All the comfortable rooms come with great city or ocean views. The Deluxe Room Ocean View is super stylish, and as the name indicates, it comes with a balcony that oversees the ocean; a living room area with a flat-screen TV, a private kitchen, and a very chic bathroom with a shower and separate bathtub, perfect to end the day with a bubble bath!
5. The Royal Hawaiian Hotel – a stylish pink palace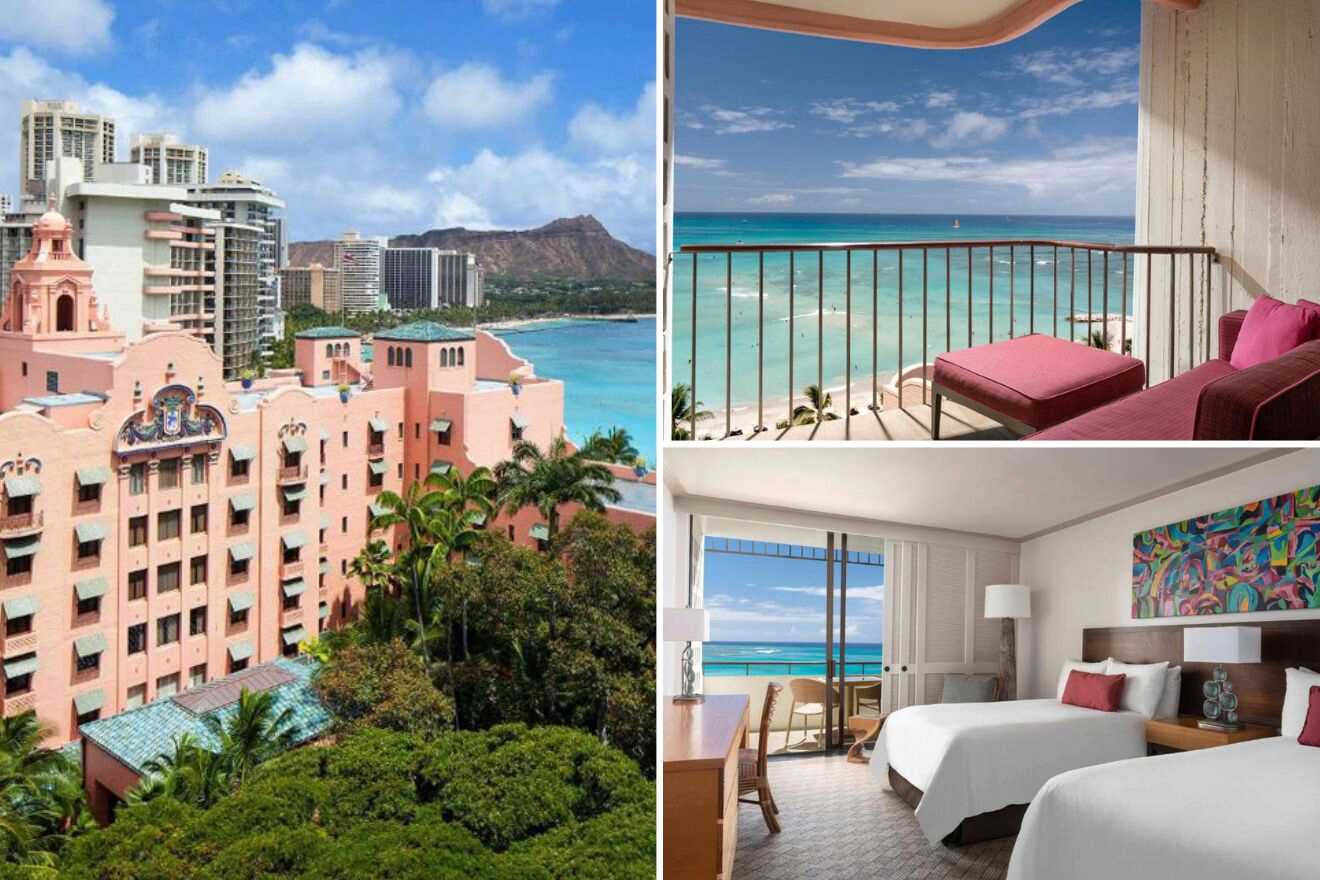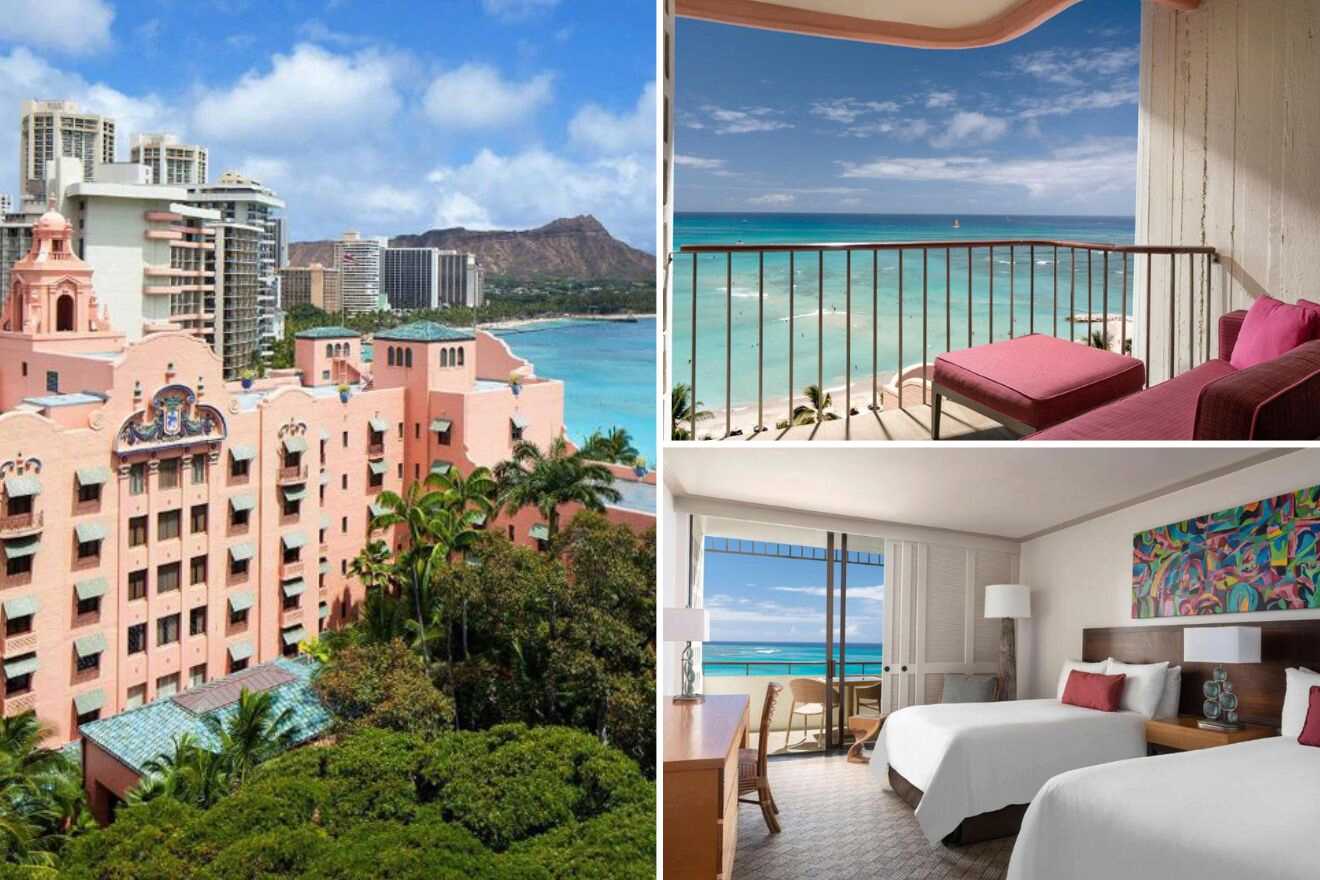 Wouldn't it be a fantastic experience to stay at this historic hotel? This amazing pink palace located by the beachfront, and with Honolulu Zoo just a 20-minute walk away, is one of the oldest resorts in Waikiki and one of the best luxury resorts in the area. The classy decor sure adds up to the romantic experience! The resort amenities are excellent!
The resort comes with 2 swimming pools, an onsite bakery so you can have freshly baked goods after a walk on the beach, the possibility to dine by the beach, and a Mai Tai bar where you can have a cocktail with your significant other while enjoying a live show! All the luxurious rooms have an exquisite style and come with views of the garden or the ocean!  
6. Sheraton Waikiki – for a fun holiday with your partner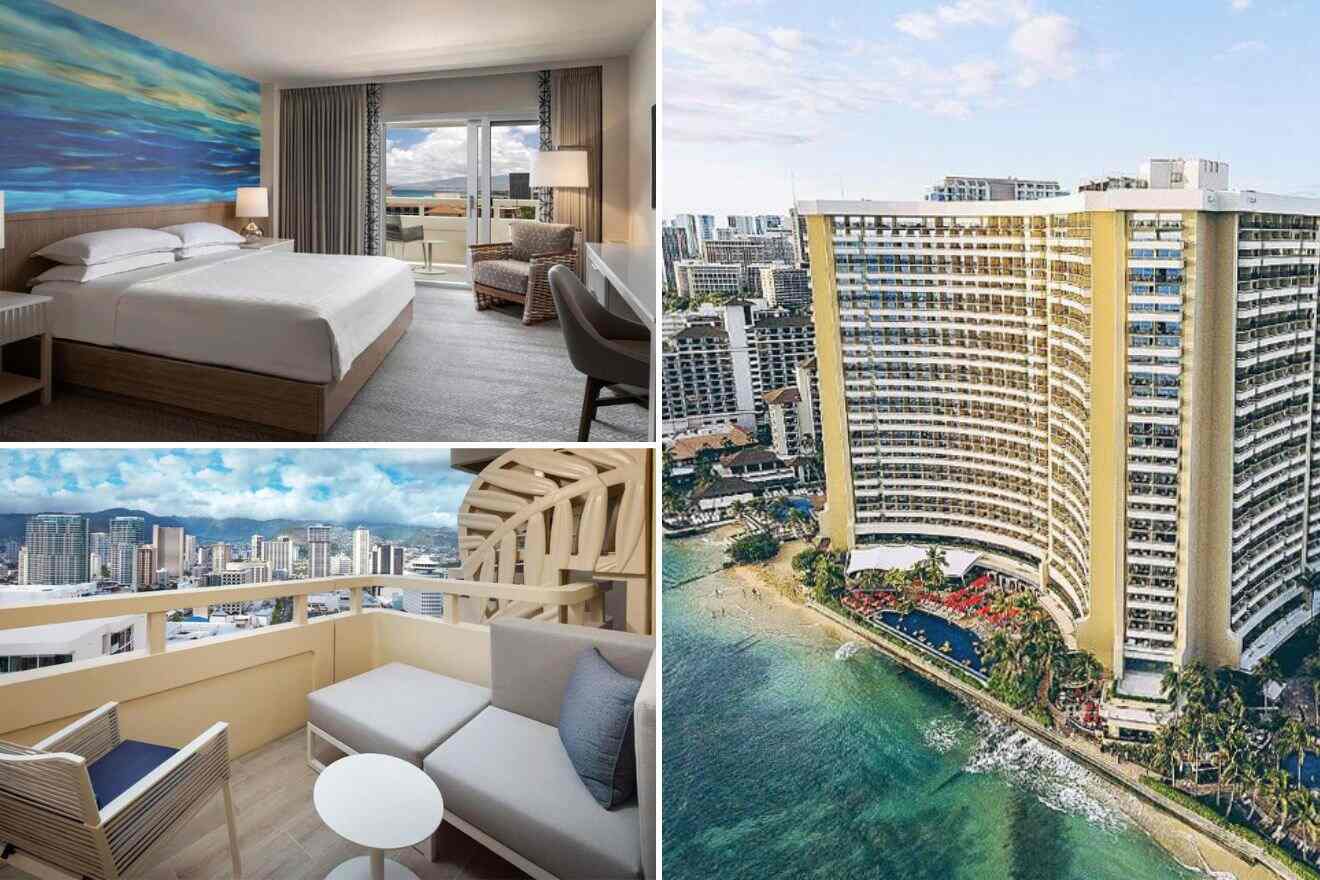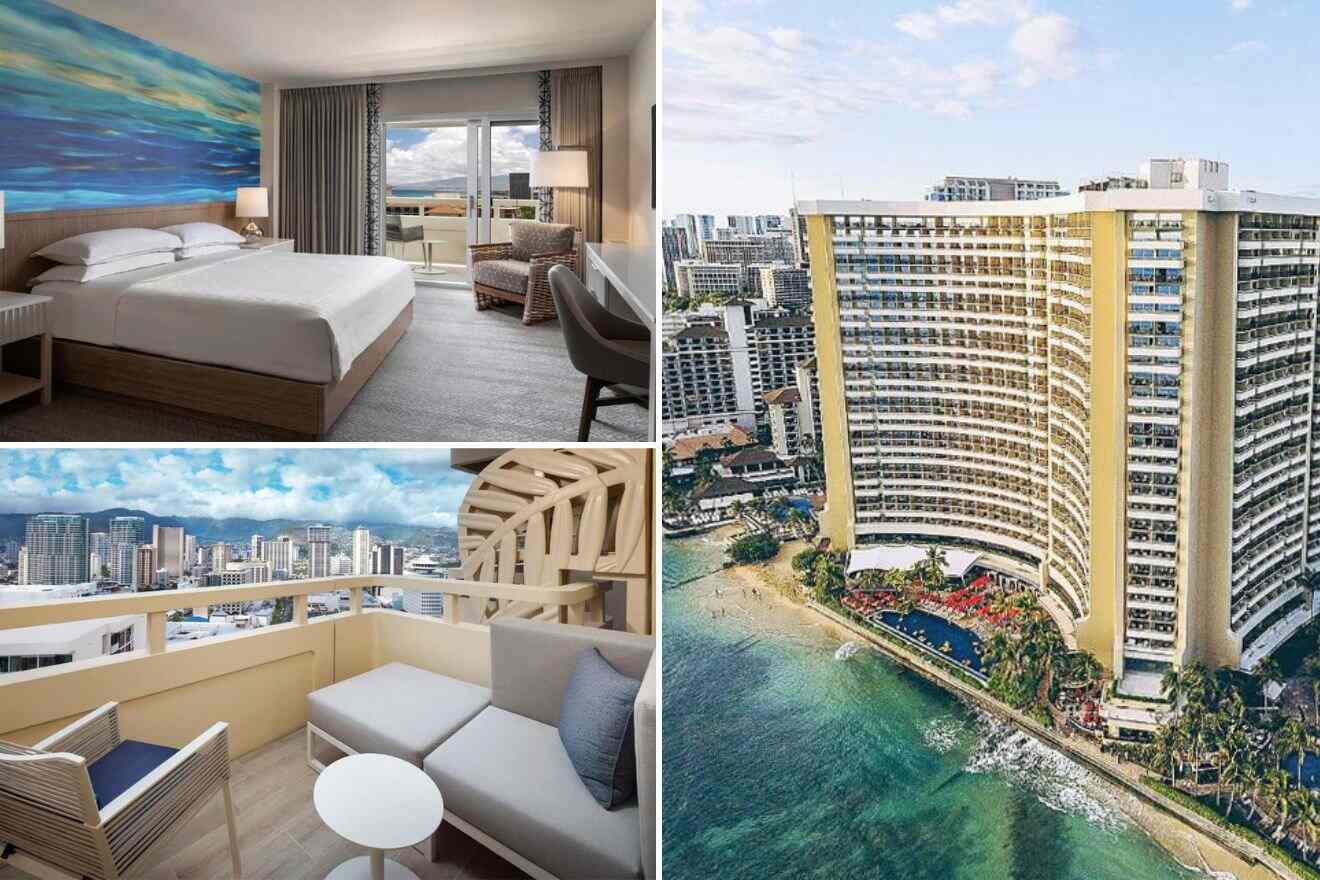 This hotel has a modern and chic look! It's located by the beachfront and has the city and lots of attractions just minutes away! Couples will love this hotel as it offers fun activities, such as windsurfing, live events, evening entertainment, and a DJ if you feel like partying! After all this amusement, relax at the spa and wellness center or sit by the pool while soaking in the sun!
All the rooms are renovated and come with a coffee machine and a flat-screen TV with pay-per-view channels, and some of them come with a private balcony with views of the mountains or views of the city. If you'd like a bathtub in your private bathroom, check before booking the hotel!
7. Prince Waikiki – dine with a view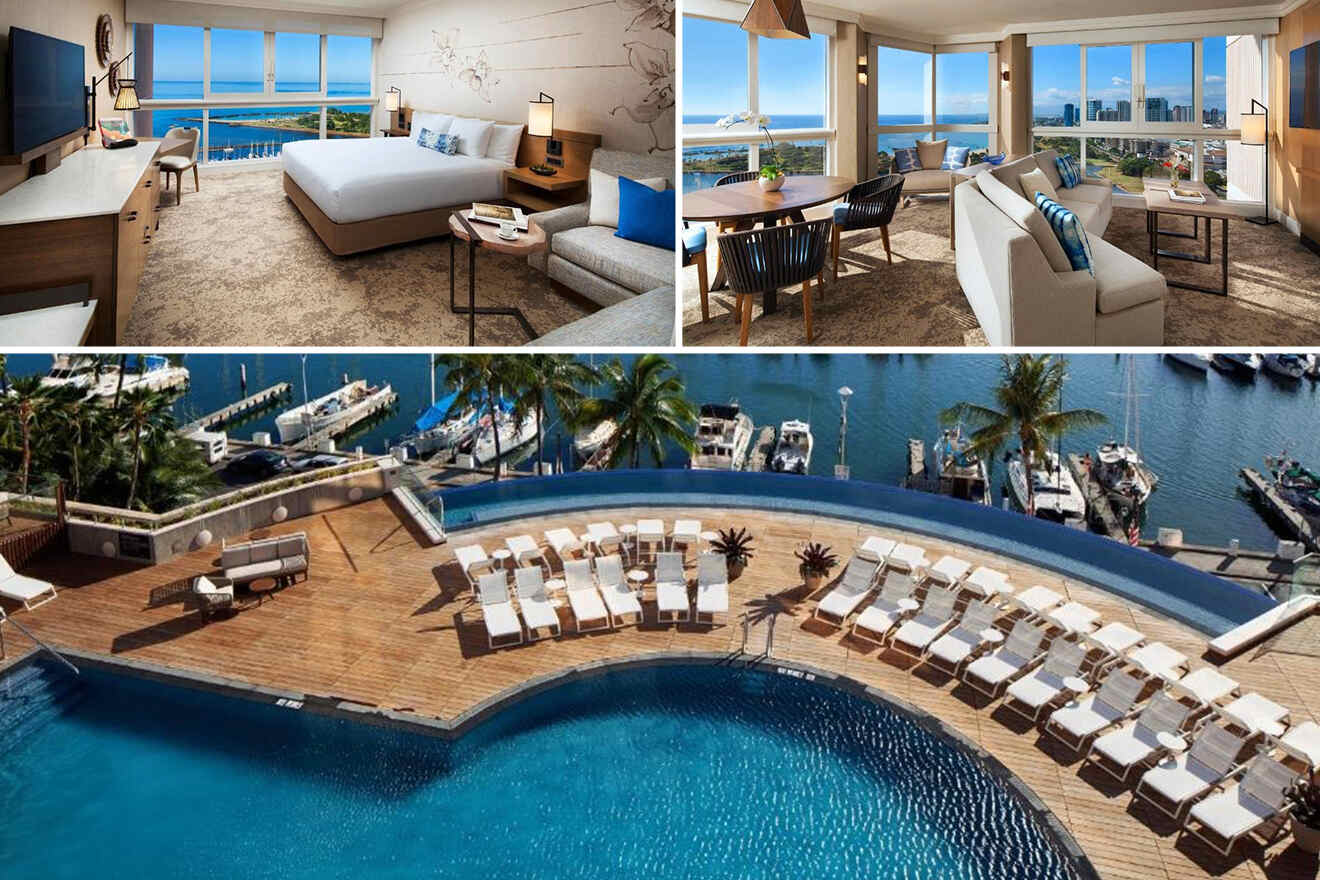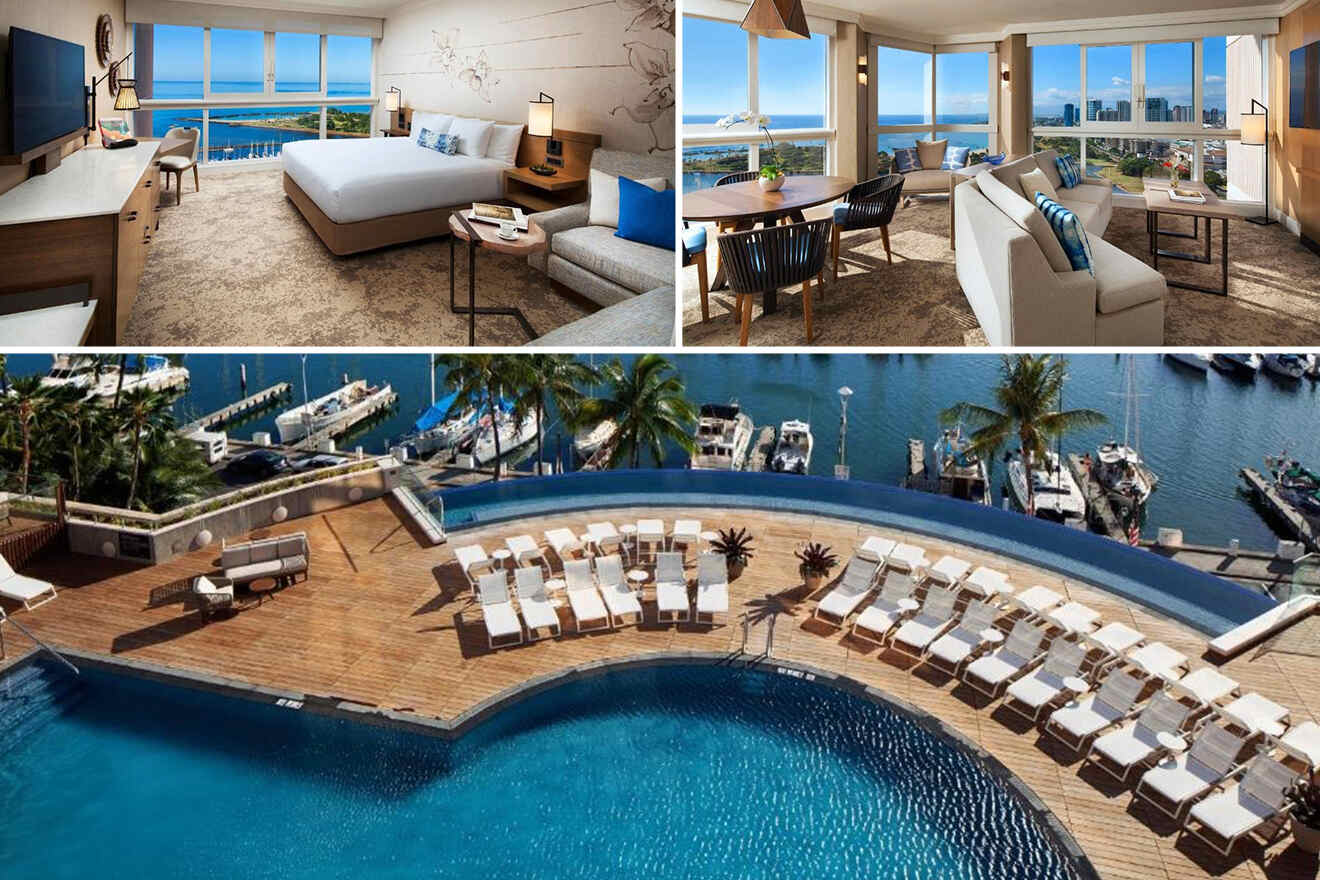 This stunning hotel featuring wonderful earthly tones with touches of blue and modern furniture is located by Ala Wai boat harbor, and the Waikiki aquarium is just a 20-minute drive away. It also offers romantic views of the ocean and sailing boats! The hotel comes with an on-site restaurant, so you and your sweetheart can enjoy a lovely dinner after spending the day at the beach!
All the rooms are spacious and have all the amenities a couple needs on a romantic getaway! I suggest booking their Oceanfront 2 Bedroom Suite, which comes with 2 king beds; this suite is extra spacious and comes with a bedroom and separate living room with a dining table, and 2 bathrooms with a bathtub!
8. Halepuna Waikiki by Halekulani – for art lovers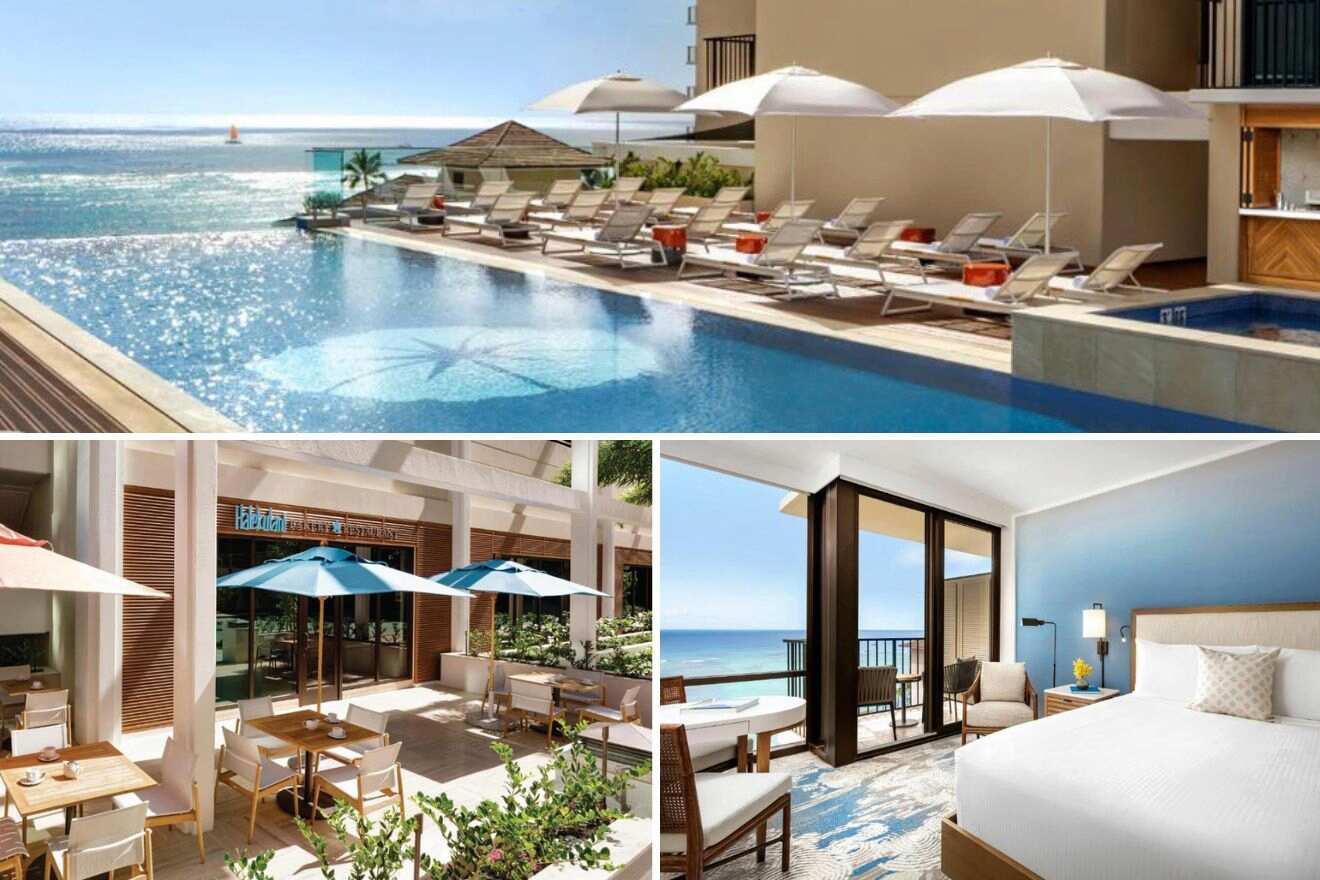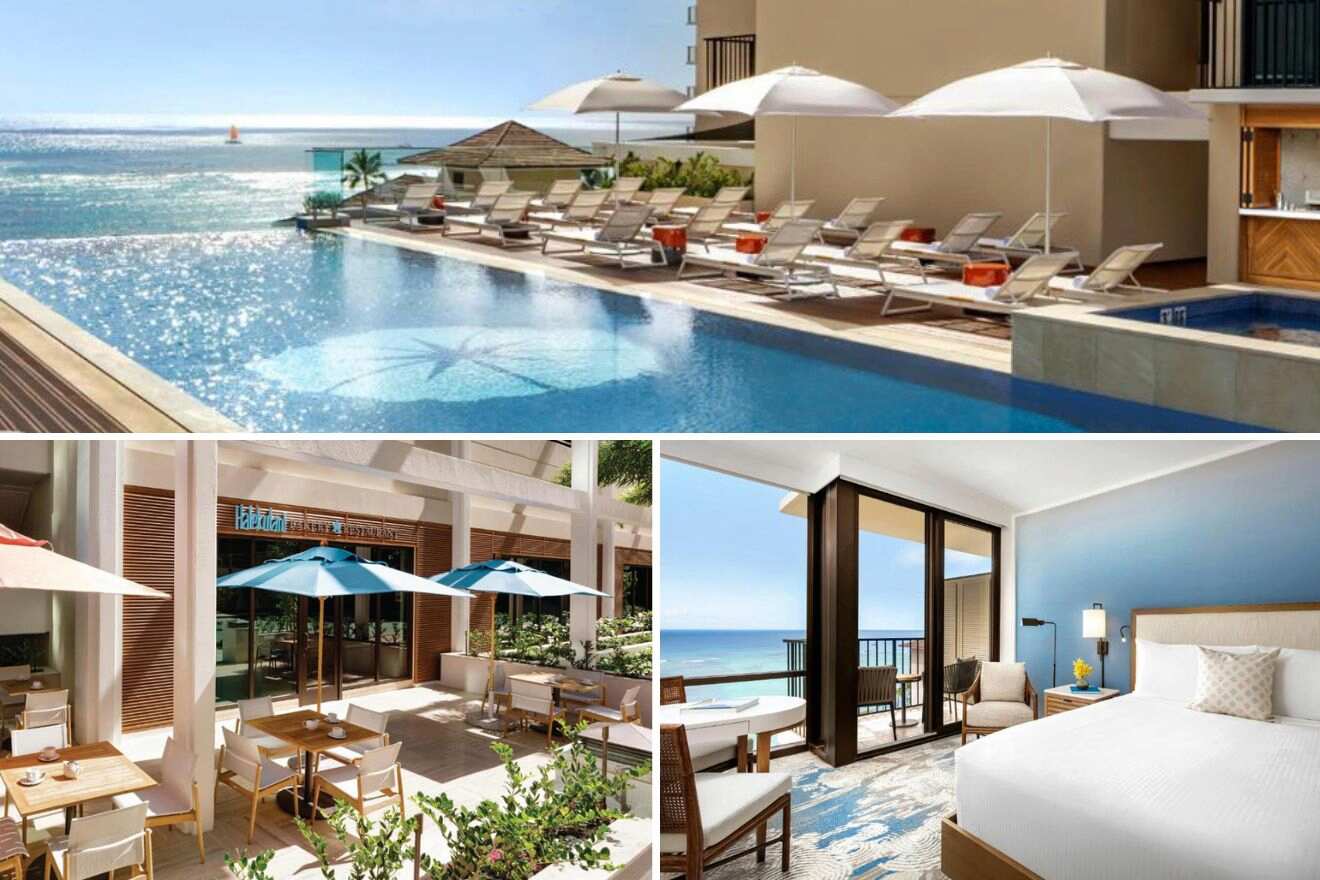 Wow, this modern hotel is such a treat and has a wide range of activities! There is something for couples of all tastes! To start, it comes with an amazing design, and it displays art pieces by famous Hawaiian artists. Plus, the hotel guests have free access to the Bishop Museum and Honolulu Academy of Arts!
The hotel offers a beach area, perfect for relaxing and sunbathing, and a heated infinity pool with a pool bar to have a drink with a view! You can choose from 13 types of rooms, all featuring up-scale furniture and extra comfortable beds. I recommend staying at their suite, as this one has a private furnished balcony with sea views, a living room, and a classy bathroom with a bathtub and a shower.
9. Moana Surfrider Westin Resort – with a private beach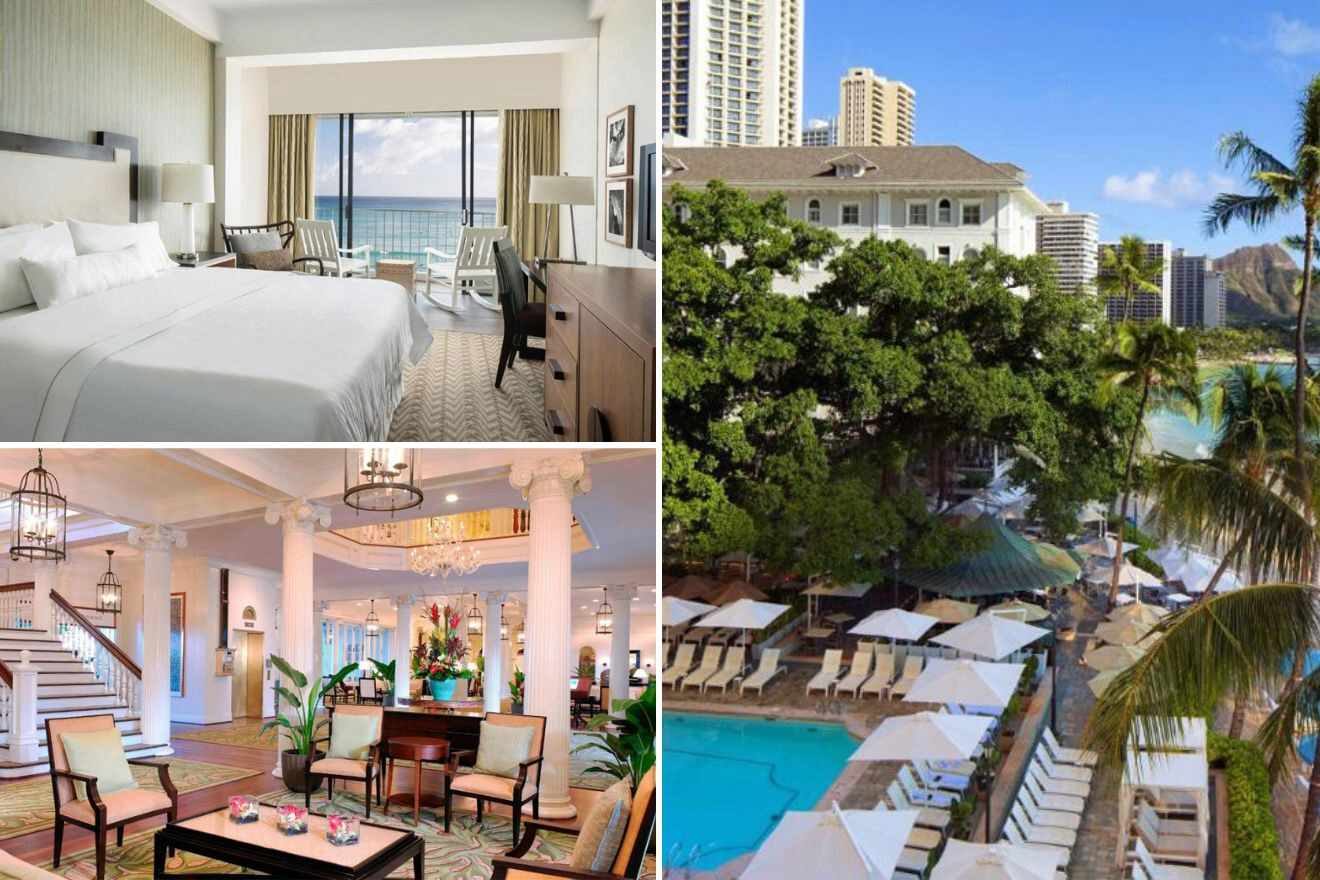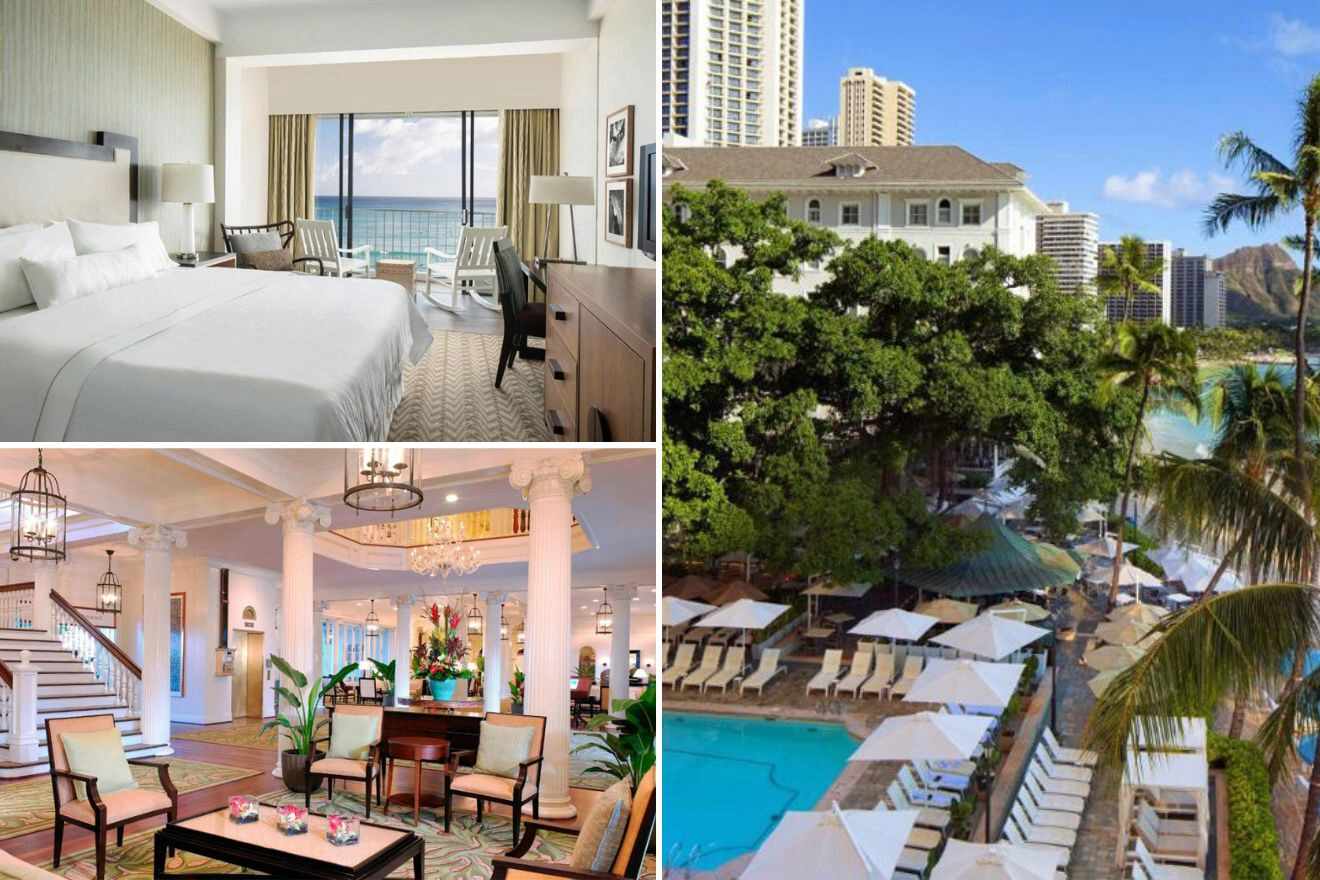 Did you know this hotel is known as "The First Lady of Waikiki"? This historic hotel was built in 1901 and has the most distinguished traditional architectural style. It's filled with luxurious amenities and furniture, perfect for couples to enjoy a romantic trip filled with history and natural wonders. The cherry on top is its beachfront location, allowing the hotel to have a beachfront spa!
At this hotel, rooms come with cute wooden furniture, beige, and earth tones, and a private bathroom. Check by the time of booking with the hotel if you'd like a bathtub in yours. I suggest staying at their Diamond OceanFront. It comes with a private balcony with chairs and a table overlooking the deep blue ocean! How romantic!
10. Outrigger Reef Waikiki Beach Resort – feel like a local!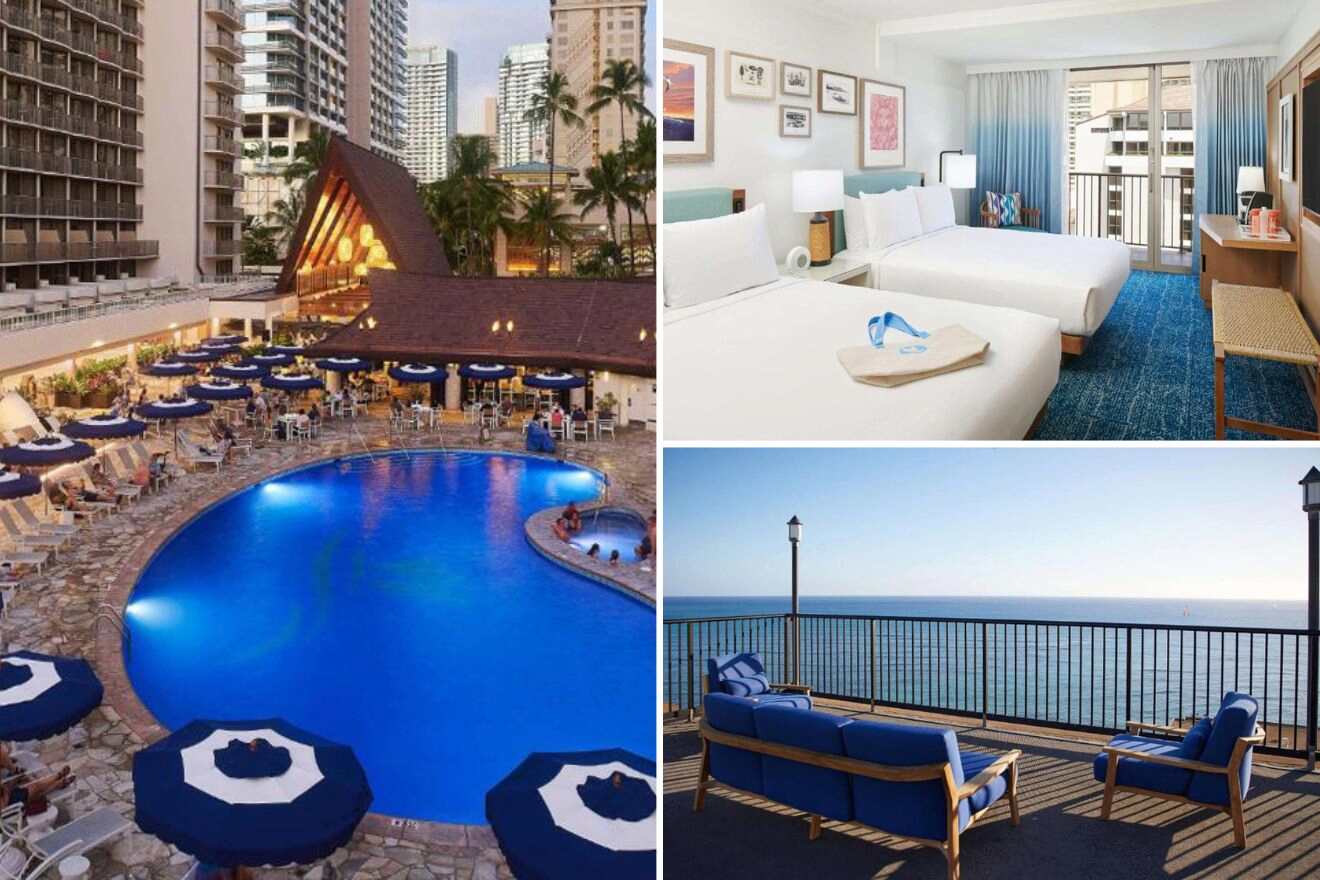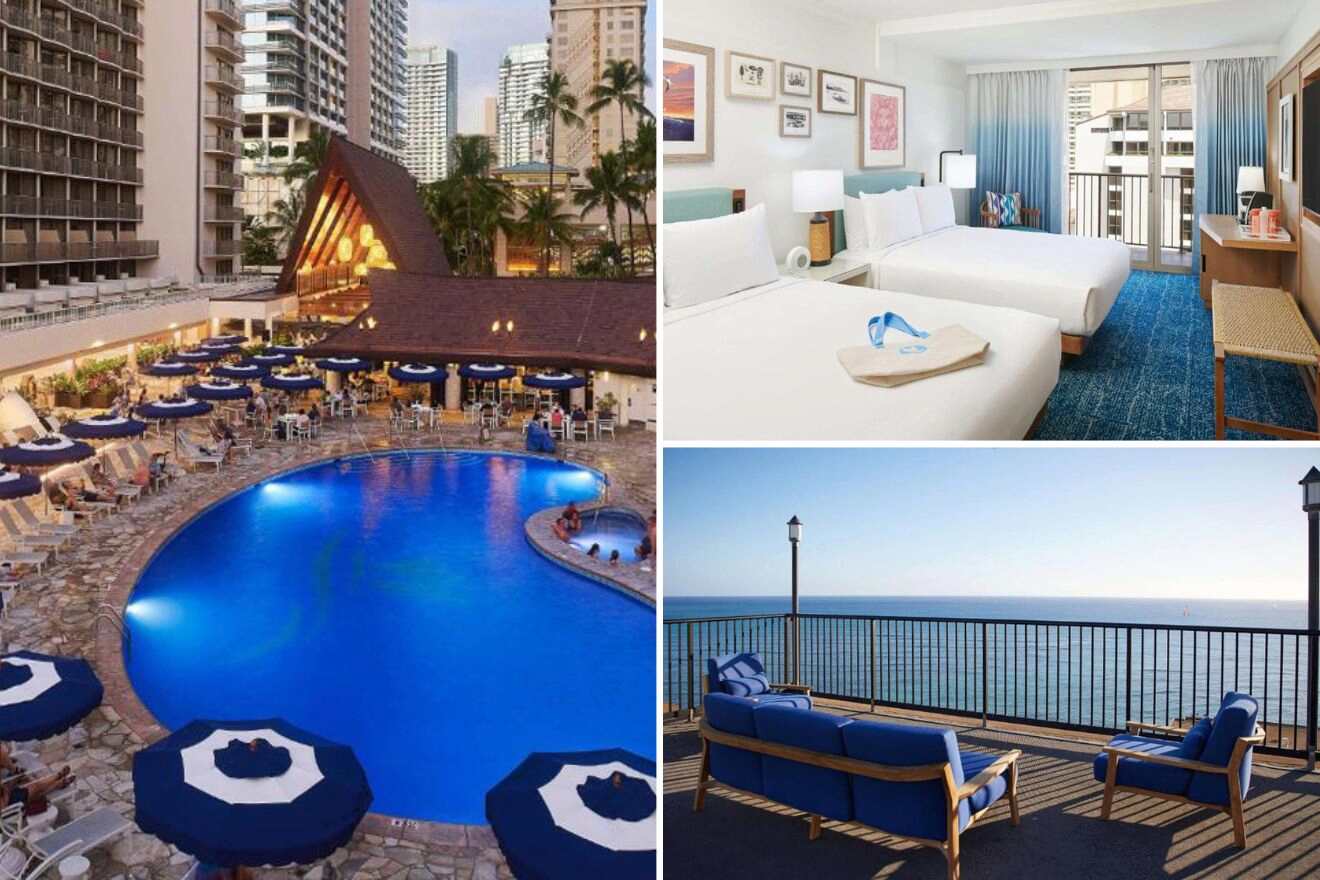 My favorite thing about this resort is the fact that it connects you and gives you a chance to explore the Hawaiian culture since it comes with tours and classes about the local culture, and every night you and your partner can have dinner by the poolside while listening to live Hawaiian music! How charming is that?!
The hotel also has an outdoor swimming pool, a fitness center, and they serve complimentary breakfast every morning! With its location by the beachfront, the resort features amazing views; the best part is that you can enjoy these views from your room! The Club Ocean View Suite is perfect for couples, it comes with a private balcony with ocean views, and this particular room gives you access to the Club Lounge!
11. Hyatt Regency Waikiki – for the amazing sunset views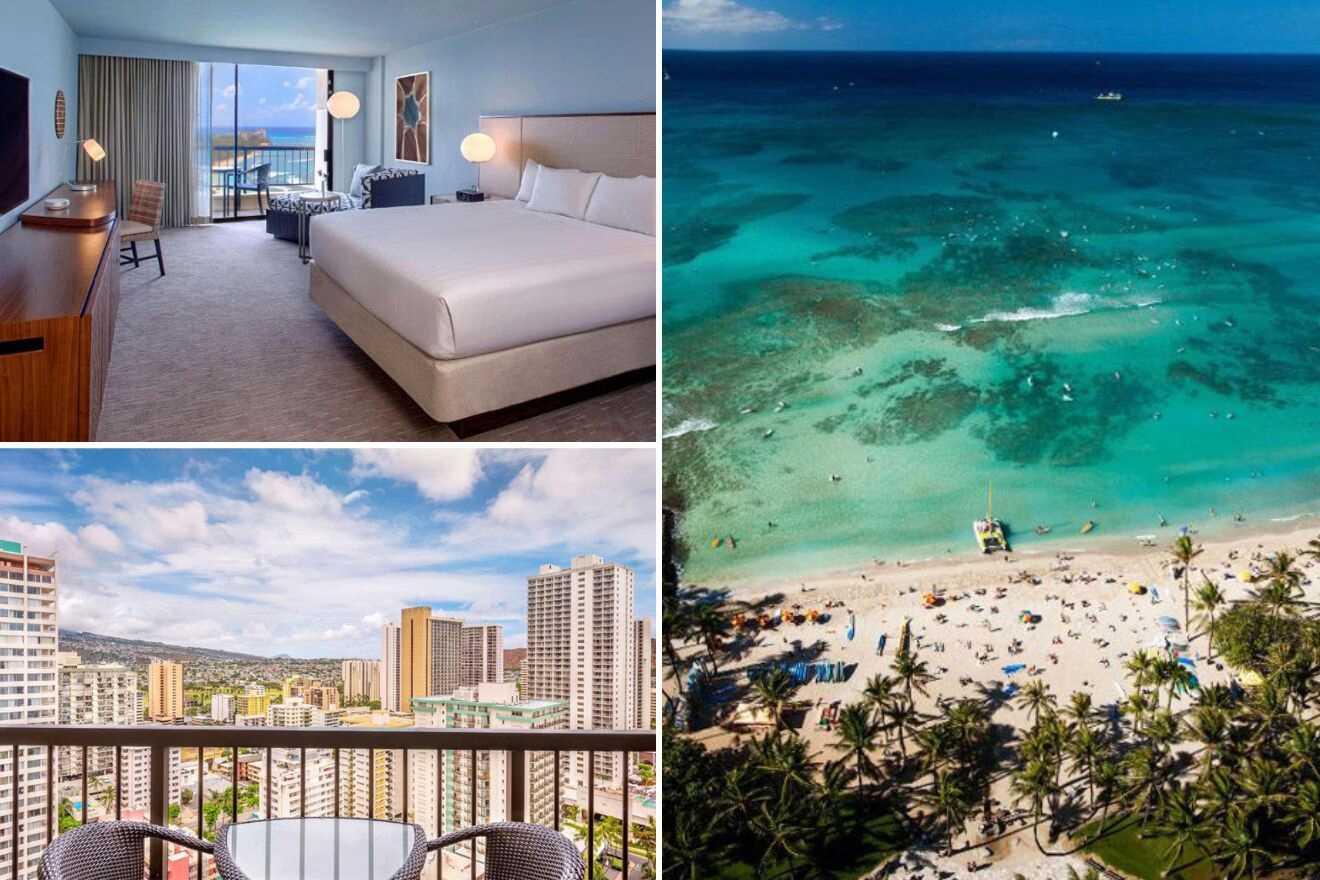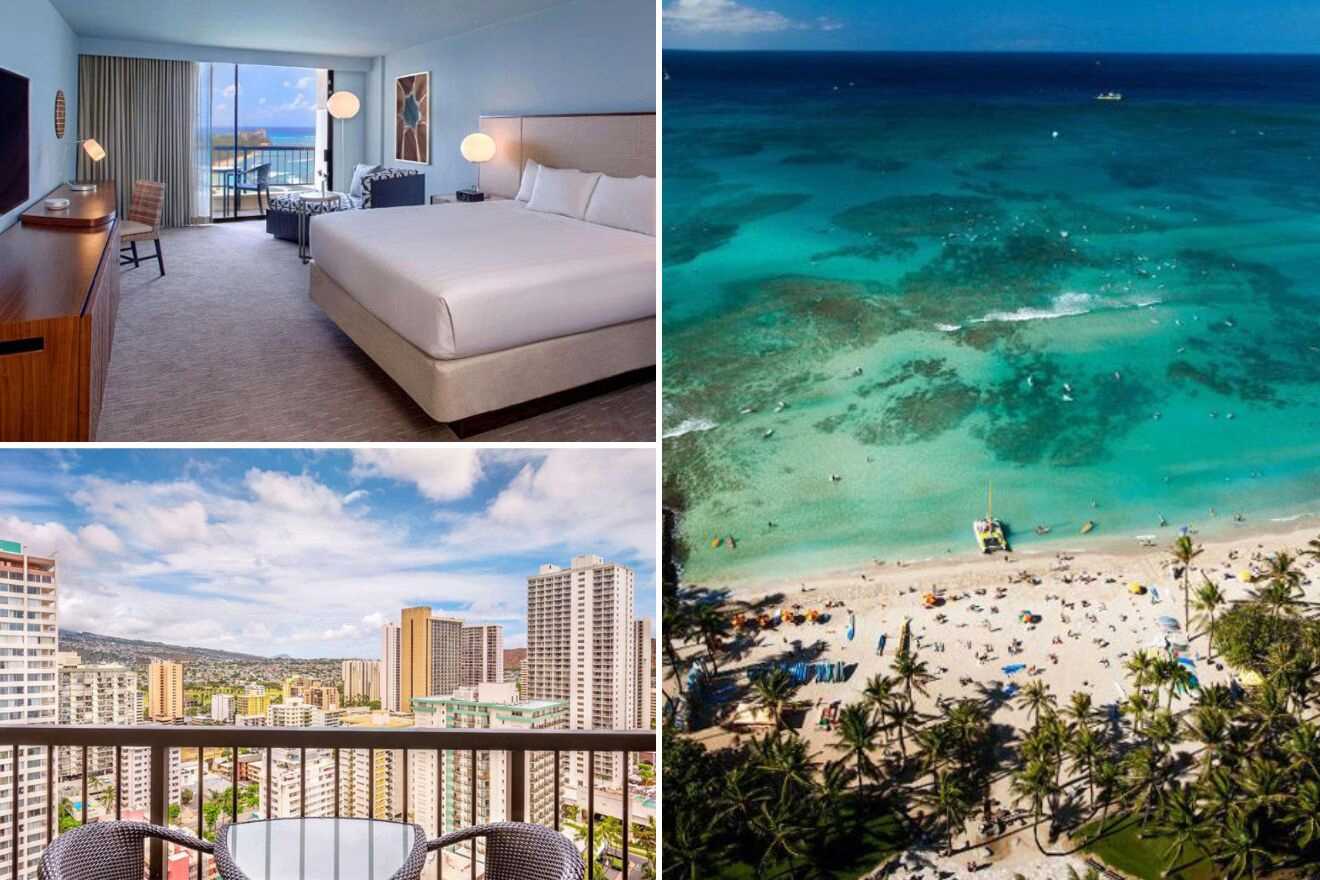 This lovely hotel located beachfront has such a fresh vibe and decor. I love it! The hotel's great location will allow you to take a romantic stroll by the beach with your other half and enjoy a stunning sunset view! You can practice yoga and pilates some days of the week by the poolside or join classes to learn how to Hula dance or play the ukulele. Maybe you can even serenade your partner!
The rooms are classy, and they offer more than 20 different types, so I am sure you will find one that fits your preferences! For example, the king room with oceanfront has a private balcony and fantastic ocean views, making it the perfect location to catch a colorful sunset in good company!
12. Alohilani Resort Waikiki Beach – for young couples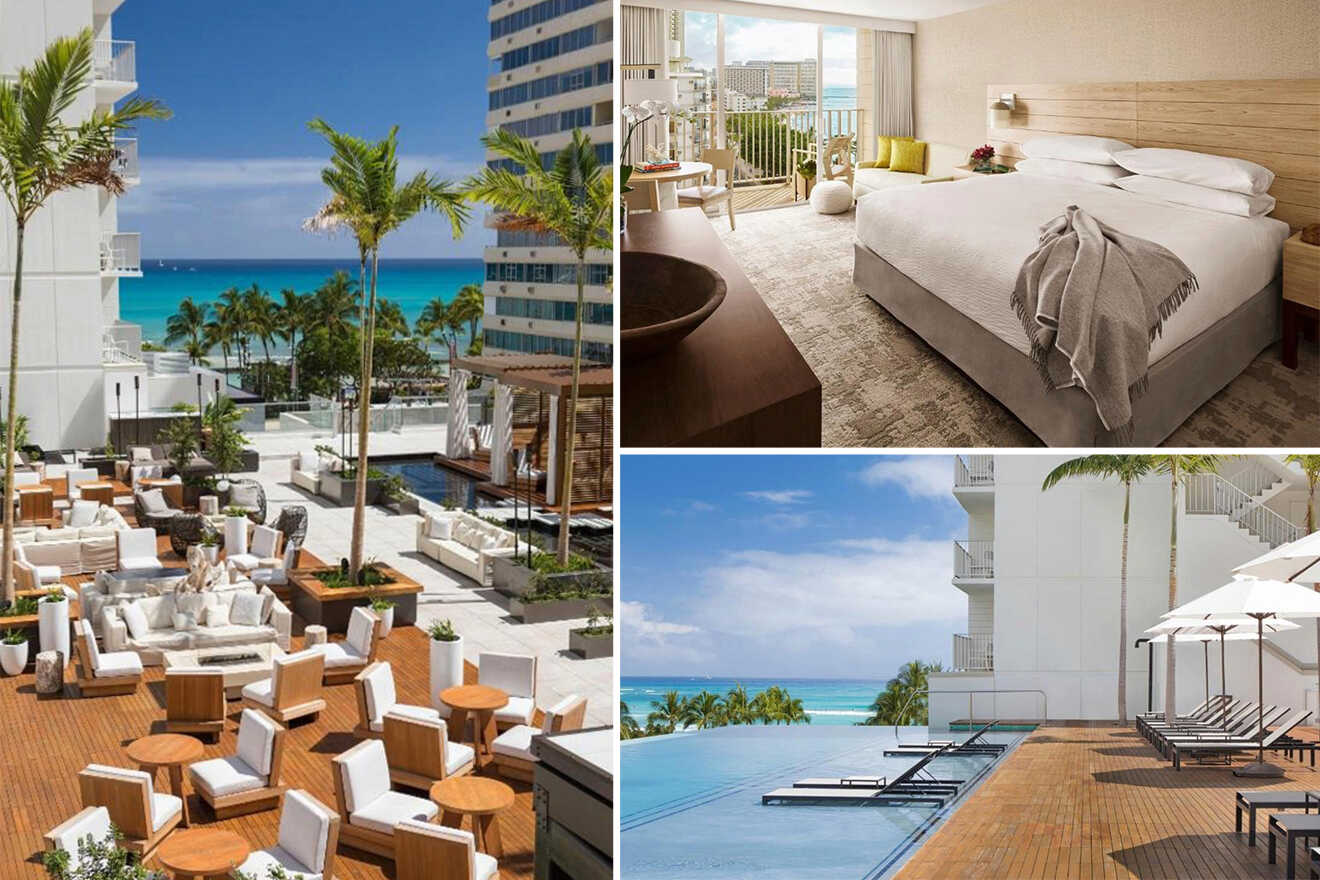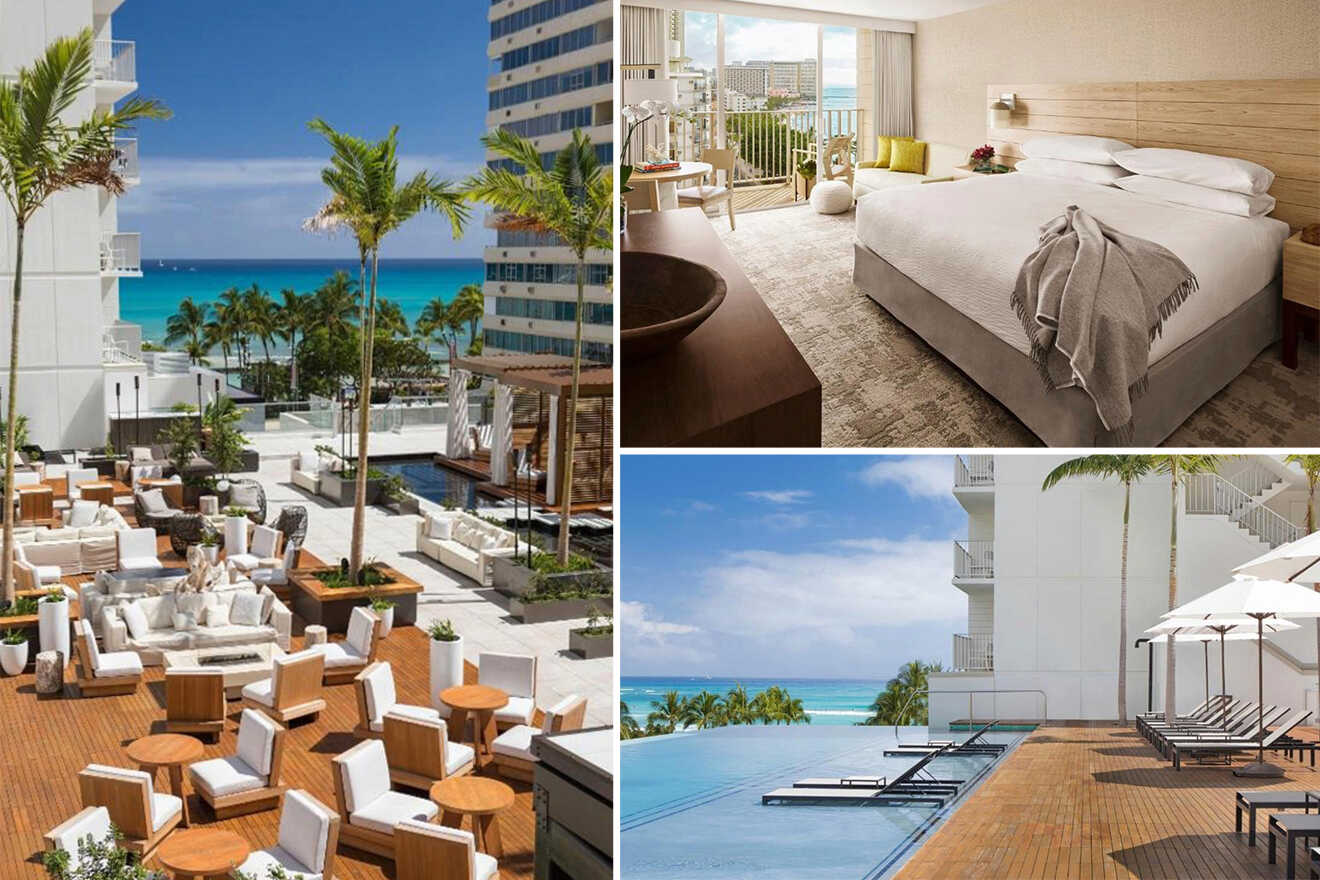 This hotel feels so young and vibrant. It would be perfect for young lovers! Apart from giving guests free beach access, the hotel has fun live evening entertainment and an infinity pool with fabulous views! If you and your sweetheart are more into hot tubs, this hotel has your back! There's a tennis court you can use for a fee, and the hotel will give you complimentary tennis equipment.
I love the minimalist and chic style of the rooms; all of them come with floor-to-ceiling windows to take in all of Waikiki's beauty. Rooms like the king room with an ocean view come with a private balcony, and the Diamond Head room has stunning views of Diamond Head and the sea.
13. Hyatt Centric Waikiki Beach – stylish and fashionable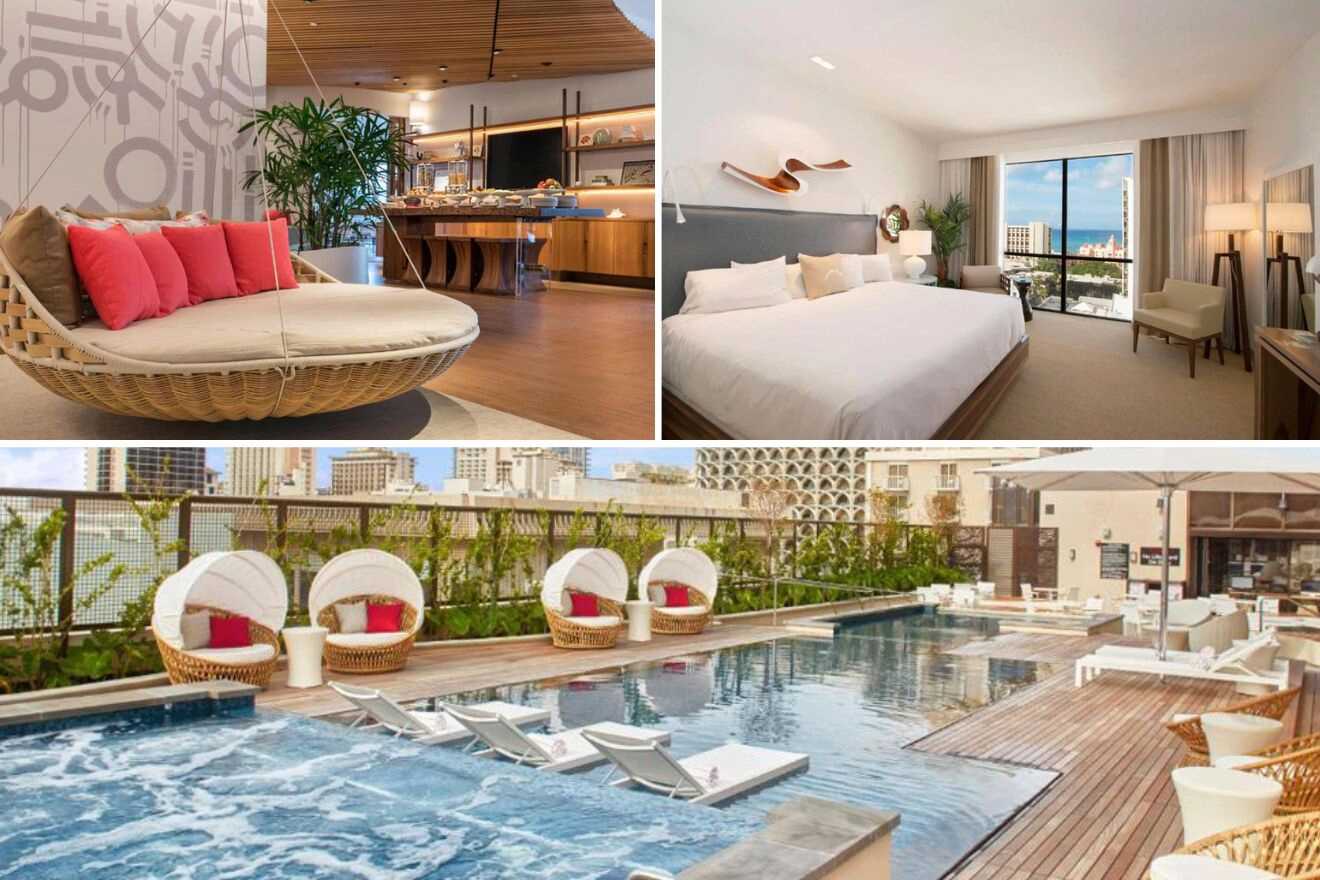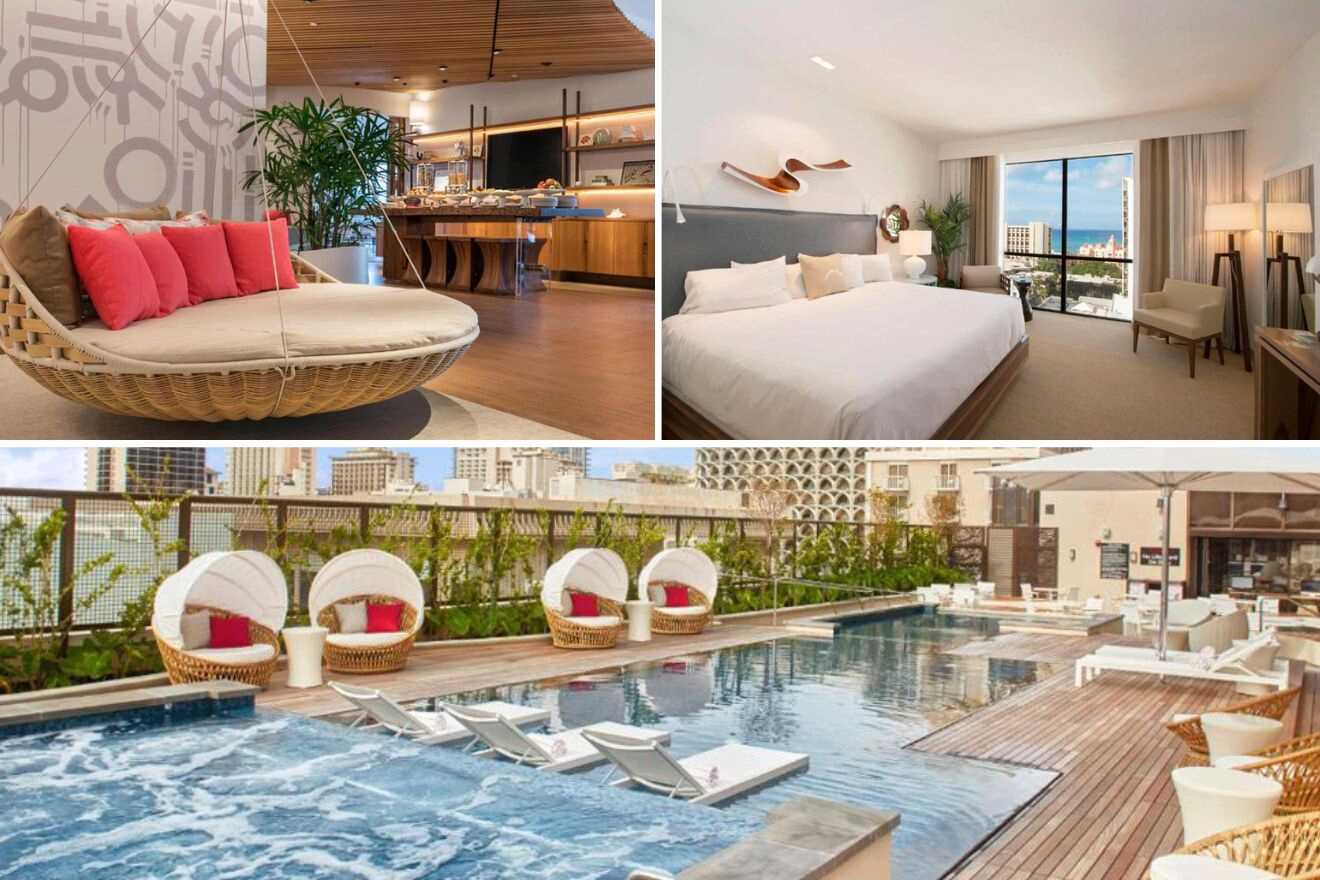 Located right in the center of Waikiki and with the beach just a walking distance away, this hotel would be perfect for couples who want to explore all the shopping alternatives in the area and bathe on the most paradisiac beaches! Hyatt Centric offers a magnificent rooftop terrace with a pool and beach furniture and a lounge area with fire pits to relax and drink with your significant other on a warm summer night.
This hotel features 14 different types of rooms, all of which come with air conditioning, a flat-screen TV, a convenient mini fridge, and floor-to-ceiling windows to get the sunshine in and admire the views! I suggest staying at the ocean view suite. Apart from the stunning sea views, the room comes with an open-concept bathroom with a soaking tub, ideal for bubble baths!
14. Waikiki Beach Marriott Resort – for a tranquil trip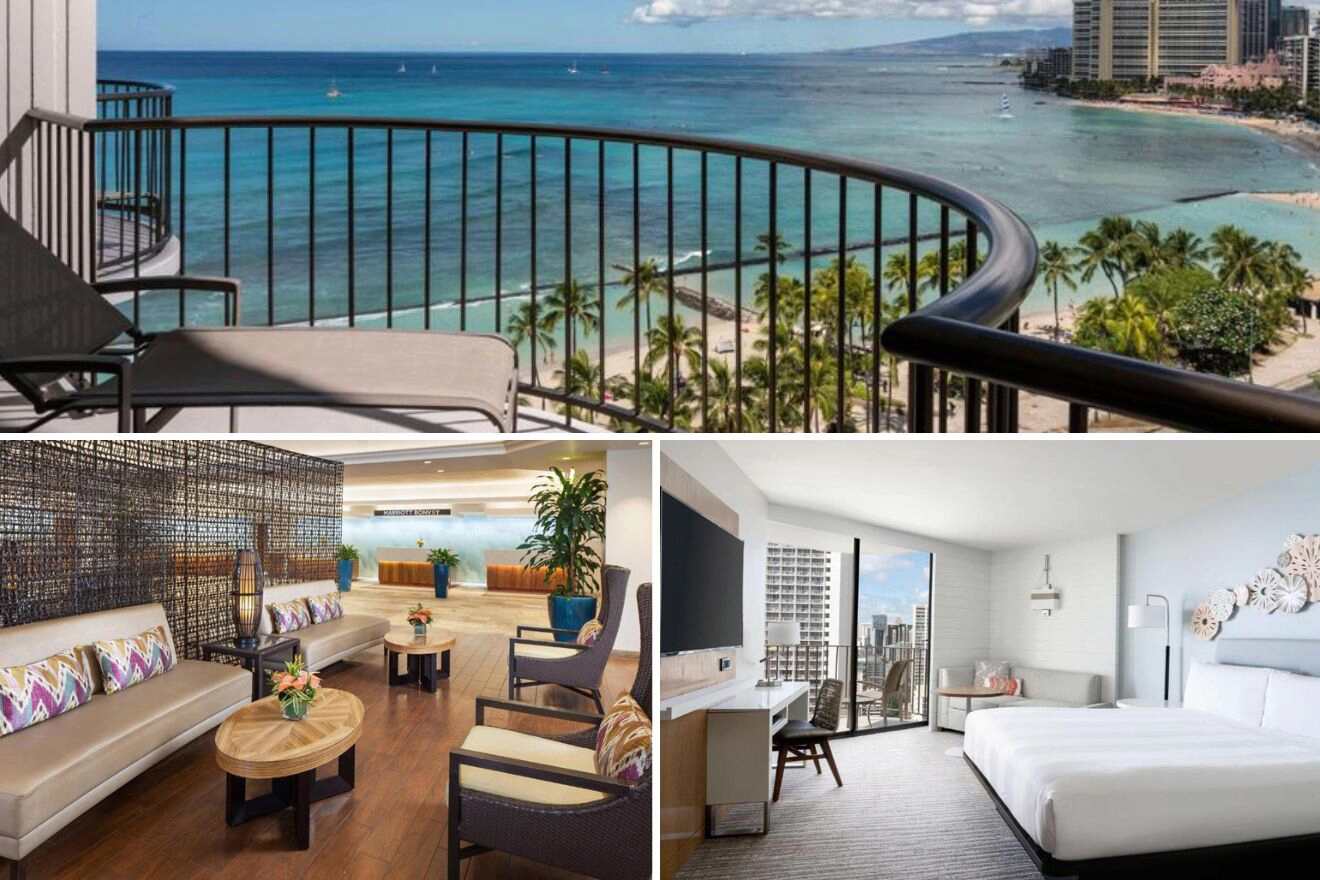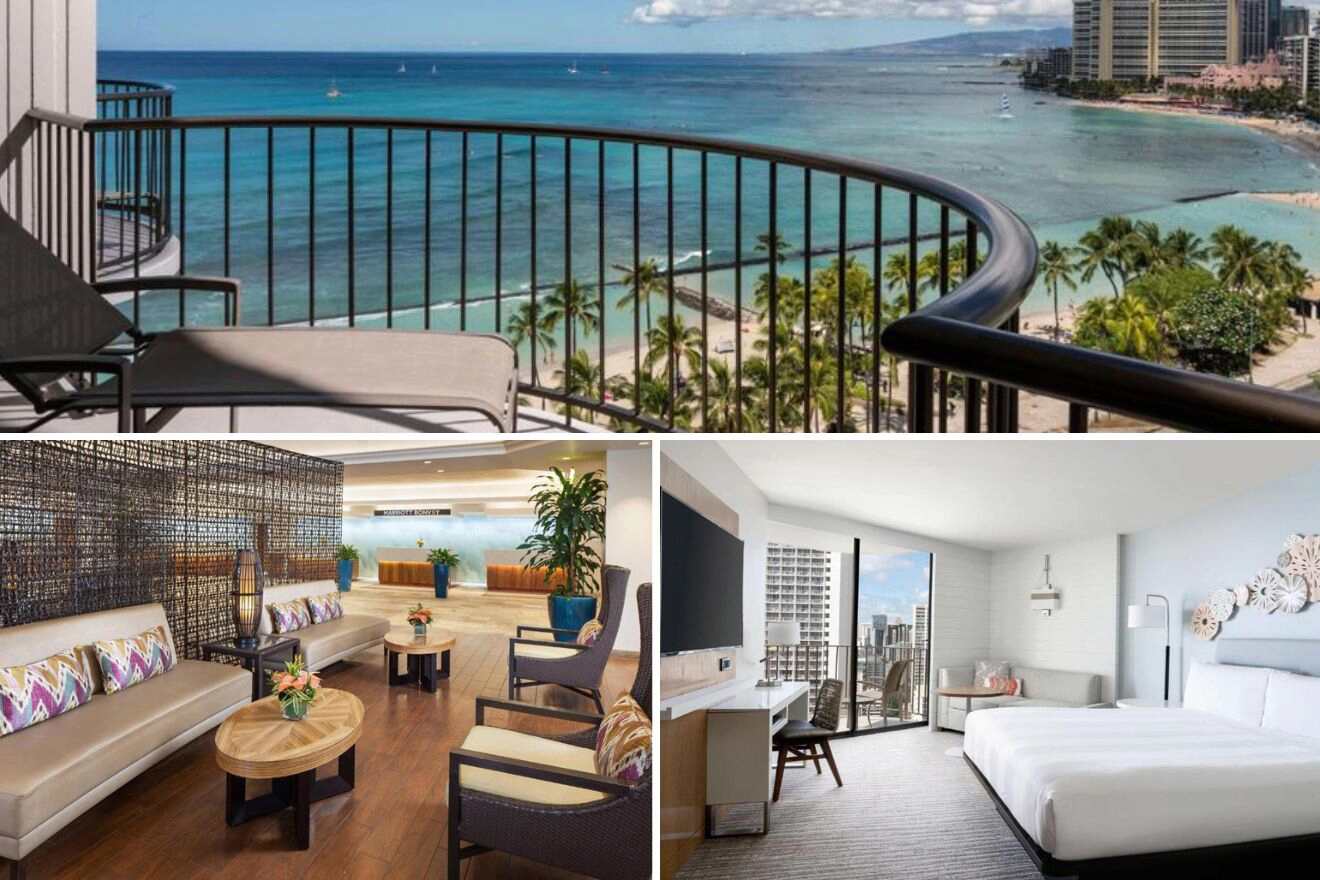 After enjoying a delicious breakfast, head to the hotel's beachfront for a romantic morning walk by the ocean, then go to the onsite spa with your partner and indulge in relaxation with all the amazing treatments offered there. Moana Terrace will be open for lunch after your spa session to fill your body with delicious food; after lunch, head to the hotel's pool and enjoy a drink by the poolside!
Choose any of the hotel's rooms depending on your preferences; all the rooms are fantastic and only vary on details like city or ocean view or private balcony. Regardless, all the rooms have air conditioning, a flat-screen TV, a compact fridge, and a coffee station!
15. The Surfjack Hotel & Swim Club – for health enthusiasts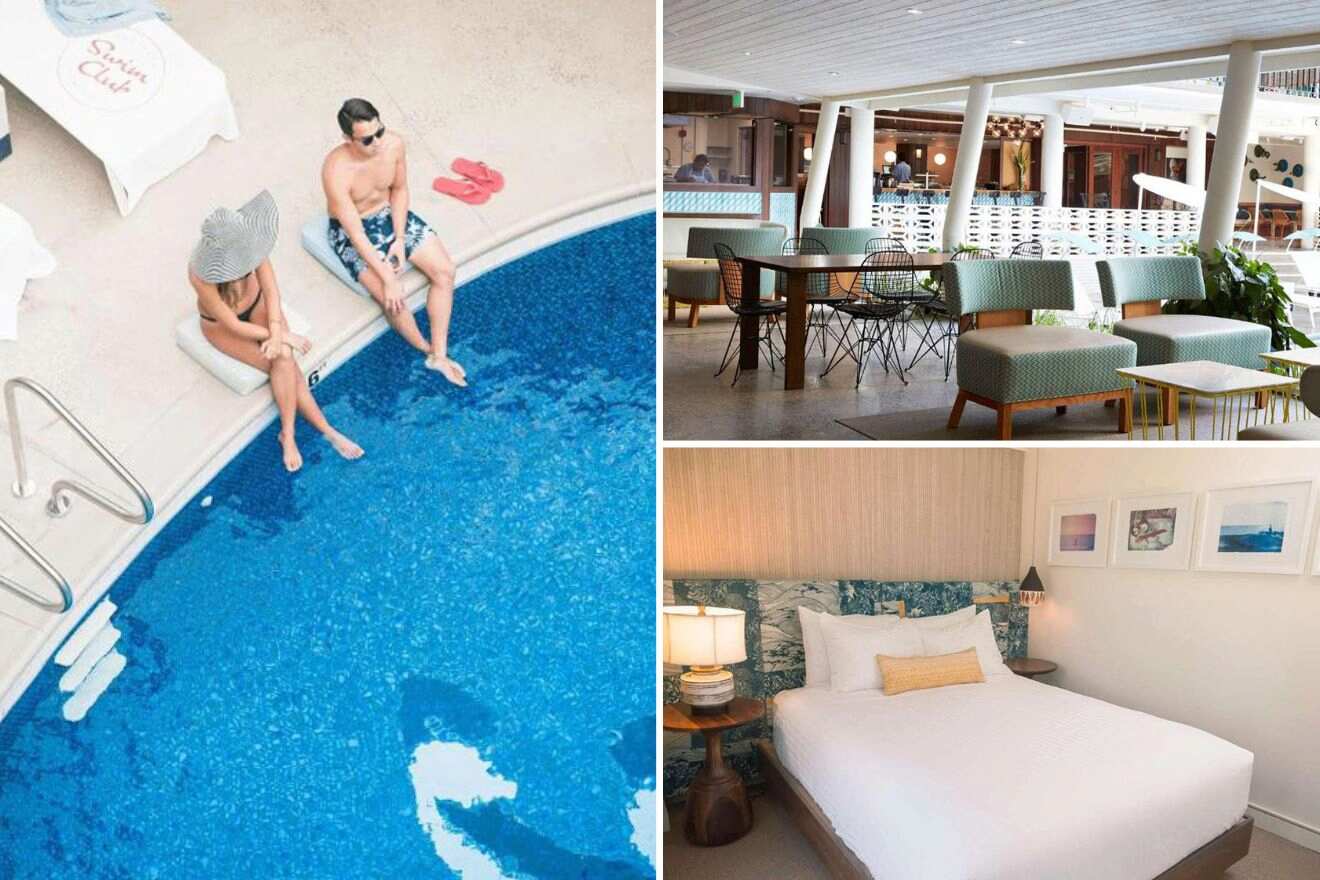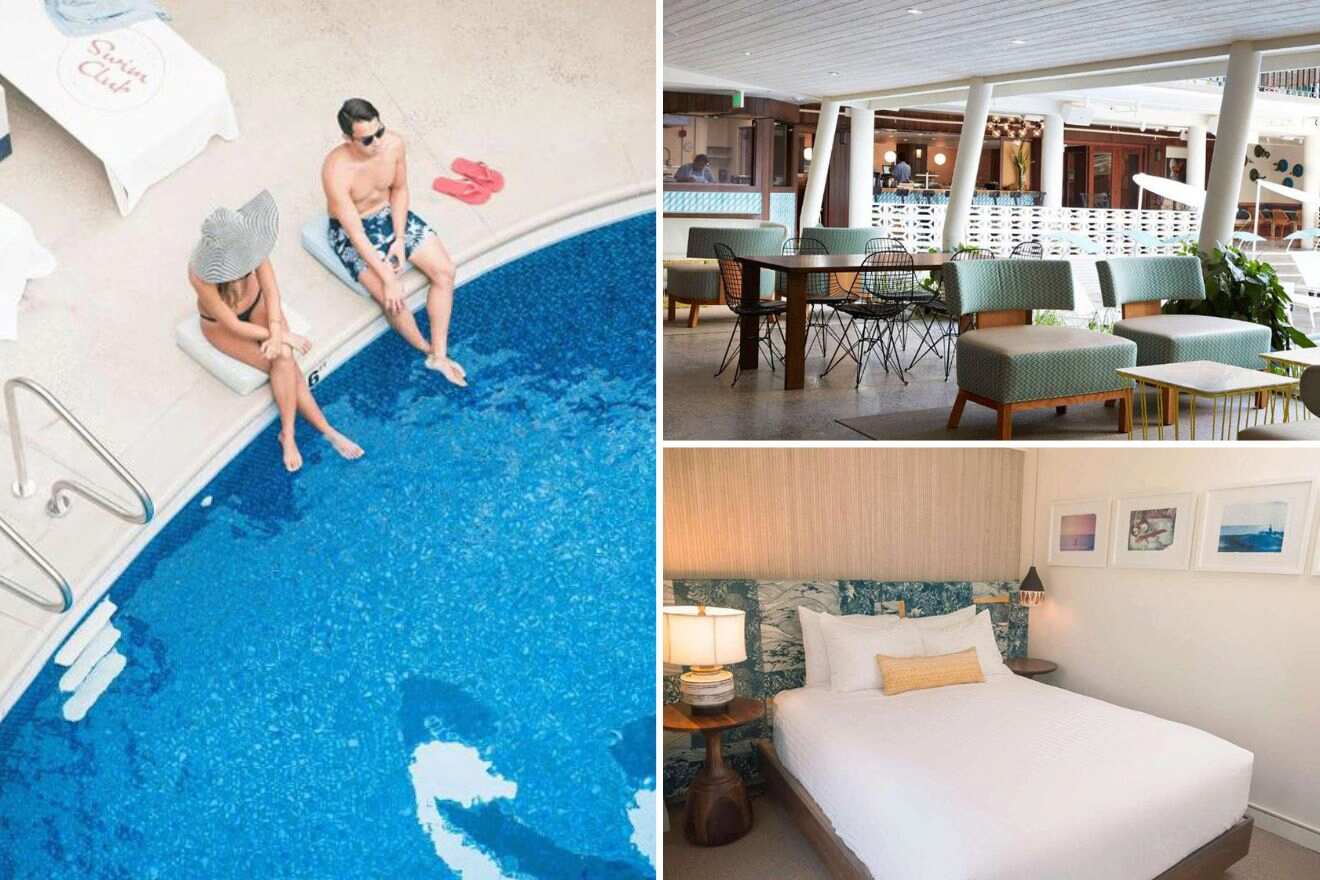 OMG! This hotel is so cute and quirky. I love it! It's not luxurious but a lovely small yet stylish boutique hotel with just as amazing amenities! It has a big swimming pool with a lounge area, an onsite restaurant serving meals made with organic ingredients by local farmers, and serves breakfast, lunch, and dinner!
The hotel vibe is super artsy, all the furniture features there are handmade, and there are many pieces of artwork by local artists displayed in the common areas of the hotel; all the rooms are decorated in a very specific way, and it's different from the rest of the rooms. I suggest couples stay in the one-bedroom suite, which has a seating area with a sofa and a private balcony!
FAQs about the best hotels in Waikiki for couples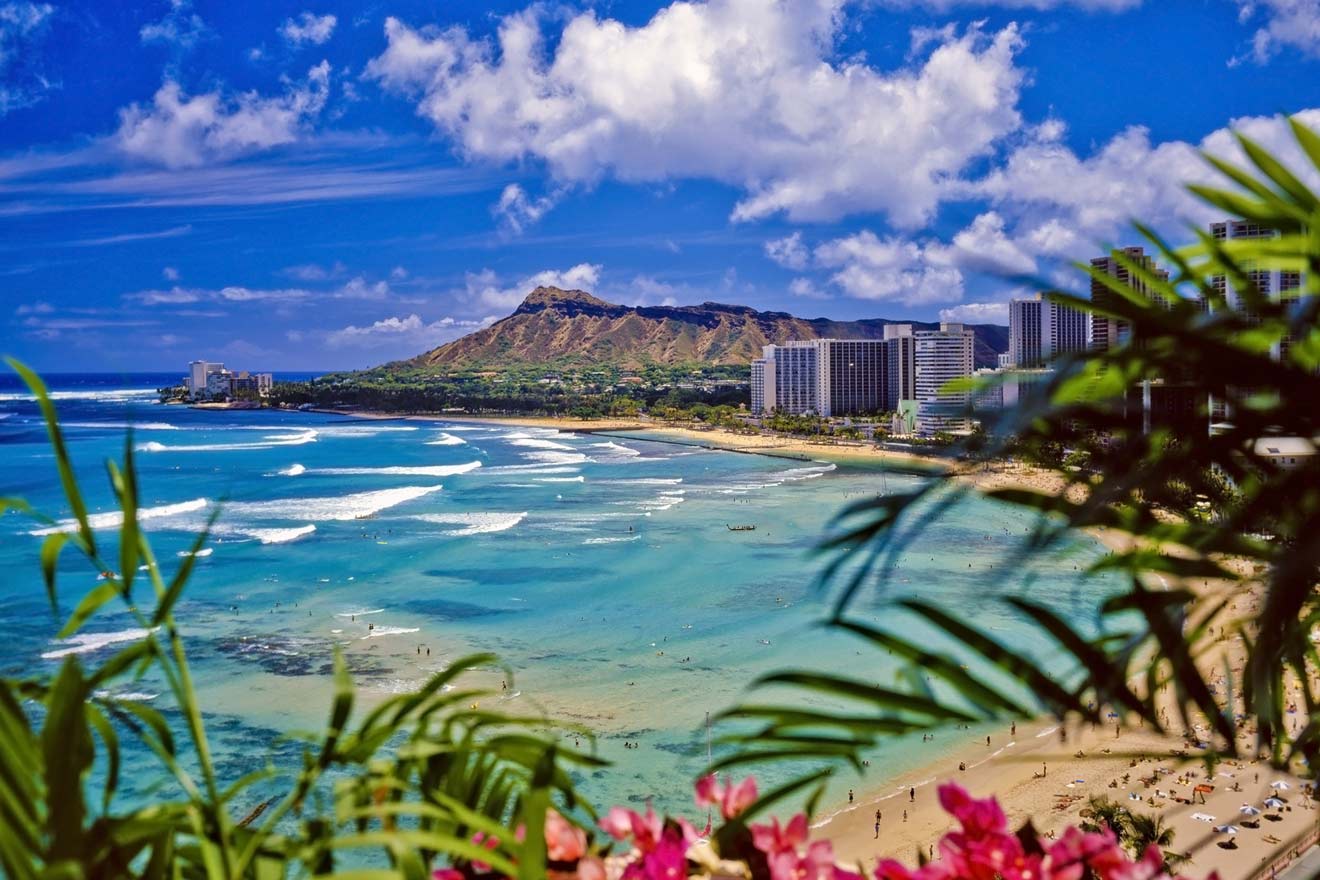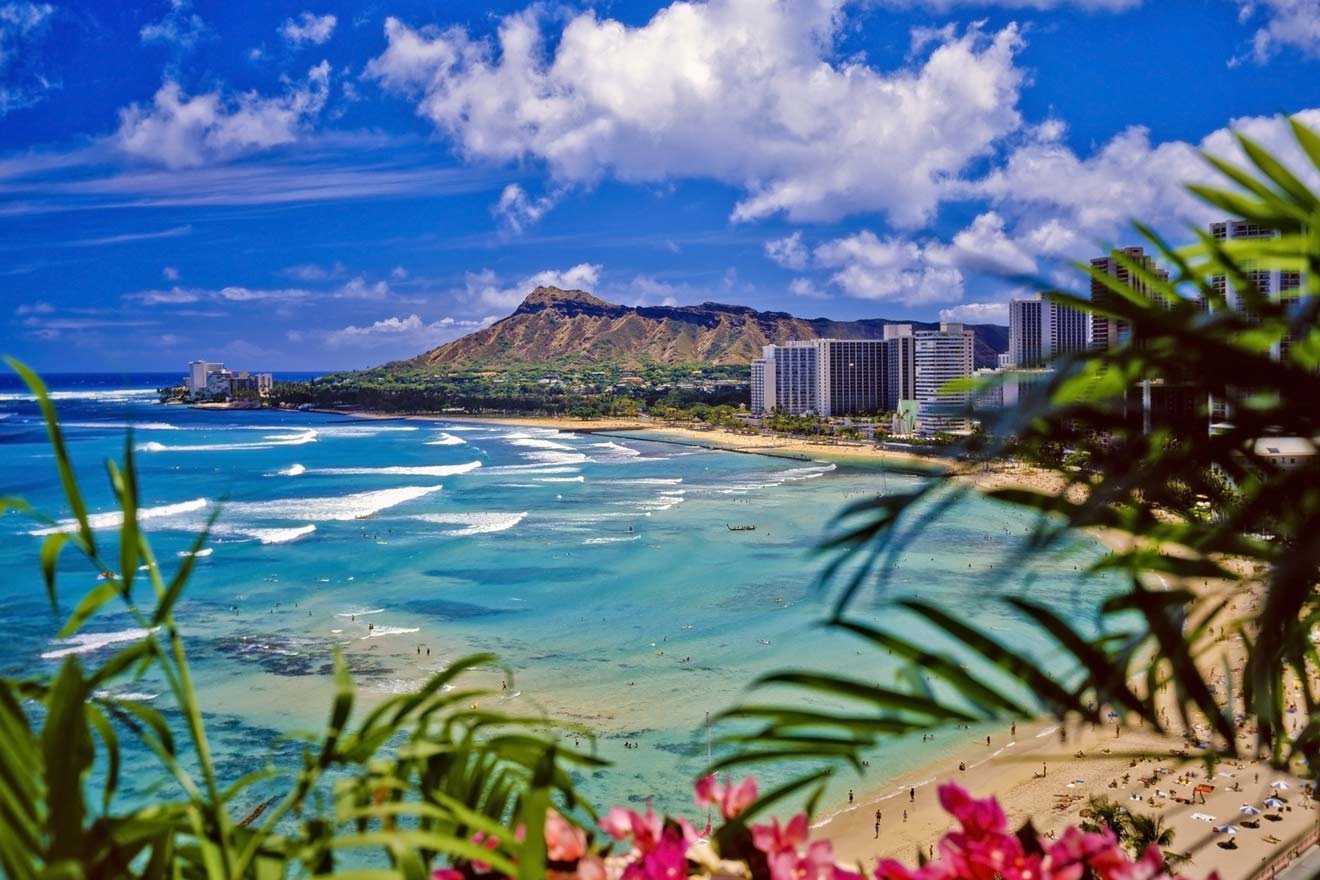 Conclusion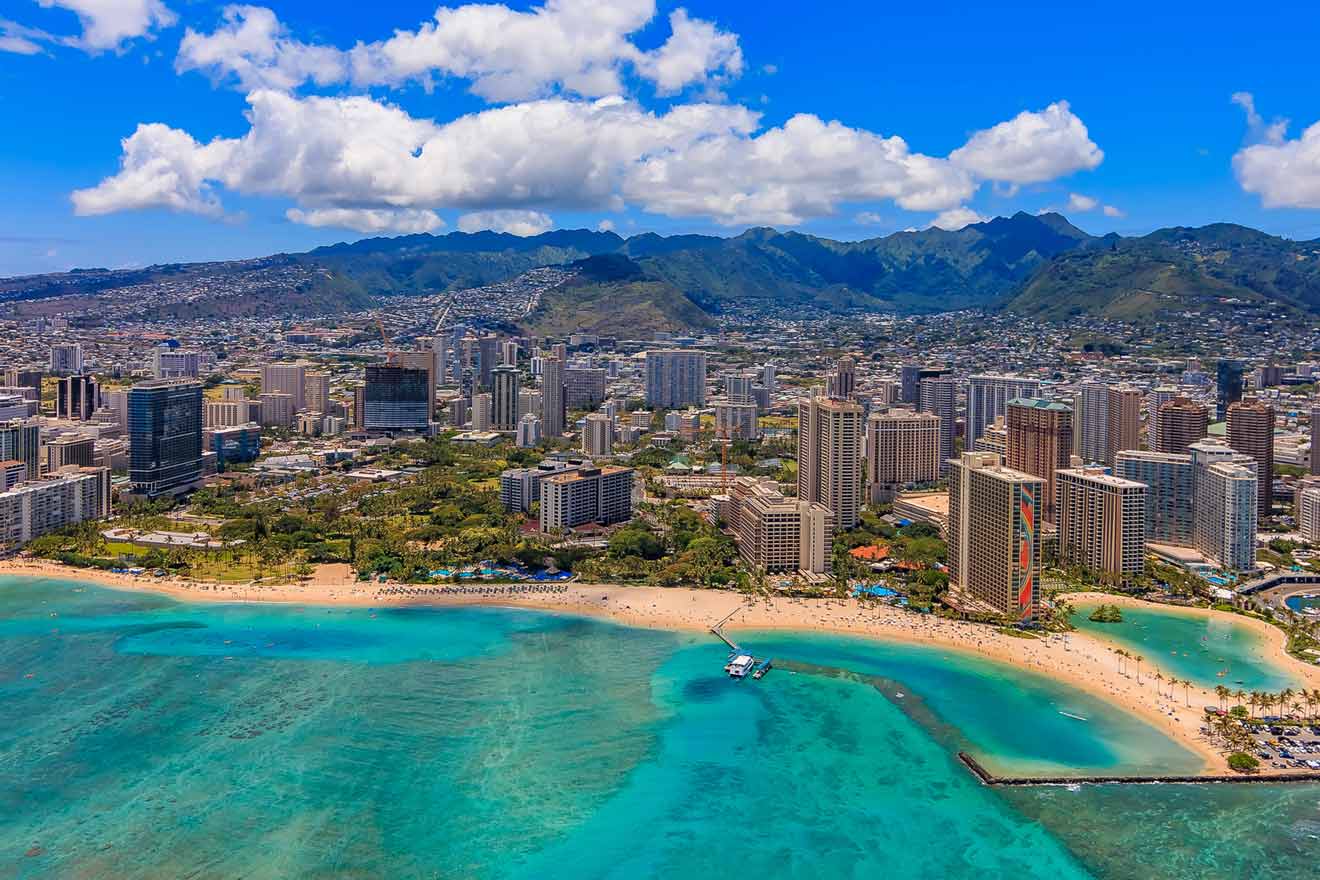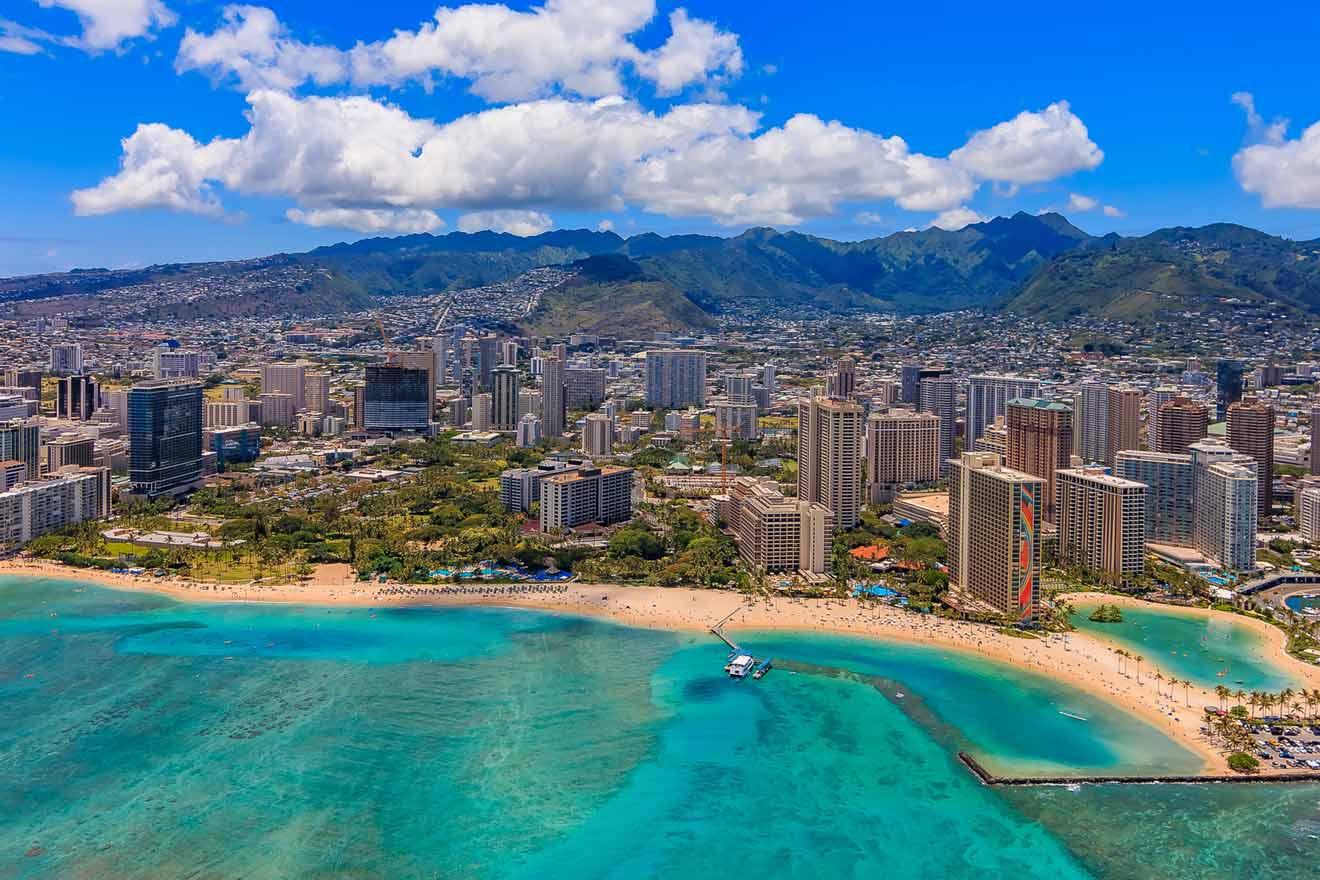 That is all for today, my sweet angels!
It's a wrap on the best hotels in Waikiki for couples! As you can see, I've covered the most romantic hotels and the best luxury hotels in the area, so you and your other half can have a lovely time bonding over a wide range of activities or simply connecting with nature!
I am utterly obsessed with all the hotels mentioned in this post, and I would be more than delighted to stay in any of them, but if I had to choose my 2 absolute favorites, I would go with:
Halekulani – Super chic and luxurious, I love that, and did you know Halekulani means House Befitting Heaven? How cute!
Moana Surfrider – It has the most amazing style and decor; it is located by the beachfront and has a private beach for guests!
Please keep in mind how popular Waikiki is! Couples from all around the world choose this area as their honeymoon or romantic getaway destination. So once you read this article, make sure to book your hotel room as soon as possible, so rest assured you will be staying in the room of your dreams!
As always, I'm still around for extra questions! Just drop me a comment below and I'll answer ASAP!
A Hui Hou,
Daniela
---
Pin it for later!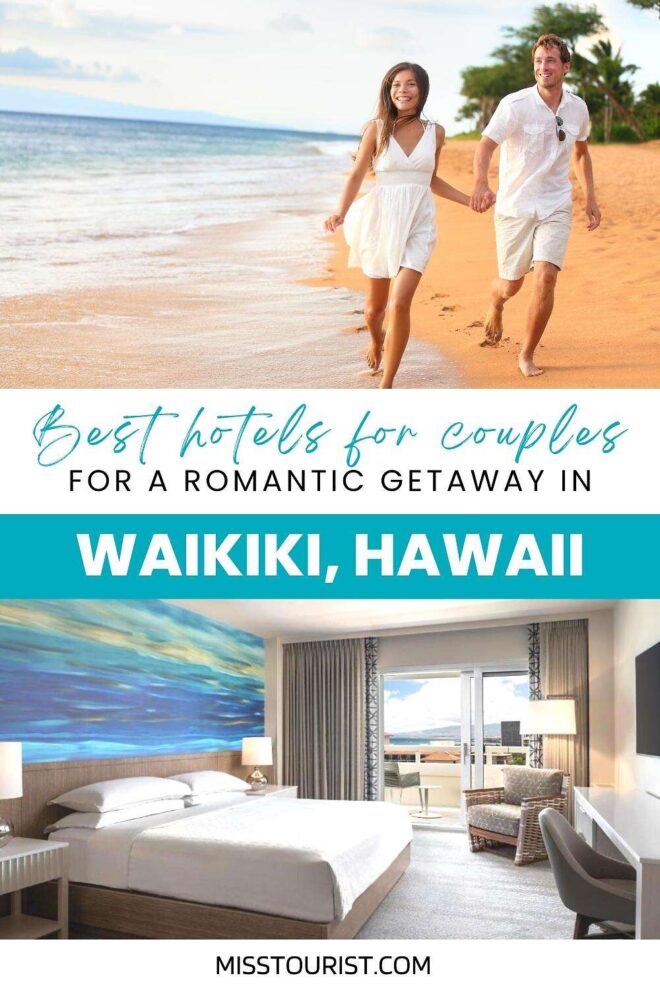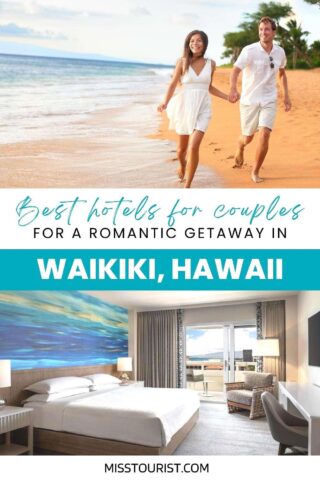 Pin it for later!