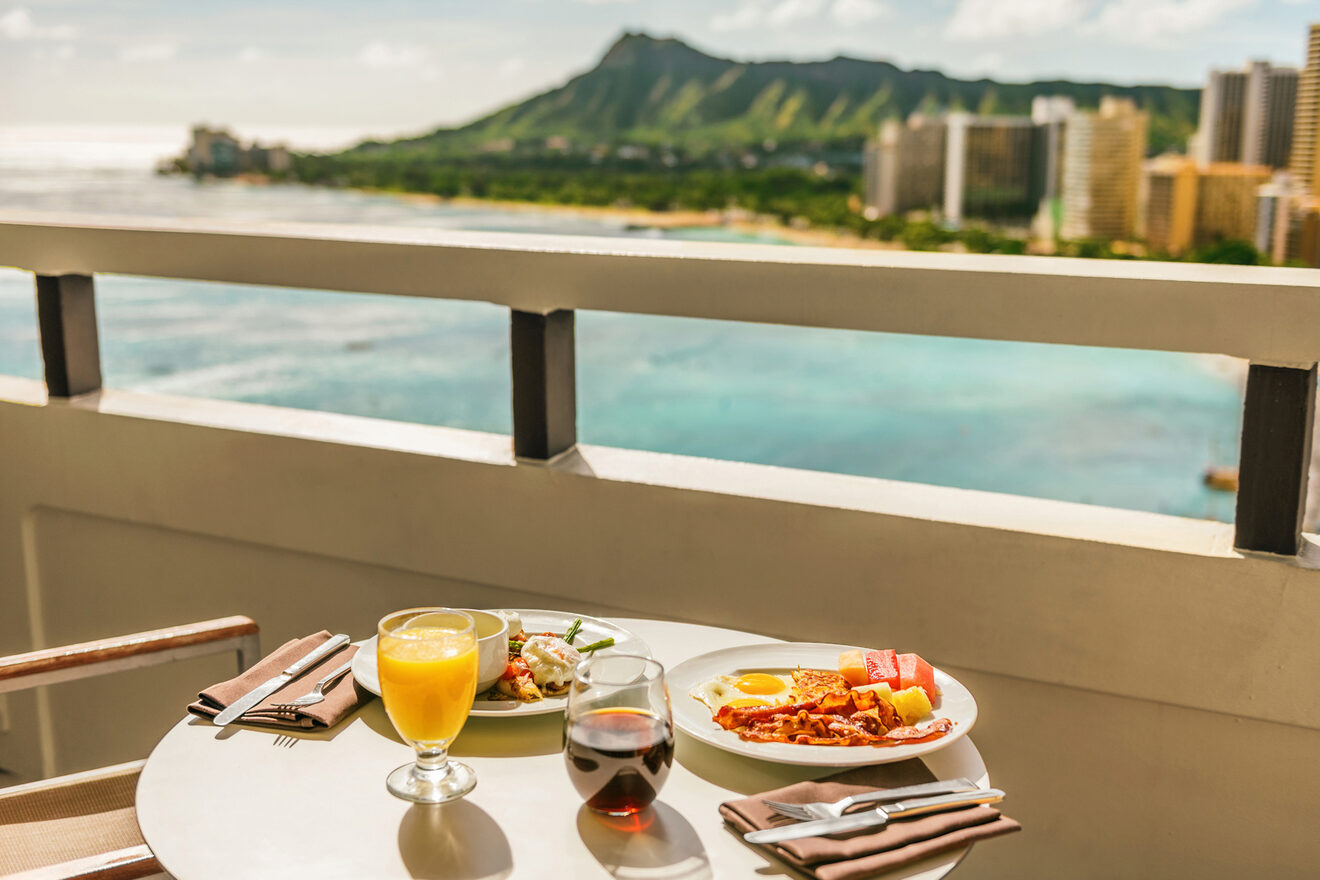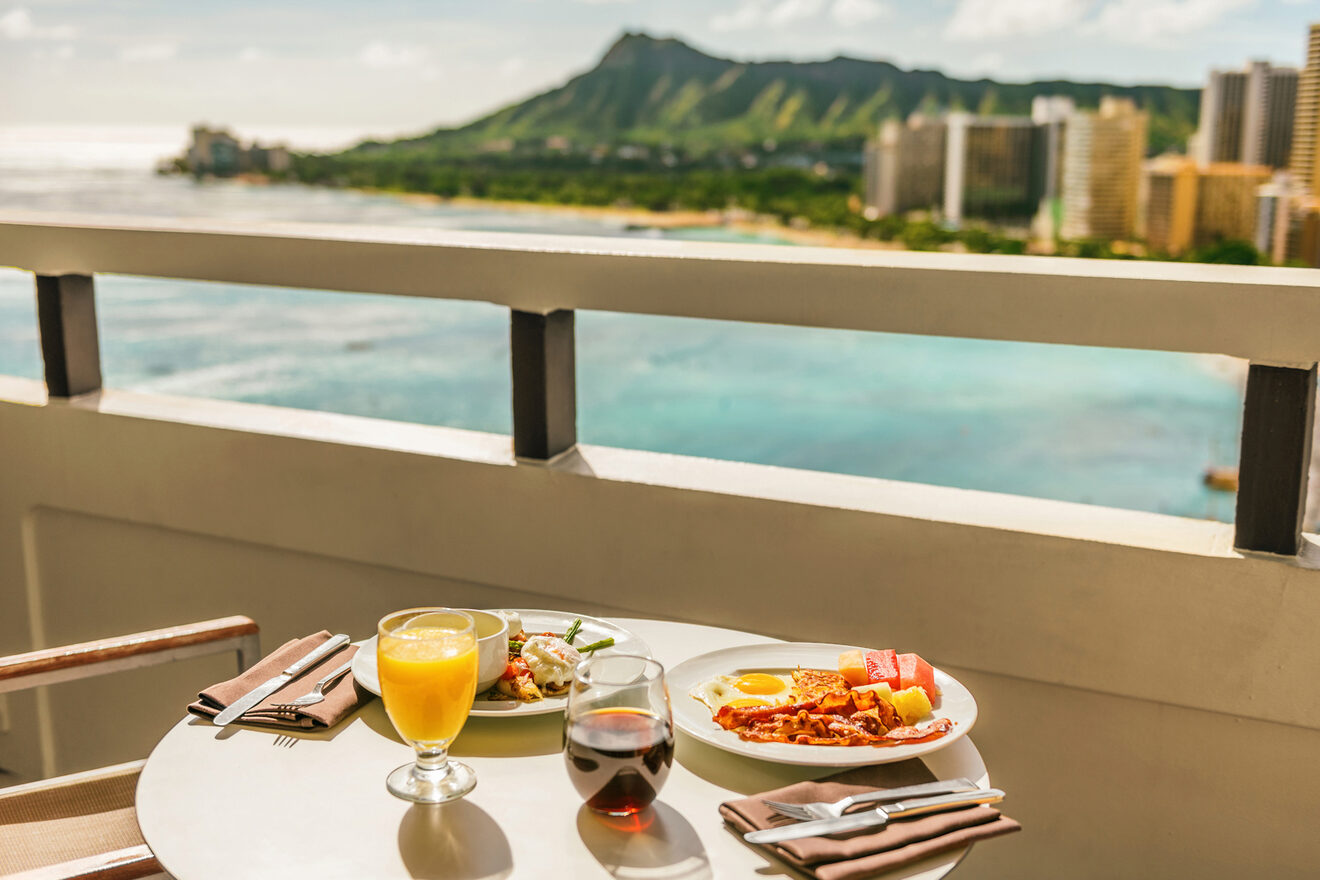 Aloha everyone!
Are you ready to explore the island's fantastic cuisine, dine at the best places to eat in Oahu, and impress your taste buds with unique flavors? Me too! In this post, you'll find a carefully curated list of the top restaurants categorized by interest and location.
With this guide, you'll easily know which place to hit depending on your mood, whether you're desperately craving a miso butterscotch rice pudding or some shave ice!
What's better than a holiday on a charming island like Oahu, where you can hit the beach all day long and eat the best food? Nothing!
So hop on this wave with me, and let's go!
1. Top places for breakfast & brunch
I love eating some fresh fruits or vegetables in the morning or for brunch, and in Oahu, you'll find the best of the best straight from the source. Here's a list of the top spots for an early meal on the island.
P.S: If you're looking for more cool cafes in Oahu, check out my post on the best coffee shops in Oahu!
Arvo Cafe – the most instagrammable place to eat in Oahu
Gotta love a cafe that has fantastic decor and that's filled with plants, right?
Arvo is perfect for a quick breakfast or lunch! Order the loaded avocado toast or the Halloumi burger and add a cup of coffee as it's so delicious (you'll smell it from outside)!
Location: 324 Coral St Suite, Honolulu
Sunrise Shack – for a fruity breakfast
Don't get me wrong I love the traditional Hawaiian cuisine but I'd rather start my morning with an Acai bowl filled with fresh fruit and a cup of coffee! YUM!
Conveniently set near Waikiki beach and the Royal Hawaiian Center, Sunrise Shack is one of the best places to eat in Oahu in the morning! Head there, order a tropical bowl with passion fruit and a coffee, and you've yourself the perfect meal. They also have a location on the North Shore, on Sunset Beach.
Location: 2335 Kalakaua Ave, Honolulu and 59-158 Kamehameha Hwy, Haleiwa
Haleiwa Bowls – best smoothie place in town
Gotta love the laid-back Hawaiian vibe! It's all about enjoying life, nature, and the beautiful things surrounding us!
If you're in the mood for a smoothie before hitting the waves, stop by this spot on the North Shore, it serves colorful smoothies and colorful acai bowls!
Location: 66-030 Kamehameha Highway, Haleiwa
Koko Head Cafe – a great brunch spot
Better hurry to grab a table at this popular restaurant!
The menu includes classic dishes like breakfast sandwiches, French omelets, and pancakes, but don't worry, you'll also find more special options like breakfast Bibimbap (with Portuguese sausage) or breakfast congee (rice porridge) with pork 3 ways. Koko Head Cafe knows how to keep its customers happy and once you've tasted their food, you'll come back for more!
Location: 1120 12th Ave, Honolulu
Island Vintage Coffee – one of the best coffees in town
Hawaiian coffee is super famous, it's considered one of the best ones worldwide, and if you're a coffee freak (as I am) you'll want to check out as many places as possible!
Perfect for a quick breakfast (order the yummy acai bowl) Island Vintage Coffee serves excellent coffee plus many other brunch dishes!
Location: 1450 Ala Moana Blvd, Honolulu
2. Best places to eat traditional food in Oahu
Hawaiian food is simply delicious! You'll want more after every meal. Below you'll find a list of the best restaurants that serve traditional Hawaiian dishes.
Rainbow Drive-In – authentic Hawaiian cuisine
Known as one of the best places to eat in Oahu, Rainbow Drive-In (which isn't a drive-in) serves traditional Hawaiian food.
Order your plate lunch or the famous Loco Moco: a double beef patty topped with two scoops of white rice and covered with special gravy and fried eggs! Okay, now I'm even more hungry than I was before!
Location: 3308 Kanaina Avenue, Honolulu
Helena's Hawaiian Food – an award-winning restaurant
At first glance, you might not think that this family-owned restaurant is one of the best places to eat in Oahu!
But their authentic Hawaiian food tastes as if you cooked it at home, and after you have a bite, you'll understand what brought this place a James Beard Award! Treat yourself after a day at the beach with squid luau, a dish with luau leaves, coconut milk, and calamari!
Location: 1240 N School St, Honolulu
Waiahole Poi Factory – for an authentic Oahu dessert
Your taste buds will go crazy after trying the Sweet Lady of Waiahole dessert!
Made with warm kulolo and haupia ice cream, this dessert has locals and tourists coming here super often to eat it! However, the restaurant is also famous for serving yummy Hawaiian food. My advice is to order a bit of everything and see which one you like the most!
Location: 48-140 Kamehameha Highway, Kaneohe
Mahina and Sun's – for seafood lovers
Get ready for a night of live music and yummy seafood at one of the best places to eat in Oahu!
Book a table in the outdoor seating by the pool and enjoy a fun night on the island! The restaurant focuses on local food and authentic Hawaiian dishes. If you're coming for the first time, order the Mahina's family feast!
Location: 412 Lewers St, Honolulu
Fatboy's – best place for "comfort food"
This restaurant is famous for its poke bowls and plate lunches enriched with garlic shrimp, teriyaki chicken, mac salad, and other delicates!
If you're craving some Hawaiian comfort food to make you feel better then you've got to pay a visit to Fatboy's. Head there for lunch and then spend the whole day at the beach! After a meal like this one, you'll surely need a quick nap!
Location: 7192 Kalanianaʻole Highway, Honolulu
Senia – for a fine dining experience
Featuring a fusion of American and traditional Hawaiian food, this fantastic restaurant will leave drive your taste buds crazy!
The prices are moderate if you eat in the main dining room. There you can try the Roasted Bone Marrow (which is so popular) or the Sea Scallops. But for a unique experience, book your place at the chef's counter and give their tasting menu a go! It's a bit pricey but you won't regret it!
Location: 75 N King St, Honolulu
3. Best Asian restaurants in Oahu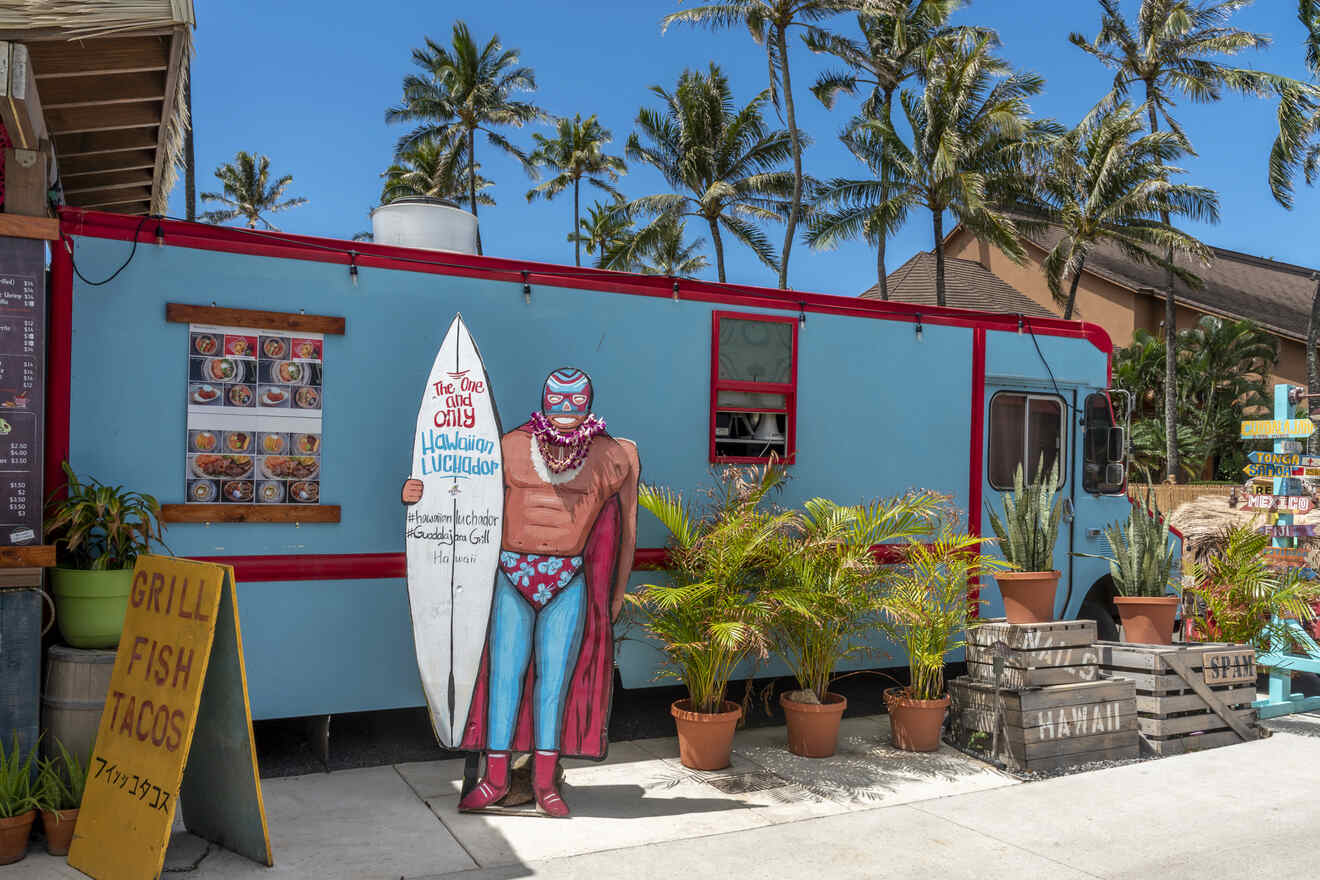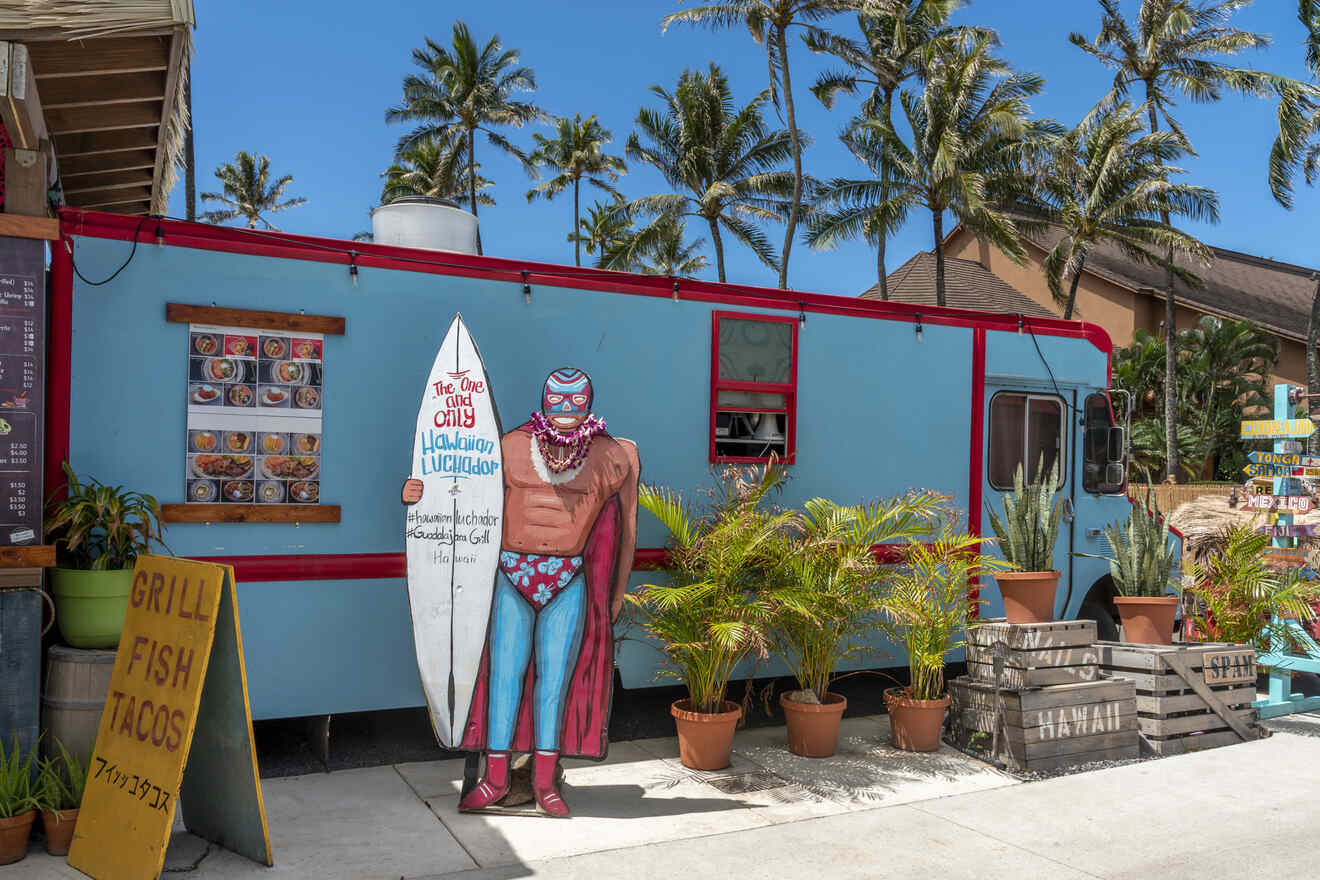 Who doesn't love Asian food? Oahu has a lot of Asian influence and below, you'll find the best places to eat in Oahu that serve Asian food or a fusion of Asian and Hawaiian food
Ethel's Grill – one of the best local joints for Asian food
Curious to see where all the locals eat? Ethel's Grill is one of the best places to eat Asian food in Oahu!
You may have to wait in a queue for a few minutes, but it's so worth it (and that's how you know it's good)! Firstly the food tastes as if it was homemade, and the portions are sizeable and satisfying! Order the chicken katsu the first time, and if you come back, I recommend the tataki sashimi plate.
Location: 232 Kalihi St, Honolulu
The Pig and the Lady – frequented by celebrities
President Obama and Ben Affleck are just a few of the famous people who sat down to eat the delicious food at this Vietnamese restaurant.
And we can't be surprised, all the dishes look incredible! Come here for a lunch date and order the pho French dip sandwich or the fried chicken wing. You'll enjoy the atmosphere, the beautifully ornate plates, and the food!
Location: 83 N King St, Honolulu
I-naba Restaurant – delicious Japanese food
It's the homemade soba that brings people from all over Honolulu to eat at this restaurant. Breakfast, lunch, dinner, it doesn't matter, at any time of the day, the food here tastes amazing and you can tell the ingredients make the difference!
Order the tempura soba, and the tako sumiso, and finish up with a nice green tea cheesecake!
Location: 1610 S King Street, Honolulu
Mud Hen Water – farm-to-table organic food
In a perfect world, all the food in the restaurants would be organic, but I'm happy that more and more places are thinking about the ingredients they use.
Mud Hen Water is one of the best places to eat in Oahu as it serves organic food sourced from the farm and locally caught fish! Their fusion of Asian food is simply delicious and trust me, you'll sense the difference!
Location: 3452 Waialae Ave, Honolulu
Kyung's Seafood – for a fun night out on the island
With a central location not too far from Ala Moana Center, this place to eat in Oahu serves flavored Korean seafood.
Order lots to drink, the large sashimi platter to share, and start digging! This place has a cozy atmosphere and it's always super crowded!
Location: 1269 S King St, Honolulu
8 Fat Fat 8 Bar & Grille – for a fun karaoke & sports night
Looking for a fun place to eat in Oahu with your friends? Then you'll love this grill that offers one of the best fusions on the island: Hawaiian-Chinese food!
Order the grill's special dishes like the salt-and-pepper fried pork chops, the crisp-skinned Fat Fat Chicken, and a cocktail, and get ready for some singing!
Location: 1327 S Beretania St, Honolulu
4. Where to eat the best take-out in Oahu
If you want to grab a quick bite after the beach (or on your way to the beach), stop by one of the many take-outs in Oahu. The food is super yummy! Here are the top ones:
Ken's Fresh Fish – delicious take-out food before hitting the beach
The name of this restaurant tells it all! The owner is a fisherman who serves and cooks fresh fish for his customers!
Located near the beach, this place is perfect for a quick stop to cure your hunger before riding the Hawaiian waves. Here you'll find everything from fish in a sandwich, sashimi, poke, sashimi, or katsu form.
Location: 55-730 Kamehameha Highway, Laie
Giovanni's Shrimp Truck – an award-winning food truck
Although food trucks may not seem so trustworthy at first, trust me, this one serves delicious seafood!
There is always a line at this award-winning food truck and once you've had their shrimp scampi, you'll understand the fascination! Make sure you bring cash with you as you might not be able to pay by card at Giovanni's Shrimp Truck.
Location: 66-472 Kamehameha Highway, Haleiwa
Ono Seafood – for a quick bite after the beach
Can't say no to a delicious poke bowl after a busy day of riding the Hawaiian waves! Am I right?
Ono Seafood uses locally-sourced ingredients and fresh fish! You can order different combos and try a bit of everything, but I'm sure you'll want to come back here!
Location: 747 Kapahulu Ave, Honolulu
Seven Brothers – the best hamburger in town
If you've had enough Hawaiian or Asian food, then I recommend going back to basics and eating a hamburger!
Seven Brothers restaurant is famous for their juicy meals and their Signature burger is the Paniolo (Cowboy), which is filled with a beef patty, onion rings, grilled pineapple, and many other yummy ingredients dripped in BBQ sauce. Head over to the North Shore, and try one. You'll love it!
Location: 55-510 Kamehameha Highway, North Shore
Diamond Head Market & Grill – freshly made food
Grab a quick bite after a day spent on Waikiki Beach at this place that serves fresh food and delicious plate lunches with brown rice and a tossed salad.
Their signature scones bring people from everywhere to try so make sure you order one! I recommend the blueberry cream cheese scone.
Location: 3158 Monsarrat Ave, Honolulu
5. Top dessert places in Oahu
I've got to have at least 1 dessert when I'm on holiday. Oahu is famous for its shaved ice, but you can also try other things. Here's where you can find the best spots:
Matsumoto Shave Ice – the perfect dessert for a hot day
The best thing to eat during those hot days: shave ice with lots of toppings like condensed milk!
Matsumoto Shave Ice is one of the best places to eat a dessert in Oahu! They have so many flavors (like coconut cream) and trust me. You'll want to try all of them!
Location: 66-111 Kamehameha Highway, Haleiwa
Leonard's Bakery – the best donuts in Honolulu
Craving something really sweet? You can't go wrong with the famous Portuguese donut (malasadas coated in cinnamon sugar) at this fabulous bakery!
Try as many flavors as you can because all of them are mouth-watering. And if you come back make sure your order the pao doce or coffee cakes!
Location: 933 Kapahulu Ave, Honolulu
Waiola Shave Ice – a great spot for the kids
This may be an excellent spot for the kids, but I'm sure the adults will love it just as much!
Shave ice is the perfect solution for a hot day and this place offers so many seasonal flavors with syrup on top! *Runs to the fridge to grab whatever ice cream finds there.*
Location: 2135 Waiola St, Honolulu
Frequently asked questions about restaurants in Oahu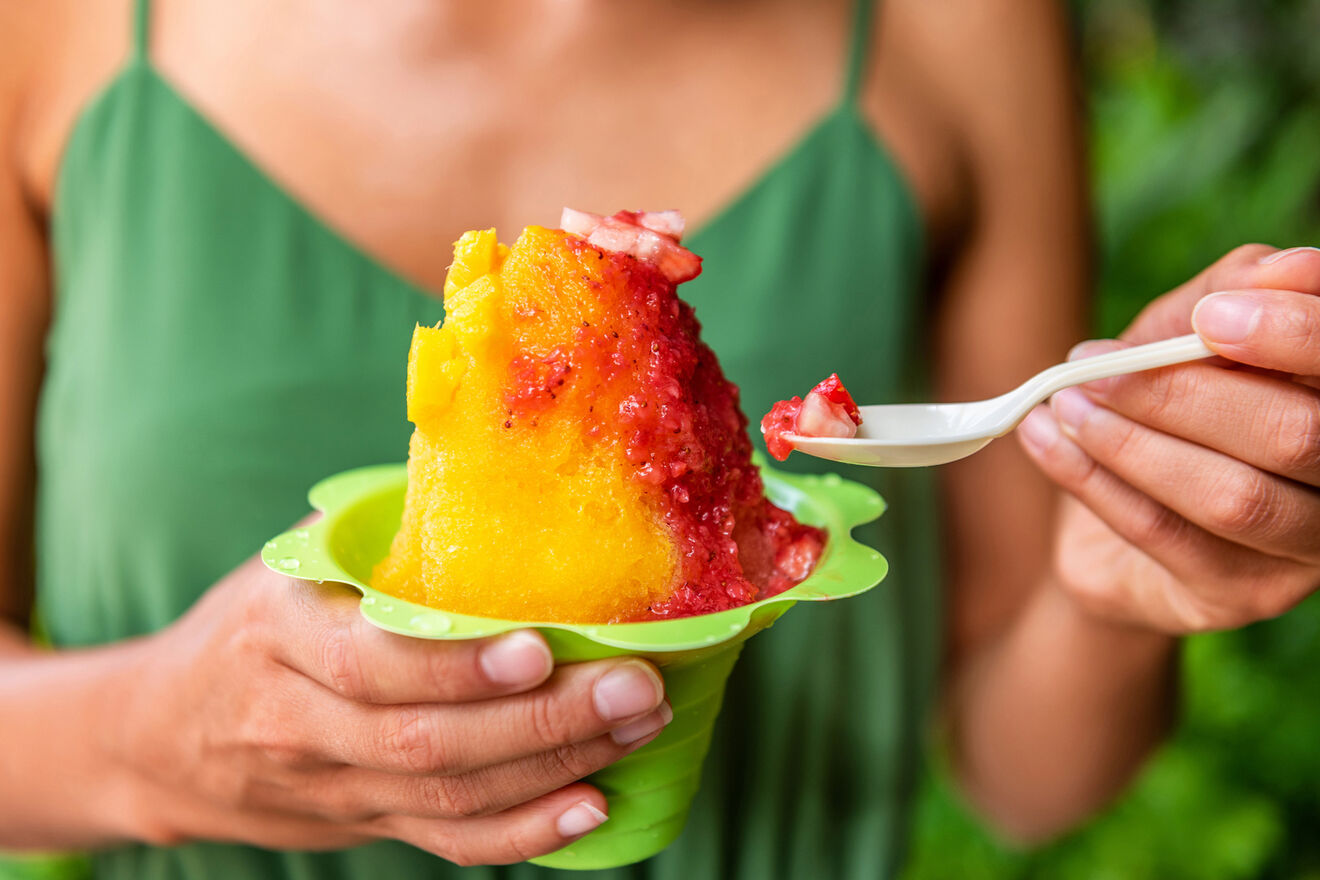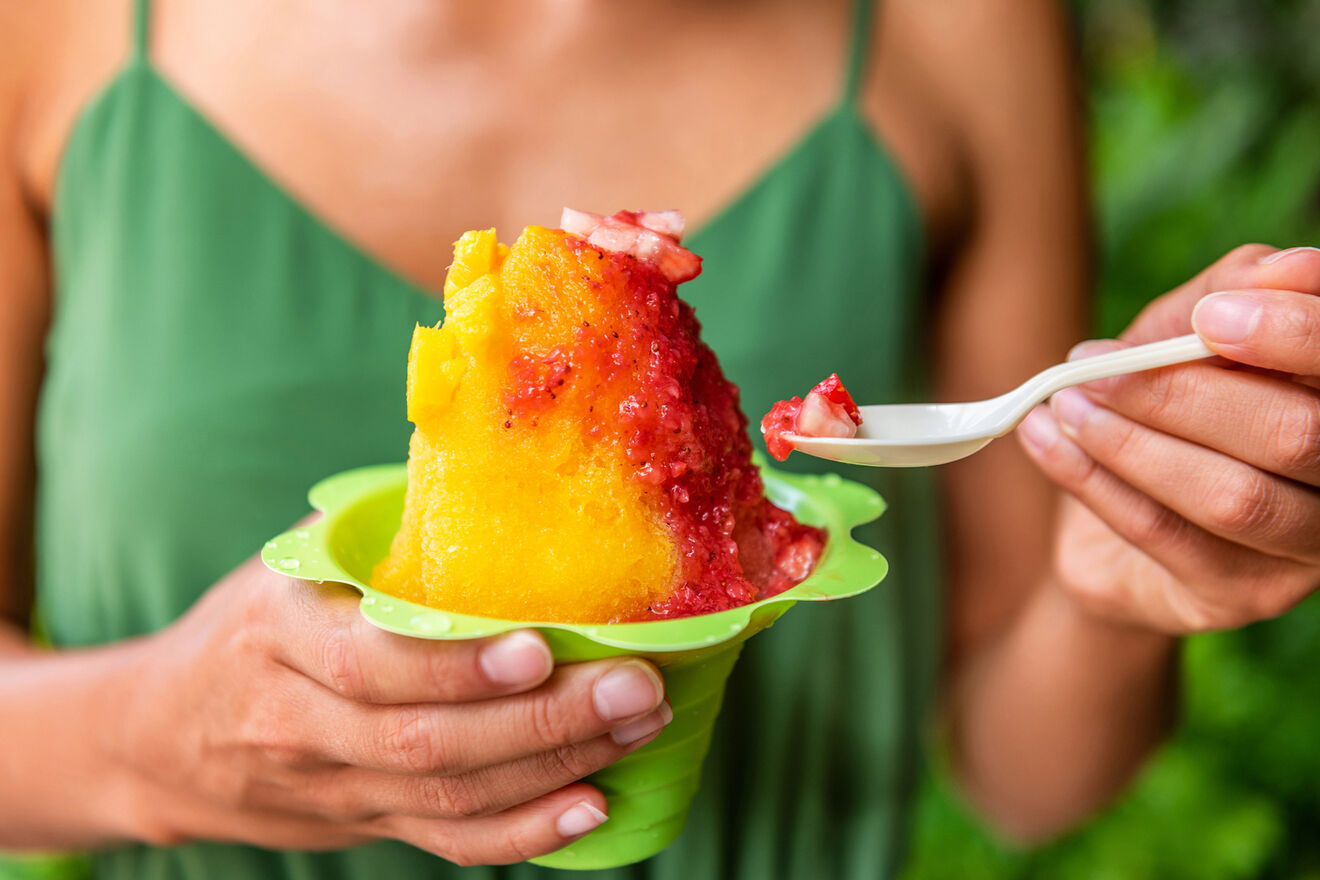 Conclusion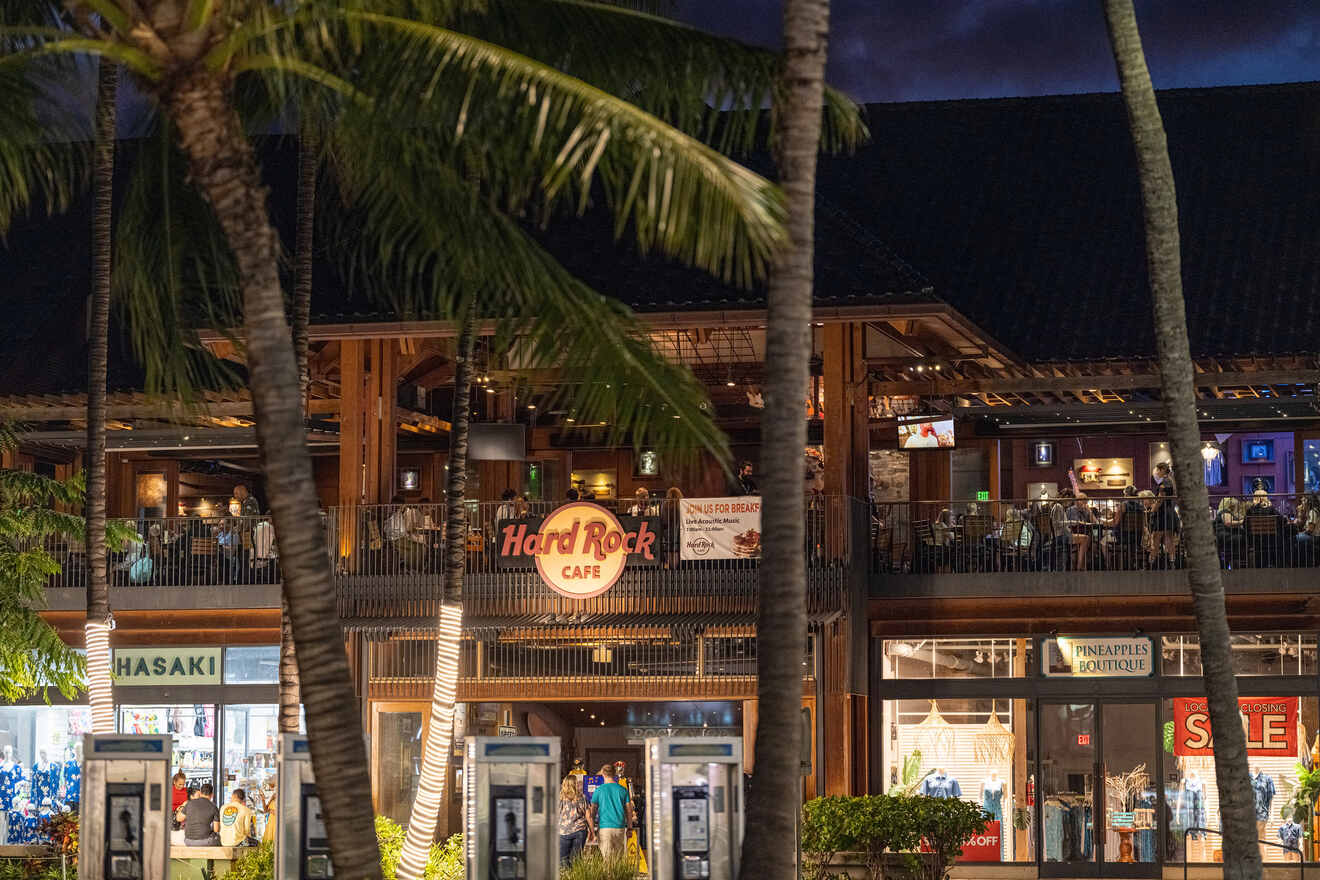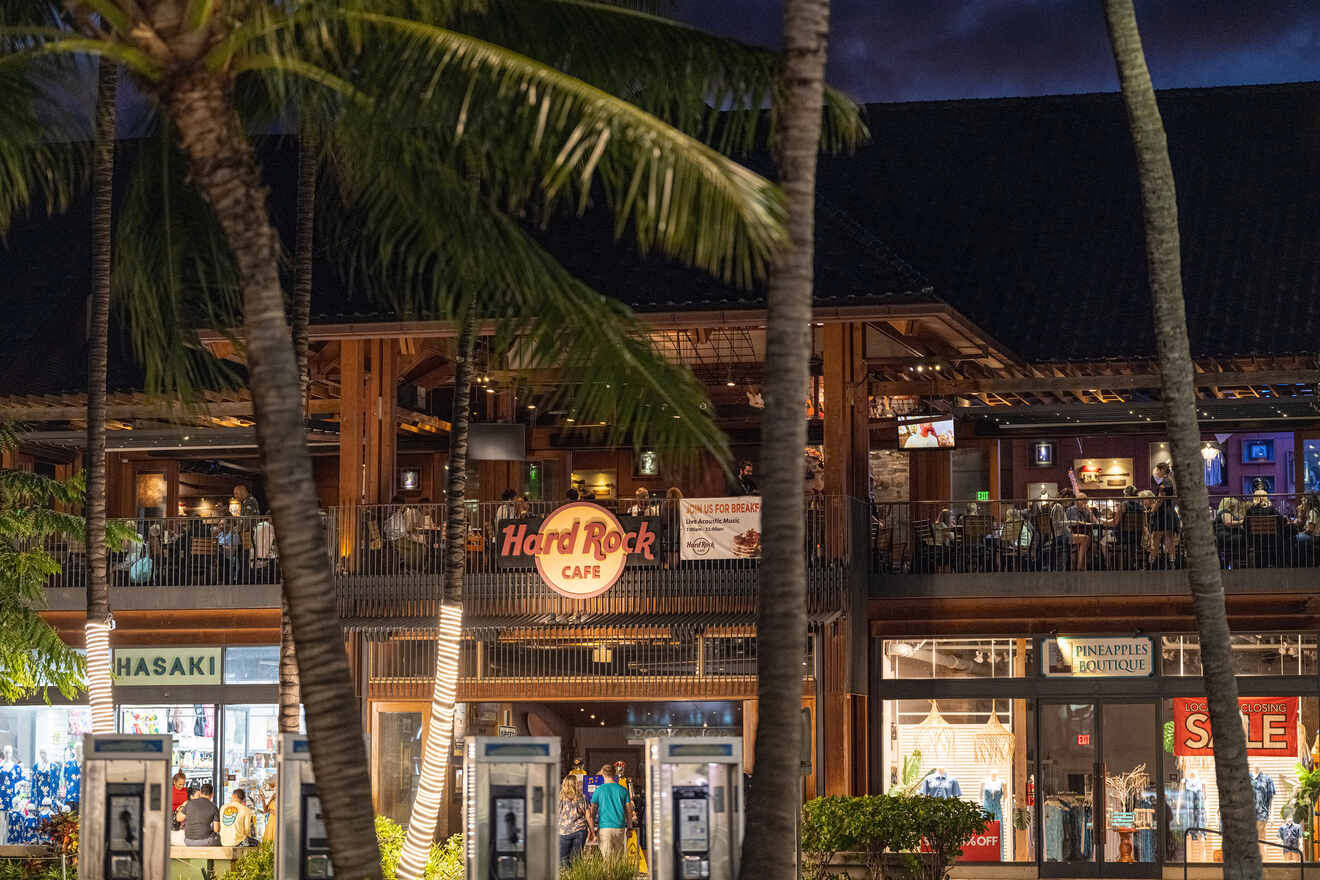 Wow, I think I've made more than 3 trips to the kitchen while writing this post about the best places to eat in Oahu! And to be honest, I still feel hungry!
I'm sure that after having a read, you'll know which place to hit first! To make your job easier, I've categorized the list of restaurants by interest, so you'll know where to go depending on your mood and I've also added the location.
By the way, if you've got any restaurant suggestions, leave me a comment below and I'll answer them ASAP!
For now, this is where I leave you! Have a fantastic trip, eat as much shave ice as you can, and indulge in all those Hawaiian dishes!
Have a great trip,
Victoria
---
Pin it for later!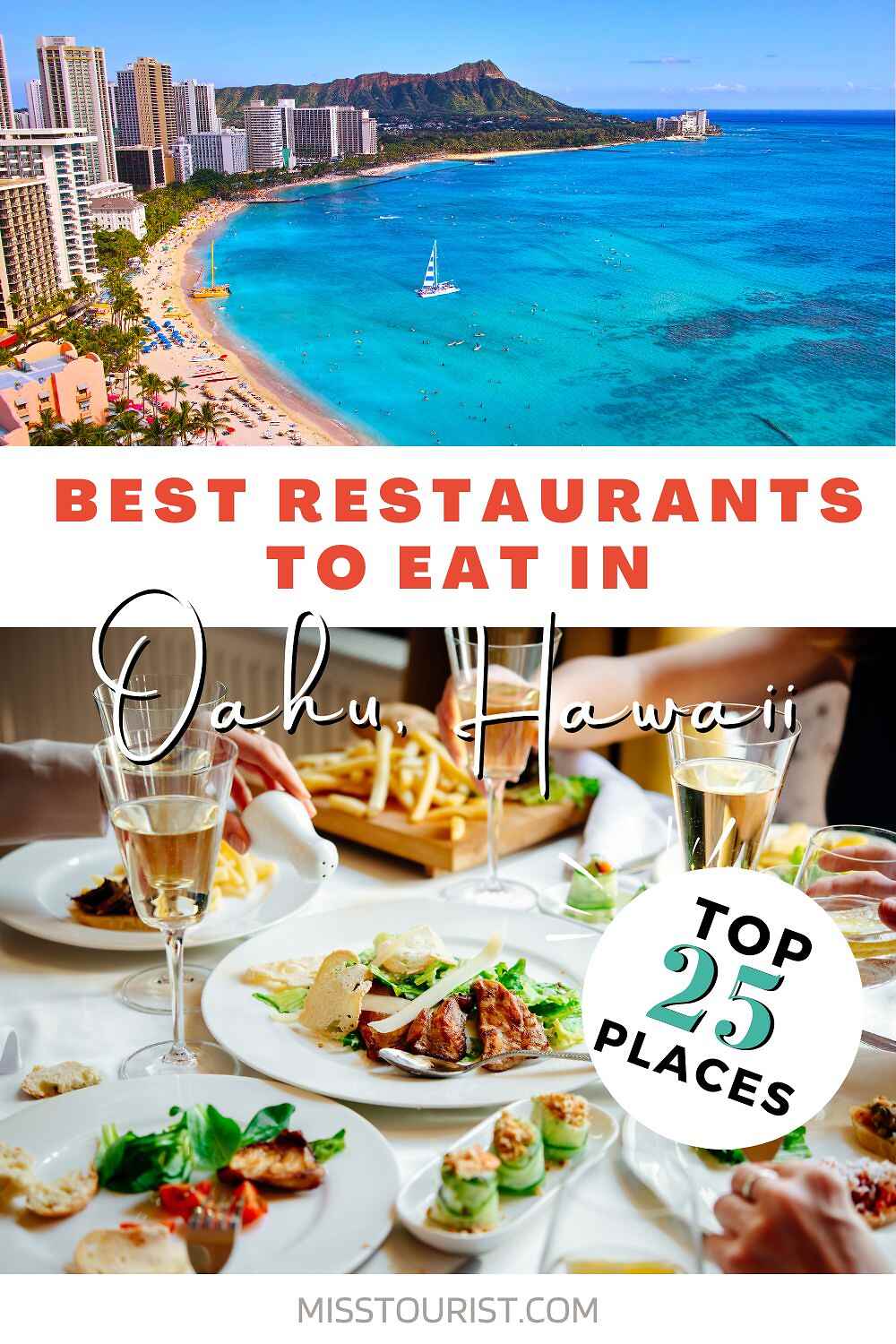 Pin it for later!