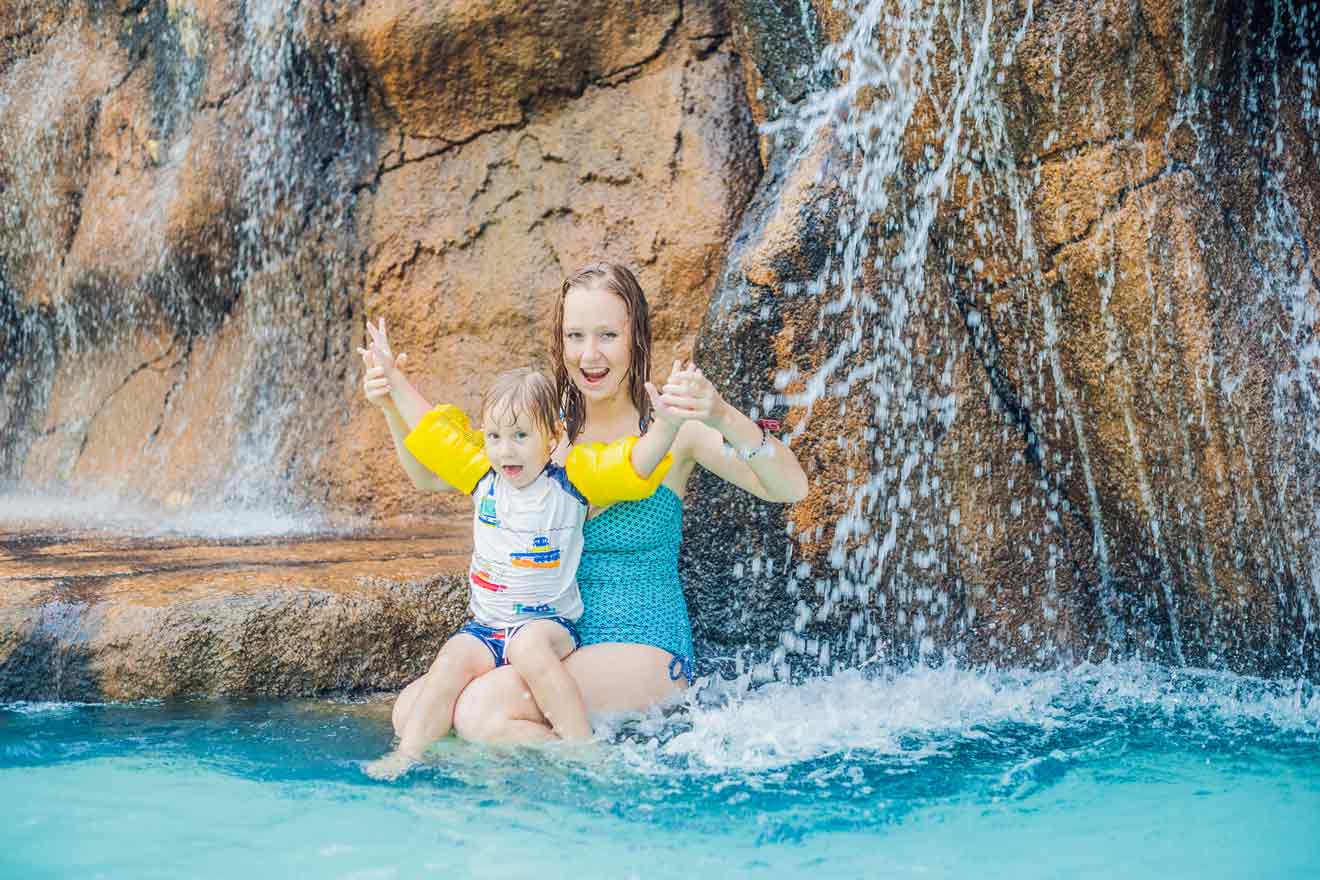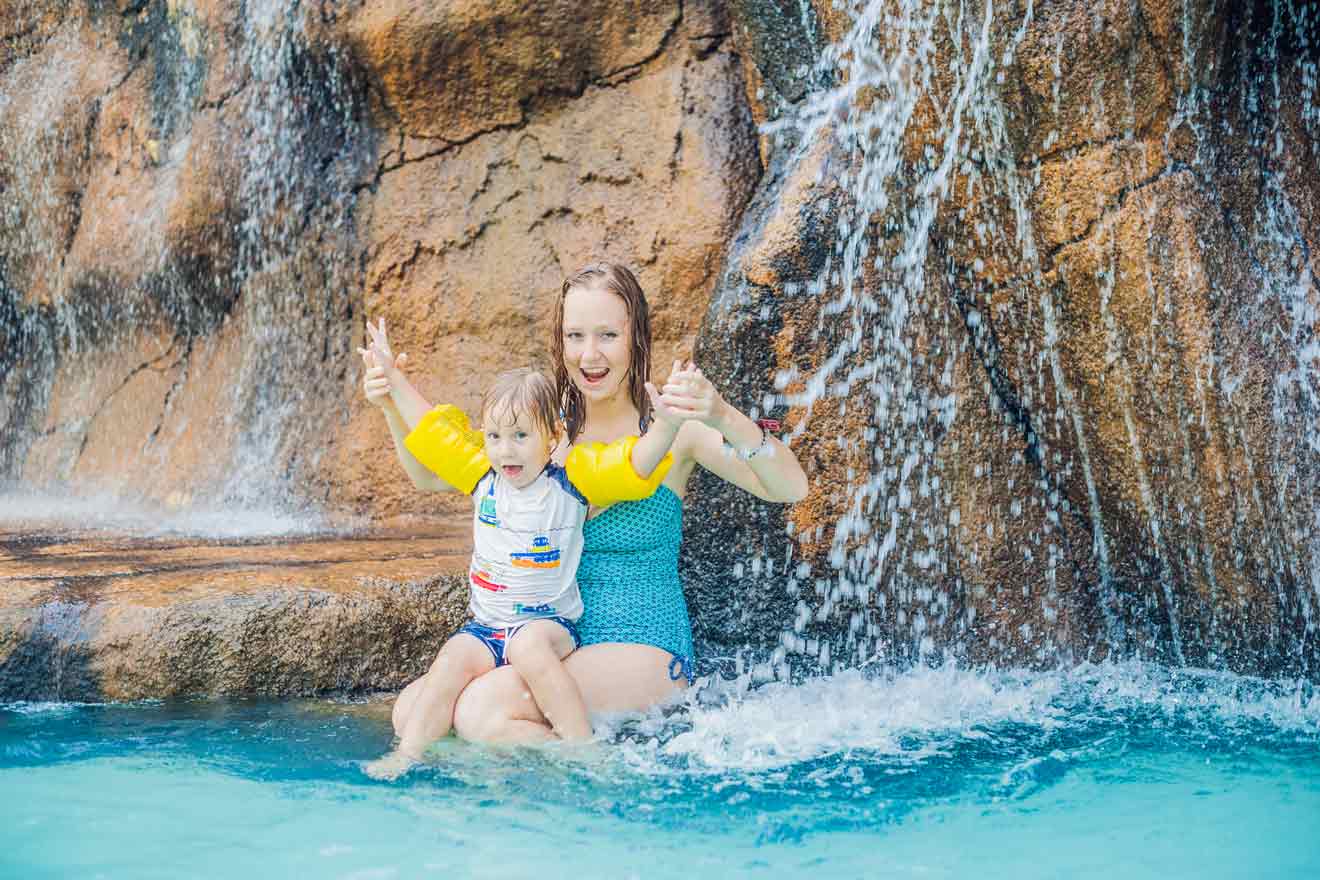 Are you visiting the stunning Hawaiian island Maui, and you're looking for some amazing accommodation to meet the needs of the whole family?
Well, good news for you! In this travel guide, I have already collected all the best hotels in Maui for families and divided them by price range, from the most expensive to the least, so you can immediately look for the accommodation that best suits your pockets.
All the family resorts and hotels mentioned here offer kid-friendly amenities like kids pools, access to gorgeous sandy beaches, entertainment, and much more, and I also included a bonus with some amazing family-friendly VRBOs in Maui, so you have more options for your choice.
The only thing you have to remember is to book your favorite hotel at least some months in advance, or you might lose the spot – rooms get booked out super fast here!
Ready to pick a hotel for your family vacation?
If you are in a hurry
If you don't have time to read the whole post, check out this quick list with the best family hotels in Maui:
Luxury (US$950 and up)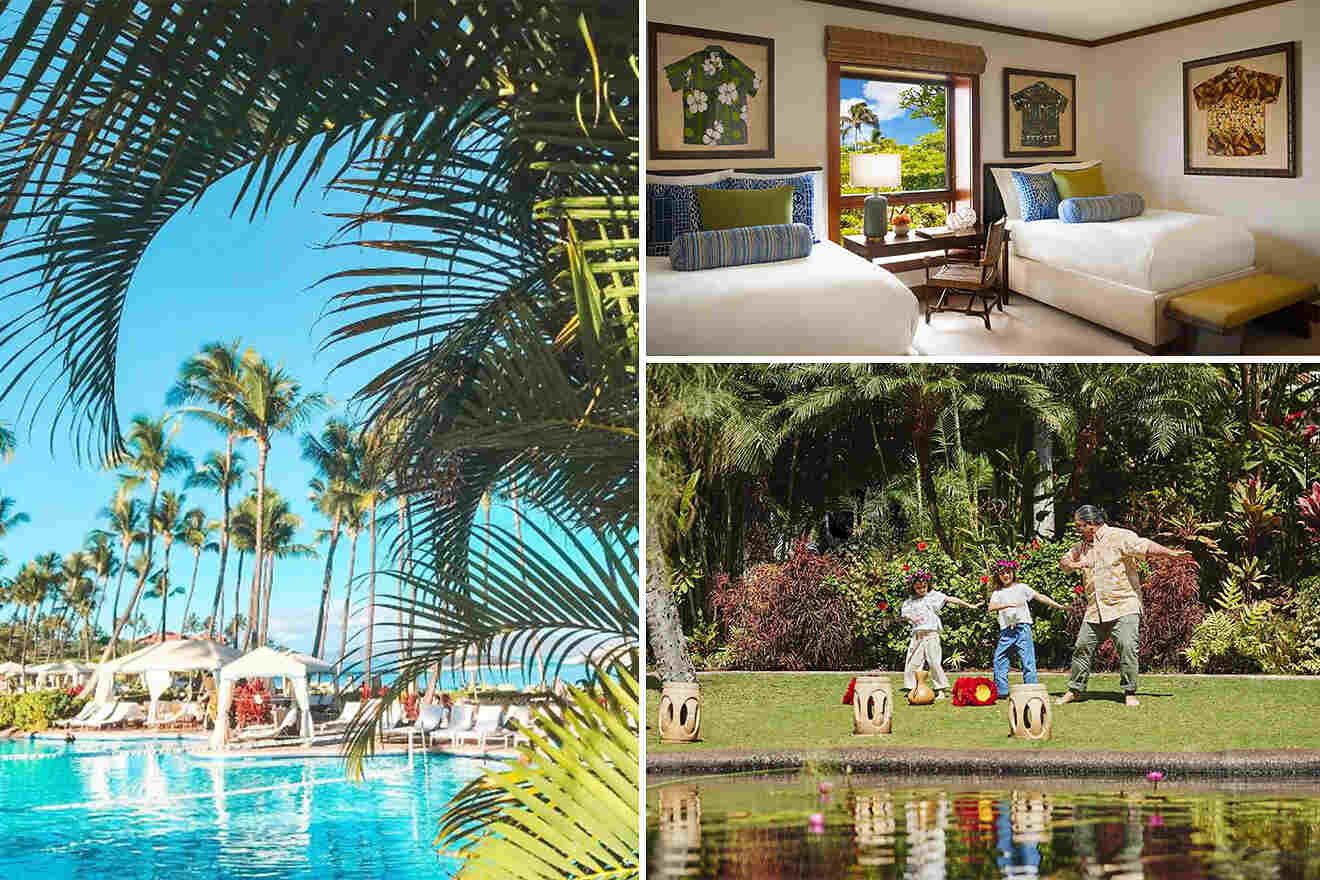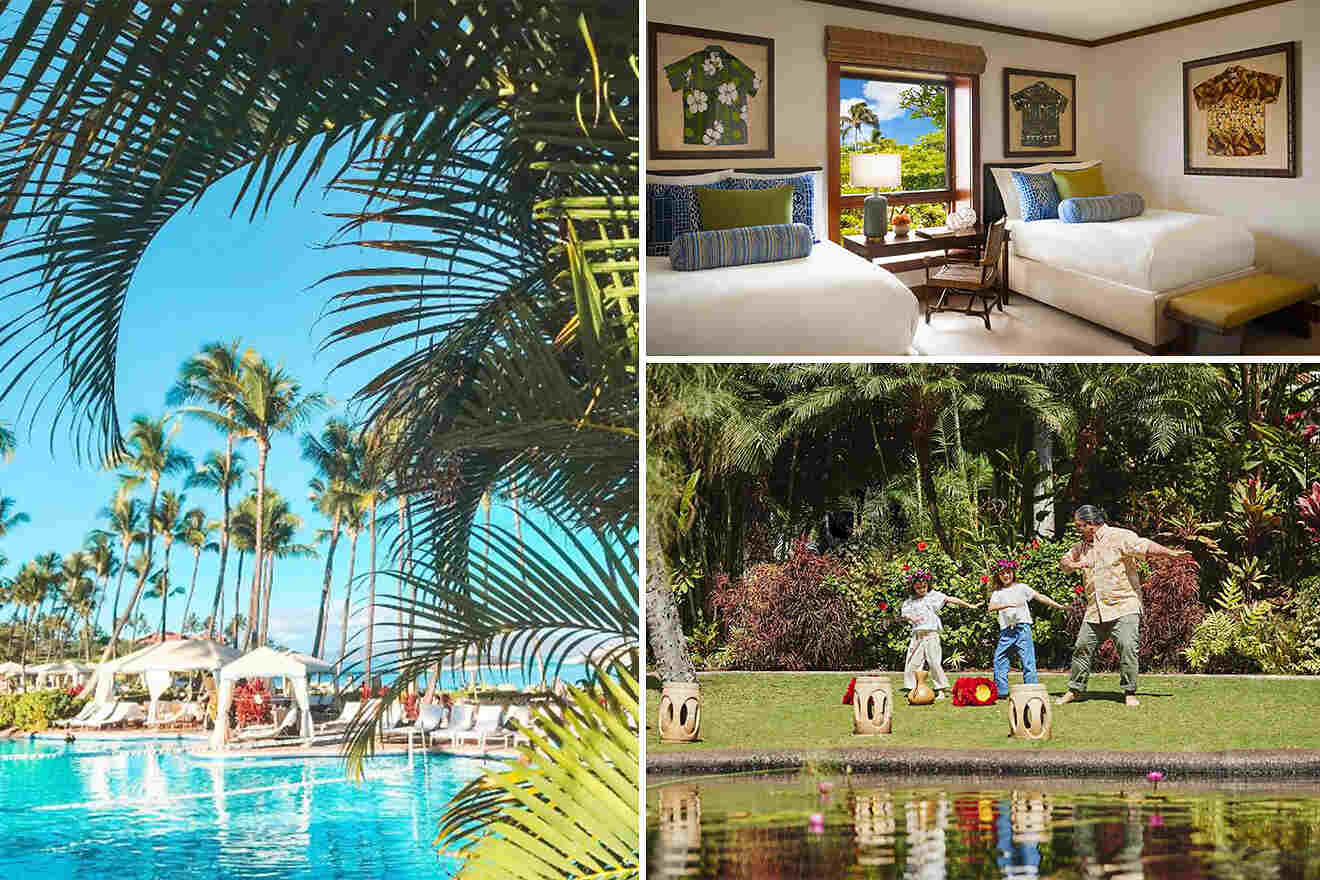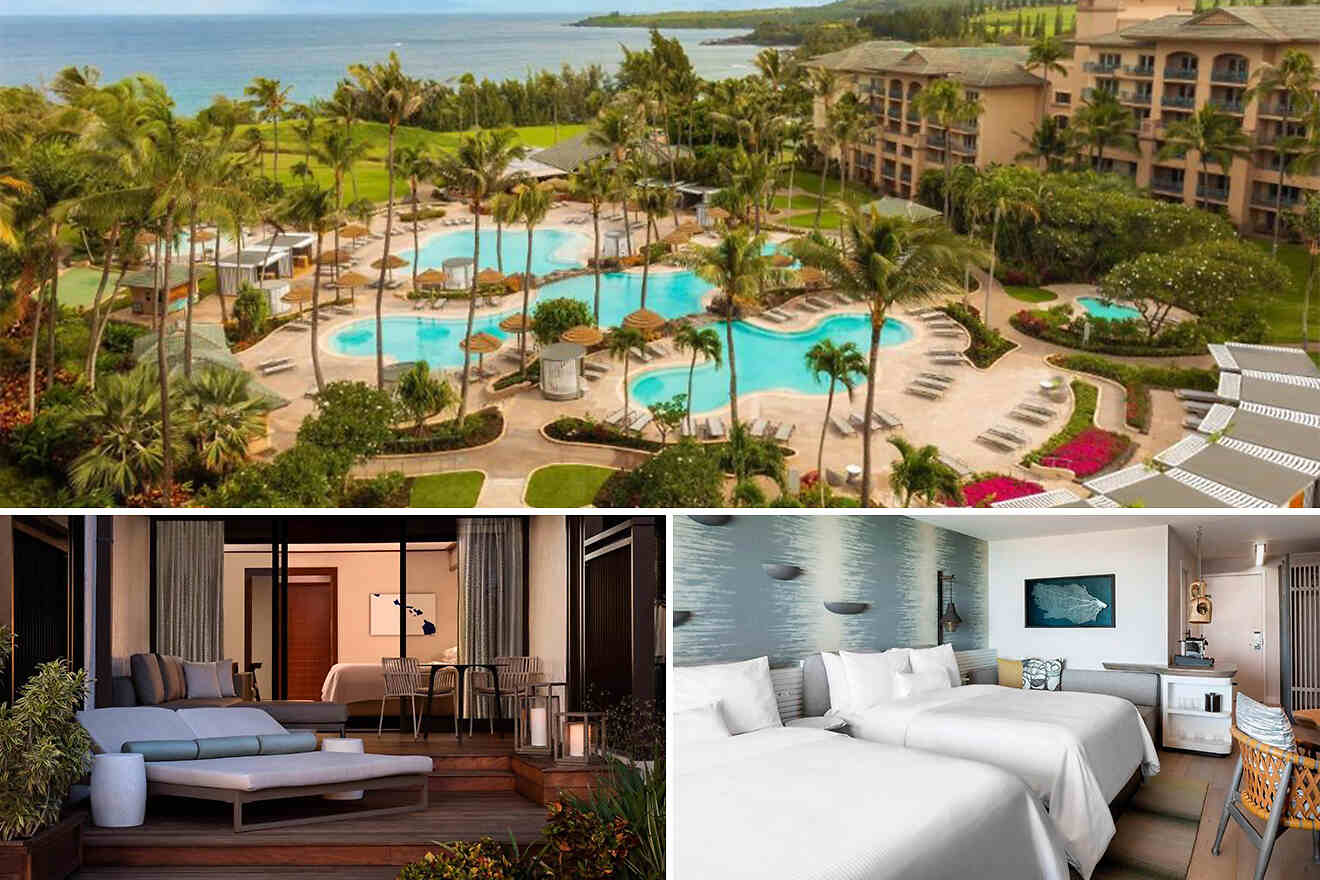 Wailea Beach Resort – Marriott, Maui – Located on Wailea beach, this is one of the best Maui family resorts, offering the longest waterslide in the whole of Hawaii, a cool games room, a movie theater showing kids movies every evening (where they will give you free lemonade and popcorn!), and even an escape room. In the meantime, adults can relax in the private beach area, or get massages and treatments at the on-site spa!
The Westin Maui Resort & Spa – This luxury resort is perfect if during your family vacation, you want to have access to all the comforts, featuring 3 on-site restaurants, a world-class spa for relaxation, and 3 pools including one adults-only pool, one with waterfalls and a waterslide, and a kids pool and playground. The hotel is also located a few steps from Ka'anapali beach, so you'll have direct access to it!
The Ritz-Carlton Maui – This oceanfront resort in Kapalua, offers stunning rooms with ocean views and access to a white sand beach, so you will feel the refreshing sea breeze at any time of the day! If you just want to relax during your holiday, you can get many body treatments, massages, and facials at the on-site spa, while if you are more of an active type of person, you can swim, surf, boogie board, sail, kayak, snorkel, and much more!
Mid Range (US$700 – US$900)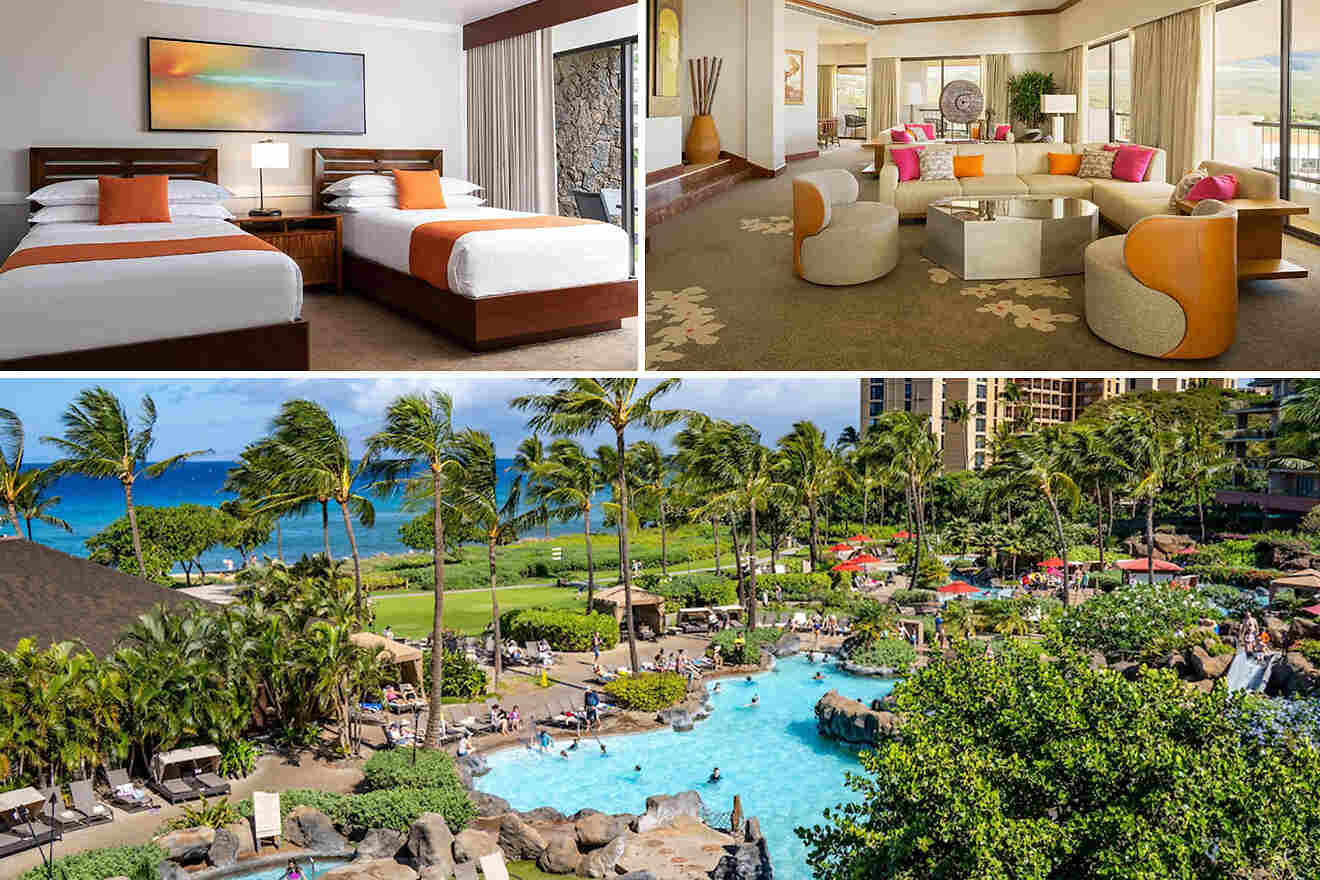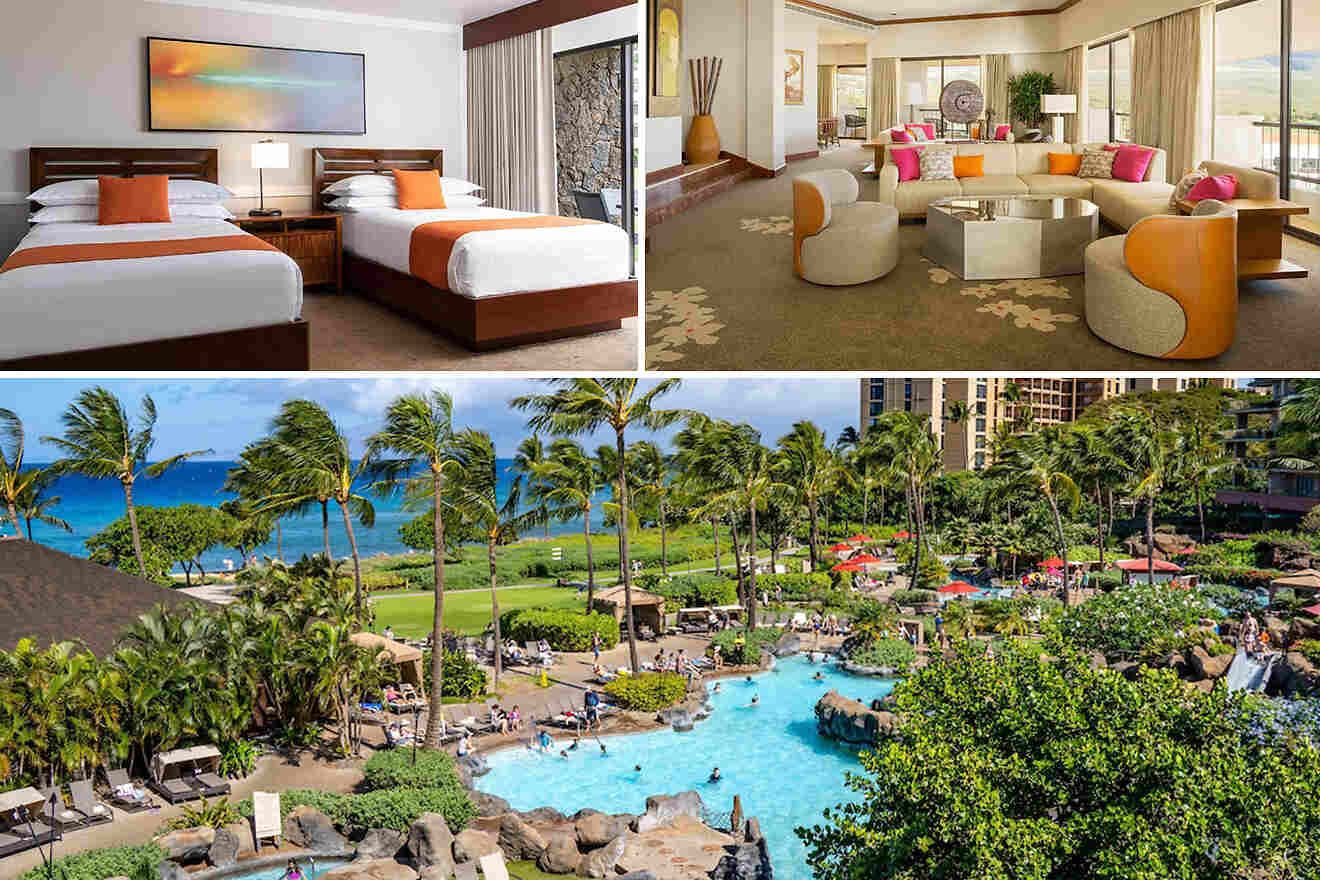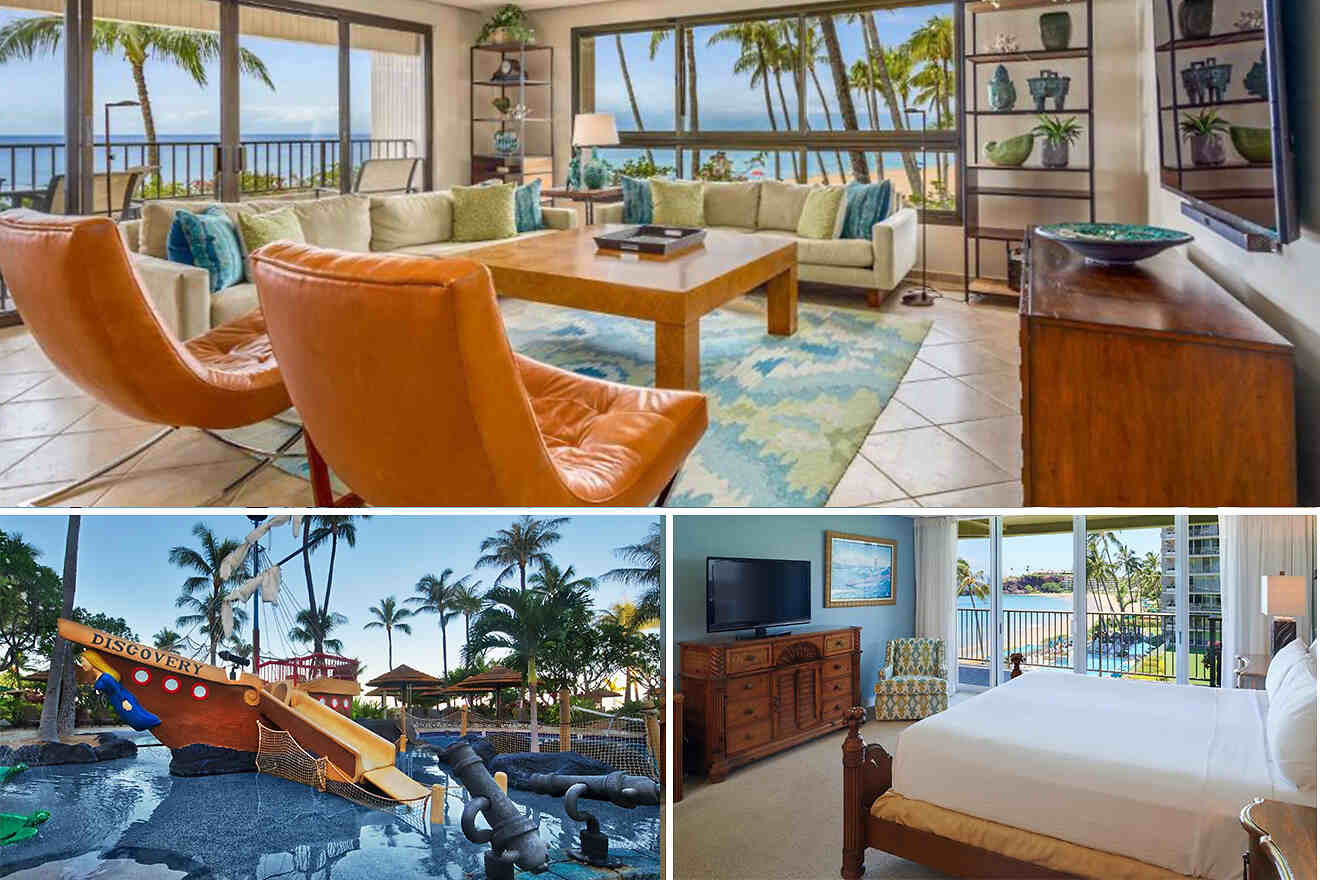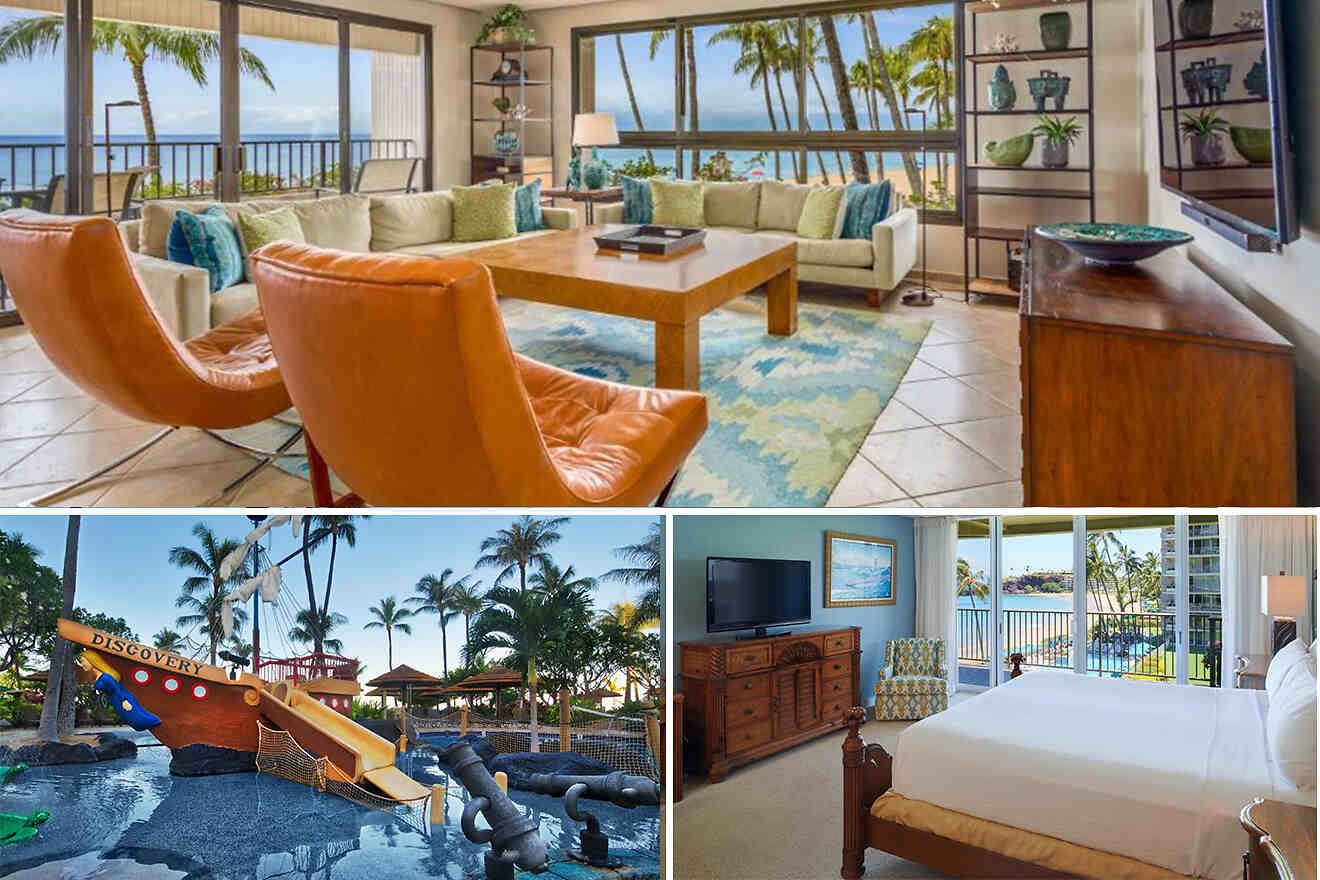 Marriott's Maui Ocean Club – Molokai, Maui & Lanai Towers – Overlooking Ka'anapali Beach, this stunning resort offers everything you need for a holiday full of comforts: a 3.5-acre pool, a full-service spa, a kids club for the younger ones, and golf resort in the close surroundings. And wait to see the guest rooms, all offering private balconies or lanais, dining areas, free Wi-Fi, a wet bar, and a beautiful private bathroom!
Kaanapali Alii, a Destination by Hyatt Residence – Located directly on Ka'anapali Beach, this kid-friendly hotel offers spacious condominium-style accommodations with modern kitchens, separate living and dining areas, and an outdoor pool – perfect if you want to enjoy some privacy and special moments with your beloved ones! And if you ever leave your room, here you can play at the 3 on-site tennis courts or at the golf course.
Aston at The Whaler on Kaanapali Beach – This Ka'anapali Beach hotel offers one of the best locations on the island, at a very short walk from the beautiful Ka'anapali Beach, where you can go splashing, chilling, snorkeling, and gazing at the sunset, and also to the Whaler village with its dining, drinking, and shopping options. I am sure you'll also love your hotel room, featuring a cable TV, a fully-equipped kitchen, and a private bathroom.
Budget (up to US$600)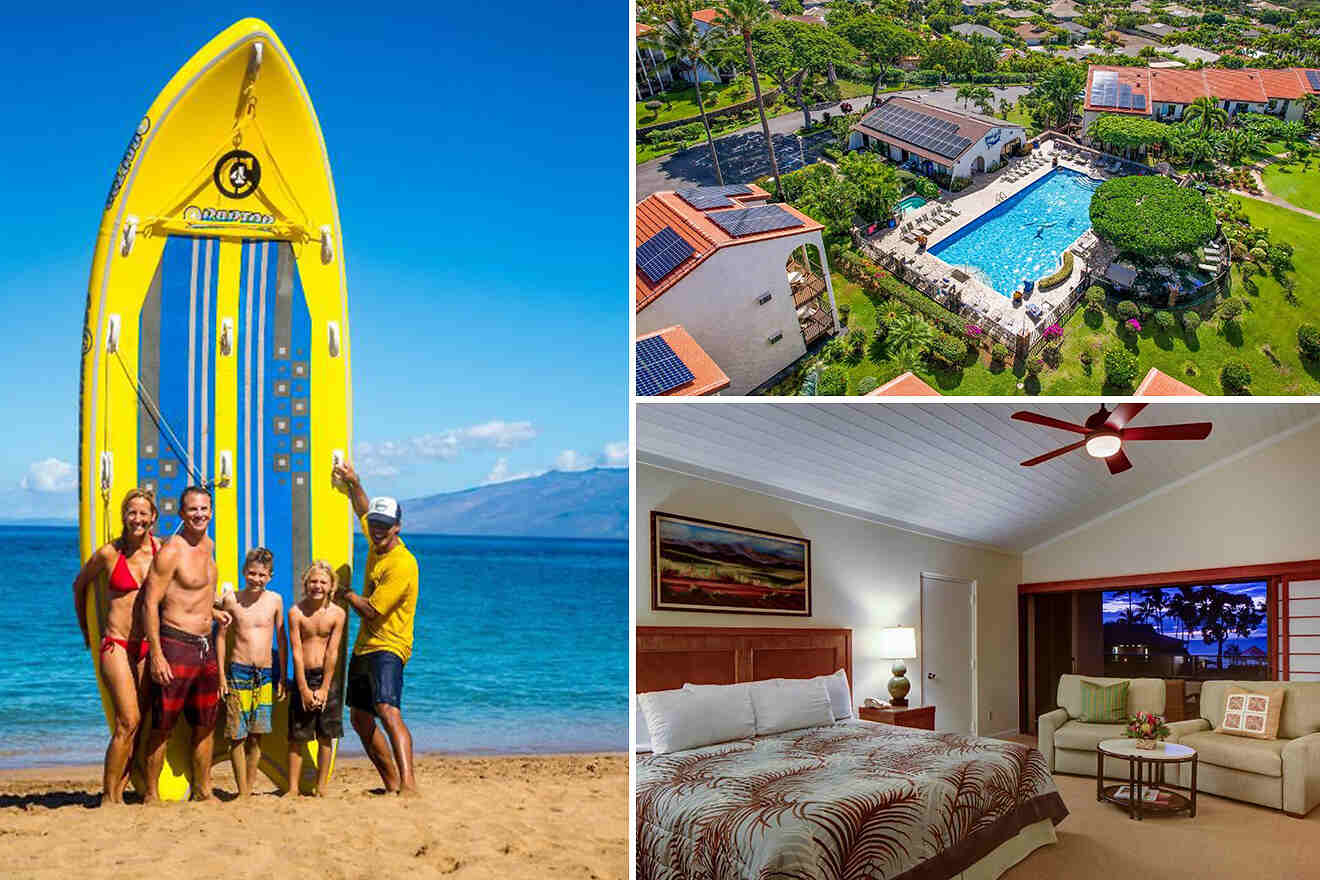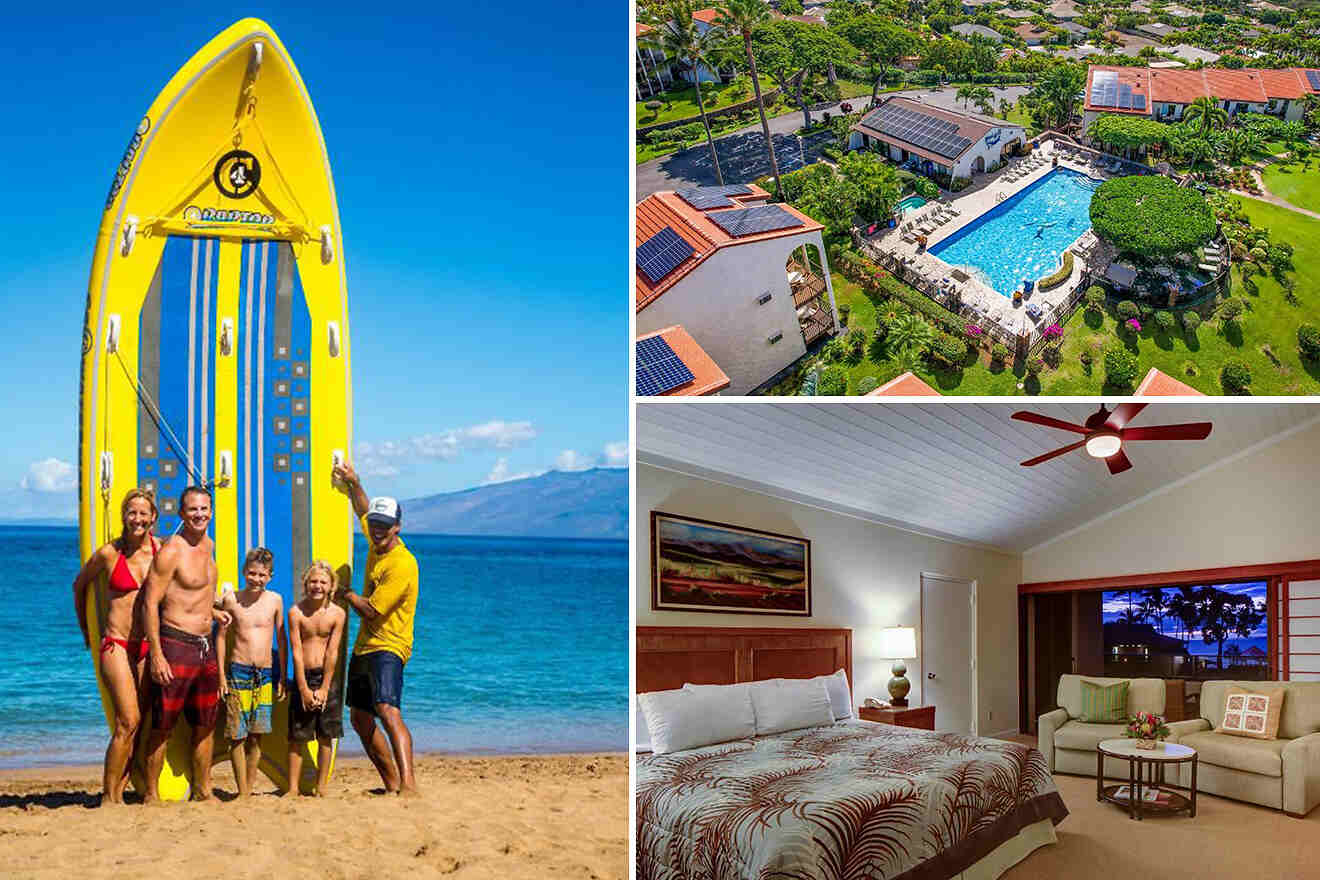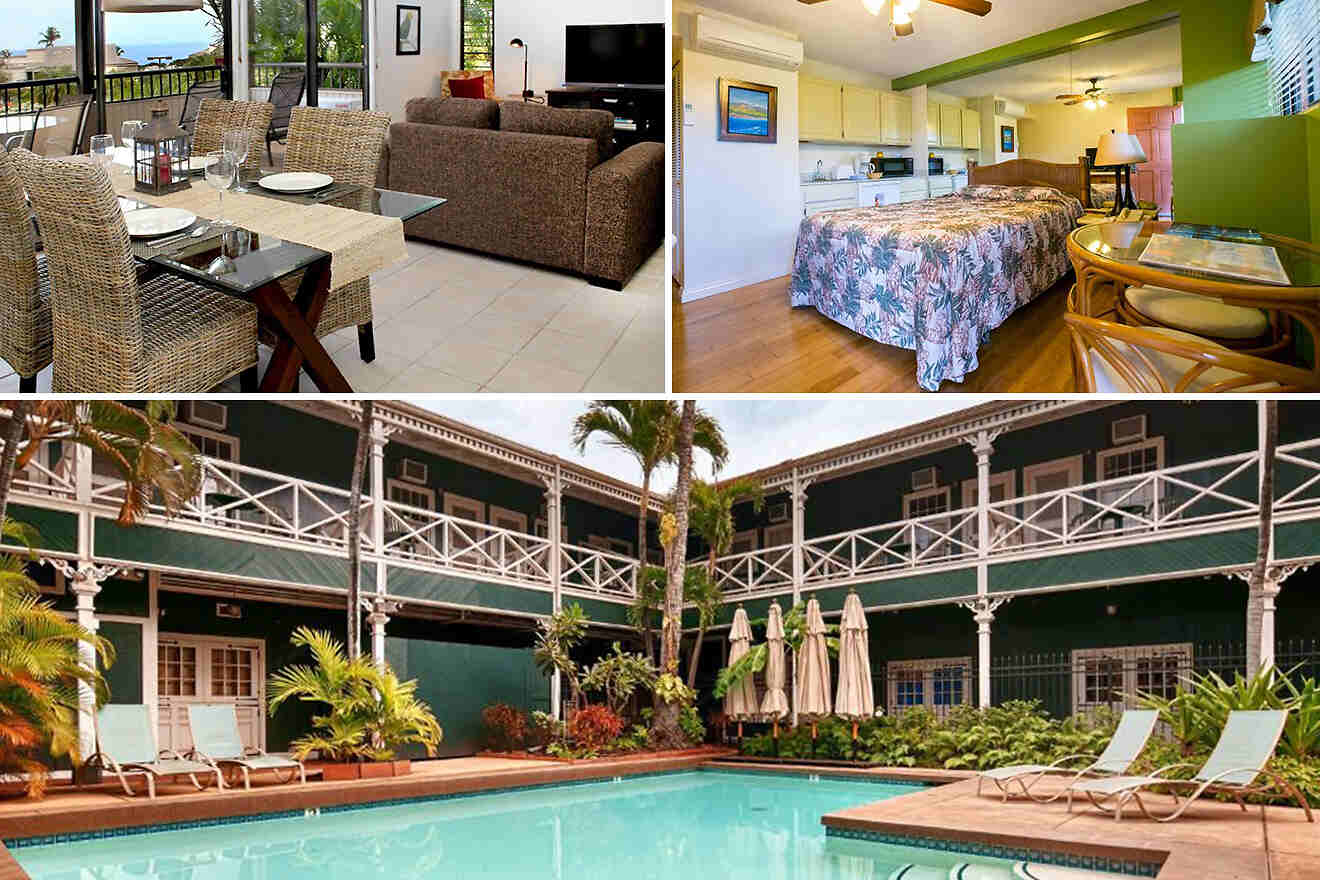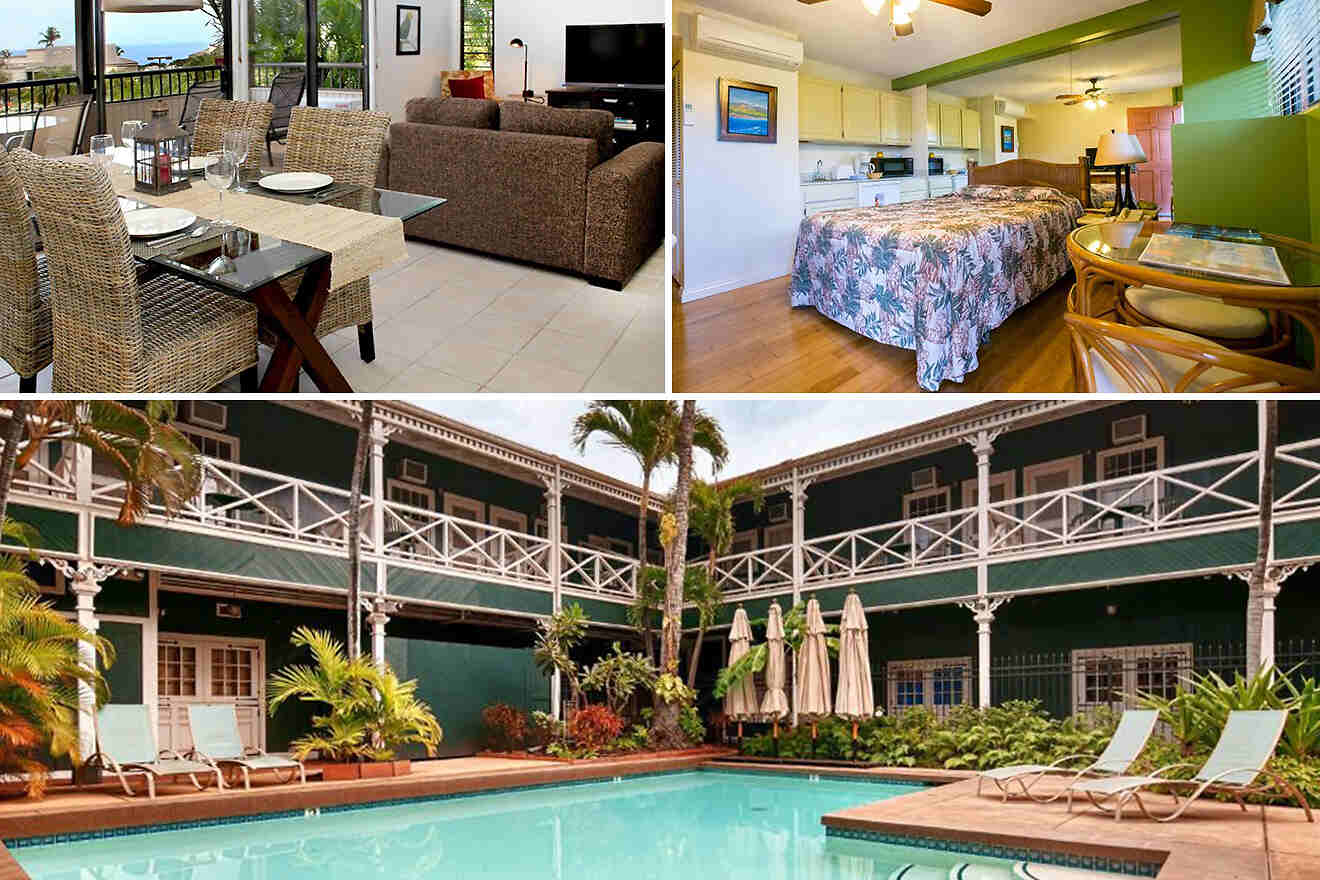 Wailea Ekolu Village, a Destination by Hyatt Residence – If you want to have access to luxury facilities at reasonable prices, this resort is for you, offering access to 2 outdoor pools, an on-site restaurant, a big recreation pavilion with ample seating and BBQ facilities, and a relaxing spa. The apartments here are perfect for a stay with the family, hosting up to 6 people and featuring a fully-equipped kitchen and Hawaiian-style terrace.
Best Western Pioneer Inn – Looking for a cool stay, but you don't want to spend a fortune? Then you should check out this historic hotel located in the heart of the charming Lahaina Town, offering a plantation-style atmosphere with a lot of green throughout the whole property. Get ready to join many cool activities here, like whale watching, scuba diving, and snorkeling, or to join panoramic dinner cruises!
Kahana Falls Resort – This is one of the best Maui resorts if you want to stay on a budget during your family holiday, located across from Kahana Beach. Here you can cook your favorite breakfast in the full kitchen of your accommodation (which better way to start your day?) and spend the day relaxing at the sandy-bottomed hot tub on-site, staying in shape at the fitness center, or exploring the beautiful beaches in the surroundings!
BONUS: Best family-friendly VRBOs in Maui
We have just seen all the best Maui resorts for a family holiday, from luxury accommodations to mid-range oceanfront hotels, and more affordable options. But to really give you all the options for your stay, I decided to include this bonus with the top family-friendly VRBOs in Maui.
Vacation rentals are perfect if you're visiting Maui but you want to avoid the tourist crowds of big resorts, enjoy some privacy and tranquility, do things at your own pace, and feel at home!
Below, I selected the 6 best VRBOs on the island, offering breathtaking ocean views, access to stunning beaches, private pools, and much more!
P.S.: These VRBOs can also be a great alternative if you don't find availability in your favorite family hotel in the list above! They are listed in descending order from the most expensive to the least one, so there's something for every budget.
Let's check them out together: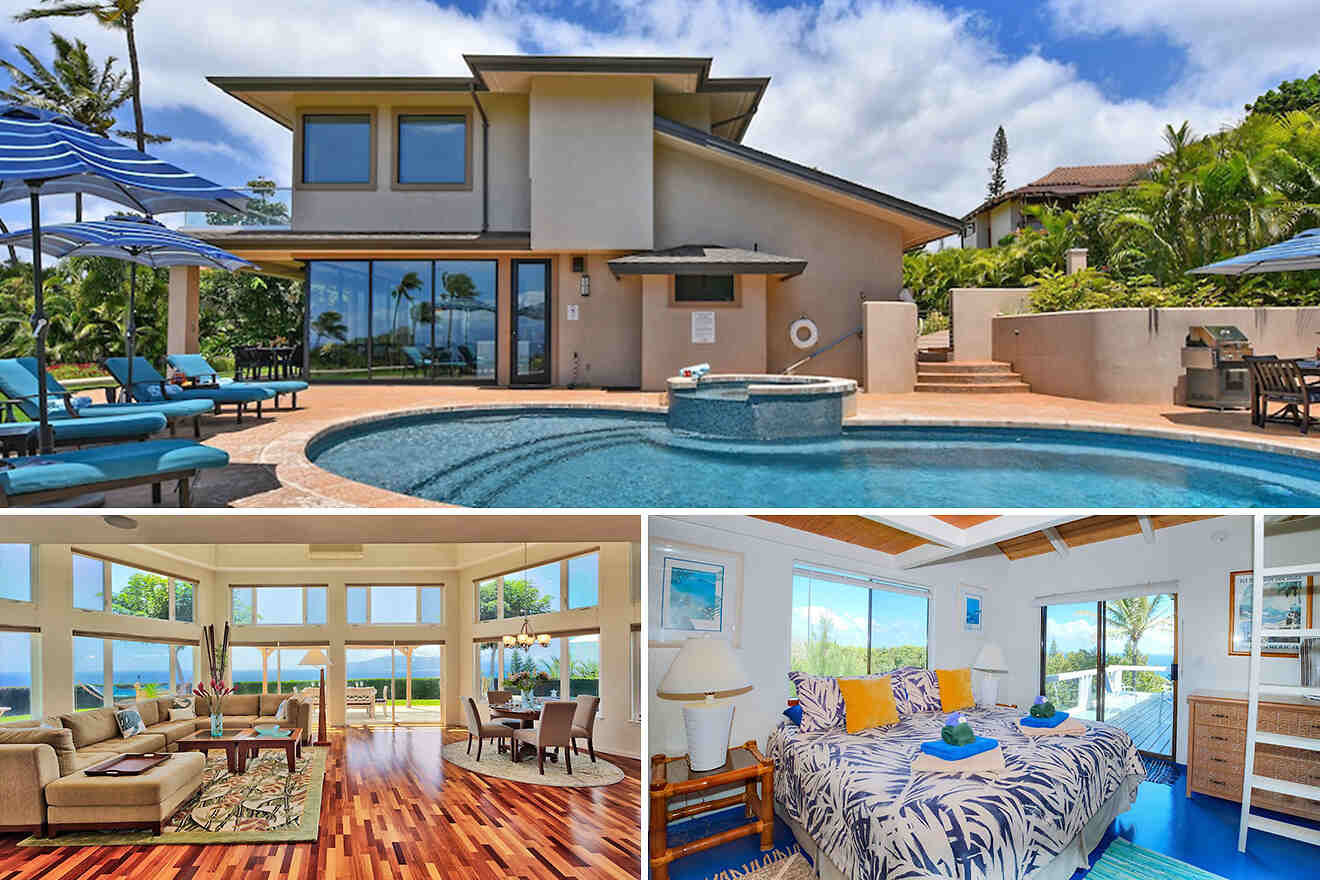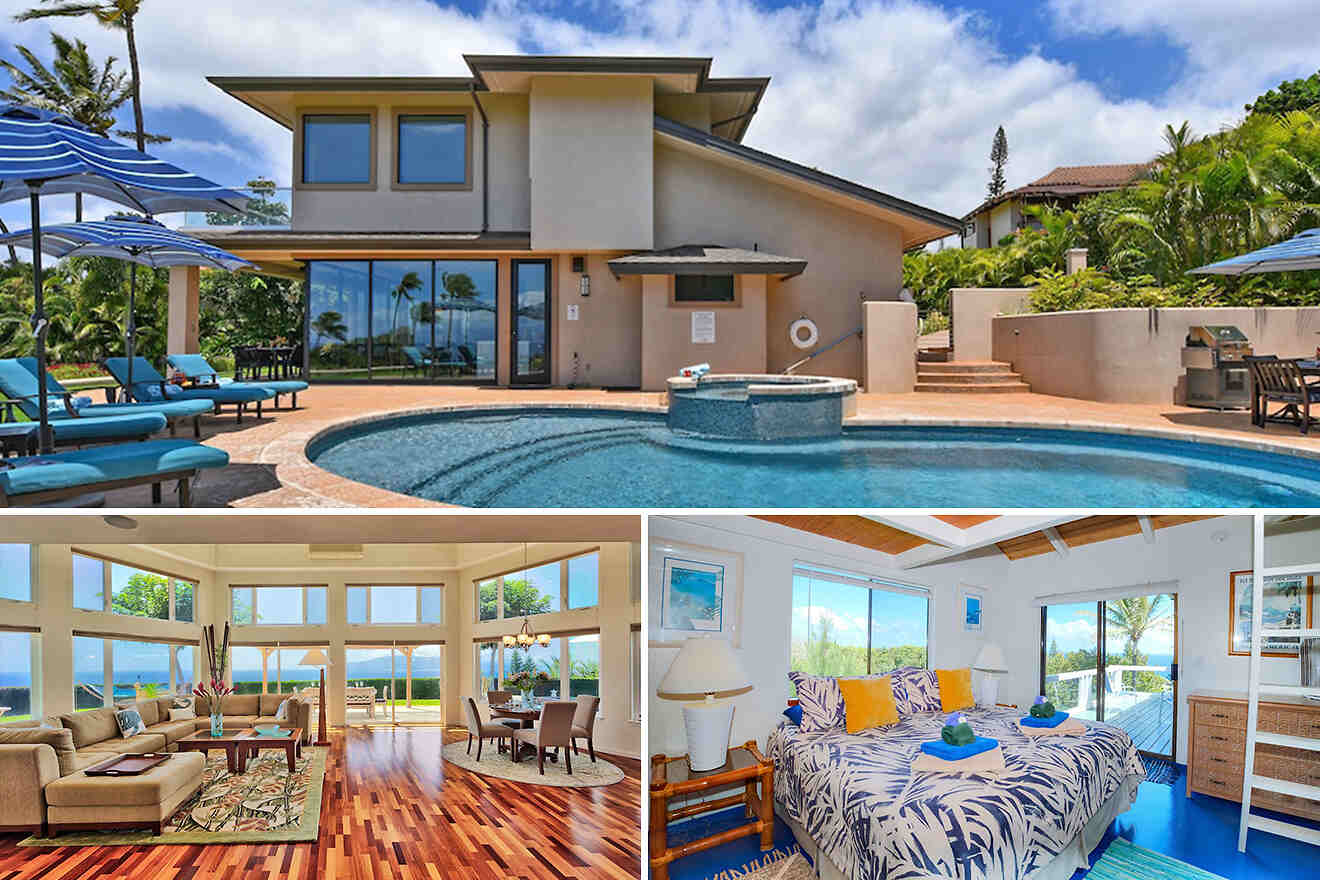 1. HALE NUI Luxurious & Spacious Maui Home
Smartly located in a quiet area, close to the world-famous Kaanapali Golf Course, this stunning home is the perfect place to experience a paradise getaway with your beloved ones, hosting up to 10 people! Here you will be spoiled with every kind of comfort: a gourmet kitchen, a bar to make fresh cocktails, an expansive lanai with sliding glass doors, a shimmering pool and a jacuzzi – all offering panoramic views of West Maui, extending to the distant horizon.
2. Luxury Home in Exclusive Launiupoko
This luxury property, nestled in 1.5 acres of lush tropical gardens and fruit trees in Launiupoko, is perfect if you want to enjoy some privacy and relaxation with your loved ones, hosting up to 6 people. Imagine starting your day with fresh fruit picked directly from the trees, spending the day reading in the hammock, or playing croquet/bocce ball with your family, and finish it catching a stunning sunset from the elevated jacuzzi for 8 people.
Located on Maui's dramatic North Shore, this sea house will just take your breath away, offering some of the best views of the beautiful whitewater ocean, cliff and Haleakala summit! The property hosts a maximum of 4 adults and 4 kids (under 18), and features a big swimming pool where your children can splash and play, and a private hot tub where you can stargaze with a chilled glass of wine. A once-in-a-lifetime experience!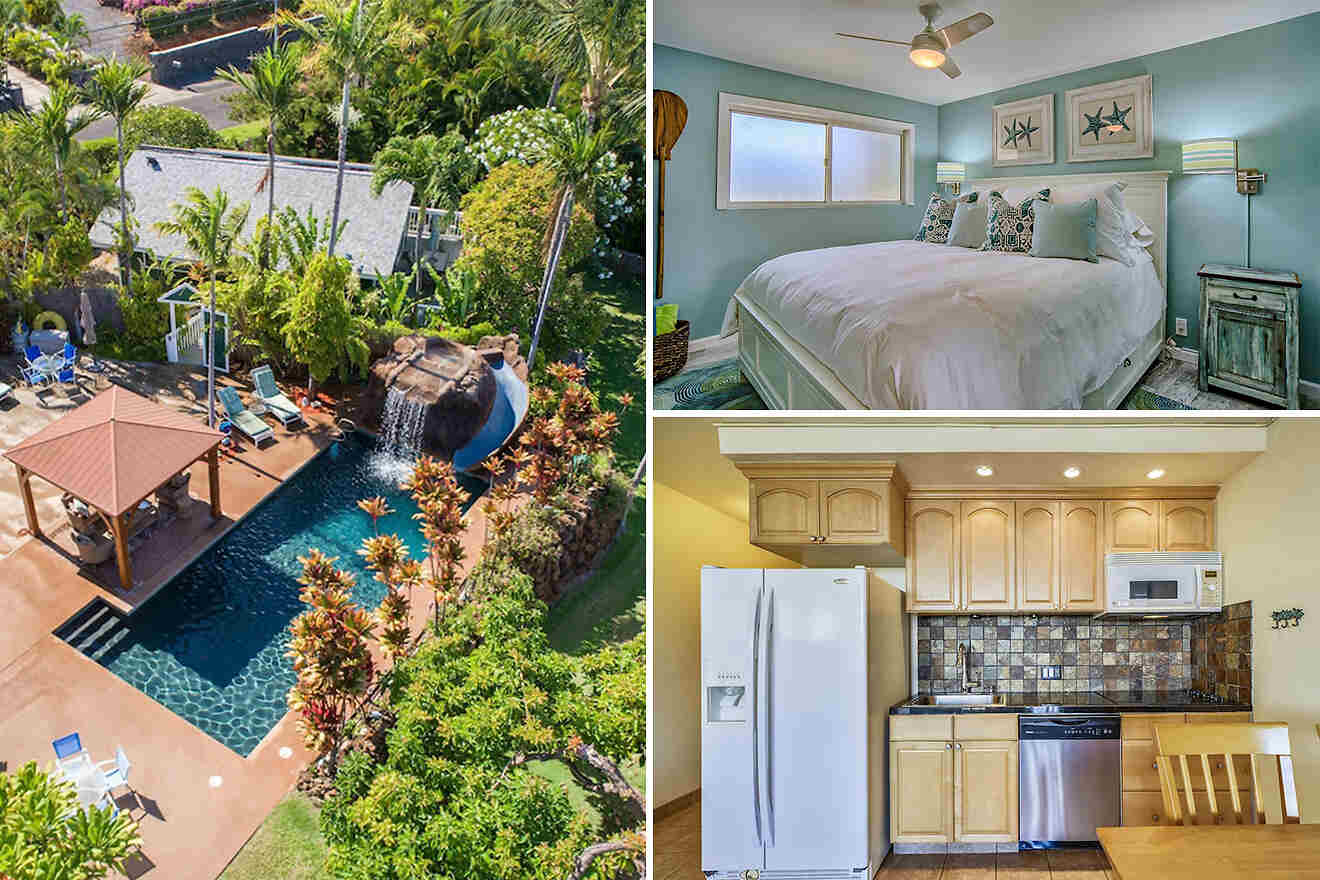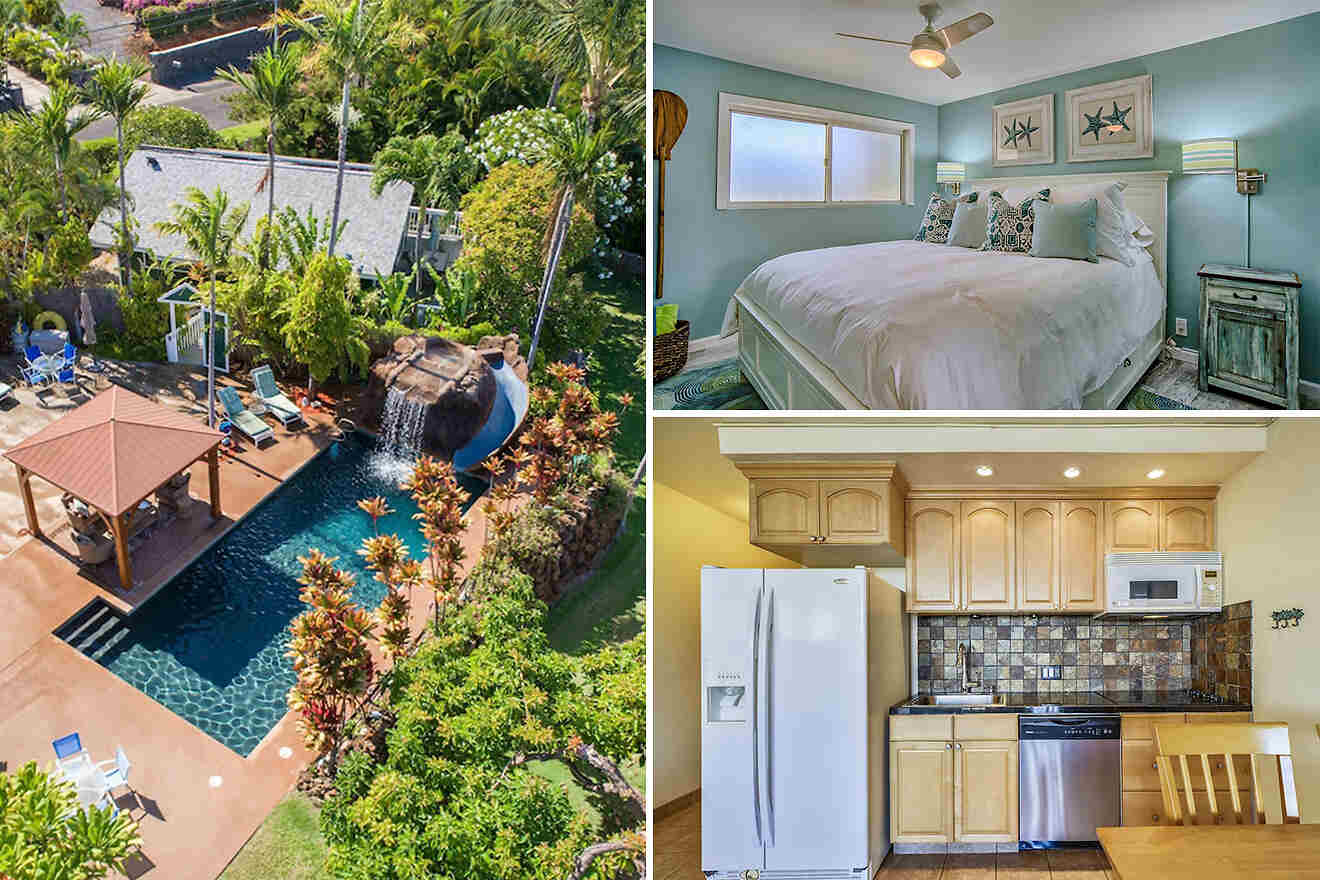 If you are dreaming of your beach holiday, this oceanfront condo is for you, overlooking Maalaea Bay (on the south side of Maui) and located only a few steps from the beach. Get ready to see the whales jumping out of the water, or enjoy a sunset from your private lanai – a magical experience to share with your family! The property hosts up to 4 people and offers a fully-equipped kitchen, private swimming pool, and patio… what else could you ask for?
5. Private 2BR Cottage (House)
Nestled on a tropical private half-acre, this cozy cottage offers the perfect combination of comfort, privacy, convenient location, and affordability, so it is perfect if you are on a budget but you don't want to renounce to luxury amenities. In fact, here you will find a fully-equipped kitchen, an open floor plan with wood floors, a custom tile bathroom, a BBQ grill to cook some delicious family dinners, and a cool waterfall pool.
6. Aloha Hale Ocean View Maui Condo
This oceanfront property is perfect for families (of 4) who love to surf, or they just want to enjoy a tranquil stay nestled in nature. Here you will wake up with the sound of waves rolling, and spend the day snorkeling in the blue waters, splashing in the large tiled swimming pool, playing at the tennis court, or watching sea turtles in the beach cove right in front of the house. I am sure you will also love the rooms, featuring tropical decor, and a cable TV.
FAQs about best family hotels in Maui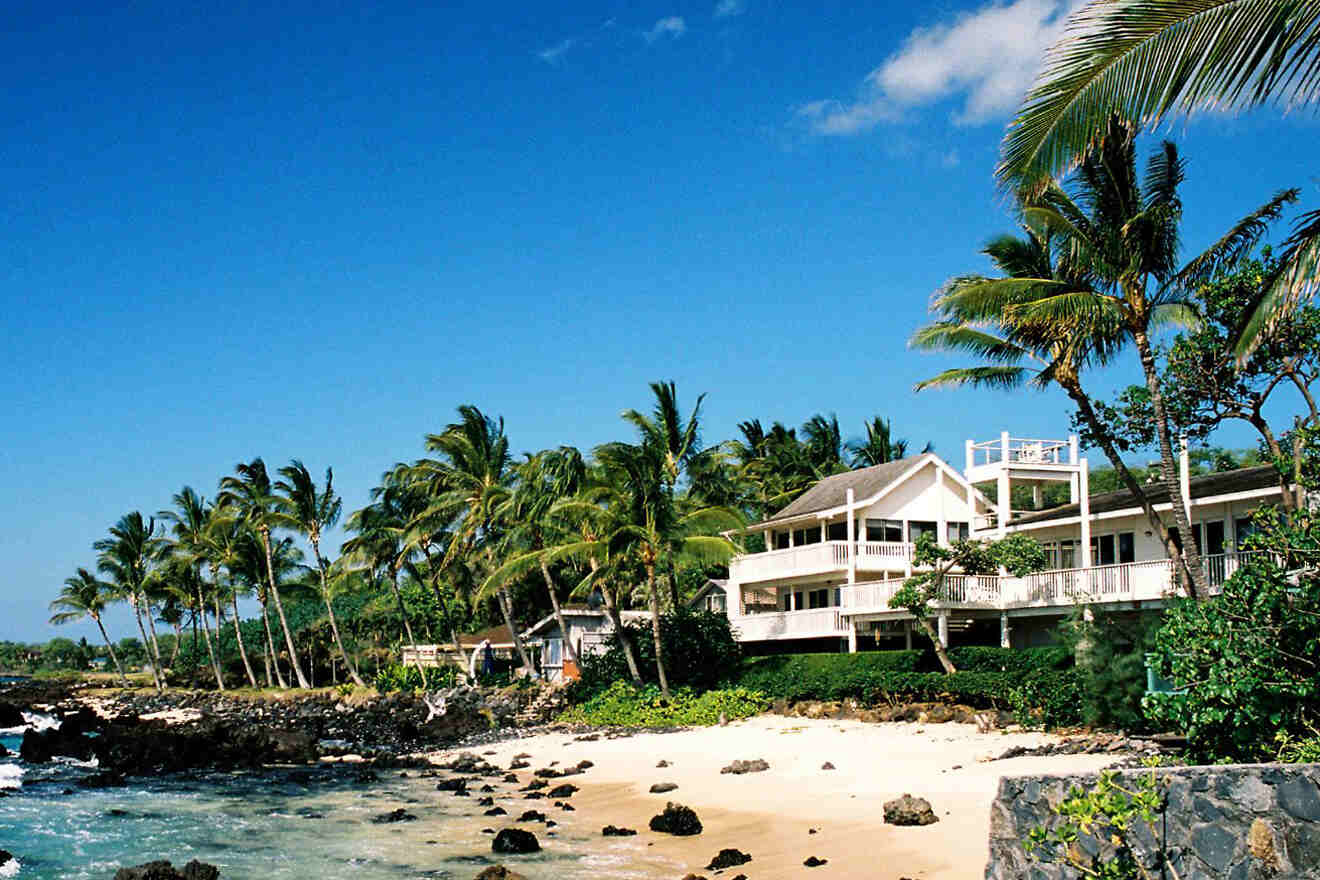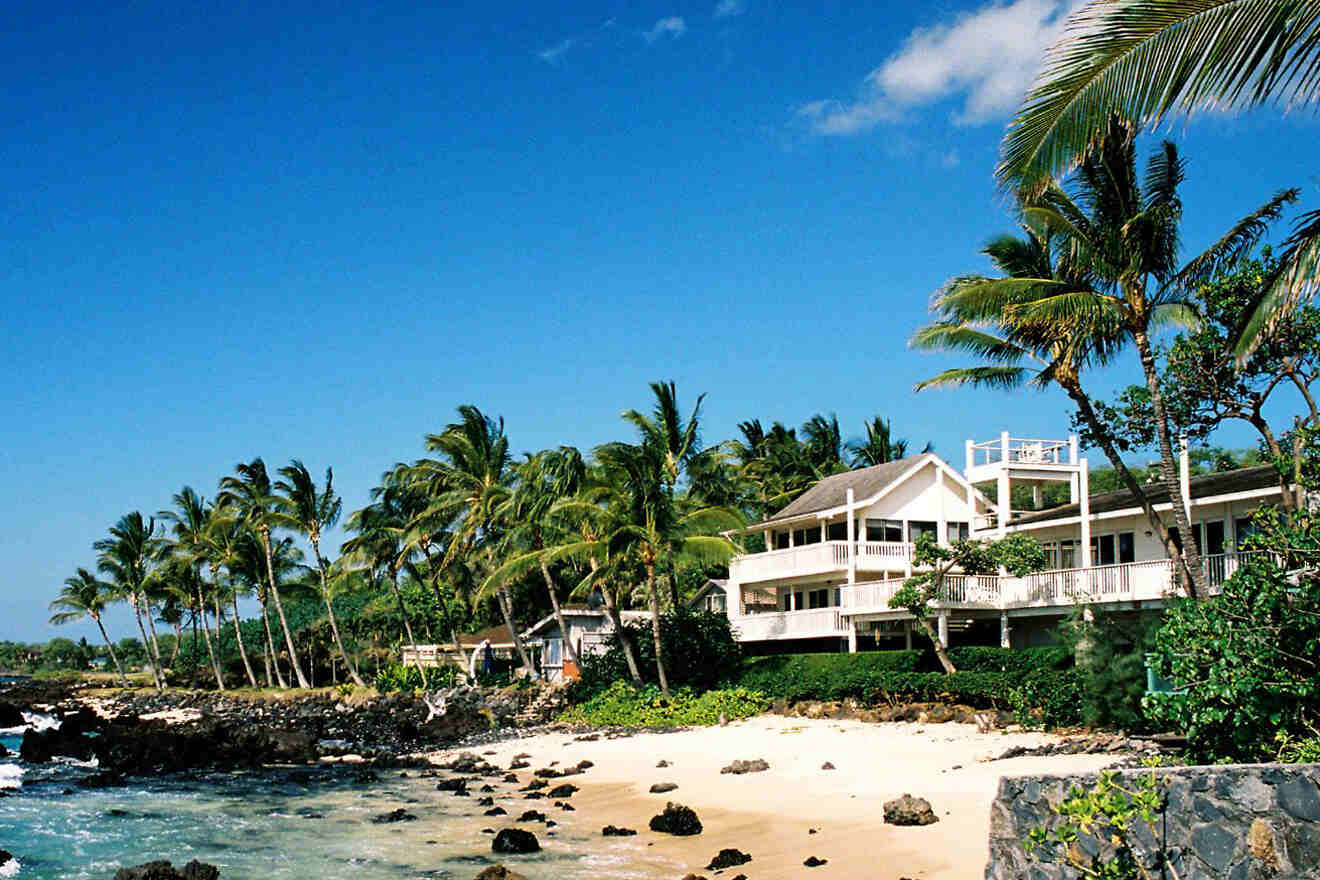 👨‍👩‍👧‍👦 Which are the best family hotels in Maui?
👑 Which are the best Maui resorts for luxury?
🏨 What are the best all-inclusive family resorts in Maui?
The best all-inclusive family resorts in Maui are the luxury Four Seasons Resort Maui at Wailea, with a prime location overlooking the beautiful Wailea Beach, or the Honua Kai Resort, offering cool facilities like hot tubs, connecting pools and waterfalls for kids, and an adults' only pool.
👍🏼 Is Maui a good place to stay with kids?
Yes, Maui is one of the best islands in Hawaii for families, offering gorgeous white sand beaches, access to cool watersports, and easy logistics. Here you will find many beachfront family-friendly resorts with activities and facilities for all ages, like the mid-range Hyatt Regency Maui Resort.
📍 Which part of Maui is best for families?
The best part of Maui for families is Kaanapali, on the island's west side. Here you'll find beautiful beaches and most of the restaurants, shopping, and accommodation options, like big resorts, luxury hotels, and vacation rentals (for those who want to enjoy their own privacy and tranquility).
💵 Where should I stay in Maui without breaking the bank?
The best places to stay in Maui on a budget are the Ka'anapali Beach Hotel, offering many kid-friendly facilities like a whale-shaped pool and a kids club, Aston Maui Hill featuring tropical-themed suites with fully-equipped kitchens, or the historic Best Western Pioneer Inn, offering plantation-style atmosphere.
Conclusion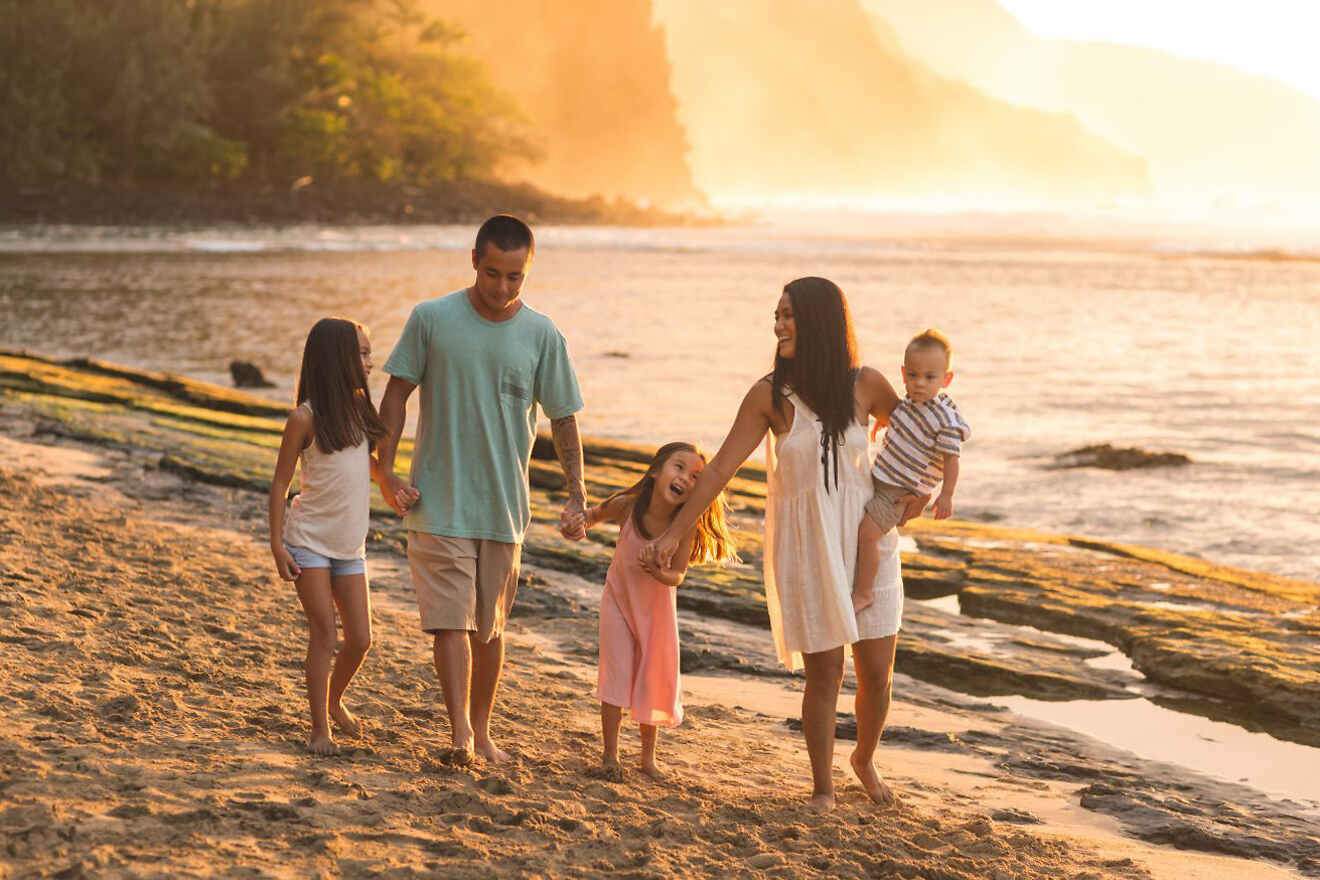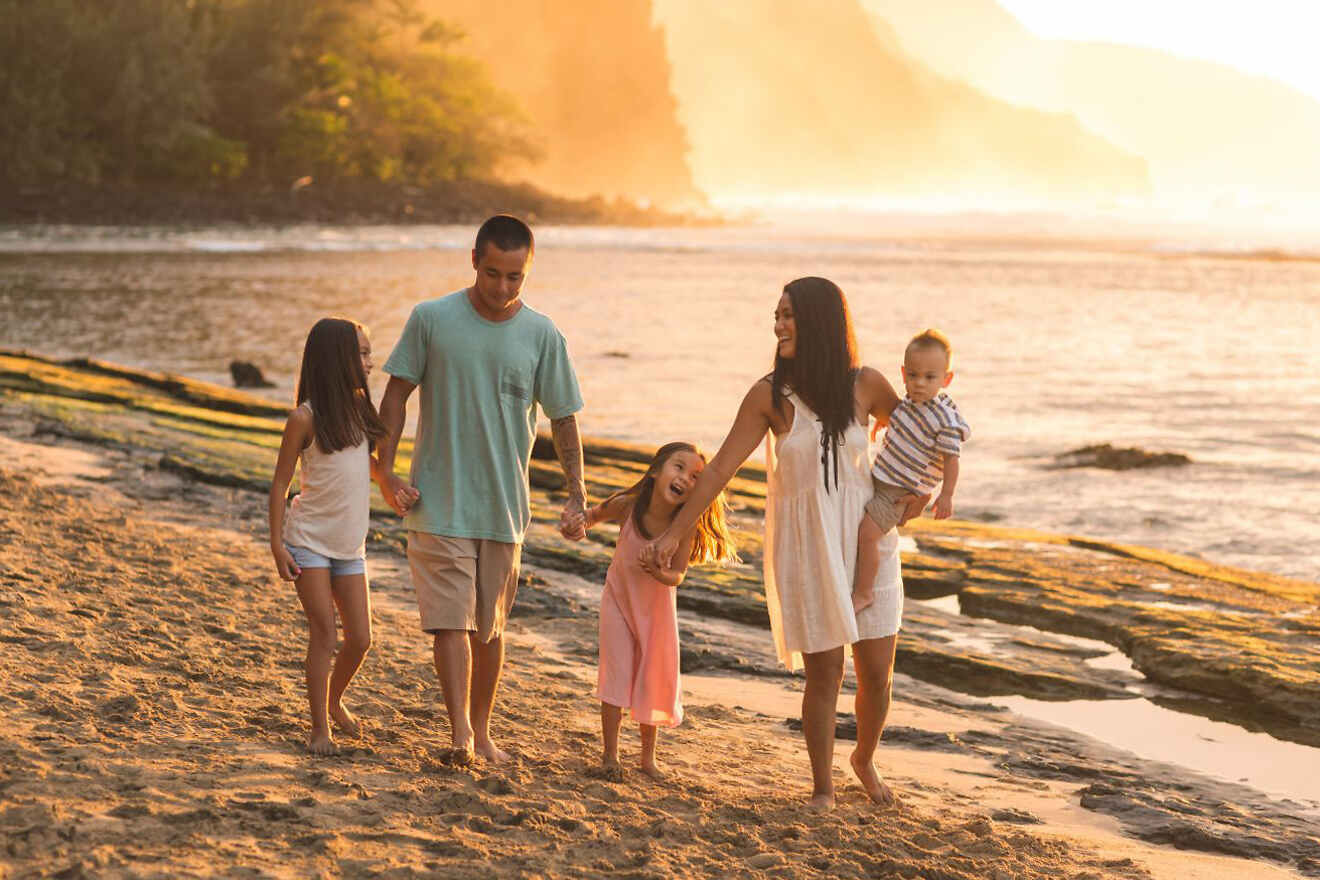 Here we are at the end of this very extensive guide about the best family hotels in Maui, including big resorts, oceanfront hotels with views of the Pacific Ocean, and budget-friendly accommodations, including also a bonus with family-friendly VRBOs on the island.
All the accommodation options we have been through offer access to family-friendly activities and amenities, so have you decided where you will stay?
If not, let me help you a little more with my 2 absolute favorites Maui resorts:
Grand Wailea Resort Hotel – This is the best family resort in Maui, offering a huge pool with jungle pools, slides, and whitewater rapids, a kids club, and big family games room
Honua Kai Resort – This family resort this has something to offer for any taste: hot tubs, multiple connecting pools and waterfalls for kids, and an adults' only pool
If you like them as much as I do, please make sure you book them immediately or at least some months in advance so you don't risk losing the spot – rooms get booked out super quickly here!
And if you have any questions for me, or you want to suggest other family hotels in Maui, please do that in the comments below. Looking forward to reading them all!
Enjoy your family vacation!
Elena
---
Pin it for later!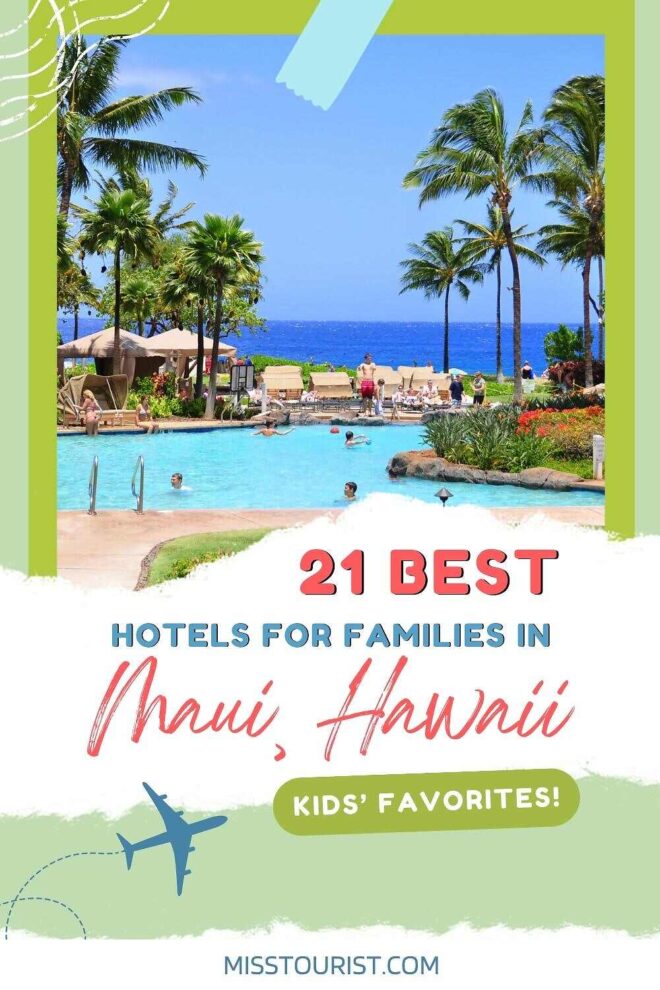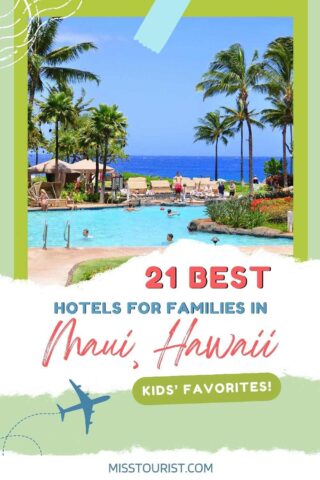 Pin it for later!