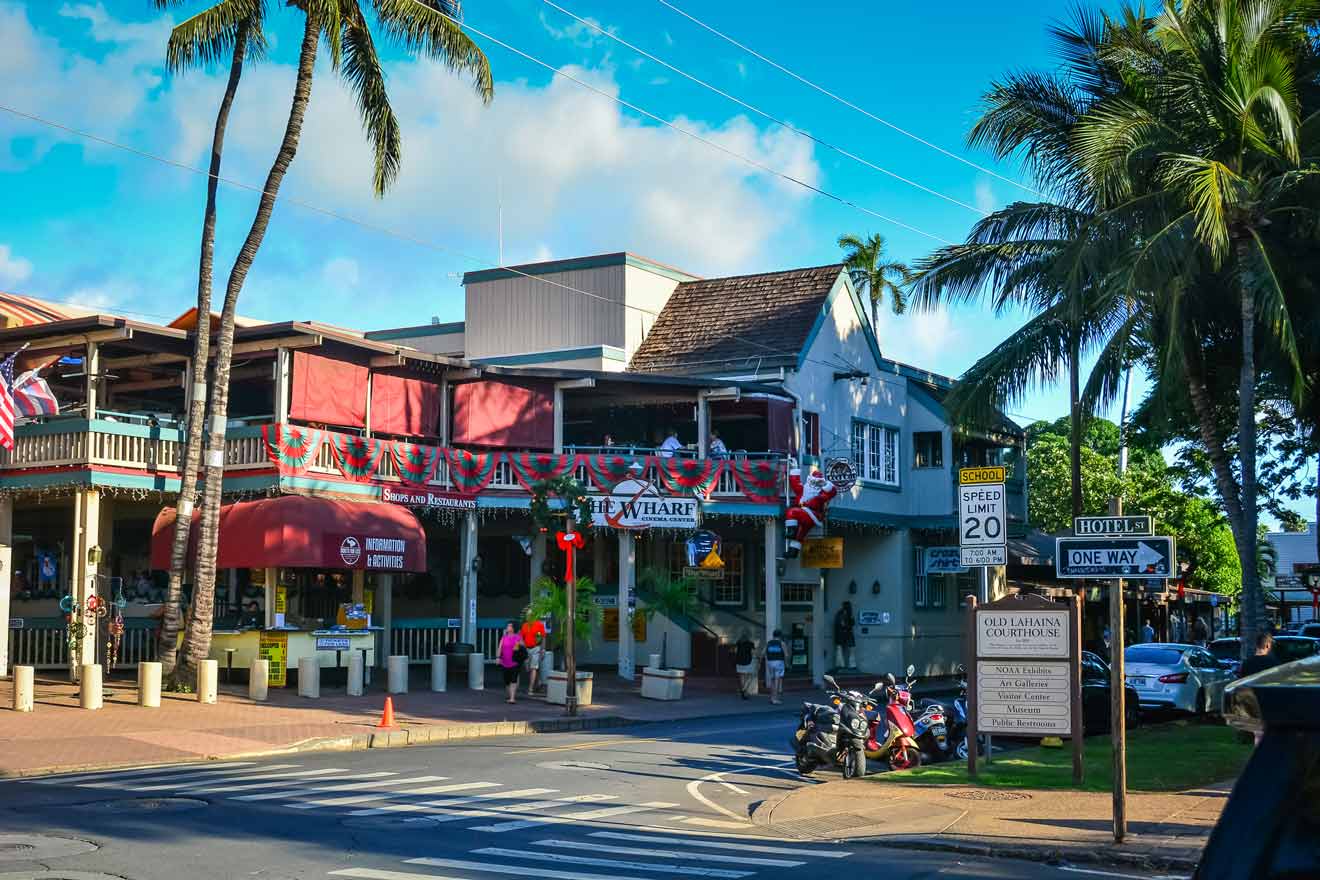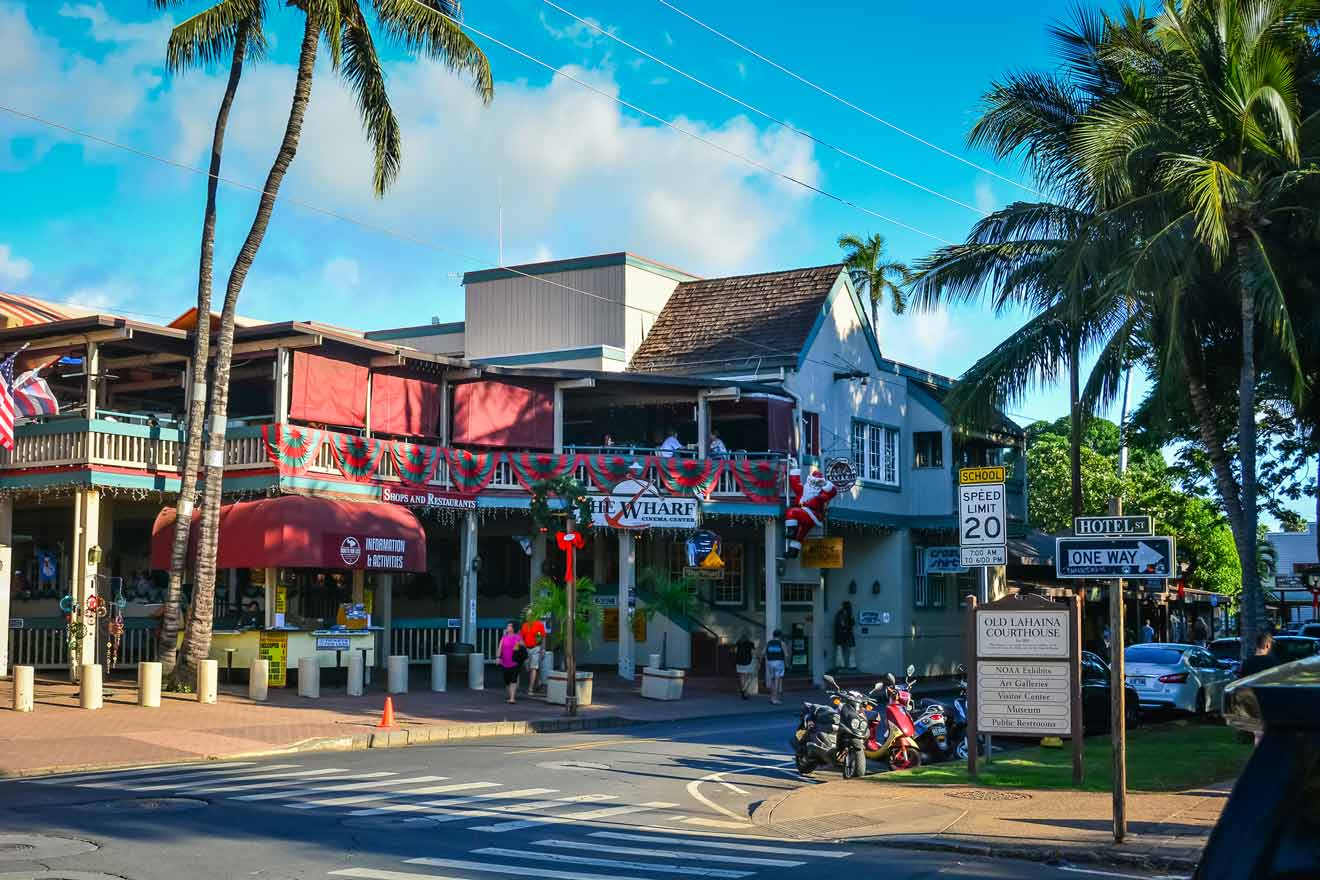 Aloha travelers!
Ready for yet another mouth-watering trip around the Hawaiian restaurants? Today we're traveling to Maui, an incredible island! In this post, you'll find a carefully curated list of the best restaurants in Maui with a view, categorized by interest and location.
This guide will help you quickly decide which restaurant to hit first, depending on your mood and what type of amazing Hawaiian view you are looking for! Whether you feel like eating some garlic noodles while admiring the stunning vistas, or Korean fried chicken, you'll find all the details in this article!
Dinners in Maui are for sure some of the most scenic ones! Dreamy sea views, a cold ocean breeze, and palm trees everywhere. Gotta love the island life!
Alright, dear foodies, let's catch this wave!
1. Best restaurants with a view in Maui for breakfast & lunch
No idea where to head for your first breakfast or lunch on the island? Then have a look at the list below, it has the best restaurants in Maui that serve not only yummy food but also offer the most scenic views!
P.S. Check out this post if you're looking for some accommodations with incredible views of the island.
Gazebo Restaurant – perfect breakfast spot by the beach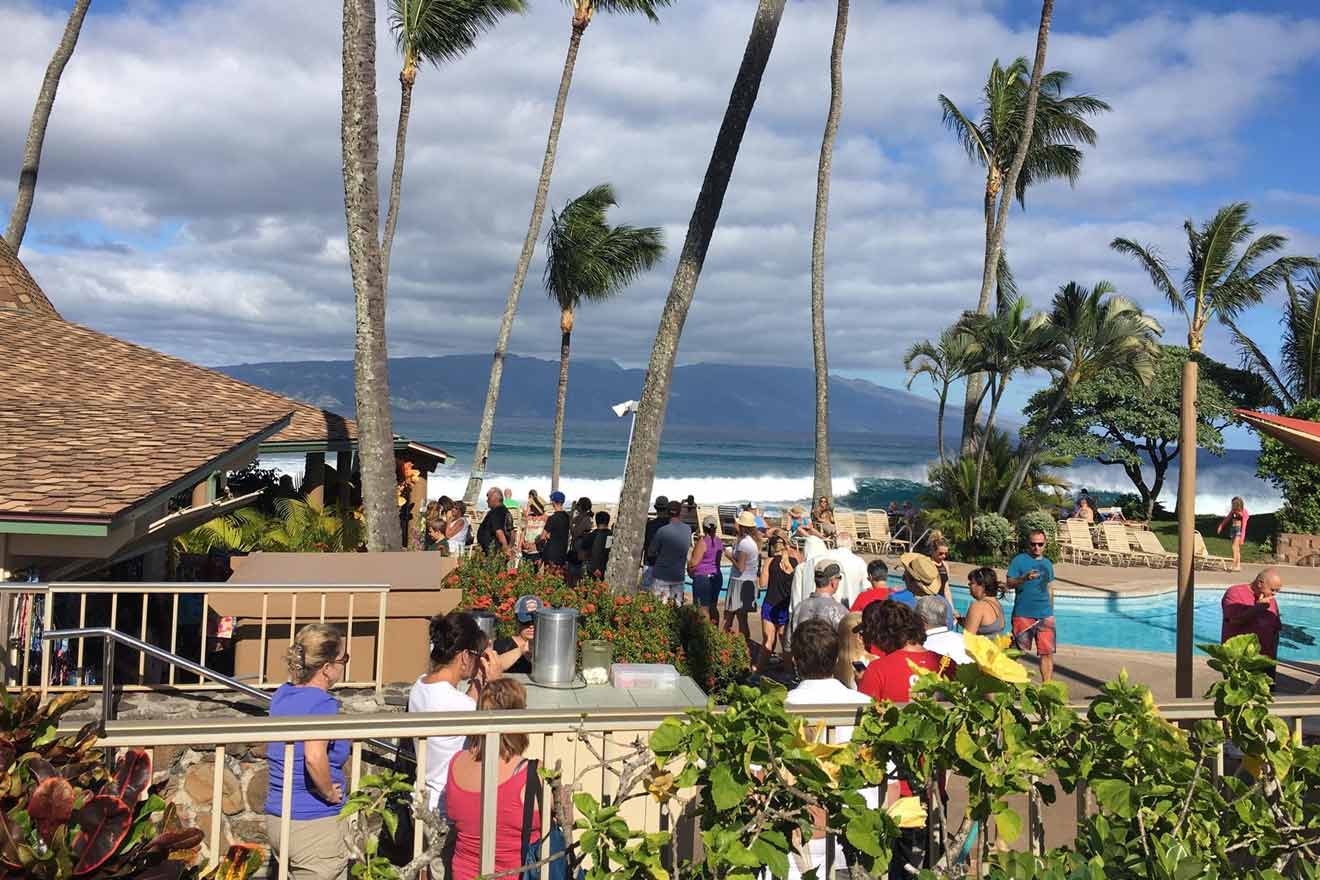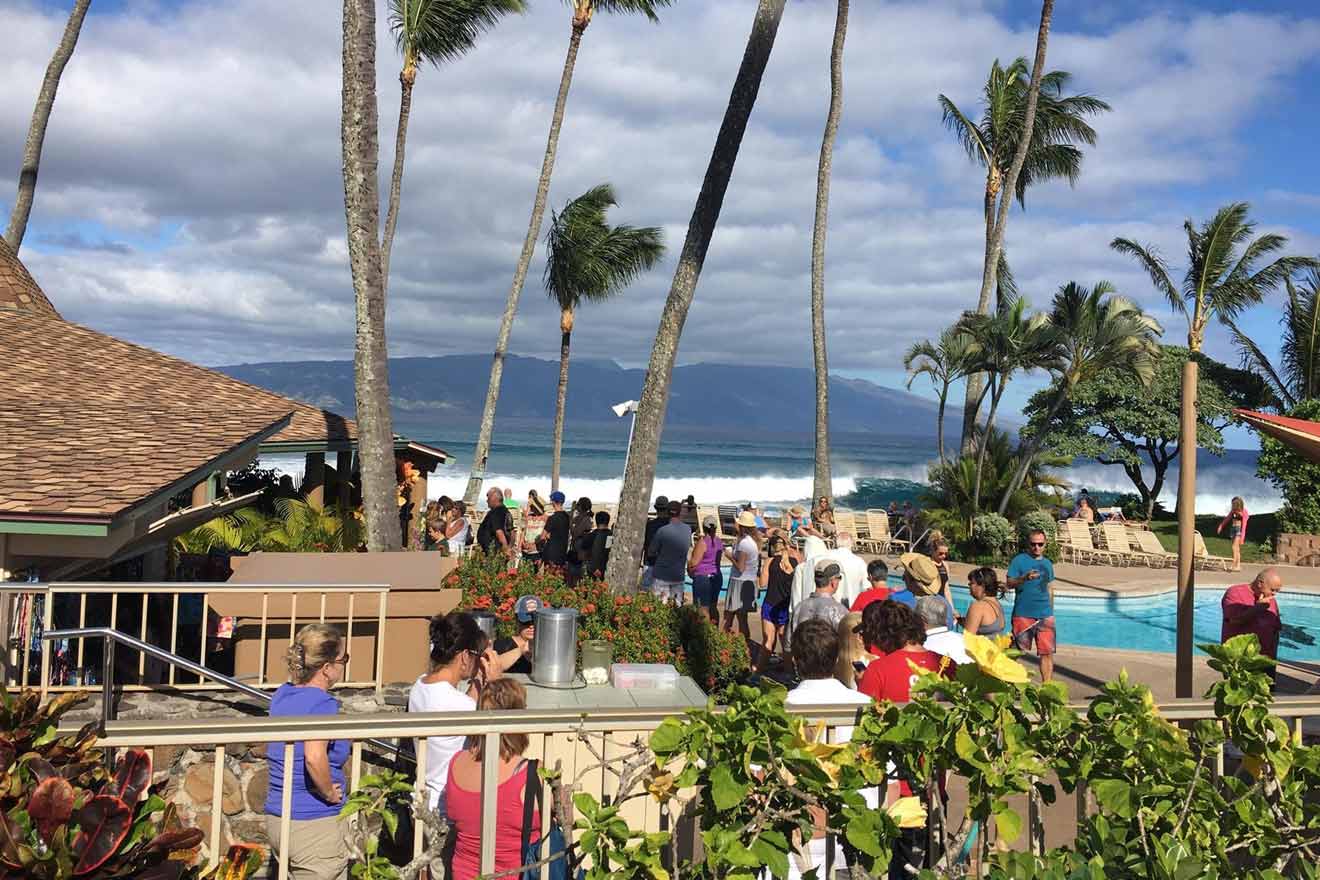 Woke up famished after your flight to Maui? Then you need a nourishing breakfast but at a place where you can admire those fabulous island sea views!
So head over to Gazebo Restaurant, one of the best restaurants in Maui, that features a scenic sight of Napili Bay, and order the breakfast fried rice, or if you're craving something sweet then go for the macadamia nut pancakes covered in coconut syrup, (am I the only one drooling over this coconut syrup?)!
Location: 5315 Lower Honoapiilani Rd, Lahaina
Tin Roof – the best take-out lunch
This Maui restaurant is living proof that you don't need a fancy place to draw tourists and locals if your food tastes heavenly and it's prepared with fresh ingredients! Have a go at all the delicious Hawaiian dishes while admiring the beautiful sea views from this adorable spot.
Bring on those island vibes! I recommend trying their customizable bowl and for sure the garlic noodles! While this one isn't exactly a restaurant, it's really close to Ka'a Point and Kanaha Beach Park. I highly recommend grabbing a meal from Tin Roof and bringing it to the park for a beautiful picnic right on the beach!
Location: 360 Papa Pl Ste 116, Kahului
Nalu's South Shore Grill – best french toast on the island
In the mood for something sweet this morning? There's nothing like the cornflake-crusted french toast (made with Hawaiian sweet bread) to calm your cravings!
Enjoy your breakfast on the terrace among the tropical treetops which are so close that you'll feel as if they're sharing your table! Now that's a view that I like! Other yummy dishes that you can try here are the eggs benedict, pancakes, fruit plates, or the colorful acai bowls!
Location: 1280 S Kihei Rd, Kihei
2. Best restaurants to eat traditional food in Maui
Hawaiian food is so delicious that you won't stop having it during your holiday in Maui! And what better way to enjoy a yummy meal than with a backdrop of the island's beautiful scenery. Find below the best spots to eat traditional food in Maui.
Duke's Beach House – authentic Hawaiian restaurant
Fabulous ocean views, stunning Hawaiian decor with tiki torches, and food that will leave you coming back for more! This place is a sister restaurant of Hula Grill (read about it next), and its seafood is to die for!
But have a go at their Hula pie with thick chocolate sauce, macadamia nuts, and cookie crust! I love the island vibes at this open-air beach eatery, and I'm sure you will too!
Location: 130 Kai Malina Pkwy, Lahaina
Hula Grill – Hawaiian dishes made with local ingredients
Who doesn't love eating at a restaurant that serves fresh local ingredients? I'm a big fan of that, and that's why Hula Grill (also known as the barefoot bar) is one of my favorite restaurants in Maui with a view!
Located within walking distance of Kaanapali beach, this spot serves incredible dishes like fish tacos, coconut calamari, and fried chicken! While waiting for the food, dip your feet into the sand and look at their dessert menu. Their macadamia nut ice cream and hula pie with whipped cream is unbelievable!
Location: 2435 Kaanapali Pkwy, Lahaina
Lahaina Grill – an award-winning restaurant for fine dining
Fancy a delicious dinner while admiring some incredible art? This is one of the best restaurants for fine dining on the island, and it's not only the food that brings people here but also the stunning ocean views!
The award-winning restaurant features both outdoor and indoor seating and serves unique dishes like Kona coffee roasted colorado rack of lamb and Wagyu beef ravioli!
Location: 127 Lahainaluna Rd, Lahaina
Leilani's on the Beach – great spot for a family outing
Brought the whole crew to the beautiful Maui island? Not a problem, there are many family-friendly restaurants here that serve large portions and yummy food that will satisfy even the pickiest person!
Once you've finished your beach day, come here for a yummy dinner or lunch! The restaurant has indoor and outdoor seating and serves yummy dishes like Kalua pork tacos and fish tacos. Definitely pick the 2nd option so you can truly enjoy the island life and admire the sea vistas!
Location: 2435 Kaanapali Pkwy, Lahaina
Hui Hui – for a fun night out on the island
Ready to listen to some good old live music and see some hula dances? All this while sitting right near the sea and feeling that ocean breeze… I'm sold!
The restaurant offers the most delicious steamed lobster dumplings and crispy fried pork belly. Accompany your meal with one of the colorful cocktails or with a glass of wine, and definitely check out their dessert menu. It's going to be a long night!
Location: 2525 Kaanapali Pkwy, Kaanapali
3. Where to eat the best seafood
I guess seafood holds a special space in many people's hearts but trust me, it tastes so much better when you eat it super fresh and directly from the source! Here are some great Maui restaurants (all with a view of course) that serve the best seafood!
Mama's Fish House – top dining experience in Maui
This restaurant on the beach has to be your first stop on the island! Mama's Fish House is super popular because of their yummy food, but the location is also incredible!
Admire a dreamy island sunset by the beach while indulging in some fresh fish and drinking a cocktail. Their menu is seasonal, which can only assure that the food is fresh and healthy!
Location: 799 Poho Pl, Paia
Kimo's – great seafood spot with harbor views
What better place to eat seafood than by the sea? I find that it just tastes so much better! This terrace offers a beautiful backdrop of the sea and yummy seasonal dishes that taste amazing!
Whether you're coming in the morning or during the golden hour to catch the sun setting peacefully into the ocean, you'll experience a charming atmosphere! Fish tacos, prime ribs, and of course the delicious Hula pie will drive your taste buds crazy!
Location: 845 Front St, Lahaina
Gannon's – for a delicious dinner after golfing
Finished your golf outing, and you're feeling famished? Then head over to one of the best restaurants in Maui, which offers incredible sea and island views, especially during golden hour! So beautiful!
Located right near Emerald Golf Course, the restaurant provides all-inclusive dinners with options from seafood to short ribs. If you're coming at lunch, you can order the shared plates or their appetizers menu with Kalua pig spring rolls and crab mussels!
Location: 100 Wailea Golf Club Dr, Kihei
Ka'ana Kitchen – the perfect place for a sunset meal
Get all dressed up and head to this fantastic Maui restaurant just before sunset to enjoy a delicious dinner and views as you've never seen before!
Ka'ana Kitchen uses fresh ingredients to make the most unique meals! Indulge in the grilled octopus salad or ask about the day's fresh catch! Definitely order a drink and admire those scenic views!
Location: 3550 Wailea Alanui Dr, Wailea
Sea House – beachfront restaurant with Pacific Rim cuisine
Take a break from swimming and sunbathing and come to treat your taste buds to a delicious lunch! Sea House restaurant serves everything from burgers and sandwiches to excellent appetizers like the seared ahi tuna (yummy)!
Order something to drink and enjoy the sound of the waves crashing on the shore!
Location: 5900 Lower Honoapiilani Rd
Japengo – beachfront award-winning restaurant
Sushi, pork buns, and delicious duck meatballs! That's only a hint of what's waiting for you at this award-winning beachfront restaurant! Perfect for romantic dinners at sunset, this place offers a beautiful backdrop of the island and ocean!
Offering Pacific Rim fusion dishes, the restaurant has become so popular that you'll need a reservation before coming here. So definitely call them up before coming!
Location: 200 Nohea Kai Dr, Lahaina
4. Best Asian restaurants in Maui
Given its location, there's no surprise that you will find a decent selection of delicious Asian food in Hawaii. So if you are looking for a flavor that is a little bit different from typical American or Hawaii cuisine, check out these amazing restaurants with a view!
Star Noodle – for a rich dinner after exploring the island
Ready to try some fantastic Asian dishes after a full day of exploring beautiful Maui? Indeed, there's nothing more satisfying than eating a rich meal after walking for hours! Especially with an ocean view like this one!
What's it going to be today? Garlic noodles, a fried soup, or the pork buns? Whatever you choose, make sure you close with their homemade ice cream! Star Noodle is located on Front Street and is the sister restaurant of Aloha Mixed Plate (which has now unfortunately permanently closed).
Location: 1285 Front Street, Lahaina
Morimoto Maui – for a delicious Asian dinner with a view
The perfect place to have some yummy sushi at sunset! This upscale restaurant has a gorgeous terrace where you can admire those dramatic Pacific Ocean views!
Make sure you make a reservation and say you'd like the outdoor seating since everyone wants to come here! Enjoy that ocean breeze and your fresh sushi, or go for the chef's tasting menu if you feel like trying something new!
Location: 3550 Wailea Alanui Dr, Wailea
Humuhumunukunukuapua'a – fancy dinner by the ocean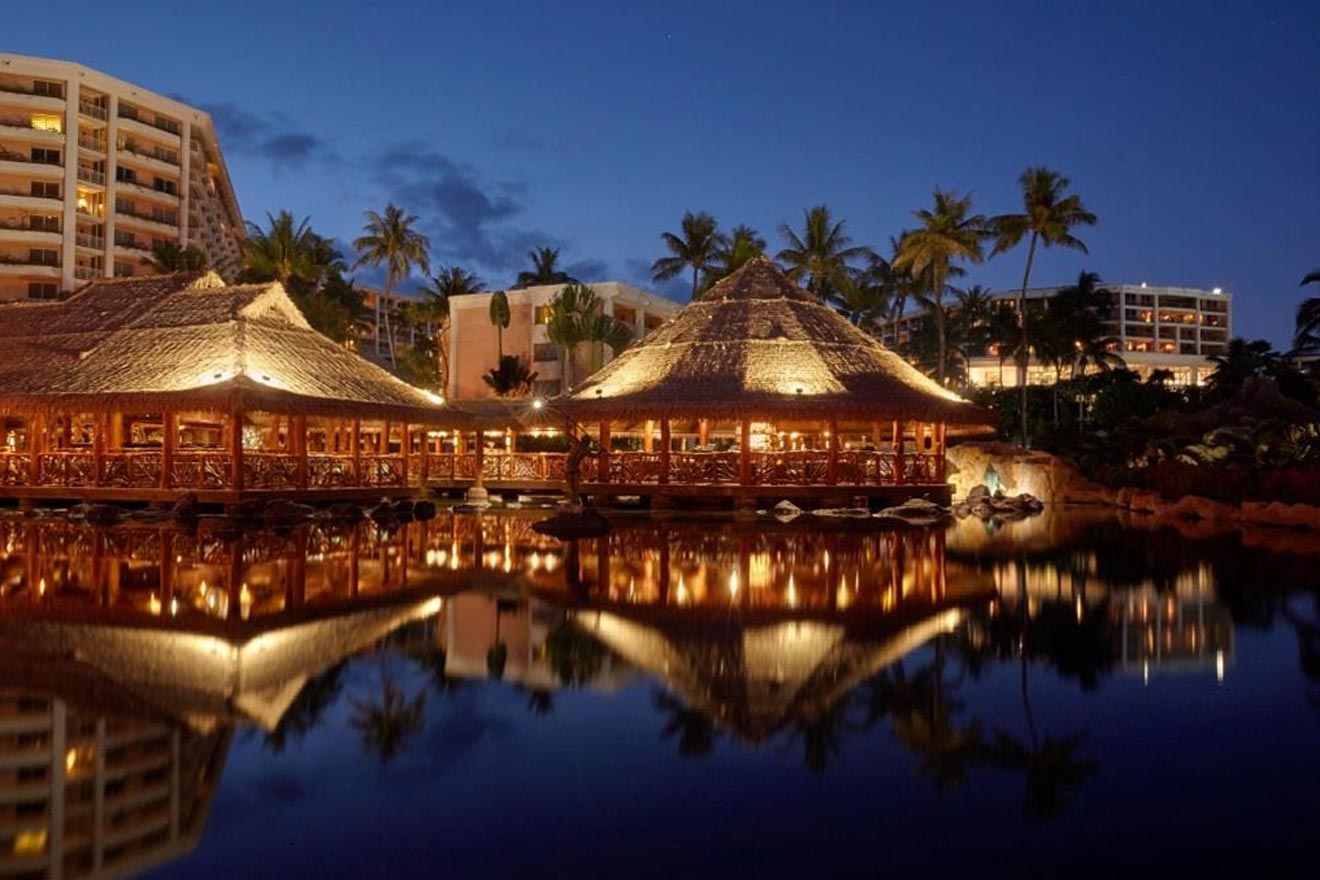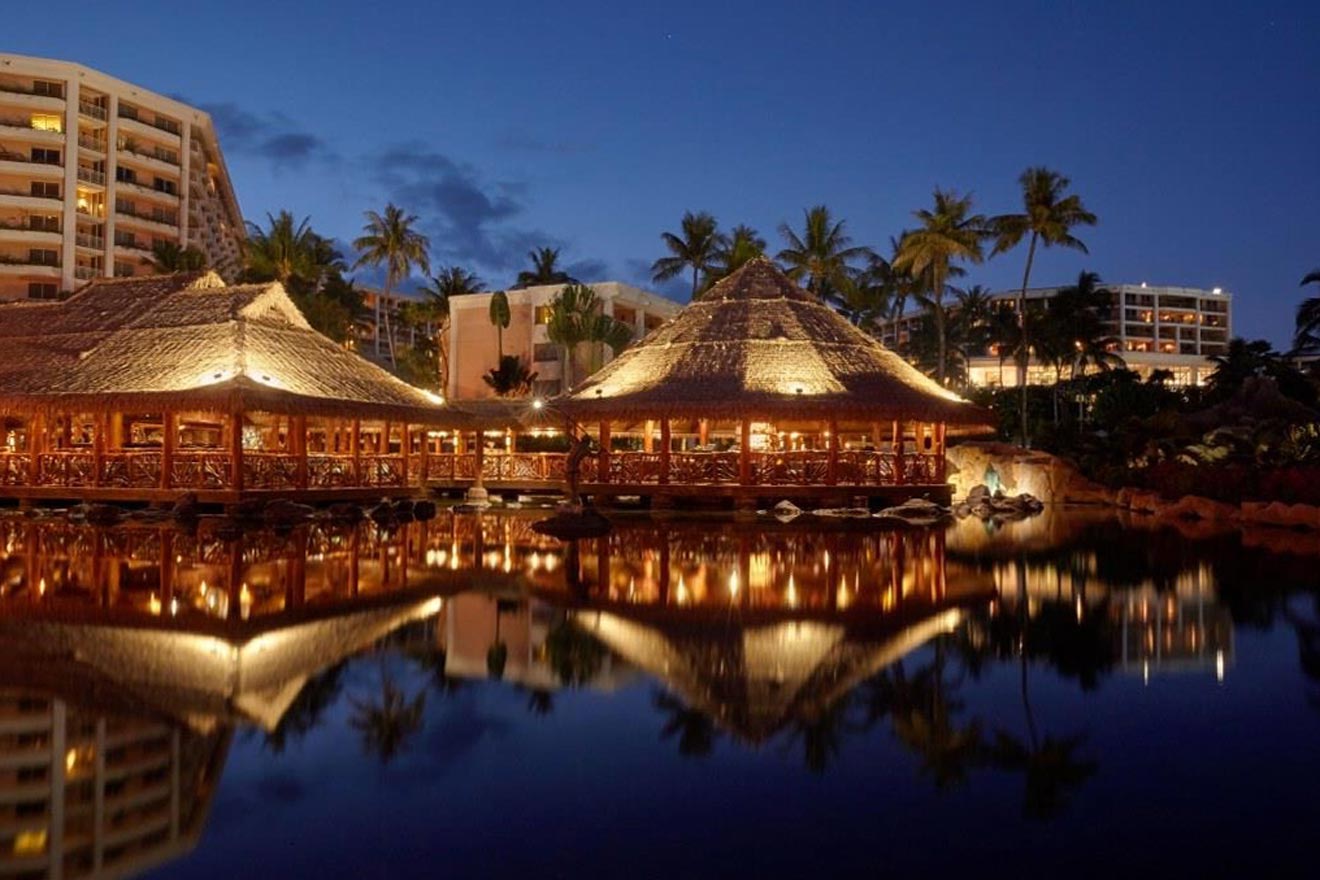 Try pronouncing this one's name 5x fast… A rather special name for a unique place! This Maui restaurant near Wailea Beach has such a great design and the sea views are simply incredible.
Enjoy a night of fantastic food and definitely try the "catch of the day" with macadamia nut if you're up for something new! End your night with some cocktails while listening to their live music and admiring the fabulous vistas! I love these island vibes!
Location: 3850 Wailea Alanui Dr, Wailea
If you're spending a long time in Maui, you might want to try something different apart from all the delicious Hawaiian and Asian food. If that's the case, don't worry, there are plenty of places that serve Italian, French, or typical American dishes, here's a list of the top ones:
Merriman's – oceanfront restaurant that serves farm-to-table food
Gotta love the island life, especially when you get to eat at some of the most amazing restaurants with incredible sea views! Serving farm-to-table dishes, Merriman's is a popular spot that plays live music and is set on the edge of the point in Kapalua Bay.
Make sure you try their macadamia-crusted fresh catch and the Waialua chocolate lava cake!
Location: One Bay Club Place, Lahaina
The Restaurant at Hotel Wailea – cool restaurant with a global menu
Need a break from Hawaiian or Asian food? Then you've come to the right place! This restaurant serves Italian, French, and American flavors! But they also serve Asian and Hawaiian food for those of you who still want to try dishes like the Kona lobster.
The lush views of the treetops will make you feel as if you're sitting right in the jungle! Come here for an early dinner or lunch and order the delicious Prime New York Steak!
Location: 555 Kaukahi St, Wailea
Banyan Tree – for a fun meal with your friends
Start with the umami salad or tuna tartare and then continue with the main course. I recommend the garlic glazed beef short ribs, accompanied by a glass of wine, and to enjoy your dinner while admiring the ocean views.
Then move the party up to the fire pits where you guys can relax, wind up and spend a fun night at this great restaurant in Maui!
Location: 1 Ritz Carlton Dr, Lahaina
Ferraro's Bar E Ristorante – for a romantic dinner near the sea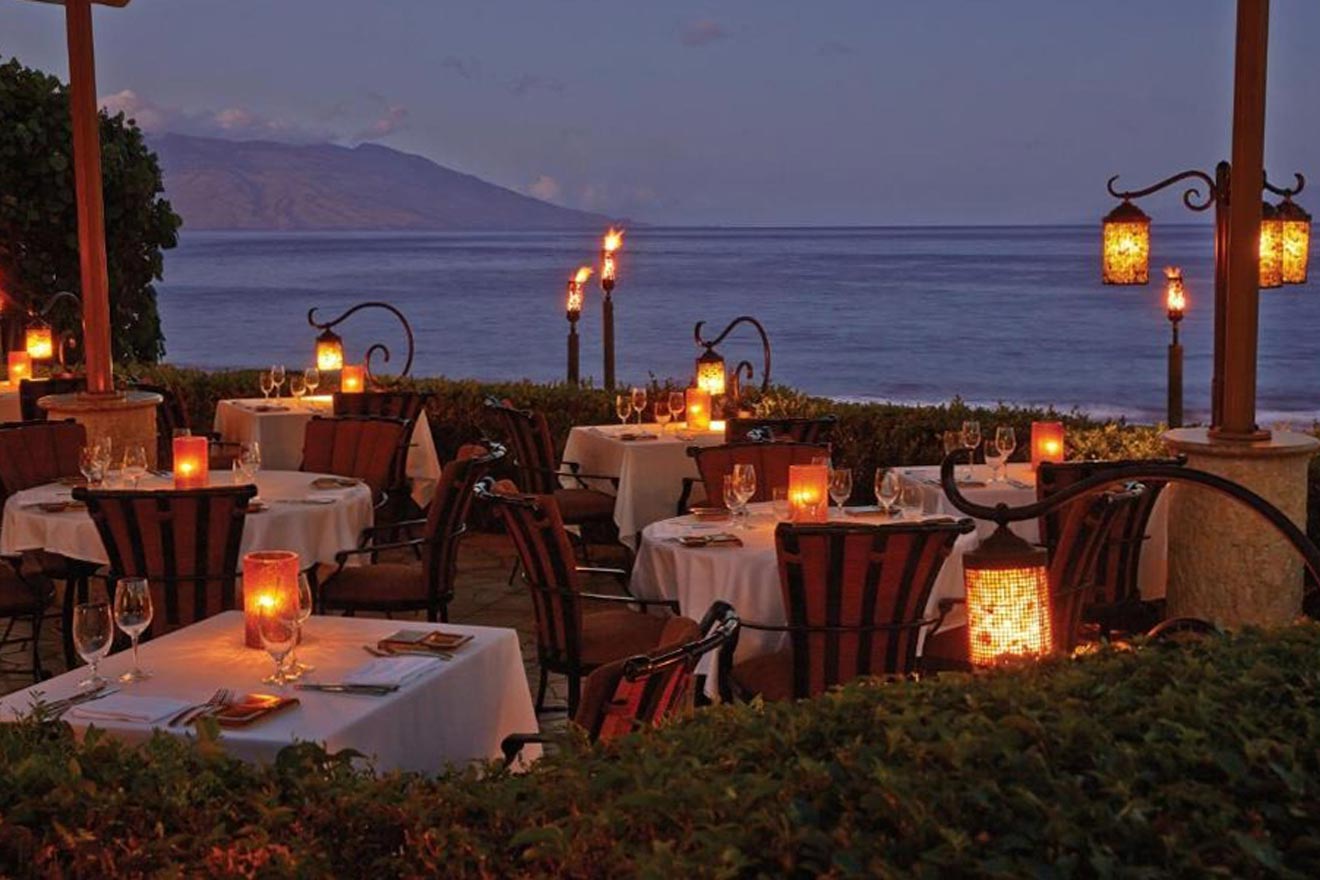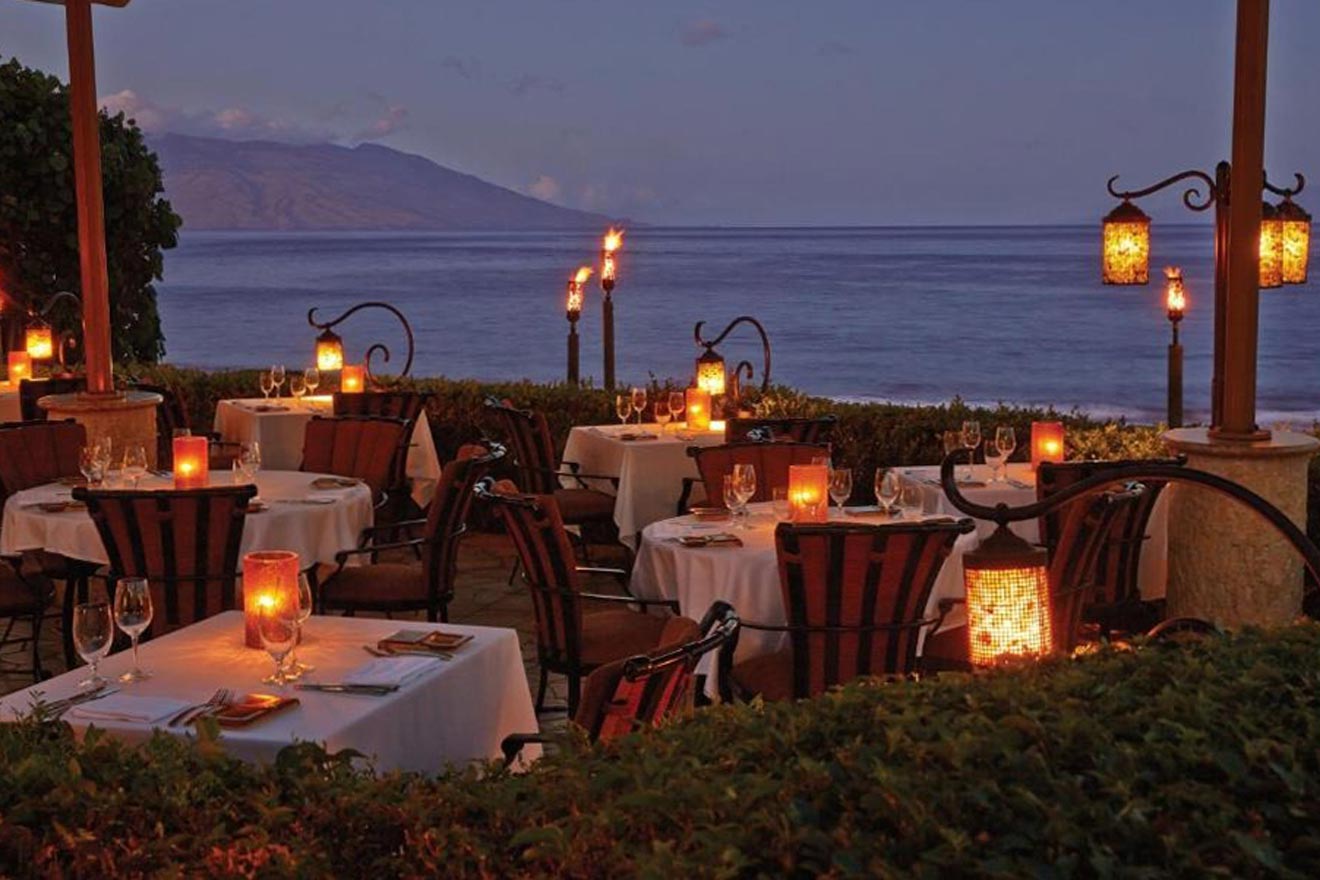 There's something about seaside restaurants. They scream romance! Add some Italian food, a wine list, and live music to that, and you've got yourself the perfect date! Located in Four Seasons Resort Maui, this restaurant looks so dreamy!
Especially at night, right when they turn on the fairy lights! Set in South Maui, the restaurant also offers the classics: gnocchi with lobster, and pizzas, but also a wellness menu with vegan and vegetarian options.
Location: 3900 Wailea Alanui Dr, Kihei
Monkeypod Kitchen – diverse menu with lots of cocktails
Not sure what to eat today? We've all been there! If you're feeling extra indecisive today, then head over to one of my favorite restaurants in Maui with outdoor dining! Featuring stunning sea views, this place has a super diversified menu!
Maybe you're in the mood for burgers and french fries, steak plates, or maybe some homemade cream pies? Don't worry, you'll have to choose from where! Plus, their cocktail menu is just wow. You'll definitely want a drink or two!
Location: 2435 Kaanapali Pkwy
Frequently asked questions about restaurants in Maui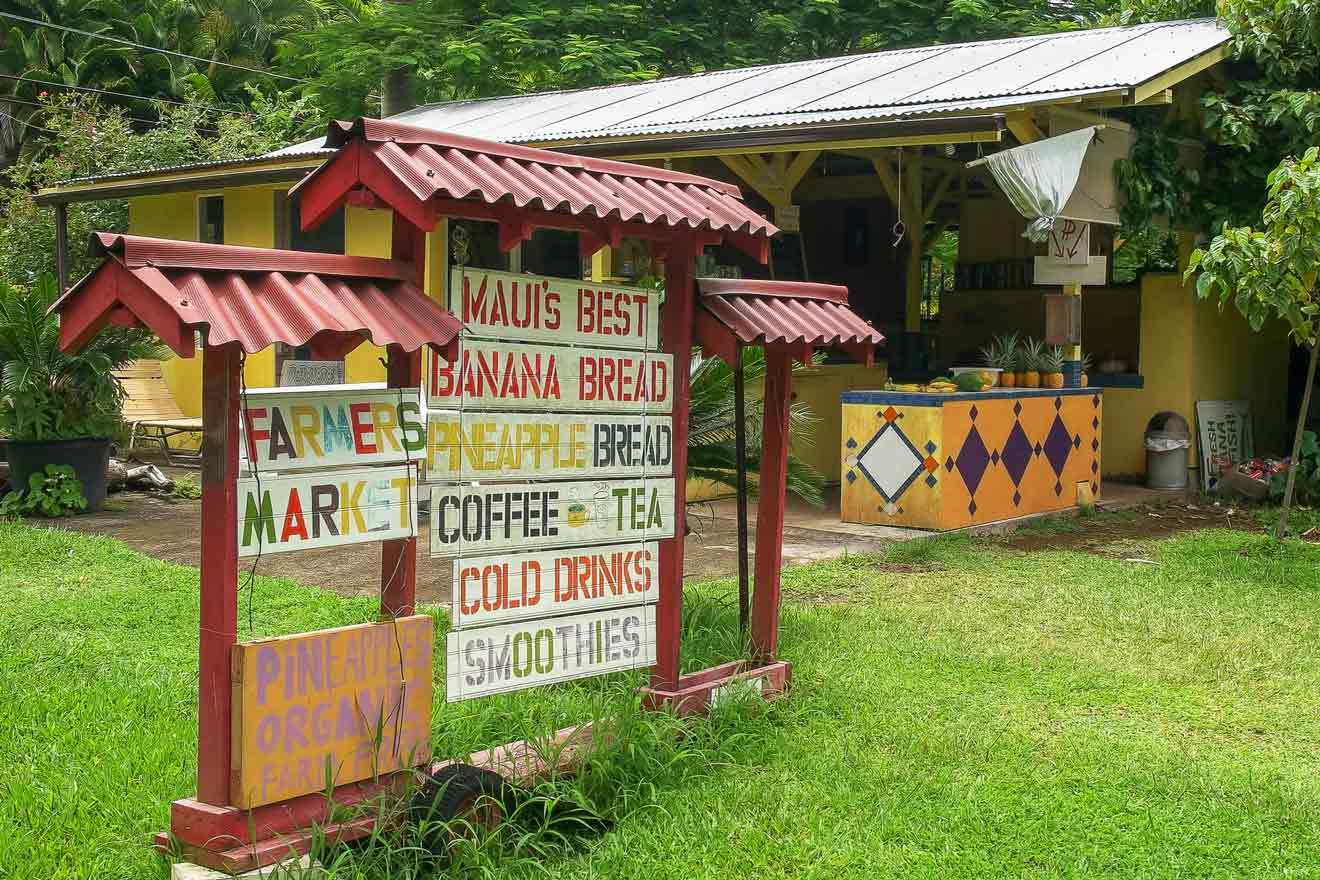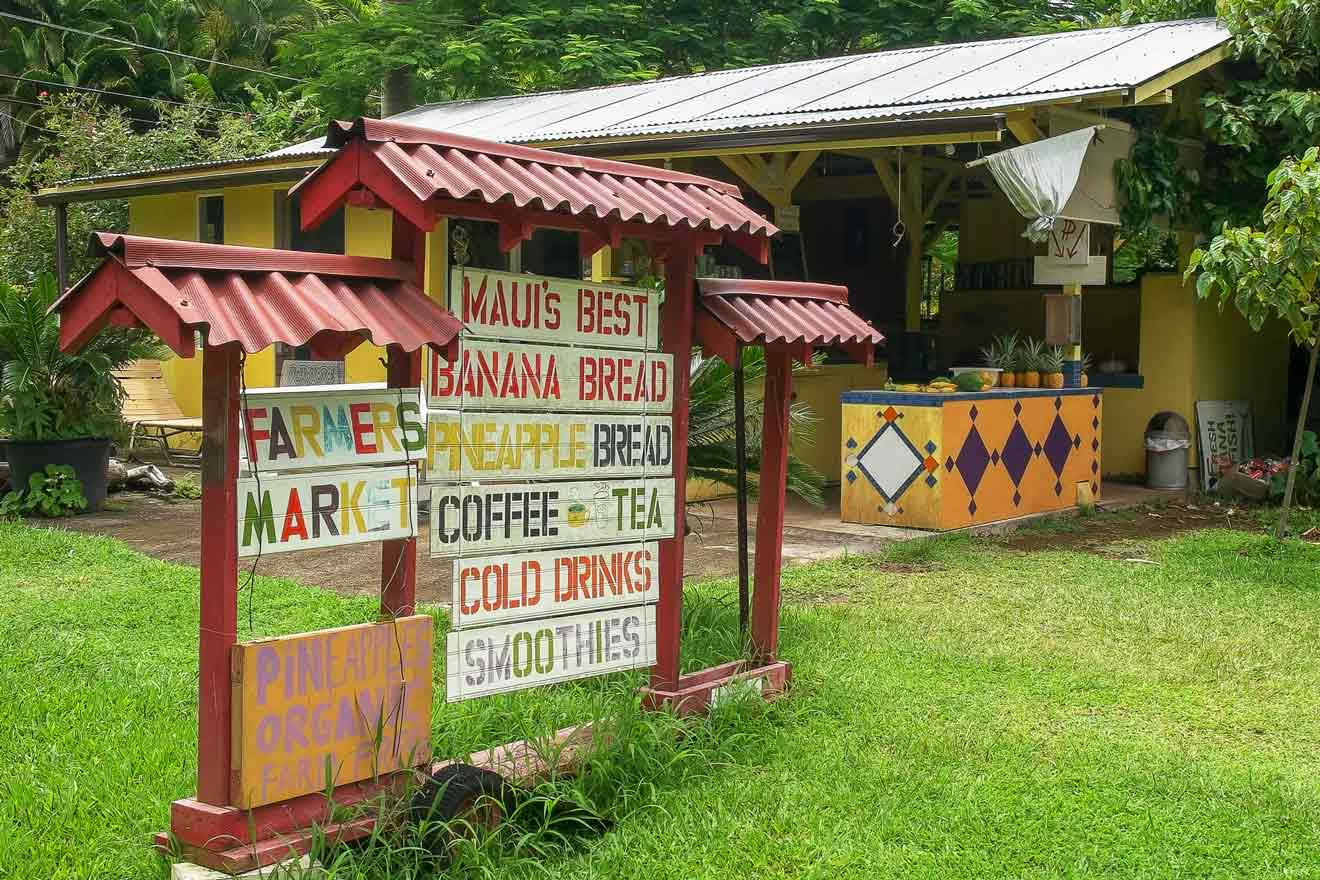 🤔 Where do Maui locals eat?
🦐 What food is popular in Maui?
Spam, loco moco, fresh fish, poke, pie, pork buns, and plate lunches are some of the most popular meals in Maui! 
🏝️ What is the best month to go to Maui, Hawaii?
The best time to visit Maui is April – May, or August – October. That's when you'll find great weather and fair prices. 
☎️ Do I need to make reservations for dinner in Maui?
Conclusion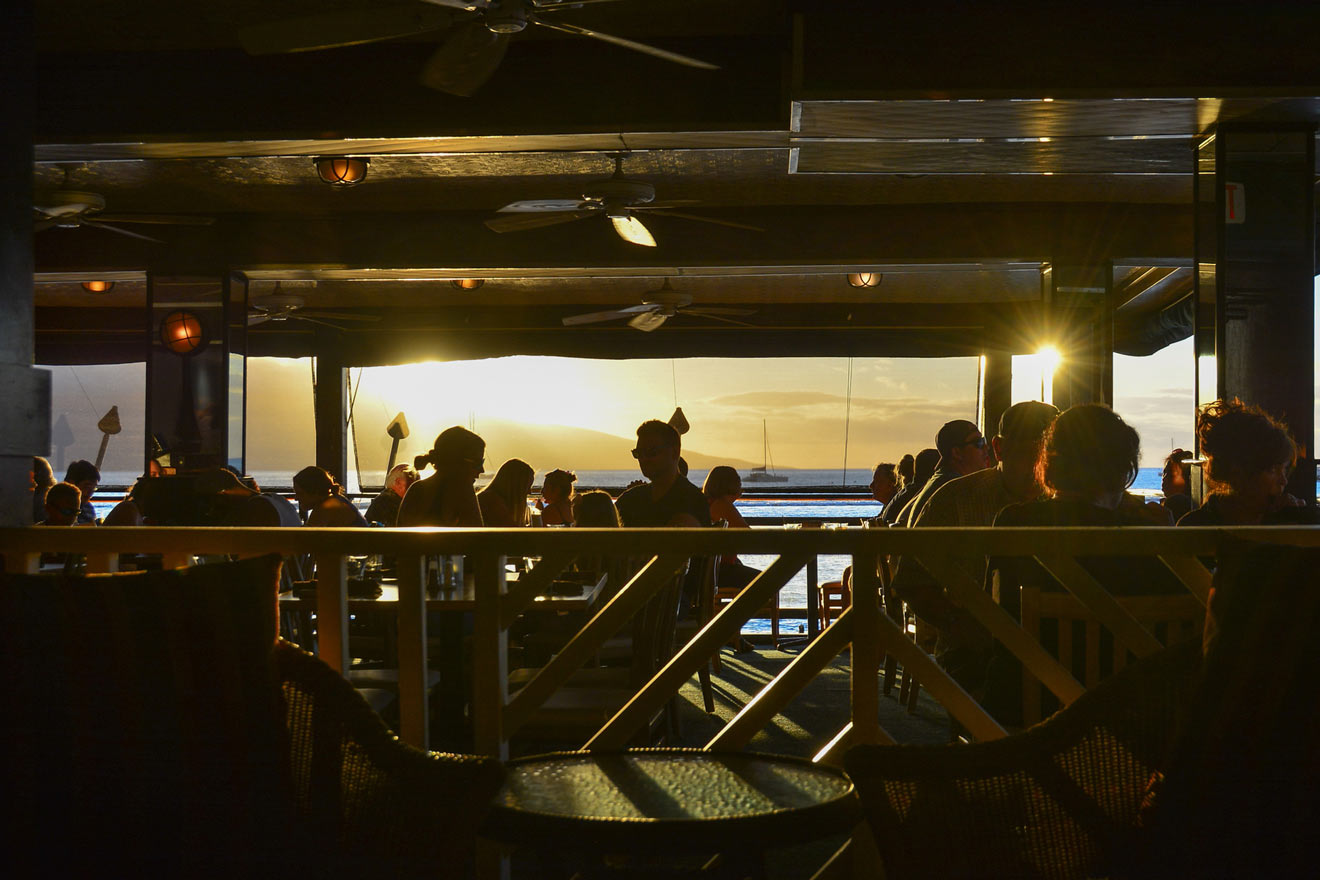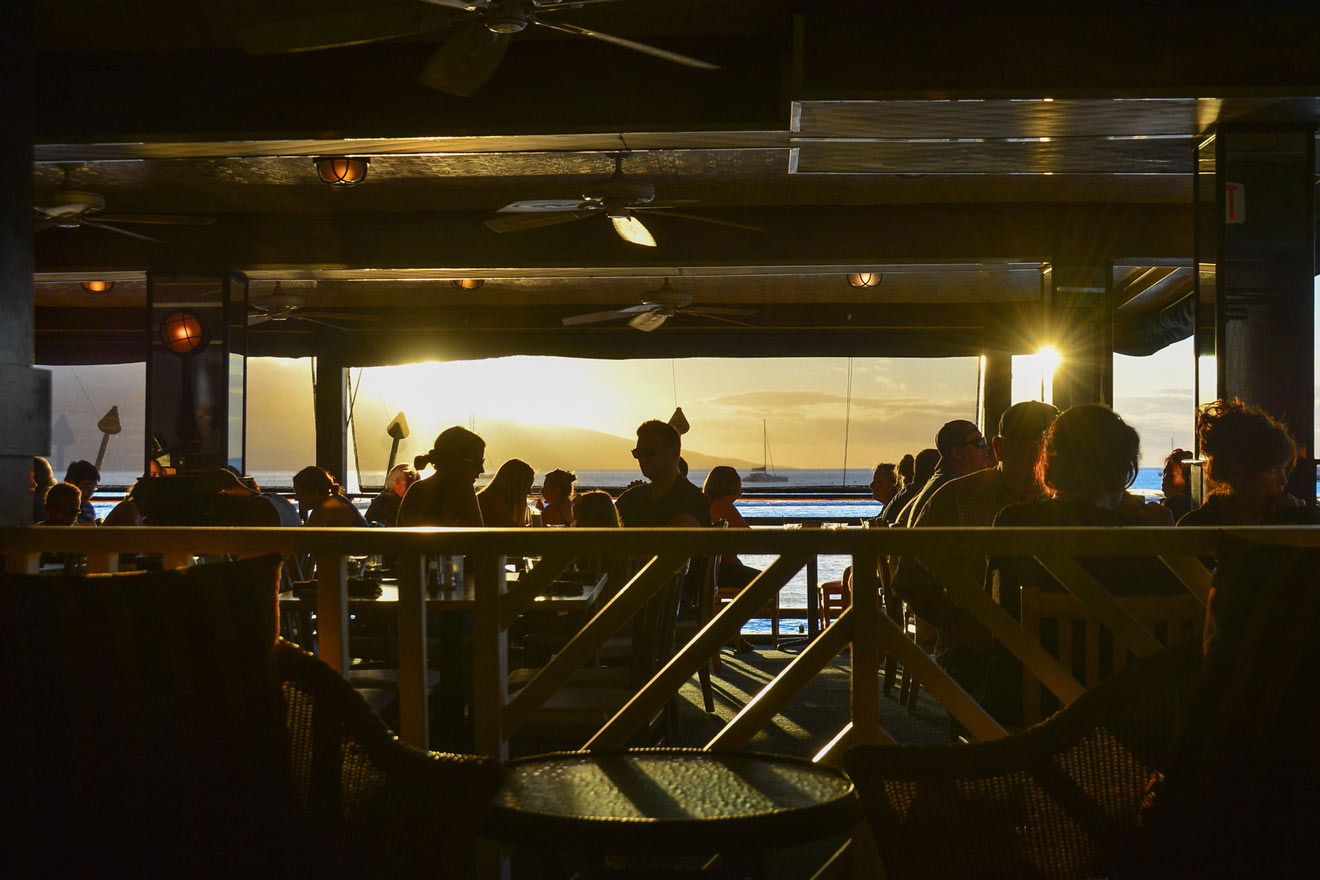 I don't even want to say how many times I grabbed a snack while writing this post with the best restaurants in Maui with a view… I just hope I'm not the only one!
All these places to eat in Maui offer incredible vistas and yummy food! I'm confident that you'll know which place to hit first after you've read this! To help you decide quicker, I've categorized the restaurants by interest, so you'll know where to go, whether you're craving a delicious Kahua ranch lamb or a mac salad, and also added the location.
And hey, if you have any other suggestions of great restaurants in Maui with a view, leave me a comment below, and I'll answer it as quickly as possible.
This is where we part ways! But don't worry, we'll meet soon enough! Until then, enjoy trying all these Hawaiian dishes!
Have a fun trip,
Victoria
---
Pin it for later!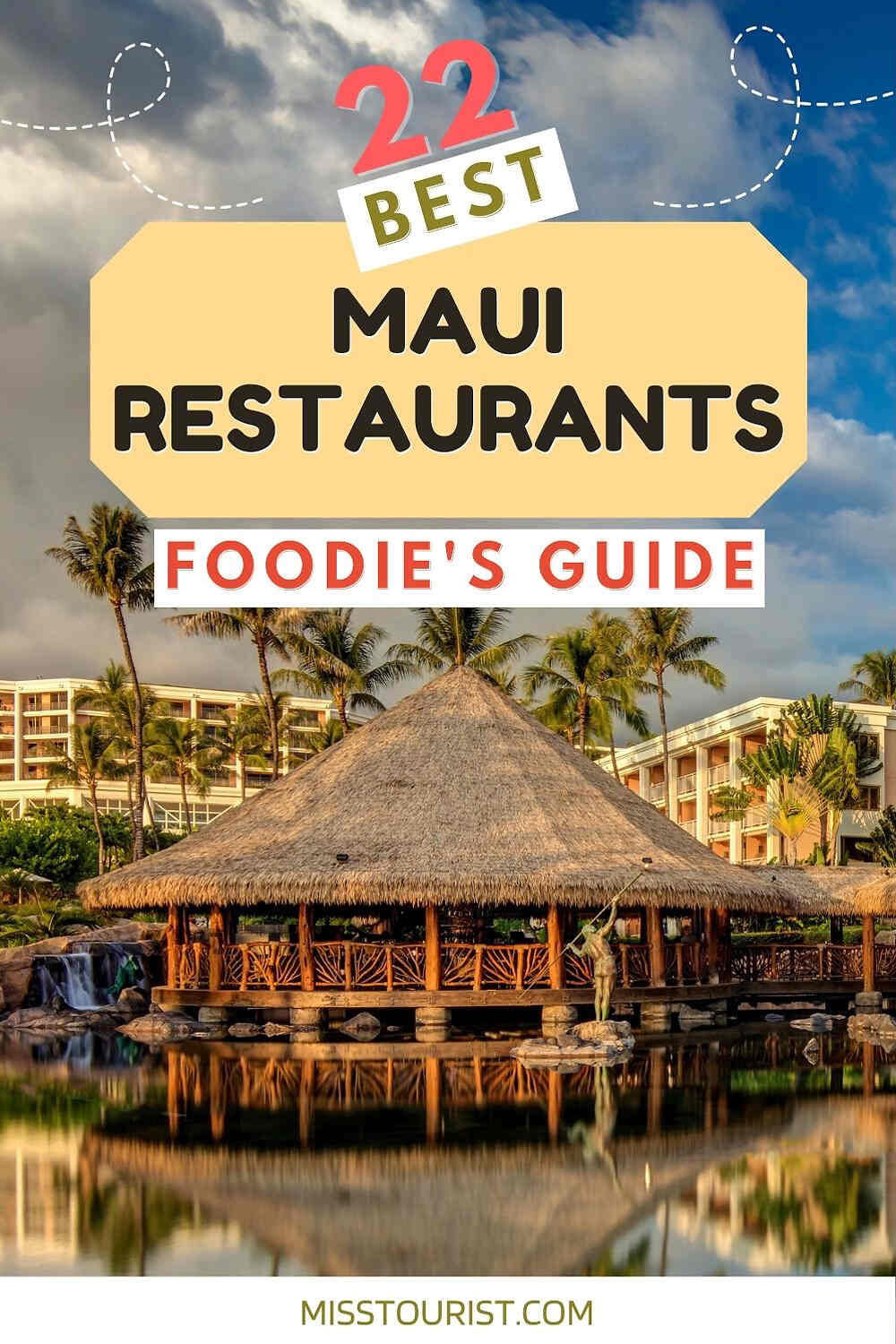 Pin it for later!