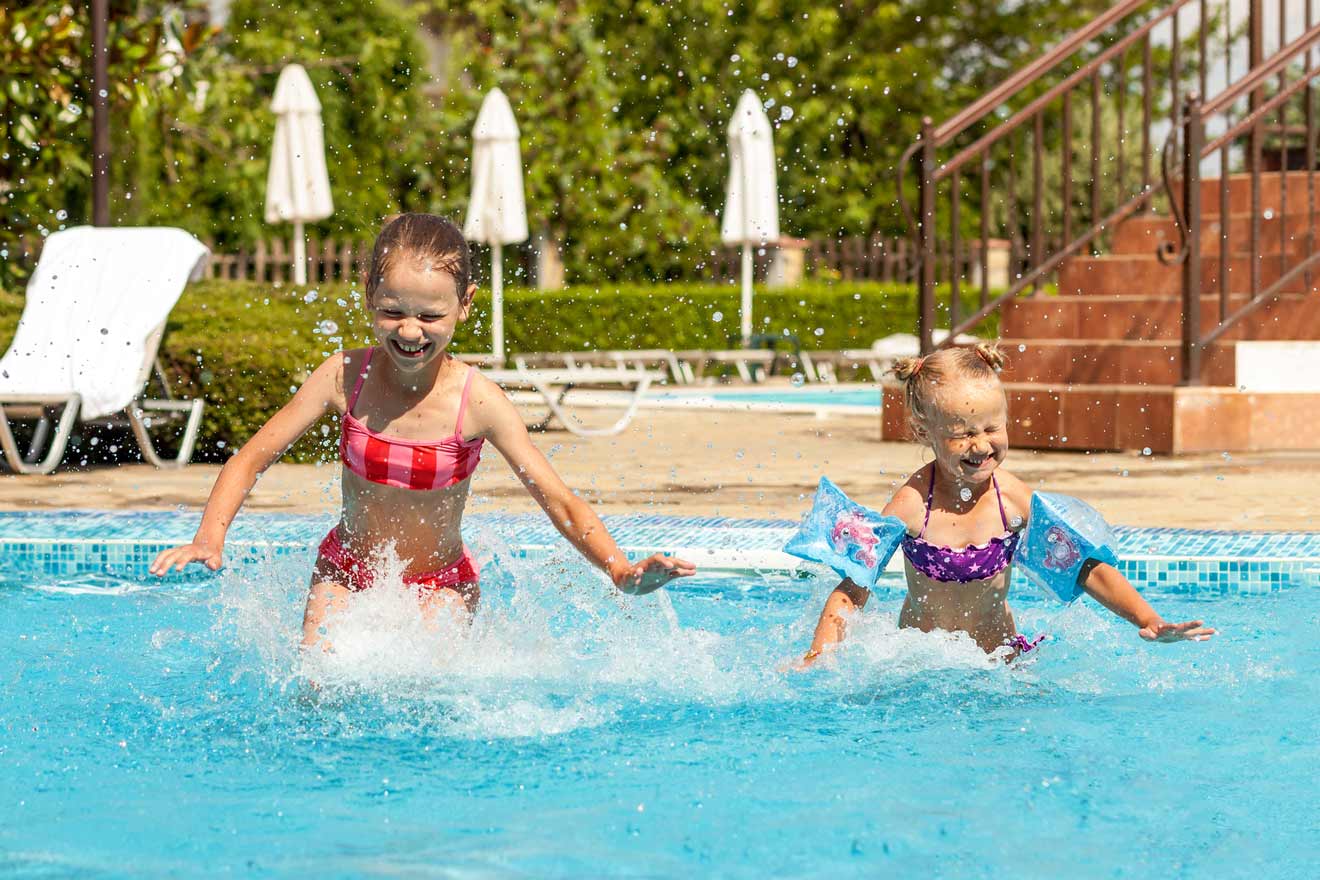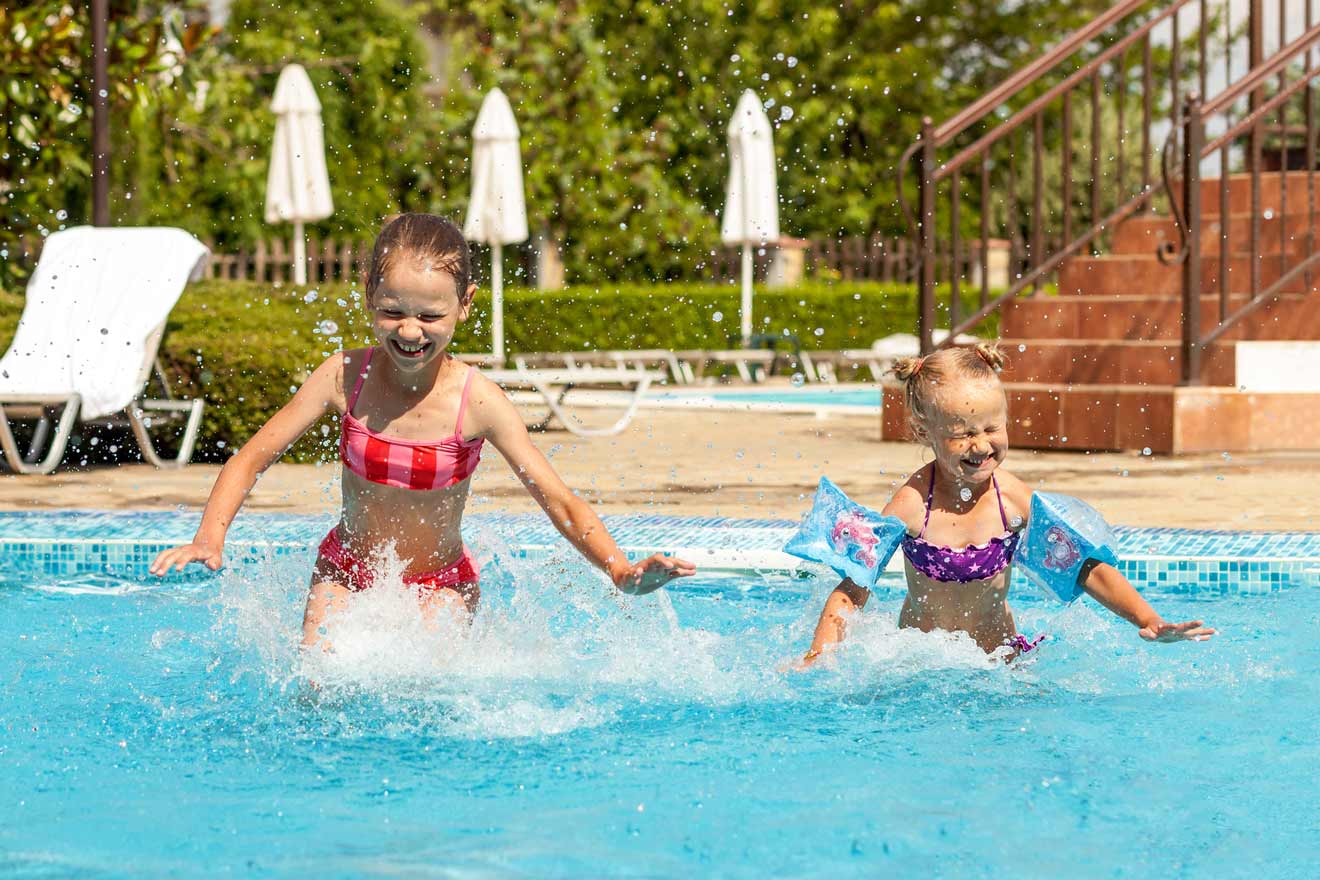 Planning the ultimate family trip to Hawaii? Then you've hopped onto the right page! These dreamy, tropical islands are so unique that it will take time to decide which resorts to pick, but I'm here to help you with that!
In this post, you'll find the best all-inclusive family resorts in Hawaii, listed from most to least expensive, plus a bonus section with some fantastic resorts on the beach!
NOTE: It's important to know that Hawaii doesn't actually have any typical all-inclusive resorts where you pay one large sum and everything is included. This is because tourists are encouraged to explore outside of their accommodation. However, the beautiful resorts you'll find in this post offer all the facilities that you'd expect from classic all-inclusive family vacation packages like spas and restaurants, except that you'll just pay for what you use. 
You can always leave me a comment below if you need more info. I'll be happy to help you out! But for now, all that I can say is that you should book these all-inclusive Hawaii resorts in advance because, trust me, they sell out super fast!
So let's start this adventure already!
If you are in a hurry
If you want to book now, quickly browse this list with the best resorts that offer great Hawaii vacation packages:
Here's a map that will help you visualize all the Hawaii resorts that I will be talking about in this post:
Luxury (US$1500 and up)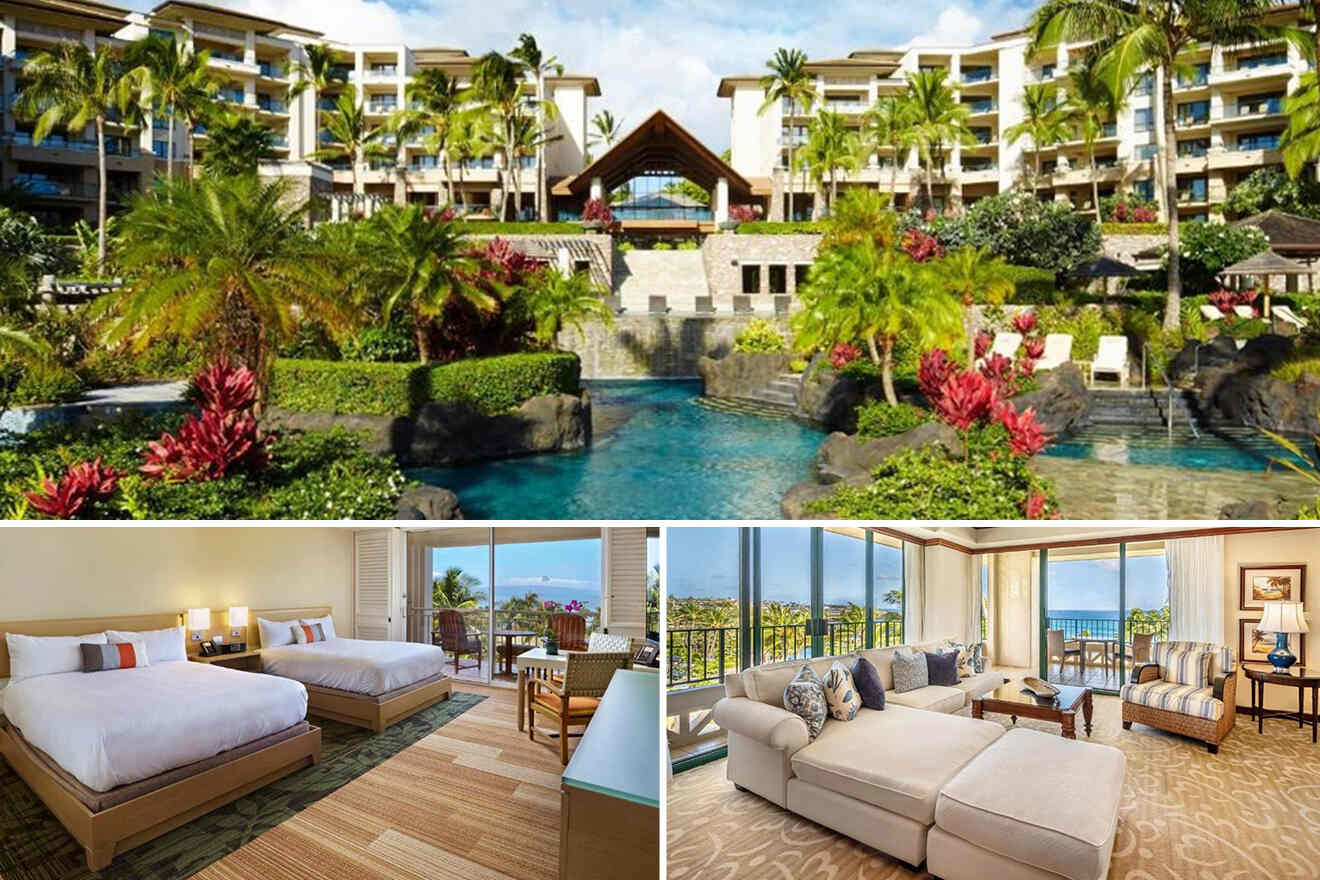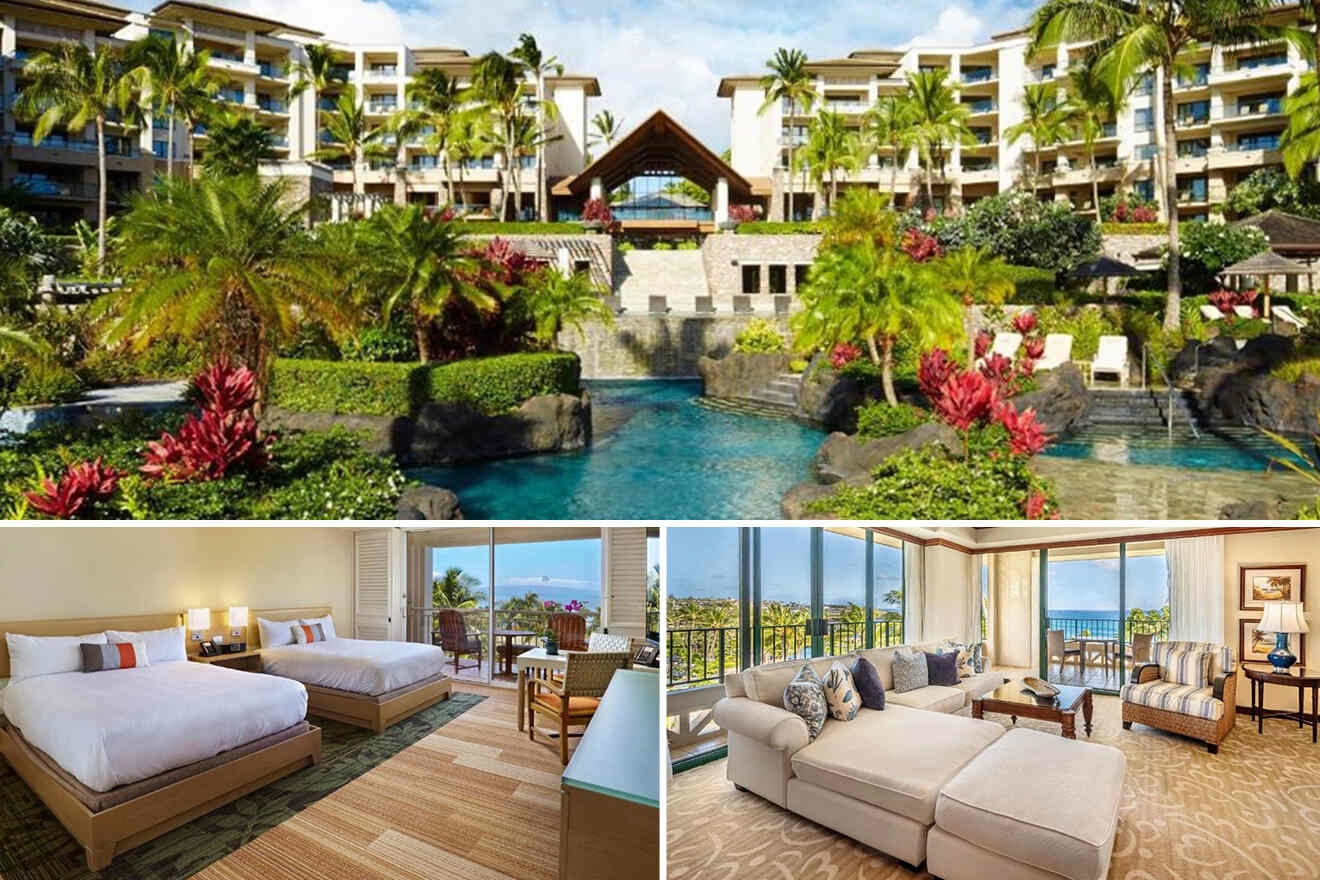 Mid Range (US$650 – US$800)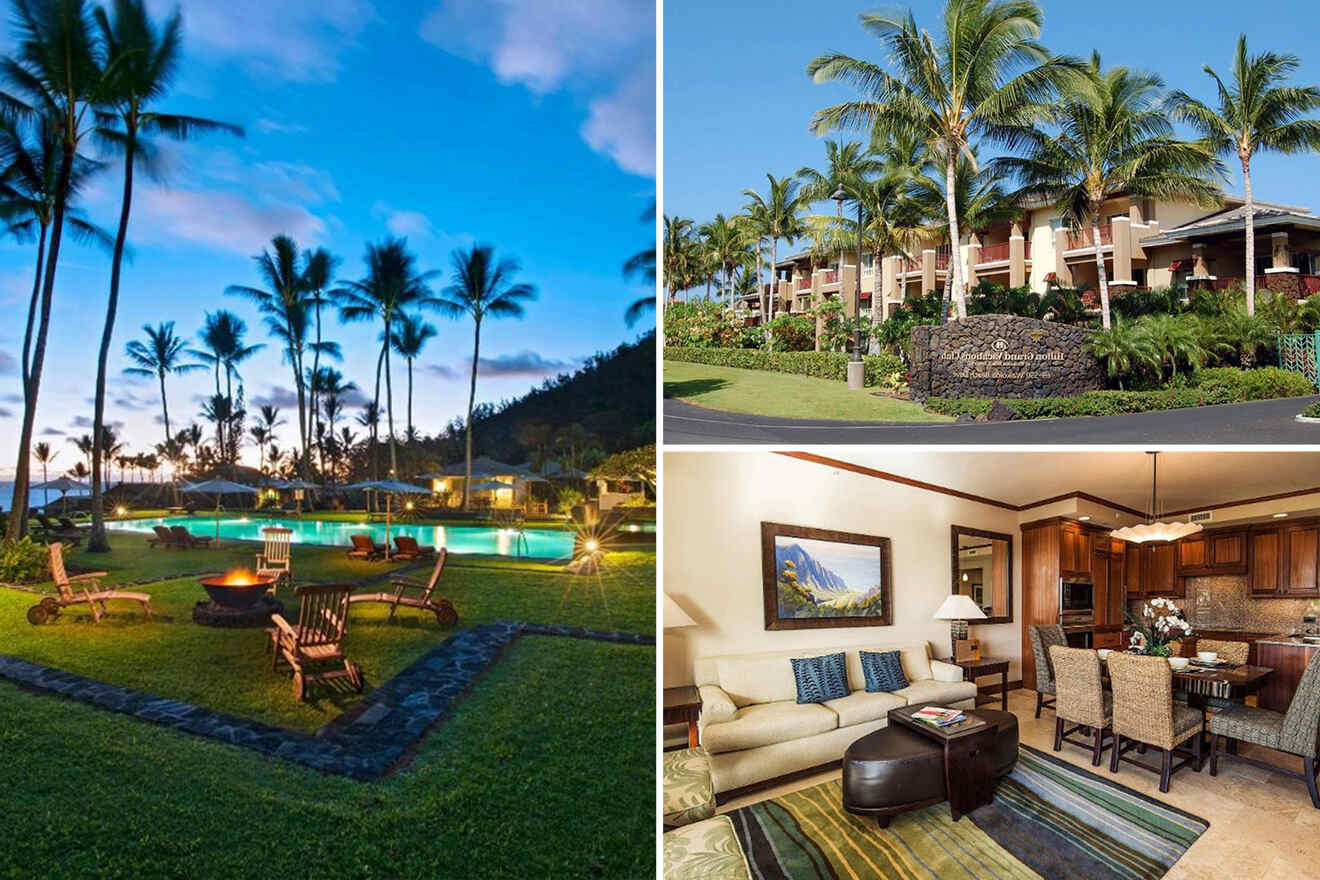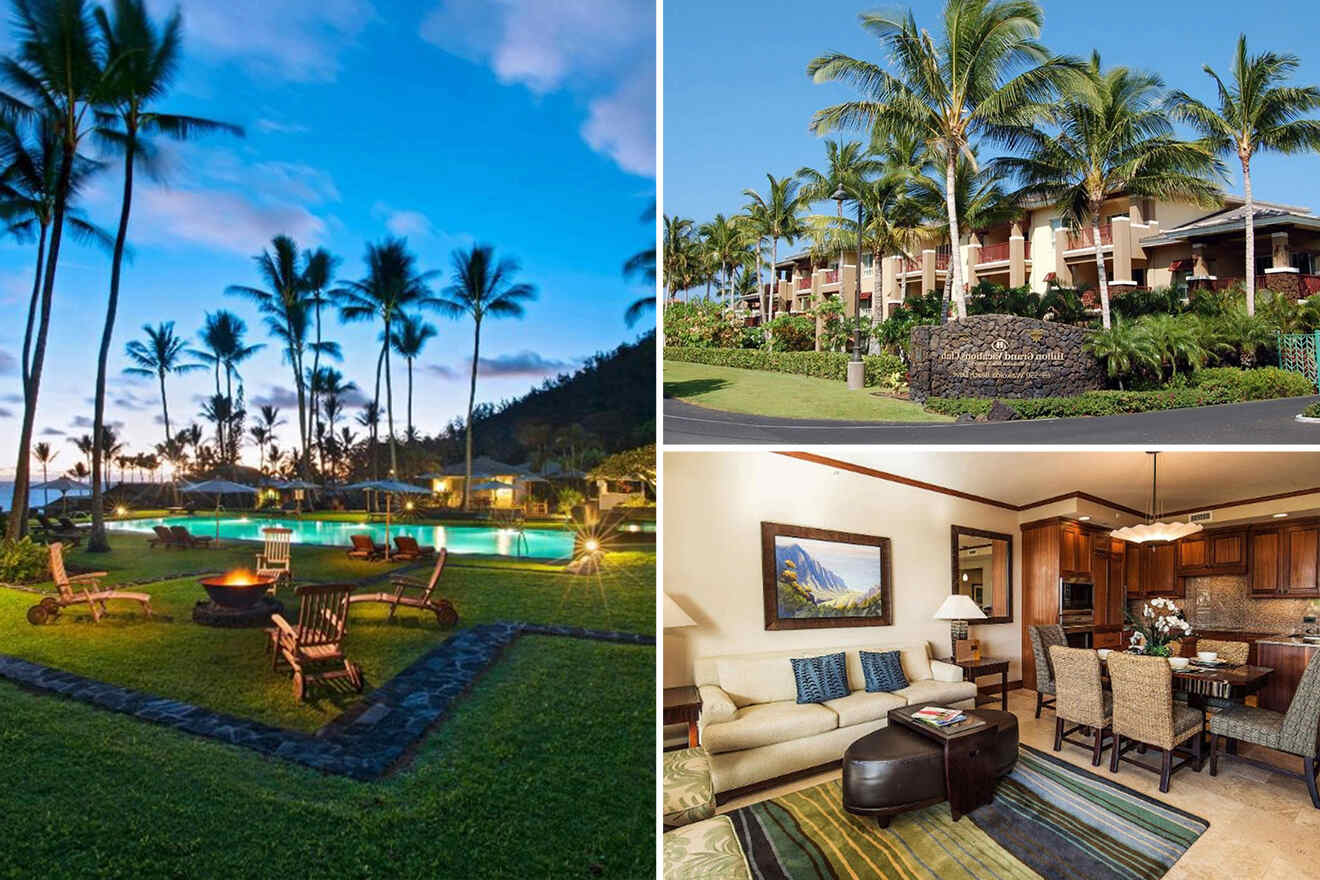 Budget (up to US$530)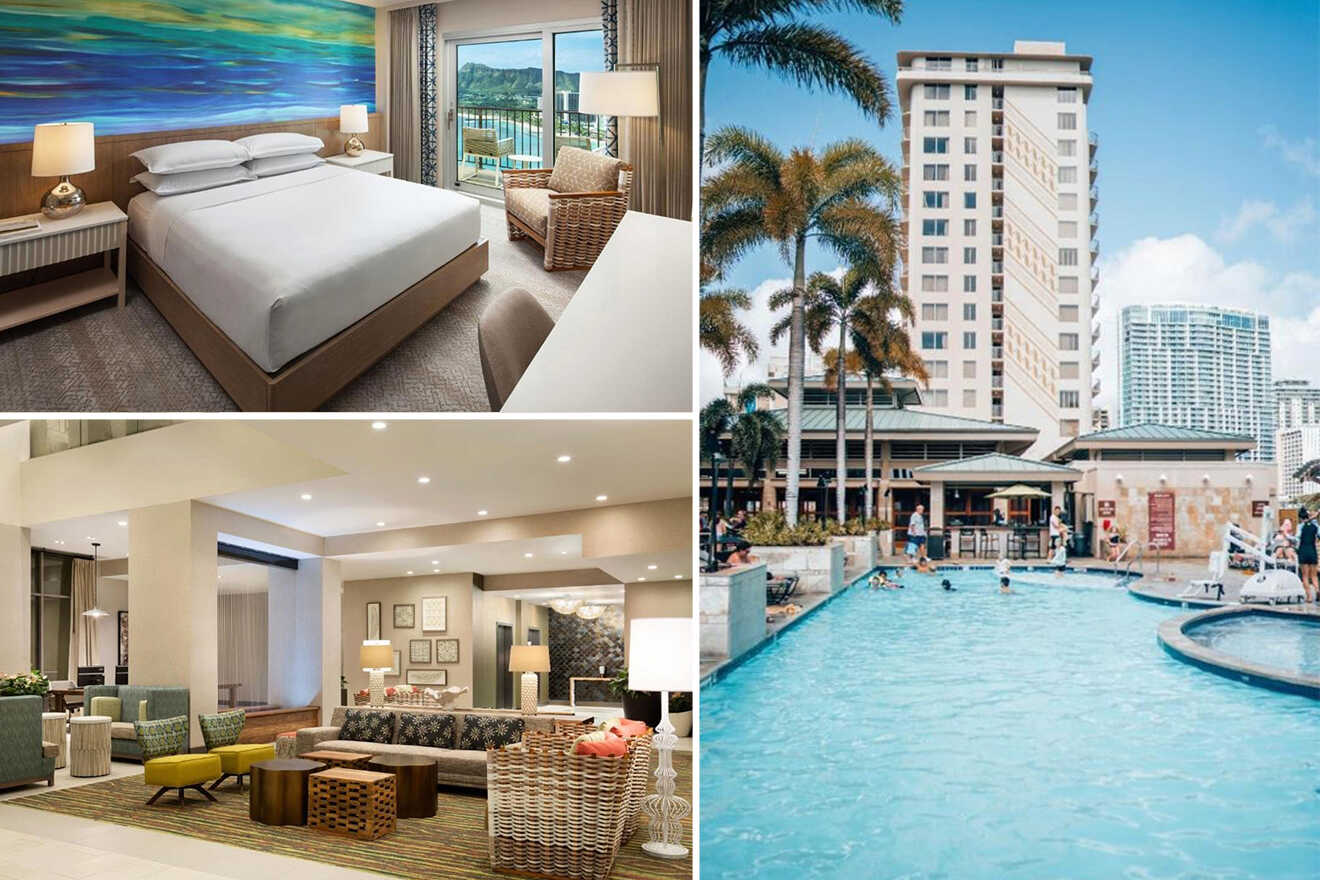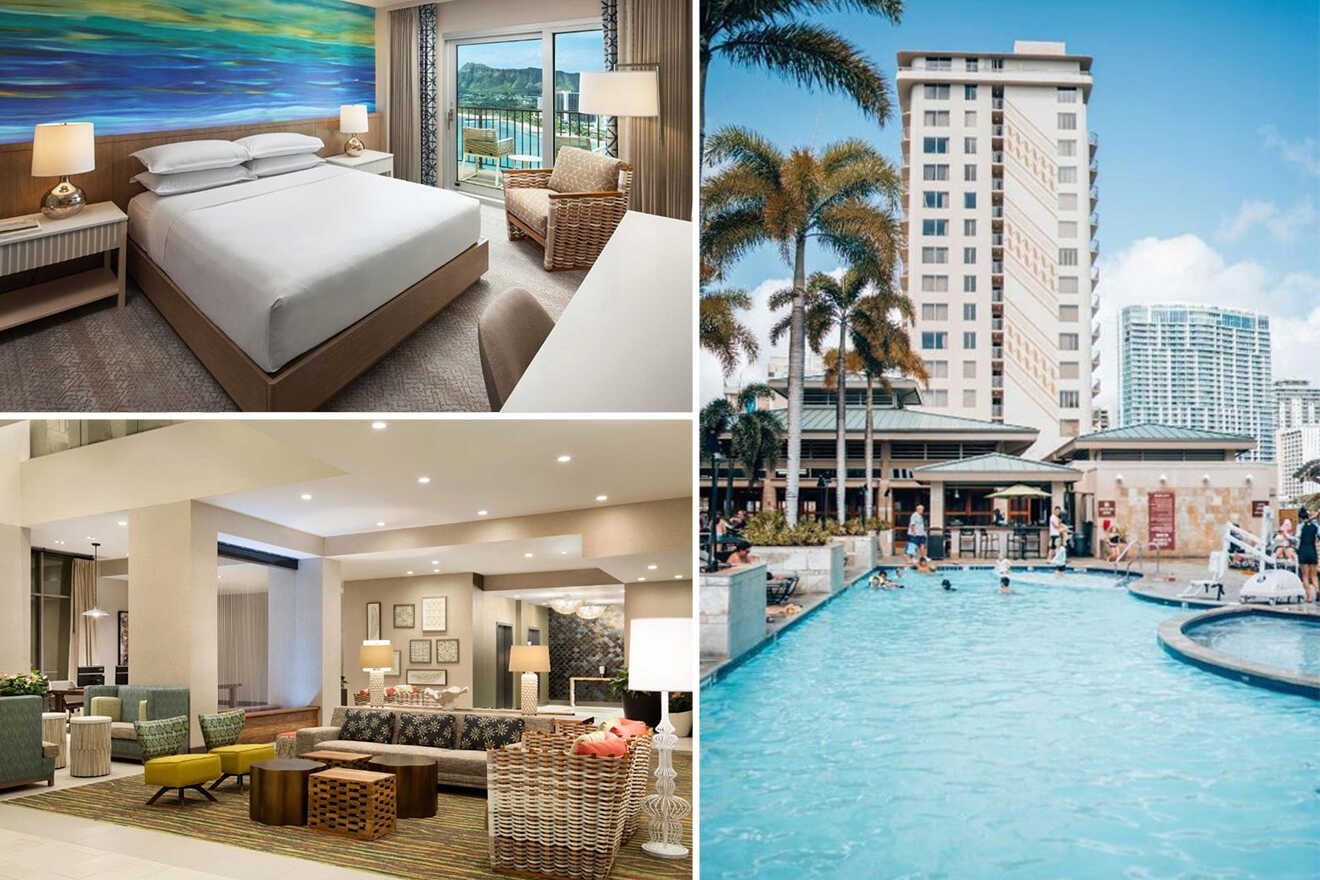 BONUS: Best hotels in Hawaii on the beach
Beaches in Hawaii are basically paradise on earth! Mother Nature really loved this part of the world and decided to make it as beautiful as possible!
So if your main desire is to book one of these hotels that are set right on the most beautiful beaches in Hawaii, then have a look at the list below: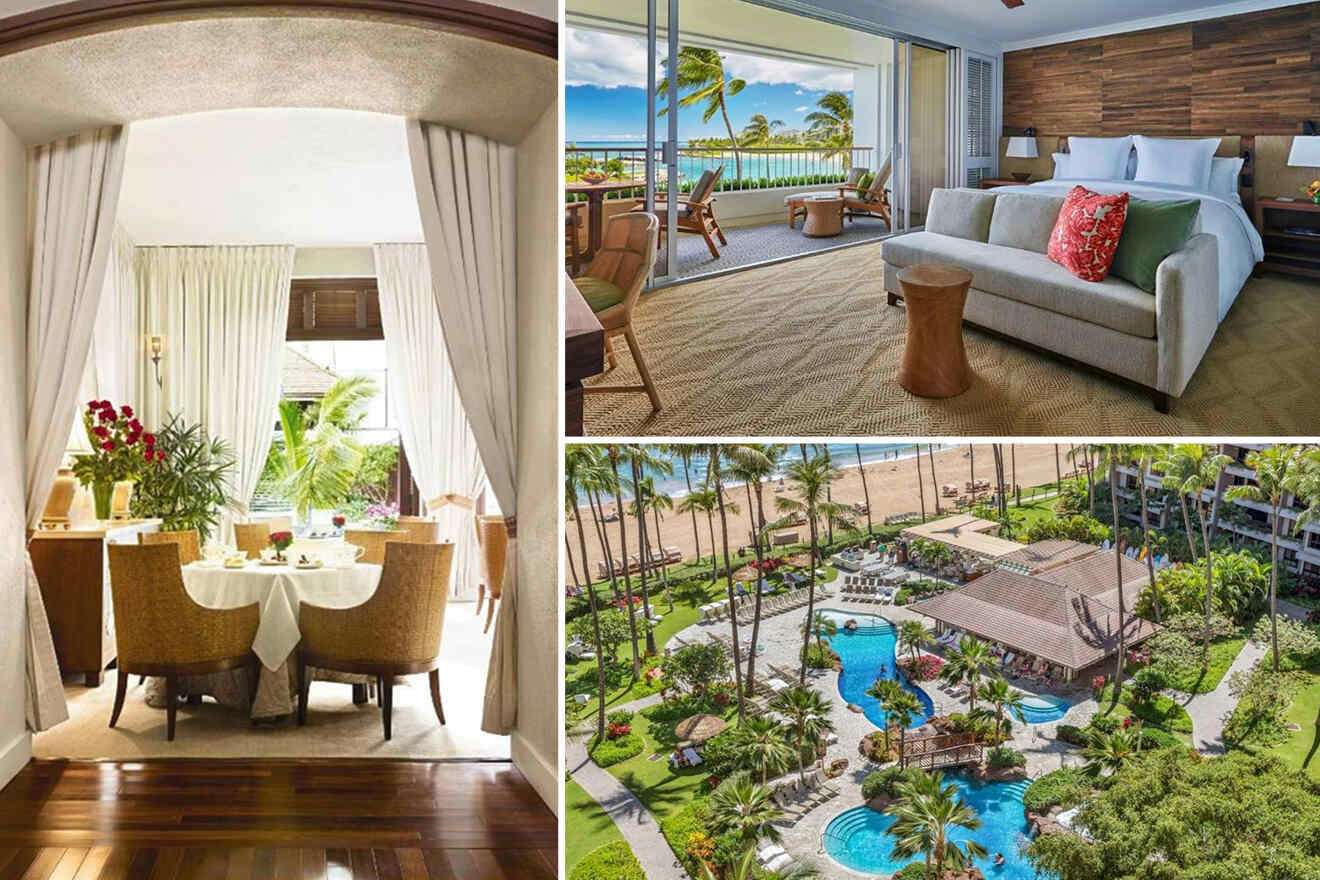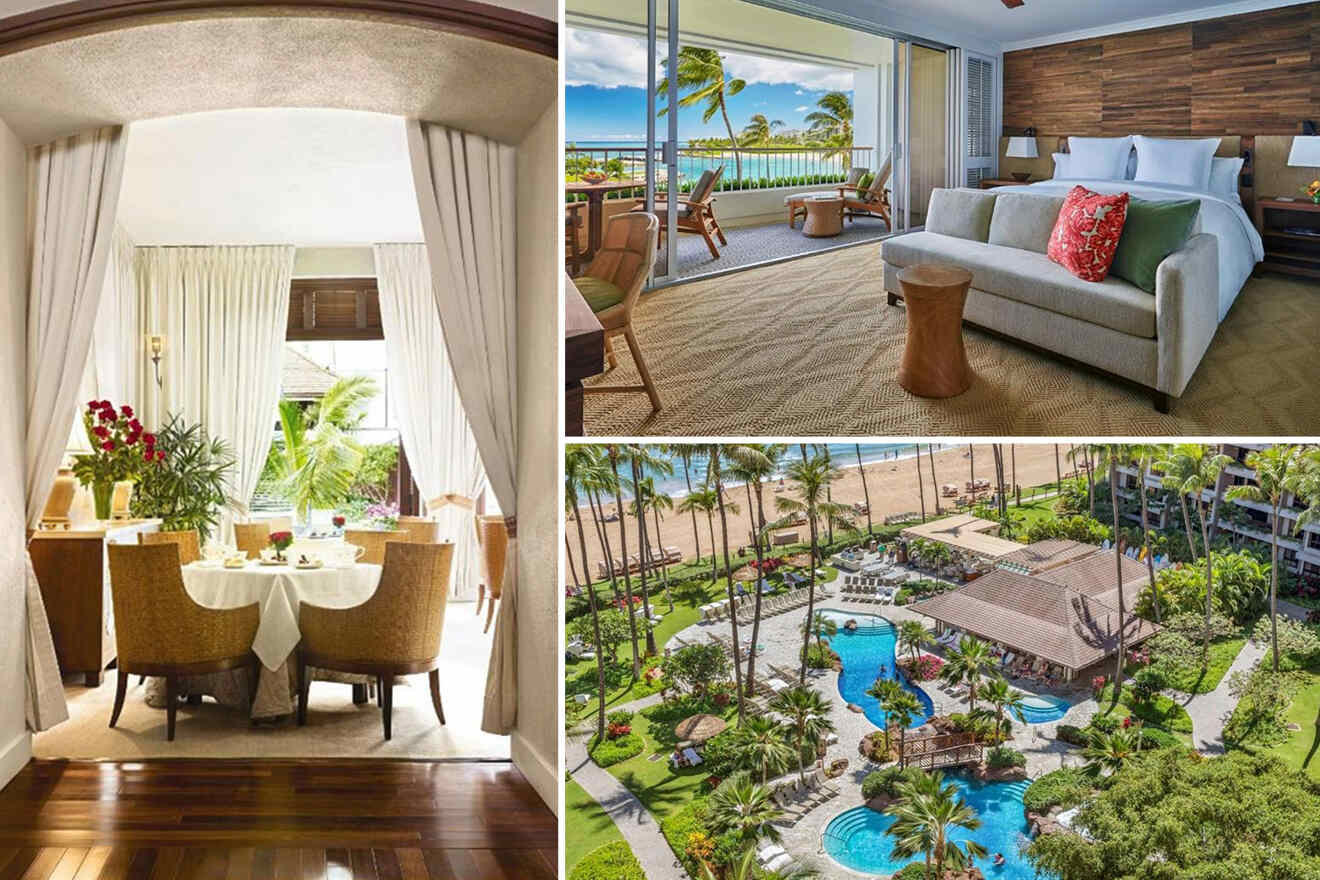 Luxury (US$1500 and up)
Four Seasons Resort Lana'i – Surrounded by tropical trees and lush greenery, this Hawaiian resort on Lanai Island has fabulous rooms decorated with dark wood furnishings. With 11 massage rooms, yoga classes, and 3 tennis courts, it'll be hard ever to leave this place!
Mauna Kea – There's nothing like a delicious breakfast made with locally sourced ingredients and a yoga class to get you in the appropriate mood for this Hawaii trip! Continue with a beach sesh and some snorkeling! The accommodation has 4 restaurants, a swimming pool and a spa center as well. Plus each room is beautifully decorated and has a balcony overlooking the ocean.
Four Seasons – Start your morning in the right way with a cup of coffee by the infinity pool of this amazing beach resort in Oahu! Each suite is super spacious and they come with a large balcony that overlooks the ocean and a deep soaking tub. Guests will have access to a tennis and golf course, and a spa center!
Mid Range (US$650 – US$800)
Halekulani – What an incredible hotel on Waikiki Beach! Overlooking Diamond Head, the hotel has 7 restaurants, a live jazz lounge, and rooms with a spacious lanai! End a day of exploring Honolulu with a delicious dinner at La Mer or leave the resort and go on a dinner cruise. The accommodation also offers a pool and activities like tours and windsurfing.
Kaanapali Alii – All the Hawaii resorts offer a fabulous setting and even more amazing views but this Maui resort is at the top of the list! The suites come with fully-equipped modern kitchens, and some of them have private lanais. Enjoy some lazy afternoons by the pool, admiring the ocean views, or relax in the whirlpool spa bath.
Frequently asked questions about all-inclusive resorts in Hawaii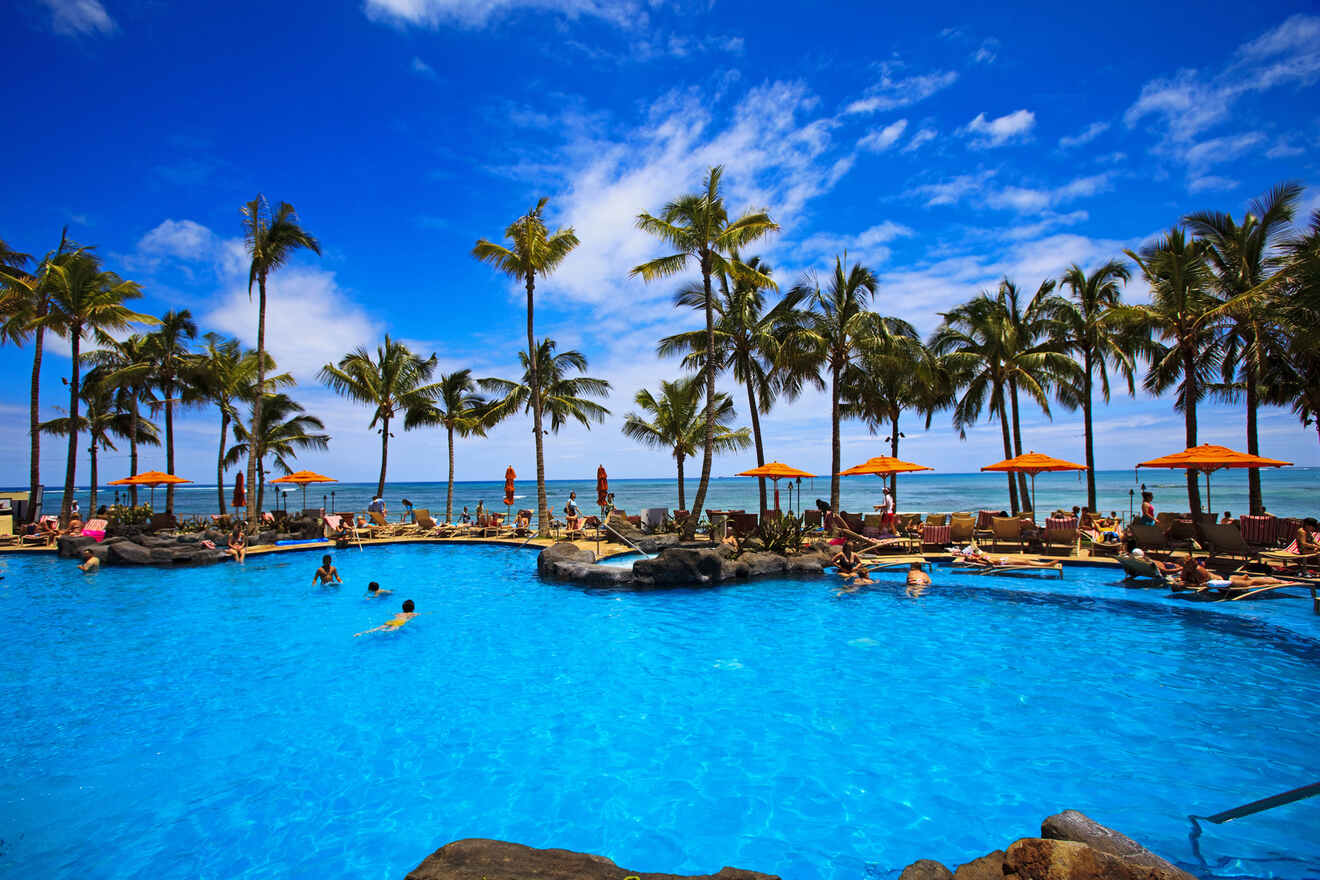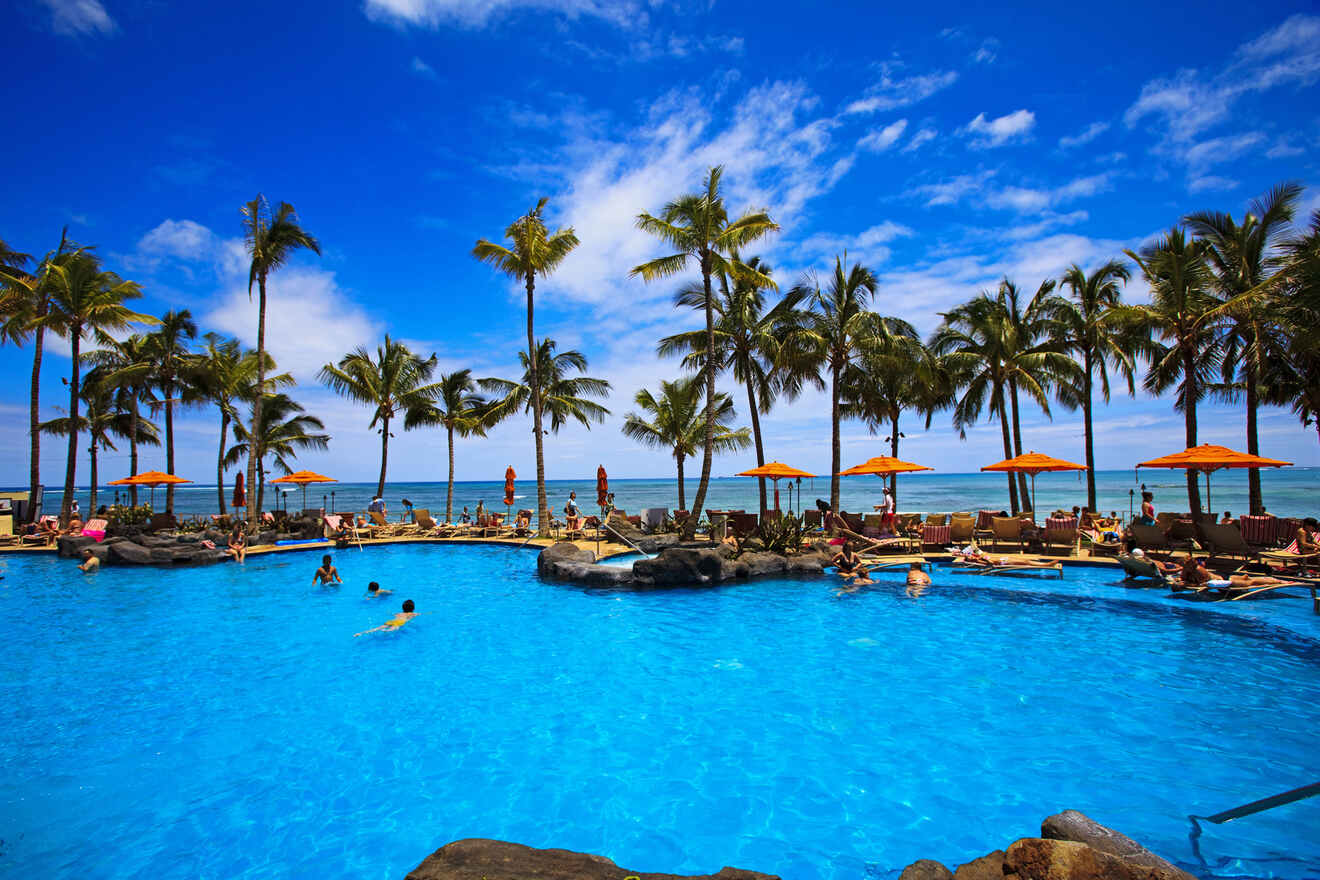 🏨 Does Hawaii have all-inclusive resorts?
No, unlike other tropical destinations, Hawaii doesn't have traditional all-inclusive resorts. However, you'll find that most hotels offer many facilities for free. Hawaii is a super safe destination so tourists are encouraged to explore outside their resort! 
🤔 Should you do all-inclusive in Hawaii?
Usually, tourists don't choose Hawaii's all-inclusive resorts because there aren't many. Technically only the Travaasa Hana hotel offers all-inclusive packages. Resorts in Hawaii don't offer all-inclusive vacations because the islands are super safe and the beaches are accessible from the hotels. 
👶 Is Hawaii a good place for a family vacation?
Yes! Hawaii is a great place for a family vacation! Although the resorts don't offer all-inclusive Hawaii packages which are great for families, you'll find plenty of free activities like kids clubs, access to a movie theater, and waterparks!
🌺 Which is the best all-inclusive resort in Hawaii?
Travaasa Hana Maui Resort offers the best all-inclusive Hawaii resort experience. This kid-friendly all-inclusive Hawaii resort that overlooks Hana Bay comes with lots of free facilities including food and credit to use around the resort. 
💰 When is the cheapest time of the year to visit Hawaii?
The cheapest time of year to visit Hawaii is September and October. Hotel costs and round-trip flights, tend to be more affordable at this time.
Conclusion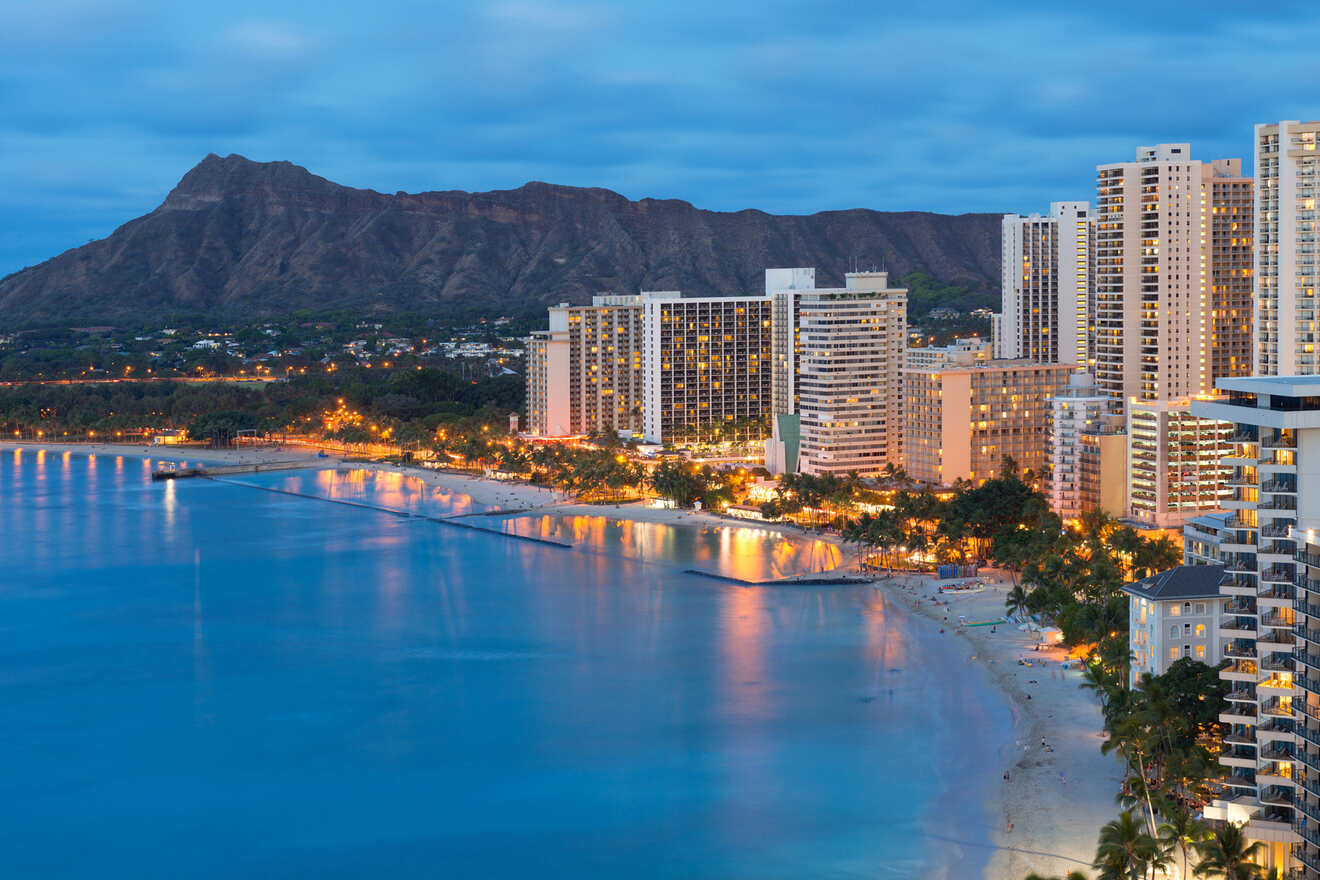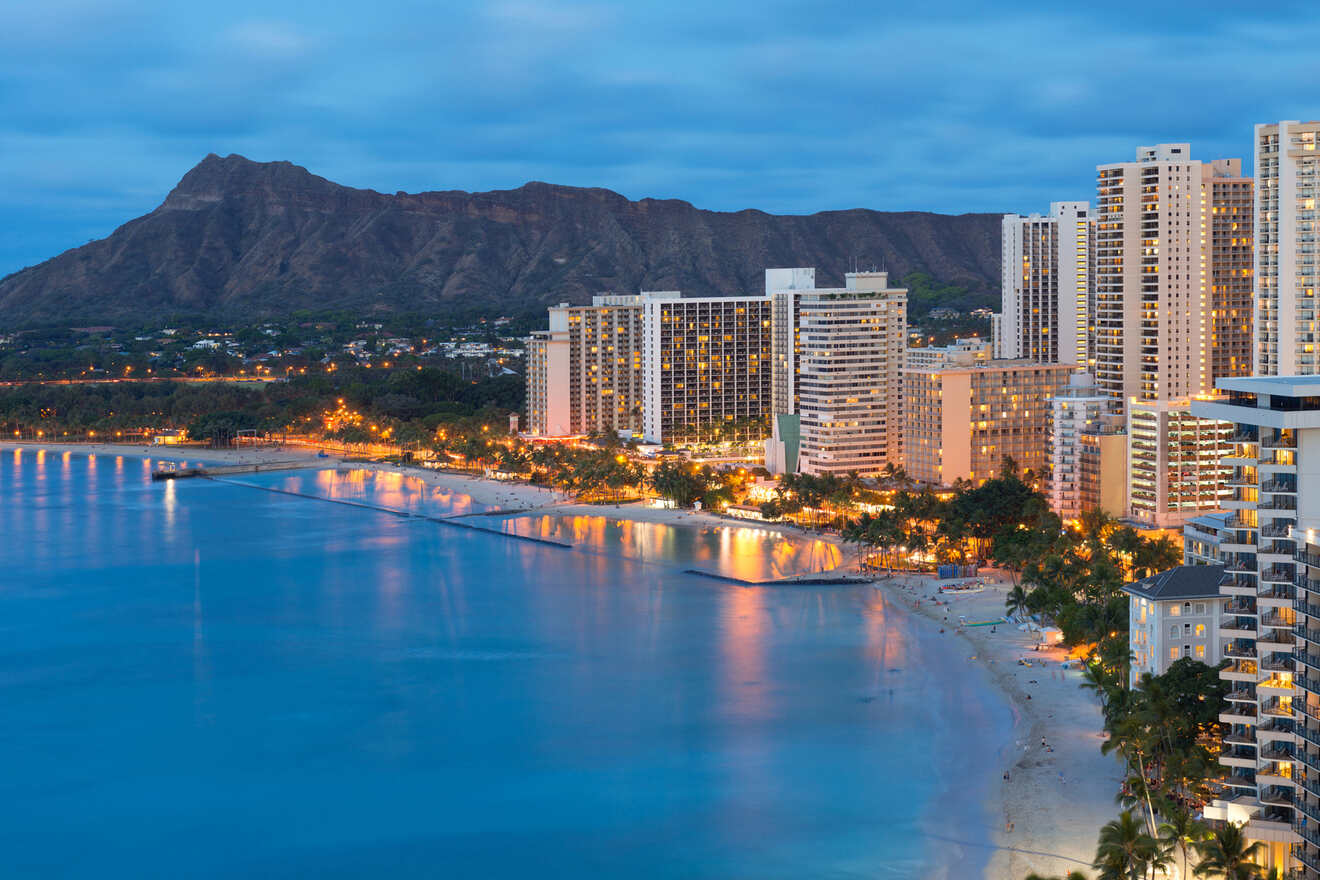 What a fabulous location! I hope this post helped you decide which are the best all-inclusive Hawaii family resorts!
As I mentioned before, while these aren't the traditional all-inclusive Hawaii resorts that you'd expect to find, they do offer the same facilities and many of them are free!
Now you've seen the entire list of the best all-inclusive resorts in Hawaii from most to least expensive as well as a bonus section with some fabulous resorts on the beach!
There are so many options here, but I know it's better to have a long list than a super short one! Still, if you need some extra help here are my favorite all-inclusive Hawaii resorts:
I highly recommend booking your all-inclusive Hawaii resorts in advance! These places offer the best (almost) all-inclusive Hawaii deals, and you'll risk missing your favorite spot if you're too late.
For anyone who has any questions about an all-inclusive Hawaii resort package, or how they work, I'll be here to answer all your questions. Just leave me a comment below!
Enjoy chilling in a lazy river all day long and having the best time with your family on the beach!
Safe travels,
Victoria
Pin it for later!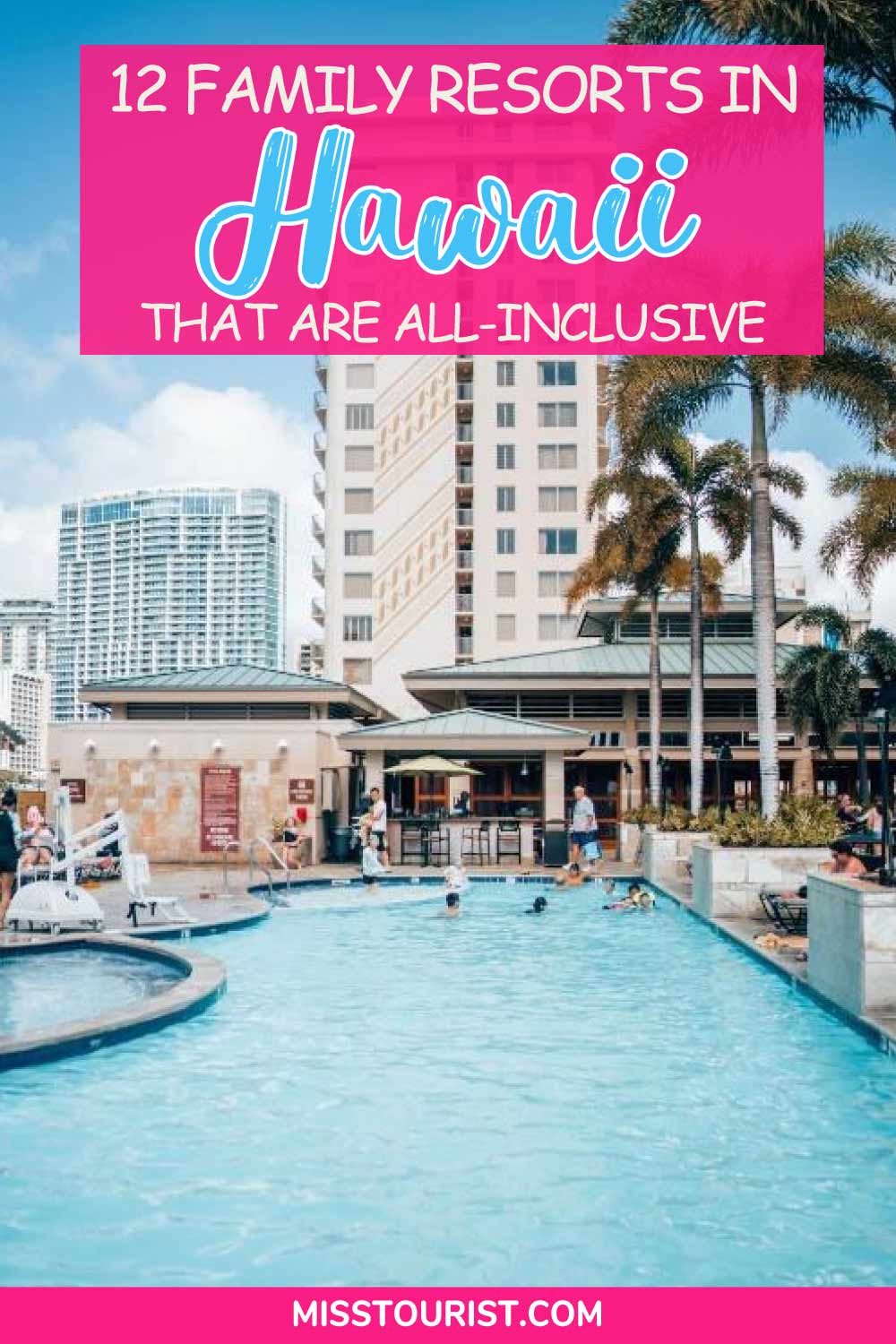 Pin it for later!