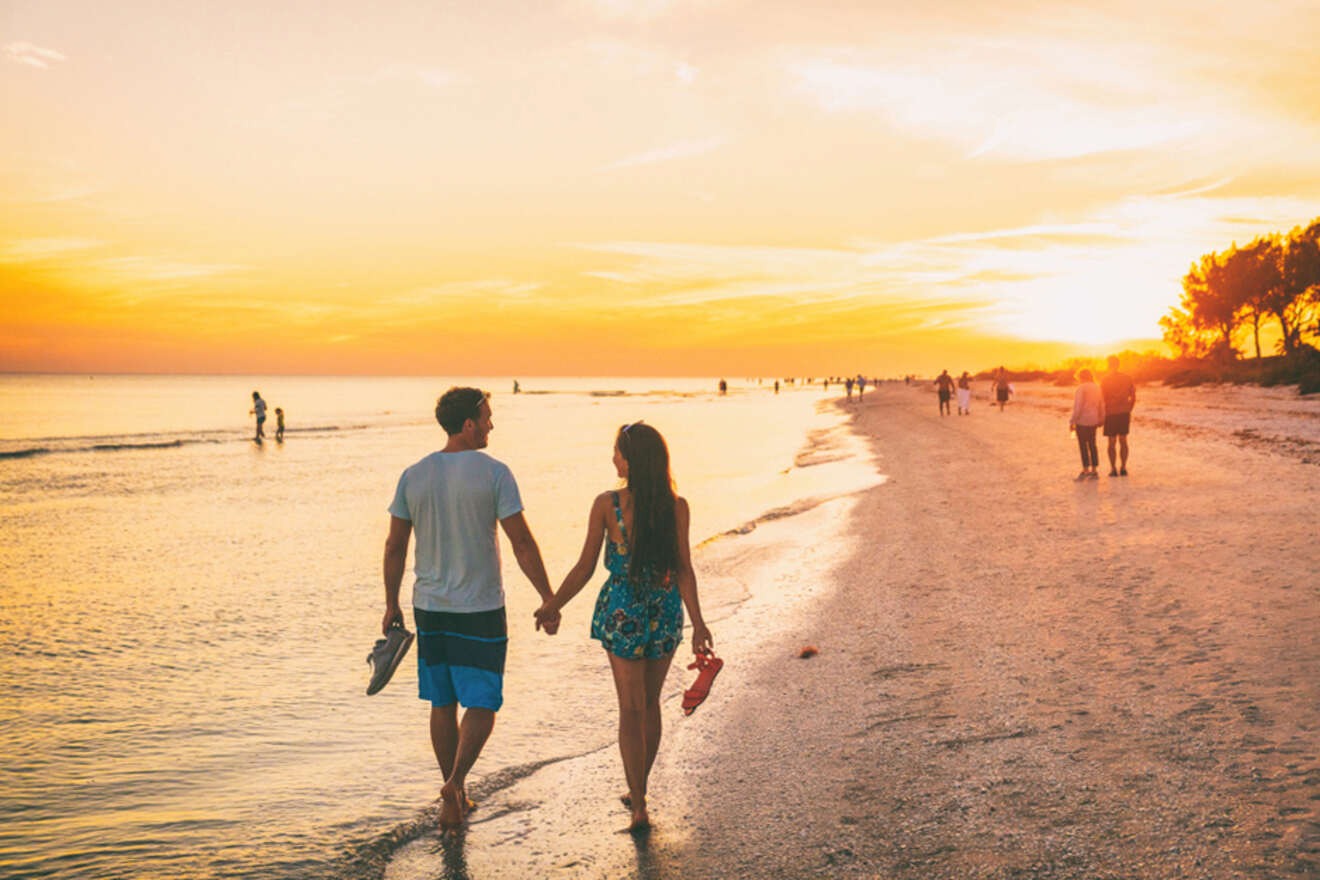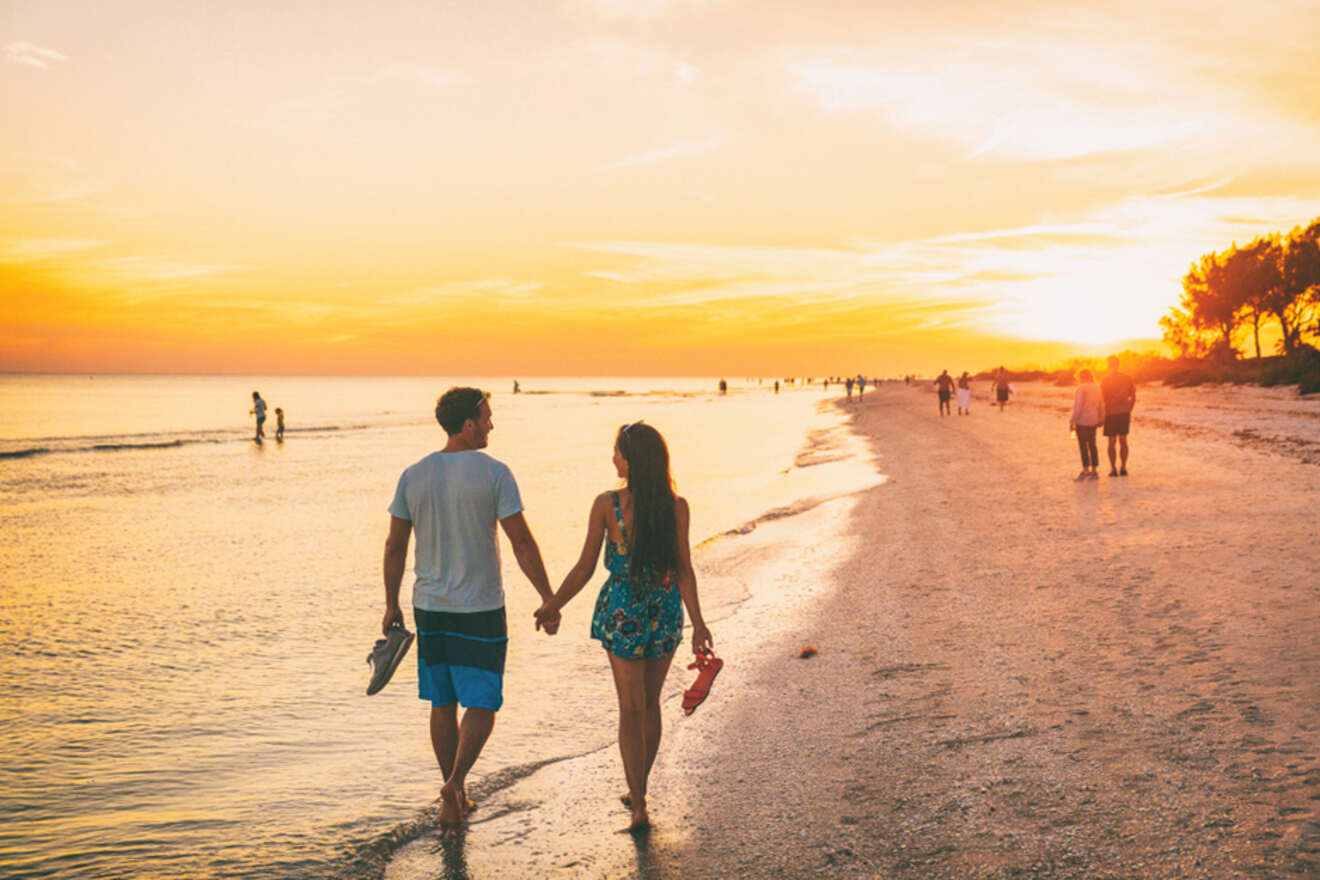 Florida is home to some incredible tropical beaches that will make you feel like you jet-setted to a paradise island oasis!
Personally, when I realized the incredible beauty that Florida beaches have to offer, I never looked back.
From the Atlantic Coast to the Gulf of Mexico, and the tropical Key West, there are endless options of beaches in Florida to choose from.
As a Florida local and self-acclaimed beach connoisseur, I am going to let you in on some of the best beaches in Florida!
Sure, you can go to Miami Beach, one of the most popular beaches in the state, but don't you want to experience some of Florida's hidden gem beaches?
As someone who does not enjoy super crowded, overly developed beaches, I have done my due diligence to find all of the best Caribbean-esque beaches you can find in Florida!
Without further ado, let's dive in!
If you are in a hurry
Here are the main things to book in advance:
1. Take a dip at the Iconic South Beach of Miami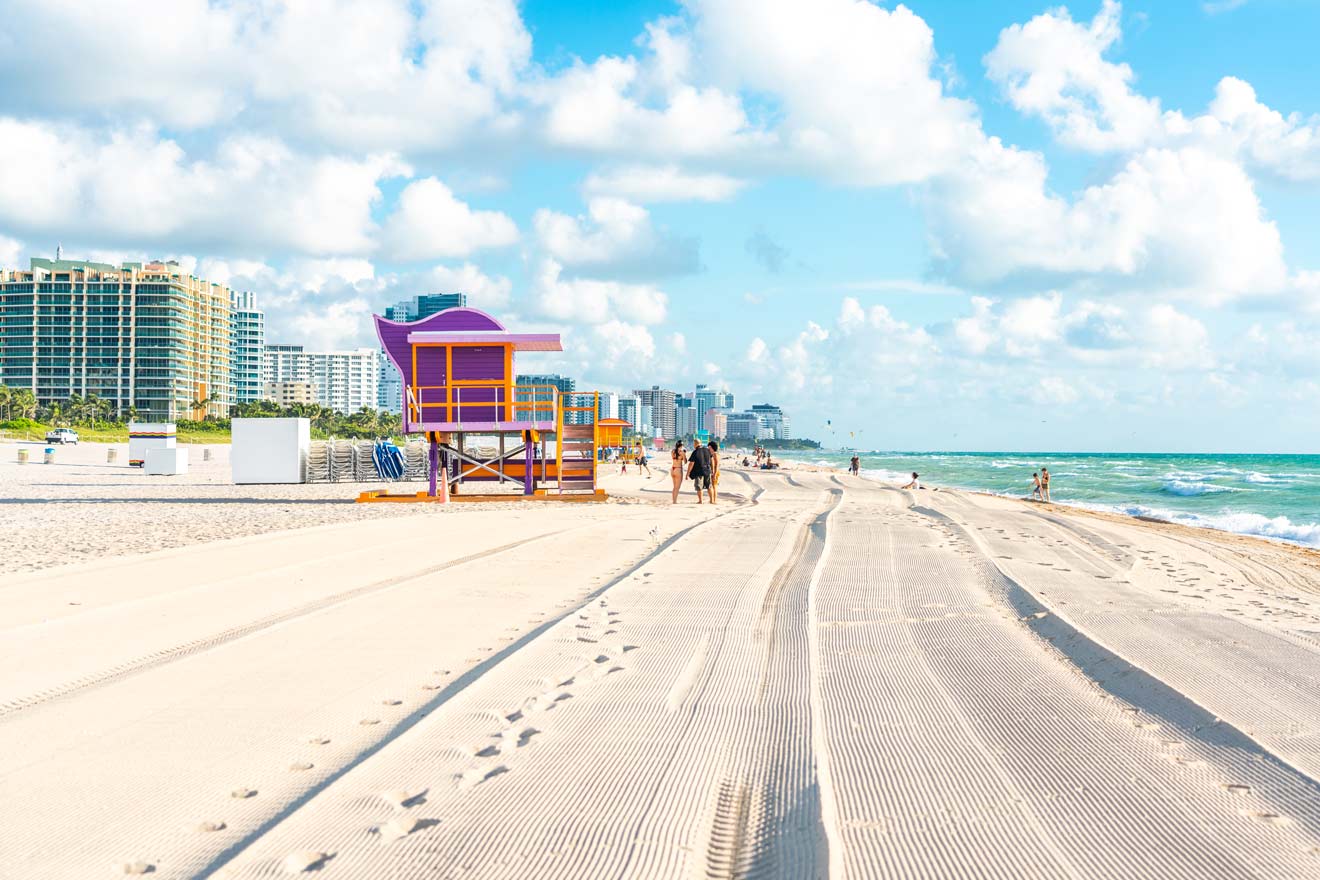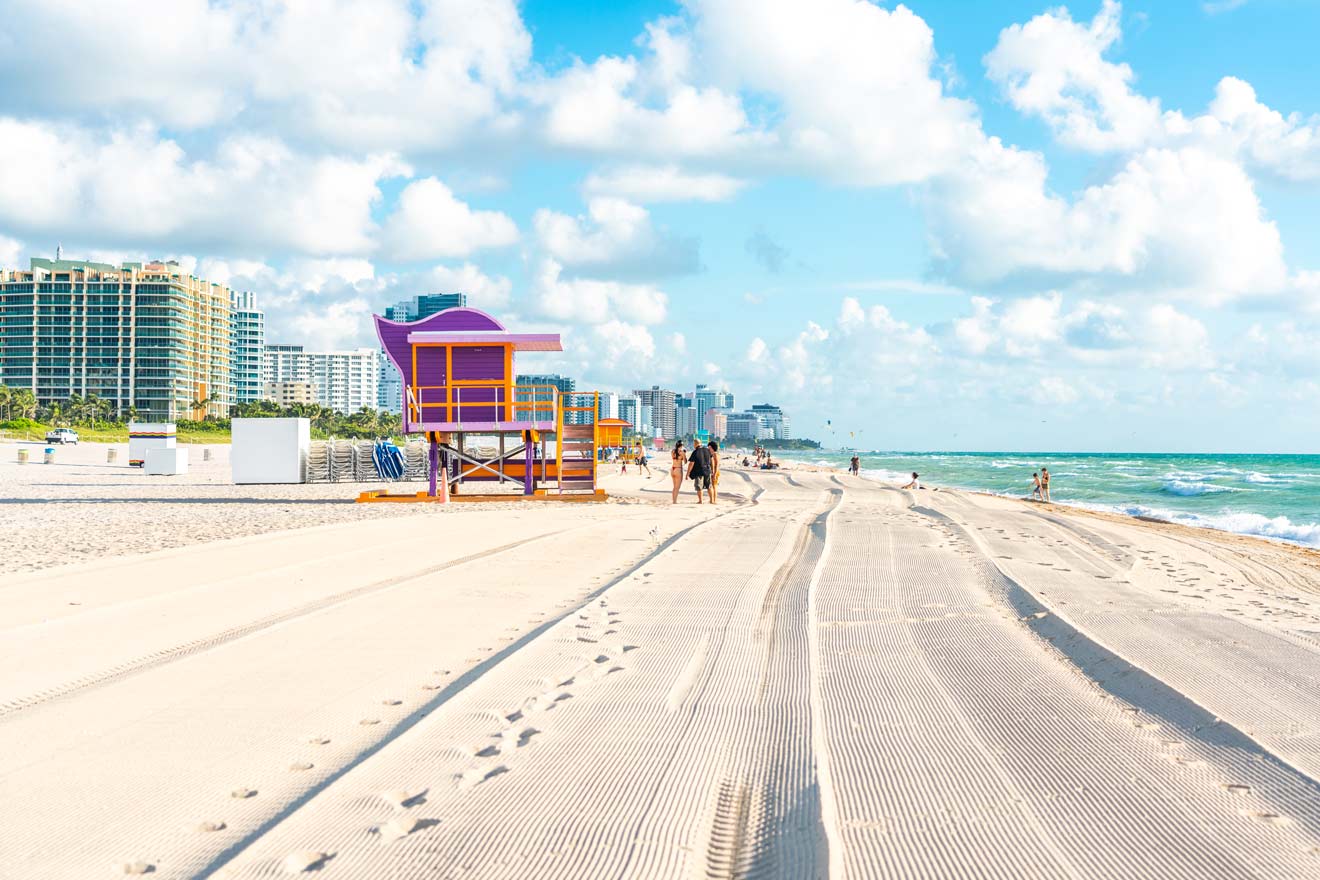 Of course, number one on this list is the one and only South Beach, Miami.
When you see Miami in TV shows, movies, etc., it is most likely shot on Miami Beach or South Beach.
Boasting white sand, shimmering turquoise water, palm trees, and that unbeatable South Beach vibe, this is undoubtedly one of Florida's most iconic beaches.
If you're looking for that classic Miami vacation experience, South Beach has got it. With incredible restaurants, hotels, and nightlife, South Beach is an experience, not just a beach.
South Beach is where the celebrities go, where the icons go, and where people looking to have an elevated, classic, or fun-filled vacation go!
Whether you are looking for more of a party vibe, an adventurous vibe, or a laid-back, read a book on the beach and dip into refreshing silky waters, South Beach has it all. Even beach volleyball!
Check out this super exciting jet ski and pontoon boat experience where you can take your vacation beyond the beach into the incredible ocean off the coast!
PRICE: US$100
Book Your Jet Ski Pontoon Tour
2. Check out Fort Lauderdale Beach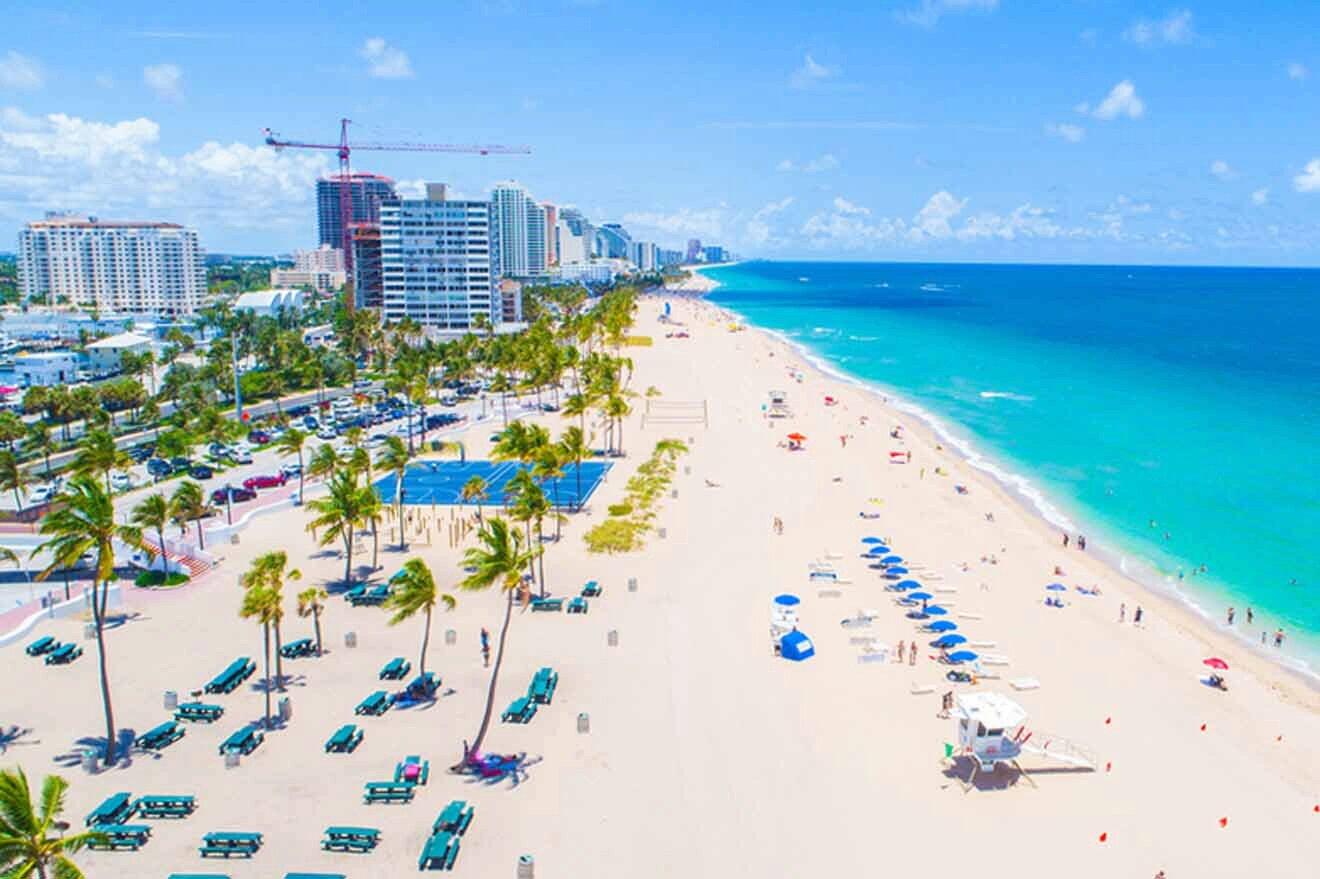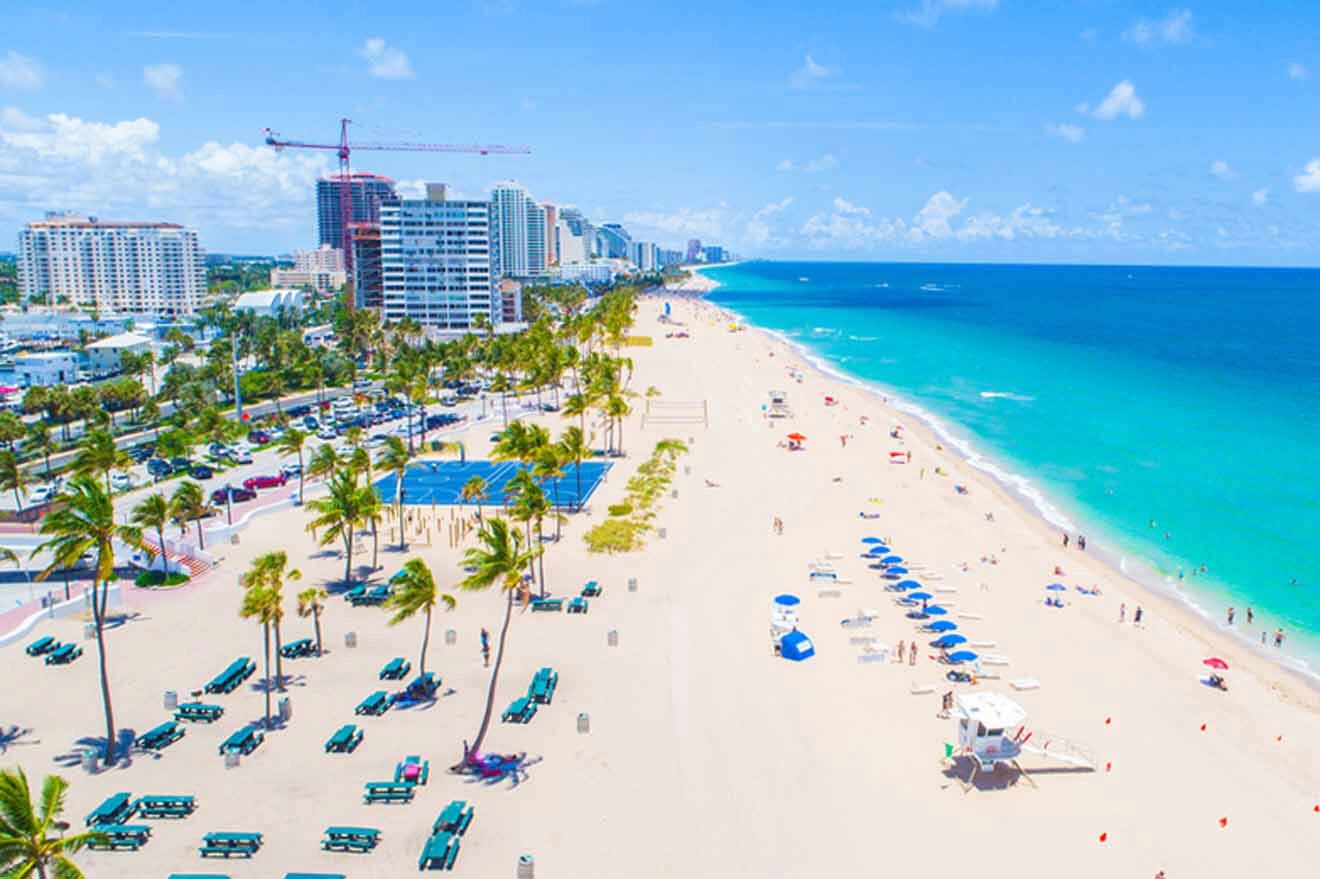 As a former resident of Fort Lauderdale, I can totally attest to how lovely Fort Lauderdale Beaches are. In fact, there are quite a few in the area that are worth checking out!
The most popular beach in Fort Lauderdale is definitely Las Olas Beach. Located right on the main strip with dozens of restaurants, bars, shops, and more, this is a great beach for those looking for a lively experience and to be within walking distance from restaurants, bars, and even some nightclubs!
Las Olas is more on the crowded side when it comes to beaches in Florida.
My favorite beach in Fort Lauderdale is actually a bit south of Ft. Lauderdale in a nearby area called Dania Beach. It's a bit less crowded!
First of all, you have the Dania Beach Pier, a beautiful old pier great for deep-sea fishing, spotting wildlife, and grabbing a bite to eat!
Just beyond the pier, you can walk down to an undeveloped part of the beach that is actually part of a state park. With a coastal river on one side, great for kayaking, paddle boarding, and fishing, and the pristine beach on the other side, this is by far one of the best beaches in the area for nature lovers!
If you want to skip the business of Dania Beach and just head straight to the state park, the state park is called Dr. Von D. Mizell-Eula Johnson State Park.
The city is really best experienced from a boat tour at night through the canals and rivers so you can see the beauty of this lit-up Florida coastal city.
Check out this awesome tour that takes you through the heart of Ft. Lauderdale through the rivers and canals!
PRICE: US$56
Book Your Ft. Lauderdale Evening Cruise
3. Unwind at Delray Beach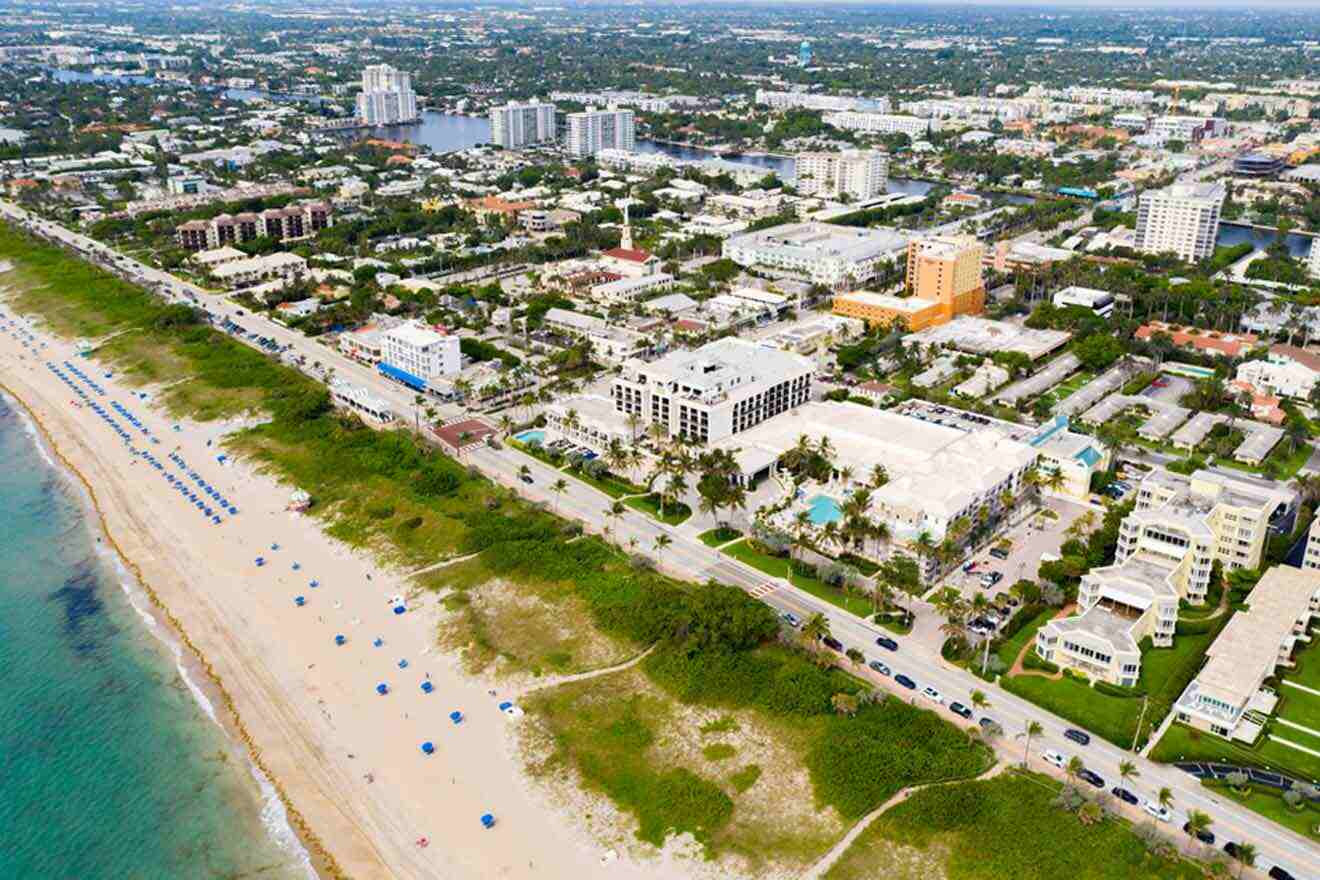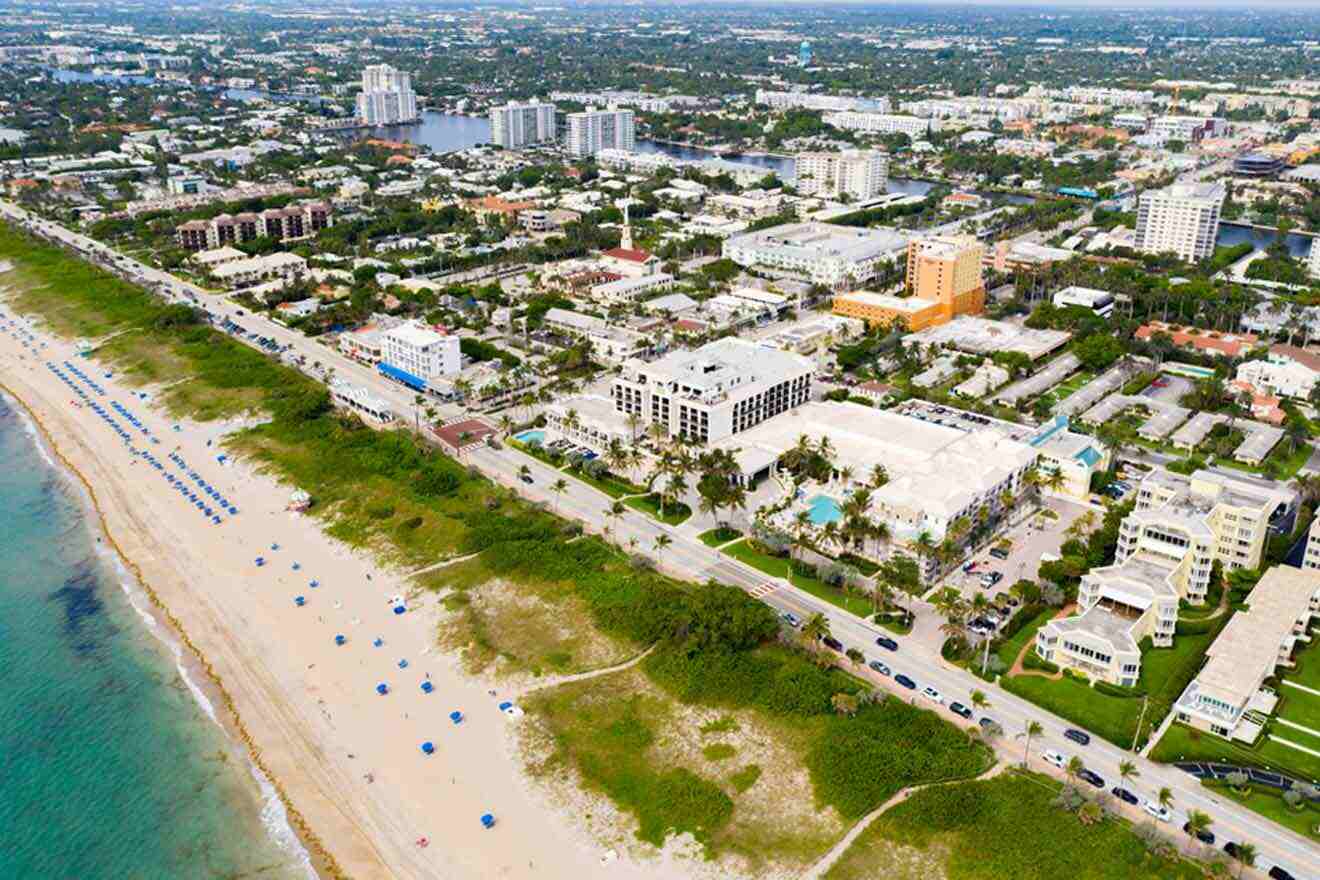 Another east coast gem, Delray Beach is well known as one of the best beaches on Florida's Atlantic Coast.
The natural beauty of Delray Beach makes for the best place to go for people looking for a relaxing time in nature on a beach day!
With beautiful lookout points, gorgeous clear, refreshing water, pristine beaches, and incredible coastal flora and fauna, this east coast beach should be high on your list.
Also known for its delicious food and drink, this is a great vacation destination on Florida's East Coast.
Other great beaches in the area are Peanut Island and Hobe Sound!
If you're a foodie and looking for something to do aside from going to the beach, check out this super awesome craft food tour in Delray Beach!
PRICE: US$100
4. Hang ten at Cocoa Beach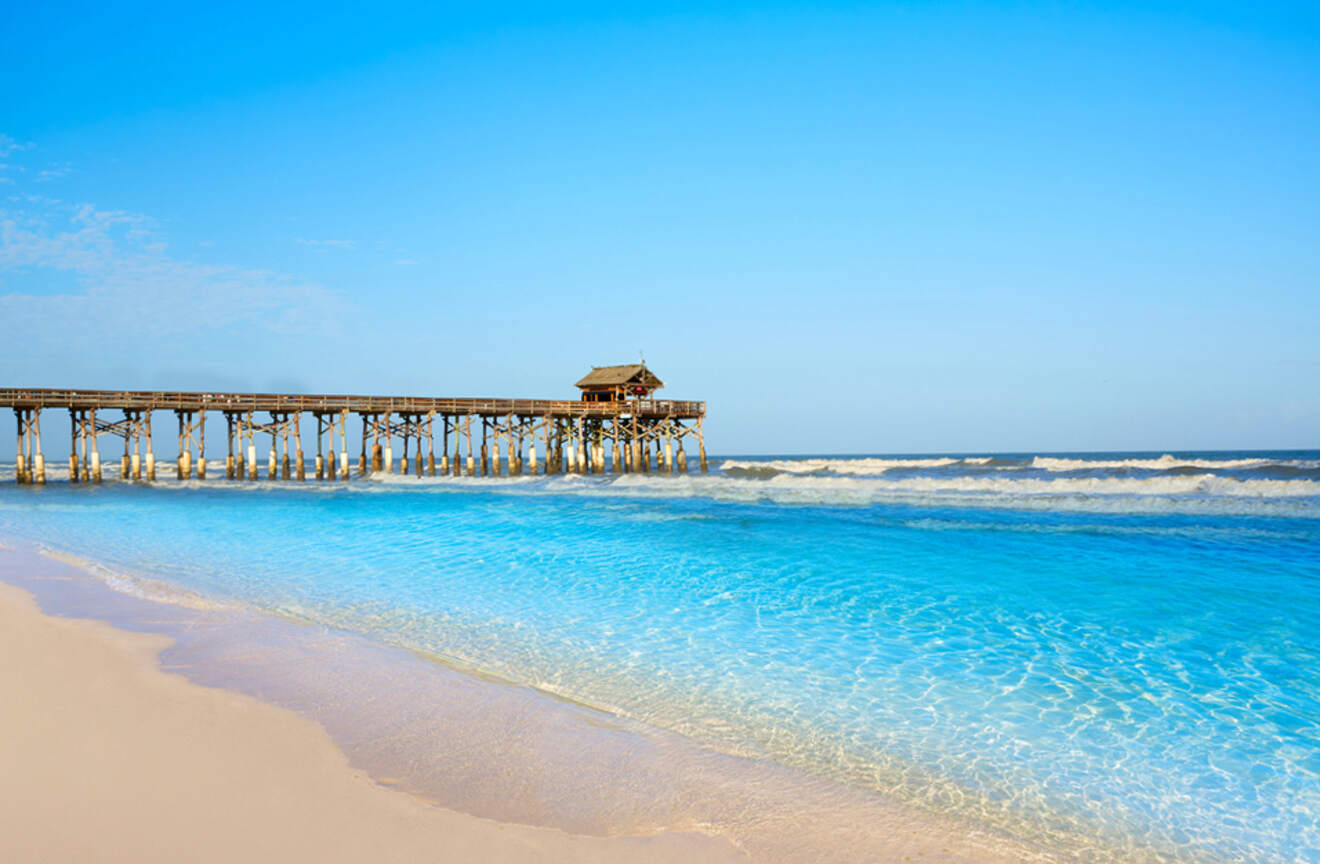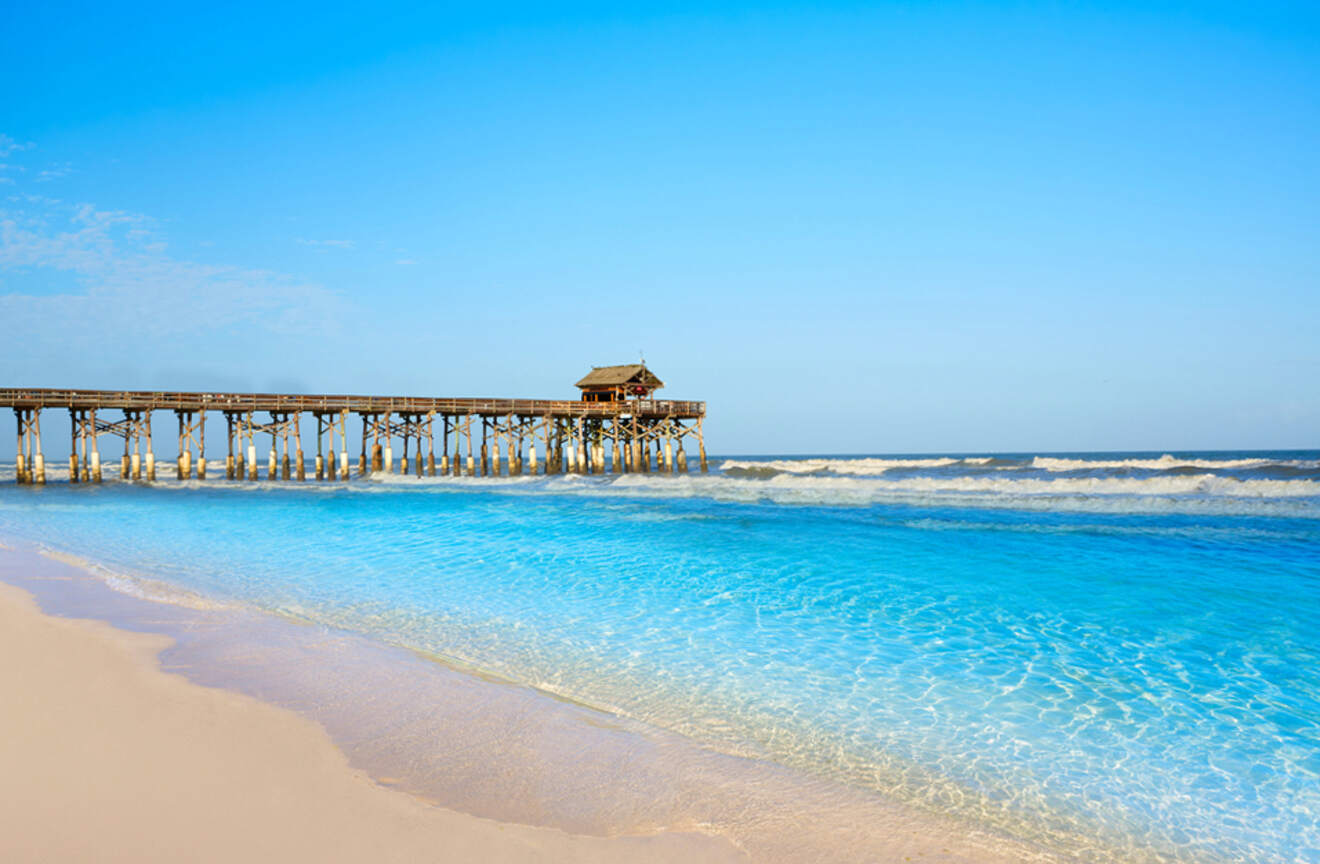 One of the best Central Florida beaches, Cocoa Beach is a lovely beach famous for its crashing waves and surfing history!
This is the most visited beach by Orlandoans due to its proximity to Orlando and other central Florida cities.
With some of the best surfing in Florida and home to the Florida Surf Museum, this is a go-to destination for surfers in the Sunshine State.
One of the greatest when it comes to professional surfing, Kelly Slater, was born and raised in Cocoa Beach! These are the very waves that raised one of the greatest surfers of all time!
If you're looking to surf in Cocoa Beach, the best time to go is in the winter when the waves are at their peak, and the prices are cheaper.
This is your classic, somewhat kitschy beach town with tons of beachy shops, surf shops, the famous and historic Cocoa Beach Pier, and more.
The Kennedy Space Center is also right around the corner, which makes for an excellent day trip!
Want to go beyond the beach and explore the stunning mangrove forests of wild Florida? Check out this incredible mangrove kayak adventure in Cocoa Beach!
PRICE: US$50
Book Your Mangrove Kayak Adventure
5. Escape to Amelia Island and Fernandina Beach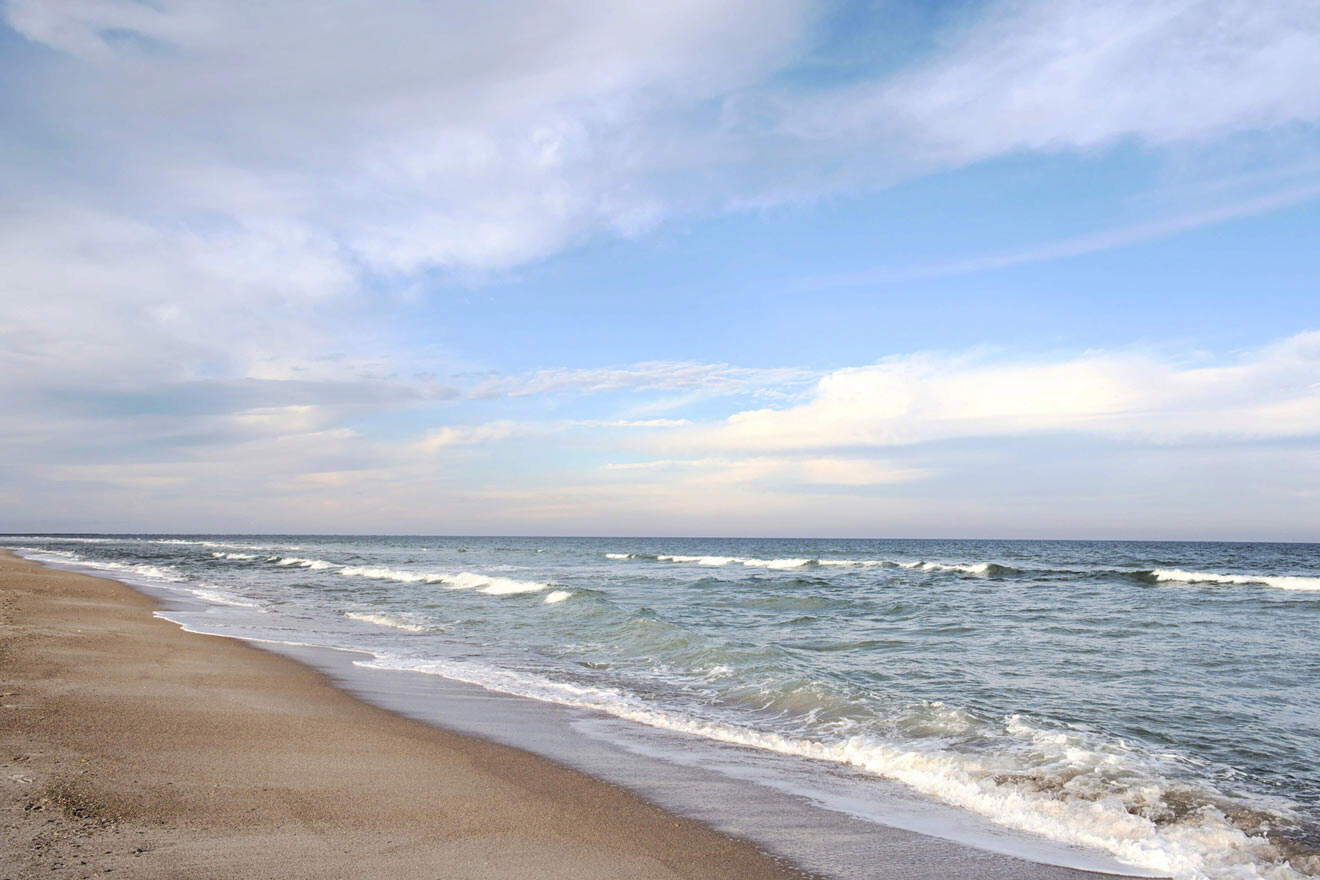 Easily one of the best beaches in Northern Florida, Fernandina Beach, and Amelia Island are gorgeous beaches you don't want to miss.
Amelia Island is a nature lover's paradise. With incredible stretches of shoreline and coastal habitats, the beach on Amelia Island is truly something else.
Florida is a state that was settled by a number of different European colonial powers, such as the French, Spanish, British, and American.
In the case of Amelia Island and Fernandina Beach, this area was settled by the French in the 1500s. The French left their colonial mark on Amelia Island and Fernandina Beach, leaving behind a charming, European-style beach town vibe.
This is a great destination in Florida for a weekend beach getaway. Spend your days relaxing on the beach and the afternoons and evenings perusing the cute boutiques, shops, and restaurants in the cute beach town!
Looking to have a fun and immersive experience on your trip? Check out this awesome guided kayak tour in the area, which is so fun for the whole family!
PRICE: US$60
6. Hang out at Santa Rosa Beach and Blue Mountain Beach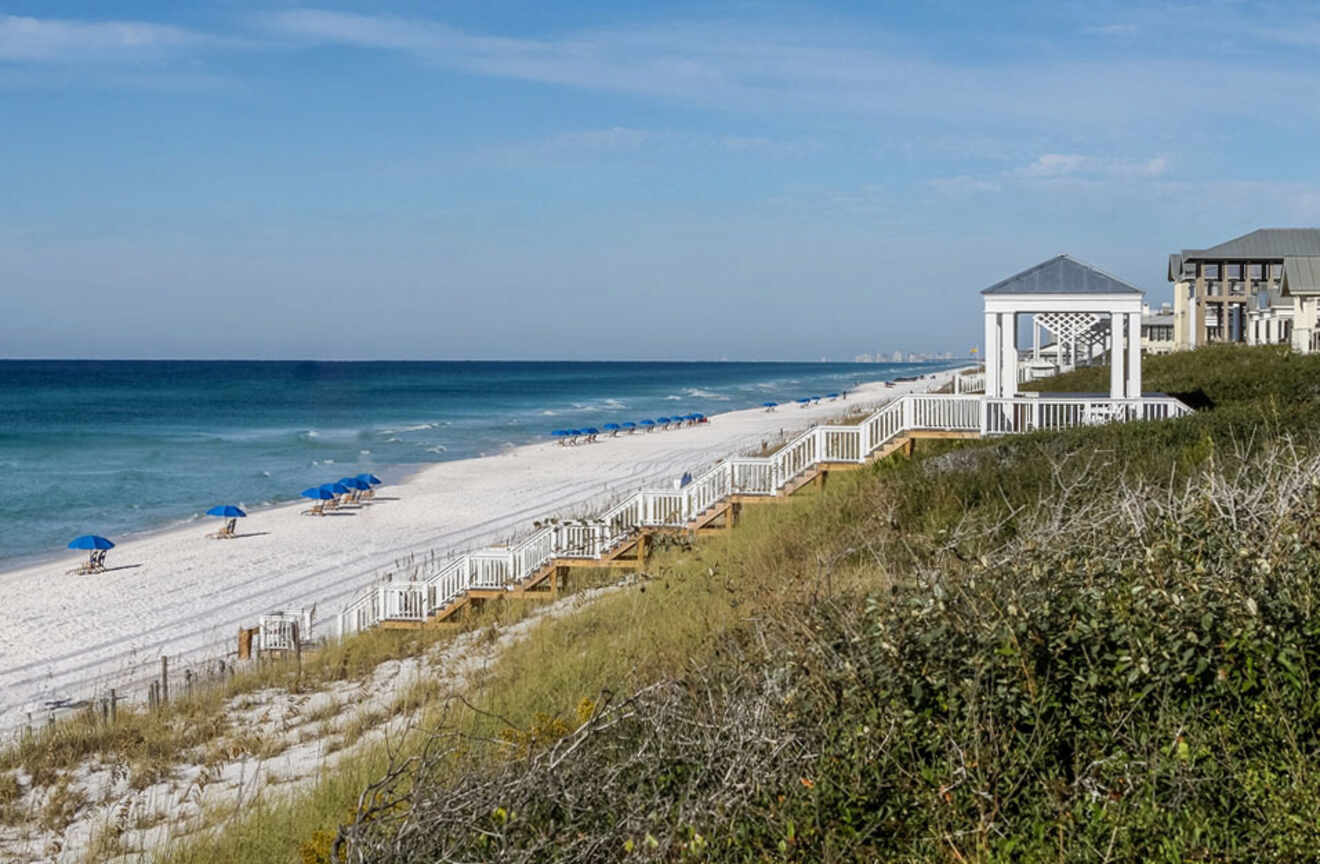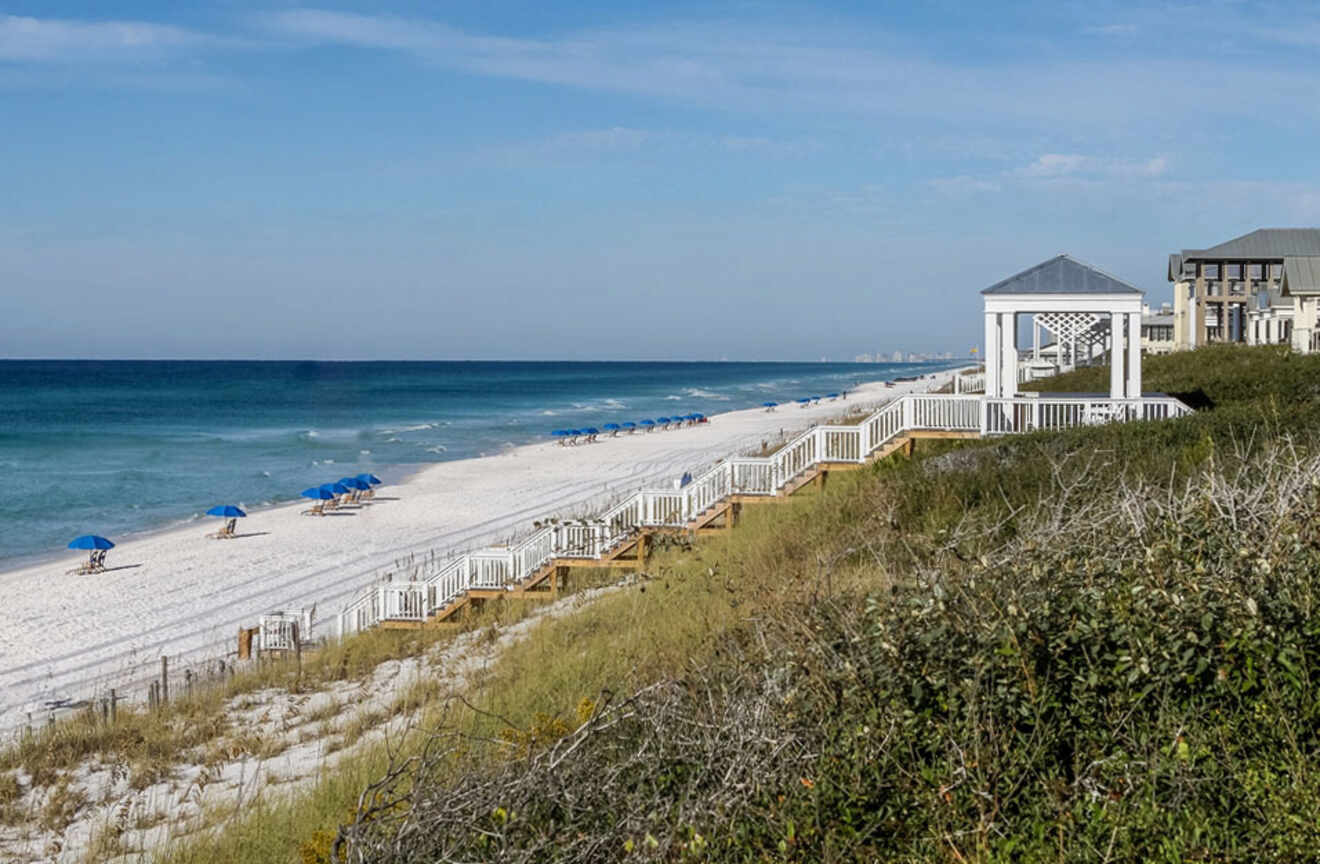 Florida is notoriously a pretty flat state. However, the slightest bit of elevation adds a breathtaking dramatic element to the already dynamic landscape!
Santa Rosa Beach or Blue Mountain Beach are the best beaches in Florida to experience some mild elevation and stunning views, contrasted by crystal clear waters.
Also known as Grayton Beach State Park, these Gulf Coast beauties are seriously some of the most impressive and beautiful beaches you will come across in Florida.
These are also some of the most remote beaches in Florida, with truly pristine and undeveloped shorelines reminiscent of Old Florida prior to rapid development!
Definitely check out Destin and Panama City Beach, Blue Mountain Beach, and Grayton Beach State Park while you're in the area.
Looking for fun excursions in the area to level up your vacay? Check out this incredible snorkel + dolphin sightseeing boat tour on Shell Island, near Panama City Beach!
PRICE: US$53
Book Your Dolphin Snorkel Adventure
7. Relax in the calming waters at Clearwater Beach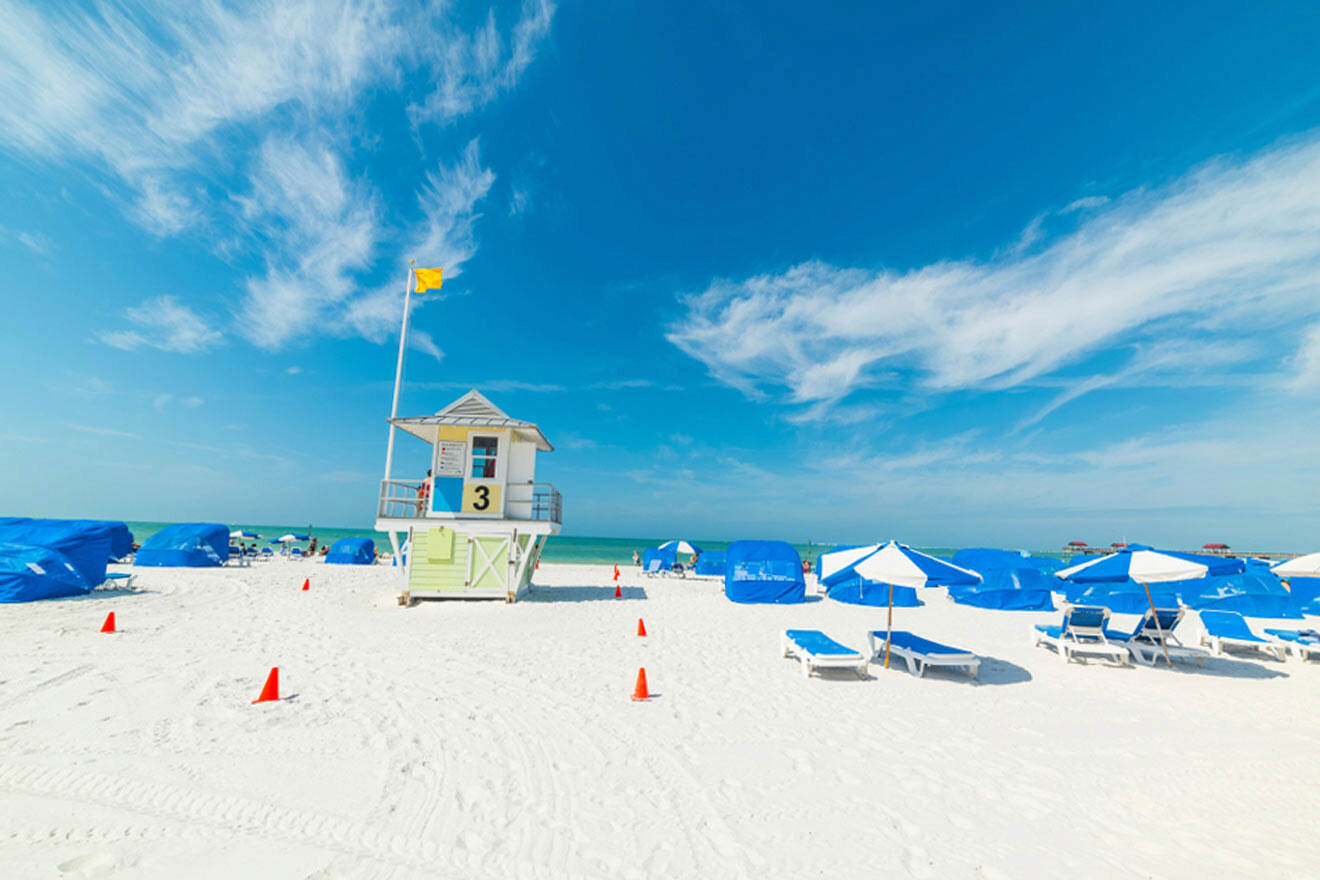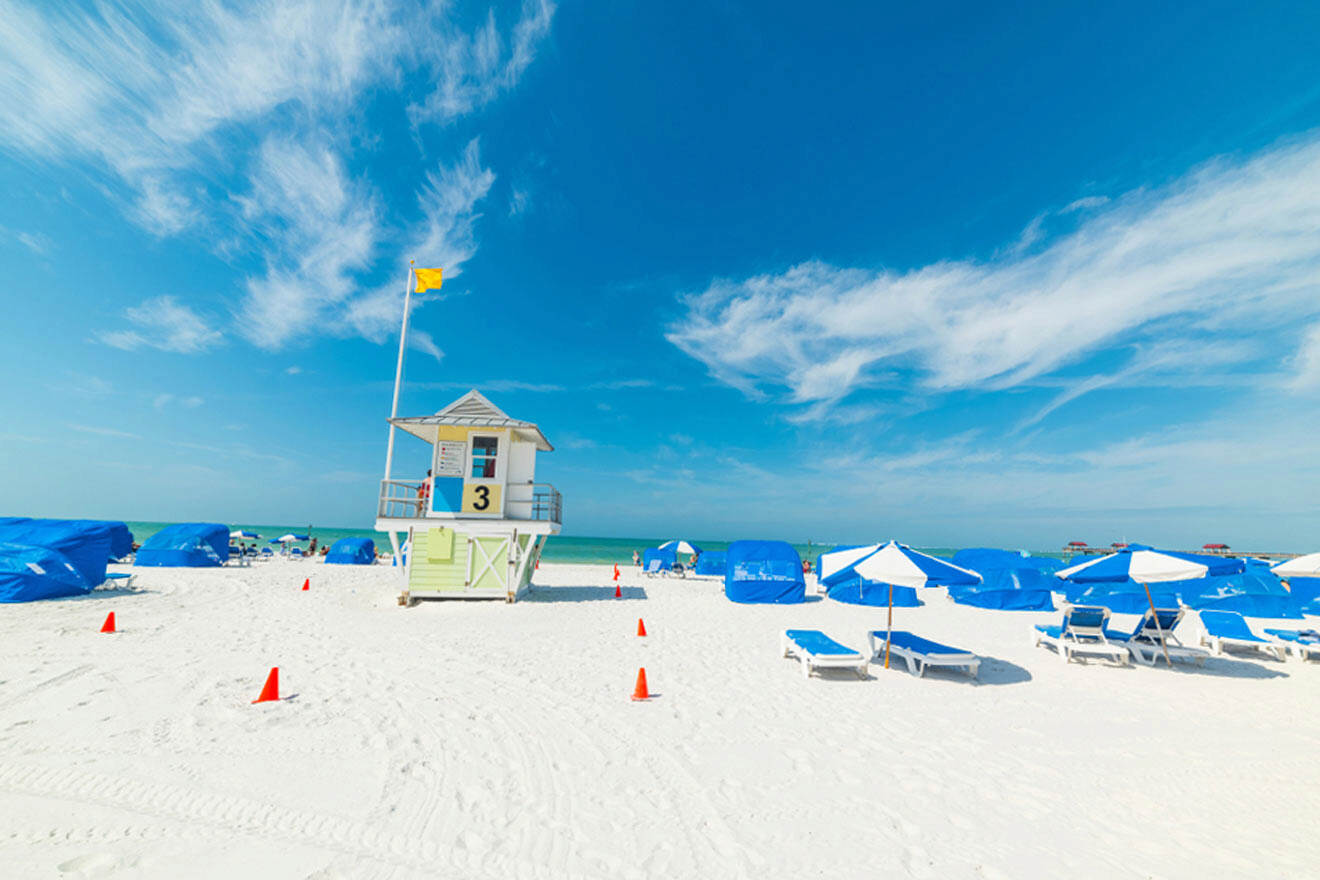 Clearwater Beach has some of the clearest waters you will encounter in Florida!
Because of its shallow water, it's a magnet for families and beachgoers with young children. However, I will say that there are some pretty intense rip currents on the Gulf Coast, so always keep that in mind and make sure there is a lifeguard on site!
That being said, for the most part, Clearwater and other west coast beaches are pretty safe. However, the ocean is a powerful force, and it doesn't hurt to be hyper-vigilant, especially with young ones!
One of the best parts about Clearwater Beach and most West Coast beaches is how common dolphin and other marine life sightings are!
Your trip is incomplete without going on a designated dolphin cruise! Being on the crystal clear waters and seeing dolphins is one of the best parts of visiting Clearwater Beach!
PRICE: US$30
Book Your Clearwater Dolphin Tour
8. Take a siesta on the beach at Siesta Key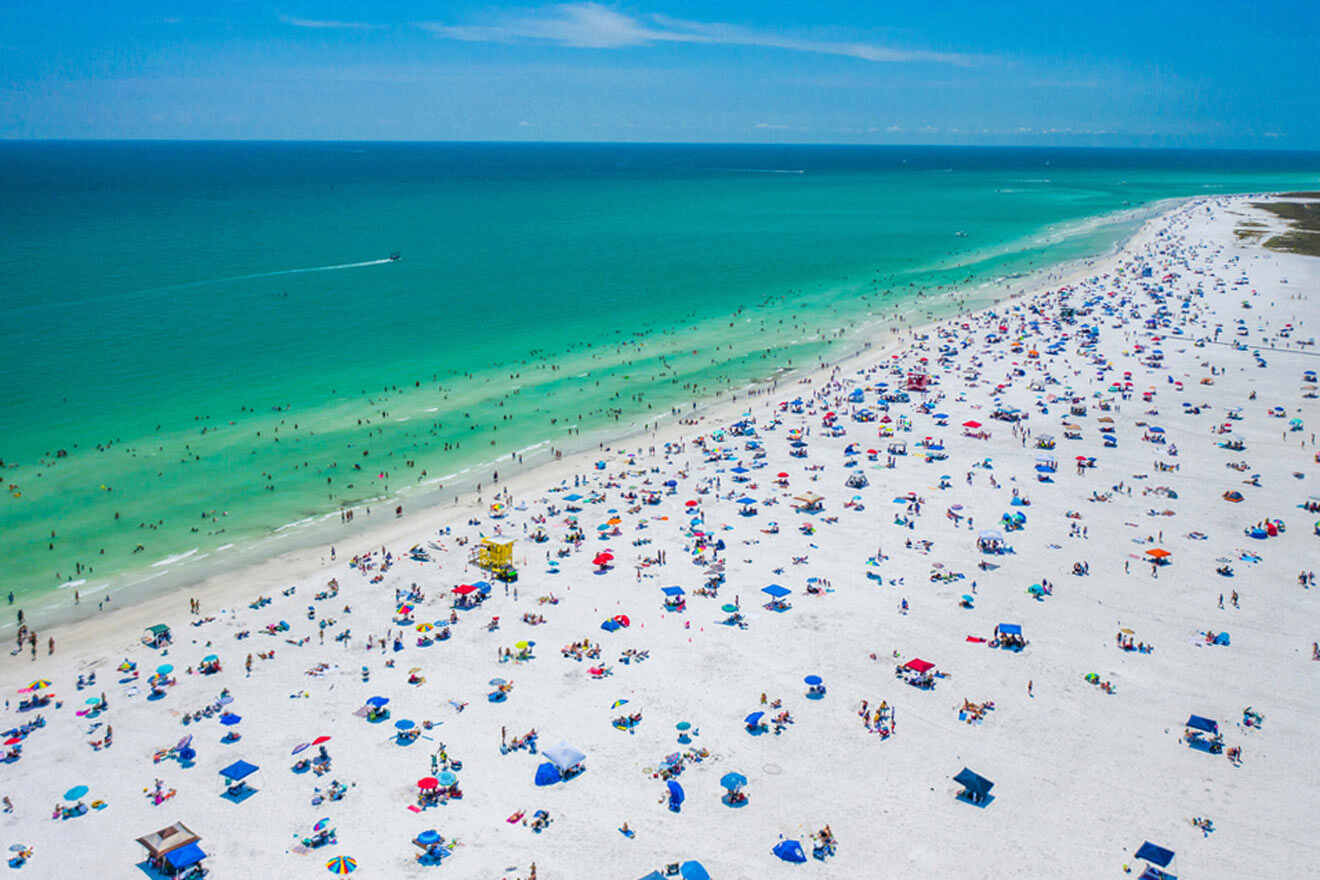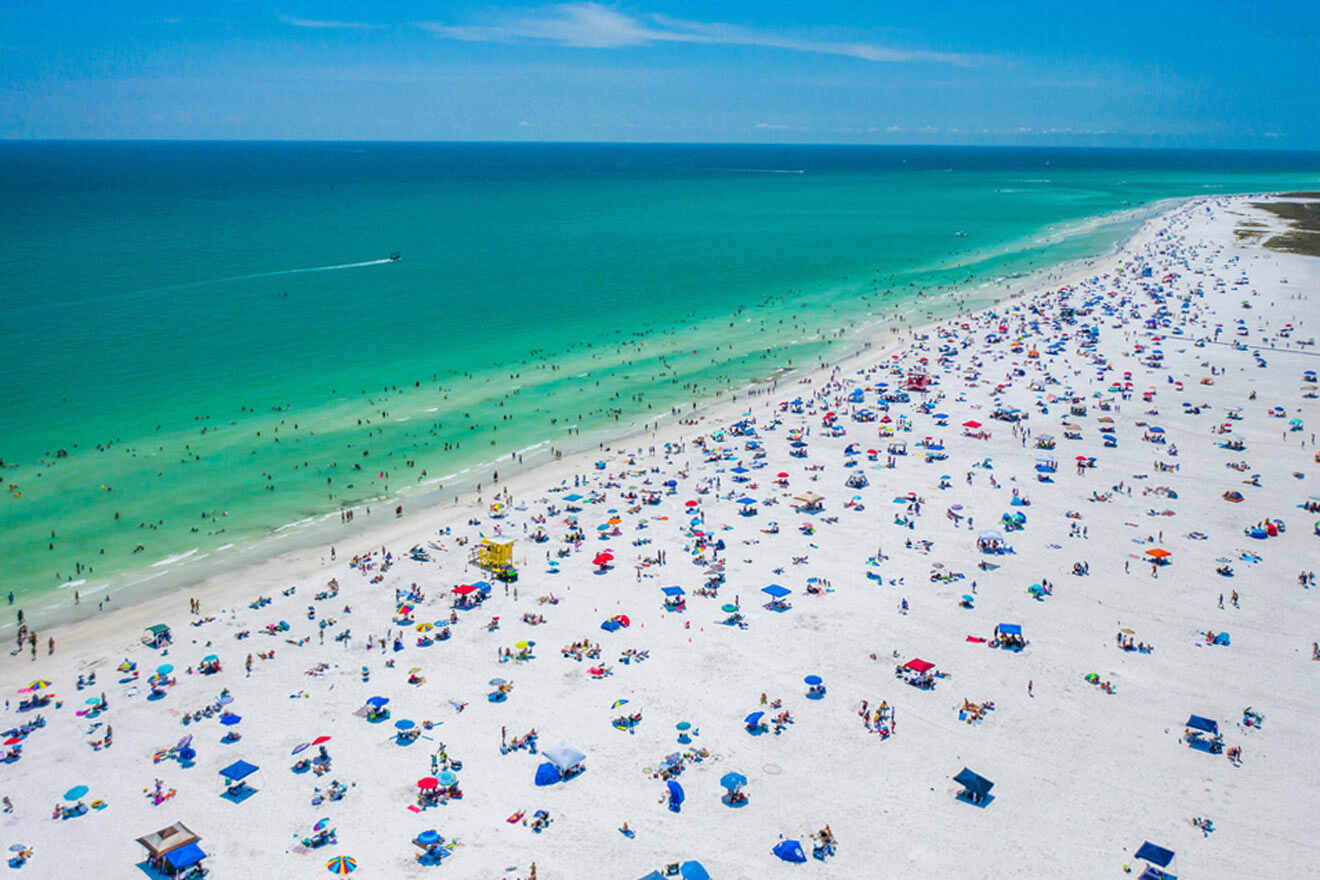 This is one of those tropical beaches I mentioned in the intro that makes flying to a Caribbean island and using up jet fuel completely unnecessary!
Siesta Key is a tropical island oasis on the Gulf Coast, and is easily one of the best beaches in Florida!
Conveniently located near Sarasota, Siesta Key is a gorgeous beach with white sands, warm turquoise waters, swaying palm trees, and a lovely tropical breeze. This is one of the best beaches for shelling, watching the sunset, and relaxing with a tropical cocktail in hand!
This award-winning beach has been featured on MTV and plenty of other TV shows, giving it a claim to fame! It most definitely deserves all of its accolades, as it is truly one of the best beaches in Florida!
Oh, and don't forget to check out Lido Key while you're in the area!
If you're feeling adventurous and want to experience this gorgeous beach in Florida a bit more intimately, consider going on a kayak tour!
This tour takes you around the gorgeous coastal landscape of Siesta Key, where you can see mangroves, manatees, dolphins, and all sorts of marine life!
Mangrove forests are nurseries for hundreds of species of marine life and other wildlife. Kayaking through the mangroves and lush coastal landscape of Siesta Key is one of the best things to do in the Sarasota area!
On this tour, you even get to kayak to a secret beach! Talk about a tropical getaway!
PRICE: US$51
9. Visit a nature lover's paradise in Fort De Soto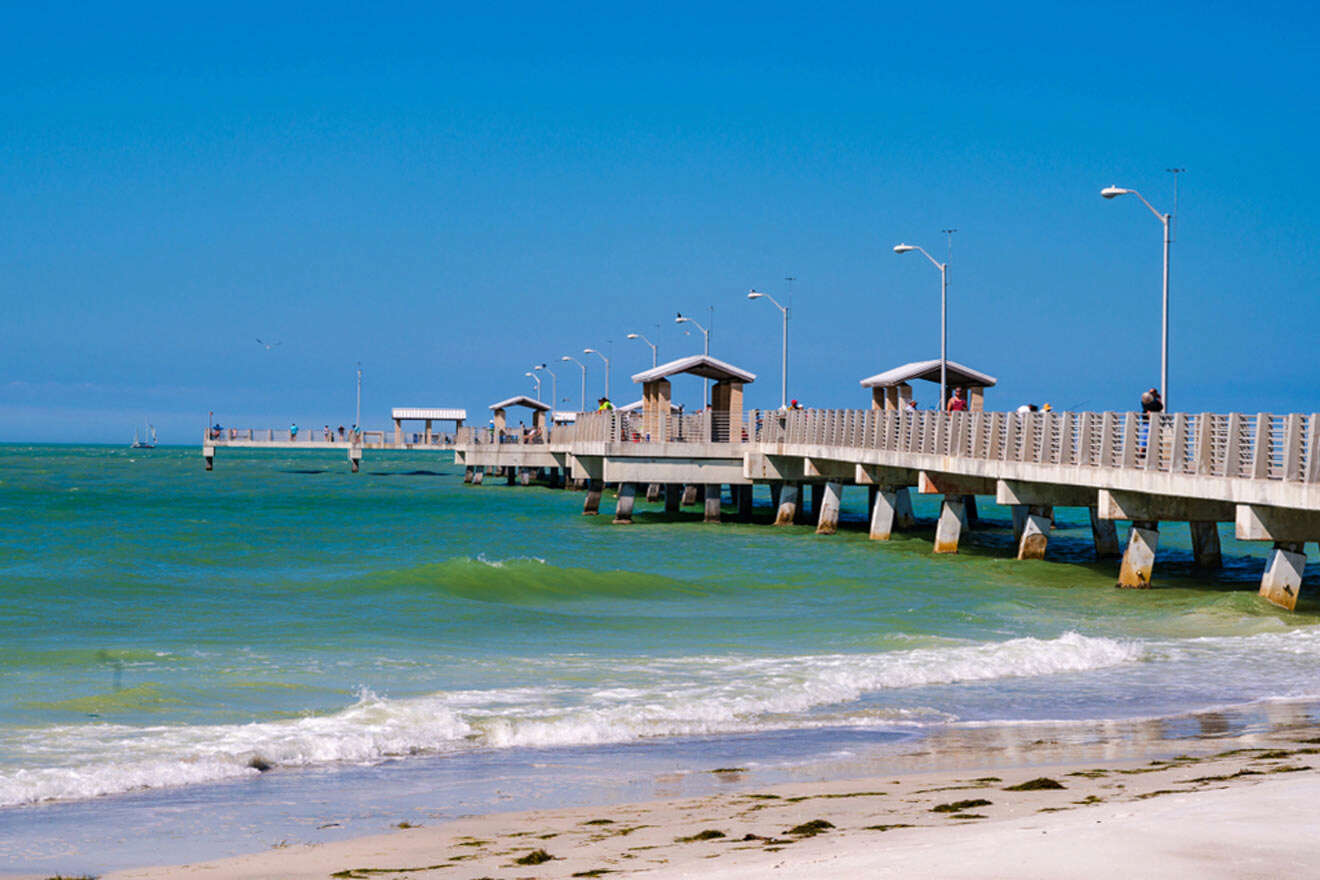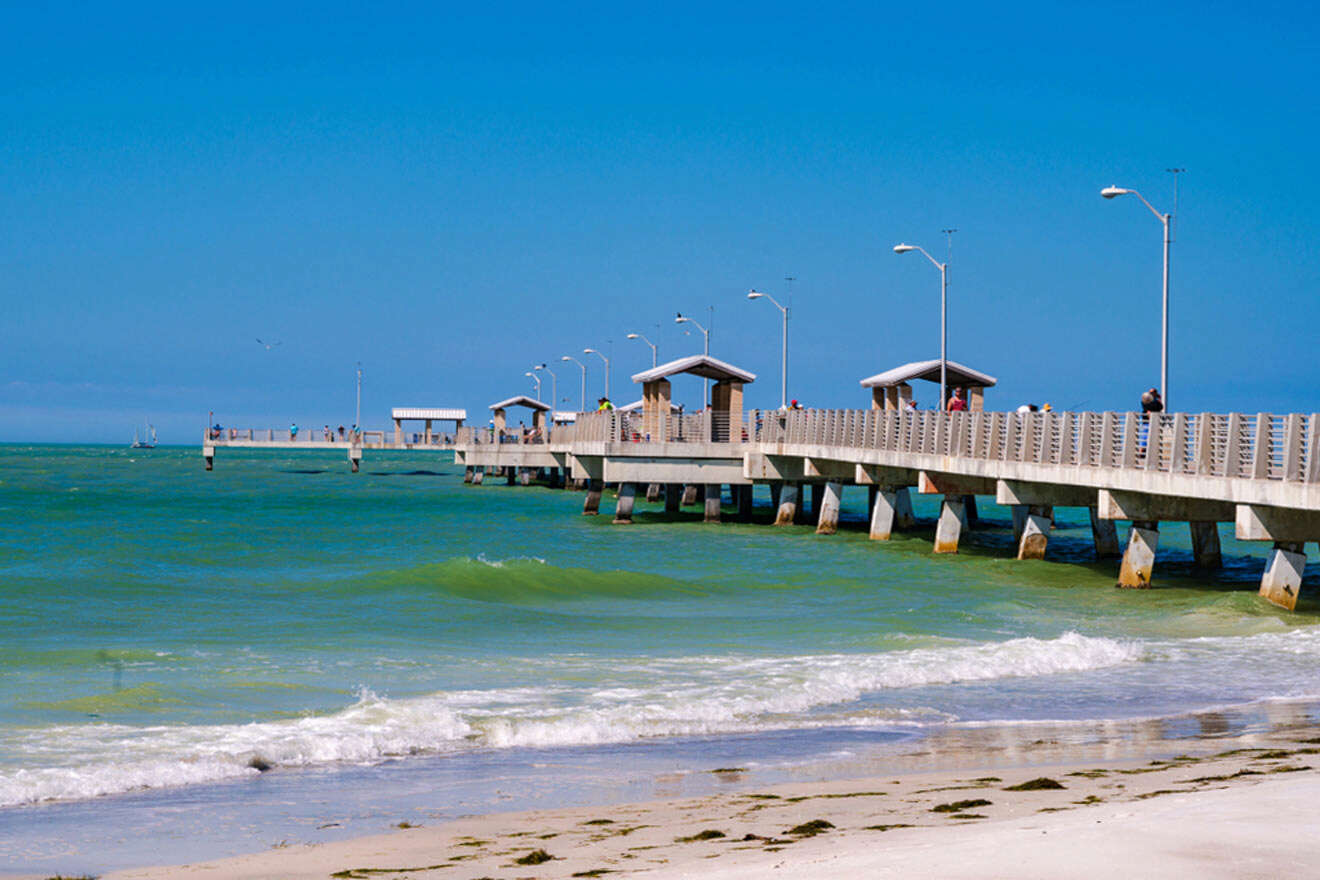 Boasting well over 1,000 miles of white sandy shorelines and incredibly clear turquoise water across five islands, Fort De Soto Park in Tierra Verde is one of the best beaches in Florida!
With incredible nature trails, breathtaking beaches, incredible mangrove forests perfect for exploring by kayak or paddleboard, frequent dolphin sightings, and a picturesque colonial fort, Fort De Soto is a sight for sore eyes.
A great beach for families in this paradise oasis is a natural tidal pool located on North Beach. This is a great place for kiddos to splash around in calm, warm waters and collect seashells!
If you're traveling with your four-legged friends, there's an incredible dog beach where your beloved furry friend can prance and play around in the Gulf waters!
If you want to see the vast and expansive nature of this incredible coastal gem from a birds-eye view, I highly recommend checking out this incredible helicopter tour.
On this tour, you can get an absolutely breathtaking view of Fort De Soto, St. Pete Beaches, and the Skyway Bridge!
PRICE: US$173
10. Escape to Sanibel Island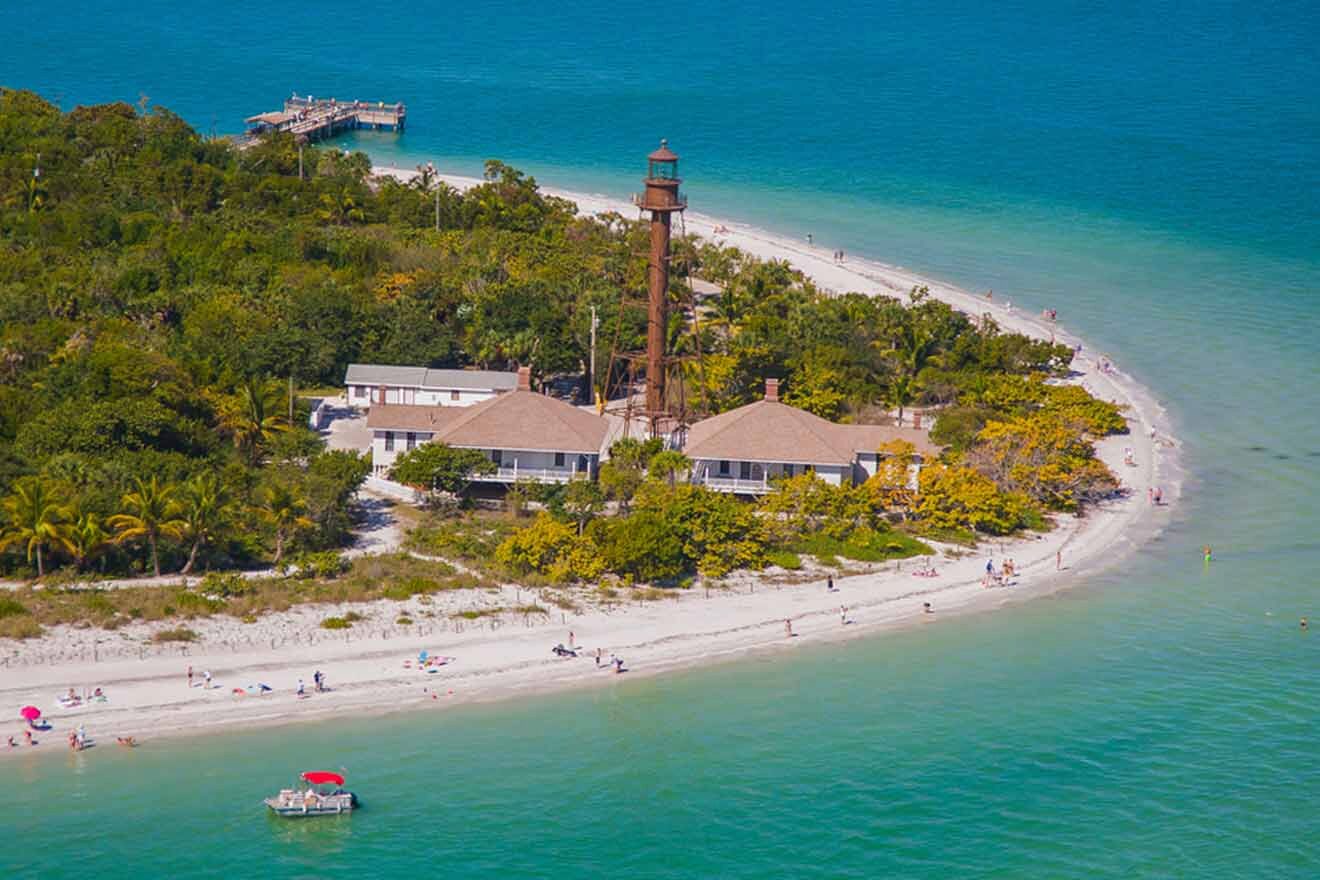 Sanibel Island is another stunning tropical island on the Gulf Coast with some of the best beaches.
My favorite beach on Sanibel Island is Bowman's Beach.
This beach boasts incredible white sand, turquoise water, and a beautiful undeveloped shoreline. This is the best beach if you're trying to escape the crowds!
Bowman's Beach is also a great family beach as the water is calm, and the sand is soft and powdery.
Shelling is a super popular activity at this stunning Gulf Coast beach! Admire the Gulf views and keep an eye out for some of the most beautiful shells you've ever seen in your life!
This beach and the surrounding area are so picturesque it's worth booking a tour that takes you sailing around the area so you can fully take in the incredible beauty of the area.
This sailing tour takes you around Fort Myers Beach and the Sanibel Island area. Create some unforgettable memories as you take in the breathtaking views and sail the calm waters of the Gulf of Mexico!
PRICE: US$70
Book Your Day Sail in Sanibel Island
11. Check out Caladesi Island State Park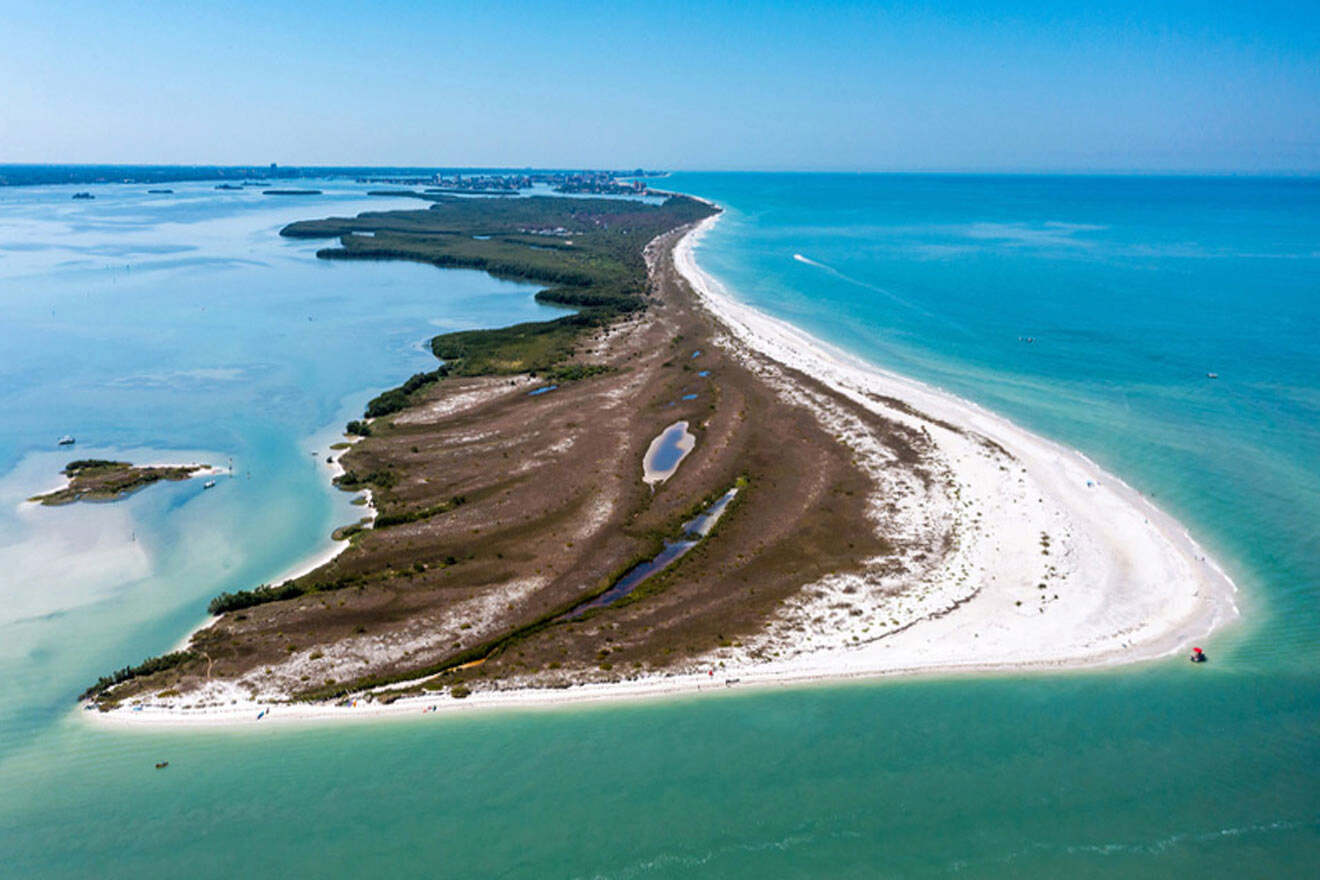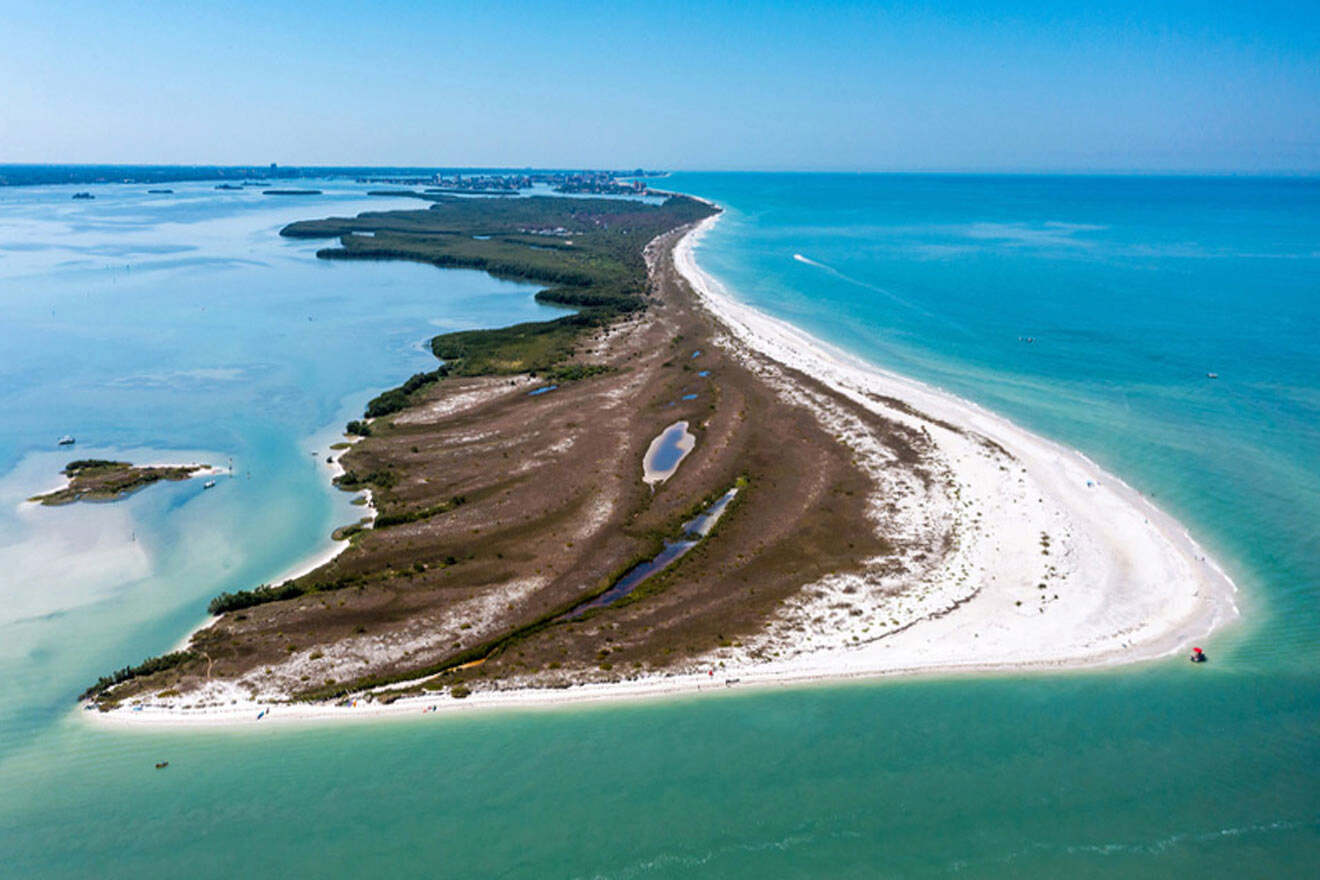 Another tropical island paradise, the sandy shores of Caladesi Island and Honeymoon Island offer some of the most beautiful beaches the West Coast has to offer.
Located near Clearwater, Caladesi Island is an incredibly romantic and picturesque natural landscape that preserves the wild wonders of ancient Florida.
With expansive stretches of radiant white sand beaches, clear azure water, incredible and unique shells, incredible biodiversity, and coastal habitats, this is another great place to visit for nature lovers in Florida.
You can access the islands by ferry or by kayak and have the free range to explore wherever you please!
Check out this incredible kayak adventure on Caladesi Island, where you can get a unique inside look at the incredible natural beauty of this ancient Florida island.
This tour also takes you to a remote beach where you can hang out and unwind for the rest of the tour or join the group to explore the state park.
PRICE: US$75 for the kayak adventure, US$18 for the ferry to the island
Book Your Caladesi Island Kayak Adventure
12. Visit Marco Island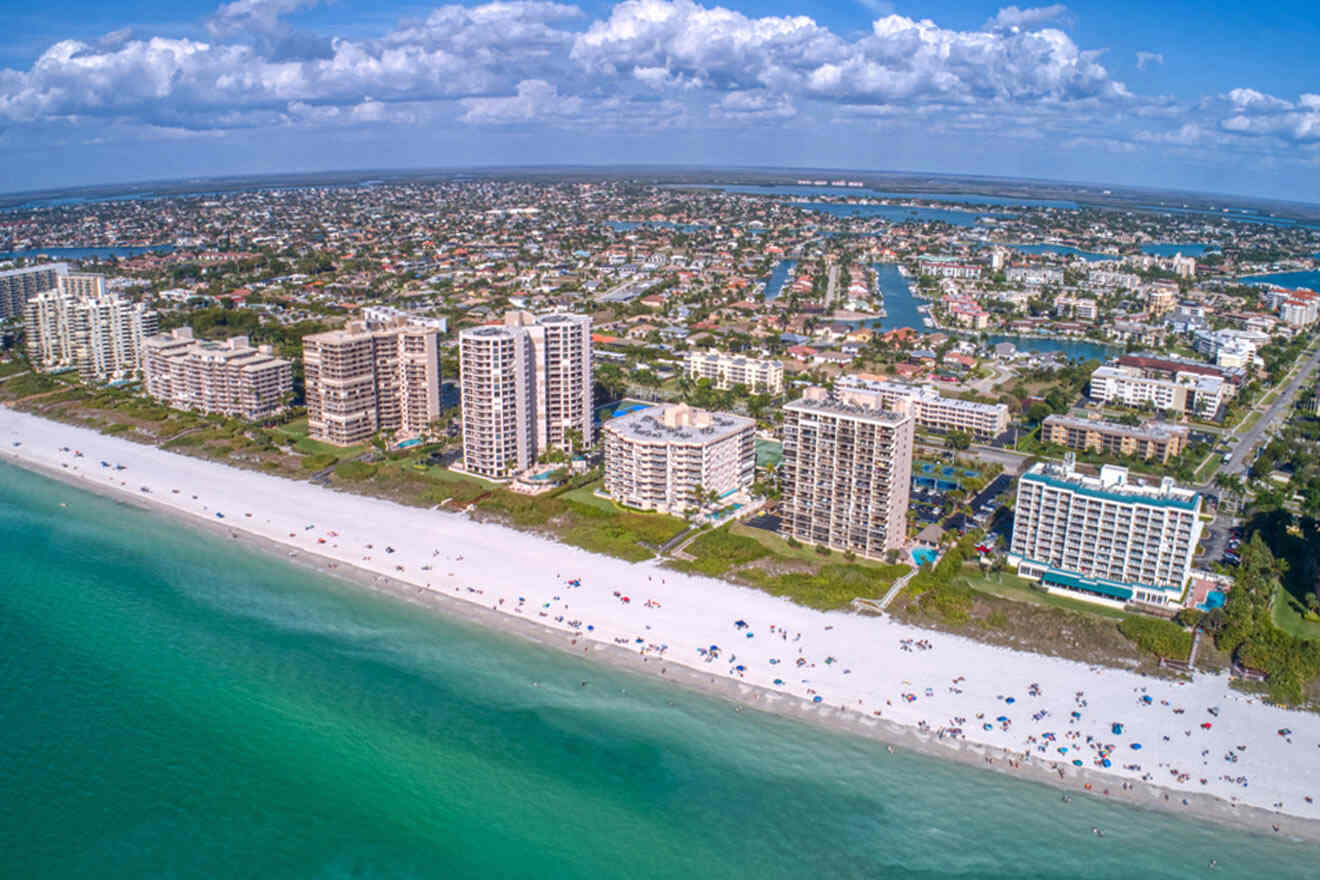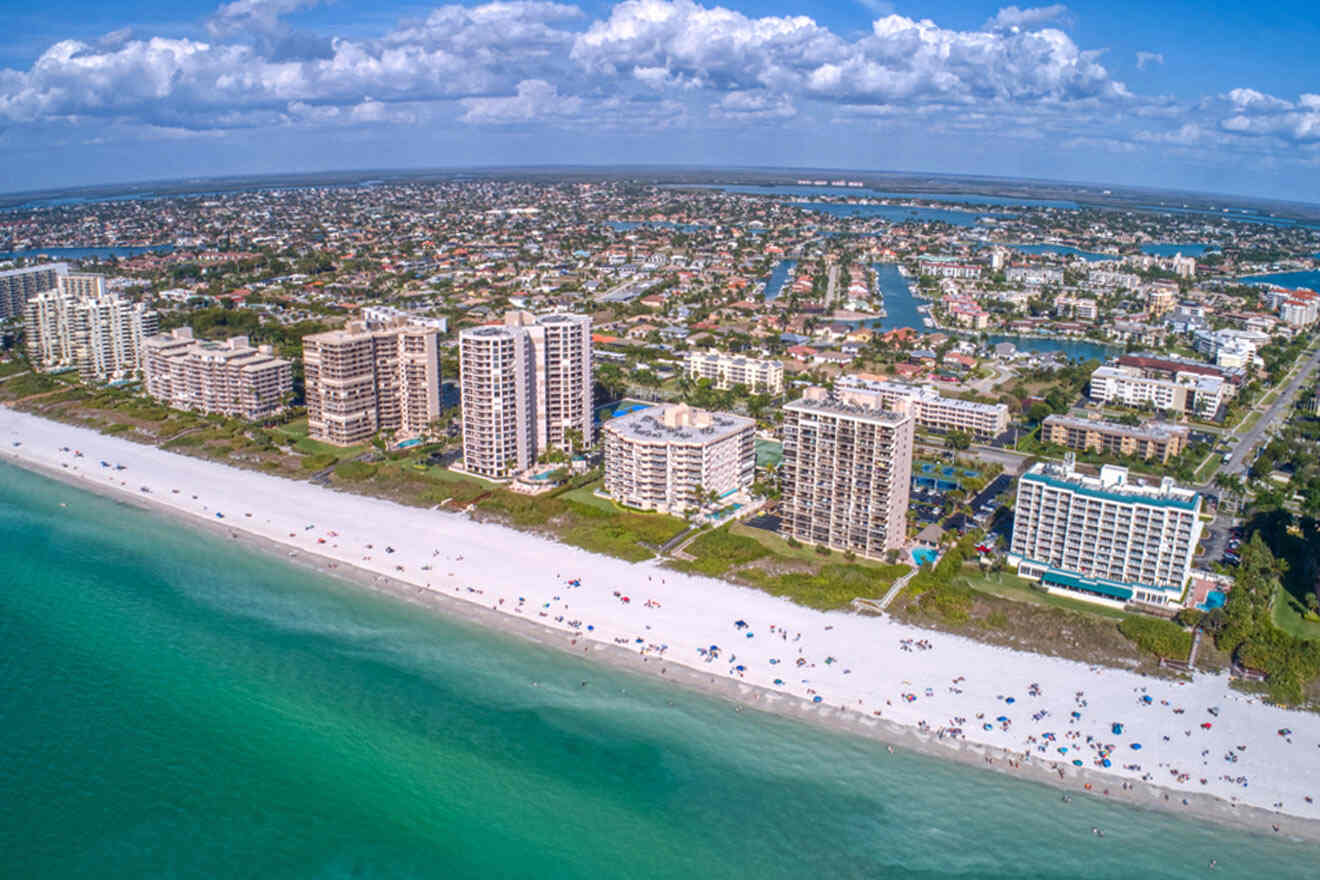 Ready for some more incredibly turquoise, serene water? Head on over to Marco Island Beach in Southwest Florida.
This incredible beach just south of Naples is excellent for anyone looking for the perfect beach escape.
This is definitely one of the best beaches in Florida! Tigertail Beach Park is also an excellent beach with a tidal pool perfect for families.
Marco Island is the largest barrier island in the absolutely incredible archipelago of the Ten Thousand Islands area. This is another amazing place to visit for nature lovers looking to see some stunning marine landscapes and wildlife!
Check out this incredible dolphin sightseeing and shelling tour on Marco Island! This is an excellent tour because you also get to see the astonishing beauty of the Ten Thousand Islands as well!
PRICE: US$85
Book Your Dolphin & Shelling Boat Tour
13. Explore Bahia Honda State Park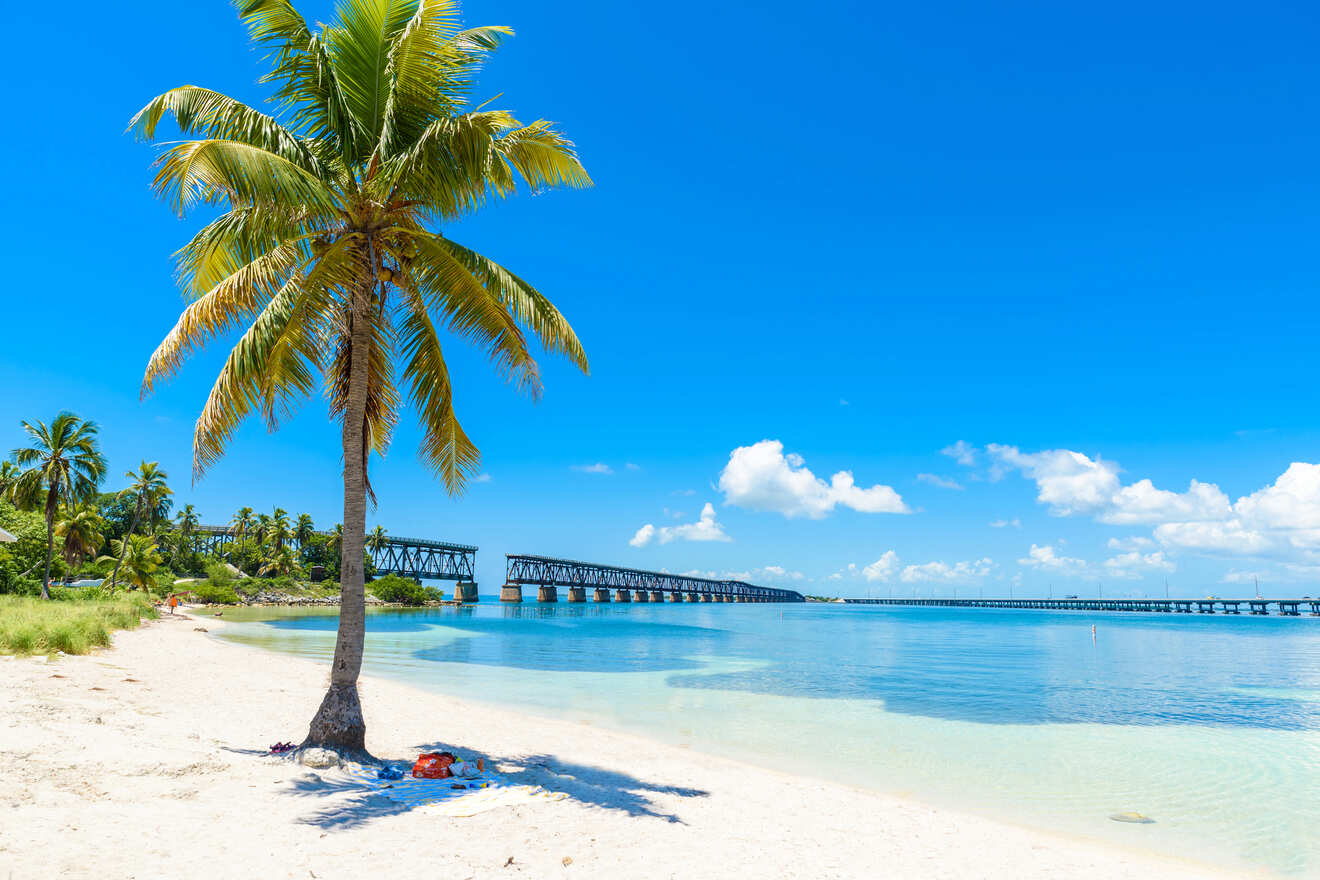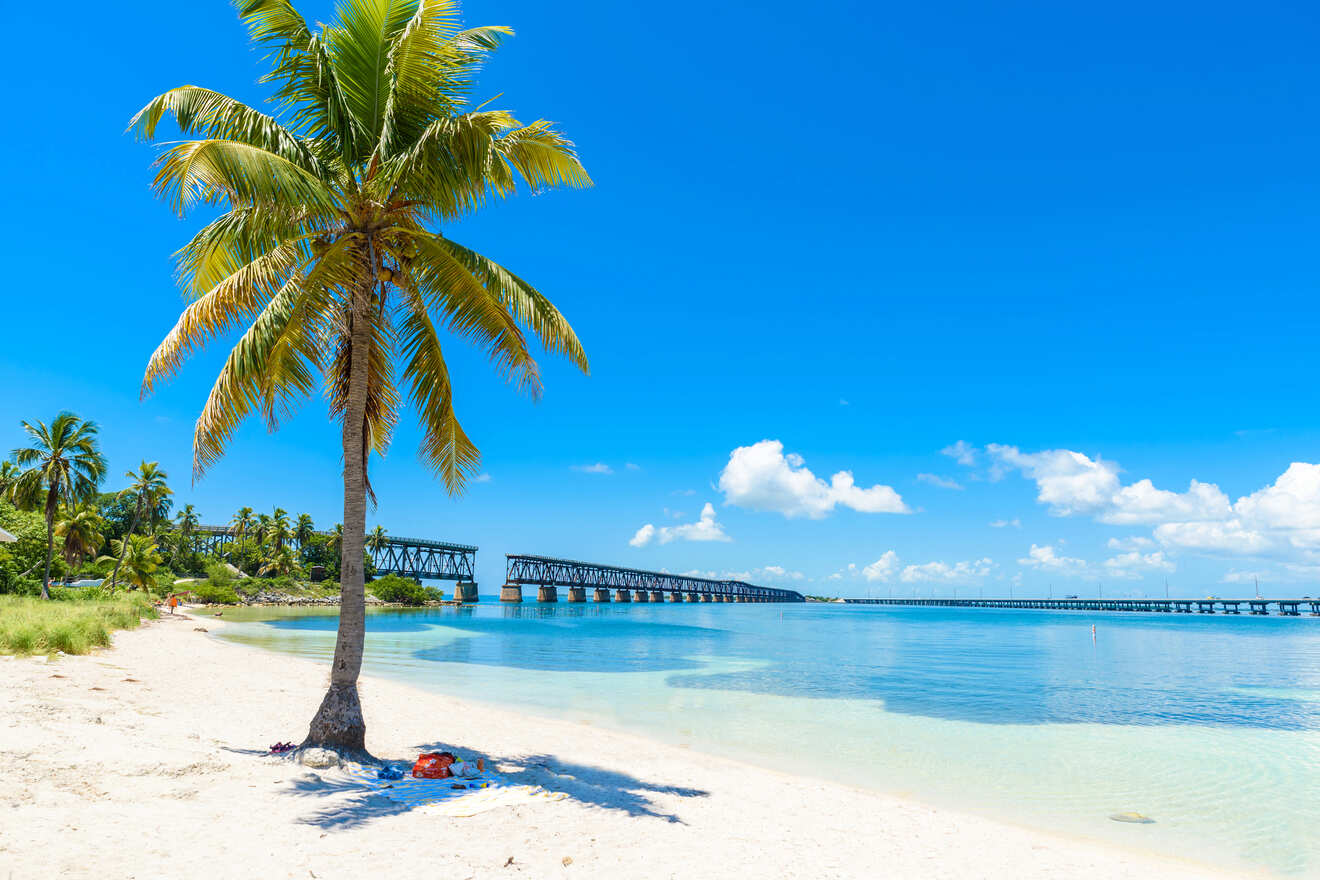 Home to one of the absolute best beaches in Florida, Bahia Honda State Park lies at the incredible intersection of where the Gulf of Mexico meets the Atlantic.
This is an excellent state park for camping, spending the day splashing around in turquoise, crystal-clear water, snorkeling, kayaking, exploring, hiking, bird watching, and so much more!
This is really the perfect place to recharge the body, mind, and soul in the ancient primordial soup that is the ocean.
Bahia Honda is truly a Caribbean experience. It is the Caribbean. So you don't have to spend a check on traveling to a Caribbean destination, just take a short trip to Bahia Honda or other places in the Florida Keys!
14. Get historical at Dry Tortugas National Park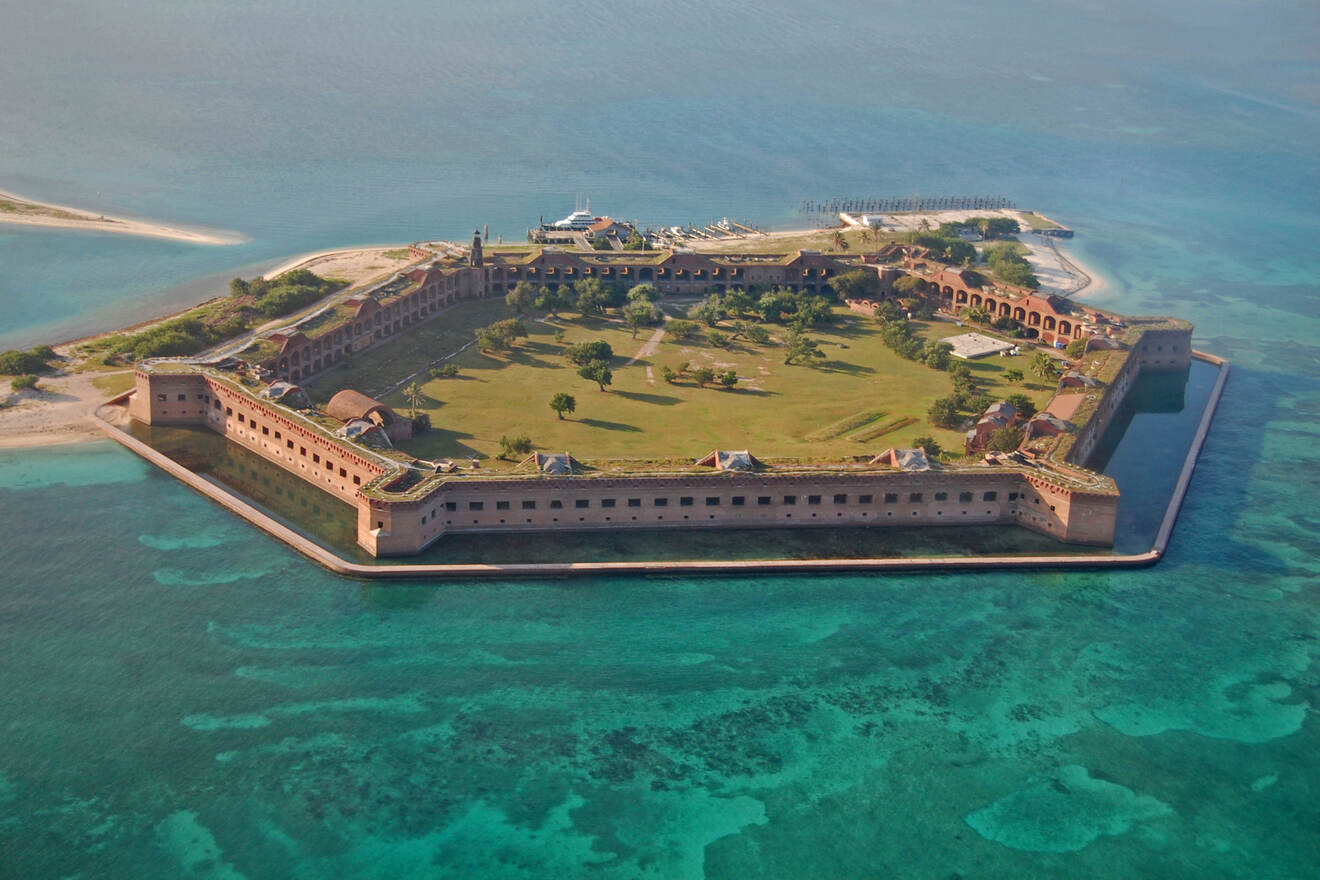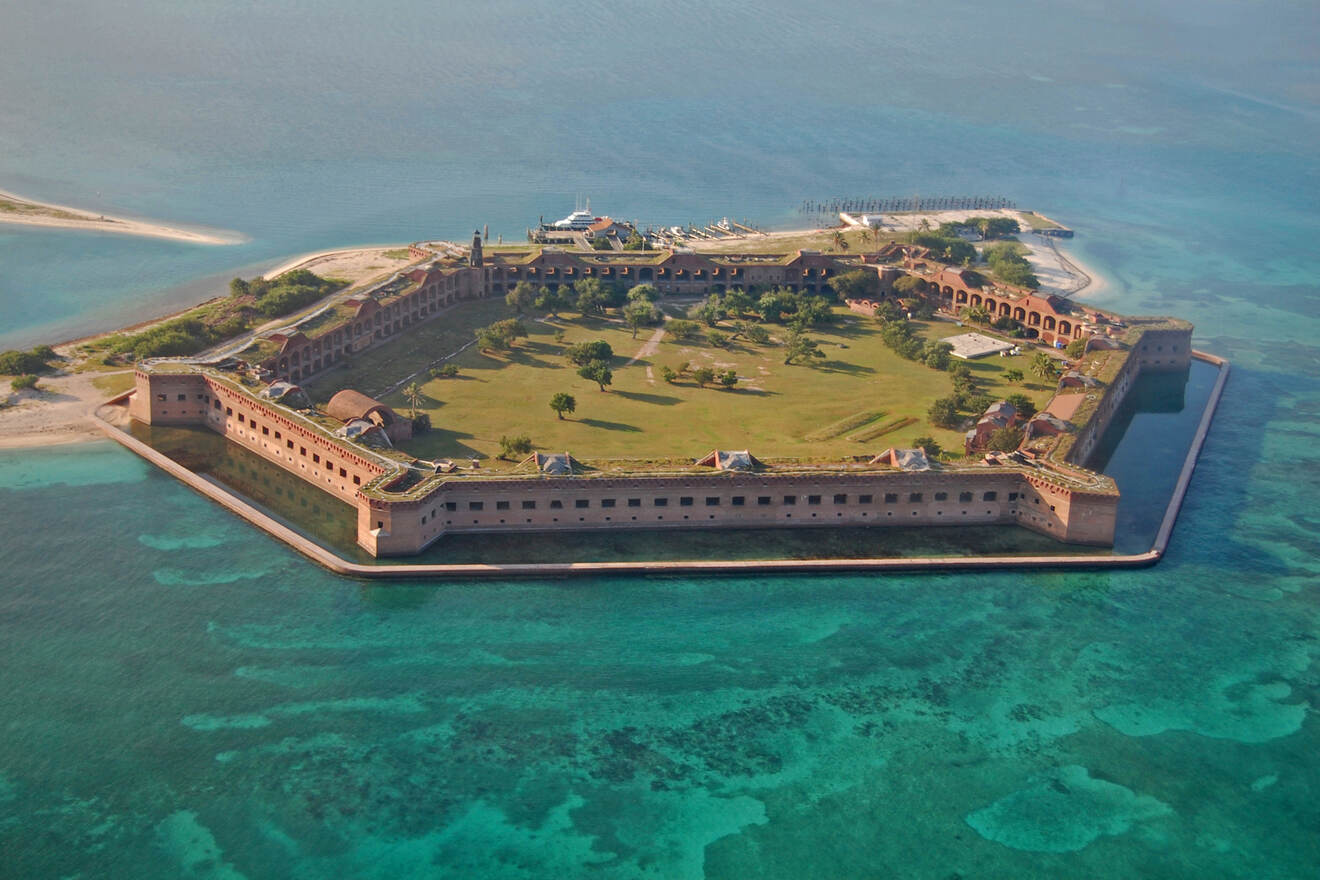 A true slice of heaven, Dry Tortugas is seriously one of the best beaches in Florida for nature lovers and people looking for a tropical getaway!
Dry Tortugas is home to seven gorgeous islands filled with possibilities. However, keep in mind that the islands that are open for exploring vary depending on the time of year you are visiting. The main Key that is always open to visitors is Garden Key.
Garden Key also happens to be the island where the famous military fort, Fort Jefferson, is located. This fort has a rich history and is reminiscent of ancient architecture. During its heyday, this fort served multiple purposes: a fort, a hospital, a prison, and now, houses State Park Rangers!
Staying in Key West? Check out this awesome catamaran day trip to Dry Tortugas National Park, where you can tour all of the keys and snorkel around the historic Fort! Snorkel gear is included in this awesome tour!
PRICE: US$200
Book Your Snorkel Tour to Dry Tortugas
FAQs about best beaches in Florida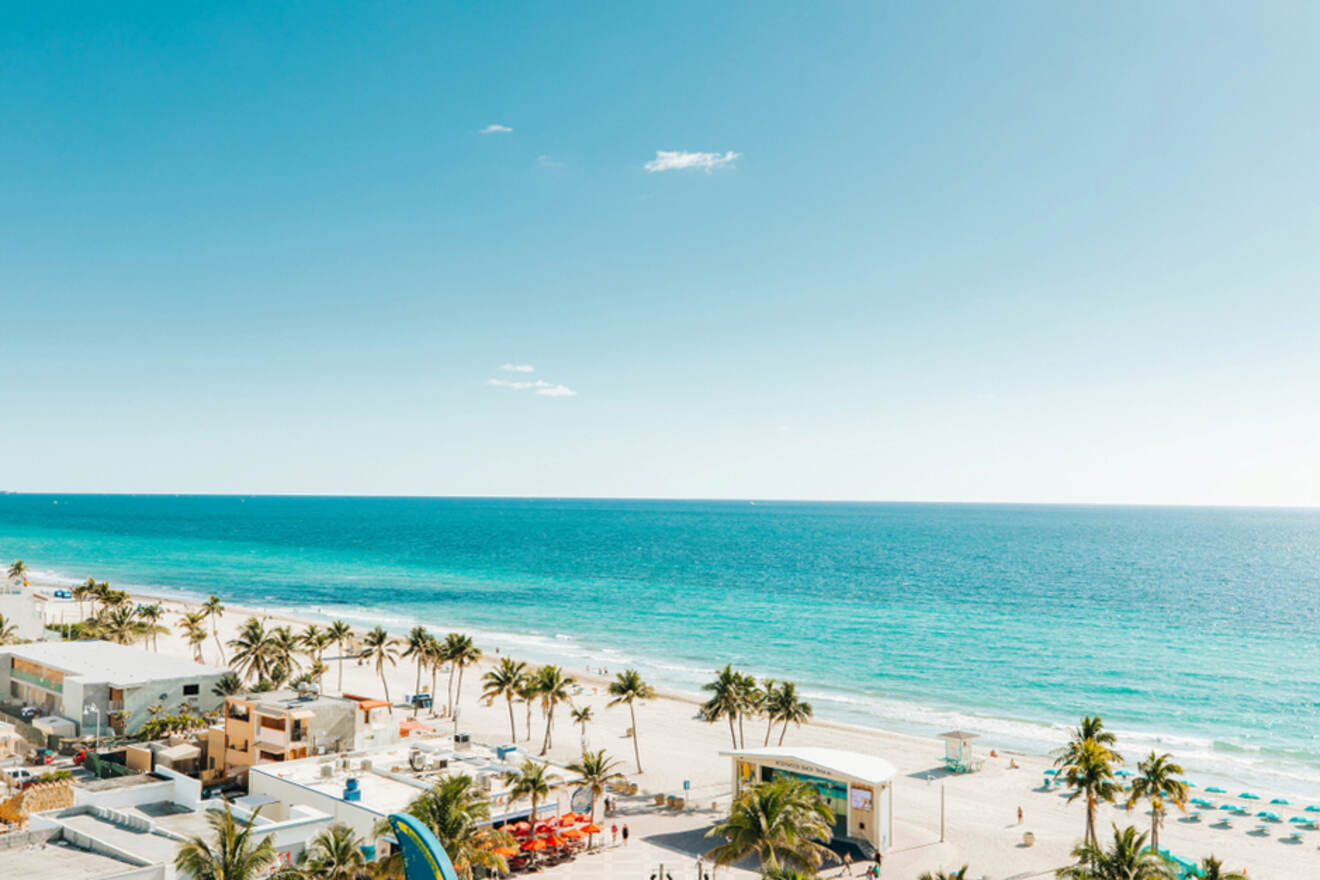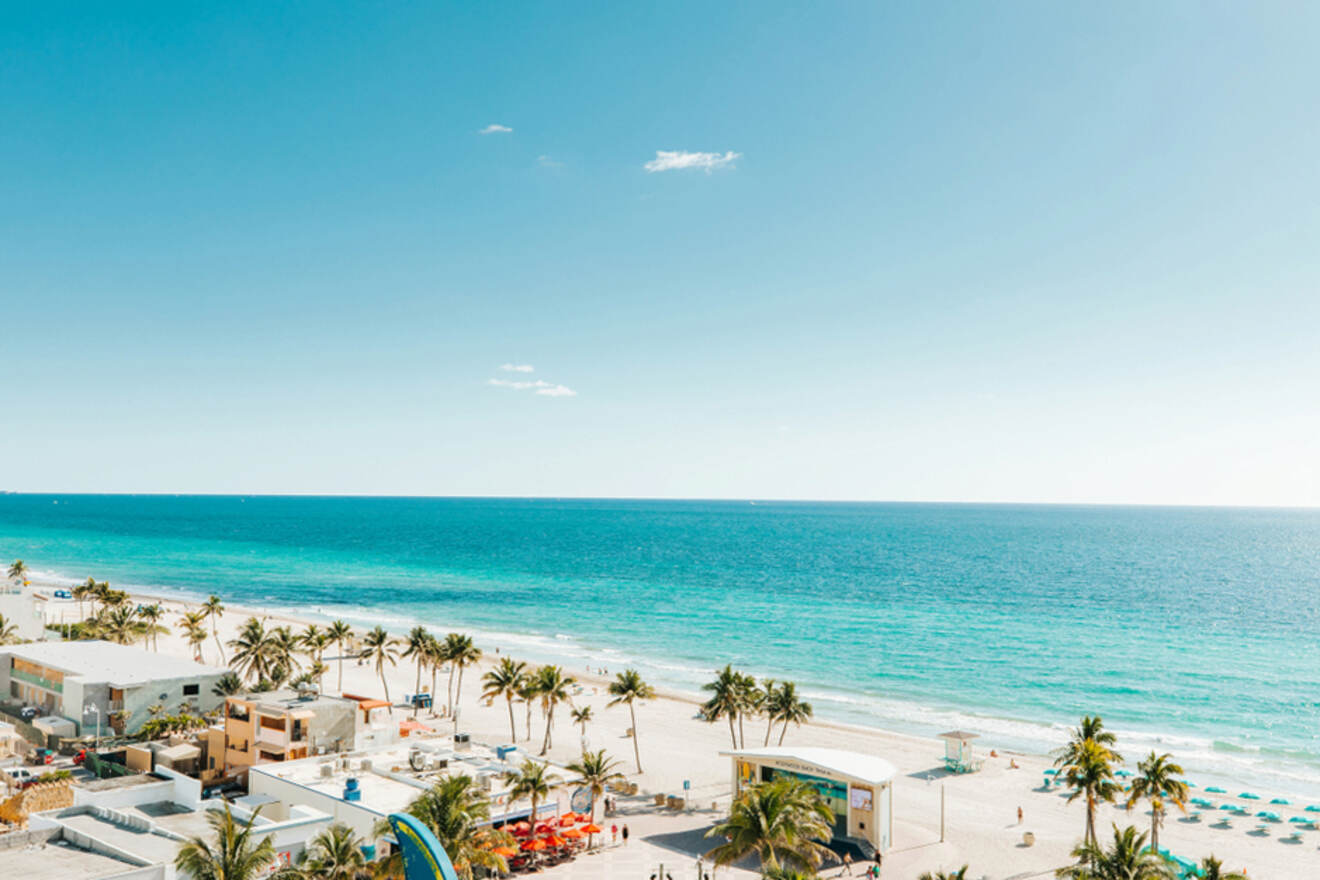 🏖️ What is the nicest beach in Florida?
🌊 Where is the clearest water in Florida?
🌴What is the safest beach in Florida?
When it comes to safety and the ocean, you are never 100% safe. The ocean is a powerful force that should be respected! However, there are some beaches that are safer than others. The West Coast has some of the safest beaches due to the shallow, calm waters and the presence of sandbars and sand dunes.
👙What is the least crowded beach in Florida?
One of my absolute favorites, Ormond Beach, is rated as one of the least crowded beaches in the Sunshine State! It's located right near Cocoa Beach!
Conclusion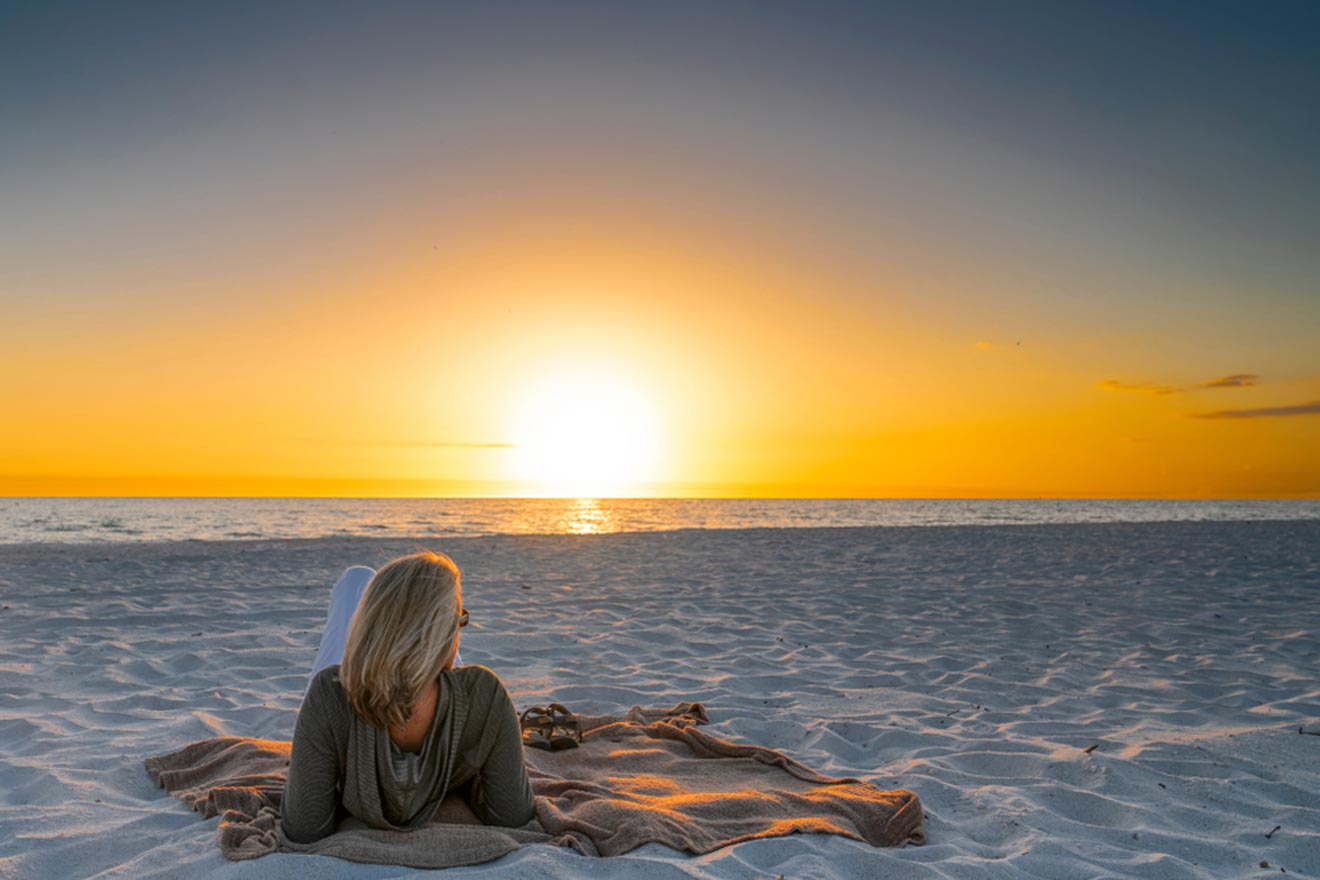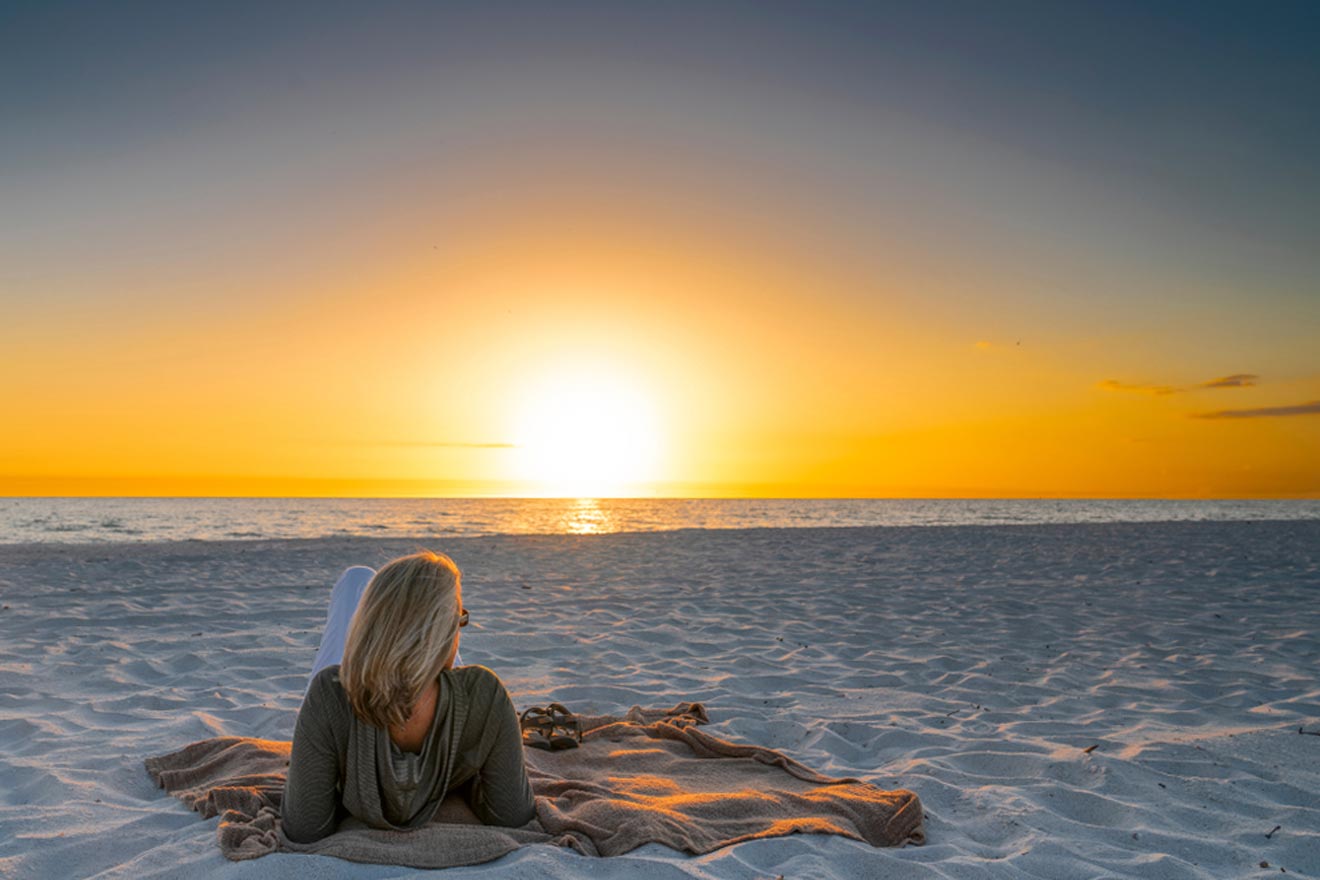 WOW! It was difficult deciding which beaches make it on this list. However, according to my local perspective and popular opinion, these are the best beaches in Florida!
Whether you are looking for a tropical getaway, a gorgeous undeveloped natural and pristine beach, or a fun beach town vibe complete with a pier, restaurants, and fun shops and activities, this list has everything you could ever need!
Always remember to respect the natural landscape of any beach you visit, do not litter, and respect any wildlife you encounter! The health of the wildlife and ecosystems is directly connected to our health as a planet.
Happy beach-ing!
With Love and Gratitude,
Amira G.
---
Pin it for later!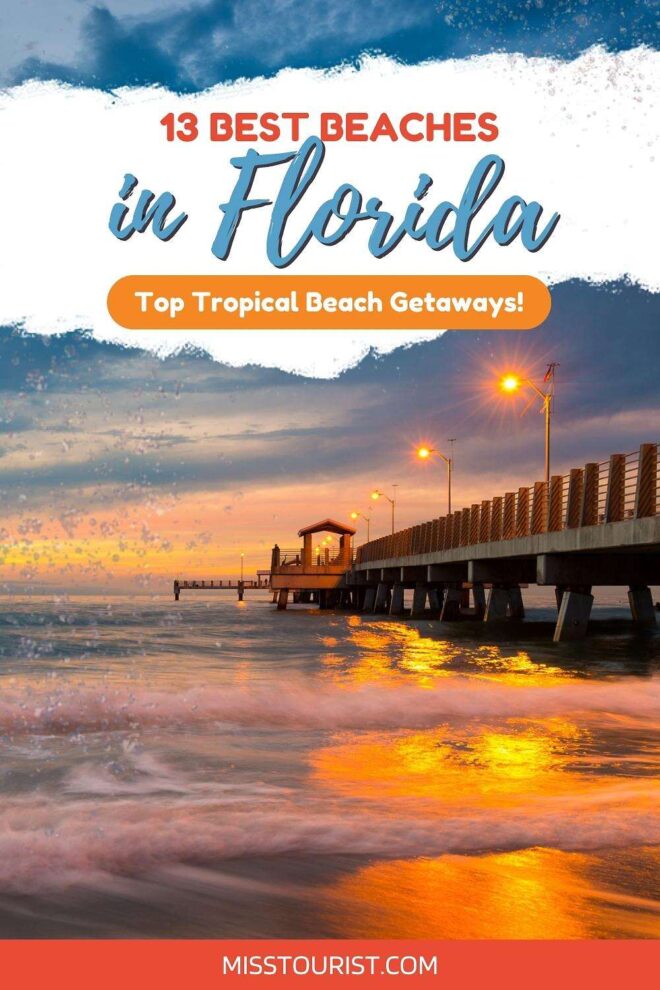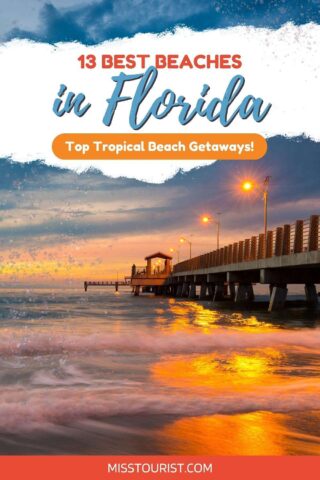 Pin it for later!