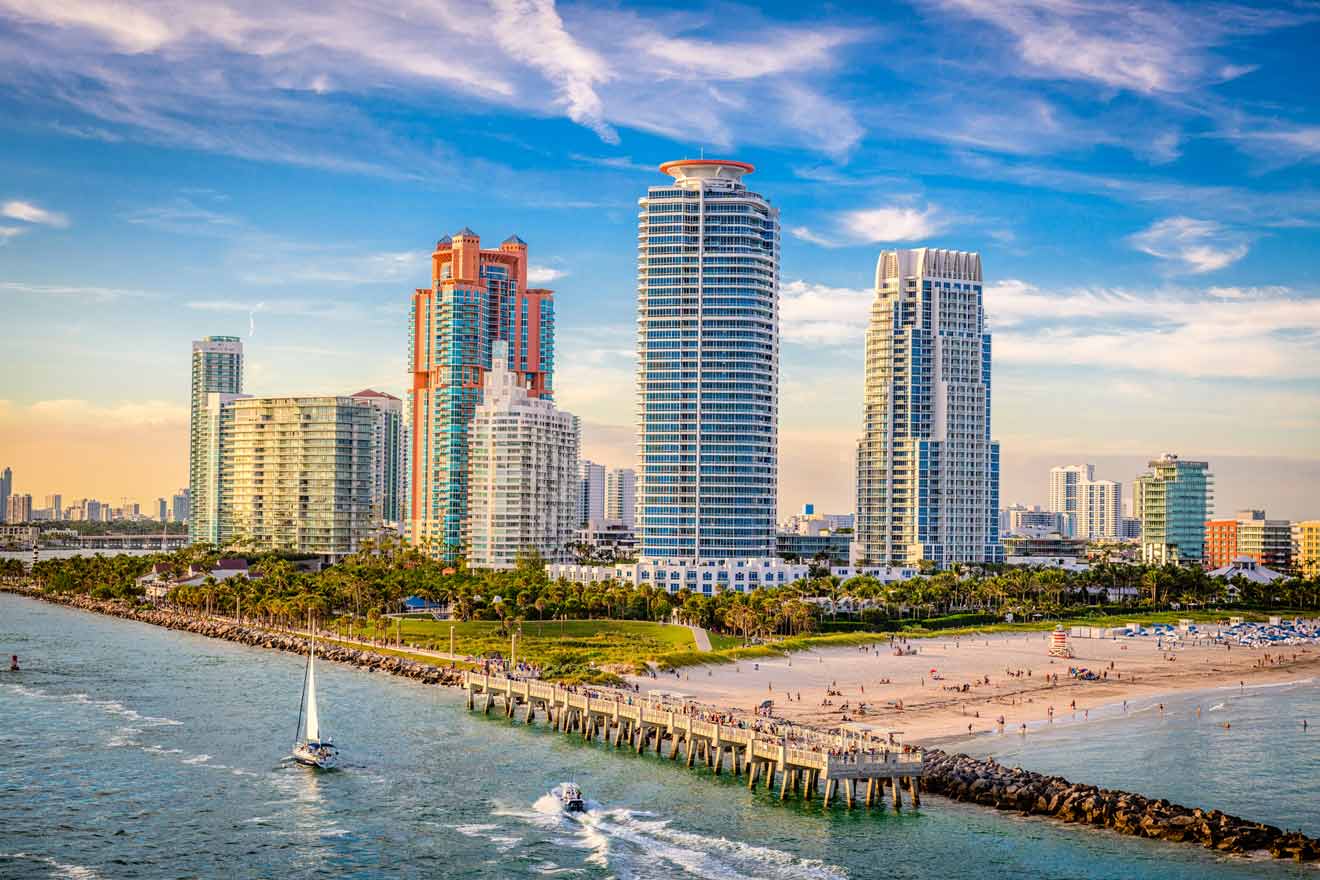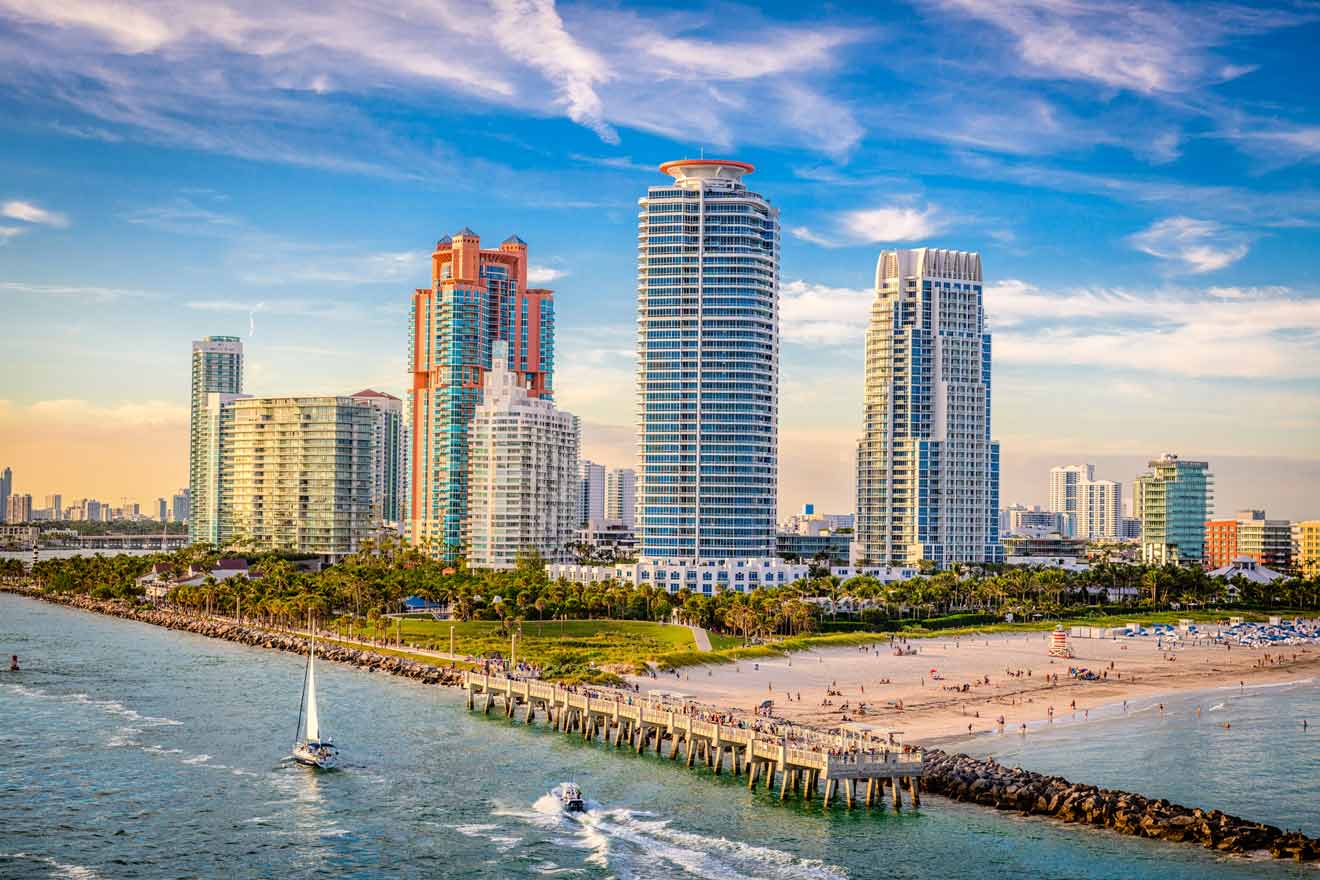 Planning a trip to the Sunshine State?
Look no further! I've been living in Florida for a few years now and have dedicated myself to finding the best things to do in Florida.
Florida is a fascinating state with many distinct and unique places to visit. When you think of Florida, most people think of the beach, Miami, and major theme parks.
Well, I am here to tell you that Florida has SO MUCH more to offer, and you will be amazed by some of these hidden gems that most tourists miss out on entirely.
Let's dive into this exclusive list of the best things to do in Florida from a local!
If you are in a hurry
If you're just here for a quick grab and go, here are the best things for you to do in Florida!
Here are the main things to book in advance:
Here's a map of all the best places you'll be visiting on your trip to Florida!
1. Explore Florida's beaches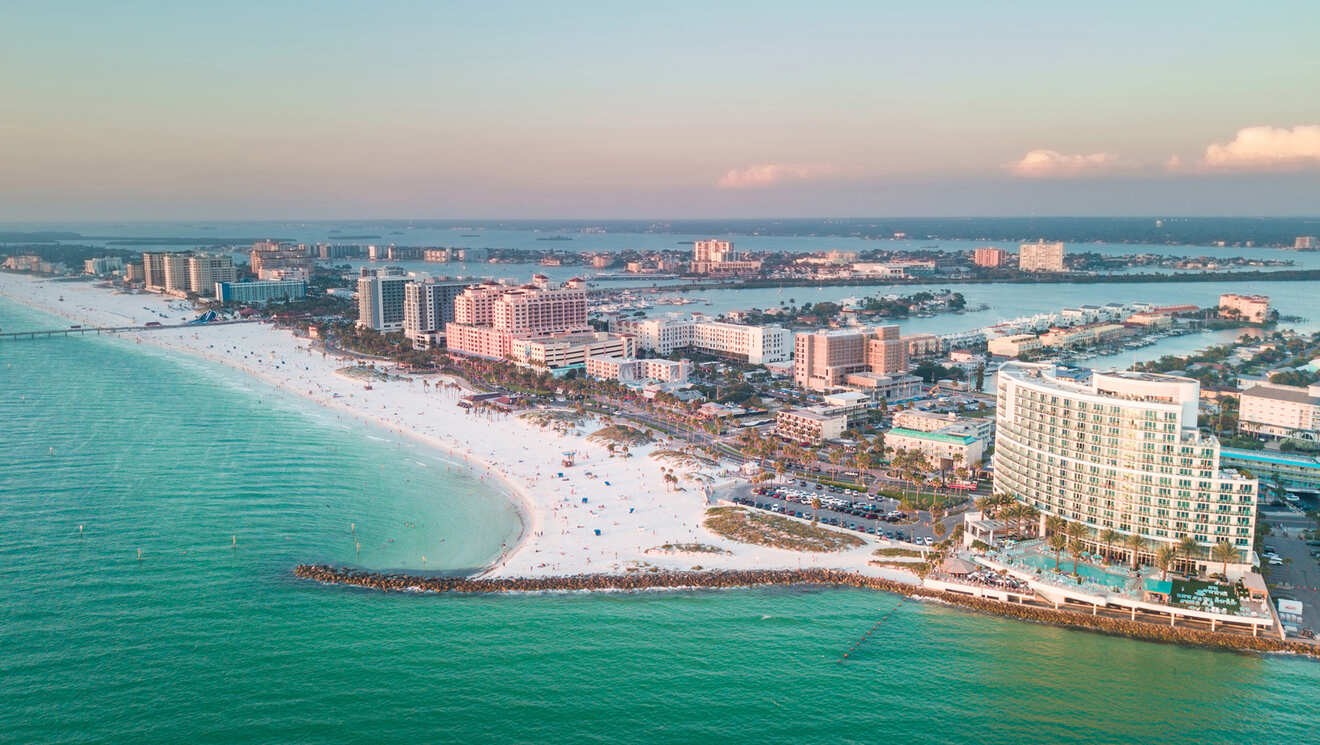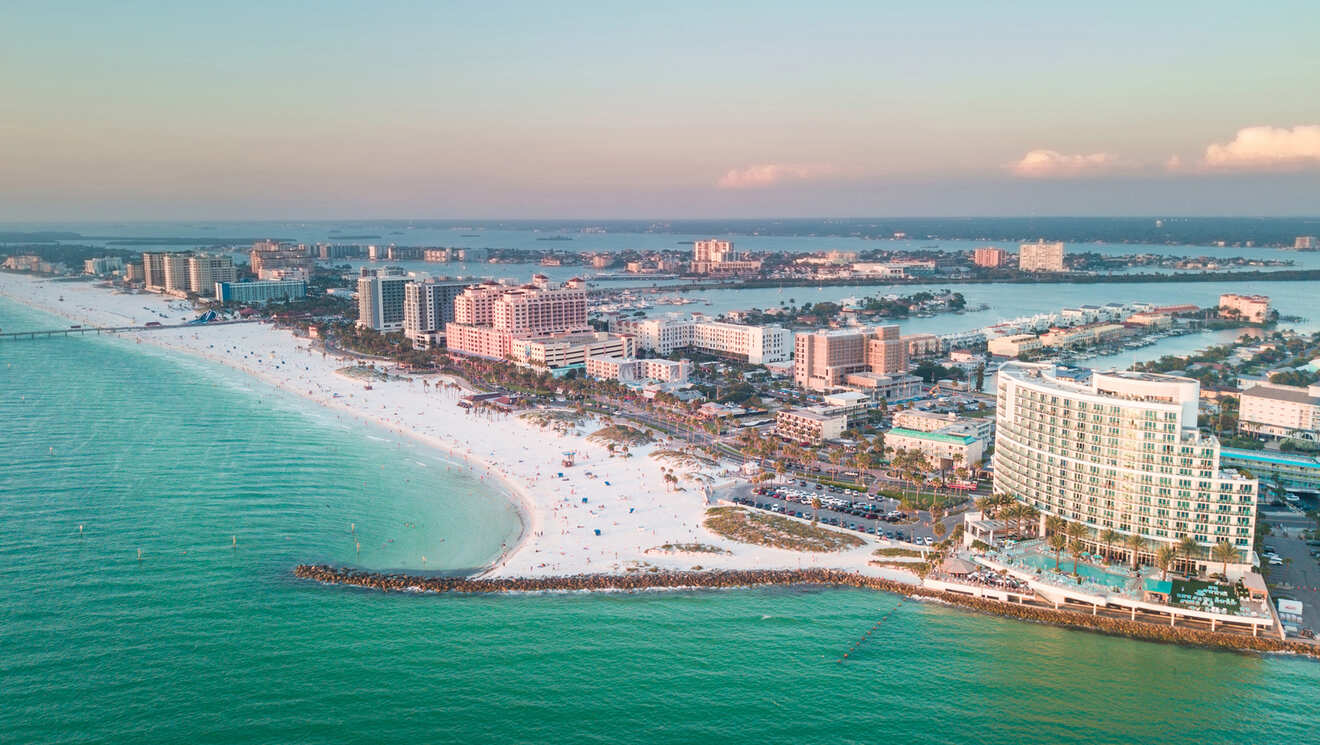 Florida is well known for its beaches. It actually has the longest coastline in the United States (1,197 miles). There are 825 miles of beaches to explore across the state of Florida.
It is also the only state with the Atlantic and Gulf of Mexico coastlines! So within the state, there are two utterly different beach experiences to explore.
No matter where you are in Florida, you are never more than 60 miles away from a beach! So, whether you are in South, Central, or North Florida, there is a beach near you.
Here are some of my favorite beaches:
PRO TIP: If you are looking for a more secluded beach, drive along the coastline near a popular beach and try to find where the locals frequent. I like to look on the map near popular beaches and try to find a lowkey beach that fewer people know about!
Definitely make sure you stop at a Publix and get yourself a Pub Sub (a sub sandwich from Publix that locals swear by) and some drinks and make an impromptu beach picnic!
PRICE: Free
2. Spend time with manatees at Blue Springs State Park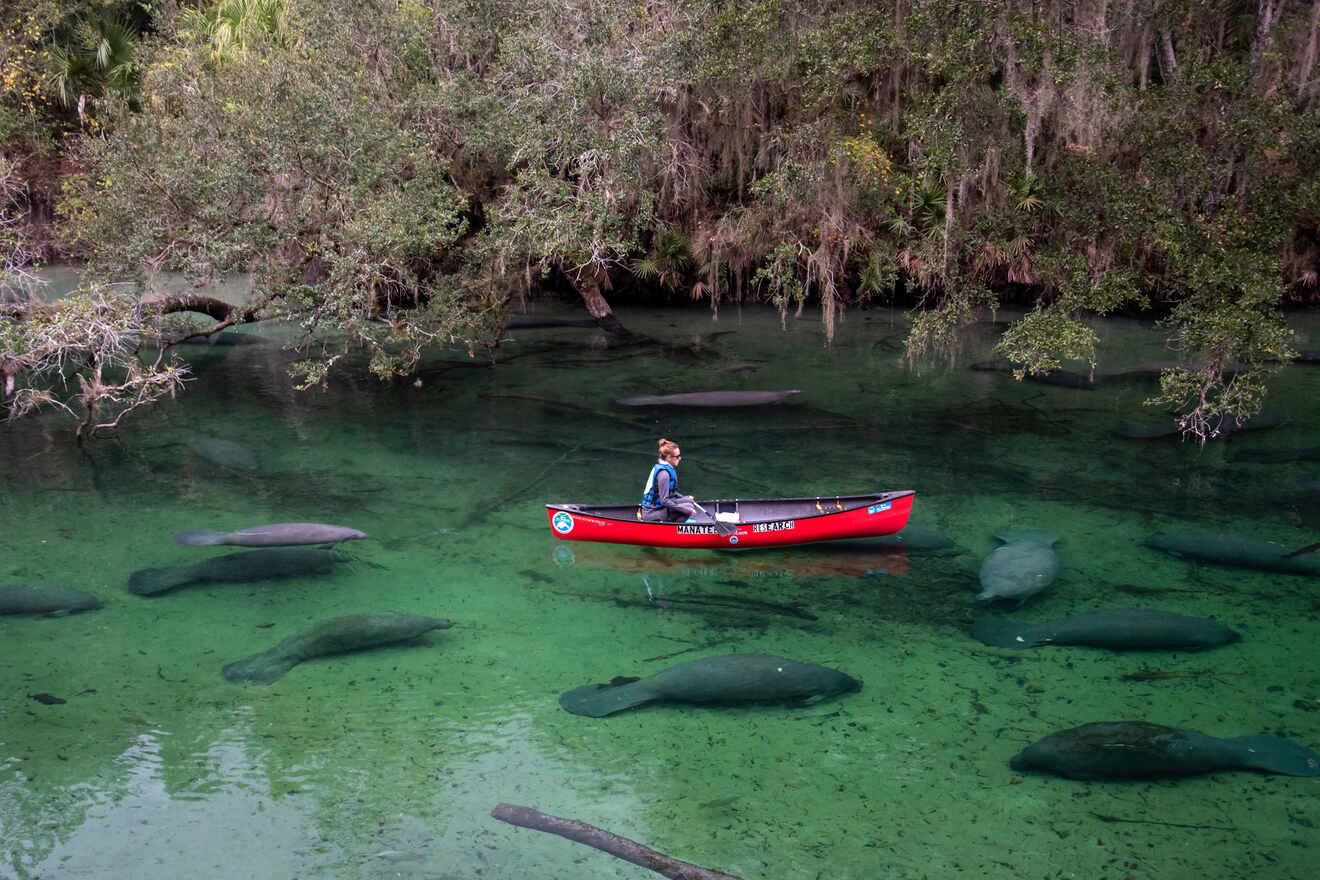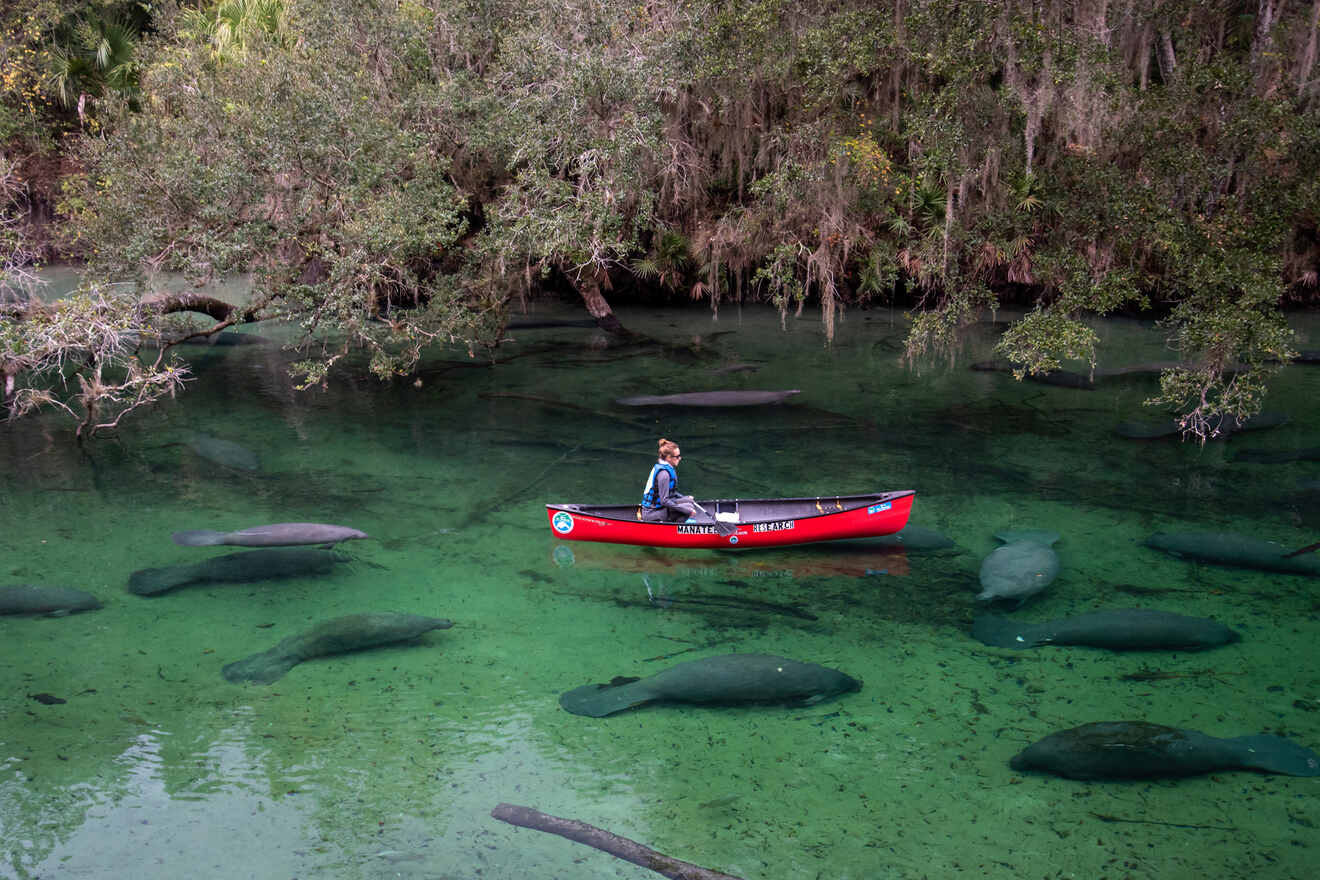 Florida has over 700 springs with stunning crystal clear water and beautiful wildlife throughout the state. You will be in the ecological home of otters, different species of birds, alligators, manatees, and stunning vegetation.
Visiting a spring is really an otherworldly experience. After all, the 'Fountain of Youth' is located in Florida!
You can book this awesome kayak tour at the State Park to see the wildlife, explore the park, and enjoy the gorgeous crystal clear waters!
My experience at Blue Springs State Park was extraordinary and unforgettable. I went in the winter when all the manatees had migrated to the springhead, and I saw over 600 manatees huddled up together in crystal-clear blue water!
PRO TIP: If you want to see manatees, visit in the winter months. They migrate there because the springs stay at a steady 70 degrees F year-round. However, in the winter, you won't be able to kayak and swim in crystal clear waters because they are filled with manatees! If you want to kayak through these pristine waters, plan your trip for summer or fall when the spring is open to kayakers.
The park fills up fast, and the lines can be long. To ensure entry, book the tour or make a reservation at 386-775-0046.
PRICE: $100 for the tour and lunch, $6 admission for vehicles of two to eight passengers, $4 for single occupant vehicles, $2 for pedestrians, and see here for cabin rental and camping rates.
3. Take the ferry to Dry Tortugas National Park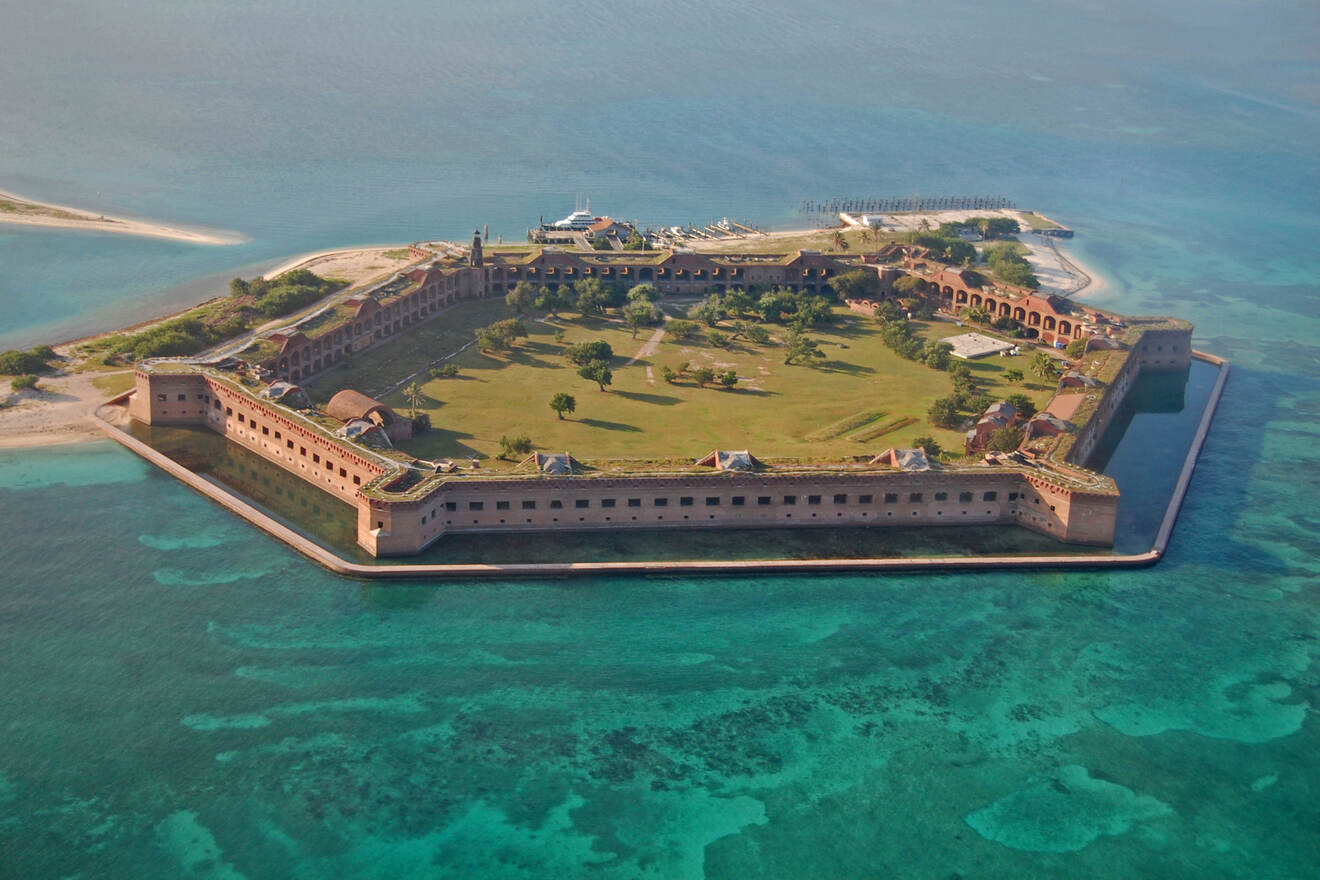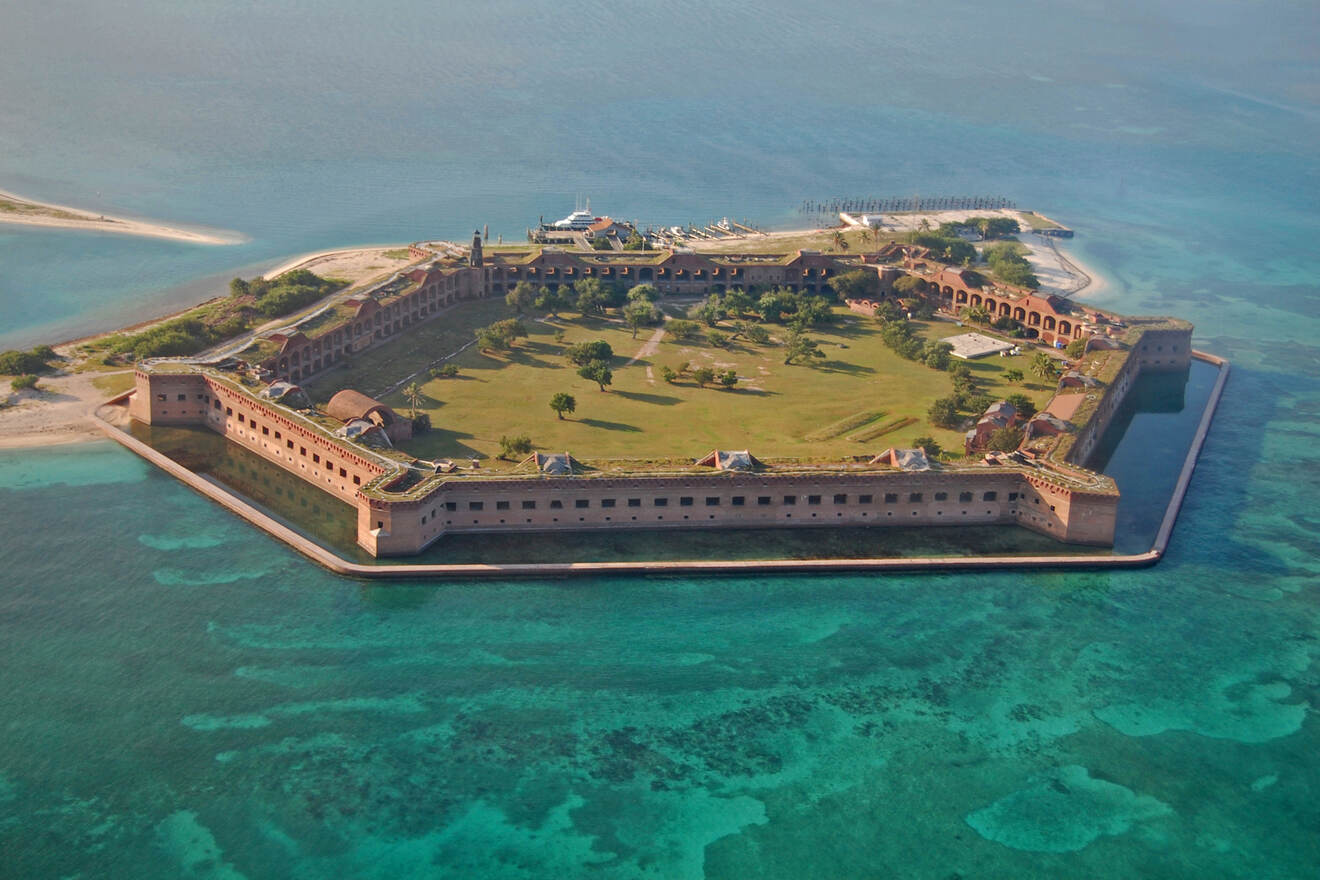 Dry Tortugas National Park is located West of Key West in the Gulf of Mexico. This park comprises seven islands surrounded by gorgeous coral reefs. If you like to snorkel or scuba dive, this is the perfect place in Florida to do so.
Dry Tortugas is a place that makes you forget you are in the United States. It truly feels like you have escaped to a tropical island in the Caribbean.
This park is also famously known for its population of sea turtles on Loggerhead Key with its famous lighthouse. If you're feeling extra adventurous, check out Windjammer Wreck, a shipwreck dating back to 1875! During your trip, you should also check out Fort Jefferson, a historic 19th-century Fort built by the Spanish.
Camping is also available at Garden Key, which is only accessible by ferry!
PRO TIP: Dry Tortugas National Park is only accessible by ferry. The ferry leaves from Key West. Be sure to book your reservation ahead if you plan to take a day trip. If you are planning on camping, make sure to plan ahead since the campsite is only accessible by ferry.
NOTE: Plan ahead for this trip and bring everything you need for the day. The ferry is all-inclusive and provides complimentary snorkeling equipment, breakfast snacks, a box lunch, an entrance fee, a fully narrated 45-minute tour of Ft. Jefferson, air conditioning, and a concession stand to buy snacks for the day.
PRICE: $200 for a day trip on the ferry. See here for camping and kayaking info.
4. Visit one of Florida's many Theme Parks
Without question, Florida is best known for its abundance of theme parks, and many people plan their trips to Florida to exclusively see the theme parks!
Here is a comprehensive list of all the theme parks worth visiting during your trip.
4.1 Walt Disney World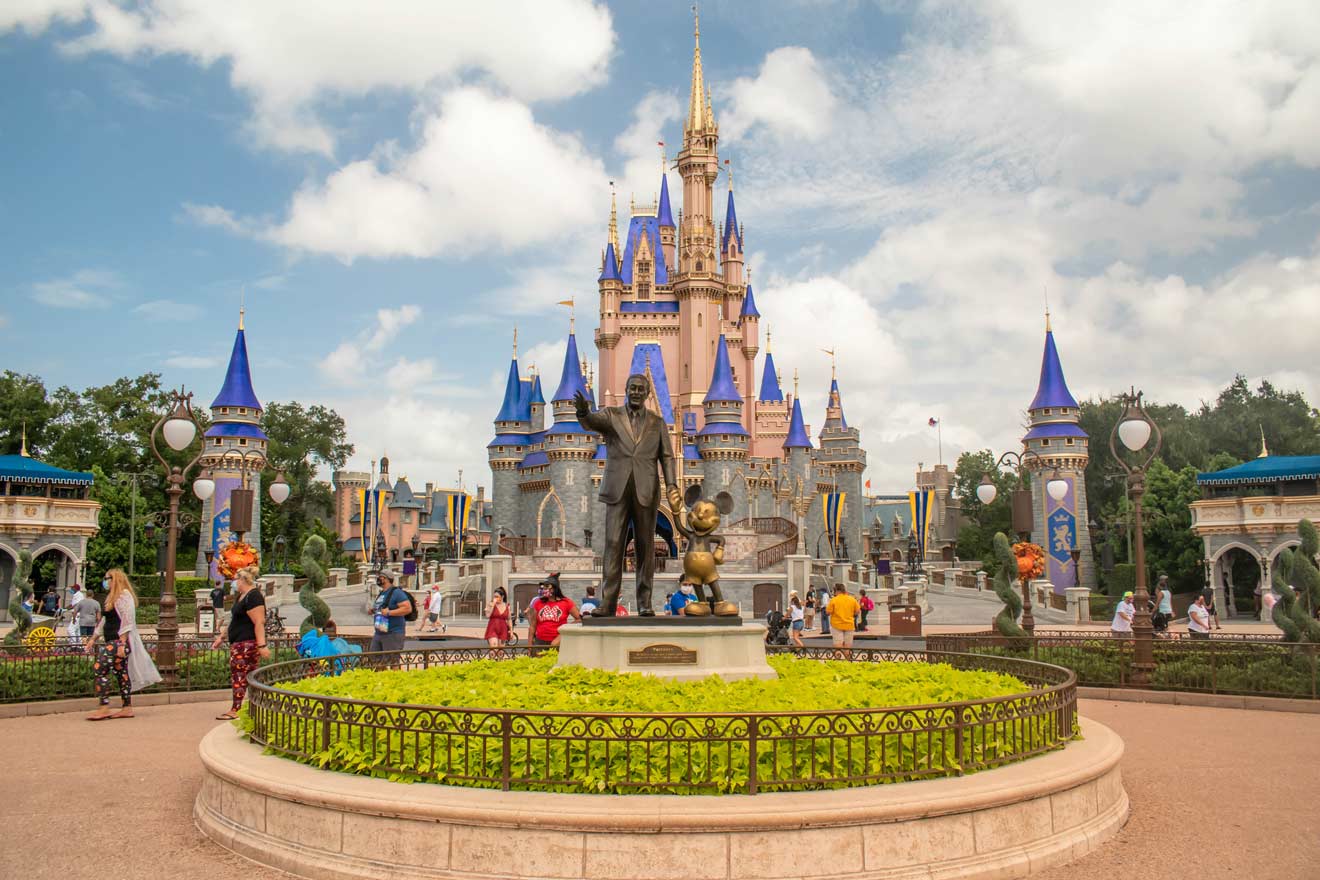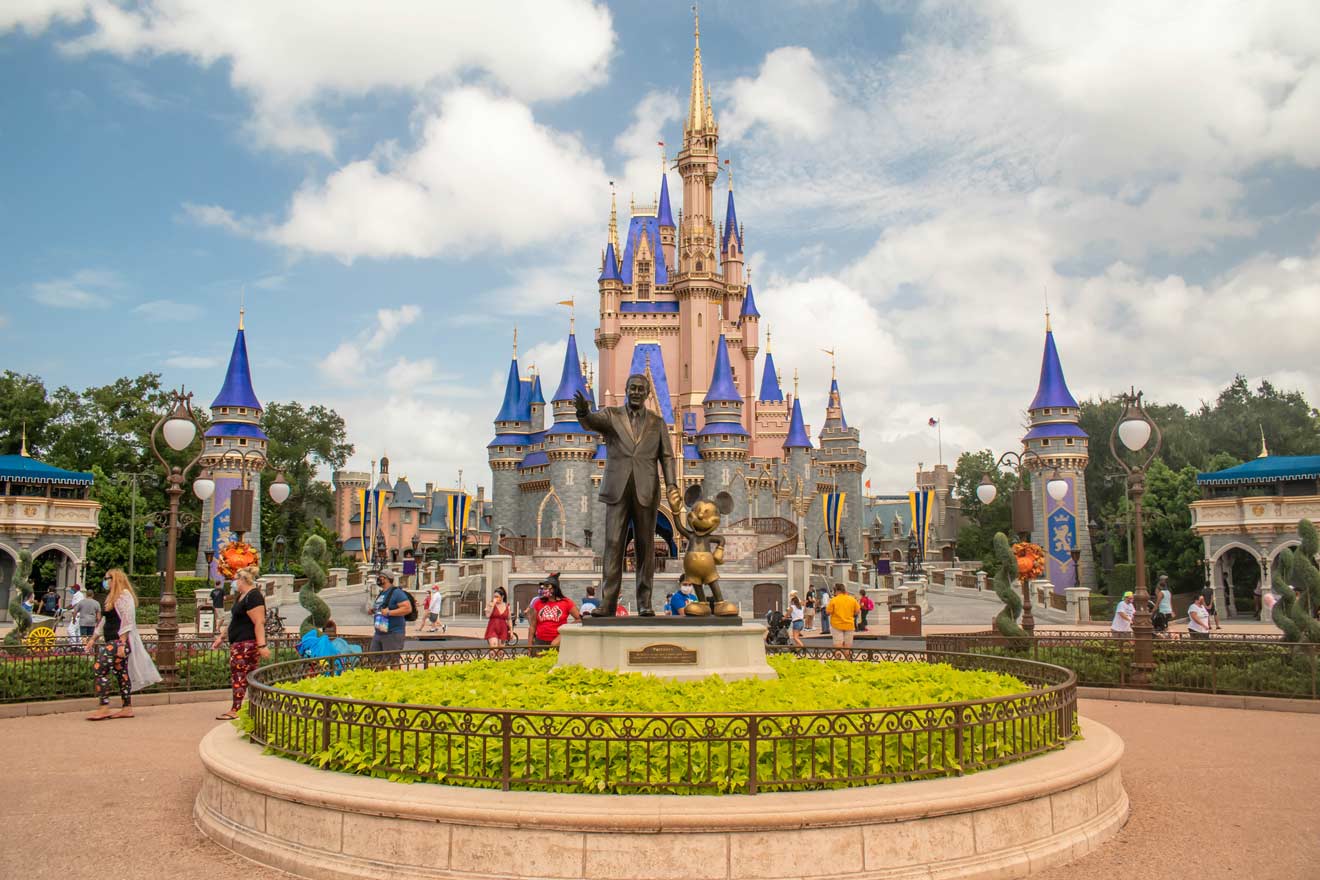 For all those daredevils and thrill seekers out there, we know this is the moment you've been waiting for…
Walt Disney World is a land of fantasy and fairy tales for all ages. Children get to see lifesize versions of their favorite movie and TV characters while honeymooners enjoy the gorgeous views of the fairytale castles. Walt Disney World has four theme parks conveniently located within Walt Disney World: Epcot, Magic Kingdom Park, Disney's Animal Kingdom Theme Park, and Disney's Hollywood Studios.
PRO TIP: Make a reservation here to make your trip swift and easy.
HACK: If you are a Florida resident, check out their Florida resident memberships for year-round passes. For non-residents, the cheapest day tickets are in August and September!
PRICE: Standard Theme Park Ticket is $109/day but can vary depending on several factors. See here for a list of theme park ticket prices. If you want to check out all the theme parks, I recommend you select the Park Hopper option.
4.2 Busch Gardens Safari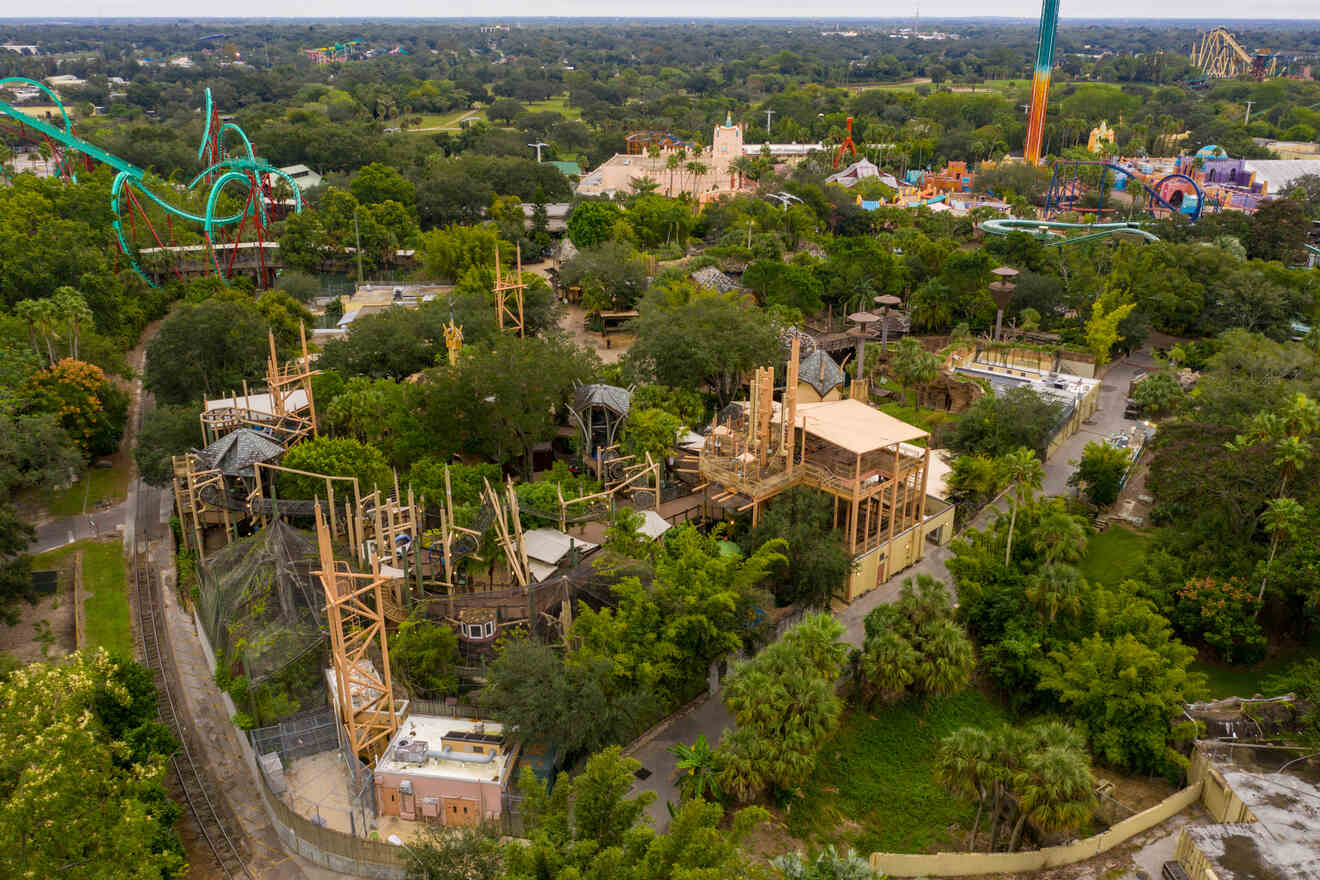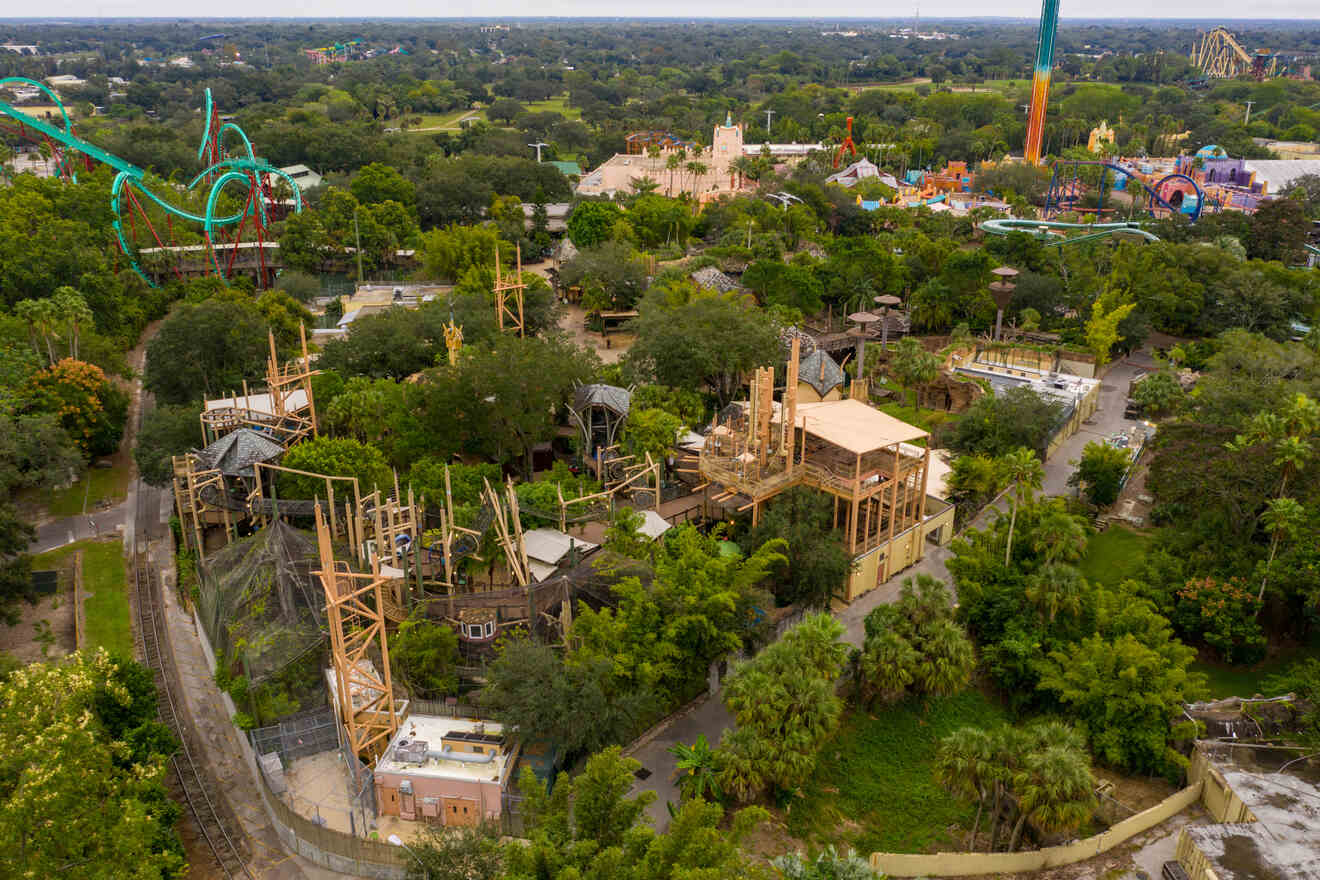 Not only is there a safari with extraordinary animals, but this theme park is also equipped with tons of rollercoaster rides and world-class entertainment!
Busch Gardens is located in Tampa, about two hours from Walt Disney world, so it is possible to make a day trip and see both theme parks in one trip!
Busch Gardens Safari is a truly wild experience where you can see rare safari animals up close.
PRO TIP: Before you plan your trip, check out the current events to get the full Busch Gardens experience.
HACK: Busch Gardens is now offering the Fun Card ticket, where you pay for one day and get access to Busch Gardens and Adventure Island for all of 2023!
NOTE: There are plenty of upgrades available after you purchase your day pass for all-day dining, hand-feeding giraffes, elite adventure tours, and more!
PRICE: Single-day ticket $100. See here for all ticket options and pricing.
4.3 LegoLand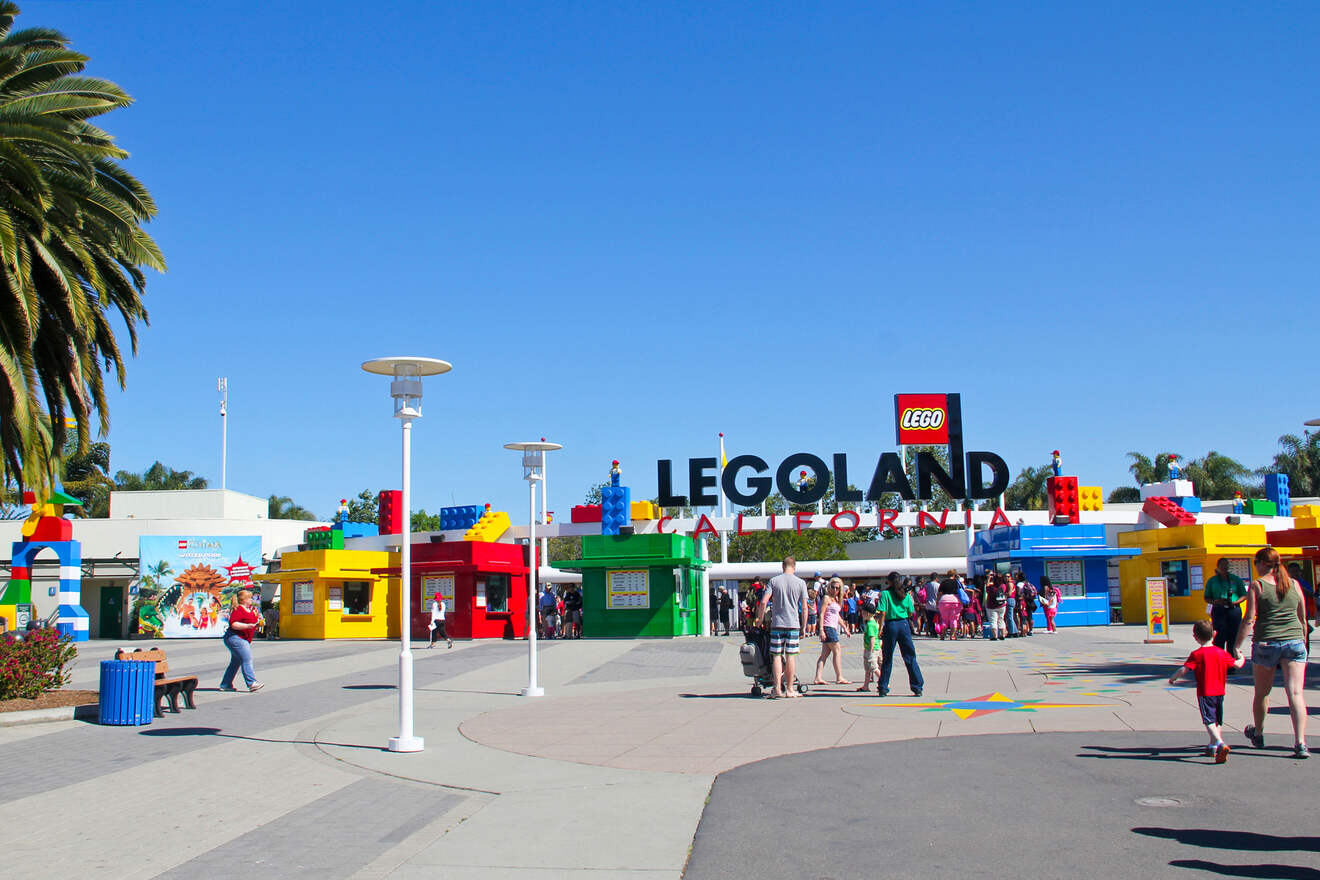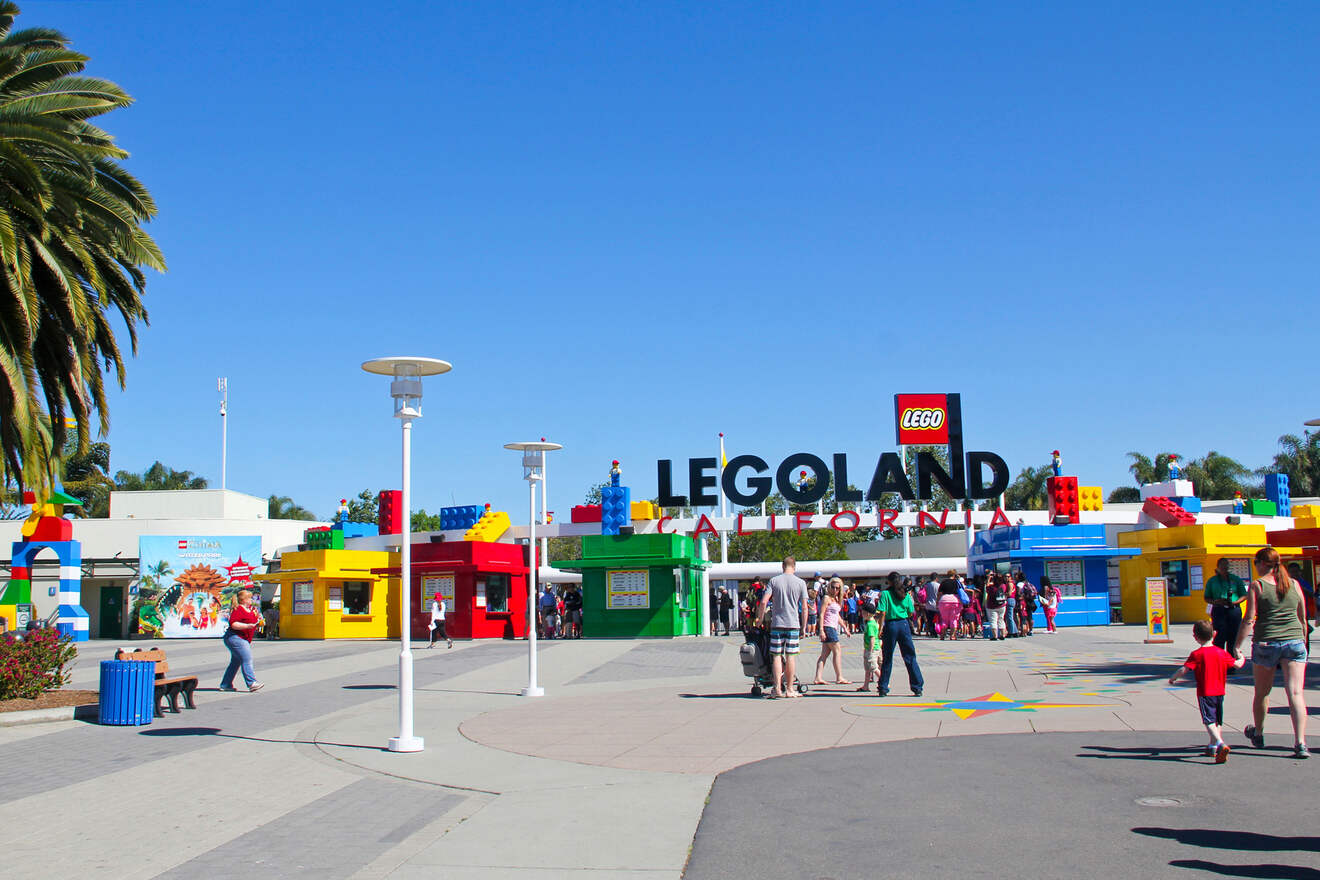 LegoLand in Winter Haven is a family favorite. Create some one-of-a-kind family memories in this thrilling theme park! Enjoy building extravagant lego creations, going on rollercoaster rides, and setting sail on a pirate river quest along Lake Eloise's banks with magnificent views!
PRO TIP: Be sure to plan to visit all three parks in LegoLand. There is a water park, a theme park with wild roller coasters, and a Peppa Pig Theme Park!
HACK: Get the annual pass for free parking, hotel discounts, and many other perks to make your trip a once-in-a-lifetime experience. You should also check out seasonal events before you go!
PRICE: 1-day tickets start at $84 per person. See here for a complete list of all kinds of passes available at LegoLand Florida.
4.4 Universal Studios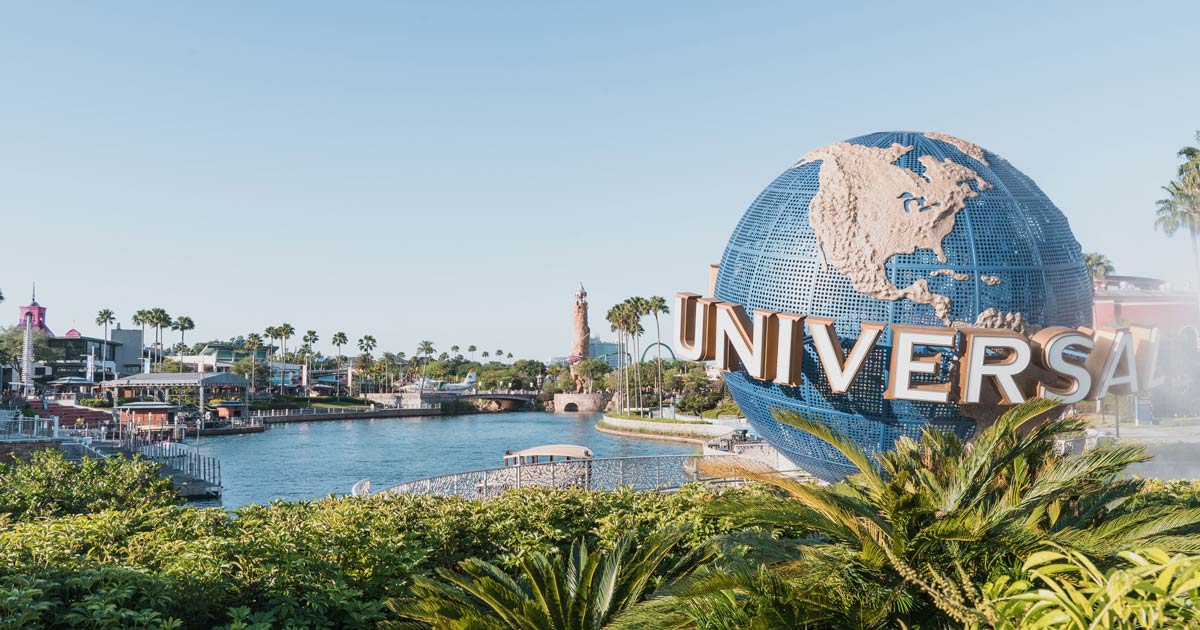 The Universal Studios Resort has many attractions, like the Islands of Adventure, Volcano Bay, and Universal CityWalk, to name a few.
On their website, they have many deals and specials on hotel stays, package deals that get you in for two days free, and more.
If you want to get the ultimate experience and see all these theme parks from the skies, check out this incredible helicopter flight over Florida's theme parks! You'll see some amazing views, watch out for Disney World's fairytale castles!
PRO TIP: Make sure to get the Early Park Admission to skip the line and get a head start. The parks can fill up pretty fast. Early Park Admission gives you an advantage
NOTE: Be sure to check out the seasonal events to get the most out of your trip.
PRICE: Universal Studios from $109 /day, Islands of Adventure from $109/day, and Volcano Bay starts at $80/day. To see all three from the skies, it's just $65.
Book Your Helicopter Ride Here
5. Visit Daytona International Speedway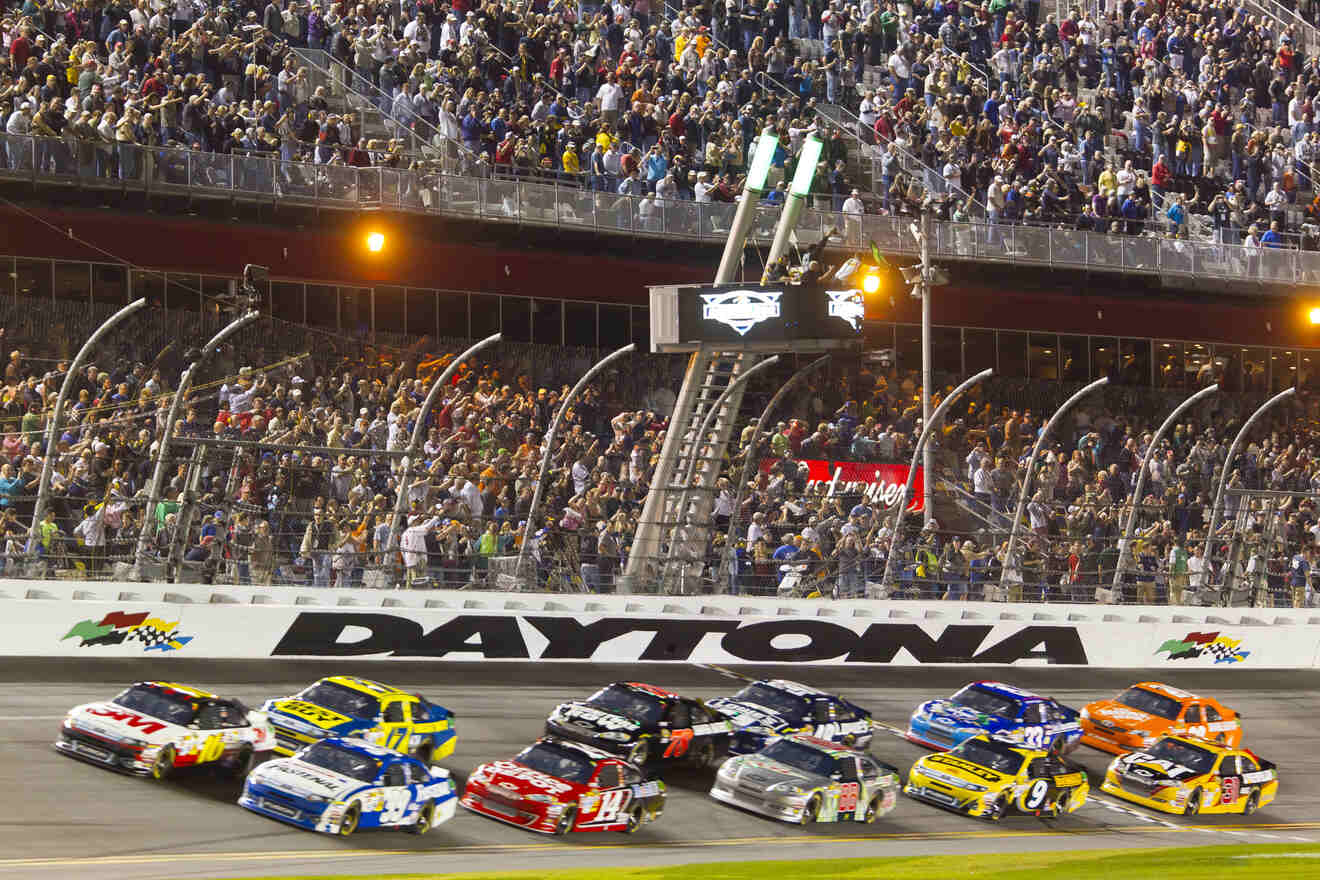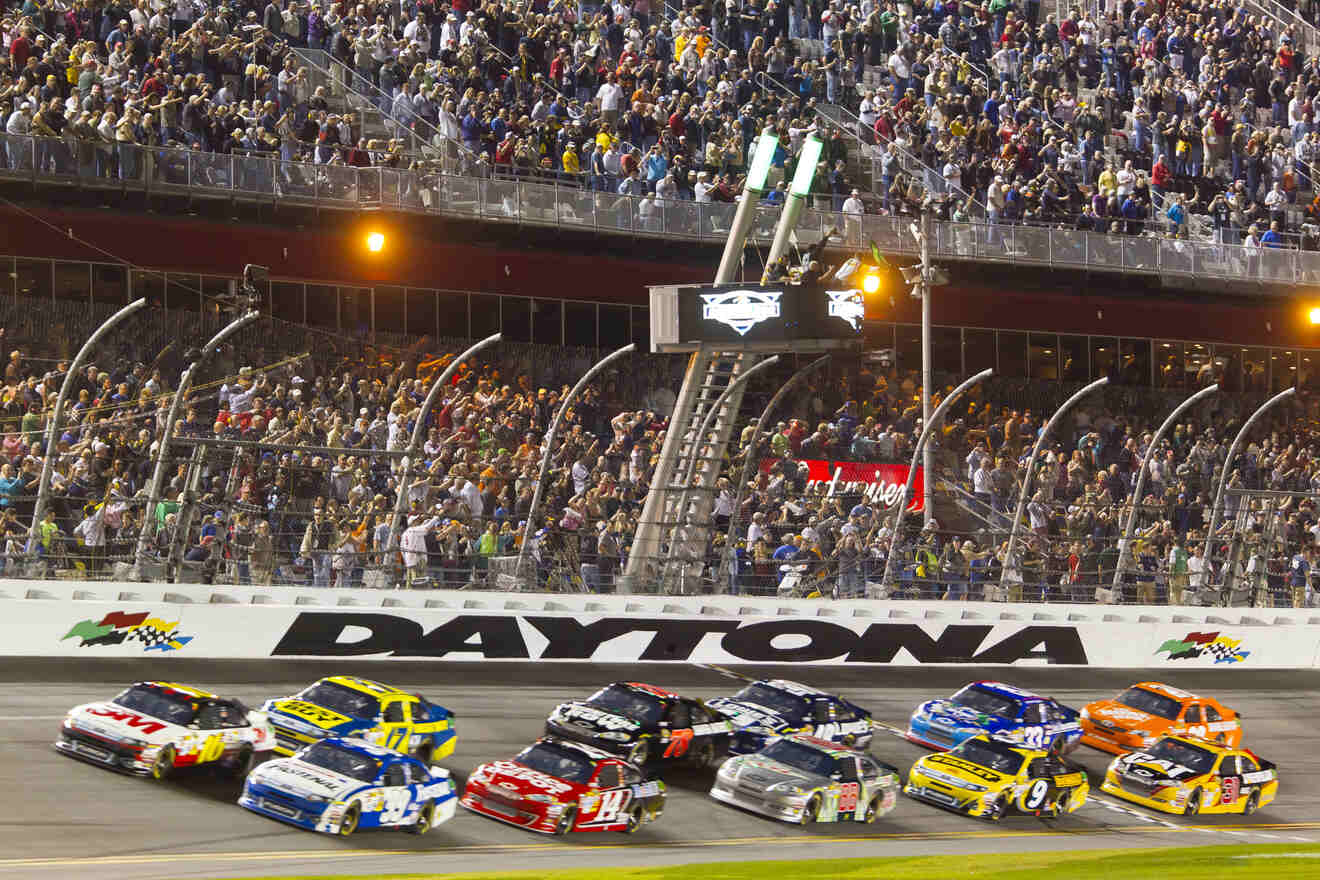 Daytona Beach is known for its gorgeous Atlantic beach and NASCAR! Whether you've never been to a racetrack or you're a diehard NASCAR enthusiast, this is an experience everyone can enjoy!
Since 1959, this racetrack has been home to the Daytona 500, one of the most prestigious and well-known races in NASCAR history.
Even if there isn't a huge event, there is plenty to enjoy at the Daytona International Speedway, and did you know that you can camp at the Daytona International Speedway?
PRO TIP: Check out the "Events" tab on their website to see what kind of programming they have available during your visit to Daytona.
NOTE: Be sure to look at their modified tour dates to see how they align with your trip.
PRICE: $25 for adults for the tour. Prices vary for events such as the Daytona 500.
6. Take a walk in Fairchild Tropical Botanic Garden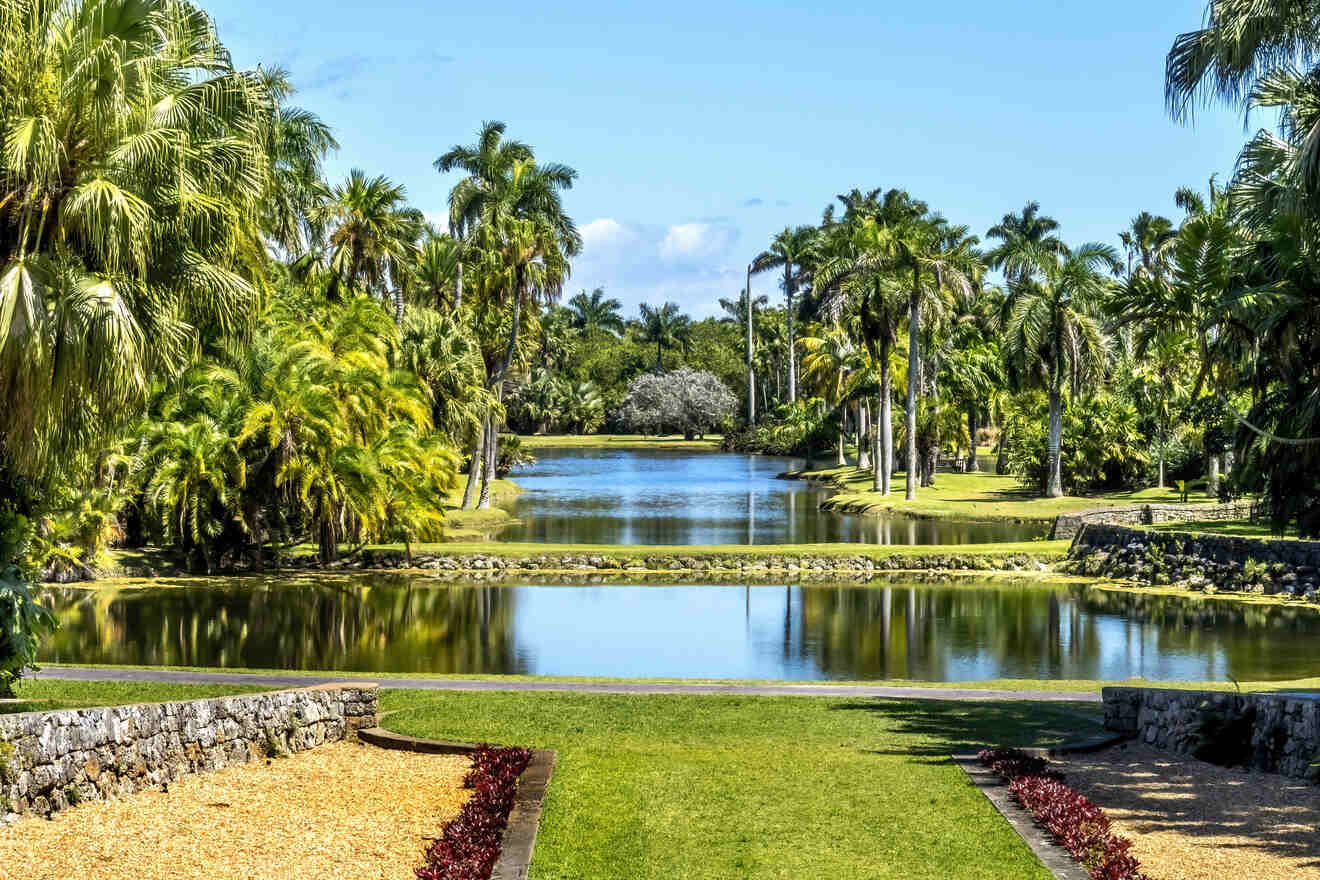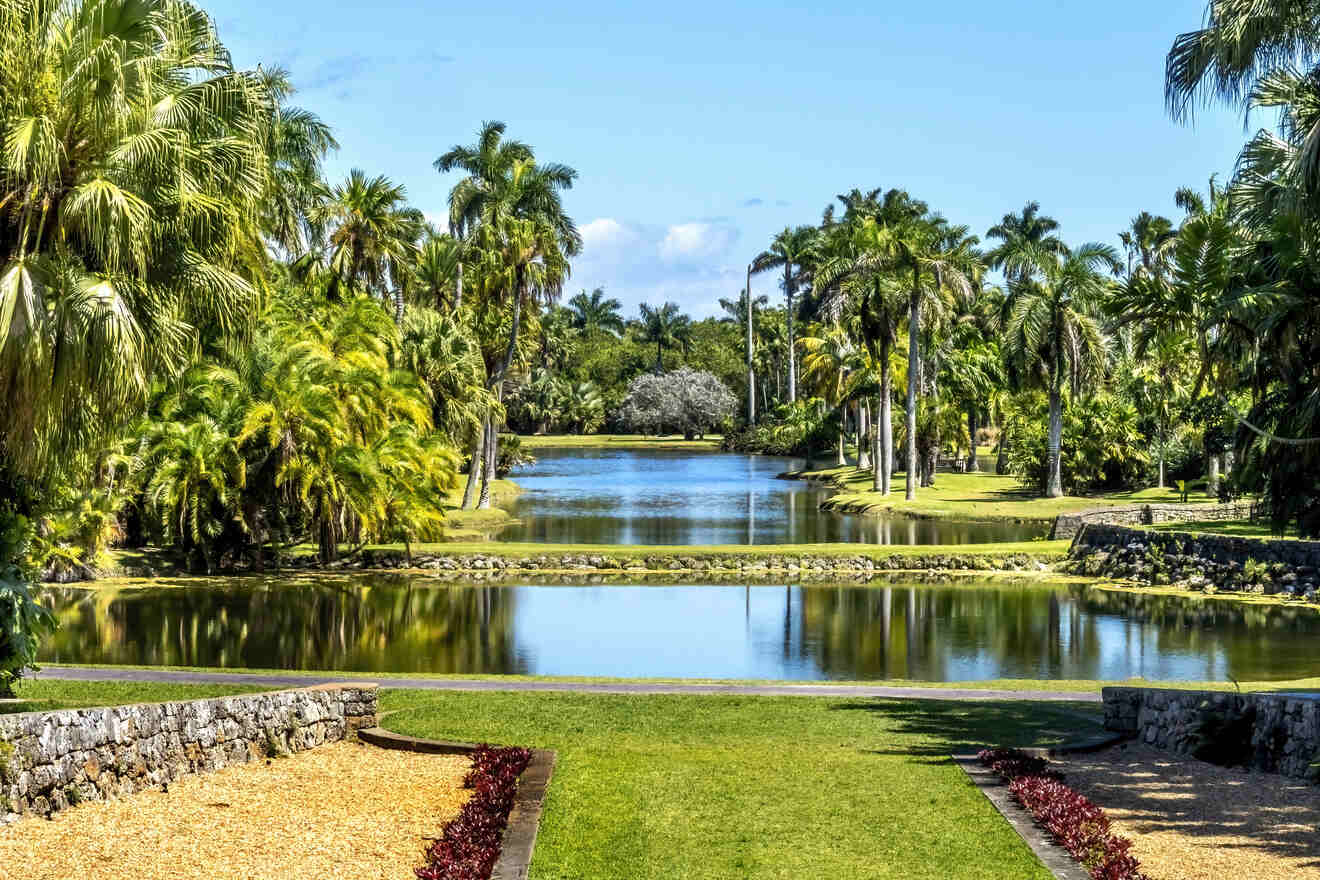 My first visit to Fairchild Tropical Botanic Garden was one of the catalysts that made me decide to move to Florida years ago. This tropical oasis whisked me away to another world that I realized I needed to be closer to…
Fairchild Tropical Botanic Garden is truly one of the many wonders of Florida, created by a dedicated world-renowned botanist and famous plant explorer, David Fairchild (1869-1954).
In 1938, Dr. Fairchild and a few other retired botanists opened the doors to the 83-acre botanic garden to the public for the first time. Since then, this stunning botanical garden has brought people from all over the world to see the incredible collection of rare and exotic plants.
Make sure you check out the exotic butterfly exhibit! With hundreds of butterflies from all over the world fluttering about, this is truly an unforgettable experience that the whole family will enjoy.
PRO TIP: This tropical oasis has multiple different habitats and collections that are best explored with a tour guide who can guide you through the rich history and ethnobotany behind the exhibits.
NOTE: A tour guide is by no means necessary. However, when I went, I had a tour guide, which made all the difference. I got an entirely different experience than I would have had I gone alone. I learned about the plants, where they came from, why they were growing where they were, ethnobotanical uses, and so much more. It's well worth it.
PRICE: Admission is $24. However, that does not include the tour options. Tour prices change depending on how big the group is.
7. See Everglades National Park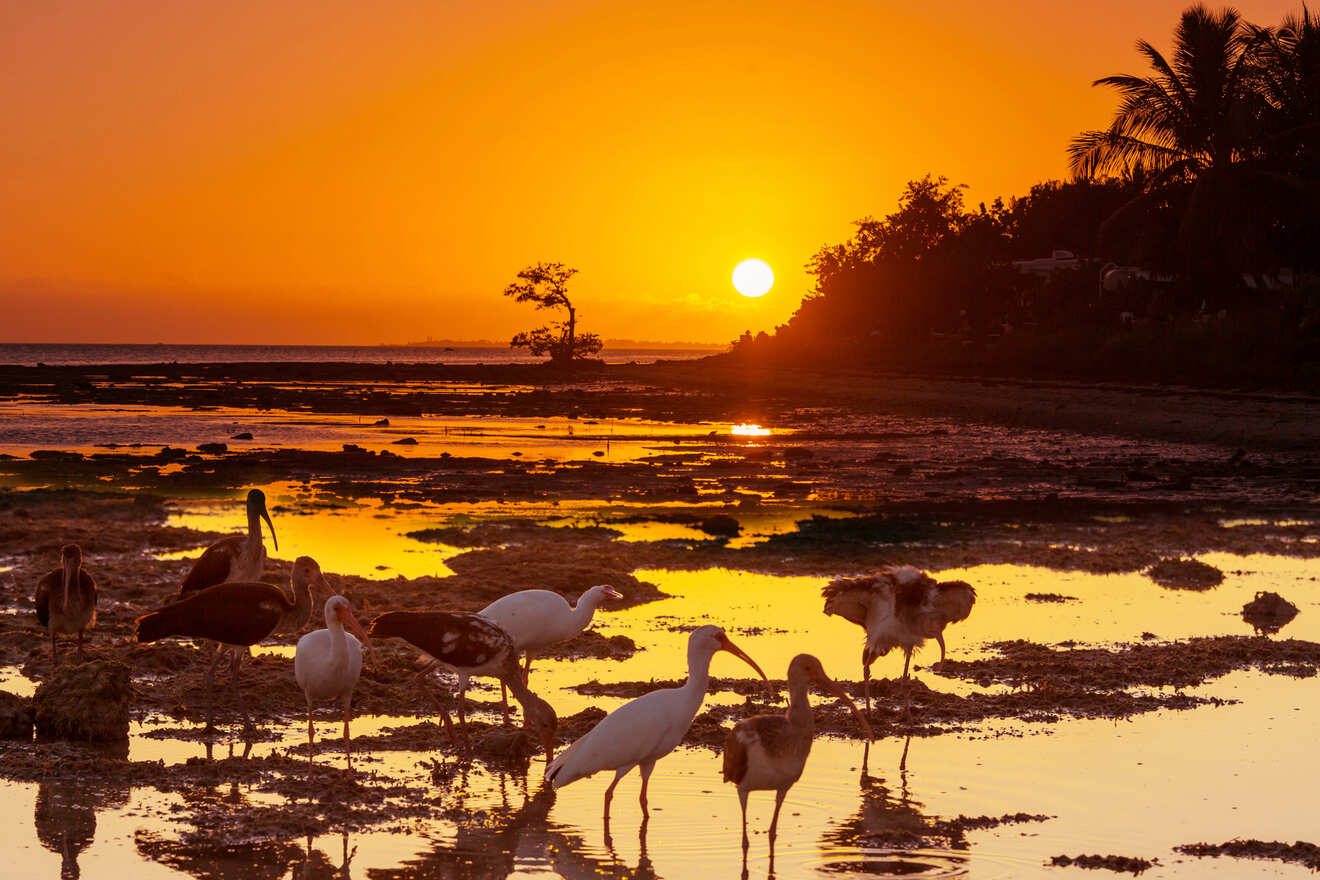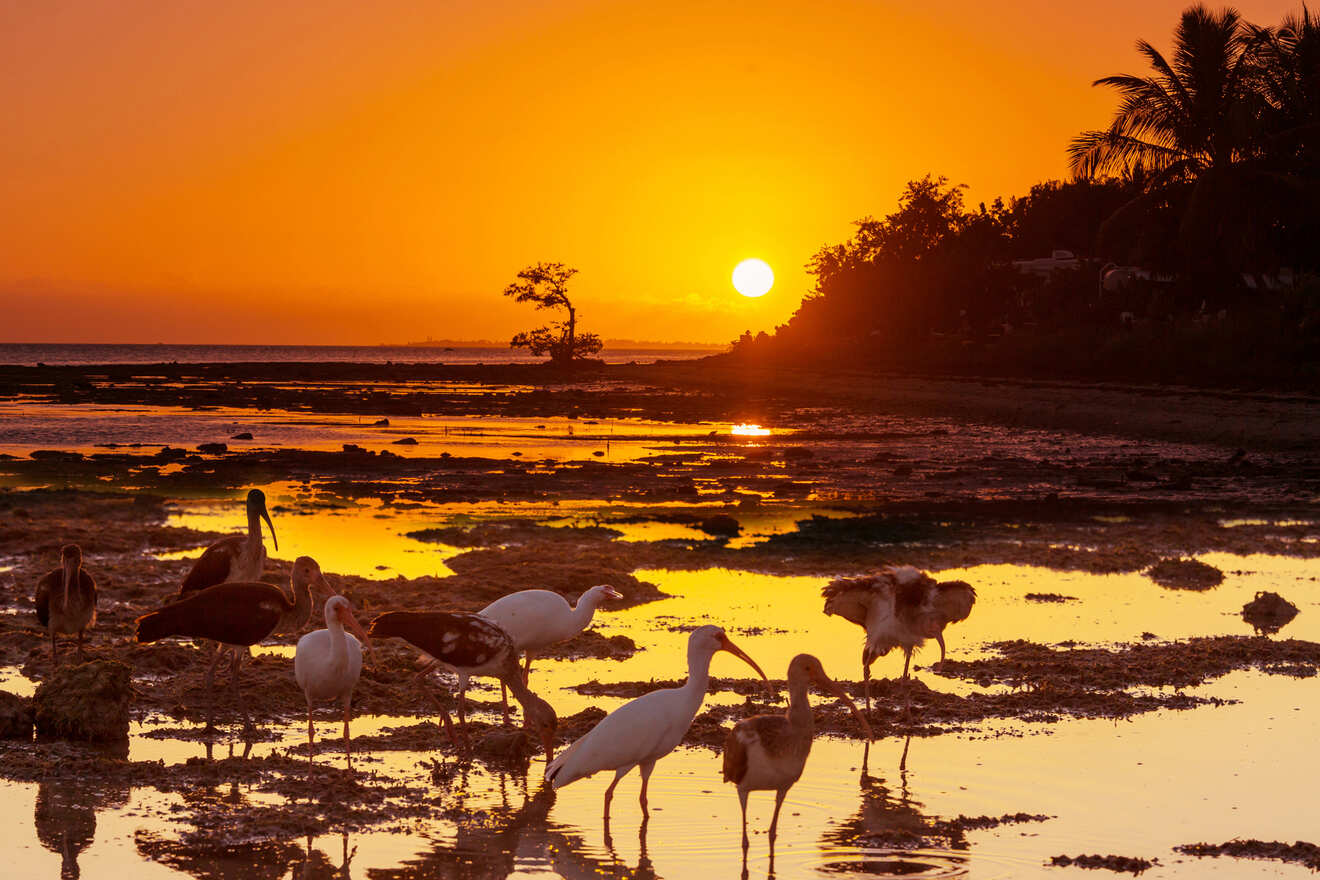 Remember how I said visiting Fairchild Botanic Garden was one of the catalysts that made me move to Florida? Well, here is one of the other ones. The Everglades National Park was truly a moving experience for me. Never would I have expected it to be such an otherworldly and life-altering experience.
The Everglades is a unique ecological subtropical phenomenon that only exists in one place in the world.
You guessed it!
Sunny Florida.
It is known as the world's slowest-moving river and is home to an incredible amount of biodiversity that is both ancient and unique. With its unique mangrove forests, salt and freshwater wetlands, and flat woods, this is definitely one of the best things to do in Florida!
The Everglades National Park is home to over 200,000 alligators, so you will most likely see these ancient, dinosaur-like creatures in their natural habitat! This is an excellent activity for both solo travelers and families.
Did you know that the Everglades is one of the only places in the world where alligators and crocodiles coexist? To see these crocs up close and personal, try out this amazing Everglades Airboat Tour! You'll explore the park from top to bottom and finish your day with a BBQ. I took an airboat ride a few times and saw so many, some even came up to the boat!
Looking for a place to stay near Everglades National Park? Check out Where to Stay near Everglades National Park, FL.
HACK: Stick around after the airboat ride and the gator show to meet (and hold!) some baby alligators! Afraid to go in the water? Take a drive through the Everglades on the Tamiami Trail and see the beauty (and alligators) from the safety of your car!
PRICE: $37 for standard entry, $35 for the airboat tour.
8. Explore Anna Maria Island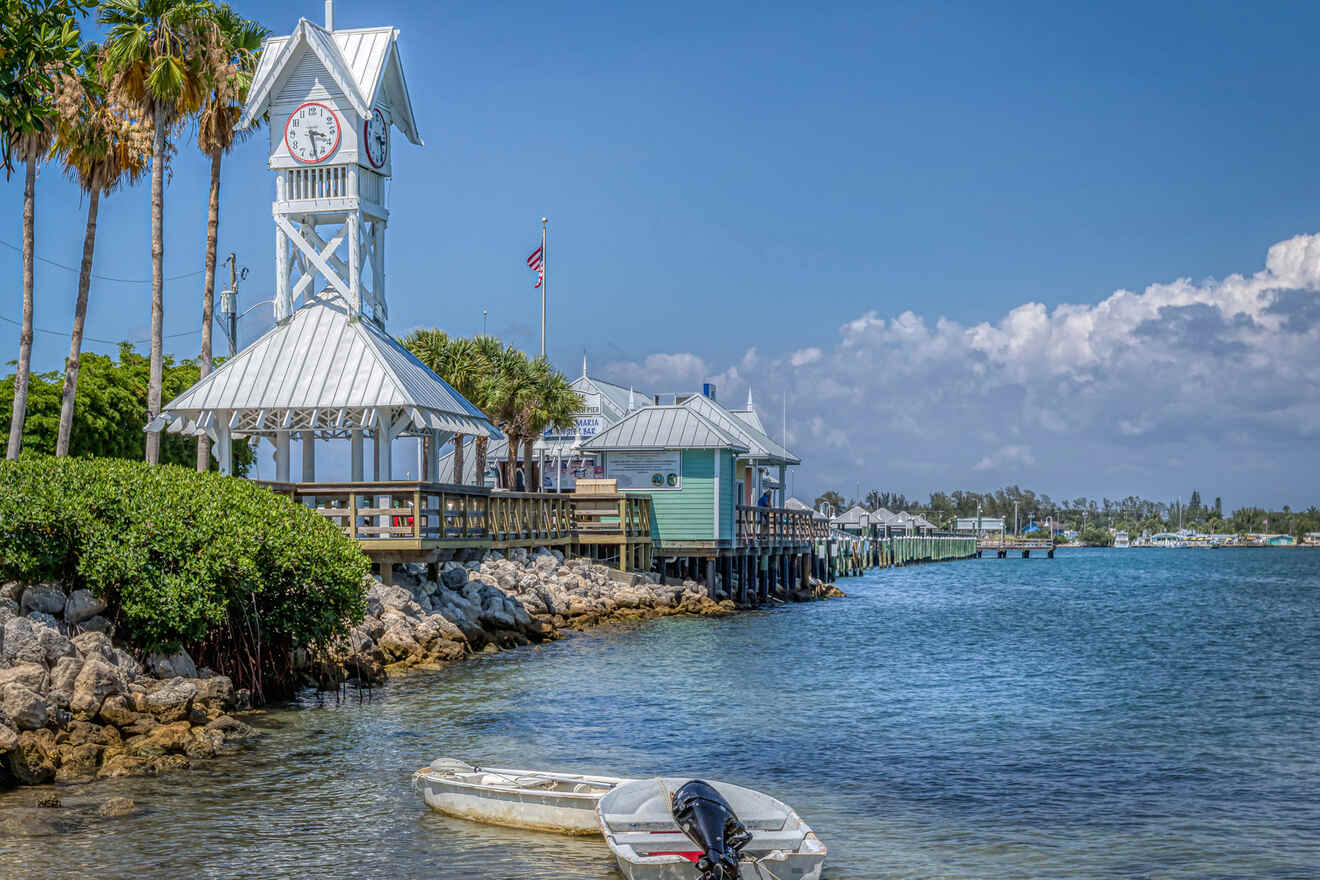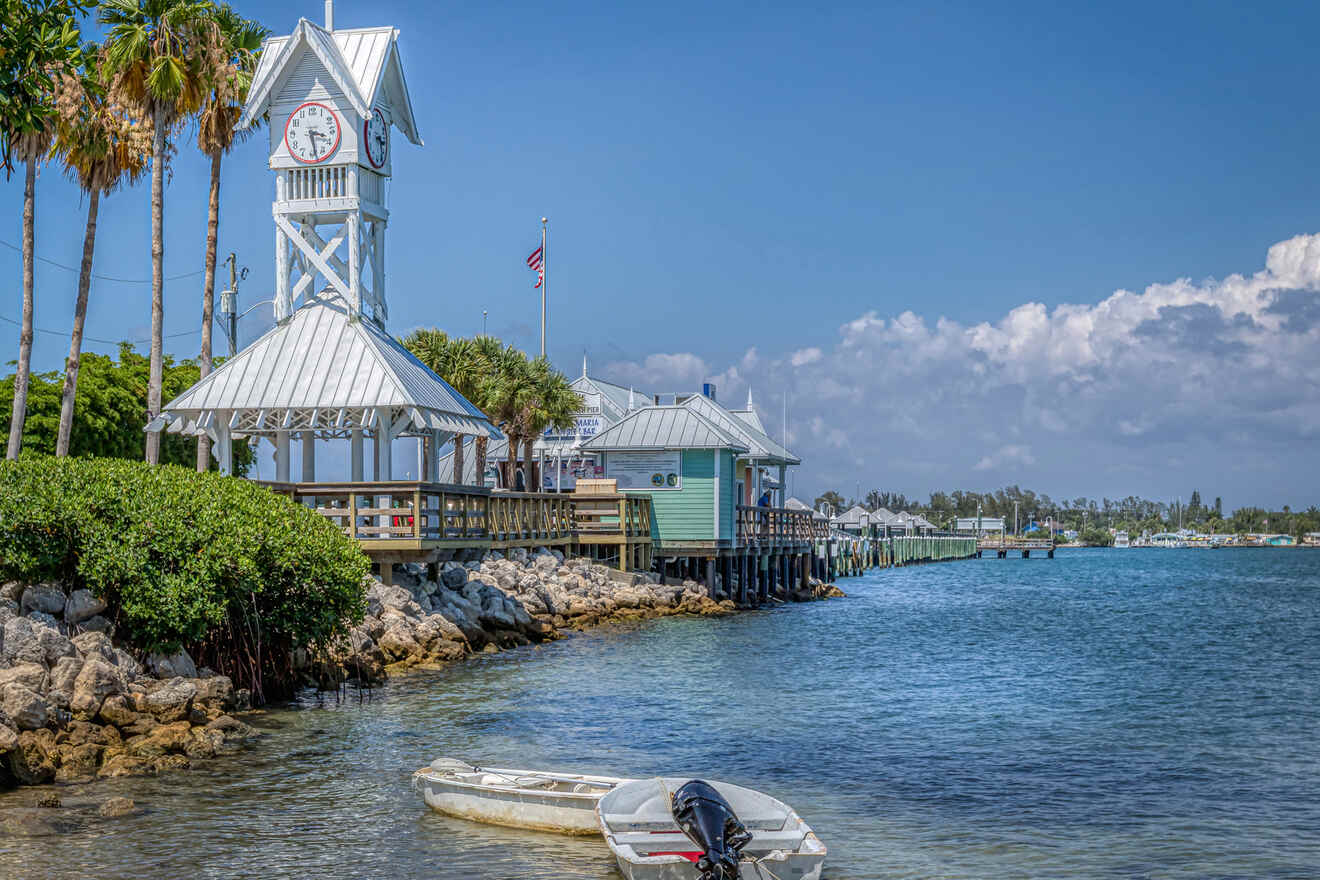 Anna Maria Island is an enchanting old-school Florida gem. This low-rise paradise oasis will leave a lasting impression in your heart and mind.
This is by far one of the best things to do in Florida. Get a taste of old Florida and enjoy the gorgeous Gulf coast with its famous white sand turquoise beaches, jaw-dropping sunsets, and dolphin sightings!
If you're craving adventure, you should definitely go on this parasailing trip on the island! You'll fly over the waters at a whopping 350 ft and feel the wind beneath your wings.
PRO TIP: Plan your trip during the winter months to get the best weather and experience local culture, like the Anna Maria Island Farmer's Market!
HACK: Travel Anna Maria Island by bike or on foot. It is a small island, and the traffic tends to get out of hand. You will get the most out of your experience by traveling by foot, but there's also a free island trolley that will take you around the island!
PRICE: $119
9. Check out Weeki Wachee for a live mermaid show!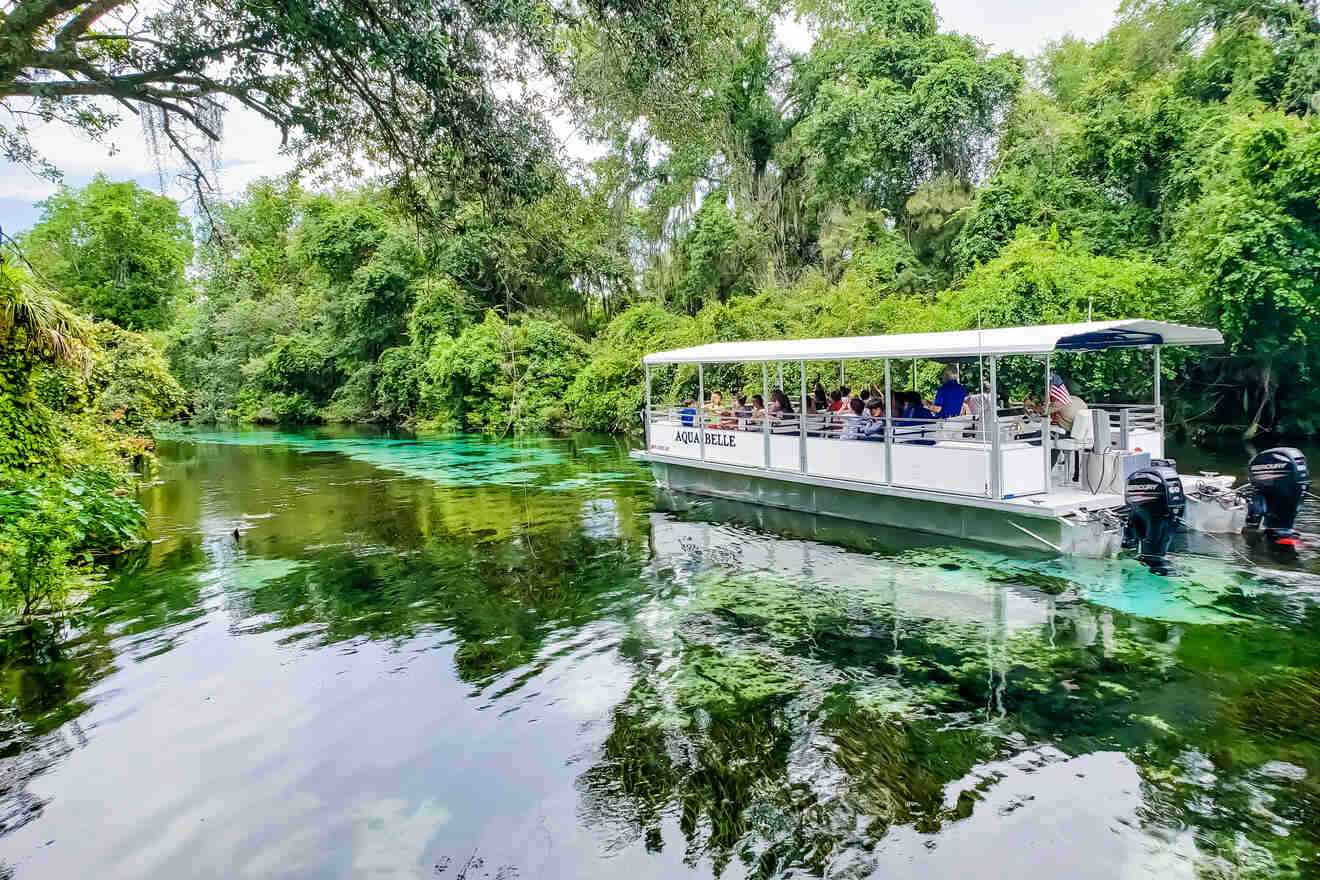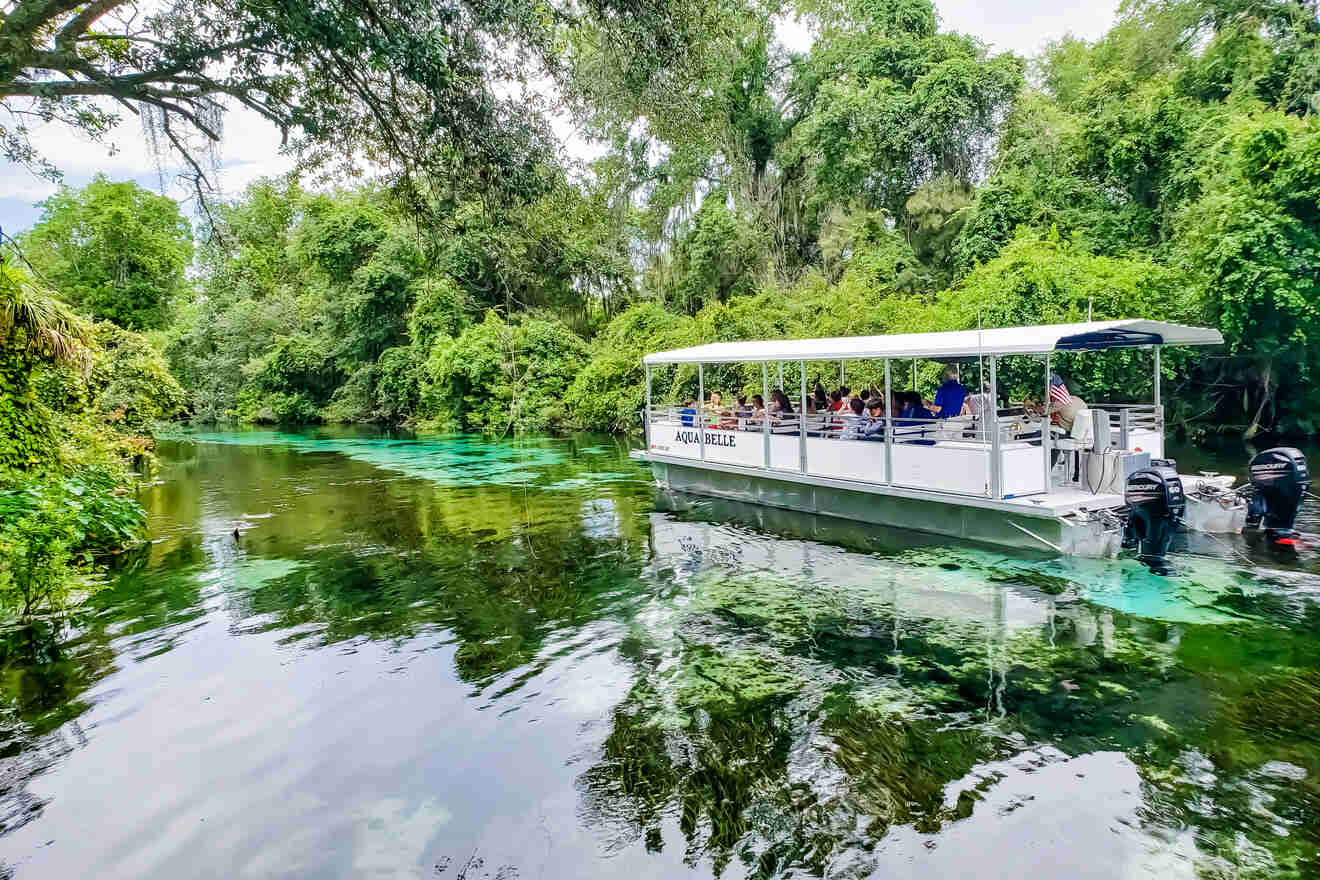 Weeki Wachee Springs is one of the best-kept secrets of Florida. Sure, there are over 700 springs in Florida with tons of hikes, trails, and kayaking excursions, but Weeki Wachee is the only one with a live mermaid show!
The show is first come, first serve, and from personal experience, it fills up very quickly. Be sure to get there as soon as they open to ensure seats for the show. Mermaid shows are every day from 11 AM to 3 PM.
You can also take a clear kayak tour here! Adventure down the river and see if you can spot turtles and dolphins on your way.
PRICE: $13 for adults (includes mermaid live show!), and the clear kayak tour is $70
Get your Clear Kayak Tour Tickets
10. Visit Cassadaga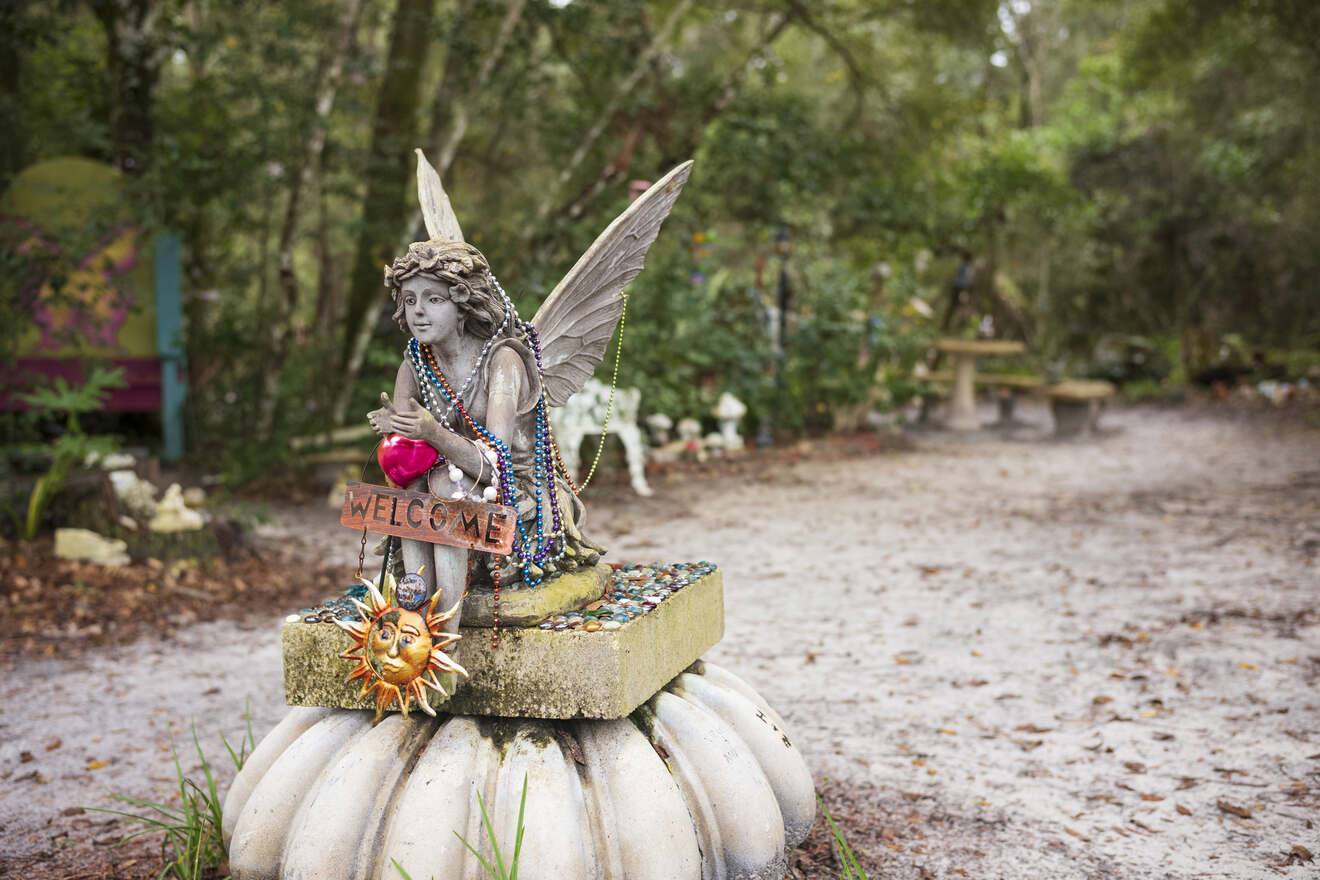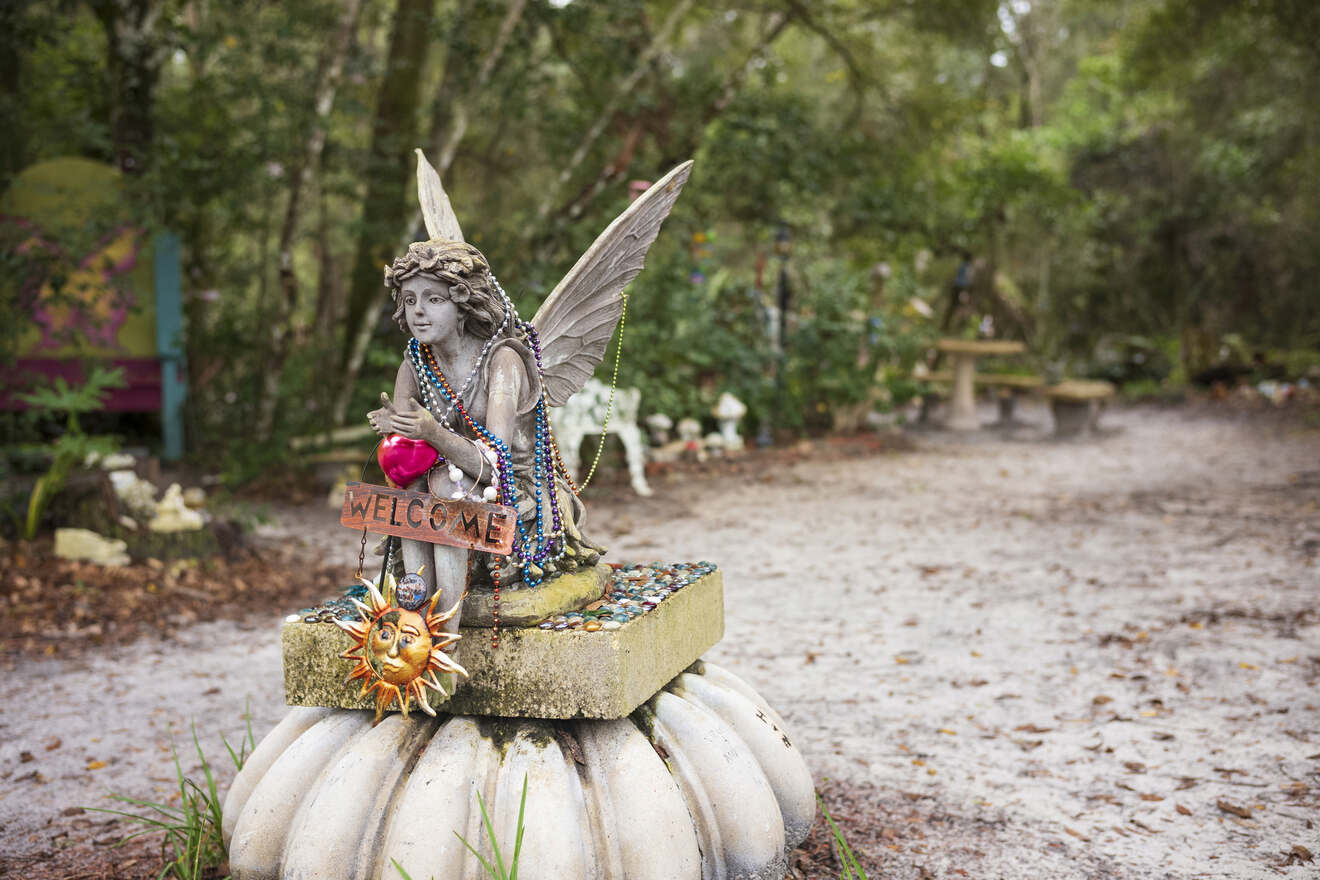 Cassadaga is known as the "Psychic Capital of the World" and the Salem of Florida! It has a rich history of psychics, mediums, and witchy-inclined individuals. It is a small quaint little town with a magical and enchanted energy, surrounded by beautiful nature and parks.
Check out all the metaphysical shops, enjoy the Old Florida vibe, and/or get a reading! (if you're into that)
They even have a "things to do" section on their website where you can check out all the upcoming events and see if any interest you for the dates you will be in town.
While you're there, you must visit Colby-Alderman Park, which boasts 124 acres of wild wetland, orange groves, and an ancient secret bamboo forest.
PRO TIP: Don't miss out on the fantastic Sinatra Ristorante while you're there. This restaurant resides in the historic Hotel Cassadaga built in 1927. The food is delicious, and there's a cute spiritual shop with crystals, books, and lots of other goodies.
NOTE: Check out Horseshoe Park and Fairy Trail on your way out. It truly makes you feel like you have stepped out of the world as we know it and entered a magical fairyland complete with a labyrinth and fairy houses nestled in trees in the woods.
PRICE: Free
11. Take a walk around Vizcaya Museum and Gardens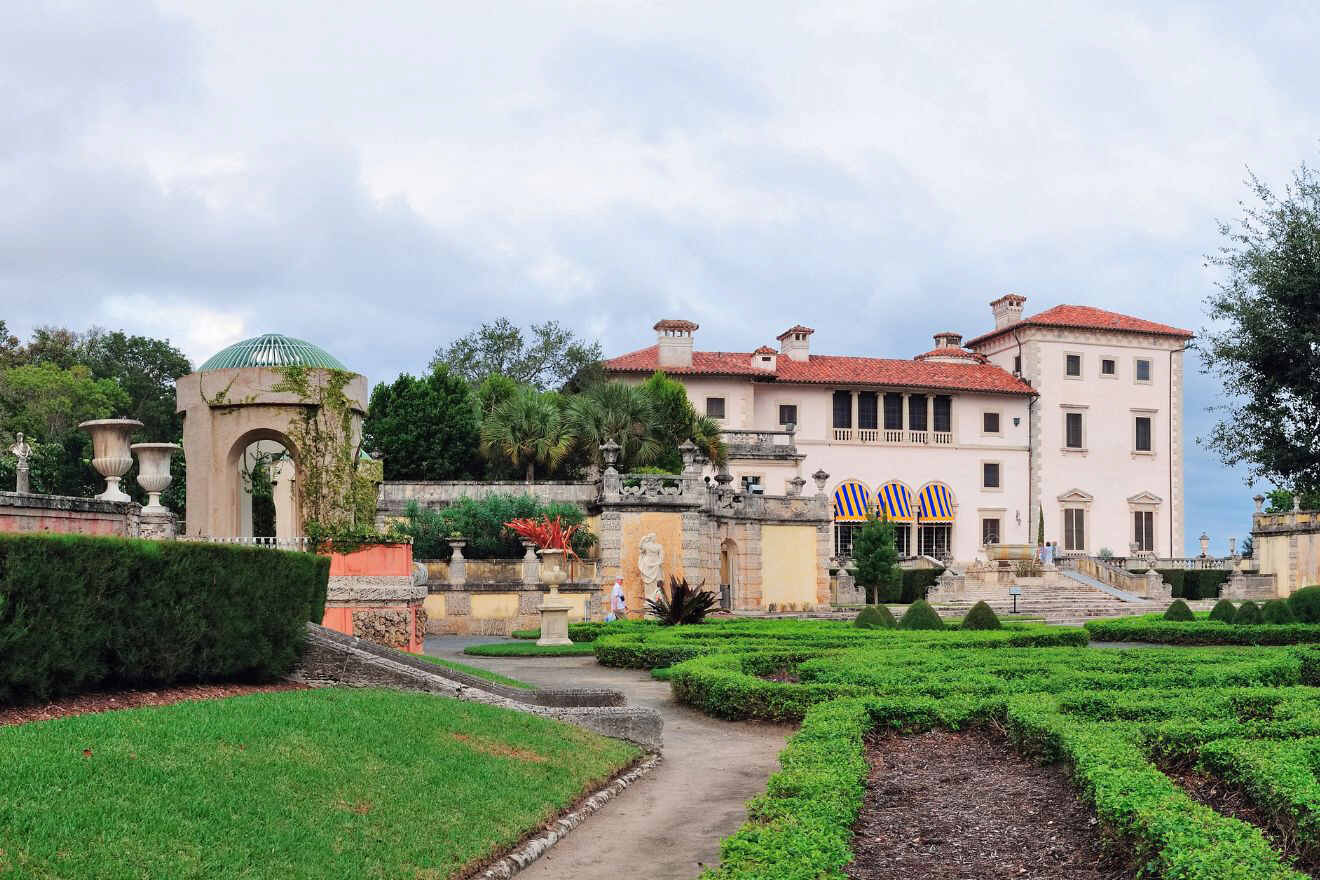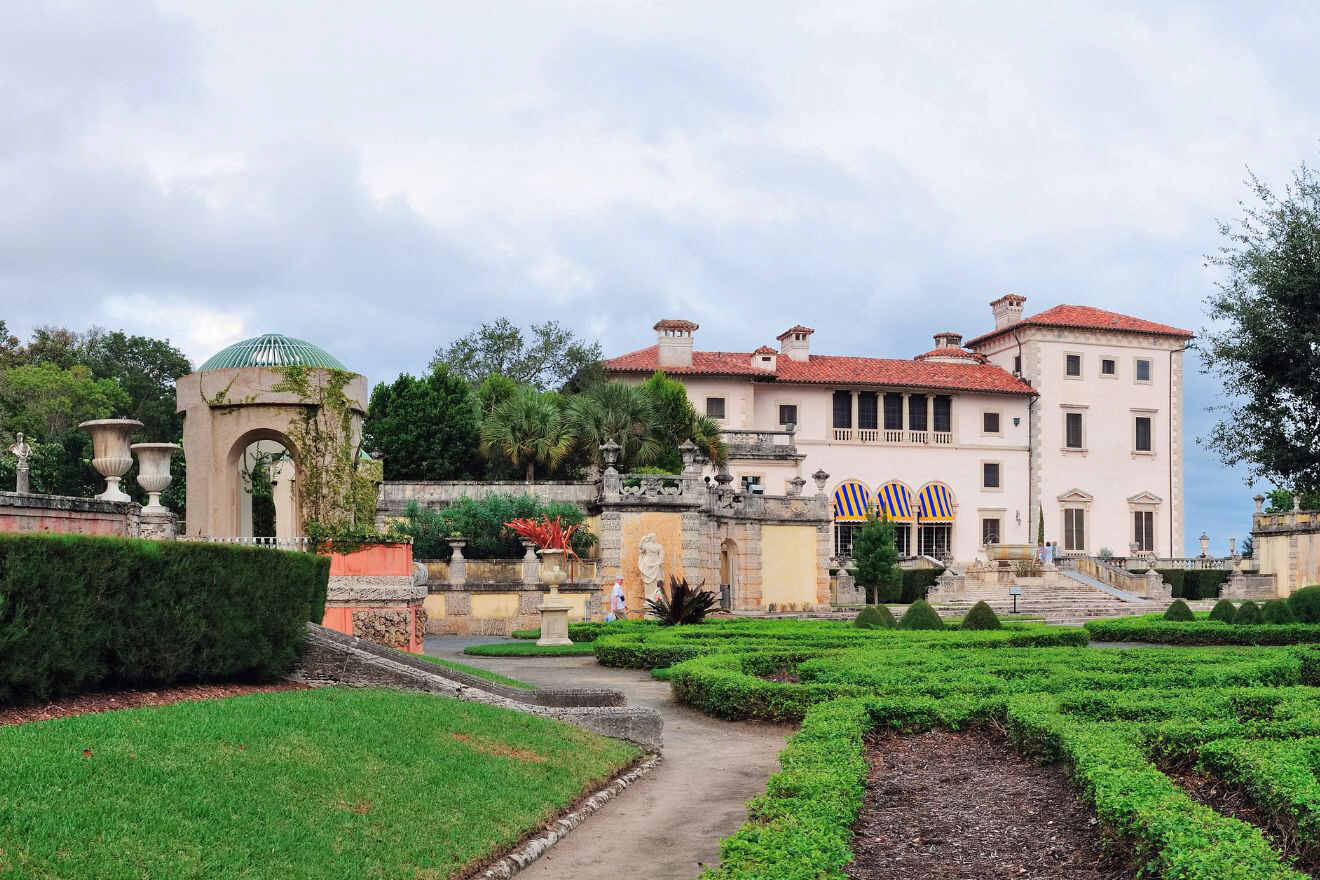 If you find yourself staying near Miami, Vizcaya Museum and Gardens is an absolute must!
Once known as Villa Vizcaya, the former estate and mansion of James Deering is a peek into what it was like to be an elite in Miami in the early 1900s. For history lovers, the Vizcaya museum is one of the best things to do in Florida.
Initially built in 1916, this picturesque mansion turned museum is truly beautiful. This cultural gem is a National Historic Landmark that I am personally adding to your itinerary for the best things to do in Florida!
Located on Biscayne Bay and surrounded by 10 acres of gardens, this Gilded Age beauty is essentially a Miami Palace of Versailles.
PRO TIP: Get there early in the morning and ensure you have enough time to explore this historical landmark. Trust me, you will not regret it!
NOTE: This gorgeous palace is located on Biscayne Bay, where crocodile sightings are not rare! If you get lucky and spend some quality time there, you just might be able to spot one!
Online reservations are required.
PRICE: $25
12. Go scuba diving in Bahia Honda State Park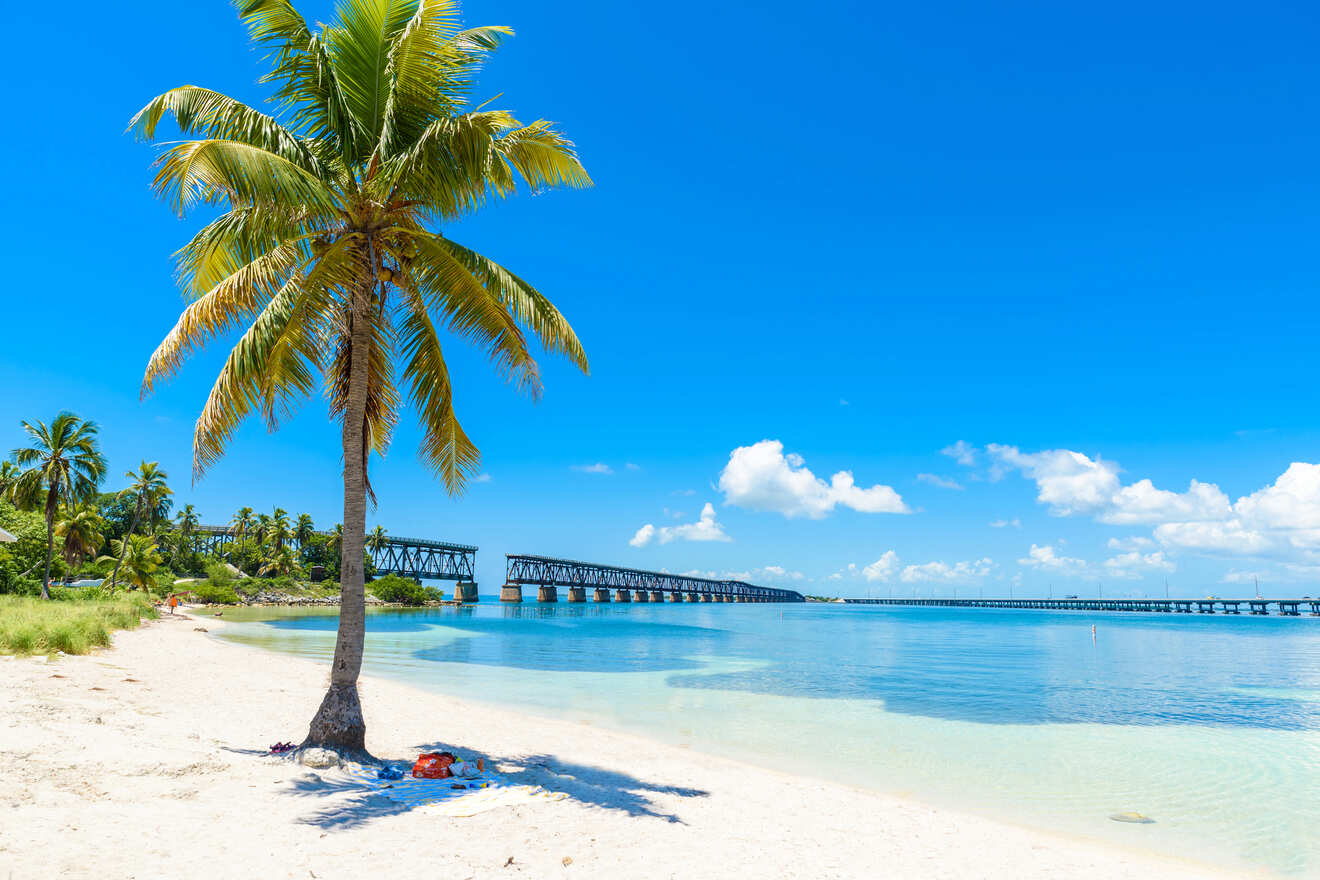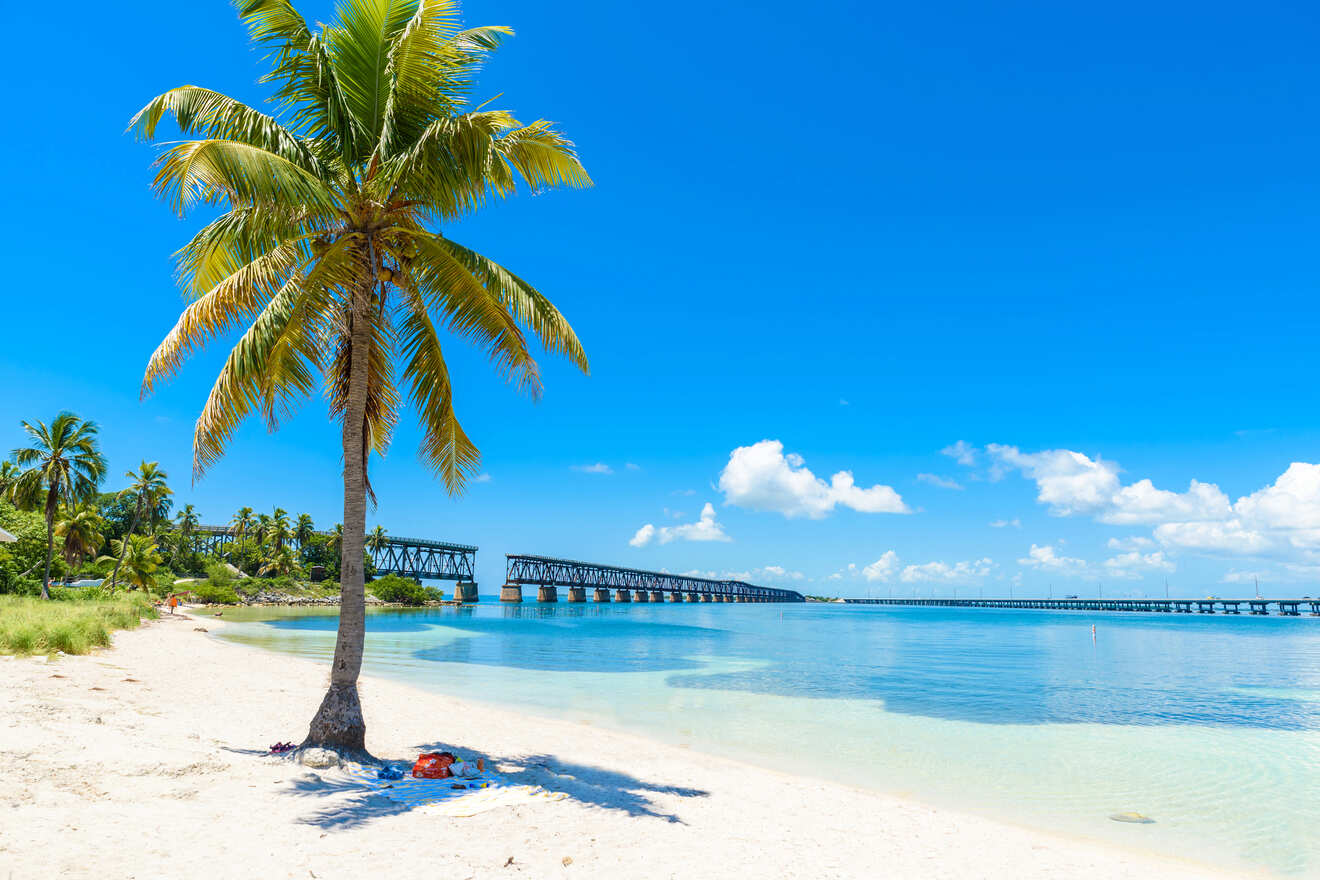 This slice of paradise is located in the Florida Keys. It is one of the best state parks in the Keys. Equipped with three gorgeous beaches, this is truly one of the best things to do in Florida.
Bahia Honda State Park is famously known as the best spot to go scuba diving in Florida! Aside from your usual beach activities, this park is the perfect place to go swimming, kayaking, snorkeling, and hiking through the acres of Florida Keys wildlife.
PRO TIP: Don't miss out on the trail that goes up to the Old Bahia Honda Bridge to get some incredible ocean views and beaches.
HACK: Check out their website, and their site on the Florida State Parks website to see all the activities they have available to make the most out of your trip.
PRICE: $8 per vehicle. Water activities come at an additional charge.
13. Visit Nasa at the Kennedy Space Center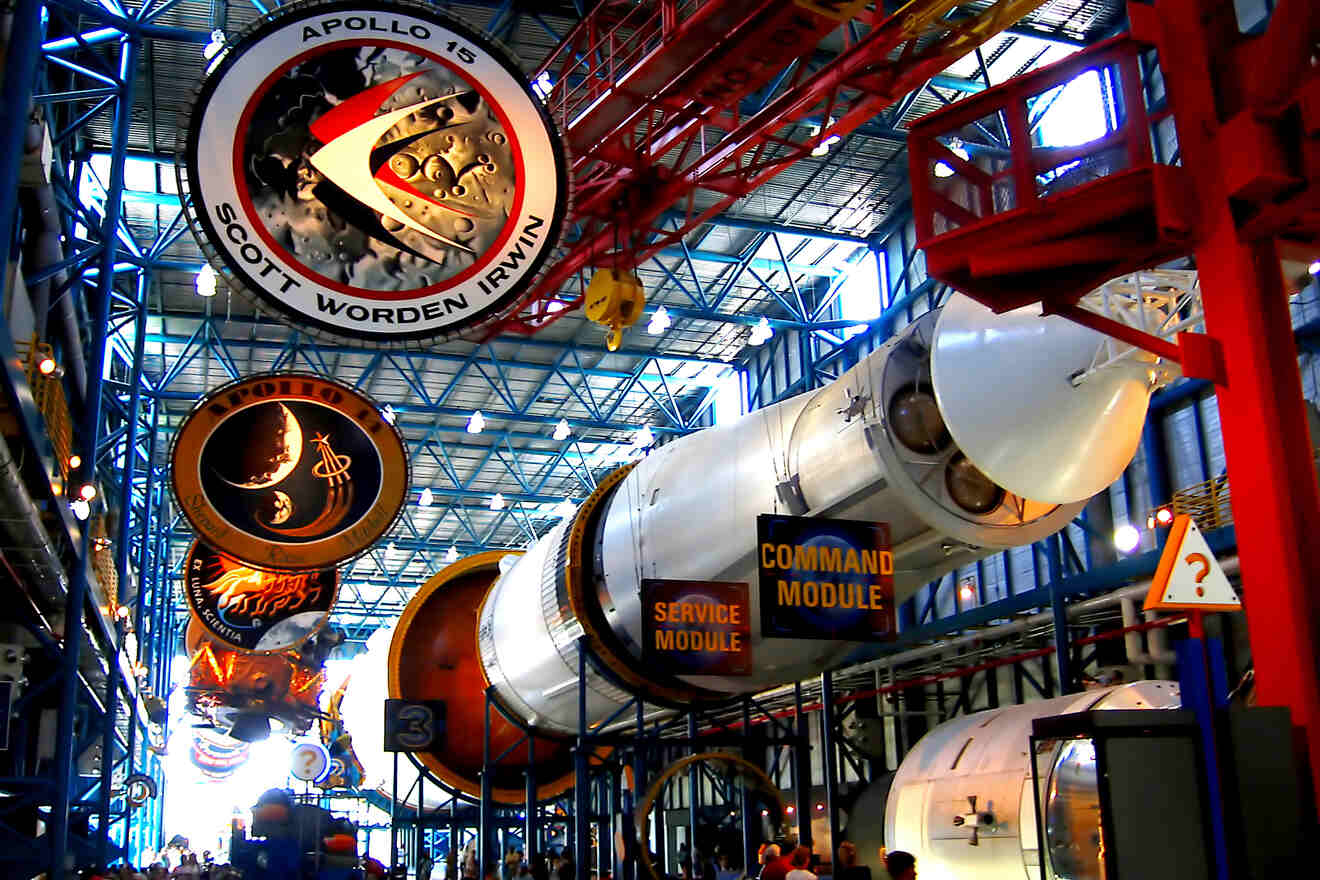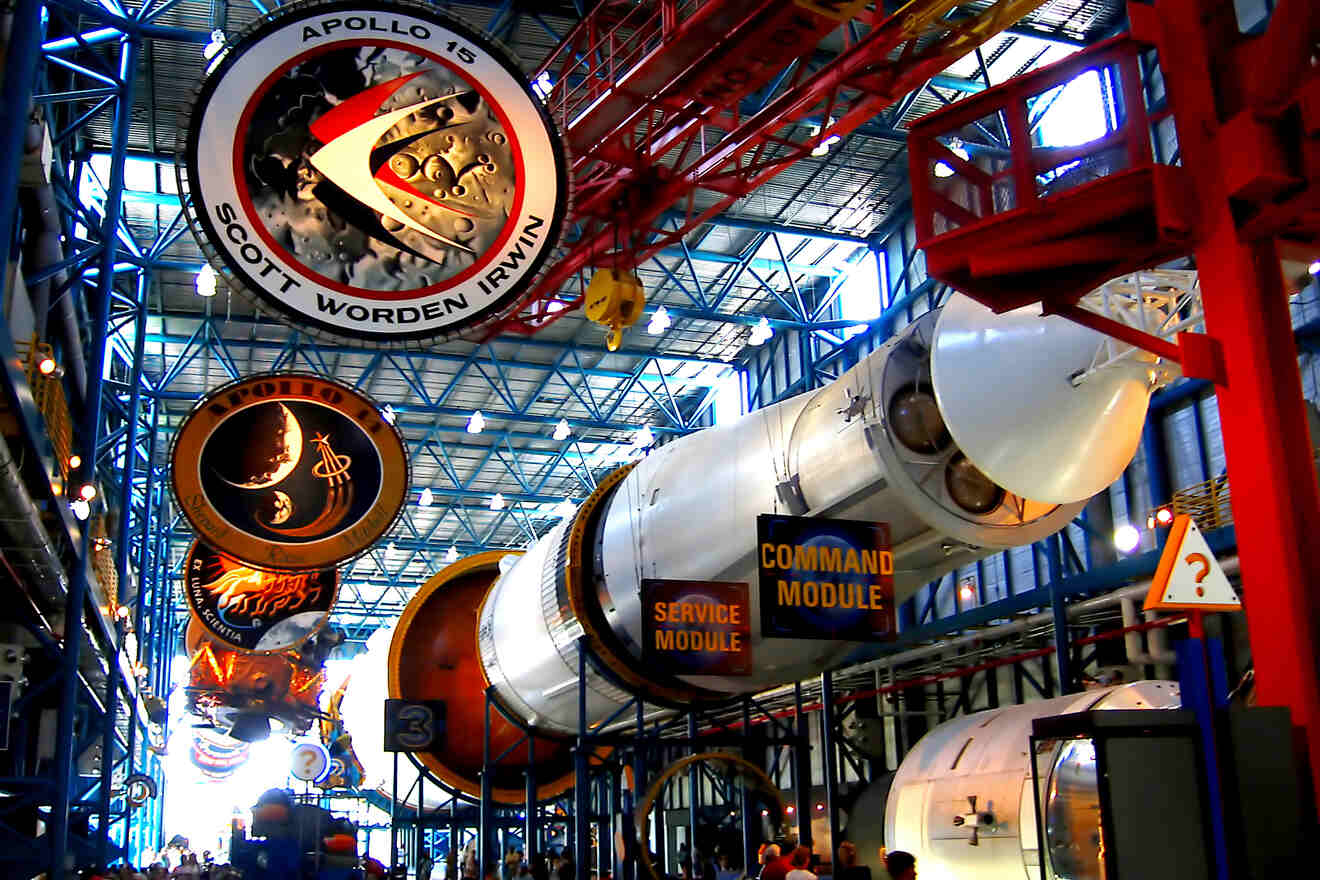 The Kennedy Space Center is one of the biggest tourist attractions in Florida. This should be high on your list of things to do in Florida, as it is such a unique and life-changing experience!
The Kennedy Space Center is one of the leading centers of NASA's space activities. This includes rocket launches and a plethora of other space-related events.
Located on the Space Coast on Merritt Island, it is also surrounded by one of the most biodiverse areas in Florida.
During your visit, you can meet an astronaut, experience the U.S astronaut hall of fame, and get an up close and personal look into the human exploration of space. This, by far, is one of the best things to do in Florida and will really open your perspective to the wonders of space and life beyond planet Earth.
This amazing tour gives you full access to the center PLUS admittance to restricted areas that you can't see with a regular ticket!
NOTE: When visiting the Kennedy Space Center, remember that this is a historical site home to revolutionary feats in human history. The Apollo 13 space mission was launched from the Kennedy Space Center. Get your tickets here.
PRICE: One-day admission: $75, Two-day admission: $89, tour $79
14. Join a bioluminescent kayaking experience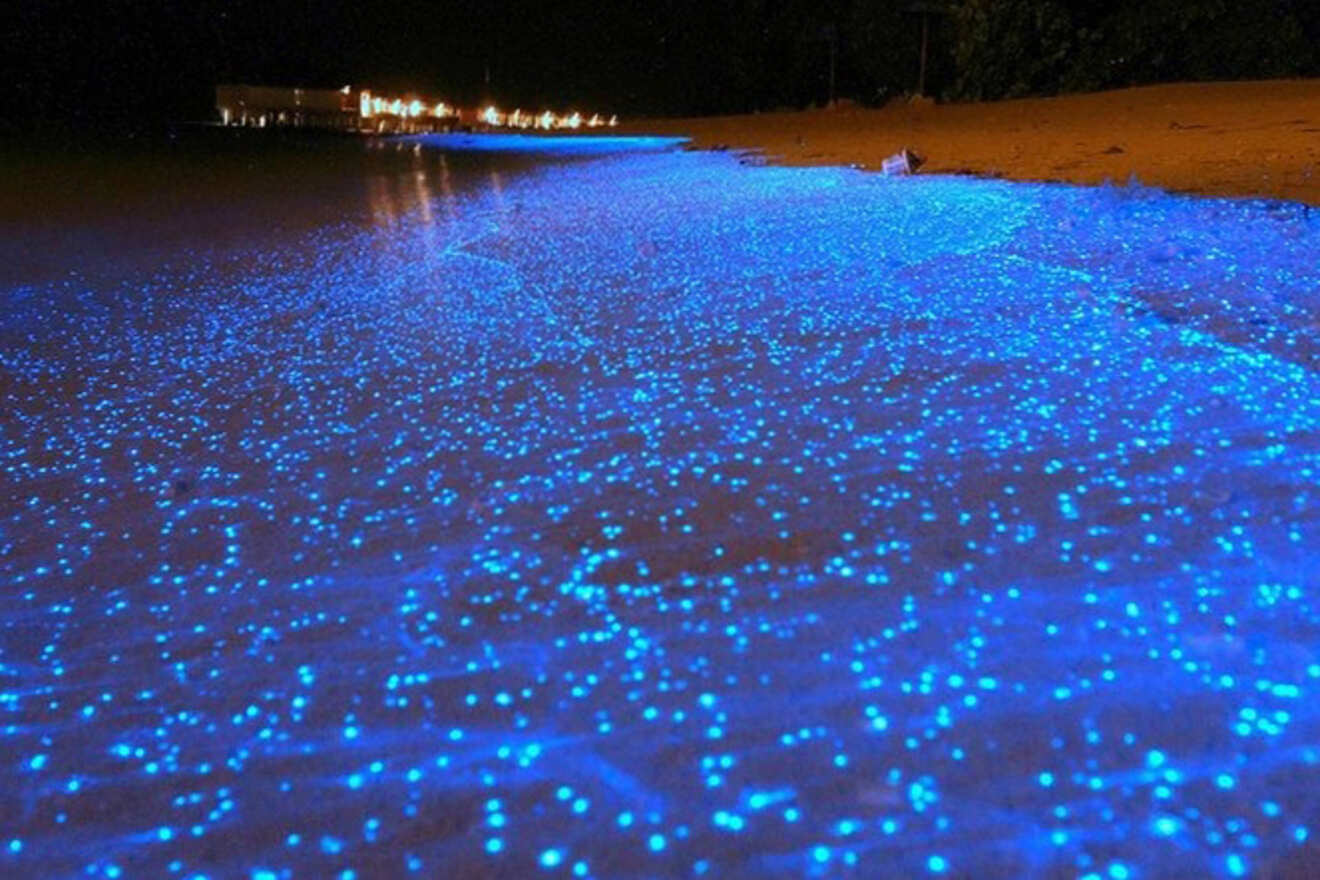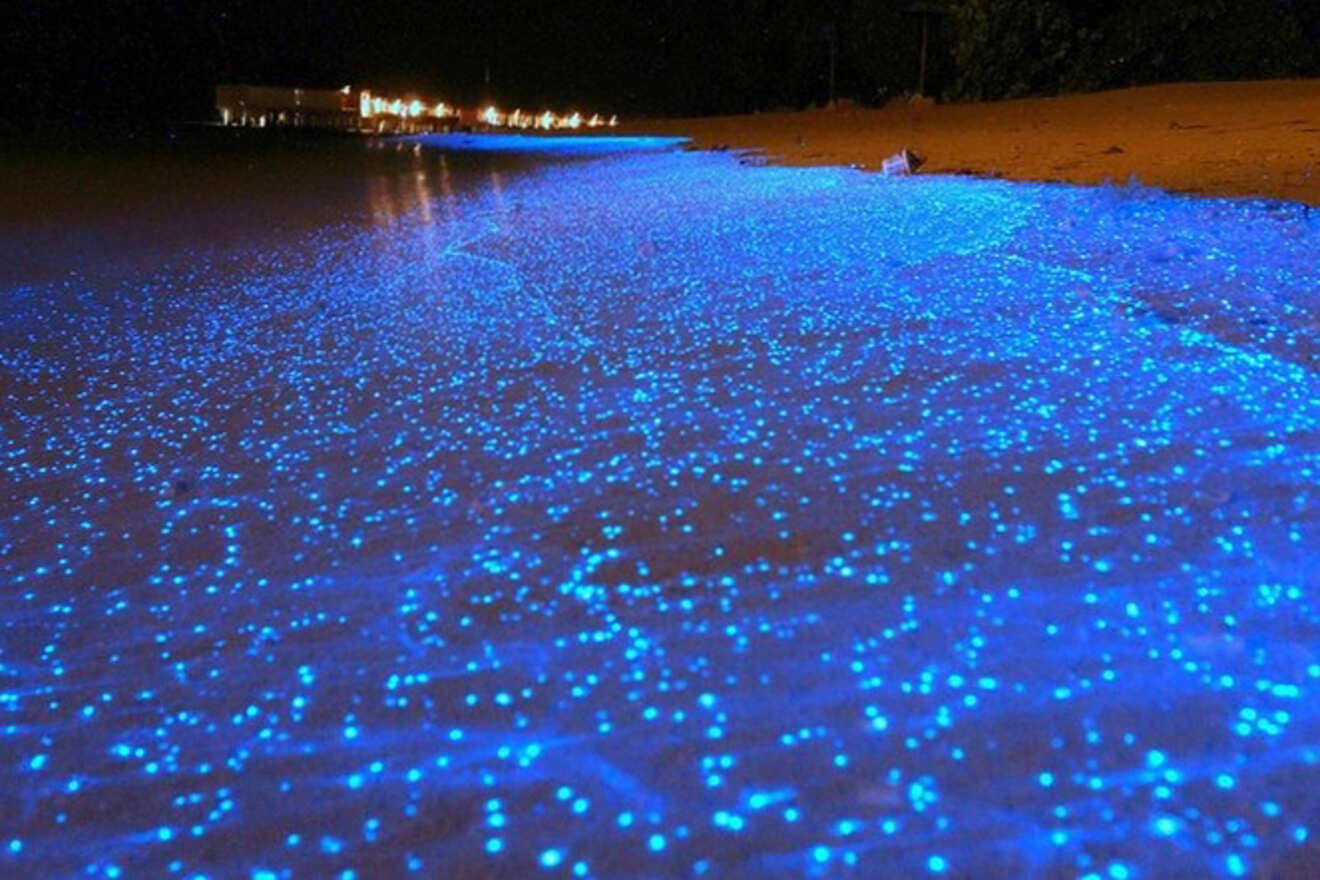 My partner and I went on a bioluminescent kayaking adventure in Titusville on Merritt Island for our anniversary. Everyone should experience this magic!
When most people think of bioluminescence, they think of some island in the tropics. However, did you know we have bioluminescence in Florida?!
This is a once-in-a-lifetime experience that you will carry with you forever. This adventure consists of kayaking with a group at dusk. The bioluminescence becomes brighter and clearer as soon as the sun goes down. With each stroke of your paddle, you see a burst of light unfurl in the water.
Fish swimming beneath your kayak leaves a trail of greenish-blue bioluminescence that will leave you breathless. This should definitely be on your list of the best things to do in Florida.
PRO TIP: Make sure you book in advance. Our tour guide was super knowledgeable and taught us so much about the biodiversity present in the area. We saw manatees, dolphins, and a pufferfish even came right up next to our kayak! They offer many different nature adventures. See here for more details.
HACK: Make sure the weather is good the day you book. It ended up raining on us a bit on our trip!
NOTE: You will be kayaking in the ocean, so bring your phone or camera at your own risk. Also, remember it's challenging to capture the bioluminescence in a picture, so make sure you're soaking it all in or have a special camera with a night lens.
PRICE: $65
15. Stroll around the Sunken Gardens in St. Petersburg
As a nature lover and someone who is shamelessly obsessed with plants and ecology, this was a wonderful experience. However, even if you're not a plant freak like me, this is one of the best things to do in Florida.
Sunken Gardens is one of the oldest tourist attractions in all of America. Dating back over 100 years, this garden is home to over 50,000 different tropical and exotic plants. The Sunken Gardens are known as St. Pete's oldest living museum.
This is one of the most unique things to do in Florida as it is literally a 'sunken garden' that's entirely below sea level!
Meander through the winding paths and waterfalls, and check out some incredible tropical plants on four acres that have literally sunken into place over 100 years! This is great for solo travelers, romantic getaways, and family excursions!
PRO TIP: Be sure to check out their events to see if anything lines up with the dates you will be visiting.
PRICE: $15
16. Relax at Miami Beach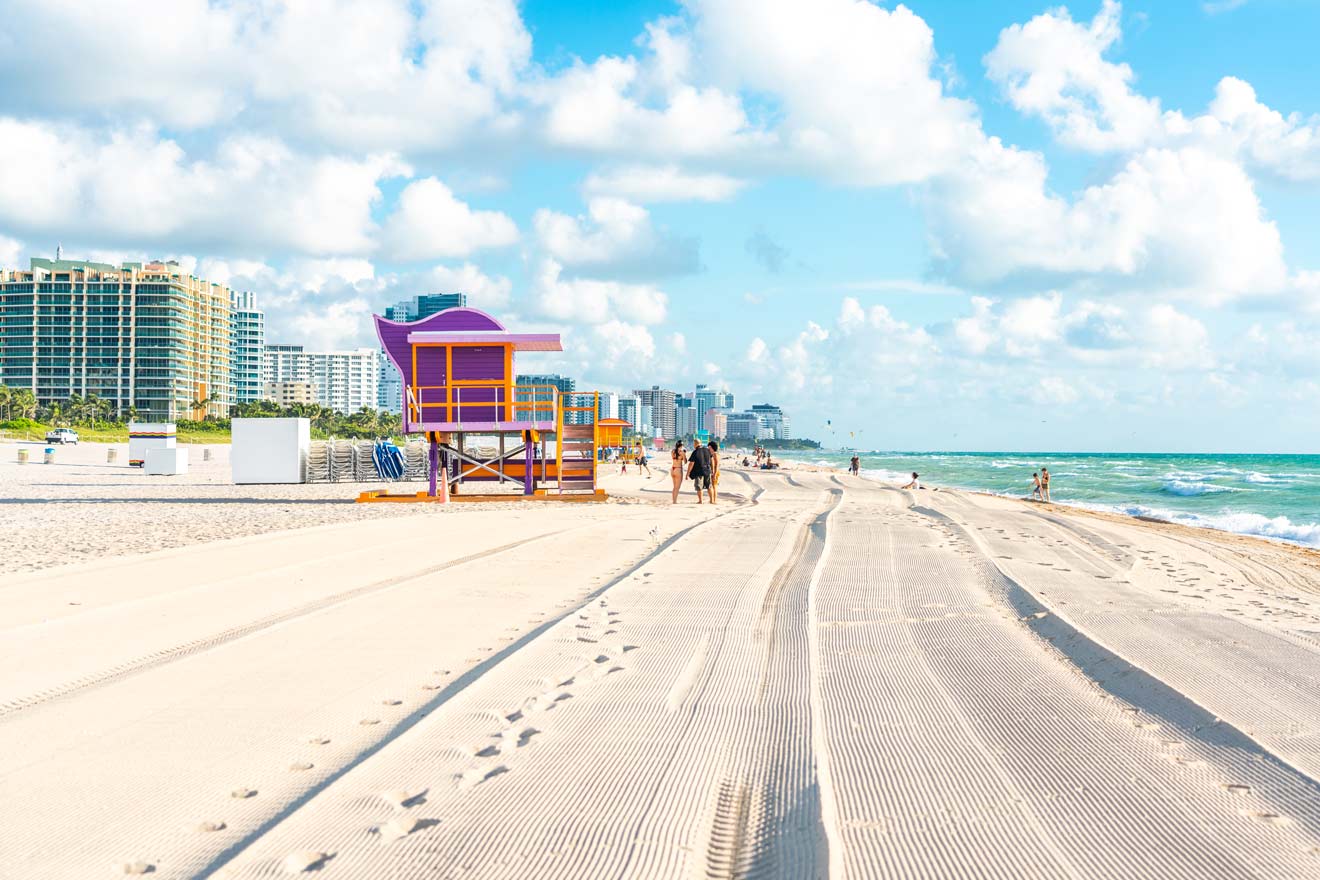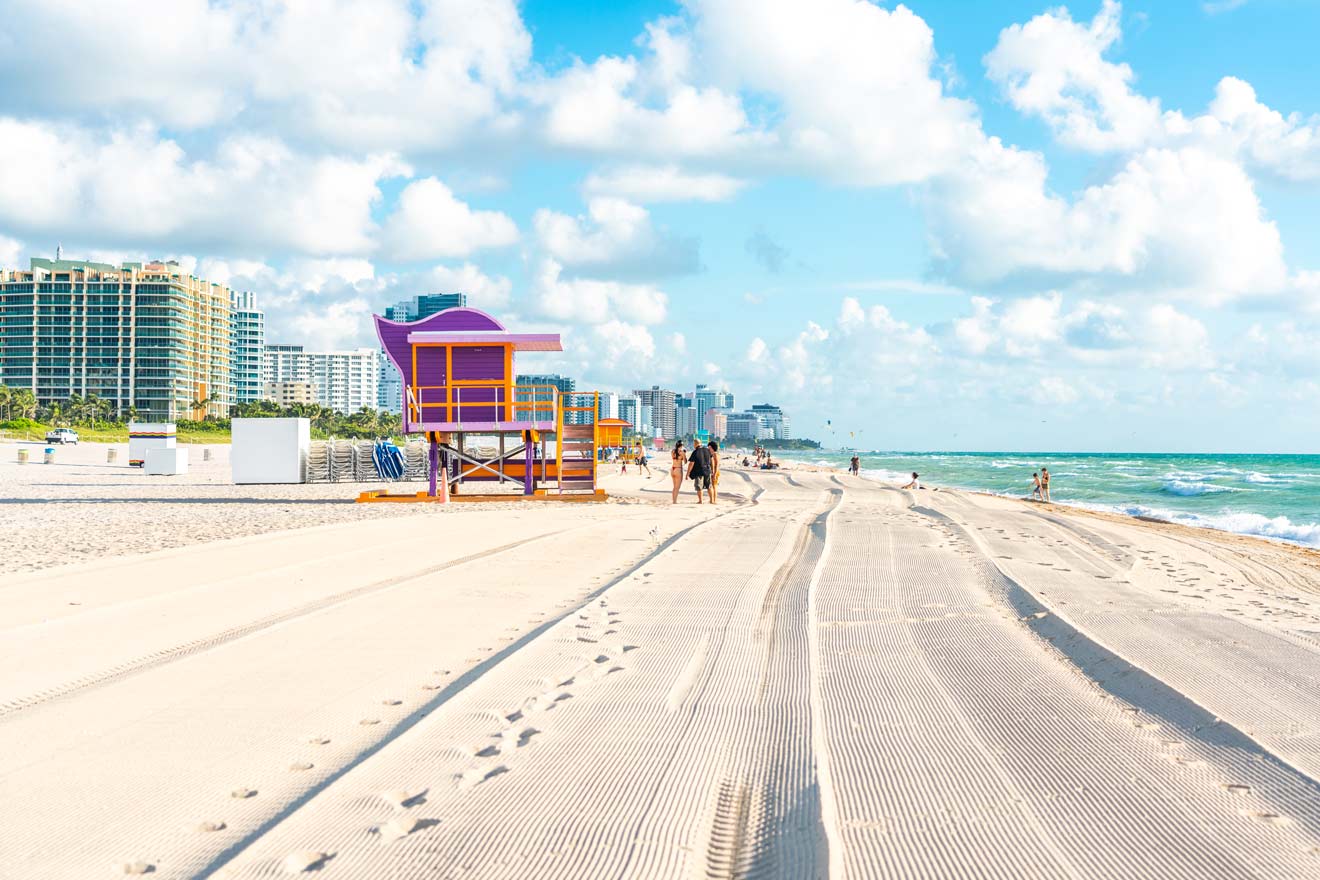 Ahh, Miami Beach. This is another place that sealed the deal for me when it came to moving to Florida. I could not believe this tropical oasis was in the US! Every time I go, it's always a blast.
Let's face it, Miami Beach is one of the first things that comes to mind when you think of Florida. Extravagant designer cars, mansions, gorgeous beaches, South Beach, drinks on the beach, you name it. Home to many TV shows, movies, and just bursting with rich culture and history, Miami beach is always a blast.
Here are some of the best things to do:
PRO TIP: If you are visiting Miami, I recommend staying on Miami Beach. It is the most walking-friendly part of Miami, and getting around is a breeze.
HACK: If you're on a budget, try staying in one of the many hostels on Miami Beach. It's always a fun environment and a way to meet people from all over the world. I recommend Freehand Miami Beach!
17. Visit Castillo De San Marcos Saint Augustine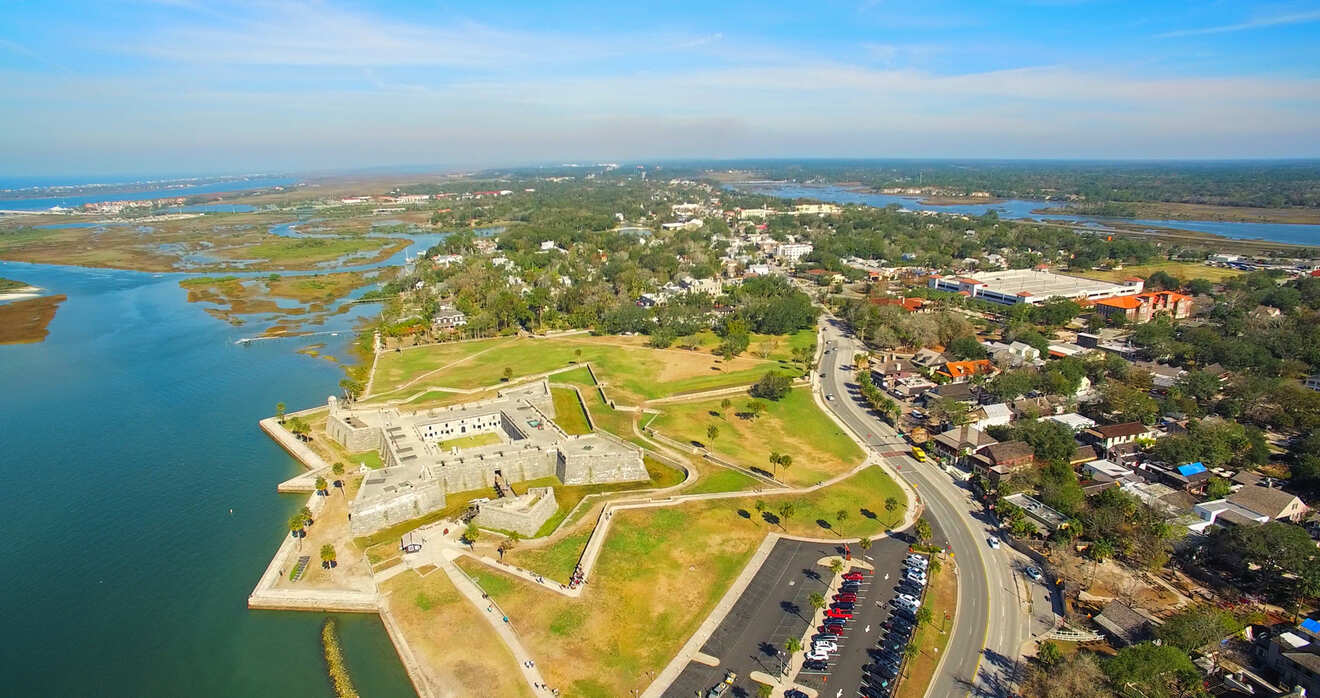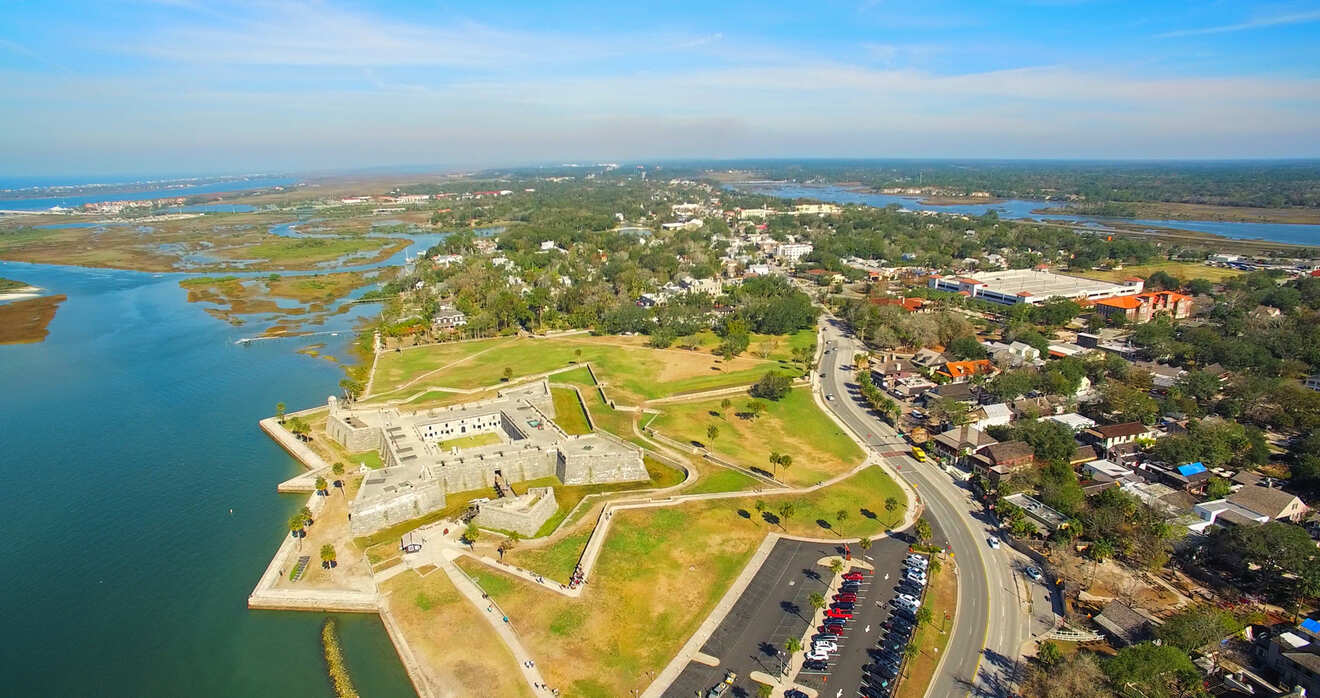 Saint Augustine is one of the oldest cities in the US! With a rich history and beautiful architecture, this should definitely be on your list of things to do in Florida!
Castillo De San Marcos is famous for being the oldest masonry fort in the USA. This is an excellent activity for families and solo travelers! If you love a bit of ghost hunting.
PRICE: $15
18. Discover Duval Street, Key West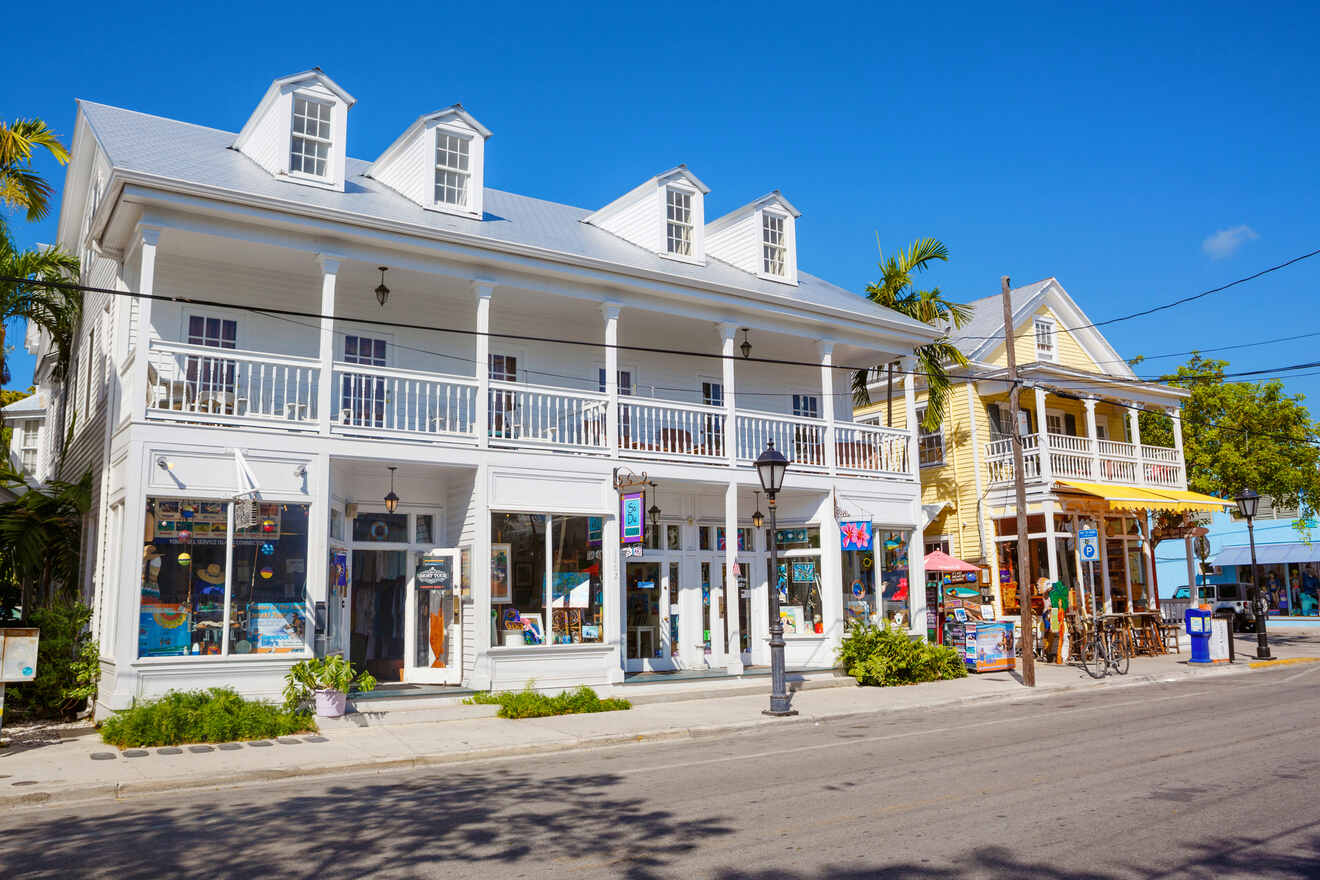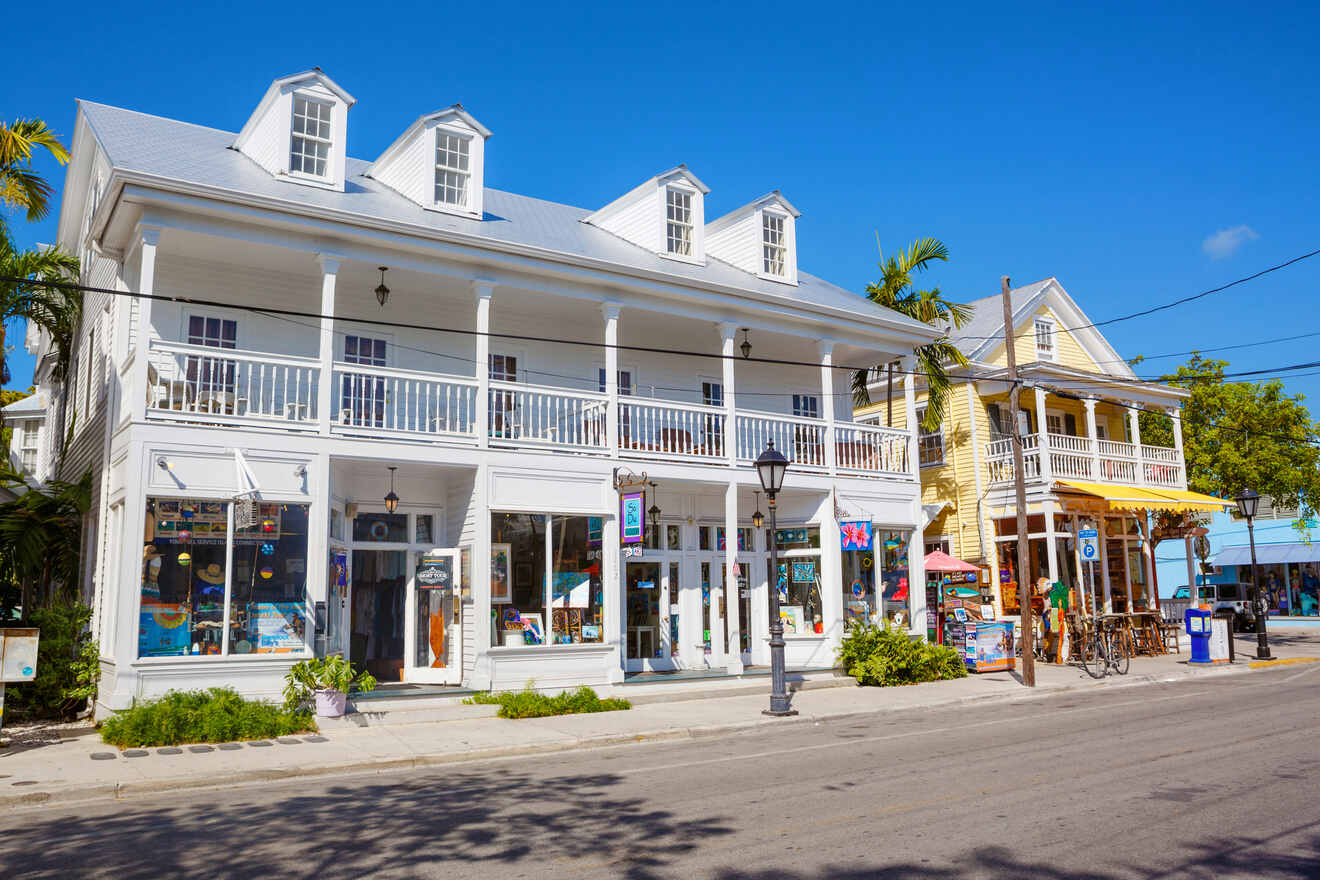 If you find yourself in the Keys, this is an experience you will definitely not want to miss out on.
Duval Street runs all the way from the Atlantic Ocean to the Gulf of Mexico. This historic part of downtown Key West is known for its unique character with its hole-in-the-wall bars, galleries, historical buildings, shops, and more!
This is definitely one of the best things to do in Florida!
PRO TIP: Be there around sunset for incredible views and vibrant nightlife!
PRICE: Free
19. Get artsy in Wynwood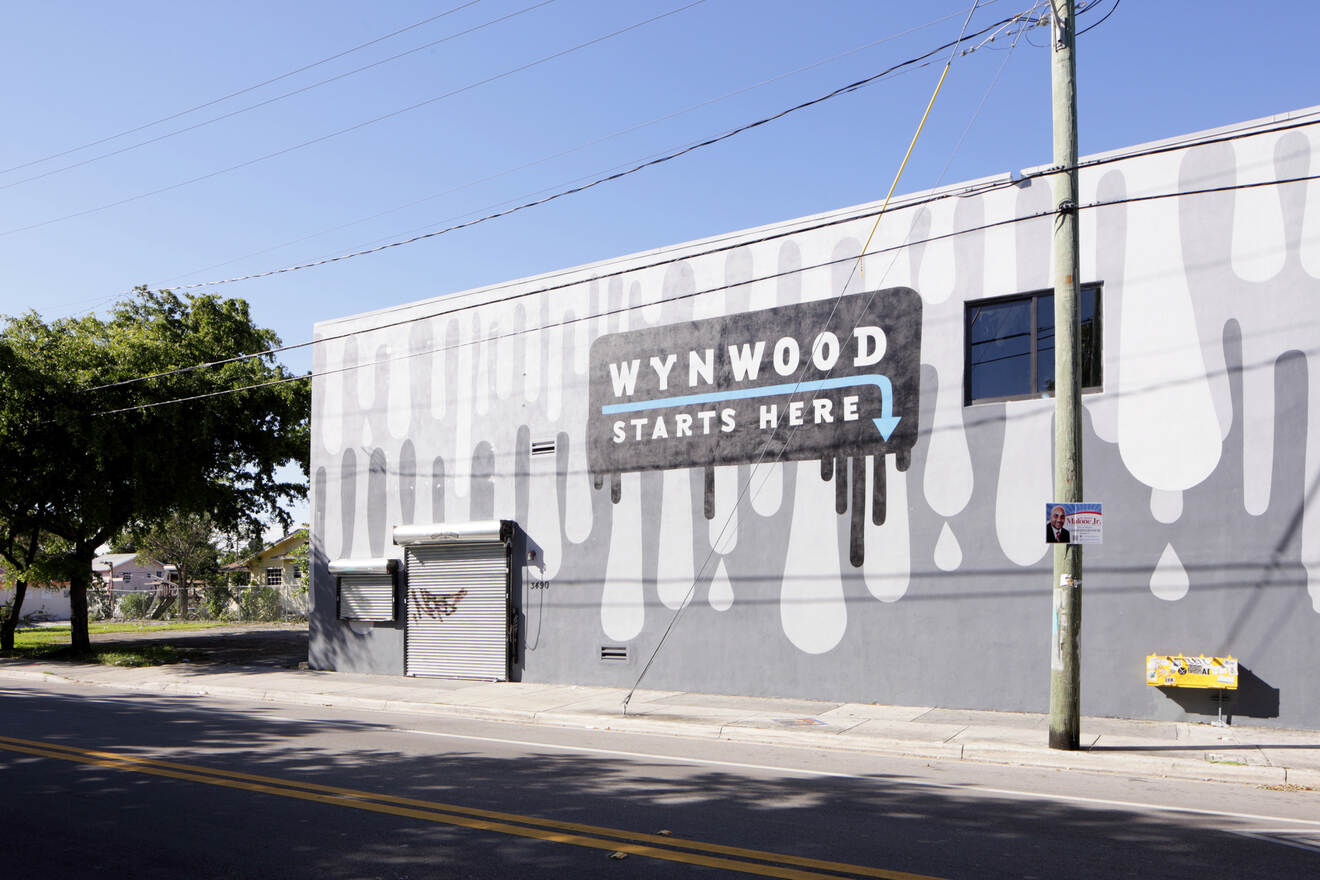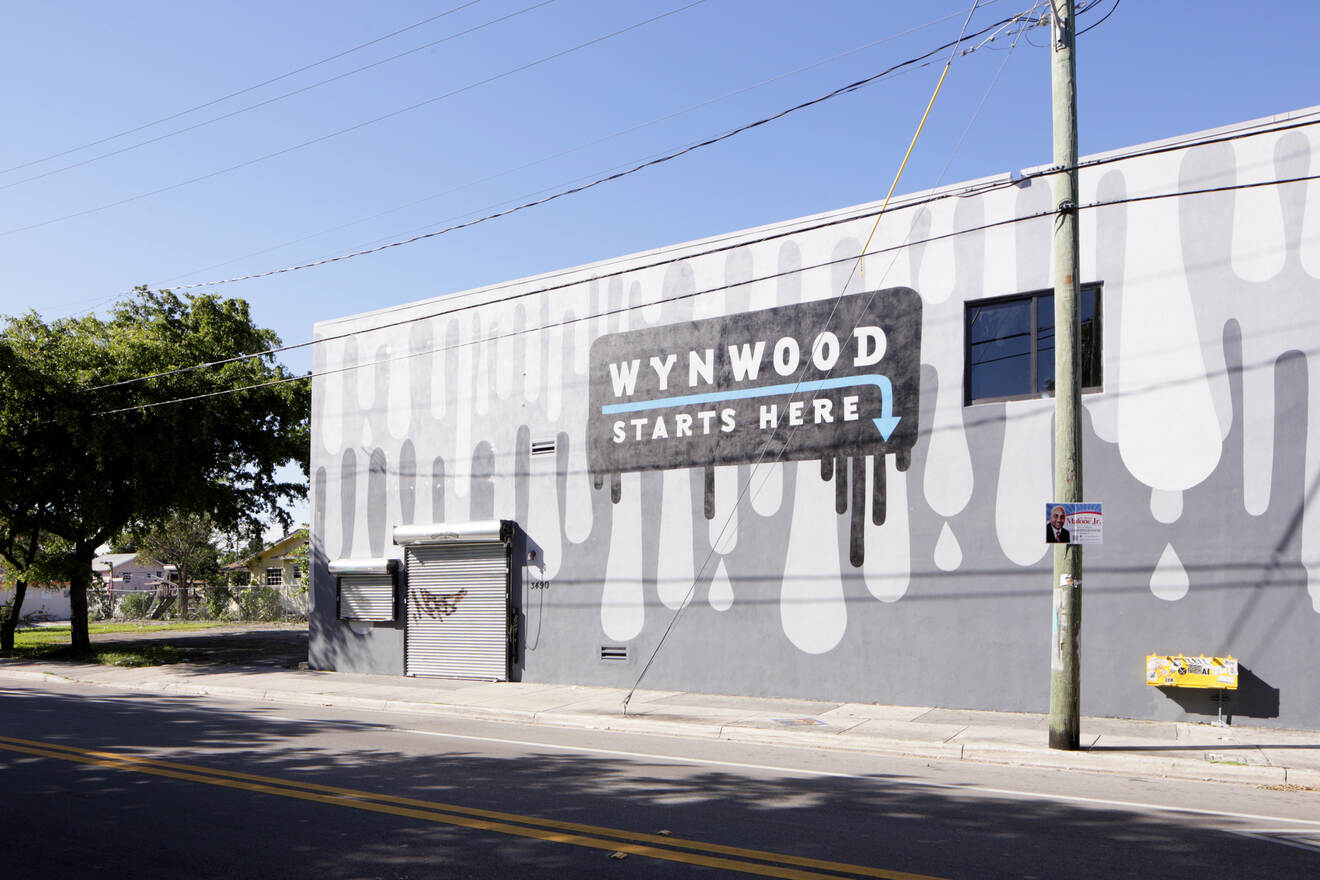 Wynwood is known as Miami's art district. It is world-renowned for its murals and graffiti-covered walls. Vibrant and bursting with life, you will really get a taste of Miami culture and street art in Wynwood.
There are plenty of restaurants and galleries in the area that are worth checking out as well. A trip to Miami is not complete without a trip to Wynwood!
PRO TIP: Travel Wynwood on foot. There are hundreds of pieces of art all over the area, and it is better observed on foot.
PRICE: Free
20. Be one with nature at Ocala National Forest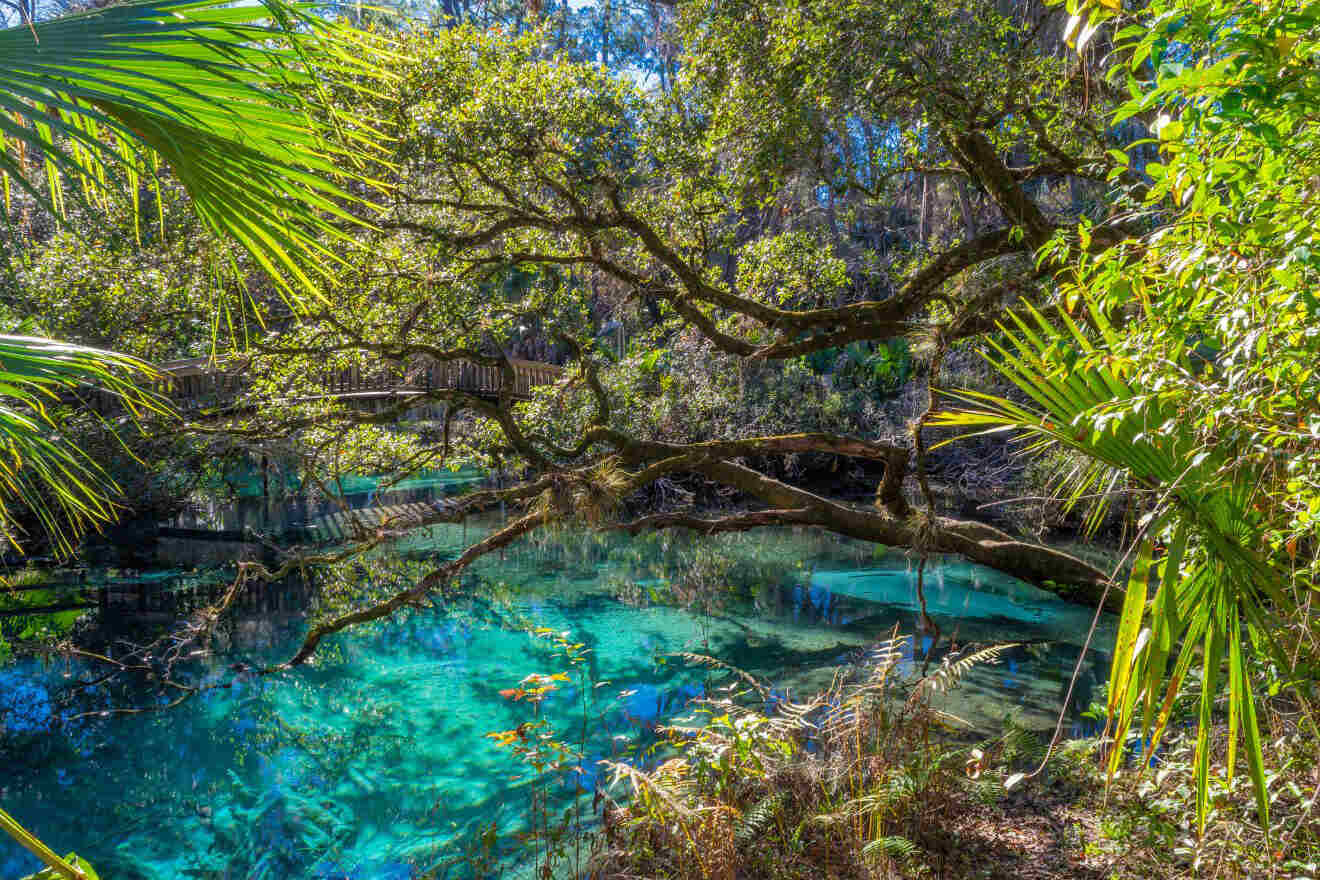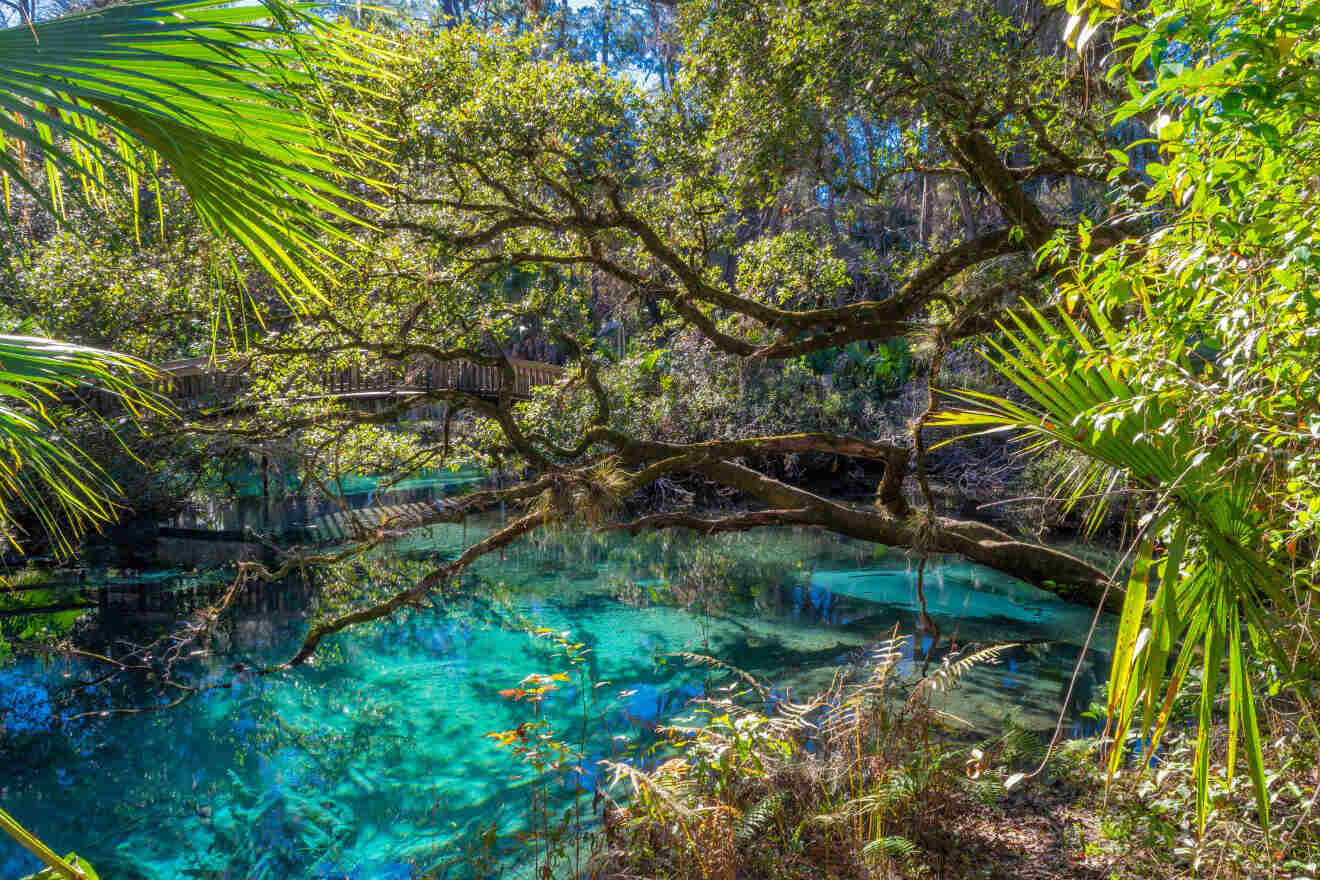 Most people know about Florida's gorgeous white sand beaches. Still, most people don't know about the enchanting forests and springs located in the center of the state.
Nestled between the Atlantic and the Gulf Coast, Ocala National Forest is one of Florida's most incredible State parks.
Saw palmettos, massive oak trees, Florida wildflowers, manatees, alligators, ibis, and herons. This forest is rich in biodiversity you've never seen before. When I visited Ocala National Forest, I rode horseback through the forest, which was an extraordinary experience!
HACK: Level up your experience in Ocala and stay at the Enchanted Oaks Farm. This Airbnb and farm are jaw-droppingly beautiful, with hundred-year-old oaks lining the property and the cutest little gnome-like houses available for booking! They also have farm animals you can hand feed and a zebra and a wallaby!
PRICE: Free
21. Explore the caves of Devil's Den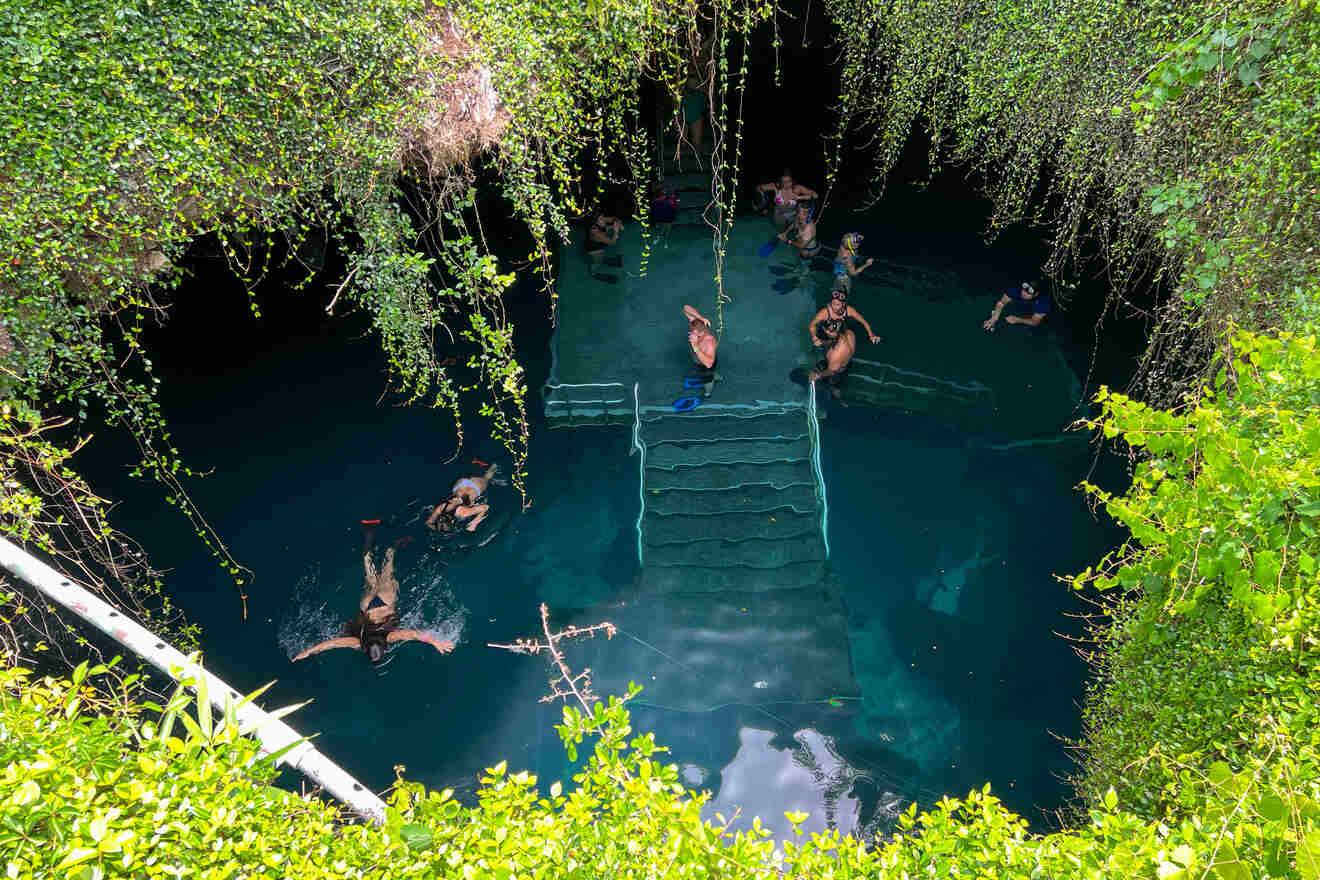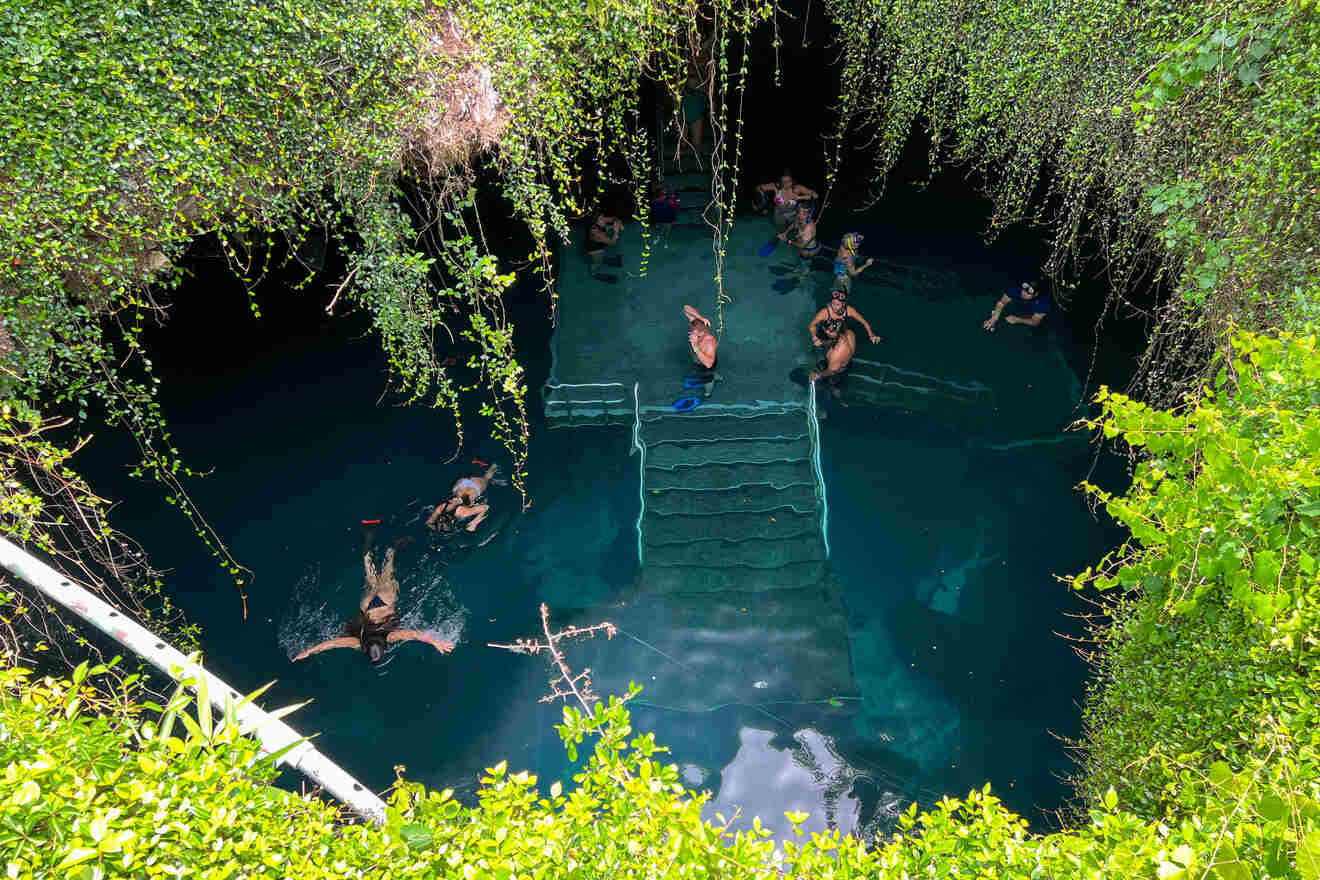 This is by far one of the coolest things to do in Florida. Devil's Den is a prehistoric spring with incredible underwater caves and taverns!
You will truly feel like you have traveled back to prehistoric times when you visit this spring. The underwater caves are ancient and eerily beautiful.
If you are a scuba diver, this is one of the most popular places to scuba dive in Florida and, arguably, the coolest!
HACK: There are also a number of springs you can explore north and south of Devils Den that are worth the trip.
PRICE: $18. See here for info on diving and renting scuba gear.
22. Take a boat to Crab Island
At the beginning of this article, I mentioned Destin as one of the best beaches in all of Florida. Crab Island is right offshore on Destin Beach on a giant sandbar.
This is a super fun place to hang out, anchor your boat, grab a floatie, or just hang out in the gorgeous shallows. Hanging out in a sand bar has very typical Florida-laidback vibes, not to mention it's a really fun experience!
The sandbar even has floating restaurants where you can grab a drink while you're enjoying the beautiful turquoise shallows under the sun.
PRICE: Free
23. Swim in the Venetian Pool in Coral Gables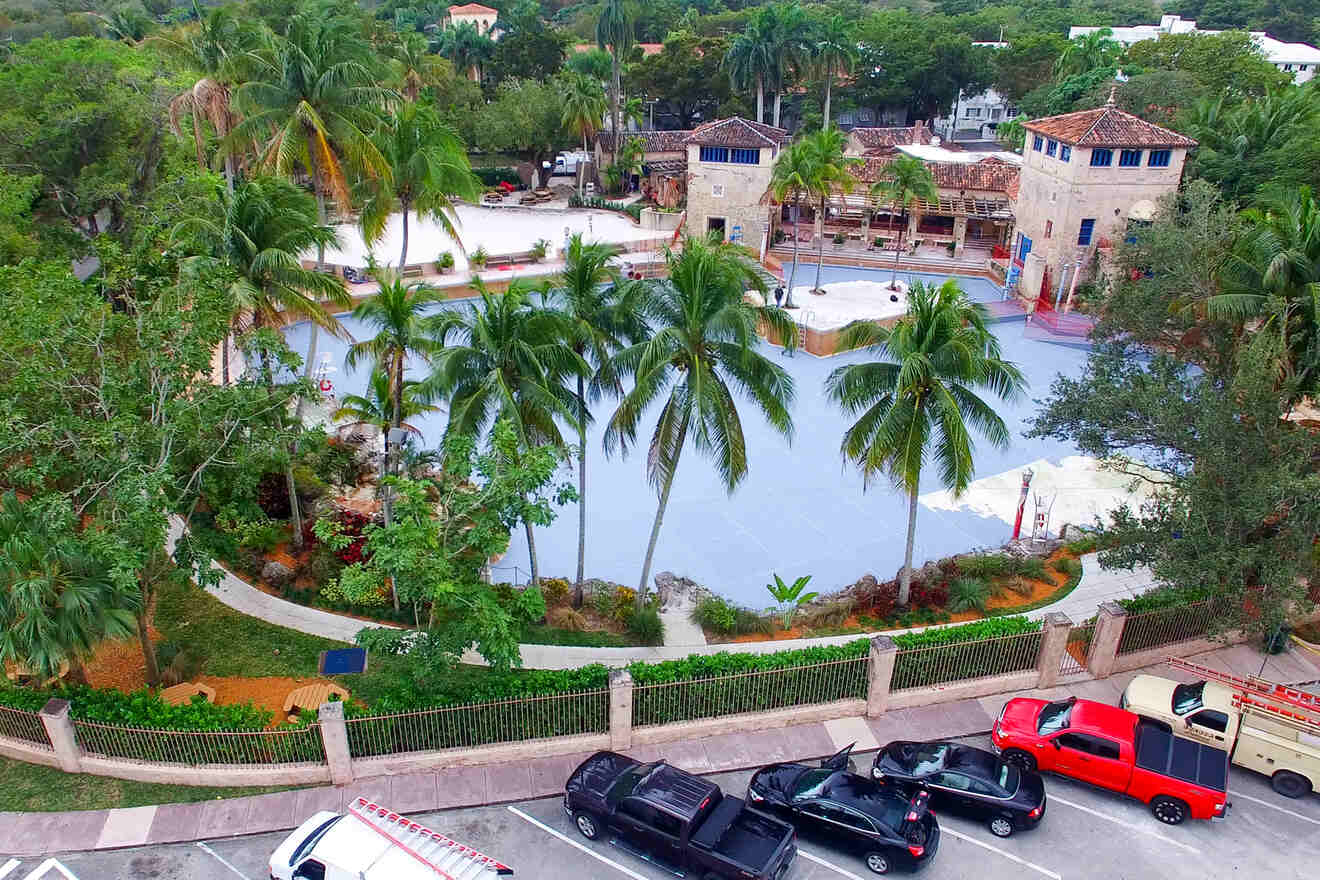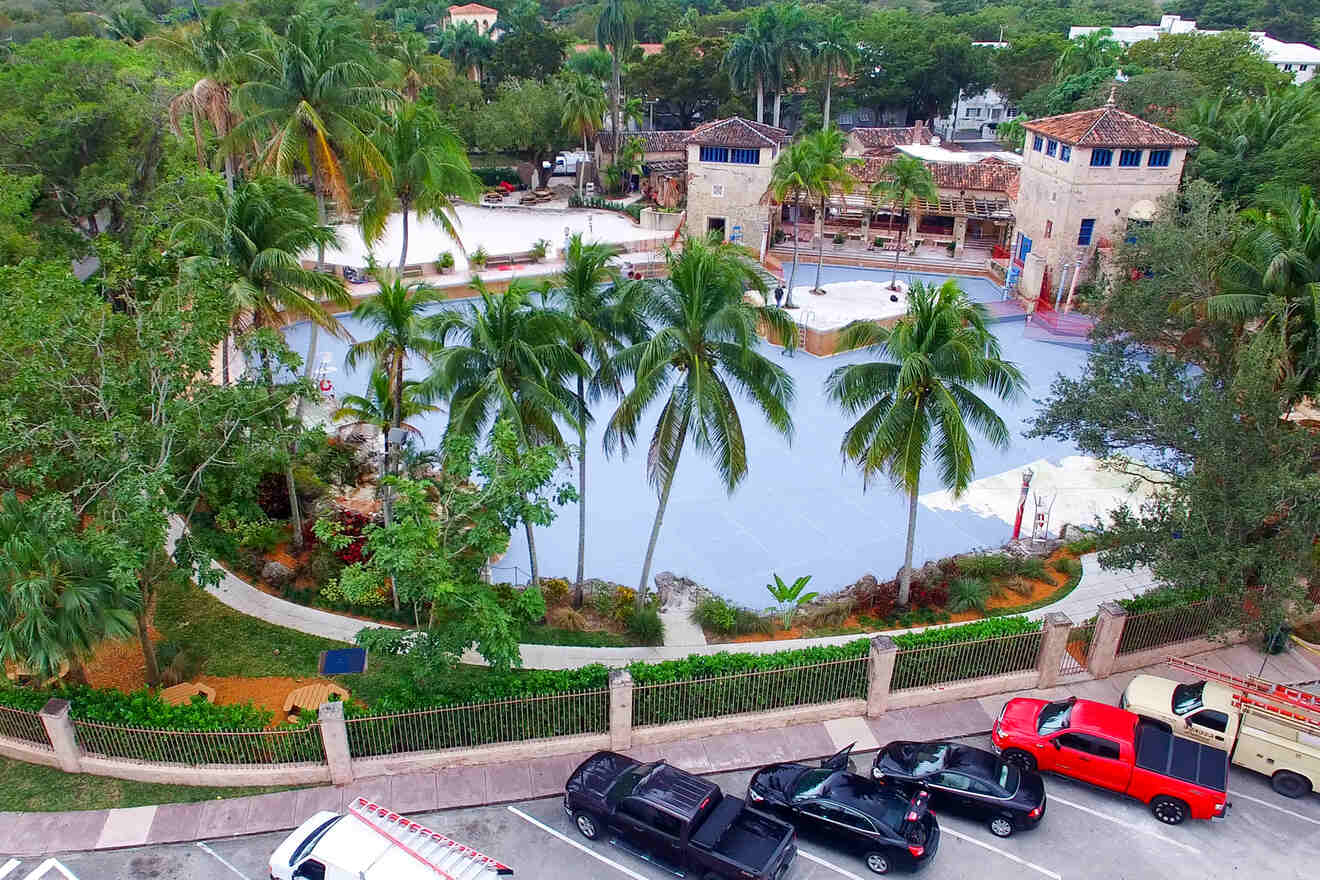 This is a one-of-a-kind experience as it is America's largest freshwater pool! Originally built in 1924, this pool is now featured on the National Register of Historic Places.
Located in Coral Gables, this Venetian Pool was built in an abandoned coral rock quarry designed to mimic a Mediterranean-style Venetian grotto.
The natural filtration system keeps the water crystal clear, making the clean and vibrant water one of its most iconic features.
LOCATION: Address: 2701 De Soto Blvd, Coral Gables, FL 33134, United States
PRICE: $16
24. Visit the Ernest Hemingway Museum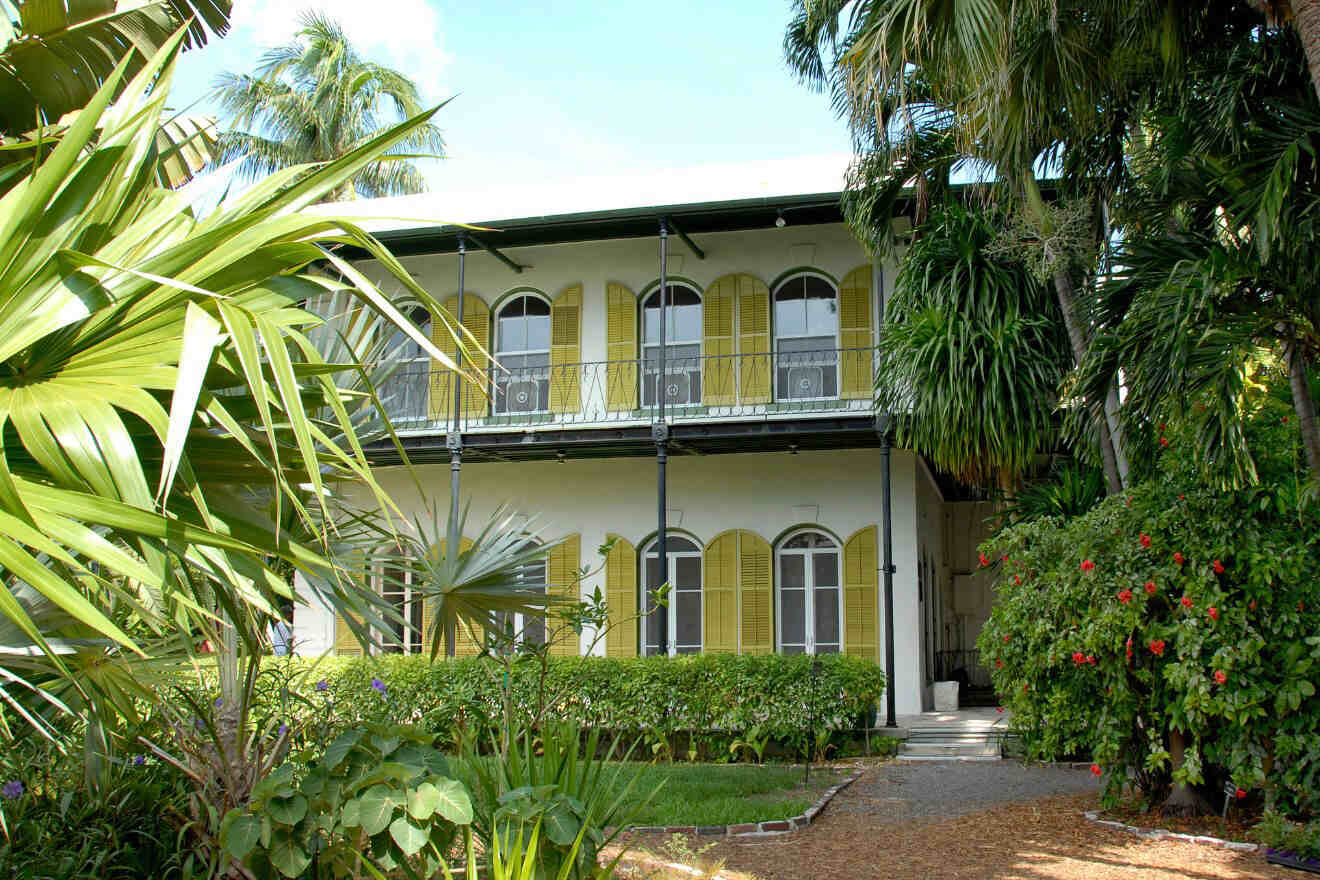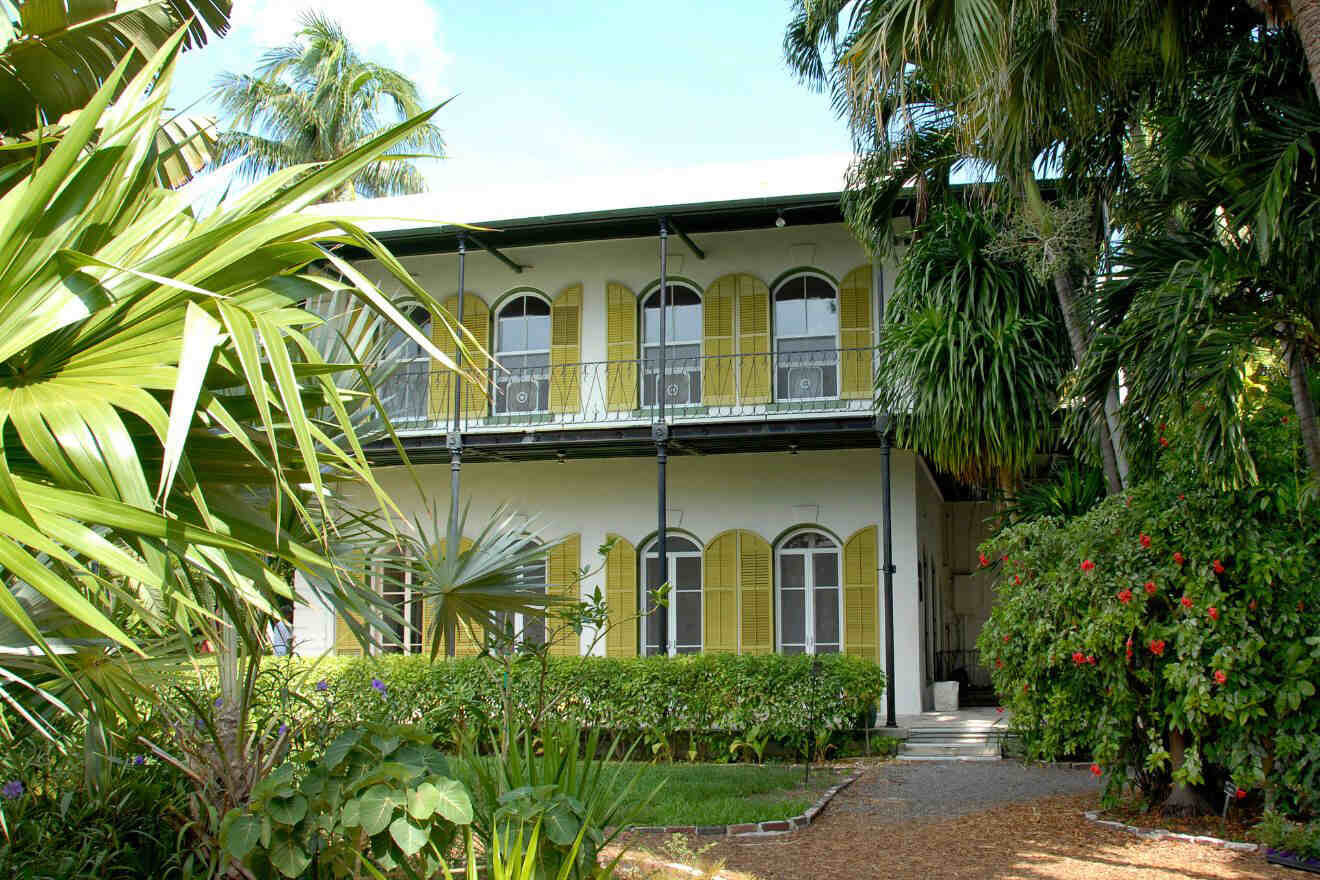 This is one of the most popular tourist destinations in Florida due to the popularity of this legendary novelist.
The famous place of inspiration for many of Ernest Hemingway's books and creative endeavors, this house-turned-museum holds a lot of history.
Located in Key West, a trip to the Keys is not complete without visiting this iconic home and museum. You can take this incredible food and literary tour to get the most out of your visit and explore the area in a small group.
PRICE: $18
Get Your Food and Literary Tour Tickets
| | |
| --- | --- |
| 🤩 Range of activities: | Large |
| 👪 Family-friendly score: | High |
| 🎢 Top paid attraction: | South Beach Private Flight |
| 🚶🏽‍♂️ Best free activity: | Going to the beach! |
| 🥟 Must try food: | La Sandwicherie |
FAQs about best things to do In Florida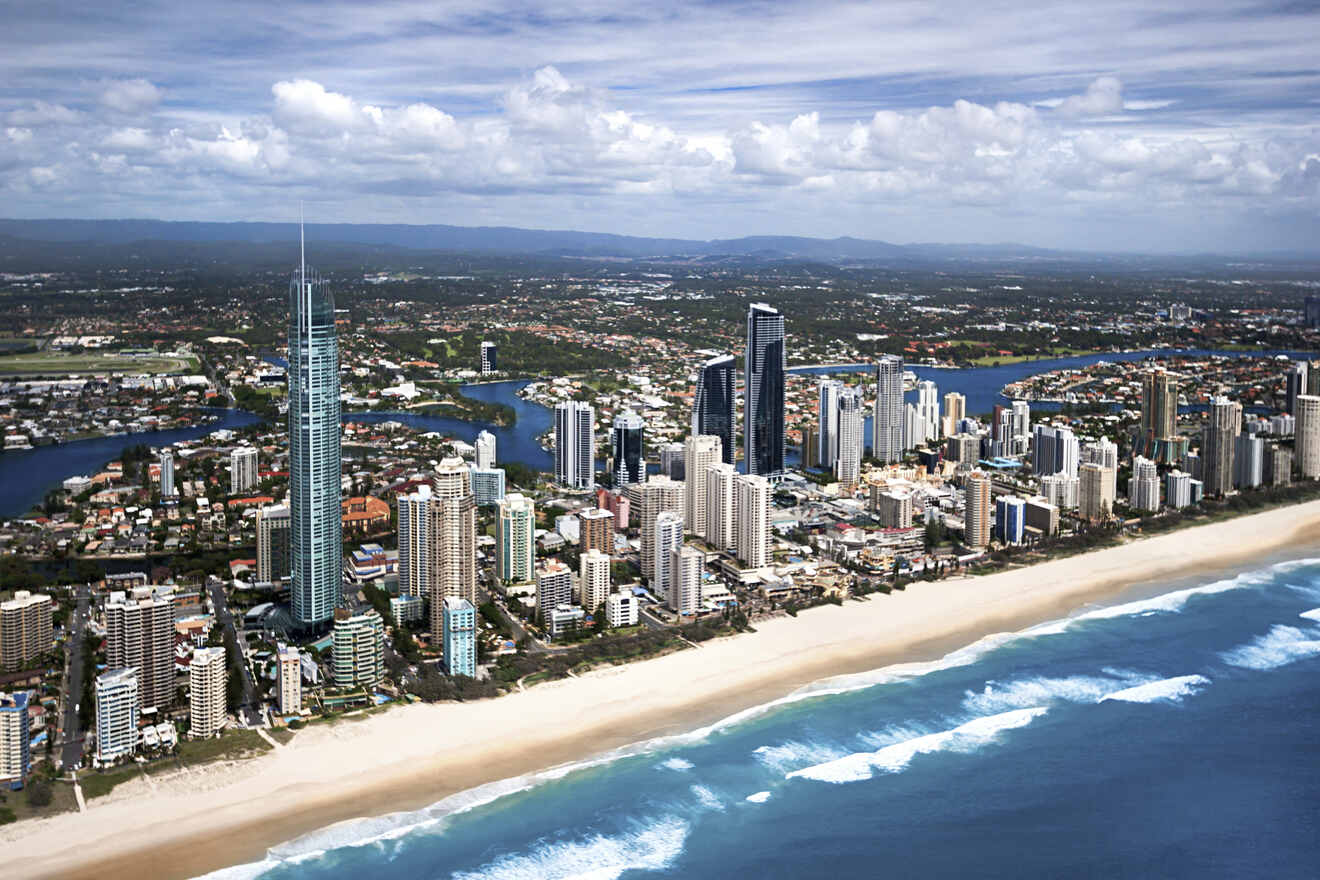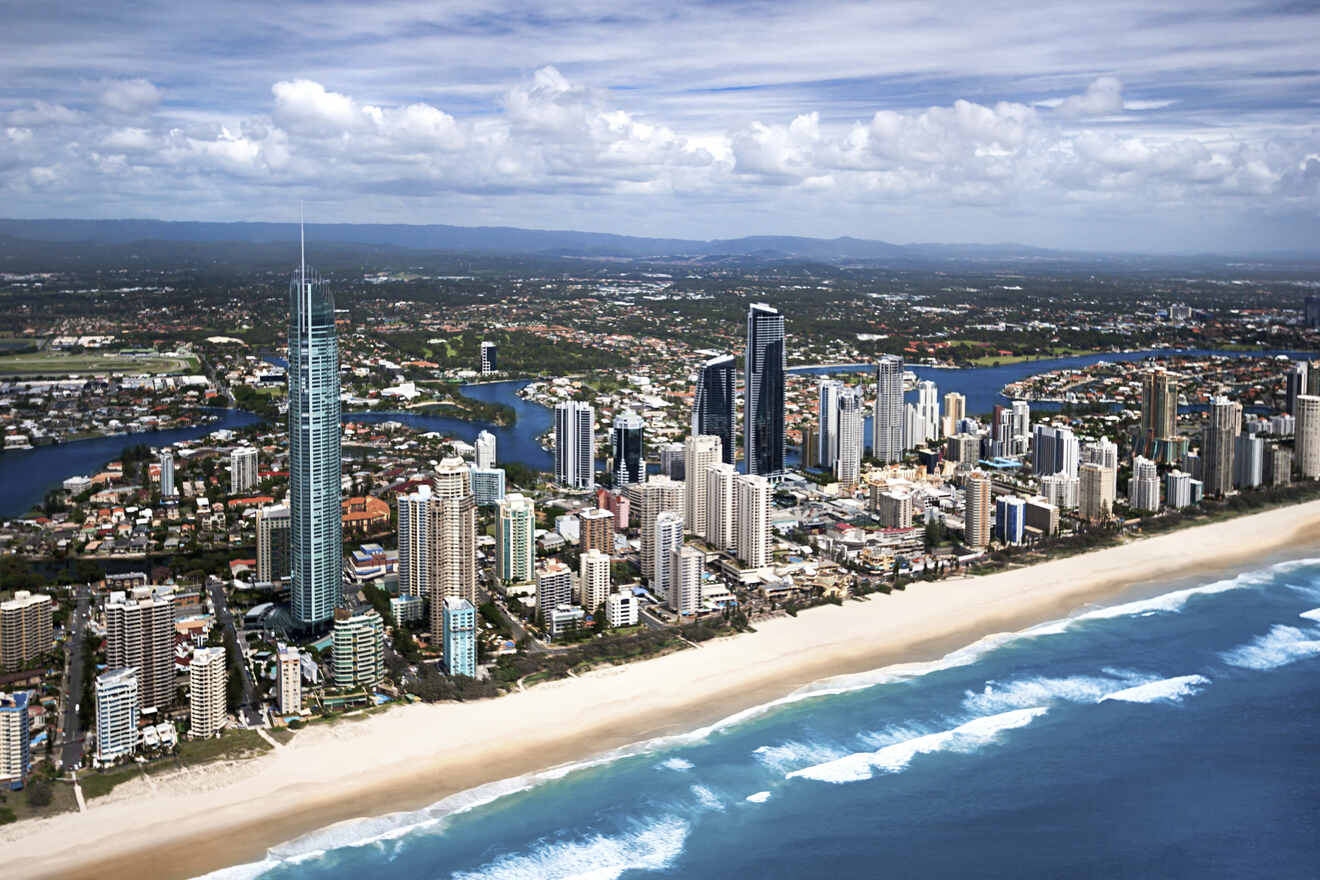 🎢 What are the best things to do in Florida other than Disney?
Go snorkeling in pristine crystal clear blue spring water, enjoy the Emerald (Gulf) Coast, go to a botanical garden, kayak through the wilderness, and so much more!
🌴What are the most unique things to do in Florida?
This list has so many unique things to do in Florida that it will be hard to pick just one! Looking for a list of unique things to do in Florida? Look no further than this ultimate bucket list.
💌 What are the best things to do in Florida for couples?
Among the best things for couples in Florida are kayaking on Merritt Island and hanging out with the manatees at Blue Springs State Park!
🌺 What are some fun things to do in Florida with kids?
If you're traveling with the kids, you can go to one of Florida's many theme parks or go and visit Nasa at the Kennedy Space Center!
Conclusion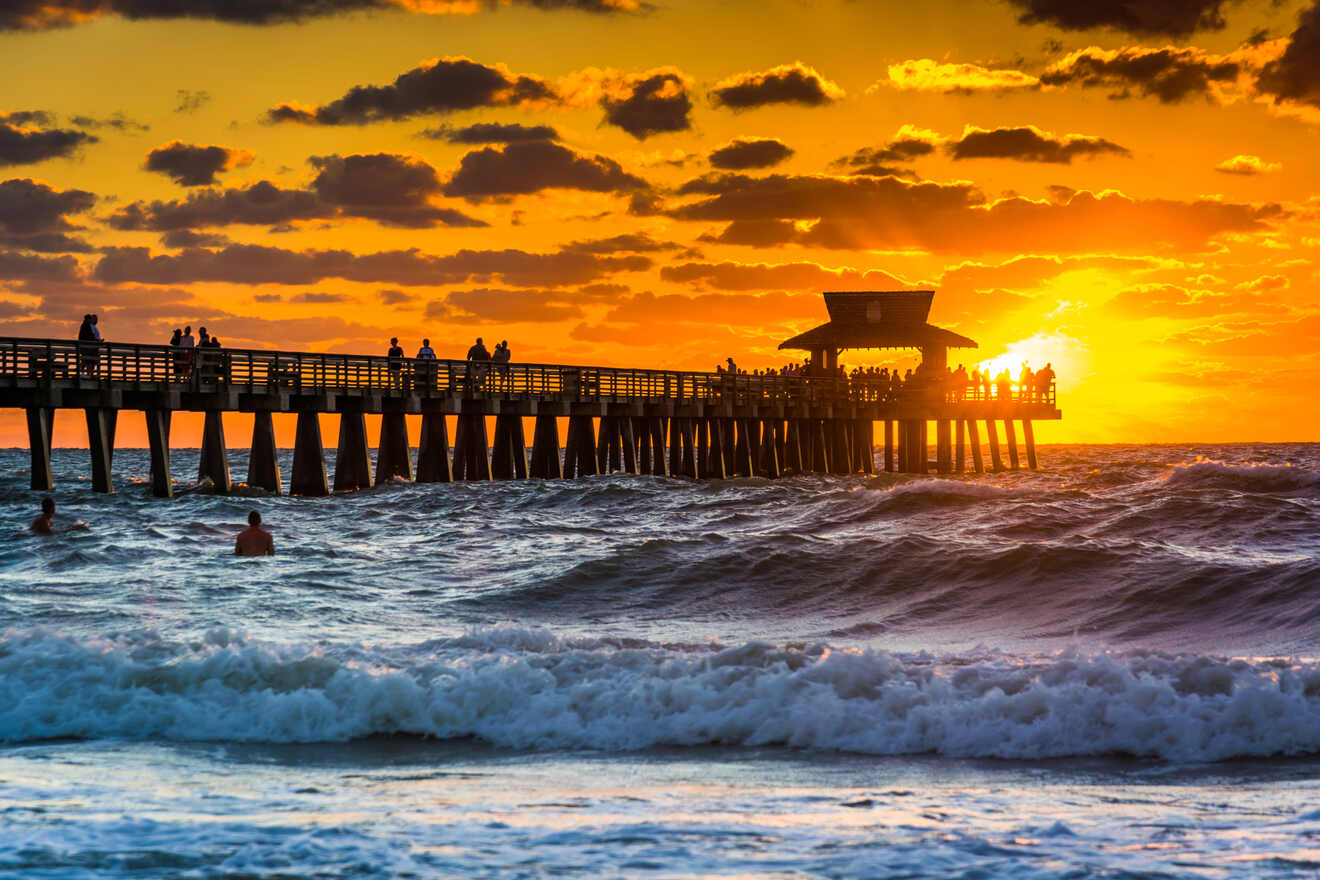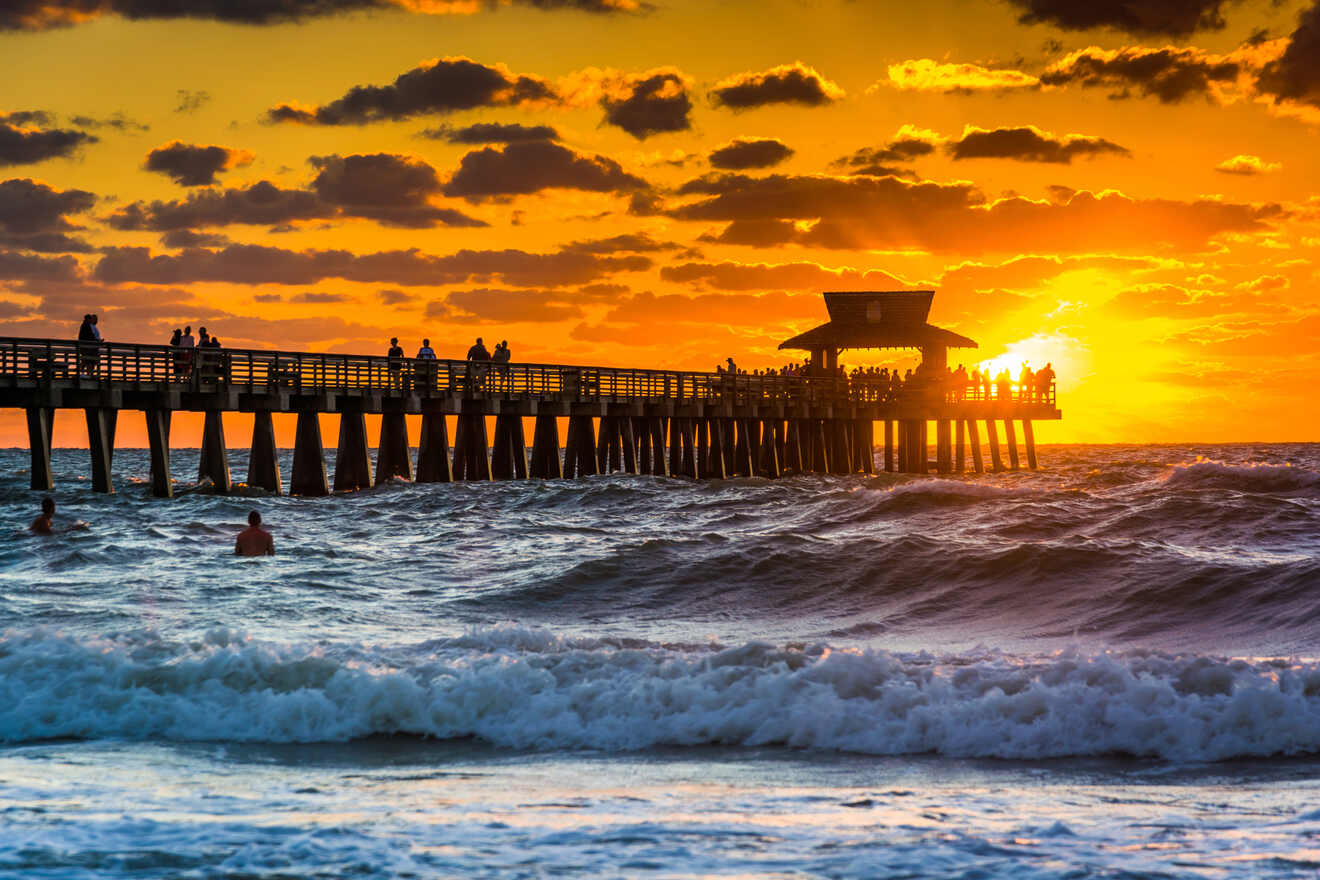 There you have it! The ultimate list of all the best things to do in Florida. While Florida is a big state with miles and miles of shoreline and wilderness, I did my research and vetted all of the best things to do in Florida, so you don't have to.
Whether you choose to do just one or two things on this list, I know you will have an incredible time. All of the adventures on this list are tried and true and bound to create unforgettable memories for your vacation.
With gratitude and love,
Amira G.
---
Pin it for later!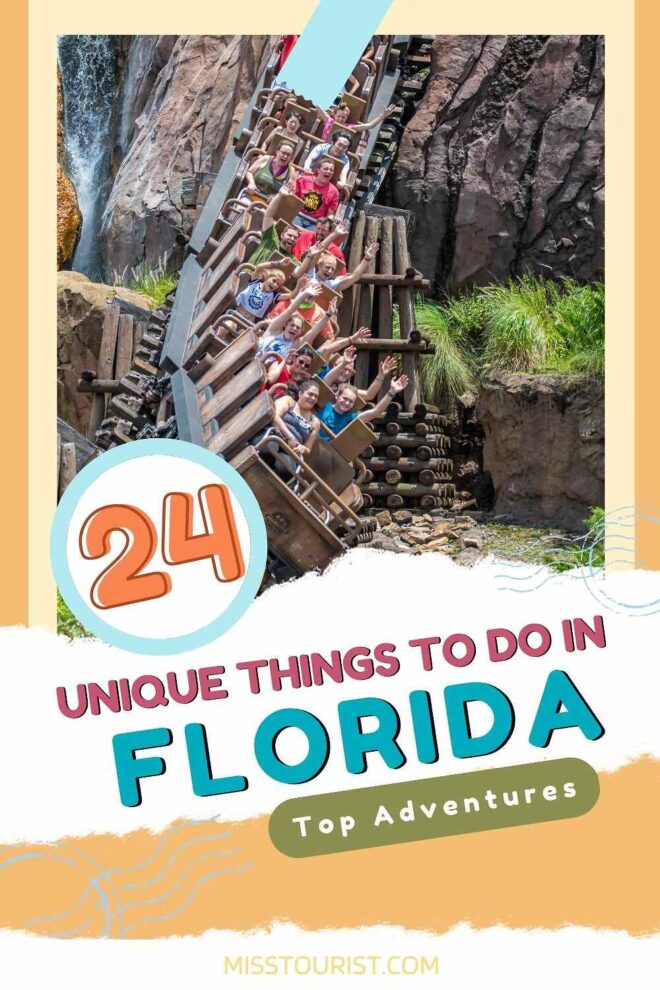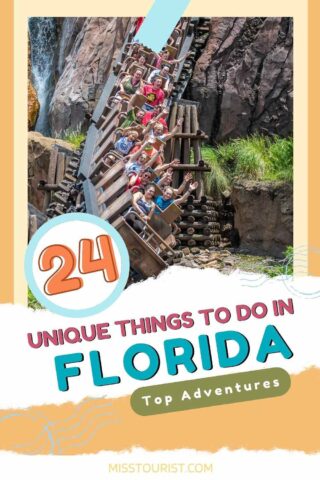 Pin it for later!