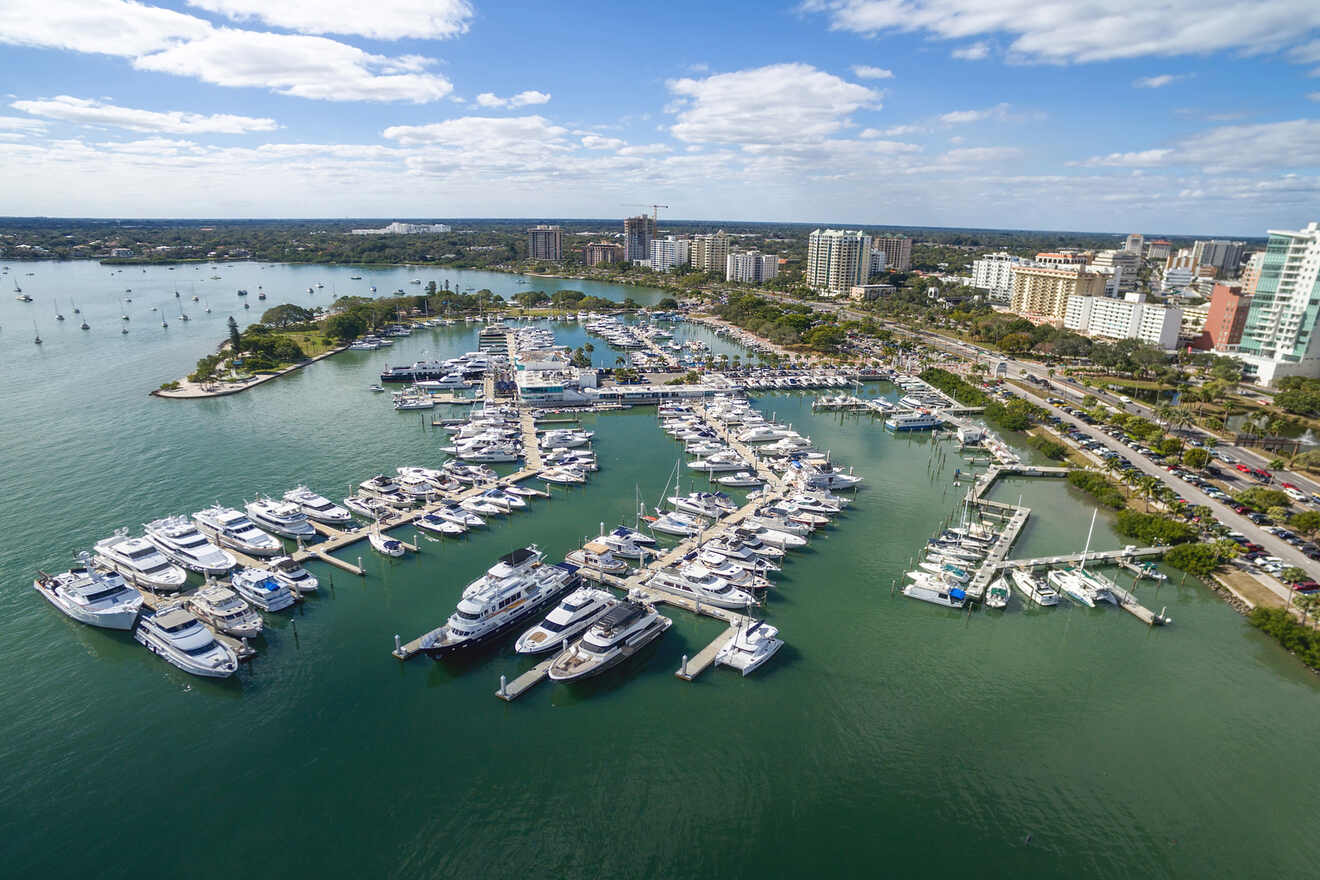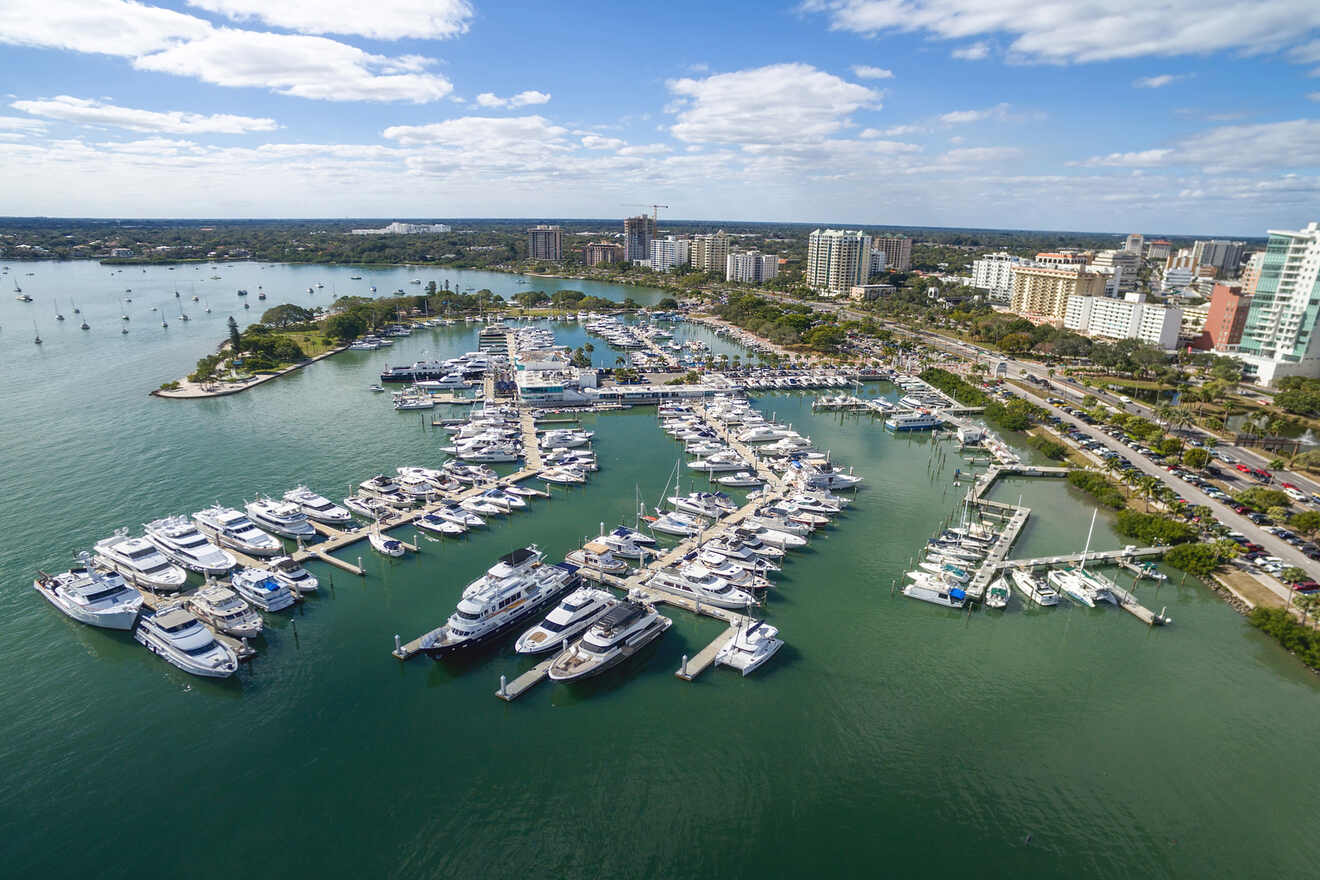 The small city of Sarasota lies on the west coast of Florida, just one hour south of Tampa and is one of the best destinations in the US if you're looking for sun and sand and a lot of relaxation!
Since it is often overlooked by tourists, it could be quite hard to find information about where to stay in Sarasota, that's why I decided to write this guide with the best areas in the city, including also different accommodation options for each of them.
Here you'll find everything you need to know about its unique neighborhoods and islands, offering different attractions and vibes.
Downtown Sarasota is THE place to be for first-time visitors, whereas Rosemary District offers great art and food, Lido Key has the best beaches, Longboat Key is where you go if you want to splurge and Siesta Key is perfect for families!
So get comfortable and let's find out which area and hotel perfectly suit your vacation in Sarasota, and remember to book it as soon as you can if you don't wanna miss the spot because everyone wants to visit paradise!
Are you ready?
Let's jump right in!
If you are in a hurry
Do you want to book now? Then waste no more time, check out this quick list with the best hotels in Downtown Sarasota, from Luxury to budget:
Check out this map with all the different areas and places to stay I will be talking about, so you can easily visualize their locations:
1. Downtown – where to stay in Sarasota for the first time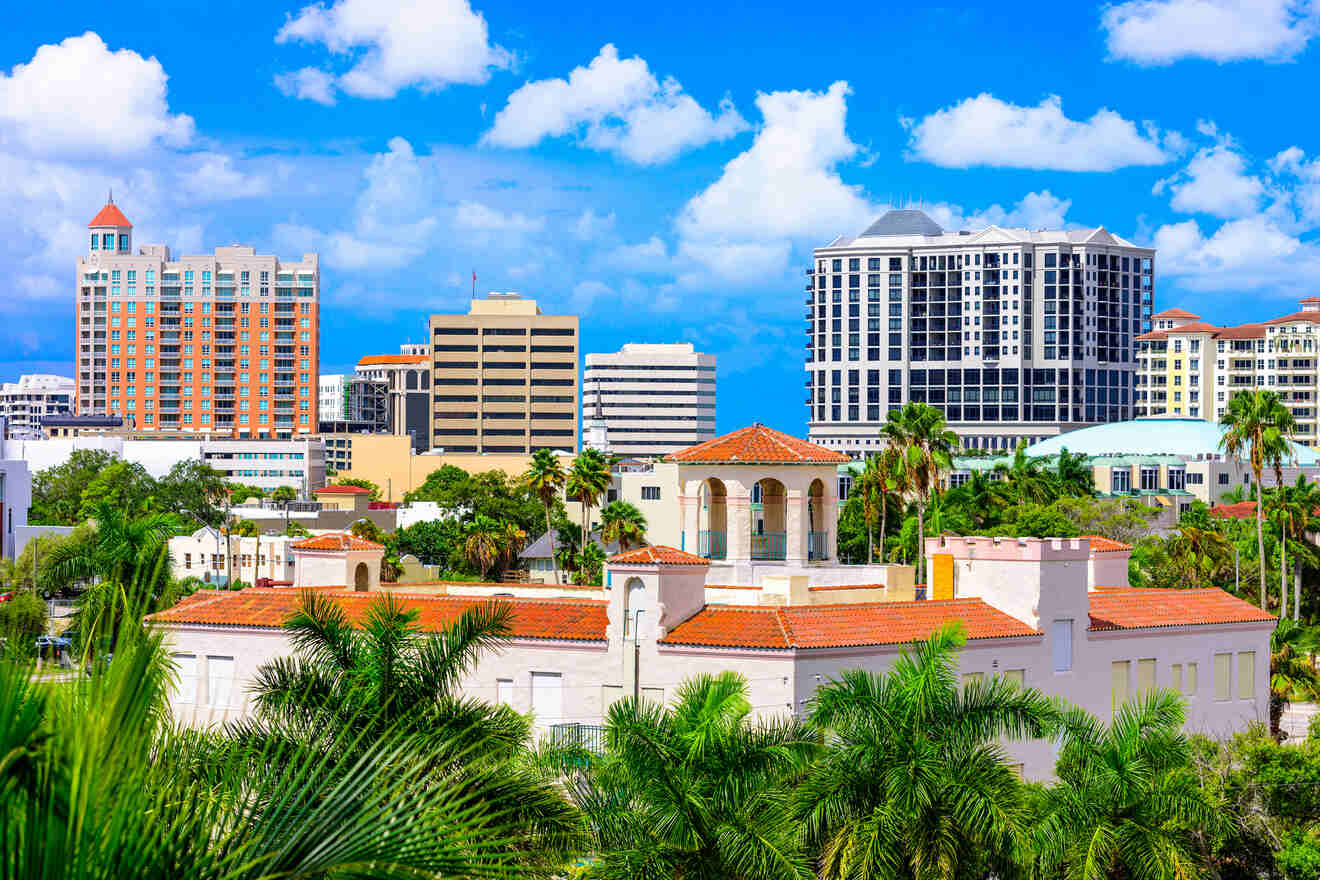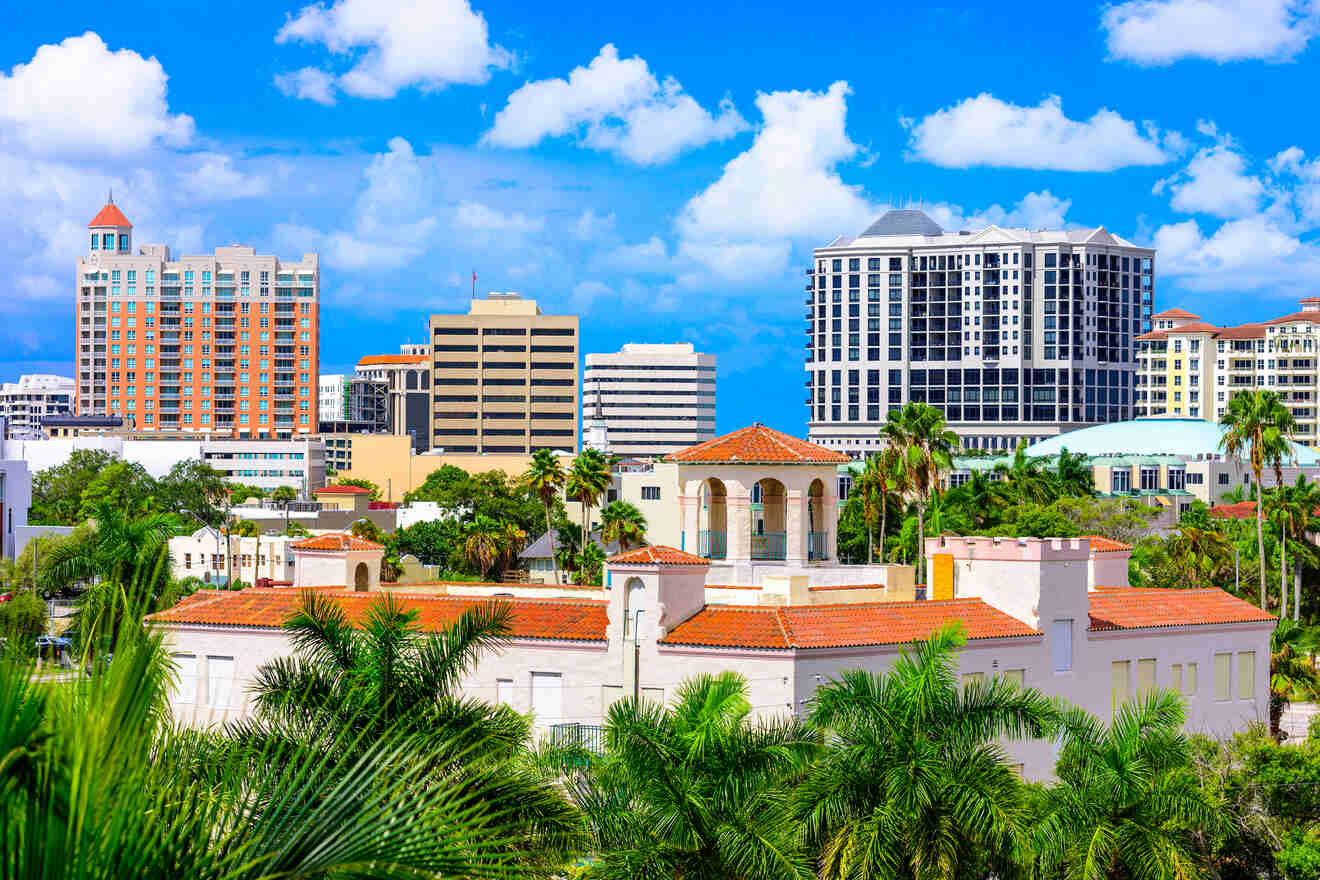 If it's your very first time in Sarasota, I suggest you stay in the touristic Downtown Sarasota, the heart of the city. Here you'll find everything from restaurants to shopping venues, theaters, historical attractions, and artwork… to meet the taste of anyone!
The city center is very pedestrian-friendly, so you can easily walk from one attraction to the other one, and is also quite close to Sarasota Bay, just a 12-minute drive from Downtown. Sarasota Bay is where you'll find the best beaches and nightlife in Sarasota, so it's a good spot to take a break from city life.
But Downtown Sarasota has definitely enough to keep your days full! For starters, the John and Mable Ringling Museum of Art is perfect to explore the city's artistic scene through classic paintings, sculptures, and flower gardens.
Talking about gardens, the city is brimming with green spaces where you can have a relaxing stroll like the Selby Botanical Garden, the Myakka River State Park, or the Sarasota Jungle Gardens, perfect if you love animals!
And if this wasn't enough, in the city center there are also countless hotel options, many of them offering super affordable prices… What are you waiting for? Check them out and make sure you book them as soon as you can!
Other options in Downtown Sarasota
Things to do in Downtown Sarasota
Check out the famed Banyan tree at Myakka River State Park
Attend an animal show at Sarasota Jungle Gardens

Check out the art exhibitions at the

Art Center Sarasota

Practice your golf skills at The Palms Golf Club in Forest Lakes
Discover the best of Sarasota in this sightseeing tour!
Enjoy the views of the ocean at Bayfront Park
Play tennis or test yourself on the fitness trail at Payne Park!
Explore the city's artistic scene at The John and Mable Ringling Museum of Art
2. Rosemary District – the coolest area in Sarasota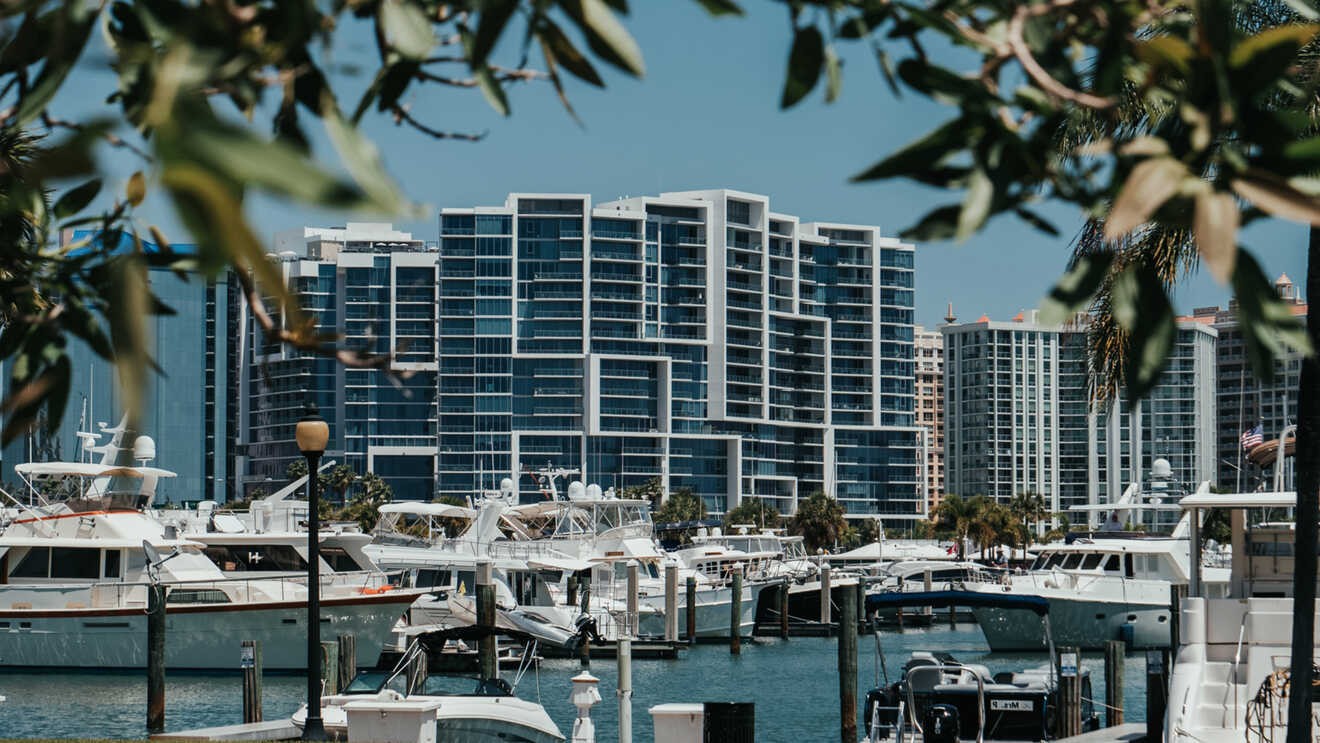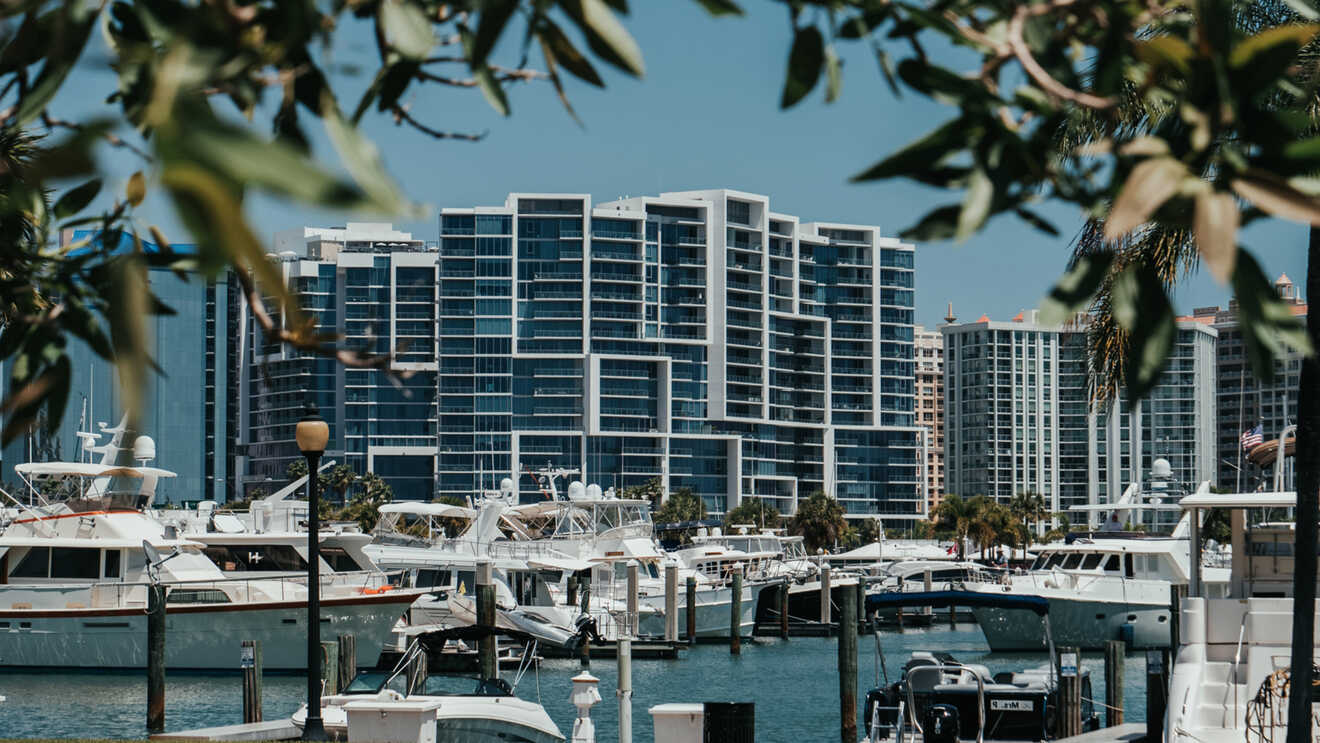 Located north of Downtown, Rosemary District is the coolest area where to stay in Sarasota, offering the perfect mix between great food and art!
In fact, in this booming neighborhood, you'll find countless cafes, bistros, restaurants with beautiful outdoor terraces, and bars with live music for a great night out… similar to the one you see in bigger Florida cities like Tampa or Orlando!
Foodies here won't be let down: you can literally spend whole days trying different foods, from typical dishes to healthy options and international cuisines from all around the world. And when you're done eating, you can wander around its charming streets filled with colorful murals or browse the antique shops!
Ah, and I forgot to mention: the area lies also in a super convenient location, only a couple of miles from the beach and 10 minutes driving to Sarasota Bradenton Airport. What else do you need?
Other accommodation options in Rosemary District
Since the area is full of great hotels, I'm going to give you two more options, so you have more choices in case the above ones are sold out for your dates:
Luxury: The Ritz-Carlton, Sarasota – The Ritz Carlton Sarasota is an extremely luxurious beach resort with floor-to-ceiling windows, access to a private beach, and a beach club. And if you get tired of the sand, there is even a gulf-front, heated pool, and hot tub!
Mid Range: Westin Sarasota – The Westin Sarasota is a great hotel offering a restaurant, an outdoor pool and spa center to treat yourself, and a bar where you can enjoy a drink at the end of the day… everything you need for a stay with full comfort!
Things to do in Rosemary District
Wonder around the charming streets and find the colorful murals
Browse the antique shops of the area for some cool souvenirs!
Spend an evening at Sarasota Architectural Salvage
Have a delicious lunch at The Overton
Spend your happy hour with a cocktail at The Sarasota Modern
Head over to Mandeville Beer Garden for some good beers
3. Lido Key (Lido Beach) – the best beaches in Sarasota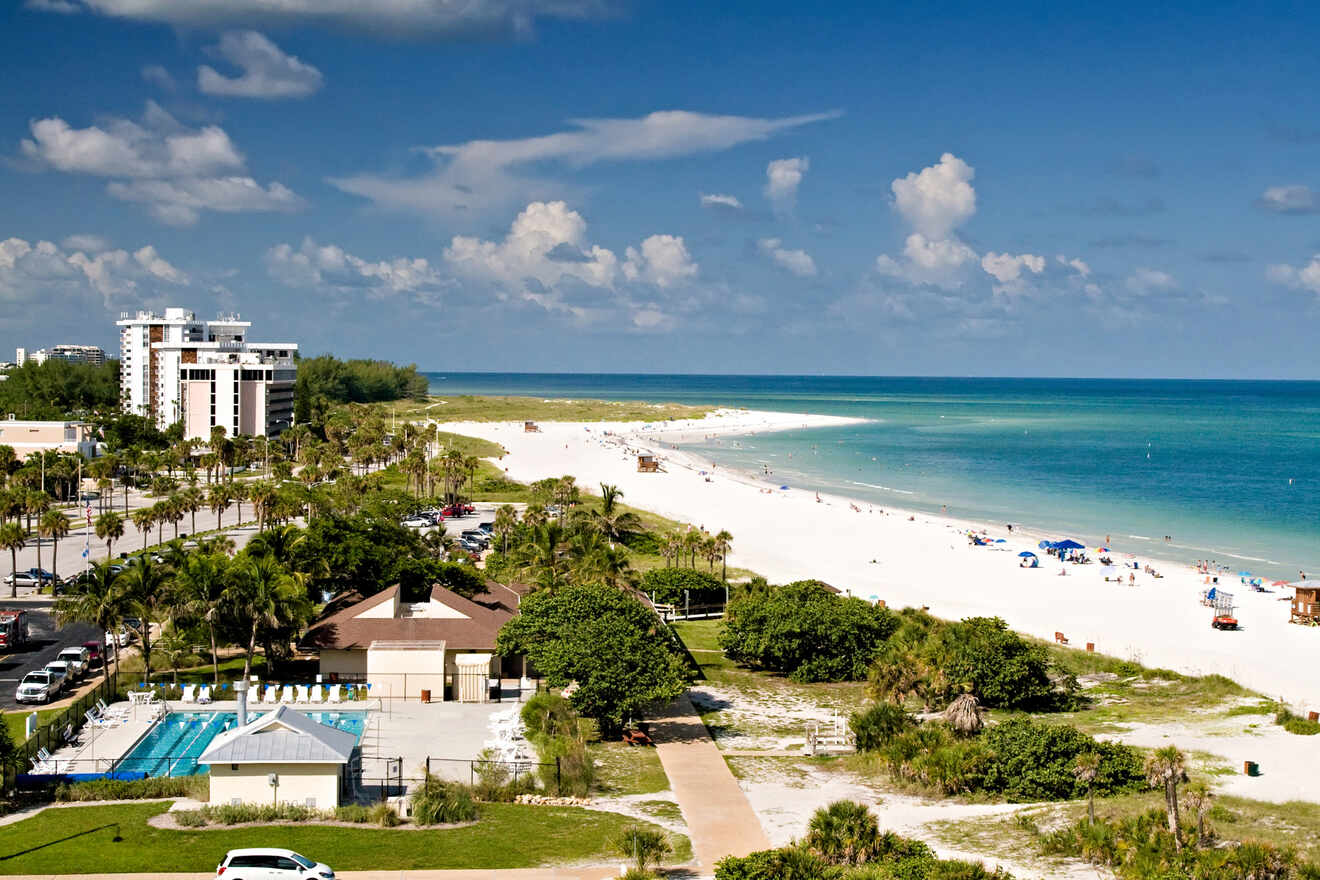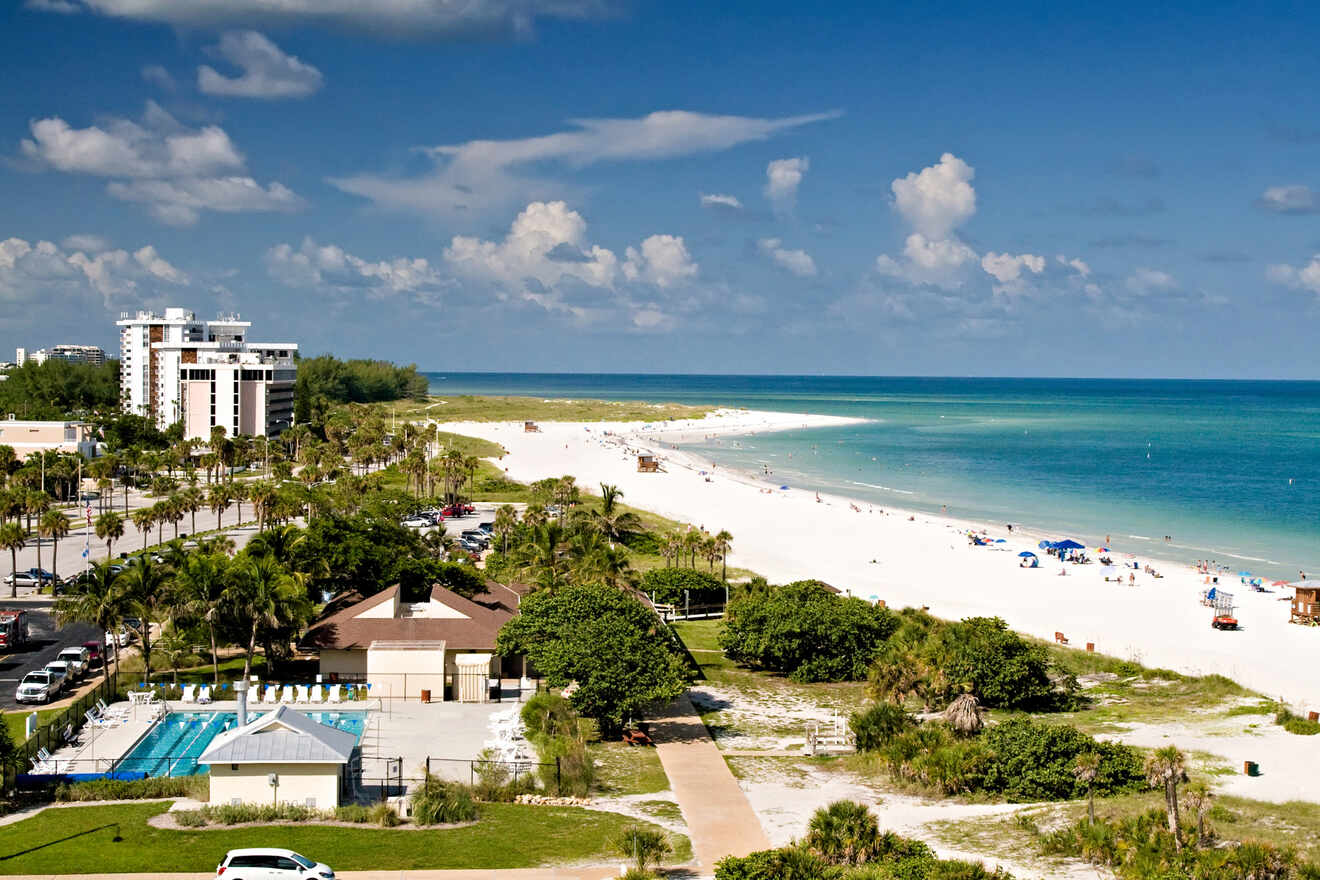 Are you going to Sarasota for a relaxing vacation and looking forward to lying on the beach and soaking up some warm sun? Then Lido Key, just west of Downtown, is what you're looking for!
Offering soft white-sand beaches and exciting water sports like snorkeling and jet skiing, Lido Key has everything you might need to spend some leisure time before and after your beach time. Countless seafood restaurants, beachfront bars where you can enjoy a fresh cocktail with sunset views, and many dance clubs and live music venues for a great night out!
And if at one point you get tired of being lazy, the South Lido County Park is a great option to do some outdoor activity surrounded by beautiful nature, from kayaking, swimming, bird watching, or even simply having a picnic lunch!
How great does it sound?
2 swimming pools, a private beach, a fitness center, and the Beachside Tiki Bar for great happy hours with amazing sunsets. Lido Beach resort will bring your stay in Sarasota to another level!
Other accommodation options in Lido Key
Things to do in Lido Key
Try some cool watersports like snorkeling or jet skiing at Lido Beach
Play beach volleyball and have a picnic at South Lido County Park
Get lost in the mangroves of Lido Beach with this Kayak Tour
Refresh yourself with delicious ice cream at Kilwins
Grab a drink with sunset views at the Lido Key Tiki Bar
Catch a wave at Lido Beach, perfect for beginners!
4. Longboat Key – the most exclusive area in Sarasota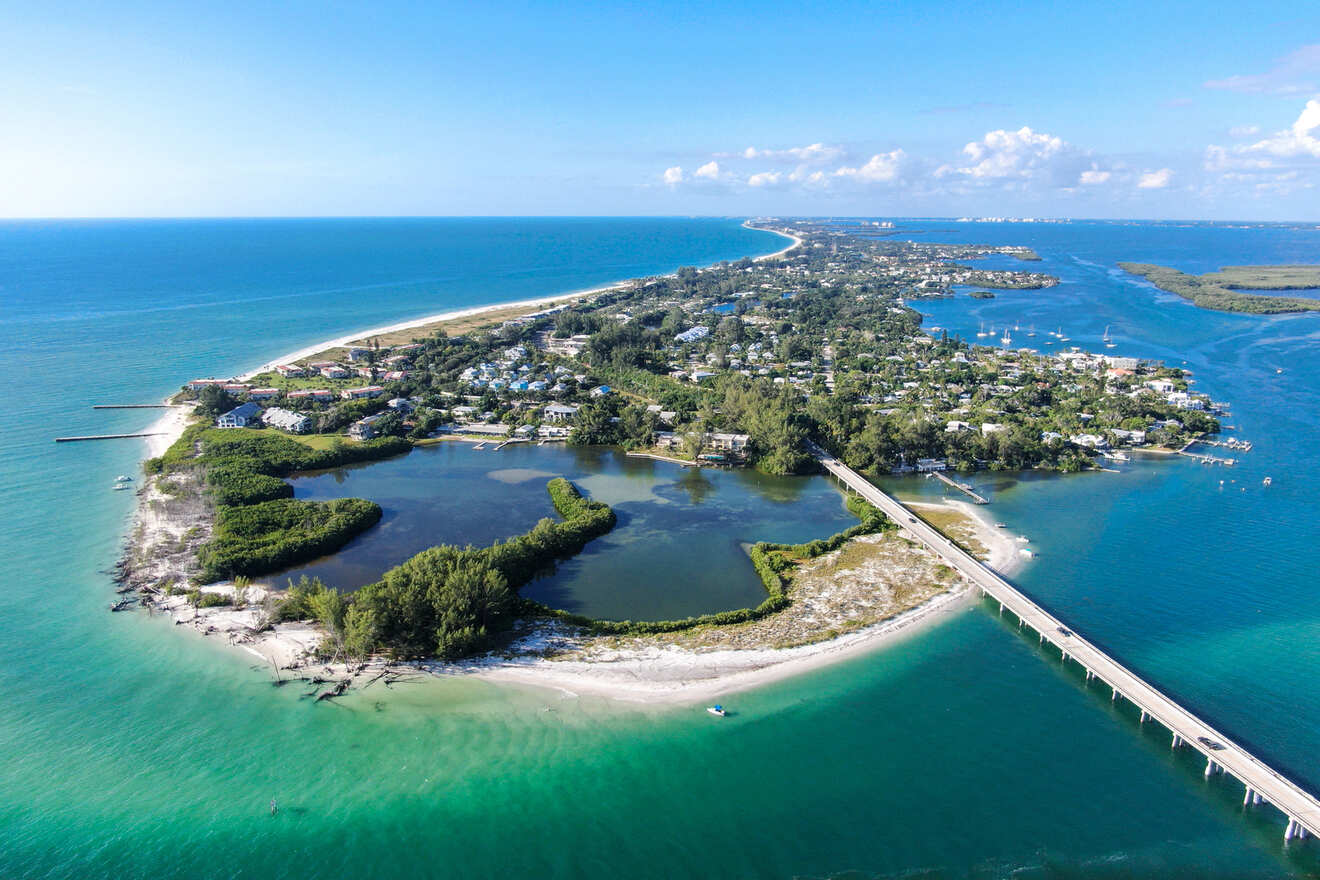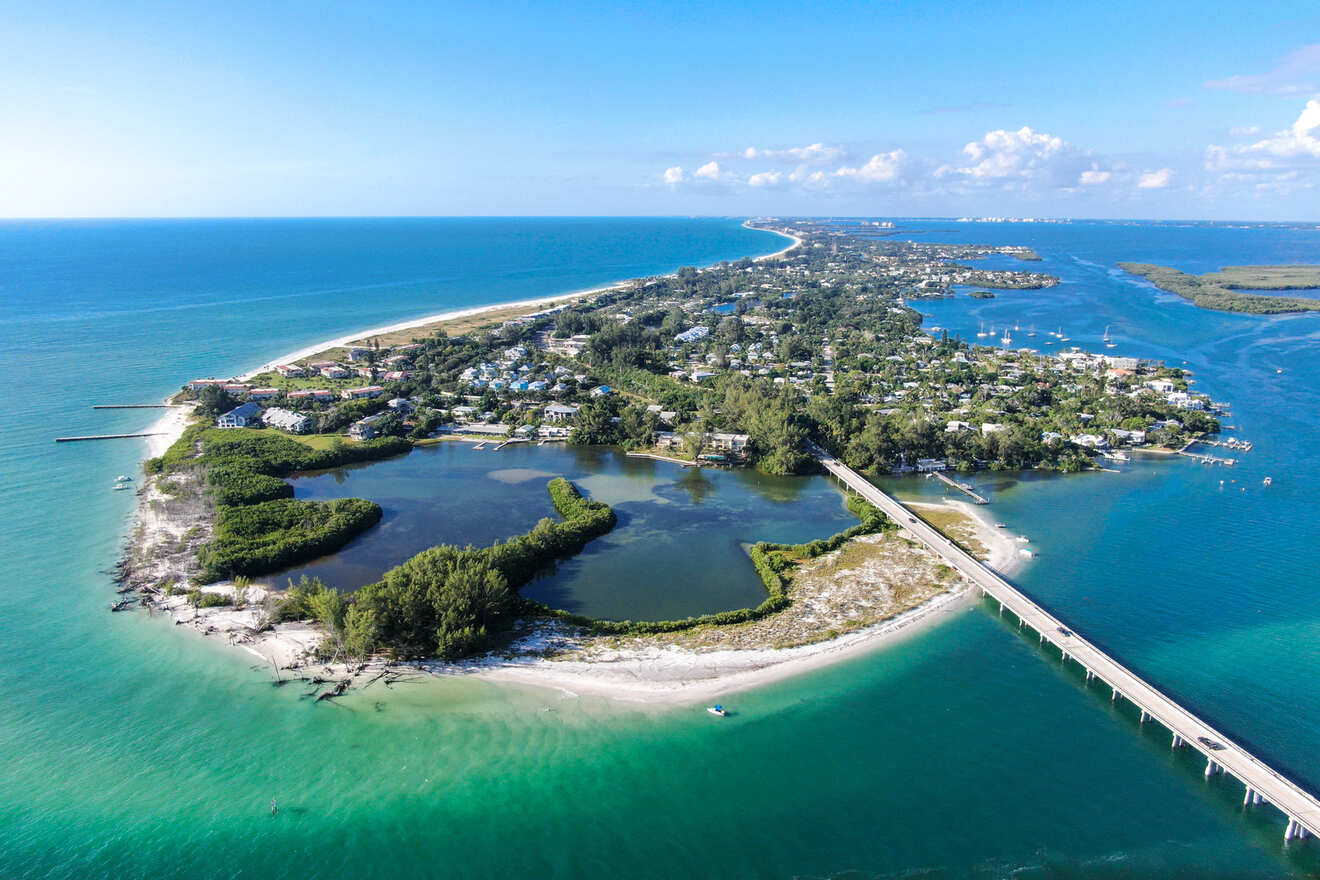 Located on an island between Sarasota Bay and the Gulf of Mexico, Longboat Key is a unique spot just 30 minutes drive from Downtown Sarasota.
This is a very special and exclusive area, offering 12 miles of white sand beaches, waterfront golf, fine dining restaurants, tennis facilities, luxury shopping, and the best resorts in Sarasota.
But the cool thing about Longboat Key is the contrast between its elegant and laid-back vibe and the many thrilling activities it has to offer: kayaking, parasailing, snorkeling, scuba diving… adventure seekers have just found their paradise!
And that's not all… at just 20 minutes from Longboat Key, you will find Anna Maria Island, which has some of the best beaches and blue waters in Florida as well as amazing seafood restaurants.
Here you'll find an even calmer vibe than Longboat Key (if that's possible)… the perfect place to just relax with the family or your couple!
Other accommodation options in Longboat Key
Things to do in Longboat Key
Relax on the white beaches of Anna Maria Island
See Anna Maria Island from above on this parasailing adventure!
Have the best fresh seafood at the Dry Dock Waterfront Grill
Play golf at Silver Sands Gulf Beachfront Resort at Longboat Key
Have a romantic dinner at Euphemia Haye
See beautiful underwater creatures at Mote Marine Aquarium
Try kayaking, snorkeling, or scuba diving in Longboat Key waters!
5. Siesta Key – where to stay in Sarasota for families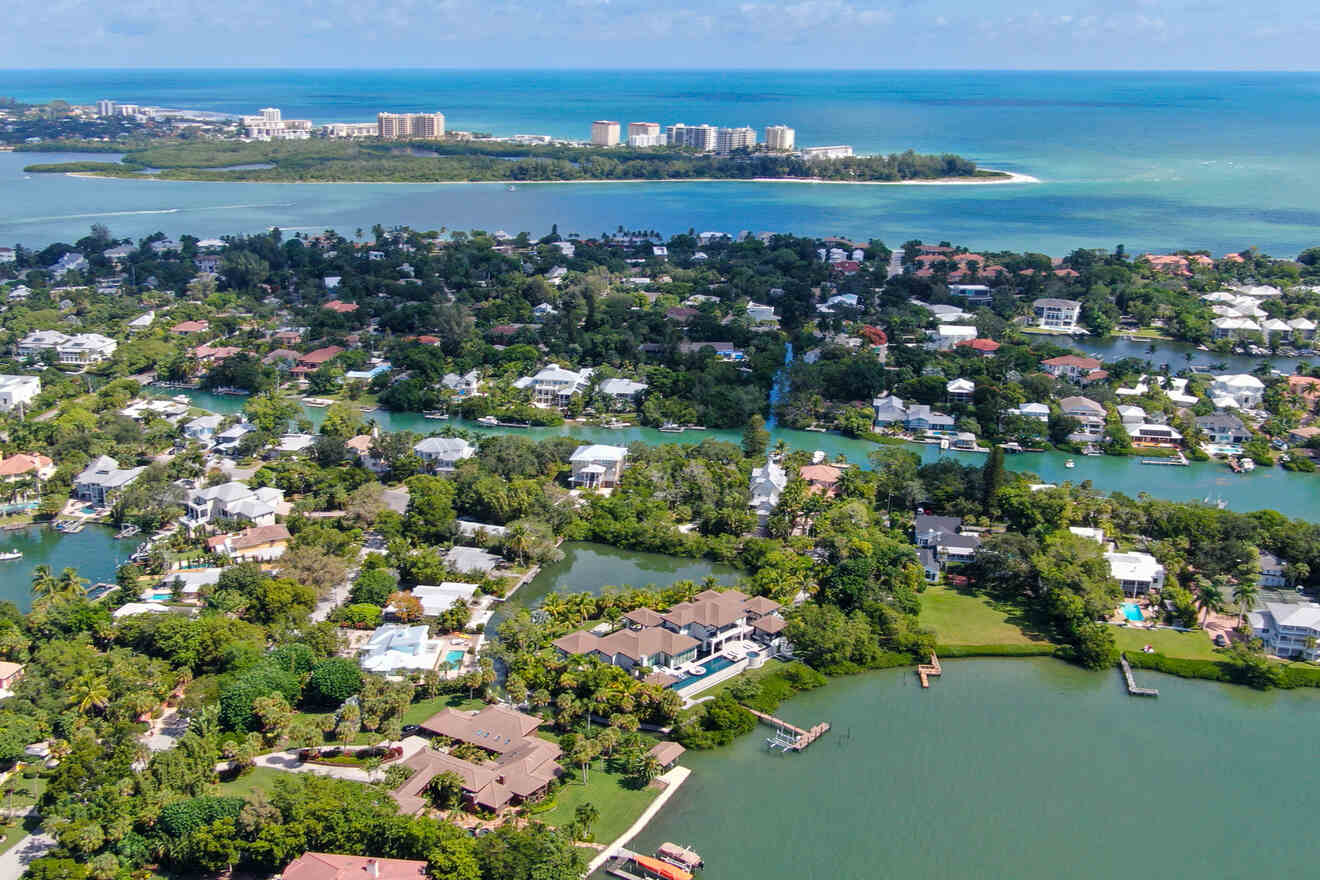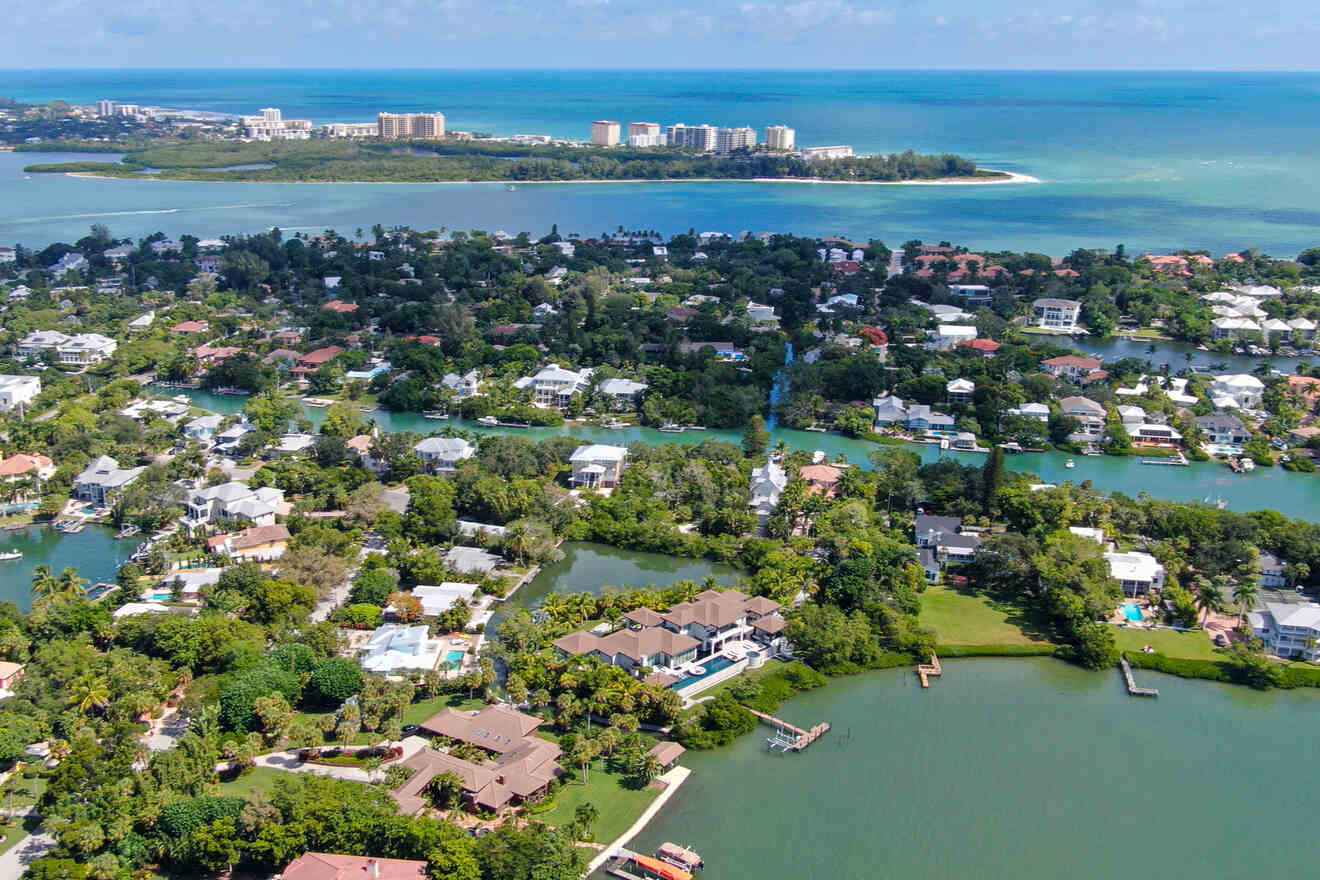 Located only 15 minutes driving southwest of Downtown Sarasota lies Siesta Key, a barrier island in the Gulf of Mexico, known for its beautiful beaches and shallow waters!
Its location is close to the cool souvenir shops and cafes of Siesta Key Village, its amazing hotels offering good prices, and the stunning beaches just nearby, make Siesta Key the ideal place for a vacation with the family!
If you choose to stay here, the family-friendly activities are countless. You can explore the tidal pools and coral reefs of Crescent Beach, see the Point of Rocks, the only limestone rock in Florida, have a picnic at Turtle Beach, or just splash on Siesta Key Beach… you and your kids will love it!
Other accommodation options in Siesta Key
Since this is such a great area, I couldn't help myself but give you one extra hotel that is great for families:
Turtle Beach Resort – Another luxurious accommodation is Turtle Beach Resort. Here you'll find the best apartments with a private furnished patio, hot tub, a hammock, and views of Little Sarasota Bay… you will never want to leave your room! The beach resort also offers free fishing equipment, bicycles, and canoes to explore the area.
Things to do in Siesta Key
Splash, relax, and watch the sunset at Siesta key beach
Buy some souvenirs at Siesta Key Village's shops
Explore the tidal pools and coral reefs of Crescent Beach
Check out the Point of Rocks, the only limestone rock in Florida
Have a picnic at the beautiful Turtle Beach
Frequently asked questions about Sarasota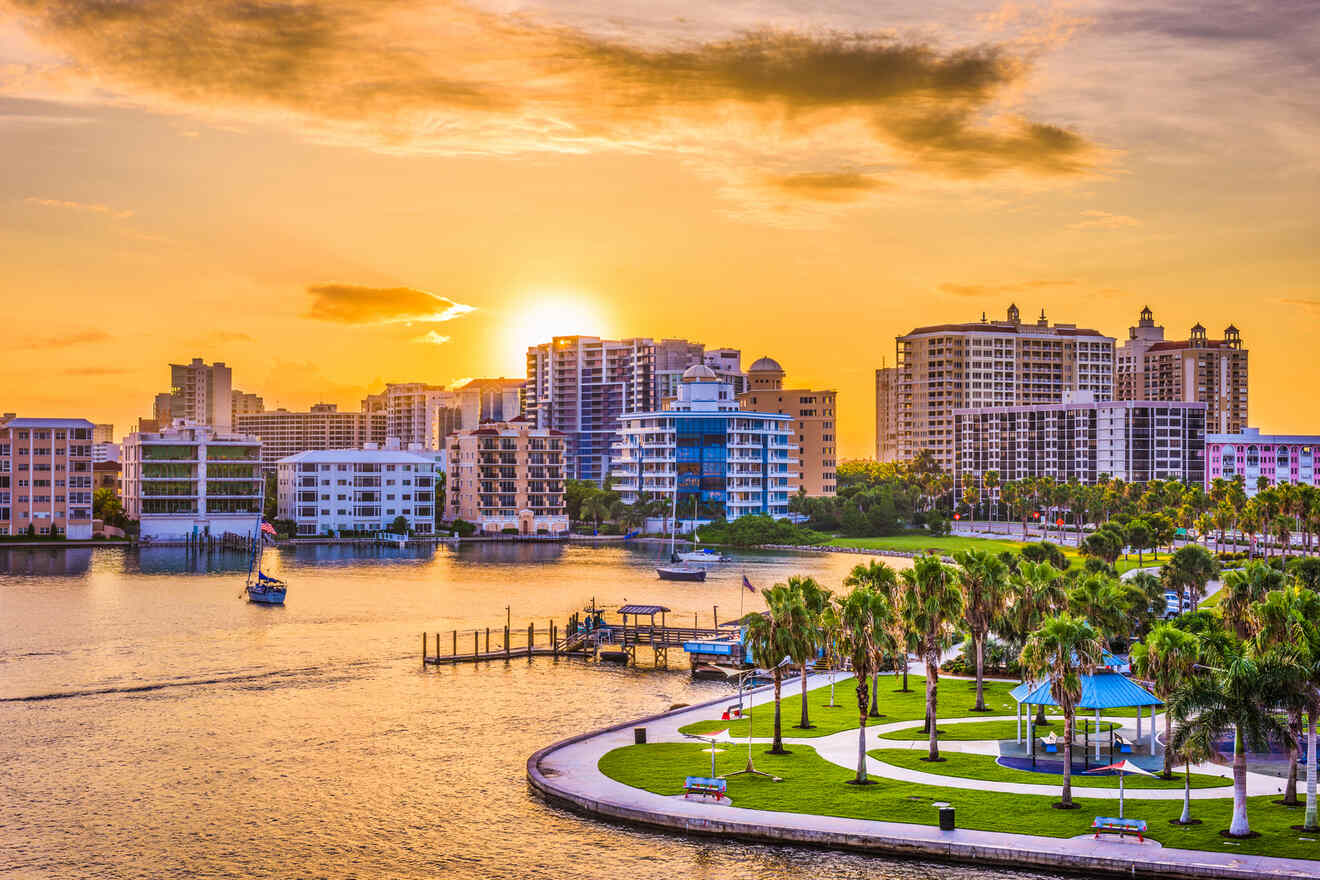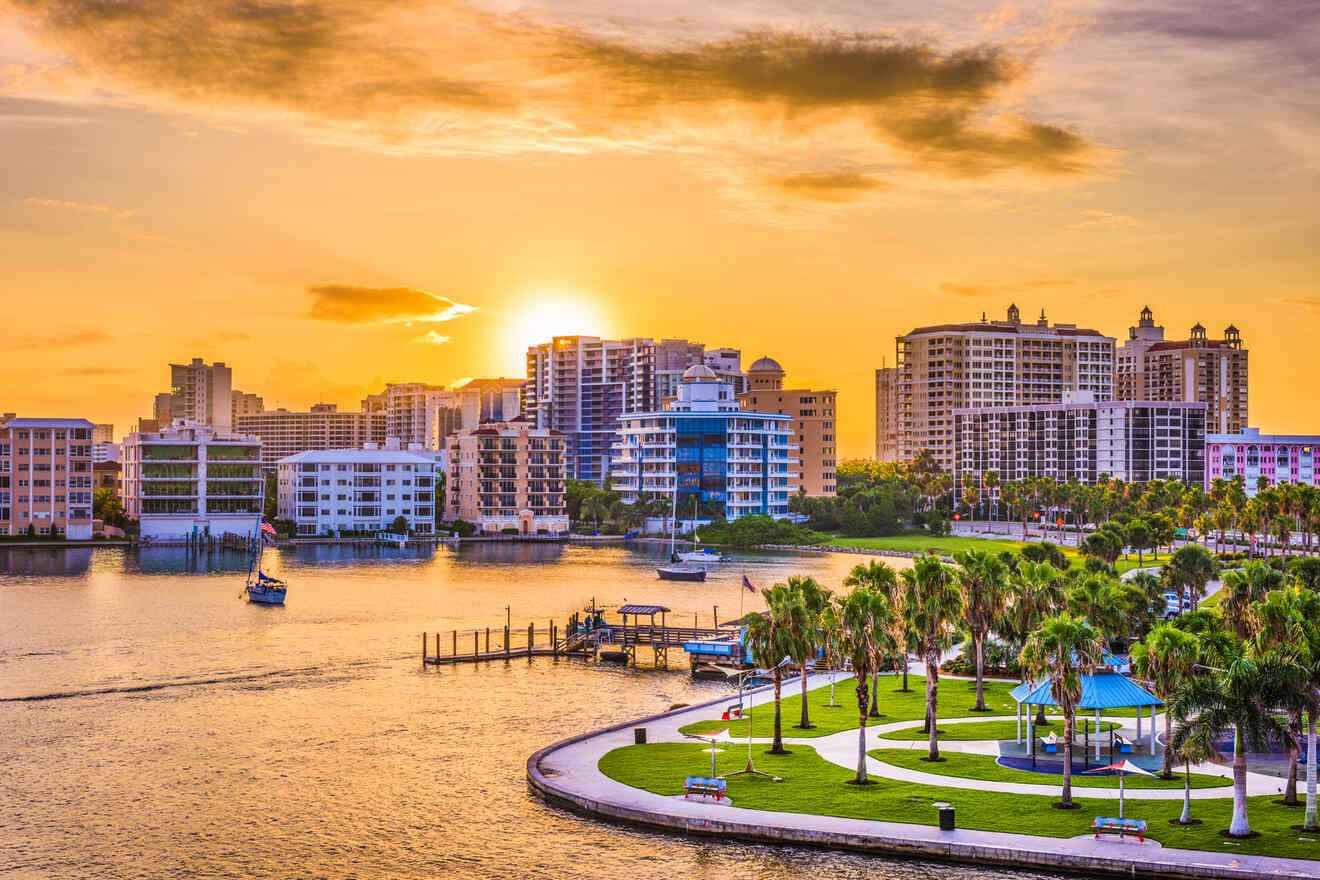 Conclusion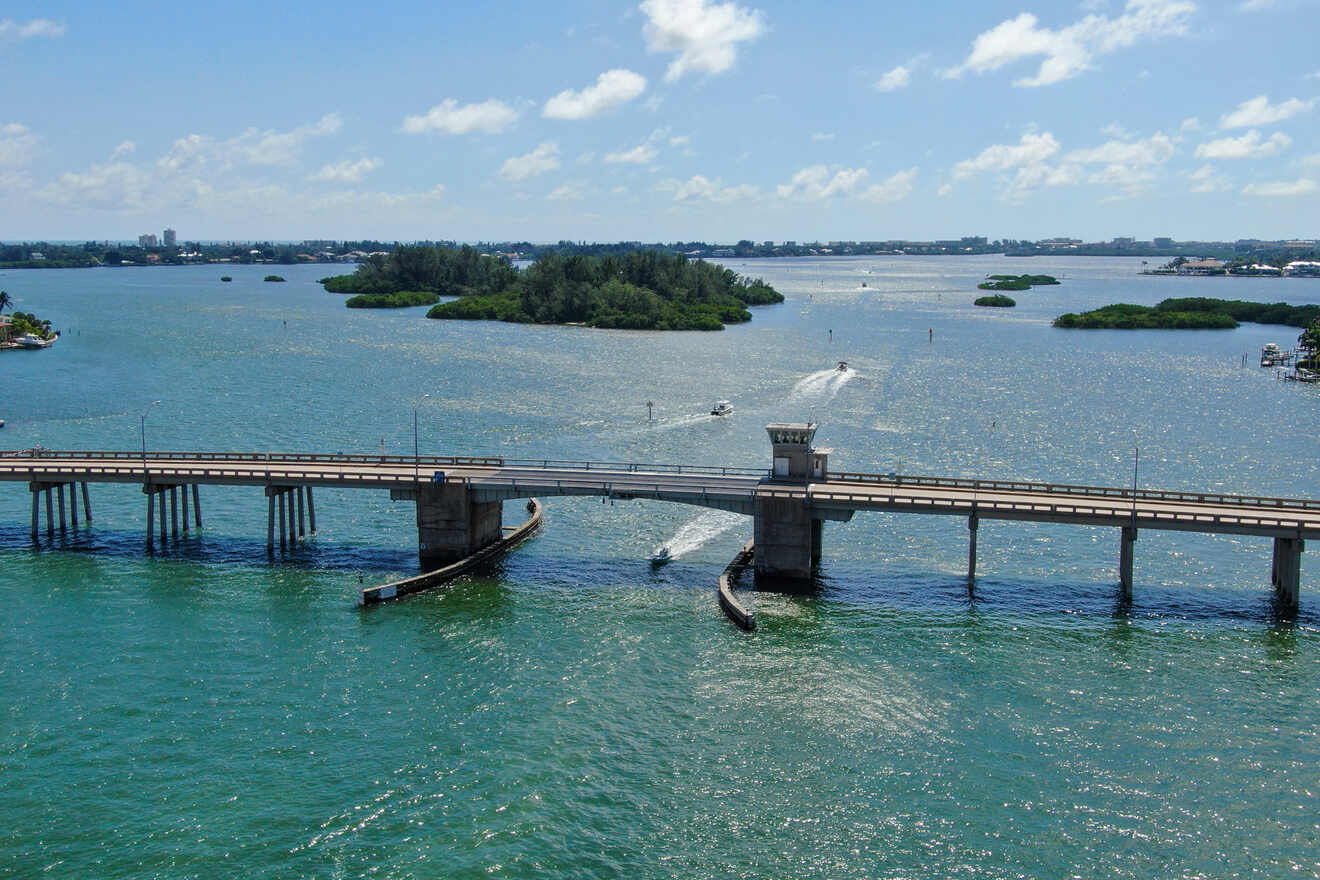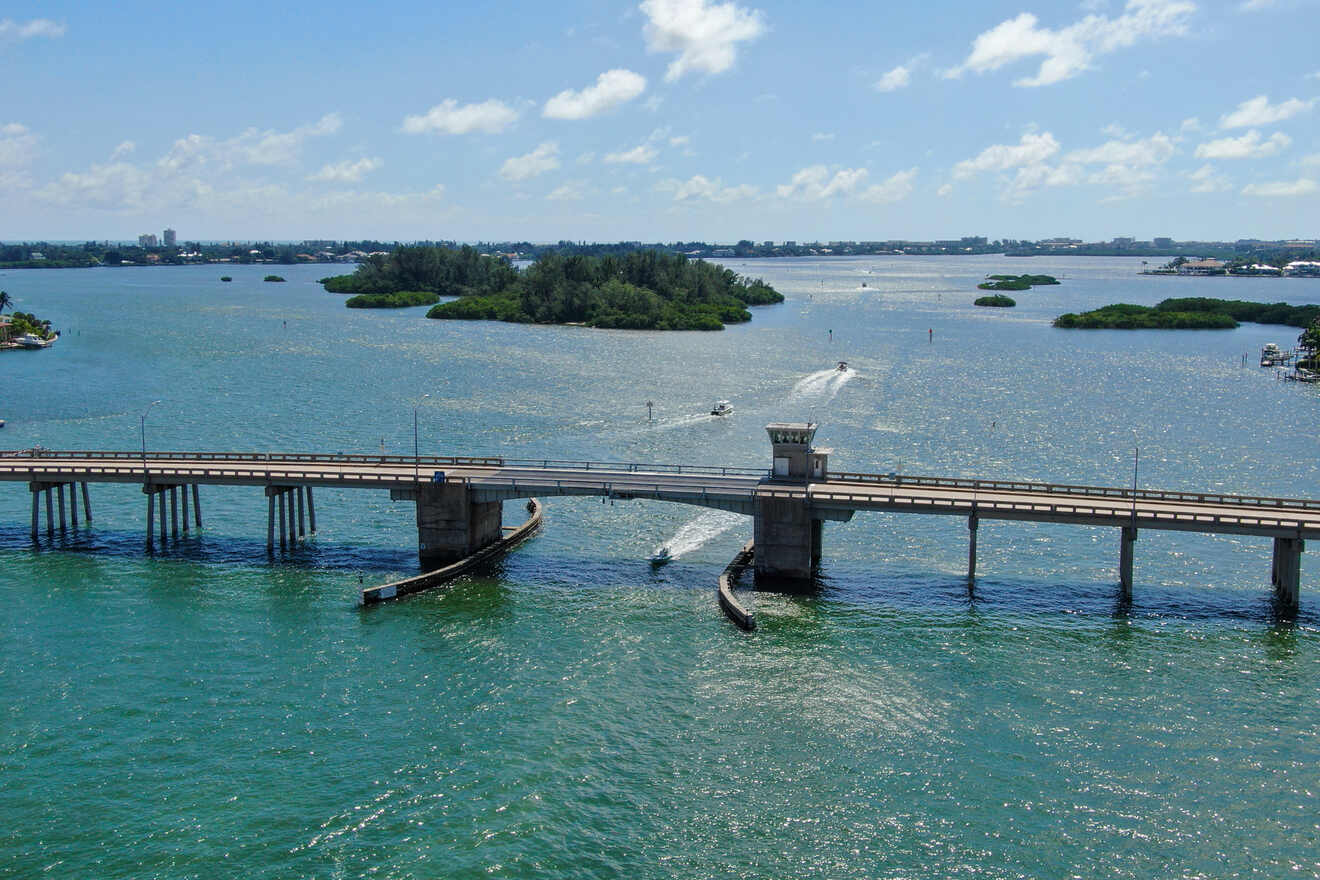 Here we are at the end of our journey through the best Sarasota hotels and areas, for any taste and budget. Whether you're looking for beautiful beaches, outdoor activities, tourist attractions, or nightlife options, there is for sure the right place for your travel needs here!
I bet you already found the right spot for your dreamy vacation in Sarasota, but if you're still undecided, check out these 2 amazing hotels with great location and value:
Art Ovation Hotel – one of the best hotels in Sarasota, offering cool exhibitions, performances, and special guest appearances!
Aloft Sarasota – Enjoy the views from the 8th-floor swimming pool and hot tub of this great hotel with ideal on-site amenities
Now that you know where to stay in Sarasota, all you need to do is book your hotel some months in advance, otherwise, you could risk not finding a room… places sell out very fast!
I hope you enjoyed reading my guide and that it will be helpful for you! If you have any doubts or questions about the areas, please share them in the comments… I will answer you as soon as I can!
Have a dreamy holiday!
Elena