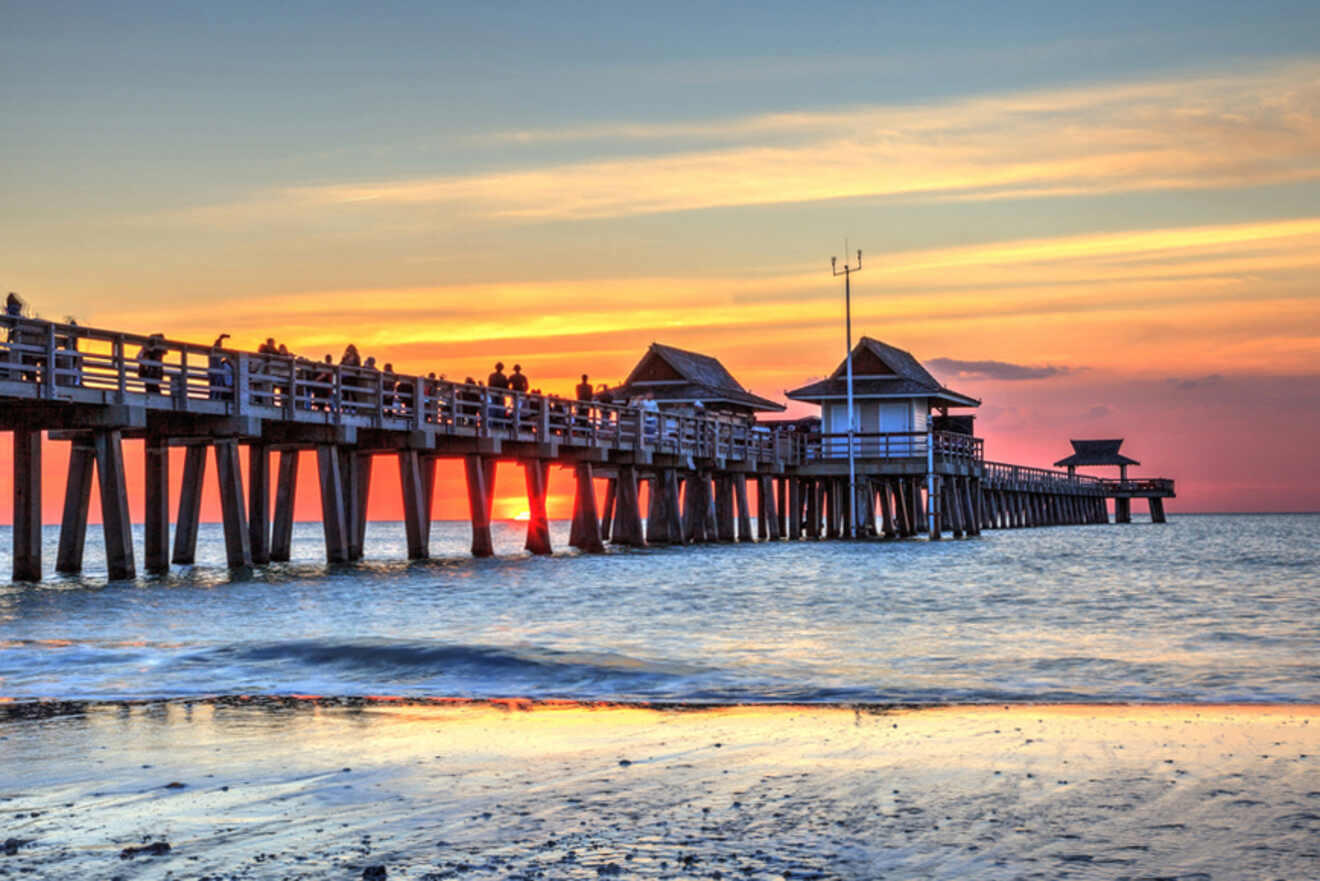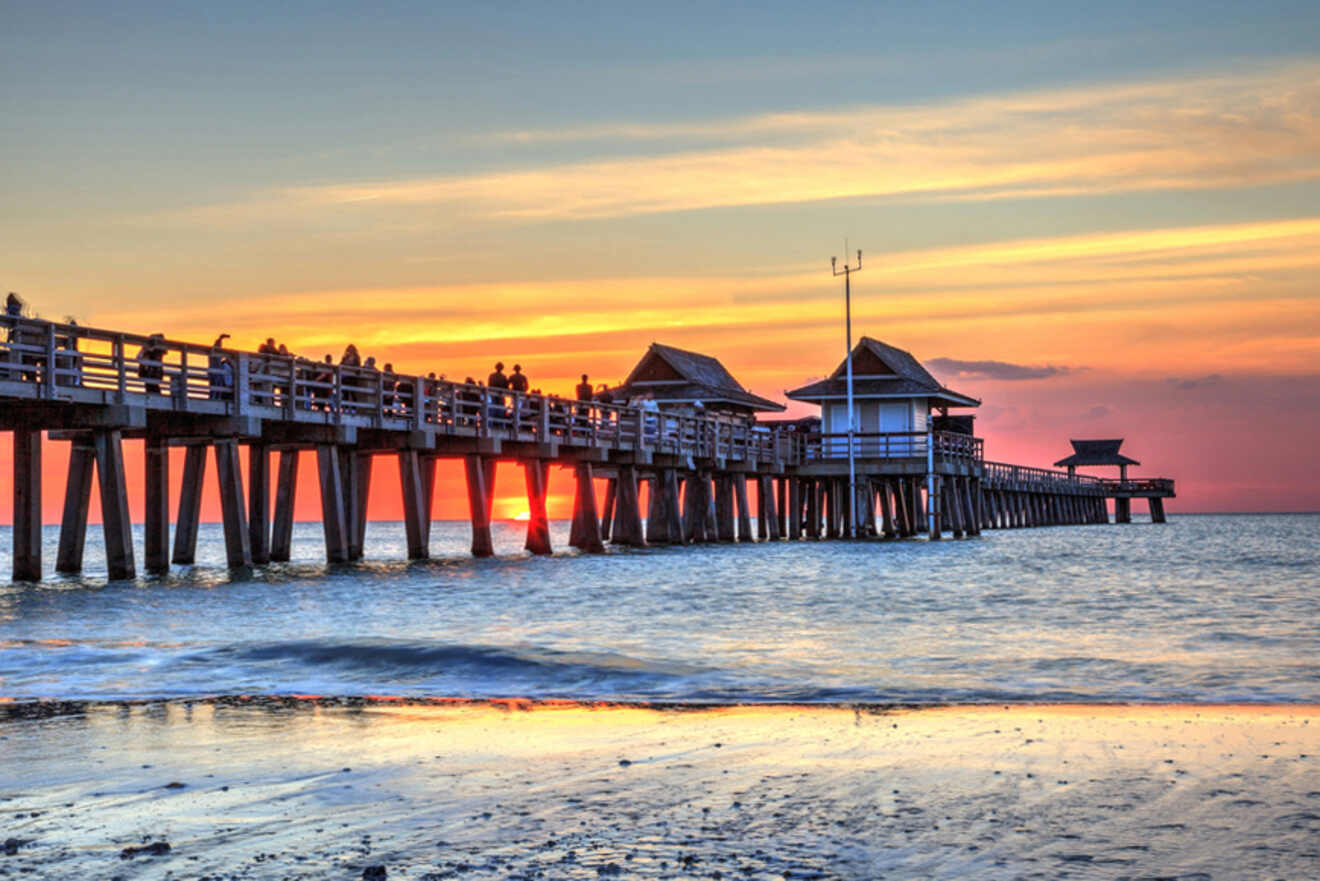 If you're on the hunt for the best Naples Florida beaches, you're in the right place! Growing up in South Florida, I frequently visited Naples on weekend getaways, and I can honestly say you can't go wrong with any of the beautiful beaches here. You'll find miles of soft sand and welcoming warm, stunningly blue water wherever you end up.
Today, we're talking all about the best beaches in Naples, as well as what makes each one so special so you can find the perfect beach for your next Naples, Florida vacation!
Nearly all of the beaches on our list are located right in Naples, but I did include 2 toward the end that will require a bit of travel outside of the city, although not very far. They're so spectacular, and unlike anywhere else, so I definitely want to share them with you.
NOTE: Due to the disastrous impact of Hurricane Ian in 2022, much of Florida's Gulf Coast is still working hard to rebuild, and this includes a few of the Naples beaches on our list. Things are progressing rapidly, and although I've done my best to include the most up-to-date information in this article, I recommend confirming current closures on their official website, which I've linked for you in the descriptions.
The sunshine is calling, so grab your swimsuit, your SPF and let's go!
1. Naples Municipal Beach & Naples Pier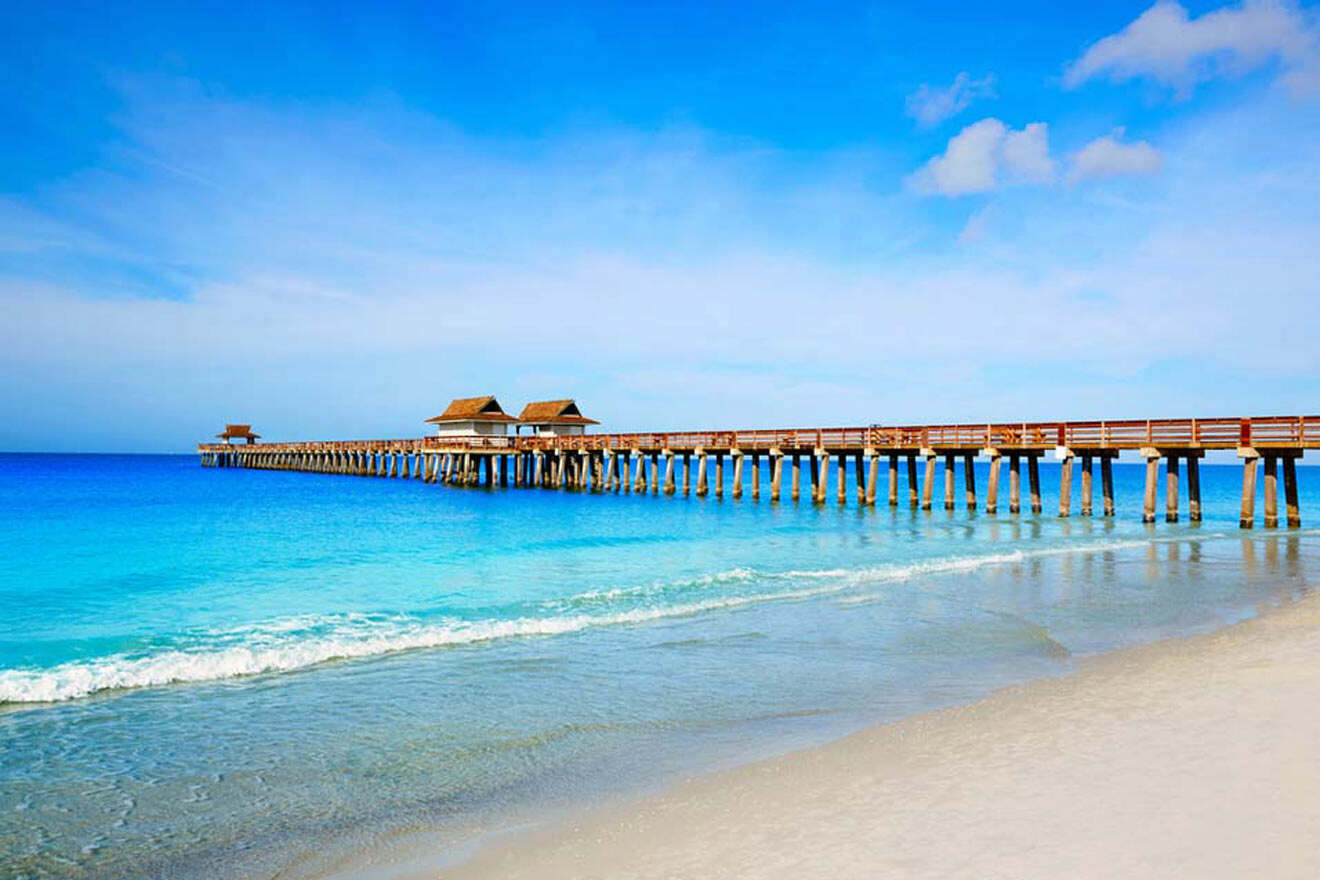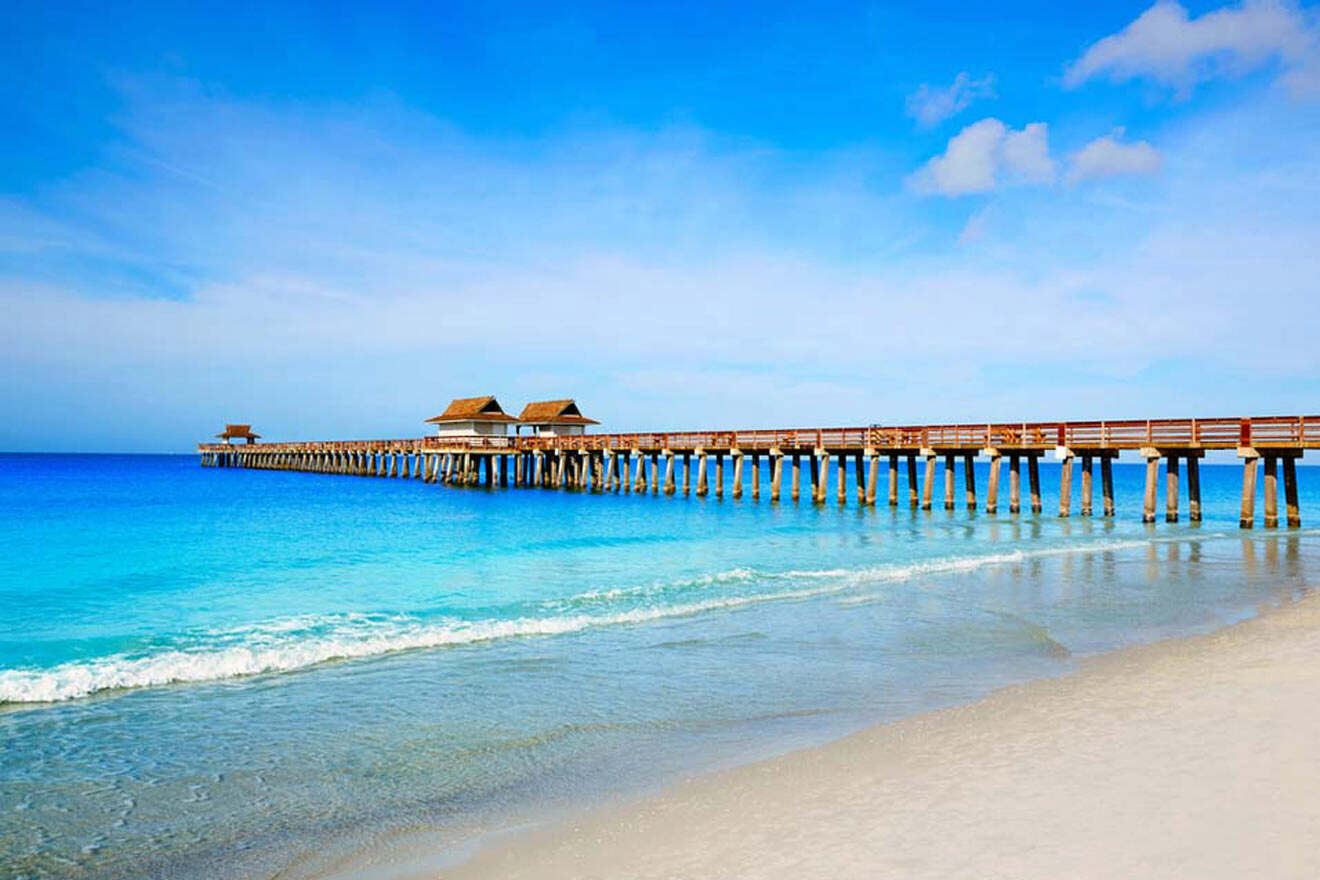 Of course, we have to kick off this list of best beaches in Naples, Florida, with the coastal city's namesake beach! Home to the iconic landmark, the Naples Pier, Naples Municipal Beach has everything you need for the ideal beach day, whether you're looking for adventure on the ocean or relaxing time on the sand.
Naples Beach boasts 10 miles (16 km) of some of the softest sand I've ever seen, and it's easily the most popular attraction in Naples, Florida. The Naples Pier, which was originally built in 1888, extends 1,000 feet (305 m) into the ocean and attracts visitors from all over for fishing, relaxing, and unparalleled views of the sunset.
You'll find the necessary amenities on Naples Municipal Beach, including restrooms, showers, and concessions. It's also centrally located near some fabulous shopping, dining, and entertainment.
There is public parking available for a fee, but I recommend the Naples Trolley Tour, hop-on hop-off, all-day transportation with narration that will take you to all the local hotspots, including Naples Beach. A day pass is US$29 for adults and US$19 for children ages 12 and under.
Due to hurricane damage, the Naples Pier is only partially open to the public. Fishing is not allowed on the pier at this time. Please check the official Naples Pier website for the current status.
2. Vanderbilt Beach Park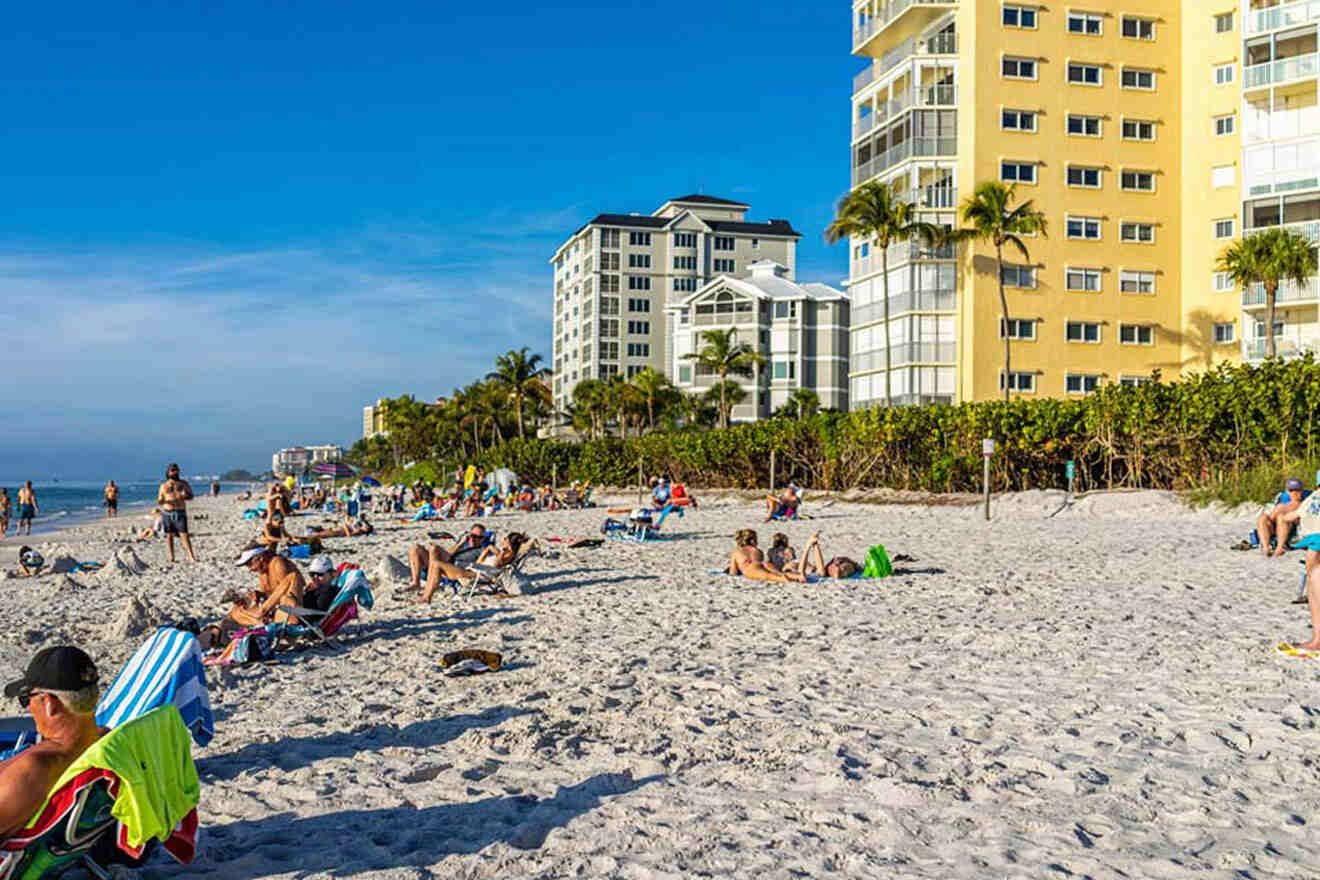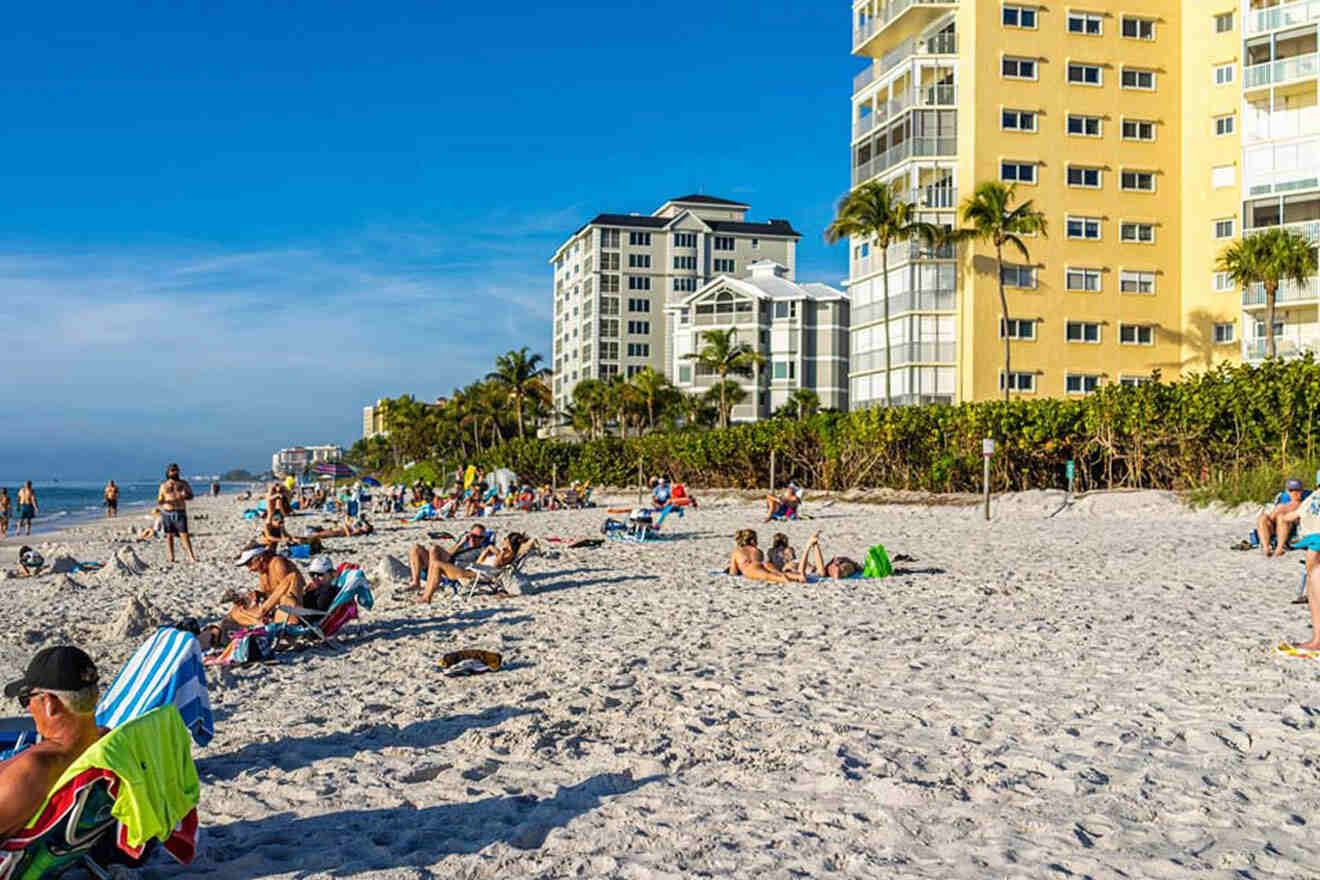 Vanderbilt Beach Park, located in North Naples, is another must-see white sand beach in Naples, Florida. Like #1 on our list, it's one of the best beaches in Naples, as well as the most popular, so if you prefer your beach days to be right in the middle of the action, Vanderbilt Beach Park is for you!
Neighboring upscale Naples hotels, like The Ritz-Carlton Naples, and a personal favorite of mine, Vanderbilt Beach Resort, means you're just steps away from fantastic waterfront restaurants and bars when you choose Vanderbilt Beach for your next beach day.
Vanderbilt Beach Park is also a great Naples beach for families – the water is pretty shallow, so there's plenty of space for little ones to safely splash and play.
You'll find showers, restrooms, and a beach concession with beach gear rentals and snacks. Swimming, kayaking, shelling, and windsurfing are all popular activities at Vanderbilt Beach, so there are plenty of adventures to be had here in the Florida sunshine.
On weekends, holidays, and any day where the weather is particularly nice, Vanderbilt Beach gets crowded fast! There is a dedicated parking garage there, but it tends to fill up in the morning, so plan to arrive early if you're driving.
From the end of February to the end of April, you can ride the beach bus, which offers free transportation to Vanderbilt Beach and Delnor-Wiggins Pass State Park (#6 on our list) from the Conner Park parking lot on Bluebill Avenue.
3. Clam Pass Park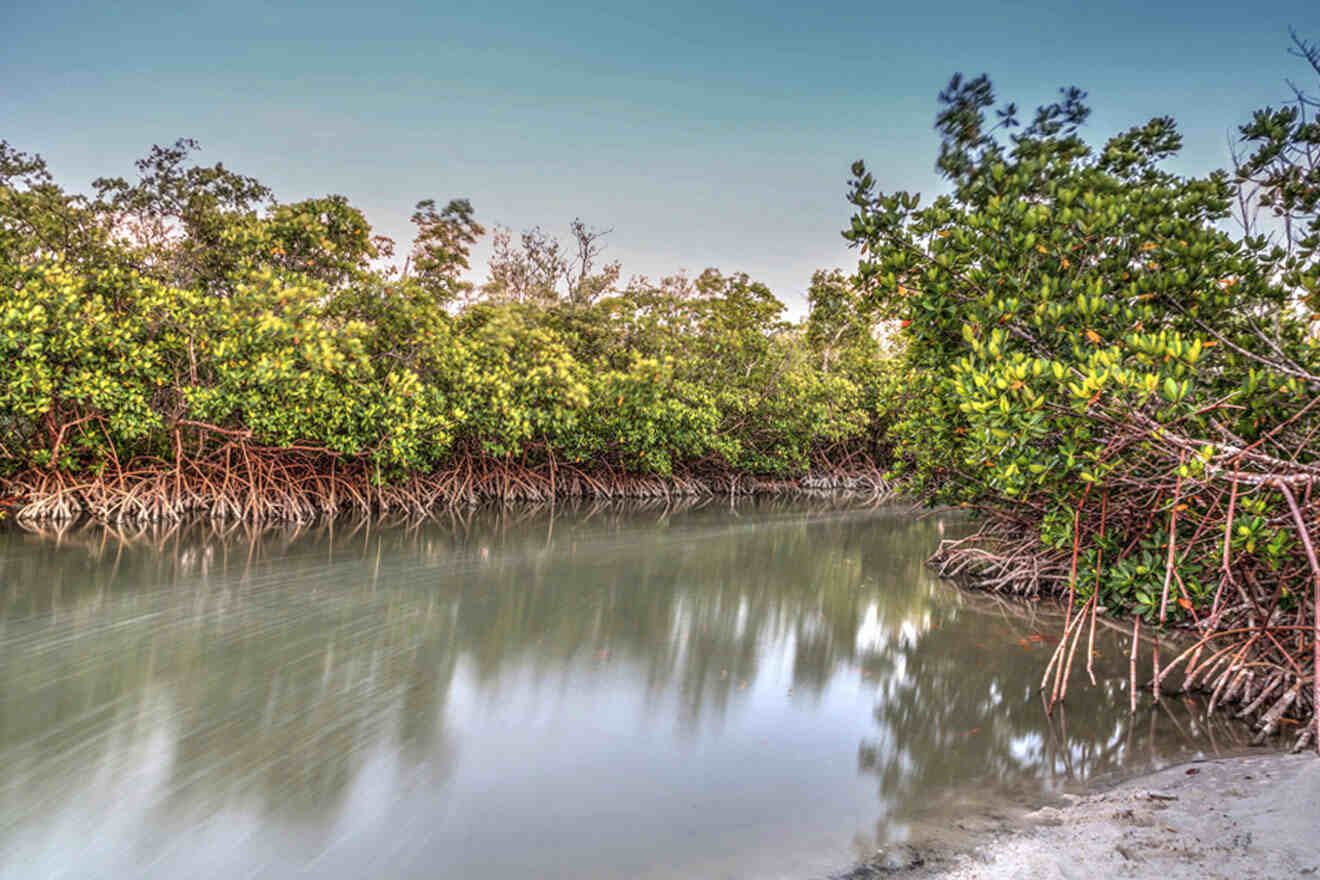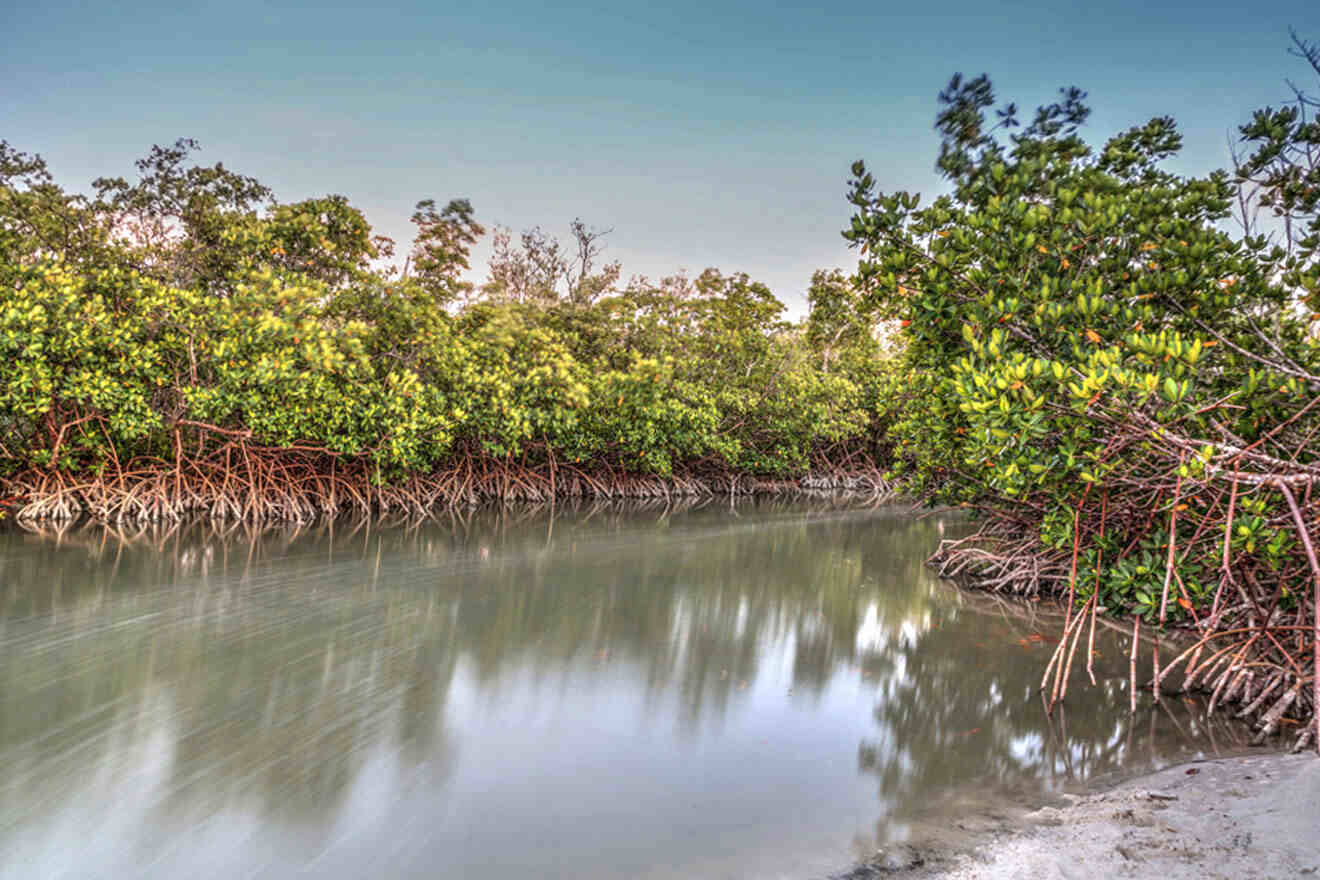 Beach lovers and nature enthusiasts will adore unique Clam Pass Park, another one of the best beaches in Naples, Florida, and one you'll definitely want to add to your to-do list.
Even getting to the beach access at Clam Pass Beach Park is an adventure in and of itself. You can take the tram ride or opt to walk the wooden boardwalk through a mangrove estuary, where you have a good chance of observing some of the local wildlife, including marine animals, butterflies, and coastal birds. It's so dreamy walking through here!
Those interested in the area's habitats should join one of the guided nature walks offered by the Conservancy of Southwest Florida. From December to April, these free guided tours are offered Monday through Saturday. Registration is required, and you can sign up by calling (239) 734-1132 or via email.
The Clam Pass Beach is the primary beach for guests staying at the luxurious Naples Grande Beach Resort, but day beachgoers definitely benefit from this, as you'll find a restaurant, restroom facilities, loaner lifejackets, and beach wheelchairs close by.
4. Lowdermilk Park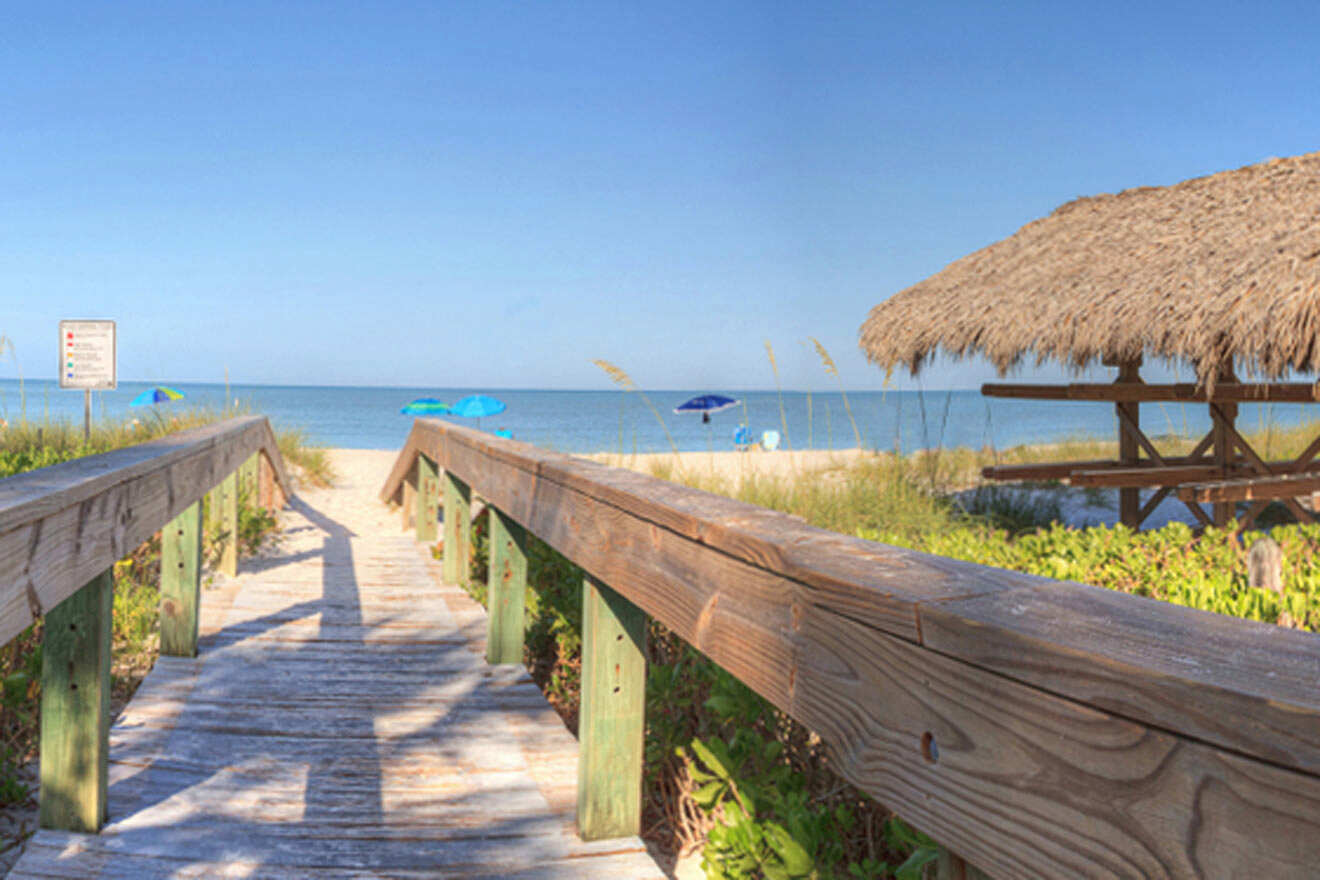 If you're visiting Naples, Florida, with kids, check out the beach at Lowdermilk Park! There is so much to love about Lowdermilk Park, especially if you're looking for family-friendly fun.
Located in central Naples, this beach park boasts 2 children's playgrounds, a duck pond, sand volleyball courts, restrooms, showers, and a concession stand selling snacks, so you have access to everything you need right there! There are also ample picnic tables, so it's a great place to picnic in the sunshine with family or friends.
Those seeking a little adventure on their beach day will find it here too. At the concession stand, you can rent kayaks, bodyboards, and stand-up paddleboards for even more fun in the sun! Although I'm not the greatest at it, paddle boarding here is so incredibly relaxing.
A local yoga studio holds yoga classes on Lowdermilk Park Beach if you're looking for something unique to do while you're visiting Naples! Beach yoga is just as wonderful as it sounds. No reservations are required, so you can just drop in! A donation of US$15 to US$20 is suggested, and they ask that you donate prior to attending the class. You can find the schedule online, as well as the donation link.
5. Delnor-Wiggins Pass State Park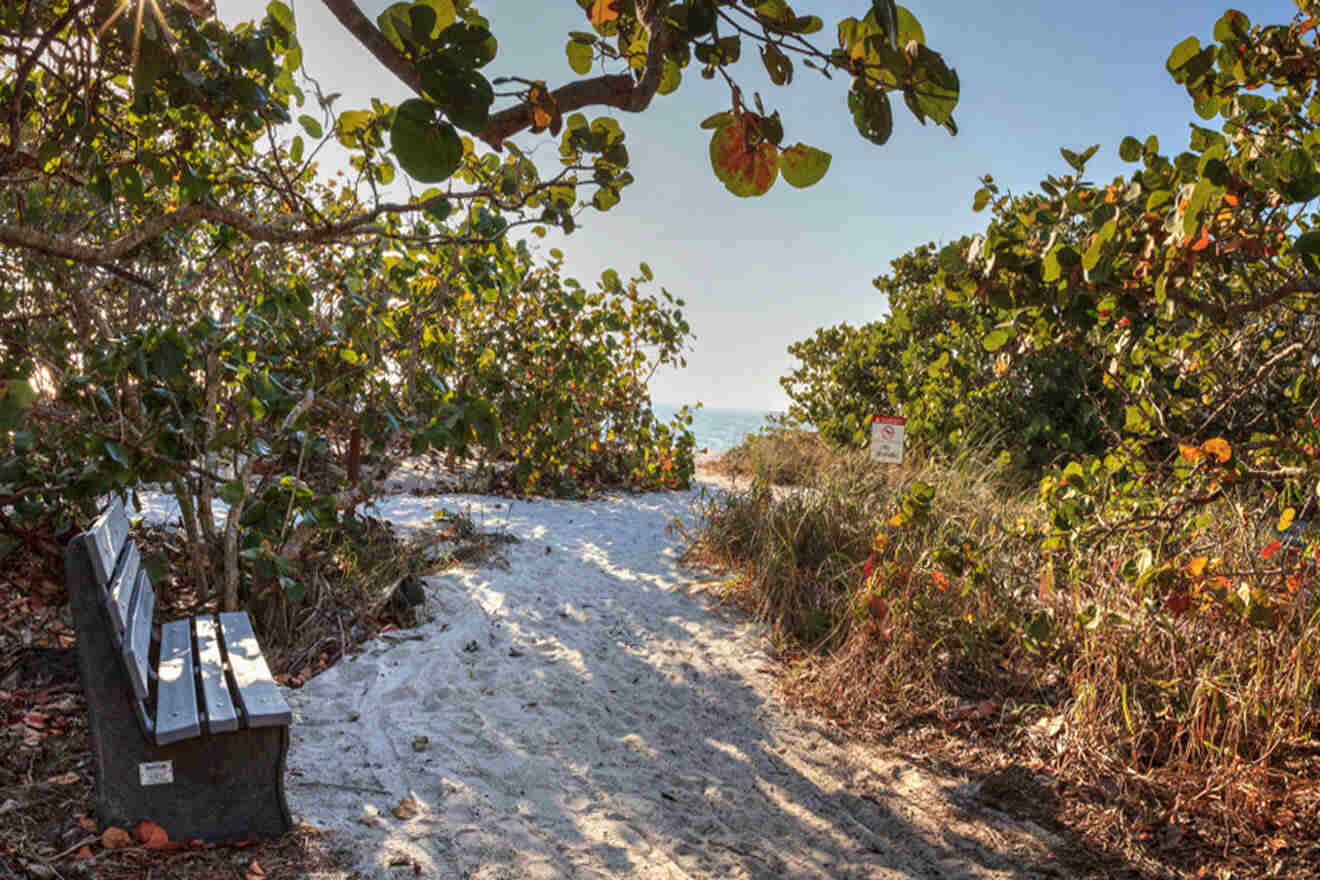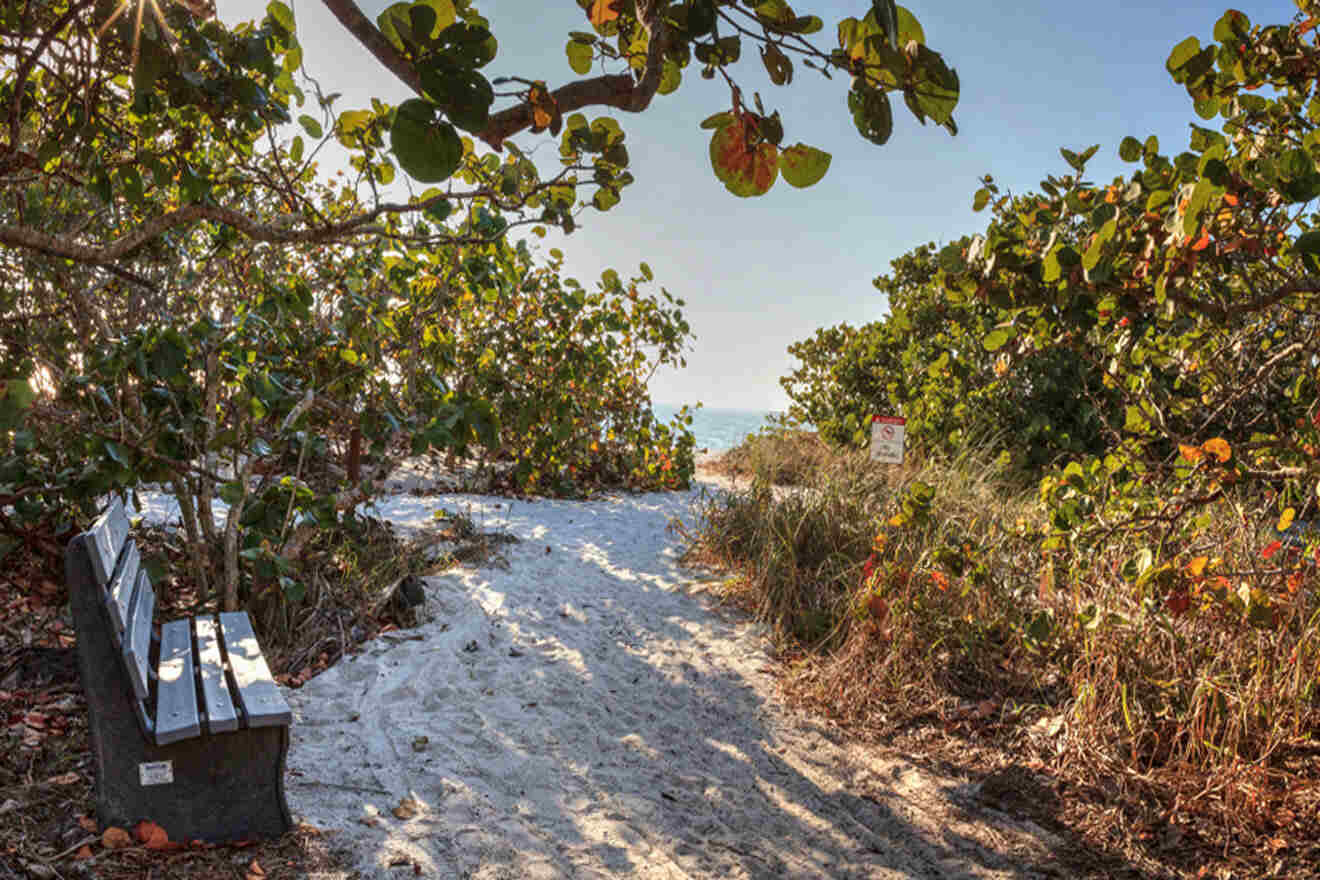 The best way to describe Delnor-Wiggins Pass State Park is absolute paradise. This Florida state park isn't far from Vanderbilt Beach Park (#2 on our list), but it feels worlds apart!
Situated on an approximately 200-acre (80 hectares) barrier island, Delnor-Wiggins Pass State Park offers some of the most breathtaking natural beaches you've ever seen.
Swimming, snorkeling, fishing, shelling, birdwatching, and paddling are just some of the many activities to do here, although you can have just as much fun doing nothing at all other than sitting back and relaxing on the shore.
Amenities include restrooms facilities, shower stations, water fountains, and a concessionaire, Naples Beach Adventures, where you can rent paddle boards, kayaks, canoes, umbrellas, and beach chairs, as well as grab food to refuel for more fun.
Sadly, Delnor-Wiggins Pass State Park is currently closed due to the aftermath of Hurricane Ian. While there is not a reopening date set yet, you can check the official Florida state park's website for the most up-to-date information.
6. Barefoot Beach Preserve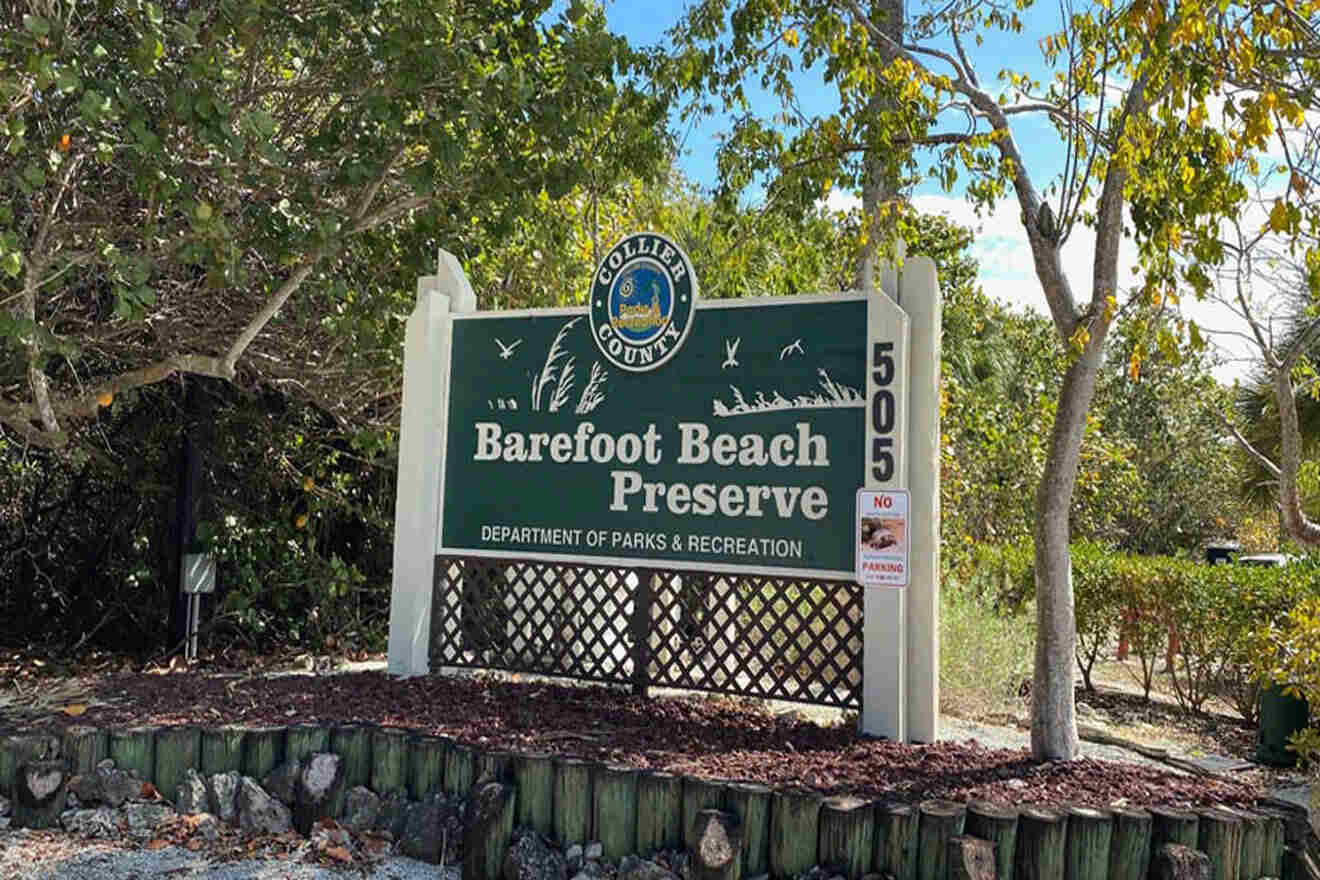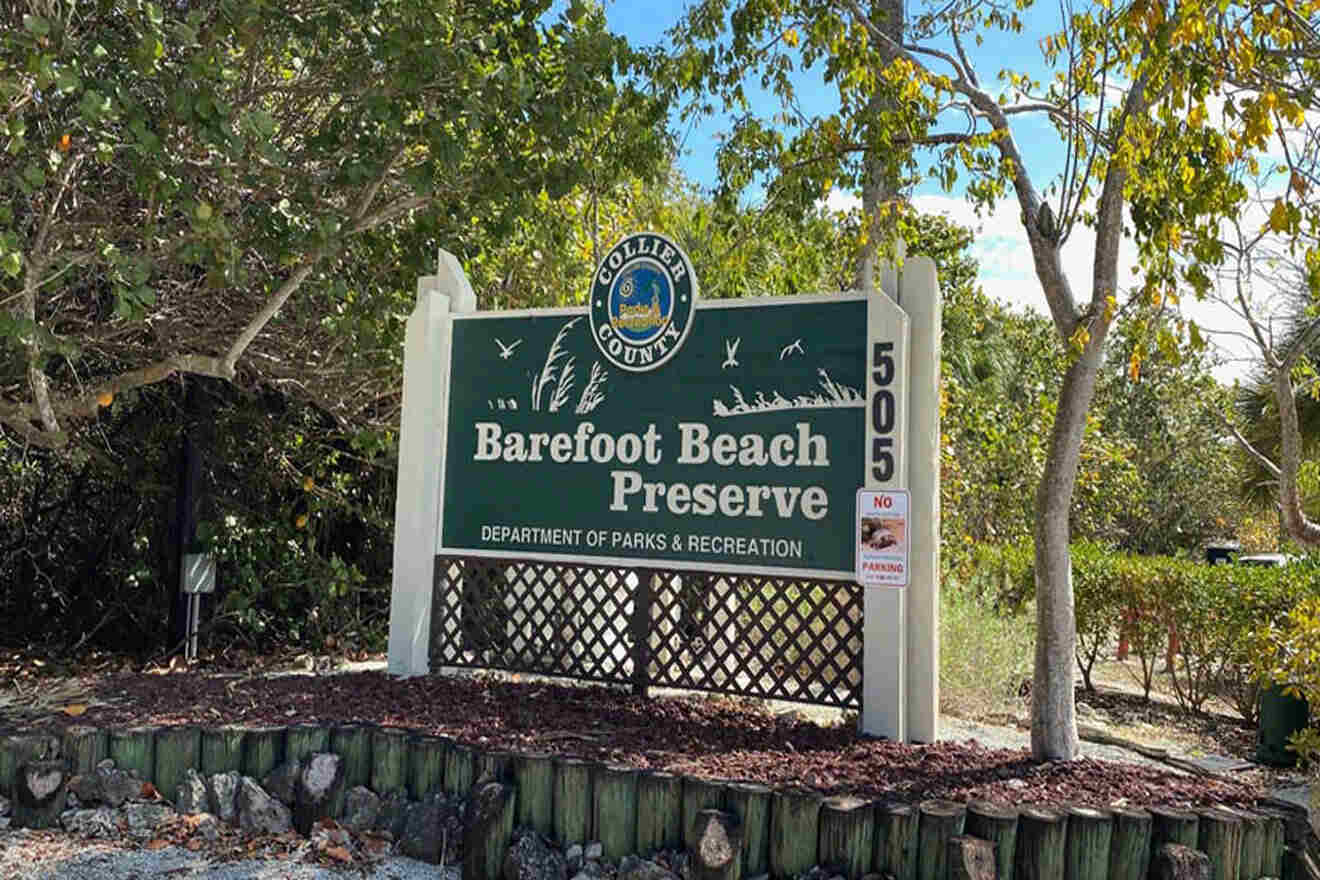 It's been recognized as one of the top 10 most beautiful beaches in the country, so you know Barefoot Beach Preserve in North Naples is worth checking out on your next trip to Florida's southwest coast!
Barefoot Beach Preserve is one of the last undeveloped barrier islands remaining in the area that spans 342 acres (about 140 hectares) of natural land. Relax on the shore, take a dip in the glittering blue water, or adventure through the preserve. And don't forget to check out the butterfly garden!
See the stunning 8,200 feet (2,500 m) of beach and sand dunes, where sea oats serve as nesting sites for sea turtles during the summer months. Inland on the island, explore tidal creeks and mangrove swamps. This lush preserve is home to an abundance of flora and fauna, so keep your eyes peeled – you never know what you might spot!
Barefoot Beach Preserve is currently closed until further notice, but you can check their website for updates.
7. Seagate Beach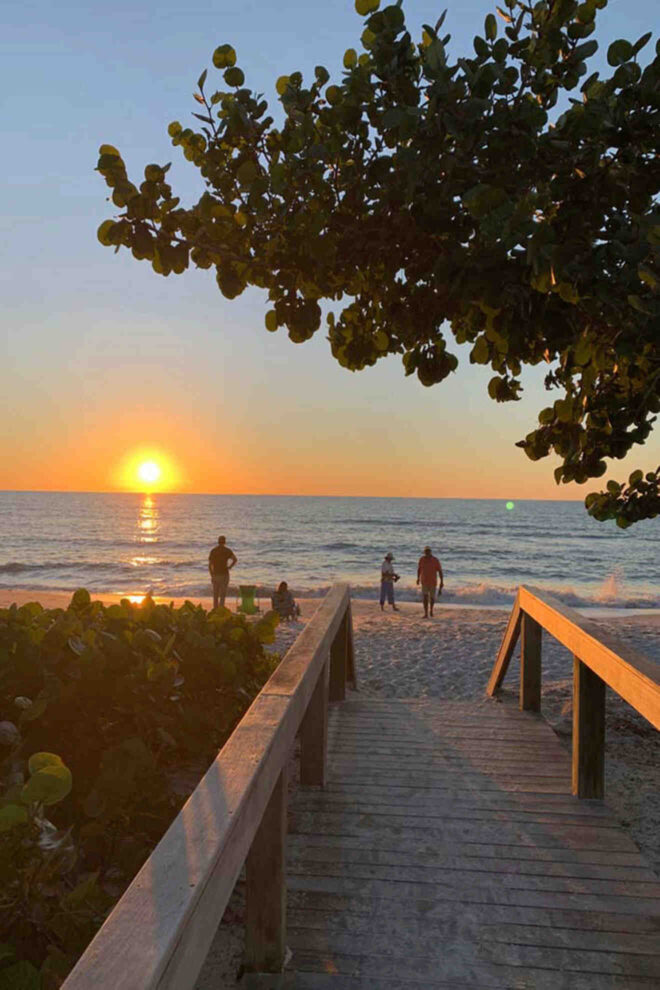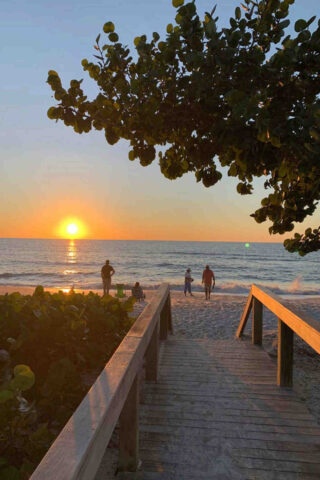 Next up on our list of best Naples, Florida beaches is actually a recommendation from a friend of mine who was born and raised there. It's called Seagate Beach, and if you're looking for a secluded beach, this is the one for you!

This beach is close to Clam Pass Beach Park but much, much less crowded. It's definitely not a touristy beach, making it a great choice for anyone who prefers their beach days quiet and relaxing.
Seagate Beach is also one of the best places to see the sunset, and the lack of crowds means it is an unmatched view. You'll likely see some locals there, though, which is how you know it's an excellent spot!
While there aren't any restrooms or amenities at Seagate Beach, it's just a short 10-minute walk up the beach to the restaurant and other offerings at Naples Grande Beach Resort. The trade-off is worth it for the serene experience you can find here, and you get the best of both worlds!
8. Keewaydin Island Beach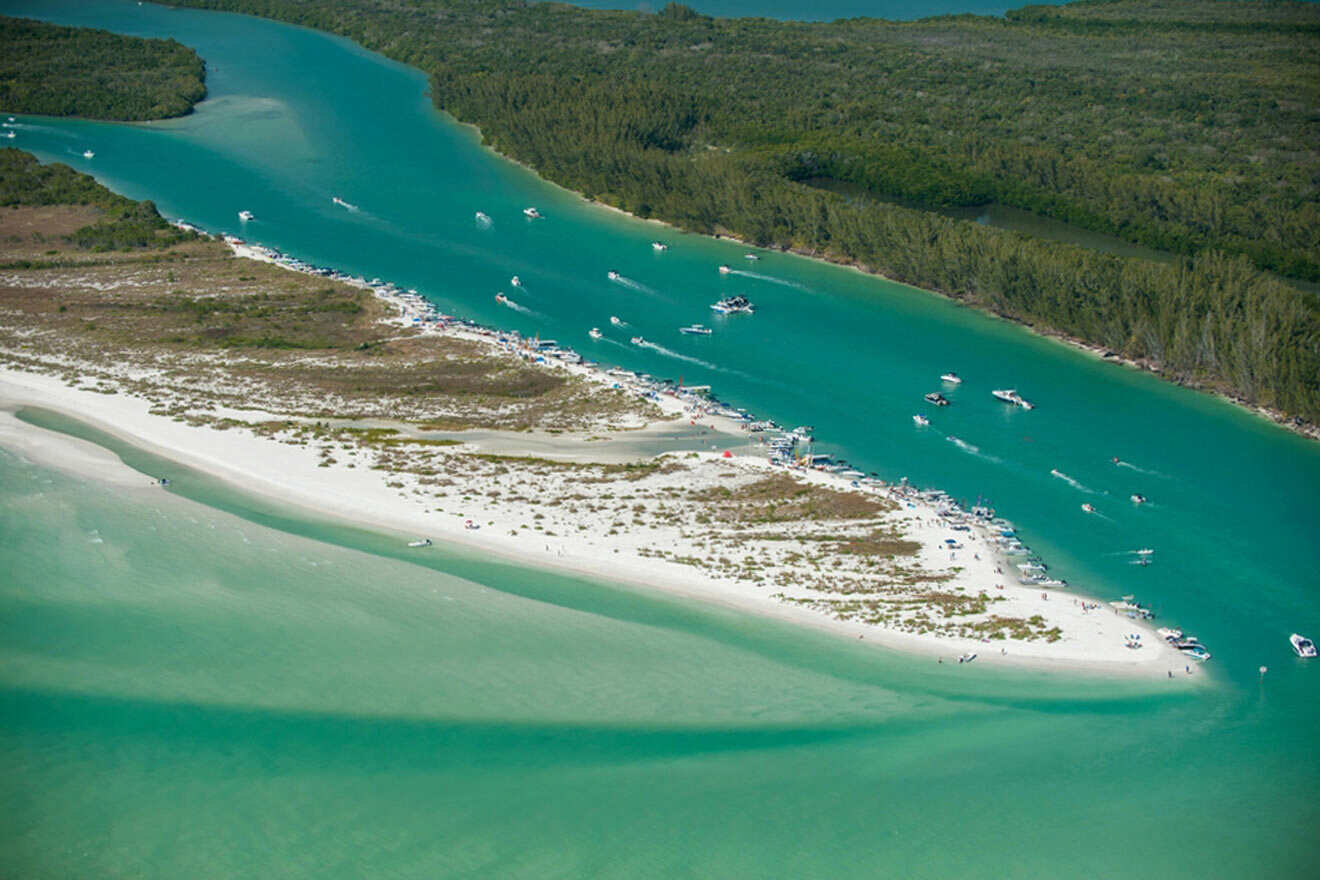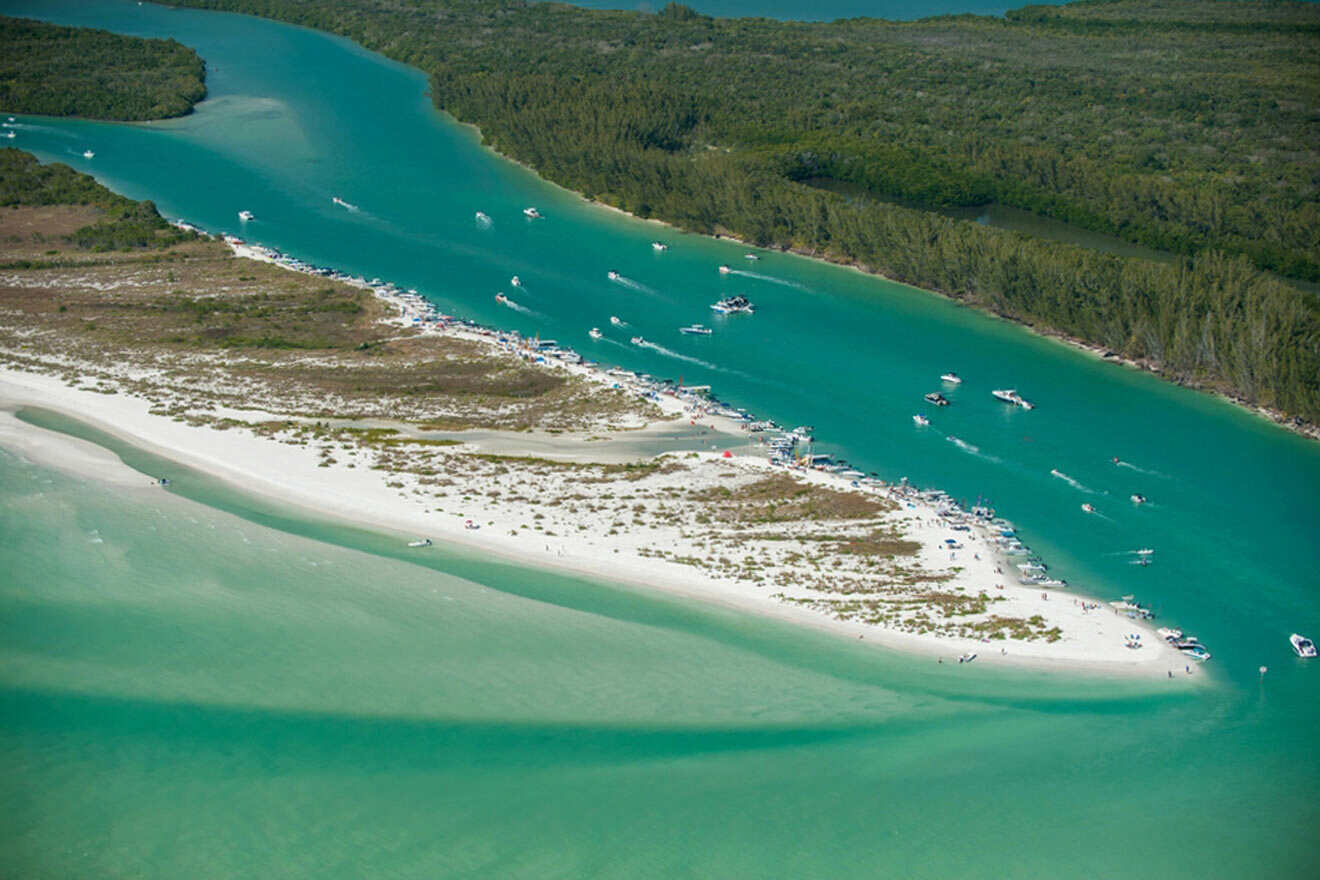 For a beach day unlike any other, Keewaydin Island is for you. This secluded barrier island is located between Naples and Marco Island in the Rookery Bay Reserve and is both a sanctuary for wildlife and one of the best secret beaches in the US, according to Coastal Living magazine.
Keewaydin Island is only accessible by boat, which really adds to the feeling of being completely off the grid in a tropical paradise. There are no roads, cars, or anything like that here – only miles of unspoiled white sand beaches and postcard-worthy ocean views. While that does mean there are no restroom facilities here, it's hard to complain when you're on a beach this beautiful!
You'll need to bring everything with you for your beach excursion here, like coolers, water, snacks, sunscreen, umbrellas, and the like, but during busy times, a snack boat will service Keewaydin Island, serving up burgers, brats, sandwiches, ice cream, and both alcoholic and non-alcoholic beverages. Now that sounds like paradise!
FUN FACT: This is the only beach in Collier County beaches where dogs are allowed.
9. Marco Island Beaches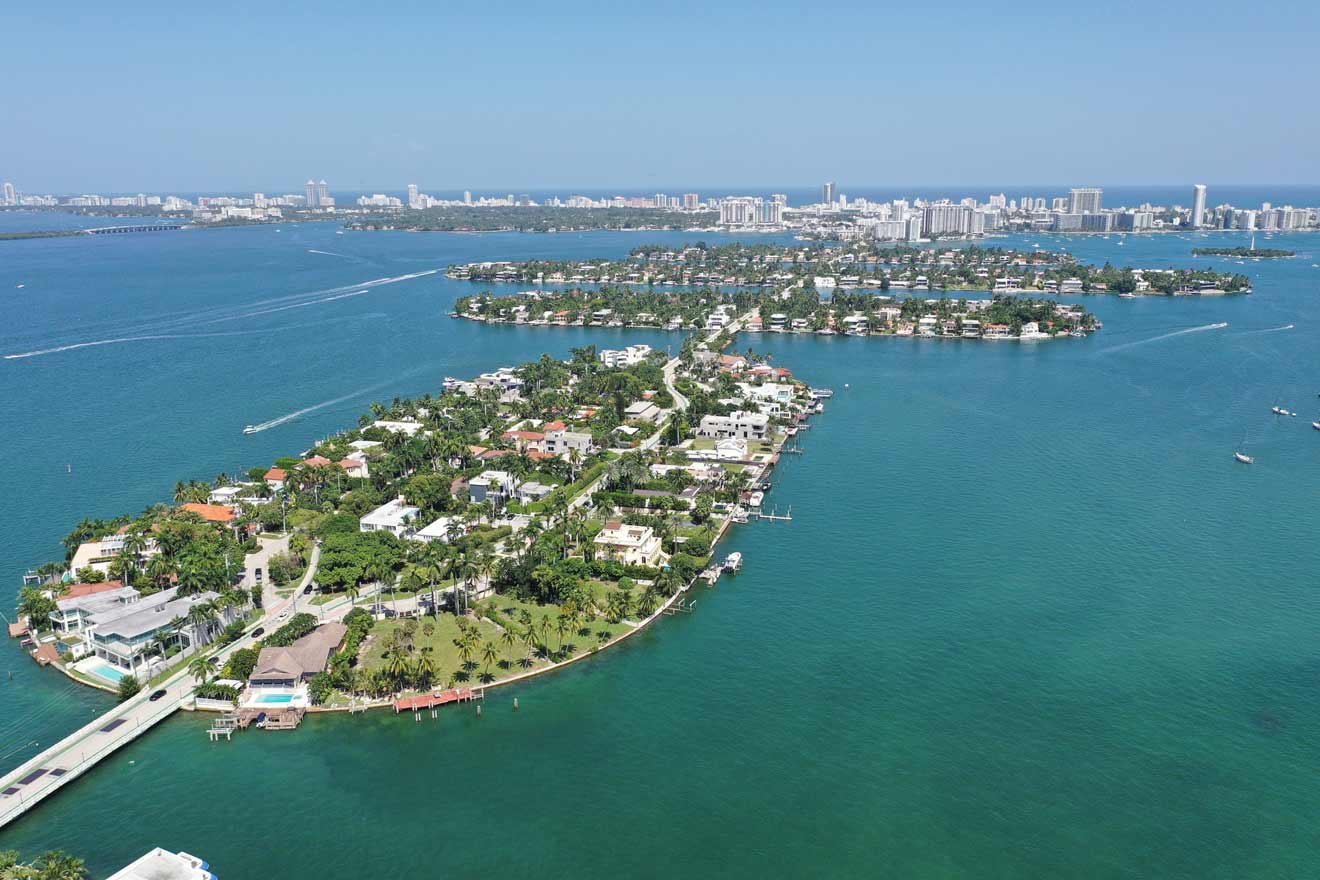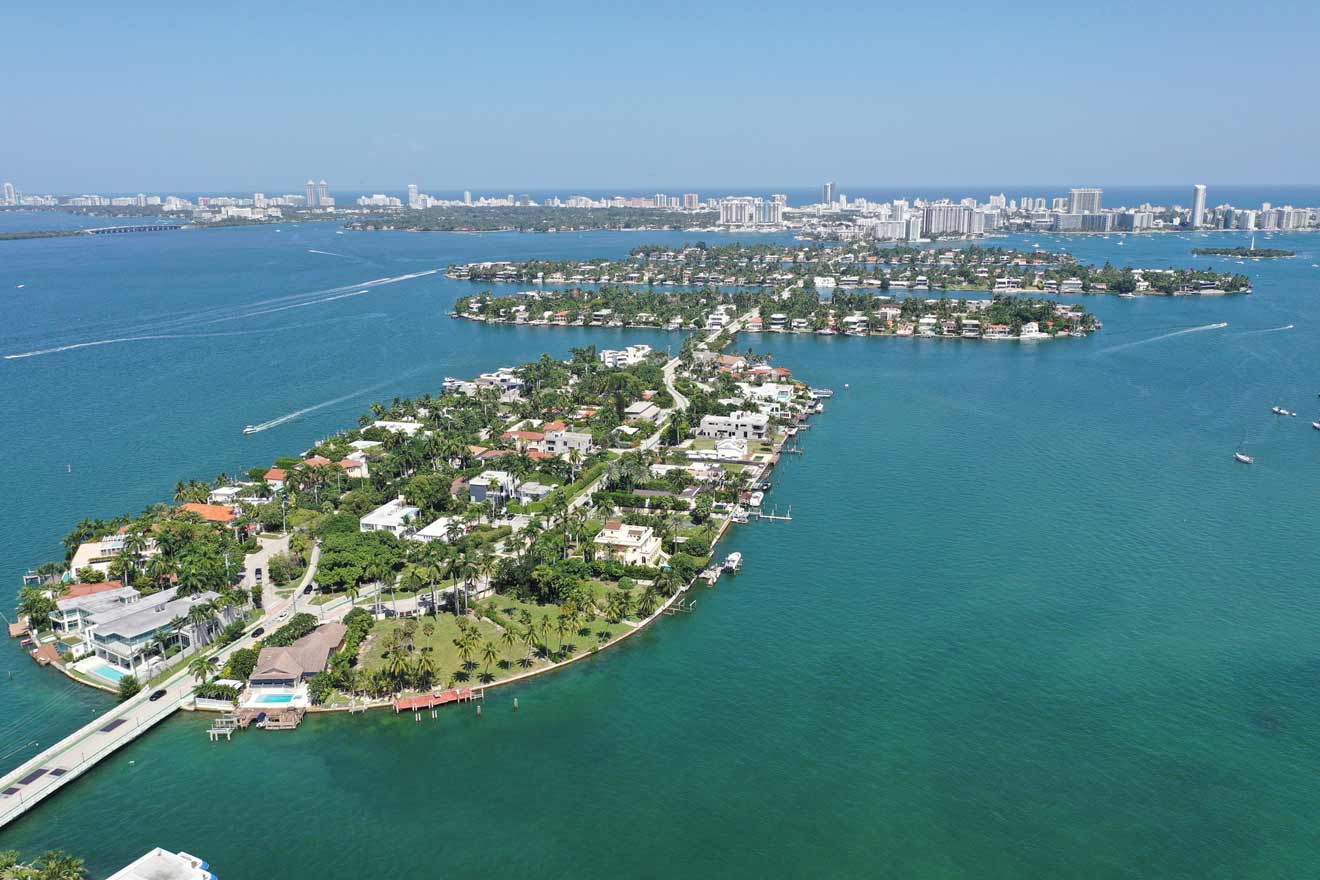 I'd be remiss if I didn't mention the gorgeous beaches on nearby Marco Island! Although not in Naples, they're close enough to explore on a day trip, and they really are as amazing as they're talked up to be! Marco Island is just over a 30-minute drive from Naples, Florida, so if you're in the area, I highly recommend heading over there to see them for yourself!
The beaches on Marco Island look like they're straight out of a postcard, with powdery white sand and water so clear and blue you won't be able to resist swimming in it!
Tigertail Beach is considered the best beach on Island, and its plentiful amenities make it perfect for a stress-free beach day. You can even wade across the tidal lagoon to Sand Dollar Beach for more adventures and beautiful views.
South Marco Island Beach is the perfect family-friendly beach on Marco Island. Although it does get crowded, this beach is so pretty, clean, and excellent for finding seashells on the shore!
FAQs about Naples, Florida beaches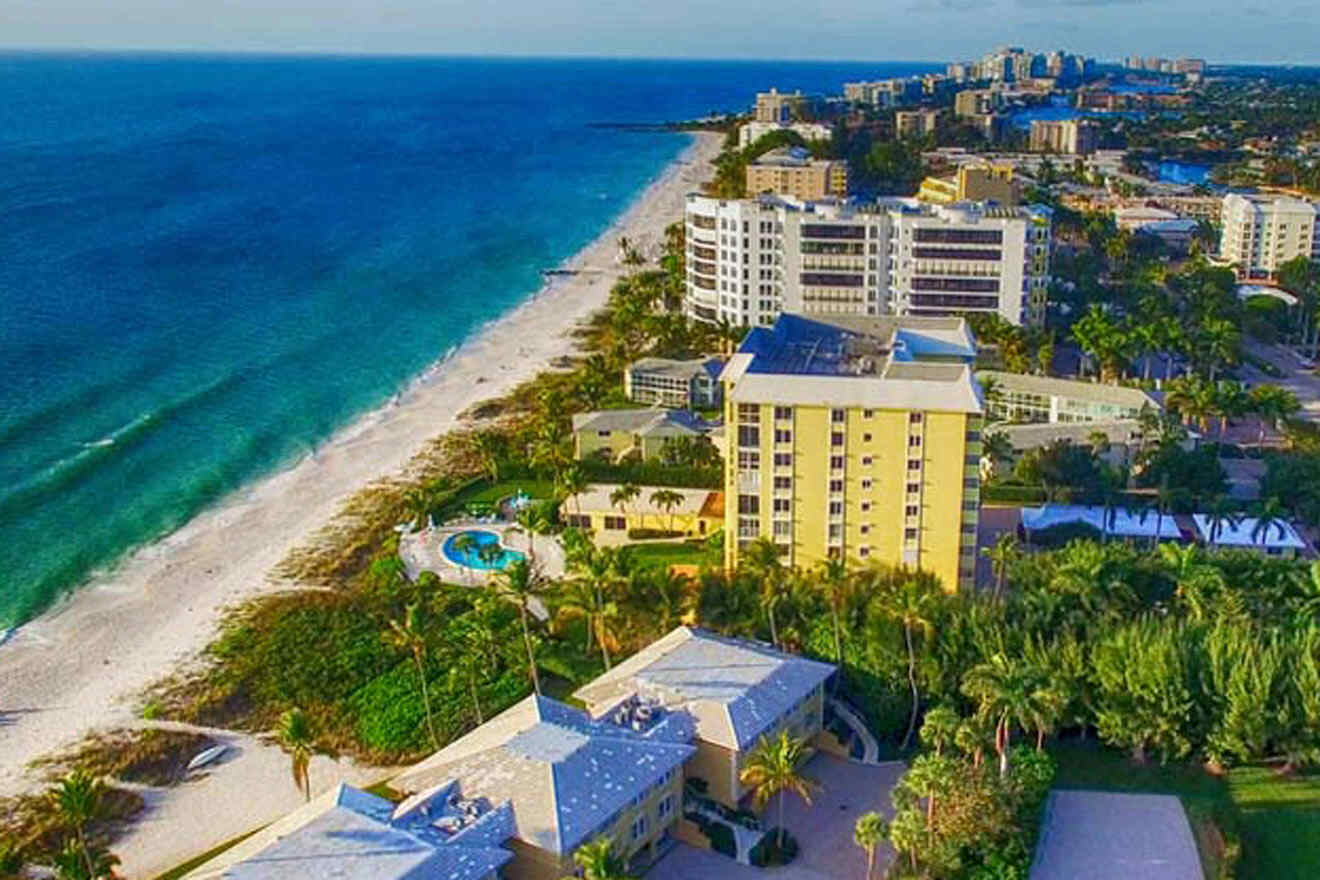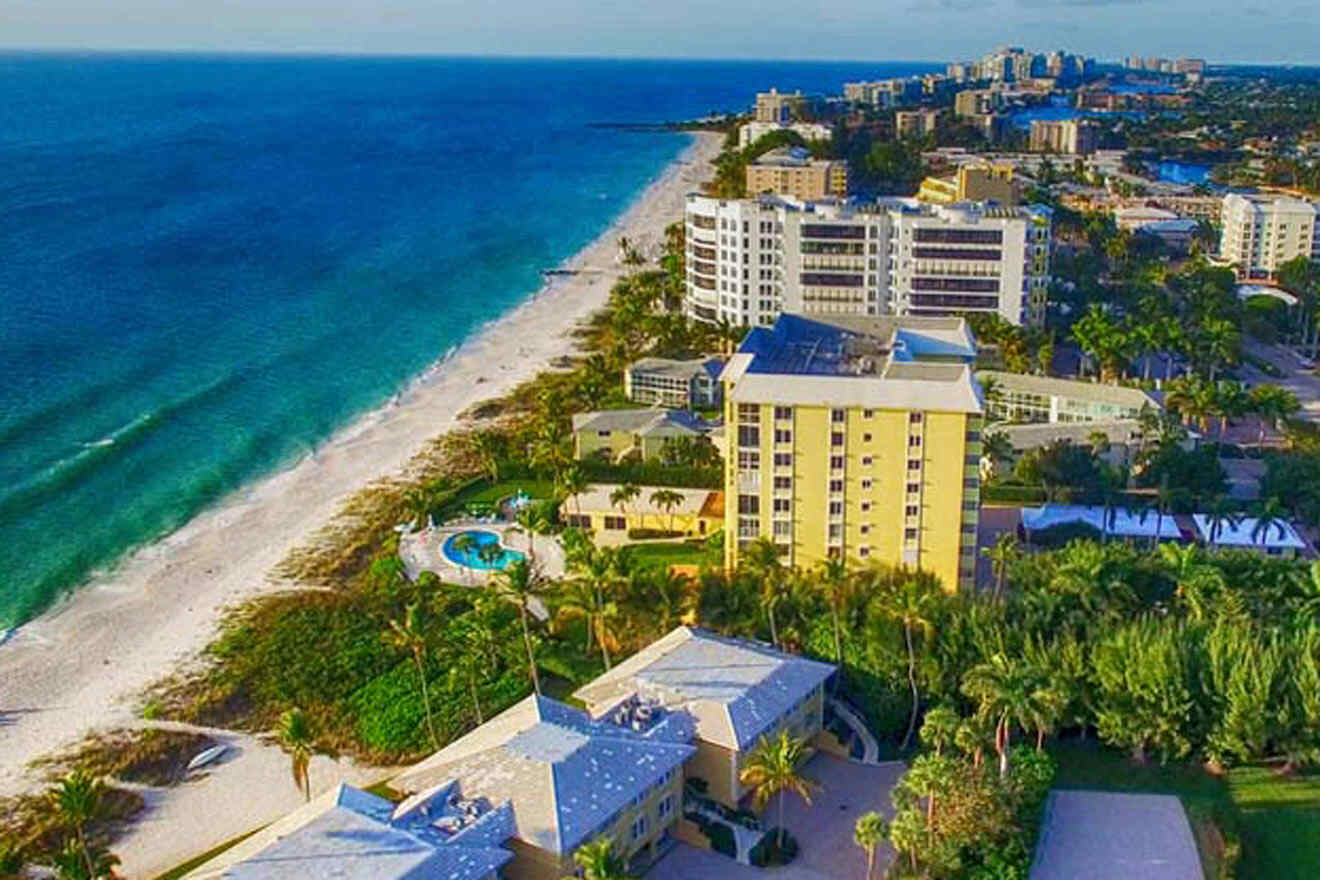 🌊 Does Naples, FL have nice beaches?
Yes! Naples, Florida, has some of the most beautiful beaches in the Sunshine State, known for having soft white sand, clear blue water, and an abundance of seashells.
🏖️ Are beaches free in Naples, Florida?
While the beaches themselves are free to visit, with the exception of those within a state park, visitors will have to pay for parking nearby.
🐚 What is the best beach to go to in Naples?
All of the beaches in Naples, Florida, are fantastic, so the best beach comes down to what you're looking for. Vanderbilt Beach Park is great if you want to be right in the middle of the action, while Lowdermilk Park is a fantastic choice for families.
🐬 Does Naples, Florida beaches have clear water?
Yes! The beaches in Naples, Florida, have exceptionally clear water, especially during the summer months. You can see right through to the bottom!
Conclusion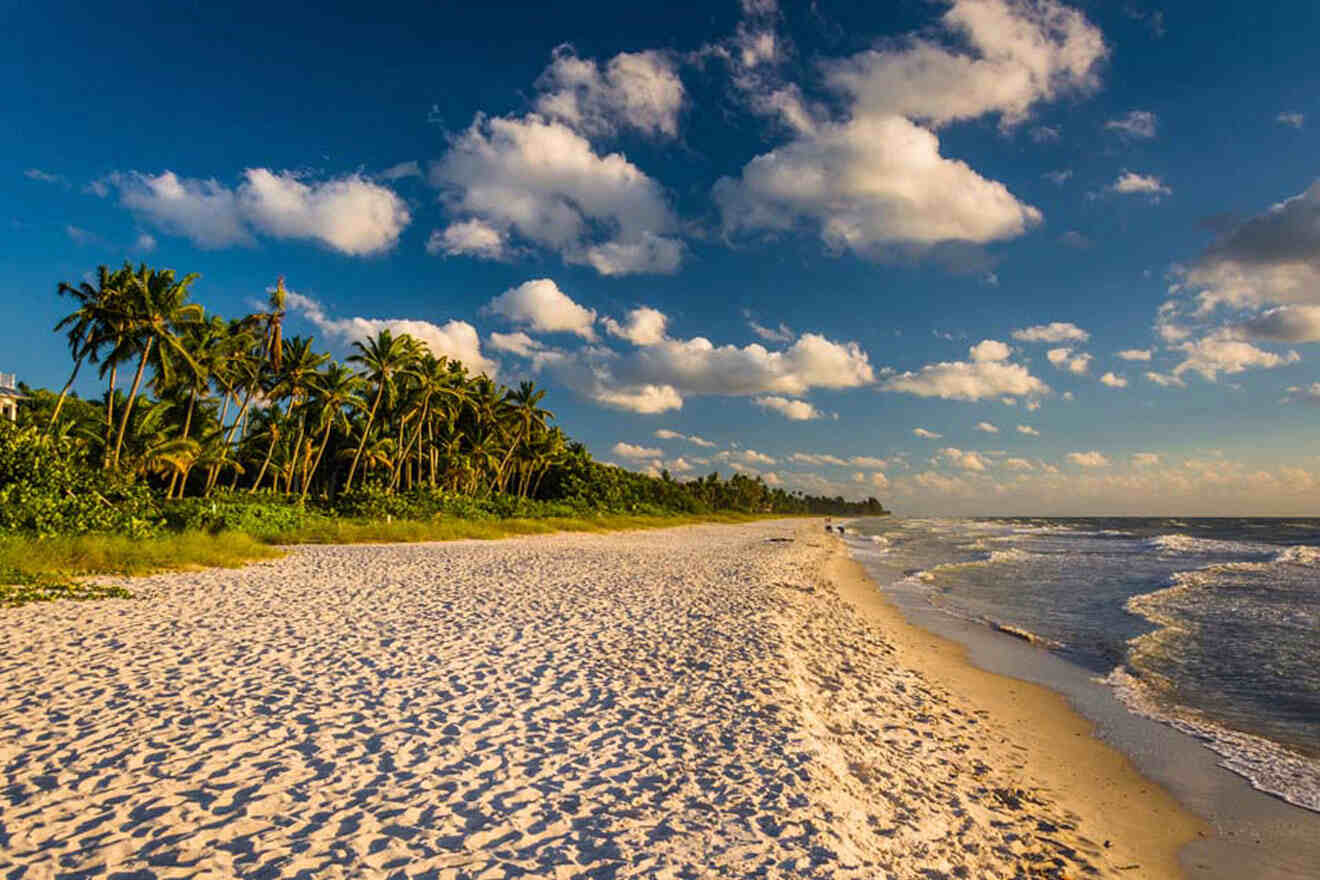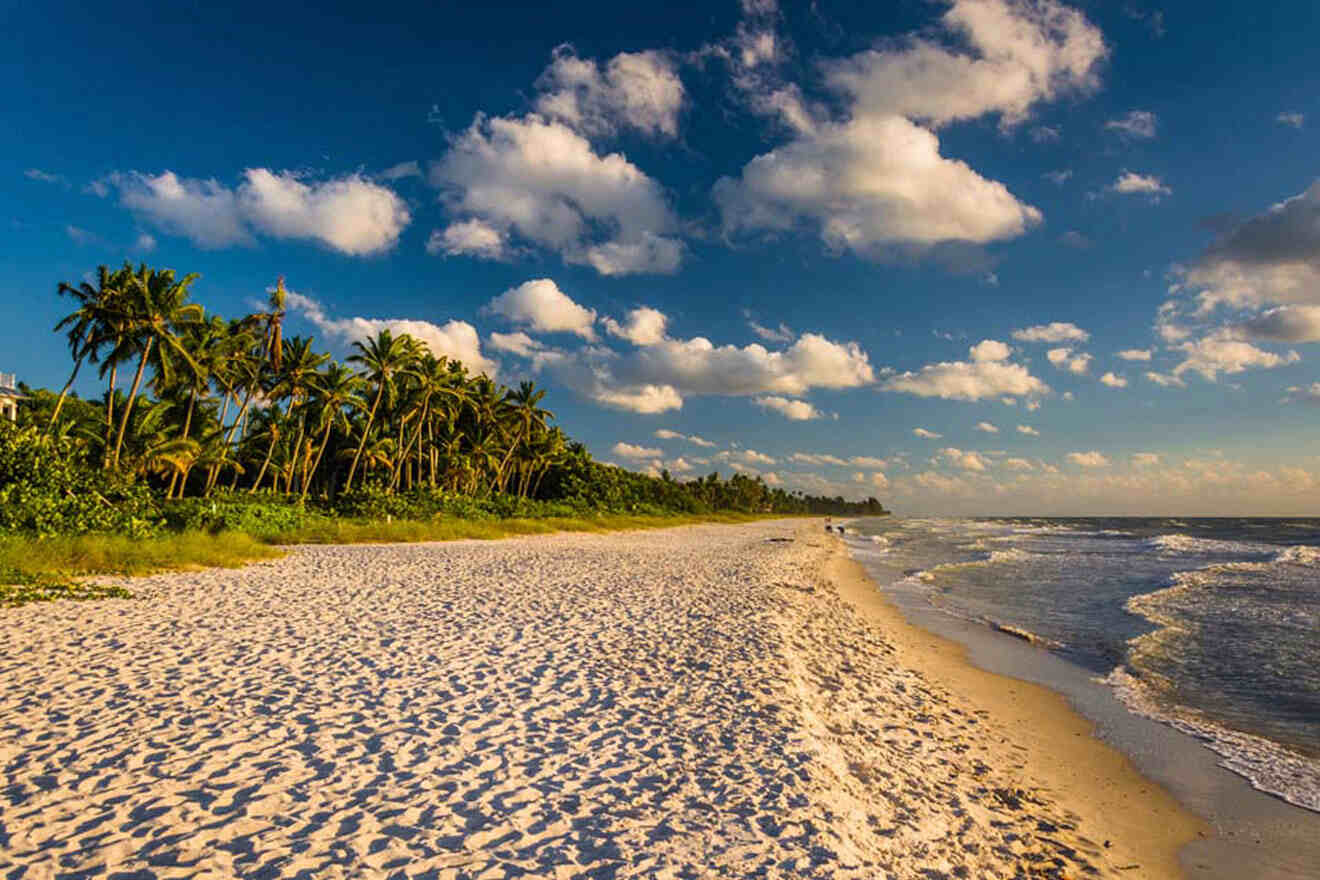 I hope you were able to find the perfect beach for your next Naples trip! I stand by what I said in the beginning though – no matter what beach you end up at there, you're going to love it. And even though I'm from the east coast of Florida, I can't deny the truth that Florida's Gulf Coast beaches are the absolute best in the Sunshine State.
Now, I don't know about you, but I sure am ready to plan my next beach getaway! If you have any questions regarding what we chatted about today, leave me a comment below, and I'll get back to you! I'm here to help however I can. 😊
Happy travels!
Montana
---
Pin it for later!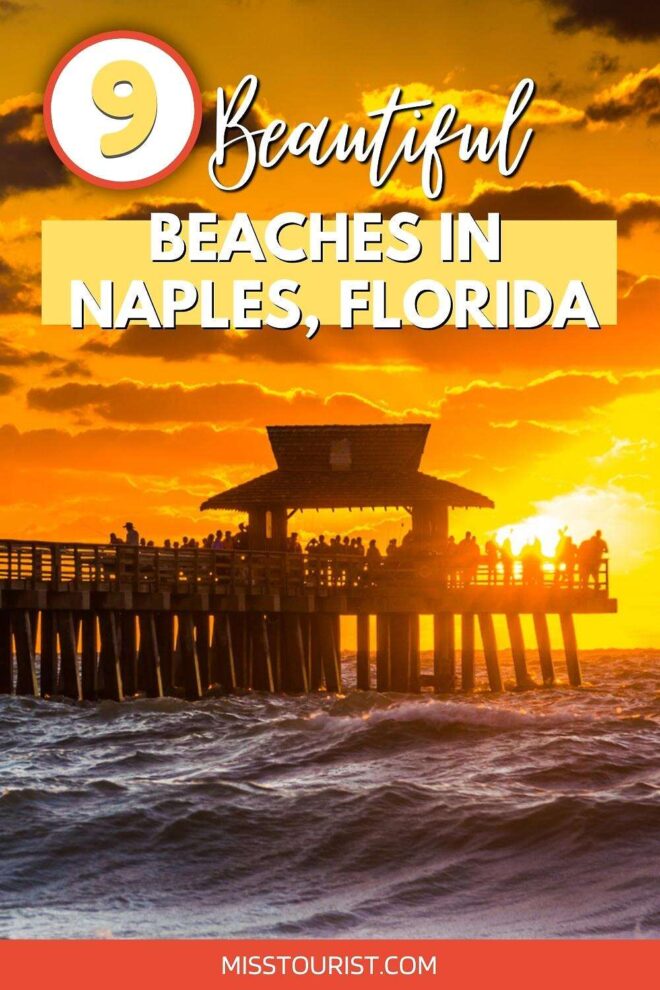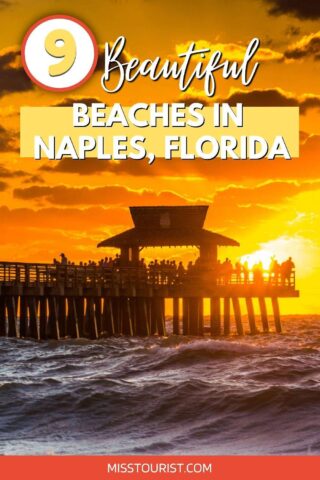 Pin it for later!