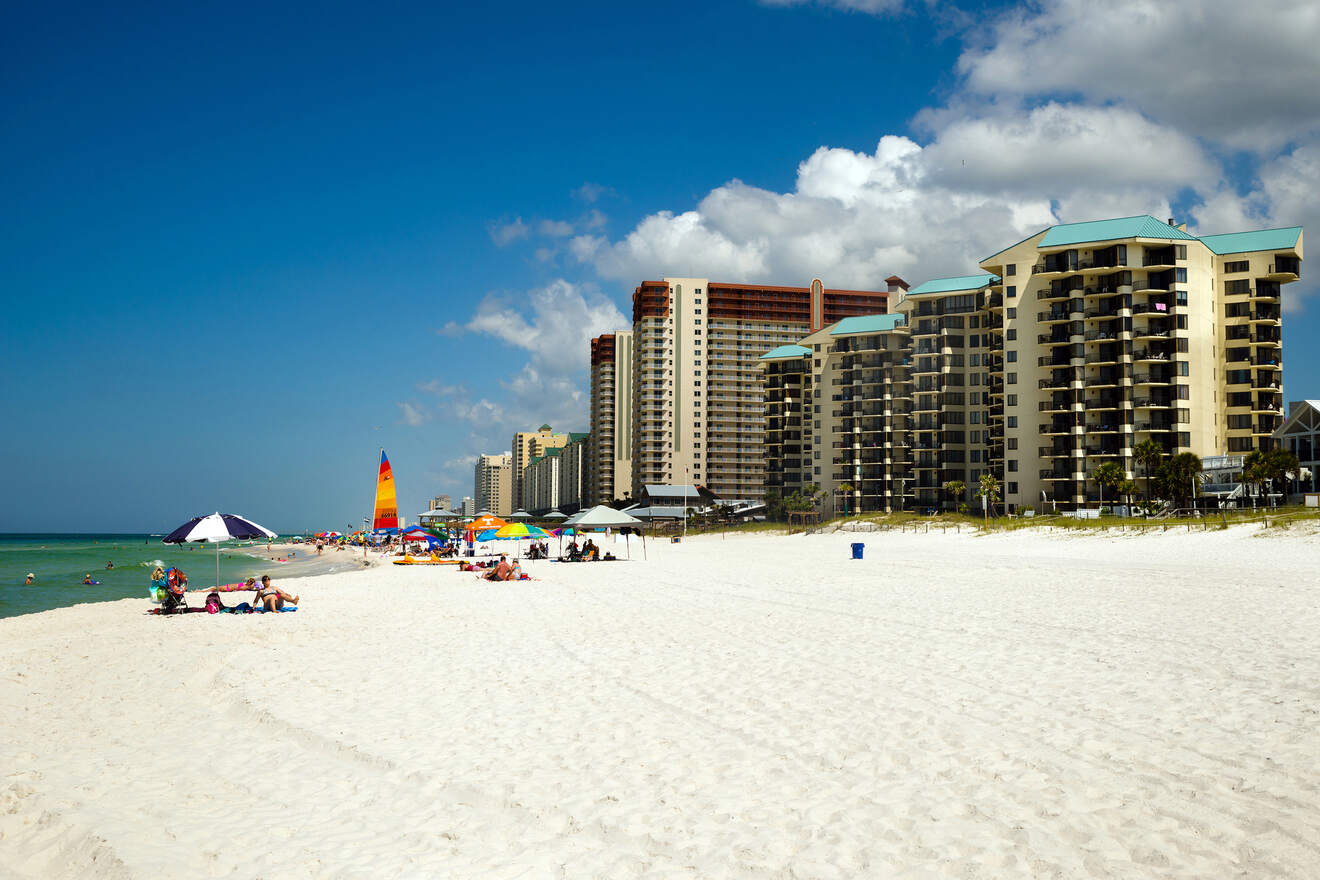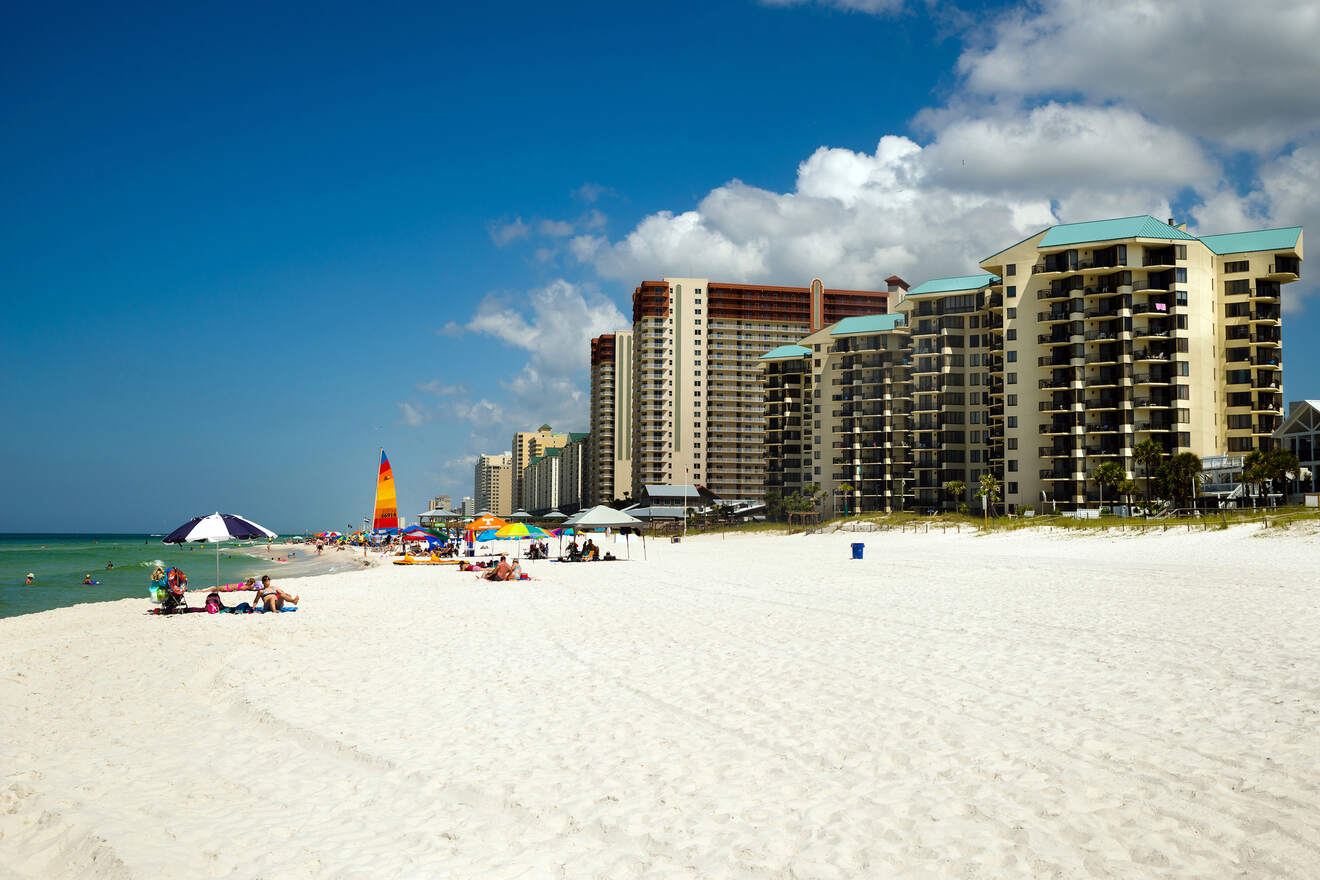 Home to one of the "World's Most Beautiful Beaches", having 320 days of sunshine a year and one of the highest concentrations of wild bottle-nose dolphins in the world, it's hard to find a reason to not like Panama City Beach! Located in Bay County, Florida, this resort town lies along the Gulf of Mexico and features 27 miles of white sand beaches! This city is not to be confused with Panama City in Panama, even if they have in common the big skyscrapers facing the beautiful ocean!
The turquoise waters at Panama City Beach are loved by fishermen and scuba divers alike for the great bio marine diversity and I can't forget about the seafood lovers! The city is actually known as the Seafood Capital of the South, and if this is not enough for you, with a coastline slightly toward the west, you can enjoy amazing sunsets over the Gulf of Mexico every day of the year! If sunsets are as sacred for you as they are for me, I know this will be a trigger point!
I don't think I will surprise you when I say that Panama City Beach is a hit with travelers in Florida. Whether it be for beaches, forests, attractions, or bars, Panama City Beach has activities for friends who want to party (Panama City Beach is the No.1 Spring Break Destination in the US), families looking for group activities, or for couples on a romantic getaway.
Depending on the reason you want to visit and your budget, there are different areas where to stay in Panama City Beach. In order to help you choose the best neighborhood for your travel style, I navigated all the web and created this guide with the top hotels in Panama city from luxury to budget. Once you make up your mind on which one to book, I strongly suggest you do it immediately, Panama Beach is one of the best places to visit in Florida!
Let's go!
If you are in a hurry
You don't have much time to decide where to stay in Panama City Beach? Here's a quick list of the best accommodations in Panama City center, from the most exclusive to the cheapest!
Here's a large map of the Panama City Beach best 3 neighborhoods narrowed down by interest, to help you visualize them better:
1. Lower Grand Lagoon – best place to stay in PCB for first-timers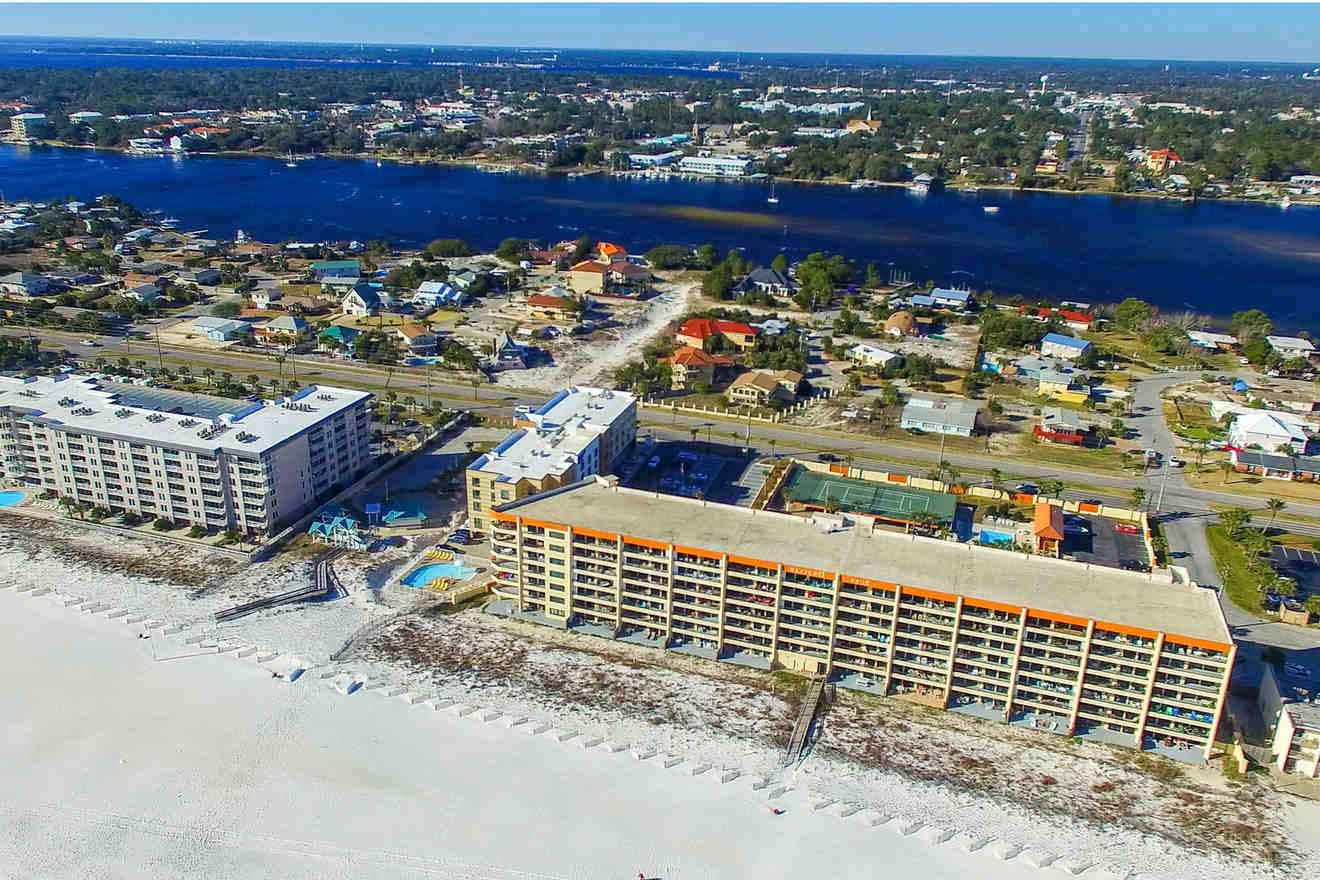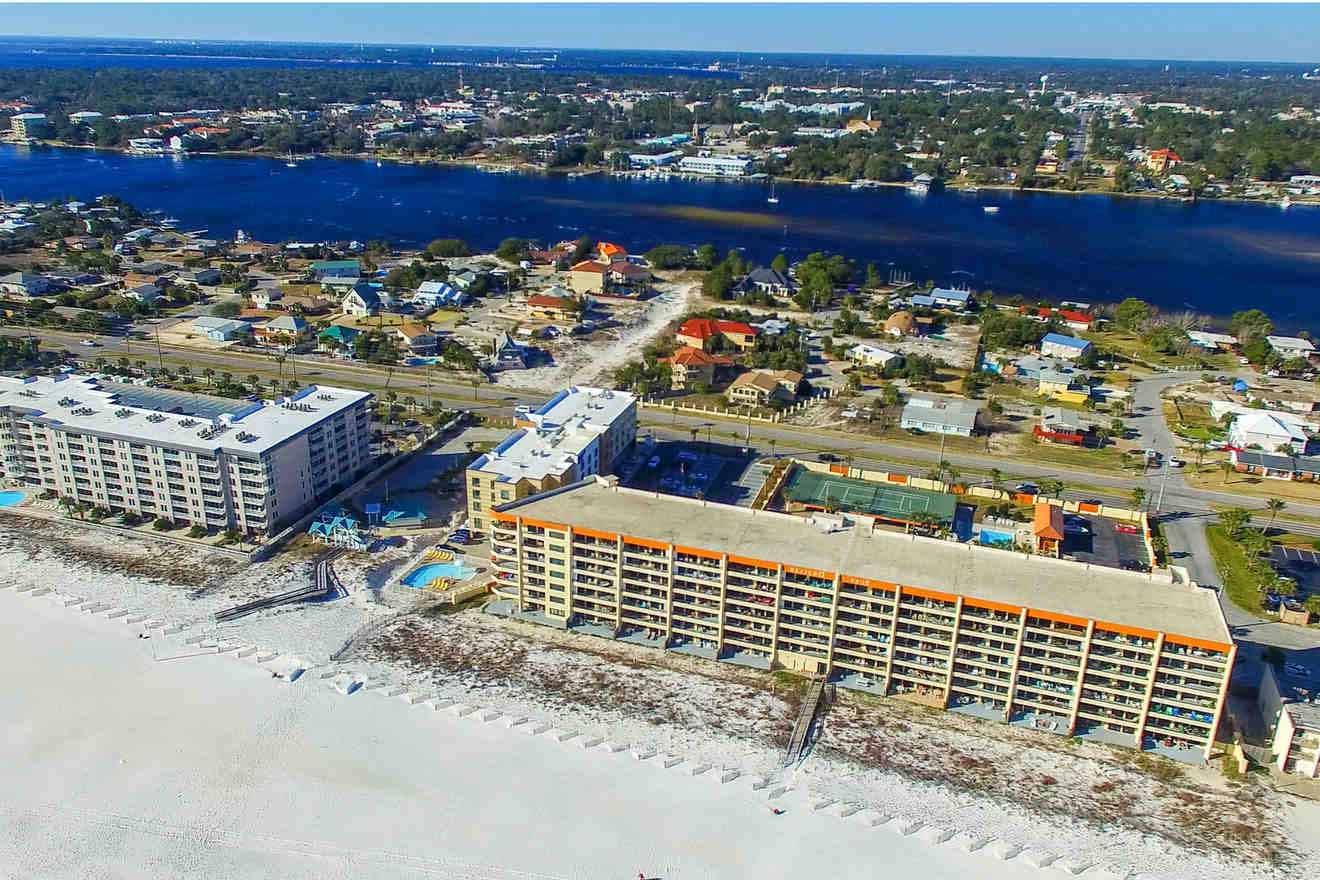 Situated on St Andrews Bay at the southern tip of the peninsula, Panama City Beach's Grand Lagoon is the perfect place to stay if you cannot decide between the bustle of urban areas and the peace of the ocean. Being the epicenter for entertainment, fine dining, and adventure by land or sea (sailing, kayaking, swimming, etc), the Grand Lagoon is the ideal choice to get the real feel of the city.
Taking a cruise to visit shell island, dolphin sightseeing, or enjoying an unforgettable sunset sail are just a few things that have to be on your bucket list if you decide to stay here! And if you're a fishing enthusiast, this is your chance to go on a charter fishing trip!
In fact, the area has become a hub for fishing both deep sea and inshore, in particular, Charter fishing is now a regular activity at Panama City Beach with charter boats heading to the Gulf daily to catch tuna, blue marlin, pompano, etc. But if full relaxation is what you're looking for, Lower Grand Lagoon also offers a wide choice of authentic restaurants, bars, and great coastal shopping.
If you're getting excited only to think about these activities, then you should consider extending your vacation and make a stop at Tampa, which has a lot to offer to the ocean and sun lovers!
Luxury hotel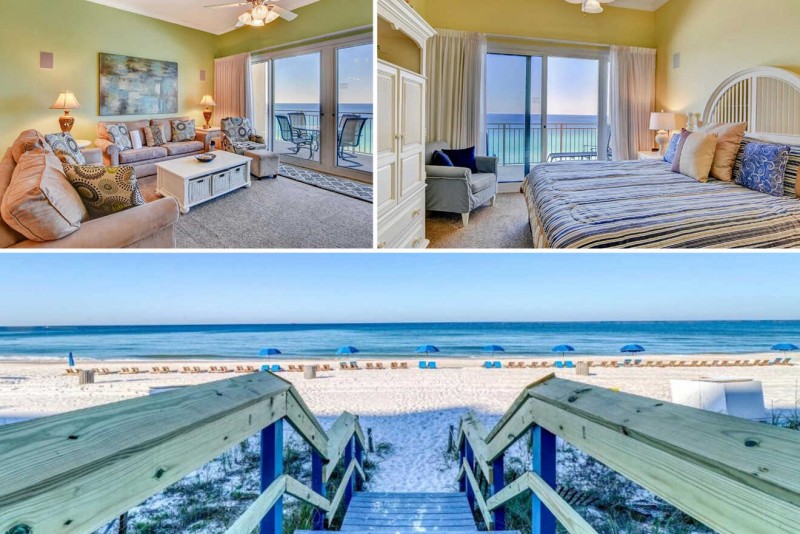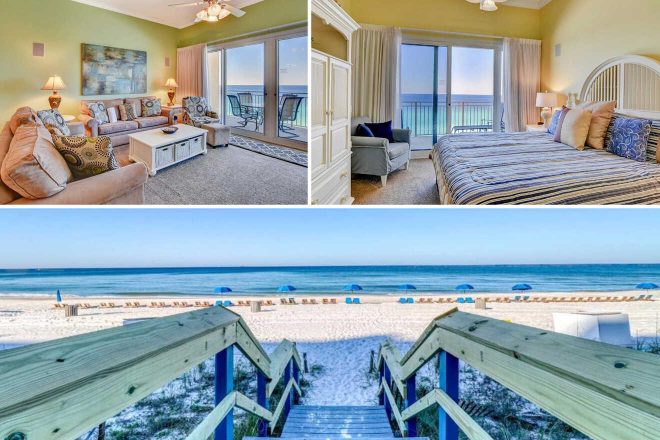 Enjoy the breathtaking ocean view from this Panama City Beach oceanfront hotel with a balcony! Take advantage of its great amenities: easy access to a private beach, air-conditioned accommodation, free parking, an outdoor pool, and hot tub… the perfect place for a relaxing holiday!
Other accommodation in Lower Grand Lagoon
Mid-Range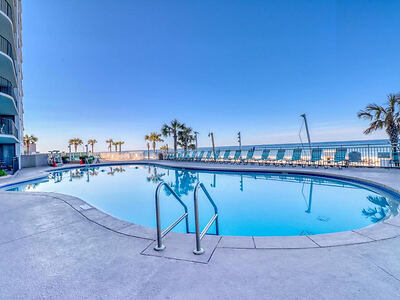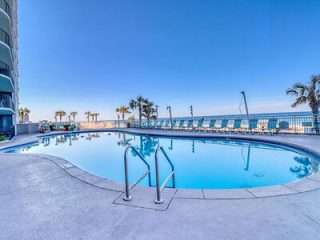 A beautiful beachfront hotel with a pool, ideally located in Panama City Beach
Budget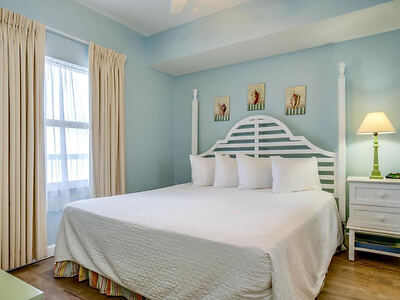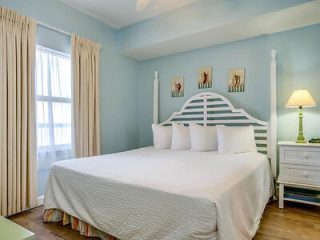 Enjoy great value for money in this beachfront hotel with sea and gulf views
Airbnb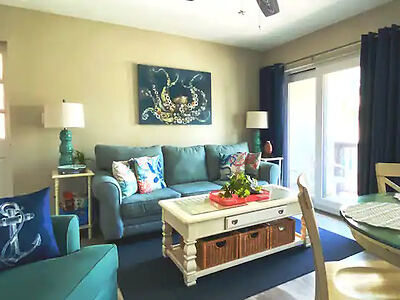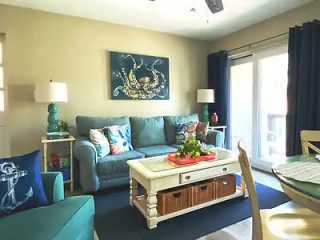 Full property located in an amazing Beach Resort with all amenities included
Things to do in Area Lower Grand Lagoon
2. Laguna Beach – nice place to stay in Panama City Beach on a Budget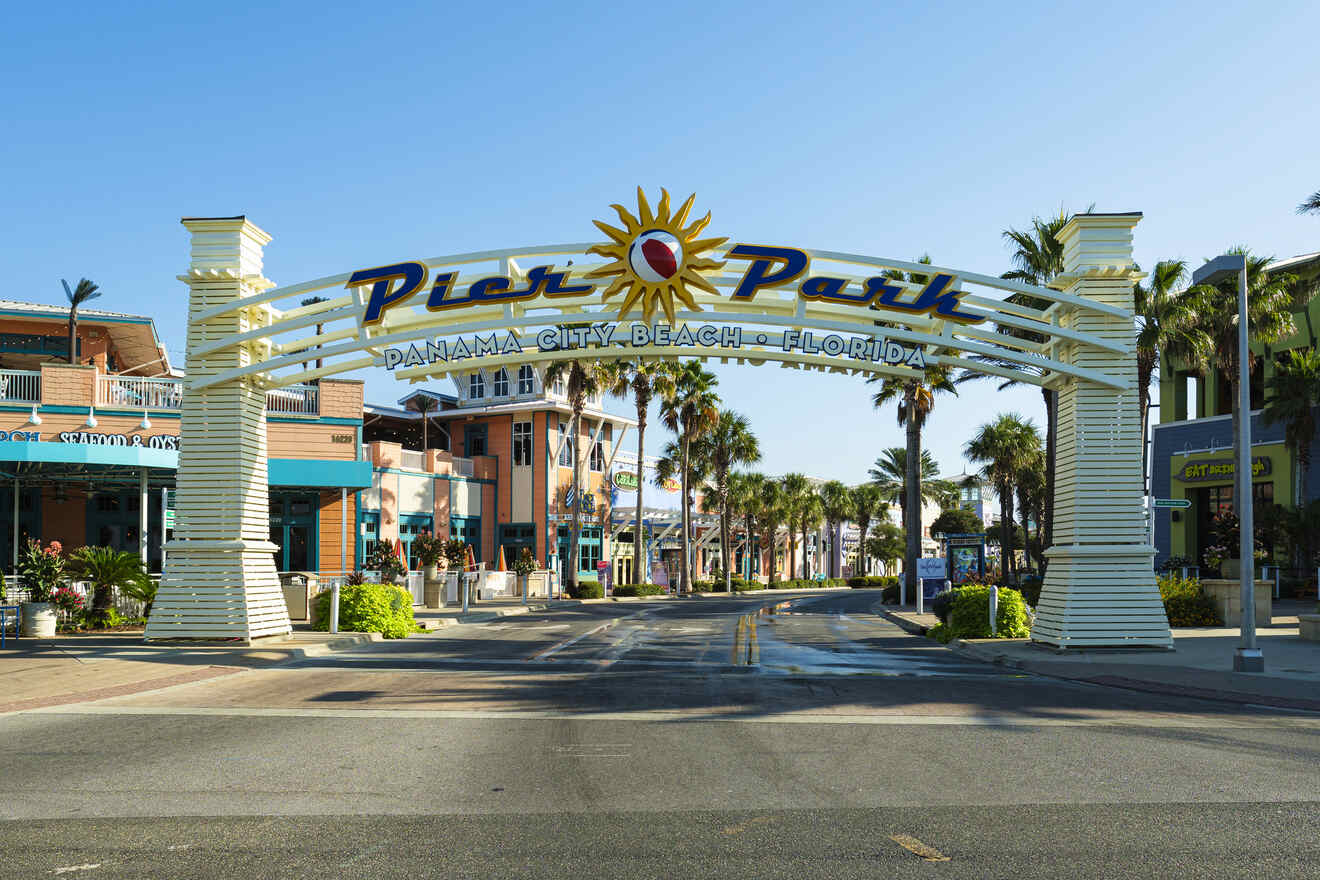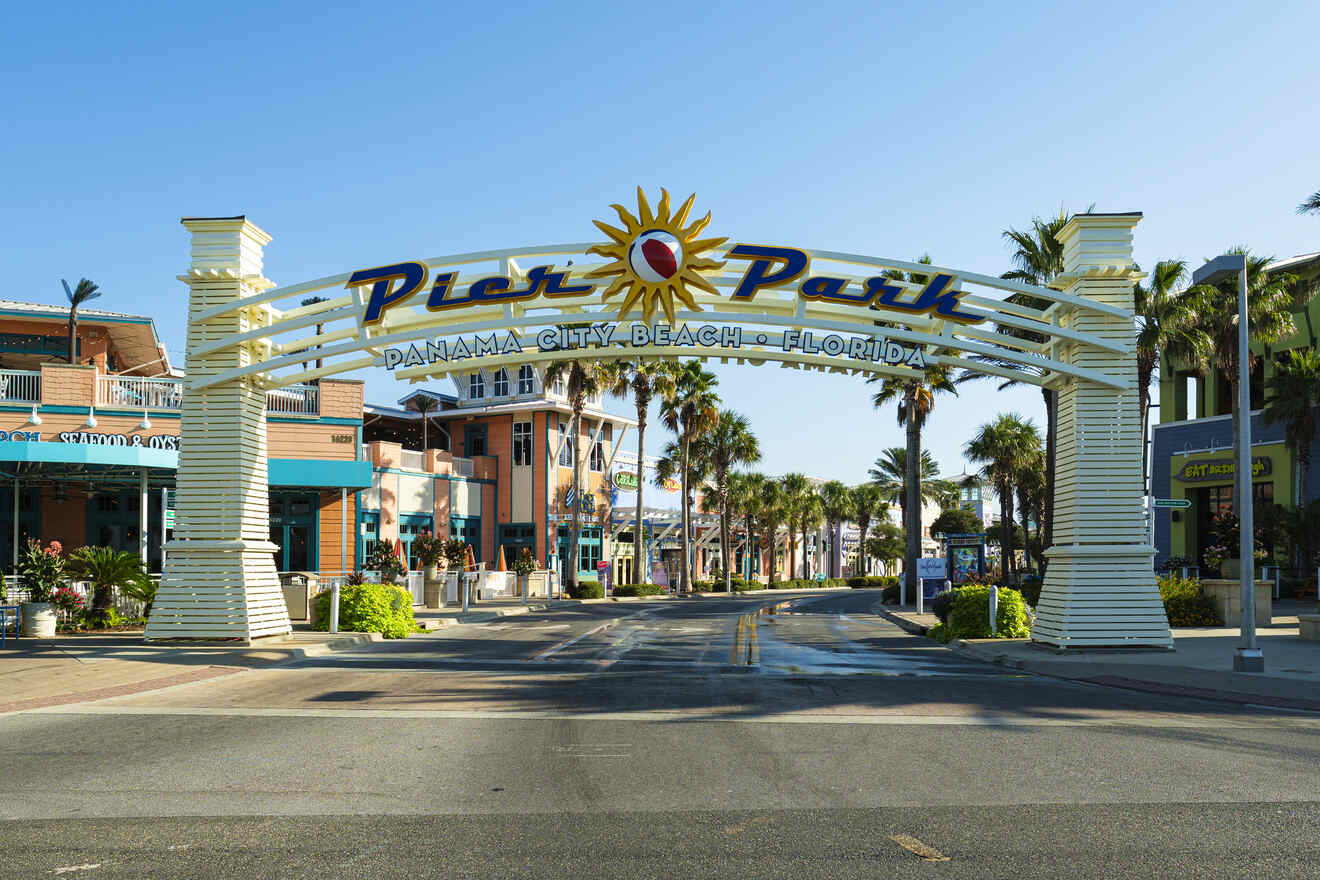 If you think that traveling in the USA on a budget is not possible, Laguna Beach, located on the northern side of the peninsula, will prove you wrong! Even if Panama City Beach is generally a luxurious place to stay, in Laguna Beach you can find many cheap or even free activities to do as well as plenty of affordable accommodation to choose from.
Here the coast is easily accessible, where you can pass from aquatic adventures on jet skis or rides on a banana boat (for the brave) to panoramic views across the Bay County coast. If you're lucky, you will also be able to spot the beautiful dolphins jumping out of Laguna Beach's glistening waters, such a dreamy picture!
If you go slightly inland, you will get to the huge Conservation Park, where there are countless walks and hiking trails to choose from! And if you'd rather do something less active, beaches, parks, museums, and aquariums are waiting for you. Otherwise, just a short drive down the beach, Pier Park will satisfy your shopping needs with its many stores. In the end, going cheap is not as bad as it seems!
Luxury hotel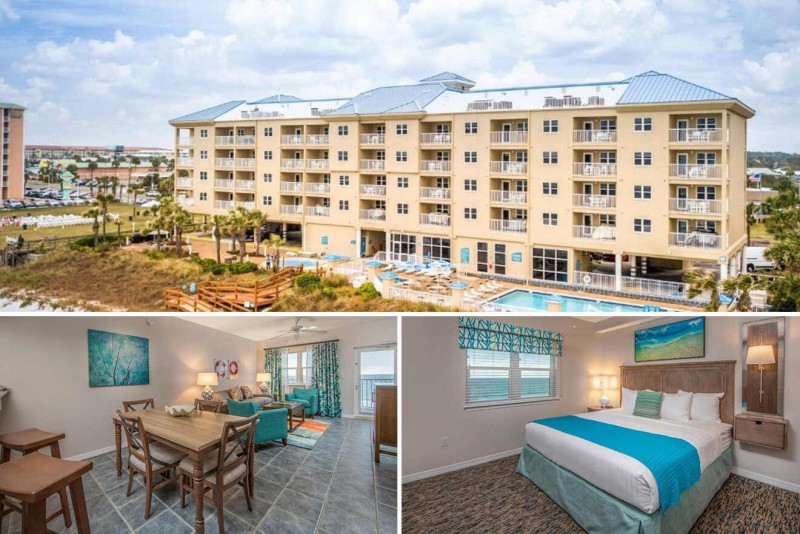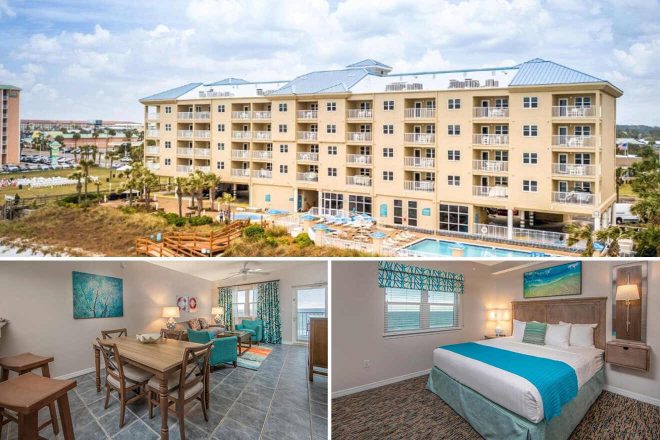 This Panama City Beach Resort is a jewel with a great location on the Gulf's beautiful green-blue waters. With free parking available, you will reach Laguna Beach is only 10 minutes drive. Spend your vacation relaxing on the beach, in the outdoor pool or hot tub, or doing some activity in the fitness center!
Other accommodation options in Laguna Beach
Mid-Range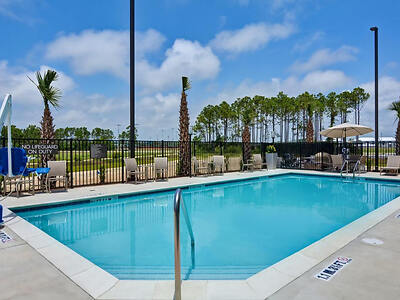 Resort with a big pool and great location, close to Panama City Beach (pet friendly!)
Budget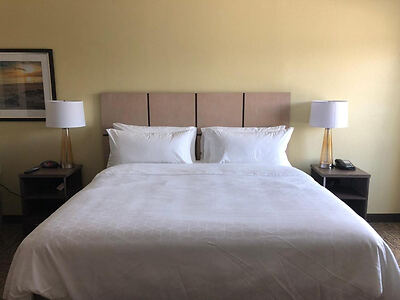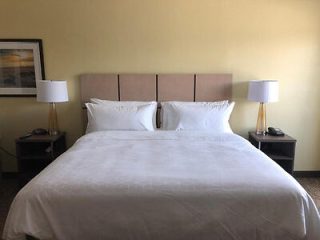 Pet-friendly family rooms with free parking, right in Laguna Beach center and only 2 miles from Gulf World
Airbnb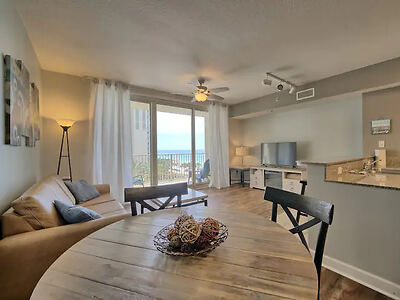 Enjoy all the amenities of this ocean-view condo with accommodation for 6, in the heart of Laguna Beach!
Things to do in Laguna Beach
Go hiking in the huge, green Panama City Beach Conservation Park!
Ride an exhilarating, family-friendly airboat!
Spend an afternoon shopping at the Laguna Beach Pier Park
Go swim with the dolphins at the Gulf World
Walk on sandy-white beaches of the Laguna Beach Bay County coast
Play mini-golf at the Coconut Creek Family Fun Park
3. Long Beach – best neighborhood in Panama City Beach, FL, for families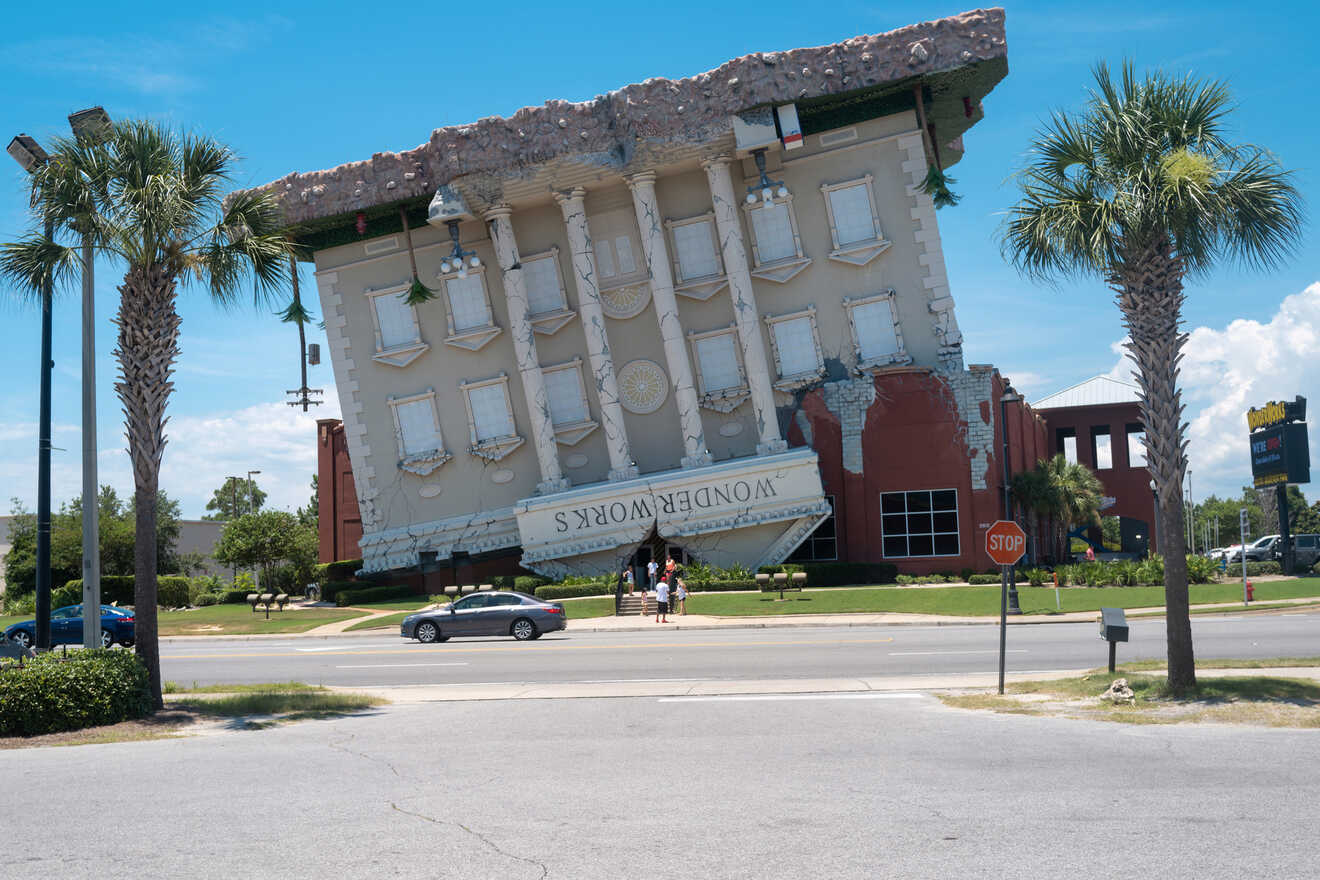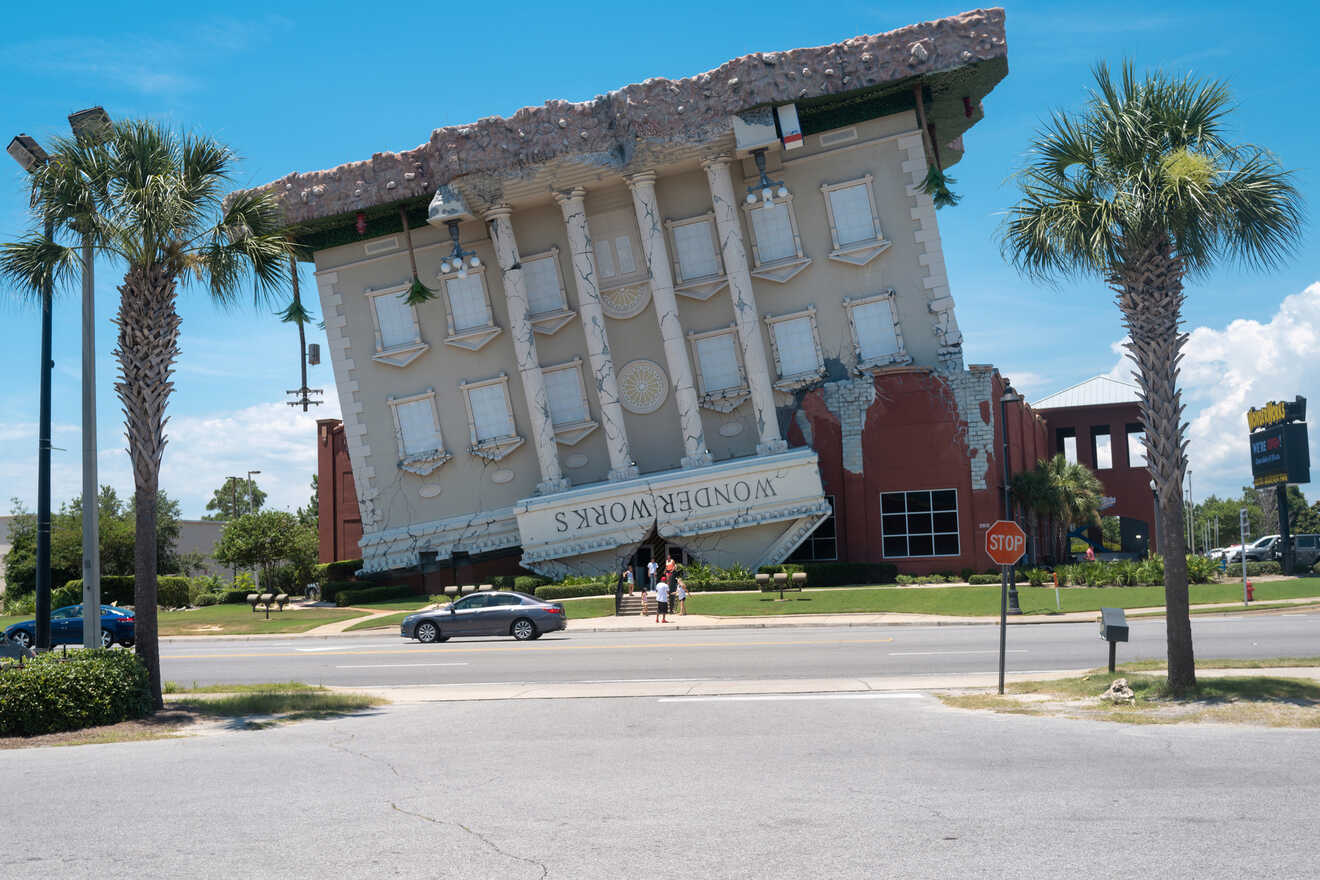 Centrally located between Laguna Beach and the Lower Grand Lagoon, Long Beach is the perfect neighborhood if you're looking for a family getaway offering great activities and attractions for the youngest to the oldest! As the name suggests, Long Beach will bless you with breath-taking shorelines where you can get some well-deserved relaxation or take long, therapeutic walks breathing some fresh sea breeze (one of my favorite things ever!).
Pat a sloth, hold a kangaroo, kiss a giraffe, snuggle a lemur… Every member of the family will love visiting the ZooWorld Zoological and Botanical Conservatory! This zoo hosts more than 260 species of rare animals and you can also learn about their conservation programs!
If you want to make your kid happy, bring them to get some adrenaline at the Shipwreck Island Waterpark, one of the top five waterparks in America! You'll find kiddy areas, brave rides, and even family slides with fun for the whole family!
If in your holiday there's still space for some cultural activities, then you cannot miss Ripley's Believe It Or Not Museum, where you'll find crazy exhibitions and weird artifacts, the kind of alternative art that would blow my mind!
Were you looking for something that suits everyone? You definitely found it! But if you really want to make a gift to your kids, the Disney capital of the world, Orlando, is only a 5 hours drive away. I think your kids would agree it's worth a detour!
Luxury hotel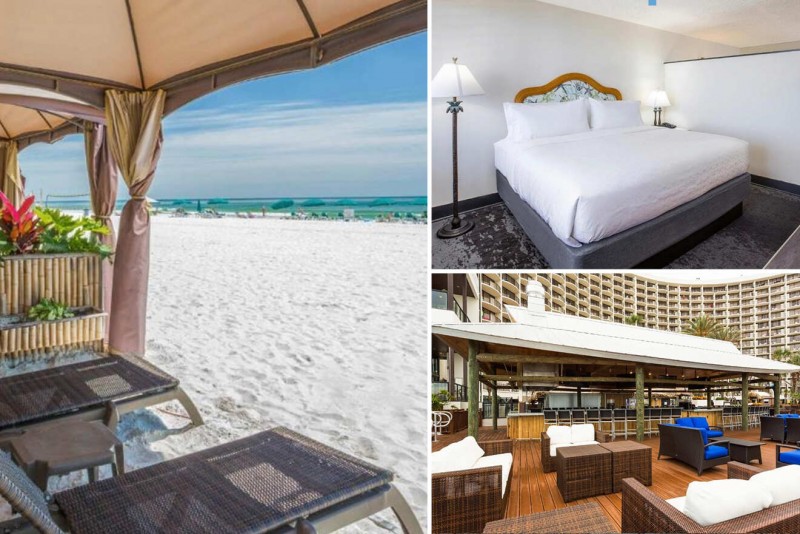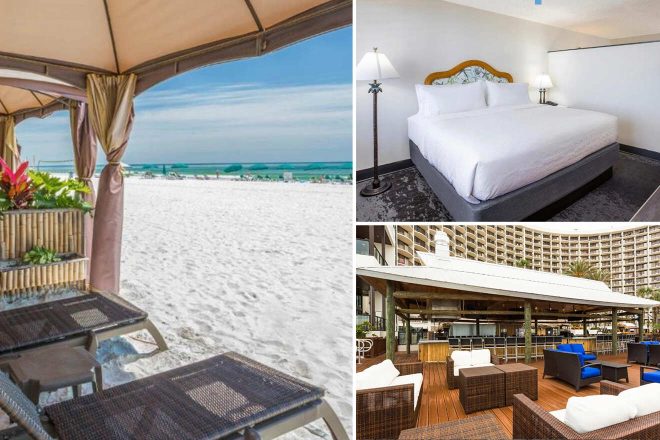 Holiday Inn Resort Panama City Beach is the perfect place for you to relax and to keep your kids entertained, featuring a children's pool with a water playground! Spend the day at the outdoor pool, Gulf-front spa, or enjoying the live entertainment, and have a delicious dinner by night in one of the international restaurants!
Other accommodation options in Long Beach
Mid-Range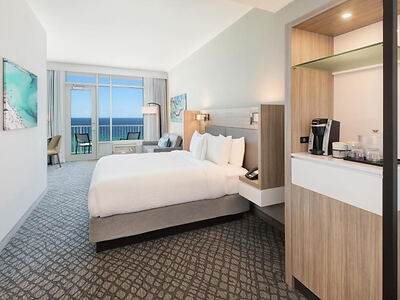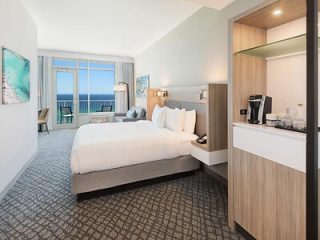 Enjoy the stunning view on the ocean from this great resort with access to Panama City Beach and Laguna Beach at only a 15 min drive
Budget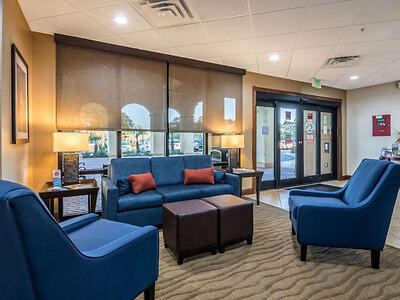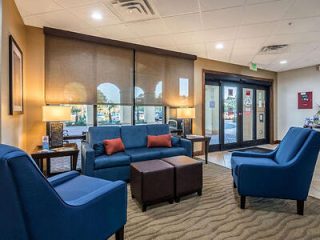 Take advantage of the hotels perfect site to visit the best Panama City Beach attractions, and start the day with an amazing breakfast
Airbnb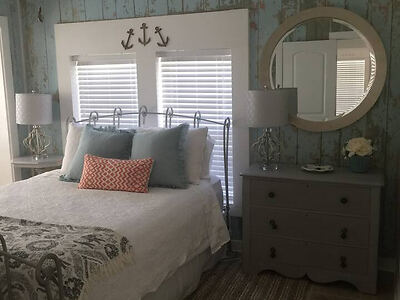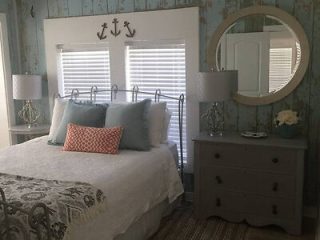 Cozy cottage on a small lake, from where you can gaze at beautiful lake views, sea views, and sunsets! Ideal accommodation for families
Things to do in Long Beach
| | |
| --- | --- |
| 👑 Luxury price: | $200 |
| 💵 Mid Range: | $120 |
| 🛏️ Budget: | $80 |
| 🏠 Airbnb: | $180 |
| 💰 Accommodation prices: | Medium |
| 📍 Best area: | Lower Grand Lagoon |
| 👪 Best area for families: | Long Beach |
| 🛎️ Best luxury hotel: | Sterling Beach I |
| 🧳 Best mid-range hotel: | Candlewood Suites |
| 👛 Best budget hotel: | WaterCrest Condos |
BONUS: Best VRBO holiday homes in Panama City Beach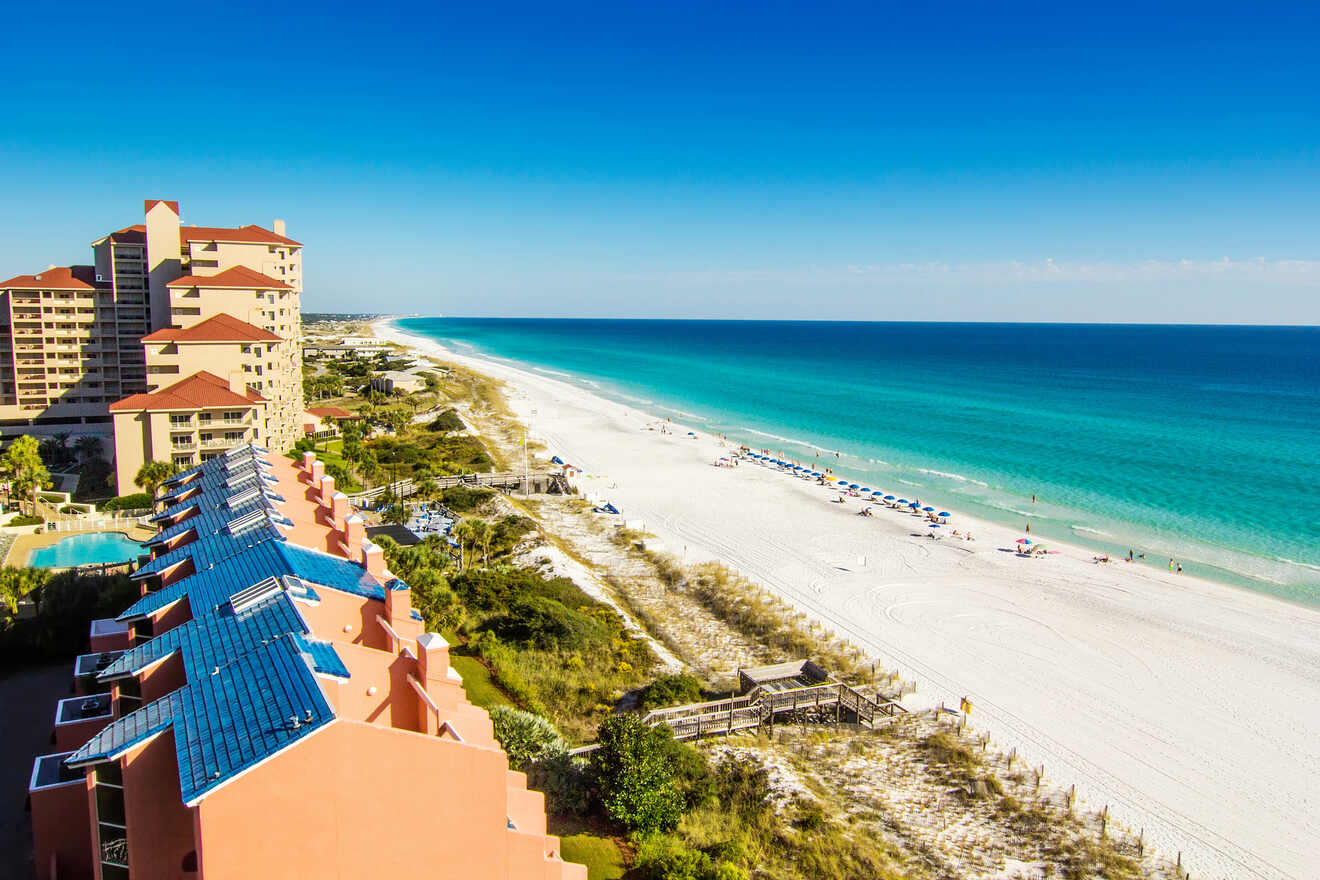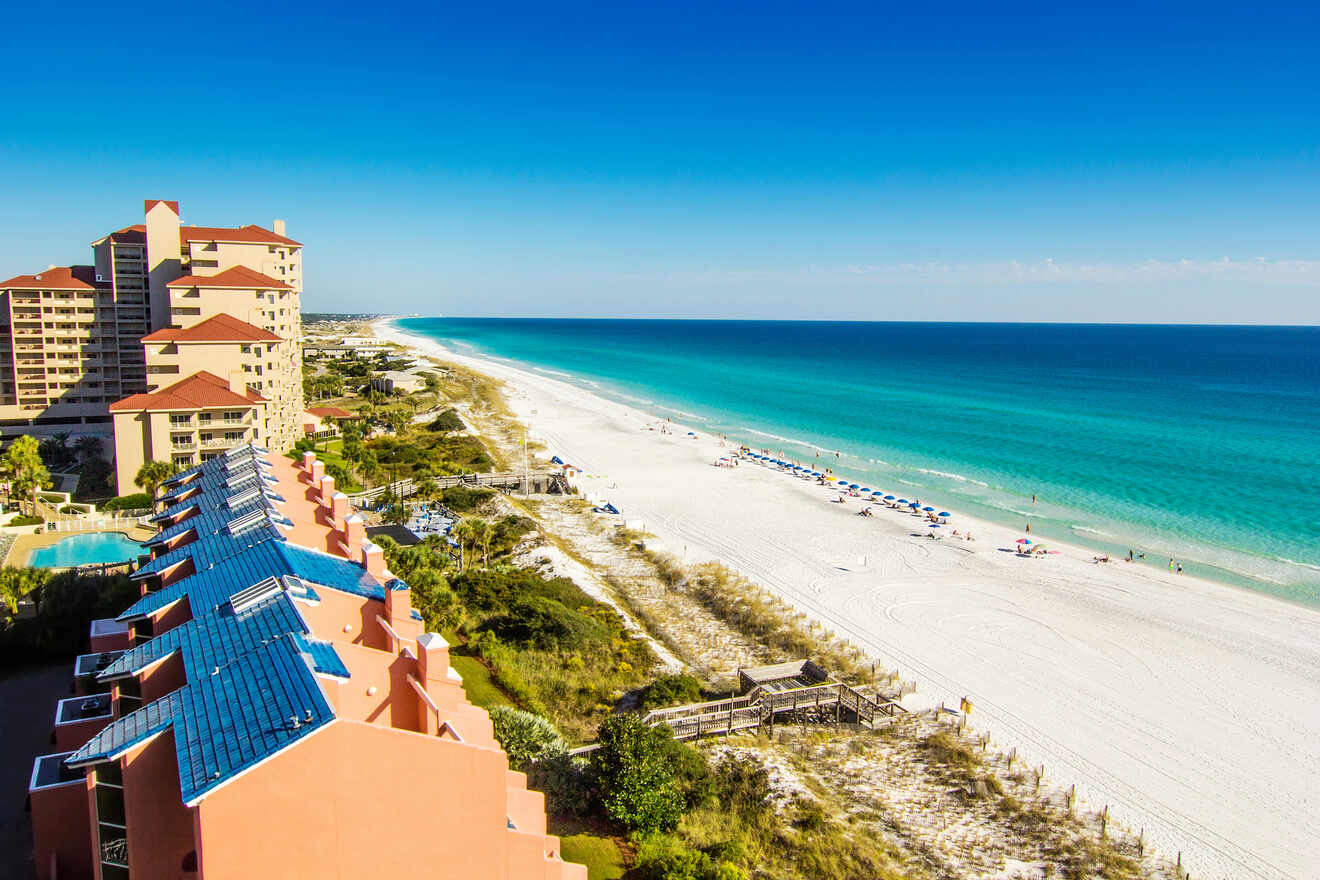 If you want to have a proper relaxing beach holiday with your family or friends, the best way to do that is by renting a holiday home or cottage! There's nothing better than waking up in a house all for yourself, where you can cook in your own kitchen, have some quality time with your beloved ones in total privacy and even bring your four-legged friend. All this while also saving some money!
Panama City Beach offers beautiful holiday homes right on the beach, where you can start your day with a view of the ocean, breathing the sea breeze while having breakfast! From the most luxurious ones to more affordable rentals, there is for sure the right option for you, where you'll immediately feel at home! Let's take a look together:
Luxury (US$600 and up)
Brand New Beach Home – Feel like you're staying at your own personal five-star resort in this beautiful beach house! Enjoy the detailed kitchen, barbecue on the patio, and king-sized bed only a short walk away from the beach. Perfect for a cozy and relaxing getaway with friends and family.
Luxury living on Carillon Beach – Luxurious and huge house right on Carillon Beach, with a stunning Gulf view from your own private porches! This home offers everything you could possibly want for making great memories like an open floor plan kitchen (perfect for family gatherings), dining, and living areas.
Mid Range (US$250 – $400)
30A Bliss – This beautifully decorated coastal home has all you need for the perfect family vacation or long weekend with your friends. Located 3 minutes walking from the beach, surrounded by oaks, sand pines, and magnolias, the house has access to a generous open living/kitchen/dining area and big windows bringing in lots of natural light.
Sawyer and Craig's House – Enjoy modern luxury with colorful designer touches in this recently-renovated cottage. Share delicious meals with your family in the wide-open living room and kitchen, and have a drink with your friends in the side wet bar area, complete with a wine refrigerator!
Budget (Up to US$250)
Beach House with Pool – Beautiful three-story beach house located in a quiet neighborhood just a few steps white sugar sand beach and 5 minutes from all the best restaurants and shopping. Enjoy glorious sunsets from the second and third floors, or from your private heated pool!
Cozy for Two – Have a romantic getaway in this adorable carriage house with a private entrance and private white sandy beach access! You will be delighted with the beautiful decor, fully-equipped upscale kitchen, and covered balcony. Guests love the place for honeymoons!
Frequently asked questions about Panama City Beach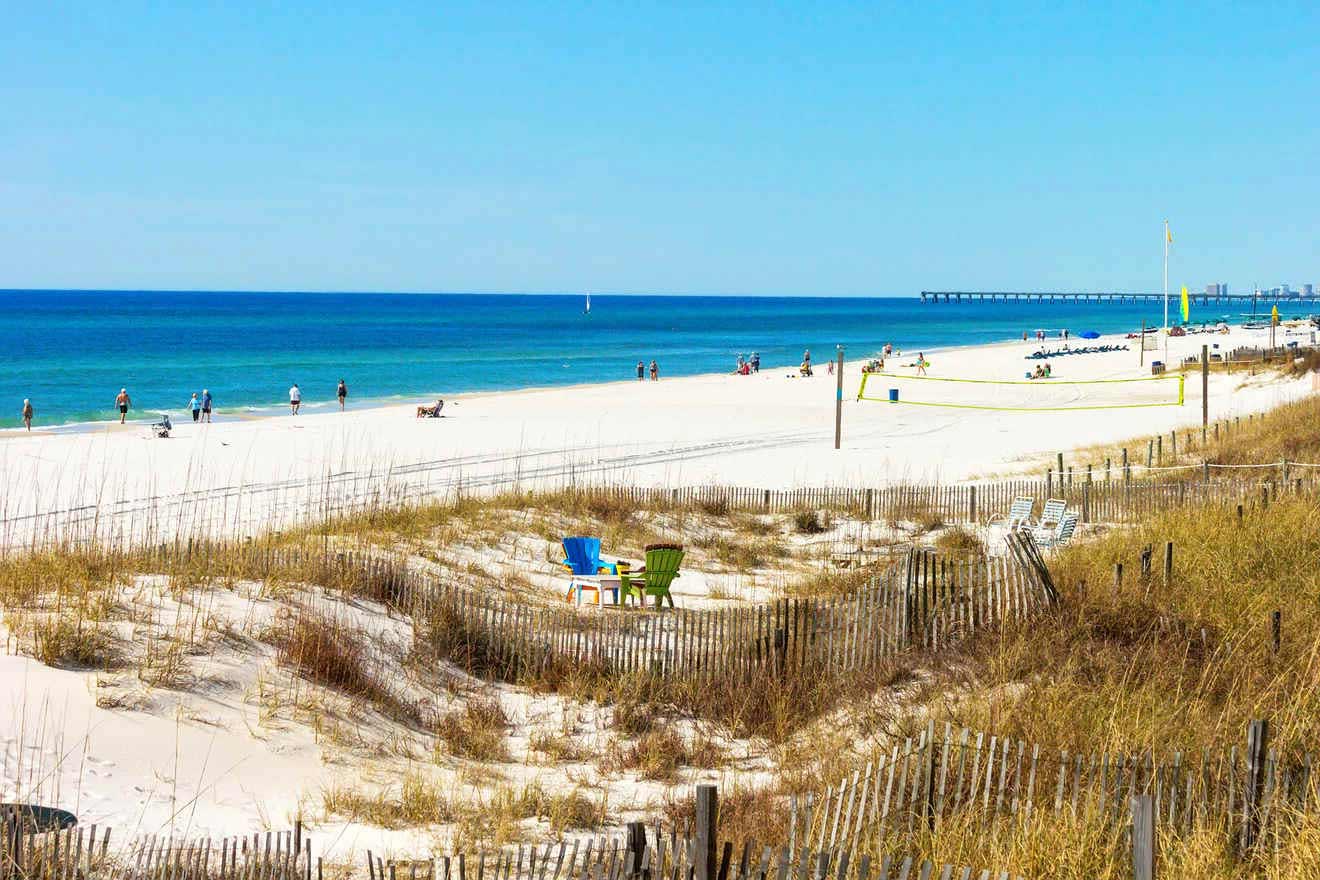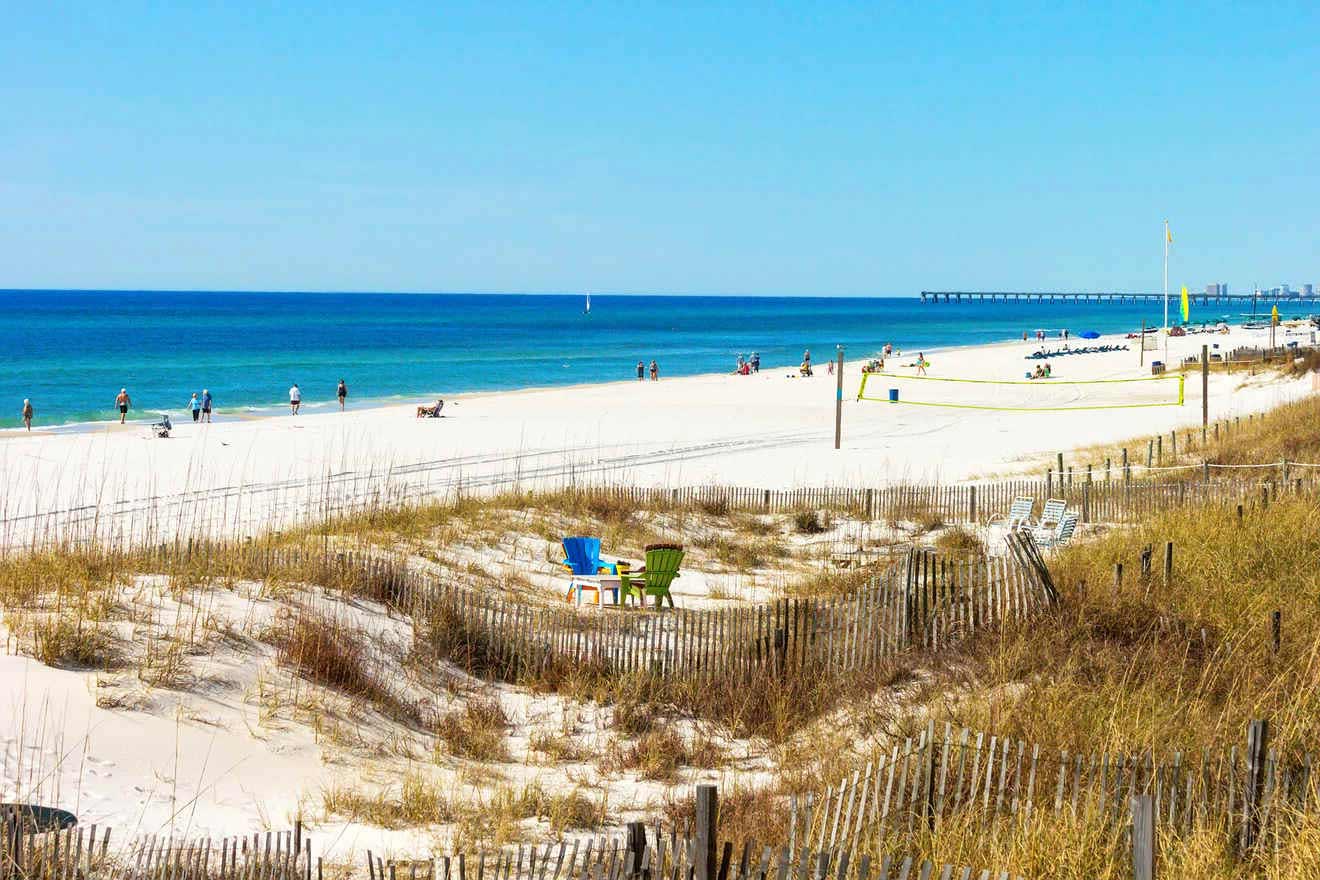 🏙️ Which is the best area where to stay in Panama City Beach?
Lower Grand Lagoon is the best site where to stay in Panama City Beach to enjoy the action of the center and the water activities. Choose Sterling Beach for a luxurious stay and Cozy Beach Cabana to have access to the beach at a budget price.
🐬 What to do in Panama City Beach, Florida?
There are plenty of fun things to do for travelers in Panama City Beach: from sailing, fishing, kayaking, snorkeling to watching romantic sunsets with dolphins on a catamaran or going hiking at St Andrews State Park. Otherwise, eat some delicious seafood at the typical restaurants!
👨‍👩‍👧‍👦 Which is the best part for families where to stay in Panama City Beach? 
Centrally located, Long Beach is the perfect neighborhood where to stay in Panama City Beach for a family getaway and to have access to kid-friendly activities and attractions. Stay at the luxurious Holiday Inn Resort or the cozy Hidden Treasure.
📍 Where is Panama City Beach located?
Panama City Beach is a resort city in Bay County, Northwest Florida, United States, on the warm waters of the Gulf of Mexico coast. The city is mainly divided into three areas: Laguna Beach, Long Beach, and Lower Grand Lagoon.
⭐ What is the nicest part of Panama City Beach?
The nicest part of Panama City Beach is Long Beach, known for its pristine white sands, turquoise waters, and a relaxed atmosphere perfect for sunbathing and beach activities.
Conclusion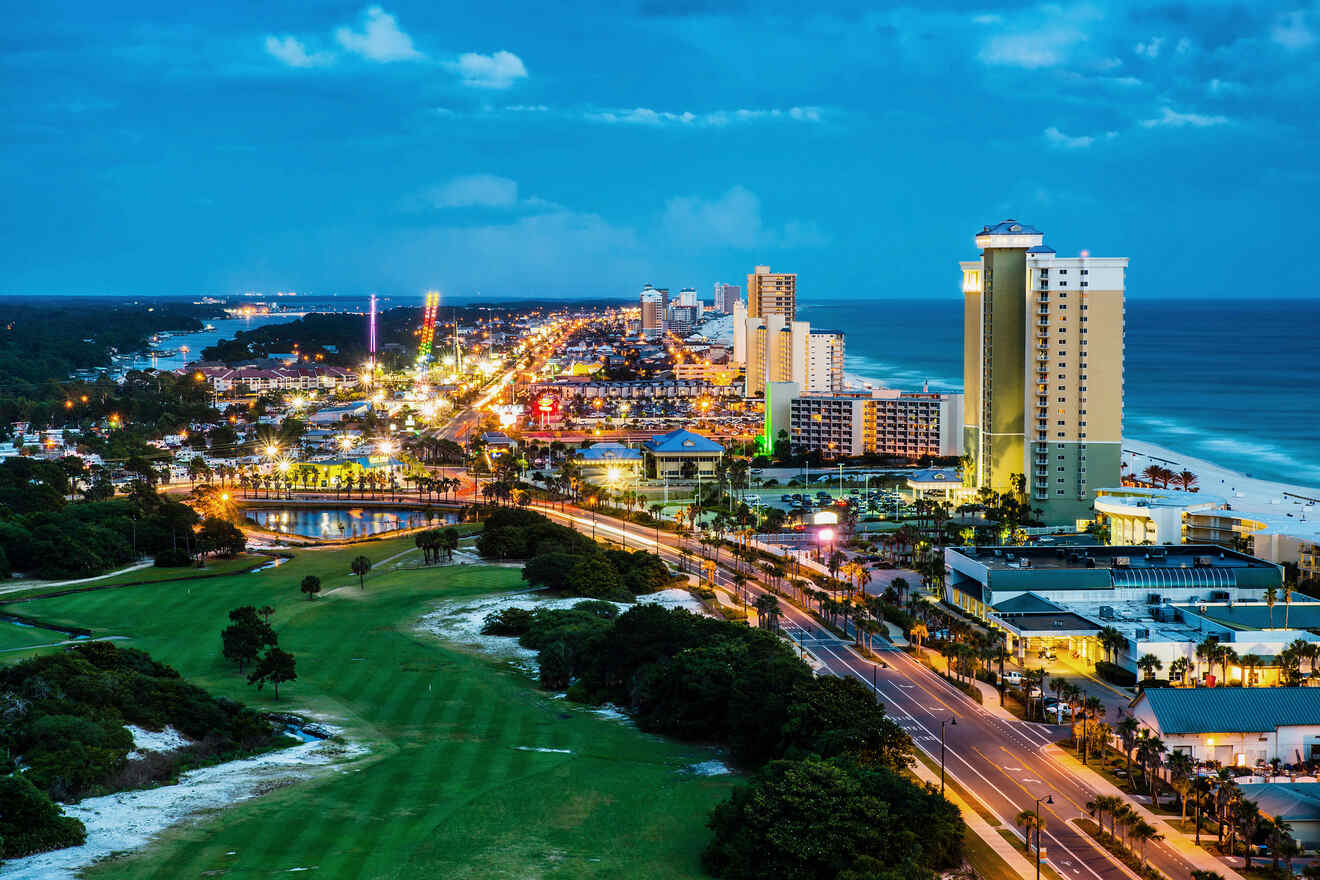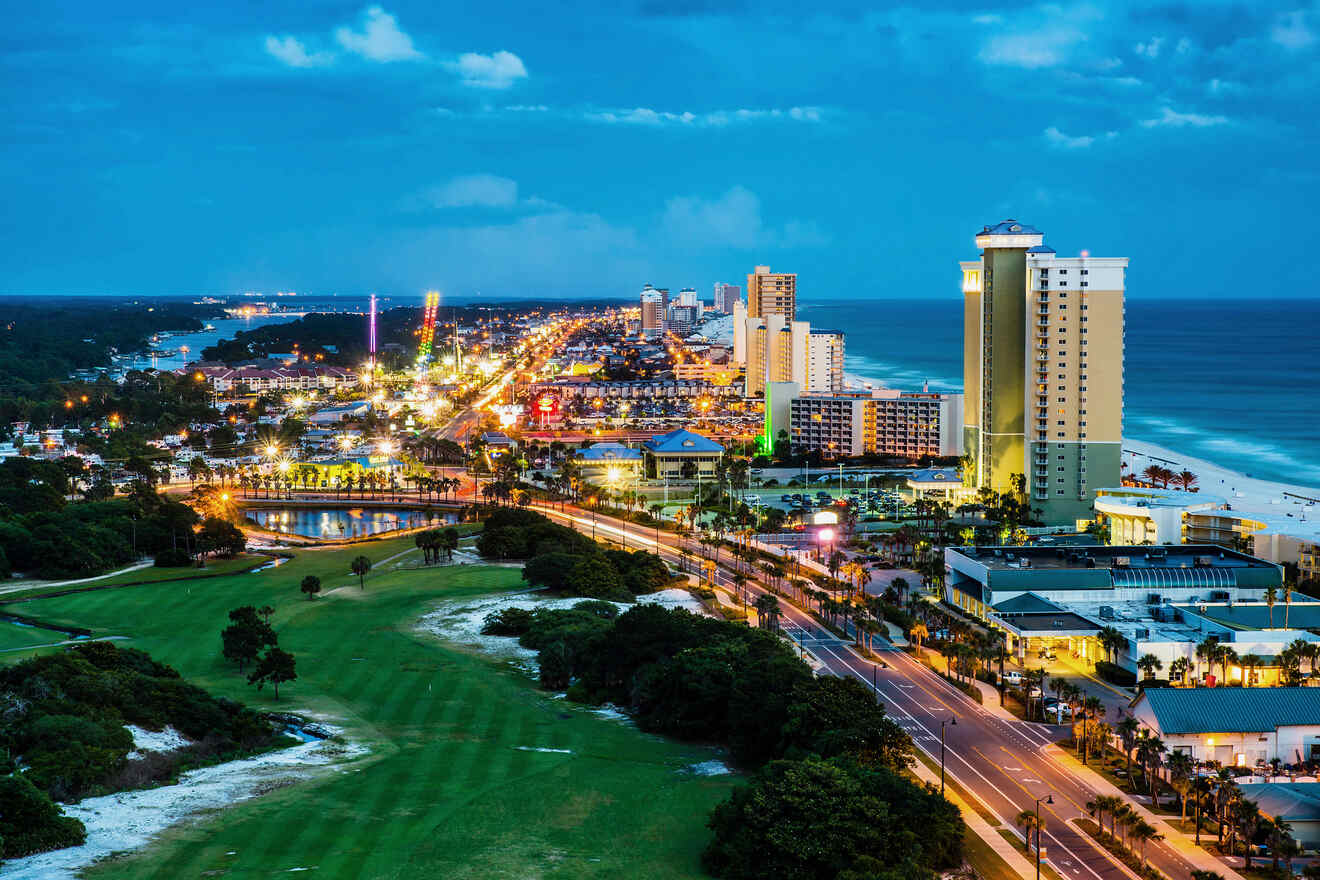 We came to the end of our sunny vacation through Panama City beach's best neighborhoods and accommodations from where you will have access to unreal beaches, romantic experiences, adventurous water activities, or family-friendly attractions! Watching dolphins, snorkeling, shopping, dining in seafood restaurants, hiking, visiting museums… tourists love this city, and you will too!
You still cannot make up your mind on where to stay in Panama City Beach? Let me give you my 2 favorite hotels with a great central location and the best value for money:
Sterling Beach – the best Panama City Beach hotel for a breathtaking ocean view
WaterCrest Condos – beautiful beachfront hotel in the heart of Panama City Beach
I really hope you had fun reading my guide as much as I enjoyed writing it, and I am sure it will help you find the perfect place for your budget and holiday expectations! But if you haven't found what you were looking for in the article, or you wish to give me any suggestions, please leave a comment below. I'm always happy to receive tips from travelers like me and I'm looking forward to reading them and answering your questions!
Have an amazing trip,
Elena
---
Pin it for later!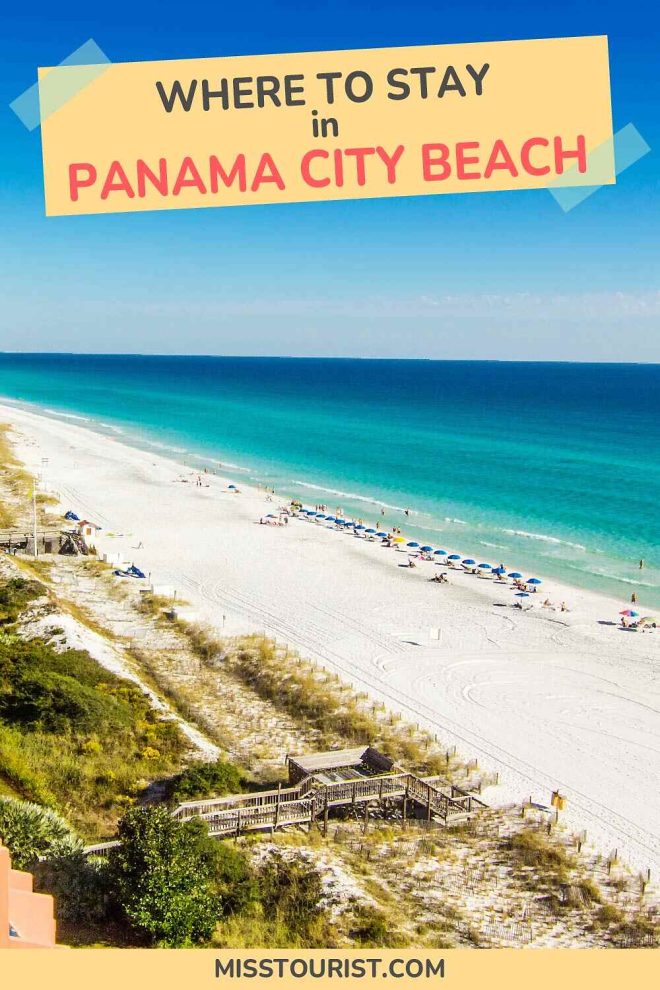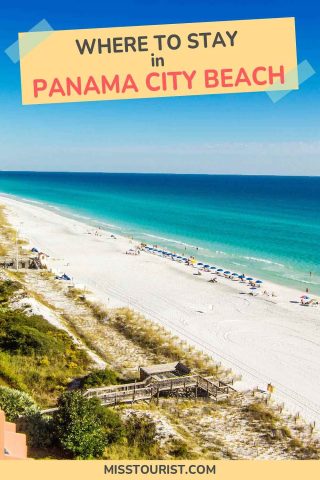 Pin it for later!