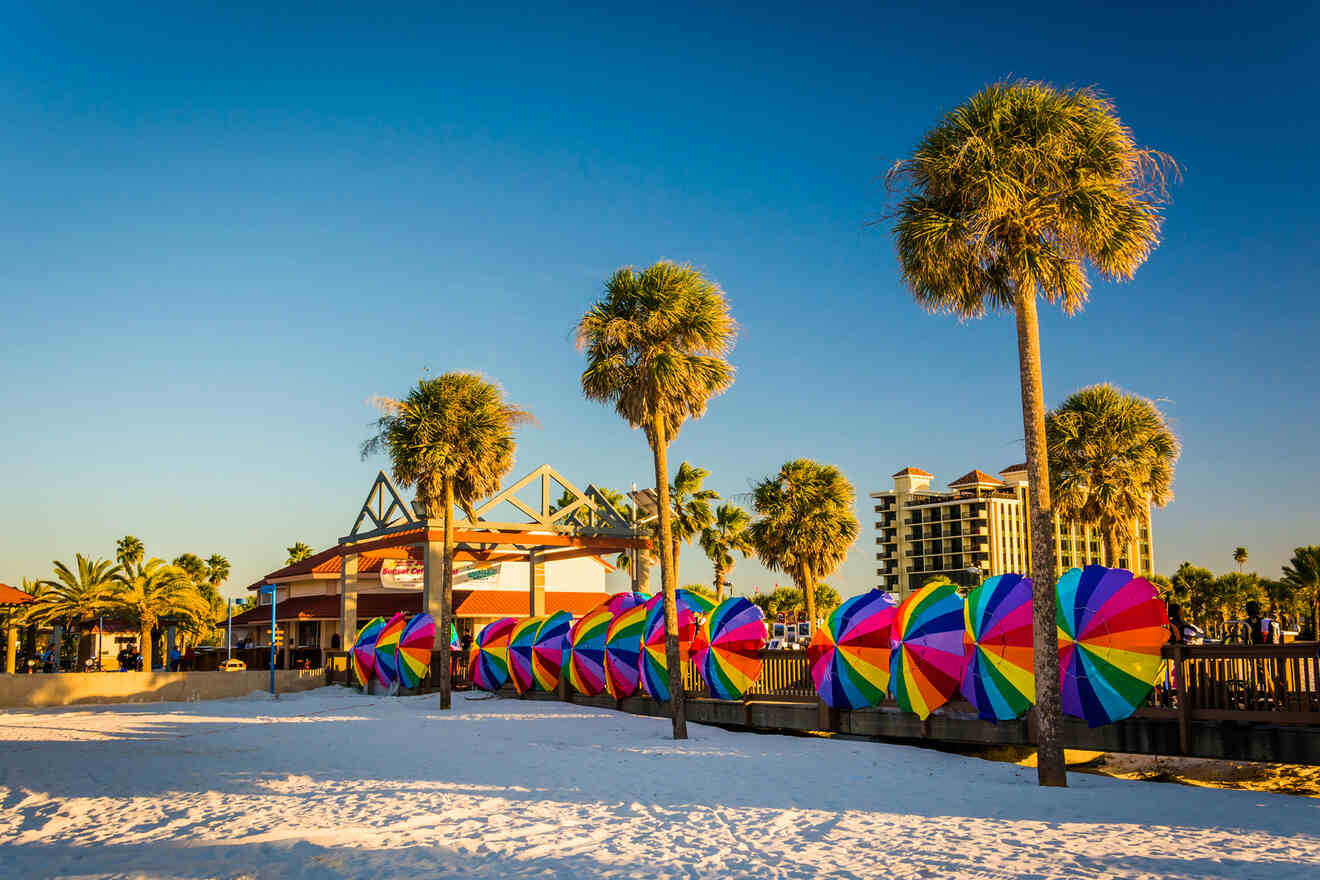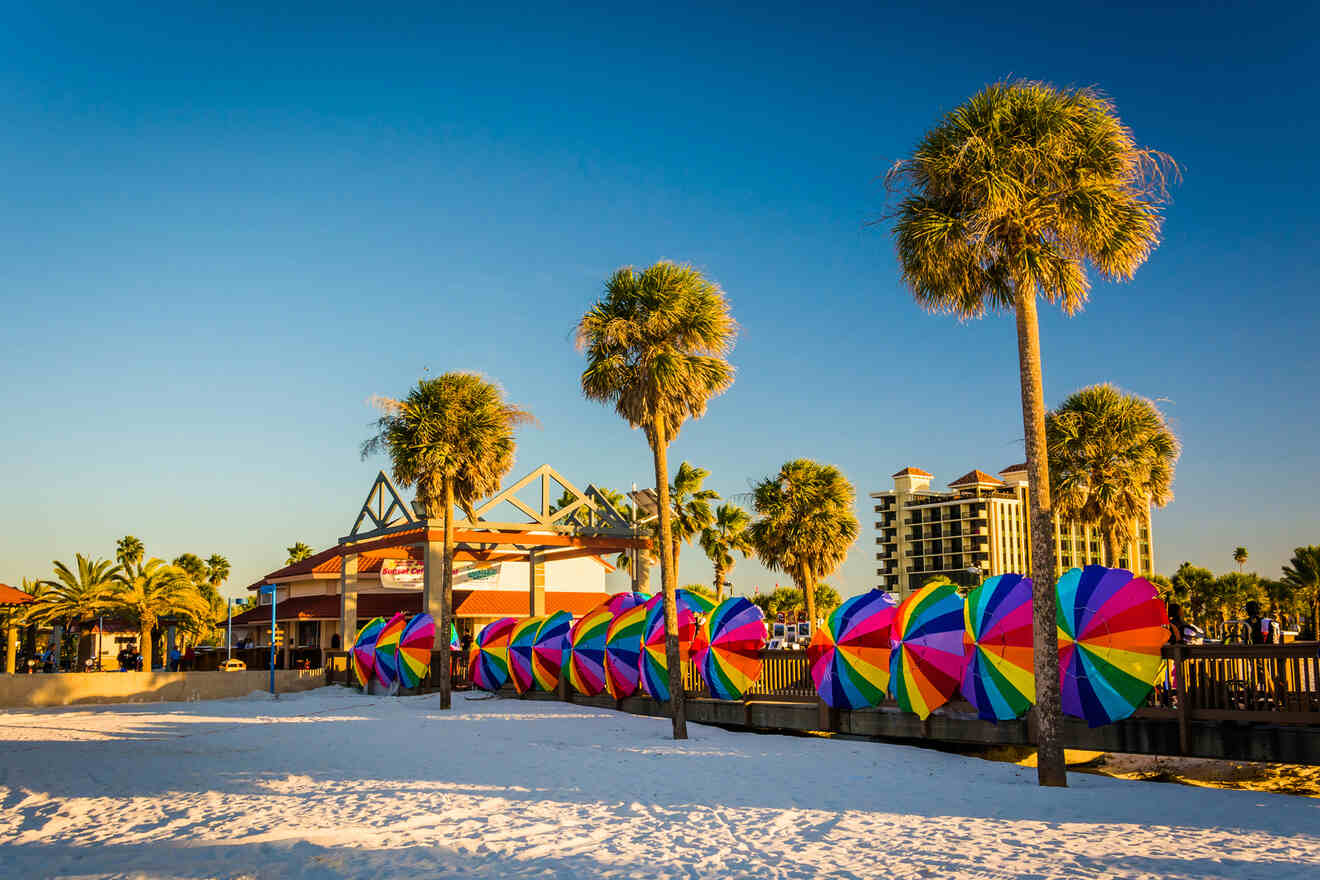 Clearwater, Florida, is one of my favorite weekend getaways in the Sunshine State! It's only a 2-hour drive from Orlando, where I live, making it a quick escape to the white sands and azure waters Florida's Gulf Coast is known for. What I love about Clearwater is how easily accessible the area's breathtaking beaches are, both in Clearwater proper and nearby!
I've rounded up the best beaches in Clearwater, Florida, and the surrounding area, so you can start planning your fun in the sun. We'll start with the beaches in Clearwater, like the famous Clearwater Beach, repeatedly voted the best beach in America! As we continue down the list, I'll share the best beaches in order of their proximity to Clearwater. But even the furthest one is no more than an hour away.
Whether you're traveling with kids, wanting to unplug and unwind, or looking to let loose and party on the shoreline, I've got you covered!
Let's go!
1. Clearwater Beach – the most popular one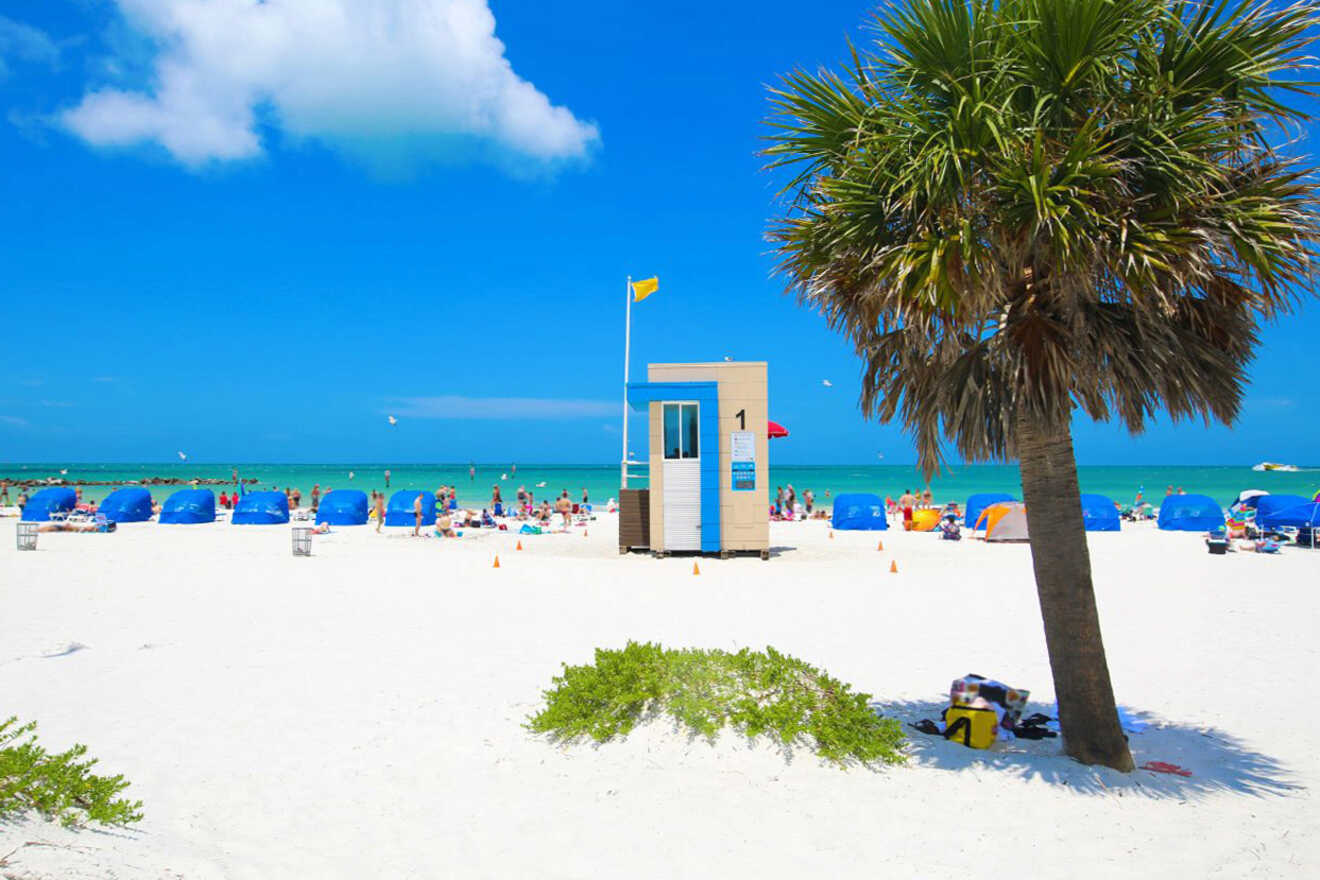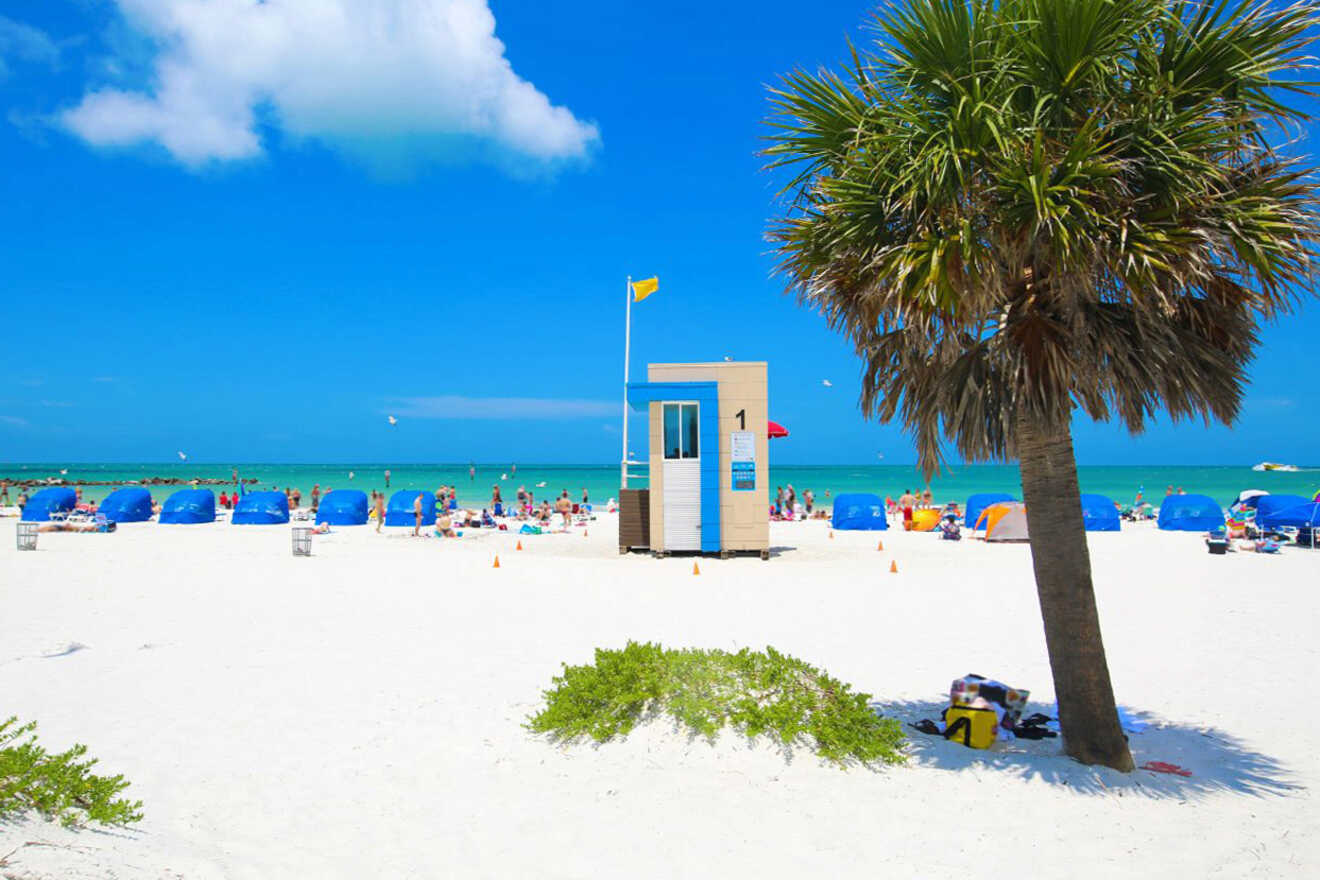 #1 on our list of best beaches in and around Clearwater, is none other than Clearwater Beach! And I'm not the only one who thinks so – Clearwater Beach has been repeatedly named the "Best Beach in Florida" and the "Best Beach in the United States!"
What is it that makes Clearwater Beach so special? Spanning 2,5 spectacular miles (4km) of soft, powdery white sand beach and aquamarine water, this award-winning beach is situated on Clearwater Beach Island, a barrier island off the west coast of Florida.
There is so much to see and do on Clearwater Beach, from dolphin-watching cruises to amazing restaurants! Clearwater Beach is a great choice for those looking for excitement – the vibes here are always great! There are also lifeguards on duty here all year long, which is a huge plus for swimmers.
Here are a few of my favorite activities on Clearwater Beach:
Get up close to amazing marine wildlife – On this tour, you'll sail toward Compass Island, where you'll have chances to spot dolphins along the way. But that's not all – snorkel gear is provided when you reach the island, so you can jump in and explore! Cost: US$33 per person.
Go on a Little Toot Dolphin adventure tour – So many dolphins call the Gulf of Mexico home! If you want to see them without getting in the water, this is a fantastic option. The wake created by this tugboat-style boat attracts dolphins – they love to play in it! Cost: US$35 per person.
Take a Tiki boat cruise – Why stay on land when you could be enjoying a cocktail out on the water? The Tiki boat cruise in Clearwater Beach is actually a floating tiki bar! Grab some friends, BYOB, and enjoy the exquisite views from the sparkling Gulf of Mexico. Cost: US$60 per person.
2. North Beach at Clearwater Beach – the quiet one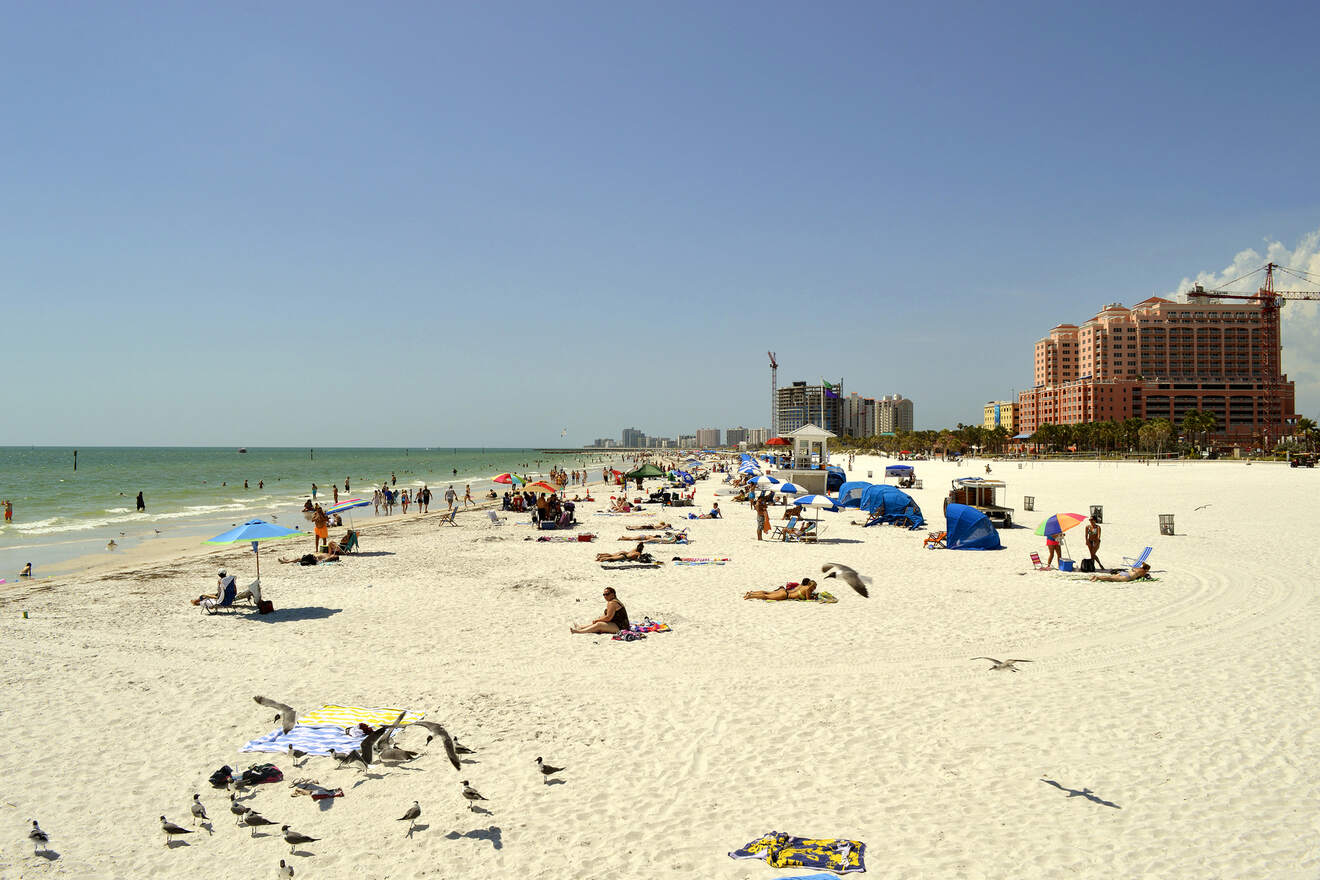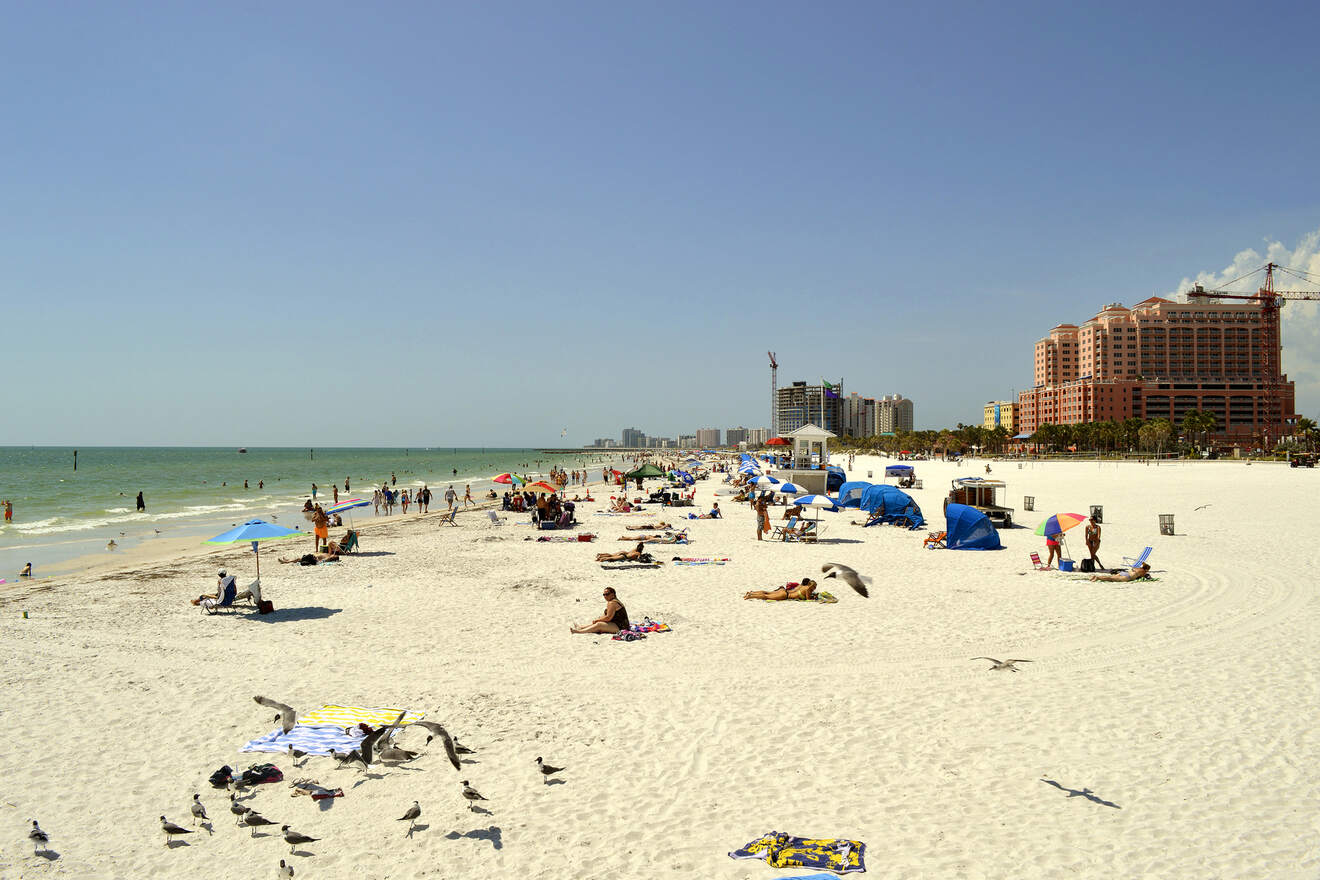 If you're staying in Clearwater and want to stay local but prefer a quieter, more laid-back beach day, I highly recommend North Beach, located on the north end of Clearwater Beach. It's got an off-the-beaten-path feel compared to the southern parts of Clearwater Beach, which tend to be very lively.
While there is less to do nearby, North Beach is a wonderful place to lay back and relax. The northernmost tip is the Dog Beach, and this dog-friendly beach in Clearwater is definitely a must-do if you're traveling with your pup!
3. Sand Key Beach – for an uninterrupted relaxation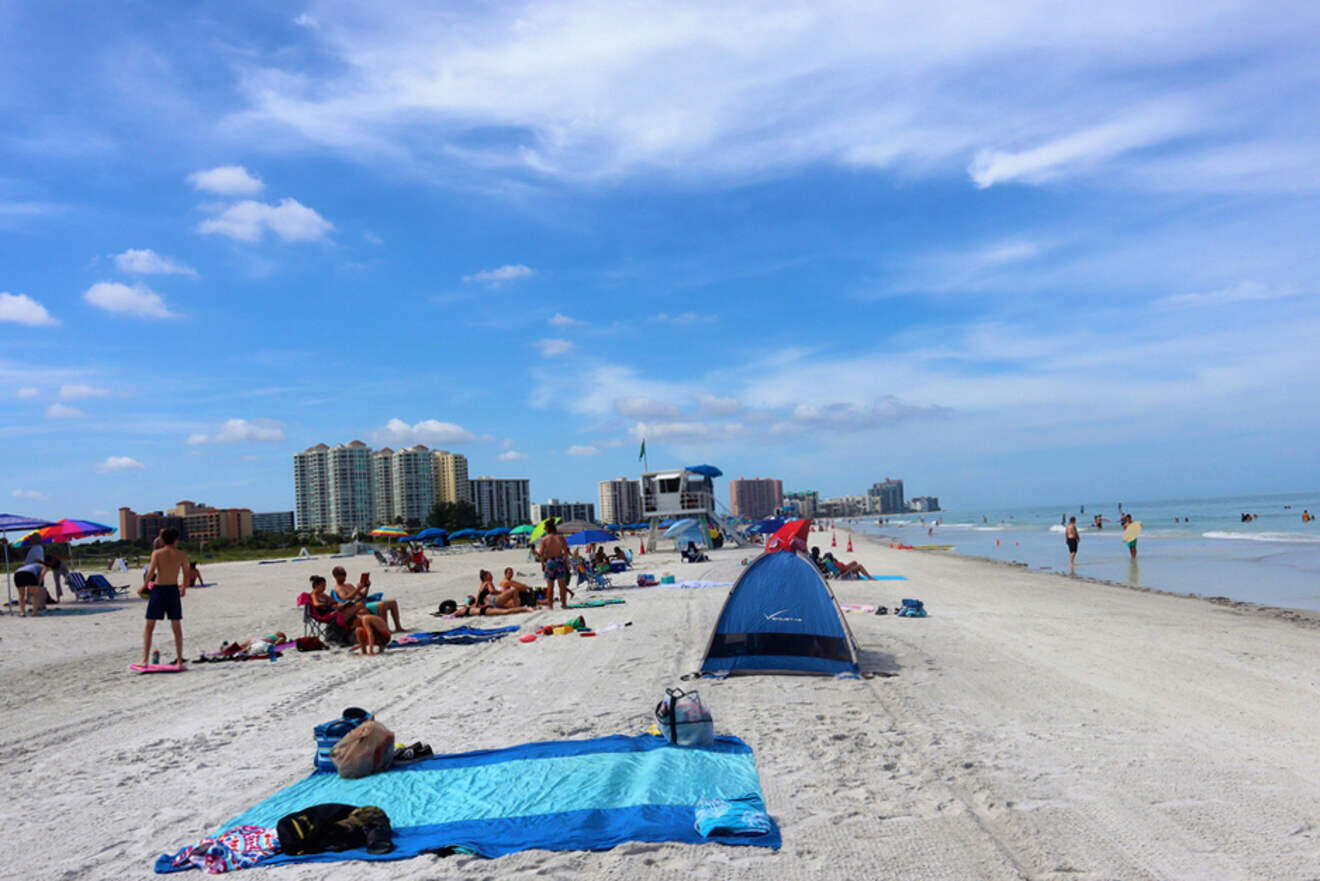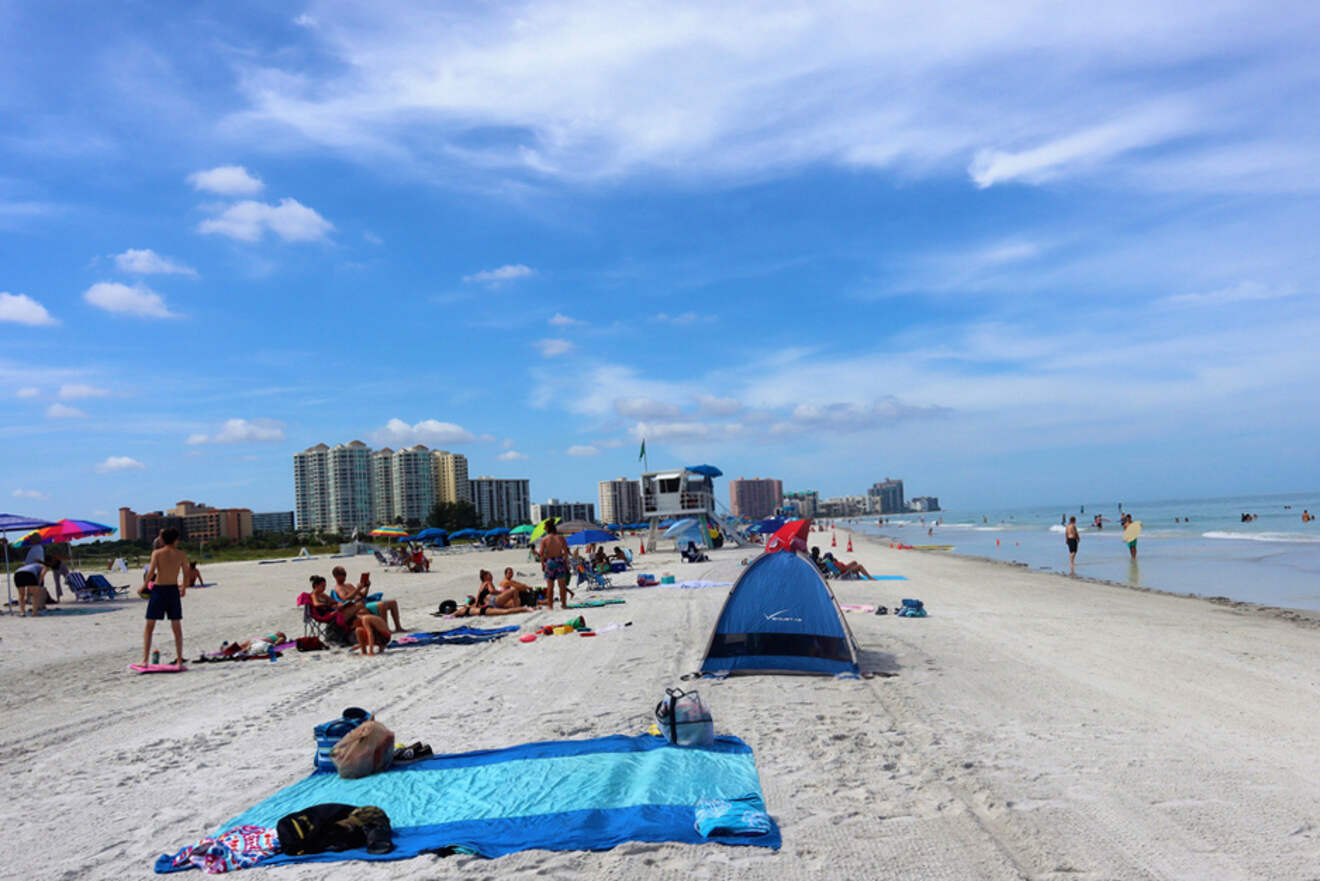 Just 1.5 miles (2.5 km) from Clearwater Beach is another one of the best beaches in Clearwater, Sand Key Beach. This vast, beautiful beach is perfect for uninterrupted relaxation! You can rent umbrellas, beach chairs, and even cabanas!
It's a much less "touristy" area than Clearwater Beach, and what makes it a great choice for your next Florida vacation is nearby Sand Key Park.
You'll find fantastic amenities at Sand Key Park: a playground, dog park, picnic tables, restrooms, and a boardwalk and nature trails to explore. Nature enthusiasts will love the views of the salt marsh, home to some really amazing wildlife.
4. Caladesi Island State Park – my personal favorite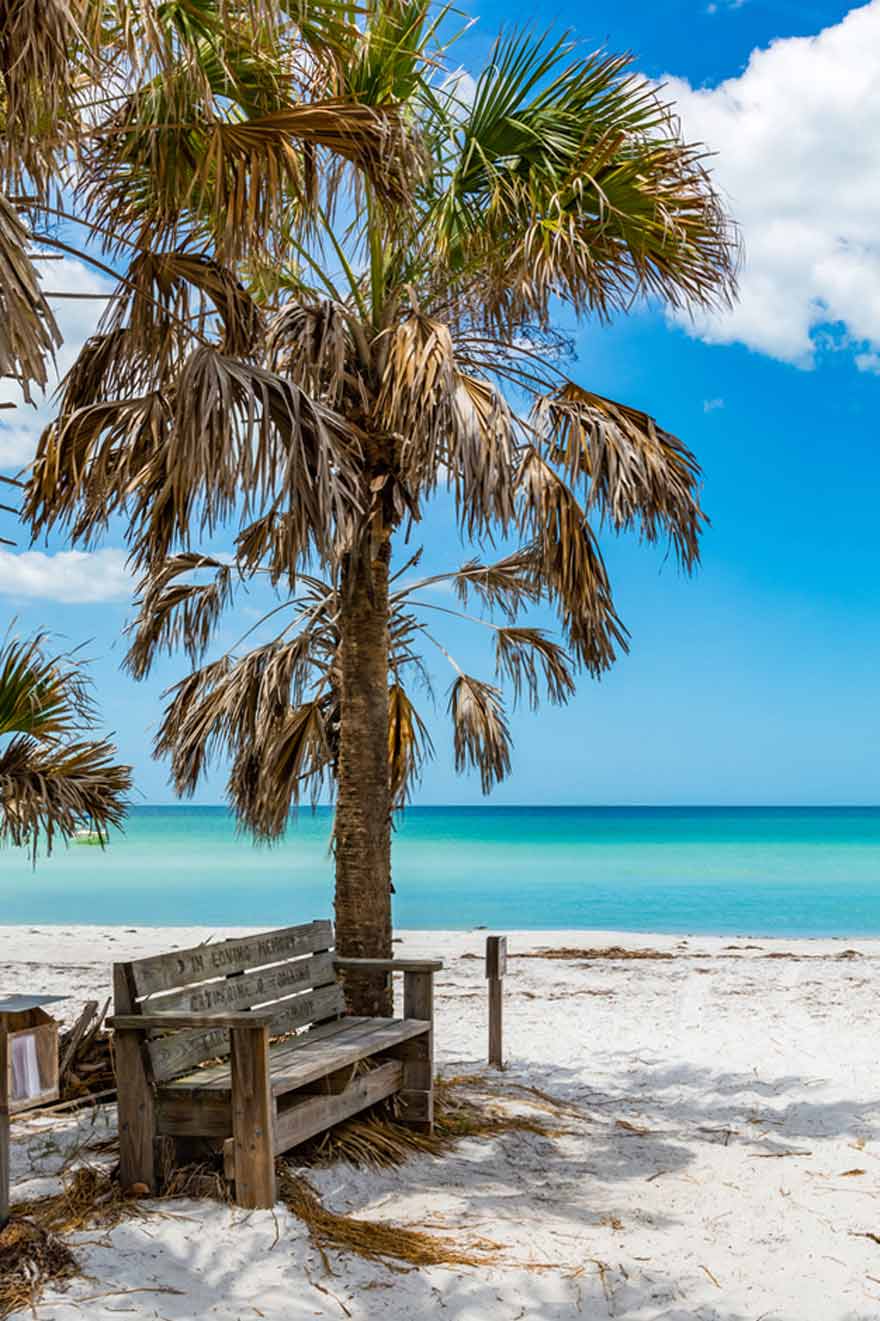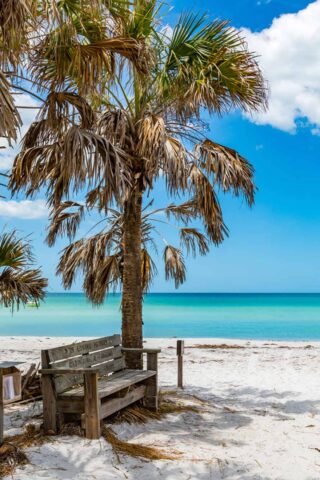 If it were up to me, Caladesi Island State Park would be my pick for the best beach in Florida. You won't find anything quite like it anywhere else! Now, when I say 3 miles (5 km), I mean that's as far as you can get by car. The rest of the way is all water!
Caladesi Island is a pristine barrier island, only accessible by boat, which is part of what makes it such a magical place.
Caladesi Island State Park has mind-blowingly beautiful beaches! We're talking crystal-clear turquoise water and white sand beaches that beach lovers will obsess over. Stroll along the boardwalk, or explore the 3 miles (5 km) of lush nature trails. It's a fantastic place to paddle, as you can kayak right along the mangrove forests and spot a ton of wildlife on the way.
To reach the island, you can take the Caladesi Island Ferry from Honeymoon Island, #7 on our list of beaches in Clearwater and nearby.
Outdoor enthusiasts should definitely check out this kayak adventure priced at US$75 per person. It departs from Dunedin Causeway and heads over to Caladesi Island State Park. The journey itself is as picturesque as the destination!
PRICE: US$75 per person
5. Belleair Beach – one of Florida's best-kept secrets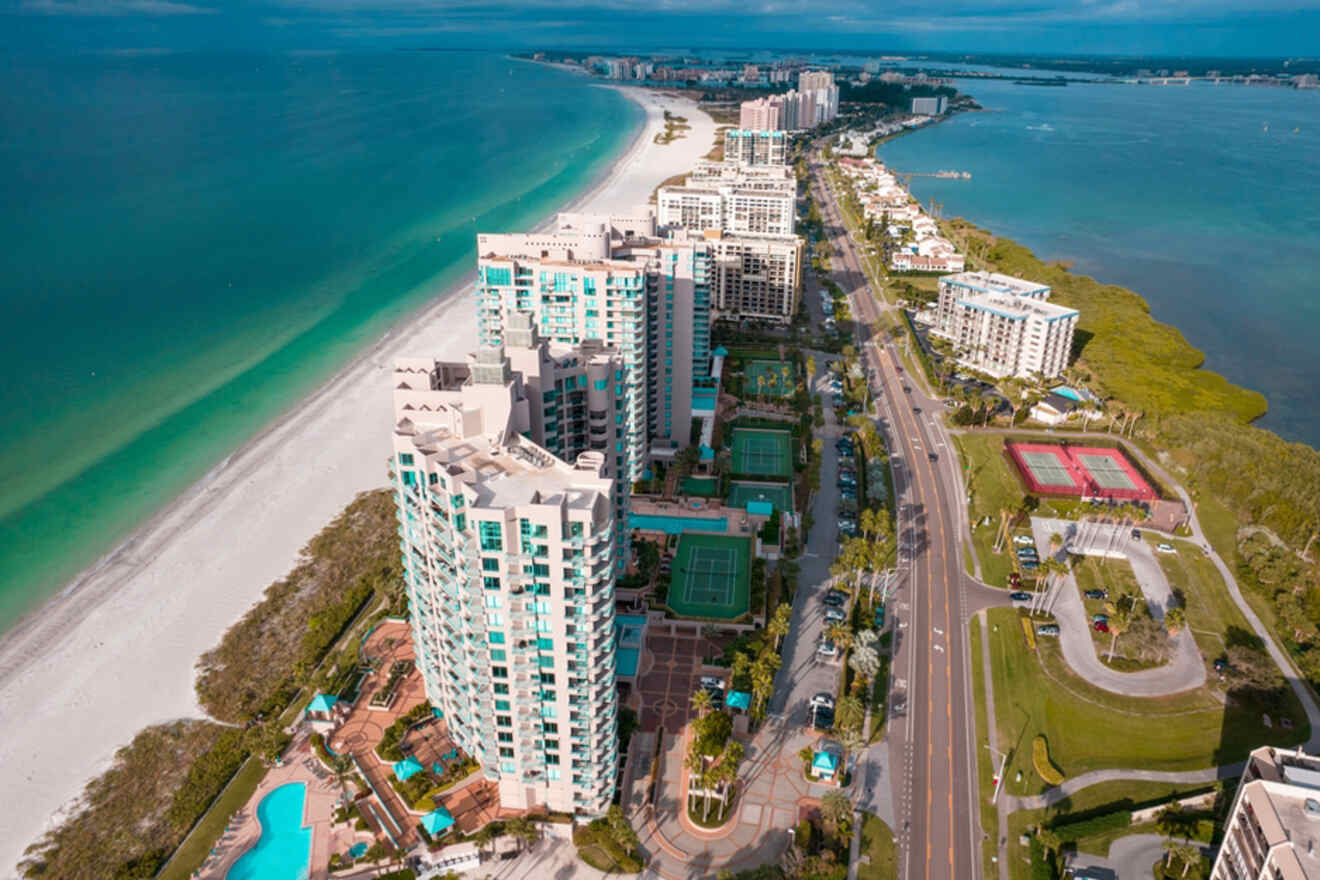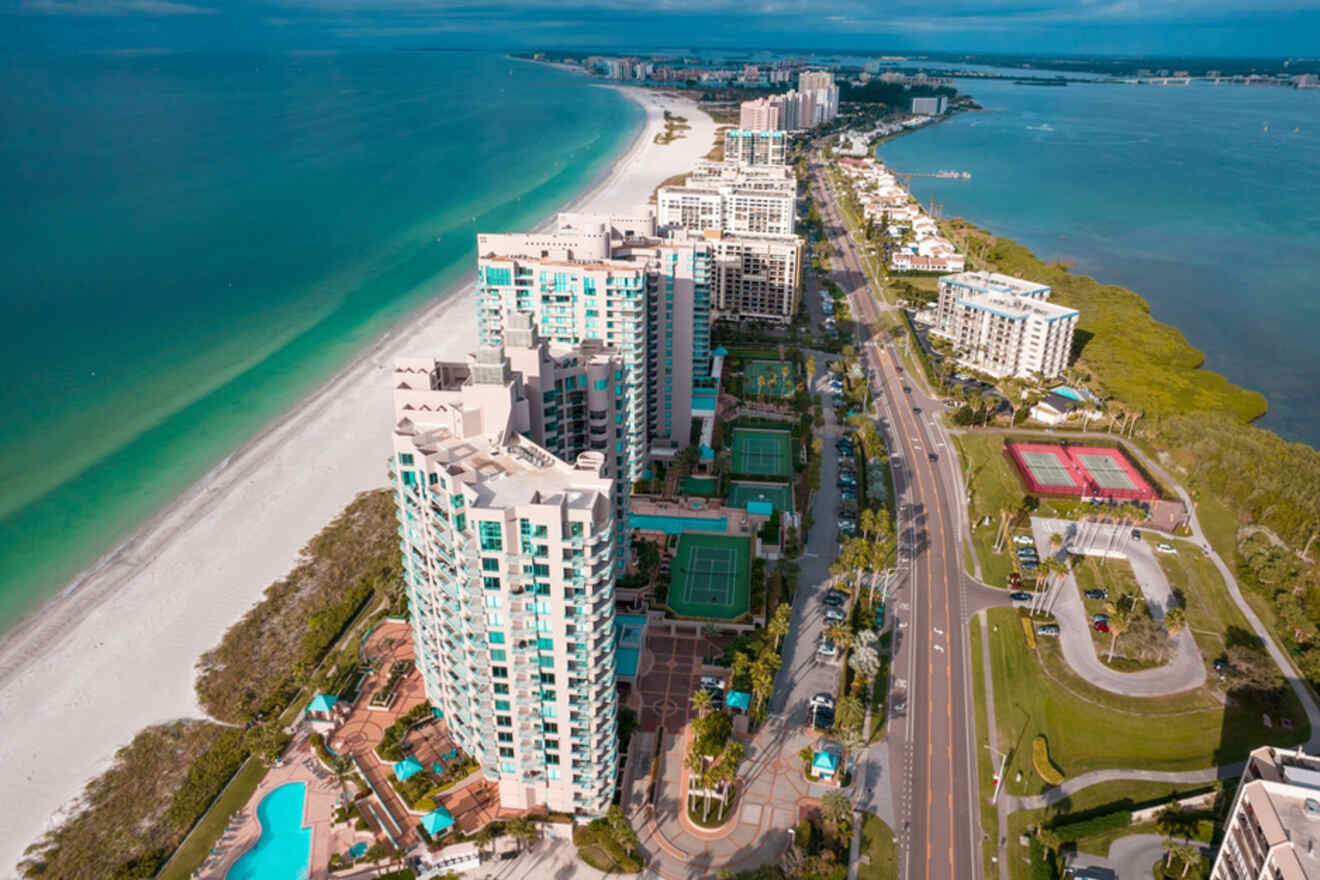 Crowded beaches can be a ton of fun if you're in the mood for a lively atmosphere, but sometimes we just want to soak up the sun, play in the sand, and splash in the water without a massive audience. If that sounds up your alley, head over to Belleair Beach, which is 4 miles (6 km) away from Clearwater beach.
Belleair Beach is one of the best-kept secrets in Florida and a favorite among locals.
You have to see this lovely beach for yourself! The public access areas still feel very private and secluded – you won't see nearly as many people as you would at nearby Clearwater Beach, so it's ideal for rest and relaxation.
Why yes, I do like long walks on the beach! 😉 That's why Belleair Beach is a favorite of mine, as you can take a stroll with the shore on one side and gorgeous homes lining the other.
6. Indian Rocks Beach – the best one for kids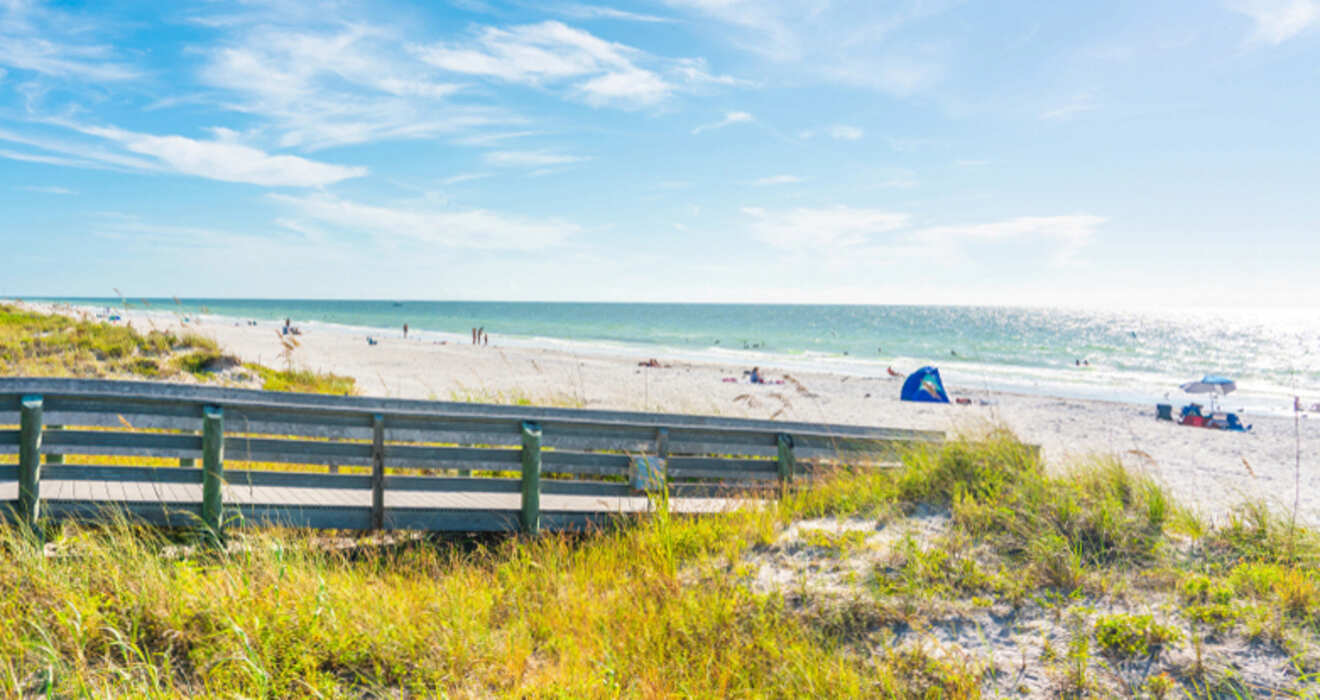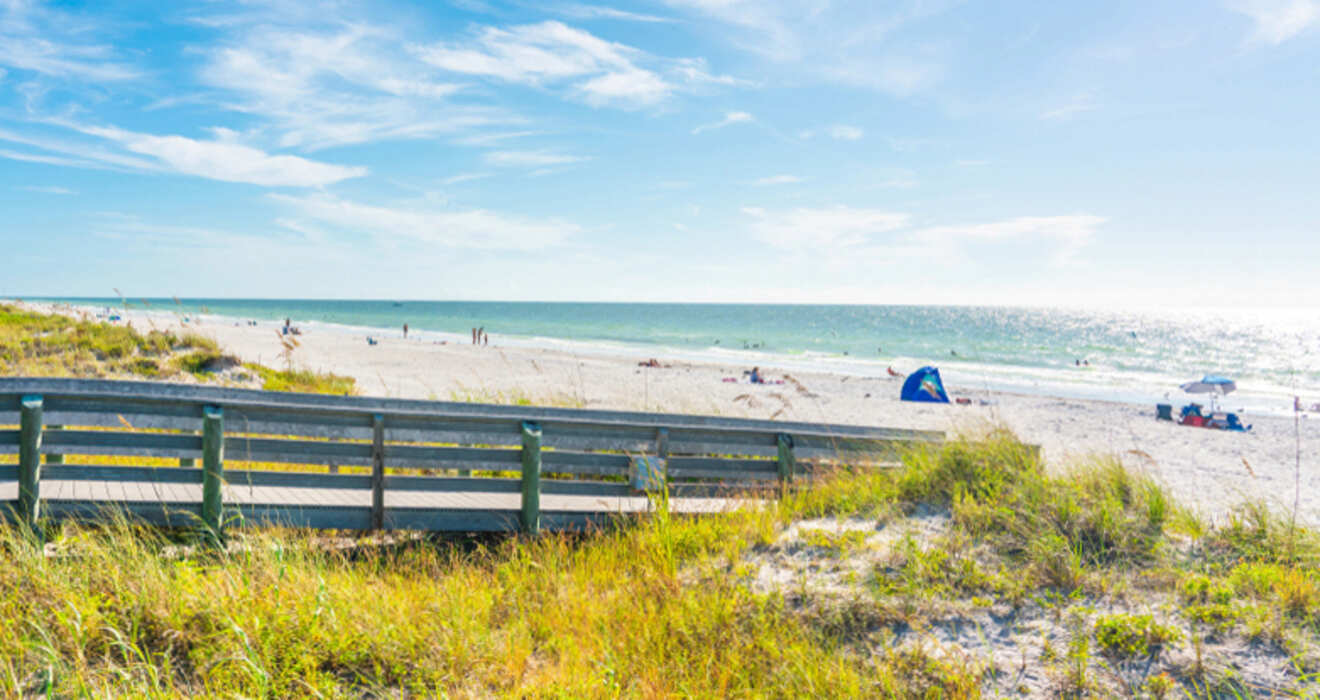 Indian Rocks Beach is one of the best beaches near Clearwater for kids, and it's only a 15-minute drive from Clearwater Beach! Indian Rocks Beach boasts a stunning shoreline, stretching 2,5 miles (4 km) of soft sand and crystalline ocean, that attracts visitors from all over.
Indian Rocks Beach is also known for its delicious, local dining! I recommend stopping by Kooky Coconut for tasty beachside snacks and making a reservation at Guppy's on the Beach for after to enjoy incredibly fresh seafood – try their Gulf grouper!
Kids love the nearby Splash Harbour Water Park, with its various slides, lazy river, splash zone, zero-entry swimming pool, and massive sundeck!
While at Indian Rocks Beach, check out the Seaside Seabird Sanctuary, a non-profit organization dedicated to the rescue and rehabilitation of sick, injured, or orphaned wild birds. Learn more about their amazing efforts, see the stunning view from the observation tower, and even meet their permanent residents!
7. Honeymoon Island State Park – unspoiled, sparkling shoreline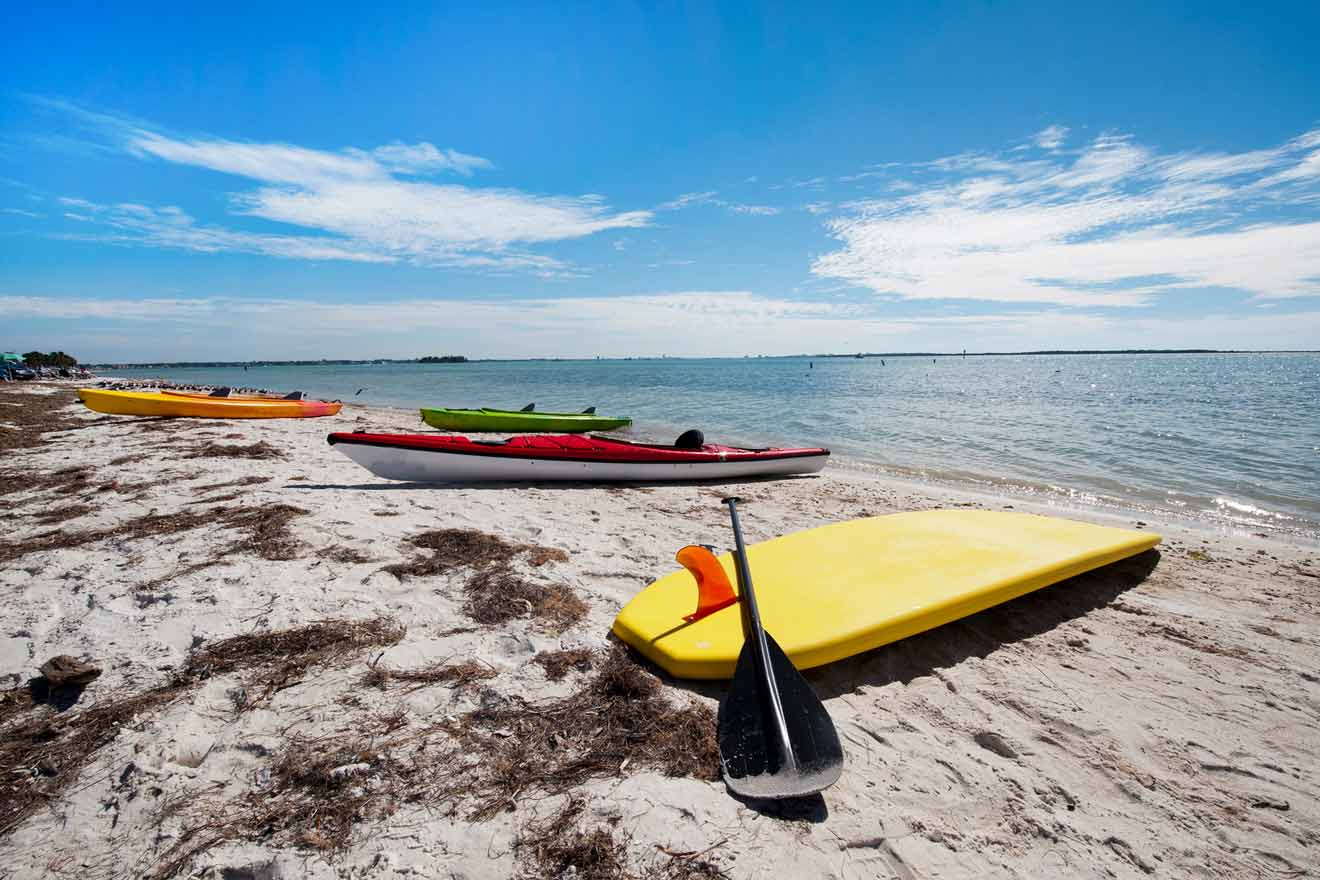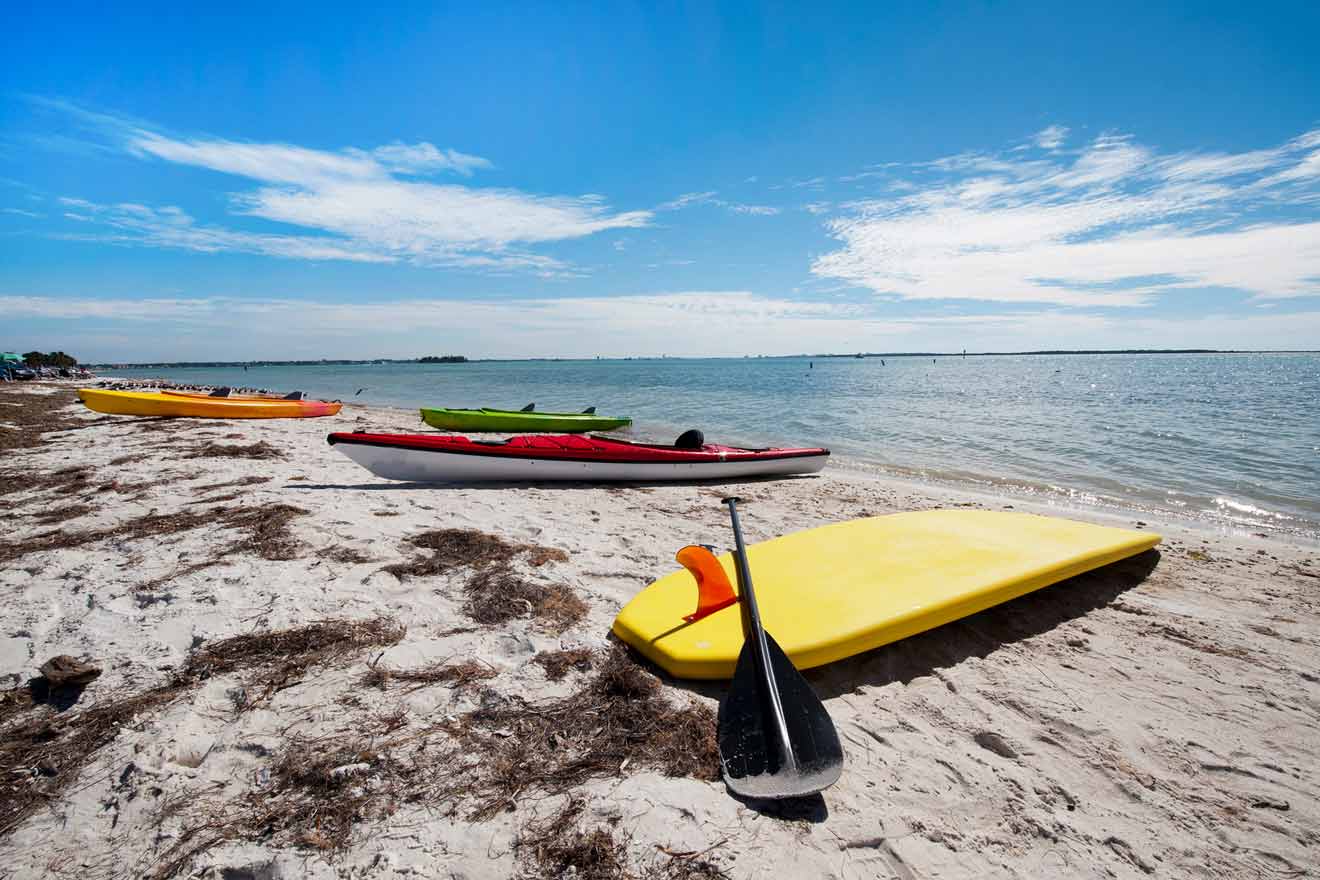 Honeymoon Island State Park offers the splendor of an unspoiled, sparkling shoreline similar to Caladesi Island State Park (#4 on our list!), except with the added convenience of accessing Honeymoon Island by car (you can rent one if needed).
Honeymoon Island State Park has so many amenities to make your beach day perfect. In addition to the unparalleled views, white sand, and welcoming water, Honeymoon Island is a nature lover's paradise. Explore the 2.5 miles (4 km) nature trail through the pine forest, then grab a bite at the café. There are picnic tables, grills, restrooms, and a playground – everything you need is right there!
FUN FACT: Honeymoon Island and Caladesi Island were one single island until the Hurricane of 1921 split them in two!
PRICE: US$8 per vehicle
8. Redington Shores – with breathtaking waterfront views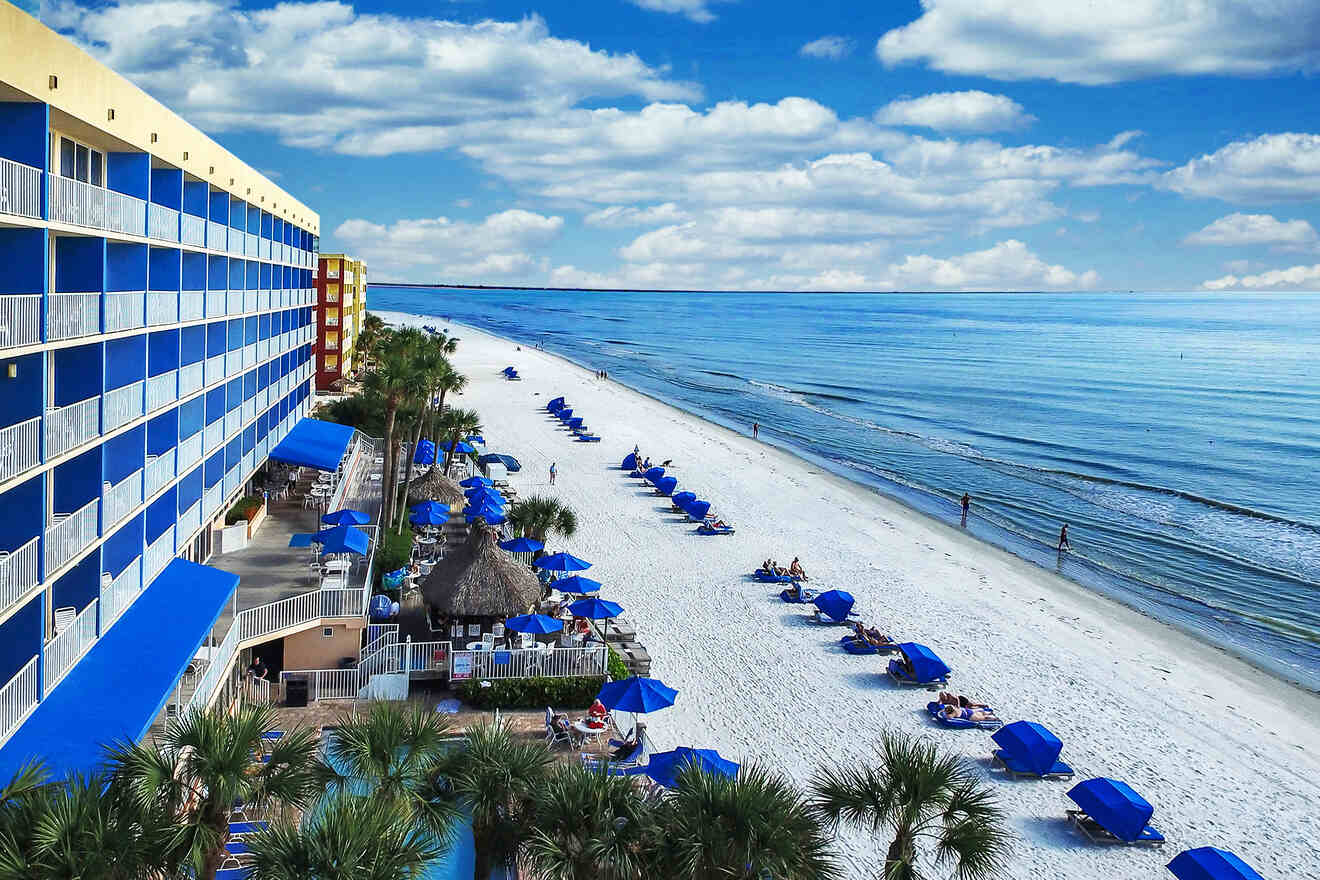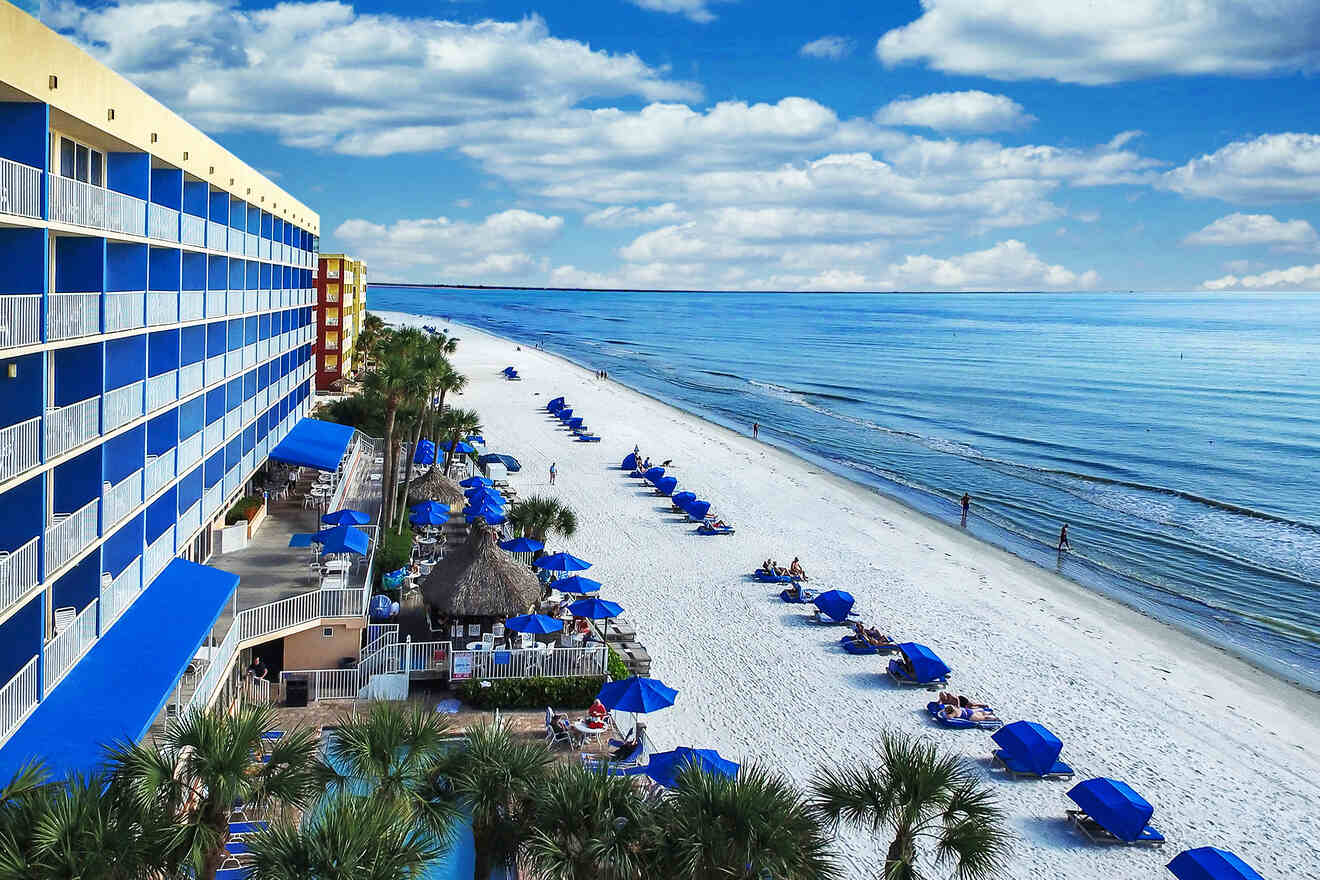 A beautiful beach with restaurants within walking distance, yet no crowds? Sign me up! Redington Shores is a quaint beach town on the Florida Gulf Coast, just 11 miles (18 km) from Clearwater Beach. You won't find any partying spring breakers here – it's a relaxing beach with plenty of room to stretch out on the powdery sand.
While you're in Redington Shores, check out Gypsy Souls Coffee House. It may not look like much from the front, but out in the back, you'll find breathtaking waterfront views where you can enjoy your morning cup o' joe.
9. Madeira Beach – with a fascinating past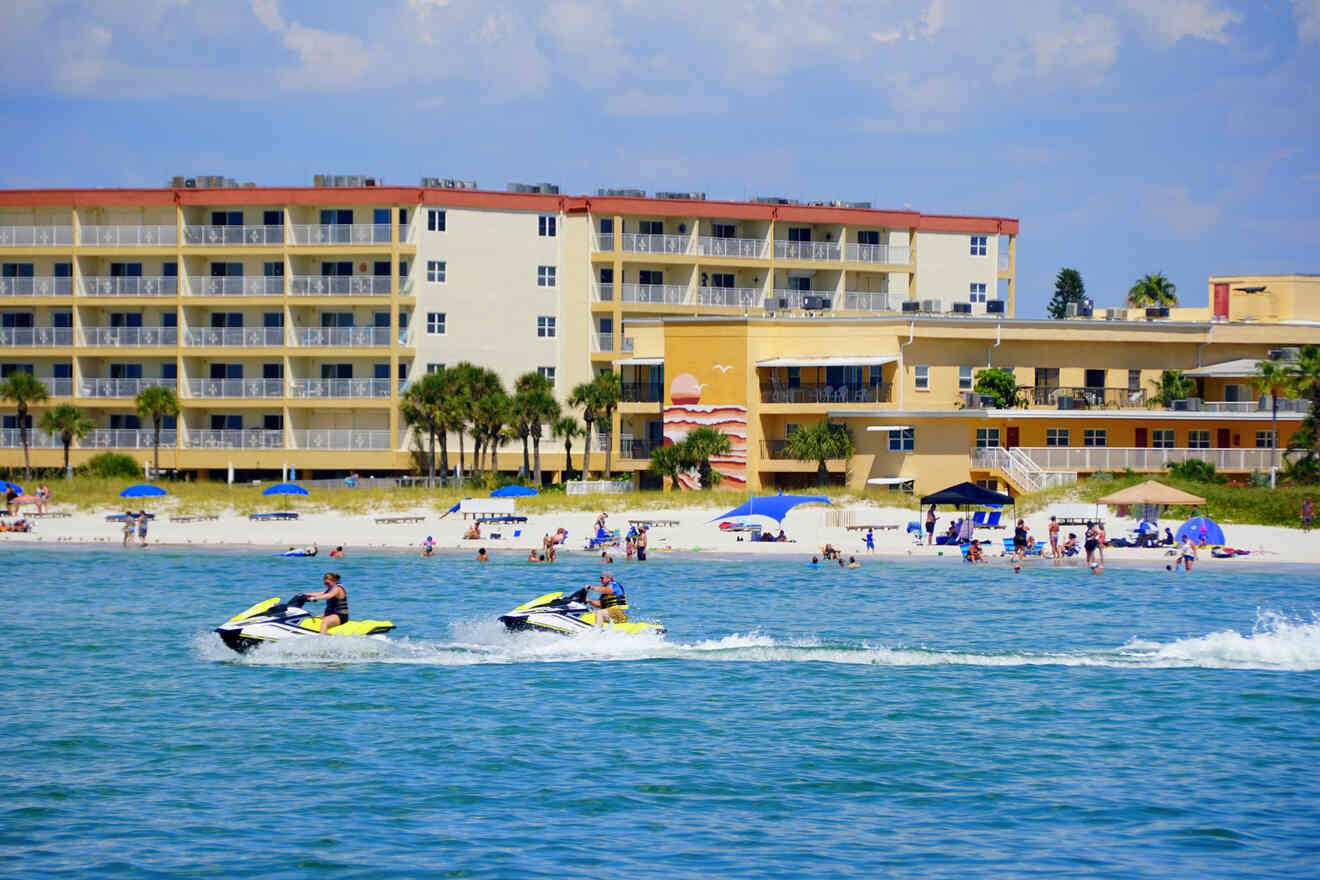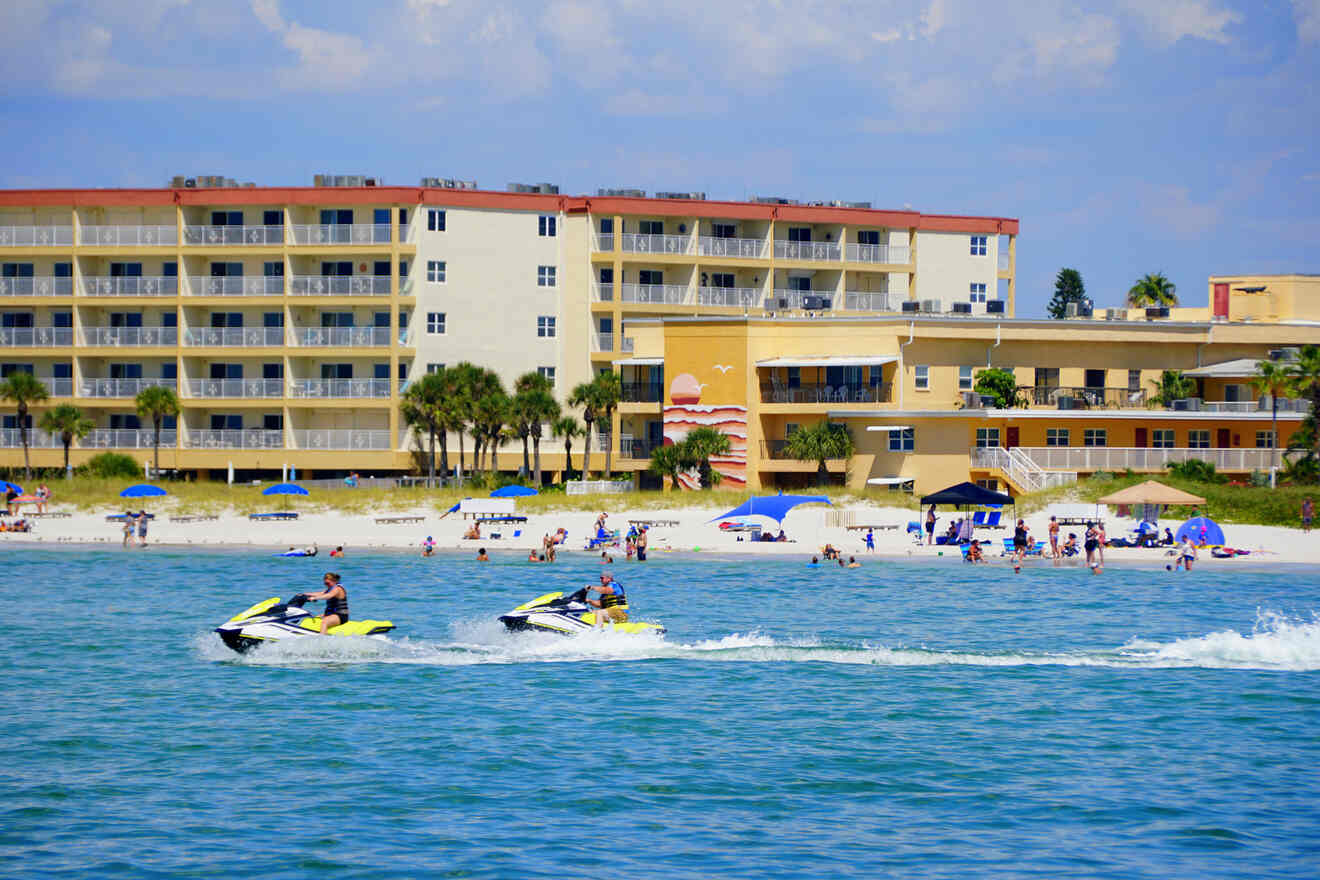 Madeira Beach, known as Mad Beach by locals, is a fun Florida beach town (11 miles or 18 km from Clearwater Beach), with a fascinating past begging to be explored! Legend has it that the very first settler in Madeira Beach was a pirate named John LeVique. Because of this, Madeira Beach is home to some really fun pirate-themed attractions that your kids will love!
The pirate adventure cruise in Madeira Beach is fun for the whole family – your little ones will be entertained by the ship's crew with face painting, a water gun fight, and lots of exciting pirate lore! Don't worry, parents, there's something for you, too. The Pirate Adventure Cruise includes beer and wine for guests over 21. It's a fantastic way to unwind while your kiddos are busy having fun!
One of the most popular things to do in Madeira Beach is visiting John's Pass Village & Boardwalk. This cozy turn-of-the-century fishing village is the area's #1 tourist attraction, with all kinds of fun activities, from water sports to bars and restaurants. There is no cost for admission!
If you're traveling with thrill-seekers (or you're a thrill-seeker yourself), you may want to see beautiful Madeira Beach from a bird's eye view. Parasailing is one of my favorite things to do on a Florida vacation, and the views from this Madeira Beach parasail flight are unbelievable!
10. Treasure Island Beach – for the family-friendly activities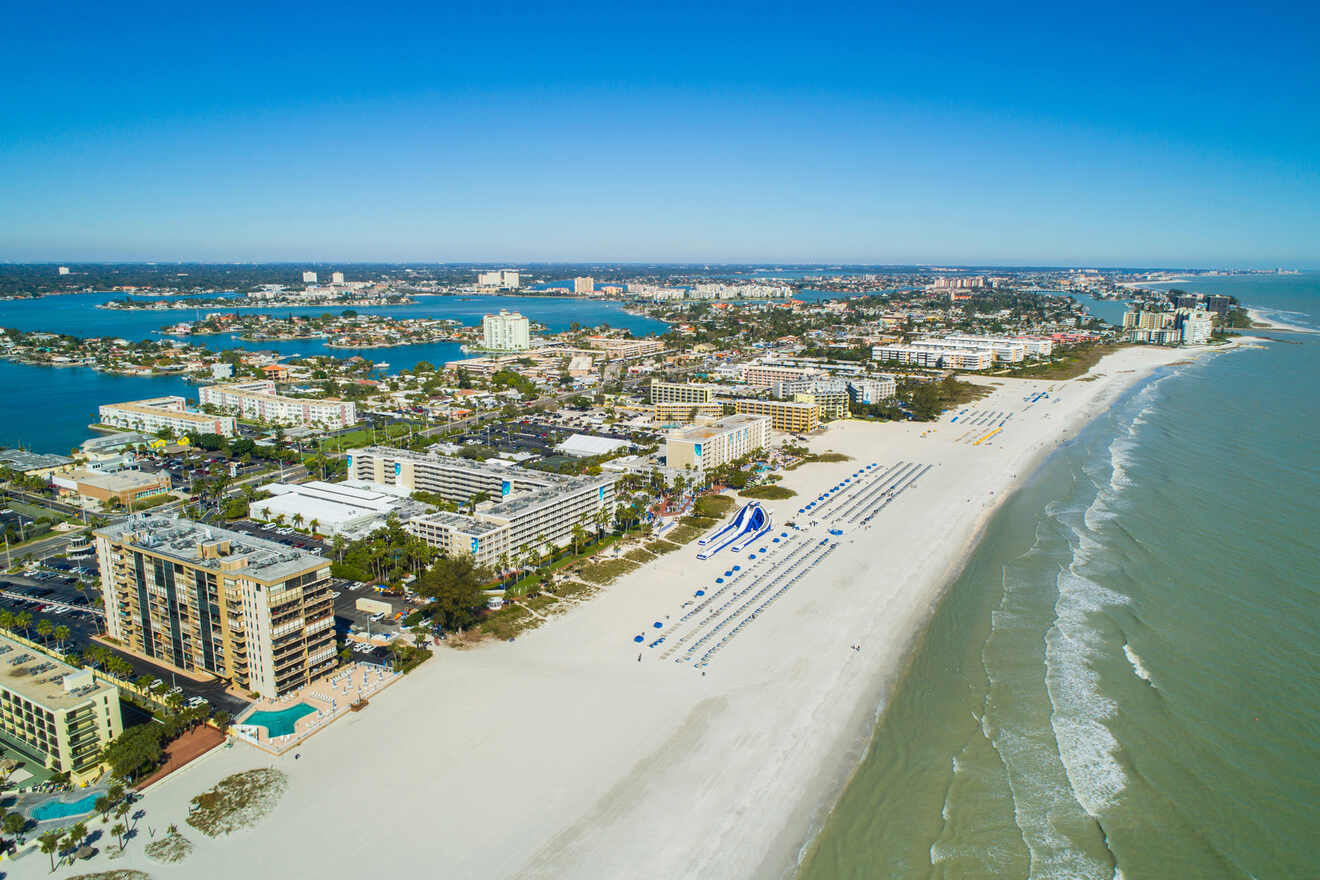 Treasure Island, Florida, has a fascinating history that dates back to the year 300 AD when the Timucan Indians first settled there. Today, Treasure Island is known for its expansive sandy beaches, calm waters, and family-friendly activities.
Treasure Island Beach, located at Gulf Front Park, boasts all the wonderful qualities Florida Gulf Coast beaches are known for, in addition to a giant water slide right on the sand. This makes Treasure Island Beach a great beach near Clearwater, Florida (16 miles or 26 km) if you're traveling with kids!
Did you know Treasure Island, FL, is the "Sand Sculpture Capital of the World"? Treasure Island Beach hosts Sanding Ovations, an annual event that attracts master sculptors who use their imagination and craft to turn sand into stunning works of art.
12. Sunset Beach – the inspiration for Margaritaville song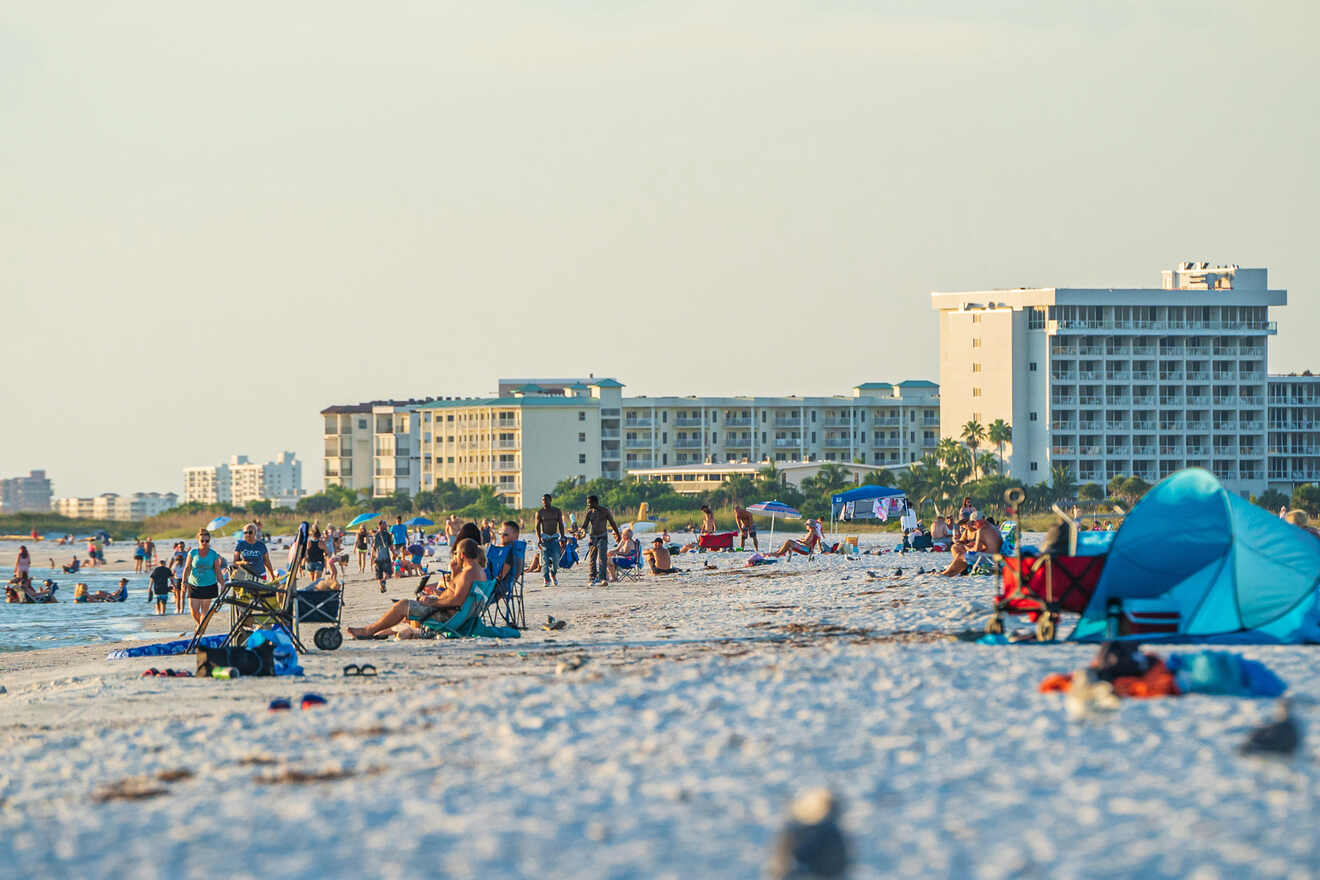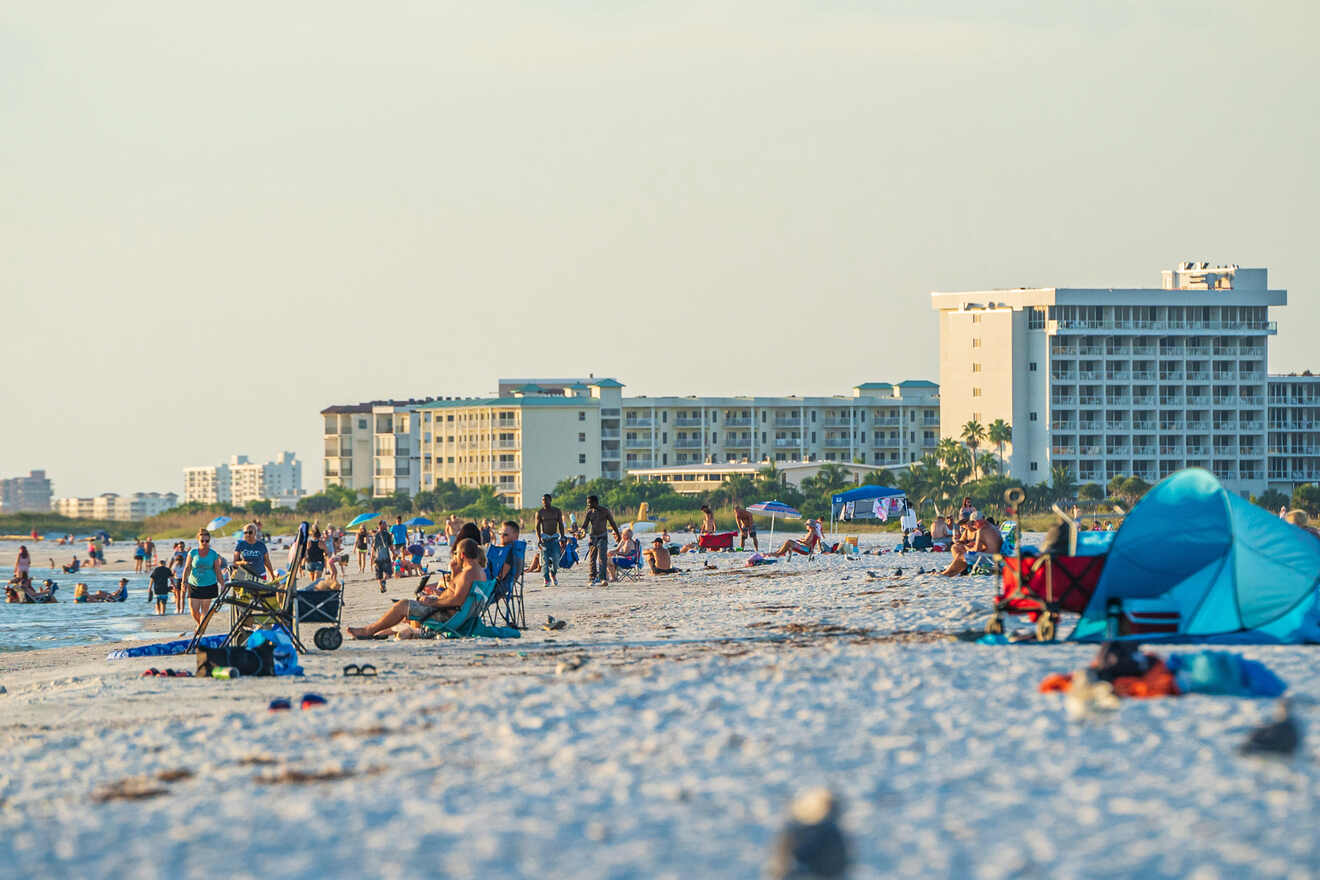 For the perfect place to watch a gorgeous Florida Gulf Coast sunset, look no further than Sunset Beach! Located at the southern tip of Treasure Island, FL, at 18 miles (29 km) from Clearwater Beach, this slice of paradise is rumored to be one of the beaches that inspired the Jimmy Buffett song, Margaritaville!
The neighborhood surrounding Sunset Beach is funky, fun, and inclusive. A beautiful beach with laid-back vibes and an unparalleled view of the sunset, Sunset Beach is loved by locals and visitors alike.
Grab a bite and a tropical libation (or 2) at Caddy's Waterfront Dining, where you'll find unmatched views of the ocean. You can even reserve a cabana right on Sunset Beach!
13. St. Pete Beach – for the inviting emerald green water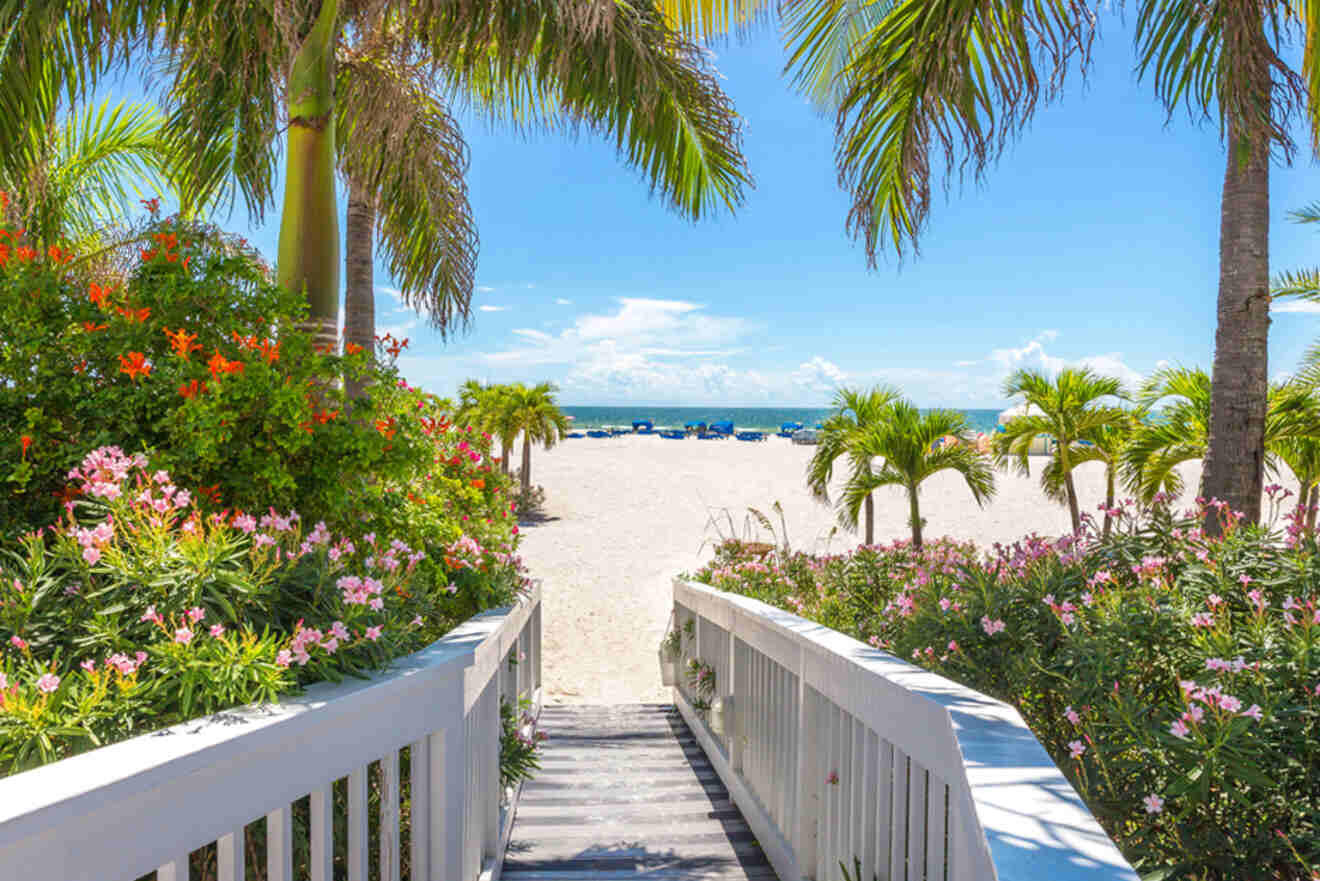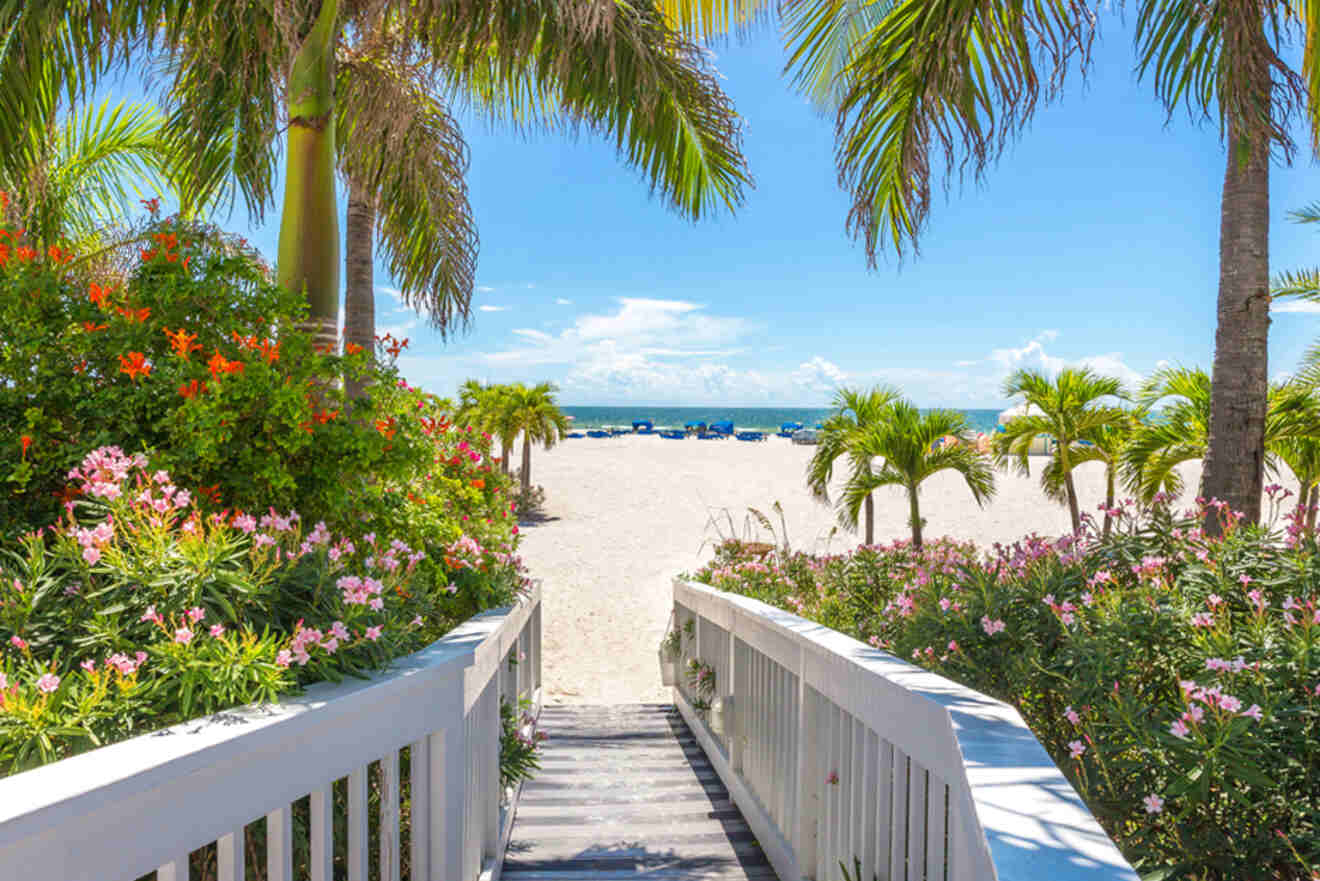 There is so much to say about beautiful St. Petersburg, from the stunning beaches, upscale shopping and dining, and picture-perfect downtown. Just west of St. Petersburg is St. Pete Beach, another charming beach time. And while it is a bit of a drive, 19 miles (30 km) from Clearwater Beach, every mile is worth it!
Like Clearwater Beach, St. Pete Beach has also been repeatedly recognized as the top beach in the United States. It boasts sugary white sand and inviting emerald green water, as well as countless activities for some fun in the sun.
While at St Pete Beach, stop by Jimmy B's Beach Bar, voted one of the best beach bars in Florida. Catch live music on one of 2 stages, eat and drink on the open-air patio with Gulf views, or enjoy a complimentary Sunset Shooter if you're there for the spectacular sunsets!
There are so many fun things to do in St. Pete Beach! Here are a couple of my favorites:
Explore at night on a light-up glass-bottom kayak tour – See the amazing St. Pete Beach marine wildlife at night on board a light-up, glass-bottom kayak. The tour is led by an expert guide who tells you all about this unique area and its ecosystem. Cost: US$55 per person.
Take a dolphin-watching tour – St. Pete Beach is one of the best places to see dolphins at play, and the water is teeming with wildlife. Board this 40 ft (12 m) pontoon, and keep an eye out for some new marine friends. Cost: US$30 per person.
14. Pass-a-Grille Beach – for the most beautiful sunsets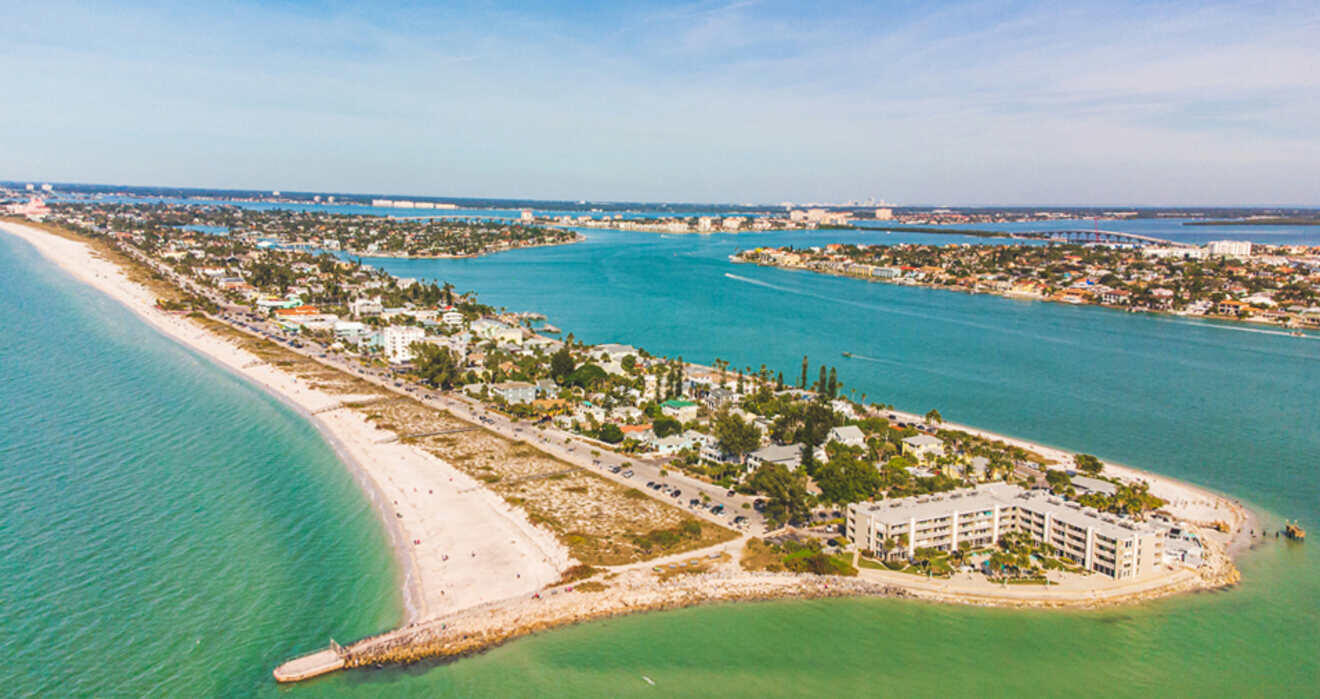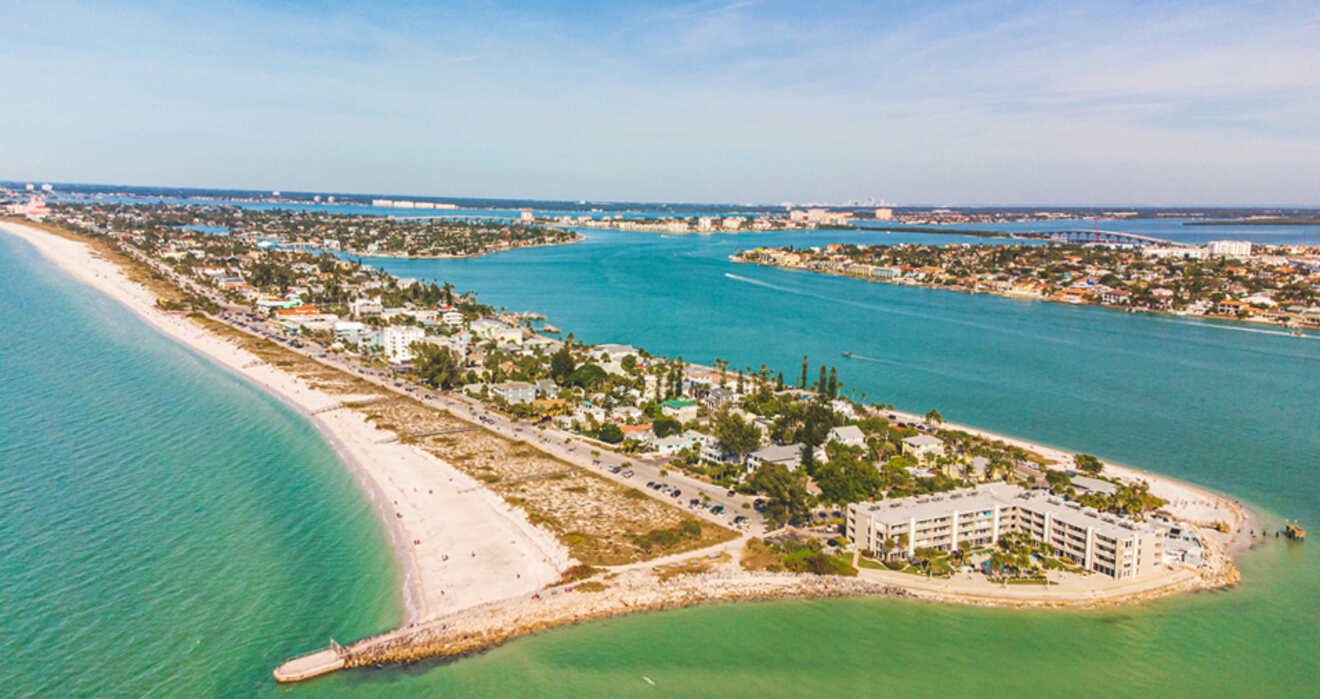 Pass-a-Grille is an easy-going beach town on the southernmost tip of St. Pete Beach, 33 miles (55 km) from Clearwater Beach. It's another one of Florida's best-kept secrets. This hidden gem is a beach lover's dream, with miles of uninterrupted white sandy beaches and a glittering shoreline.
Sunsets are a big deal around here, and every night, locals and visitors gather at Paradise Grille to celebrate a beautiful end to the day. Pass-a-Grille has an adorable downtown area as well, with local galleries and boutiques.
Nearby, you'll find the Gulf Beaches Historical Museum, where you can learn about the unique barrier islands of the Gulf Coast. It's housed in what was the very first church built on them!
15. Fort de Soto Park – for the sunshine-filled sandy shores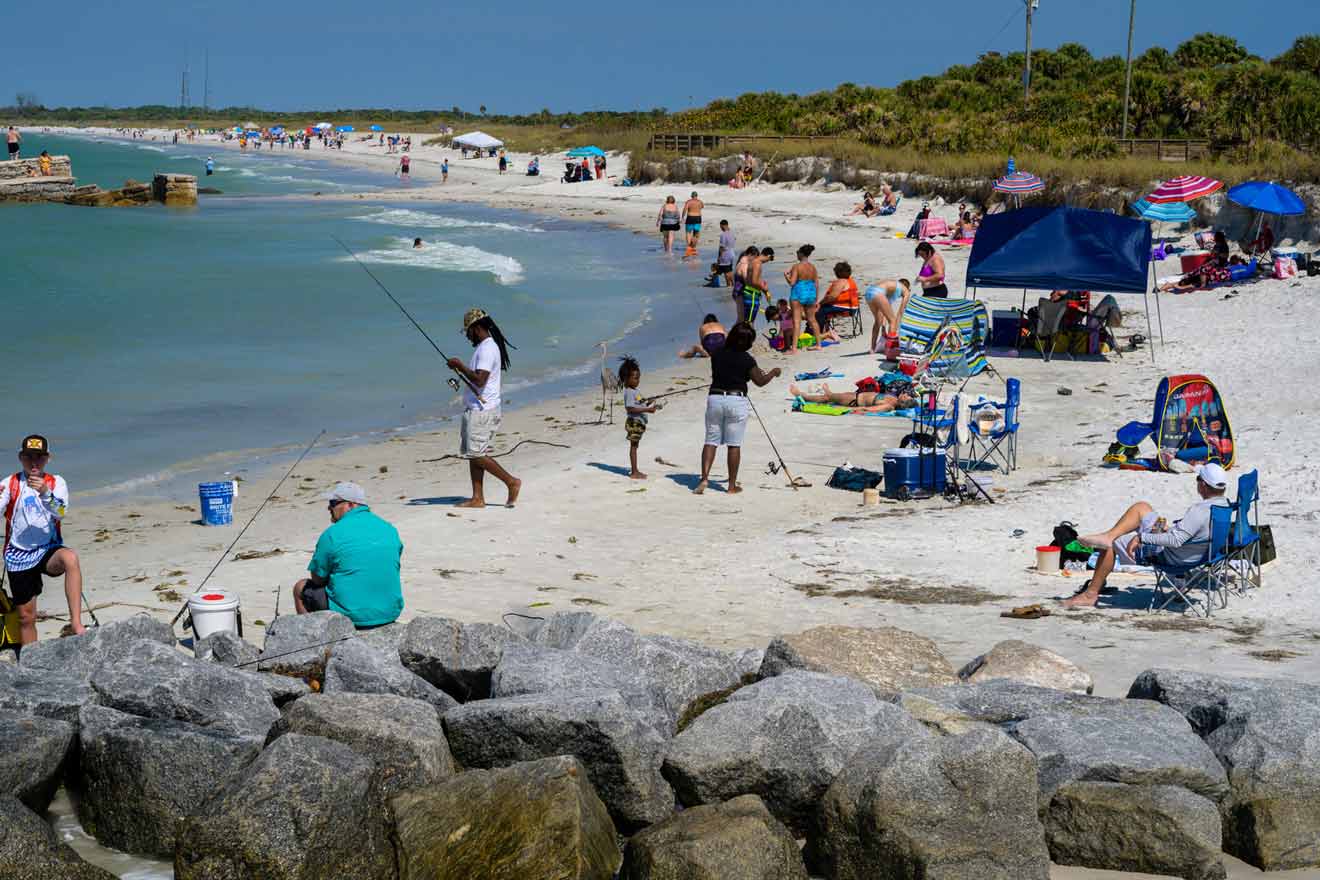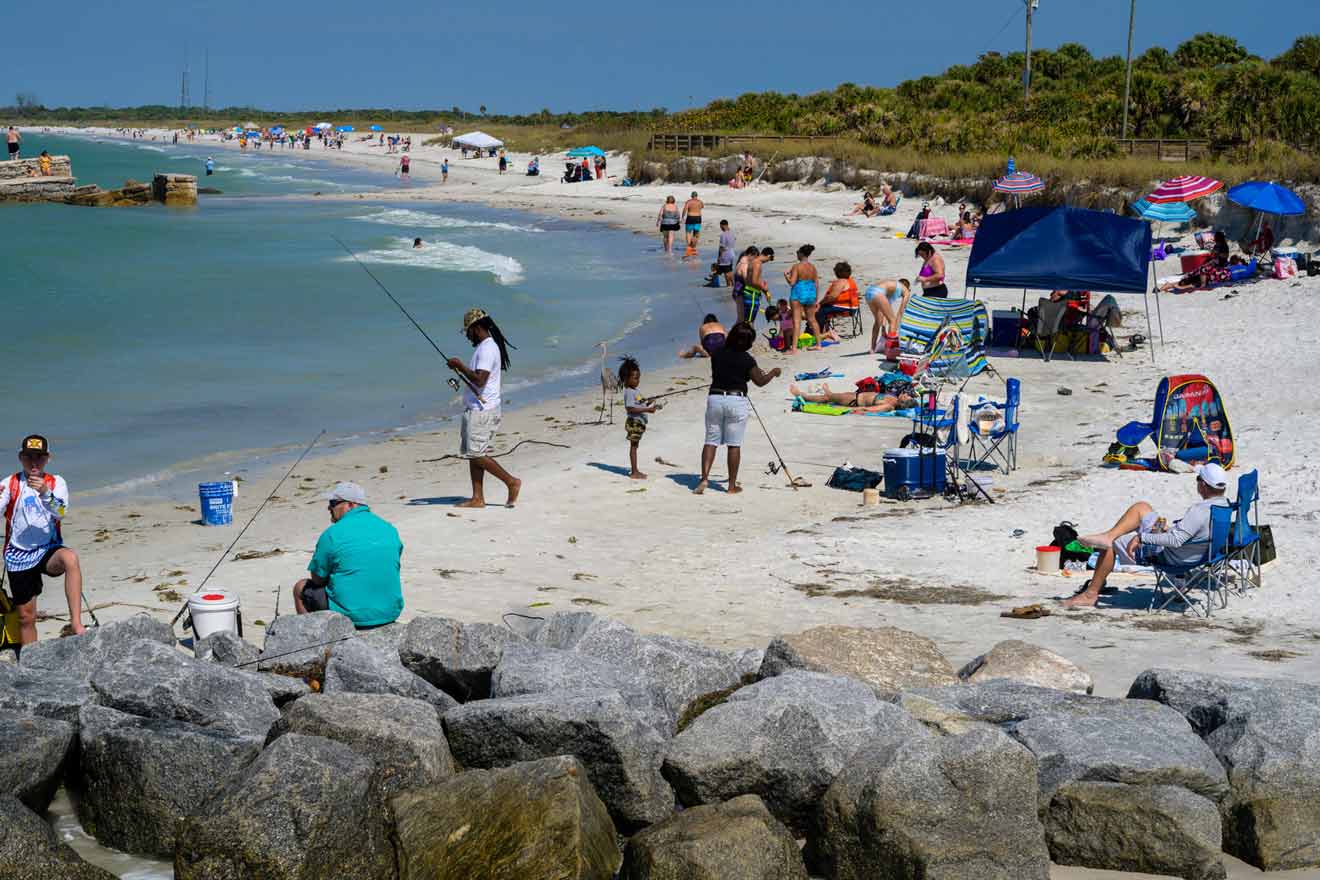 Fort de Soto Park is located 36 miles (58 km) away from Clearwater Beach. It is sprawling on 1,140 acres (460 hectares), and is made up of 5 interconnected islands. It's been named the nation's best beach multiple times as well, and it's easy to see why.
The best way to describe Fort de Soto Park is that it's almost too pretty to be real – it looks like it belongs on a postcard! Stroll the seemingly never-ending miles of the softest sand you'll ever touch. The water is unimaginably blue, warm, and welcoming!
History buffs will love touring historic Fort de Soto, which was built all the way back in 1900 during the Spanish American War.
With a description like that, it's no wonder Fort de Soto Park sees over 2.7 million visitors a year on its sunshine-filled sandy shores!
FAQs about the best beaches in Clearwater, Florida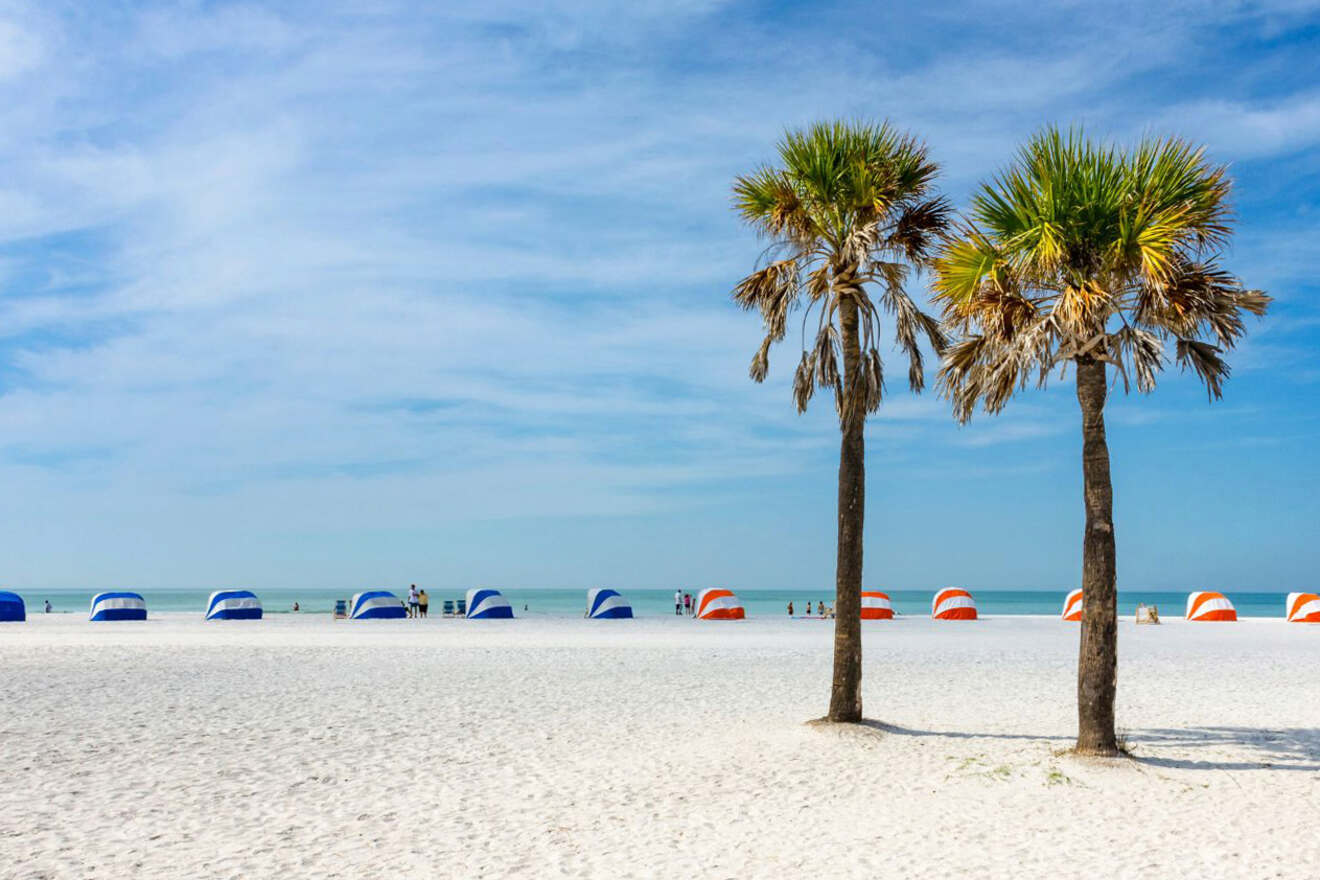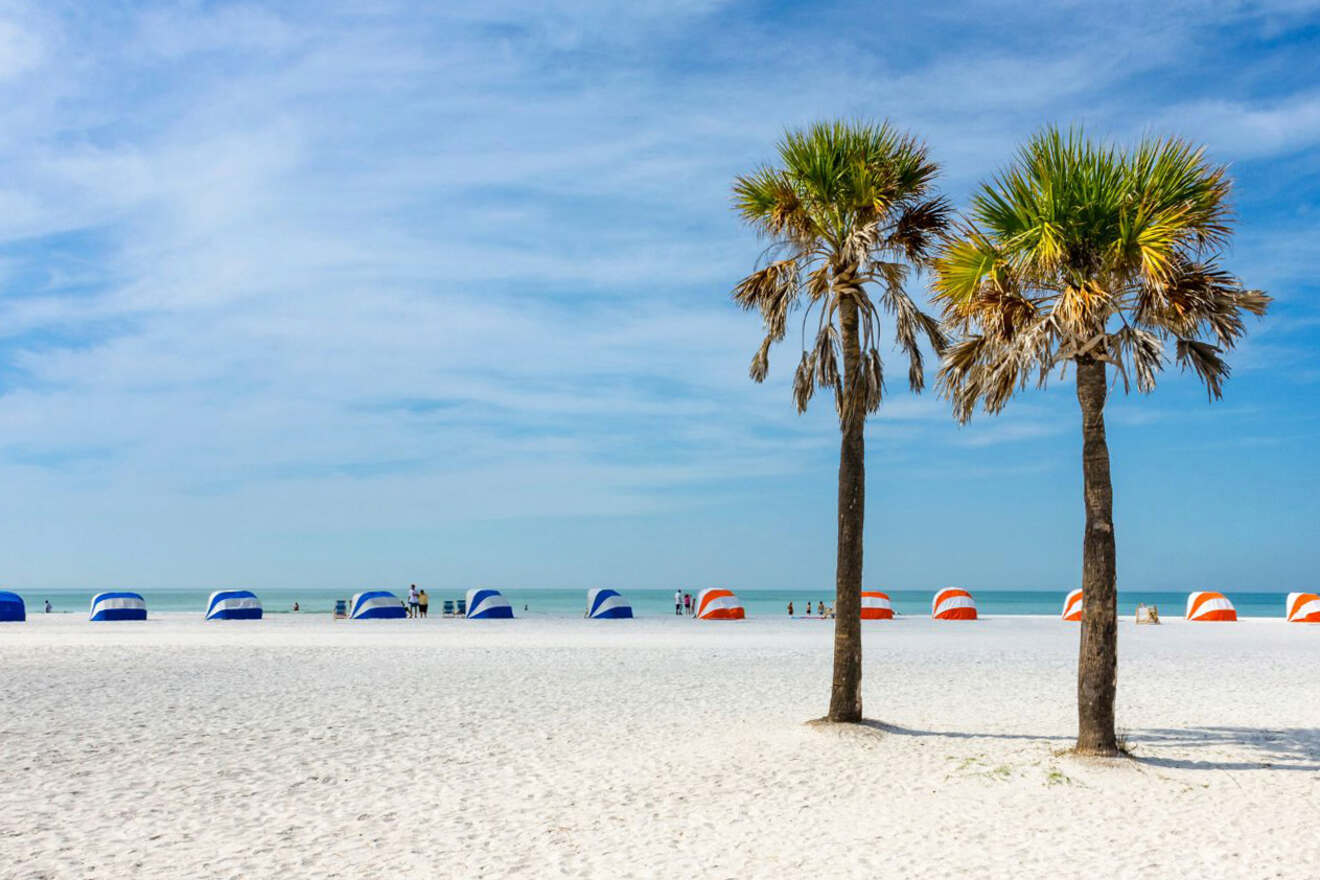 🏖️ Which part of Clearwater Beach is the best?
South Clearwater Beach is best for anyone who wants to be right in the middle of the excitement – it's very lively, fun, and close to a lot of attractions! North Clearwater Beach is ideal if you're looking for a more laid-back, relaxing beach day.
🌟 Which Clearwater Beach ranked #1?
Clearwater Beach in Clearwater, Florida, has been named the #1 beach in Florida and in the USA multiple times!
🏨 What are the best Clearwater Beach hotels?
Hyatt Regency Clearwater Beach has beautiful accommodations, fantastic dining, and an ideal location just steps from the sand. Pier House 60 boasts sweeping sunset views and is a quick walk to Pier 60, a massive fishing pier and recreational park.
🌊 What is the closest beach to Clearwater, Florida?
The closest beach to Clearwater, Florida is Clearwater Beach, known for its pristine white sands and crystal-clear Gulf of Mexico waters.
Conclusion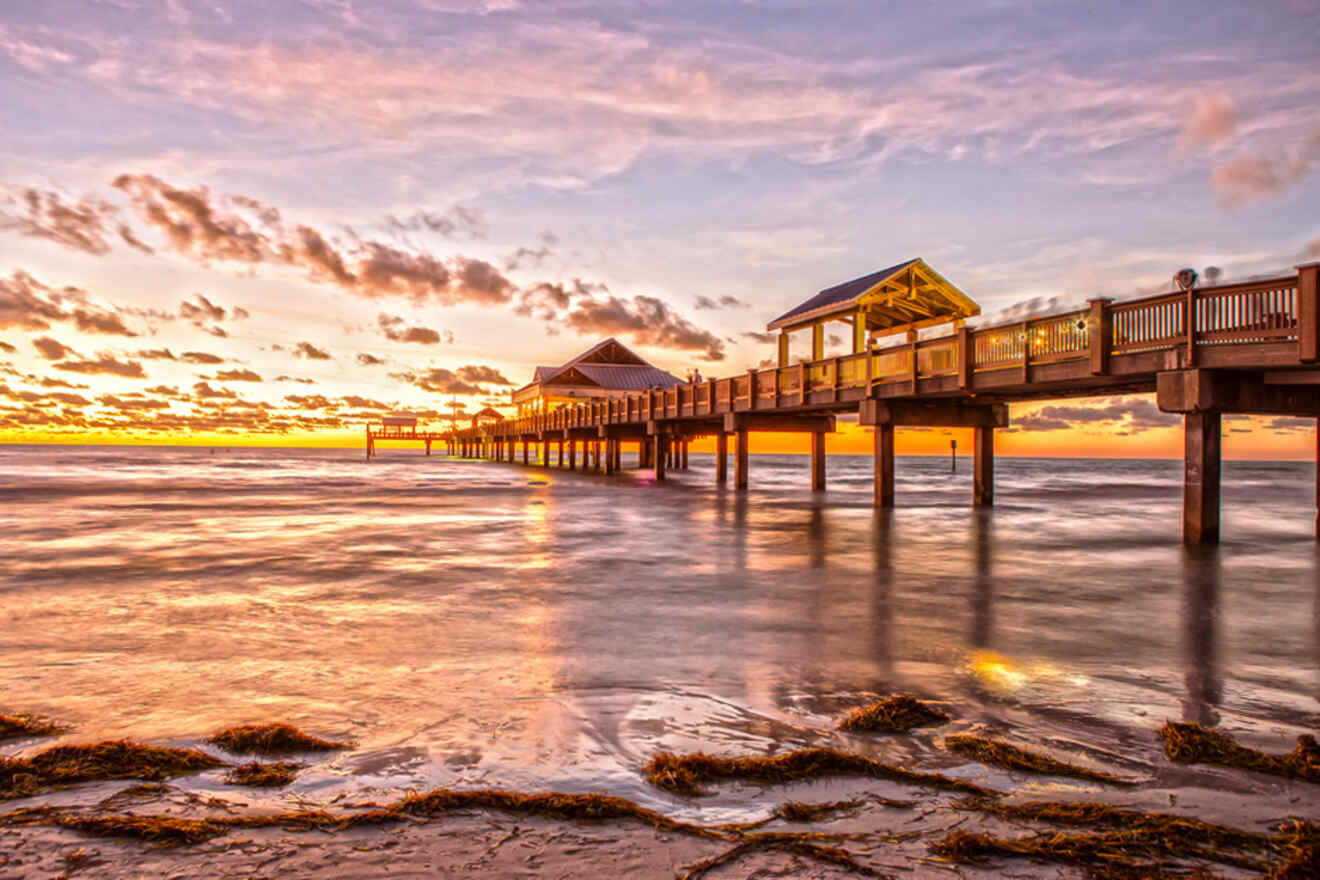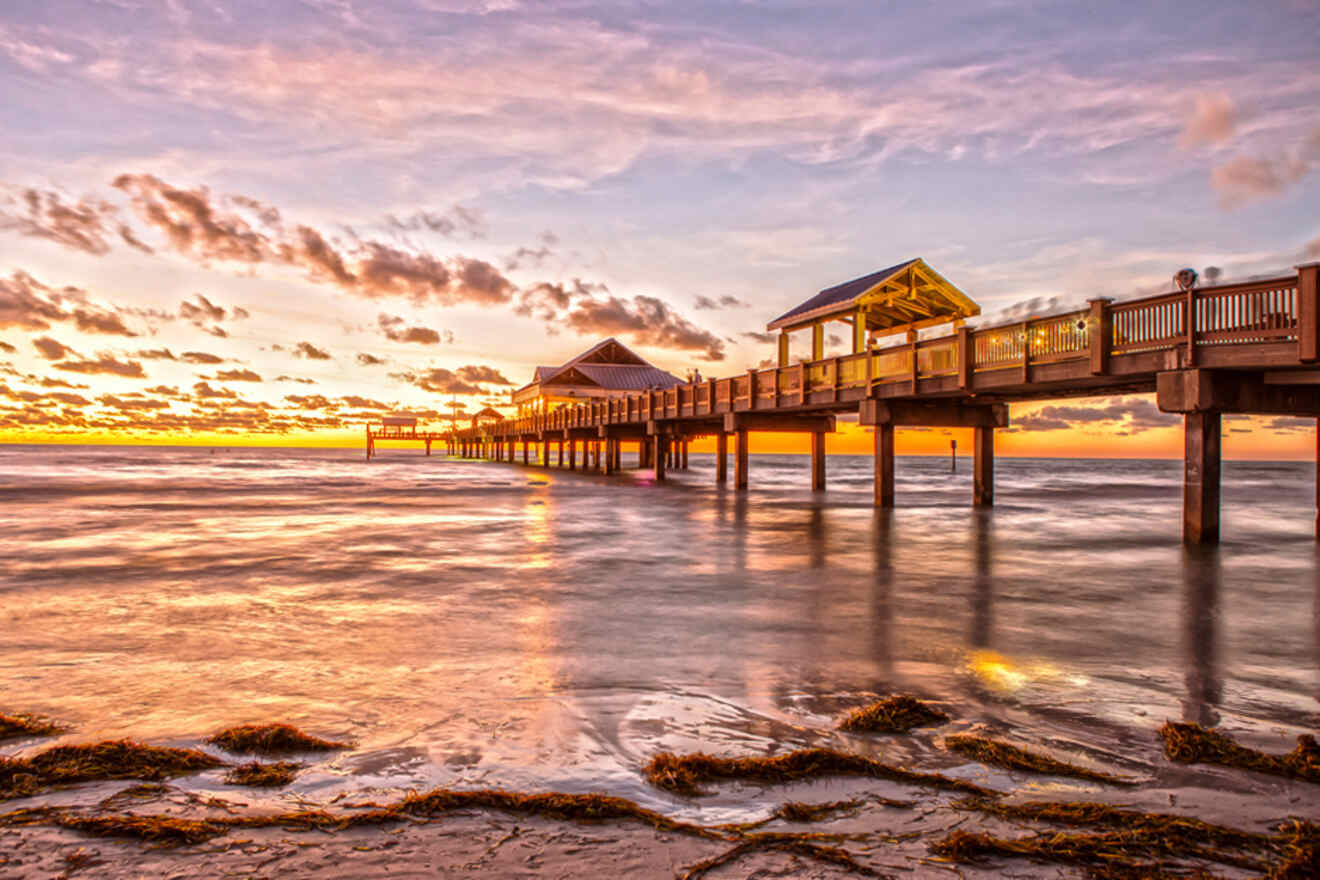 All this talk about the best beaches in Clearwater, Florida makes me want to plan a trip ASAP! I especially love how close all of these incredible beaches are to each other – you can easily stay in Clearwater Beach and hop around to all the local beaches on your trip.
If you're looking for some suggestions on where to stay in Clearwater Beach, we've got a whole post to help you out!
And of course, if you have any questions, leave me a comment, and I'll answer ASAP! 😊
Happy travels!
Montana
---
Pin it for later!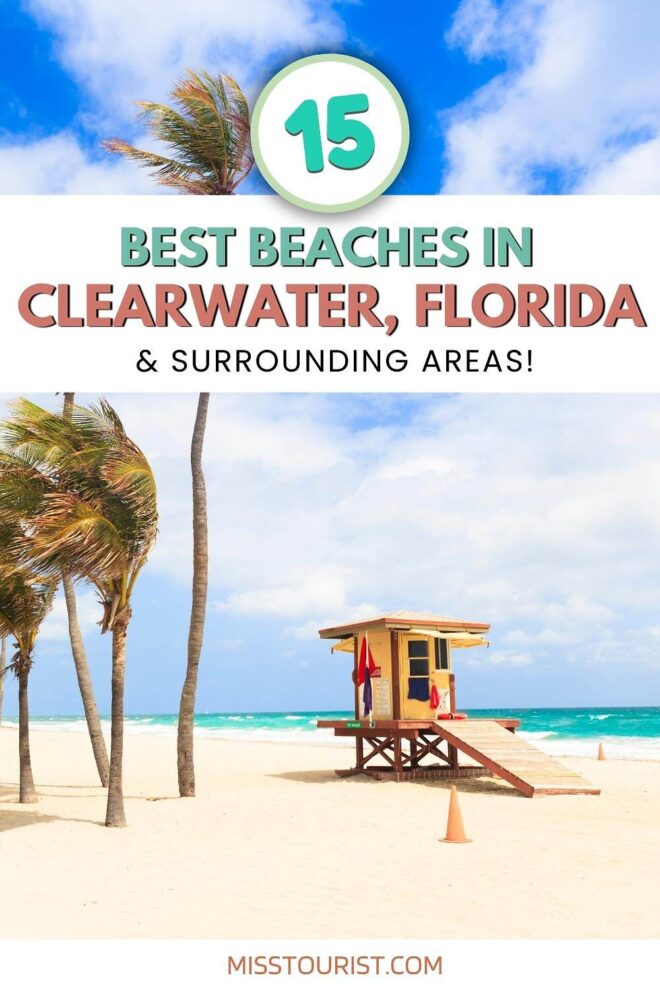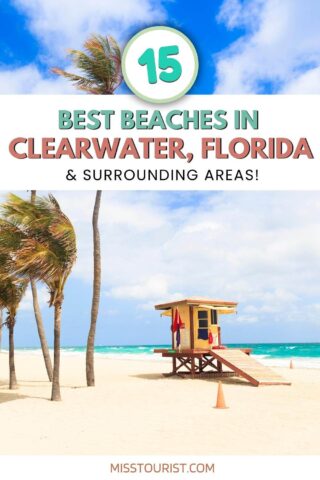 Pin it for later!