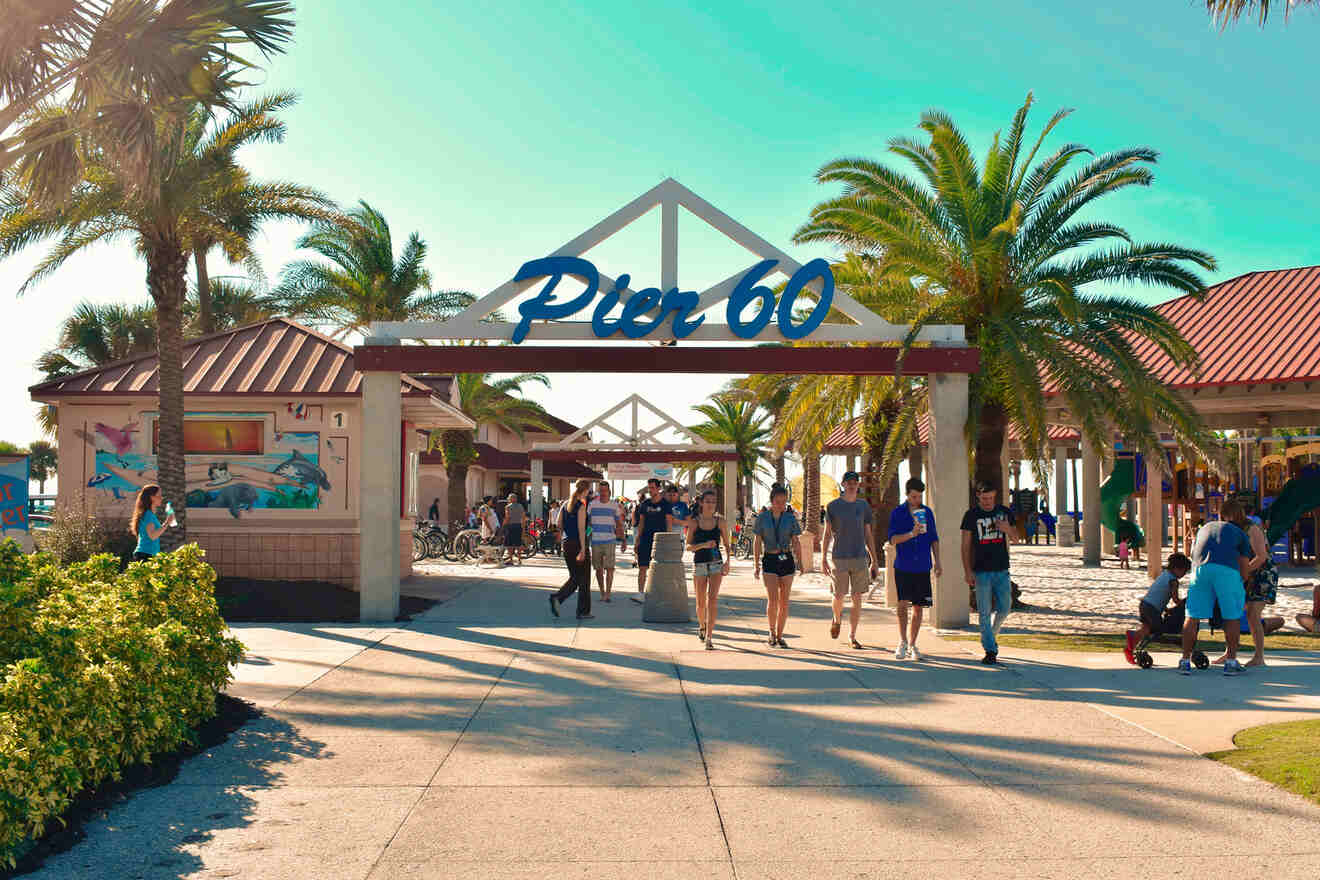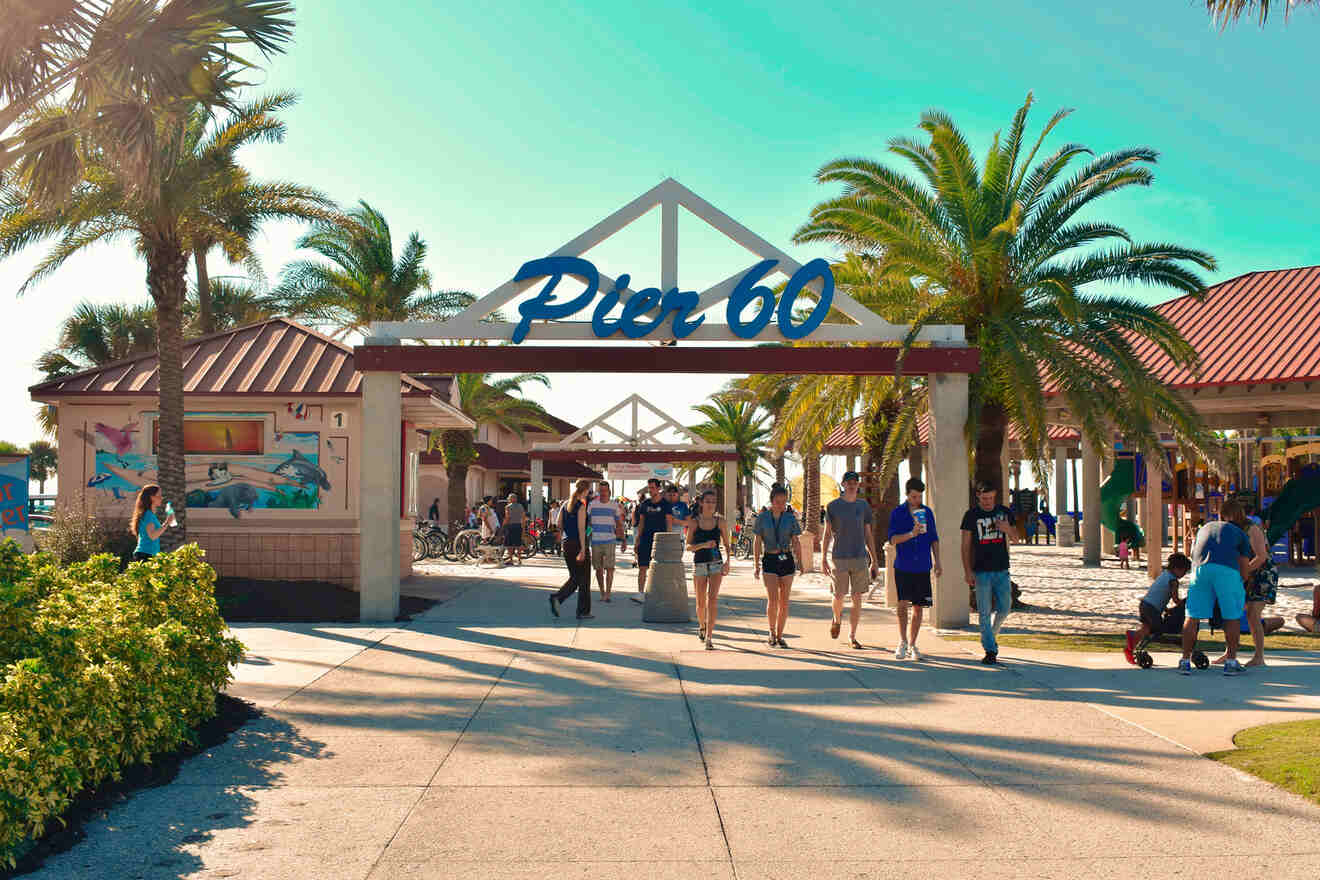 Famously rated the best beach in all of the United States, Clearwater is a really spectacular Florida destination that should most definitely be on your bucket list!
An integral part of Pinellas County, this incredible Florida city enjoys year-round sunshine, incredibly clear water beaches, gorgeous wildlife, amazing sunsets, and all sorts of outdoor and indoor activities to satisfy the mind, body, and soul.
Clearwater has something for everyone! This dreamy beachside city is literally what dreams are made of.
Enjoy the incredible Gulf of Mexico and take a romantic sunset cruise, have fun with the whole family and climb aboard a pirate ship, or lounge around on the white sugary sand beaches. Just make sure you book your activities in advance!
As a Florida local and devoted lover of all things Florida, I'll give you the inside scoop on the best things to do in Clearwater Florida, including what the locals get up to!
Let's dive right in!
If you are in a hurry
These activities sell out quickly, so plan ahead!
Here are the main things to book in advance:
1. Visit Clearwater Beach and Pier 60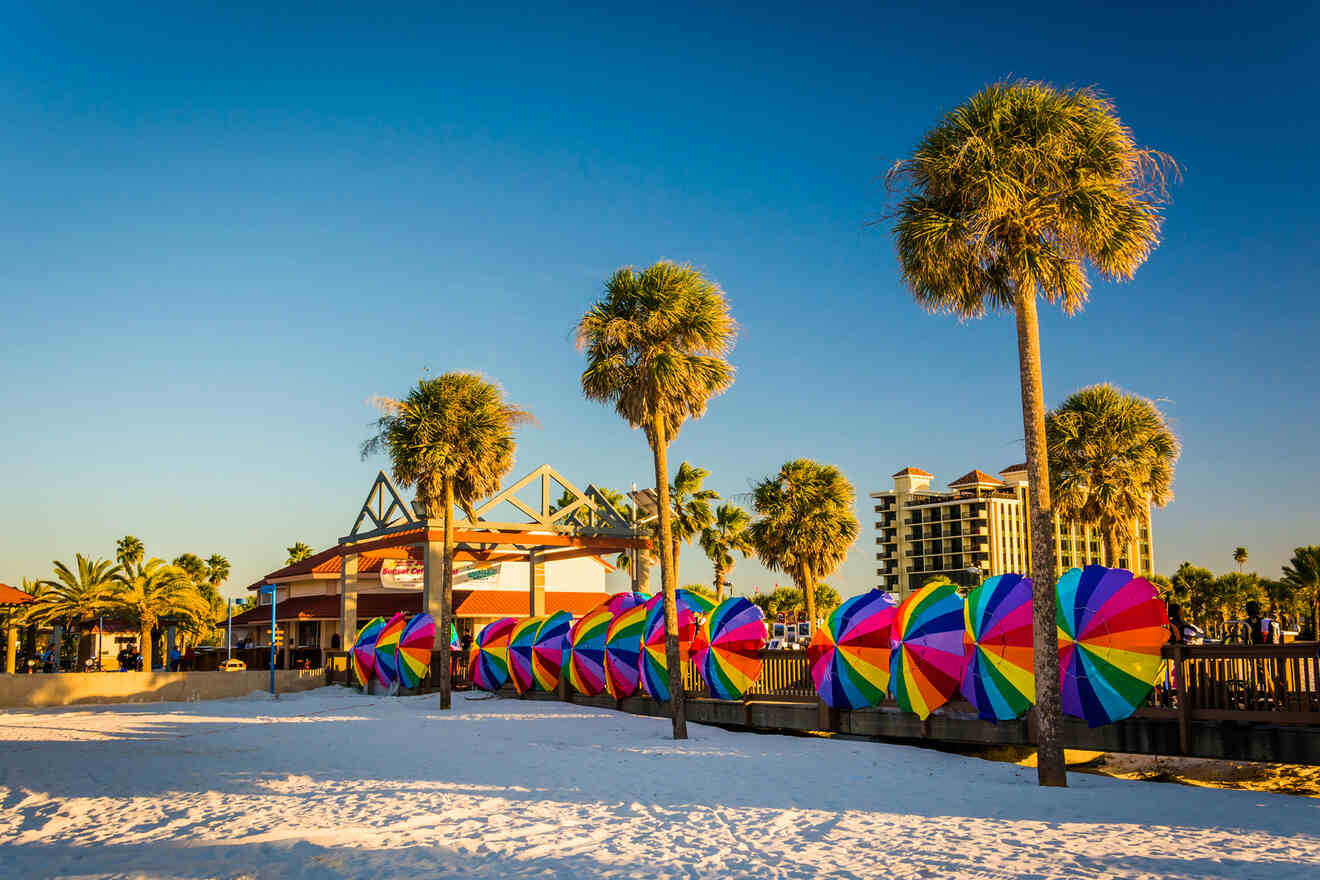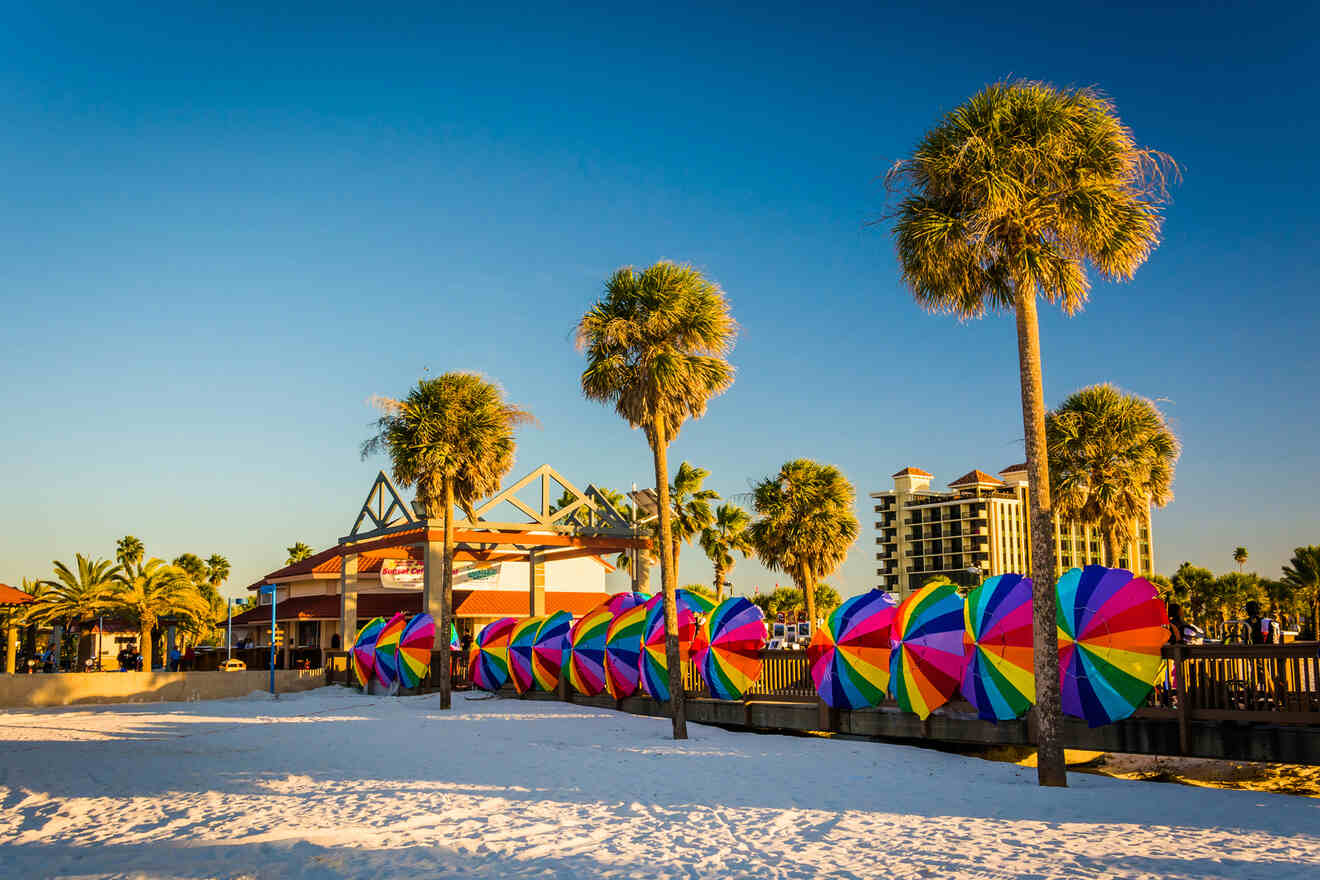 First things first, am I right?
One of the most obvious things to do in Clearwater is to go to the beach! Literally named after the famous clear waters, a trip to Clearwater is not complete without witnessing the incredible beauty of Clearwater Beach.
Pier 60 is a popular pier in Clearwater Beach that spans over 1,000 feet in length into the pristine, gorgeous Gulf waters. This is the best spot to watch the sunset in Clearwater, and trust me when I say your trip is incomplete without this experience!
Located in a charming little cove, this beach is perfect for swimming. The waters are shallow and safe for the little ones, making this the perfect beach for families in Clearwater, Florida.
Fishing off of Pier 60 is commonplace, and many people frequent this pier daily for the incredible catch they have access to in these luscious Gulf waters.
As the sun begins to set and the day winds down, the beach and pier become alive with musicians, performers, and artisans turning this relaxing day at the beach into a festive occasion!
You can also hit Clearwater Beach Marina to see all the boats bobbing on the quay and beautiful views out into the ocean!
PRICE: Free
2. Explore Sand Key Park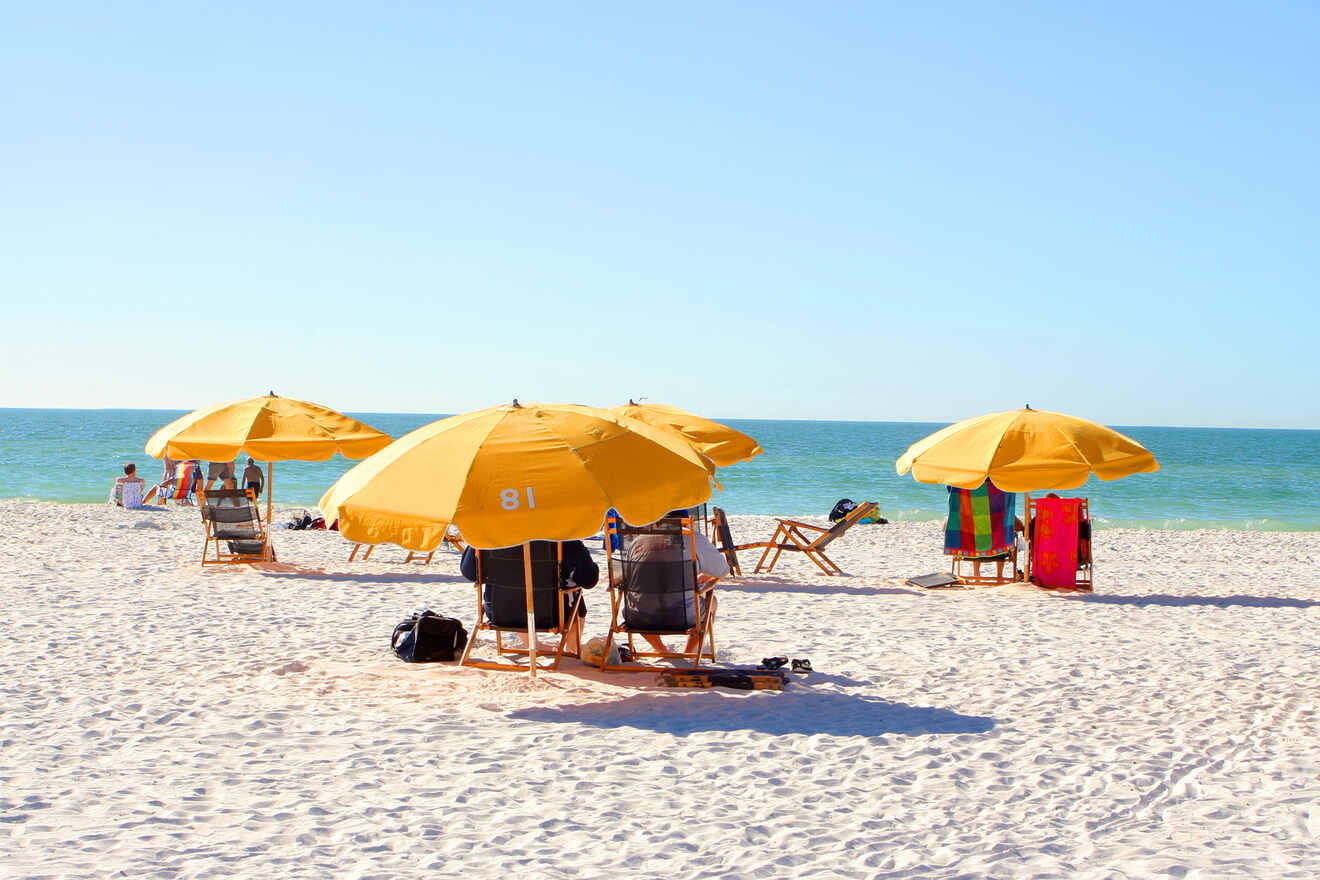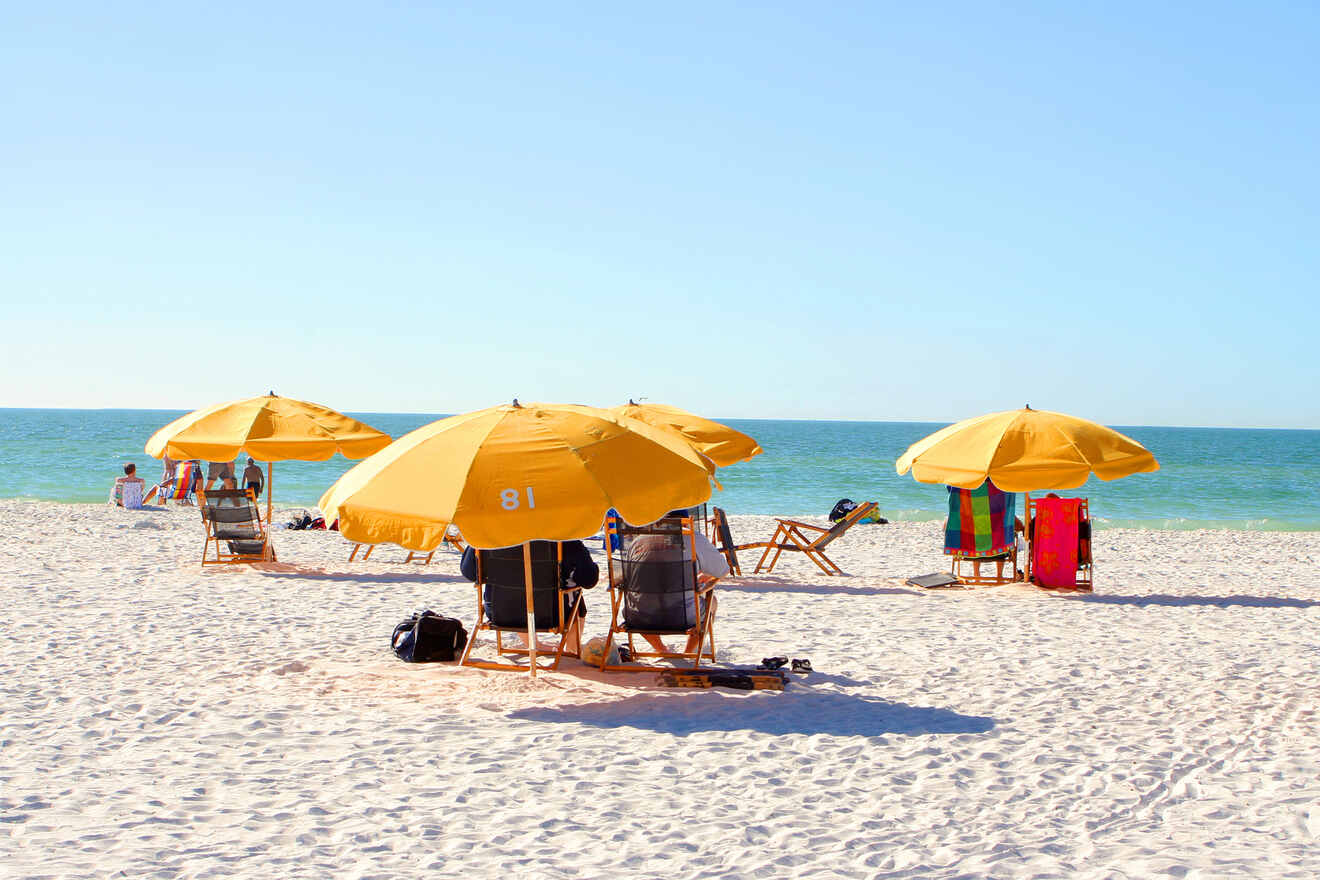 Covering 95 gorgeous acres of land, Sand Key Park is truly a gem of Clearwater, Florida.
This stunning expanse of natural lands encompasses miles of greenery and a tranquil and sandy beach area to enjoy some wilderness on your special beach day.
Most people head to Sand Key for the beach, which is so beautiful! If you're the type that enjoys a more secluded and natural beach, Sand Key Park is for you!
This beach is also a sea turtle nesting area! Be sure to keep that in mind, as they nest from April through October.
Sand Key Park has many amenities, such as grills, gazebos, picnic tables, a playground, and restrooms for your convenience! There is also a dog park, so you can bring your furry friend!
NOTE: For those needing a beach-friendly wheelchair, these are also available for free.
PRICE: US$5
3. See the marine life at the Clearwater Marine Aquarium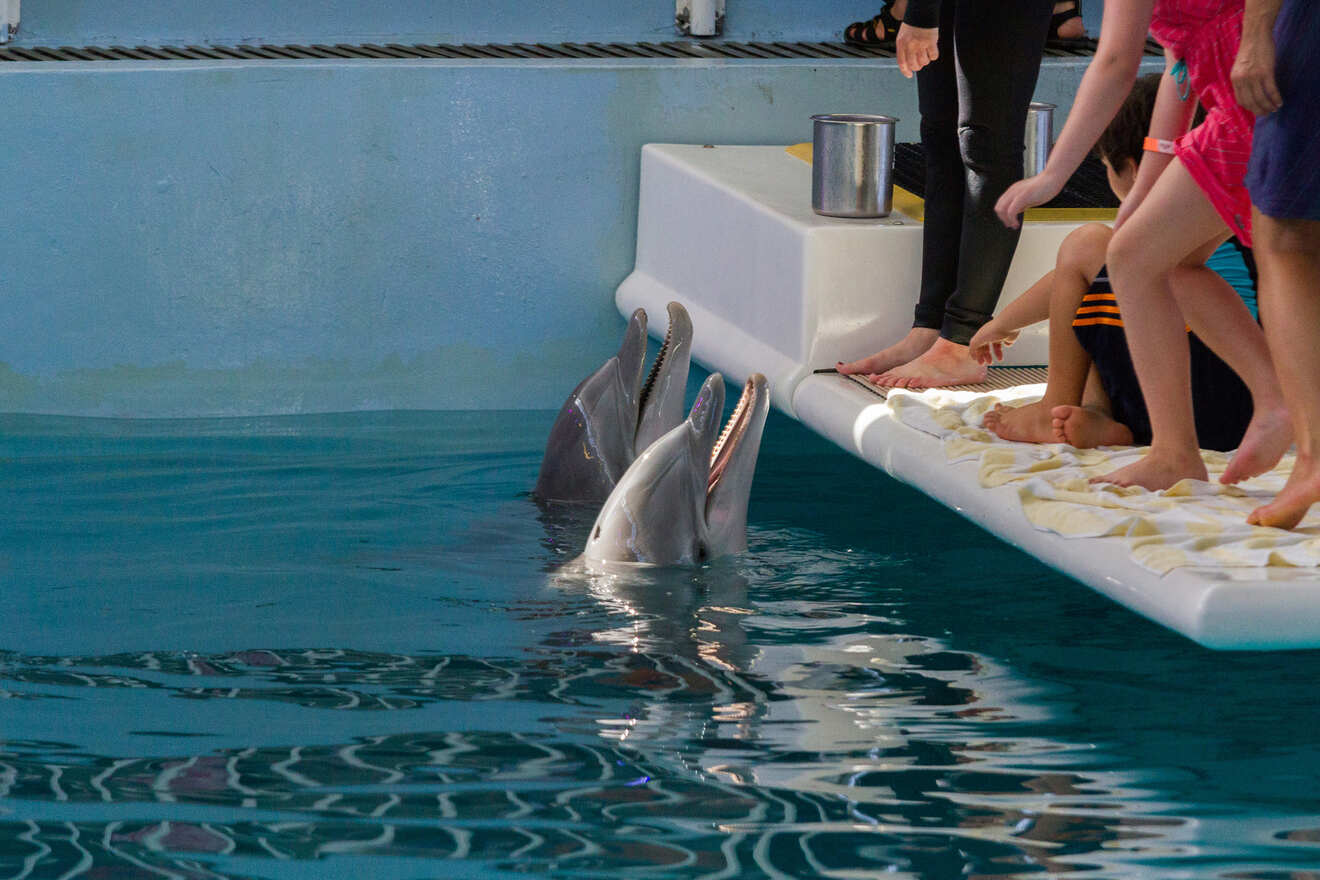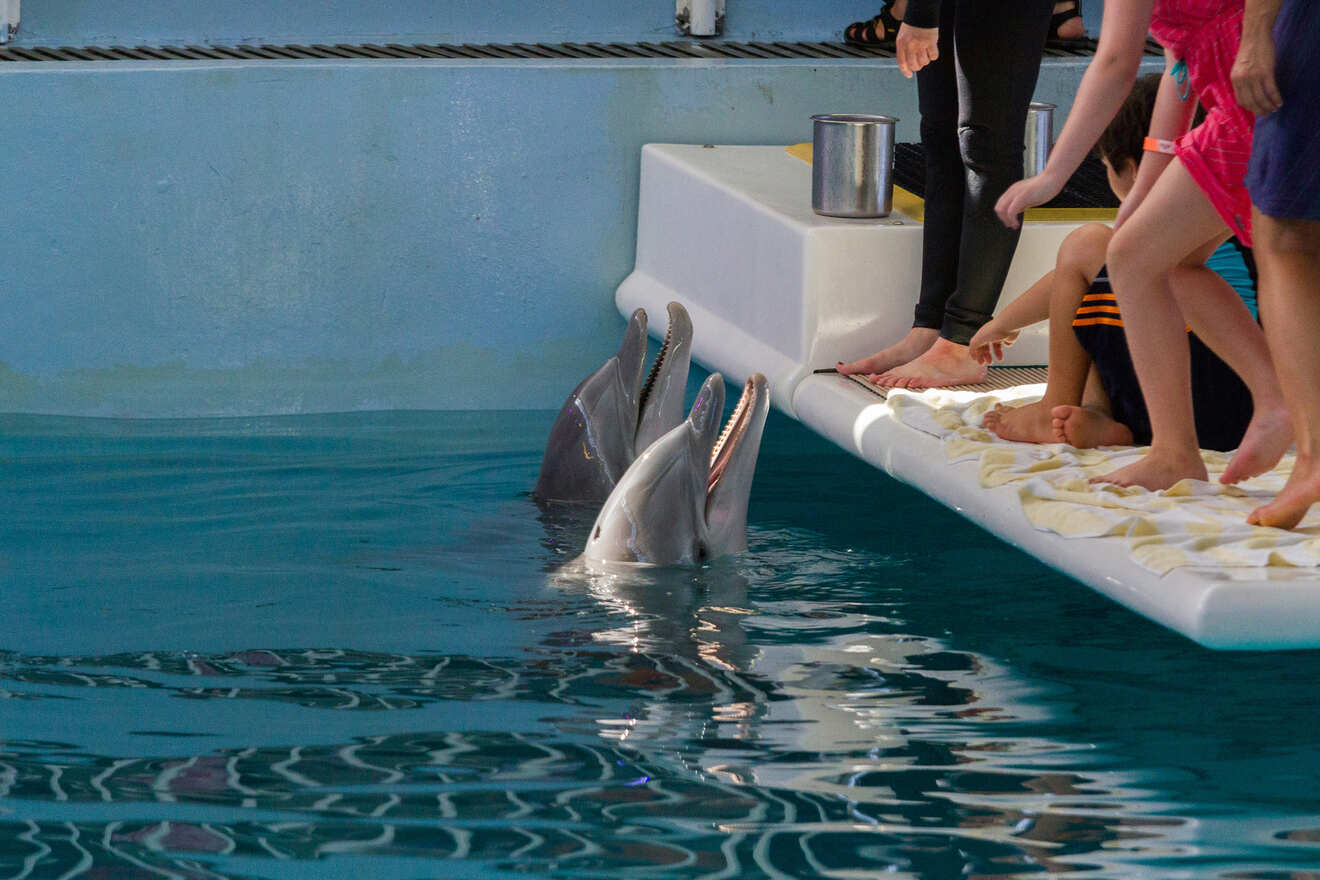 The world-famous Clearwater Marine Aquarium should be high on your list of things to do in Clearwater!
At the Clearwater Marine Aquarium, you can see their resident dolphins, pelicans, sea turtles, clever otters, and powerful stingrays.
One of the coolest things about the Clearwater Marine Aquarium is the sheer amount of touch tanks for kiddos to enjoy and get one-on-one experiences with these incredible animals.
They also have a working animal hospital which functions as their dedicated Rescue Center, where they help a lot of different marine life overcome some pretty intense injuries.
The Clearwater Marine Aquarium then releases the sea creatures and animals back into their natural habitats once they are remedied and healthy enough to return to the world on their own.
PRICE: US$36
Get Your Eco-Tour of the Marine Aquarium
4. Shop til you drop at Westfield Countryside Mall
This is your ultimate stop for a super fun shopping experience! There are plenty of family-friendly entertainment options such as a movie theater, and you can easily spend a whole day there shopping, eating in one of the amazing restaurants, and just window shopping 🙂
There's also an ice rink at Westfield Countryside Mall! For the kiddos, there are plenty of little rides they can go on in the mall so they'll be entertained no matter what.
5. Take the kids to Celebration Station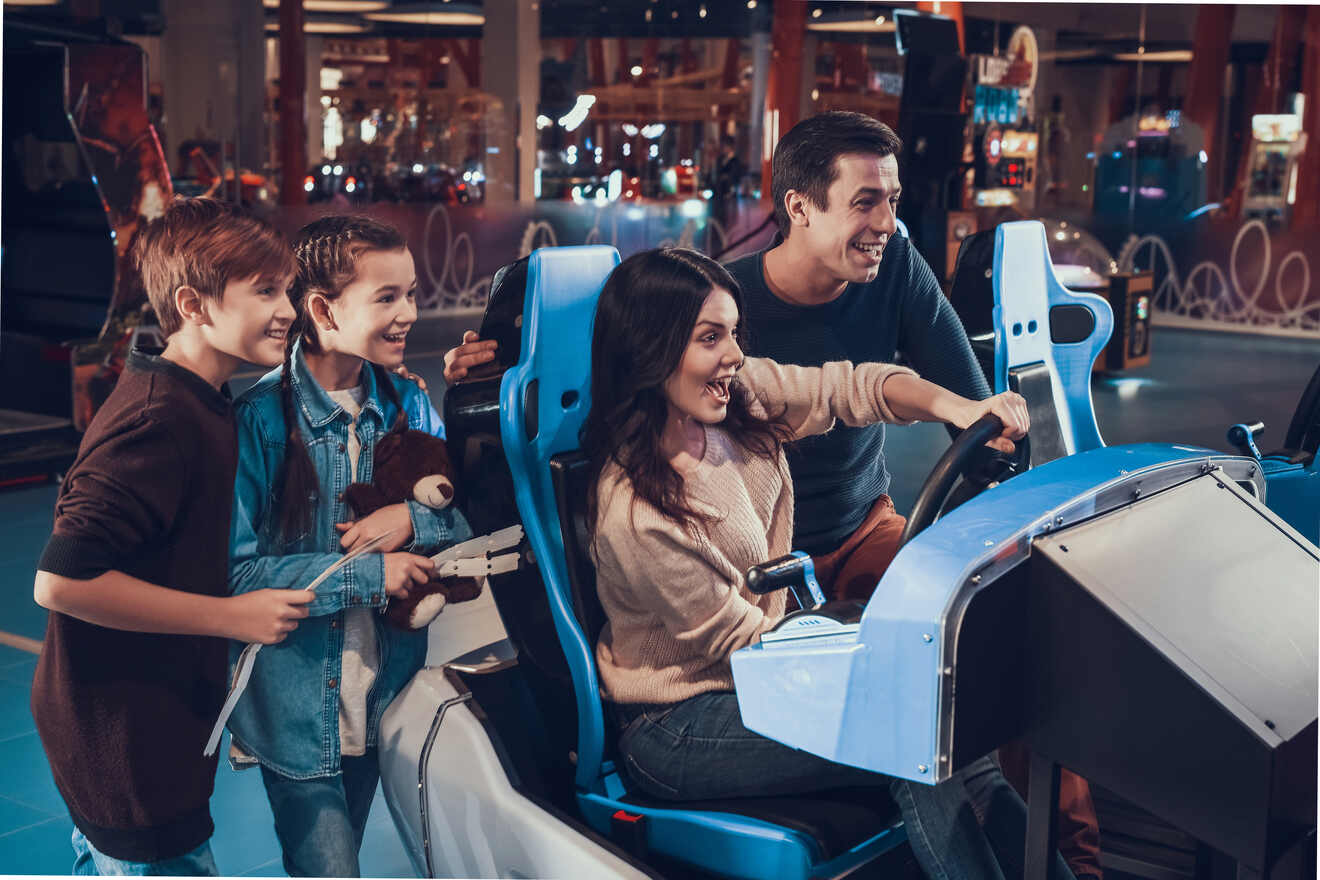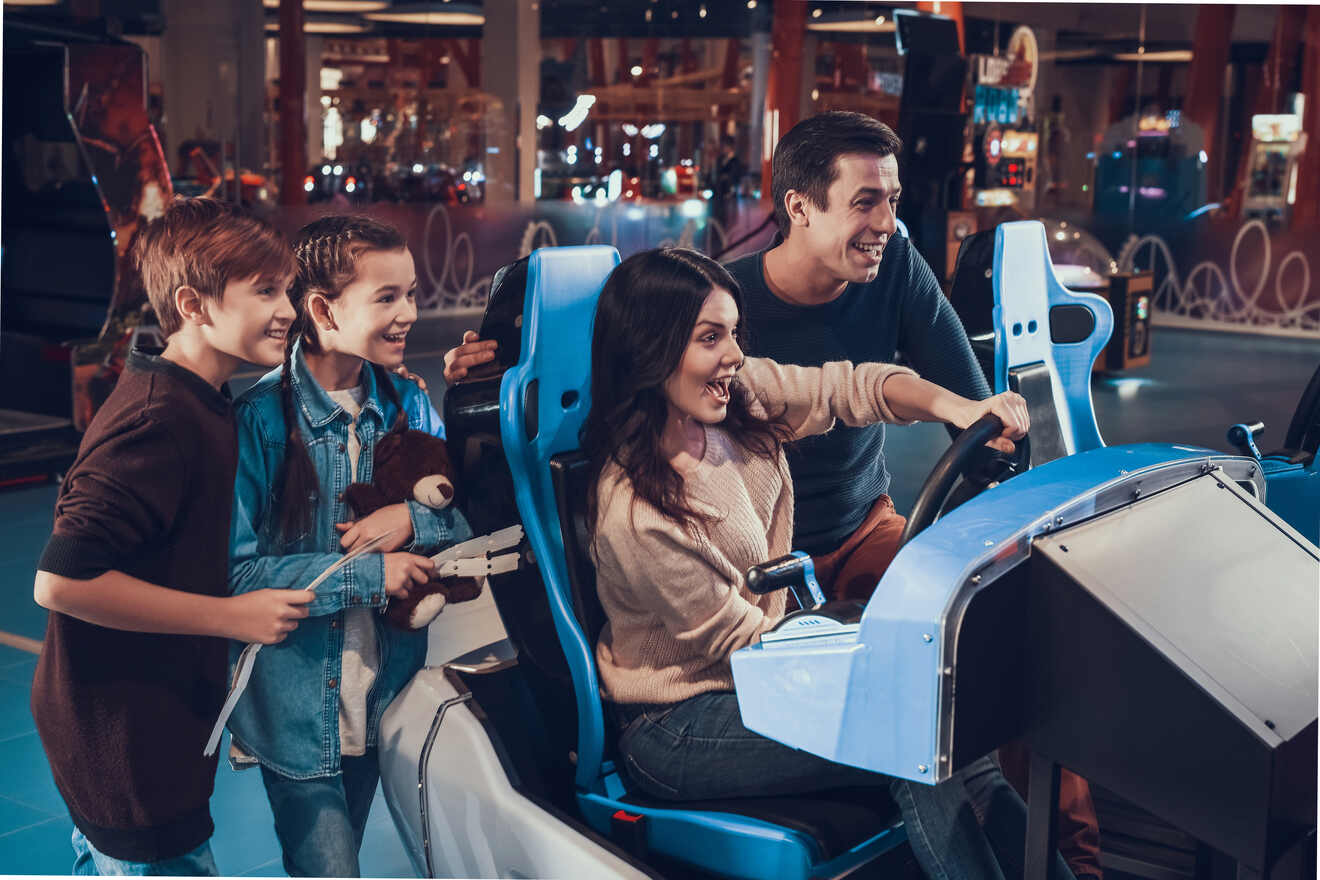 Celebration Station is one of those AMAZING all-in-one attractions where you can literally do anything you want – whether it's laser tag, miniature golf, mini rides, go karting, arcade games – you name it, Celebration Station has it!
It's honestly the best place to take the kids to get some real family bonding during your trip to Clearwater. It's about 20 minutes' drive from central Clearwater but it's really well worth the trip.
6. Enjoy some mini golf at Congo River Golf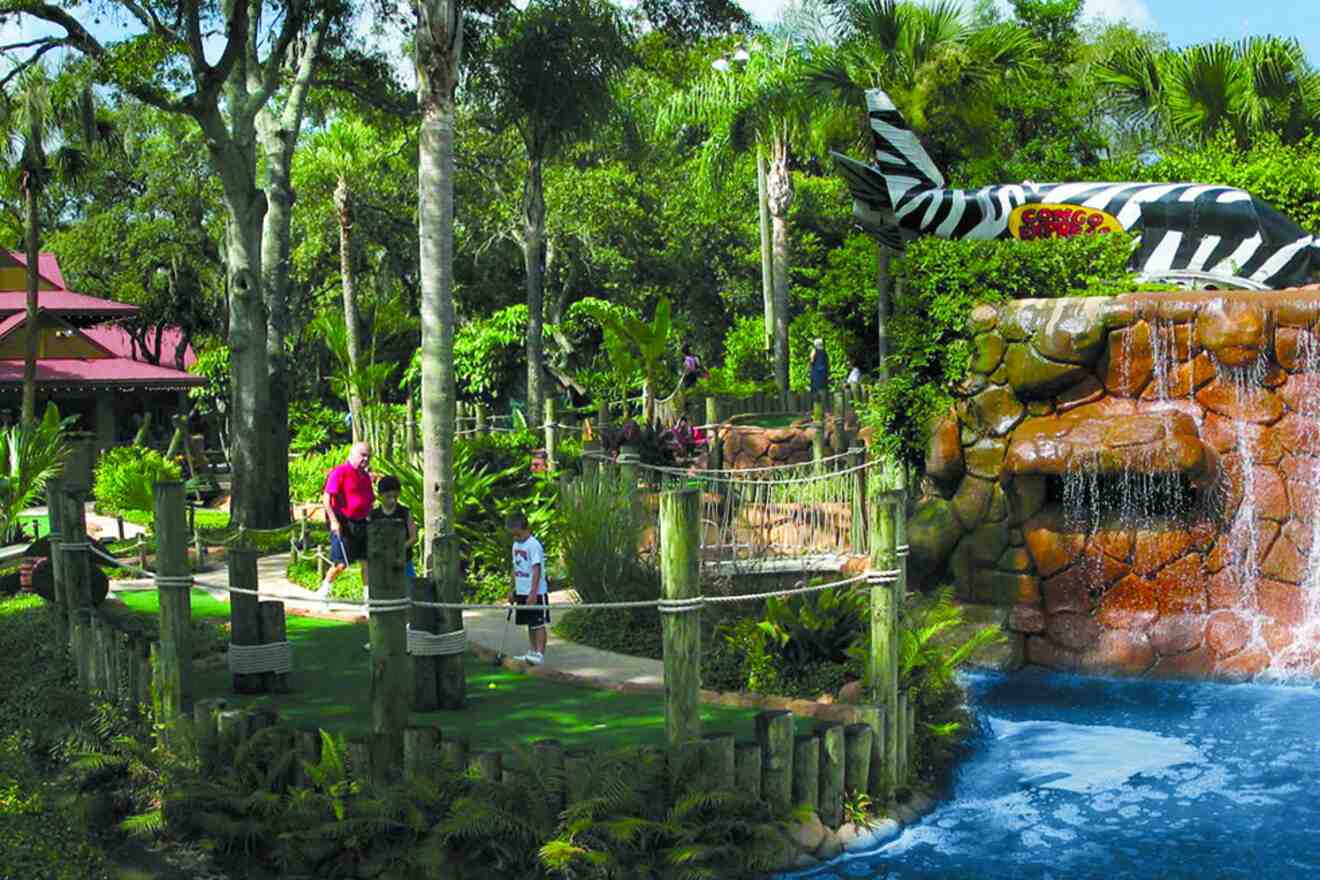 If you are looking for the best things to do in Clearwater, Florida, with family, Congo River Golf is definitely up there!
Complete with mysterious caves, waterfalls, lush tropical foliage, and summits, Congo River Golf is sure to take you away on an Indiana Jones-level tropical adventure!
Another fun activity for the little ones is a gem mining challenge where you can dig and find incredible ancient gems!
Wait for it…
There are also some live alligators that you can feed! This is a super fun experience for the little ones and the whole family as you get to watch these living dinosaurs eat in real-time.
Plus, there's an arcade with lots of fun and exciting games that your kiddos will absolutely love!
However, there is one adventure at Congo River Gulf that it is most well known for: it's called the Exploration Game, where, in true Indiana Jones fashion, you follow a daring explorer's steps. As you ascend on the exploration mission, you will find treasures along the way!
PRICE: US$14
7. Be one with nature at the Moccasin Lake Nature Park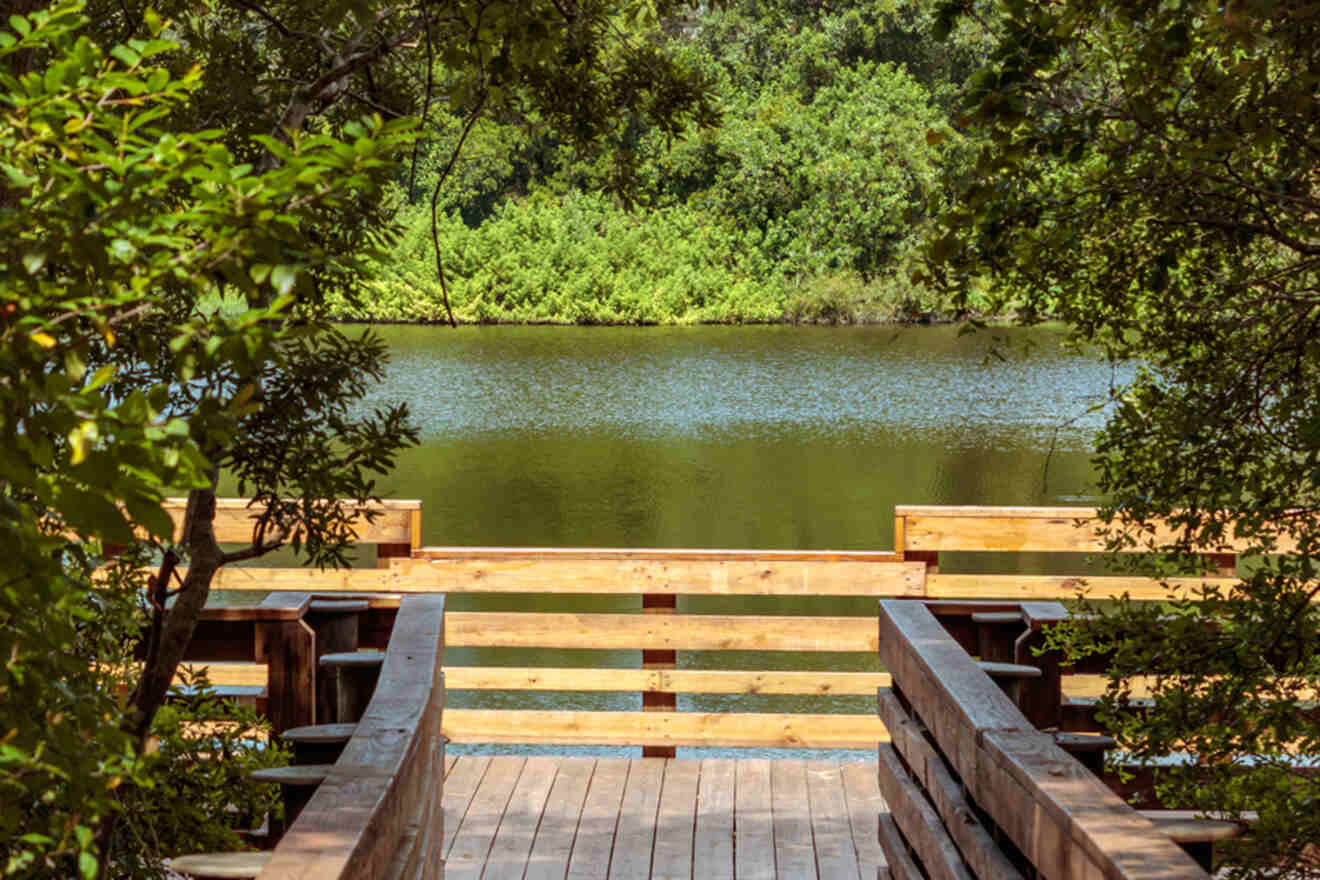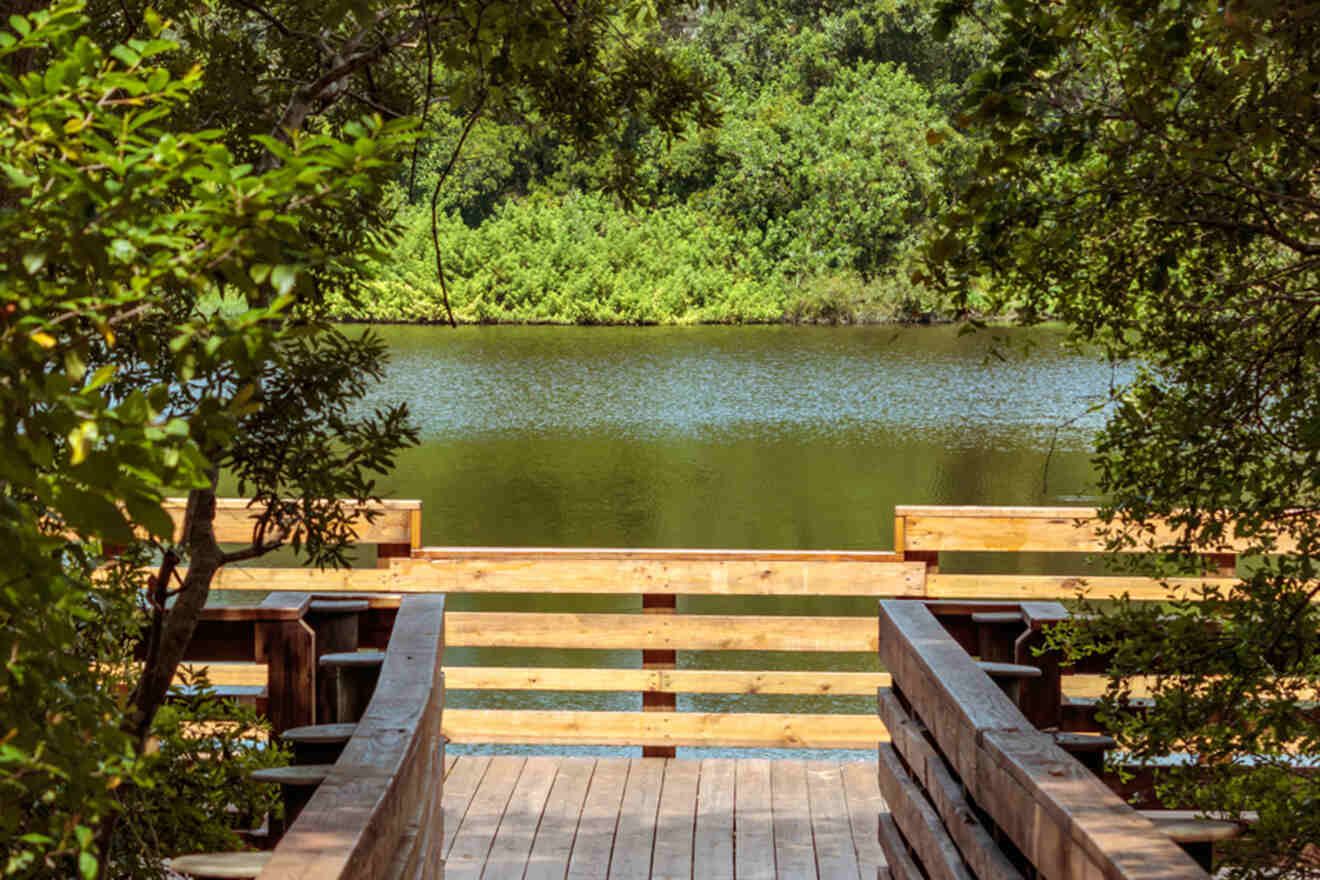 Moccasin Lake Nature Park is one of the best things to visit in Clearwater!
Tucked away in a gorgeous crevice of untouched wild Florida nature lies this stunning nature park complete with trails, creeks, ponds, and boardwalks.
Here you can find diverse wildlife from gopher tortoises, wading and predatory birds, raccoons, and so much more! The park offers classes, various programs, camps, and an indoor and outdoor meeting space.
At the nature center, you will learn all about wild Florida's flora and fauna. This makes for a great interactive experience with the entire family.
They even rehabilitate several different birds at their wildlife center. For those who need a break from the hustle and bustle of city life, or want to see some nature, Moccasin Lake Nature Park is an excellent choice!
NOTE: There is also a loop trail that is entirely wheelchair accessible!
PRICE: Free
8. Treat yourself to a tropical vacation on the Calypso Queen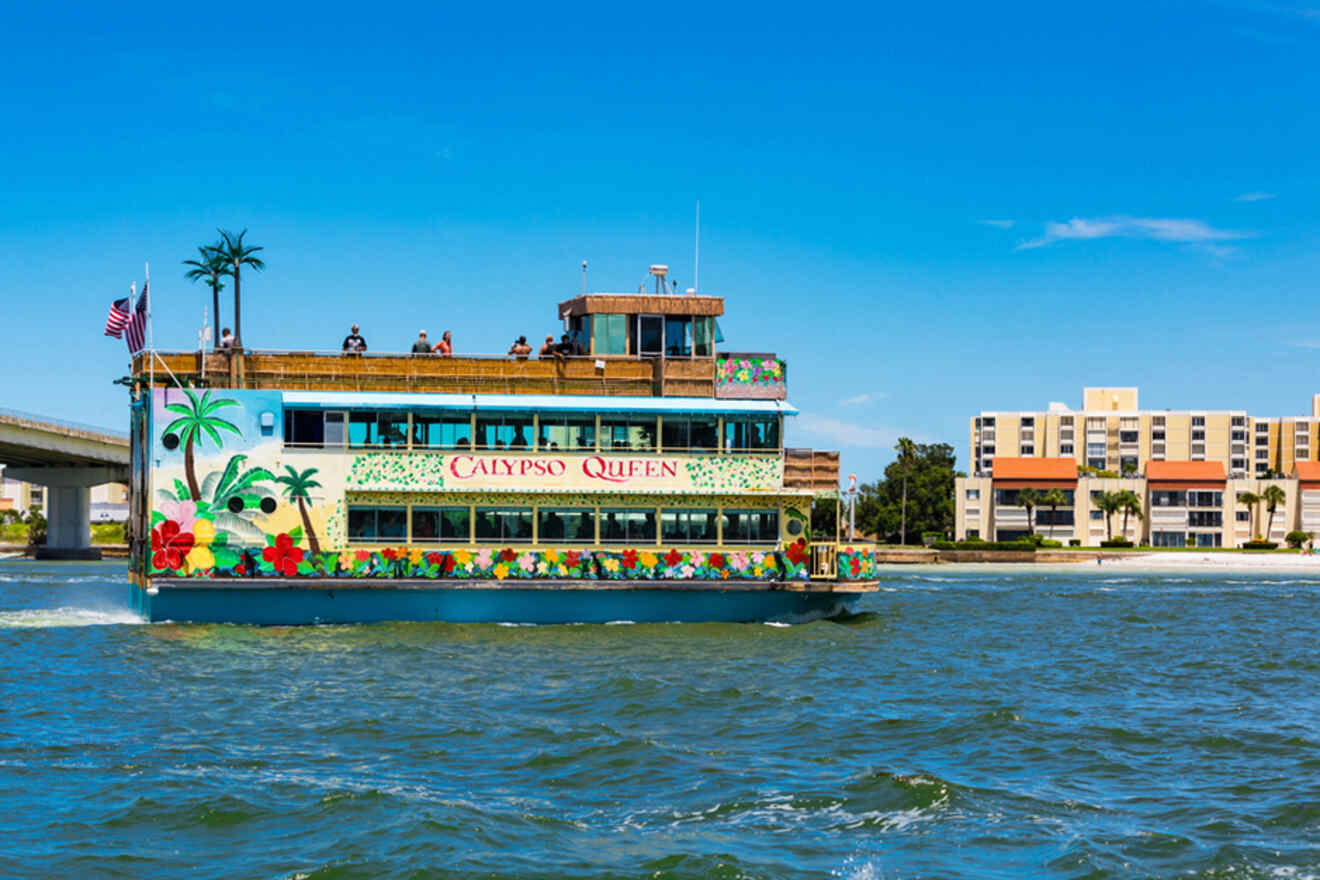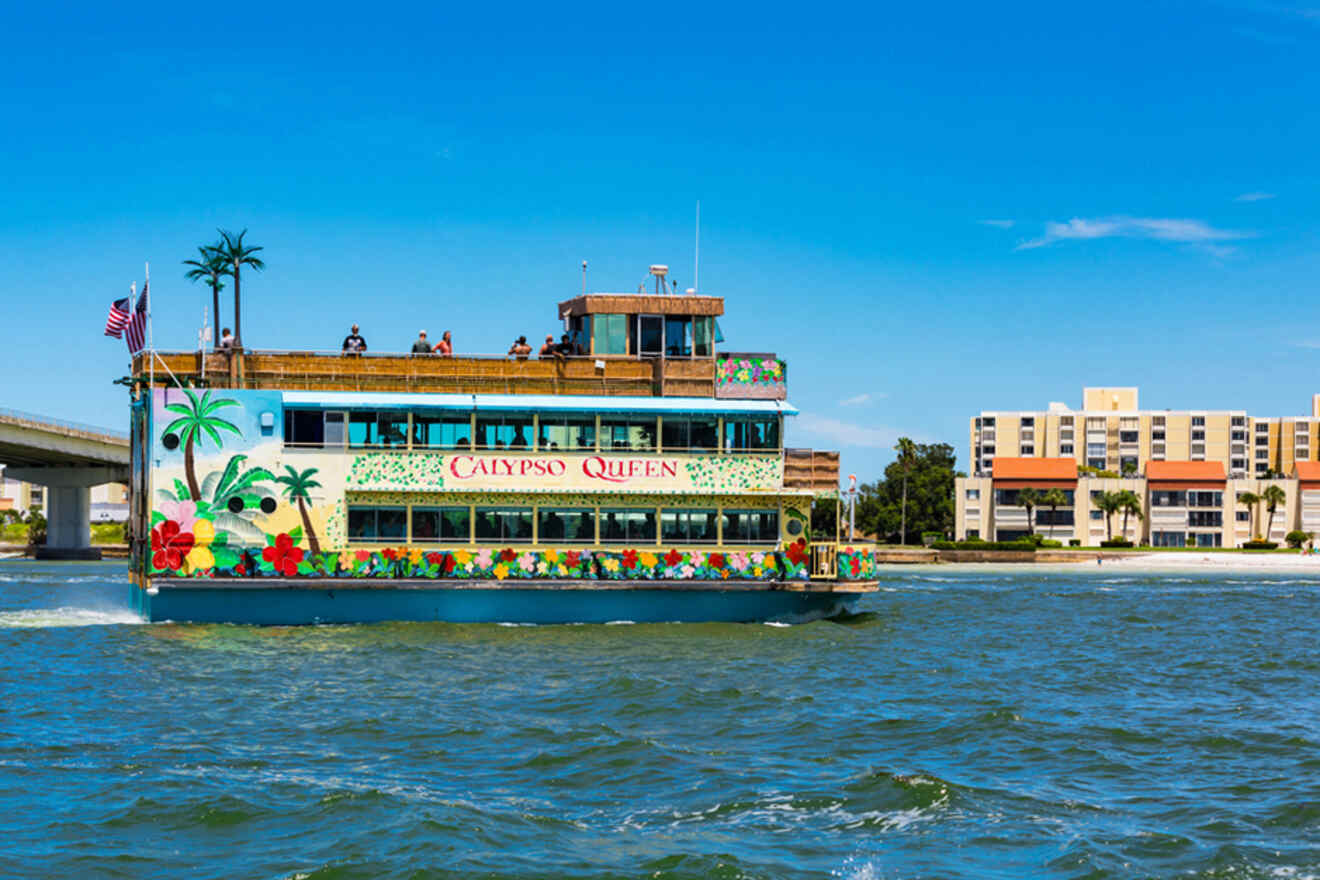 What better way to level up your vacation than hopping on a tropical party buffet cruise?
Easily one of the most popular things to do in Clearwater, you will not regret this super fun and tropical excursion for adults
You can either take a daytime or nighttime cruise through the gorgeous Gulf waters of Clearwater.
You can choose from a lunch or dinner tropical buffet complete with an open of tropical punches, rum, and a selection of wine or beers. The evening cruise has a DJ and tons of dancing!
It's basically a tropical party bus on a boat on gorgeous clear Gulf waters.
There is also live commentary from the ship's captain and you can pick from various deserts.
PRICE: US$46
Book Your Tropical Party Cruise
9. Take a pirate-themed cruise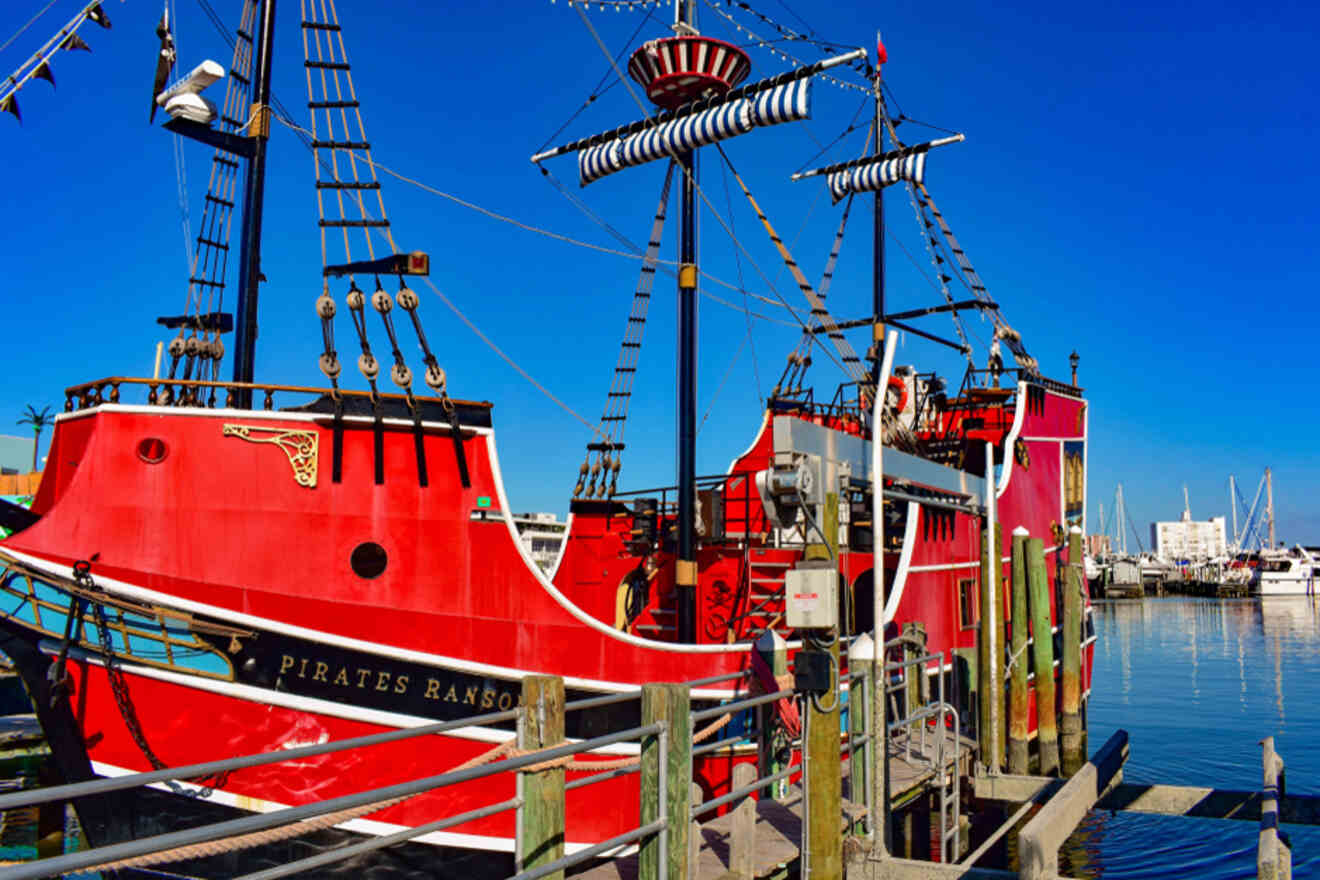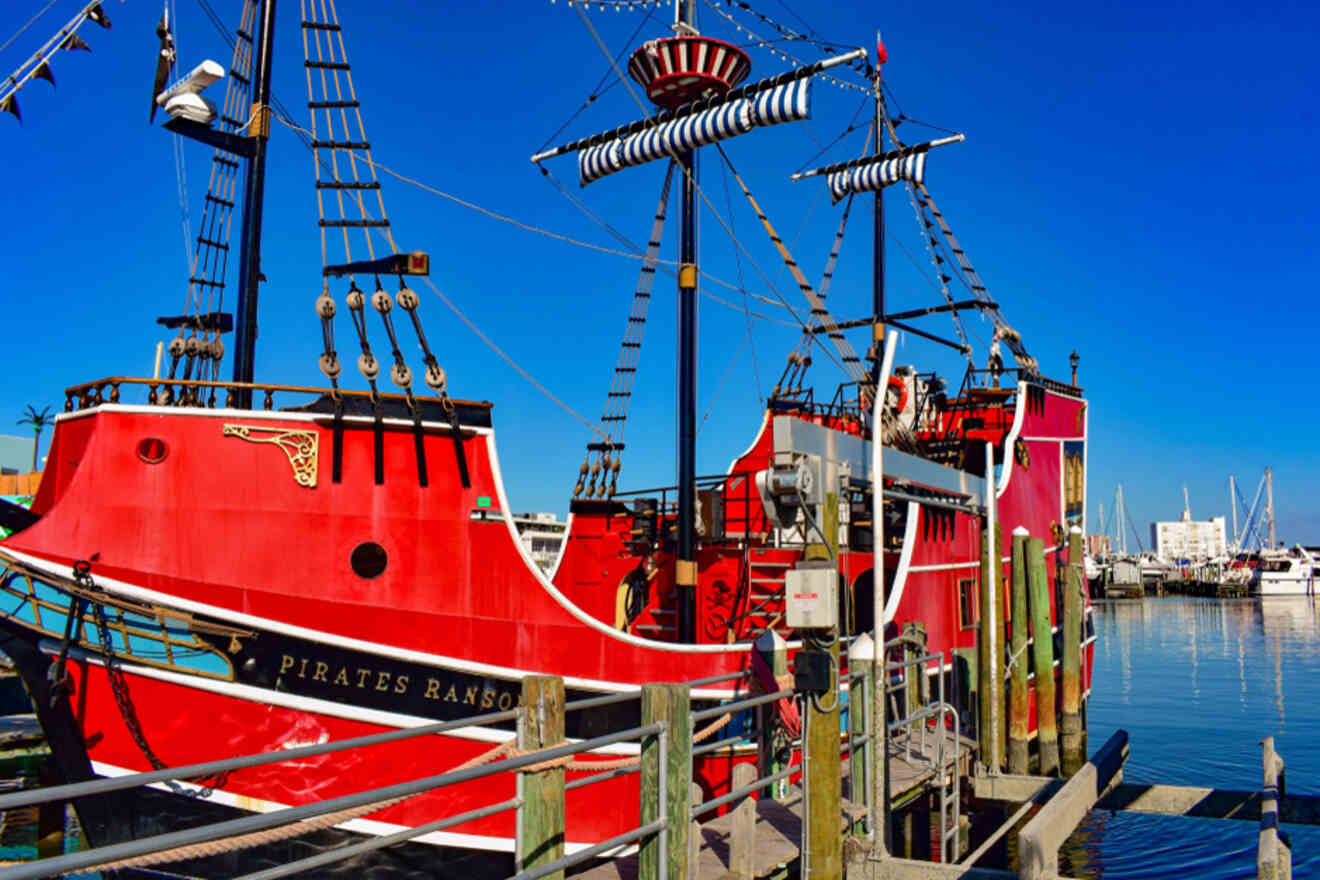 This is an amazing experience for the whole family! Doesn't matter how old you are, you'll definitely love this one!
During your cruise, you'll play games, have water fights, shoot cannons, and have a dance party! The cruise includes free alcoholic beverages (champagne and beer) for the adults and free soft drinks for the kids, so it's definitely worth it on your trip to Clearwater!
You'll set off from Clearwater Beach Marina, so you just need to take a quick drive over the bridge to get there and enjoy your day!
You can make reservations for your cruise here – just bear in mind that you can't make same-day reservations online, so make sure to plan in advance!
PRICE: US$42
10. Explore Cliff Stephens Park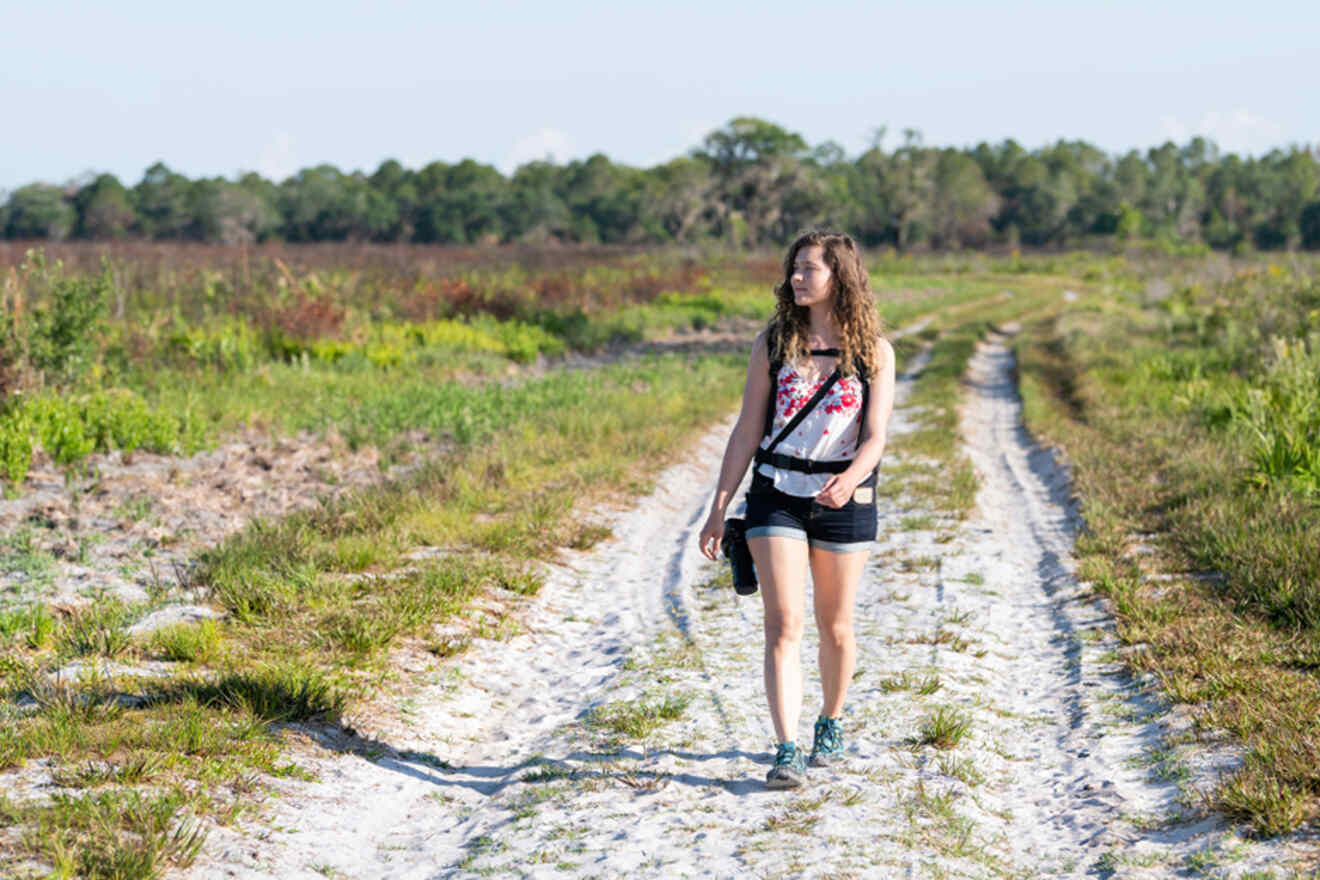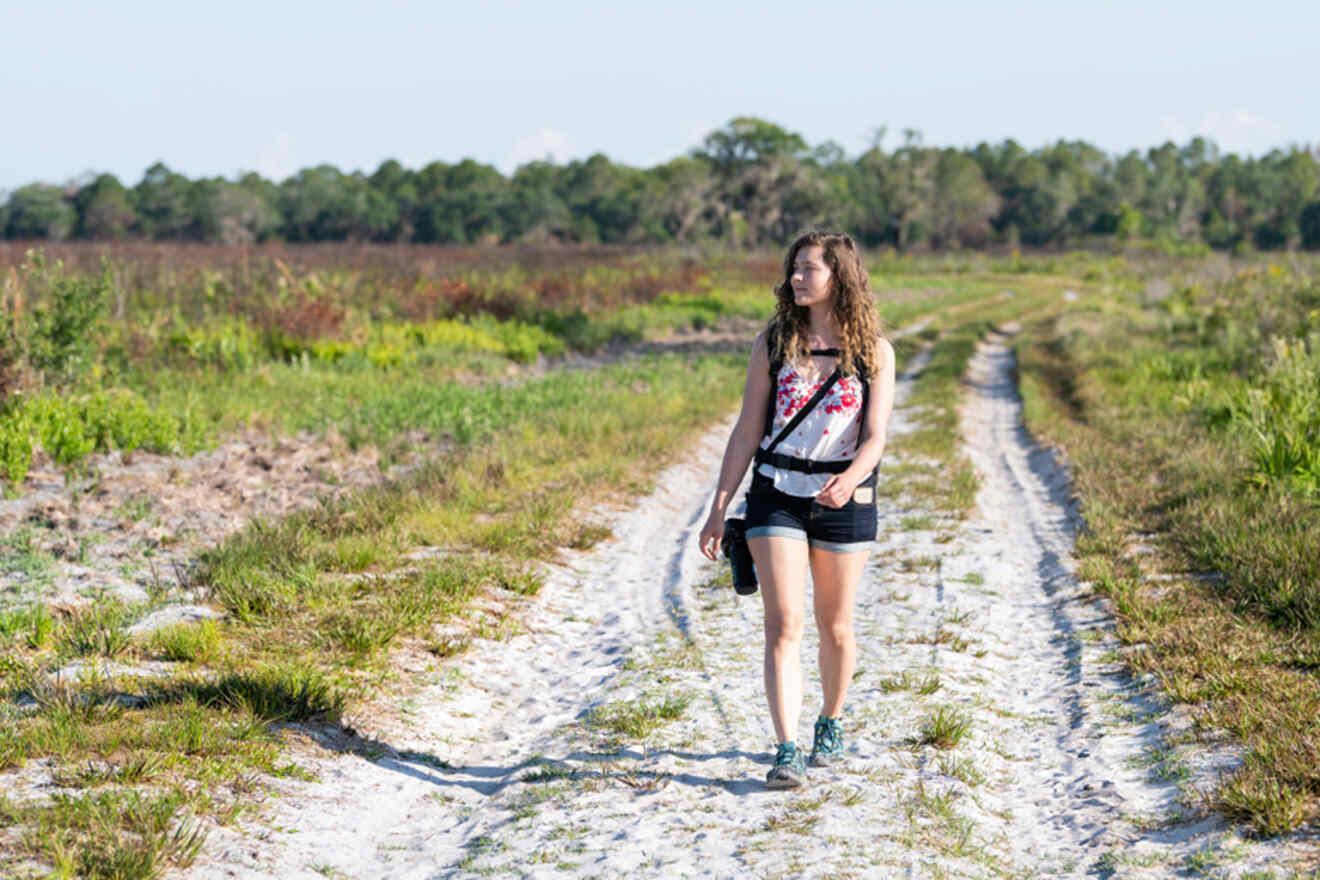 This tranquil, scenic, and lush 44-acre park is your personal oasis in Clearwater, Florida.
Only four miles east of downtown Clearwater, this incredible snapshot of nature is the perfect place for a picnic, a nature stroll, sightseeing, and birdwatching over the pond!
There are all sorts of different birds and wildlife at Cliff Stephens Park for your viewing. This picturesque environment is a lovely treat on your trip to Clearwater.
There are many paved trails fit for hiking, biking, skating, or just wandering about. There are grills to cook up some delicious treats while enjoying the gorgeous view and serene vibe of it all.
PRICE: Free
11. Go on a dolphin adventure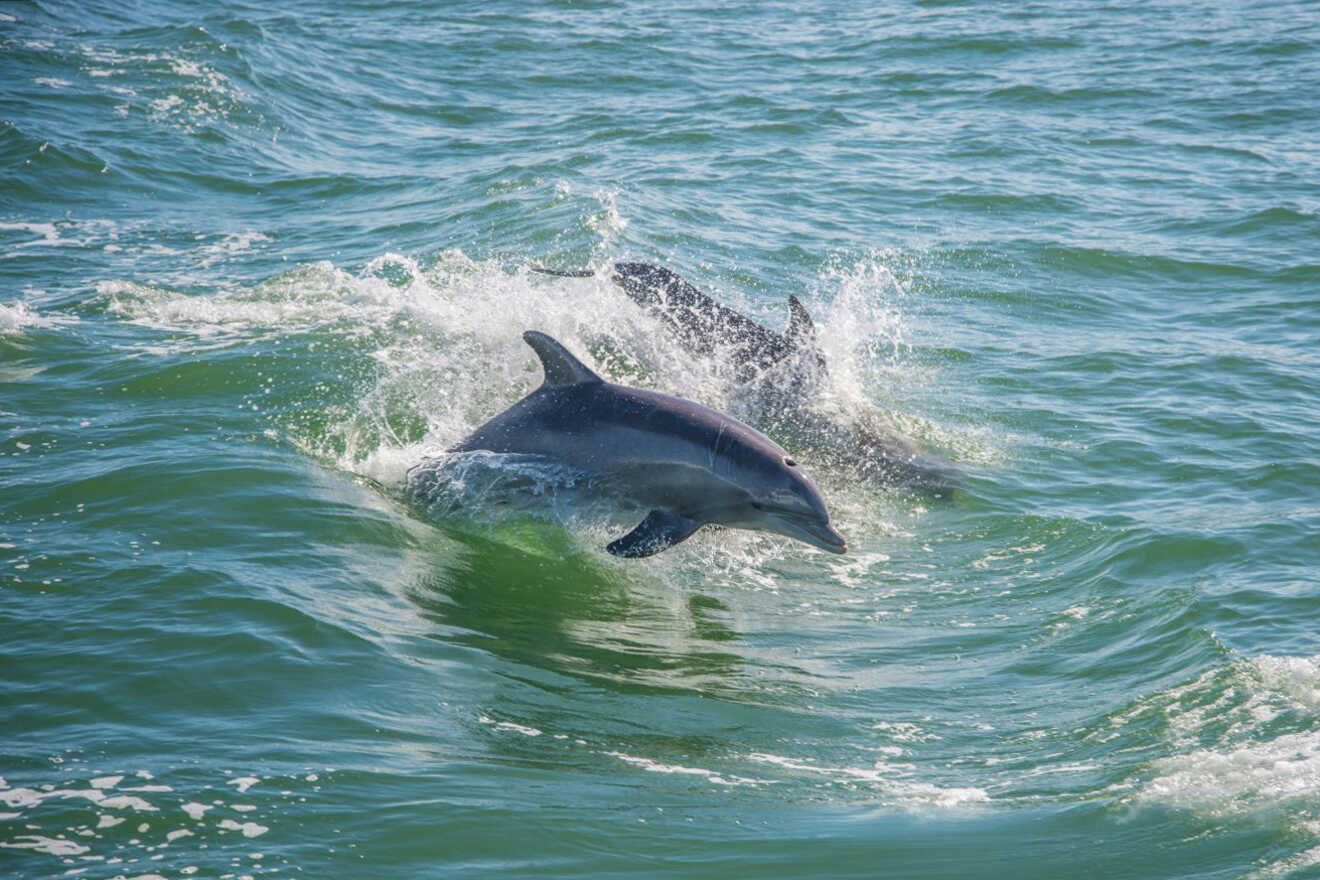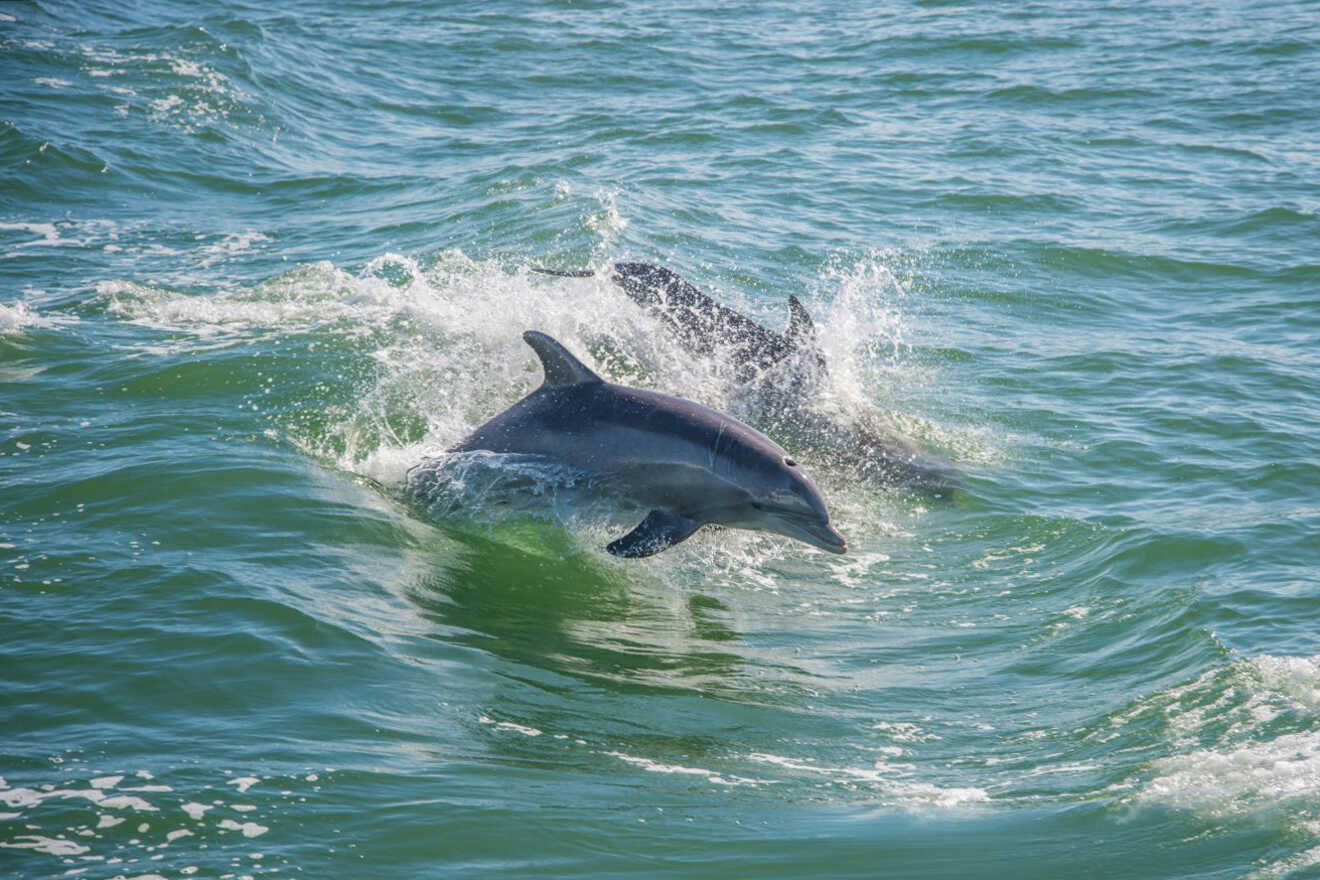 This tugboat-style boat is perfect for the whole family to get a chance to see some of Clearwater's famous dolphin sightings!
Clearwater, Florida is well known for its wild dolphin sightings. This little tugboat creates a wake that the dolphins love to play in!
Seeing dolphins in an aquarium setting can sometimes be a little depressing. Seeing them in their natural environment, where they are wild and free, is a truly incredible and enlightening experience.
On this dolphin sightseeing adventure, you can be in arms reach of these brilliant ocean-dwelling mammals.
PRICE: US$35
12. Grab a craft beer at Big Storm Brewing Co.
If you're a fan of craft beers, you will not want to miss out on Big Storm!
Big Storm Brewing Co. is a central part of the food and drinks culture of Clearwater. Founded back in 2012, they have been the recipient of multiple different awards for all their varieties of delicious craft beers!
They feature a 3,500 sq foot covered outdoor patio complete with many large flat screen TVs so you can kick back and enjoy a delicious craft brew.
They also offer delicious meals and recommend a brew that pairs well with each dish they serve so you can get the full experience and flavor profile.
And as of recently, they have ventured into the world of distillery production and offer a variety of distilled spirits for your enjoyment.
13. Explore the District in Downtown Clearwater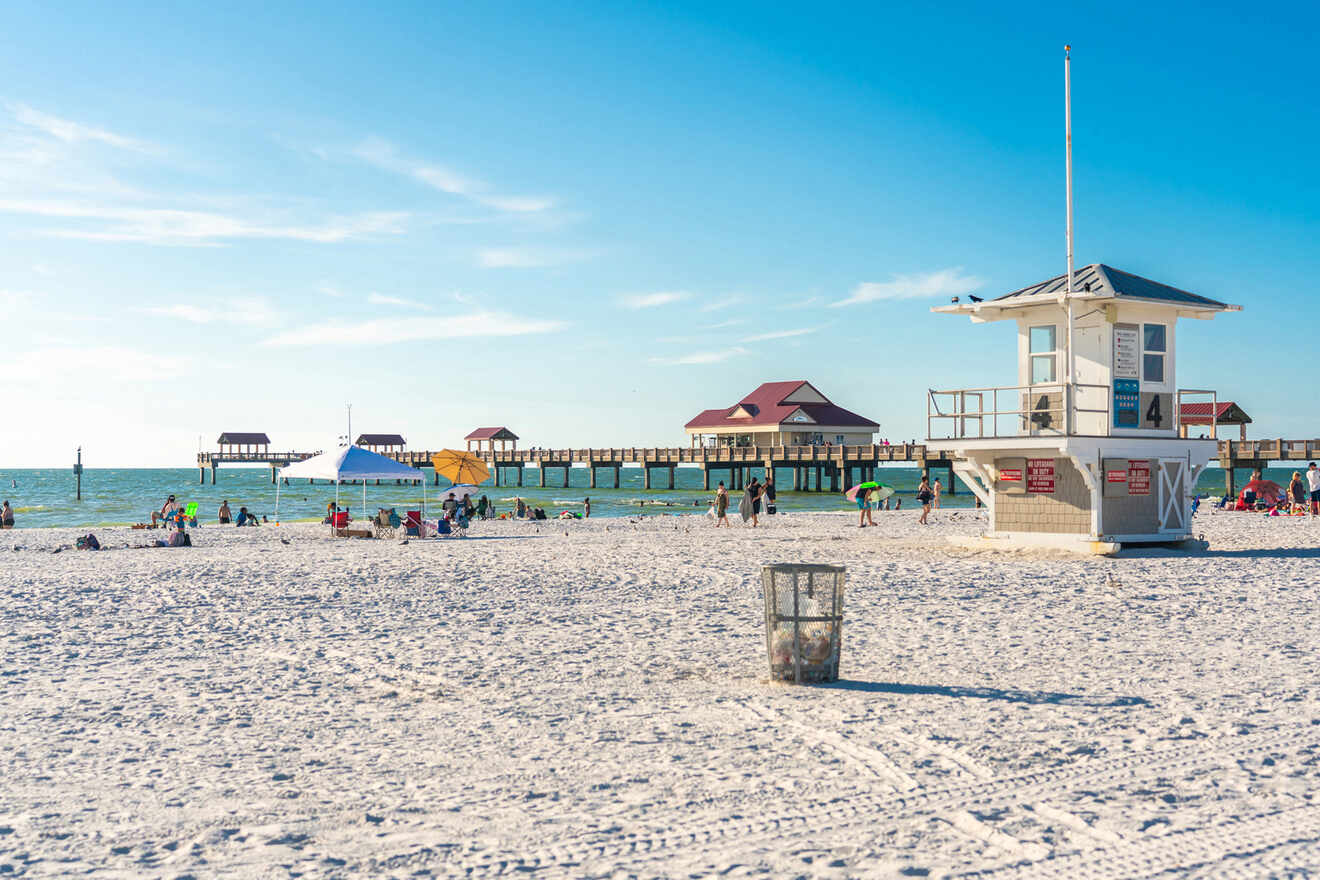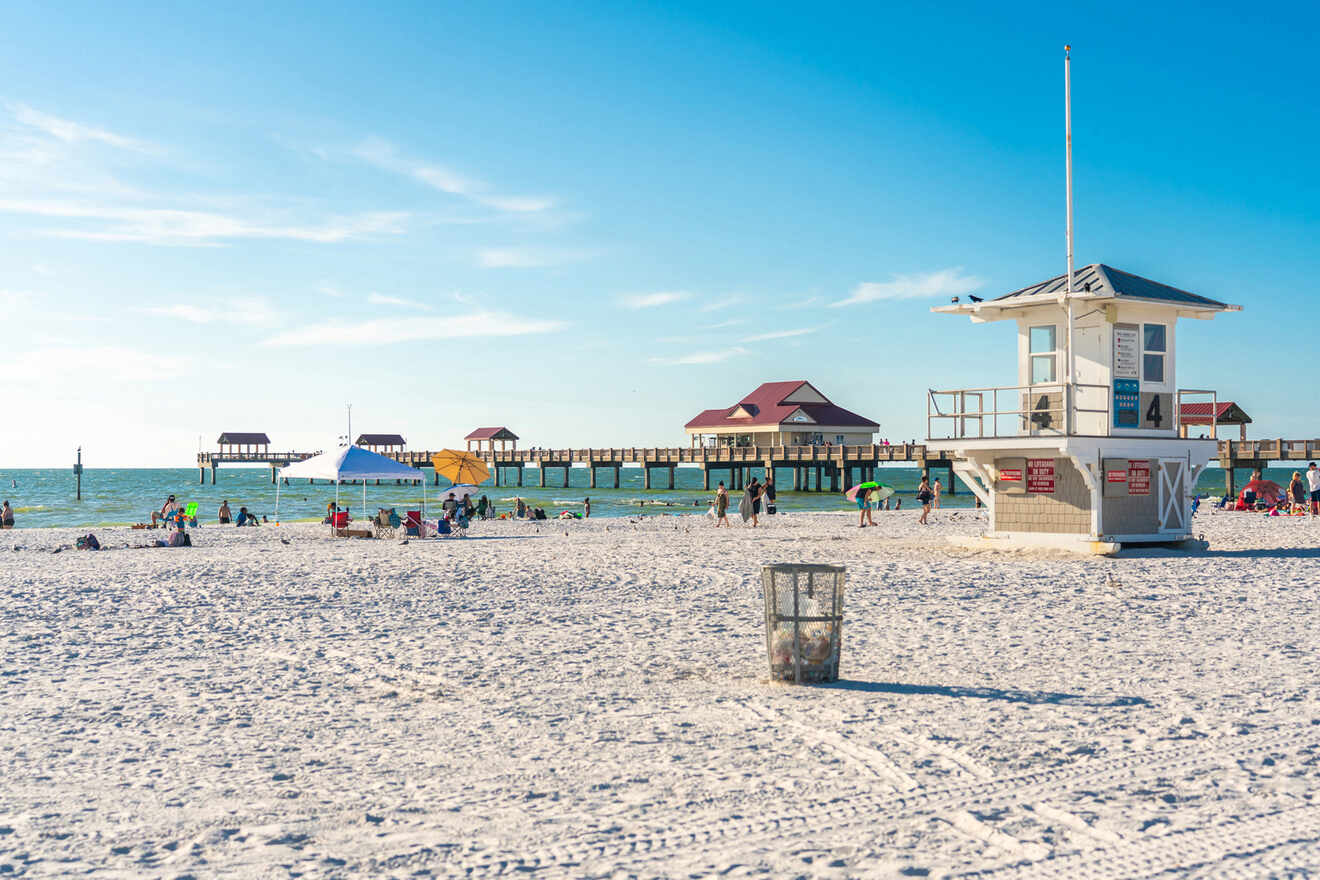 Looking to get a taste of the city life in Clearwater? Here you can immerse yourself in the cute and exciting urban scene that makes up Downtown Clearwater.
This beachside city has the exciting metropolitan feel of most Florida cities. However, you get an incredible view of the beach as you peruse the downtown area and get a feel for the heart of the city of Clearwater!
Framed by palm trees with an undoubtedly tropical feel, get the best of both worlds by being beachside and enjoying the hustle and bustle of urban city life.
Sitting on a 30 ft tall bluff, you get gorgeous views and panoramas of the harbor and beyond. The city is well known for great shopping, eating, walking, people-watching, and window-shopping!
PRO TIP: Don't miss the numerous art installations that dot the city streets of the District!
PRICE: Free
14. Eat real good at the Palm Pavilion Beachside Grill & Bar
Opening its doors almost 100 years ago, the Palm Pavilion Beachside Grill & Bar is an absolute haven for visitors and locals alike.
Between the waterfront location and incredible views, especially around sunset, this is the perfect spot to grab a mouth-watering bite to eat in Clearwater. Perfect for date night!
Foodies will love their menu selection, incredible food options, and their seafood and yummy cocktail list. Enjoy some classic Florida and tropical cuisines such as Florida shrimp, conch fritters, seafood baskets, and much more.
They also offer lots of different gluten-free options!
15. Take a romantic stroll down the beach walk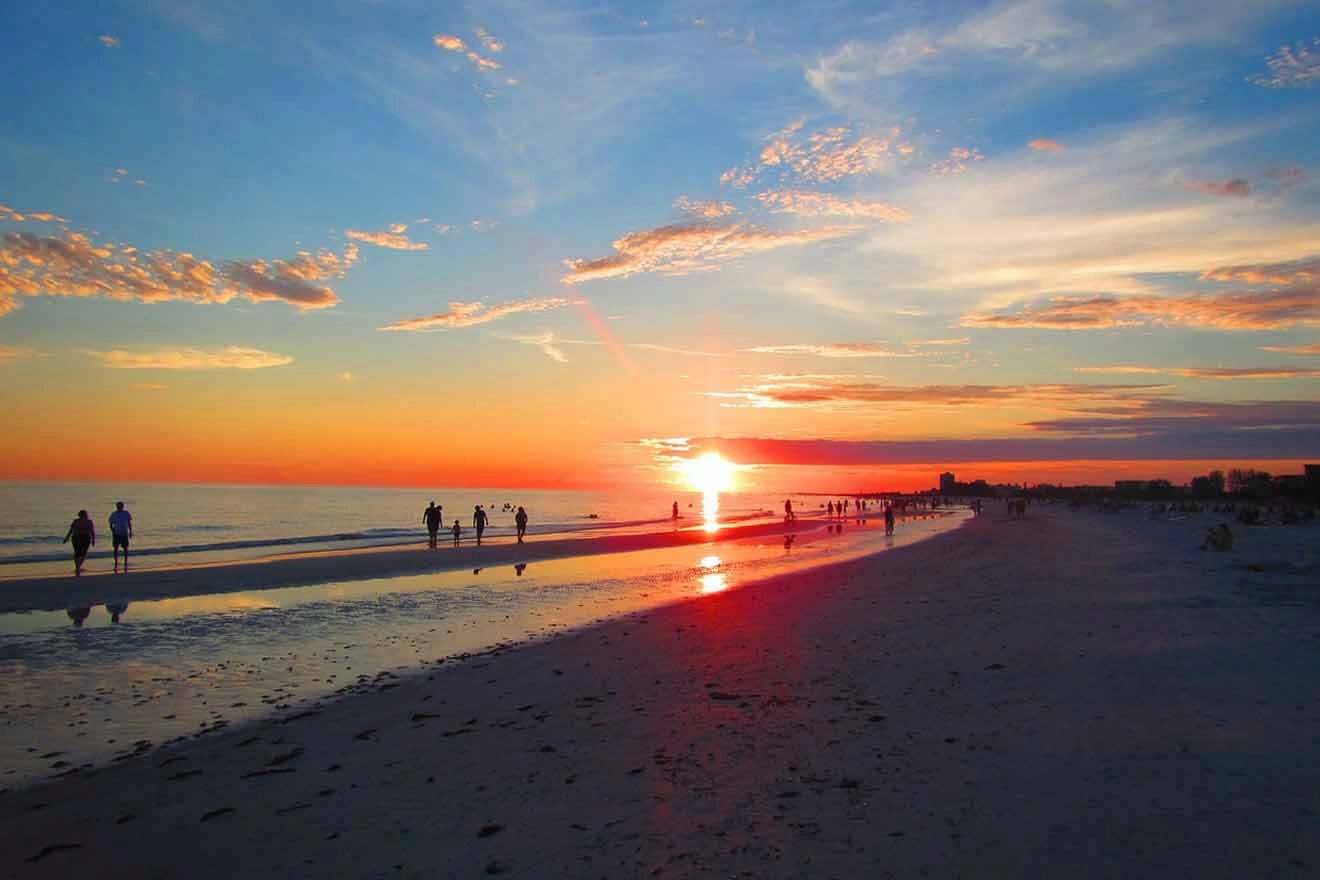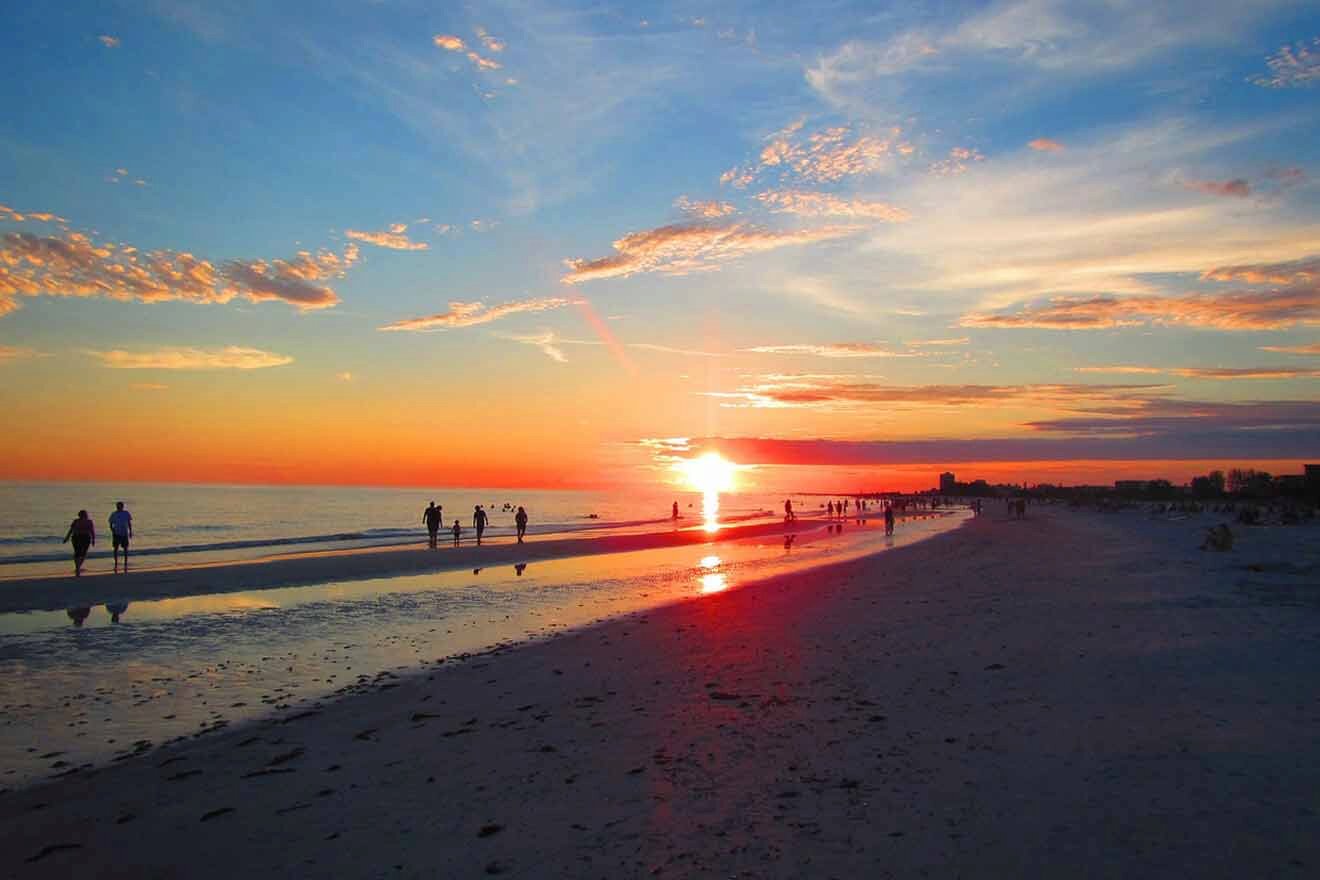 Live like a local and take a stroll down the beach walk in Clearwater Beach, Florida. This is one of the best free things to do in Clearwater Beach.
This is one of the best things to do to get a good feel for the city, take in some awesome views, and feel the sea breeze caress your skin.
It also passes through numerous businesses, including boutiques, art stores, souvenir shops, ice cream parlors, and so much more!
If you want to take a break from driving and explore as a pedestrian, this is the perfect place to unwind and clear your mind.
And if you're a cyclist or a skater, this is the perfect place to explore!
PRICE: Free
16. Jog along Fred Marquis Pinellas Trail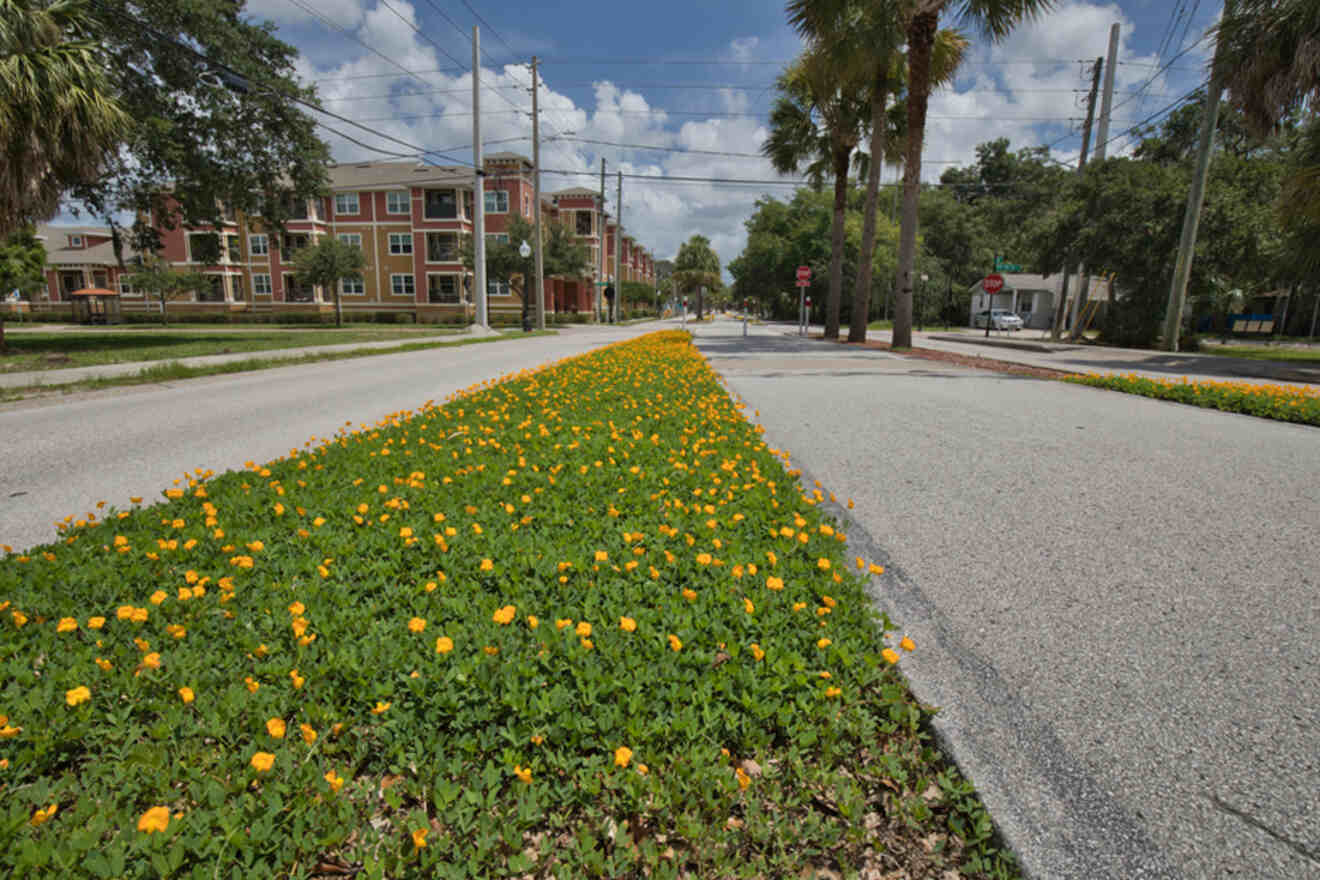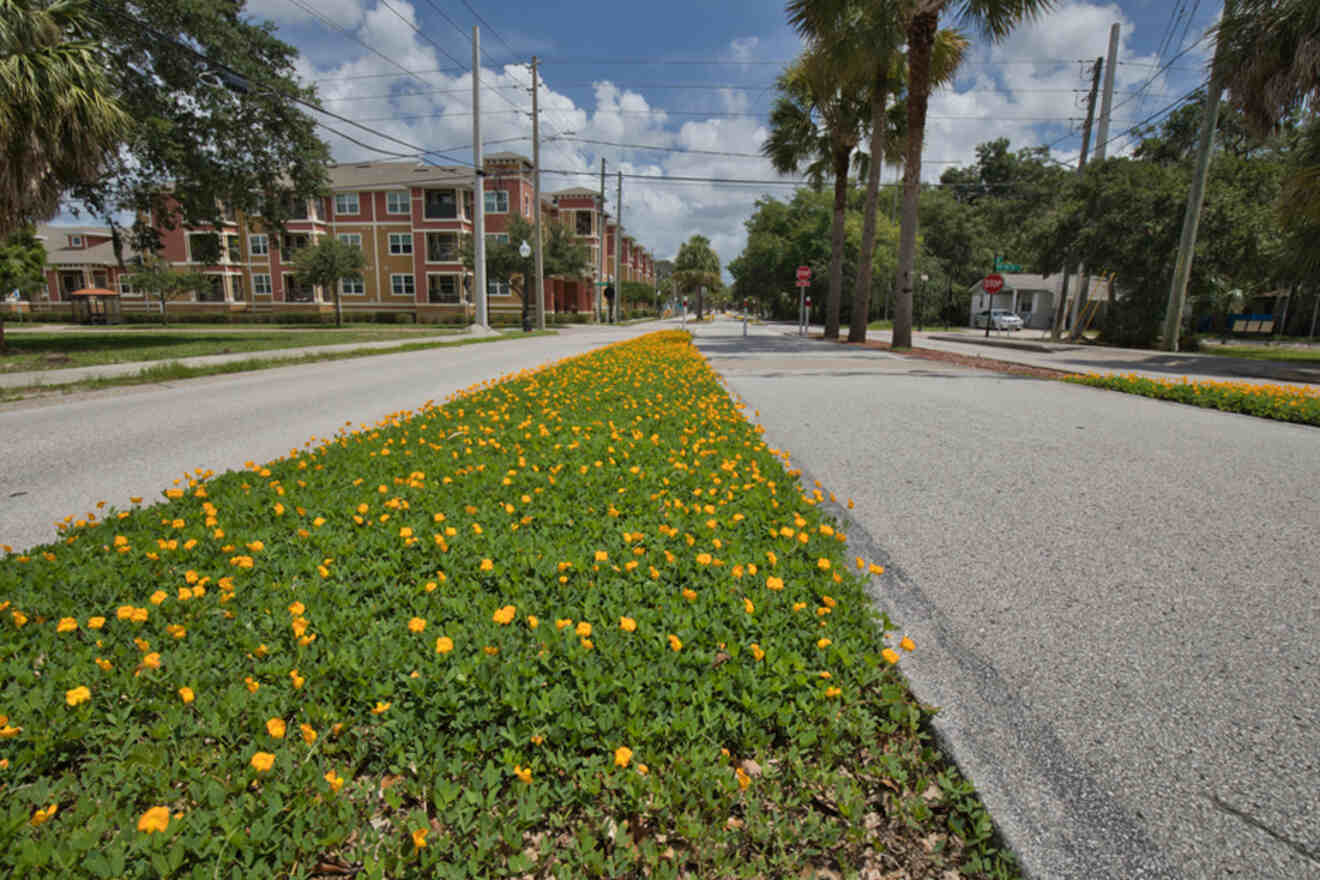 This is another excellent free thing to do in Clearwater, where you can walk for miles upon miles.
If you're looking for exercise or to clear your mind with a nice walk, this is the perfect activity.
Spanning a whopping 38.2 miles from St. Petersburg to Tarpon Springs, the trail is along the coastline and has incredible views that will take your breath away.
Throughout this trail, you will pass numerous small beaches, rural residential neighborhoods, and lots of parks.
PRICE: Free
17. Be in awe of the beauty at Caladesi Island State Park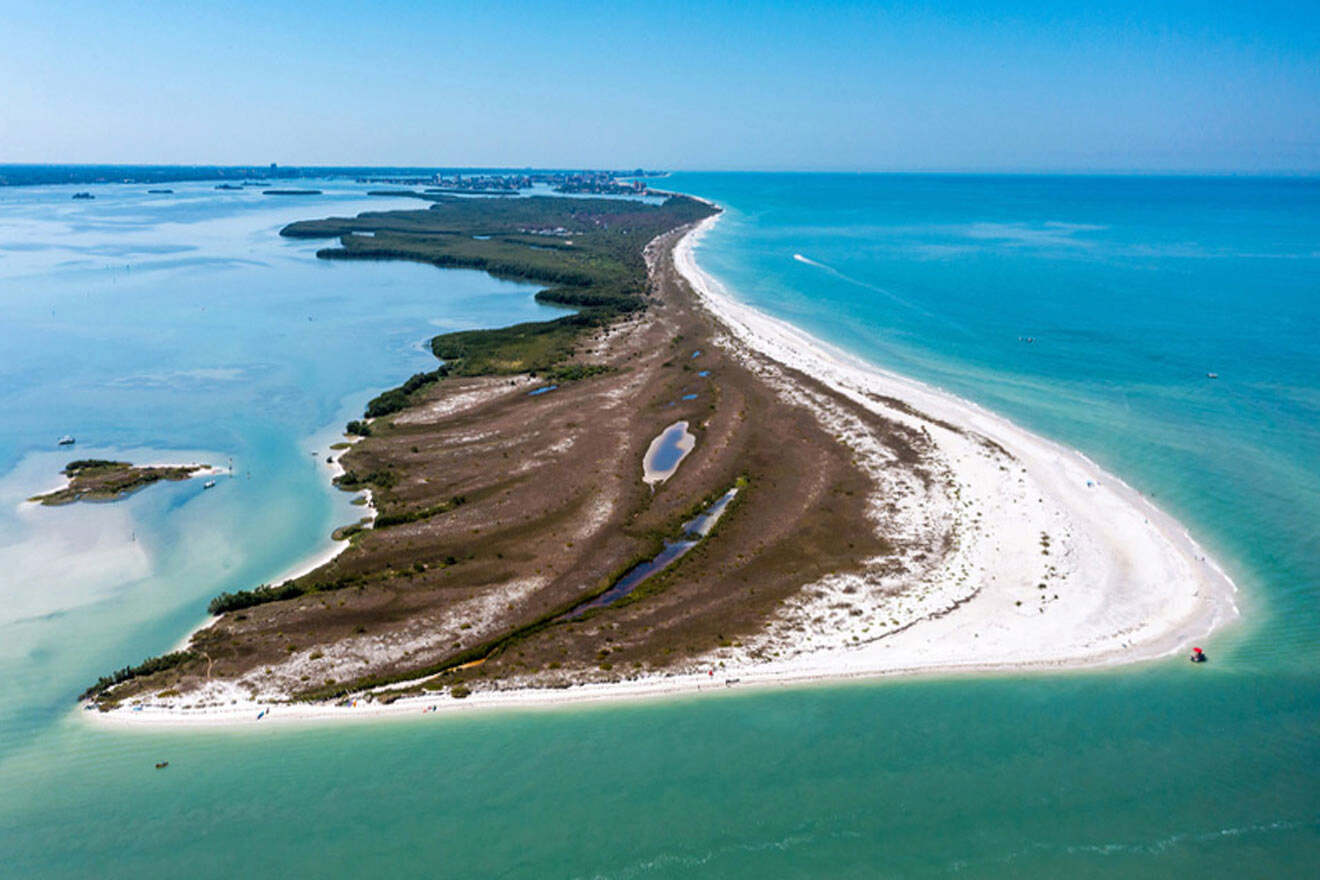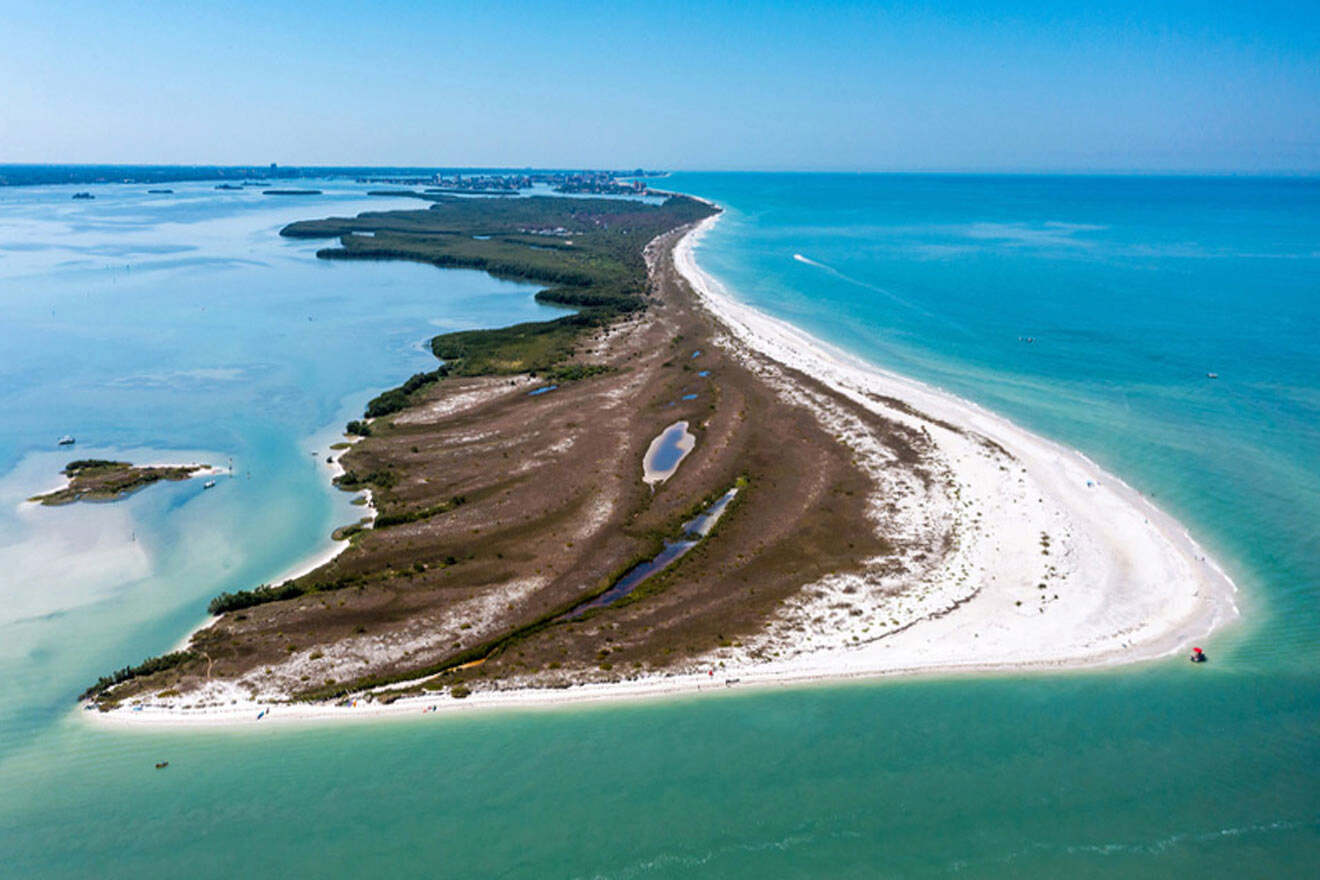 Just north of Clearwater, this is one of the most popular state parks in the state of Florida, and for good reason!
This absolutely stunning stretch of protected land is truly a sight to behold. It captures a feeling and a snapshot into wild Florida before it became what we know it to be today.
Caladesi Island State Park is one of the last untouched Gulf islands that transports you back to prehistoric times…
If you let your imagination run wild, you can see dinosaurs roaming around this island surrounded by these ancient palms and cycads.
There are also various fishing areas where you can catch all sorts of different species of marine fish.
Caladesi Island State Park also has numerous hiking trails you can enjoy and sight all sorts of beautiful subtropical Florida ecology. There are also a number of beaches you can enjoy, which are generally much less crowded than beaches located in the city of Clearwater.
There are also many different amenities, including a playground, concession stand, shower station, gift shop, and restrooms.
PRICE: Free
18. Feel the good vibes and great food at Wildflower Cafe
Are you looking for places to eat good food in Clearwater, Florida?
Look no further than the Wildflower Cafe.
The ambiance is nothing short of relaxing in this tropical flower-filled oasis under the canopy of huge sprawling live oaks. The Wildflower Cafe is highly popular among locals as a go-to spot to eat in a gorgeous environment where nature is chief.
Each meal is crafted with fresh produce, giving an even more tropical and fresh vibe to this amazing little hidden oasis in Clearwater Beach! This is the perfect place to go on a romantic date, enjoy brunch with a friend, and take the whole family!
Their breakfast and brunch options are seriously to die for. As you scan the menu, there's no doubt that your mouth will begin to water…
They also have a market open during select hours from Monday to Saturday. You can grab some grab-and-go meals, sandwiches, salads, soups, and more at the market.
The Wildflower Cafe also has a bakery with fruit bread, naan, french bread, cakes, cupcakes, and more! They even have a freezer with great dinner options.
19. Grab some craft wine at the Aspirations Winery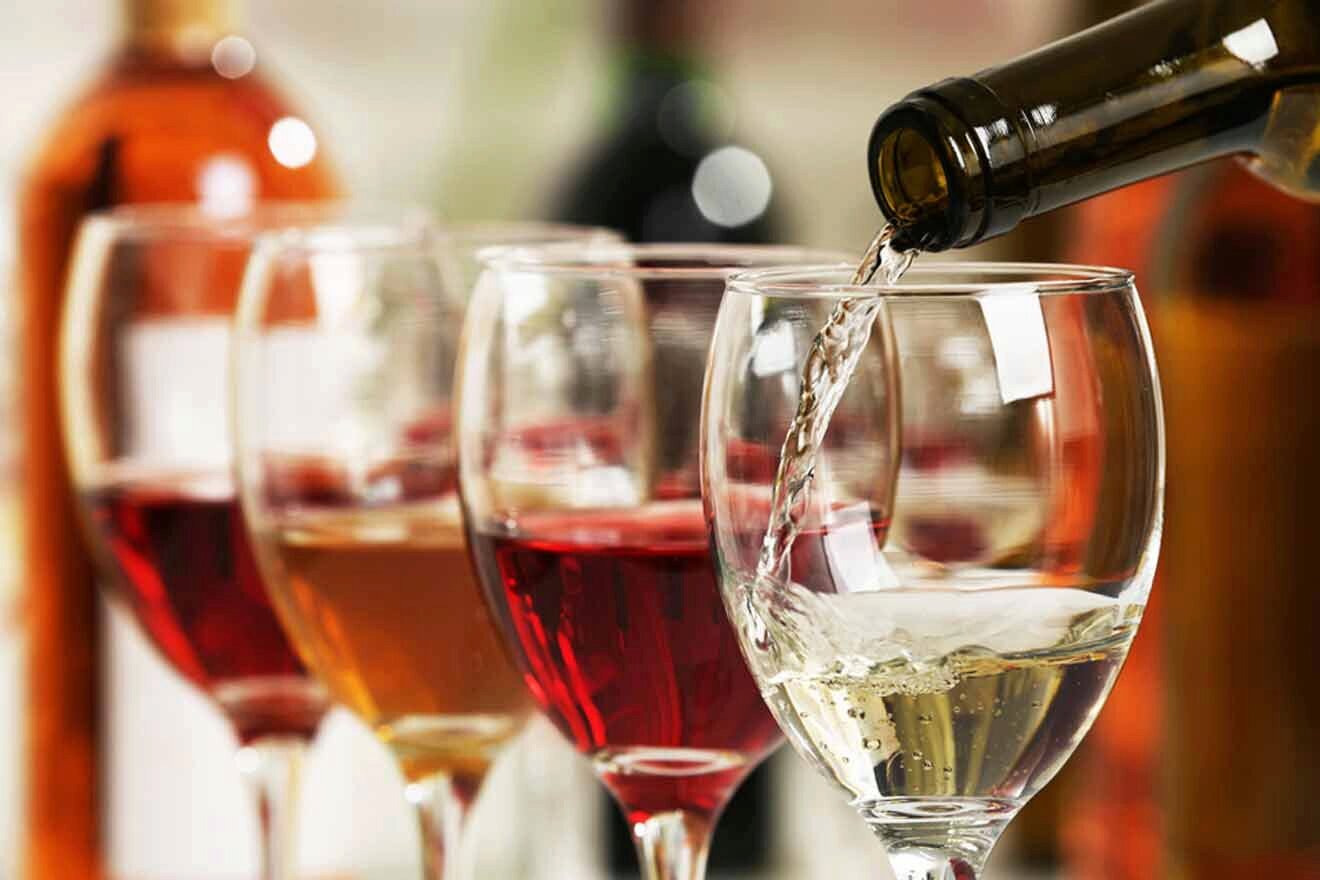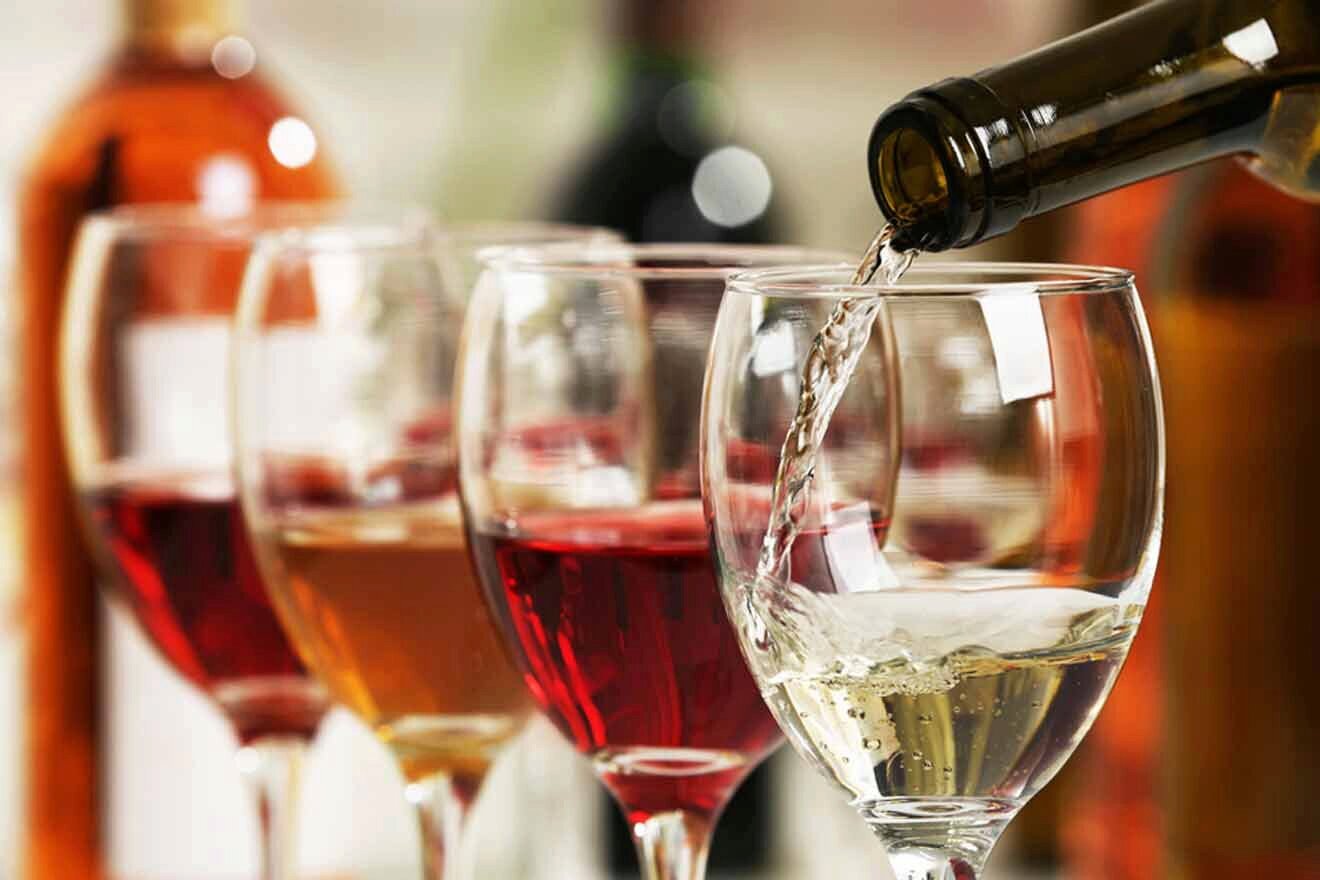 This micro-winery, set up in 2010, is one of the many chief attractions in Clearwater, Florida.
Aspirations Winery has many different fruit-infused, low-sulfite wines available for tasting!
They have accrued multiple awards, including the title of Florida's best winery by House Beautiful Magazine.
You can try samples of award-winning and delicious wines here and get a behind-the-scenes tour where you can explore the grounds of Aspiration Winery and peek into the wine-making process.
Make sure you try their signature Swamp Juice, a tasty combination of Merlot and Cabernet Sauvignon.
PRICE: Tours US$29
20. Take a sunset Tiki Boat Cruise in Clearwater Beach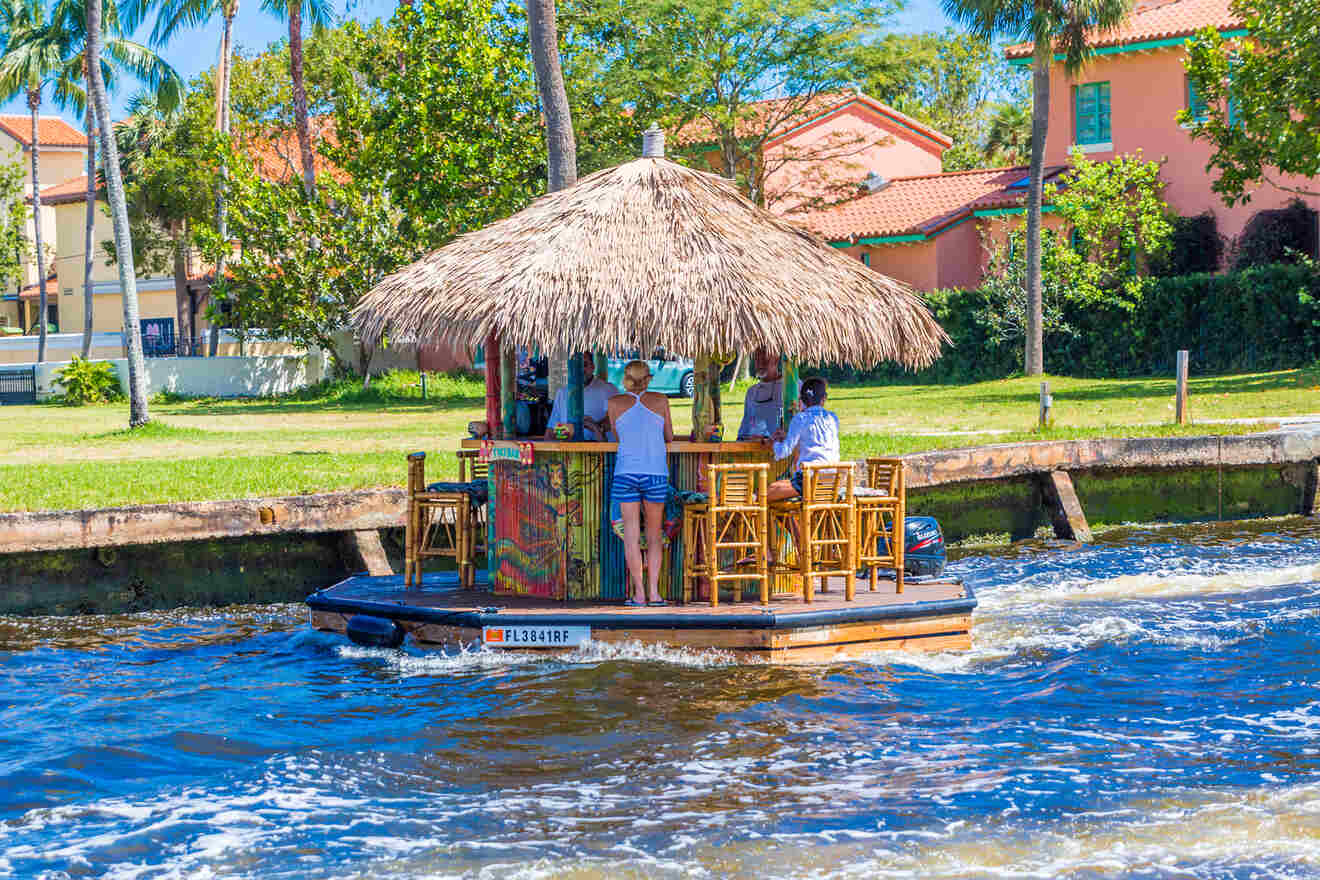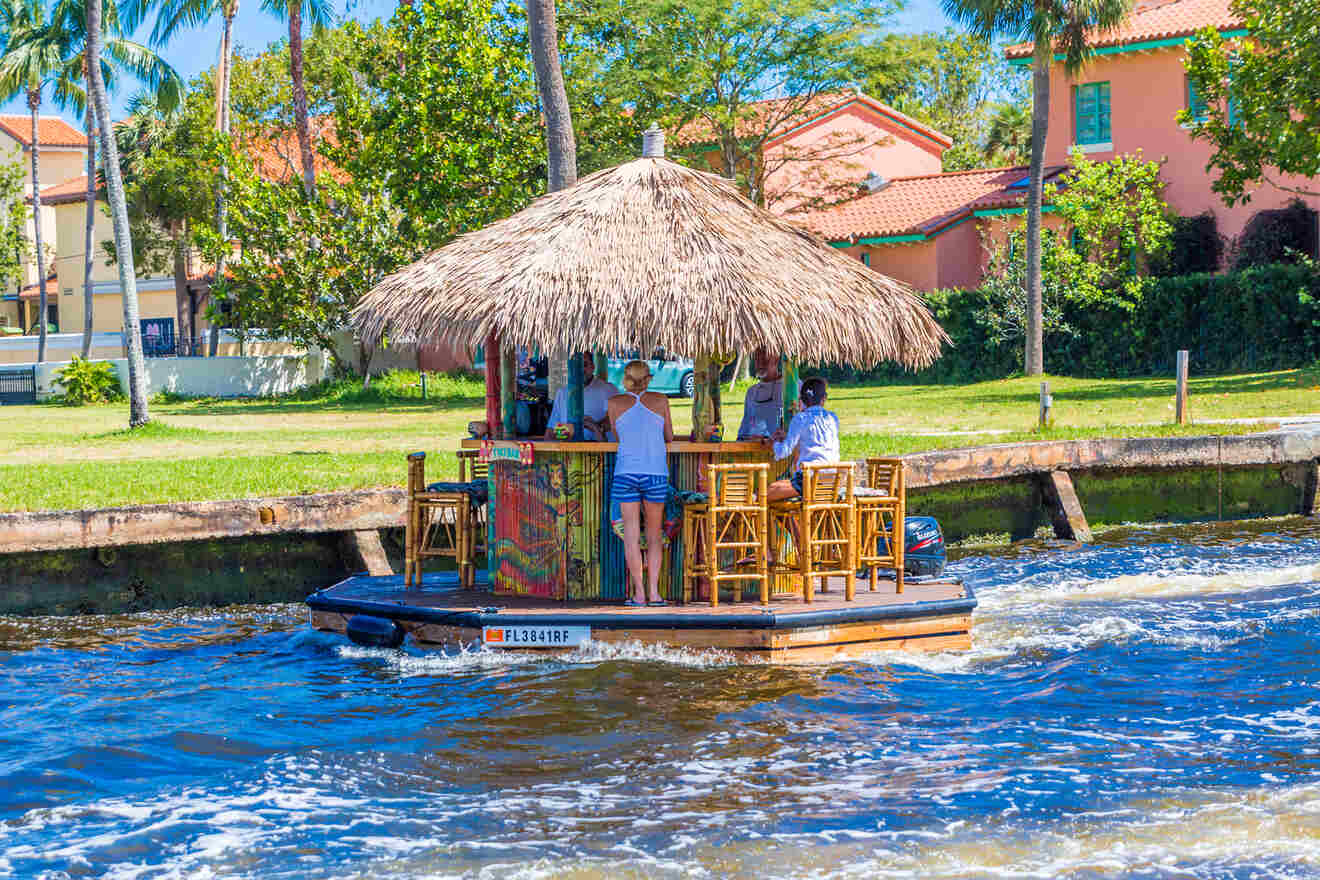 The Clearwater Tiki Boat Cruise takes a booze cruise to a whole new level as you float along the gorgeous Gulf waters in a portable Tiki hut!
This is actually a BYOB booze cruise, so don't forget the booze if that's what you're looking for!
Even if you are not a drinker, bring some snacks or beverages to enjoy on this small group tiki boat cruise and enjoy fabulous views of the Gulf of Mexico.
A cooler is available to keep your beverages cool while you enjoy the ride! You might even see some wildlife on this super fun floating tiki bar excursion.
If you are looking for a more intimate experience than a packed booze cruise, this one's for you! Just make sure to book in advance!
PRICE: US$70
21. Take your honey to Honeymoon Island State Park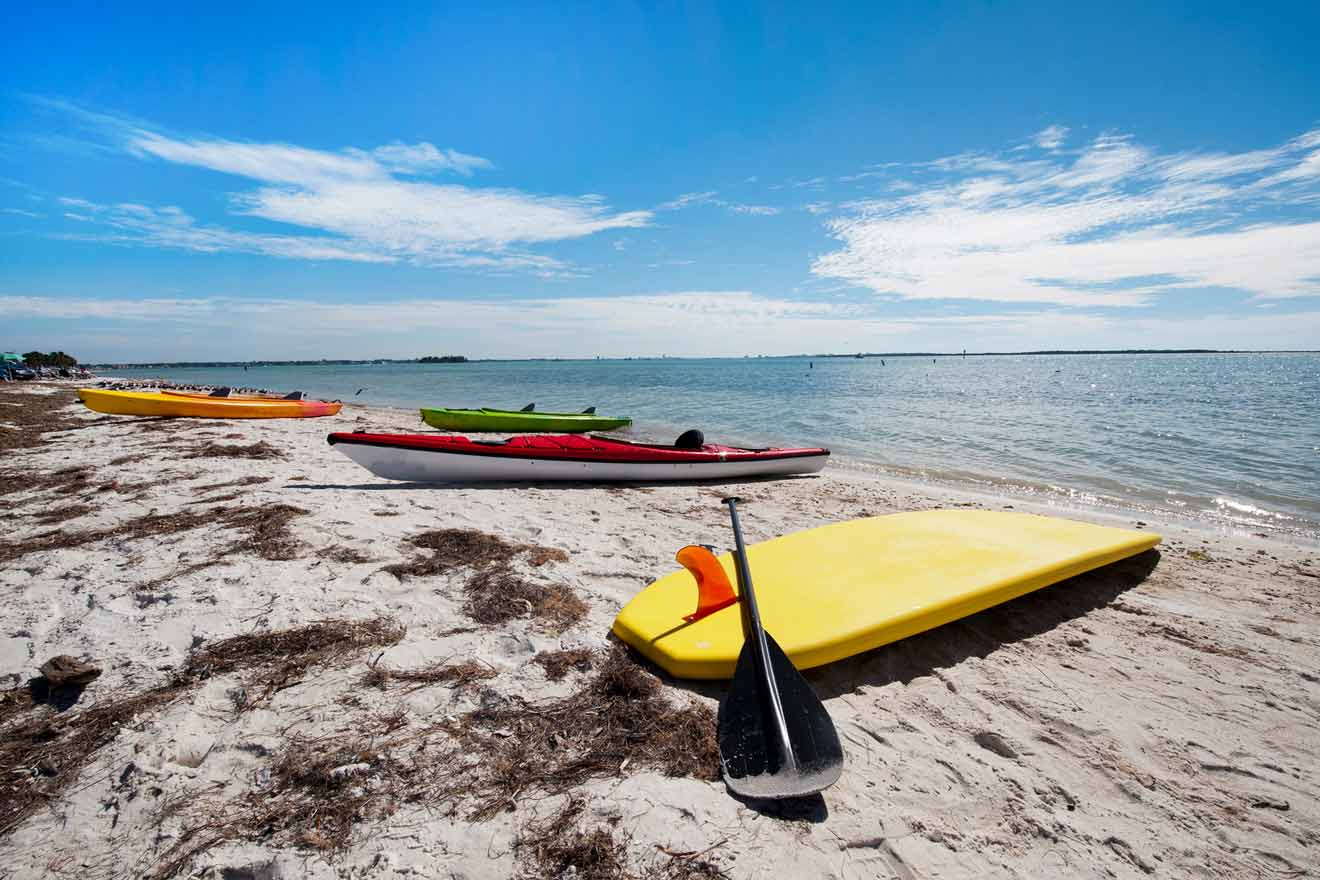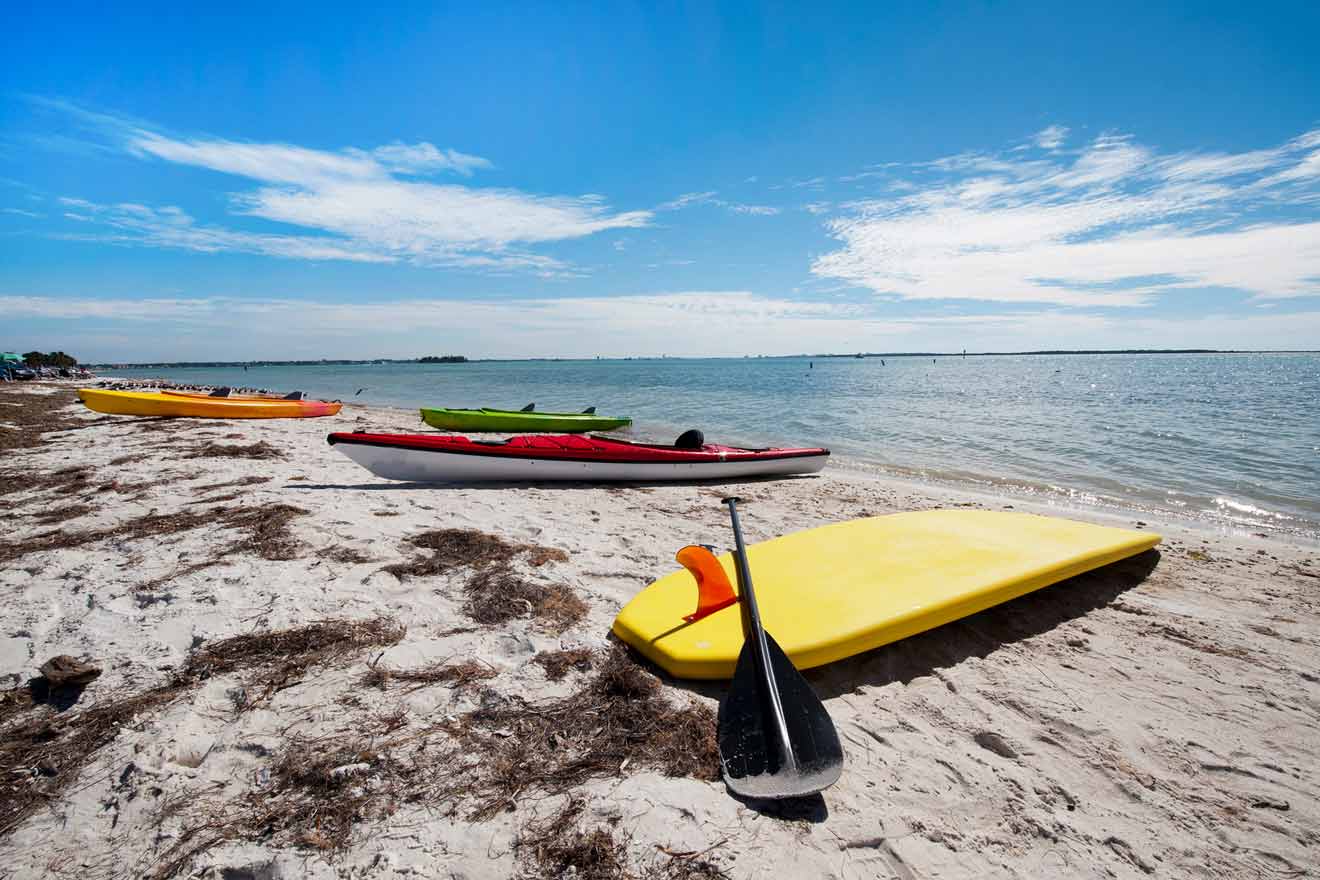 Only 11 miles away from Clearwater Beach, this is one of the most beautiful places to go in Clearwater, Florida.
Honeymoon Island State Park is a gorgeous getaway for lovers, families, friends, or solo travelers. This is one of Florida's most popular state parks with more than four miles of beaches to explore.
This is one of the best places to escape the hustle and bustle of city life and experience some primal joy in nature.
Honeymoon Island State Park is the quintessential getaway. With white sandy beaches, bright blue water, and protected nature, it is truly one of the most beautiful places in Florida.
Home to a host of thriving wildlife, you can expect to see all sorts of birds, sea turtles, manatees, dolphins, and lots more!
You may even spot an armadillo or an ancient gopher tortoise!
You can also access Caladesi Island by ferry at Honeymoon Island State Park!
PRICE: US$6 per boat for up to 8 people
22. Visit the Clearwater Historical Society Museum
A 5-acre historical center initially built in 1906 holds history untold in Clearwater, Florida.
The Clearwater Historical Society Museum and Cultural Center once hosted the South Ward School for over 125 years!
Falling into disrepair within the last few years, it has been rebuilt and preserved as an important part of Clearwater's history.
A fun way to learn about the history of where you are vacationing is by visiting this historical museum and checking out a whole lot of different artifacts and exhibits. This can be a fun opportunity to teach the kids some history of bygone eras and also get to know the city of Clearwater a bit better.
NOTE: You must call and schedule a tour in advance if you want a tour!
23. Indulge in the performing arts at Ruth Eckerd Hall
If you are a fan of the performing arts, it is definitely worth checking out Ruth Eckerd Hall.
A whopping 73,000 sq ft, this performing arts center is truly a premier venue. Boasting state-of-the-art features, Ruth Eckerd Hall is capable of hosting up to 2,000 guests!
Opening its doors in 1983, you can catch a Broadway Show, concerts, orchestras, theatrical pieces, educational programs, cabarets, children's plays, and so much more!
Watching a performance at the Ruth Eckerd Hall is one of the best things to do in Florida.
PRICE: From US$18
24. Meander along the trails at Ream Wilson Clearwater Trail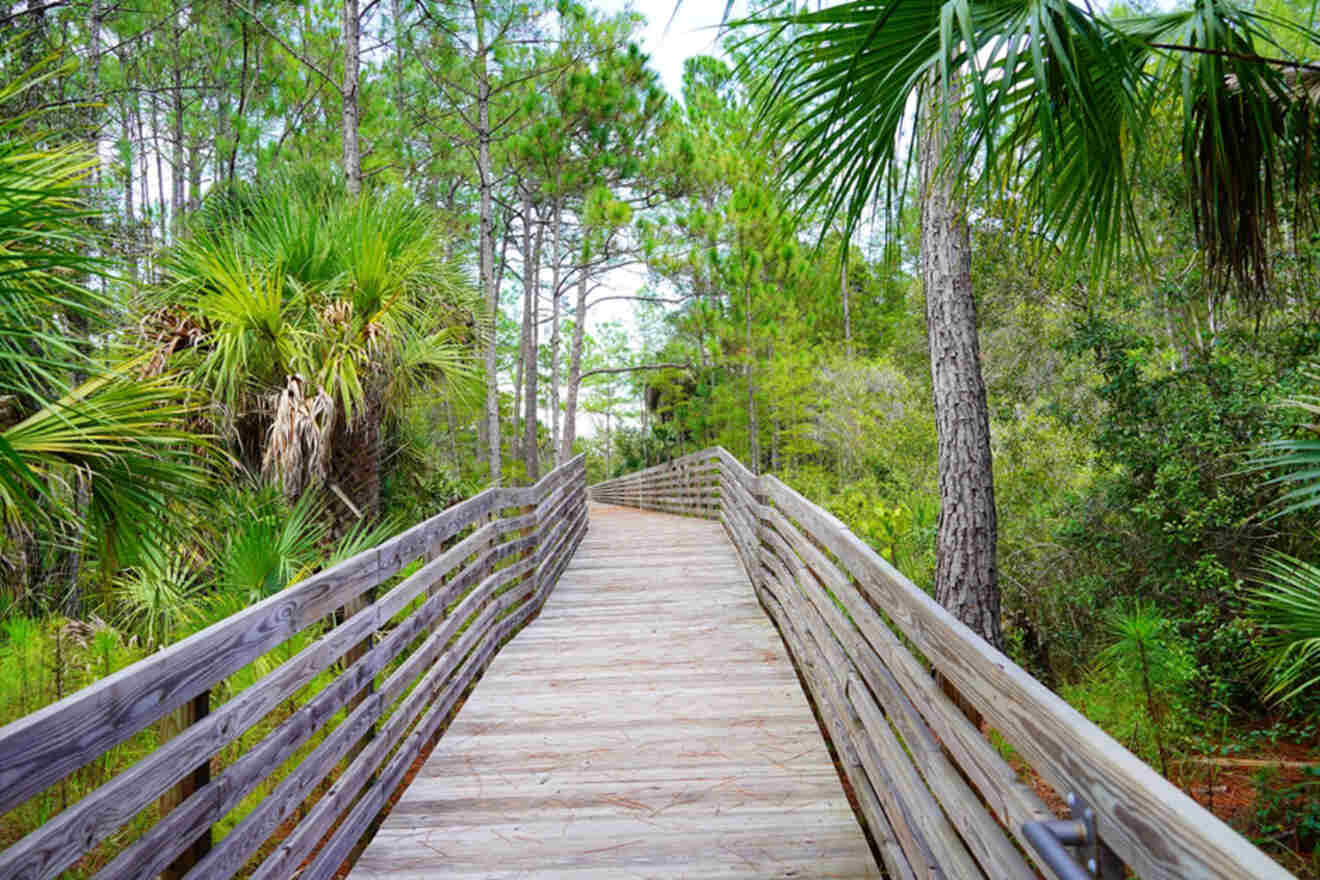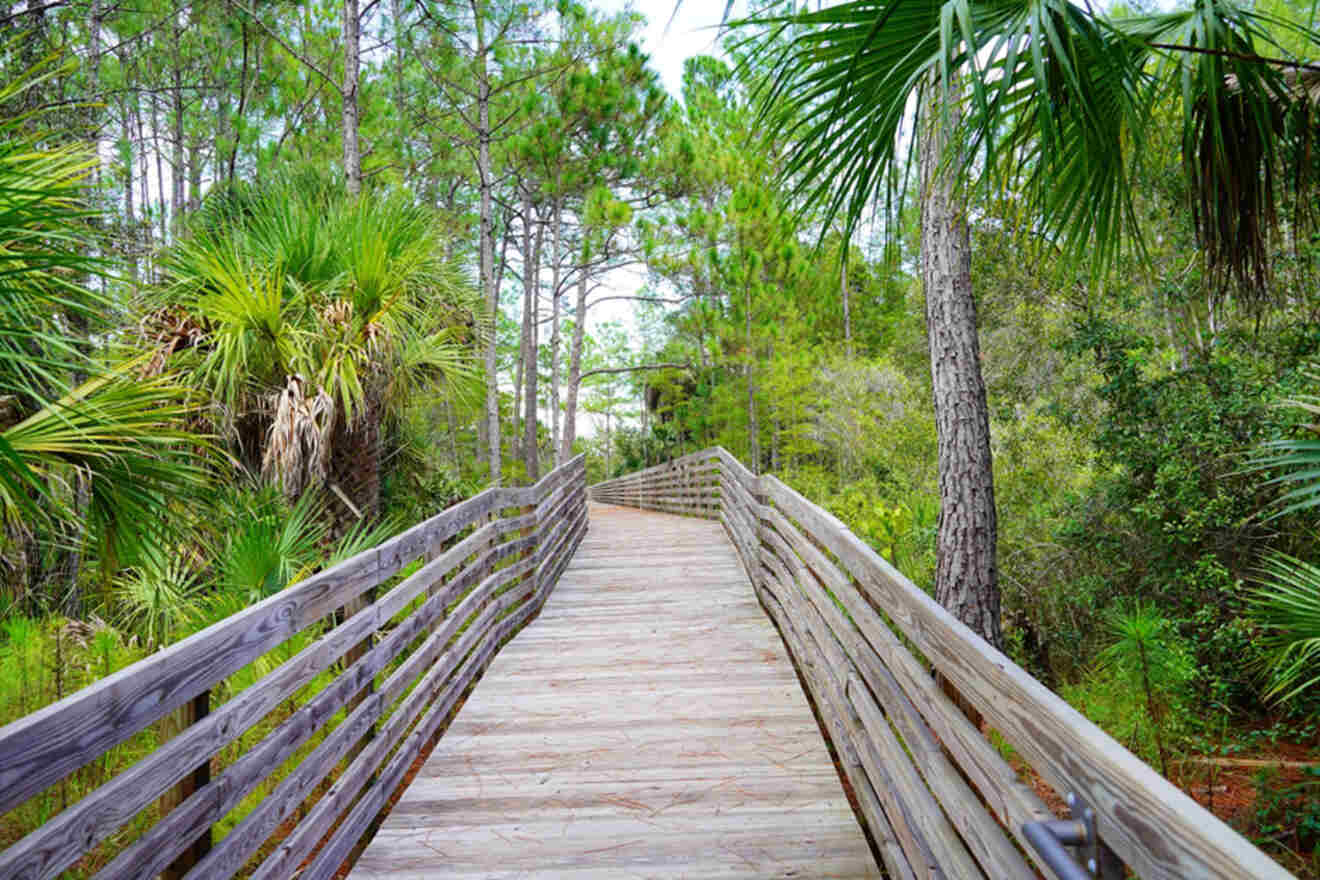 The Ream Wilson Clearwater Trail is one of the best hiking trails in the area.
Connected to the Florida Progress Trail and the Pinellas Trail, this is an epic hiking trail to enjoy some stunning Clearwater nature, Florida-style.
Spanning 6.5 miles, this trail brings you through an enchanting forest with towering oaks, Spanish moss, and a variety of lush foliage that transports you into a world where all that matters are your immediate surroundings.
You will also pass through Cliff Stephens Park and witness some serious Florida beauty. For all those nature lovers out there, this is one of the best things to do in Clearwater to see nature.
PRICE: Free
| | |
| --- | --- |
| 🤩 Range of activities: | Large |
| 👪 Family-friendly score: | High |
| 🎢 Top paid attraction: | Dolphin Sightseeing Adventure |
| 🚶🏽‍♂️ Best free activity: | Sand Key Park |
| 👧 Best attraction for kids: | Congo River Golf |
| 🕺 Nightlife: | The District in Downtown Clearwater |
| 🥟 Must try food: | Wildflower Cafe |
FAQs about things to do in Clearwater Florida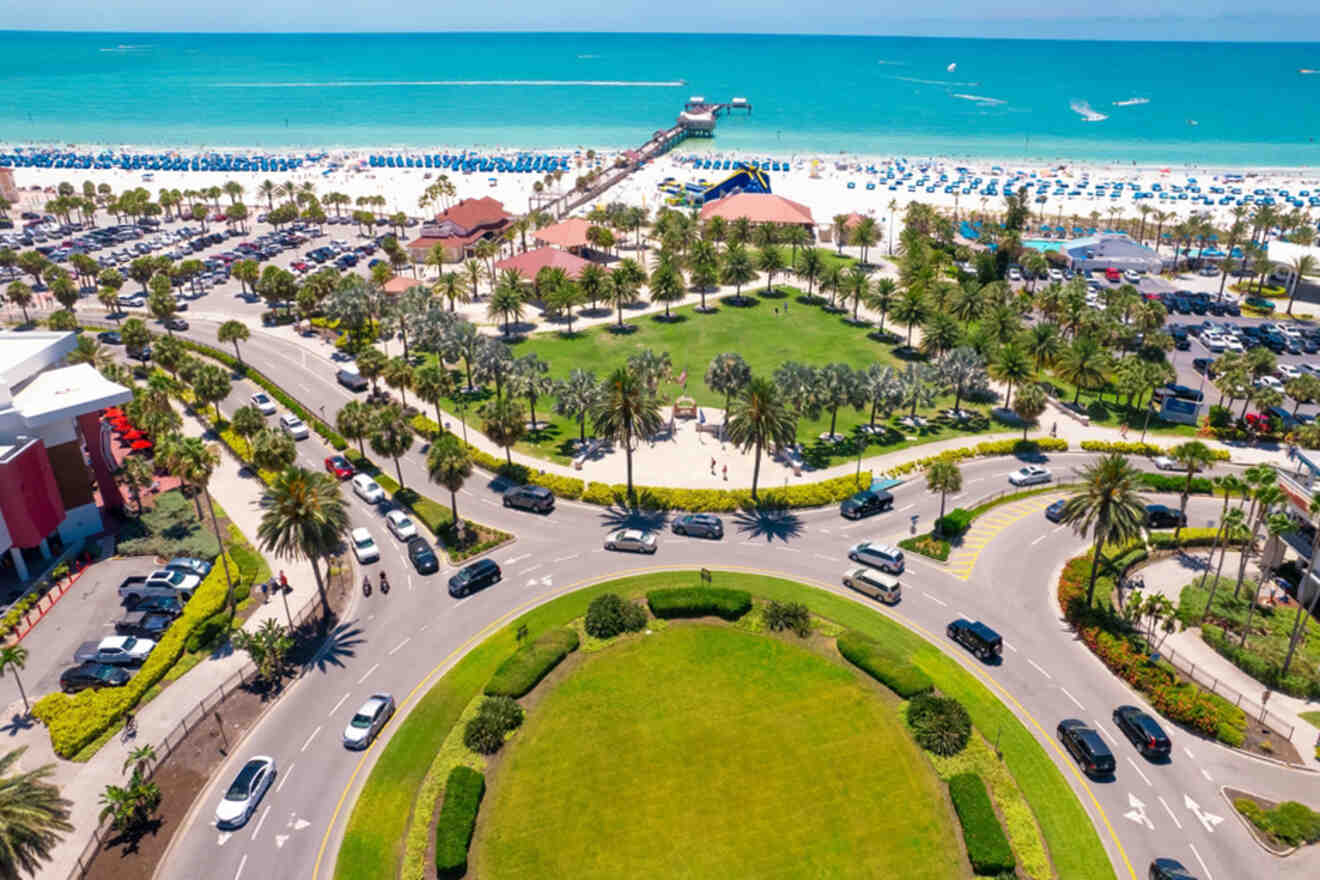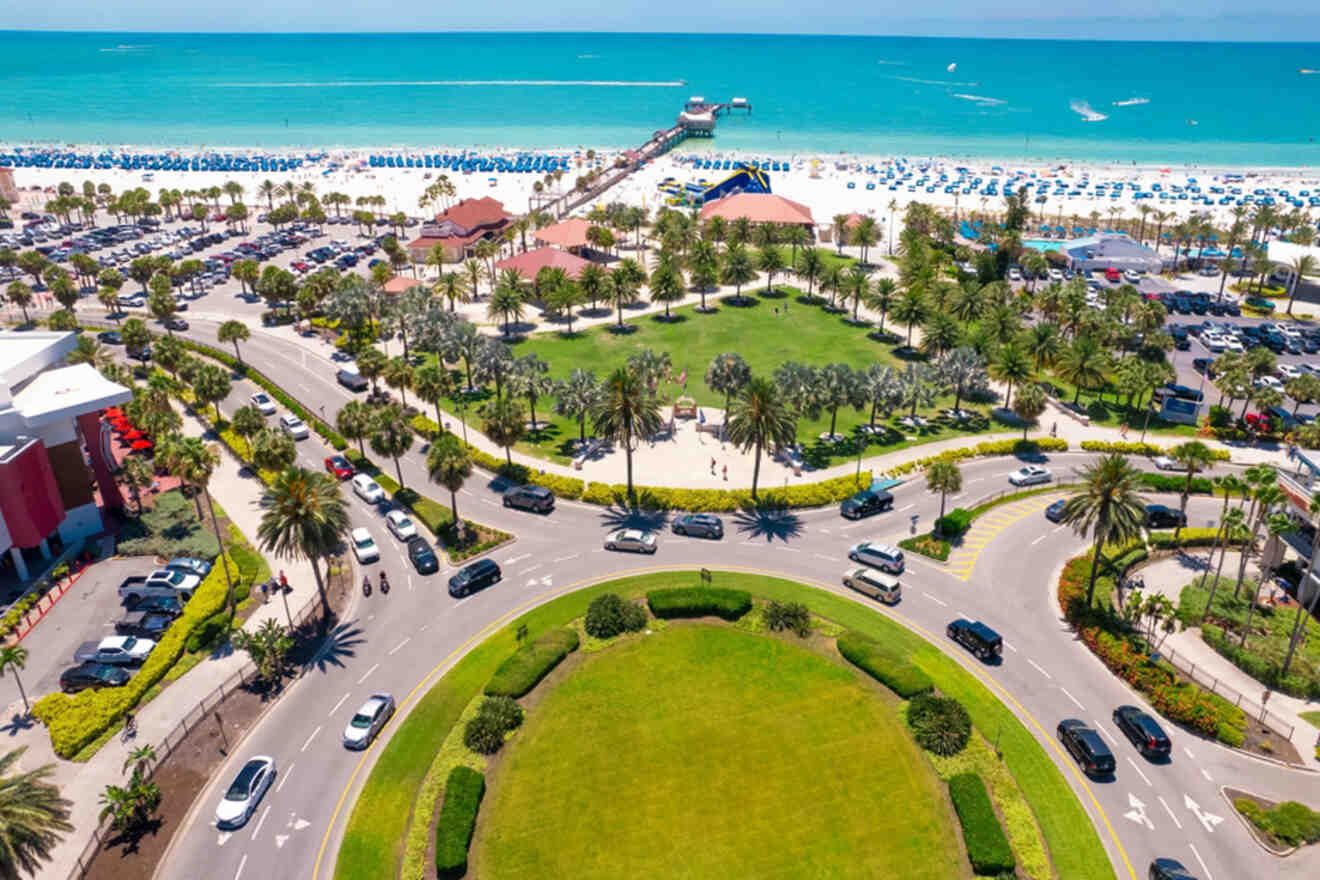 🏖️ What is Clearwater Florida best known for?
Clearwater Beach Florida is best known for white sand beaches and clear Gulf Coast waters. The beaches in Clearwater Beach paired with the gorgeous sunsets and the pier make this a must-see destination in Florida.
🤸 Is there a lot to do in Clearwater, Florida?
Clearwater has so many fun things to do! Aside from visiting the stunning and pristine beaches, you can visit state parks, get amazing food and craft drinks, go on adventures, and all sorts of tourist attractions!
👟 Is Clearwater Beach a walkable town?
Yes! Downtown Clearwater Beach is definitely walkable. Exploring the downtown area on foot is also super fun, and you get to see a whole lot more than if you were just sitting in your car!
💰 What are some cheap things to do in Clearwater Beach?
There are so many things to do in Clearwater Beach on a budget! Go to the beach, visit a state or city park, watch the sunset, or grab a drink at a craft wine bar!
Conclusion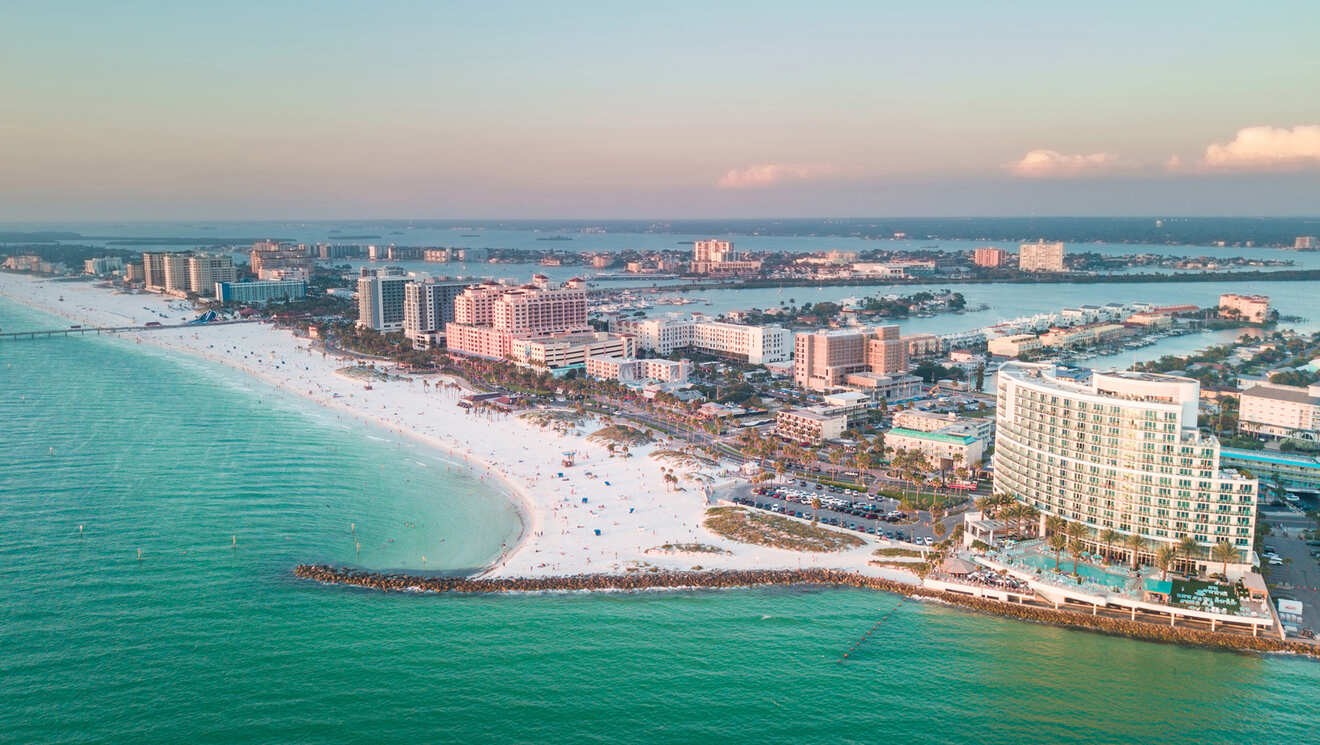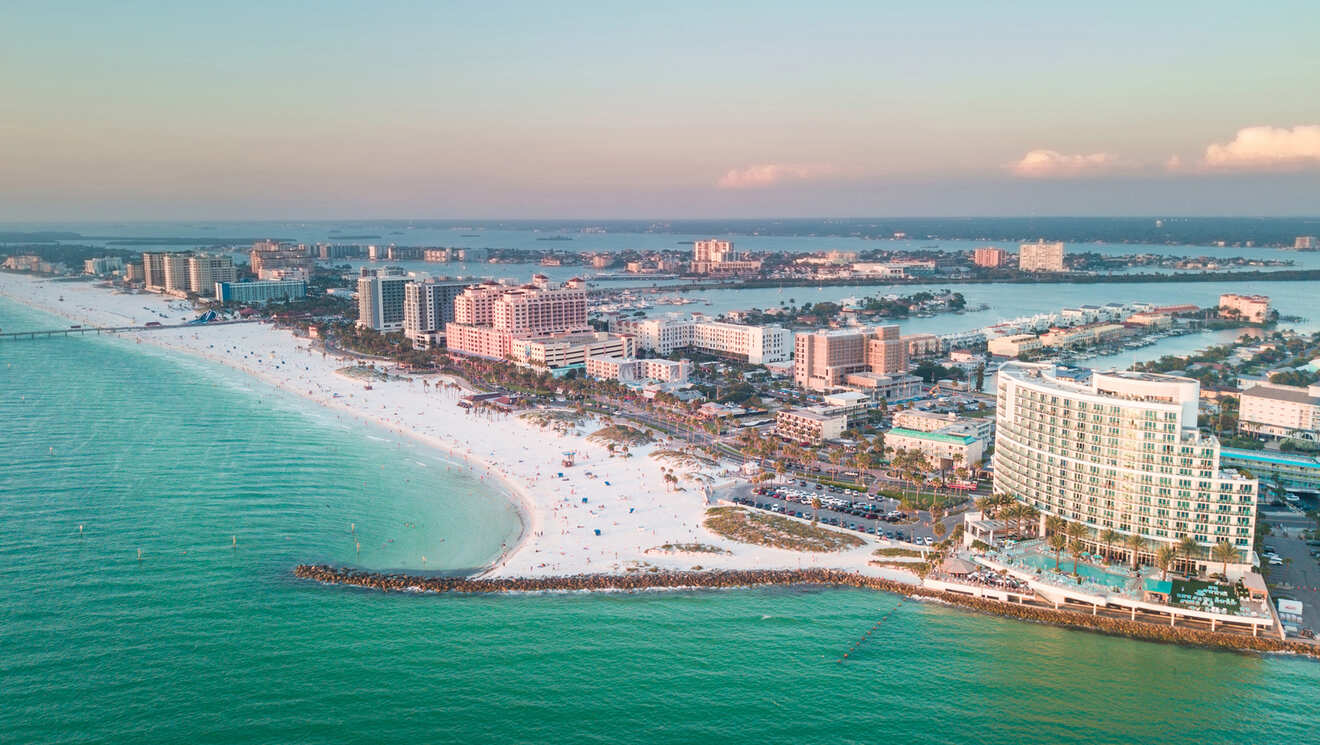 There you have it! An inside look into the best things to do in Clearwater, Florida – from a Florida local!
I absolutely love the Gulf Coast of Florida. It's truly stunning with such a different vibe than other parts of Florida.
Clearwater has so much to offer, and even if you don't get up to much on your trip, simply spending time at the beach is enough to satisfy anyone's soul. Between the gorgeous white sand, stunning tropical waters, lush nature, and parks all around, Clearwater is truly a dream come true.
With love and gratitude,
Amira G.
---
Pin it for later!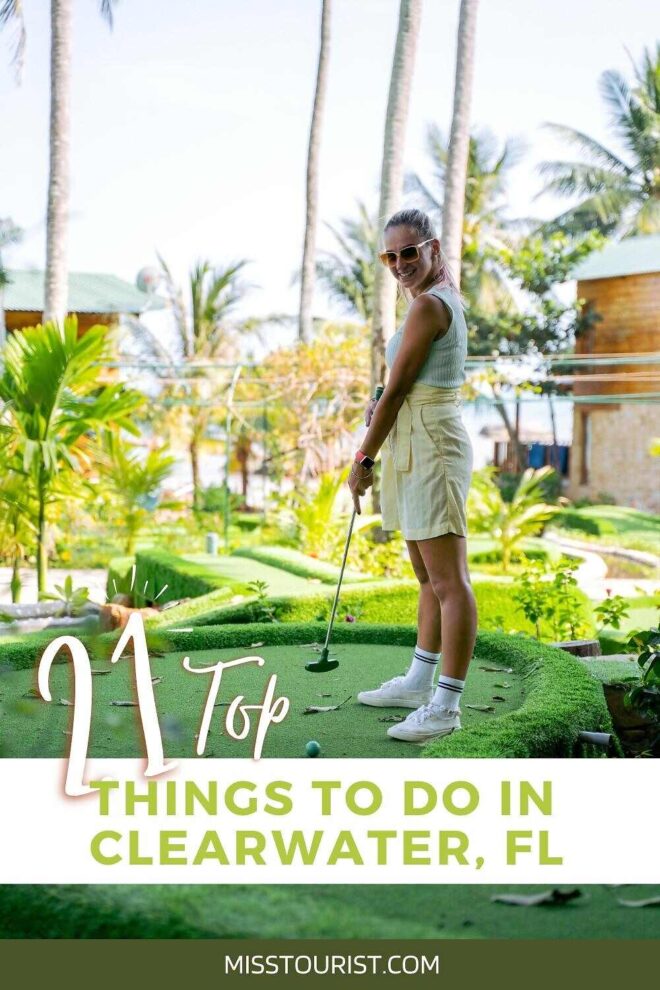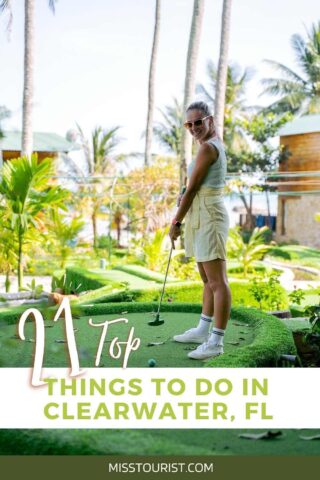 Pin it for later!