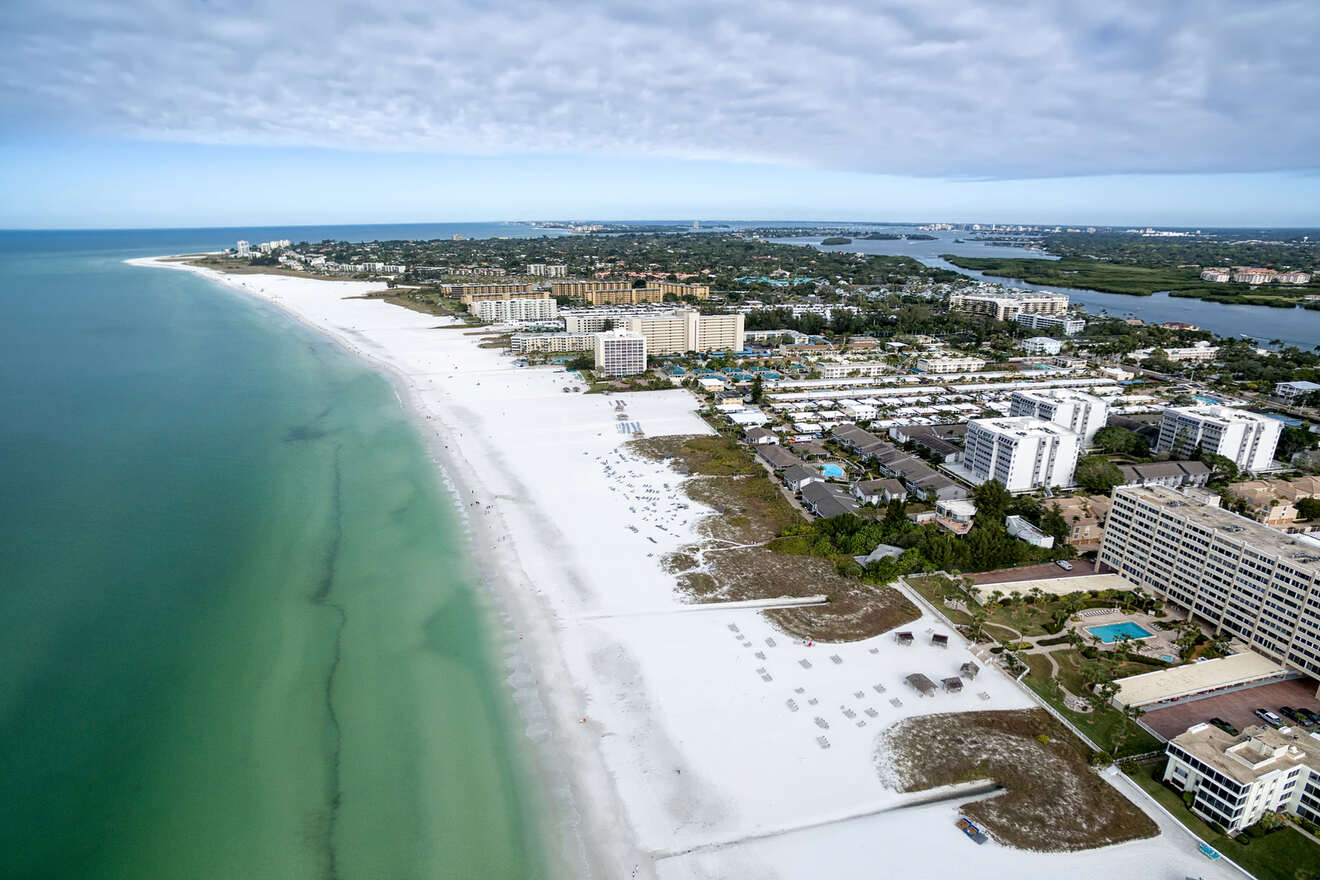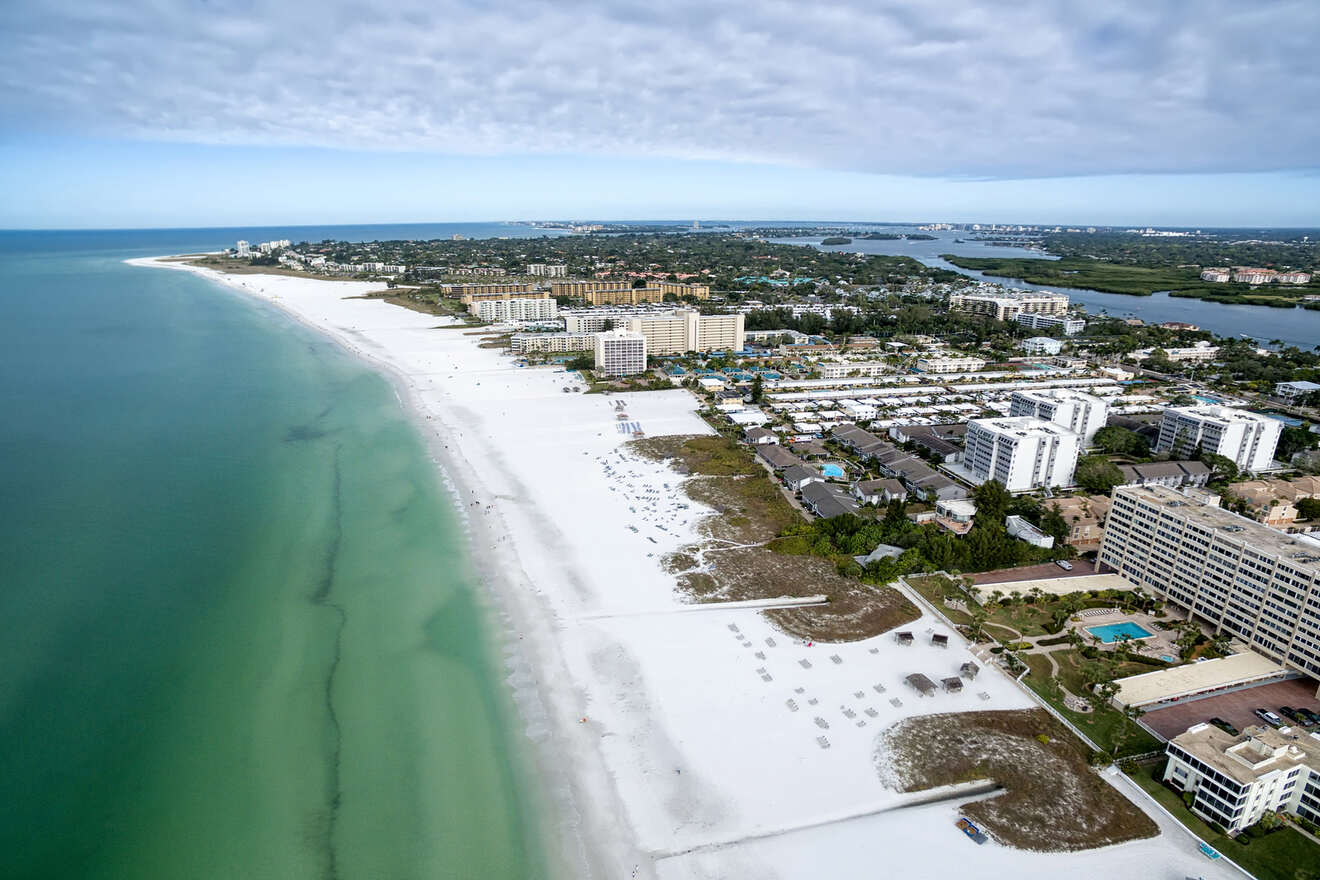 Oh, those Florida beaches… you can't say no to them!
Siesta Key is a barrier island set on Florida's West Coast, and it's rated as one of the top beaches not just in America but across the world! Yes, we know that the Miami and Naples beaches are probably more famous but just wait until you see the ones here!
In this post, you'll find a well-detailed guide on the best places to stay in Siesta Key! Here, the top area is Siesta Key Beach (also known as Siesta Beach). I'll tell you all about that in a few seconds, and you'll also find two more areas perfect for families and people traveling on a budget.
Plus two extra sections with more accommodations for those who are looking for a holiday home rental and for people who want to stay in a more secluded area.
Before we start, I should let you know that the hotels and beach resorts sell out quickly here. I can count the best ones on my fingers, so I recommend booking in advance to avoid missing your chance at a top-notch beach resort!
Let's go!
NOTE: Many resorts in Florida have a compulsory "resort fee" that can be up to $25 per night and is charged on site. Make sure to read the hotel's descriptions before booking if you want to be aware of potential additional charges.
If you are in a hurry
Ready to book your accommodation? Then have a look at this list I've put together of the best places to stay in Siesta Key, Florida, all located on Siesta Beach
Here's a map of all the areas where to stay in Siesta Key, Florida, that I will be talking about in this post:
1. Siesta Key Beach – best place to stay for first-timers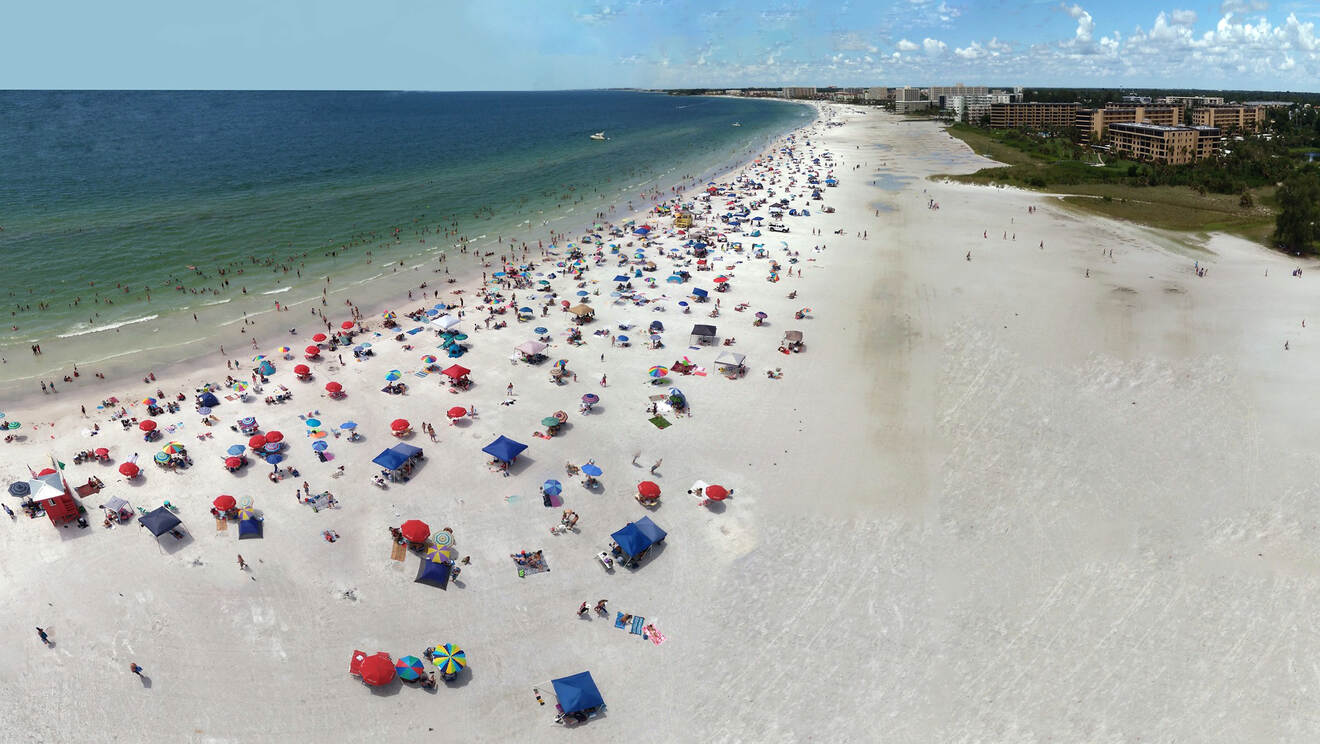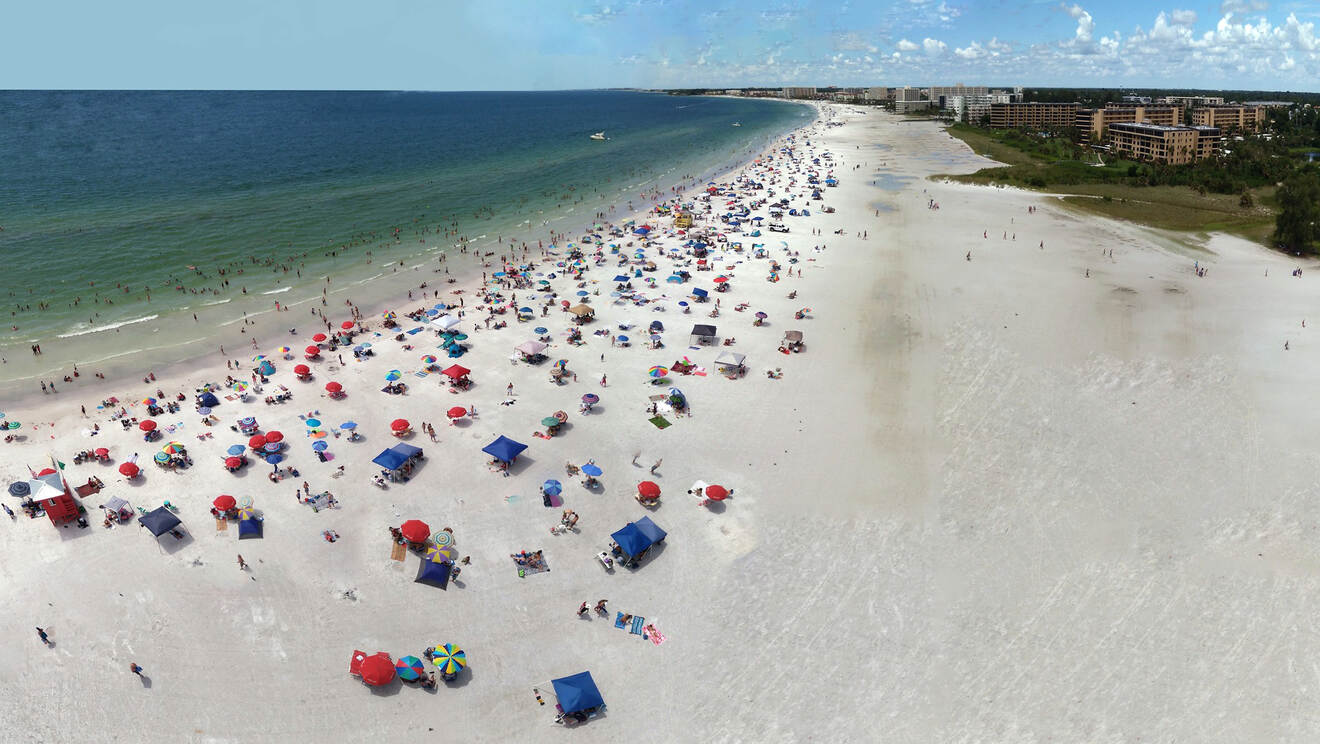 Nothing compares to a vacation in Florida! Sun, good weather, white sand beaches, and delicious food! What more could you wish for?
I know! A guide that will point you to the best places to stay in Siesta Key, one of the most popular places in the state! If you're traveling here for the first time, there's no better place to look for hotels than Siesta Beach!
This area sure has that Florida charm, and I'm sure you'll love it here! The sandy shores will help you forget all about your daily activities and spend a few days chilling, swimming, and drinking yummy cocktails!
If you guys are traveling with your family around Florida, you can't miss Orlando (a paradise for the little ones). But for now, let's stick to Siesta Beach! Surrounded by restaurants, shops, and some of the best hotels in Siesta Key, this area has everything you need for a top-notch holiday!
The sand here is so fluffy it almost feels like snow (that ought to keep you at the beach for the whole day)! Plus you can try different activities like kayaking and cycling on the beach, at sunset!
A major thing to remember: all the hotels in Siesta Beach sell out in a second (especially in summer), so I highly recommend booking yours in advance!
Other accommodation options in Siesta Key Beach
Things to do in Siesta Key Beach
Go on a sunset bike tour in Siesta Key
Chill on Siesta Beach
Dance on the sand with the Siesta Key Drum Circle
Swim all day in the ocean
Try kayaking on Siesta Beach
2. Sarasota Beach – where to stay in Siesta Key on a budget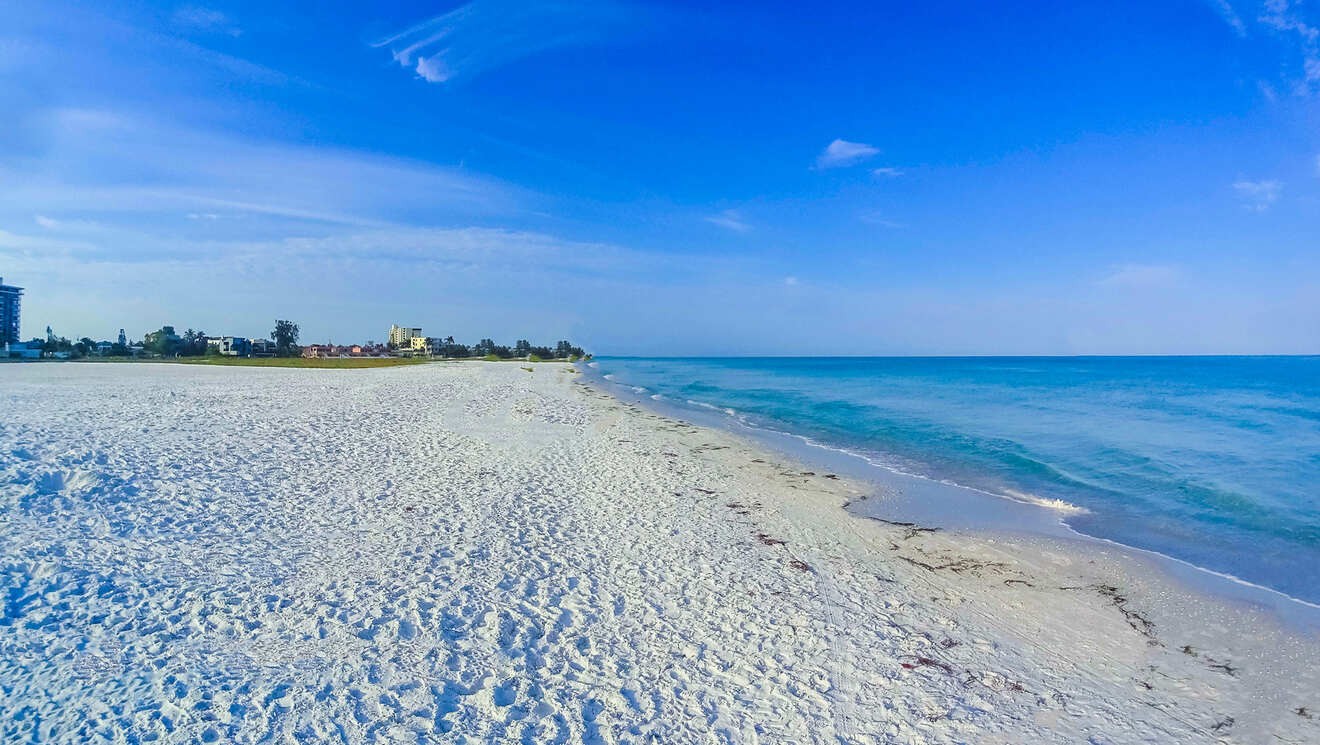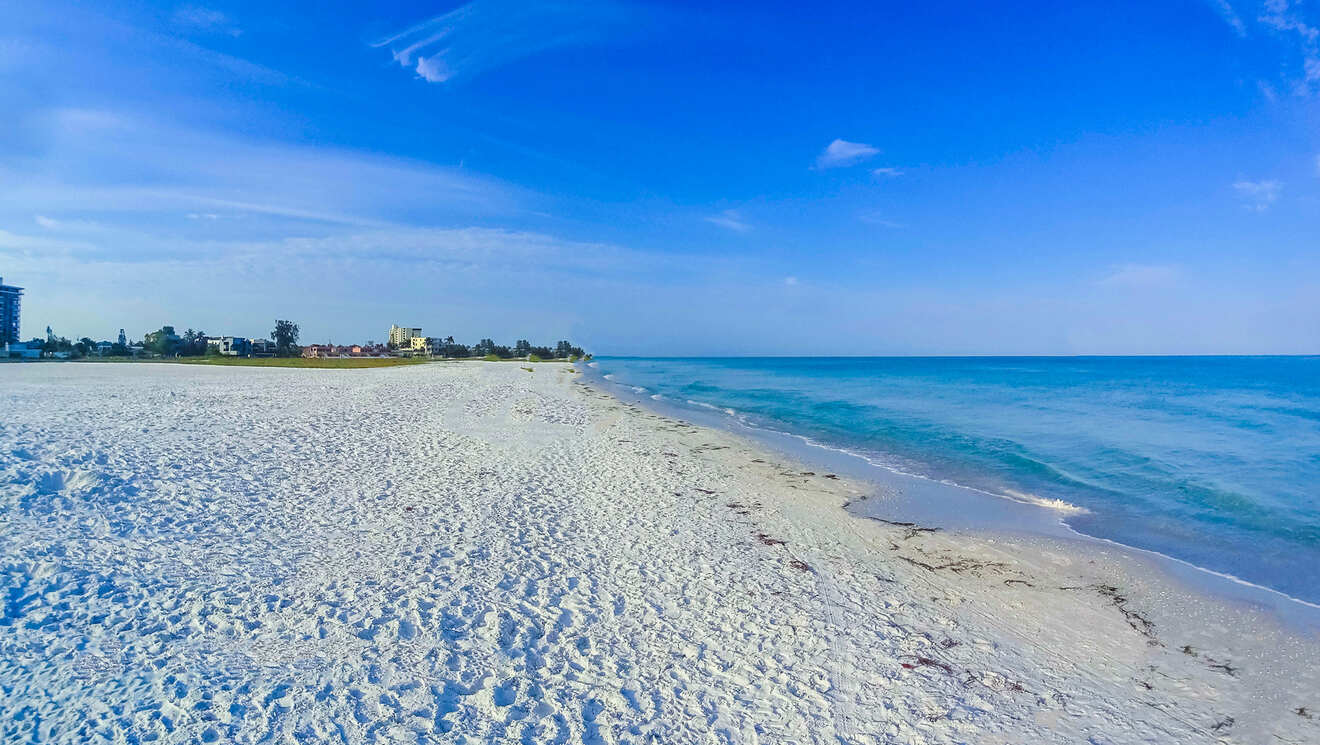 Accommodations in Siesta Key Beach are usually a bit more expensive so if you're looking for a cheaper place to stay, hang in there because I'm about to offer you the perfect list!
Neighboring Siesta Beach is the beautiful Sarasota Beach, just a short walk away! This is another great area in Siesta Key that you shouldn't miss, especially if you're traveling on a budget.
This beach is perfect for sunbathing or playing some outdoor games like volleyball! And if you want to take a break (let's face it, sometimes the sun is too hot to stay outside), you can head to Siesta Key Village, a shopping mall with tons of stores perfect for some souvenir hunting.
Nearby Siesta Village, you'll also find all the restaurants in the area where you have to try the seafood. It's simply delicious, and what's a trip to a place like Siesta Key without at least one seafood outing!
And if you're looking for more fun places to visit during your Florida trip, check out Tampa! A place that's great not only for night owls who party until sunrise but also for families!
Other accommodation options in Sarasota Beach
In case you've missed your chance at a beach resort in this area and all of them are booked out, here are a few more choices for you: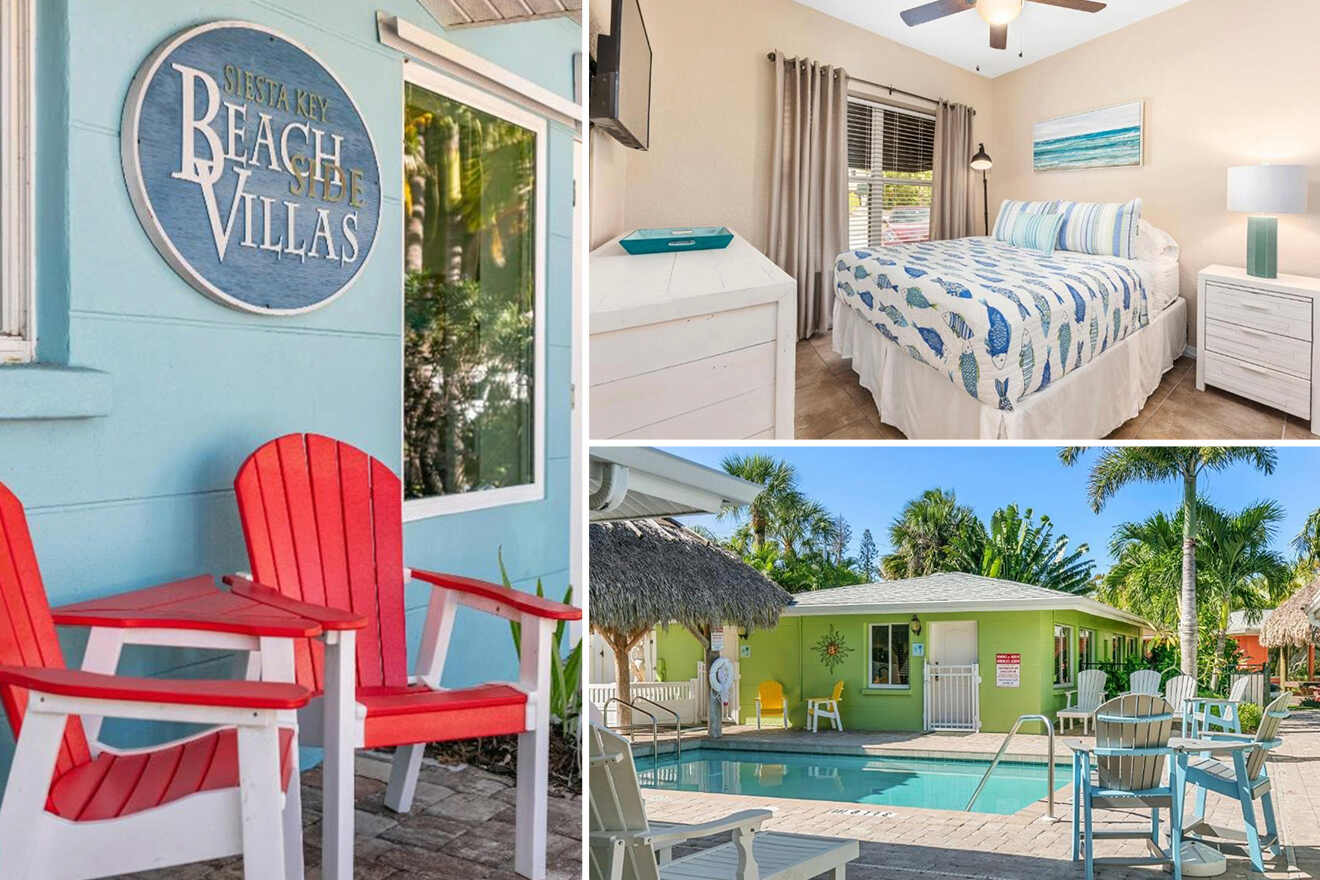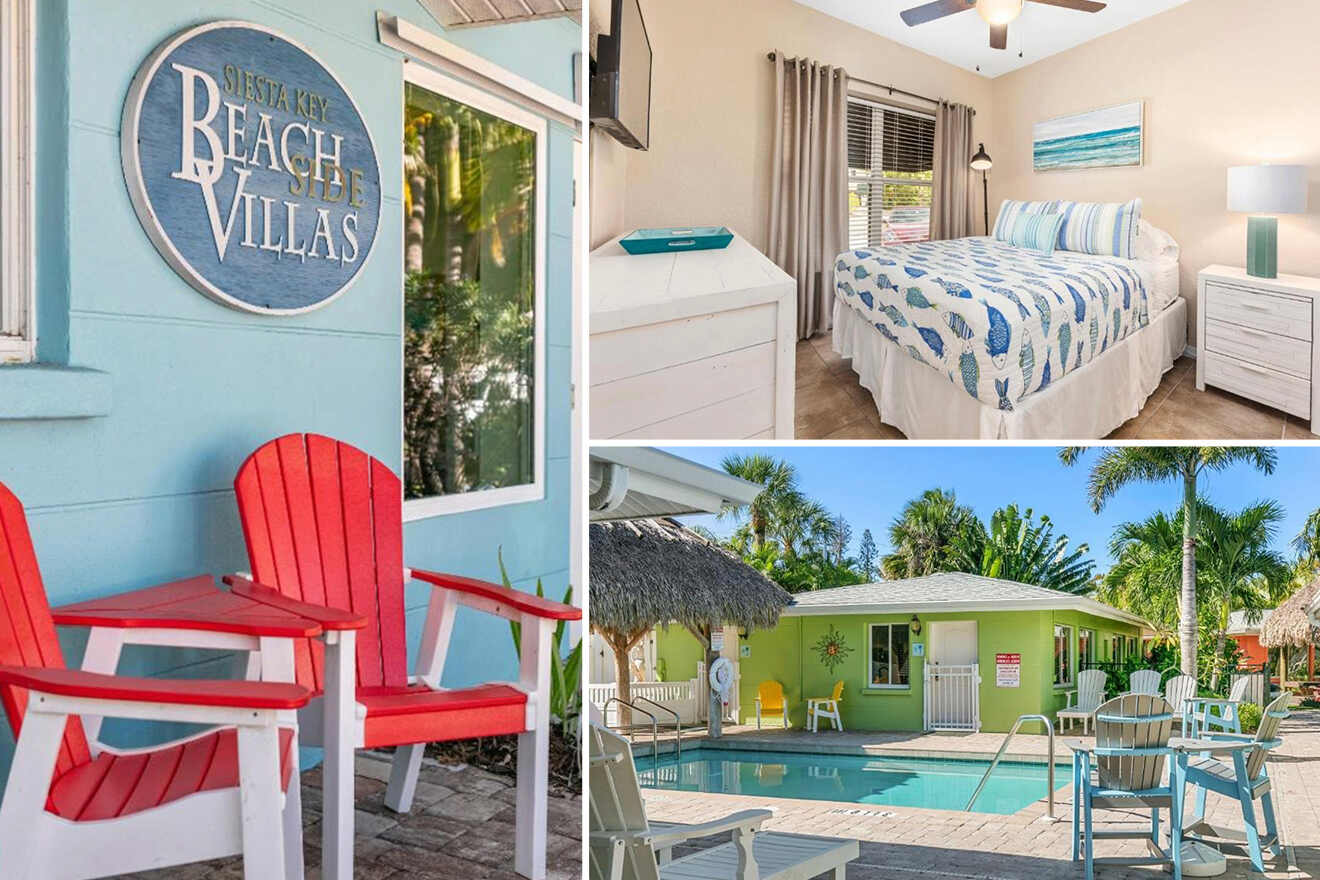 Mid Range
The Ringling Beach House – Relax on the sun loungers by the pool all day long at this accommodation that offers free parking. The Ringling Beach House also has a heated pool and an outdoor dining area.
Budget
Siesta Key Beach Resort – Fancy a super affordable accommodation near the ocean? Me too! Siesta Key Beach Resort has family rooms and a garden. Cool off by the pool while drinking some lemonade before you head out to explore.
Siesta Key Beachside Villas – I love the decor of this accommodation! Siesta Key Beachside Villas has everything you need for a pleasant stay! Good vibes, a tiki hut, hammocks, and a pool! The beach chairs and bikes are provided (if you've paid the daily resort fee).
Things to do in
Sunbathe all day long on Sarasota Beach
Shop until you drop at Siesta Key Village
Eat delicious food at The Seafood Joint – Market & Grill
Have a drink at The Blasé Café & Martini Bar
Go for a long swim in the ocean
Cool off with ice cream at Curly Cream
3. Crescent Beach – where to stay in Siesta Key for families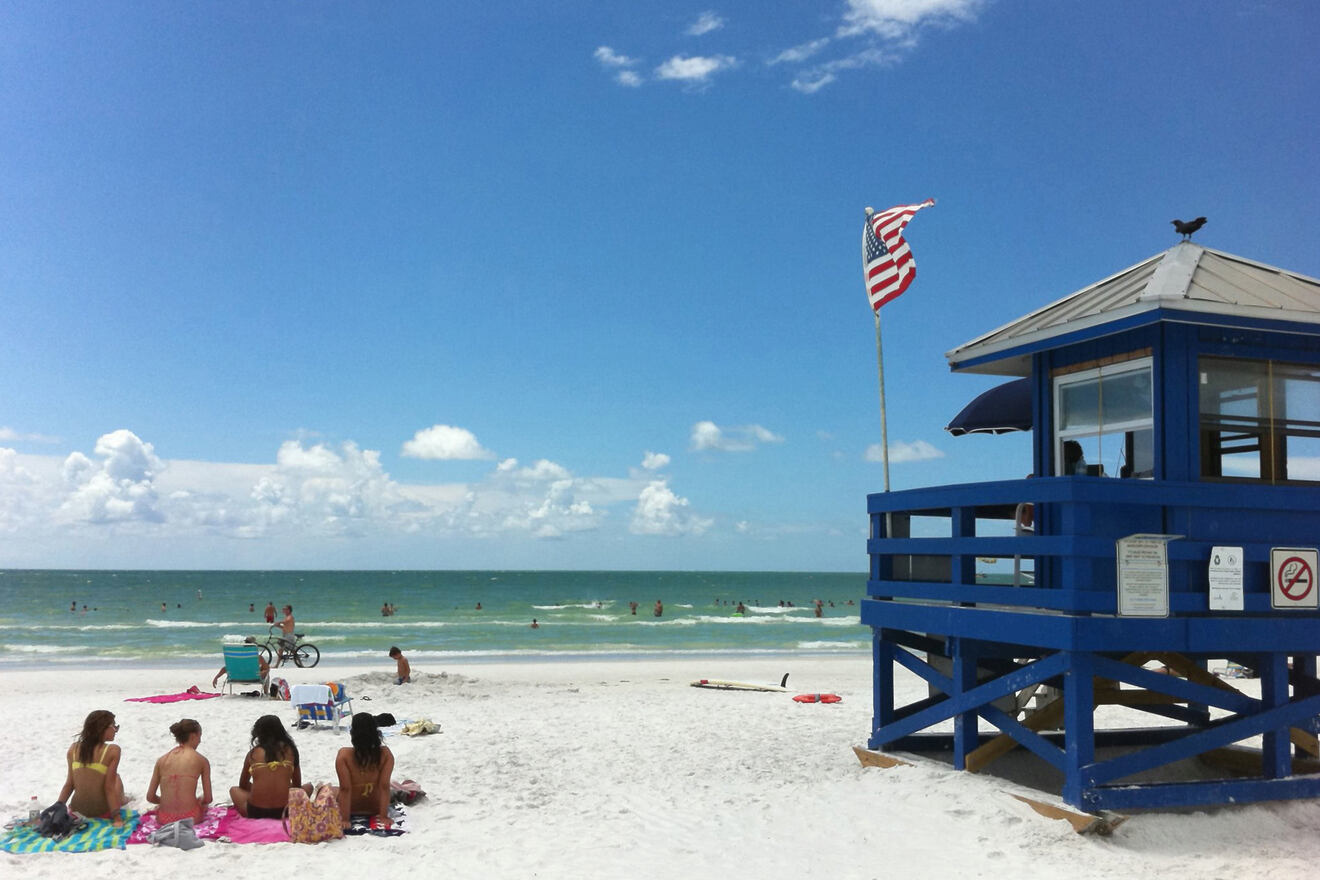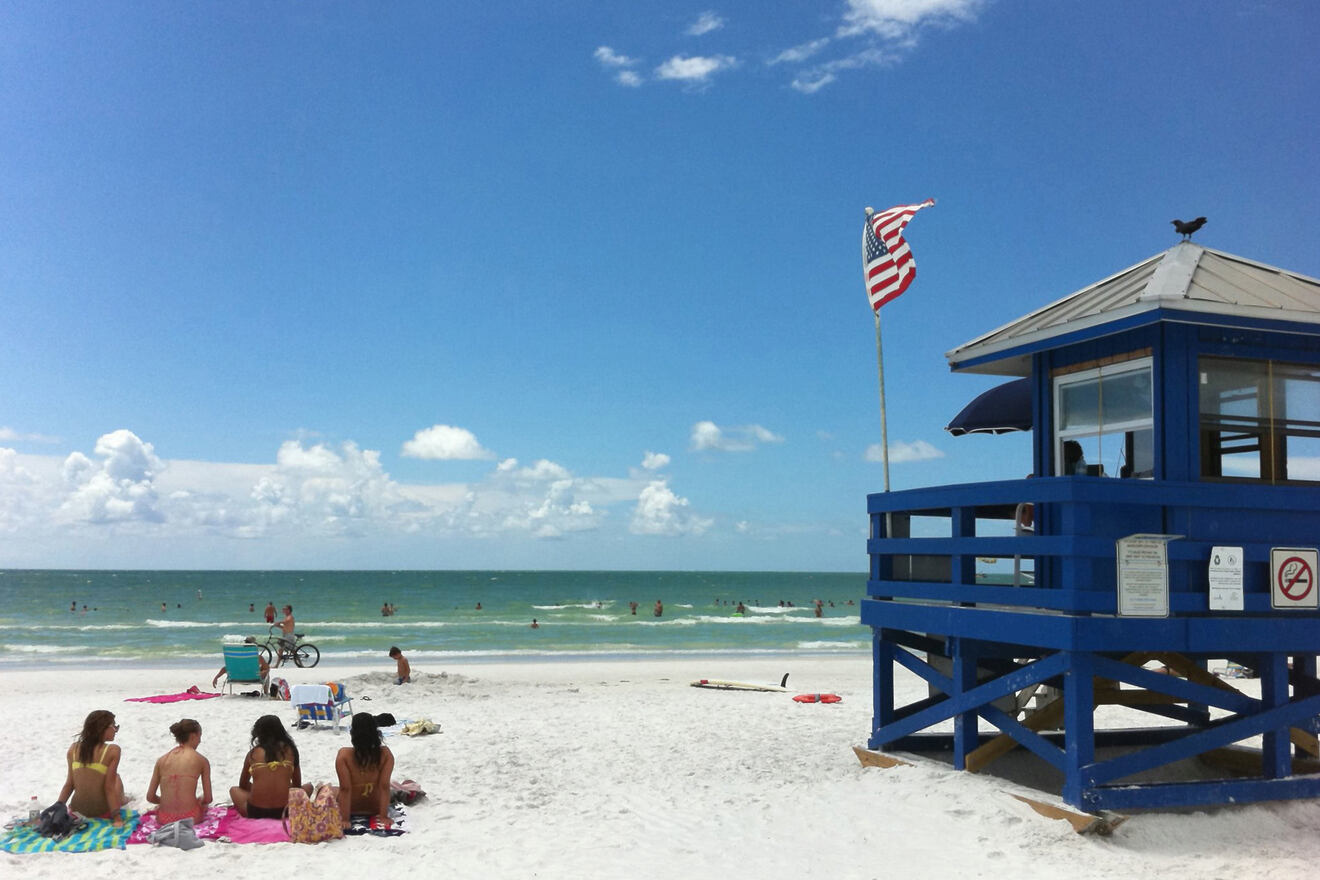 Only a short walk away from Siesta Key Beach there's Crescent Beach! A peaceful location where families can find the best resorts, restaurants, and activities to try with the little ones!
Crescent Beach is a quiet spot, which is excellent for families who don't want to stay amongst all the crowds. The white sand beaches are barely touched, and the landscapes are beautiful, especially for those who prefer sites that look a bit wild!
What's also great about this area is that it's connected to the mainland. Meaning that you can always head out to explore other parts of Florida like Fort Myers or Naples.
But let's get back to Crescent Beach because we've got lots to see!
There's a wide range of activities that you guys can try here, like going on boat tours, parasailing, and even fishing. The fun never ends in Crescent Beach!
Nor does the food, and if you thought Sarasota Beach has all the good eateries, just wait until you check the ones here. Look below at the things to do. In that section, I've added some great restaurants that you can't miss!
Other accommodation options in Crescent Beach
Crescent Beach is quite a popular destination, especially for families or people who prefer a tranquil spot. The area also has some of the best resorts and beachfront hotels, attracting more tourists. If you've missed your chance at any of the accommodations above, here are 3 more: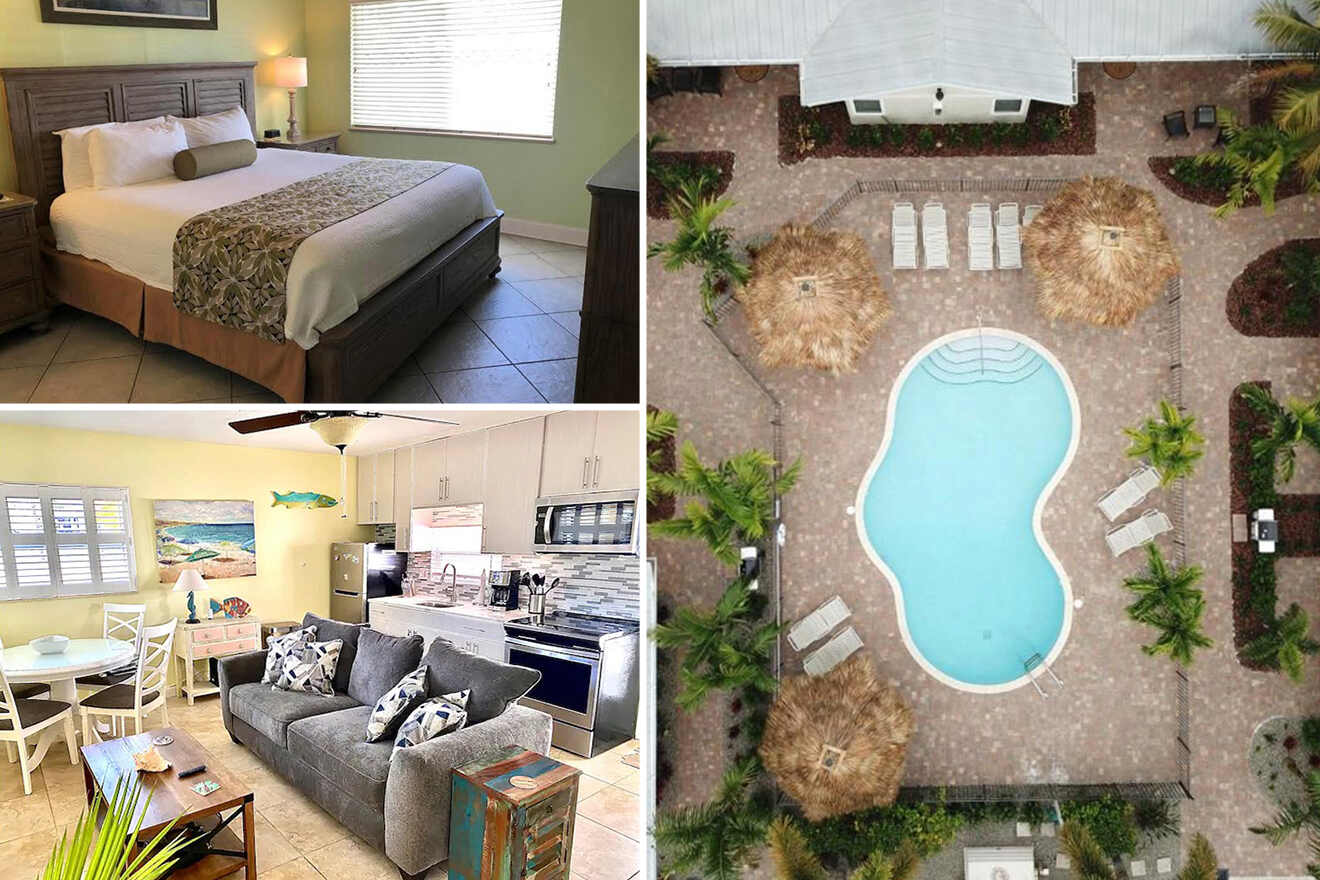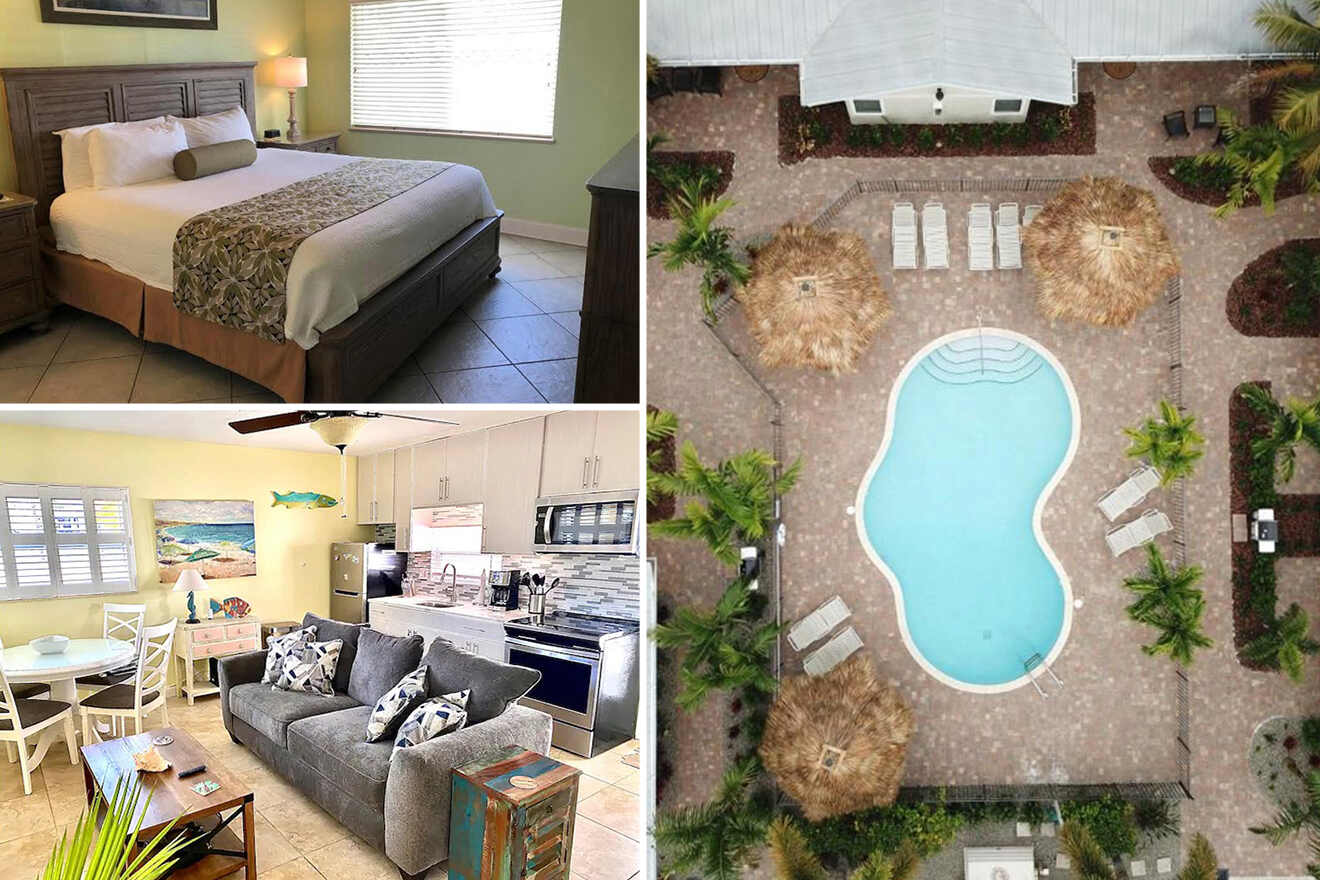 Mid Range
Twin Palms at Siesta – Chill on the beach chairs and order lots of cocktails at this hotel that's set within walking distance from the beach and has an outdoor dining area with barbecue facilities.
The Capri at Siesta – I love the outdoor space of this hotel, it has that old Florida charm! Enjoy a quiet afternoon on the terrace, reading a book, or playing on the volleyball court. The accommodation also offers complimentary beach chairs and free parking.
Budget
Tropical Beach Resorts – Try all the different activities that Tropical Beach Resorts offers! Snorkeling, windsurfing, and canoeing, you name it! When you're not out and about, chill by the pool or in the hot tub!
Things to do in Crescent Beach
Spend a few hours fishing with Siesta Charters
Eat delicious food at Captain Curt's Crab & Oyster Bar
Enjoy a fun day with the kids on Crescent Beach
Check out the Big Water Fish Market
Try parasailing with Siesta Key Watersports
Rent a boat from CB's Saltwater Outfitters and explore the sea
BONUS 1: The Top 4 Best VRBOs in Siesta Key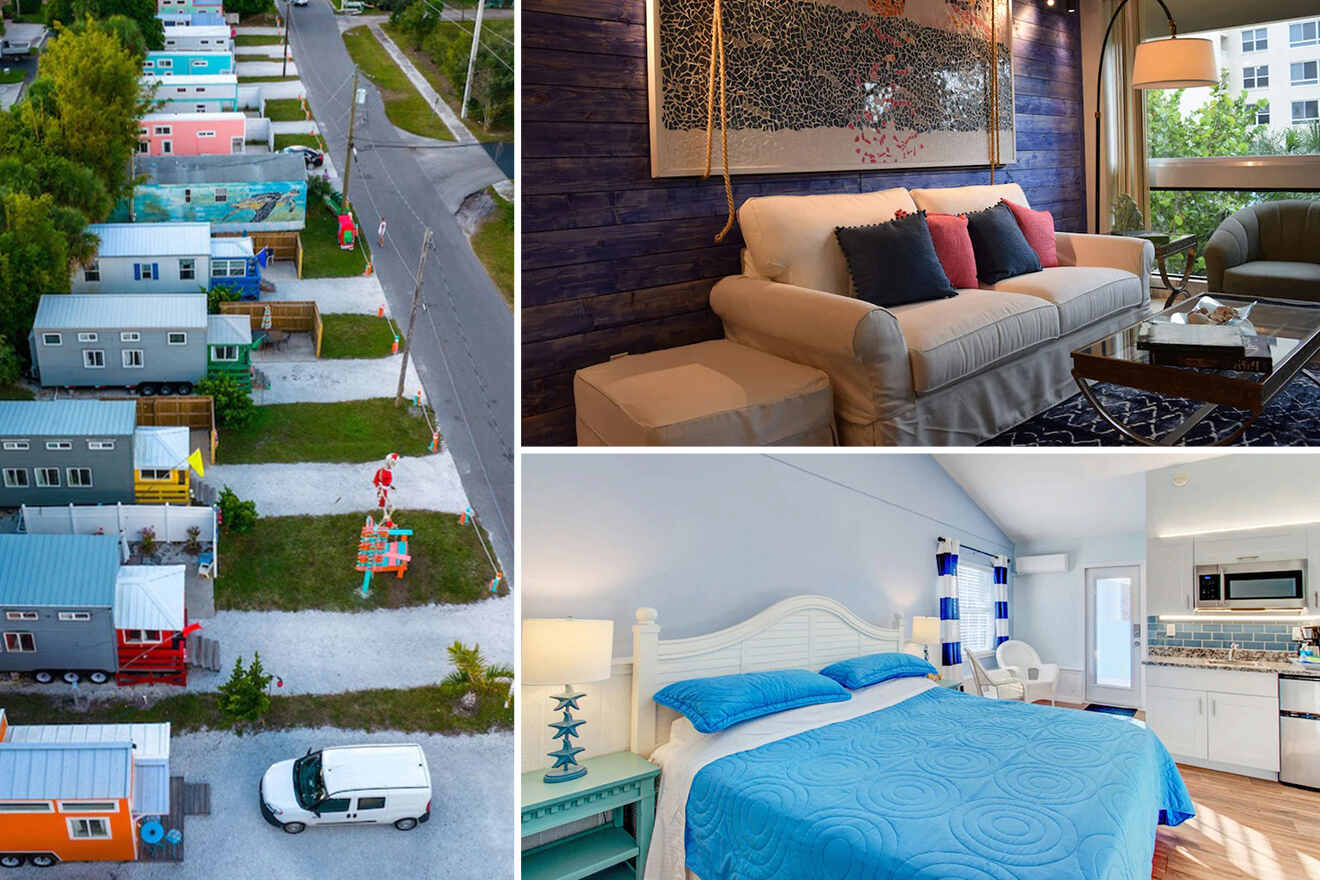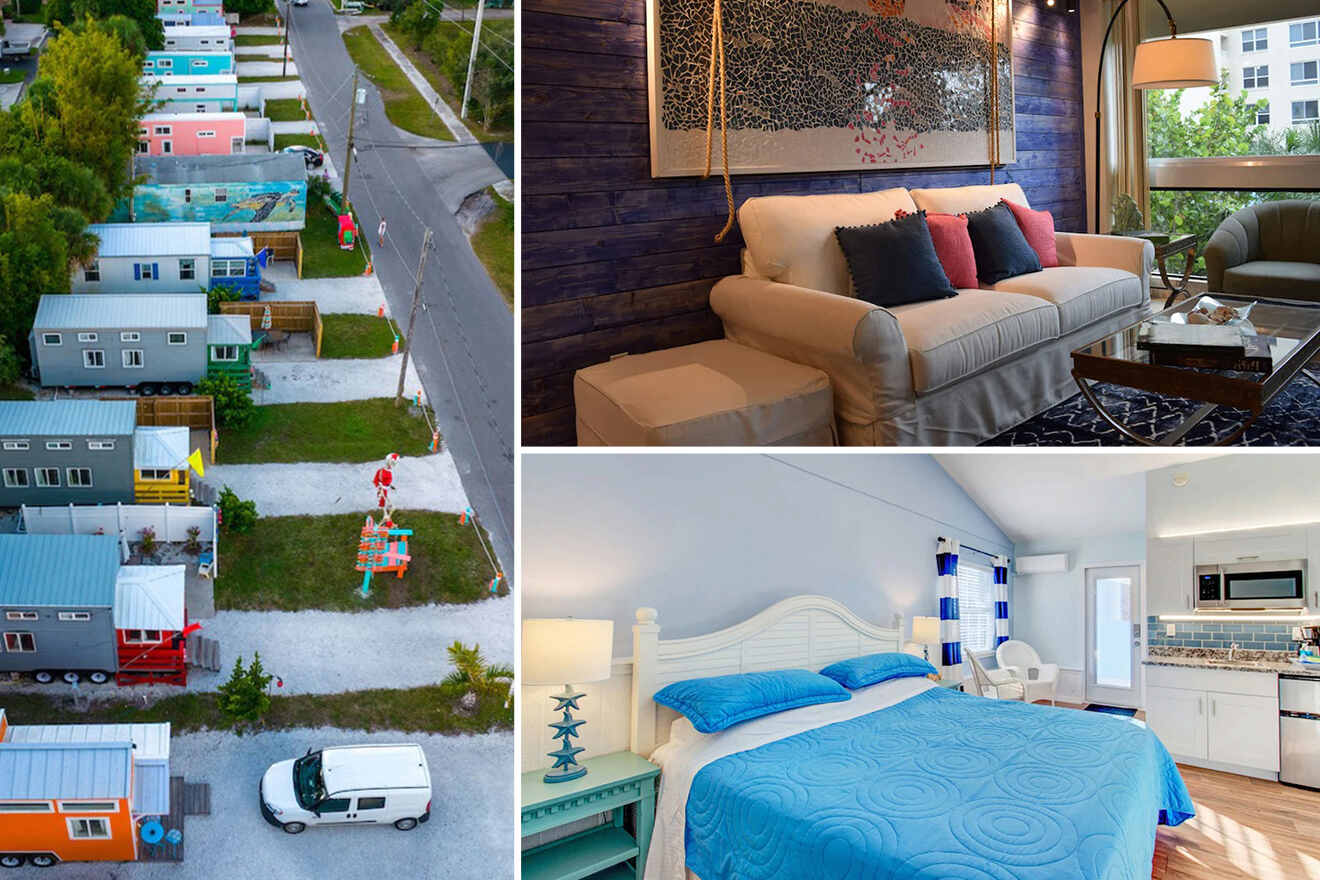 Planning a holiday in Siesta Key, Florida with your friends? Then stick around for a few moments because you'll want to see this!
I'm sure you guys are thinking of staying together, right? I've got just the solution! Siesta Key has a few vacation rentals that are great for smaller groups of friends who want to stay together and share the costs which start from US$220 to US$500.
So here is a list of the best ones:
BONUS 2: Best Places to Stay near Turtle Beach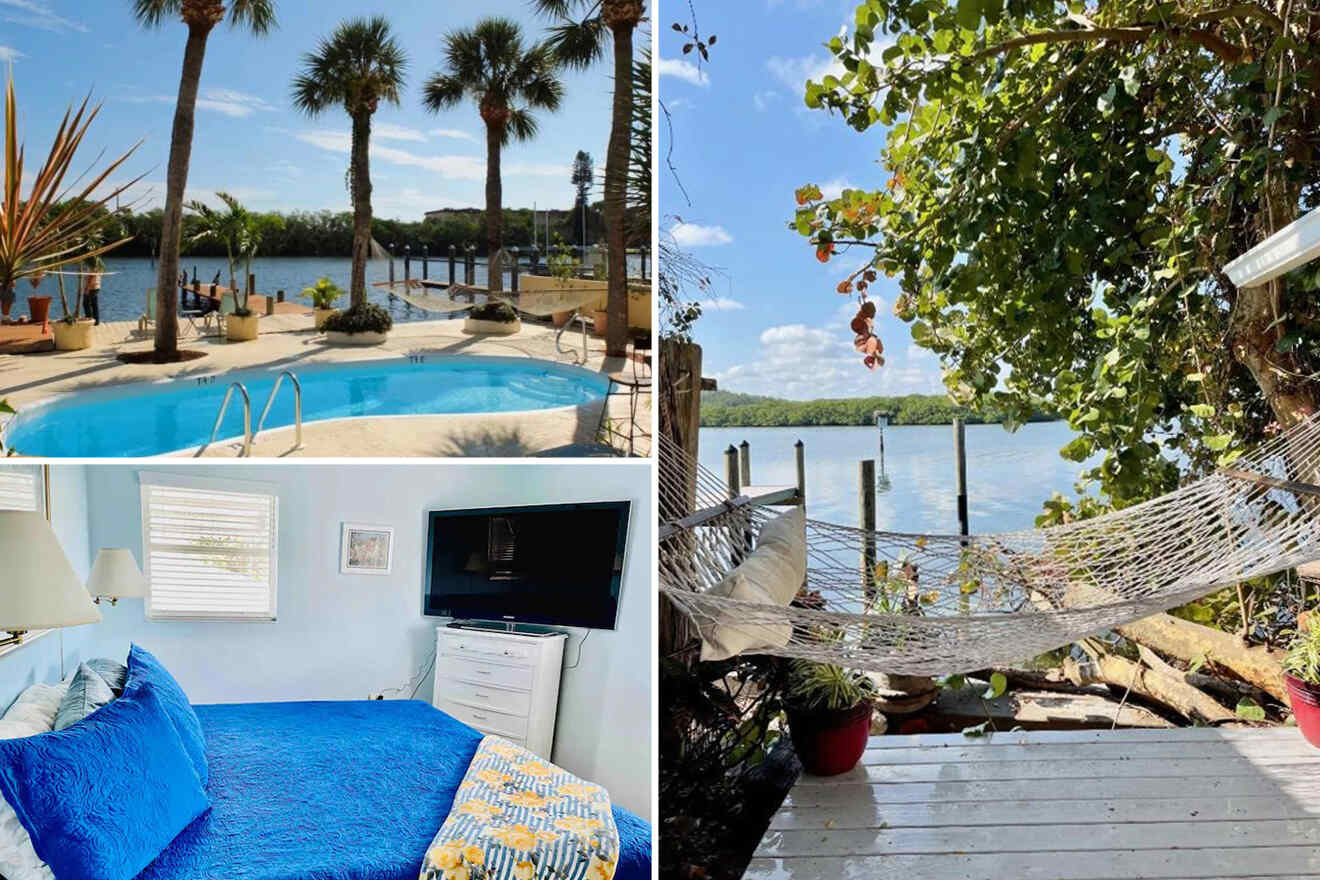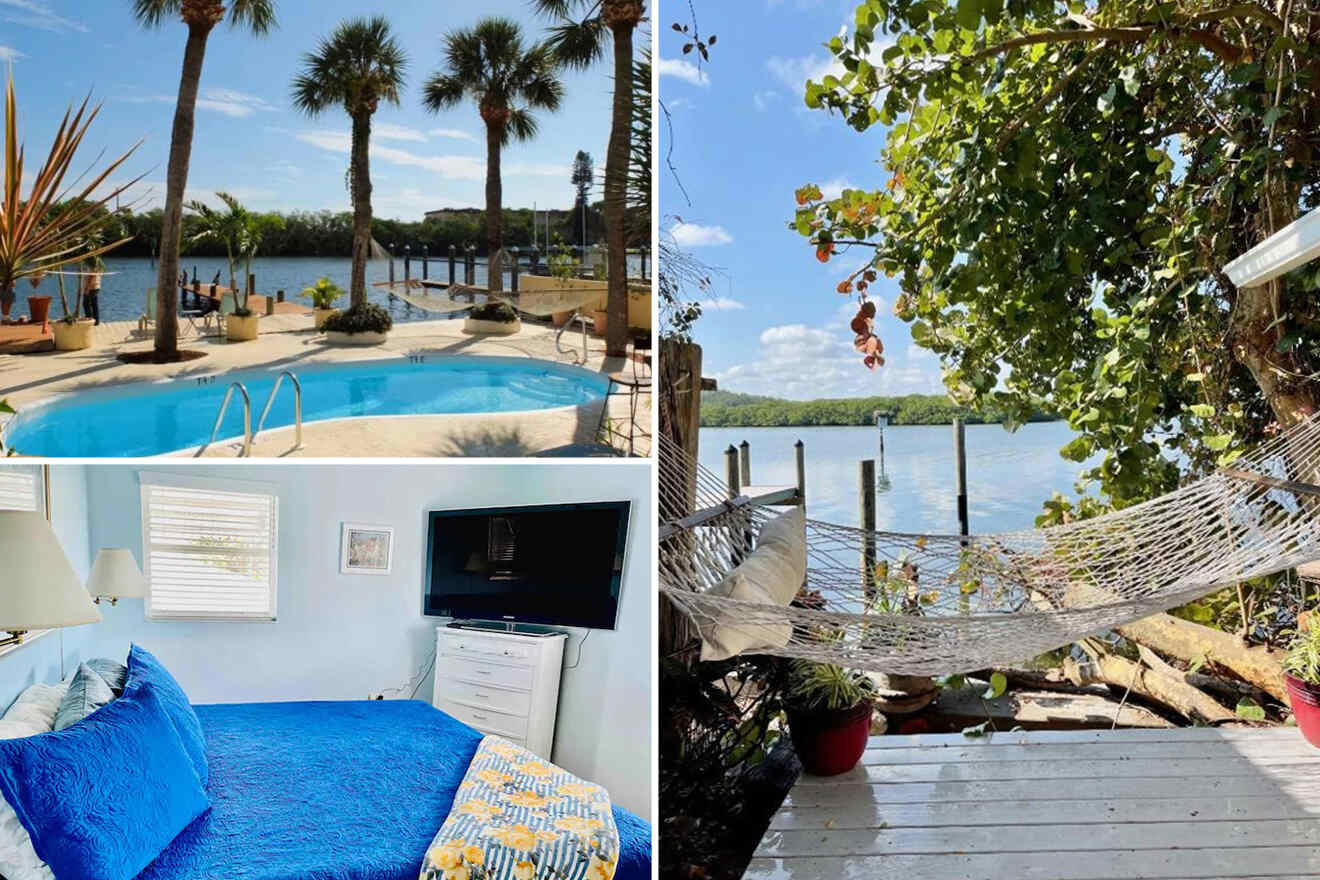 Not too far from Crescent Beach, on the southern part of Siesta Key, you'll find another great spot, perfect for people who love staying in places that feel more isolated (that's me as well)!
Turtle Beach is not so big, but it sure is beautiful. The area is not very populated, so there aren't as many hotels here. But that means would book mine in advance if I were you as many tourists want to come here these days and there aren't too many accommodation options to choose from.
So in case you're someone who's not into crowded places, check out the list of hotels below!
Mid Range
Turtle Beach Resort – Look at that hammock! Perfect for afternoon naps! Turtle Beach Resort is so fantastic, and it has apartments with private patios and a hot tub! The resort sits on the coast of Little Sarasota Bay and guests can borrow free fishing equipment, bicycles, and canoes to explore the area!
The Inn at Turtle Beach – An excellent accommodation that's linked with Turtle Beach Resort. Guests will have rooms with private patios and hot tubs and can go next door to the resort to chill in the pool. Plus, the beach is within walking distance from the inn – simply perfect!
Airbnb
Cozy Suite – Feel at home in this comfortable accommodation that's equipped with all the amenities you'll need, including a kitchen, free wifi, and a tv. The outdoor area is super nice, and you can admire the bay from there!
Frequently asked questions about hotels in Siesta Key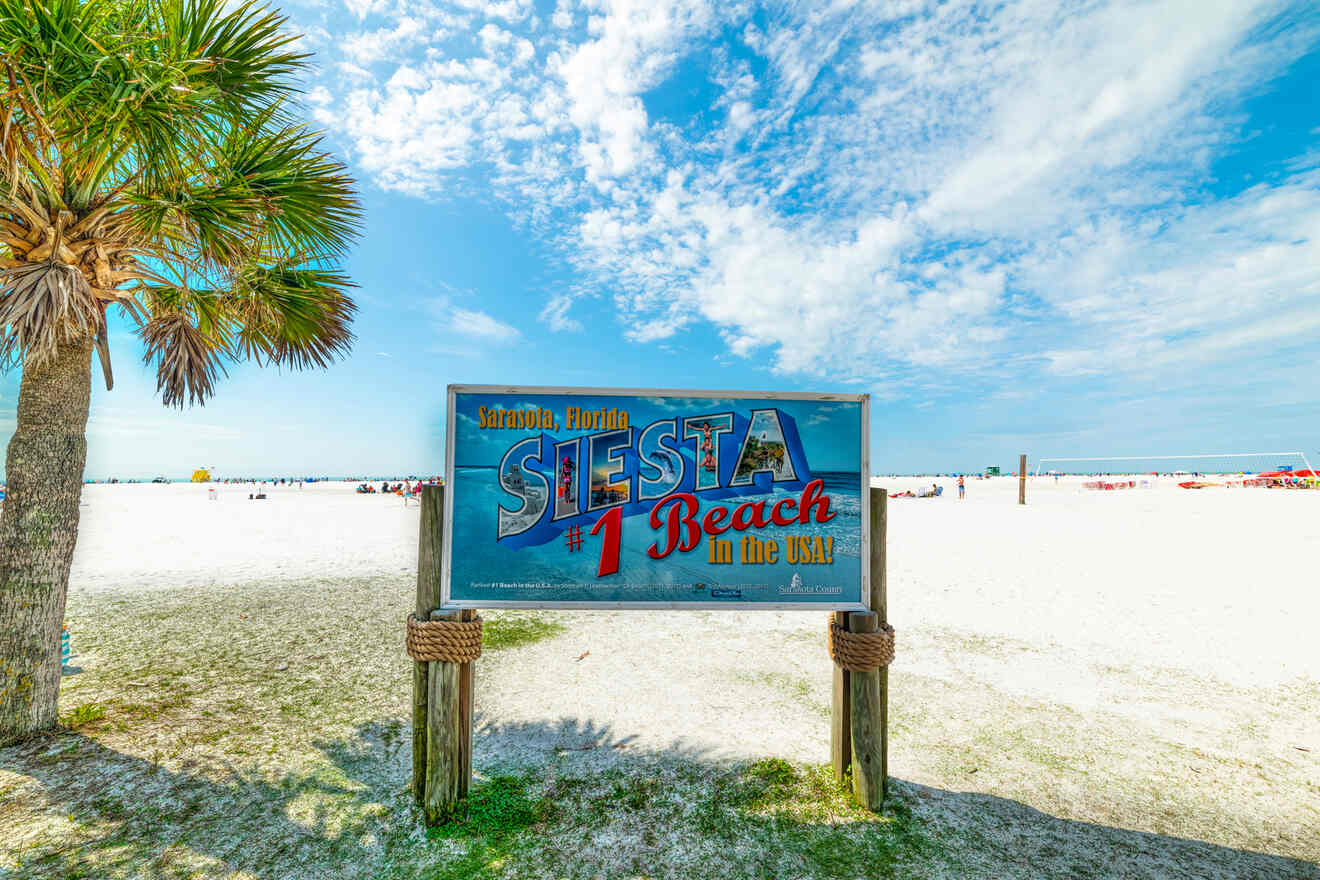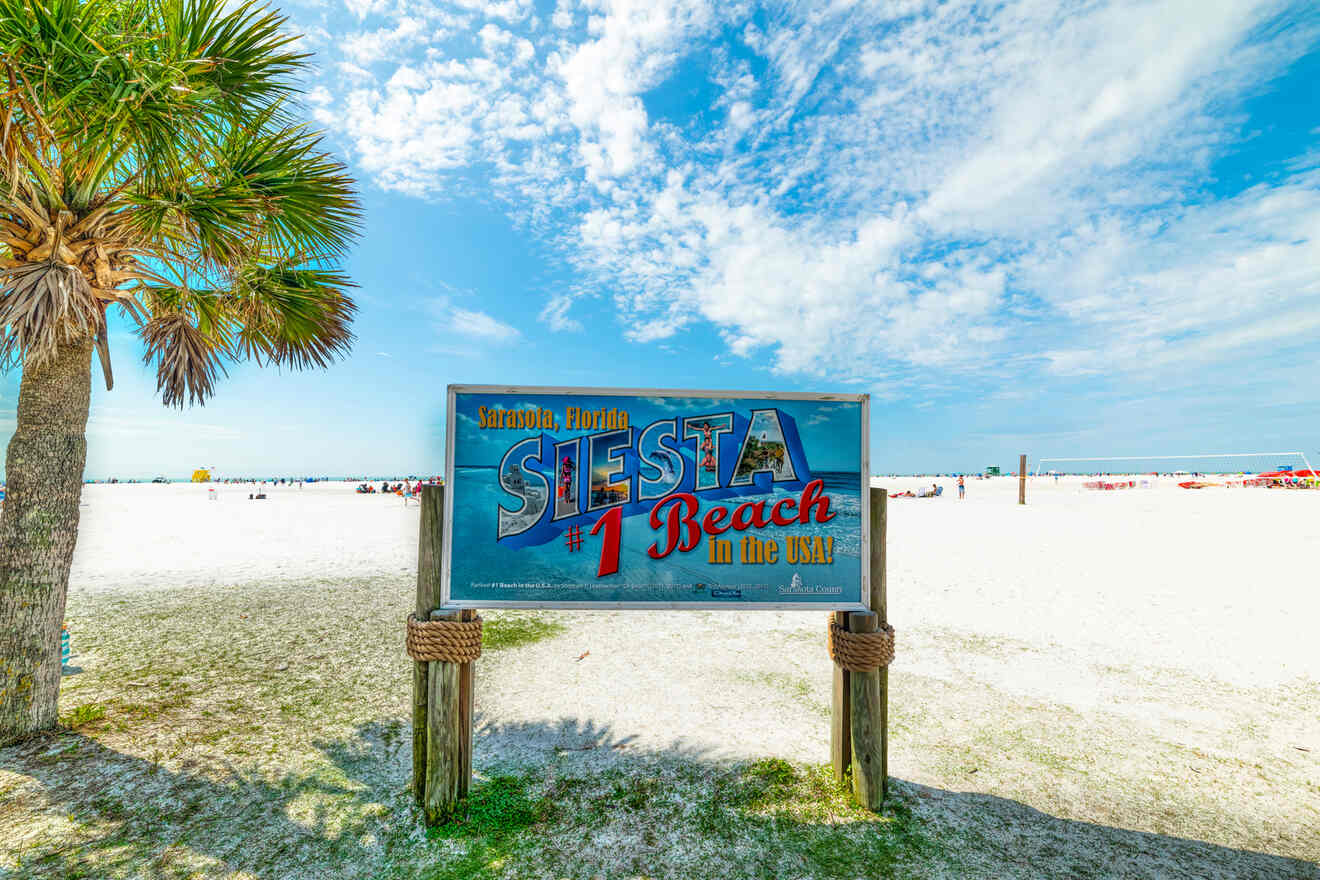 Conclusion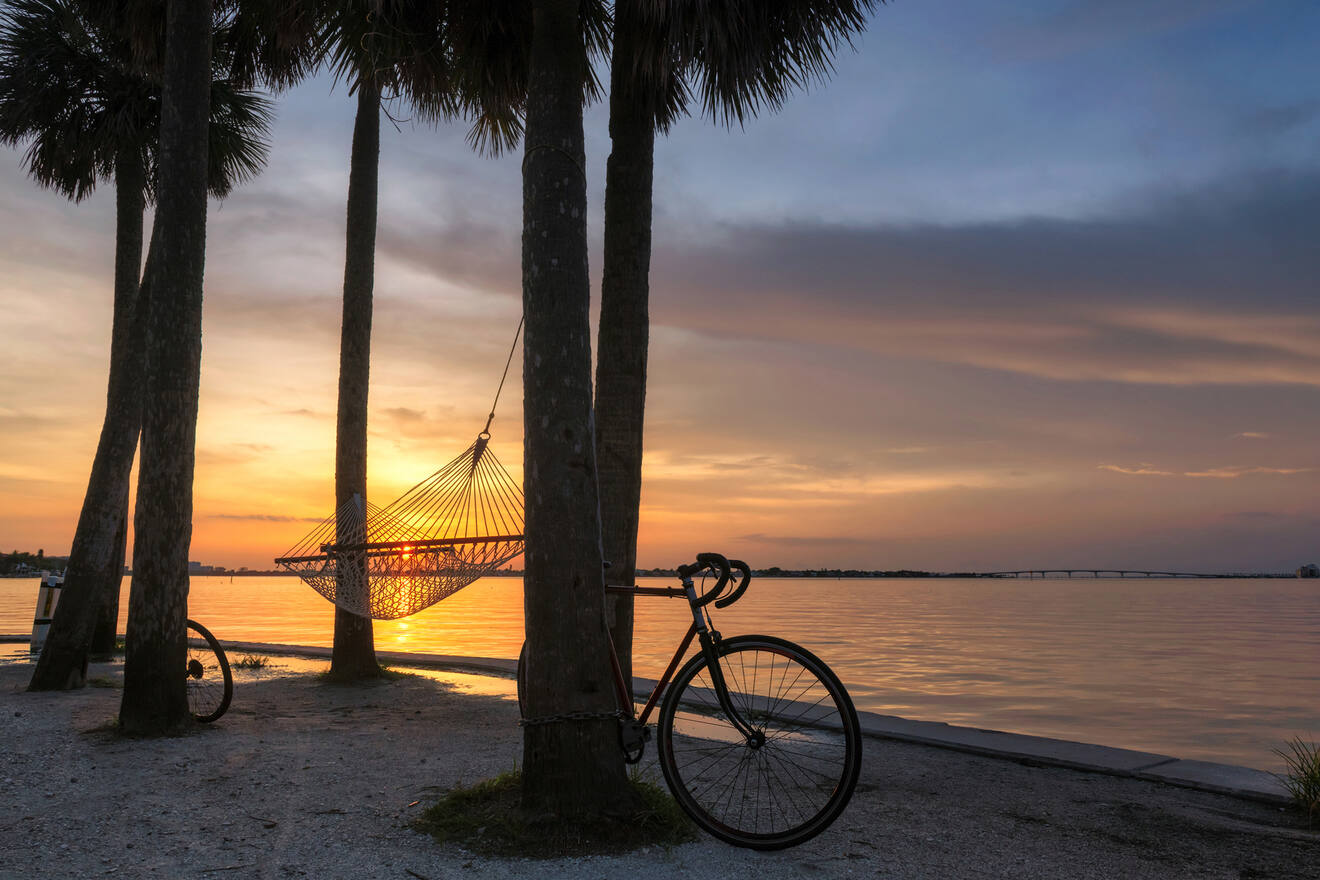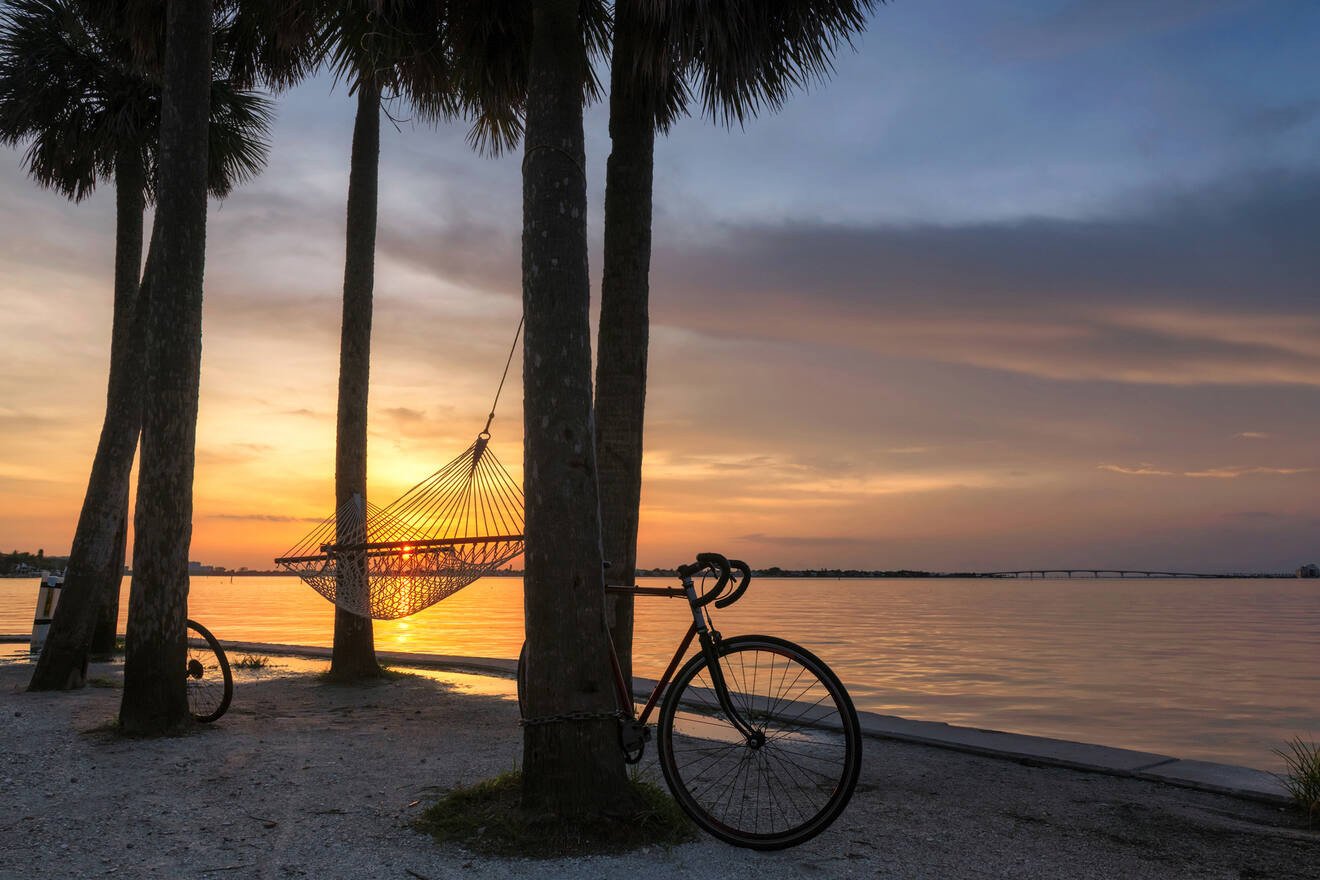 Am I the only one daydreaming about sugary beaches and sunset walks? I hope this post helped you decide which are the best places to stay in Siesta Key!
As you'll have discovered, this article has the 3 top areas in Siesta Key. Each one with a carefully curated list of the best resorts and things to do. And, right at the end, you'll find 2 bonus sections with more accommodations.
In case you're having a hard time trying to decide which beach resort or hotel to pick, here are my top 2 favorite options, both located in Siesta Key Beach:
Do keep in mind that these are some of the best resorts and hotels in Siesta Key and they will sell out super fast. I highly recommend booking in advance to secure a spot at your favorite beach resort or hotel!
And this is where I leave you! Have a suntastic trip! Chill under a tiki hut, shop until you drop in Siesta Village, and party at the beach club! You'll have the best time ever.
If you have any other questions about a beach resort and its daily resort fee or the location, leave me a comment below, and I'll answer them ASAP!
Safe Travels,
Victoria