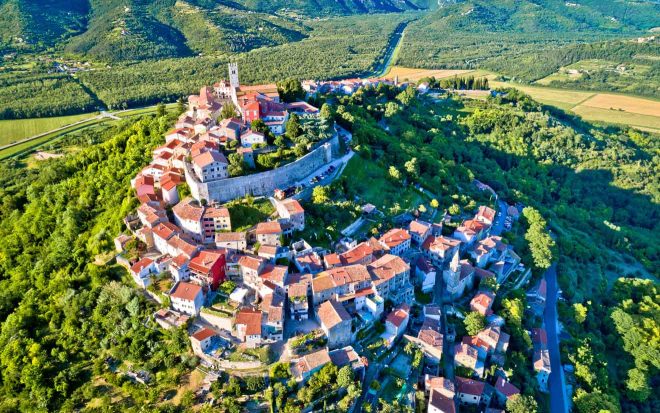 Istria is a region in Croatia – a small peninsula located only a couple of hours by boat from Venice, Italy. In this article, you can read about the 8 best towns in Istria that are definitely worth visiting during your vacation! 🙂 So if you are looking for some off-the-beaten-track holidays, this is for you!
NOTE: Do not get scared by the number of towns I am mentioning in this post – they are all tiny (one of them is actually the smallest one in the world!) and are located close to each other.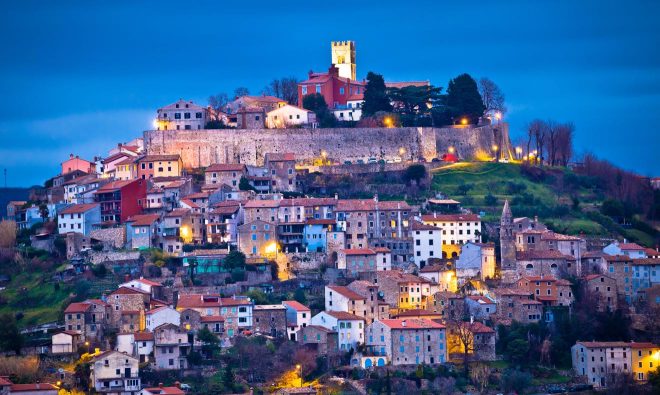 The unique heart-shaped Istrian peninsula has a rich history full of interesting happenings. After the WW1 Istria was known as an Italian region, but then, at the end of WW2, it became a part of Yugoslavia. Now it is part of Croatia and the people living there are part Italian and part Croatian.
The Istria peninsula is the perfect choice if you want a calm, relaxing holiday full of delicious food and wine tasting, walking on beautiful pebble beaches, people watching and admiring the sunset but also maybe some… paragliding, parasailing or biking? Why not!
Istria is a charming region and, in fact, it is one of my favorite destinations in Europe! Here are the off-the-beaten-track towns that are a must-visit while in Croatia and my recommendations for accommodations, places to eat and what to do in each of them. From Rovinj and Vrsar to Pula and Hum, this list has the best of Istria!
Here is an Istria map with all the cities I am recommending: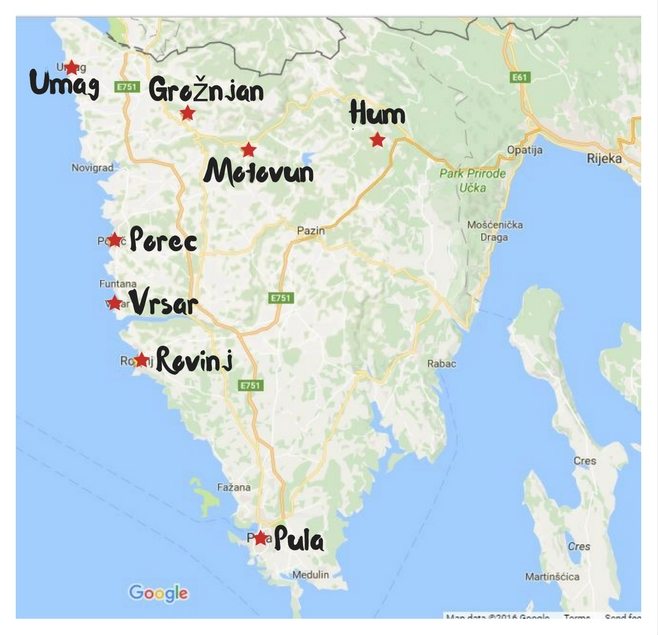 Click on the button to jump directly to your town: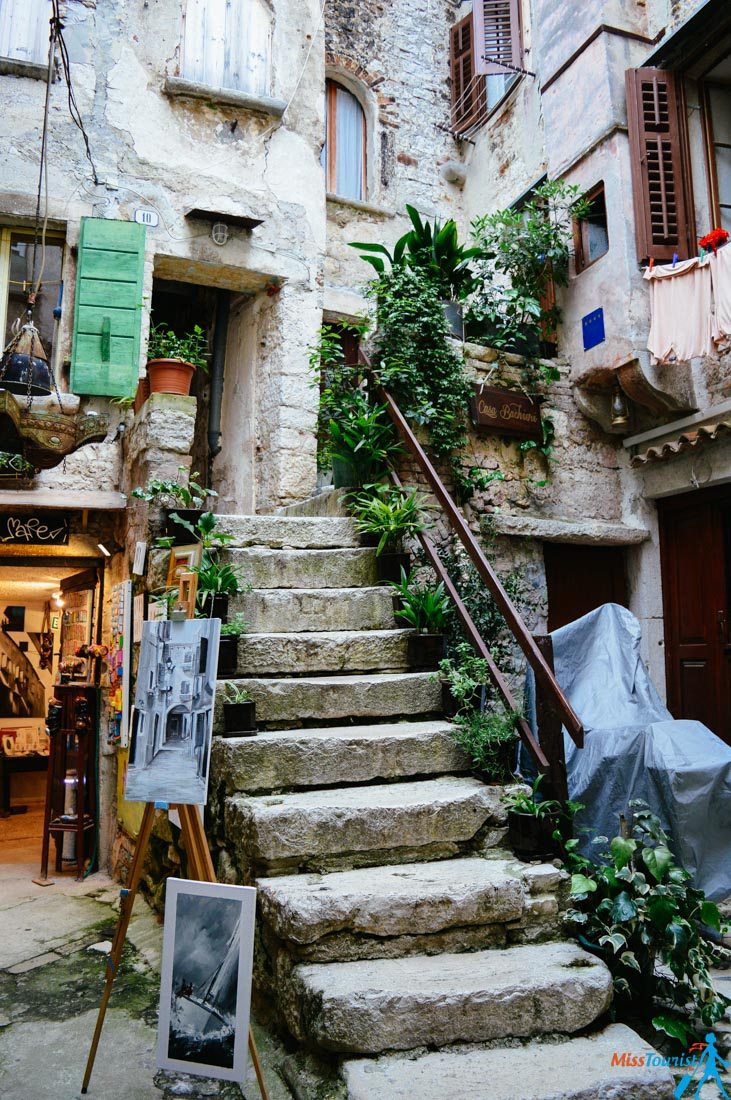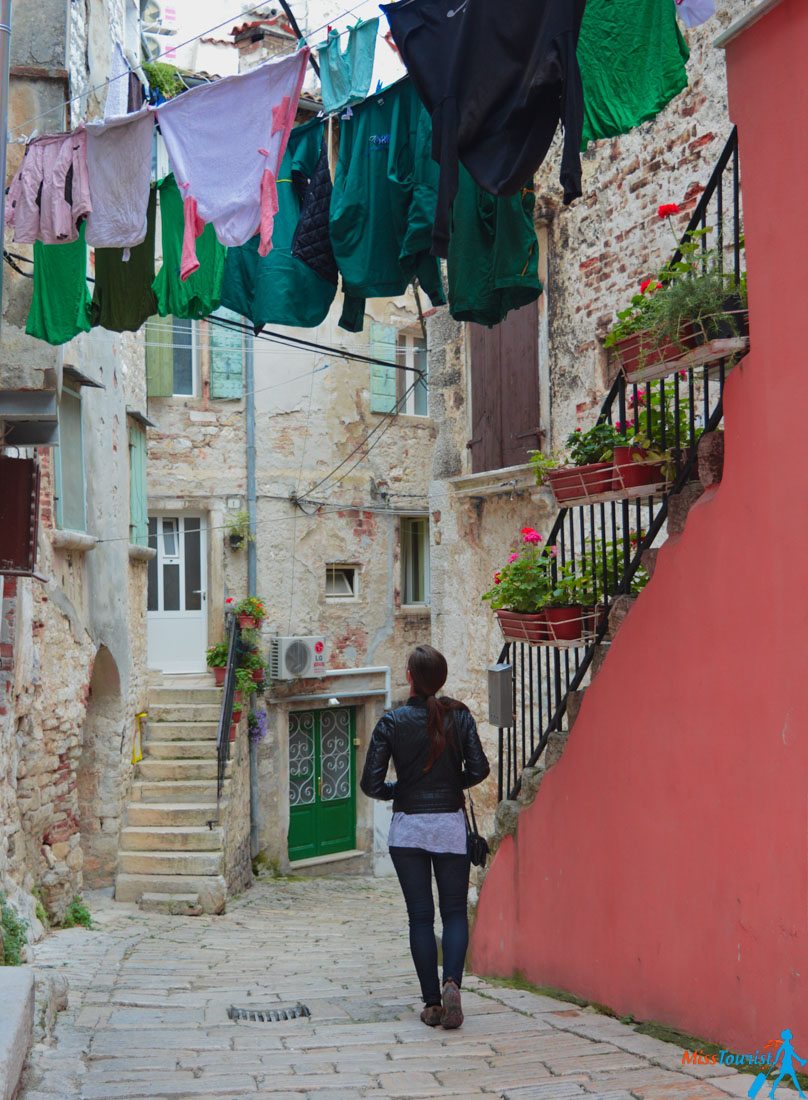 Did you know that Rovinj is THE most popular Croatian destination based on the amount of nights people spend in the city?
And it is no wonder that Rovinj is one of the best places in Istria, as this city is pure seaside bliss! Even if I usually try to escape touristy places, Rovinj is just too pretty to exclude from your Croatian itinerary; I was totally enchanted by it!
Shiny stones on cobblestone streets, local markets with delicious treats, countless little boats wherever you look and a bell tower with a postcard-like view… What more could you wish for?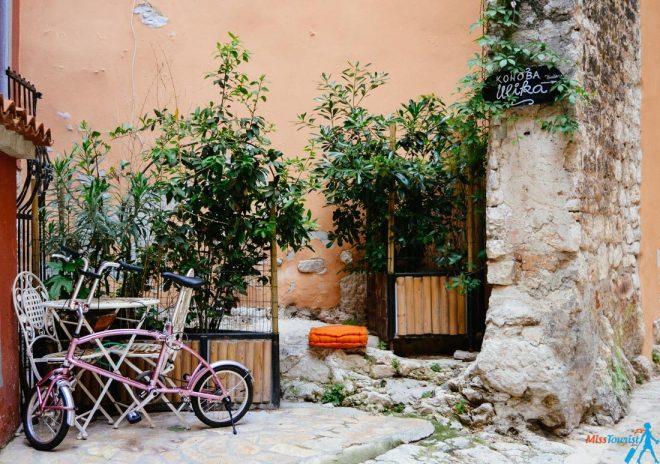 It does not matter how many days you decide to stay in the city – 1 day or 1 week – I promise you that it won't disappoint!
Even though Rovinj is extremely romantic, I would say that it is not only for lovebirds! Both families and large groups of friends will find plenty to do in Rovinj.
Where to stay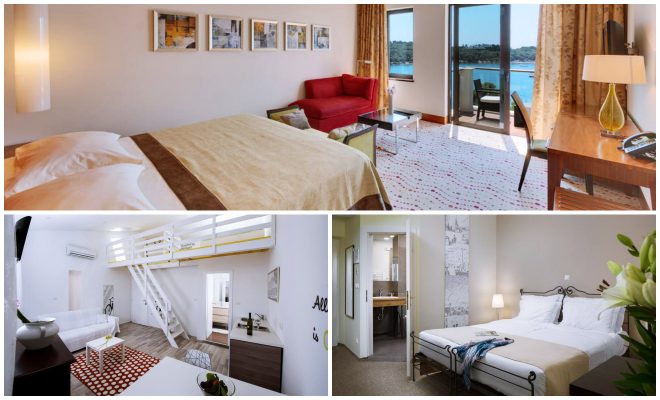 All the hotels I am recommending below have amazing reviews and are located in the heart of Rovinj Old Town. Check the rates for your dates by clicking on the name:
Luxury (150€ and up): Hotel Monte Mulini – gorgeous 5-star hotel with world-class service, located only 20 minutes away by foot from the city center and Hotel Lone Rovinj – the most famous hotel in the city and one of the best places to stay in Istria!
Medium (50 – 150€): Hotel Angelo d'Oro – this one is an amazing 4-star hotel that provides great value for money. Casa Alice is a very good choice as well – 4-star hotel owned by a family that has their own winery, as well as olive groves!
Budget (50€ and less): Apartment Rovinj La Casa di Loreto – perfect if you want to stay on a budget in a gorgeous, traditional house! Apartments and Rooms Erik – located only a 10-minute walk away from the city center, this one is a perfect option as well
If you need more accommodation options, you can check out my article about Where To Stay In Rovinj!
Where to eat
Rovinj has some great places to eat as well, so here is a short list of recommendations for restaurants in Rovinj:
Restaurant Monte ($$$) – This restaurant is ranked as number one in the city and #2 in the entire region of Istria!
Kantion ($$) – Go there for the amazing seafood dishes. Plus, the restaurant offers an amazing view of the waterfront!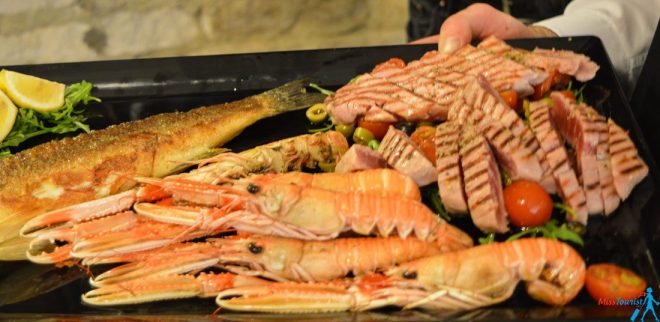 Restaurant Giannino ($) – If you're looking for an affordable place, this is it. It's located on a residential street and the menu is mainly made of delicious seafood dishes.
What To Do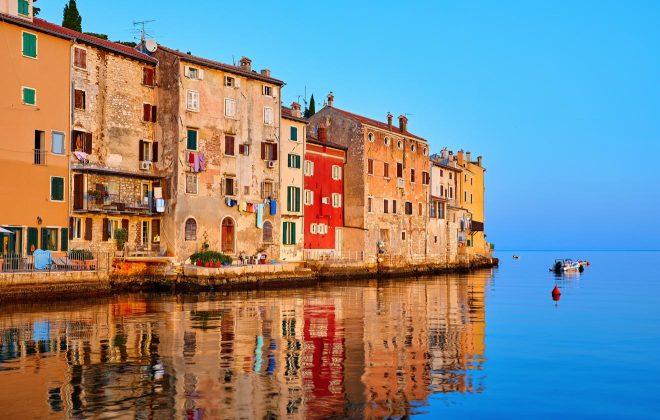 Here are just some of the things you can do during your Rovinj holidays:
Admire the Venetian architecture and stroll around the wonderful cobbled alleys of Rovinj Old Town, which is considered to be the most beautiful part of the city and one of the best things to do in Rovinj
Visit a local market – the Green Market is great for fresh produce
Enjoy the sun on a Rovinj beach (check out Amarin Beach, Skaraba Beach and Borik Beach – these are just some of the best beaches in Istria)
Visit Saint Euphemia Cathedral
Climb the bell tower of the Cathedral for the best view of the town
Enjoy some amazing seafood dishes – this is definitely one of the best things to do in Istria as well! (see my restaurant recommendations in the previous tab).
Take a Dinosaur Island and Kamenjak Boat Tour to discover dinosaur footprints and swim into ocean caves at Kamenjak Park!
Take a tour of Postojna Cave and Predjama Castle. During the tour, you will visit one of the most well-known caves in the world and the only preserved cave castle in Europe!
2. Vrsar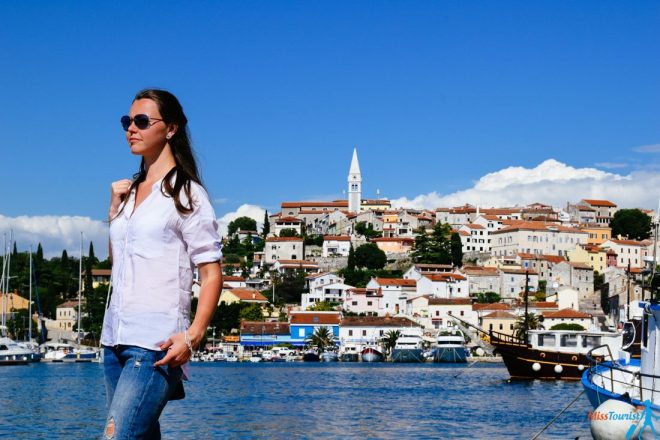 Vrsar is a small town of fishermen and it includes all the best things that Istrian towns have – natural wonders, stunning beaches, cultural heritage. I really recommend walking around the promenade and admiring the alleys and the charming houses.
But Vrsar has something else that other cities in this list don't have: a small airport where you can take a plane to fly over the area and admire the marvelous region from above! So if you are wondering where to go in Istria for a unique experience, you should know that this was, by far, the best thing I did during my stay!
You can read all about this activity in the "What to do" section below and you can watch this video in order to get a better idea of what I mean:
Vrsar in Croatia is located somewhere between Rovinj and Pula and it is known because of the adventures that Giacomo Casanova had there during his visits in the 18th century. He wrote about his time in Vrsar in his memoirs and he noted that this is "the town of good wine and beautiful women". In order to celebrate this, you can even take a "Casanova Tour" of the city. More details in the "What to do" section.
Where to stay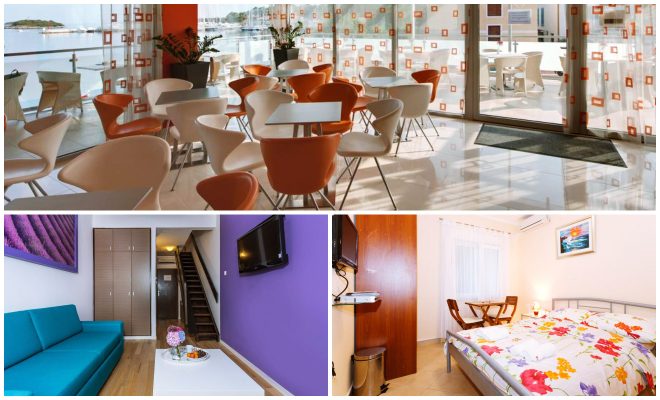 Vrsar is not a big city overflowing with tourists, so, unfortunately, you won't find any 5-star luxury hotels here. But here are my recommendations for great hotels and apartments with fabulous reviews:
Middle-priced (50 – 150€): Hotel Pineta – this one is located on a hill overlooking the city and it has an indoor and an outdoor pool waiting for you! Hotel Vista – book a room here if you want to stay in a room with a gorgeous view over Vrsar Marina!
Budget (50€ and less): Apartments Mirjana is a 3-star self-catering accommodation that offers different types of packages. Apartments Jurić is sparkling clean, nice and perfect for a good night's sleep after a day of exploring around the city!
Where to eat
Restaurant Trošt – This restaurant is located in the Marina area of the city and, as usual, it has delicious food with an amazing view over the Riviera!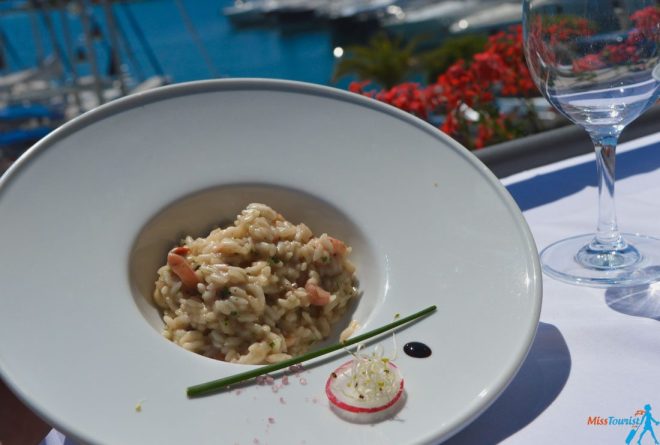 What To Do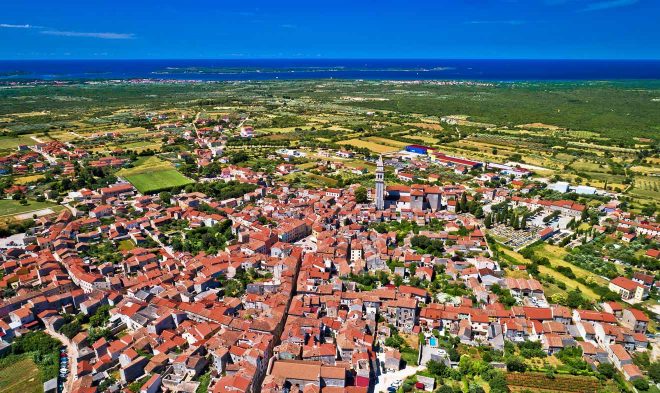 Take a panoramic tour over Istria
I have already seen both the ground and the underground of Istria and I can say that I was charmed by both perspectives. However, when I saw the area from a bird's eye view, it definitely took my breath away and I fell in love with it forever! I took a scenic helicopter flight over the Swedish Lapland afterward, but this memory of Istria will stay with me forever.
Even though there are many places in the world where you can take a short flight just to see the view, Istria might just be THE place to do it. Seeing the beautiful little islands of the Adriatic Sea from above made me feel like I was in a live Discovery Channel scene. I still dream about it!
But here comes the coolest part:
I spoke some Russian with the pilot and he let me drive the plane a bit!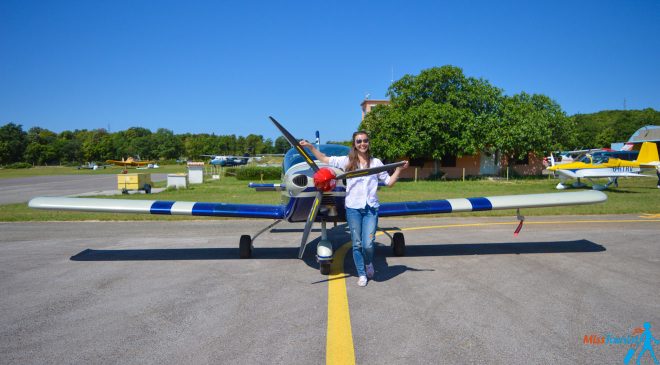 Mom, I drove a ViperJet!
Of course, this activity will be more expensive than your normal tourist excursion. But think about this: will you ever forget it? It is worth every penny, I guarantee it!
Aeropark Vrsar offers panoramic flights and tandem jumps. Panoramic flights are available from April to October. The price depends on the duration of the flight and it can be from 120 to 320 kunas per person and 600 to 1600 kunas per flight. 100 Kunas is approximately 13.5€, so don't miss your chance!
More details here – Panoramic flight Vrsar
Take an interactive "Casanova Tour" while in the city in order to find out more about the history of the place. You can book it at the Info Center (Vrsar Tourism Board) in the city.
Visit the Old Romanesque Gate
8. Hum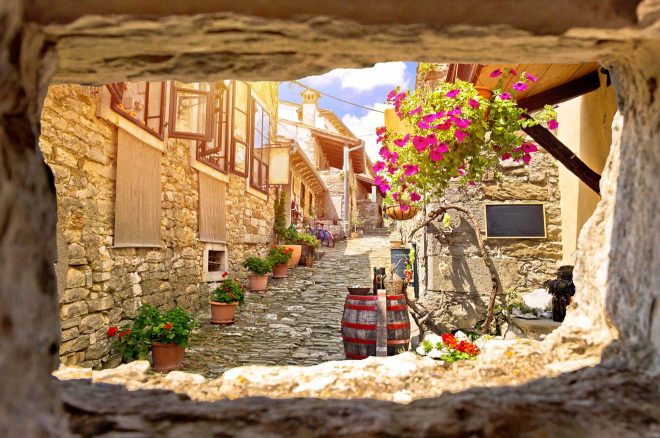 Did you know that Hum is actually the smallest city in the entire world?
During my stay, I think I met all 23 residents of the town. 🙂
Just like all the other wonderful cities in this article, Hum preserves the charming, historical atmosphere of Istria. The medieval streets are so beautiful and inviting that you just can't help discove