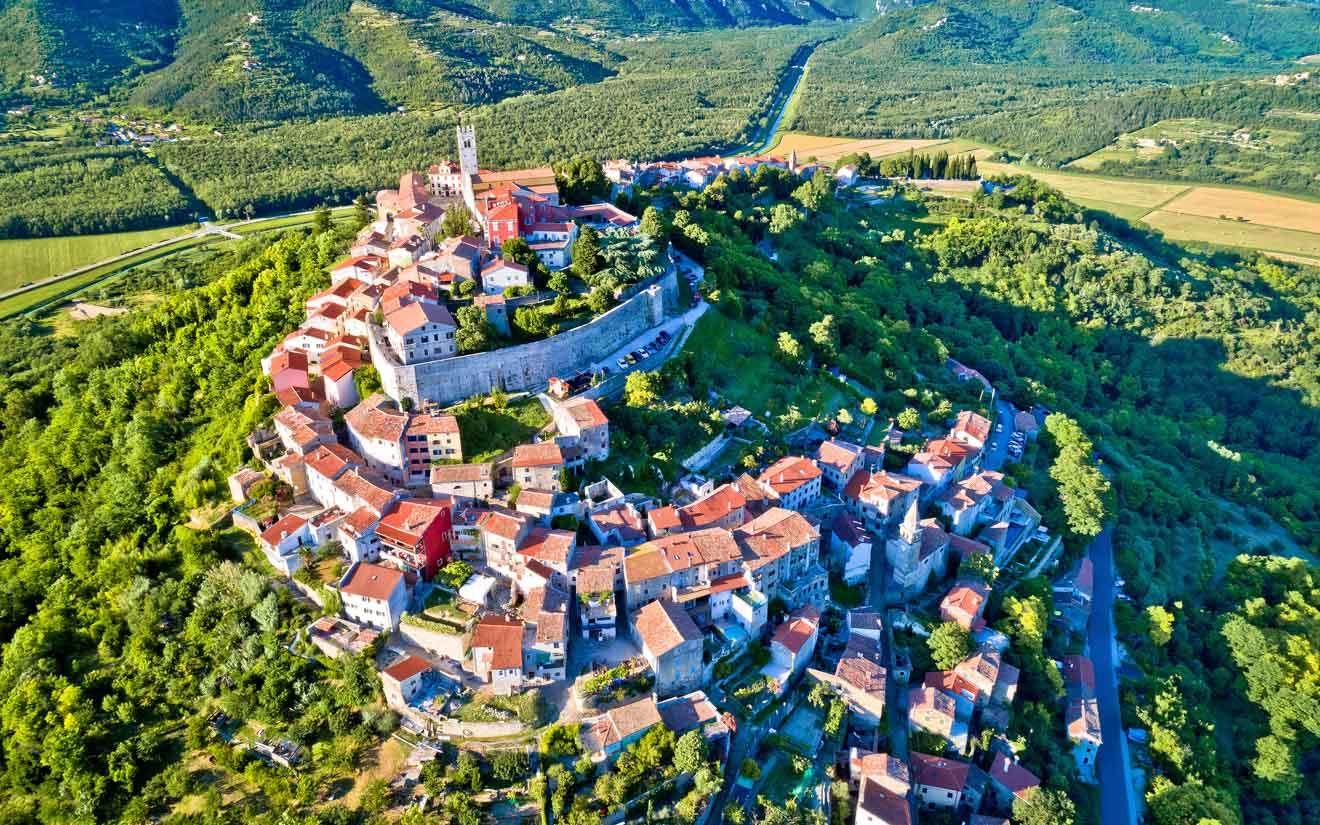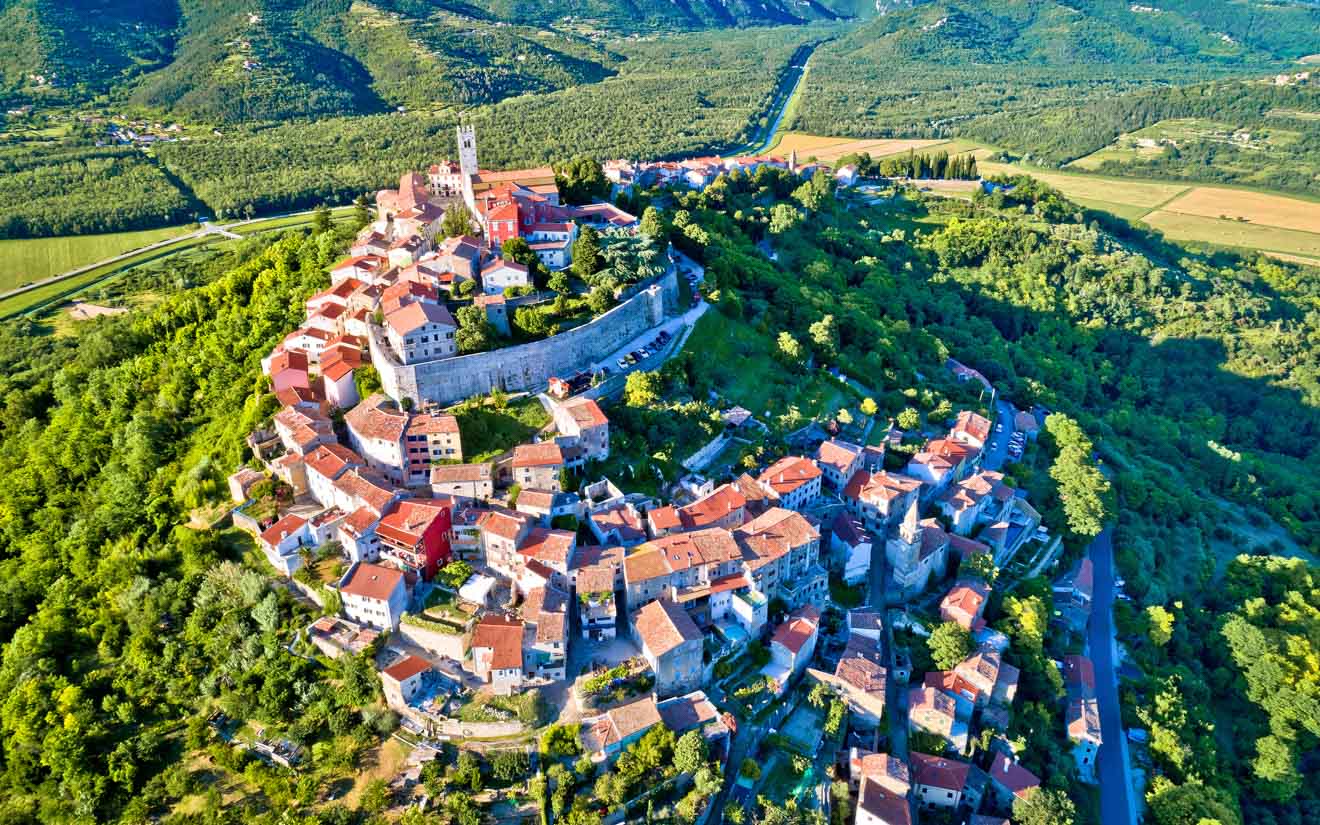 Istria is a region in Croatia – a small peninsula located only a couple of hours by boat from Venice, Italy. In this article, you can read about the 8 best towns in Istria that are definitely worth visiting during your vacation! 🙂 So if you are looking for some off-the-beaten-track holidays, this is for you!
NOTE: Do not get scared by the number of towns I am mentioning in this post – they are all tiny (one of them is actually the smallest one in the world!) and are located close to each other.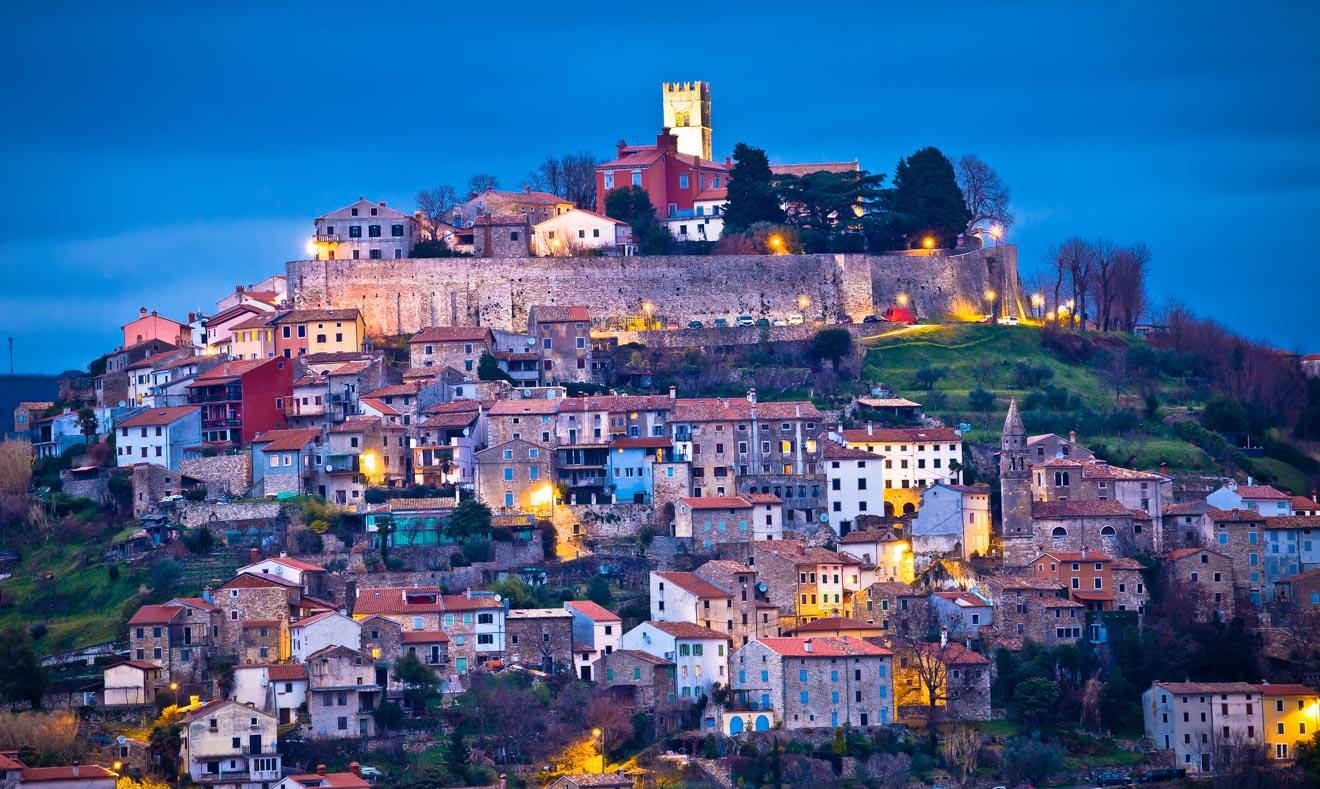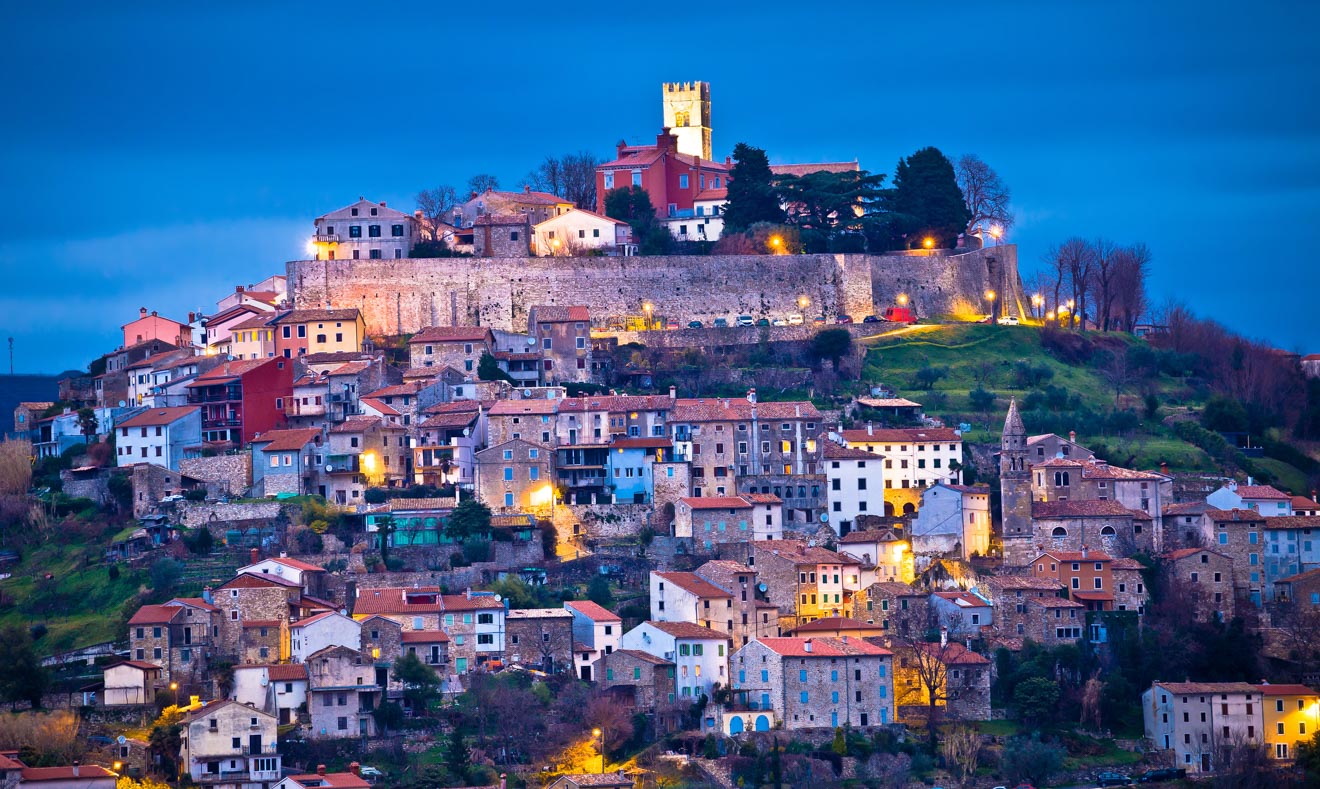 The unique heart-shaped Istrian peninsula has a rich history full of interesting happenings. After the WW1 Istria was known as an Italian region, but then, at the end of WW2, it became a part of Yugoslavia. Now it is part of Croatia and the people living there are part Italian and part Croatian.
The Istria peninsula is the perfect choice if you want a calm, relaxing holiday full of delicious food and wine tasting, walking on beautiful pebble beaches, people watching and admiring the sunset but also maybe some… paragliding, parasailing or biking? Why not!
Istria is a charming region and, in fact, it is one of my favorite destinations in Europe! Here are the off-the-beaten-track towns that are a must-visit while in Croatia and my recommendations for accommodations, places to eat and what to do in each of them. From Rovinj and Vrsar to Pula and Hum, this list has the best of Istria!
Here is an Istria map with all the cities I am recommending: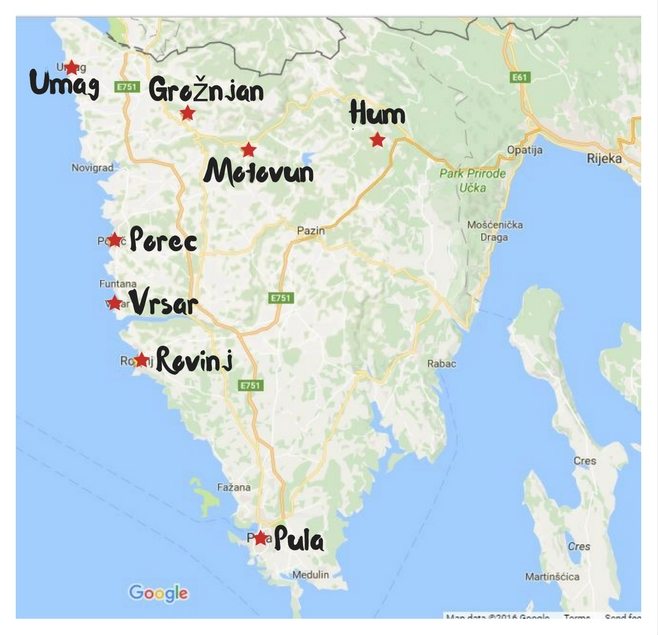 Click on the button to jump directly to your town:
1. Rovinj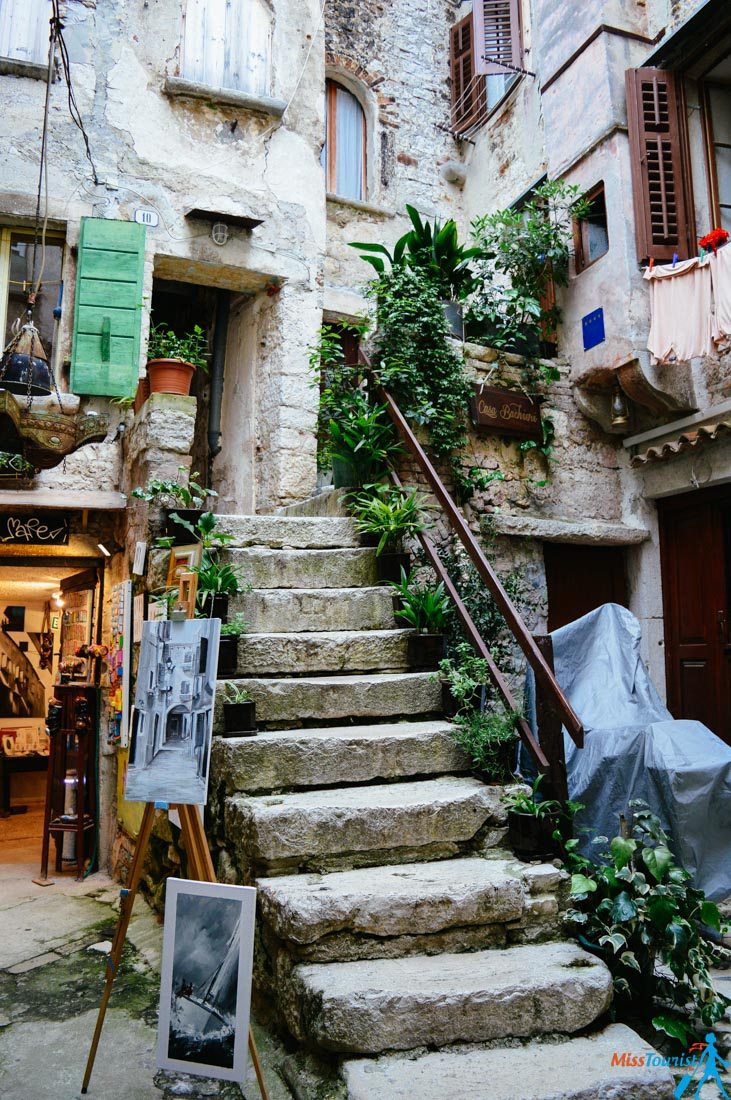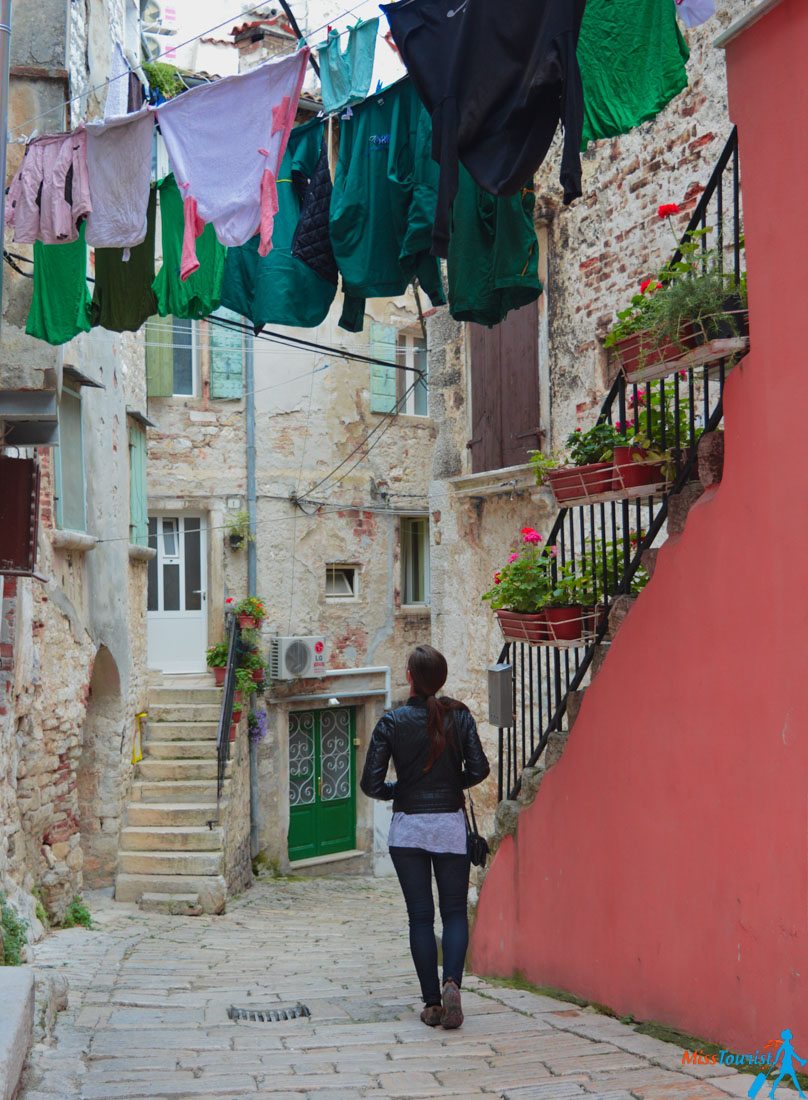 Did you know that Rovinj is THE most popular Croatian destination based on the amount of nights people spend in the city?
And it is no wonder that Rovinj is one of the best places in Istria, as this city is pure seaside bliss! Even if I usually try to escape touristy places, Rovinj is just too pretty to exclude from your Croatian itinerary; I was totally enchanted by it!
Shiny stones on cobblestone streets, local markets with delicious treats, countless little boats wherever you look and a bell tower with a postcard-like view… What more could you wish for?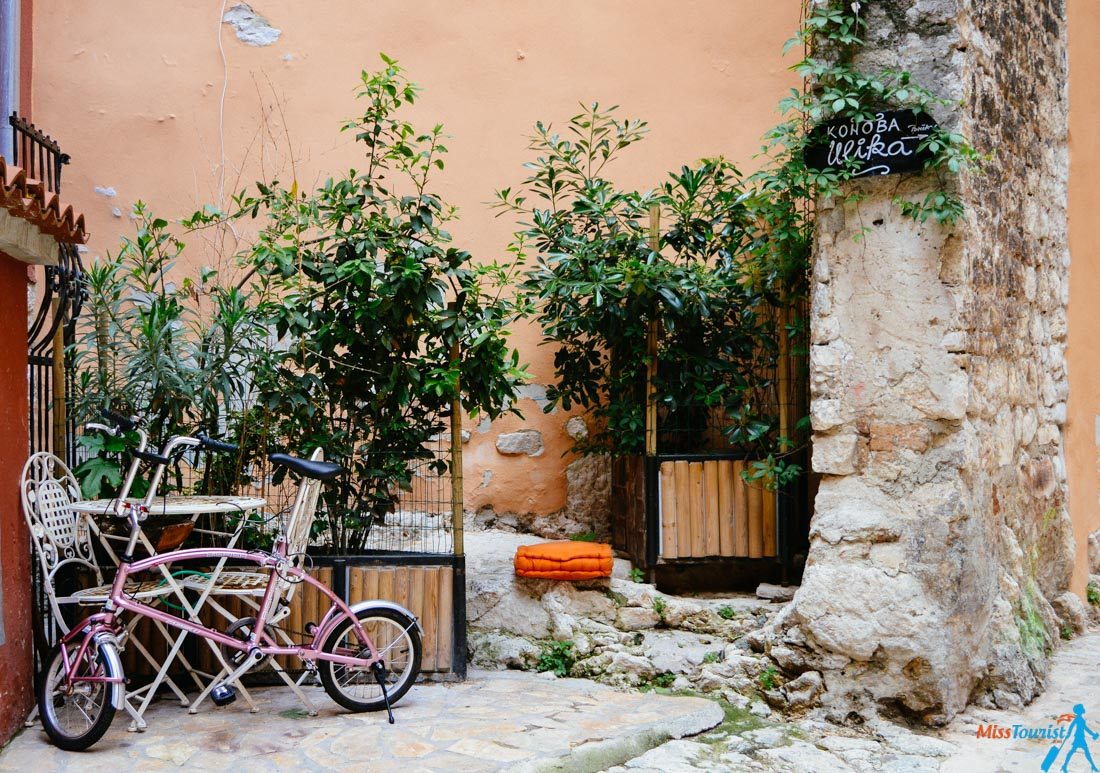 It does not matter how many days you decide to stay in the city – 1 day or 1 week – I promise you that it won't disappoint!
Even though Rovinj is extremely romantic, I would say that it is not only for lovebirds! Both families and large groups of friends will find plenty to do in Rovinj.
Where to stay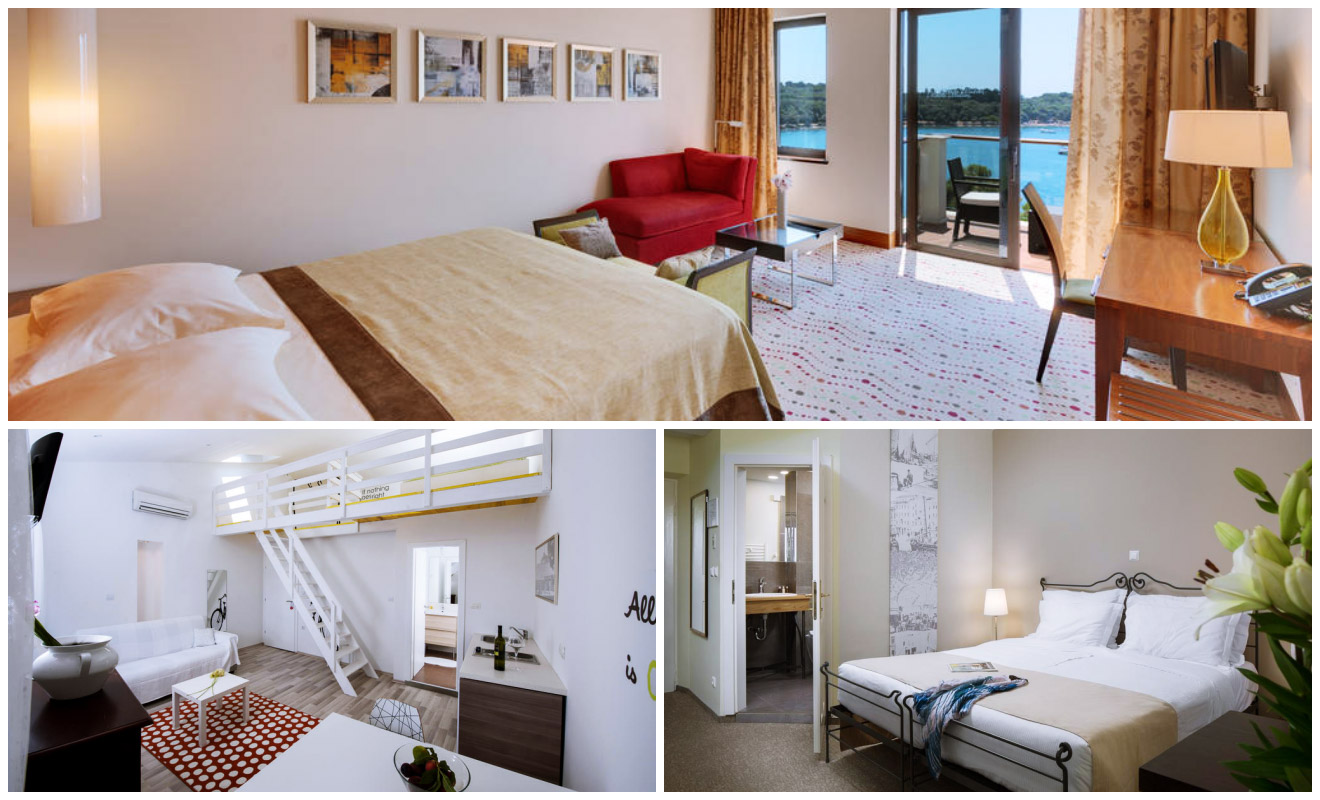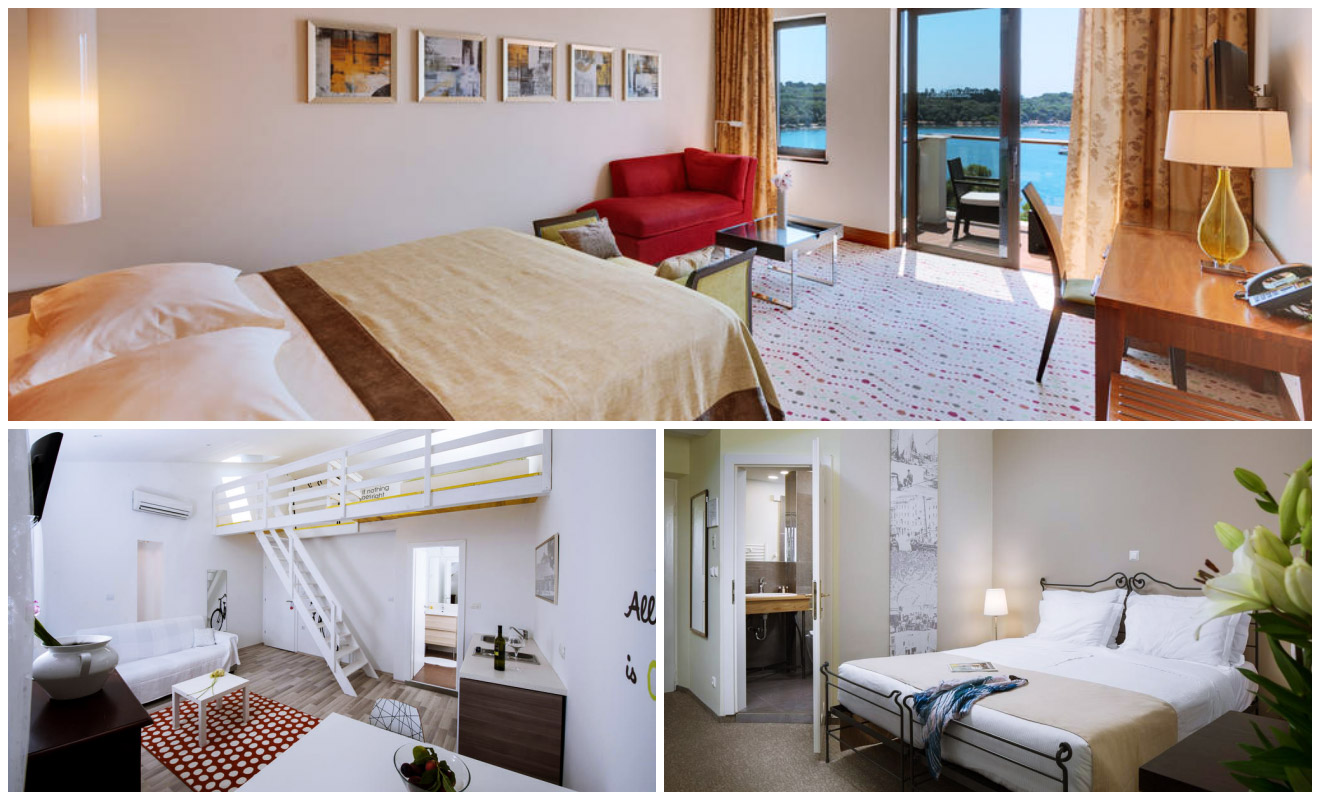 All the hotels I am recommending below have amazing reviews and are located in the heart of Rovinj Old Town. Check the rates for your dates by clicking on the name:
Luxury (150€ and up): Hotel Monte Mulini – gorgeous 5-star hotel with world-class service, located only 20 minutes away by foot from the city center and Hotel Lone Rovinj – the most famous hotel in the city and one of the best places to stay in Istria!
Medium (50 – 150€): Hotel Angelo d'Oro – this one is an amazing 4-star hotel that provides great value for money. Casa Alice is a very good choice as well – 4-star hotel owned by a family that has their own winery, as well as olive groves!
Budget (50€ and less): Apartment Rovinj La Casa di Loreto – perfect if you want to stay on a budget in a gorgeous, traditional house! Apartments and Rooms Erik – located only a 10-minute walk away from the city center, this one is a perfect option as well
If you need more accommodation options, you can check out my article about Where To Stay In Rovinj!
Where to eat
Rovinj has some great places to eat as well, so here is a short list of recommendations for restaurants in Rovinj:
Restaurant Monte ($$$) – This restaurant is ranked as number one in the city and #2 in the entire region of Istria!
Kantion ($$) – Go there for the amazing seafood dishes. Plus, the restaurant offers an amazing view of the waterfront!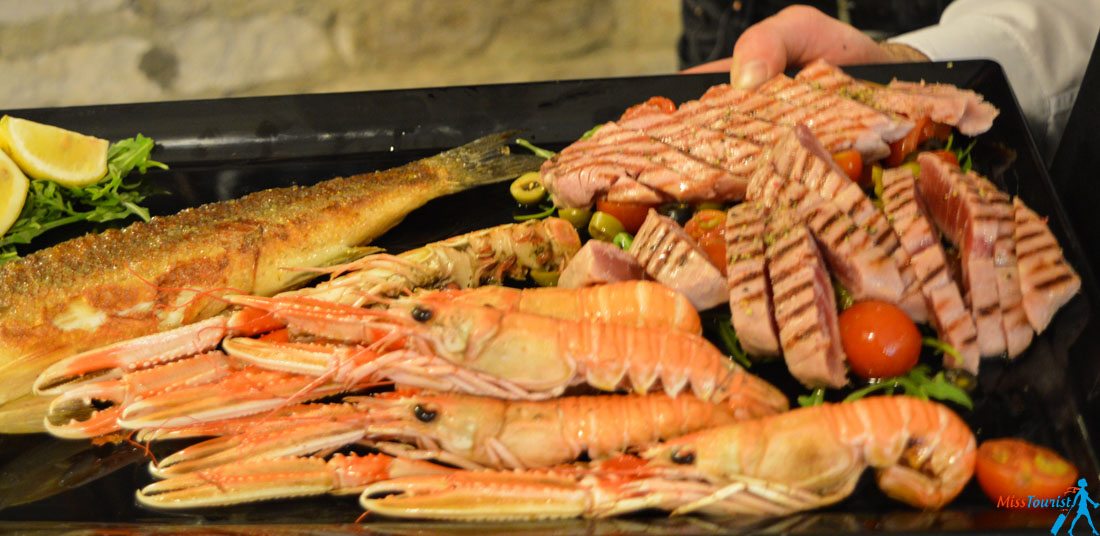 Restaurant Giannino ($) – If you're looking for an affordable place, this is it. It's located on a residential street and the menu is mainly made of delicious seafood dishes.
What To Do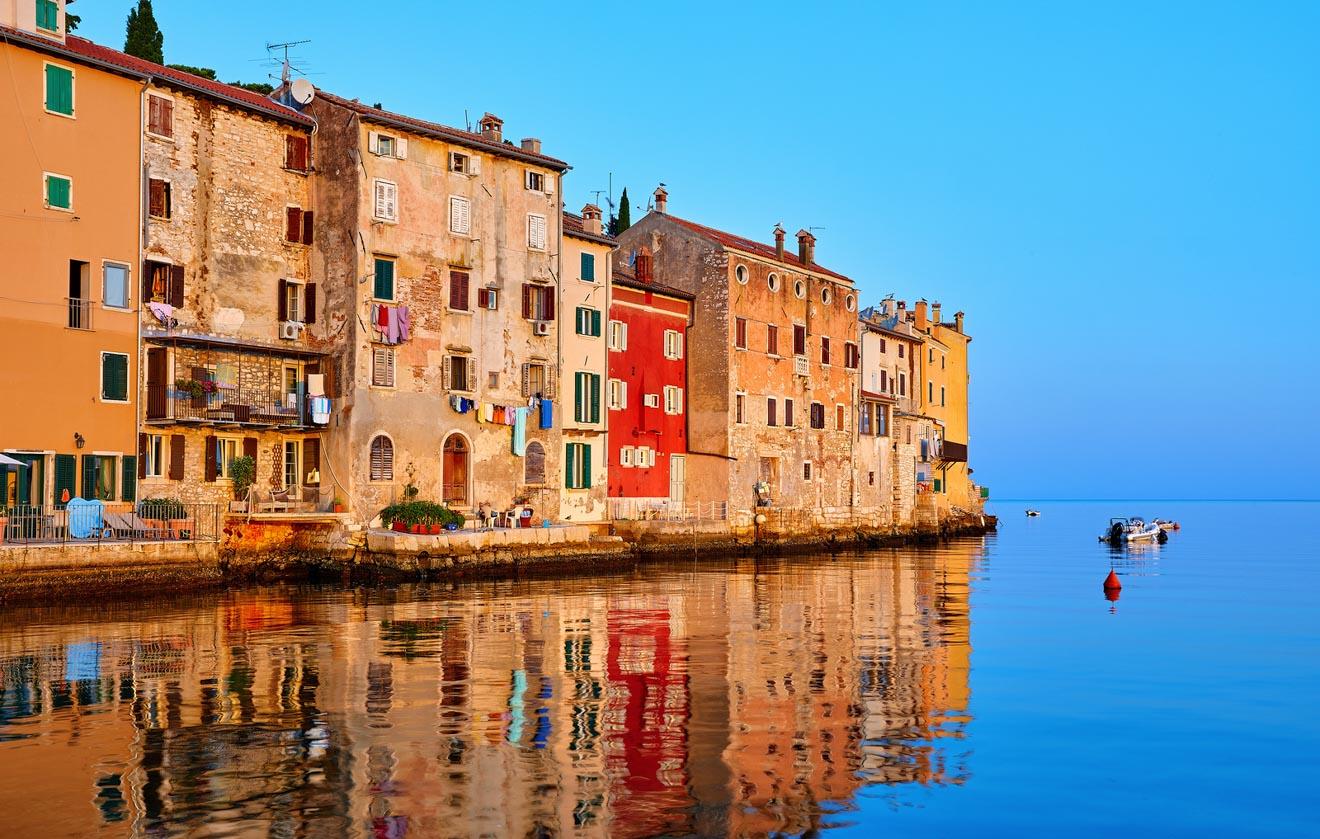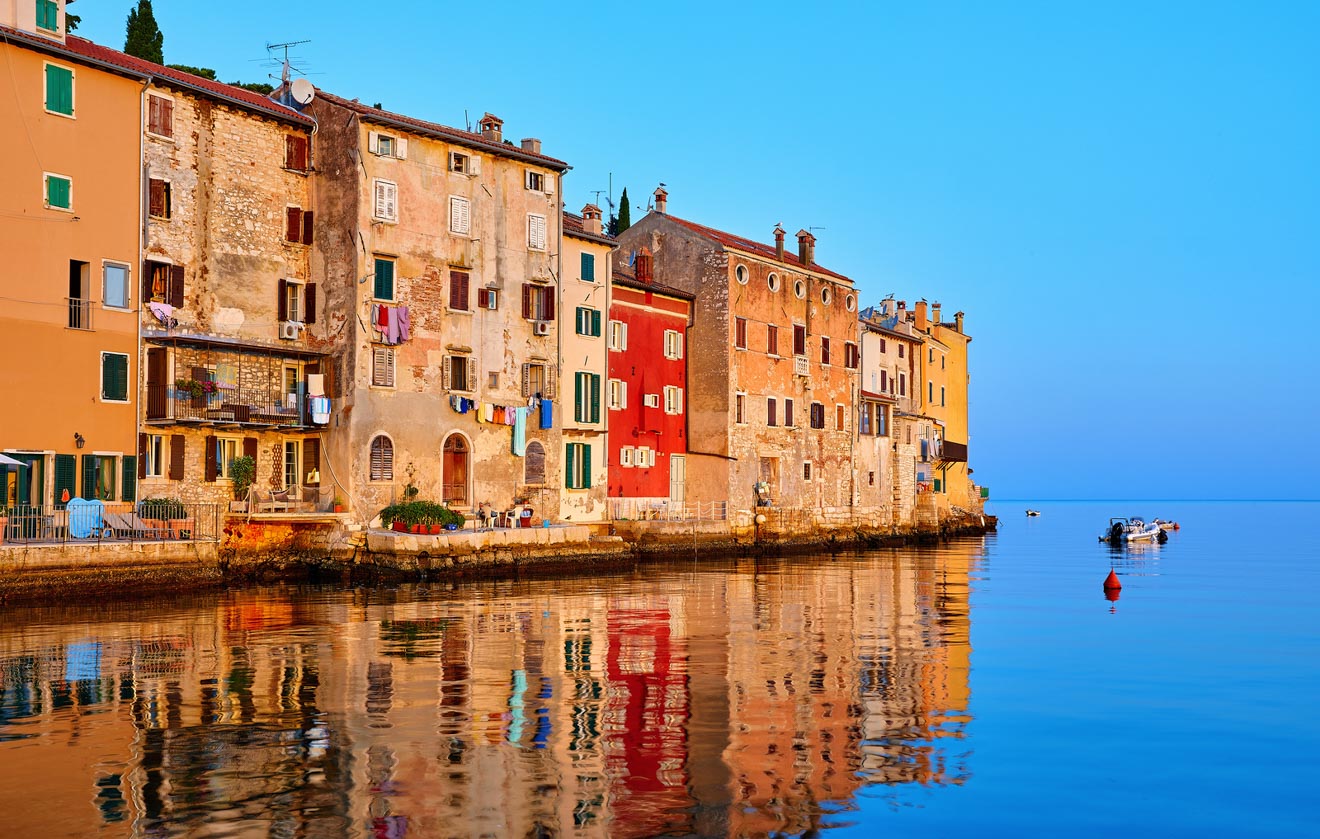 Here are just some of the things you can do during your Rovinj holidays:
Admire the Venetian architecture and stroll around the wonderful cobbled alleys of Rovinj Old Town, which is considered to be the most beautiful part of the city and one of the best things to do in Rovinj
Visit a local market – the Green Market is great for fresh produce
Enjoy the sun on a Rovinj beach (check out Amarin Beach, Skaraba Beach and Borik Beach – these are just some of the best beaches in Istria)
Visit Saint Euphemia Cathedral
Climb the bell tower of the Cathedral for the best view of the town
Enjoy some amazing seafood dishes – this is definitely one of the best things to do in Istria as well! (see my restaurant recommendations in the previous tab).
Take a Dinosaur Island and Kamenjak Boat Tour to discover dinosaur footprints and swim into ocean caves at Kamenjak Park!
Take a tour of Postojna Cave and Predjama Castle. During the tour, you will visit one of the most well-known caves in the world and the only preserved cave castle in Europe!
2. Vrsar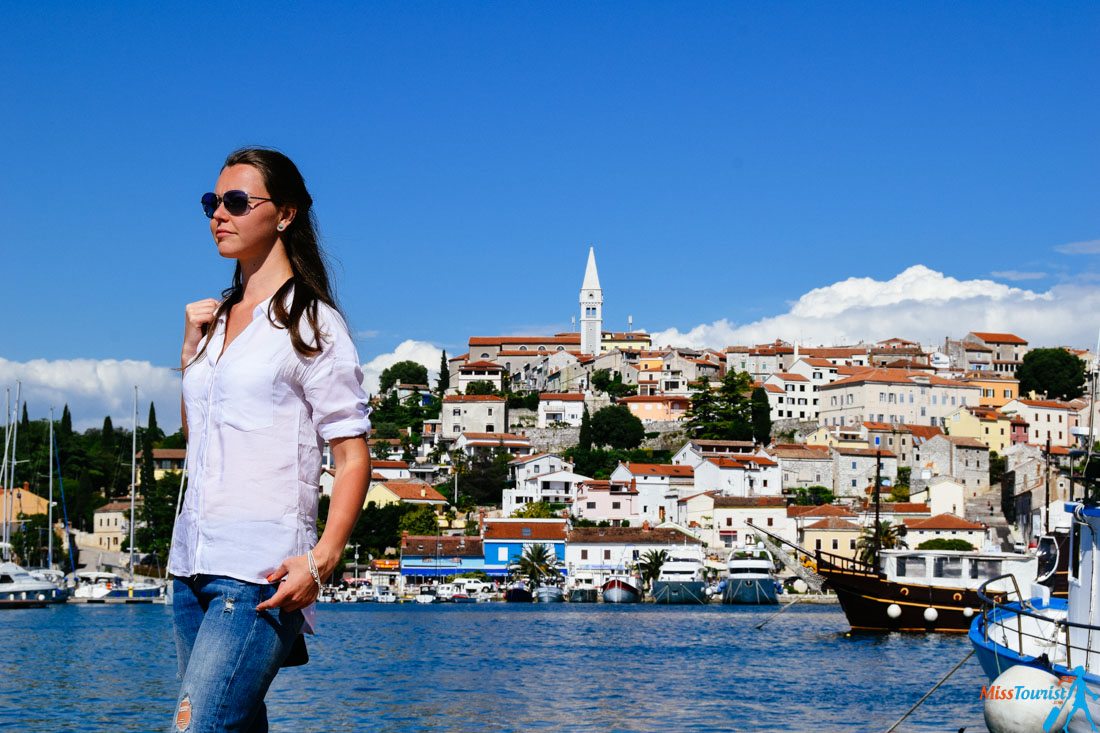 Vrsar is a small town of fishermen and it includes all the best things that Istrian towns have – natural wonders, stunning beaches, cultural heritage. I really recommend walking around the promenade and admiring the alleys and the charming houses.
But Vrsar has something else that other cities in this list don't have: a small airport where you can take a plane to fly over the area and admire the marvelous region from above! So if you are wondering where to go in Istria for a unique experience, you should know that this was, by far, the best thing I did during my stay!
You can read all about this activity in the "What to do" section below and you can watch this video in order to get a better idea of what I mean:
Vrsar in Croatia is located somewhere between Rovinj and Pula and it is known because of the adventures that Giacomo Casanova had there during his visits in the 18th century. He wrote about his time in Vrsar in his memoirs and he noted that this is "the town of good wine and beautiful women". In order to celebrate this, you can even take a "Casanova Tour" of the city. More details in the "What to do" section.
Where to stay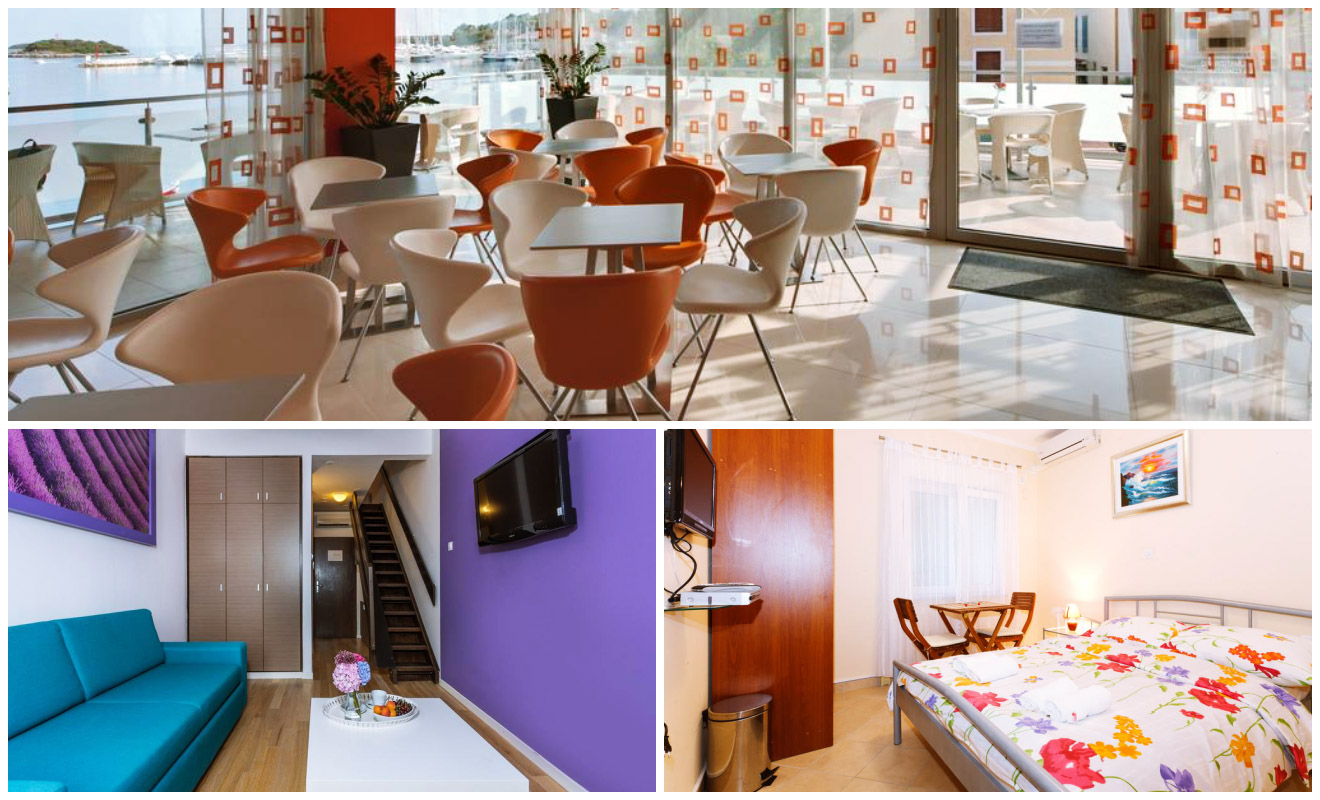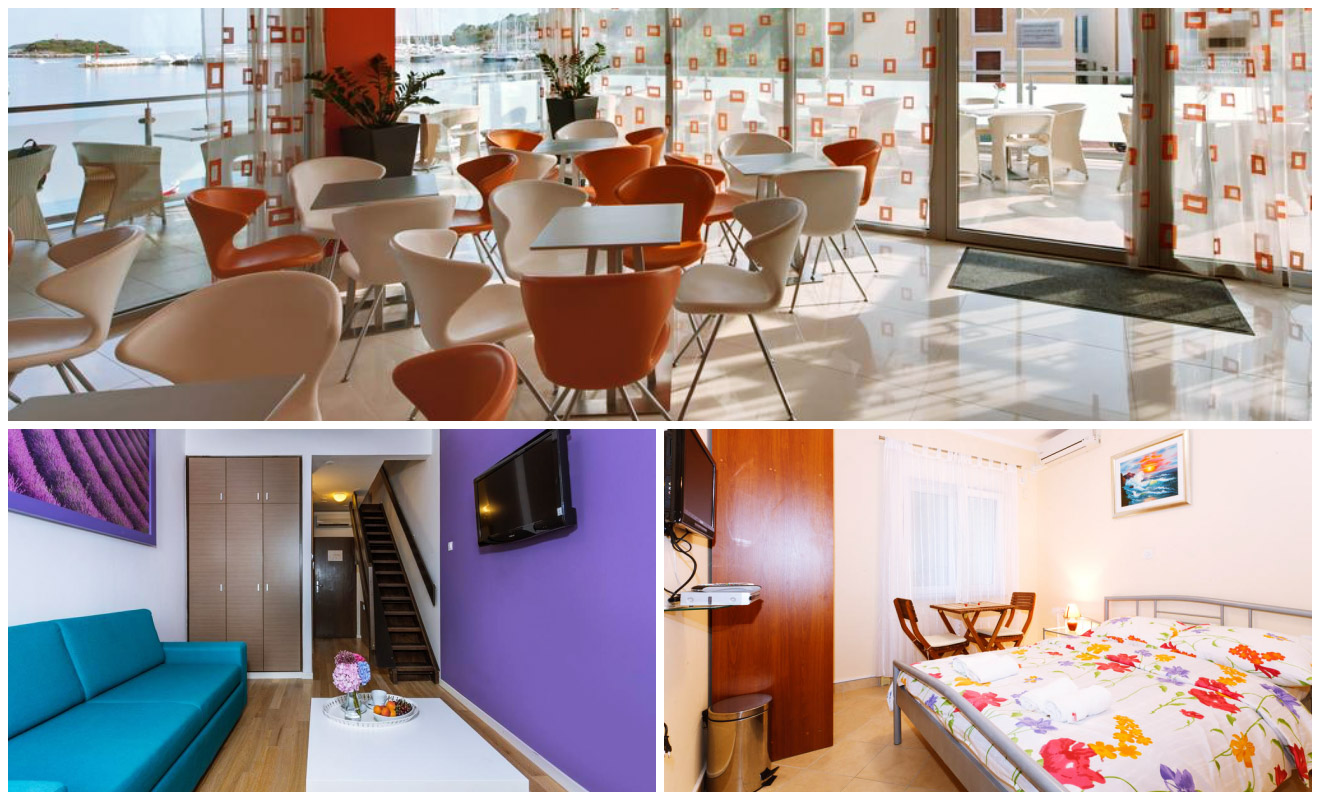 Vrsar is not a big city overflowing with tourists, so, unfortunately, you won't find any 5-star luxury hotels here. But here are my recommendations for great hotels and apartments with fabulous reviews:
Middle-priced (50 – 150€): Hotel Pineta – this one is located on a hill overlooking the city and it has an indoor and an outdoor pool waiting for you! Hotel Vista – book a room here if you want to stay in a room with a gorgeous view over Vrsar Marina!
Budget (50€ and less): Apartments Mirjana is a 3-star self-catering accommodation that offers different types of packages. Apartments Jurić is sparkling clean, nice and perfect for a good night's sleep after a day of exploring around the city!
Where to eat
Restaurant Trošt – This restaurant is located in the Marina area of the city and, as usual, it has delicious food with an amazing view over the Riviera!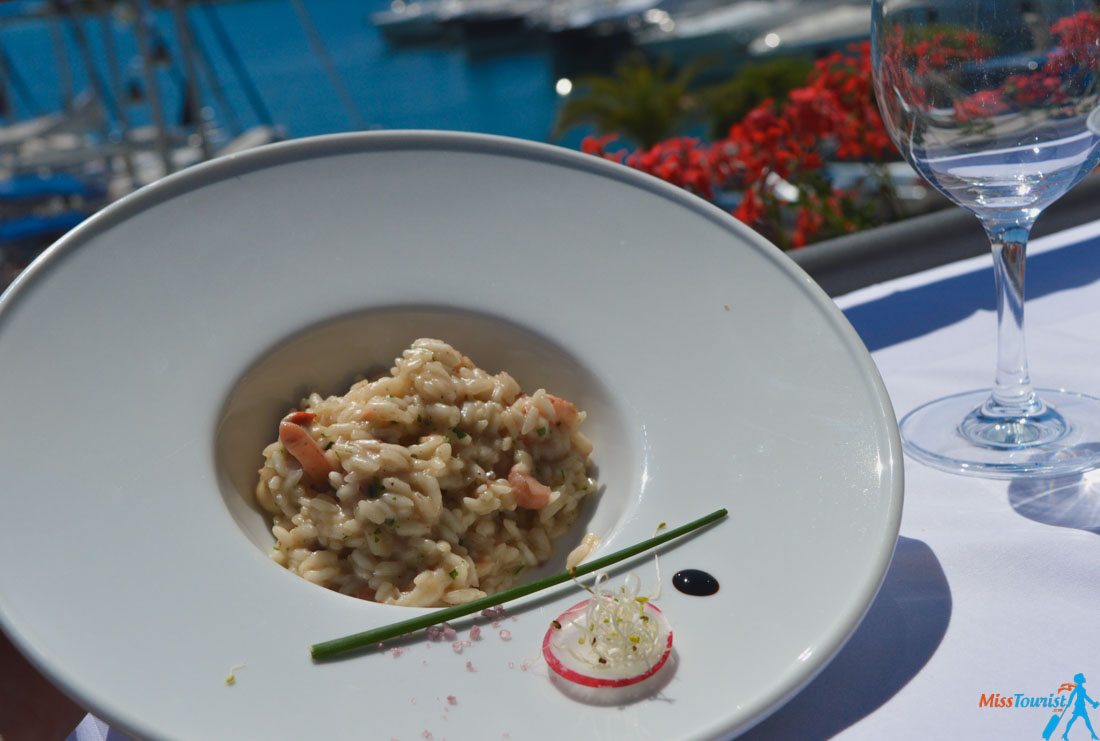 What To Do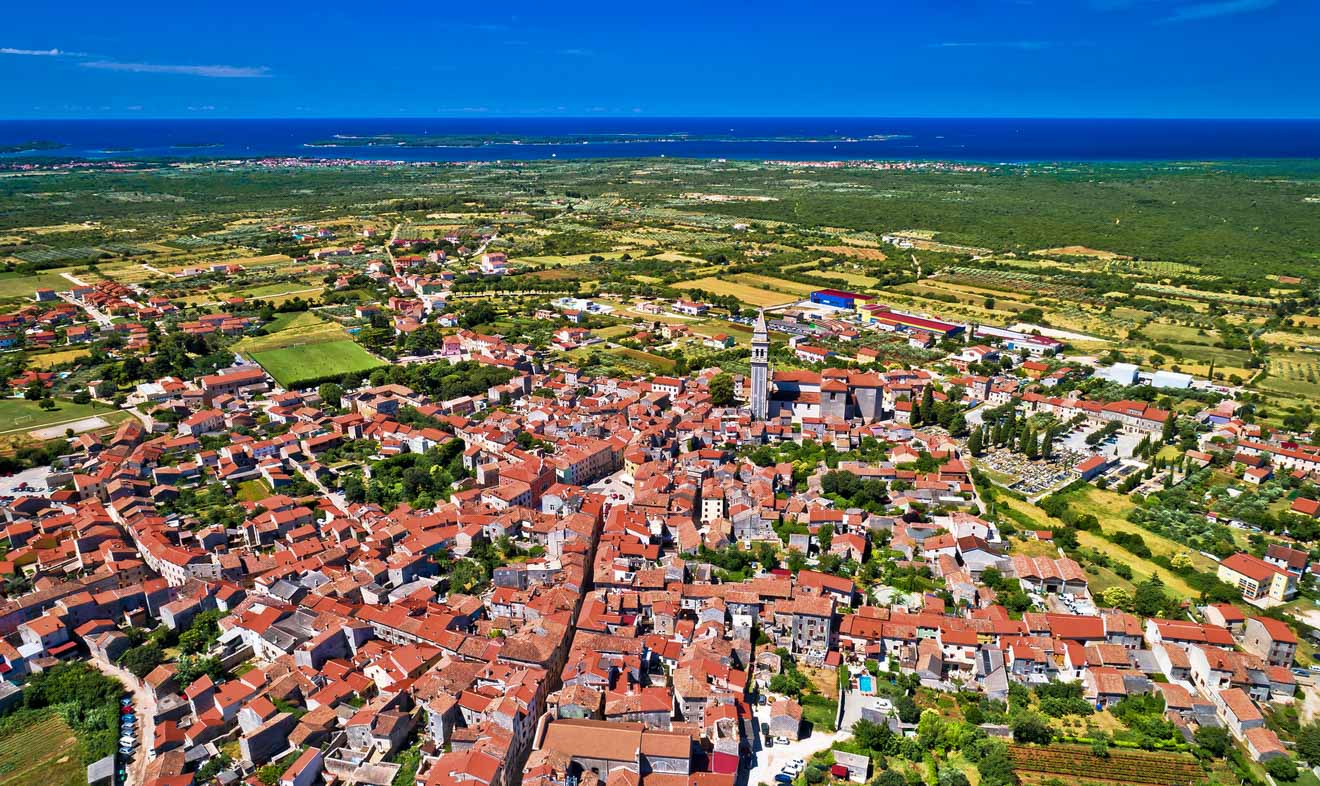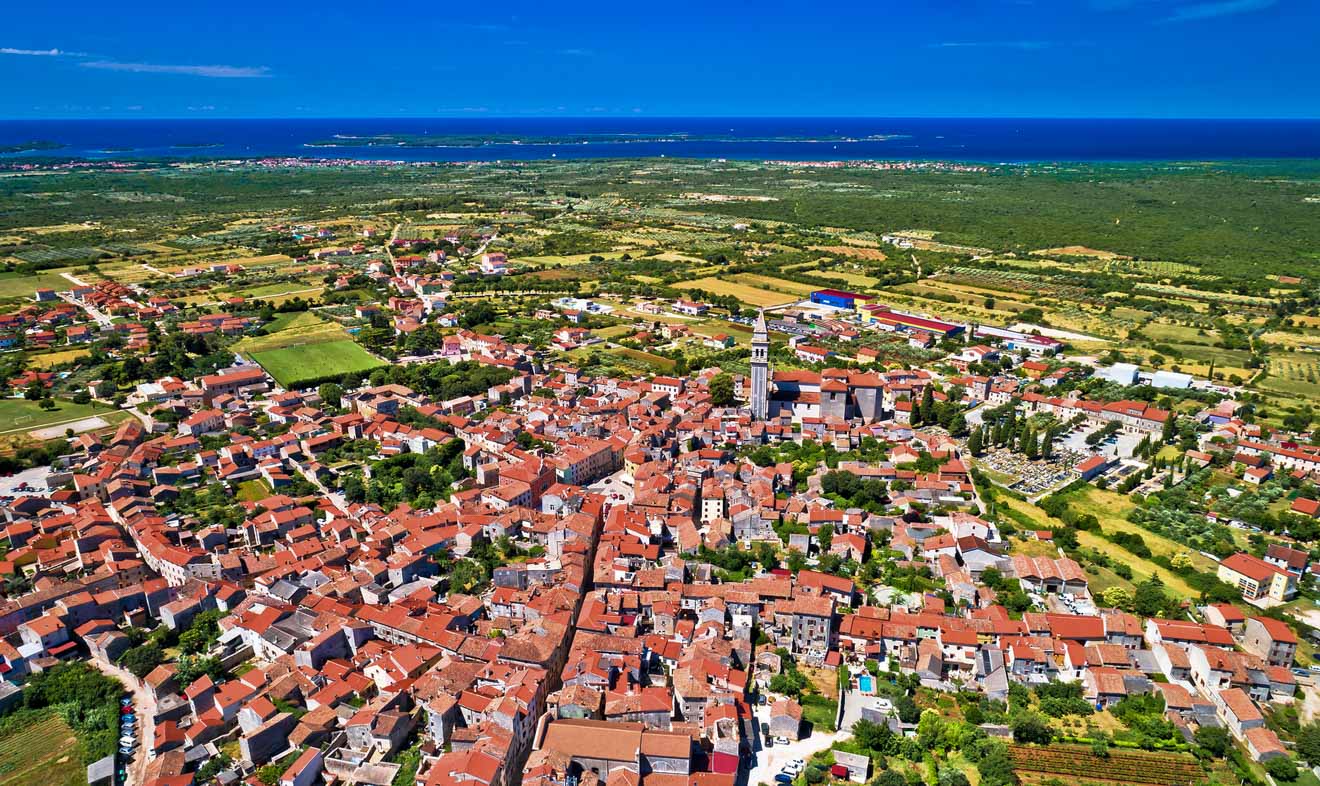 Take a panoramic tour over Istria
I have already seen both the ground and the underground of Istria and I can say that I was charmed by both perspectives. However, when I saw the area from a bird's eye view, it definitely took my breath away and I fell in love with it forever! I took a scenic helicopter flight over the Swedish Lapland afterward, but this memory of Istria will stay with me forever.
Even though there are many places in the world where you can take a short flight just to see the view, Istria might just be THE place to do it. Seeing the beautiful little islands of the Adriatic Sea from above made me feel like I was in a live Discovery Channel scene. I still dream about it!
But here comes the coolest part:
I spoke some Russian with the pilot and he let me drive the plane a bit!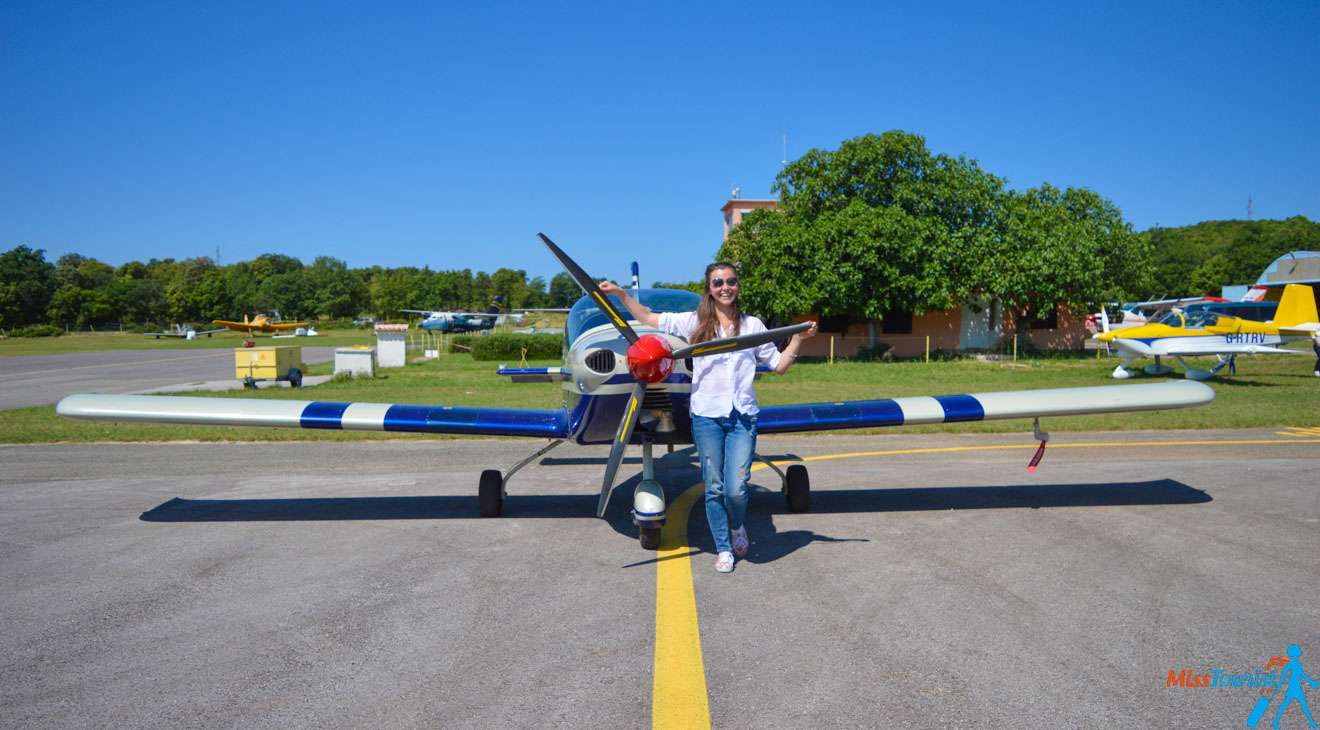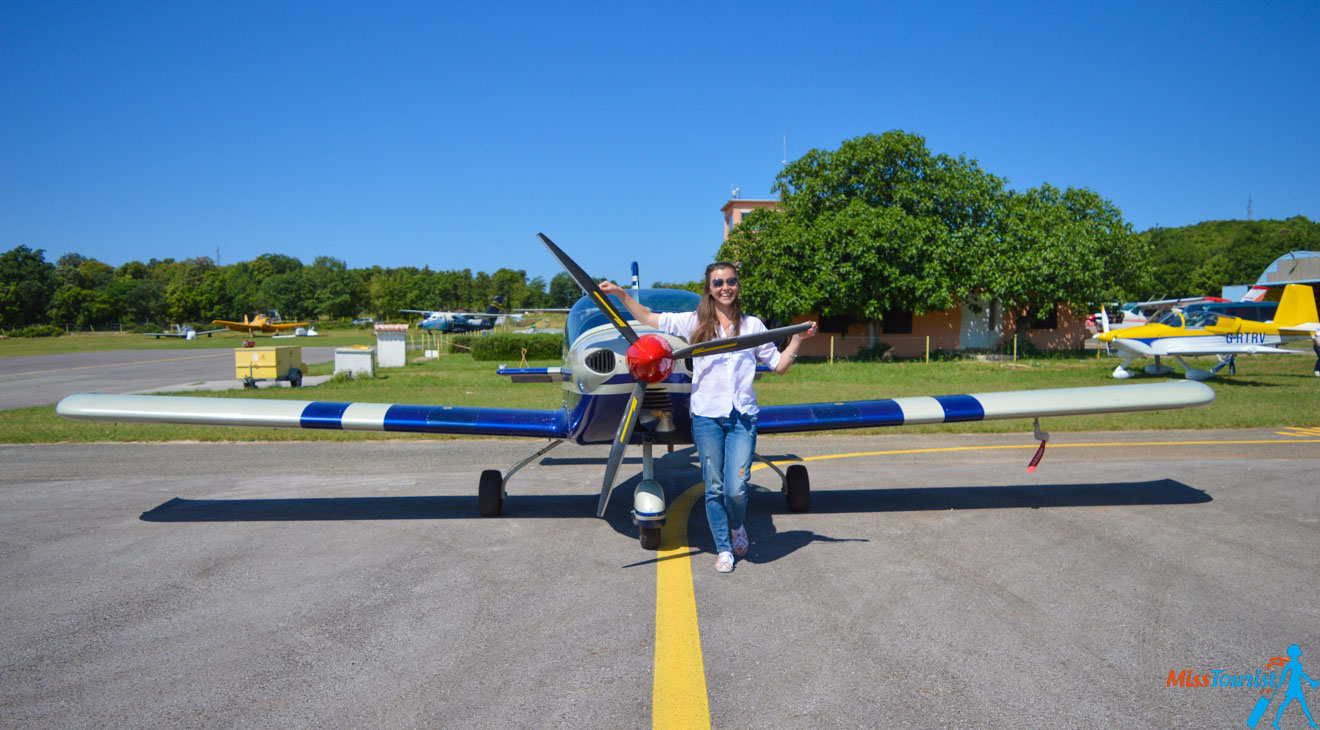 Mom, I drove a ViperJet!
Of course, this activity will be more expensive than your normal tourist excursion. But think about this: will you ever forget it? It is worth every penny, I guarantee it!
Aeropark Vrsar offers panoramic flights and tandem jumps. Panoramic flights are available from April to October. The price depends on the duration of the flight and it can be from 120 to 320 kunas per person and 600 to 1600 kunas per flight. 100 Kunas is approximately 13.5€, so don't miss your chance!
More details here – Panoramic flight Vrsar
Take an interactive "Casanova Tour" while in the city in order to find out more about the history of the place. You can book it at the Info Center (Vrsar Tourism Board) in the city.
Visit the Old Romanesque Gate
3. Motovun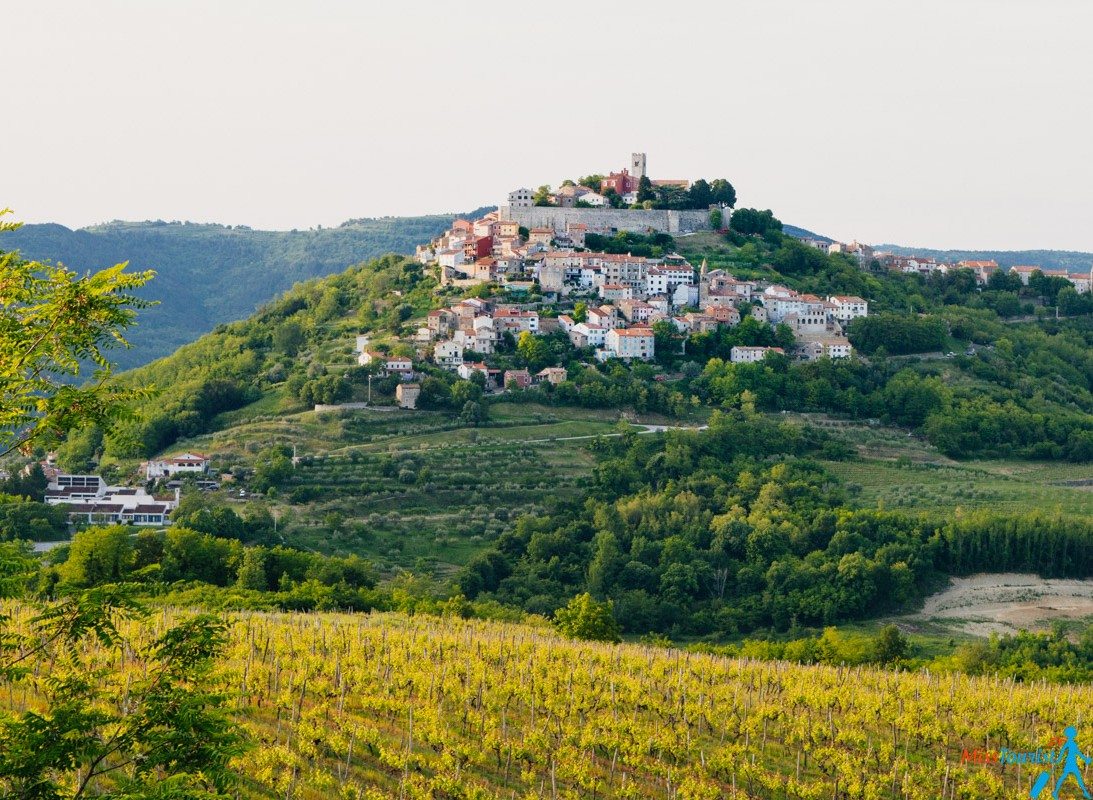 Motovun is another one of those gorgeous, well-preserved Istria towns, located on the very top of a mountain, at the end of a stairway made of 1,052 steps! If you have ever been to Tuscany, you will find the landscape to be similar.
The city has some very well-preserved monuments such as the Bell Tower that dates from the 13th century and the church that still beautifully stands from the 17th century. Aside from being a beautiful medieval town which still has its walls, Motovun is also a mecca for paragliders!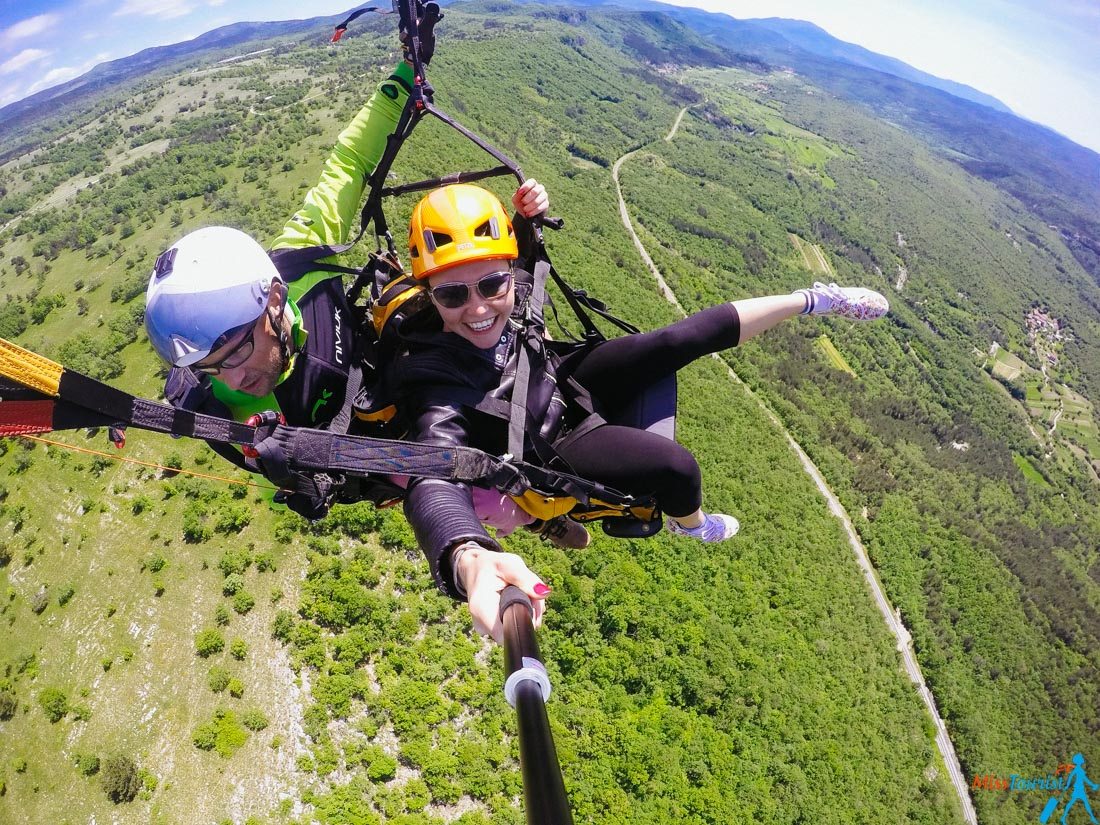 I flew over this hilltop town and the green terrain! It was a marvelous experience, and even if I had gone paragliding before, the view made me feel like I was in the opening scene of a movie!
If you are a film aficionado, and you are visiting in July, you might be lucky enough to go to Motovun Film Festival
– a 5-day film festival that screens international movies from all over the world.
Where to stay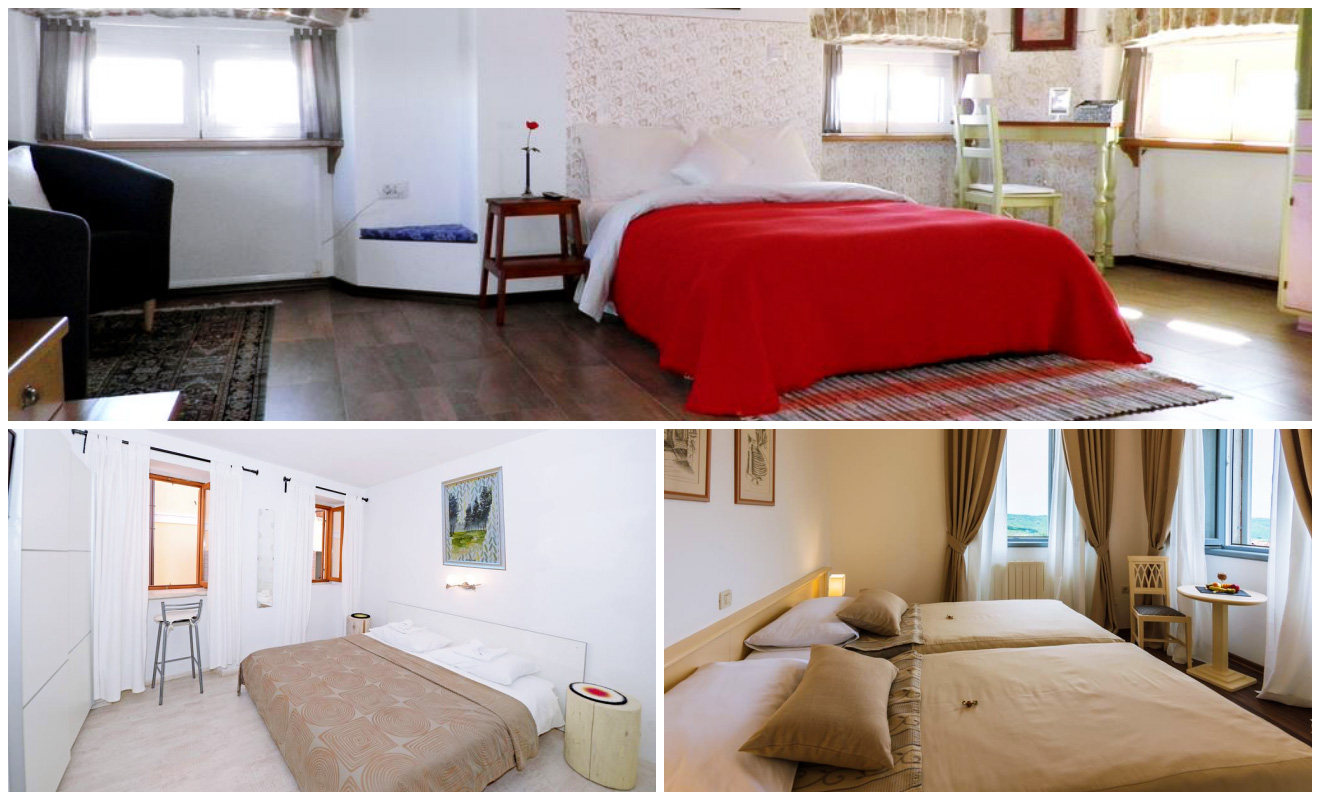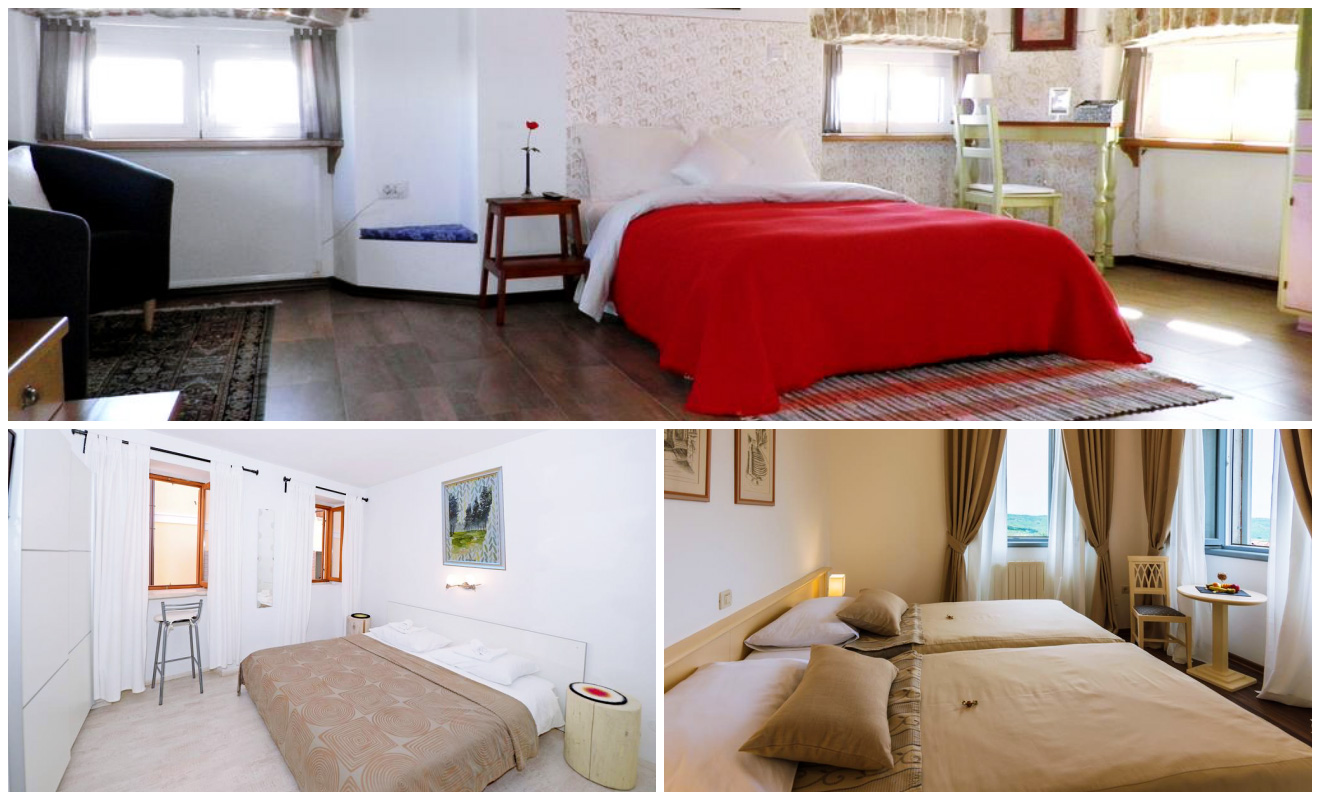 As Motovun is also not a large town, the choice of hotels is not that broad, but I chose the ones with fabulous reviews, as always. Here are some great Motovun accommodation options:
Middle-priced (50 – 150€): Studio Sijara – in case you are searching for a self-catering type of accommodation where you can relax and enjoy some peace, this is your perfect option. Boutique Hotel Kastel Motovun is a popular choice and it provides excellent service. Indoor pool, à-la-carte restaurant and more! Villa Borgo B&B – panoramic views, awesome location, and sunny rooms – what more could you wish for?
Budget (50€ or less): Apartments and Rooms Nirvana – 3-star apartments in a traditional house, located in the center of Motovun. Villa Fragola is a gorgeous, accessible option with free Wi-Fi and a beautiful terrace while Bella Vista Apartments offers magnificent views over the river and is located in the historical center of the city. All three are very good options for budget accommodations!
Where to eat
Zigante -a VERY well-known restaurant in Croatia where everything is made with truffles and yes, even ice cream with truffles is also on the menu! I loved it and it was an unforgettable experience for me! The restaurant is located just below Motovun, in the village called Livade.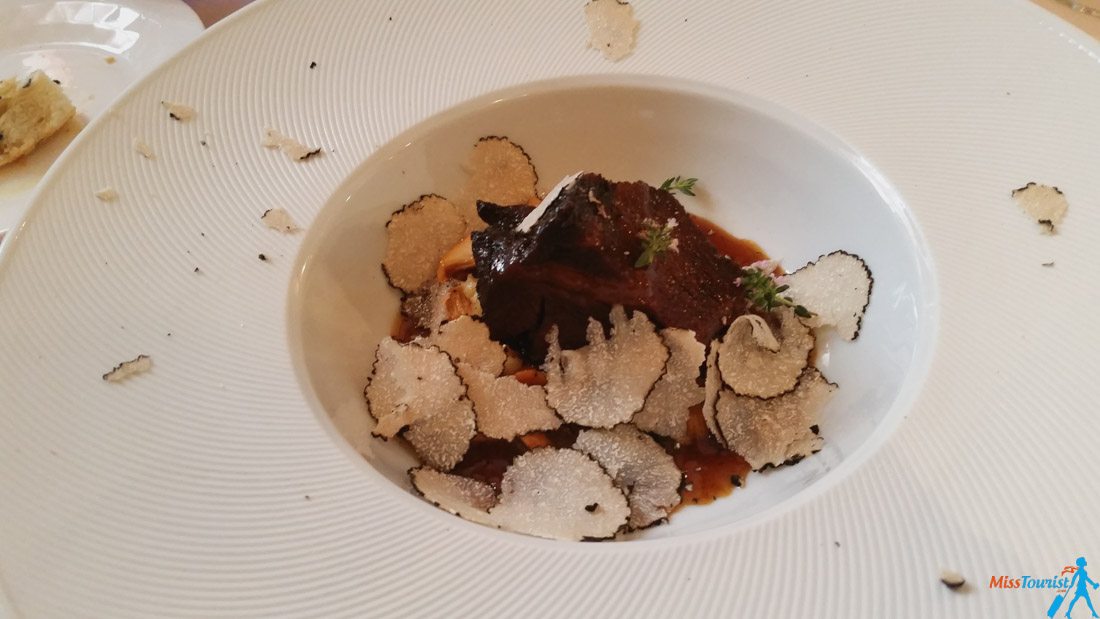 Restaurant Kastel – a great restaurant with a nice terrace and tasty food
Konoba Mondo – delicious dishes made only from local ingredients and very good pizza
What To Do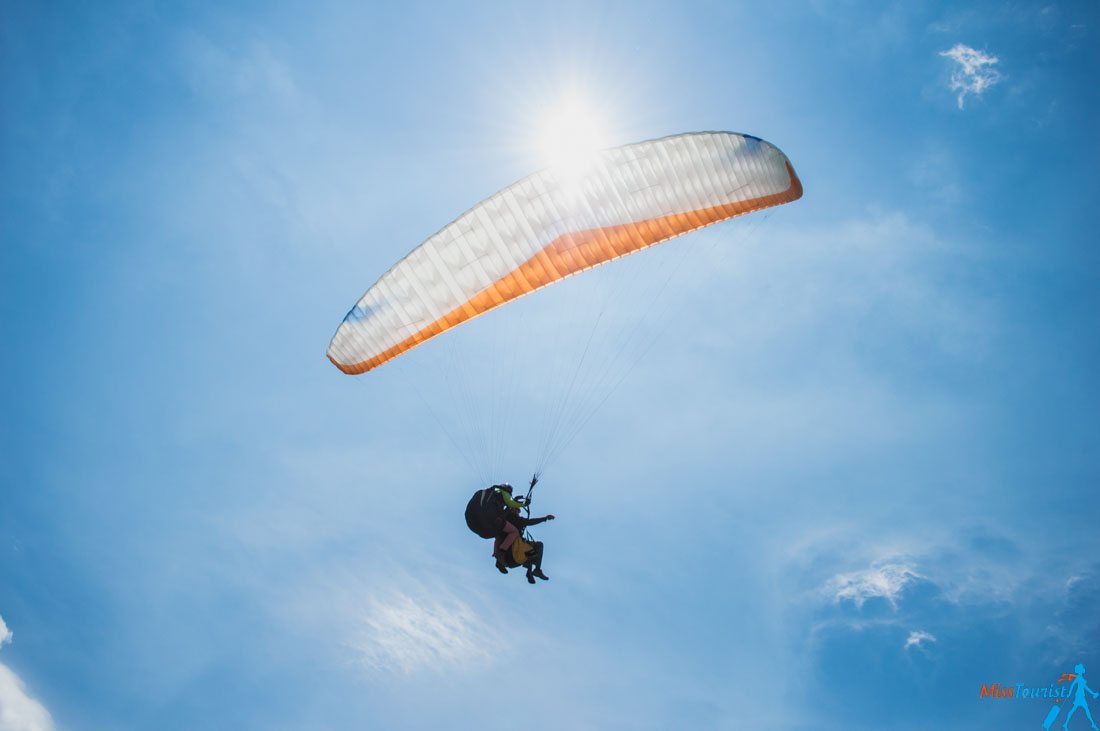 This is the #1 activity in the town for a reason! During Motovun paragliding, you will fly over a picturesque village called Buzet (which is 4 km from Motovun). Your instructor, a highly experienced guy from Australia, will make your visit to Motovun truly unique and if you don't have your own GoPro, he will take care of the pictures as well! You can find more info and pricing here.
Olive oil tasting
Attend the "Truffles Days" – you can visit White Truffle Fair every year in October and November
Take a stroll on the walkable city walls and admire the view over the vineyards and olive groves from the top
Attend Motovun Film Festival that takes place in July
You can do honey tasting in Livade, close to Motovun
4. Porec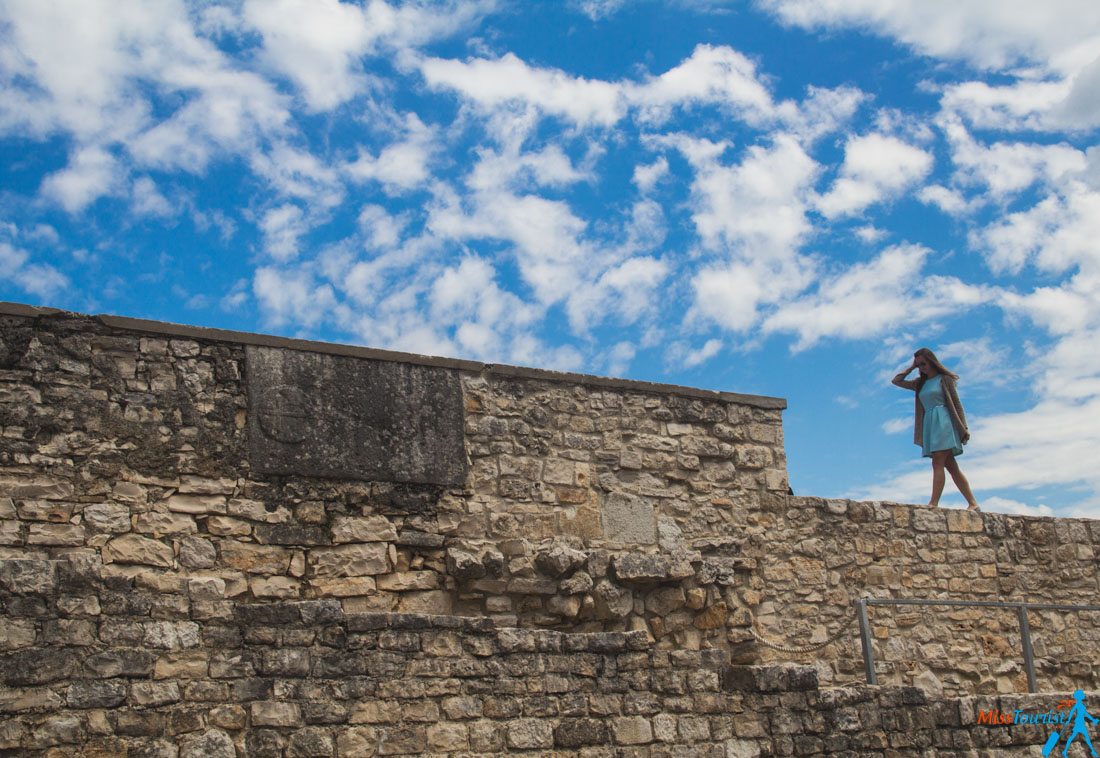 Poreč is a Roman city where history stretches back a long time. This is one of the biggest towns out of the 8 in this post and it has slowly become one of the top destinations in Istria. If Motovun and Vrsar are the perfect little towns for a calm getaway where the main activity is relaxation, Poreč is a place for party people, too!
This is one of the most touristy destinations in Croatia for good reason – it has the perfect balance of nightlife, family and extreme activities, beautiful beaches and good hotels.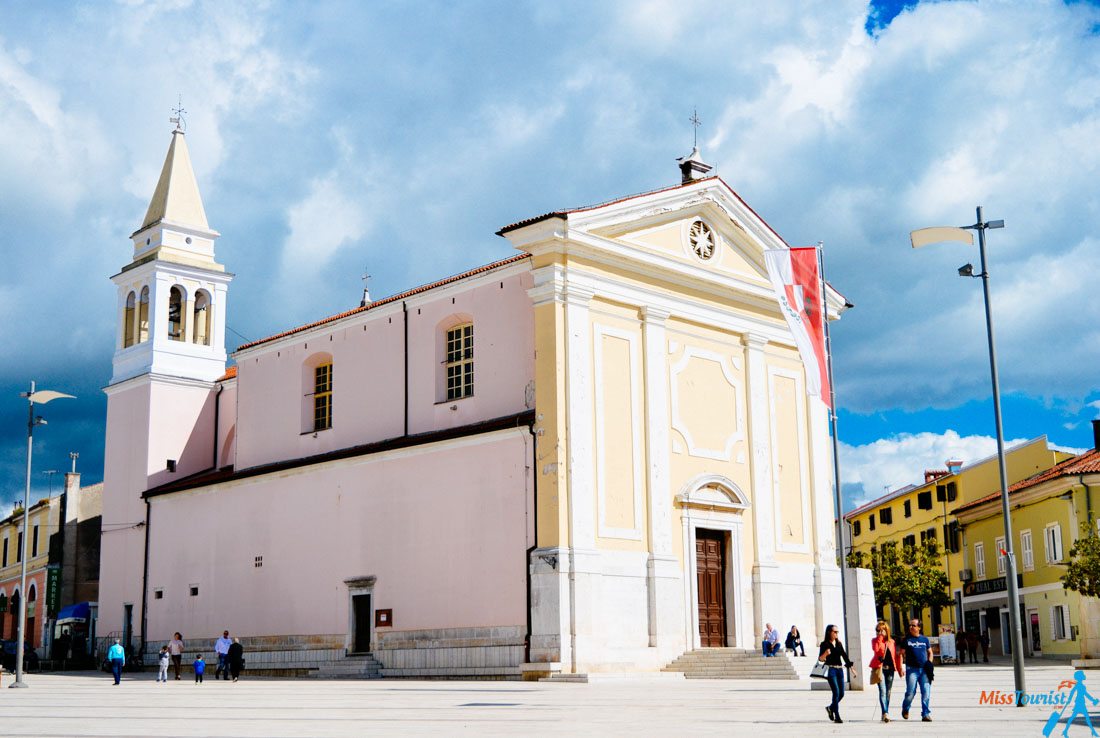 If you want to add Poreč, Croatia to your Istrian coast holiday, I recommend exploring the historical sites of the city with a tour guide. The Euphrasian Basilica, for instance, dates back to the 4th century, is a UNESCO World Heritage site and visiting it is free of charge on Sundays.
If you have never done rappelling before, you can check out the Baredine Cave, it is a lot of fun! You can find more details about this in the "What to do" section below.
Where to stay
All of these hotels in Porec are handpicked by me and they have both a great location and the best reviews. Click on the name in order to check the rates for your dates: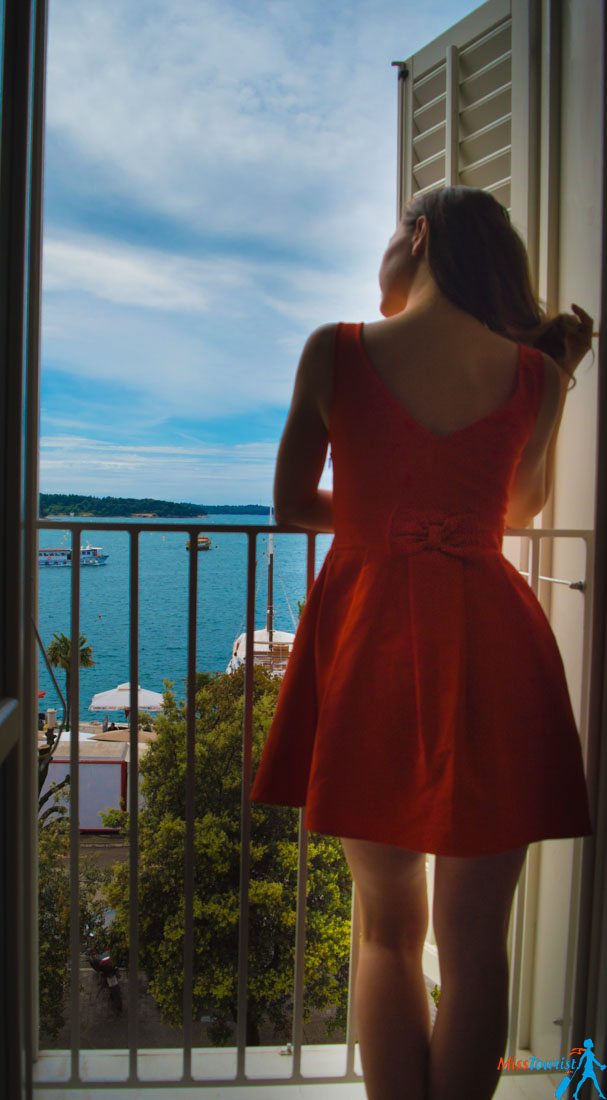 Luxury (150€ and up): Hotel Parentium Plava Laguna – 50m from the beach, with hot tubs, pools and live shows, this place is perfect for honeymooners and those wanting a spectacular experience at their hotel. Boutique Hotel Mauro is another great option for staying in the city.
Middle-priced (50 – 150€): Valamar Riviera Porec Hotel 4* – I stayed in this hotel for 3 nights and I loved it! The breakfasts were marvelous, the room faced the Riviera and the hotel has the most central location in the city. The staff is extremely nice – when I figured out that I forgot my toothbrush, they immediately gave me a new one free of charge! Residence Villa Karda is my second recommendation for a middle-priced accommodation with great service and is a good value for the money!
Budget (50€ and less): Guesthouse Casa Nova and Apartment Armando – both of them offer great service and a perfect place to spend your nights, relax and prepare for your next adventure!
Where to eat
There are a handful of restaurants in Porec that will satisfy any foodie:
This was the first restaurant that I tried in Istria! It is centrally located and the food and décor are simply amazing. There are live concerts with local music during the evening and the restaurant offers a beautiful view over the sea. I loved the desserts!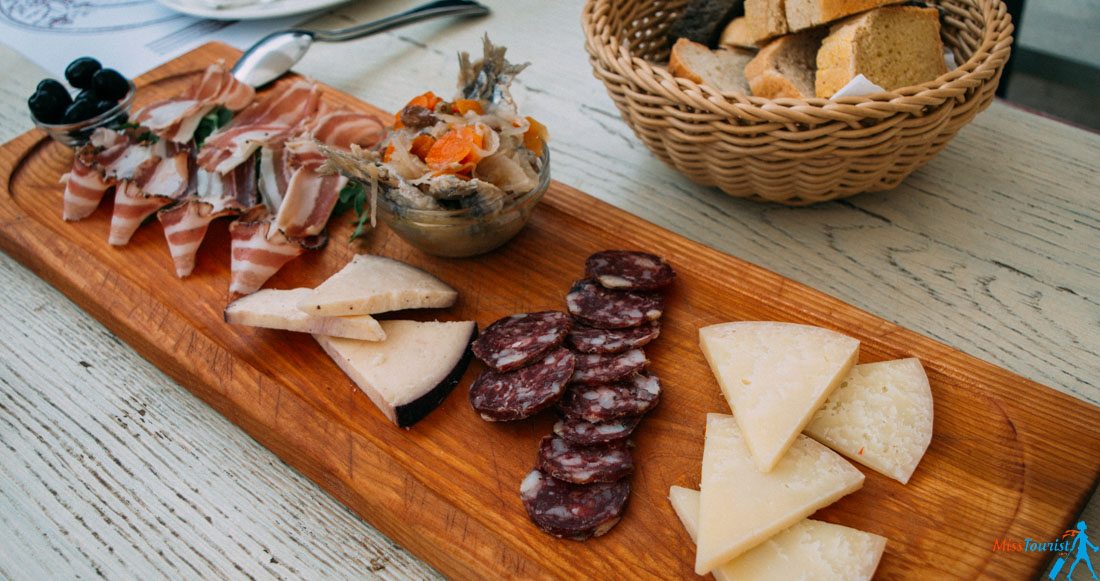 Hrast – Great for seafood dishes. It has an amazing location outside of the crowded streets with a stunning view over the Old Town, just a 7-10 min walk from the heart of the city. Everything is homemade, delicious and fresh!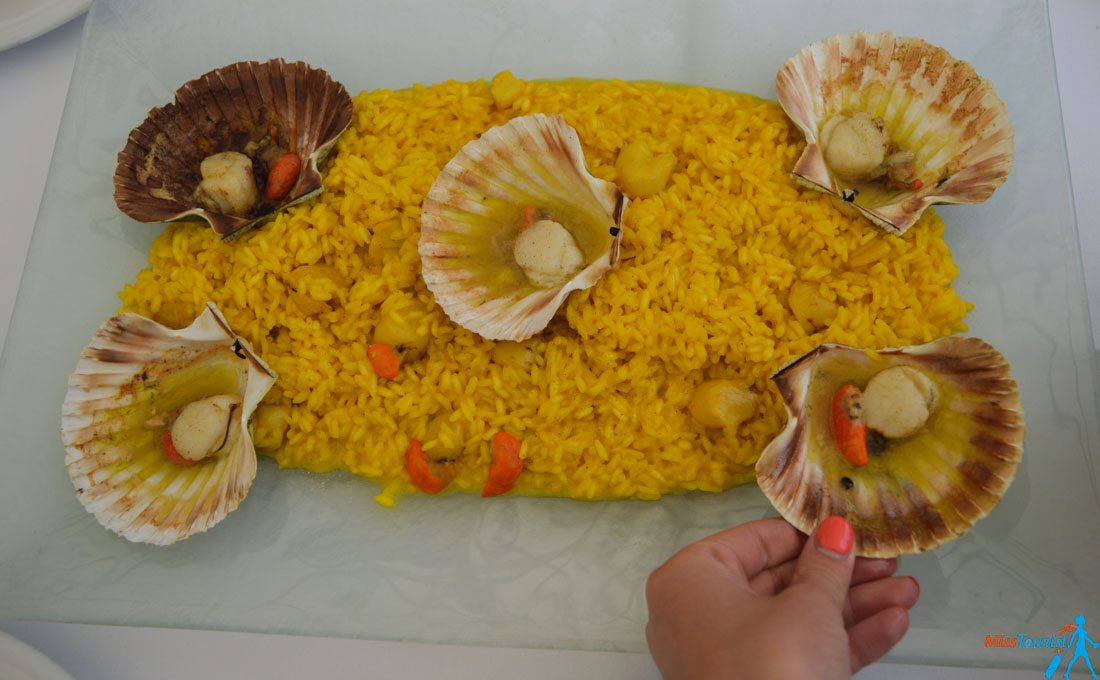 Restaurant Divino – Live concerts with local music during the evening, a beautiful view over the sea, central location. Yummy desserts!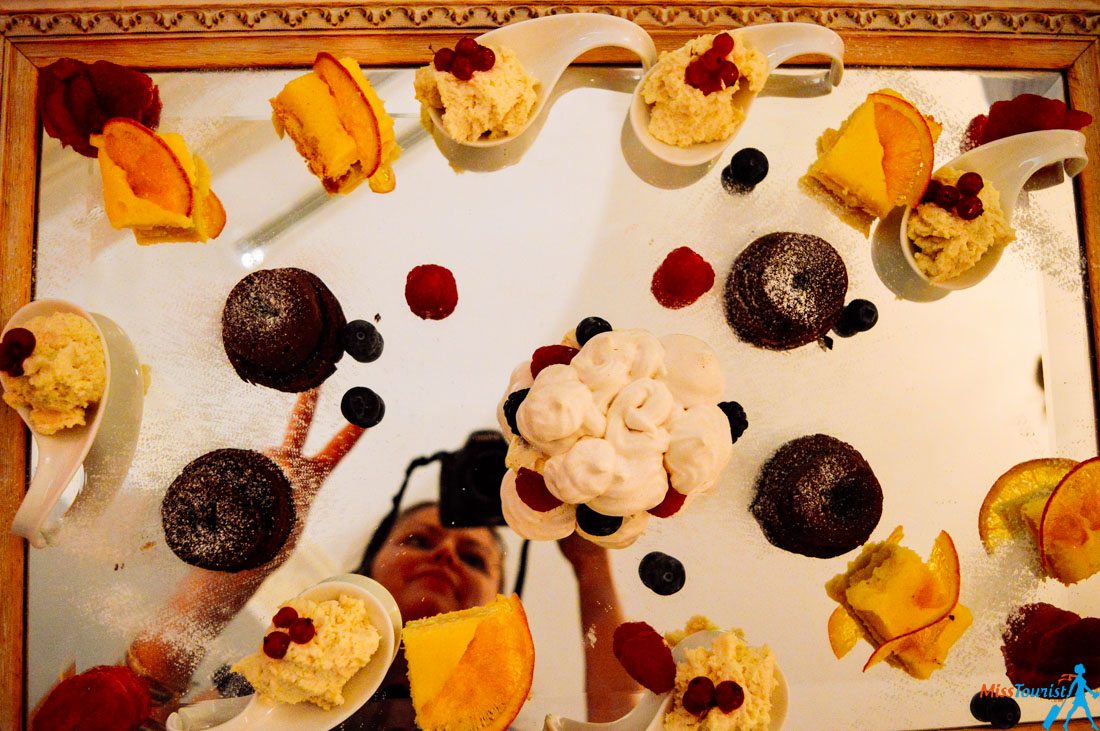 Restaurant Miramare – This secluded restaurant serves delicious dishes. Nothing can beat its location, as it is on the island (the boats depart every 30 minutes and it takes 5-7 minutes to get there). Here I saw one of the most beautiful sunsets ever!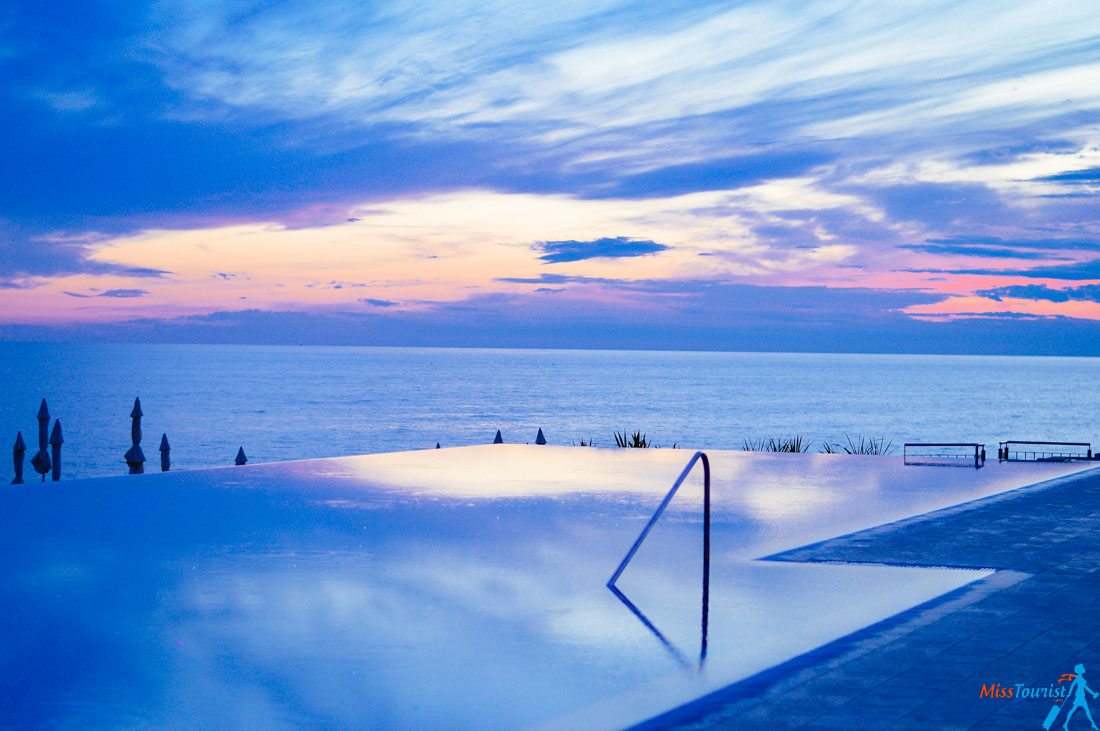 What To Do
Here are just some of the best things to do in Porec: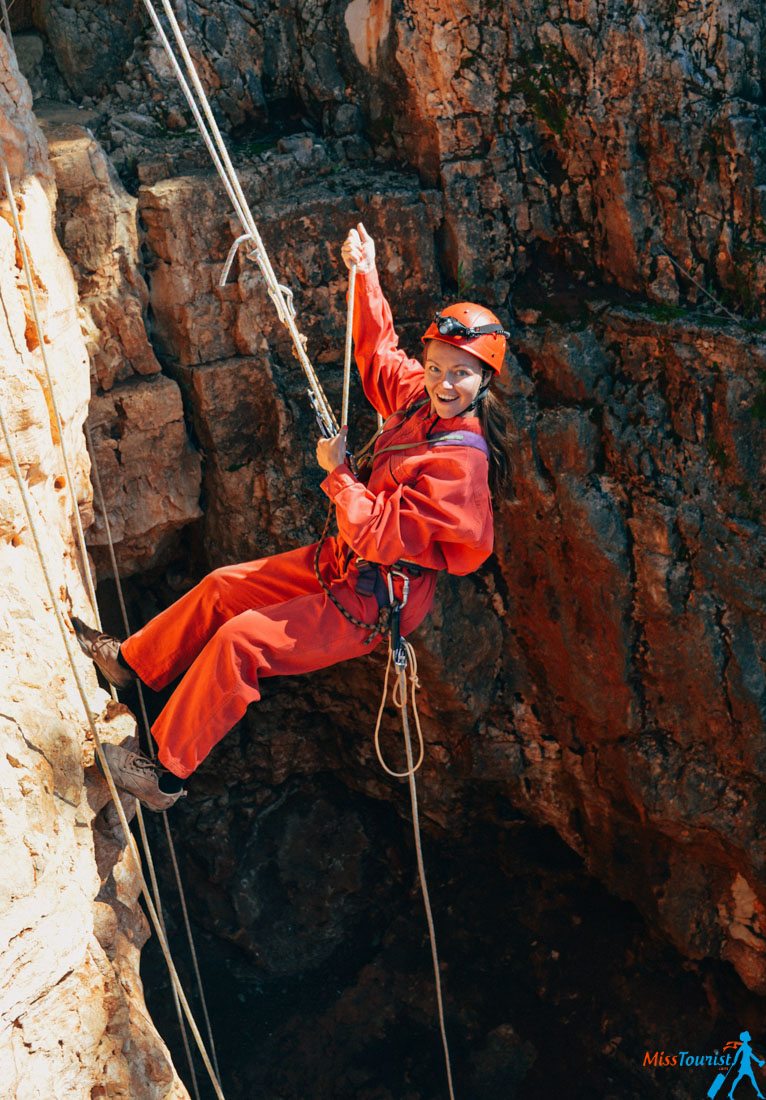 The Baredine cave is a popular natural site near Porec. After you have seen the beauty of the Istrian peninsula from both the ground and the air, you think nothing else can surprise you. Totally not true! Not until you do some rappelling, of course! Rappelling, also known as abseiling, is the controlled descent off a rock. Once you descend, you will encounter an absolutely new and mysterious world down there. My guide was professional and I felt safe the whole time. After putting on all the equipment I needed, he explained how to climb up and everything went smoothly. No previous experience required.
But if you are still concerned that you won't be able to do it, you can walk down a special path that will lead you to another gorgeous cave. A guided walk takes approximately 40 minutes. You can find more details about rappelling in Baredine Cave here.
Explore the rich heritage of the city – for example, the Round Tower or the Euphrasian Basilica, which is a UNESCO World Heritage site that dates from the 4th century!
Visit the Temple of Neptune
Cycle around the area, it is very pretty
Go wine tasting (yes, I am going to suggest this a lot – you can read more about wine tasting in my article about 8 reasons the Istria region in Croatia should be your next vacation!)
Relax on the beach
Be active on the beach – banana boat rides, jet ski rental, parasailing etc.
Dino Park – especially great for those traveling in Istria with kids
Take a Porec to Venice day trip by speedboat
5. Groznjan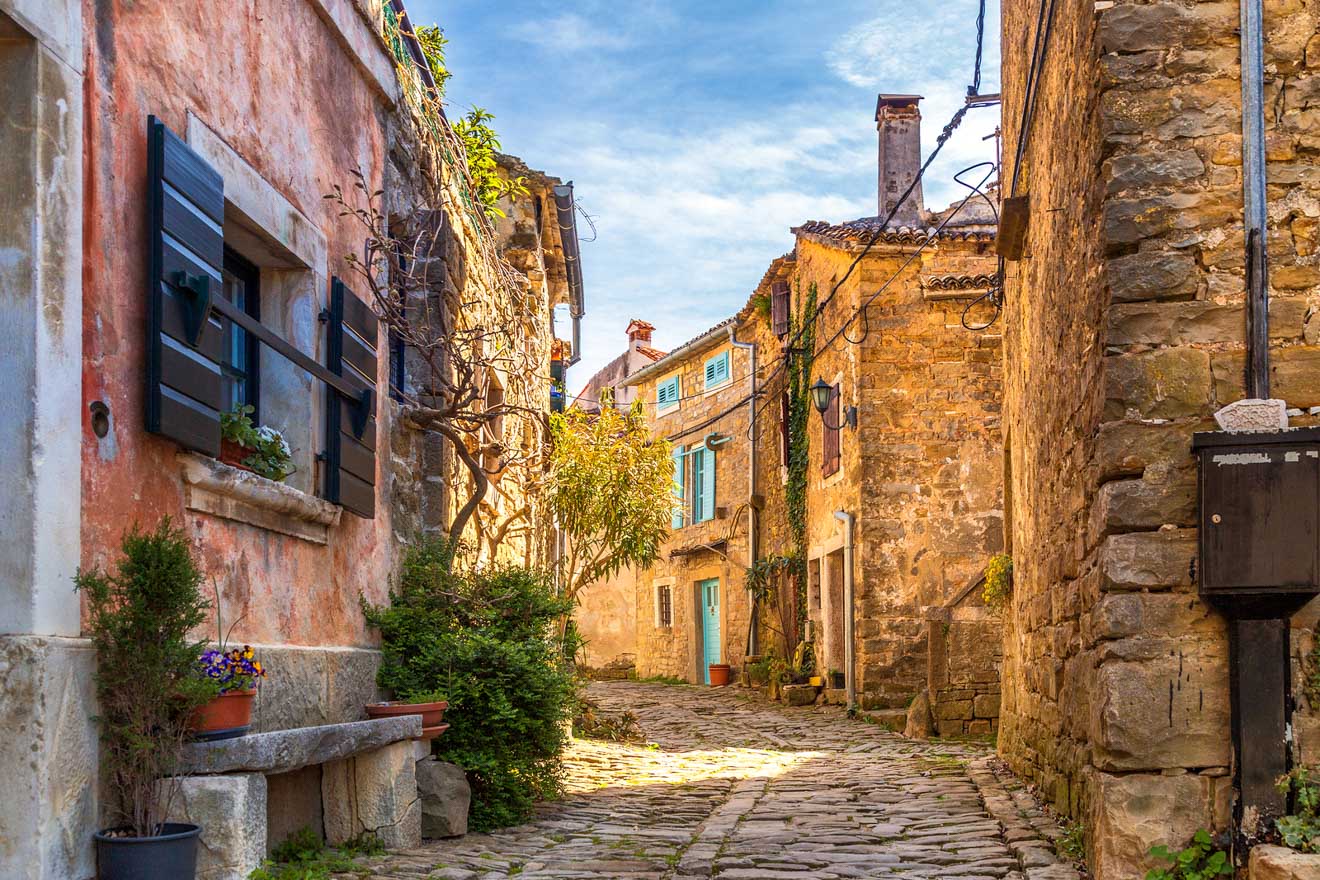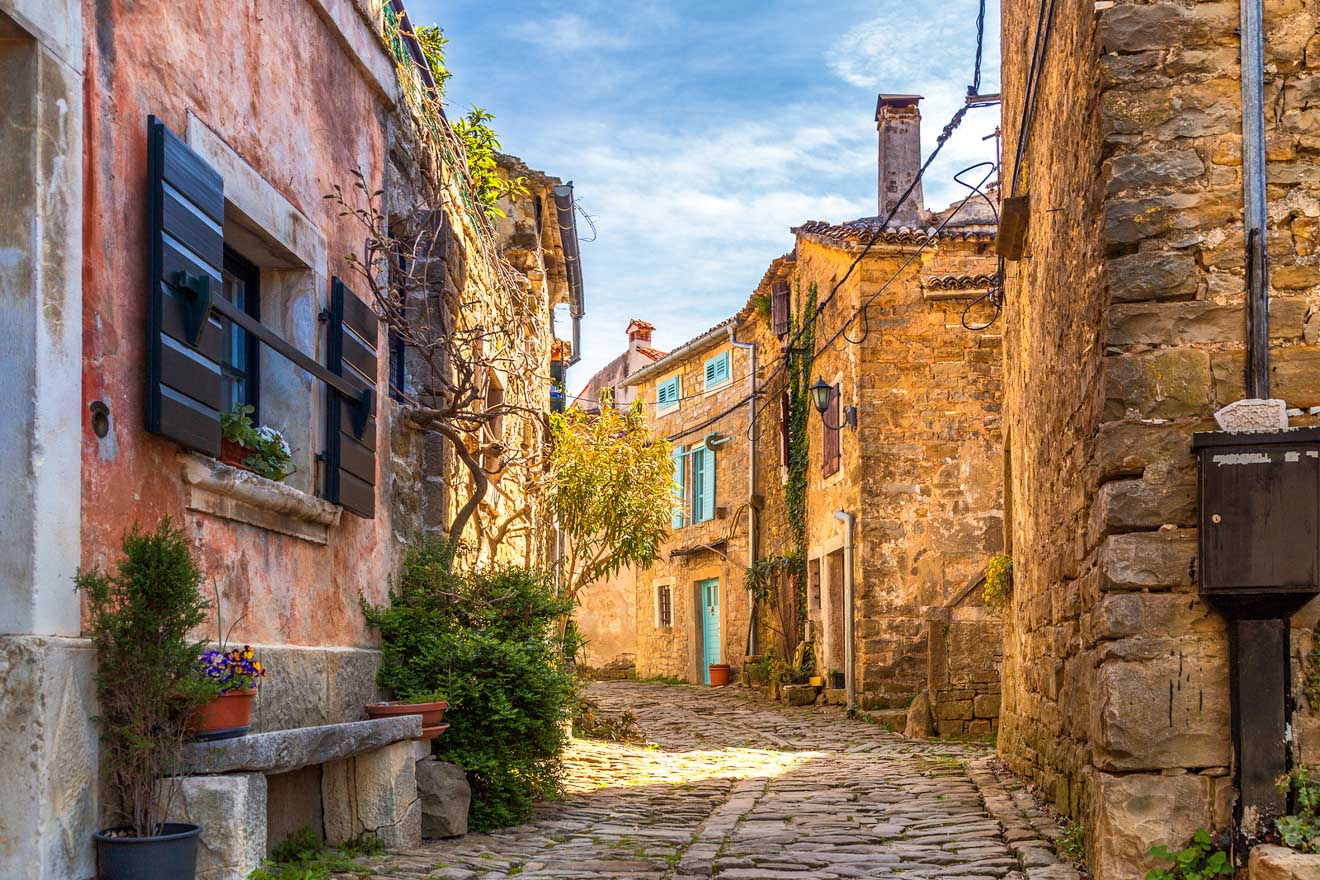 Groznjan is another charming town with a medieval feeling, known as a "village of artists". The best thing to do in the city is to walk around and admire the narrow cobblestone streets, visit some artists' studios and just enjoy the view while indulging in some local cuisine.
After WWII, national artists started opening their studios and workshops in Groznjan, as it was a very calm and almost empty city at the time. Because of this, the town now hosts many art galleries where you can admire local paintings, sculptures and more.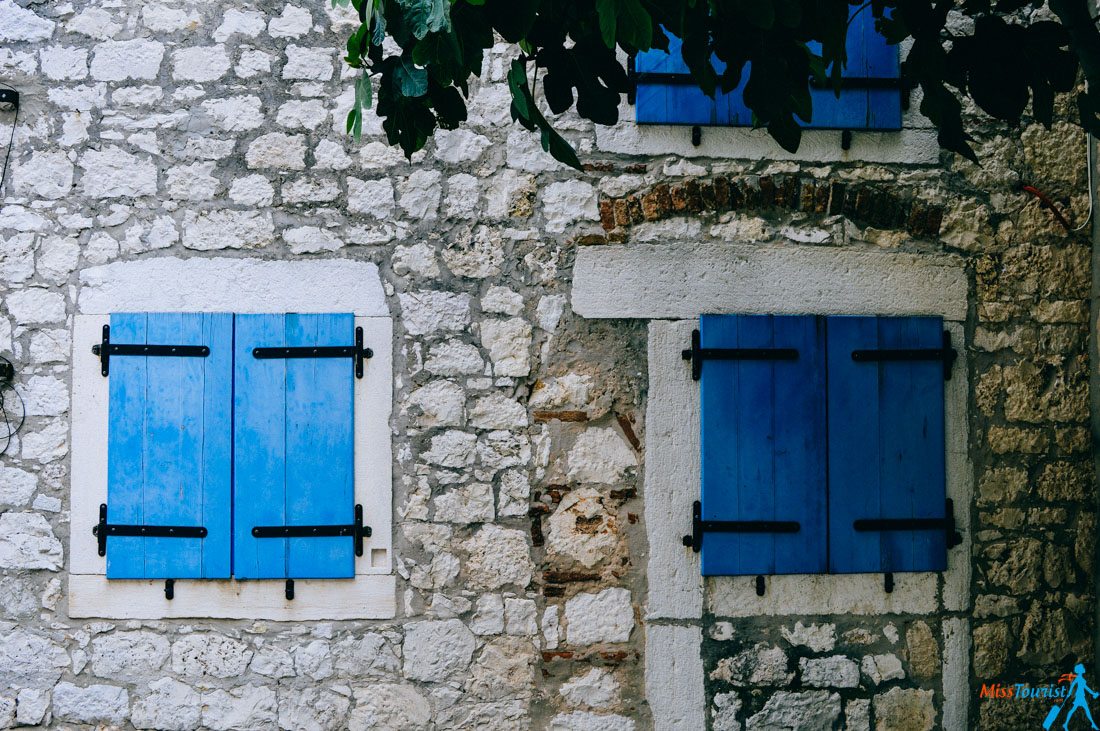 If you visit it during July or August, you will be able to enjoy seeing plenty of musicians playing in the streets. During that time, the town starts to fill with people, and you will hear everything from jazz to classical music! In July there is also a music festival taking place called Jazz is Back.
In addition to being an artistic destination, Groznjan is great for outdoor activities as well! How about some cycling in Croatia? You can do a 3-hour descent by bike through a picturesque landscape filled with bridges! Although this can sound a bit extreme, it is not difficult at all – you just get to enjoy the fantastic views and have fun!
Where to stay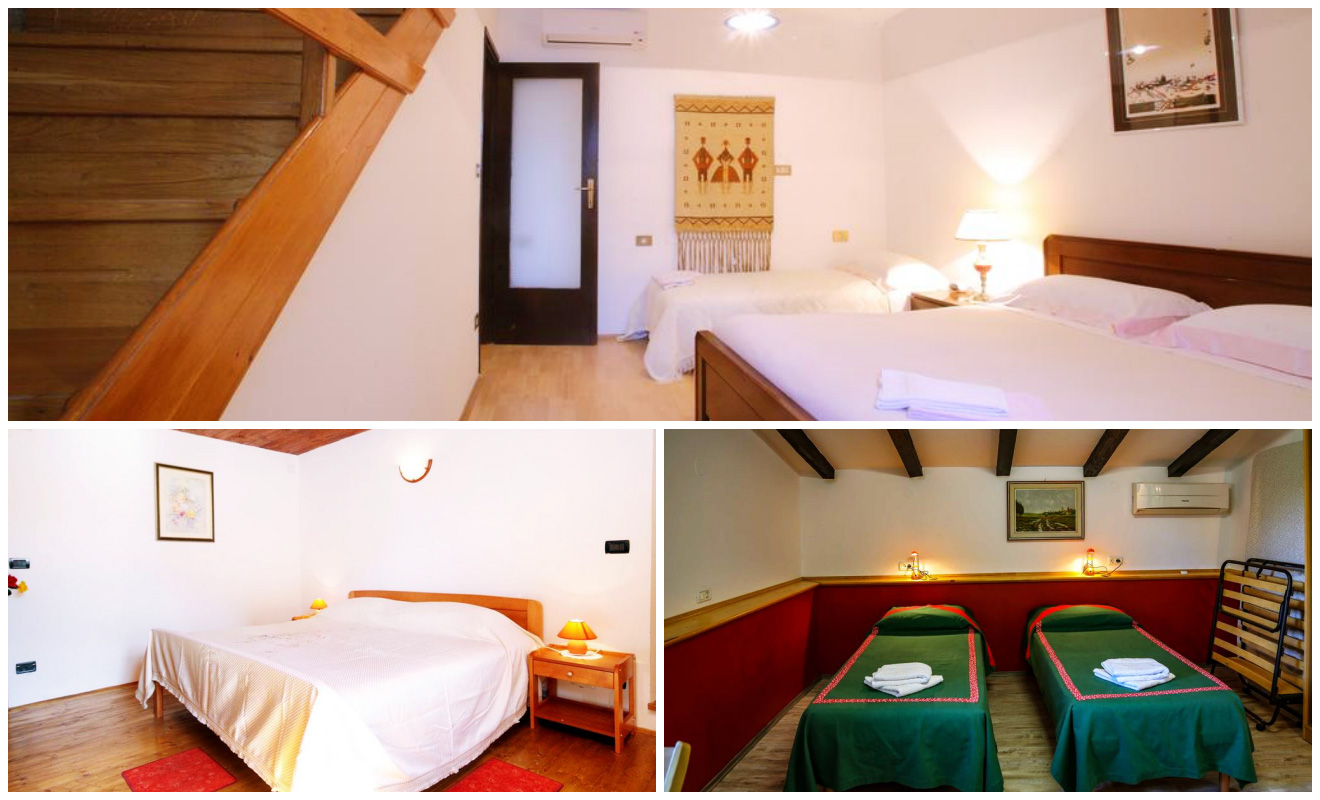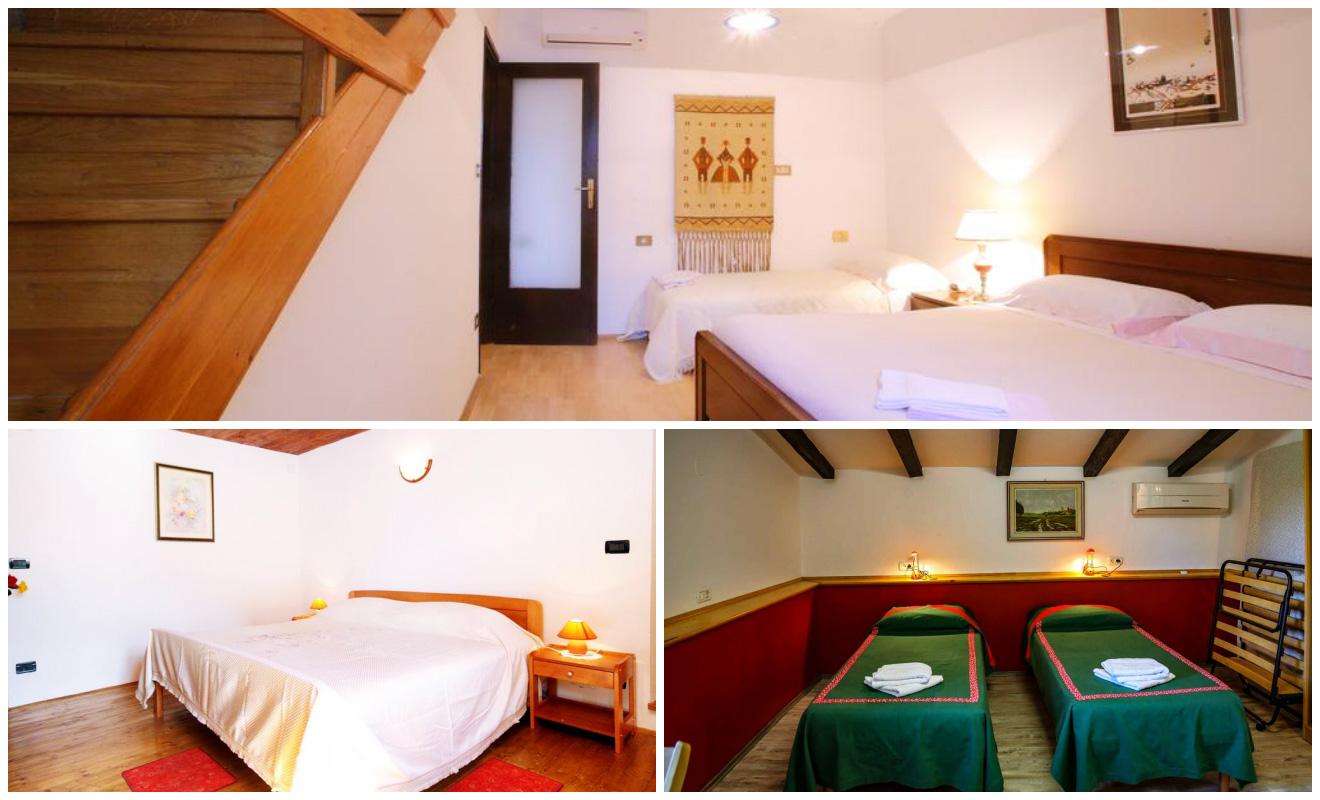 As the city is not that big, most of the available Groznjan accommodation options are apartments or houses and they fall in the middle-priced category. All of the ones in this list were handpicked by me and the main criteria were, as always, a good location and great reviews. Click on the link to see the prices for your dates:
Middle-priced (50 – 150€): House Fiorela is a gorgeous rustic house located in a quiet, green area of the city. Apartment Mita is a nice apartment that boasts a garden, free Wi-Fi, a terrace and beautiful mountain views! Last but not least, Apartment Groznjan 7038a offers a fully equipped kitchen, rooms with a private bathroom with a shower and even a garden!
Budget (50€ and less): Apartments Smile is an ideal accommodation for budget travelers because of the very good service and affordable prices. Sobe Pintur is a 3-star guesthouse; it even has a restaurant that serves traditional Istrian cuisine! Rooms Svalina is located in a traditional stone Istrian house with gorgeous views and cozy rooms!
Where to eat
What To Do


Take a picturesque biking tour along a former railroad track. Originally, this railroad track was meant to be a connection between Porec and Trieste. The railway was dismantled during WWII and now it is a beautiful scenic road perfect for biking! You can find more information about this activity here: Bike tour Grožnjan – Livade on abandon railway
Attend the "Jazz is Back" music festival in July
Walk around the narrow, cobbled streets and visit the artists' studios
Enter the numerous art galleries and admire local art
6. Pula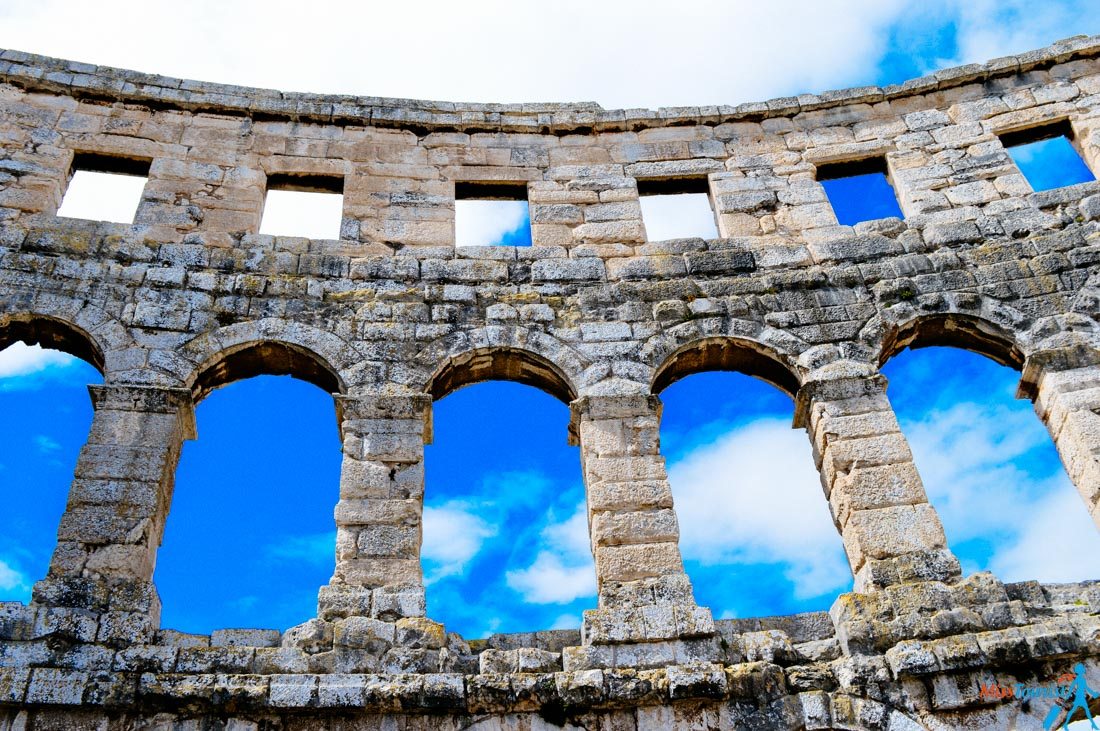 Pula is the largest city and the capital of the Istria region, so it was not possible to leave it off my Top 8 cities in Istria, of course!
When in Pula (or "Pola" in Italian) make sure you do not miss the Colosseum (Arena). With a capacity of 20,000 people, the Arena of Pula is the 6th largest coliseum in the world and definitely a must-visit while in the city! It is also the only remaining (and the best-preserved!) Roman amphitheater to have a four-sided tower. Now, the Arena hosts concerts and festivals frequently.
Other than its Arena, the city of Pula has all the other great Istrian attractions: gorgeous beaches where you can swim or dive, delicious cuisine and, of course, a rich history!
If you want to find more about the city, I wrote a separate post about things to do in Pula here.
Where to stay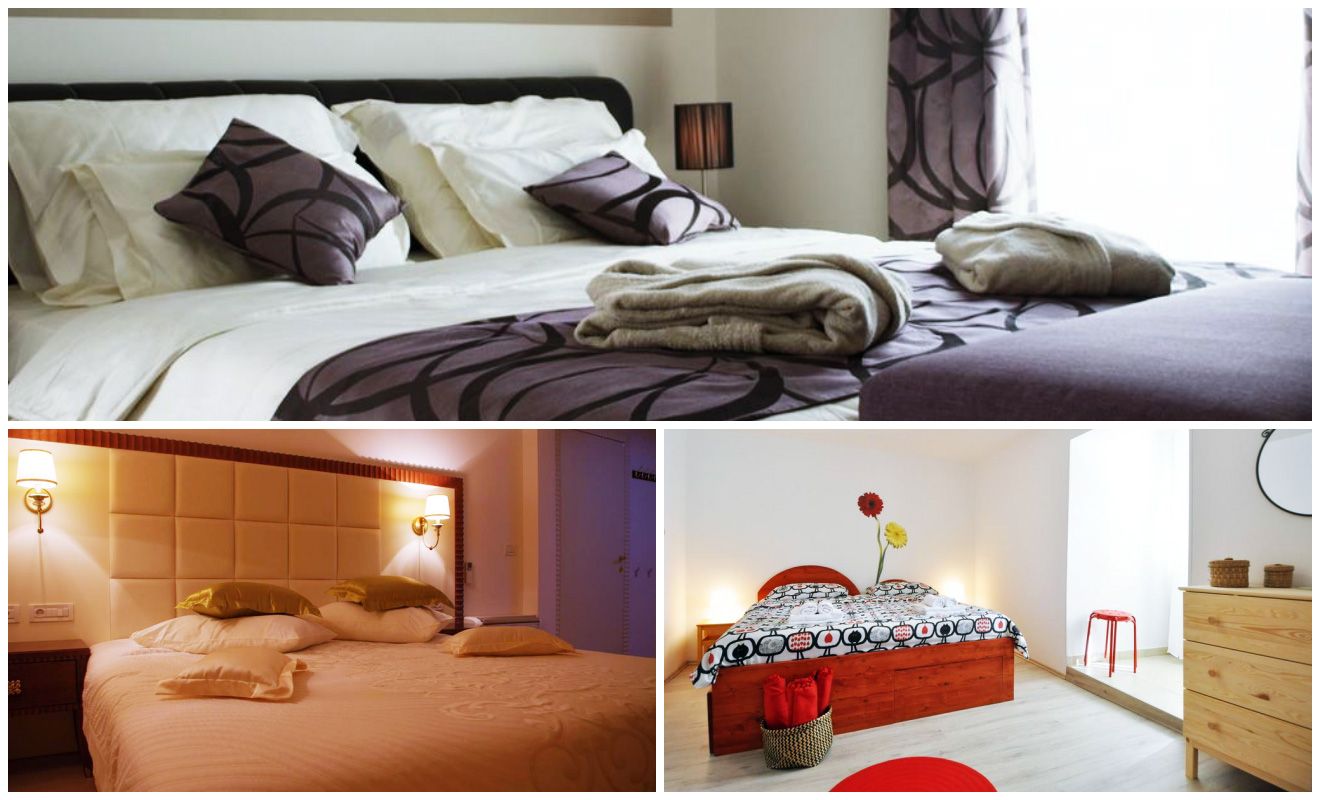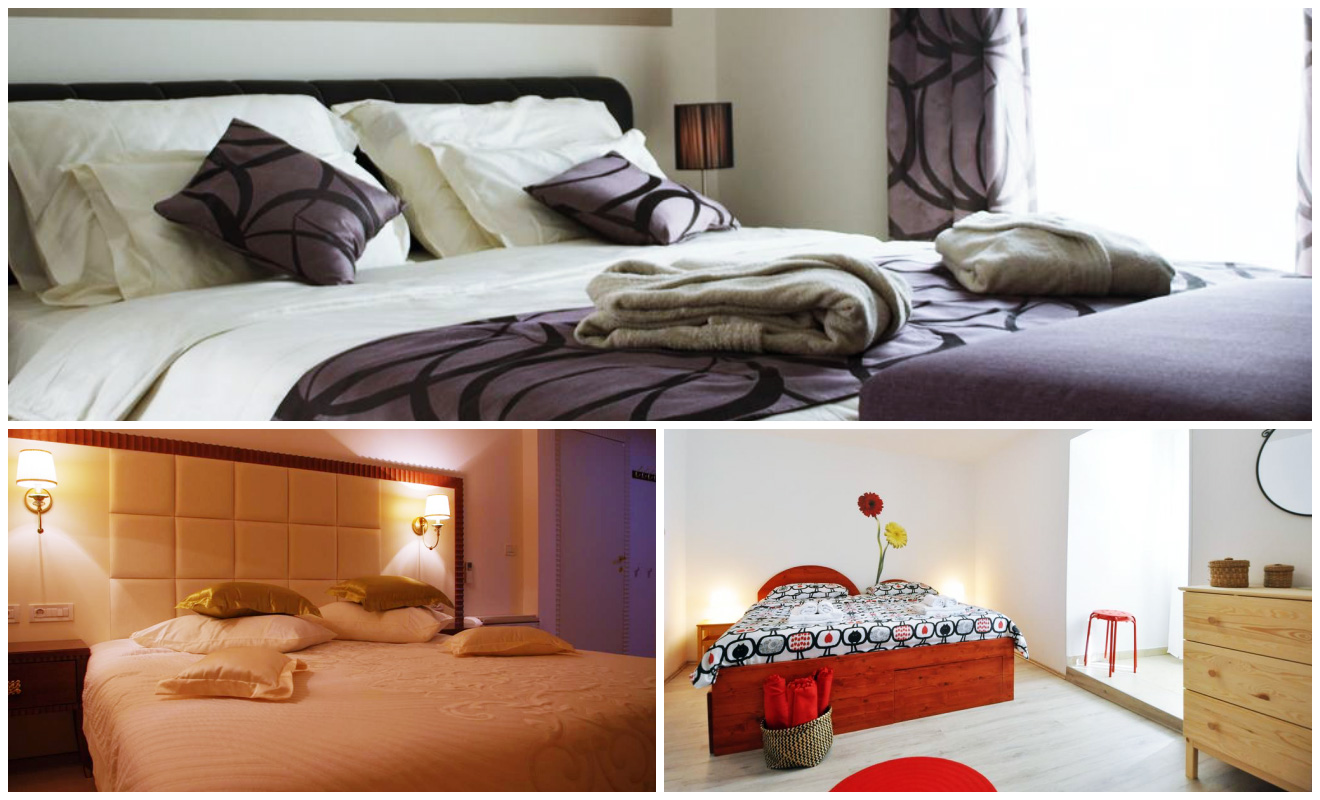 All the hotels in Pula, Croatia that I recommend are centrally located and have great reviews, just choose your price range:
Luxury (150€ and up): Boutique Hotel Oasi is a nice 4-stars hotel located only 4km away from Pula, in Pješčana Uvala. Boutique Hotel Villa Vulin is a marvelous 5-star accommodation that offers you luxurious amenities, beautiful rooms and anything else you might need!
Middle-priced (50 – 150€): Rooms Villa Oasiss – this is the hotelwhere I stayed and you can read the full review here. Boutique Hotel Valsabbion is another great choice that provides 4-star service and a super friendly staff!
Budget (50€ and less): Apartment Mir – this apartment is clean, nicely decorated and affordable, which makes it pretty much perfect for anyone traveling to Pula! Apartments Hortensia is a 4-star accommodation that offers you free Wi-Fi, air-conditioned rooms and a relaxing garden!
Where to eat
La Grisa, Bale – This is probably my favorite restaurant in Pula. It is located a bit outside the city, but no more than 5 minutes away, as everything is so close and the town is small. La Grisa Boutique Hotel has a really interesting cuisine and olive oil to die for! The 3-course meal was about 35€. If you go there, you are guaranteed to have an amazing lunch filled with truffles and even olive oil ice cream!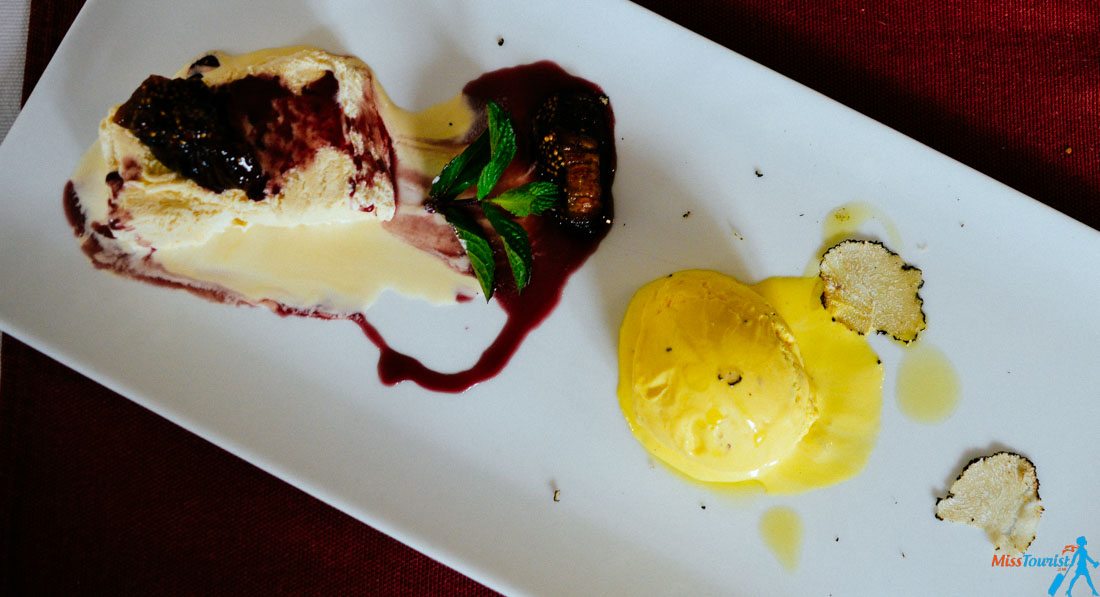 Konoba Batelina – first Croatian restaurant to receive a Michelin star! Delicious seafood, fish dishes, and appetizers, but make sure to make a reservation first and note that you can only pay with cash. Totally worth it, though!
TiVoli – go there for excellent pizza and a great atmosphere
BOCA Bar – yummy food and excellent wine
What To Do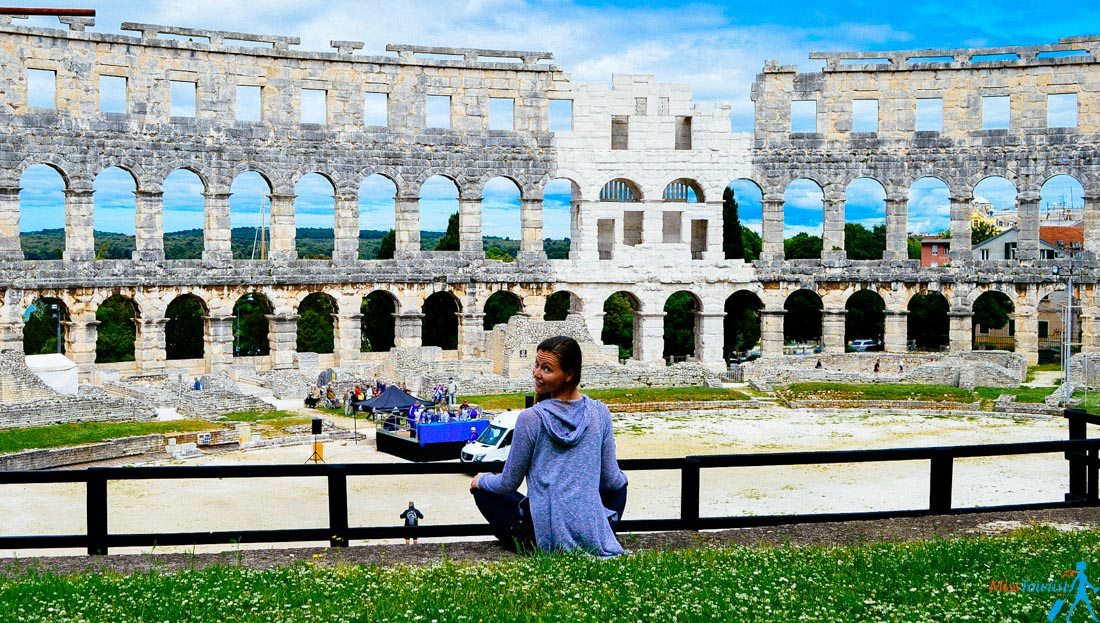 Take a historical tour around the city or take a guided walking tour
Visit the Coliseum/Arena Pula – a must-see in Pula, Croatia!
Taste some delicious Istrian wine
Take a day tour to an island
Go biking in a natural park
Explore the surrounding area with an electric bike
7. Umag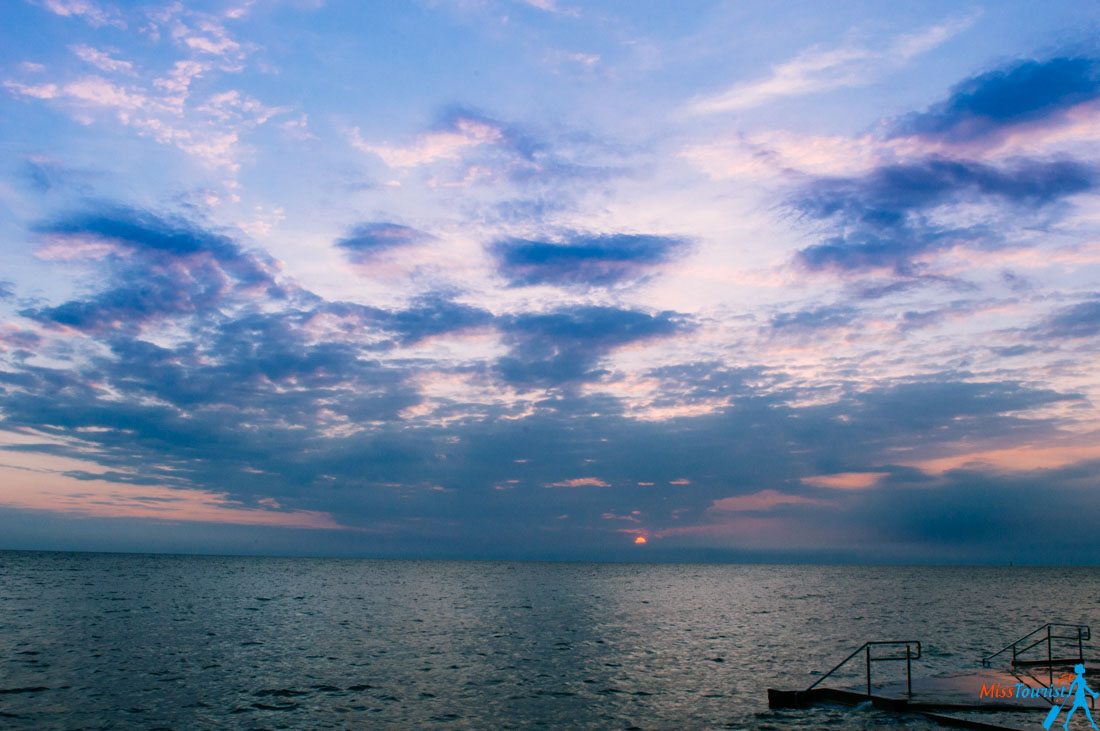 If you are a history lover, you will definitely love Umag for its greatly preserved town walls and towers which date back to the old Roman times! Umag is also, probably, the first city you will arrive at in Istria if you are coming from the west and this is why the city is also known as "the Croatian gate to Europe".
The town of Umag has a busy touristy center thanks to its stunning beaches and the natural beauty around the town. I think this small and cute city is an excellent option for Croatia family holidays or for a relaxed couple or friends' vacation!
Where to stay
All the accommodation suggestions in this list were carefully selected by me with two main criteria in mind: great location and fabulous reviews from travelers.
Click on each hotel name to check your rates: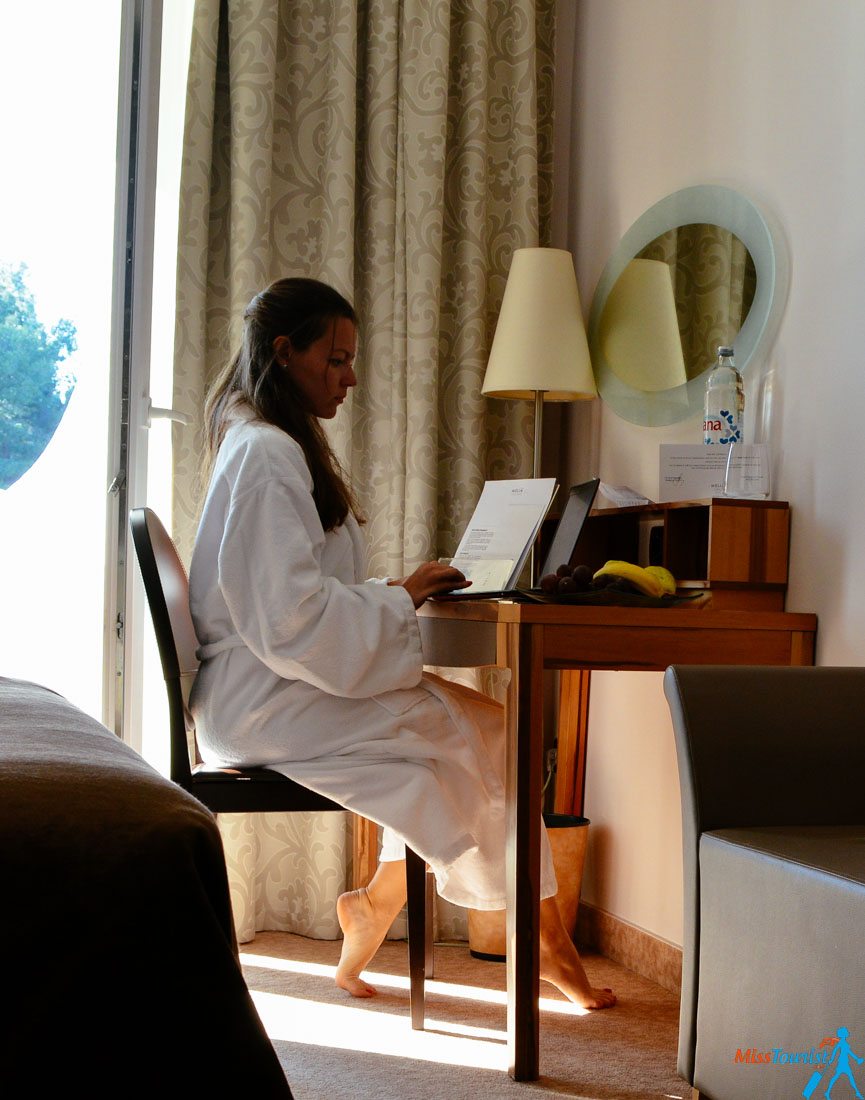 Luxury (150€ and up): Melia Coral 5* – Amazing hotel overlooking the sea where you can get a BMW driving experience free of charge (you just need to ask at the front desk!). I stayed at Melia Coral for 2 nights and I had an excellent time there – I would love to go back one day! Kempinski Umag Hotel Adriatic – outstanding quality 5-star hotel with amazing décor. I was lucky to have dinner in their restaurant and I can say the food was delicious and the staff was perfect!
Middle-priced (50 – 150€): Hotel Villa Rosetta – this accommodation is located in a perfect, lush green area and it is so close to the beach, you won't even believe it! Hotel Zlatna Vala – 3-star hotel with excellent service, this one is also located right by the sea, 4.8km from the center of the city.
Budget (50€ and less): Apartment Klara – this one is located a bit further away from the center, but the apartment is air-conditioned and perfect for up to 8 people! Apartments Brnada – great quality accommodation with free Wi-Fi, a fully equipped kitchen and private bathrooms.
Where to eat
Konoba Nono – This is a family tavern which gets its products from its own farm, so everything you eat will be exceptionally delicious, fresh and homemade! Of course, I tried a lot of truffle-based dishes there (yes, again!) 🙂
Melia Coral restaurant – Go there for their seafood delicacies. Every single one of the dishes I tried was outstanding. When we were there, the restaurant was almost empty, which is a shame, given the quality of service and the value for the money!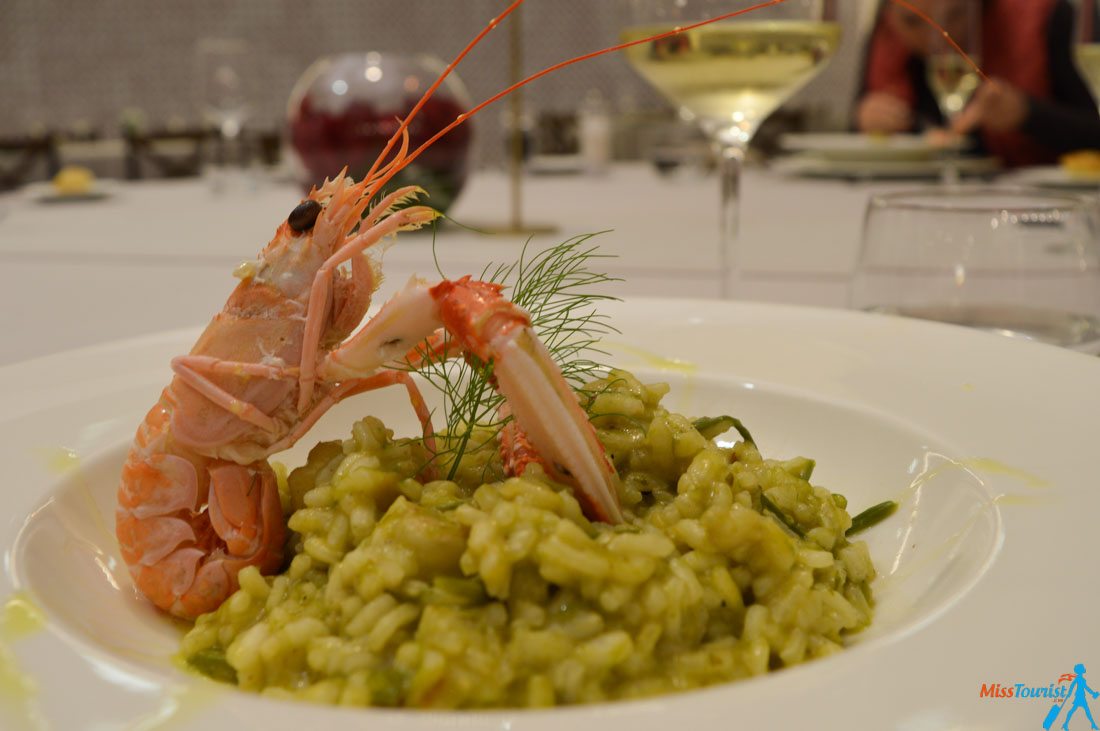 Kempinsky Hotel Adriatic – I had a fine dining experience here during my last night in Istria and I had no regrets! I, of course, went for Istrian dishes, but there are also Mediterranean options and even some fusion cuisine as well. But whatever you order, make sure to ask for pepper. Even if you don't need it, trust me on this one! 😉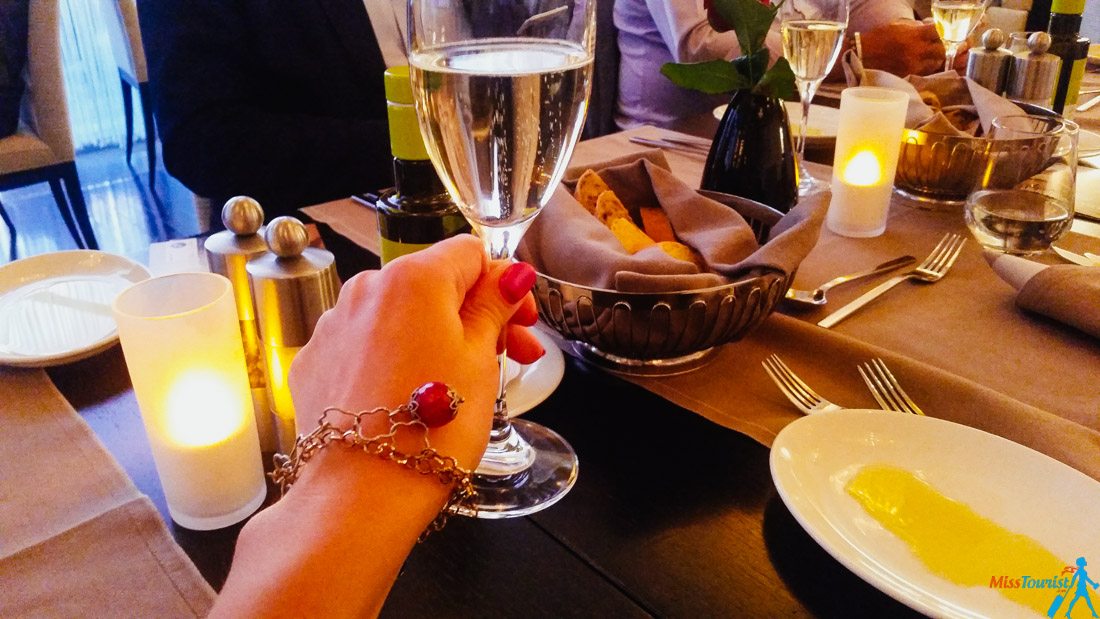 What To Do
Even though the city is not that big, there are definitely some cool things to do in Umag, Croatia:
Olive oil tasting in CUJ – Yes, tasting olive oil is a thing in Istria! Out of all the olive oil tastings I did, I liked this one the most, so I even bought a bottle to enjoy back home. Totally worth it!
Visit the Umag town walls and admire the view
Visit the Church of St Roche
ATP Croatia Open is a tennis tournament that has taken place in Umag every year in July ever since 1990
Visit Umag Town Museum if you are a history lover
Visit the West Tower in the Old Town
Admire the old and beautiful remains of Villa Tiola near Katoro beach, where you can go diving as well
Indulge in some fish and seafood dishes and taste the local wine, of course!
8. Hum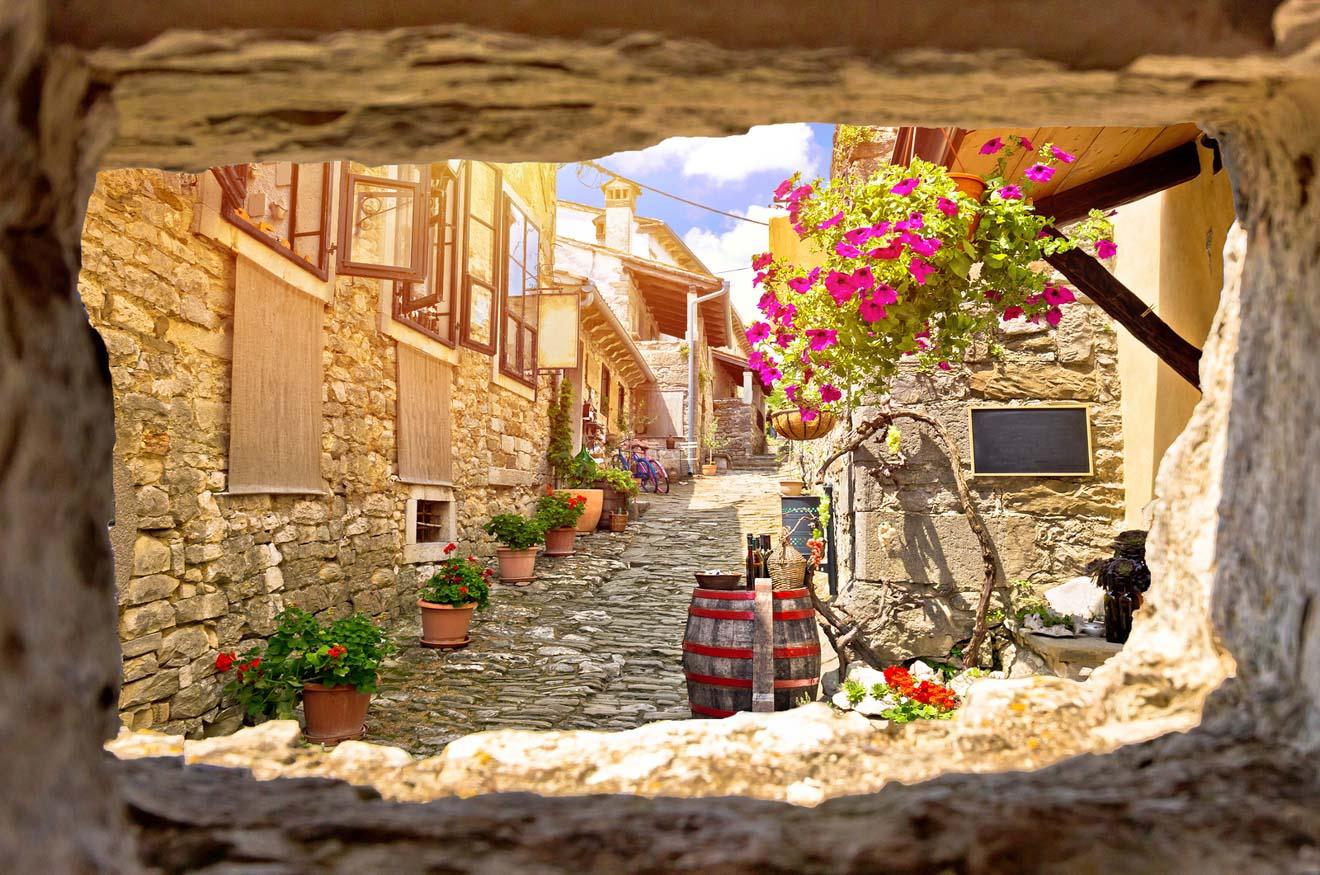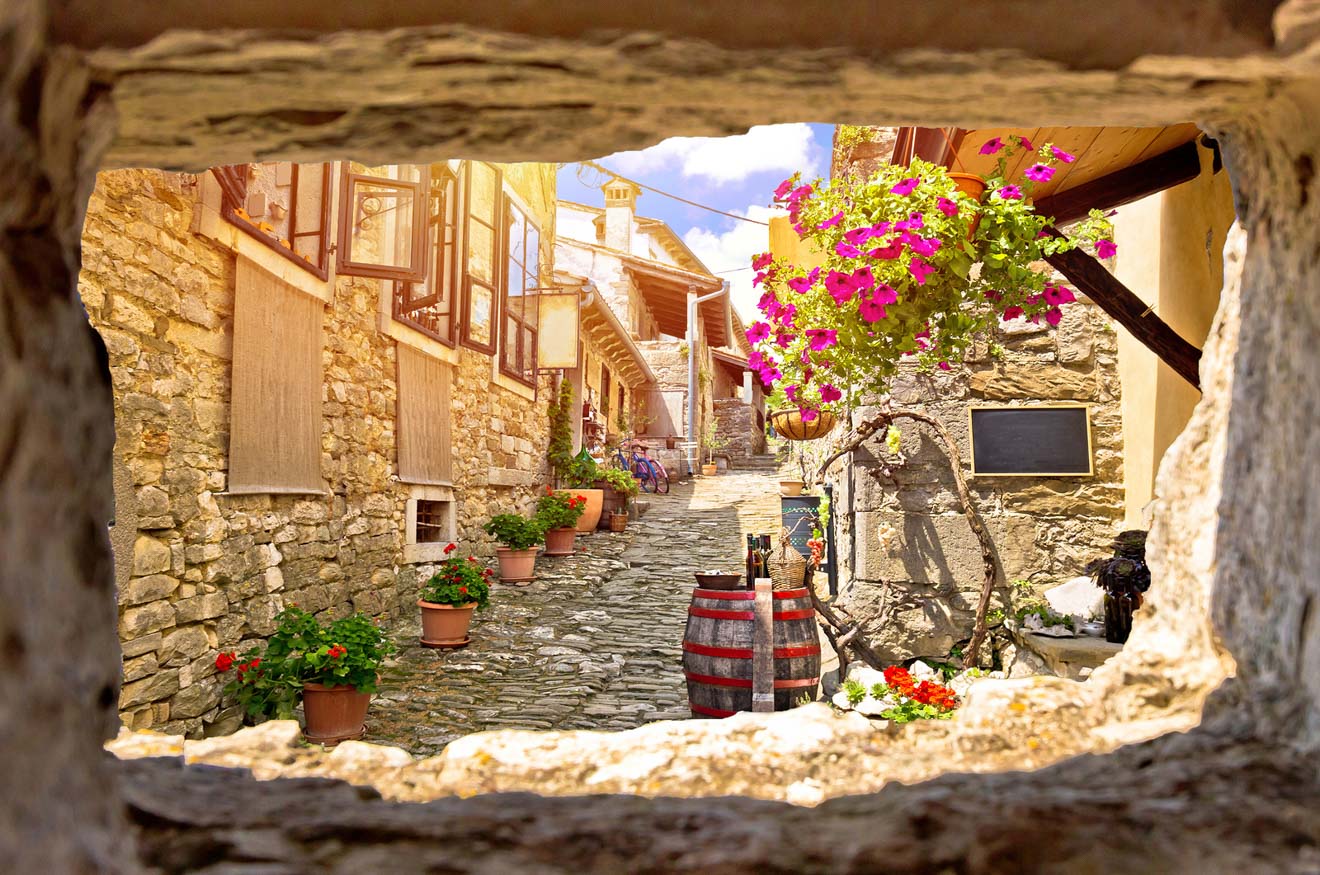 Did you know that Hum is actually the smallest city in the entire world?
During my stay, I think I met all 23 residents of the town. 🙂
Just like all the other wonderful cities in this article, Hum preserves the charming, historical atmosphere of Istria. The medieval streets are so beautiful and inviting that you just can't help discover them and the surrounding area.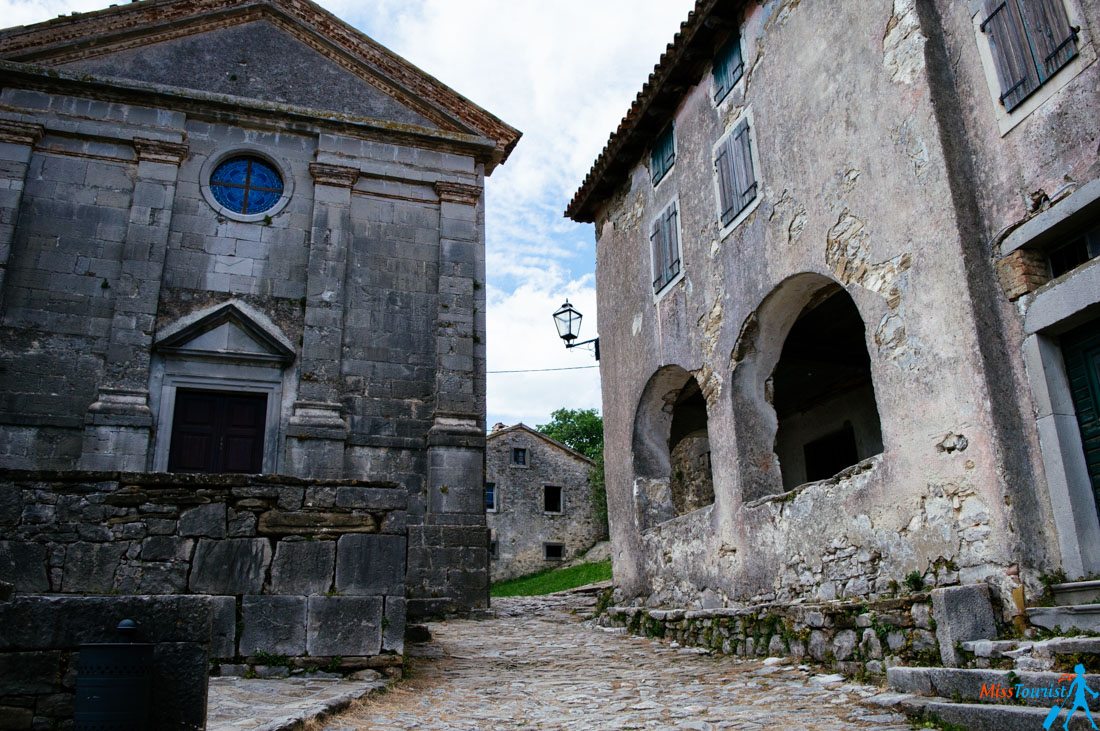 Hum makes for a great day trip for your Istria holidays and it can be easily visited in a couple of hours!
While you are there, you can visit the main square with its church and bell tower and indulge in some miska brandy – a local specialty made from mistletoe!
Where to stay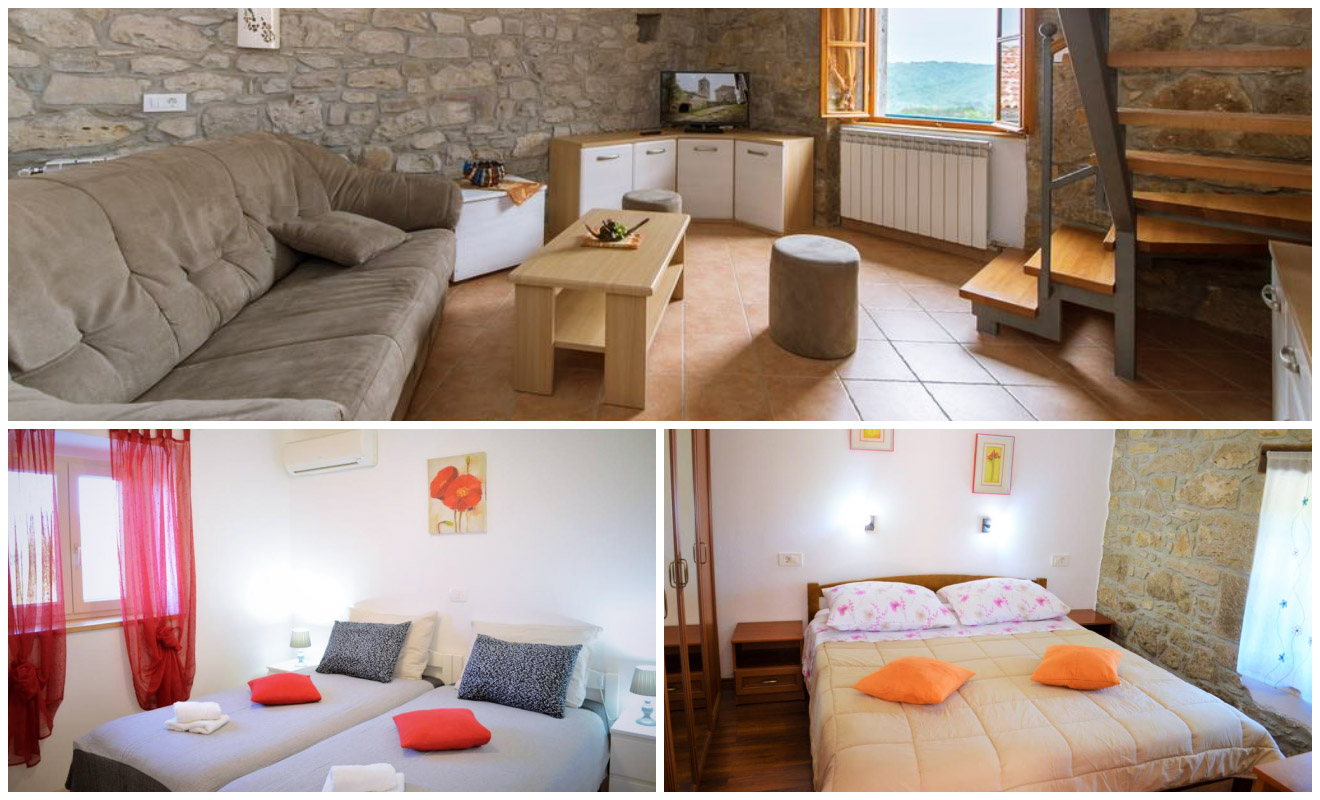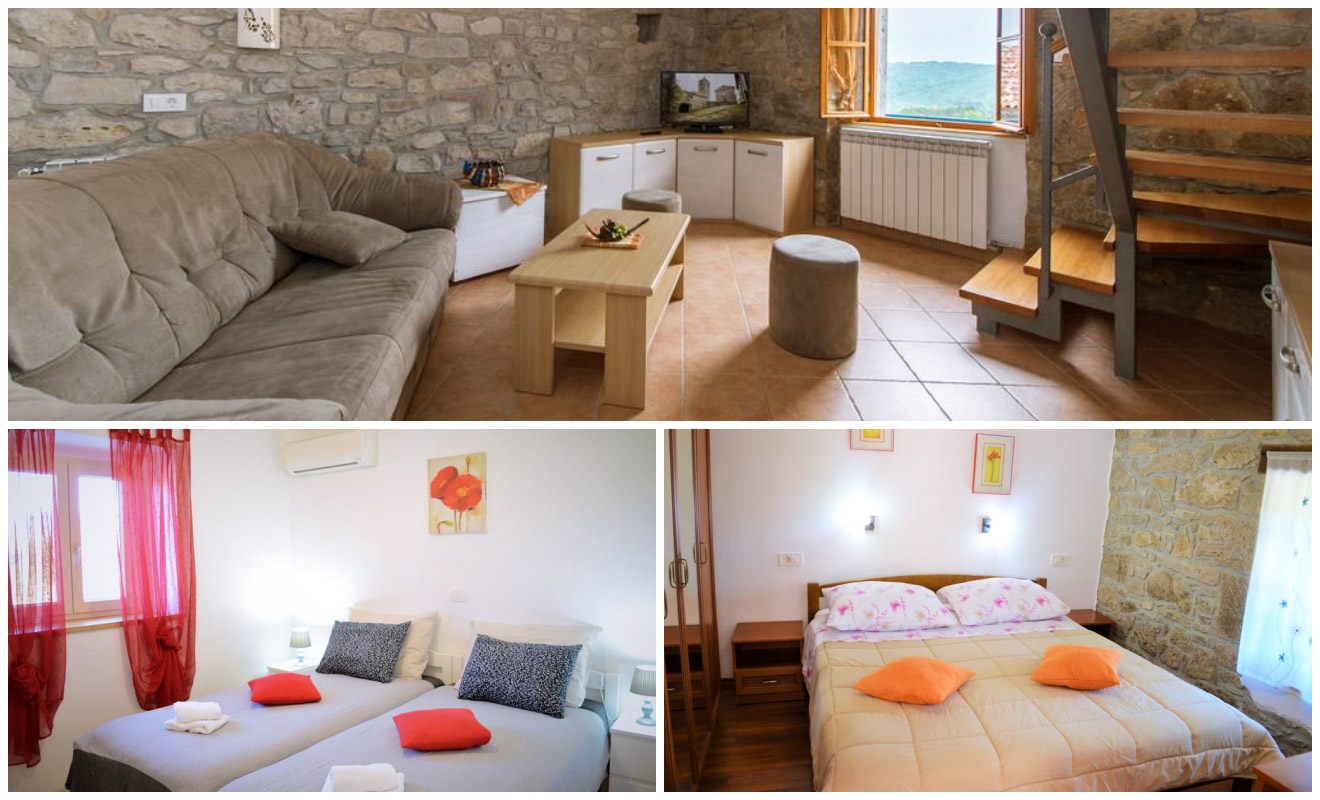 Because Hum is usually visited in a day trip from other Istrian cities, the accommodation choices are not that many, as you will understand, but they all have exceptional reviews:
Middle-priced (50 – 150€): House Vera – beautiful stone house with wooden ceiling, terrace, fireplace, and free parking. Jasmina Apartment – 4-star apartments that have with free Wi-Fi, barbecue facilities, a garden and more! Apartment Franko is located in the center of the city and is 40km from Trieste, Italy.
Budget (50€ and less): Apartment Dores – a cozy and sparkling clean accommodation with an on-site restaurant, barbecue facilities and a garden.
Where to eat
Humska Conoba – a good restaurant with homemade dishes – I think it is the only one in the city, by the way! 🙂
What To Do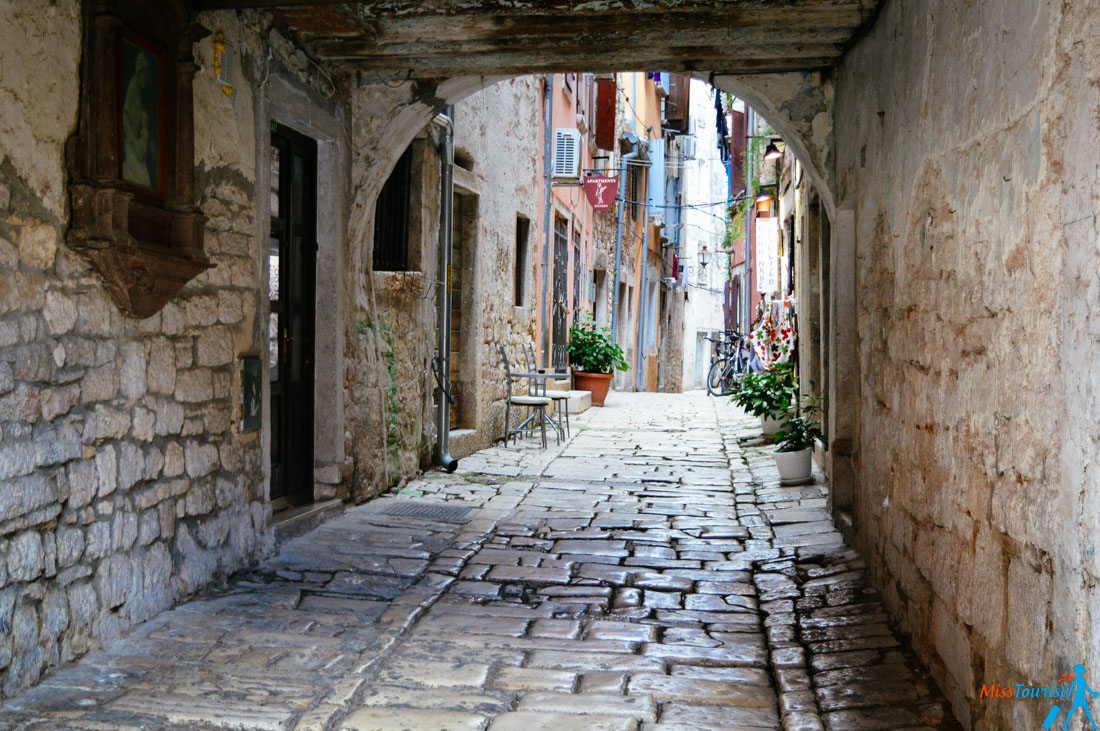 Even though there is not much to do in Hum, as you can cross the whole "city" in 5 minutes, you can taste some miska brandy, which is a local specialty made from mistletoe!
In my opinion, the city is worth visiting, nevertheless!
| | |
| --- | --- |
| 🤩 Range of activities: | Large |
| 👪 Family-friendly score: | Great |
| 🏛️ Best city for history: | Poreč |
| 👯 Best city for nightlife: | Rovinj |
| 🌹 Most romantic city: | Pula |
Other beautiful towns in Istria to consider
In case you have some more time on hand to explore the Istrian peninsula in Croatia, here are some extra recommendations that are just as amazing as the ones in my list:
Novigrad – cute and beautiful town, gorgeous beach
Livade – best place to indulge in truffles, including white autumn truffles, which are the most expensive type of truffles in the entire world!
Labin – well-known for its many galleries and local painters
Rabač – beautiful beaches, a perfect place for snorkeling, diving or just swimming, located close to Labin
Vodnjan – narrow streets, beautiful architecture, a perfect place for olive oil tasting
Momjan – best for wine tasting
Zminj – small and charming, Festinsko kraljevstvo is a must-visit cave right outside the city
Brijuni Islands – a group of 14 small islands. Visit the main island to check out the dinosaur footprints, the zoo or rent a golf cart and just roam around
Lim Fjord – located between Vrsar and Rovinj. It is not actually a fjord, but the view from the top is beautiful. You must taste the oysters from the oyster farm – Istrida
Renting a car in Istria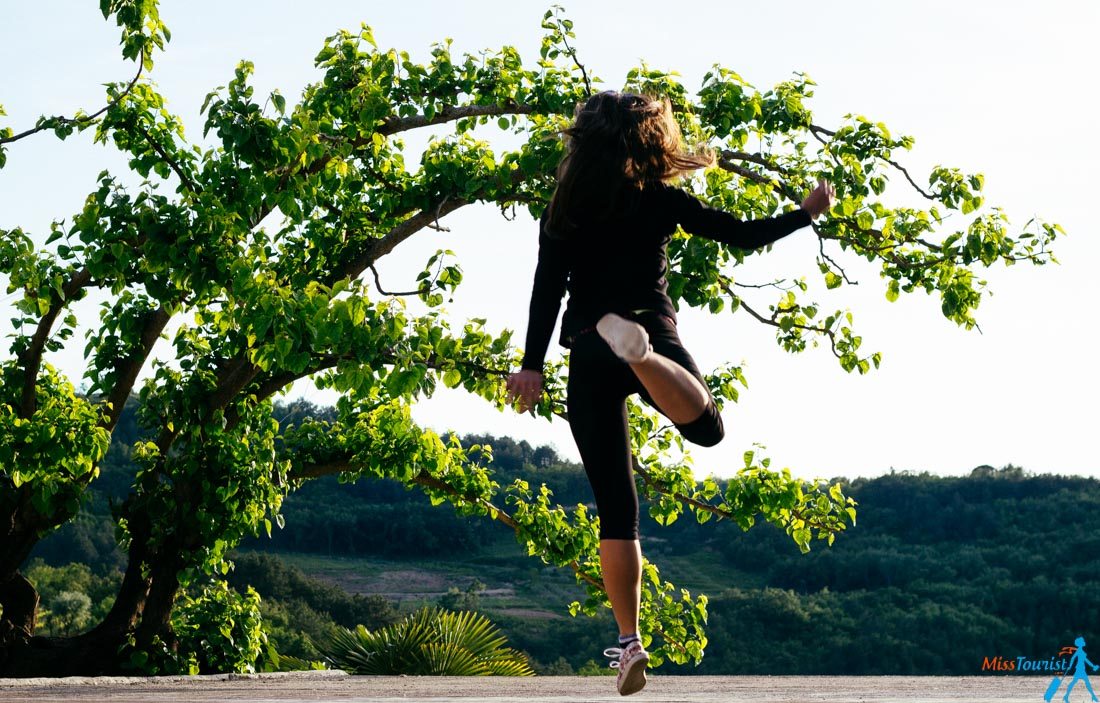 One last tip – to fully experience the region, you should definitely rent a car. The first time I visited Istria, I only relied on public transportation and there was SUCH a great difference between the two experiences, you can't even imagine! It seems I saw or felt just 10% of what I managed to do when we had a car.
Because most of the cities in this list are small and can be visited during a day trip, having a car to drive around will help you create the perfect Istria itinerary for yourself – just imagine having the flexibility of visiting whichever town you want and then leaving for your next adventure!
UPDATE: We now have a full post on best ways to rent a car in Croatia, where to go and tips on how to make most of your trip, here!
TIP: I did extensive research that showed that this website has be best deals on car rentals in Croatia! I can say this website is reliable and I've only had positive feedback ever since I started working with them!
How To Get To Istria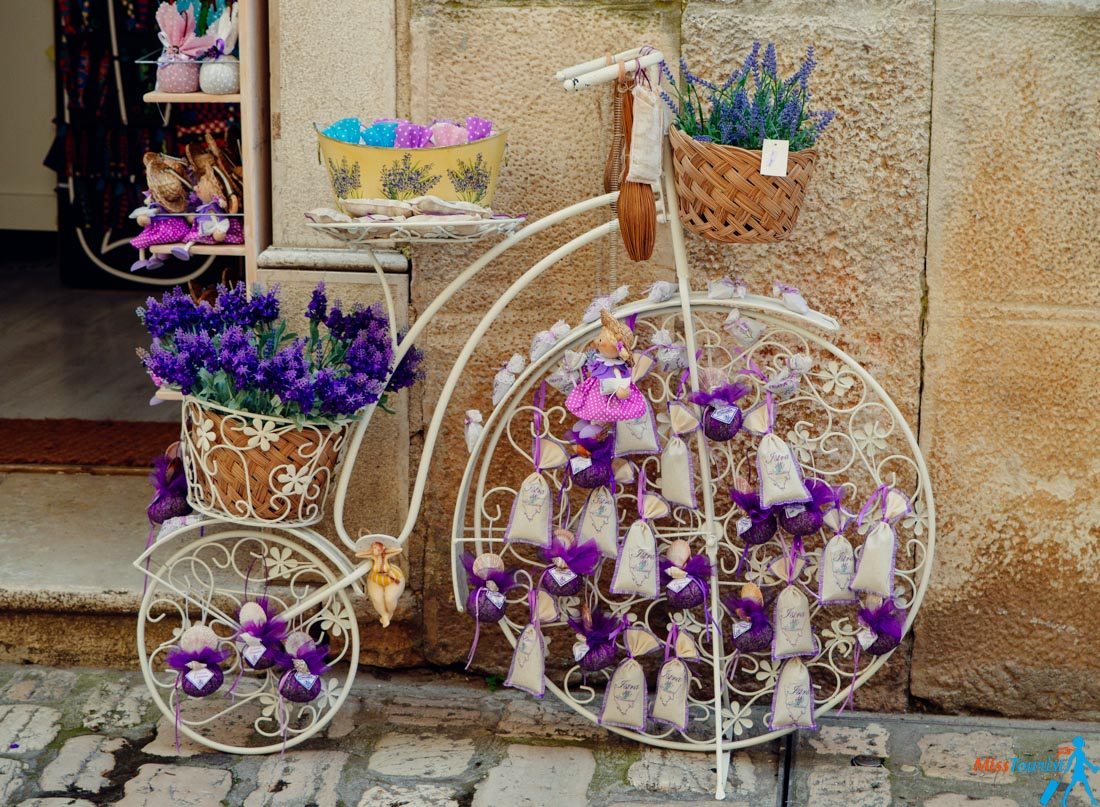 By plane
The only airport in Istria is the one in Pula, so you can take a plane and arrive there. From Croatia, you can get a ticket with Croatia Airlines from Zagreb or Zadar to Pula. As for Italy, the airport at Trieste is located the closest and Venice (I arrived in Venice as it was the easiest for me) can be a good option as well.
If you arrive at Pula Airport, you can get your one-way transfer from the airport here.
By bus
Because Istria is so close to Italy, there are a variety of options for buses departing from Trieste and going to Rovinj, Buje, Porec, and Pula. You can check the schedule here.
Another option would be to take a bus from Venice to Pula using FILS – you can check all the details on their website.
If you are already in Croatia, you can take various buses from Croatian towns to Istrian ones. You can check your desired route on FILS or Brioni.
By boat
You can also go from Venice to Istria by boat during the summer. Venezia Lines has a route that stops in Porec, Rovinj, Pula, and Rabac.
---
Conclusion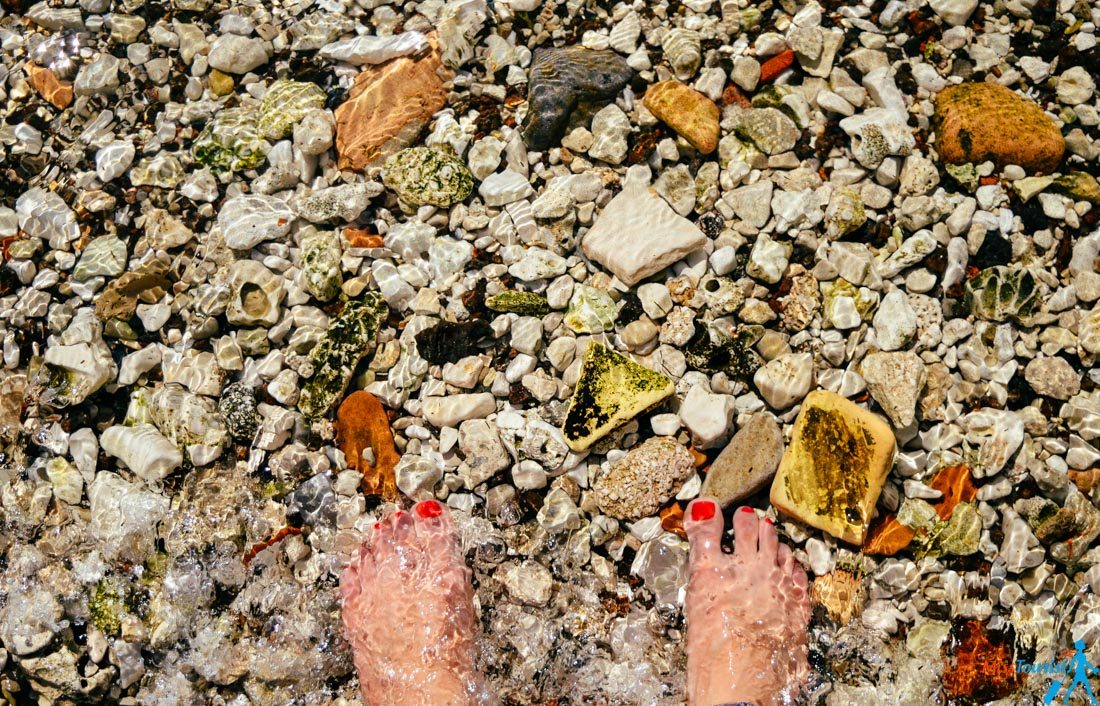 That's it, guys! There are many more charming towns in the area, but these 8 were at the top of my list for Istria, which is why I recommend you don't skip them during your vacation!
I think if Italy were a person that went to visit the Istrian coast of Croatia, Italy would be jealous of the beauty of the Adriatic coast and its lovely inland towns. And it should be, seriously! 🙂
I spent 10 days visiting the charming towns of Istria, tasting olive oil, drinking wine, enjoying delicious seafood and trying some extreme activities.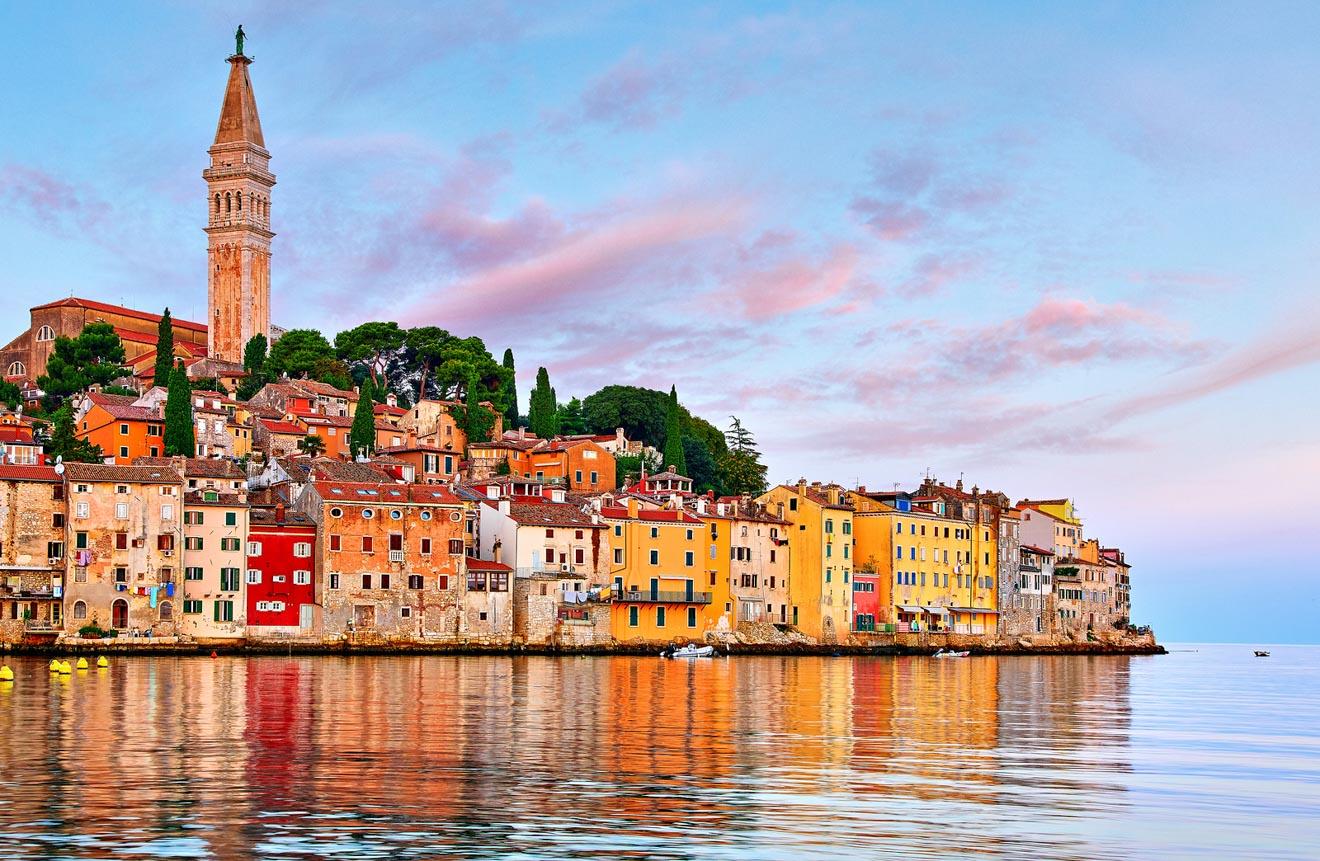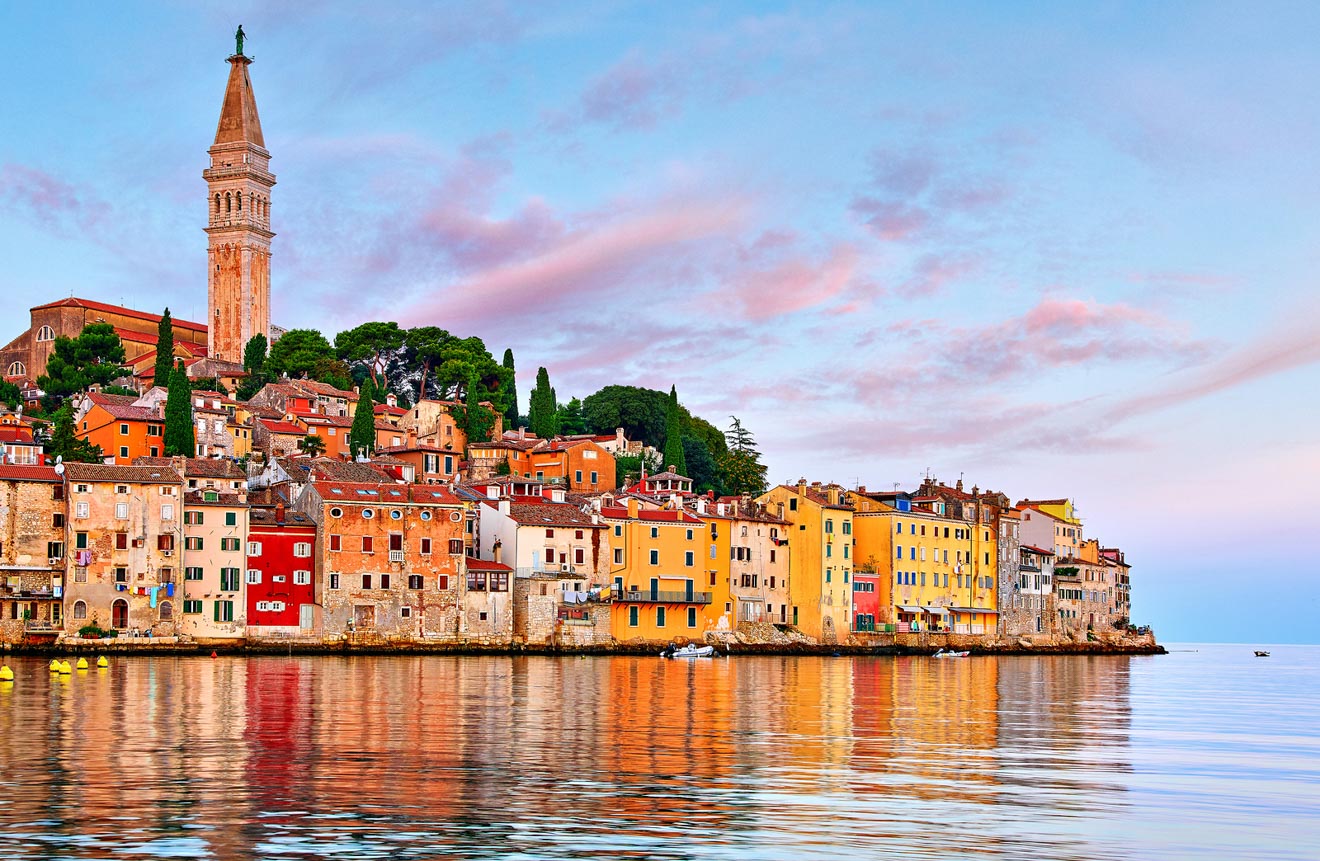 There is so much to do in the region of Istria, it is unbelievable how 10 days were absolutely not enough to fully explore the little peninsula!
If you are still considering whether you should visit Istria or not, I hope that my Istria travel guide was convincing enough and that you found some inspiration from it!
Disclaimer: I was invited by the Share Istria team for part of my stay in Istria. My opinion is honest, I absolutely loved the region!
As usual, let me know if you have any questions, I will be happy to answer your comments!
Yulia
---
Pin it for later!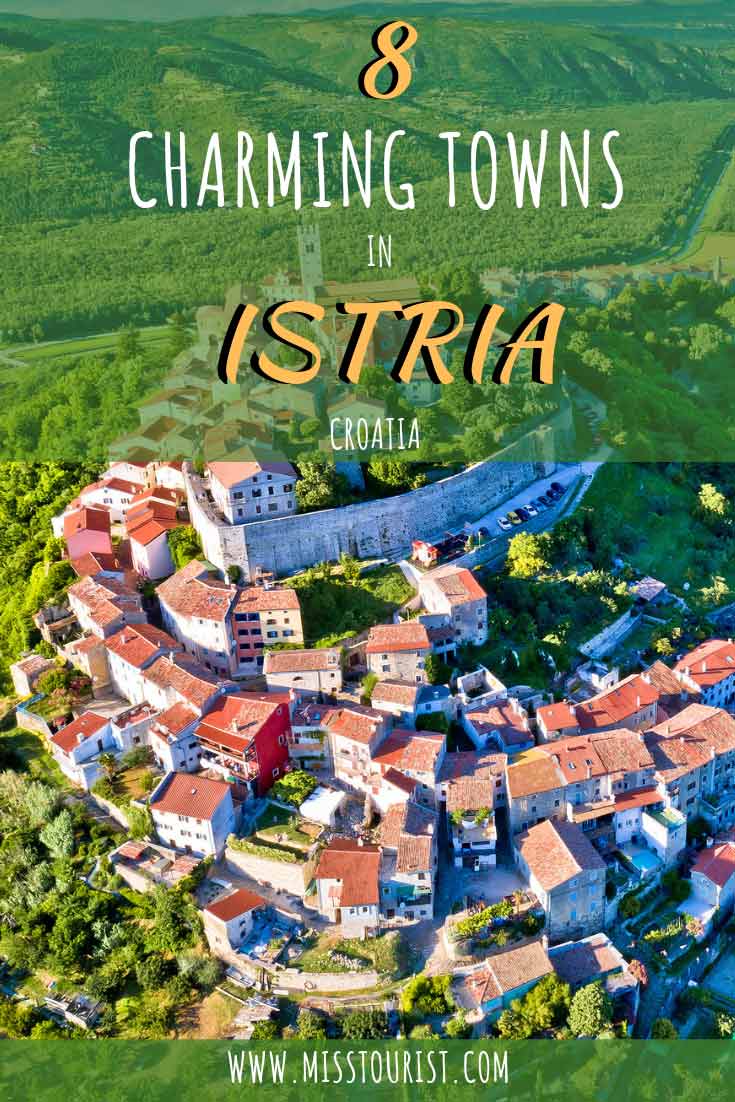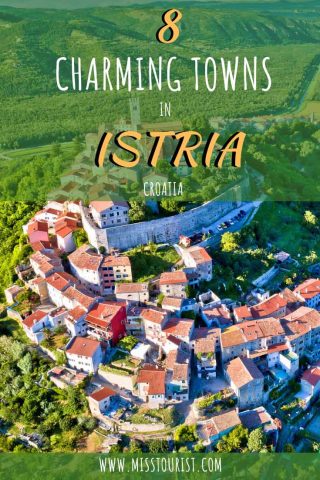 Pin it for later!