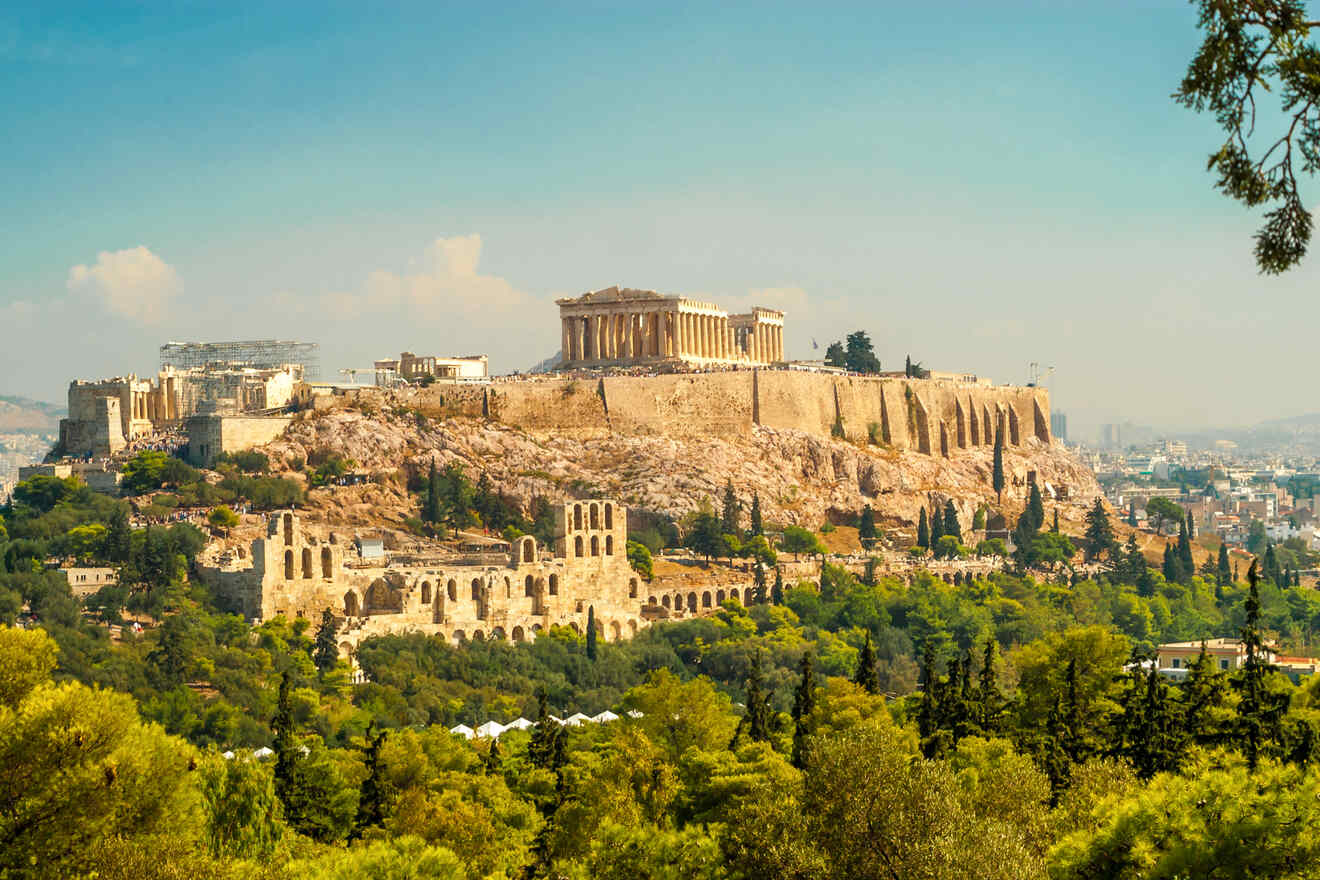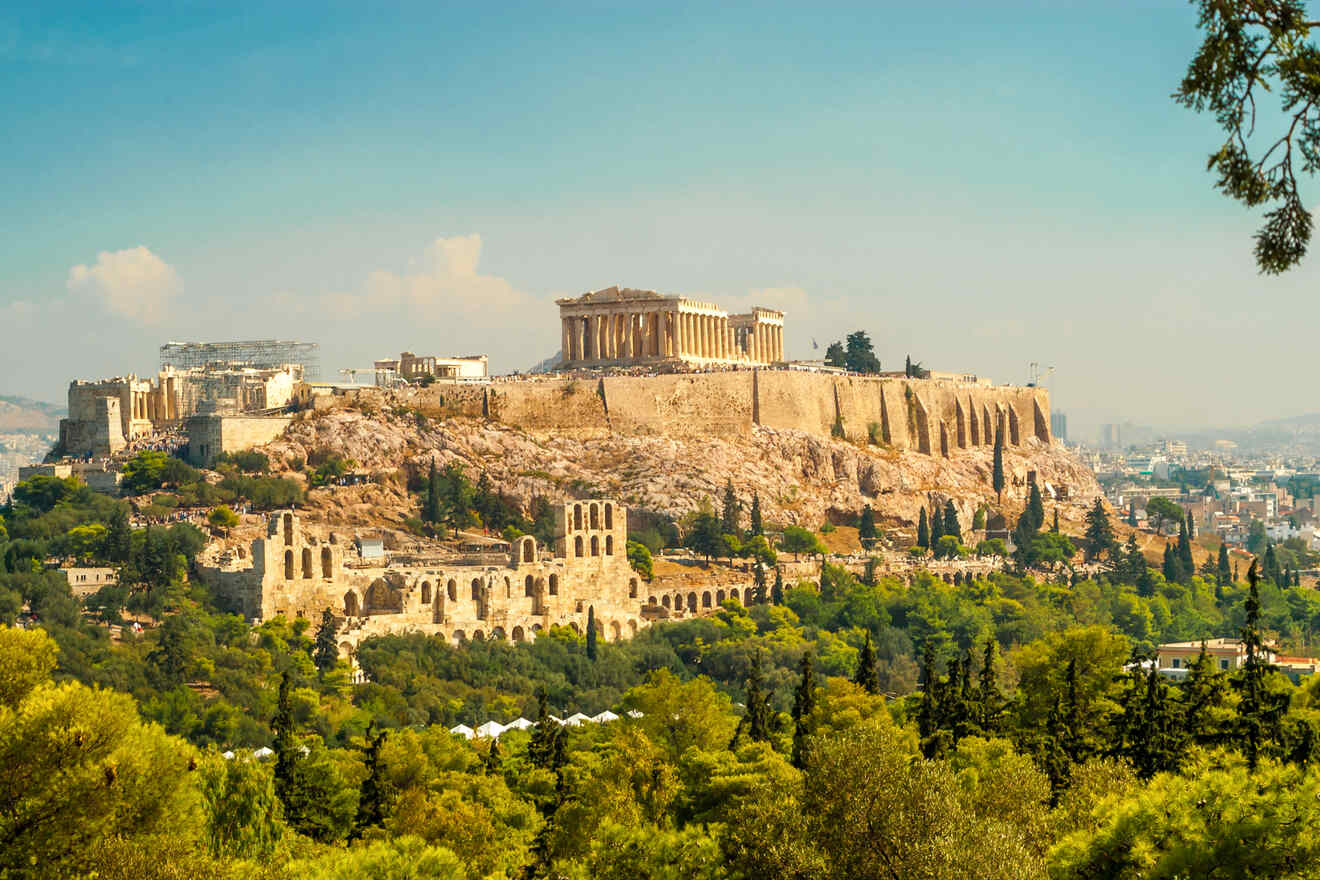 Oh, Greece.. Home to the Acropolis, ancient history, beautiful beaches, olive trees, blue caves, a national marine park, and mouth-watering food… Get ready to have an unforgettable holiday!
The capital city of Greece is Athens and it is the place where you will find the famous Acropolis and Temple of Poseidon. Athens is a must-see city in Greece in order to learn about Greek culture and history and is also a good place to start your island exploration as it has good flight and ferry connections to many islands.
There are 6 island groups in Greece which are the Ionian Islands, the Cycladic islands, the Sporades, the Dodecanese Islands, the Saronic Gulf islands, and the Aegean Islands off the north coast. With so many options to choose from, I'm here to help you narrow it down. In this blog post on where to stay in Greece, I will talk about Athen plus the best 6 Greek Islands you should add to your dream itinerary.
Greece and especially the Greek islands are very popular holiday destinations, so you need to make your reservation months in advance if you don't want to miss these epic hotels that I carefully picked for you. On each of the Greek islands, the easiest way to reach all the beautiful beaches is with a rental car so I also recommend you to book one at the same time as your hotel.
Are you ready to discover the most beautiful places in Greece?
If you are in a hurry
Here are the best places to stay in Greece with the best hotels from luxury to budget. They all have good reviews and a great location!
Here is a map of the best greek islands I will be talking about in this travel guide so you can easily understand their location:
---
Watch my video, it will give you a visual explanation of all the areas:
---
1. Athens – where to stay in Greece for the first time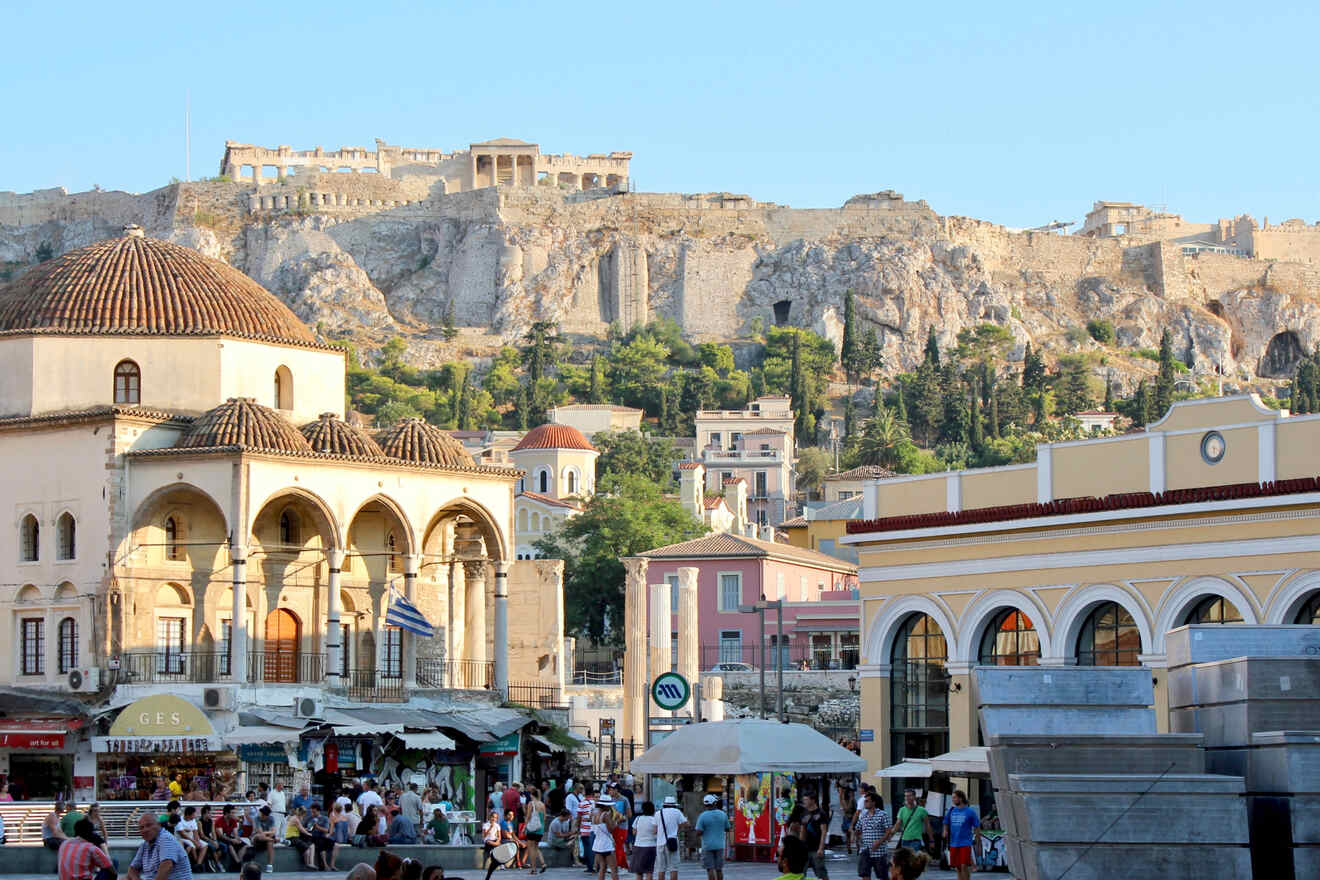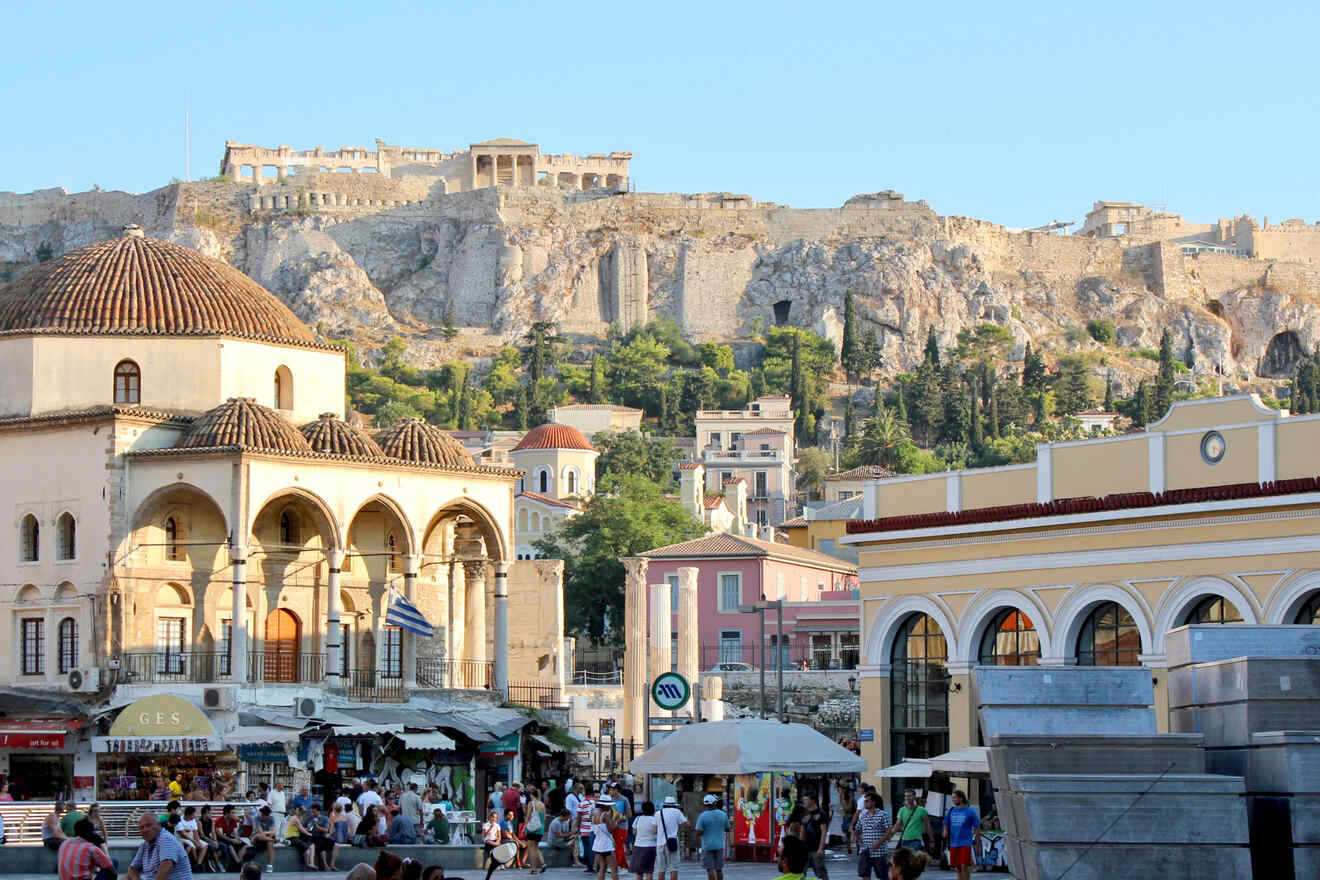 Athens is the capital city of Greece and an amazing place to stay to learn about Greek culture, enjoy nightlife and discover the Greek Islands. It has great ferry connections to the Saronic Islands such as Hydra and Aegina and you can also easily hop onto other Greek Islands as well. So, by staying in Athens you will have a bit of everything from sightseeing to entertainment and beautiful beaches!
Once you arrive in Athens the impressive Acropolis and Temple of Poseidon will greet you which are on many travelers' bucket lists. It is so much fun to discover the streets of Athens on foot by checking out the local shops, cool restaurants, and bars. Imagine having a delicious Greek meal and wine while watching the Acropolis. Isn't it so cool?
There are so many nice accommodation options in Athens and I've already found the top 4 ones for you. If you don't want to miss them you have to be quick to make a reservation as Athens is visited all year round by tourists. We also have a blog post purely dedicated to the best places to stay in Athens if you need even more options.
Let's check out the best places to stay in this lovely city:
Other accommodation options in Athens
Things to do in Athens
2. Santorini – the best Greek Island to stay for couples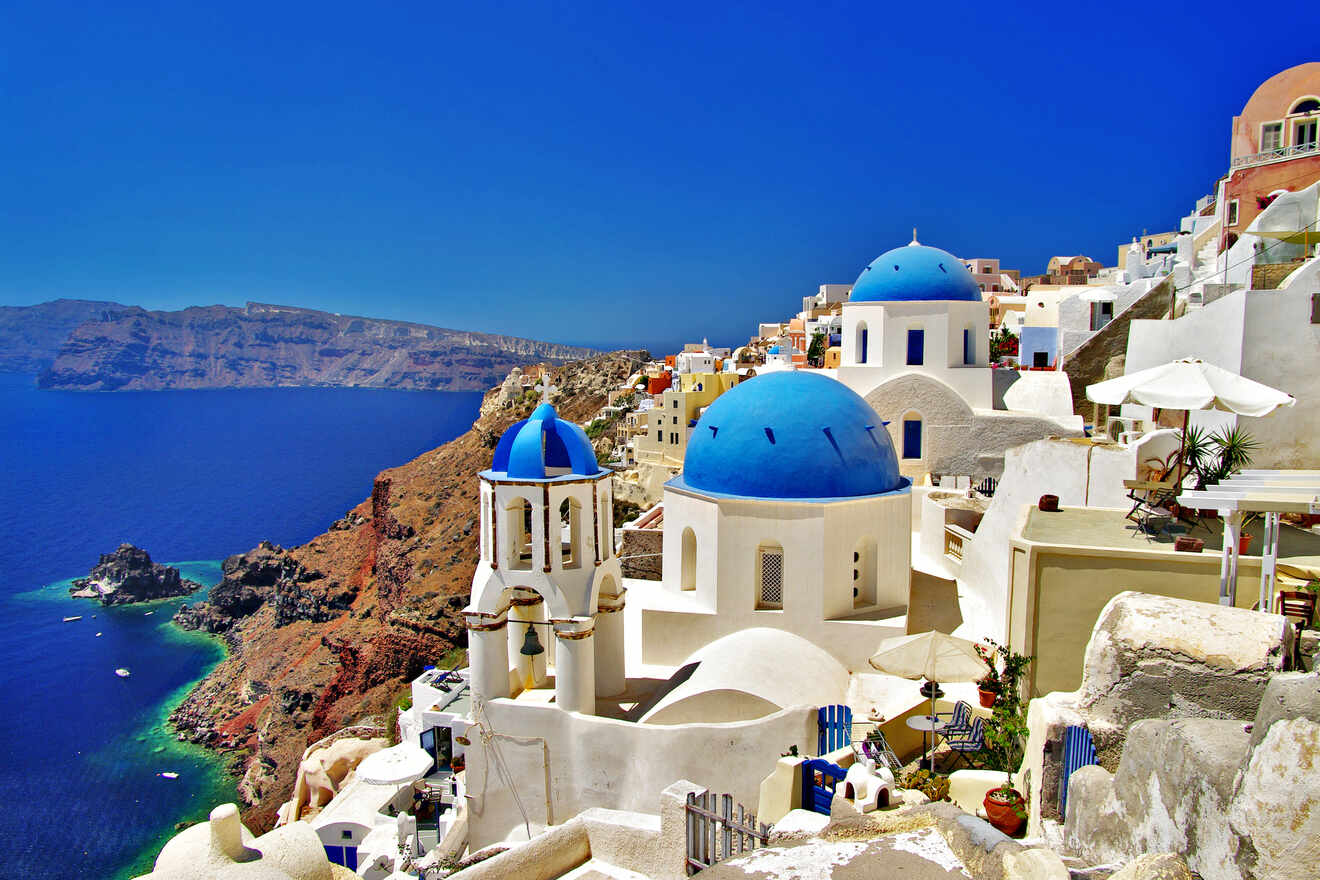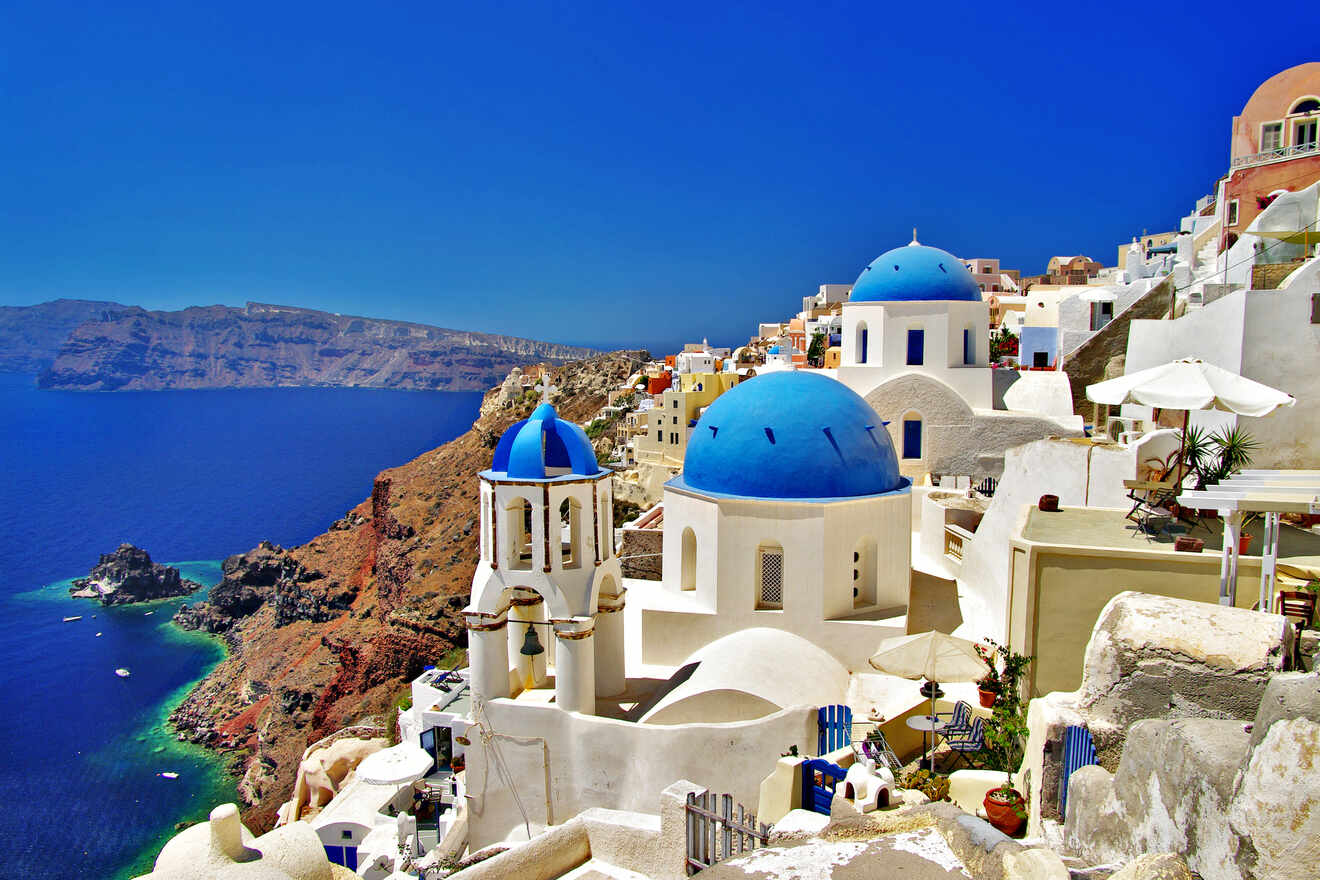 Santorini is one of the most popular Aegean islands where you will have the most romantic sunsets with amazing views. In order to reach Santorini, you can take direct flights or even a ferry from Athens.
I don't know anyone who won't be amazed at the scenery in Santorini. Cute whitewashed houses and churches overlooking a volcano, amazing views of the Aegean Sea, and those hotels with infinity pools. Doesn't it sound romantic?
The best way to discover Santorini is simply by getting lost in the labyrinth of streets, checking out the picturesque buildings, and taking the best Instagram photos! You will also find a great selection of seafood restaurants, souvenir shops, and beautiful beaches. Do you need anything else?
Santorini has the most epic hotels with crazy views over the hills which are perfect for couples. Remember that these hotels have limited capacity and always have high demand so make sure to book your hotel in advance. But don't worry if it's already too late and the top hotels below are sold out, we have tonnes more hotels in Santorini on this list!
Other accommodation options in Santorini
Things to do in Santorini
3. Mykonos – the coolest place to stay in Greece for partying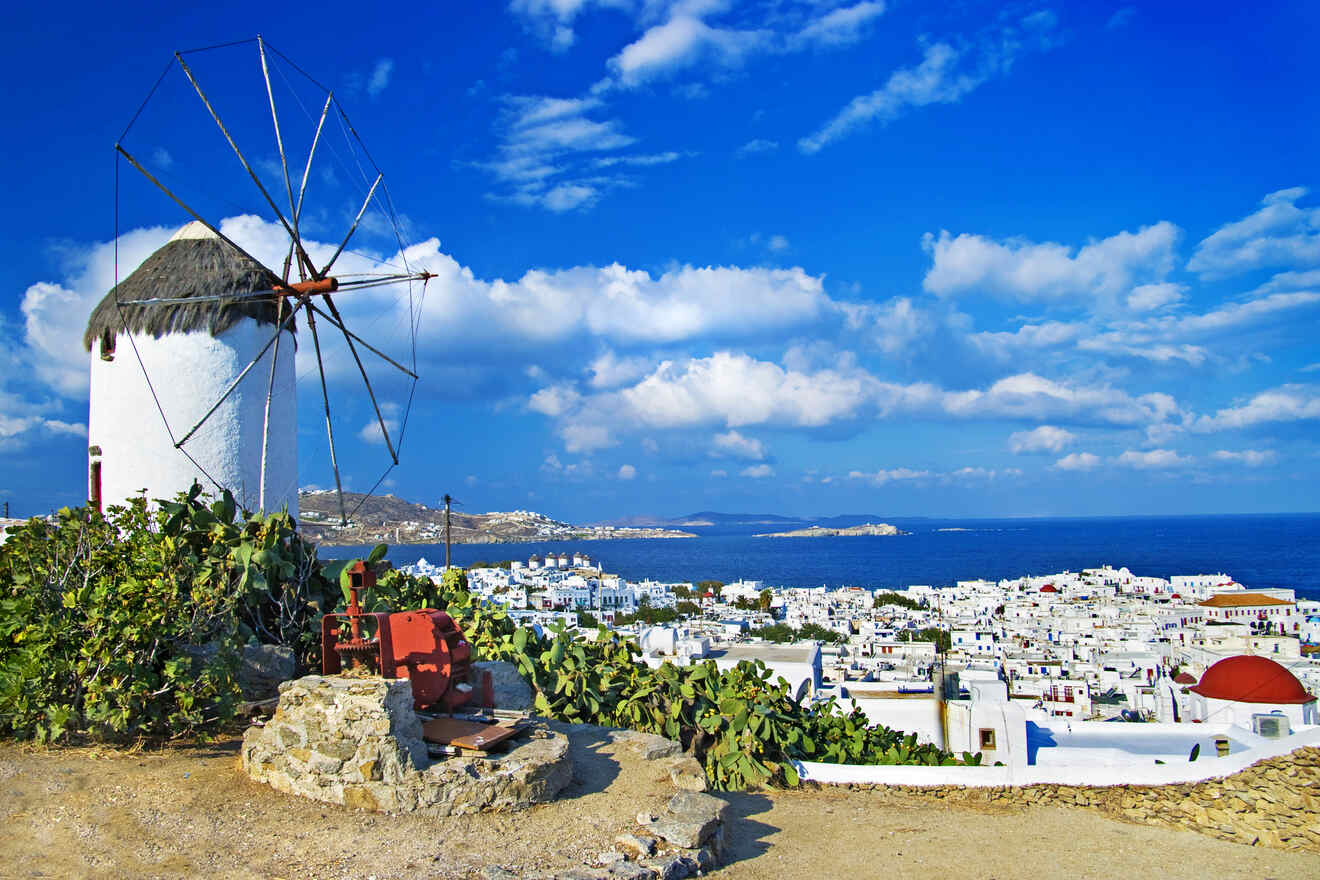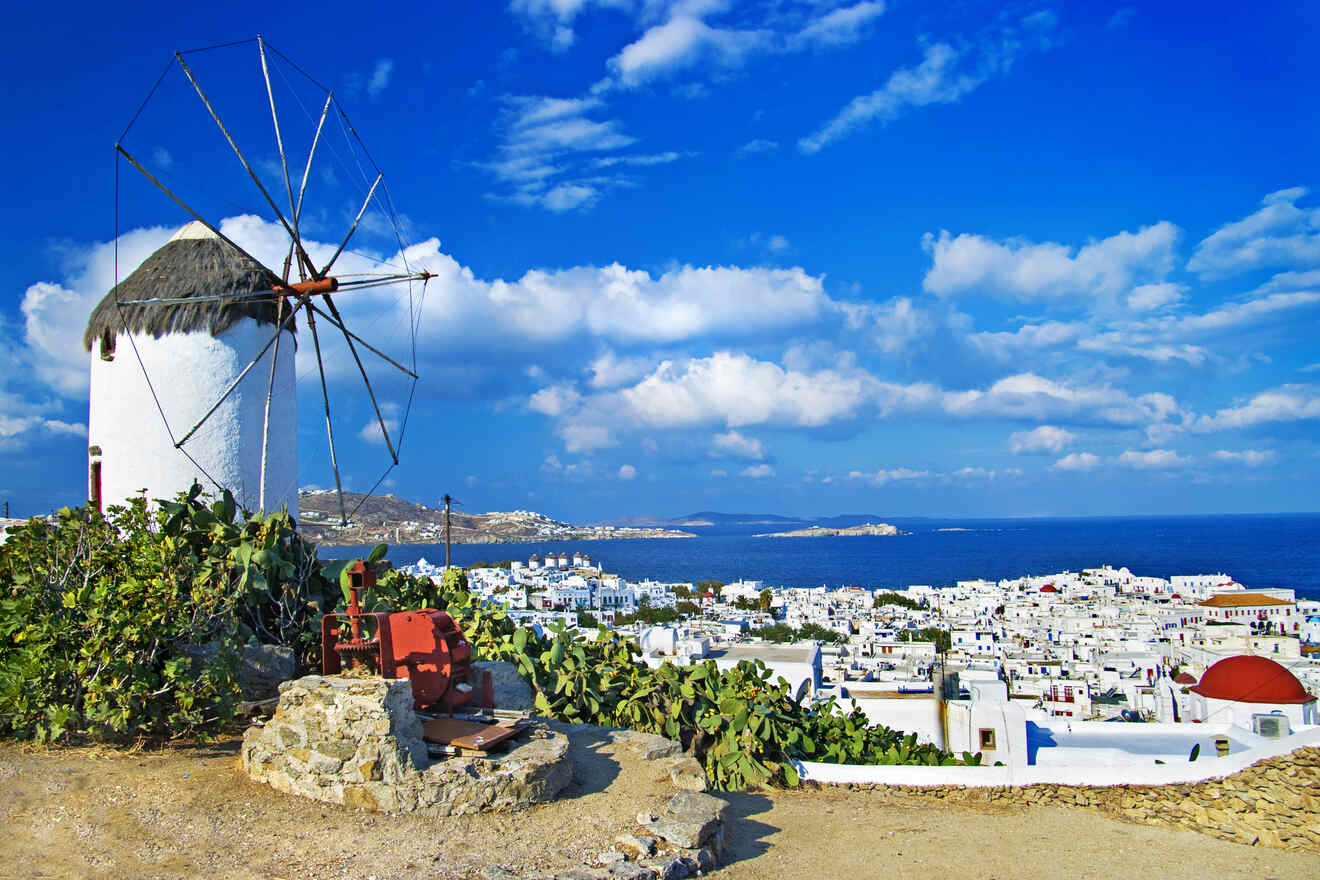 Mykonos is part of the Cyclades Islands and can be reached with a 3-hour ferry ride from Athens and Santorini, or you can take a direct flight to Mykonos Airport. It's no secret that Mykonos is the party capital of Greece as you will find the best nightlife among the Greek islands here so, get ready to dance all night long!
Start your day by heading to the beautiful Mykonos Town and see the iconic windmills. Then, pick one of the many nice beaches to enjoy some crystal clear water and chill because the beach parties start early on this island! At night you will have difficulty choosing one of many nice restaurants, bars, and clubs but I'm sure you'll manage. 😉
Mykonos has a great selection of hotels and I handpicked the best of the best ones for you. If you think 4 options are not enough, check out the best areas and hotels to stay in Mykonos for more!
Other accommodation options in Mykonos
Things to do in Mykonos
4. Corfu – the best Greek island for outdoor activities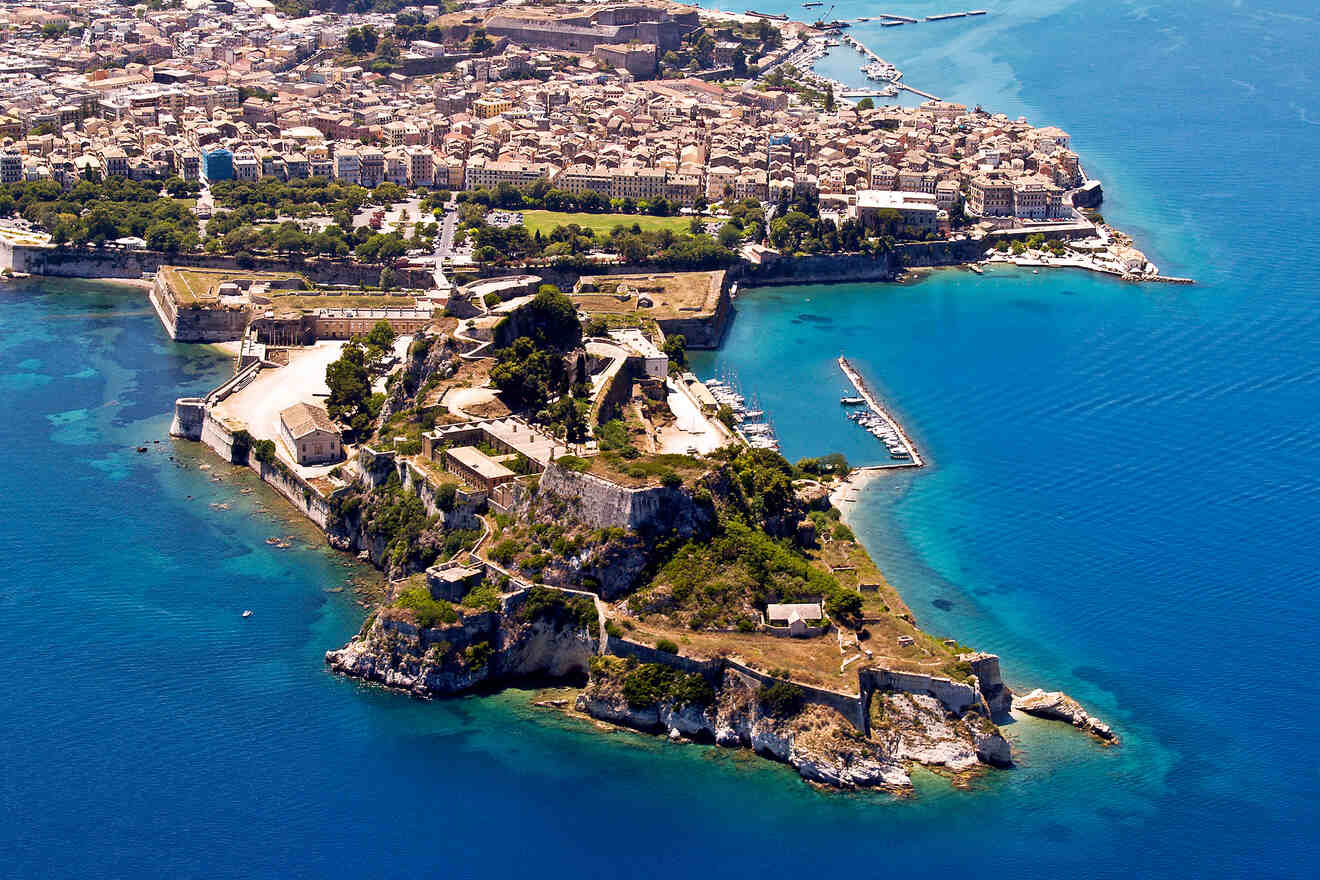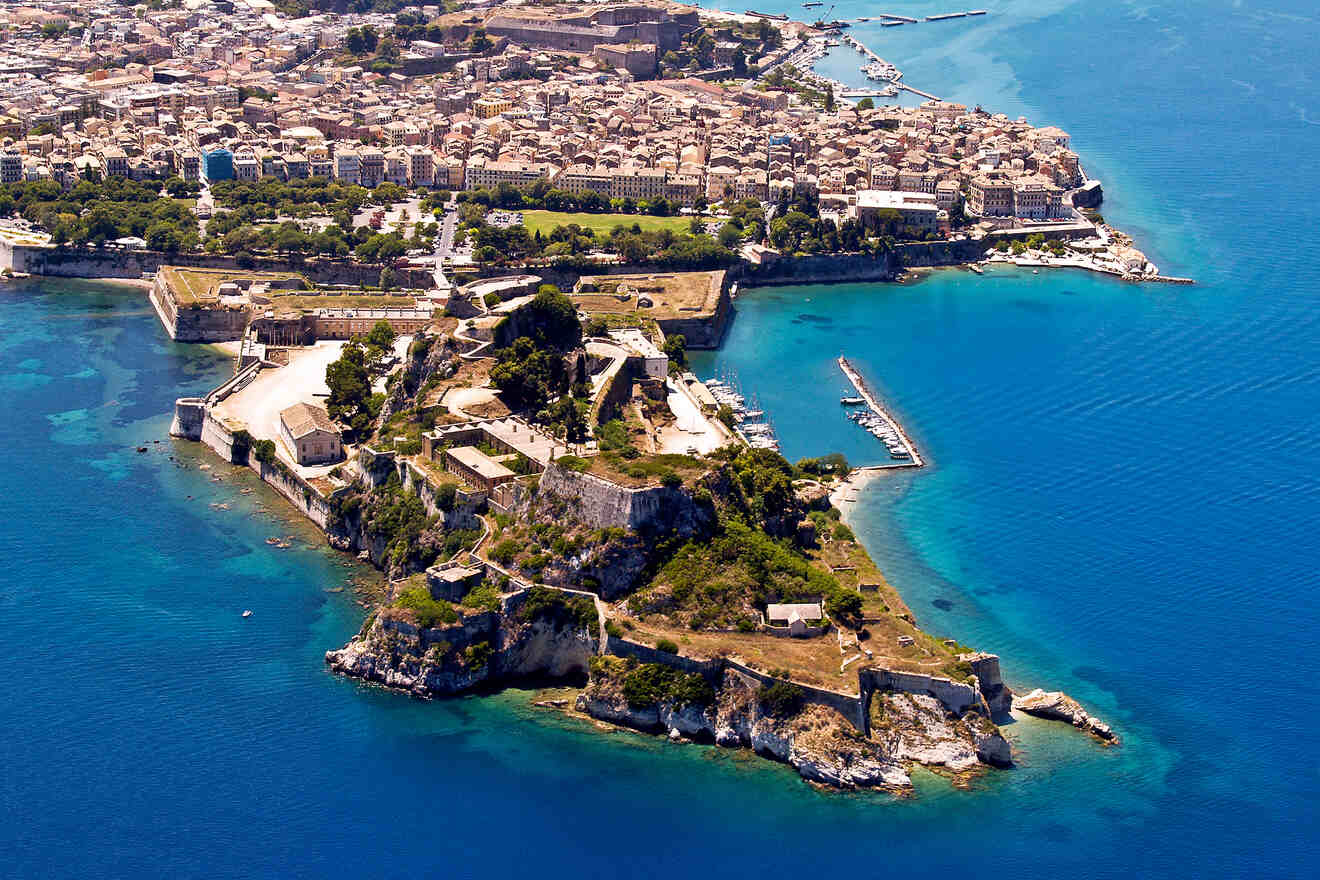 If you want to visit a Greek Island that not only has stunning beaches but also has hiking trails and charming traditional villages surrounded by olive trees you will love Corfu!
Located on the west coast, Corfu is the second-largest island among the Ionian islands and can be reached by plane or ferry from other Ionian islands. If you plan to head to the Aegean Islands I suggest taking the plane as Corfu has limited ferry access.
The first thing you should do here is to discover the amazing streets of Corfu Town with so many colorful historic buildings, churches, and charming cafes. Feeling hot? Then it is time to go to pristine beaches and swim in the crystal clear water!
Of course, we can't forget the outdoor lovers, you should definitely hike Mount Pantokrator as it offers incredibly scenic views, and make sure to pay a visit to the surrounding villages. How does it sound?
Let's have a look at the best places to stay on this stunning island. If you want more choices, check out this complete list of the top hotels for all interests in Corfu.
Other accommodation options in Corfu
Things to do in Corfu
5. Crete – where to stay in Greece for the pristine beaches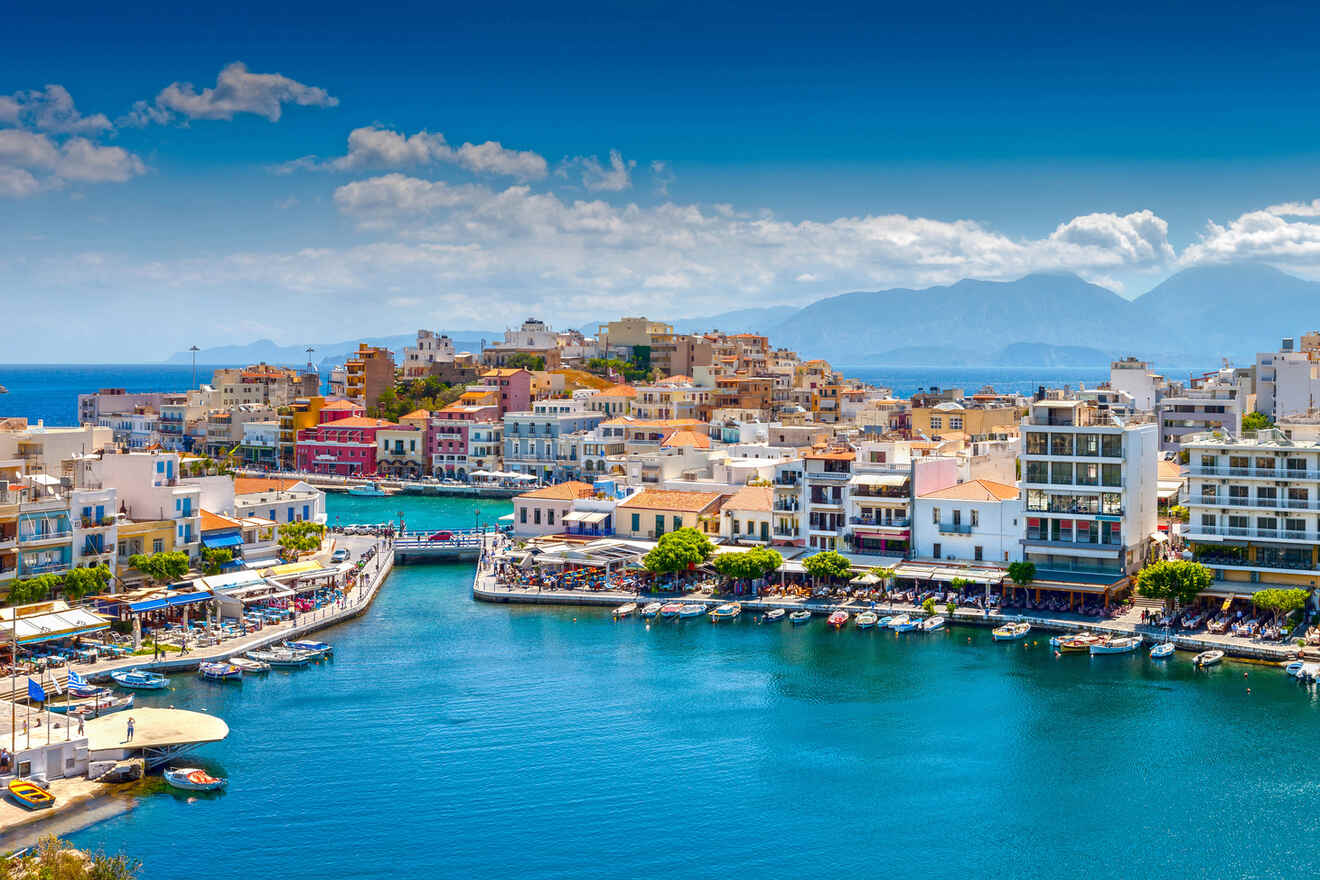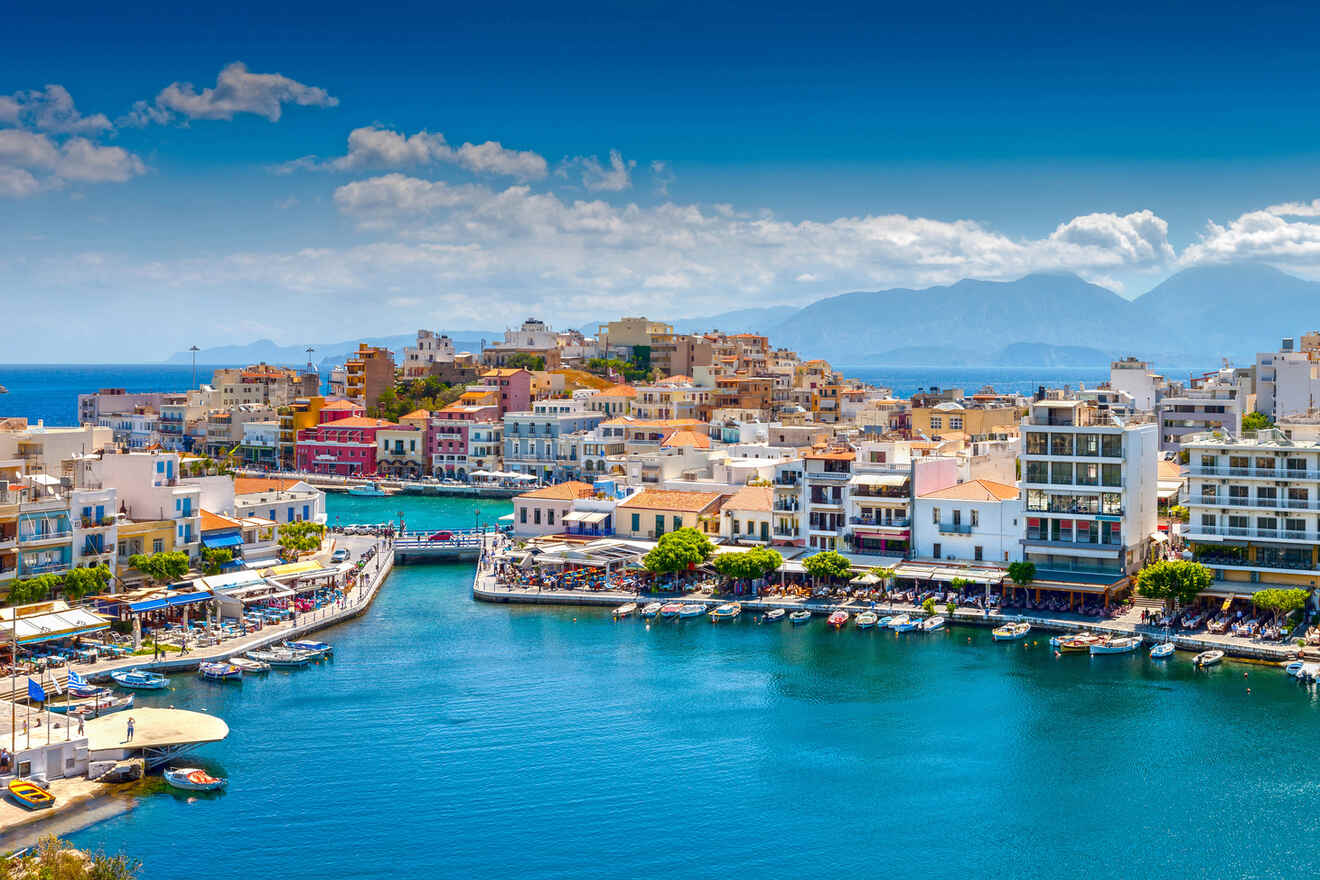 Crete is the largest Greek island and a port city with many cruise lines that make it accessible from other islands on the Aegean Sea and Athens. If boats aren't your thing, don't worry, you can also take a plane. If you are dreaming about turquoise-colored water with amazing scenery and water sports activities such as sea kayaking and scuba diving, you are at the right place!
Crete not only has so many beautiful beaches but also has an amazing old town that will make you feel like you are teleported to medieval times. If you go to Chania's Venetian Harbour you will find so many great restaurants with amazing sea views. Doesn't it sound so cool to be on an island that offers beautiful beaches and historical sites at the same time?
Thanks to its claim as the biggest Greek island, you will have a great selection of hotels here (so many in fact we wrote an entire post about hotels in Crete) but if you want to hear my favorite ones here we go!
Other accommodation options in Crete
Things to do in Crete
6. Naxos – the best Greek island to stay for families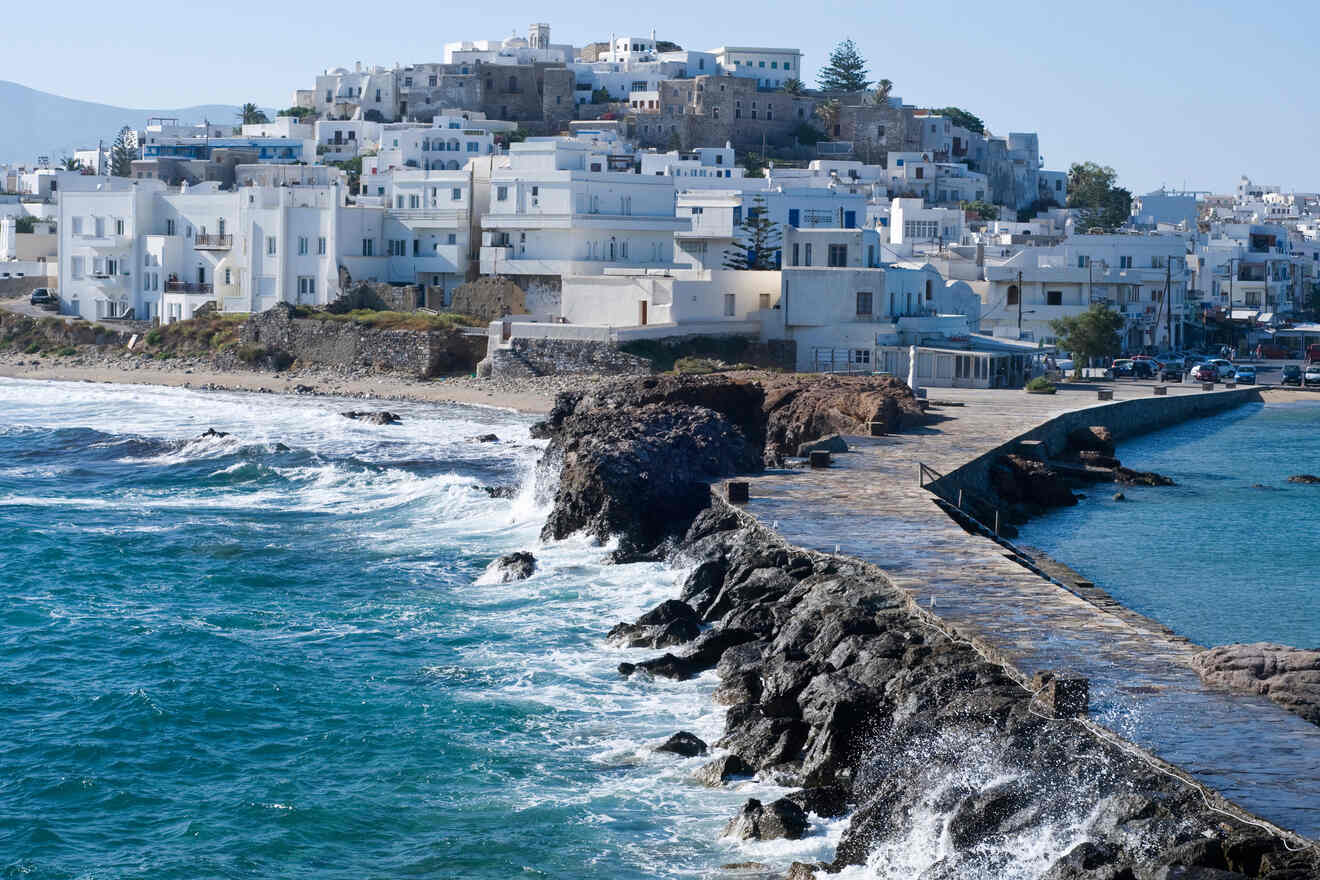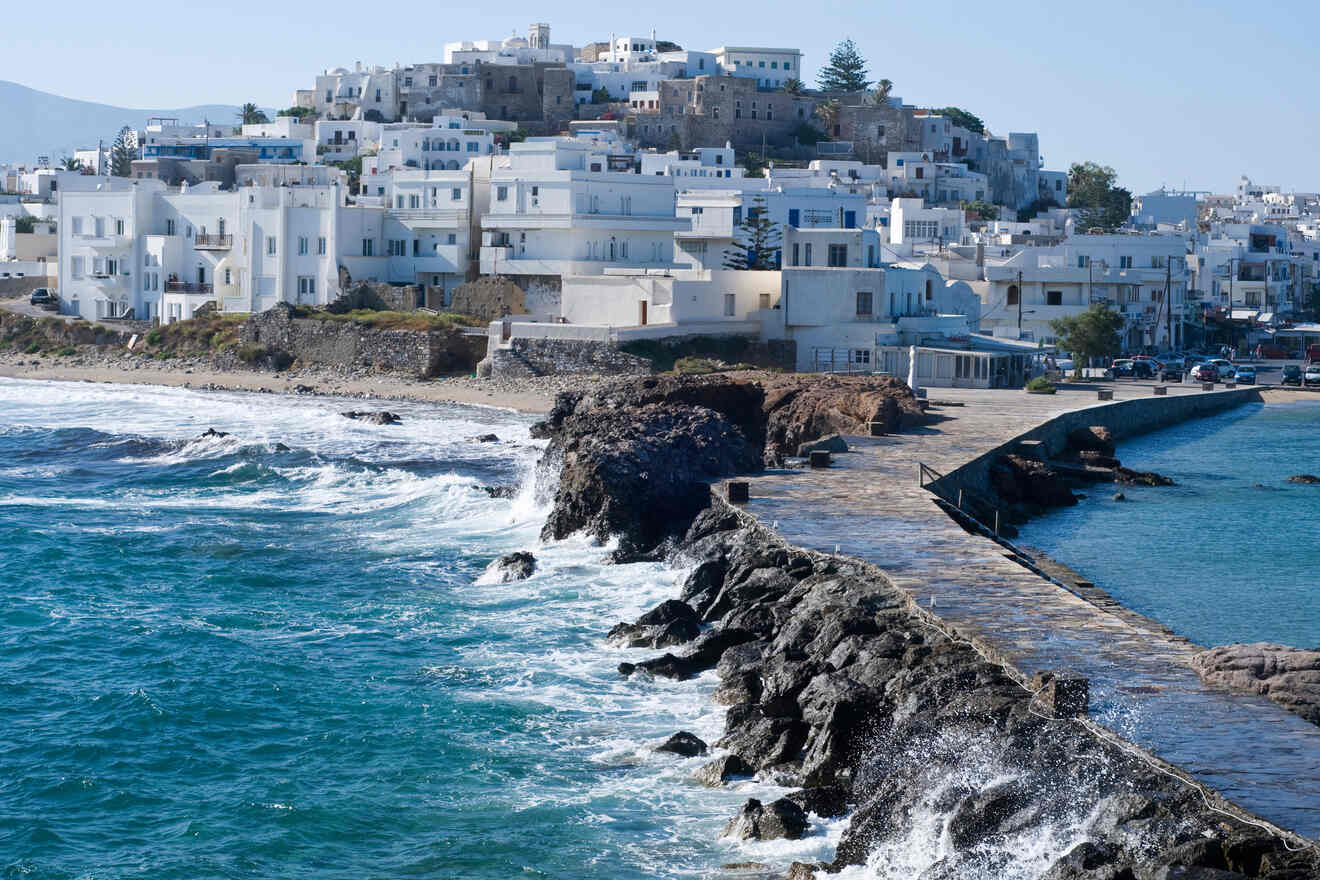 Naxos is the largest island among the Cyclades Islands and can be reached by plane from Athens or by ferry from other islands in the Agean sea such as Mykonos or Santorini. This Greek Island is perfect for families as you will find family-friendly beaches, restaurants, hotels, and fun attractions for all ages.
There are so many nice sandy beaches in Naxos with shallow waters where you can enjoy chilling and doing water sport activities. I can tell that it will be difficult to pick one of many nice pristine beaches so my advice is to try and make the most of it by visiting as many as possible!
In the afternoon you should go for a stroll in the old town, check out nice local shops and have a delicious meal with a nice view. Make sure to leave some time in your busy schedule to discover the cultural museums and historical churches in the main town of Naxos. What's better than a relaxing and educational holiday with the kids!?
Let's have a look at the best accommodation options in the charming town of Naxos. If you are like me and often leave booking to the last minute, check out this full list for even more hotel options in Naxos.
Other accommodation options in Naxos
Things to do in Naxos
7. Rhodes – where to stay in Greece for history lovers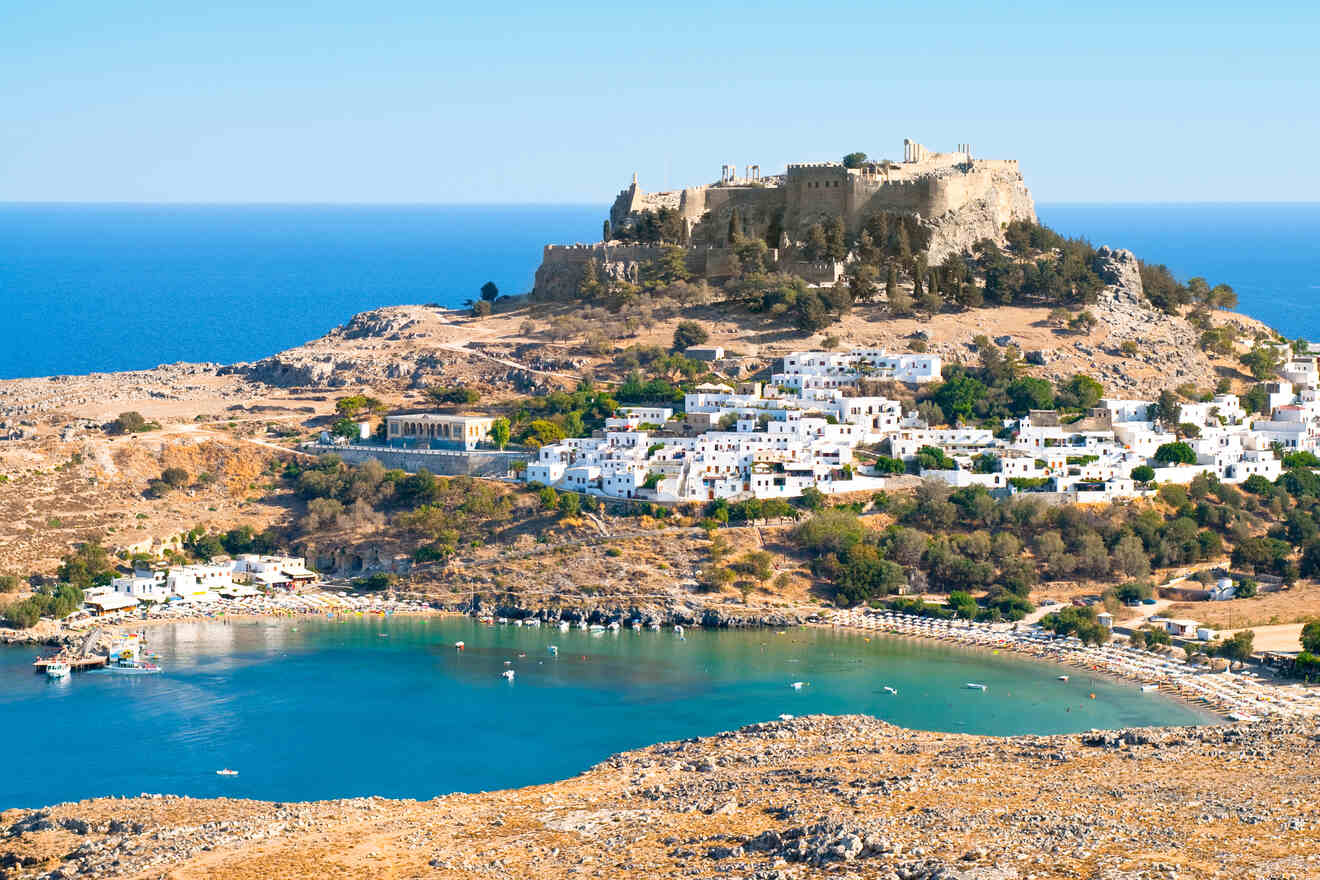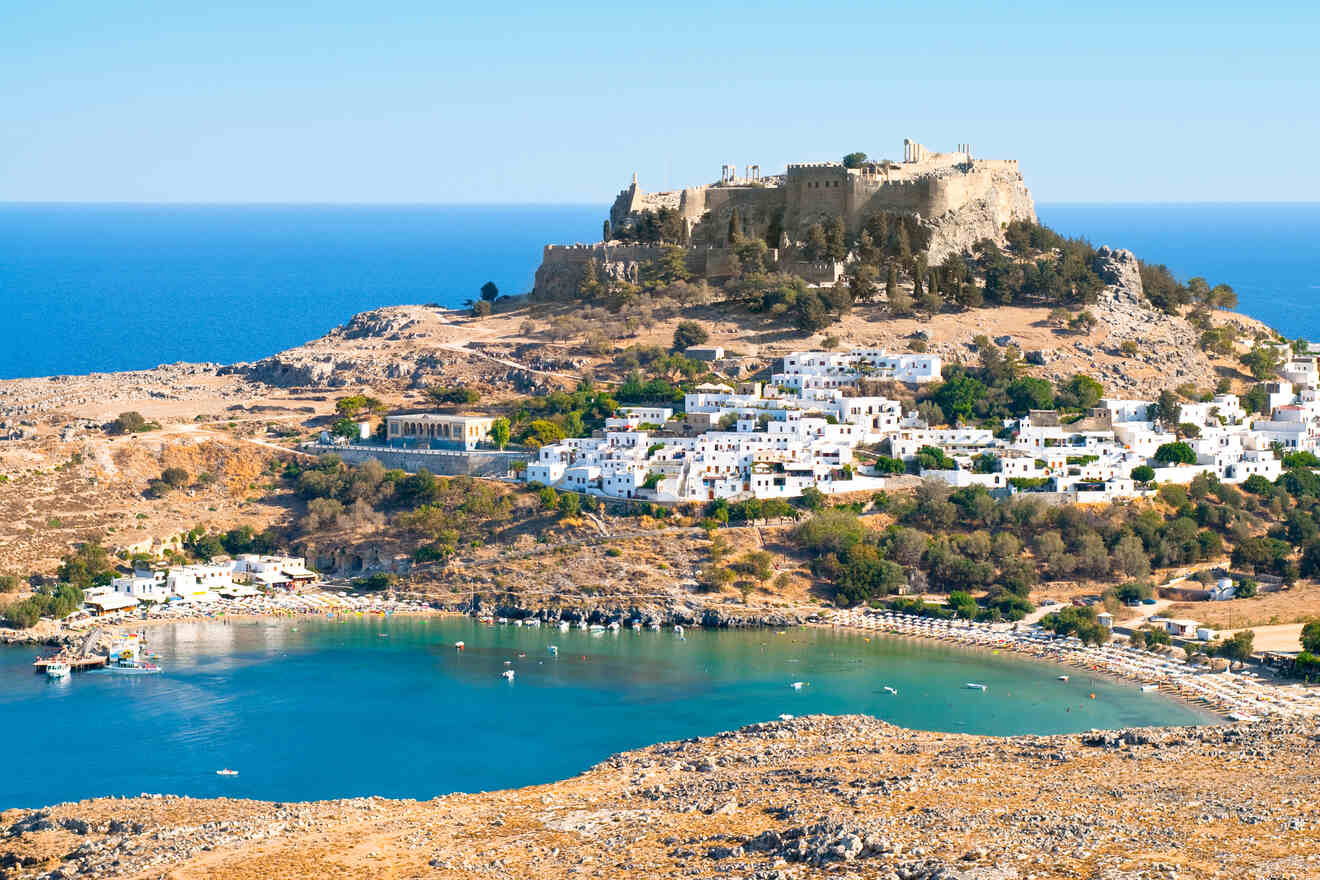 Rhodes is the largest of the Dodecanese Islands and has a big ferry port that enables access from other Greek islands such as Mykonos and Santorini. But again, you can also take a plane from Athens if you prefer.
This island offers the best historical sightseeing opportunities so those of you who want to get to know about Greek history while enjoying the beautiful beaches should definitely add Rhodes to their travel itinerary!
Once you arrive in Rhodes Town you will be impressed with beautiful cobblestone streets surrounded by archaeological sites and castles and countless hotel options. Check out numerous shops and cafes here then head to beautiful beaches to enjoy swimming and snorkeling in the crystal clear water.
You will also love the fishing village vibe of Rhodes with dozens of good seafood restaurants by the beach. Do not forget to try calamari and octopus with a glass of ouzo!
Other accommodation options in Rhodes
Things to do in Rhodes
Frequently asked questions about Greece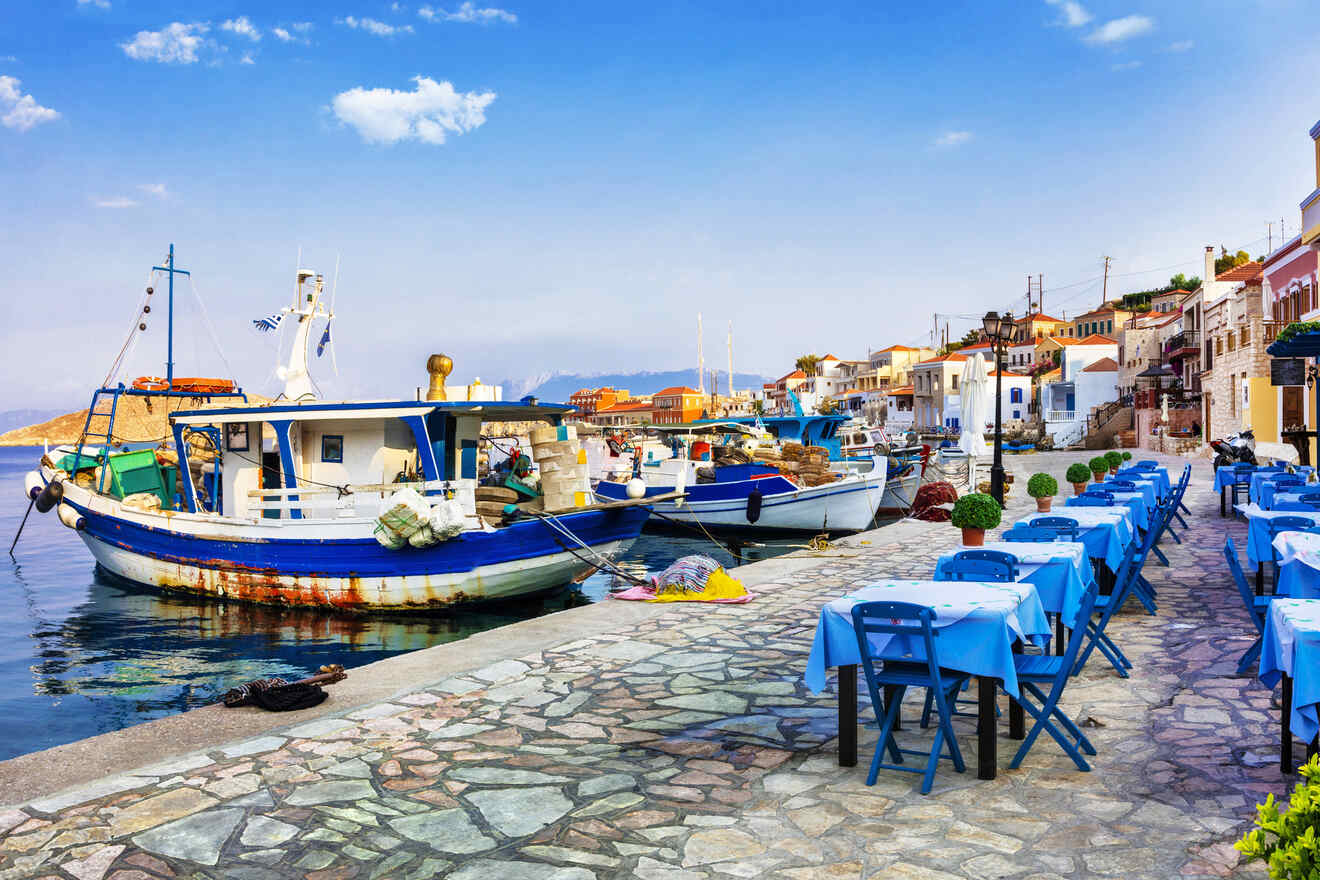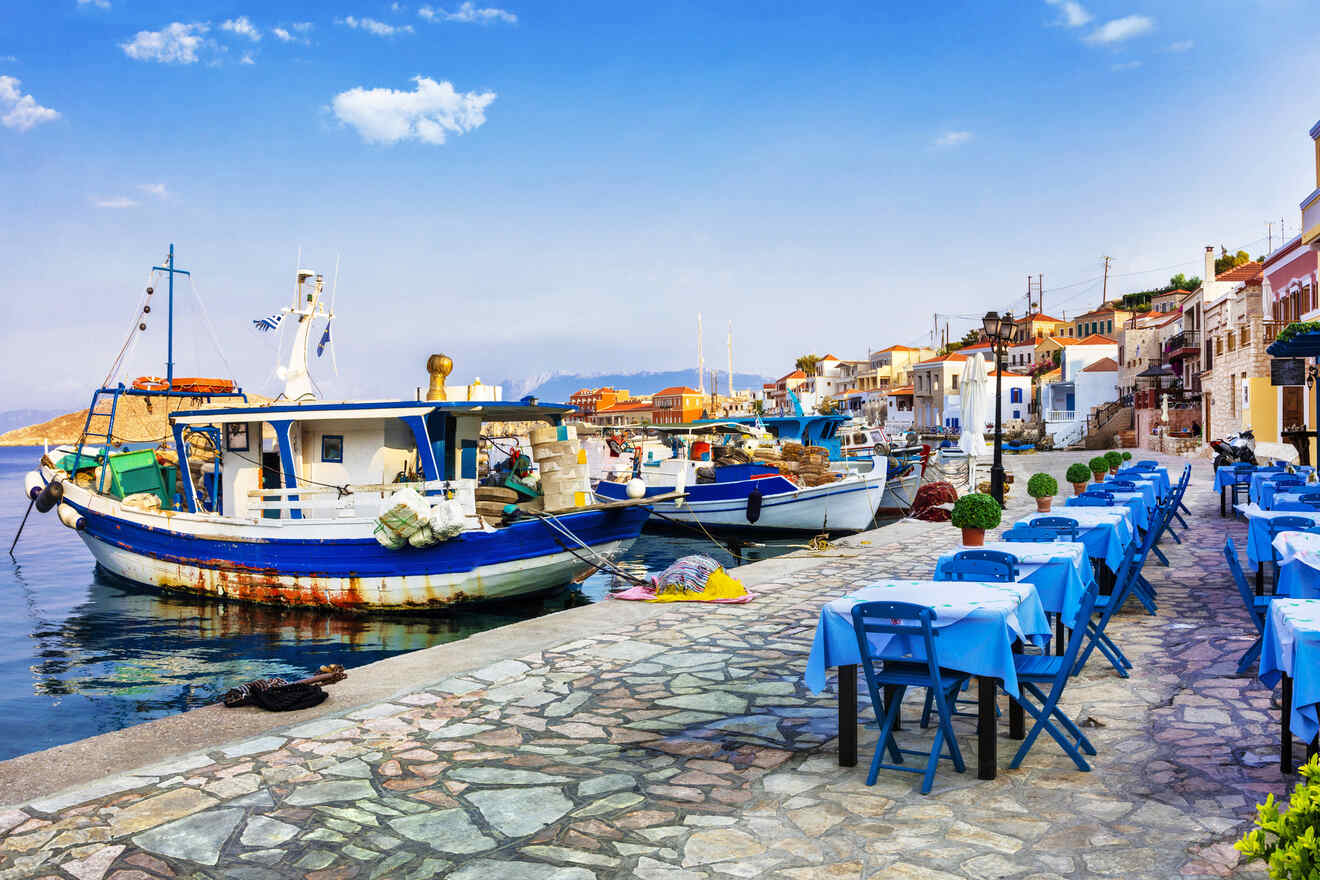 Conclusion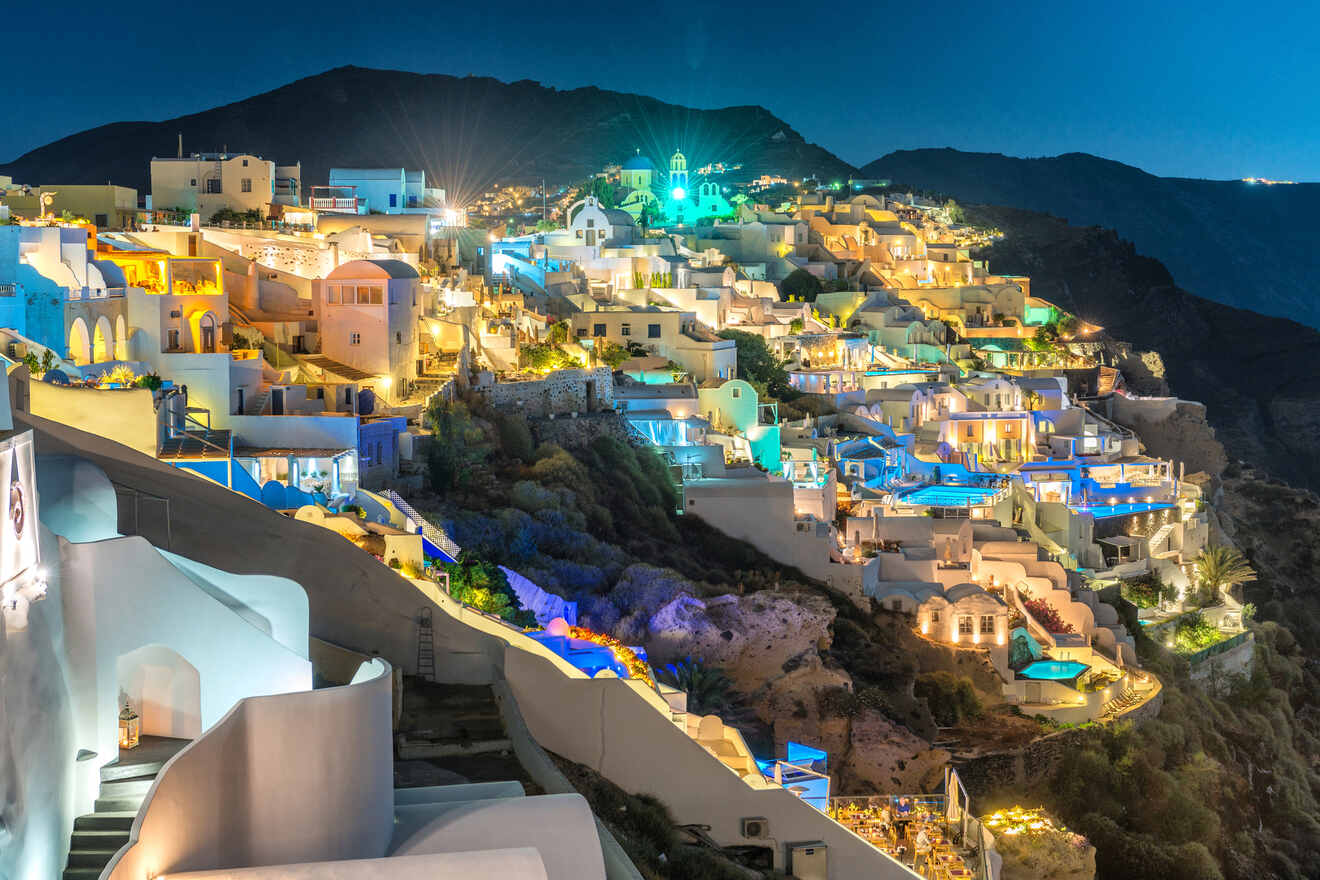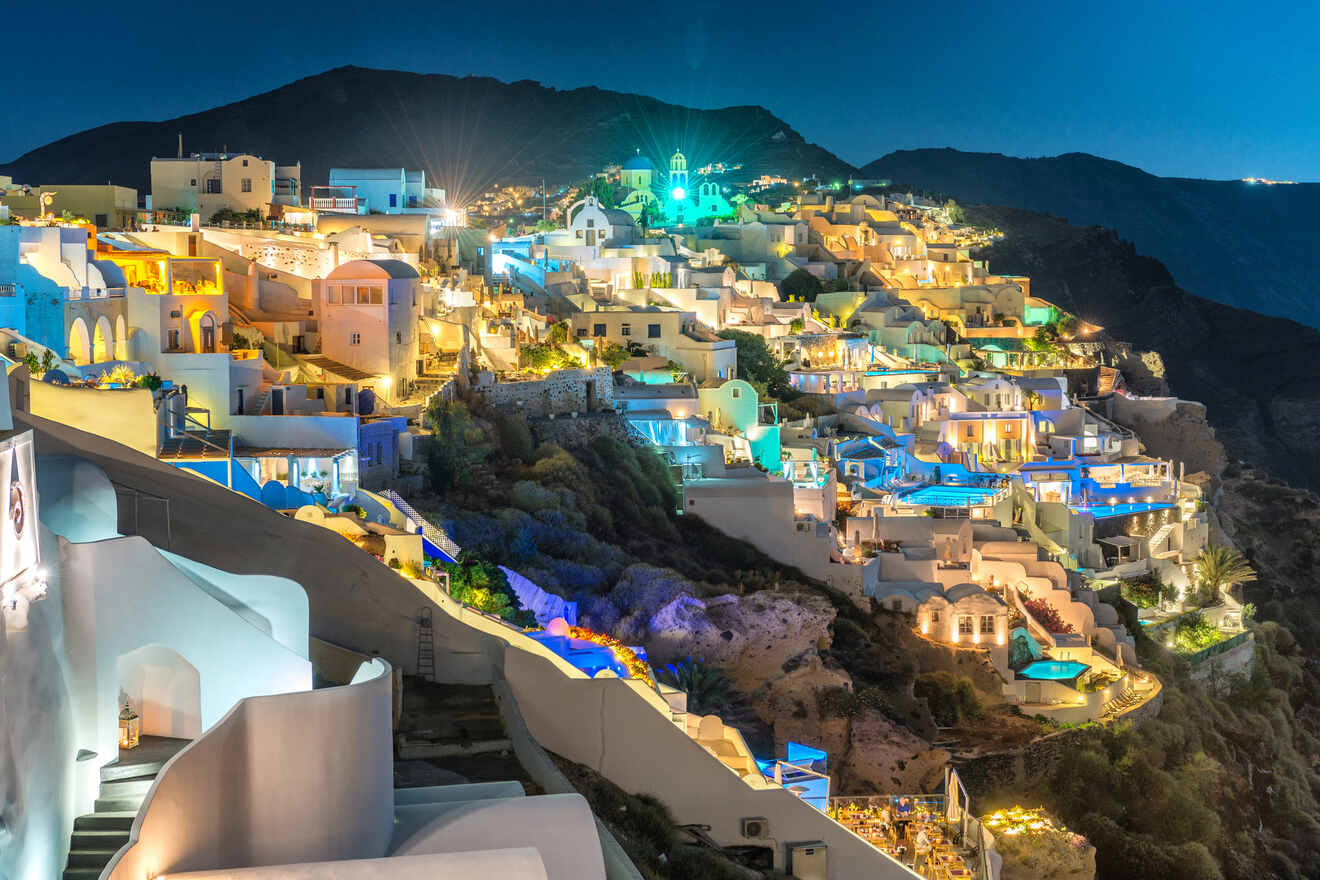 It is time for me to hop off the boat and let you pack your summer essentials for your dream Greek holiday to a beautiful island. I hope this blog post on where to stay in Greece gave you an idea about the best Greek islands and you have already found your perfect hotel. I highly recommend splitting your holiday and enjoying some island hopping between the islands to discover different beaches and cultural attractions of a few different spots.
I would like to remind you again that it is very crucial to make an early reservation for hotels on Greek Islands as they are filling up months in advance (especially for the peak months of June-September).
I have given tons of hotels but if you still need help to pick the best one let me sum up. Here are my absolute 2 favorite hotels in Greece that have convenient locations and amazing reviews and also are perfect for starting your island hopping.
I am sure you will have an unforgettable time in Greece discovering stunning islands, swimming in crystal clear water and eating tasty foods. Enjoy every minute of it!
If you have any questions or suggestions regarding Greece and Greek Islands don't be shy and leave a comment below. I'll be more than happy to answer them!
Have an amazing holiday,
Eylul
---