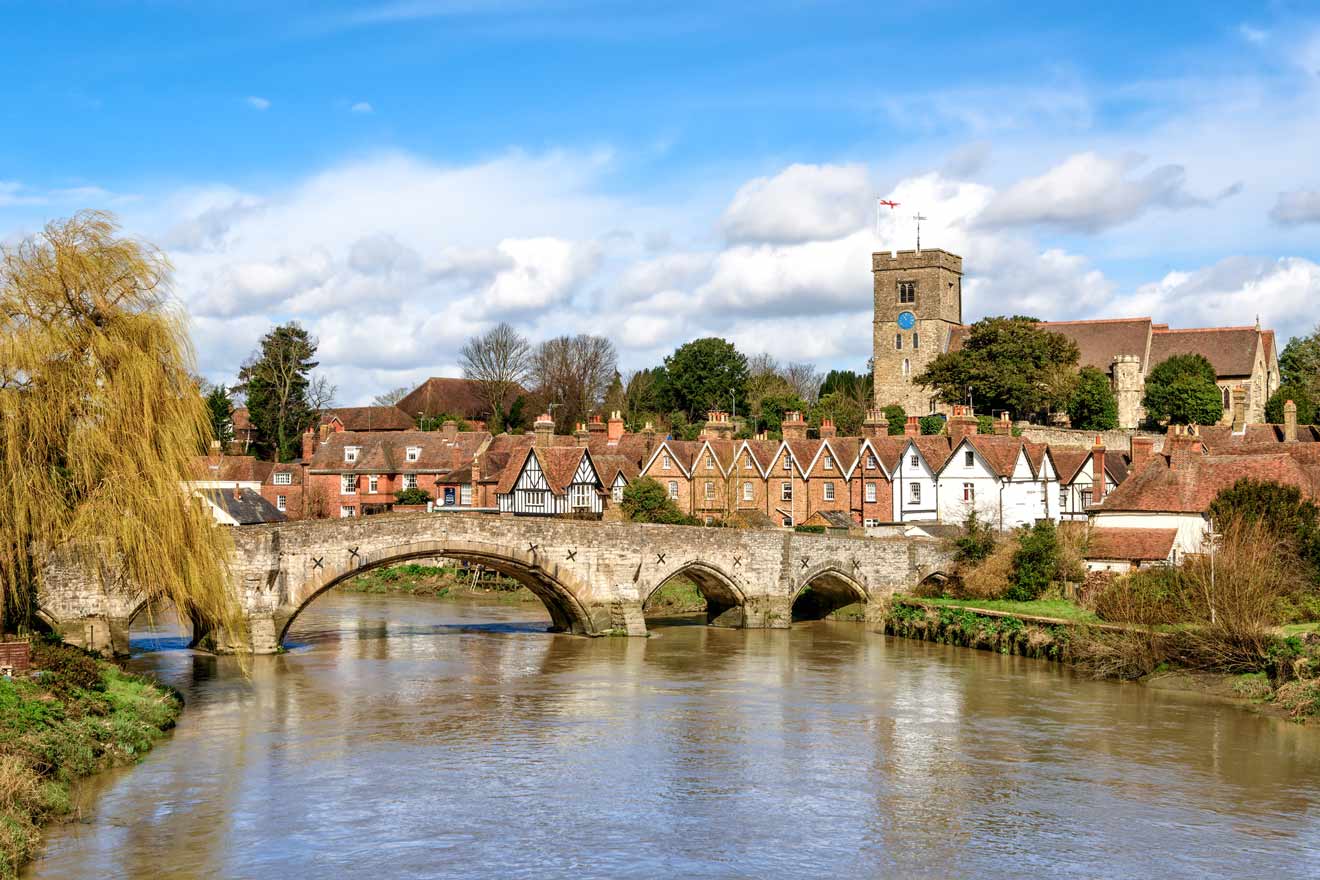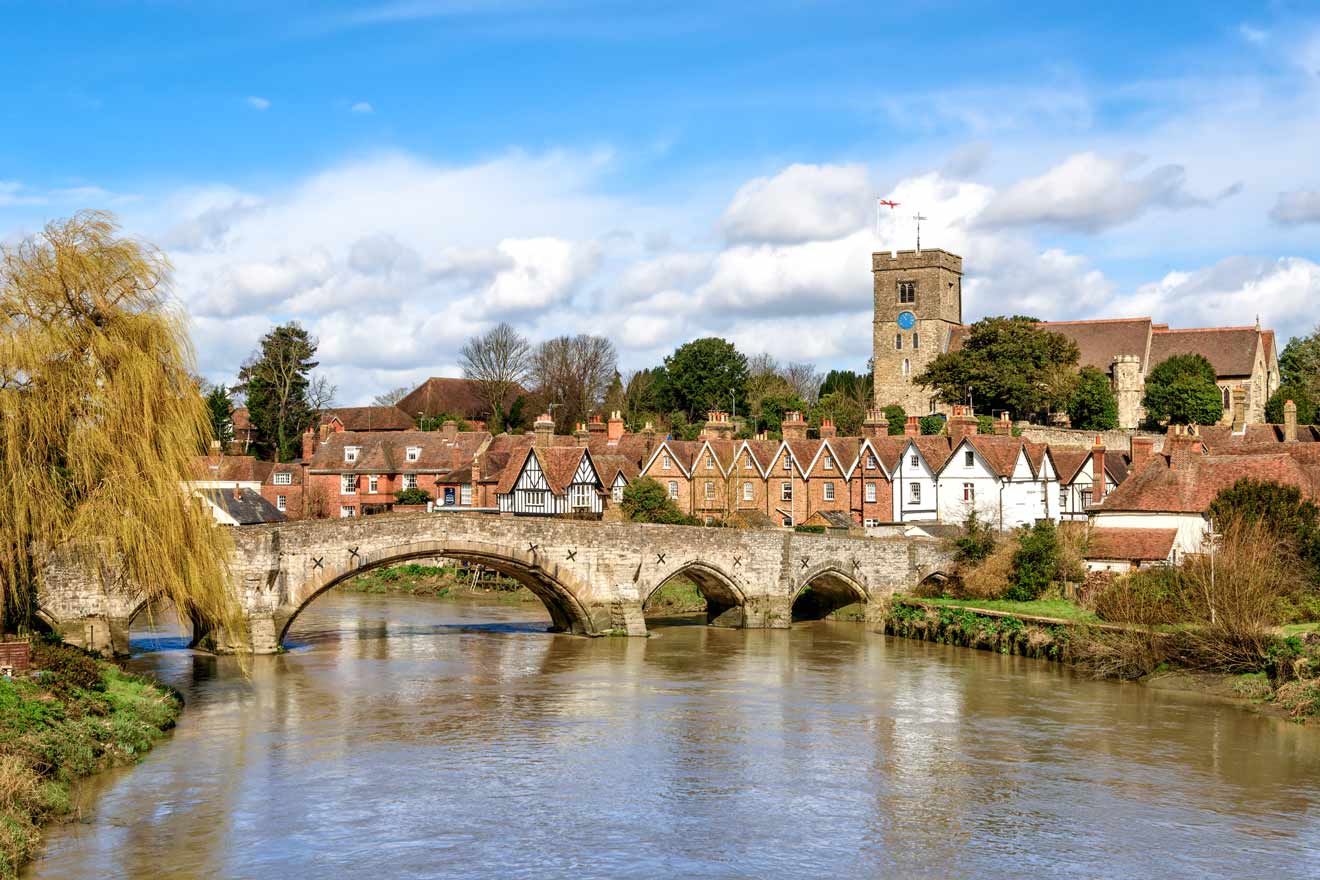 Not too far from London, you'll find Kent county, an area that's also known as the "Garden of England" and which offers its visitors some incredible landscapes, beautiful forests, white cliffs, and many others. I lived in Kent for 3 years, and I've got to tell you that although I wasn't so impressed by the area at first, once I started to explore all the towns in the southeast part of England, I fell in love instantly!
I'm sure you will feel the same once you visit the historic buildings, learn their history and discover an enchanted forest near some of the prettiest castles in the country!
There are so many things to do in Kent that it took me a while to decide which are the best ones, but I'm not one to turn down a challenge, so here's a carefully curated list of the top attractions in this part of the country!
Whether you want to play with the animals at the zoo or visit a museum or 2 to admire the art and spend some time indoors, don't worry because I've got all the details you need!
Let's hit the road, the castles are waiting!
1. Visit all the castles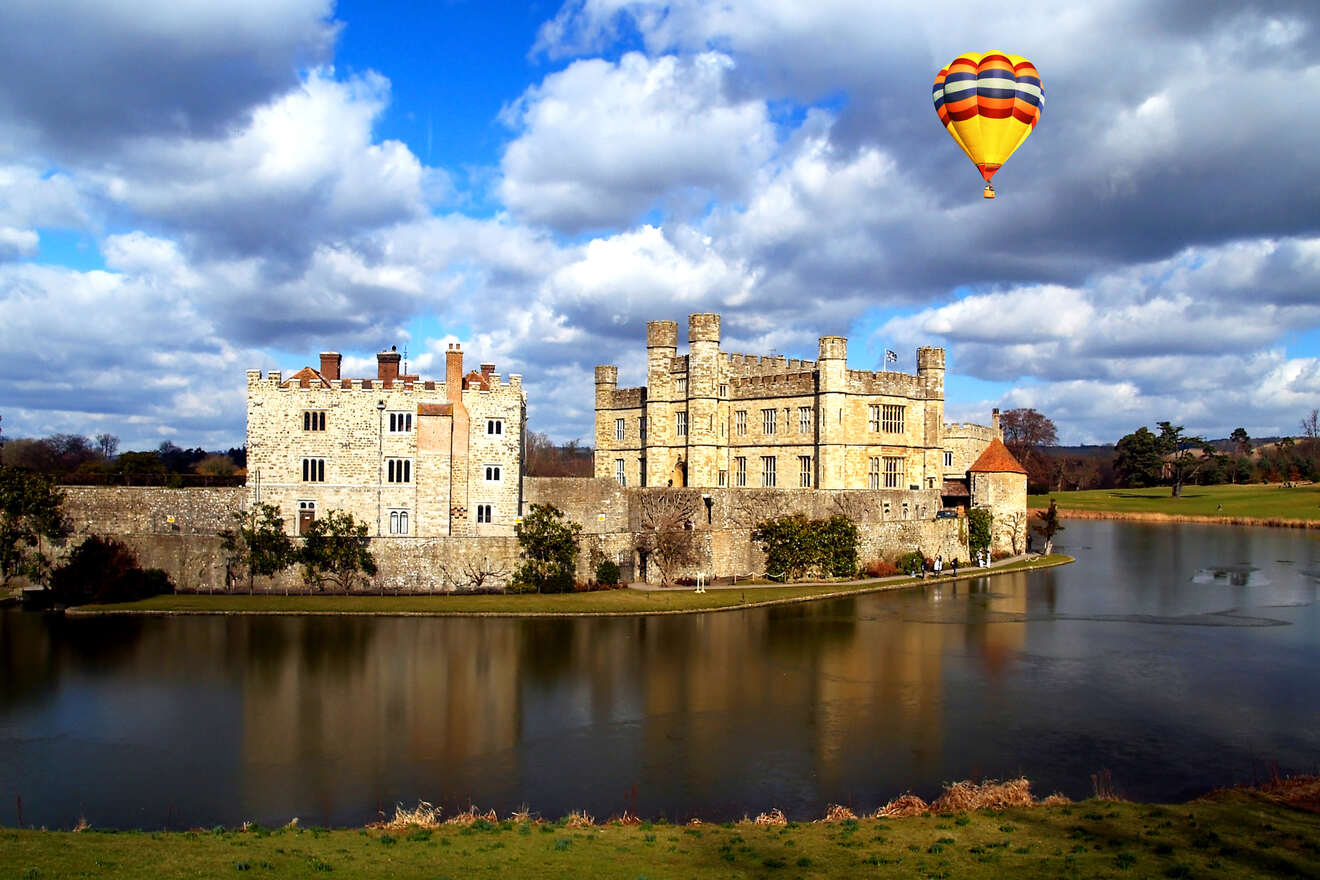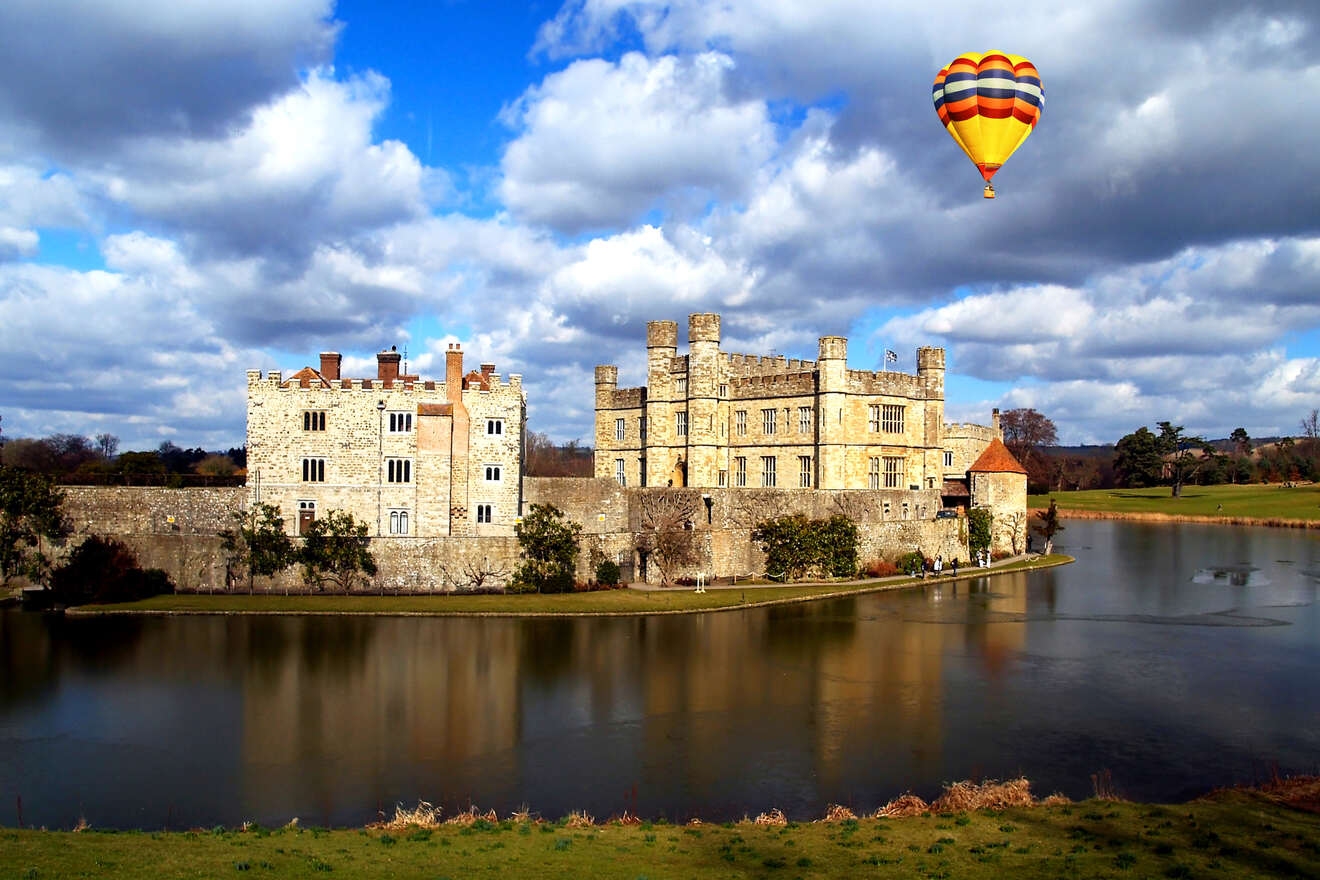 We can't deny that the castles in England are amongst some of the most beautiful ones in the world! And it's safe to say that the Kent area, also known as the "Garden of England," is home to quite a few castles from that list. I lived in Kent for 3 years, and I can tell you it's hard not to love the castles of the south in Kent! There are so many castles that you might end up spending much of your trip doing indoor activities!
PRO TIP: If you're planning to see more than 3 Heritage attractions in England, buy the English Heritage Pass which gives you access to over 100 attractions, including some castles and Stonehenge for a huge discount (US$50)! Note that the pass is only for overseas visitors.
1.1 Leeds Castle
Leeds Castle was built in the 12th century and it has been home to many kings and queens of England, including Harry VIII and Catherine of Aragon. The property is located in Maidstone, and its grounds and indoor decor are simply breathtaking! You will find a wide range of indoor and outdoor activities here, including castle tours and golf courses.
Price: Adults £28 (US$38), Children 4-15 free
Location: Broomfield, Maidstone
1.2 Hever Castle & Gardens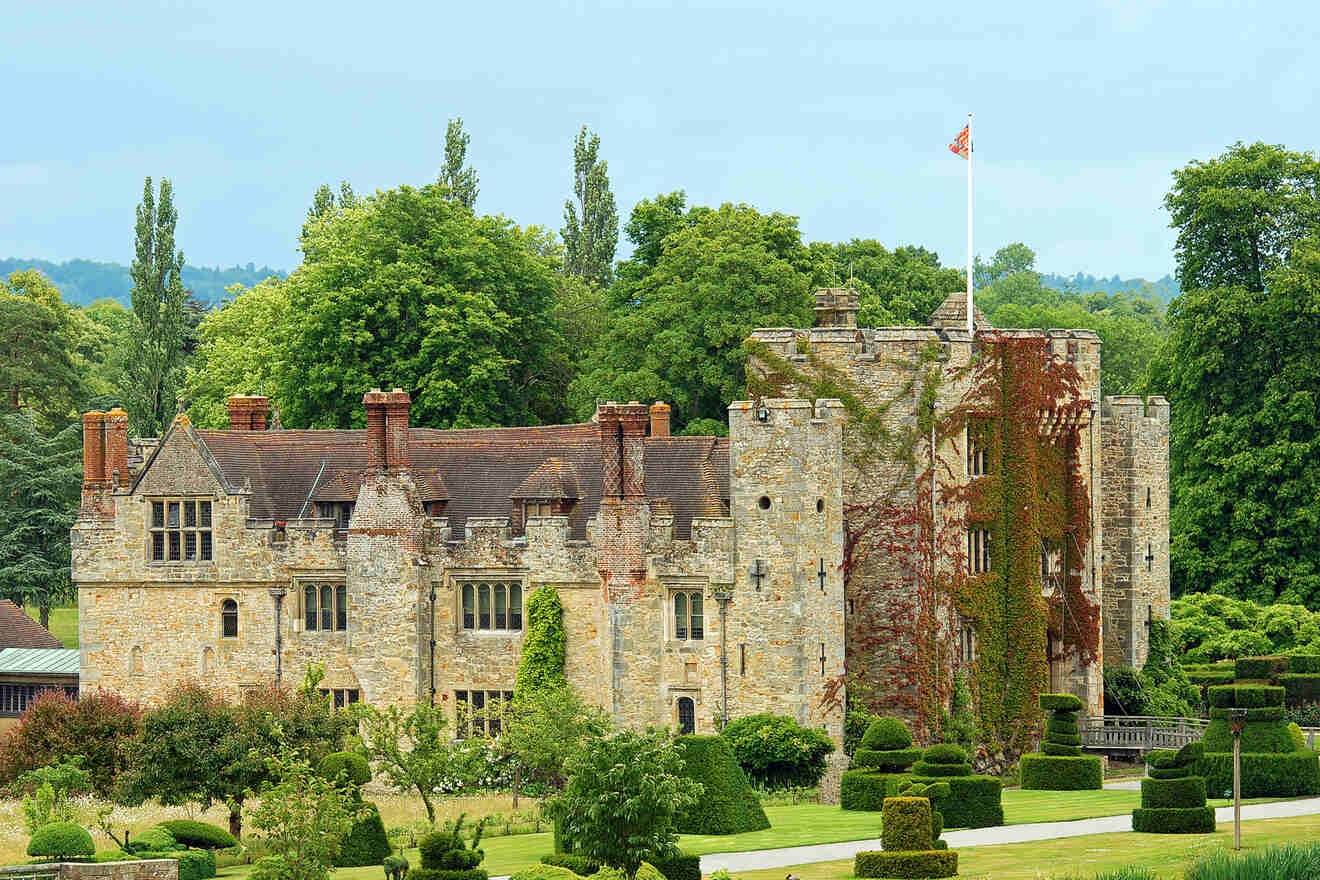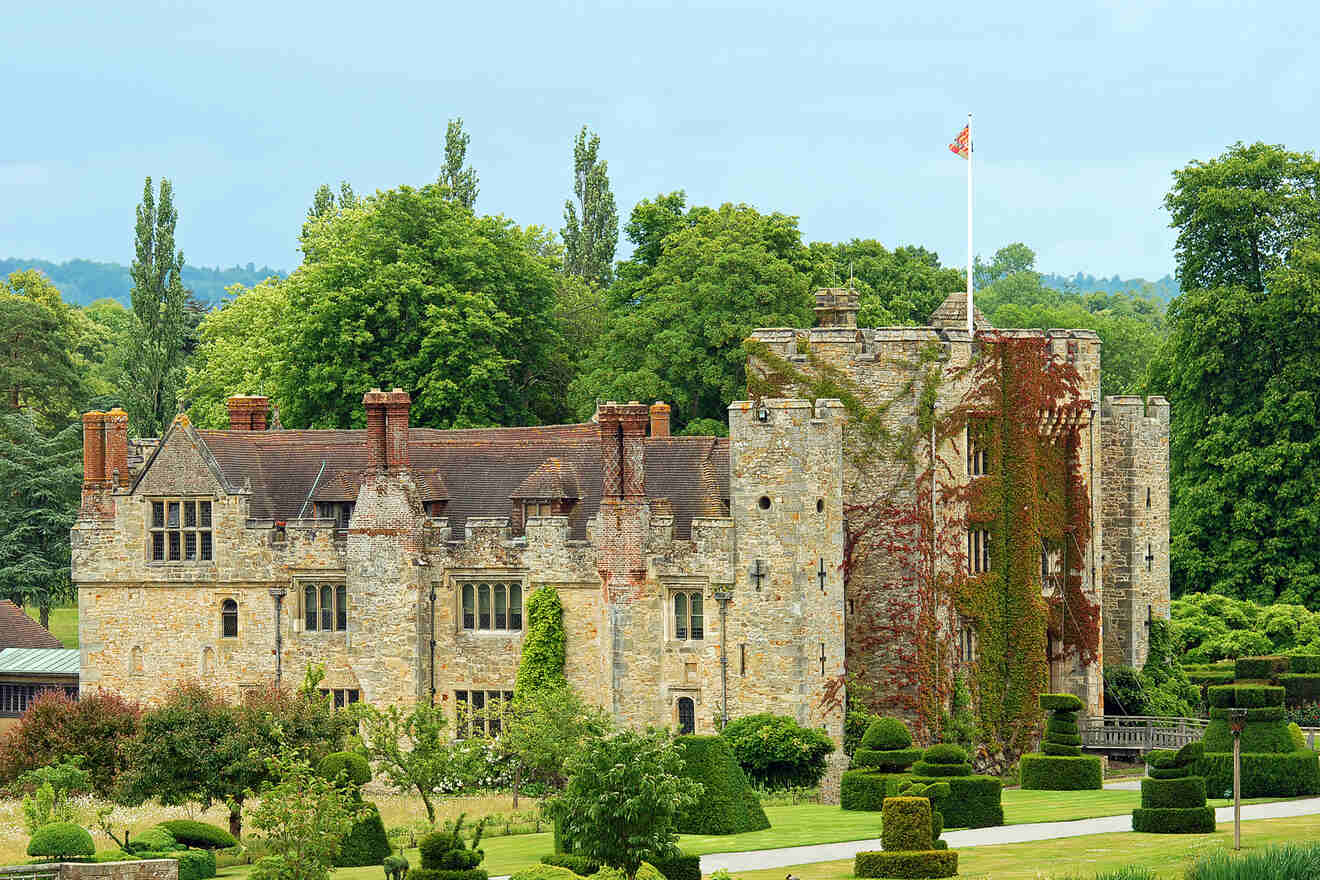 Located in Hever, this castle was the childhood home of one of the most famous queens of England, Anne Boleyn, Henry VIII's wife! Hever Castle dates back to the 13th century, and its surroundings include a maze, gardens, and a lake. The interior of the property is fascinating! So if you're a history fan, I think you will love this place.
Price: Adult: £20 (US$27), children 5-17, £11 (US$15)
Location: Hever, Edenbridg
1.3 Dover Castle
This 11th-century medieval castle is one of the largest castles in England, and it's located in the famous spot, the White Cliffs of Dover. Its defensive walls were built against the attacks of any invaders, although, as history shows, they didn't succeed. Some indoor and outdoor areas of Dover Castle were often used as a filming location for The Crown, Avengers, and The Other Boleyn Girl.
Price: Adult: £21 (US$28), children 5-17 £13 (US$18)
Location: Dover, Kent
1.4 Rochester Castle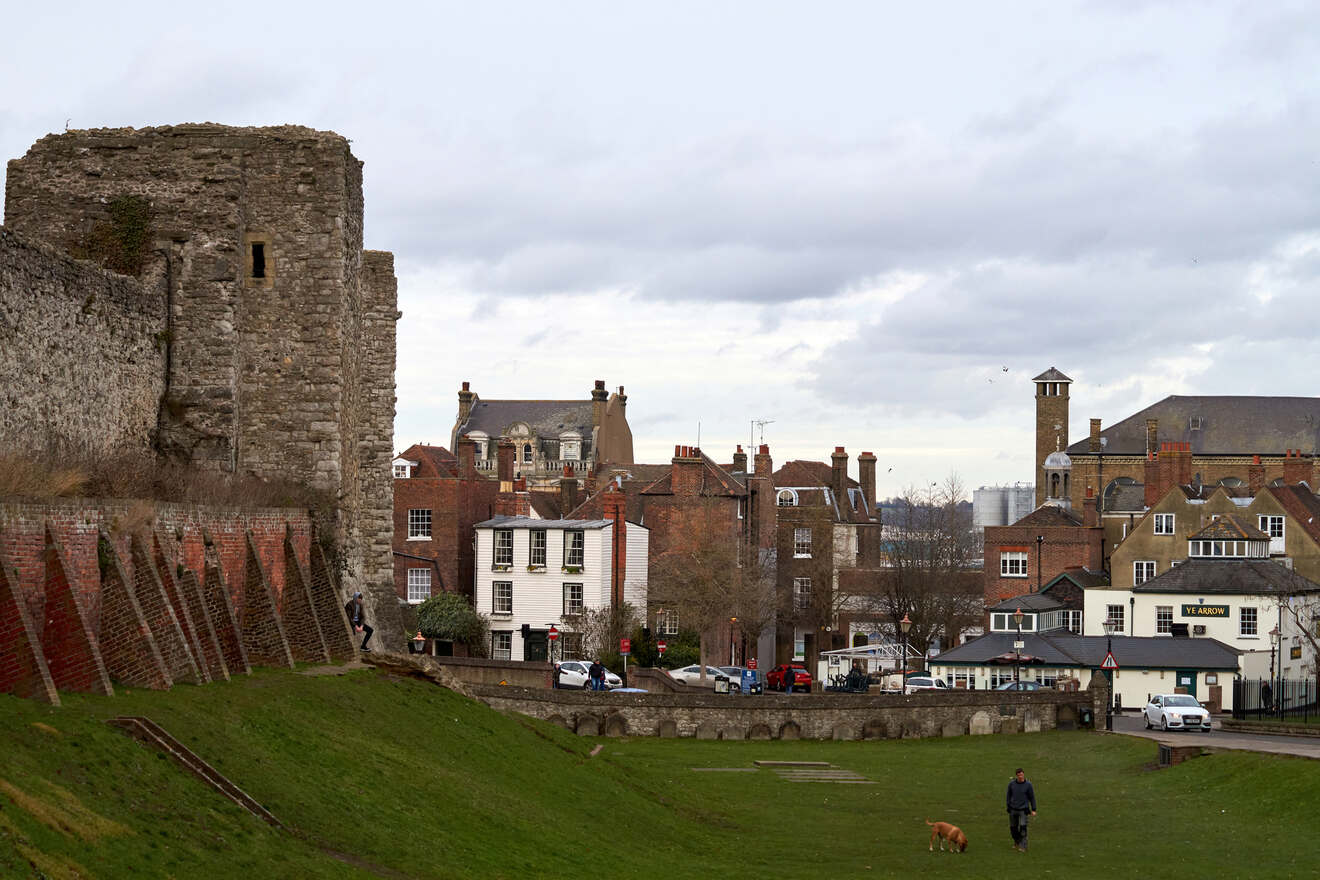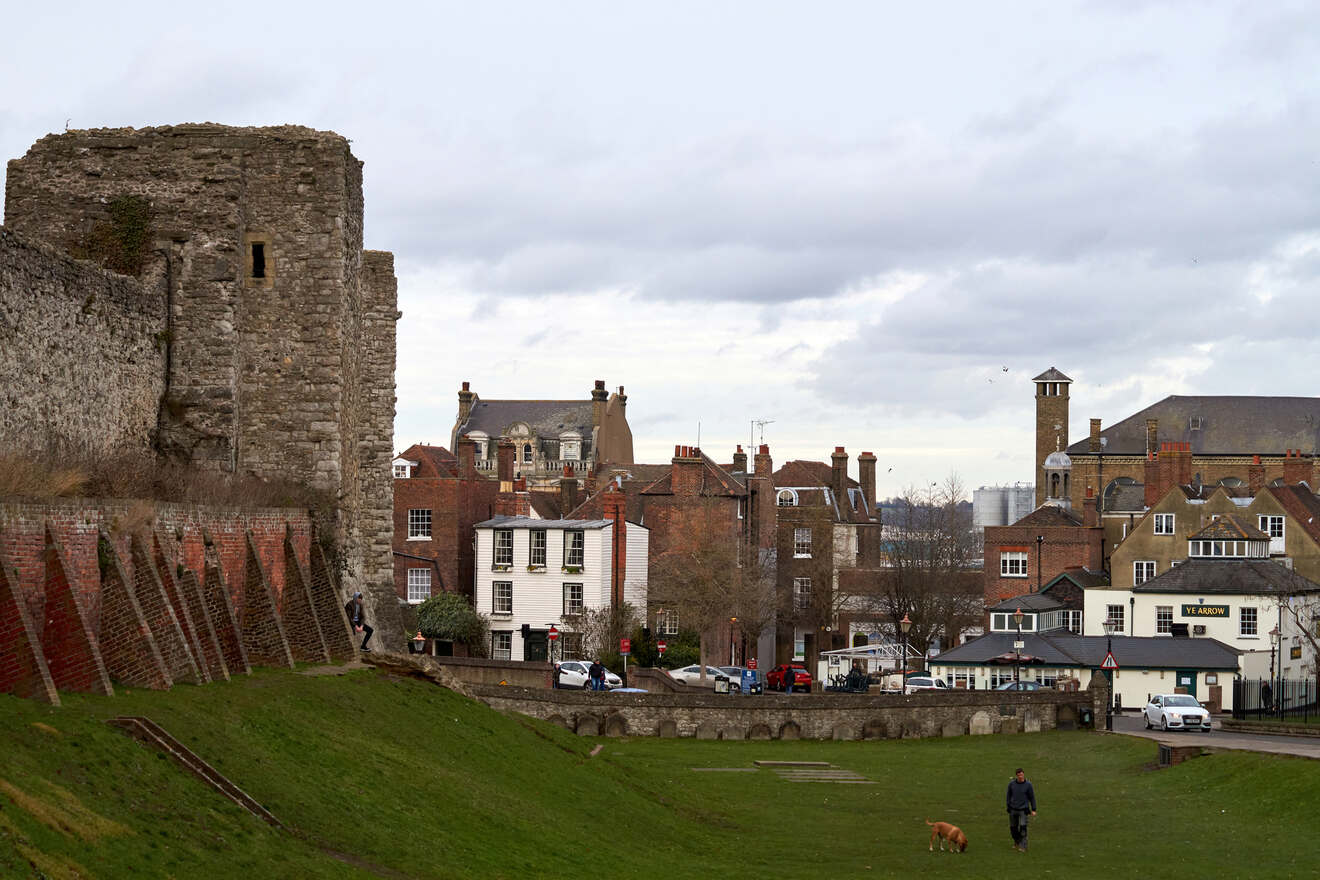 Located near Rochester High Street, this Castle is one of the biggest attractions in the area. Built to protect the country's southeast coast from invasion, this property has a 12th century stone tower which is one of the best-preserved towers in England!
PRO TIP: Climb up the stairs of the tower to admire the amazing views
Price: Adult: £7 (US$9), children 5-17 yo £3 (US$4)
Location: Castle Hill, Rochester
NOTE: If you only want to explore only the grounds, the entrance is free!
1.5 Tonbridge Castle
With a rich history and a fantastic medieval gatehouse, Tonbridge Castle is one of the best places to visit in Kent! You can enjoy outdoor activities, explore the grounds, head indoors, and discover the small museums that exhibit different elements that will help you learn new things about the town's history.

Price: Adults £9 (US$12), children £6.50 (US$9)
Location: Castle St, Tonbridge
2. Spend some time at the beach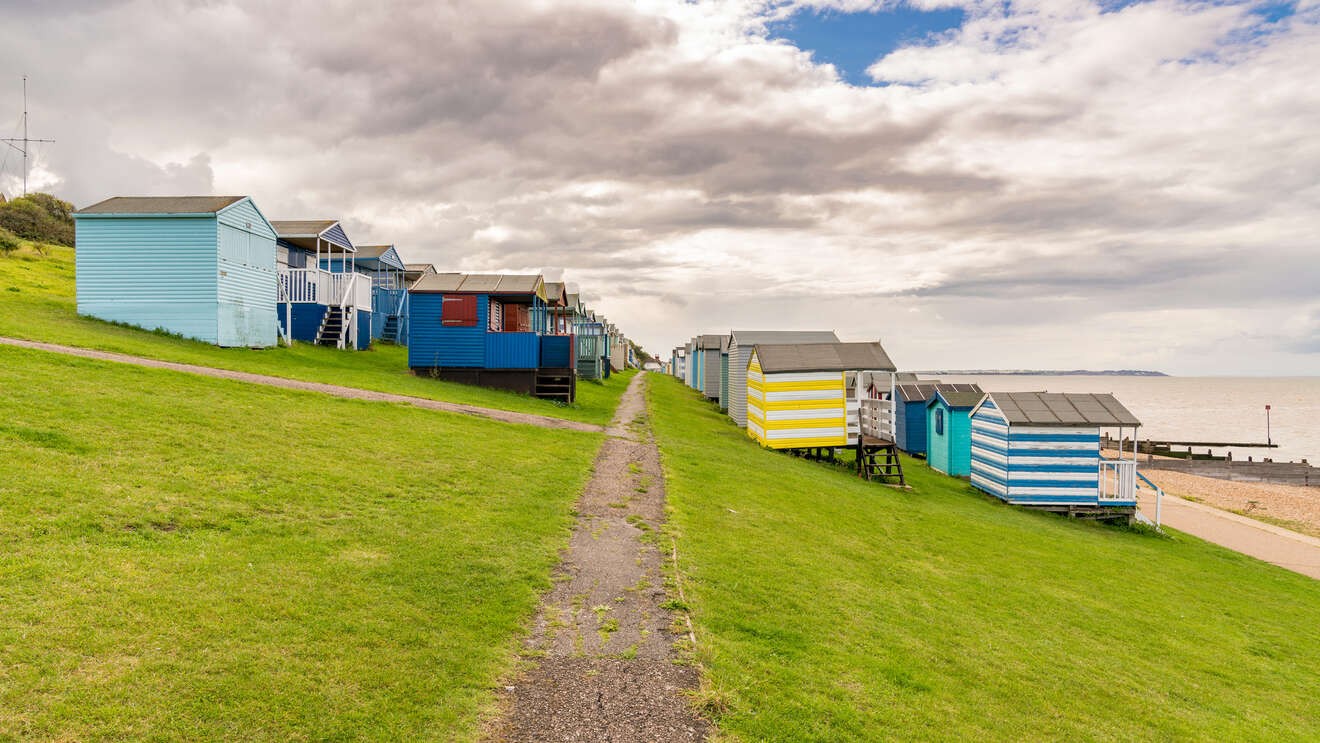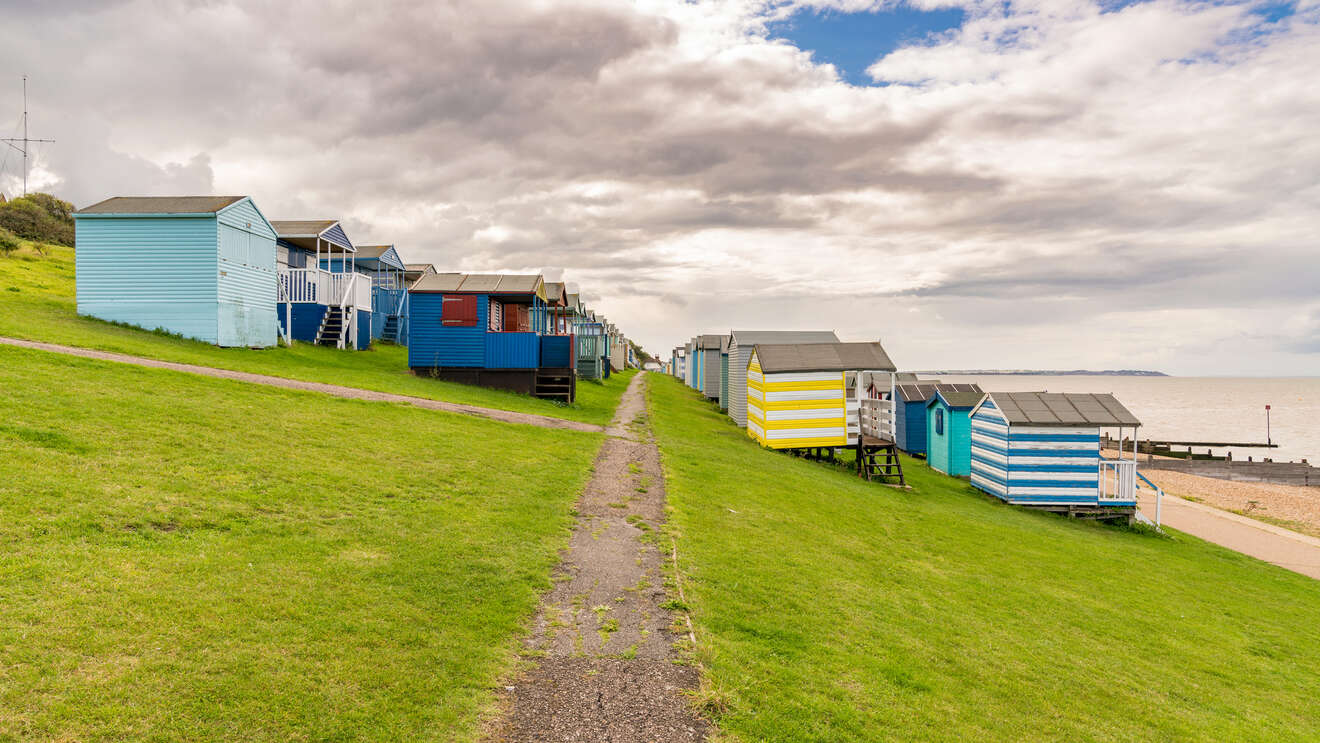 England's south-eastern county is full of surprises! Not only a treasure for any history lover who will probably explore its medieval villages and towns for days but also a place where you'll find almost 50 beaches! If you're not one who prefers indoor activities then you might enjoy this part!
It's going to be hard to decide which one to hit first since they're all so unique, offering both stunning landscapes and man-made attractions, but I'm here to make your life much easier and help you find the best beaches in this part of the country!
2.1 Tankerton Beach
Located in Whitstable, this nice pebble beach is the perfect tranquil spot where you can relax or go for a bath in the summer if the weather is on your side! Although you would think that the beach is one of the most important attractions in Whitstable, that fact is debatable after seeing the pastel-hued huts which look exactly like in a postcard!
Getting There: Take a train to Whitstable Station and walk 20-minutes to the beach
2.2 Botany Bay Beach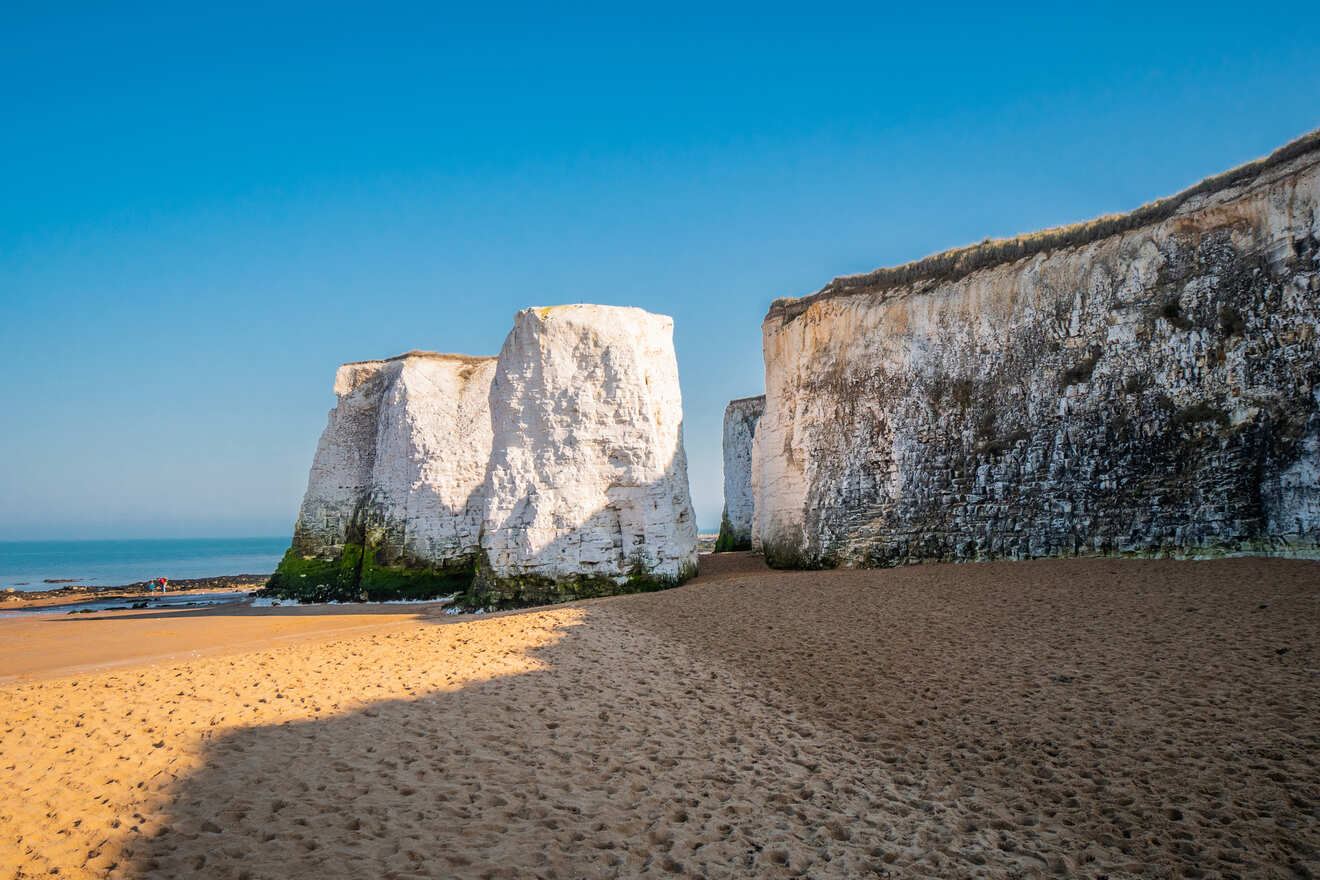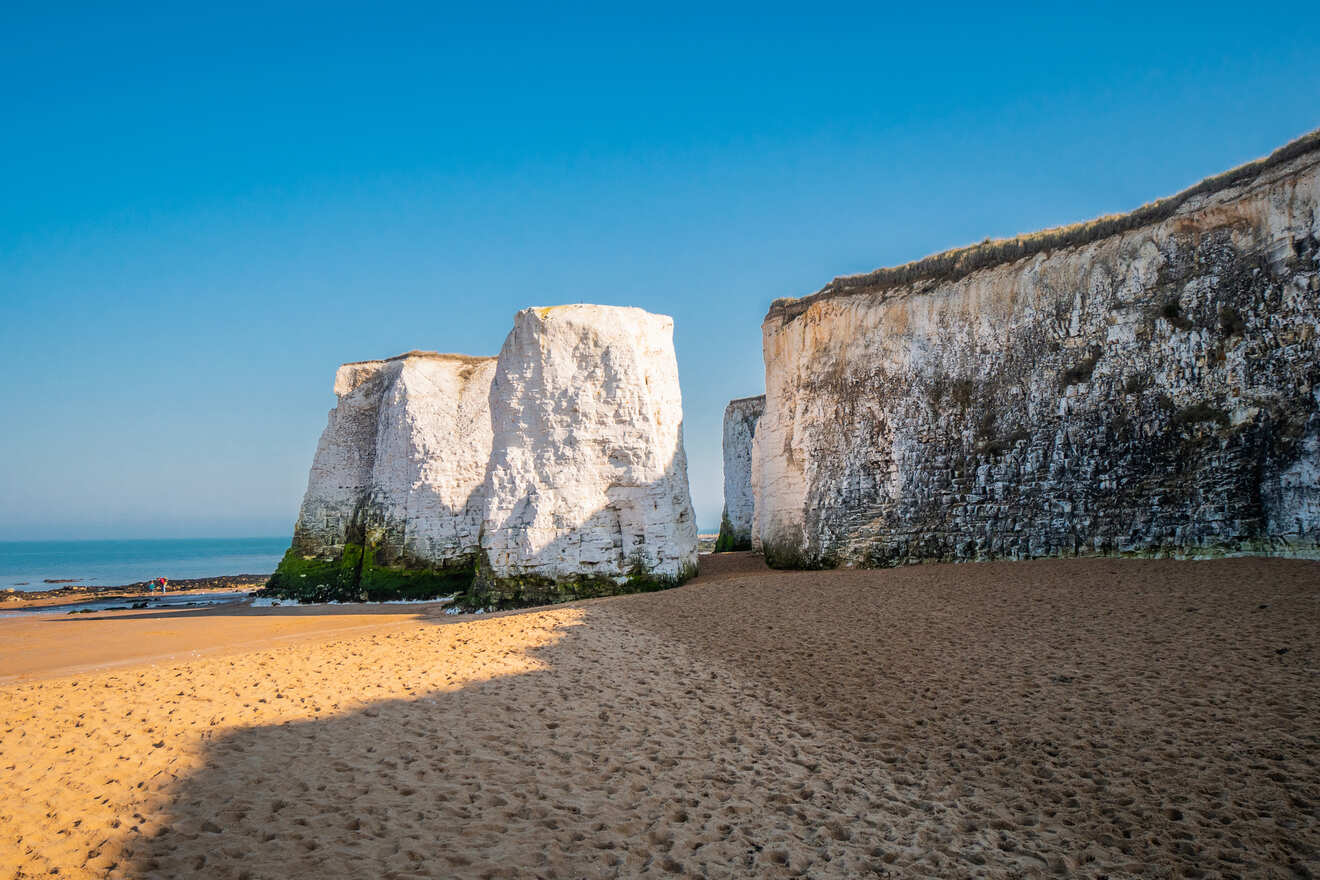 This is one of the most scenic attractions in Kent and a personal favorite!
Botany Bay is a sandy beach surrounded by big chalk cliffs and some rock pools. It's located in Broadstairs and offers some great spots for activities like surfing, kayaking, and canoeing! Get your swimsuit or some warm clothes if it's not summertime, and enjoy a fun day in this awesome spot!
PRO TIP: If all this time at the seaside has made you hungry for some fish & chips, Palm Bay Fish Bar is only a 10-minute walk above this beach in Broadstairs
Getting There: From Broadstairs Train Station, take the Loop Bus to The Wheatsheaf stop and change to the Kingstate 960 Bus. Get off at Yaldhurst Gardens, then walk for 1 minute to the beach!
2.3 Margate Main Sands Beach
The wide, sand beach in Margate is the original seaside destination in Kent and one of the most popular beaches in the county! The beach is super wide, offering tons of space for its visitors, and it's also located near the Old Town of Margate, where you'll find restaurants, bars, and shops. It's the perfect place to visit on a hot summer day!
Getting There: From Margate Train Station there's only a 3-minute walk to the beach
2.4 St Margaret's Bay Beach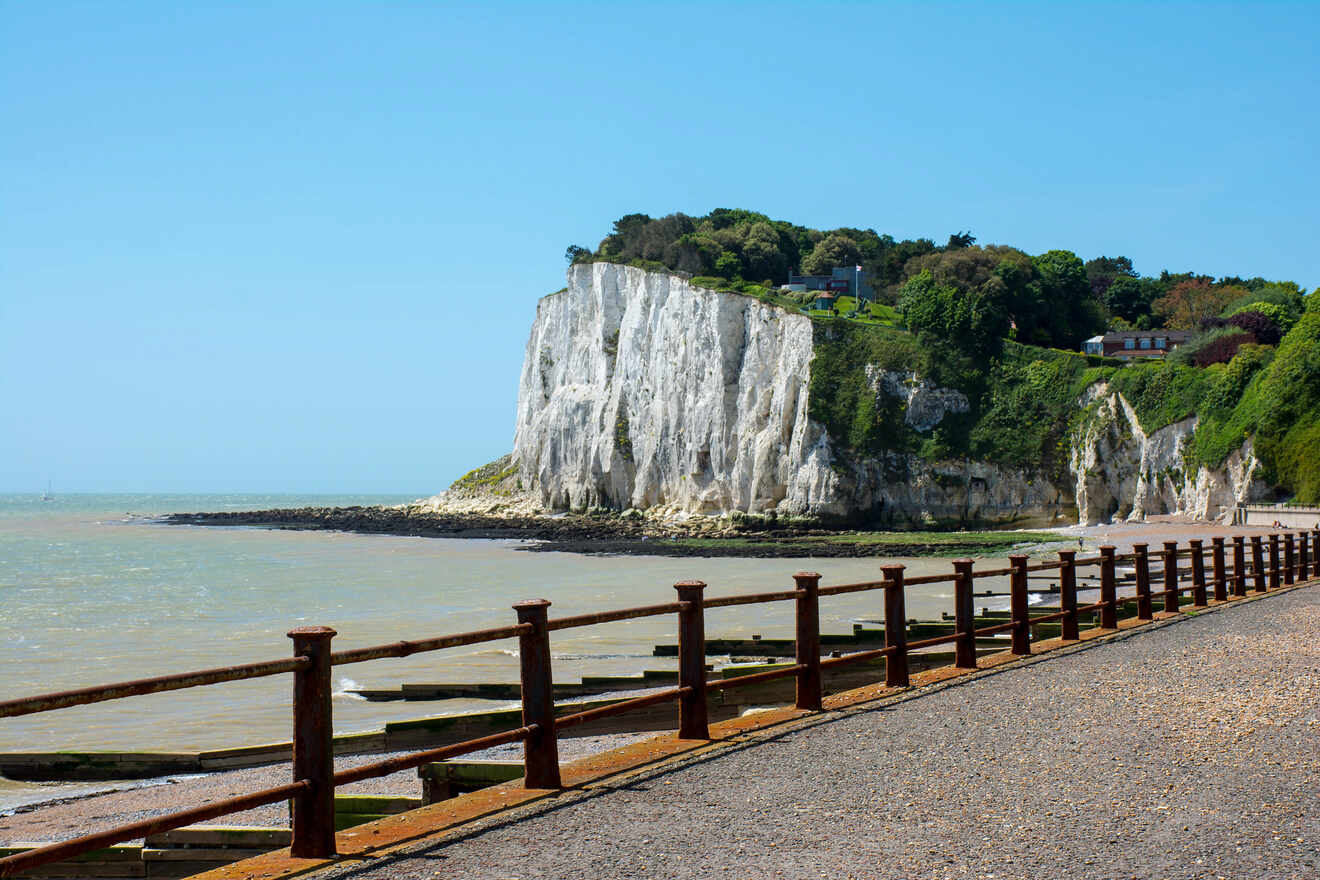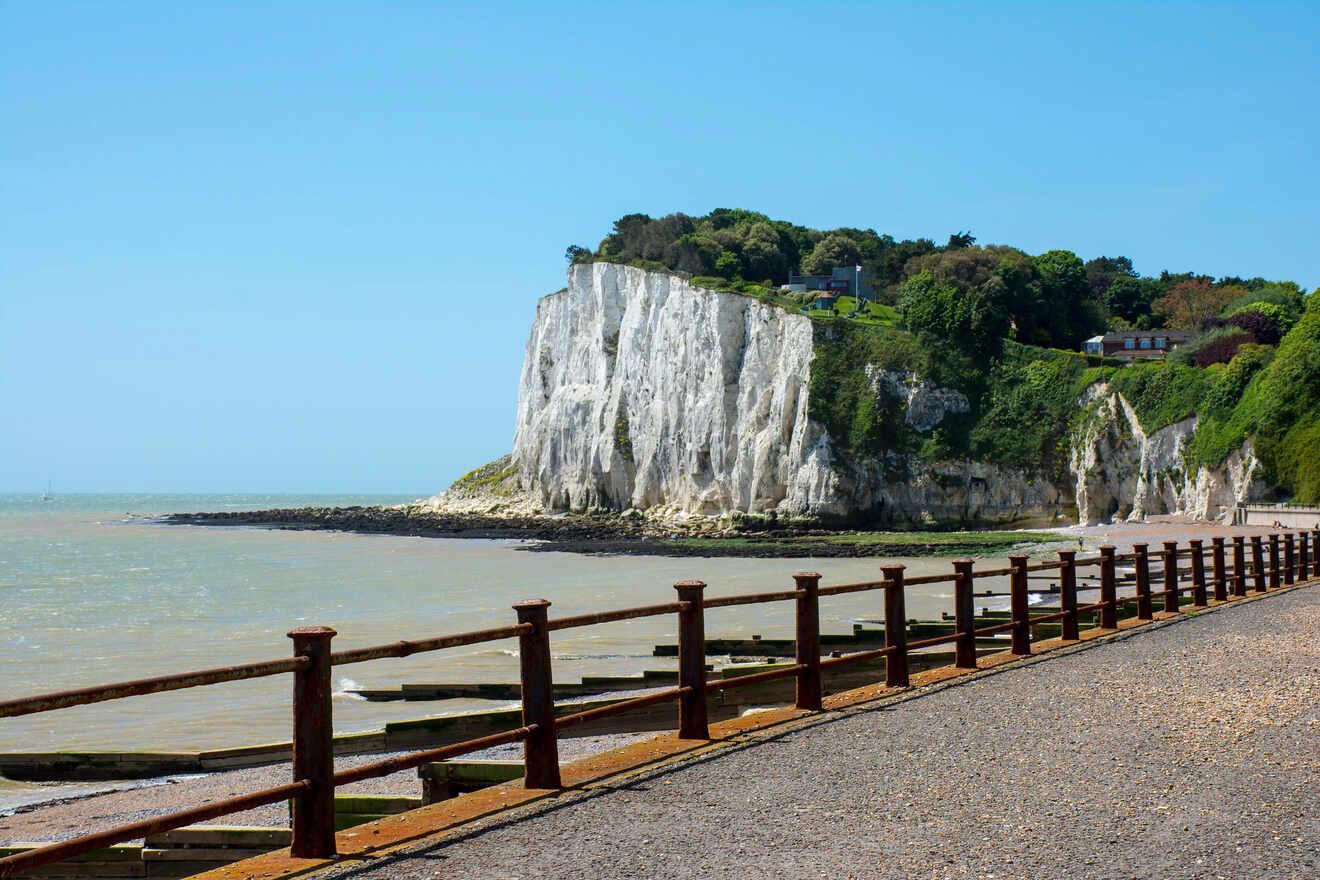 You can't say you've been to Kent if you haven't visited the white cliffs of Dover! St Margaret's Bay Beach is one of the best places where you can admire the cliffs while spending some quality time at the seaside!
Getting There: Take a train to Dover Priory Train Station, walk 7 minutes to Ladywell station (Stop K) and take the 80 Bus to Sandwich, get off at Bay Hill and walk for 10 minutes
3. Learn new things about the Kent villages in a museum or two
The Kent villages and towns have such a rich history. I'm sure some of you will be curious to know! I had the chance to learn a few things during the 3 years that I was here, and I felt compelled to learn more, so I also visited some of the museums here.
If you're looking for some cool indoor attractions and art places, there's nothing better than a nice museum visit to fill your time!
3.1 Dickens House Museum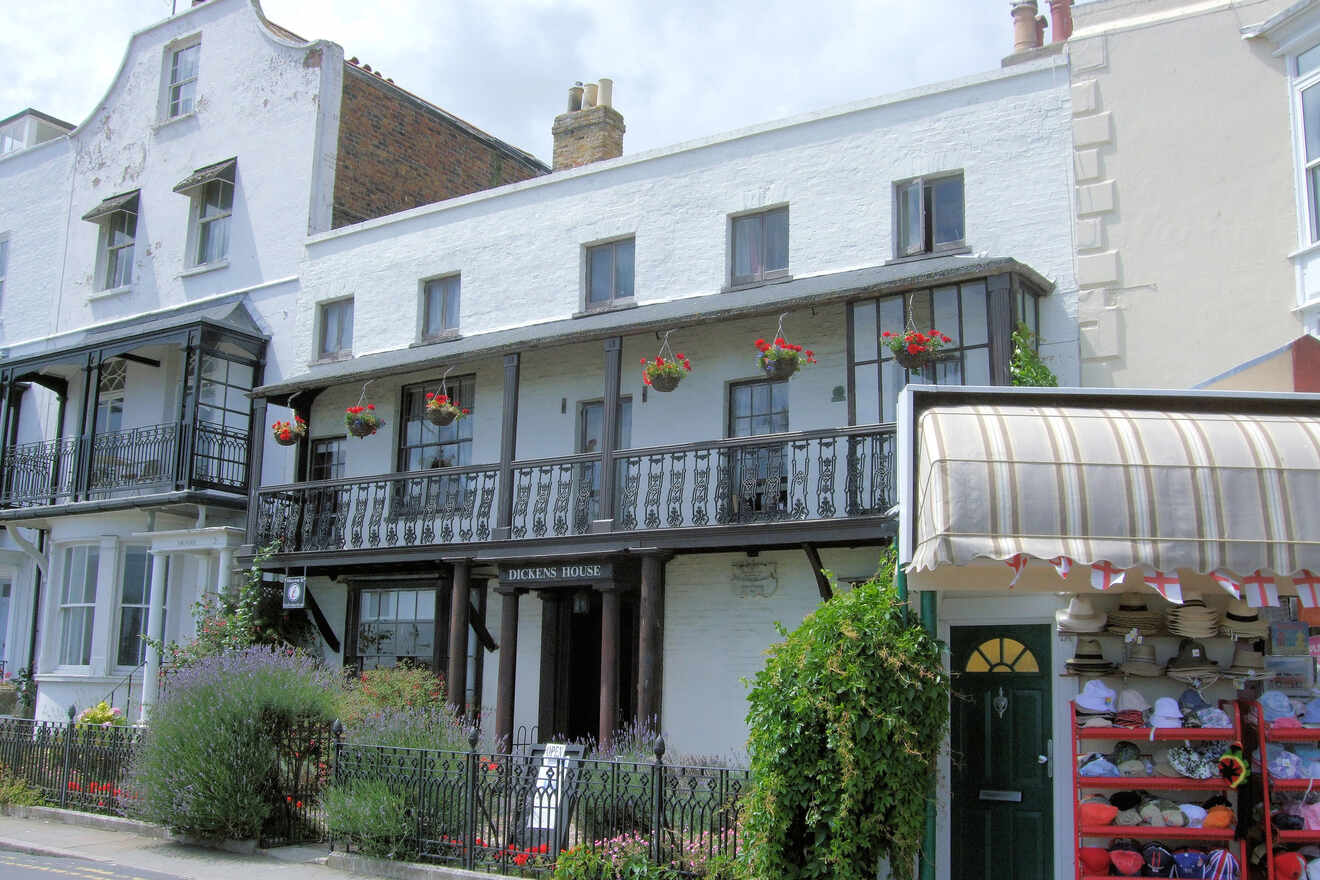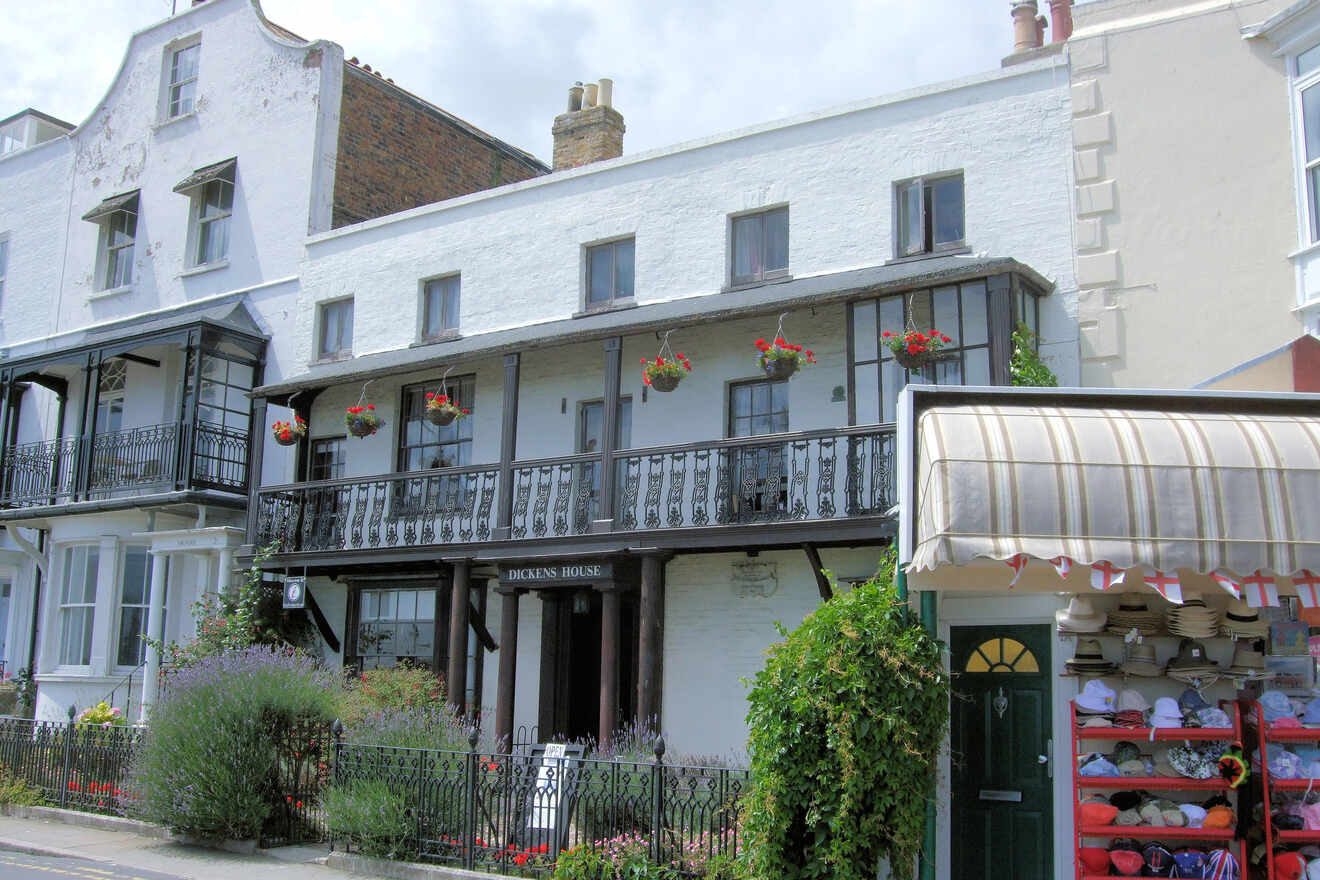 The museum is located in a cottage in Broadstairs that the famous writer Charles Dickens used as inspiration for his novel David Copperfield. One of the characters is based on a lady who lived in this cottage that's now a museum! So if you're a fan of the writer, make sure to add the Dickens House Museum to your things to do in Kent list.
And if you want to learn more about this fascinating author, you can go on a walking tour in Rochester, a town in Kent that Dickens used numerous times as his source of inspiration.
Price: Adult £3.75 (US$5), under 16 years £2.10 (US$2.80)
Location: 2 Victoria Parade, Broadstairs
3.2 Ashford Museum
In a region like Kent, all the villages and towns are so rich in history and filled with iconic buildings that you'll want to explore all day long. The Ashford Museum is situated in a 17th century Grade II building. It offers a big collection of artifacts, including 200 million-year-old million-year-old dinosaur leg bones found in 2001 on an Ashford farm!
Price: Free
Location: The Churchyard, Ashford
3.3 Dover Museum
Located in one of England's most important port towns, Dover, this museum showcases some cool pieces and the most important one is a boat that's thought to be 3000 years old! But that's just a part of their collection, visit Dover Museum and you'll find many other interesting pieces!
Price: Free
Location: Market Square, Dover
3.4 Maidstone Museum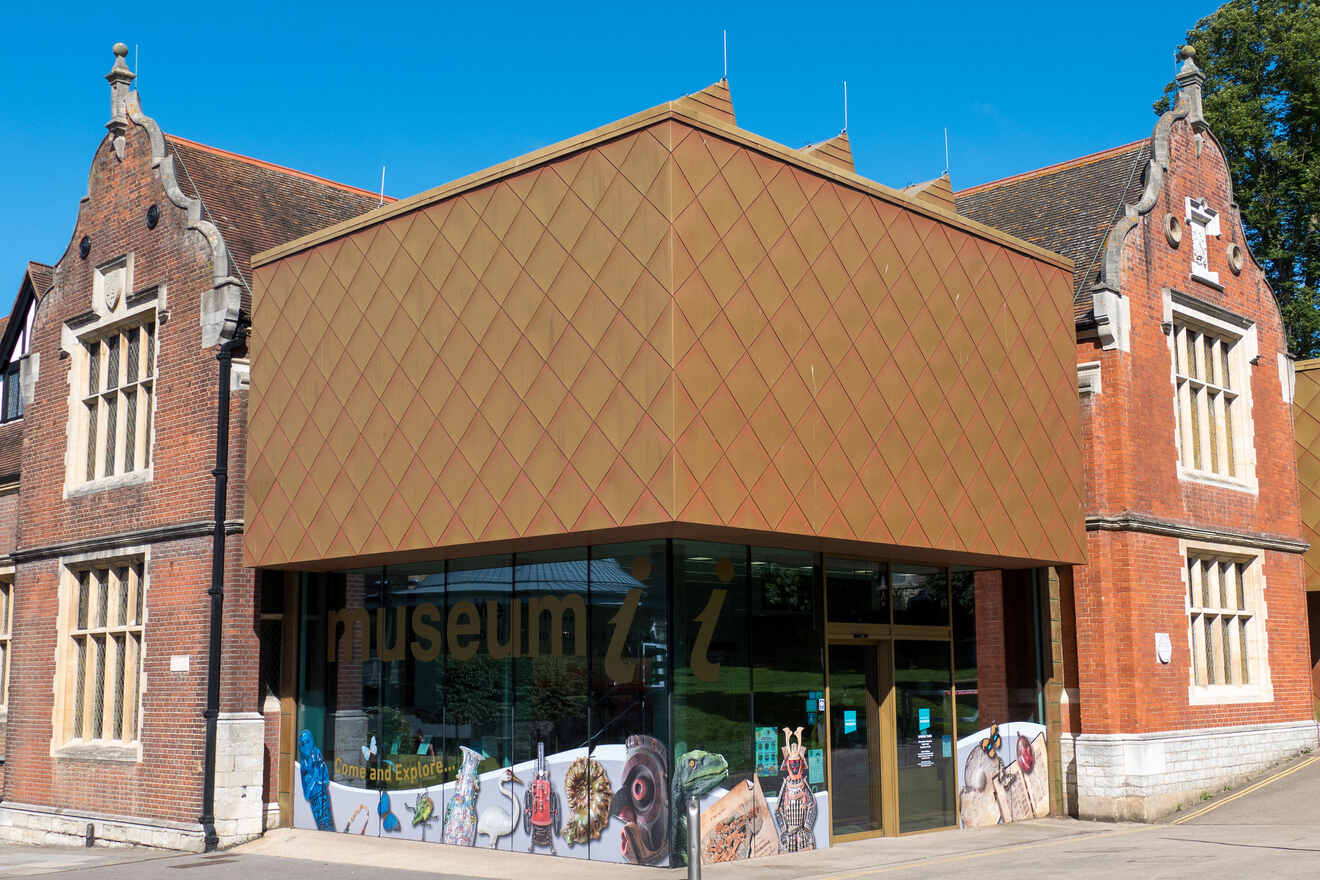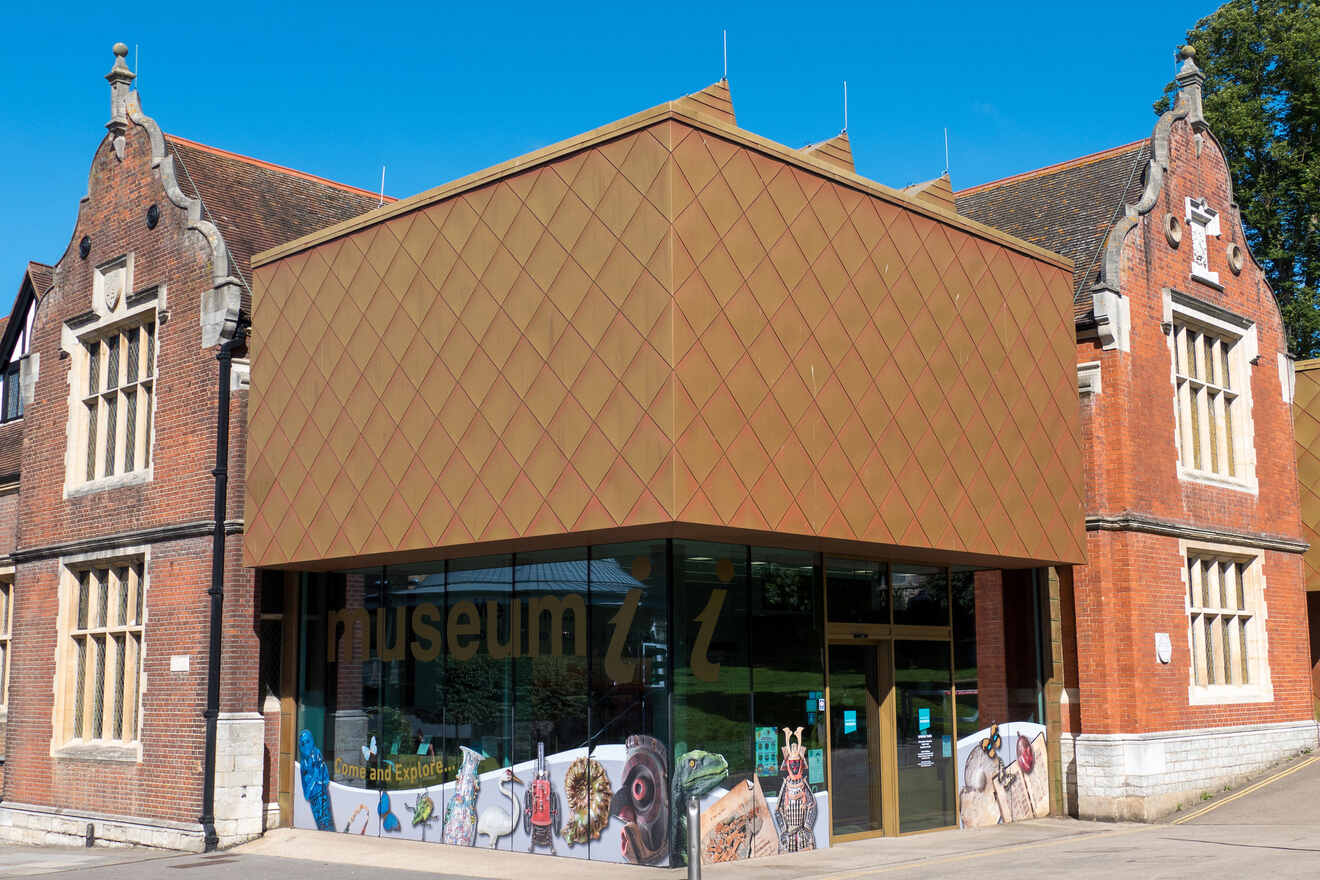 Showcasing art pieces from local and international artists and a collection of 600000 artifacts, Maidstone Museum offers a great insight into the town's culture! Old costumes, Anglo-Saxon jewelry, and pieces from Ancient Egypt, you'll get to see all that and more here!
Price: Free entry
Location: St. Faith's Street, Maidstone
3.5 Teapot Island Museum
This museum of the most fun places to visit in Kent! If you're a tea lover, you would like to see the spot that holds 2 awards in the Guinness Book of World Records for the number of teapots owned, then definitely check out the Teapot Island Museum! Currently, the collection has 8200 pieces, and it continues to grow!
Price: Adults: £2.50 (US$3.30), children £1.50 (US$2)
Location: Hampstead Lane, Yalding, Maidstone
4. Admire the views of the White Cliffs of Dover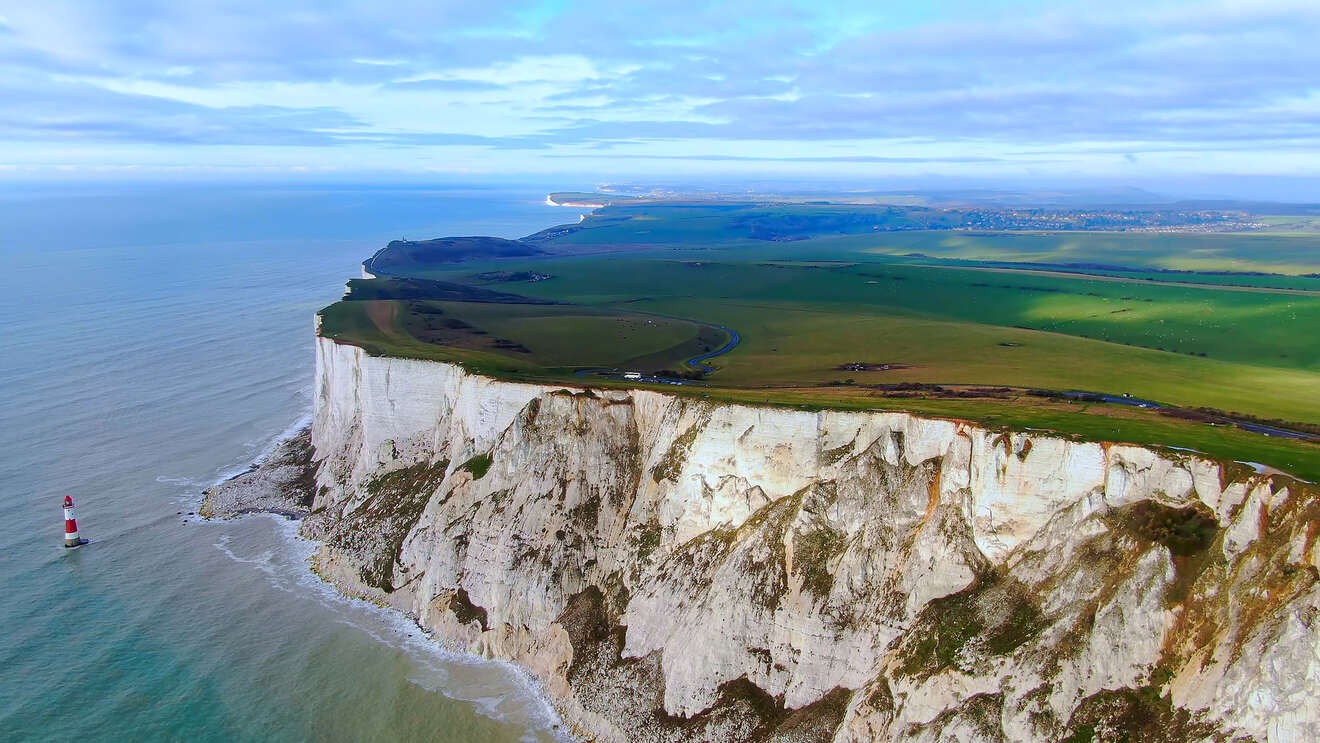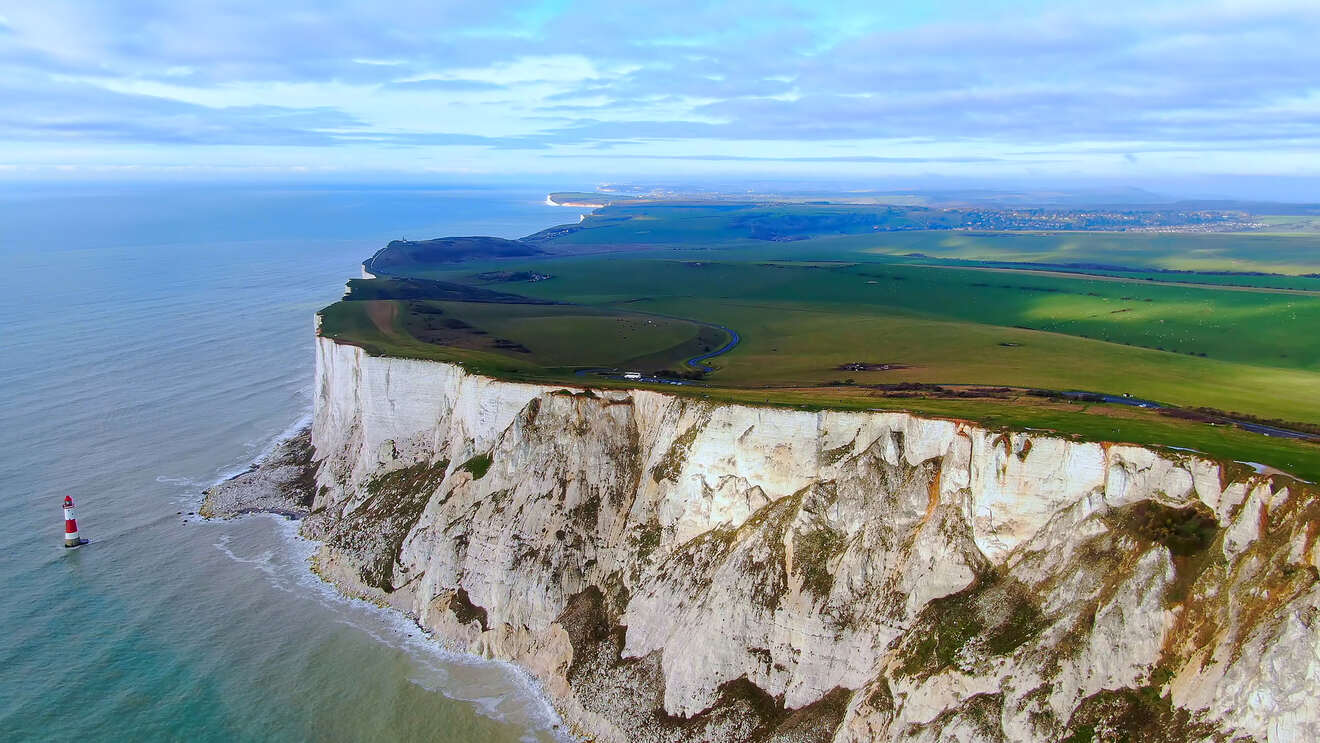 You might've heard of this special spot in Kent that everyone talks about! If not, let me give you a small introduction. The white cliffs of Dover are not only a beautiful spot where many people go to relax, explore and enjoy the views of the English Channel. They also occupy an important place in people's hearts.
The city of Dover is the closest point to mainland Europe out of any other port in Britain, so back in the day when soldiers went to fight in World War II, the cliffs were the last sight that anyone would get of his home.
It's a place that you can't miss during your holiday in Kent, simply walking along the cliffs and enjoying the tranquility and views will be the highlight of your day! And if you want to learn more about the history of this place I highly recommend going on a tour!
5. Explore Kent's underground life
Seen everything there is to see above ground in Kent? Well, let's dive a little deeper, literally! Here are two awesome experiences you can have under the surface of Kent, England!
5.1 Chislehurst Caves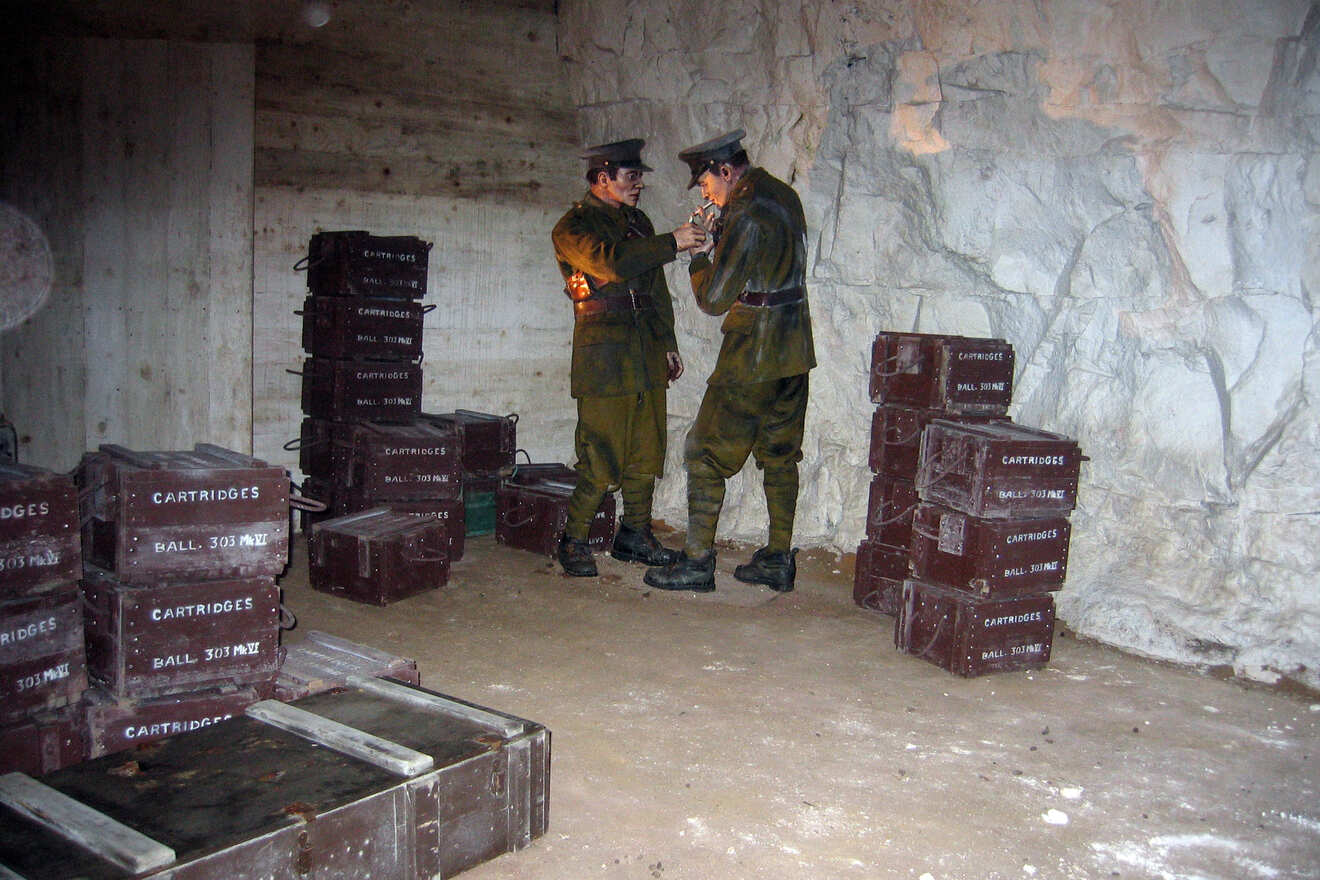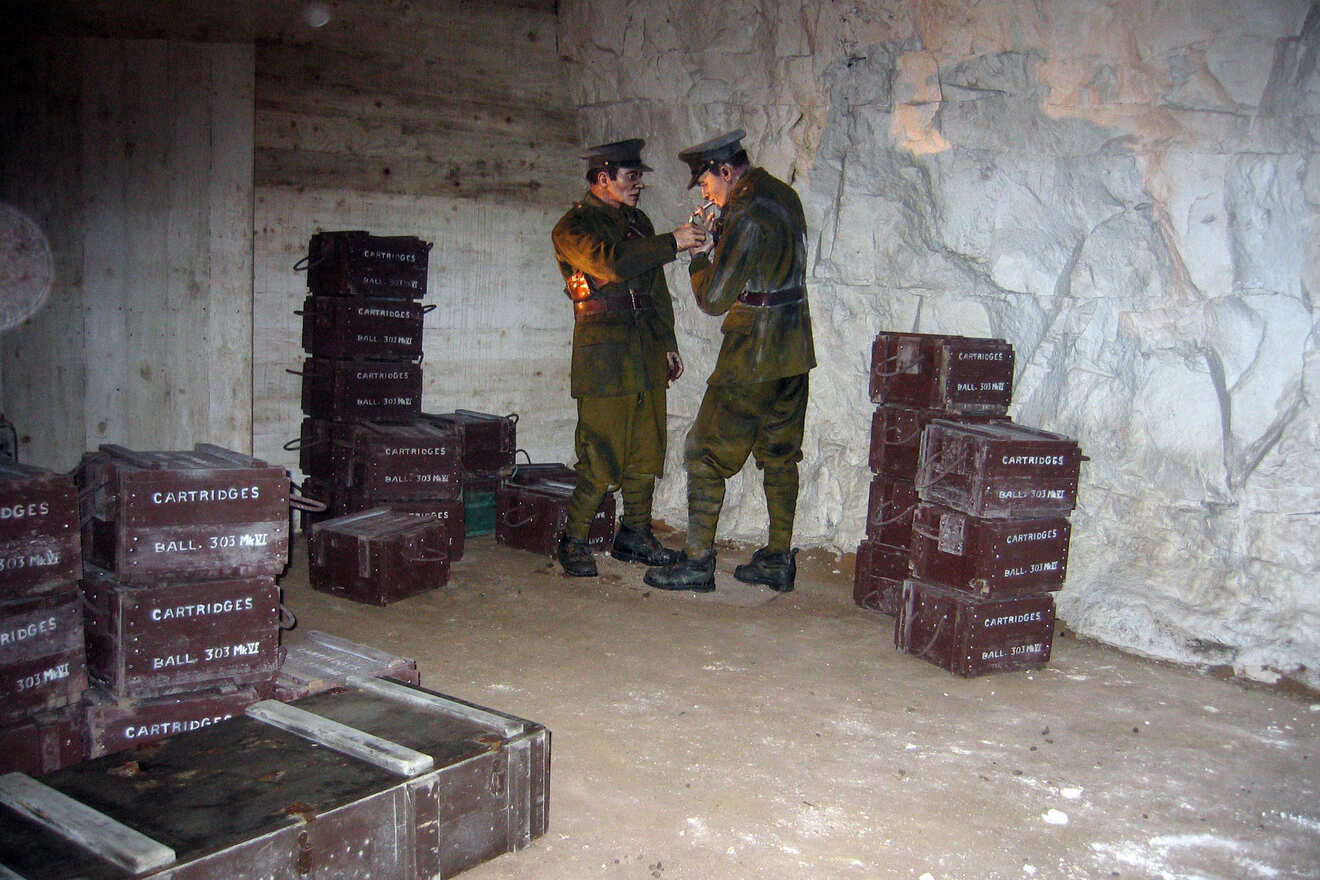 If you've had enough of the overground world, you can check out one of the coolest places to visit in Kent, the Chislehurst Caves! These man-made tunnels and caves cover 22 miles (35 km) underneath the town of Chislehurst.
Their story goes way back to the mid 13th century when they began to be dug for the mining of flint (a mineral rock) and lime-burning chalk. Since then, the caves have been used for many purposes, during the I and II World War before they became one of the biggest attractions in Kent!
During World War I, the country used the caves to store ammunition, in the 1930s, the tunnels were used for mushroom cultivation, and during World War II they were used as a bomb shelter! Now you can explore these fascinating tunnels and learn more about their history!
NOTE: If you want to explore the caves, you will have to go on a lamp-lit tour guided tour, as it's super easy to get lost if you go by yourself in this labyrinth!
Open: Wednesdays to Sunday plus Bank Holidays
Price: Adults £7 (US$9.40), children (3 – 15 years)
Location: Old Hill, Chislehurst
5.2 Shell Grotto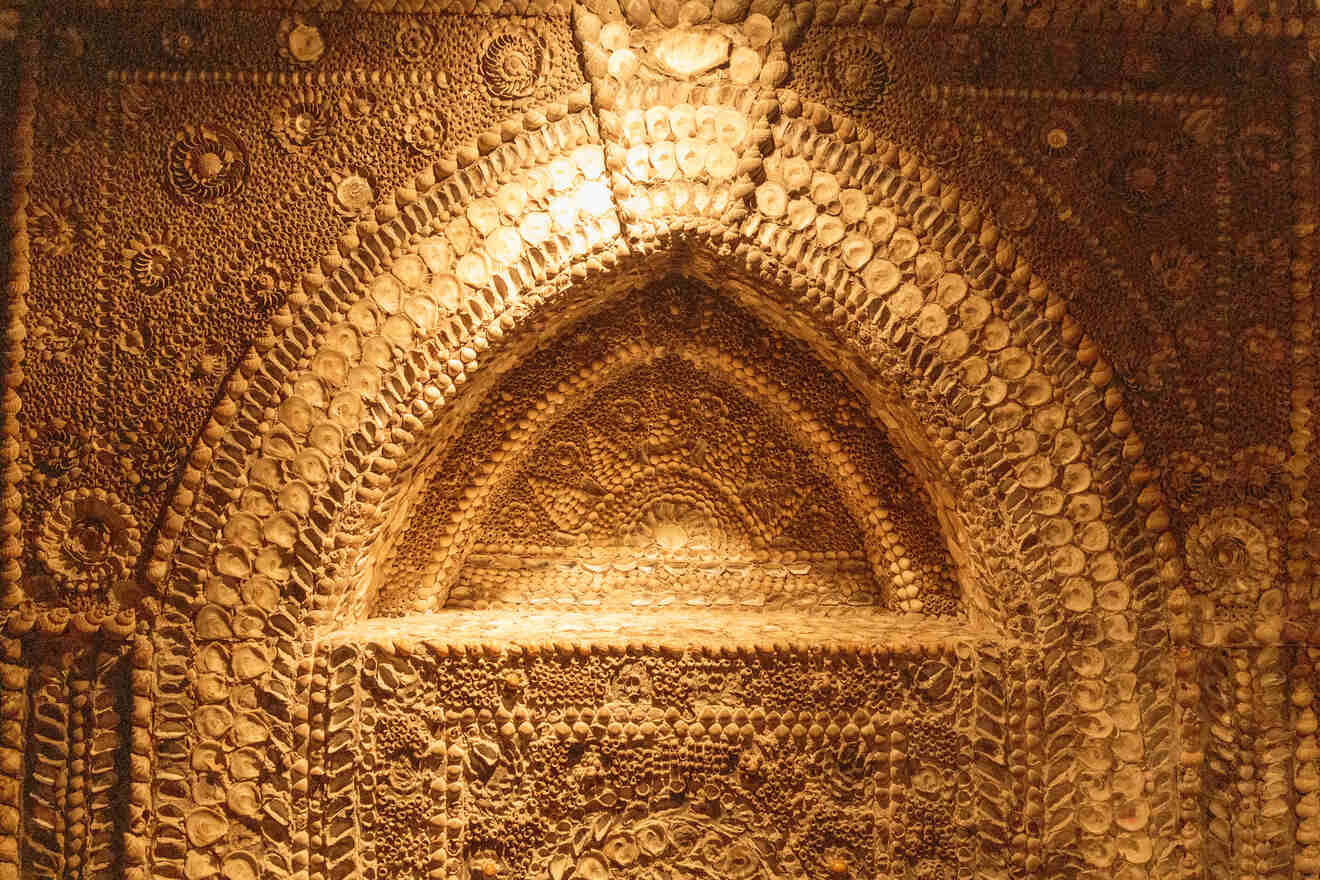 The underground world sure knows how to surprise us, humans! The Shell Grotto is a small cave decorated with seashells, so the name is self-explanatory. This subterranean passageway is located in Margate, and almost the entire surface of the cave is decorated with mosaics made out of 4.6 million seashells!
Although it was discovered in 1865, archeologists still don't know its age or why it was built. Some believe it was a temple, some that it was a meeting point for a sect. I guess that will remain a mystery. But what's life without the thrill of the unknown?
Open: Wednesday – Sunday (days may change, check their website for more information)
Price: Adult £4.50 (US$6), Children (4 to 16 years old) £2 (US$2.70)
Location: Grotto Hill, Margate
6. Spend a fun day at Margate Dreamland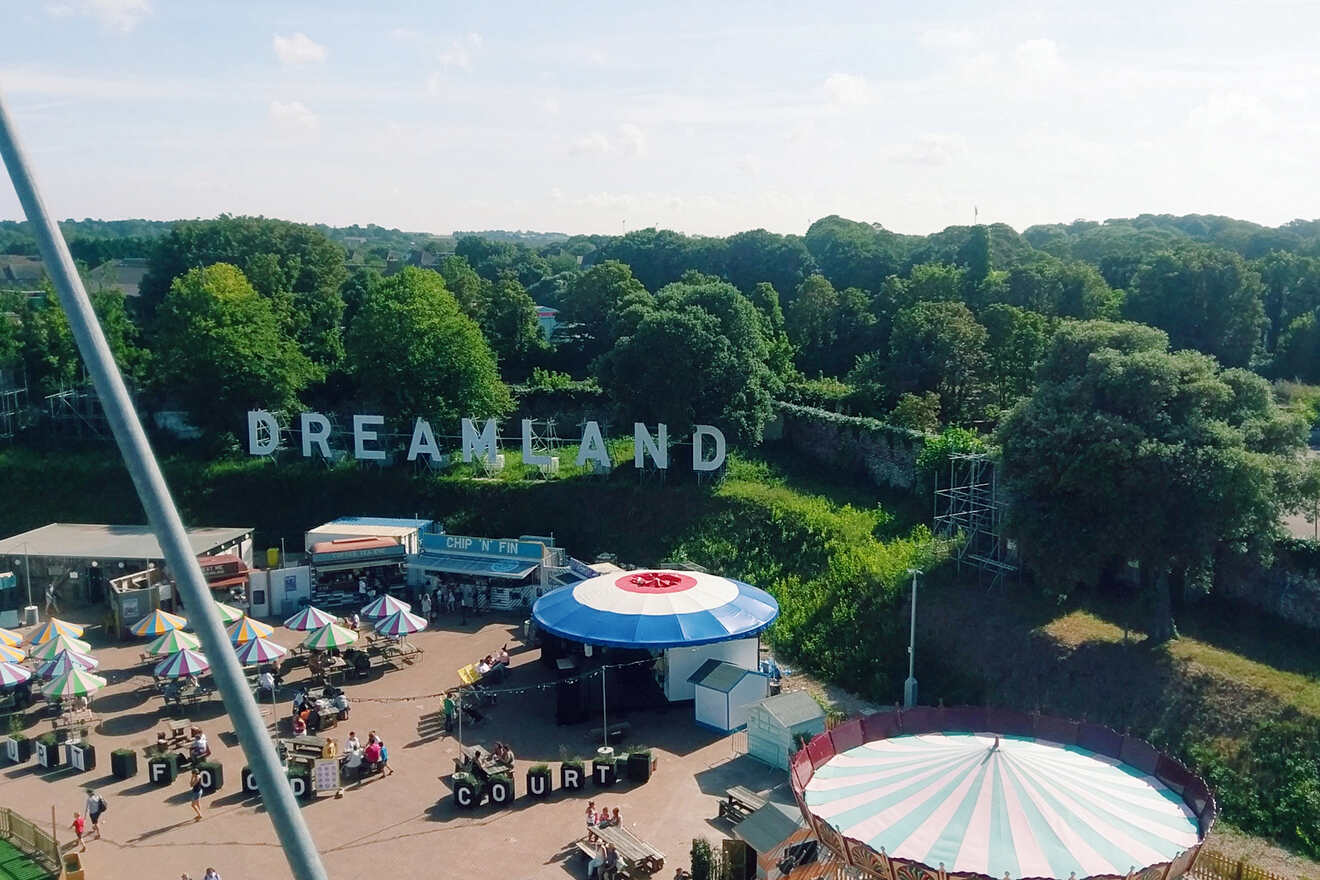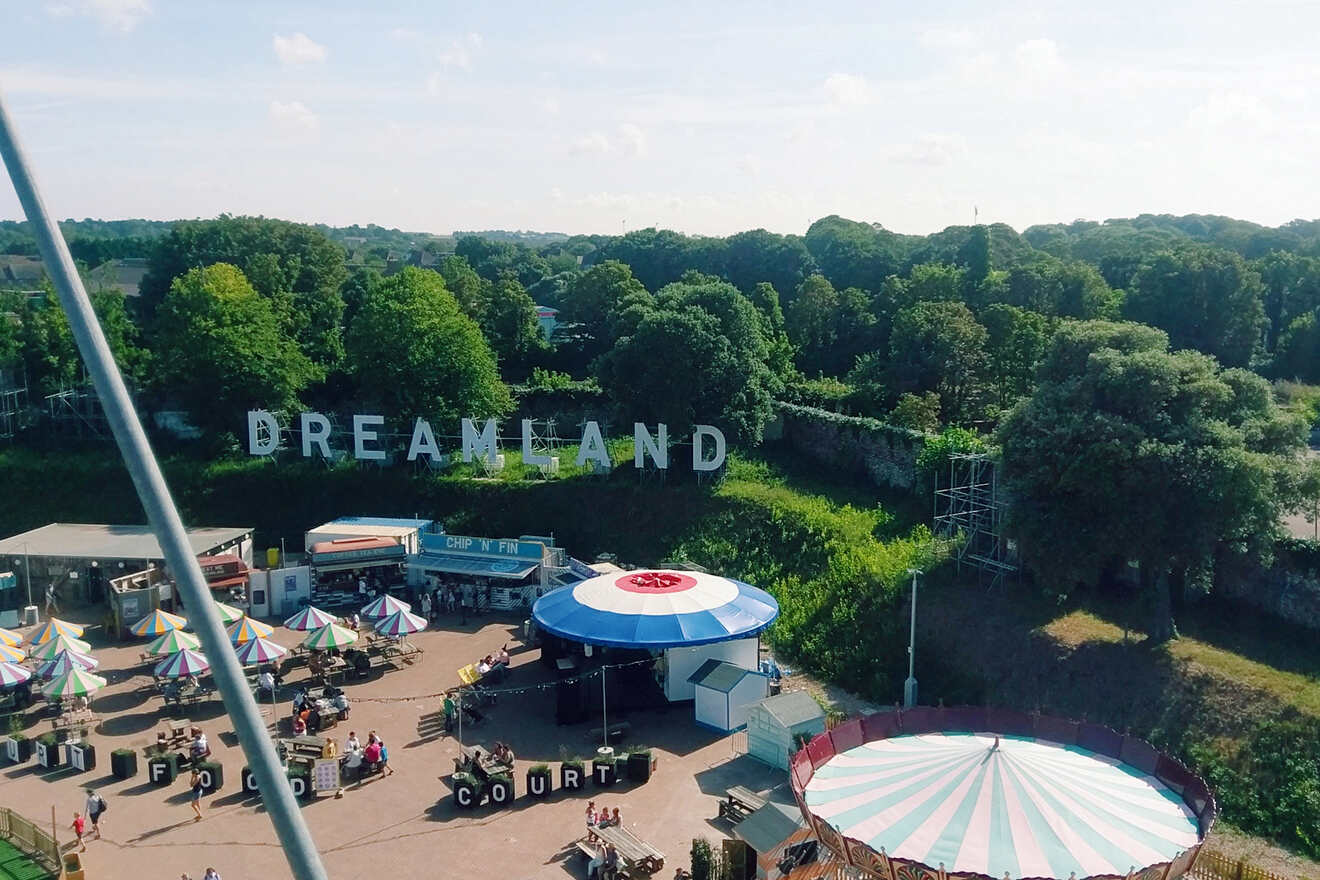 Are you in the mood for some good old fun at one of the best theme parks in the south part of England? All the villages have unique aspects, but Margate sure wins a spot amongst the best attractions with this cool park!
Located opposite the beach, Margate Dreamland offers a wide range of attractions for families, adults, and young people! The park has a rich history dating back to almost 100 years, and it even has England's oldest wooden roller coaster! Now that's a cool thing to see!
Spend a whole day eating, drinking, going on roller-coasters, listening to live music, and experiencing the magic of one of the greatest theme parks in England.
NOTE: Check their website to see the opening times and prices as they vary depending on the activities that you want to do and the time of year.
7. Visit the best natural and wildlife spots in "England's Garden"
Well, now that we've crossed off some of the best indoor attractions from your things to do in Kent list, let's get to the adventurous outdoor activities that you should check out in the "Garden of England."
7.1 Port Lympne Reserve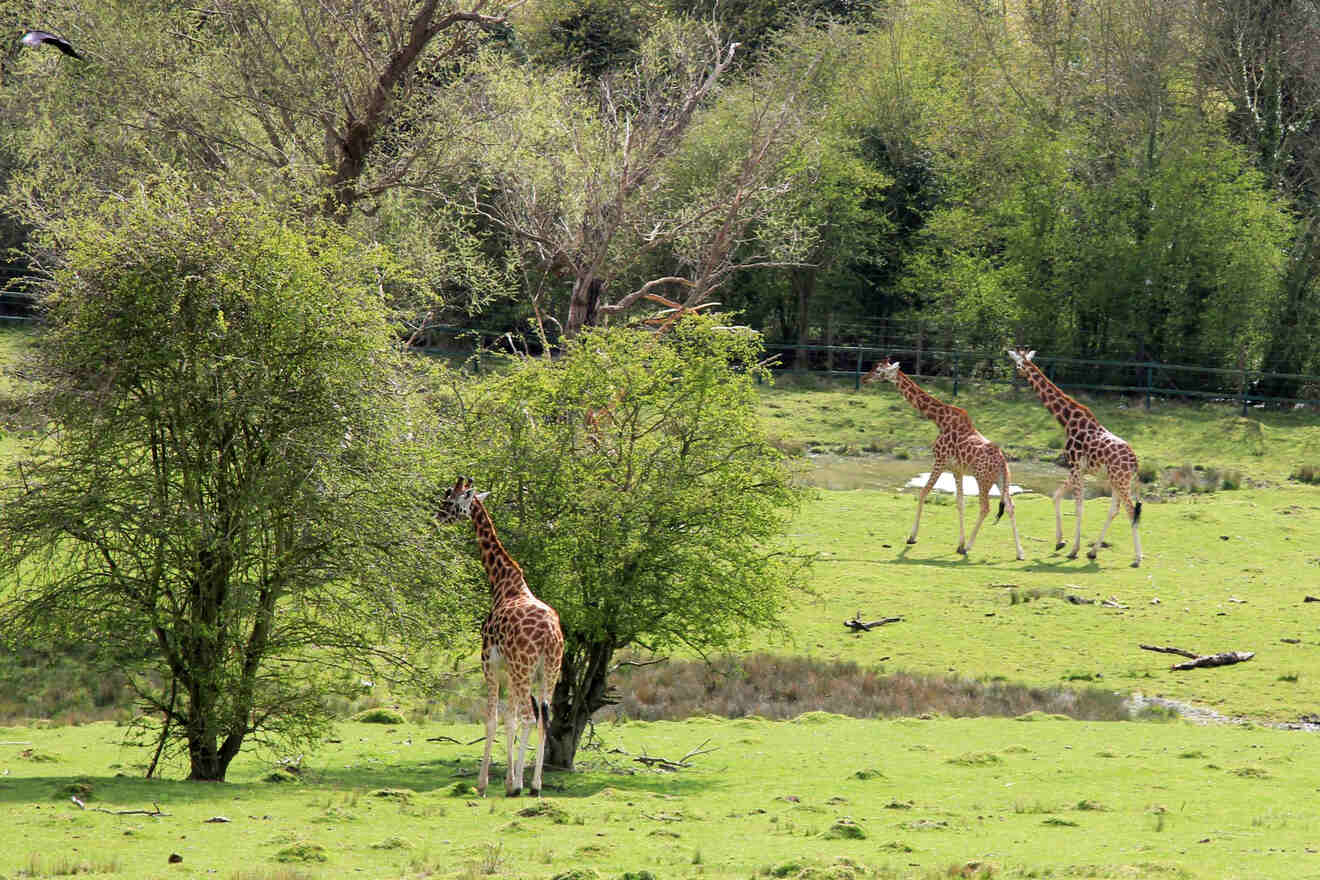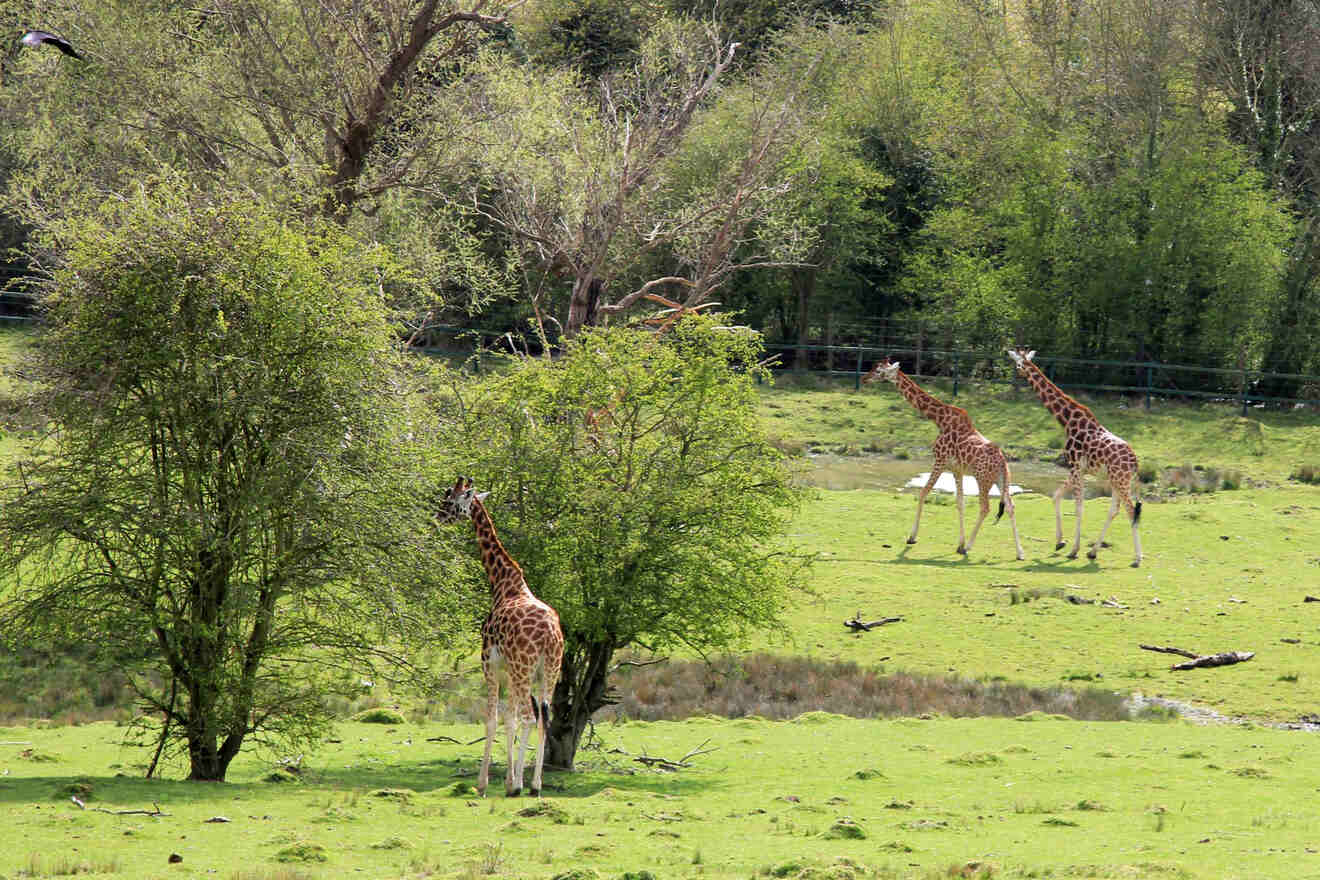 You wouldn't think that you could find a safari park in the Kent villages! I certainly didn't expect that, but boy was I wrong! The Port Lympne Reserve is the largest wild animal park in the county, including the largest herd of black rhinos, monkeys, gorillas, and many other animals!
If you're traveling with your family to one of the Kent towns, I highly recommend visiting the park and seeing all the animals! A Dinosaur Forest with life-sized prehistoric creatures, restaurants, play areas, and many more cool attractions will be waiting for you at this cool animal park in Kent!
Price: Adult £20 (US$27), Children £18.20 (US$24.50)
Location: Aldington Rd, Lympne
NOTE: The basic tickets will only grant you access to a walking route that only covers part of the land. I recommend paying the extra charge of £6 (US$8) to take a safari truck to see the rest of the park and spot animals that you wouldn't be able to see from the walking route.
7.2 Sevenoaks Wildlife Reserve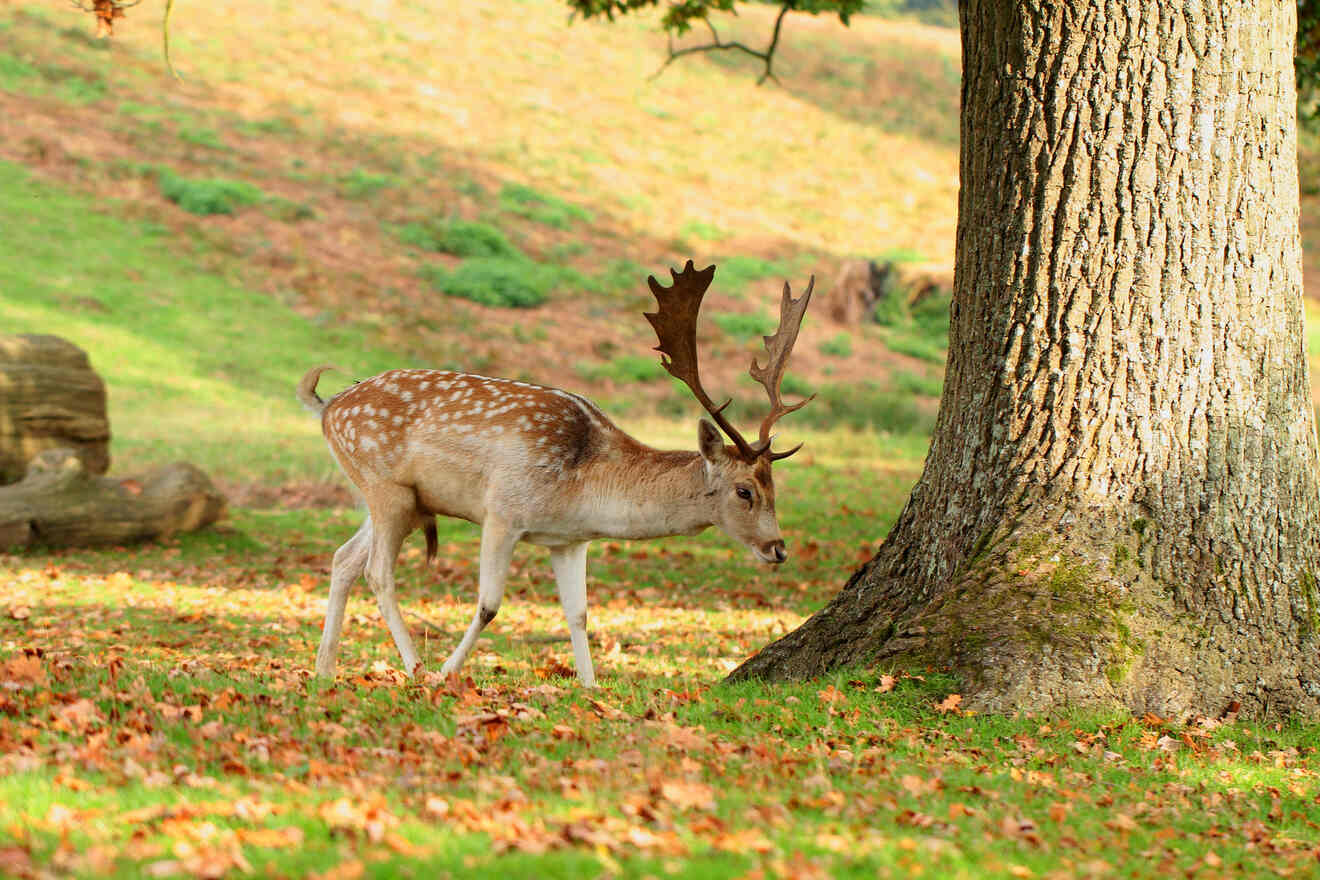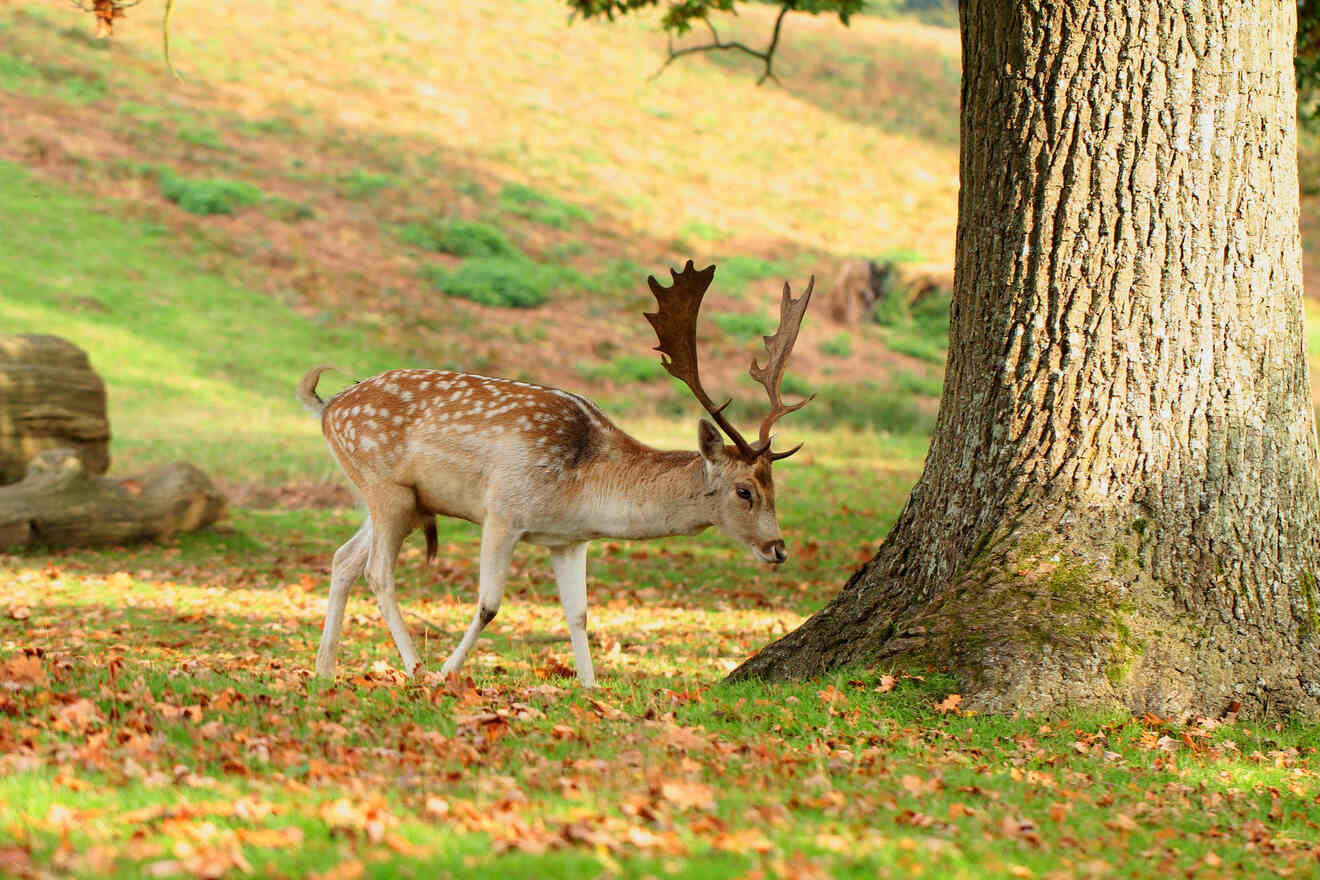 It's not by any chance that Kent is named the "Garden of England," with places to visit like the Sevenoaks Wildlife Reserve. It's hard to say no to this region!
Among my favorite things to do in Kent is the opportunity to explore the county's wildlife and to see tons of beautiful animals and birds! The Sevenoaks Wildlife Reserve is a beautiful natural spot located in the town of Sevenoaks that offers a spectacular sight, especially for bird and dragonflies lovers!
Price: Free
Location: Bradbourne Vale Rd, Sevenoaks
7.3 Howletts Wild Animal Park
I never get tired of watching animals or playing with them! Luckily if you love animals as much as I do, you're going to be happily surprised to see how many attractions there are in Kent that include these types of activities!
One of my favorite spots in the "Garden of England" is Howletts Wild Animals Park, which is home to some of the most endangered animals species in the world! You'll find over 450 animals here with almost 50 individual species!
You can try different activities here, from encounters with cute animals to courses that teach you how to care for these rare species!
NOTE: You can buy a carer ticket at the gatehouse, but all other tickets must be bought in advance
Price: Adults: £21.40 (US$28.80), children £18.20 (US$24.50)
Location: Bekesbourne Ln, Bekesbourne, Littlebourne
8. Enjoy a day in Canterbury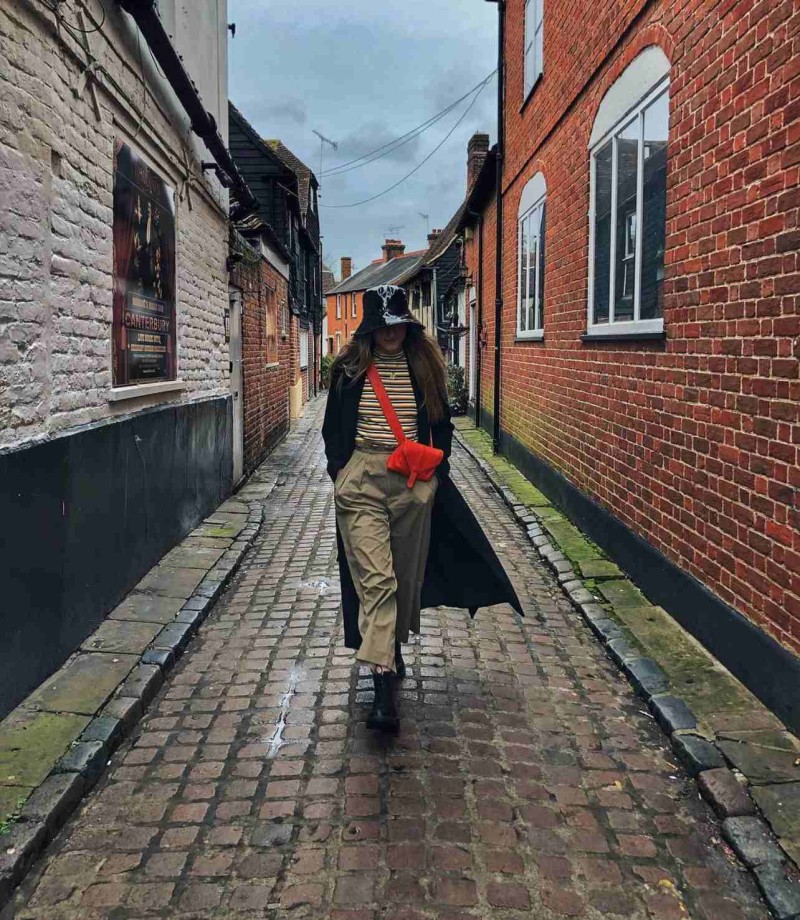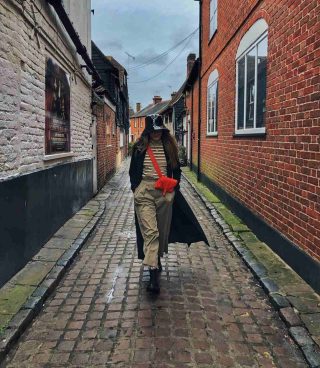 Canterbury was my all-time favorite place for a Sunday stroll while I was in Kent. It is such a cute village, and it has that old town charm, although you'll also find plenty of shops and restaurants!
Have some tea & cake at Tiny Tim's Tearoom
During my time in Kent, I wasn't so much into finding restaurants with good food that I was in finding cute tearooms and cafes! Usually, during the weekend, I would take a trip to one of the nearby towns or villages to find these types of places.
On one of my trips, I stumbled upon Tiny Tim's Tearoom in Canterbury, one of my favorite towns in Kent! And I loved the place so much that I went back a few more times after. The tearoom lives up to its name, it's super small, cozy, and perfect for a chilly afternoon when all you want is a cup of tea and some cake.
NOTE: I highly recommend trying the homemade cake, they have different types and they're all delicious!
Admire the architecture of Canterbury Cathedral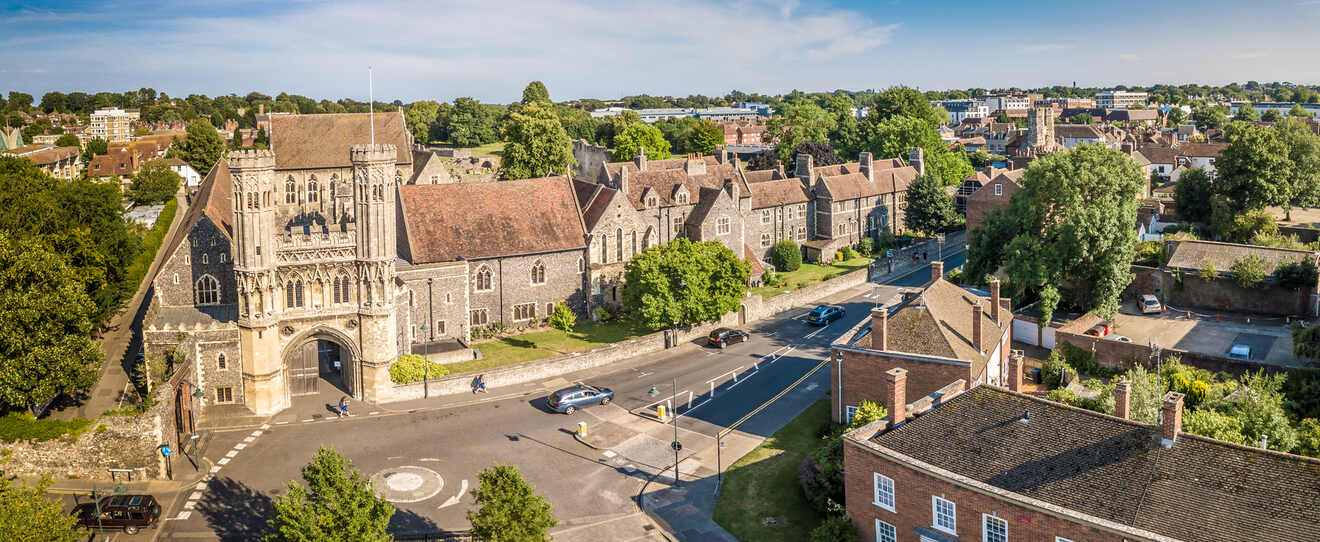 After your pleasant afternoon tea, the main attraction in this town is the Canterbury Cathedral, one of the oldest Christian structures in England. It is also known as the Mother Church of the worldwide Anglican Communion! Once you reach the high street you'll be able to see the Canterbury Cathedral even from afar, it's an incredible sight!
The architecture is simply stunning, so you can't miss this one! Suppose you're passionate about visiting places like the Cathedral and want to learn more about it. In that case, I recommend joining a city walking tour to have a professional tell you all the important things to know about this amazing attraction and the surrounding city.
Practical Information about Kent
Now that we're up to date with all the awesome things to do in Kent let's see which are the best places to stay in this region and how you can get around the villages! There are a lot of towns, so making a decision can be difficult, but I'm here to make that process much easier!
To enjoy your days out in Kent to the fullest, I recommend staying either in Tunbridge Wells or in Margate, as these are the most popular towns in Kent and some of the best ones if you ask for my honest opinion!
Where to stay in Kent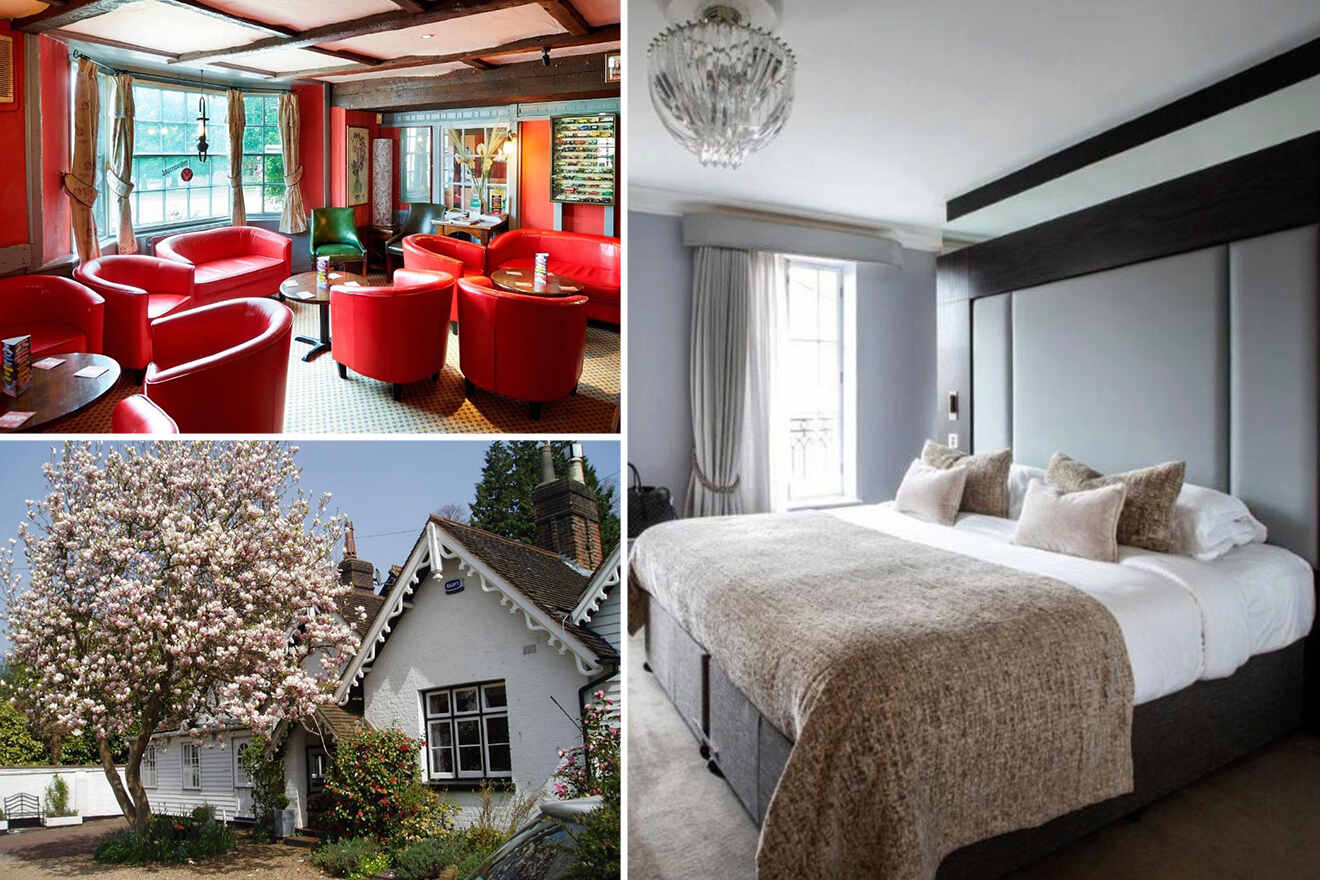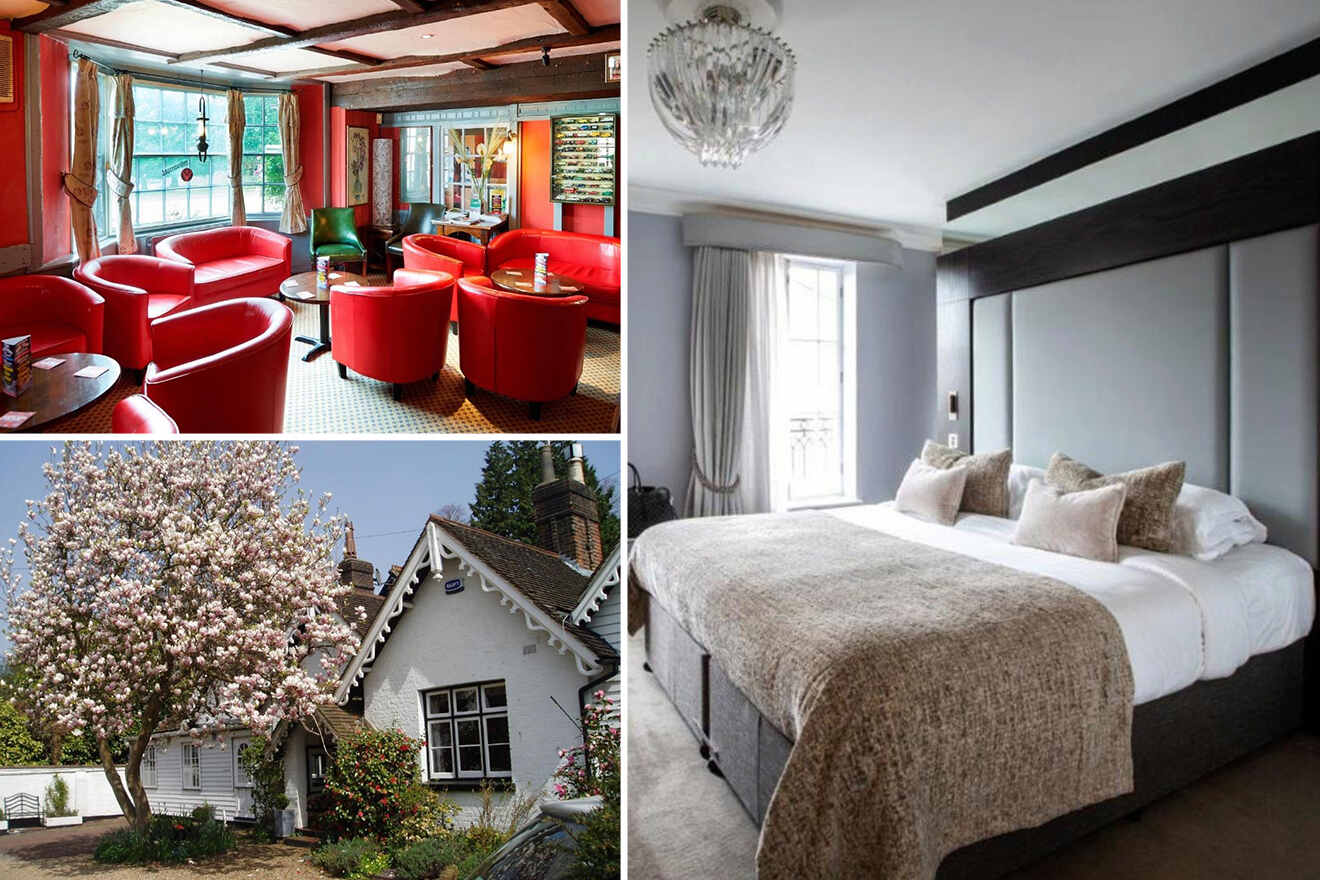 Luxury (US$235 and up)
One Warwick Park Hotel – Located in Royal Tunbridge Wells this luxury hotel offers an elegant setting and spacious rooms. There's an outdoor terrace where you can enjoy a cup of tea and a restaurant on-site where you can try some traditional English food. I recommend the English breakfast!
The Albion Rooms – With a vintage decor that will make you feel like you've traveled back in time and some amazing views of the Margate beach, this luxury hotel is a great place to stay in Kent! Chill on the sun terrace and then head to the restaurant for some good food.
Mid Range (US$100 – US$160)
Camden Arms Hotel – Enjoy your stay in one of the nicest towns in Kent, Tunbridge Wells, this historic location offers comfortable rooms with handmade furniture and an indoor restaurant. Chill in the private garden and on the outdoor terrace before you head out to visit Kent!
CloudZen – If you need some tranquility after visiting those crowded places, I recommend this B&B with spacious rooms. Relax in the shared lounge area, or catch the sun in the garden before you head out to do some more exploring.
Budget (up to US$100)
Ford Cottage – This cozy cottage is perfect for anyone who wants to travel on a budget to Kent! Located in Tunbridge Wells, nearby national trust properties, castles, and more attractions, the accommodation has a terrace, a fully equipped kitchen, and comfortable rooms.
Modern Flat – Admire the beach views from the windows of this modern and spacious flat near the Dreamland Margate-themed park. The accommodation has a kitchen, a terrace, and a private bathroom.
How to get around Kent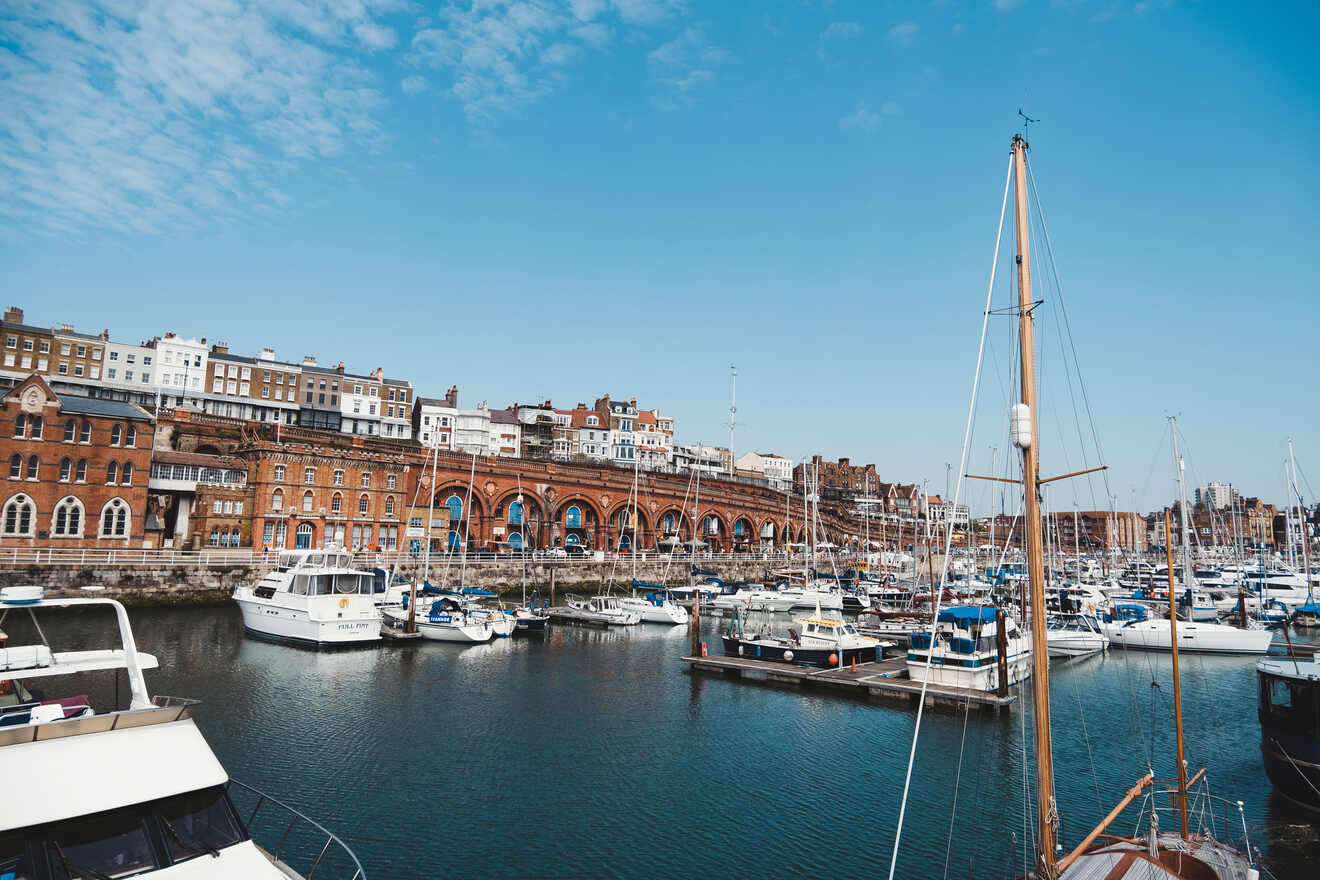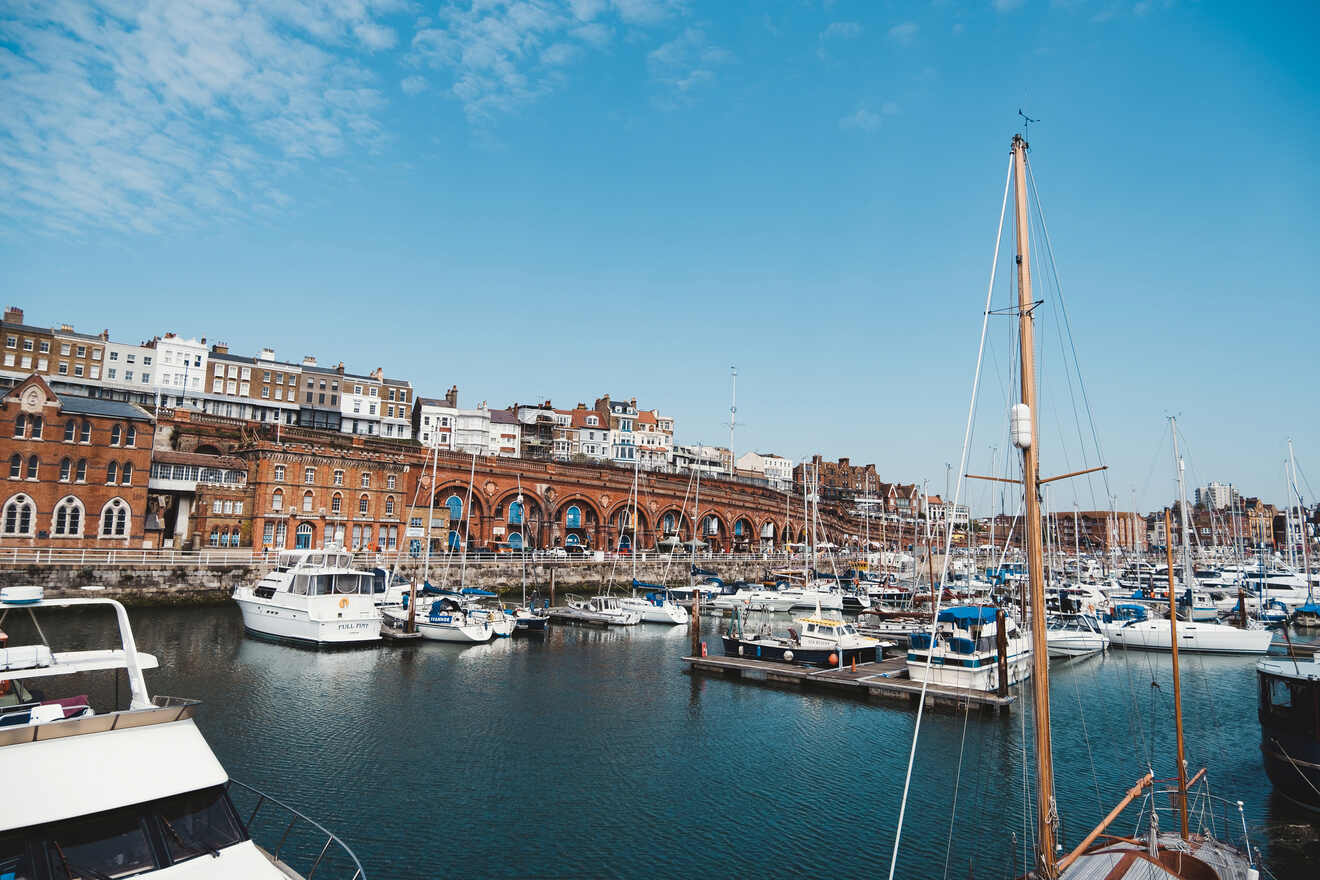 Public transport
Using trains and buses is the easiest way to explore all the villages, towns and attractions in Kent. You will find routes to most destinations around the county by train, but where there isn't one, you can rest assured that you'll find a bus that will take you where you need to be.
Although the region is not as crowded as London, trains can get pretty busy from 6:30 am – 9:00 am and 17:00 pm – 18:00 pm as that's when many commuters travel to/from work.
NOTE: If you're traveling during wintertime and the weather turns for the worst with snowfalls and lots of ice, trains and buses can get canceled easily.
​​You can easily use google maps to plan your route on public transport in Kent. Just put in your location and destination, and it will show you your options!
Trains – The Southeastern Railway is the train service you'll use to get around the whole Kent Region. The service also operates a high-speed train between London and Kent destinations such as Ashford International Canterbury, Folkestone, Margate, Broadstairs, Ramsgate, and Dover.

PRO TIP: The Southerneastern service offers GroupSave fares for groups of 3 to 9 people traveling together with up to 34% off. Alternatively, the Kent Rover ticket gives you up to three consecutive days of unlimited off-peak travel.

Buses – The Stagecoach Bus offers a cheaper way to travel around Kent and the possibility to reach places that sometimes the train doesn't. I recommend getting the Stagecoach Bus App to help you plan your visit and buy your tickets to avoid wasting any time on the bus.

NOTE: You can also pay contactless with your card on the bus or cash
Uber
Although there are a few cab companies in Kent that you can use, I highly recommend choosing the Uber service, as the rides are a bit cheaper and you can pay with your card, if you get a taxi, you will need to carry cash with you.
Frequently Asked Questions About Kent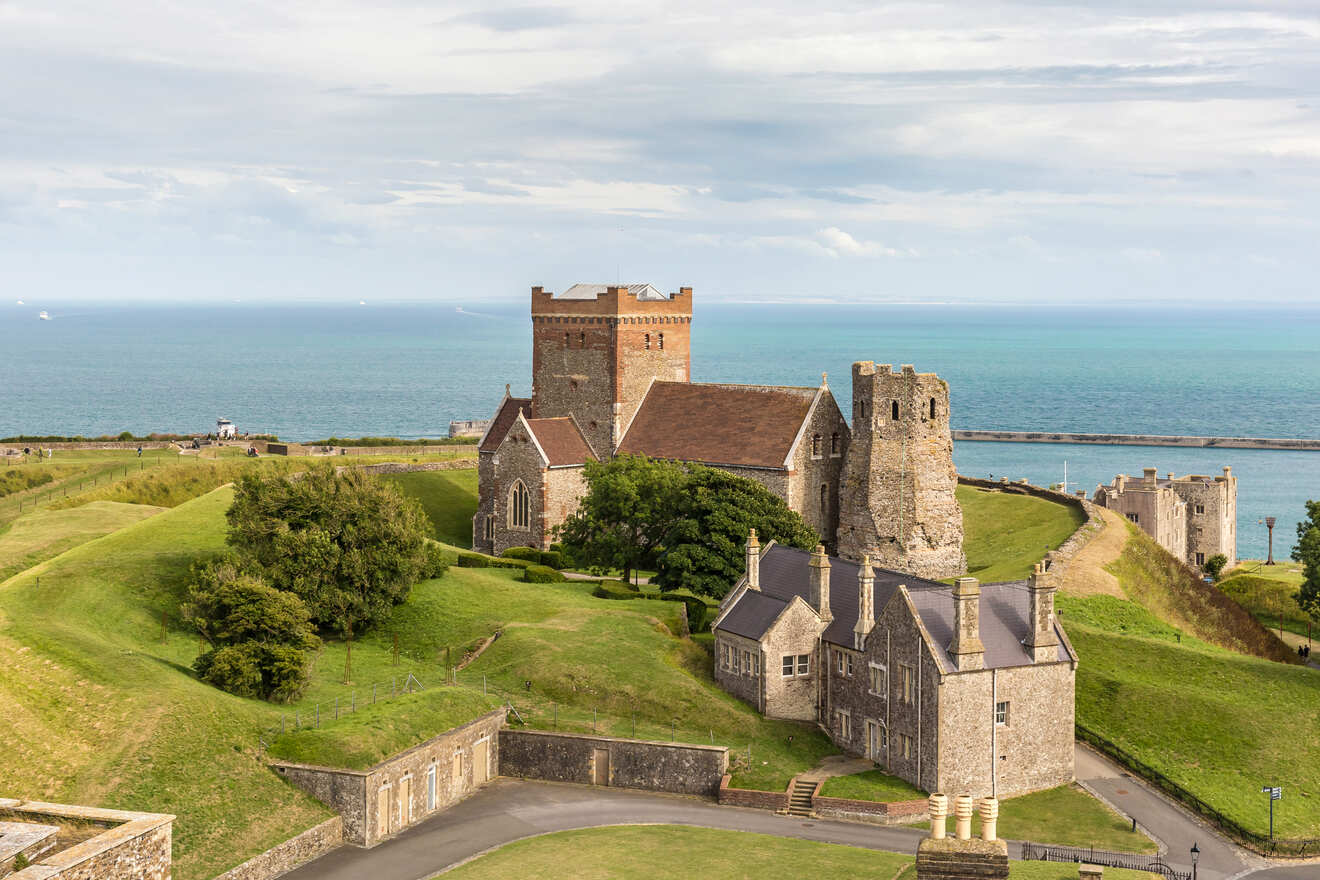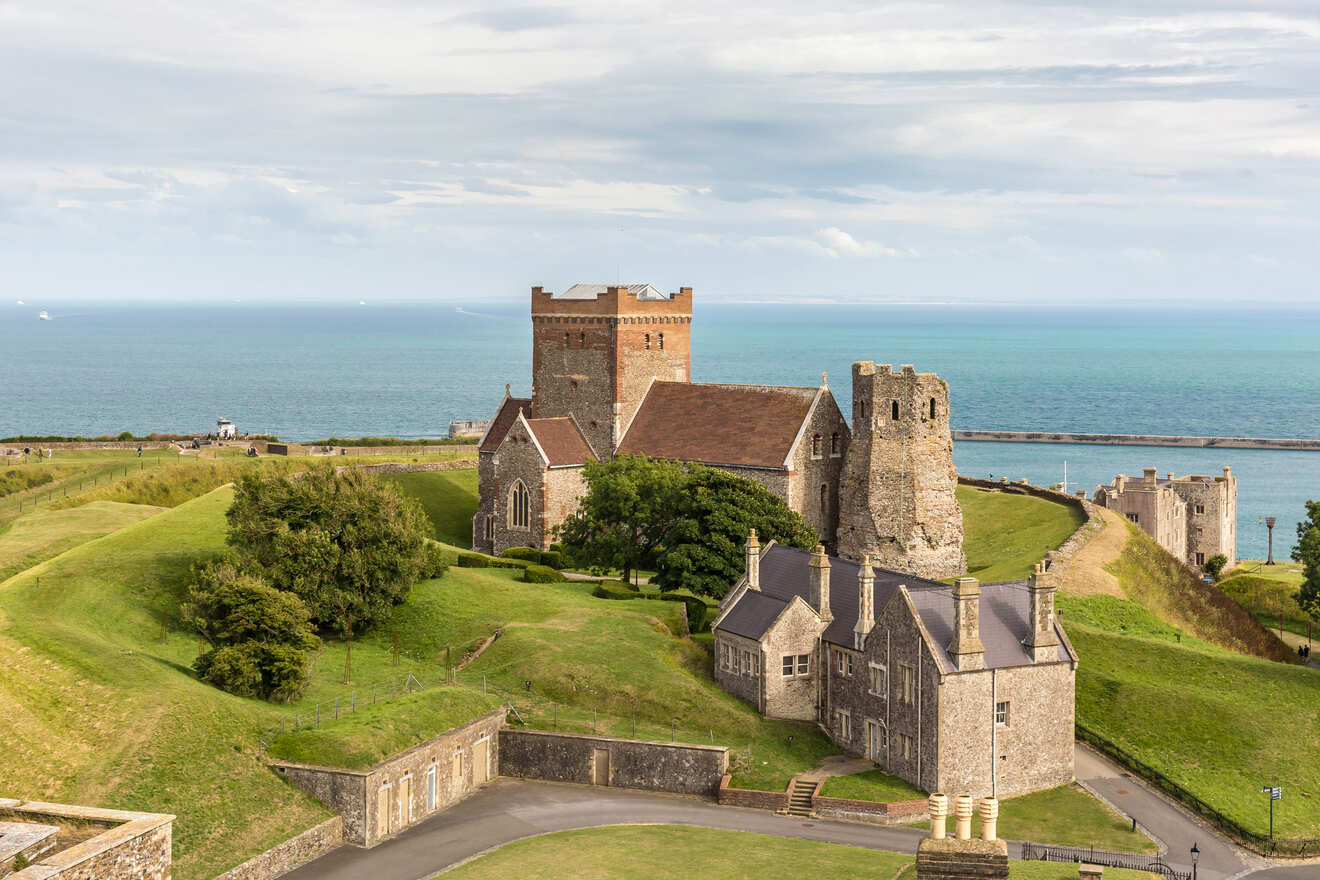 👶 What are the best things to do in Kent with kids?
The best attractions to visit in Kent with your kids are Margate Dreamland Theme Park, the Port Lympne Reserve park, and the Howletts Wild Animal Park. 
📅 How many days should I stay in Kent?
I would recommend spending between 4 to 5 days in Kent, so you can check all the attractions from your list like the beach, a forest, a theme park and let's not forget about the castles!
💯 What is the best place to stay in Kent?
💸 Is Kent expensive to visit?
Although the UK is an expensive country, compared to other areas, Kent tends to have prices somewhere in the middle, meaning it's not extra expensive but not super cheap either. 
Conclusion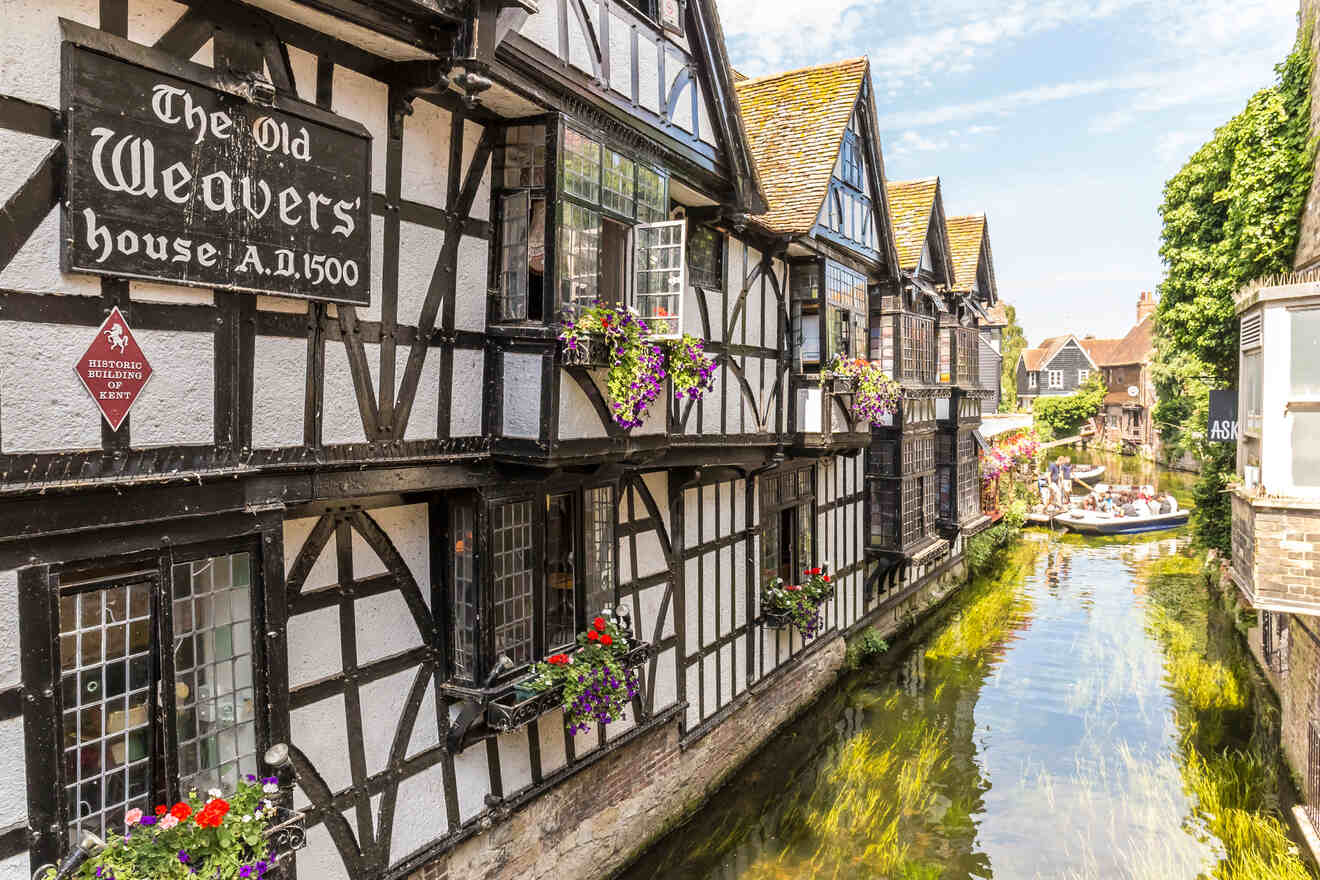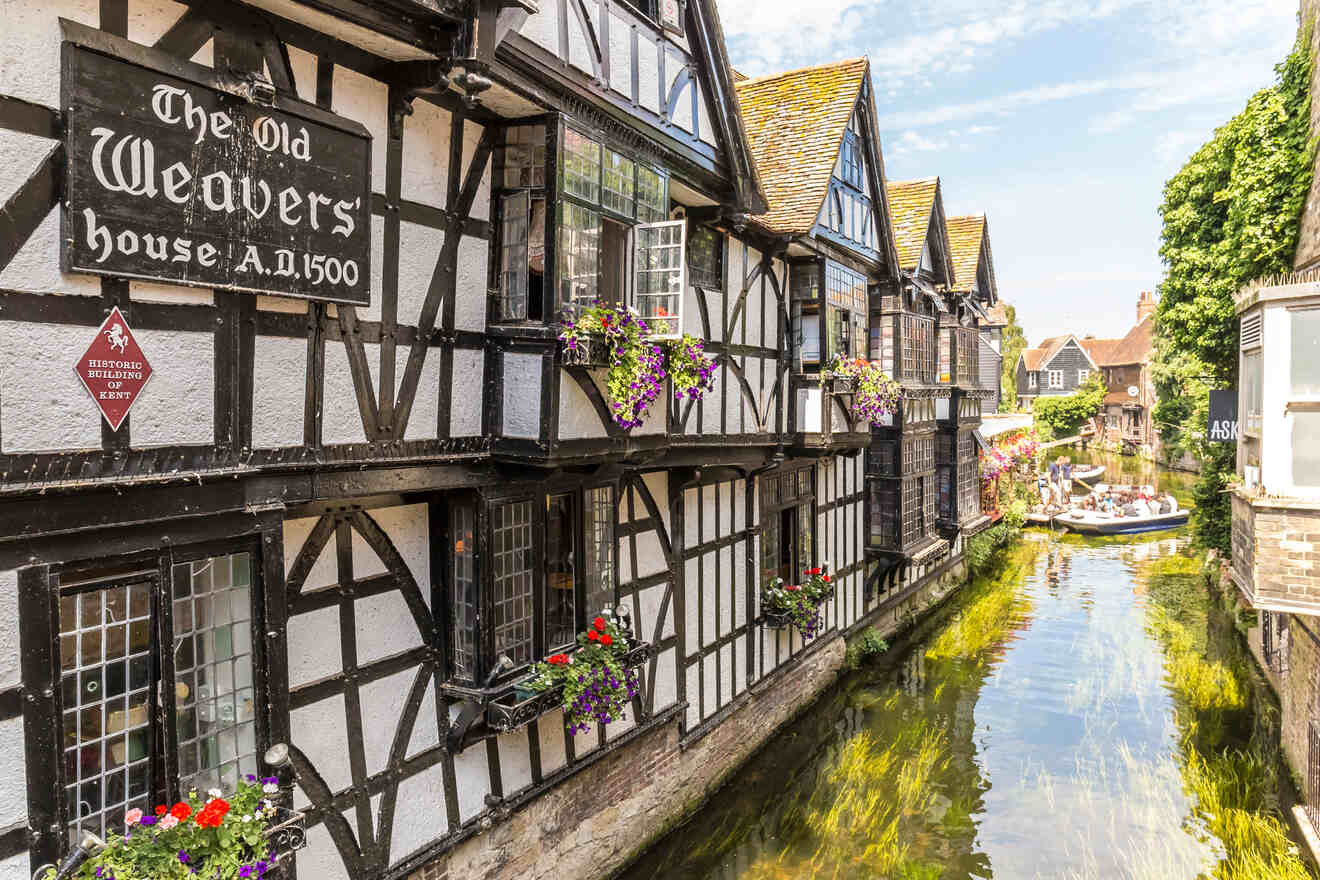 Wow, Kent never ceases to amaze me! I hope this post helped you decide which are the best things to do in Kent and which attraction you should see first! The white cliffs of Dover are for sure on top of my list!
Kent is filled with hidden gems, and even when you think you've seen everything, you might come across an old manor or a castle that will steal your heart and convince you to visit it at least for a few hours!
Its proximity to London makes Kent a great holiday destination not only for tourists but also for locals, so I highly recommend booking your tour tickets in advance to secure your spot.
Have a fantastic trip during your days out in Kent! Enjoy the "Garden of England", visit its stunning castles, visit the animals in the parks or maybe play some golf! There are so many options and indoor activities, you won't know where to begin!
Safe Travels,
Victoria
---
---
Pin it for later!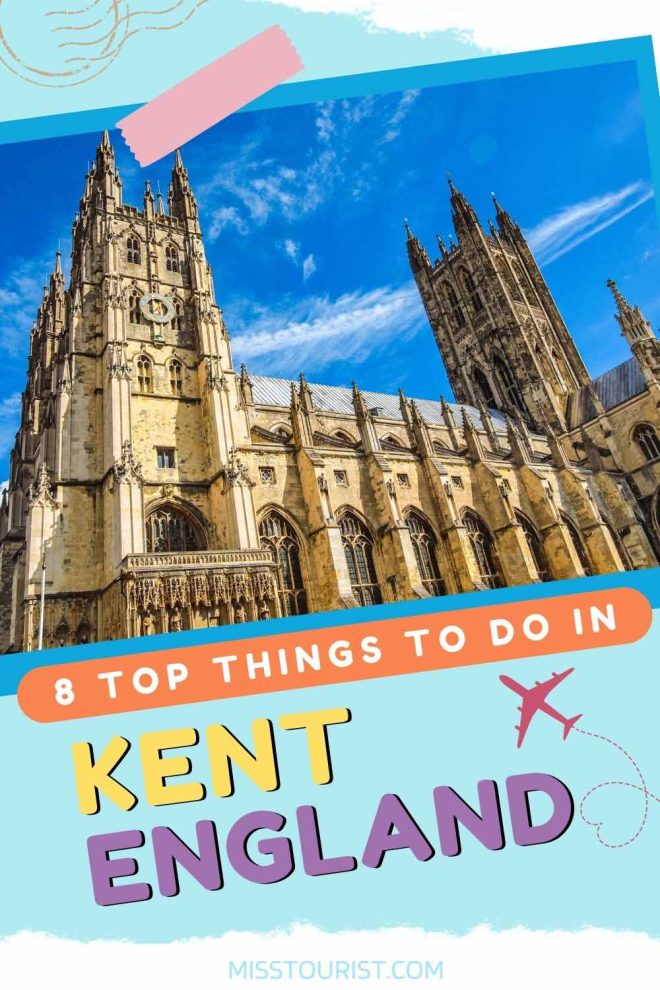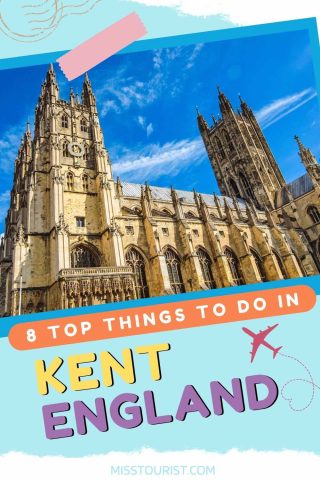 Pin it for later!