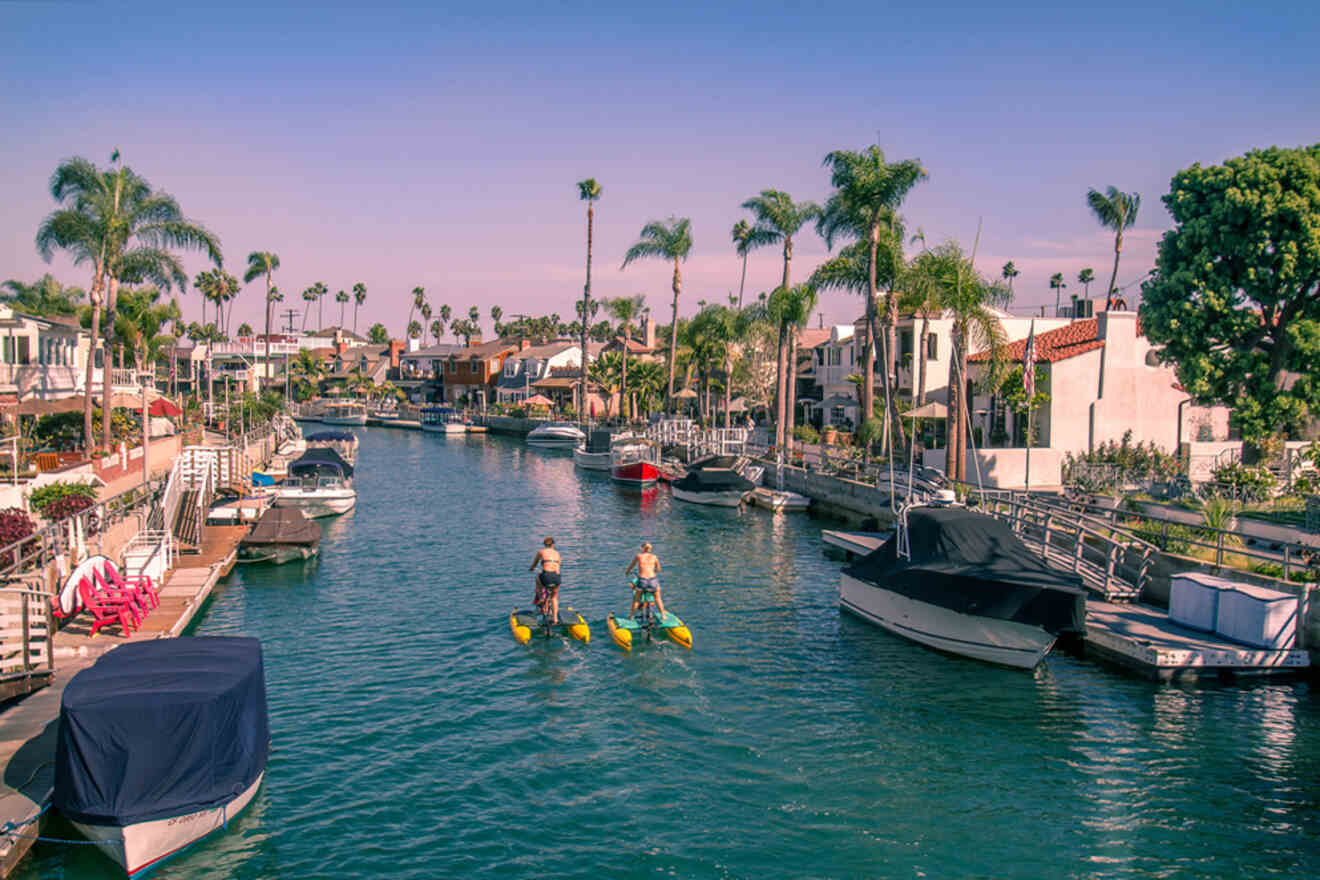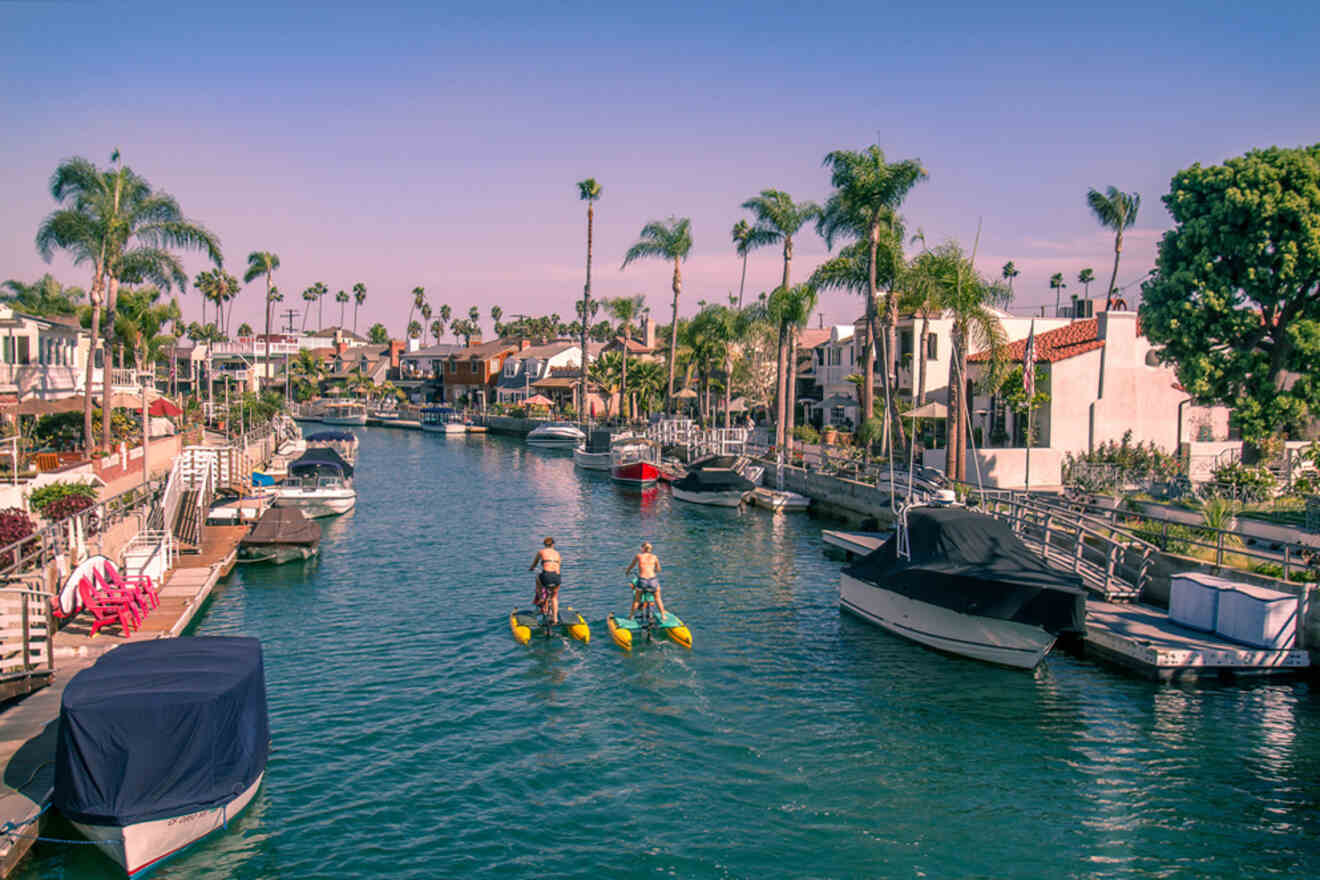 As a San Diego native, I often drive a few hours north, just past the sleepy shoreside community of Seal Beach, to play in an urban entertainment center sitting on the Pacific Ocean – the city of Long Beach.
This stretch of Southern California is a really unique area! There are so many things to do in Long Beach with the accessibility and feel of city life but situated on the waterfront, giving the city a laid-back, beachy vibe.
With a slew of interesting museums, fun outdoor activities, and incredible dining options, it's impossible not to have a blast on this SoCal adventure! So come along as I introduce you to one of California's lesser known coastal cities you'll be sure to fall in love with!
Just a quick note before we embark: make sure to book your tours and hotels in advance! You don't want to miss the chance to save some $, or, even worse, miss your spot!
If you are in a hurry
While Long Beach, CA, is less hectic than Los Angeles, I still recommend securing your tickets for the top things to do in Long Beach ahead of time!
Here are the main things to book in advance:
And here are the best hotels: Hyatt Centric The Pike (luxury), Best Western Plus Convention Center (mid-range), Hotel Royal (budget)
1. Shop around Shoreline Village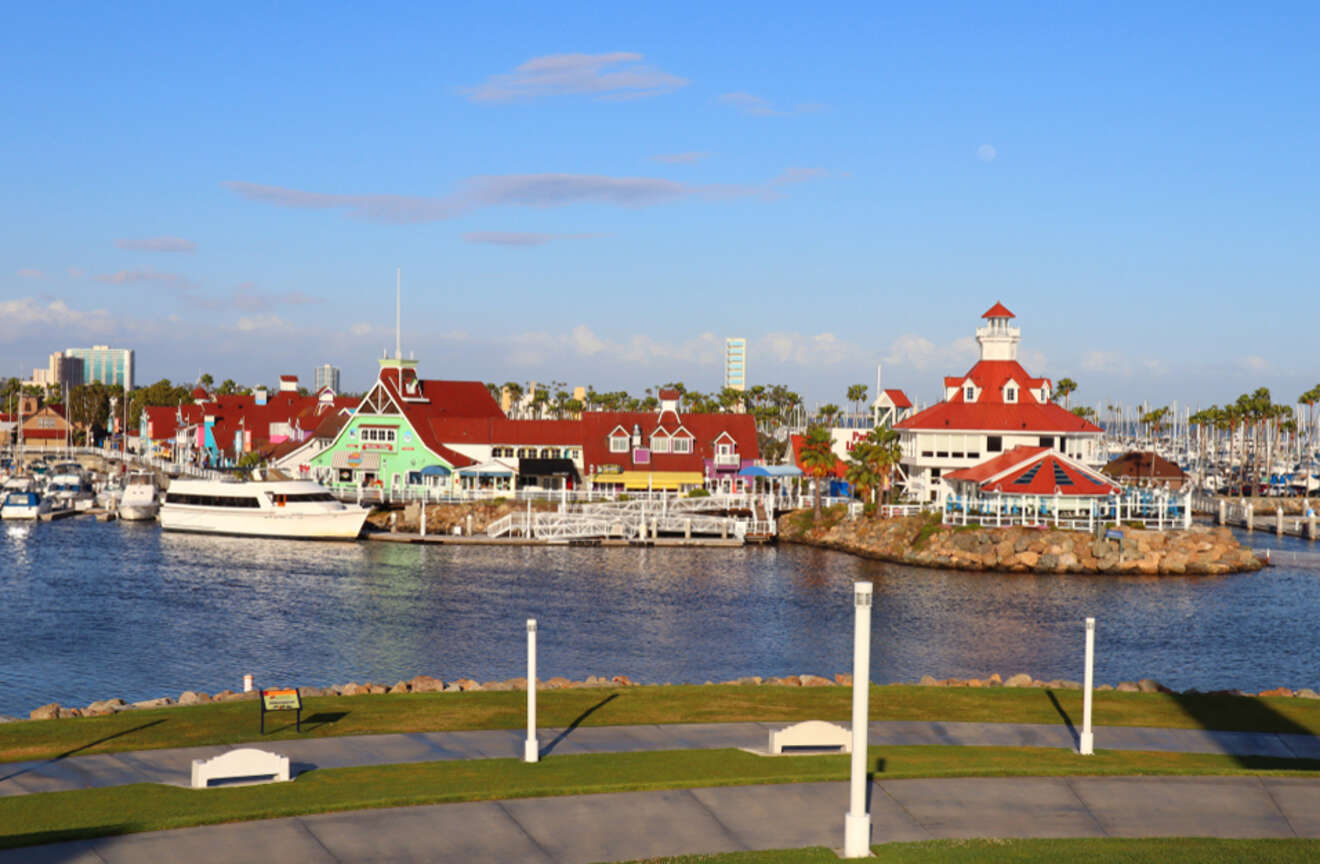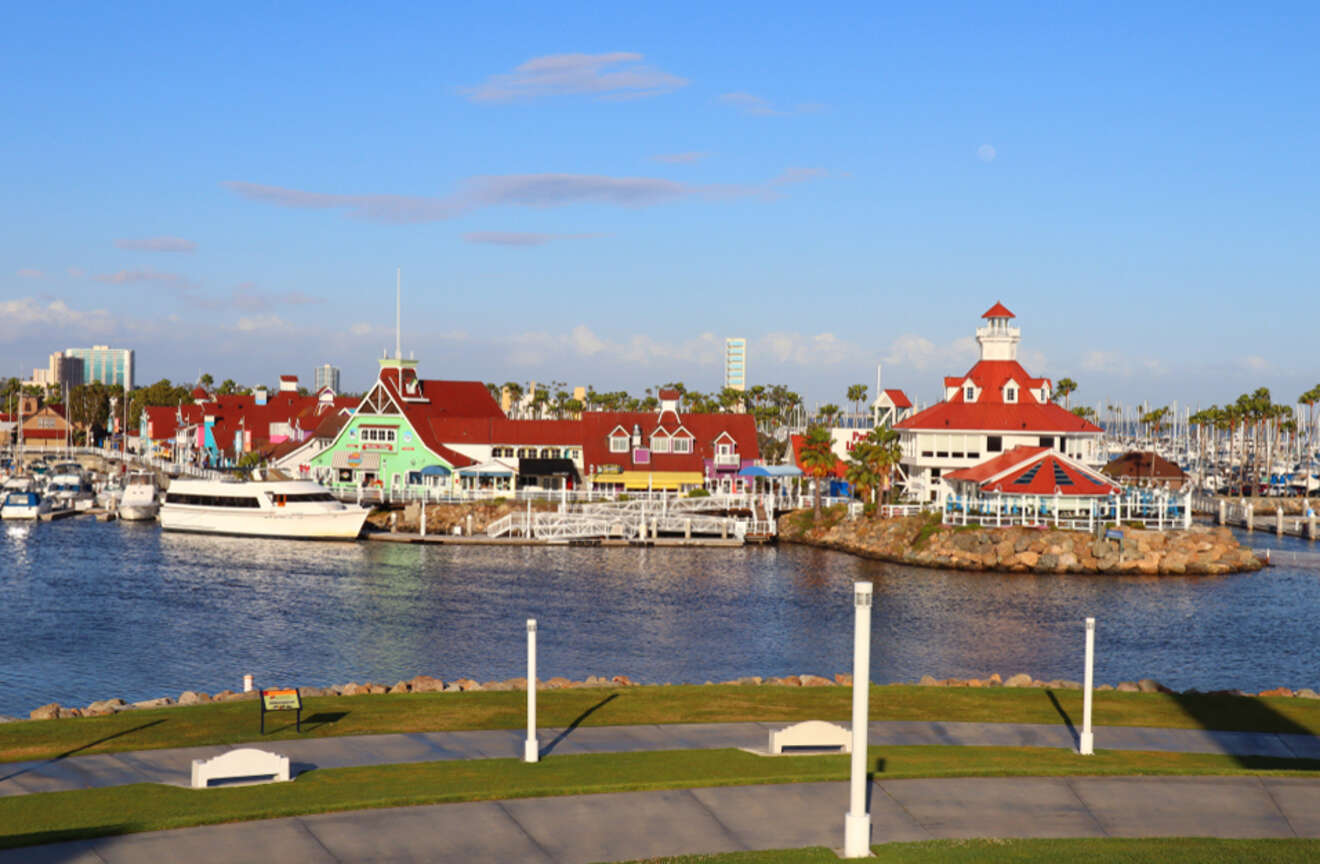 Shoreline Village is a quaint, New England-style shopping village on Rainbow Harbor complete with its own carousel. You have gorgeous views of the water while you shop and dine in this family-friendly destination.
If you're looking for things to do in Long Beach, there's no limit to the options here. Pelican Pier Pavilion is an arcade popular with the kids, but there's always something new and exciting happening at Shoreline Village for all ages. Spend an afternoon wandering around the various souvenir shops, grab a flick at the movie theater, sample local seafood restaurants, or just people-watch along the harbor.
Save time and have a blast renting bikes from Wheel Fun Rentals and cruising the bike paths!
2. Climb Aboard the Queen Mary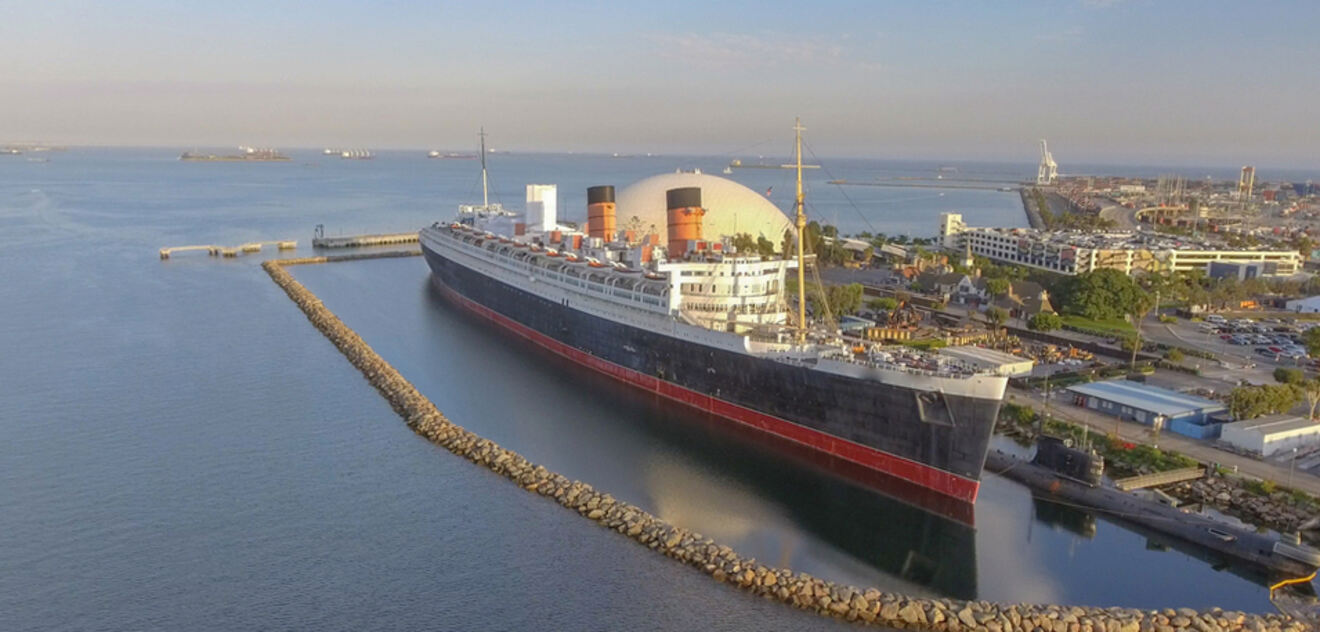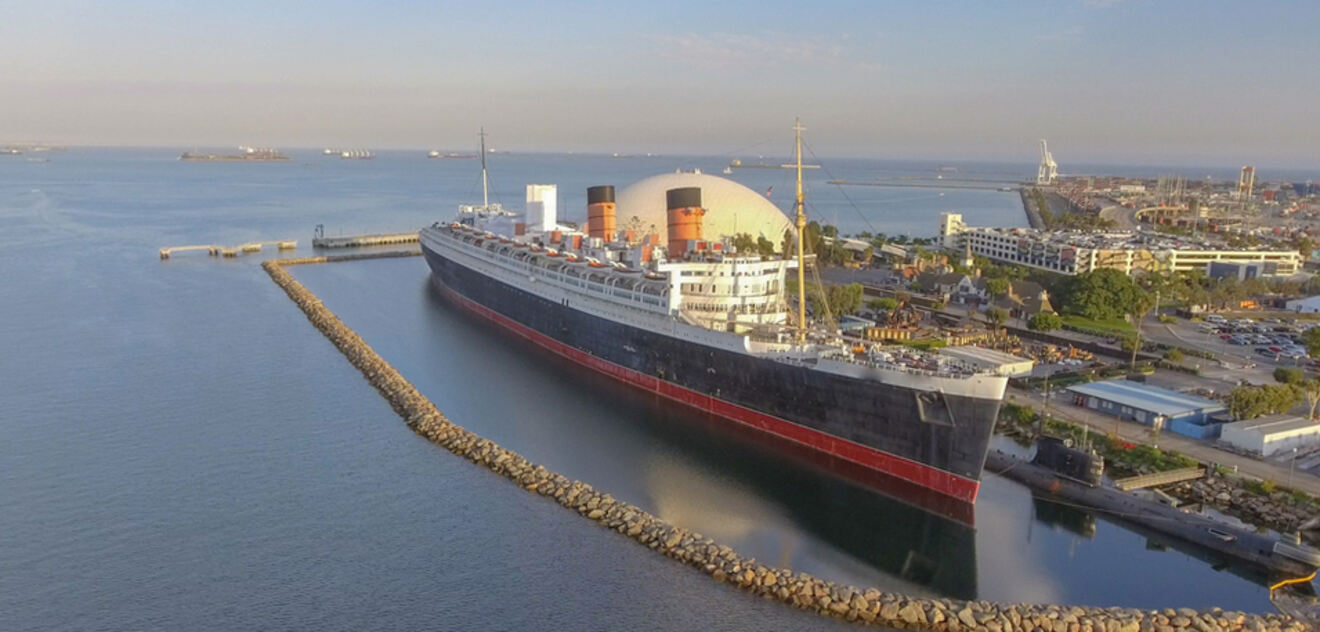 Permanently moored in Long Beach since 1967, this stunning vessel was used to shuttle travelers between New York and England.
This goliath of an ocean liner is one of Long Beach's top tourist attractions. Stretching over 1,000 feet (over 310 m), the Queen Mary offers up a museum, a fully functioning hotel, 3 restaurants, a lounge, and countless other ways to fill your time at this amazing site.
If you find yourself lucky enough to stay aboard the Queen Mary, you'll notice the fantastic Art Deco-inspired decor and little nooks and crannies all over the ship. If you are just coming for a visit, the Queen Mary has a museum available with engaging local history on the ship and its remarkable past.
Into ghost tours? This haunted experience aboard the ocean liner is a one-of-a-kind opportunity for the brave at heart.
PRICE: from US$25 per person
3. Visit the Earl Burns Miller Japanese Garden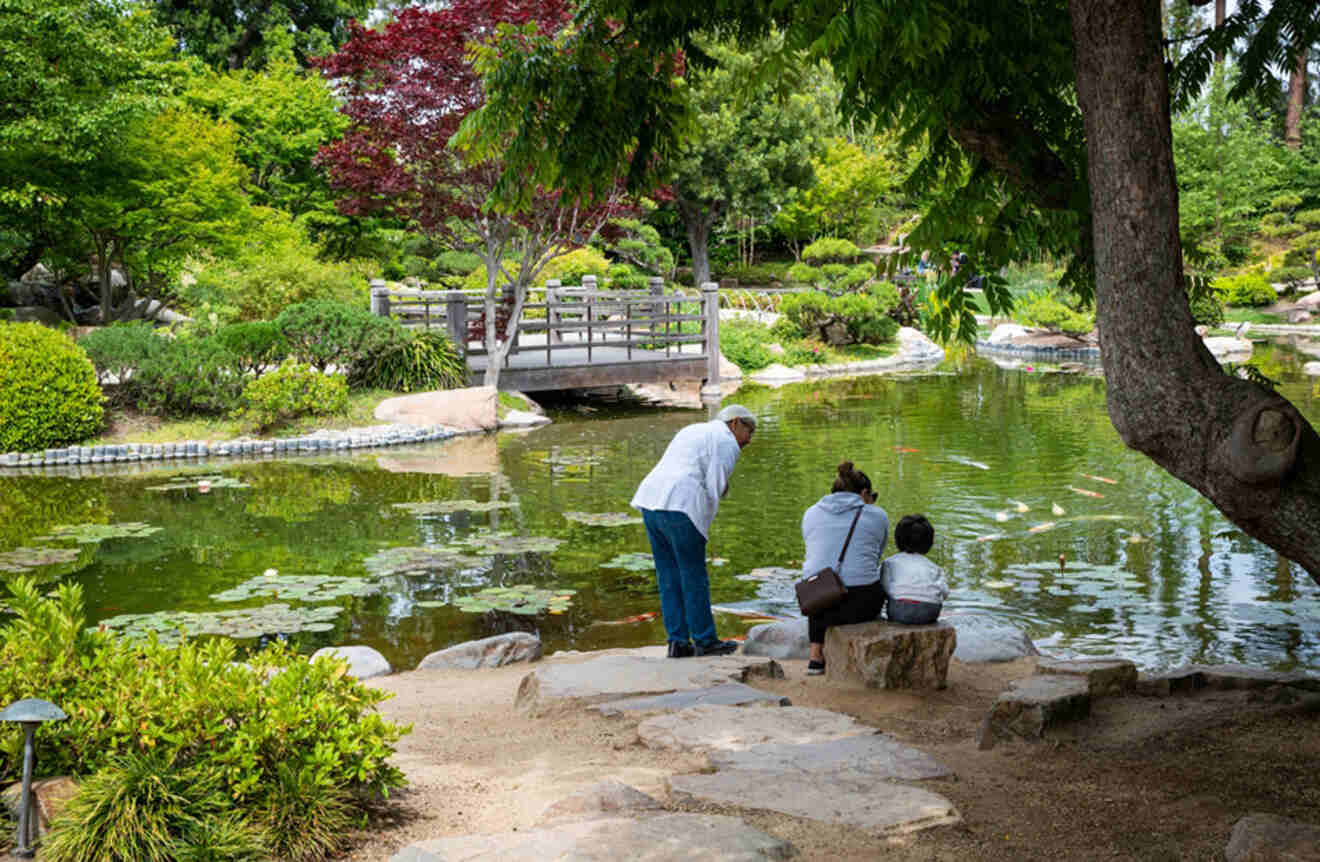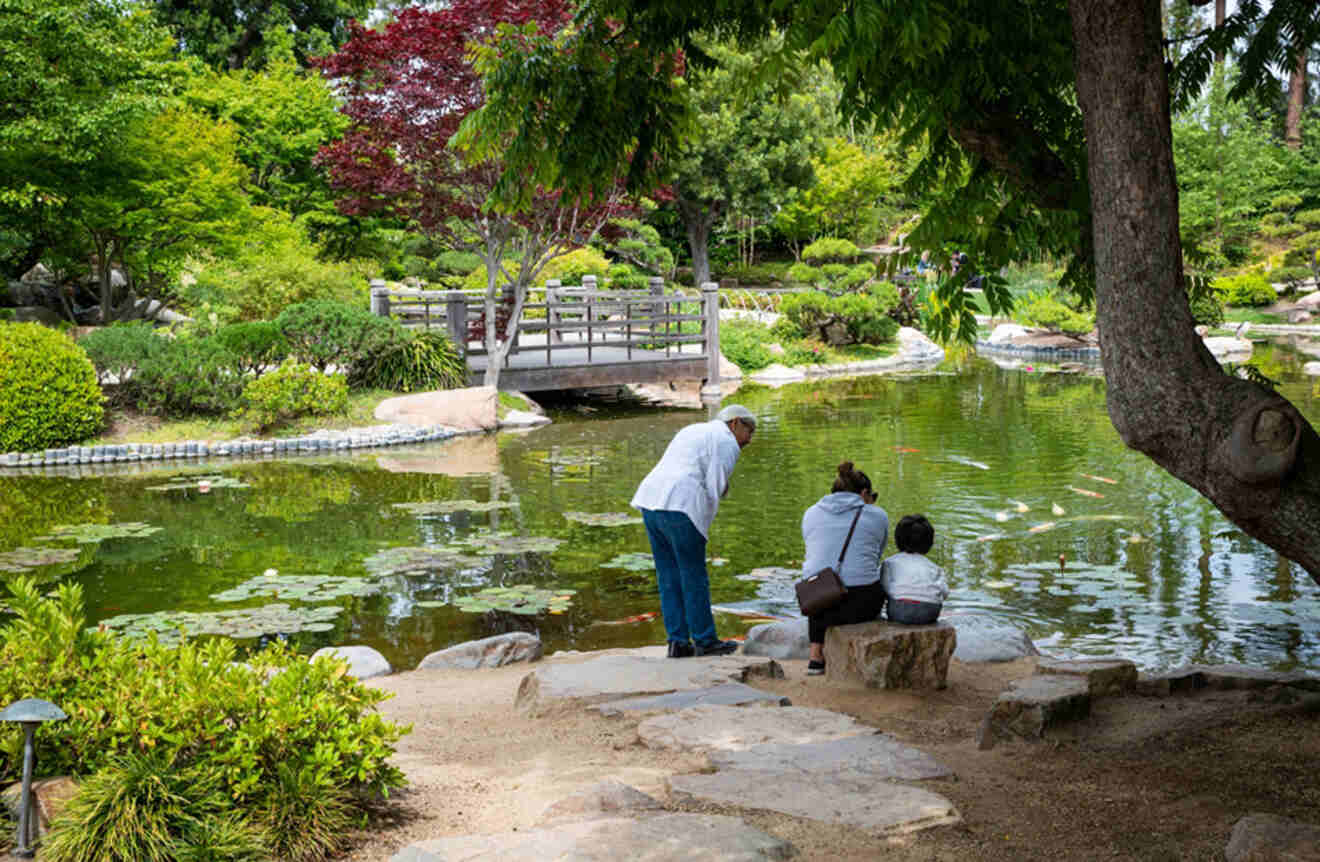 The Earl Burns Miller Japanese Garden in Long Beach, CA, is actually a part of California State University and is by far one of the most relaxing activities to do during your trip. Long Beach is fortunate to hold many green spaces open to the public.
The Japanese Garden is a dose of tranquility in an otherwise bustling urban hub. Modeled after the Tokyo Imperial Gardens, the garden features in this beautiful space house a lively, colorful koi pond, precisely placed stone benches for meditation, and walkways that allow you to wander amongst the surrounding nature.
Make a reservation ahead of time to participate in the koi fish daily feeding! Reservations are limited!
NOTE: While admission is free, it is part of California State University, and they cap admittance per day, so book ahead!
4. Stroll through El Dorado Nature Center and El Dorado Park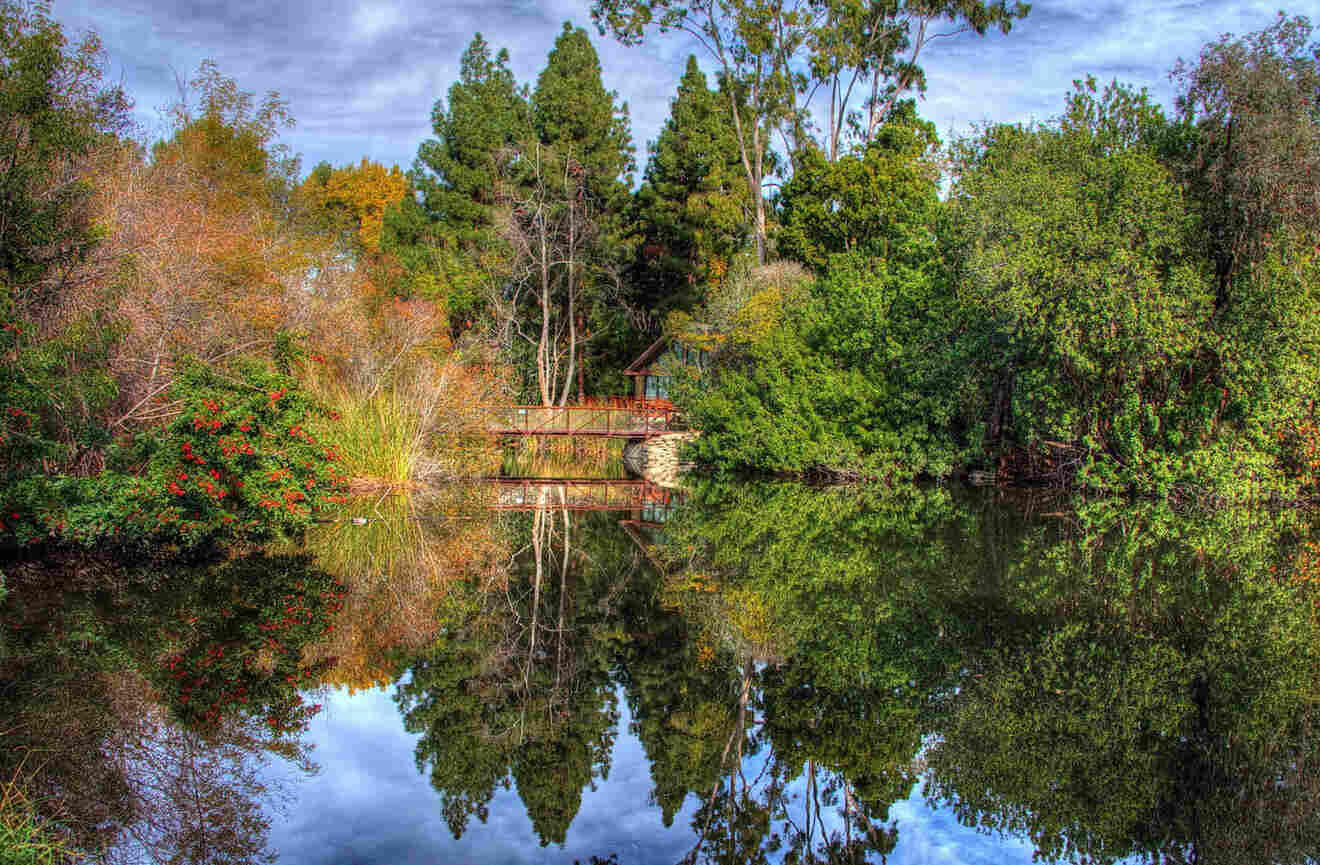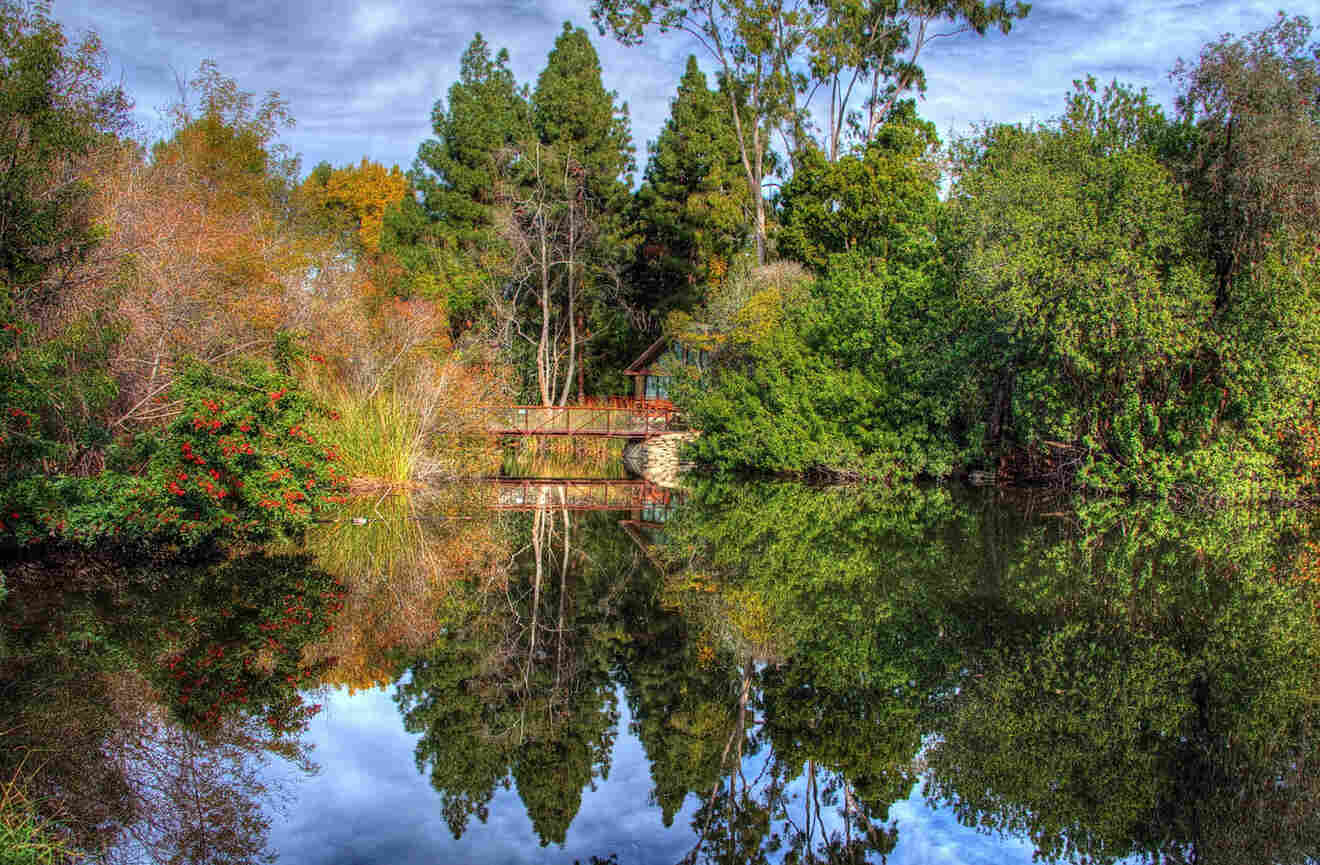 El Dorado Nature Center is a stunning park situated between the San Gabriel River and the 605 freeway. Stretching for 105 acres (over 40 hectares), El Dorado Nature Center protects the area's wildlife.
You can spend a whole day here enjoying nature, taking advantage of the many sporting activities (basketball, hockey, tennis, and disc golf, to name a few!), or hitting the trails on bicycle.
PRICE: US$9 per car for parking
5. Explore the Long Beach Museum of Art
As one of my favorite activities in Long Beach, CA, the Long Beach Museum of Art is not to be missed. This colorful and inviting space is home to over 4,000 exhibits, including 20th-century European art all the way to modern California-inspired art.
One of the best things about this museum is they have some great rotating constellations that bring in different types of artists and breathtaking, unique works. From women-only artists to an exhibit dedicated specifically to modern furniture, this museum always keeps you intrigued.
Don't miss the outdoor sculpture garden packed with 12 amazing pieces, including a seal made entirely of recycled items taken from a landfill.
If you get hungry while gazing at the art, pop into Claire's at the Museum for an outdoor snack on the Long Beach waterfront.
PRICE: US$12 for adults
6. Relax in Bluff Park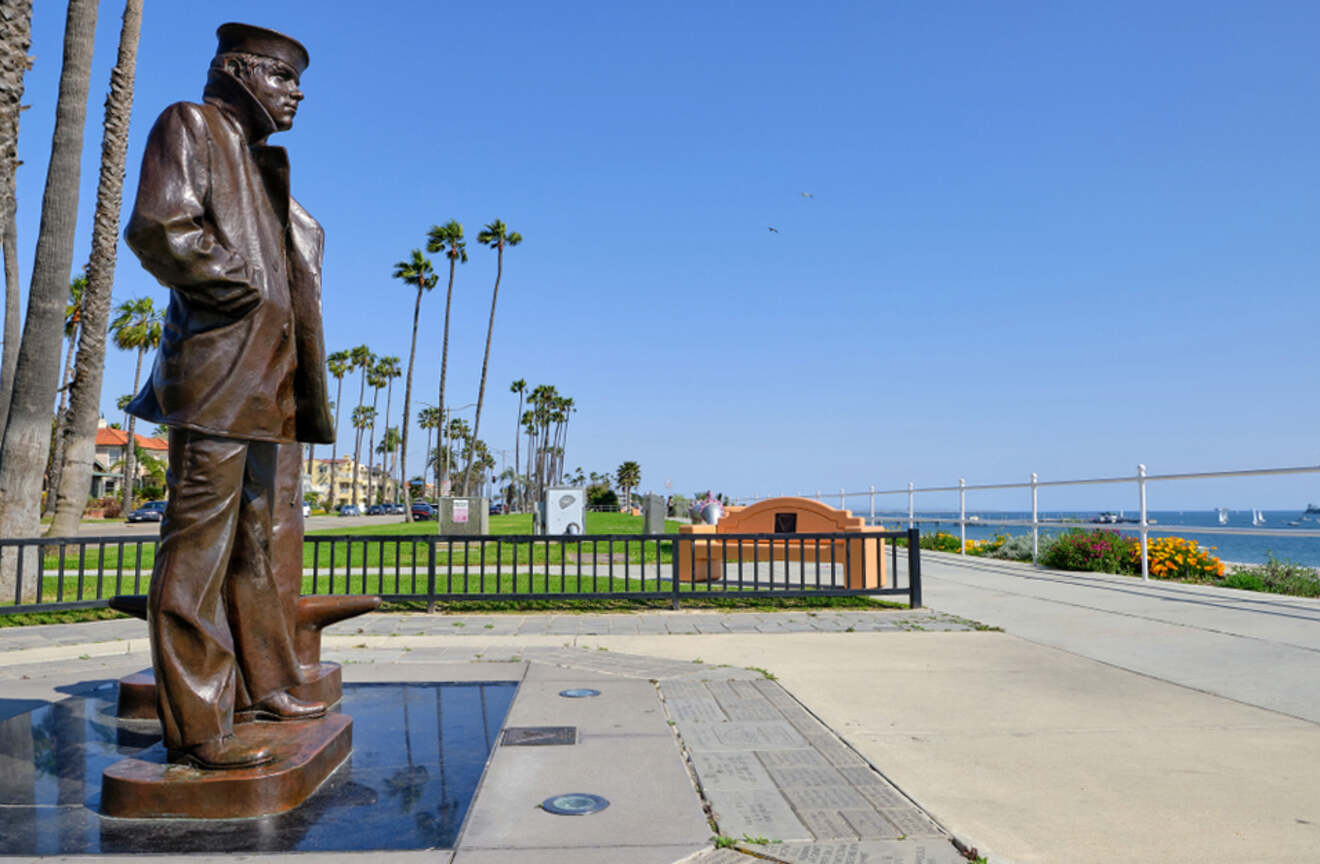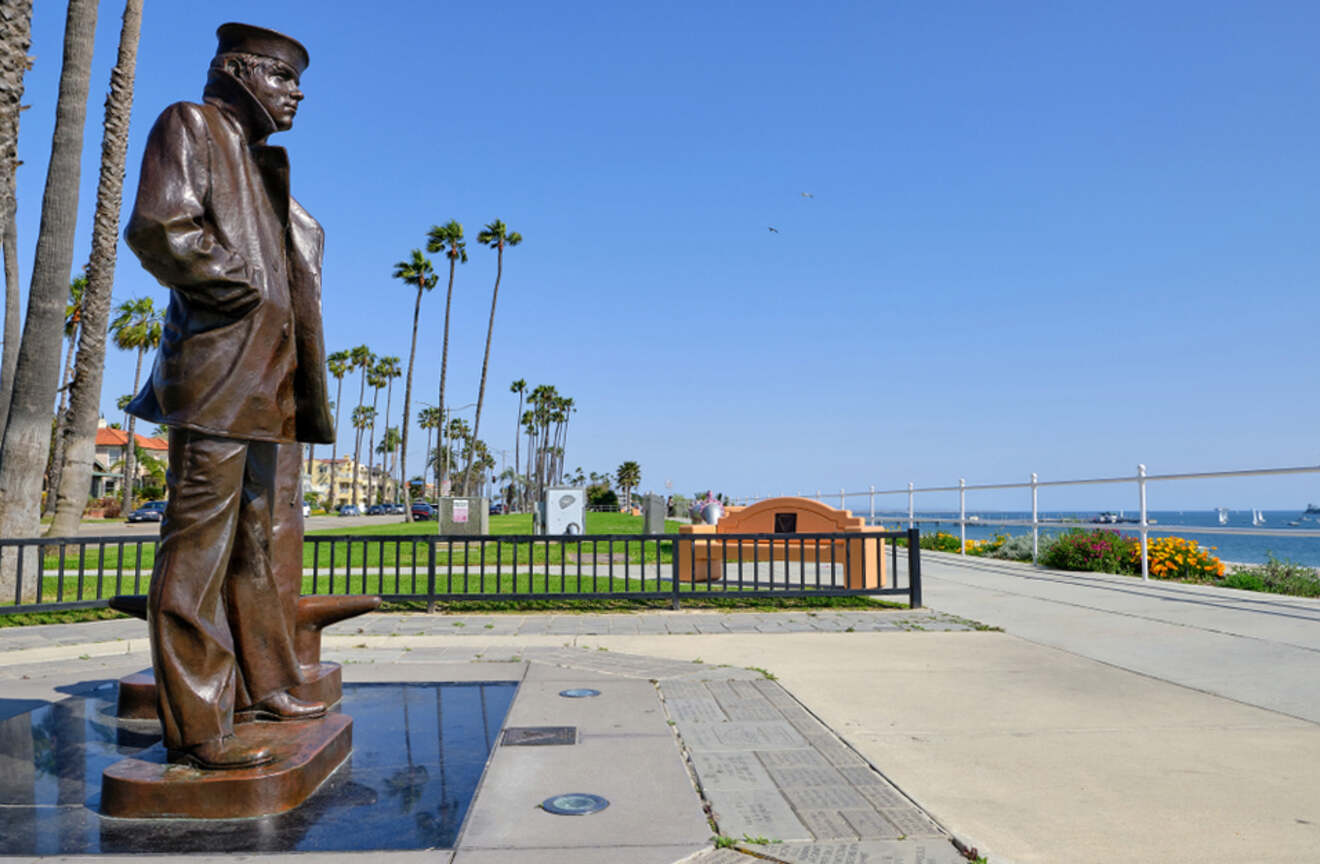 One of my favorite green spaces and a wonderfully serene option has to be a visit to Bluff Park. The park occupies 25 acres (10 hectares) of land right along the Pacific Ocean stretching out to Ocean Blvd and offers serenity and a dose of World War II history.
Grab a beach towel and a good book for a relaxing afternoon, or perhaps locate the Lone Sailor Memorial for an incredible photo op of the bronze statue honoring the Navy men and women who lost their lives in 1941's Pearl Harbor attack.
If you want to get moving, hop on a bike and take the Shoreline Pedestrian Bike Path that runs from Shoreline Village all the way up to Naples. It's always fun watching the surfing lessons on the beach as you pedal by or even catching some of the pros shredding the waves.
Bluff Park offers a day (or days) of enjoyment away from some of the more concentrated tourist attractions.
You can even find free yoga classes (donation-based) overlooking the ocean at this amazing park.
7. Get inspired at the Museum of Latin American Art
Opening its doors in 1996, this museum became the only museum dedicated specifically to Latin American Art.
The Museum of Latin American Art, or MOLAA, is a special place filled with over 1,300 pieces you've never seen before. From paintings to sculptures, drawings, and photographs, this museum presents Latin American art from the most incredible talent around our country and the world.
Art lovers don't miss the gorgeous grounds of the Latin American Art outdoor sculpture garden, complete with fountains, trails, and shade.
HACK: Look out for their special free admission Sundays, which pop up sporadically throughout the year.
PRICE: US$15 per person
8. Dive deep into the Aquarium of the Pacific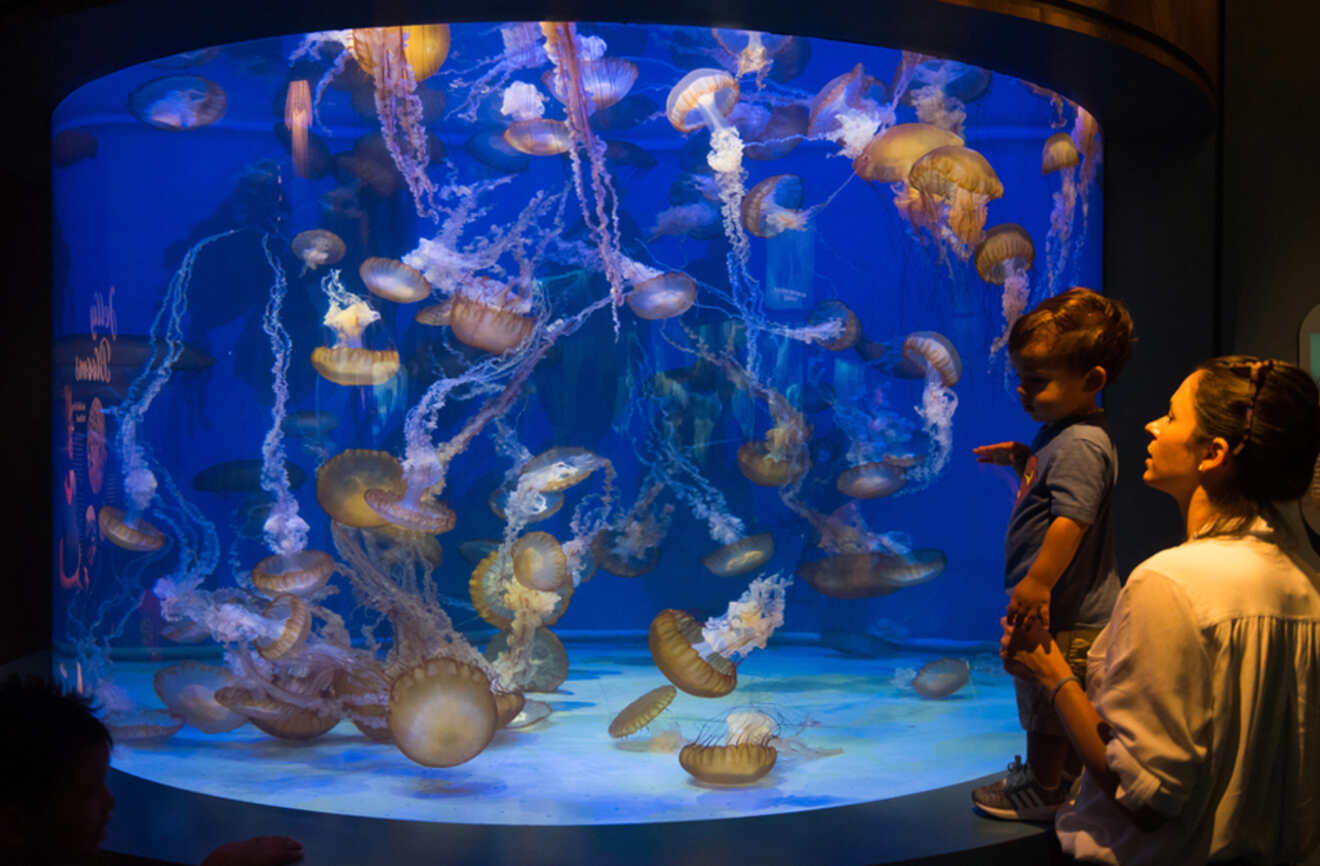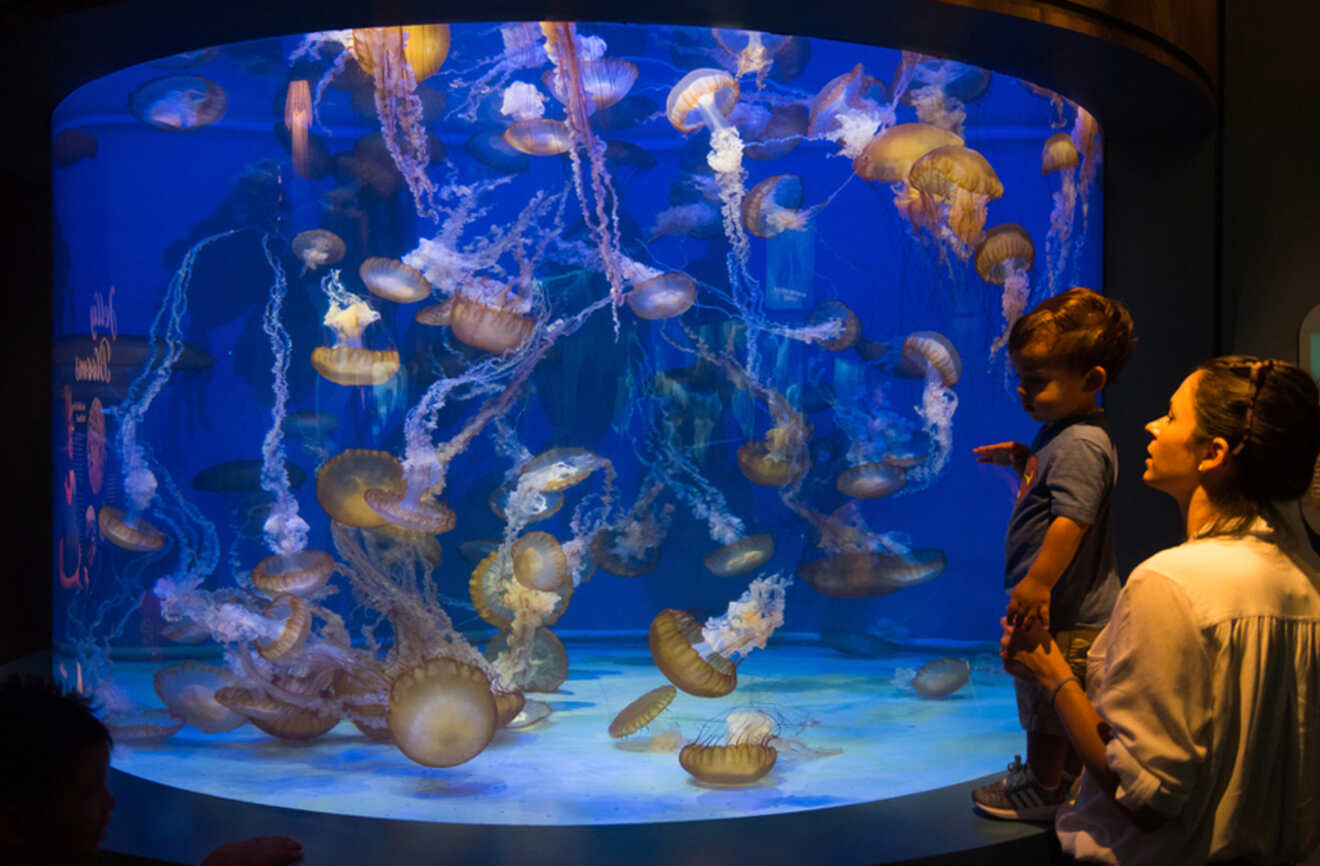 What better way to get familiar with Long Beach, CA, than a trip down into the deep, blue sea?! The Aquarium of the Pacific is a great way to spend an afternoon discovering over 11,000 marine life creatures that call this place home.
Some not-to-miss exhibits include California's delightful sea lions frolicking and playing about and also the mysterious blacktip reef sharks, whose sleek design and way in which they glide through the water will absolutely captivate you. It's not often we get to see these elusive creatures in their natural environment, so this experience is such a treat!
PRICE: from US$45 per person
Book Your Skip the Line Tickets
9. Romp Around on Rosie's Dog Beach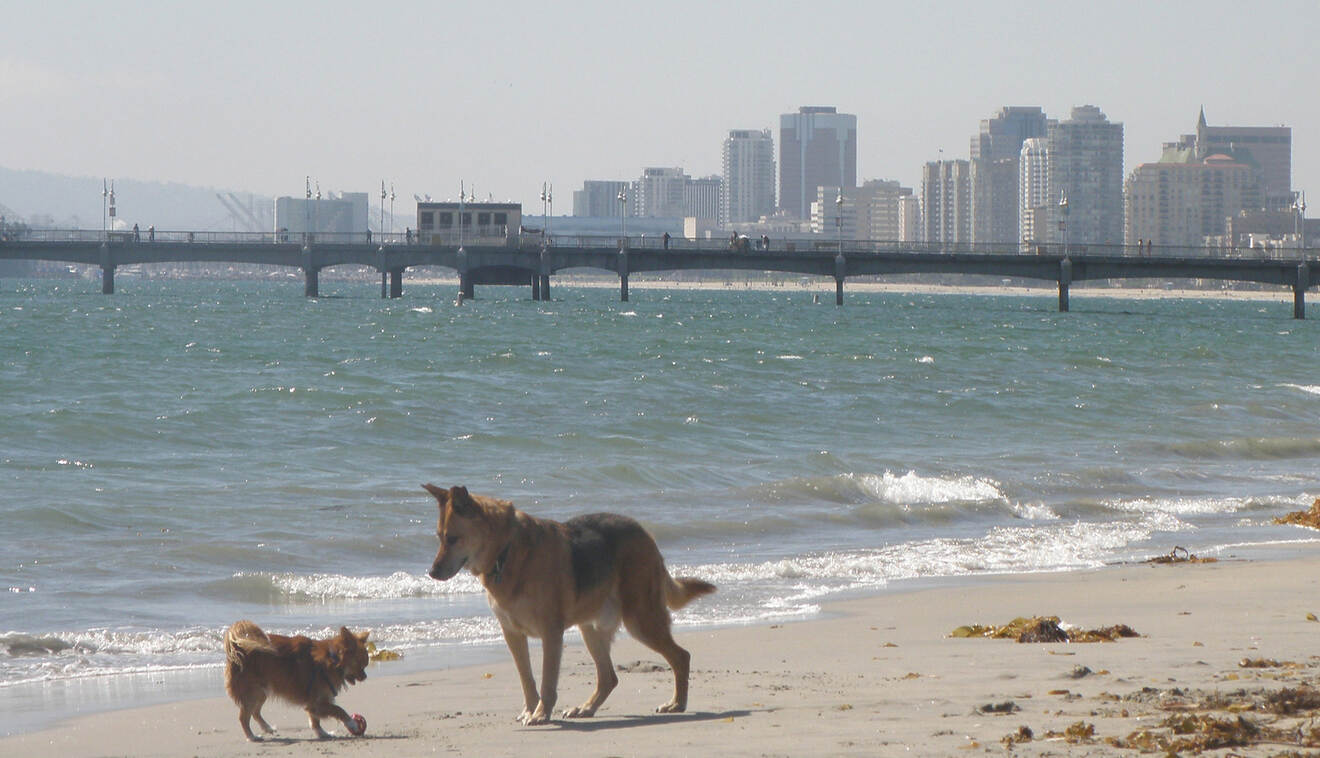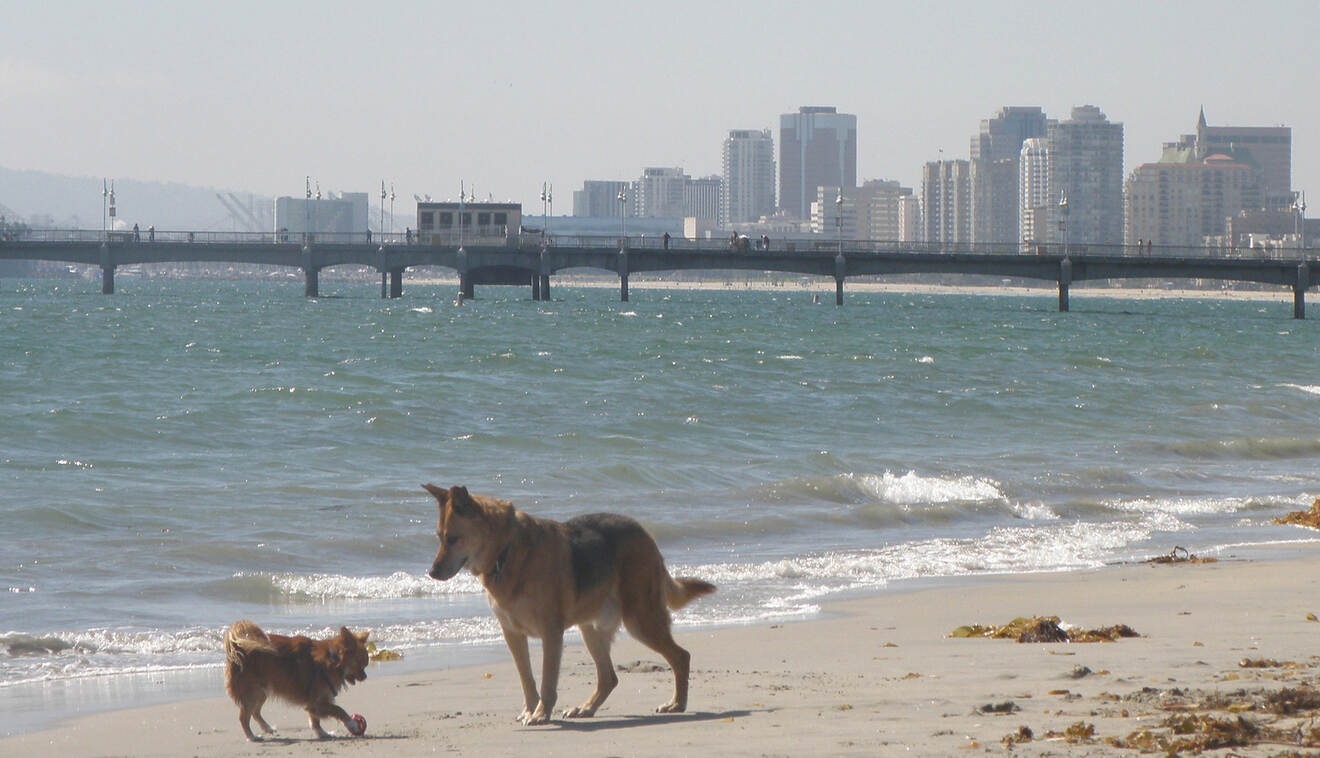 If you're a dog owner like myself, you know how vital it is to find some pet-friendly options for your furry friends. Rosie's Dog Beach is a haven for wagging tails and happy humans. This 4-mile (c. 7 km) stretch of exquisite white sand beach is one of the few off-leash dog parks in the Long Beach, CA, area. There's nothing better than a dose of dopamine from happy dogs having so much fun!
The beach is open daily from 6 AM til 8:30 PM.
10. Ferry off to Catalina Island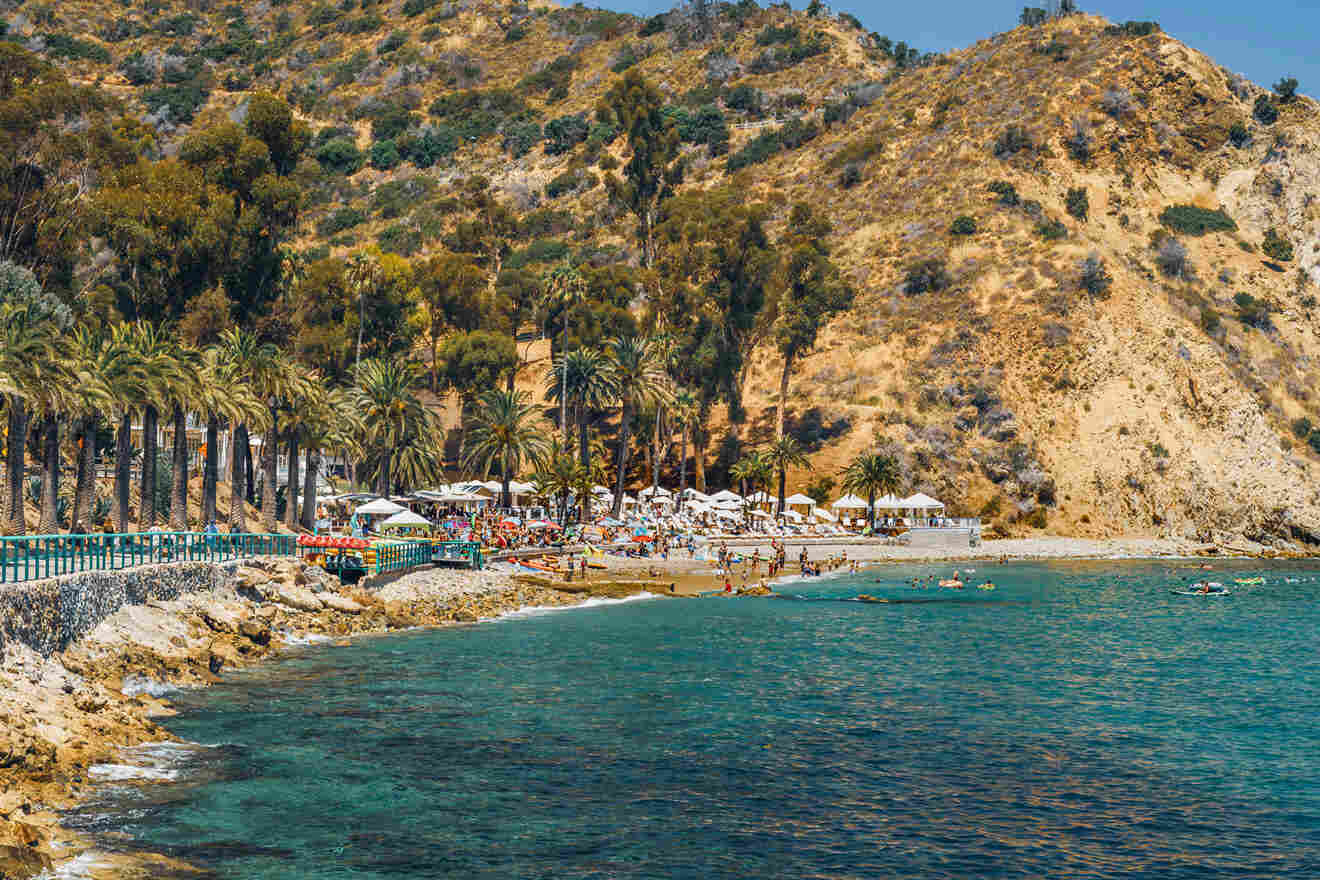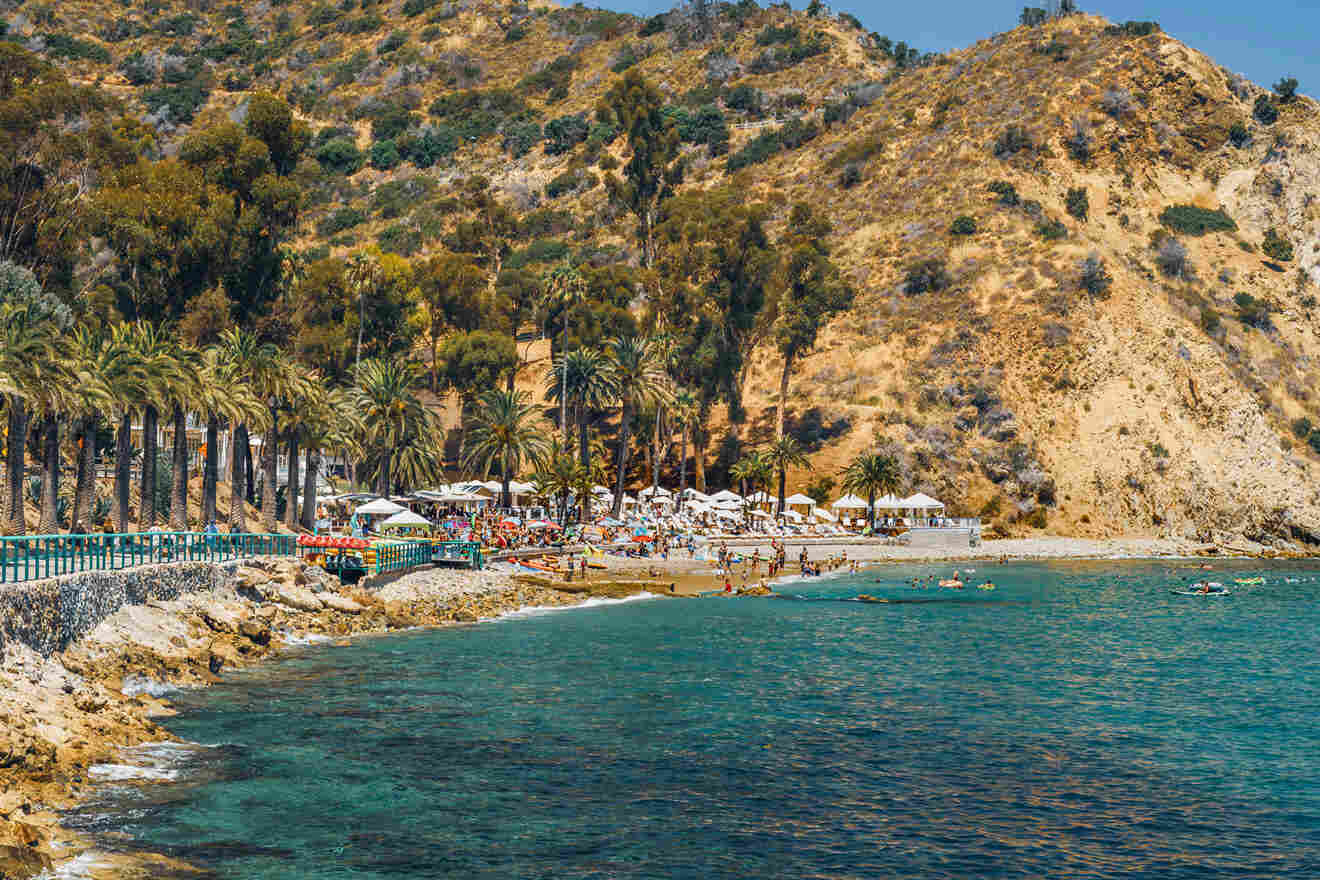 Only about 5000 residents actually inhabit Catalina Island year-round.
The perfect day trip from Long Beach, CA, the express ferry to Catalina Island, will take around 1 hour. There are 2 harbors on Catalina Island, and you will arrive at Avalon. Once you've deboarded the ferry trip, you'll find that many restaurants and activities are within walking distance from the harbor.
If walking isn't your cup of tea, opt for a guided golf cart tour, as there are no cars on the island. This trip might be one of my favorite things to do in California – it's unique, few people get to experience it, and the memories last forever!
PRICE: from US$84 per person round-trip
11. Discover the East Village Arts District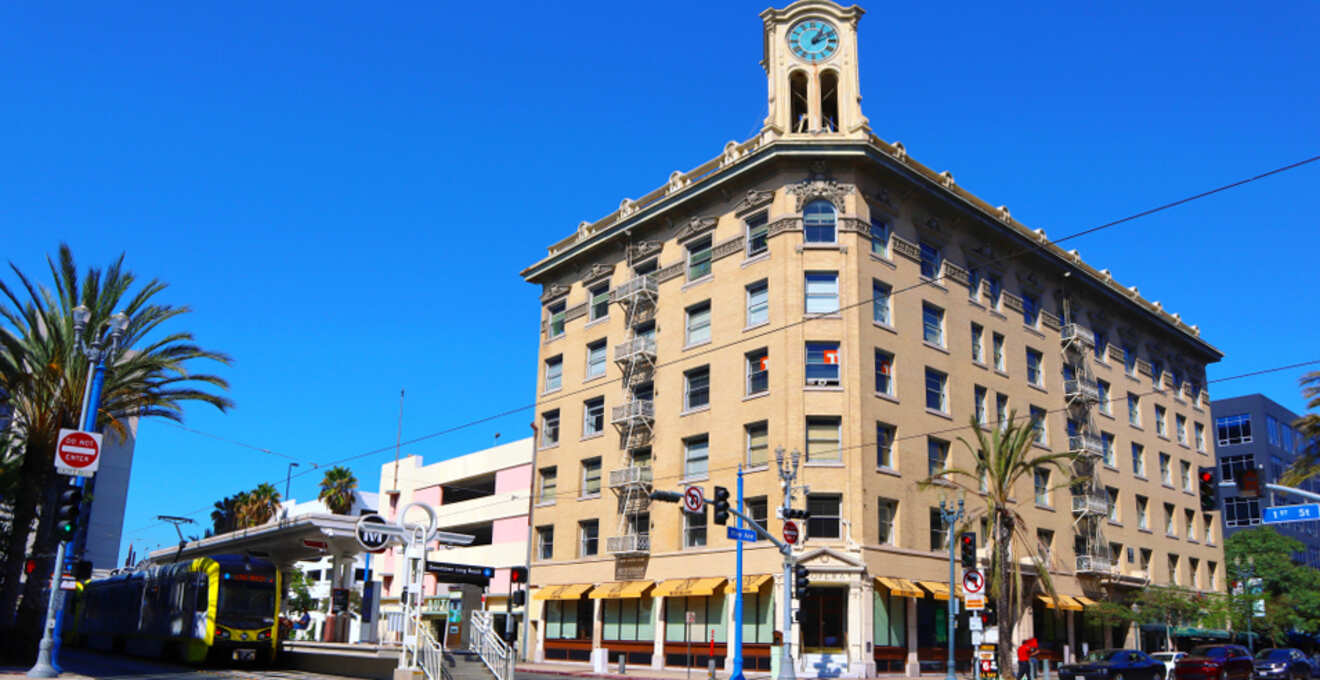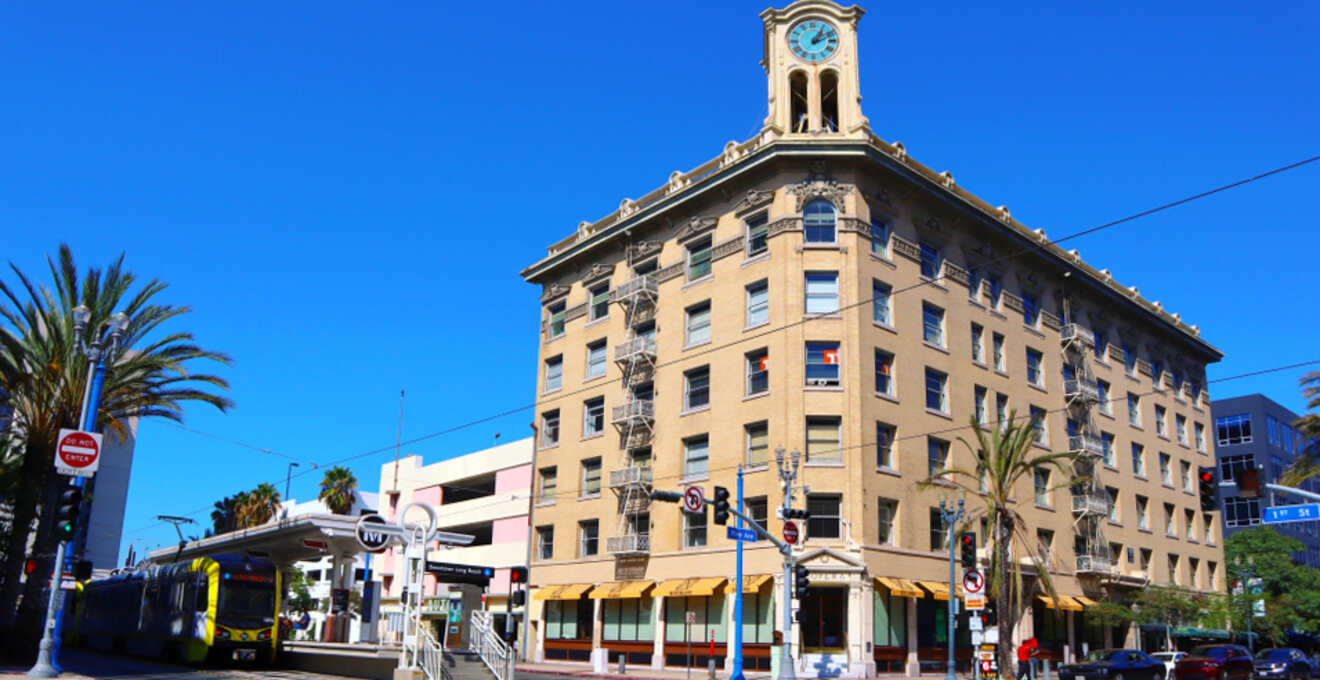 The cute, eclectic area of East Village Arts District sits inland, away from the Long Beach waterfront. This district is colorful and vibrant, with artistic murals tucked away in winding alleys and independent bookshops and cafés lining the street. Find East 4th Street for a chance to walk down Retro Row, the largest concentration of vintage stylings and art reminiscent of the 1970s.
With galleries, unique retail shops, and vintage stores surrounding you, let your inner Californian hippie soar as you mingle among the coolest of the cool.
On the 2nd Saturday of the month, you'll find Art Walk events with live music, entertainment, and activities.
12. Immerse in the Pacific Island Ethnic Art Museum
This Long Beach museum is the only one in the USA dedicated to art from the Pacific Islands.
The Pacific Island Ethnic Art Museum is one of my favorite things to do in Long Beach as a lover and former resident of Maui, Hawaii.
Unlike some other more stuffy art galleries, this one is interesting, practical, and ornate, allowing you to discover exactly how the Pacific Islanders lived, flourished, and entertained themselves throughout our history. Surrounded by the feeling of 'aloha,' the Pacific Island Ethnic Art Museum will leave you with a sense of how tight-knit, autonomous, and inventive the Pacific Islanders are.
See actual money traded by the people of Yap or tools and weapons used by the people of Guam for survival. This journey back in time is vivid and worthwhile in understanding our nation's history.
The museum is open Wednesday through Sunday, 11 AM – 4 PM.
PRICE: US$5 per person
13. Have a drink at Portuguese Bend Distillery
The first distillery in Long Beach, the Portuguese Bend Distillery, not only offers fresh, local cocktails but also an ambiance worthy of a night out on the town. Churning out their own whiskeys, rums, and vodkas, this distillery is a must-stop for any liquor enthusiasts.
With incredible, uniquely inspired menu items like the vegan ragu with toasted polenta and the beer cheese omelet, there is really something for everyone here.
14. Explore downtown Long Beach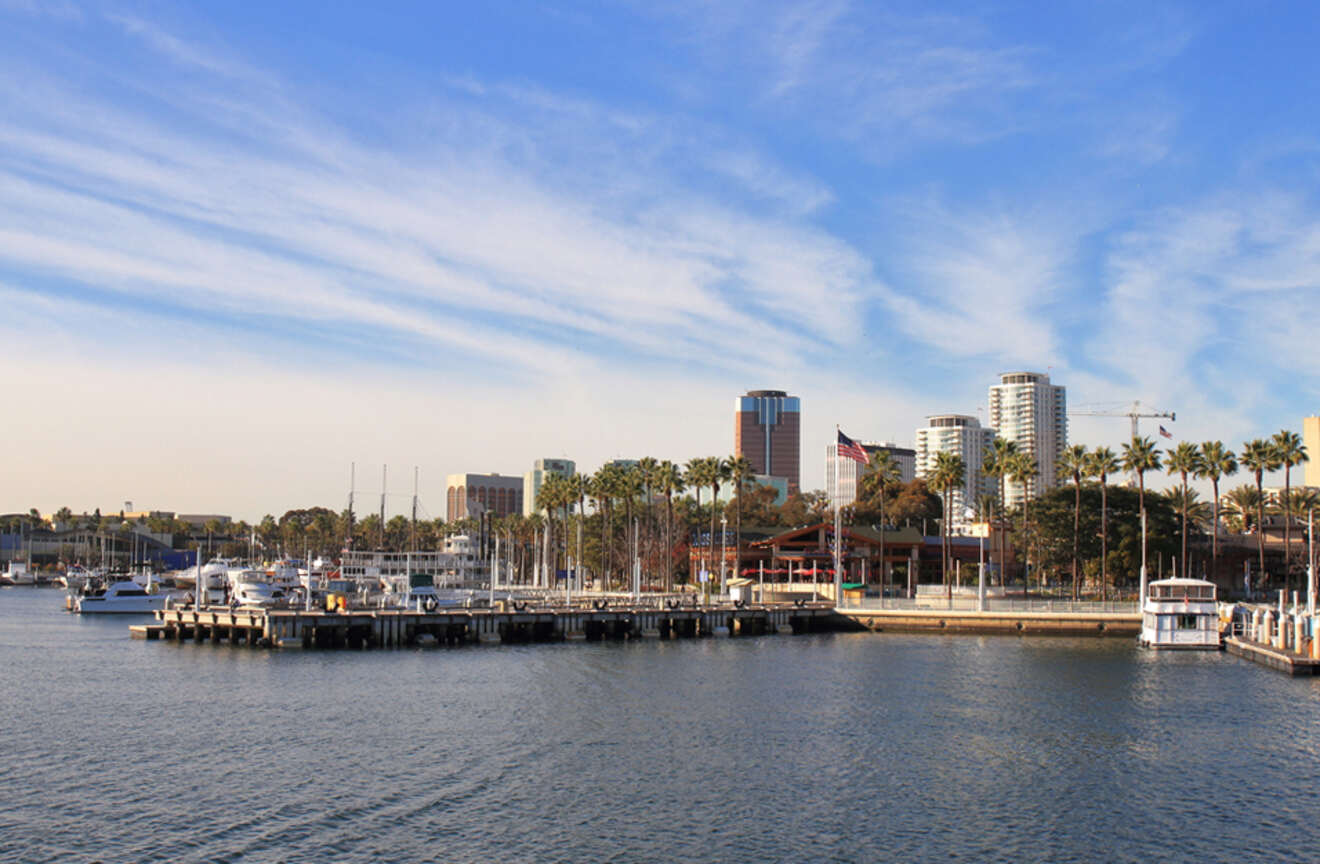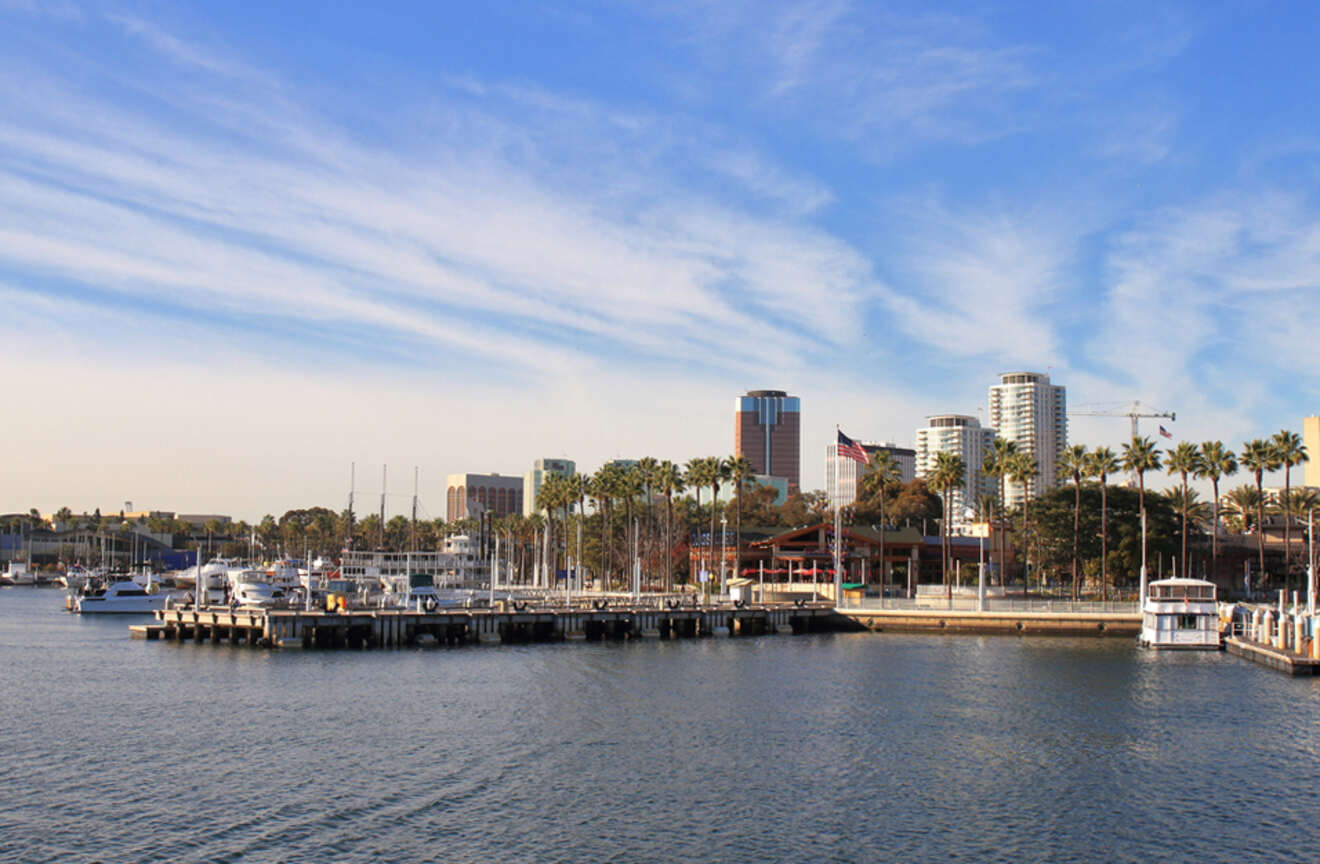 As an urban metropolis, in downtown Long Beach you'll find some of the best restaurants, activities, and nightlife in the whole city. Gape at the tower skyscrapers or stroll along the relaxing waterfront; there's a little bit of something for every interest.
Check out some of the best seafood restaurants in the country, like AJ Seafood Shack, for some incredible grilled shrimp! Spend the day walking around or grab a rental and hop on a bike for more fun and adventure.
15. Experience whale watching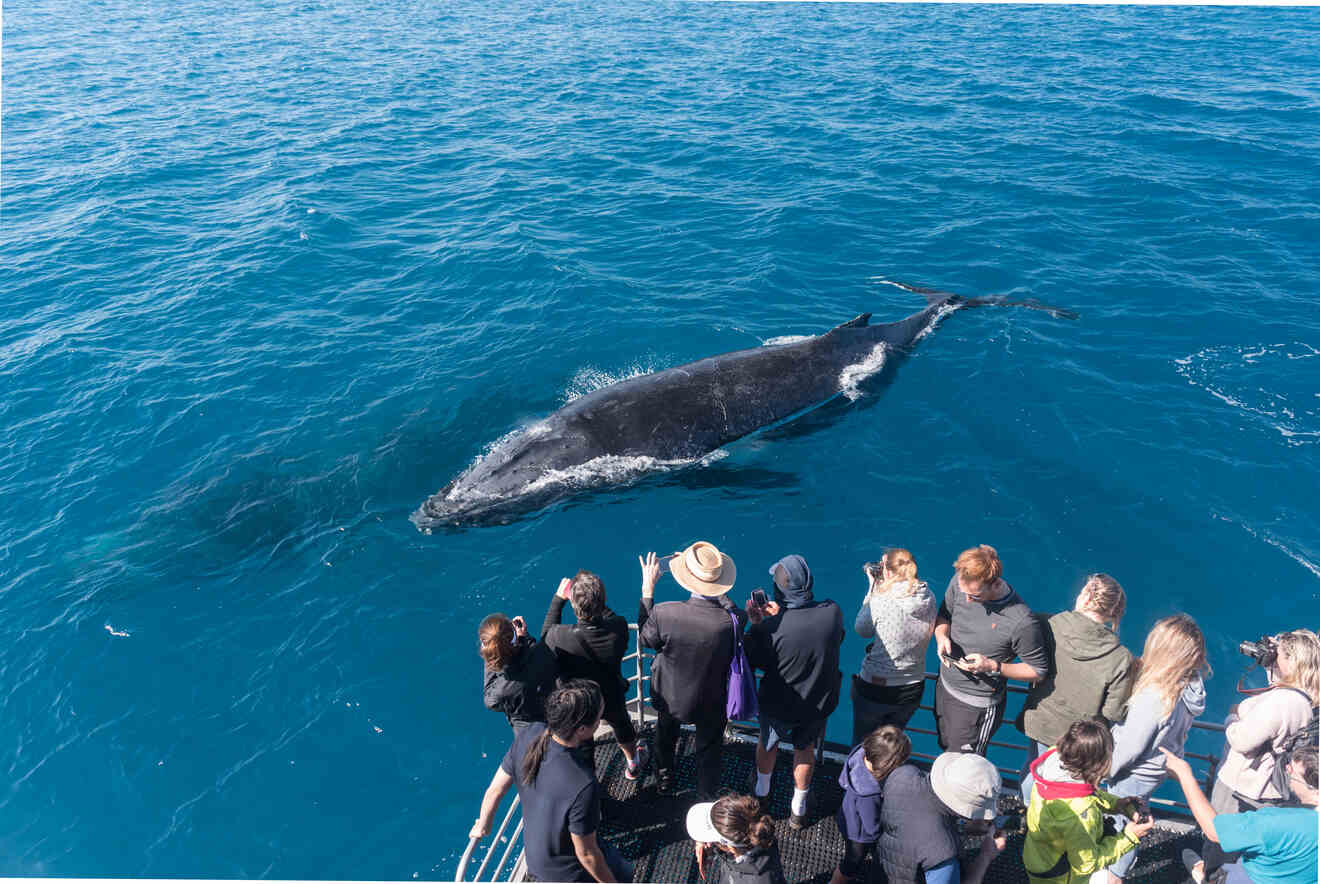 Getting up close to these magnificent mammals on a whale-watching tour is a once-in-a-lifetime opportunity and not to be missed while here.
Harbor Breeze Cruises has scheduled whale watches to leave from the Rainbow Harbor twice a day on a 2.5-hour excursion (from US$50 per person). You'll have the chance to catch a glimpse of the mysterious gray whale, the Pacific humpbacks, and even giant pods of dolphins!
While walk-up tickets are available for the larger boats, I highly suggest booking a private experience, capped at 6 people total, for this adventure.
PRIVATE TOUR PRICE: from US$110 per person
16. Take in the charm of Naples Island and Belmont Shore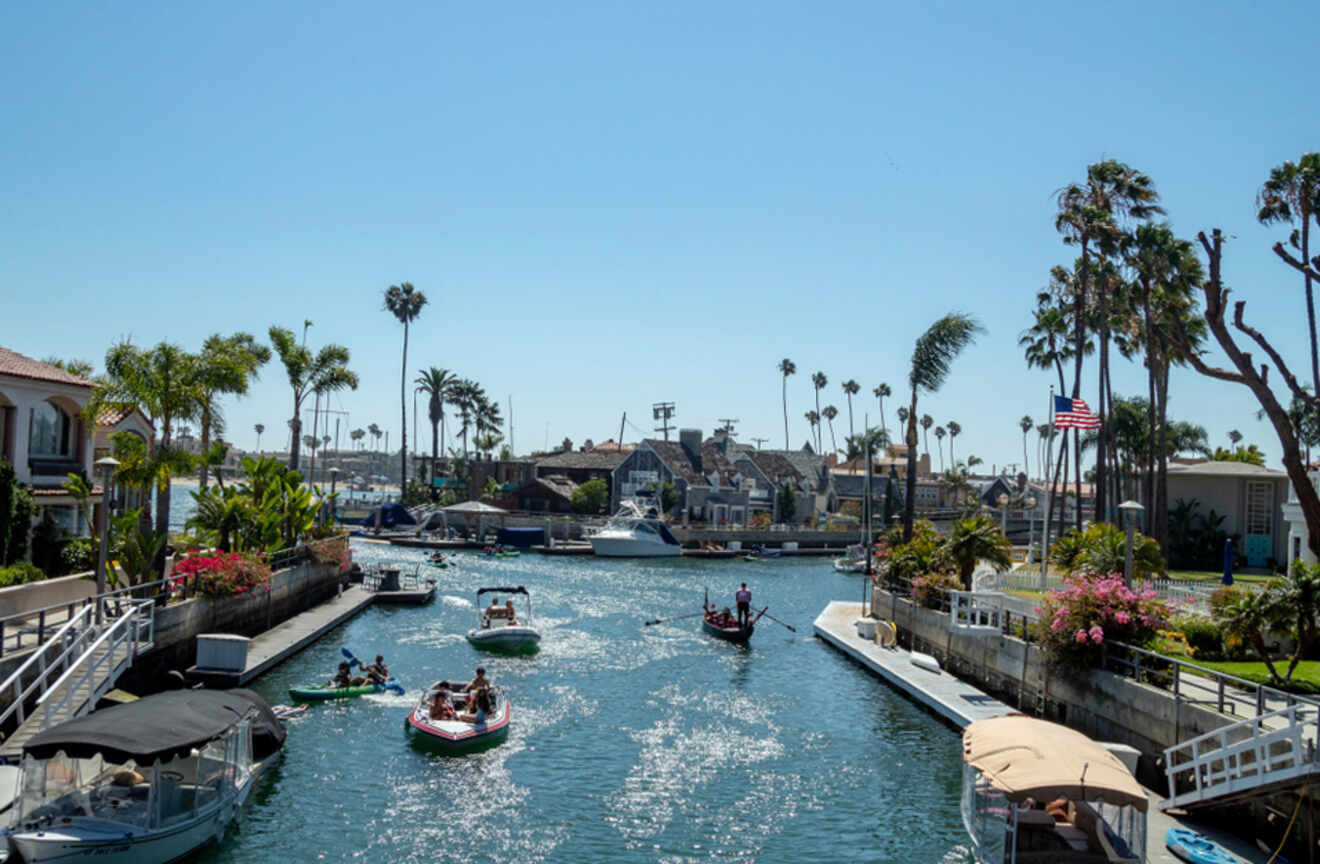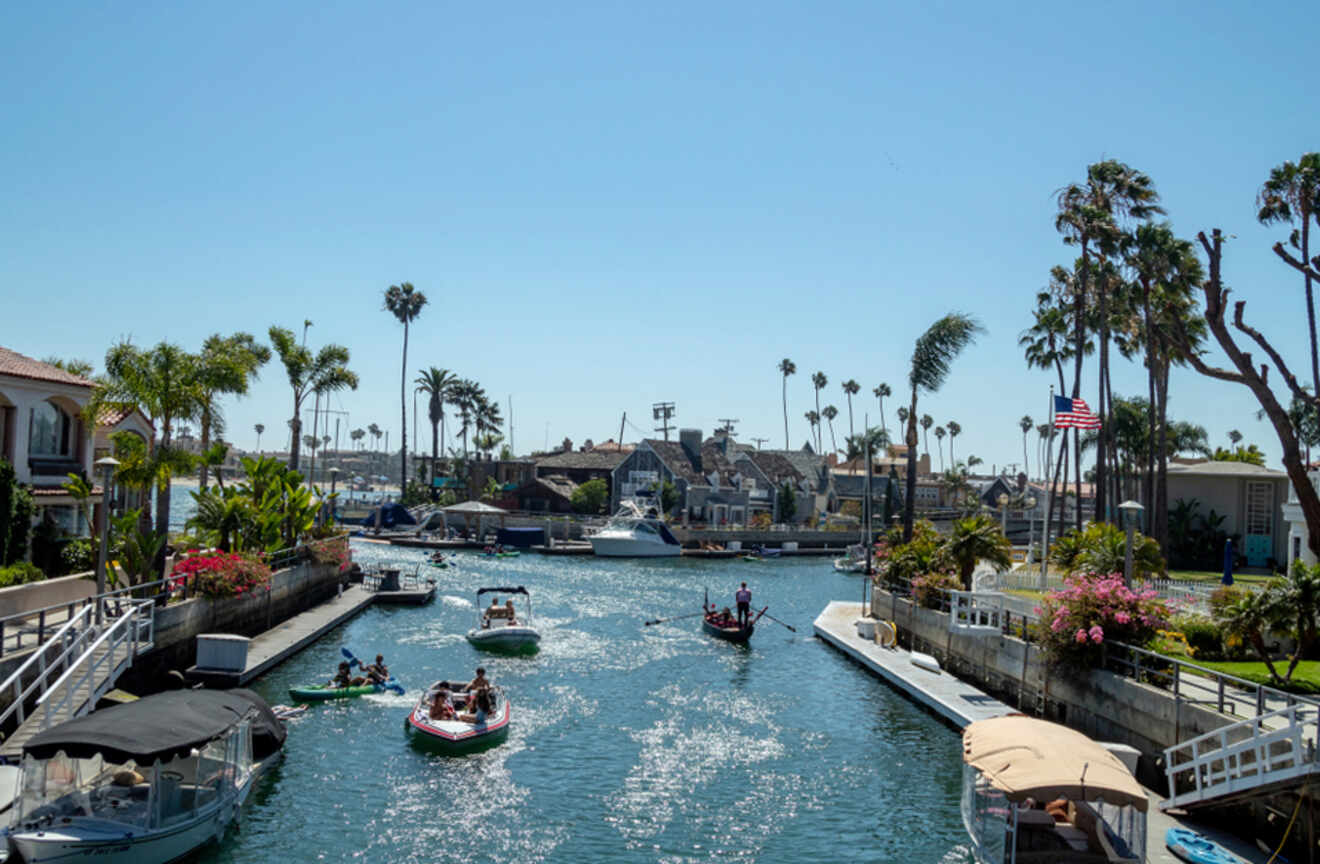 This posh island borrows its name and ambiance from the Italian city of Naples. Worth spending a couple of hours driving and shopping around, Naples Island transports you to a completely different environment than the rest of Long Beach. Enjoy great views, amazing homes, and the allure of the Pacific Ocean at your side as you take in this Mediterranean neighborhood.
17. Enjoy a picnic on Belmont Shore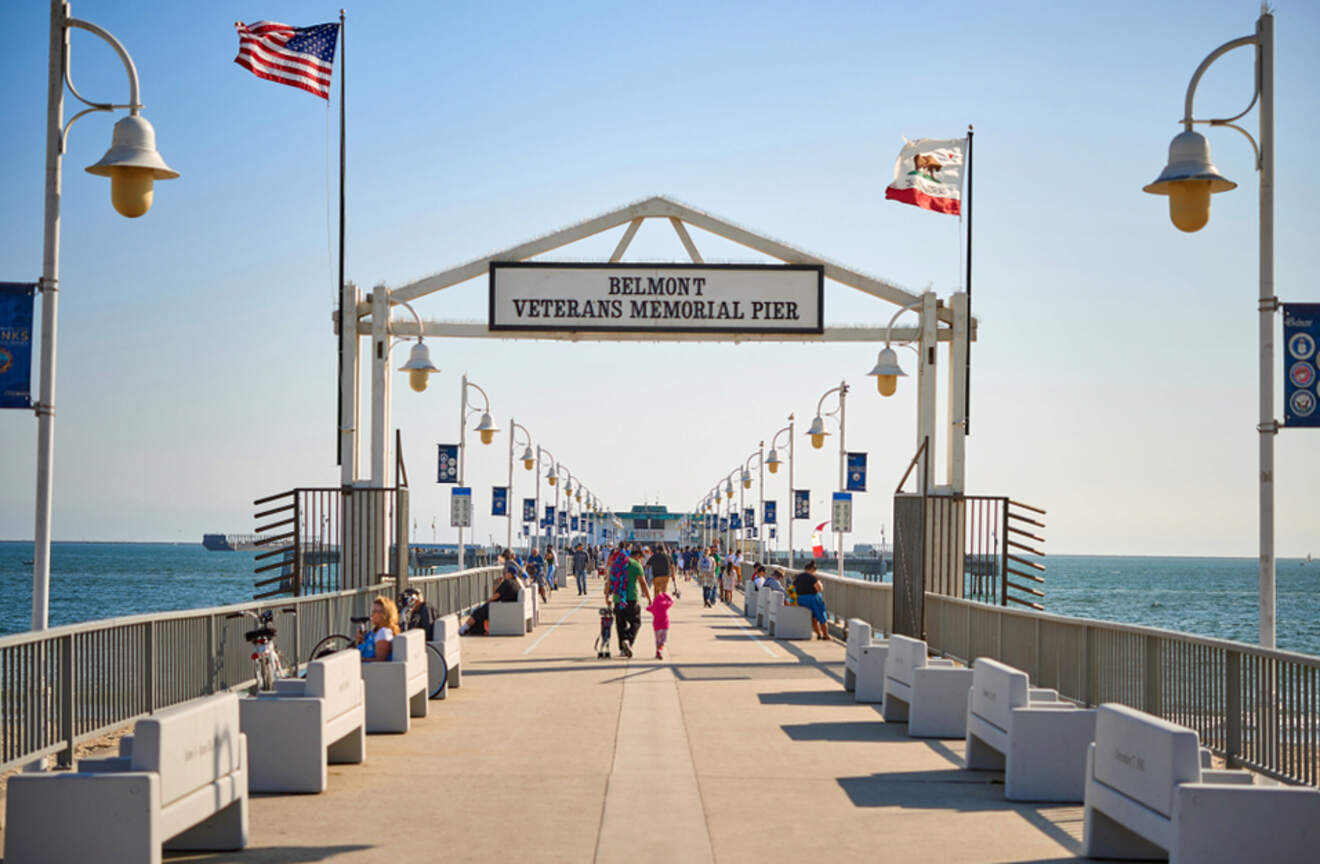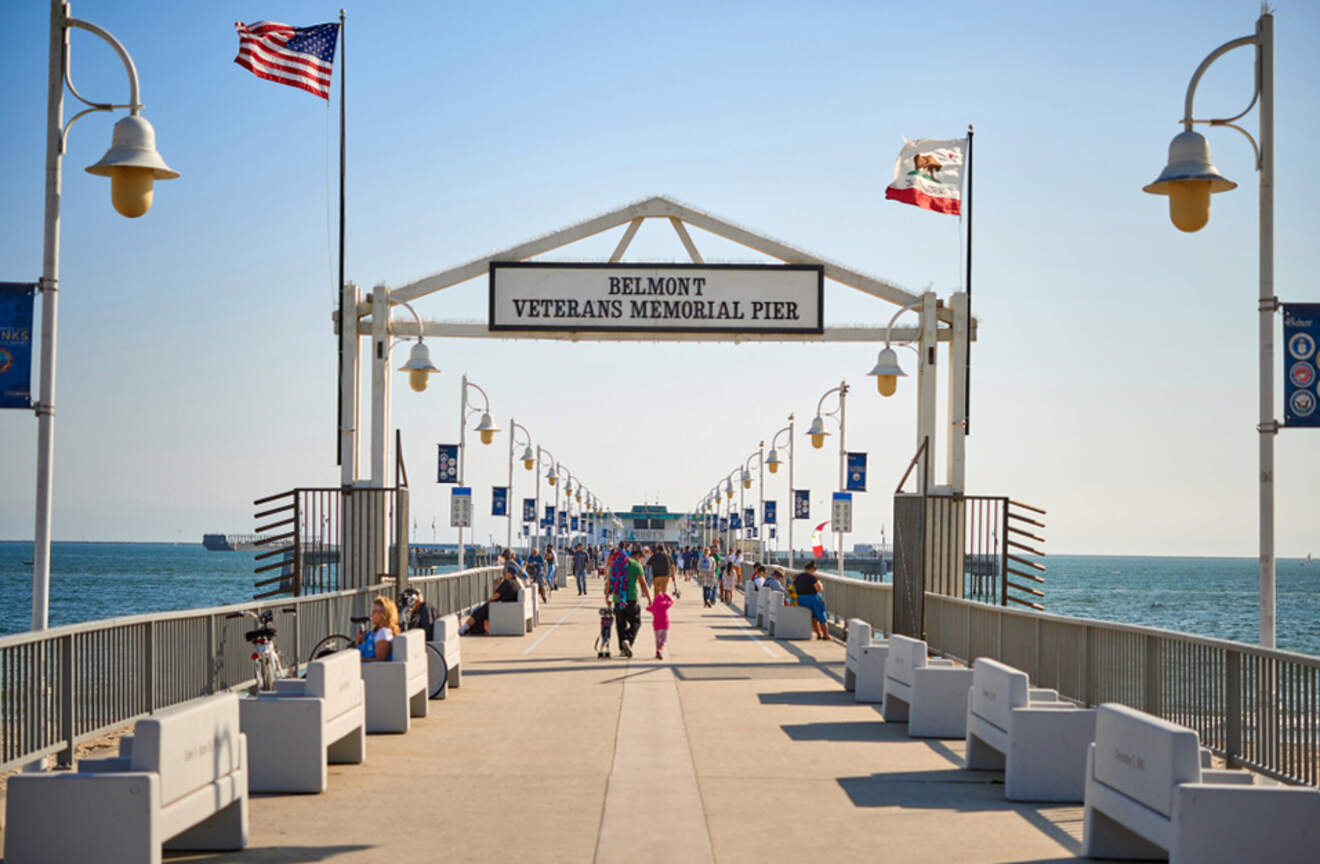 Just east of downtown Long Beach is Belmont Shore, or 'The Shore,' as it's known by locals. Take a walk out onto Belmont Veterans Memorial Pier, and definitely save time for the famous 2nd Street in Belmont Shore, a 15-block stretch of shopping, fine dining, and musical performances right by the water. Pop down to the beach with a snack and a blanket to take in the dreamy California sunset.
18. Shop the day away at Long Beach Antique Market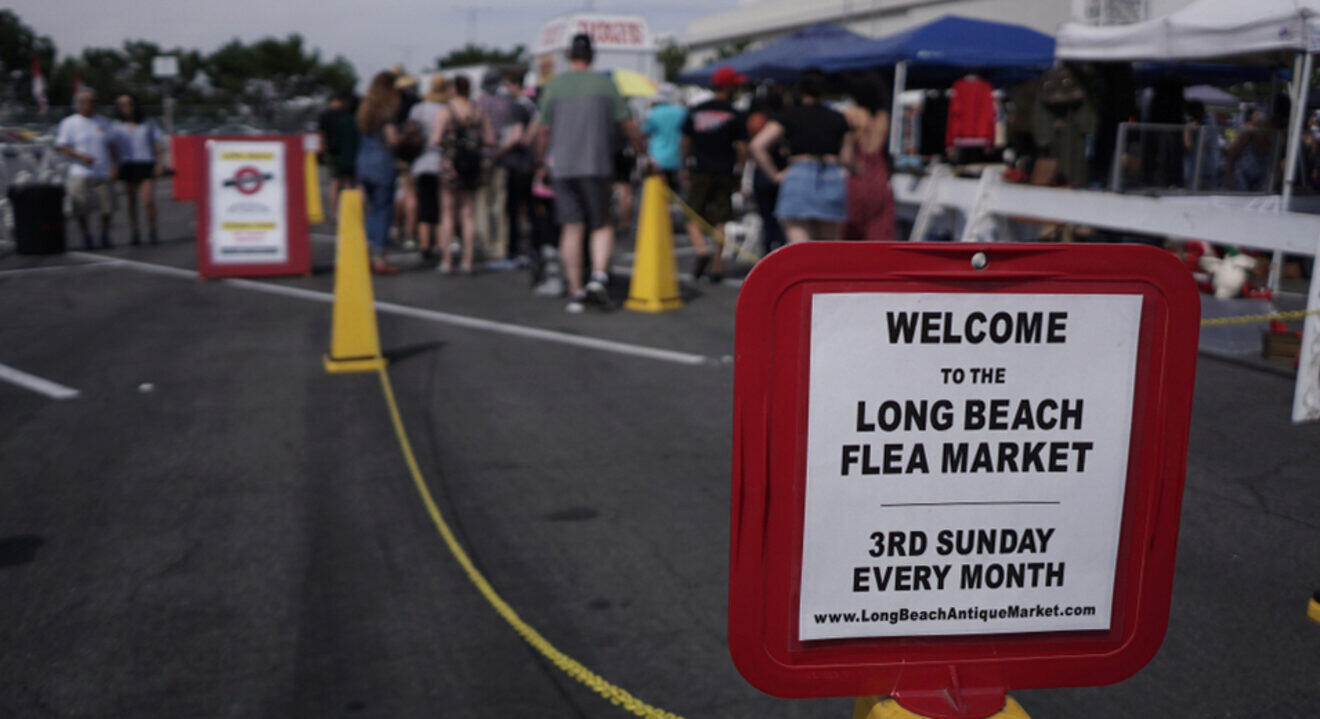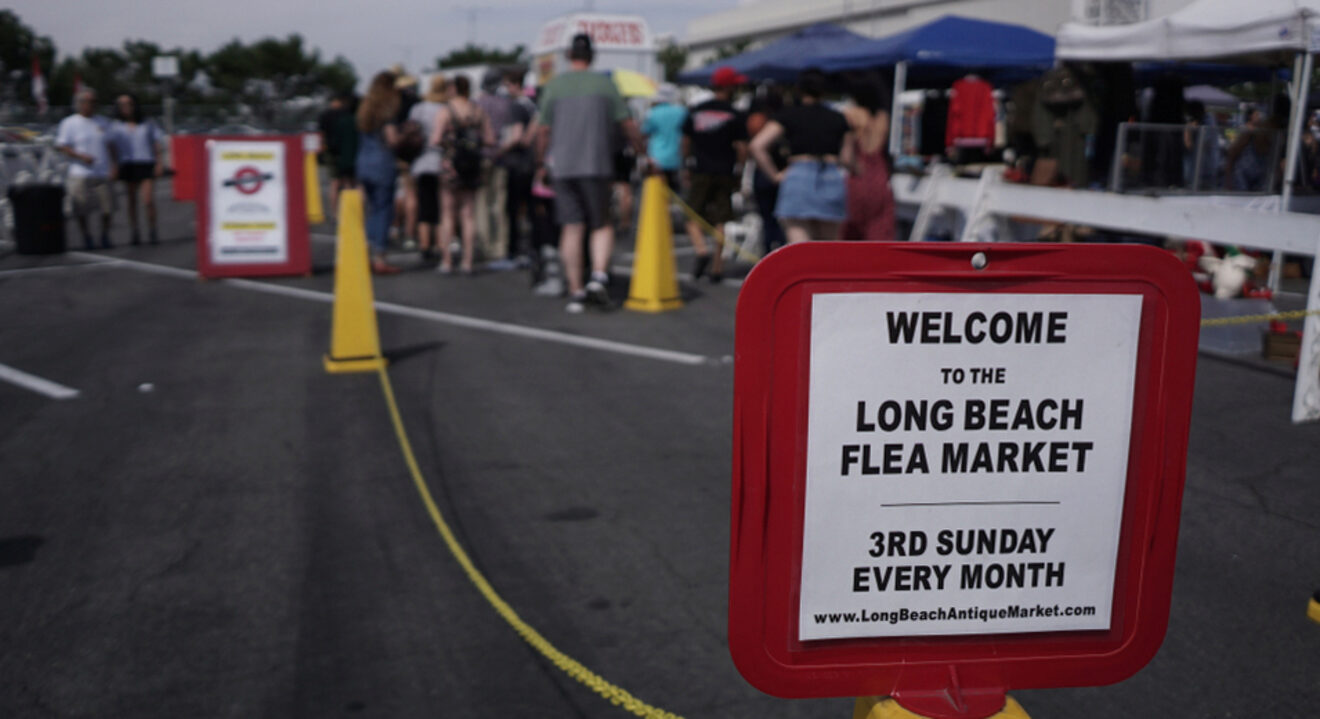 This is one of the top 10 flea markets in the country, you might even spot local celebrities like Pam Anderson and Courtney Cox picking out some fresh produce.
Long Beach Antique Market is always a must-stop on my list. At this gigantic market hosting over 8,000 vendors, they have everything from household items, movie memorabilia, clothing, collectibles, and many more fun things to discover.
NOTE: This market is huge. Prepare to spend at least 3 hours shopping around to see all of the vendors.
19. Visit the Long Beach Convention & Entertainment Center
This impressive convention center hosts some of the biggest conventions and events in the country. The eye-catching steep staircase and all-glass frame make it a work of art in itself and worth a visit.
The Long Beach Convention & Entertainment Center hosts umpteen events throughout the year, including the Long Beach Symphony, Disney on Ice, concerts, Anime conventions, and more.
Located right along the waterfront, this is an easy stop to combine with other attractions.
PRICE: FREE
20. Get sporty at Walter Pyramid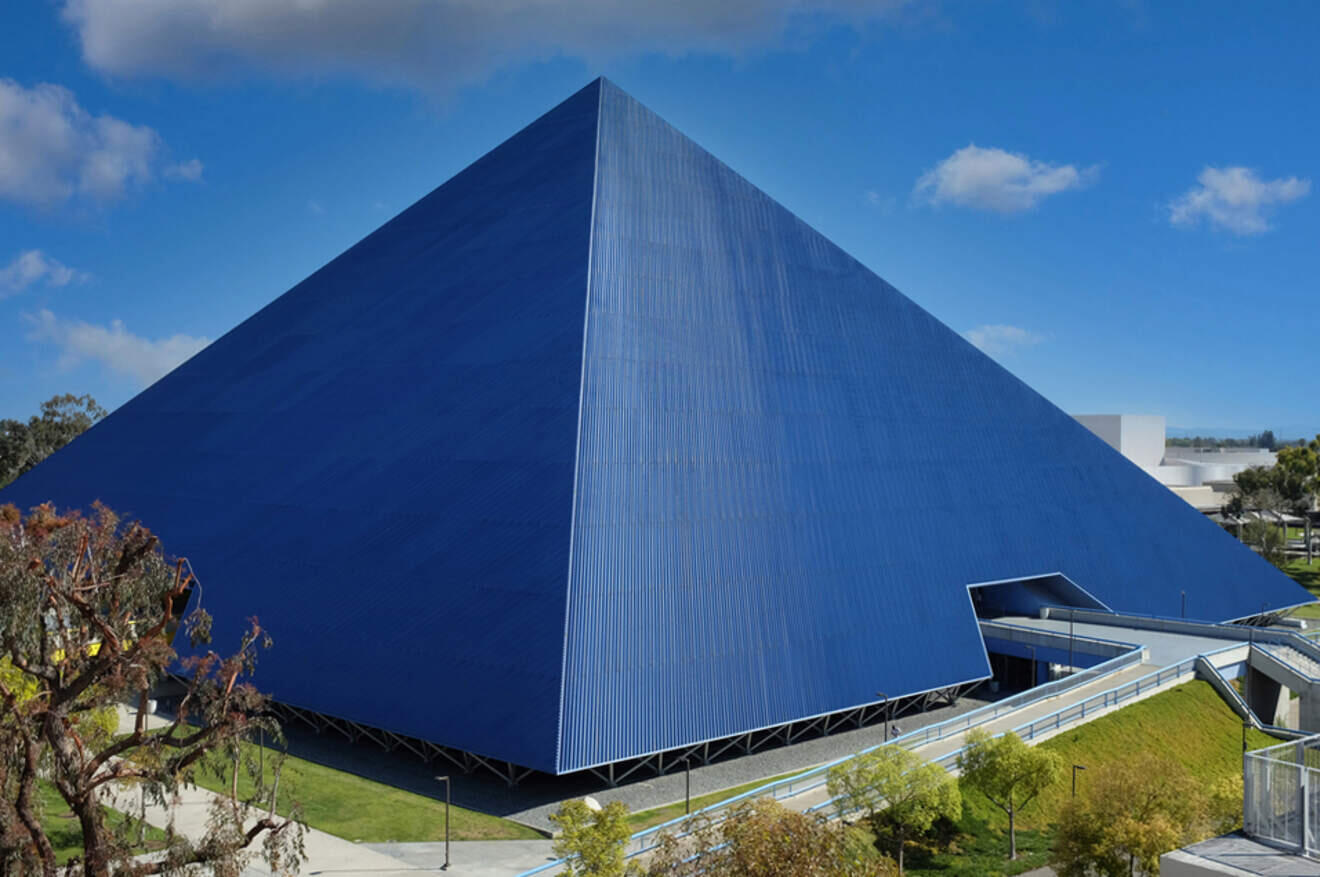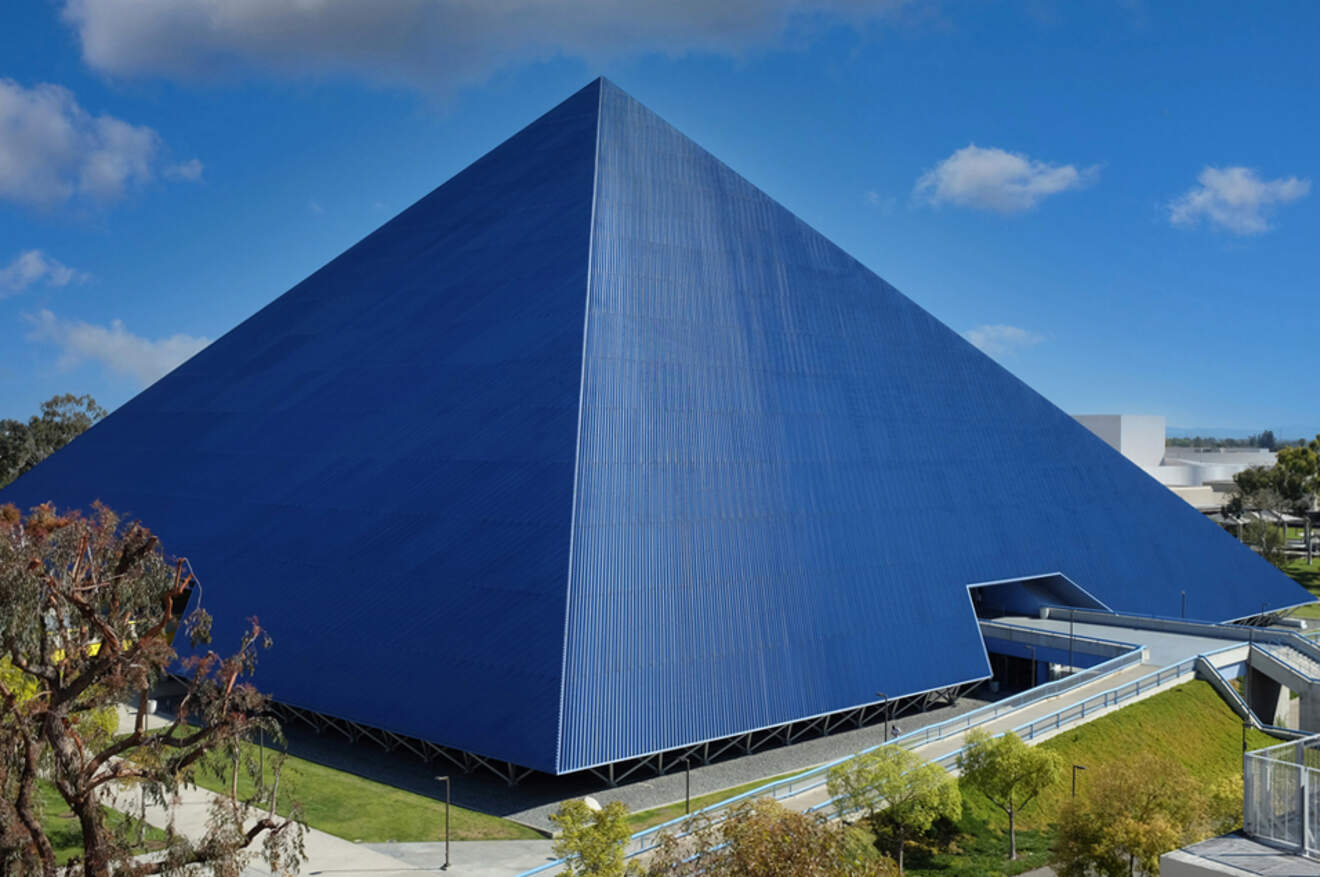 Have you ever seen a real pyramid structure, exactly even on all sides? Here's your chance! This modern marvel can be seen from afar, with its blue aluminum frame glistening in the California sunshine.
Long Beach's Walter Pyramid is a sporting arena complex that houses 5 volleyball courts, 3 basketball courts, and a full training facility for athletes. If you're in the area, it's a cool site to see, but no need to save tons of time for this one.
PRICE: FREE
21. Soak up the sun at Junipero Cherry Beach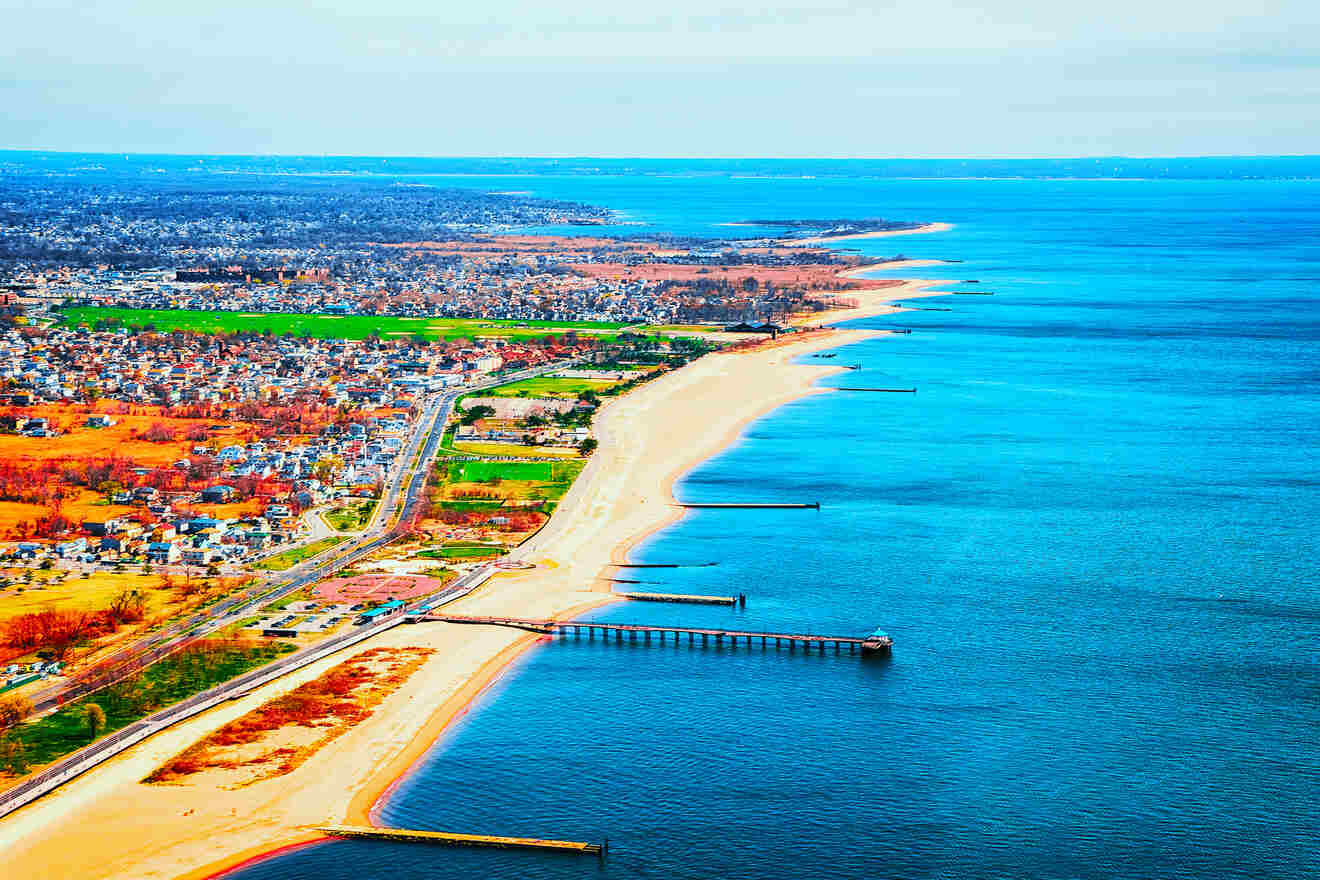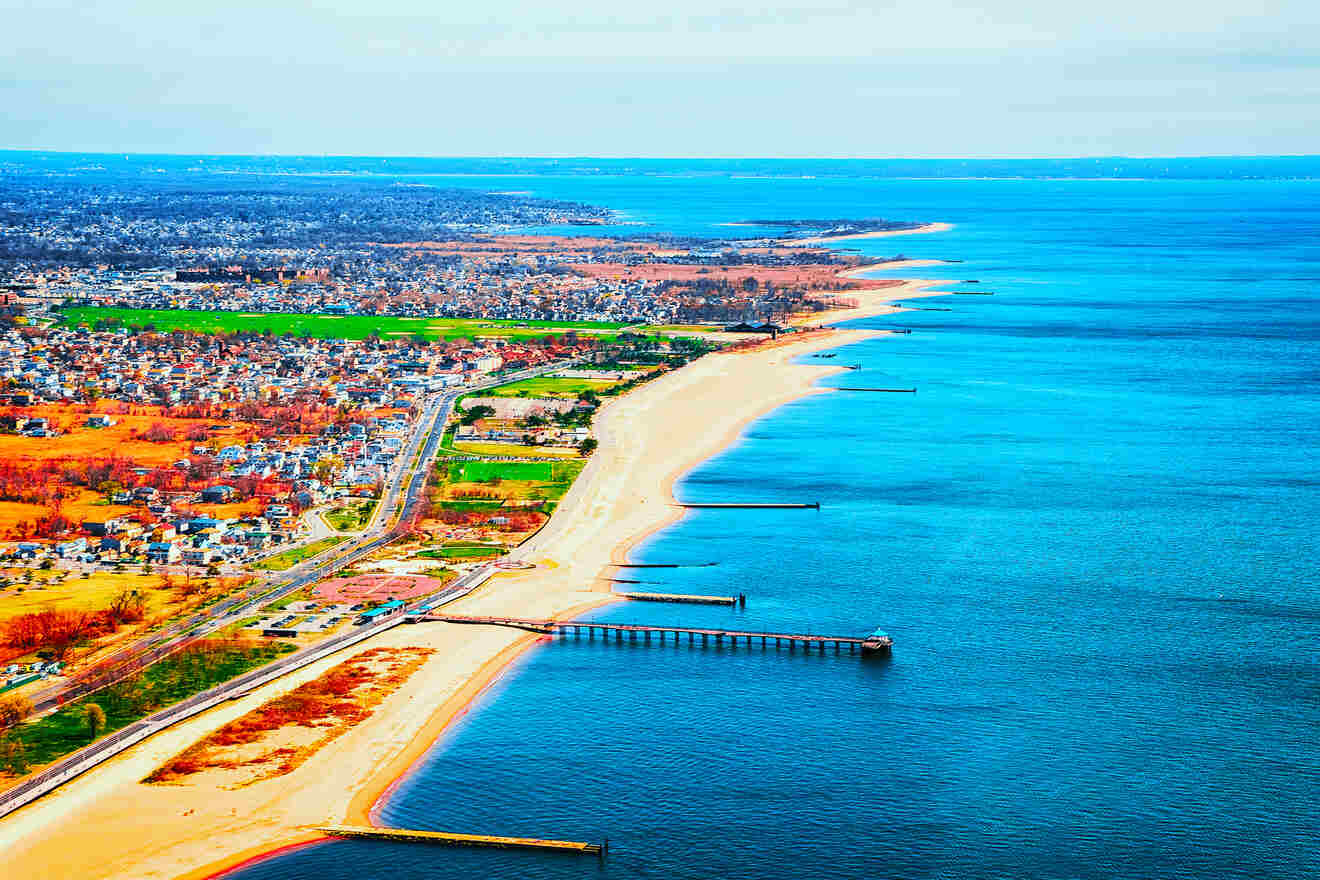 Long Beach's shoreline is stunning, and this beautiful stretch of white sand, called 'Cherry Beach' by locals, is really something special. Connected to both Bluff Park and Bixby Park on both sides, it has plenty of space for activities and sunbathers alike. You'll find areas for shade from the sun, and bathrooms are conveniently located.
Don't miss the famous Pride Lifeguard Tower, a rainbow-painted stand representing the pride flag 🏳️‍🌈.
22. Fly high over Long Beach by parasail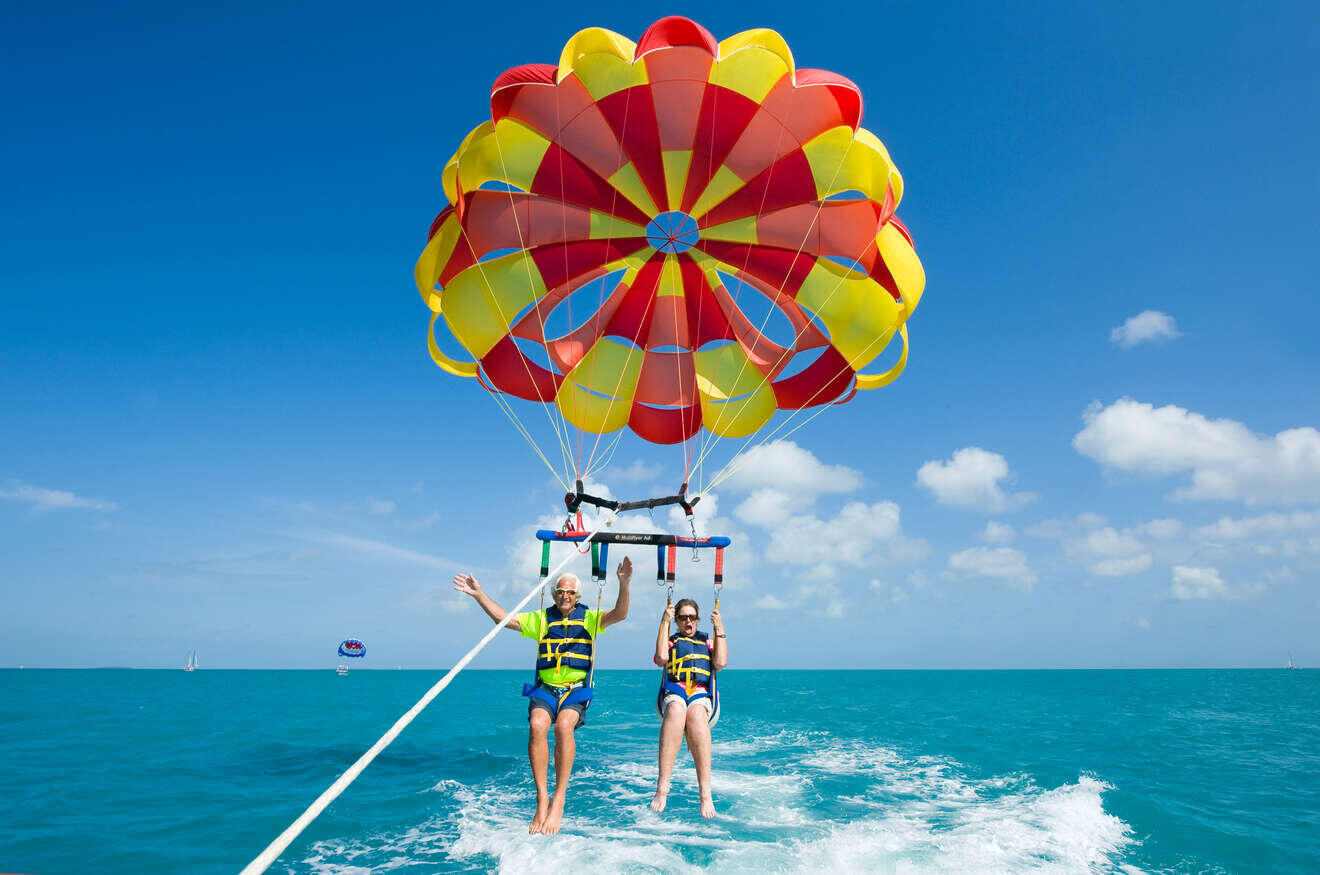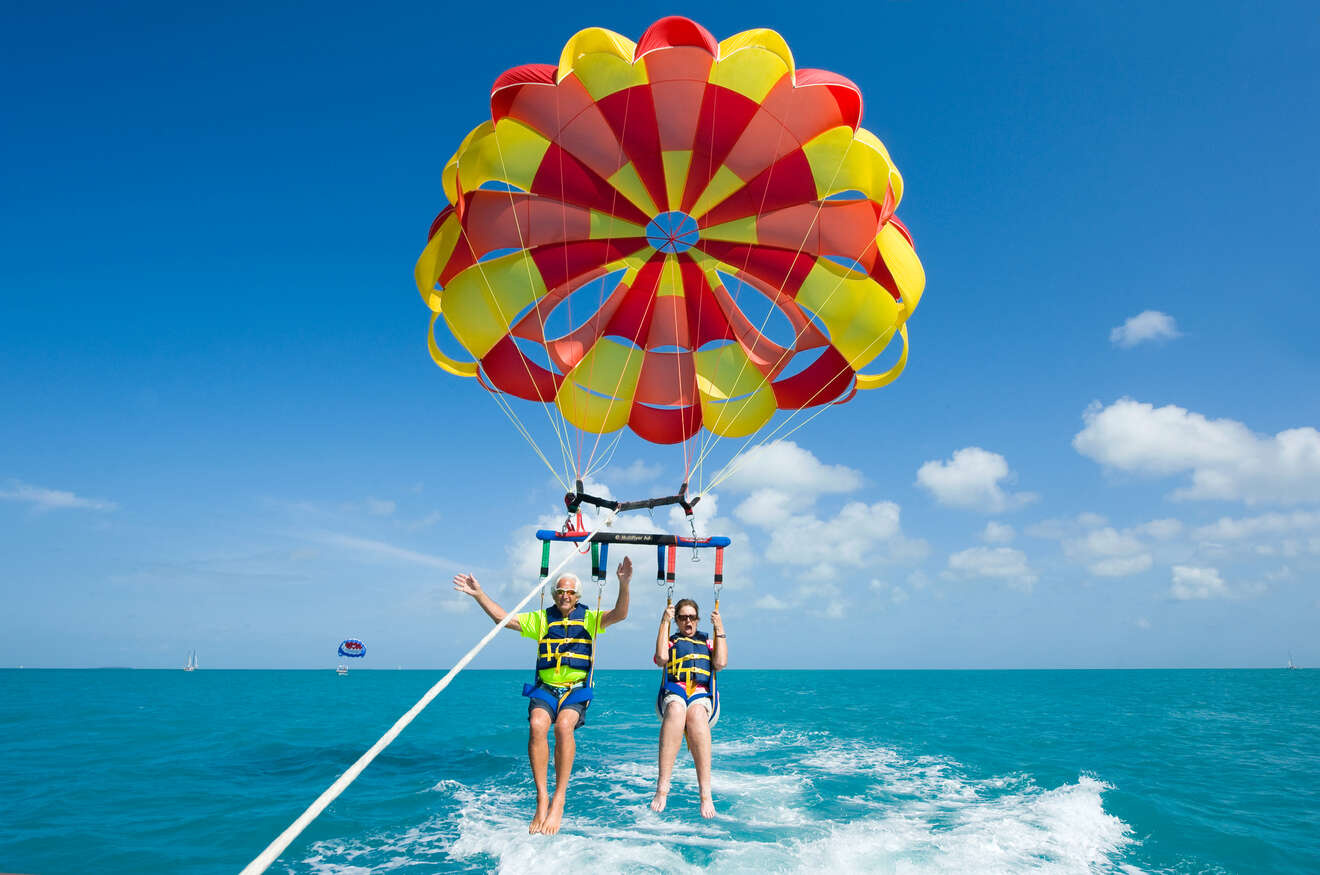 One of the greatest ways (and most fun) to see Long Beach is from the air, especially by going parasailing. If you've never been up in the big parachute before, let me ease your mind: it's way more calm than choppy, and you really shouldn't get wet. You'll glide through the air and enjoy the remarkable quiet atmosphere while you take in the breathtaking beauty of Long Beach's coastline.
PRICE: US$95 per person
23. Take a swan boat around Rainbow Lagoon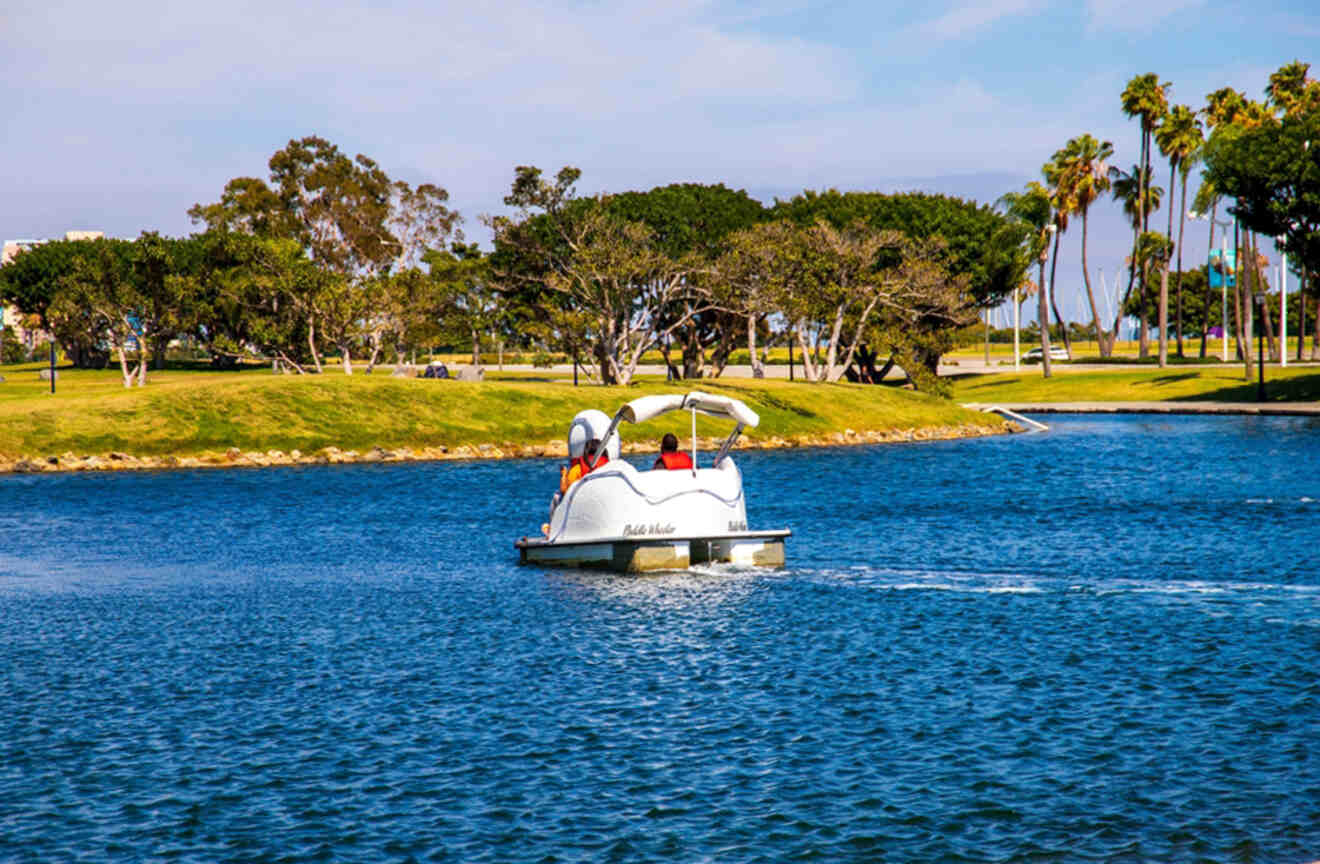 There's no better way to experience Long Beach than immersing in the great outdoor spaces and exquisite weather that southern California affords its visitors.
If you are already in the Shoreline Village area, I highly suggest setting aside a couple of hours for Rainbow Lagoon and taking one of their swan boat tours. Pack a picnic and spend the day pedaling from little island to little island inside of the lagoon. It's an incredible workout, allows for memorable photo ops, and is one of the most fun things to do in Long Beach, CA.
PRO TIP: Looking for a romantic date idea? Head over for a swan boat ride after dusk and pedal around in a stunning LED-lit boat as the stars and city lights twinkle around you.
Check out the Long Beach Bayou Festival celebrating the history of Jazz in New Orleans that takes place at the park each June!
PRICE: from US$12 per person
24. Spend the day at Shoreline Aquatic Park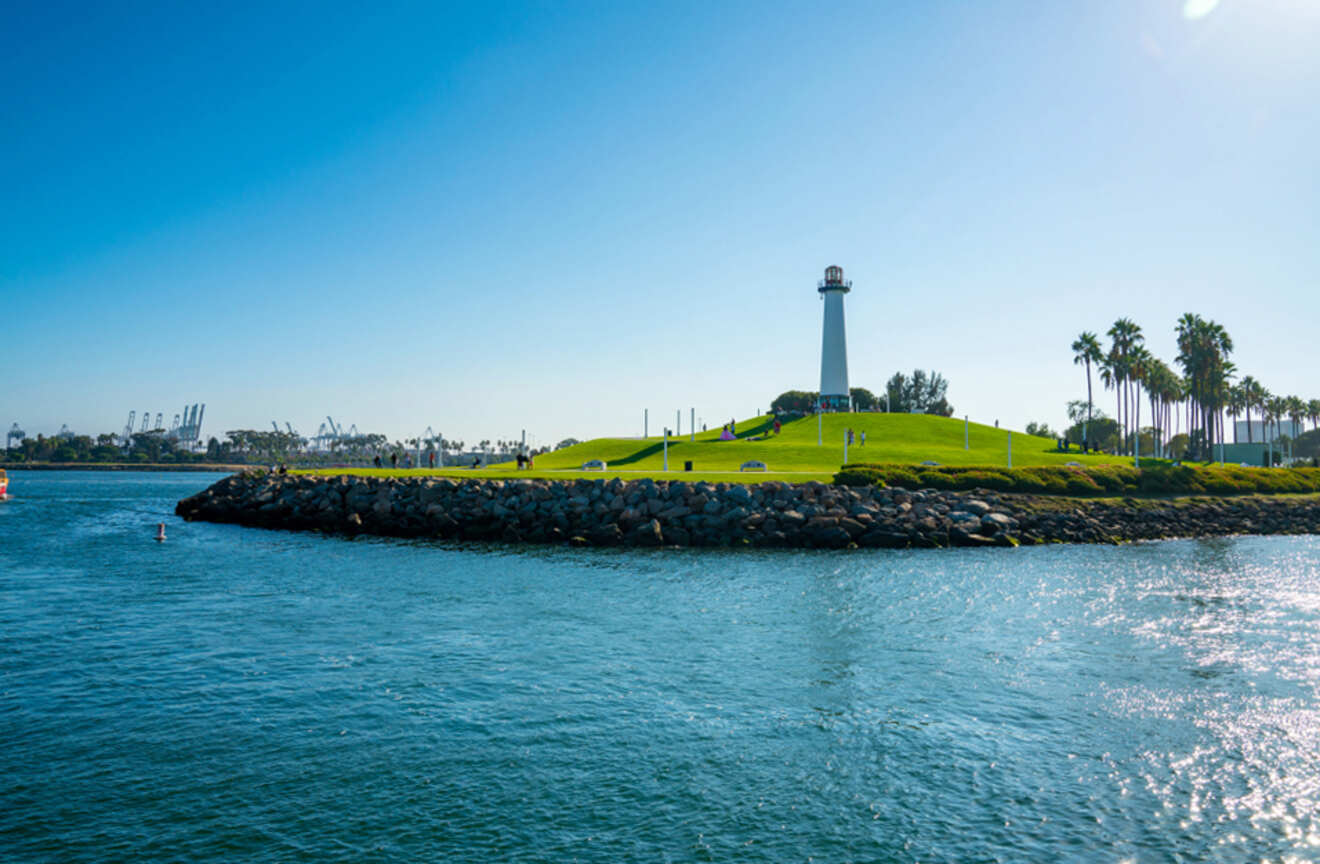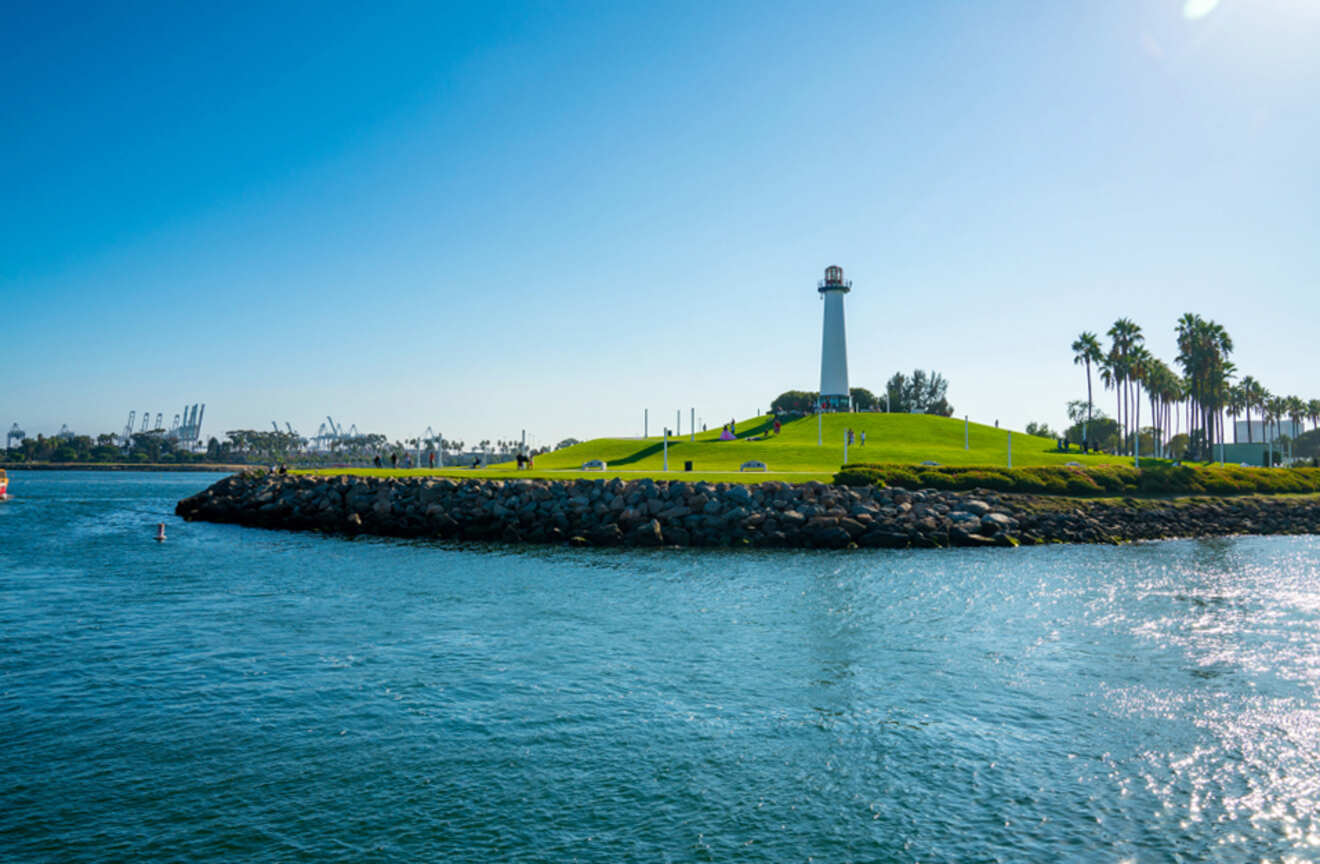 Lining Long Beach's waterfront near downtown Long Beach, you'll find Shoreline Aquatic Park, an ocean view, a stunning park, and a recreation center. Filled with grassy fields, sporting activities, a prime location, and enough space for everyone to enjoy, this park is a favorite with tourists and locals.
PRICE: FREE
Where to stay in Long Beach
I love the convenience of all the fun things to do in Long Beach lined up in close proximity to most accommodations, and the ocean, of course! Check out some of my favorite hotels below.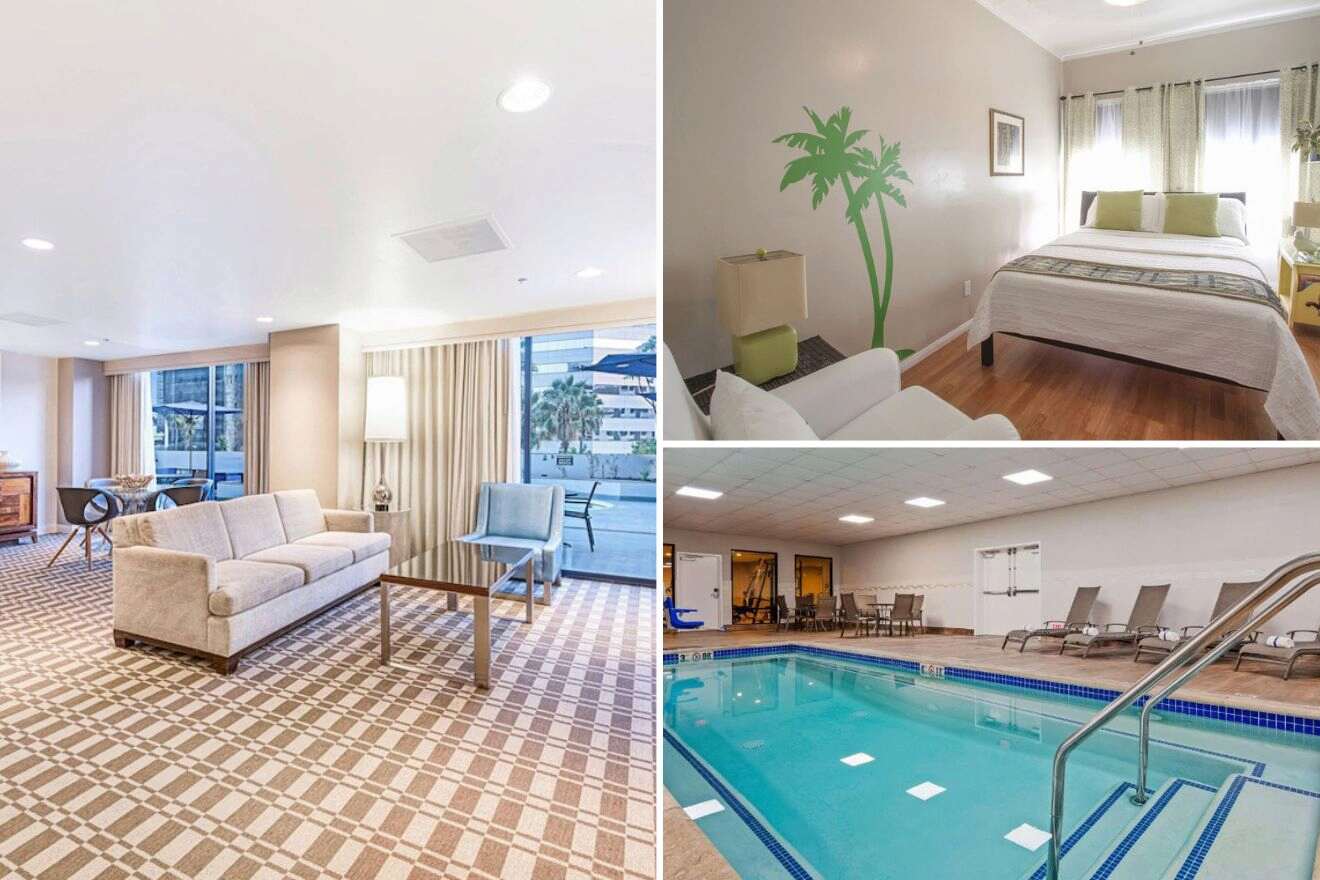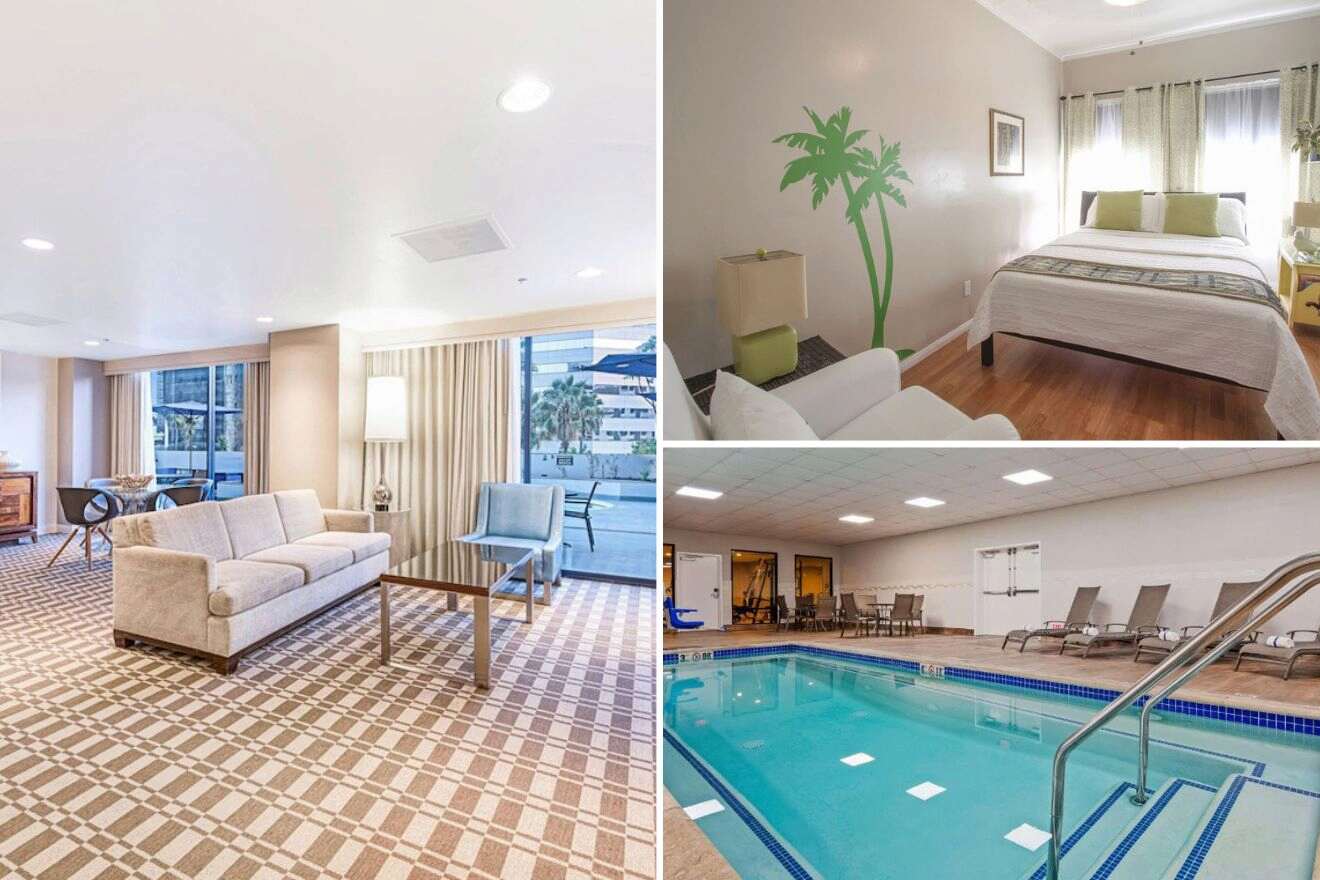 Luxury (US$300 and up)
Mid-Range (US$200 – US$300)
Budget (up to US$200)
FAQs about things to do in Long Beach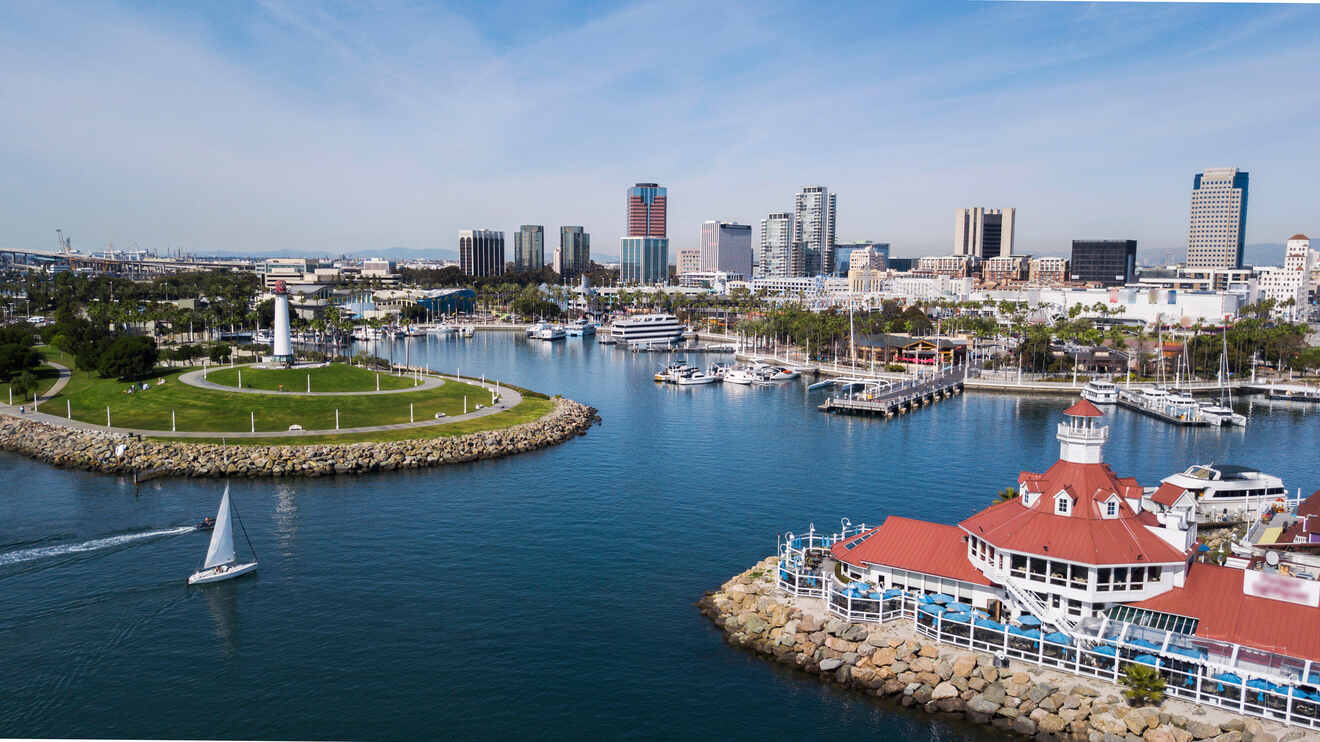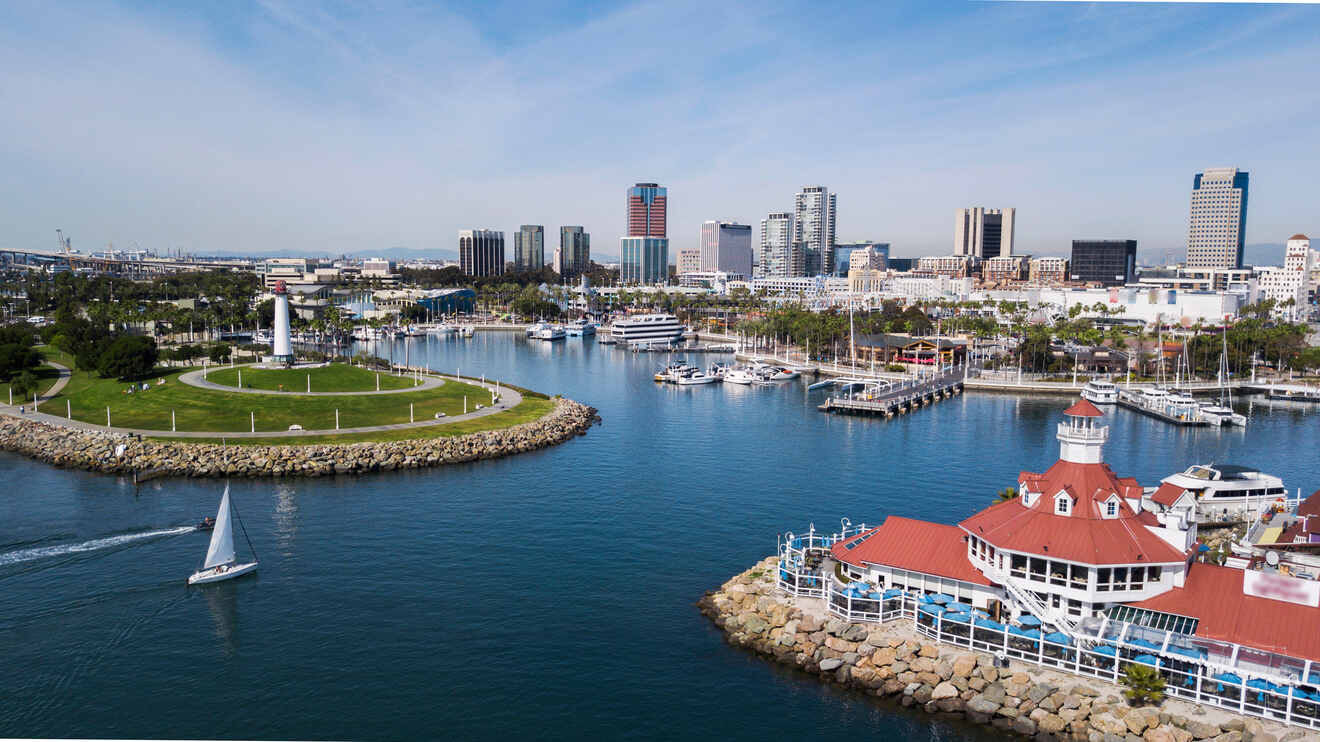 🌴 What is the best way to spend a day in Long Beach?
The best way to spend a day in Long Beach is shopping around Shoreline Village, soaking up the sun at Bluff Park, or discovering marine life at the Aquarium of the Pacific.
♥️ What is the best part of Long Beach?
The best part of Long Beach is along the waterfront. Check out Shoreline Village, soar high above the Pacific Ocean parasailing, or just take in the vibes of this eclectic beach town.
☀️ Is Long Beach a nice city?
Yes, absolutely! Long Beach is a beautiful coastal city with lots of activities, excellent dining options, and fantastic beaches.
🏄 What is Long Beach famous for?
Long Beach is most famous for the Aquarium of the Pacific, the Queen Mary, Shoreline Village, and Seal Beach to the south.
Conclusion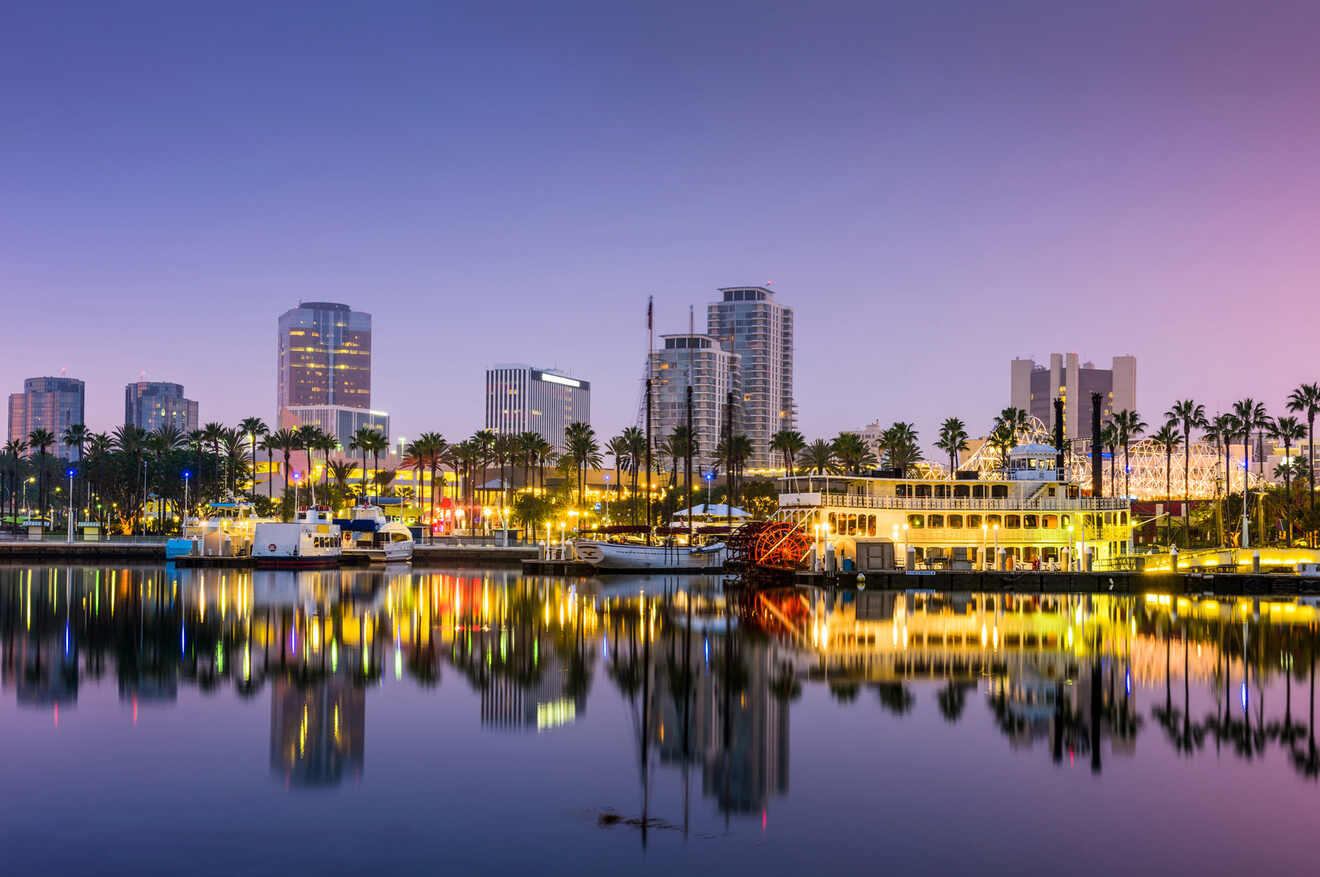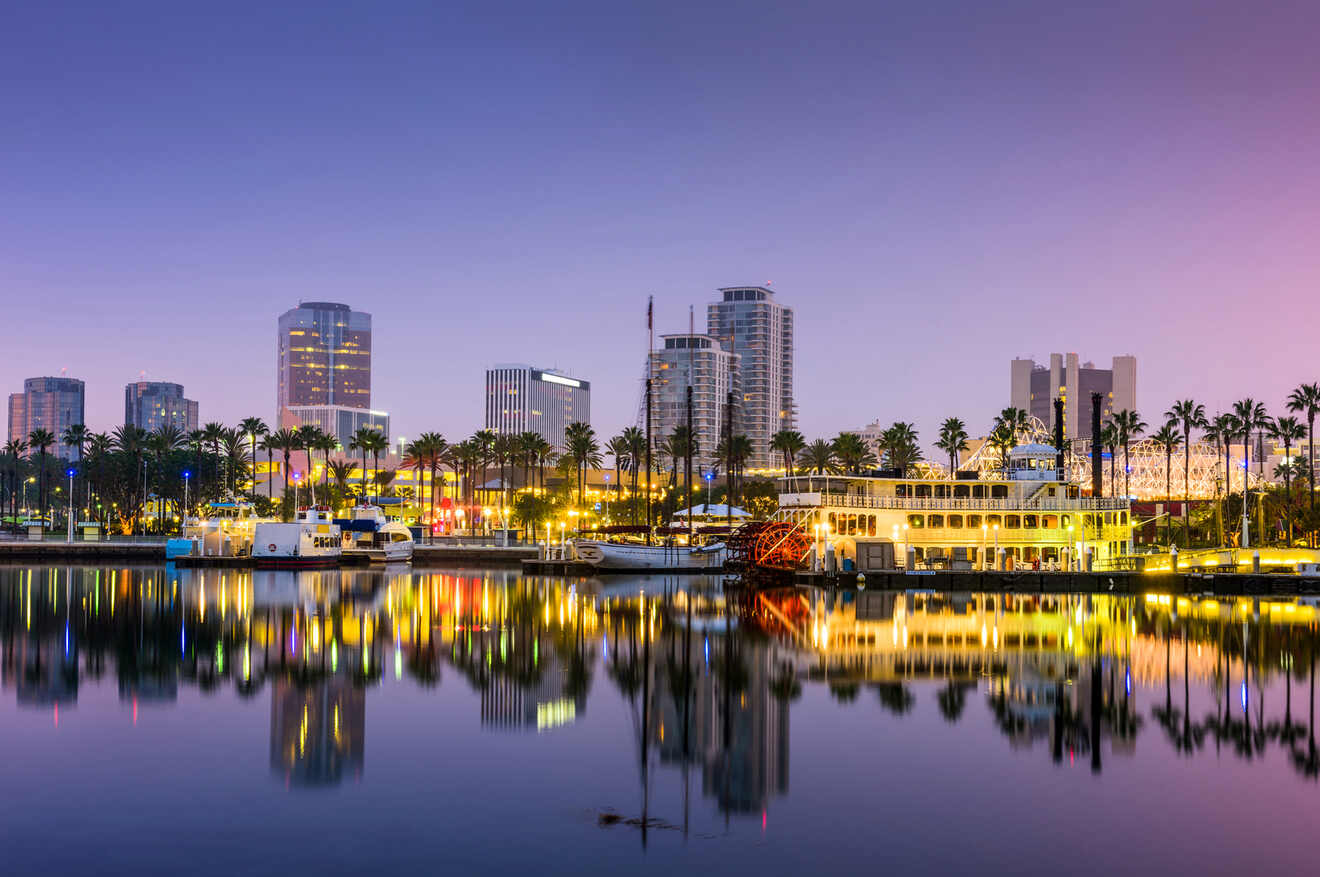 Whether you're in town to visit a Long Beach museum or take in the Long Beach waterfront area, this local community is brimming with excitement, and the things to do in Long Beach are endless! Sandy beaches, fun activities, expansive parks, and amazing fine dining options, this place has it all.
If you're gearing up for a visit, make sure to double-check the hours of operation and be sure to book your favorite activities in advance!
Spill the tea on your favorites by leaving a comment here.
Aloha & safe travels,
Hayden Goldberg
---
Pin it for later!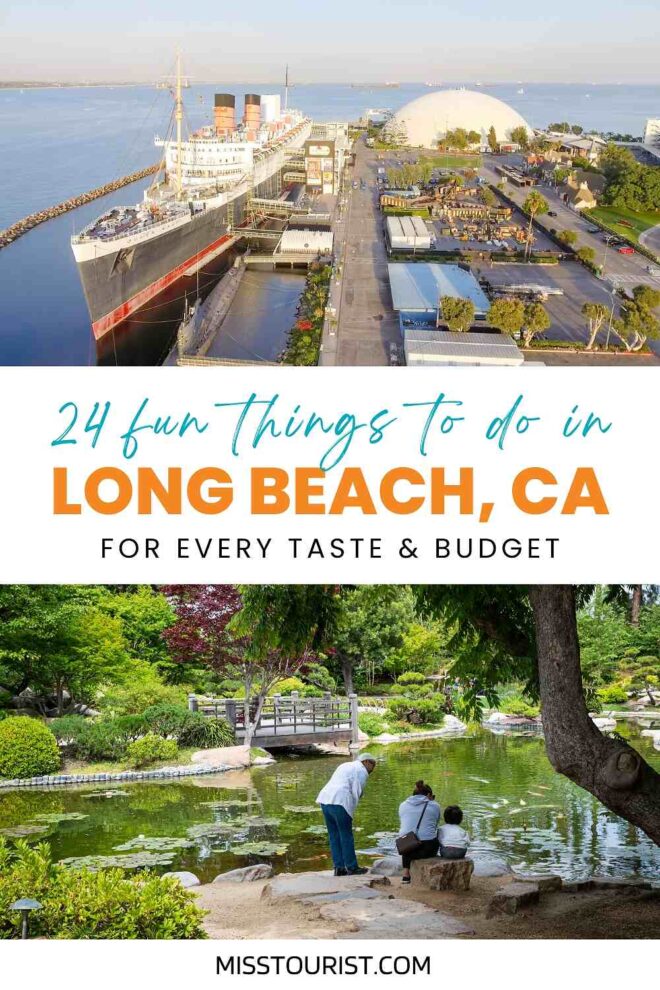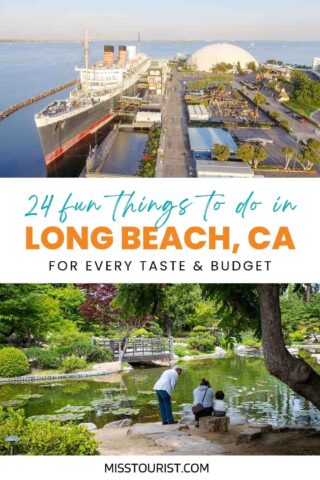 Pin it for later!