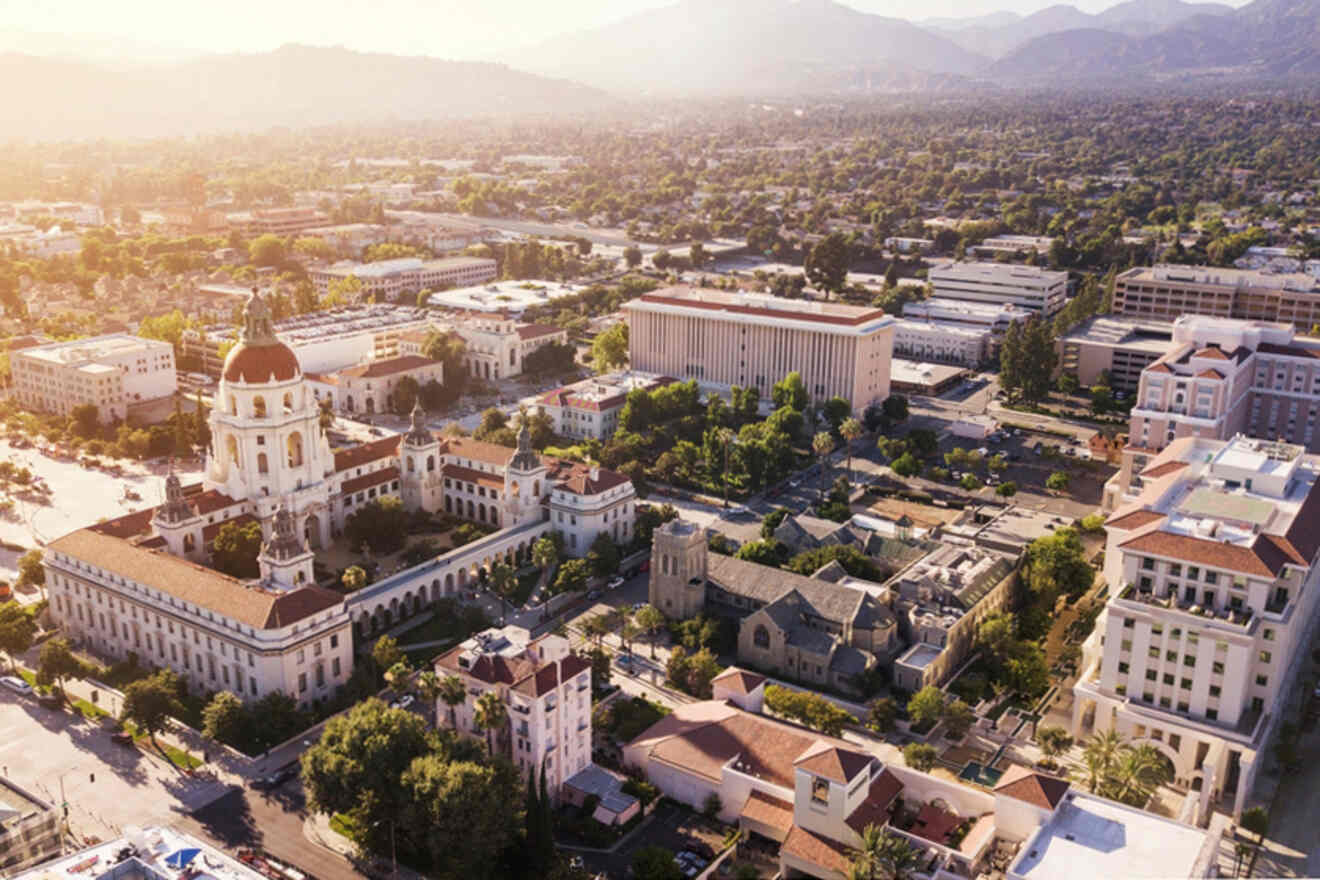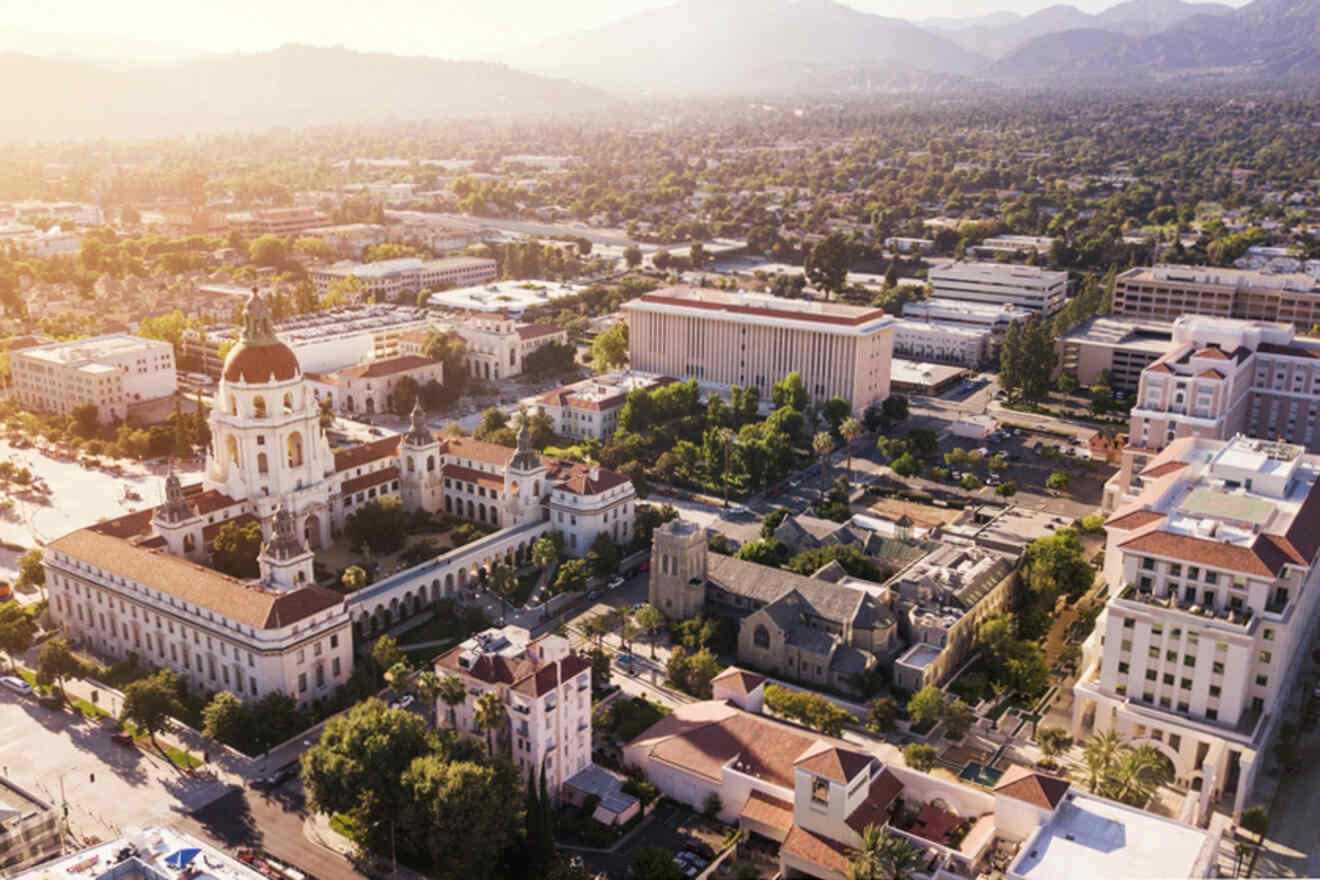 Whenever I'm exploring Los Angeles, I set aside a little bit of time to explore Pasadena – a gorgeous inland city within Los Angeles County with its own personality and charm. As a San Diego local, I'm so fortunate that it's only a couple of hours' drive from home, but it feels like a world away!
Tucked snugly into the valley of the San Gabriel Mountains, Pasadena has a blend of wonderfully preserved history, innovative creativity, and natural magnificence.
This guide is your ticket to unlock the best things to do in Pasadena, from iconic sites to the latest art scenes.
If you are in a hurry
When you arrive in Pasadena, you'll want to start exploring, not booking reservations. Make sure you book your hotels and activities in advance:
And here are the best hotels: The Bissell House Bed & Breakfast (luxury), The Patrician Hollywood Universal (mid-range), Pasadena Hotel & Pool (budget)
Need more options? I get you! Check out Pasadena's famous neighbor, Los Angeles, for a long list of chic hotel accommodations – you can skim our master list of areas & hotels to stay in LA.
And while you're at it, don't miss out on all the cool things you can do in LA! Cruise through our top 16 must-dos! 🥳
1. Visit Old Town Pasadena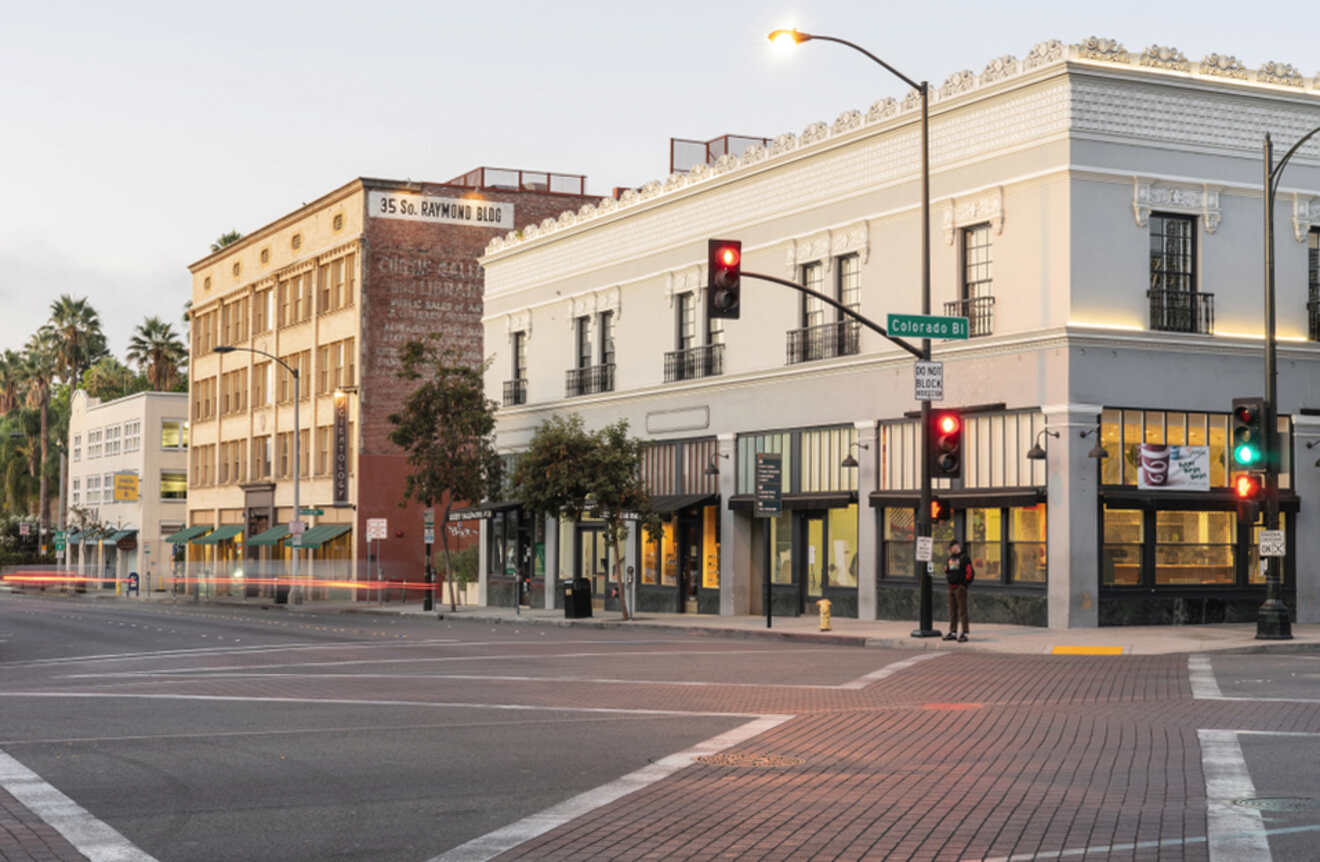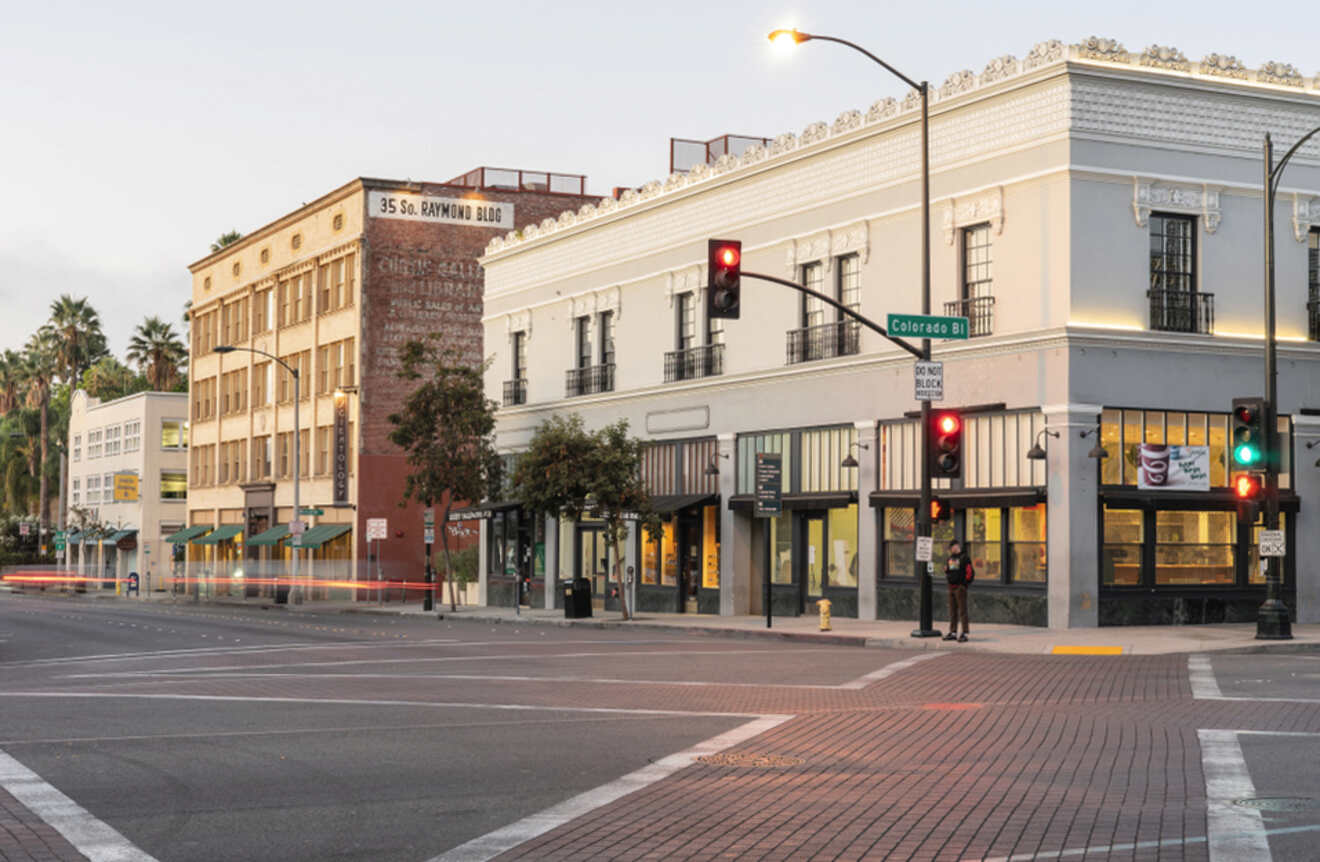 A nod to a bygone era, Historic Old Town Pasadena (or Old Pasadena/Old Town for short) is filled with historic buildings, fun things to do, and amazing things to see. You'll be able to fill your afternoon in Old Town Pasadena shopping and dining until the California sunsets.
Window shop at all the great boutiques, catch a show in Playhouse Village, or grab a yummy bite to eat at one of the many eateries – try Green Street Cafe, with great food and amazing service, you'll adore this lovely restaurant!
Pasadena Ice Skating Center is a favorite with kids, as is playing the day away at Memorial Park. You'll also find the metro line at Memorial Park if you're looking to get into downtown Los Angeles.
While in Old Pasadena, I highly recommend immersing in all the city has to offer: food, sites, and haunting culture! Check out the following tours that take place downtown:
2. Celebrate in the excitement at Rose Bowl Stadium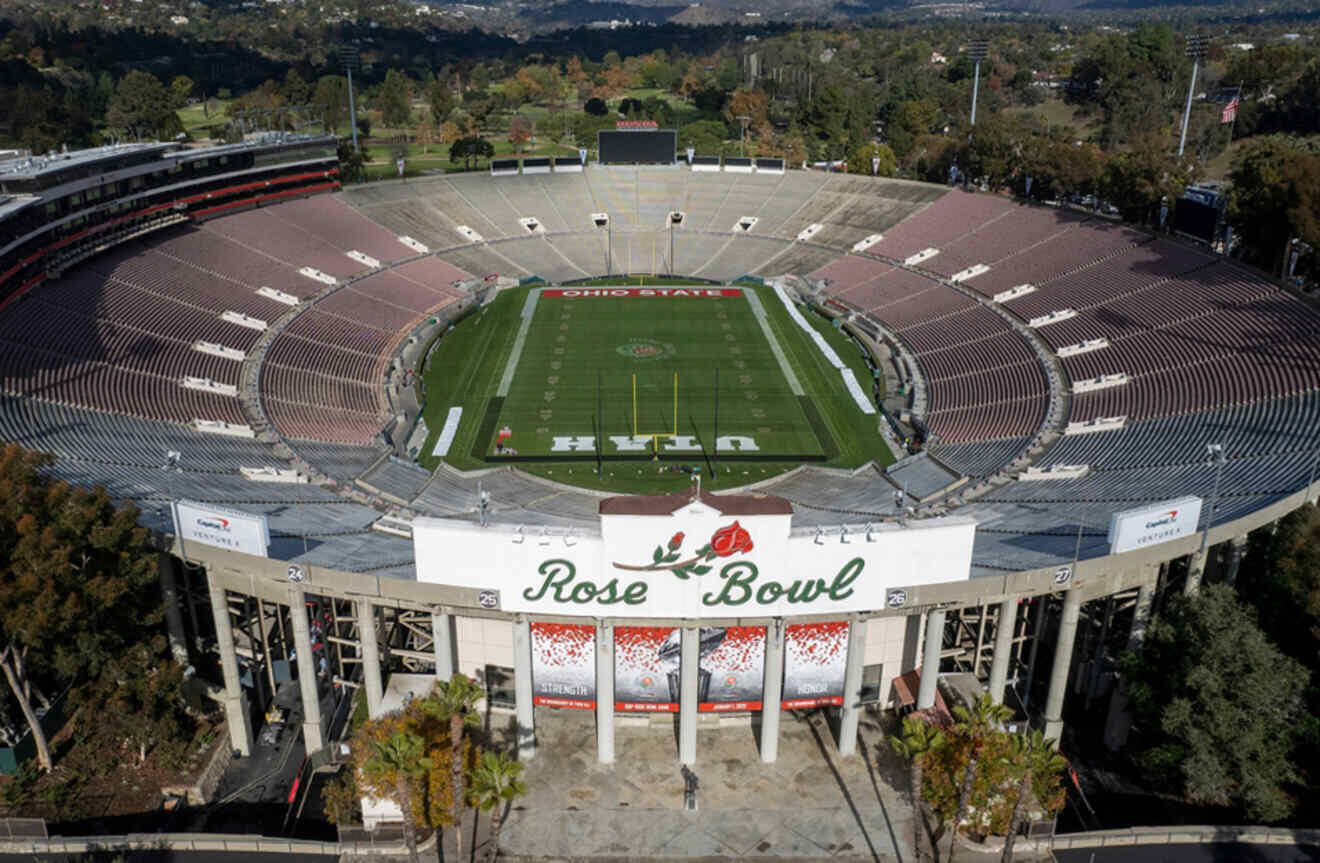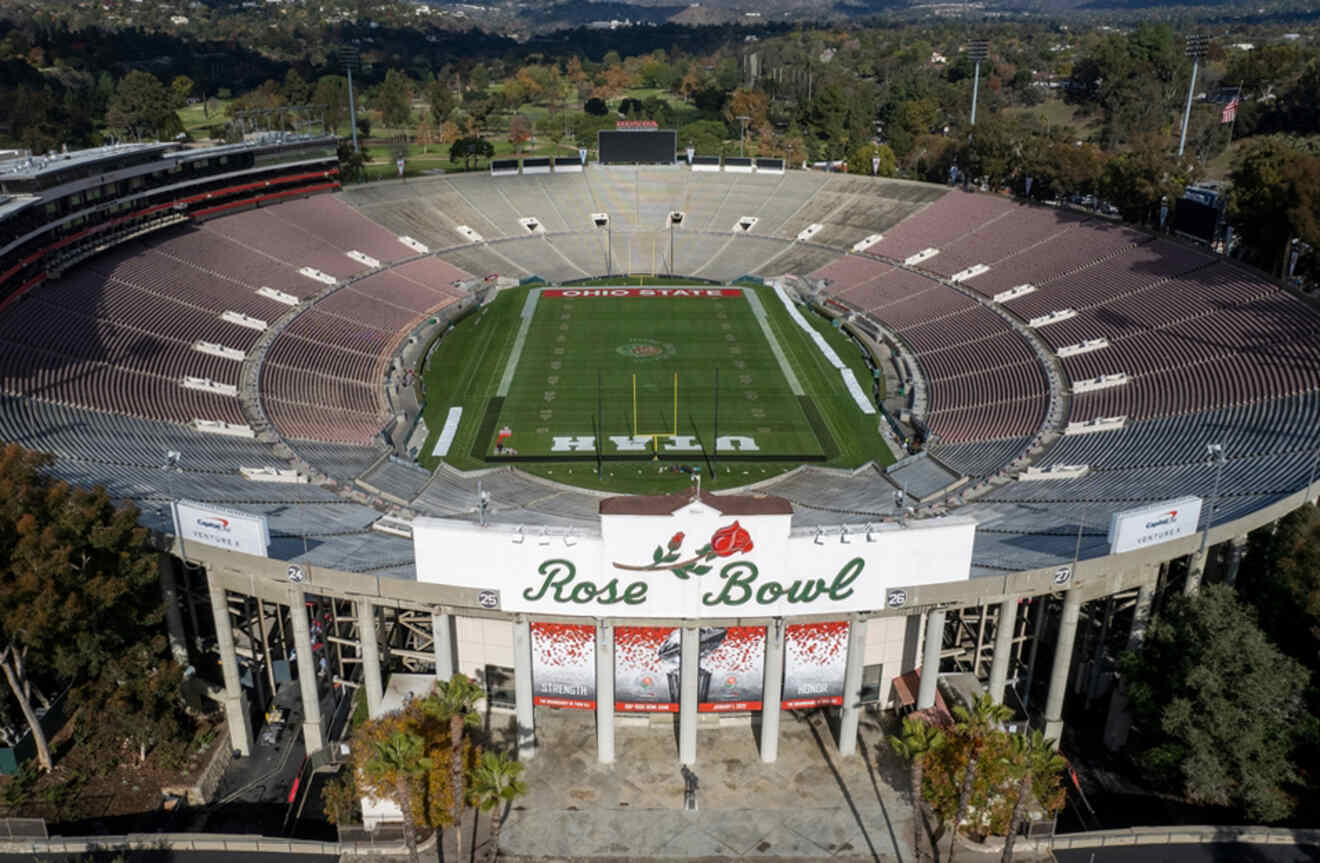 One of the most iconic things to do in Pasadena, CA, is to attend the famous Rose Bowl Game and subsequent Rose Parade, held annually, drawing sports enthusiasts from all over the country.
You'll love the Rose Garden here, a hidden gem of natural beauty with an exquisite array of flowers on display.
Rose Bowl Boulevard runs through Pasadena, CA, and is known as one of the most iconic streets where the Rose Parade heads down. Colorado Boulevard, which serves as the parade route for various festivities, not just the Rose Parade, is also a major stage for all the city's events.
You can't miss the world's largest flea market while visiting Pasadena. Rose Bowl Flea Market, located at Rose Bowl Stadium, takes place on the 2nd Sunday of every month. Score on a vast array of antiques, clothing, collectibles, vintage items, crafts, and more.
3. Tour the famous Gamble House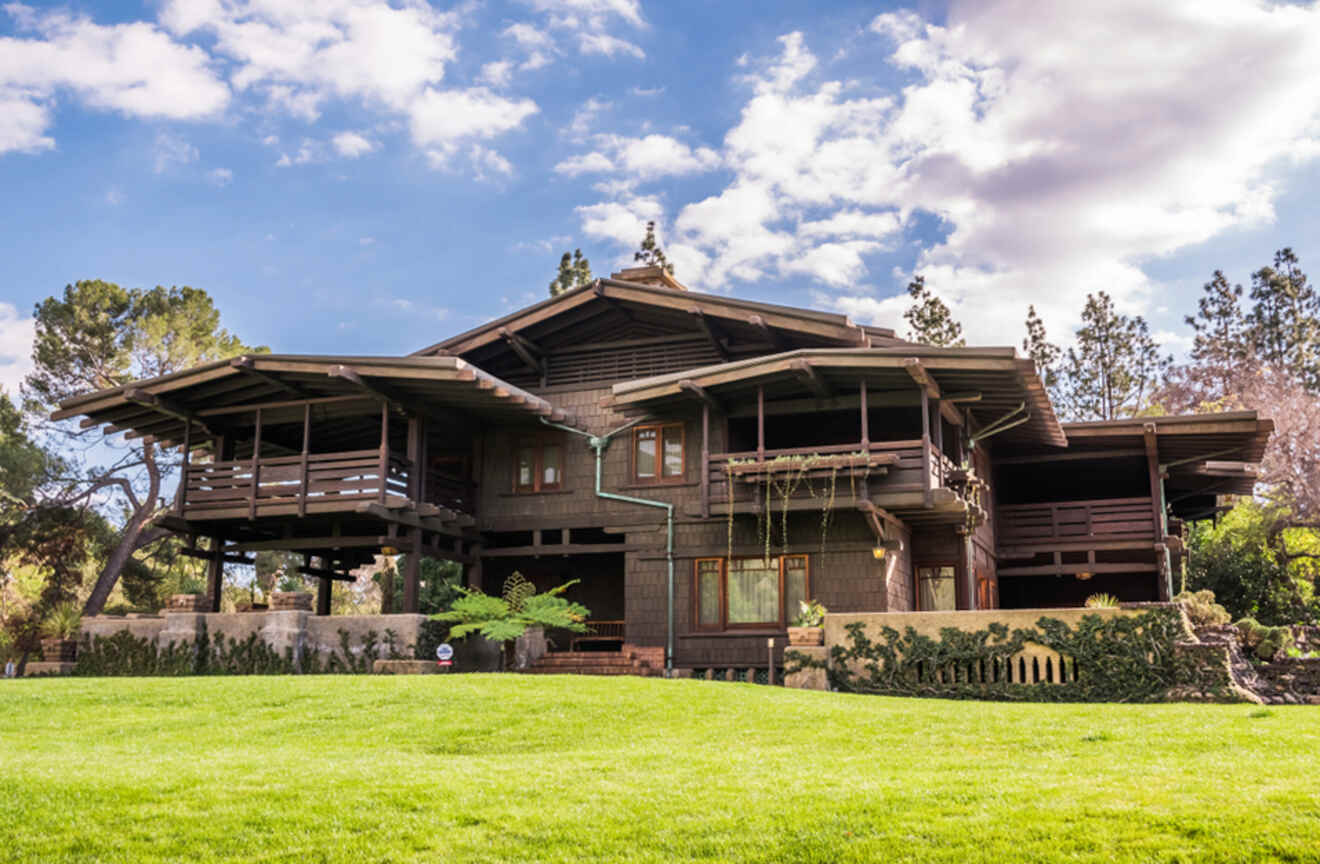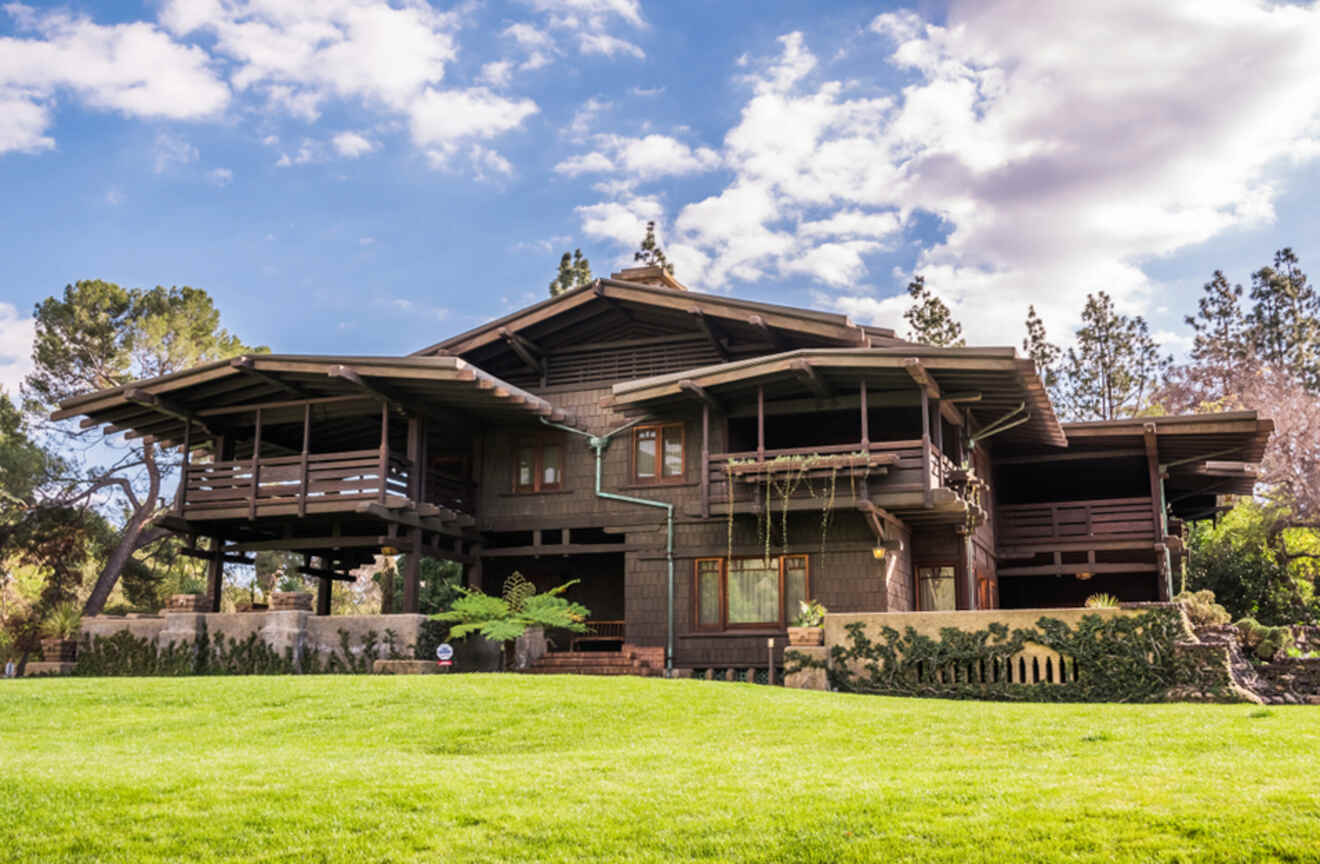 Back to the Future used the Gamble House as inspiration for Doc Brown's house in the iconic movie!
When you visit Pasadena, one of the top tourist attractions is the historic Gamble House, an architectural masterpiece designed by Henry Greene that blends European art and American design.
This National Historic Landmark was commissioned by the Gamble Family of Procter & Gamble Company fame.
Touring the Gamble House is as educational as it is enchanting.
PRICE: US$15 per adult
4. Enjoy a show at the Pasadena Playhouse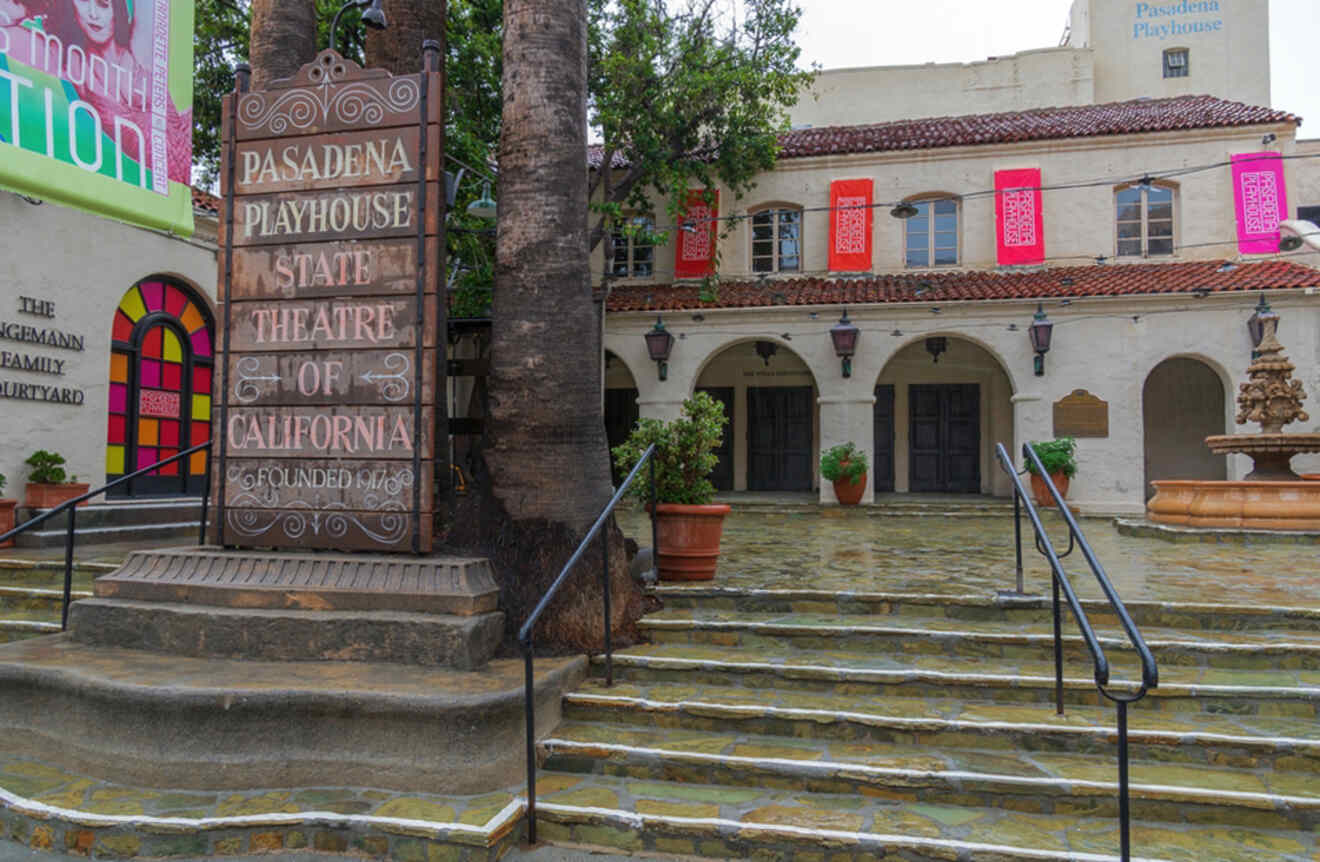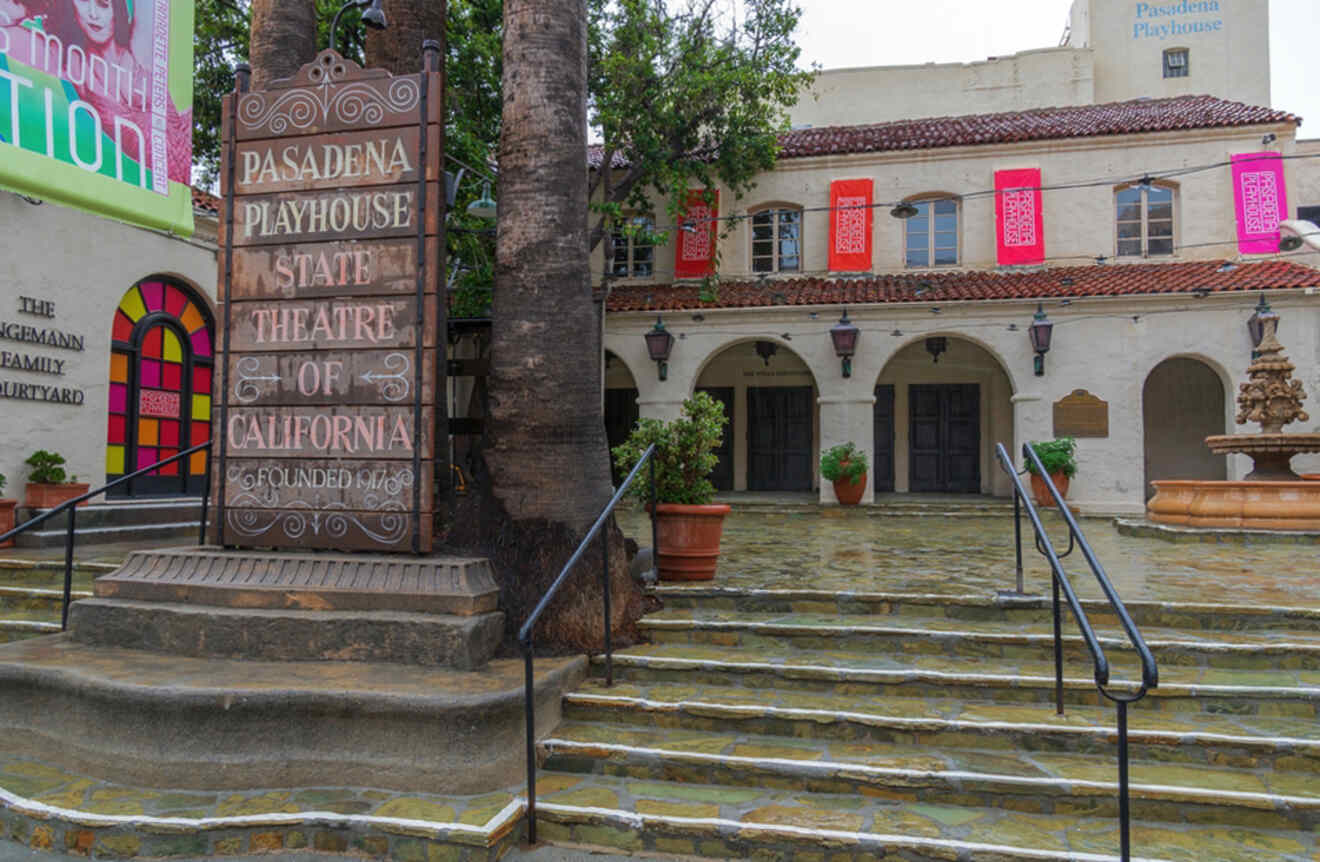 A stunning little theater in Pasadena, CA, and one of the first to blend European and American styles, the Pasadena Playhouse is definitely worth a visit.
Opening its doors in 1917, the Pasadena Playhouse has been a spot where local and emerging talent, directors, actors, and playwrights come to earn accolades for their playbill spotlight.
If you have the time, check out the upcoming calendar and catch a show while you're in town. Pasadena Playhouse, a Tony Award-winning theater, is still providing the community with important plays and fosters artistic talent and growth.
5. Explore the trails at Eaton Canyon Nature Center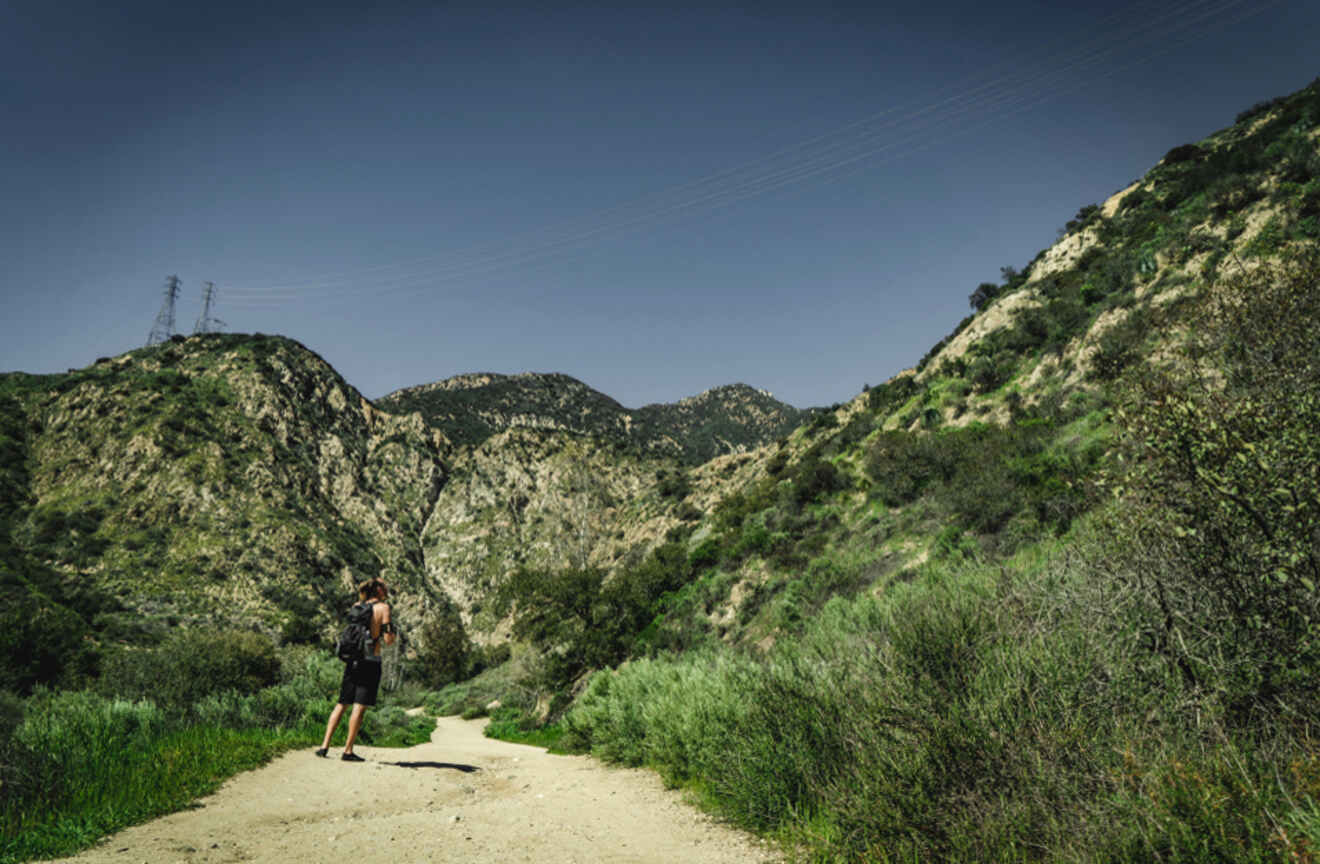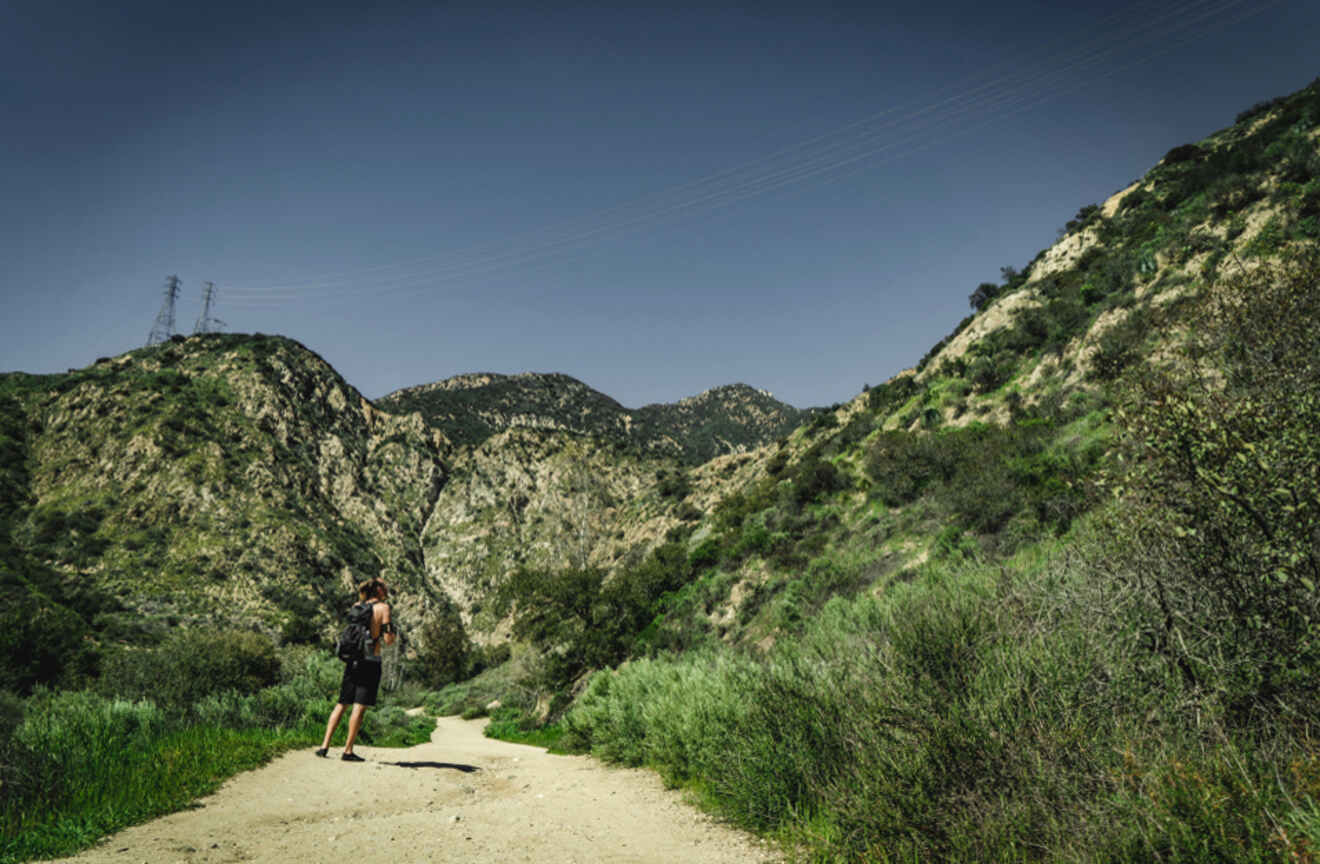 Anywhere I travel, I try to make some time to enjoy the untouched natural surroundings of a city. One of my favorite things to do in Pasadena, CA, is to traipse around Eaton Canyon Nature Center.
Don't miss the Eaton Canyon Falls Trail, a 3.5 mi (5.6 km) out-and-back moderately challenging trail to Eaton Canyon Falls waterfall, complete with gorgeous views of the San Gabriel Mountains in Southern California.
6. Have a blast at Kidspace Children's Museum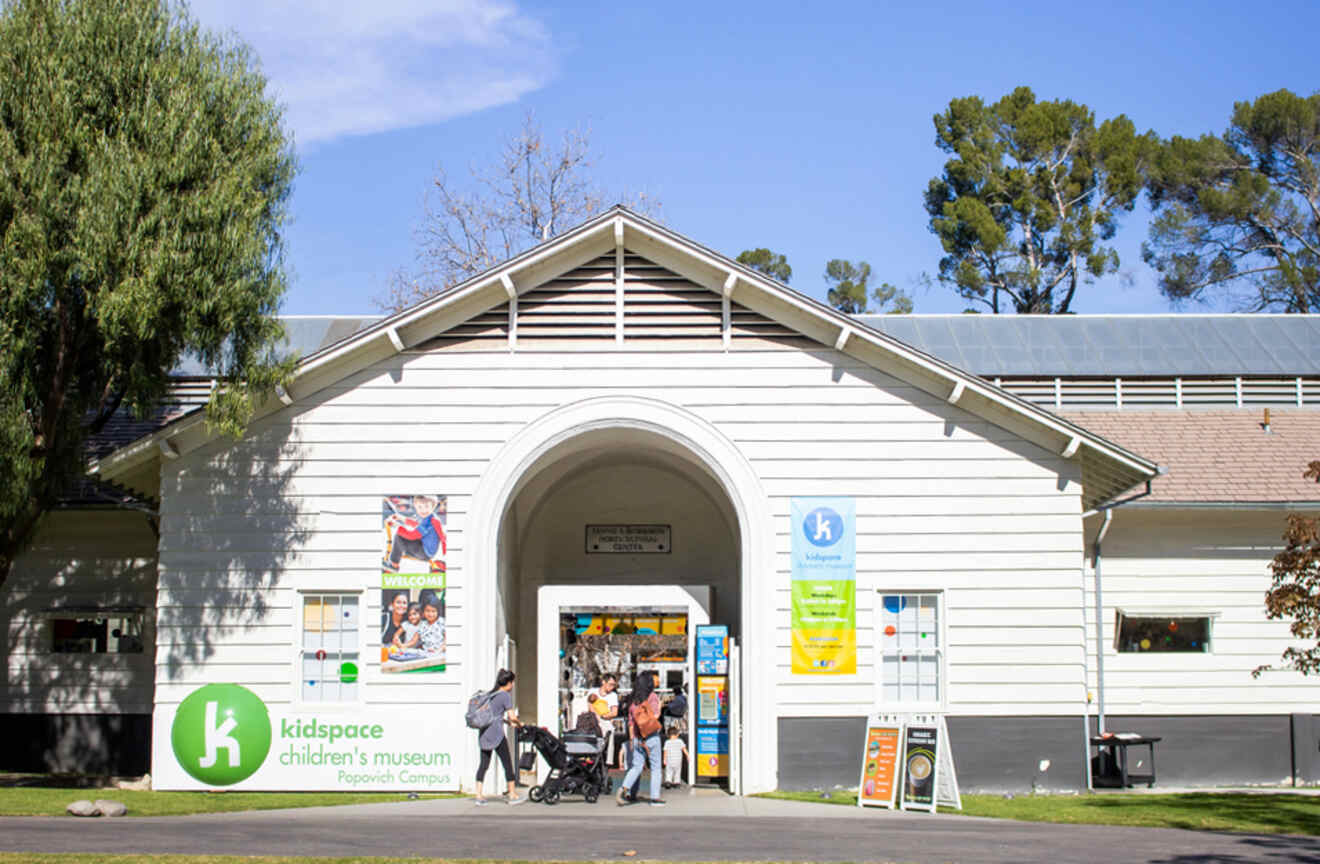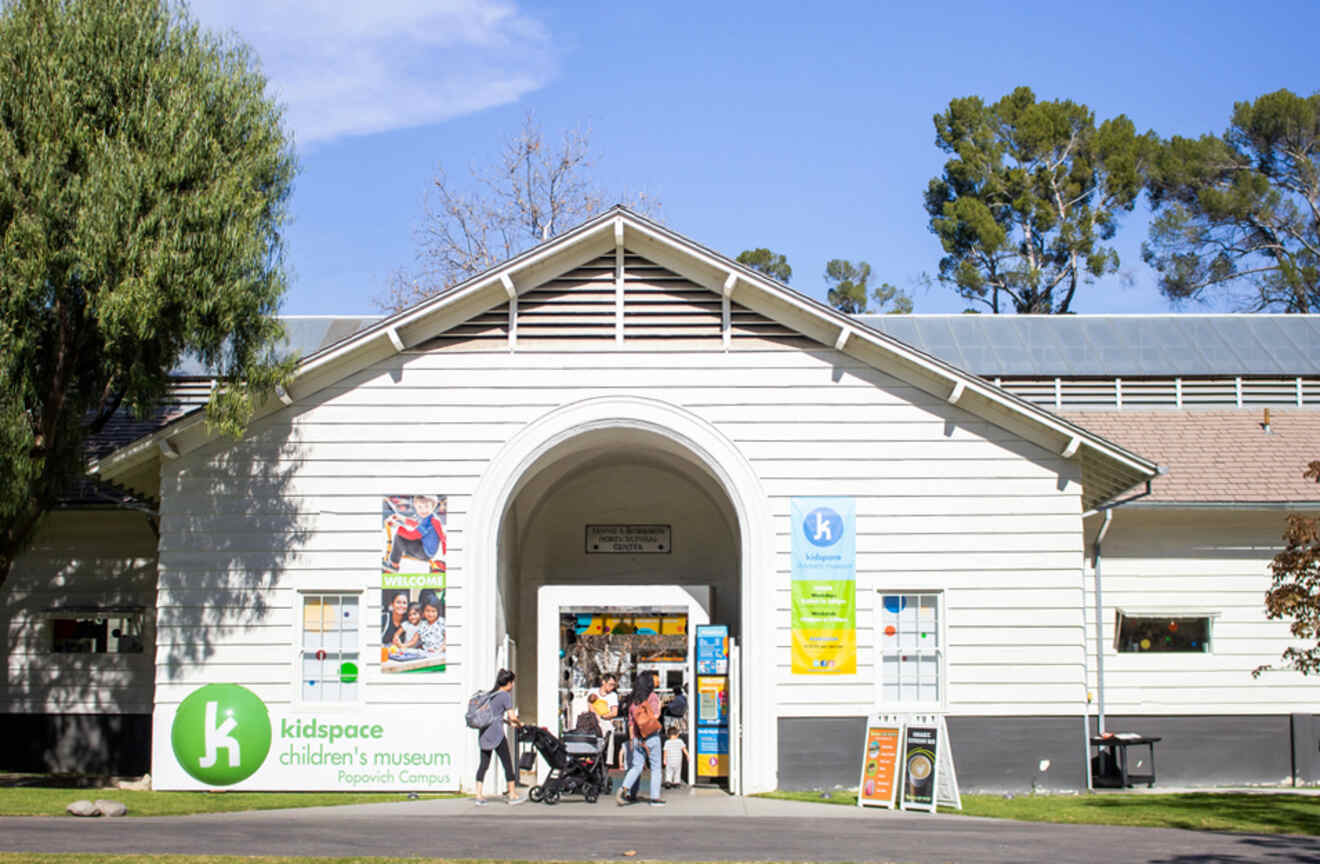 If you have kids in tow on your trip, one of the most fun things to do in Pasadena, CA, is to explore the Kidspace Children's Museum.
This Pasadena museum is more like a mini amusement park with play areas, touch & smell exhibits, toys and trikes, and so much more! Kids love the interactive exhibits and the vibrant displays.
It's the perfect place to bring the kiddos to burn off some steam when they're done doing all the more adult Pasadena things.
PRICE: US$15.50 for adults and children
7. Snap a pic at Pasadena City Hall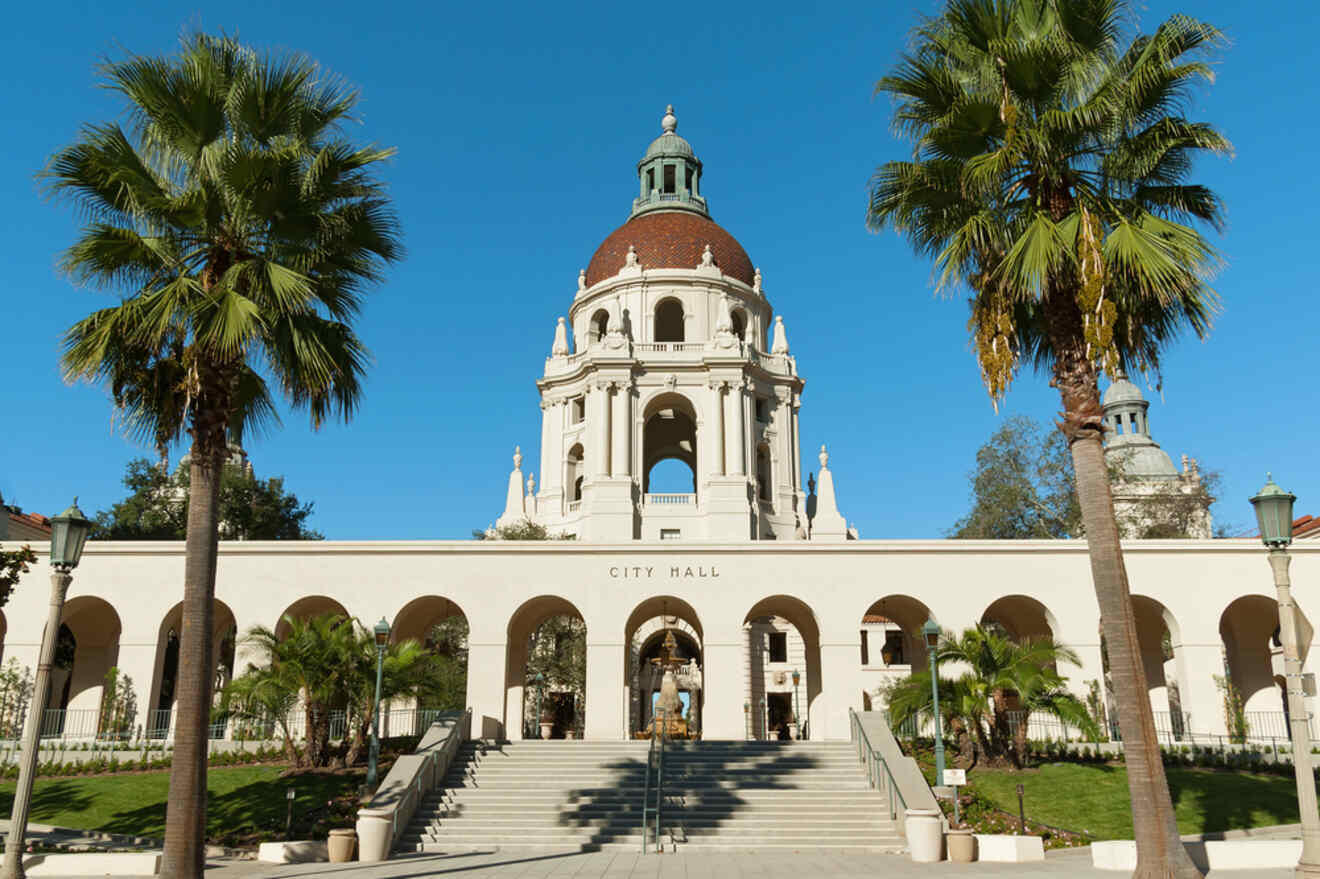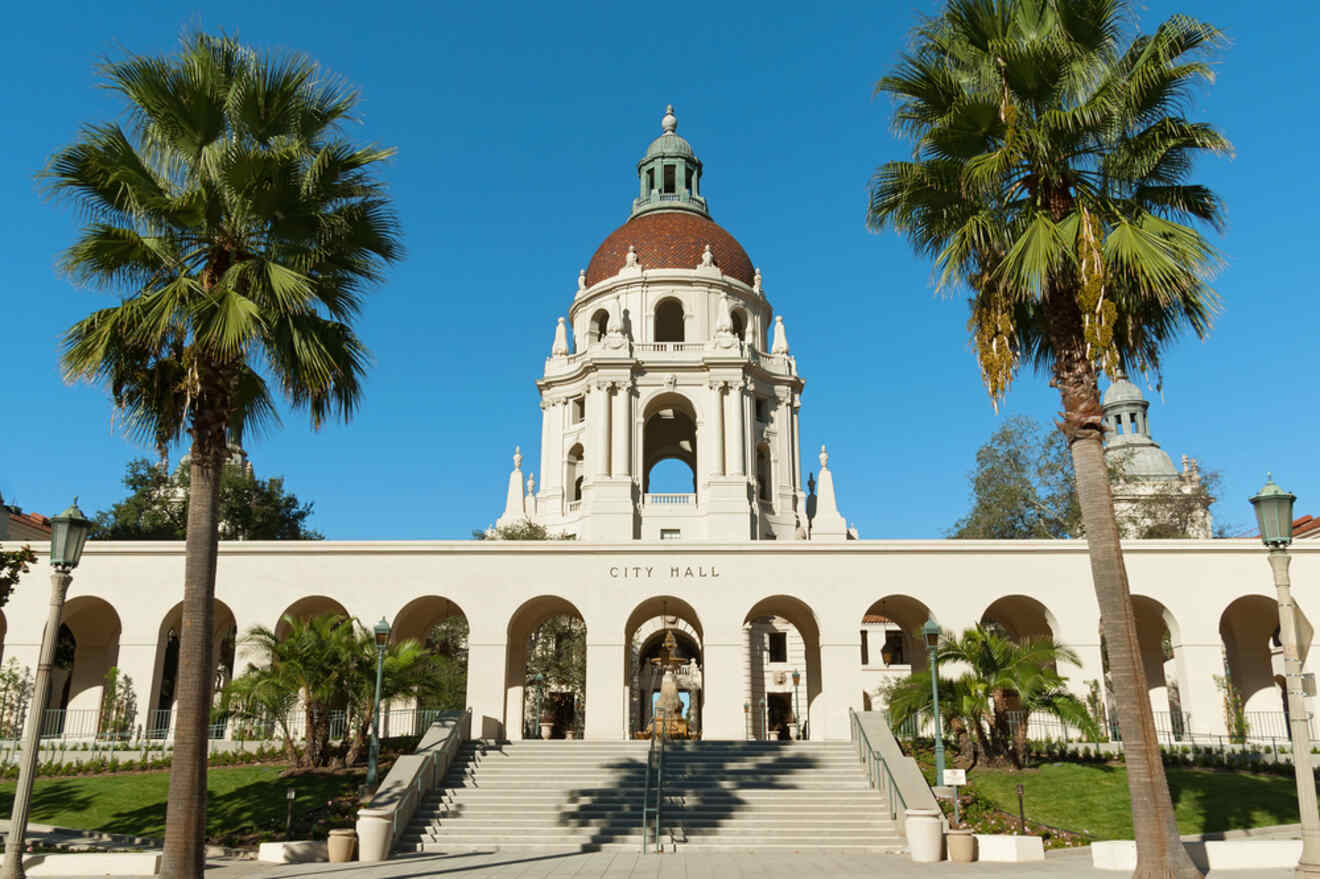 Pasadena City Hall has been designated as a California Historical Landmark and is listed on the National Register of Historic Places.
One of the top things to do in Pasadena is definitely visiting Pasadena City Hall. The architecture alone is a reason to visit. Its Beaux-Arts design and Mediterranean Revival stylistic influence of Pasadena City Hall will leave you awestruck!
You'll be impressed with the grand arches, distinguished tower, and perfectly primped gardens – a wonderful backdrop for all of Pasadena's civic events.
8. Don't miss the NASA Jet Propulsion Laboratory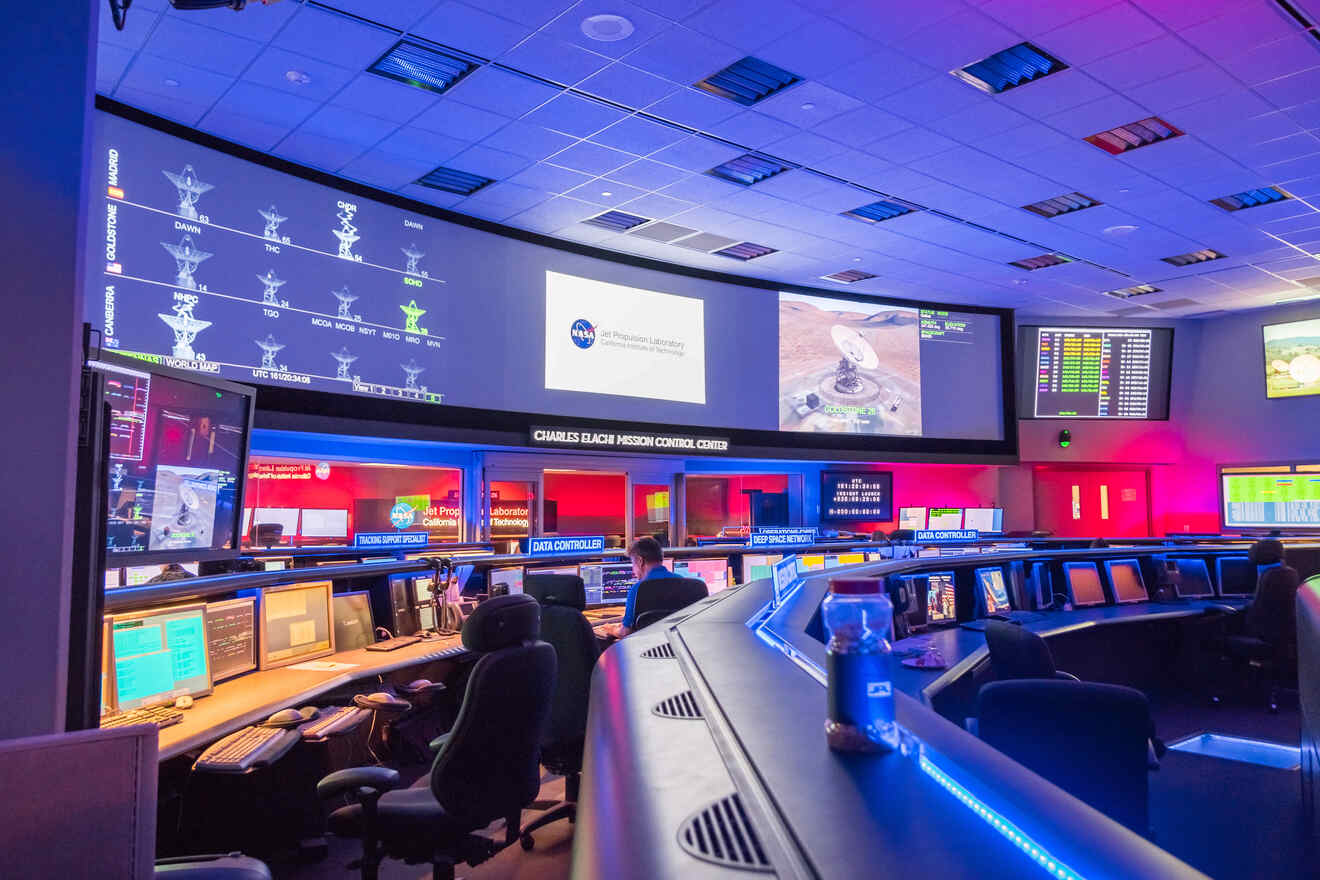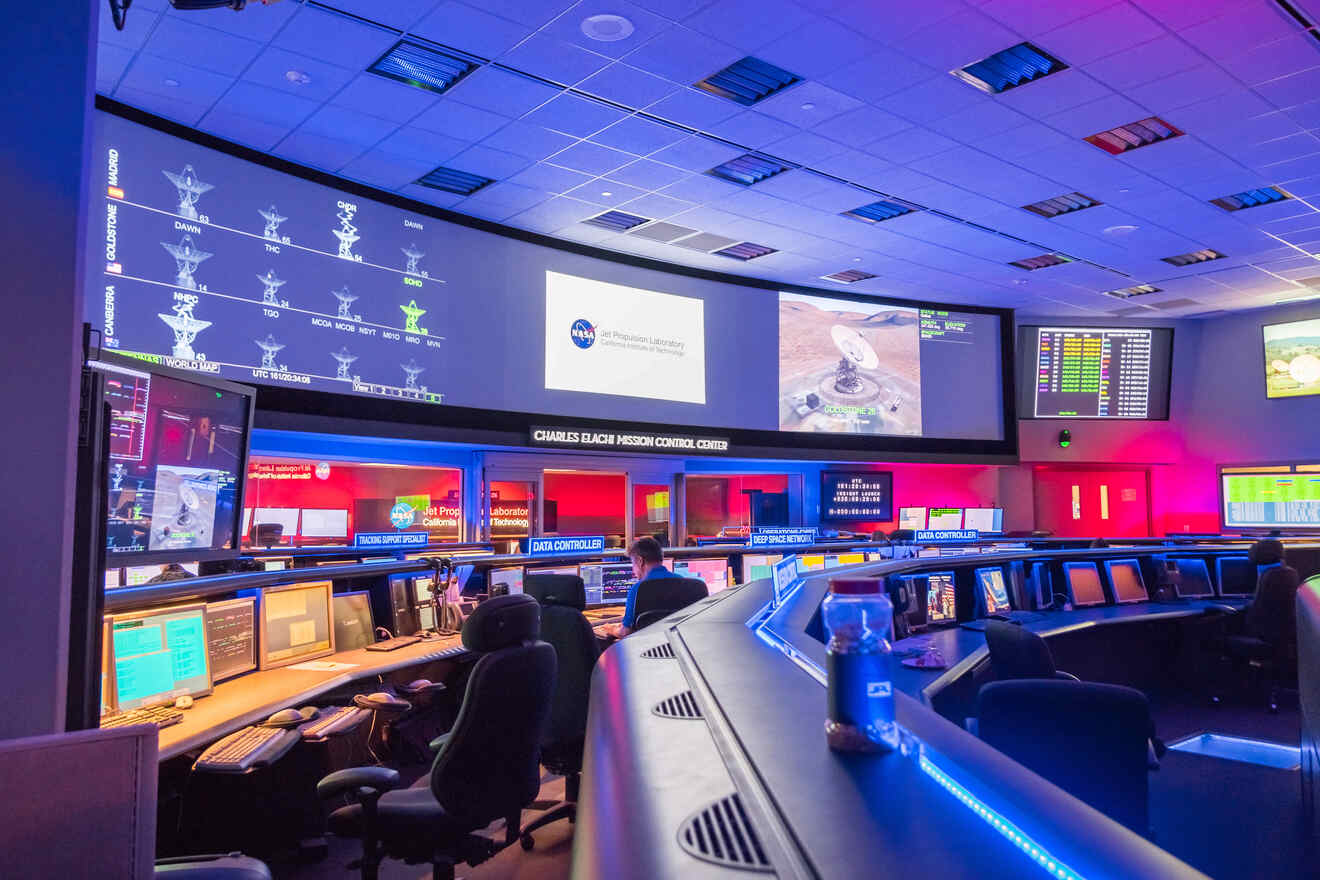 Okay, call me a geek, but this is by far my favorite of the things to do in Pasadena, CA! I mean, we're talking about merging the California Institute of Technology and NASA research – mind blown!
The JPL is a center of excellence within NASA and is vital in many groundbreaking space missions our country has embarked upon.
While tours are free, they have to be booked in advance. Uncover inner secrets about the flight operations centers, the von Karman Visitor Center, and the spacecraft assembly plant.
PRICE: FREE on-site and virtual tours
9. Check out the Pasadena Tournament House and Wrigley Gardens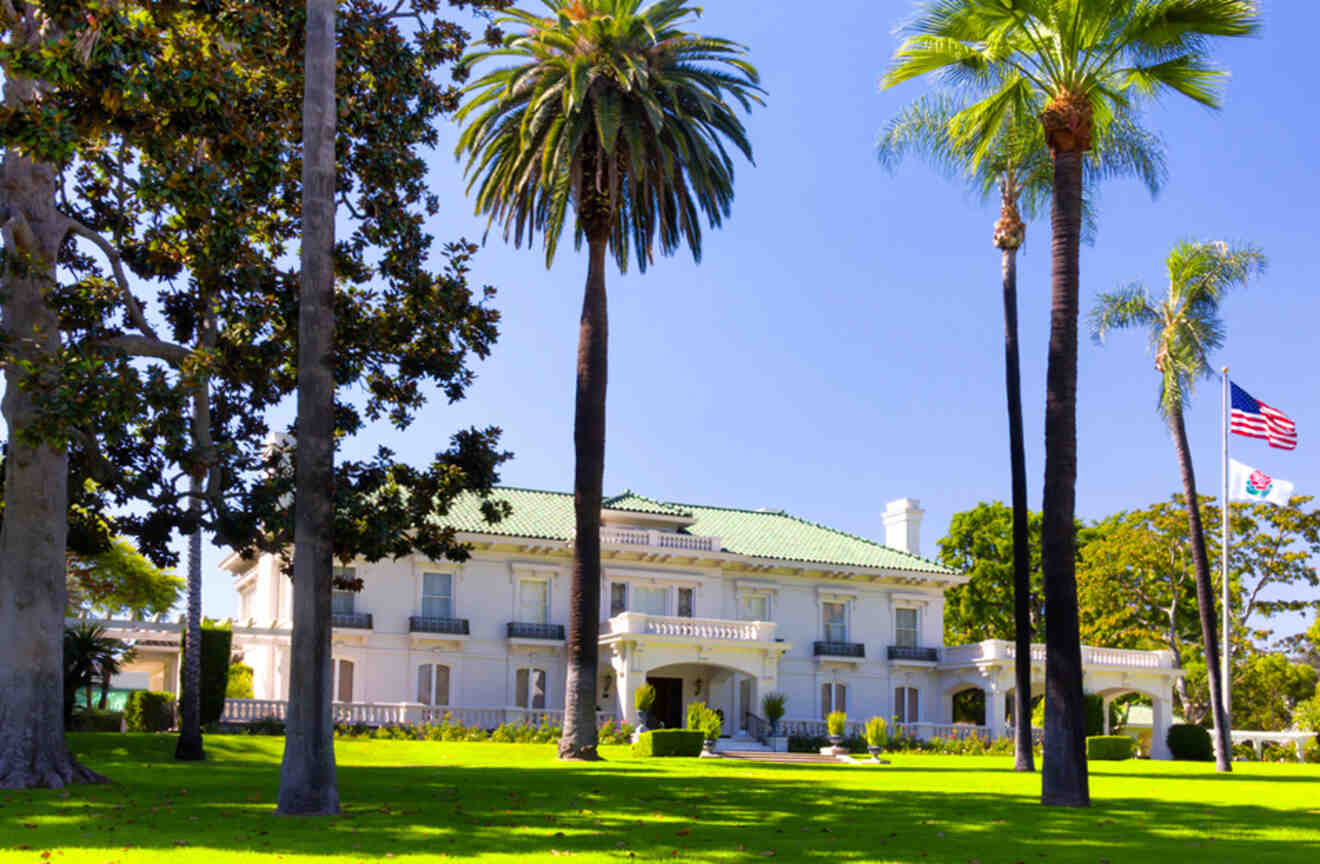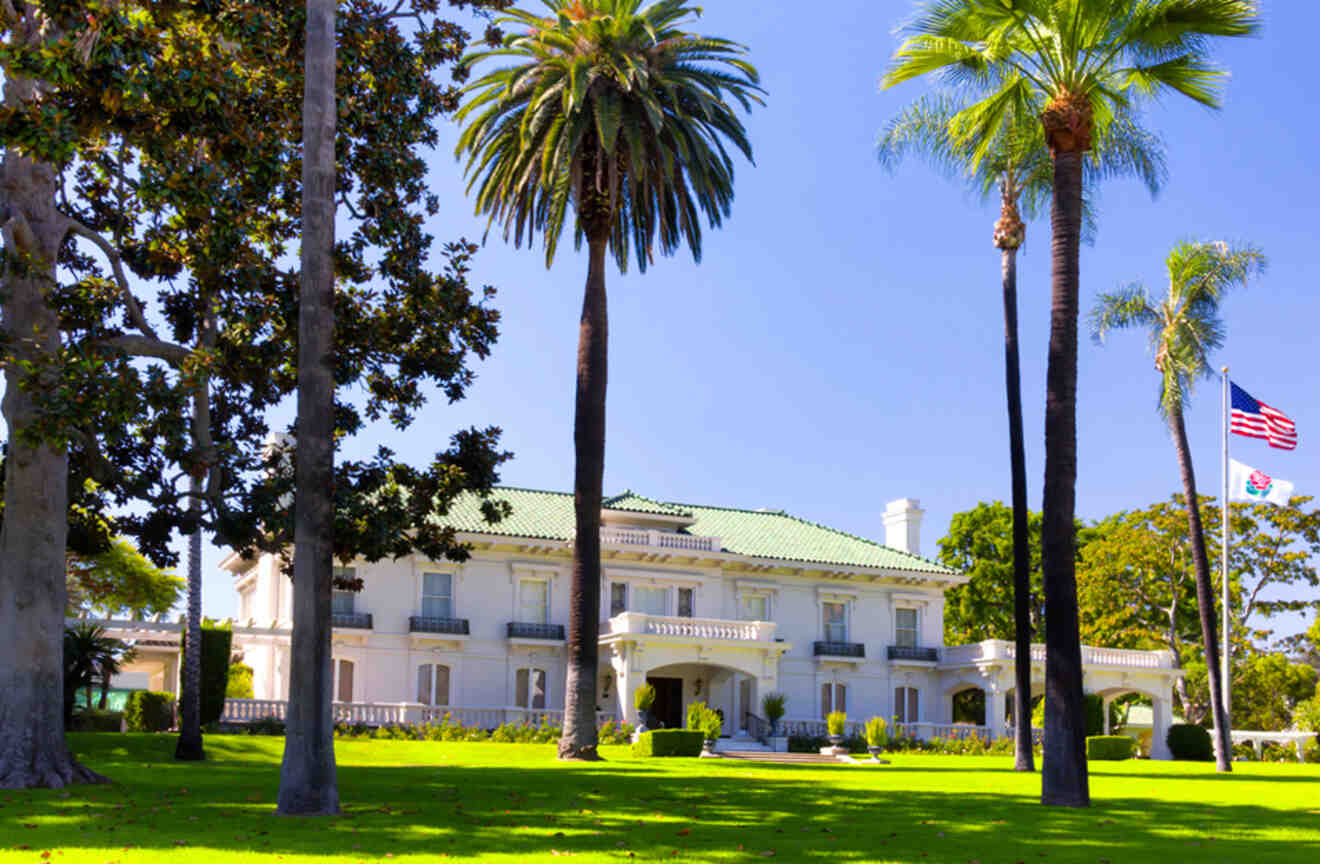 If you were around in the 1980s and 1990s, you most certainly have heard of Wrigley Bubble Gum (I can taste the flavor right now).
Well, the Tournament House and Wrigley Gardens belonged to that Wrigley, and now it's an exquisite mansion and garden that you can tour.
With over 21 bedrooms, this opulent estate is a stunning example of generational wealth.
Now, it serves as the headquarters for the Tournament of Roses Association, a central zone for celebrating the renowned Rose Parade and Rose Bowl Game.
PRICE: free tours
10. Enjoy the expansive art collections at Norton Simon Museum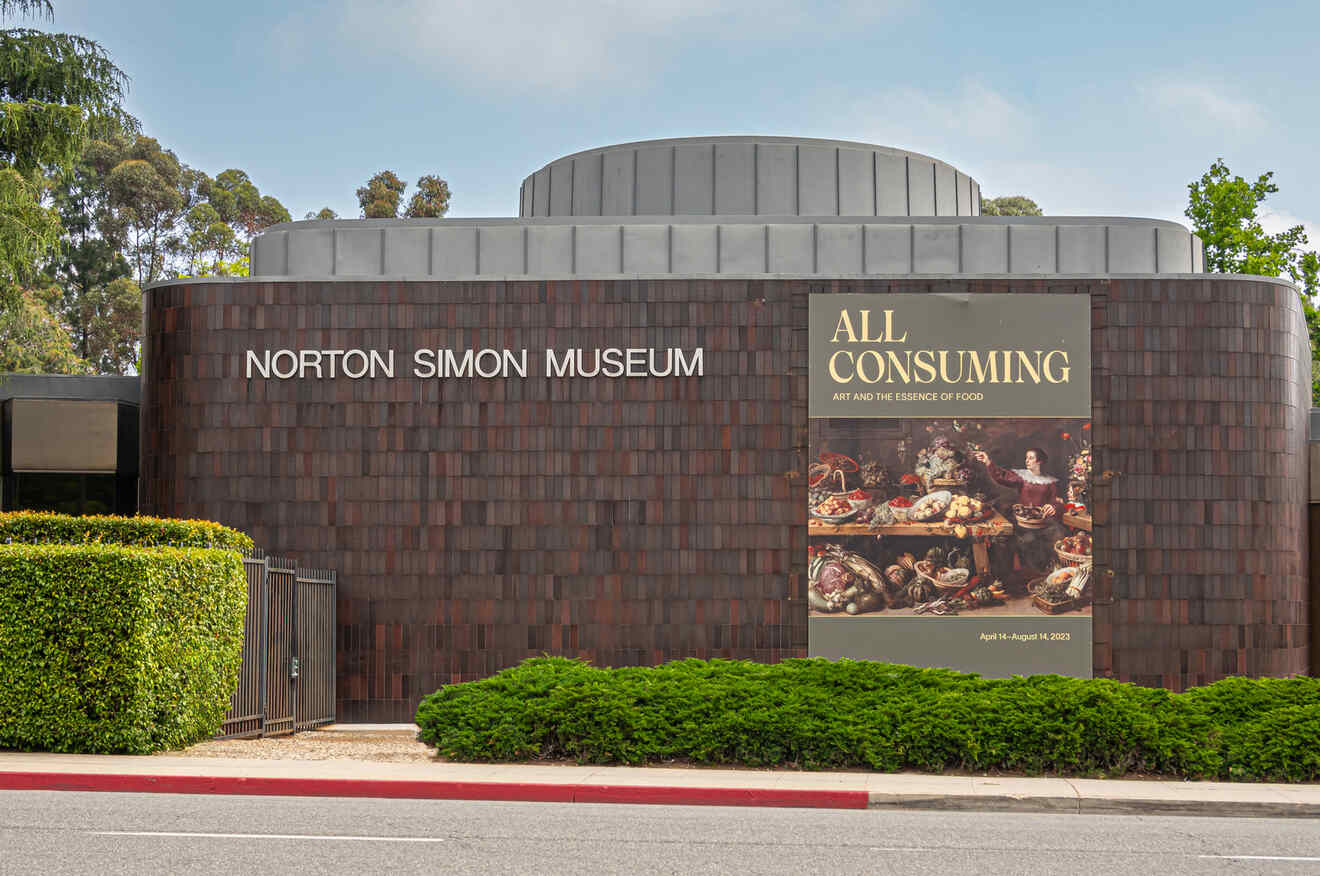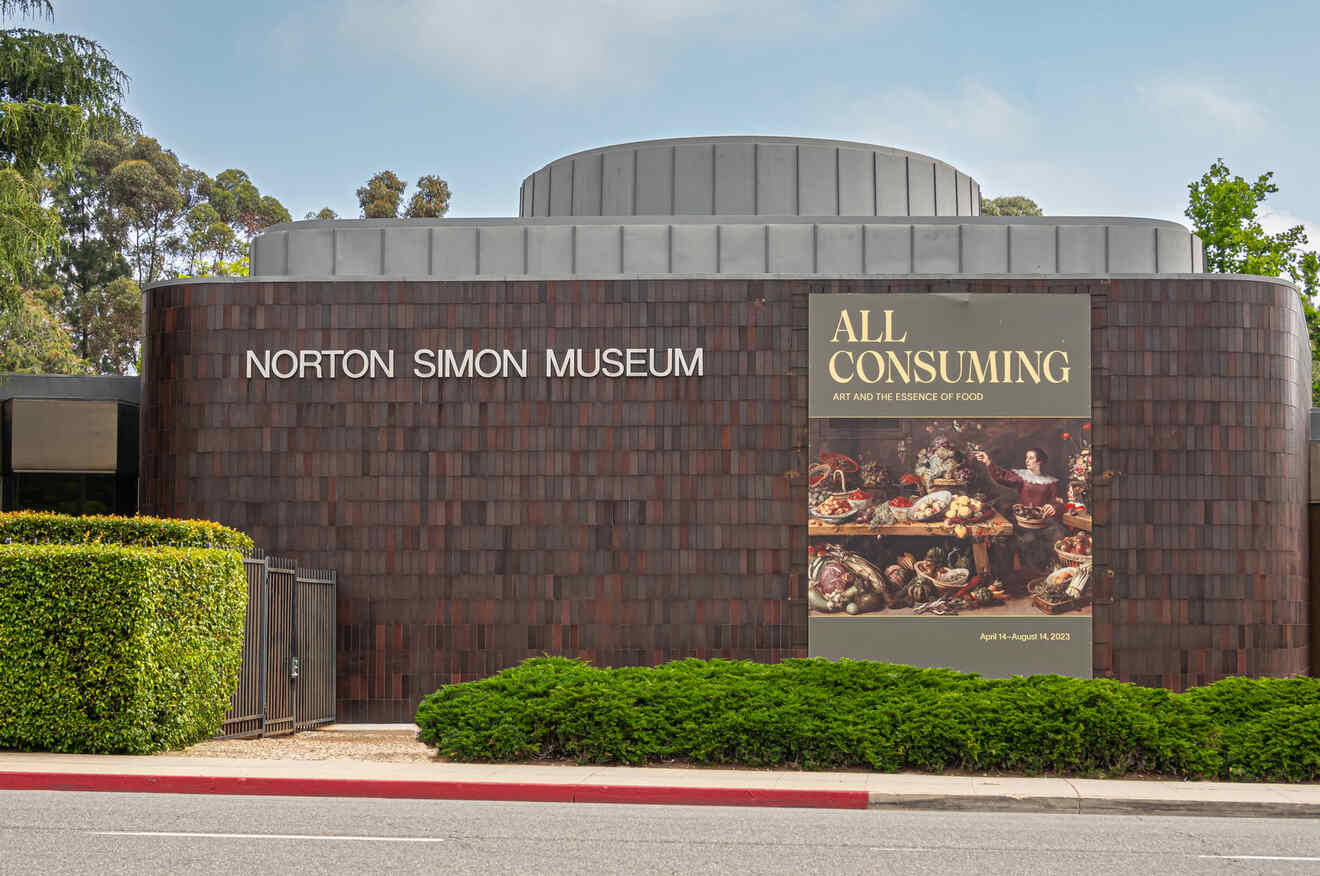 One of the best things to do in Pasadena for a dose of creative culture, the Norton Simon Museum, located on Colorado Blvd, houses some pretty impressive works of art – over 12,000 of them!
You'll find works from famed greats like Rembrandt and Van Gogh, as well as intricate Asian artifacts and sculptures.
PRO TIP: while it's no longer a requirement, it's still smart to book these tickets in advance!
NOTE: closed Tues & Weds
PRICE: US$20 per person
11. Wander through the Descanso Gardens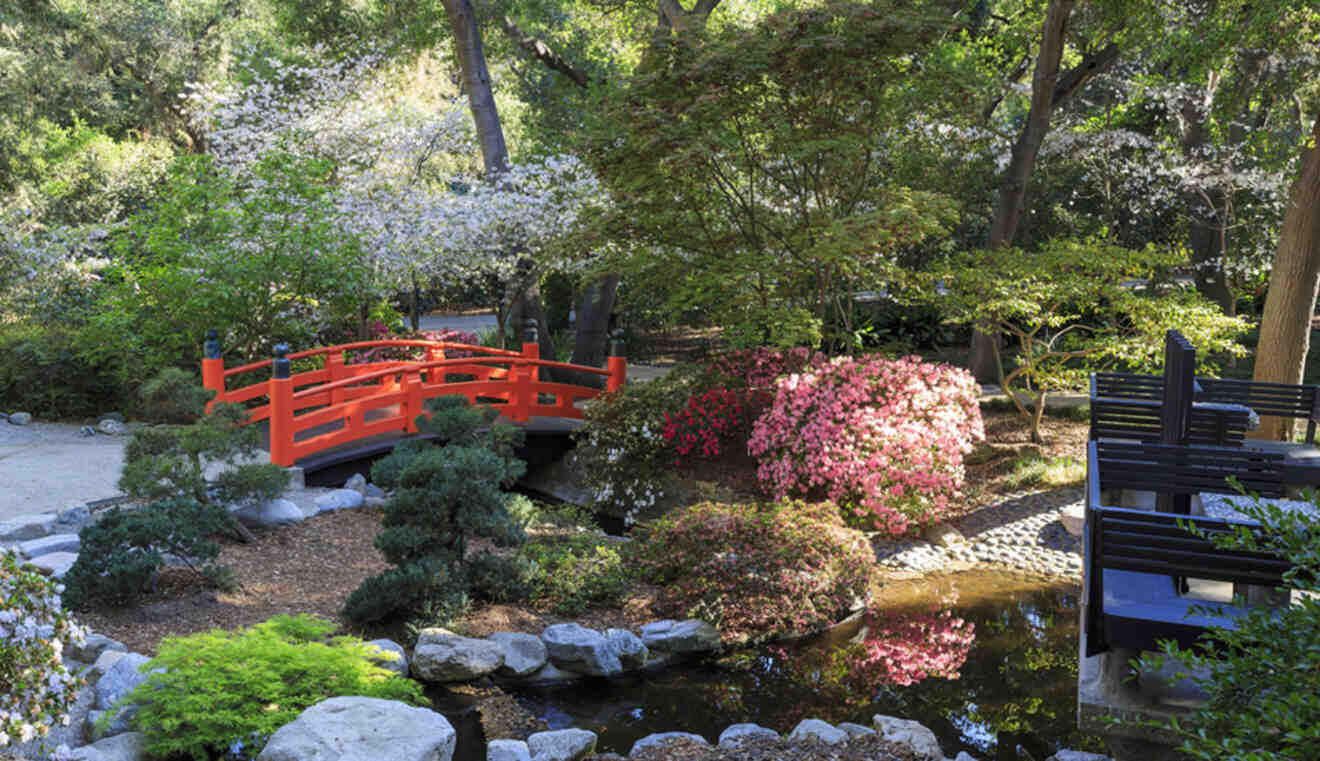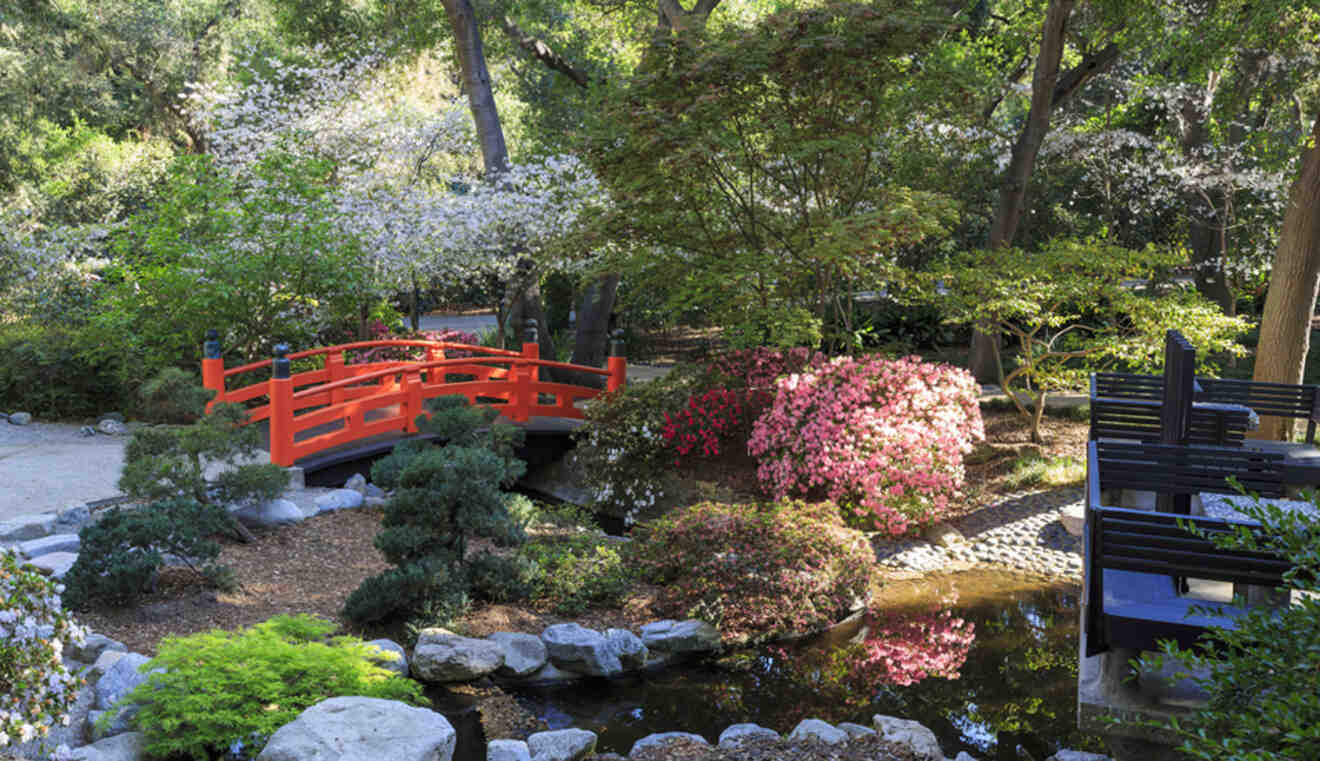 Just next door to Pasadena in La Cañada Flintridge, the Descanso Gardens sit as a serene sanctuary and wonder of horticulture.
Its expansive botanical gardens offer a diverse platter of landscapes, from green forests to vibrant flower displays and tranquil lakes.
The garden's main attraction is the iconic Camellia Forest, with a myriad of camellia species, as well as the Rose Garden, boasting a variety of unique blooms.
Don't miss the Enchanted Railroad, a miniature train that winds through the gardens – especially if you have kids with you!
PRICE: US$15 per adult, US$5 per child
12. Discover the history of the USC Pacific Asia Museum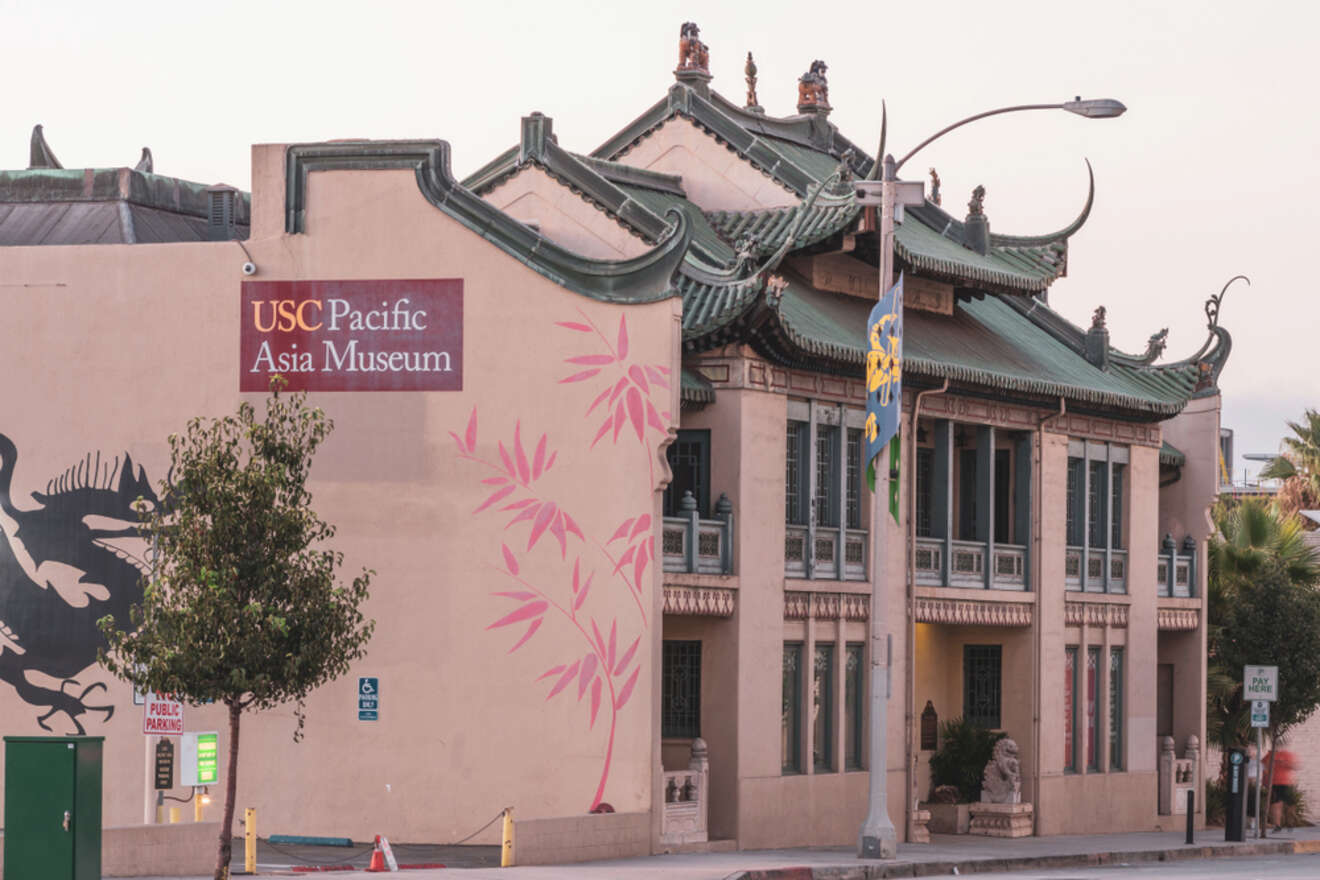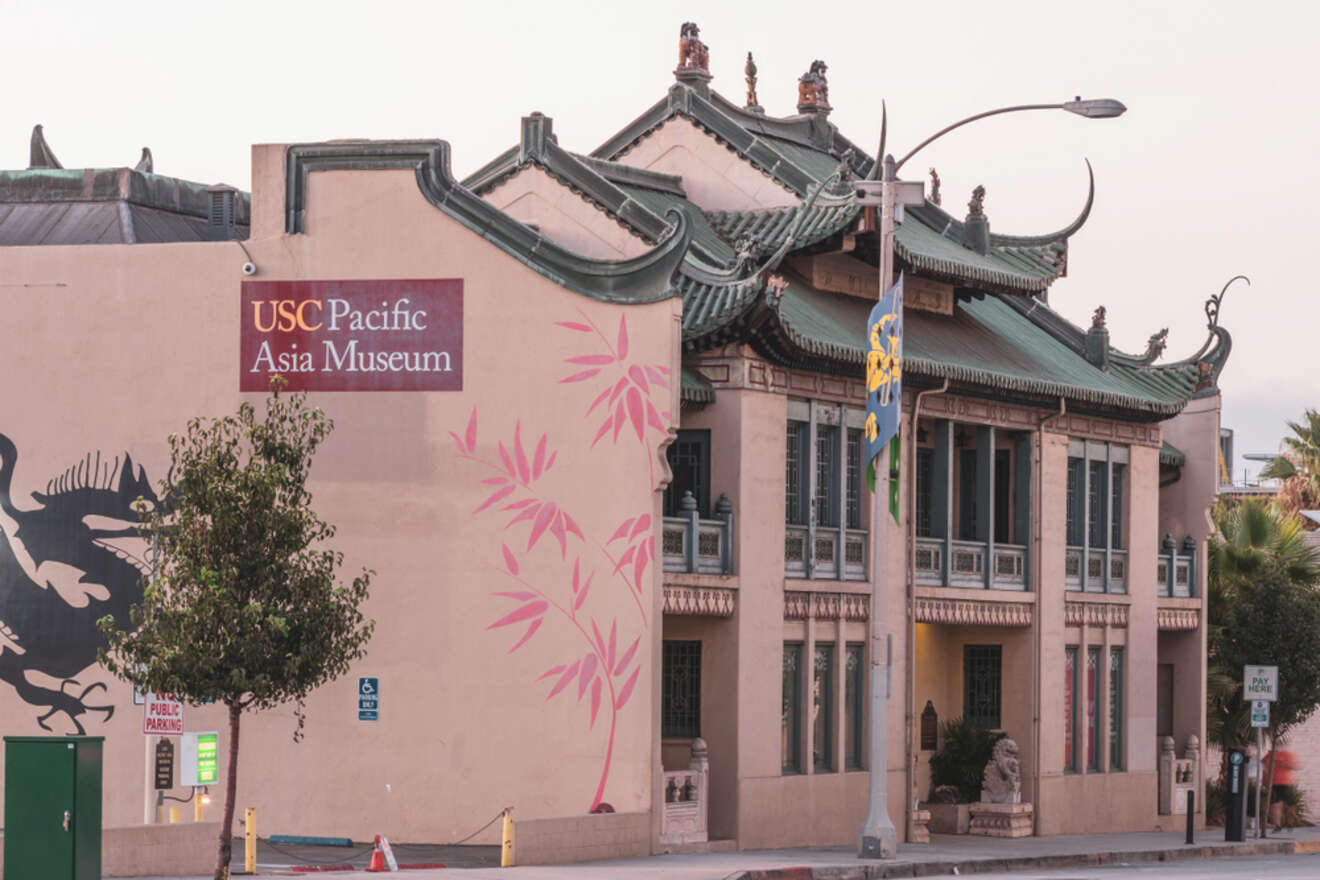 If you want to really immerse in the history of Pasadena, CA, visit the USC Pacific Asia Museum – a beautiful tribute to the Asian immigrants who have been shaping Pasadena since the 1800s.
Built in 1971, the museum provides a window into Asian & Pacific Islands culture and preserves Asian art. With 15,000+ pieces spanning centuries, it brings together contemporary and ancient works.
The museum hosts events, exhibitions, and art classes, the most interesting being haiku and tai chi!
PRO TIP: free the 2nd Sunday of each month!
PRICE: US$10 per person
13. Browse the spines at Vroman's Bookstore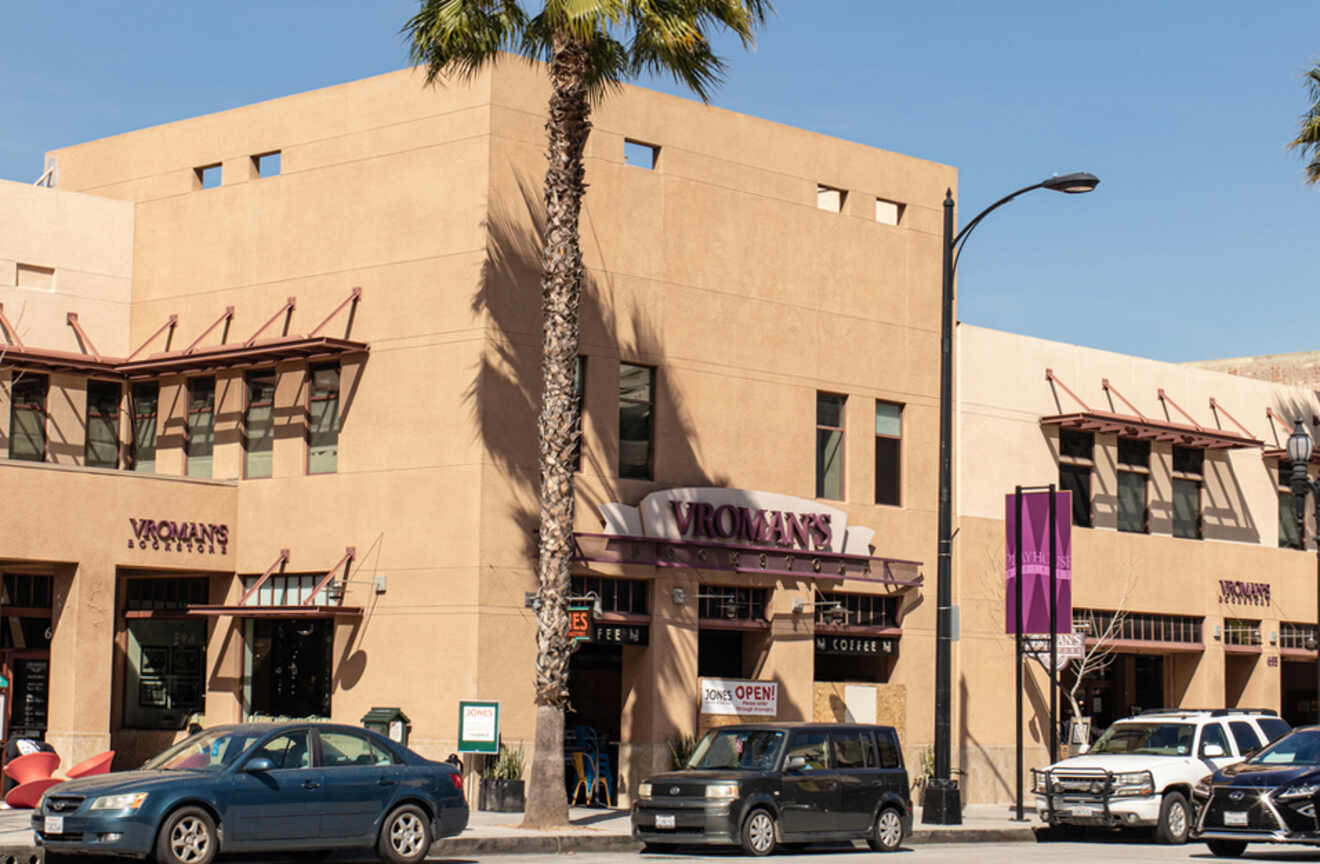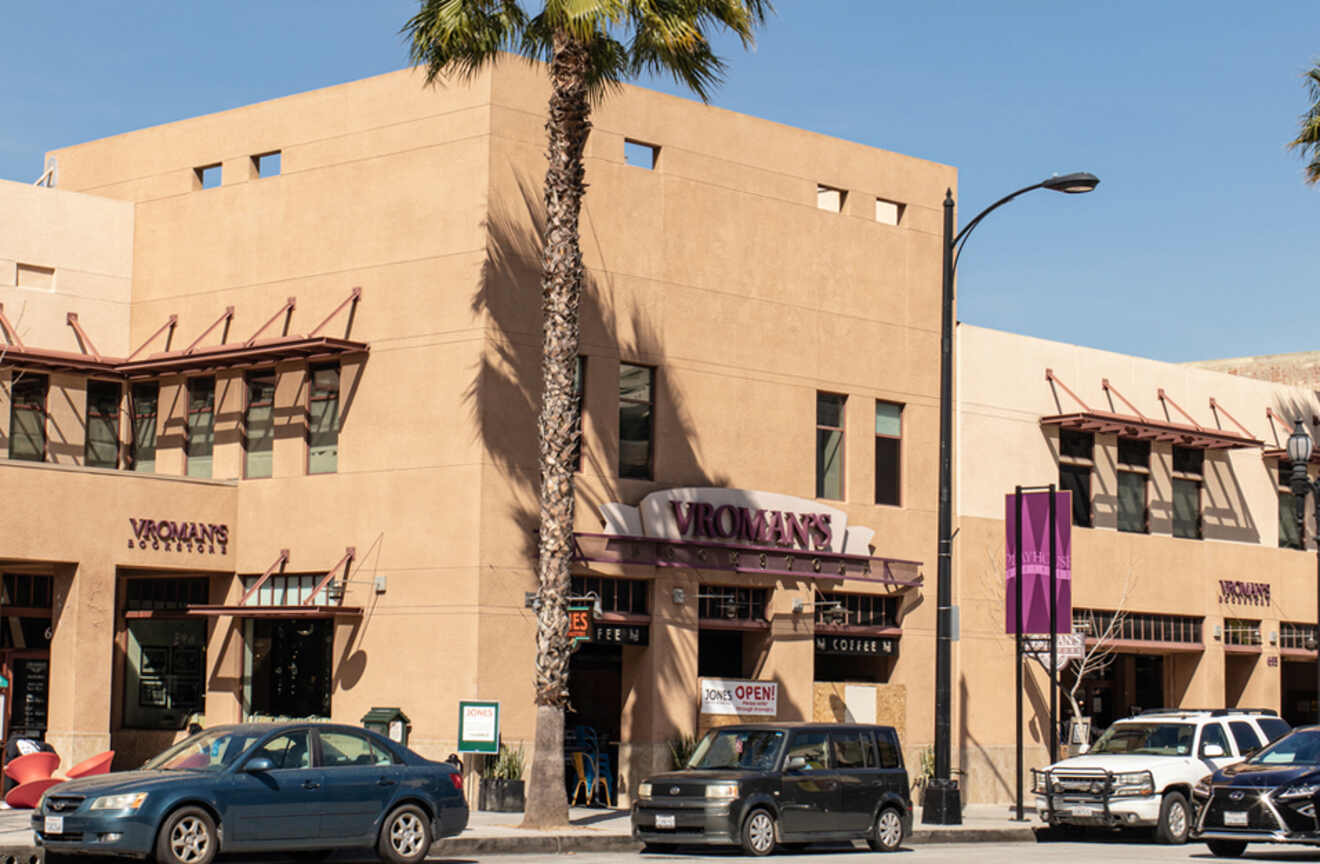 One of the most unique and quirky things to do in Pasadena, a pop into Vroman's Bookstore is a must.
With its rich history dating back to 1894, Vroman's is not only one of the oldest independent bookstores in Southern California but also a community hub where book geeks (like myself!) gather to explore a wide range of old and new releases.
Beyond its bookshelves, Vroman's hosts author events, book clubs, and educational programs for the entire Pasadena community.
14. Laugh your face off at Ice House Comedy Club
One of the oldest comedy clubs in the United States.
Established in 1960, Ice House Comedy Club, a 200-seat venue, is a beloved institution in the world of stand-up comedy, hosting both renowned comedians and emerging talents.
Welcoming comic legends like Jerry Seinfeld, George Carlin, and Lily Tomlin to its stage, the Ice House Comedy Club has been and continues to be a legendary venue.
If you have the time while you're in Pasadena, you won't regret catching a show!
15. Spend the afternoon at the Huntington Library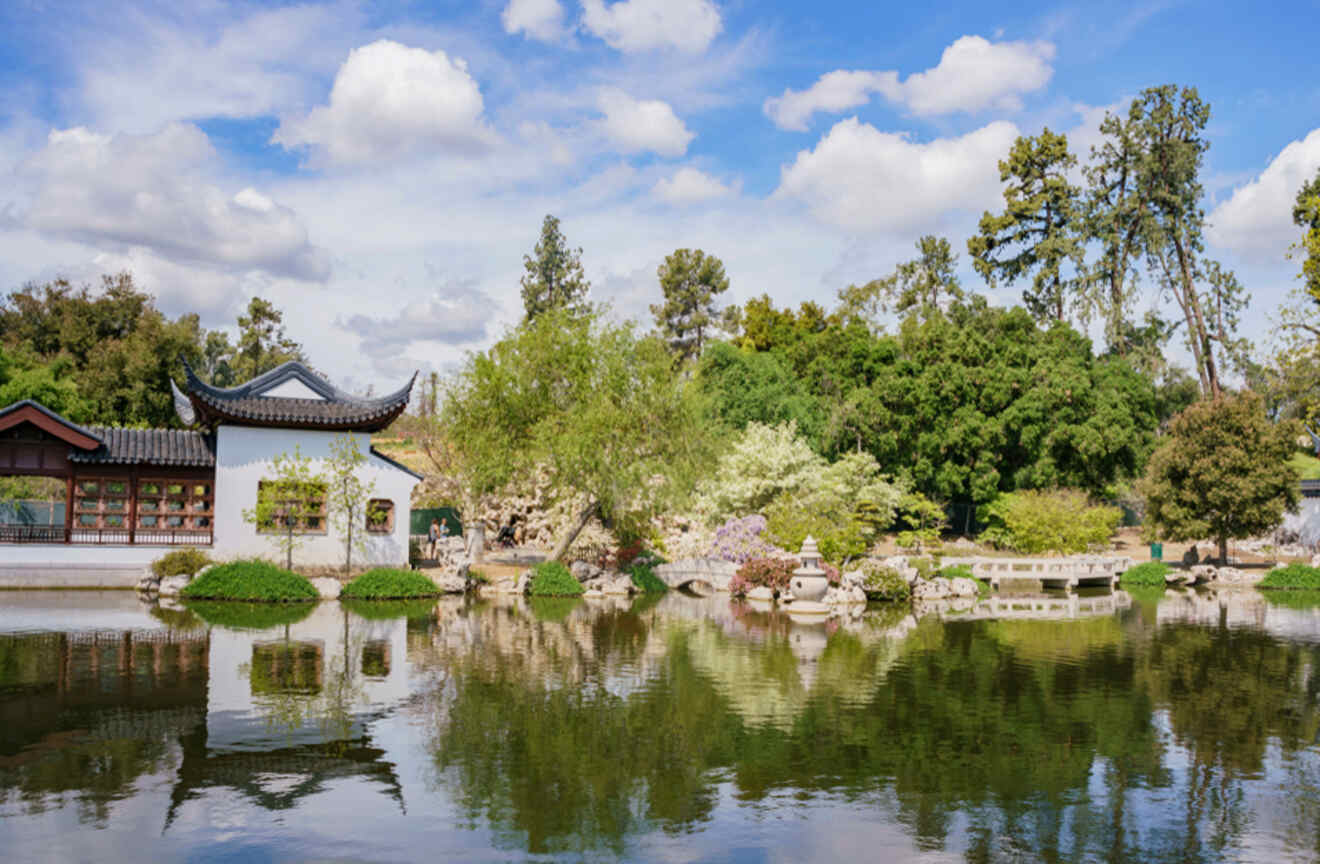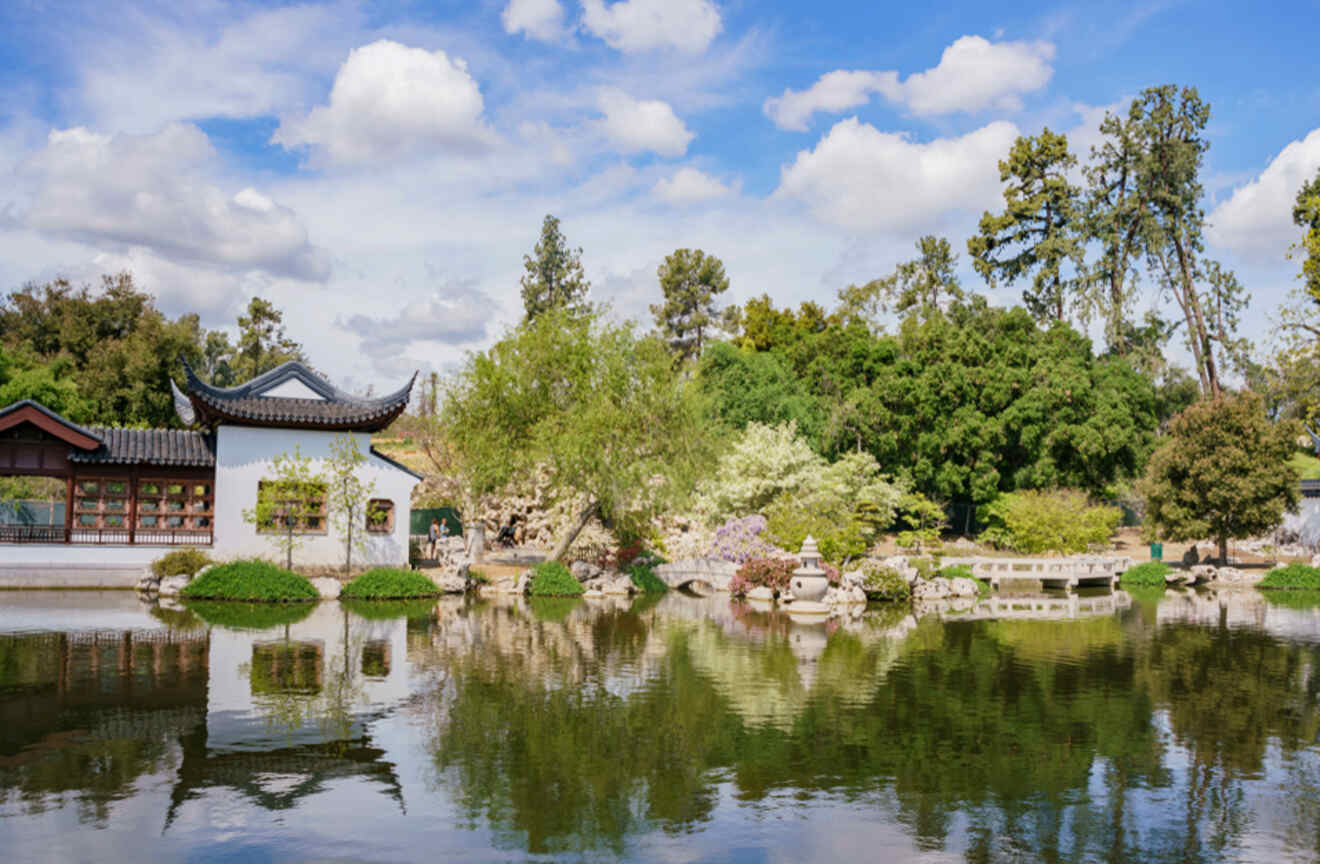 To call this place just a library would be doing it an injustice. Huntington Library is so much more!
Huntington Library, Art Museum, and Botanical Gardens, located in San Marino near Pasadena, California, is a wonderful place that combines art, literature, and horticulture all in one.
Founded by philanthropist Henry E. Huntington, this institution houses an extraordinary collection of rare books, manuscripts, and art spanning diverse eras and cultures.
Explore the stunning galleries of this art museum, showcasing European and American paintings, sculptures, and decorative arts – even some rare historical documents!
Don't miss the Japanese and Chinese gardens that showcase the desert and subtropical environments – the flowers are magical!
PRICE: starting at US$25 per person
16. Check out the Colorado Street Bridge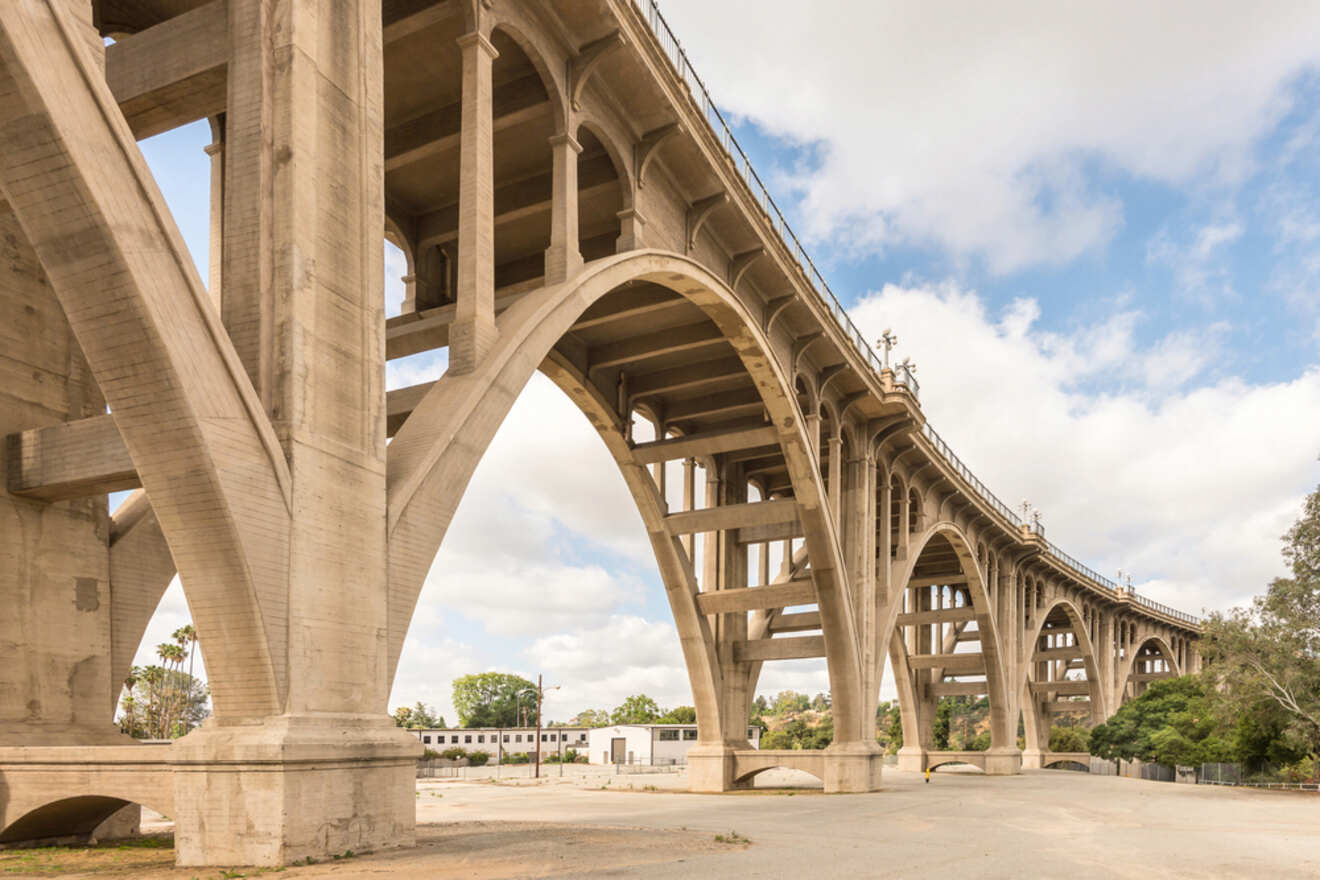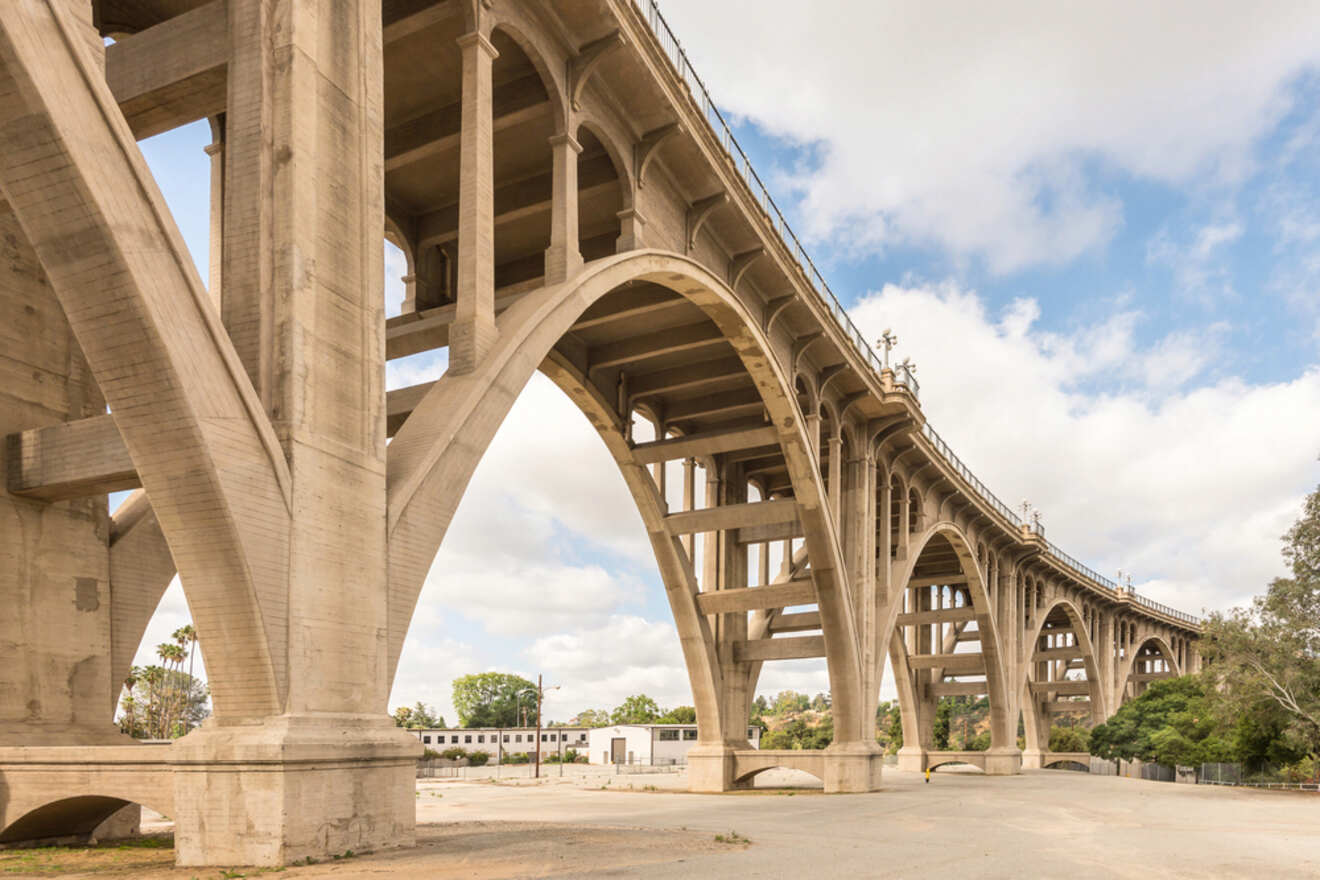 Gaze up at the Colorado Street Bridge, an iconic marvel of brilliant architecture in Pasadena, California.
Finished in 1913, the bridge spans over 1,400 feet (4.3 km) across the Arroyo Seco River, creating a Beaux-Arts design.
Renowned for its stunning vistas of the San Gabriel Mountains and captivating sunsets, you won't want to miss this one.
17. Explore the Angeles National Forest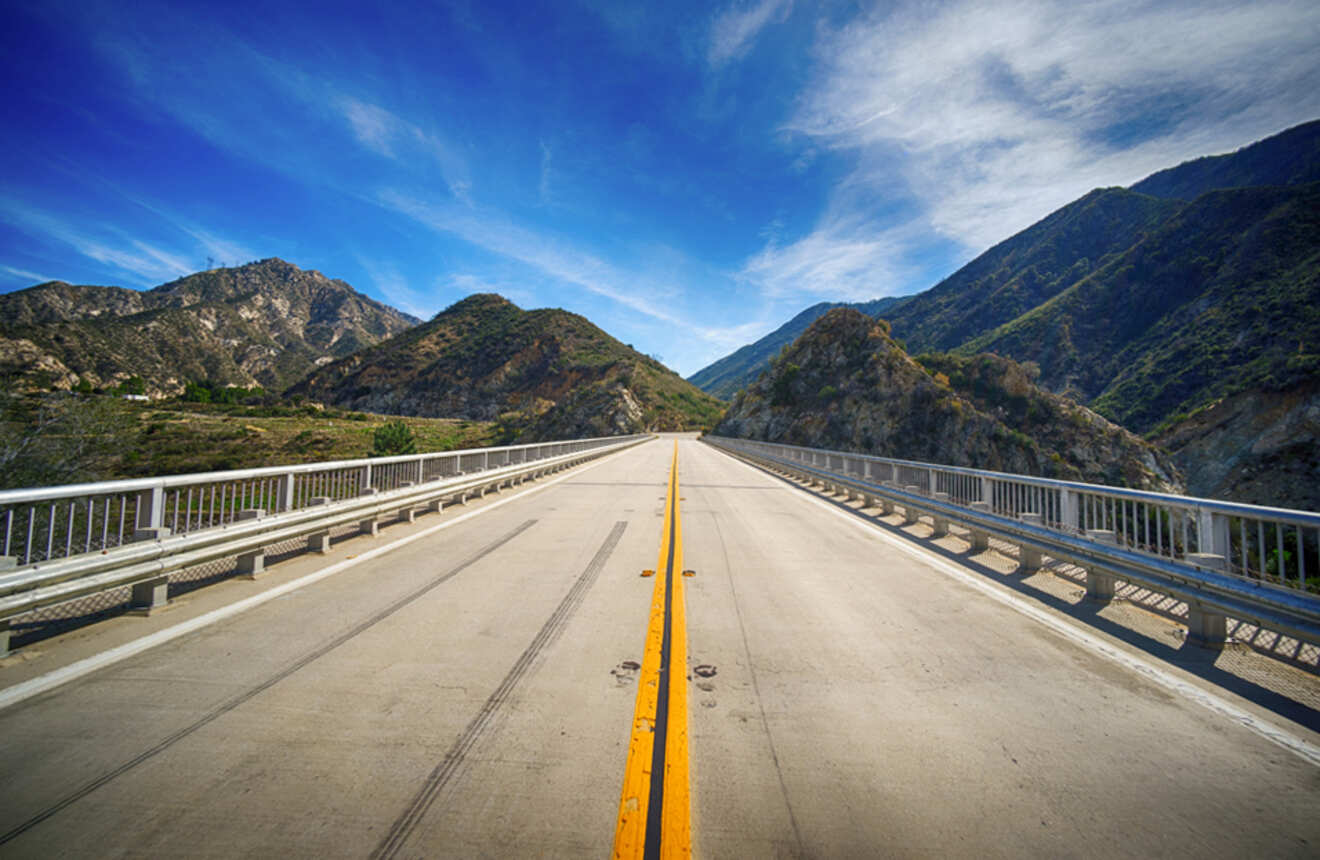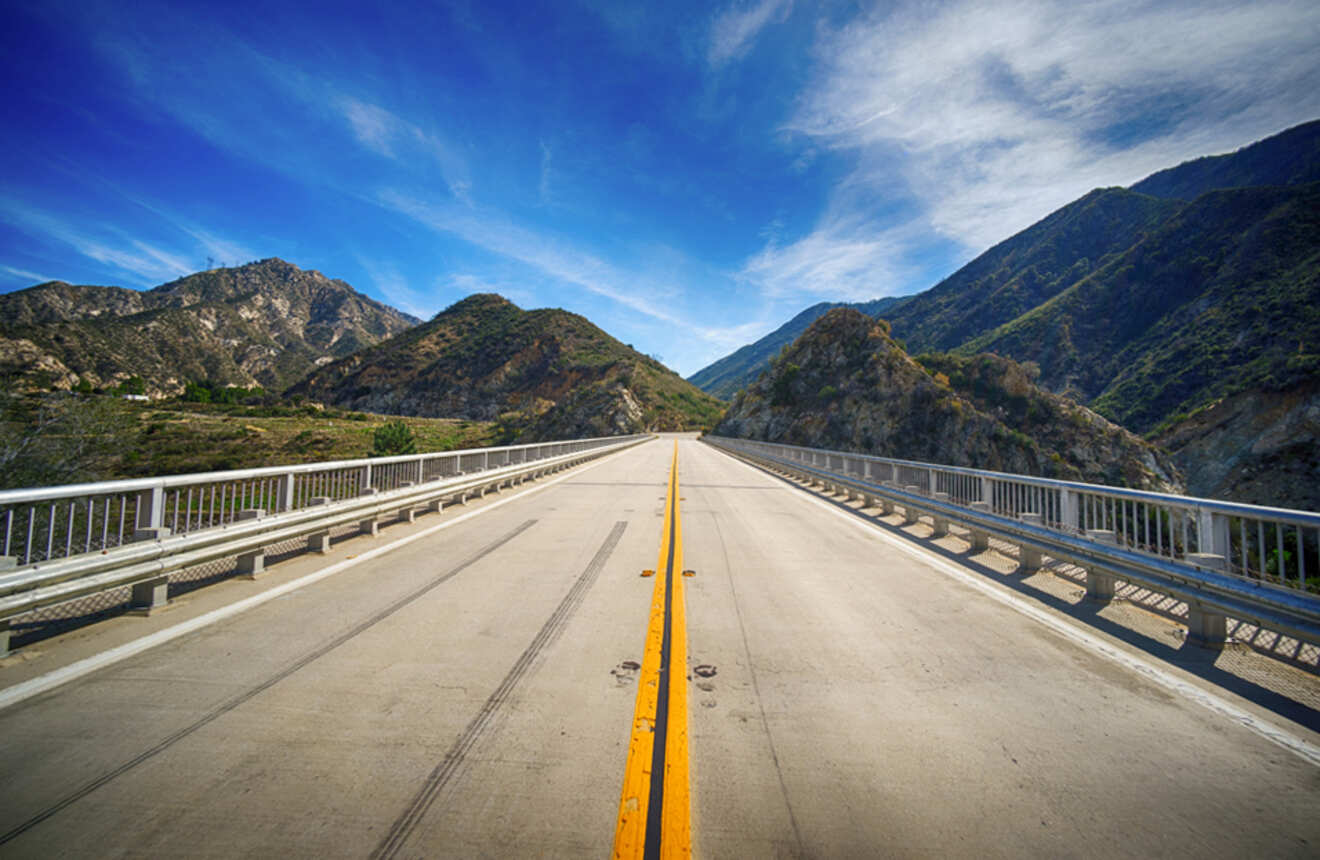 Outside of Los Angeles, you'll find this natural escape called the Angeles National Forest. A pristine vista of rugged landscapes, you'll love the trails offered at this wilderness sanctuary.
The Angeles Crest Highway, also known as California State Route 2, is an incredible scenic highway stretching for over 66 miles (106 km), cutting through the heart of the forest and offering breathtaking panoramic views of the San Gabriel Mountains, lush valleys, and even glimpses of the Pacific Ocean on clear days.
The Angeles National Forest is an incredible place for outdoor adventures, offering a diverse range of activities from hiking and camping to picnicking and wildlife spotting.
| | |
| --- | --- |
| 🏛️ Best museum: | Norton Simon Museum |
| 🎢 Top paid attraction: | Old Pasadena Food Tour |
| 🚶🏽‍♂️ Best free attraction: | Old Town Pasadena |
| 👧 Best attraction for kids: | Kidspace Children's Museum |
Where to stay in Pasadena
There are some cool places to stay when visiting Pasadena. See below for my top choices for every budget, with prices ranging from US$100 to US$450 and above.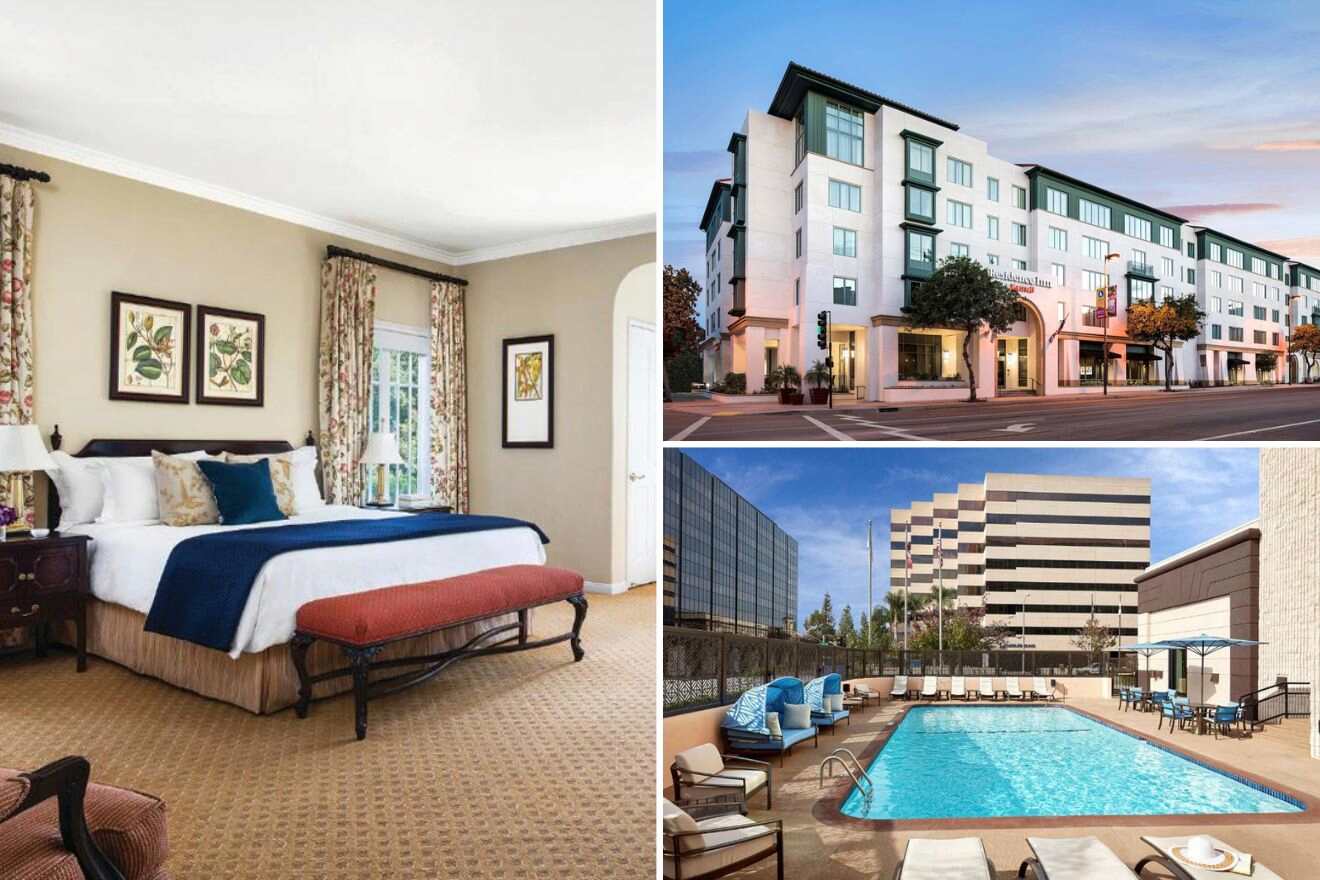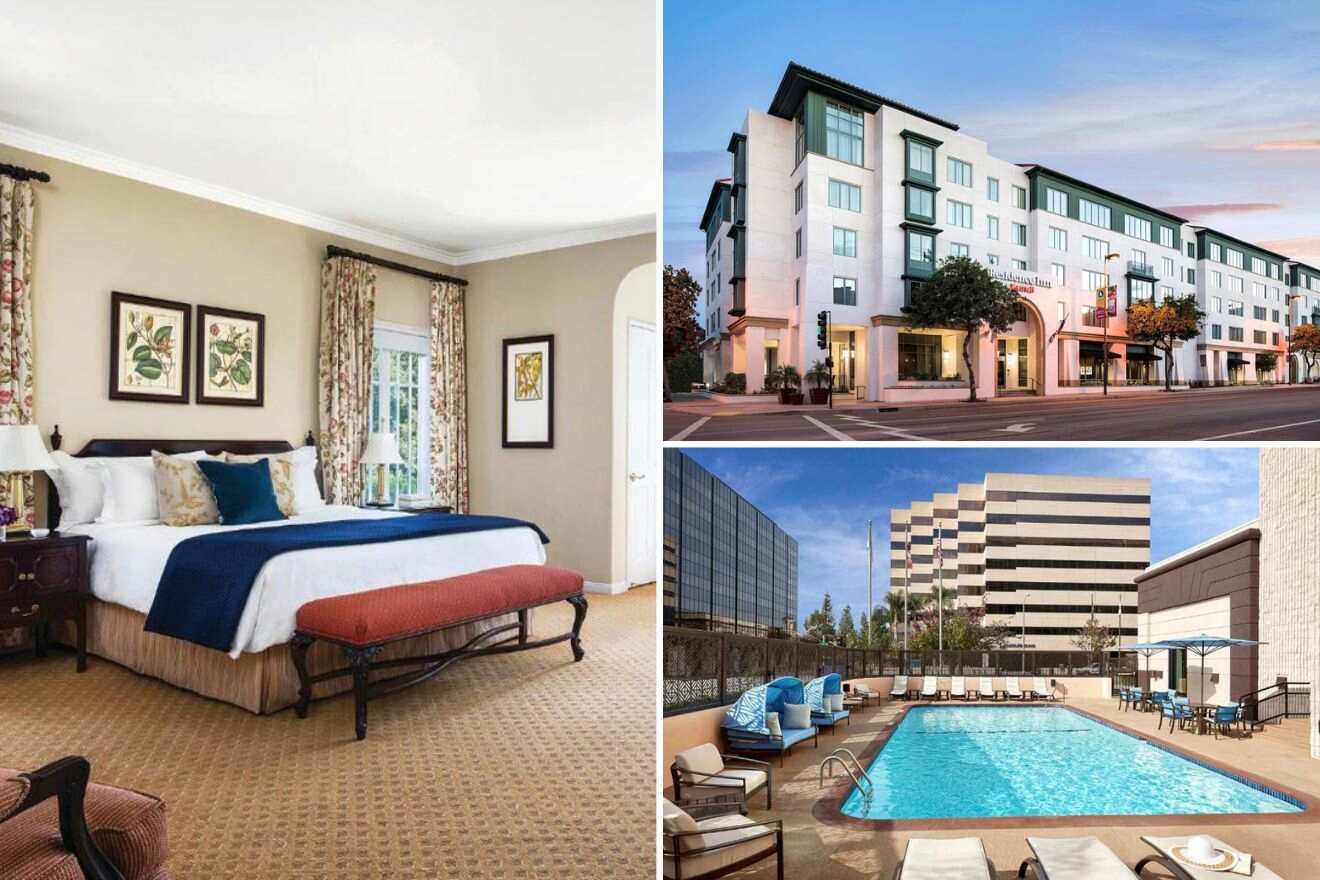 Luxury (US$450 and up)
Mid-Range (US$200 – US$400)
Budget (up to US$150)
FAQs about things to do in Pasadena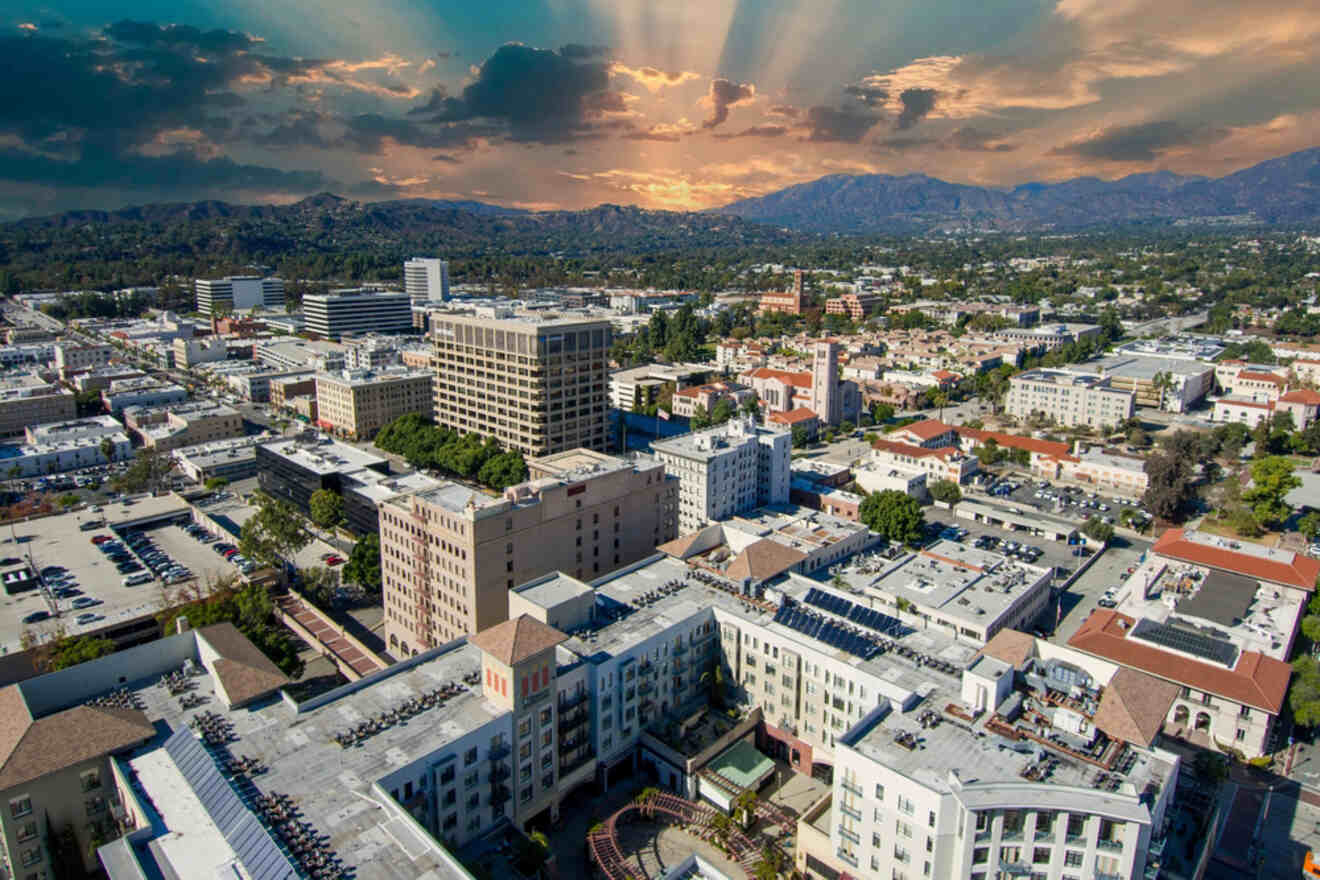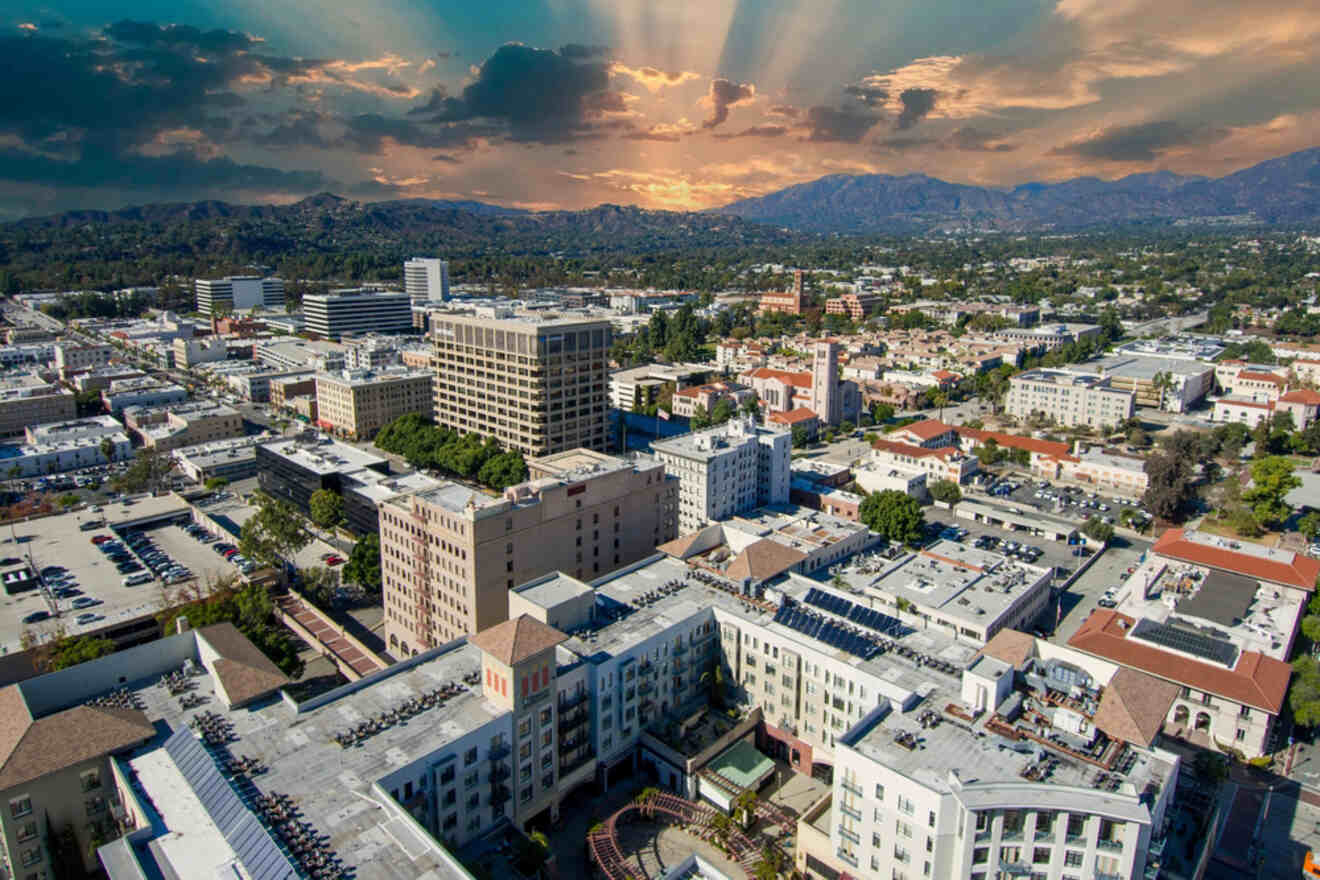 🌴 How do I spend a day in Pasadena?
A great way to spend a day in Pasadena, CA, is walking around Old Pasadena, visiting the Rose Bowl Stadium, and touring the famous Gamble House mansion.
♥️ Is it worth visiting Pasadena?
Yes, it is definitely worth visiting Pasadena. With its old charm and popular attractions, you will definitely want to come back again.
🏢 Does Pasadena have a downtown?
Yes, Pasadena has a downtown referred to as Old Town, Old Town Pasadena, or Historical Old Pasadena. It's a great place to shop, dine, and see the Pasadena tourist attractions.
🌟 What is the famous street in Pasadena called?
Colorado Boulevard is a famous street in Pasadena, CA, that cuts right through downtown and holds many of the area's top attractions, like the Norton Simon Museum.
Conclusion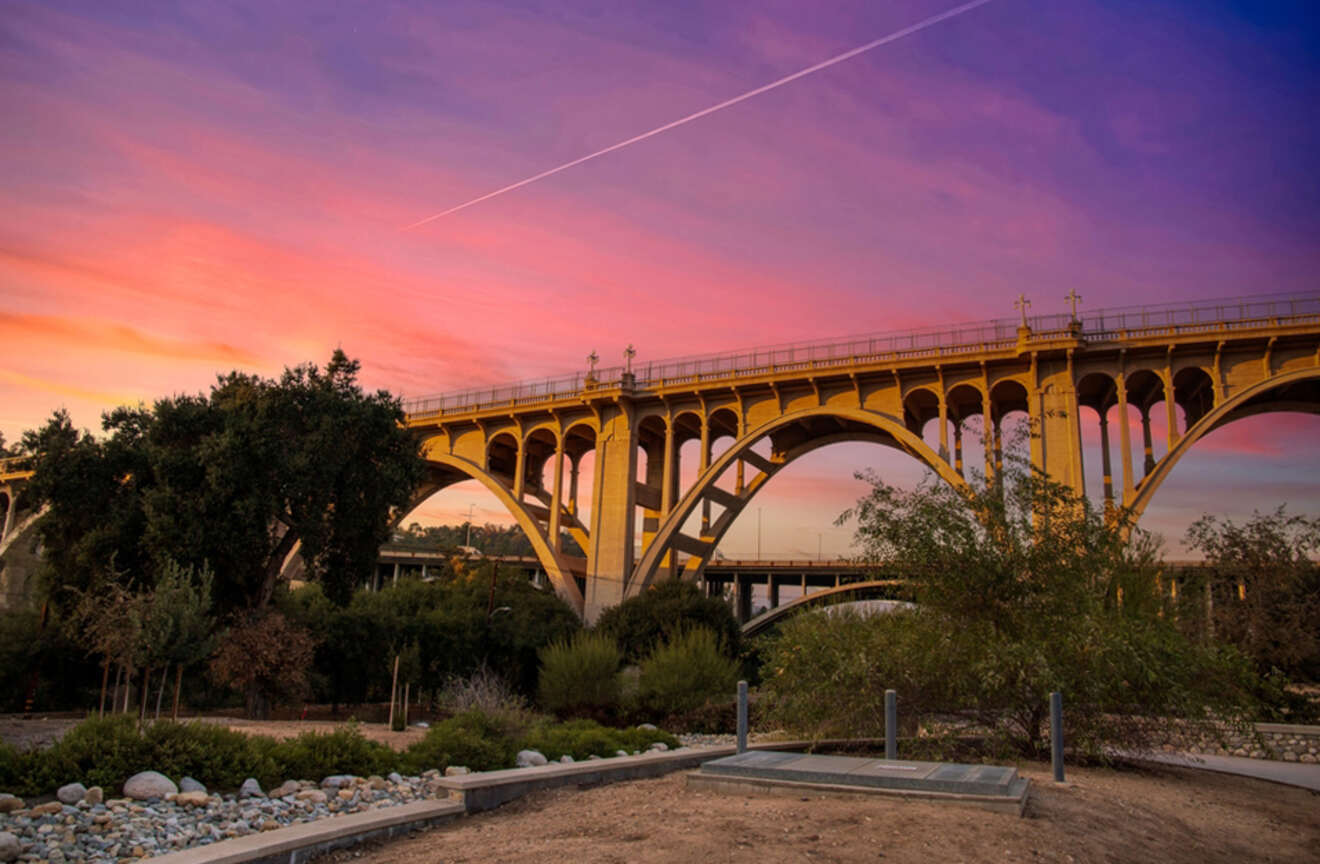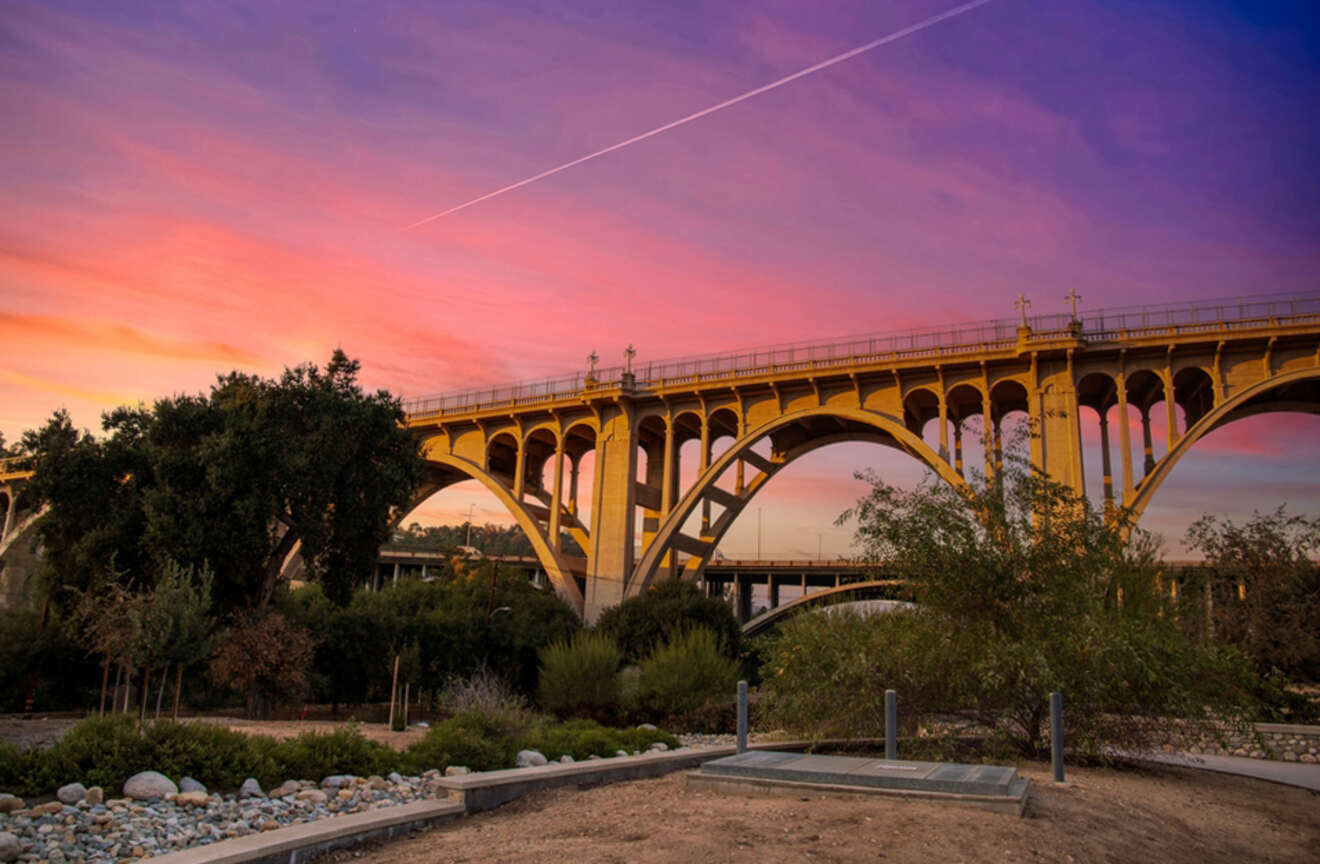 As you can see, if you're planning a trip, you'll have plenty of great things to do in Pasadena, California, to keep you busy and having a blast! Whether you're interested in historical sites, incredible dining options, or getting into the great outdoors, Pasadena, CA, has something for everyone!
If your trip is coming up, I want to remind you to make sure to book in advance for your top attractions and hotels!
You know I want to hear all about it – comment below with your favorites!
Aloha & safe travels,
Hayden G.
---
Pin it for later!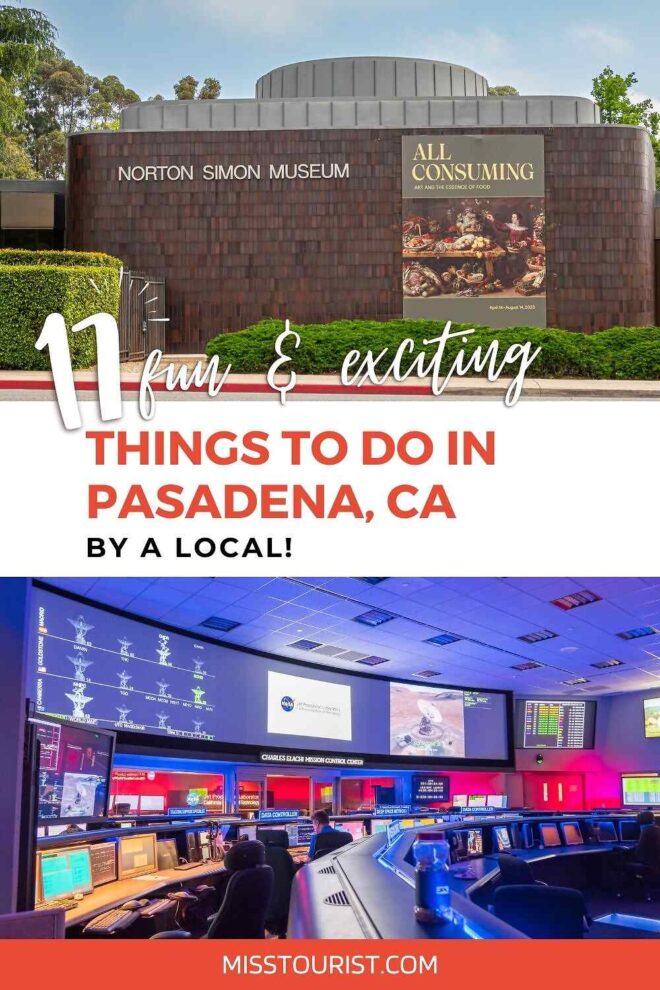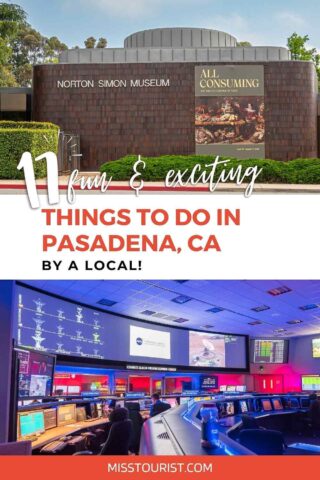 Pin it for later!