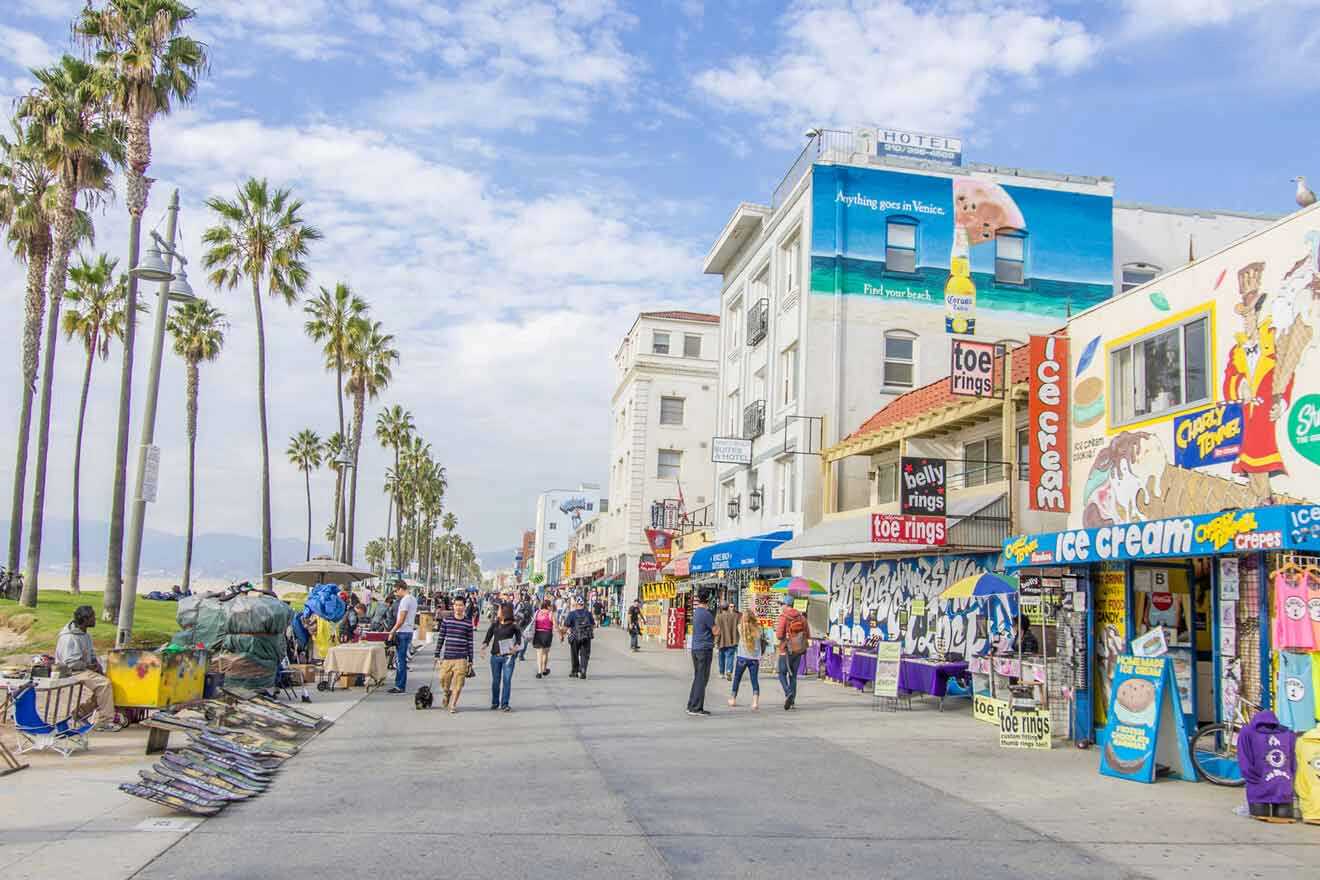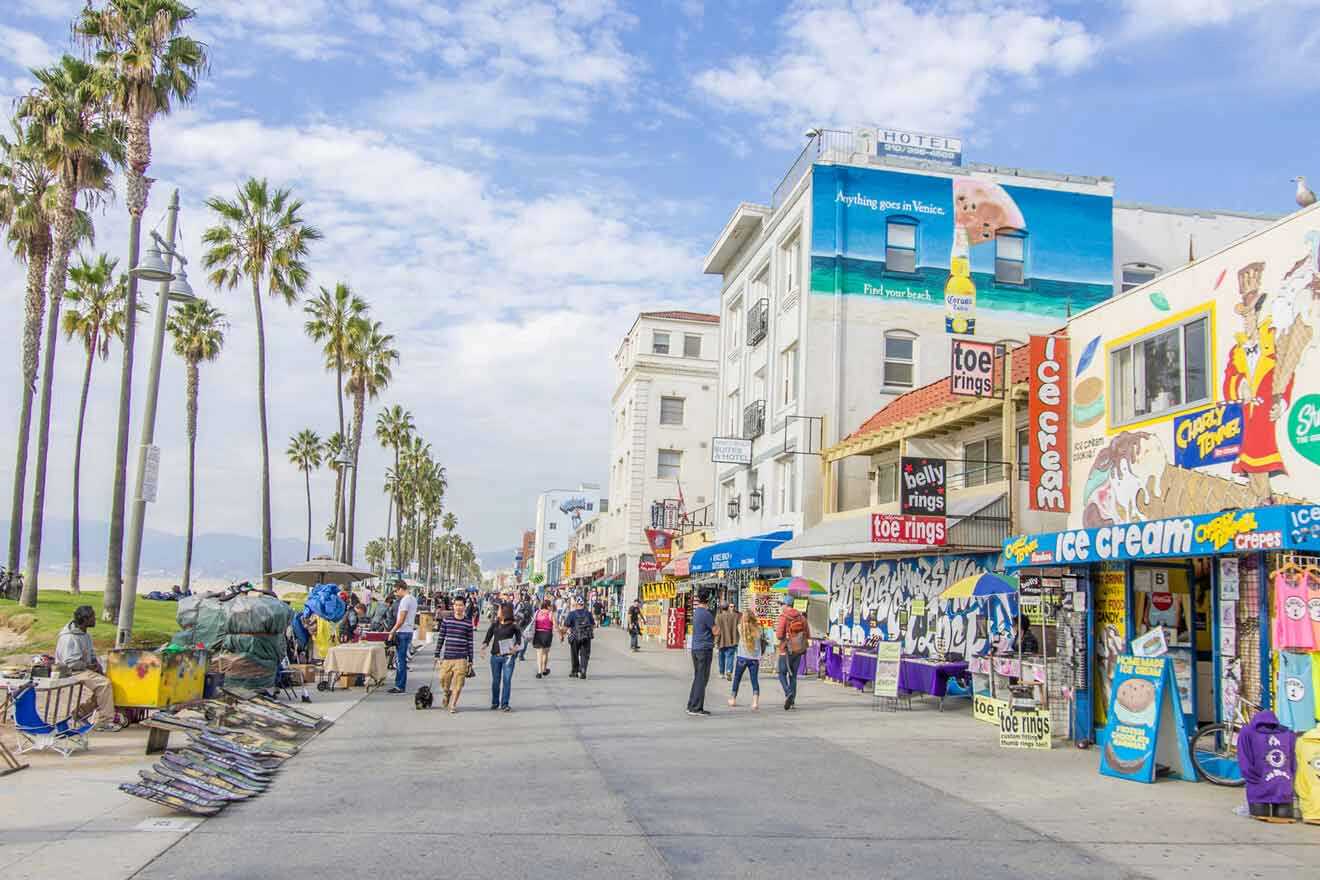 Venice Beach, AKA the Coney Island of the Pacific, is located at an independent beachfront resort town located 14 miles (23 km) west of Los Angeles. It's known for its iconic boardwalk, famous beaches, a plethora of palm trees, canals, live music, and so much more. The list of things to do in Venice Beach is almost endless!
I've gotten the chance to explore Venice Beach quite a few times in my life as a local Californian and I'm here to share everything I've learned along the way. Whether you're looking for a chill day at the beautiful beach, watching professional skateboarders do their thing, exploring all the street art, or even working out – there's something for everyone here!
Keep in mind that everything mentioned here is a highly desired place to be and tickets easily get booked up! Make sure to book yours in advance to save your spot! This is also going to save you lots of $$$ along the way.
Alright, let's get started on the top 10 things to do in Venice Beach!
If you are in a hurry
Just want a taste of what Venice Beach has to offer? Here are a few tours you should check out to make the most out of your limited time here.
Here are the main things to book in advance:
And here are the best hotels: Hotel Erwin (luxury), Venice V Hotel (mid-range), Studio-Style Cottage (budget)
1. Head over to the Venice Canal Historic District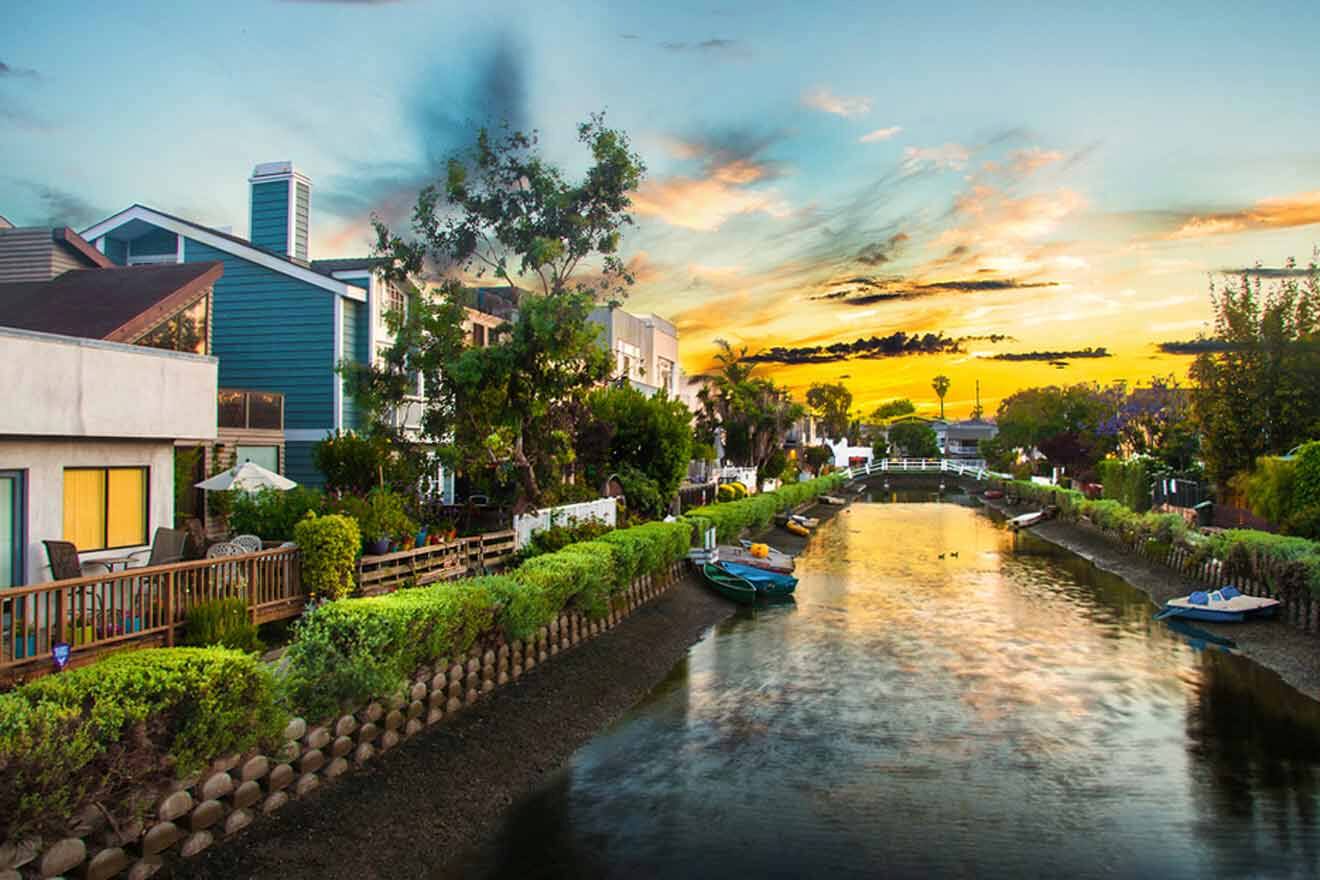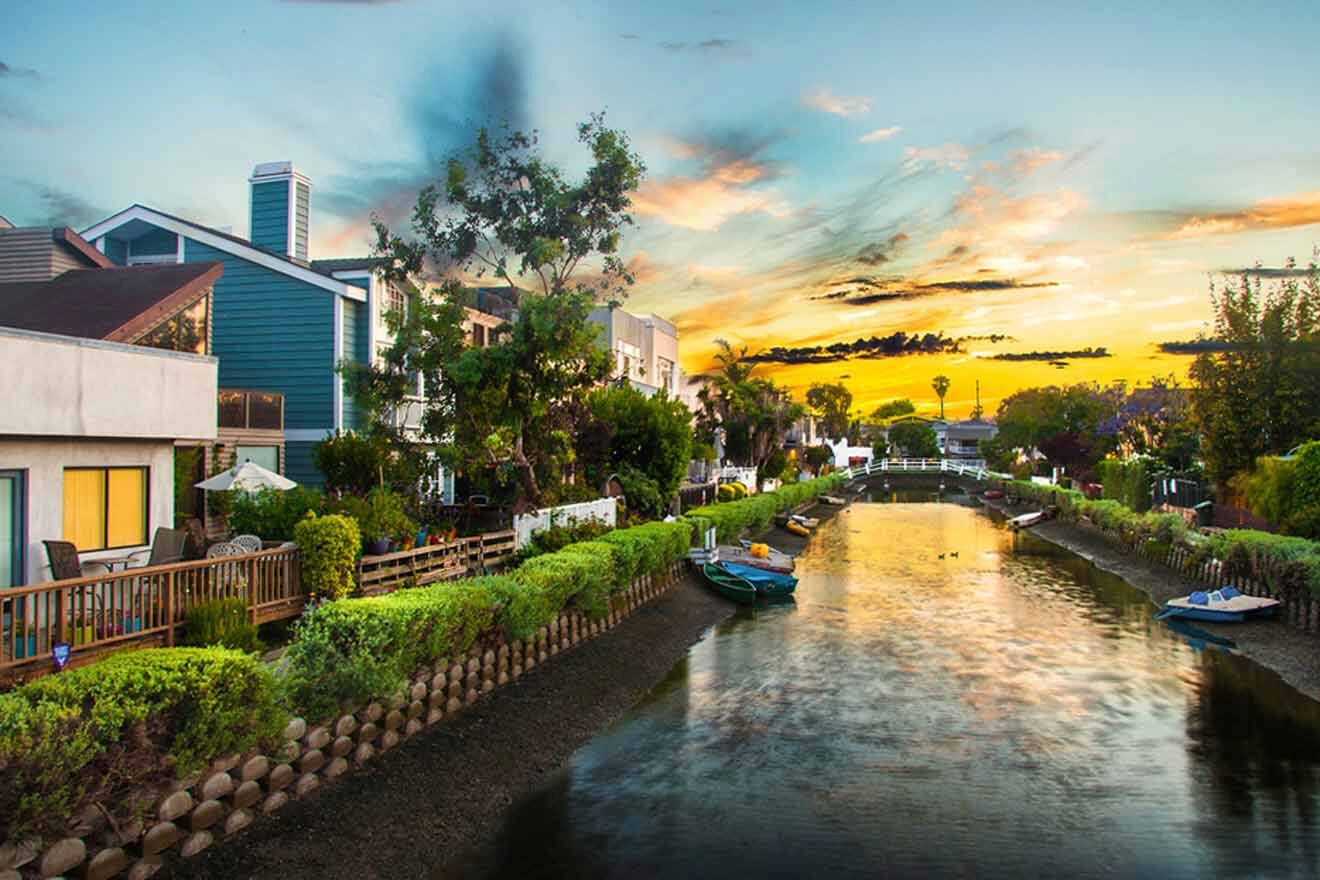 Developer Abbot Kinney is the founder of Venice and the Venice Canals were his brainchild in 1905 – inspired by Venice, Italy's canals, the man-made canals are the closest things we have to Italy's coastal playground. Today, it's on the National Register of Historic Places!
The Venice Canal Historic District was recently renovated (in the 90s) to be one of Venice Beach's most sought-after areas to explore. Here, you'll find a Monarch butterfly garden, a duck pond, charming bridges and architecture, and all kinds of birds (one of my favorite things)!
Because of its mild weather, anytime is a good time to visit the canal district in Venice Beach! It gets busier during the summer months (June – September), so if you plan on visiting around that time, I recommend coming earlier in the morning. Otherwise, Spring in SoCal is always a good idea.
PRO TIP: Walk down Pacific Avenue and Windward Ave for the hanging Venice Sign above the street. (It lights up at night so that's the best time to see it!)
NOTE: If you do visit the Venice Beach canals in the summer, try to make it for the 4th of July! Each year, a rubber duck race is held (yes, really) and their "Linnie Canal Downwind Regatta" is a wind-powered boat race. This is one of the best things to do in Venice Beach!
2. See skateboarders at the legendary Venice Skatepark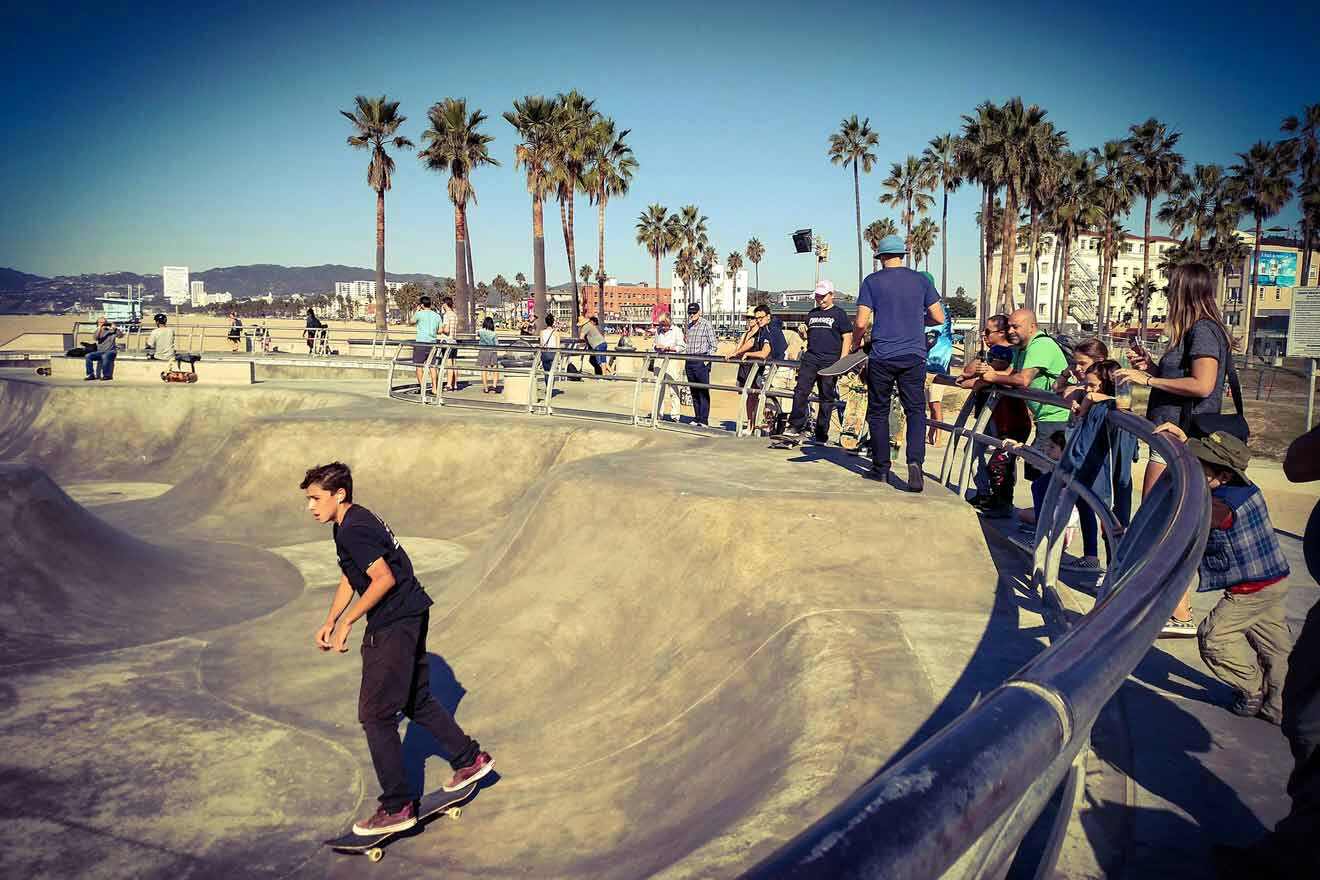 Skateboarding is a HUGE part of Southern California culture! It was invented in Venice Beach in the 1970s and the rest is history.
Talented skateboarders from all over Southern California gather around Venice Skatepark to perform their best tricks and where locals come to watch them be an expert at their craft.
The skatepark was built in 2009 and cost the city around US$3,500,000 to build – making it among the most expensive skatepark projects in the world. It's conveniently located right next to the Venice Beach Boardwalk (AKA the Ocean Front Walk) so you can easily walk over here and chill after a long day of walking and exploring the boardwalk.
PRO TIP: Check out the documentary Made in Venice to learn all about how the infamous Venice Beach skate park came to be.
NOTE: Check out the Venice Art Walls and souvenir shops in the surrounding area afterward! Visitors from all around the world come here to see the murals, street art, and graffiti art displayed here. It's a must-see while you're here and I couldn't recommend it enough!
PRICE: Free!
3. Take a surfing class at the iconic Venice Breakwater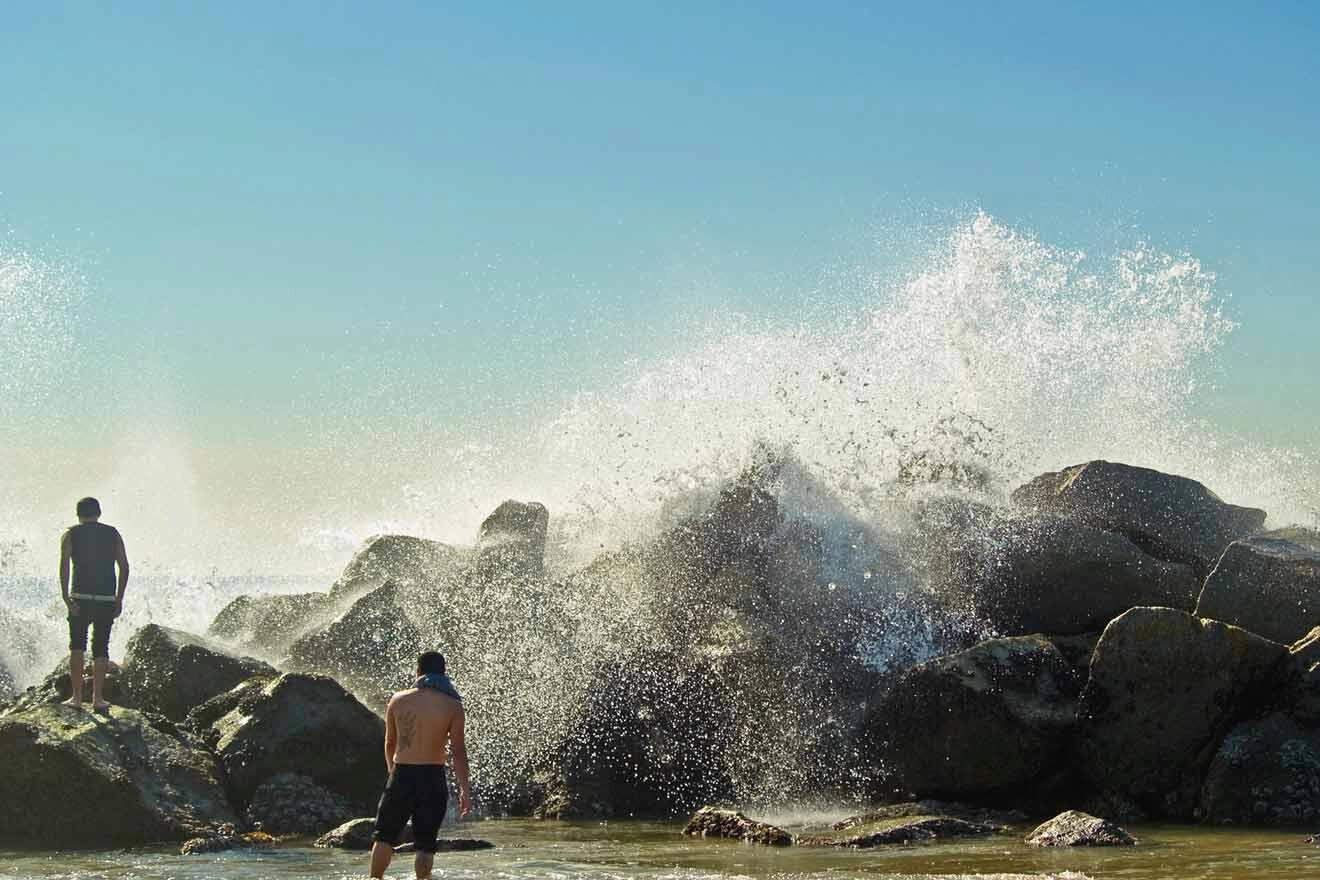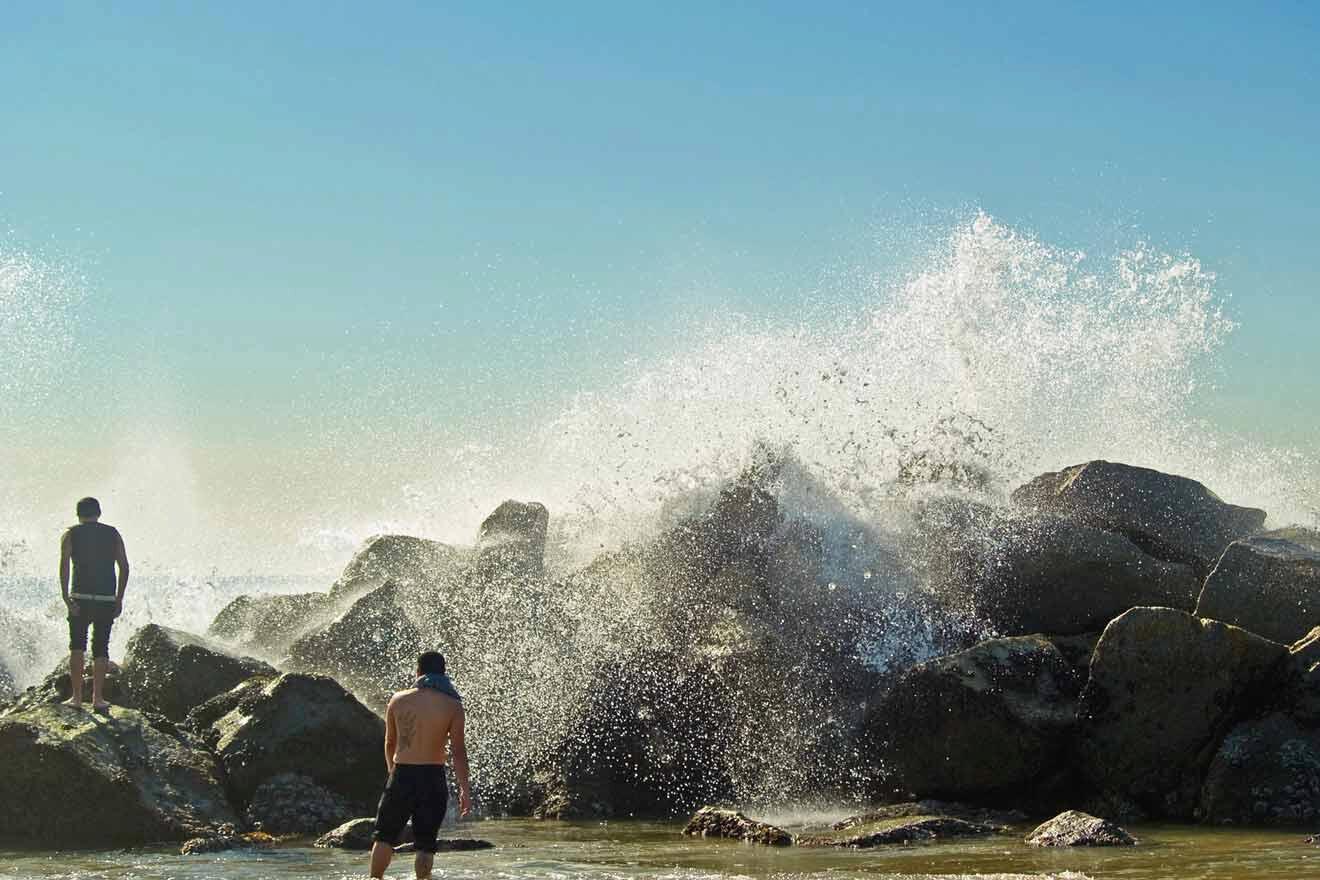 Almost every major beach town in Southern California is an excellent surfing location, and Venice Beach is no exception. However, there are always pros and cons to each beach, and demands a specific type of surfer, whether you're a pro or just starting out. Here, the waves are medium-sized and generally consistent, making Venice Beach a famous beach location for all types of surfers!
The Venice Breakwater is the spot to check out – locals and tourists come here to catch a wave right on the Venice Boardwalk. There are also many rental shops nearby that will loan you wetsuits, a surfboard, or any other gear you might need (like the Golden Wave Surf School and Rider Shack).
The Golden Wave Surf School is also one of the best surf schools in Venice Beach that I recommend checking out! They offer a 2-hour private lesson which is a great choice. Otherwise, I suggest booking this group lesson and bringing your friends with you!
The group lesson is an excellent choice for beginners, and although it's a group lesson, you'll be able to get 1 on 1 time with the instructors! You also don't need any equipment, making it great for casual surfers!
NOTE: If you choose to not take surfing lessons and go surfing on your own, make sure to check the weather conditions beforehand! I recommend taking a look at the live surf cam for Venice Beach here.
SURF LESSON PRICE: US$58
4. Walk the Venice Boardwalk for entertainment & food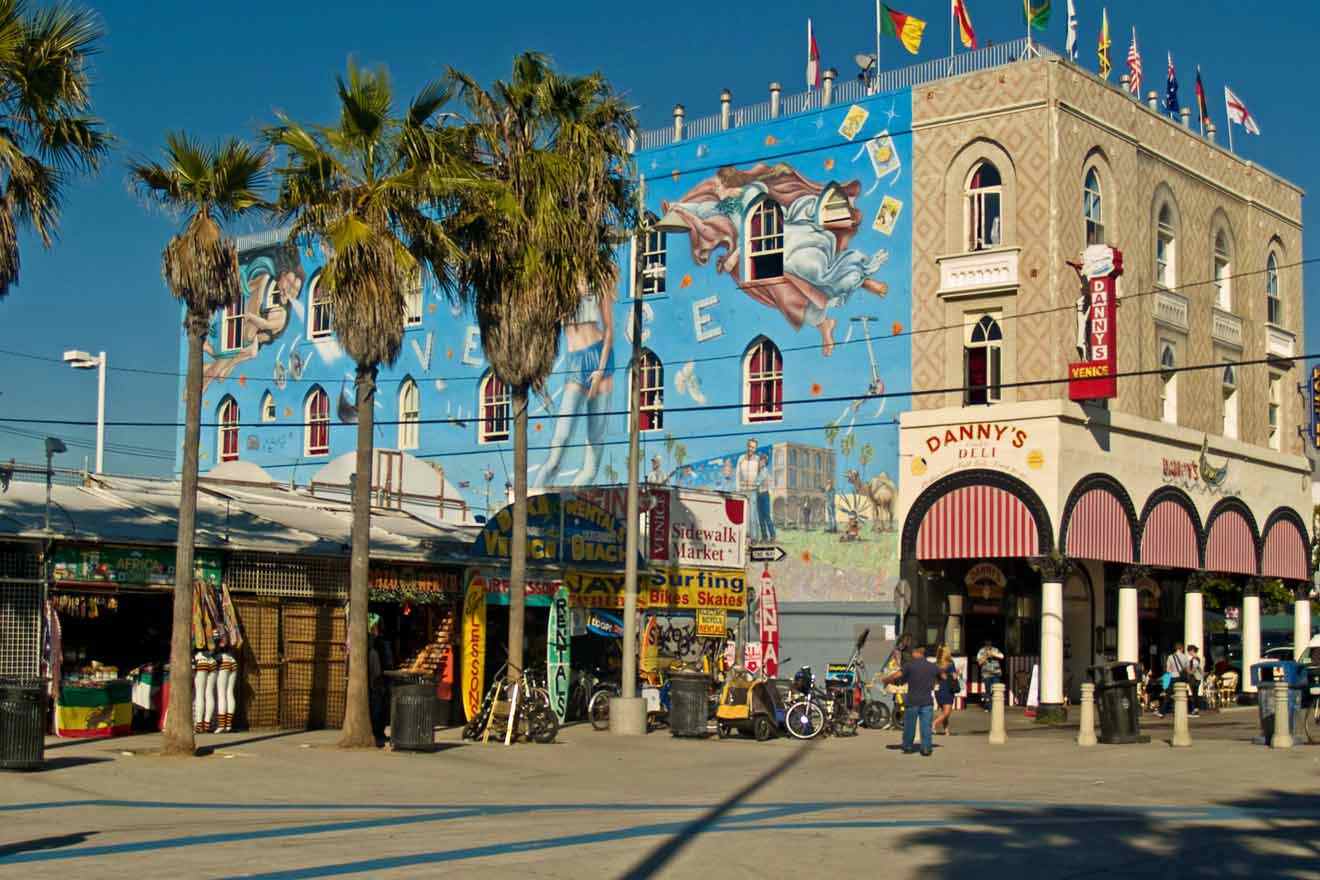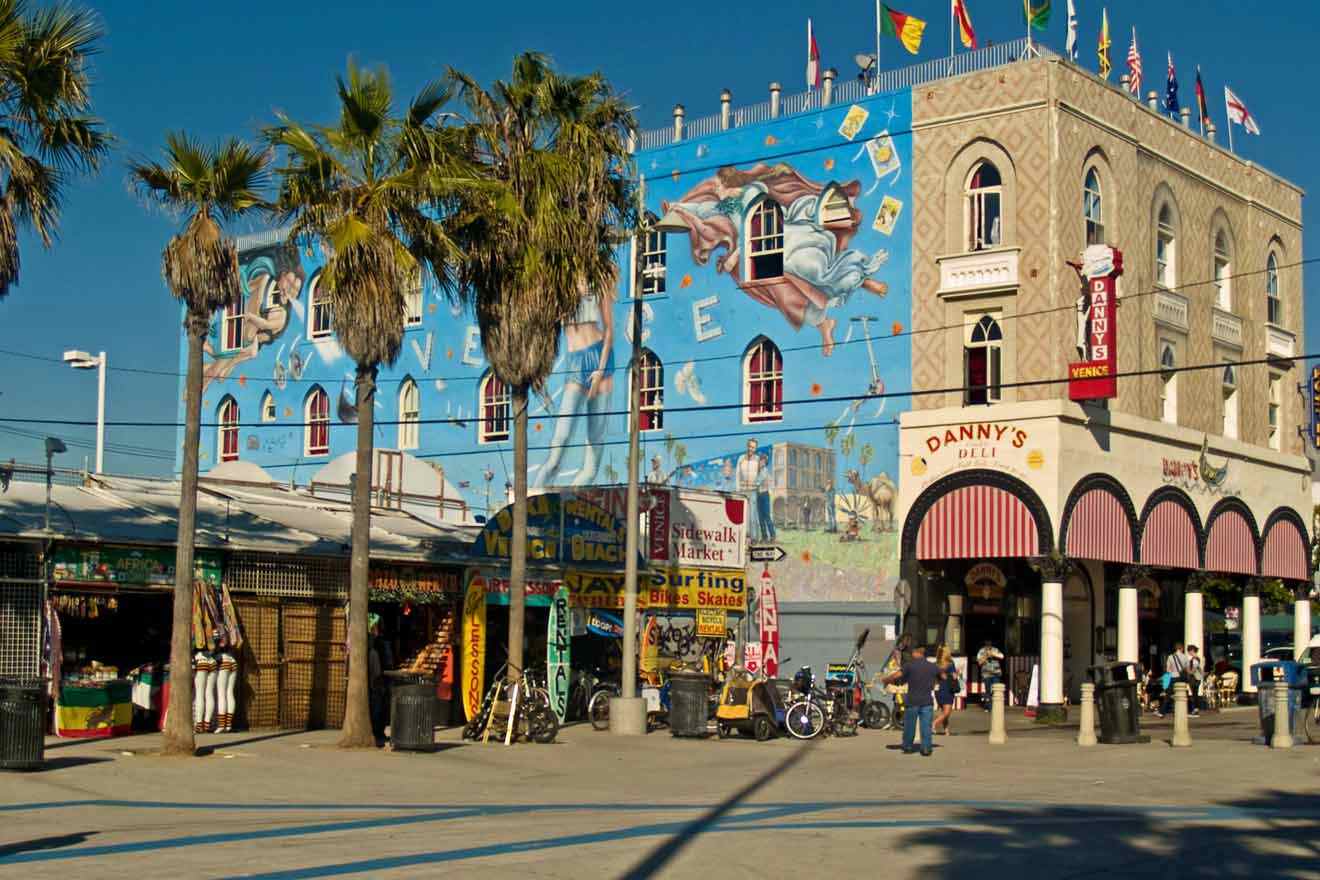 The Venice Beach Boardwalk, also known as Venice Ocean Front Walk, is about 2 miles (3 km) of views of the Pacific Ocean, with all kinds of things to do on every corner: street performers dancing, musicians singing, street vendors selling local goods, and numerous shops and cafes that offer some of the best food in Venice Beach.
I suggest taking your time here! It's a small but mighty strip with SO much to do. There are 3 unique things you should 100% check out here:
FOOD TOUR PRICE: US$85/person for adults (18+), US$80/person for youth (13-17), and US$75/person for children (0-12).
5. Shop and dine along the famous Abbot Kinney Boulevard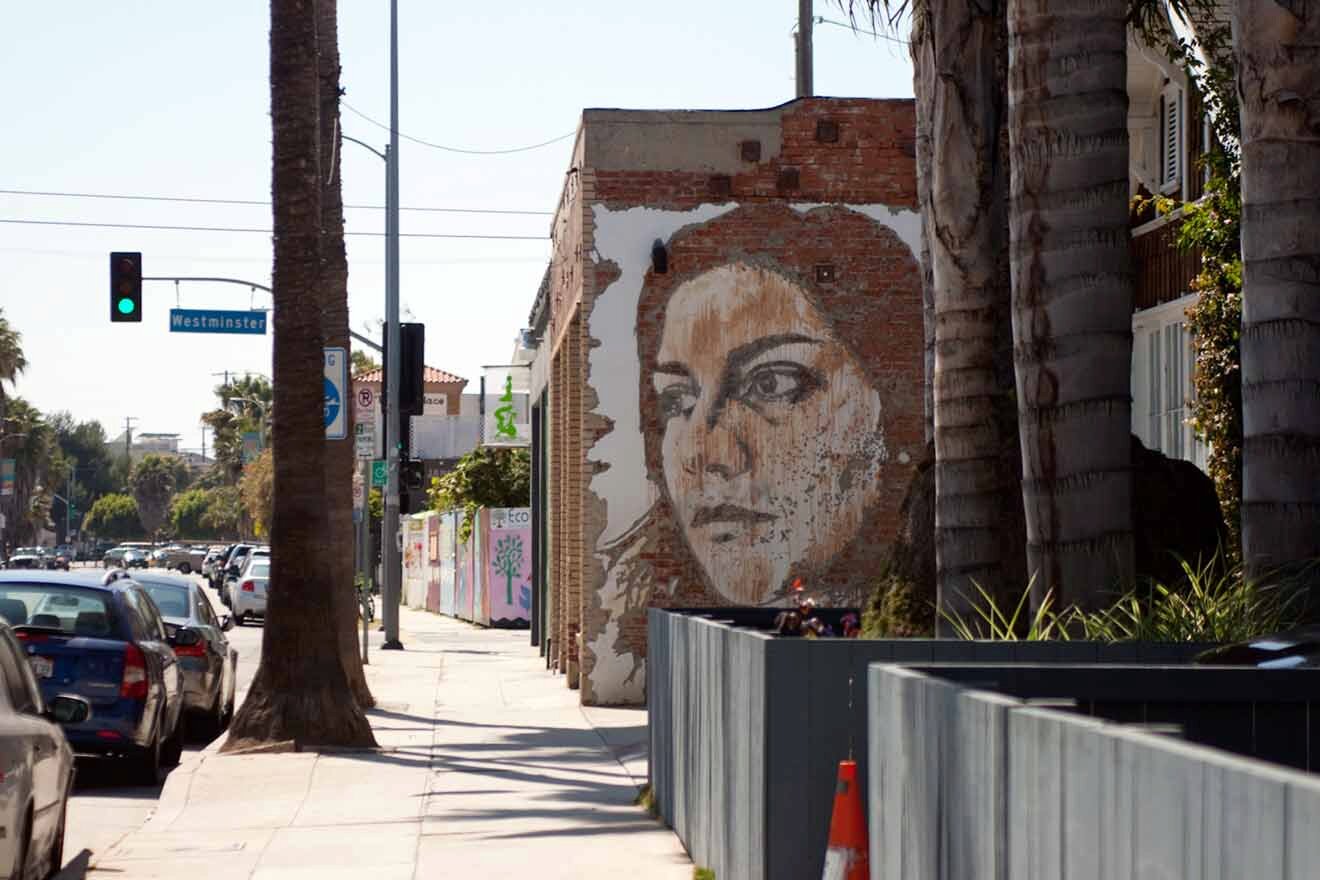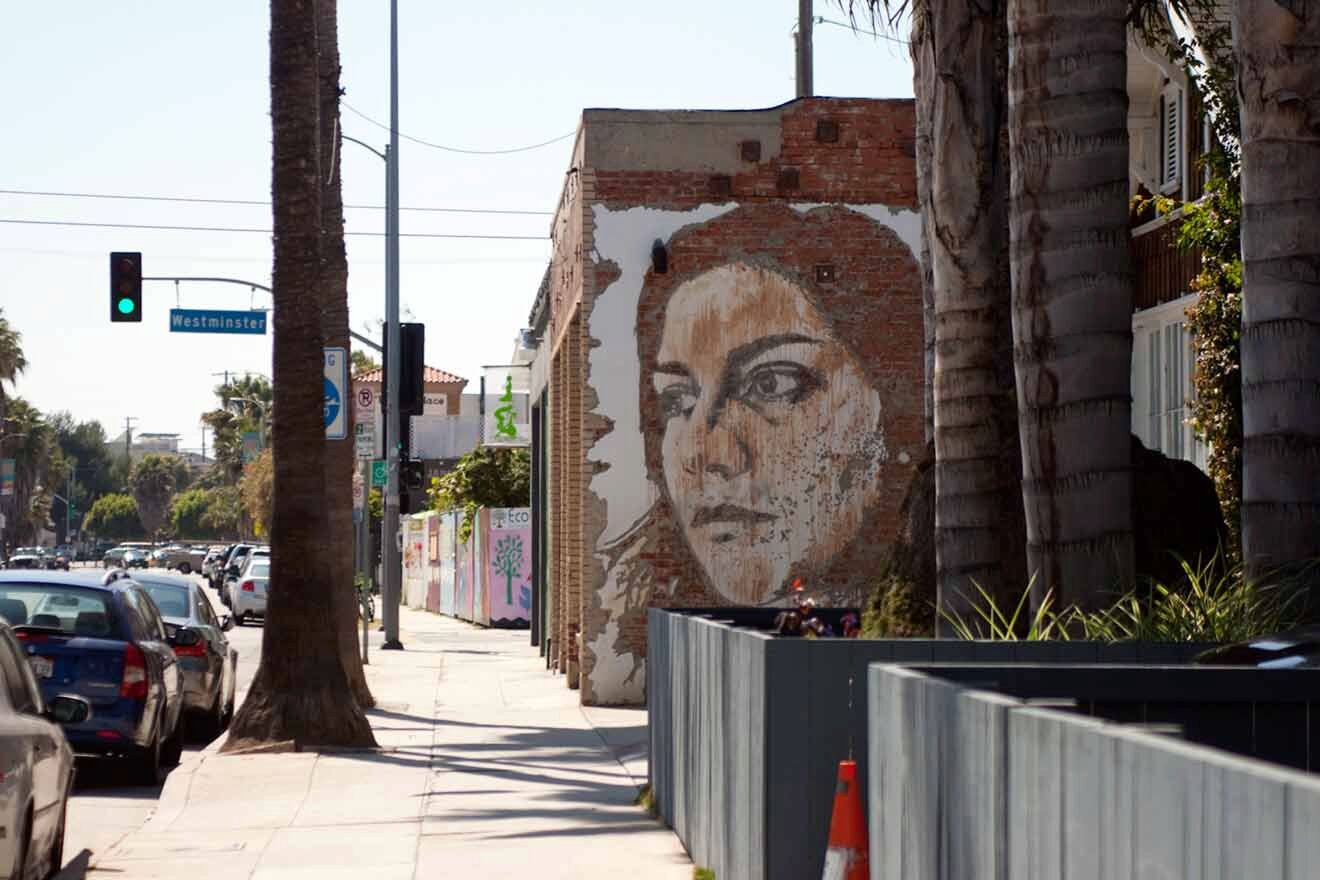 Abbot Kinney Blvd. is a long strip of high-end shops, dining, and art, a great place to spend the day in Venice Beach. It's named after founder and developer, Abbot Kinney, best known for his work and developments of Venice, AKA his "Venice of America" project.
I recommend strolling the mile-long hip strip after grabbing a bite to eat. Here are two restaurants you should check out while you're here:
NOTE: The Waterfront Venice is also an excellent restaurant located near the Ocean Front Walk (Venice Boardwalk), so if you're spending the day there and then heading over to Abbot Kinney Boulevard for some shopping, stop by their restaurant for a quick bite and a peak at their awesome outdoor beer garden.
6. Walk over to the Santa Monica Pier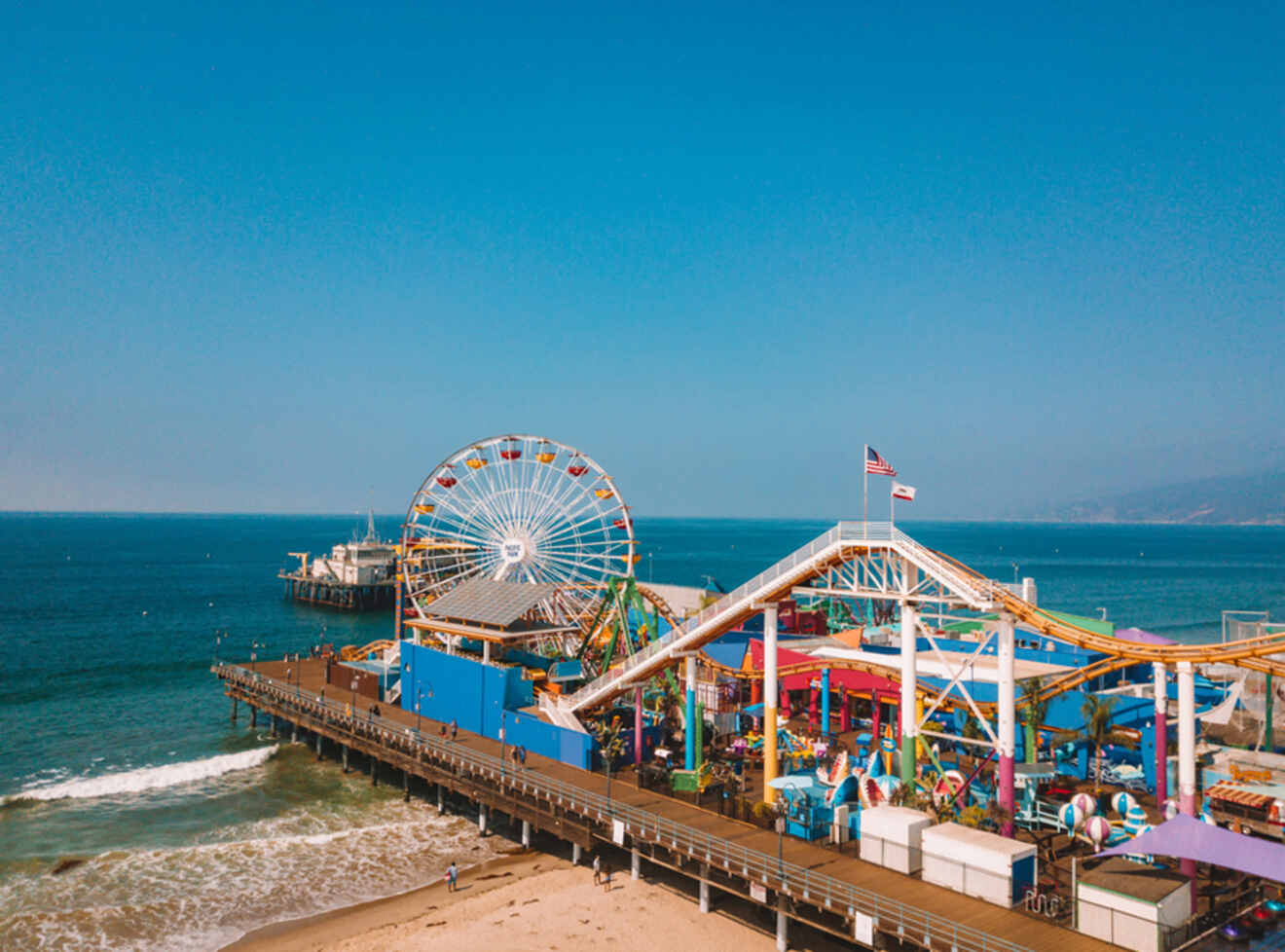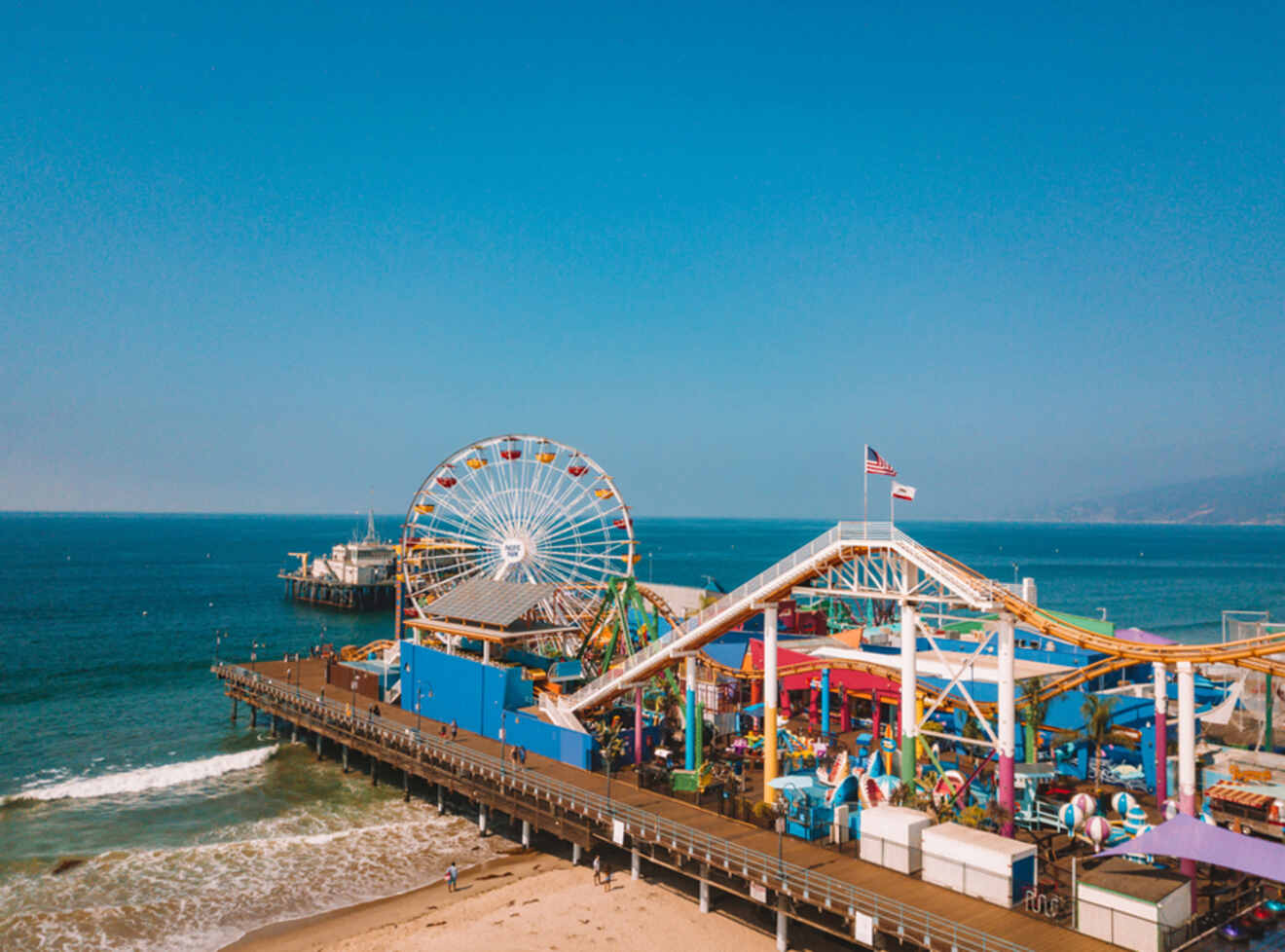 Santa Monica Pier is only a 45-minute walk away from the Ocean Front Walk in Venice Beach – so why not visit while you're here?! If that sounds exhausting trying to figure it all out, there are quite a few tours that will take you around Santa Monica and Venice Beach (that way you can get a taste of both).
There's so much to do at the Santa Monica Pier, I can guarantee you, you won't get bored. From carnival games to roller coasters and delicious street food, performers, and attractions that everyone can enjoy. Whether you're traveling with friends or family, there's something for everyone to enjoy at the Santa Monica Pier.
Here are a few tours I recommend booking if you'd rather have a little hand-holding between Santa Monica and Venice Beach:
PRO TIP: If you choose to walk over to the pier, you can rent scooters and bikes for the day! Not only would this be incredibly helpful and convenient if you're trying to explore the pier, but riding bikes along the coastal boardwalk is also part of the whole California beach town experience.
Find More Tours in Santa Monica
7. Spend the night at the popular High Rooftop Lounge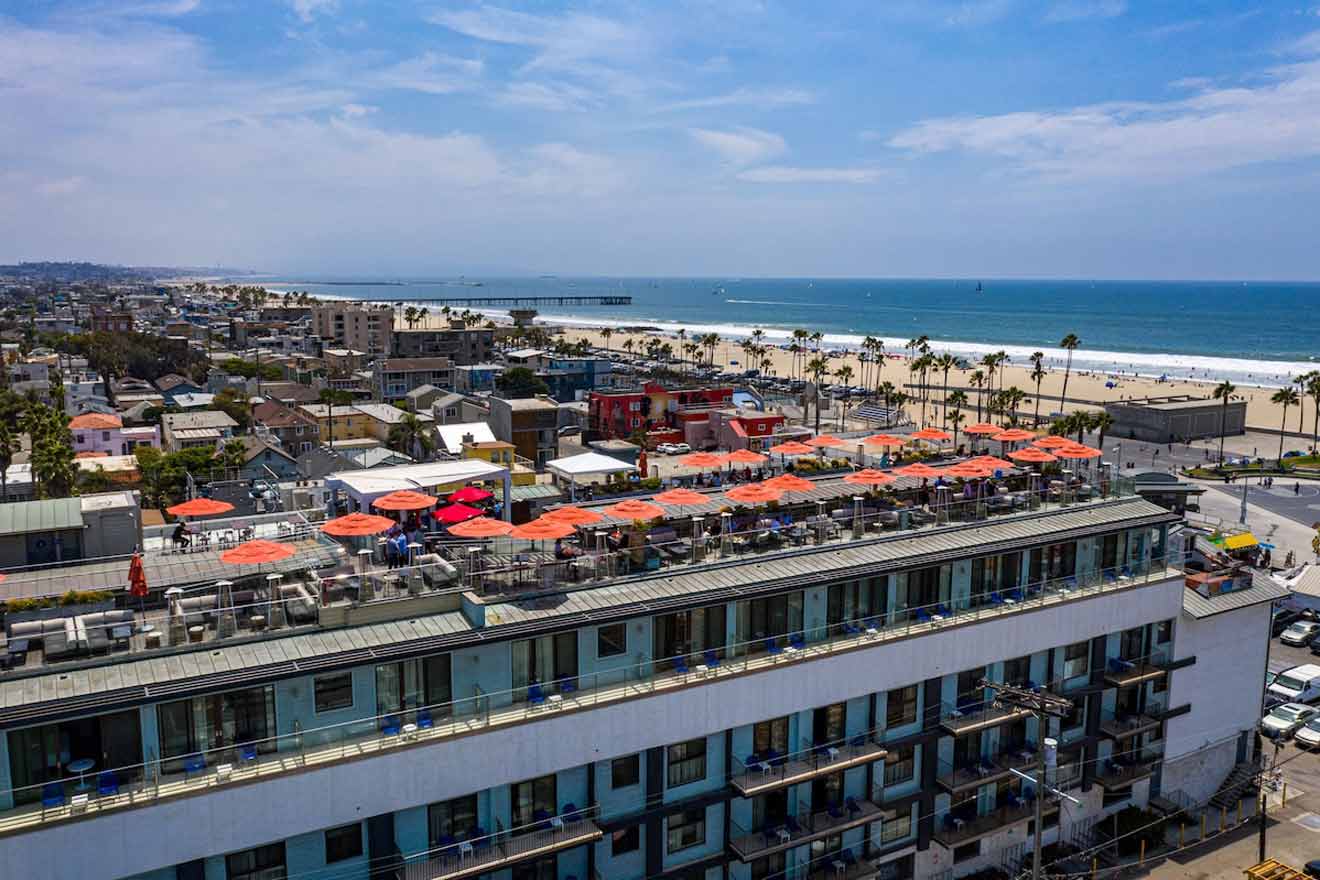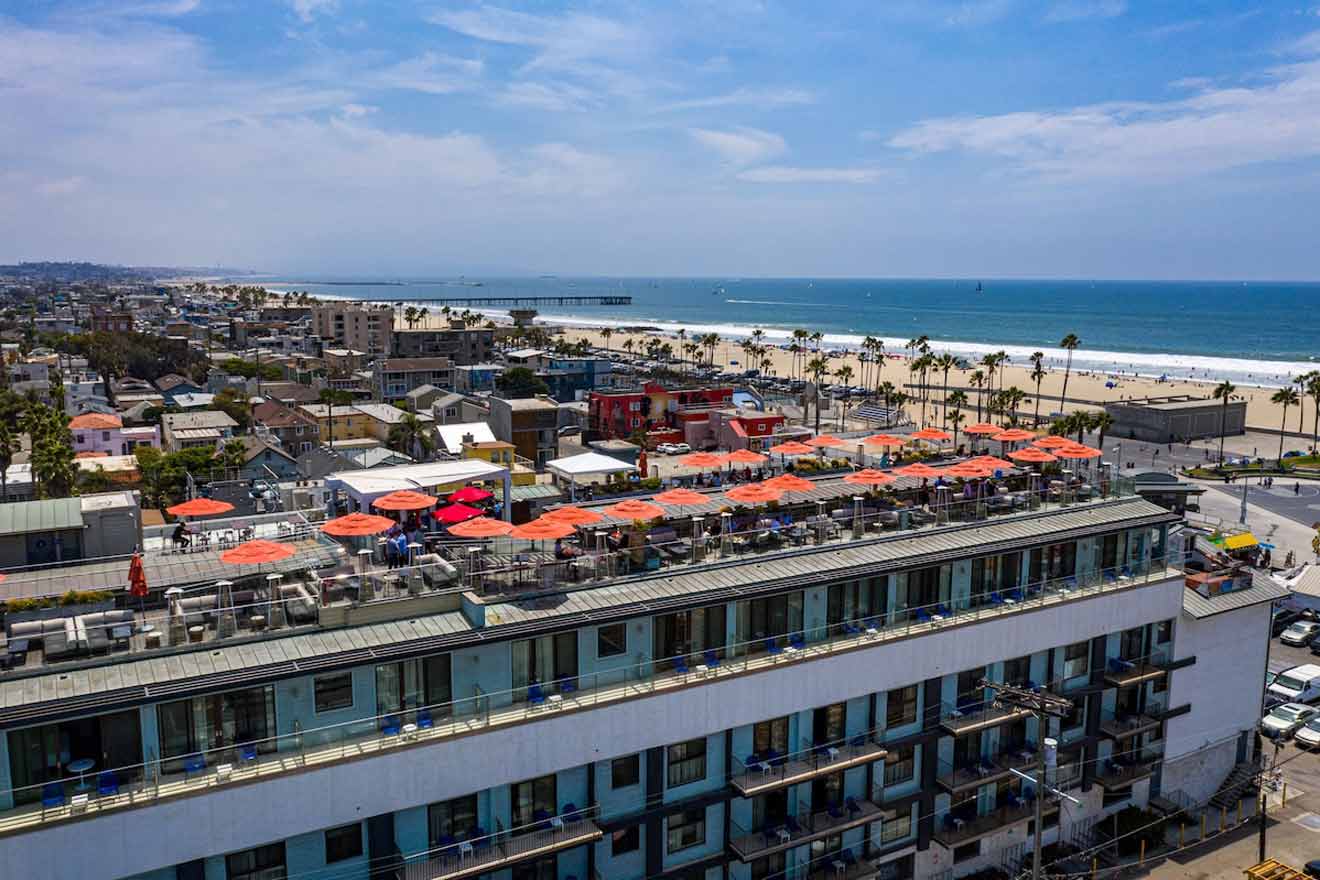 Hotel Erwin is known to have the best rooftop lounge in Los Angeles! (And there's a lot of competition, so that's pretty impressive!)
The High Rooftop Lounge offers an idyllic scene of the Pacific Ocean and all of Venice Beach. Here, you can just unwind with a glass of wine, one of their specialty cocktails, and their lounge terrace. (One of my favorite things to do in Southern California is relaxing at a rooftop bar by the ocean and watching the sunset – so this is an absolute must-do when you're here or anywhere in SoCal!)
The High Rooftop Lounge even offers all-day brunch on Saturdays and Sundays and happy hour from 1 PM – 4 PM on Monday – Thursday. I recommend the Lavender Sunset cocktail – the mix of elderflower liqueur and gin is magic.
If you're still on the edge, the hotel even lets you in on their 360-degree views online here. Hard to say no to that!
I also recommend staying in Hotel Erwin! It's such a beautiful hotel and you'll be able to enjoy their rooftop bar whenever you fancy!
PRO TIP: Before heading to the bar, make sure you eat! I recommend The Pier House for the best seafood in all of Venice Beach (it's directly behind the Venice Fishing Pier).
8. Mosaic Tile House
The Mosaic Tile House was created by artists and lovers, Cheri Pann and Gonzalo Duran. Their story is particularly interesting, romantic, and inspiring for everyone who has the privilege of visiting!
The Mosaic Tile House is an amazing form of symbolism for the entire city of Venice Beach, with a taste of liveliness and colorful art. The decade-long project is now a home covered in a kaleidoscope of colors through mosaic tiles, pieces of broken plates and tea cups, and more. As time went on, it actually became a community art project where neighbors brought any sort of recyclable material to cement onto the house – it's truly a masterpiece!
I recommend checking out the house while you're here in Venice, as it is one of my personal favorite attractions! Not only are you seeing the piece of art here, but you're also meeting locals and the artists behind the work.
Tours are available on Saturdays from 12 PM – 3 PM. You must reserve in advance by emailing them directly at [email protected]. This is an incredibly popular tour with very little space to book, so plan and email ahead of time!
PRICE: US$20/person for adults, free for children under 12
9. Bike or rollerblade along the Venice Beach Bike Path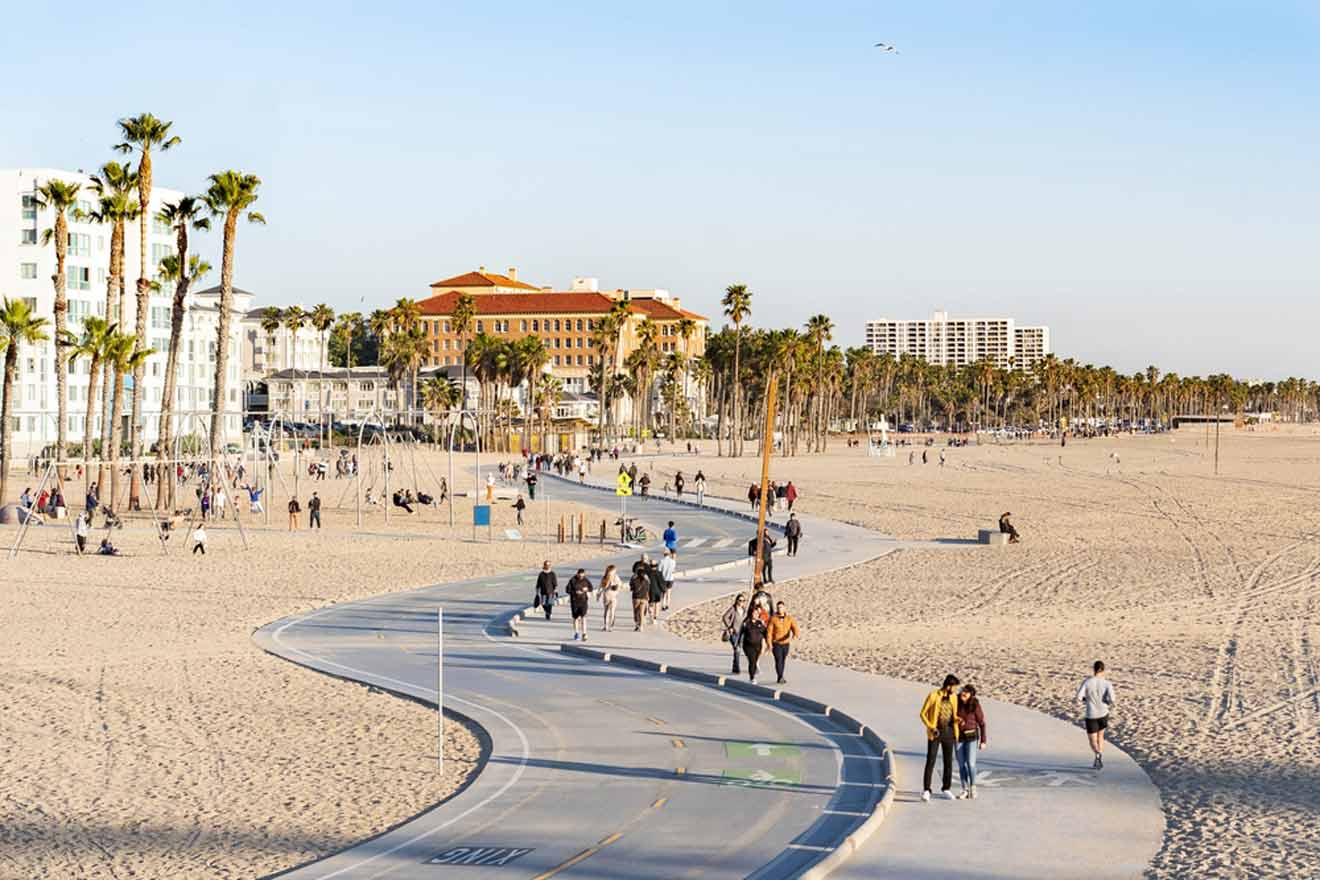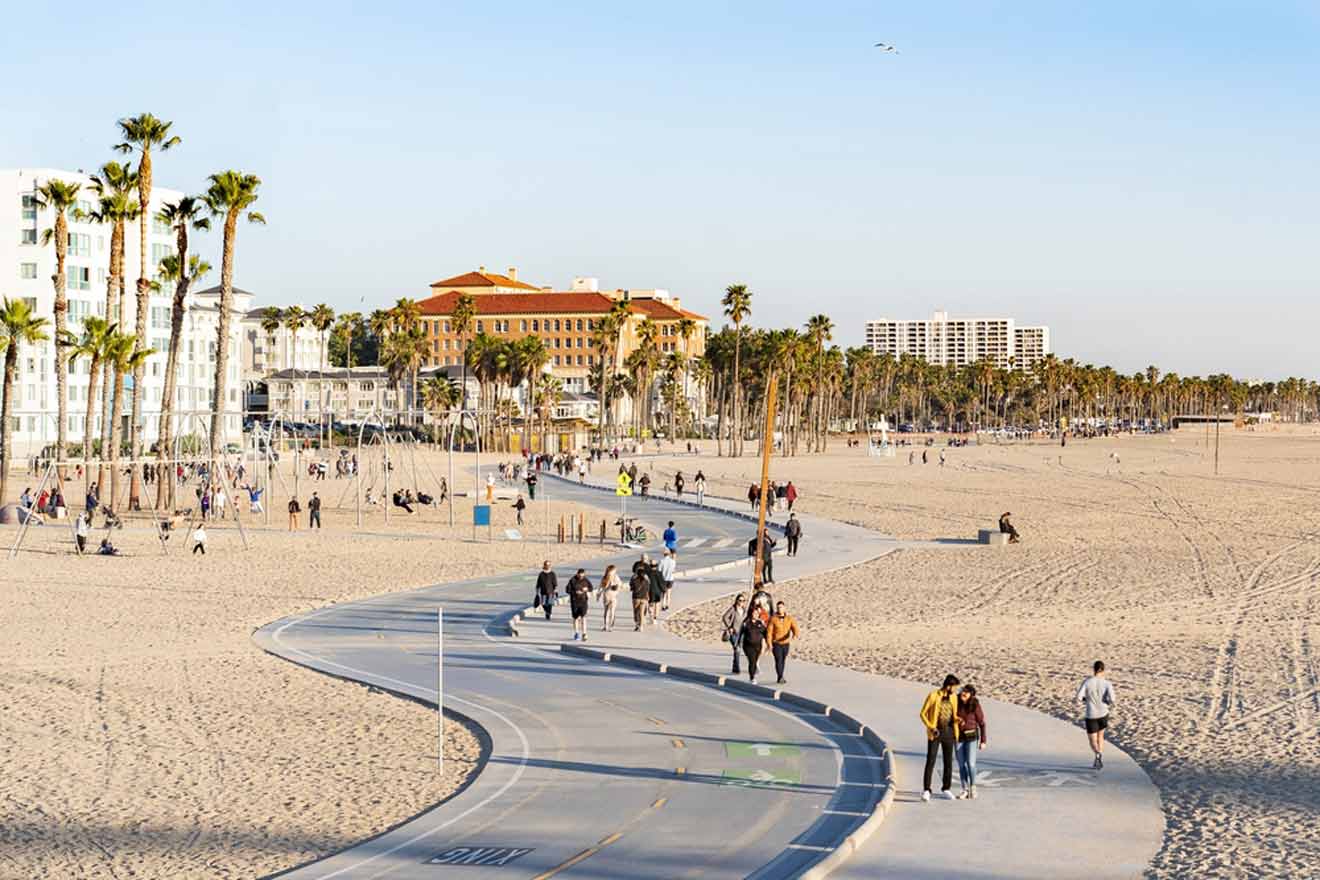 The Venice Beach Bike Path is for the avid bikers out there looking for more adventure and thrill when in Venice Beach! The path starts at Venice Pier on Washington Boulevard, goes to Marina del Rey, Santa Monica, Playa del Rey, Pacific Palisades, or Palos Verdes, and runs along the sand in Venice, stretching 22 miles (34 km).
I recommend going on a weekday, early in the morning or late in the afternoon. Venice Beach gets quite a lot of foot traffic so it can be difficult riding the path when it's crowded. There's quite a lot of sand along the path so be sure to take it slow and don't slip.
Here are 2 bike rental shops that I recommend checking out for your excursion:
NOTE: At Washington Blvd, there are arrows on the floor signaling where bikers/rollerbladers and pedestrians should walk. Be sure to pay attention!
10. Head to North Venice Beach for an art gallery and theater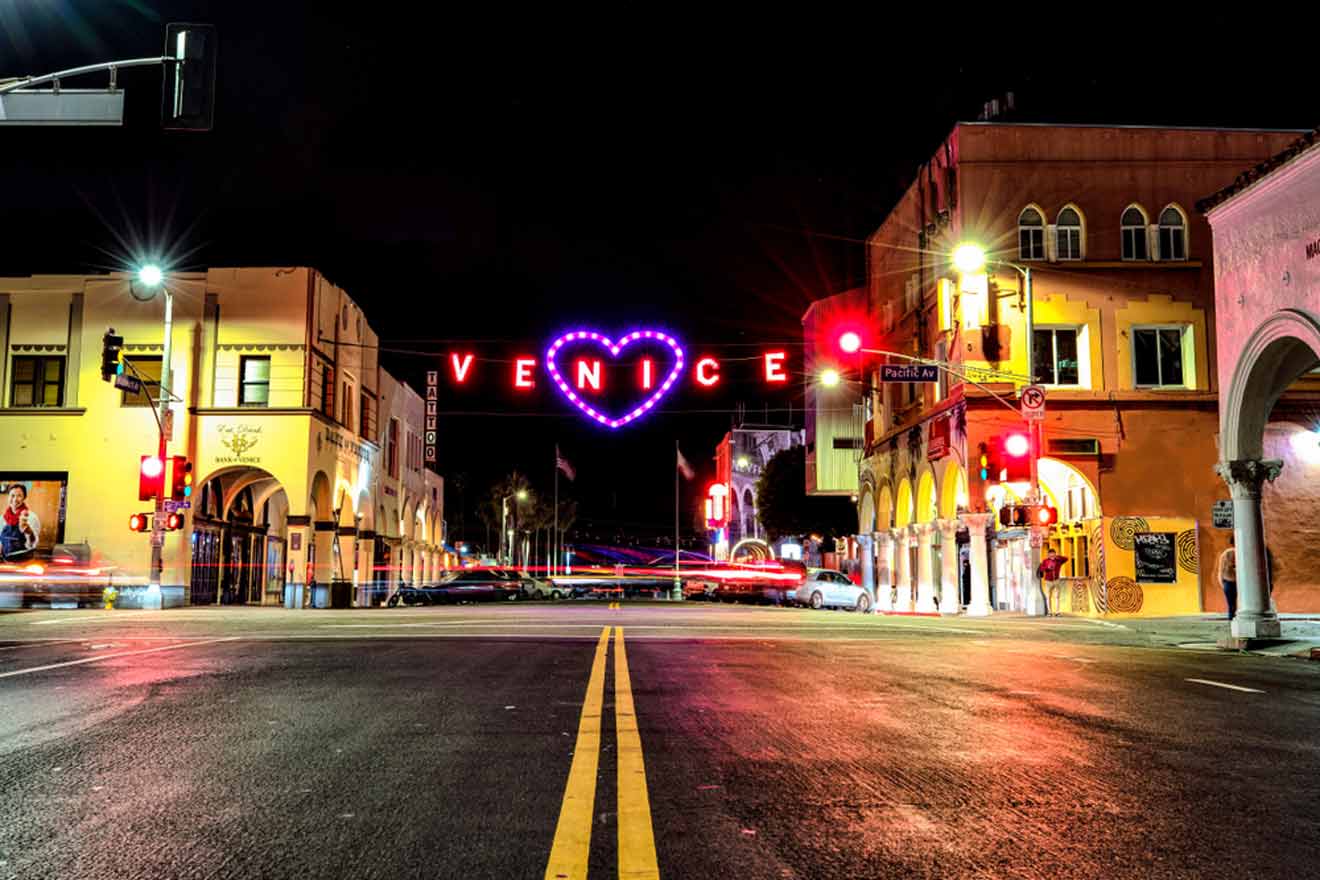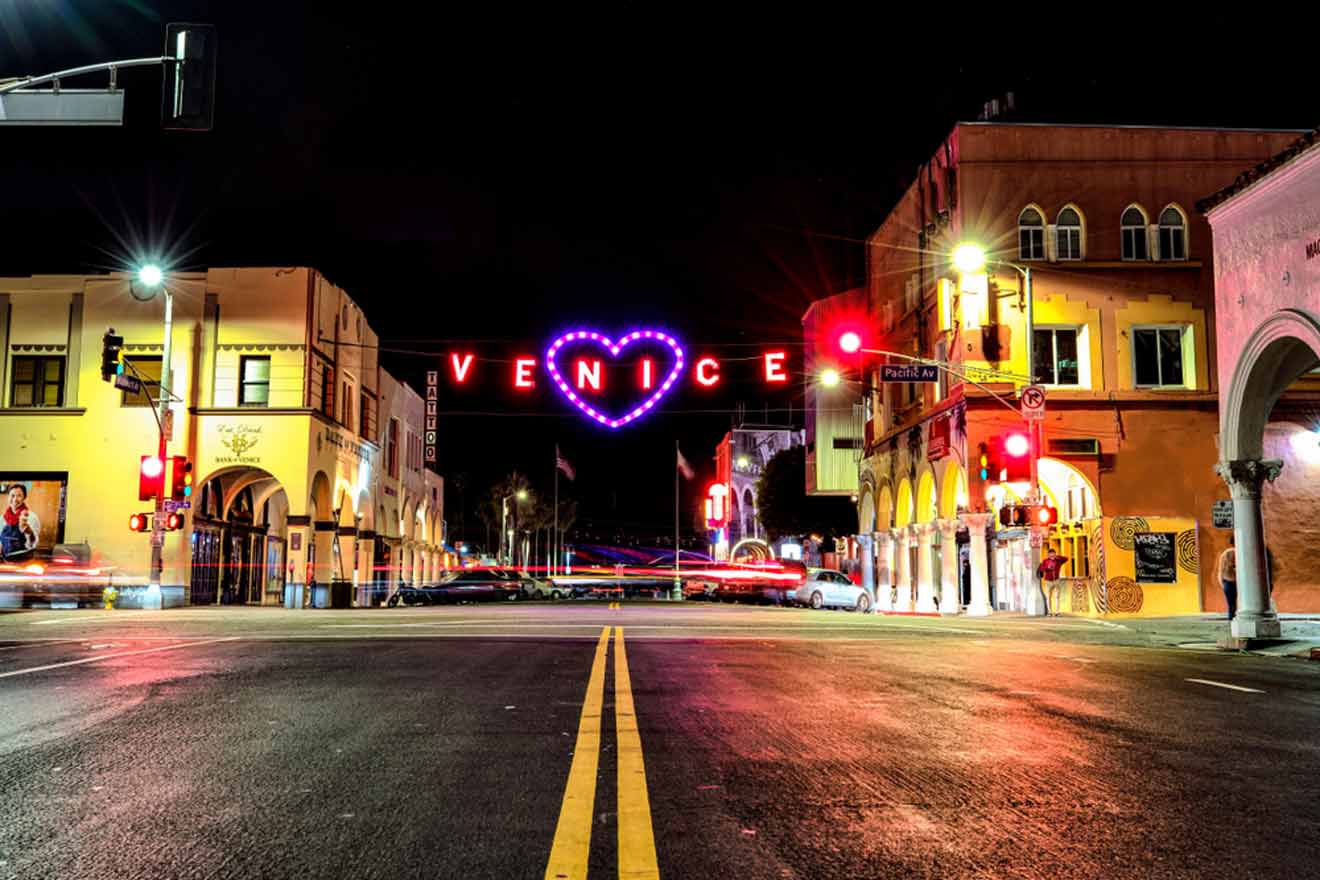 North Venice Boulevard is dedicated to the vibrant art and food scene! Located west of Pacific Ave., it's easy to find this area and walk around (with free parking too). I had to add it to my list of things to do in Venice Beach because this area is a whole different vibe in itself.
For the perfect day in North Venice Beach, recommend going to the LA Louver for the best contemporary art, check out a performance at Pacific Resident Theatre or the Electric Lodge, and stop by the Venice Whaler for the best food in the area!
The LA Louver is a contemporary art museum featuring both international and local Los Angeles artists and their best work inspired by the modern-day world. They have seasonal exhibits that are always interchanging, so there's always something new to see! Check on their website beforehand for past and upcoming exhibits here.
The Pacific Resident Theatre and Electric Lodge are probably the most unique experiences you can have in Venice Beach – they offer multi-disciplinary cultural arts performances that are definitely worth checking out. I recommend checking their websites beforehand for show dates and pricing information!
11. Enjoy a night of live music and cheap cocktails at The Brig
The Brig is an old bar founded on the grounds of Venice Beach in 1952 – it's still standing and one of the most ~chill~ bars to visit while you're here.
Not only does The Brig offer historical importance, but it still has an old-timey feel inside while playing a nice mix of music from the 90s, early 2000s R&B, and other nostalgic beats.
This bar is great for those who want to drink with friends and listen to music (with their live band on Tuesdays, DJ on weekends, and a jukebox every other night). There's even a pool table for you to enjoy while you're sipping on a US$9 cocktail from the bar (this is quite a steal for Southern California pricing standards).
PRO TIP: If you go on a Friday or Saturday, grab a taco from the Kogi BBQ Taco Truck set up right outside the bar!
12. Relish in a scoop (or 2) of ice cream at Salt & Straw
Salt & Straw is a very popular ice cream shop among Californians and the general west coast with multiple locations in San Diego, Northern California, Washington, Oregon, and of course, Los Angeles' Venice Beach!
Their menu is an absolute delight given the fact that you probably won't find these flavors anywhere else. (Pear and Blue Cheese, Strawberry Honey Balsamic, and Arbequina Olive Oil, just to name a few).
The shop always has seasonal flavors as well, which you will need to check in advance, by calling ahead. I was absolutely obsessed with a berry ice cream cake flavor that I tried last summer. I 100% recommend it!
If you don't want to get messy with their fresh waffle cones, you can even buy pints of ice cream to take back to your hotel.
PRO TIP: Honey Lavender and Sea Salt with Caramel Ribbon are my 2 favorite traditional flavors here! You NEED to try these out. You'll thank me later.
Where to stay in Venice Beach
Venice is a small beach town but offers a wide range of accommodations for every type of budget. Here are a few places I recommend checking out!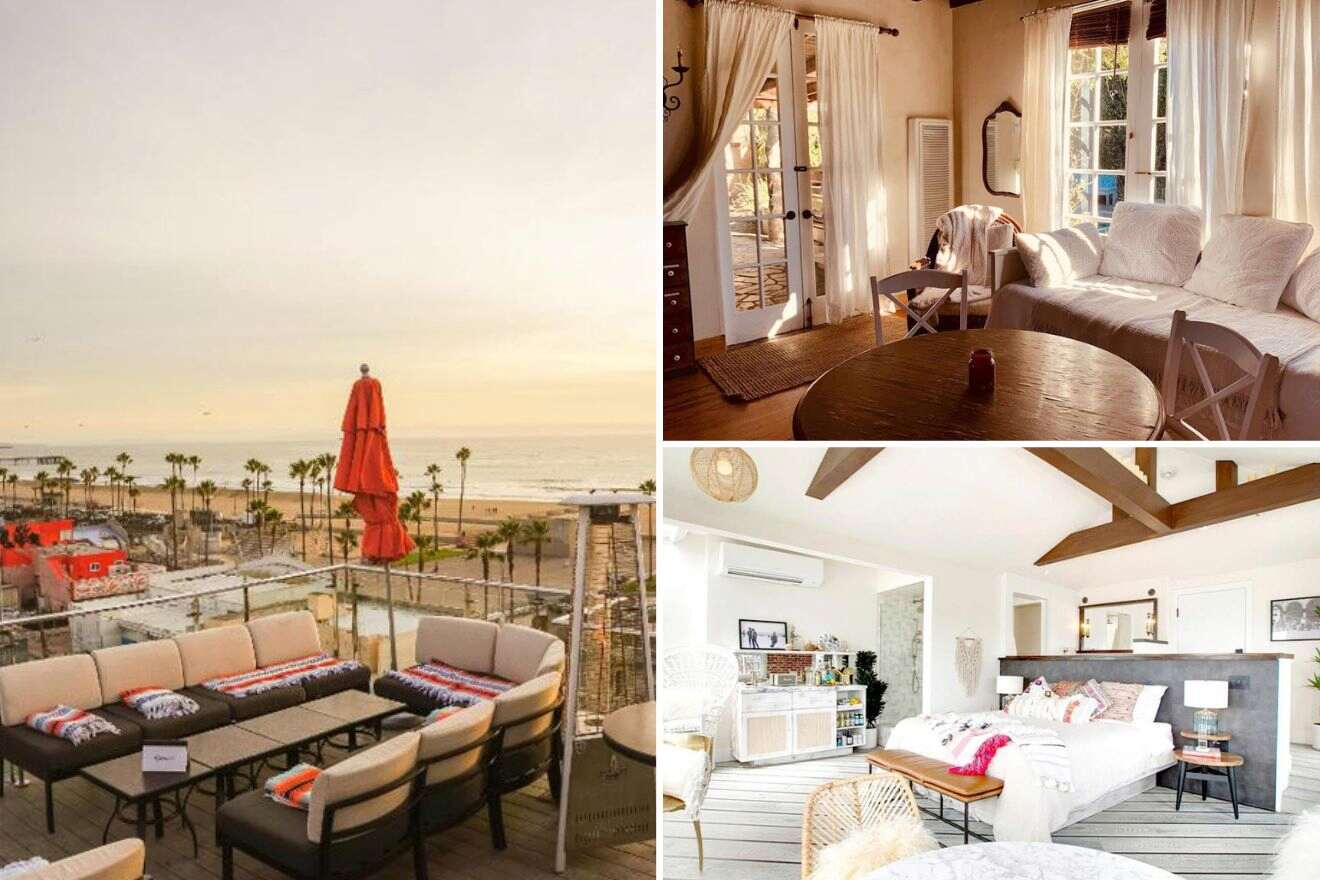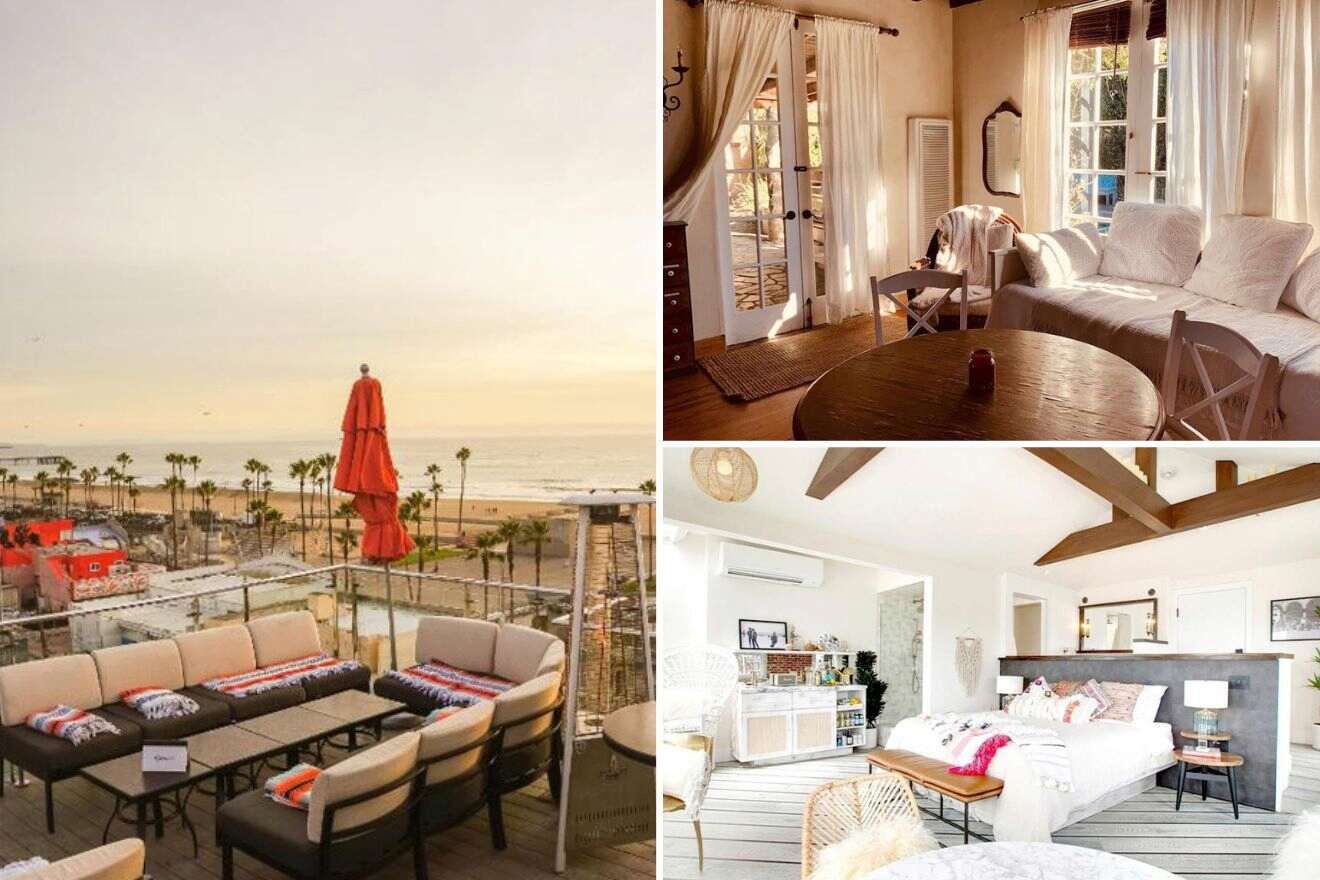 Luxury (US$500 and up)
Hotel Erwin – This hotel overlooks the Pacific Ocean, offers the only rooftop bar in Venice Beach (The High Rooftop Bar), and is conveniently a walk away from the Venice Boardwalk.
Mid Range (US$300 – US$500)
Venice V Hotel – This 1915 soulful landmark hotel offers a stunning rooftop bungalow where you can enjoy views of the ocean.
Budget (up to US$200)
Studio Style Cottage – You'll feel like you're living in the Italian countryside with this guesthouse cottage in the heart of West LA (only 3.5 miles or 5.6 km from Venice Beach).
FAQs about things to do in Venice Beach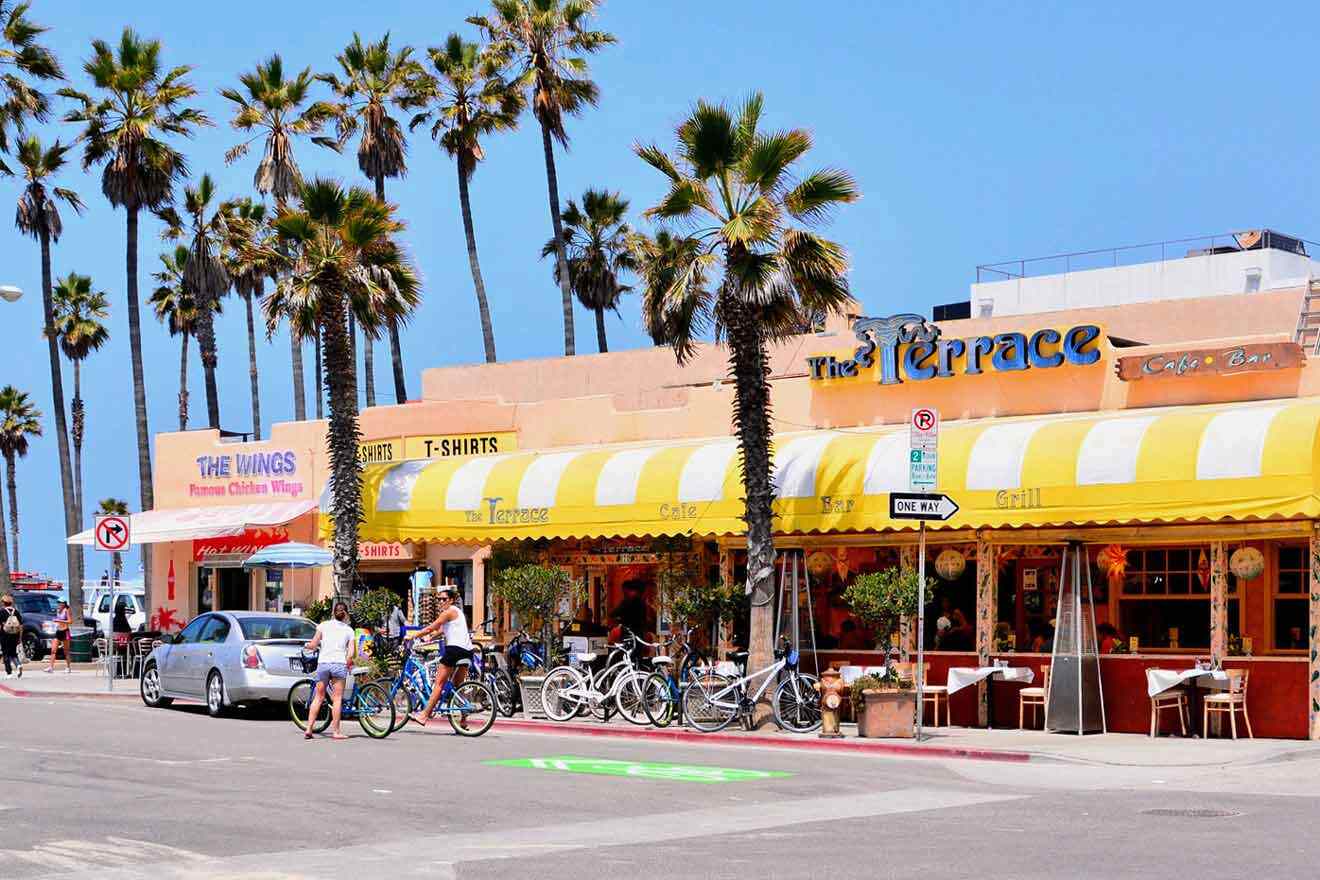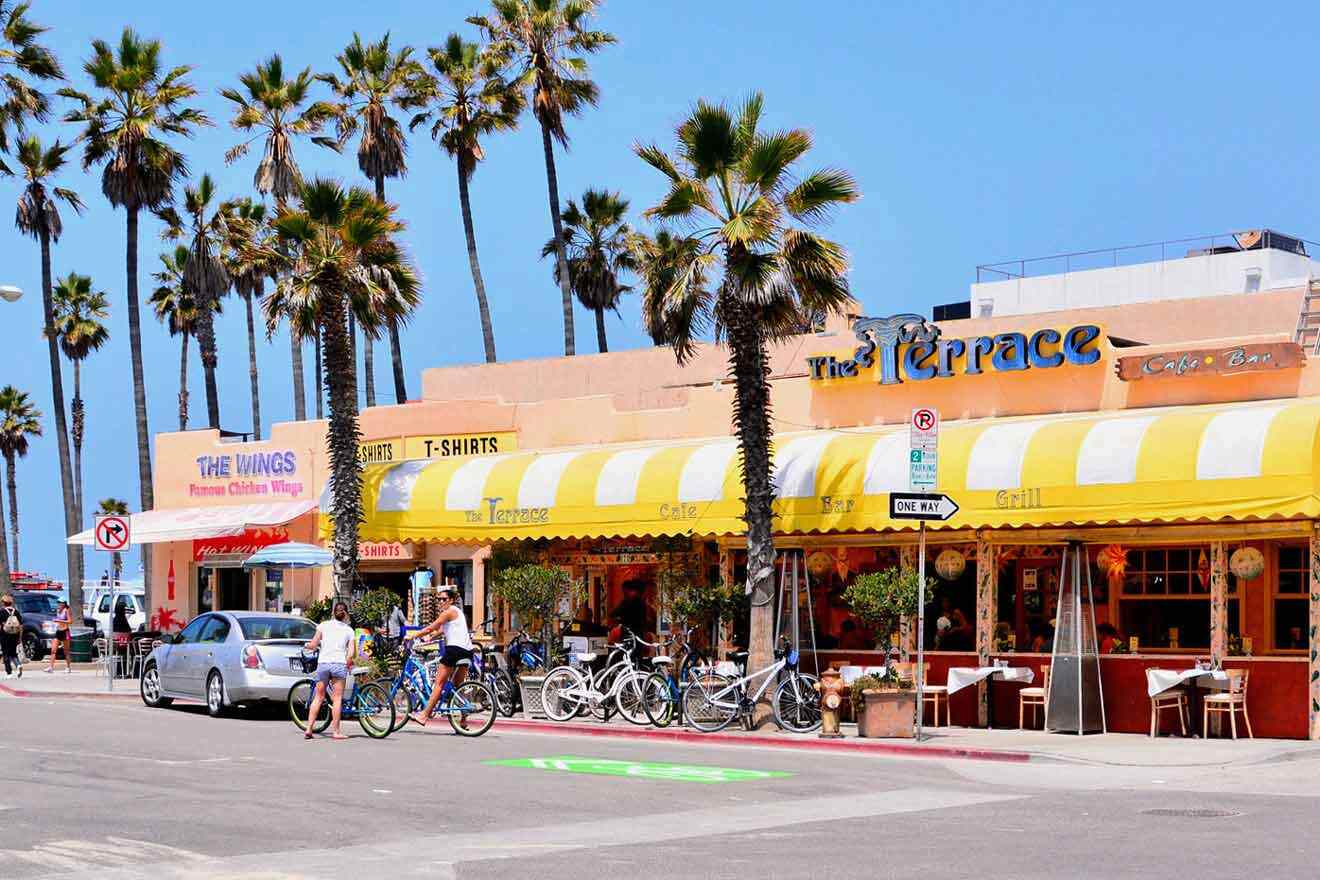 💗 What are the most popular things to do in Venice Beach?
The most popular things to do are walking along the Venice Boardwalk, visiting Muscle Beach and the Venice Beach Skatepark!
👨‍👩‍👧 What is the best thing to do in Venice Beach for adults?
The best thing to do in Venice Beach for adults is to explore the variety of art galleries and The High Rooftop Lounge for a view of the sunset and unwind with their deliciously crafted cocktails.
👫 What are romantic things to do in Venice Beach for couples?
Unique things to do in Venice Beach for couples are strolling down the infamous Venice canals and spending the night unwinding at the High Rooftop Bar. You can also take a surfing lesson together!
🕯️ What is the most relaxing thing to do in Venice Beach?
The most relaxing thing to do in Venice Beach is exploring all the unique art galleries: LA Louver and Mosaic Tile House! Take your time here and enjoy! You can also chill on the beach and take a stroll down the pier!
Conclusion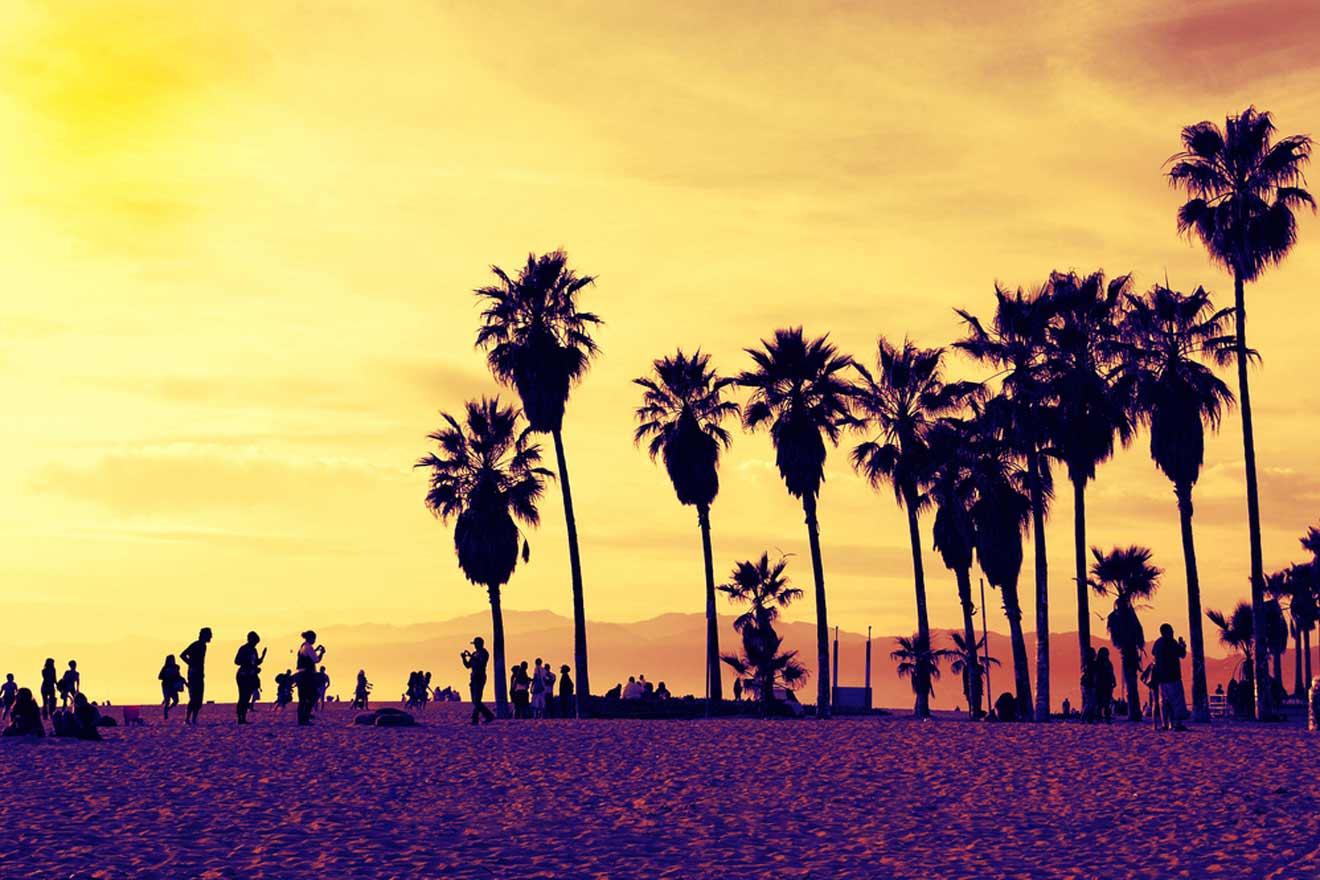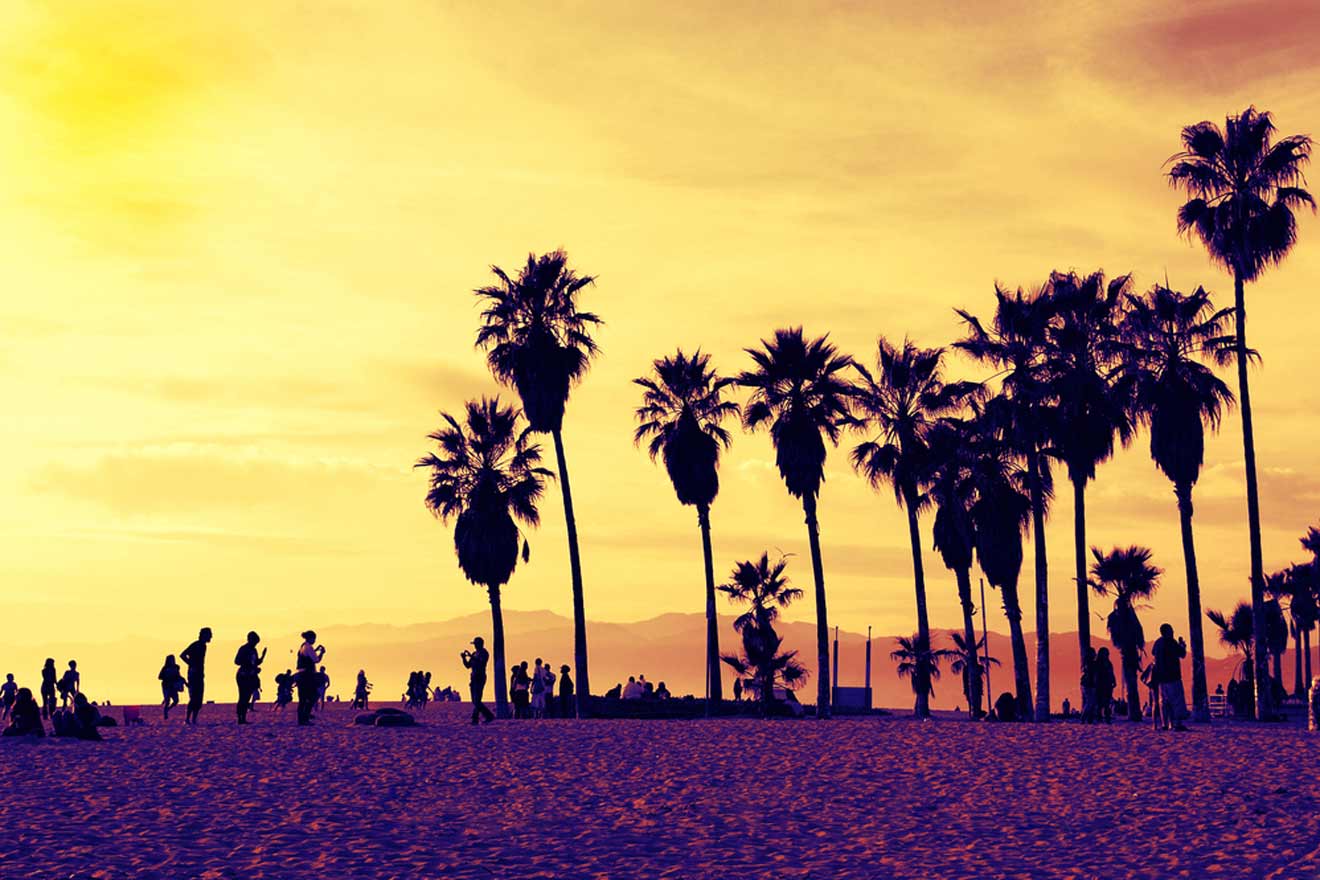 We made it to the end! 🥳 Congratulations, you're officially a pro at all the best things to do in Venice Beach!
A few places here are my go-to's when I'm in Venice Beach but my top 2 favorite things on this list have to be:
All of the activities mentioned are interactive, adventurous, and tons of fun for anyone visiting the area, so you're guaranteed an amazing time whatever you do in Venice Beach!
Also, remember to book your tours, tickets, and reservations in advance to ensure your spot when you visit! If you do visit any places I mentioned, I'd love to hear about your trip in the comments below. xo
Safe travels!
Best,
Esabel S.
---
Pin it for later!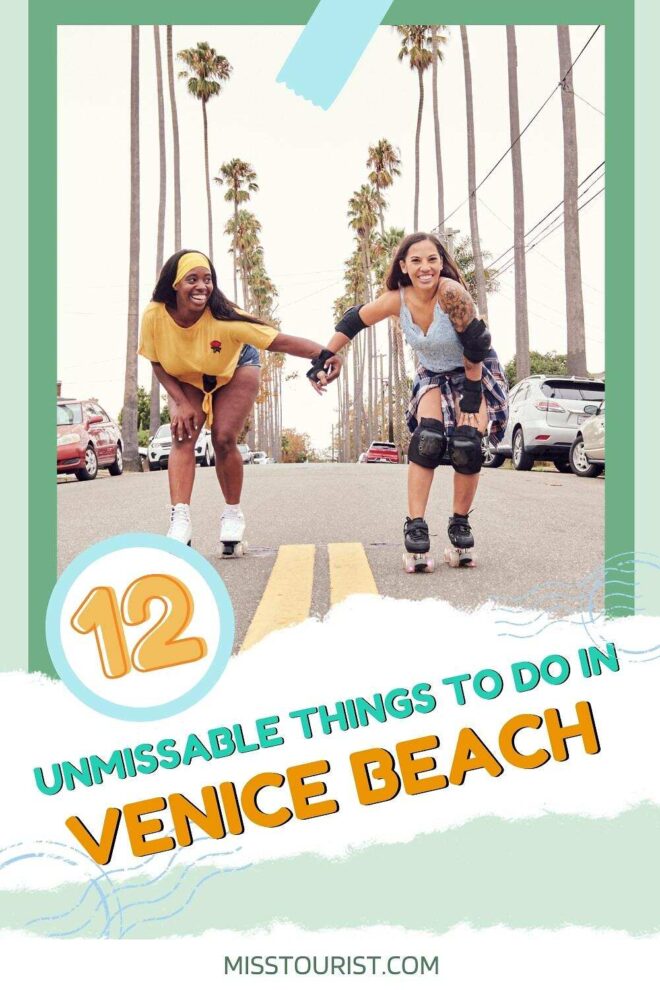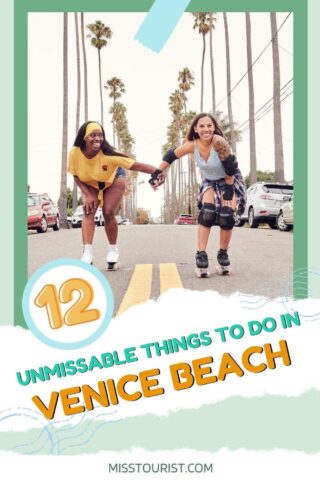 Pin it for later!