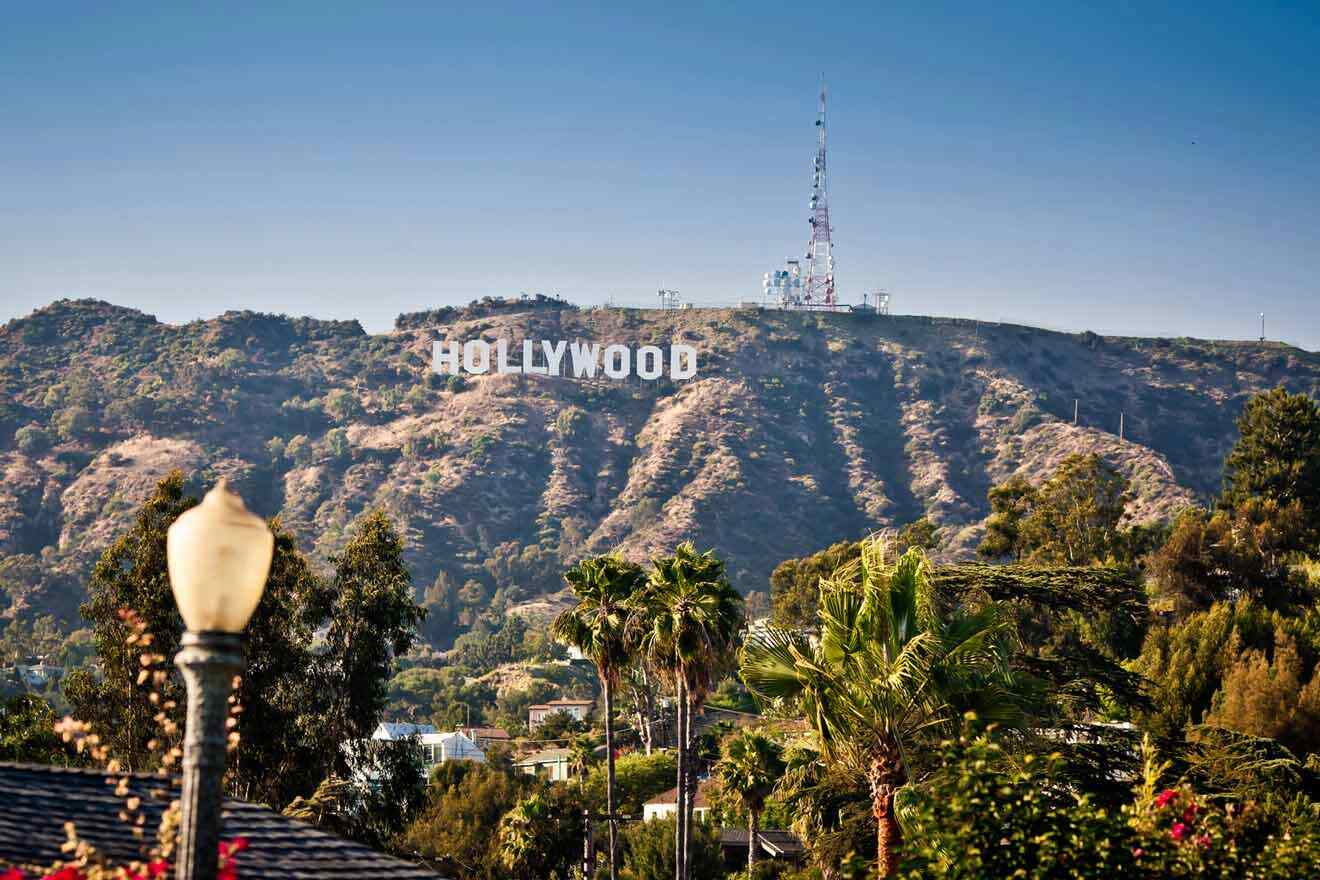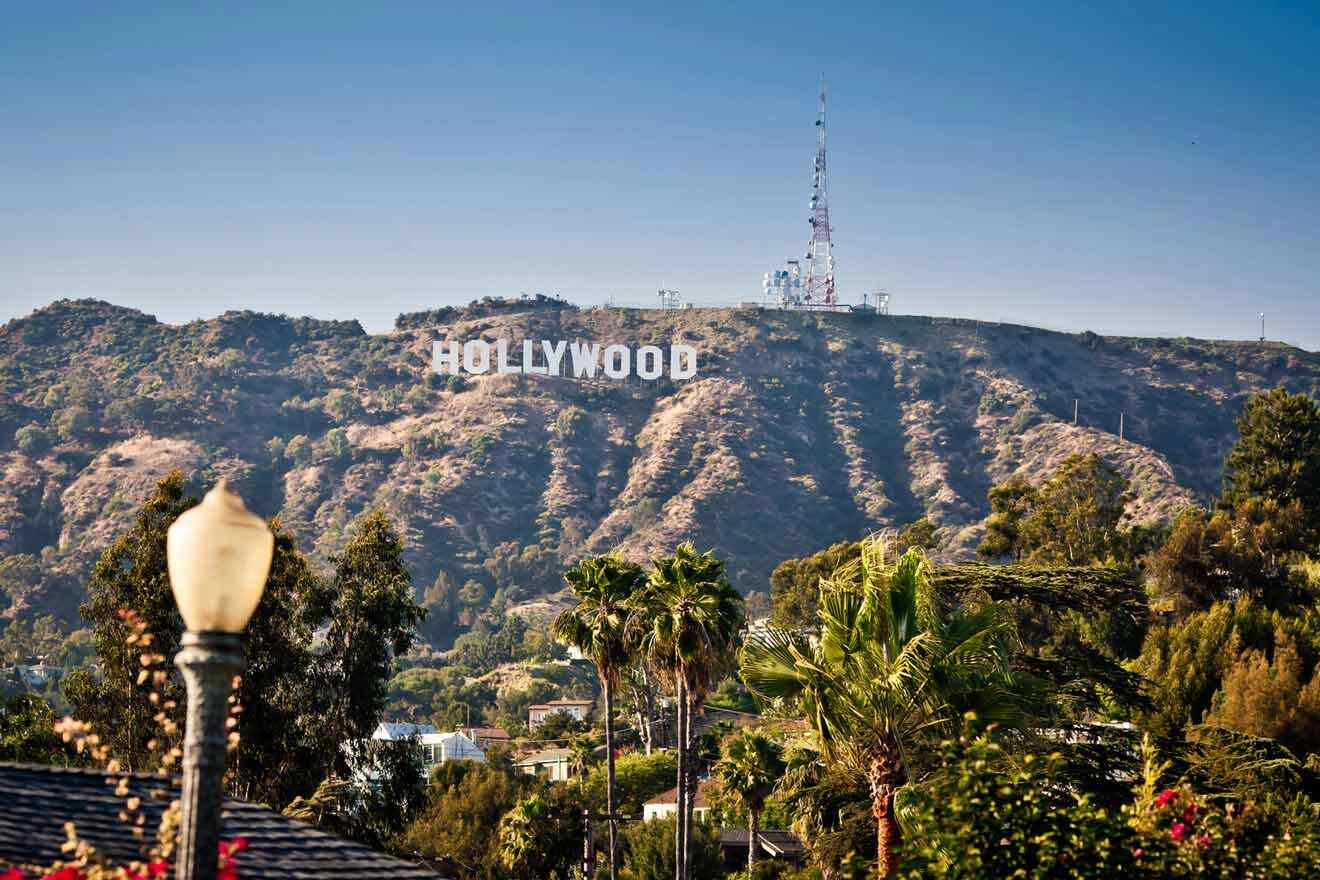 If there's one thing you must see when in Los Angeles – it's the famous Hollywood Sign! The notable landmark, one of the most iconic landmarks in the world, embodies fame, the "Land of Opportunity" (aka the American Dream), glamor, stardom, and broken dreams that might come with it.
There's a lot of history behind the legendary sign itself, outside of it being a cool sight to see. From being a landmark with no shortage of pranks surrounding it to legends coming together to restore the sign throughout the years, there's so much to uncover!
Being a SoCal native, I've had the pleasure to learn a thing or 2 about where the best place to see the Hollywood Sign is, with trips and tricks along the way. In this article, I'll be sharing all of that, plus some fun facts about it that you probably didn't know before.
Ready to get started? Here we go!
P.S. If you're planning to book a guided tour walking up to the Hollywood Sign, be sure to book in advance! This is one of the most popular things to do in Los Angeles, so make sure you secure your spot!
If you are in a hurry
There are so many amazing options to pick from that it can get overwhelming if you're in a time crunch. I recommend booking a tour to make the most out of your time!
Here are the main things to book in advance:
And here are the best hotels: The Prospect Hollywood (luxury), Conrad Los Angeles (mid-range), Downtown Paradise (budget)
1. Griffith Park – the popular and beautiful views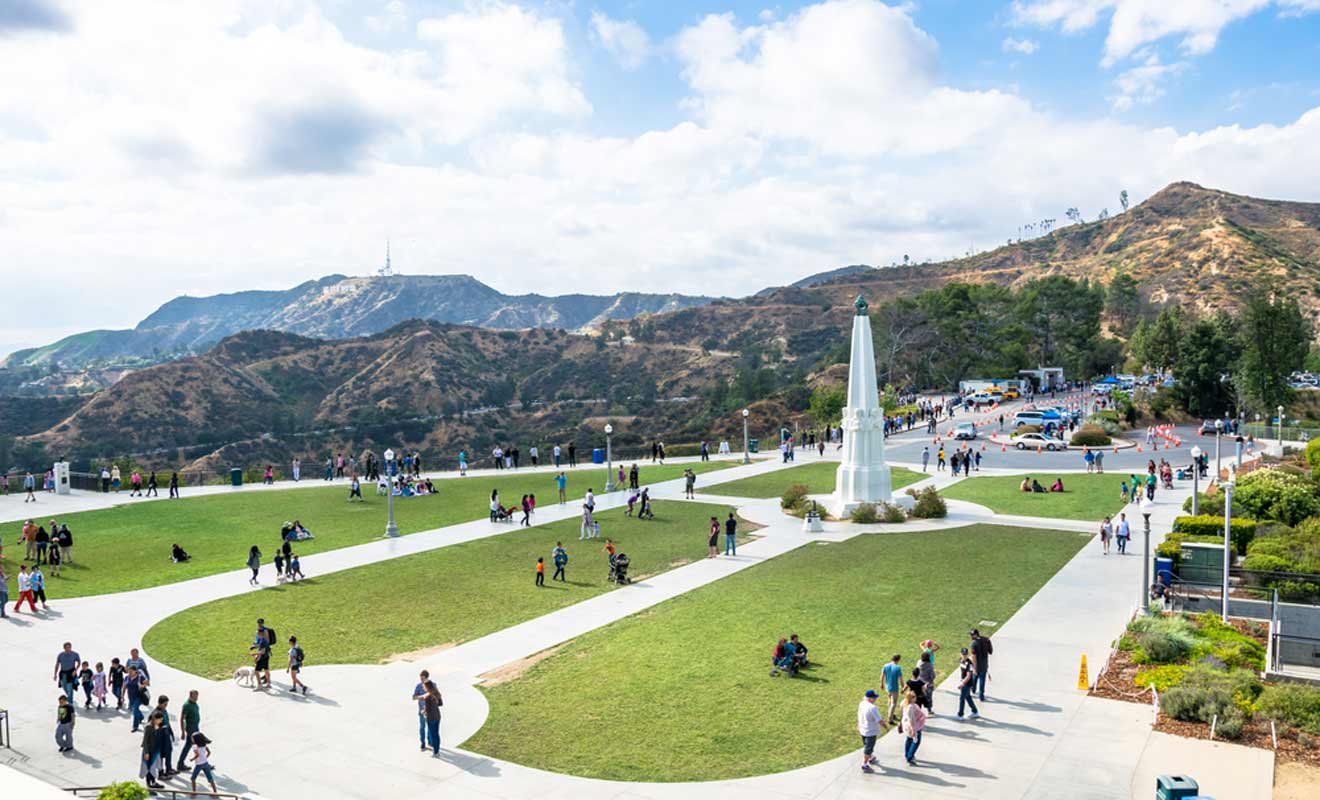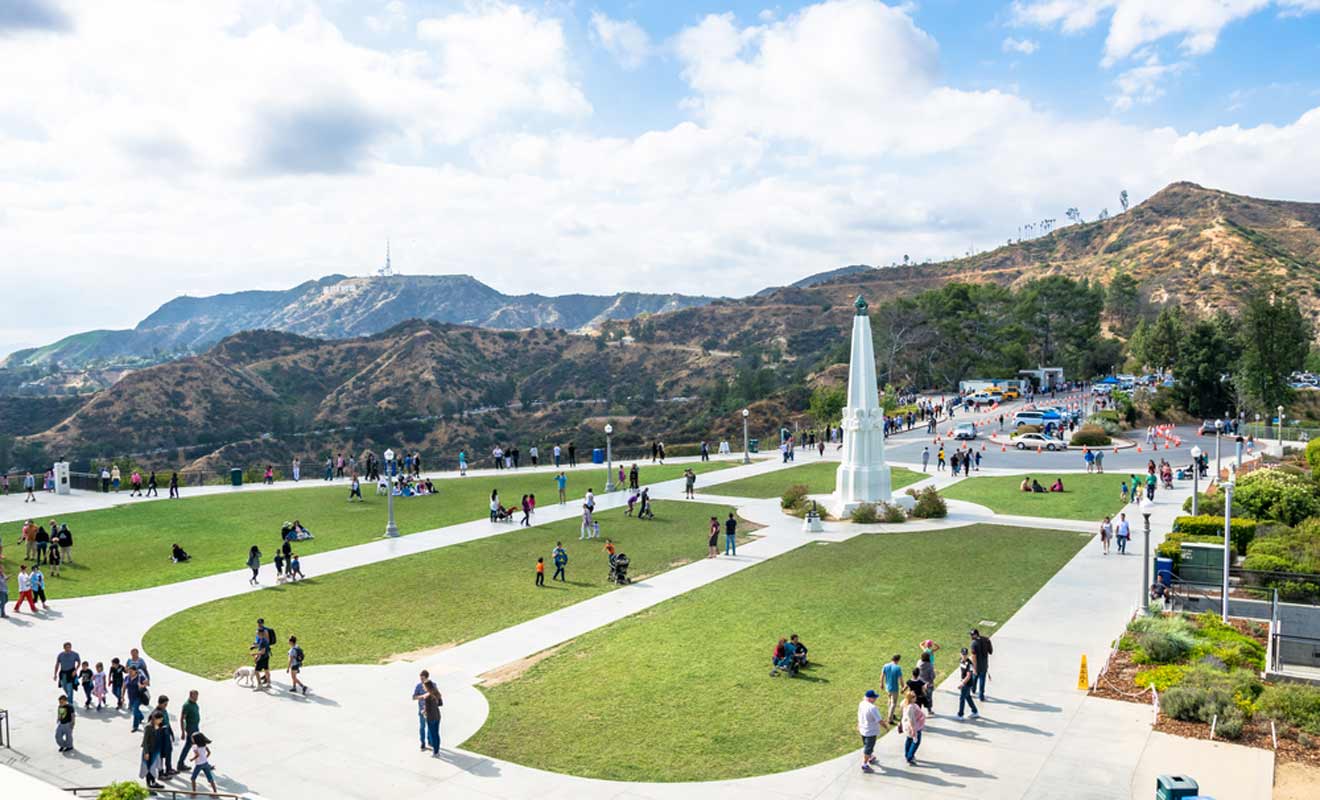 Originally created as a billboard in 1923, the famous Hollywood Sign was built to promote real estate in a new neighborhood called "Hollywoodland"!
Los Angeles' Griffith Park has over 4,210 acres (c. 1,700 hectares) of natural terrain and picnic areas that offer spectacular views leading up to the Hollywood Sign. Being one of the largest parks in the United States, there's much to explore here. As you can imagine, there are going to be quite a few Griffith Park hiking trails on this list!
NOTE: The park is open every day from 5 AM to 10:30 PM, so you can take your time while you're here. However, the sign does not light up at night! I recommend going as early as possible to catch the best views.
Getting there: One of the coolest things about Griffith Park is the public transportation! The DASH Observatory bus shuttles between the Greek Theatre and Griffith Observatory several times a day for less than a dollar. No need to worry about parking here!
1.1 Canyon Drive Trail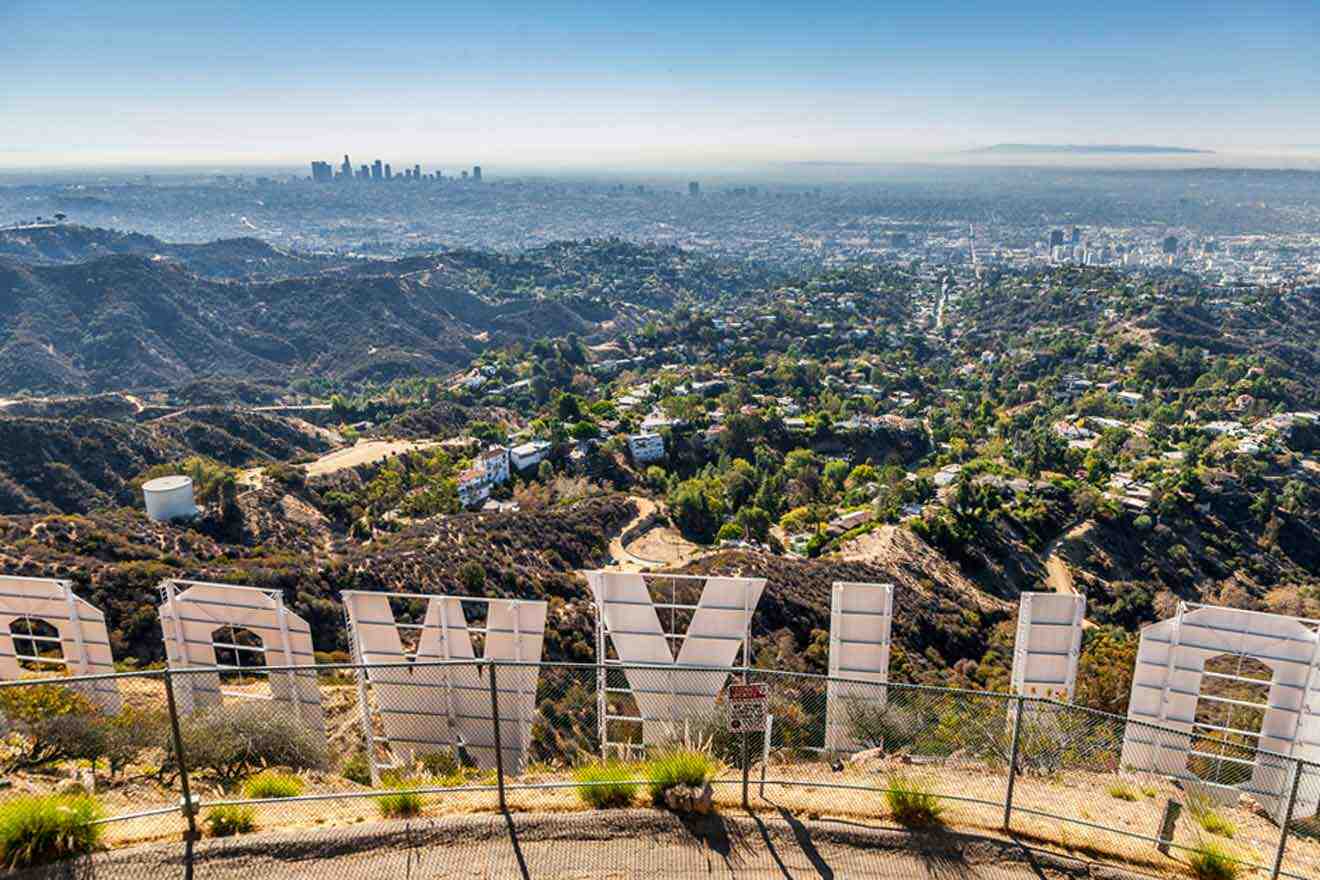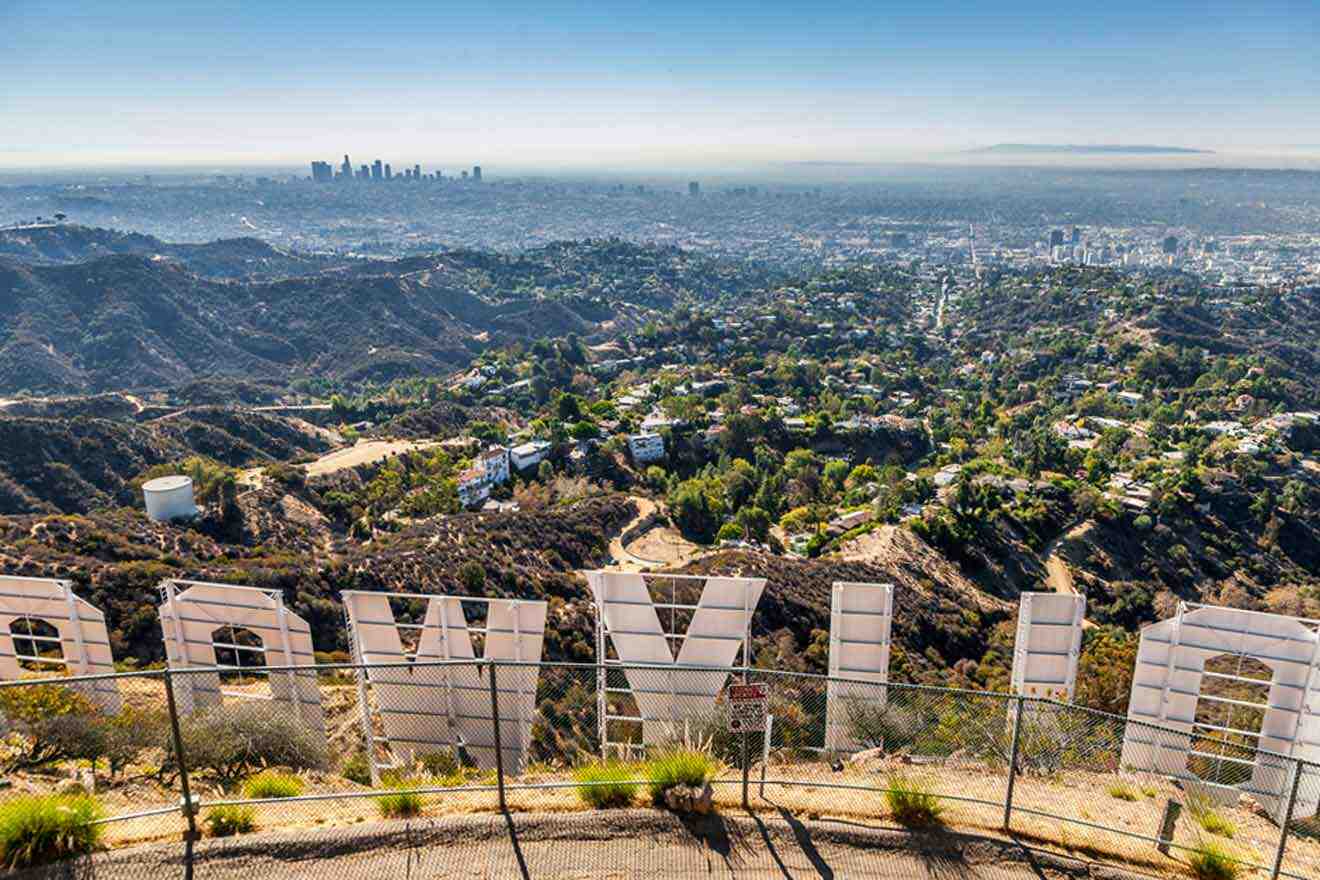 The Hollywood Sign hike via Canyon Lake Drive is about a 3-hour loop that takes you uphill to the Mount Lee summit right behind the Hollywood Sign!
The trailhead is at the very northern end of Canyon Drive in Hollywood. You'll come across 2 parking lots along the way (offering free parking spaces). If both parking lots are full, you can also park on the side of the road. Like most of these hikes, it does get pretty busy, so I recommend getting there before 8 AM or right before sunrise to avoid large crowds. You'll thank me later!
After about the first 15 minutes of going uphill, you'll start to see the Hollywood Sign from a distance, and views of the downtown Los Angeles area after about 35 minutes of walking. Once you're about 30 – 40 minutes into your hike, it begins to plateau, and you can stroll and relax on a flat trail.
PRO TIP: Don't forget to bring loads of water, slather on your sunscreen, and all the sunblocking tools you need to stay on the safe side. The blazing Los Angeles sun can get exhausting. I've been carrying around a Knack backpack anytime I go on a hike – it's been a lifesaver!
NOTE: You'll eventually come to a fork in the road with a sign. Follow the Hollywood Sign directions to stay on the right path!
1.2 Mount Hollywood Trail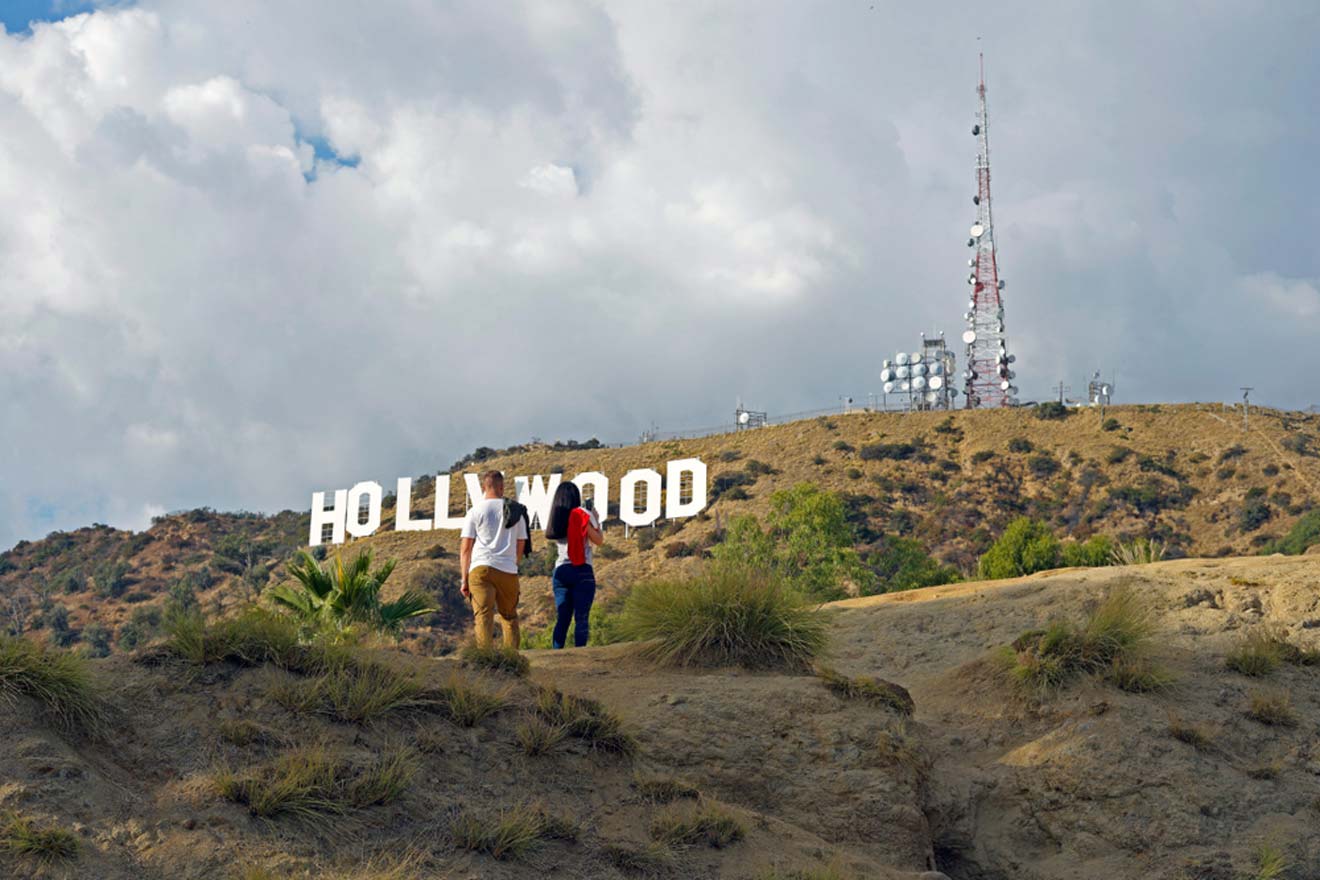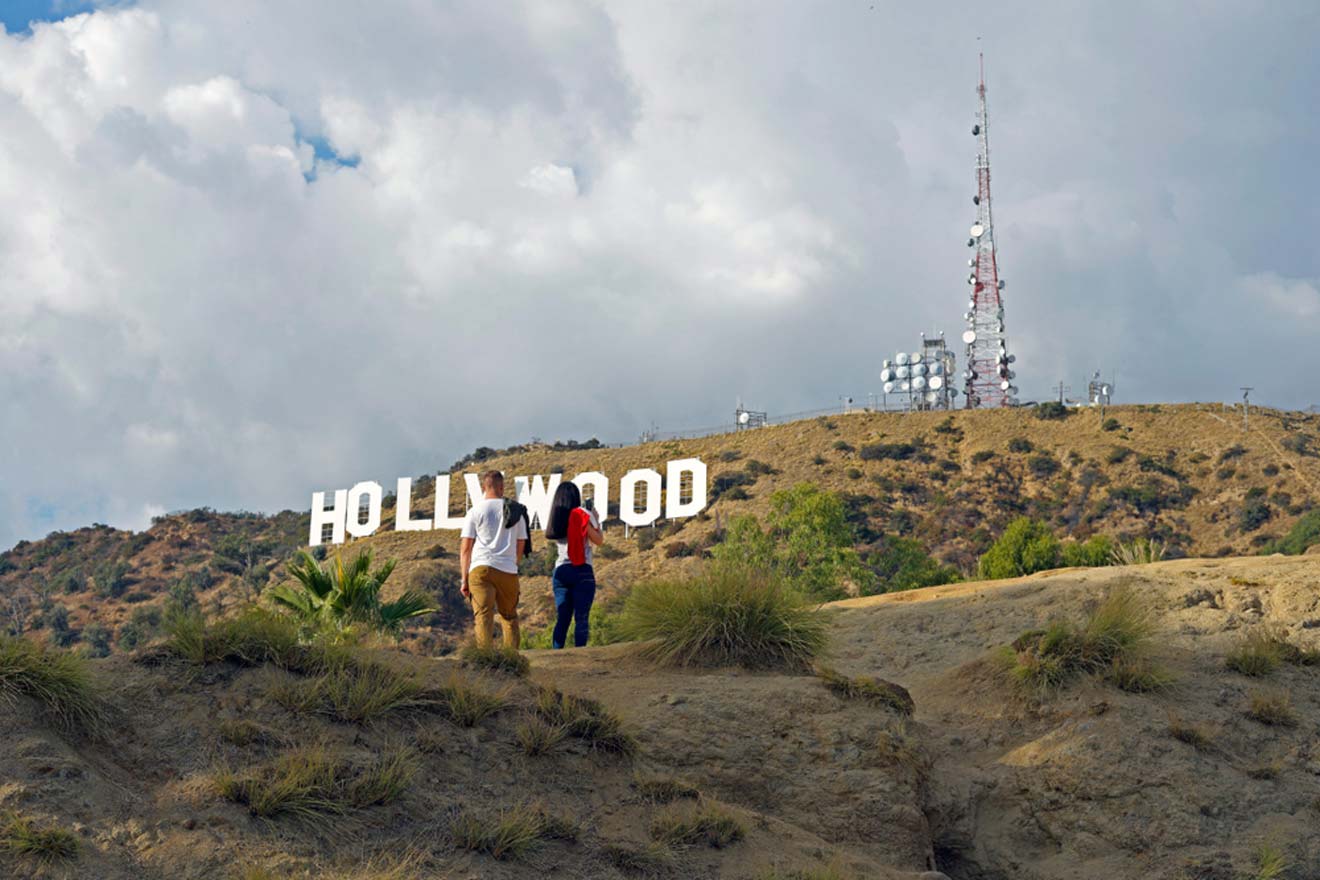 The Mt. Hollywood Trail from Griffith Observatory is one of the most popular among locals and visitors looking for spectacular views of the Hollywood Sign, the San Gabriel Mountains, and downtown Los Angeles.
There are 2 starting points at the Mount Hollywood Trail (I recommend taking the longer route for the full experience):
Start your journey at Griffith Park! It's about 7 miles (c. 11 km) round-trip, taking you about 4 – 5 hours to complete.
The shorter loop hike is an easy trail of about 3 miles (5 km), starting at the Griffith Observatory parking lot, which is conveniently free but can get super busy, so get there early!
If you need a little hand-holding (I totally get it – getting lost up here doesn't sound like fun), I recommend booking a tour like this one with a professional that will guide the way! This means you can let go a bit and just enjoy the trail without using Google Maps and worrying about getting lost!
TOUR PRICE: From US$35
1.3 Cahuenga Peak Trail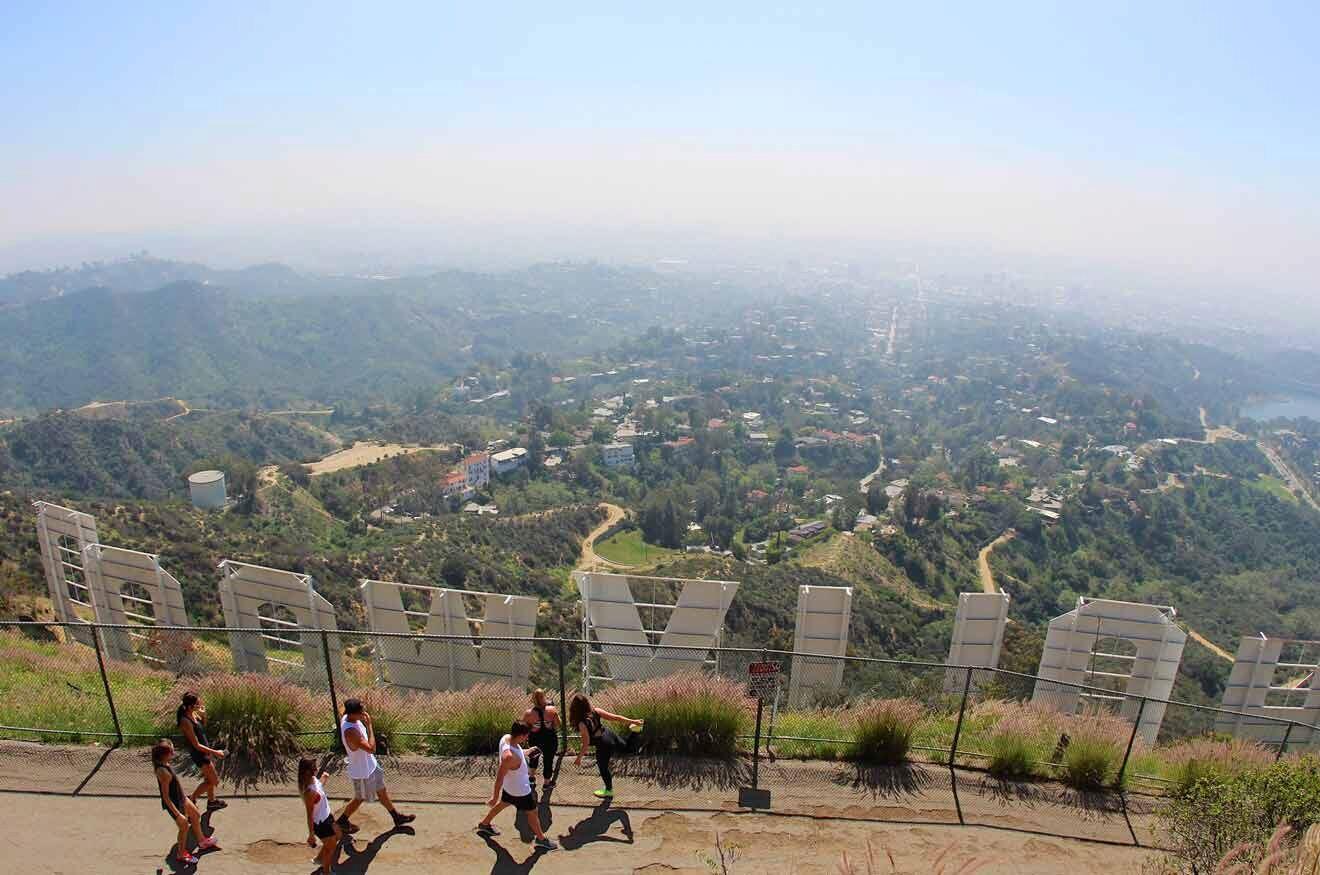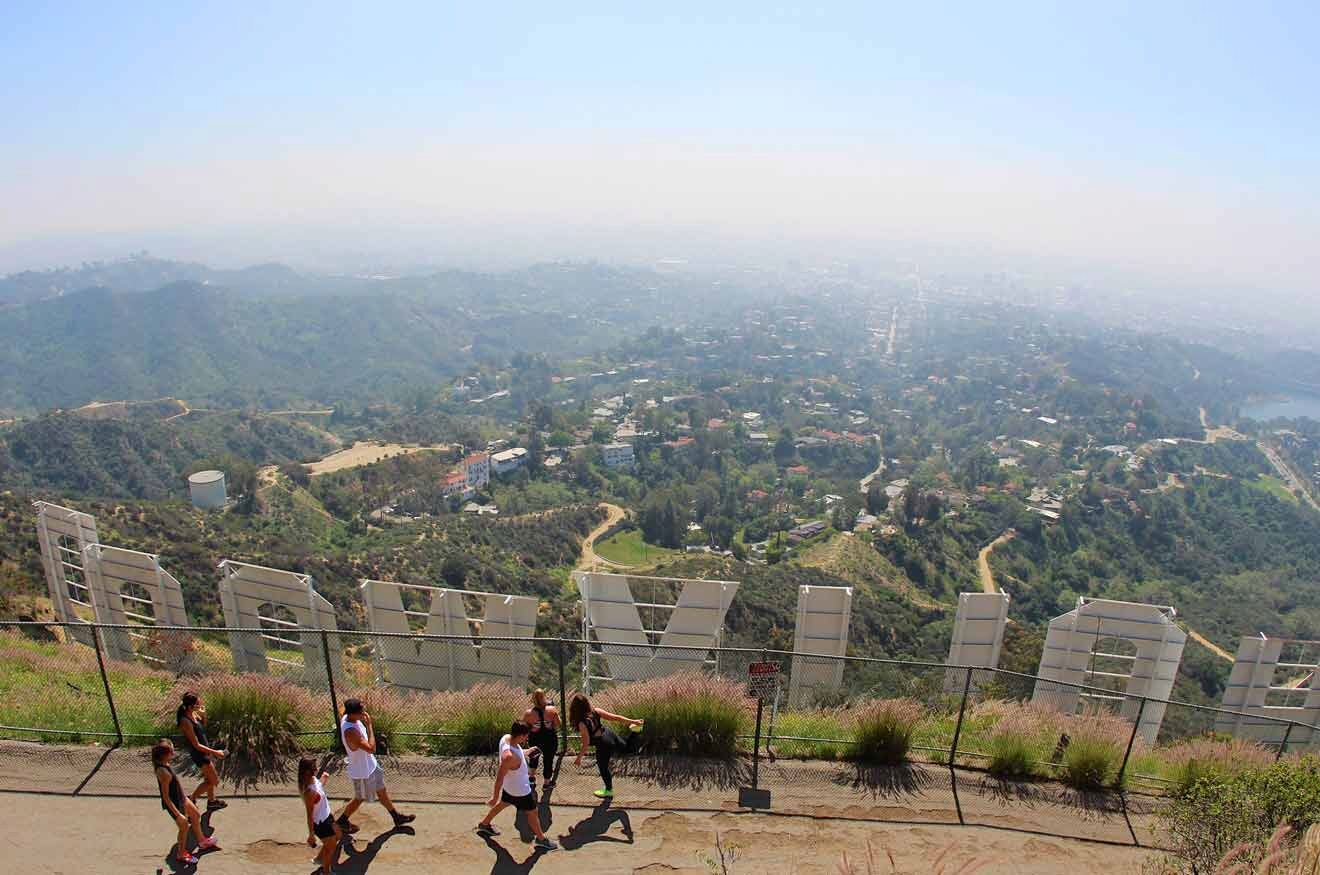 Cahuenga Peak Trail is the highest summit in all of Griffin Park and the 12th highest summit in the Santa Monica Mountains, with incredible views of Los Angeles and the back of the iconic Hollywood Sign. It's 1,820 feet (555 meters) high and gives excellent views of the Hollywood Sign. As soon as you start walking, you'll see radio towers on Mount Lee and a canyon to your right, toward the Lake Hollywood Reservoir.
Unlike many other hikes with views overlooking the Hollywood Sign, this challenging hike gives you an awesome workout that will leave you feeling quite rewarded once you reach the summit. It's tough but much shorter than other mainstream trails like Mt. Hollywood Trail, Brush Canyon Trail, and Hollyridge Trail.
Once known as Wonder View Trail, this trail passes by a mini-summit called Burbank Peak Trail. This is where you find the famous Wisdom Tree! I usually sit there and write in my pocket journal for a little ~zen~ moment.
NOTE: Parking isn't available at the trailhead but have no fear! There is free street parking along Lake Hollywood Drive that you can take advantage of.
2. Sunset Ranch – most unique LA experience with a view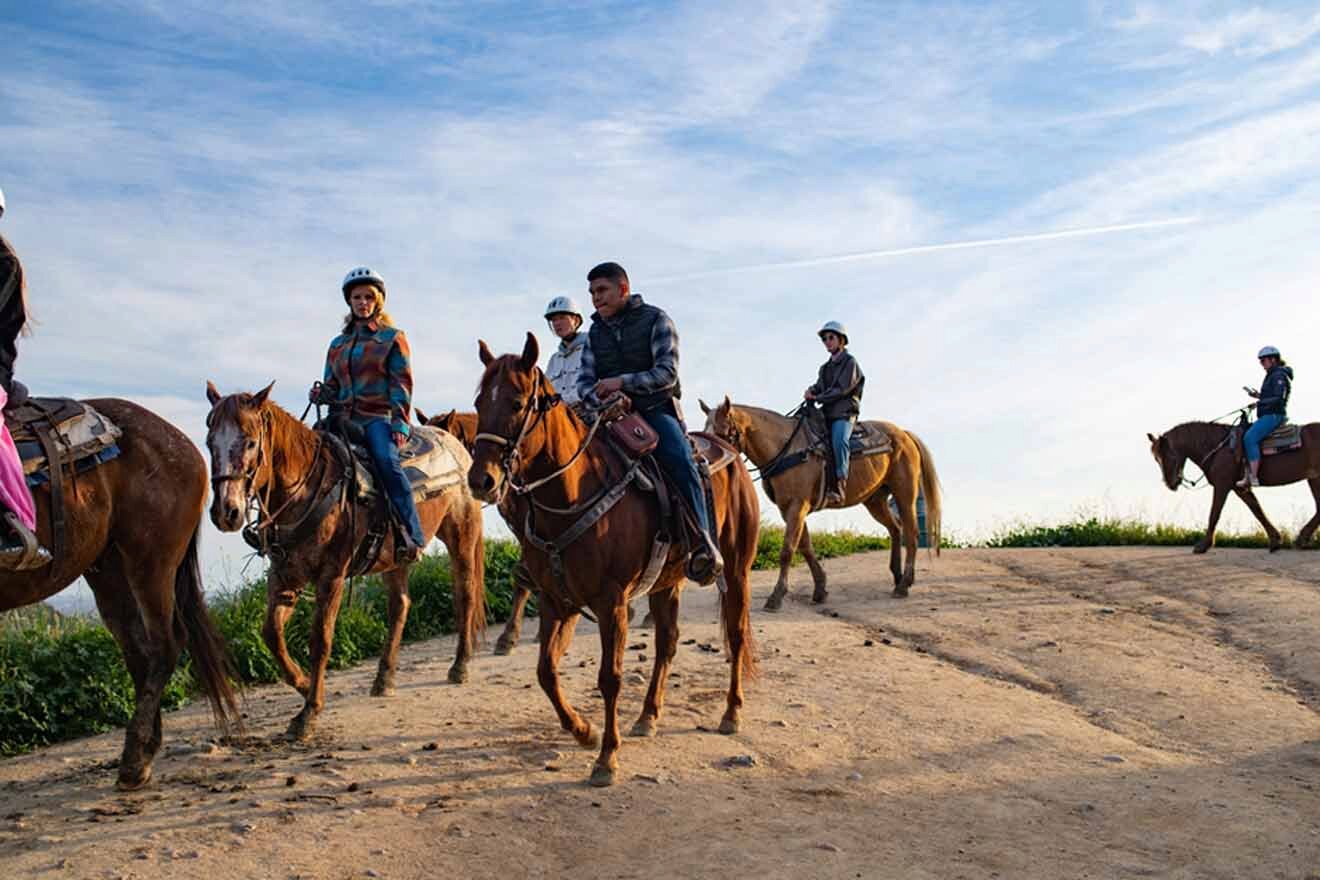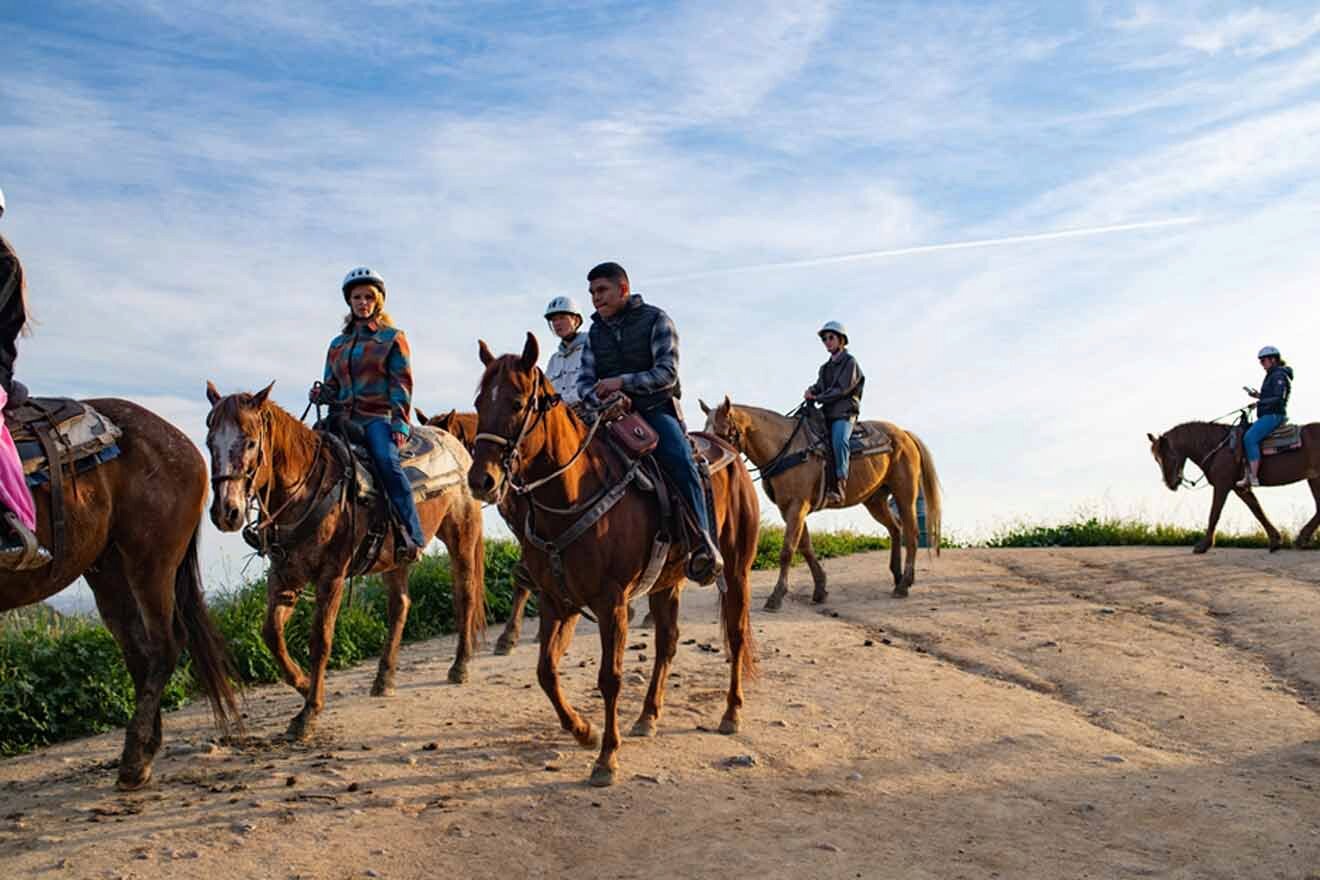 The Hollywood Sign is protected by the Hollywood Sign Trust, which is made up of volunteers that take time to make sure the sign is preserved and protected. It's not going anywhere anytime soon!
Located minutes away from iconic landmarks like the Hollywood Walk of Fame and Hollywood Boulevard, Sunset Ranch Hollywood is one of my favorite options here! Not only do you get to see views of the Hollywood Sign, but this is the only horse ranch that allows you to create new memories and have a unique experience riding horses in the heart of LA. It really can't get any better than that!
At the Sunset Ranch Hollywood, a relaxing horse ride is guided by a professional where you'll see 360-degree views of Los Angeles, explore the greenery and dirt road at Griffith Park, the Hollywood Hills, and of course, admire the Hollywood Sign.
NOTE: No prior horse riding experience is needed at the Sunset Ranch! Children ages 8+ are welcome to join!
TOUR PRICE: US$125/person (12+)
3. Barnsdall Art Park – the best views and architecture in LA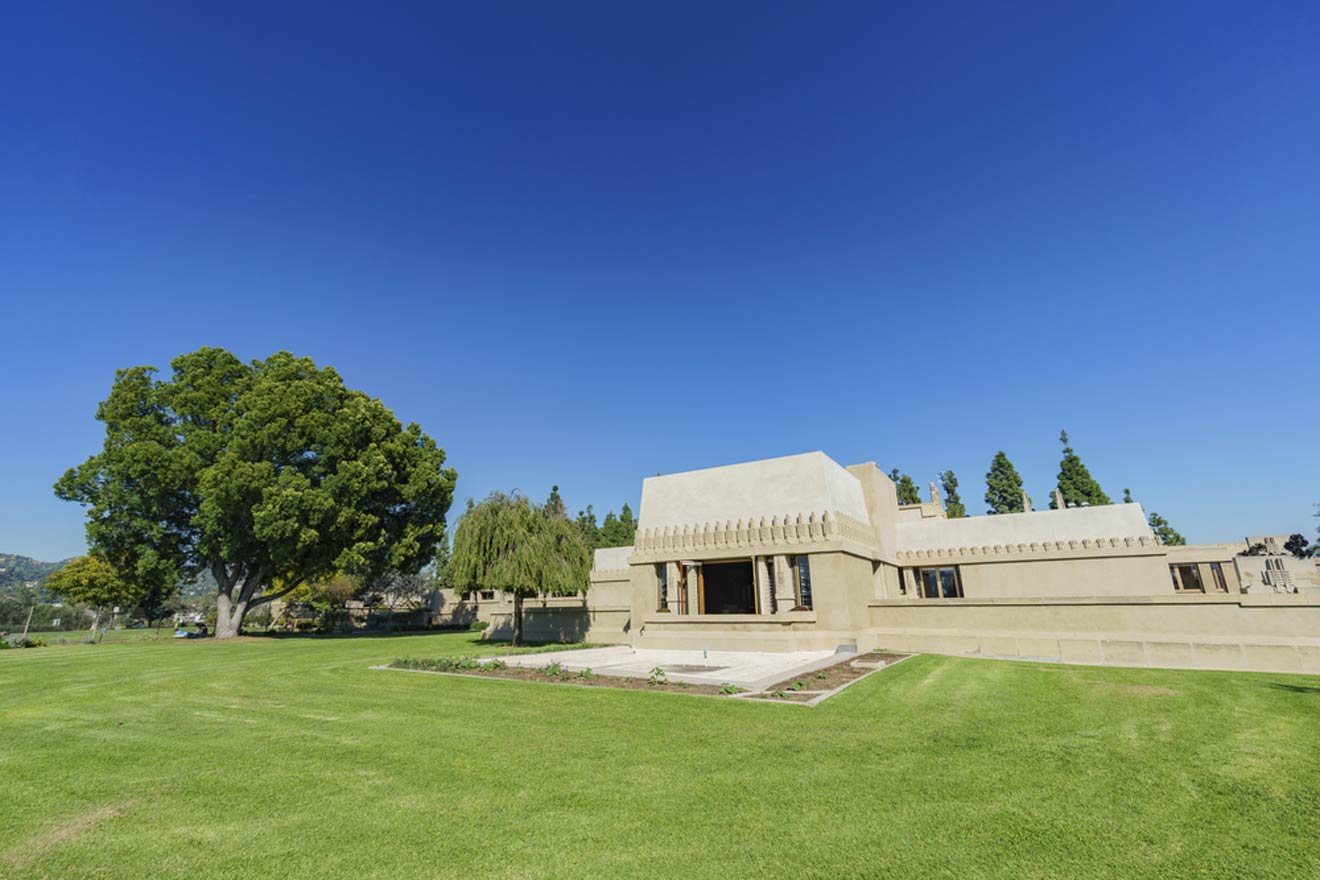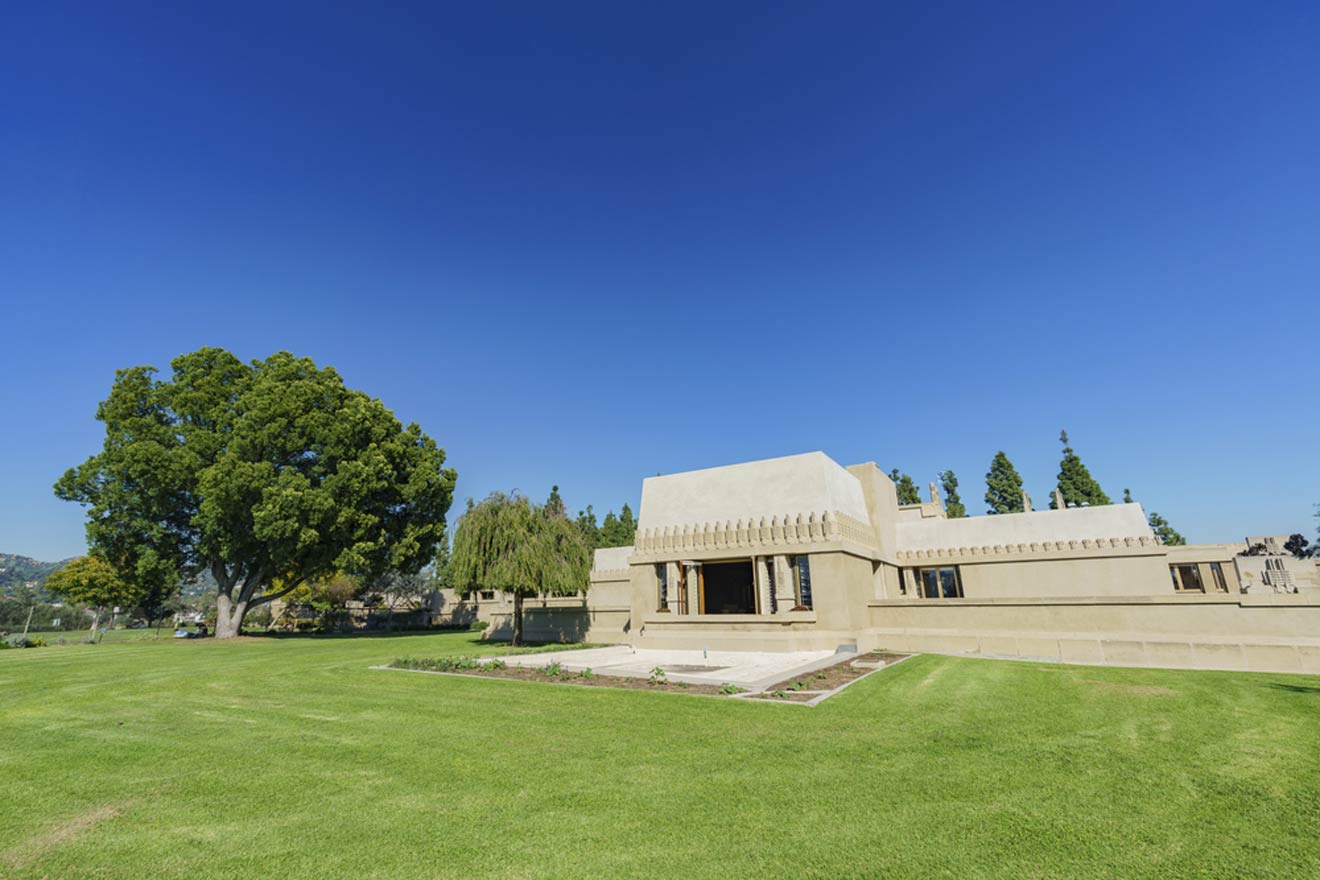 In 1976, a man decided to celebrate California's looser marijuana laws by making the letters o in "Hollywood" into e, making it "Hollyweed." The prank went down in Hollywood history!
Located on Hollywood Boulevard and Vermont Canyon Road, Barnsdall Art Park sits on top of Olive Hill, offering astounding views of the city and the Hollywood Sign!
Frank Lloyd Wright-designed the famous cultural arts center that sits there and founded it in 1927. It is now home to the Barnsdall Gallery Theatre, Barnsdall Art Center, and more. The architecture itself and the history of the property's real estate development make this place worth visiting. Here's the cherry on top: it's listed on the UNESCO World Heritage list!
I recommend spending a day touring the Hollyhock House and enjoying the views outside that come with it! You really make the most out of your time here by visiting 2 major attractions at once.
PRO TIP: I recommend looking into their popular seasonal weekend events before visiting! Sometimes, they host wine tastings, outdoor movies, and art workshops. Information will be on their website, or you can email ahead!
4. The Hollywood Reservoir – a casual walk with stunning views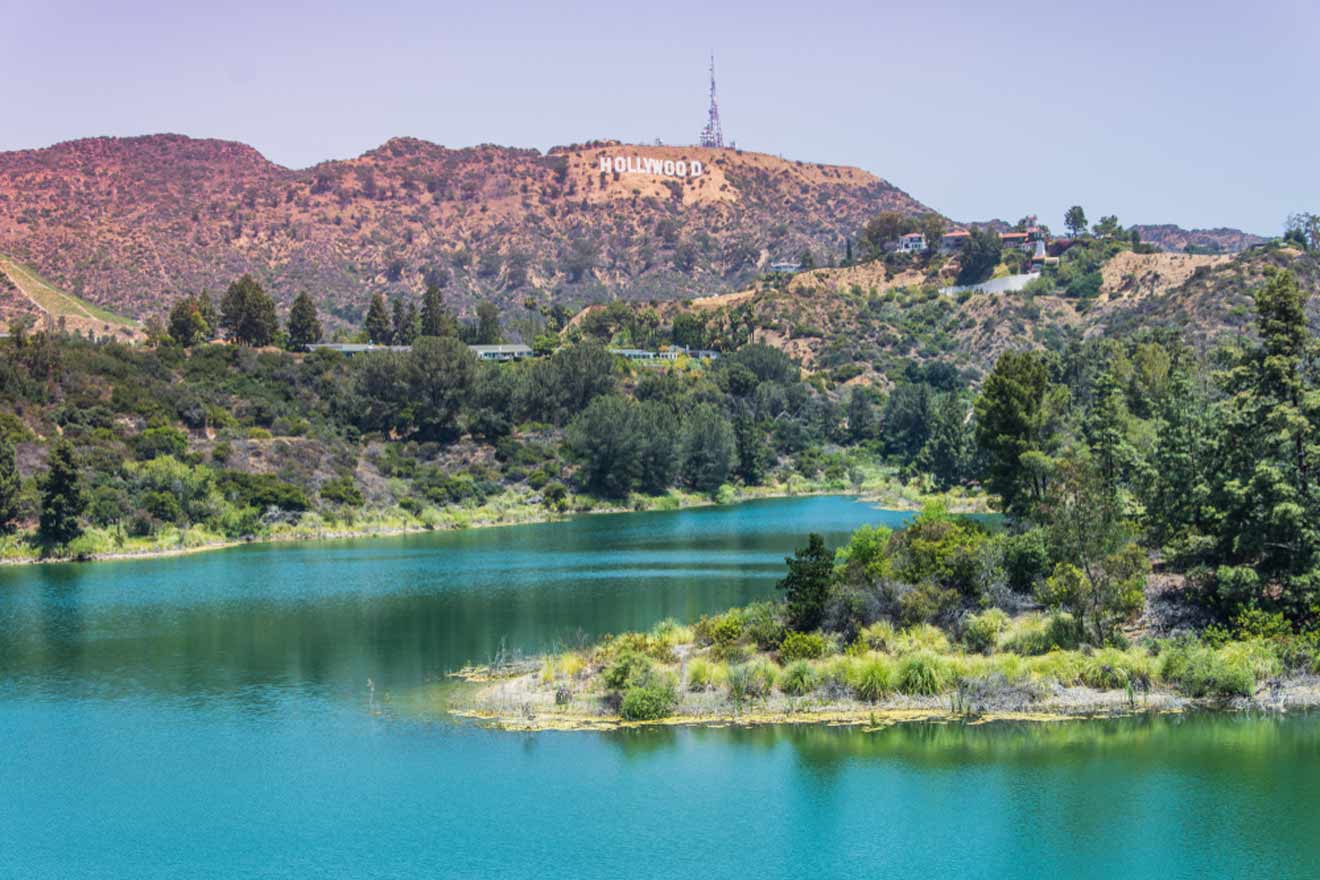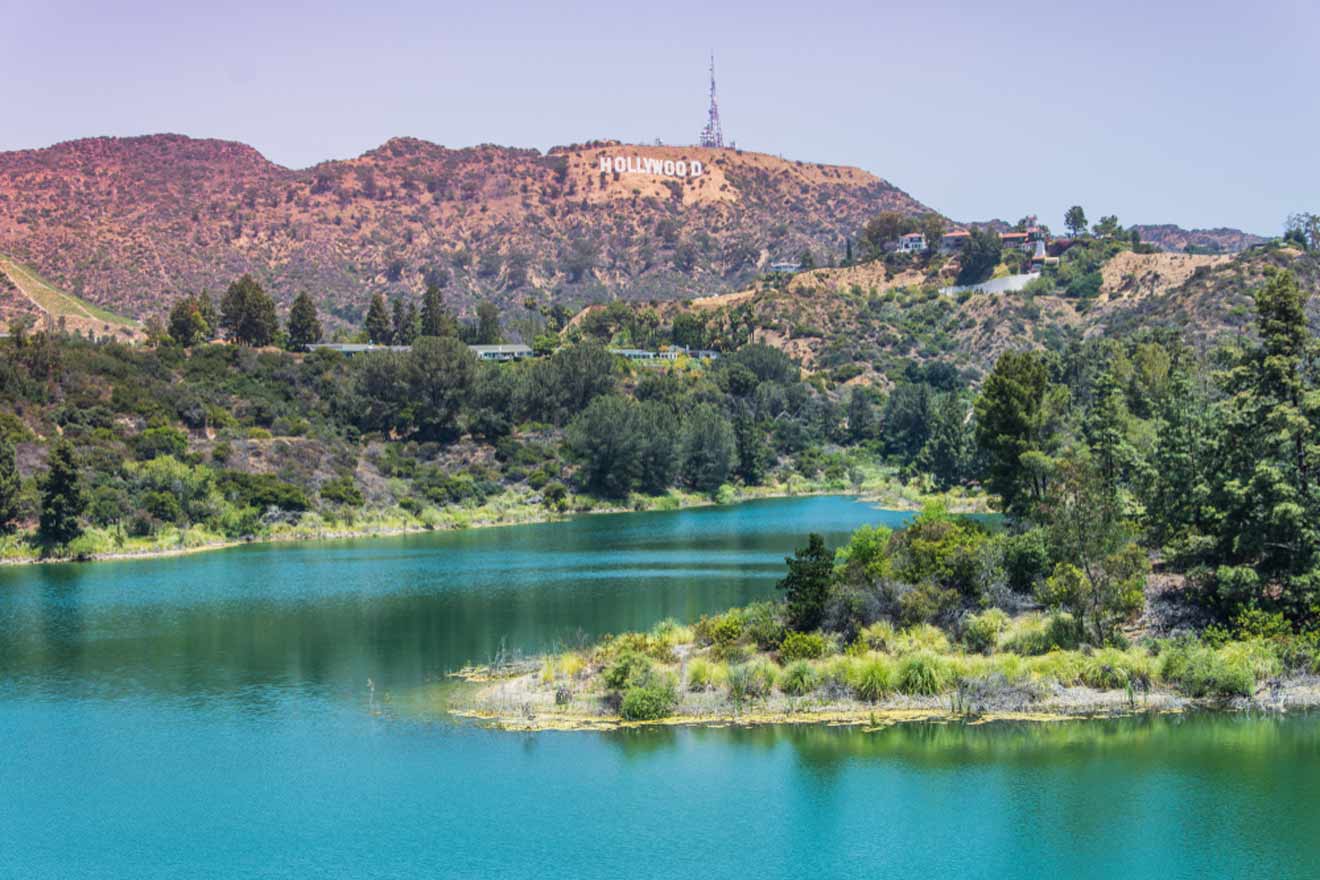 Otherwise known as Lake Hollywood, the Hollywood Reservoir is an app. 3-mile (5 km) loop around an old water structure built in 1924. It's a casual stroll with unique views of the Hollywood Sign and architecture that you won't see anywhere else in Los Angeles.
Here, you'll pass by a few chain-link fences until you get to the Mulholland Dam and see the Hollywood Sign straight across the Mount Lee summit.
PRO TIP: If you want a scenic drive beforehand, I recommend going from Mulholland Highway to Mulholland Drive for a one-way scenic route from the beach to the city. Stop at the Hollywood Bowl near Highland Avenue for spectacular views where you can see the sign! Plus, it's only a 9-minute drive from the Hollywood Reservoir!
5. Lake Hollywood Park – a local's go-to spot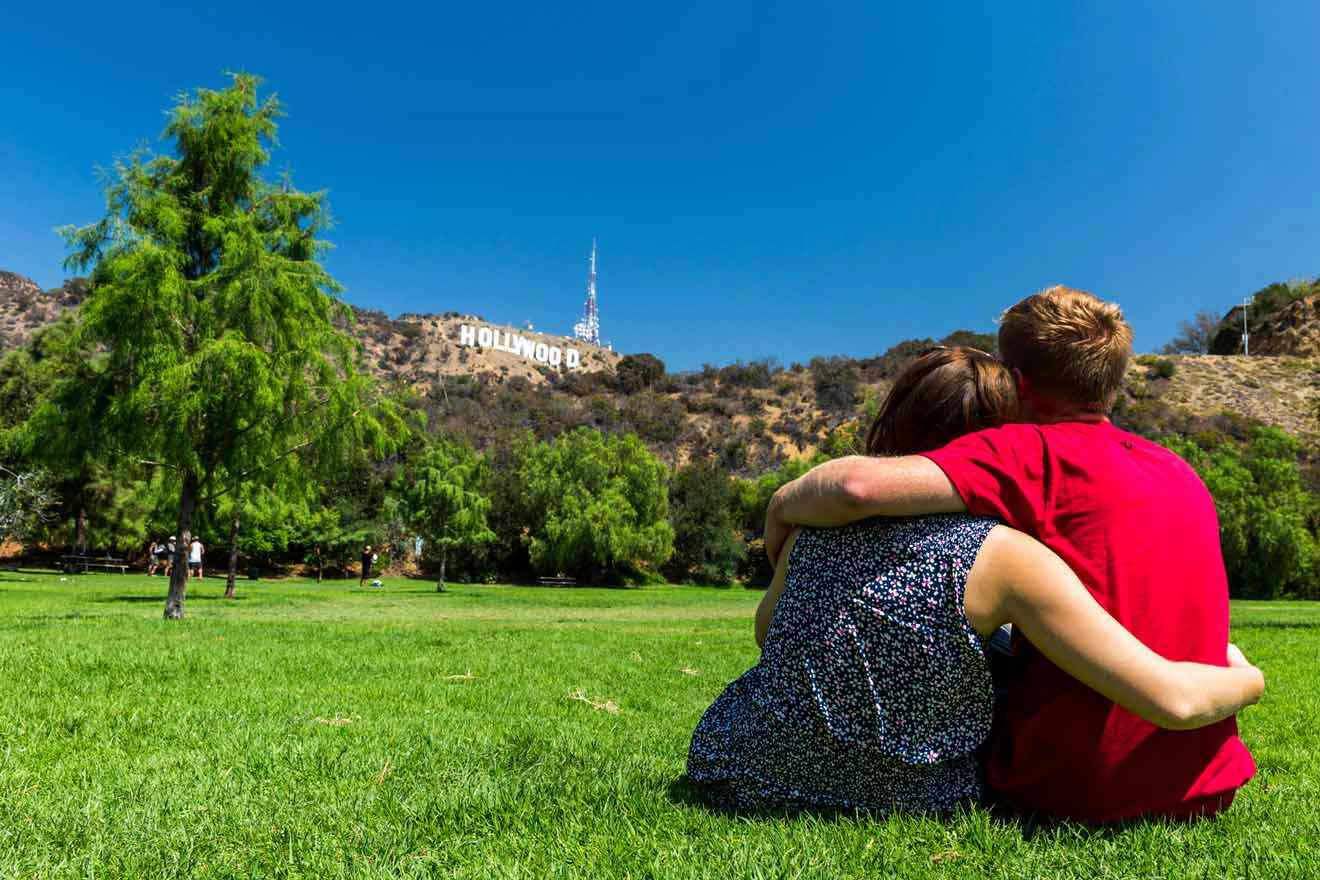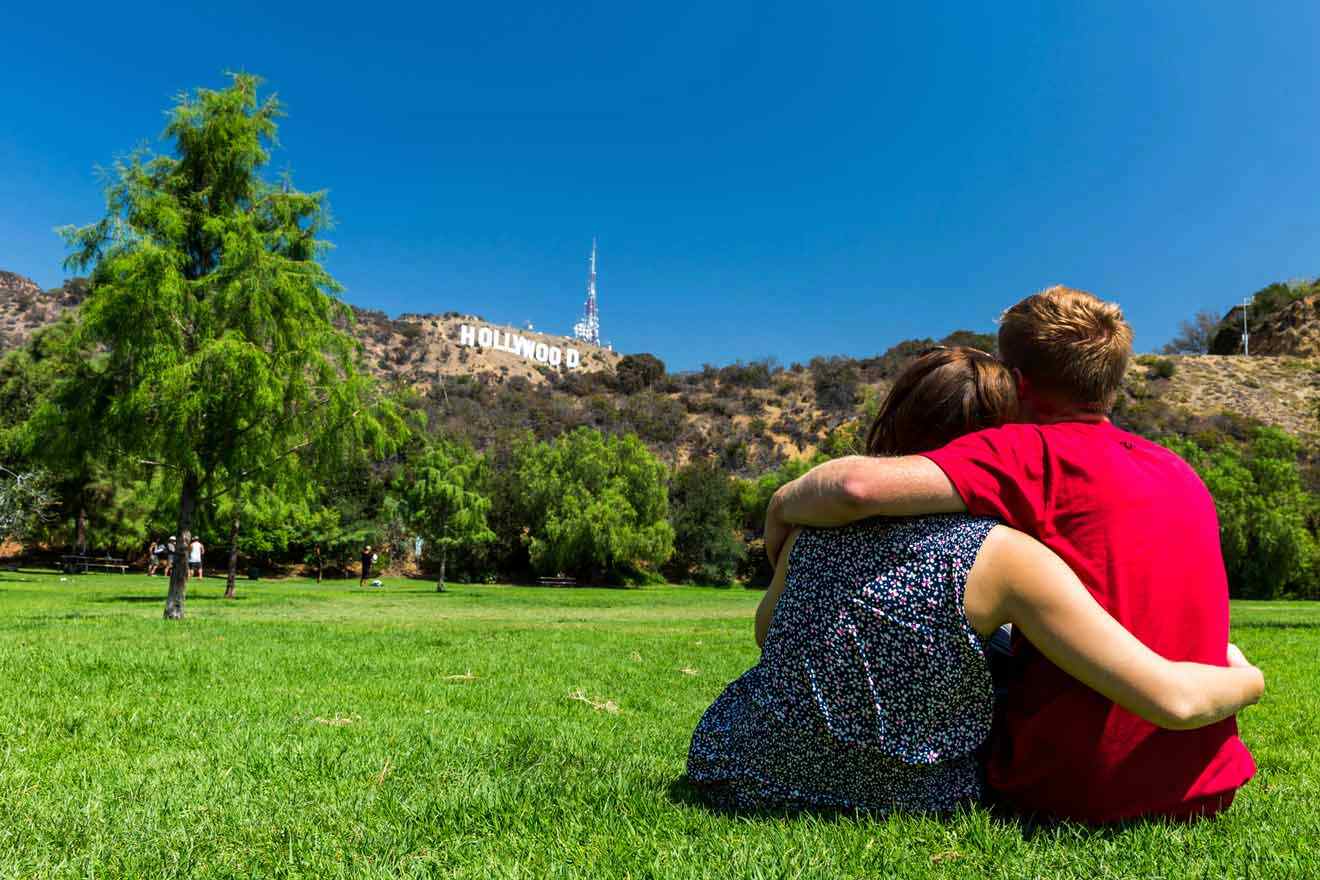 Famous Los Angeles actors and entertainment studios like Hugh Hefner (famously known for the Playboy Mansion), Andy Williams, and others teamed up to fix the Hollywood Sign's deteriorating letters in 1978.
Want to avoid all the hiking and walking? This is probably my favorite view of the Hollywood Sign in all of LA, without having to work for it!
Lake Hollywood Park is a dog-friendly park that you can stroll along with picture-perfect views of the sign. Here, I recommend bringing a blanket, some snacks, a sandwich of your choosing, and having a little picnic with a view.
If you're looking for a more adventure-filled day before your relaxing picnic at Lake Hollywood, I recommend going on this electric mountain bike tour. You can choose to end your tour at Lake Hollywood, making it super convenient, not having to worry about street parking or transportation after dropping off your bikes.
NOTE: You need to be at least 5'2 (158 cm) to participate in this bike tour!
TOUR PRICE: US$170/person (12+)
6. Beachwood Canyon – a picture-perfect location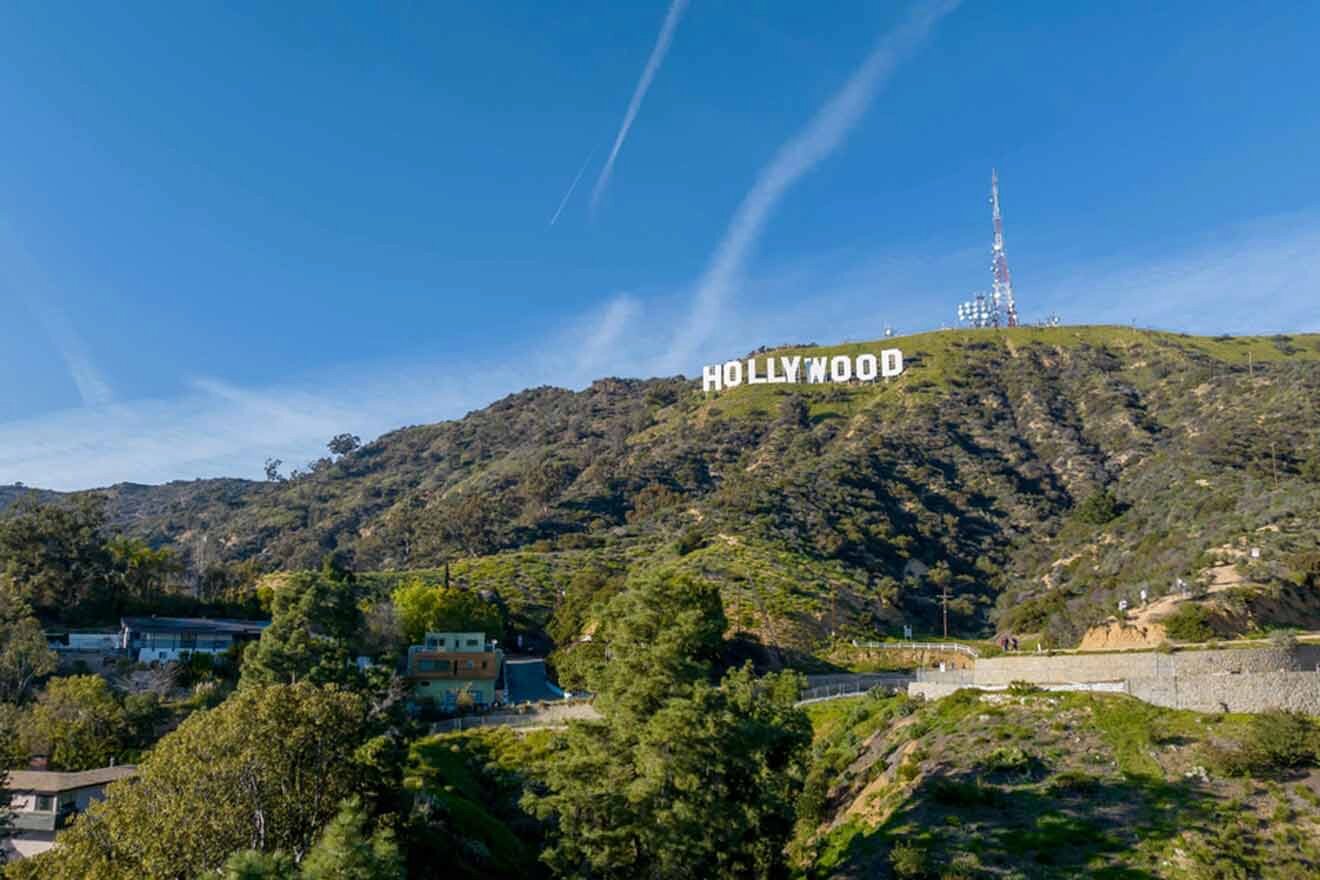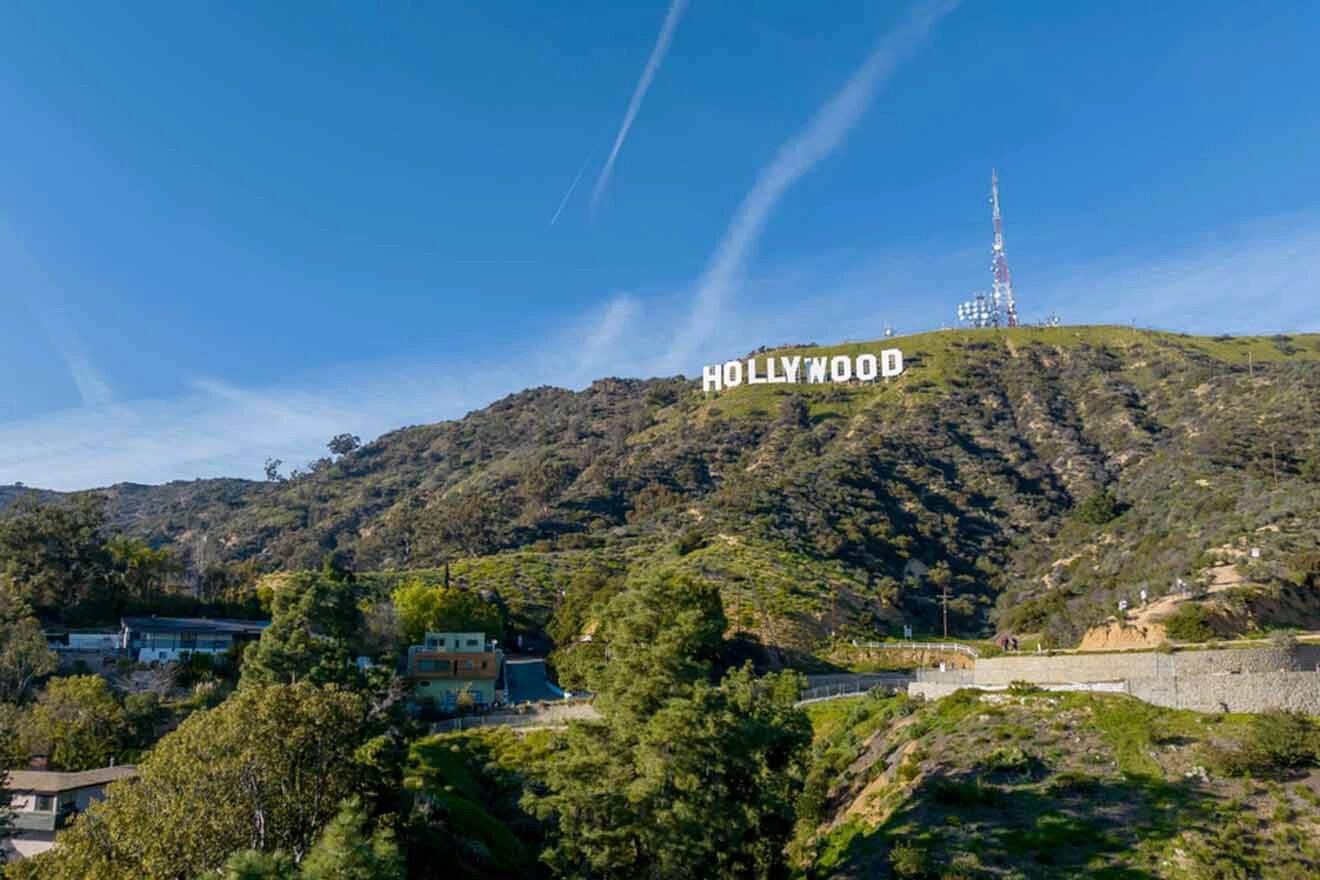 Originally, and up until 1949, the sign was "Hollywoodland"! The last 4 letters were taken down for a fresher look.
Ever heard of the Beachwood Cafe? I was recently there (100% recommend) and discovered the best little surprise peaking between the trees in front of me – the Hollywood Sign!
Beachwood Canyon used to be a trailhead for hikers to explore the mountains leading up to the iconic sign. Today, There's a beautiful viewpoint between North Beachwood Drive and Holly Street that I recommend checking out and getting the perfect picture of the Hollywood Sign!
NOTE: Parking is a little tough here since you're dealing with residential streets. The area has gotten pretty popular over the years, so it gets pretty busy. I recommend coming as early as possible to find good parking spots that will allow you to enjoy the view from your car! Alternatively, park somewhere and take a walk towards the sign and back.
FAQs about the best place to see the Hollywood Sign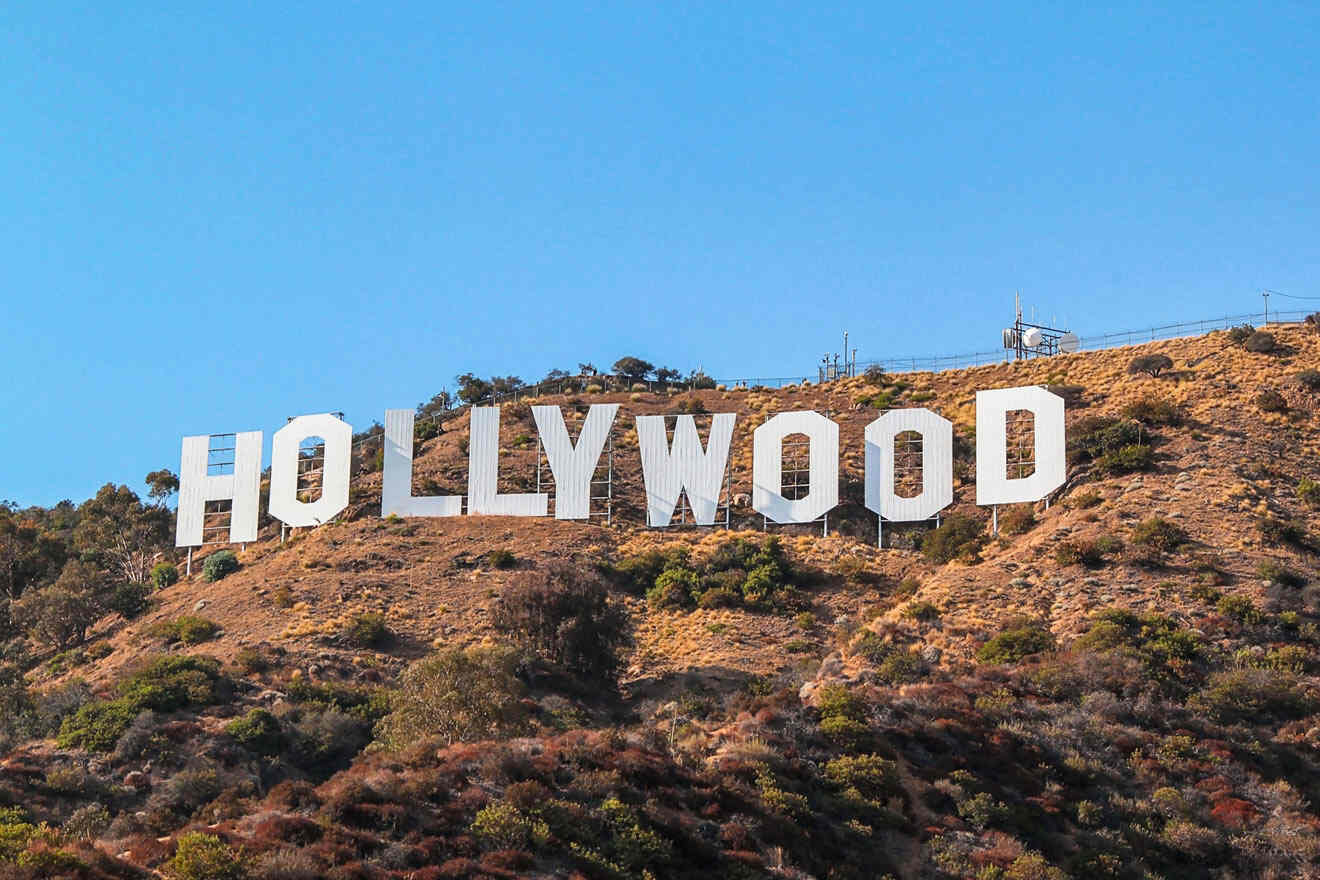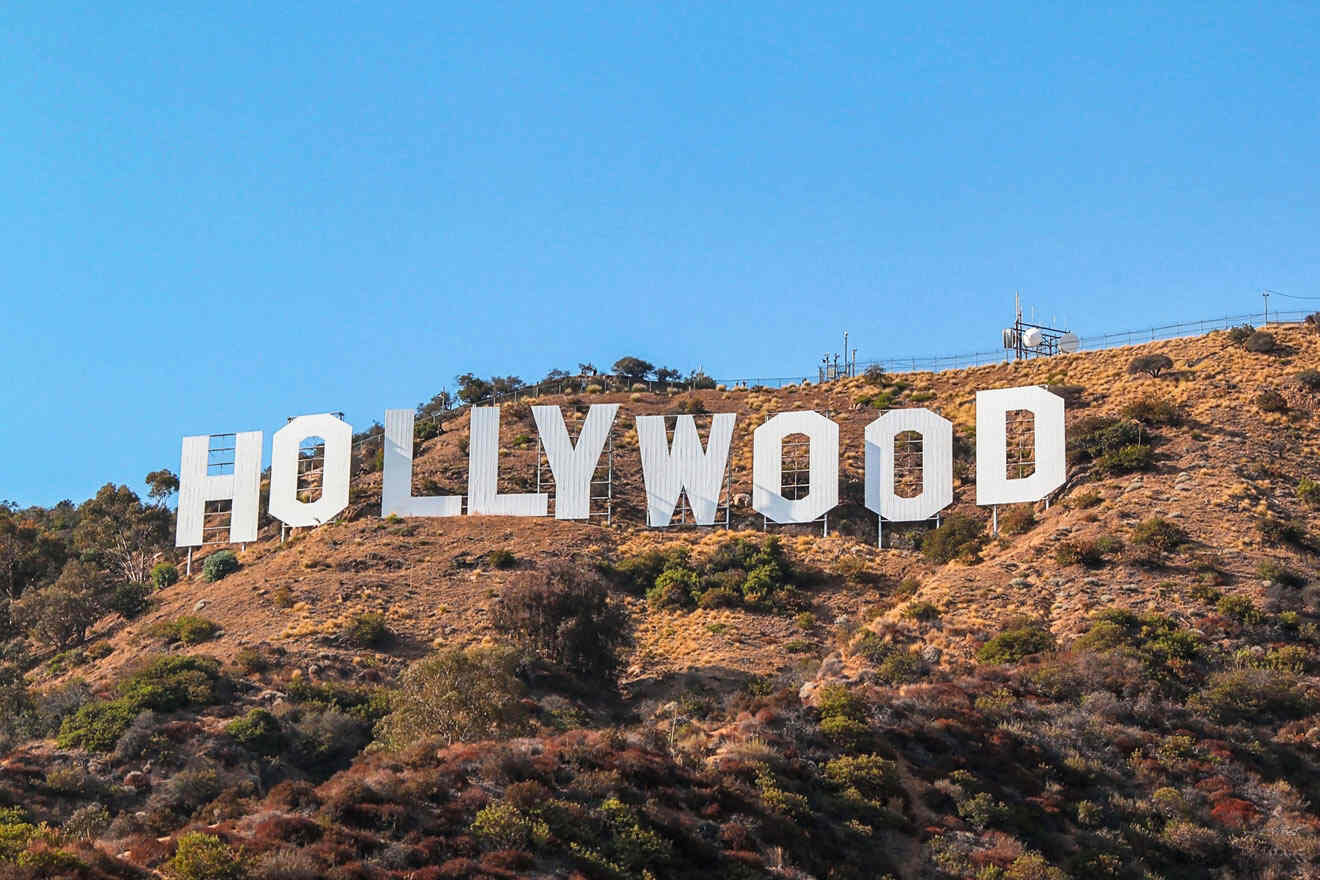 😎 Where is the best place to see the Hollywood Sign?
The best place to see the Hollywood Sign is in Griffith Park! There are dozens of hiking trails to explore where you can find stunning views of the Hollywood Sign and Hollywood Hills.
🚗 Where is the best place to see the Hollywood Sign by car?
Driving through Mulholland Drive, passing through the Hollywood Bowl, and Beachwood Canyon!
🚇 What is the best time to see the Hollywood Sign?
The best time to see the Hollywood Sign is in the morning or early afternoon. If you're hiking up to the sign, it's best to go as early as you can to avoid the heat and crowds! (It also doesn't light up at night so keep that in mind!)
🧍Where is the best place to see the Hollywood Sign without hiking?
The best place to see the Hollywood Sign without hiking is Lake Hollywood Park. It's the most relaxing experience, you can just lie on the grass and enjoy the view!
Conclusion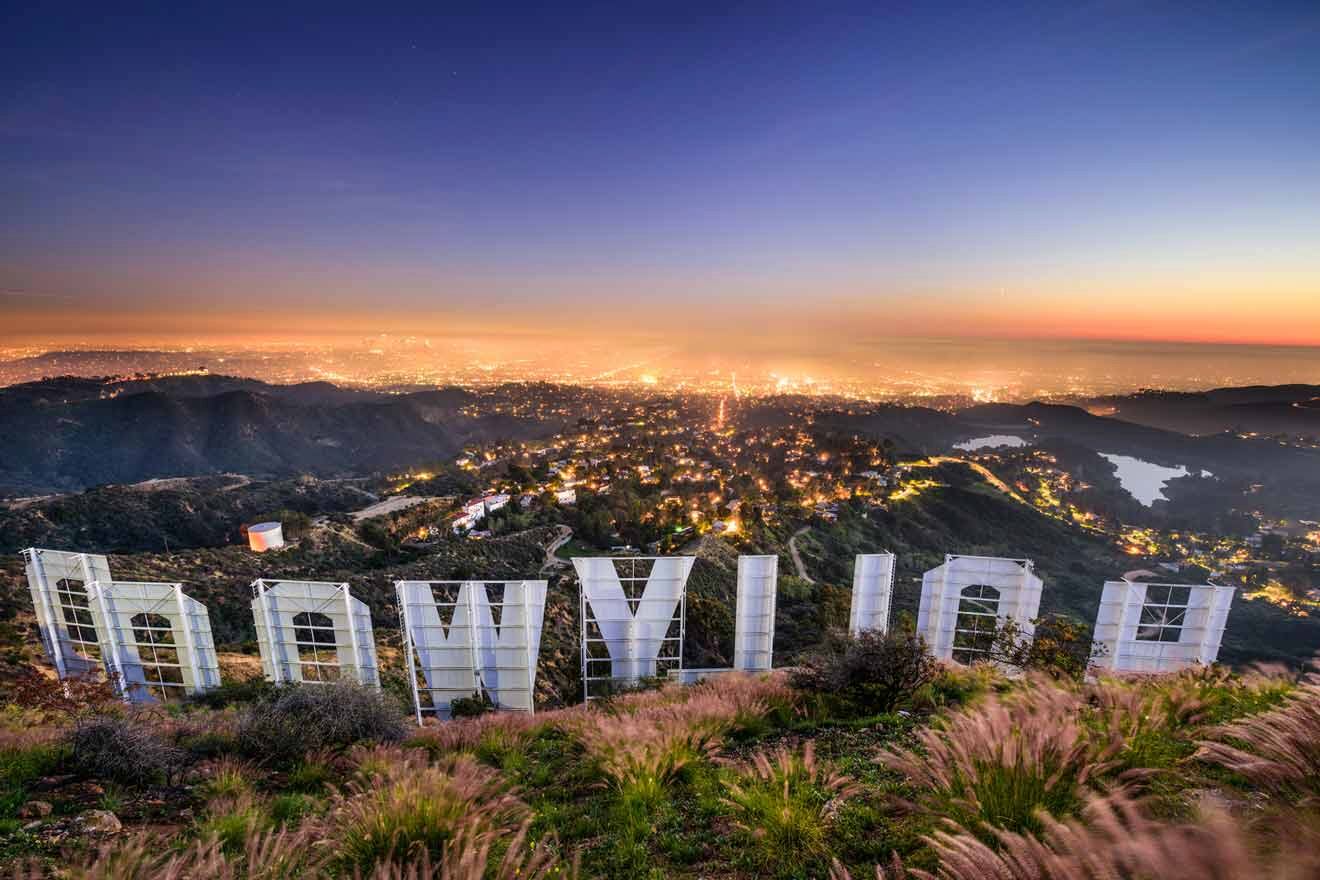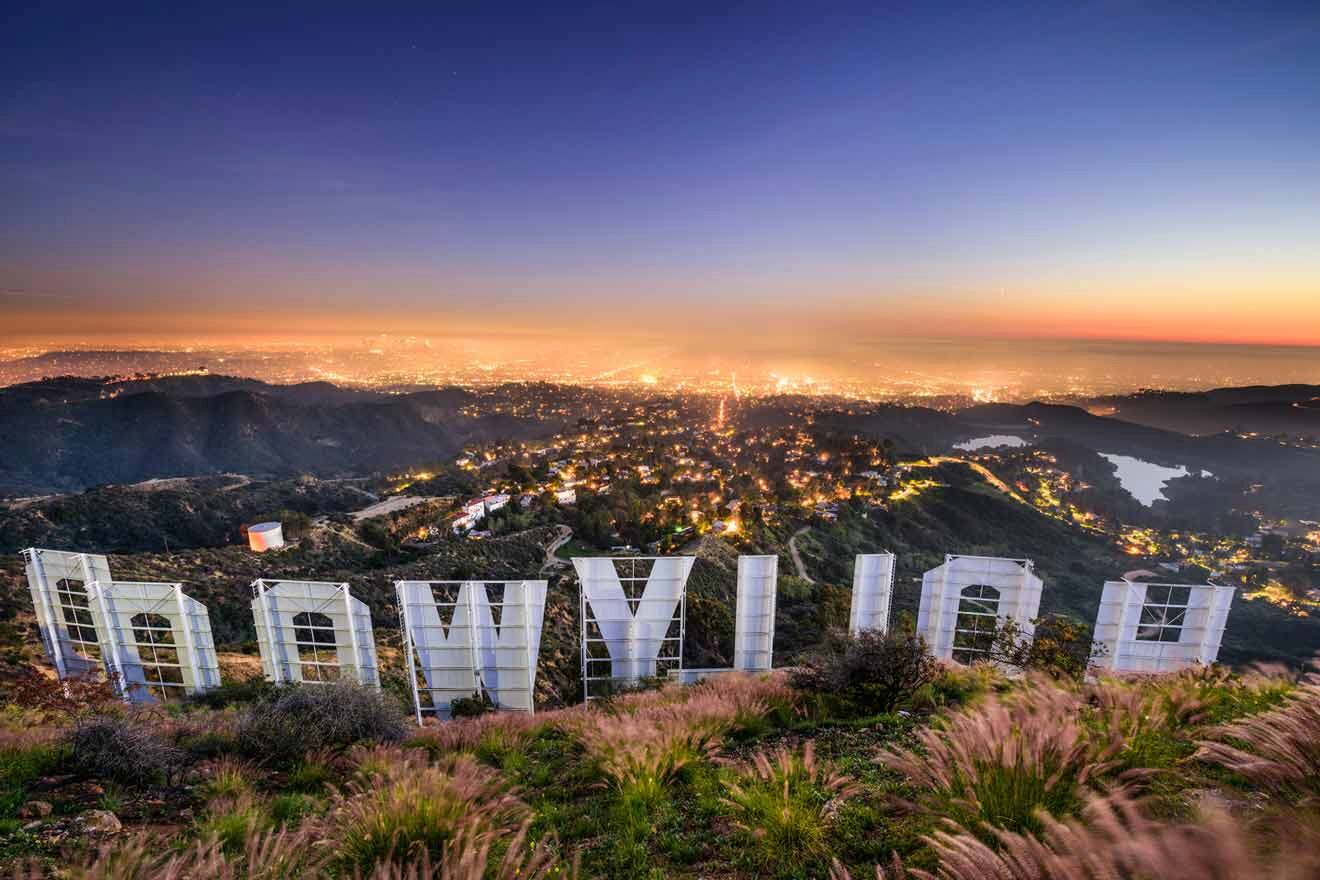 As you can see from this list, the best place to see the Hollywood Sign is in Griffith Park, but there are so many other great options to pick from! This list is just the beginning! I mentioned quite a few places and tours to enjoy the best views of the Hollywood Sign, and these are my absolute favs:
Horseback riding through Griffith Park – I'm actually obsessed with this experience because it offers you a memory you'll never forget!
Lake Hollywood Park – I mean, the experience of having a picnic at the park with a view of the Hollywood Sign is unbeatable! Can you tell I'm a fan of the more serene moments?
If you do end up visiting any of these places I mentioned, let me know in the comments below!! I'd love to hear about your experience.
Also, if you plan to join any of the tours mentioned, be sure to book and plan ASAP! Visiting the Hollywood Sign in LA is one of the most popular things to do in LA, so spaces get filled up quickly!
Thanks for reading, and safe travels! ✈️
Xoxo,
Esabel S.
---
Pin it for later!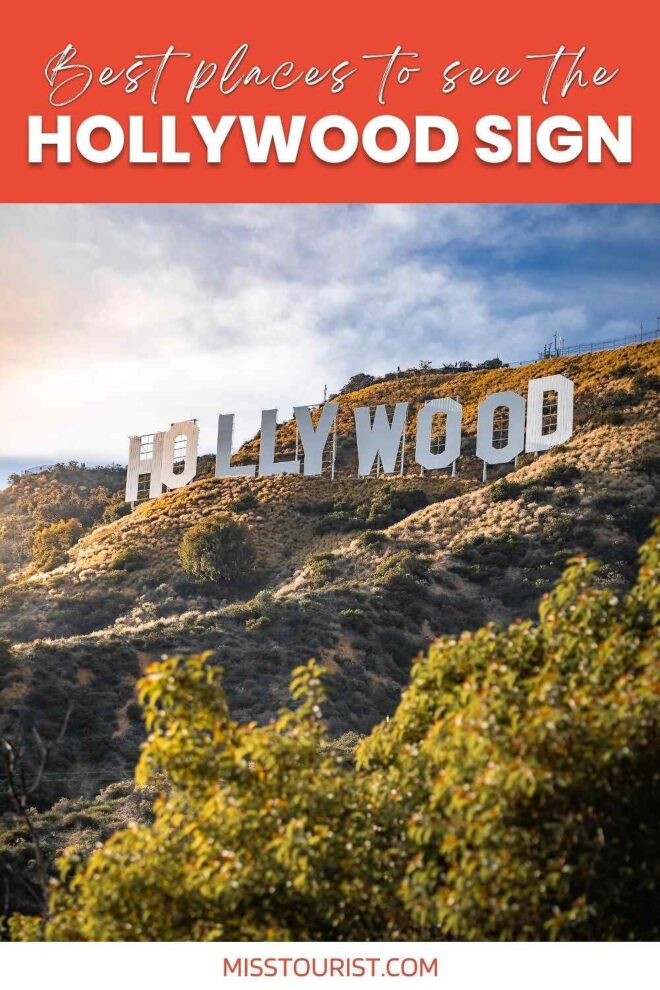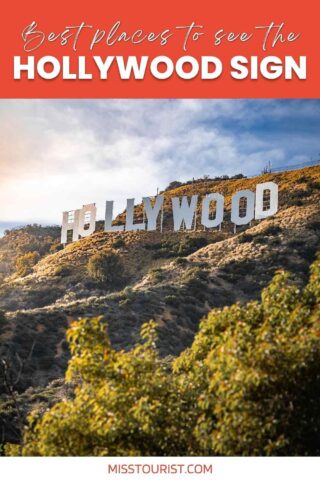 Pin it for later!