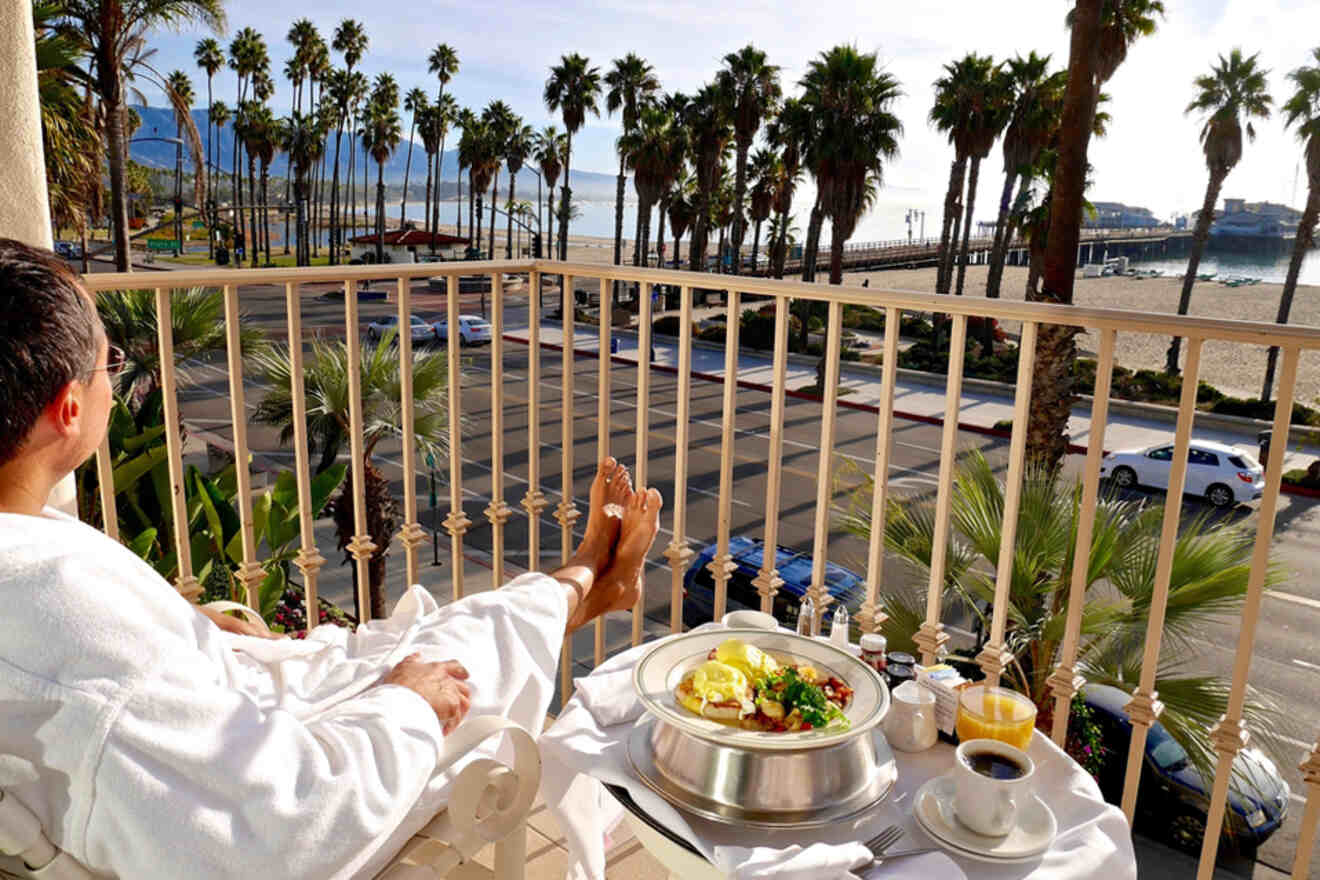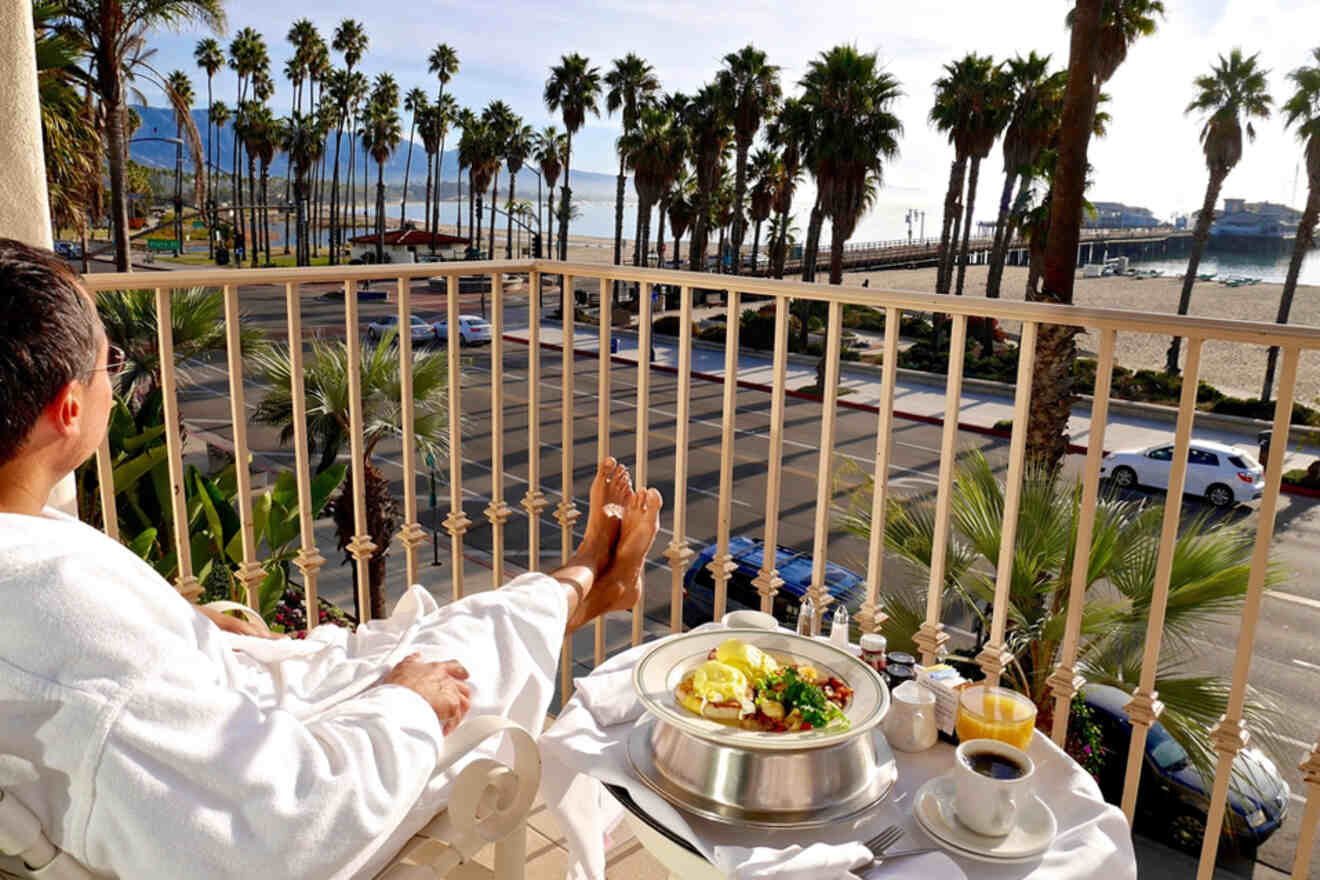 Big city lights and an atmosphere that will make you fall in love with this place! The entertainment capital of the world is always buzzing, and if you're headed there, then come along!
In this post, you'll find the best hotels with a balcony in Los Angeles. I've looked on many, many lists and only picked the most amazing hotels, which I then ordered from most to least expensive. That way, you can easily pick your favorite places!
Just remember to book your hotel in advance! Los Angeles is one of the most famous cities in the world and the most visited one, too, which means that hotels will sell out super fast, so definitely secure yours early!
Ready to sip cocktails on your balcony while watching the sun going down on the Sunset Strip?
Let's go!
If you are in a hurry
Don't worry if you don't have the time to go through the whole post! Just have a look at the list below, it has the best Los Angeles hotels with balconies:
1. The Beverly Hills Hotel – a stylish place with a spa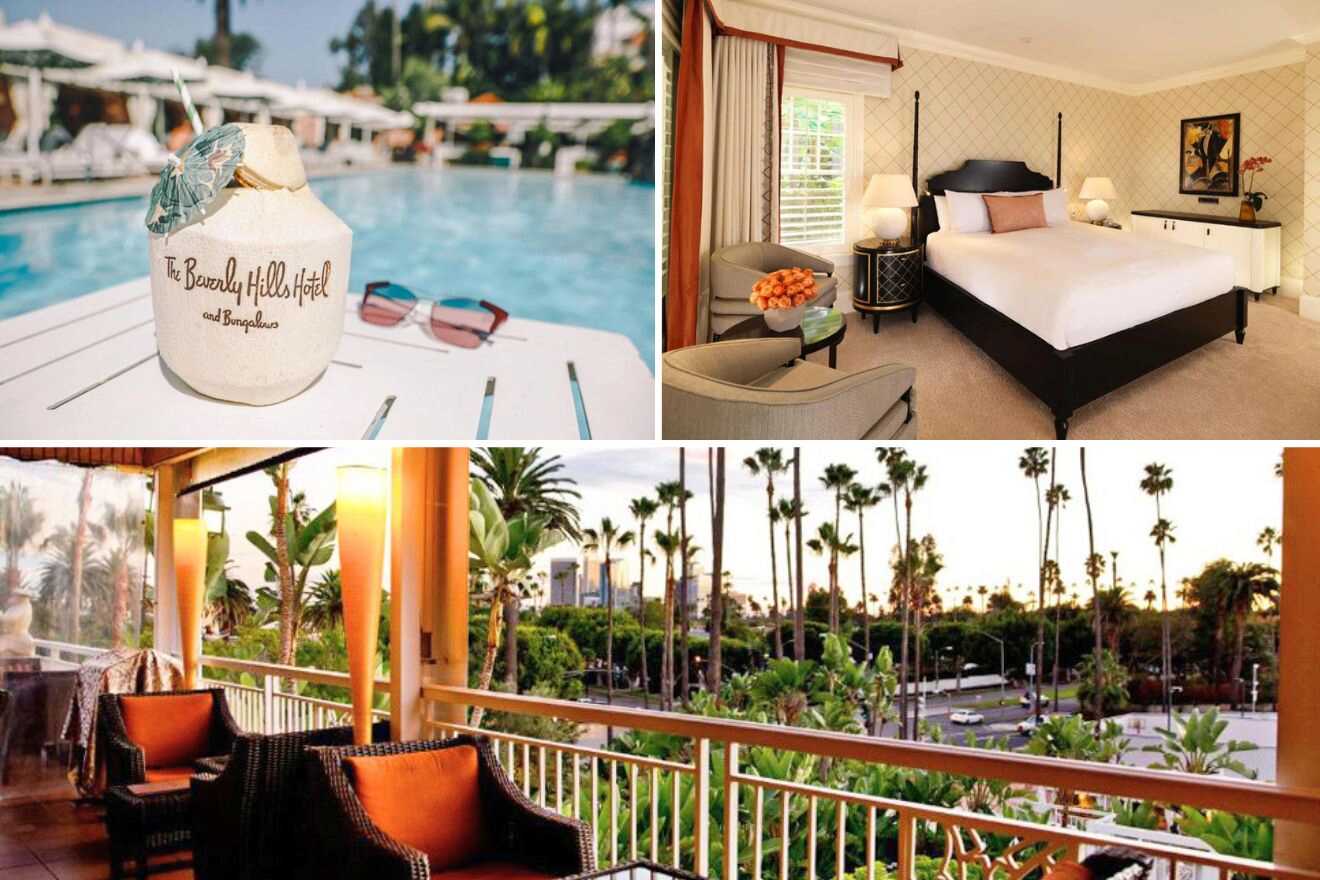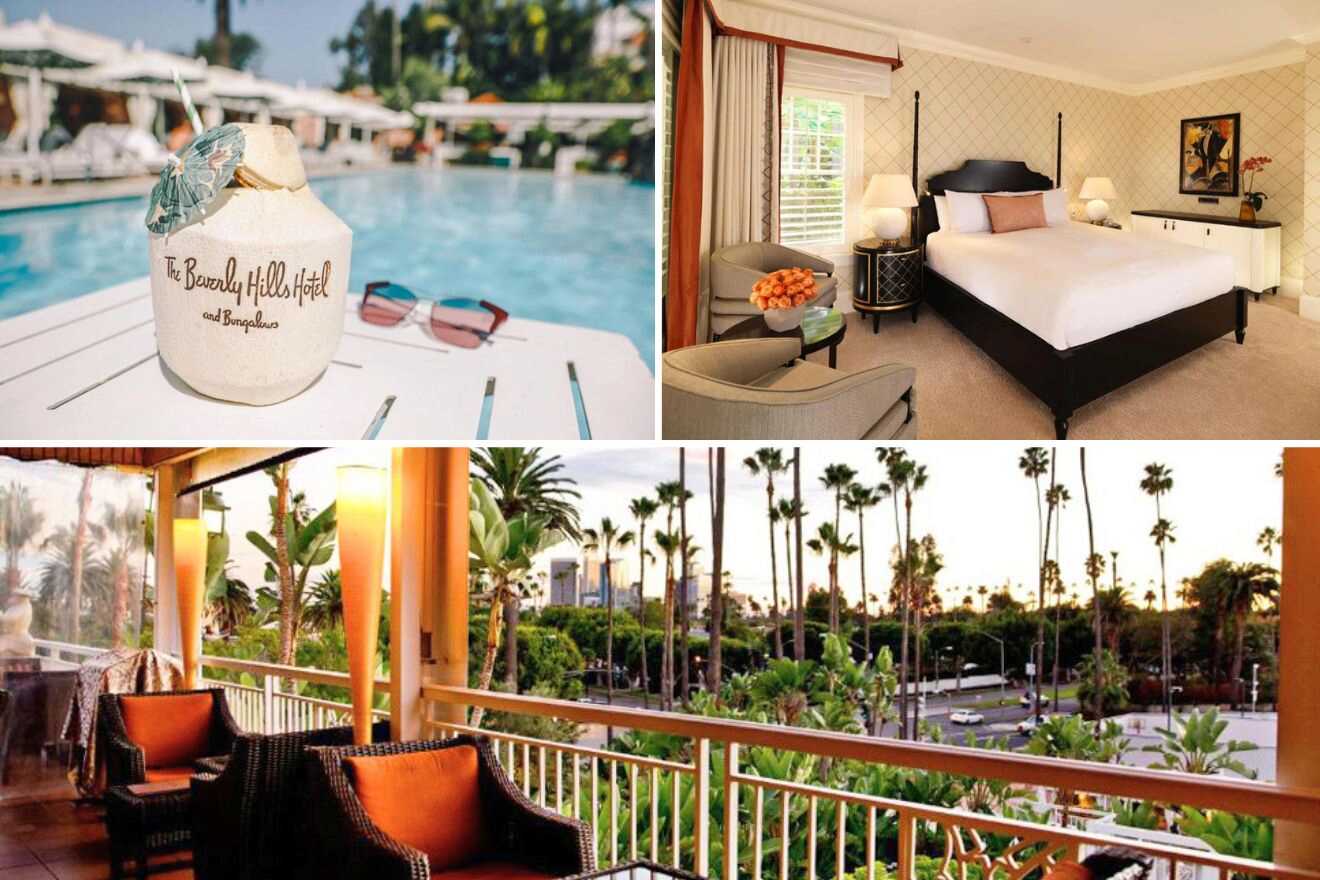 This luxury hotel is set on Sunset Boulevard. It has the coolest design, and every room is beautifully furnished, while some have private balconies with great views! I could go on and on with the list, but I want to leave you to discover its magic on your own!
Known as the "Pink Palace," this accommodation offers a full-service spa and an outdoor pool with underwater music (wow!) and private cabanas. Their 3 on-site restaurants are frequented by lots of celebrities, and each offers a different mood, like "old Hollywood vibes" – love that! Start your morning by the swimming pool in true Los Angeles style!
2. Waldorf Astoria Beverly Hills – offers great views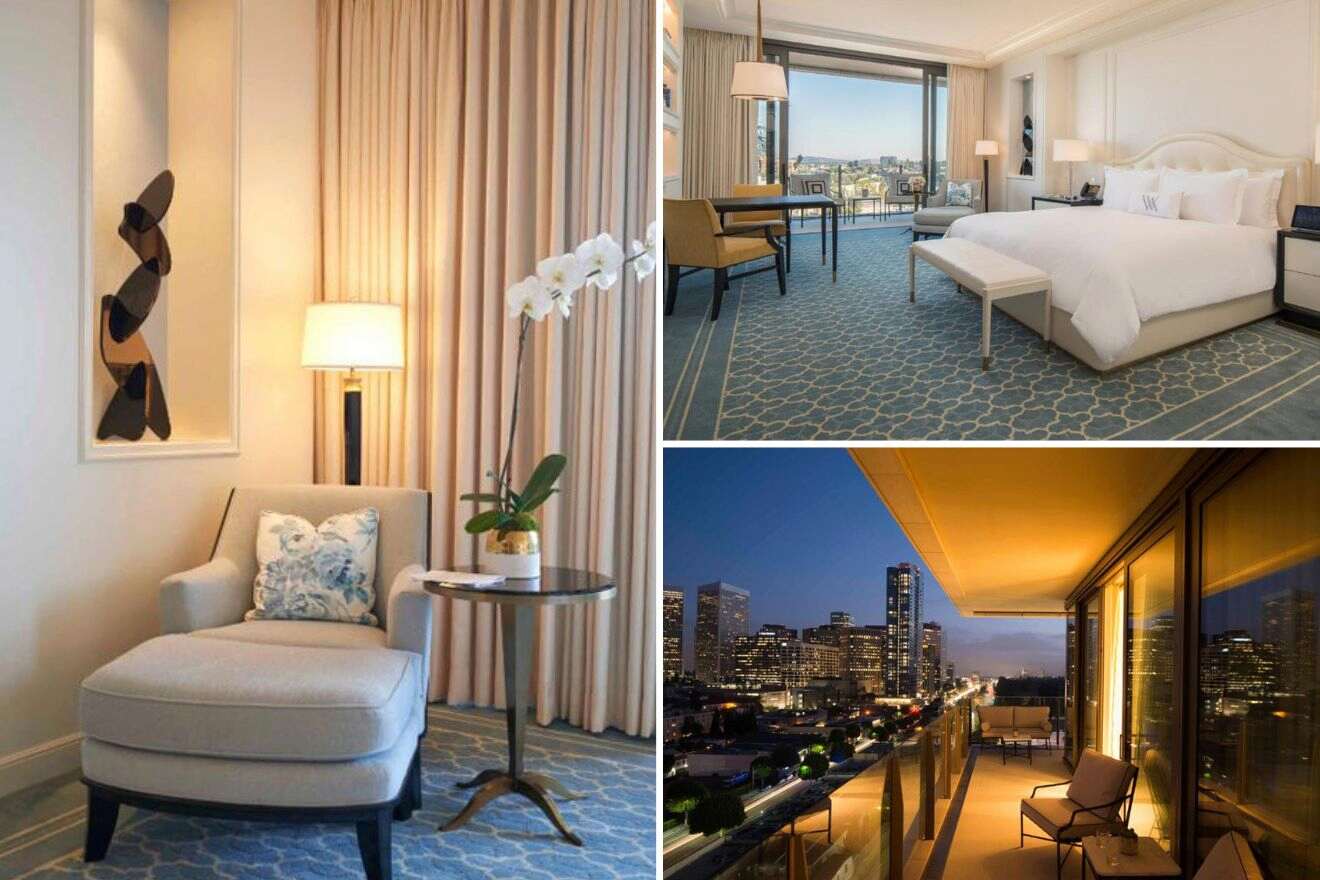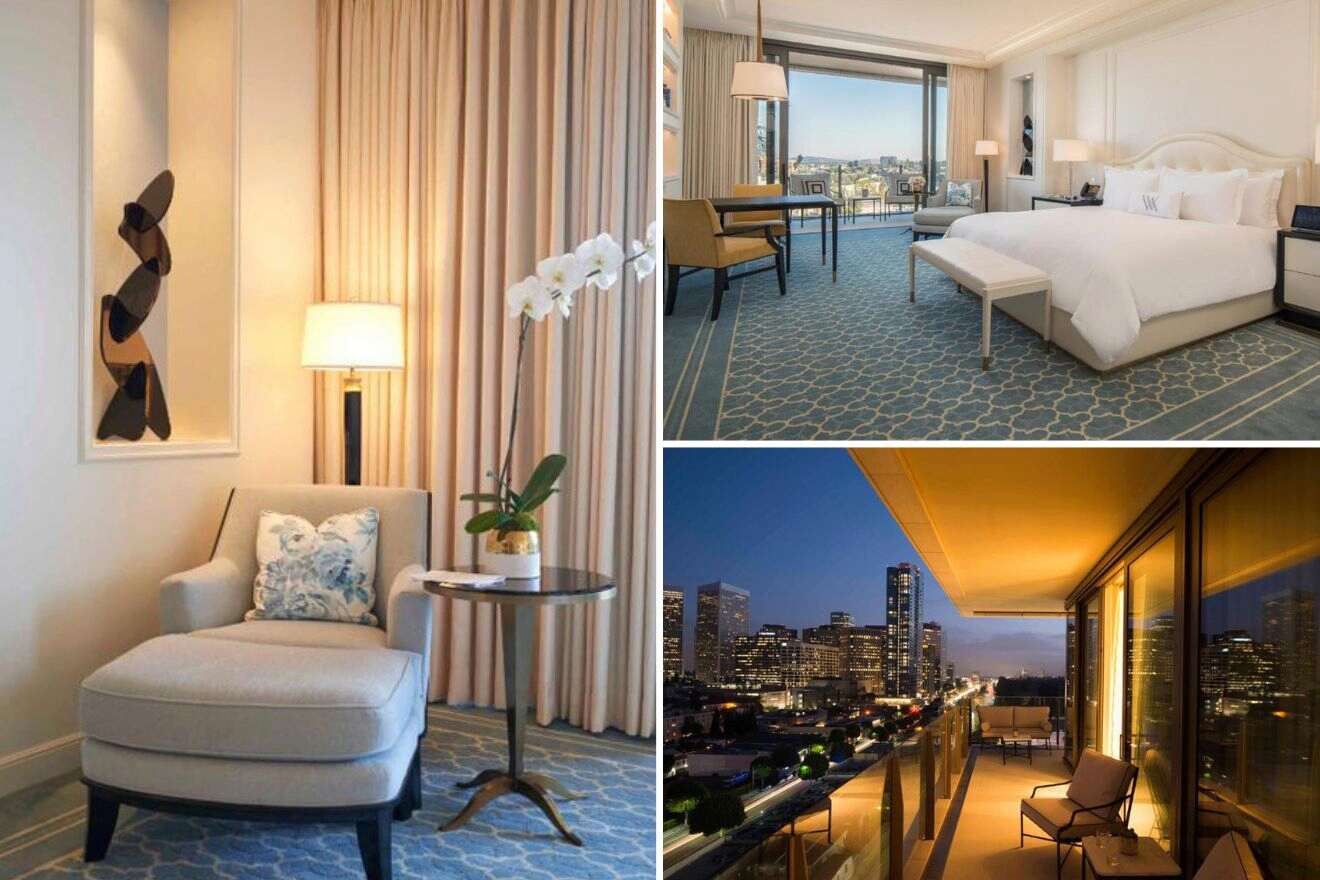 Nothing compares to that fabulous city view from your floor-to-ceiling windows at this Beverly Hills hotel which also has furnished private balconies where you can sit with your favorite book or cup of coffee and admire this iconic place in its true glory!
The hotel has spacious suites with a modern design and all the amenities like free Wi-Fi and a flat-screen cable TV. You'll also find an on-site restaurant, a fitness center, and the typical Los Angeles rooftop pool where you can catch some of the dreamiest sunsets. Make sure you book these Los Angeles hotels early! Since this place is one of the most famous cities in the world, everything sells out months in advance!
3. Four Seasons Hotel, Beverly Hills – a great location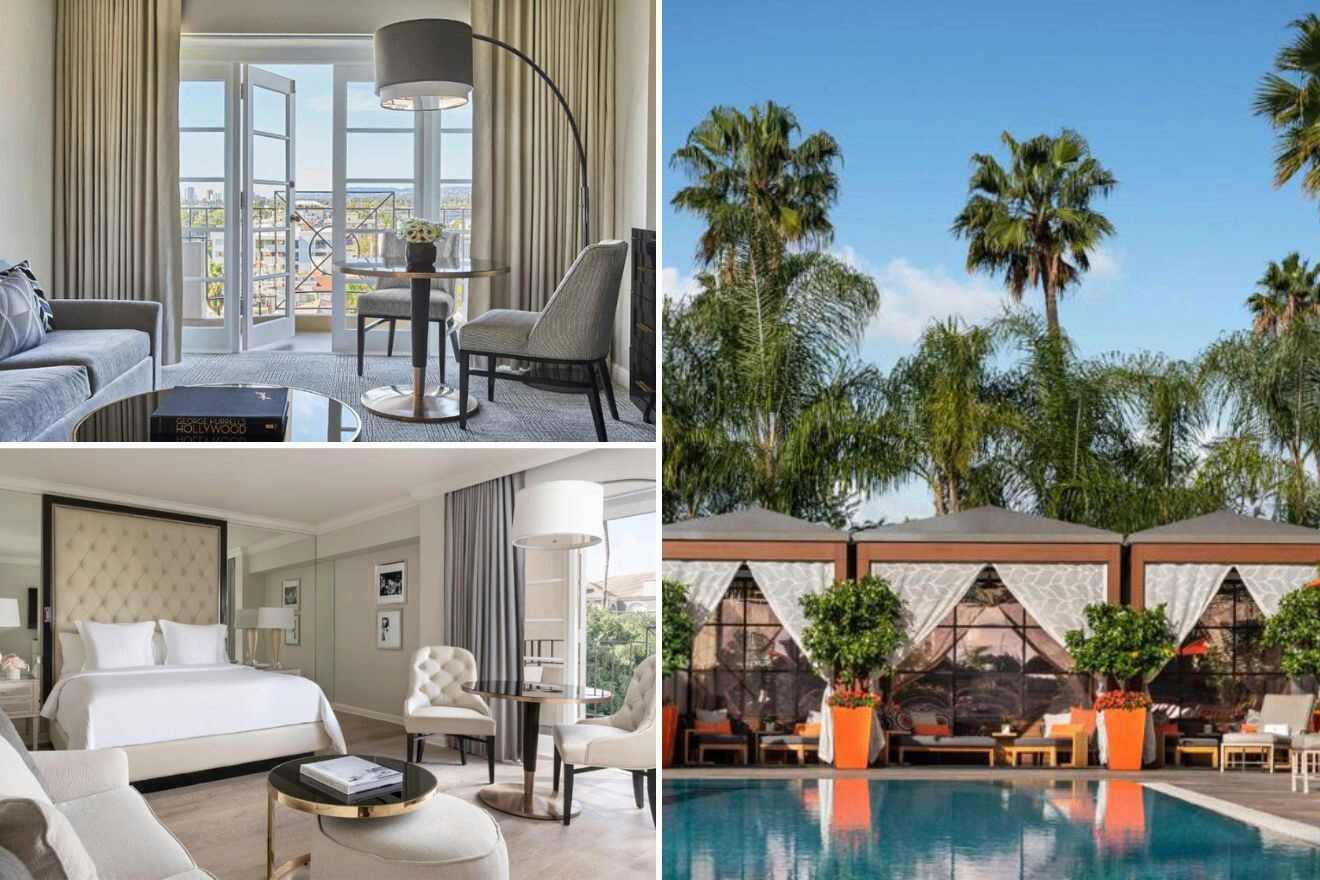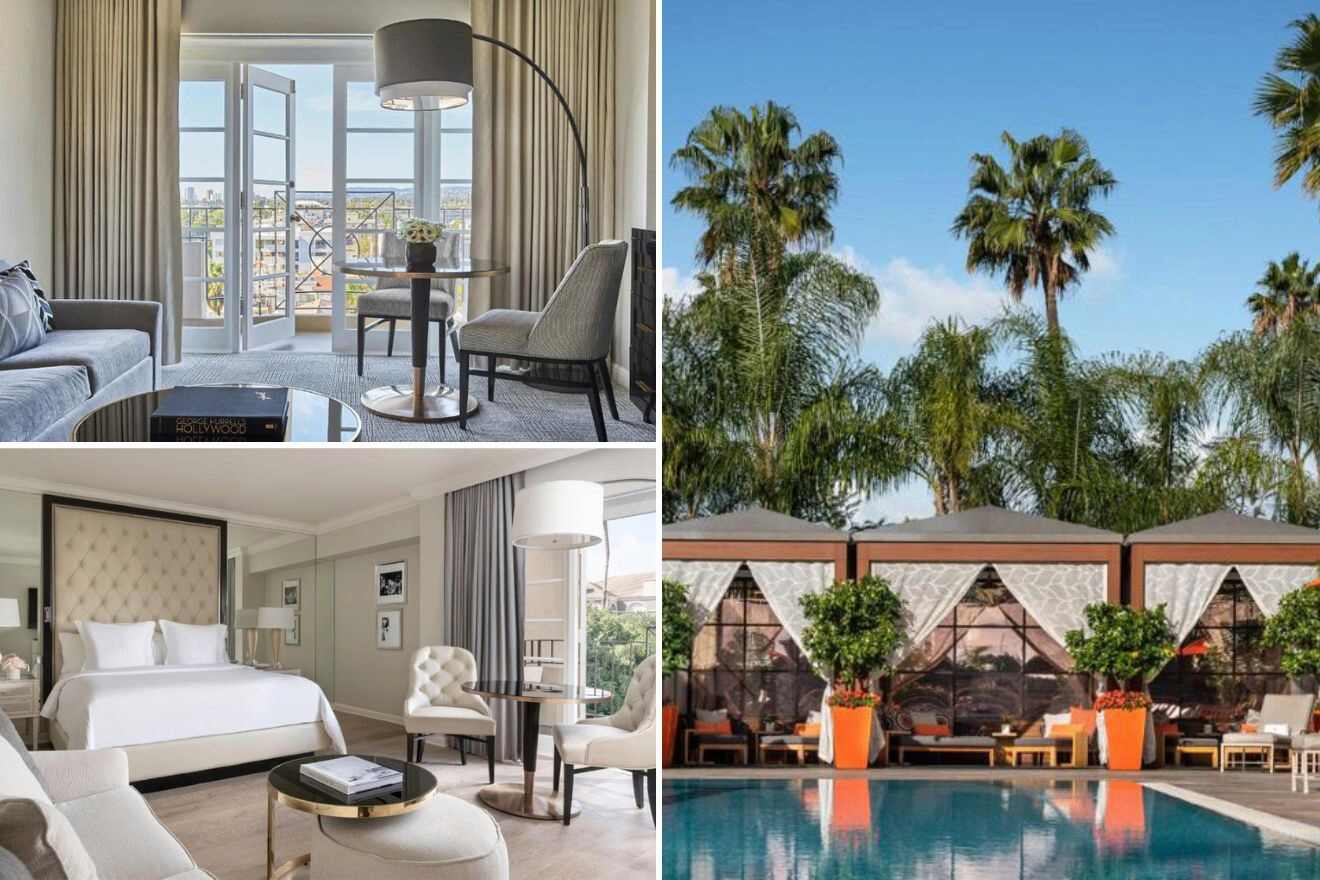 If you love traveling in style and can't stay away from glamorous hotels, then I think you'll love this one! Located in Beverly Hills, the accommodation is chic and has elegant rooms with some incredible views of the Hollywood sign! Now that's something you can't miss out on!
When you're not out and about exploring the city and cool places like the Venice Beach Boardwalk or Santa Monica, you can chill at the spa, work out in the fitness center, eat yummy Italian food at the restaurant, and of course, swim all day long under the Californian sun! What can be better than that?
4. The Peninsula Beverly Hills – for vintage lovers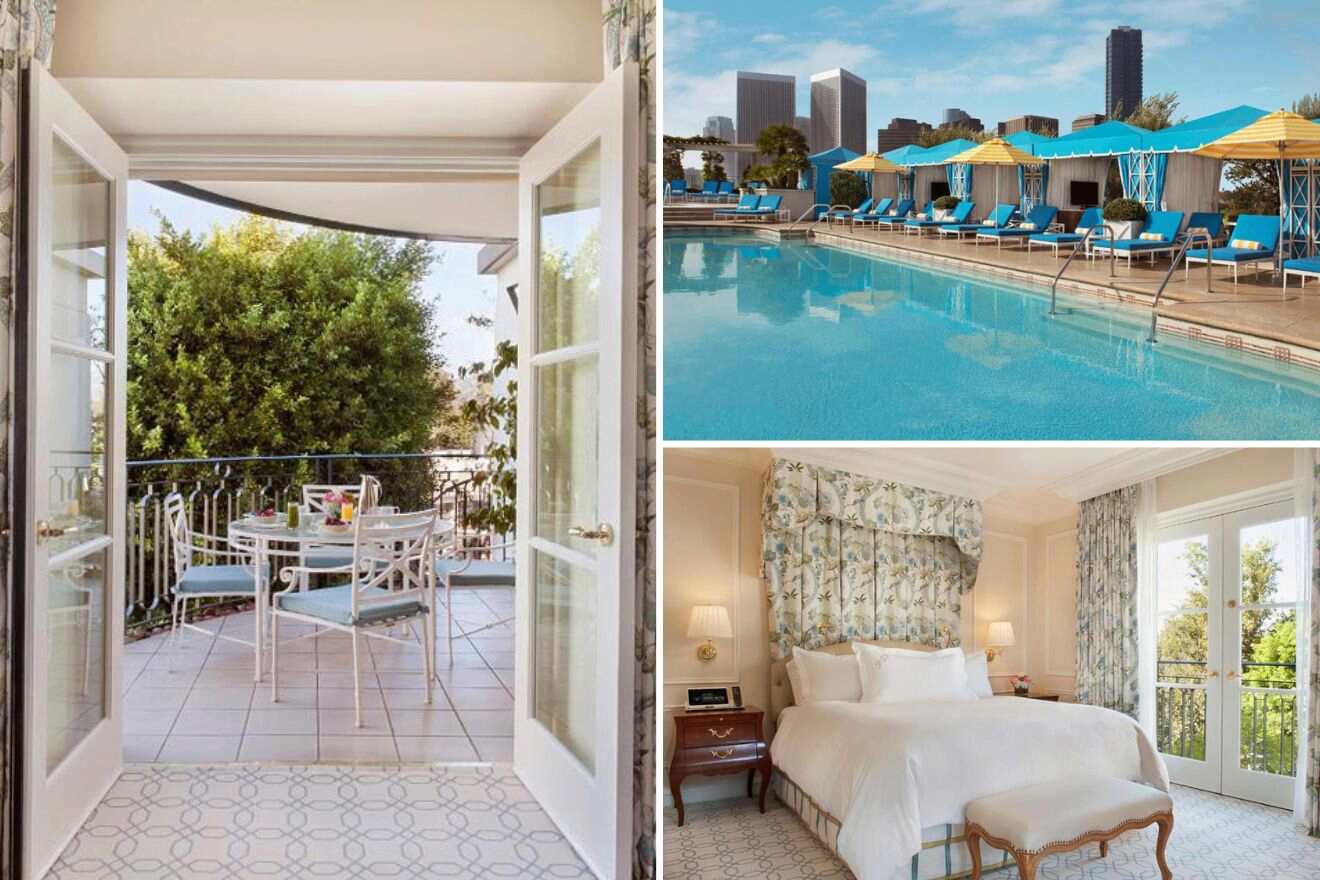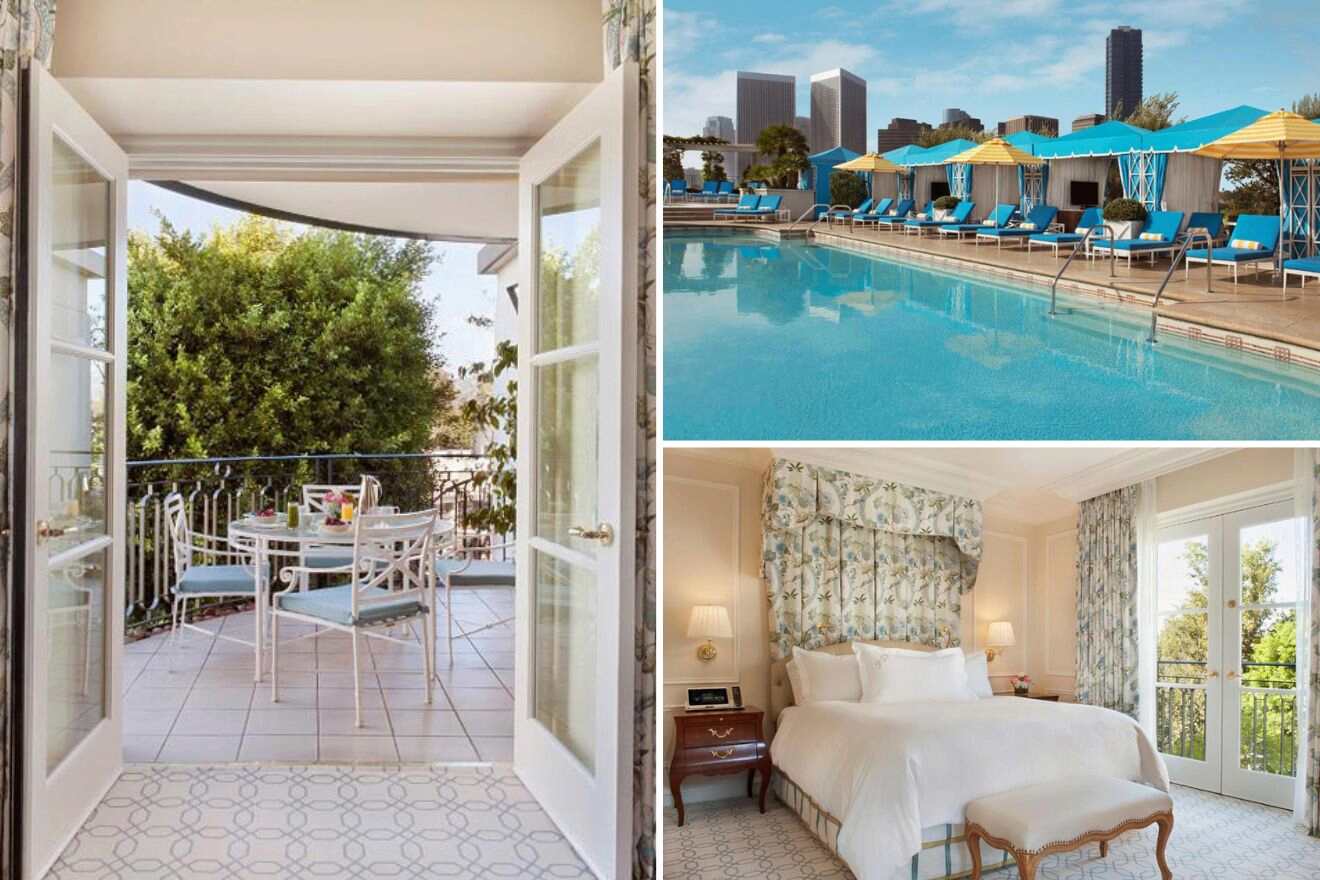 Located in Beverly Hills just a 10 min walk away from Rodeo Drive and 2h away from Los Angeles International Airport, this fancy hotel gives off a holiday in a French vibe! The spacious rooms have seating areas, comfy beds, and of course, some lovely views!
Start your morning with breakfast and coffee at their on-site restaurant, and then head to the spa for a long massage that will put you in the best mood! Continue your day with a sunbathing sesh on the rooftop pool and some cocktails, of course in true Los Angeles style, or go to visit other places like Venice Beach or Hermosa Beach.
5. Beverly Wilshire – for a relaxing trip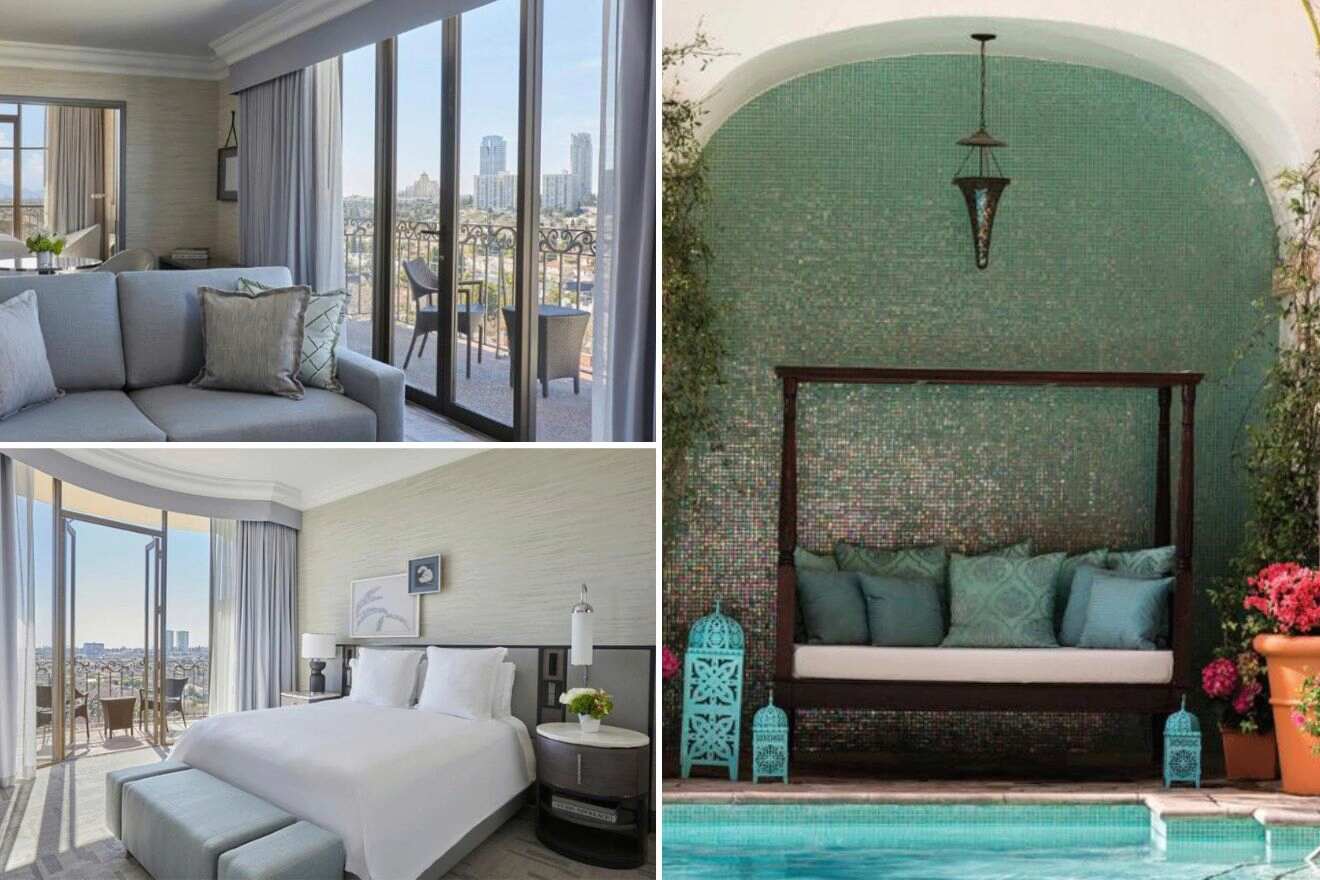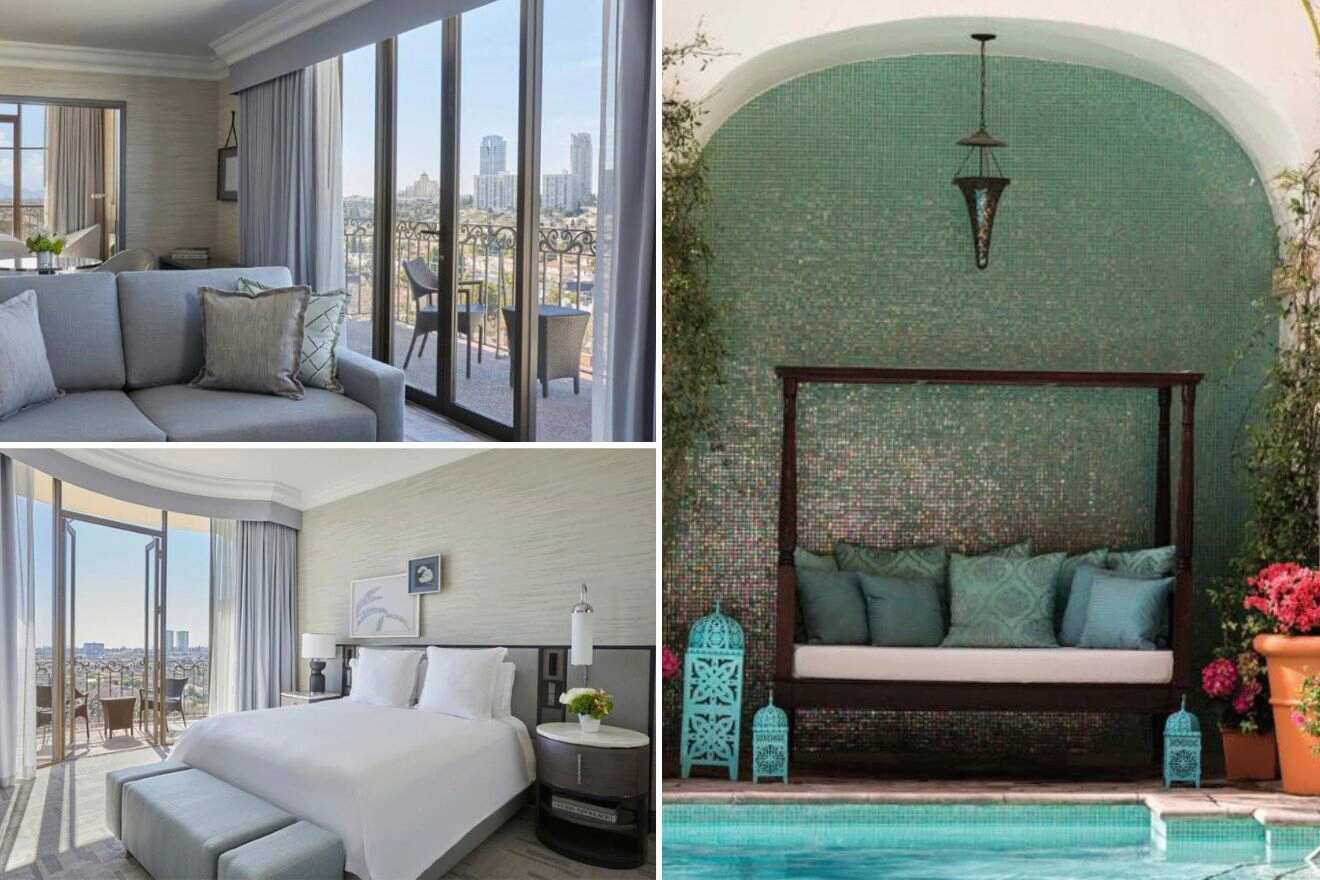 Want to stay as close as possible to some of the most famous areas like Hollywood, Santa Monica, and Venice Beach? Then book one of the luxurious suites at this amazing hotel in Beverly Hills that has such a cool design, fantastic amenities, and a breathtaking city view!
Spend your days relaxing by the Mediterranean-style swimming pool, hitting the spa and trying all the organic goodies there, and enjoying a few drinks in the poolside cabanas during the golden hour. End your fun day with dinner at one of their 2 on-site restaurants.
6. L'Ermitage Beverly Hills – classy Los Angeles hotel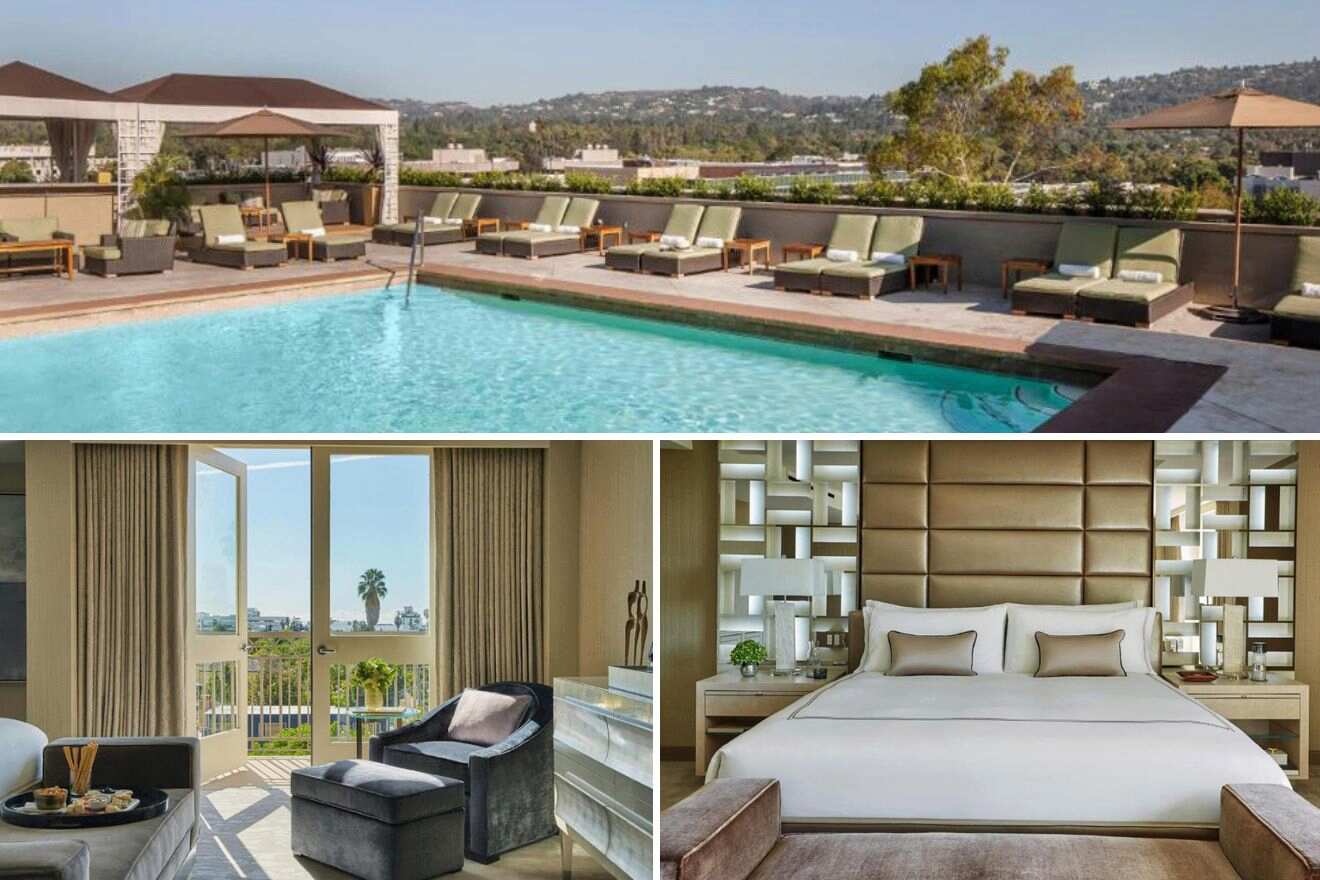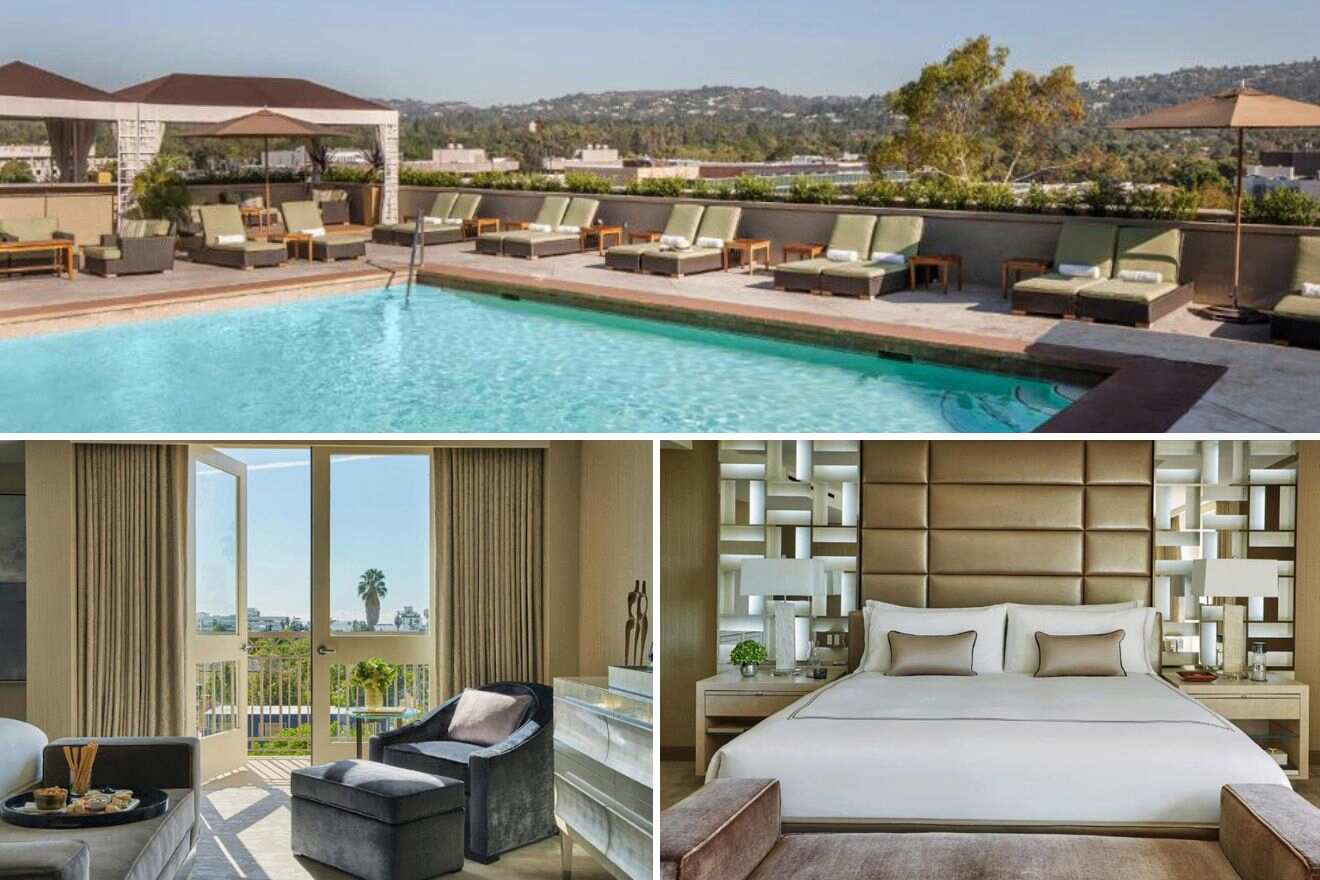 Nothing better than waking up to a great view of Los Angeles and the sun shining on your windows! Grab your coffee or matcha and head to the balcony for a bit of sunbathing before breakfast! This hotel which is 2h away from Los Angeles International Airport, has contemporary rooms with an en suite bathroom and lots of space.
Opened in 1975, the accommodation offers lots of cool facilities like spa facilities, yoga classes and live music performances, and board games. For pool lovers, they have a rooftop pool with sun loungers where guests can enjoy the weather!
7. Pendry West Hollywood – has a unique decor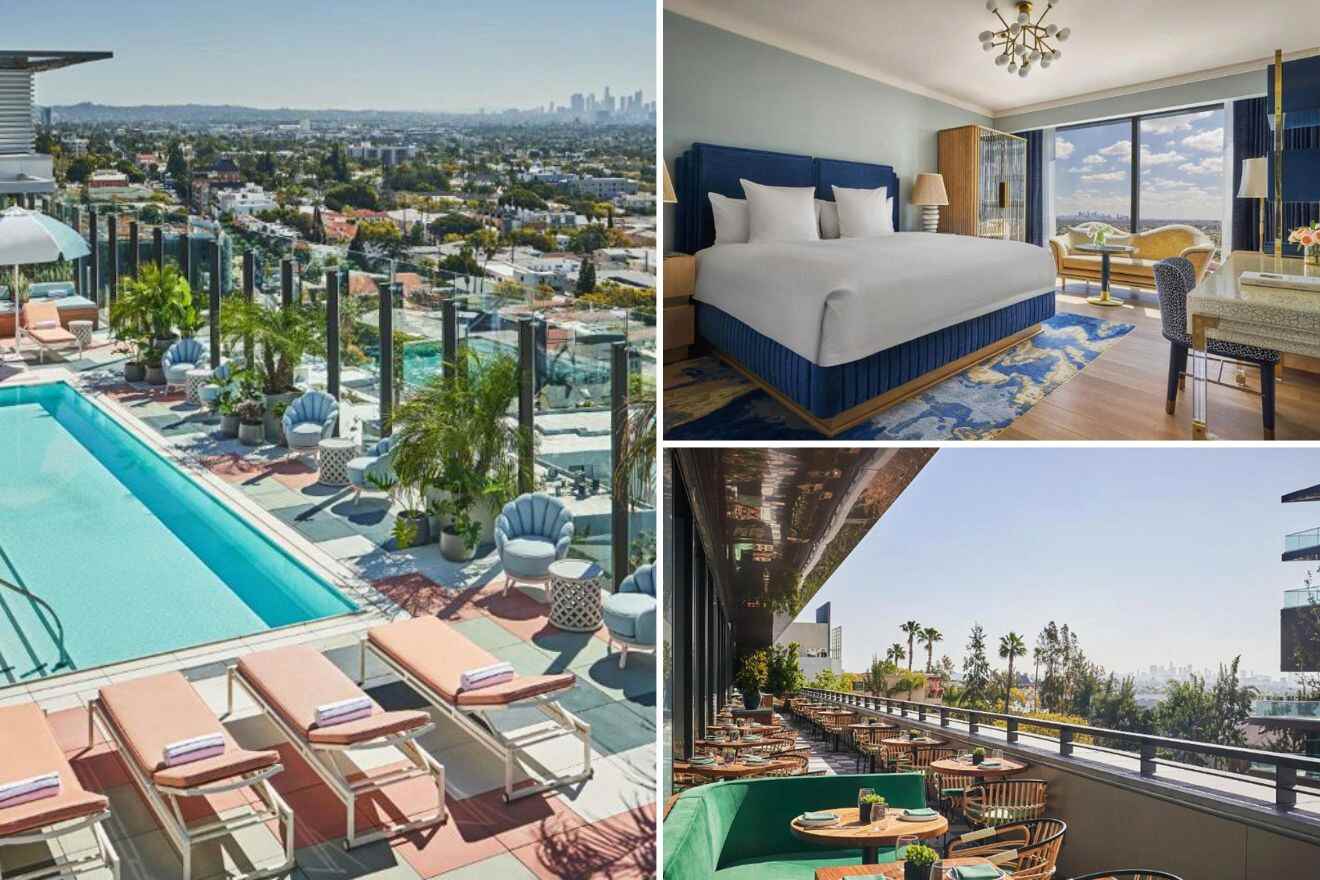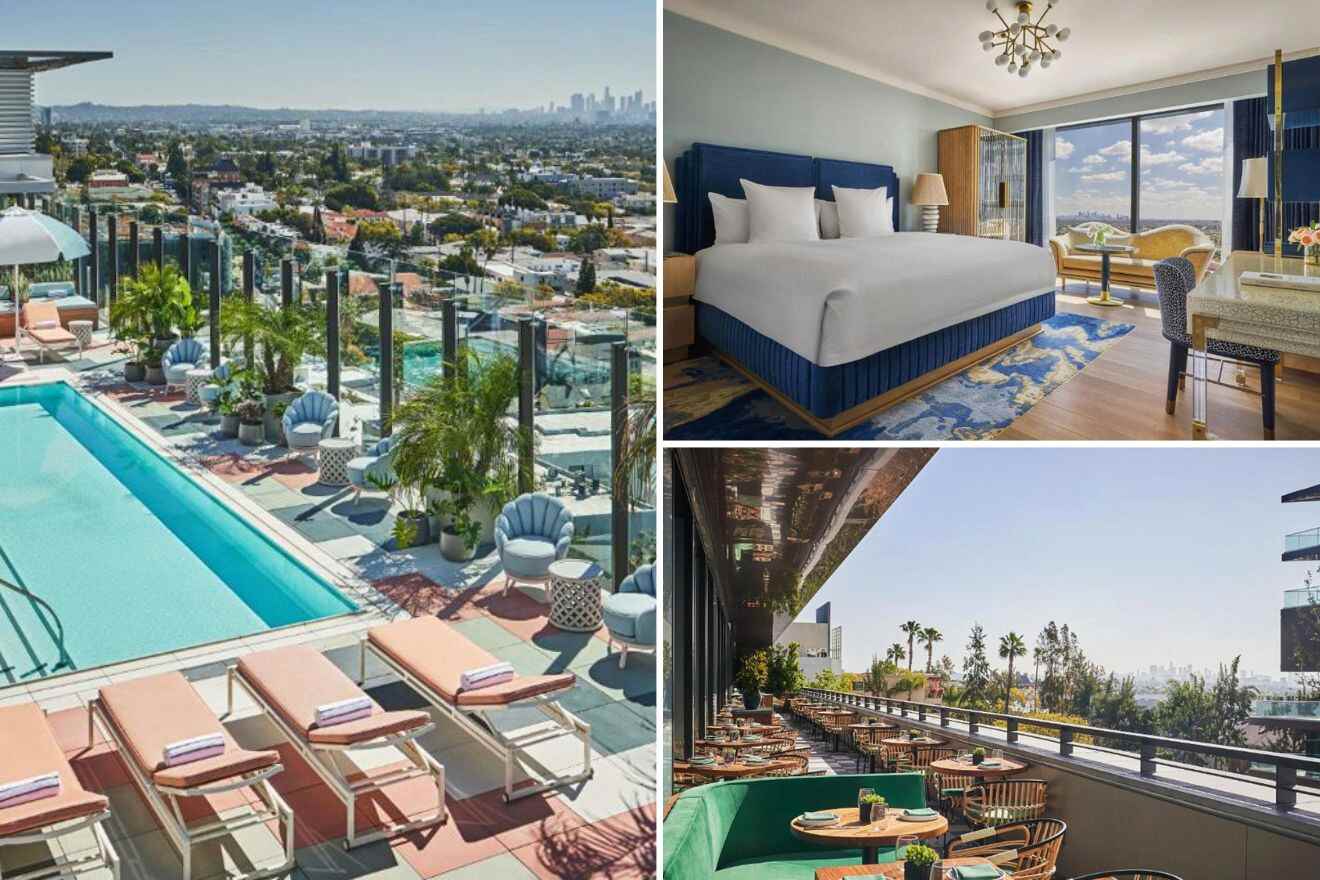 This boutique hotel on Sunset Boulevard in West Hollywood has such a quirky design! I'm loving the aesthetics! Everything from the domino floors, the colorful furnishings, and the views! Their modern rooms have floor-to-ceiling windows that offer a panoramic view of the city.
But it's definitely their rooftop pool that serves as the cherry on top! There you can cool down during those hot summer days and also admire the incredible sights! The bar and restaurant offer a great mixture of old and new and have some amazing decorations. After a full day of exploring West Hollywood and Downtown Los Angeles, head to the spa to relax and recharge for a new adventure the next day!
8. Fairmont Century Plaza – with a great city view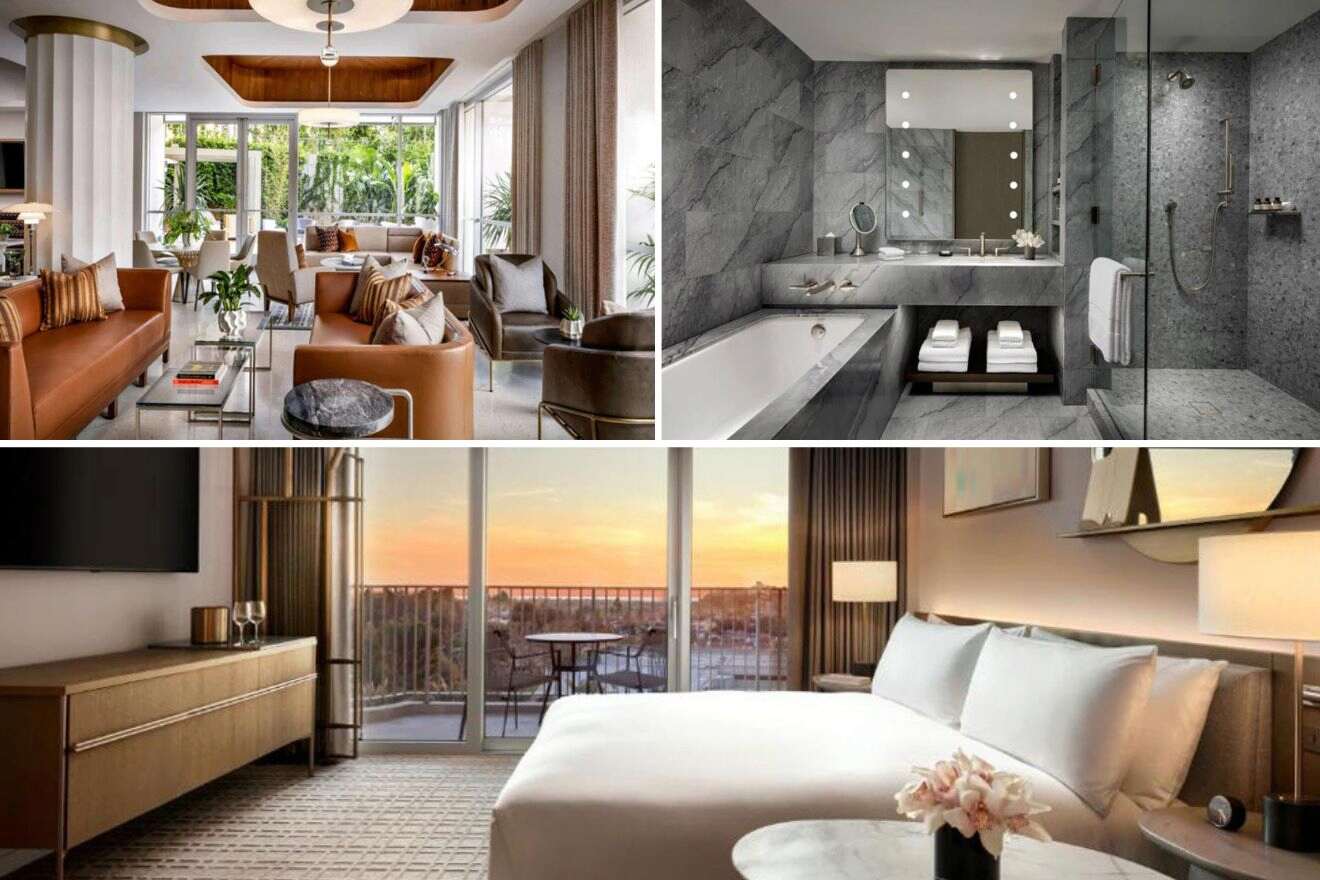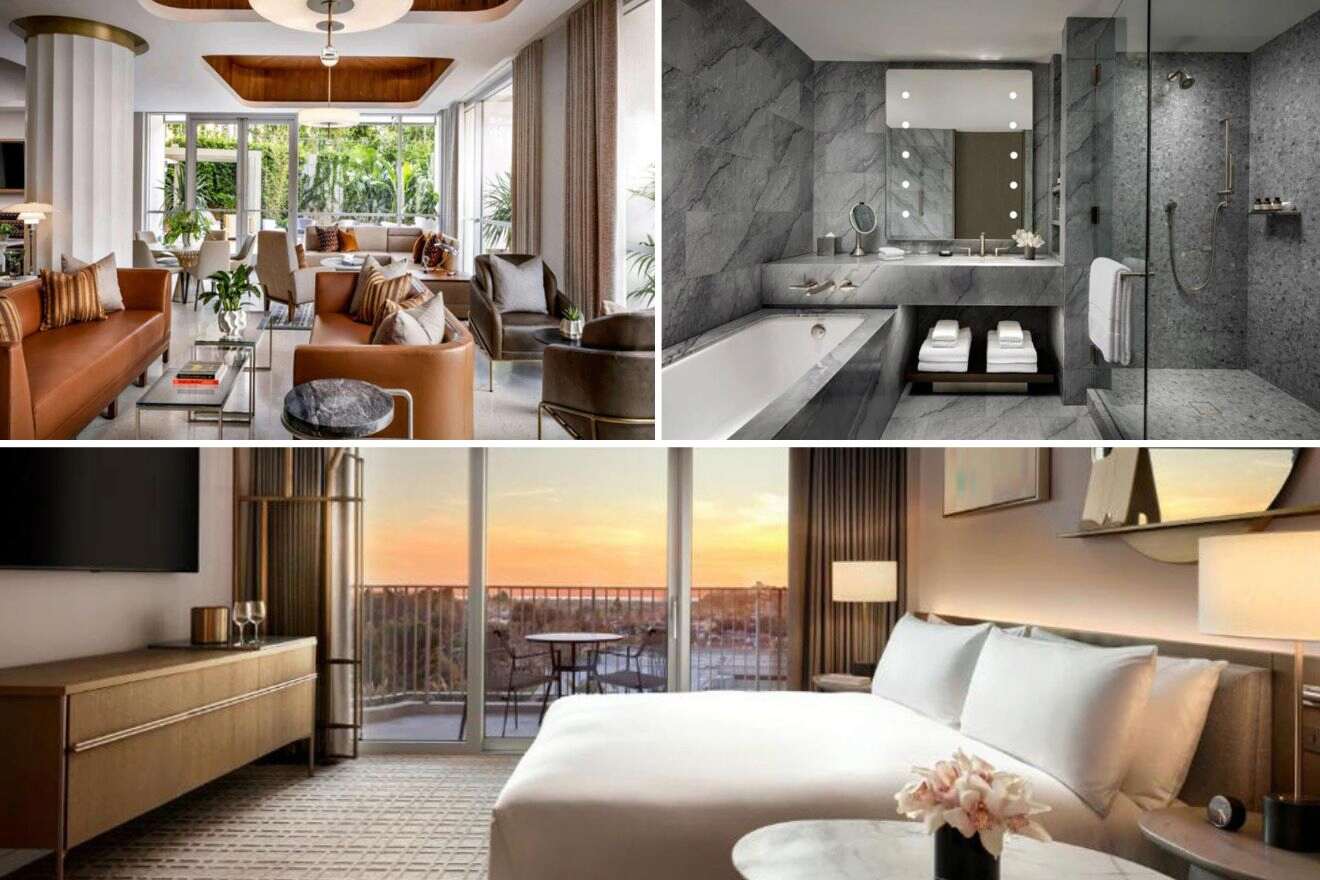 If you love fine cuts and hotel rooms with a minimalistic design, then this place is for you! Located in Century City, the accommodation comes with suites that have private terraces that overlook Los Angeles.
The rooms' design is preserved throughout the whole place, and you'll notice the same details in its lounge, restaurant, and bar. Like most hotels in Los Angeles, this one also has a rooftop swimming pool, a fitness center, and a spa. Guests can also rent out bikes to explore the city with their friends or family!
9. Hotel 850 SVB West Hollywood – for a romantic getaway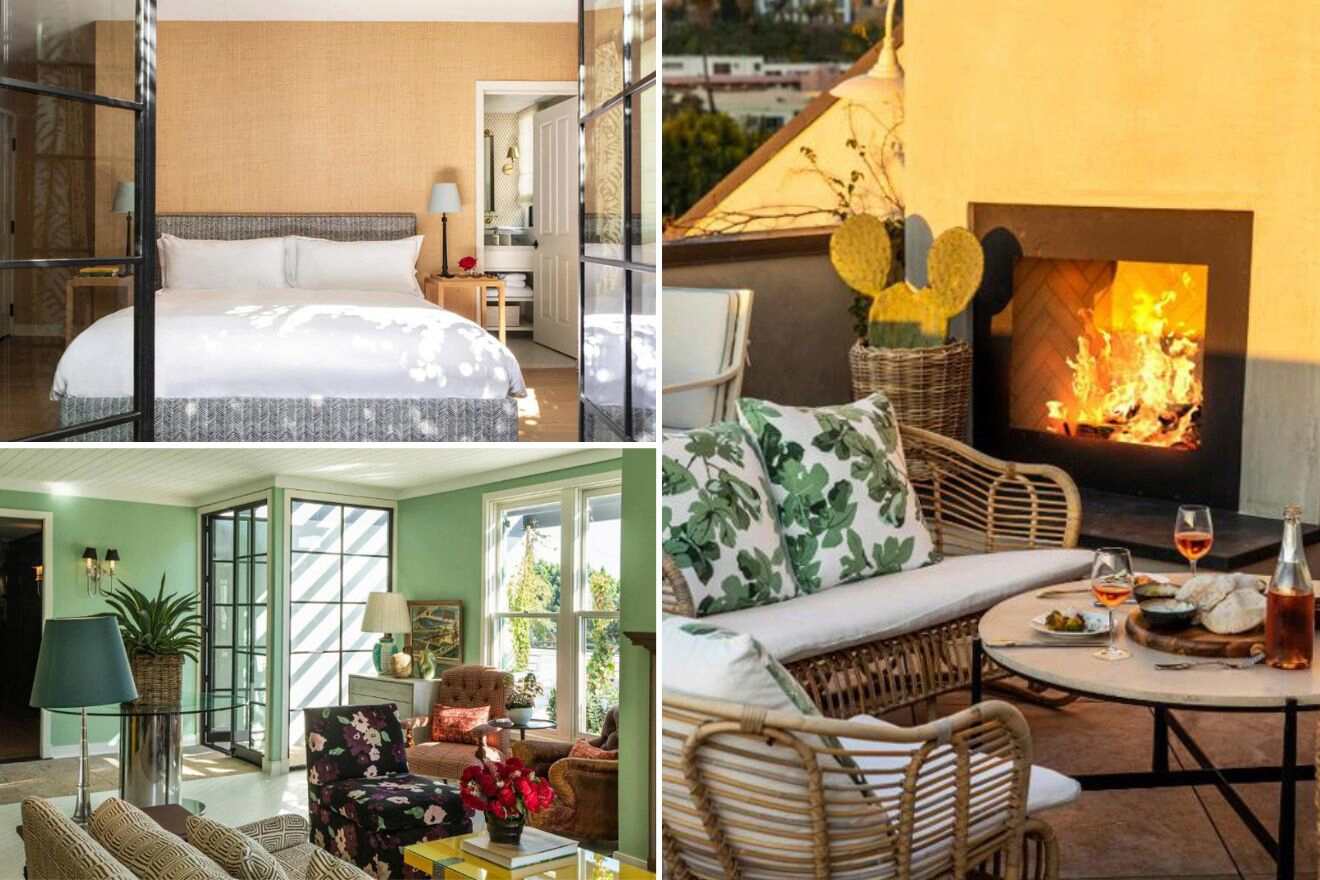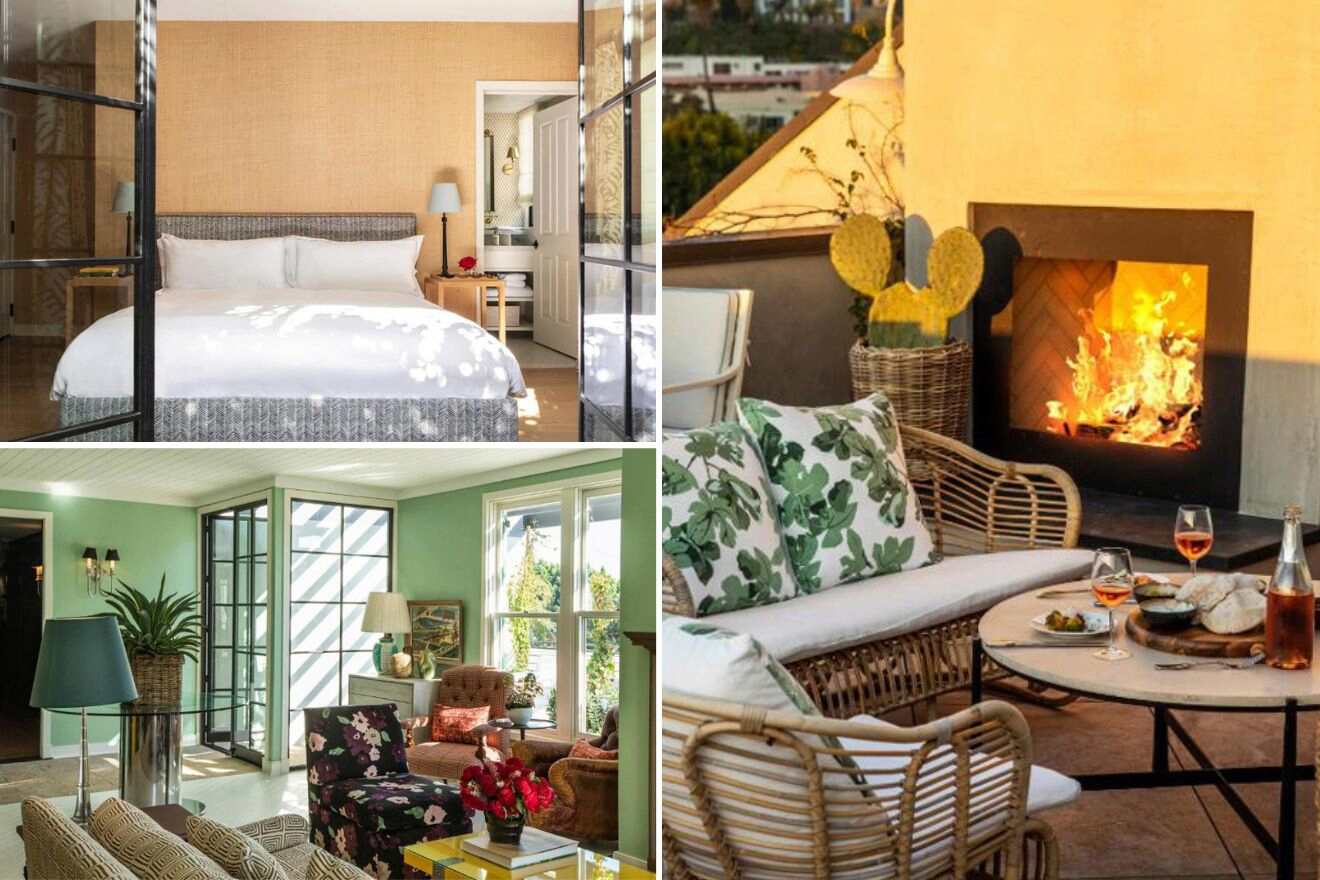 Such a cute boutique hotel in Beverly Hills, West Hollywood! Perfect for those who aren't big fans of super large hotels, this accommodation will make you feel right at home! Its style is beyond beautiful! You can see how everything was picked with so much care!
Their rooms offer such amazing views, and each has a balcony and a flat-screen TV. Each morning guests are invited to enjoy a yummy (free) breakfast at the accommodation before they start their adventures. You can rent bikes if you want to explore West Hollywood more quickly!
10. Sunset Marquis Hotel – for nature lovers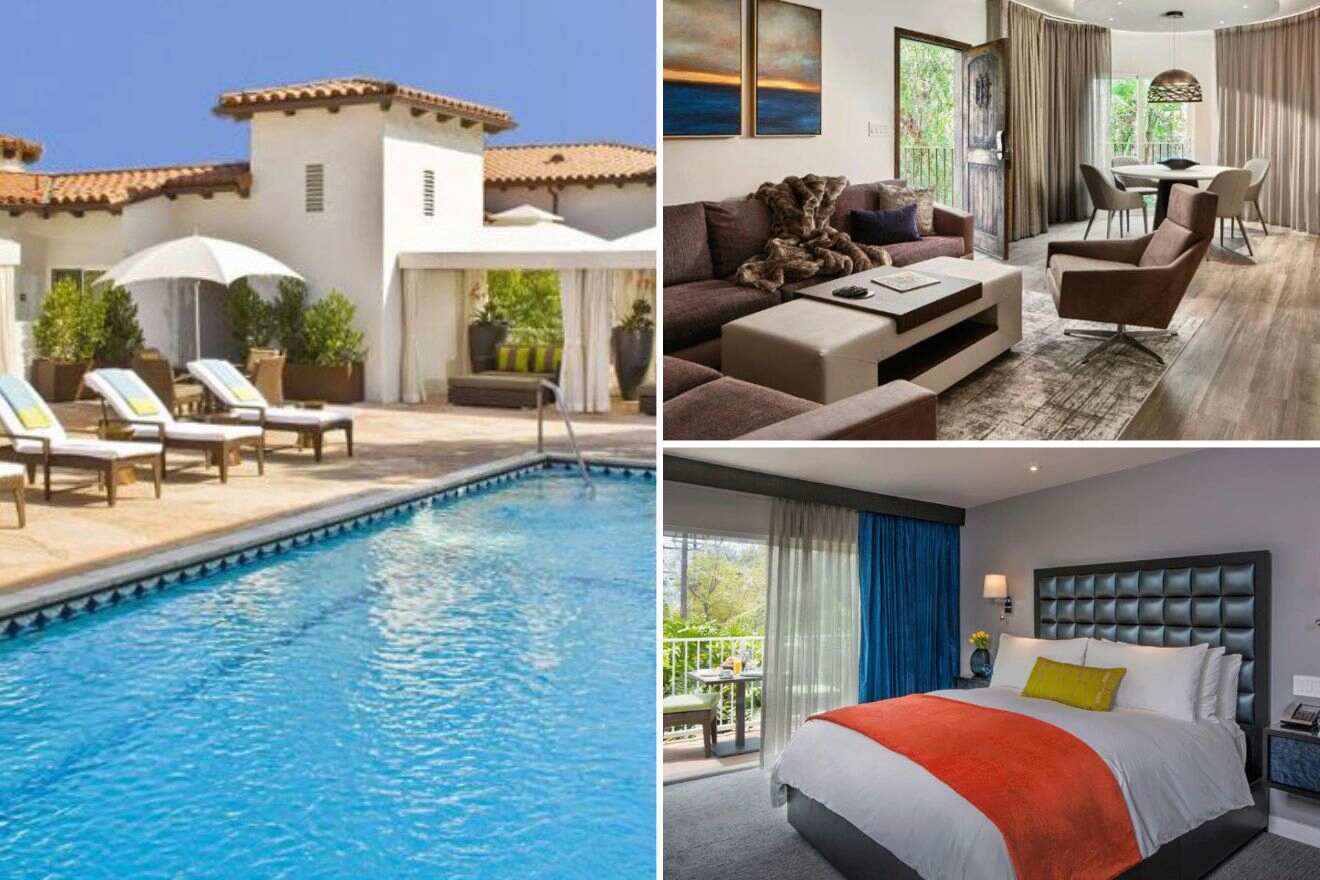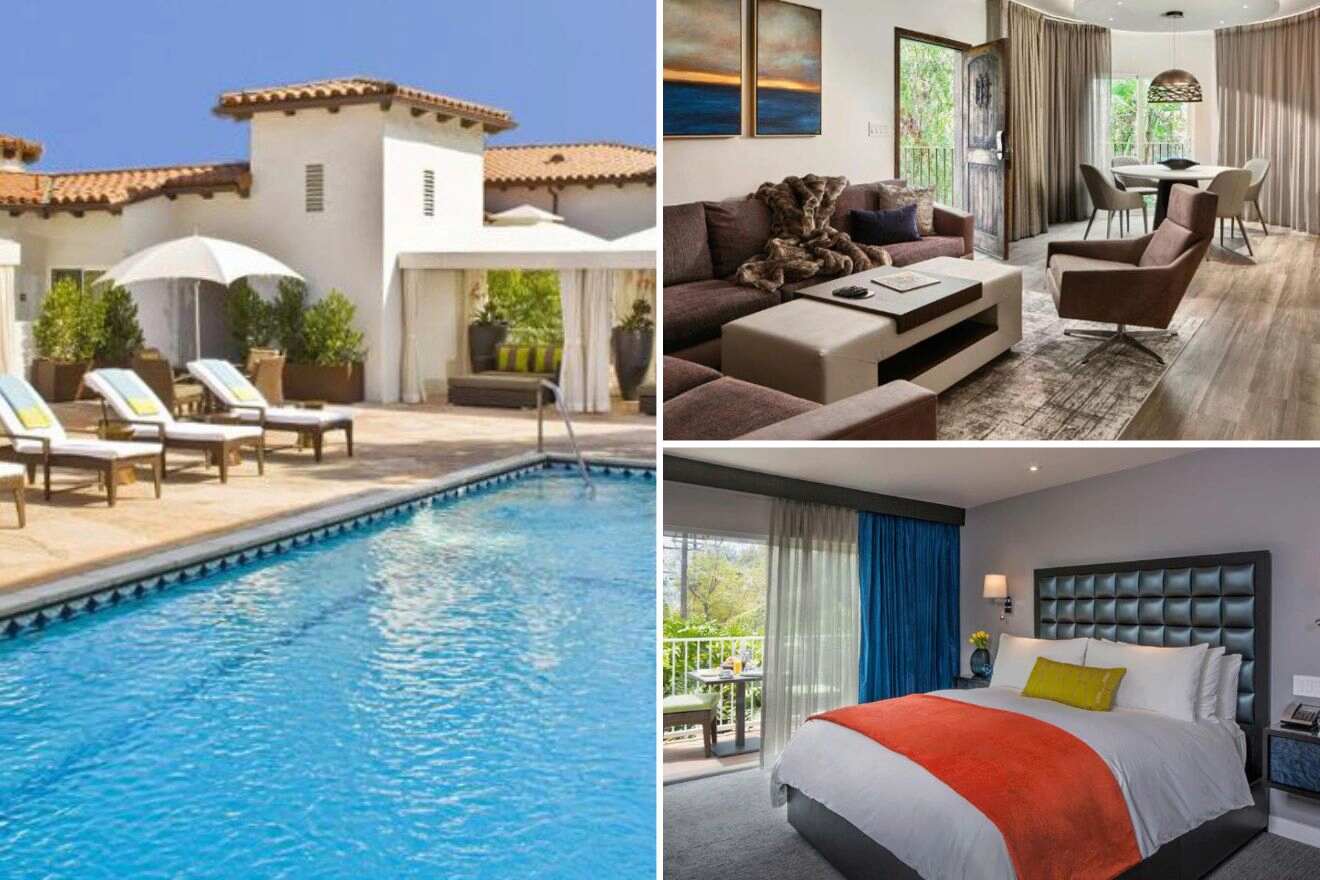 Nature lovers, I might've just found the perfect place for you, that's pretty close to the Sunset Strip and just 2h away from Los Angeles International Airport! Tucked away in a mystical tree-lined alley in West Hollywood, this amazing hotel offers rooms with balconies, comfy beds, and private bathrooms.
Featuring not just 1 outdoor pool but 2, the accommodation is such a great place for those who can't be 24/7 right in the middle of all the noise and crowds of Downtown Los Angeles. It definitely feels like an oasis, although it is not too far from the attractions, and it offers a spa, a business center, and a restaurant.
11. The Charlie West Hollywood – the ultimate movie star hotel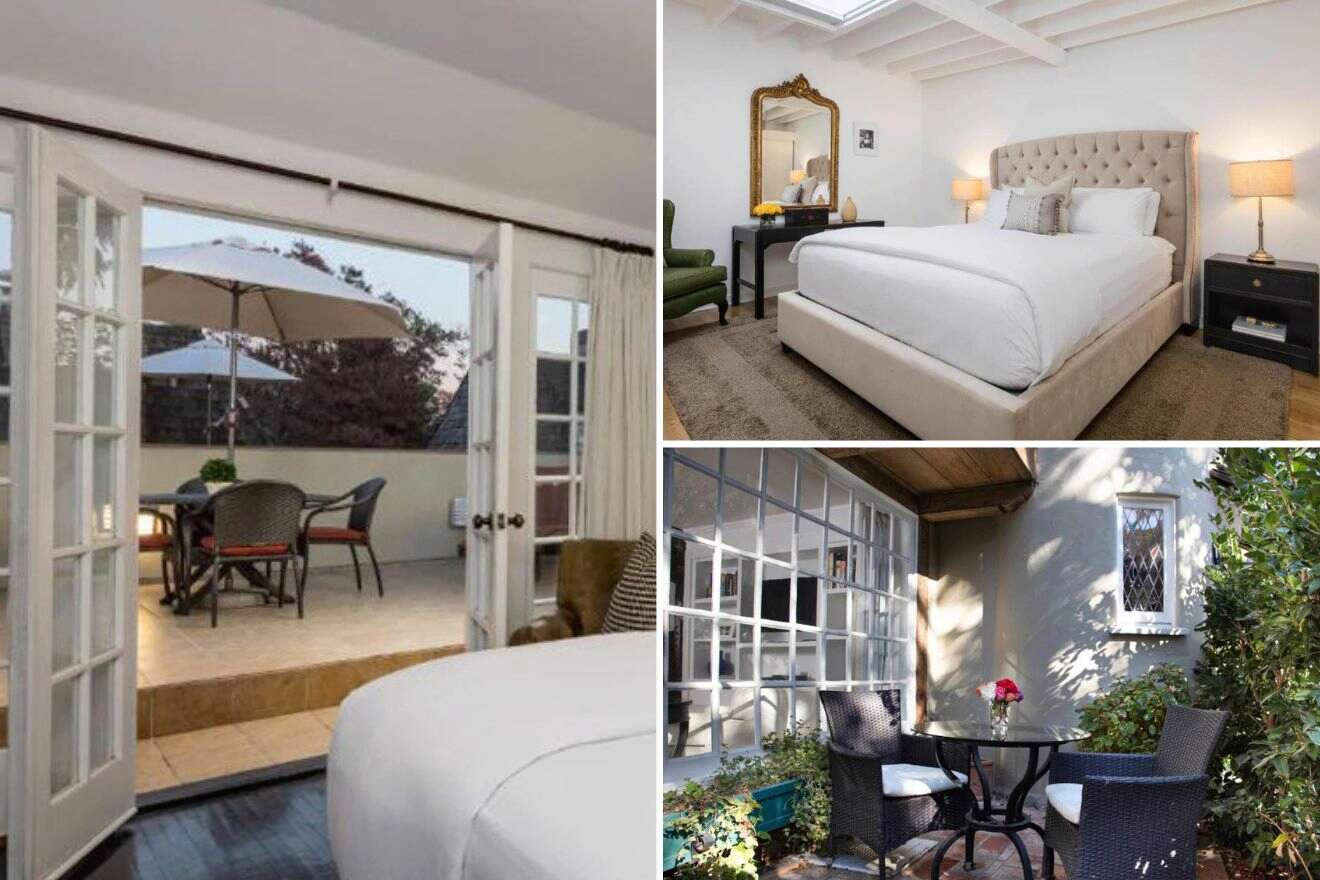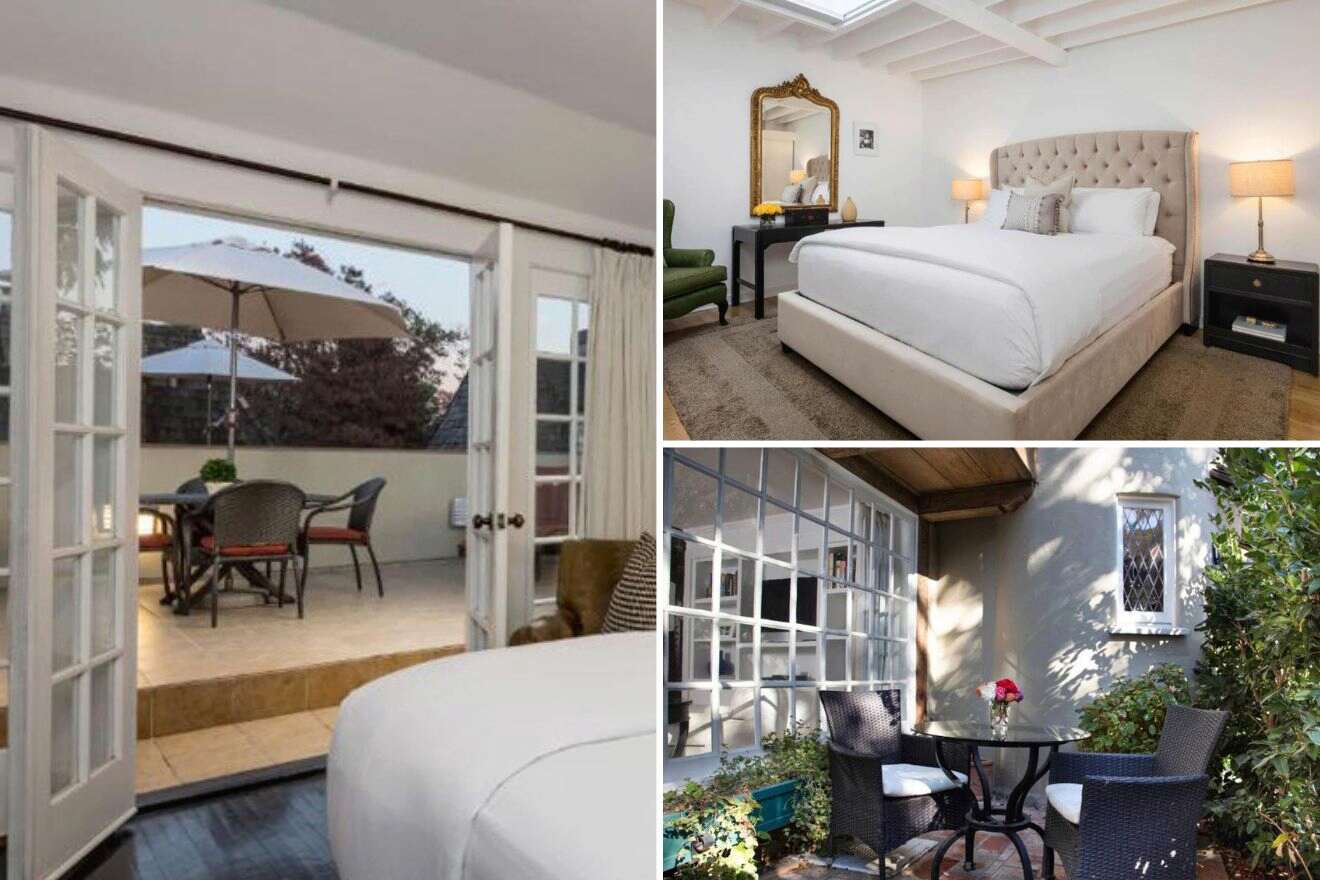 Fancy staying in the former home of the famous comedian Charlie Chaplin? I mean, who wouldn't? This historical hotel in LA is iconic, and although it was remodeled and redesigned, it still has kept some of its old charms! It definitely feels a bit like a home, and I love its small garden, which brings even more magic to the place!
Its exteriors remind me of those typical British houses, and the stained glass windows are just incredible! Inside you'll find beamed ceilings, a lounge area, a kitchen, and family rooms with free Wi-Fi. Borrow some bikes and go ahead and explore the West Hollywood Design District.
12. Montrose at Beverly Hills – an affordable hotel in Los Angeles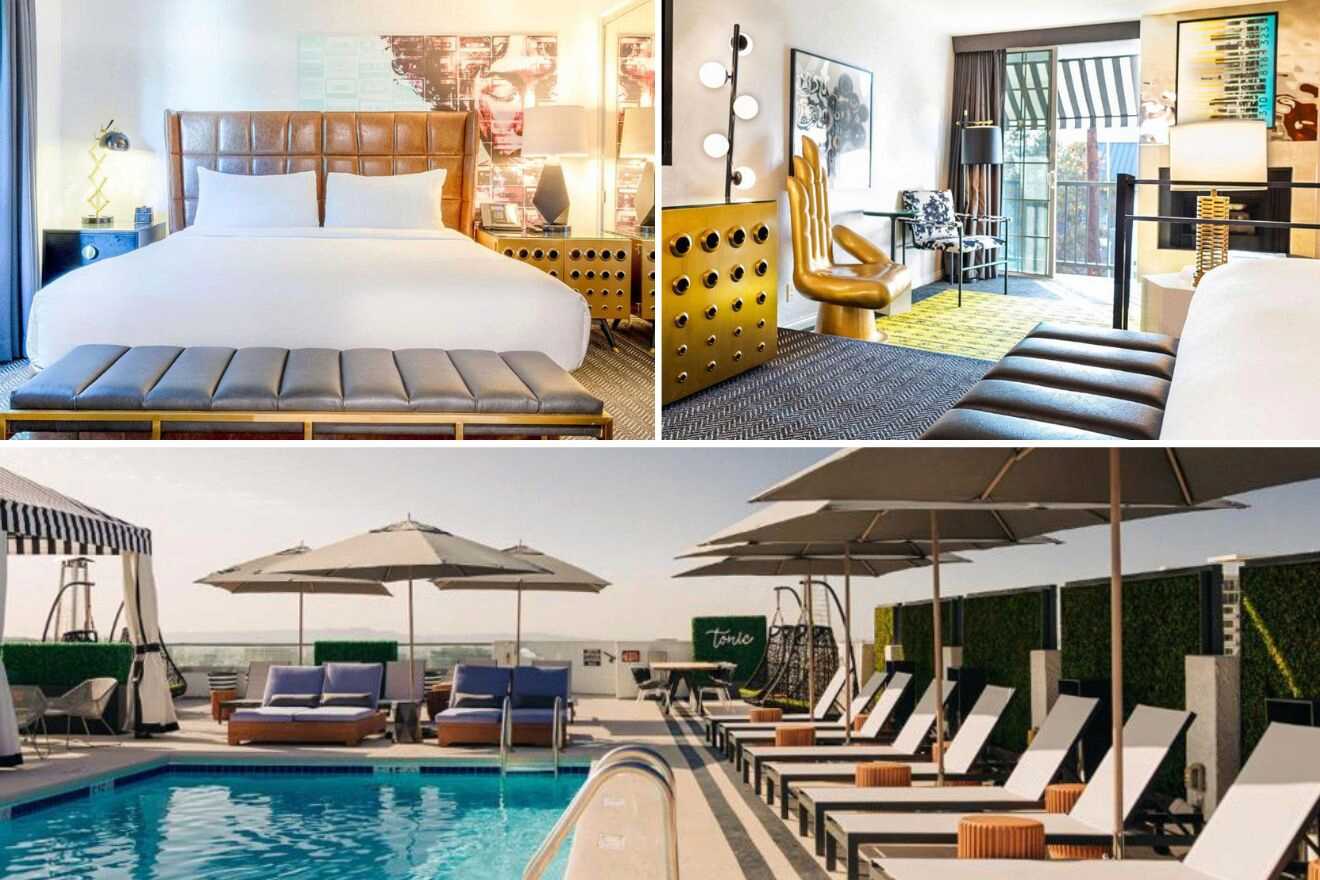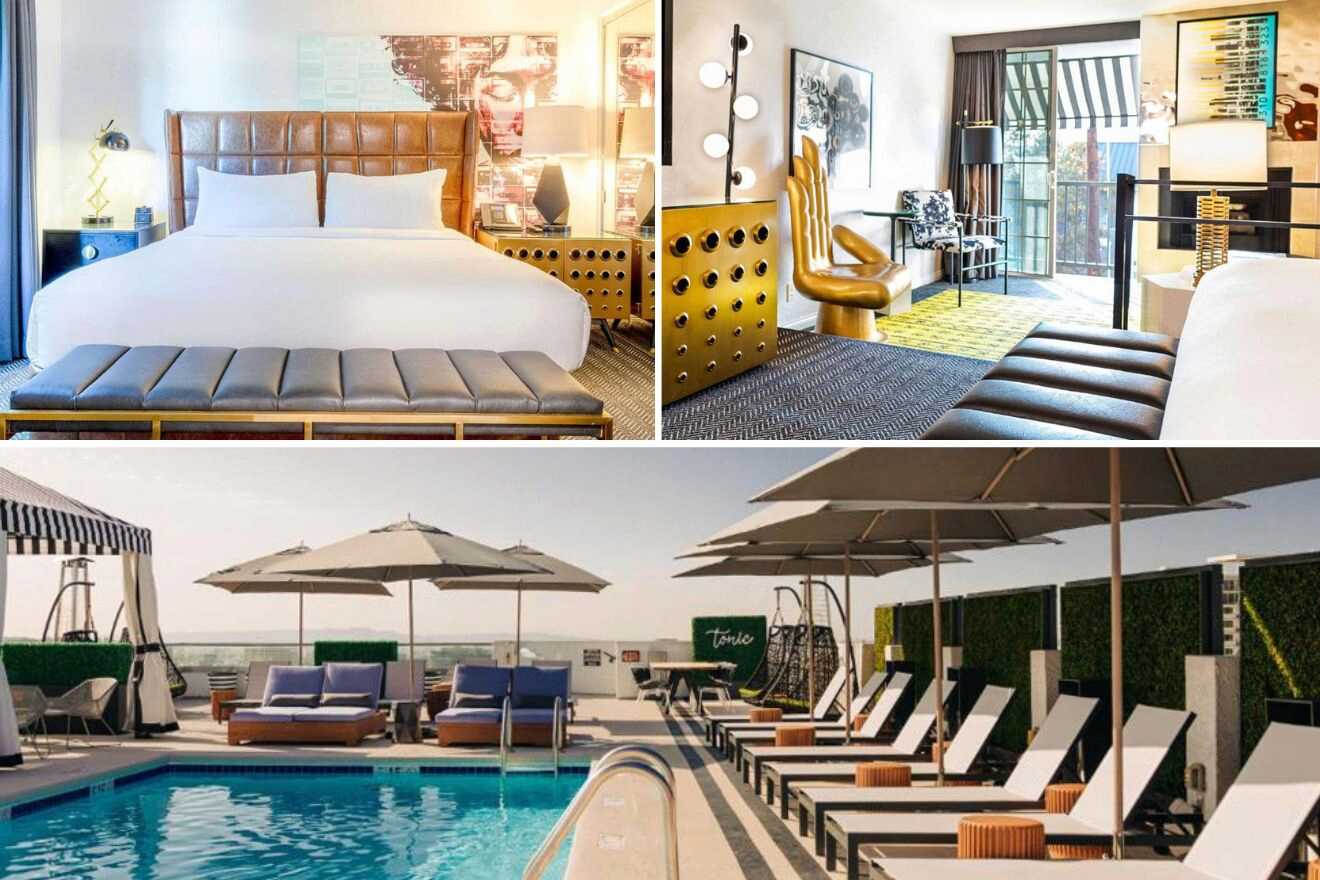 Set in West Hollywood, near the Sunset Strip, this hotel is a bit more affordable while still offering great facilities like an outdoor pool with breathtaking views of Los Angeles. Guests can occupy their time on the tennis course or by the cabanas drinking cocktails as the sun is setting!
Their rooms are beautifully decorated and have such quirky decorations like some unique golden hands chairs that I think look so cool, lots of leather aesthetics, and other features that I'll let you discover on your own.
13. The Shay, a Destination by Hyatt – for a chill holiday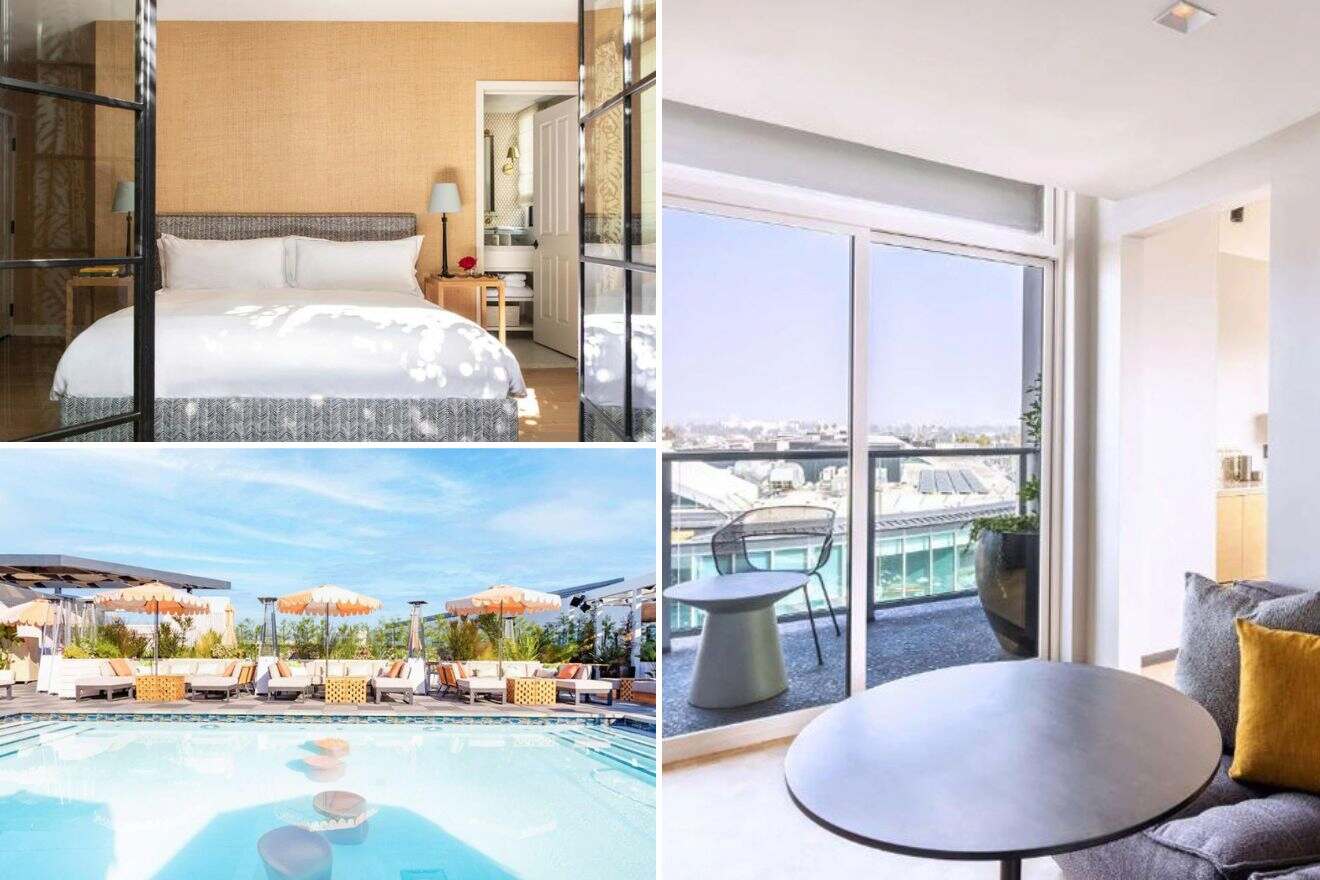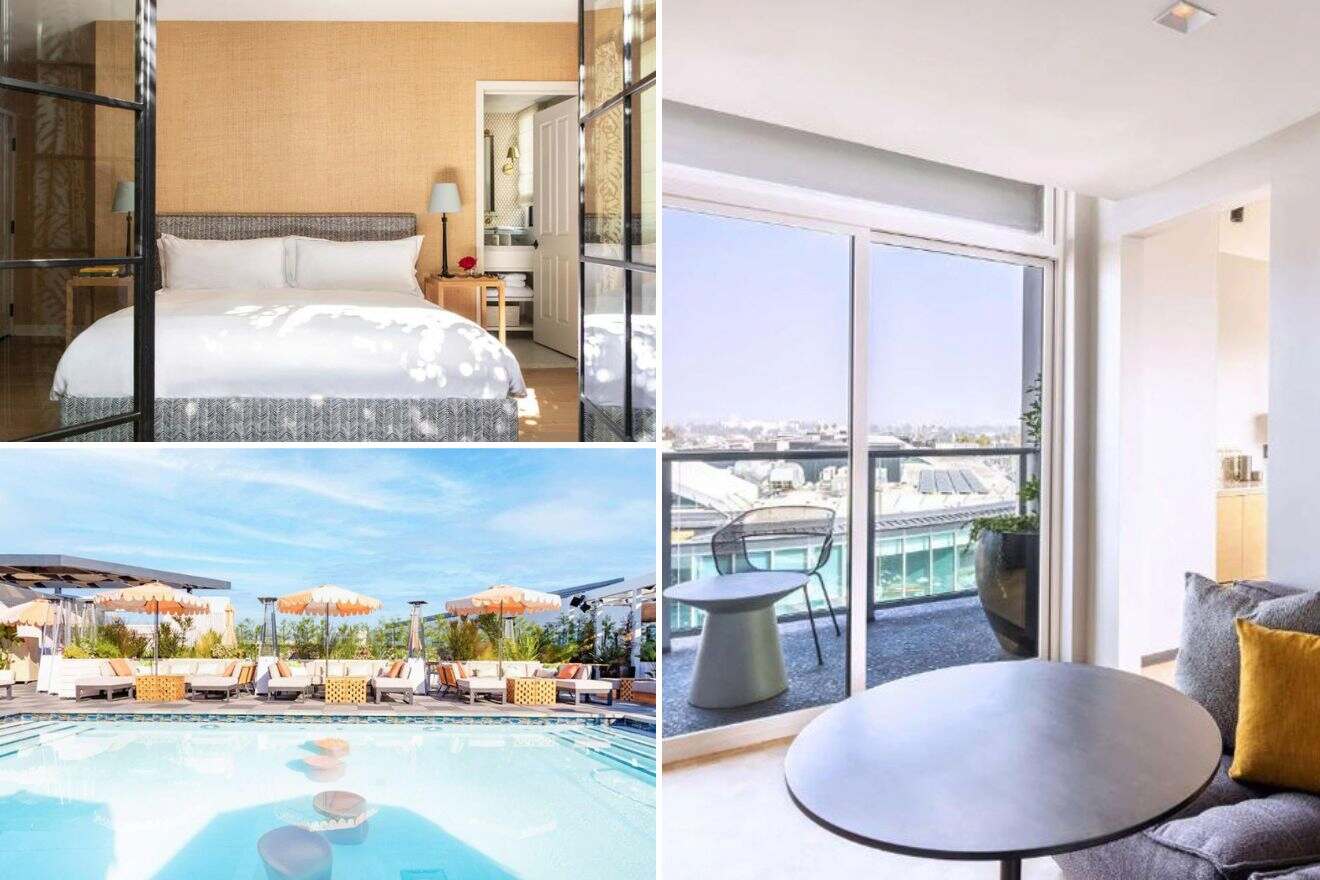 Still looking for some hotels with balconies in Los Angeles that are not at the higher end? Well, from this point onwards, I'm going to show you more affordable places! Still, all look just as great! Just like this one that's located in Culver City and has spacious rooms with a flat-screen TV and free Wi-Fi.
Start your mornings with breakfast in bed if you're too tired from a wild night of partying, or savor it on the balcony of your room while enjoying the views. Guests are invited to use the fitness center whenever they feel so and also hang out by the swimming pool or play in the games room.
14. Ambrose Hotel – for avid readers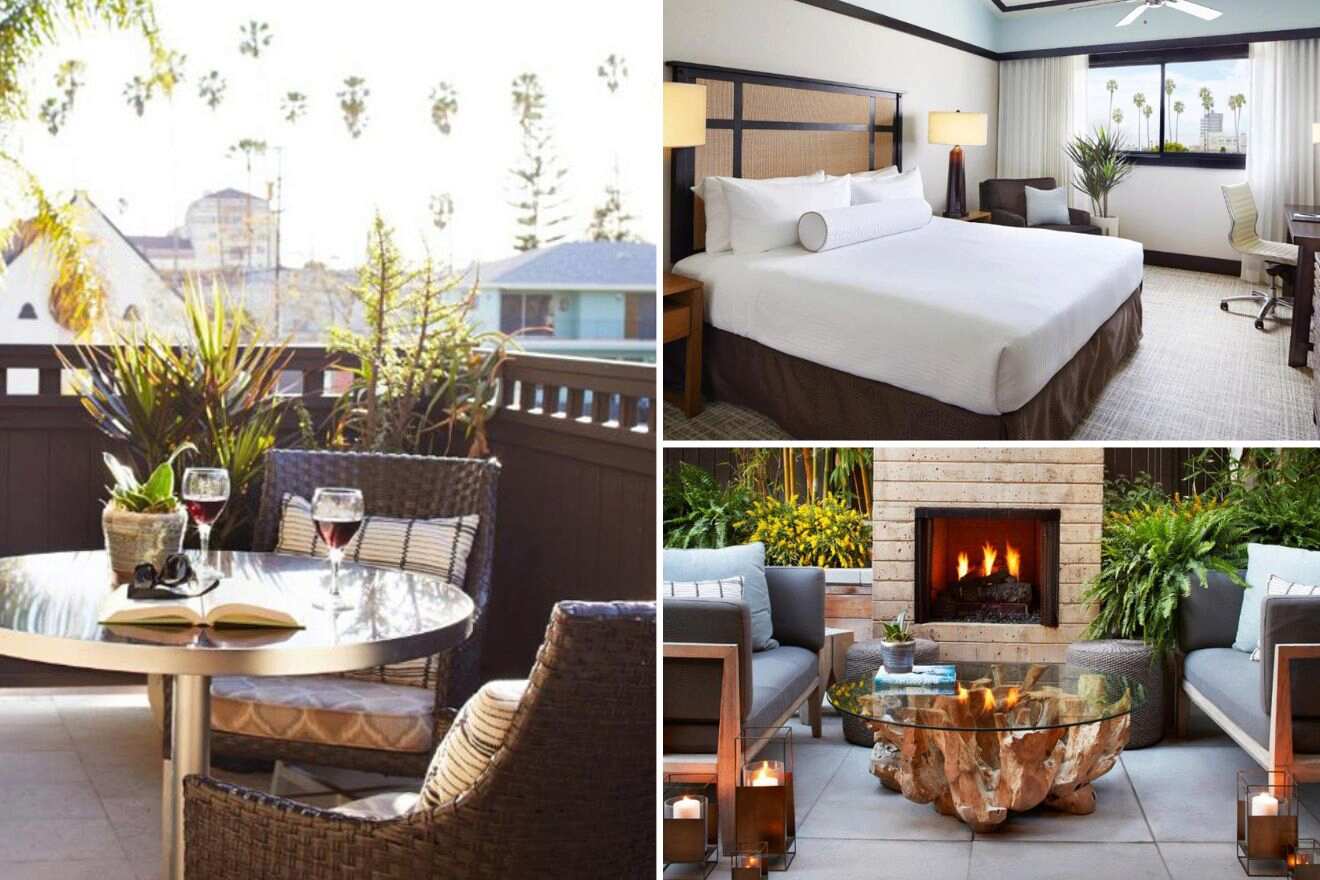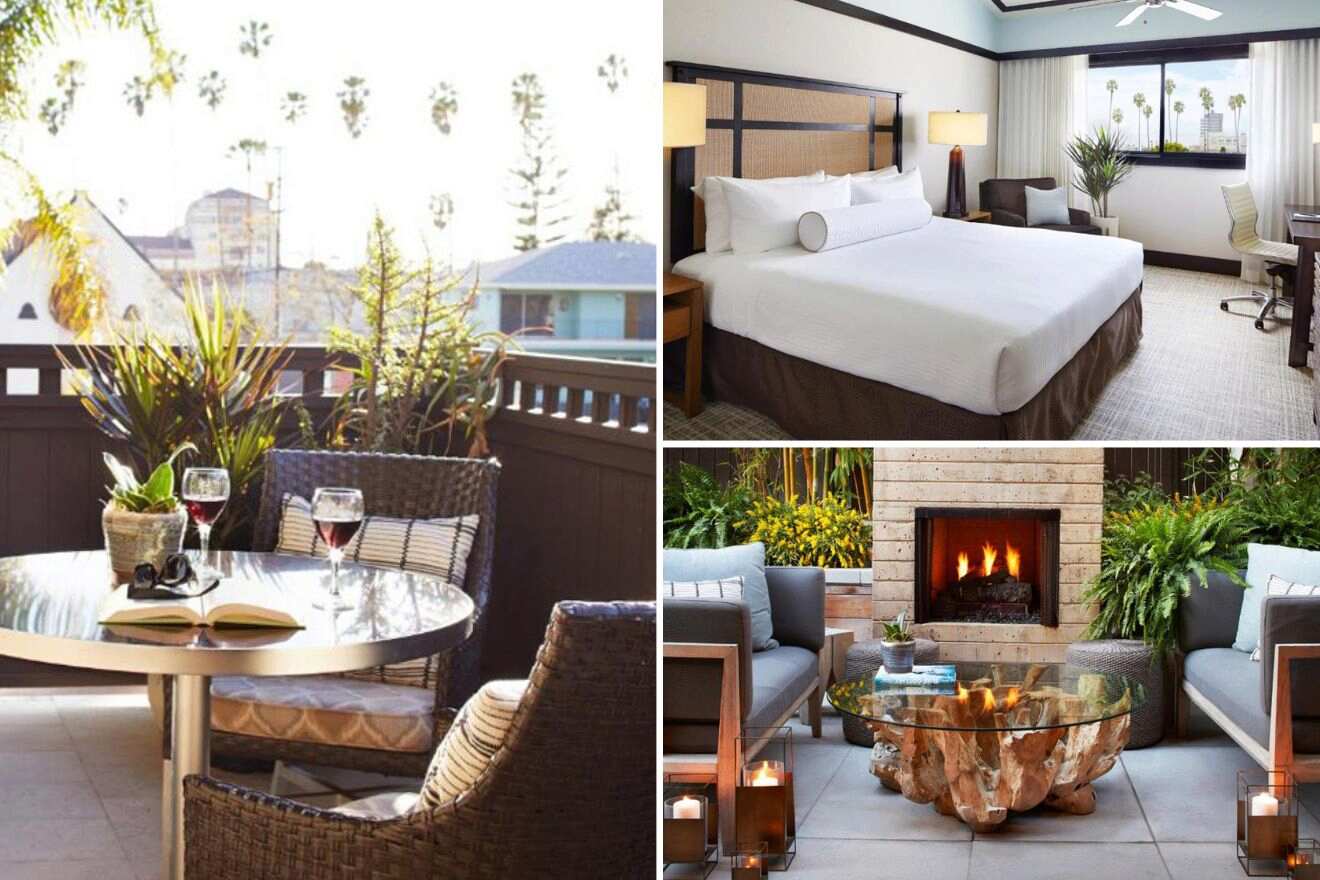 Gotta love a hotel that has a library! Especially if you're a book lover, you'd probably spend some of your time there looking for some hidden gems! Well, I found one in Santa Monica that has one! And not just that, this place is so cozy and has a lovely terrace with a fireplace where you'll love to spend your evenings!
Their rooms have all the facilities you need for your stay, and the accommodation offers room service so you can enjoy your breakfast and coffee in bed! Guests can use the fitness center and also borrow bikes from the hotel to explore Santa Monica Pier!
15. Inn at Playa del Rey – for beach lovers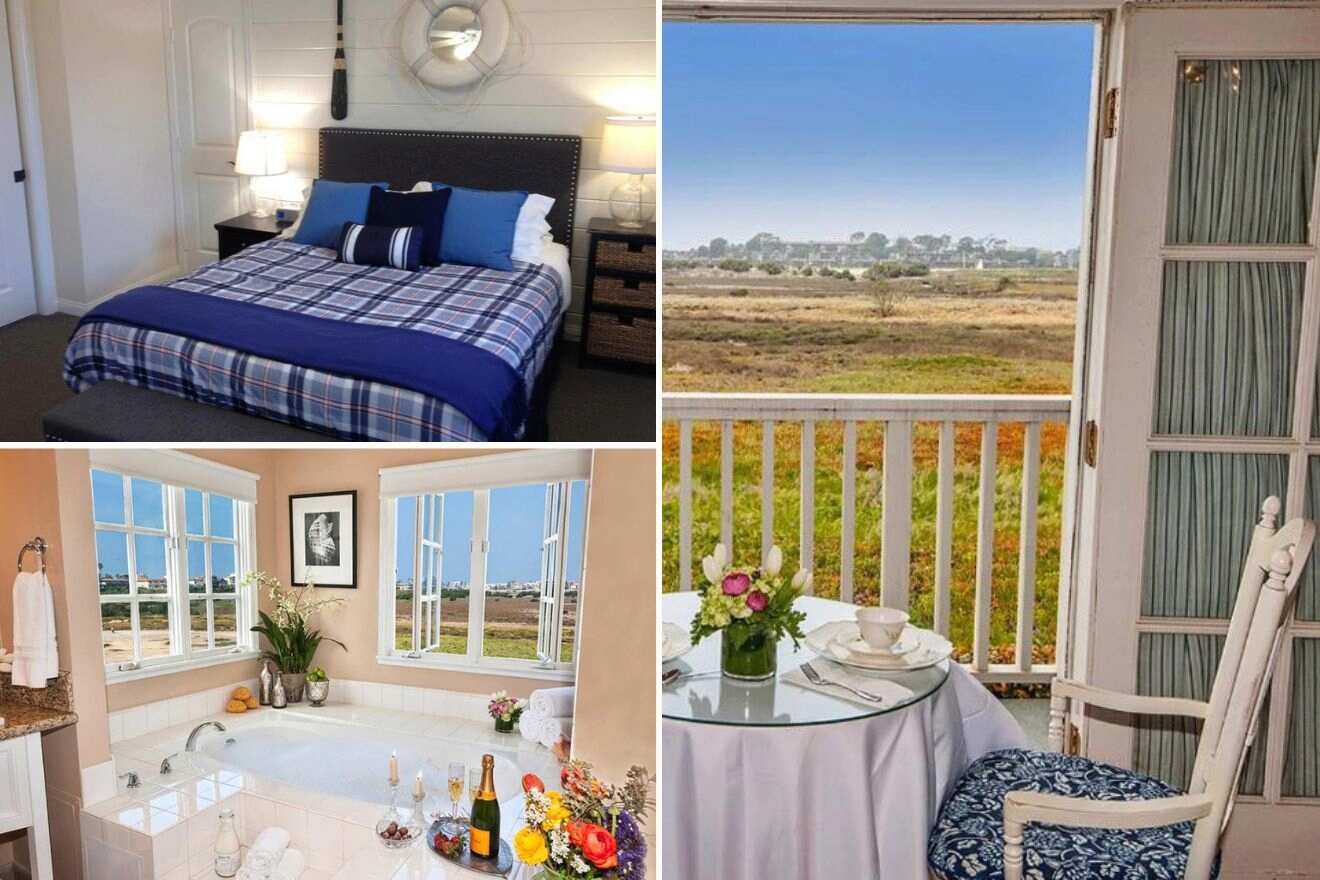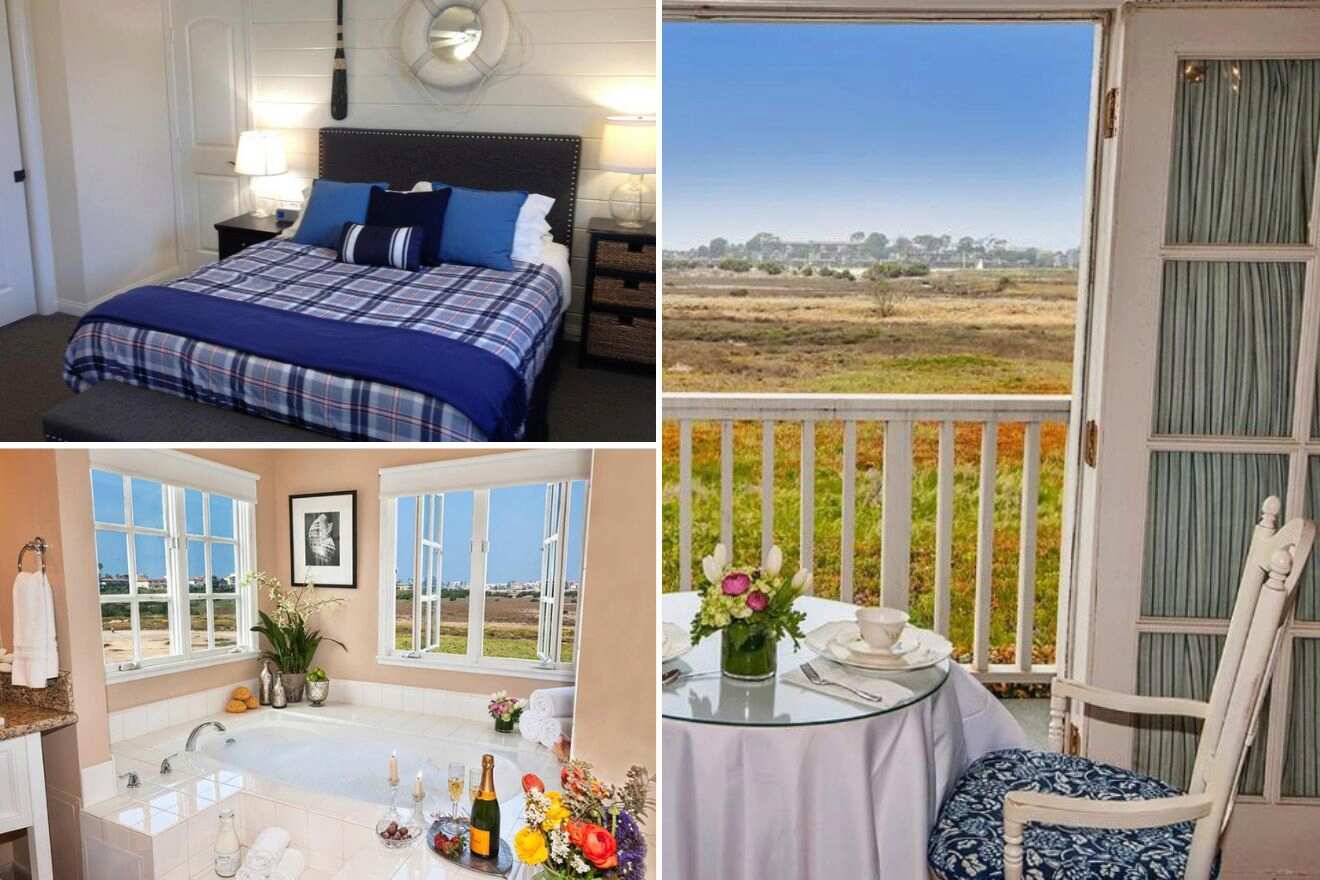 I'm a big fan of American inns, I feel like they are so charming and have such an impressive style and stunning furnishings! Just like this one, which is a bit vintagey (the way I like it)! It also has a great location, right by the beach in Playa del Rey!
Indulge in the most delicious breakfast each morning, which is made with market-fresh fruits and home-baked bread, and then run to the beach to enjoy that perfect Californian weather! In the evenings you can try some of the complimentary wines offered by the hotel and relax before you head up to your rooms!
16. The Garland – for vintage lovers
Planning to visit Universal Studios Hollywood? Then you might as well find a place to stay that's close enough to the attraction. Just like this one which is located just a 40 min walk away from it. Set in North Hollywood, this hotel also has a bit of that vintage vibe that I love!
Their swimming pool is surrounded by trees, which creates such a beautiful sight, especially at sunset when the rays play and reflect in the branches as the wind blows, bringing in so many scents! All the rooms have a private balcony, a flat-screen TV, and a coffee maker so you can start your mornings right.
17. Marina del Rey Hotel – for boat enthusiasts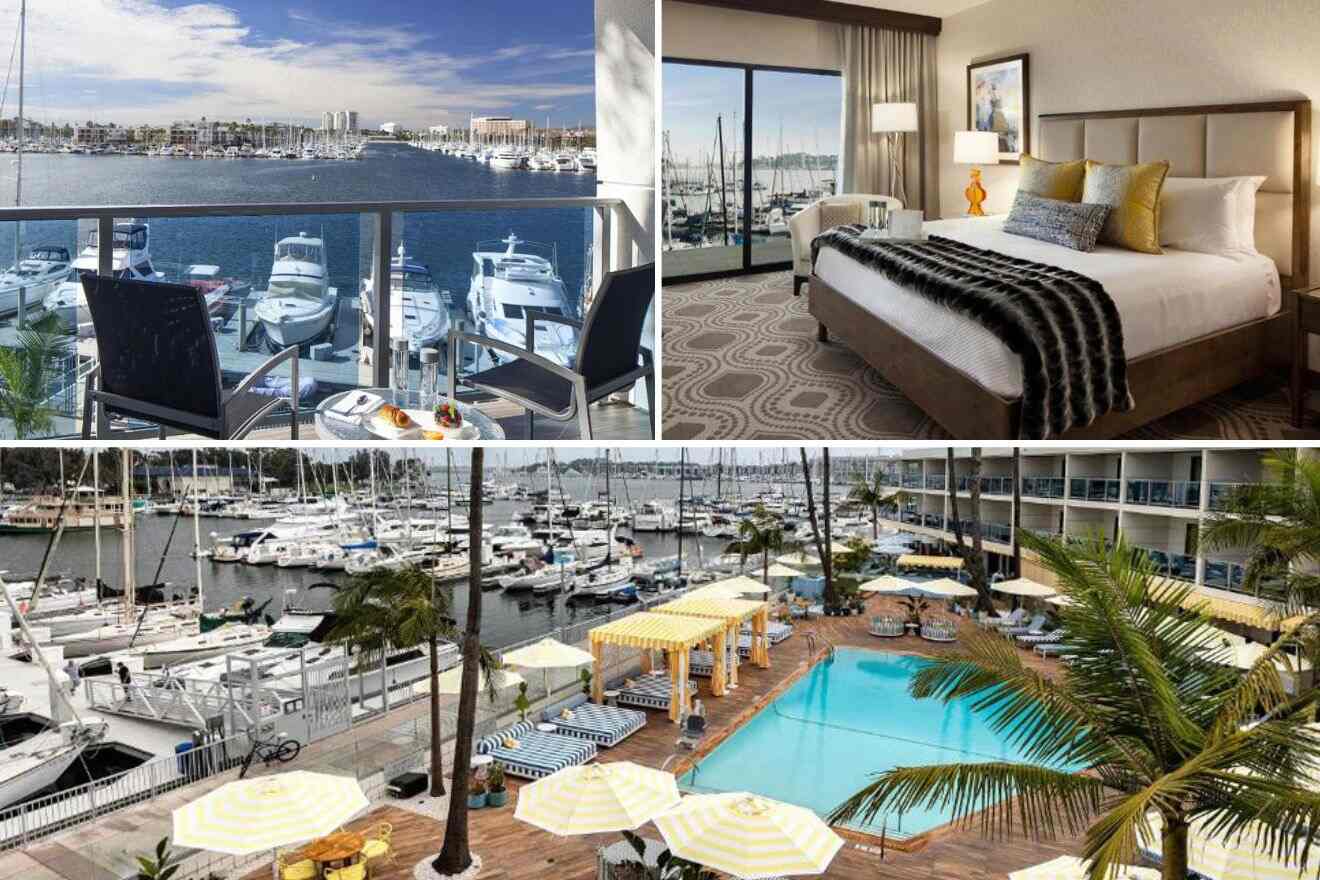 Big lover of boats and marinas? Well, then definitely check out this place that is located on the world's largest man-made boat harbor and features an outdoor swimming pool and an on-site restaurant.
The rooms? Well, most feature large windows overlooking all the boats and yachts or a balcony where you can relax! All suites have a private bathroom, a flat-screen TV, and free Wi-Fi. Guests are welcome to rent out the bikes from the hotel and explore around or relax in the hot tub after a long day of visiting attractions!
18. Sheraton Universal Hotel – for a family getaway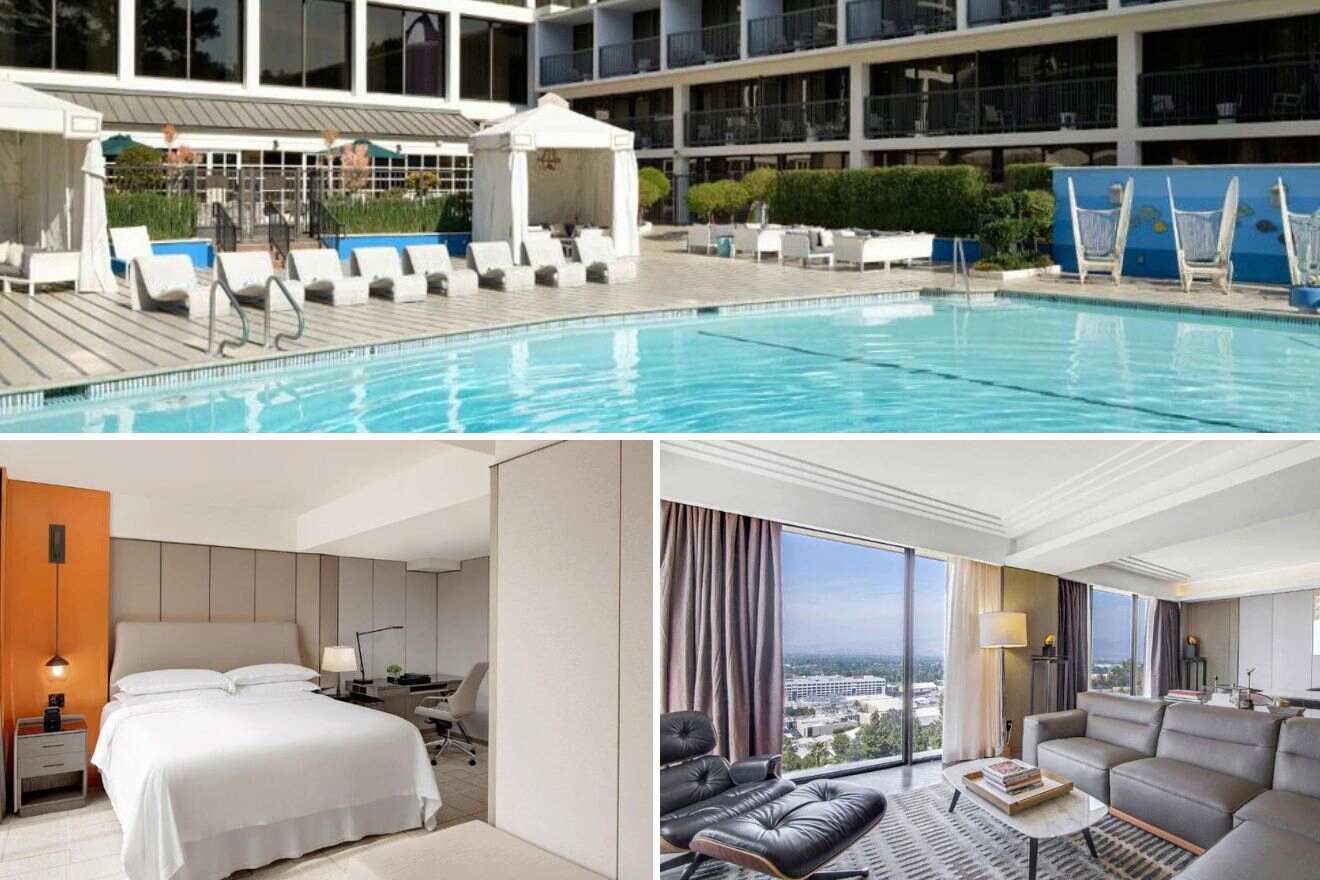 Located only a 10 min walk away from Universal Studios Hollywood, this accommodation offers an outdoor swimming pool where guests can relax all day long and enjoy the sun, plus many other great perks!
Like the amazing hotel rooms, which have floor-to-ceiling windows overlooking the city, balconies, and a flat-screen TV. Guests will also find laundry facilities here, a bar, and a bike rental so you can see as much of Los Angeles as possible!
FAQs about hotels with a balcony in Los Angeles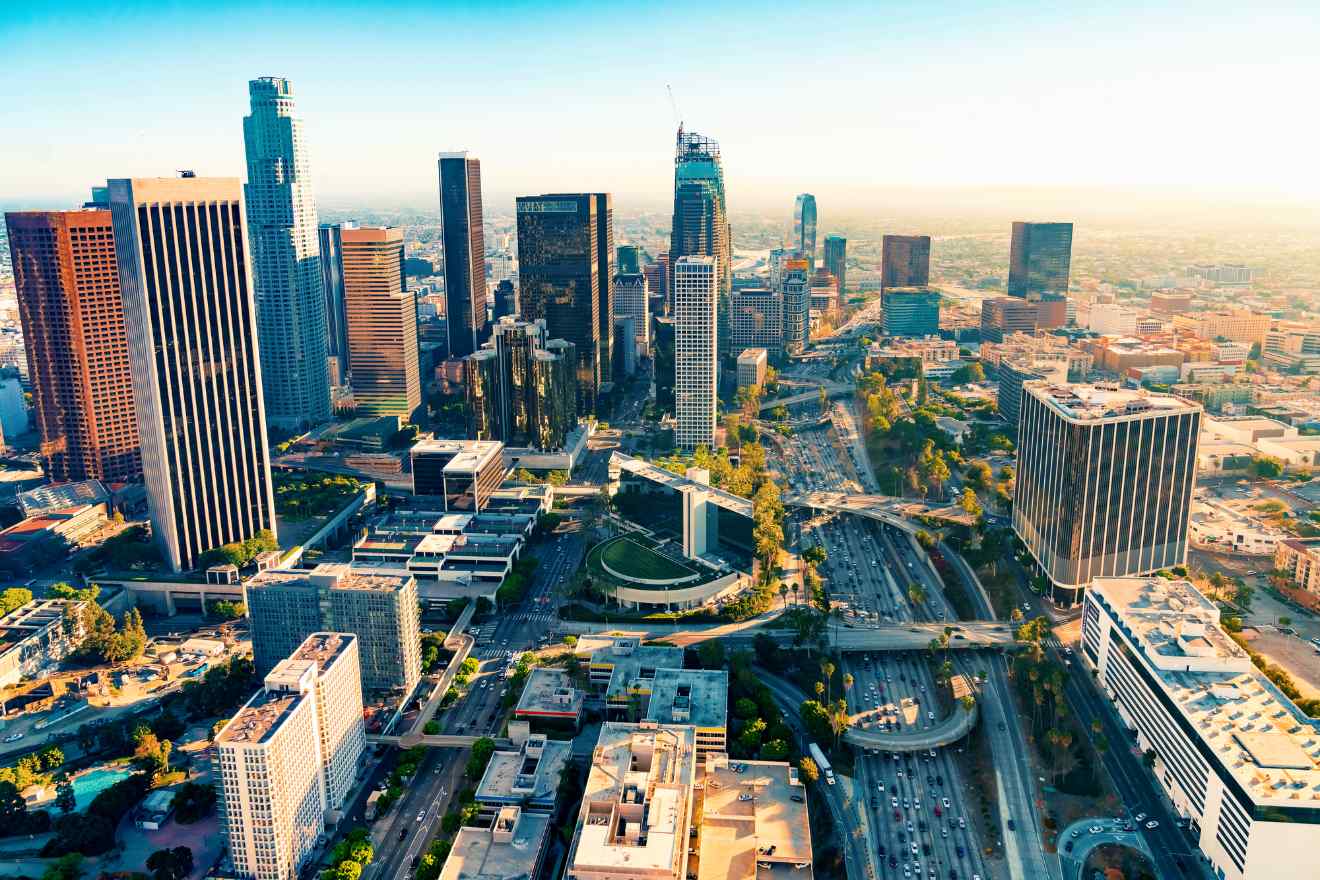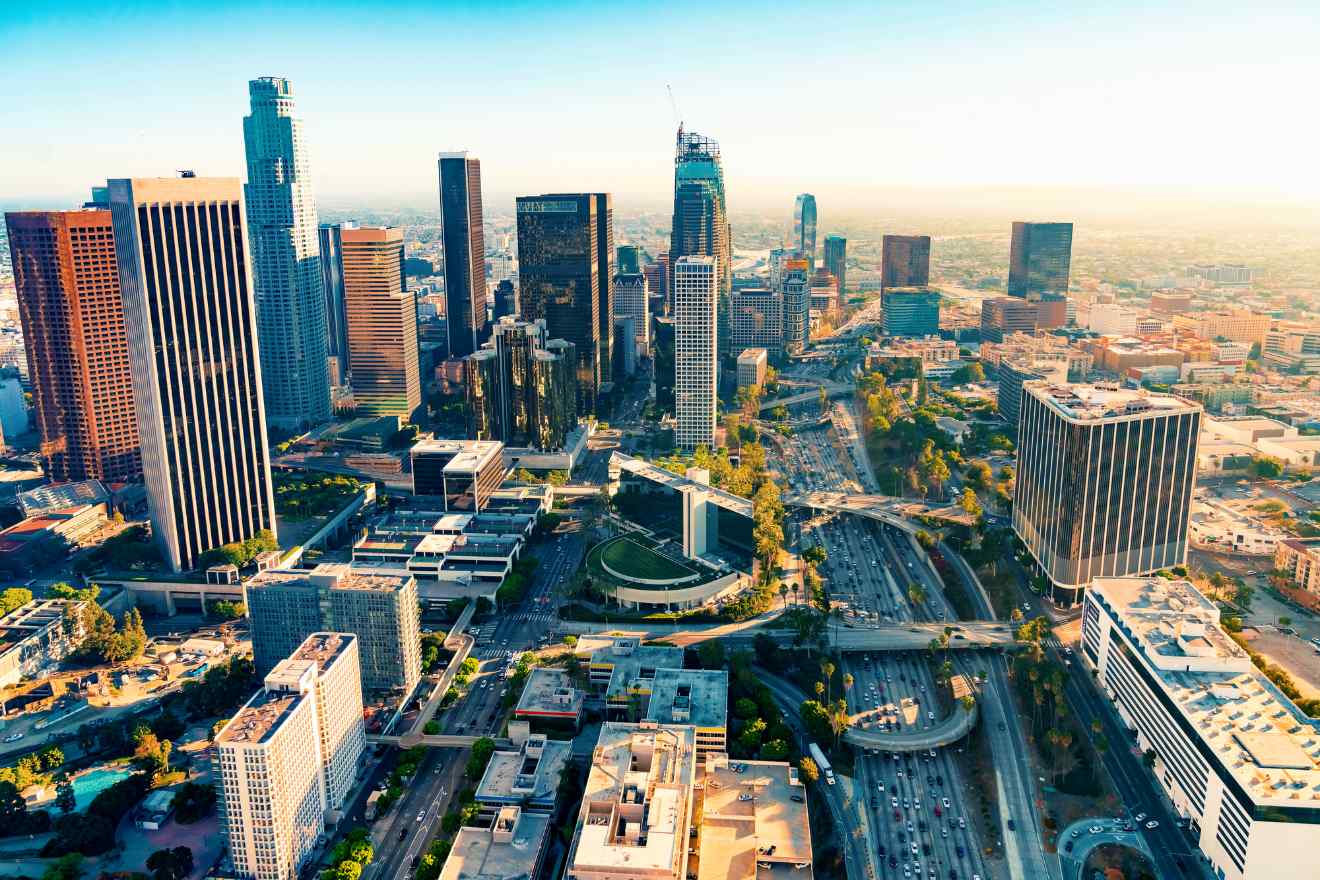 Conclusion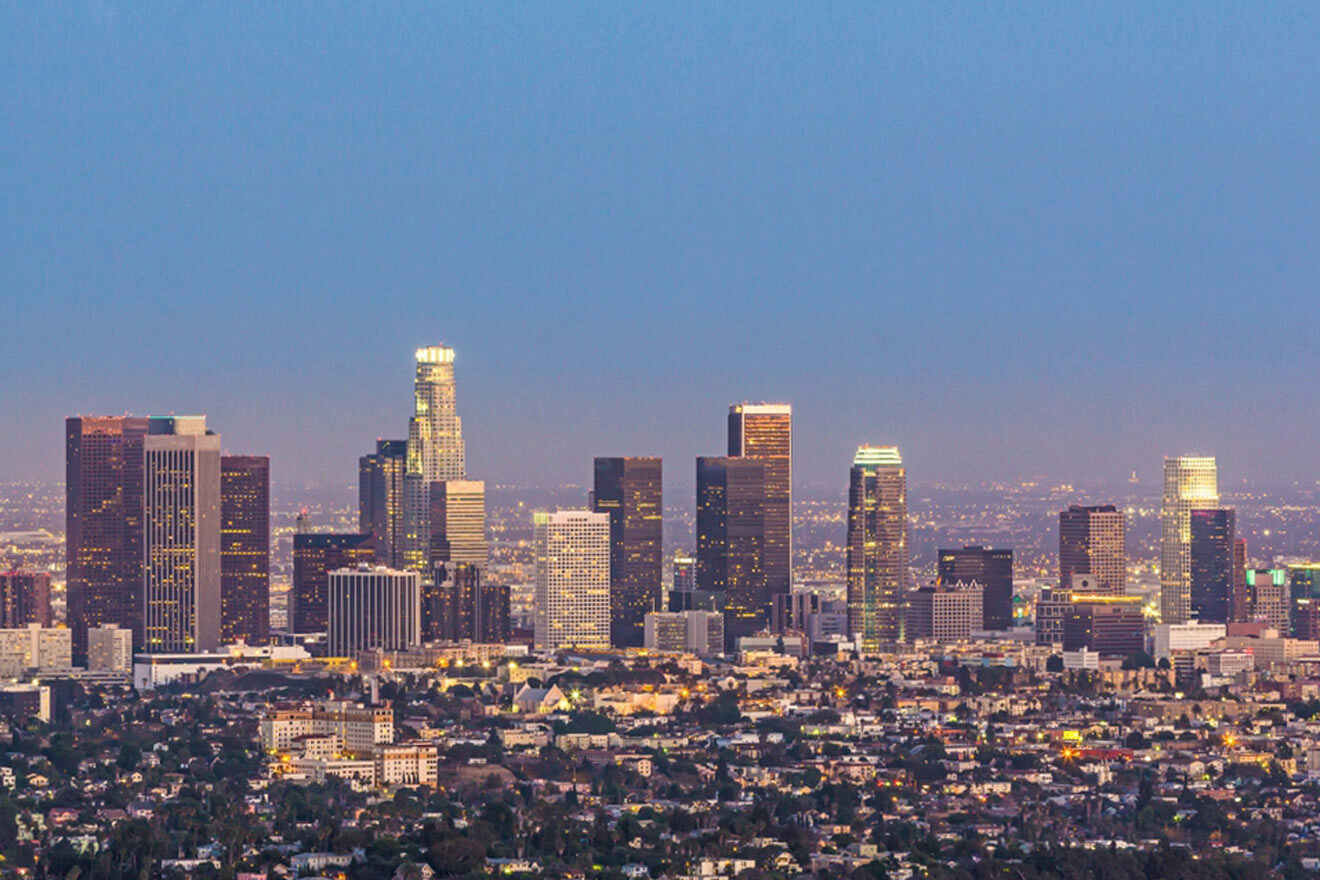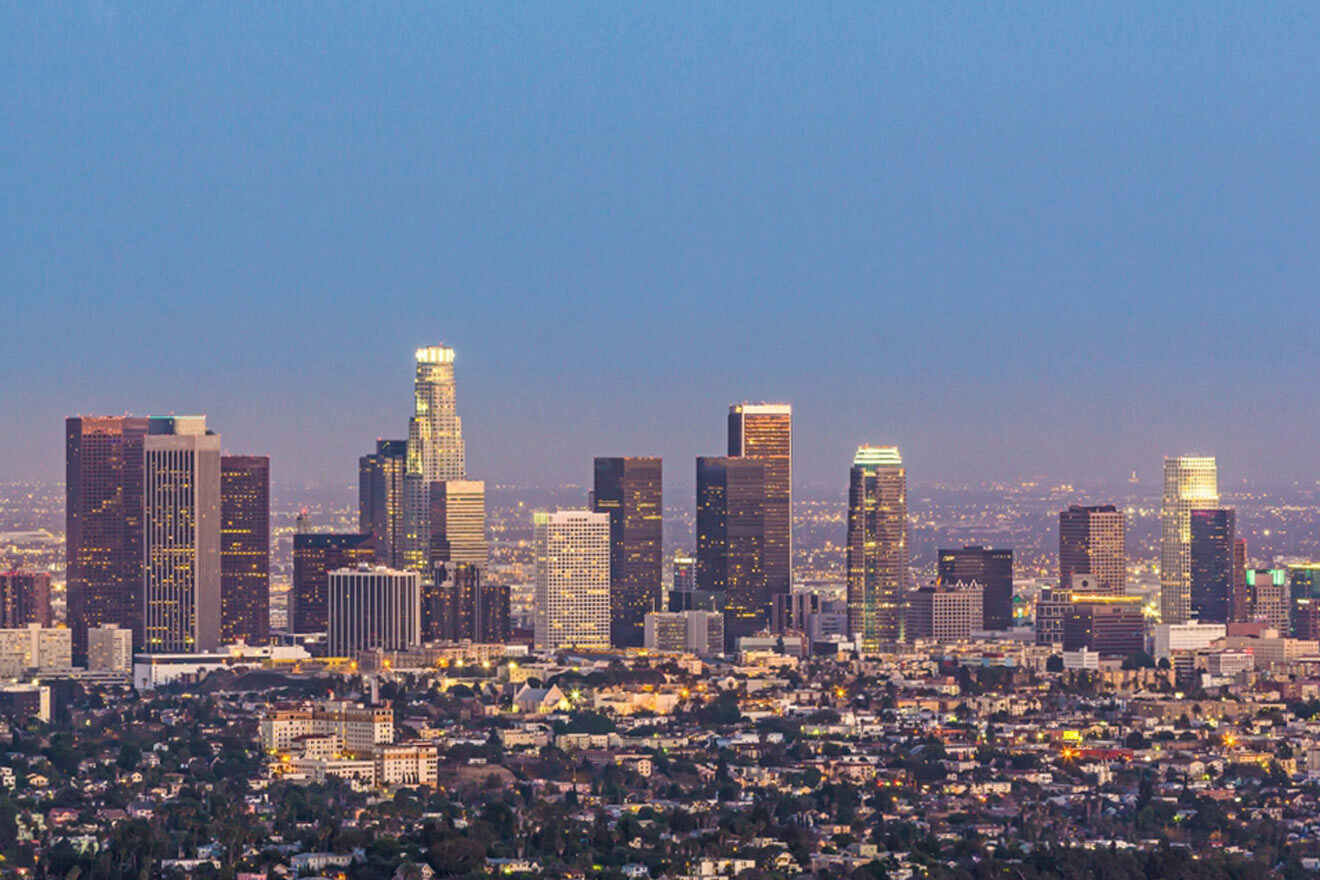 Already feeling the LA vibe? I know! It's so contagious!
I hope this post with the best hotels with a balcony in Los Angeles will help you find the right place for you!
Do remember that it's critical to book your hotels in advance (especially those that are centrally located) as this city is super famous, and everything sells out so early!
Should we check out my 2 favorite options before we wrap up for today? I'm sure they will come in handy to many of you:
The Beverly Hills Hotel – Also known as the "Pink Palace," this iconic boutique hotel features fabulous furnishing, a swimming pool, and a spa center.
L'Ermitage Beverly Hills – A stunning pet-friendly property with elegant designs that offers a restaurant, a rooftop swimming pool, and a spa.
Voila!
Now you're all ready to start planning this trip!
I hope you enjoy your time there, and don't forget to snap lots of pics on the Hollywood Walk of Fame or on the Venice Beach Boardwalk, and if you have time, I recommend exploring the beautiful Redondo Beach, which is 40 minutes away by car.
And by the way, if I missed anything, do not hesitate to drop me a comment below, I'll make sure to answer ASAP!
Safe travels,
Victoria
---
Pin it for later!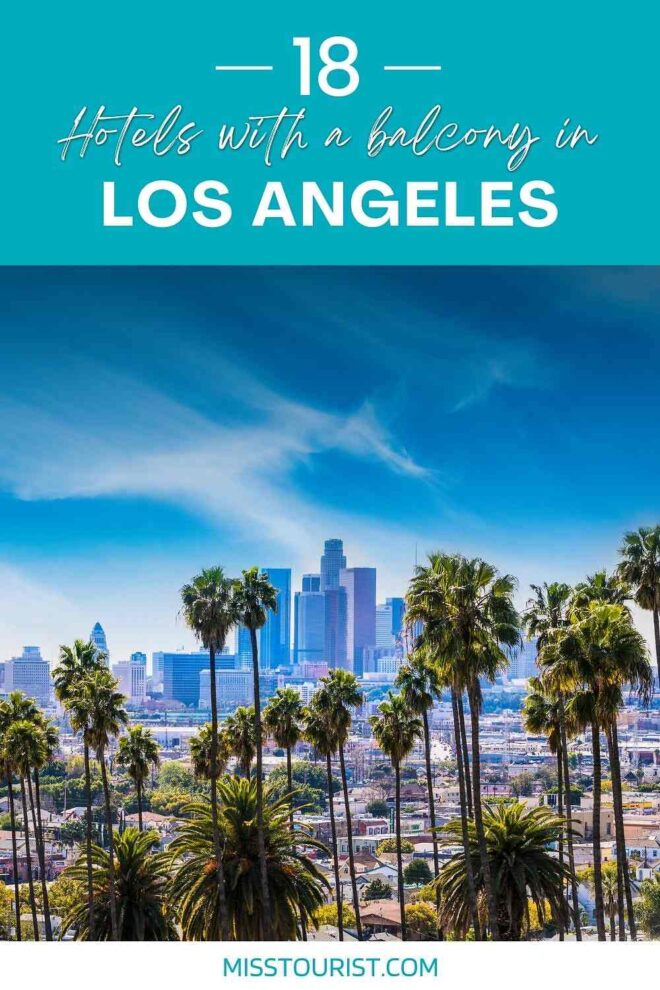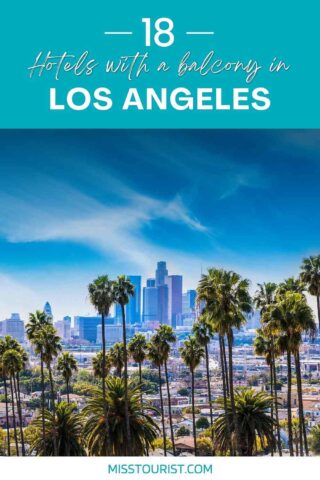 Pin it for later!