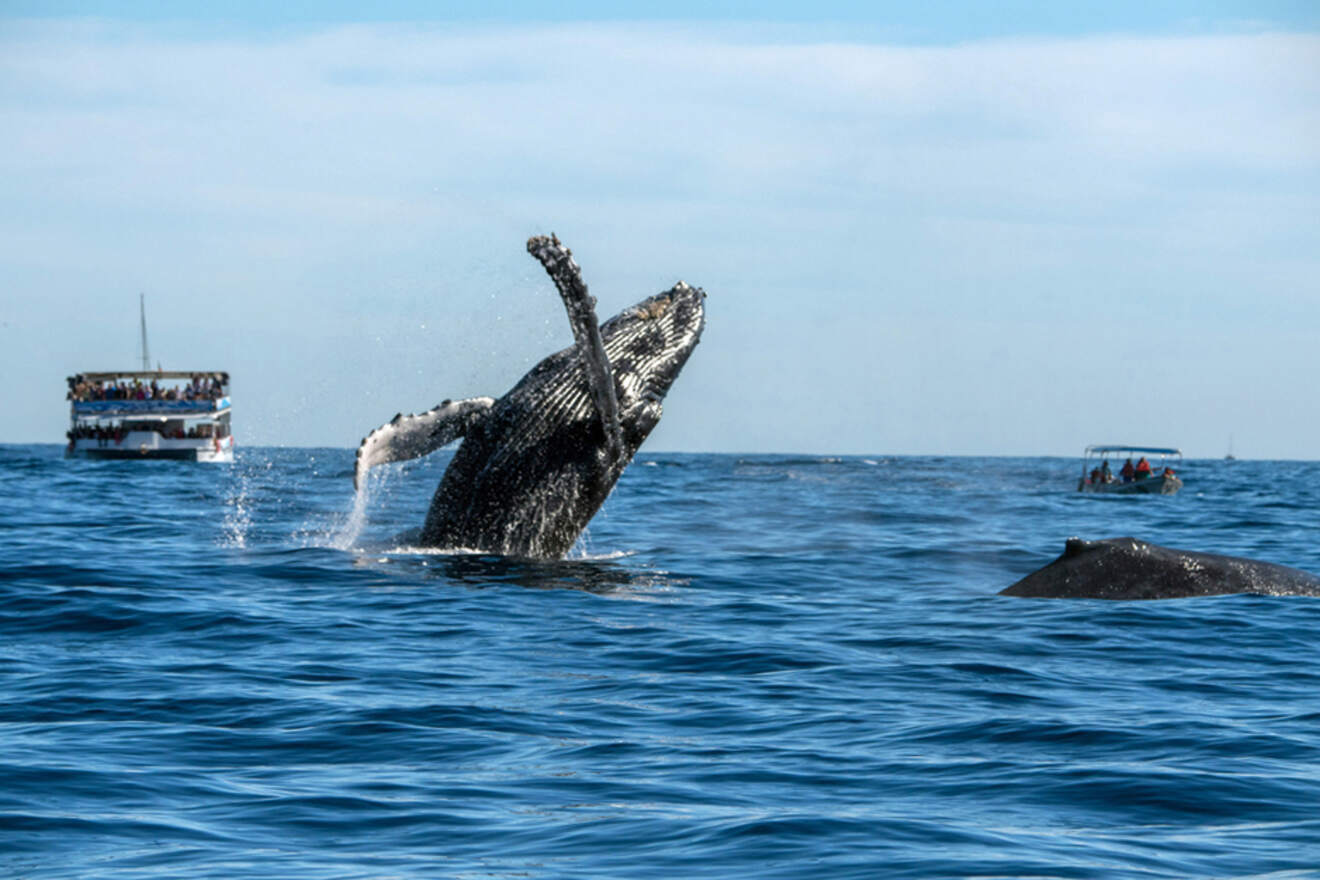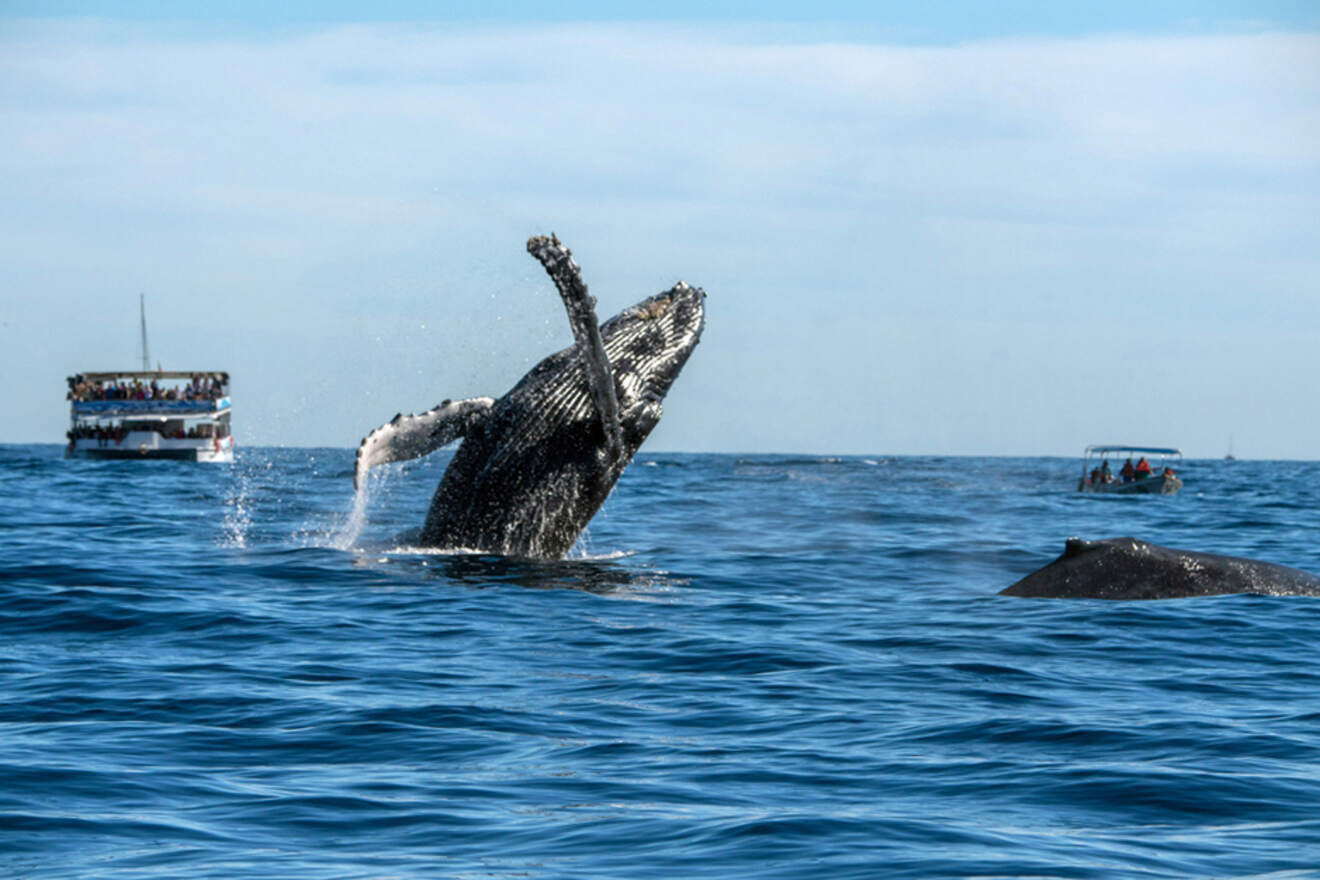 Whale-watching season is all year round in California. Seeing these breathtaking creatures up close and personal is truly one of the greatest things you can experience in the Gold State. Tens of thousands of migrating whales swim North to South each year, starting from the Bering Sea in Alaska to Baja California (which takes a total of about 54 days)!
Being a local California girl myself, I've had the privilege of trying out a few tours here and there over the course of the last 20 years or so. And since California is so big, there are SO many to choose from. Lucky for you, I've compiled a list of the 9 most breathtaking locations for whale watching in California.
People from all over the world come to California to experience these tours and watch the most amazing wildlife migrations so make sure you take notes and book ahead of time to secure your spot!!
Let's get started!
If you are in a hurry
Running short on time? Last-minute planning? We've all been there! Here are the main things to book in advance:
Here's a map of all the best places to visit whales in California!
1. Get deep into the waters of Monterey Bay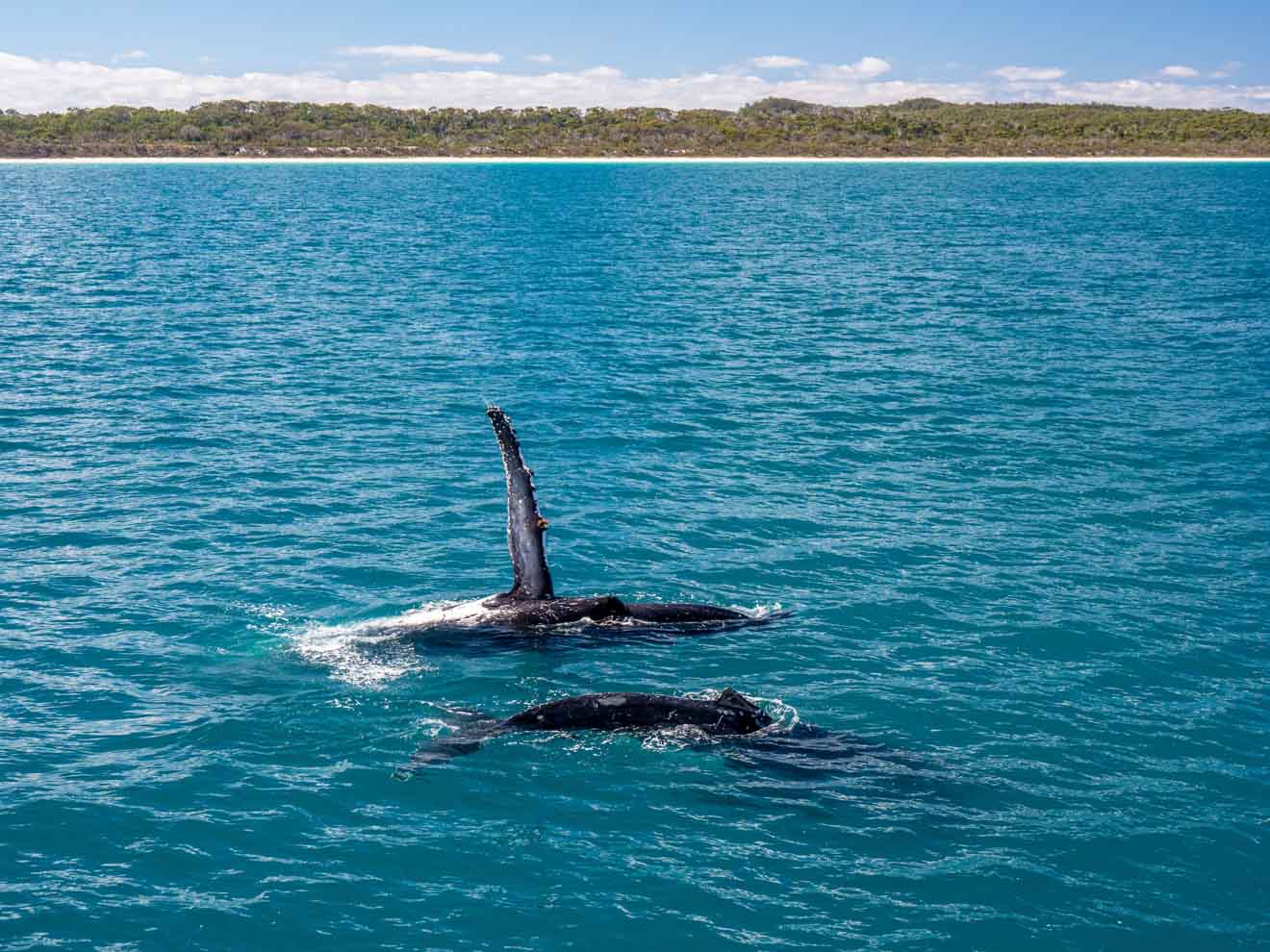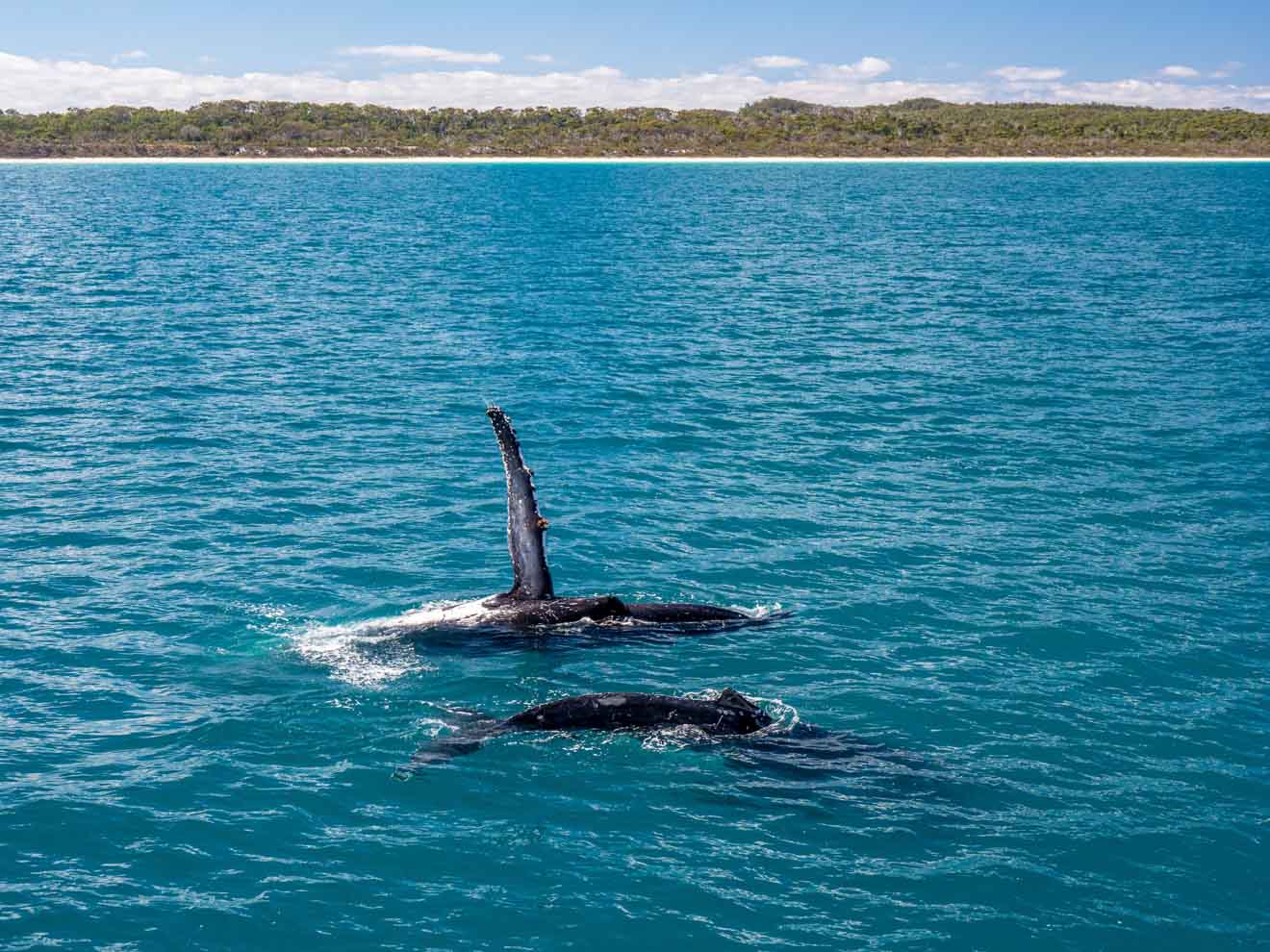 Monterey has 2 seasons for whale watching: during the winter and early spring (January to March), when you can whale watch the gray whale migration! This is when you'll see gray whales, killer whales (aka orcas), and dolphins. In the late spring, summer, and fall (April to December), you will see humpback whales, giant blue whales, and dolphins.
Depending on what type of whale you want to see, you can experience it here in Monterey through one of their highest-rated whale-watching companies, Discovery Whale Watch. Take one of their whale-watching tours for a quality experience and memory that will last a lifetime.
Monterey Bay Whale Watch is another great touring agency I recommend checking out. Marine biologists aboard every trip, providing great informational value for all your whale-watching curiosities! They even have an 8-hour killer whale season tour in April and May if you want to see one of the greatest apex predators in the ocean – my personal favorite marine animal to see in the ocean!
PRO TIP: The first time I went whale watching at the Monterey Bay Whale Watch, I got super seasick. You can avoid this by bringing ginger mints to help calm down your nauseous stomach.
HACK: If you're traveling in the summer, you can save cash on some days using the free transportation with MTS's Monterey Trolley.
PRICE: From US$70 per person
2. Discover the San Francisco Bay waters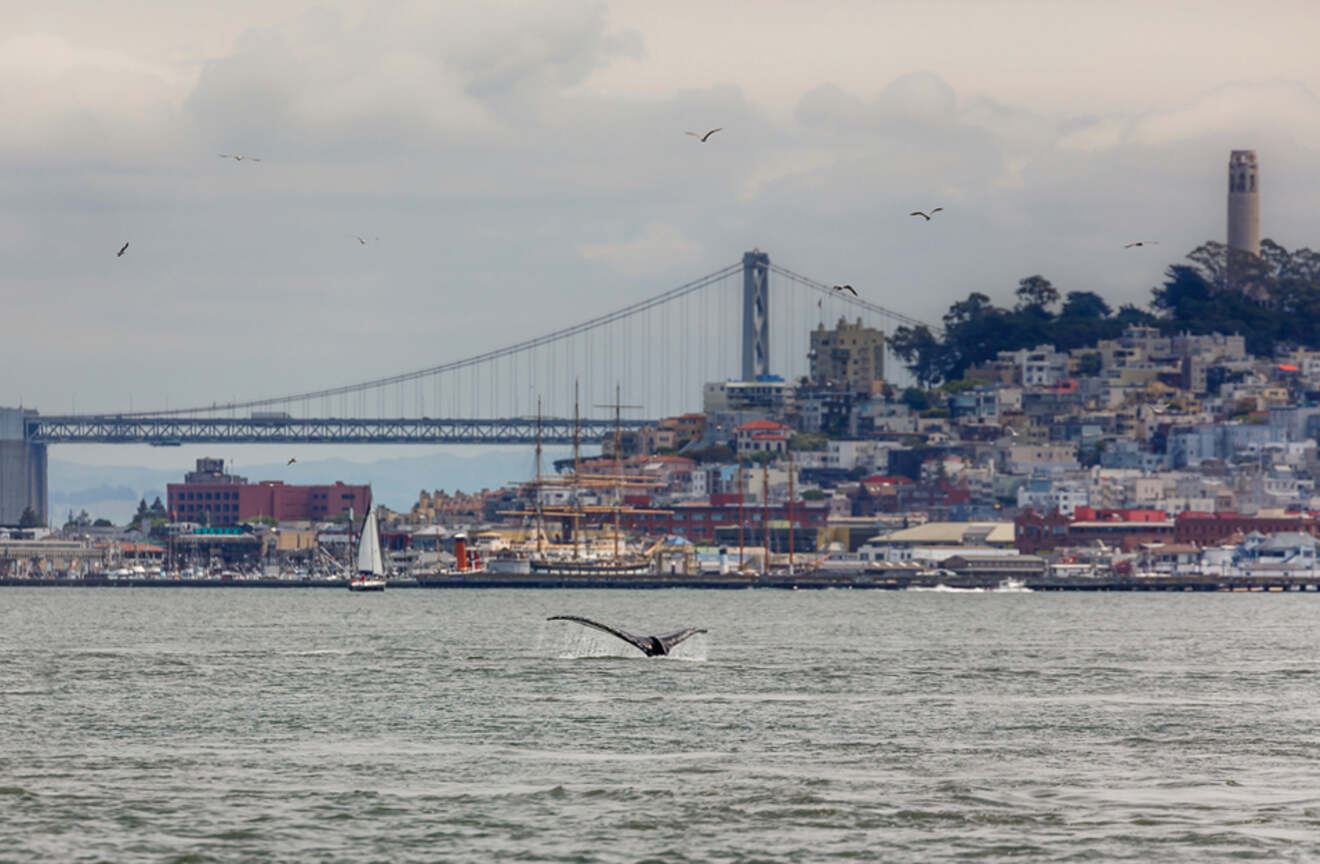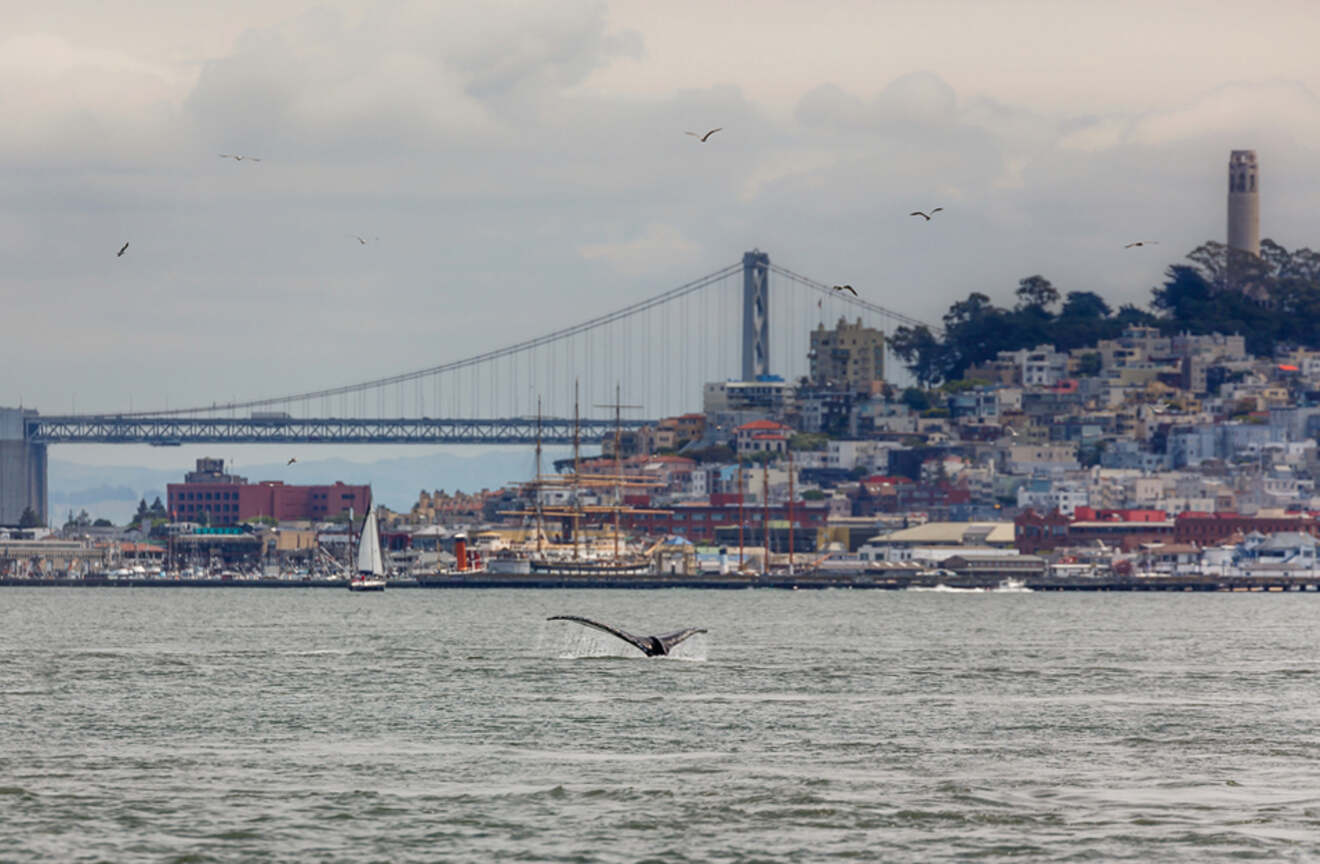 Visit one of the best whale watch trip destinations in Northern California, San Francisco! Come at any time of year and find whales roaming around the area. If you want to make the most out of your experience, the best season to go whale watching in the bay is from December through May.
In San Francisco, you'll find all kinds of whales during the following seasons:
Humpback Whales: May through November
Gray Whales: December through May
Sperm Whales: December through May
Orcas/Killer Whales: December through May
Blue Whales: July through October
The San Francisco Whale Tours is the best option here, giving you whale-watching tours on the San Francisco Bay to the Pacific Ocean, with views of The Golden Gate Bridge.
So many whales and other resident marine life will surprise you on your whale-watching excursion. You'll even spot sea lions and sea otters hanging out in the waters!
PRICE: From US$120 per person, US$90 for children (3 – 9)
3. Uncover the marine life on Los Angeles beaches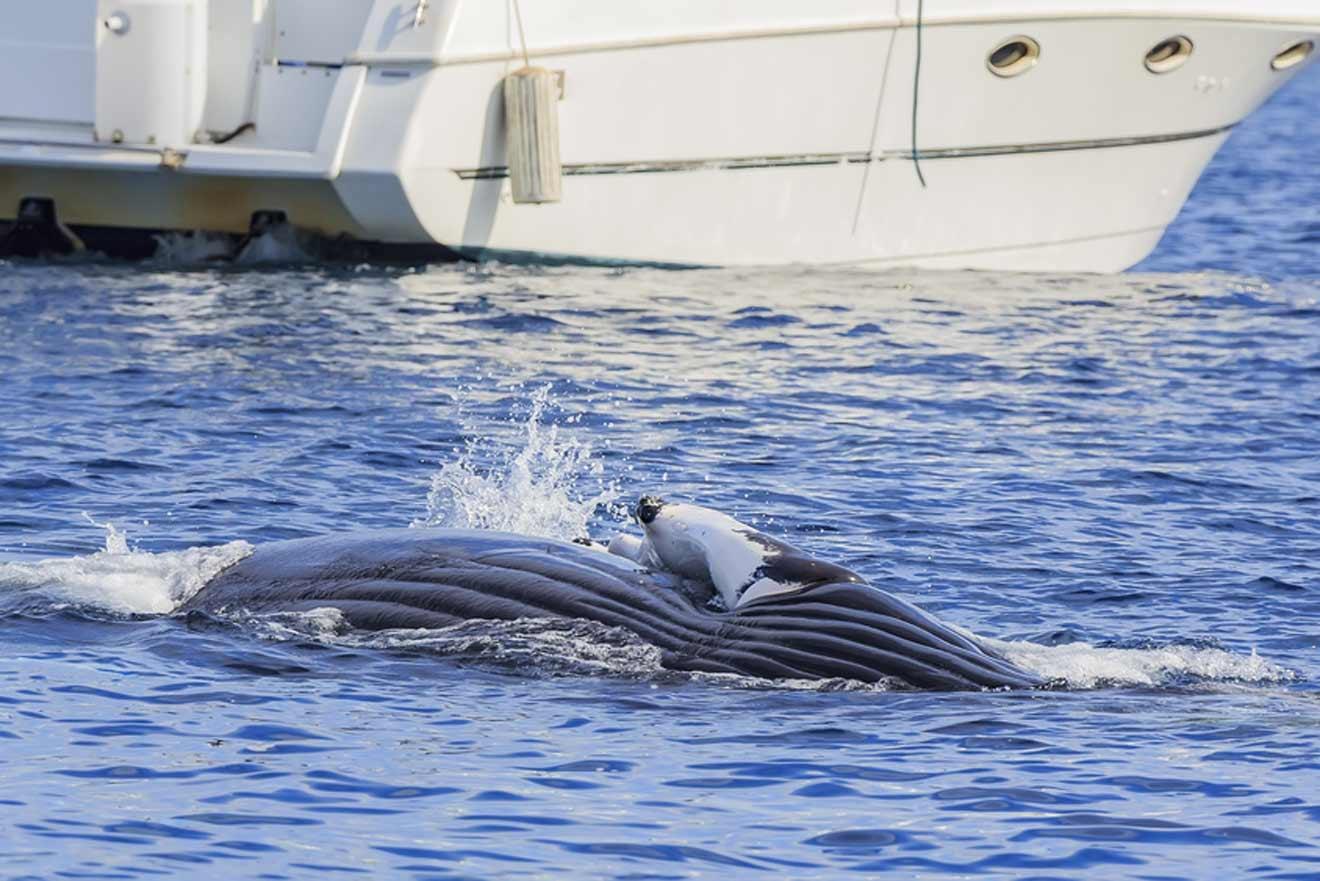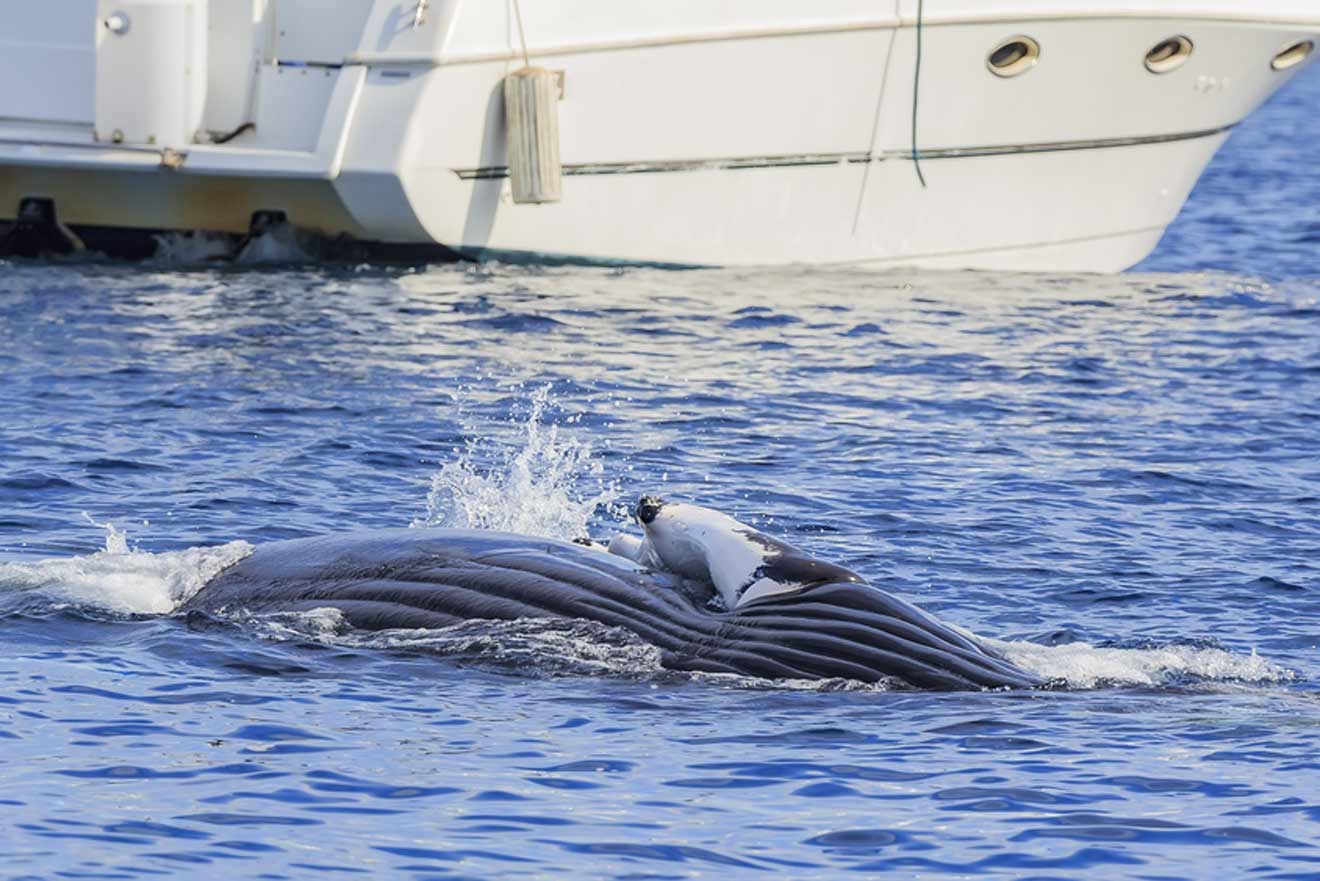 Los Angeles is an enormous city spanning about 500 mi² (1,300 km²). It's the largest city in California and just so happens to be right along the coast, perfect for whale-watching opportunities nearby.
Pacific gray whales migrate here from winter to spring, while blue whales migrate from summer to fall. The whales' amazing wildlife migrations happen all year, so tours are always available throughout every season! The best time to join these tours depends on what type of whale you wish to see.
There are few coastal beaches and whale-watching trips located in Los Angeles County. Below are a couple of whale-watching hotspots I recommend checking out!
Long Beach: Harbor Breeze is a 2-hour journey with online specials saving you US$10 if you book for any weekday (M – F) online. Prices here start at US$30 online, so you'll save over 30% by booking for a weekday!
Redondo Beach: This is a coastal city in LA and a beautiful whale-watching destination for tours. Redondo Beach offers 2.5-hour tours year-round, so you're able to spot whales of all kinds, depending on what season you choose to go!
PRO TIP: You're always in the splash zone when you're on a whale-watching tour! Make sure to wear water-resistant clothing and accessories to avoid getting soaked.
4. Explore the Newport Harbor sea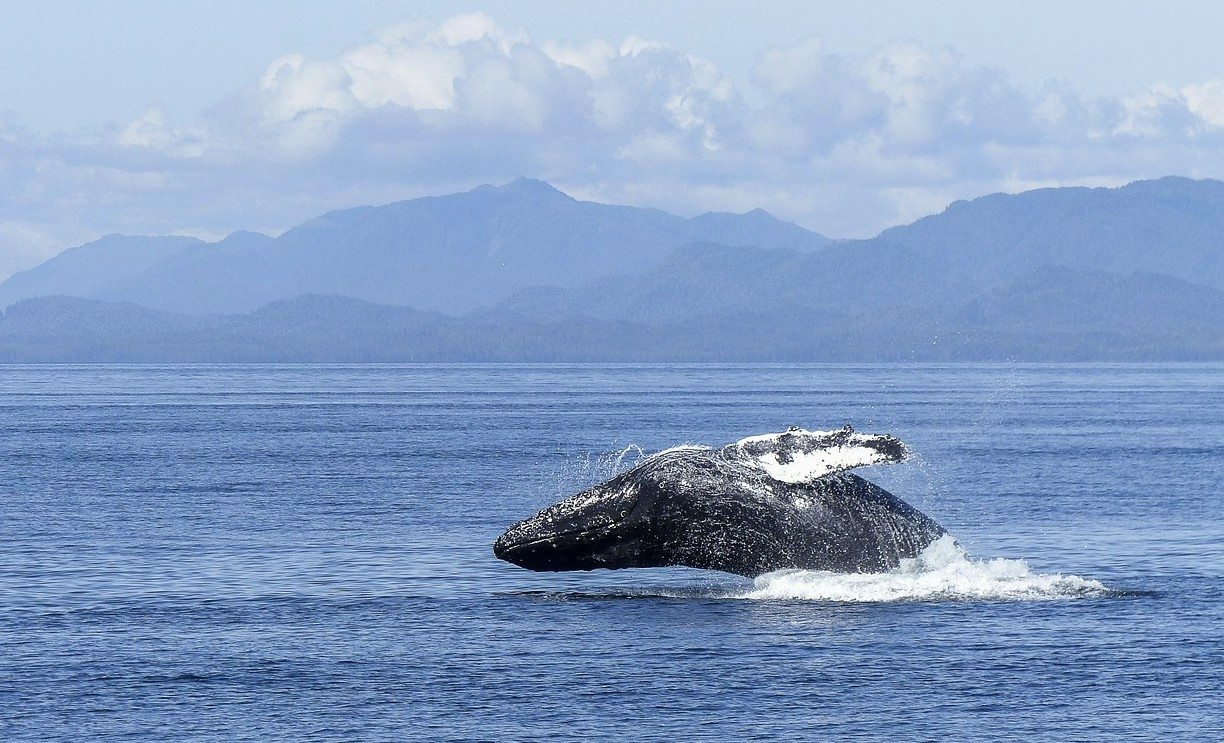 Newport Harbor (otherwise known as Newport Beach) is about an hour south of Los Angeles and very well-known for whale-watching excursions. The coastal town is arguably the most well-known SoCal city for whale watching! Located in Southern California, the best time to go on whale watch trips in Newport Harbor is the same season schedule as Los Angeles!
Here are 2 well-known tours that I recommend checking out:
This 2-hour whale watching trip with Davey's Locker is the best experience at a super affordable rate and very popular among SoCal natives. Here, you'll be able to admire all the marine life in their natural habitat and admire the Newport-Laguna coastline. All for US$32 per passenger!
For a more luxurious and intimate experience, check out the whale-watching catamaran cruise from one of the best touring agencies in the city, Newport Landing Whale Watching. It's more spacious and carries a maximum of 35 people for US$62 per person (whereas over 100 people in the other tour).
NOTE: There are passionate captains and naturalists on board, making your experience 100 times better, make sure to thank them with a nice tip after your tour!
5. Start your whale-watching adventure at Dana Point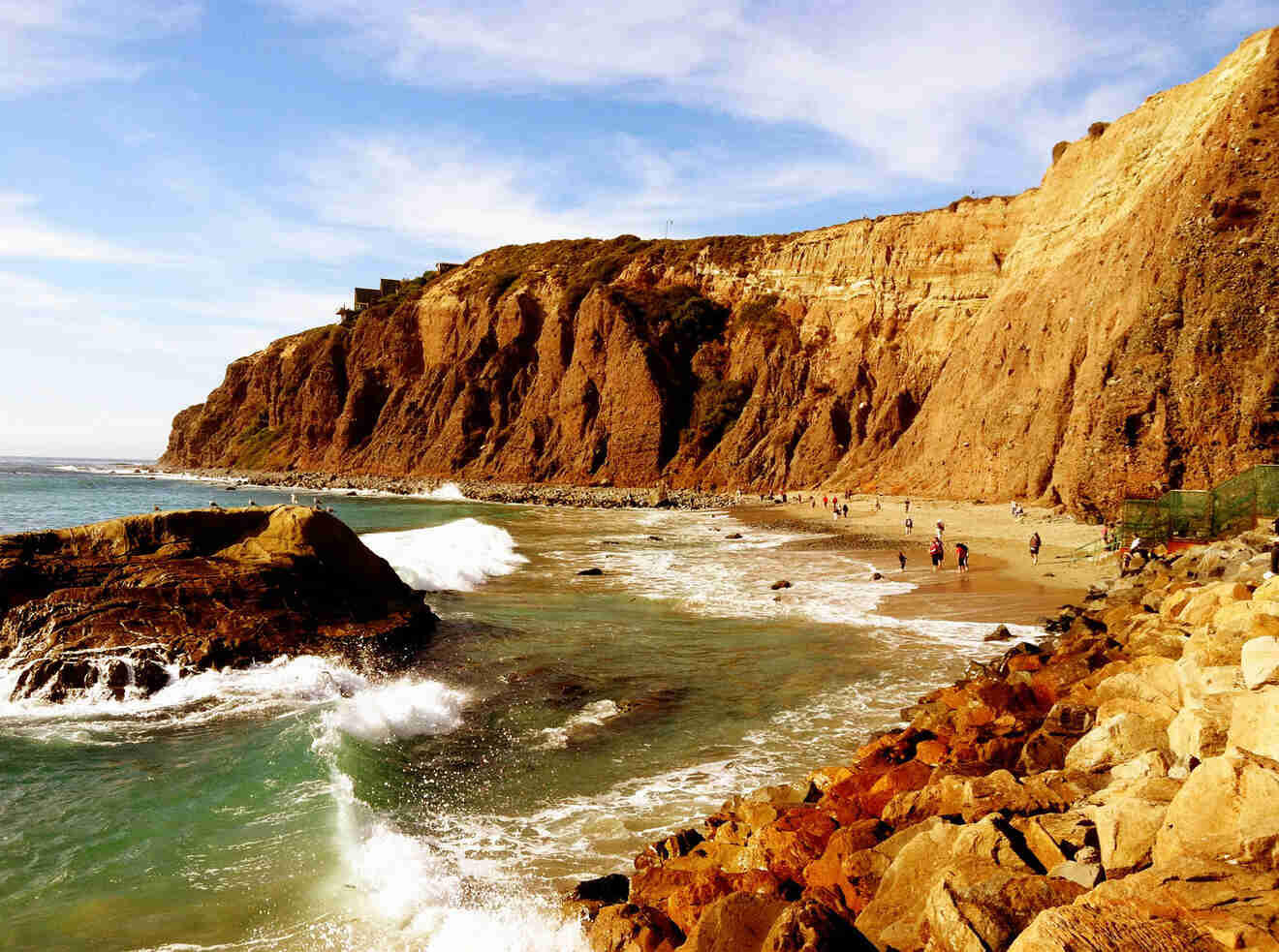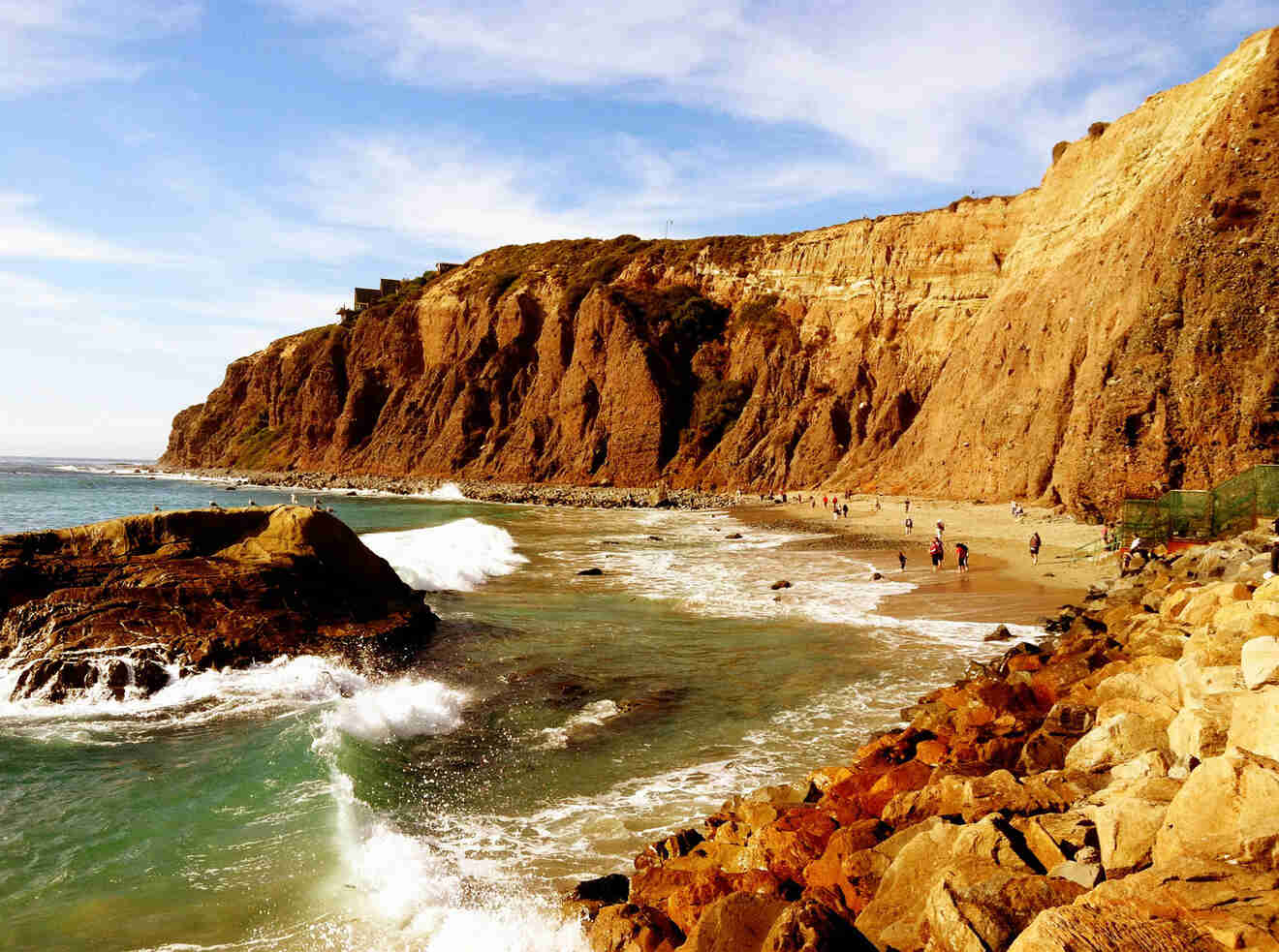 Fun fact: Dana Point was the first Whale Heritage Site in the Americas!
The Whale Watching Excursion in Dana Point is another magical tour in SoCal (starting at US$42), closer to the San Clemente area. The tour takes you on a journey along the coast of the Pacific Ocean to admire all kinds of extraordinary marine life.
Again, depending on the season, what type of whales you see in Dana Point will vary. Friendly Pacific white-sided dolphins love to hang around all year round, so you're almost guaranteed to see other marine life anytime you go. The guides here are also very knowledgeable on everything marine-life related, so there's so much to learn!
PRO TIP: Look where the seagulls flock near the water! This is a good sign that a whale is somewhere in the surrounding area. You'll also bump into humpback whales, finback whales (also known as fin whales), minke whales, dolphins, sea lions, and other amazing marine life any time of the year, anywhere in Southern California! Keep an eye out!
Make sure to check in 30 minutes before boarding and 45 minutes beforehand if it's a weekend!
PRICE: From US$40 per person
6. Explore the waters of Channel Islands National Park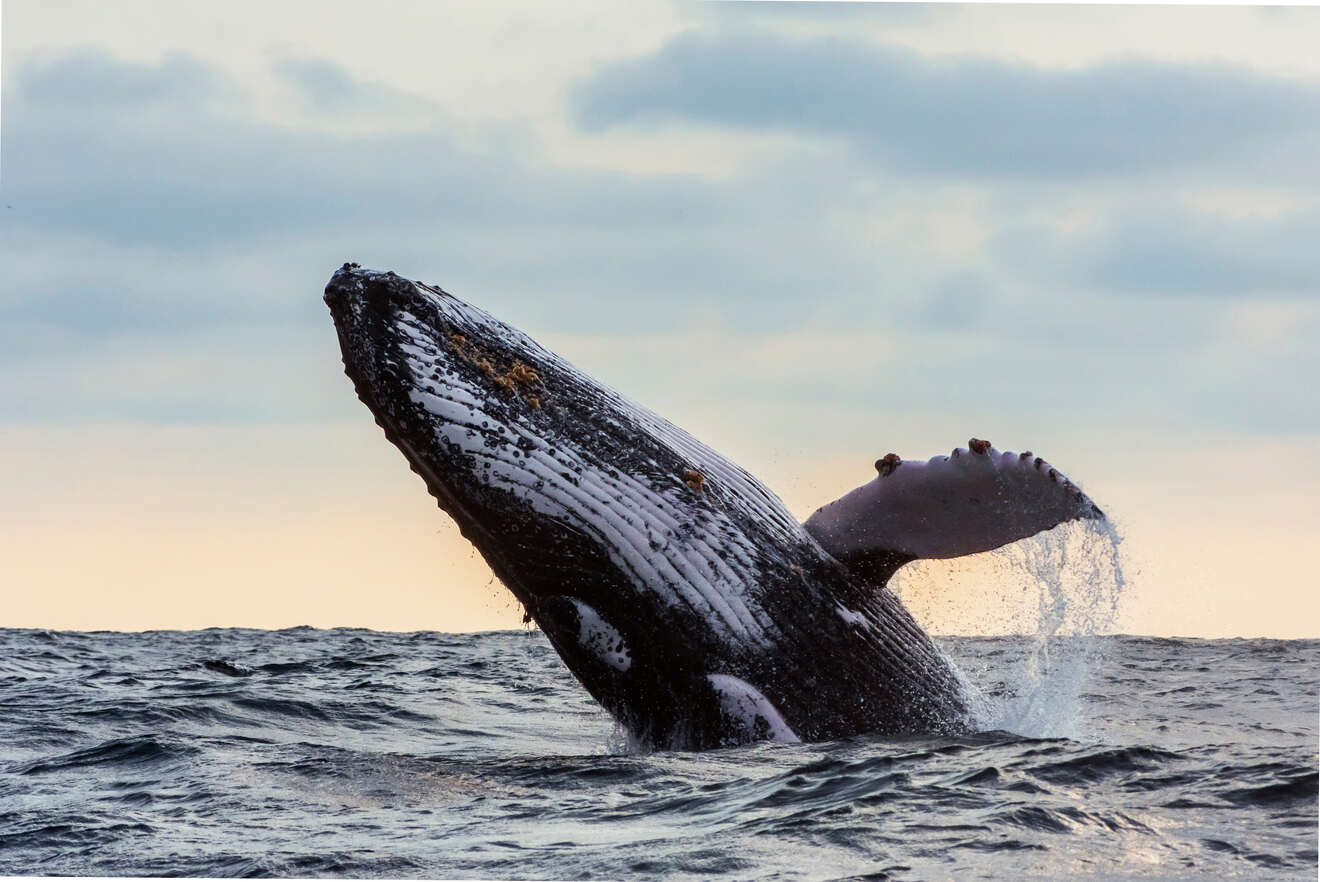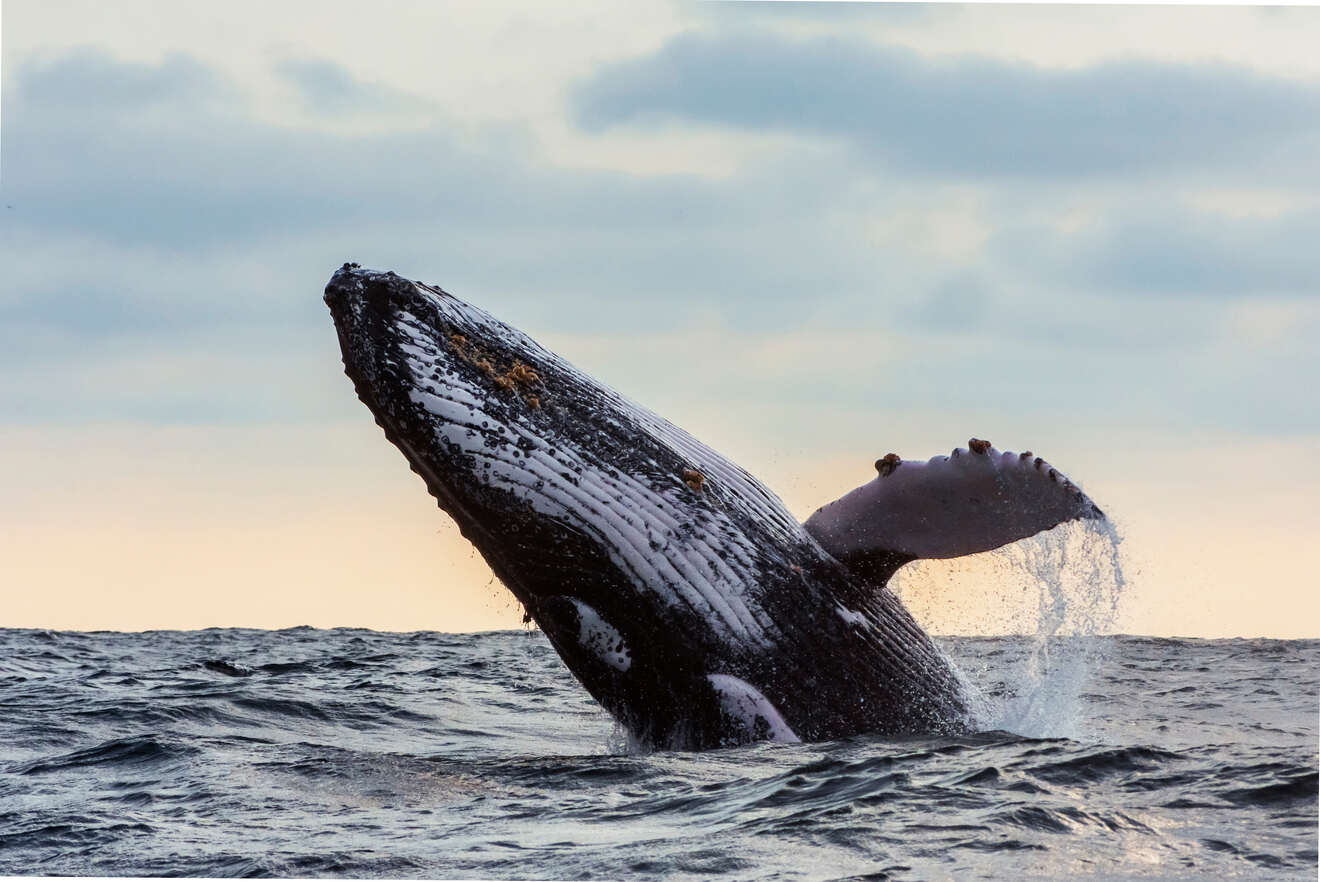 The Channel Islands are made up of 8 small islands along the California Coast: Anacapa, Santa Cruz Island, Santa Rosa, San Miguel, and Santa Barbara Islands.
They are known as the "Galapagos of North America" because there are thousands of unique animals and plants that can't be found anywhere else in the world!
The waters surrounding the waters are home to many species of whales, dolphins, and other marine life (including sperm whales, pilot whales, and bottlenose dolphins)!
If you visit in the summer, you're more likely to bump into a blue and humpback whale. If you take a tour anytime between December and March, you'll see California gray whales! Here are the best tours in the Channel Islands:
Channel Islands Whale Watching hosts seasonal tours from December 26th to April 30 each year. This means that you'll have to book your tickets in advance to ensure you get your seat! This Channel Islands Whale Watching option is unique because you'll find marine mammals here that you won't see anywhere else!
Channel Islands Dolphin Adventures hosts group tours and private tours if you're looking for options at Channel Islands. They also offer gift certificates, making this experience a great gift for your whale-loving friends!
NOTE: There is no transportation available on the islands, and they are only accessible by private boats or kayaks. Make sure to plan ahead how you're getting there! Read more info here on island transportation. There are also mainland visitor centers you can visit in Santa Barbara and Ventura!
7. Spot whales all throughout the San Diego Coast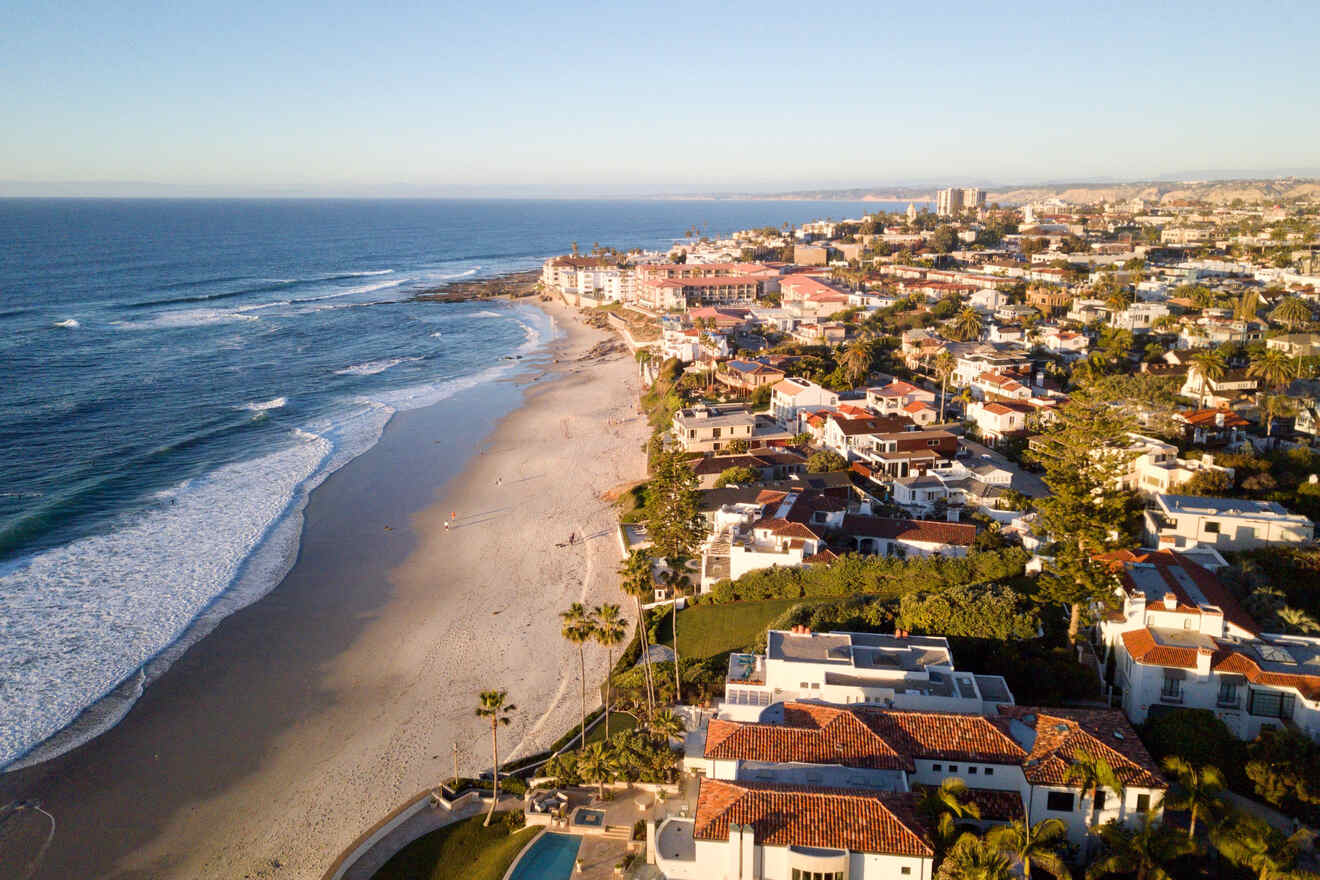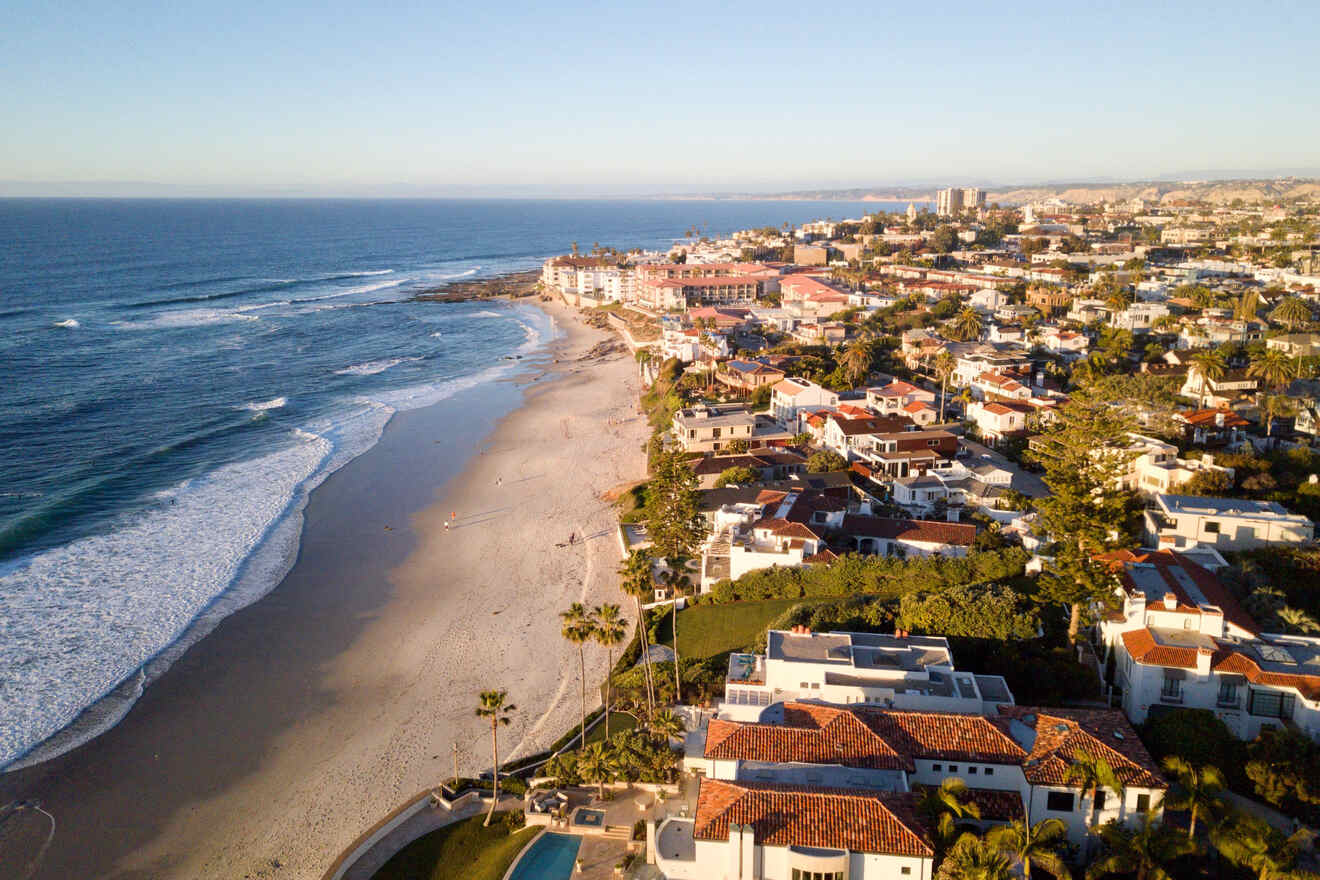 If you want to see a blue whale (aka the largest animal in the world), come 4 hours south of Santa Barbara to San Diego in the summer (June, July, and August) for a remarkable whale-watching cruise! If you're not visiting in the summer, you can also find the 2nd largest whale in the world (Fin Whales) near the San Diego coastline.
San Diego has a couple of great tours that are tried-and-true:
San Diego Whale Watching: This is a 3-hour cruise with a marine biologist on board to help guide the tour and answer all your marine life questions! It's also very scenic, departing at the famous Mission Bay.
Dolphin & Whale Watching Sunset Cruise: Most whale-watching cruises in California are during the daytime, so this is a neat tour with a little bit of a twist, great for couples looking for a cute date in San Diego!
For a free whale-watching experience in the winter, take a drive to Cabrillo National Monument in Point Loma and watch the Pacific gray whales pass by the western side of the monument.
After spending their summers in the Arctic Ocean, the whales go south along the California coast to the bays of Baja California, where they mate and nurse their young.
Along the way, they pass Point Loma and Cabrillo National Monument. And if you're in San Diego, you're lucky enough to take a peek at their journey. How cool is that?!
8. Explore the small coastal town of Half Moon Bay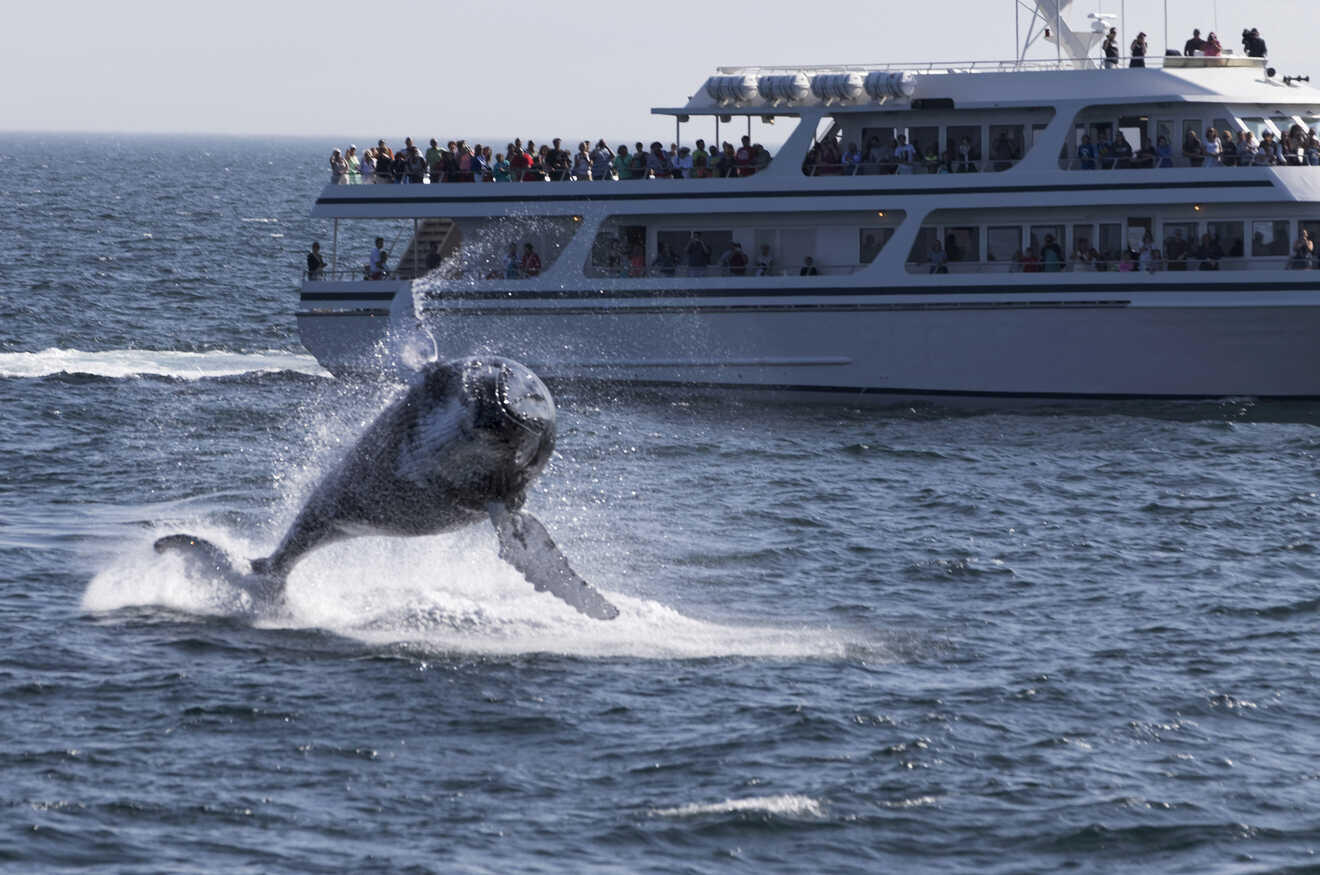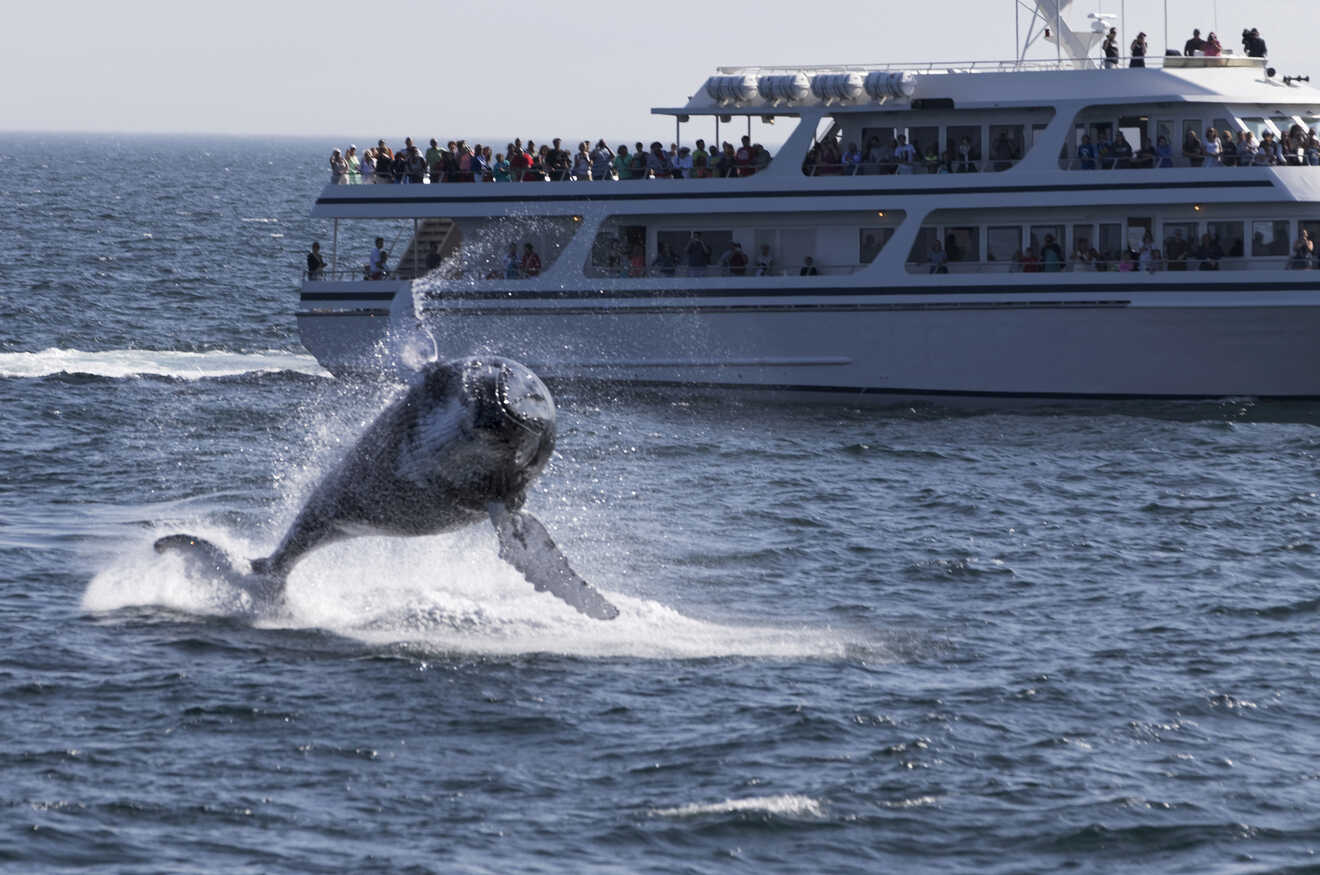 This city is known for its beautiful beaches, surfing, and being the perfect whale-watching spot! Half Moon Bay is a Northern California coastal town about 30 miles (c. 50 km) south of San Francisco and a quiet vacation spot for those looking to get out of the city.
The best time to spot gray whales in a whale sighting is January through March when they begin their journey down to Baja, California.
Riptide Charters offers a couple of whale watching tours that I highly recommend! They have 3-hour tours that leave at 9 AM and 1 PM in a private charter (starting at US$65) or an all-day whale-watching trip for US$100 per person.
Similar to Cabrillo National Monument in Point Loma, you can even watch the whales passing through the Pigeon Point Light Station in Pescadero (right on the Pacific Coast Highway), a town just 14 miles (22 km) south of Half Moon Bay. The coastal area is rich with all kinds of unique marine mammals (like elephant seals and California sea lions), so take advantage of this free must-try option!
PRO TIP: If you plan on visiting Pigeon Point Light Station, get ready to spend several hours there and check the weather beforehand! I recommend going on a day without strong winds.
9. Take the family on an excursion in Santa Barbara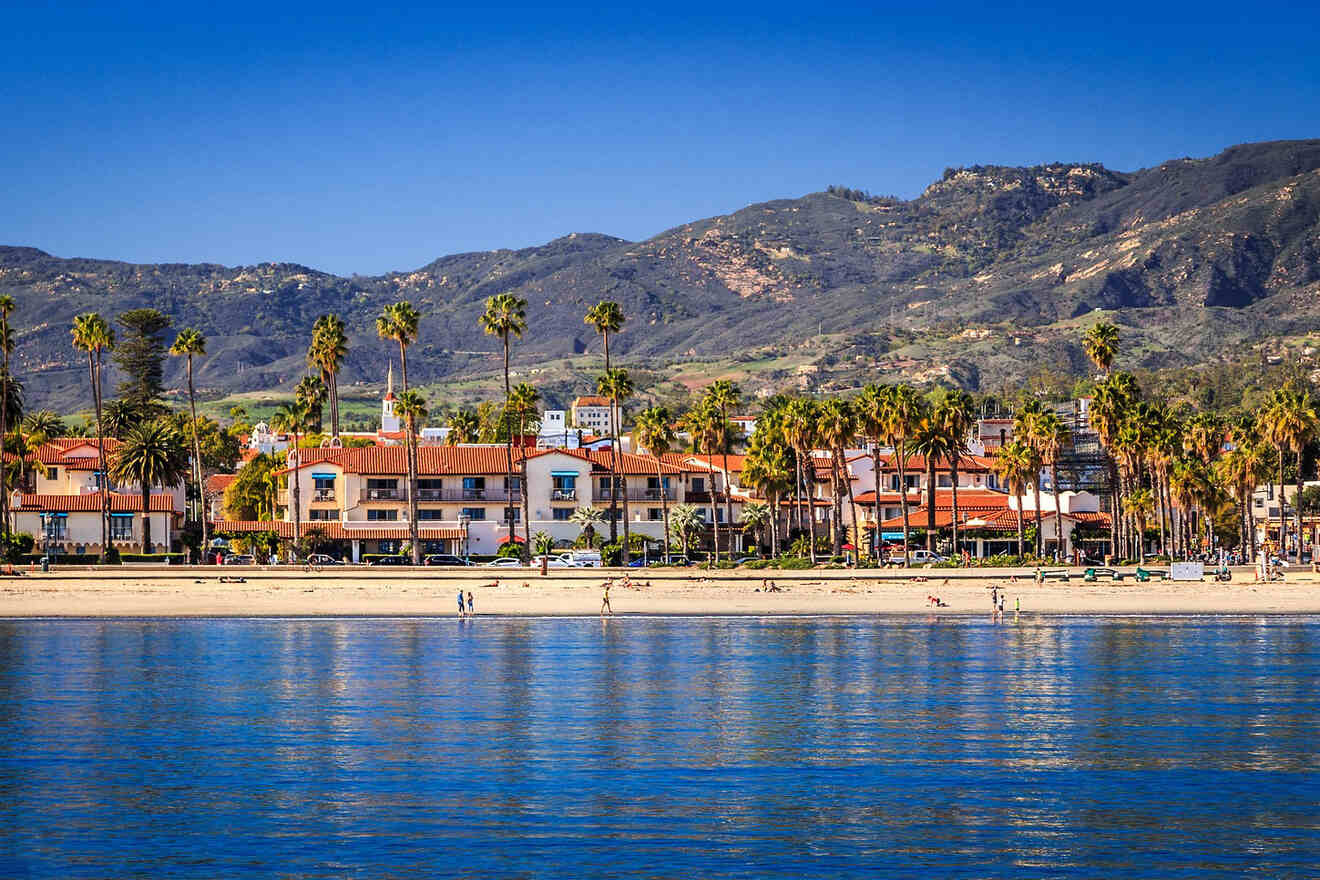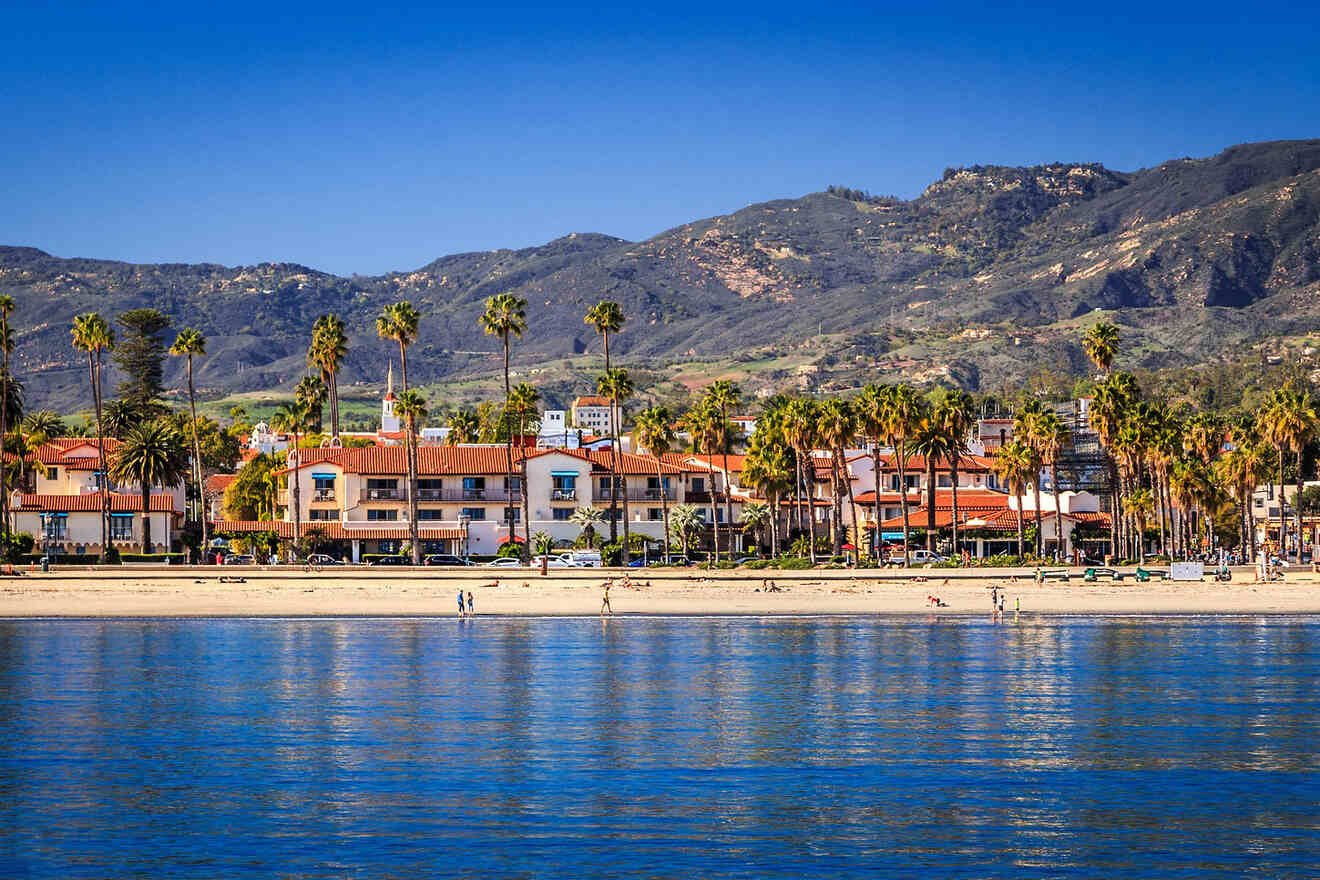 Over 25,000 gray whales pass through the coastal waters of Santa Barbara every year, from mid-February through mid-May!
Bring the kids to Santa Barbara for a 2.5-tour whale-watching tour! The Santa Barbara Sailing Center ​​provides a unique experience for people of all ages to get up close with some of the largest creatures on the planet.
For most of their whale-watching trips, they also spot Risso's and bottlenose dolphins, California sea lions, harbor seals, and other unique marine life. Sometimes, they're also known to spot orcas, humpback, minke, and pilot whales.
They're open from mid-February to mid-May, giving you the best experience just in time to watch the migrating gray whales!
PRICE: US$65 for adults, US$45 for kids ages 12 and under
FAQs about whale watching in California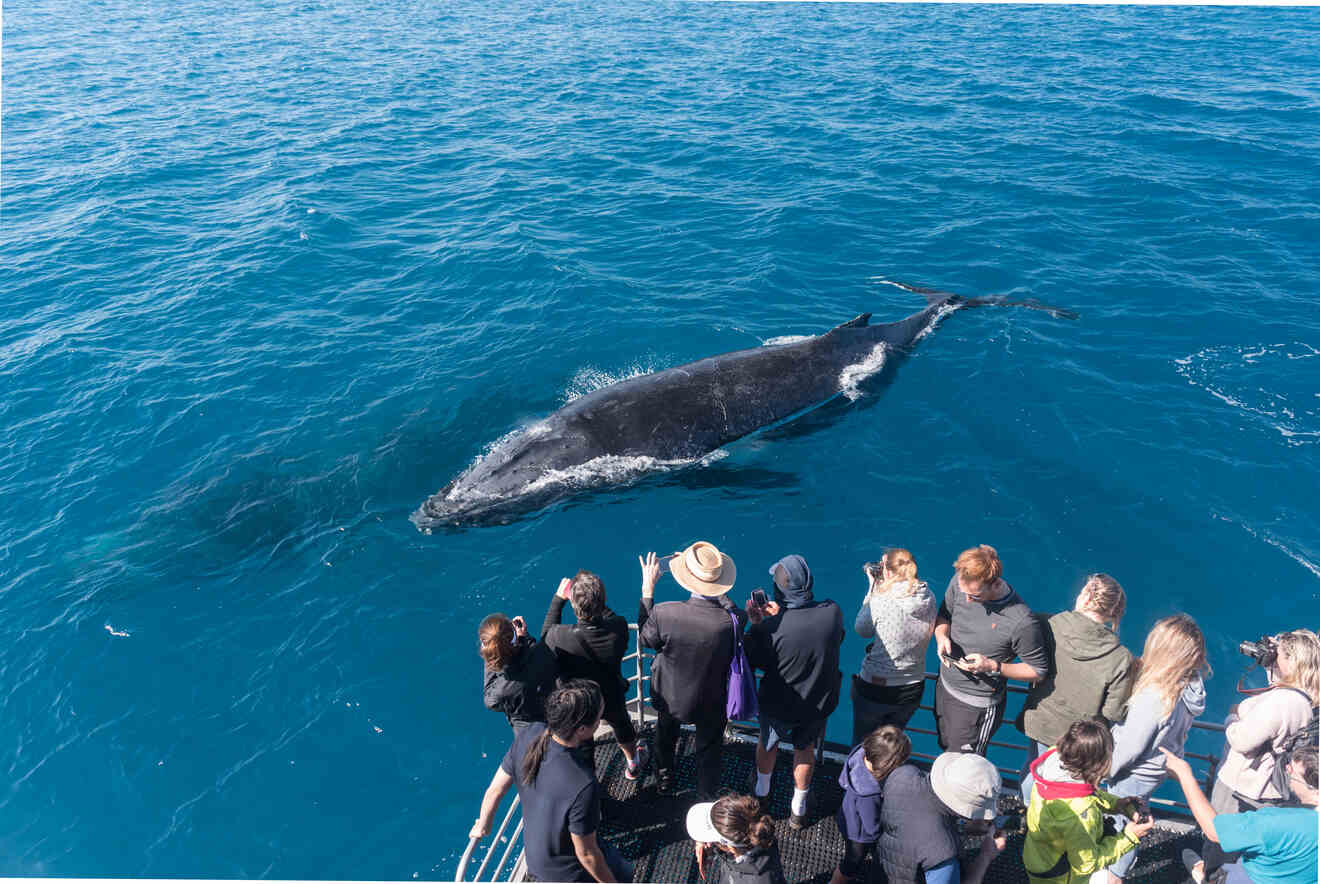 Conclusion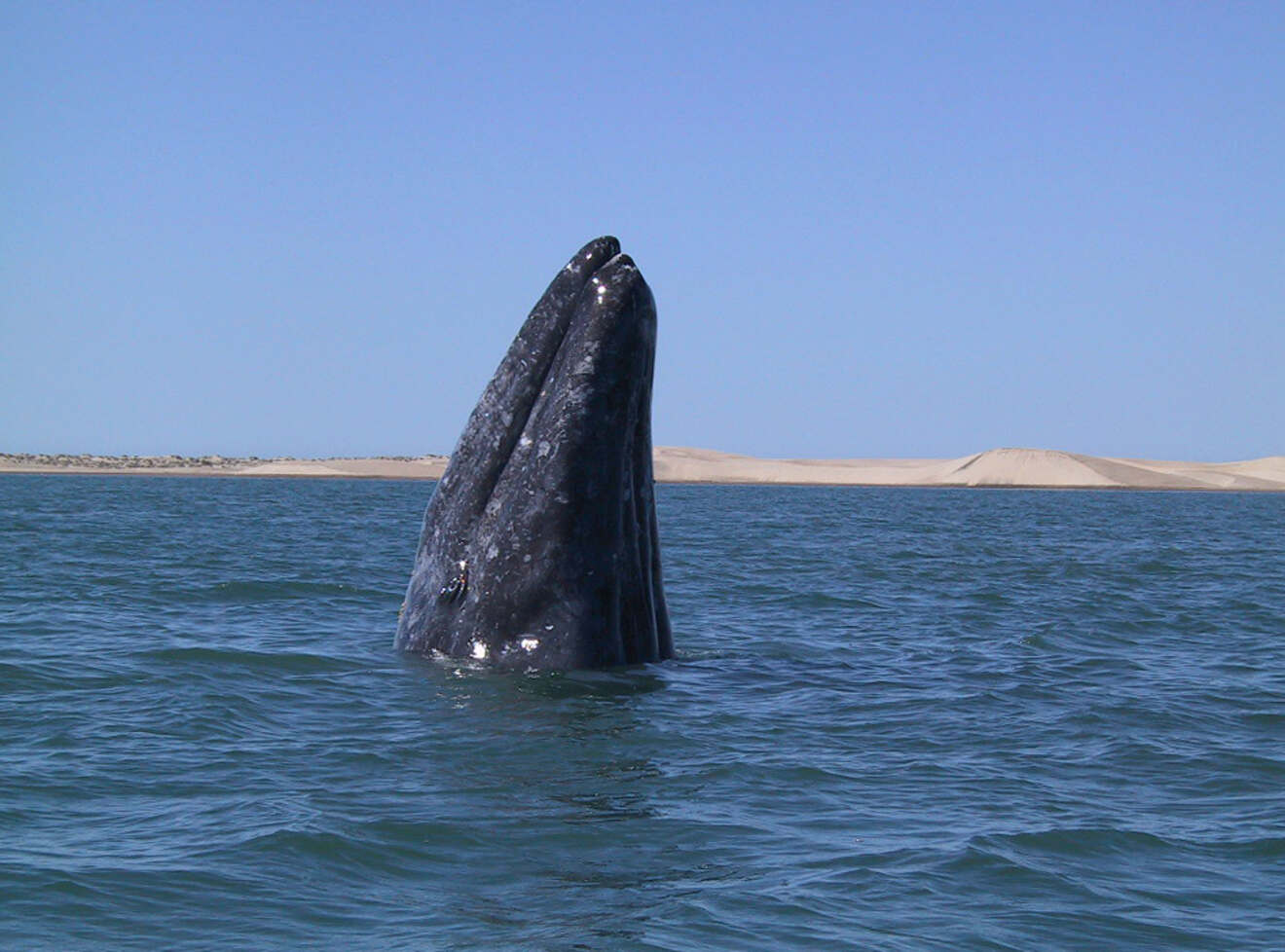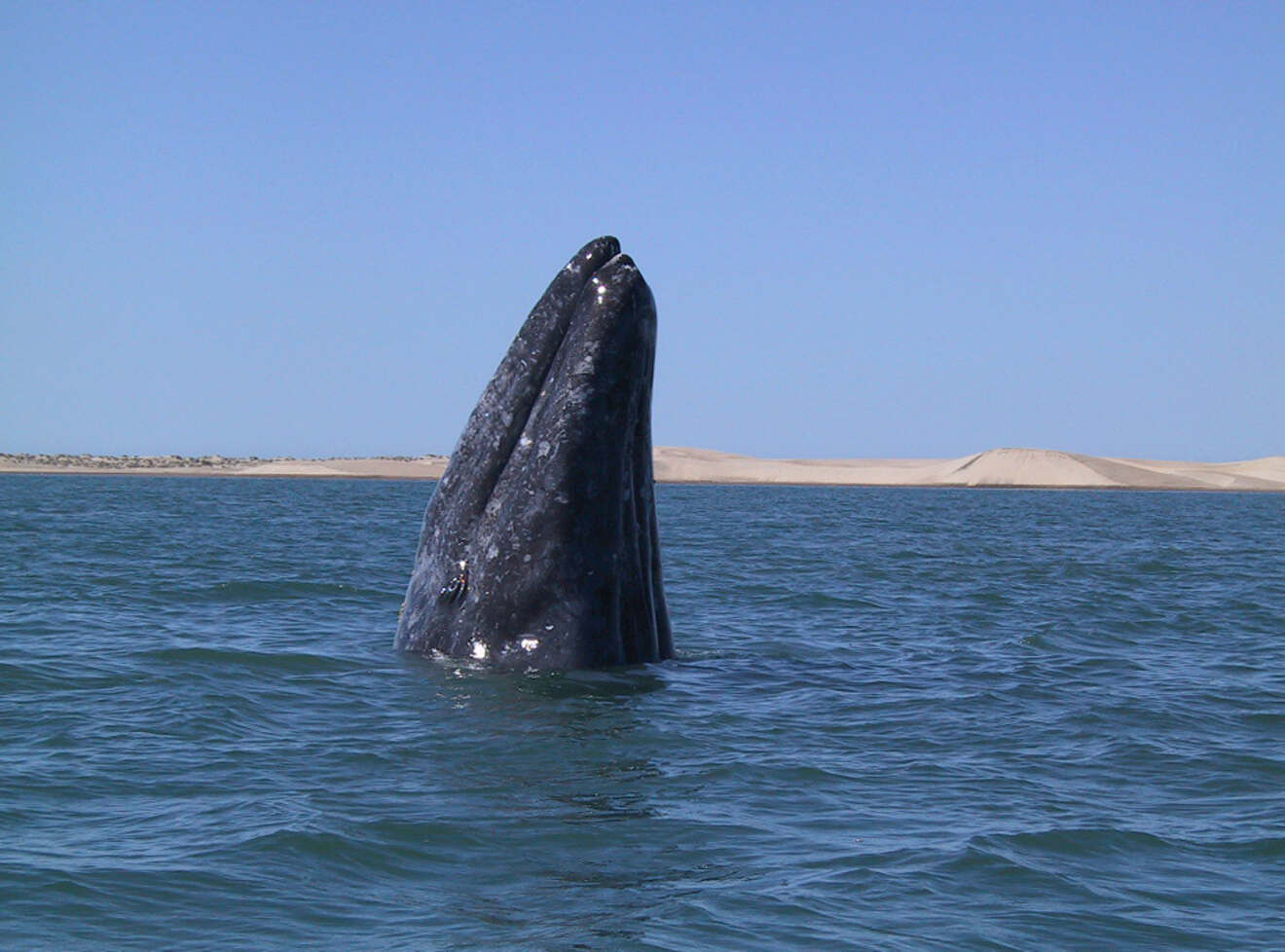 Well, now you know everything you need to go whale watching in California! I hope I made your research that much easier! You can now enjoy your whale-watching adventure with ease, knowing you're choosing one of the best options in California.
My personal favorites California whale-watching tours on this list are the sunset cruise in sunny San Diego and whale-watching tour in Monterey Bay since they're 2 different experiences being on 2 opposite sides of the state from each other.
Be sure to plan in advance if you choose to book an adventure at either of these tours, and leave me a comment if you enjoyed it! 🐳
Xoxo,
Esabel S.
---
Pin it for later!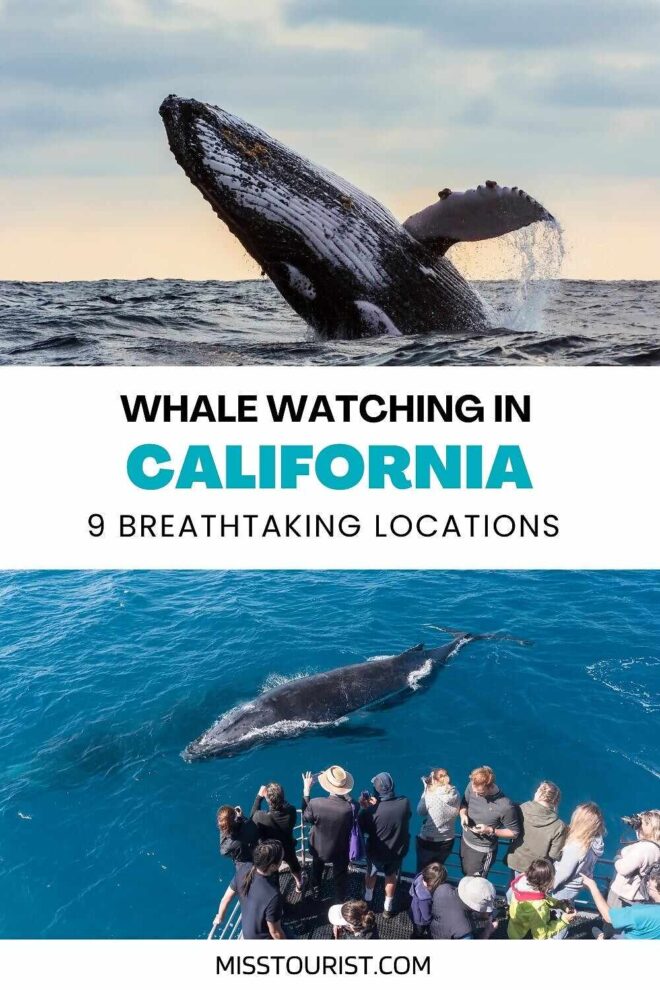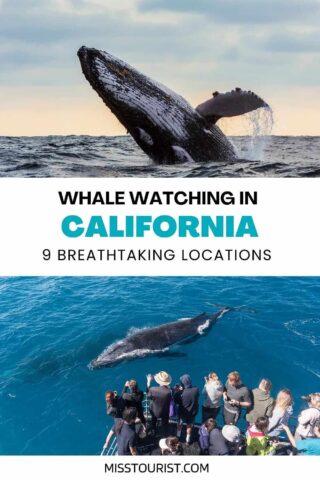 Pin it for later!