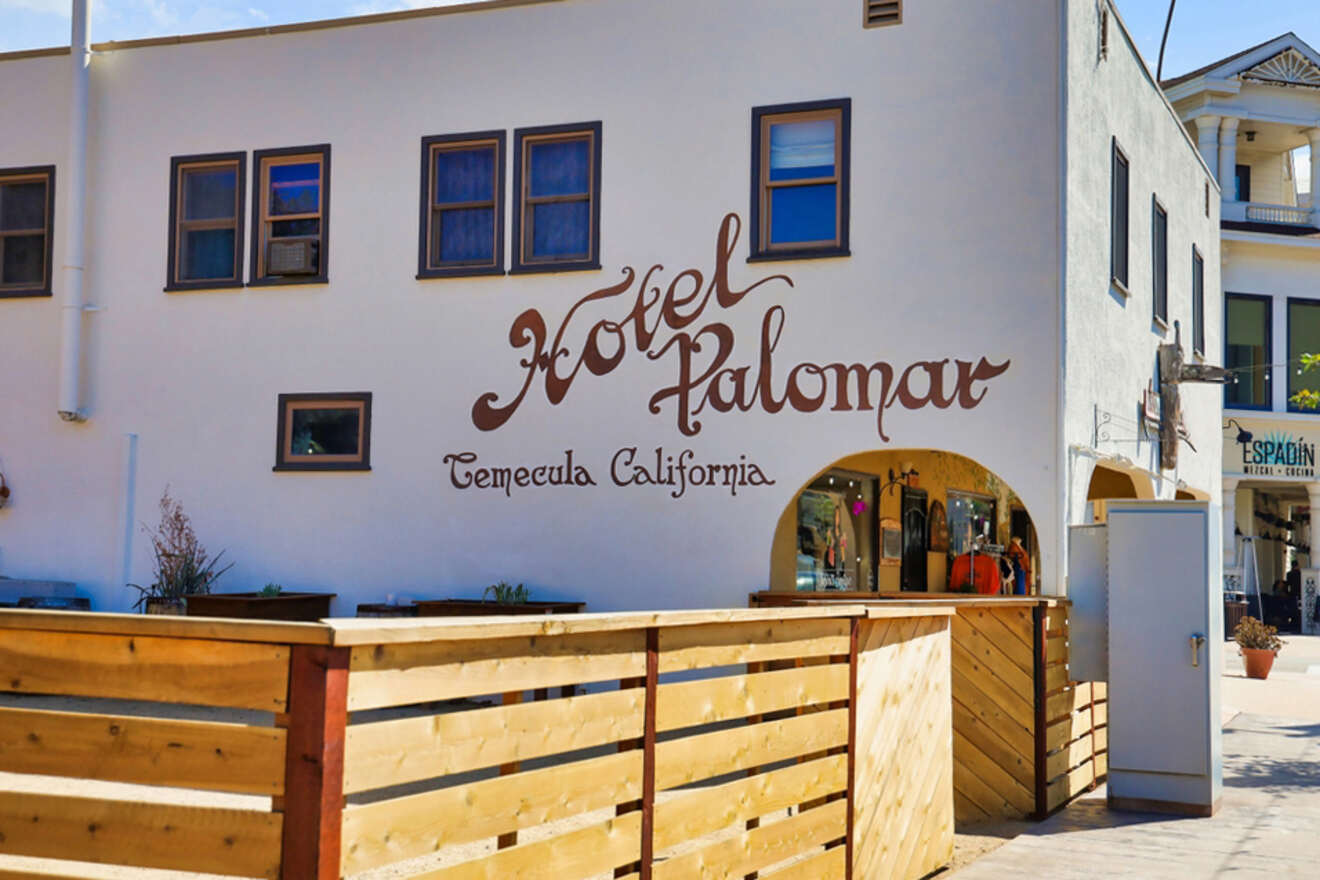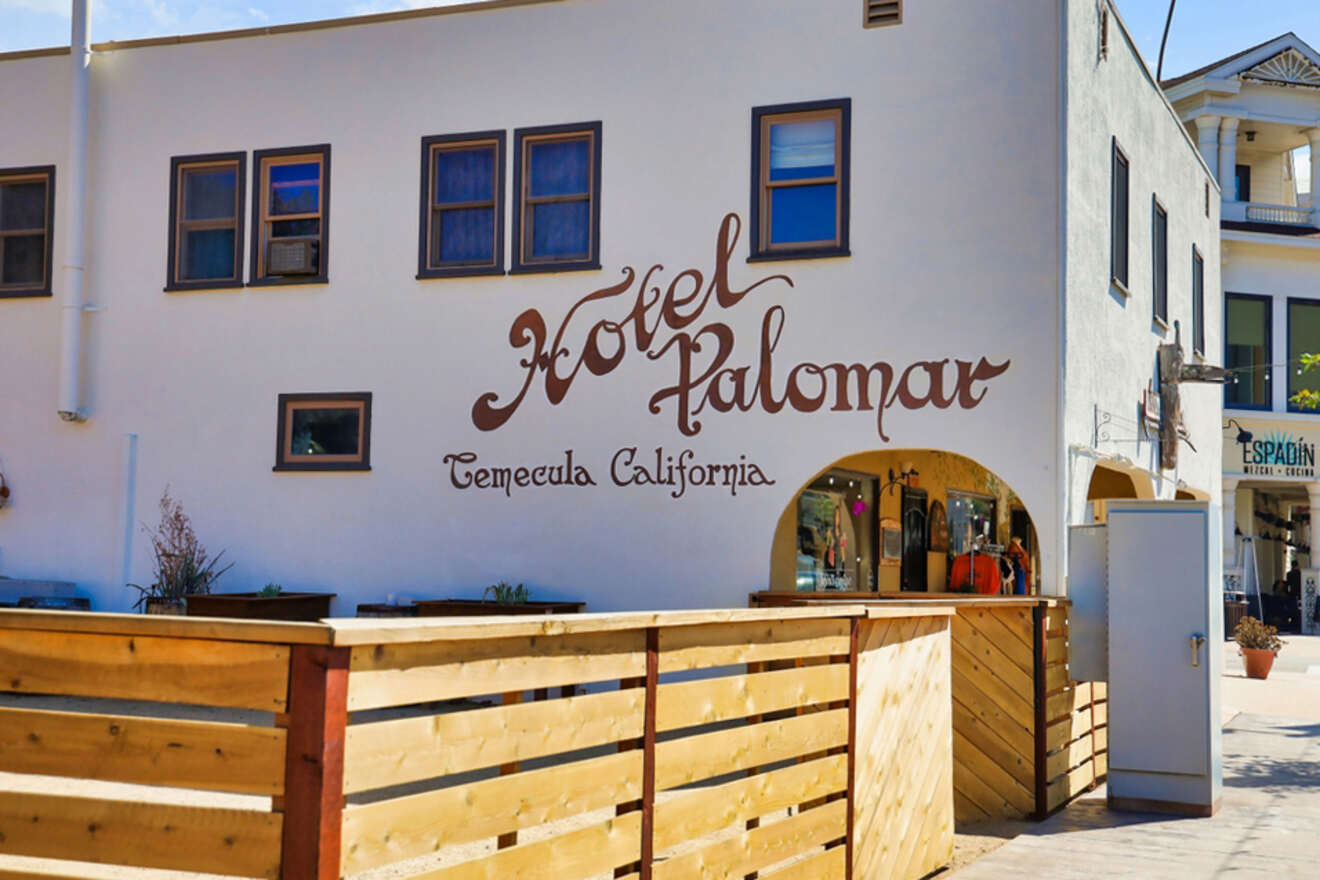 Are you California Dreamin'? Yes?! Me too! That is why I've been looking for the best places to stay in Temecula, and let me tell you, I've found so many fantastic Temecula hotels after hours of deep research on the World Wide Web, so rest assured you will find something that fits your needs in the list below!
This article is arranged by price, starting with the luxurious accommodations, continuing with the mid-range ones, and last but not least, the budget accommodations! Also, stay until the end and check out the bonus section for VRBOs, the best luxury houses and villas in Temecula!
Southern California is super popular, especially with Temecula being so close to San Diego, so the smart move would be to book your room or villa as soon as you pick the one that fits your preferences, as you don't want to end up without the hotel of your dreams for your vacations!
Let's dive into all these fabulous accommodations available in Temecula, CA!
If you are in a hurry
If you need to book fast and don't have a lot of time to read the whole article, here you have my top 3 recommendations for the best places to stay in Temecula!
Here are the main hotels to book in advance:
Luxury (US$300 and up)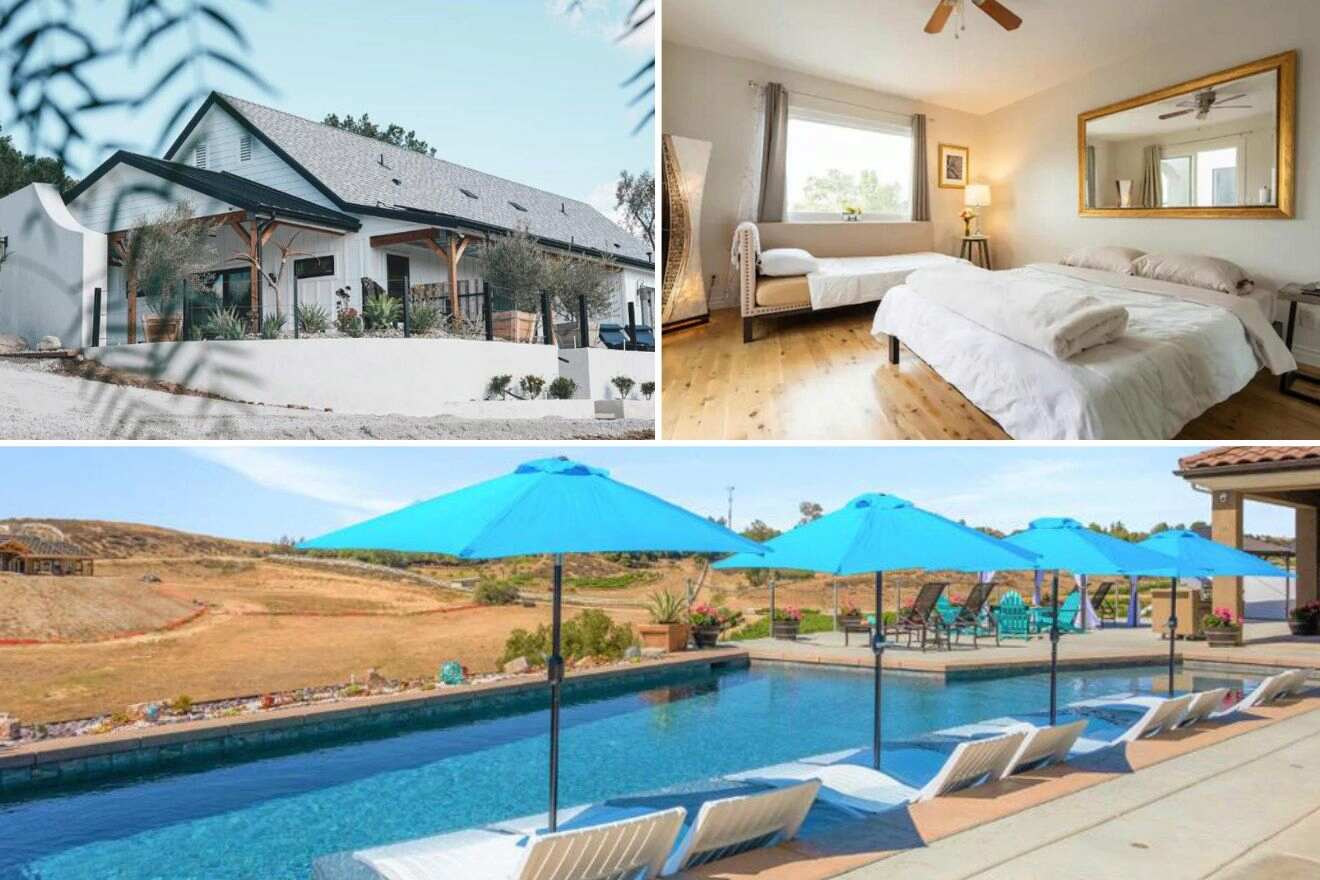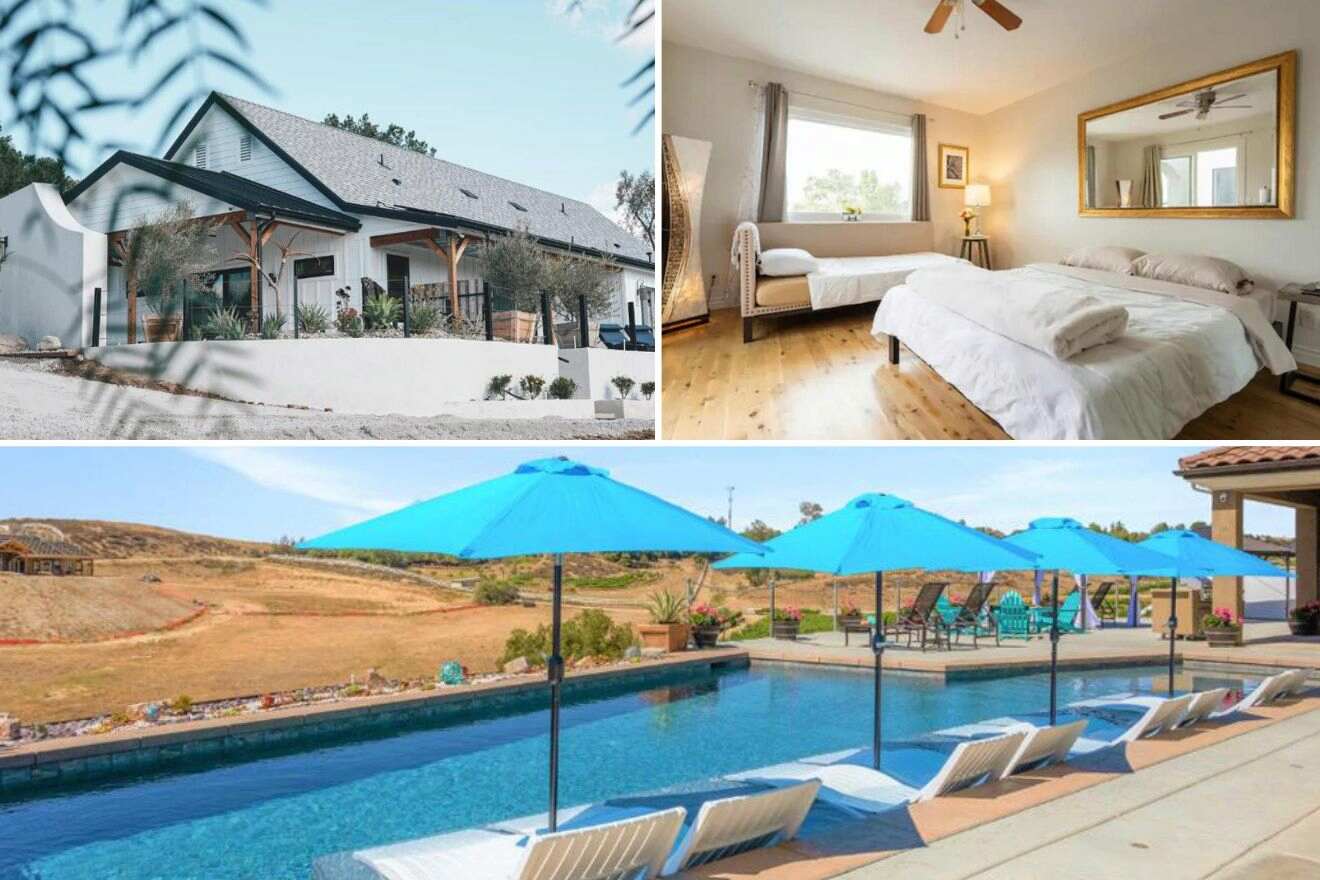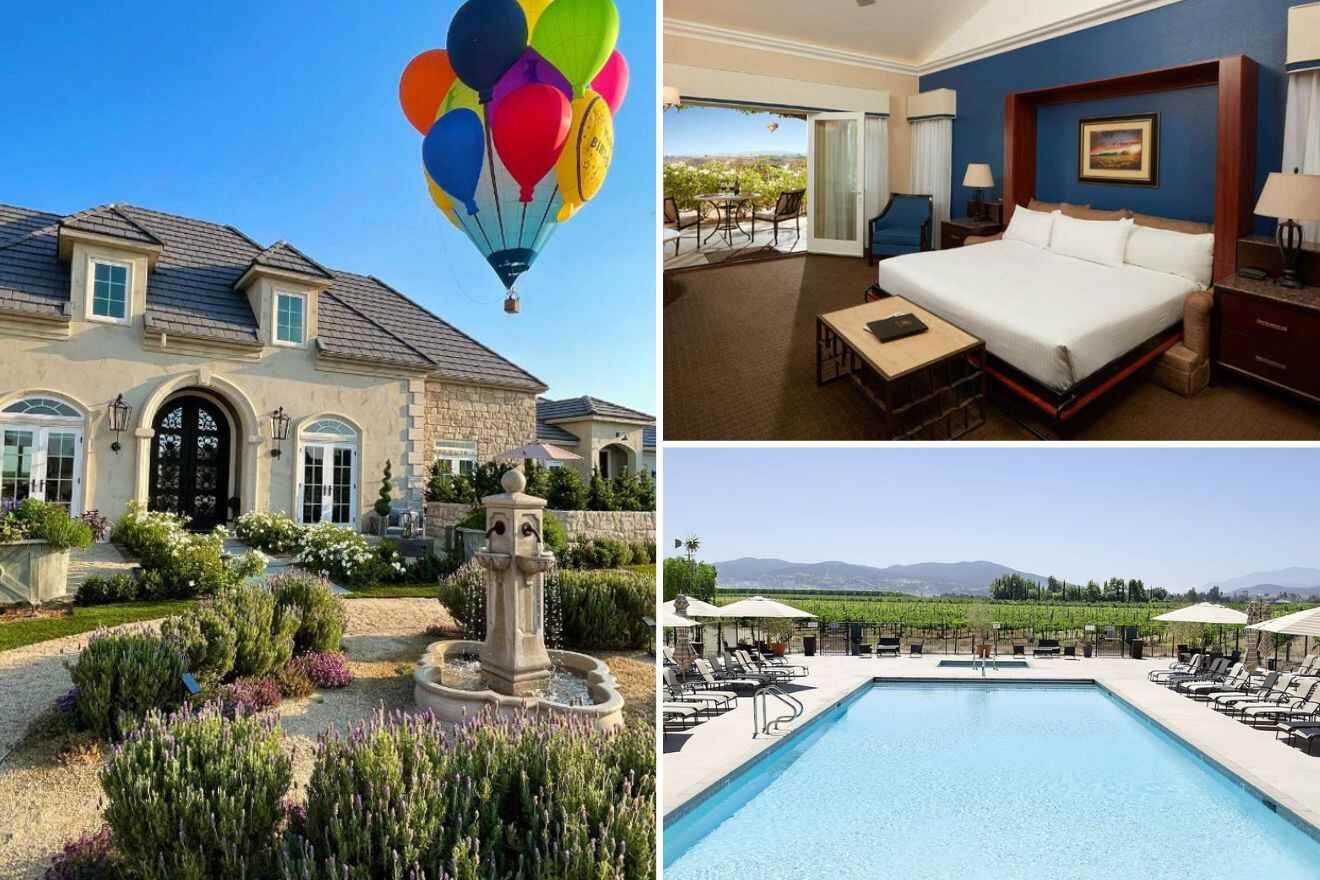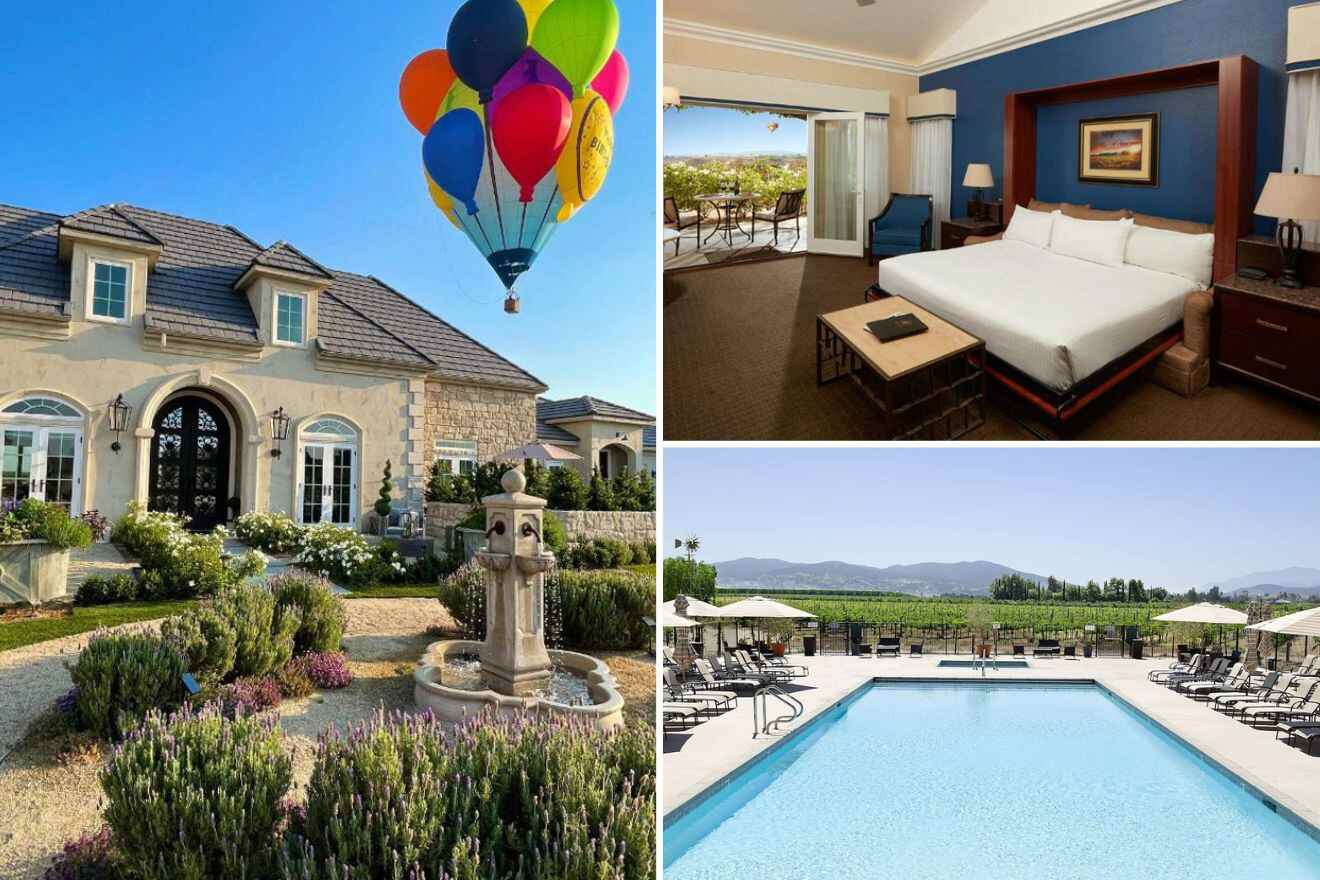 Mid Range (US$150 – US$300)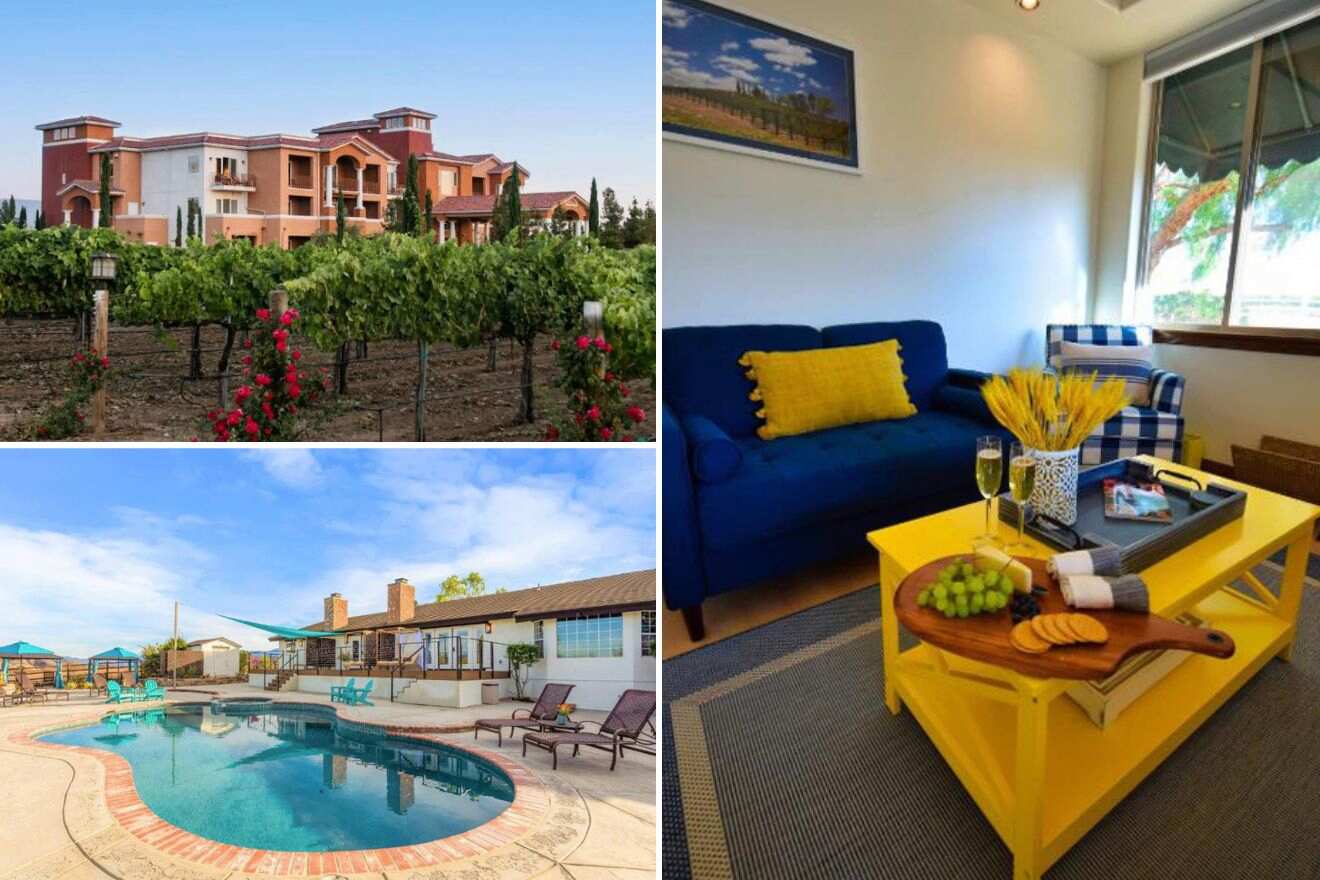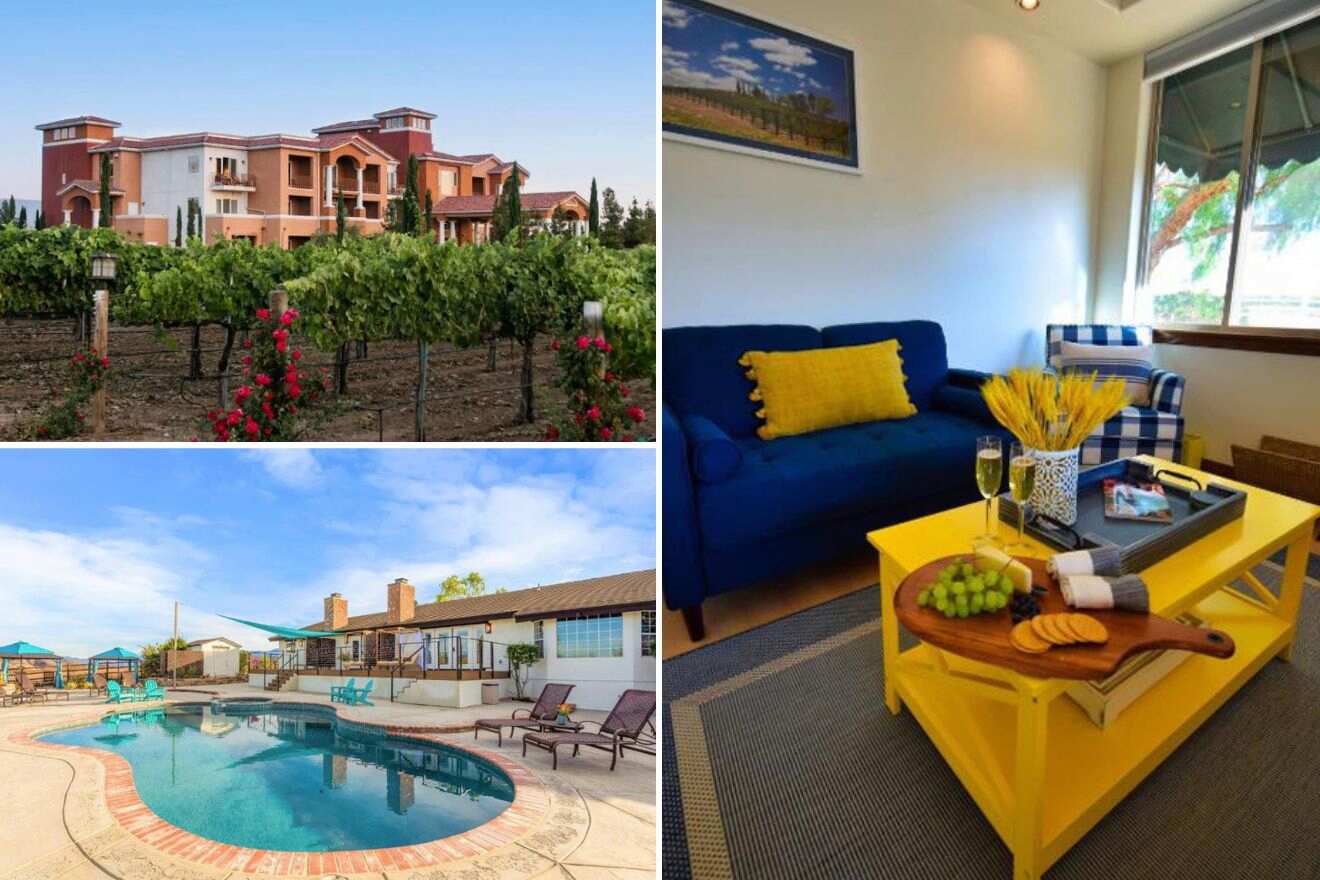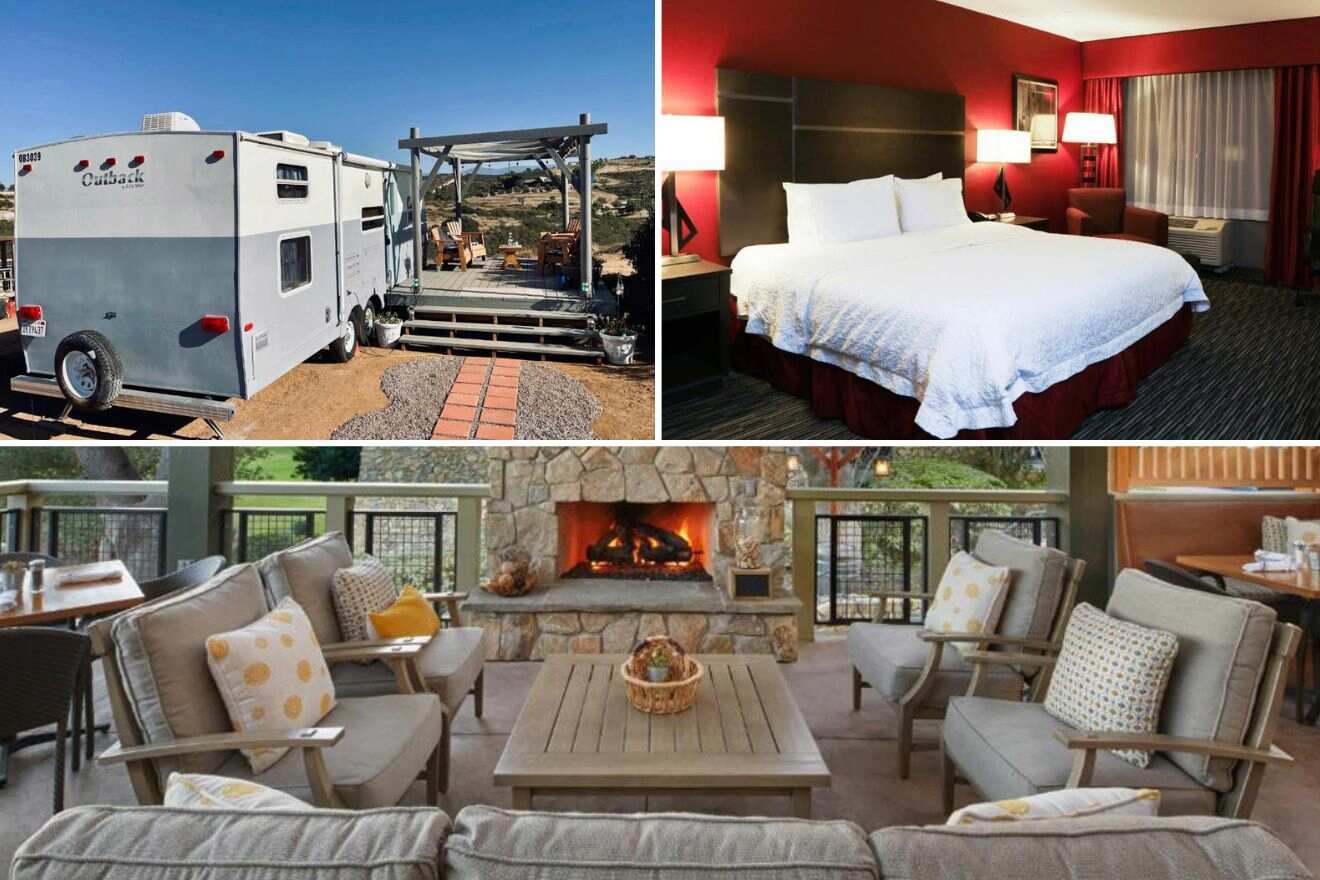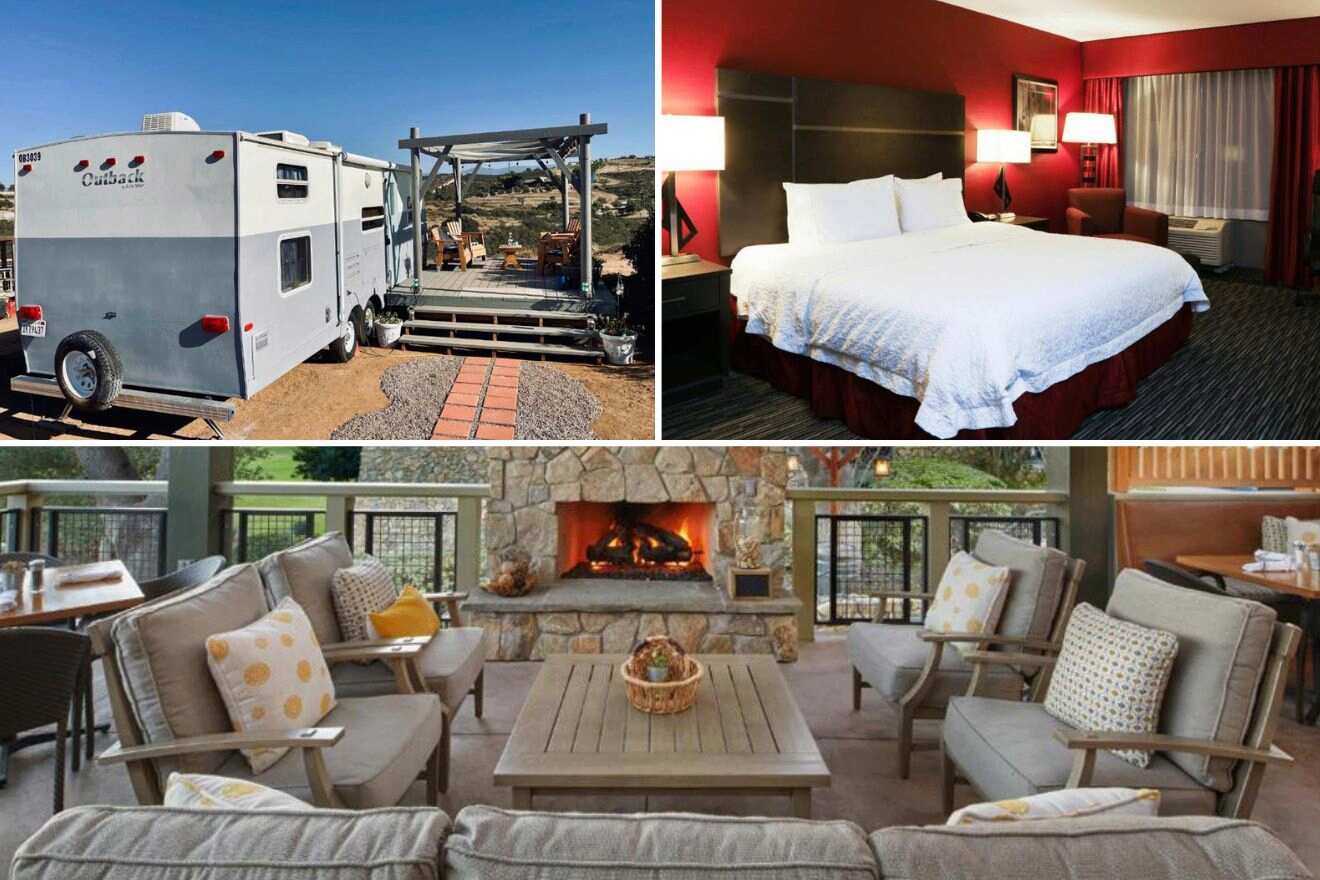 Budget (up to US$150)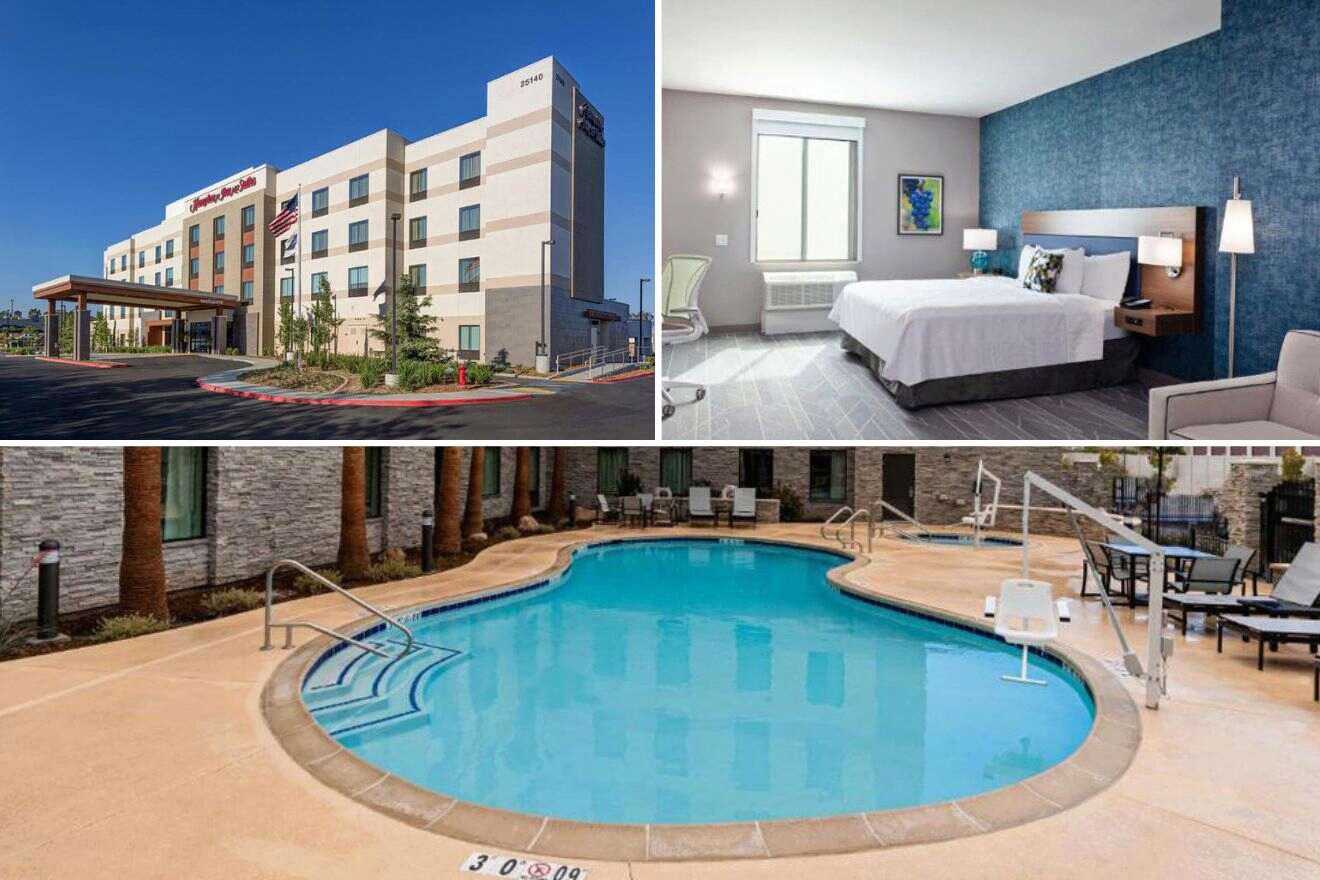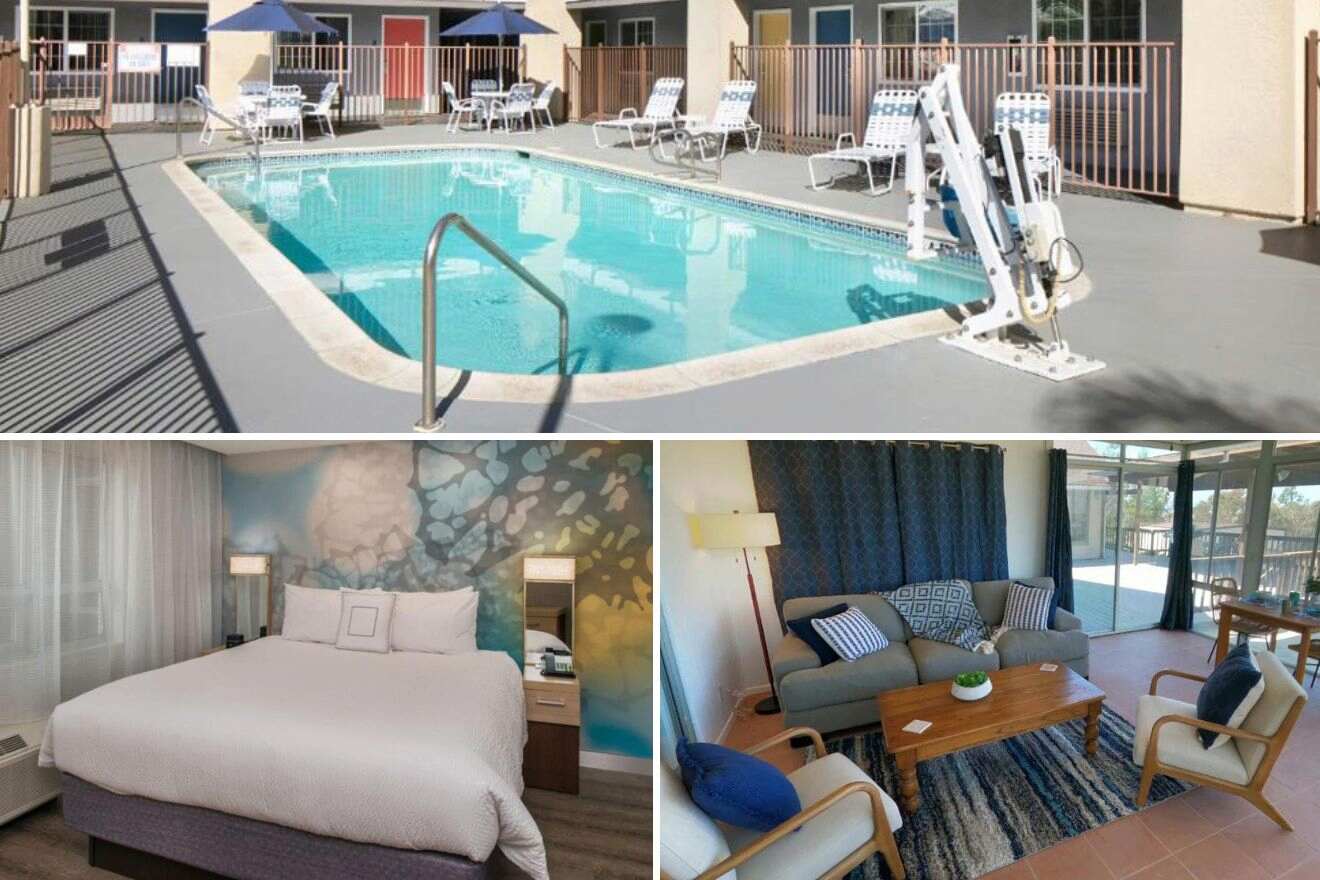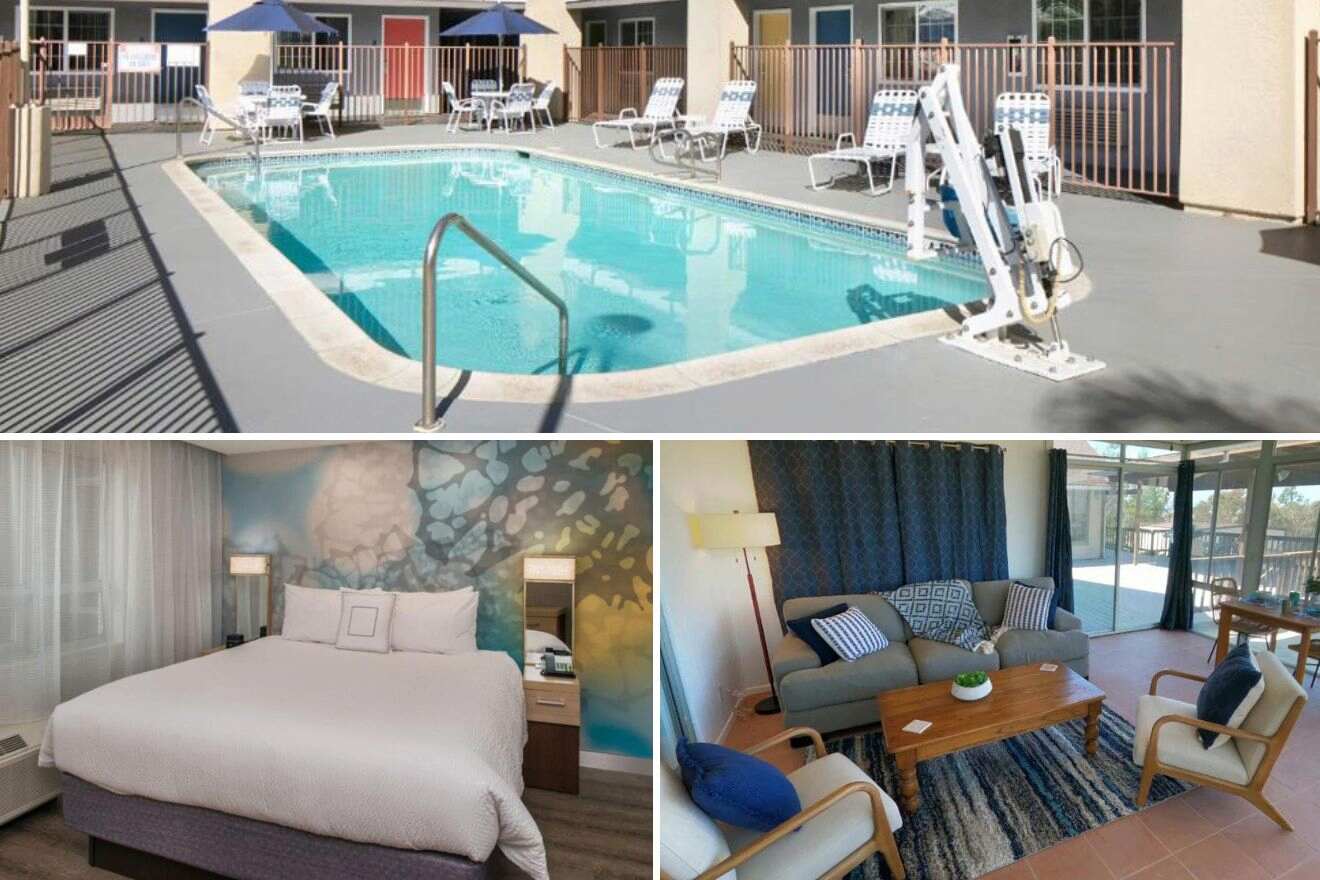 BONUS: Best luxury houses and villas in Temecula
I cannot end this post without sharing with you the best private villas and estates in Temecula!
These upscale VRBOs are perfect for families, friends, or couples; there is something special for everyone! I have listed 6 top options, and they are organized by price range, starting with the most expensive first. The prices per night go from US$1400 to US$3000.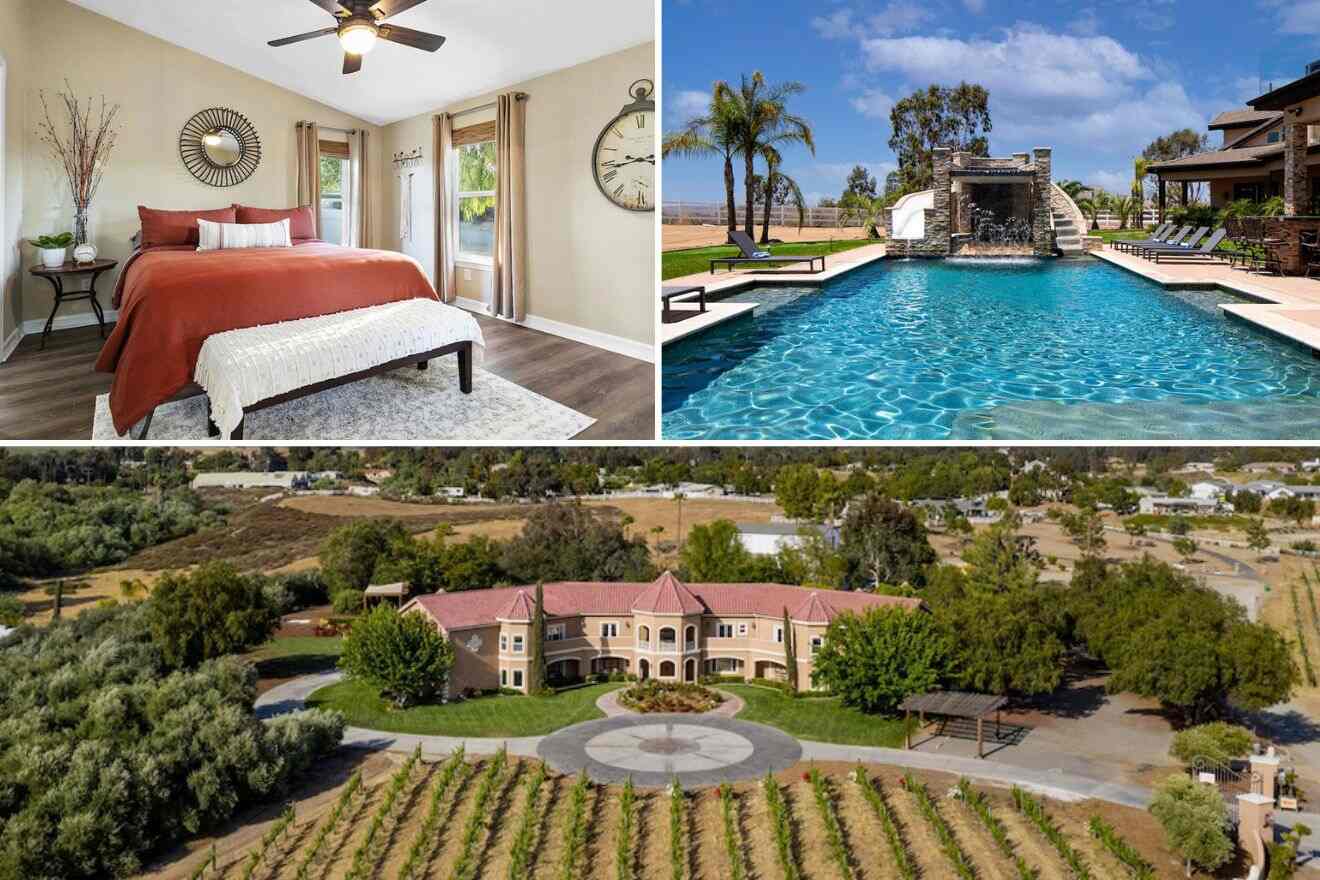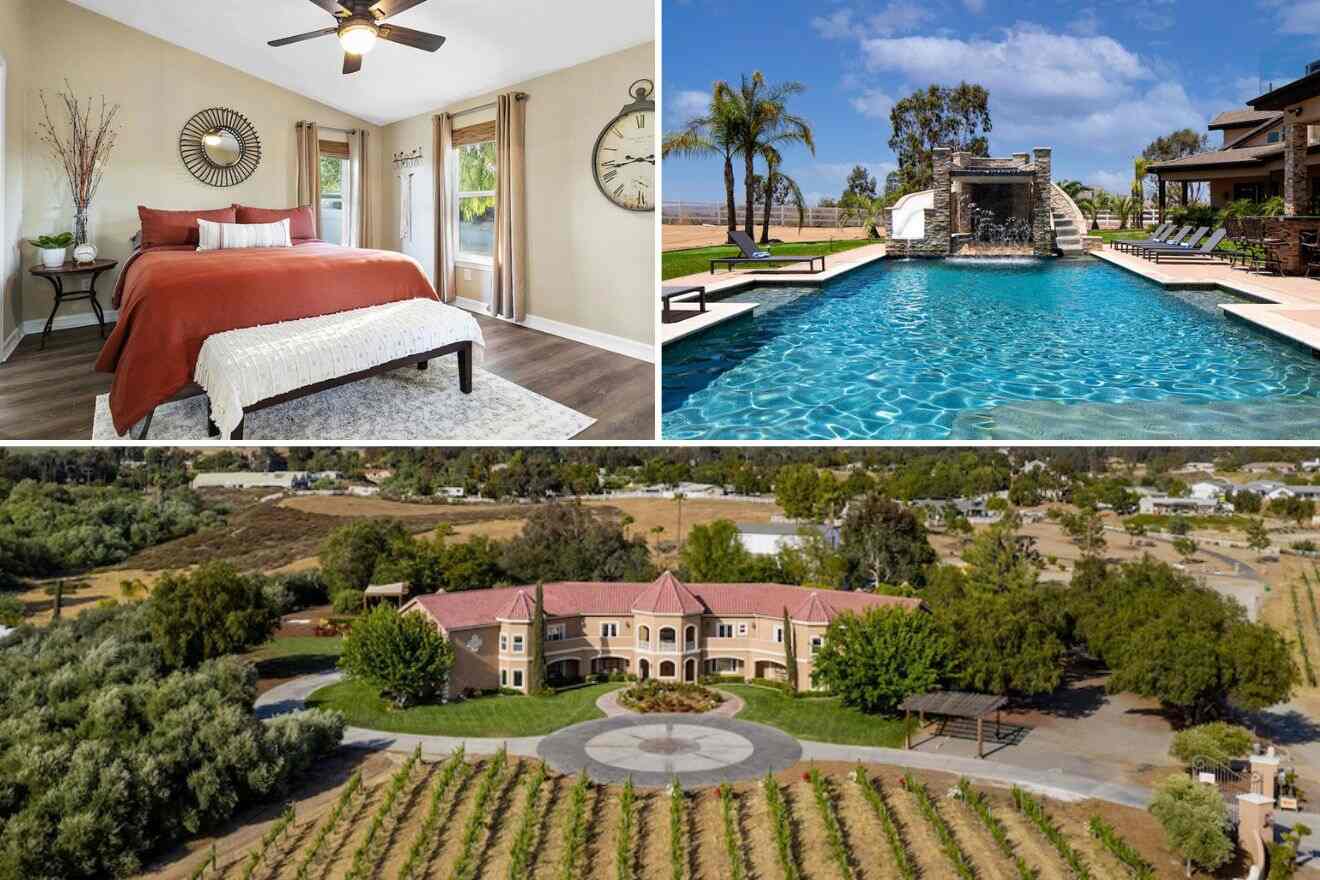 1. Wine Country Haven Surrounded by Vineyards!
This must be my favorite VRBO on the list! It is so cute, in the outdoor area you have a lovely lit garden with a swimming pool and jacuzzi, and on top of that you have a terrace area with an outdoor fireplace and different seating areas overlooking the wine country! The property has 4 bedrooms and 7 beds. Bear in mind that this property can accommodate a maximum of 12 guests!
2. Villa Cabernet by AvantStay
With a prime location near the wine trail, this property is a fabulous option for groups of a maximum of 20 guests. It comes with 8 bedrooms and 14 beds, plus 9 bathrooms! Among the facilities, you can find a lovely garden with a pool with a slide, an outdoor kitchen to enjoy the nice weather, and a game room!
3. Wilson Creek Manor By AvantStay
I feel like a celebrity could live in this place! There's an amazing garden with a pool, a game room, a volleyball court, 13 beds, and 4 bathrooms, some with a spa bath! This would make an excellent choice for big groups looking to discover the Wine Trail!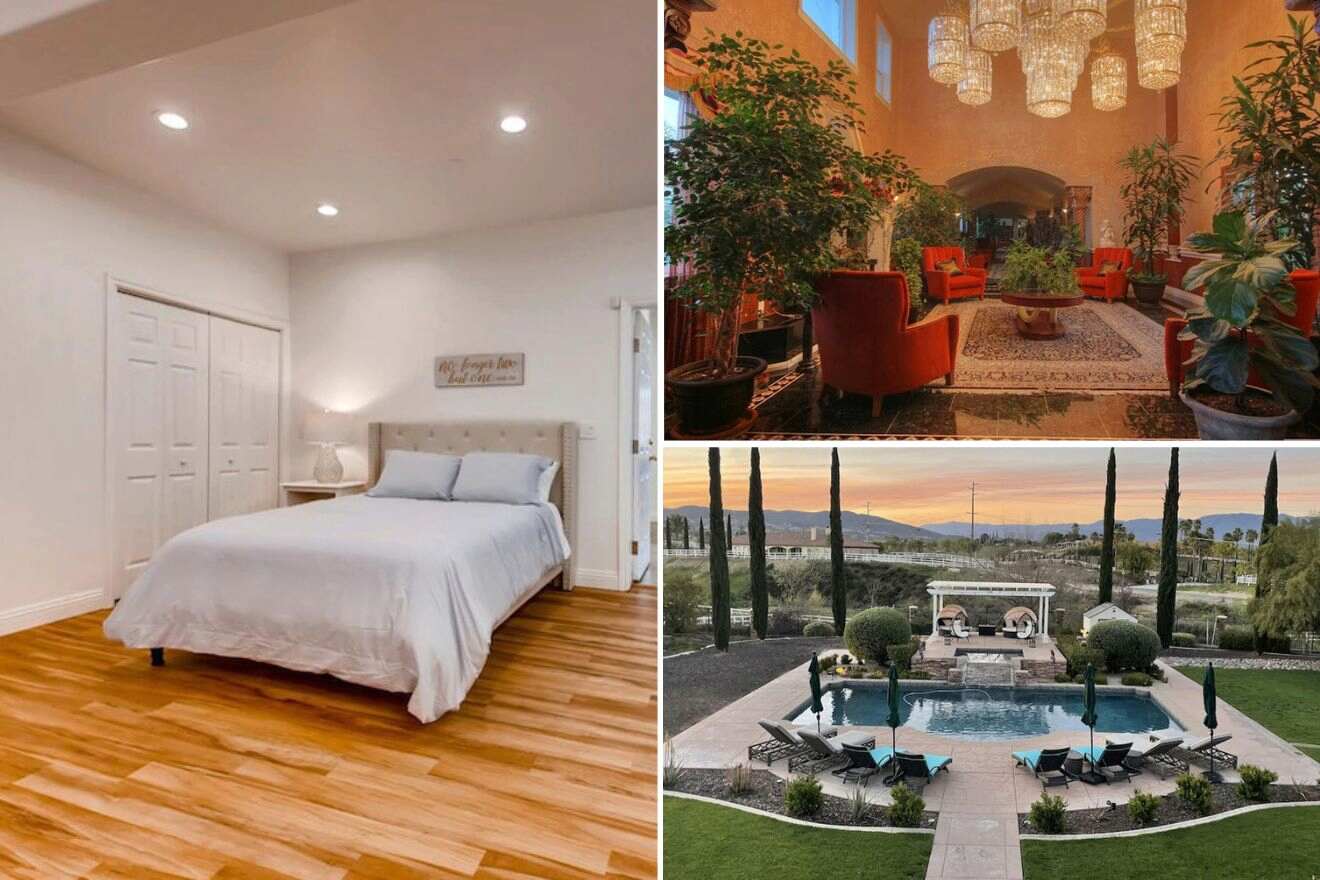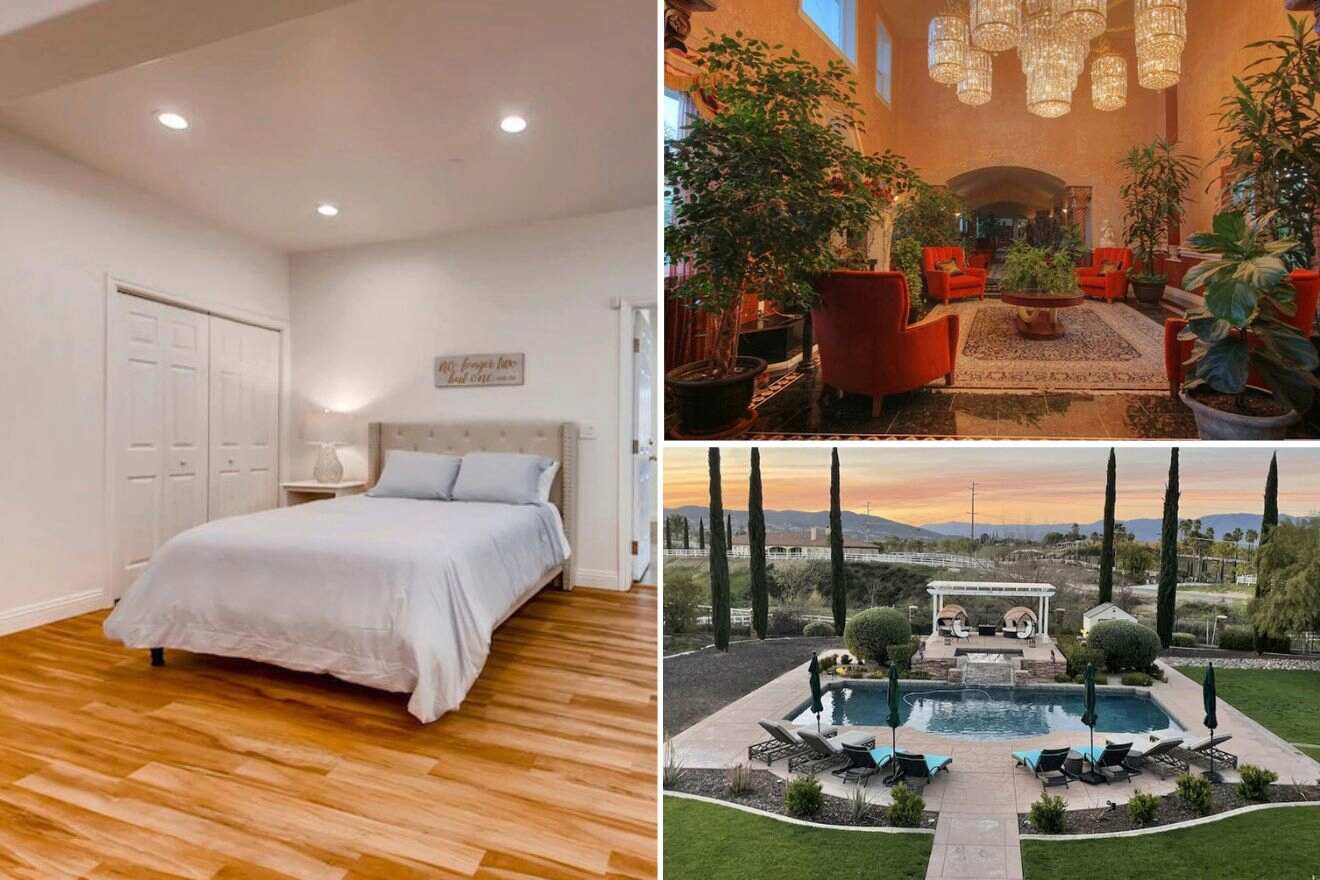 4. Sunset Manor
This outstanding accommodation can host parties of 16 guests, but it would also be perfect for couples! With an unbeatable location right in the wine trail, this property has a romantic setting with a beautiful garden with a pool overviewing the rolling hills, a spa with a sauna and jacuzzi, and a home theater to curl up and watch a film!
5. Paradise Vacation Estate
Featuring an amazing European style with wooden rococo furniture, this Temecula accommodation is unreal! With an amazing patio with a garden, a swimming pool, and a water cascade, 11 bedrooms and 10 bathrooms, you'll have the time of your life in this gorgeous estate!
6. Villa Magnifica
SO DREAMY! Hosting up to 20 guests, this villa right in the wine trail comes with 7 bedrooms and 12 beds. In the back of the villa, there is a patio with an outdoor swimming pool, and a sports court to play volleyball, football, paddle, you name it!
FAQs about best places to stay in Temecula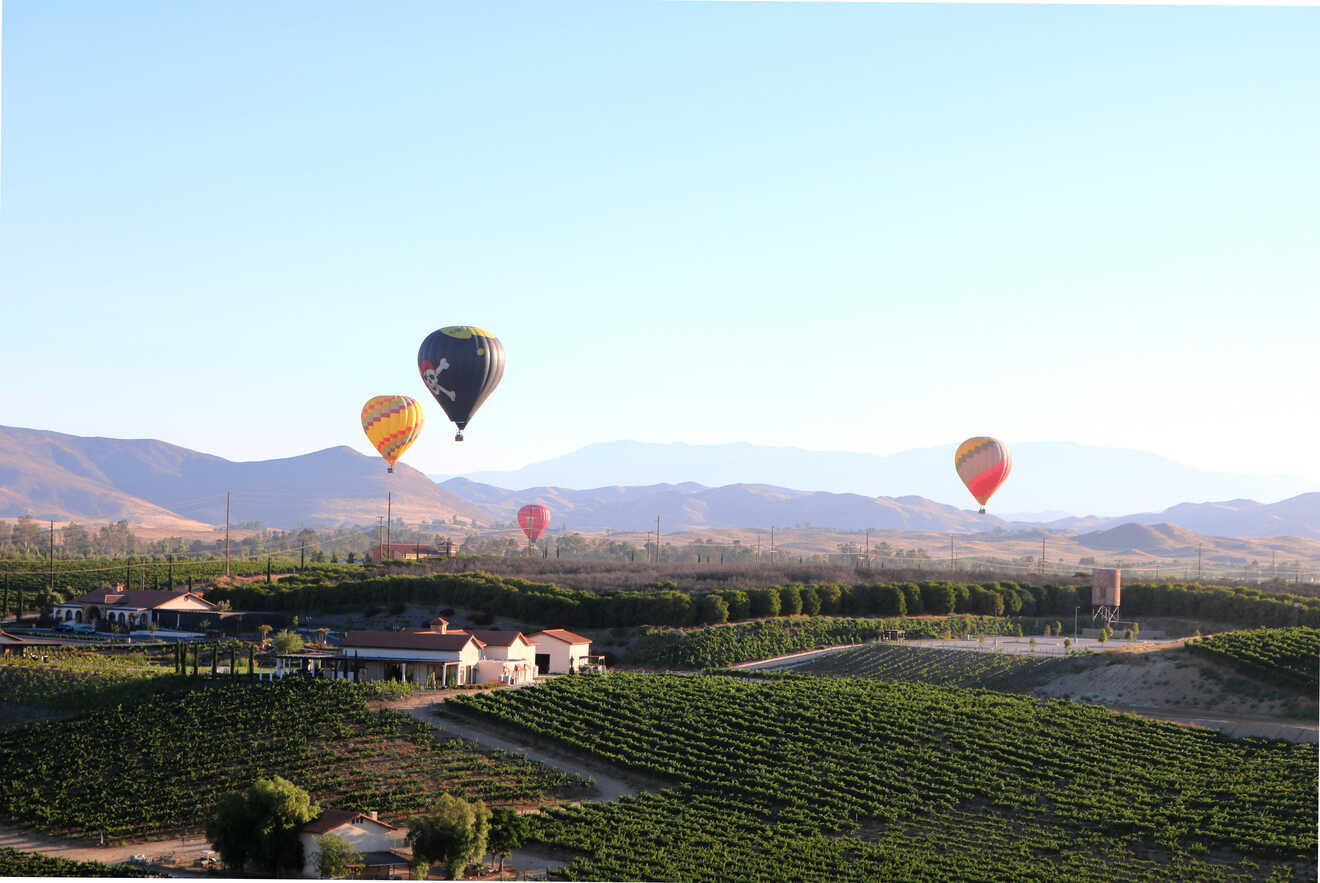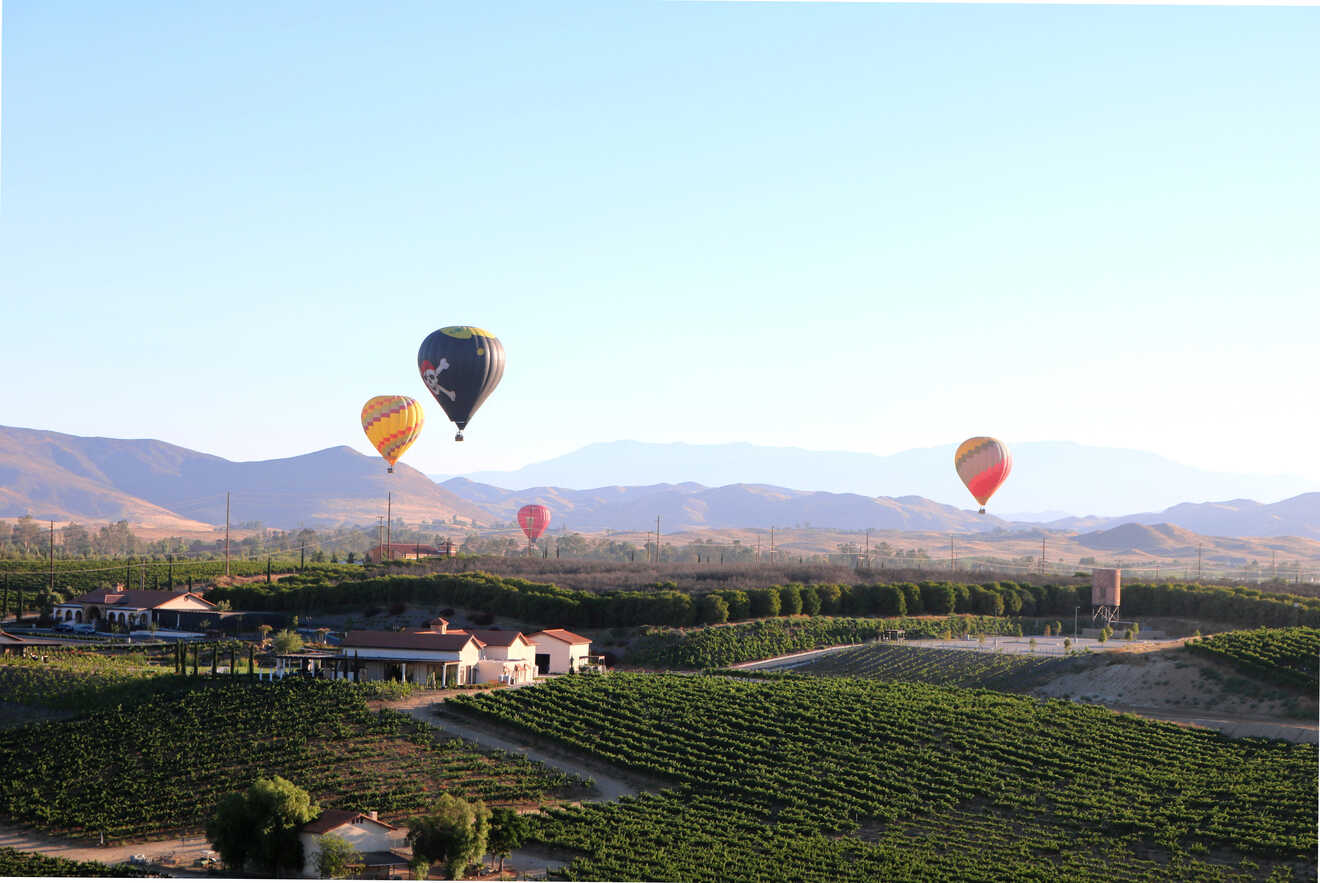 🍷 Which are the best winery hotels in Temecula, CA?
🔥 Is Temecula worth the hype?
100%! The nature is absolutely breathtaking, and who wouldn't want to visit a wine trail and taste amazing quality Californian wine while staying in a stunning hotel!?
🏜️ How many days do you need to visit Temecula?
You'll need at least 2-3 days to explore Temecula and fully relax! However, some of these properties are so cool it'd be nice to stay for even longer to really enjoy your vacay, like MAGIC VILLA!
🍇 What's the best season to visit Temecula?
Anytime would be perfect! But spring and summertime is the best time to see nature in Temecula at its peak! The harvest season is right after this, so you'll see it in full glory!!
Conclusion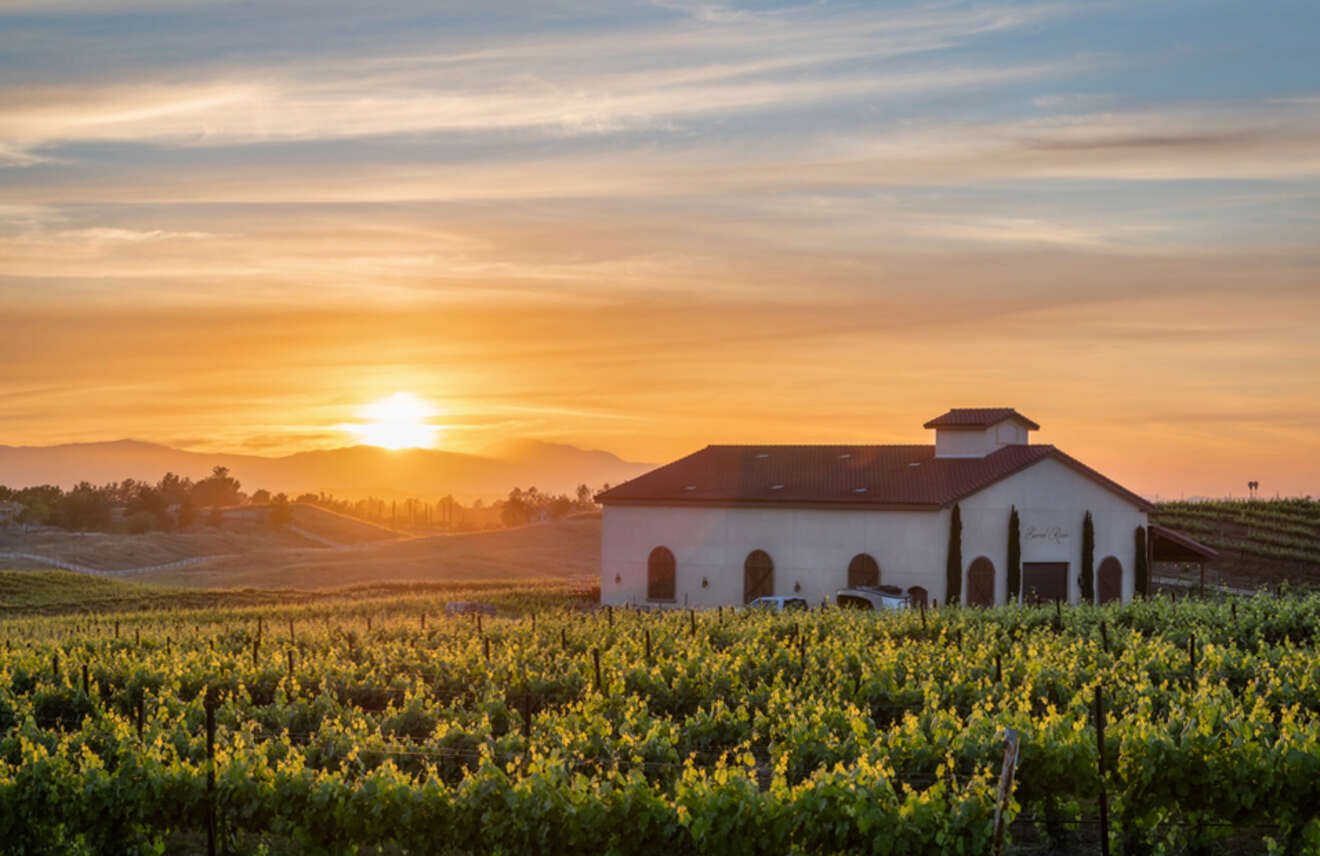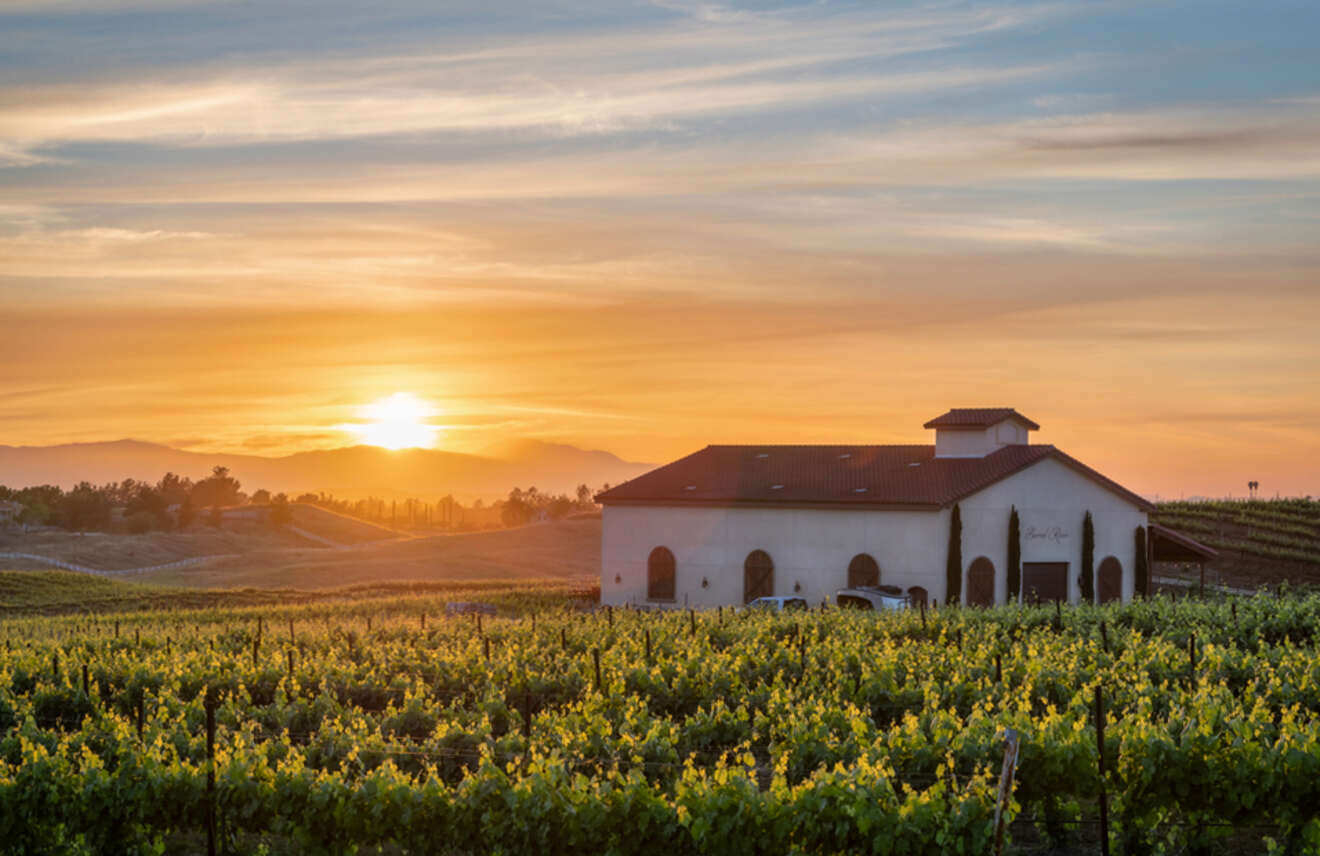 It's a wrap, my lovely people! I've covered a wide range of options for all budgets and all tastes for a luxurious and out-of-this-world vacation in this article about the best places to stay in Temecula!
Honestly, all of the hotels are amazing which is why they made it to the best hotels in Temecula list, but if you want to know my absolute 2 favorites, those are:
Which of these amazing Temecula winery hotels was your favorite? Let me know in the comments, and then go and book your dream hotel room before someone else does! Book in advance and get all of those sweet deals!
Have a wonderful vacation,
Daniela
---
Pin it for later!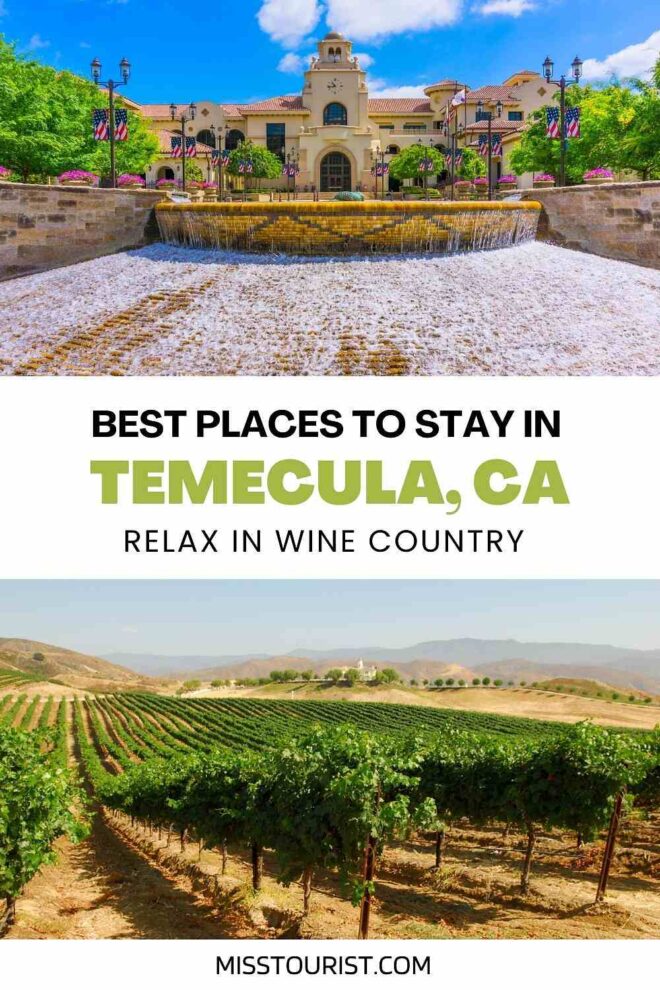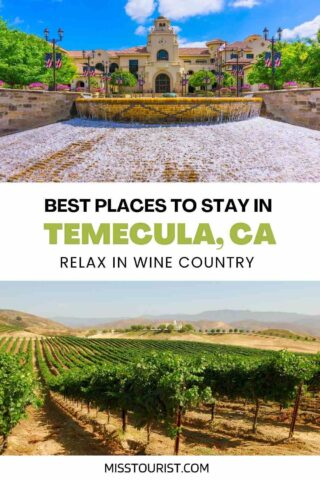 Pin it for later!