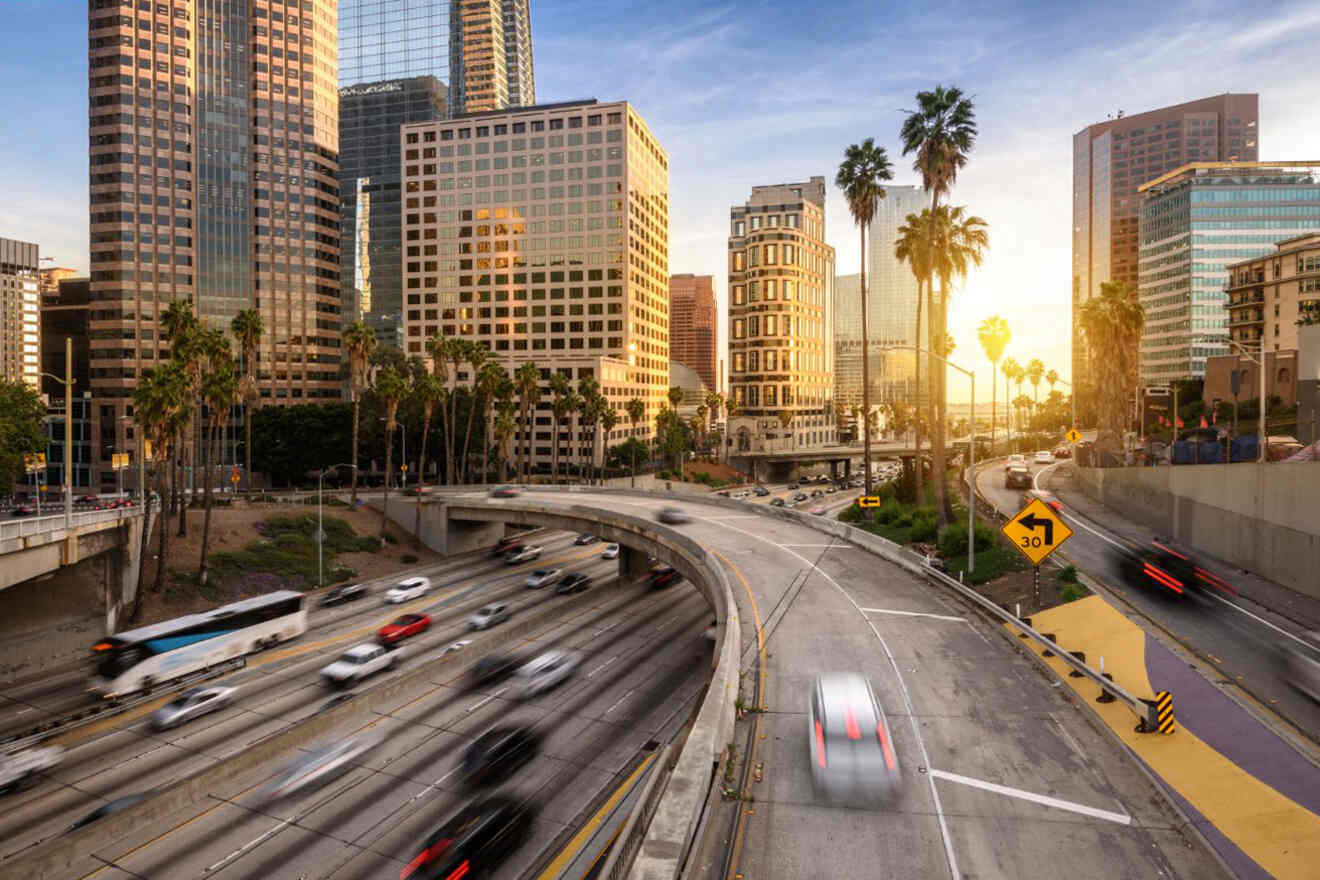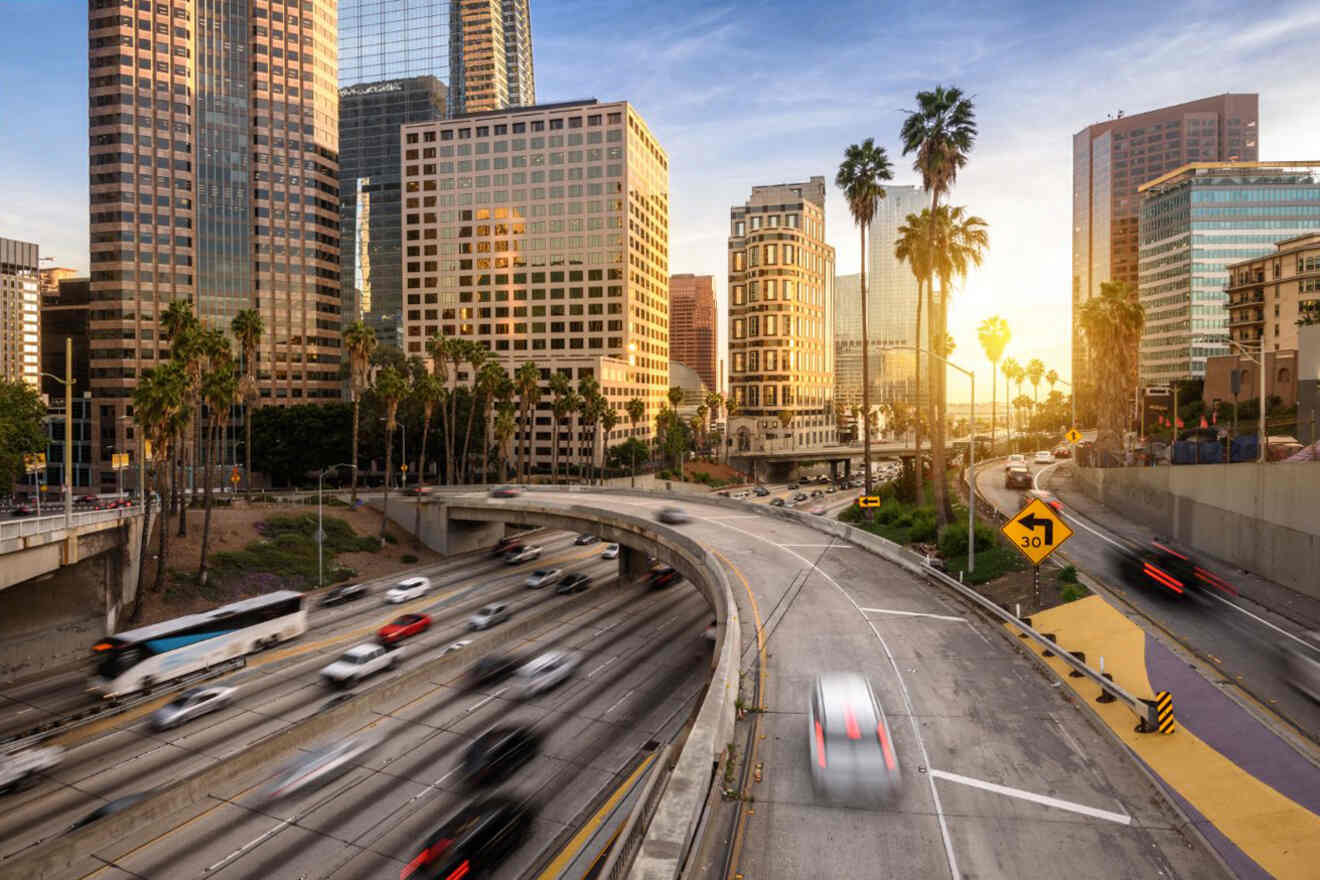 One of the best parts for me growing up and still living in California is having the ability to simply hop in a car, take a drive to anywhere I want, and violà! Within a few hours, I'm in a completely different city with an entirely different environment and set of things to do.
In this article, I'll be going over the day trips from LA that are actually worth taking. Since LA is located in sunny Southern California, there are a ton of deserts, wine countries, beach towns, and hidden gems to explore that are within the vicinity, and I'm excited to share them with you!
Ready to start? Here we go!
If you are in a hurry
Los Angeles day trips require thorough planning (contrary to popular belief) in order to successfully execute. Sometimes, it's just easier to have someone else do it for you! If that's you, I recommend booking these things in advance:
And here are the best hotels: The Prospect Hollywood (luxury), Conrad Los Angeles (mid-range), LA PodLife (budget)
Here's also a map for you to see where each day trip destination is located: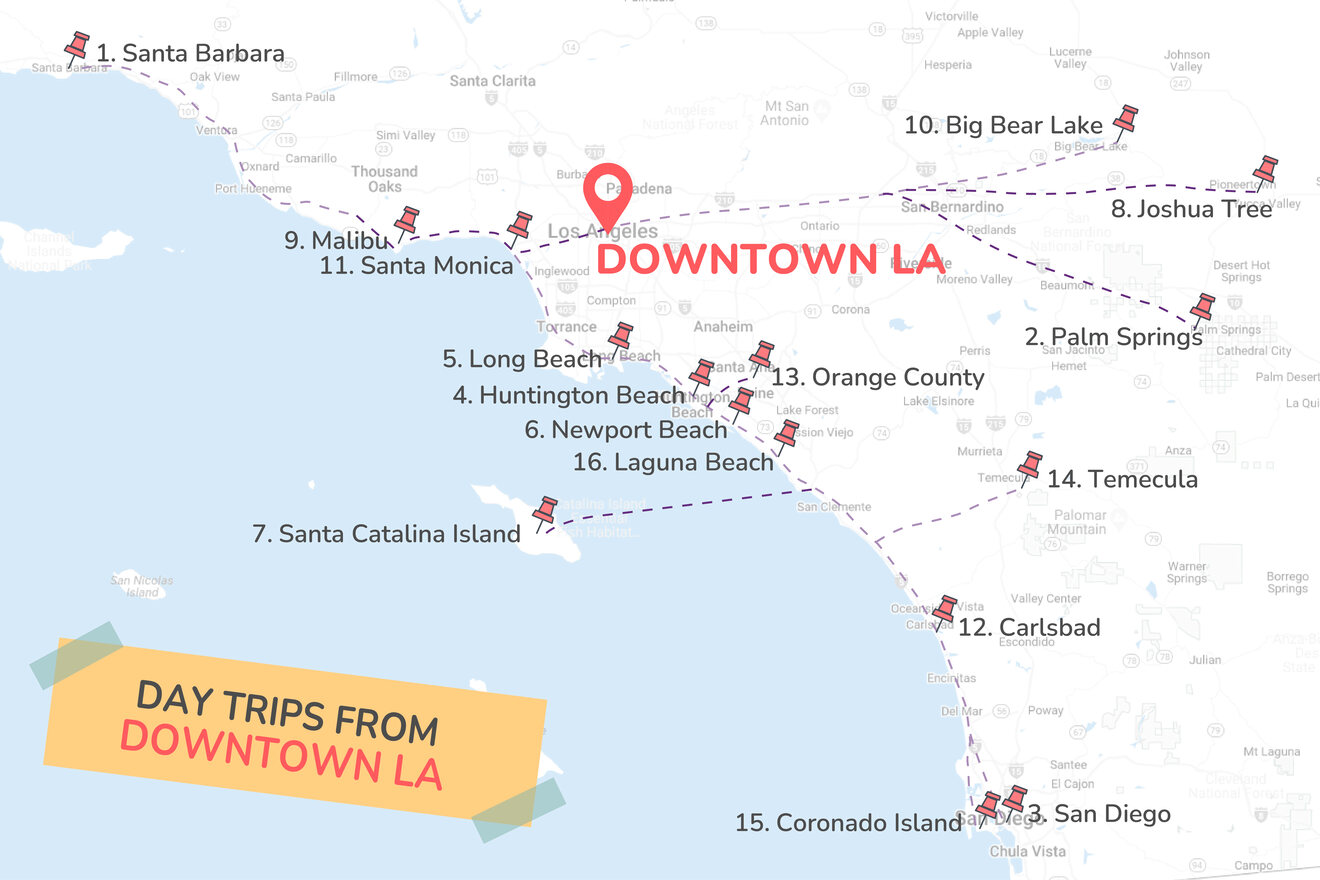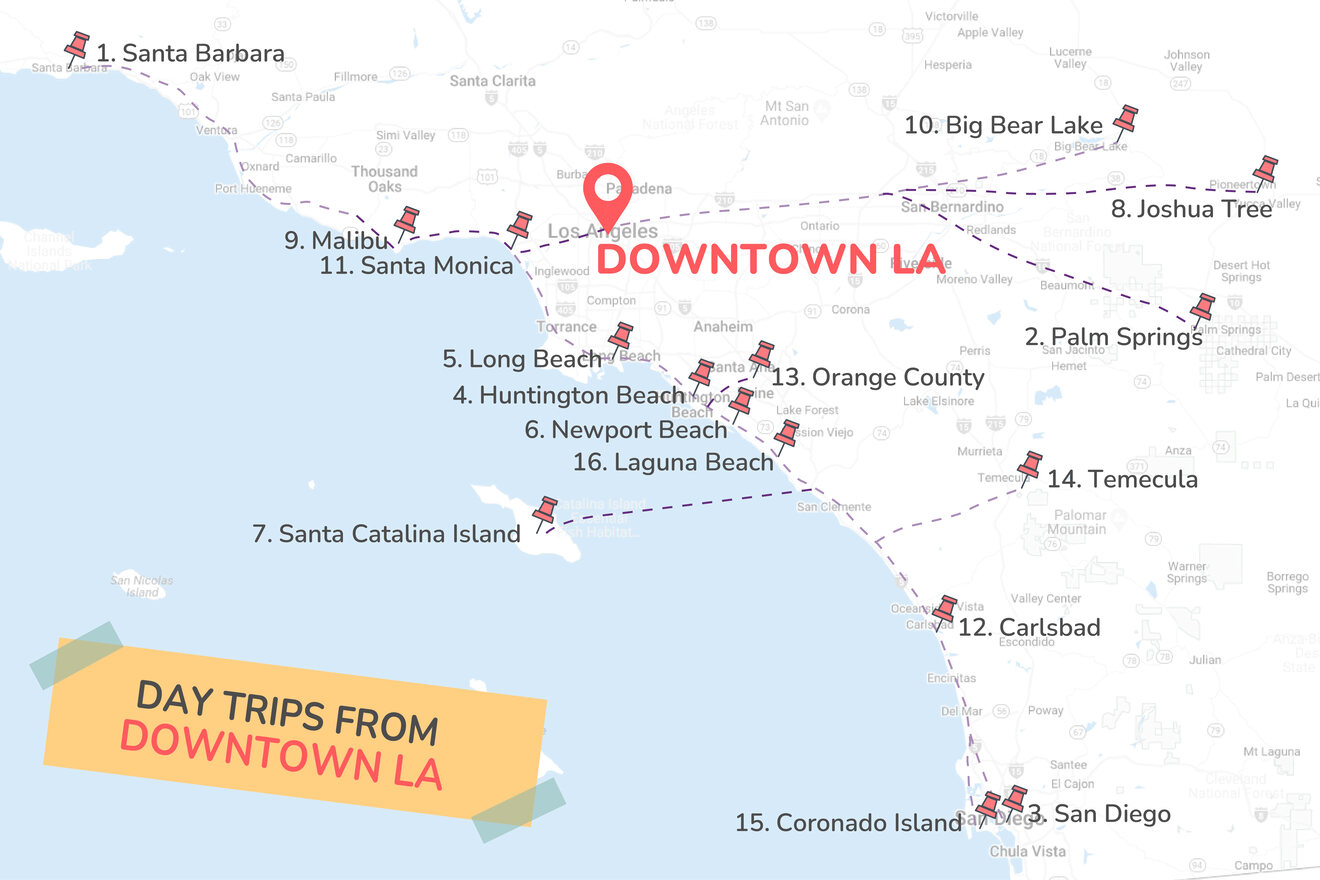 1. Take a train ride to Santa Barbara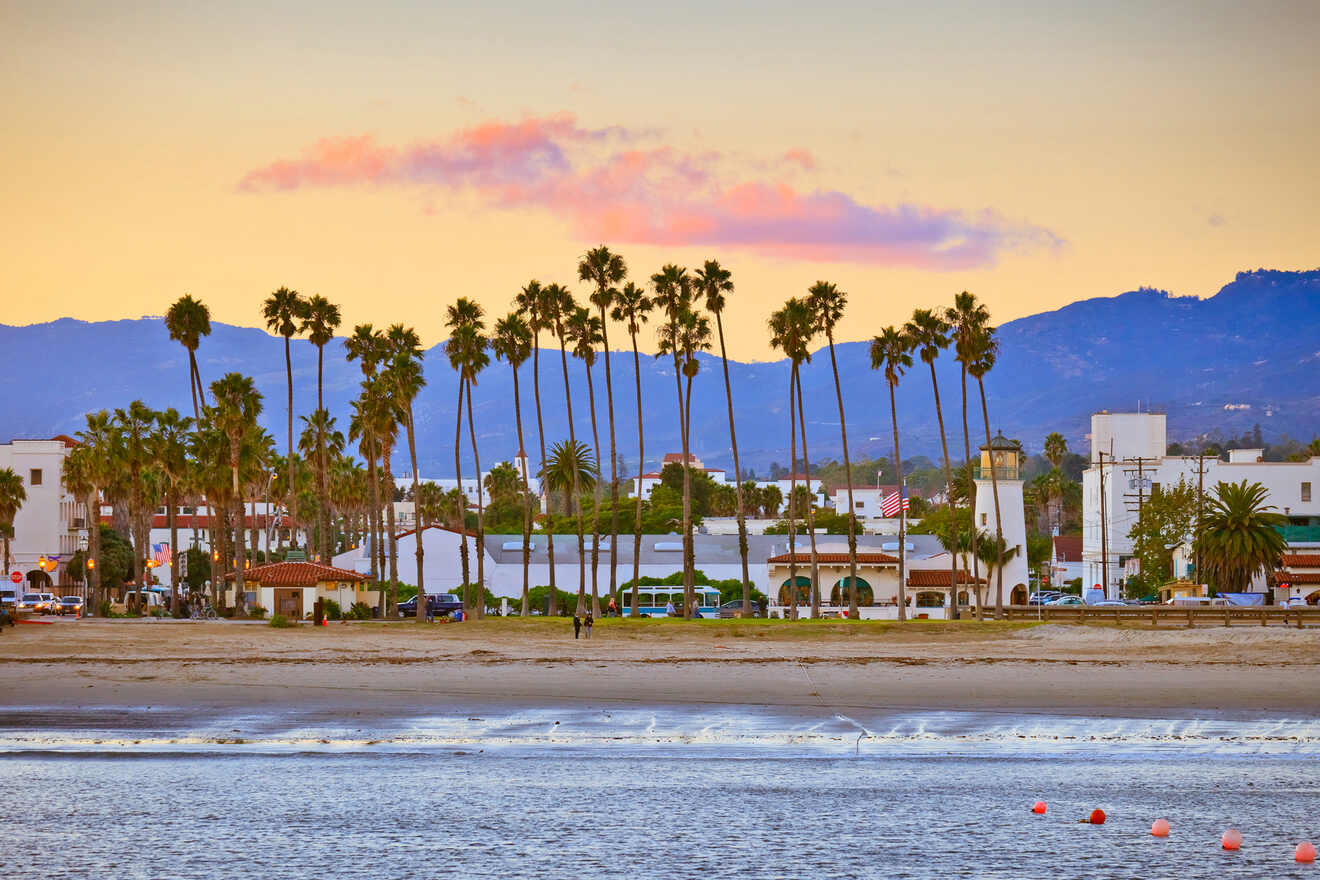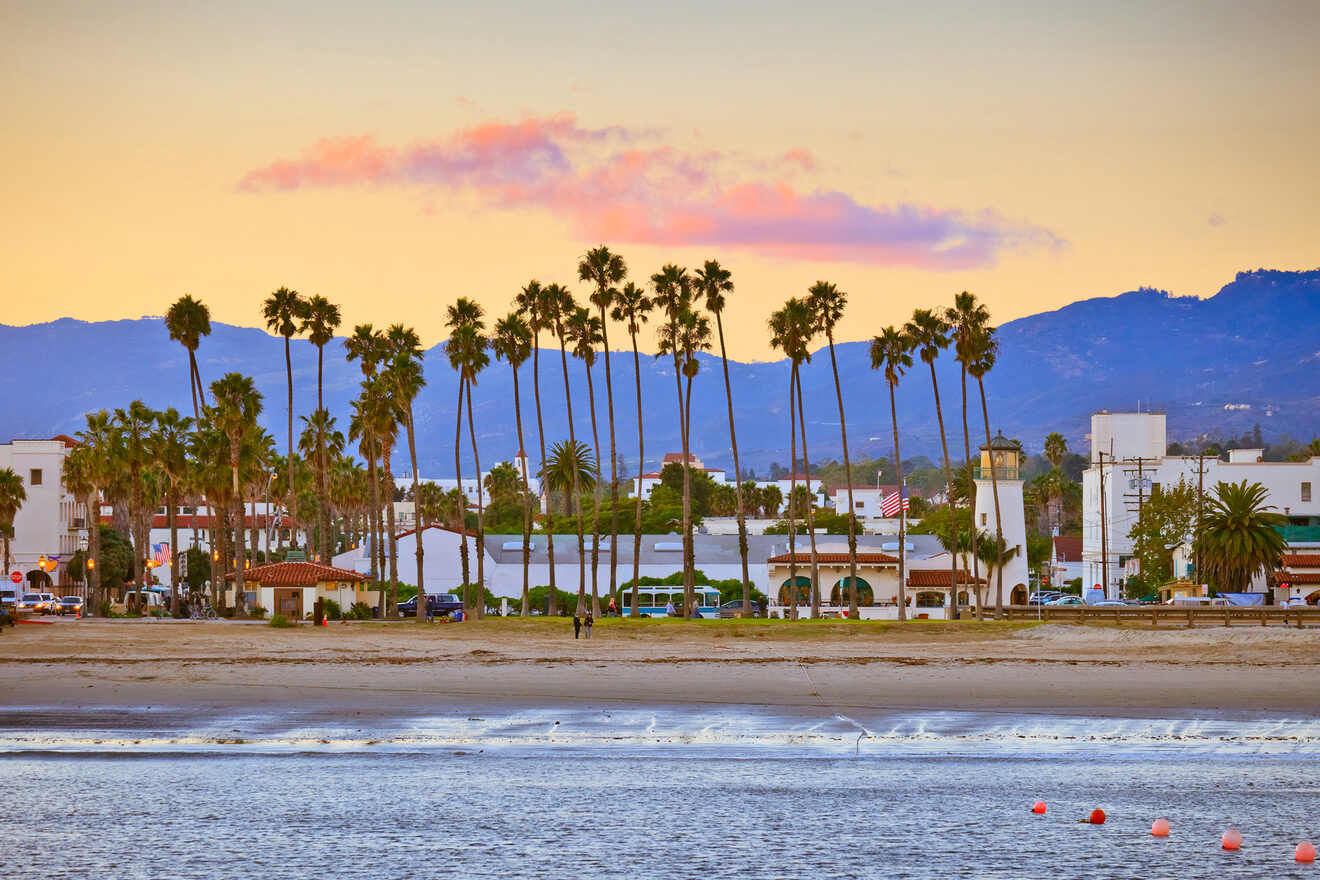 Santa Barbara is a central California coastal town home to famous beaches, wine country, historical landmarks, and more.
Here are a few things you can do for your day trip to Santa Barbara:
Explore the Channel Islands National Park – Book a boat for the day and explore the Channel Islands located right off the coast of Santa Barbara (Santa Cruz Island is beautiful if you're a tree hugger like me).
Walk around downtown Santa Barbara – Walk through the historic landmarks and check out the Santa Barbara County Courthouse, Santa Barbara Museum, and Old Mission Santa Barbara for stunning architecture.
Cruise around Santa Barbara's wine country – This tour will drive you around Santa Ynez to some of the most famous wineries. No need for a car here – they've got you covered!
You can either take a car or train up to Santa Barbara. I recommend booking the Amtrak West Coast Starlight route from Los Angeles County. It's a spectacular train ride going up the coast, where you'll get to enjoy the journey of the experience before even making it to Santa Barbara.
The train ride and car ride are both only about 2.5 hours one-way from downtown Los Angeles at 110 miles (177 km) and 100% worth the trip!
PRICE: Amtrak's West Coast Starlight round-trip tickets are US$60/person for adults. See all their children's discounts here for more info!
2. Wine and dine the day away in Palm Springs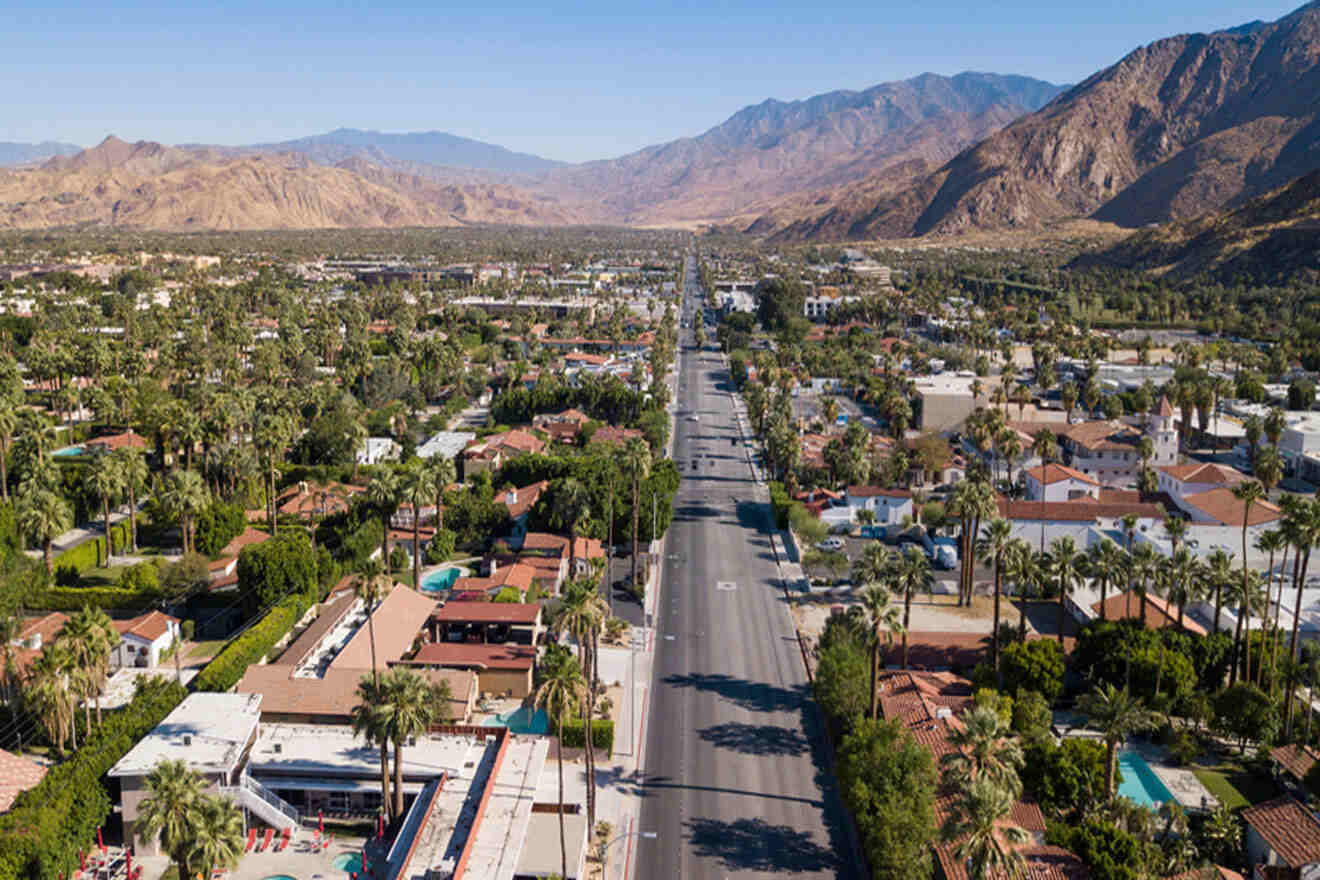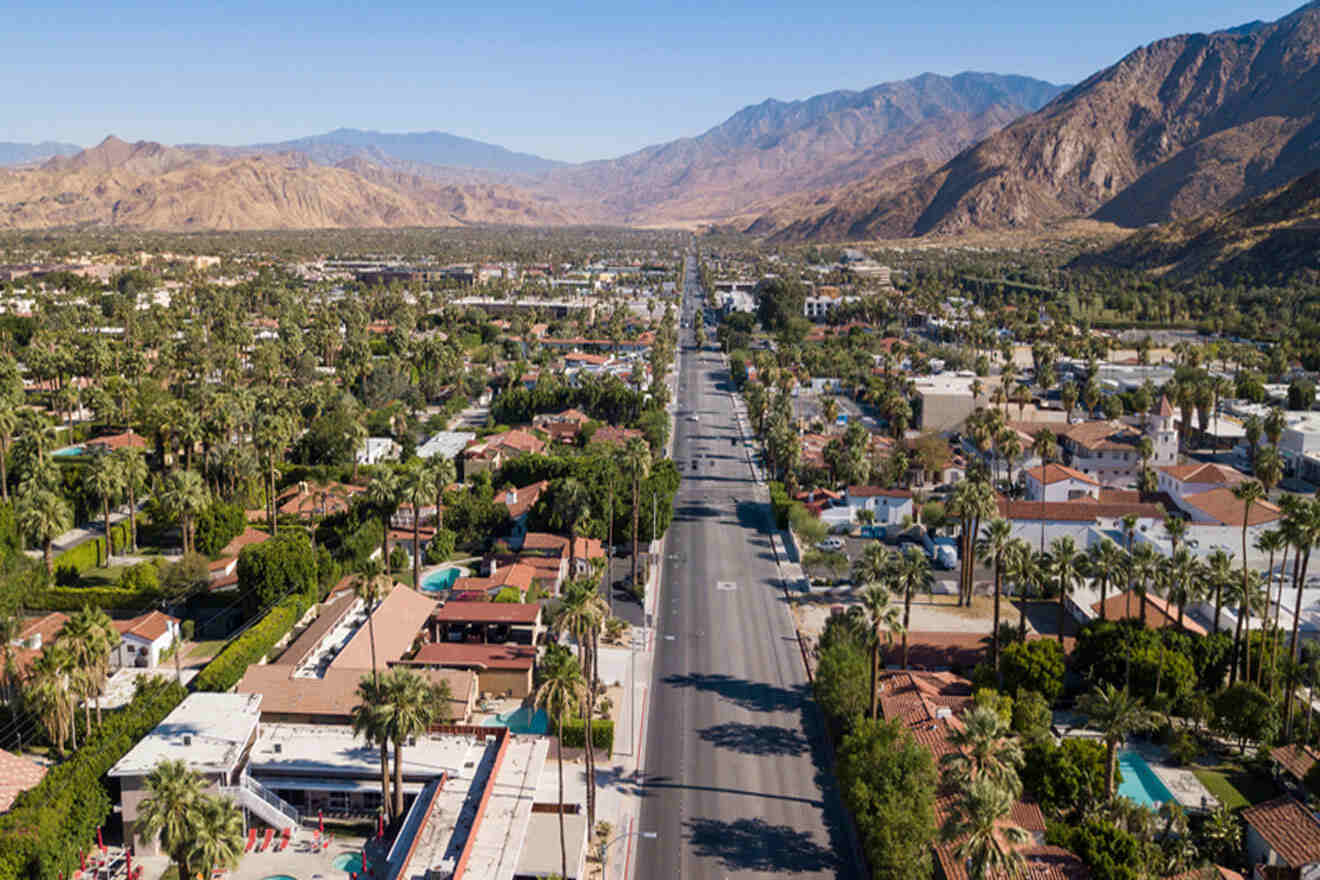 Palm Springs is one of my favorite weekend getaway locations! It's a town known for its golf resorts, restaurants, fabulous hotels, and sunny weather. Perfect for a day outing!
Here are a few things to do for your day on the desert oasis:
Visit Palm Springs Art Museum: This beautiful museum is known for its modern and contemporary art galleries, aligning with the reputation of Palm Springs.
Ride the Palm Springs Aerial Tramway: This is a scenic ride starting from the desert of Palm Springs to the mountains of San Jacinto State Park. Watch nature transform as you head to the top and admire the beauty surrounding you! Just make sure to buy your tickets in advance.
Visit a golf resort: There are over 100 golf courses to check out here! Spend the day at one of Palm Springs's golf courses and relax under the sun.
Palm Springs is a little over 2.5 hours away from Los Angeles by train and car, being about 110 miles (177 km) away, very similar to Santa Barbara.
The Amtrak train will take you to Palm Springs and back for a very reasonable price, I totally recommend this if you plan on staying within the city center (that way, you can just walk everywhere and take the train back home).
PRICE: Amtrak round-trip tickets start at US$36/person for adults. See all their children's discounts here for more info!
3. Explore the beautiful city of San Diego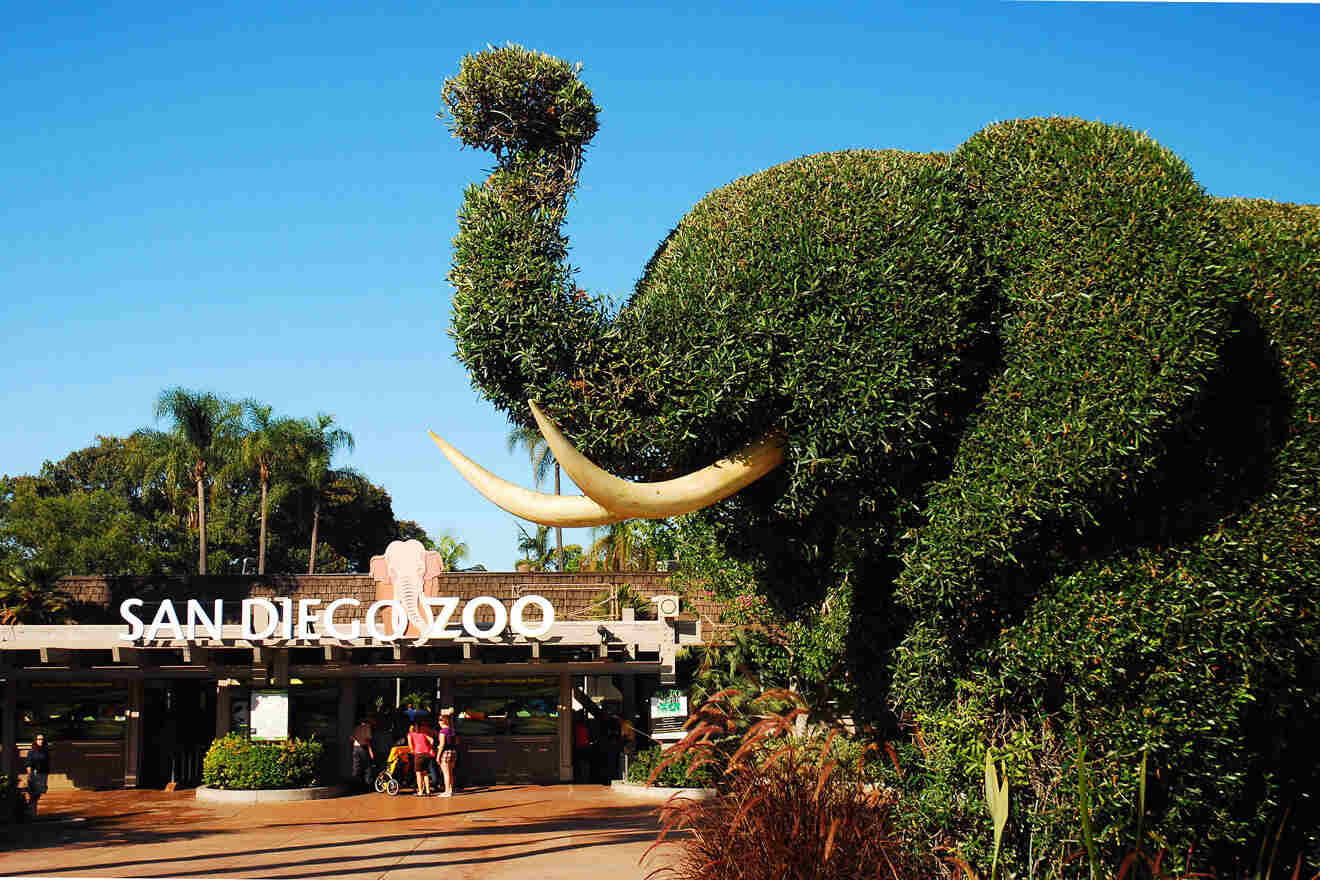 San Diego is the place to be no matter what you like to do for fun. The city is filled with historical and art museums, outdoor activities, dozens of beaches, delicious restaurants, and so much more.
On a good traffic day, San Diego is about 2.5 hours away from Los Angeles. On a normal-LA-traffic day, it can get upwards of about 4 hours away by car. This is another beautiful destination that you can travel to using Amtrak's Pacific Surfliner route. You get stunning views of the ocean along the pacific coast highway. I've done this many times, and it's never failed me!
Two places you need to check out in San Diego are the following:
La Jolla Cove: The kayaking tour in La Jolla's sea caves is a super popular choice for both locals and tourists to experience. It's a must-see!
San Diego Zoo: You can easily spend your entire day at the San Diego Zoo (especially given the fact that it's even bigger than Disneyland)! It's a local favorite and even well-known nationwide as one of the best zoos in America! Find out how to get the best deals here.
PRO TIP: Choose the Old Town destination when you're booking your Amtrak train from Los Angeles if you want to explore San Diego's Old Town area. There, you'll find a famous haunted house, historical landmarks, and tons of Mexican food restaurants you'll absolutely love.
An easier option here is booking this tour that picks you up from LA and takes you all around the major San Diego spots – this is probably the most convenient tour I've ever seen!
PRICE: Amtrak round-trip tickets start at US$70/person for adults. See all their children's discounts here for more info!
4. Catch some waves at Huntington Beach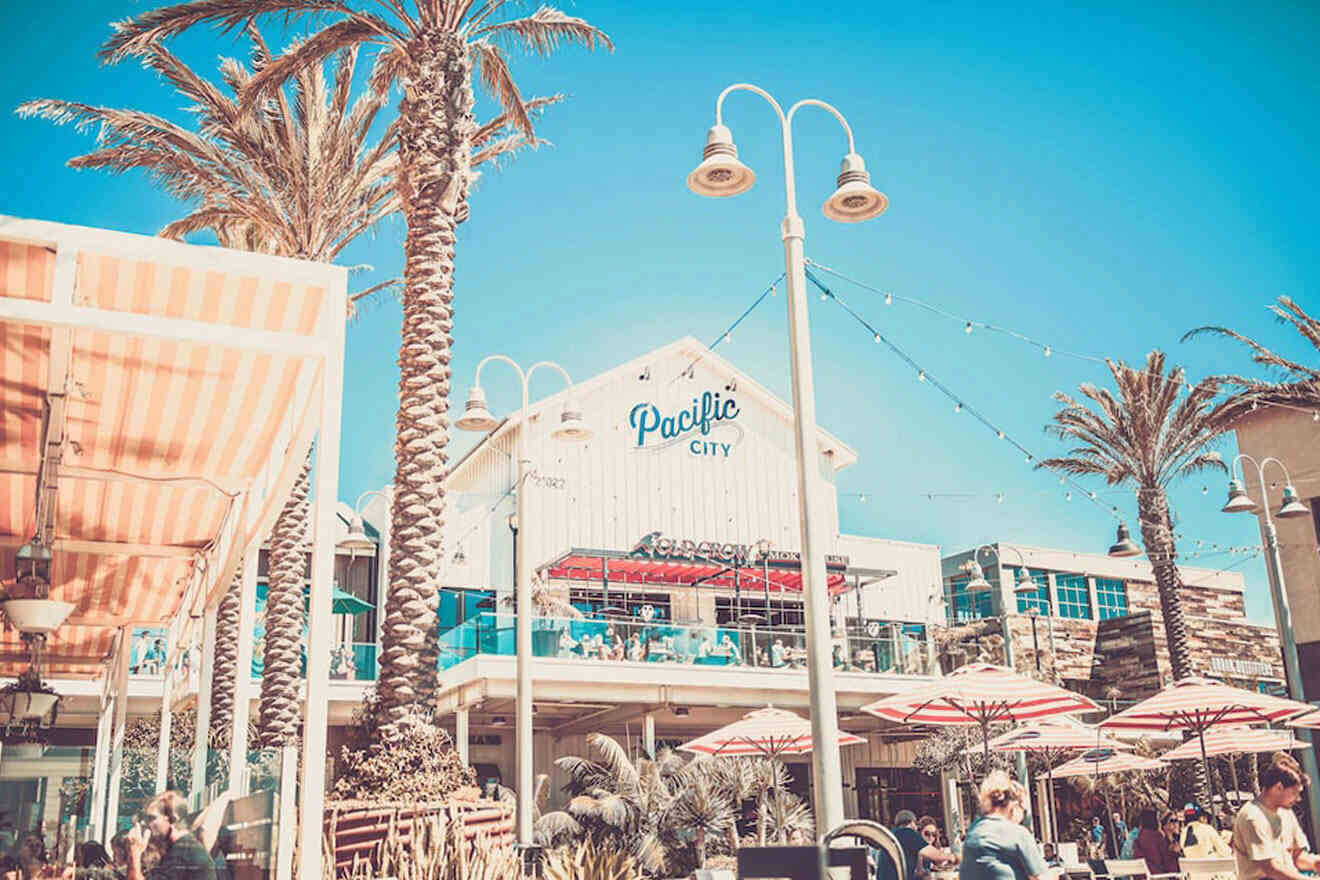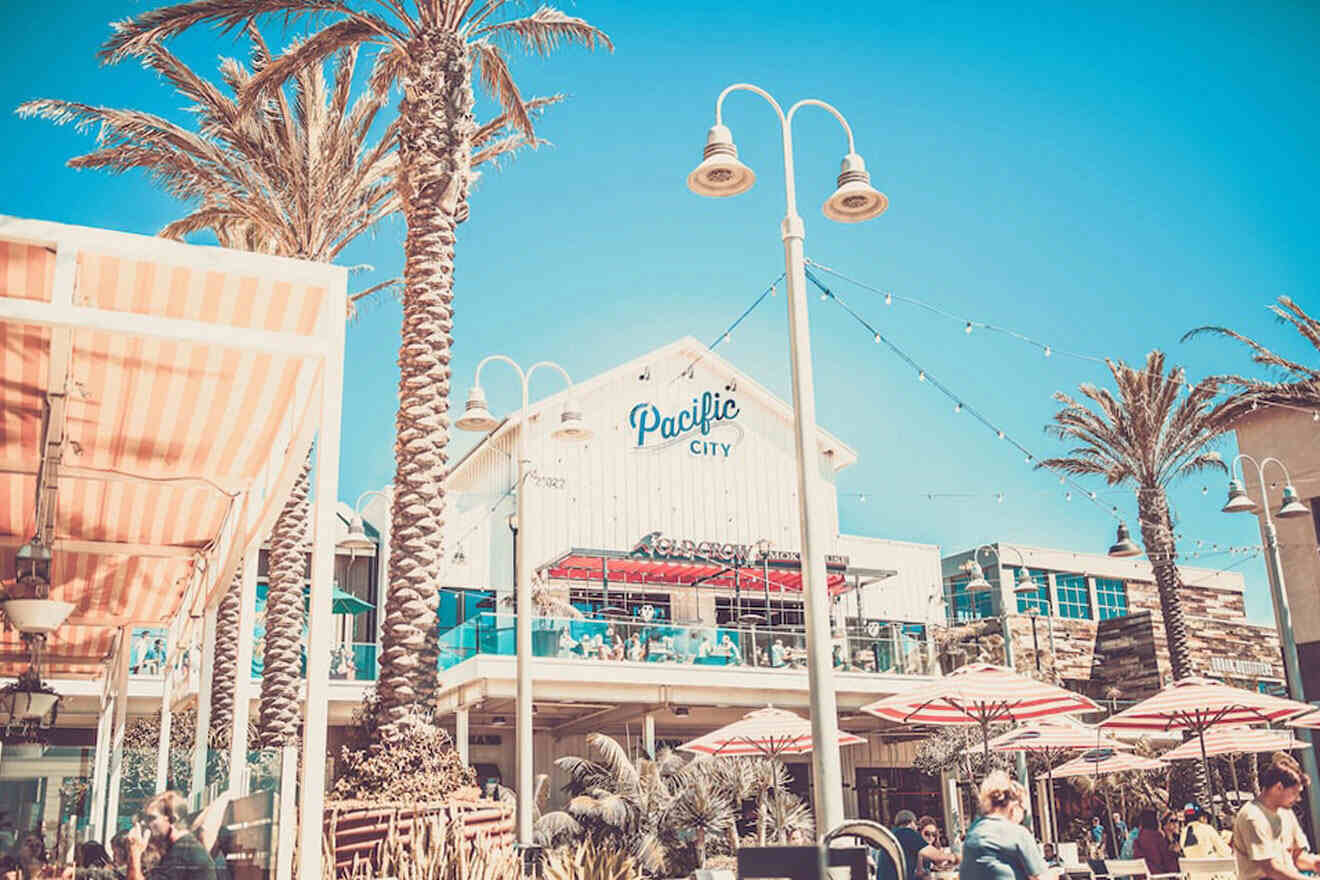 Otherwise known as Surf City USA, Huntington Beach is another perfect day trip, being about 1 hour away from Los Angeles at 37 miles (59 km) by car.
Unfortunately, there are no trains stopping in Huntington Beach. There is, however, a bus you can catch going from LA to Santa Ana and ending at Huntington Beach in a little over 2 hours. Honestly, LA's buses aren't always the best mode of transportation, and it's not the quickest way, but it's definitely worth a try if you're not willing to sit behind the wheel in LA traffic (you'll end up saving some money, too)!
If you have a choice, I recommend going by car, your or rented! It's quicker and more efficient, and you're able to explore the surrounding area if you so please. I recommend walking around the beaches, enjoying the Pacific Ocean views and swaying palm trees, while also signing up for surf lessons!
PRO TIP: Check out Sandy's Beach Shack, located right on the Huntington Beach boardwalk, for the best fish and chips!!
5. Spend your day in Long Beach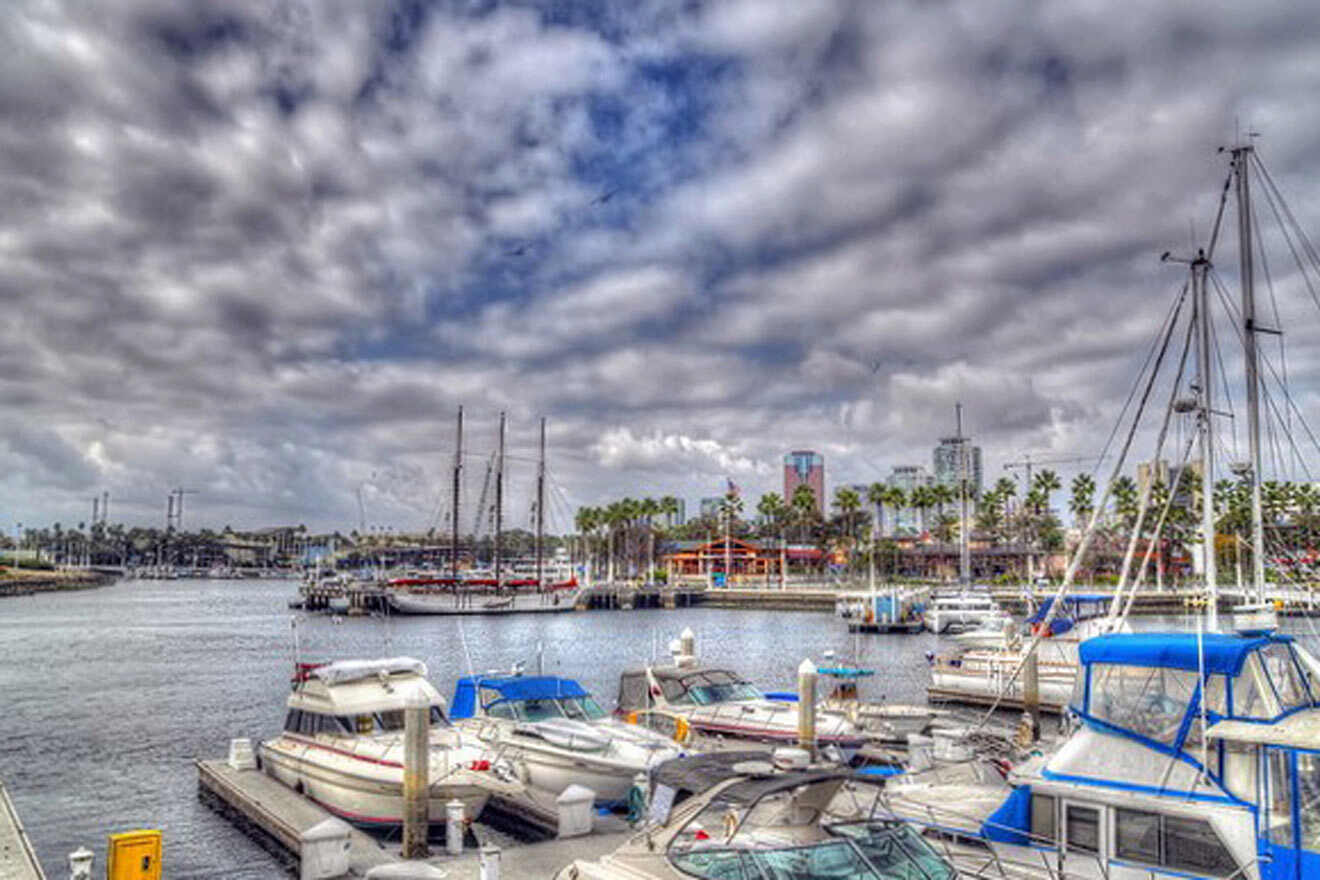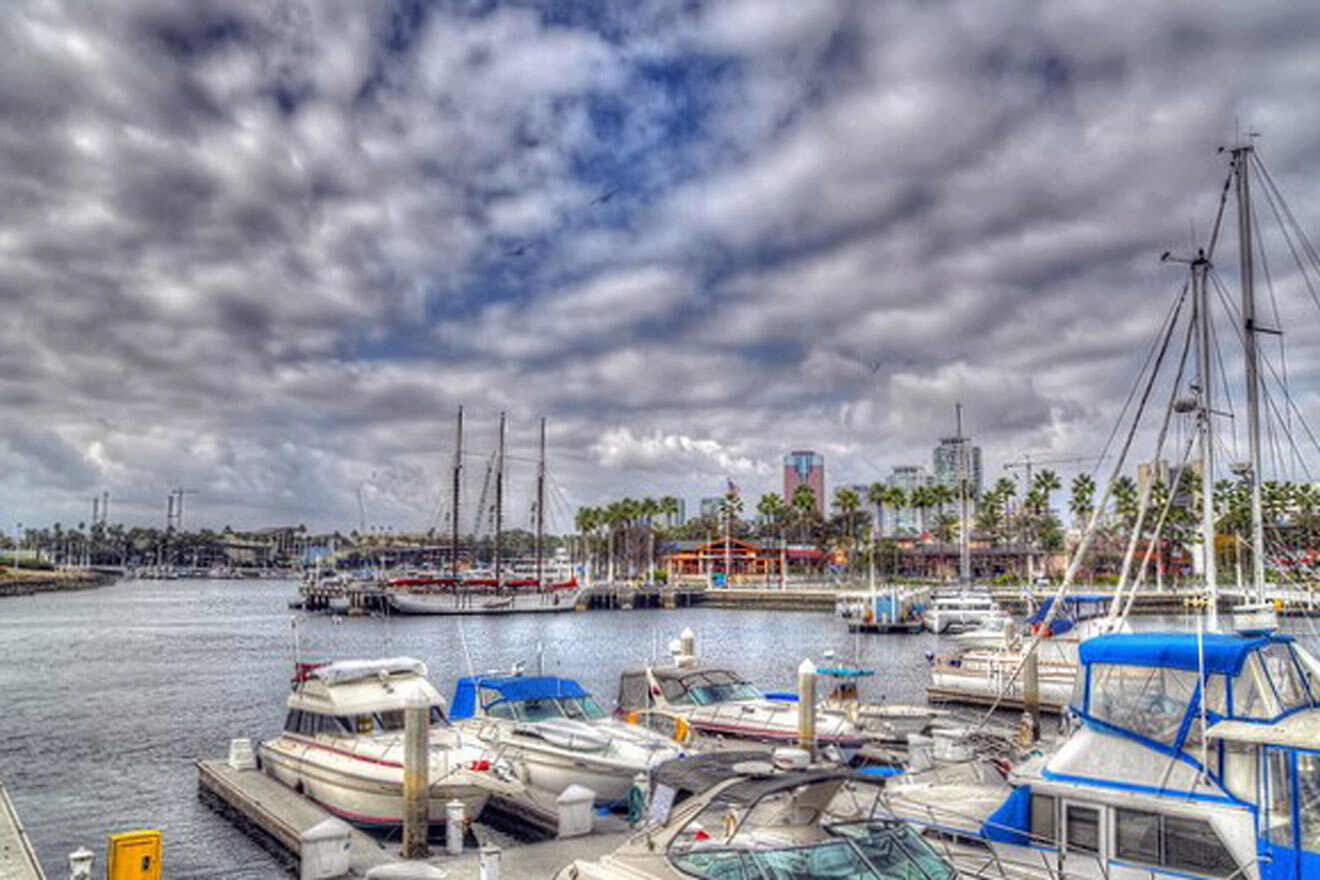 Long Beach is only about a 45-minute drive away from central Los Angeles, sitting right on the Pacific Coast. There are many things you can do in Long Beach. It's known for The Queen Mary, the Aquarium of the Pacific, Rainbow Lagoon (where you can rent big swan pedal boats – so romantic!), and, of course, its sandy beaches.
There is a Greyhound bus going from Los Angeles to Long Beach that you can take roundtrip for less than US$30. This is a great option if you don't have a car and plan on staying around the Long Beach vicinity.
I do recommend driving to Long Beach because it will give you the flexibility to explore different areas within Long Beach without having to worry about public transportation or spending even more money on Ubers (which can get really pricey)!
PRO TIP: Don't forget your sunscreen, sunhat, sunglasses, and all the necessities for a long day at the sandy beach! It's better to come prepared than to spend extra money on all the essentials you forgot to bring! I recommend packing everything in a spacious backpack, I use this Knack backpack anytime I go to the beach!
6. Go whale watching for the day in Newport Beach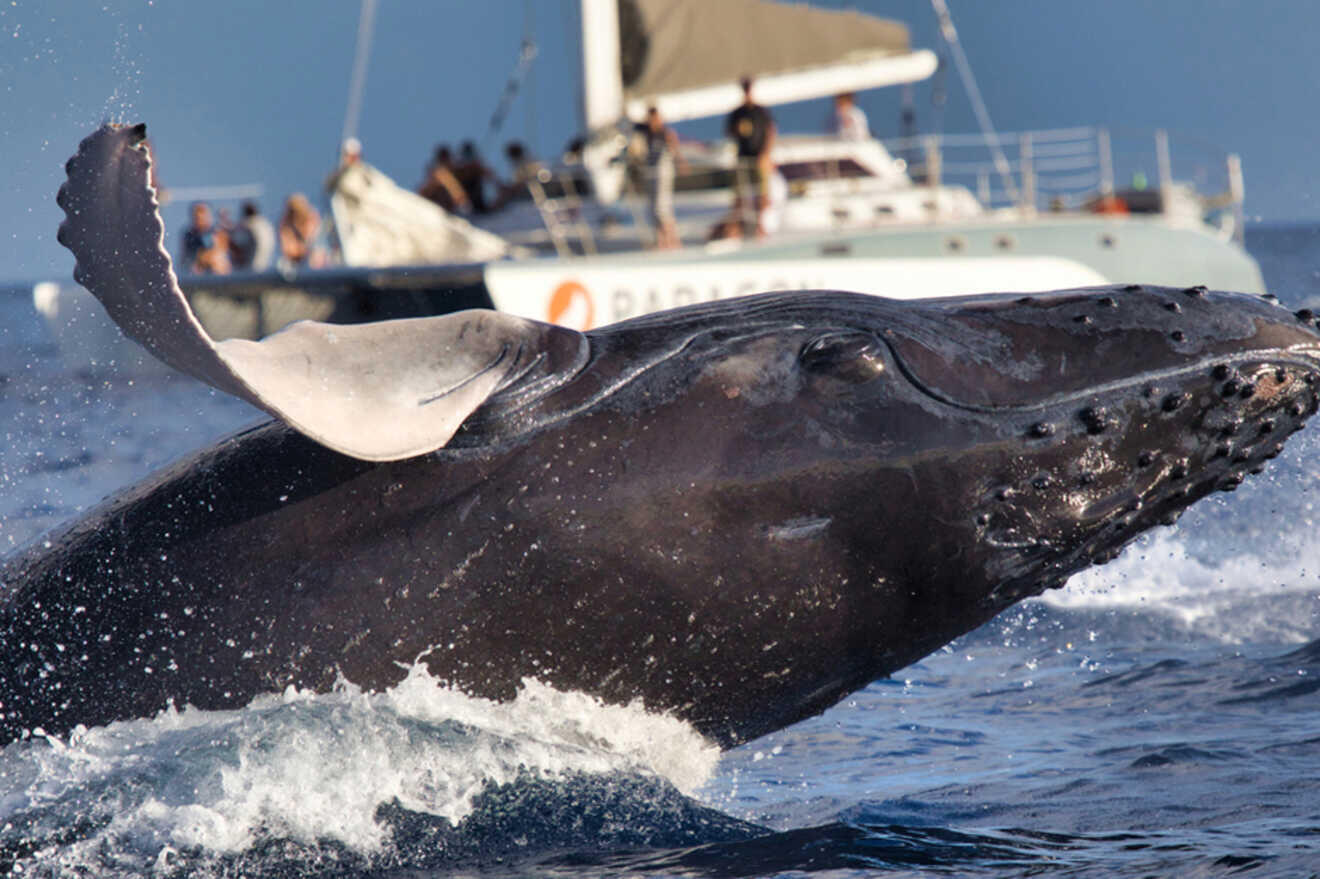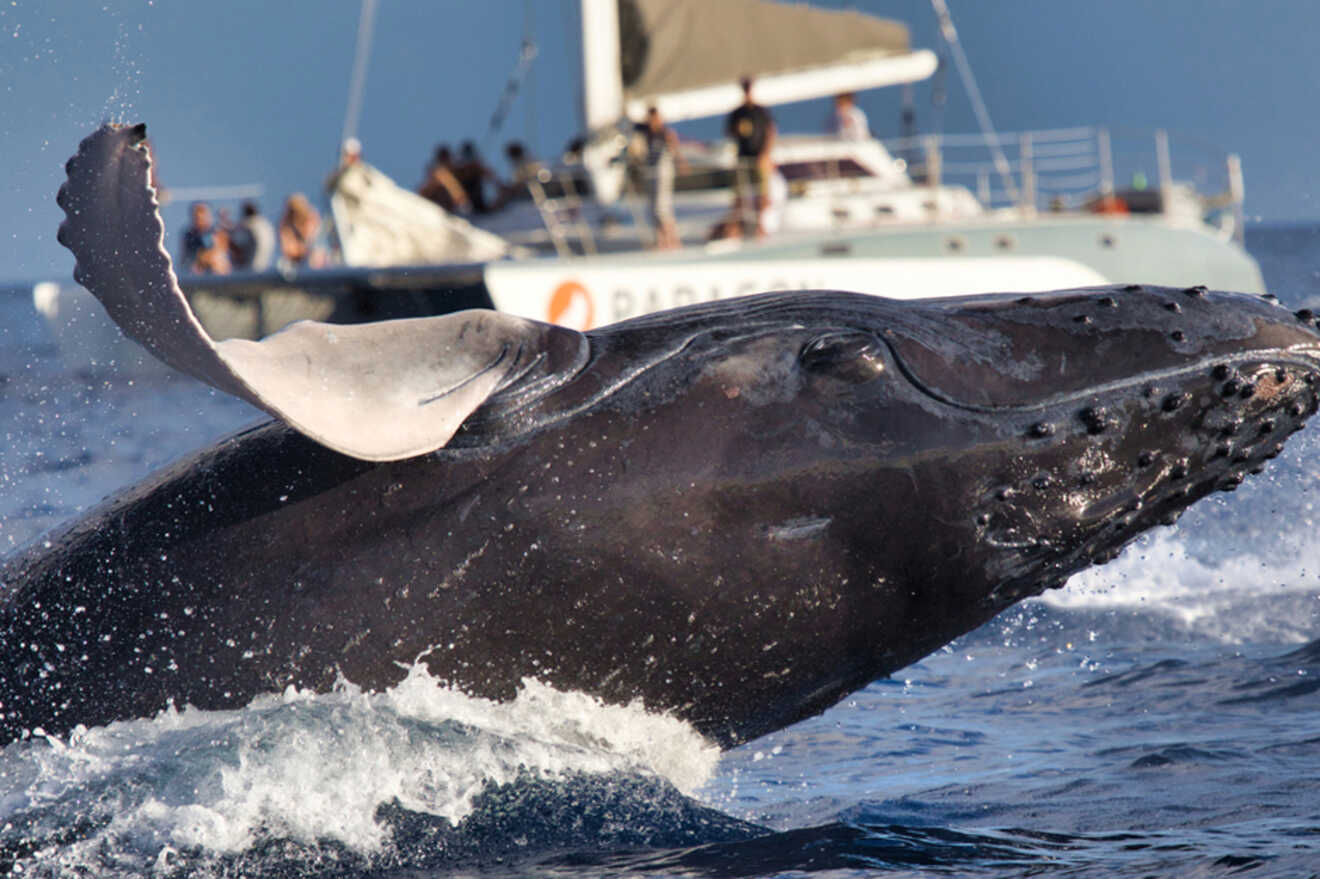 Embark on a whale-watching adventure for the day at Newport Beach! Newport Beach is one of the best places to go whale-watching in California, any time of the year.
My favorite marine life animal is the orca, and I was lucky enough to see one on tour. It's a relaxing 2.5-hour tour with a knowledgeable captain and crew guiding you along the way. I also recommend taking the short, historic ferry out to Balboa Island and Marine Avenue while you're here (it's a must-see)! Marine Avenue on the resort town of Balboa Island is a small street that is known for its boutiques, eateries, and even water sports if you're looking for a little more adventure.
Los Angeles to Newport Beach is about 1 hour away by car, about 45 miles (70 km). It's not too far of a distance, making it another one of the easier day trips from Los Angeles. You have time to explore the entire beach town without having to worry too much about the car ride going back to LA.
Similar to the other beach towns, there are a few options here:
Both options definitely have their pros and cons, and it all depends on what works best for you! If you don't mind driving, are in a rush, and want to explore more of the Newport Beach area, drive! If you plan on staying blocks within the Newport Beach area and would rather avoid the traffic and hefty parking fees, I recommend taking the bus.
7. Catch a ferry to Santa Catalina Island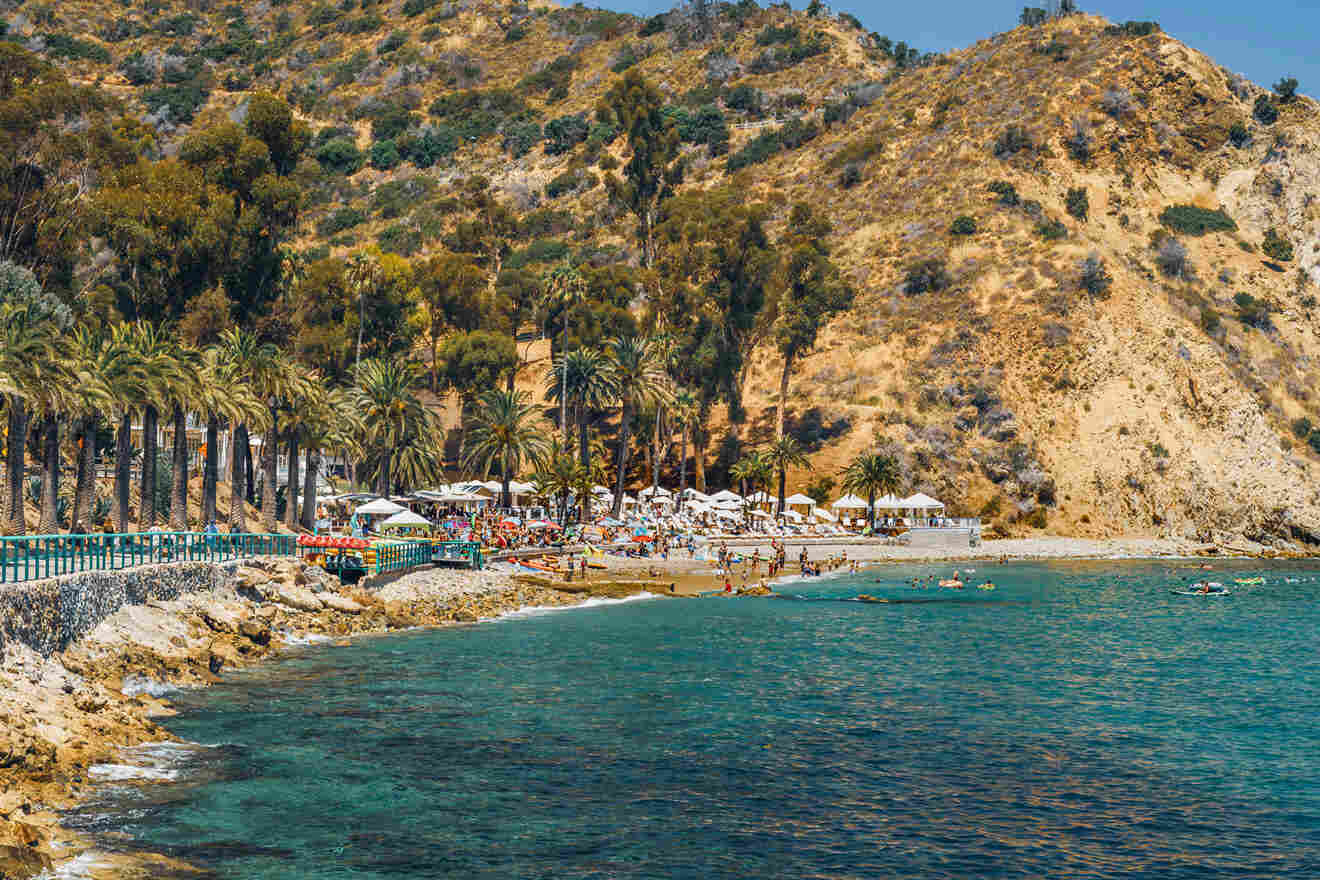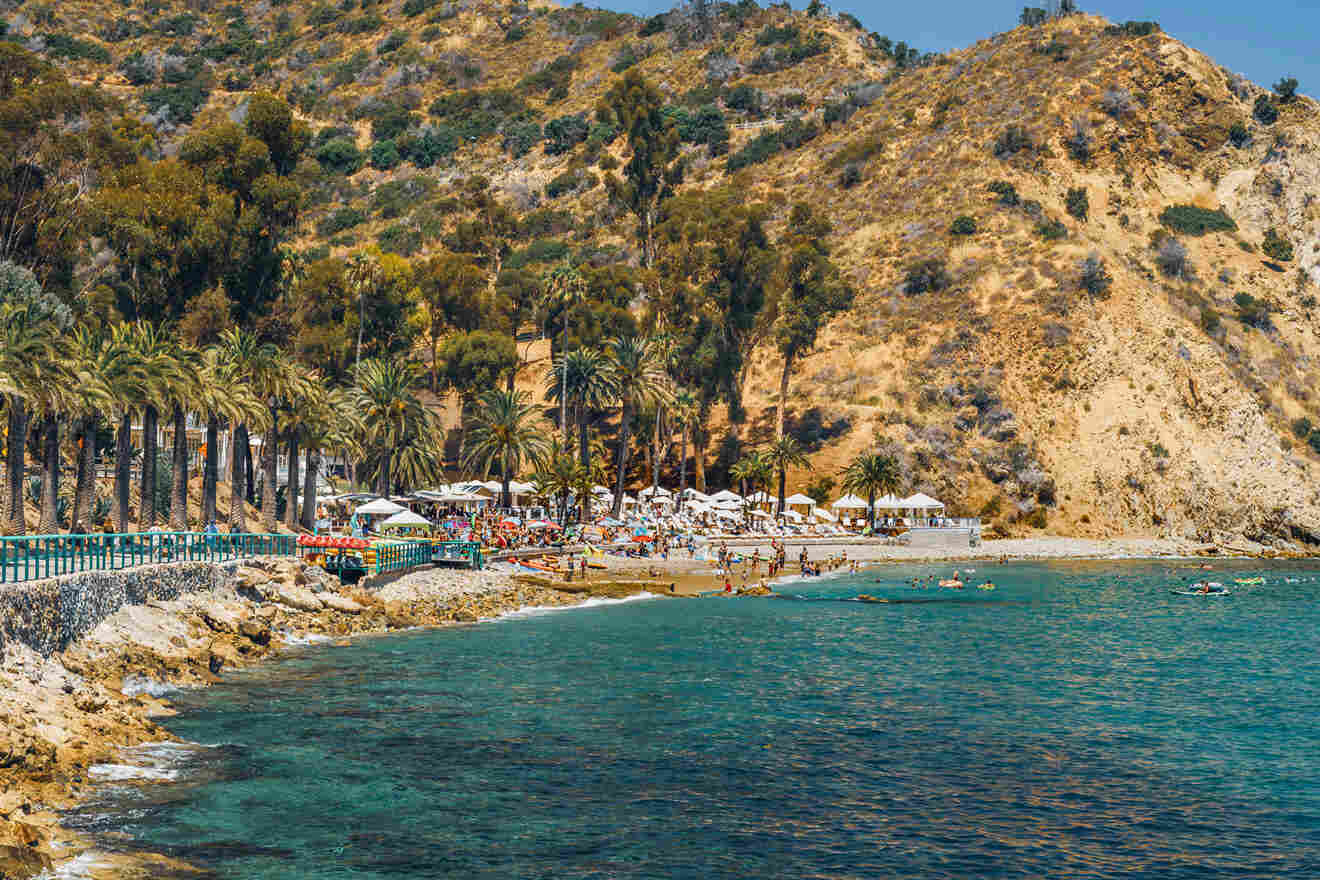 Santa Catalina Island is my all-time favorite day trip from LA! It literally feels like paradise, and there's so much to do here for everyone of all ages. It's my mom's favorite place to be, too!
Santa Catalina Island is one of California's Channel Islands located southwest of LA. It's one of the most popular daytime excursions for locals who need a break from the city and looking to explore more water activities that might not be as readily available in Newport Beach or Long Beach.
Activities like snorkeling, scuba diving, parasailing, and even submerging in a submarine are widely accessible on the island and SO much fun to do!
There are a few different ferry ports from the Catalina Express near the Los Angeles area:
San Pedro: 30-minute drive from LA, about 25 miles (40 km)
Long Beach: 30-minute drive from LA, about 25 miles (40 km)
Dana Point: 1-hour drive from LA, about 60 miles (97 km)
I recommend booking tickets to the ferries leaving from either San Pedro or Long Beach since they're a much shorter drive away than Dana Point. The ferry ride is about 1 hour to 1.5 hours long from both ports to Catalina Island.
PRO TIP: Book this tour if you prefer to have someone show you around once you arrive!
NOTE: If you drive to the San Pedro or Long Beach port, parking is about US$20 – US$23 per vehicle/24 hours.
PRICE: Round-trip ferry tickets are US$84/person for adults (12 – 54), $68.50/person for youth (2 – 11), and US$7/person for children under 2 years old.
8. Take a hike and explore Joshua Tree for the day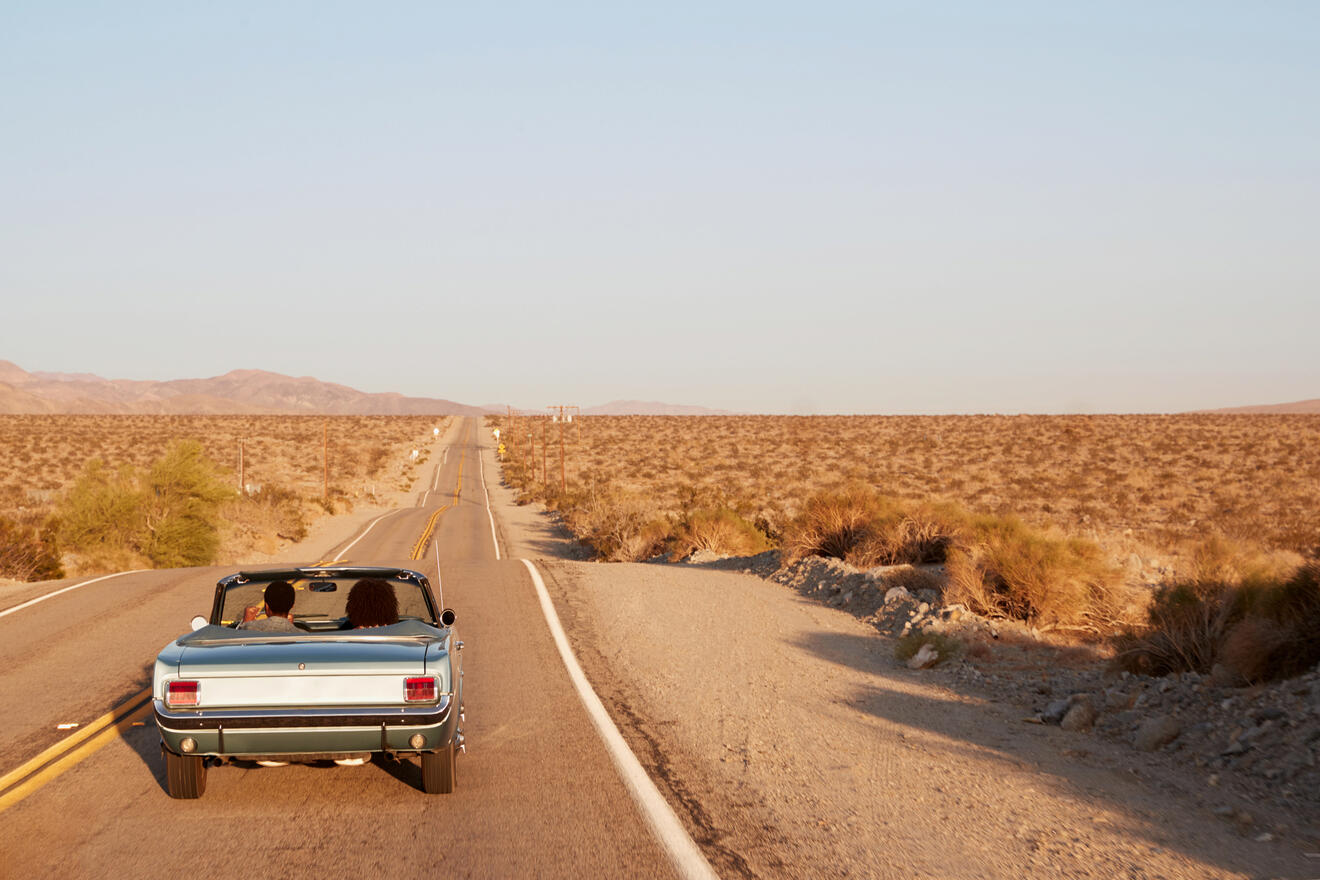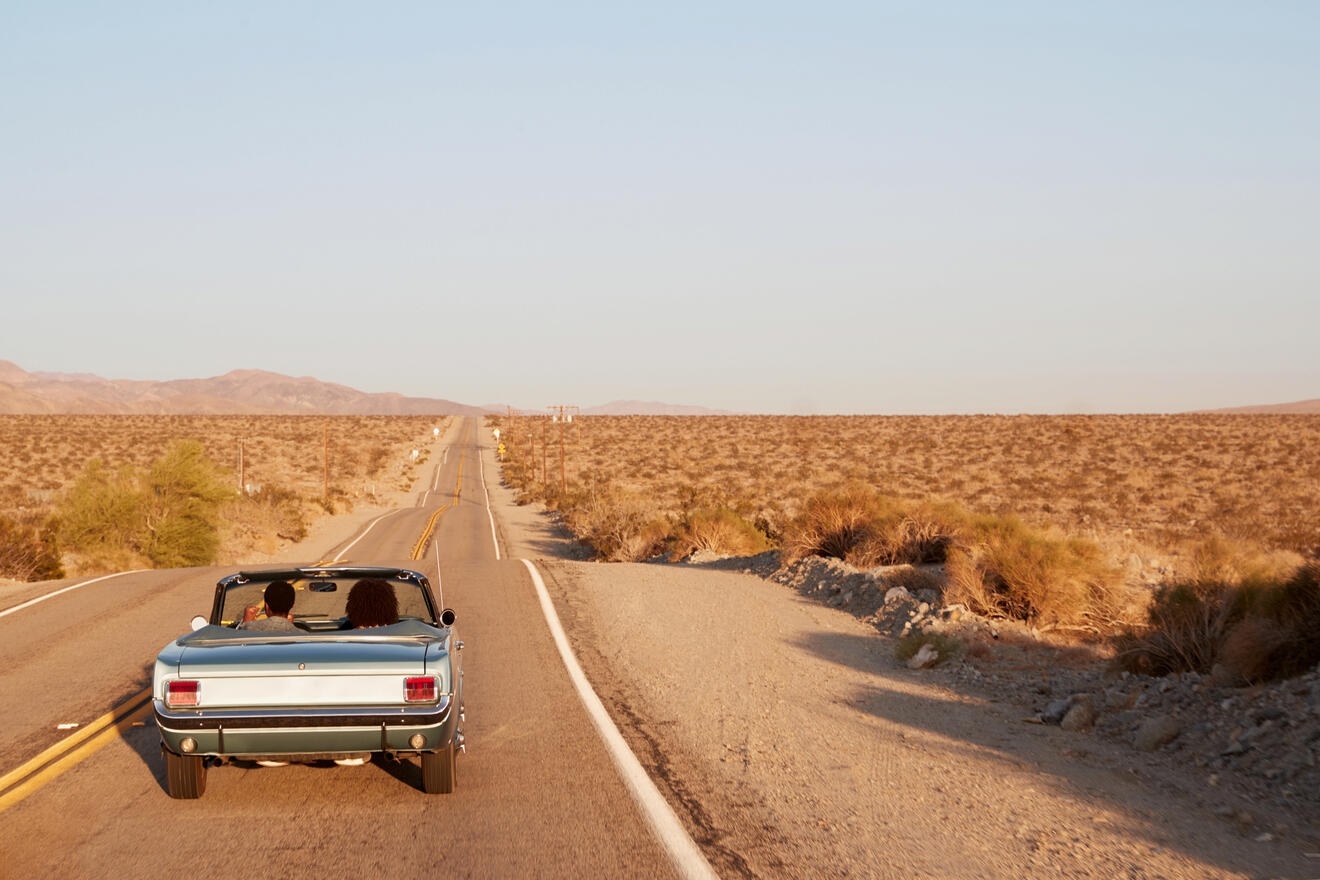 Joshua Tree is another one of those must-see day trips from Los Angeles that I recommend everyone visits at least once! It's unlike anything in California!
Joshua Tree is a 2-hour drive from Los Angeles, about 130 miles (210 km) away. I recommend driving to Joshua Tree since a car is an absolute must while you're there (get there as early as you can to avoid exhausting heat conditions!)
Most places in Joshua Tree are quite spread out, and because it's a desert, it gets too hot to be walking around everywhere.
Joshua Tree National Park is such a fun time for adventurers and explorers like me who love the outdoors. A few things to do while you're here include rock climbing (if you're a professional, I don't recommend it for your first time), exploring the small town's art galleries, and all the national park hiking trails.
Here's a couple of my favorite hikes I recommend checking out for your day trip:
Hidden Valley Nature Trail: 1-mile (under 2 km) loop around a rock-enclosed valley. This place has some of the biggest rocks I have ever seen! (I also collected some awesome rocks while I was here, I totally recommend it!)
Fortynine Palms Oasis Trail: This is a magnificent sight to see – a true desert oasis! Here, you'll find a ton of palm trees and wildlife thriving amidst the dry desert on a 3-mile (under 5 km) roundtrip hike.
NOTE: Have I mentioned how hot it is here?! There are also cacti everywhere you turn. I recommend wearing long leggings and close-toed shoes to stay safe! You're also doing a lot of walking – I like to wear this shoe insole to help support my feet; it's incredibly helpful on hikes.
PRICE: The park entrance fee is USD$30 for 7 days per vehicle.
9. Drive up to Malibu for a beach day and celebrity sightings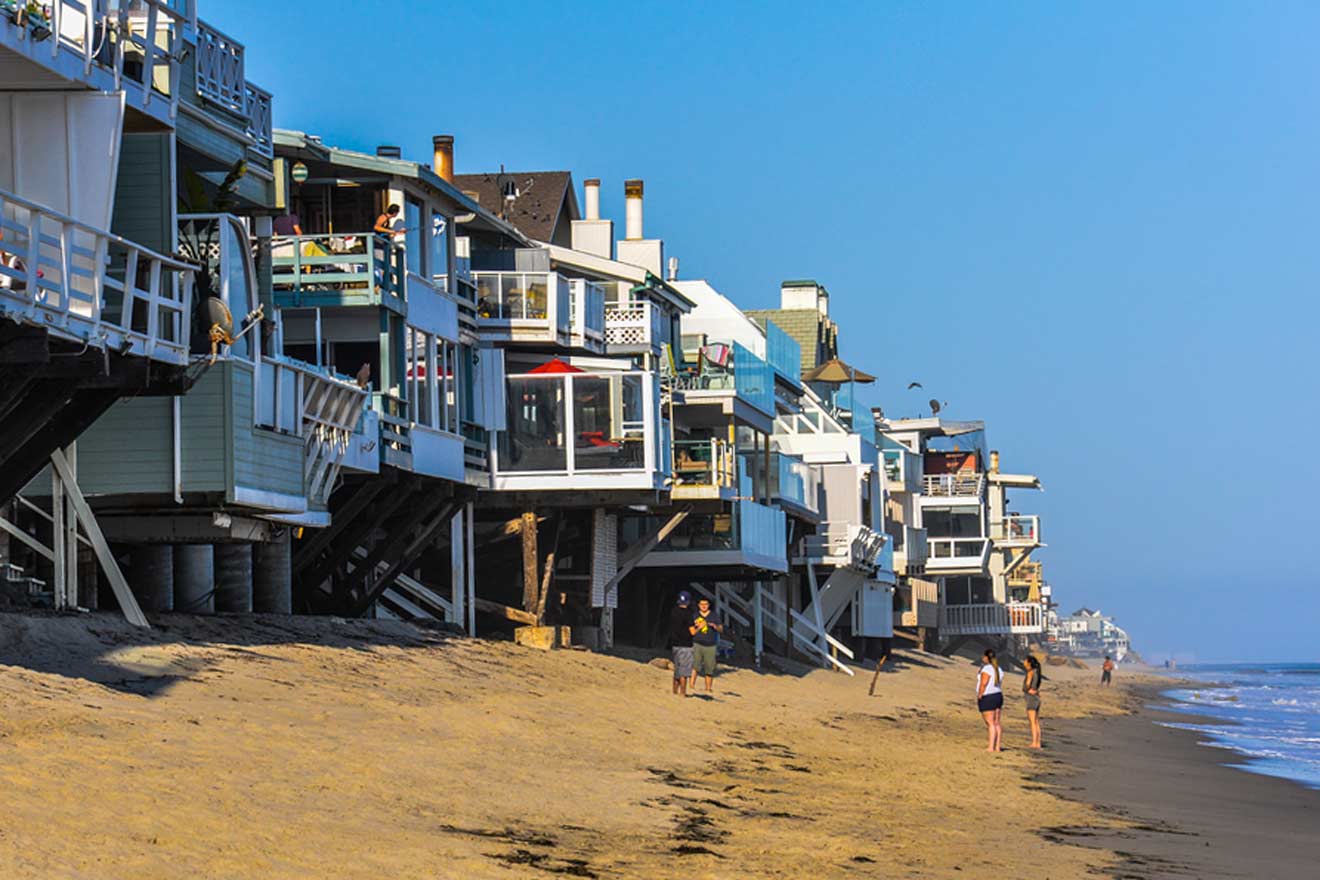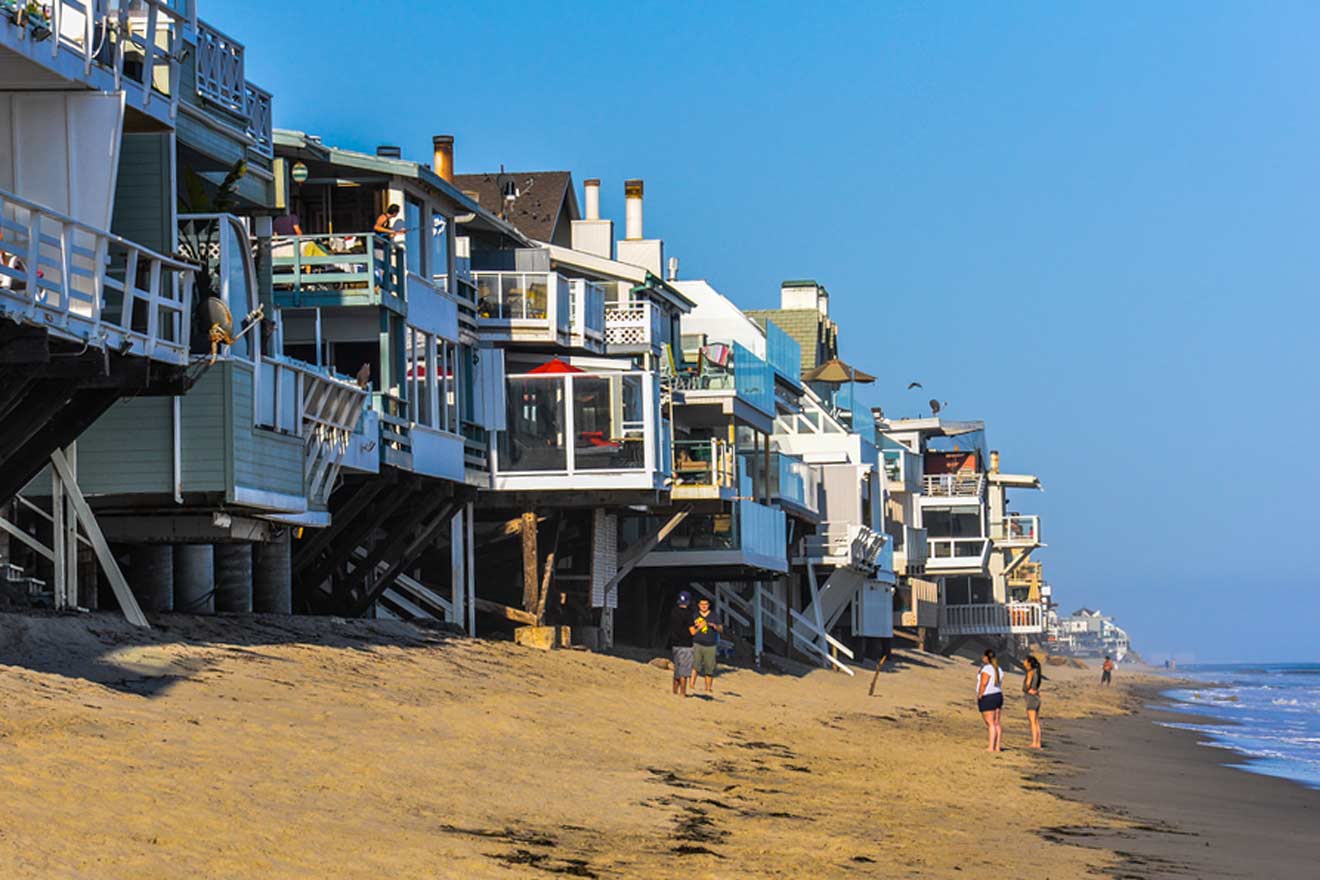 Malibu is about a 45-minute drive from Los Angeles, about 50 miles (80 km) away from the city center. It's known for being one of the best surfing spots in the nation (along with Huntington Beach) and for the plethora of celebrities who live here. You might even run into your favorite celebrities while you're here!
It's very possible to get from Los Angeles to Malibu without a car by bus, but I recommend traveling by car if you want to venture out to all the best spots in Malibu within a time limit.
Here are some beaches worth checking out (after you walk around the famous Malibu Pier):
Malibu Lagoon State Beach: The world-renowned beach is a "World Surfing Reserve" and a must-see if you're a surfer looking to catch a wave on the west coast!
Zuma Beach: This is a great beach for swimmers! Soothing ocean waves, white sand, clear waters… I mean, what else can you ask for?
El Matador Beach: If you're not catching waves at the beach, catch the sunset at El Matador Beach for the most majestic Pacific Ocean views in all of Malibu. (Side note: El Matador Beach isn't safe for swimmers! I only recommend watching and enjoying the beautiful pacific ocean waves from a distance!)
PRO TIP: If you're looking for a more adventurous activity while you're in Malibu, I recommend going horseback riding with Malibu Riders!
10. Indulge a day of outdoor activities at Big Bear Lake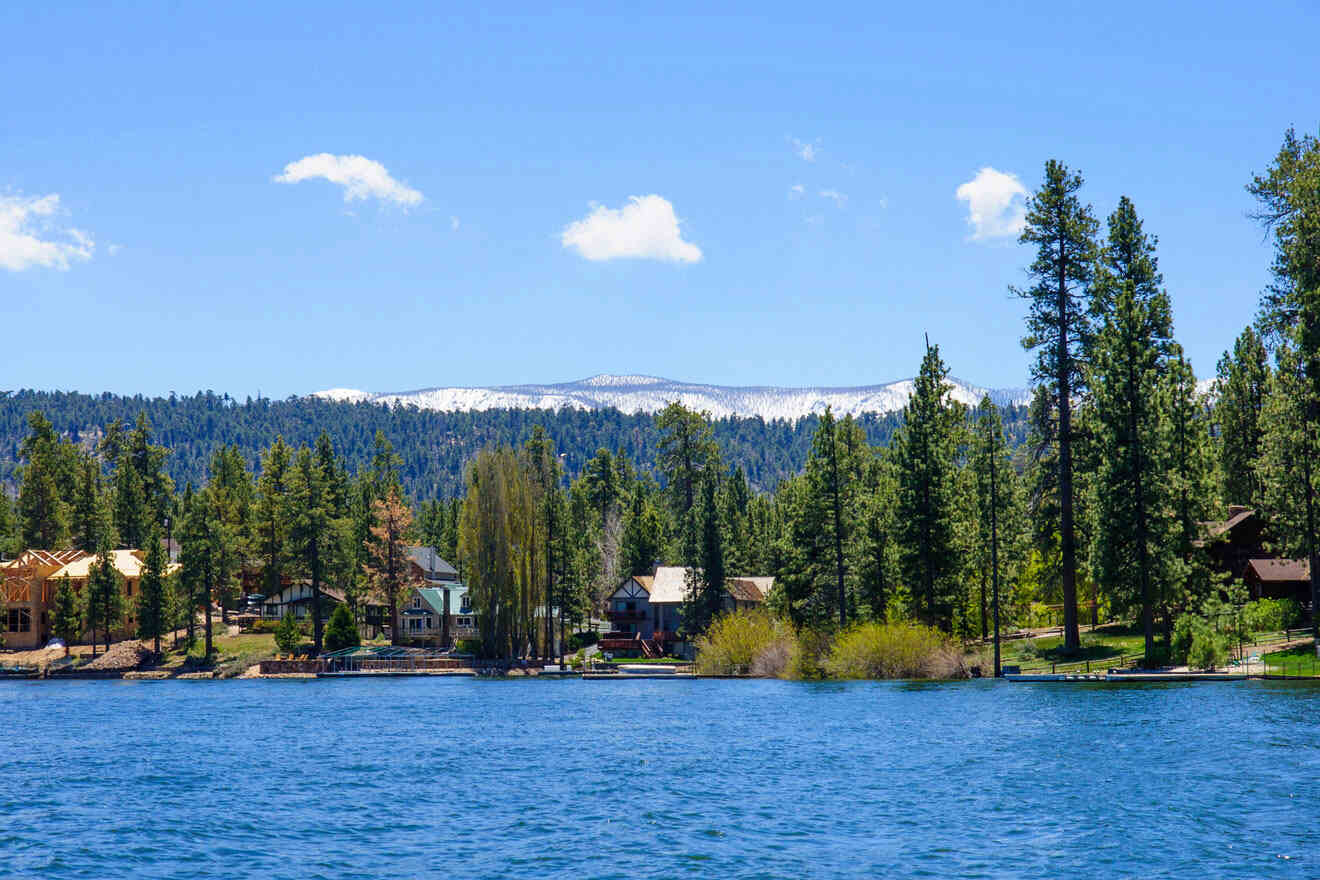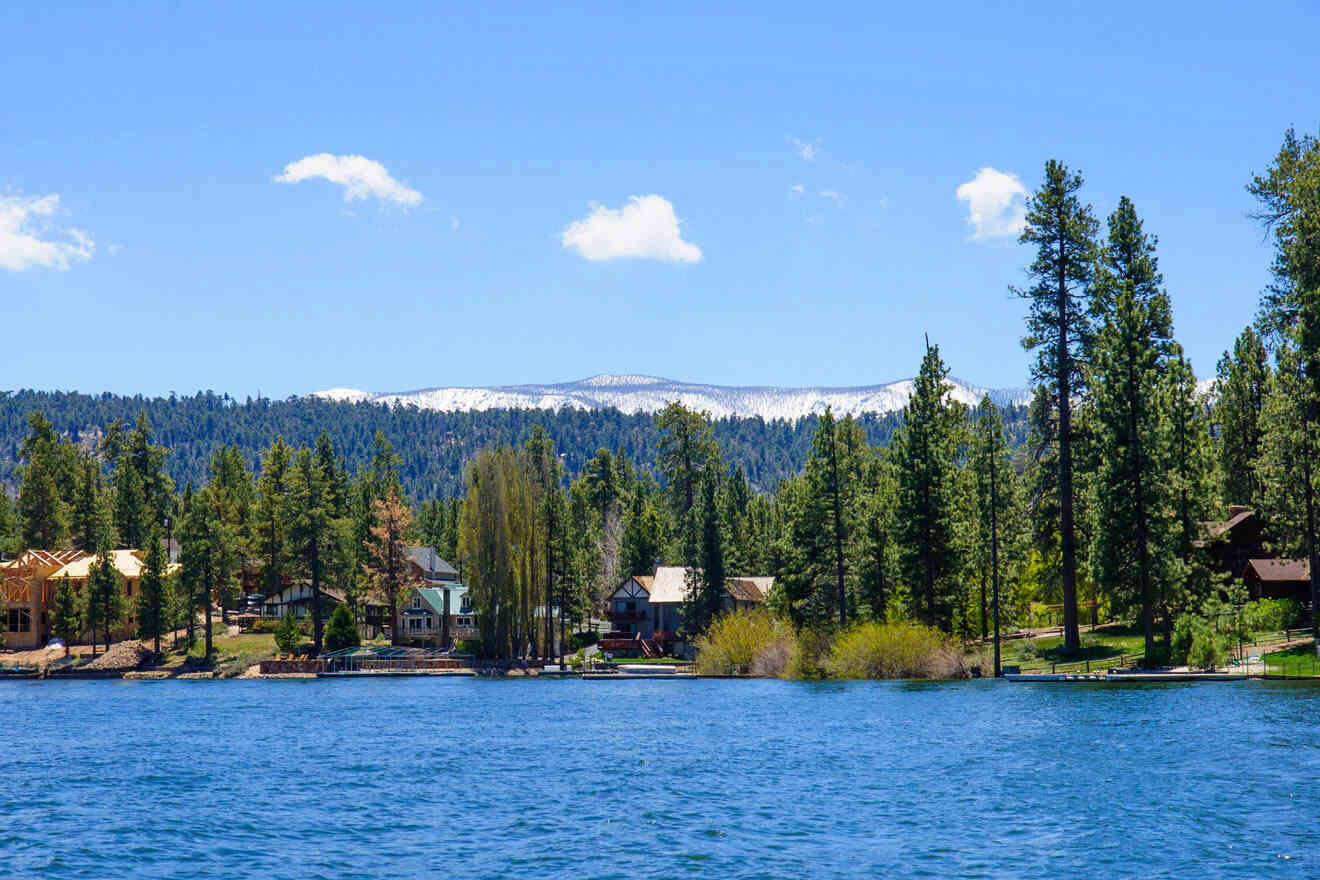 Big Bear Lake is a 2-hour drive from Los Angeles, about 100 miles (160 km) away, tucked right in the San Bernardino Mountains and San Bernardino National Forest. Leave early in the morning to make the most out of your time here!
You can also get to Big Bear from Los Angeles using the city bus in about 4 hours. It's about double the time, meaning it's about an 8-hour roundtrip ride. You won't have as much time to enjoy all the Big Bear activities throughout the day, and it's less convenient for getting around once you're there. For the best experience, I recommend taking a car!
Whether you're visiting in the winter, spring, fall, or summer, there's something to do in every season. Skiing in the winter at Big Bear is what you'll see locals doing while kayaking, mountain biking, and hiking the Castle Rock Trail in the summer are locals' go-to activities.
If you don't know where to start once you arrive, here are a few fun tours that are worth checking out:
Zipline through the pristine California pine trees! This tour is great for thrill-seeking adventurers.
Take a guided, family-friendly hike! This is a great option for those traveling with young children or elderly people who want a more relaxed experience in the woods.
If you're traveling in the summer, you can go off-roading on a Jeep with a professional guide around Bluff Lake Reserve! This is another great family-friendly option.
NOTE: Big Bear Lake is always so packed all year round! I recommend booking these tours in advance to ensure your Los Angeles day trips go smoothly.
11. Take a walk in Santa Monica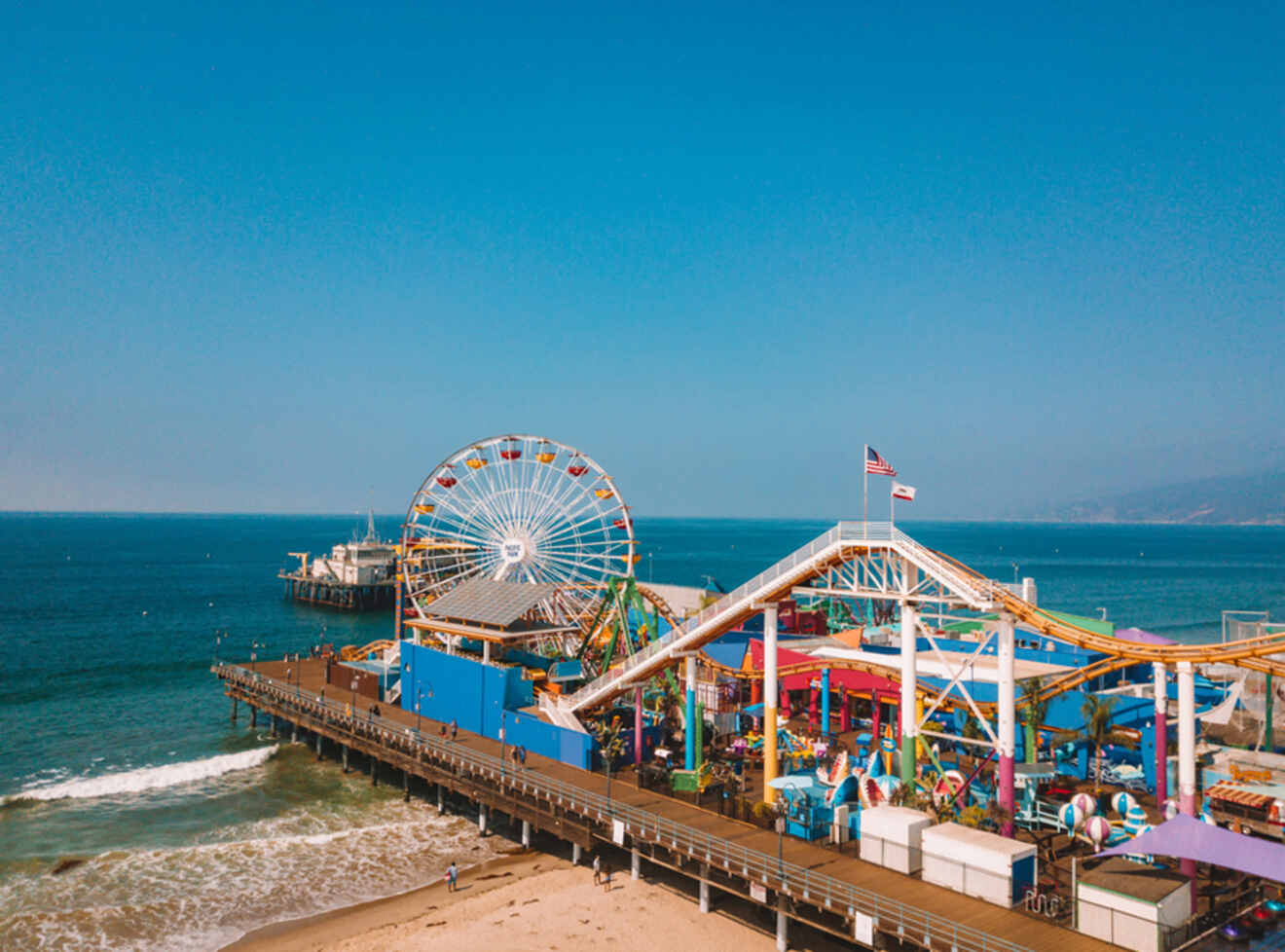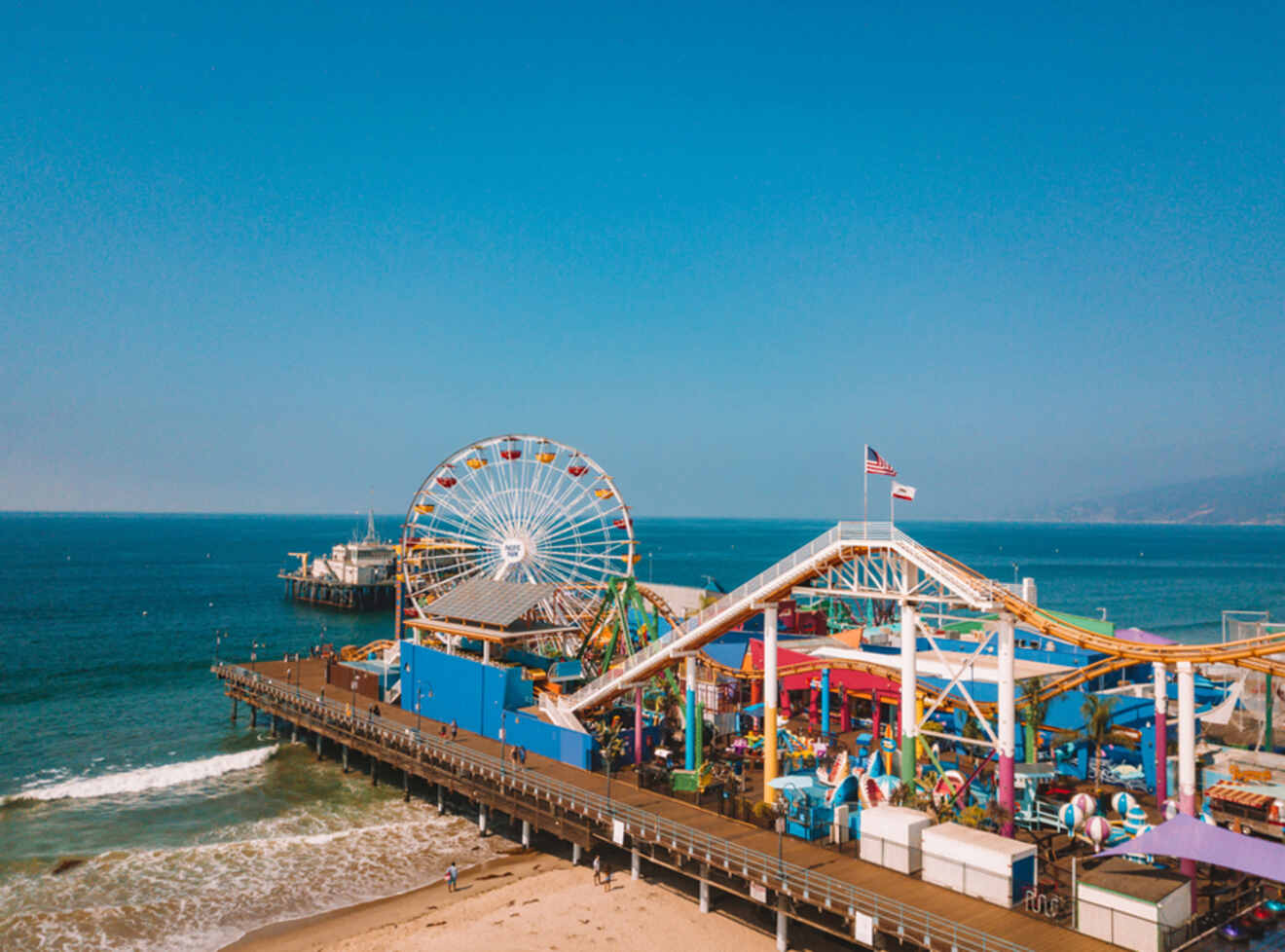 Santa Monica is right in LA's backyard, being only a 20-minute drive from the city center, being only 16 miles (26 km) away.
If you don't have access to a car, the bus can take you from Los Angeles to Santa Monica in 1 hour – it's not the most convenient option, but it's not the worst option either. I recommend staying near the Santa Monica Pier for the best day trip, so there's not as much of a need for a car.
You can easily enjoy the entire day on the Santa Monica beach with kids building sand castles and just rolling around in the sand. It's a super family-friendly place, with the Santa Monica Pier also being a great little amusement park for kids to play and win prizes.
PRO TIP: If you choose to visit by bus, you can rent scooters and bikes for the day! Not only would this be incredibly helpful, but riding bikes along the coastal boardwalk is also part of the whole California beach town experience.
Another great alternative is to take this small-group eBike tour that will take you around Santa Monica Pier and Venice Beach.
12. Drive down to Carlsbad and smell the rose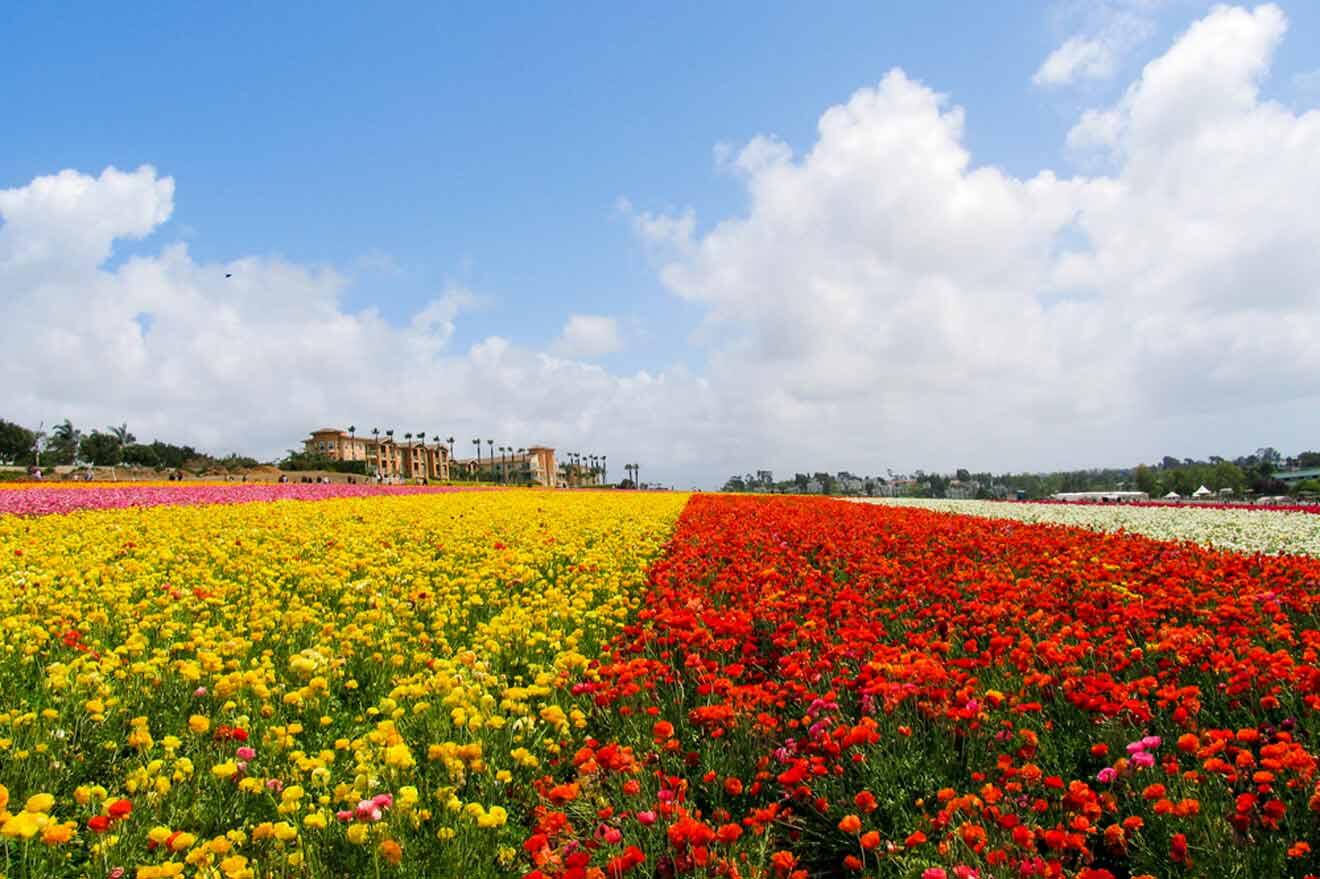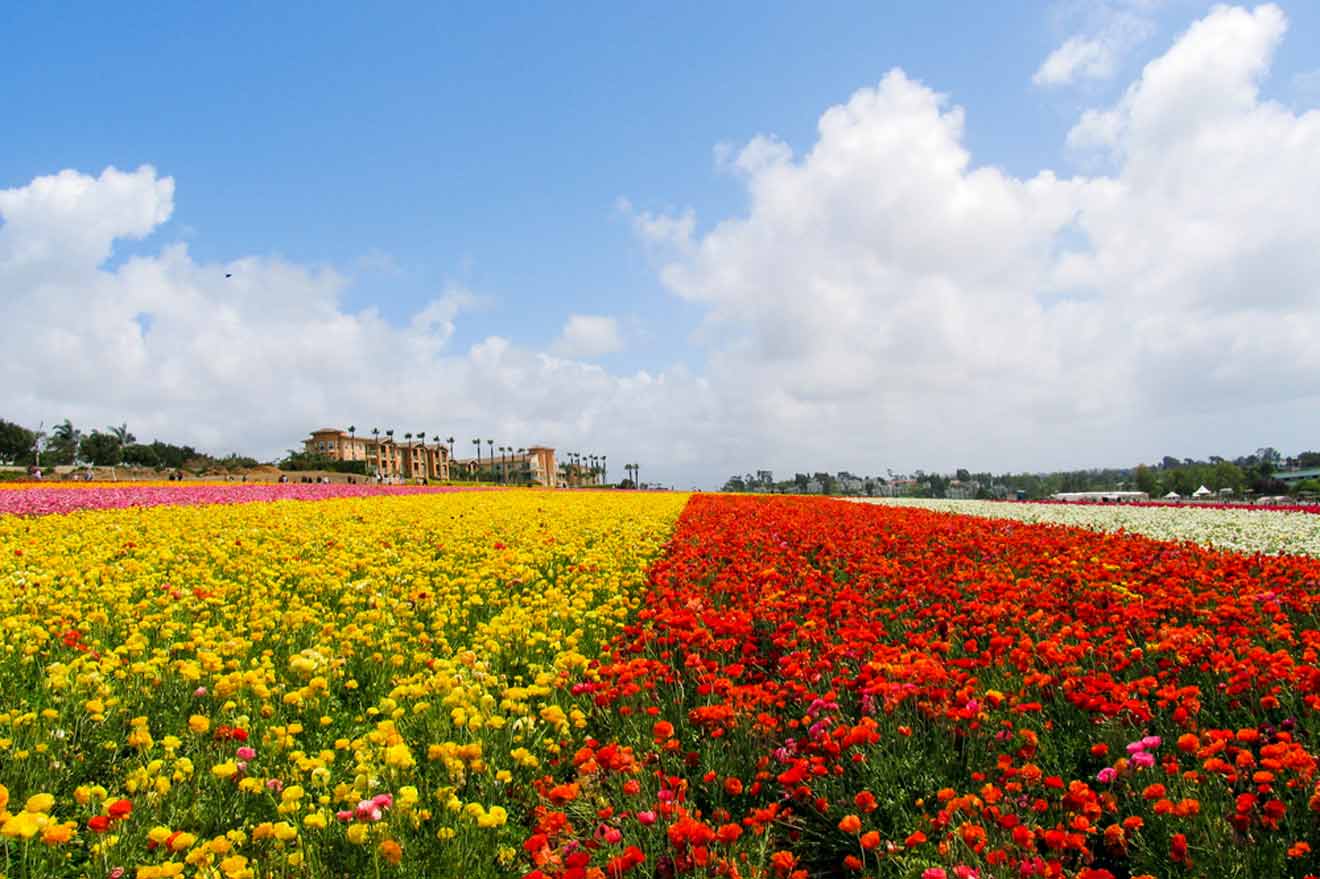 Carlsbad is about a 1.5-hour drive away from Los Angeles, about 100 miles (160 km) away. There is an option to take the bus leaving from Union Station in Los Angeles, which will be a duration of 3 hours. I recommend taking a car to make the best out of your day trip in Carlsbad!
Aside from being one of the most beautiful cities in Southern California, Carlsbad is also known for The Flower Fields, a seasonal flower attraction that will absolutely blow you away. They're open from March through May, and tickets need to be booked in advance on their website. The city is also known for the Carlsbad Strawberry Co. during the U-Pick season (February – July).
You can spend your day picking strawberries and smelling the flowers, I mean, come on… this is the sweetest day trip you can possibly have in Southern California.
NOTE: You can get the best car rental deals if you book your day trip in advance! So, plan ahead and don't break the bank.
13. Take a trip down to the O.C.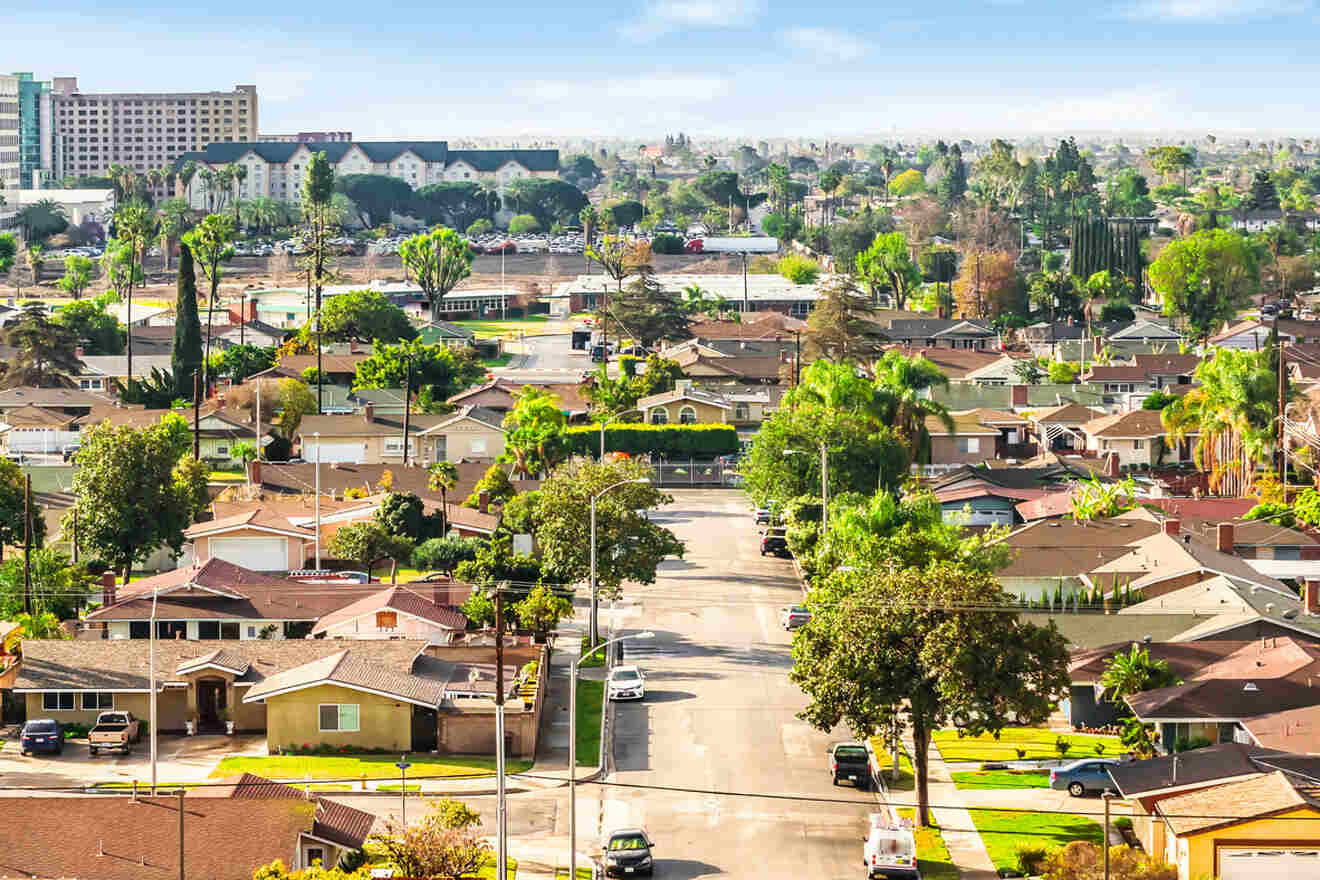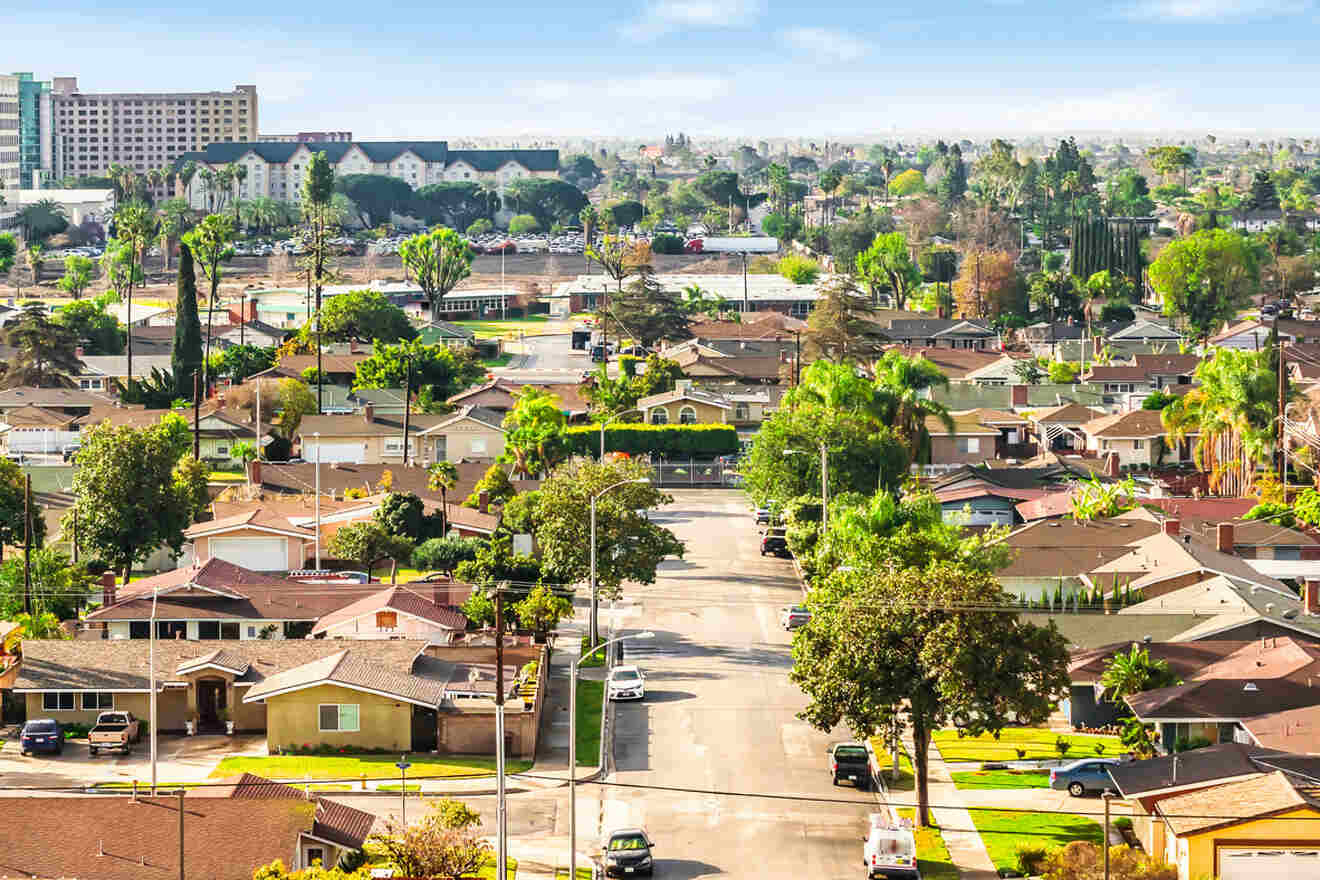 Orange County is LA's large neighboring city known for being home to some of the biggest and best theme parks in the country: Knott's Berry Farm, Disneyland, California Adventure, Six Flags, and others. It's a major tourist center, and it's worth crossing off your bucket list if you have a day to explore!
Orange County is about a 45-minute drive from Los Angeles, about 40 miles (64 km) away. The city bus will take you from LA to OC within 3 hours, but I recommend driving a car for a better experience overall. There's SO much to see here, and you'll need a car to get your way around.
Here are a few different places I recommend checking out:
Crystal Cove State Park is a beautiful way to explore the outdoors in Orange County. There are about 3 miles (5 km) of the beach and 2,400 acres (970 hectares) of wilderness to explore – a perfect way to spend a day in OC!
Mission San Juan Capistrano is a historical landmark known to be Orange County's birthplace! Originally built by the Spanish and Native Americans in the 18th century, there's much history to explore at Mission San Juan Capistrano.
Disneyland and California Adventure might be an obvious choice, but a day at the Disneyland Theme Park is a day well spent! Note: arrive early to make the most out of the Disney experience! I recommend checking out the Indiana Jones Adventure and Splash Mountain first thing in the morning, they're both super popular and must-see attractions.
14. Sip local wine and enjoy the Temecula sun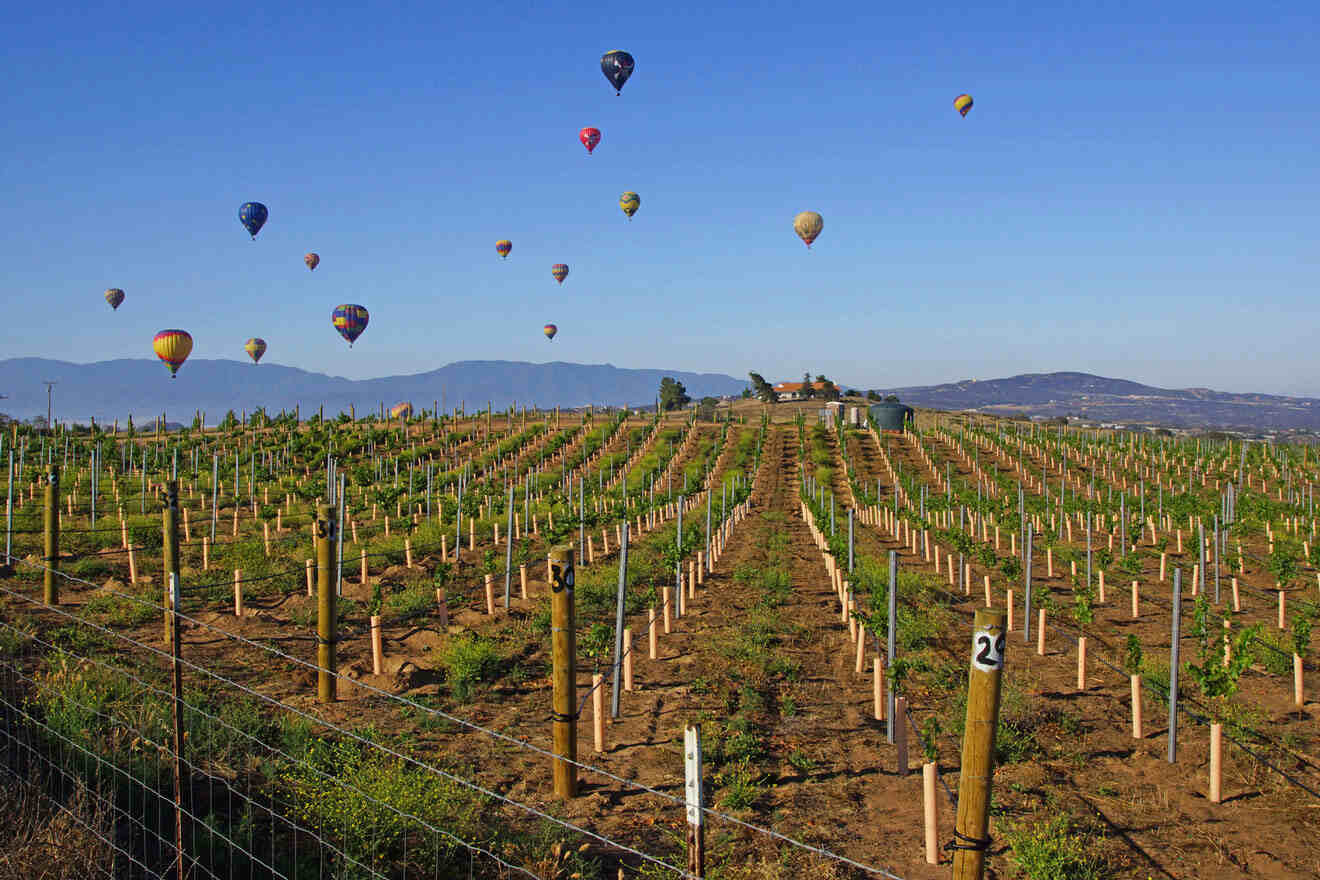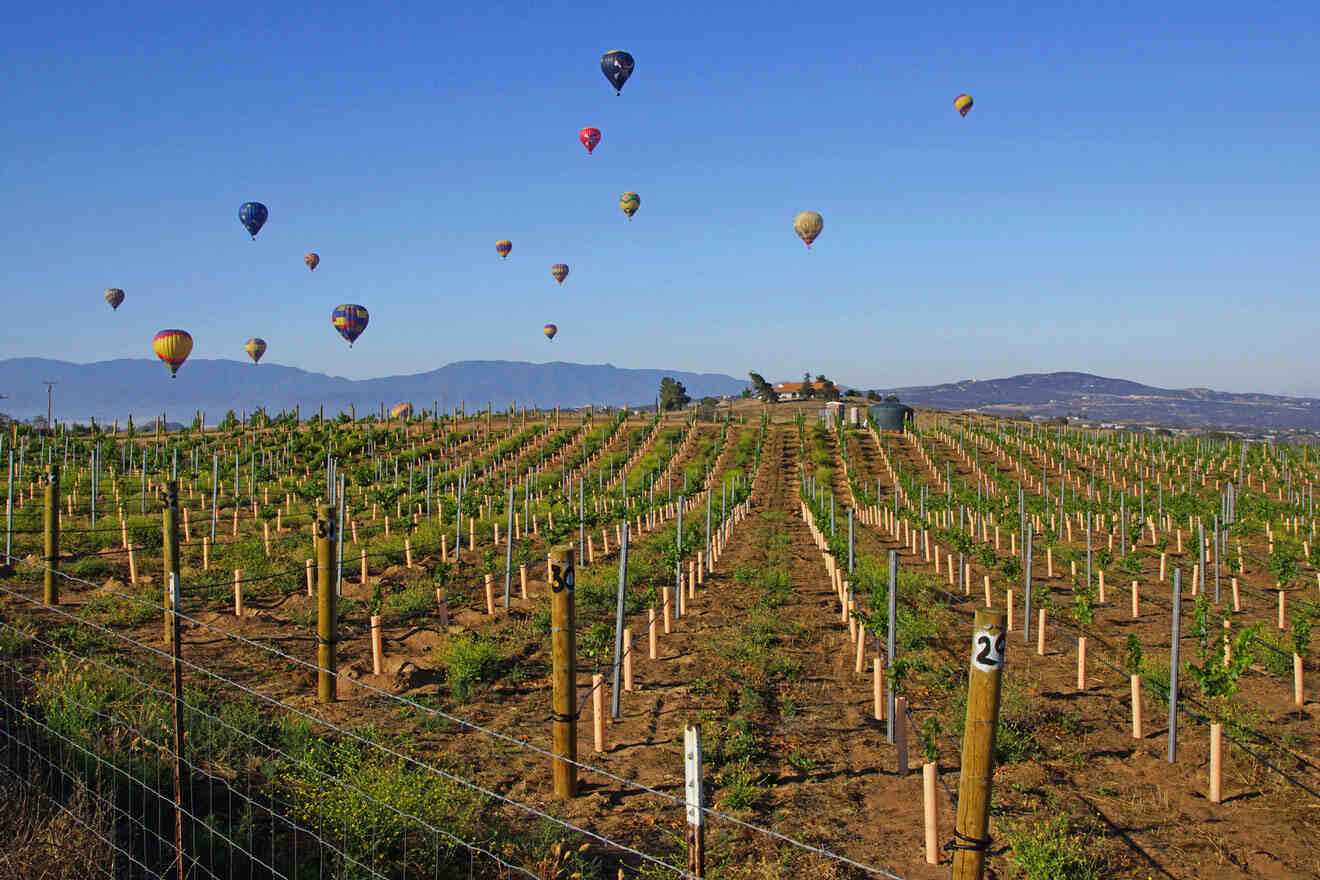 Temecula is a 1.5-hour drive from Los Angeles County, being 90 miles (145 km) away. With this destination, I recommend assigning a designated driver to drive there and back using a rental car.
Your day trip to Temecula is most likely going to be a day filled with wine tasting, all located within a small vicinity of one another. Booking a tour to take you around to these places is a great idea, rather than putting yourself (and others) in danger while you're drinking.
This all-inclusive tour will take you around the town for 5 hours for a wine-tasting adventure, trying out some of the most delicious wines in the area. No need for your car while you're there!
NOTE: The inland valley is really hot all year round! I like to bring a little spray bottle and fan with me anytime I'm here. (Trust me, you'll need it!)
15. Visit the legendary Coronado Island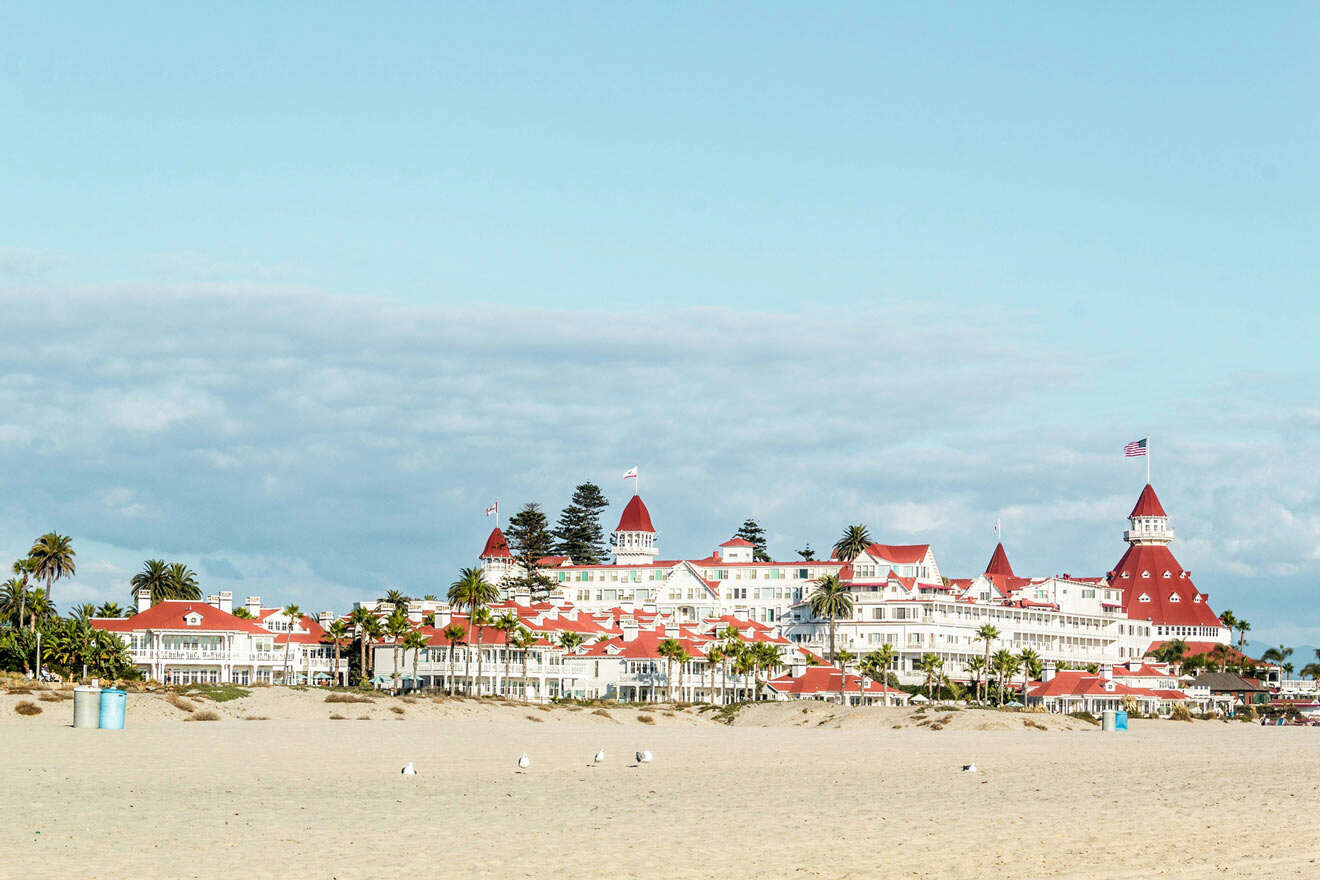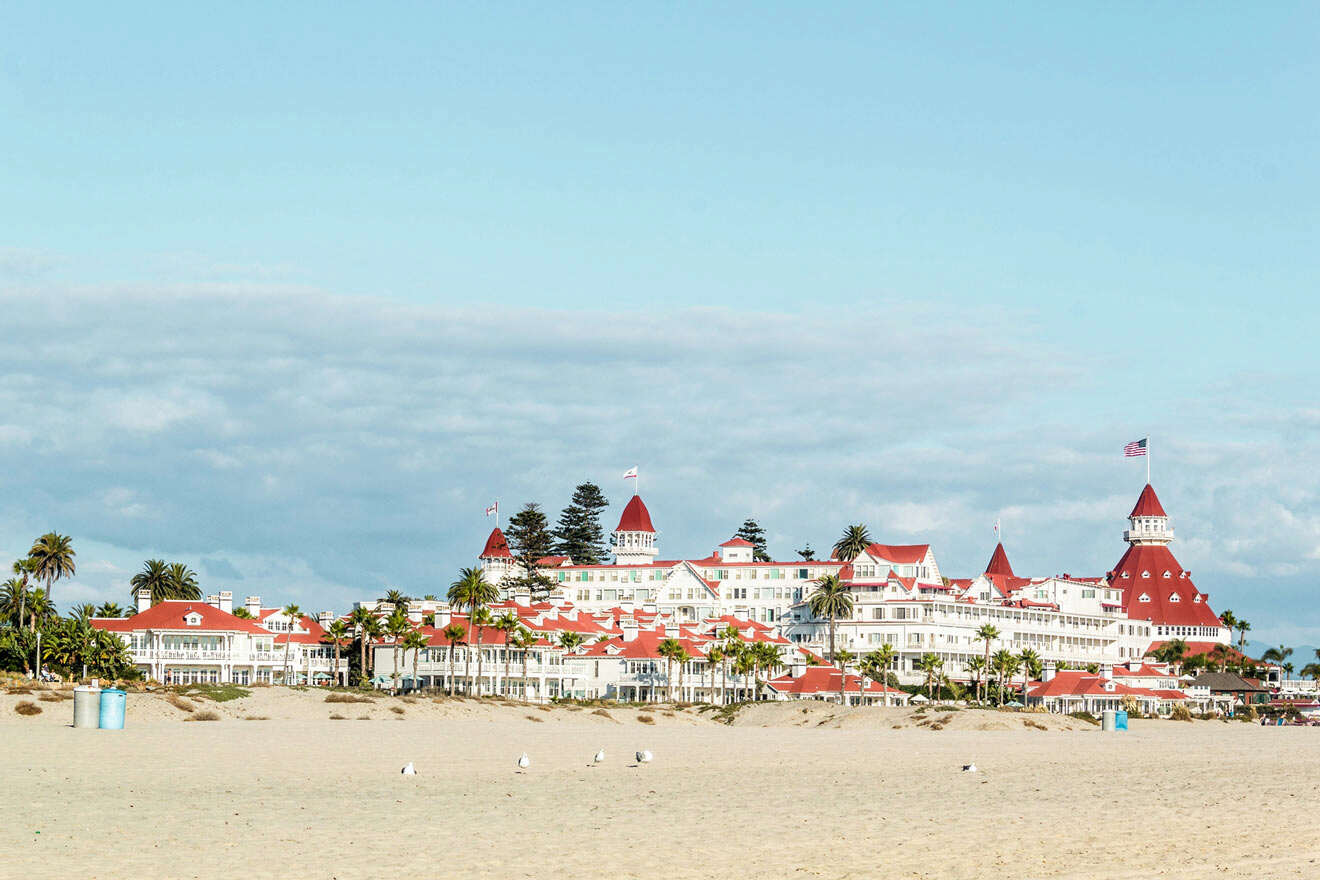 Marilyn Monroe was famously photographed in front of the Hotel Del Coronado!
Coronado Island is a fun little beach town famously known for its historic Hotel Del Coronado, and definitely worth taking the drive. It's a 2-hour drive from Los Angeles, being about 150 miles (240 km) away, making this day trip one of the longer options (but worth the visit, regardless).
I recommend exploring the following areas while you're here for the day:
Silver Strand State Beach: This beach is one of the most beautiful beaches in the San Diego area (and great for shell collecting)!
Hotel Del Coronado: This is a must-see! The famous hotel has been seen in dozens of Hollywood movies, being very well-known around the world.
16. Unwind at Laguna Beach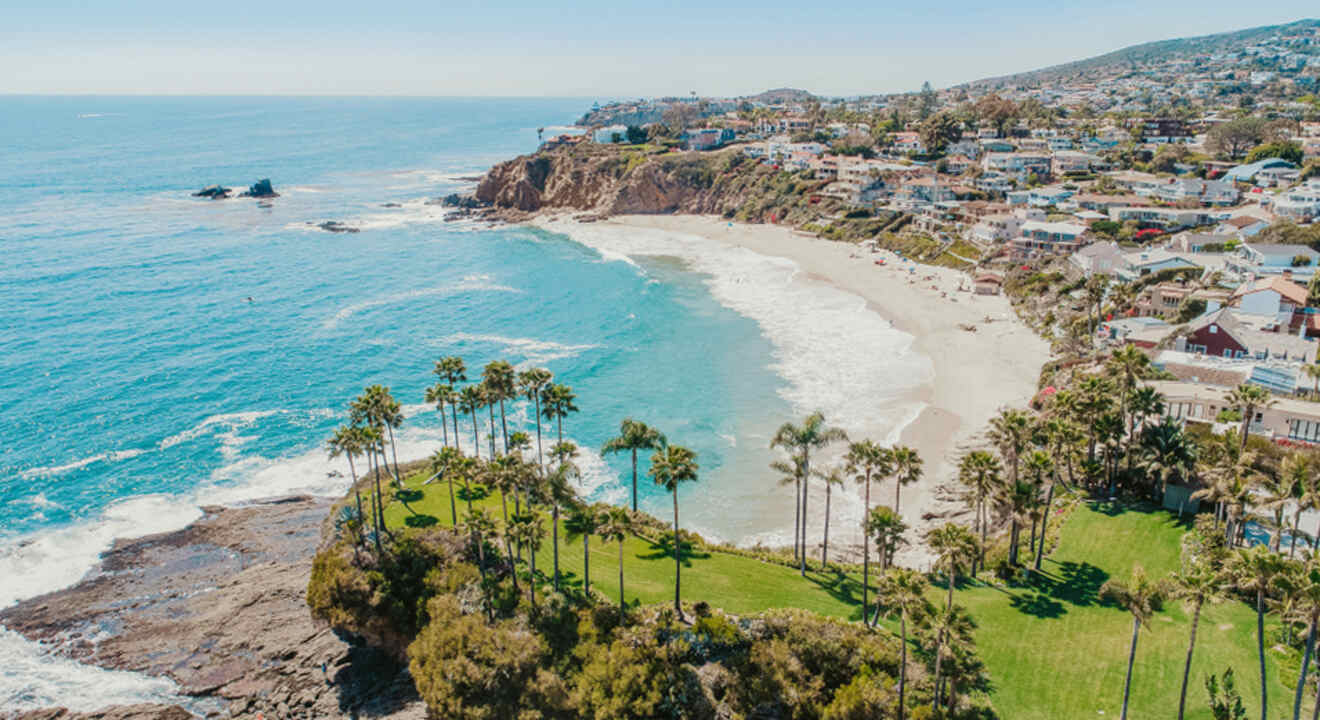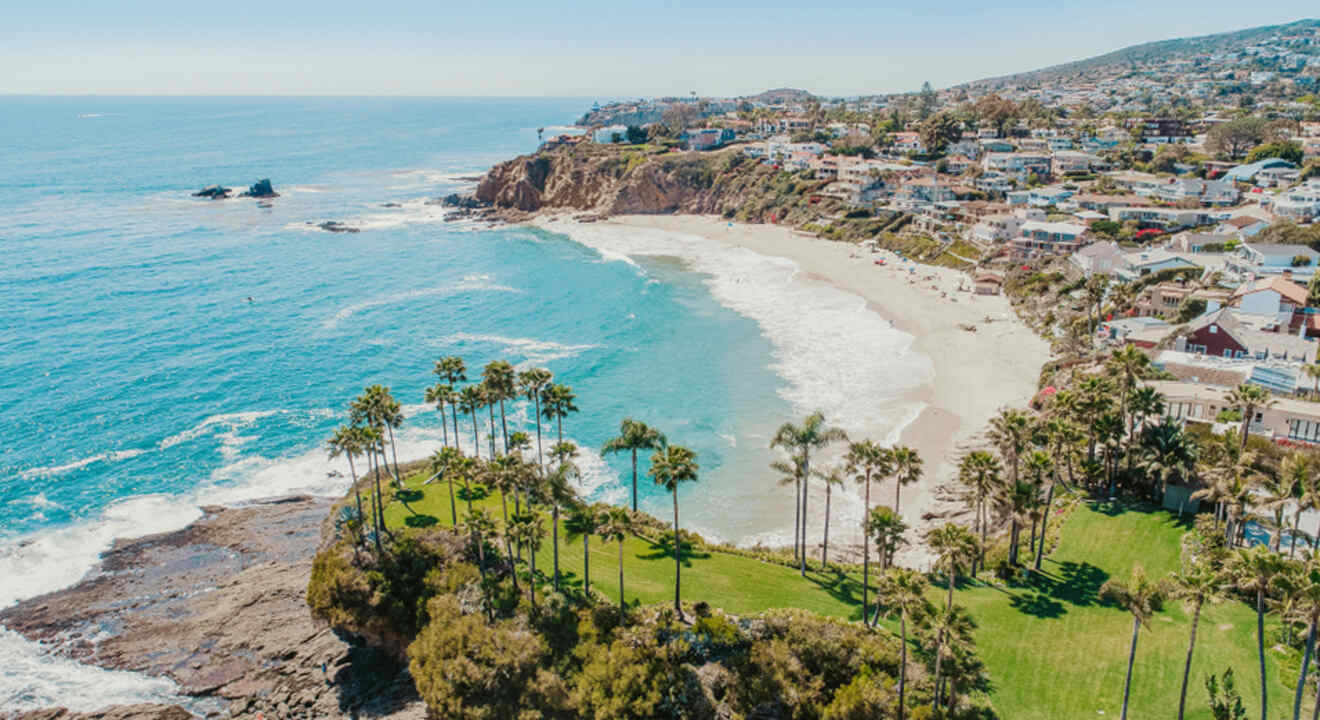 Laguna Beach is about an hour's drive from LA, 55 miles (c. 90 km) away, and is another one of those day trips from Los Angeles that are best to drive to.
Laguna Beach is wonderful for families looking to spend the day at the beach, but if you're looking for a more relaxing day (without too many tourists around), I recommend spending the day nearby at Crescent Bay Beach!
Here is a hike and viewpoint area nearby that are worth checking out:
The Top of the World hike is less than 3 miles (4 km) round-trip. This stunning hike oversees the city and the ocean! You won't regret this one!
Crescent Bay Point Park, I recommend for a picnic and relaxing by the blufftop cliffs of Crescent Bay Beach! This is great for couples or friends looking for a relaxing day near Laguna Beach.
17. Head to nearby forests and mountains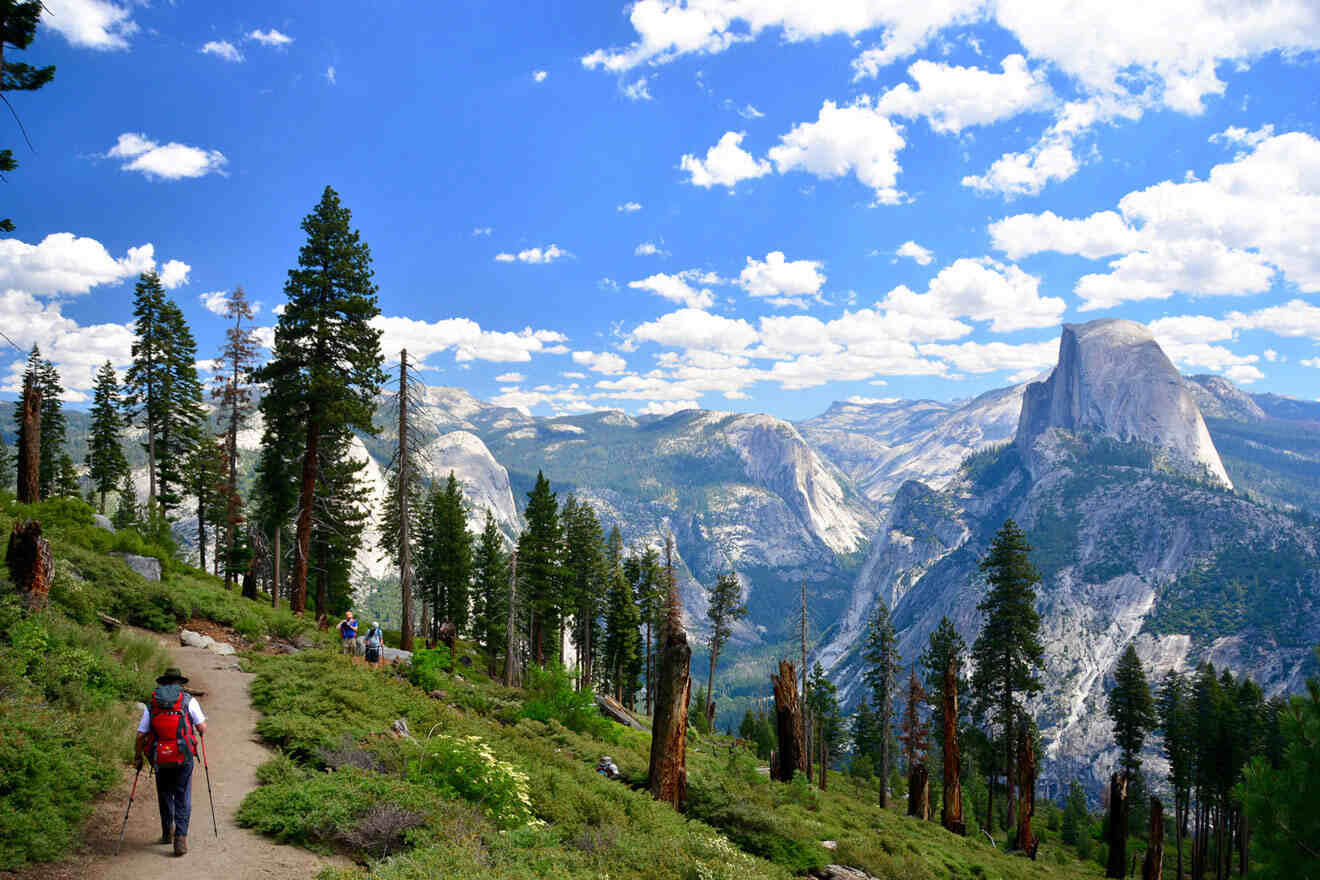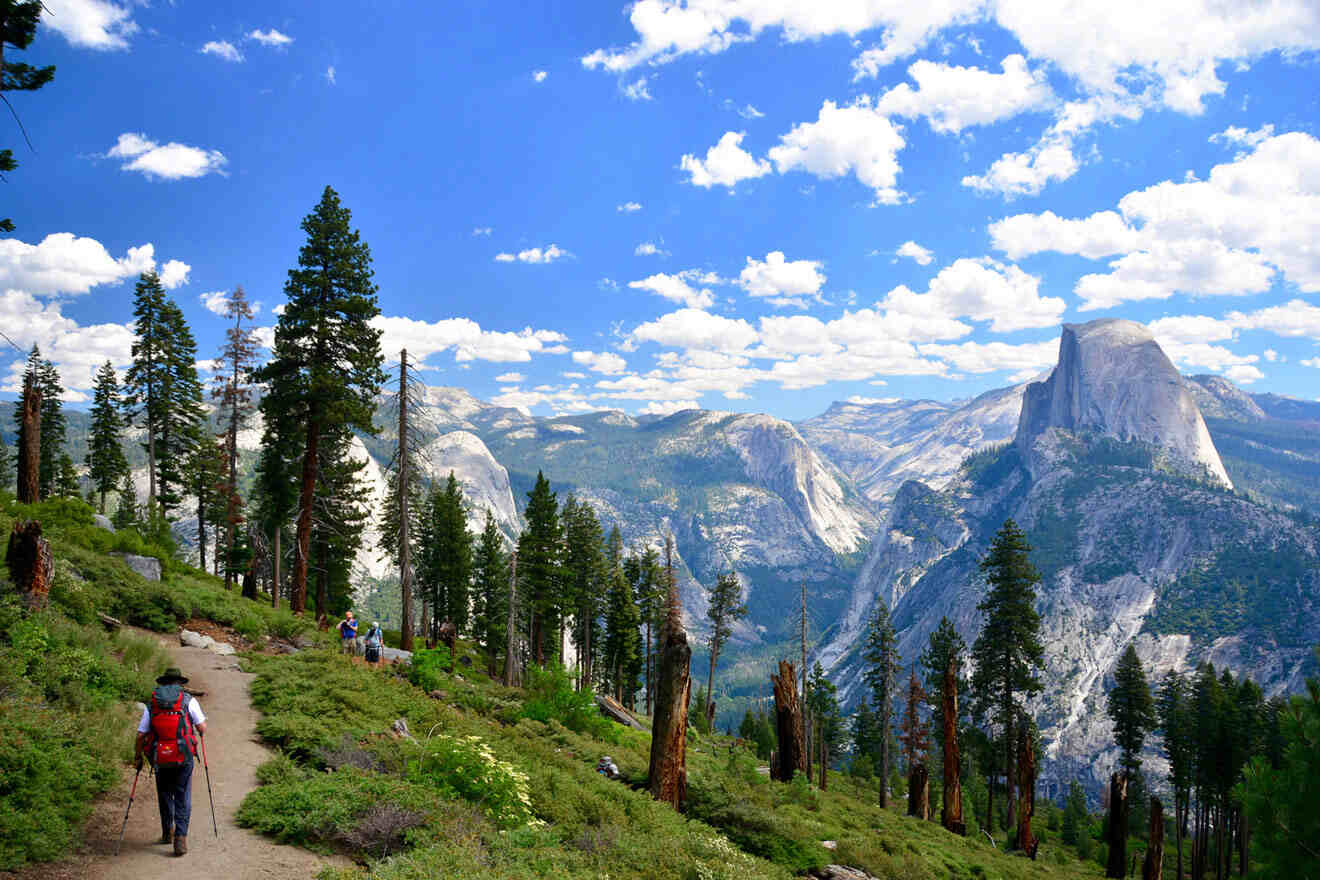 California is obviously known for all its coastal beach towns, but many people don't explore much of the state's stunning mountains and national forests!
There are a few mountains and national forests near LA that are worth visiting for the day. You can explore the various hiking trails, go horseback riding, camping, and so much more.
Here are a few options that are near Los Angeles:
San Gabriel Mountains – 1-hour drive, 55 miles (90 km) away. Here, I recommend visiting the famous Star Trek filming location at Vasquez Rocks County Park and Trail Canyon Falls for some of the best hiking trails in LA.
Angeles National Forest – This forest is known as LA's backyard playground! It's about a 2-hour drive away from Los Angeles, being c. 60 miles (c. 100 km) away. This forest gives you endless rolling hills rich in biodiversity, campsites, hiking trails, and so much more.
Santa Monica Mountains – The Santa Monica Mountains are one of the many indigenous homelands of Native Americans. These mountains are about an hour from Los Angeles, 50 miles (80 km) away. While you're here, I recommend taking a visit to Malibu Creek State Park (considered the Yosemite of California) with all the scenic views and acres of land to explore!
FAQs about day trips from LA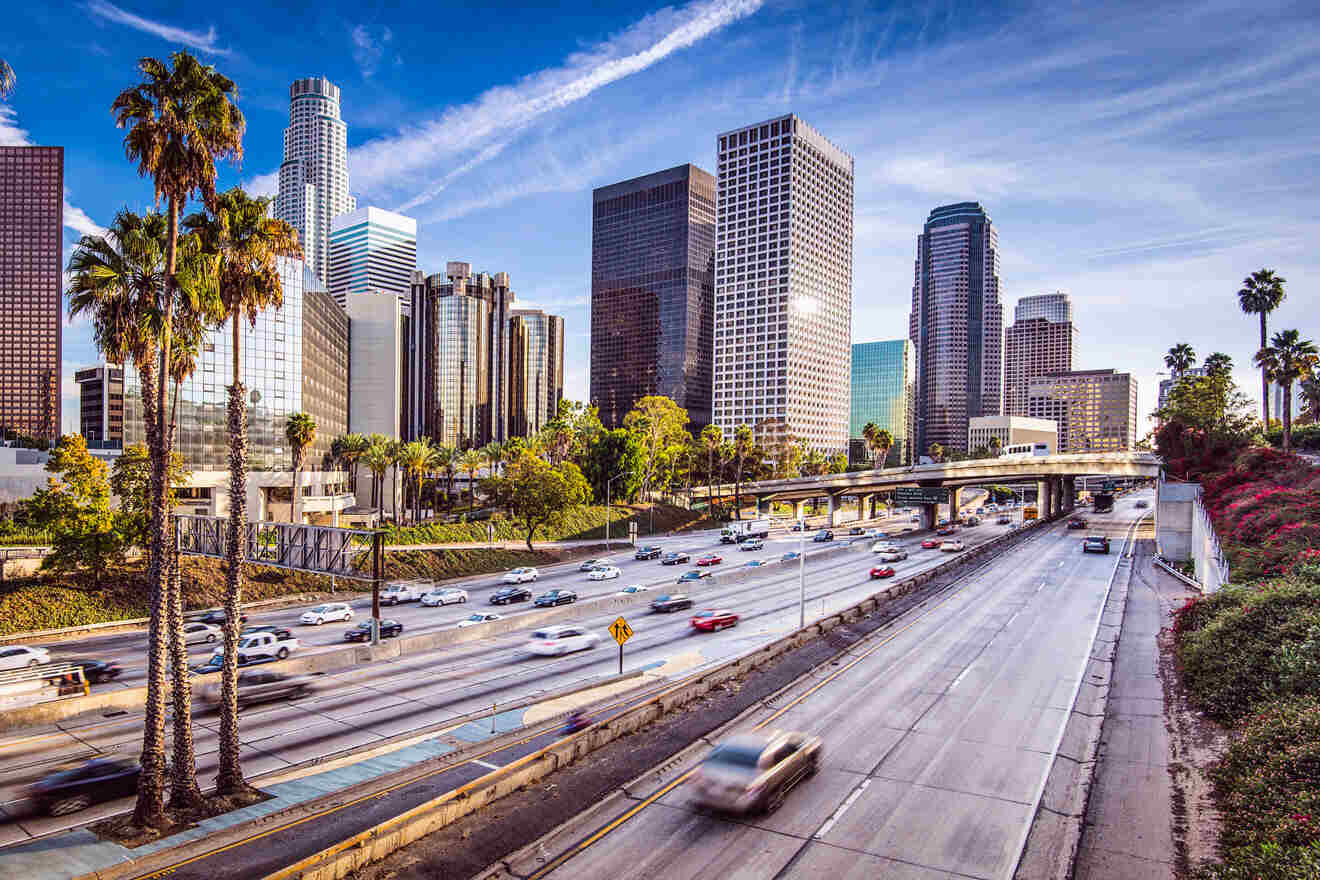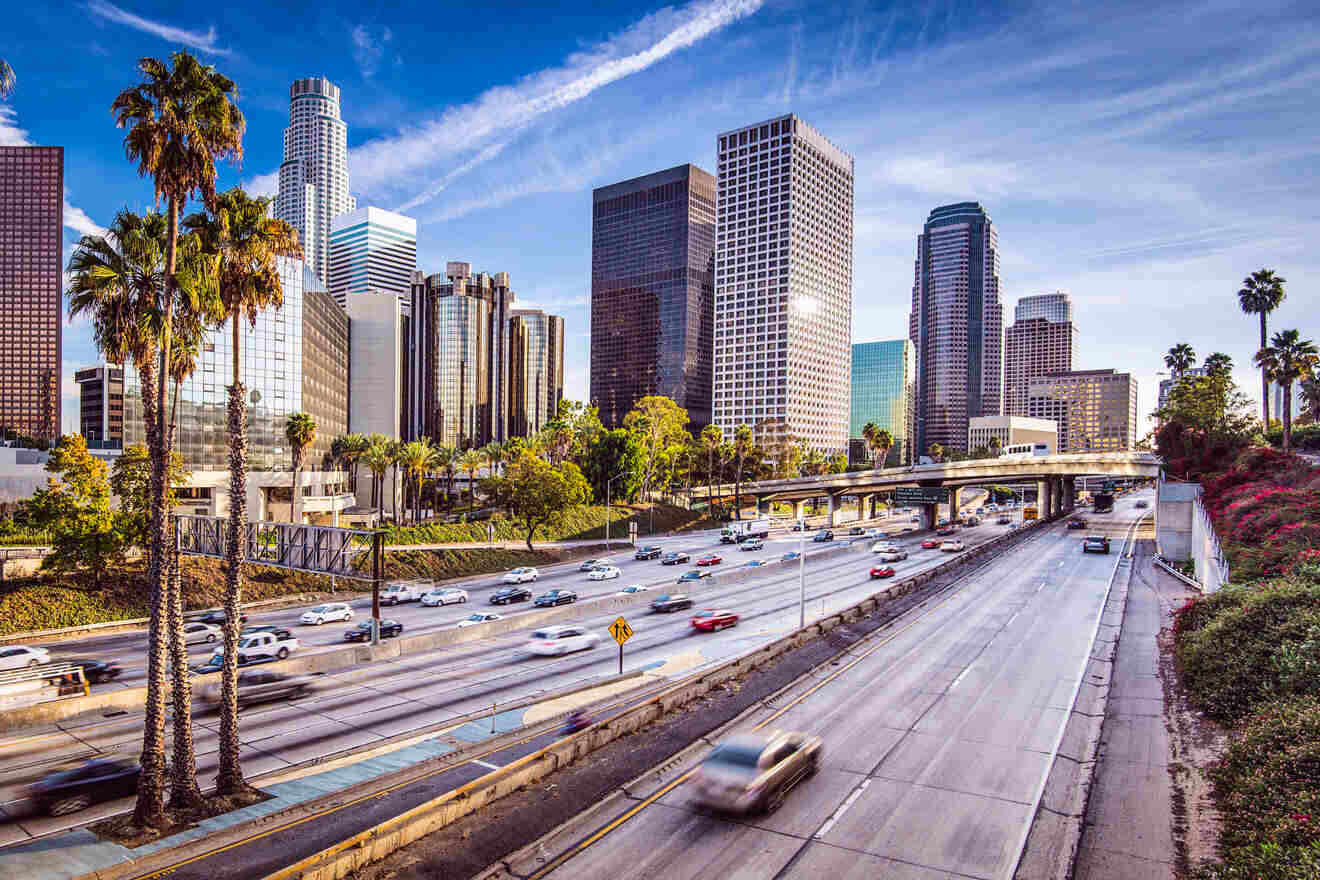 😎 What are the best day trips from LA?
The best day trips from LA are the cities/towns with a change of scenery! Joshua Tree National Park, Santa Catalina Island, and Palm Springs all offer activities and attractions that you can't find anywhere near LA.
🚗 What are the shortest day trips from LA?
The shortest day trips from LA are Santa Monica, Long Beach, and Malibu, being anywhere between a 20 and 45-minute drive by car.
👨‍👩‍👧 What are the best day trips from LA with kids?
The best day trips from LA with kids are Santa Monica and Newport Beach because there is a plethora of activities great for kids to enjoy.
😚 Which are the most romantic day trips from LA?
The most romantic day trips from LA are Carlsbad and Malibu! The type of activities and resorts available here for couples are unmatched!
Conclusion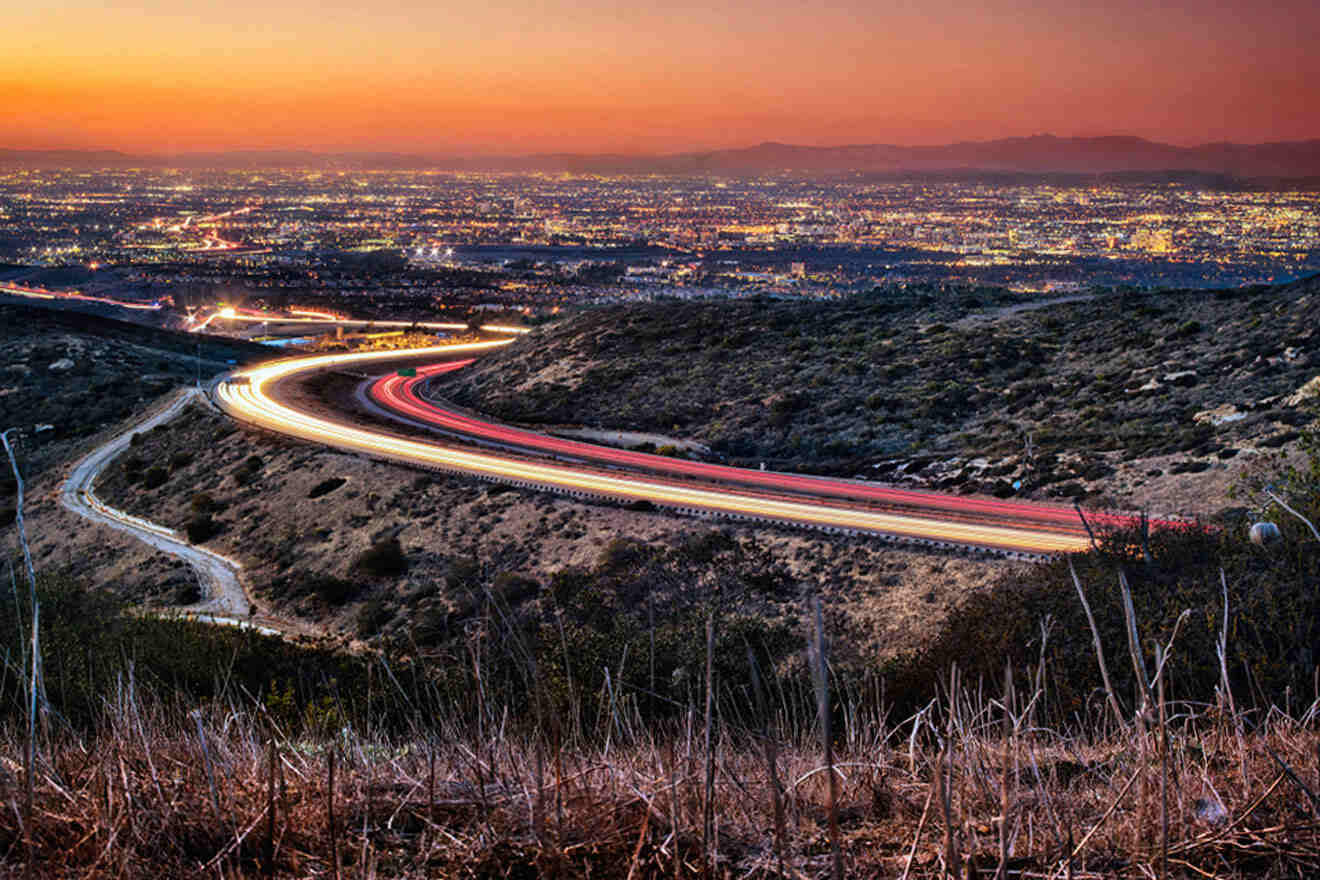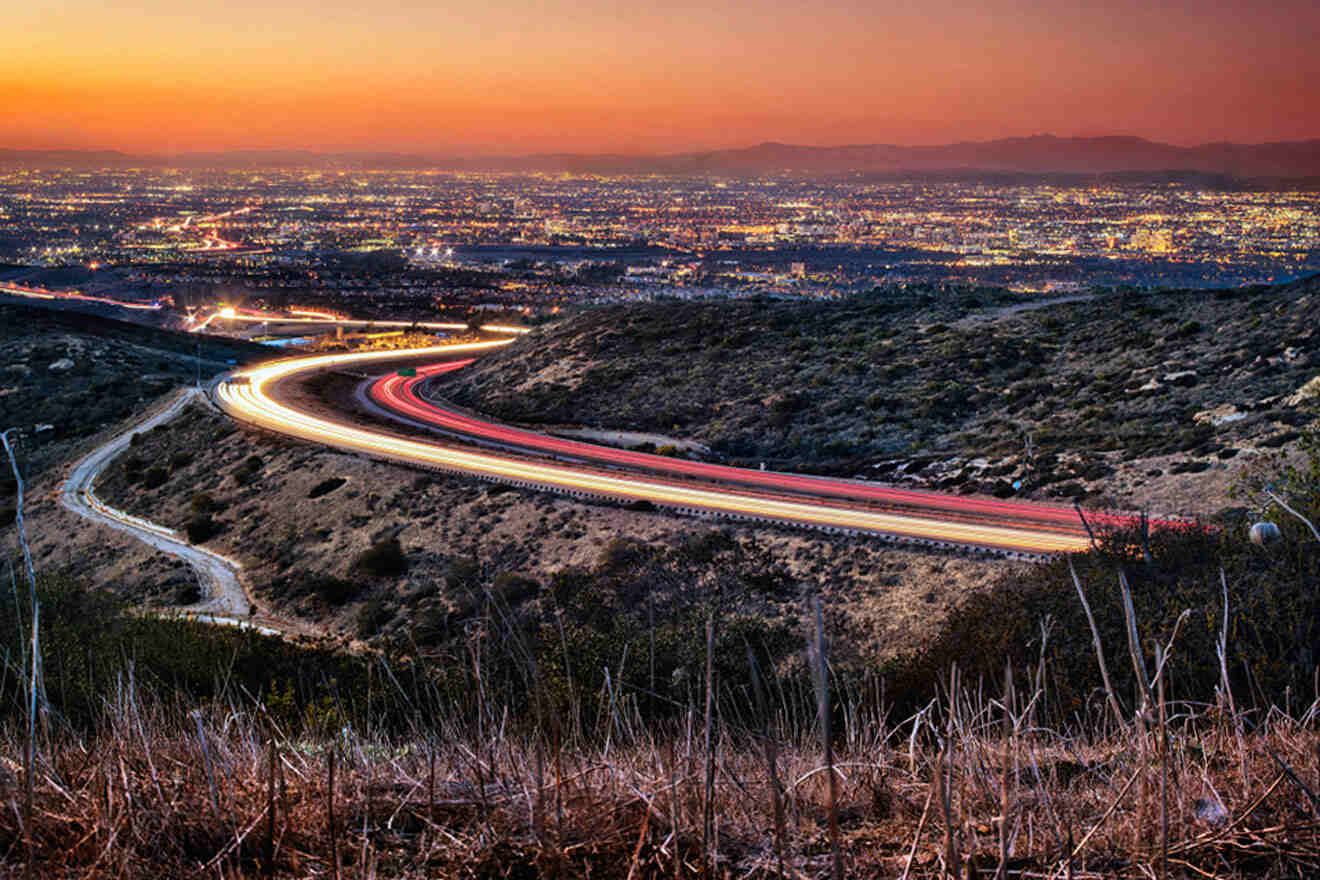 Now that you have an idea of some of the best day trips from LA, you're ready to book your next adventure! You can secure the best car rental prices if you book far in advance, so I recommend checking that out ASAP to ensure you're getting the best deal possible.
If I had to pick my favorites, I'd say the top 2 day trips from LA are Santa Catalina Island and Joshua Tree National Park. They both offer different experiences that you can't find anywhere else in California. Let alone LA! I couldn't recommend them enough!
With that said, I can basically guarantee you will have the most splendid time at any of these spots I mentioned. And if you do decide to book your day trip from LA to any one of these places, leave me a comment and let me know! ✈️
Safe travels!
Xoxo,
Esabel S.
---
Pin it for later!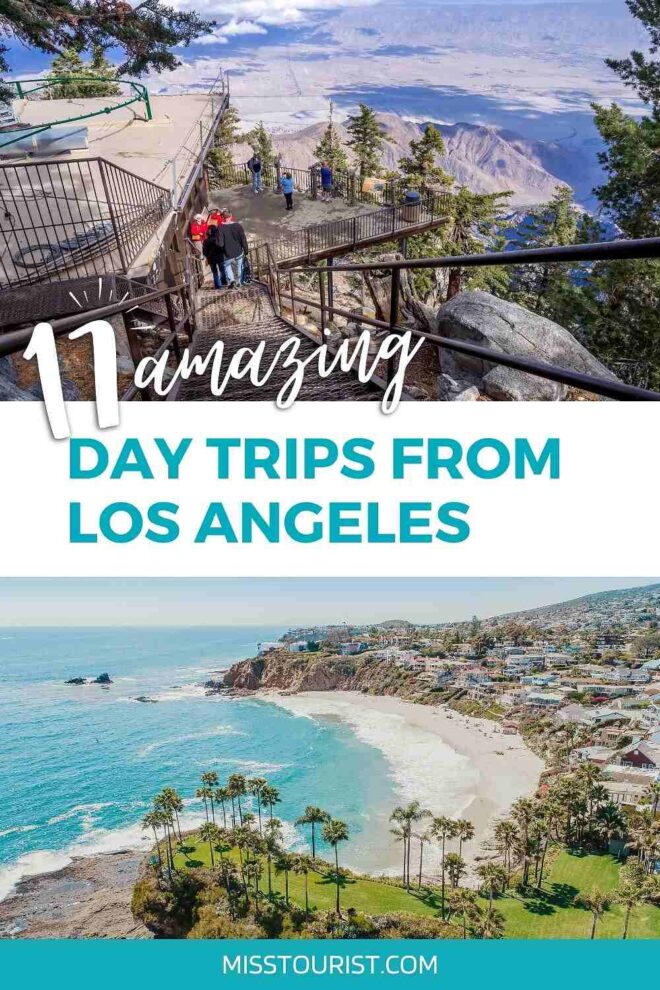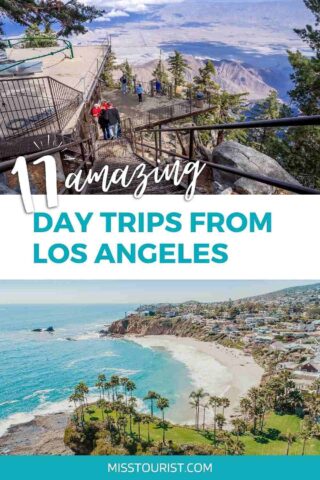 Pin it for later!