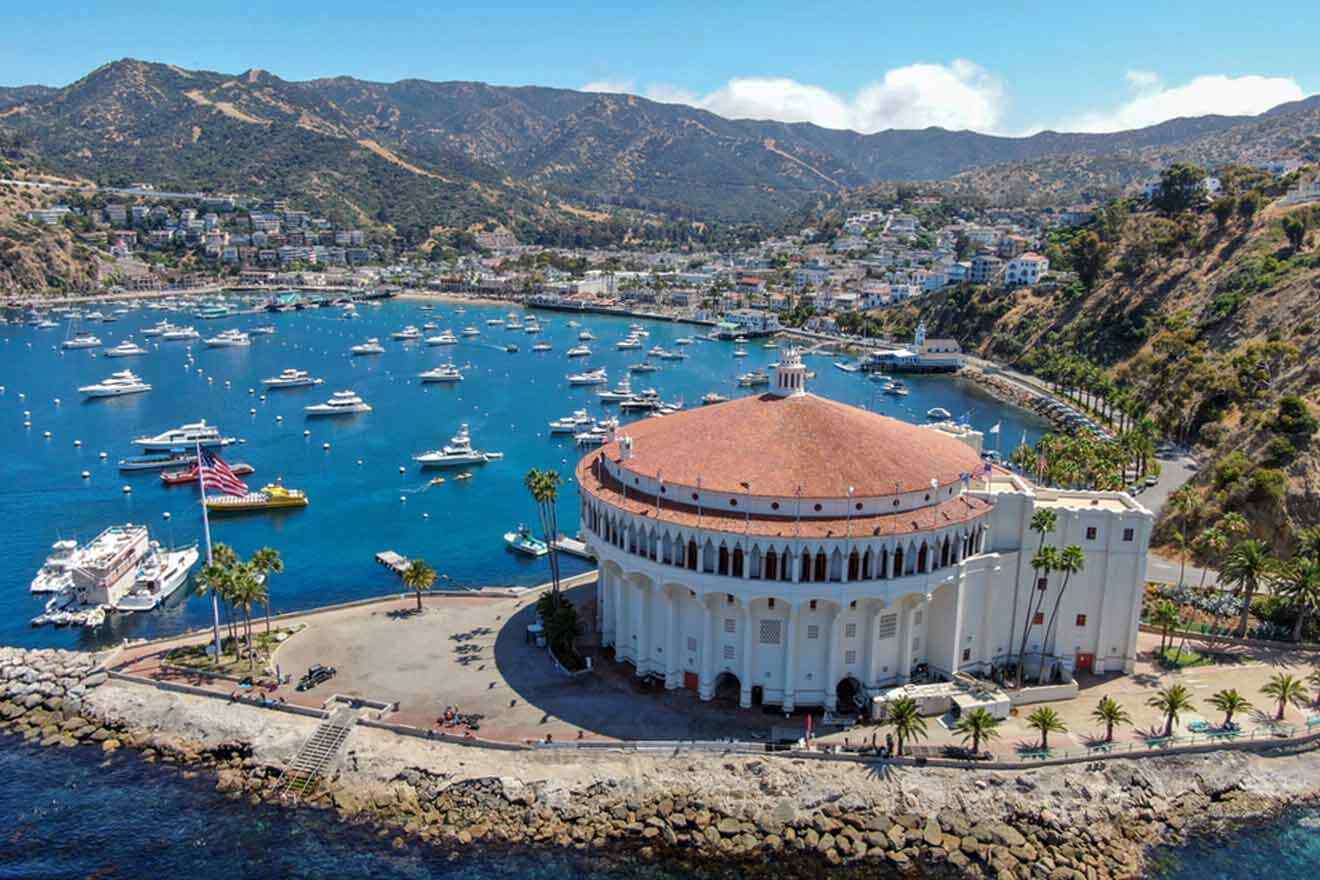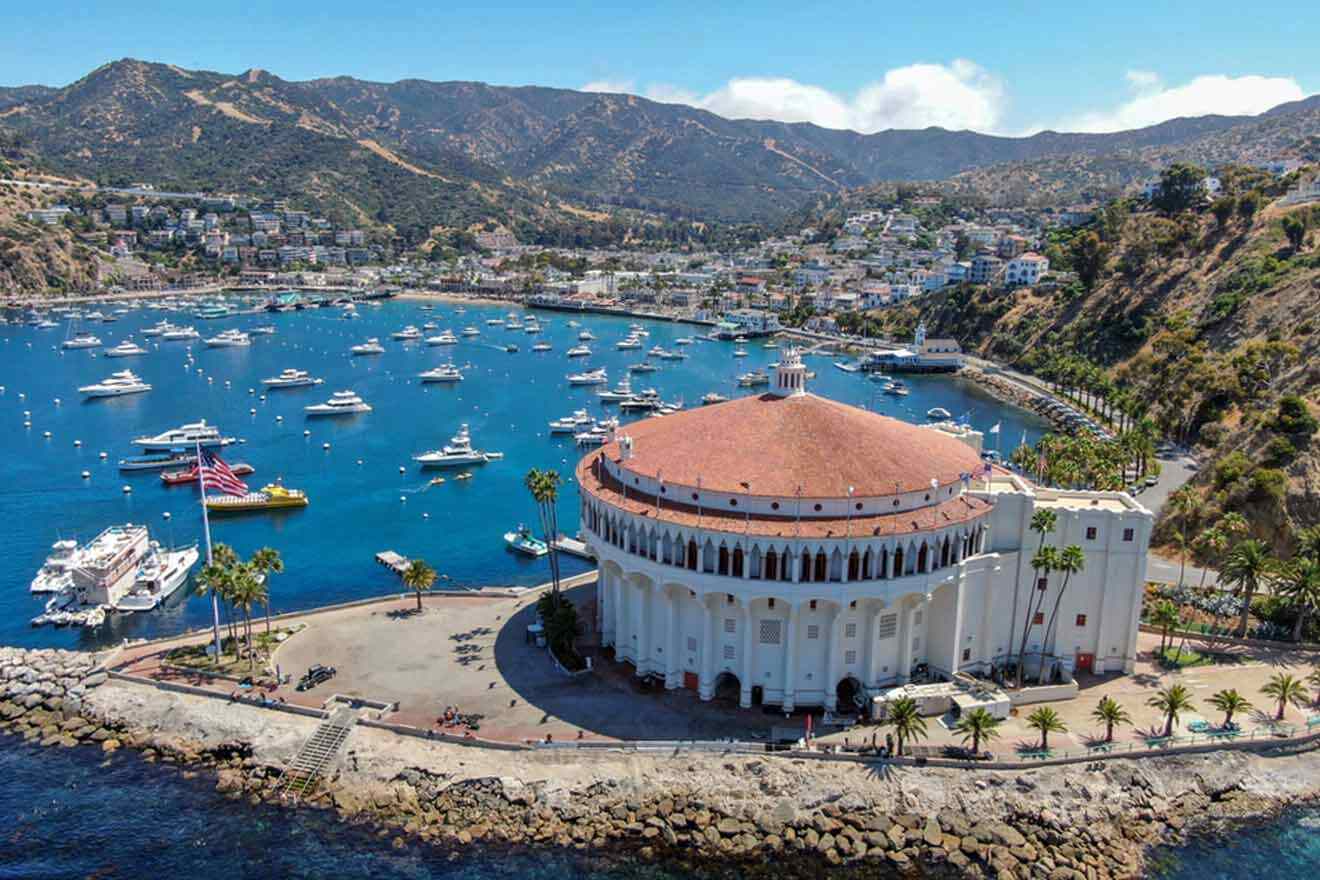 Welcome to the most breathtaking island along the California Coast: Santa Catalina Island! Catalina Island is known for its rich history, outdoor activities, underwater attractions, dining and shopping hub, and dedication to conservation efforts.
I've visited Santa Catalina many times, so in this post, I'll be sharing my top 15 things to do in Santa Catalina Island, some tips and tricks on how to have the best experience along the way, how to get there, and more.
Shall we?
If you are in a hurry
Santa Catalina Island is a huge island with so many hidden gems to uncover. If you only have a day or two to explore the island, there are a few destinations and tours I recommend checking out and booking in advance:
And here are the best hotels: Modern Hamilton Cove Villa (luxury), Oceanfront Villa (mid-range), Catalina Island Seacrest Inn (budget)
Getting there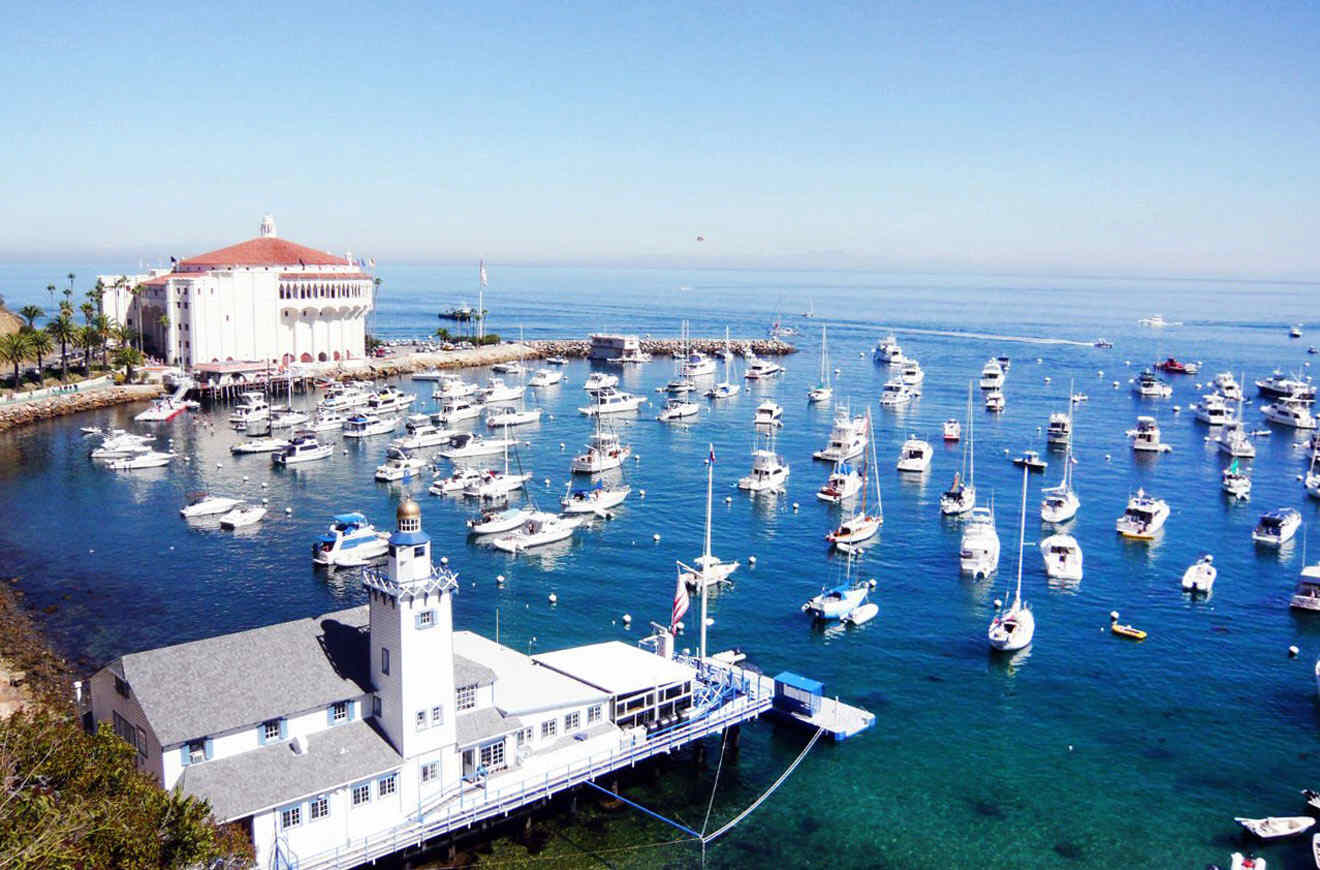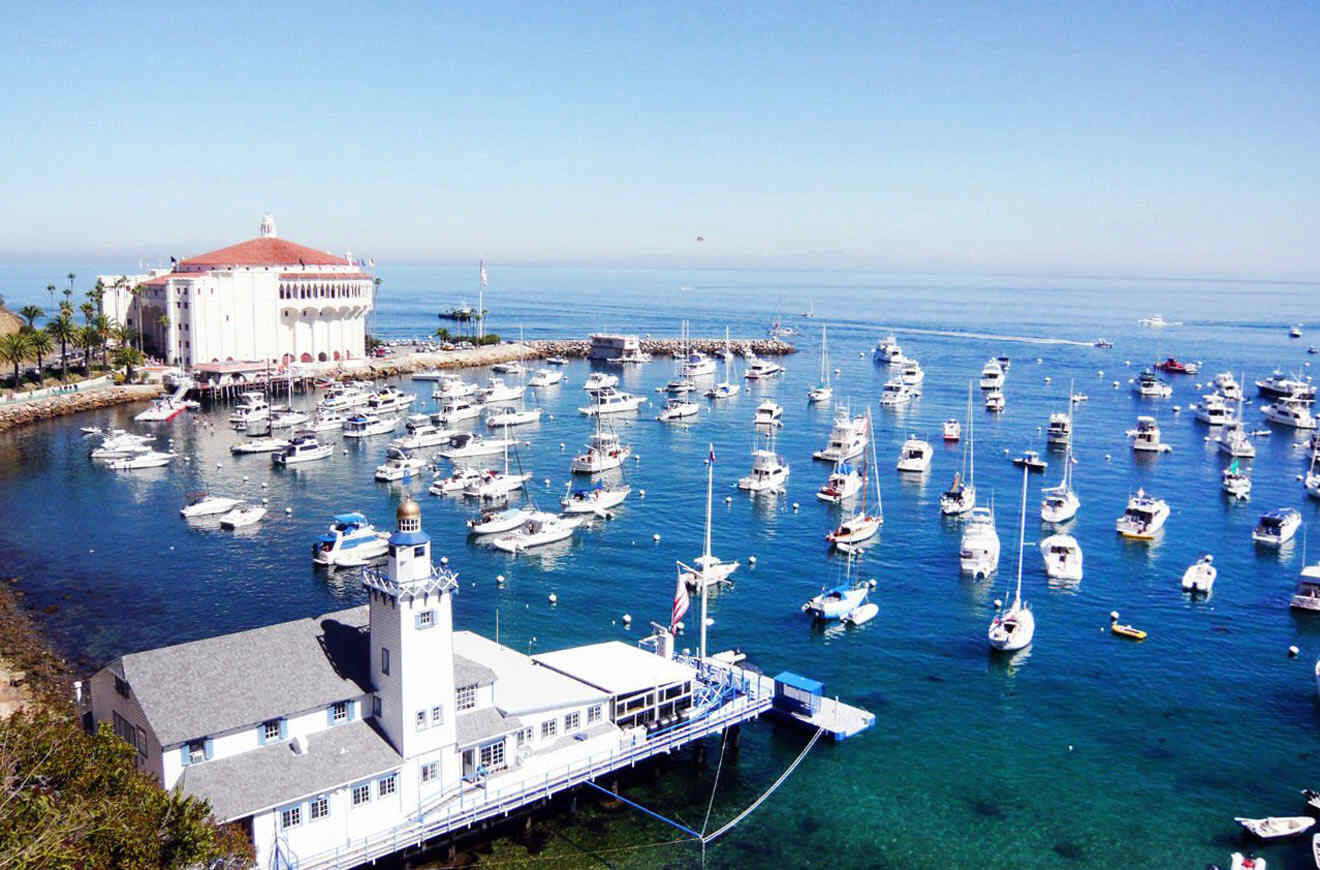 Santa Catalina Island is located a short ferry ride away from the mainland of Southern California. If you haven't booked your accommodation yet, I suggest staying at these LA areas and hotels as LA is the most convenient starting point for your Santa Catalina trip. You'll need to take a ferry or boat to get to the island.
There are a few different ferry ports from the Catalina Express near the Los Angeles area:
PRICE: depends on the port
1. Party it up at Descanso Beach Club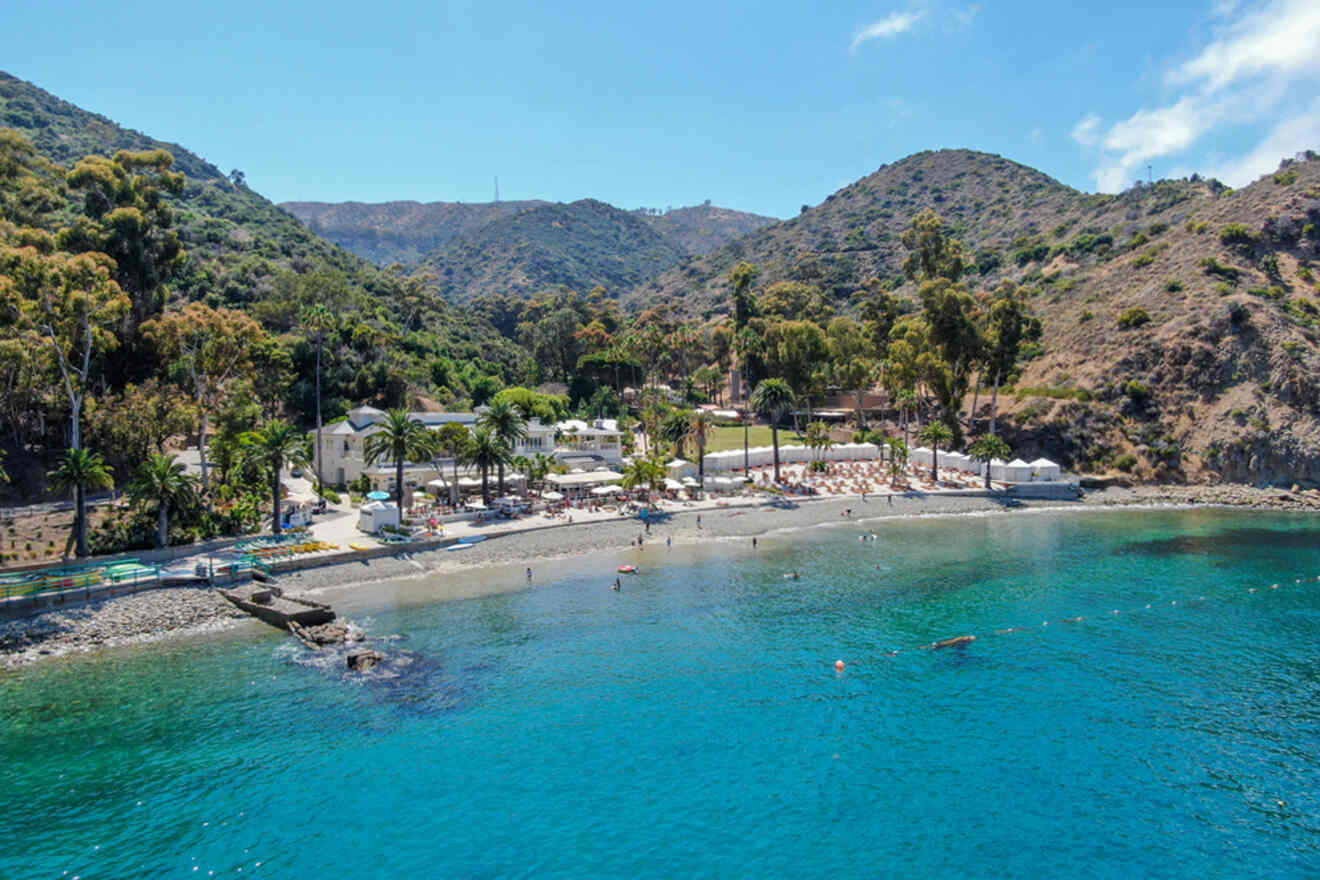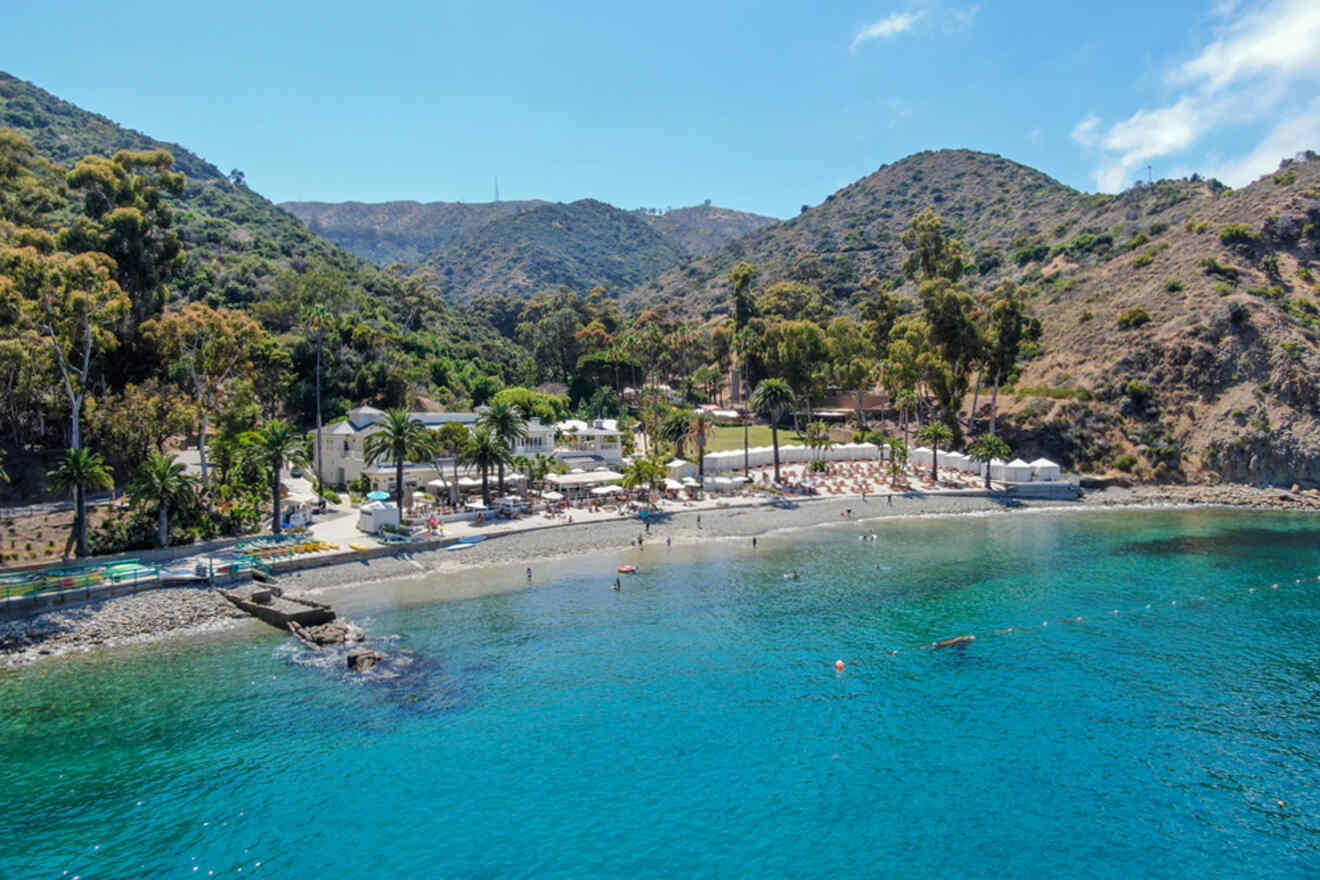 First on the list is Descanso Beach Club, an iconic waterfront restaurant and bar on one of California's last private beaches open to the public. Many places throughout the Golden State have laws against drinking at the beach, and this is one of the very few beaches that allow you to drink and lay on the beach.
The Descanso Beach Club allows guests to rent a private cabana, chaise lounge chairs, beach towels, and tables with spectacular ocean views, where you can relax and sip on one of their refreshing specialty cocktails like The Original Buffalo Milk, the Descanso Destroyer, Descanso Lemonade, and the Saldana Michelada.
During the summer, the private beach has an assortment of popular DJs that are so much fun for visitors in their early to mid-20s. Click here for more information and how to get your spot next year!
TIP: there are rocks separating the sand at Descanso Beach Club from the water at Descanso Cove. If you want to enter the water, make sure to pack protective water or reef shoes to avoid getting cut by the rocks.
2. Rent a Catalina Island Golf Cart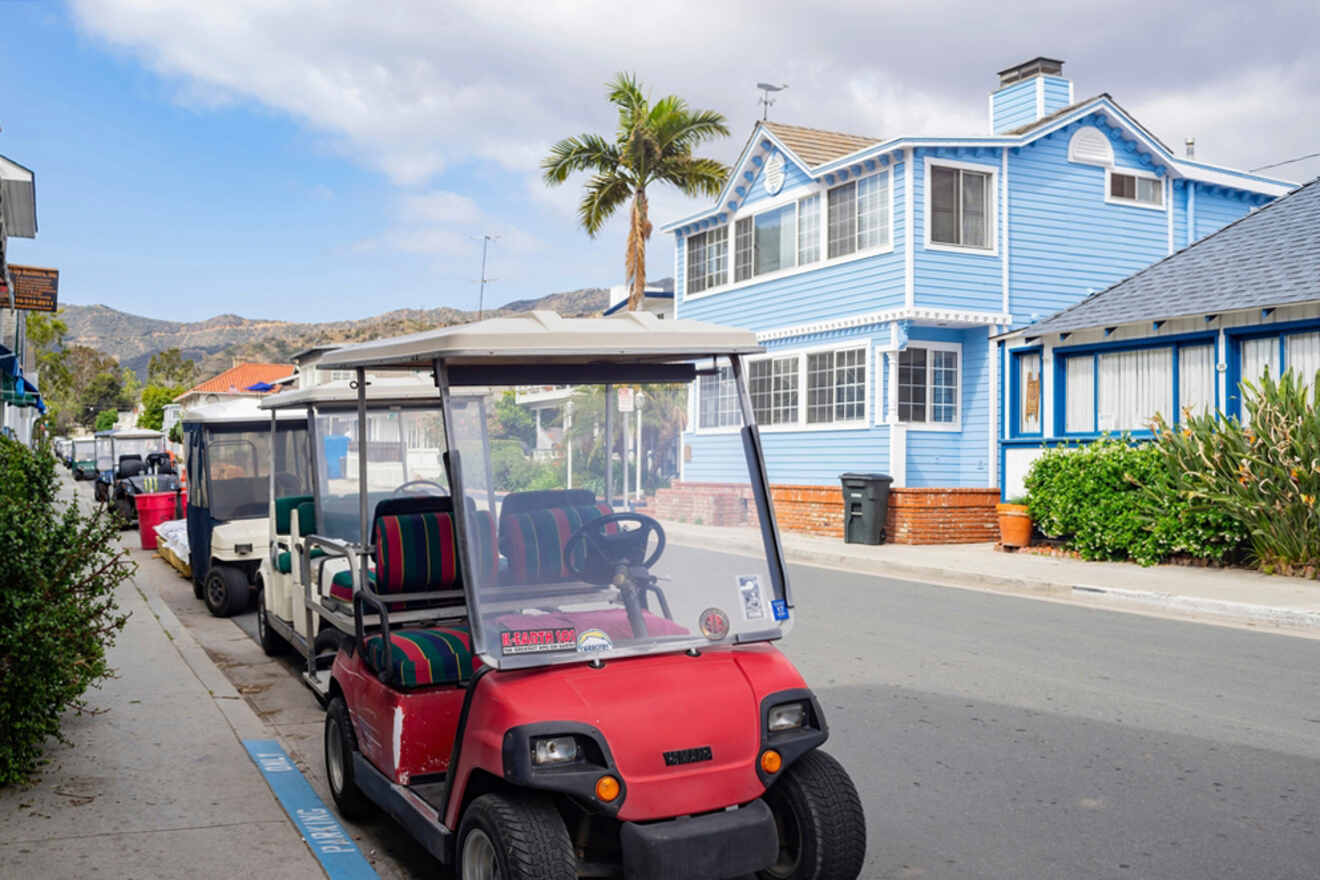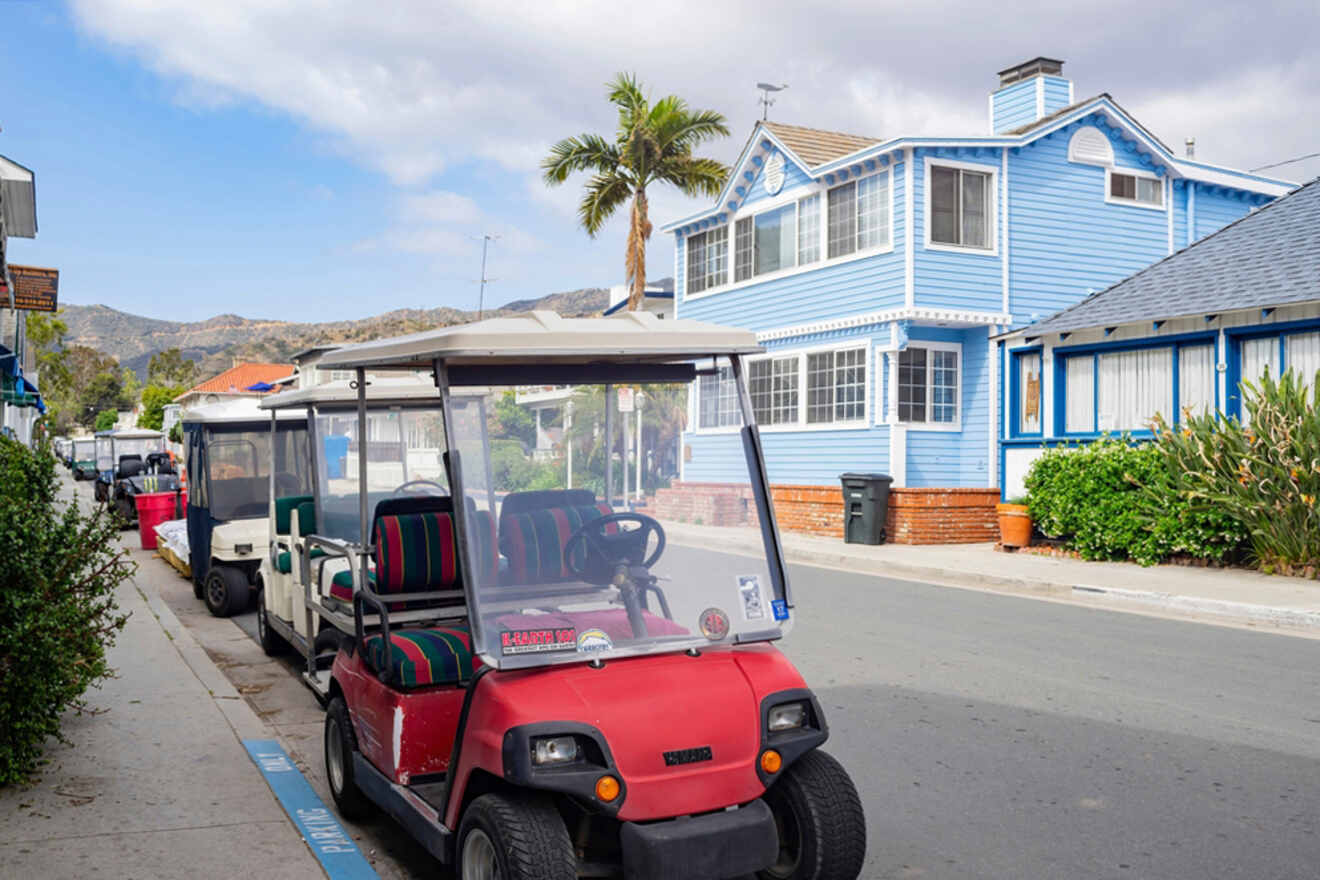 The best way to get around Catalina Island is by renting the famous Catalina Island Golf Carts. You really get the freedom and flexibility of going anywhere on the island on your own private golf cart – a fun little vehicle to drive around while stopping at the scenic canyons and hillsides and admiring the views along the way.
I suggest booking a 4-passenger golf cart at least 1 day in advance. Santa Catalina Island is a very popular tourist destination, and golf carts can easily run out if you don't save yours on time. If you're booking it last minute, same-day rentals are available at their office on Crescent Avenue.
4-passenger golf cart rentals are available for US$120/group for 2 hours. 6-passenger golf cart rentals are available on a first-come-first-served basis. Drivers must be at least 25 years old.
PRO TIP: use your golf cart to tour the tops of Avalon. You can watch the sea lions swimming around Lovers Cove and follow a map toward the Botanical Garden, Chimes Tower, Zip Line Mt. Ada, and Descanso Beach and snap some photos at each place!
Get a self-guided audio tour and make sure you don't miss a single beat. Otherwise, you can also book a private golf car tour which is a great option if you just want to sit back, relax, and enjoy the ride!
TOUR PRICE: from US$5 per person
Get your self-guided audio tour
3. Observe nature at Wrigley Memorial and Botanic Garden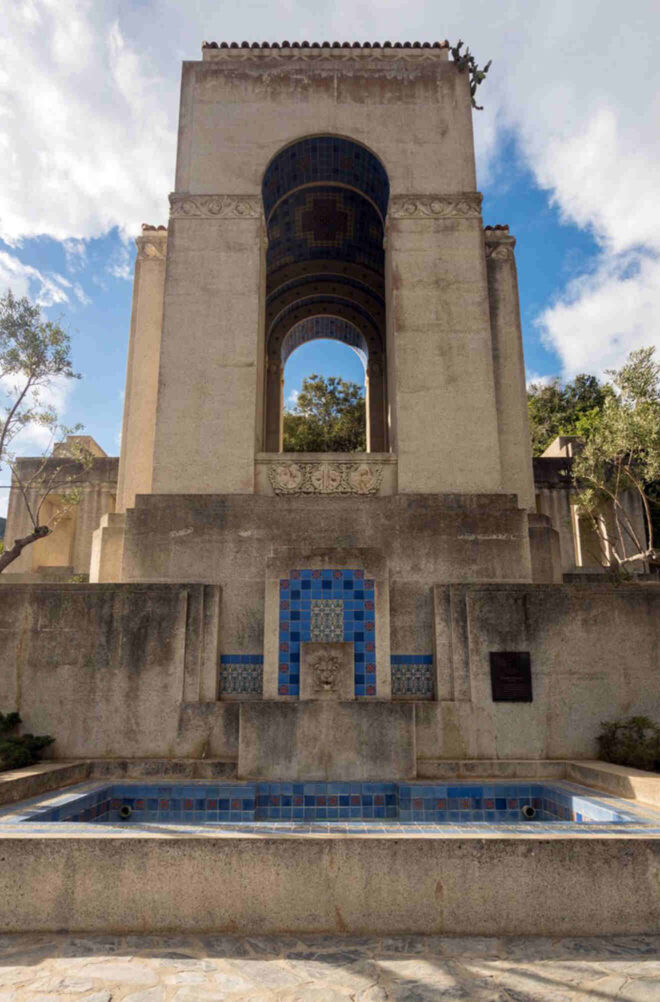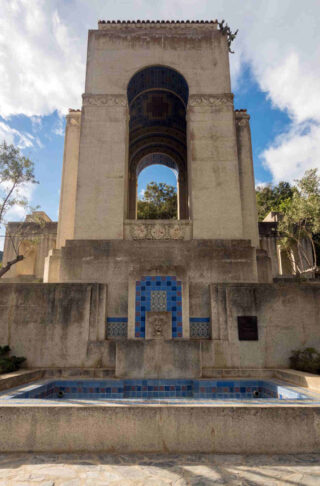 Catalina Island Conservancy is an old private land trust founded in 1972 as a nonprofit organization. They offer education, resources, and a number of recreational Catalina Island activities that are well worth checking out when you're on the island.
Wrigley Memorial and Botanic Garden are 2 of the absolute must-visit attractions I recommend!
The Botanic Garden was privately owned by Ada Wrigley in 1935 until the garden was transitioned into public access in the 70s with a goal to focus on the native plant species of Catalina Island. Today, the Catalina Island Conservancy allows visitors to walk through the entire desert garden.
The Wrigley Memorial is in the center of the Botanic Garden, standing as an iconic landmark honoring the memory of William Wrigley Jr. You'll find amazing views overlooking the Avalon Canyon and across the San Pedro Channel. Walk here as you're exploring the garden, and snap a photo or 2 along the way. Buy your tickets in advance from the official website.
NOTE: if you're looking for hiking trails, the Botanic Garden is the entryway to the island's most popular hike, the Garden to Sky Trail! It's about 6 miles round-trip (10 km), so if you plan on hiking, I suggest exploring the garden and memoria early in the morning before heading to the trailhead.
PRICE: US$12 for adults, US$7 for children
4. Admire artifacts at Catalina Island Museum for Art & History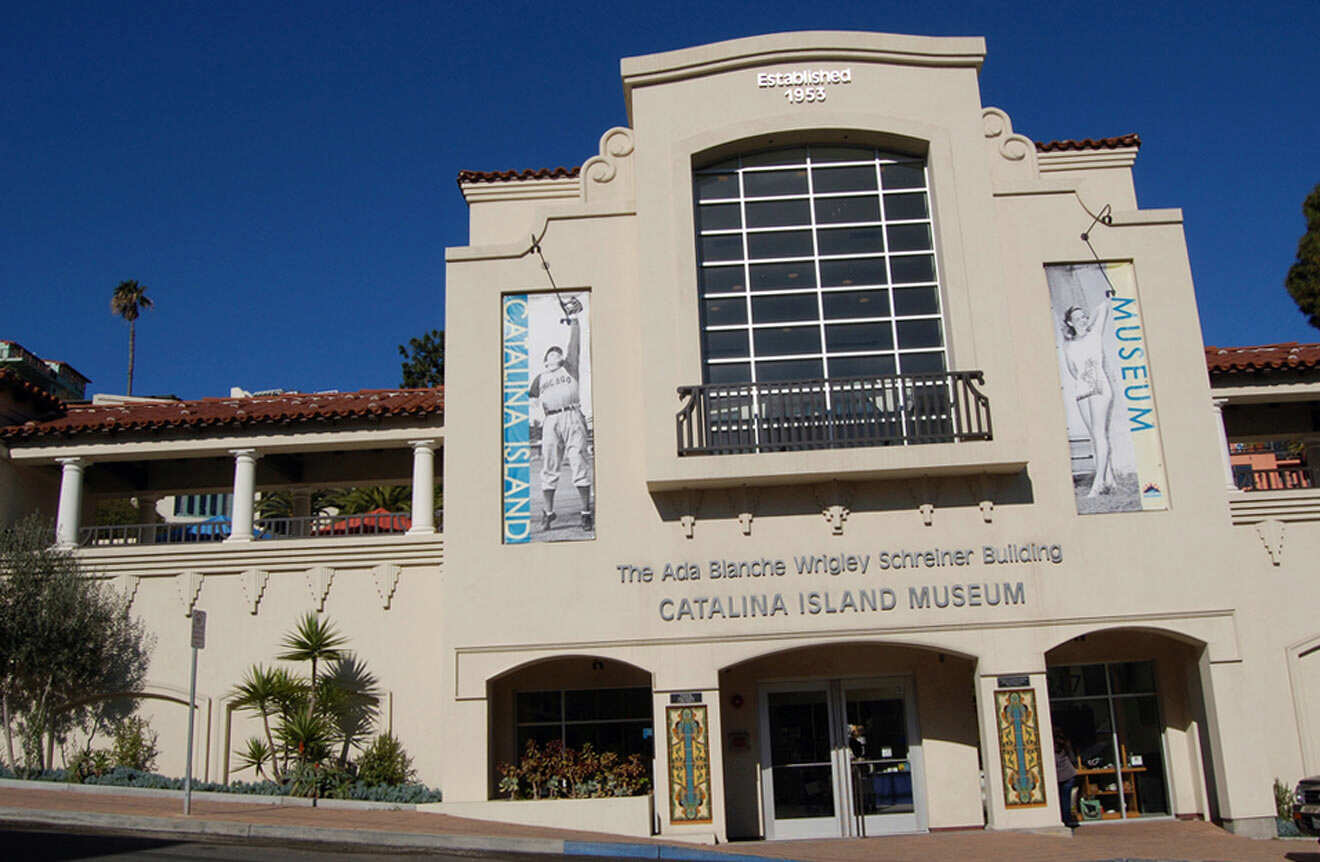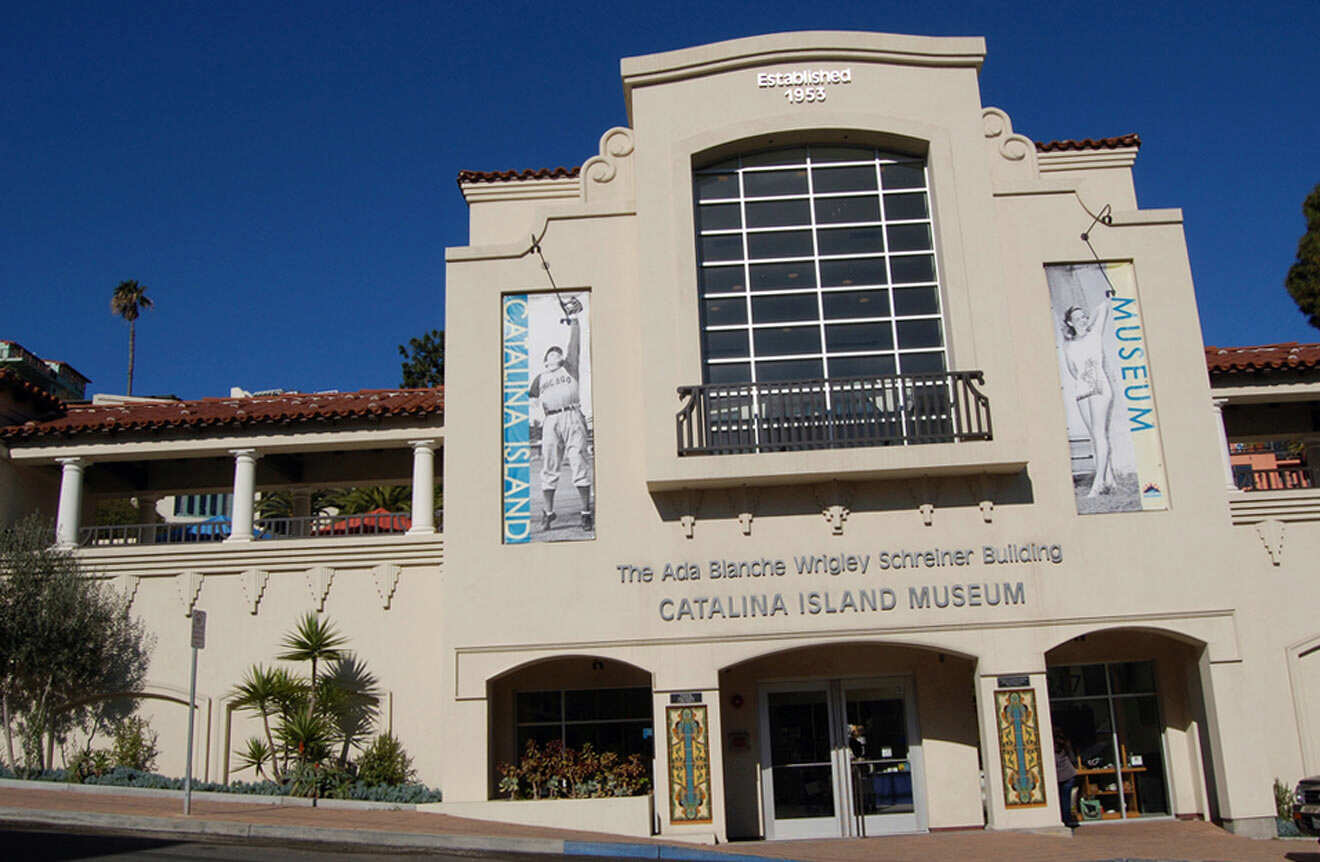 For over 70 years, the Catalina Island Museum for Art & History has been the ultimate place for visitors to explore the best of the island's history, educational programs, virtual events, and more.
If you're planning a weekend in Catalina Island, this is an absolute must-visit spot for families to learn about the compelling stories and unfolding of Catalina's history. It's located in the heart of downtown Avalon, conveniently located near the Avalon Bay and ferry ports, so you can head over here as one of the first locations you visit once you arrive.
A few things you'll find at the Catalina Island Museum for Art & History are history exhibitions, music and dance performances, documentary films, conversations with guest speakers from all around the world, art collections, and amazing Catalina artifacts from the island's connection to World War II and the Chicago Cubs from the 1920s to 1950s.
The museum is open from Tuesday – Sunday, from 10 a.m. to 5 p.m. I suggest visiting on a weekday to avoid the large crowds! Buy your tickets here.
TIP: if you want a more ~spooky~ history lesson, I suggest booking this haunted Catalina ghost tour instead! A local historian will take you through the island's most haunted locations and share spine-chilling stories of the island's past.
PRICE: US$18 for adults, free for children (0 – 15) admitted with adult.
5. Get a behind-the-scenes look at the Catalina Island Casino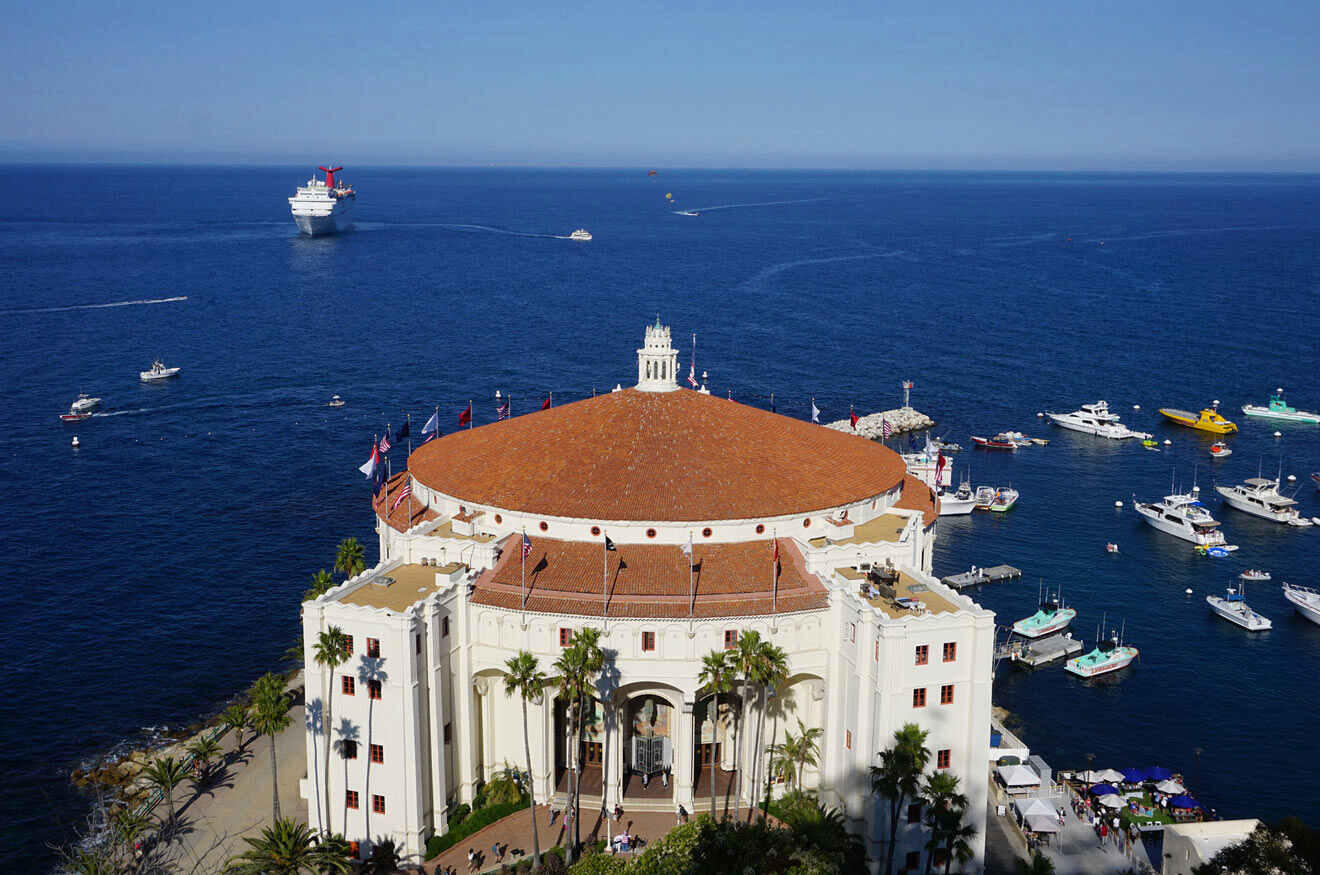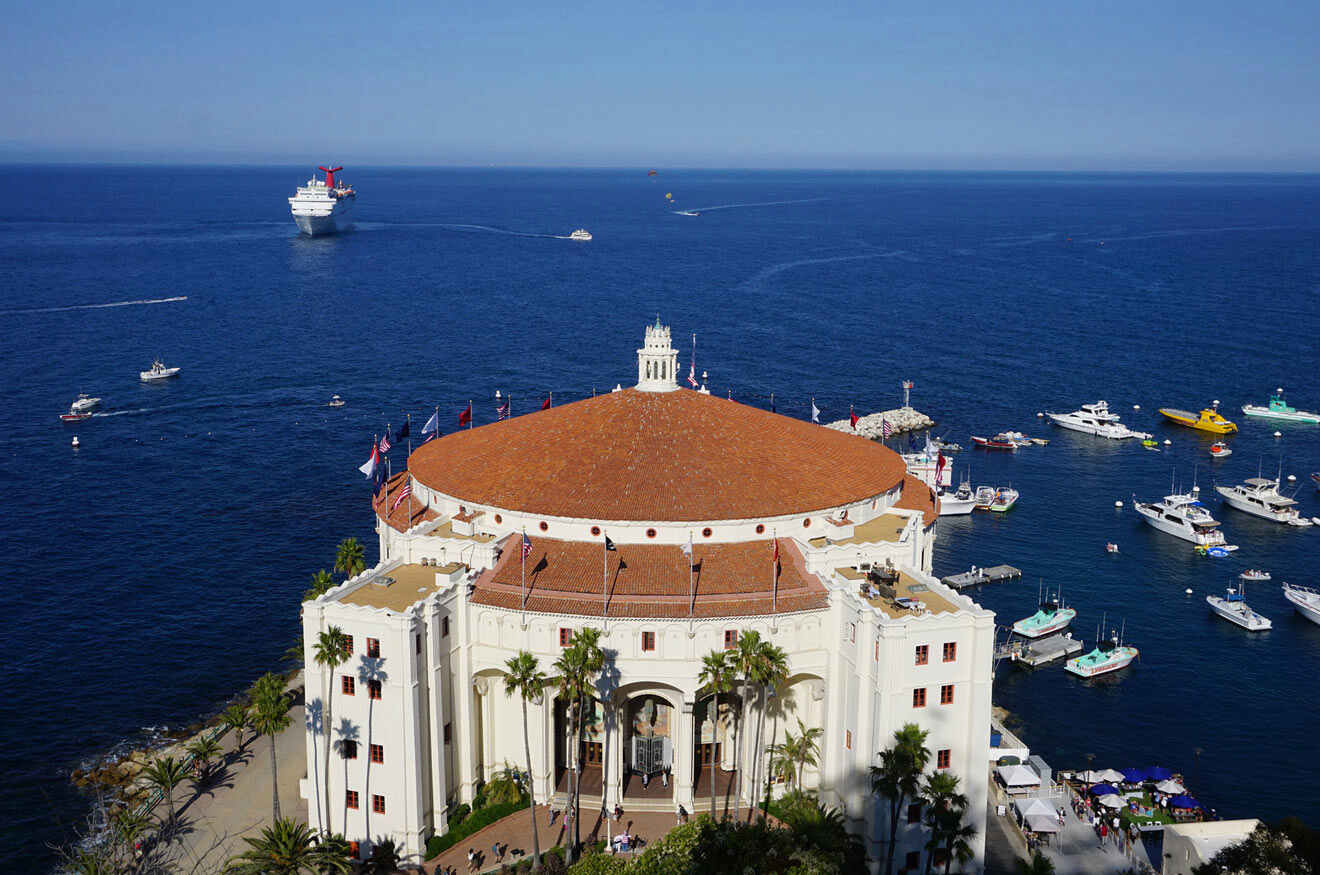 The Catalina Island Casino opened in 1929 and still runs 100 years later as an iconic destination for travelers coming to Santa Catalina Island! Millions of people visit every year to experience their island nightlife scene, from having a movie theater, delicious eateries, and dancing.
Ironically enough, the Catalina Casino was never an actual casino for gambling but rather a "gathering place" (the definition of the Italian word casino) for visitors and locals on the island.
The casino offers a general admission tour! this walking tour experience through the casino will uncover the ins and outs of the iconic landmark, walking you through its rich history.
NOTE: events are held every single day at the Catalina Casino, I suggest checking online before visiting!
VIP TOUR PRICE: US$38 per person for adults
6. Go parasailing above the Pacific Ocean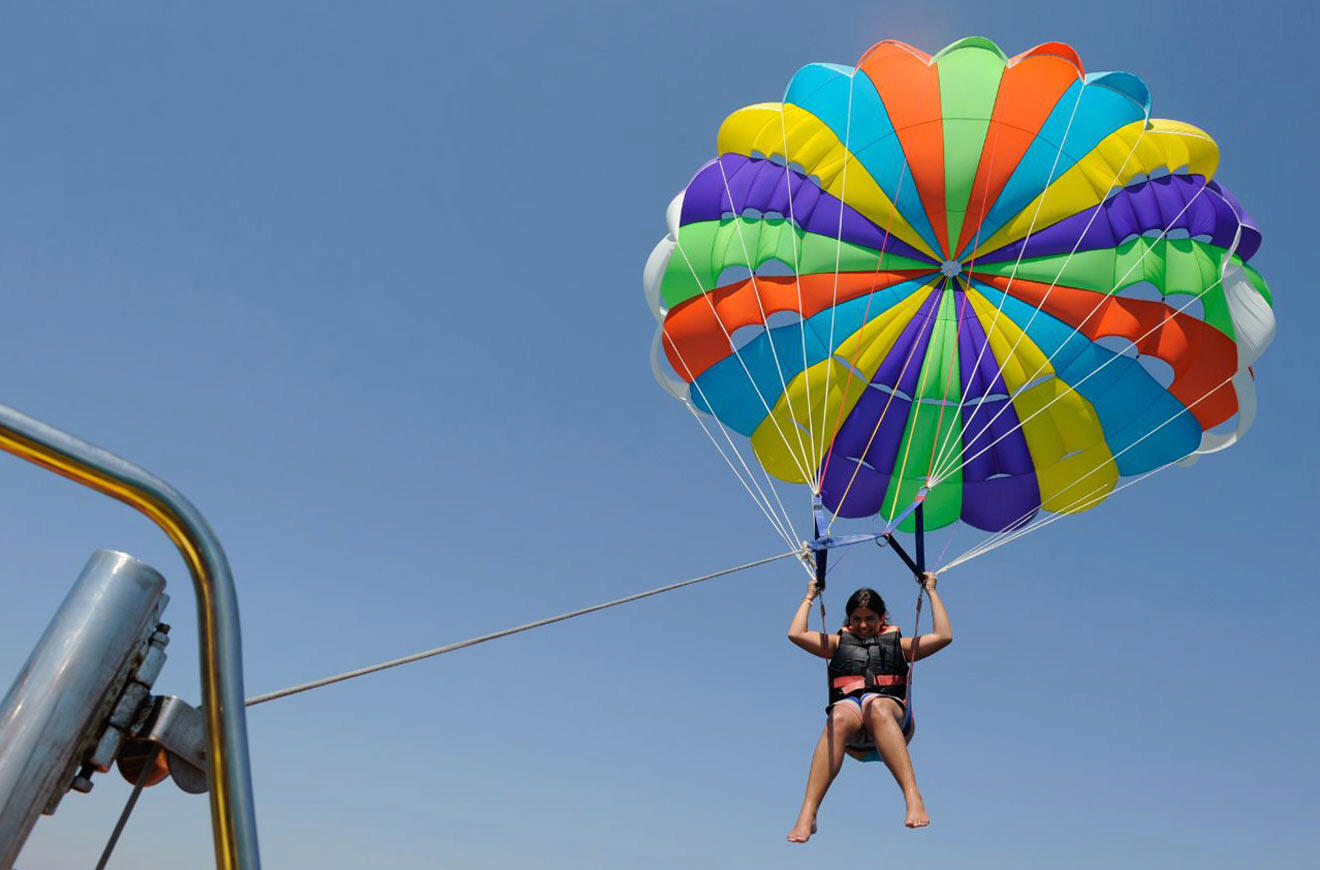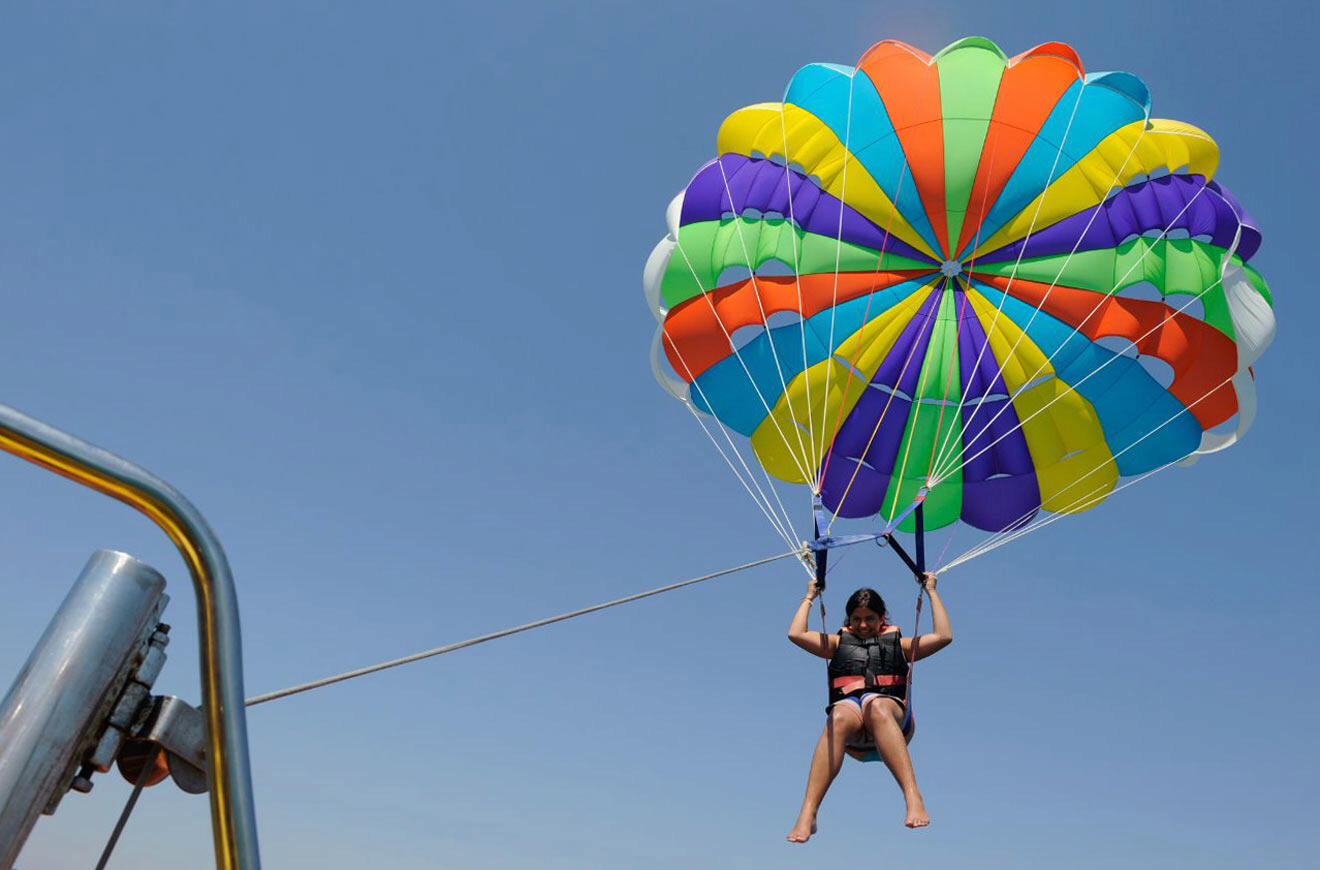 Catalina Island is home to a number of outdoor water activities, and parasailing is no exception! Catalina Tours offers an amazing parasailing experience at the Green Pleasure Pier for visitors from 600 or 800 feet (183 m or 244 m) up in the air.
You get a breathtaking view of the island's coastline and a chance to float directly above the Pacific Ocean. It's a ton of fun for the entire family (ages 6 and over to participate, 5 years old to join as a passenger), and I couldn't recommend it enough!
The experience lasts for about 1 hour and 15 minutes and has a maximum weight capacity of 450 pounds (204 kg) between 2 people. They'll walk you through the process and make sure you're secured and ready to go but make sure to do your part by dressing appropriately (comfy) and following directions.
Book your tickets ahead of time here, and don't forget to bring your camera!
PRICE: US$69 per person for adults going 600 ft (183 m), US$79 per person for adults going 800 ft (244 m). US$25 per person to ride along.
7. Taste Luau Larry's specialty cocktails
Ready to have a fun night in town? Luau Larry's (map) is the place to be! Located just a short walk away from the beach, this tropical bar overlooks the Avalon Harbor. It's always so lively and packed, offering some of the best drinks in Avalon, live entertainment, and local favorite drinks like Buffalo Milks and Wiki Wackers.
Come here to grab a drink after a long day exploring the beautiful island. Buffalo Milk is an awesome drink that you need to try at least once – it's made with Pinnacle vodka, Kahlua Dekuyper Creme de Cacao, milk, and fresh bananas. If you want a fruitier drink, Wiki Wackers is their most popular drink made with Cruzan aged light rum, Parrott brandy, pineapple/orange juice, and grenadine.
NOTE: the legal drinking age is 21! Make sure to bring your ID for verification and drink responsibly!
8. Learn something new at the Nature Center at Avalon Canyon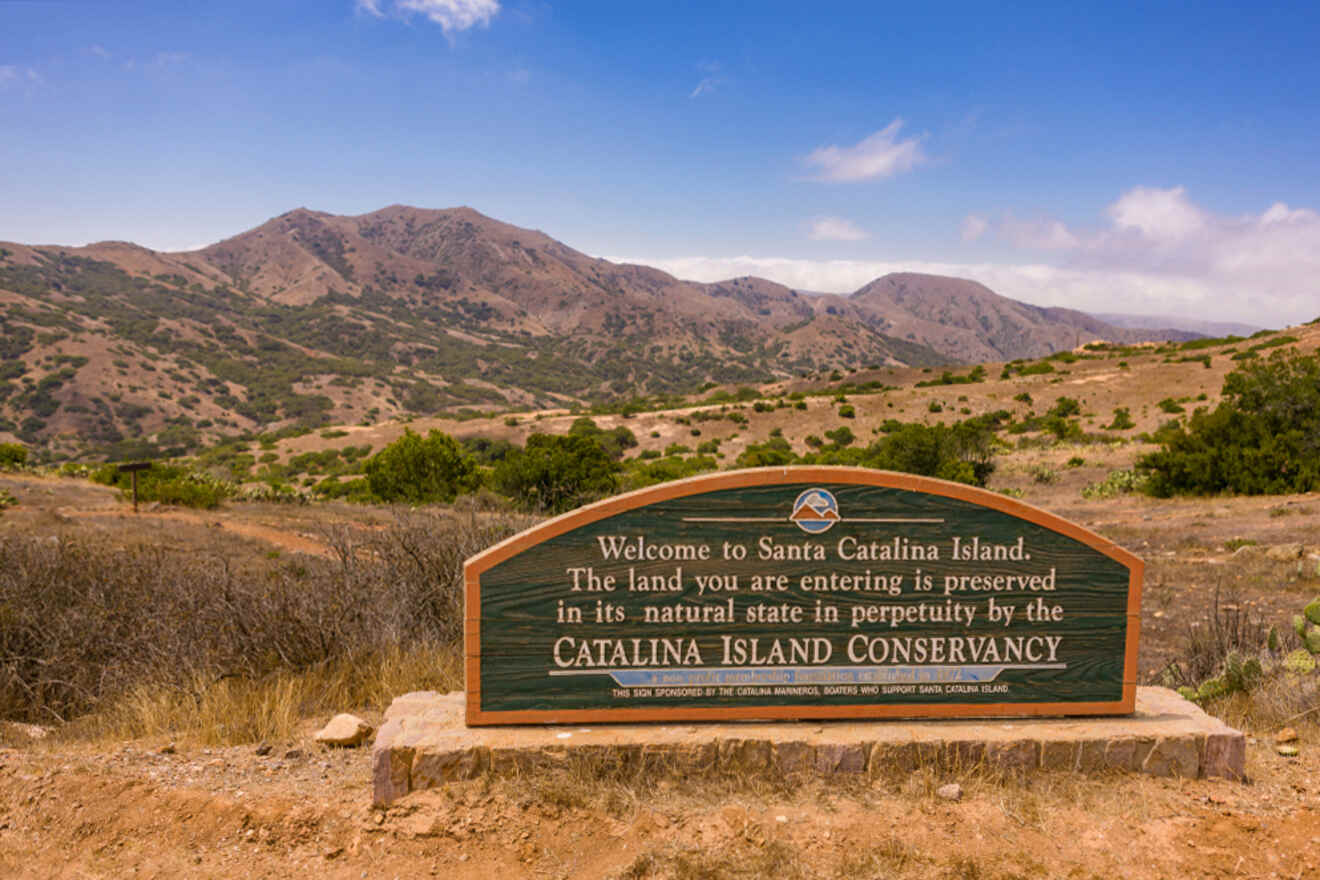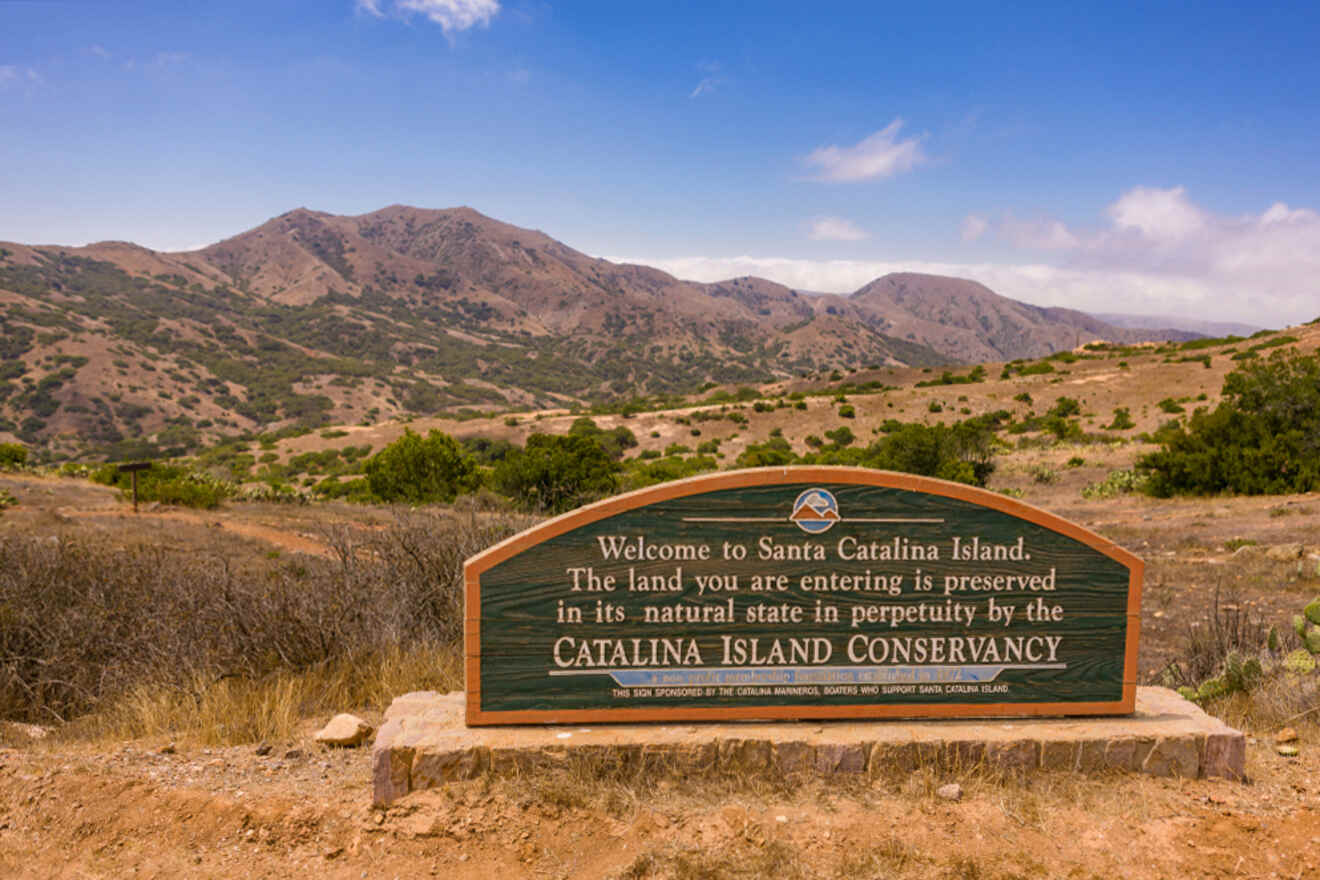 The Santa Catalina Island Interpretive Center is a wildlife and nature center with the most fascinating records of marine life history and educational resources that visitors can explore.
You'll find things like recordings of whales, dolphins, and sea lions, information on Catalina Island's unique topography, how the island has a mission to conserve and protect its natural beauty through the Catalina Island Conservancy, and more.
The entire building is 500 ft (152 m) above the ground, nestled in Avalon Canyon. So take your time and enjoy the view from up top!
The Avalon Canyon Nature Center at the Interpretive Center gives you access to the island's films and old photographs. Visit with a naturalist, and you can even get hiking permits while you're here. I suggest coming here at the start of your day to get a glimpse at what to expect at the park and all the necessary permits you need (if you plan on doing the more complicated hikes).
NOTE: the Nature Center was closed at the moment of writing. Please check the official website for updates.
9. Make your own tiles at Silver Canyon Pottery
The Catalina Tile Experience by Silver Canyon Pottery is a unique activity that offers you an opportunity to learn about the island's culture. The hands-on lesson walks you through tile making, where you'll get a chance to make the perfect time to take home as a Catalina Island souvenir.
This place is particularly awesome because there is so much history in Avalon that inspired the making of this small business' tiles. Today, about 40% of the tiles in Avalon were reproduced by Silver Canyon Pottery.
There are 2 ways you can make your own tiles here:
Group Tile-Making Experience – this experience is so much fun for kids, adults, couples, and everyone looking for an interactive, authentic Catalina Island experience. The experience comes with round-trip transportation from downtown Avalon (the studio is located only about 1 mile/less than 2 km away), 2 tiles per person, and shipping of finished tiles.
Private Catalina Tile Class – this is the same experience, meant for bigger groups up to 12! If you're traveling with family and/or friends, I suggest booking this private class instead.
10. Experience scuba diving with fish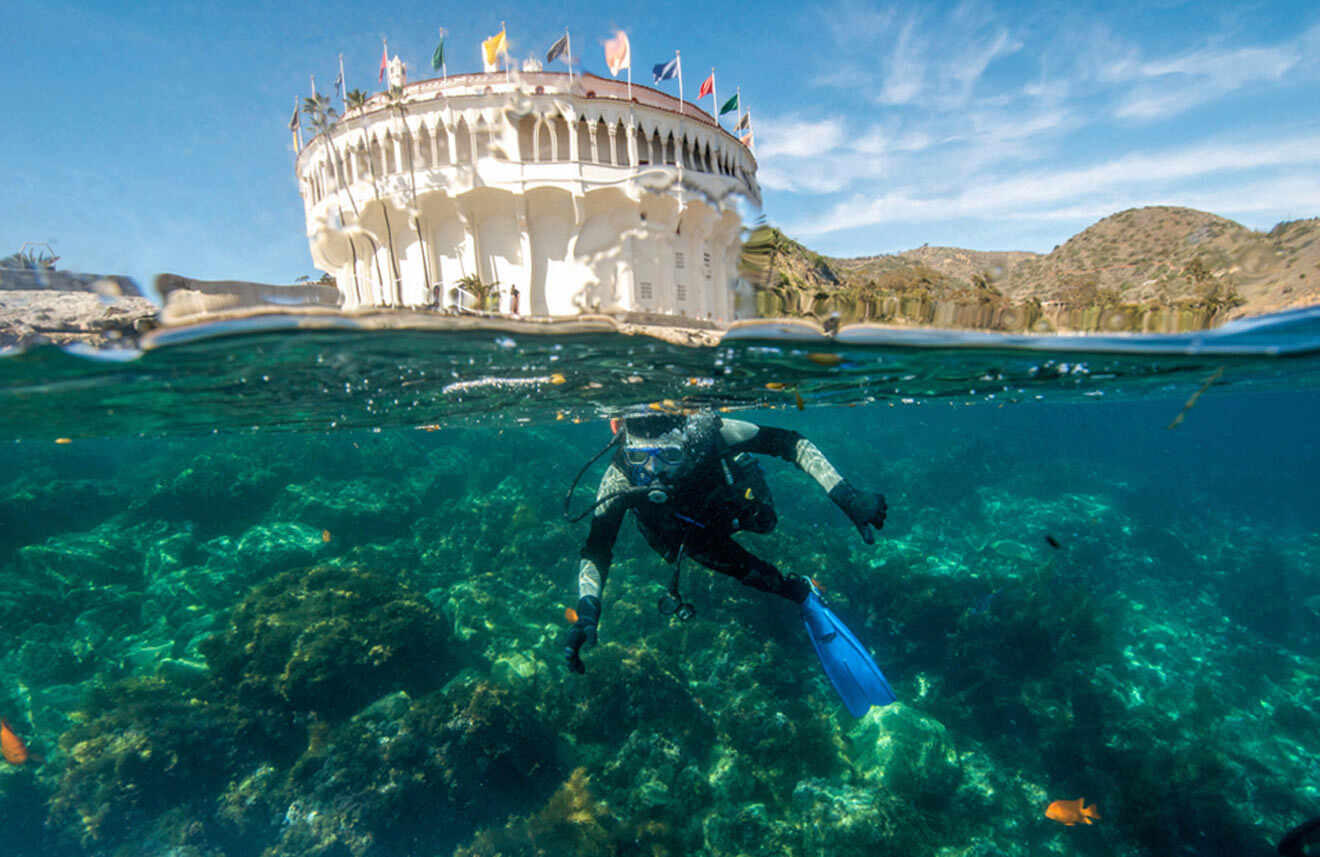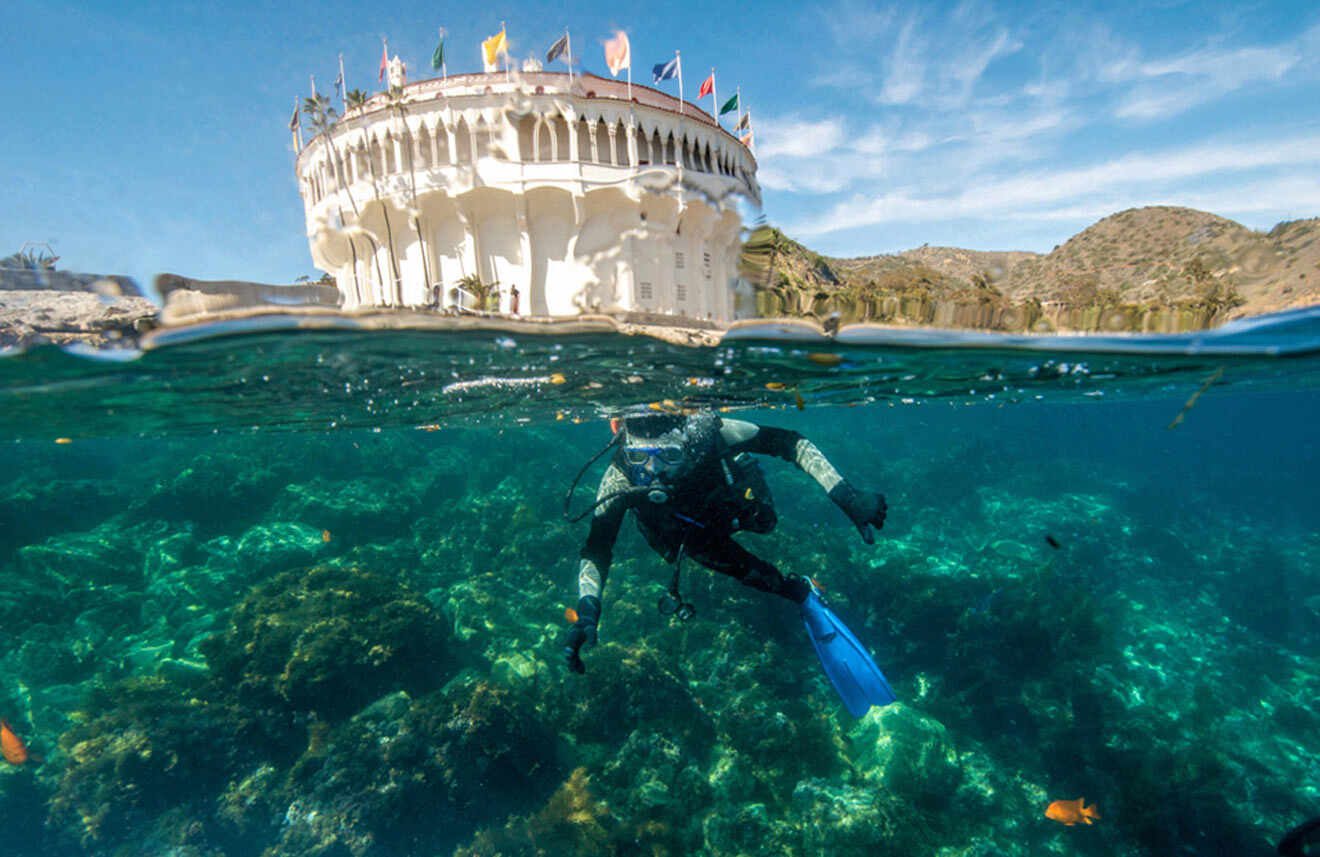 Catalina Island's crystal blue waters are the world's healthiest marine environment, making for the ultimate scuba diving destination! You'll find all kinds of marine life roaming around, like iconic orange garibaldi fish (aka Catalina goldfish), bat rays, giant kelpfish, and more.
Being the 1st underwater park in the US, Casino Point Dive Park offers scuba diving and snorkeling experiences for visitors to enjoy the clear waters and peek at the sea life that calls it home.
I suggest coming here before and doing all your ocean excursions before going to Catalina Casino. It's a short walk (or golf cart ride) away since the Casino Point Dive Park is directly next to Catalina Casino.
The paid experience includes a professional instructor, scuba diving equipment, and a wetsuit. You need to be at least 12 years old to scuba dive here! It costs US$129 per person, but if you want your underwater experience to be filmed, the cost jumps to US$149.
TIP: if traveling with younger children, consider going on a semi-submarine cruise instead! You can still get an inside look at the abundance of marine life on Santa Catalina Island, but kid-friendly and easier for families. This experience is almost US$100 cheaper than the scuba diving experience, so definitely check it out if you're traveling on a budget.
PRICE: from US$50 for adults, US$11 for children (3 – 11), and US$6 for infants (0 – 2).
Book your family submarine excursion
11. Go backpacking along the Trans-Catalina Trail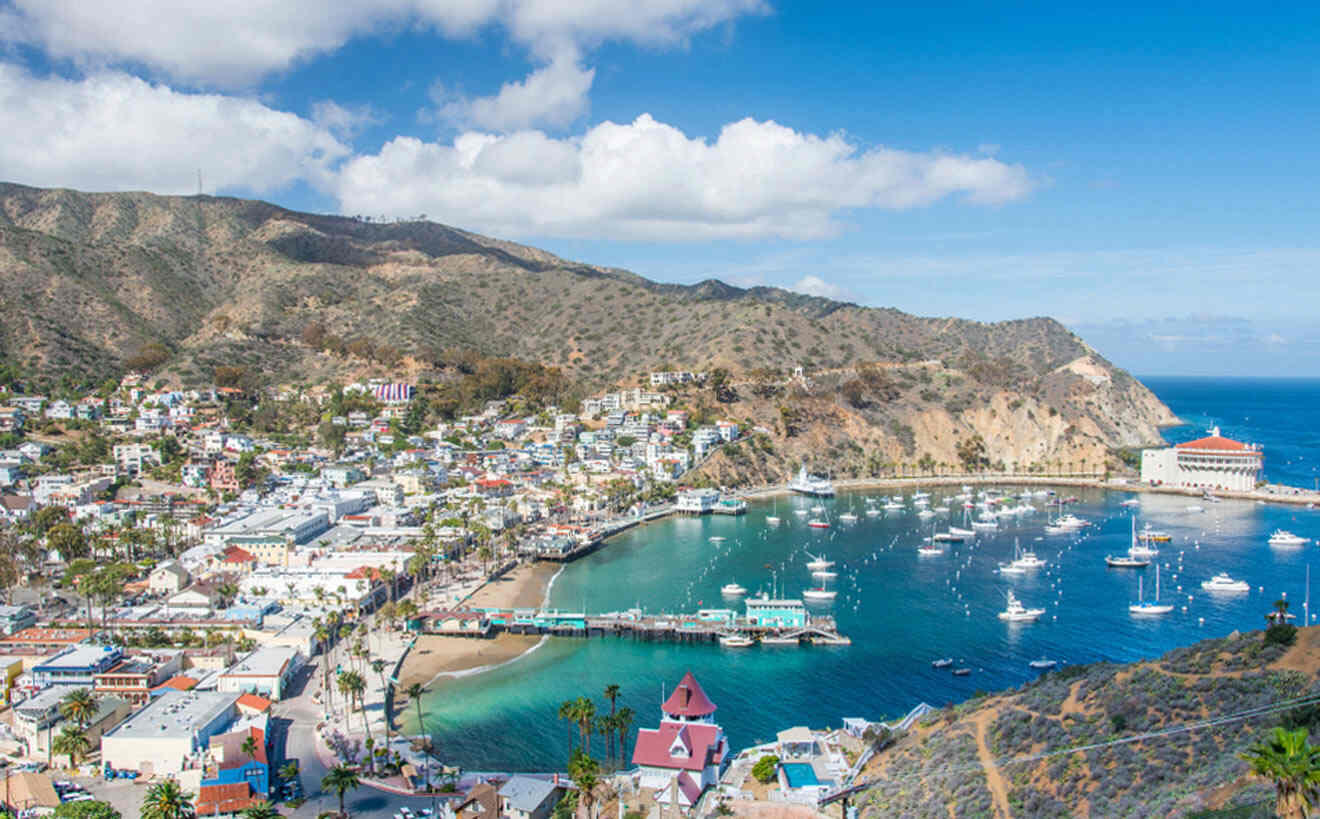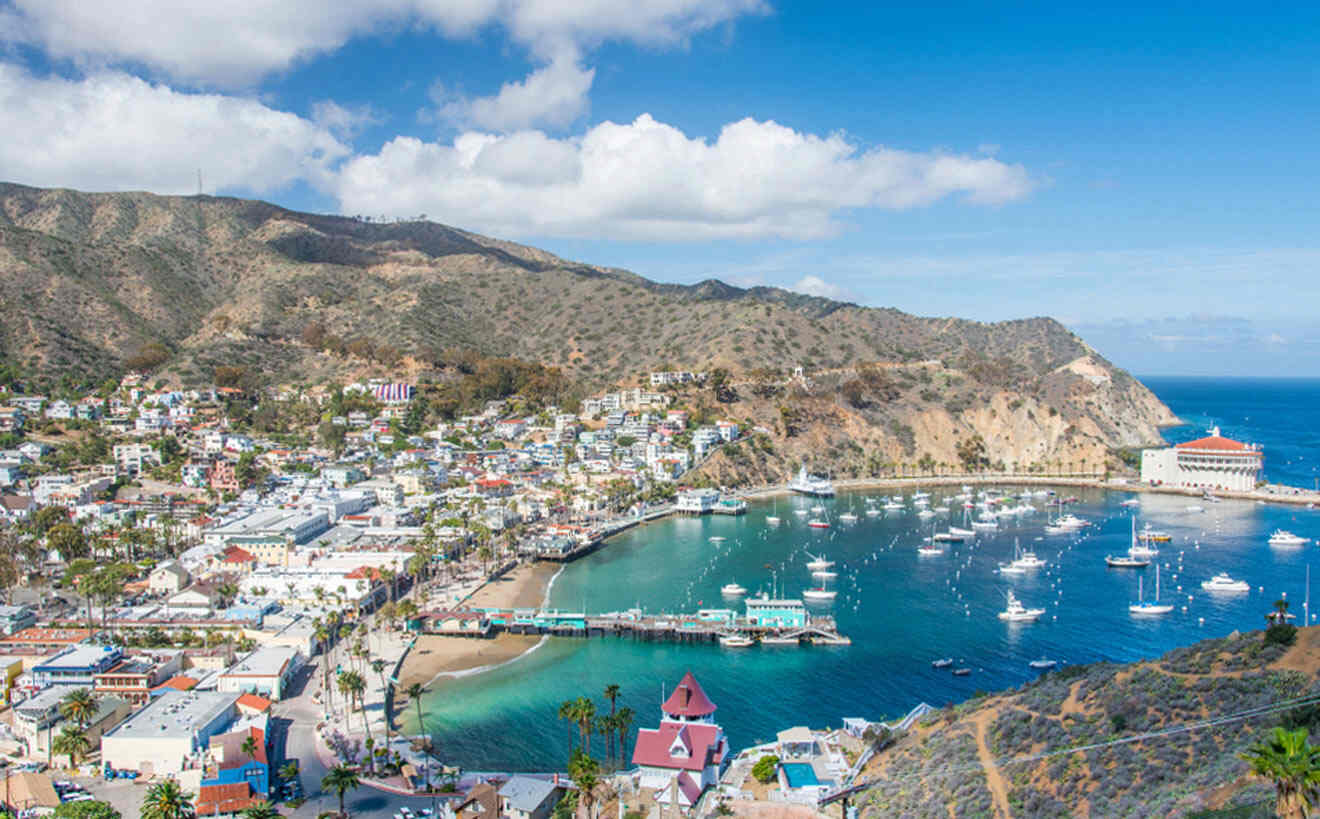 Trans-Catalina Trail (see trail map) is a scenic trail between Avalon and the opposite side of the island, Two Harbors (from east to west). There are 5 campgrounds located along the trail that are ideal for backpackers.
If you have an adventurous spirit and want to do something in Catalina out of the tourist norms, I suggest preparing ahead of time to embark on this hike.
You'll climb through Avalon Canyon and all the way through Silver Peak, admiring scenic Pacific Ocean views along the way. You'll need to plan at least a few days hiking through the trail since there is about 10,000 ft (3,050 m) of elevation gain, and nearly 40 miles (64 km) of walking isn't all that easy. Only go backpacking through the trail if you're in decent shape and have experience on long trails like these.
Plan your hike around the cooler months, like the fall or winter. Your experience will be that much easier if you can get a nice breeze cooling you off and less sun beaming down on your skin. Bring sturdy hiking boots (these Zamberlan hiking boots are one of my favorites at the moment), a trekking pole, tons of water, a sun-protecting hat, and sunscreen.
If you want to hike but aren't quite ready for the long trek, I suggest doing a guided adventure tour. You'll get a peek at the untouched countryside of Catalina Island for a 2-hour car ride around the island. You'll get a good look at everything without the struggle!
TOUR PRICE: US$53 per person
12. Watch fish pass by a glass bottom boat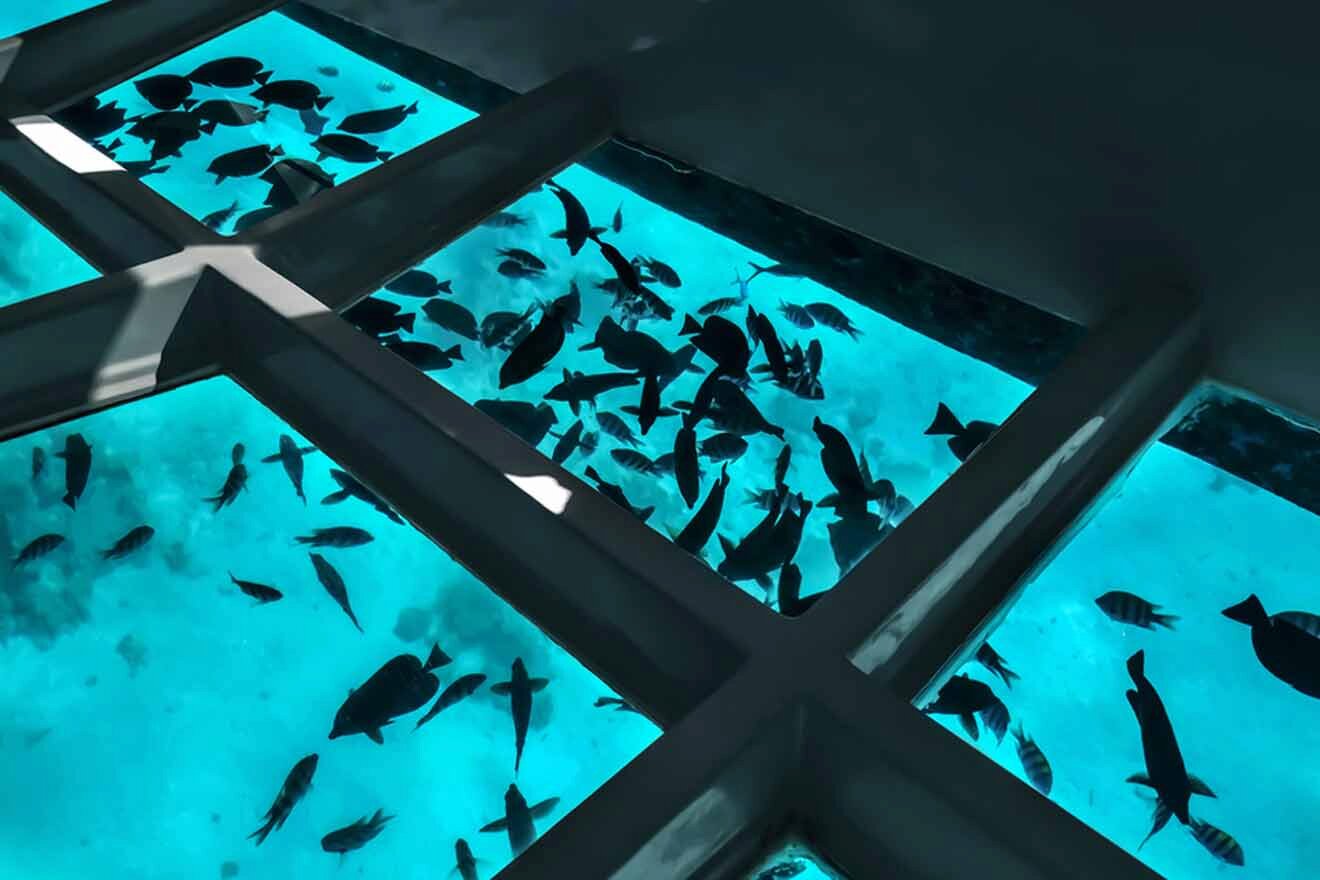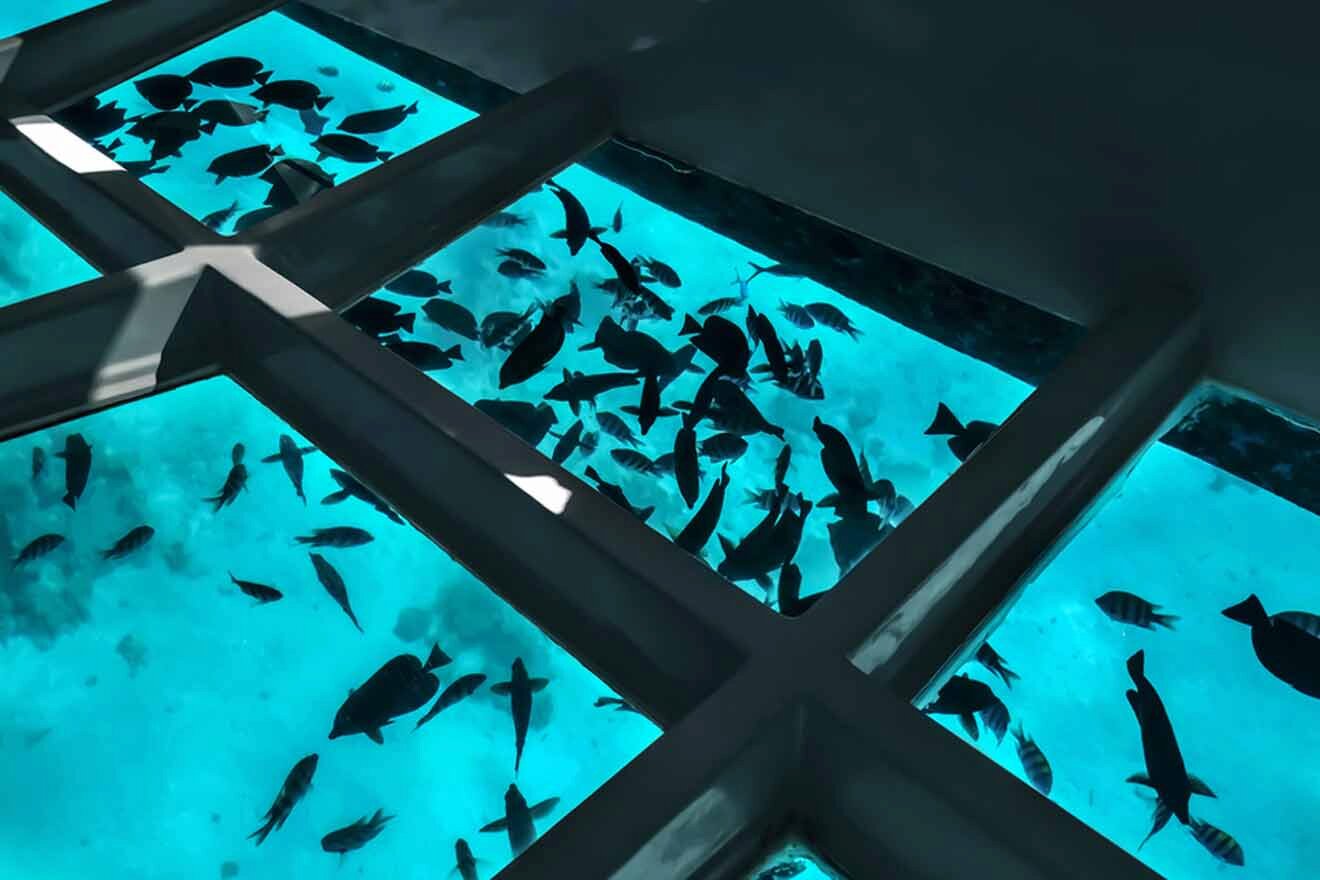 Catalina Island Tours offers a number of amazing experiences. Their ocean tours allow you to set sail on an excursion in Lovers Cove Marine Preserve.
During this boat tour, you'll find a variety of sea life cruising through the cove for about 40 minutes. Unlike other boat tours, this boat has a glass bottom, so you can see through small tunnels throughout the vessel. Don't worry, you're not stepping on glass the whole time! It's a separate part of the boat that passengers can only look through.
I suggest booking your reservation in advance since it's a mega-popular experience among tourists visiting Santa Catalina Island. You can even book a nighttime tour! Read more about it and book your journey here!
NOTE: if you want a more adventurous water activity while you're here, get jet ski rentals from Catalina Jet Ski for a ride of a lifetime! Seriously, jet skis are so much fun, and Santa Catalina Island is the ultimate place to do it. You can thank me later.
PRICE: US$27 for adults, US$23 for children
13. Visit the other side of Avalon: Two Harbors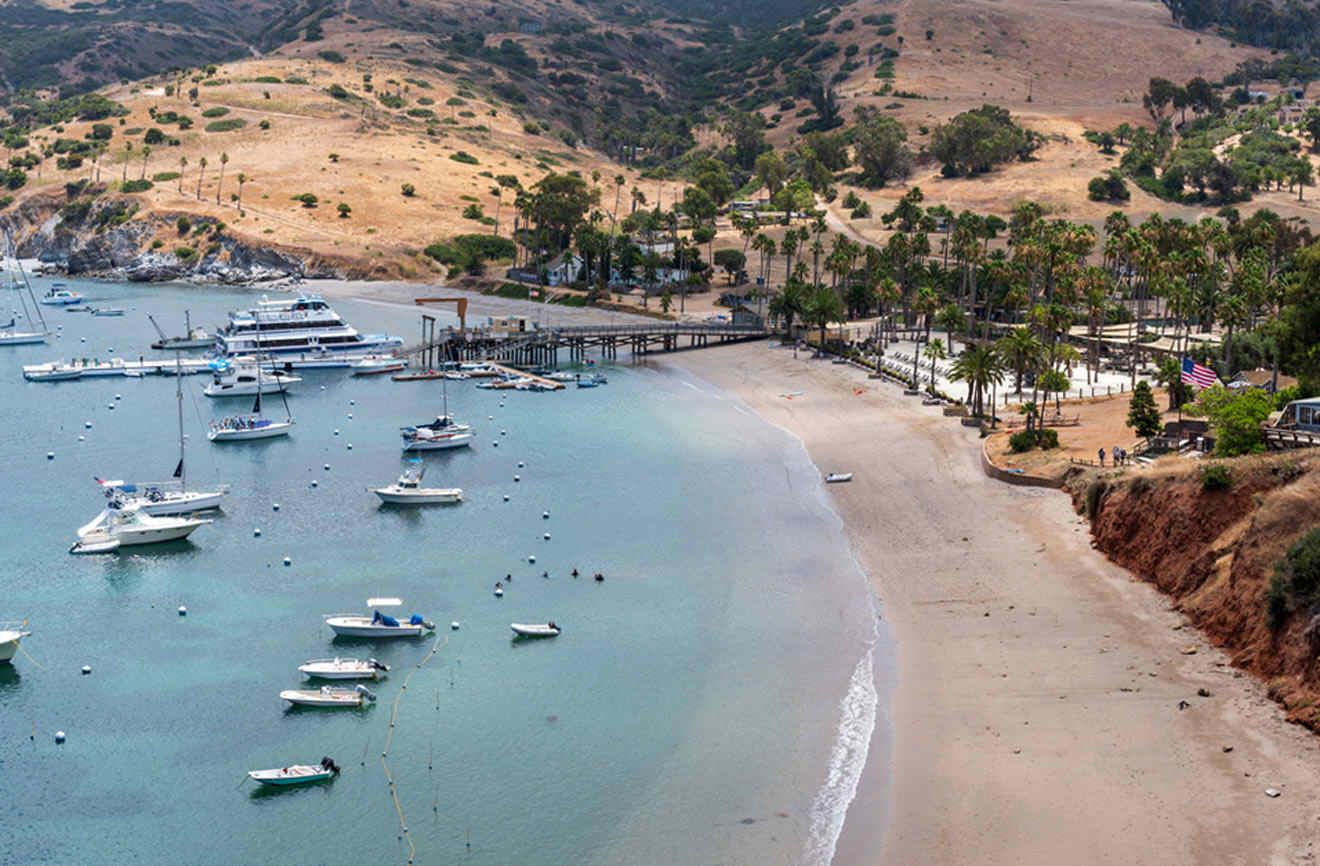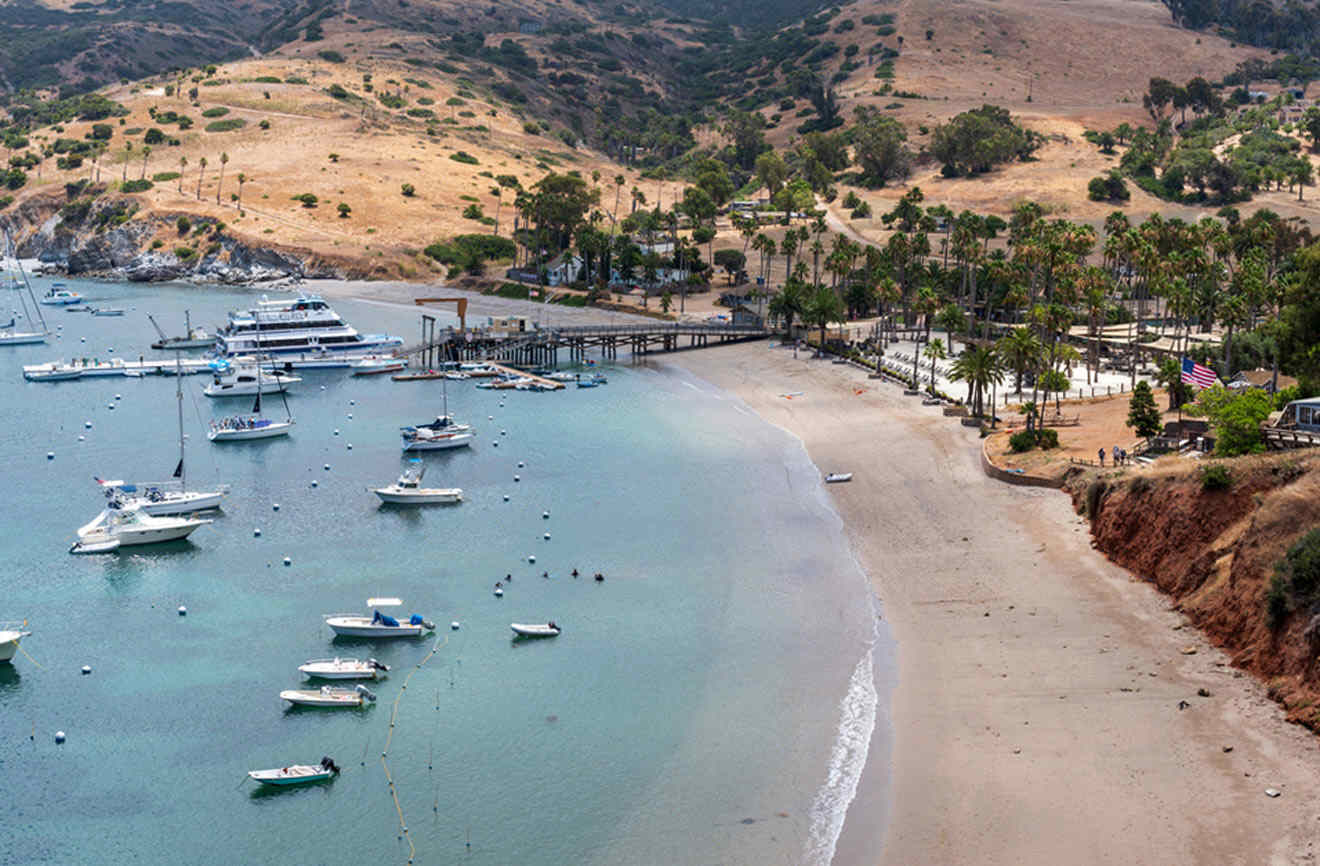 Avalon is the main city that tourists come to visit on Catalina Island. Two Harbors is the west end, where many tourists miss!
It's a village that separates Isthmus Cove from Catalina Harbor. I suggest you visit this side of the island on a day trip using the Discover Two Harbors Cyclone Power Boat tour provided by the Visit Catalina Island Company.
However, plan in advance because the 40-minute boat ride is only available in the summer and early fall. Otherwise, you can arrive at Two Harbors from the mainland in San Pedro rather than the other 3 ports mentioned earlier going to Avalon.
Two Harbors offers a variety of outdoor activities like mountain biking, boating, fishing, kayaking, scuba diving, and more. Harbor Reef Restaurant (map) is the place to be if you want to relax with waterfront views and a drink. They also have historic hotels like the Banning House Lodge, Villa Santa Cruz, and Villa Santa Rosa for you to admire Catalina's history and their Spanish mission architecture.
There's so much history covering this side of the island, so be sure to ask the locals and read all about it here. You'll really appreciate the richness of the island 100x more when you know everything that it's been through!
TIP: every year, Two Harbors holds its annual Buccaneer Days festival. If you're visiting in October, this is a fun 2-day event where you'll dress up as a pirate, enjoy live music, enter to win a costume contest, hunt for some treasure, and more. Plan ahead to join Catalina's Pirate Party!
14. Try yourself at Catalina Aerial Adventure's challenges
Catalina Aerial Adventure Park is an awesome outdoor obstacle course experience at Descanso. You'll feel like you're in the middle of the woods even though you're just a short walk away from the Descanso Beach Club's bar.
You'll find a series of obstacle courses up in the air, surrounded by the aroma of Eucalyptus trees. You'll get to run around and swing in the air for a day of fun.
There are 5 courses of rope ladders, log bridges, zip lines, balance beams, and more made for the skill level you prefer.
Here are a couple of other activities I suggest doing while you're here:
Zip Line Eco Tour is one of the top-rated activities in Southern California! It takes you 600 ft (183 m) up in the air and through the canyon, passing trees at about 35 mph (56 kph). It's a 2-hour experience where you'll also learn about the unique plants and animals of Santa Catalina Island.
Catalina Climbing Wall is 32 ft (10 m) of rock climbing! They make it easy for you by color coding areas designed to your skill level. Whether you're a beginner or a pro rock climber, this is a fun activity for everyone!
If you want to play indoor games and avoid the heat, spend 1 – 2 hours at Three Palms Avalon Arcade! They have classic arcade games for the entire family to enjoy for a few hours.
15. See the rugged canyons on a Ridgetop Eco Adventure
The Ridgetop Eco Adventure takes you on a journey through the island on their open-air biofuel Hummer ride! Unlike other tours available at the Visit Catalina Island Company, this tour takes you through the wilderness and rugged canyons of Catalina Island.
You'll see East Peak and Divine Road while catching a glimpse of the breathtaking ocean and canyon views along the way. You can also feel good knowing that 10% of the proceeds of this tour go towards the Catalina Island Conservancy.
PRO TIP: keep an eye out for the wildlife and bring a camera to snap photos!
After your Ridgetop Eco Adventure, consider visiting the Avalon Golf Gardens for a short mini-golf session, located a short walk away. This mini golf course has been a staple in Avalon for over 50 years. I suggest stopping by for a game or two!
| | |
| --- | --- |
| 👪 Family-friendly score: | high |
| 🎢 Top family-friendly attraction: | Semi-Submarine Adventure |
| 👧 Best interactive activity: | Catalina Tile Experience |
| 🕺 Nightlife: | Catalina Casino and Luau Larry's |
| 🍹 Best bar: | Descanso Beach Club |
FAQs about things to do in Santa Catalina Island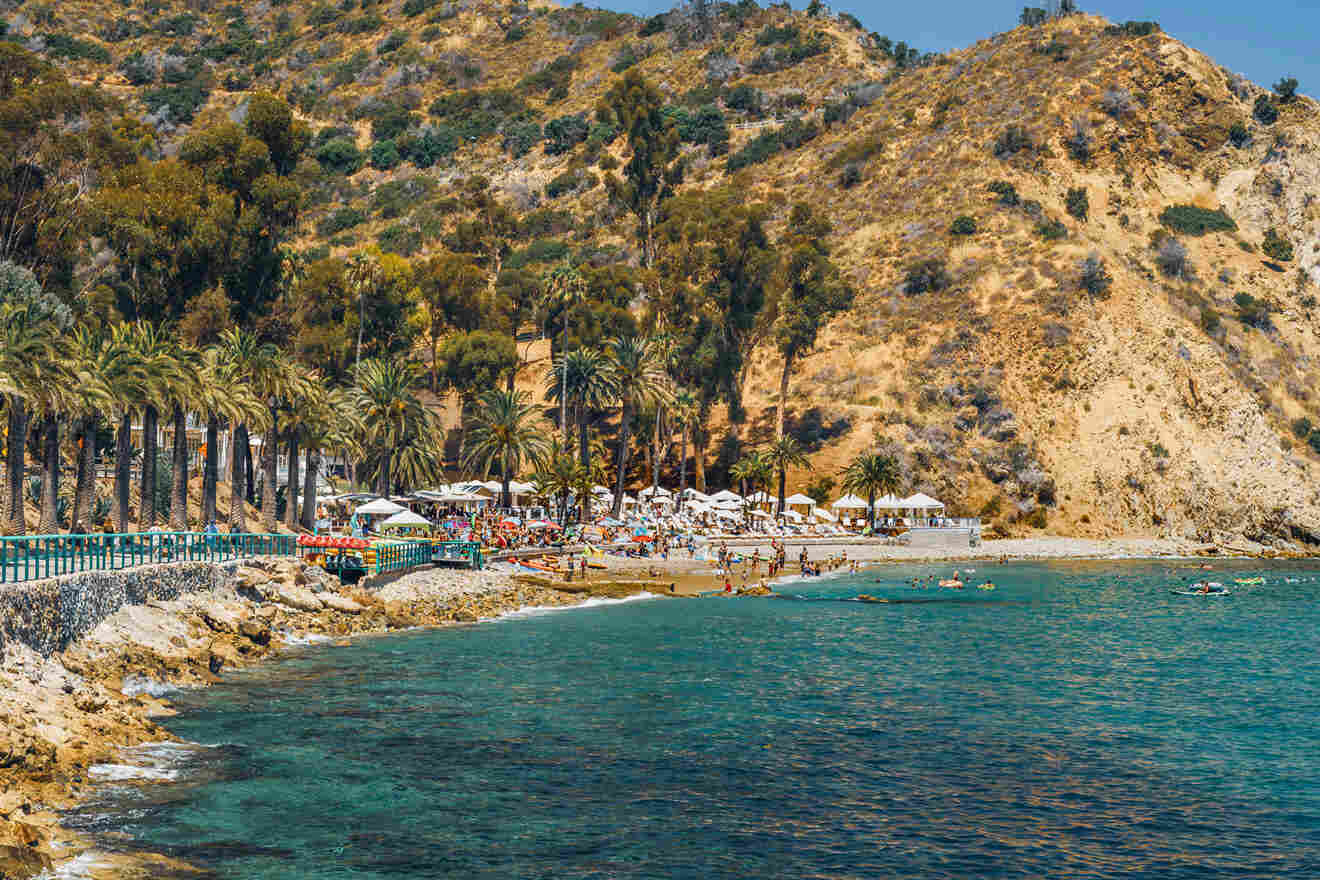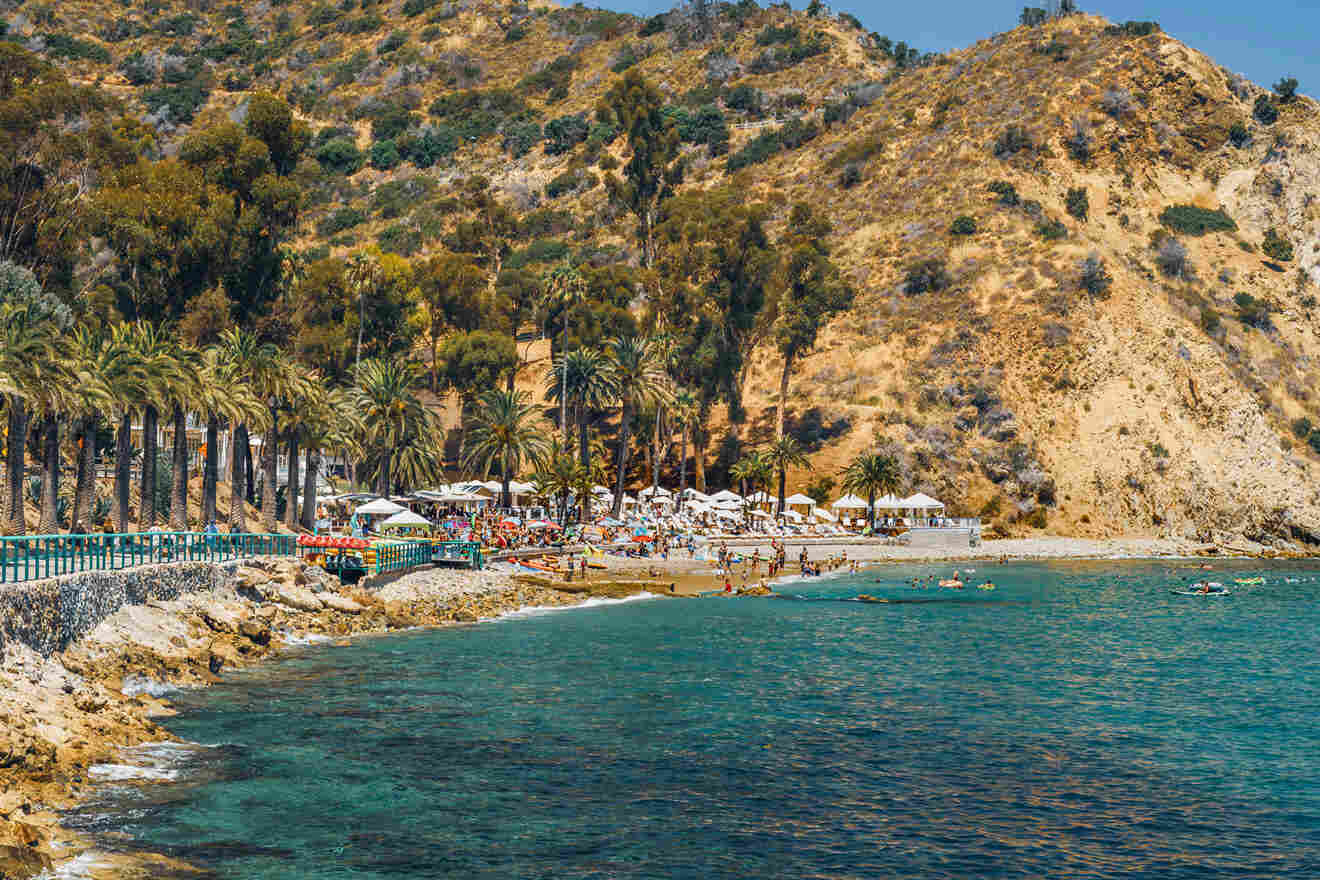 🌎 Is it worth going to Catalina Island?
Absolutely! Catalina Island is one of the most beautiful destinations in all of Southern California. Locals come for day trips, and weekend trips, and tourists from around the world come to see the crystal clear waters and unique topography of the island.
🐚 What is Catalina Island known for?
Santa Catalina Island is most known for its rich history, unique flora and fauna, water activities, and the Catalina Casino.
🤿 What are the best outdoor activities on Catalina Island?
The best outdoor activities on Catalina Island are scuba diving, snorkeling, hiking, boating, and jet skiing.
🌴 When is the best time to visit Santa Catalina Island?
I recommend visiting Catalina Island from April through May or September through October. It's the perfect time for sunny weather while not being too crowded with tourists.
Conclusion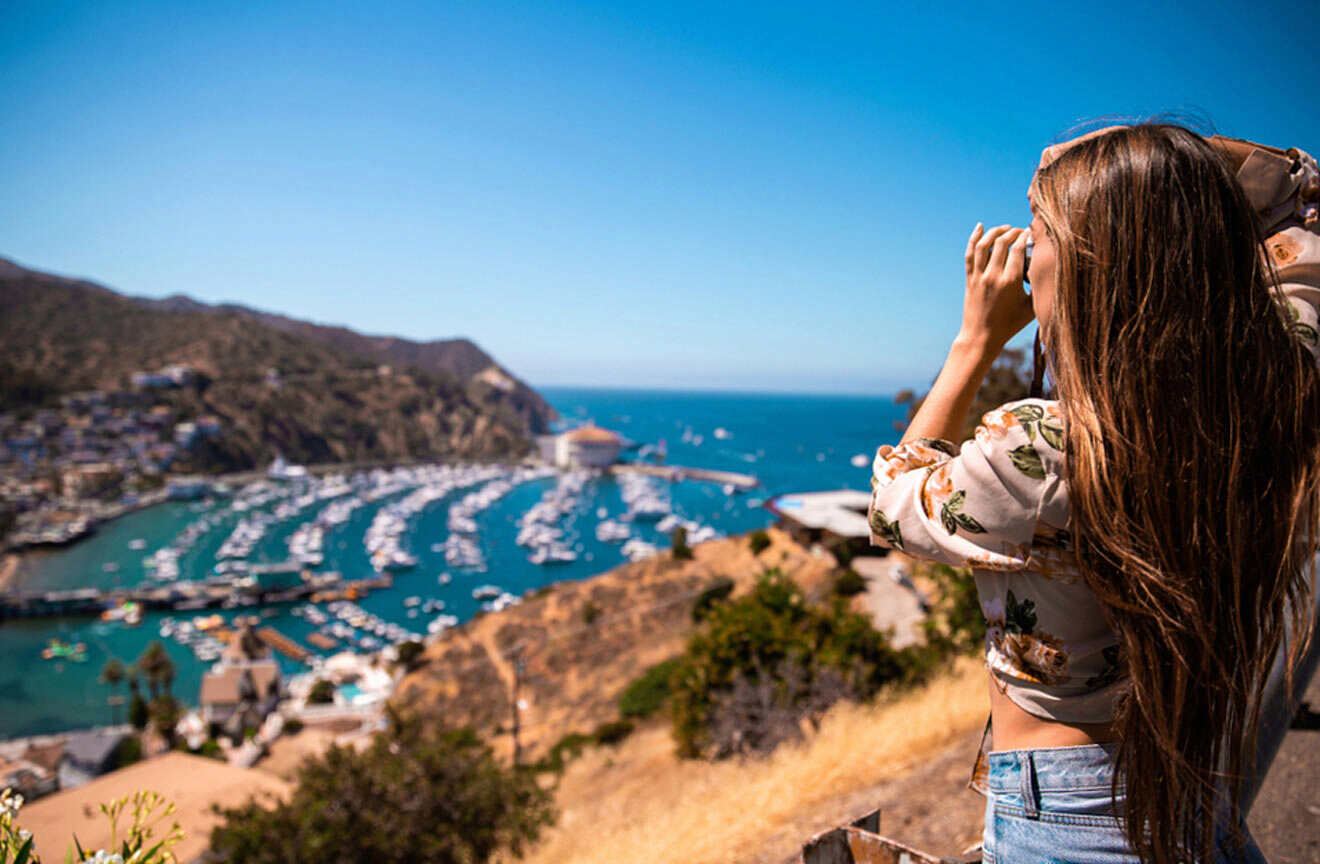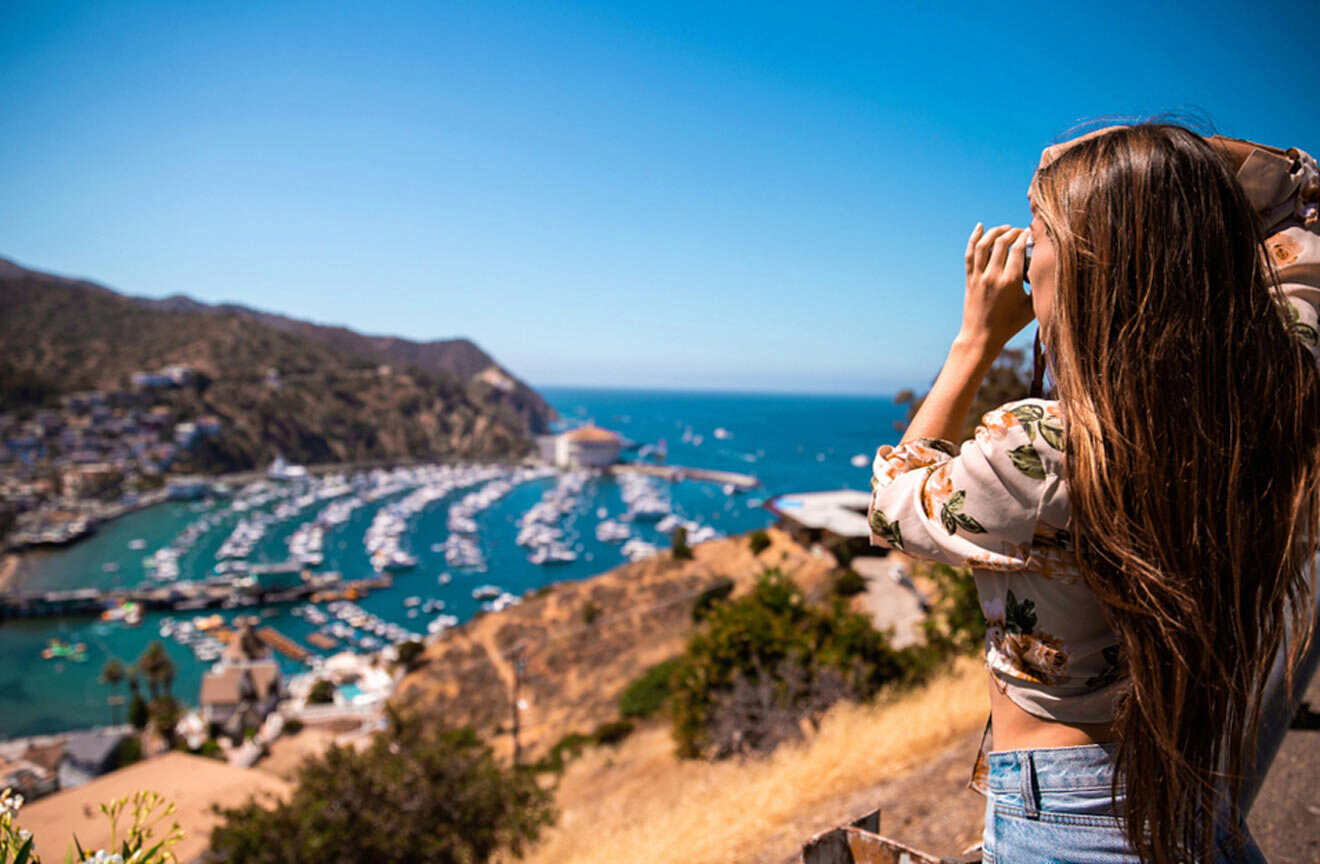 Now I'm confident you're absolutely ready to visit Santa Catalina Island! Catalina Island is one of my favorite day trips as a San Diego local – there's so much to admire here!
If you like any of these things to do in Santa Catalina Island, make sure to book as far ahead as possible to avoid prices from going up and spots being filled. The island can get quite pricey, so do what you can to think ahead and save $$$.
Thank you for going on this journey through Catalina Island with me, and enjoy your trip!
Xoxo,
Esabel S.
---
Pin it for later!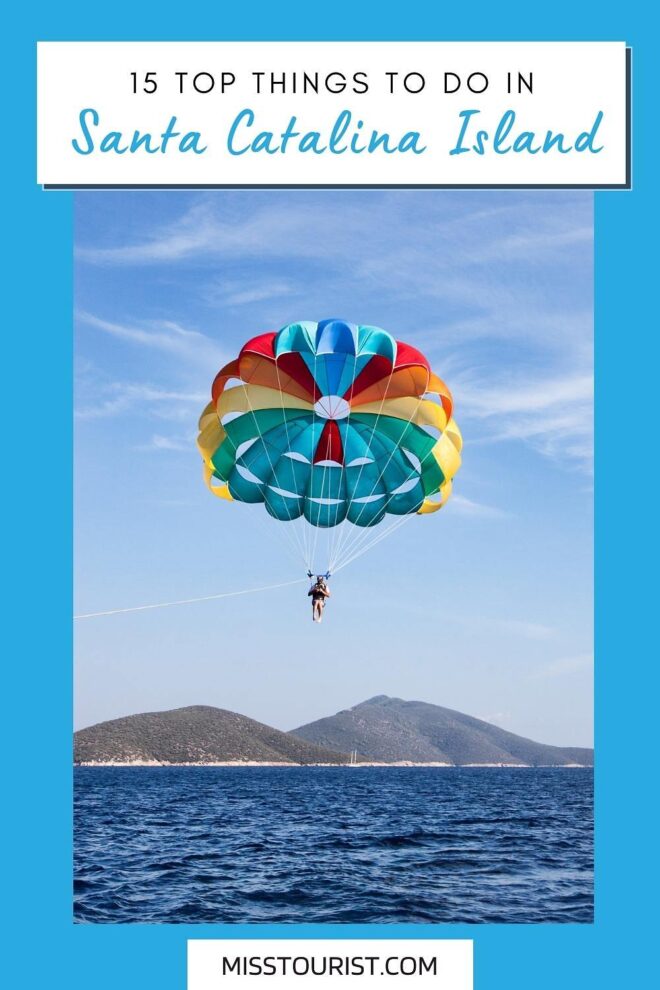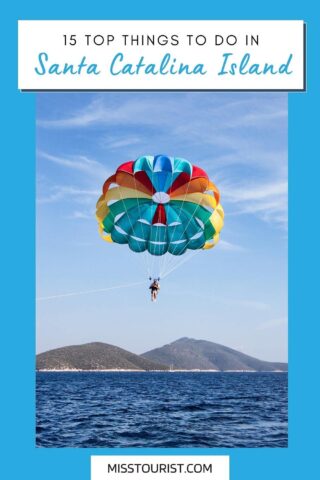 Pin it for later!