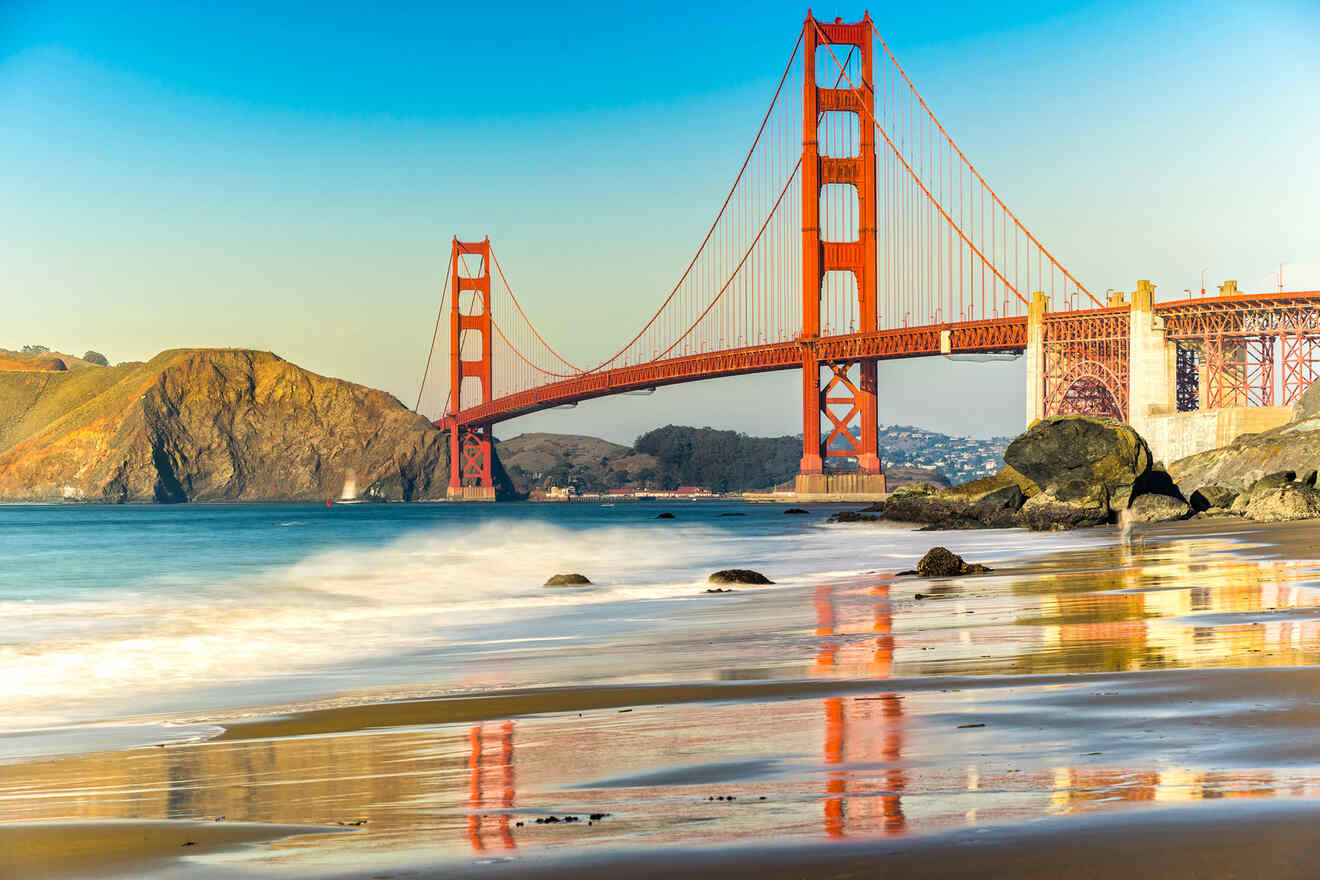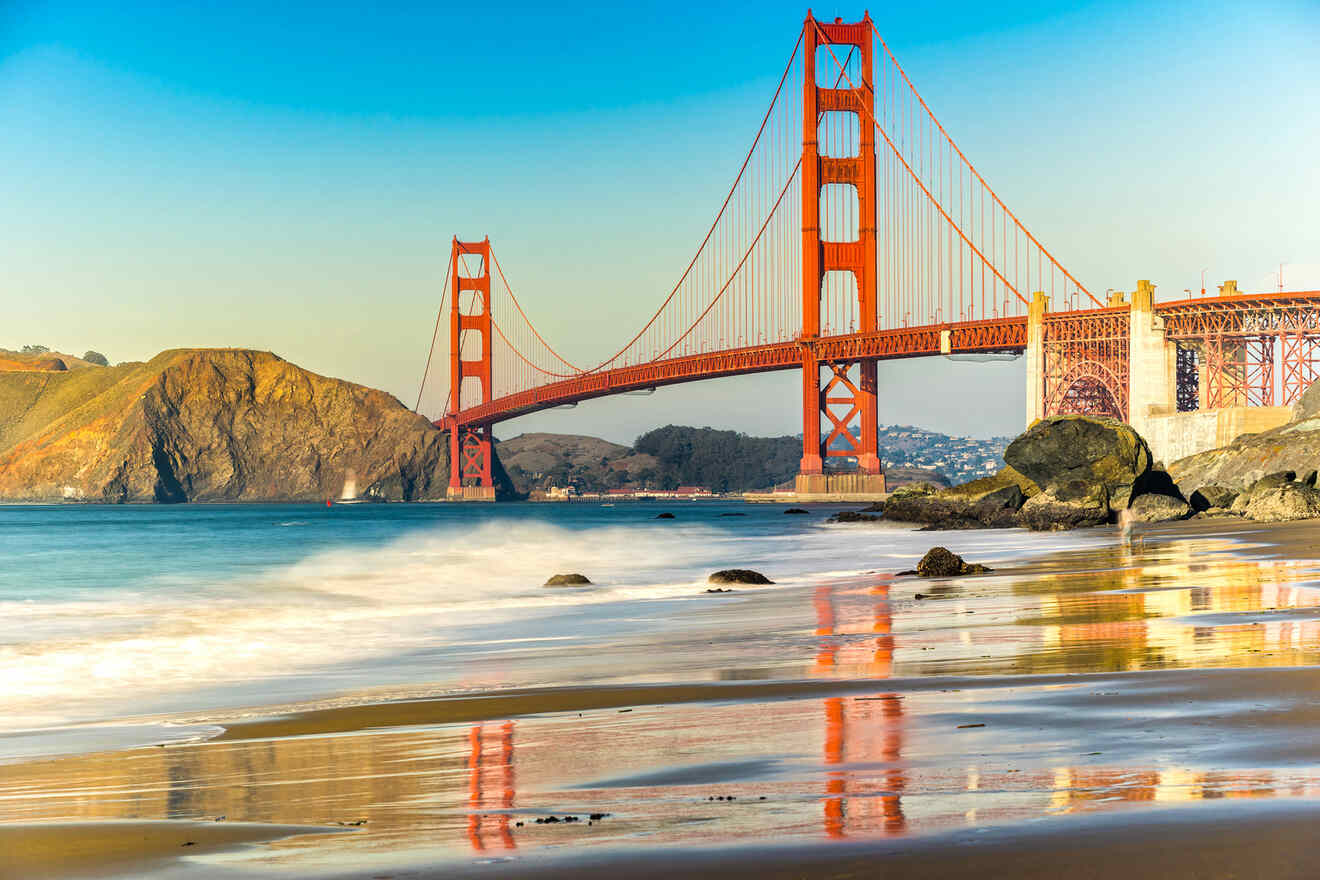 Given the fact that California is among one of the largest states in the US, it's safe to say that the list of things to do in California is endless. From the bustling city of Los Angeles to the quiet beach town of Carmel-by-the-Sea and our national forests and parks, I have a list of some of the best things to do.
I've lived in California my entire life and have gotten the chance to explore this state and all its beauty from the inside out. My suggestions are based on those experiences and on some that I intend to explore.
If you're a fan of anything here in CA, your part is to book your tickets and tours in advance to make sure your trip goes smoothly!
Ready to get started?
Here we go!
If you are in a hurry
The Golden State is humongous, and there's not enough time in the world to explore all of it – even if you've been here for 20+ years, i.e., a native like me, but there are some tours that you absolutely shouldn't miss if it's your first time in California.
Here are the main things to book in advance:
And here are the best hotels: Beverly Wilshire (luxury), The Ritz-Carlton (mid-range), Tapestry By Hilton (budget)
Here's a map of every place mentioned in this list!
1. Visit the world's most famous bridge: The Golden Gate Bridge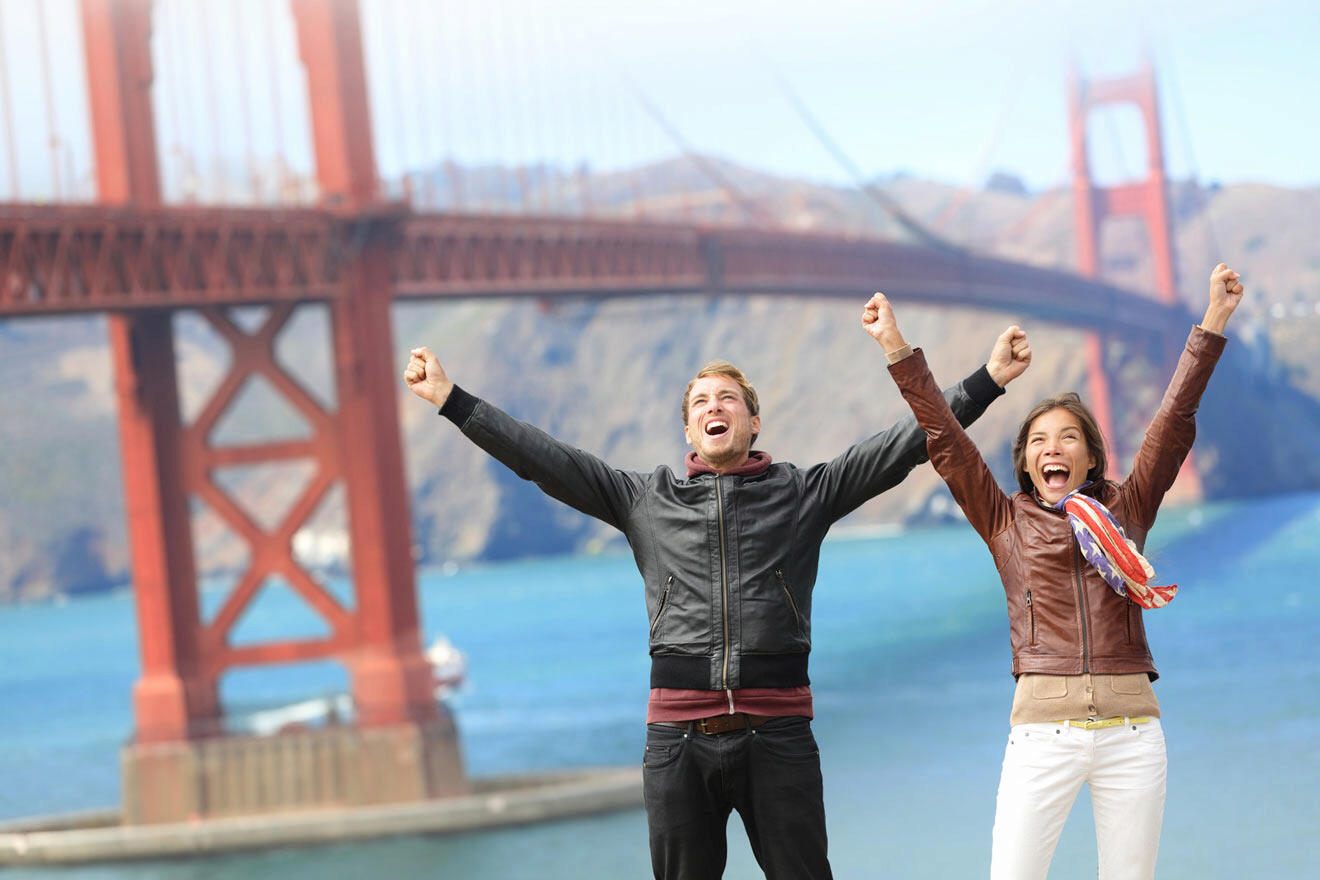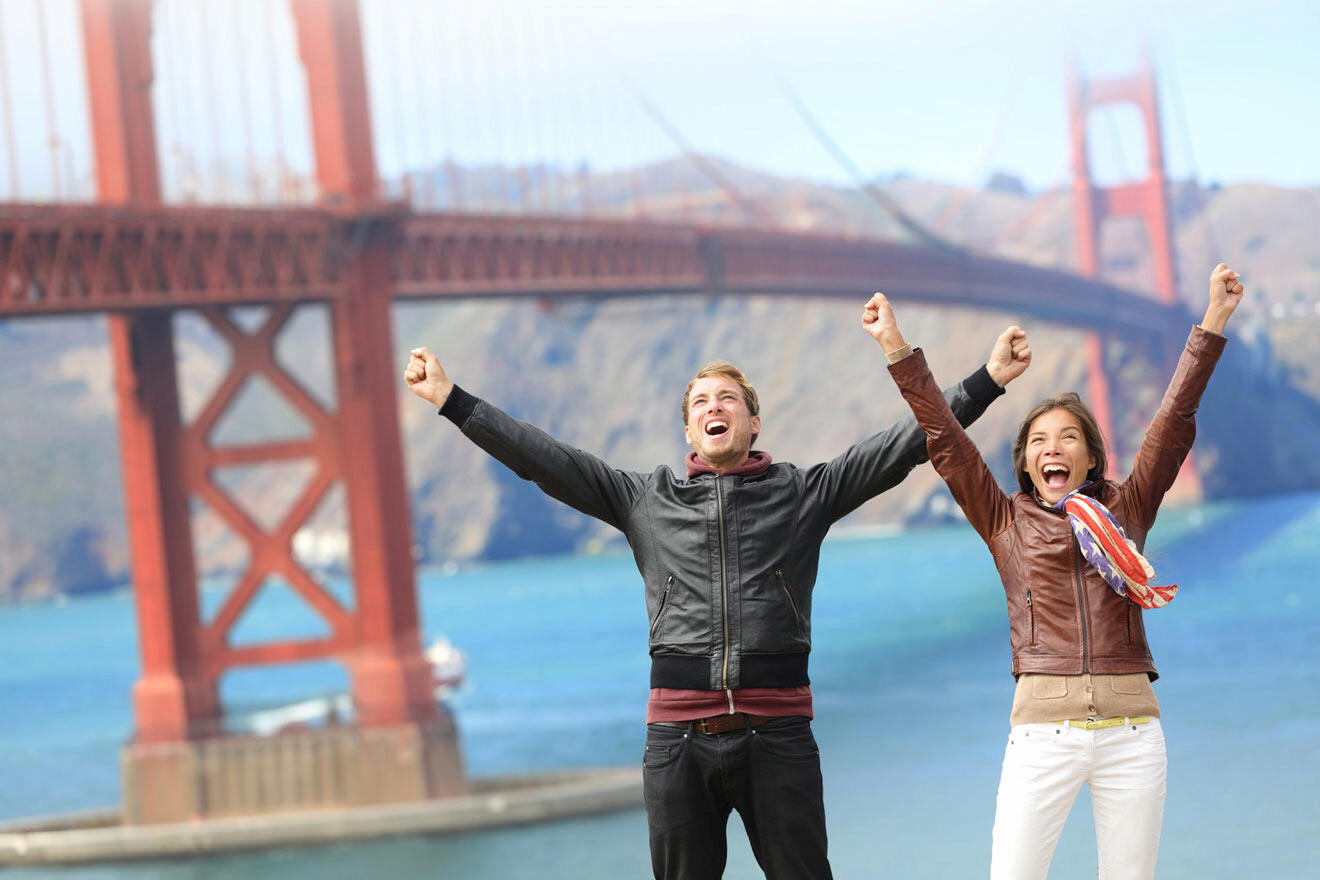 The Golden Gate Bridge is arguably the most famous bridge in the world – its unique rustic orange, rusty color, and 746-foot-tall towers (c. 230 m) make for a unique sight to see, perfect for families and couples.
It's conveniently located in the heart of San Francisco, where a long list of fun tours and activities await!
Here are a few ways to enjoy the Golden Gate Bridge:
Stroll around Presidio for picture-perfect views of the bridge! You can even ride a bike along the Golden Gate Bridge through the Presidio Loop (my fav!) If you don't know where to start, I would also recommend booking the ultimate experience of walking from Presidio towards all the famous landmarks and ending at the Golden Gate Bridge.
Take a hike for a picturesque view of the bay and bridge! The Lands End hike is a must-see! You pass by luscious eucalyptus and cypress trees along the way and walk a total of about 4 miles (less than 7 km) round-trip.
Take a guided bike tour through the actual bridge itself! This is a once-in-a-lifetime experience that's perfect for families, couples, and solo travelers (basically anyone and everyone)!
PRO TIP: Many people don't know this, but there are 2 huge bridges in the San Francisco Bay Area: The Golden Gate Bridge and the Bay Bridge. The Bay Bridge was created during the Gold Rush to connect San Francisco to Oakland (it's also a really pretty sight to look at). I recommend checking them both out through this cruise.
2. Take a trip to the world-famous San Diego Zoo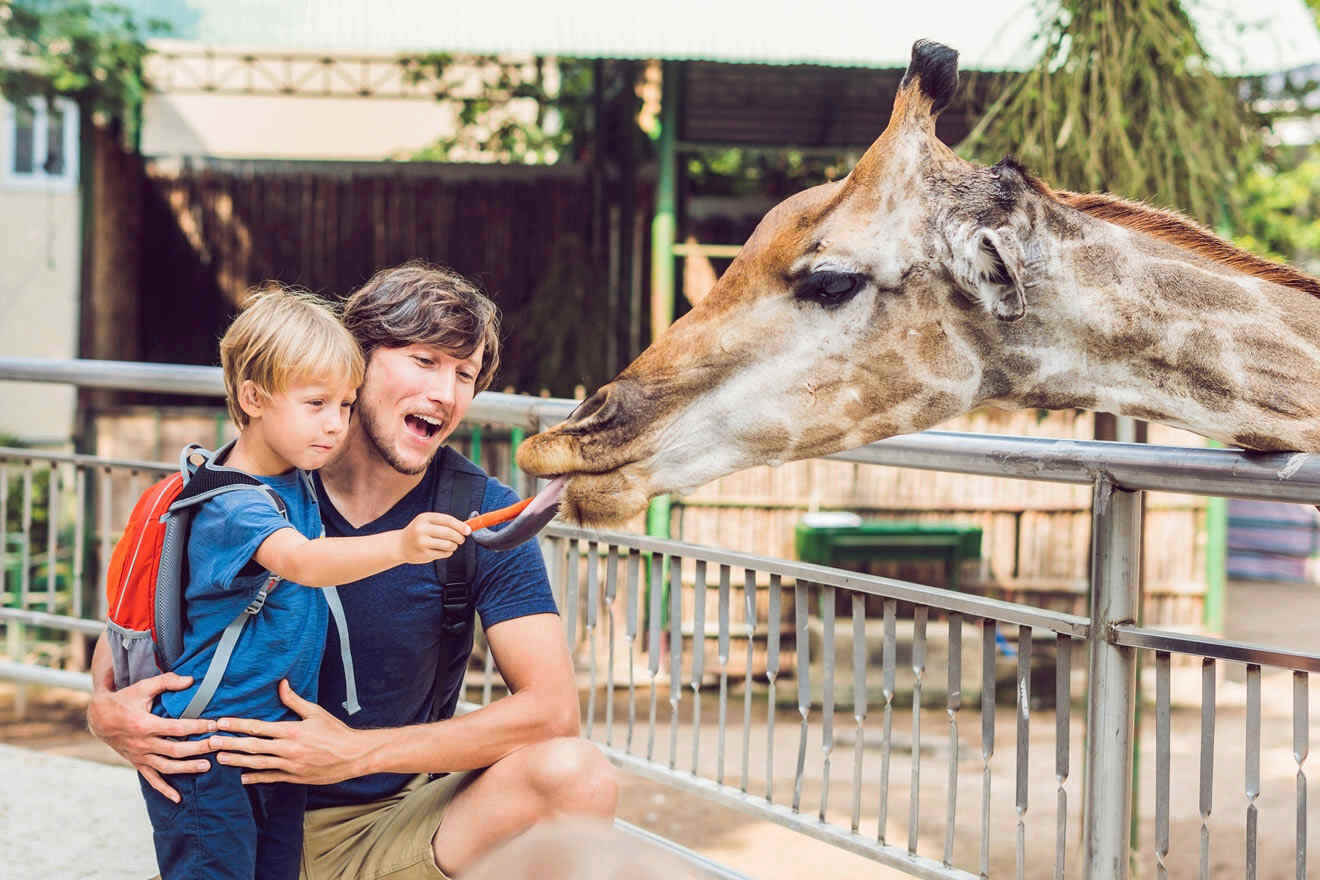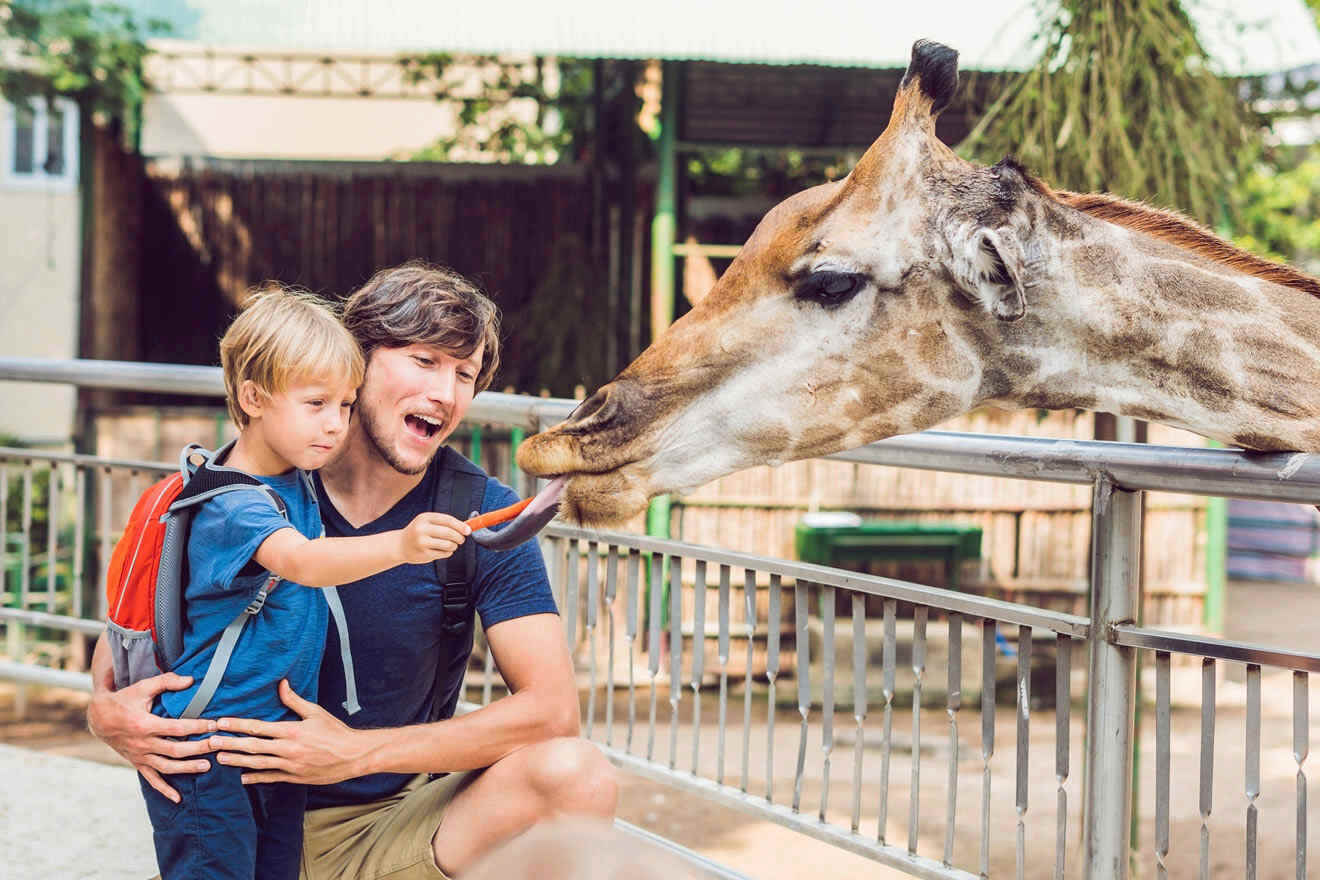 San Diego Zoo is one of my favorite places to spend my day – it's famously mentioned in dozens of films and is home to thousands of animals!
San Diego Zoo is over 100 years old, covering over 100 acres (40 hectares) of land! It's home to over 14,000 endangered and rare animals, with over 700 species, from camels to cheetahs.
It's located right next to Balboa Park, making for the perfect opportunity to explore 2 of San Diego's most famous attractions in 1 day. In fact, because the zoo has free parking, you can park here, walk through the zoo and walk over to Balboa Park to avoid hectic street parking!
The Safari Park adventure at San Diego Zoo is a more intimate experience with wildlife that you would probably never get to see otherwise. I recommend checking it out if you're looking for more adventure!
TIP: Make sure to slather on sunscreen while you're here! The San Diego summers get incredibly hot, and your experience will definitely be tainted if you go home burned by the sun.
PRICE: From US$69 per person
3. Visit the infamous Alcatraz Island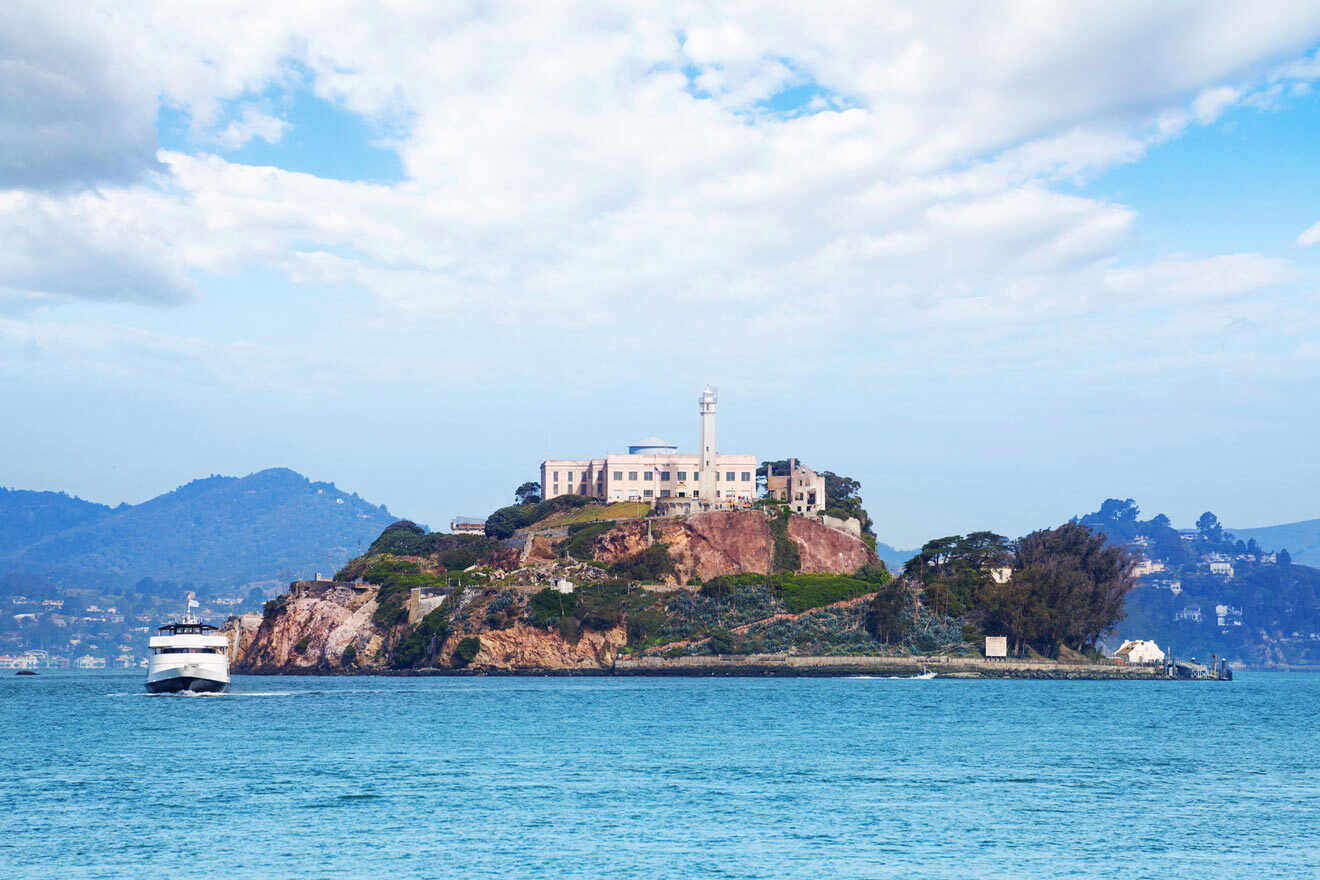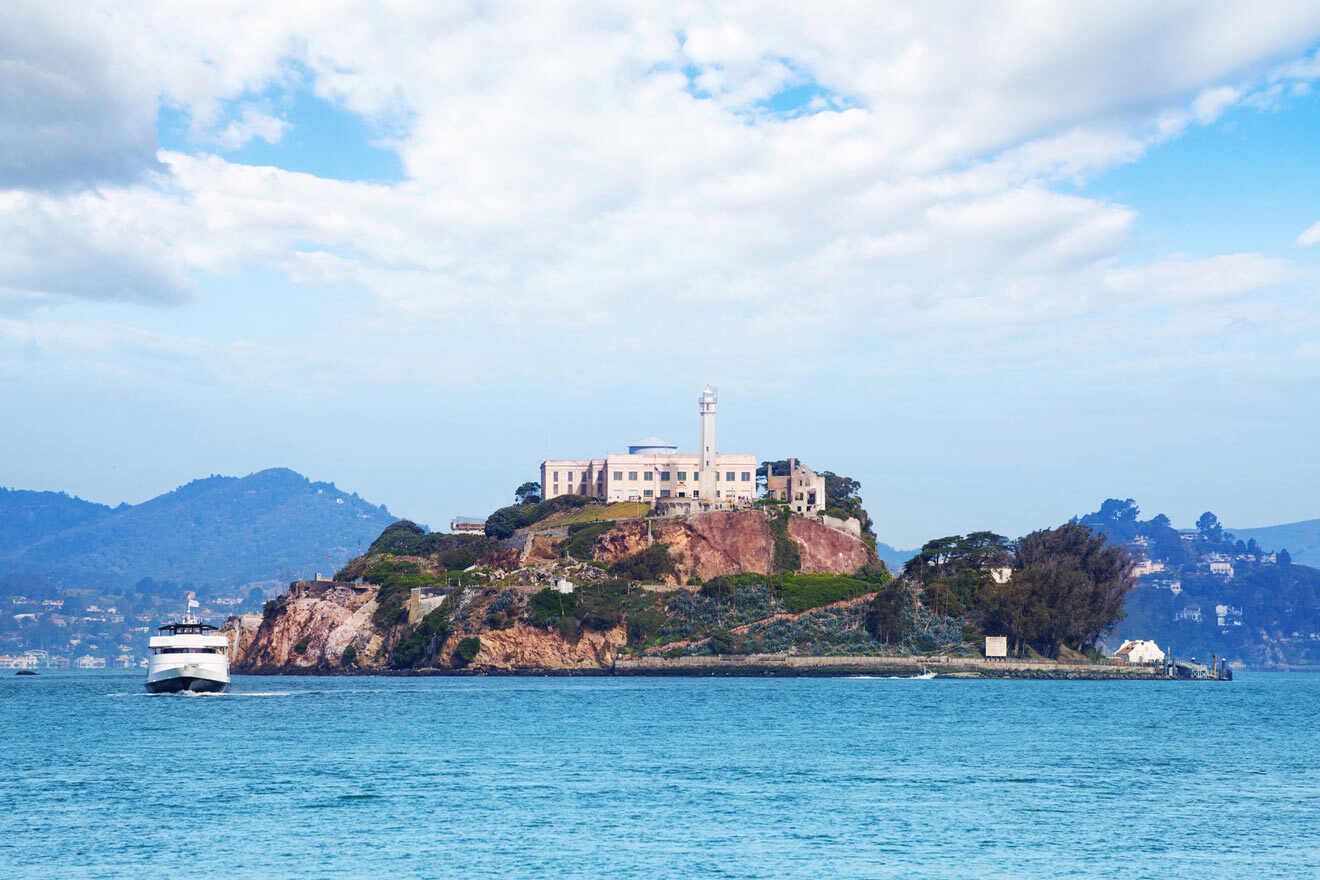 Taking a tour of Alcatraz Island in San Francisco is one of the absolute best experiences in California. It takes you back through the gates of the 1930s maximum-security federal prison, where you can wander through the prison and listen along to the award-winning audio tour included with your Alcatraz ticket.
More than 1.7 million people visit each year, and it's only a short ferry ride from San Francisco Bay!
Taking a combo tour is the better option if you want to see the prison and more of San Francisco attractions. I've personally done this tour and found it was cheaper than visiting each place separately since transportation is included, and it's more convenient for travelers who don't have a car. If you're a nature lover like me, I totally recommend it.
NOTE: Given the fact that Alcatraz Island is one of the most sought-after tours in San Francisco, make sure to book in advance to ensure you reserve your spot.
TOUR PRICE: US$160 per person
4. Spend the day at the happiest place on Earth: Disneyland!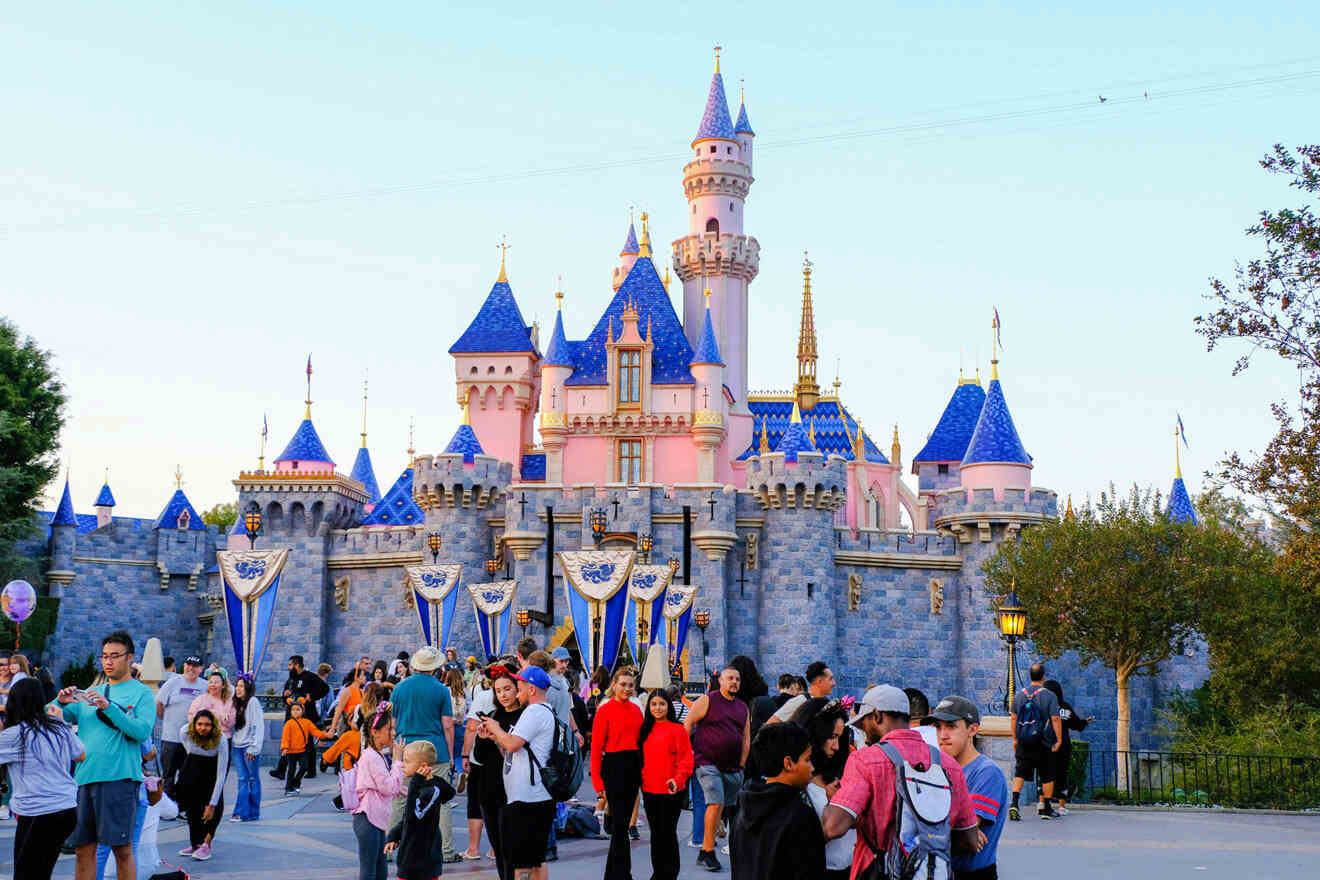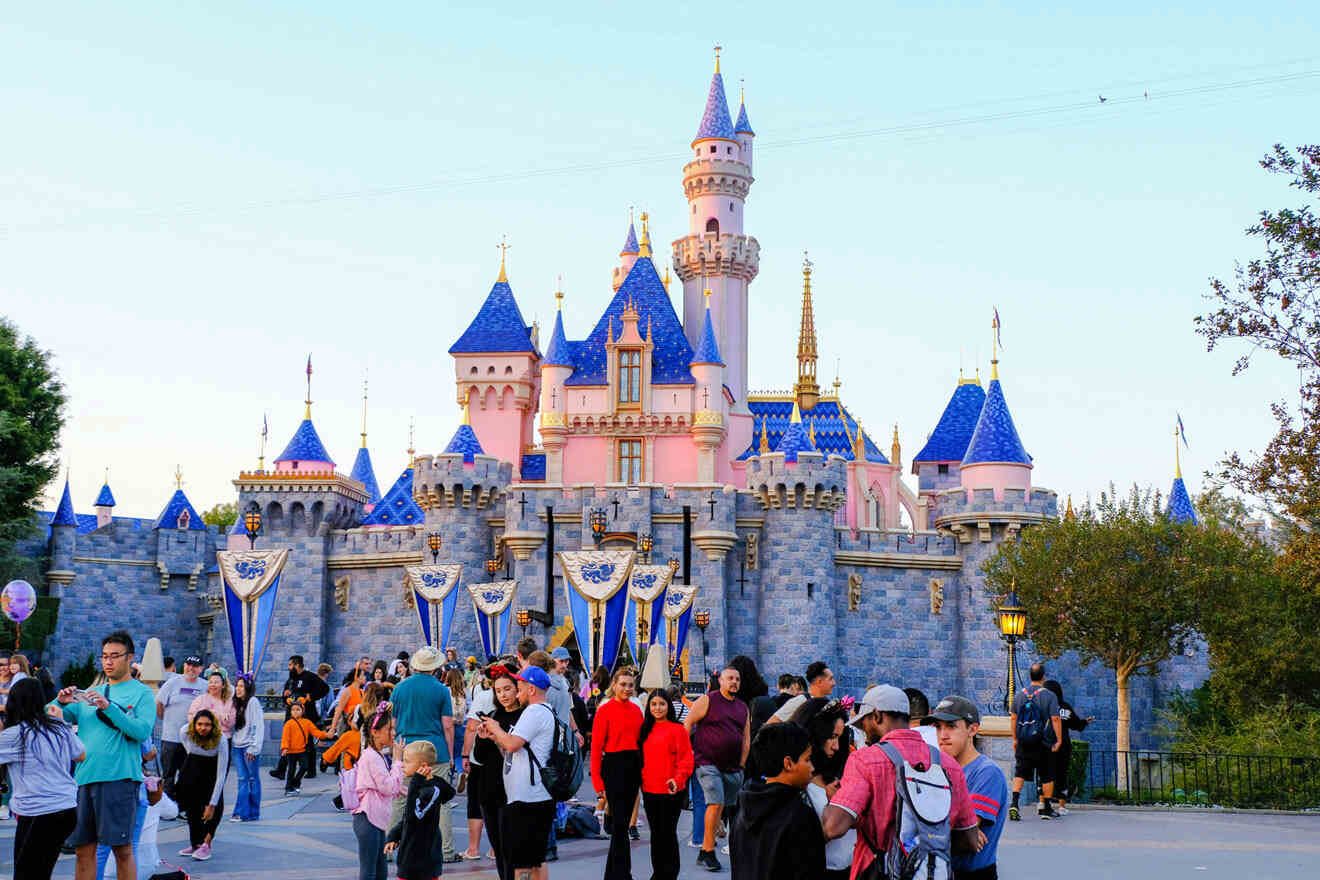 Disneyland and California Adventure Parks are some of the world's most famous amusement parks! People from all over the world come to Orange County to experience the famous rides and theme parks and see their favorite Disney characters in person.
Because they're located directly across from each other, it's easy to get a Park Hopper ticket and visit both attractions within the same day.
A few must-see shows and attractions I recommend checking out include the following:
Space Mountain: Navigate through space with one of Disneyland's most sought-after, popular rides! I recommend coming here first since lines do tend to get long during the day (up to 2-hour waits)!
Wizarding World of Harry Potter: This theme park is for the Gryffindors, Hufflepuffs, Slytherins, and Ravenclaws out there who want to explore the world of Harry Potter!
Magic Happens Parade: Watch magic come to life with this high-energetic parade led by Mickey Mouse and other Disney characters! There's a multitude of floats, dancing characters, and a whole performance that you and the entire family are going to love.
If you like to stay in close proximity to the parks, then Anaheim Islander Inn & Suites is a budget-friendly option that I recommend checking out! It's less than 1 mile (2 km) away from the park, making it easy to access.
HACK: Use a crowd calendar to check when it will be busiest (I like this one!) and buy Lightening Lane passes to avoid waiting in long lines.
PRICE: From US$104 for adults; Park Hopper tickets are + US$65/ticket
5. Plan a summer or winter at Yosemite National Park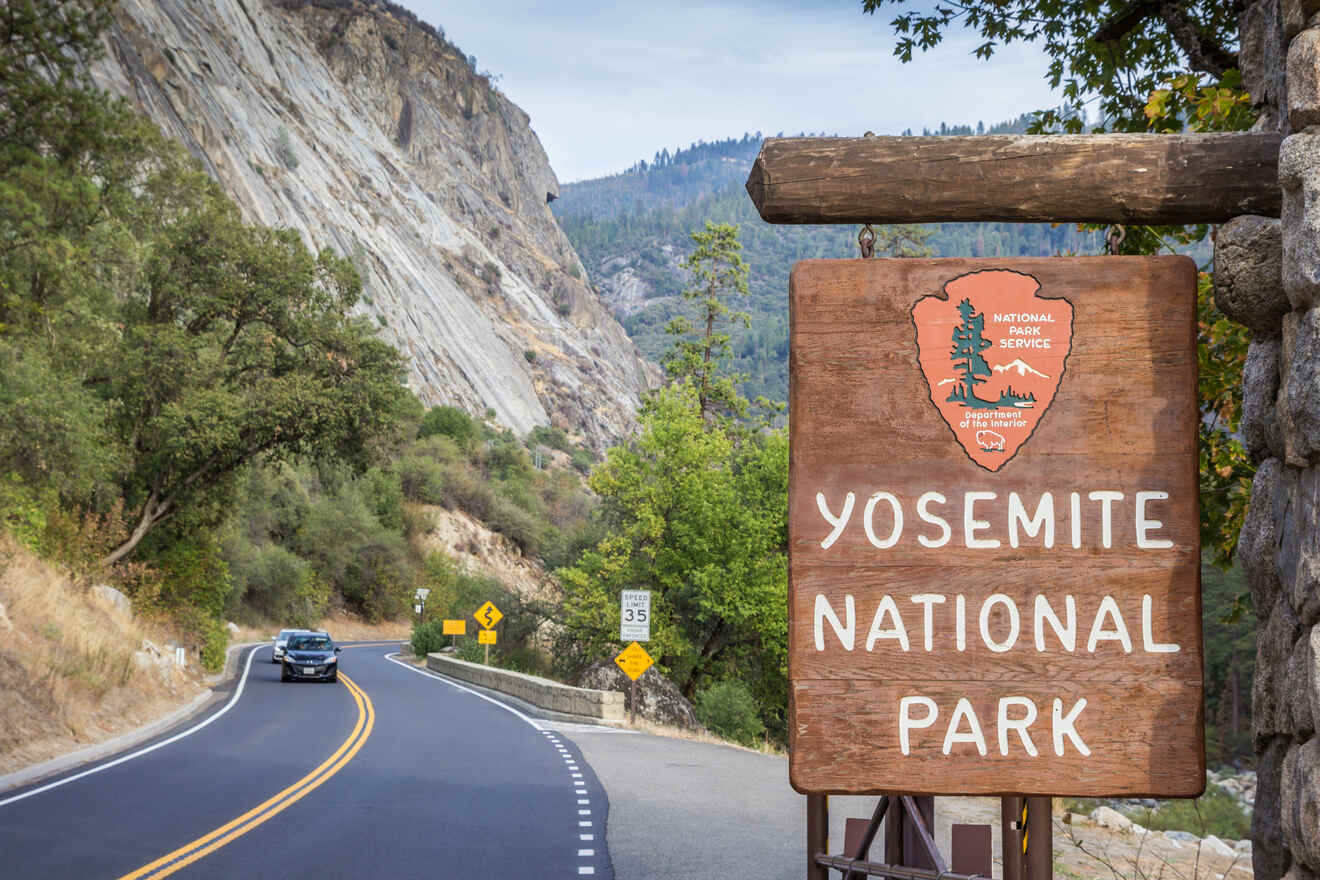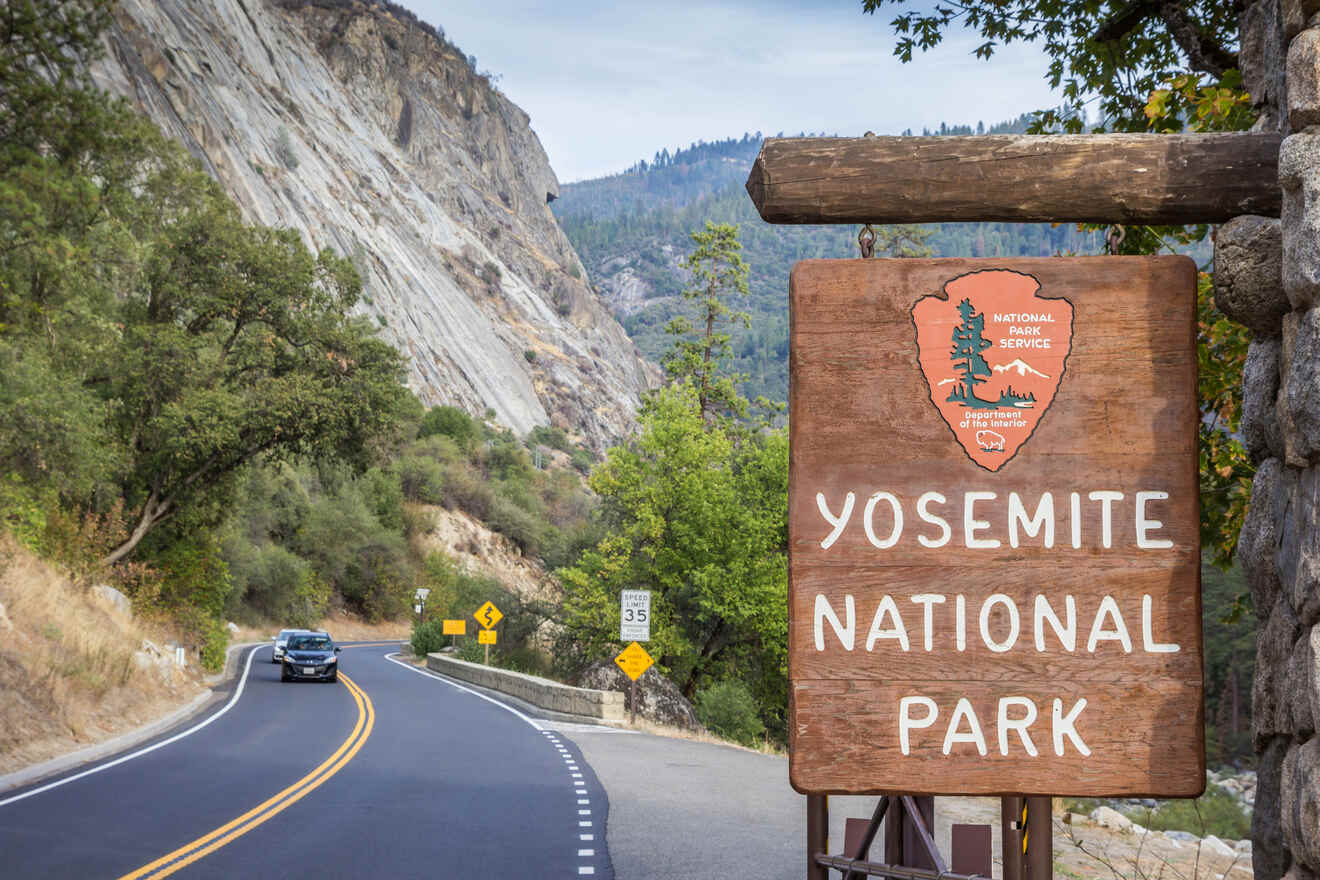 Yosemite National Park is a gorgeous natural wonder in the Golden State, lying right on the Sierra Nevada Mountain Range.
There's SO much to explore here, whether you're visiting in the summer or winter. In the winter season, the ice-covered trails and crystal-clear waters are a sight to see. I recommend taking a look at Yosemite Falls, the tallest waterfall in Yosemite, at 2,425 feet or 740 meters. During the summer season, the views will never fail you. Half Dome and Glacier Point are must-sees during the warmer months.
Because it's an enormous park, it's easy to get lost and overwhelmed. I always book a group tour ahead of time so I can breeze through the park with a guide.
If it's your first time in Yosemite, it's best to book a day tour. They take you to Half Dome, Yosemite Falls, and a few other major spots and hiking trails in Yosemite Valley.
PRO TIP: Ensuring you're wearing the proper footwear will take you a long way at any national park in California. You're spending long days walking, hiking, camping, etc., so it's so important to stay comfortable.
6. Go skiing in Lake Tahoe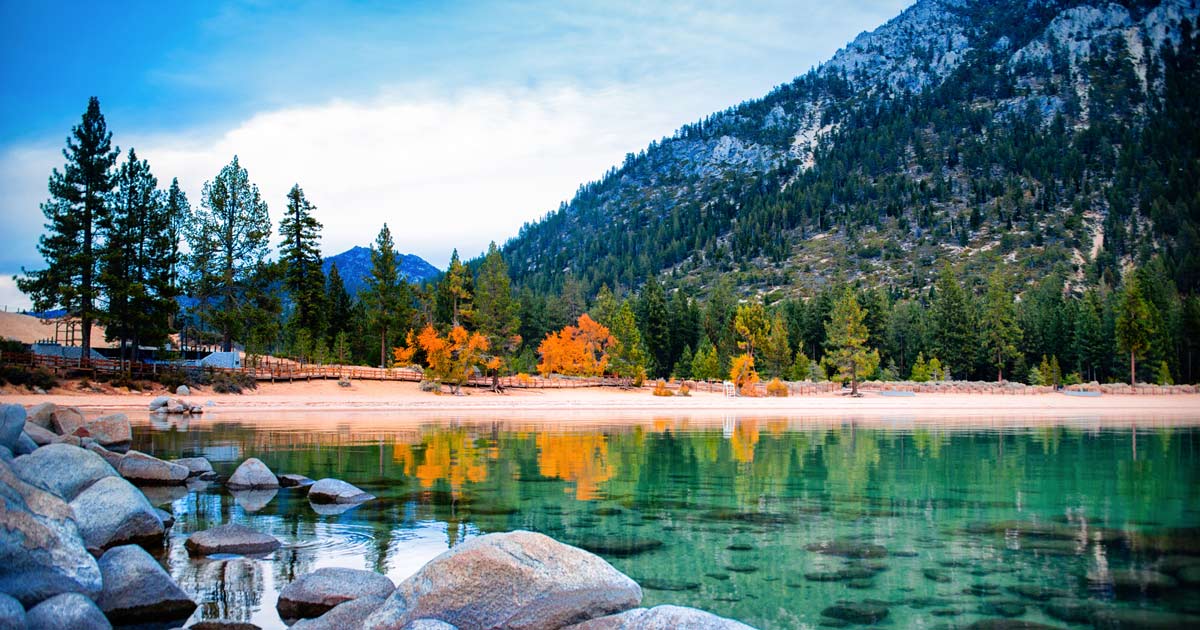 Lake Tahoe is a must-visit destination for anyone visiting Northern California during winter and summer.
Located in the Sierra Nevada Mountains, the stunning lake is known for year-round water sports and skiing and snowboarding opportunities that are great for families or couples.
I recommend staying in South Lake Tahoe for easy access to the famous Heavenly Mountain Resort. They're one of the best skiing resorts in California during the winter, and they also offer endless summer mountain activities in the summer!
NOTE: While you're in South Lake Tahoe, take a trip 12 miles (20 km) south to Emerald Bay State Park! It's a stunning oasis of crystal clear water surrounded by pine trees and a sense of calmness in the air. Take a sightseeing cruise while you're there – you'll thank me later!
7. See California State Railroad Museum in Sacramento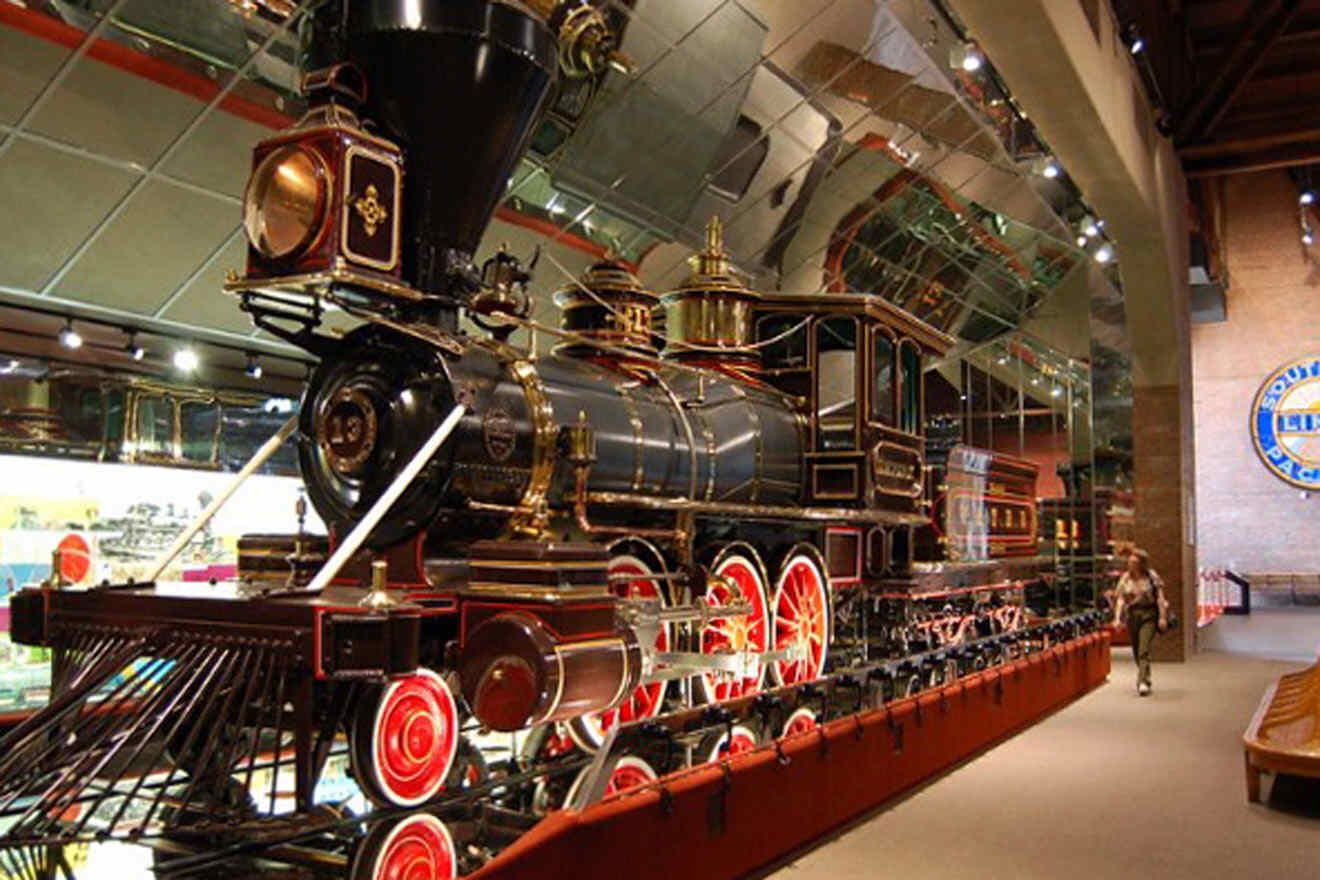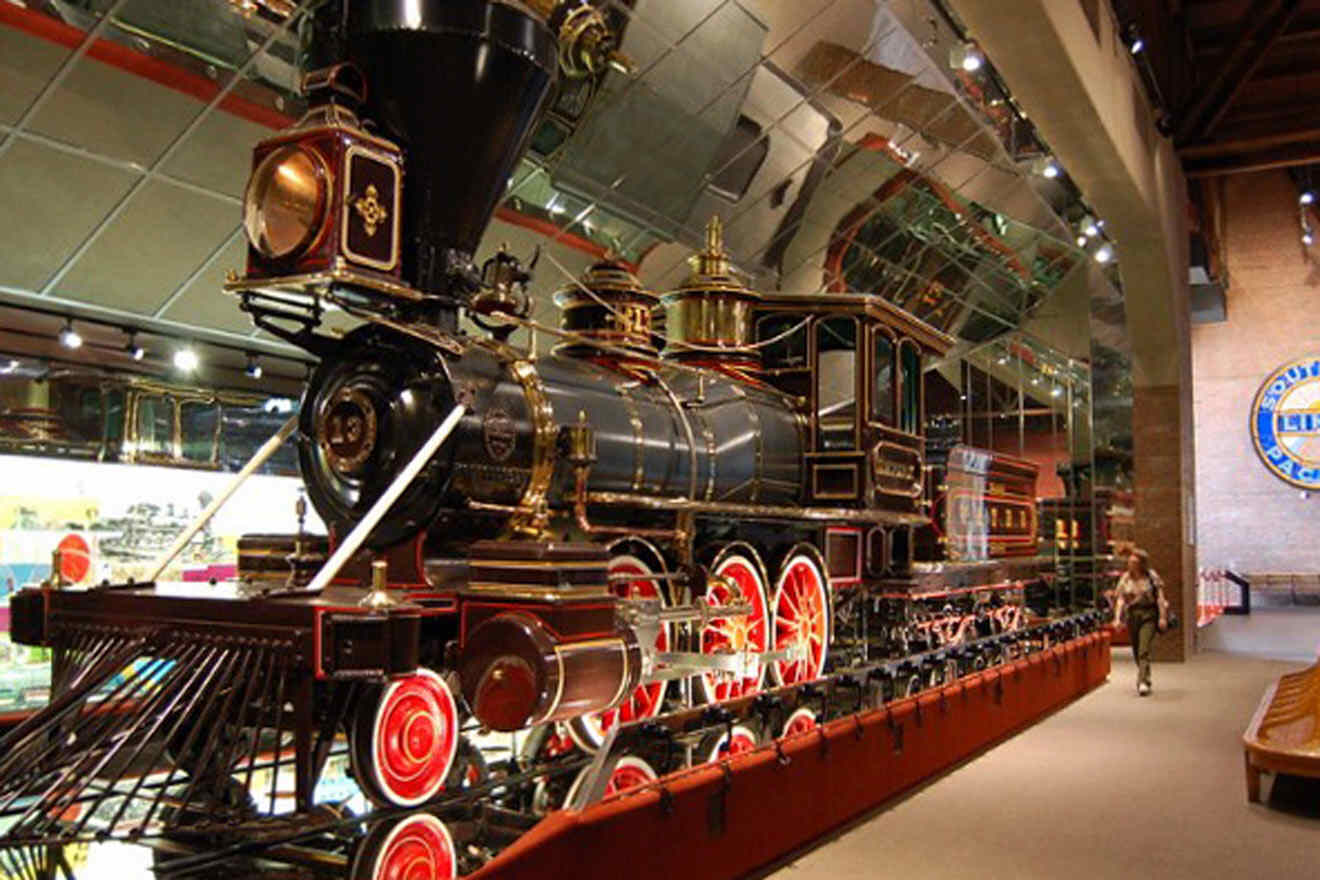 Sacramento was once a bustling city where the gold rush began, and the prospect of opportunity in California was born. There's an incredible amount of history in this city to explore, whether it's the old architecture that still stands, Sutter's Fort, historical parks and cemeteries, and more.
One major attraction in Sacramento is the California State Railroad Museum. With the city being home to the first transcontinental railroad, this museum explains how the Western railroad system came to life and how it helped shape people's lives and the Western culture. They have interactive exhibits, too, so it's great for families and kids to join!
PRICE: Museum tickets start at US$12 for adults (18+), US$6 for kids (6 – 17)
8. See all the famous landmarks in Los Angeles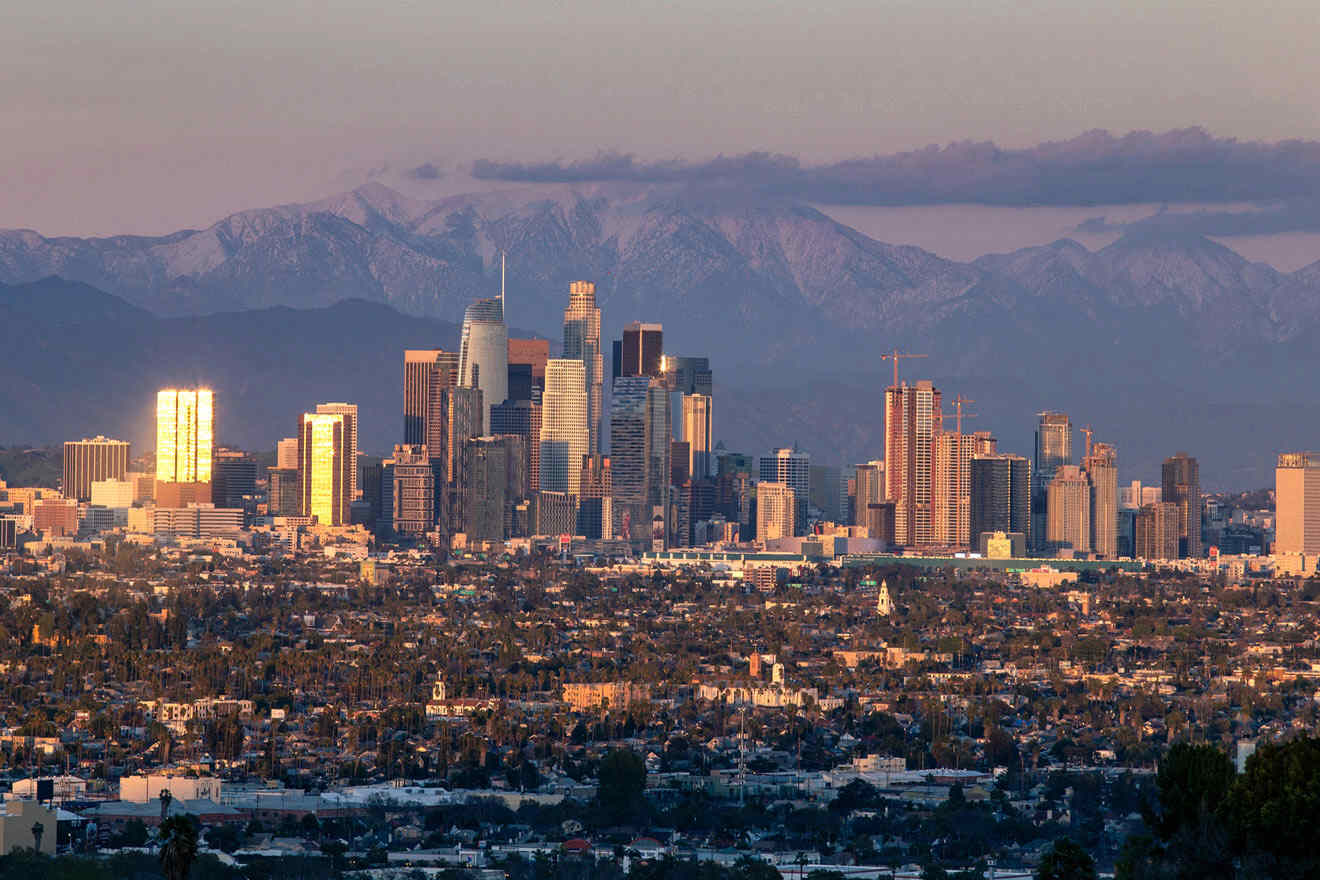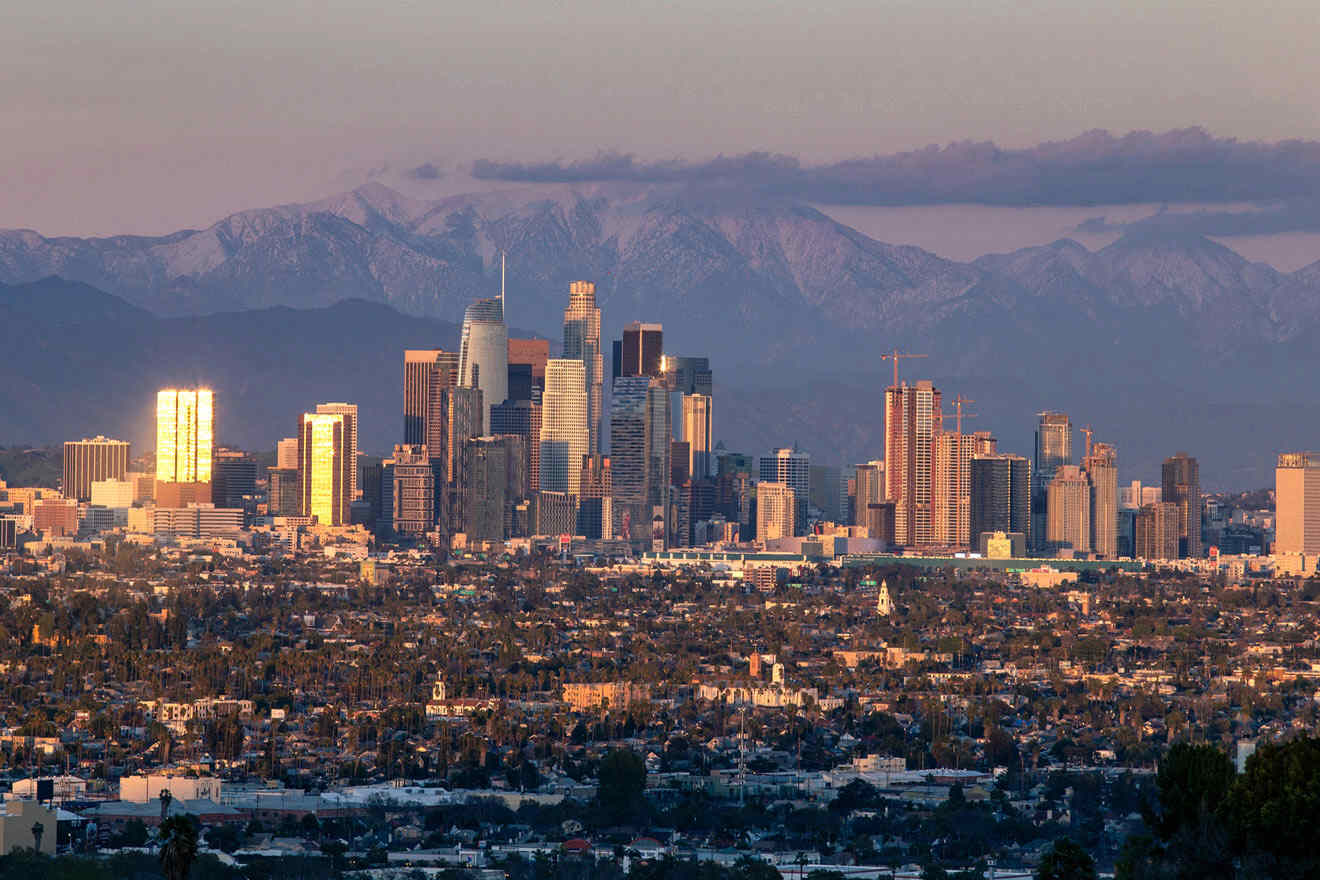 I had to add this to the top 10 of my list here because it's one of the most well-known things to do in all of California: explore Los Angeles! Seriously, 2 days may not be enough!
Los Angeles is home to your favorite American films, all the A-list stars, and up-and-coming stars of the next generation. There's magic in the air here, and it's a must-visit for first-timers coming to California.
Here are a few things to visit while you're in Los Angeles:
The famous Hollywood Sign – The best and most inexpensive way to see the Hollywood Sign is by taking a hike. I recommend going early in the morning from the many trails of Griffith Park (or on Mount Hollywood). Otherwise, I recommend booking a tour like this one to help someone guide the way.
Spend the day in Universal Studios Hollywood – This is one of the coolest experiences in LA. You really get a behind-the-scenes look into the world of Hollywood with their world-famous Studio Tour. My #1 suggestion while you're here!
Walk through the Hollywood Walk of Fame – Honestly, this isn't quite as exciting as other things on this list, BUT it's an absolute must-see to cross off your bucket list.
Marvel at world-class art in the (free) museum, The Getty! It's known as the world's "largest cultural and philanthropic organization," so plan to spend the entire day here, and if you're an art enthusiast, also visit the Los Angeles County Museum of Art!
9. Get mystified at Winchester Mystery House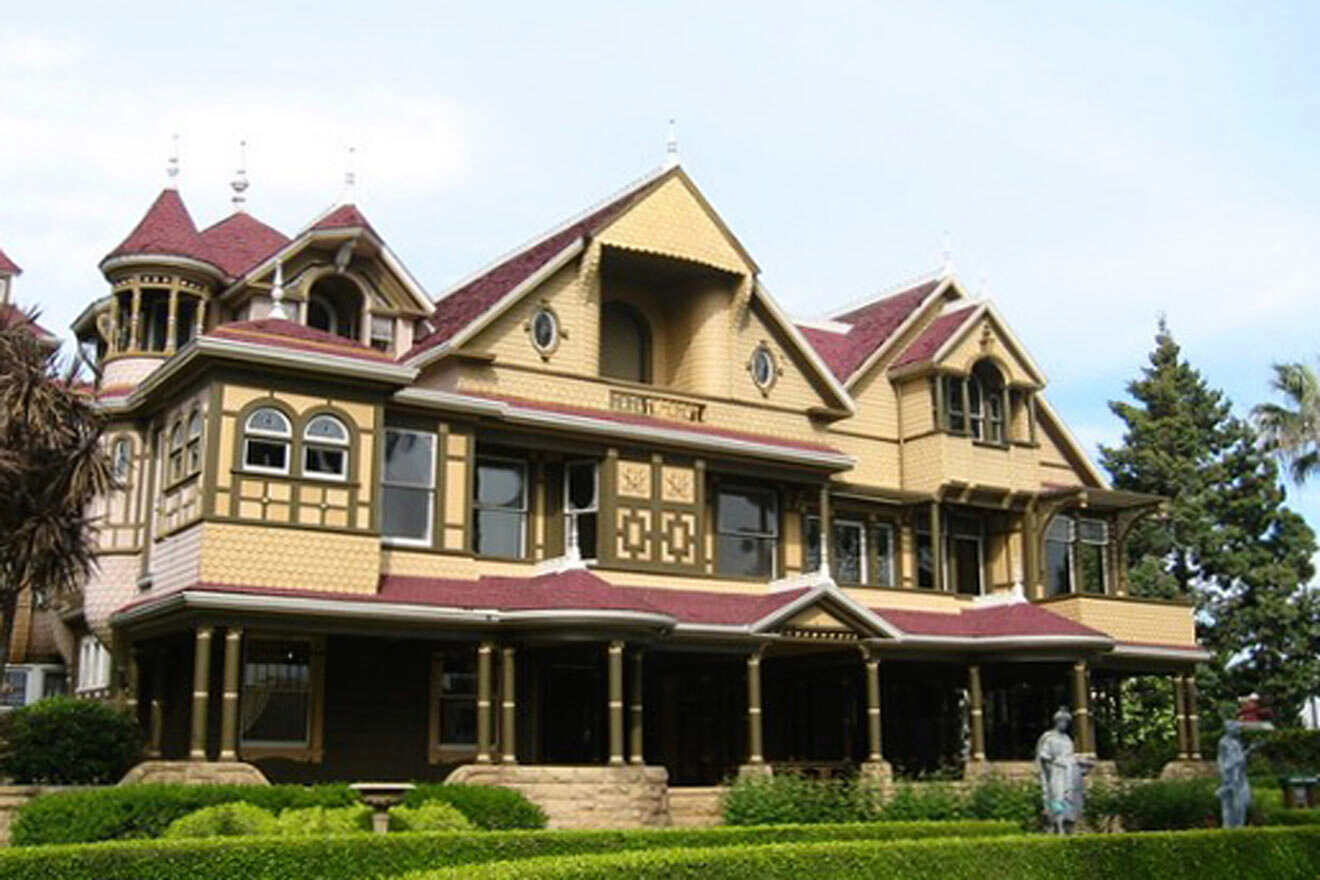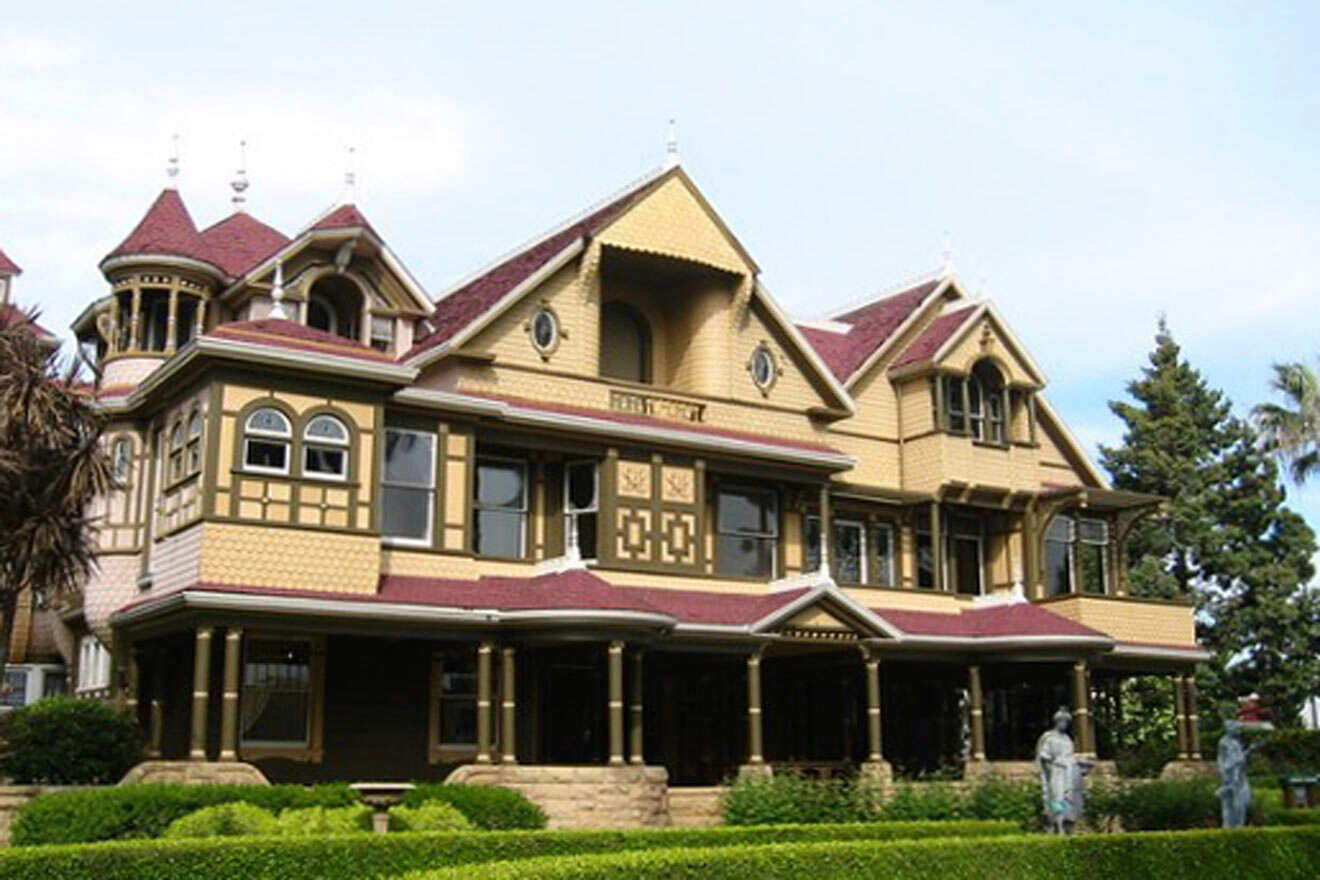 Winchester Mystery House is a mysterious architectural phenomenon in San Jose, once belonging to the famous widow Sarah Winchester. Sarah turned the 8-room farmhouse into a mansion in 38 years, from 1886 up until her death in 1922.
There are a plethora of rumors that explain the unique design of the home, some of which are related to her potential paranormal dreams, ghosts, spirits, psychics, and so much more. The house has drawn in over 12 million visitors since its doors opened in 1923, and thousands still come every year to experience the mystery that it holds.
Here are a few interesting facts about the house that make it a unique sight to visit in California:
The entire home is about 24,000 sq. feet (2,230 sq. meters)
Features 10,000 windows and 2,000 doors (not all of which can be walked through!)
160 rooms, 17 chimneys, and 13 bathrooms
Staircases leading up to the roof and hidden passages leading to nowhere
PRICE: Tickets start at US$42/person for adults, US$20/person for kids (5 – 12)
10. Marvel at the trees at Sequoia National Park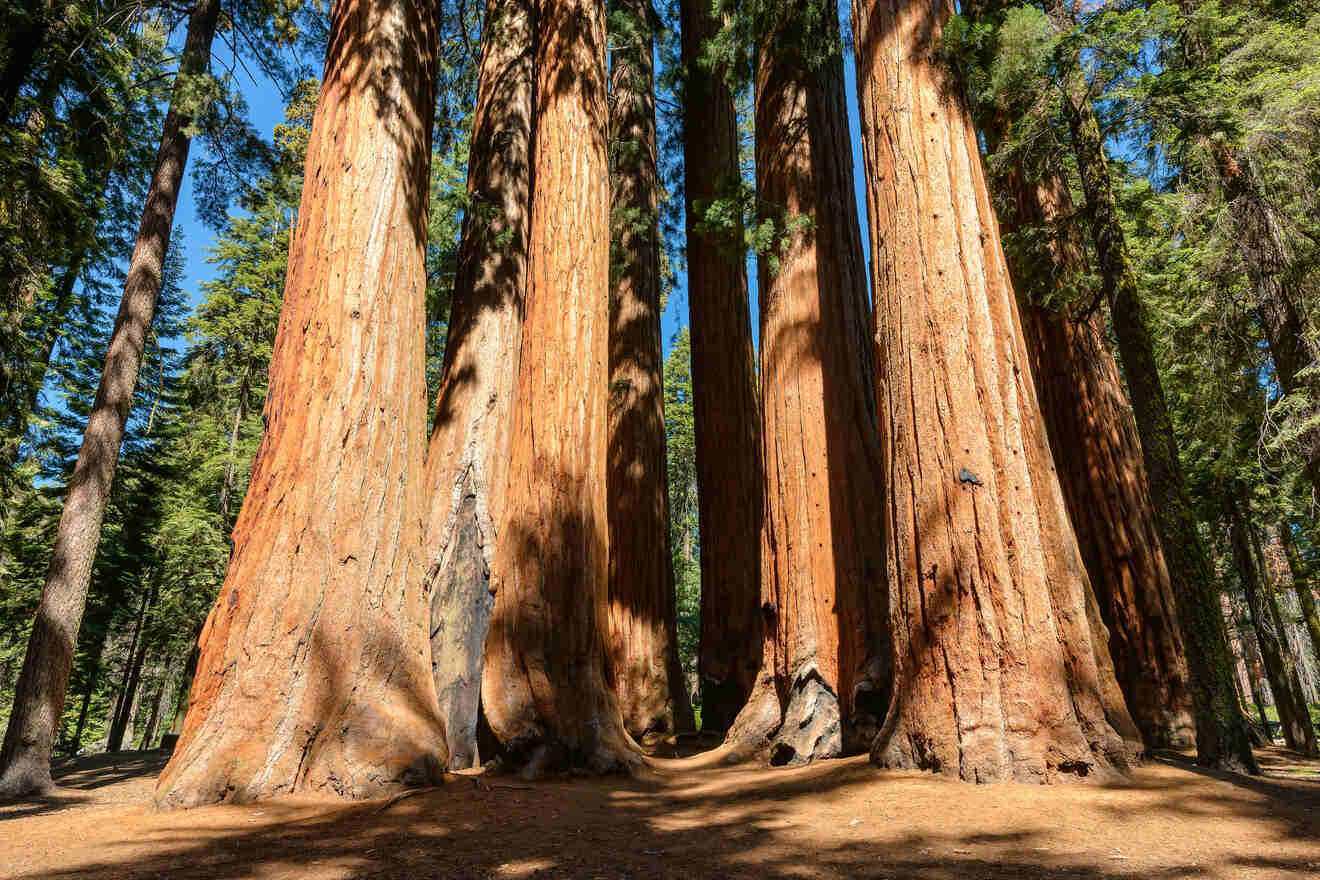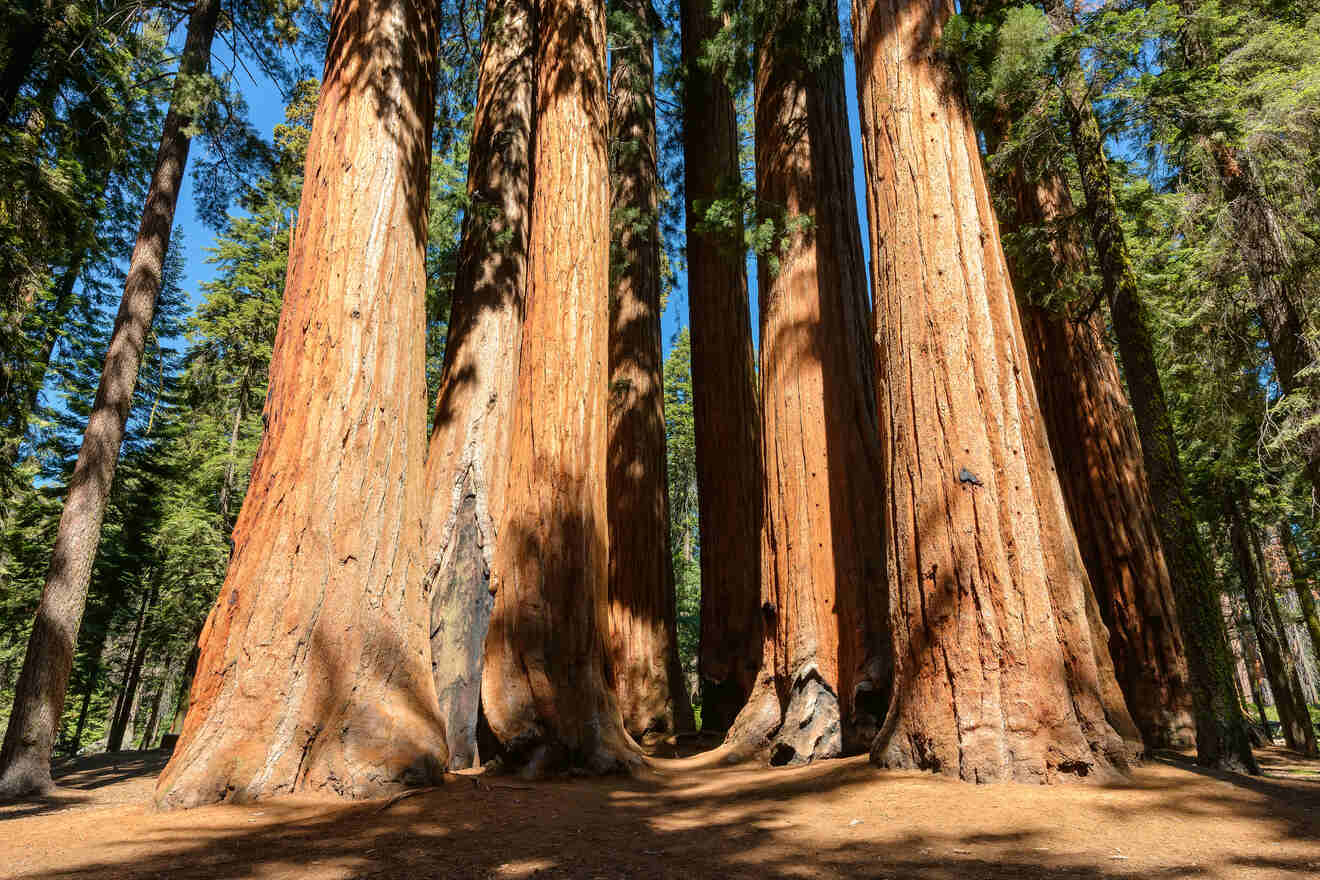 Sequoia National Park holds the largest trees in the world (by volume)! Both Redwood National Park and Sequoia National Park are home to the largest trees in the world, but they're not quite the same. That makes both parks quite unique, so it's worth making separate trips if you're a tree hugger like me.
Here are a few trails in Sequoia National Park worth checking out:
Marble Falls Trail is an 8-mile (12 km) round-trip hike that starts near 14 Potwisha Campground and ends with a waterfall cascade. Here, you'll discover all of Sequoia's best scenic views on your way up!
Paradise Creek is a much shorter hike, being 2 miles round-trip (3 km). Here, you can relax and enjoy the hour-long walk up the stream, where you can enjoy peace and quiet. There's poison ivy here, so be careful not to touch any of the plants!
The ancient Sequoia National Park might be overwhelming to explore on your first trip. I recommend booking an audio tour that will take you to all the hotspots around the park, including General Sherman, the most massive living thing on the planet. You don't want to miss out on that one!
11. Visit the Monterey Bay Aquarium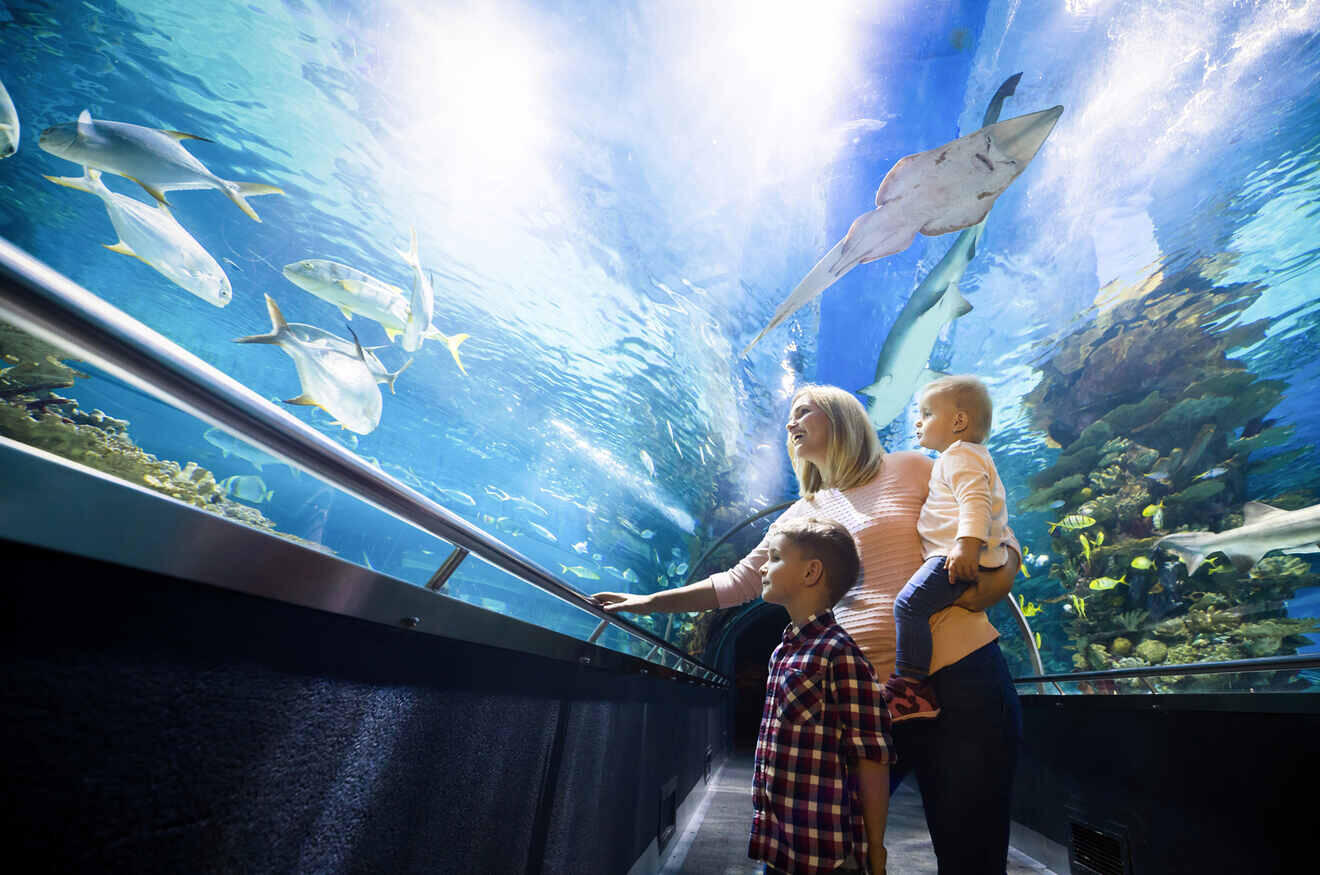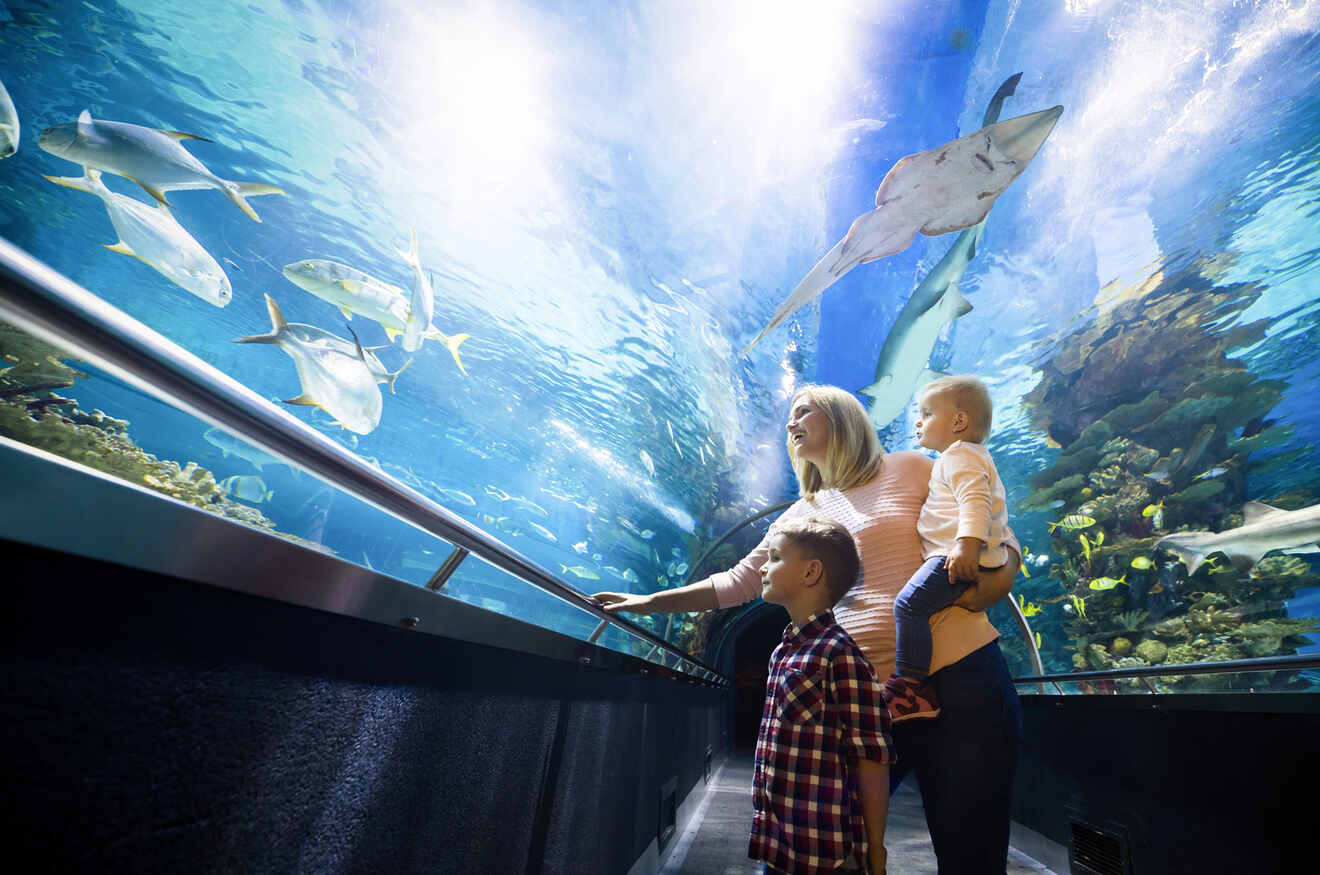 If you're in the Monterey and Carmel-by-the-Sea area, I recommend taking a visit to the Monterey Bay Aquarium. It's an excellent theme park offering interactive exhibits of unique marine life (over 200 exhibits and 80,000 plants and animals to discover!
The aquarium also partners with efforts to help care for the ocean, reduce plastic pollution, and educate others on clean energy. You're supporting these efforts by taking a visit to the aquarium, which is quite unique in comparison to other theme parks in California.
Here are a couple of exhibits you shouldn't miss out on:
Giant Pacific Octopus – This mysterious animal is unique to the California Coast and something you don't see every day.
Open Sea – This 90-foot (27 meters) window is the largest exhibit in the aquarium, where you can admire all kinds of marine life like tuna, sardines, sea turtles, and more.
There are plenty of sea lions and seals here as well, but I recommend heading out to sea on a whale-watching excursion or heading to La Jolla Cove for the best sea lion-watching experiences.
You can even book a behind-the-scenes tour for the whole family or a diving exploration tour for kids aged 13 or under to get a sneak into the underwater world!
PRICE: US$60 per person for adults, US$50 for youth (13 – 17), US$45 for children (5 – 12)
12. Go surfing in Santa Cruz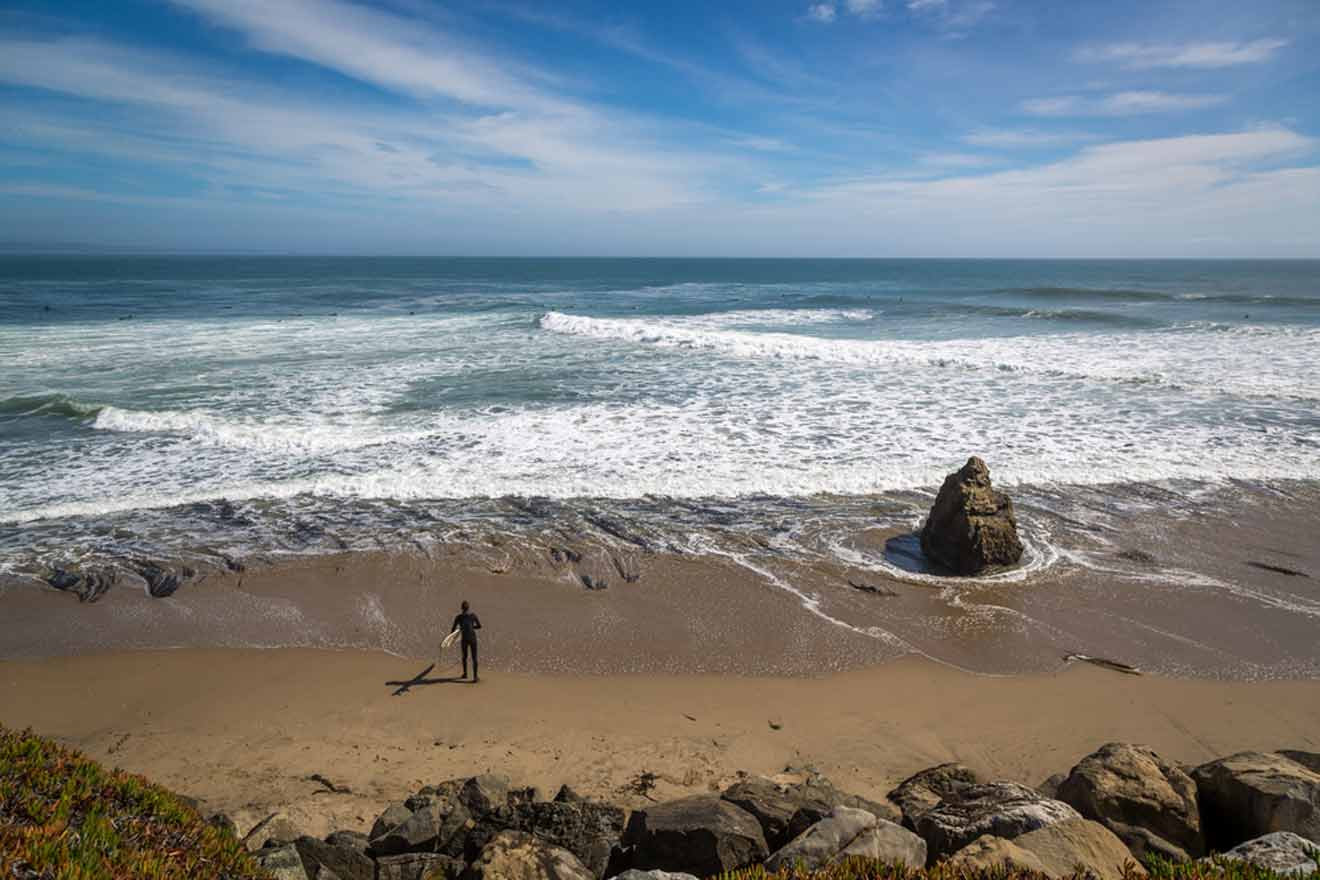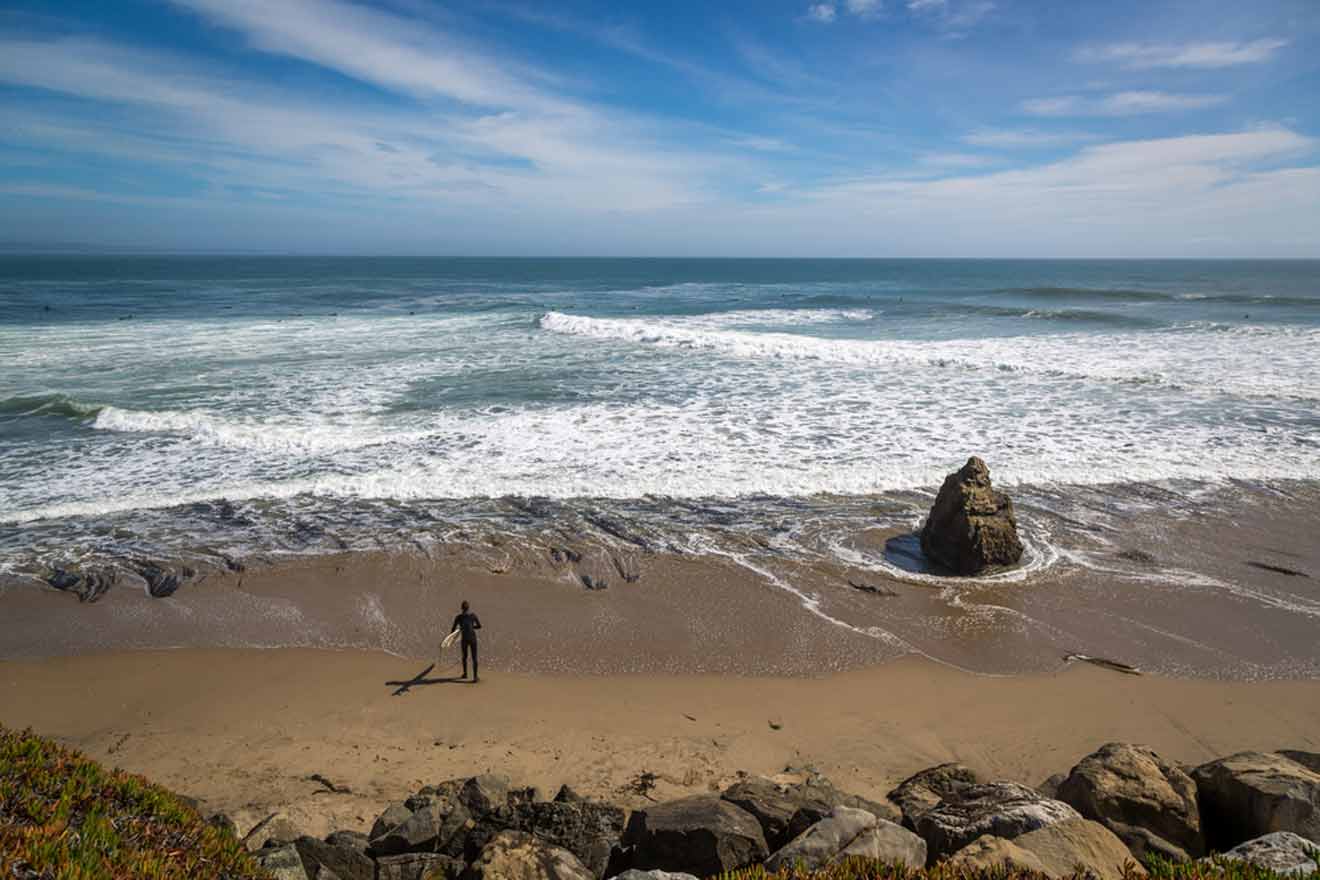 Santa Cruz is well-known for its beaches, rich cultural heritage, vibrant downtown area, and surf culture! Similar to Huntington Beach, Santa Cruz is another beach town where surfers come to catch some waves.
A good place to start out as a beginner at the sport is Cowell's Beach. The beach has gentle waves, and you won't get swallowed by waves here. For an advanced swimmer, I recommend going to Steamer Lane. It's the most famous surfing spot in Santa Cruz and an absolute must-see for avid surfers.
If you're not a surfer at all, I recommend taking a visit to the Santa Cruz Beach Boardwalk for fun games and rides (similar to the pier of Santa Monica)!
13. Explore the wonders of Joshua Tree National Park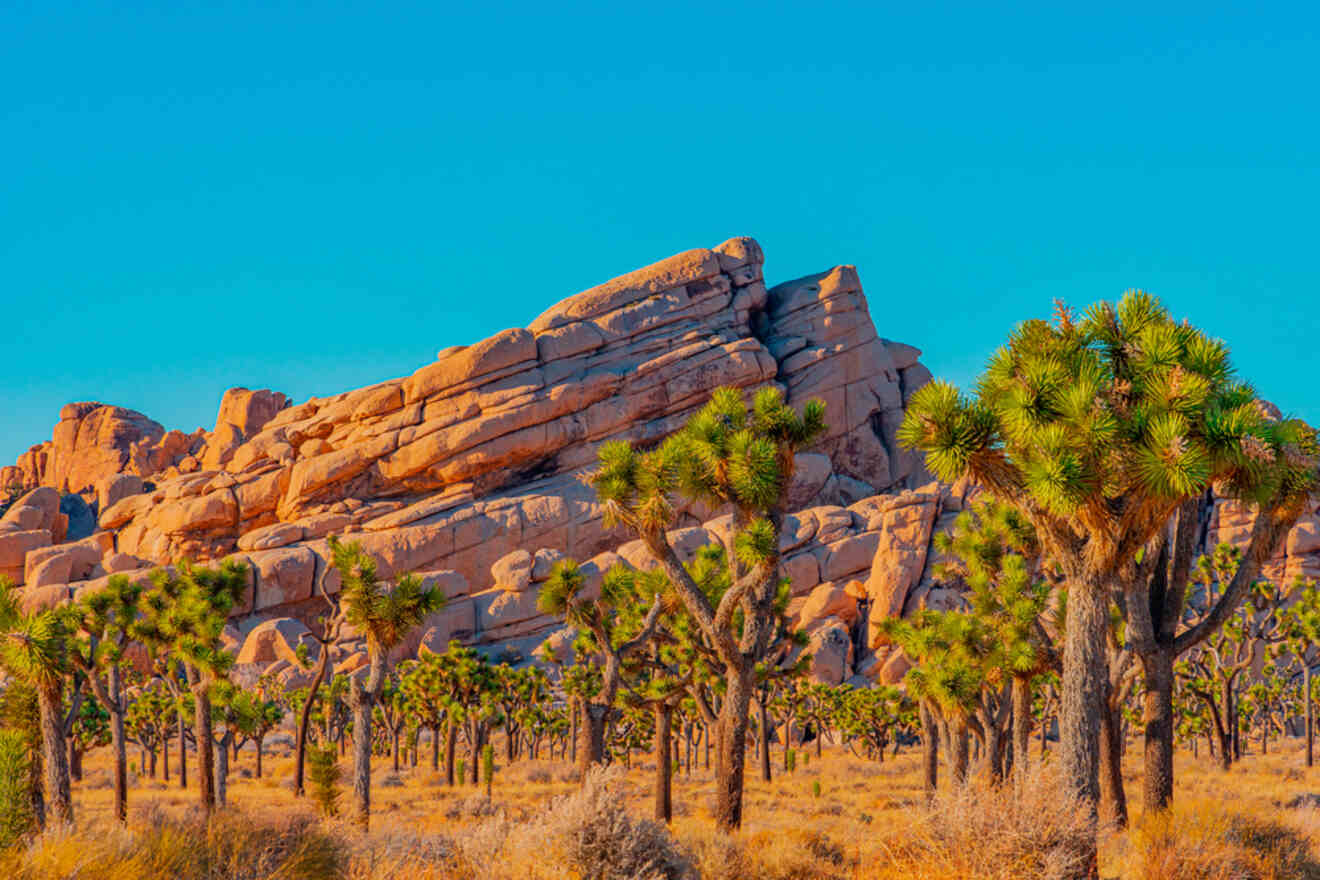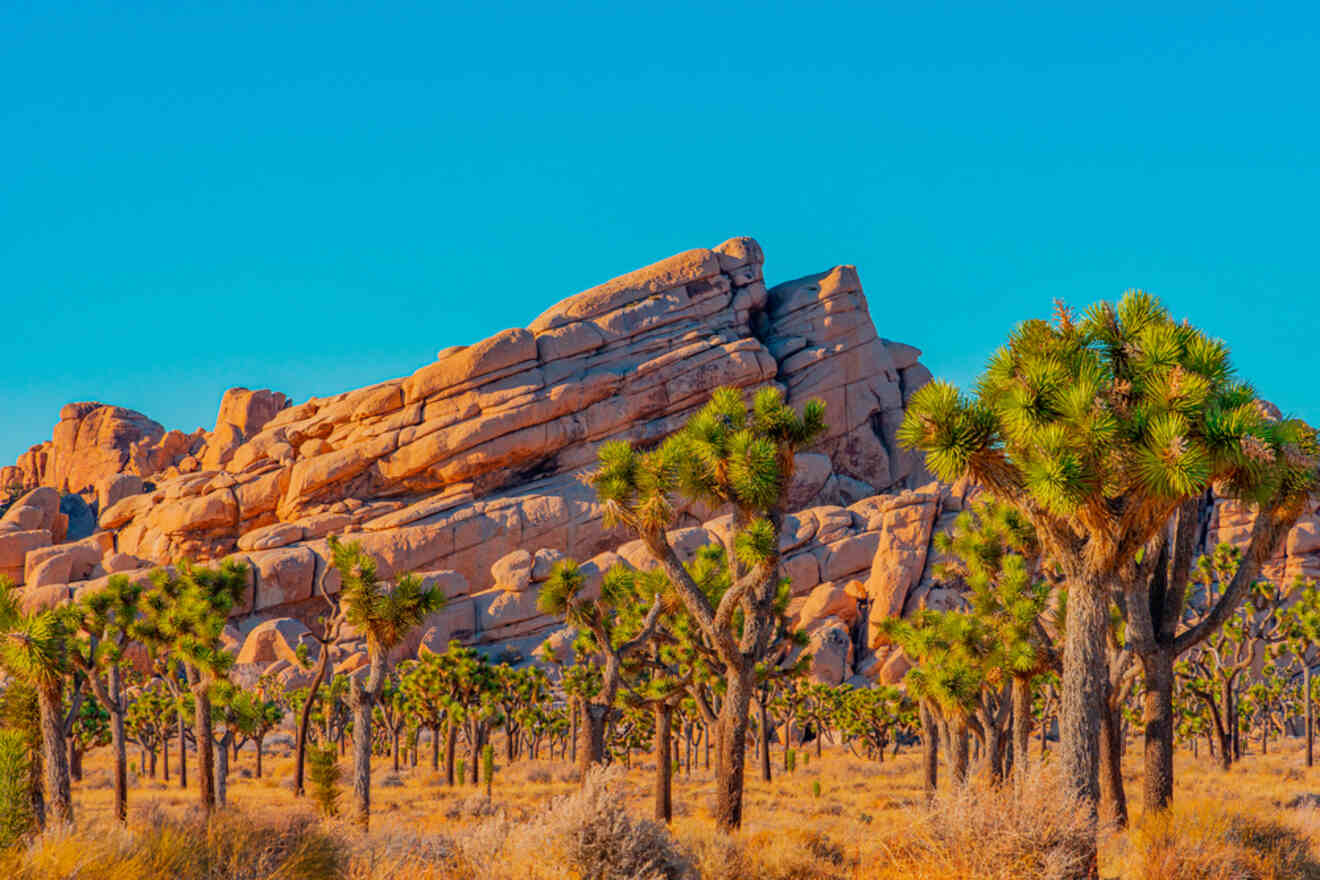 Joshua Tree National Park is a must-see desert about a 2-hour drive from downtown Los Angeles and San Diego. It's home to dozens of unique plants and animals that aren't seen anywhere else in the world, making this an incredible place to explore for nature lovers.
Here are a few hiking trails in Joshua Tree National Park that are worth checking out:
Hidden Valley Nature Trail: 1-mile (under 2 km) loop around a rock-enclosed valley. I collected a ton of cool stones and rocks here, I recommend digging around for some if that's your cup of tea.
Fortynine Palms Oasis Trail: If you've never seen a desert oasis, this is an awesome sight to see! On this trail, you'll come across dozens of palm trees and wildlife thriving in the dry desert on a 3-mile (under 5 km) round trip hike. This has to be my favorite hike in Joshua Tree.
No matter how much experience you have as a professional hiker, it's important to pack hiking essentials and take safety precautions anywhere you go. I recommend reading the Paul Miller story and packing everything listed here.
PRO TIP: Wear long pants and heavy outerwear when you're at the park! I've gotten pricked by a cactus before, and that is not fun.
PRICE: The park entrance fee is USD$30 for 7 days per vehicle
14. Ride scooters along Balboa Park in San Diego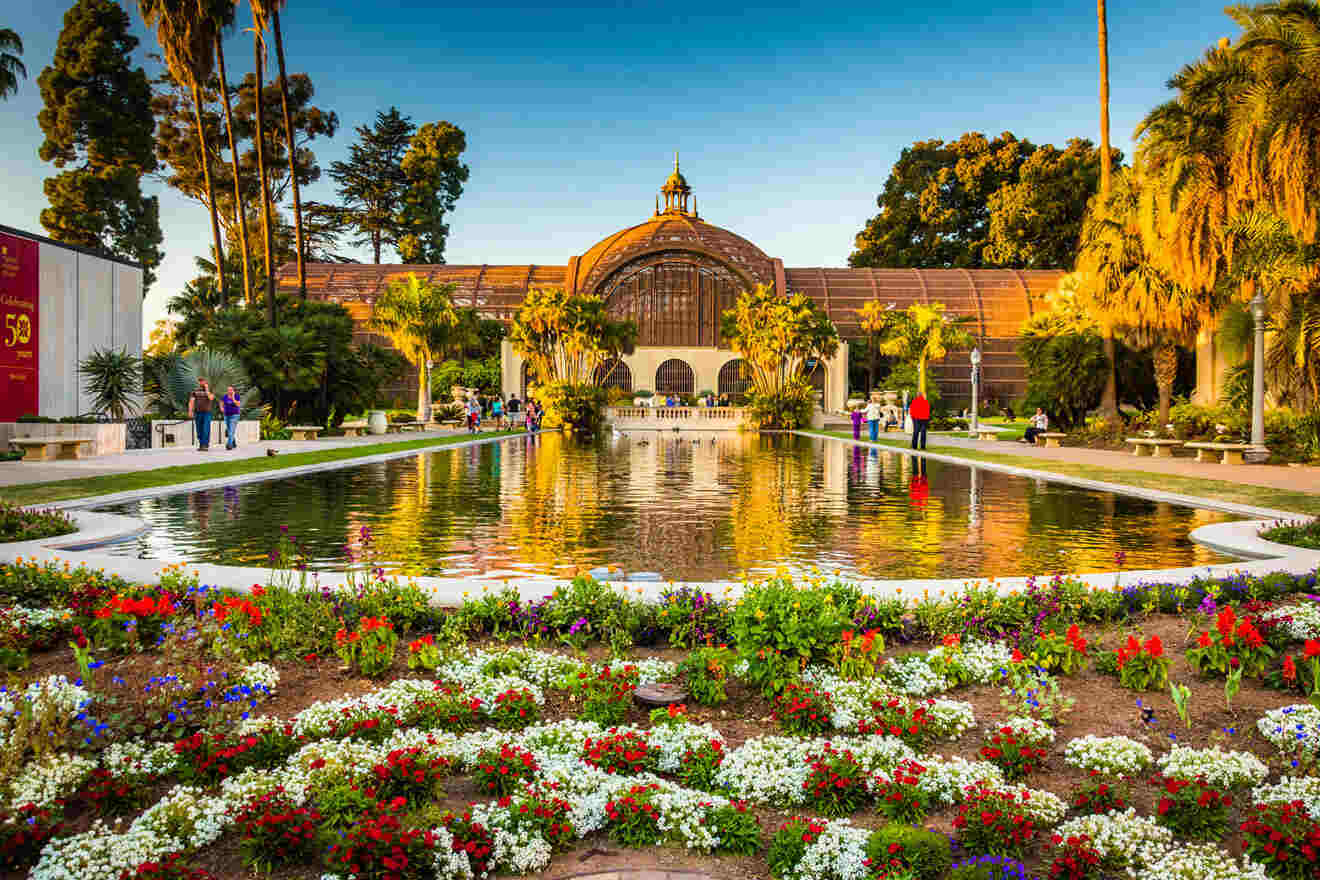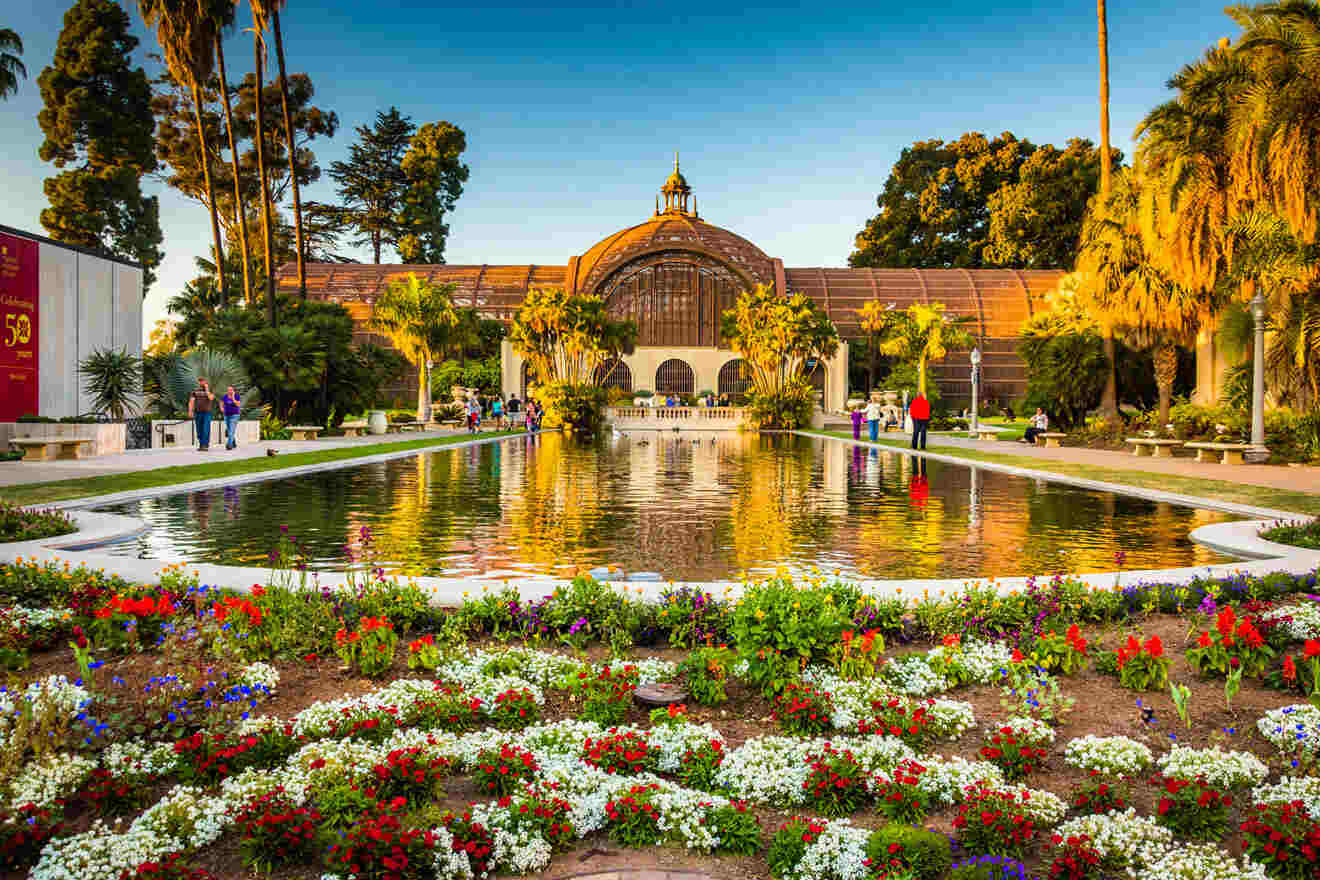 Balboa Park in San Diego is one of the most popular parks in California. There's a variety of art museums, a stunning botanical garden, Spanish-inspired architecture, the famous Japanese Friendship Garden, and so much more.
To make the most out of your time in Balboa Park, use GPS self-guided scooter and explore the park on your own time. The GPS will even guide you outside the park and into downtown San Diego, just in time for the spectacular nightlife in the Gaslamp District.
PRO TIP: Check out the Tea Pavilion, located right next to the Japanese Friendship Garden. They have the best noodles and sushi that you can enjoy from their outdoor courtyard.
While you're in San Diego, take a visit to the USS Midway Museum to explore a historical naval aircraft and learn more about America's longest-serving aircraft carrier of the 20th century!
15. Admire the natural wonders of Big Sur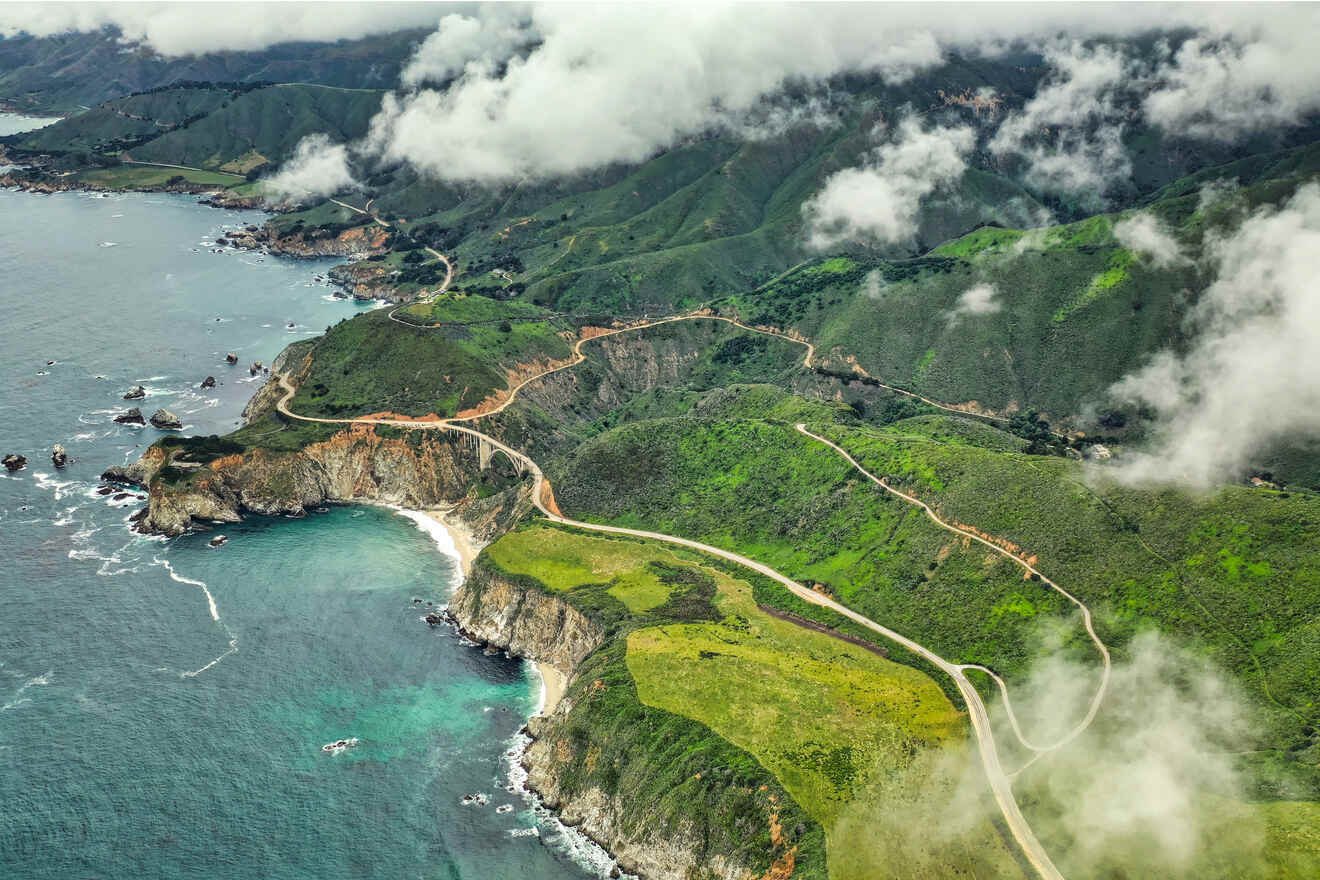 Big Sur has to be the most beautiful place in all of Northern California. It's right along the Pacific Coast Highway, where you'll find an abundance of marine life, coastal bluffs, and a variety of natural reserves that will blow you away.
Big Sur is around 30 mi (45 km) away from Monterey Bay, so I recommend taking a day trip out here if you're spending a few days in Monterey. You can spend all day here and explore all the natural reserves or hit the most famous spots for the best photo ops.
Here are the top 2 Big Sur spots to make sure you visit:
Pfeiffer Beach – Visit the Keyhole Arch for the most photographed area of Big Sur, the purple sand in the winter and early spring, and tidepools during low tide. This is one of the most popular areas in Big Sur, so arrive as early as you can to avoid the crowds.
Point Lobos – Here, you'll find China Cove, the most stunning emerald green waters surrounded by a sheltered cove and sandy beaches, along with Bird Island Trail, where you'll see seals nursing their newborns on the beach during the spring!
16. Discover sand dunes in Death Valley National Park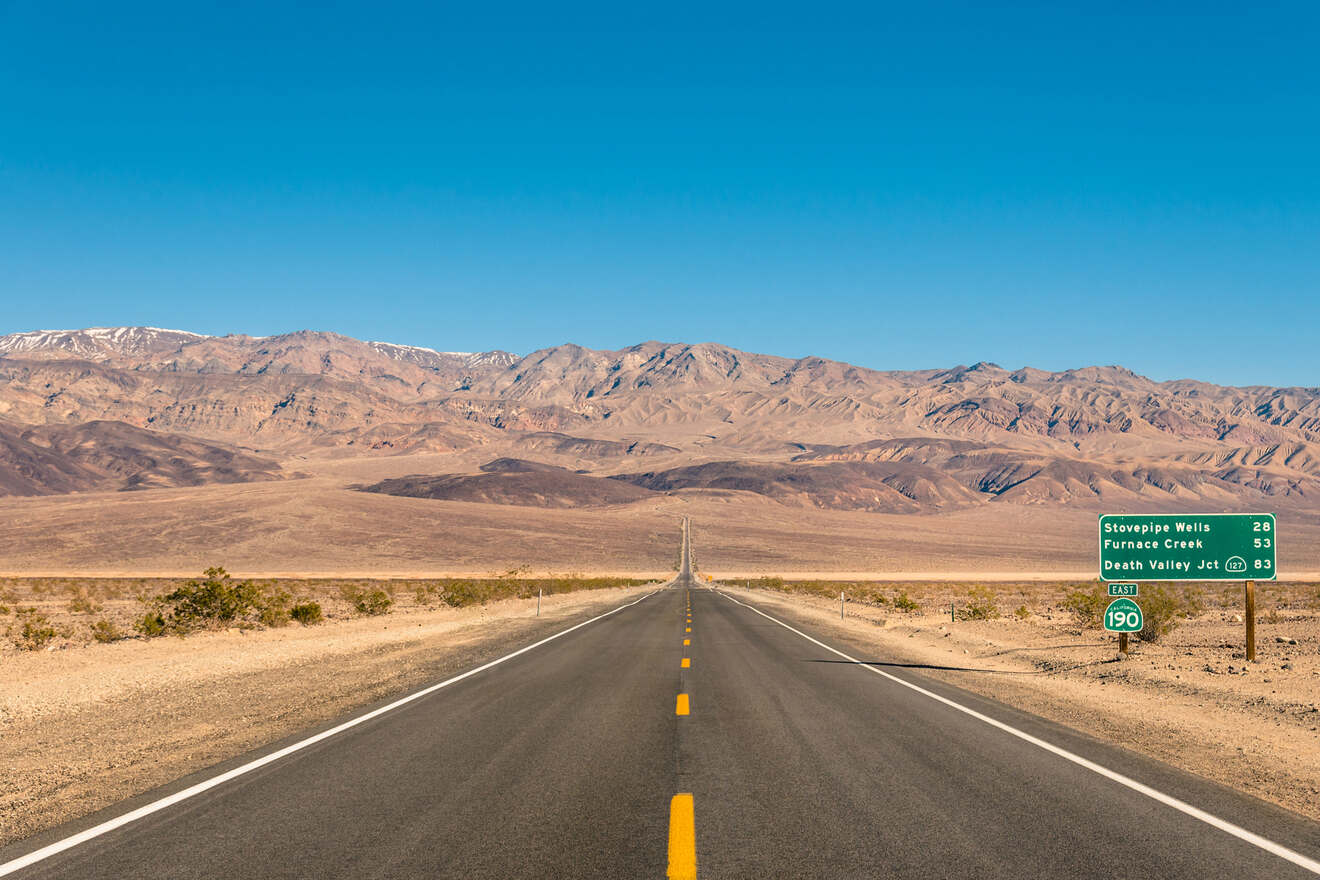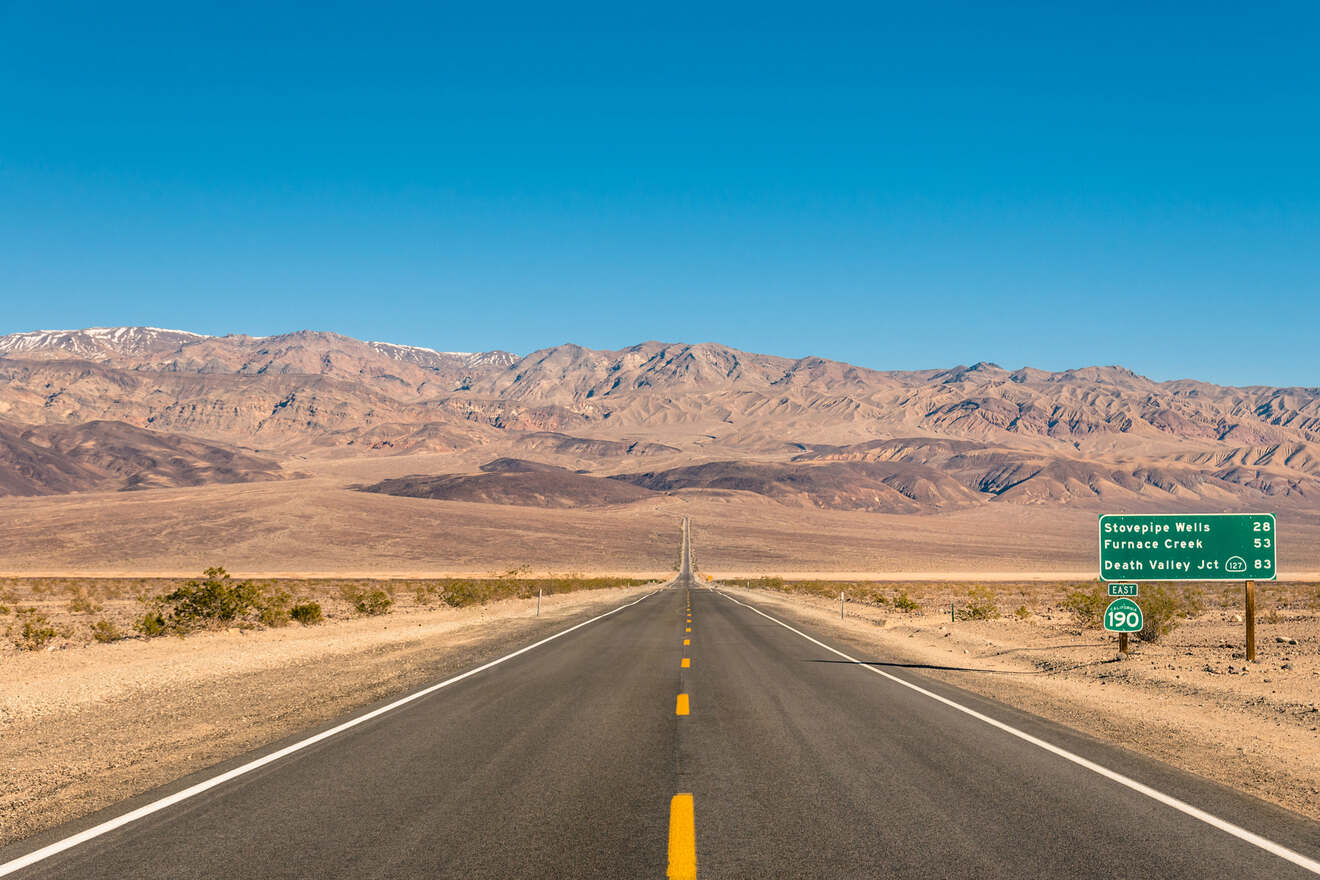 Death Valley National Park is filled with many unique geological formations, fun desert activities to embark on, stunning views, and a local favorite – the Mesquite Flat Sand Dunes.
You can hike to the tallest dune here to catch the sunrise, a sight you've probably never seen before. It's only about 2 miles long (c. 3 km) and moderately easy for beginner hikers, located right at a paved lot just east of Stovepipe Wells Village off CA-190.
NOTE: No pets are allowed on the dunes, and it's important to start your hike early in the morning to get the best experience. If you can't make it for the sunrise, DO NOT hike anytime past 10 AM! It gets very hot and dangerous during peak-sunny hours.
17. Go whale watching in Monterey Bay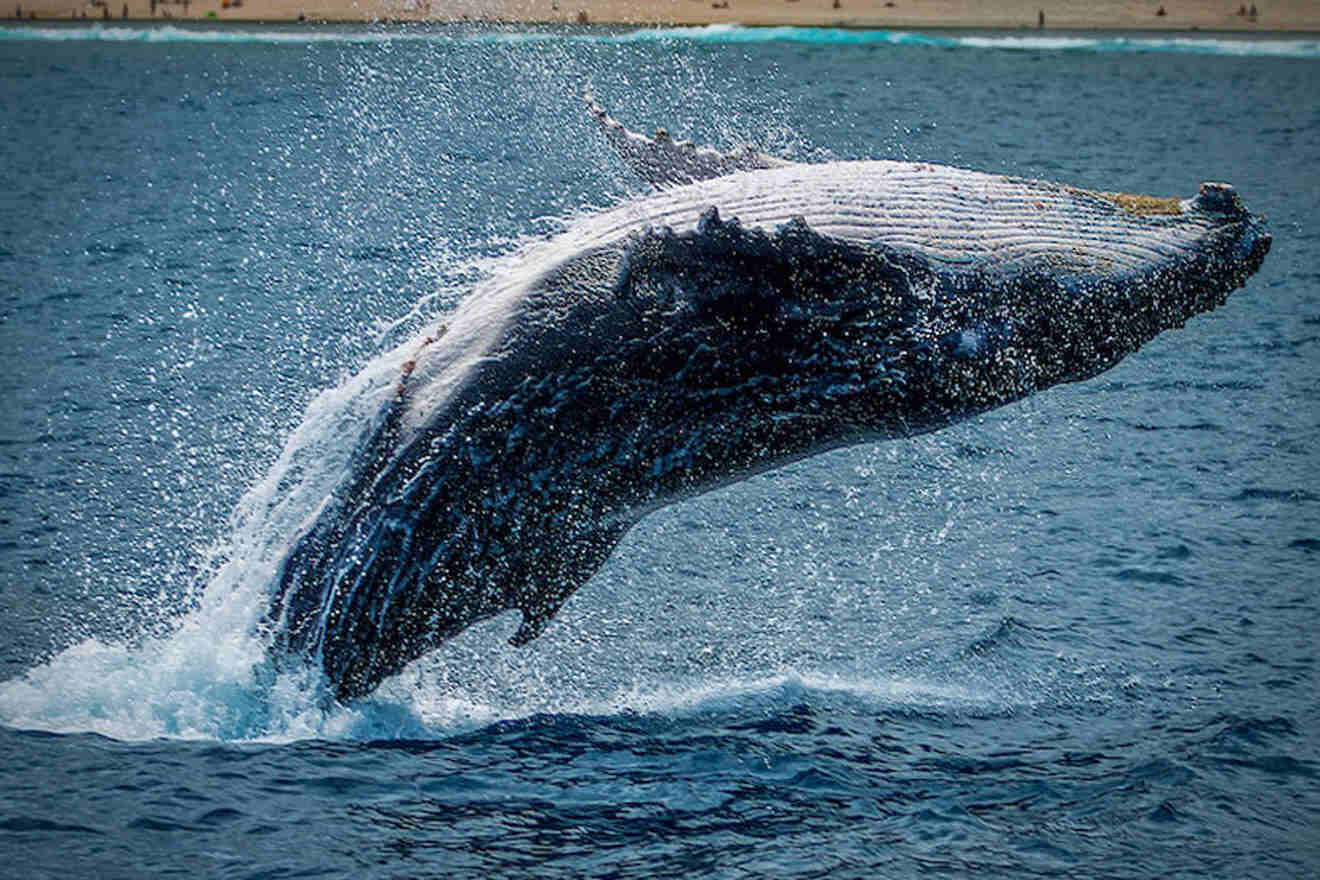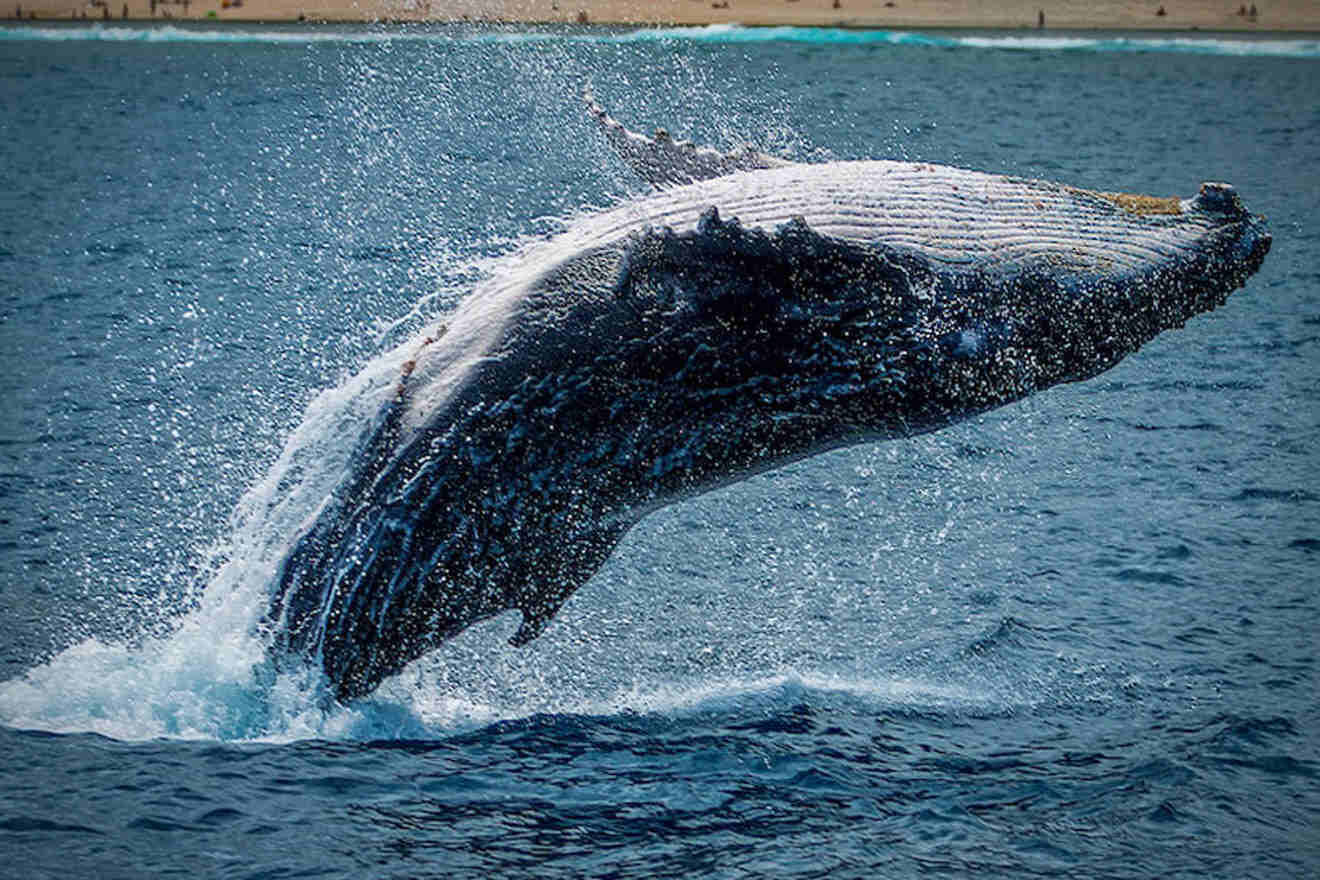 Whale watching is one of the most popular things in Monterey Bay. It's also one of my personal favorite things to do here.
During the winter and early spring, you'll see gray whales, killer whales, and dolphins. In the late spring, summer, and fall (April to December), you will see humpback whales, giant blue whales, and dolphins.
I've taken a tour with Discovery Whale Watch and had one of the best experiences of my life. Embarking on a journey to see these majestic creatures is well worth everyone's time in California.
PRO TIP: Getting seasick is super common, so avoid it by bringing mint gum and ginger mints to soothe your stomach.
HACK: If you're traveling in the summer, you can save cash in Monterey by using the free transportation with MTS's Monterey Trolley.
PRICE: From US$70 per person
Book Your Whale-Watching Adventure
18. Take a day trip to Santa Barbara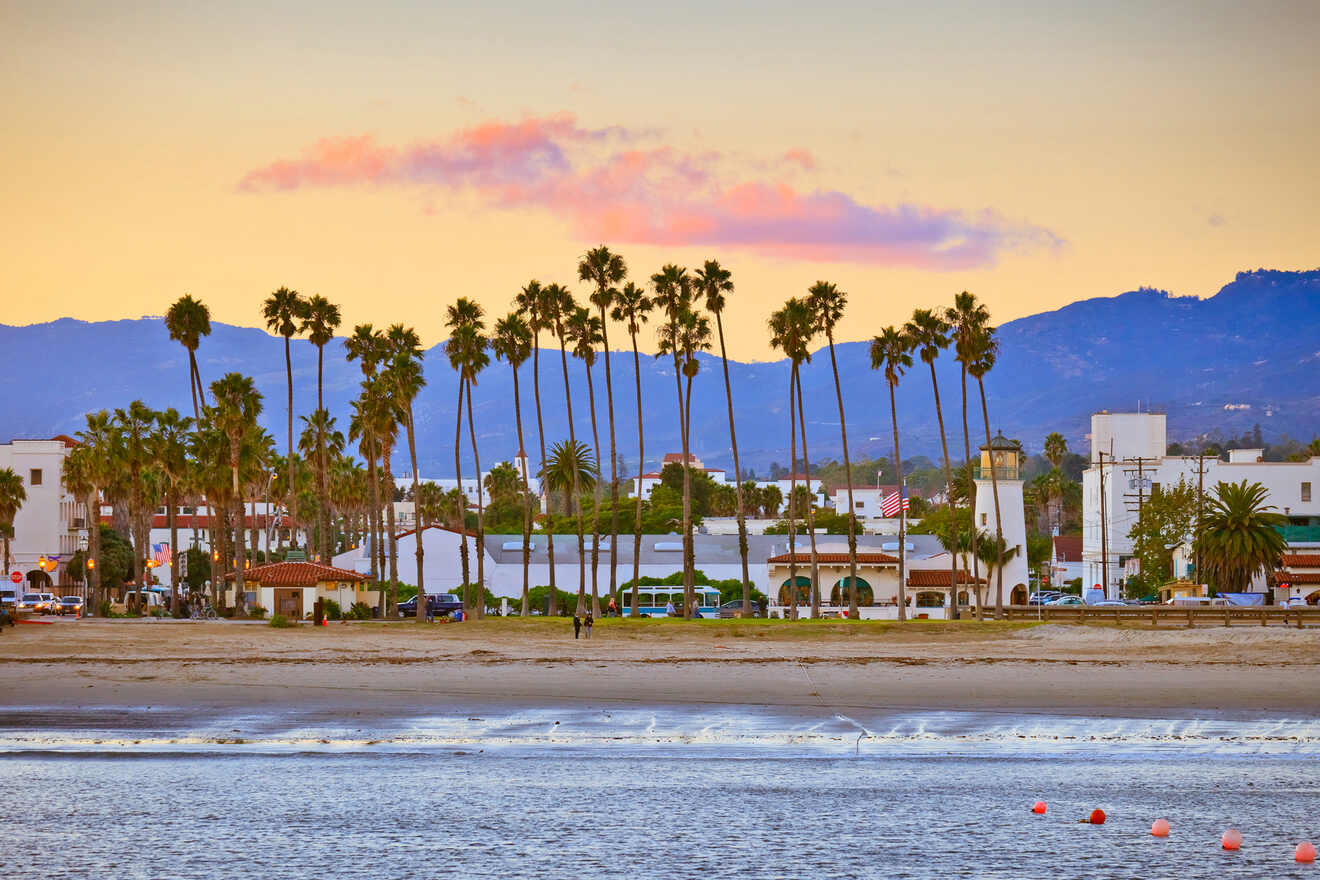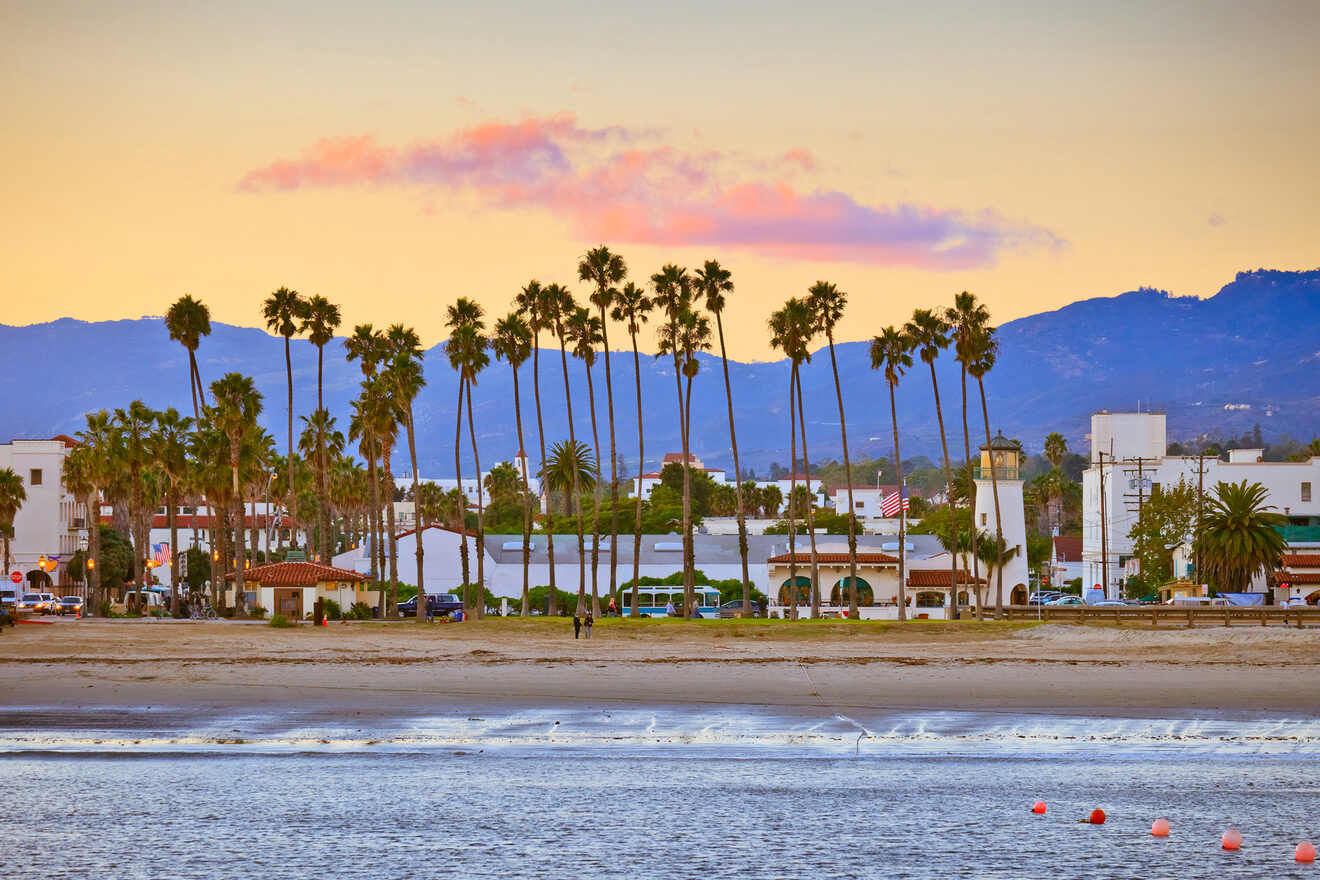 Santa Barbara is a well-versed city located along the central California Coast, known for wine country, historical landmarks, beaches, nearby Channel Islands, and more.
Here are a few things you can do for your day trip to Santa Barbara:
Explore the history of Santa Barbara by walking through historic landmarks that will be sure to leave a lasting impression. I recommend walking the Santa Barbara Museum of Natural History to check out its wide collection (over 3.5 million artifacts) and Old Mission Santa Barbara for its stunning architecture and unique history.
Go snorkeling in the Channel Islands National Park – Santa Barbara is just a boat ride away from one of the best snorkeling spots in California. Book a boat here and explore the Channel Islands, located right in Santa Barbara's backyard.
Go wine tasting around Santa Barbara's famous wine country! This tour will drive you around Santa Ynez Valley, where you will get a taste of famous California local wines directly from the source.
I recommend taking a scenic train route to Santa Barbara! If you're visiting Santa Barbara from LA, Amtrak's West Coast Starlight round-trip tickets are US$60/person. Not only does it take you to Santa Barbara, but you also get spectacular views along Pacific Coast Highway during your journey.
19. Have a chill day at the beach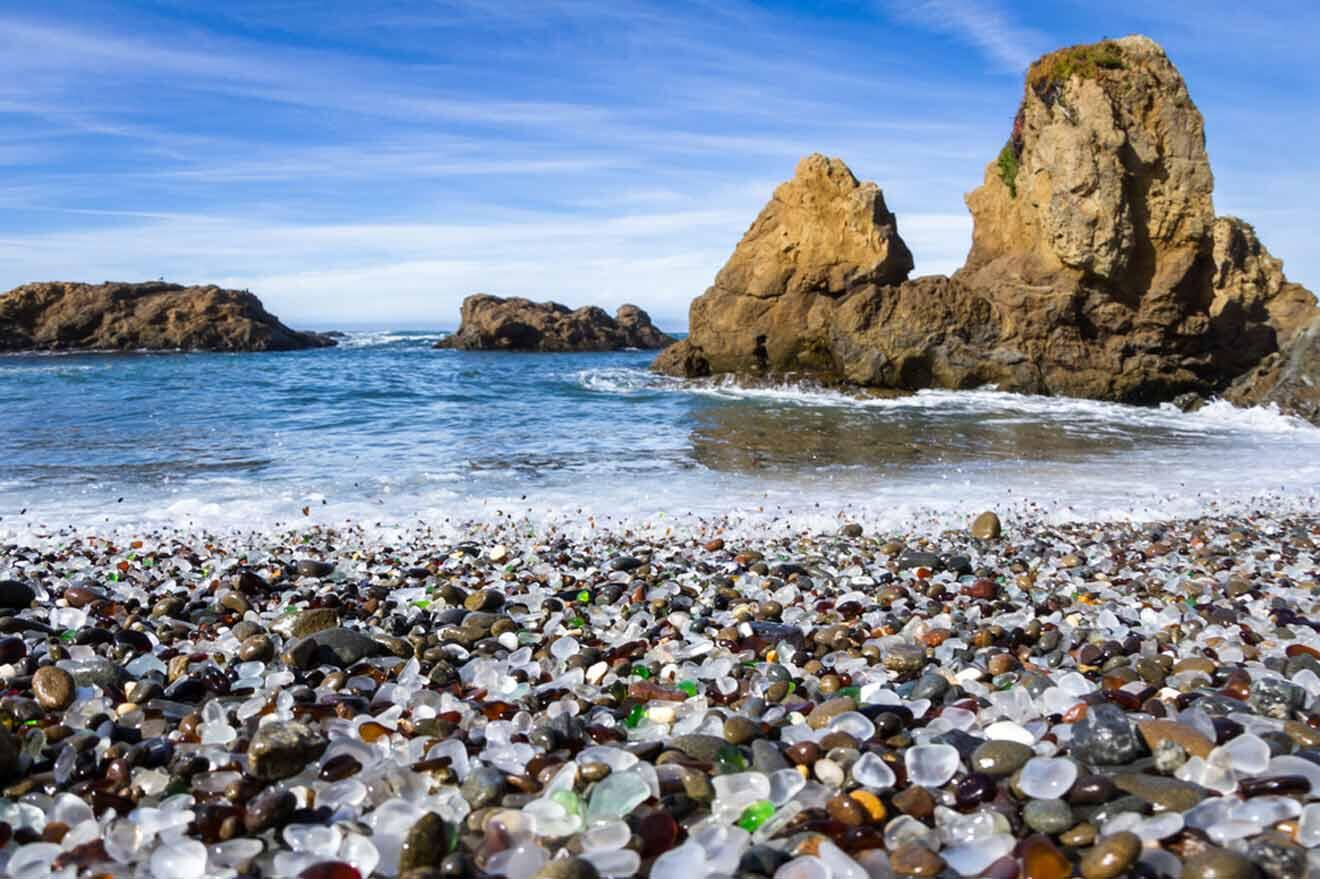 This is one of the most predictable things to do in the Golden State: hit the beach!
California has hundreds of beaches surrounding the Pacific Ocean, making it very easy to find one whether you're in Northern California or Southern California. Here are some unique beaches that are worth checking out:
20. Enjoy the games and rides at the Santa Monica Pier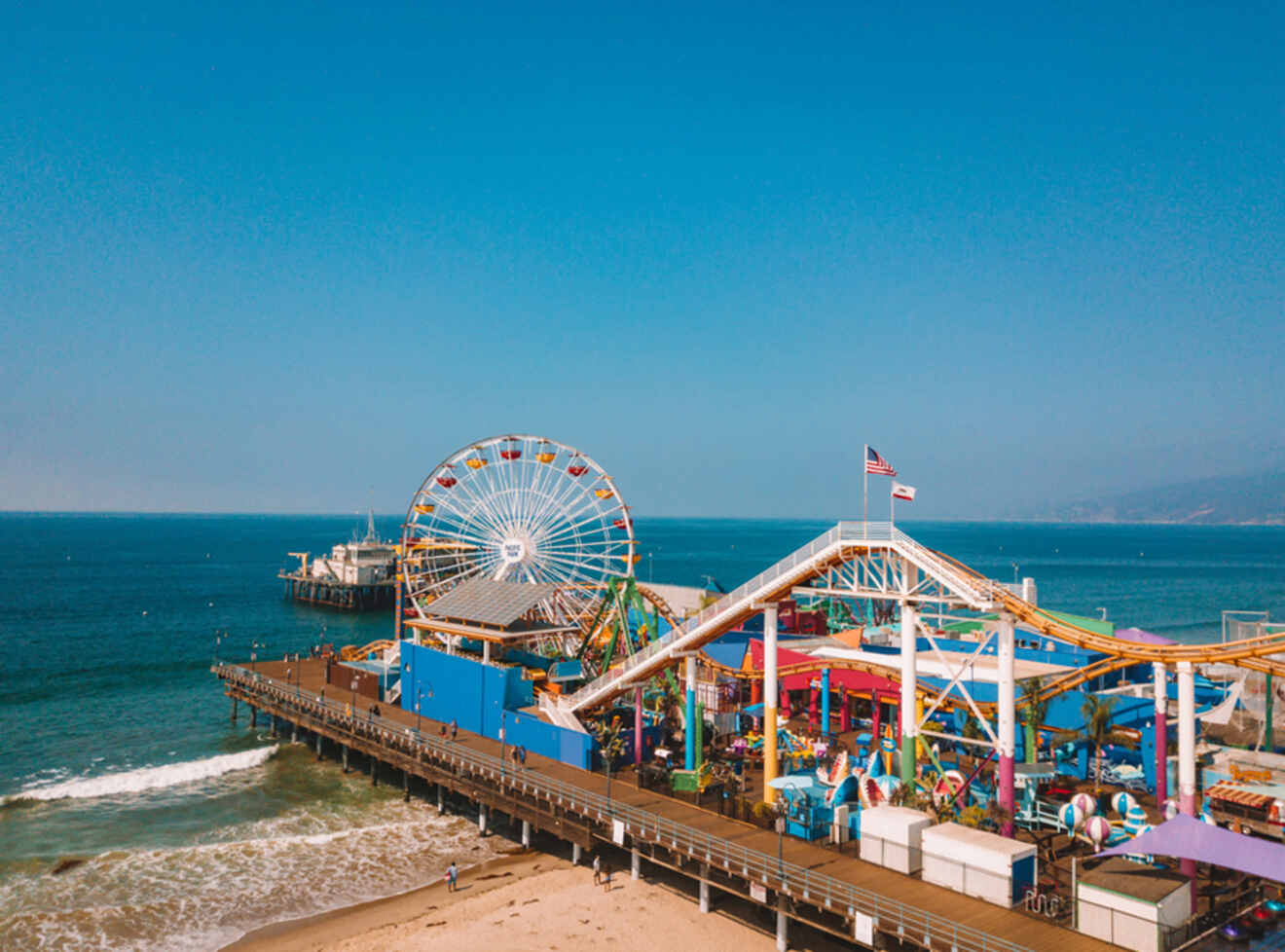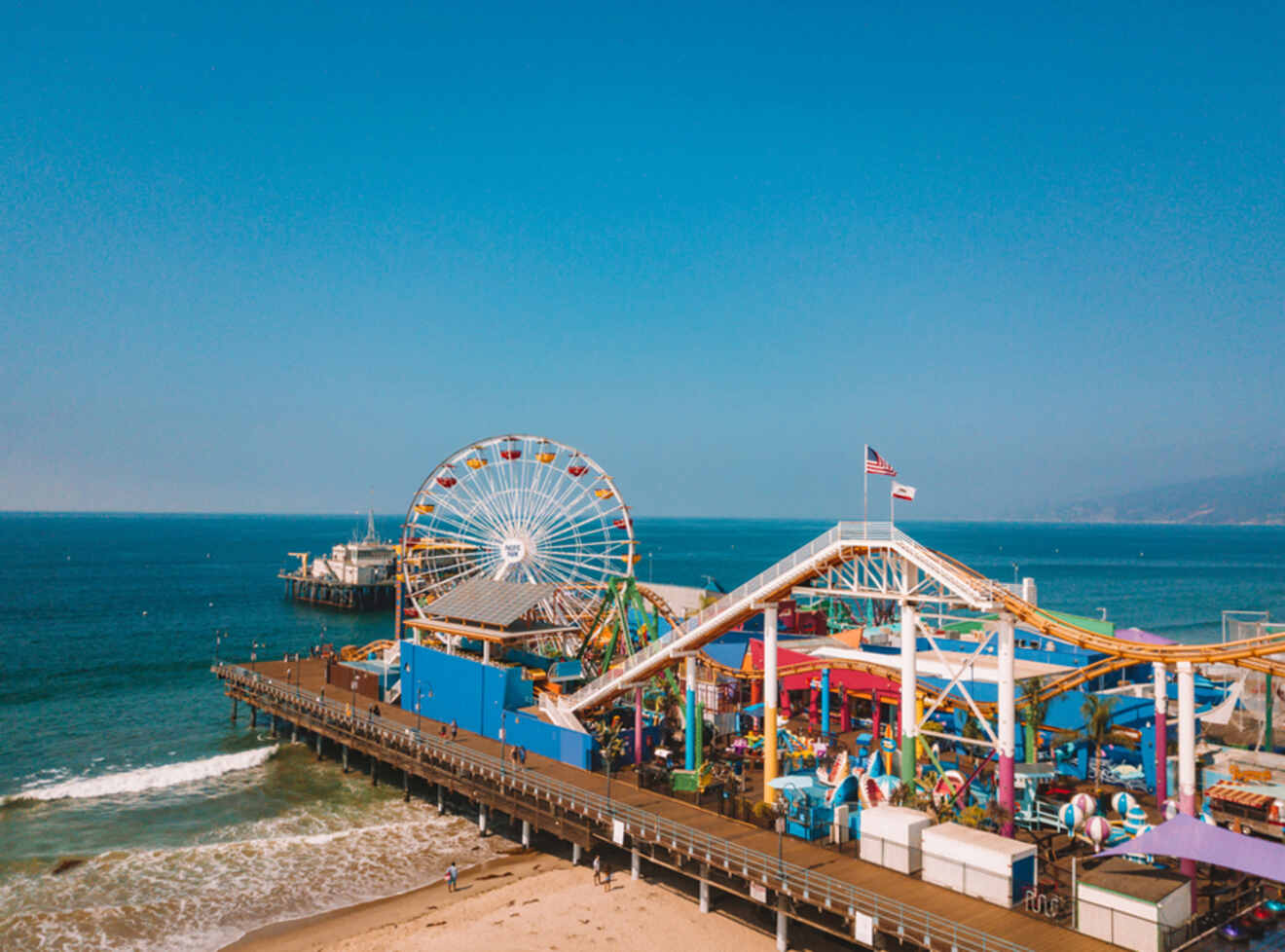 Santa Monica Pier on Santa Monica State Beach has dozens of carnival rides & arcade games, rides, street performers, seaside views, and so so much more. Millions of people around the world come every year to be a part of the fun here.
If you want to have a fun adventure in Santa Monica, I recommend checking out a Santa Monica Beach Segway tour! They'll take you around all of Santa Monica, where you can explore without having to worry about the technicalities of getting anywhere.
NOTE: The Segway tour is only available for older kids, ages 8 and above, and needs to have a party of 3 or more!
TOUR PRICE: Starting at US$220 for a family of 3
21. Walk around the charming city of Carmel-by-the-Sea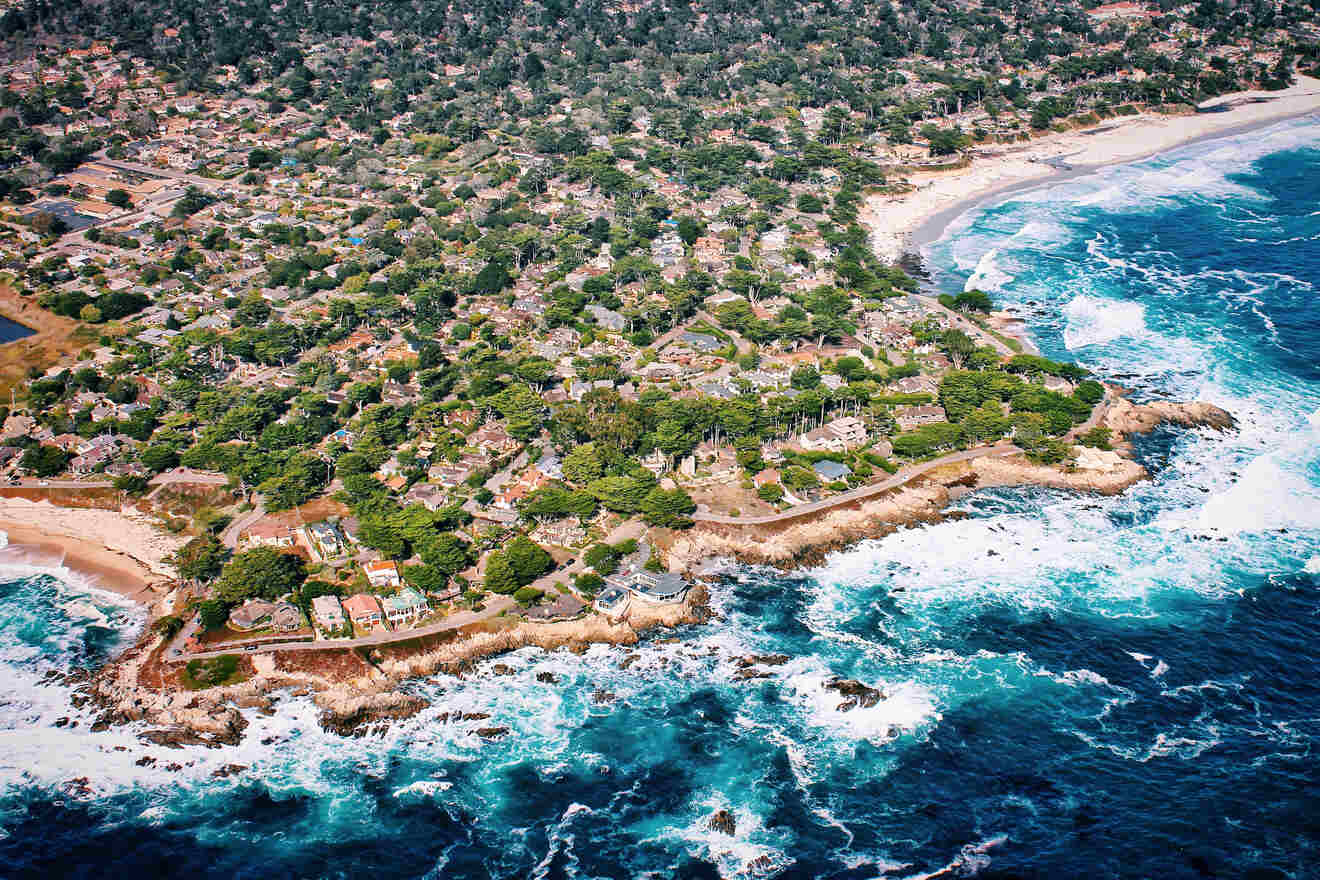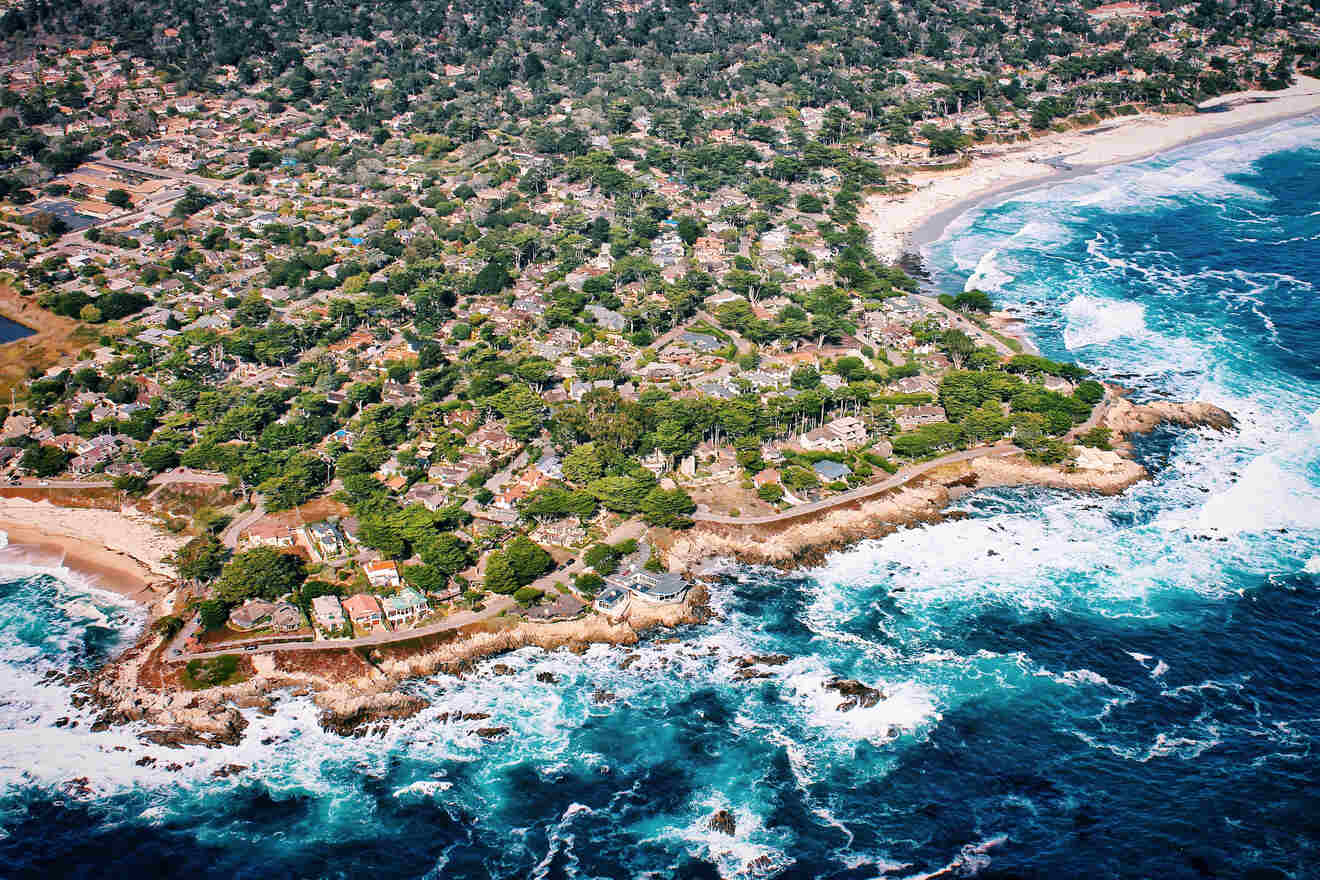 Carmel-by-the-Sea is known for its fairytale-like architecture, white sand beaches, and local art galleries. It's hands down one of the most charming beach towns I've ever seen, being the perfect little adult getaway.
I wouldn't recommend this one as much to kids because it has a more relaxed atmosphere for older individuals and couples. The last time I visited, I hardly saw any kids or activities that kids would like to do!
It's also a short drive to Big Sur. I recommend taking a drive down the Pacific Coast Highway for fantastic views of Big Sur's seaside bluffs.
22. Sunbathe in Napa Valley with a glass of wine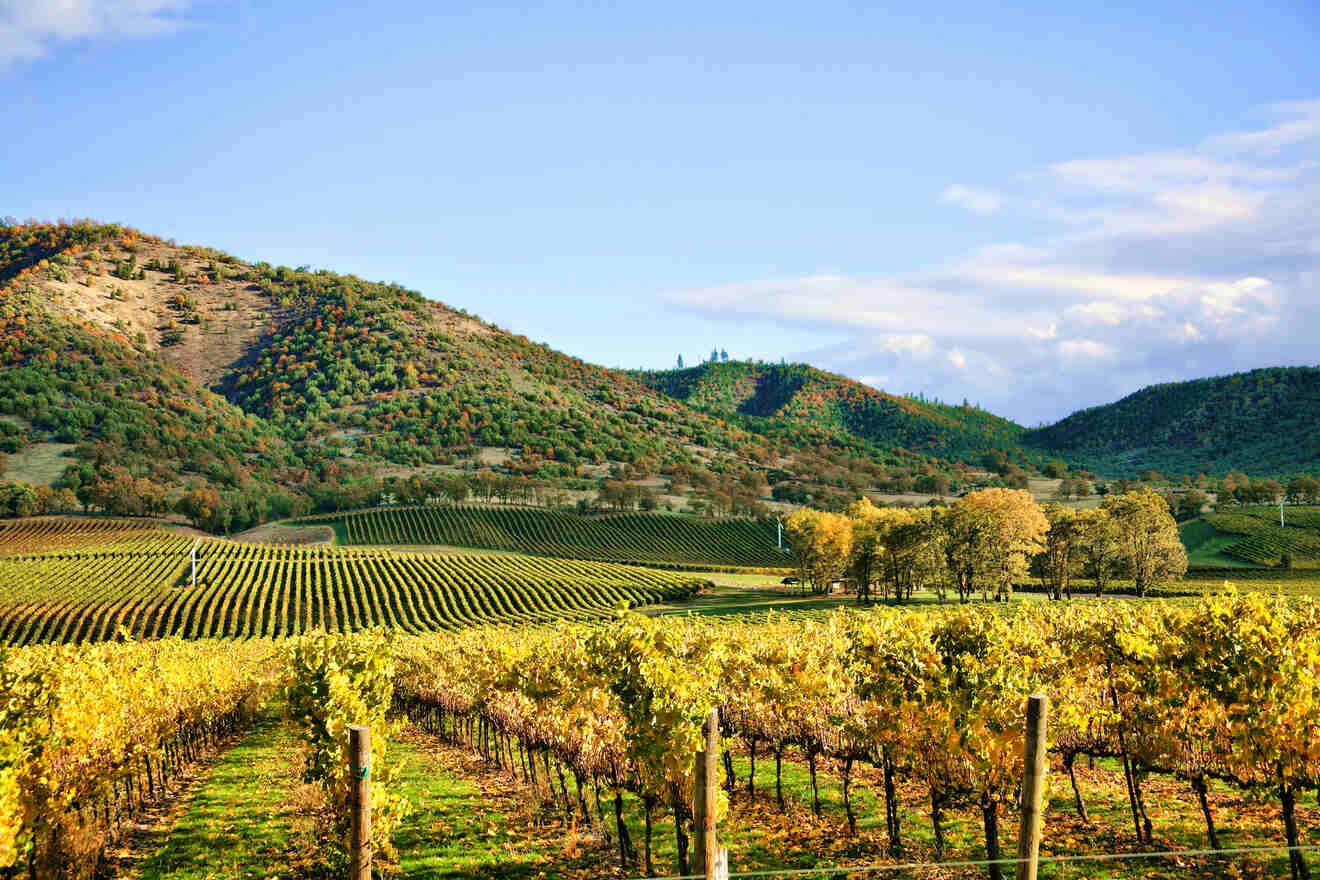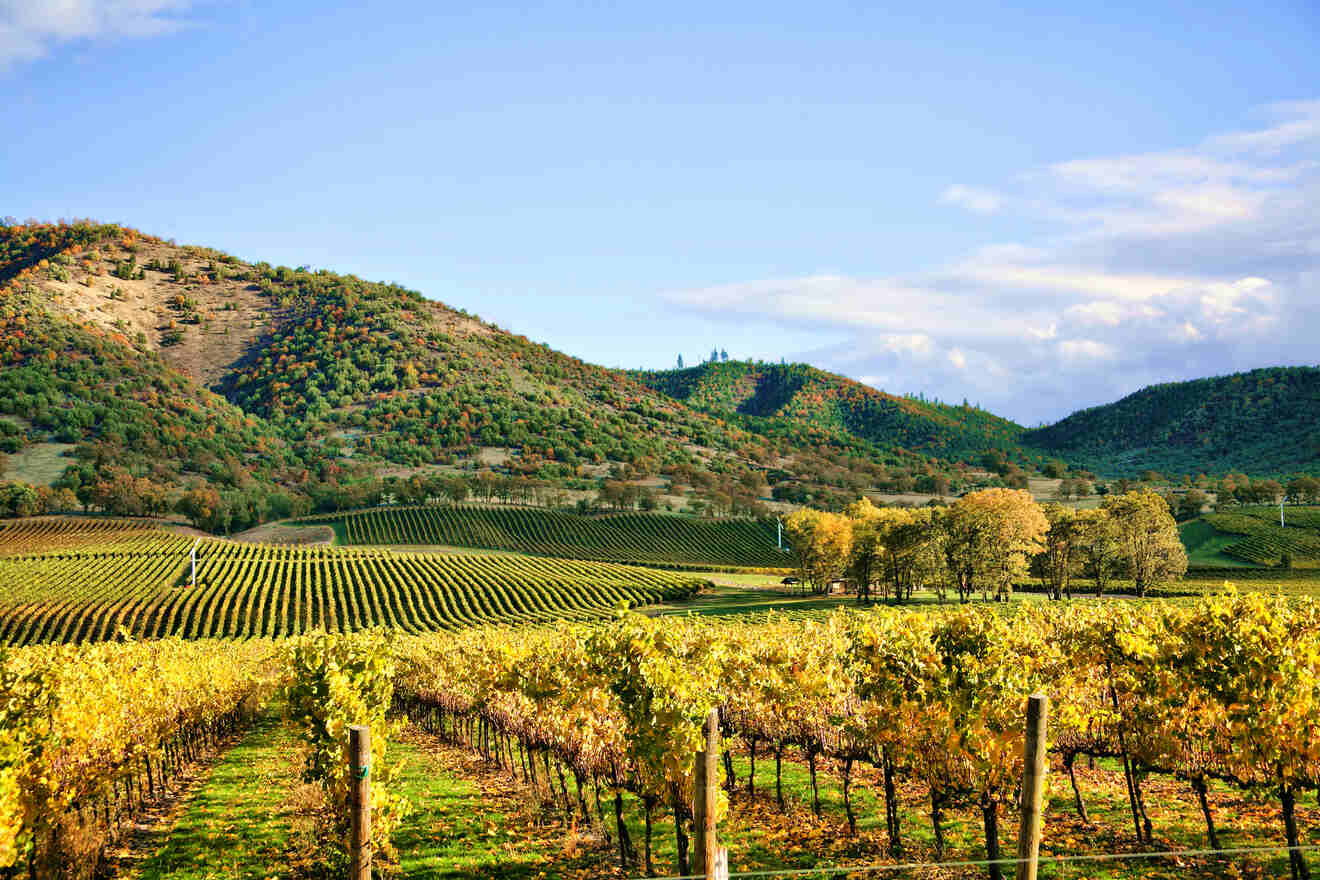 Downtown Napa recently earned the title of "The Wine Tasting Room Capital of the World" and is home to over 50 boutique and highly acclaimed wines and tasting rooms.
Napa Valley is a destination for couples to enjoy delicious wines within the world's premier wine region that is home to more than 500 wineries. With everything within walking distance, it is a stunning spot to unwind and have some fun in the sun exploring the vineyards with your partner.
One of the best ways to experience Napa is on the Napa Valley Wine Train. If you're looking for a more laid-back vibe to explore the scenic stretch – you don't want to miss this one.
23. Uncover the natural beauty of the national parks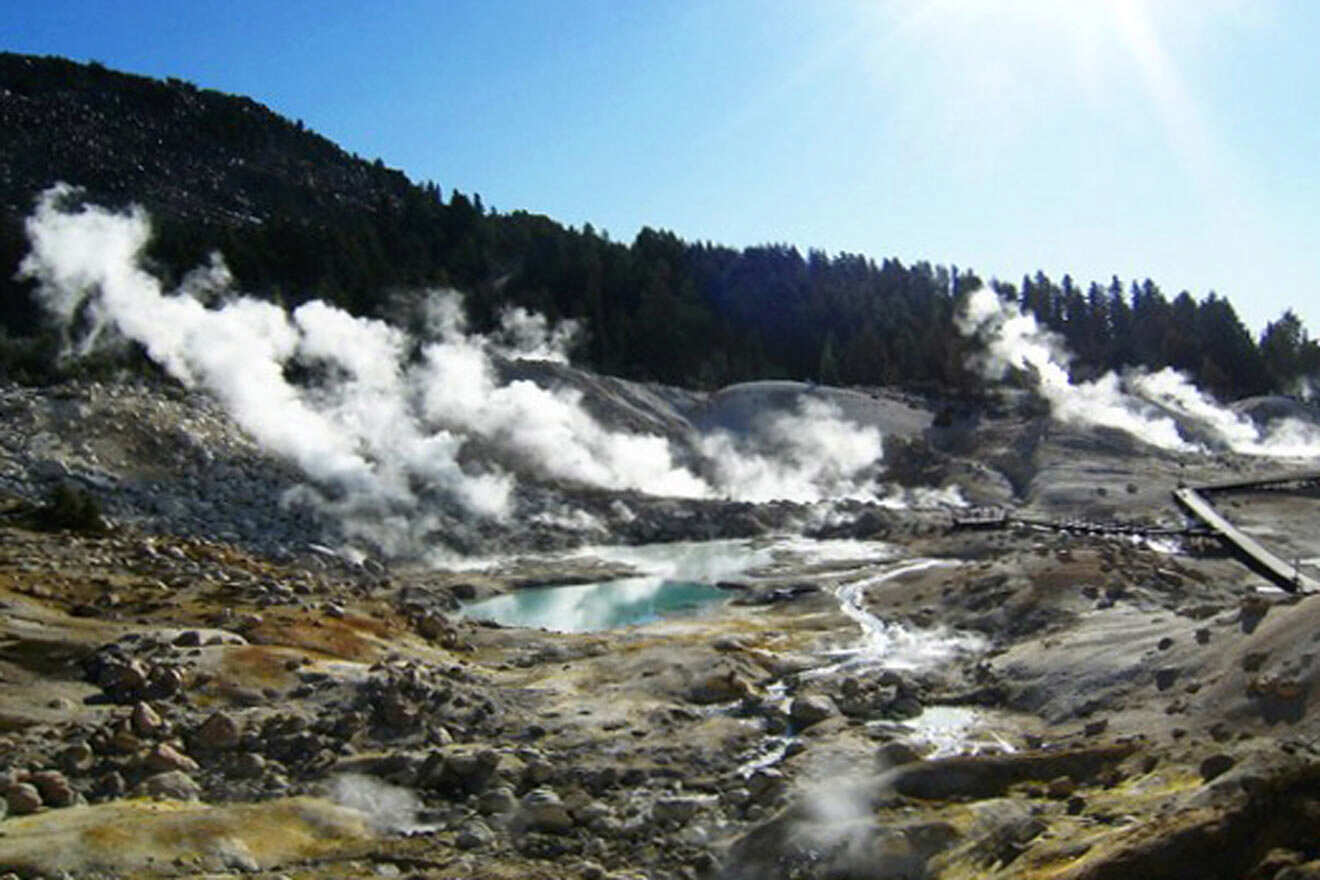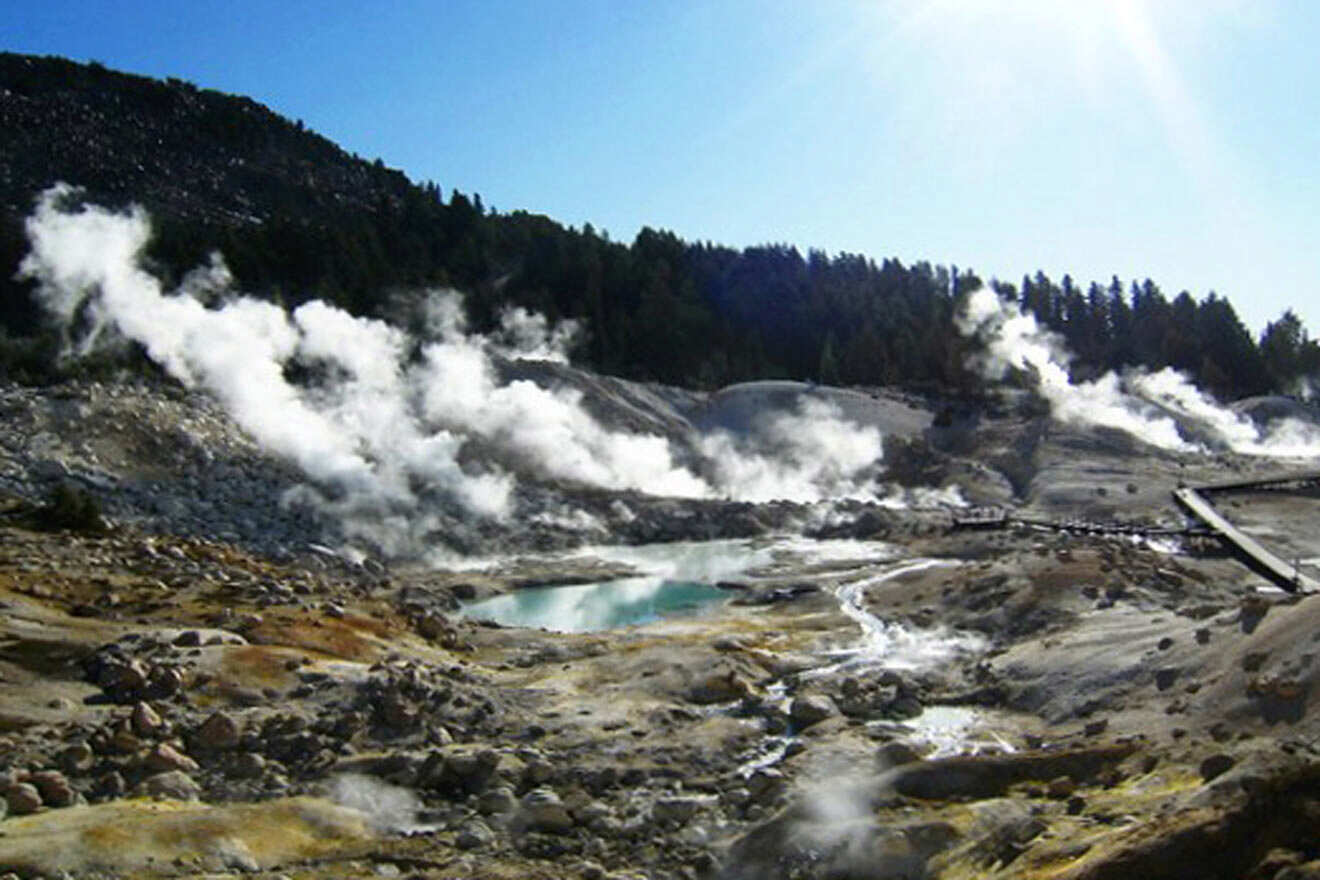 Some California national parks don't get enough love! The following are my favorites that you must check out:
Lassen Volcanic National Park: This is an underrated national park in California that really doesn't get the love it deserves. It is home to numerous volcanoes, wildlife, clear mountain lakes, and views that are great to explore with the kids if they enjoy boating, fishing, swimming, and any other kind of water sports activities!
Redwoods National Park: Find the tallest trees in the world AND wild rivers, miles of rugged coastlines, and so much more here! It's a bit underrated, and not enough people come here to enjoy its natural beauty!
Point Reyes National Seashore: There are over 1,500 species of plants and animals to discover here, and there are thousands of years of Native American culture to be uncovered here, making it more unique than other national parks in California.
HACK: If you're traveling with a 4th grader in California, they get into all national parks for free! They just need to visit this website, play the game and print out their pass at the end!
24. Take a day trip to Santa Catalina Island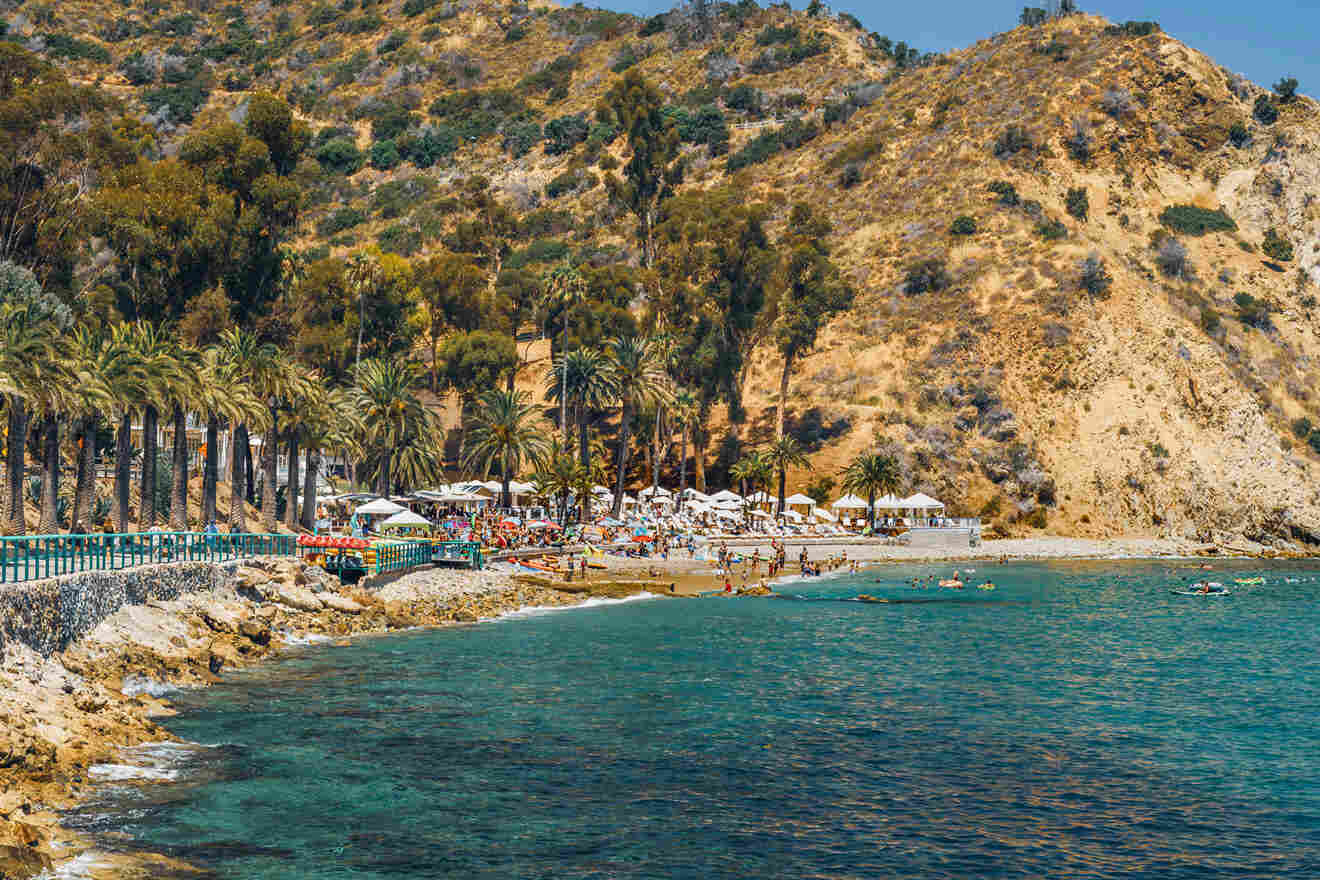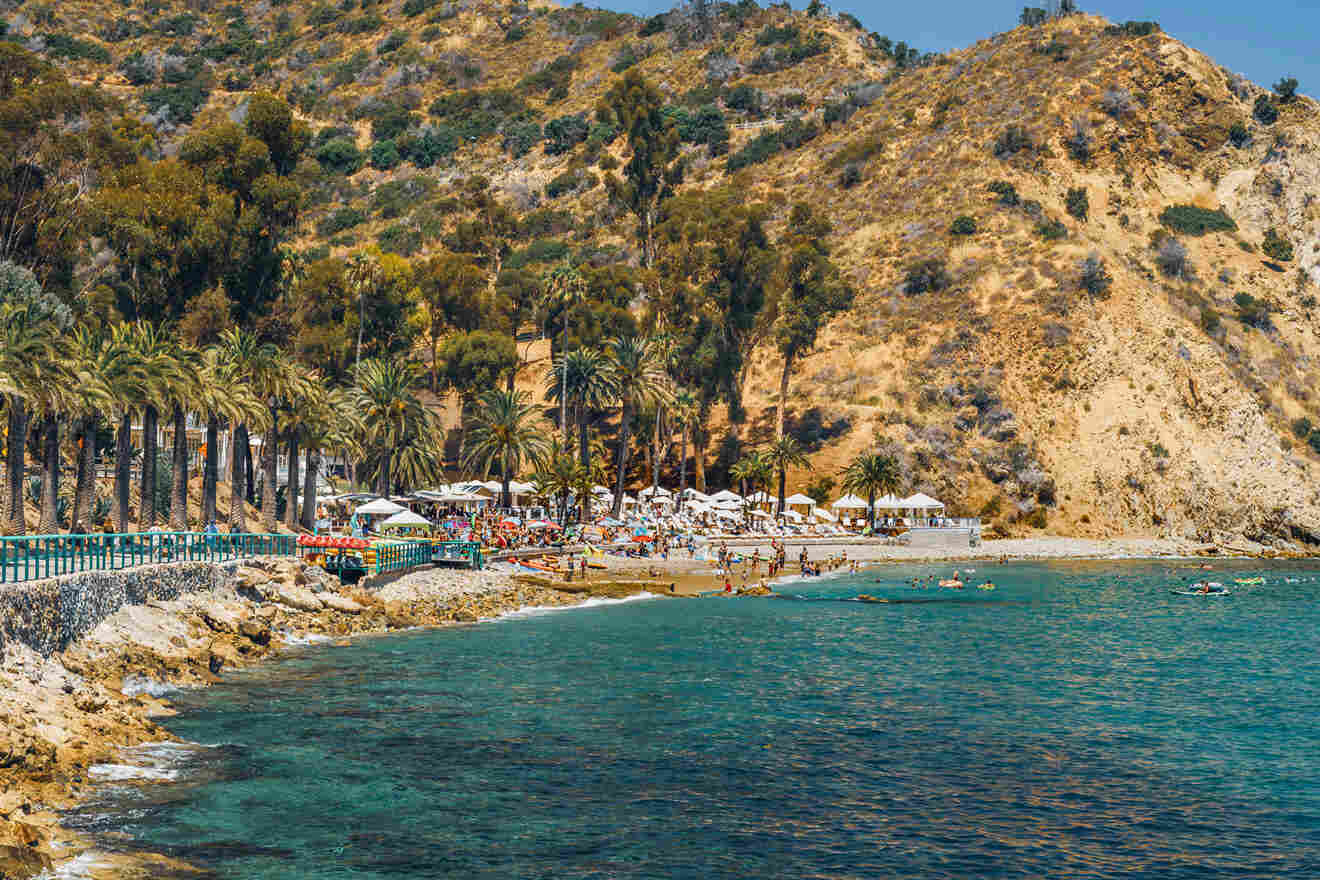 Santa Catalina Island is, hands down, every SoCal's favorite place to explore. It's like our own little backyard island that we can escape to whenever we want!
Outdoor activities such as snorkeling, parasailing, biking, and golfing are all available on the island. Here are a couple of things I recommend doing while you're here:
Getting there: Ferries leave multiple times a day from ports in San Pedro, Long Beach, Newport Beach, and Dana Point.
PRICE: Ferry tickets start from US$84 per person
FAQs about things to do in California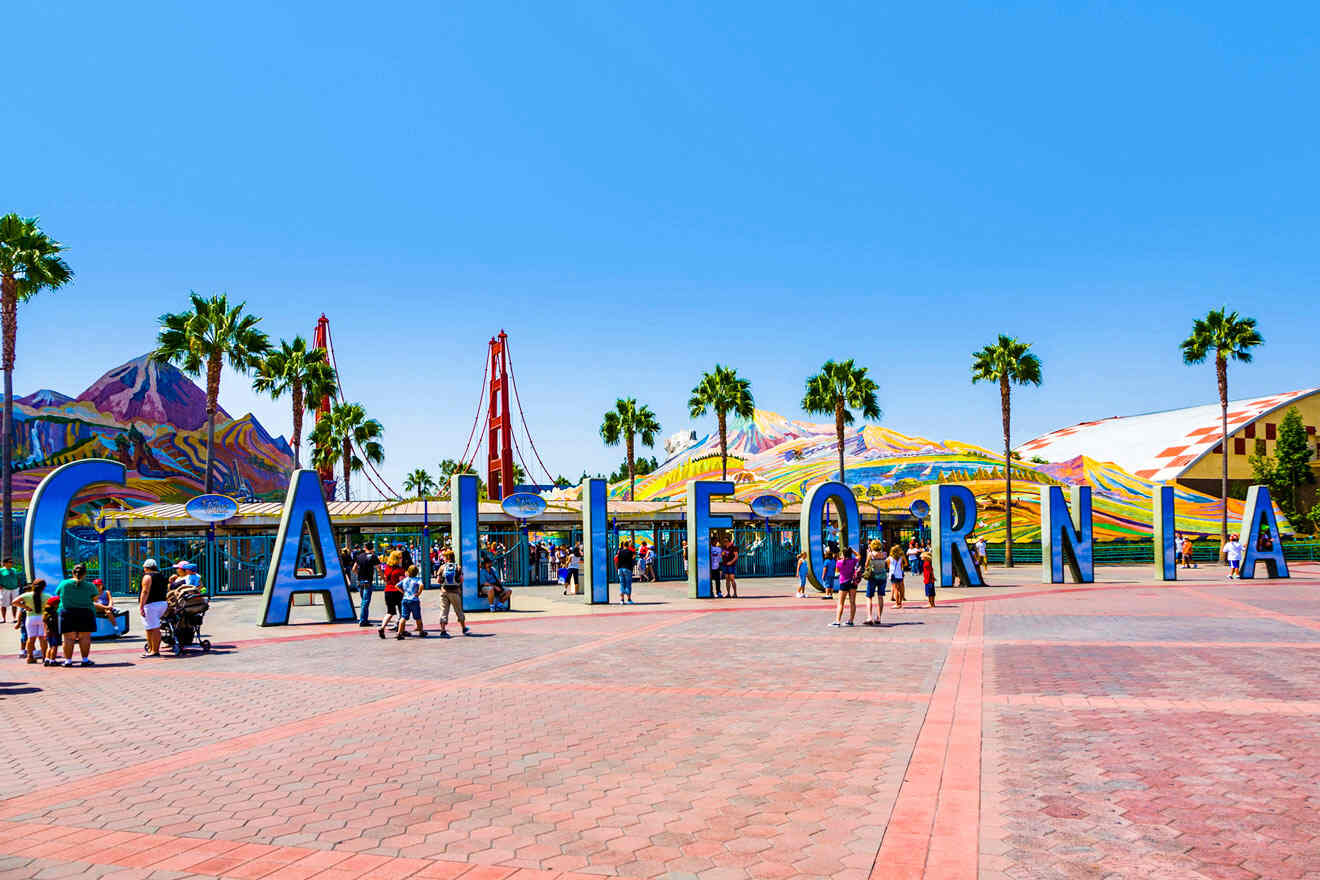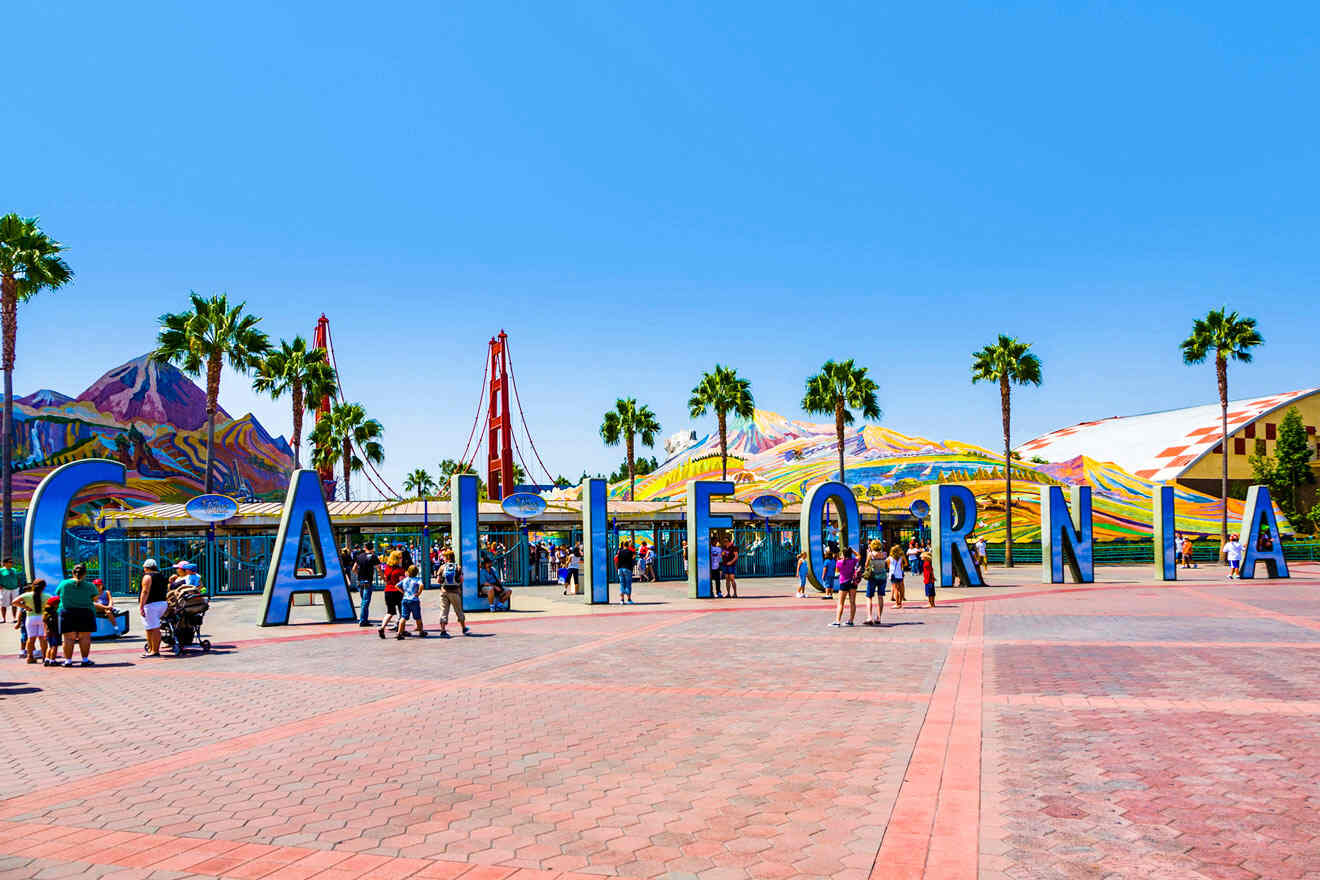 🌴 Where is the best place to go in California for the first time?
💰 What is the least expensive place to go in California?
The least expensive place to go for things to do in California is Sacramento! Believe it or not, the capital of California isn't much of a touristy city to visit, hence cheaper prices!
👨‍👩‍👧 What are the best things to do in California for kids?
The best things to do in California for kids are to visit all our fun amusement parks all over the state! Think Disneyland, Universal Studios, Legoland, Six Flags, and so many others!
🧑‍🤝‍🧑 Where are the best places to go in California for couples?
Definitely Joshua Tree, Carmel-by-the-Sea and Santa Catalina Island! They're so calm and serene, perfect for couples looking for a mini getaway.
Conclusion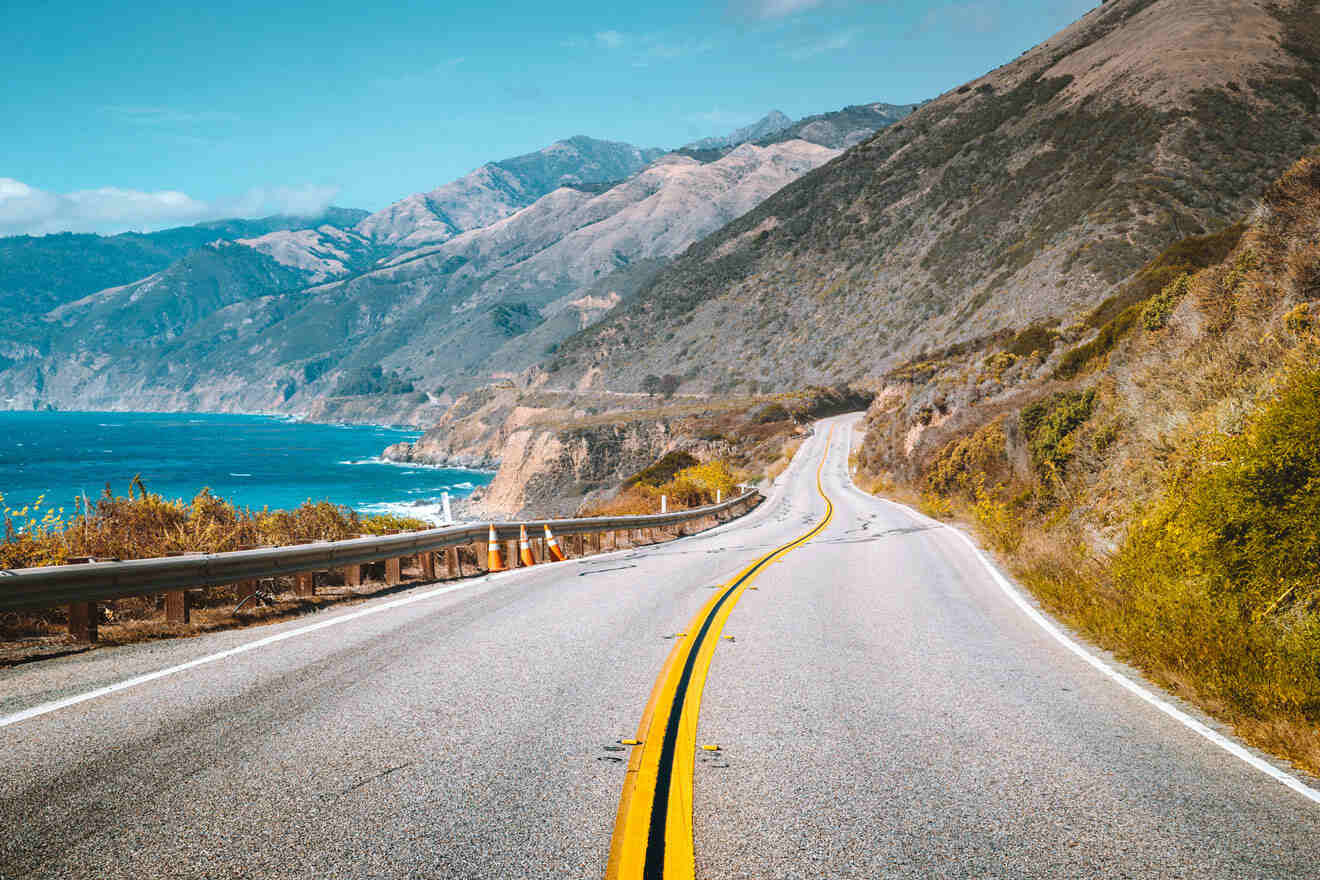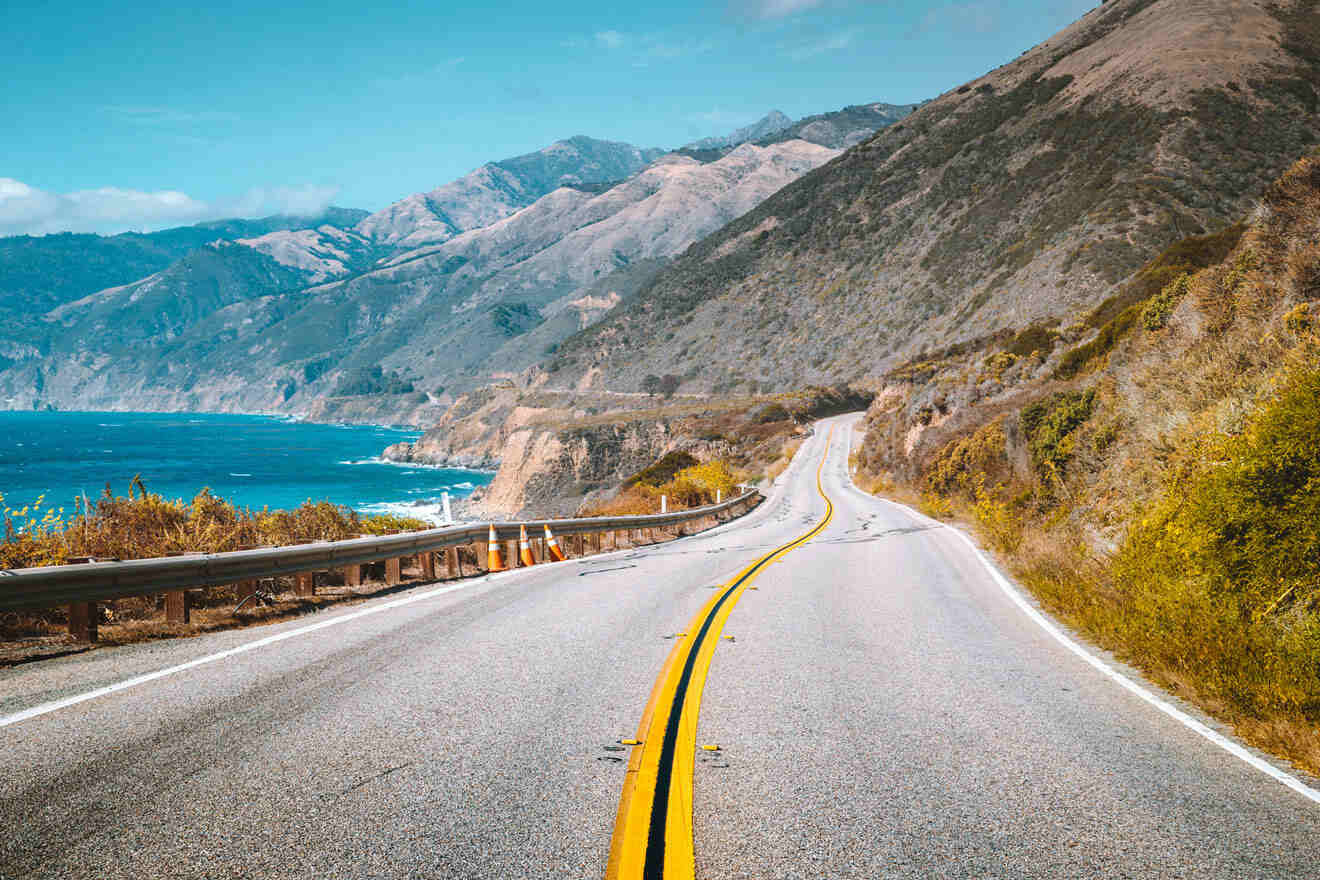 Well, there you have it! These are only some of the best things to do in California. As you can tell, there's SO much to do while you're here!
My top 2 favorite things to do in California have to be taking a trip to the San Diego Zoo and Catalina Island. They're both close to my heart since I did both so much growing up. 💗
If you do visit any of these places, I hope you enjoy and love them as much as I do! I want to ensure you get a spot and get the best deals, so be sure to book your tickets and tours in advance!! It gets SO busy at every single one of these attractions because they're just that great.
Safe travels!
Xoxo,
Esabel S.
---
Pin it for later!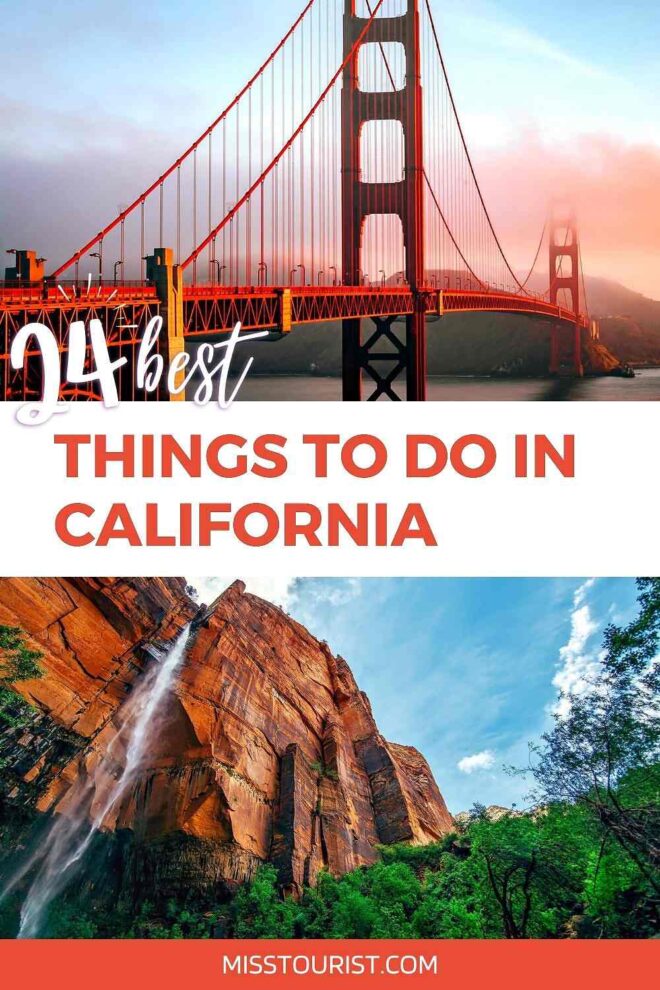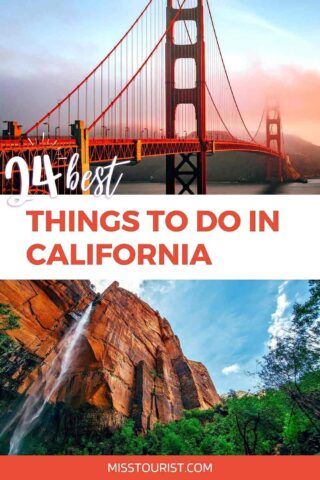 Pin it for later!