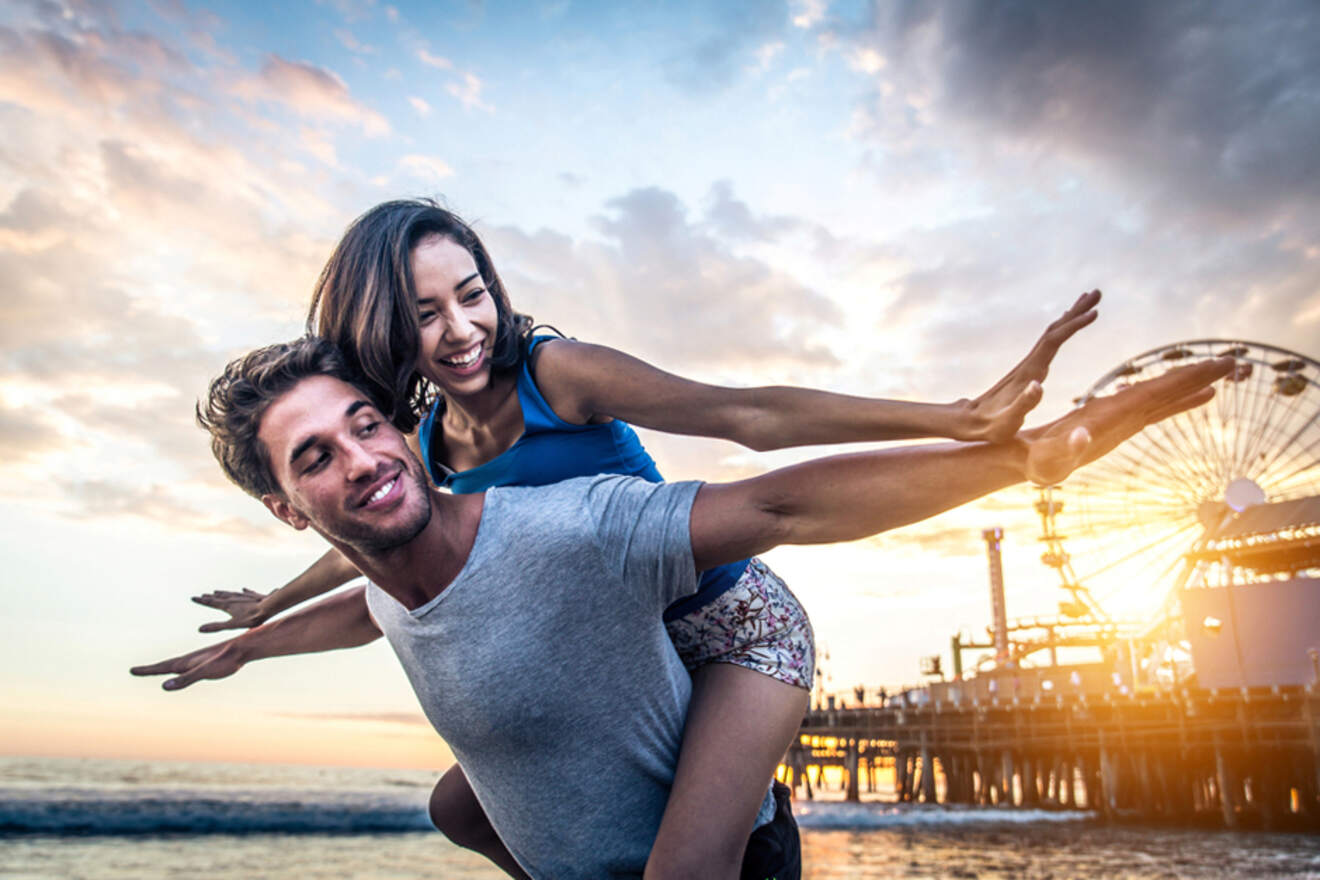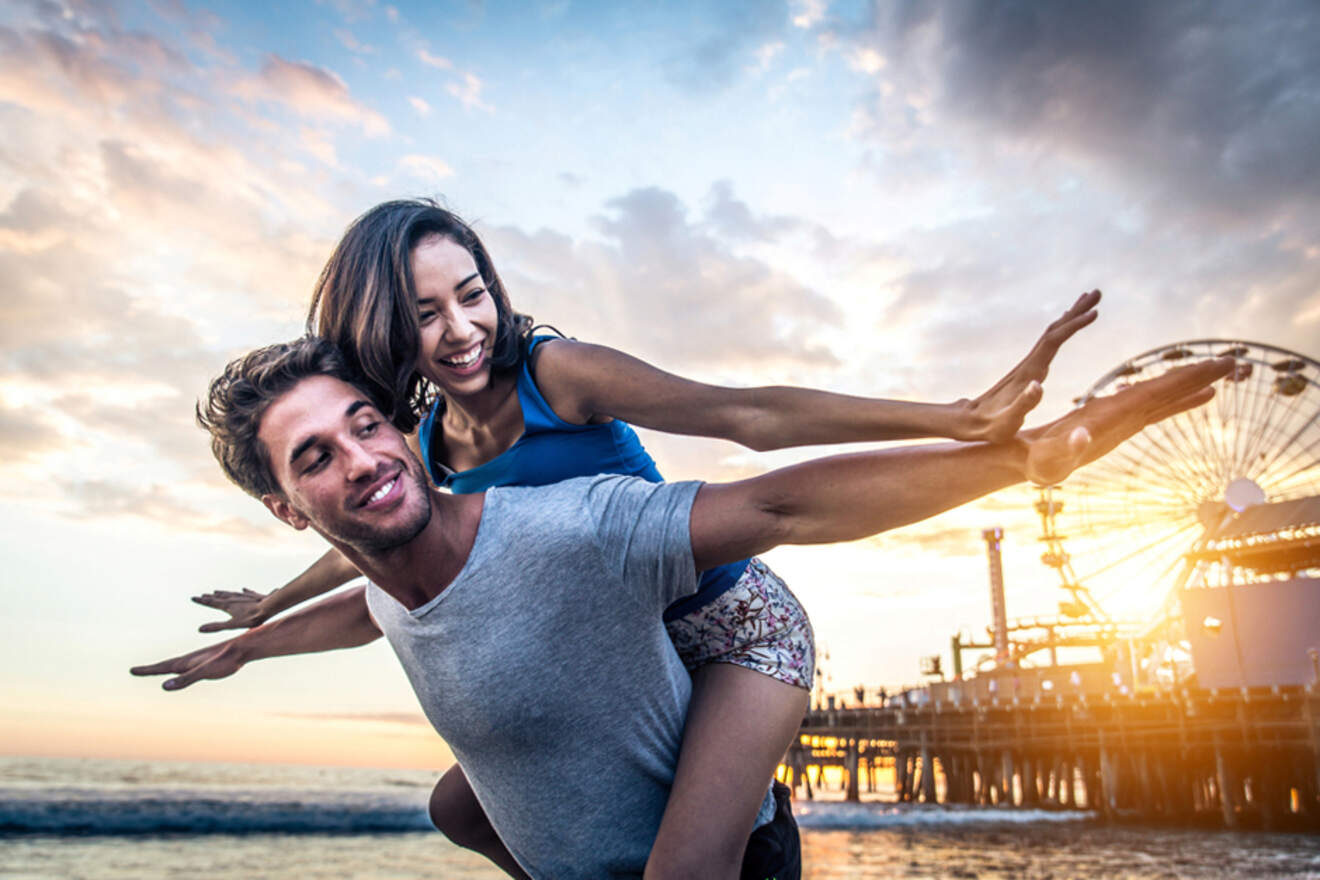 Looking for a perfect romantic getaway destination with your special someone? California has a variety of beautiful destinations that are sure to make your heart happy.
From the rugged coastline of Big Sur and luxurious beachside resorts to the vineyards of Napa Valley and cozy mountain cabins, California has something for every couple. So pack your bags and get ready for a delightful vacation in the Golden State!
In this article, I'll be going over the 15 most romantic getaways in California so that you and your partner can plan the perfect trip. As a local, I know a thing or two about the state of California, and I'm going to nail down my favorite romantic spots that you and your love are going to absolutely adore.
To make your entire stay a breeze, I'll also suggest charming restaurants to visit, things to do while you're there, and when to book (spoiler: it's ASAP)!
Let's get started!
If you are in a hurry
Don't have a lot of time in California? These are a few of the most romantic resorts and experiences that I recommend booking in advance:
And here are the best hotels: Huntley Santa Monica Beach (luxury), Korakia Pensione (mid-range), Laguna Hills Lodge-Irvine Spectrum (budget)
Here's a map of all the lovey-dovey places you'll visit in California!
1. Explore the eco-friendly town of Ojai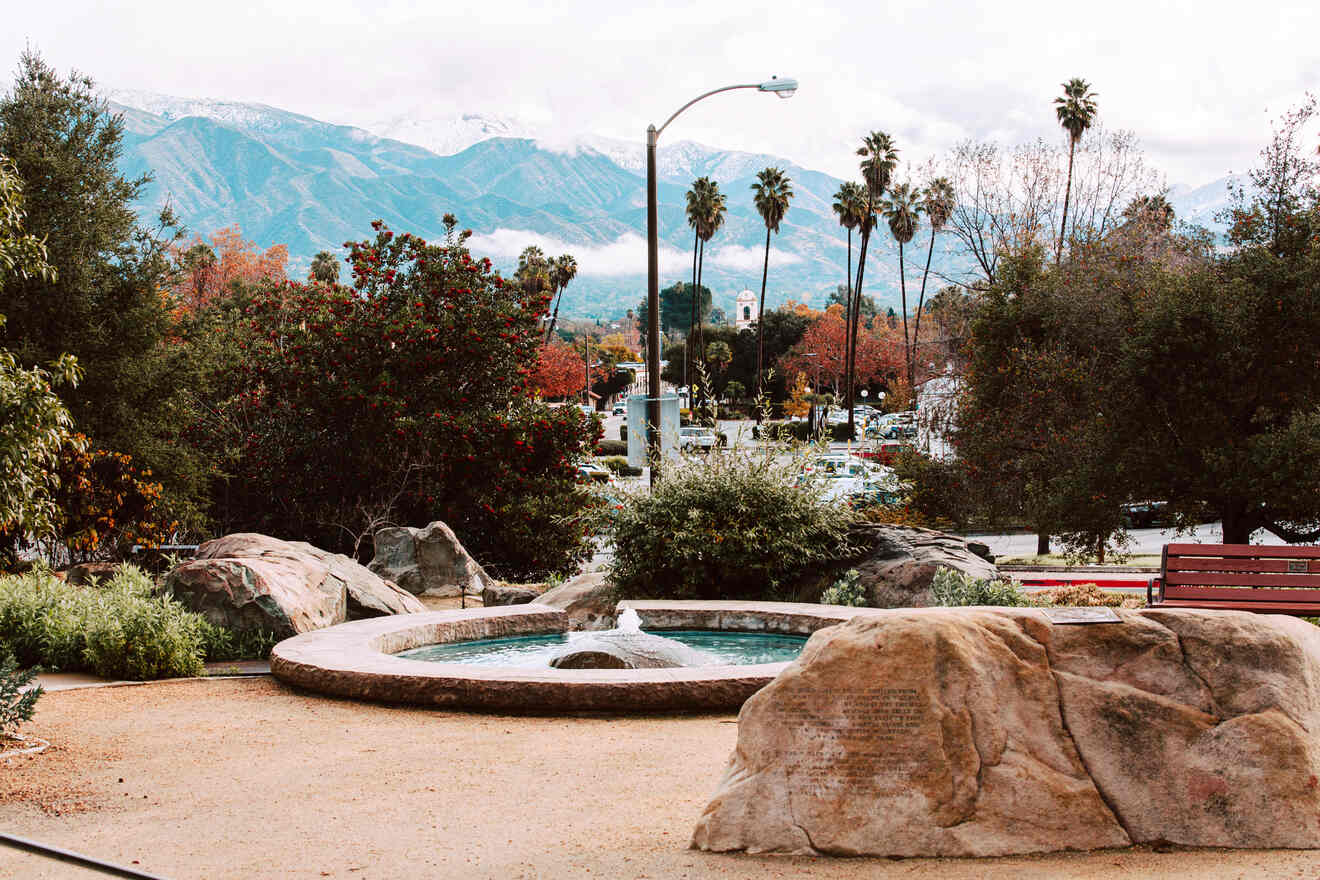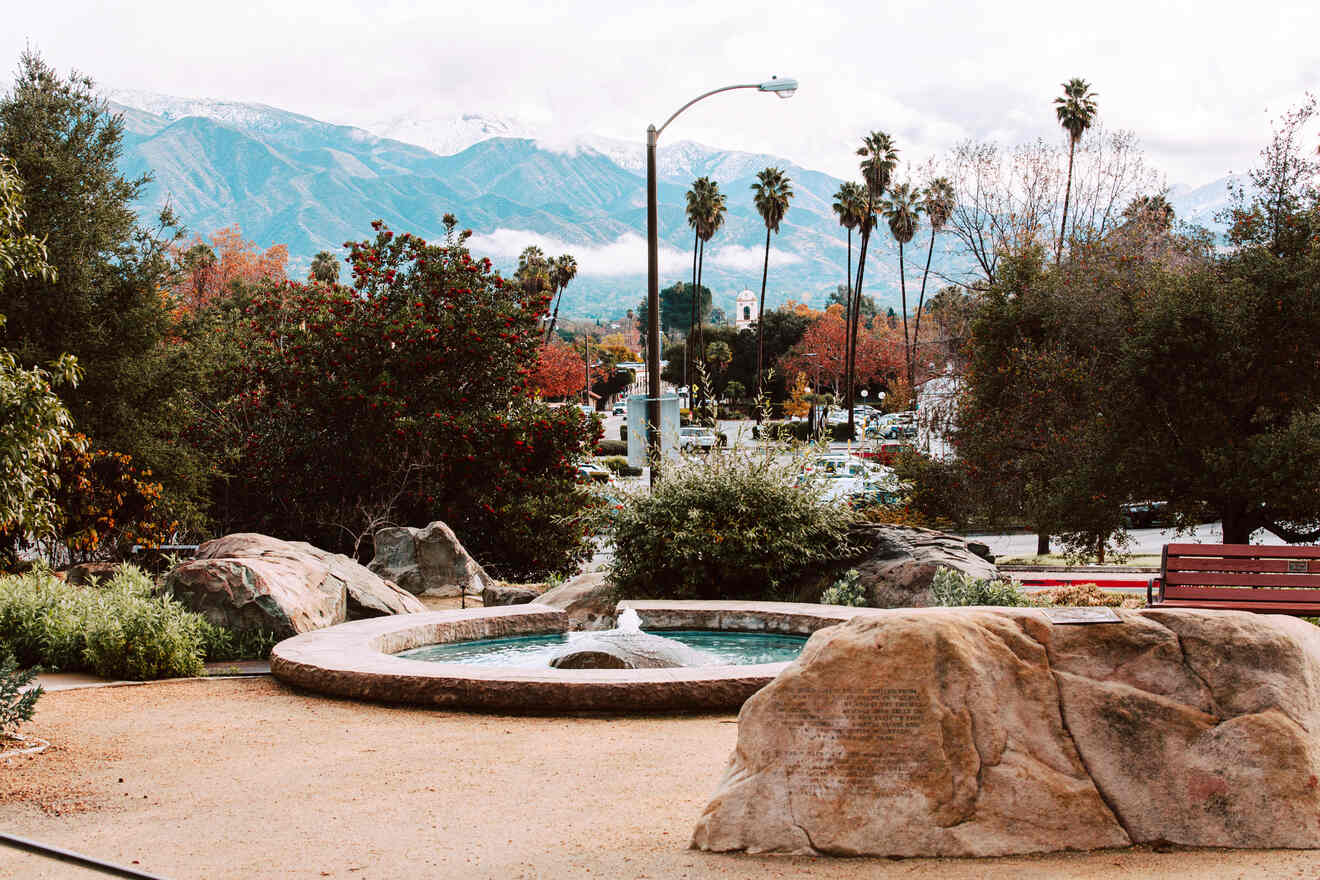 The city of Ojai always has a sweet-smelling orange blossom aroma in the air! So fresh and so romantic!
Ojai is known for its local farmer's markets, organic agriculture, boutique hotels, and Spanish-inspired architecture. This is the place to be if you want a low-key weekend with healthy food made with delicious locally-grown ingredients and stunning flowers blooming on the side of the road! Ojai is a gem in California that most people don't really know about.
Take a drive to Ojai Rotie for a light, casual lunch. The atmosphere is relaxed, and the food is spectacular as most ingredients are fresh and locally grown. Try out their organic sourdough bread – you won't regret it!
For one of the best romantic getaways in Ojai, I recommend checking out the Ojai Valley Inn! It's the most romantic hotel in the entire city, giving you the full spa treatment and a golf course for couples to indulge in.
Each individual room is decorated with Spanish-inspired furniture and has an intimate, cozy feel. If you and your partner want to spice things up outside of the bedroom, the resort offers mind and body fitness classes and tennis classes with certified coaches.
HOTEL PRICE: Luxury rooms start at US$666/night for 2 adults
2. Make the most magical memories in Big Sur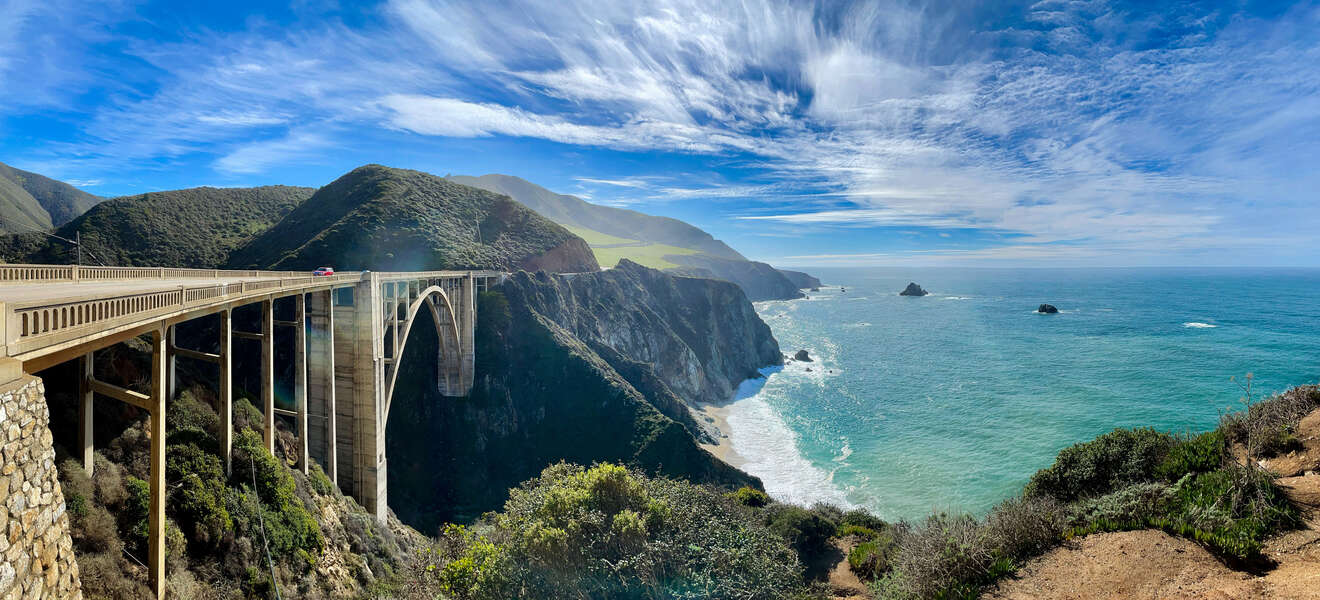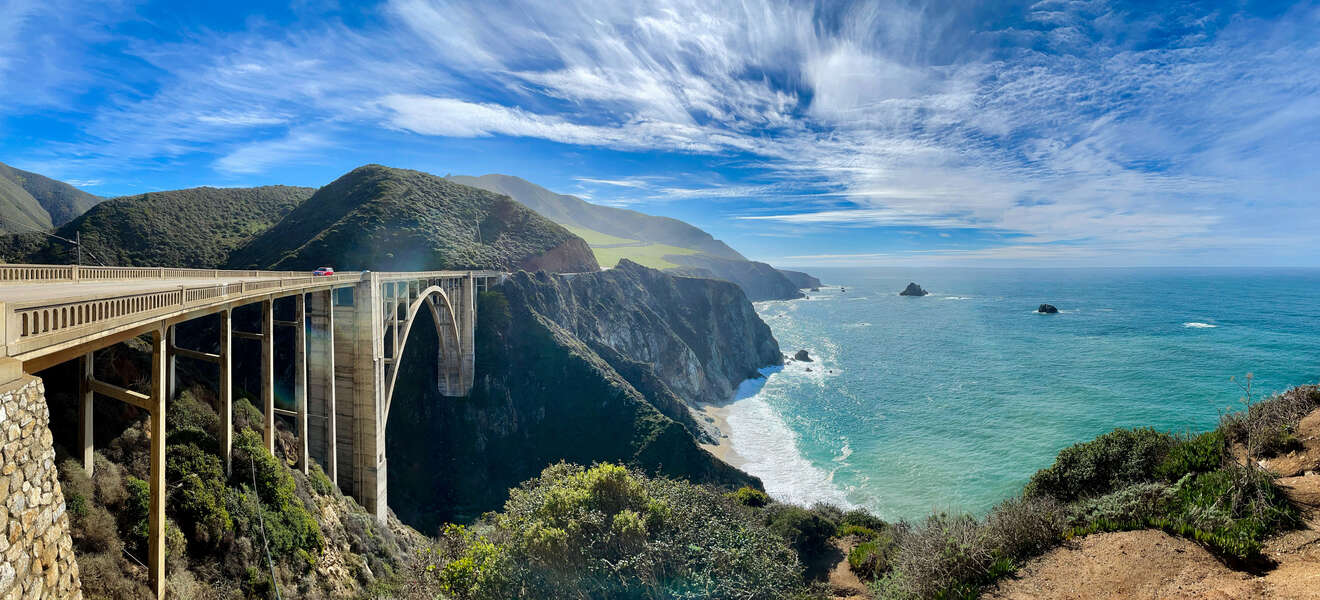 Coastal cliffs in Big Sur are one of the most iconic attractions in California. Big Sur is known for its long and scenic coastline home to an abundance of marine life and California's unique Redwood trees.
You and your lover can enjoy the stunning views in Big Sur's state parks and natural reserves while driving along the Pacific Coast Highway (Highway 1)! This is great for couples looking for a little adventure on top of their romantic escape.
There aren't many stays located directly on Big Sur, which is why I recommend staying at the Carriage House Inn in Carmel-by-the-Sea.
For sunsets that will take your breath away, visit Point Lobos Natural State Reserve, Garrapata State Park (for flower-covered coastal bluffs), Pfeiffer Big Sur State Park, and Bixby Bridge. These are some of my favorite tranquil and romantic places (you might even see whales in the distance)!
Be sure to bring a camera and snap some shots of you and your honey for stunning photos that will last a lifetime! I personally like carrying around disposable cameras to capture moments that I can later print out.
HACK: If you're driving along Highway 1, book an audio tour to avoid getting lost wandering around Big Sur!
3. Experience surfing, fine dining, and local wine in Malibu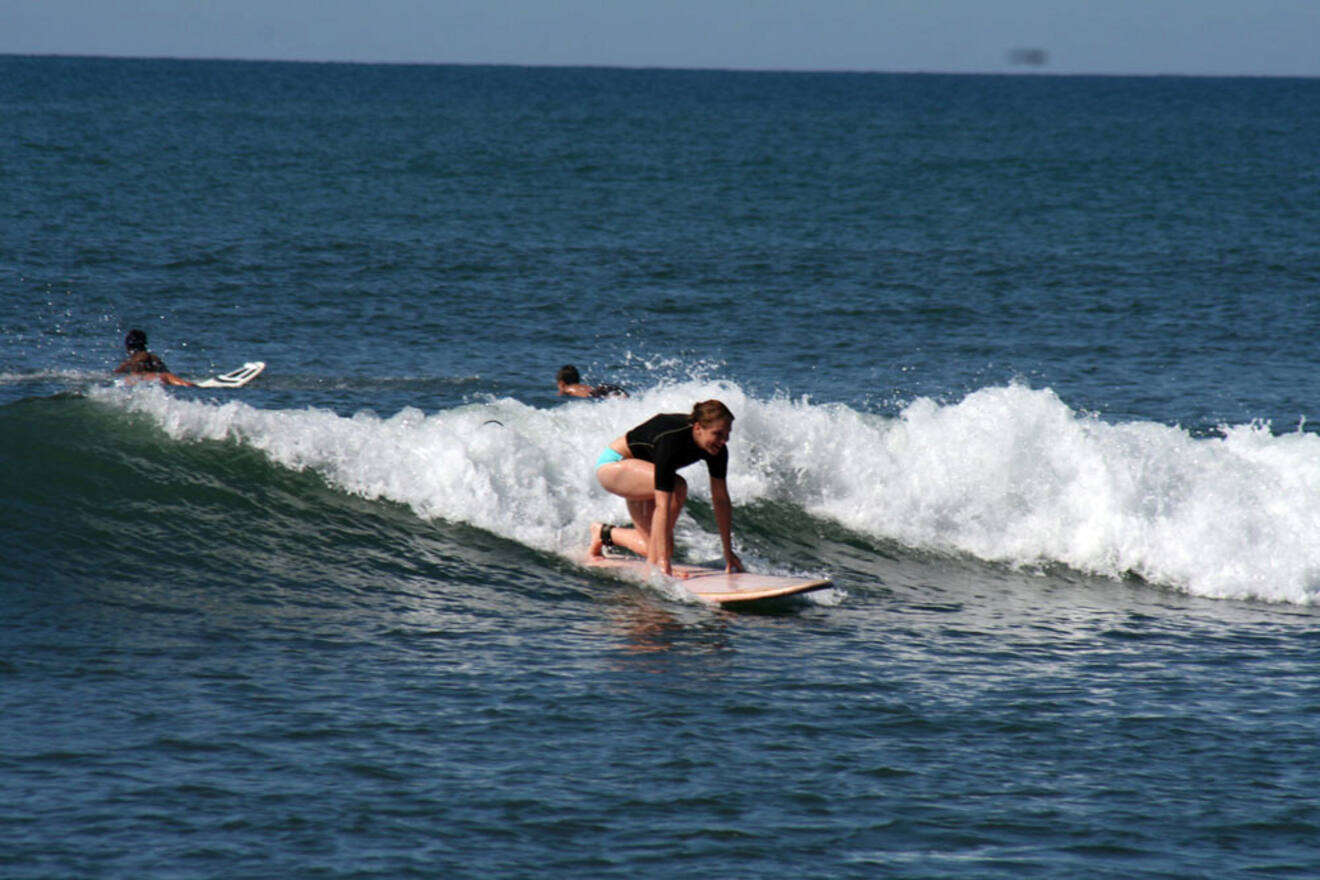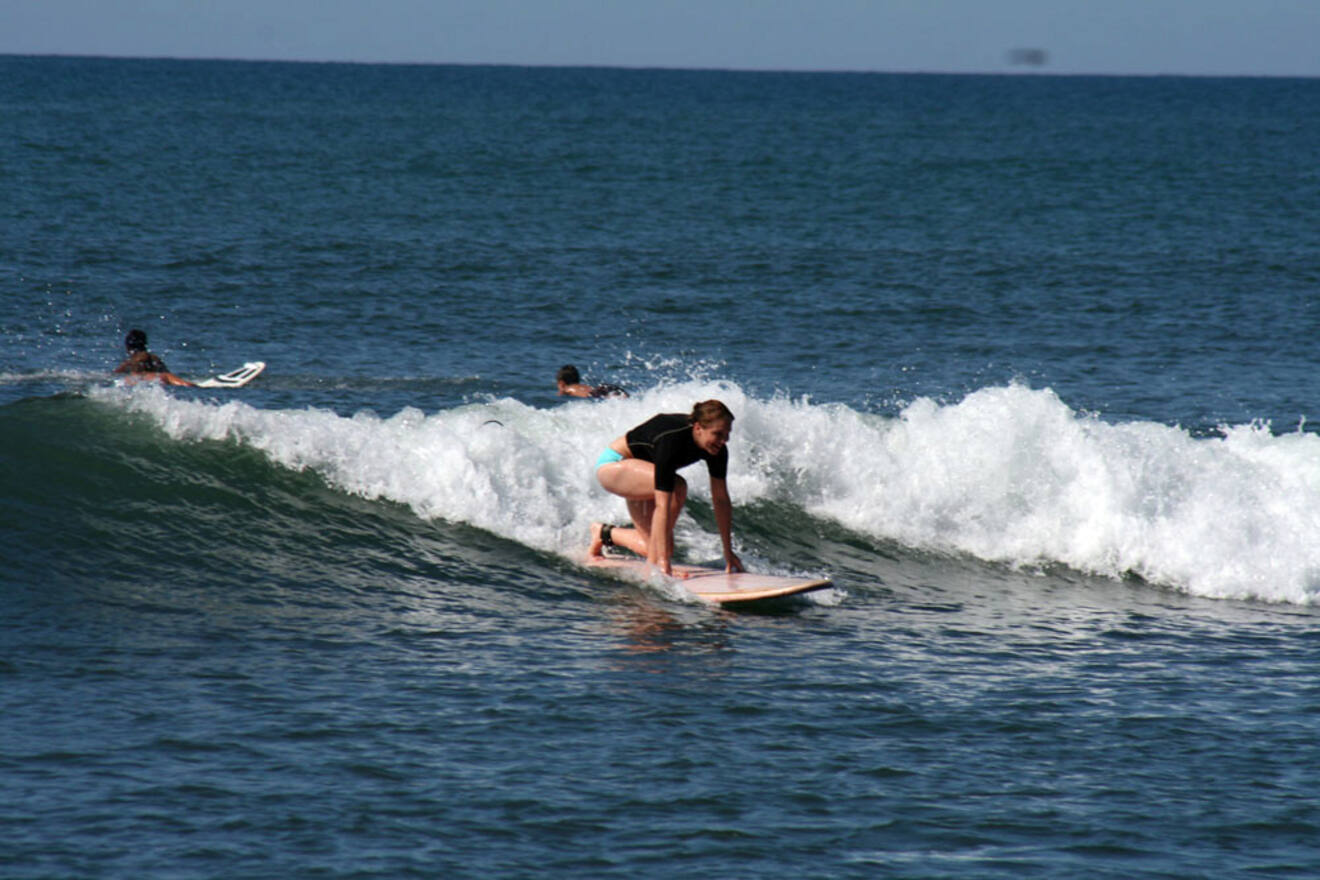 Malibu is known for its lovely beaches, and luxurious feel, and it is the best surfing city in the world! I love escaping to Malibu when I'm trying to get out of the big city – it's both fun for solo travelers like me and romantic for couples looking for a little romantic getaway. Malibu is also home to some of the world's biggest celebrities and millionaires because it's just that amazing.
The Getty Villa is a beautiful piece of architecture with numerous antiques from the Greek, Roman, and Etruscan heritage. I recommend checking this off your to-do list in Malibu – it's one of those places you'll both look back on with awe. It's free admission, but you need to book in advance to reserve your spot.
The most romantic stay in Malibu that you absolutely must check out is The Westlake Village Inn. Here, you can enjoy rooms with a relaxing fireplace, garden views, and all the toiletries you need for your stay.
This hotel has been a famous landmark and natural beauty in Malibu for over 50 years. It has a Mediterranean-style outdoor pool, a fitness center, and bicycle rentals for your convenience. Bike around the Malibu pier during sunset hour for a cute date night!
Inside the hotel is Stonehaus, a boutique enoteca (a fancy word for wine shop) inspired by Italy. You can relax with your glass of wine in their gorgeous outdoor garden and end the night at Bogies Bar and Lounge, a popular nightclub within the hotel.
HOTEL PRICE: Rooms start at US$310/night for 2 adults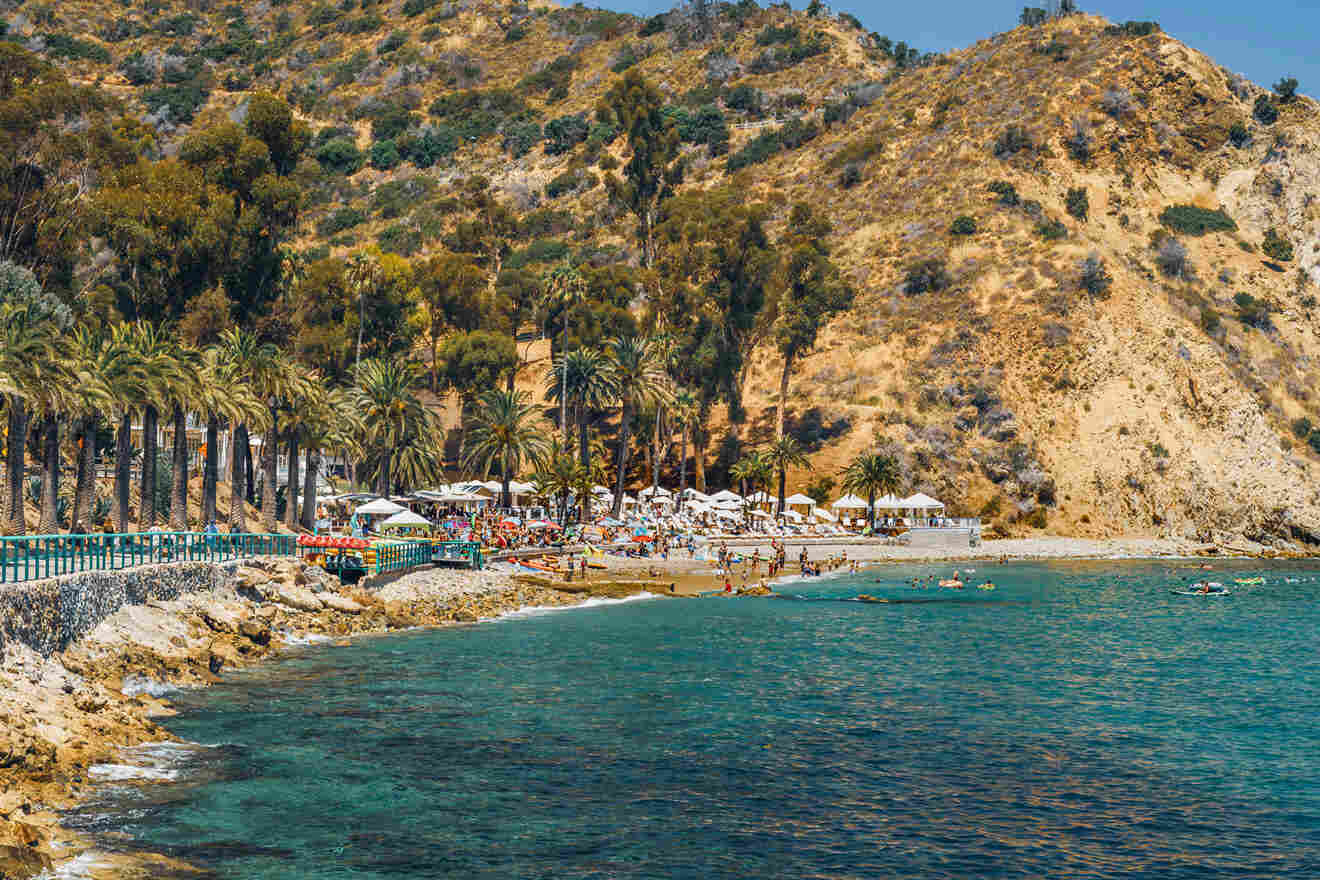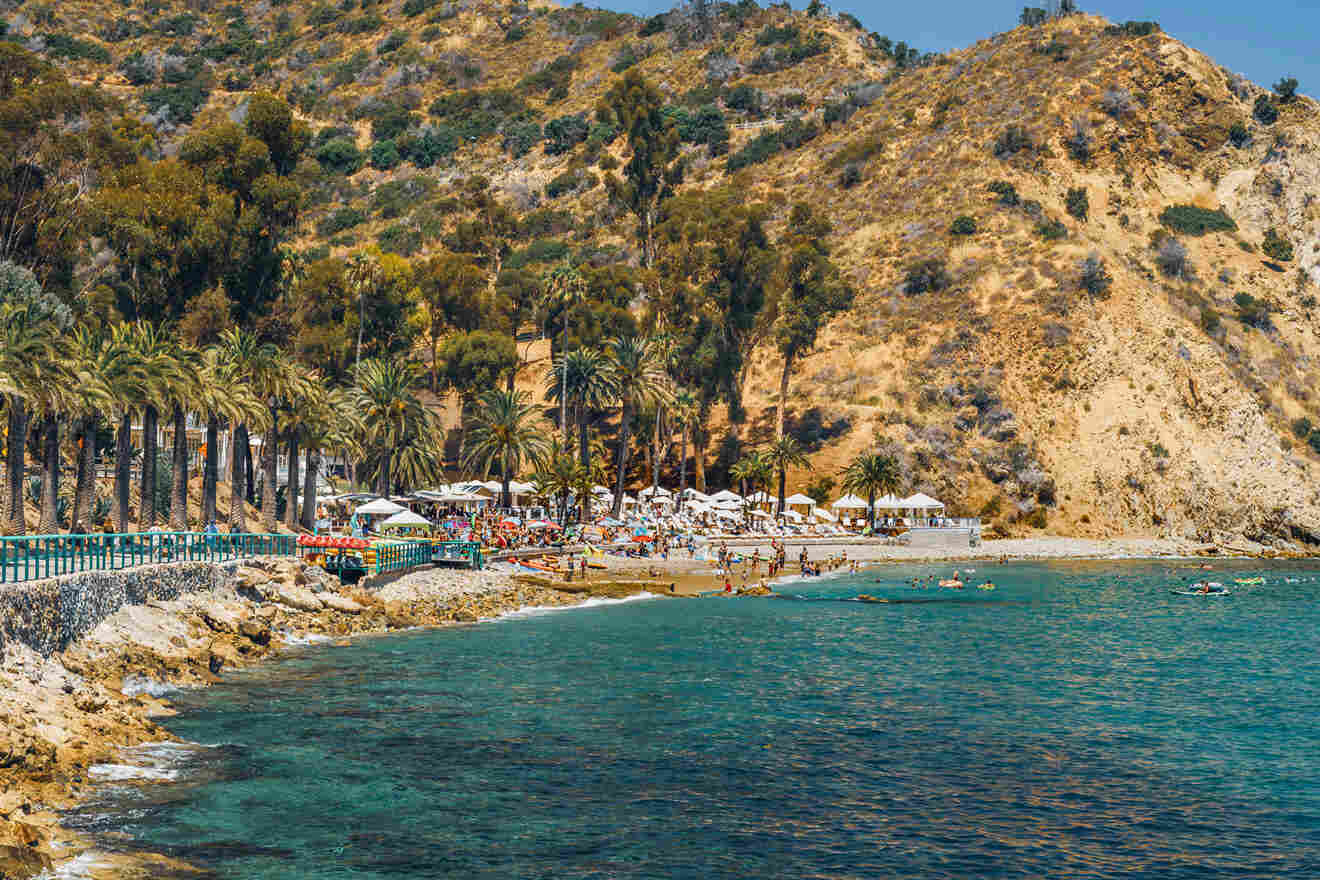 Speaking of romance… Santa Catalina Island is another absolute must. The small island is located a short ferry ride away from ports in Dana Point, San Pedro, and Long Beach. It's known for its intimate beaches, clear blue waters, water activities, and popular casinos.
As for couples looking for a little bit more romance, I recommend checking out the Catalina Sea Spa for a relaxing couples massage. This place is amazing because you can choose between 6 different couple massage packages (the Couples Retreat and Romance Package Massage will give you the best value and enchanting experience).
The Zane Grey Pueblo Hotel is a hidden gem of a hotel that was once a historical landmark! It was built in 1926 by American author Zane Grey as his own personal vacation home. Now, it's one of Catalina Island's best-selling hotels.
Every single one of the suites is beautifully decorated with extensive views of the island. They even have a special Honeymoon Suite with a large balcony and private entrance for the lovebirds!
HACK: For a cheaper mode of transportation in Catalina Island, skip the golf cart and take the Garibaldi bus instead.
HOTEL PRICE: Rooms start at US$308/night for 2 adults
5. Take a luxury vacation in Carmel-by-the-Sea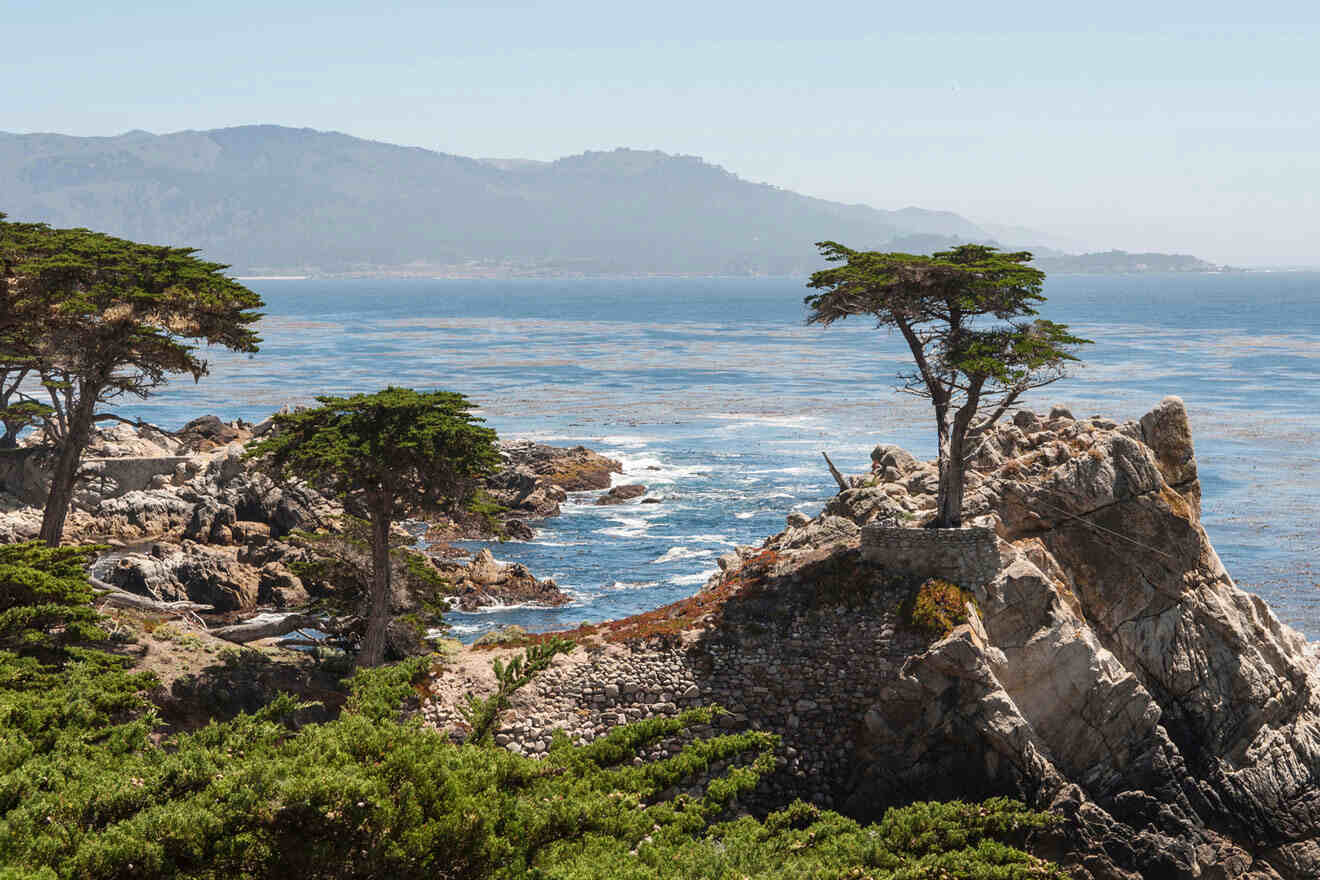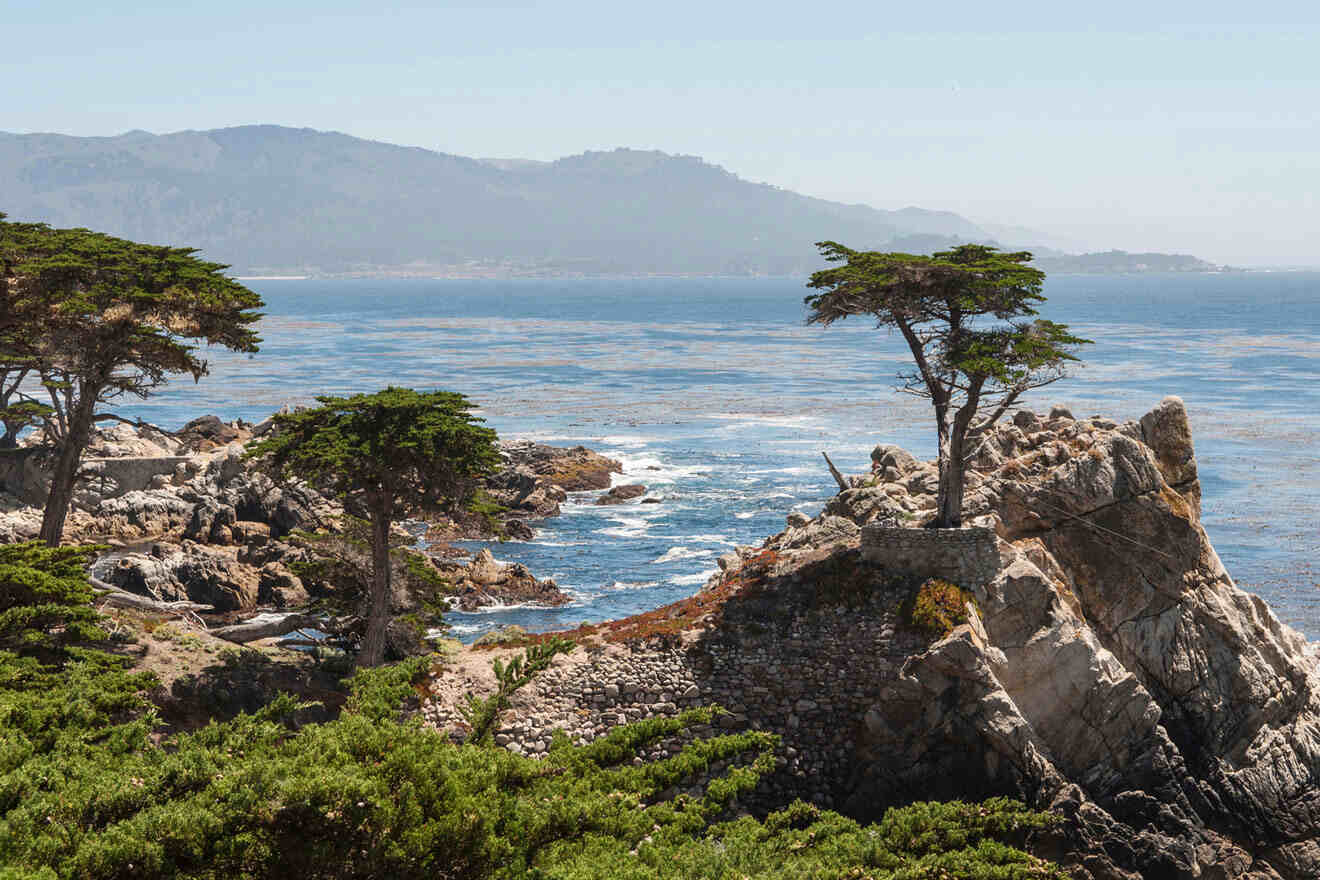 I adore Carmel-by-the-Sea. There's a great sense of calmness in the air here, perfect for lovebirds looking for the best romantic getaway.
Carmel-by-the-Sea is a charming coastal city in central California known for its scenic beauty, artistic culture, and 1920s-inspired fairytale architecture. So, when here, the best way to get to know the town is to take a walking tour to see all the tourist attractions and learn the history behind the architecture.
There are also white-sand beaches (Carmel Beach), romantic cottages, and a walkable downtown area with art galleries, boutiques, and restaurants. Over 8 million people visit yearly to experience the small town, and it had to be the first on my list!
Carriage House Inn is a luxurious stay for couples located right in the heart of Carmel. All 13 of their rooms include a fireplace, a mini fridge stocked with free drinks, and every amenity you need for the ultimate romantic vacation.
Plus, their most luxurious room has a 2-person hot tub (can't get more romantic than that). They even offer complimentary wine and appetizers every evening and make your entire romantic stay *a chef's kiss*.
If you do choose to leave the comfort of your hotel, Big Sur is a short drive away from Carmel, but it's worth it!
PRO TIP: Unlike most beach towns in Southern California, the best time to visit Carmel-by-the-Sea is in the fall! Fall is the sunniest time of the year, whereas summer gets a bit gloomy and chilly.
PRICE: Rooms start at US$375/night for 2 adults
6. Unwind at a Spanish-style Santa Barbara resort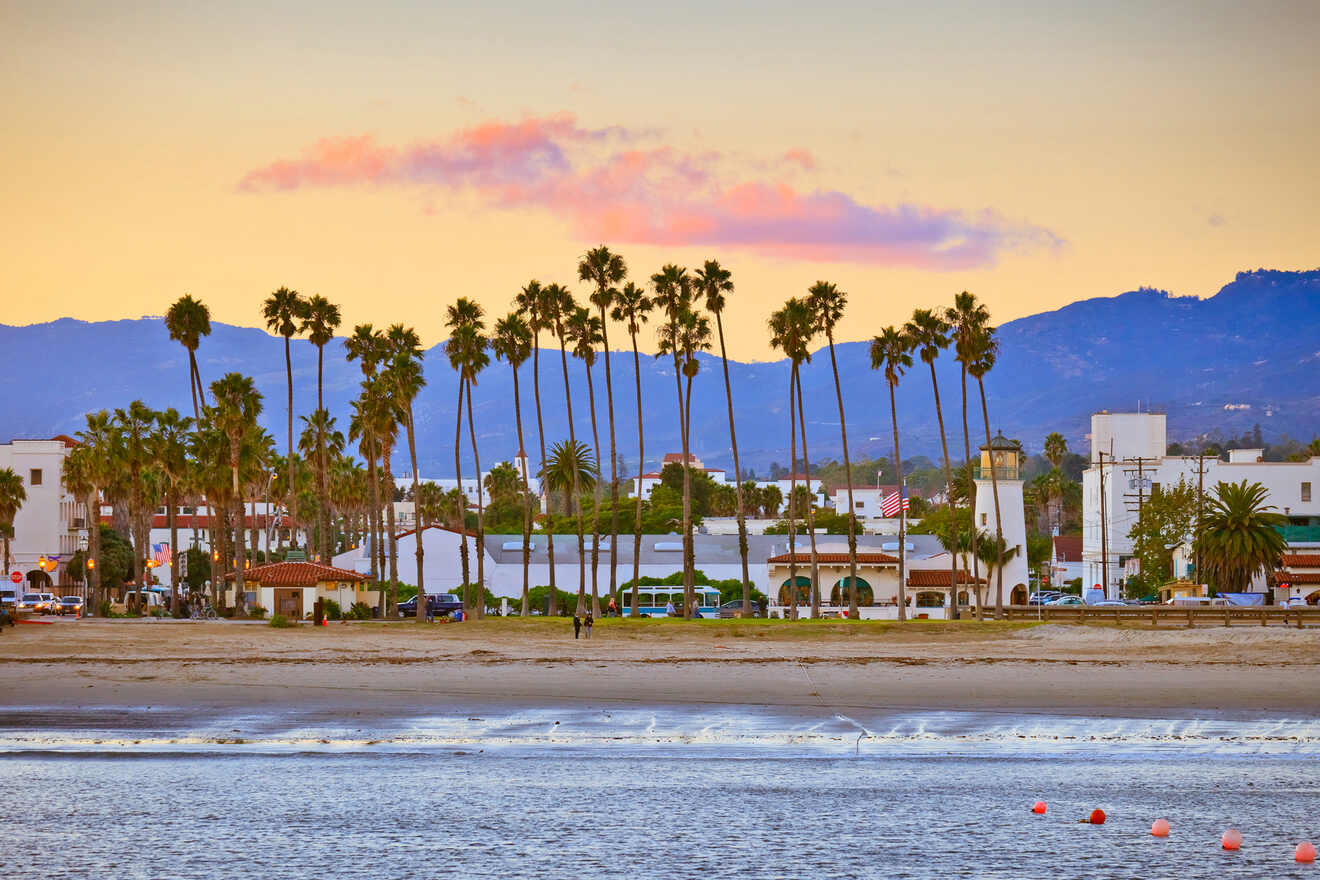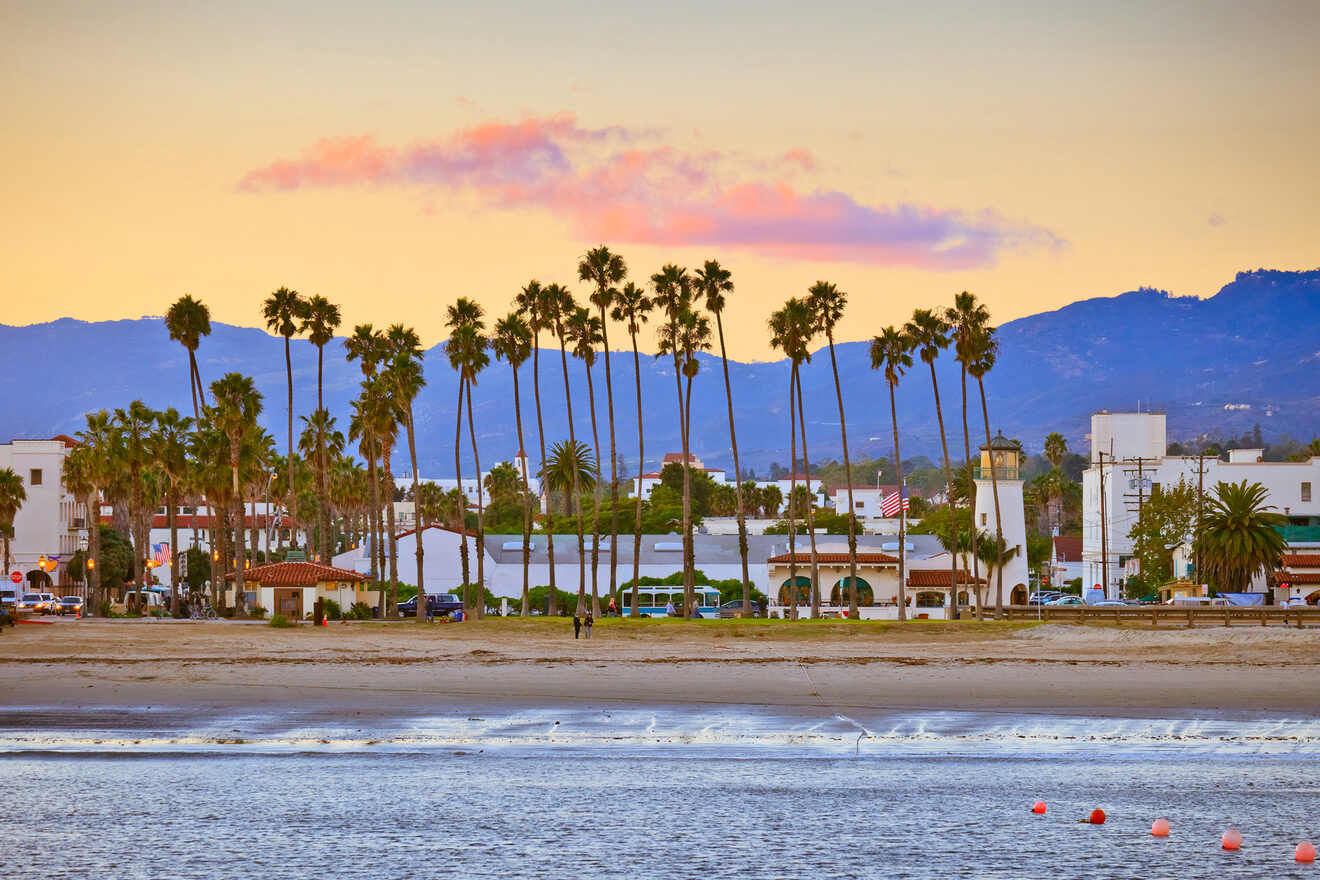 Santa Barbara is known for its beautiful beaches, architecture, and sunshine all year long. It's also a wine country hotspot for outdoor activities and tastings. The Wine + Food Festival is hosted here every June – a great date idea for wine-loving couples (book tickets in advance to reserve your spot)! If you miss out on the festival, try a wine-tasting tour instead to get a taste of the best local wines.
On your stay in Santa Barbara, I recommend checking out Vino Vaqueros for an intimate day of horseback riding and wine tasting. Los Padres Outfitters offers horseback riding on the beach if you prefer to be by the water – your getaway is going to feel straight out of a romance movie.
As for accommodations, Cheshire Cat Inn & Cottages is the epitome of romance in Santa Barbara where you'll feel like Alice in Wonderland. Each room offers everything you need for the ultimate romantic getaway, along with bathrobes and luxury bath amenities for you and your sweetie to indulge in.
You and your lover can even enjoy their complimentary evening wine hour and morning coffee. You're also saving so much $$ in the end by taking advantage of these amazing perks!
HOTEL PRICE: Rooms start at US$276/night for 2 adults
7. Relax at a full-service spa and resort in Lake Tahoe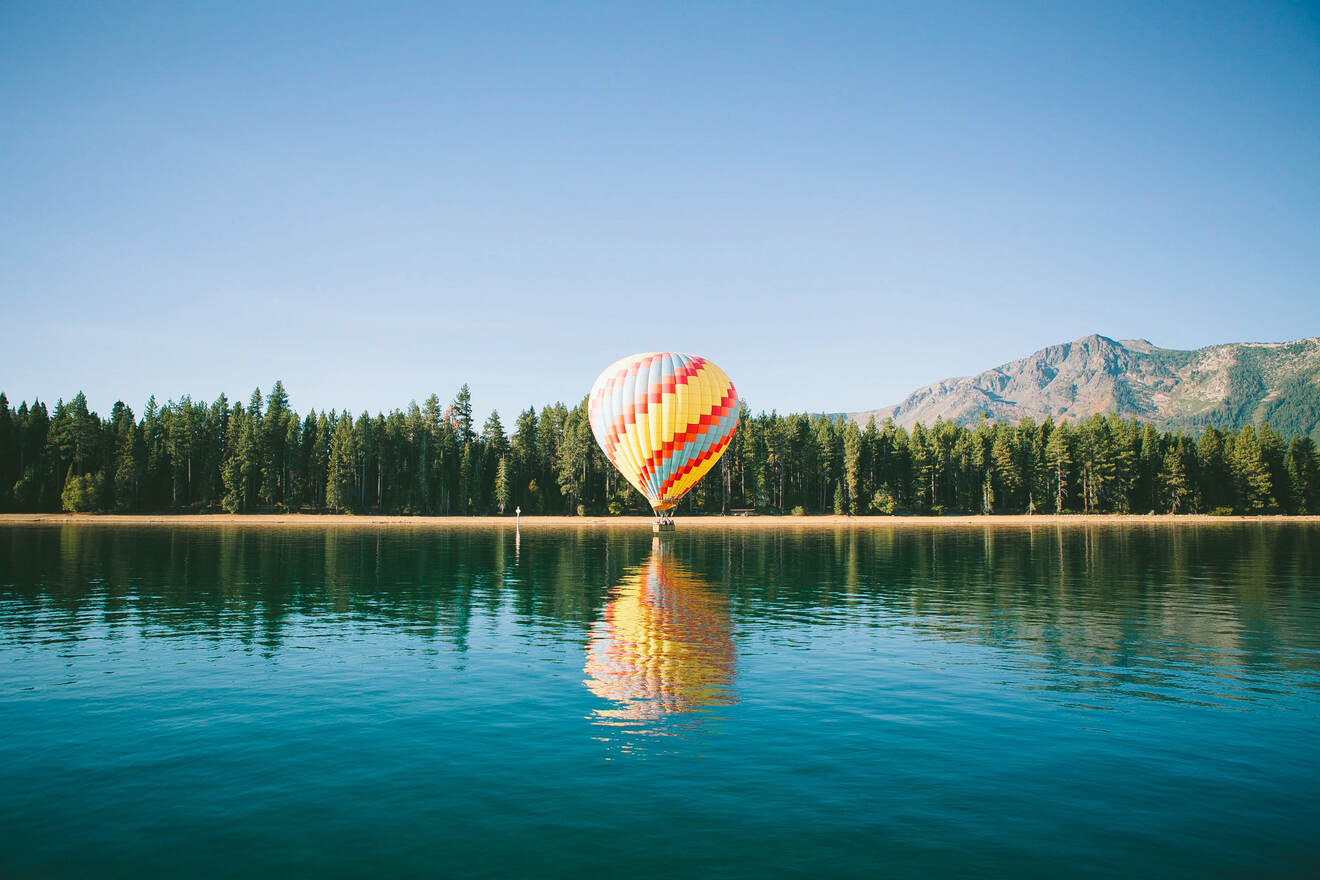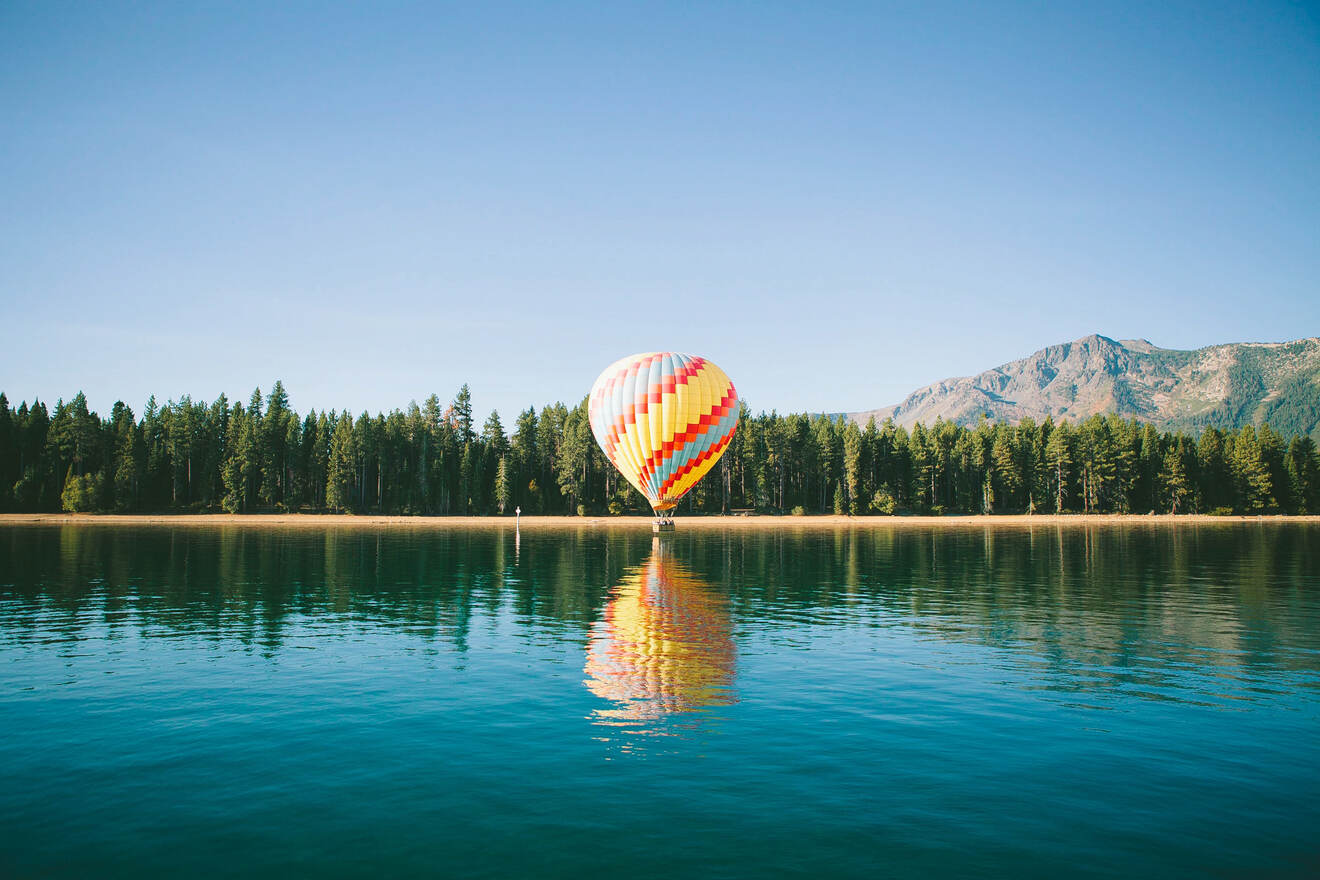 Lake Tahoe is known for its crystal-clear blue waters and mountain scenery. It's a beautiful destination for couples to enjoy a laid-back, romantic vacation!
A few of my favorite things for couples are taking a gondola ride in Heavenly Mountain for a scenic view of the lake or enjoying a wine & cheese sunset cruise experience. They're both so intimate and relaxing, wonderful for couples like you!
As for your stay, The Coachman Hotel is a stunning stay in South Lake Tahoe, at a 5-minute walk from Heavenly Mountain, that offers rooms with a modern and romantic ambiance for couples looking for a cozy stay. The hotel offers an outdoor patio, fireplaces, a picnic area, and so much more for you two to indulge in.
HOTEL PRICE: Rooms start at US$139/night for 2 adults
8. Plan an unforgettable stay in Napa Valley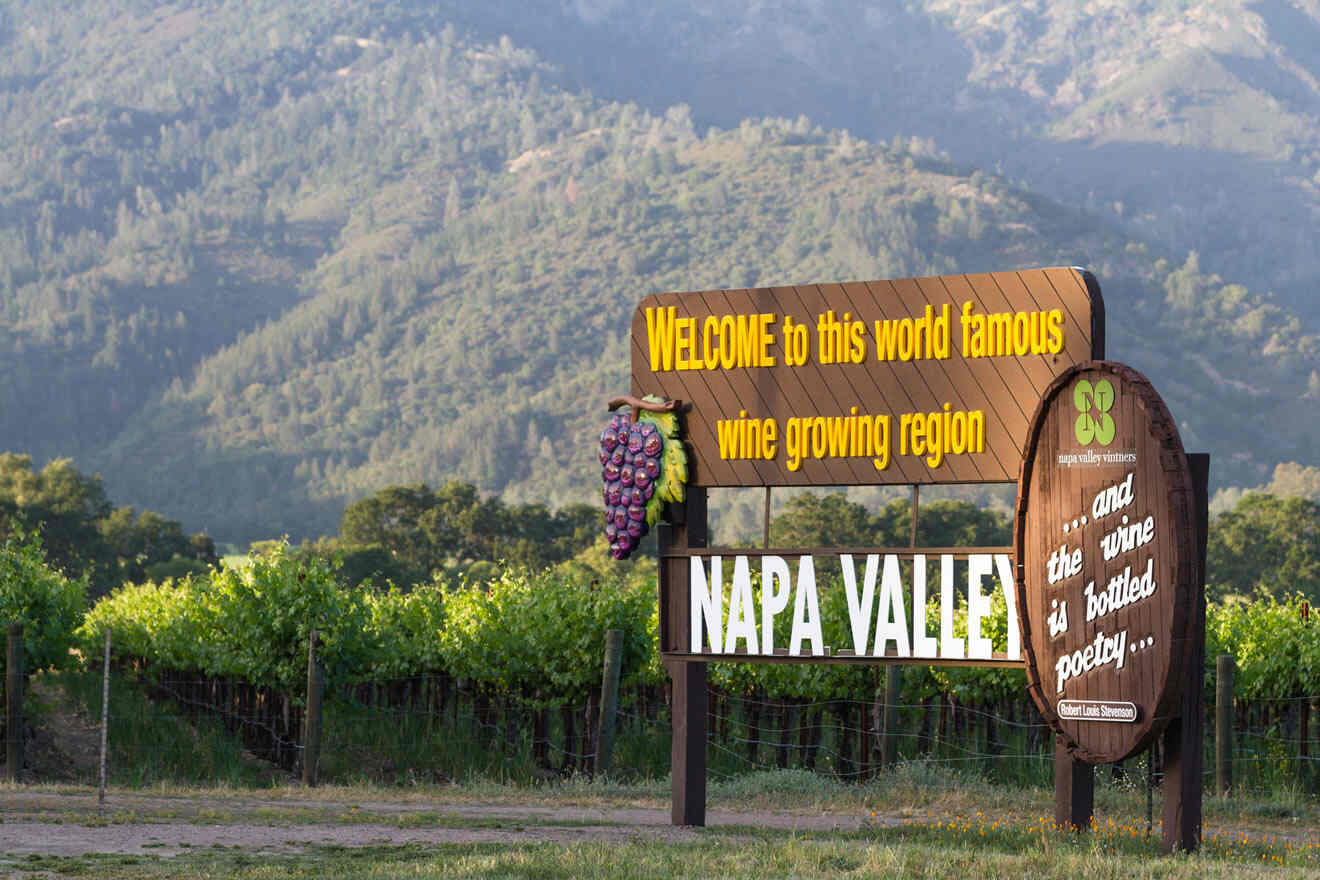 There's nothing quite as romantic as floating above the picturesque vineyards and rolling hills of Napa Valley in hot air balloons. This unforgettable experience creates a serene and intimate atmosphere, allowing you and your partner to enjoy the scenic views while also enjoying each other's company.
There are so many romantic hotels to pick from in Napa, but most range between US$400 and US$1,000 a night. Fortunately, I found a lovely contemporary boutique hotel called the R Inn Napa, offering rooms starting at US$259 per night. A huge win for somewhere as popular as Napa!
The rooms are equipped with a complimentary bottle of wine, rainfall showerheads (yes, please), smart technology, and keypad door codes to self-check in. You and your partner are getting a great deal for the price and an intimate, private experience for just the two of you.
HOTEL PRICE: Rooms start at US$259/night for 2 adults
9. Set sail and have a romantic stay in San Francisco Bay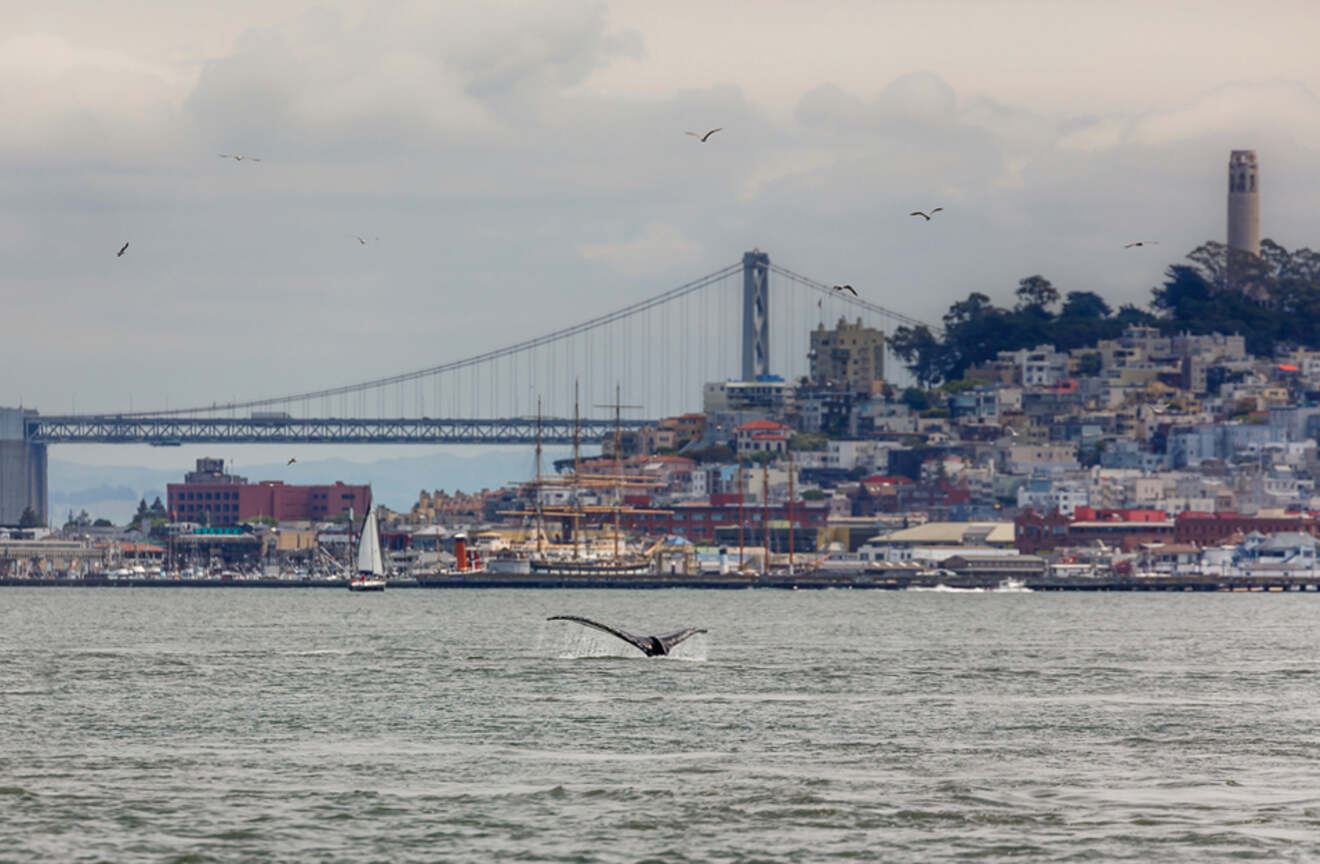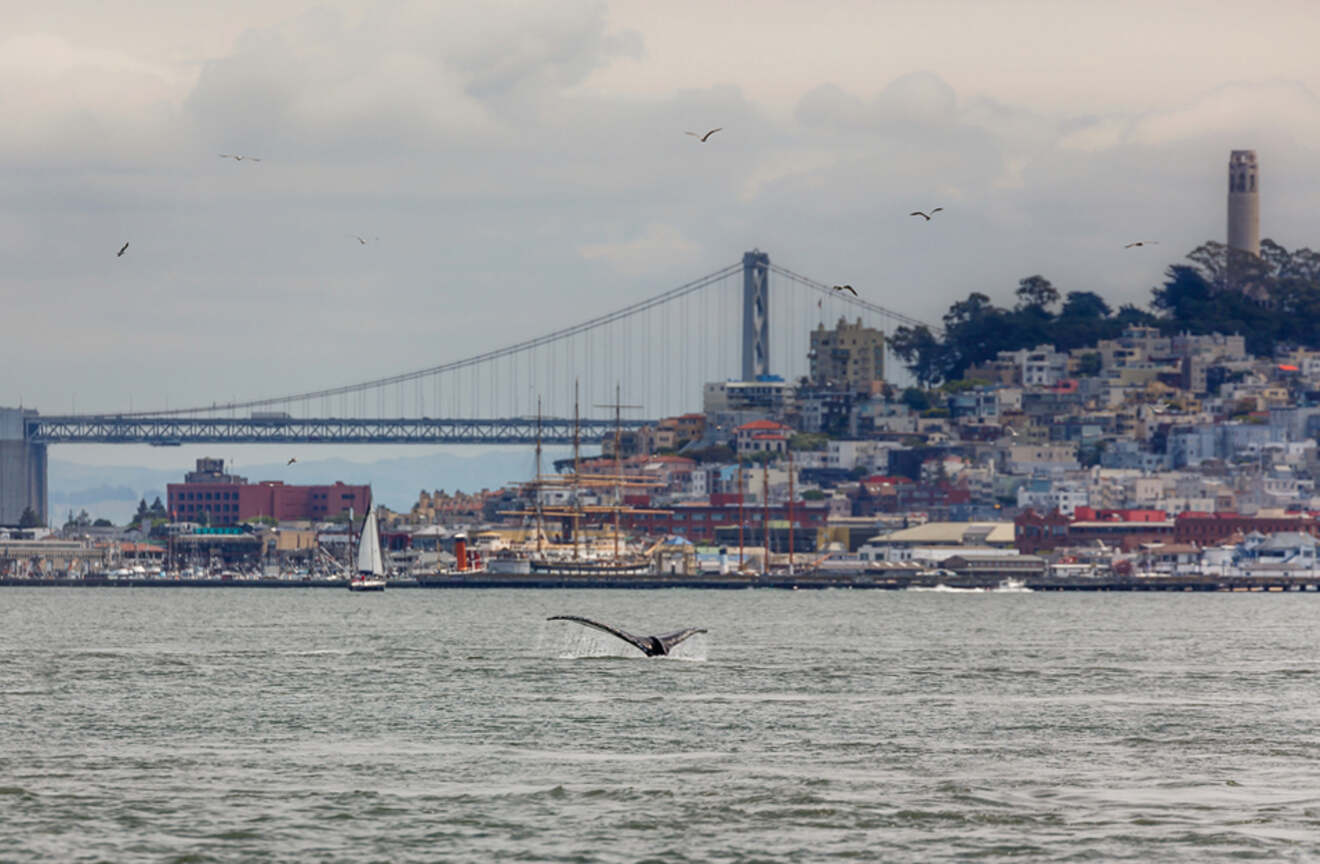 San Francisco is home to the legendary Golden Gate Bridge, Fisherman's Wharf, and Alcatraz Island. Outside of these popular Northern California attractions, there's more to San Francisco that couples are going to love for their next romantic getaway.
If you're looking for a romantic night in the city, take a sunset cruise through Fog Harbor Marina by Fisherman's Wharf or sip cocktails overlooking San Francisco Bay from Wipeout Bar & Grill Bistro in Pier 39. For an ideal day with your love, consider taking a picturesque stroll around the Japanese Tea Garden.
With that said, let me introduce you to the most important part of your idyllic getaway: the iconic Fairmont San Francisco for an ultimate vacation in the Bay.
The hotel gives you full spa treatments, high ceilings, luxurious marble baths, Le Labo toiletries, and plush robes for your convenience. The Fairmont's unique rooms also include panoramic views of the San Francisco skyline, Golden Gate Bridge, Alcatraz, Coit Tower, and the Financial District.
NOTE: Although the hotel is rated a bit lower than I usually recommend, it's a remarkable hotel and is beloved by Californians.
Beach lovers shouldn't miss out on Half Moon Bay State Beach. It's a 45-minute drive away, but it's one of the most famous California beaches.
HOTEL PRICE: Rooms start at US$323/night for 2 adults
10. Discover California's ultimate honeymoon destination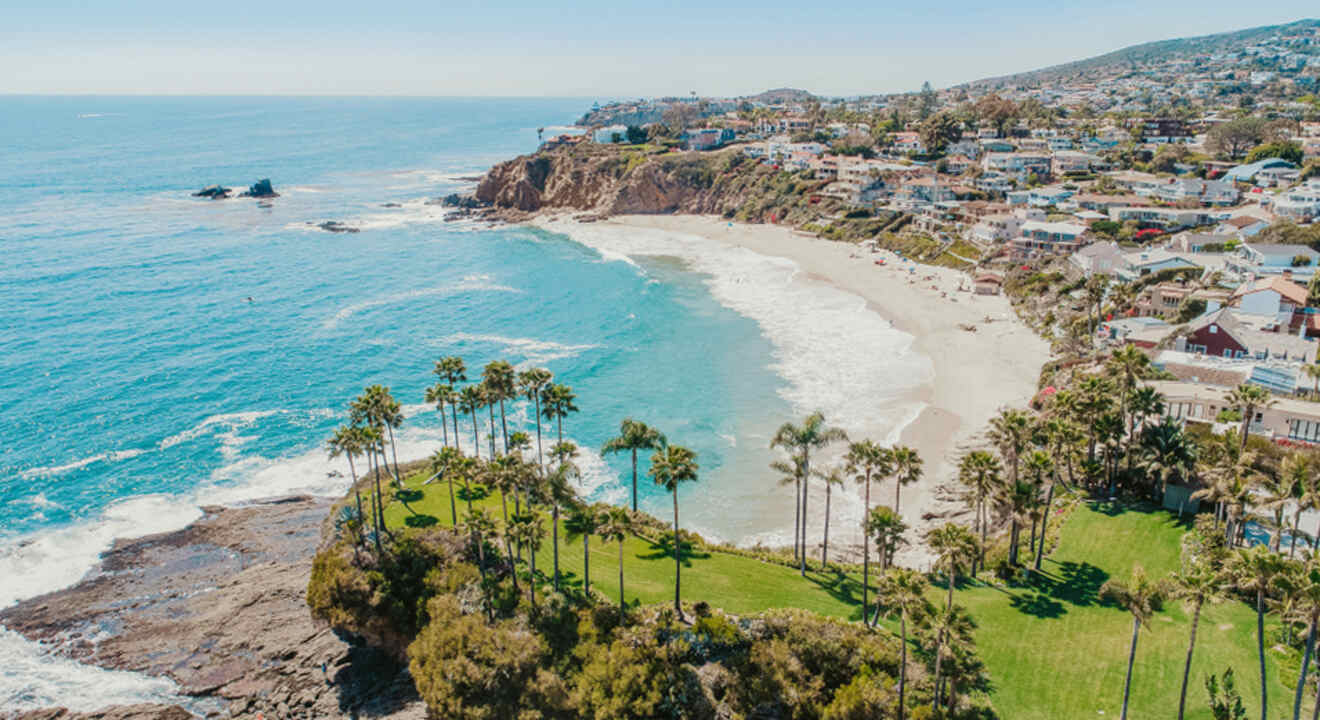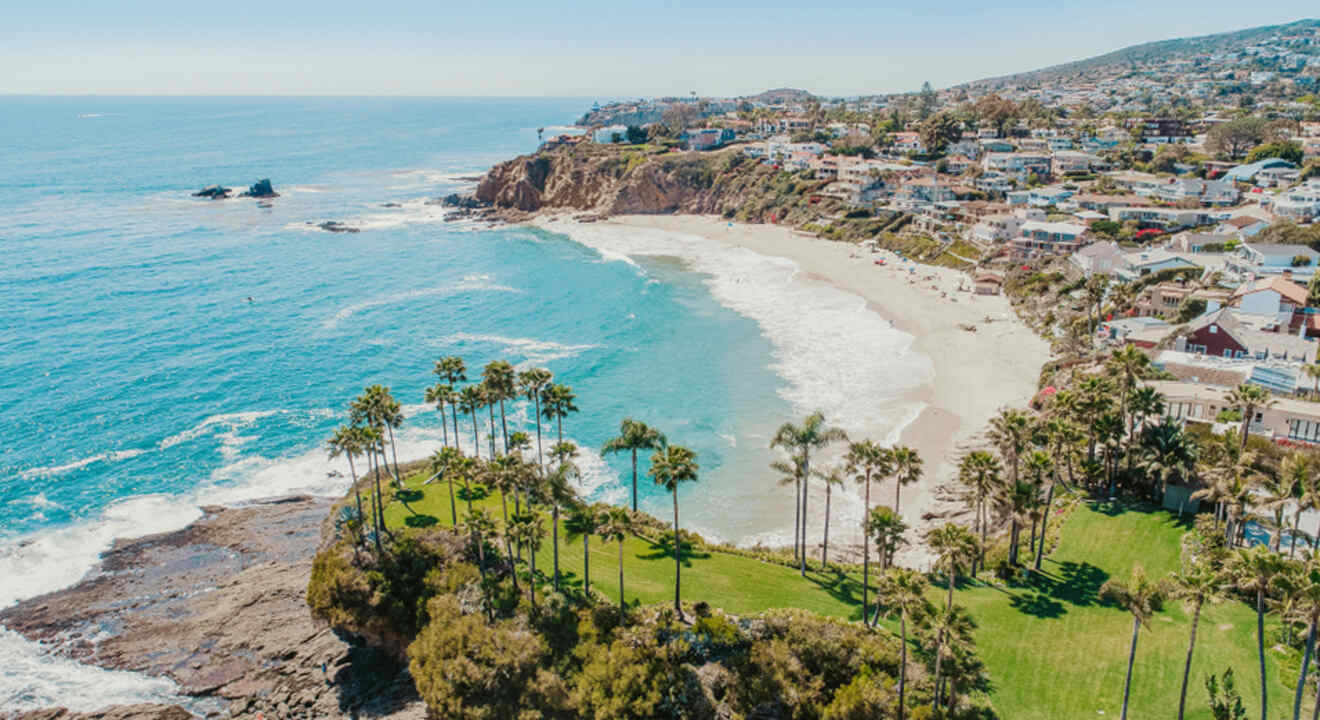 There's no shortage of ways to spend quality time with your partner in Laguna Beach. It's the cutest coastal town, with endless beaches, parks, and hiking trails available on every corner. Crystal Cove State Park is the most popular destination in Laguna Beach, and it's definitely worth the hype.
The park is known for its sandstone caves, tide pools, and stunning beaches, perfect for couples to go on a romantic walk by the water. Treasure Island Beach is another beautiful beach offering white sand beaches that you and your lover are basically guaranteed to adore.
As for your stay, SCP Seven4One Hotel is located right off Highway 1, directly next to the Pacific Ocean and only a mile away from Woods Cove Beach (which means views and views)! I recommend ending each nice by the outdoor fireplace and elegant bar conveniently made for you inside the hotel!
They also offer a rooftop lounge for a few on-site dining options. You lovebirds can enjoy a margarita or mojito while taking in a sunset with Pacific Ocean views. Sounds like a dream, right?
NOTE: It's important to keep in mind that Laguna Beach is a really popular beach town, so book your hotel in advance to secure the best deal!
HOTEL PRICE: Rooms start at US$233/ night for 2 adults
11. Book a relaxing weekend in Joshua Tree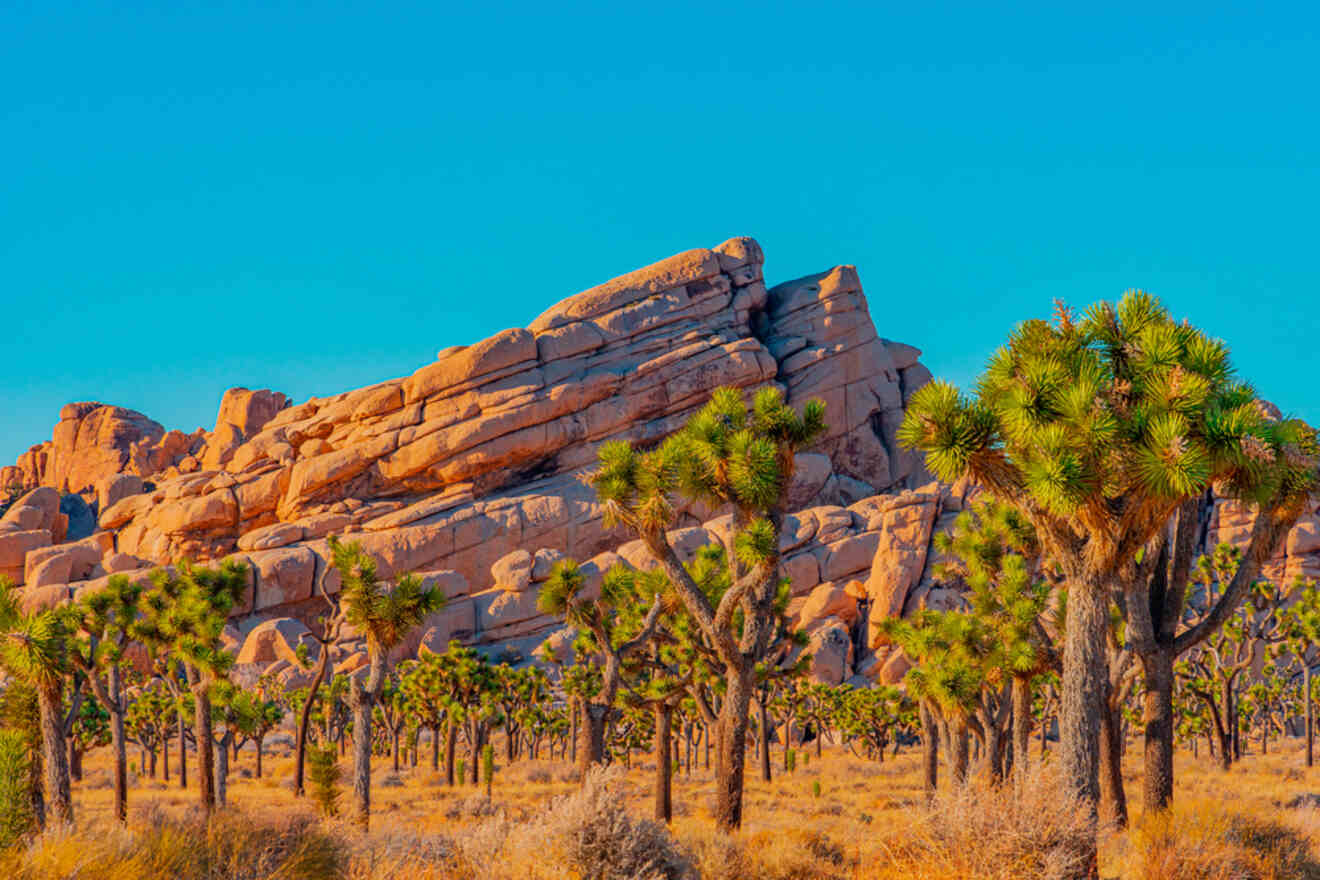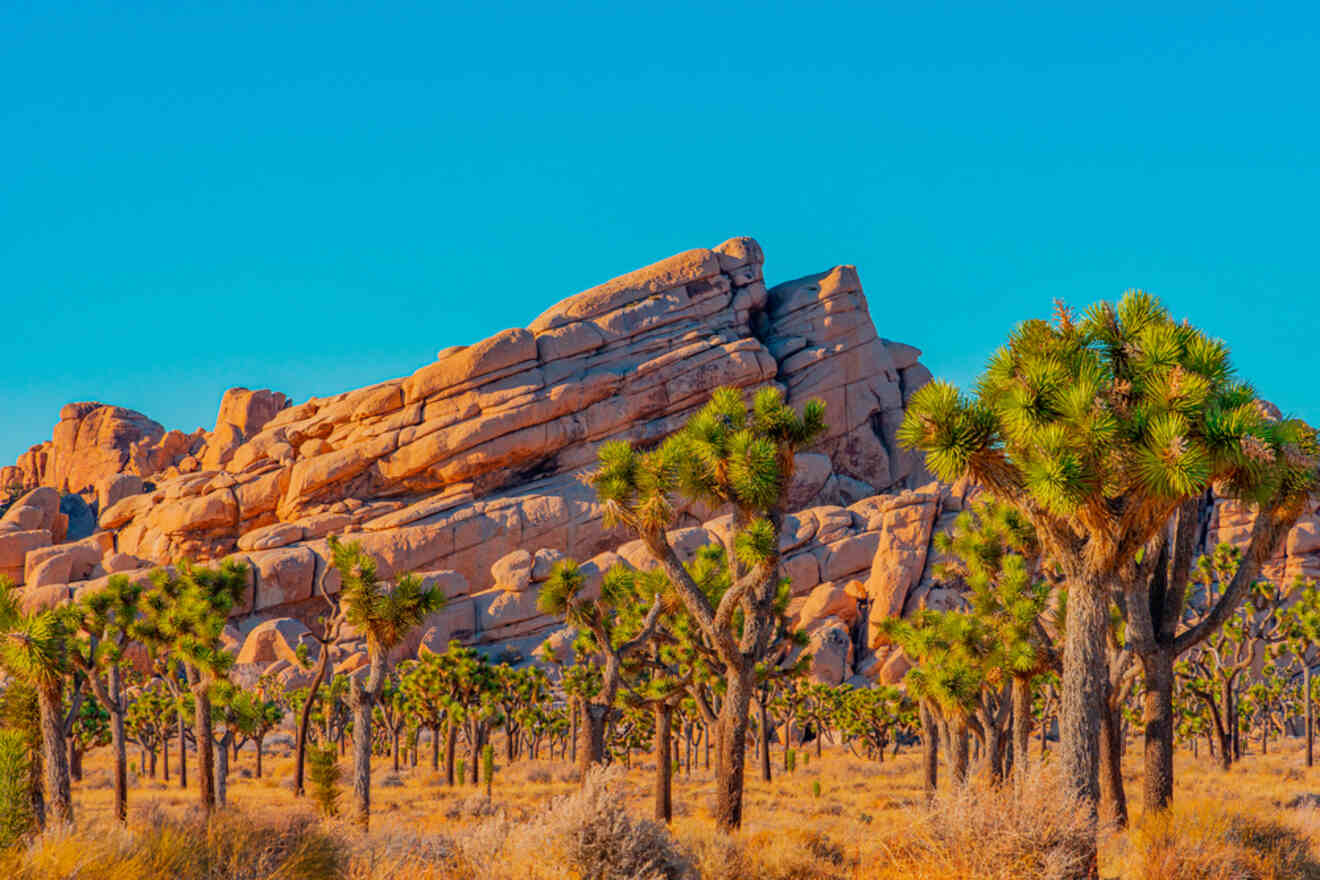 Joshua Tree National Park is the ideal quaint desert stay for couples looking to make romantic memories in the outdoors and under the stars. It definitely makes the list of top romantic getaways.
Stargazing in Joshua Tree is an unreal experience that I 10,000% recommend if you haven't done it before. You'll get to see the clear night sky with an expert. If you prefer to enjoy the stars in the comfort of your partner's company, book a stay with an outdoor hot tub to enjoy the clear nights in private.
This Sacred Sands is a stunning option that offers hot tubs, mountain views, an outdoor patio, and more. If you're looking for a romantic staycation, this is the place to do it! And If you and your partner want to go shopping during your romantic weekend stay, take a 45-minute drive to the bustling city of Palm Springs!
NOTE: I don't recommend visiting Joshua Tree National Park in peak summer but rather in the spring, fall, and winter. It can get scorching hot in the desert, making your stay less enjoyable and romantic (especially if you're sweating the entire time).
If you're thinking between visiting Joshua Tree National Park and Death Valley National Park, I recommend sticking with Joshua Tree. Death Valley National Park isn't quite as enjoyable and/or romantic for couples, and there are also limited activities.
HACK: Get the best bang for your buck by grocery shopping at nearby grocery stores and making a romantic dinner for 2 at your lodging. You end up saving money and making your romantic stay that much more romantic. Double win!
HOTEL PRICE: Rooms start at US$320/night for 2 adults
12. Take in the fresh air on a luxury picnic in Santa Monica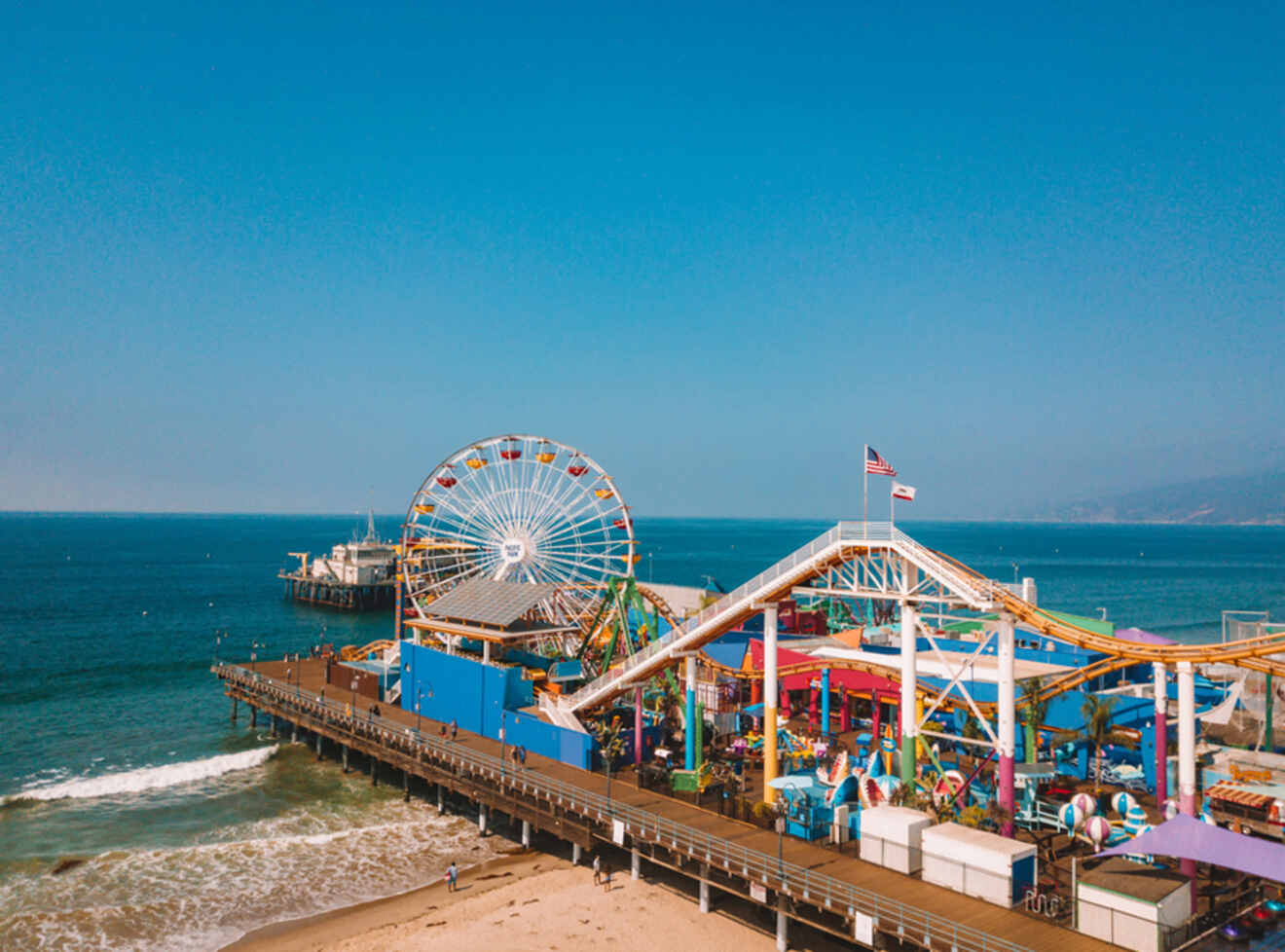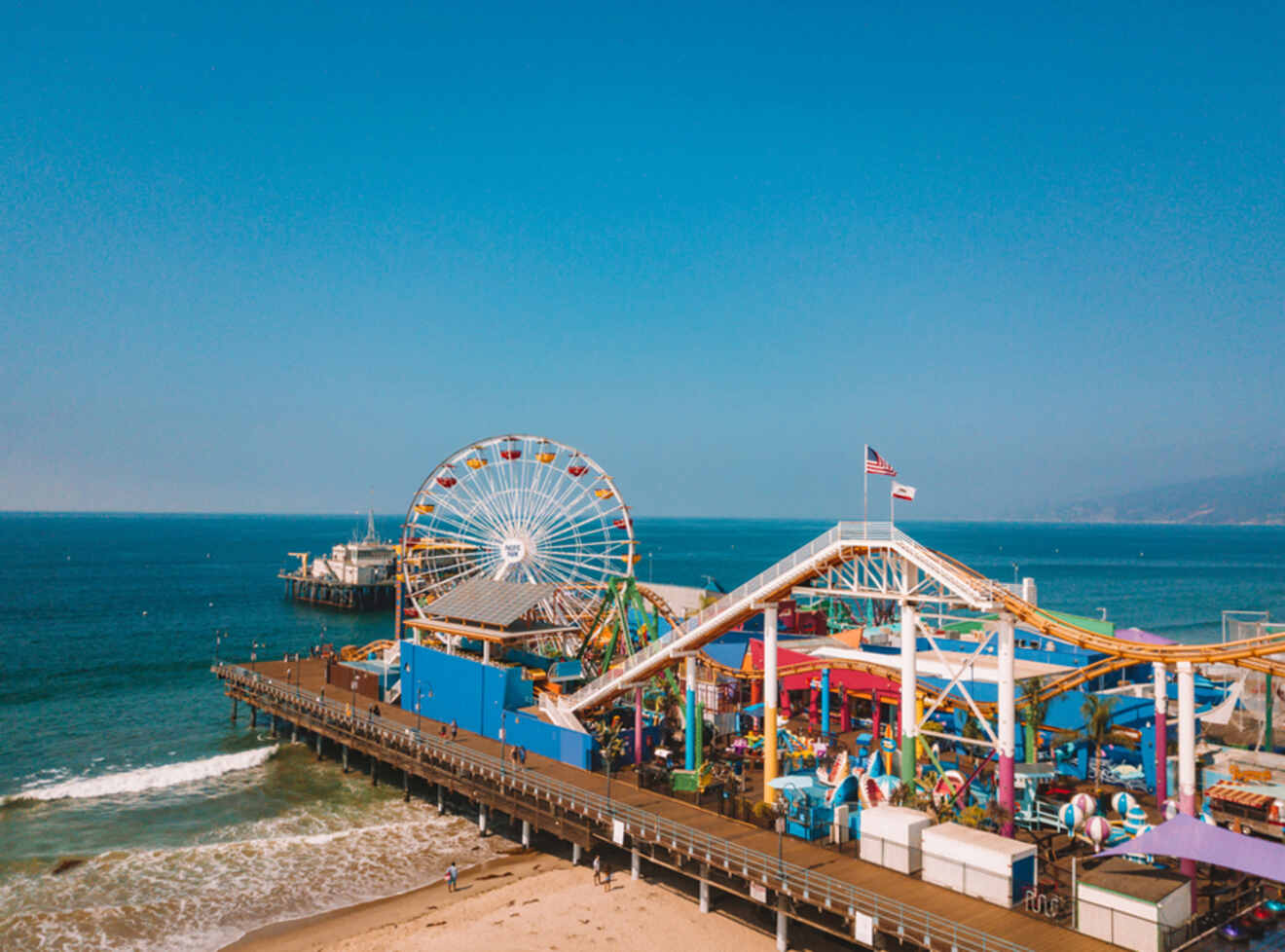 One of the most unique and romantic things I've found in Santa Monica is having a luxury picnic lunch along the beautiful beaches of Santa Monica. The Santa Monica Picnic Co. is a service offering everything you need: custom tables, designer pillows and fabrics, white tassel umbrellas, high-quality rugs, picnic baskets containing wireless speakers, incense, a Polaroid camera, and more).
You can even add more things like professional photography, catering, flowers, live DJs, guitarists, sound baths, beach games, and much more. This is probably the most romantic date picnic you'll ever experience.
You can book Santa Monica Picnic Co. directly or through the Beachside Bliss package at high-end luxury hotels, Shutter On The Beach and Casa Del Mar.
I know, I know. Those hotels are incredibly expensive options for travelers working with a more affordable budget for their weekends. A couple more that I recommend for travelers on a budget (+ booking the picnic on the side if you so please) are Hilton Santa Monica and Palihouse Santa Monica. They are not as highly rated as the luxury options above, but they do offer great packages for couples looking for one of the most romantic getaways in California.
13. Unwind in Mendocino County's wine country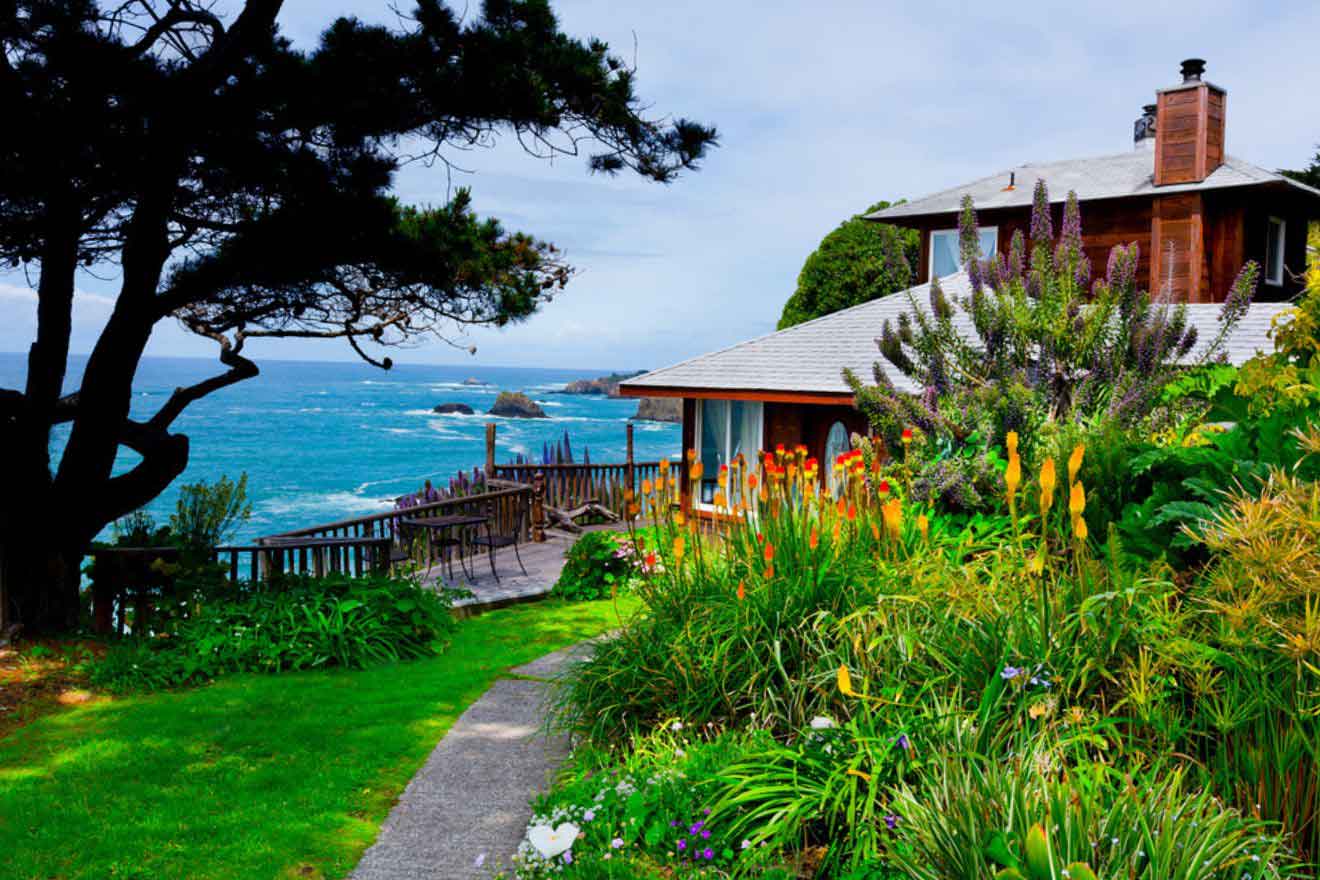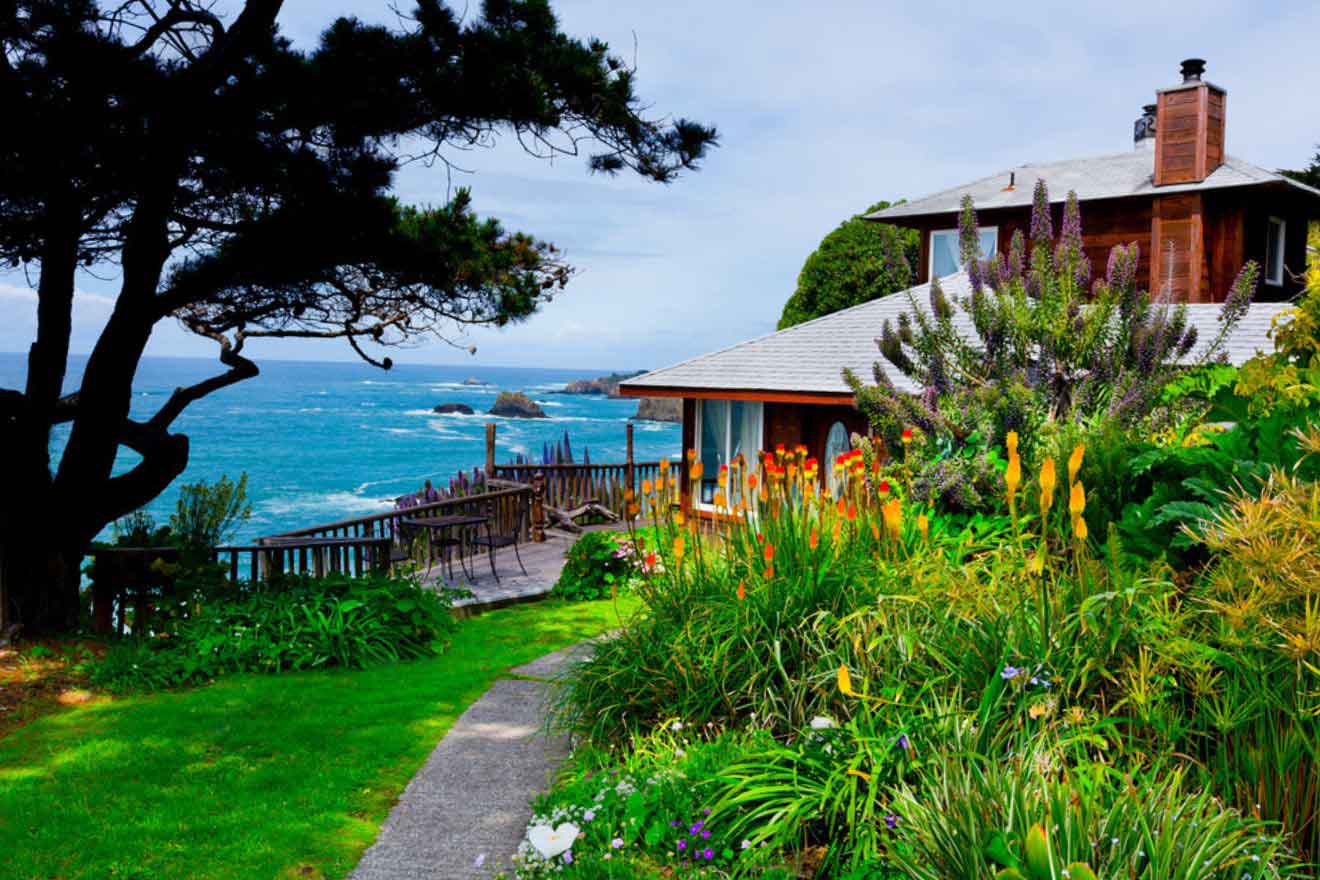 I LOVE escaping here for a quick weekend vacation when I'm trying to get out of the city. Plus, the food and vibe here are perfect for busy couples!
Mendocino County is an underrated romantic place here in California known for its beautiful coastline views, redwood forests, vineyards, and unique small-town feel. Similar to Ojai, Mendocino County is also popular for its farms and locally sourced cuisine.
The Vichy Springs Resort is a unique day spa option I definitely recommend checking out. It's known for its natural Vichy Hot Springs with alkaline and carbonated water that has been relieving stress for people for over 165 years. This is the destination for couples wanting to relax at natural hot springs in a historic resort.
As for your stay, this Mendo Village Home is a romantic vacation home for couples who want maximum intimacy, privacy, and the comfort of having an entire house to themselves!
The house is only about 8 miles (13 km) away from the Glass Museum and 5 miles (8 km) away from Point Cabrillo Light Station (2 absolute must-see spots in Mendocino). The house has a patio, a beautiful garden to enjoy with a cup of coffee in the morning, a fully equipped kitchen, a hot tub for steamy nights, and so much more. It's also dog-friendly, so feel free to bring your fur babies on this trip!
Stop by Frankie's for all your comfort food cravings: pizza, ice cream, and more! And check out Luna Trattoria for a delicious Italian dinner for 2, made with local ingredients, of course. You two will thank me later…
HOTEL PRICE: Rooms start at US$199/night for 2 adults
14. Discover the natural beauty that Carlsbad has to offer
The beautiful coastal city of Carlsbad is known for its ocean views and sandy beaches and is the 5th wealthiest city in California. Only a short drive from downtown San Diego, it's one of my favorite spots to walk around, grab ice cream, and relax at the beach on hot summer days.
The best Carlsbad getaway is the Carlsbad Seapointe Resort. It's a breathtaking resort that offers a private balcony, adult outdoor pools, hot tubs, fireplaces, and all the luxury amenities you need for the ultimate romantic stay.
Aside from being an amazing city overall, Carlsbad is also known for The Flower Fields, a seasonal flower attraction that will absolutely blow you away. They're open from March through May, and tickets need to be booked in advance online. I definitely recommend it, given the fact that it's the most romantic attraction in all of Carlsbad.
The 2nd most romantic attraction in Carlsbad is going to be the Carlsbad Strawberry Co. during the U-Pick season (February – July). You get to stroll the fields with a small bucket and pick strawberries at your own leisure. It's a fun date idea if you and your partner want to add a little adventure to your romantic trip!
Nick's on State is one of my favorite restaurants in Carlsbad (maybe even all of San Diego) – it has a romantic ambiance, and the food is absolutely amazing. I recommend ordering the spicy Thai salad and prime rib dip for the perfect lunch. For dinner, the sea bass and salmon are just *chef's kiss*.
HOTEL PRICE: Rooms start at US$1709/night for 2 adults
15. Explore the vineyards of Paso Robles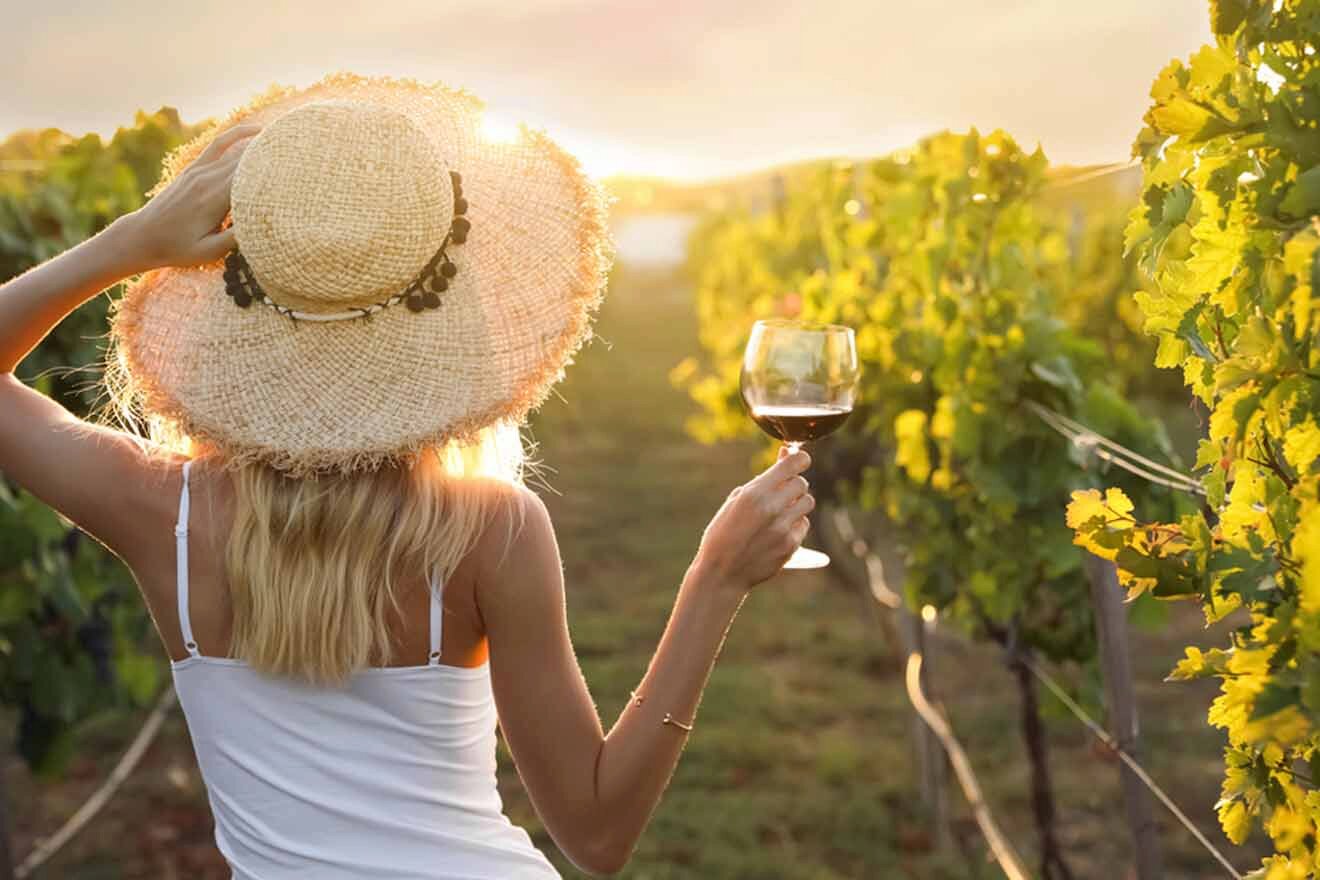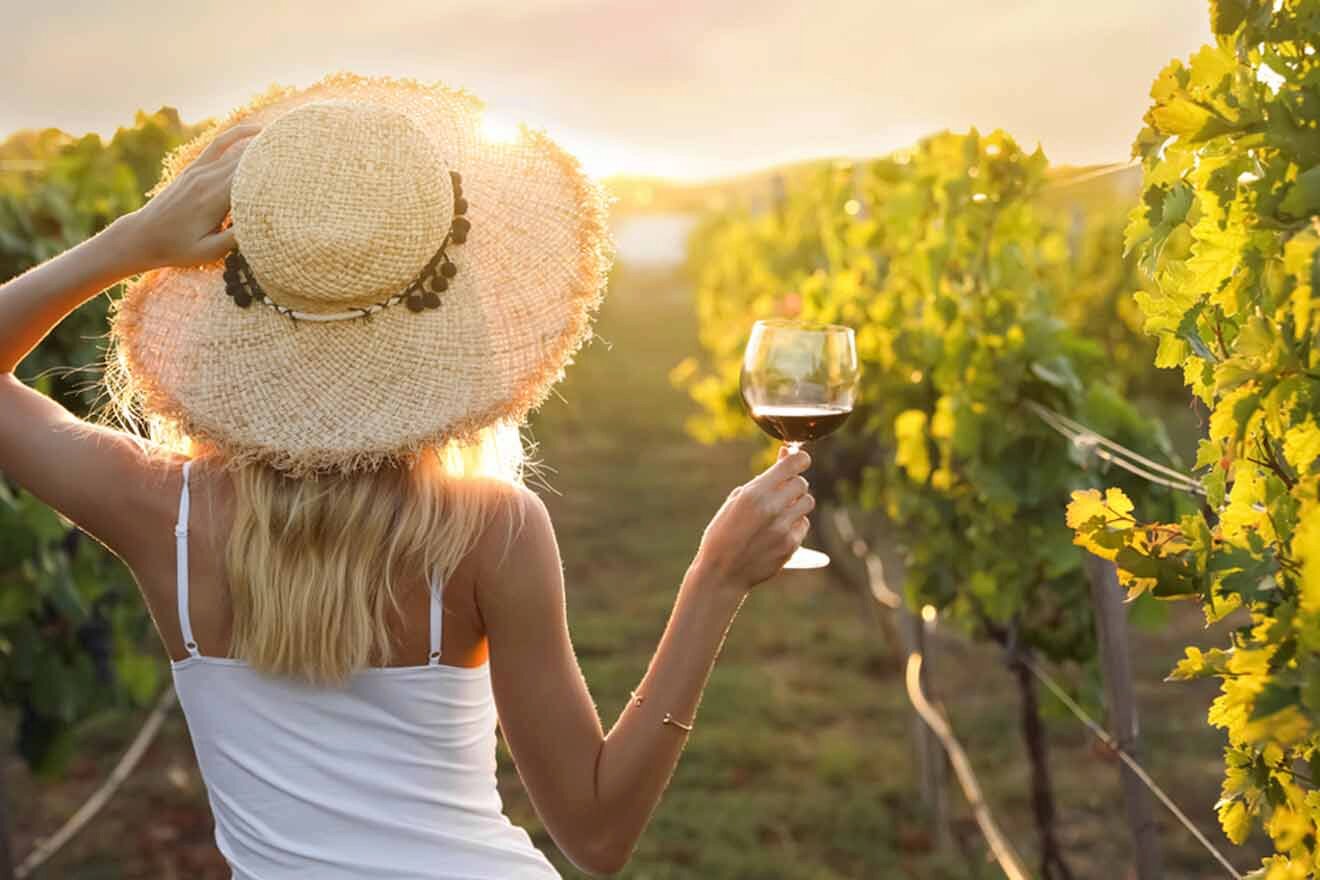 Can't make it to Santa Barbara? Plan a wine tour and picnic lunch date in California's central coast world-class wine region, Paso Robles! Paso Robles has a laid-back, lowkey kind of vibe and over 40,000 acres (16,000 hectares) of vineyards to explore, 200 wine-tasting rooms, and about 40 winegrape varieties to choose from.
During your stay in Paso Robles, take a short drive (about 45 minutes) to both San Luis Obispo for another wine country excursion and Pismo Beach to visit Monarch Butterfly Grove!
The Monarch Butterfly Grove is open from November – February every year, with over 10,000 Monarch Butterflies flocking around the area. It's a stunning sight that I want to see over and over again.
For the most romantic day, visit the butterflies early in the day, stroll around San Luis Obispo (15 min drive from Pismo Beach) for lunch at Giuseppe's Cucina Rustica, and book a wine tour right after. This tour will conveniently pick you up from Pismo Beach and take you around to 4 different wineries. What more can you ask for?
The wine country is perfect for lovebirds traveling during the winter season. It gets incredibly hot in the summer months and starts to cool down a bit in the fall and winter months.
TOUR PRICE: From US$200
FAQs about romantic getaways in California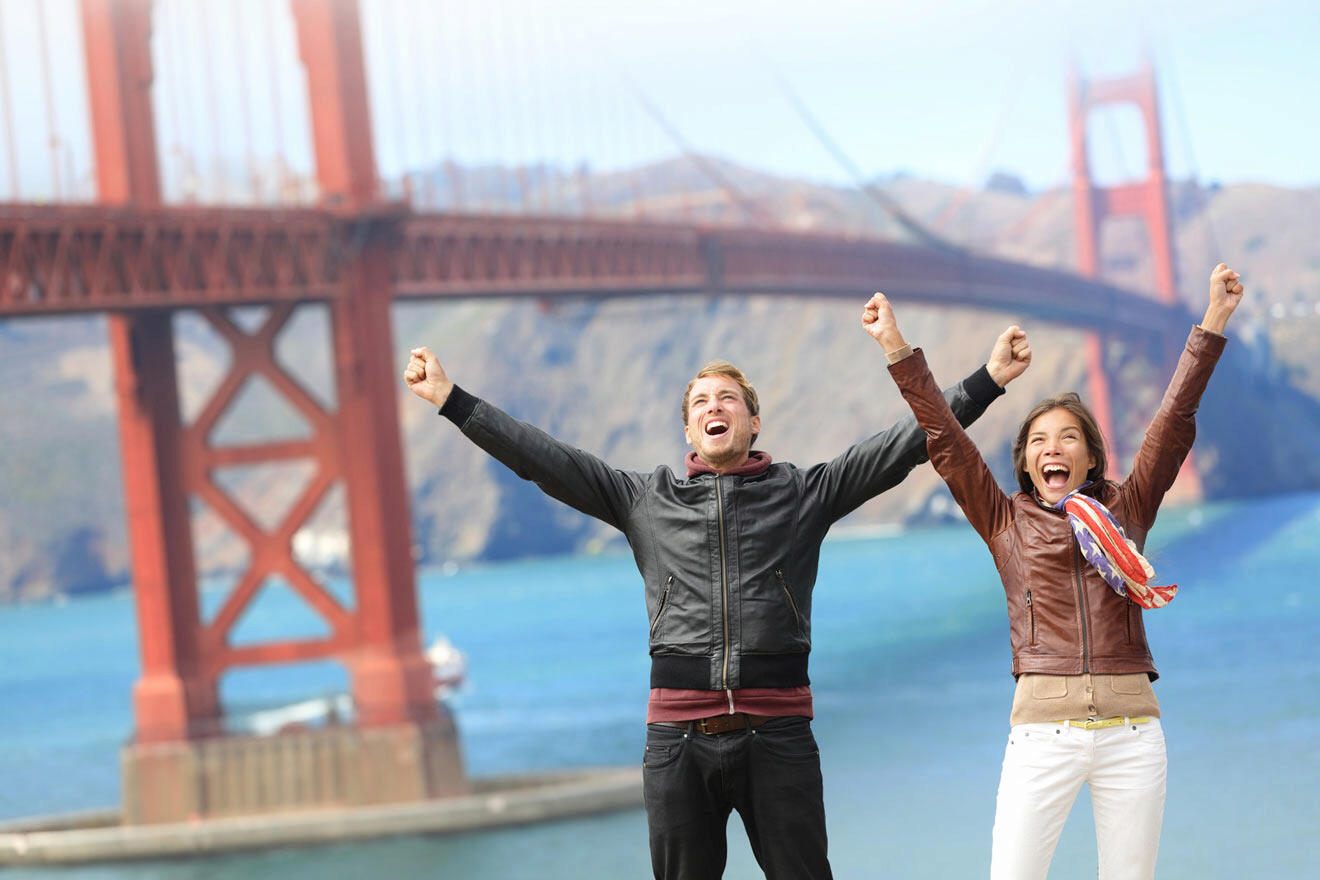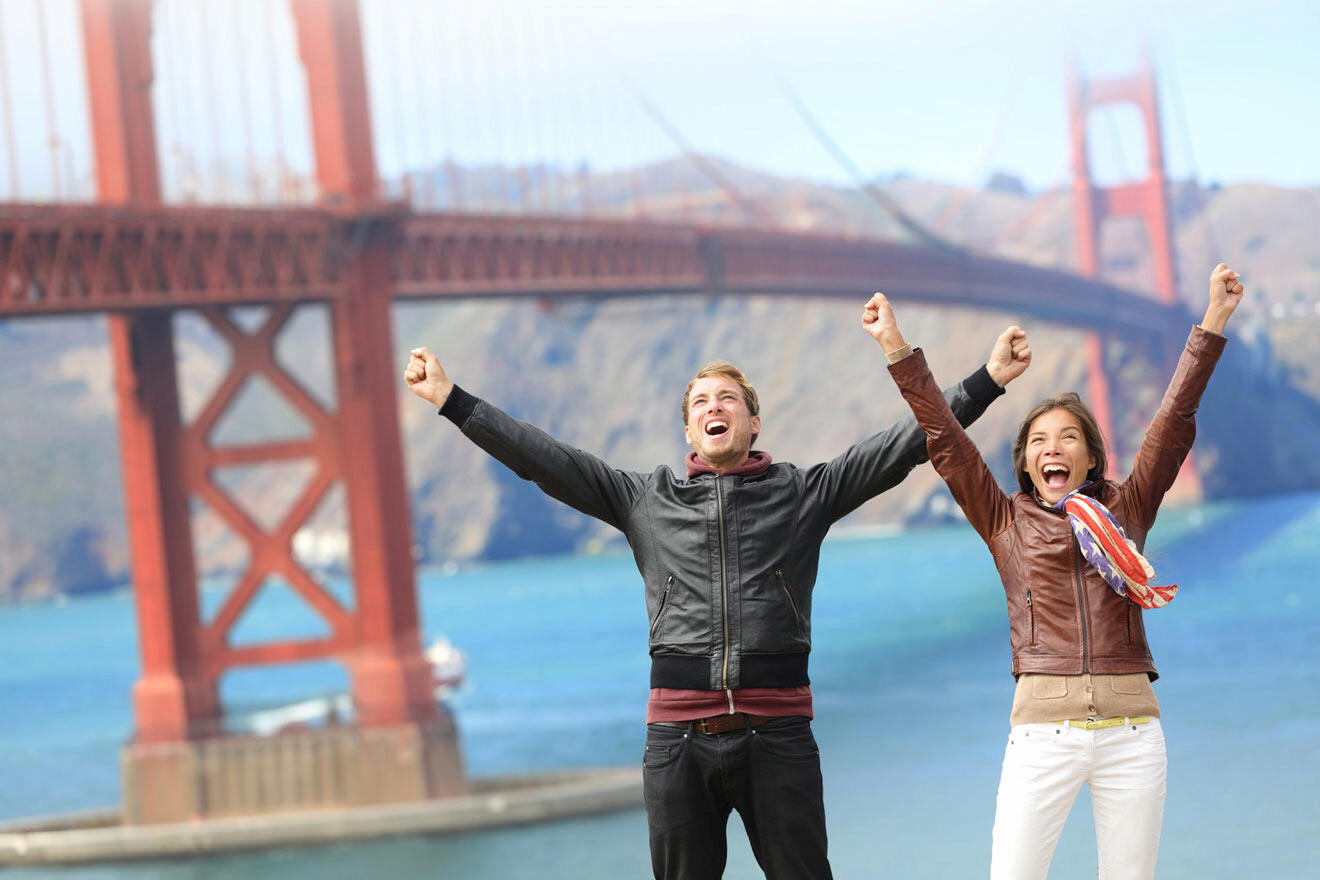 📌 What cities are the most romantic getaways for couples in California?
Carmel-by-the-Sea and Napa Valley are my top 2 picks for a romantic weekend getaway. They have the most romantic hotels like Carriage House Inn and R Inn Napa and experiences that you and your partner are going to love.
🤑 What are some romantic getaways in California for couples on a budget?
Joshua Tree and Laguna Beach are must-visit destinations giving you the best value and price! You're guaranteed a good experience without having to break the bank.
🌹 What are the most romantic activities to do in Northern California?
The hot air balloon ride in Napa Valley and the sunset cruise on San Francisco Bay are my absolute must-dos when planning my favorite romantic getaways to these cities.
💓 What are the most romantic activities to do in Southern California?
Conclusion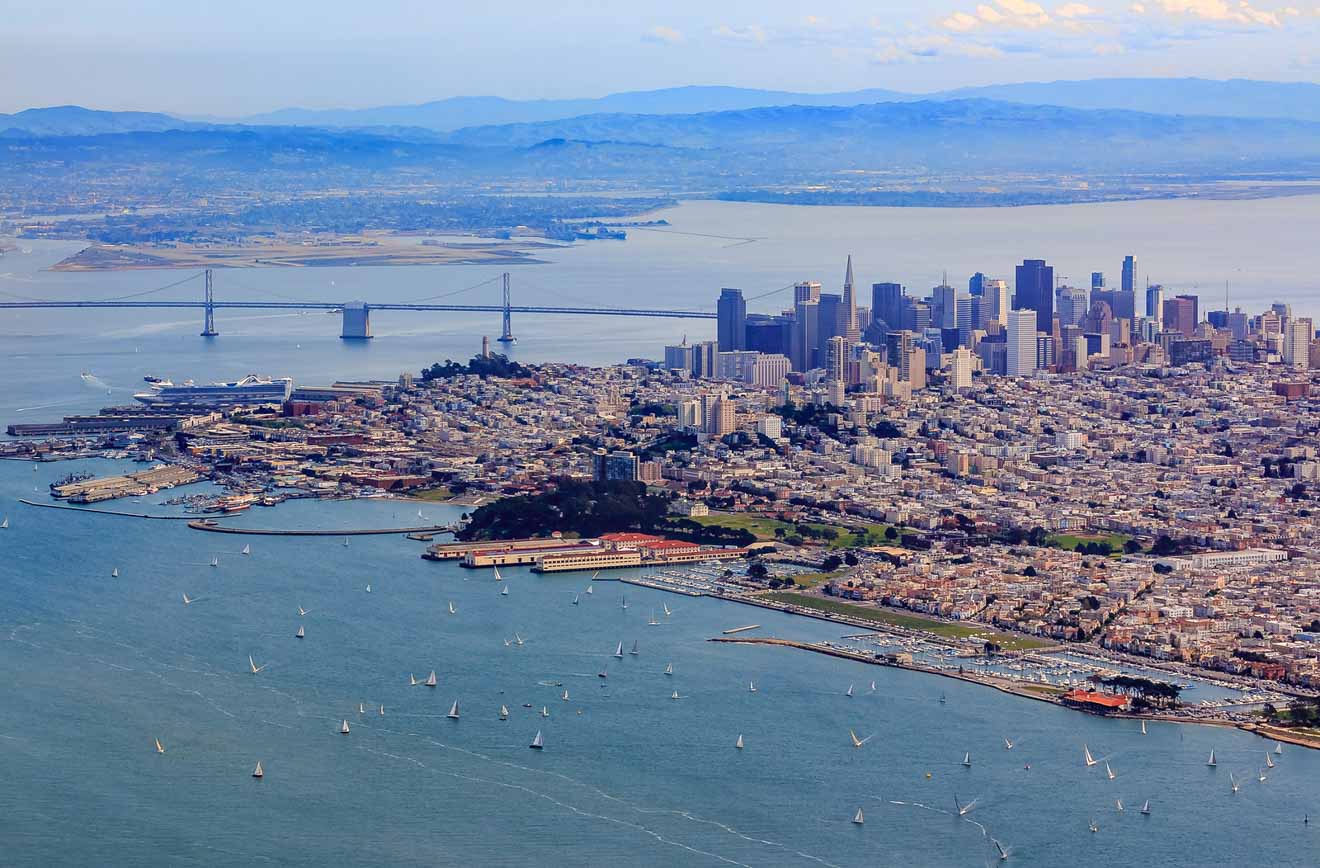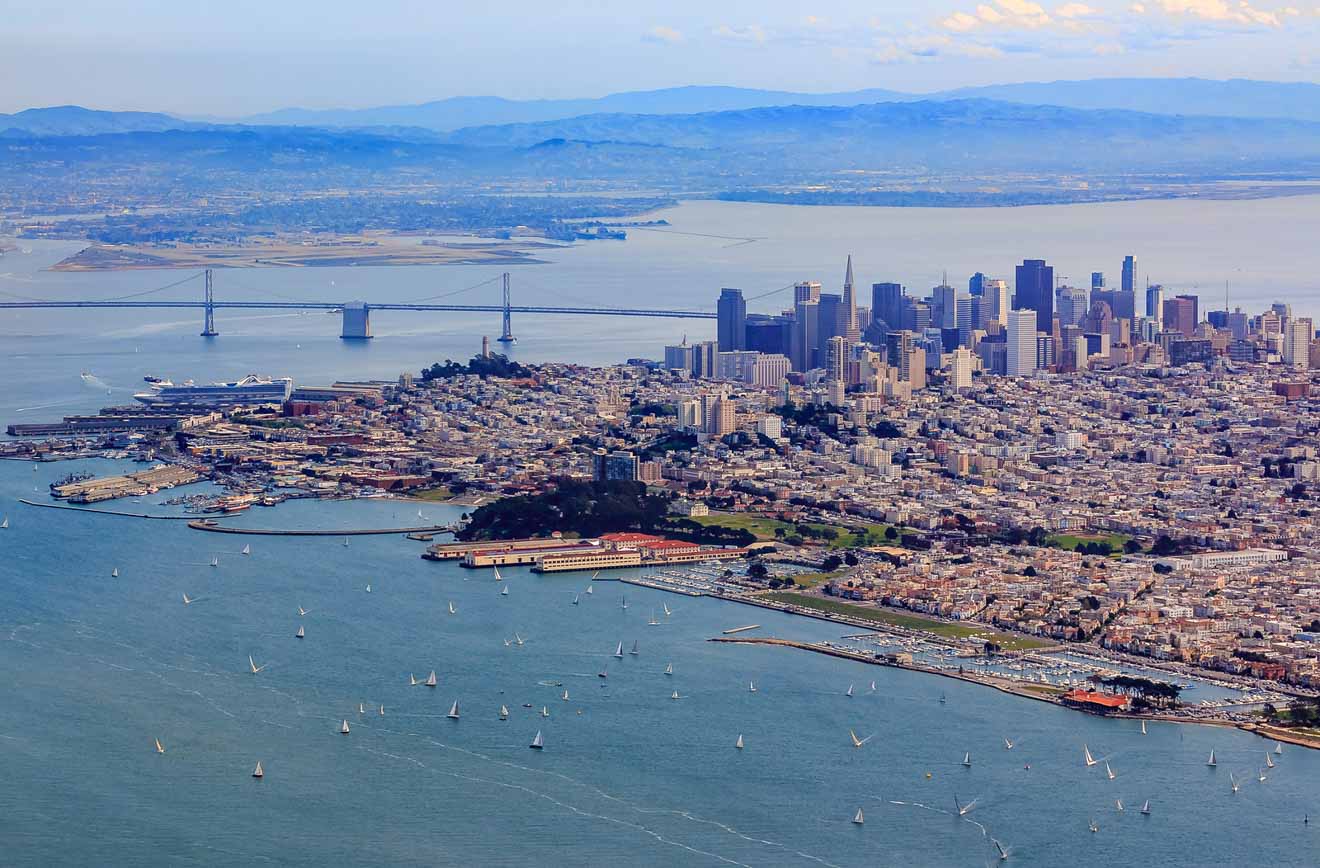 There you have it, lovebirds! These are my top 15 most romantic getaways in California. I mentioned the best tours, hotel accommodations, and activities and gave some of my own personal advice on what to make sure you bring on your trip.
But don't leave without my absolute 2 favorites from this list:
My last bit of advice is to book all tours and hotels beforehand to secure your vacation!
I hope you find my most romantic destinations as magical and lovely as I do. If you stay at any of these beautiful spots, leave me a comment! I'd love to hear about it. ❤️
Xoxo,
Esabel S.
---
Pin it for later!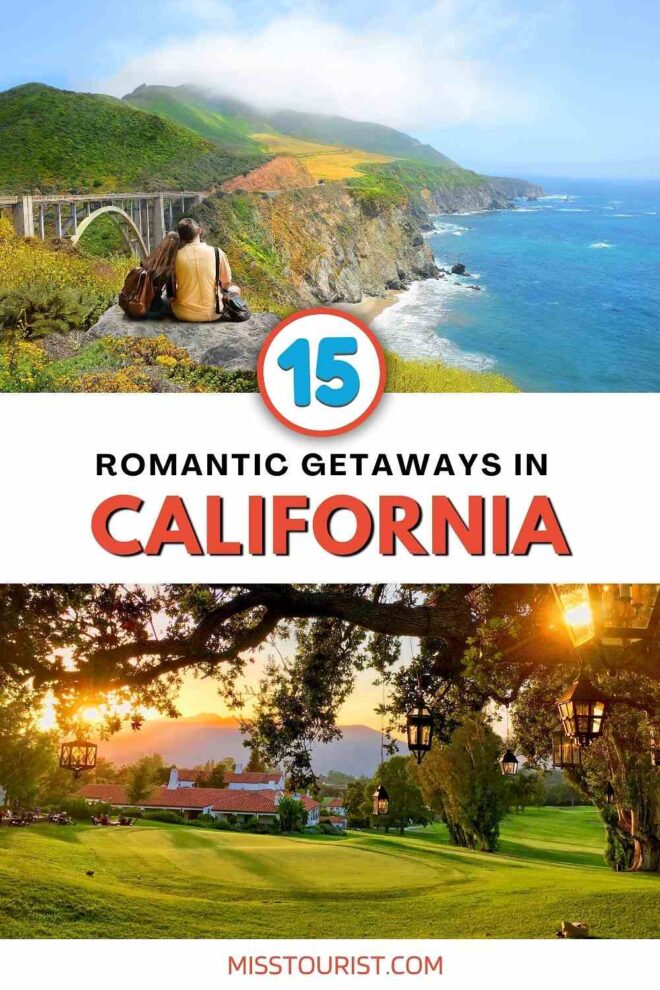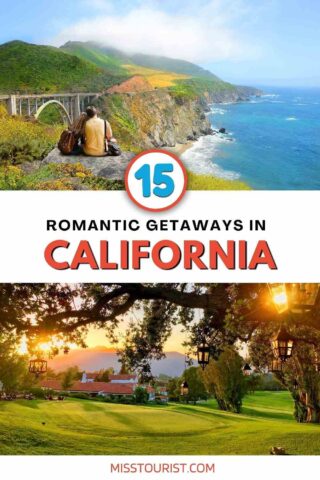 Pin it for later!