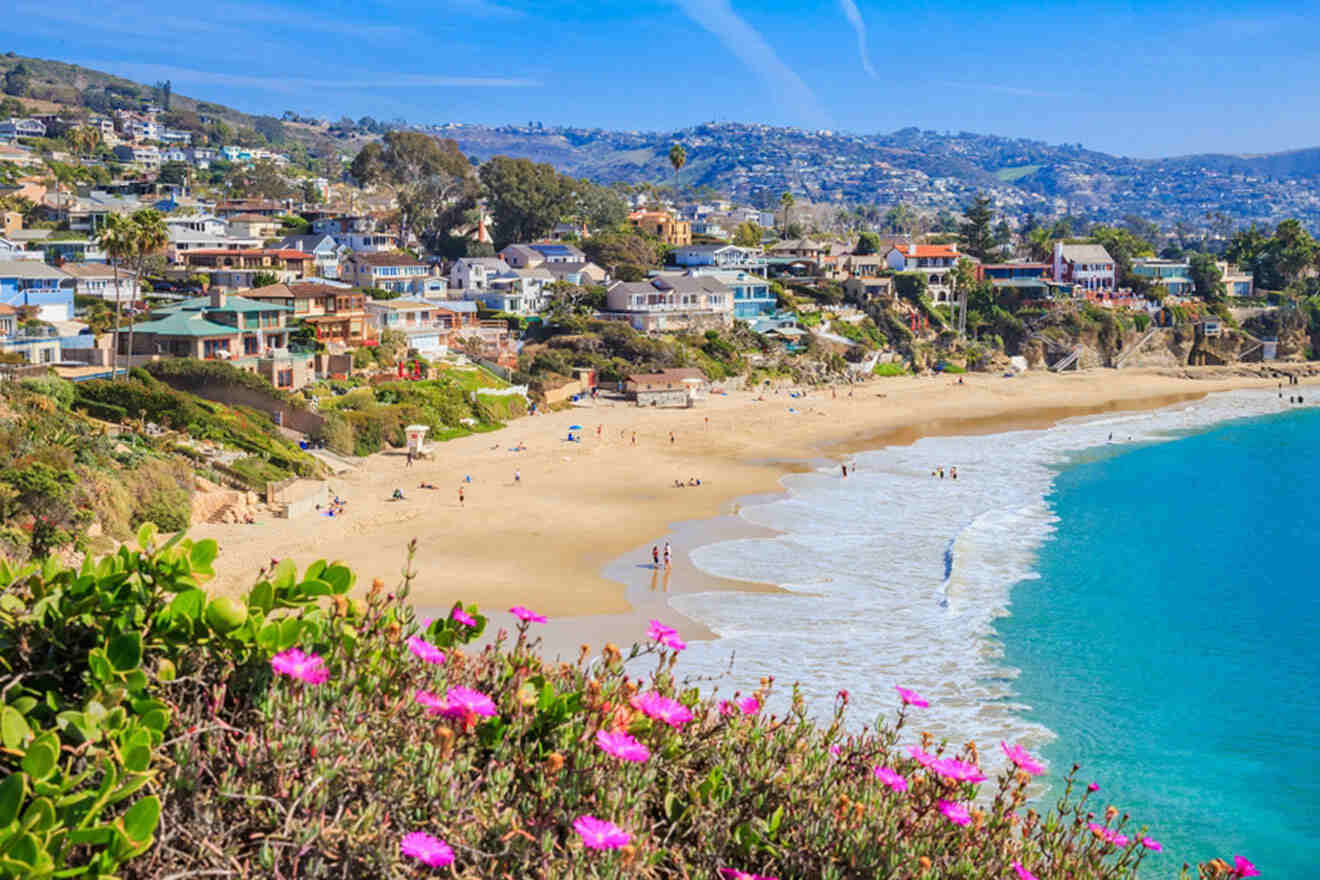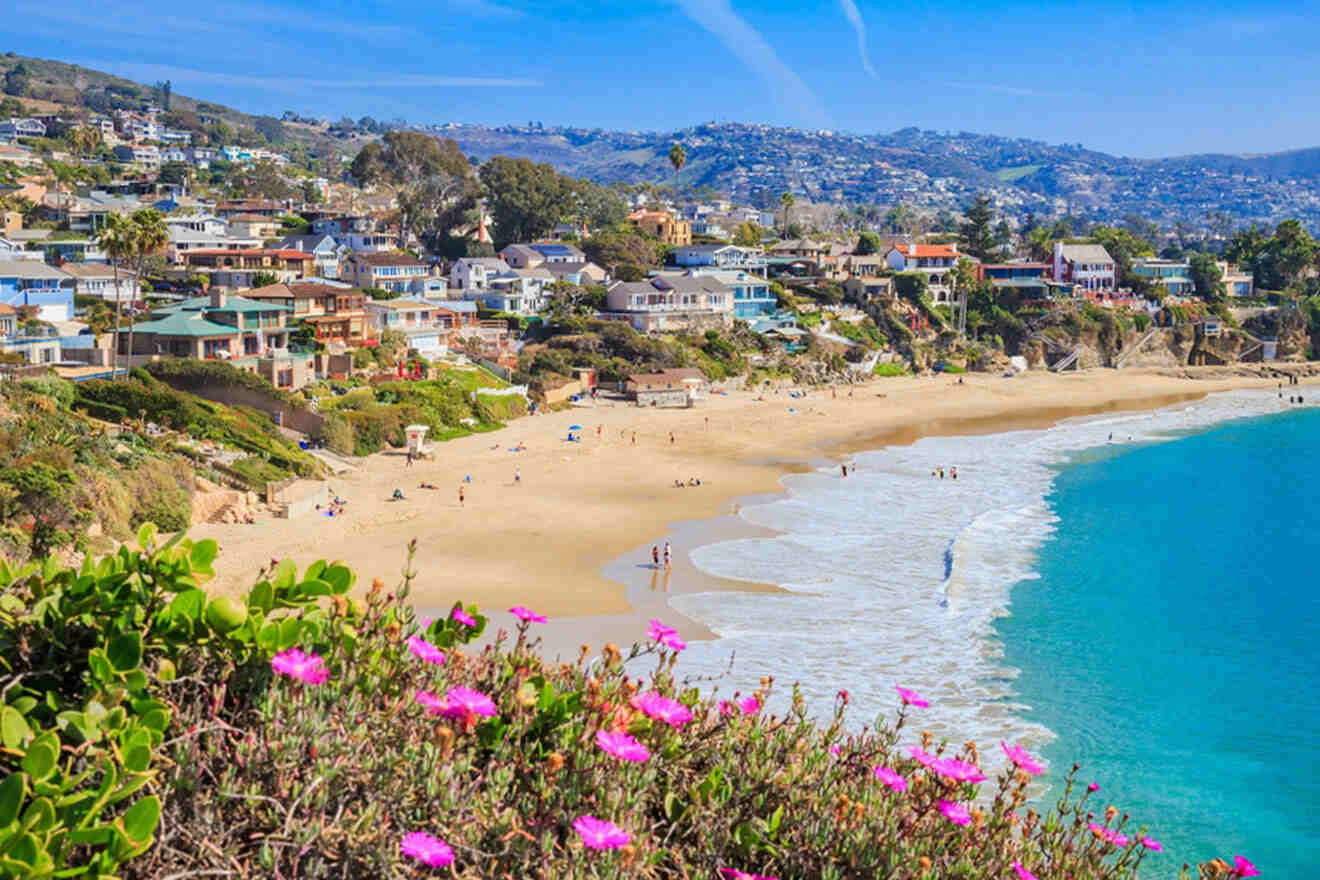 Orange County is home to the most popular tourist attractions in Southern California: famous theme parks like Disneyland and California Adventure and scenic beaches right in between the cities of Los Angeles and San Diego. Orange County doesn't get all the recognition it deserves. Well, I'm here to put a spotlight on it and share with you all the amazing things to do in Orange County, California!
As a SoCal girl myself, I've visited Orange County many times and have learned a thing or two about some of the best things to do there. And luckily, the list is quite long, so you have options to pick from.
The most important thing to keep in mind as you read through this post is that you should always plan your trips ahead and remember to book your reservations/tickets in advance. I'll link all the tours and tickets here so you'll have everything in one place whenever you're ready to start planning your trip.
If you are in a hurry
Don't have a lot of time in Orange County? There are a few things that you shouldn't miss.
Here are the main things to book in advance:
And here are the best hotels: Resort at Pelican Hill (luxury), Holiday Inn Express – Chino Hills (mid-range), Laguna Hills Lodge – Irvine Spectrum (budget)
1. Make memories at Disneyland & California Adventure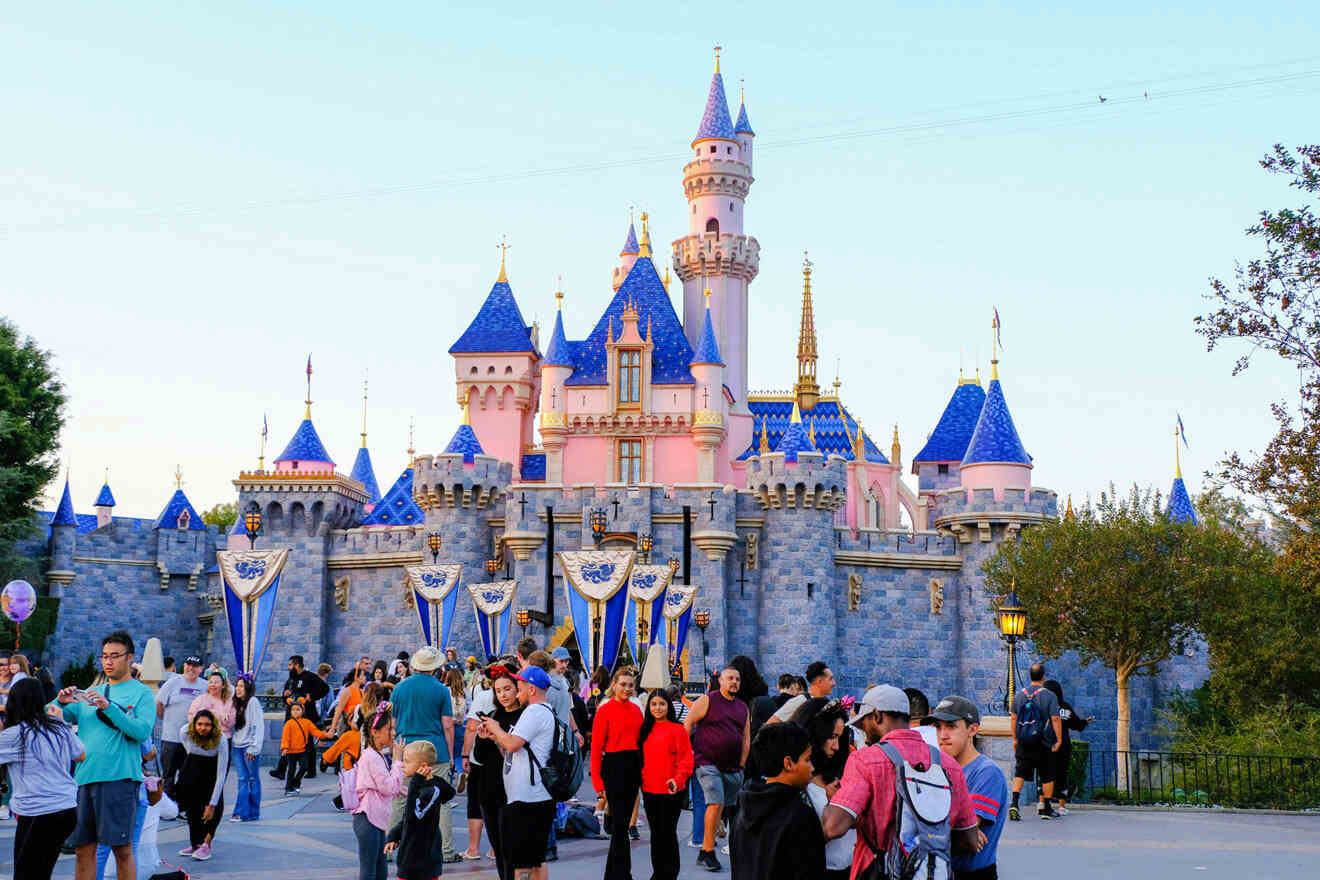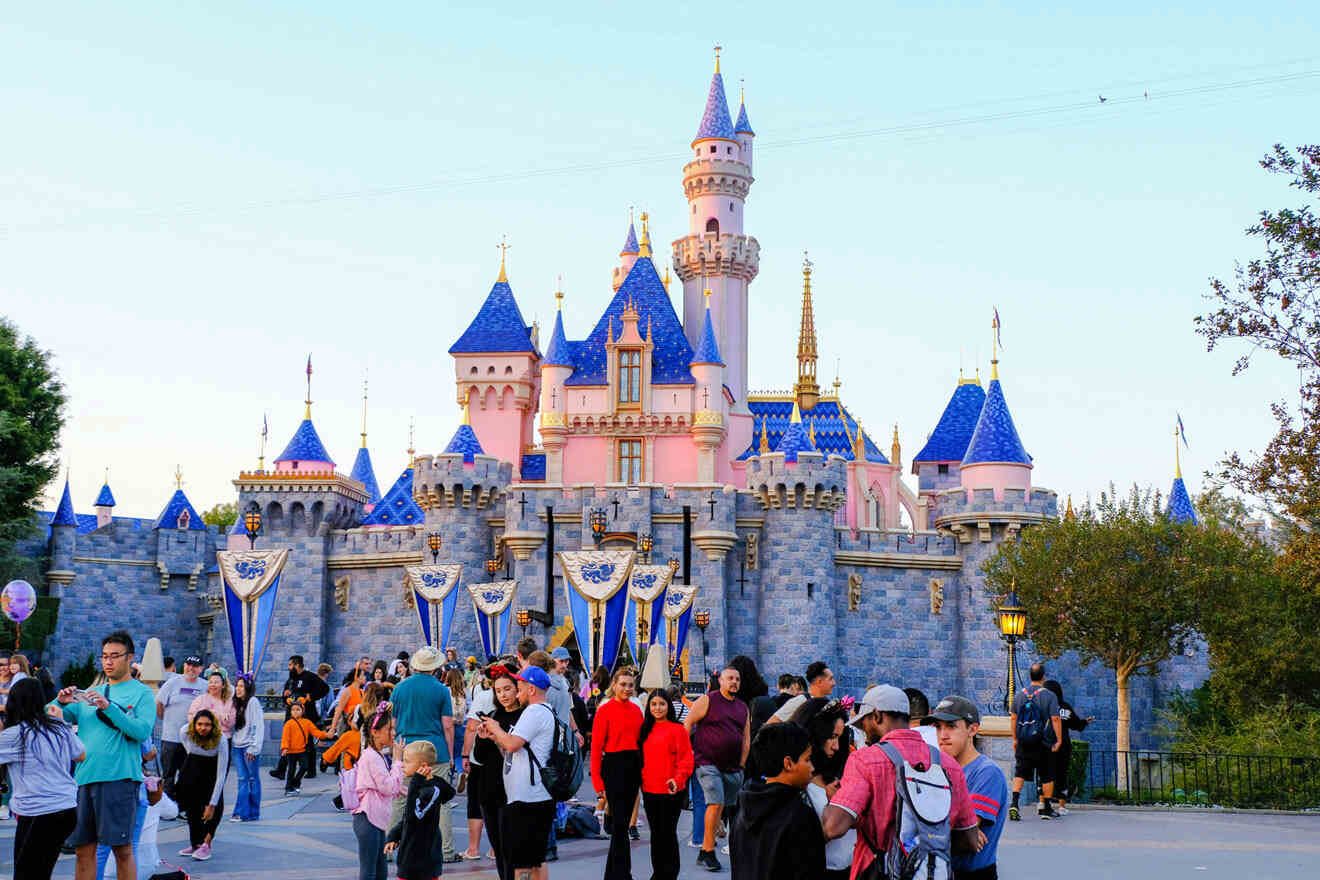 Disneyland Park and Disneyland California Adventure Park (also known as California Adventure) in Anaheim is where visitors come from around the world to experience the magic of Disney! Whether you're here for Minnie Mouse, The Sleeping Beauty Castle, or the Star Wars theme park, there's something for everyone to experience here!
The 2 parks are located directly across each other, so seeing both on the same day or weekend is an absolute must. I recommend getting a Park Hopper ticket to visit both attractions on the same day!
As you can imagine, Disneyland and California Adventure are always busy. To avoid the hassle as much as possible, I suggest using a crowd calendar to check when it will be busiest and buying Lightening Lane passes to avoid waiting in long lines.
The Westin Anaheim Resort is an awesome hotel option that I recommend checking out while you're here. It's a short 10-minute walk to the entrance, making it easy for you to walk and avoid parking fees.
PRICE: from US$104 per person
2. Walk down Mission San Juan Capistrano & the Old Town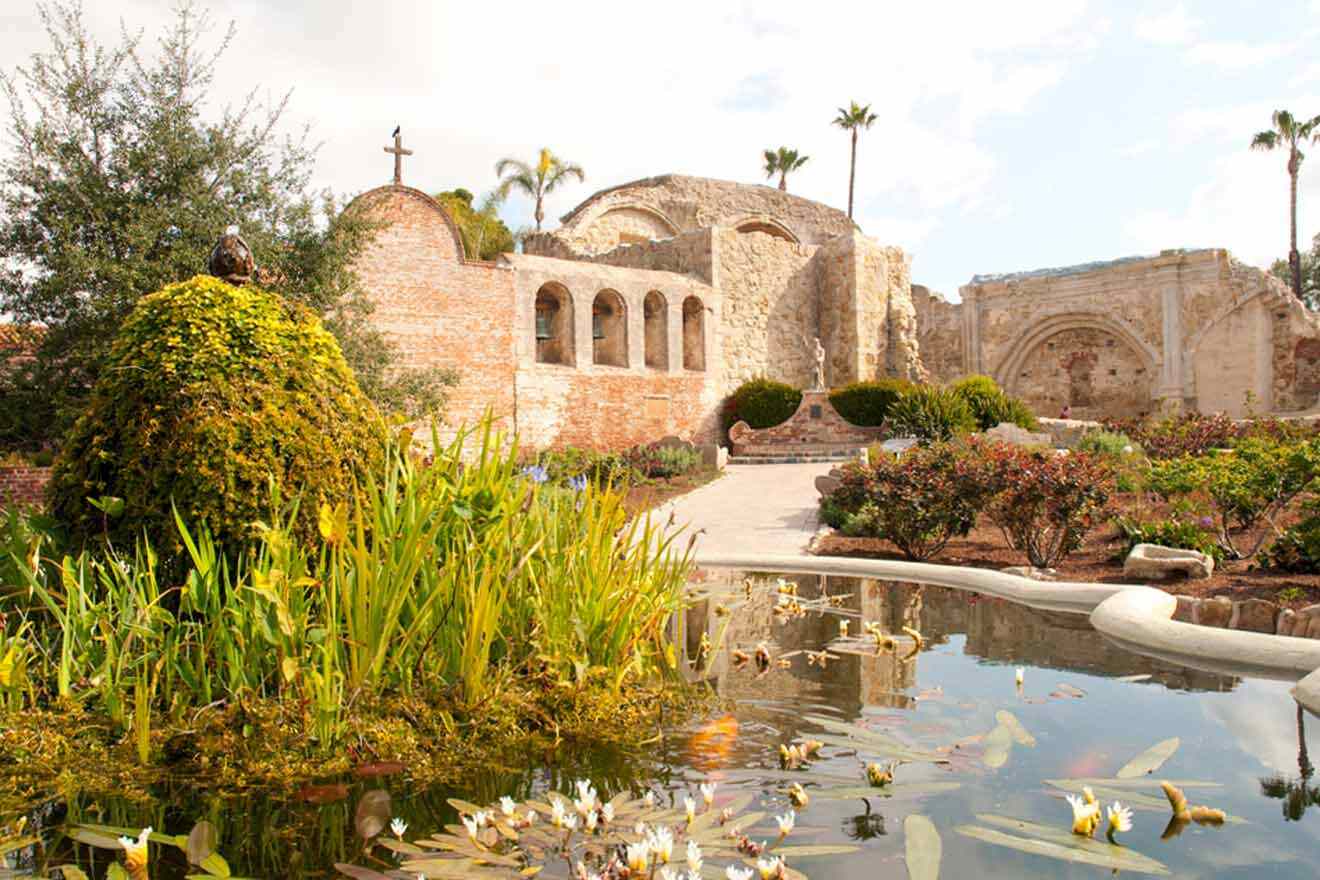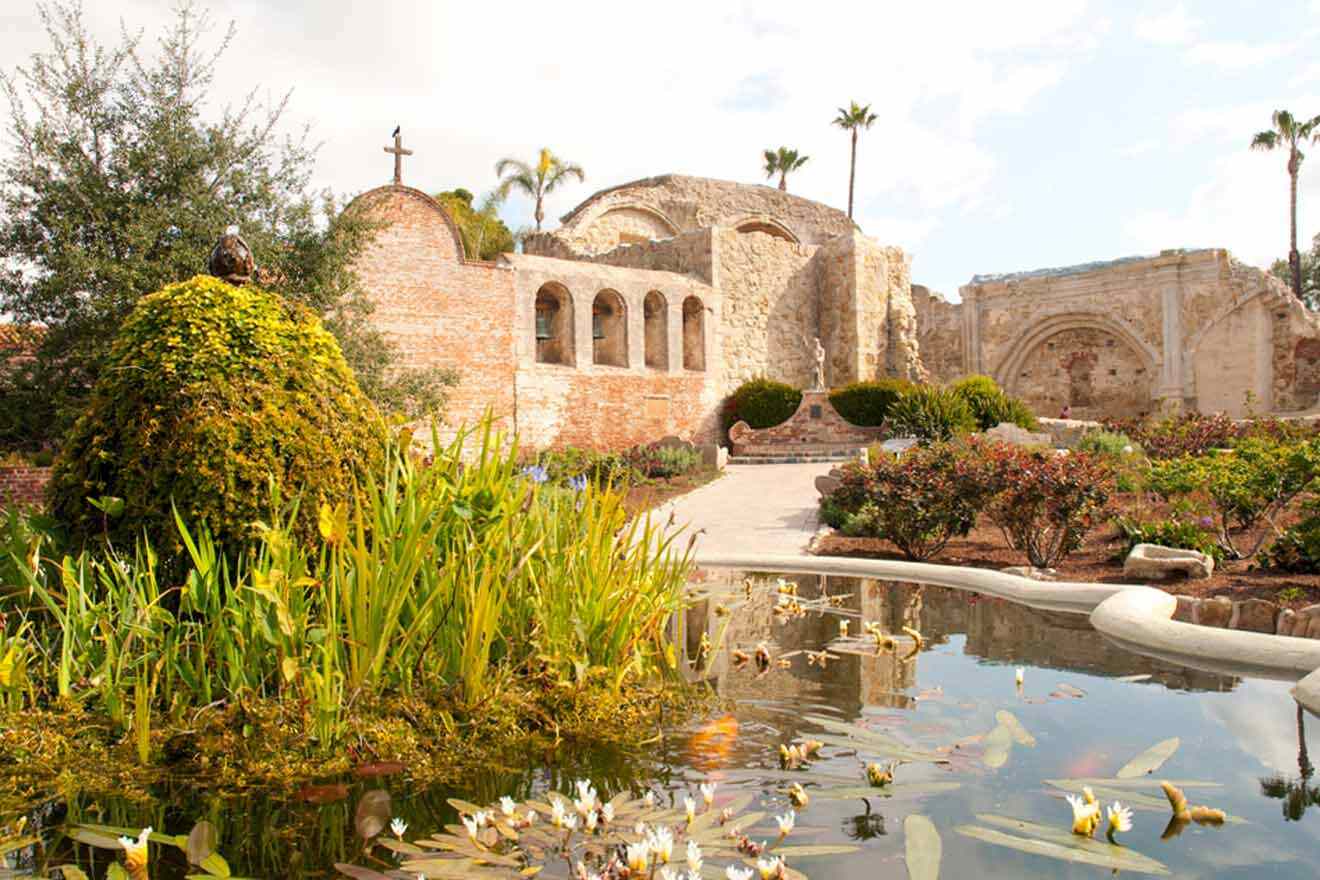 Mission San Juan Capistrano is a historical landmark known to be Orange County's birthplace! Originally built by the Spanish and Native Americans in the 18th century, there's much history to explore here.
The famous monument was founded over 200 years ago and was originally created to be a community where people could come together for mass, education, and agriculture. It's known to be the "Jewel of the California Missions," with over 300,000 visitors every year.
Here are a few tours that I recommend checking out to get the full experience:
VIP Guided Tour – This onsite tour is an exclusive experience offering the best of Mission San Juan Capistrano! You get an up-close-and-personal experience led by a professional guide. This experience is only offered on Saturdays and Sundays for 1.5 hours. It costs US$35 for adults and US$30 for children.
Multi-Language Audio Tour – This onsite audio tour is available in English, Spanish, German, French, and Italian. If you're a non-English speaking visitor, this is an excellent option to listen along to as you stroll through the Mission. It's free with admission, so no need to worry about extra charges here!
Mission San Juan Capistrano & Old Town Tour – Explore the Mission and Old Town on this guided tour! Not only do you get a chance to explore the Mission, but you're also exploring the oldest town in California and hearing all about its history along the way.
TOUR PRICE: from US$45
3. Go whale-watching in Newport Beach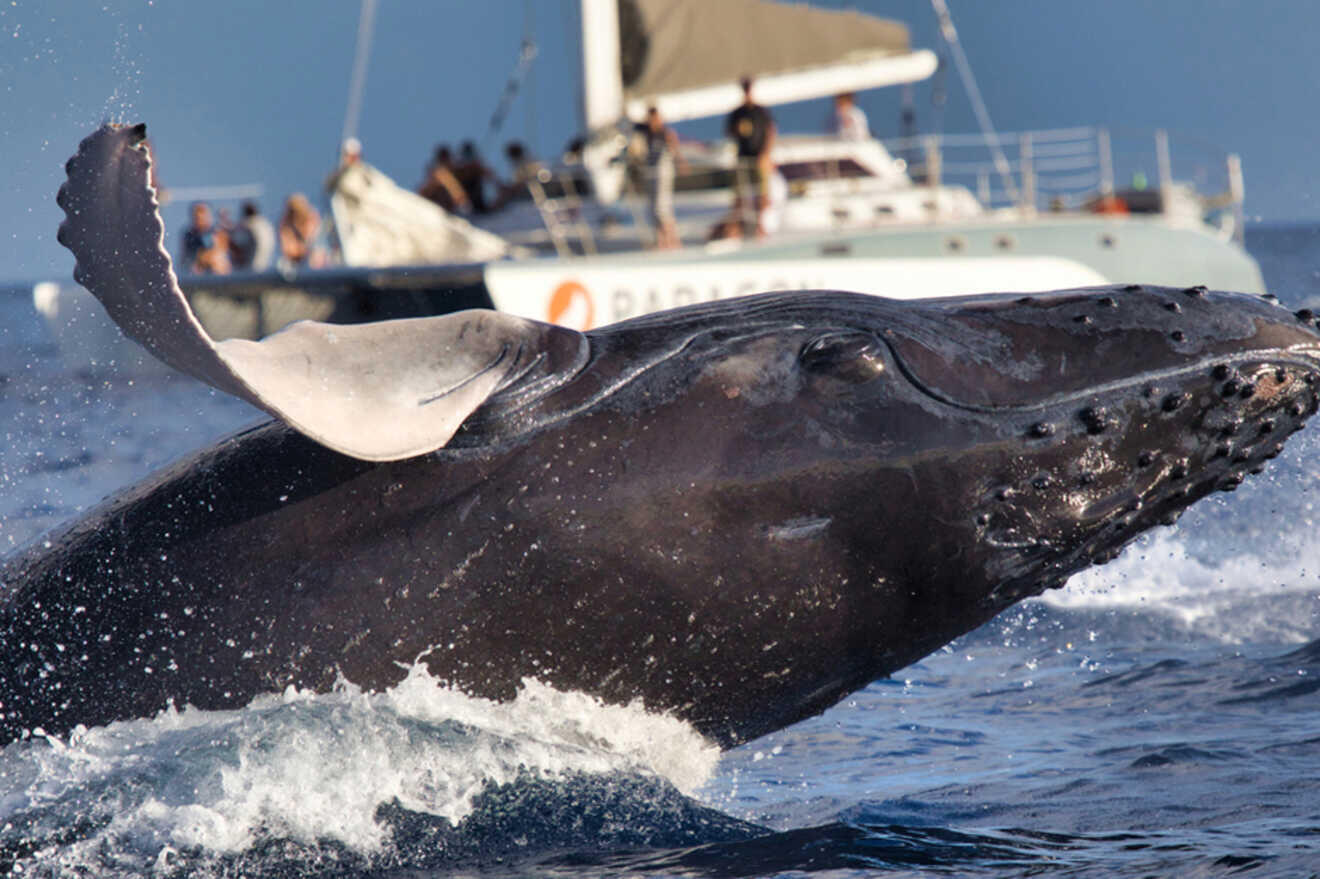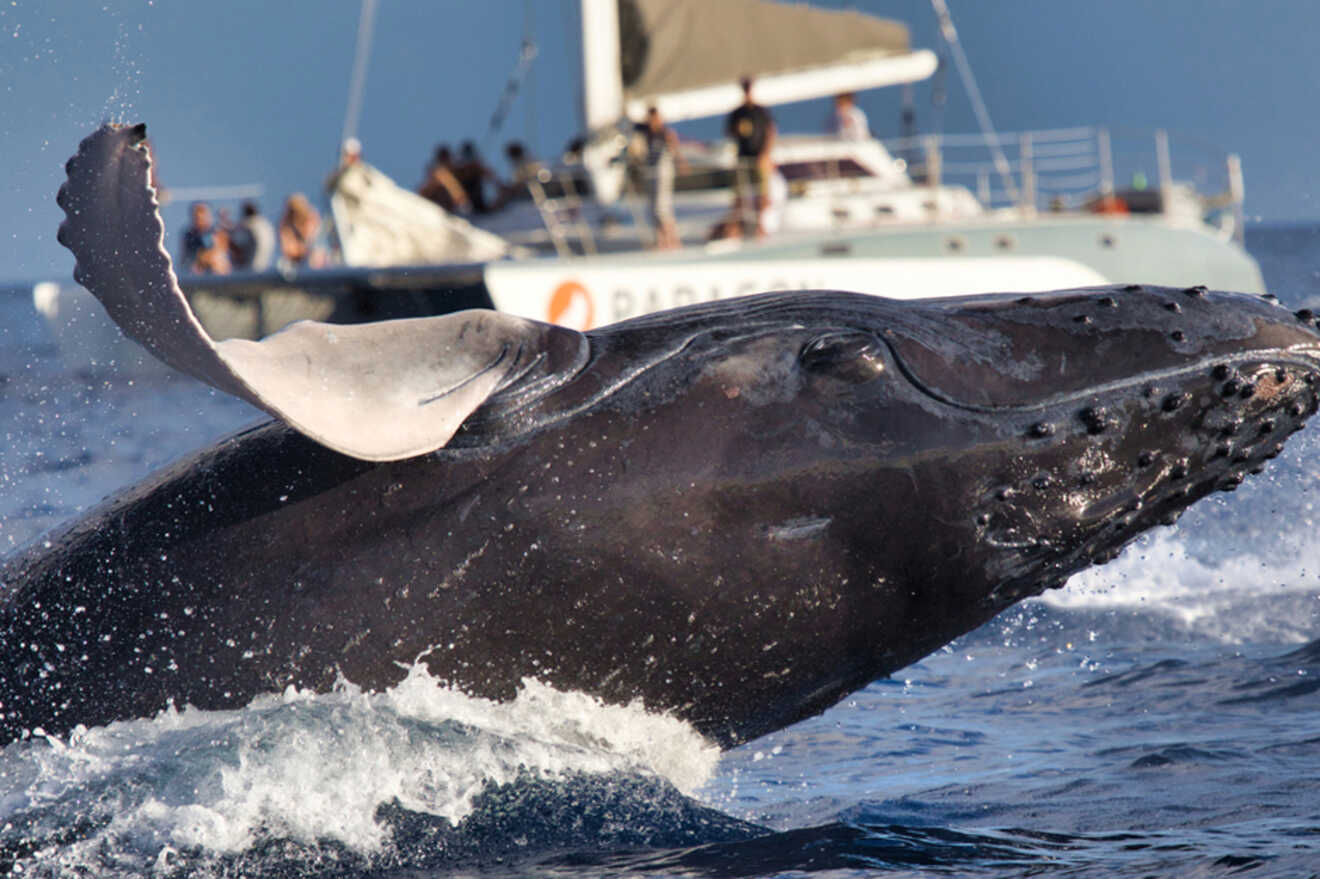 Newport Beach is one of Orange County's most beautiful and popular beach towns! Being 1 hour south of LA and 1.5 hours north of San Diego, it's a popular destination for Southern California locals looking to get away from the big city for the day.
Whale-watching excursions set sail here year-round, so it's an excellent place to be if you're looking to catch a glimpse of a migrating whale. I recommend going from December to April to watch the gray whale migrate from the icy waters of the Arctic to Baja, California.
Here are 2 amazing whale-watching tours that I recommend checking out:
The catamaran cruise from Newport Landing Whale Watching is the most luxurious and intimate whale-watching experience in Orange County! It's super spacious and carries up to 35 people for US$62 per person.
The 2-hour whale-watching journey with Davey's Locker is a more affordable option with a total of about 100 passengers onboard (so it's a bit less intimate). You'll get a chance to admire the Newport Beach coastline for only US$32 per passenger!
Depending on the kind of experience you're looking for, both are great options to consider in Newport Beach!
PRO TIP: There are passionate captains and naturalists on board working hard to make your experience both educational and unforgettable! Make sure to thank them with a nice tip after your tour (trust me, they will really appreciate it).
4. Spend a relaxing day surfing at Laguna Beach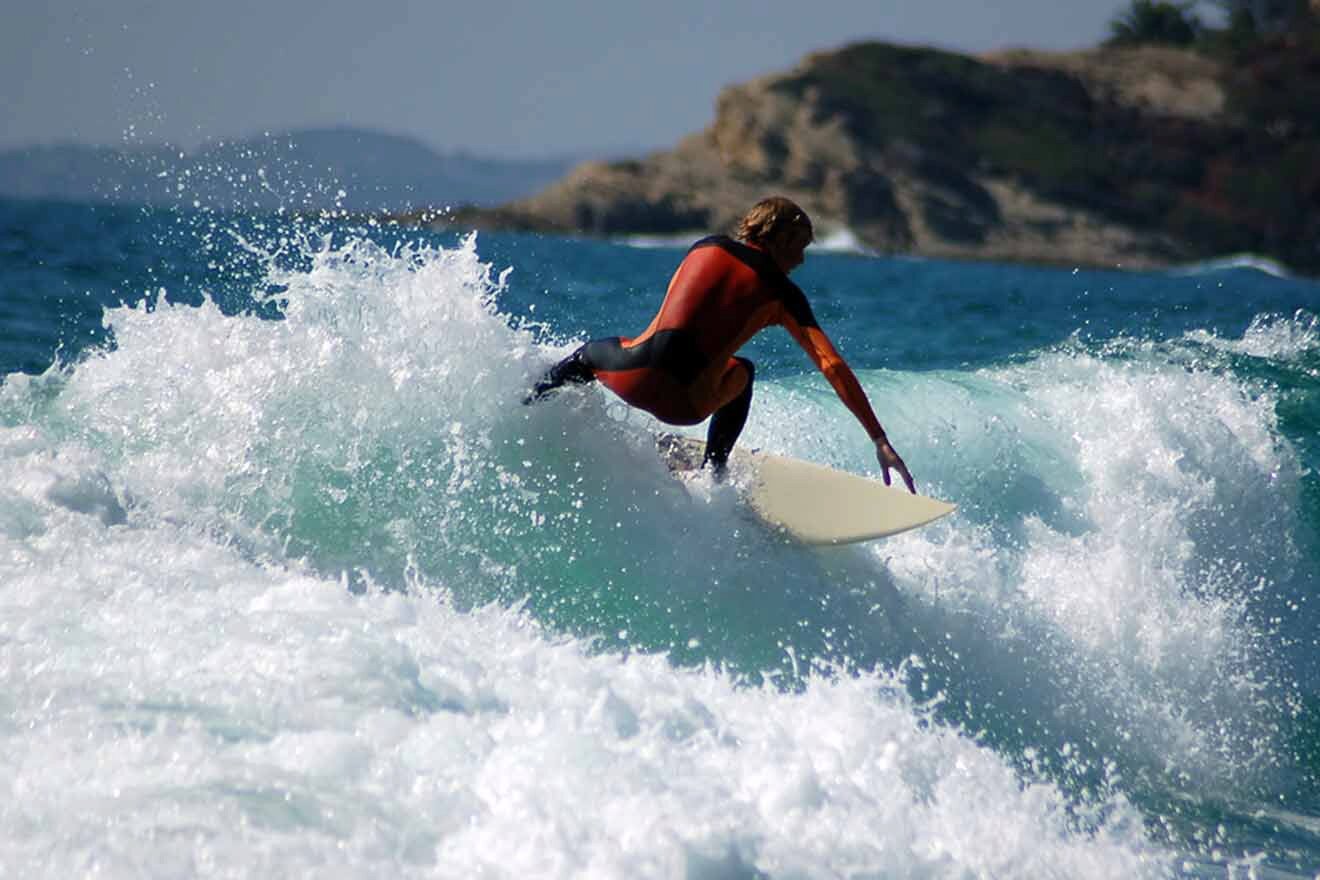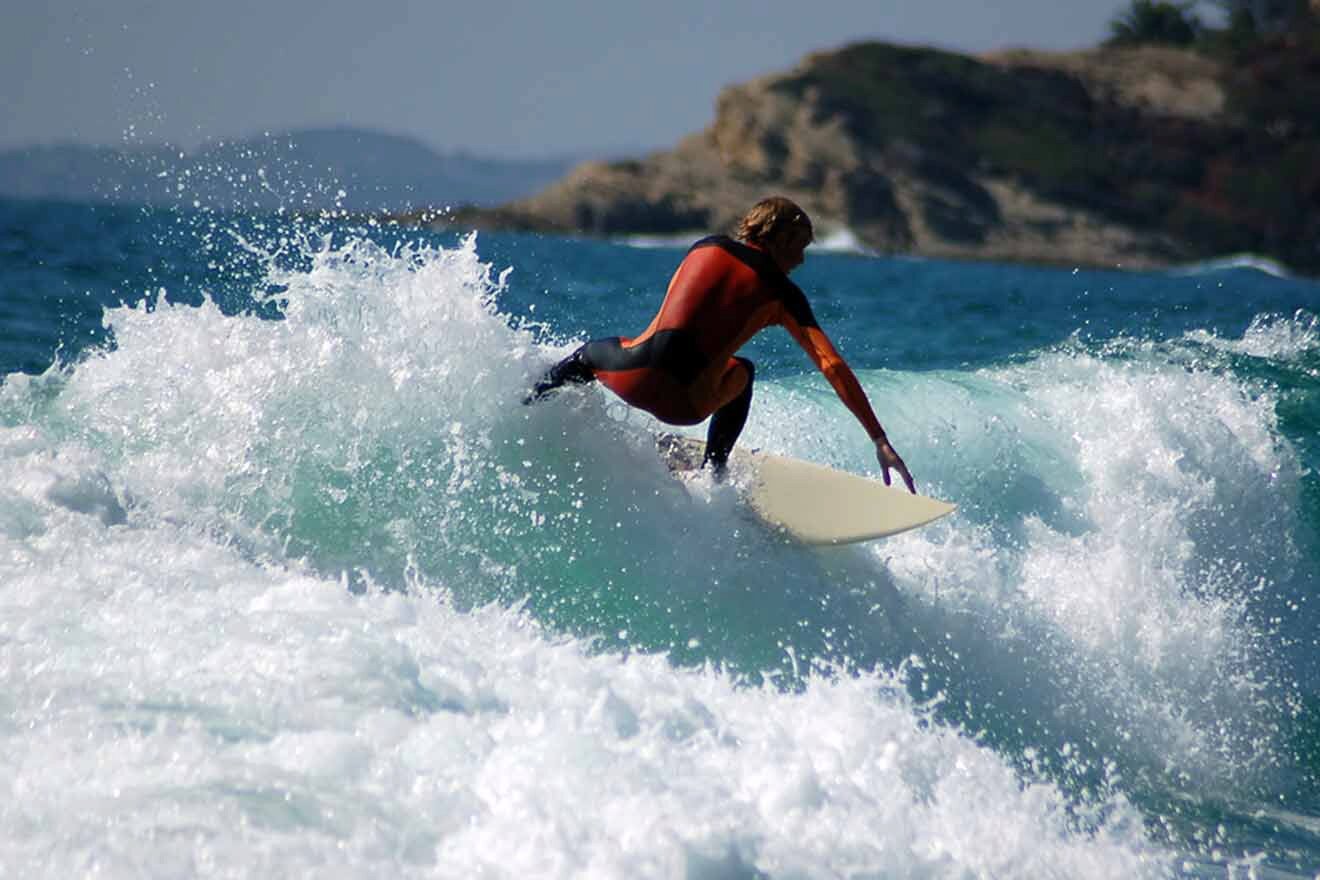 Aside from being home to the famous Crystal Cove State Park, Laguna Beach offers a variety of things to do and world-class hotels where you can unwind. Only 1-hour drive from LA, this is a great little getaway beach town, not too far from the city.
For the perfect day, I recommend taking a hike in Crescent Bay Beach for the best views of the entire city and Pacific Coast and having a picnic lunch by blufftop cliffs in Crescent Bay Point Park. If you're looking for more adventure, I 100% suggest taking a surfing lesson – like most California beach towns, Laguna Beach is a pretty iconic spot to surf.
NOTE: If you're looking for a staycation experience in Laguna Beach, I recommend checking out SCP Seven4One Hotel for all the amenities you need for the weekend (you won't even have to leave the hotel). Plus, you get the convenience of being a short walk away from Fisherman's Cove Beach (if you choose to leave your hotel).
TOUR PRICE: from US$110 per person
5. Have fun at Balboa Island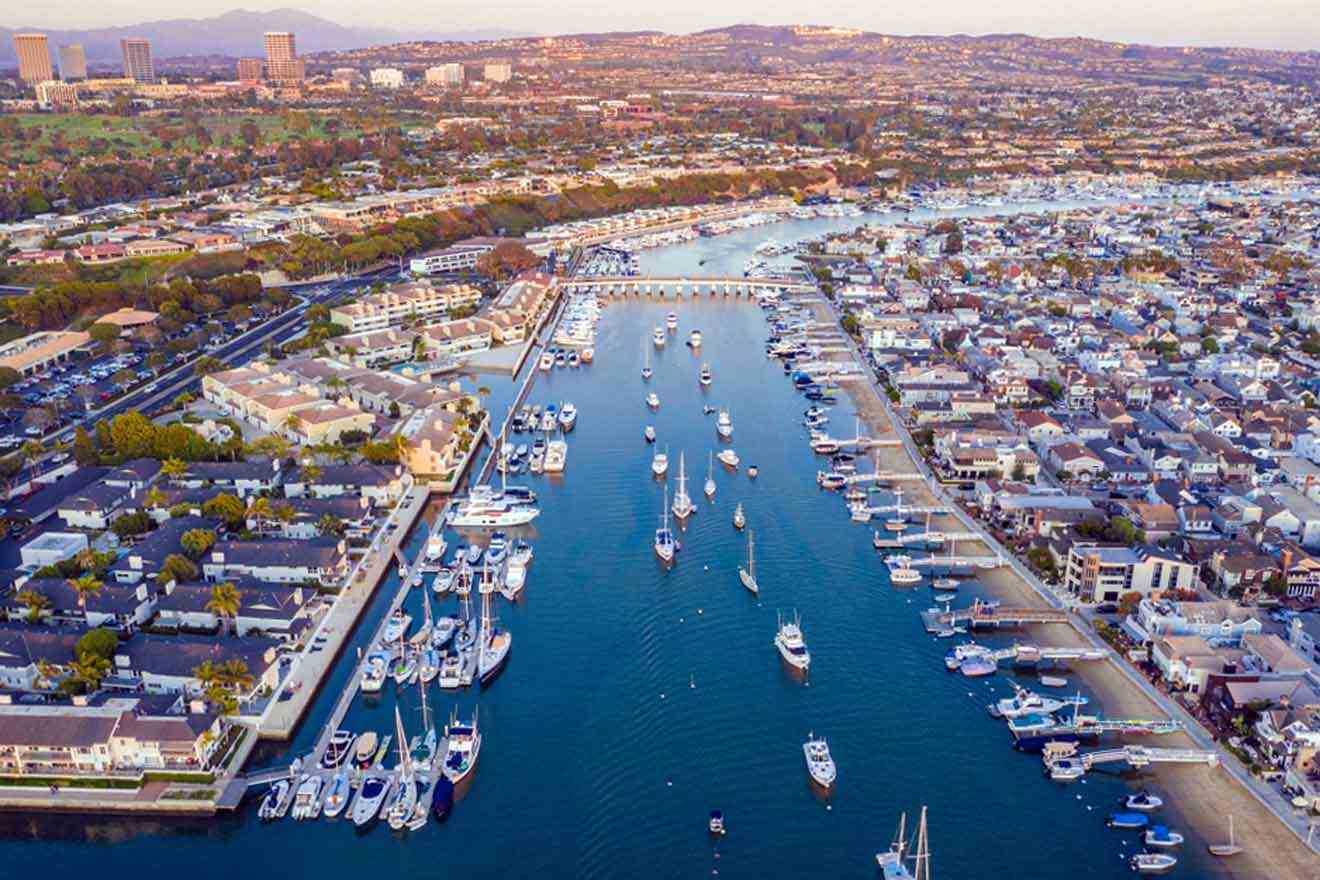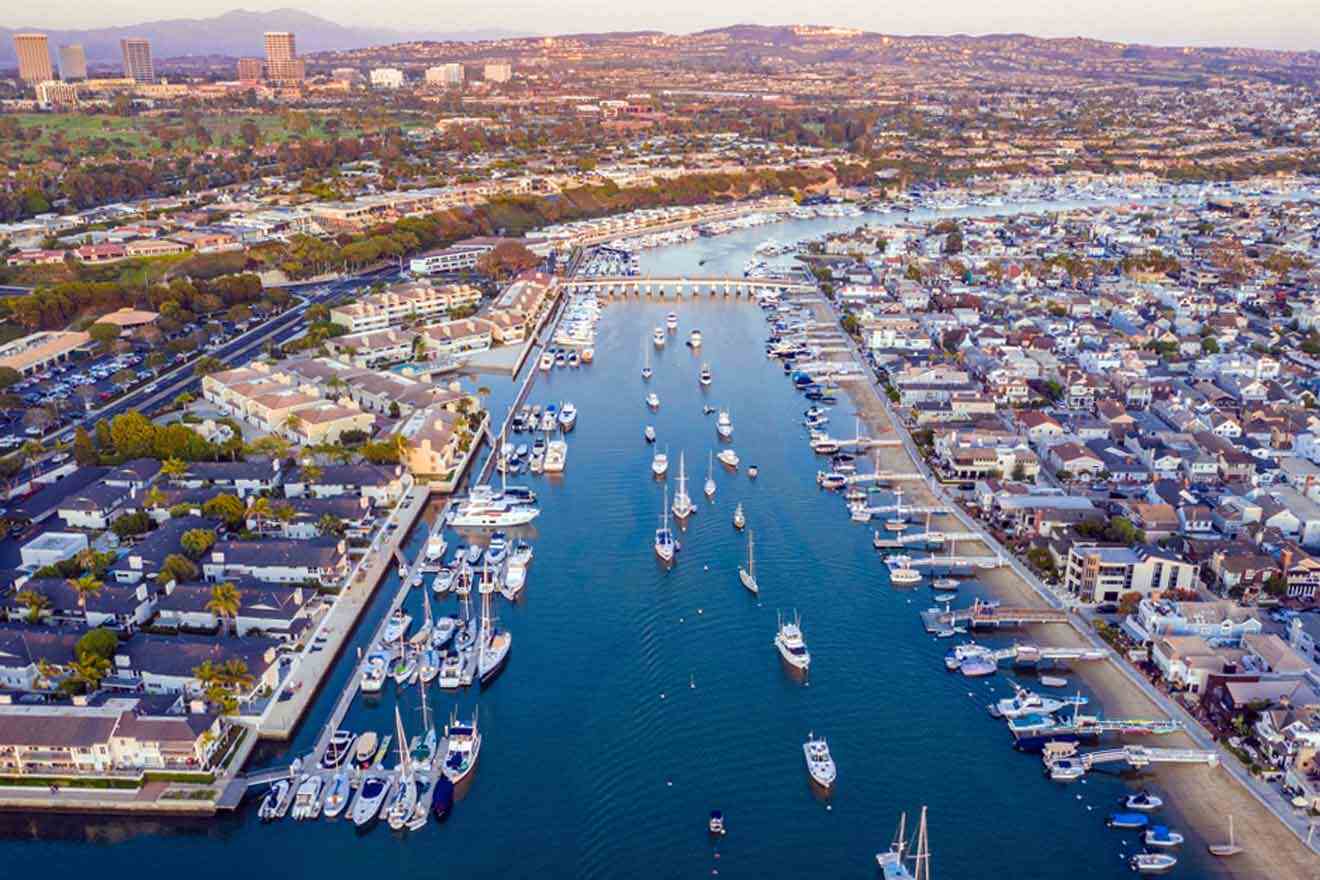 For the perfect day, take a drive over to Fashion Island for Newport Beach's premier shopping center, catch a ferry to Balboa Island for locally-owned boutiques, and have a fun evening at Balboa Fun Zone or THE LOT, for an outdoor movie theater for the entire family to enjoy! (Trust me, Balboa Island is worth the visit!)
6. Uncover unique works of art at the Sawdust Art & Craft Festival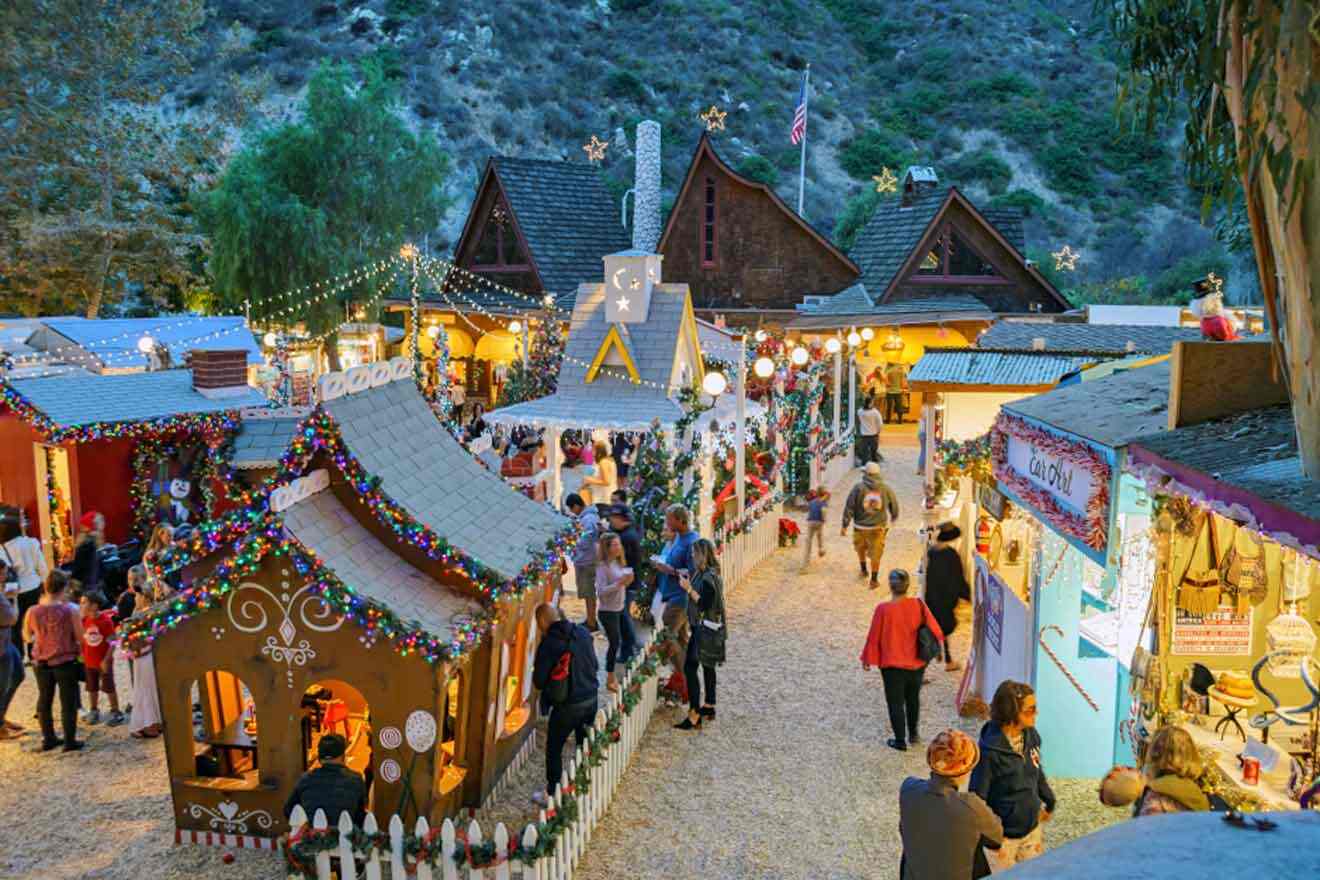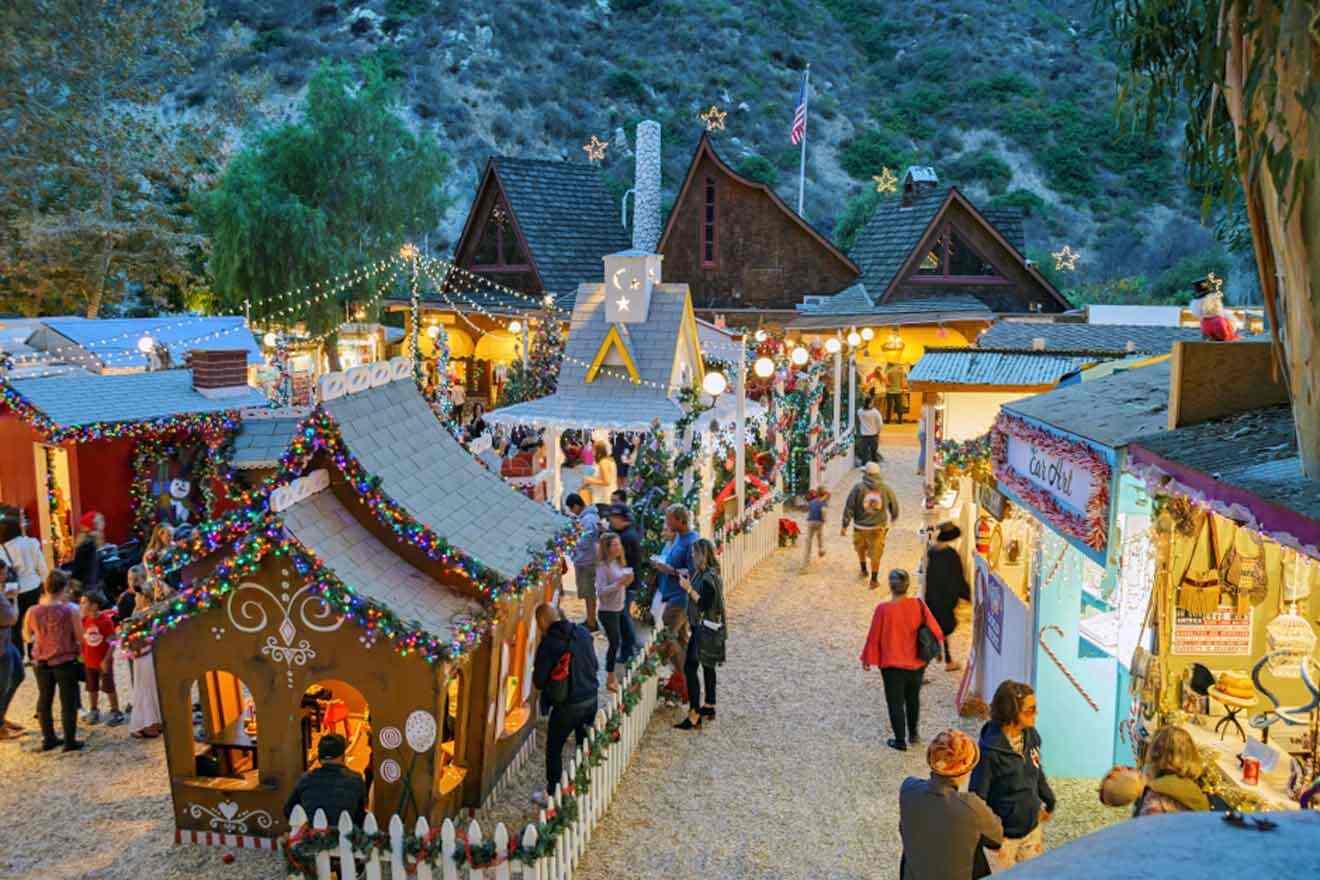 The Sawdust Art & Craft Festival is an arts and crafts show presented for 2 months every summer in Laguna Beach! This festival allows visitors to explore the sawdust-covered paths and fine art and crafts of Laguna Beach locals. You'll find works of art made of ceramics, glass, woodwork, and even unique sculptures.
If you're visiting in the winter, the festival is turned into a winter wonderland, with their Winter Fantasy Festival, for a month in November and December. They completely transform the decorations from sawdust-covered paths to thousands of hanging lights and Christmas decorations. Here, they showcase work by international artists rather than just local Laguna Beach artists.
The festival dates vary every year so I recommend checking their website here. They will be open Sunday – Thursday, 11 AM to 8 PM, Friday & Saturday, 11 AM to 10 PM.
PRICE: US$10 per person
7. Spend the day at Knott's Berry Farm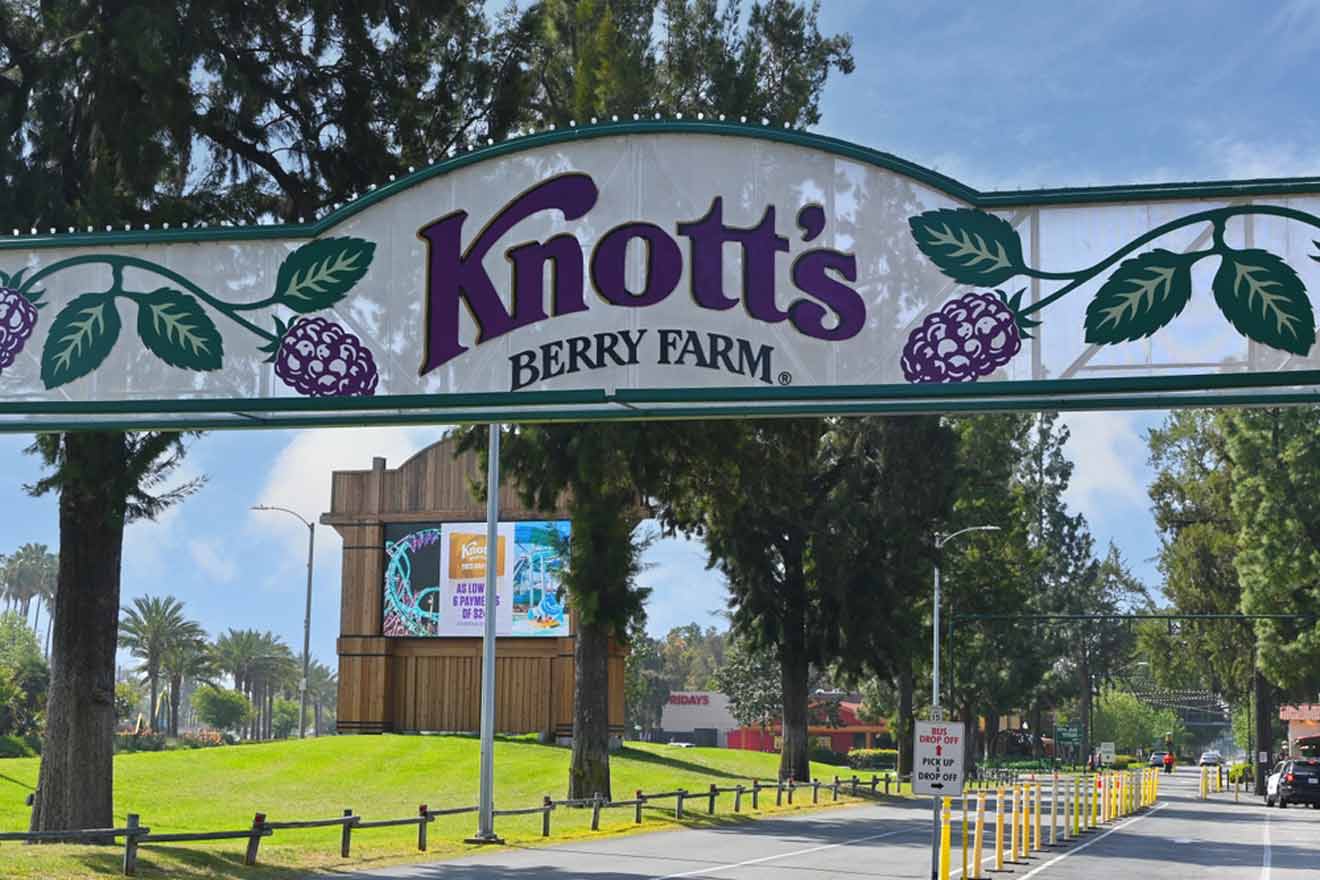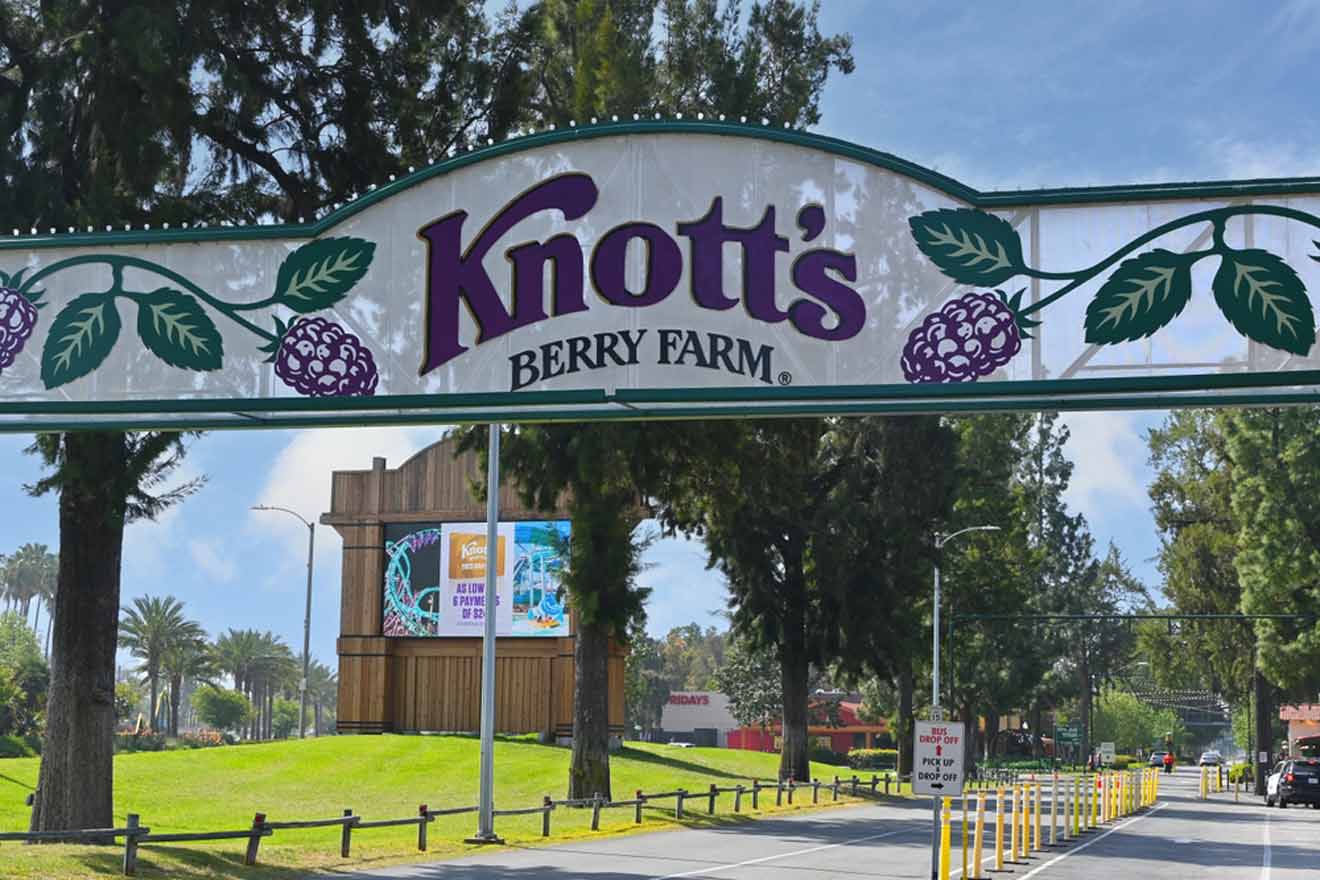 Next time you're in Orange County and want to uncover more of California's history and culture, this is a fun park to explore! Knott's Berry Farm began in the 1920s as a small roadside berry stand and grew into one of the most famous theme parks in California today. Now, you can experience every part of California's roots with its theme parks Old West Ghost Town, Fiesta Village, The Boardwalk, and Camp Snoopy.
This amusement park in Buena Park is another one of Orange County's most well-known theme parks, with fun rides and games great for couples and kids. If you're visiting in the spring or summer, I recommend going for a ride on The Calico River Rapids. You might get a little wet, so bring a towel to dry off.
For lunch or dinner, check out Mrs. Knott's Chicken Dinner Restaurant. The restaurant was first opened in 1934 as a small tea room serving chicken by Mrs. Knott herself and her children. It has grown today to one of the largest in California with the same classic fried chicken recipe. They're open from 11 AM to 9 PM daily, and it gets pretty busy, so make your reservations in advance here.
NOTE: If you're traveling in the summer, I recommend checking out Knott's Soak City Water Park, right next to Knott's Berry Farm! There's a variety of fun water rides for kids and adults to enjoy.
HACK: Avoid LA traffic and use the Metrolink Train, which stops a few steps from Knott's Berry Farm. If you're staying at a hotel nearby, you can also take a shuttle.
PRICE: from US$83 per person
8. Uncover an underwater park at Crystal Cove State Park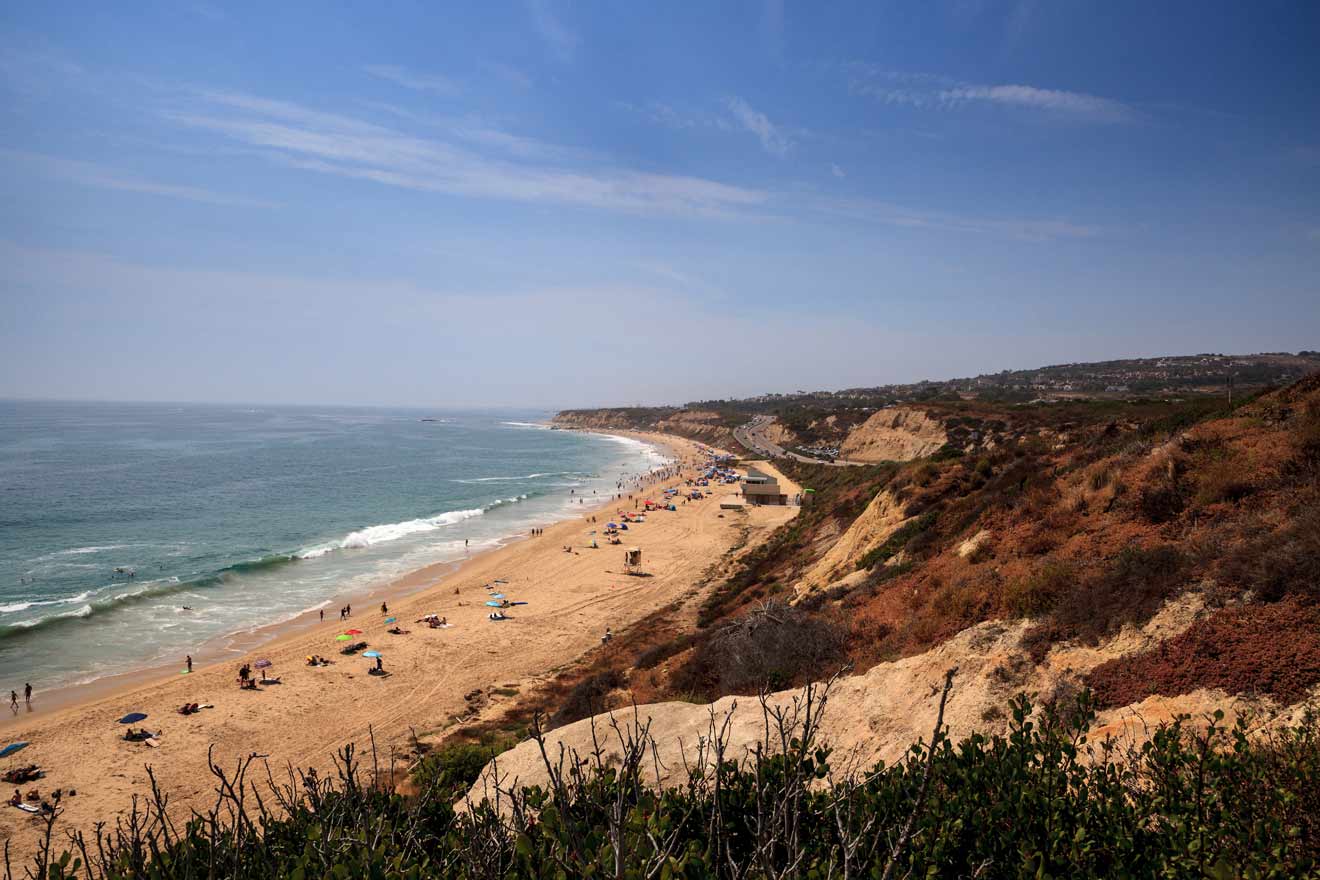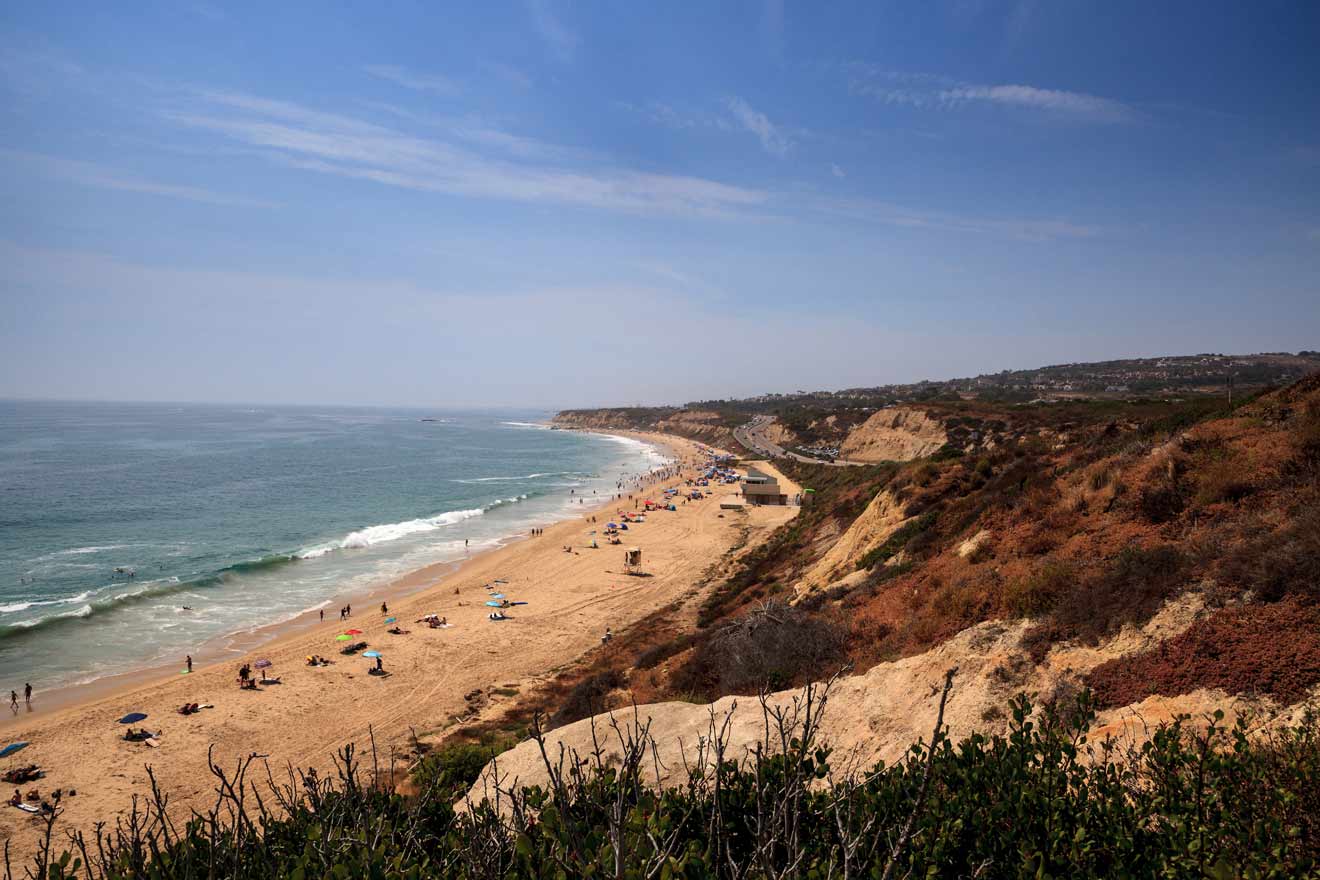 Crystal Cove State Park is Orange County's most beautiful state park! There are about 3 miles (5 km) of the beach and 2,400 acres (970 hectares) of the Laguna Coast Wilderness Park area to explore. There's an endless list of outdoor activities you can do here!
It's located right off the scenic Pacific Coast Highway between Corona Del Mar and Laguna Beach, so if you're taking a road trip down the coast from San Francisco to San Diego, I suggest stopping here on the way.
The #1 thing I suggest checking out here is Crystal Cove State Park's underwater forest! The underwater kelp forest is an offshore park with one of the most diverse marine ecosystems in the world. It's found near the park's tidepools, where you'll also see various shell and mollusk species that are unique to the area.
The underwater forest at Crystal Cove State Park has a few tide pools to explore: Reef Point, Rocky Bight, Pelican Point, and Treasure Cove. Take a look at this map for your reference! Just remember to refrain from touching all the cool critters, and do not litter. This habitat is completely natural and untouched, so respect it and keep it as clean as possible!
PRICE: Parking at the park is US$15
9. Have a picnic and enjoy the coastal views of Heisler Park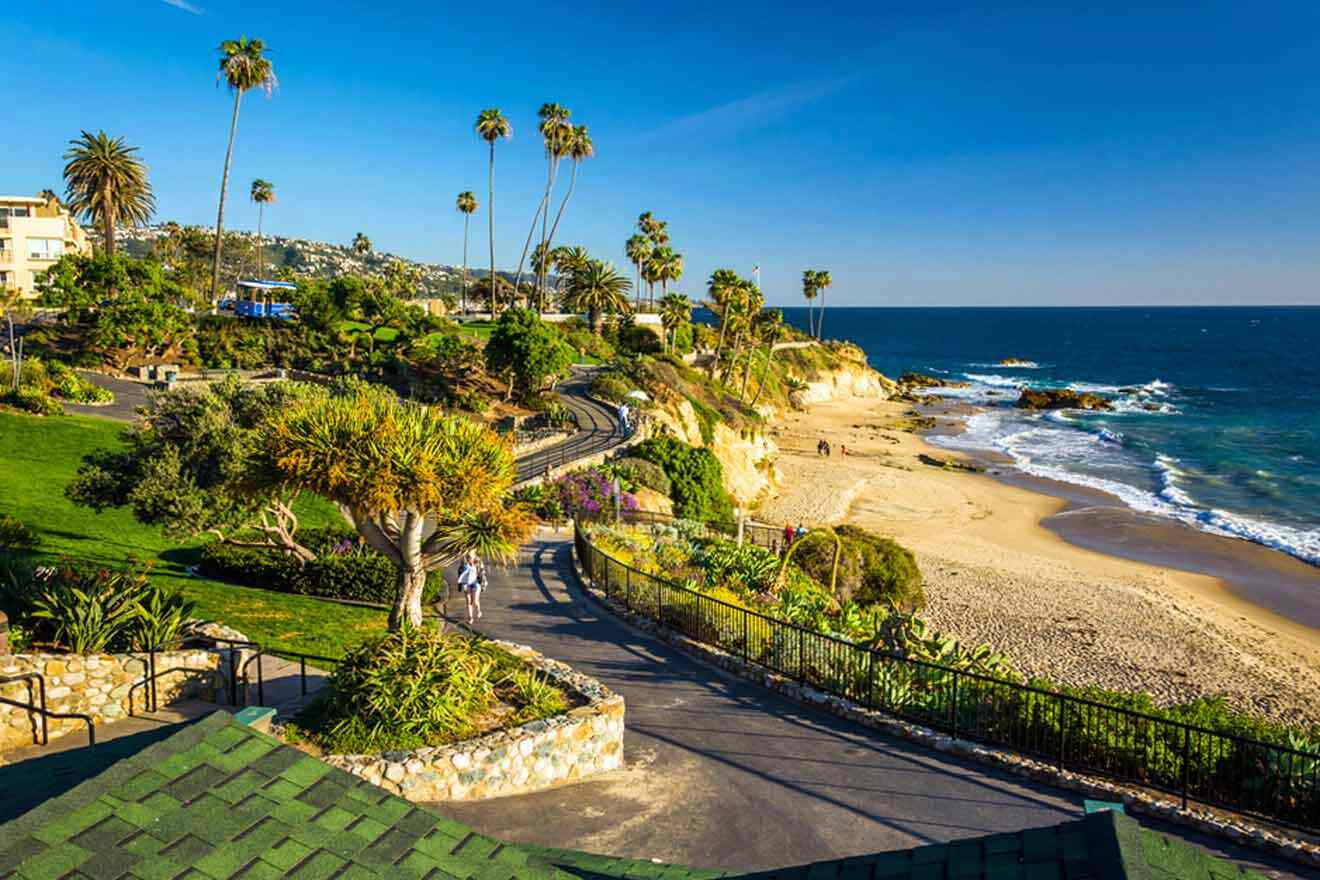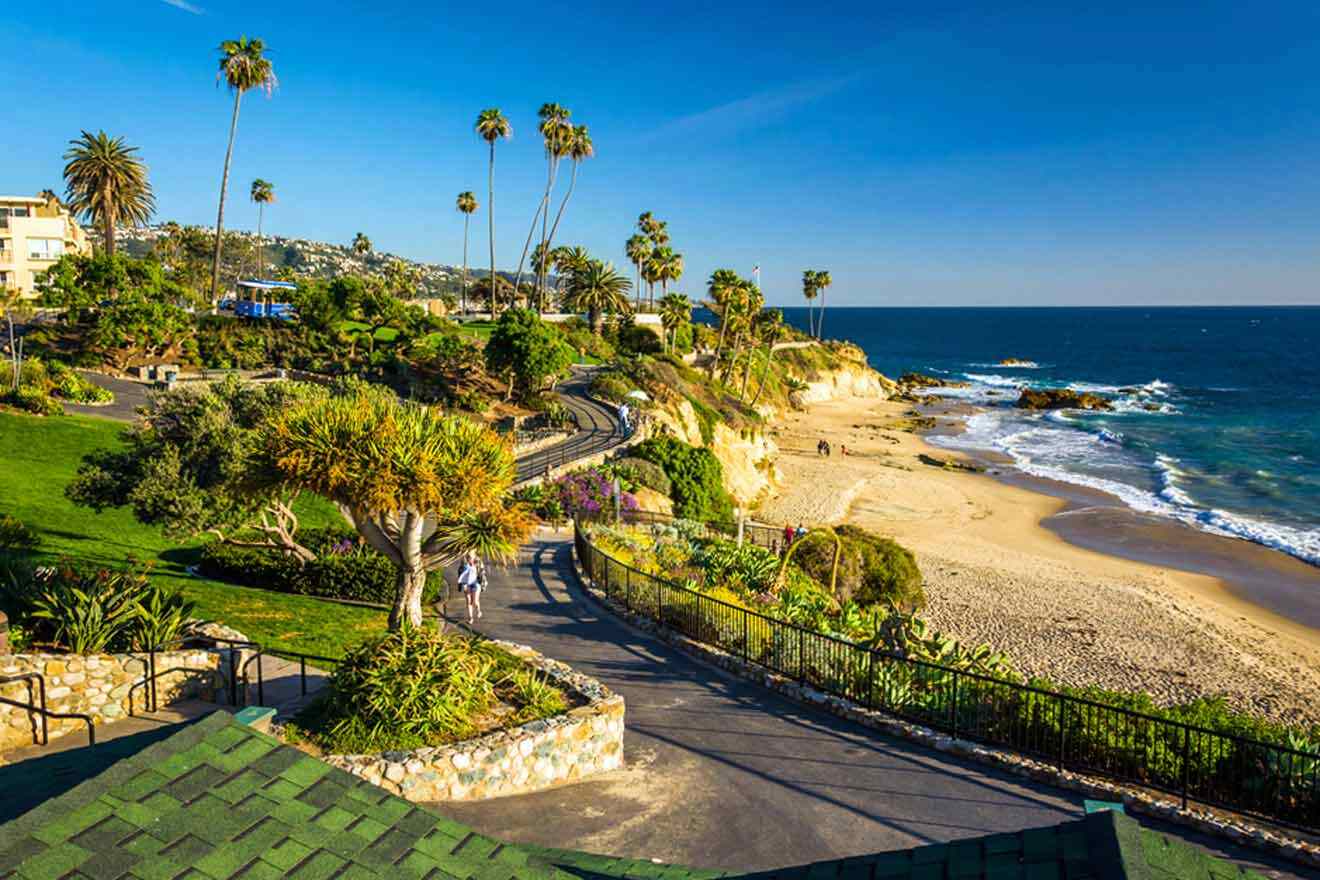 Heisler Park is a huge oceanfront park in Laguna Beach with quick beach access to several Orange County beaches, including Rockpile Beach, Diver's Cove, Main Beach, and Picnic Beach.
There are plenty of open grass areas, picnic tables, gazebos, and more to enjoy a day here. I recommend grabbing lunch nearby at The Royal Hawaiian Fire Grill and heading back for a walk down the park.
If you'd rather have a more intimate experience and enjoy the views while eating, take your food to go and lay out a picnic on the grass! After lunch, take a walk and visit the veteran memorial and monument. The monument also contains a time capsule from 1977 that is scheduled to be open in 2027!
The park is on Cliff Drive in Laguna Beach, a short walk from the Pacific Coast Highway! This is another great stop if you're on a trip going down the PCH. You can park on the street and pay a small fee on the street meters or drive all the way down to North Cliff Drive for a free parking lot. I recommend coming on weekdays or early in the morning to avoid traffic and hectic parking lots!
10. Wander through the art exhibits in Bowers Museum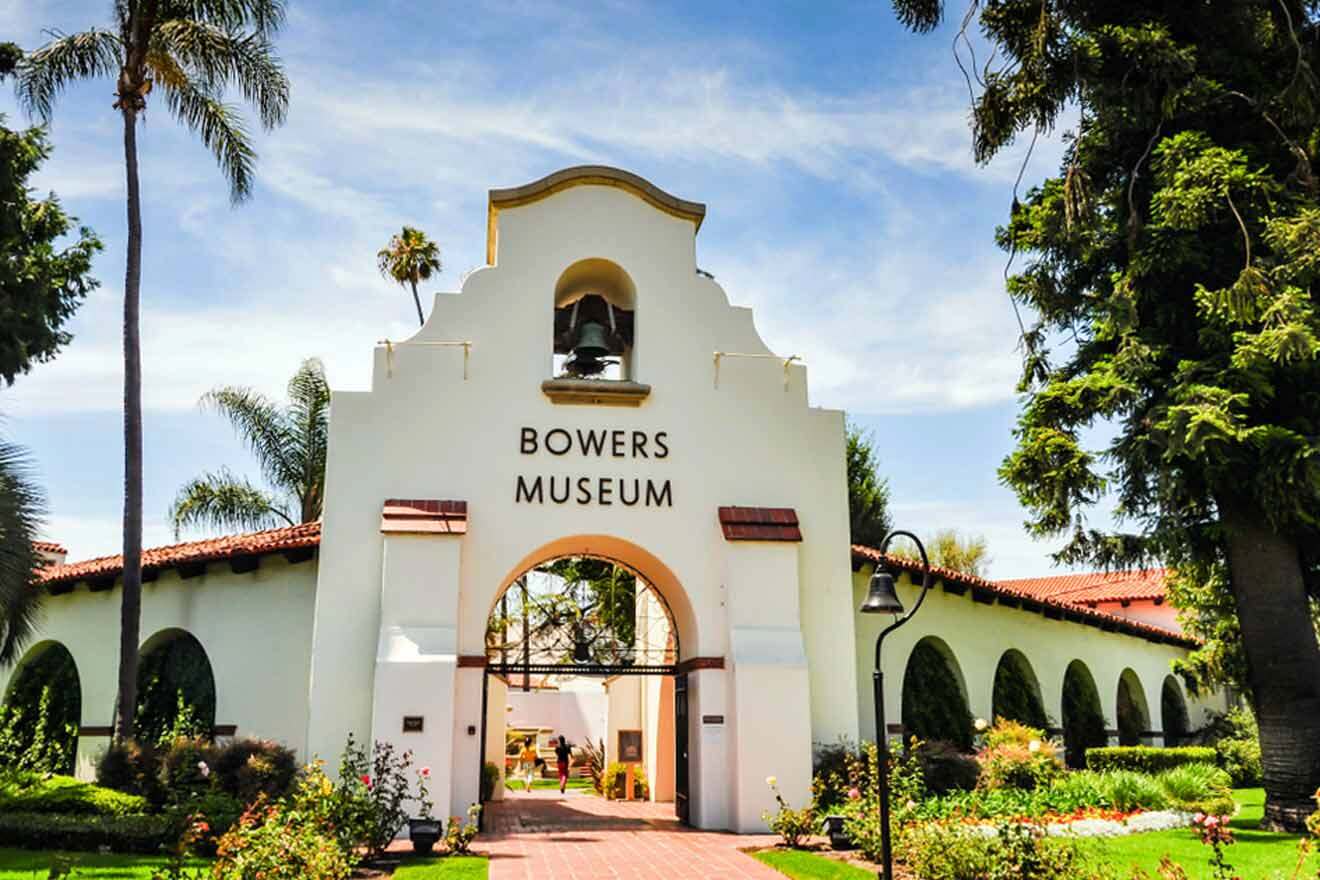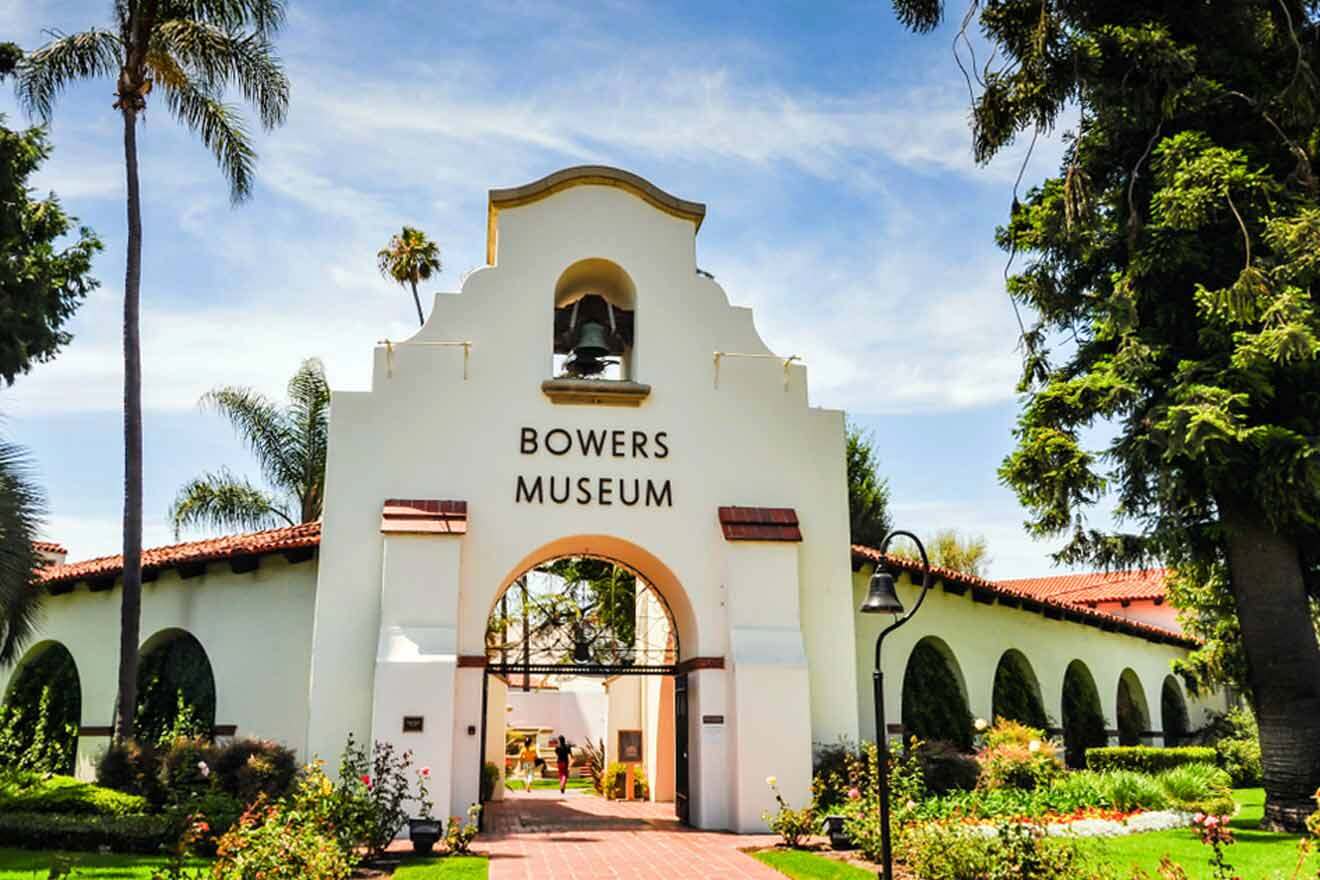 Bowers Museum is a famous art museum located in the heart of Santa Ana, showcasing culture and art pieces from around the world! Their mission is to celebrate world cultures through art, and with them being the largest and oldest museum in Orange County, they have managed to be successful in reaching their mission.
I recommend checking what exhibitions are currently being displayed here. Events at the Bowers Museum are also held periodically, so keep an eye out and make the most out of your experience by planning to attend the museum before heading to an event.
Audio tours are available through the Bowers Museum website in English, Spanish, and Mandarin! I recommend taking advantage of the free audio tour full of valuable information that you can listen to as you tour through the museum. The only things I recommend buying in advance are the tickets to get inside the museum.
PRO TIP: Traveling with kids? I recommend taking a short walk to the Discovery Cube Sea Lab in Orange County, a museum that will entertain the kids and educate them through fun STEM activities.
PRICE: US$18 per person
11. Stroll around the San Clemente Pier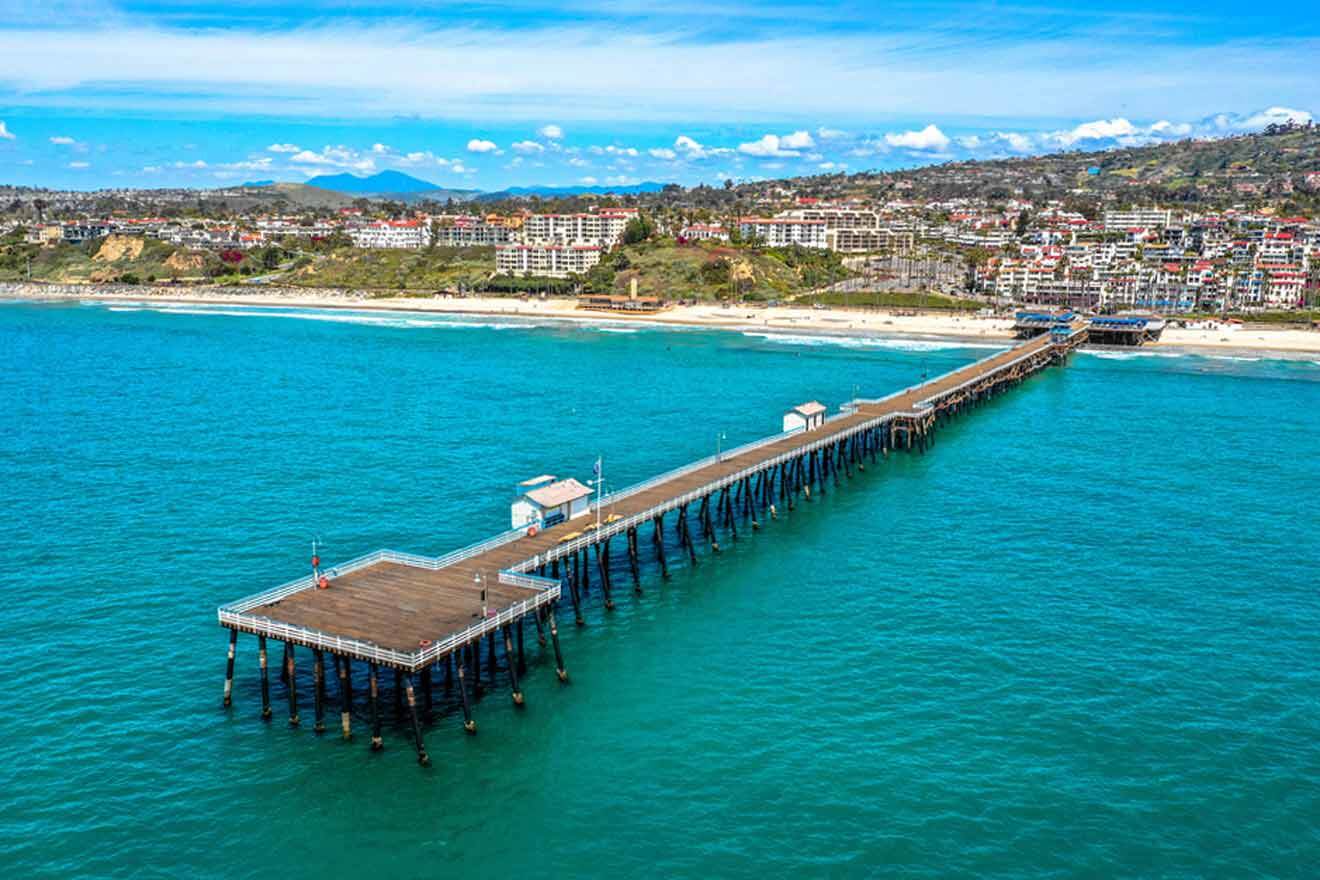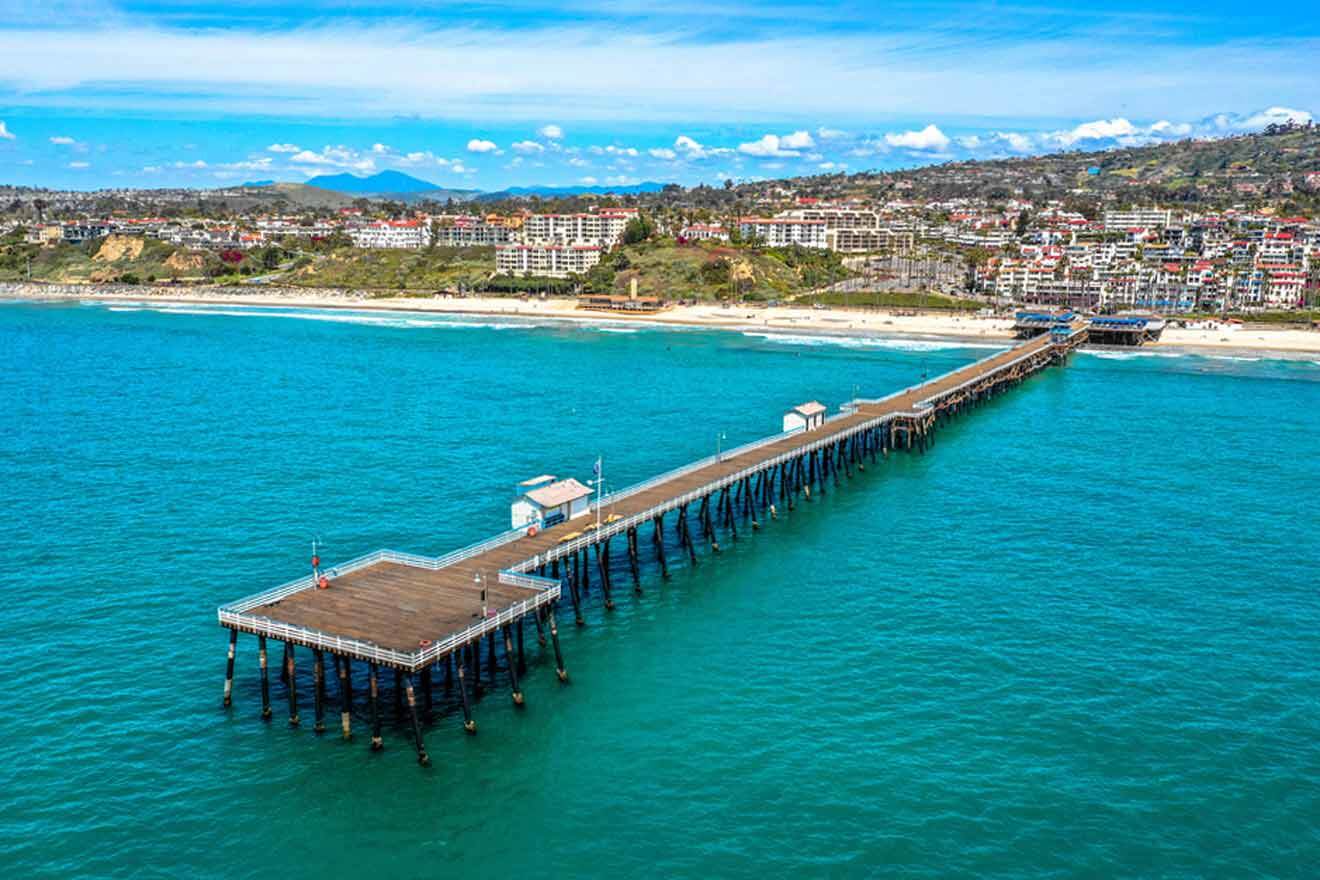 The San Clemente Pier was originally built in the late 1920s to help promote tourism in the San Clemente area, and today it's the #1 tourist destination in San Clemente (it definitely worked)! It's a great spot for fishing, walking, and swimming, followed by great shopping and dining options around the pier.
Here are a few things I recommend doing at the San Clemente Pier:
Visit Casa Romantica, a historic landmark, which is a cultural center and garden featuring workshops, exhibits, lectures, and more to enjoy every single day.
Take a stroll down the San Clemente Coastal Trail near the pier, which is a bit over 2 miles (nearly 4 km) long, with walking trails passing through stunning beach houses and stunning views of the Pacific Ocean.
Surf the San Clemente Pier. Like most coastal California cities, this is another perfect beach town to catch some waves! San Clemente Surfboard Rentals offers surfboards, wetsuits, beach chairs, and even umbrellas for rent at a low price.
PRO TIP: Head to the Fisherman's Restaurant & Bar San Clemente for a classic and casual seafood dining experience. This restaurant has been serving locals since 1981 and offers some of the most delicious seafood on the pier!
12. Continue your whale-watching excursion at Dana Point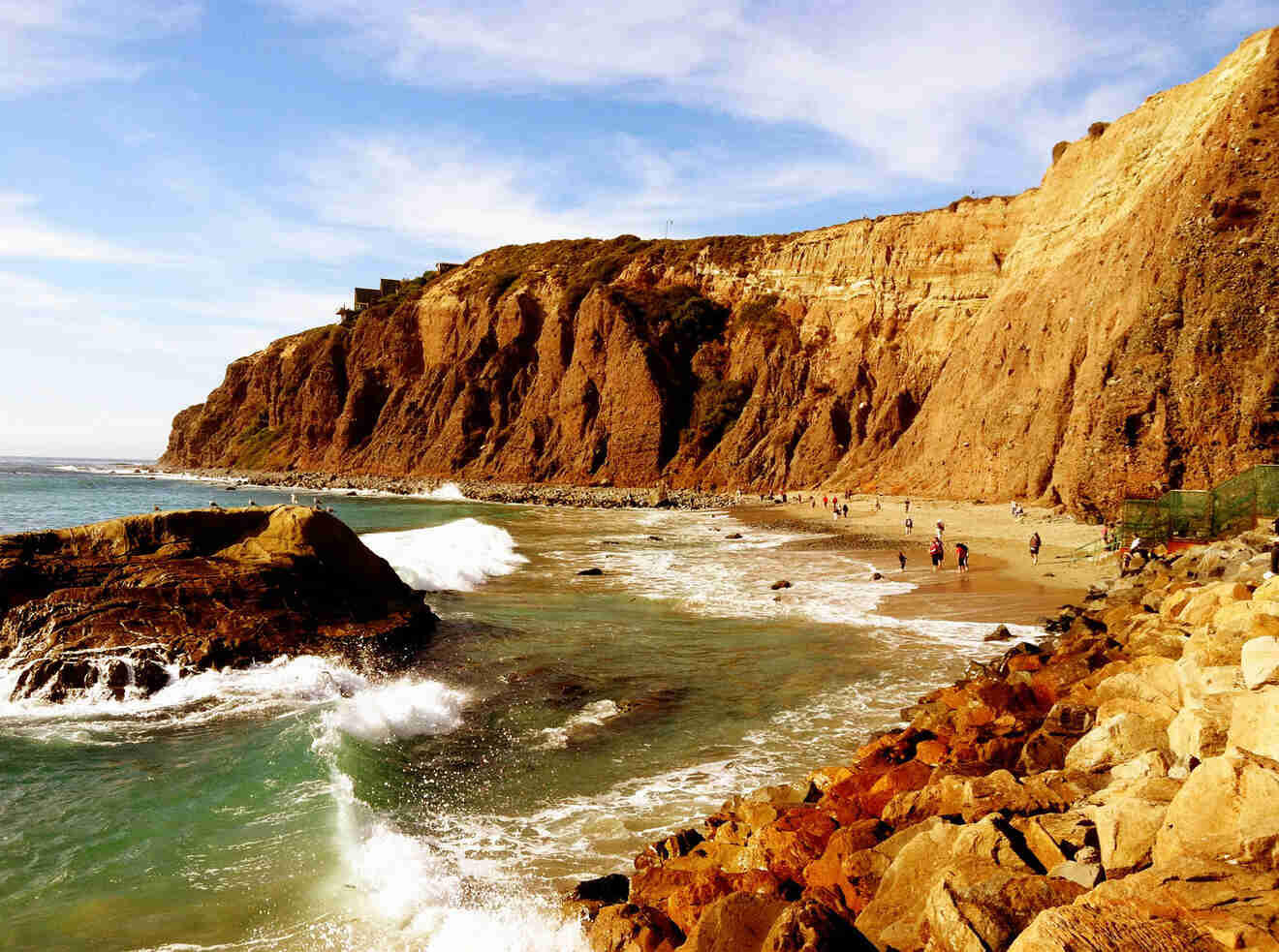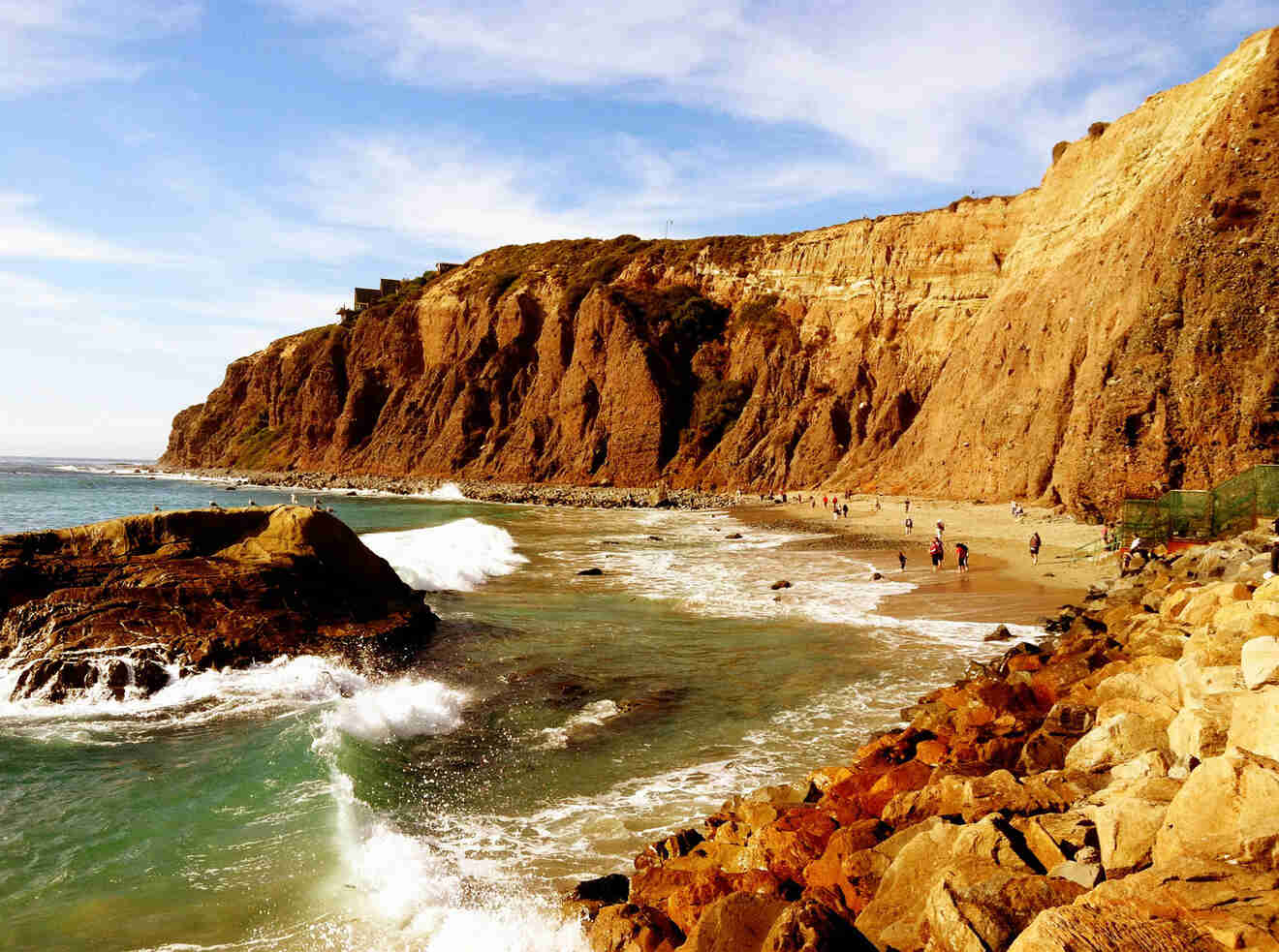 Orange County is well-known for the plethora of whale-watching experiences on its beaches, so I had to include the second most popular whale-watching destination: Dana Point!
The whale-watching excursion in Dana Point Harbor is another magical tour that takes you on a journey along the coast of the Pacific Ocean to admire all kinds of extraordinary marine life. If you're lucky, you might just see a friendly Pacific white-sided dolphin! They love to hang around all year round!
PRO TIP: If you see seagulls flocking near the water, this means that a whale is somewhere in the surrounding area. You'll bump into humpback whales, finback whales (also known as fin whales), minke whales, dolphins, sea lions, and other amazing marine life any time of the year, anywhere in Southern California! Keep an eye out!
PRICE: From US$40 per person
13. See domestic flora & fauna at Orange County Zoo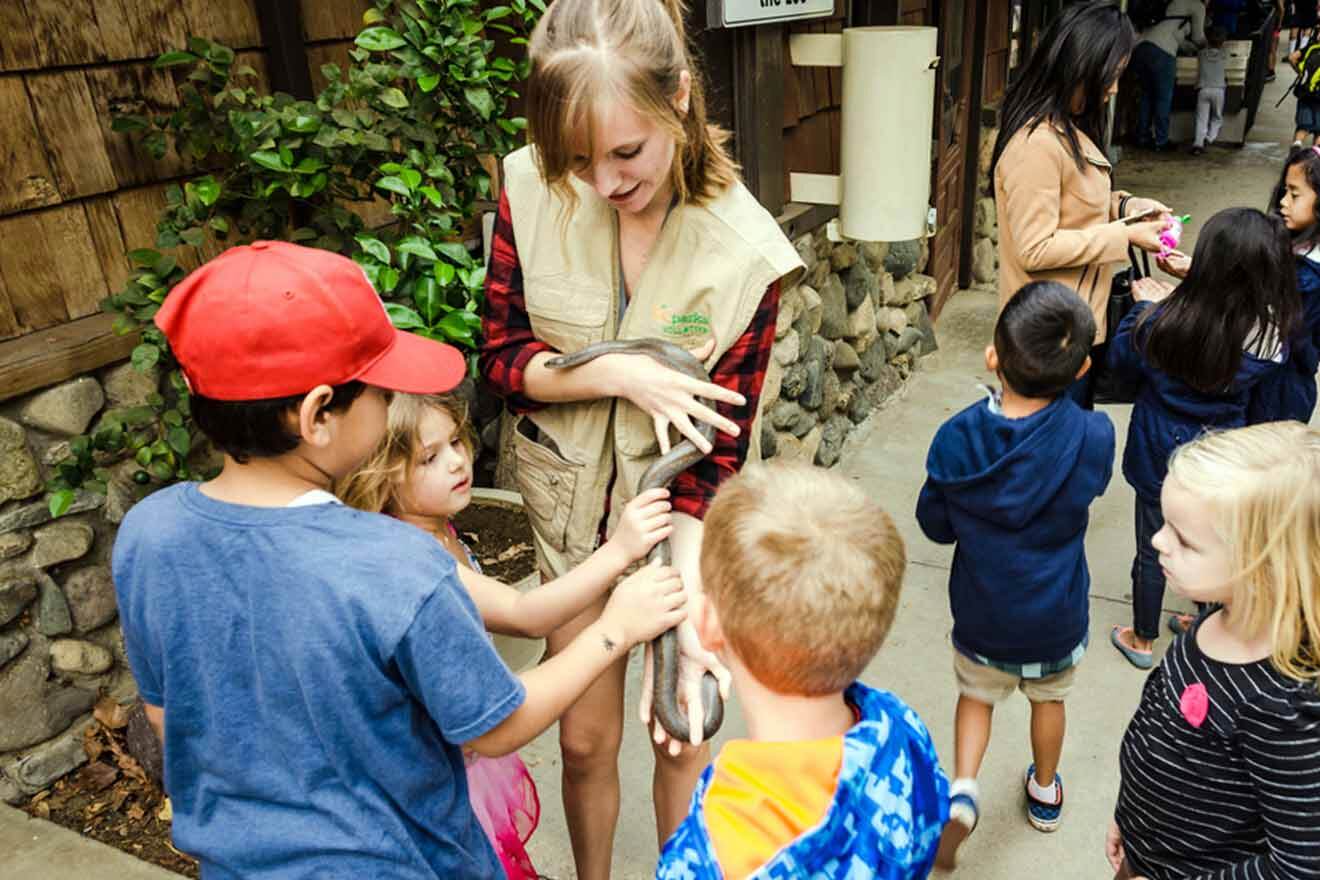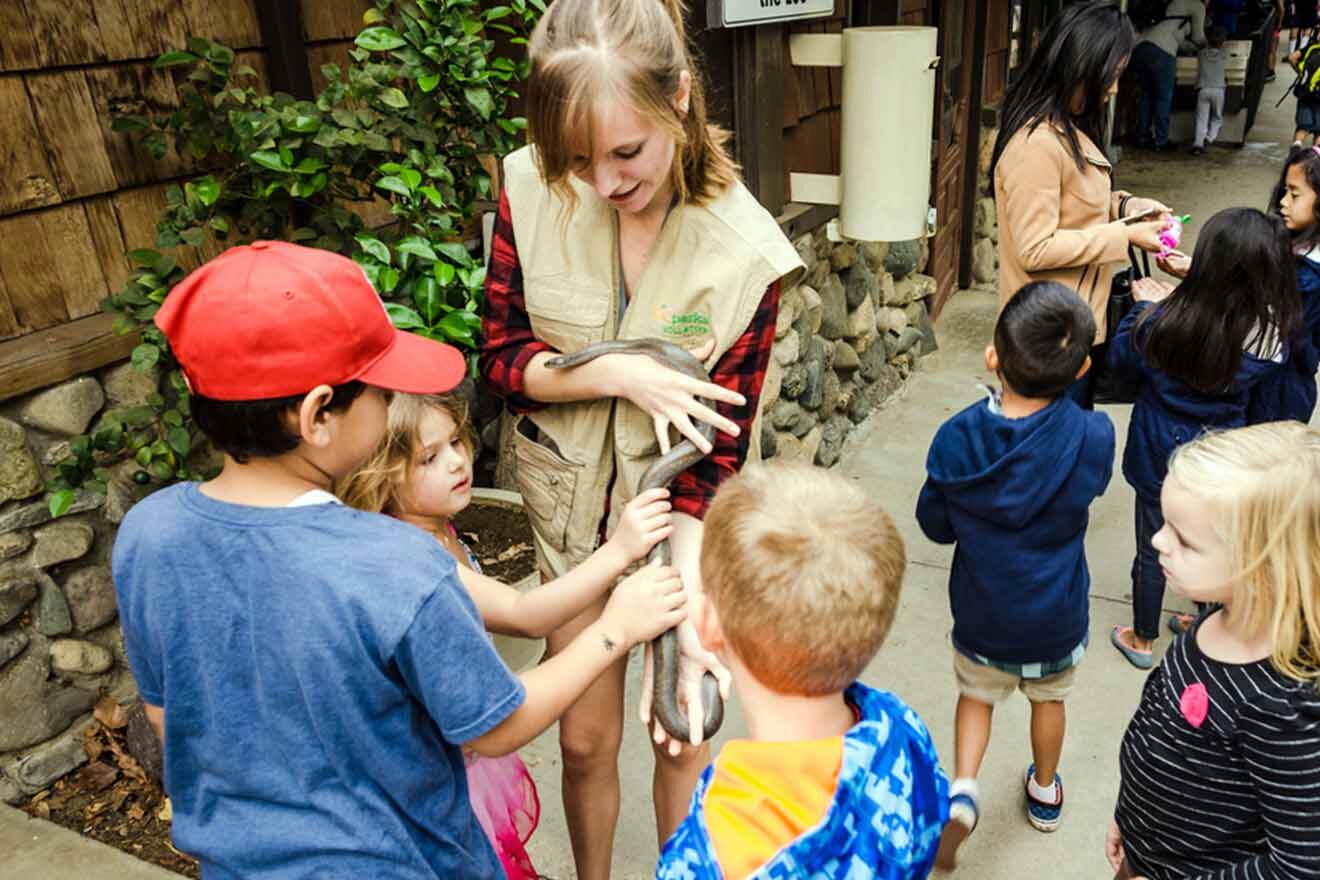 With almost 480 acres (over 190 hectares) of open land, the Orange County Zoo is located within the award-winning Irvine Regional Park! The small zoo features domestic flora and fauna like mountain lions, black bears, bald eagles, coyotes, and more.
I recommend coming here with the kids and looking through their website for educational programs, events, and programs offered during your visit. The events are particularly catered for young children, so this zoo is perfect for families.
The zoo offers a free audio tour if you dial 714-481-0355 on your phone while you're at the zoo. It will automatically start the tour after you enter the animal exhibit number, followed by the "#" key. You can find the animal exhibit number on the signs at the zoo. The free audio tour will walk you through the everyday life of the animals and more from their animal keepers and veterinarians!
While you're in Irvine, visit the Irvine Spectrum Center after your day at the Orange County Zoo! The Irvine Spectrum Center is where locals come to shop, dine, watch movies under the stars, join a silent disco, fitness classes, and so much more. It's a ton of fun, and there's always something to do. I recommend ending your day in Irvine here!
PRO TIP: If you're looking for a bigger and more diverse zoo, check out the San Diego Zoo, located about a 1.5-hour drive away from Orange County.
PRICE: US$2 per person
14. Go surfing in America's #1 Surf City: Huntington Beach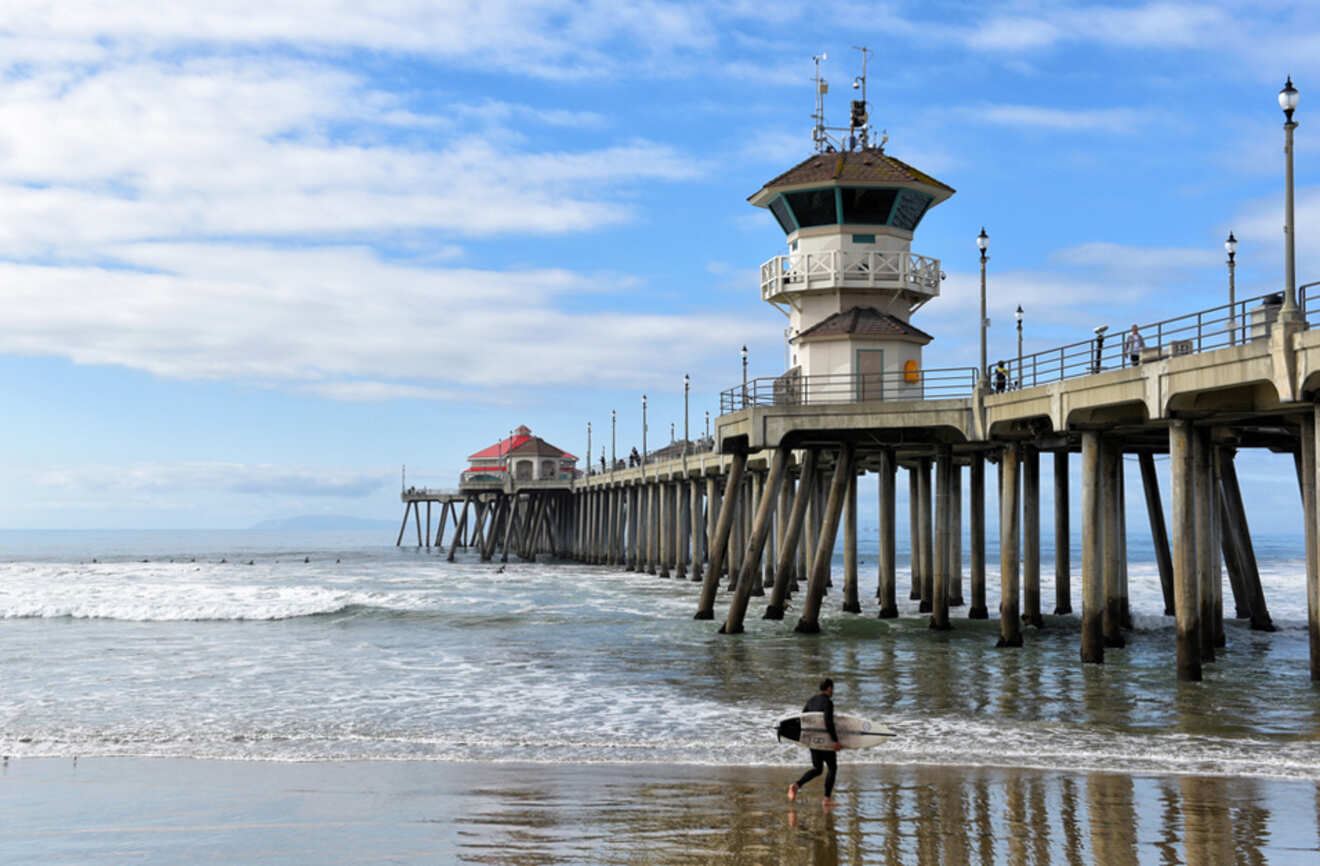 Huntington Beach is hands down the most popular beach in Orange County! It coined the name Surf City USA because of its long surfing culture and history. It's the place to be if you're looking to catch some waves in Orange County (or even if you're in LA – only 1 hour away)!
There are a few surfing experiences in Huntington City Beach, depending on what kind of surfer you are. If you're a beginner, here's what I recommend:
Take a small-group surfing lesson – This is both an excellent investment in yourself (if you're really trying to learn how to surf) and the best experience to have in Huntington Beach! You'll get a hands-on lesson with First Aid and CPR-certified coaches and lifeguards. So no need to worry, you're in good hands here! This experience is US$160 per person.
Take a private surfing lesson – This 2-hour class is just as great as the tour listed above. The only difference here is the privacy you get being one-on-one with a private instructor. This experience is US$170 per person.
After you're finished catching waves, I recommend walking down Huntington Beach Pier (aka the longest pier in California at about 1,850 feet (560 meters), grabbing a cup of joe at Philz Coffee for the best coffee in the city, and then having lunch at Sandy's Beach Shack for a delicious serving of fish and chips. End your day at O'Malley's for a lively Irish pub in Seal Beach. (Seal Beach is Huntington Beach's beach town neighbor!)
NOTE: If you're looking for more inland forest brush and hiking trails, I recommend visiting Shipley Nature Center, just a short drive away. There are 8 habitats and unique native species to explore at the Shipley Nature Center!
15. Uncover history at the Orange County Courthouse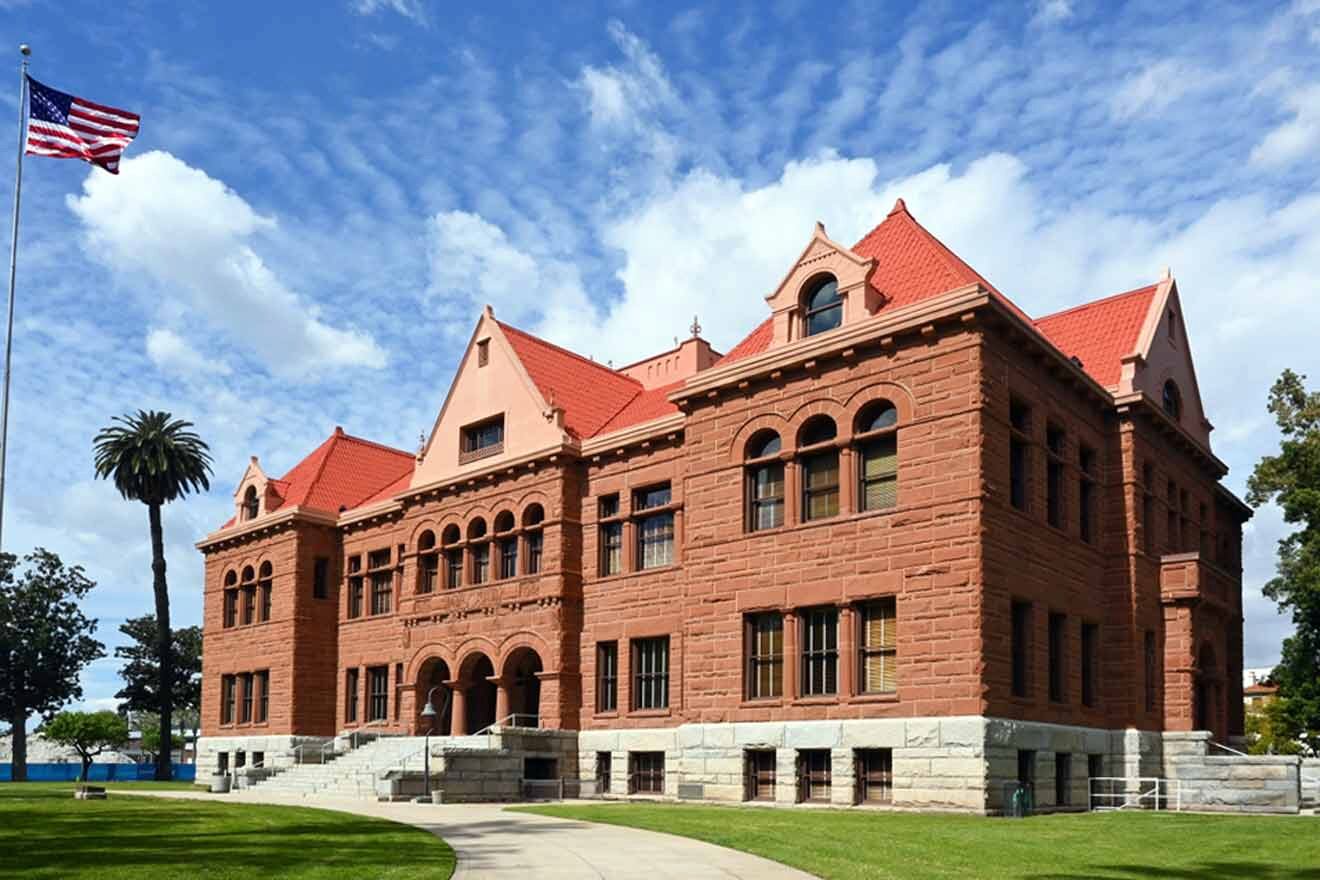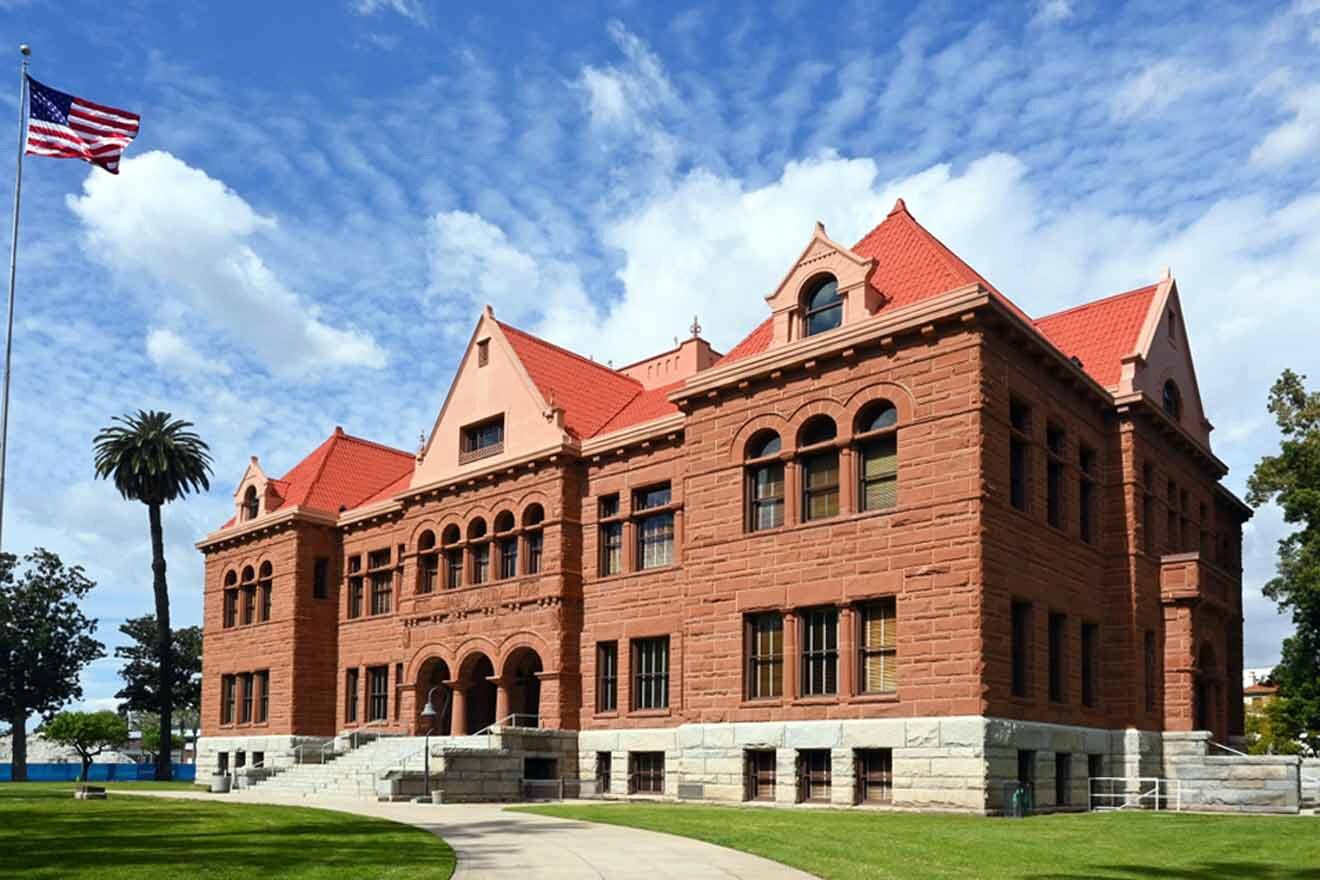 The Old Orange County Courthouse is the oldest court building in Southern California. Built from sandstone and granite over 100 years ago, the building has seen history unfold over the past century.
Today, the 30,000-square foot (c. 9,140 m) building is made to resemble how it looked a century ago! It's listed on the National Register of Historic Places and is considered a national landmark in California due to its historical significance.
Inside the building, you'll find the Orange County History Center, including the Orange County Archives and Old Courthouse Museum. If you're a history nerd like me, take your time looking through the museum and archives! It's rare having access to the files that are easily at the edge of your fingertips here.
NOTE: You can take a tour through this courthouse for free! Just make a reservation by calling them at +1(714) 973-6605 from 9 AM to 4 PM. Make sure to call and reserve in advance, as this highly sought-after free tour can easily get filled.
16. Get an inside look into history at Lyon Air Museum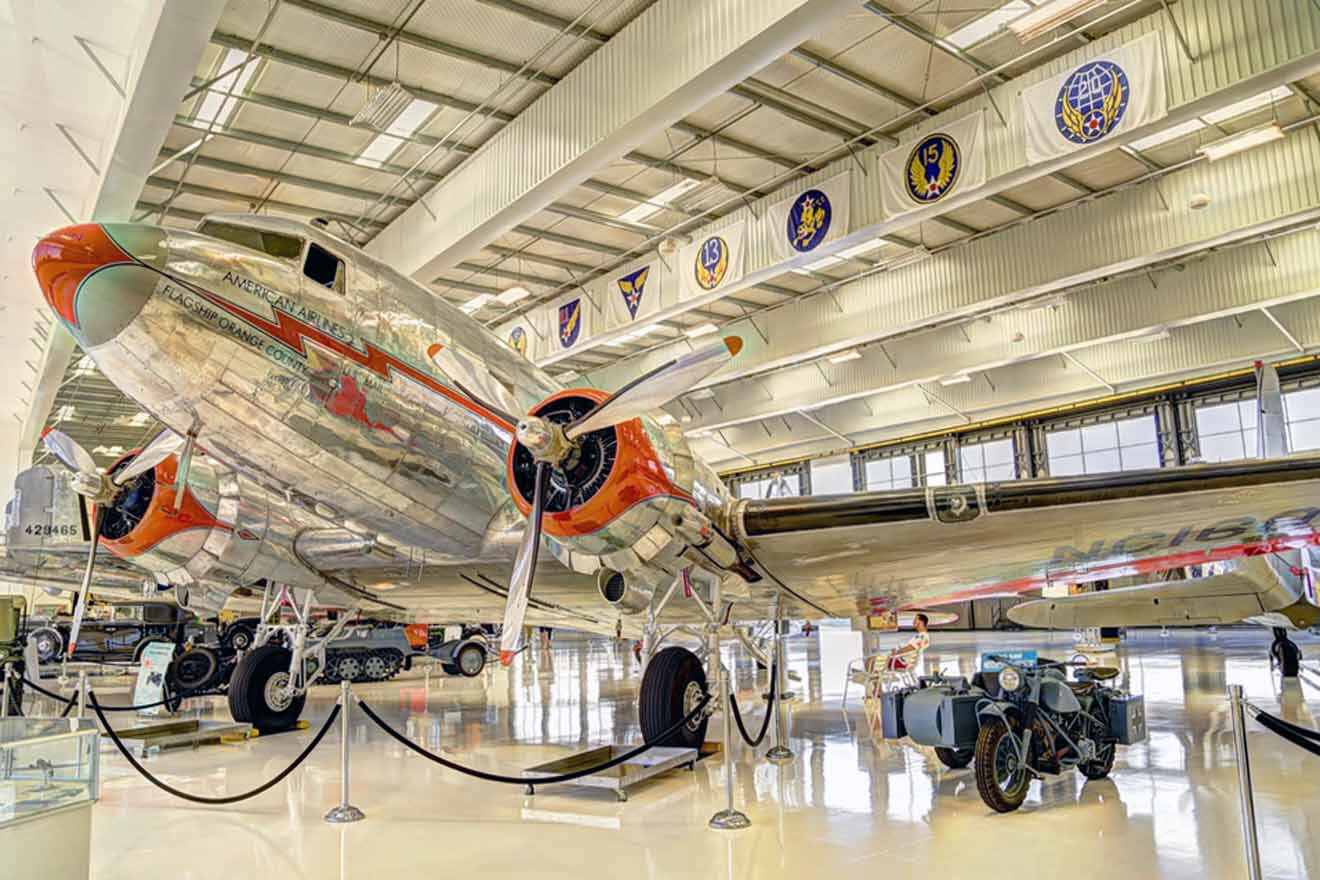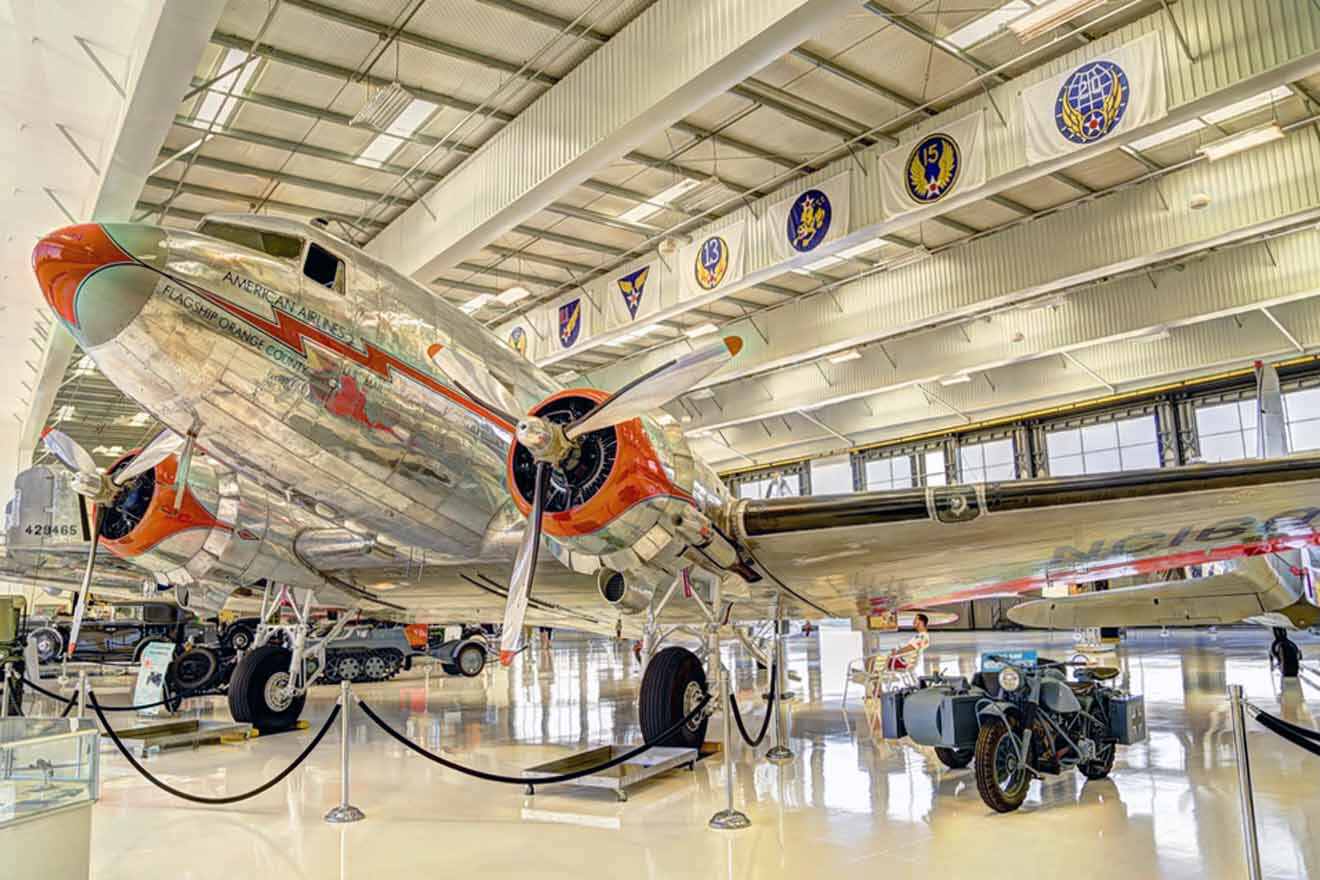 The Lyon Air Museum is a spectacular museum in Orange County featuring authentic aircraft, vehicles, and artifacts that defined WWII in the 20th century. You'll get an inside look at the significant role that the country played in shaping world history through the Lyon Air Museum exhibits!
There are exhibits for airplanes, military vehicles, military motorcycles, and automobiles. Take your time strolling through each exhibit and enjoy the history that is being told through every piece.
The museum is open from 10 AM to 4 PM daily and offers group tours for parties of 10 or more. If you're traveling with a big group, I recommend submitting a form to request an hour-long free tour! Limited tours are available, so be sure to book in advance.
PRO TIP: South Coast Plaza in Costa Mesa is a short drive from the Lyon Air Museum and is the ultimate shopping trip. There are over 250 boutiques and shops to choose from, so be ready to shop till you drop.
PRICE: US$14 for adults, US$7 for children
17. Learn about trees at Fullerton Arboretum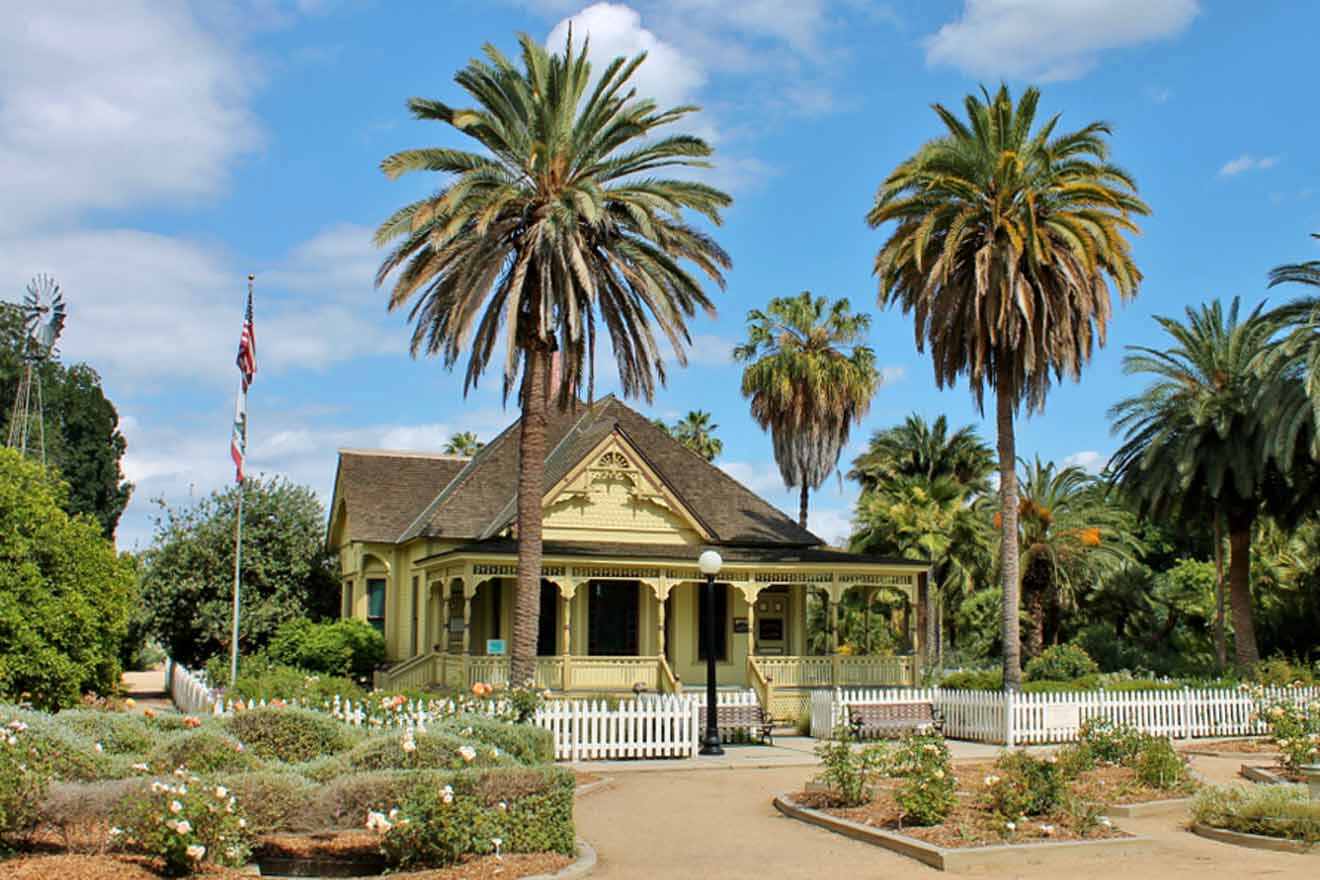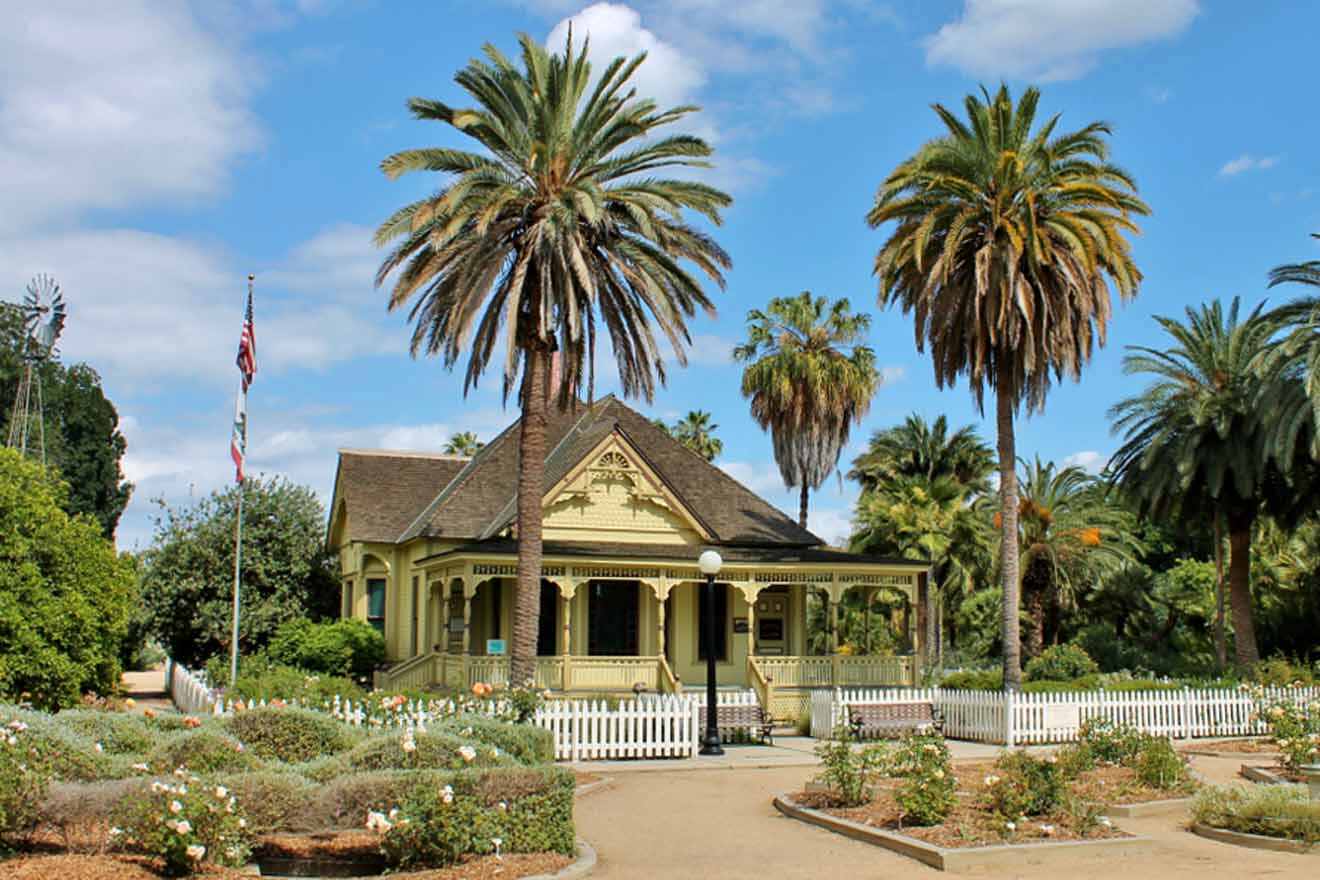 The Fullerton Arboretum was made to provide learning opportunities and resources for the local Fullerton community to build an appreciation for botanical research! The arboretum inspires people to care for our environment because of the values that Fullerton Arboretum leads by.
While you're here, you can expect to learn about trees, plants, and their native habitats, observe wildlife, and practice yoga, mindfulness, and meditation. It's a surreal experience being here, and I recommend checking it out if you're a nature lover like myself.
They are open Monday – Sunday, from 9 AM To 4 PM. Hours may vary depending on the holidays. Check the website or call beforehand to double-check around any given holiday.
Parking is available for US$4/hour or US$10/day through the mobile app ParkMobile.
PRICE: A donation of US$5 per person is suggested.
18. Uncover California's history in Calico Ghost Town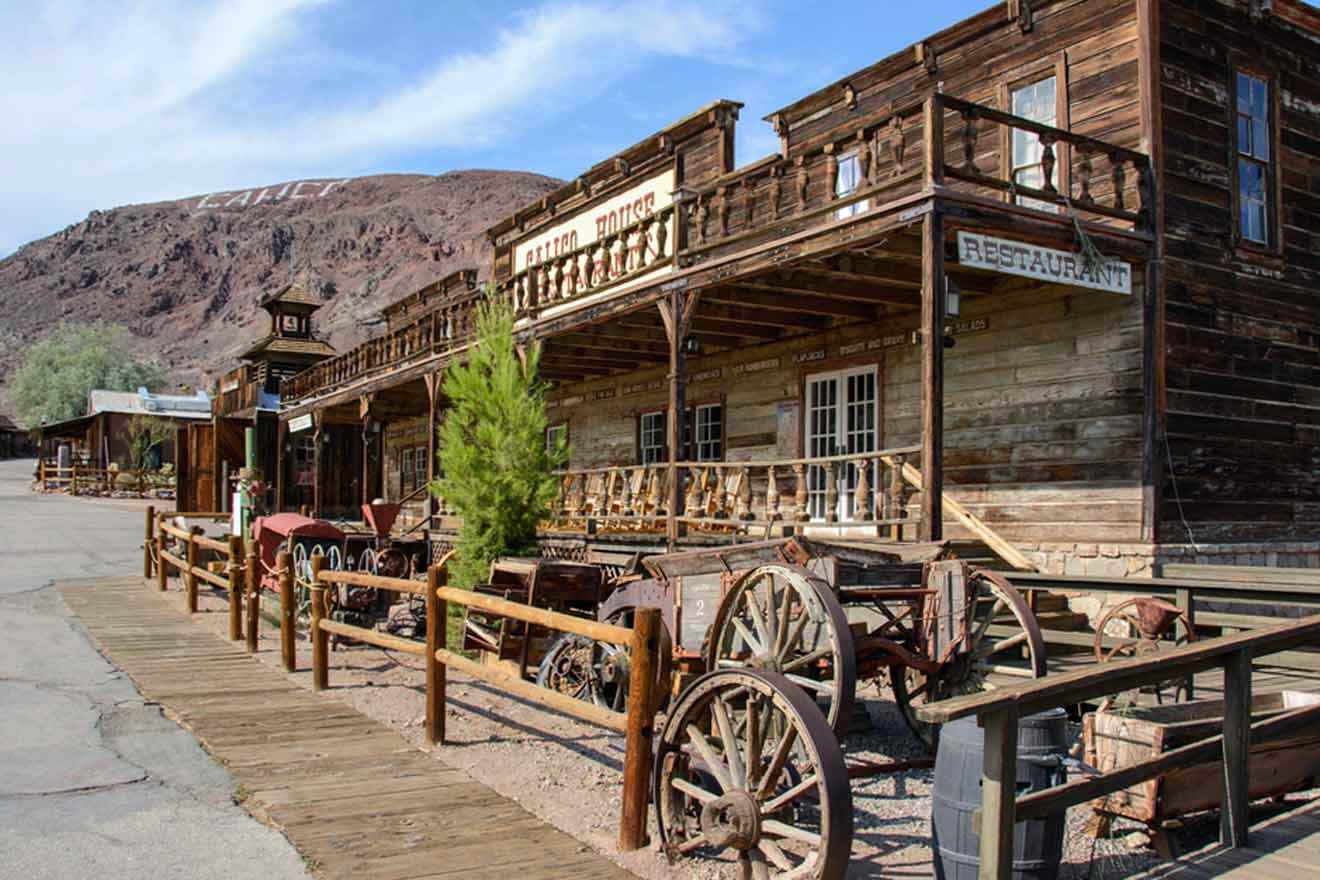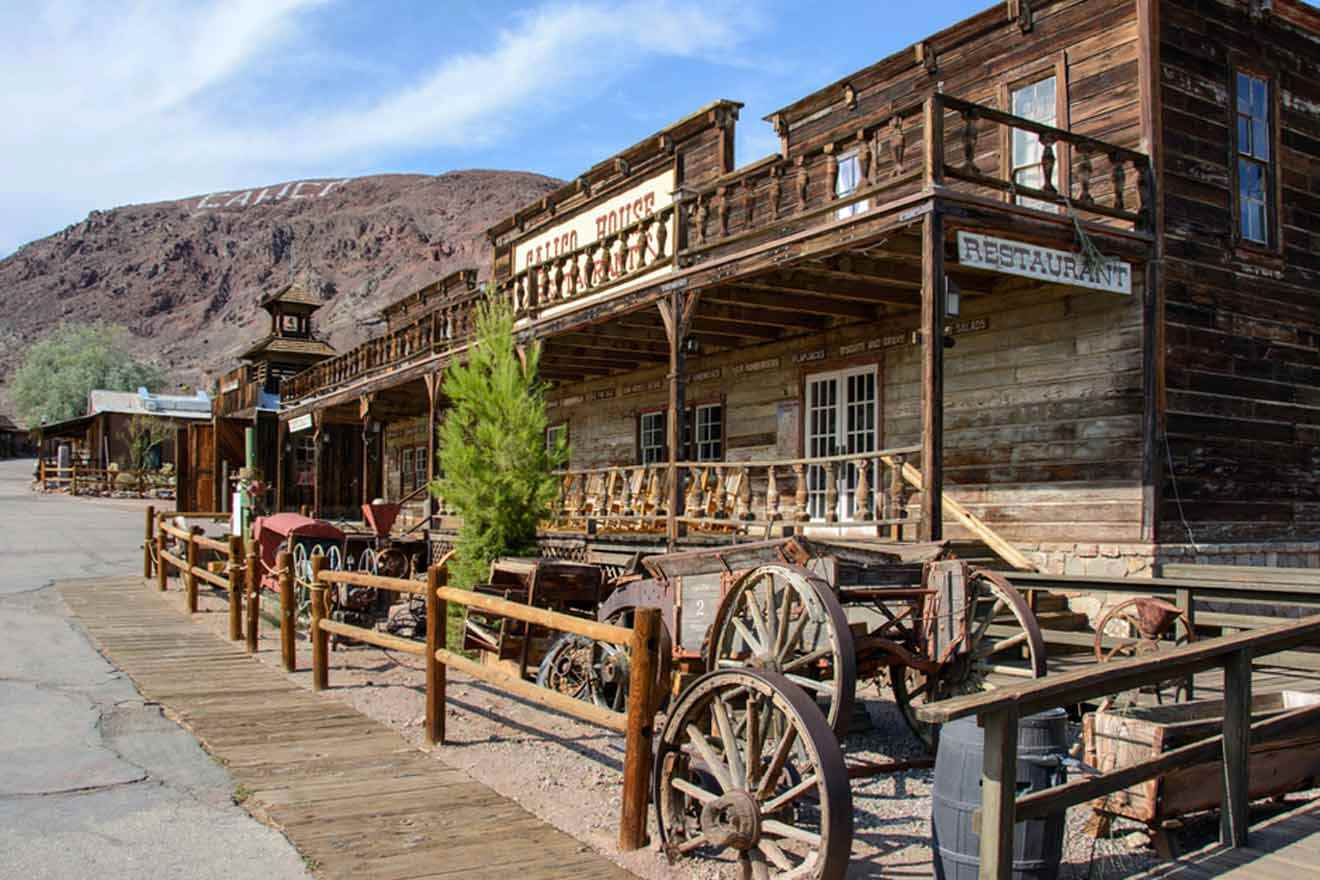 I recently visited Calico Ghost Town, which was everything I expected and more! Beautiful views, old mills, wells, and buildings to uncover, and shops selling all the Calico Ghost Town memorabilia you'll want to take home.
Calico Ghost Town in San Bernardino County was once a bustling town in the 1880s. Today, it's a ghost town where tourists from around the country come to visit the remnants of what used to be California's hotspot for mining.
The following are the most interesting attractions that you need to check out:
Lucy Lane Museum – A fun history museum filled with Calico's best and oldest artifacts and photographs. You'll be taken back to the olden days just being here!
Calico Odessa Railroad – Take a tour on a train similar to those used in the mining days. You'll find views of the beautiful mountains along the way!
Maggy Mine – See a real abandoned silver mine from the 1800s!
Gold Panning – Put yourself in the shoes of miners in the Wild West and pan for gold. This was my favorite activity by far!
NOTE: This ghost town is located in the middle of a desert, so it gets HOT. Make sure to bring your hat, sunglasses, and sunscreen, or buy a cowboy hat while you're here!
PRICE: US$8 for adults, US$5 for kids. Check out the attraction prices here!
19. Take your kids to Pretend City Children's Museum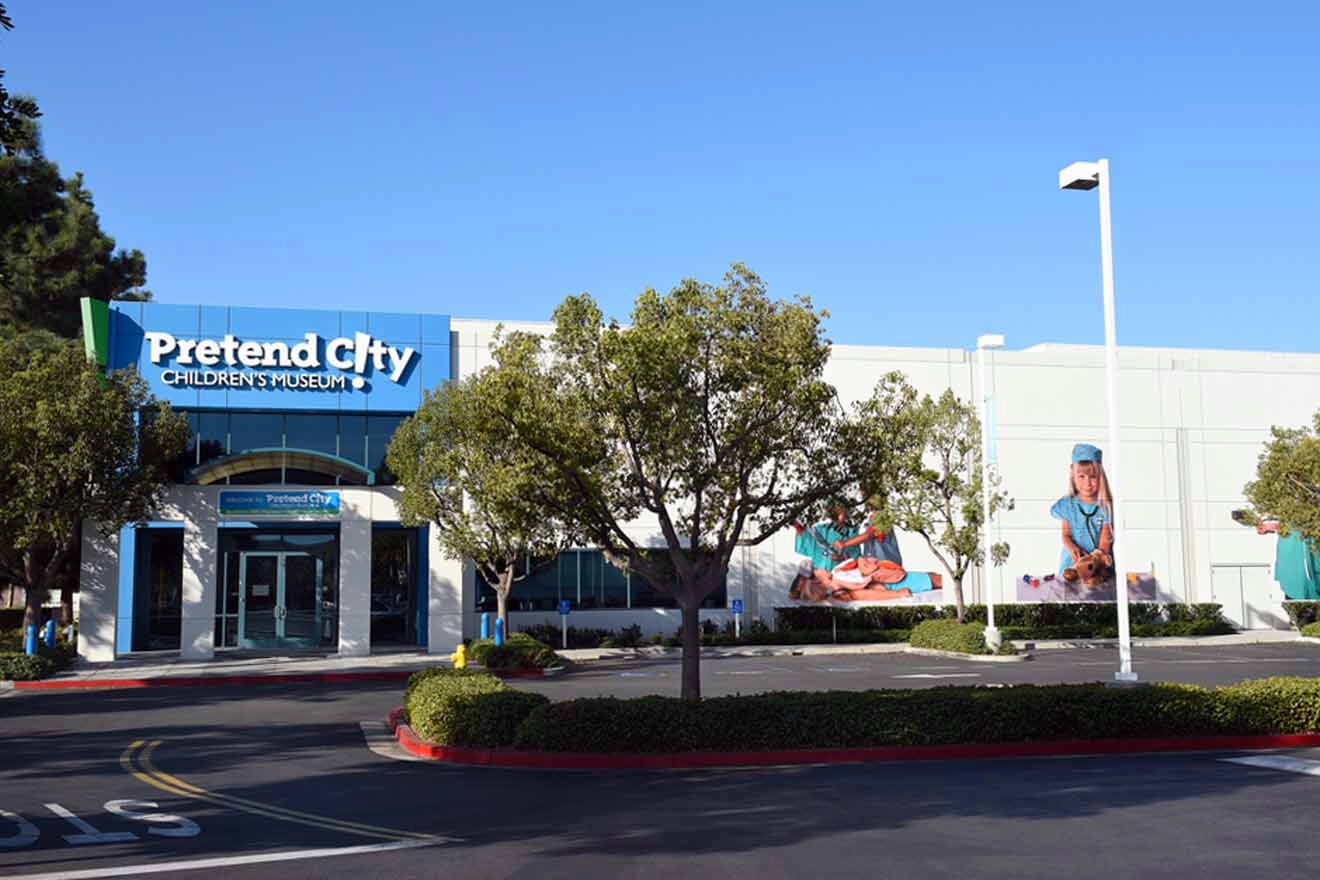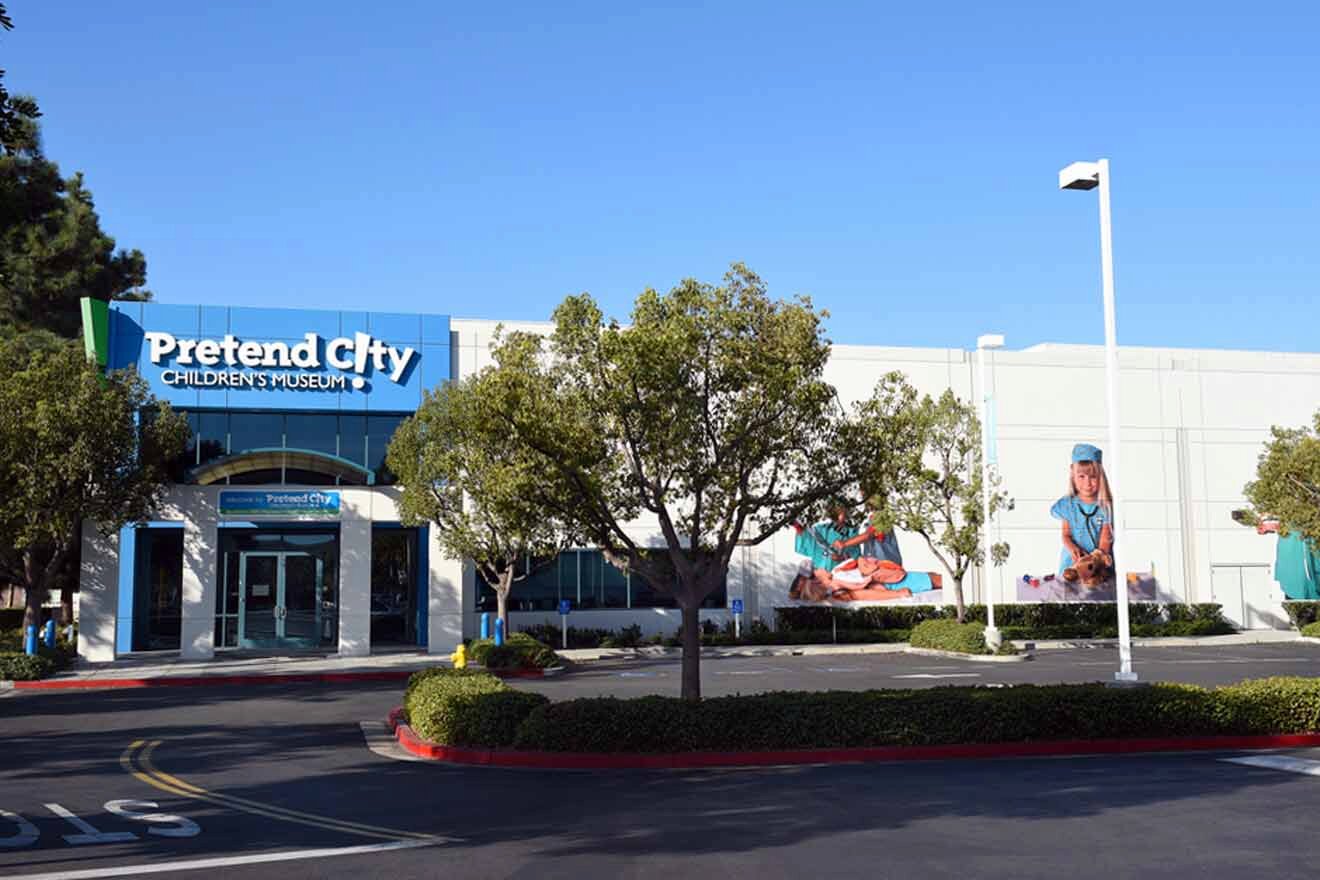 Pretend City Children Museum is another science museum for children to feel inspired, get curious, ask questions, and learn how the world works. The entire museum is a child-size city where real-world jobs intertwine educational learning and fun.
Here, kids can let their creativity wander, and you can feel good knowing they're exercising their brains while having fun.
The Pretend City Children's Museum is open from Tuesday to Sunday from 10 AM to 12:30 PM & 1:30 PM – 4 PM.
PRICE: US$20 per person
20. Go camping at Doheny State Beach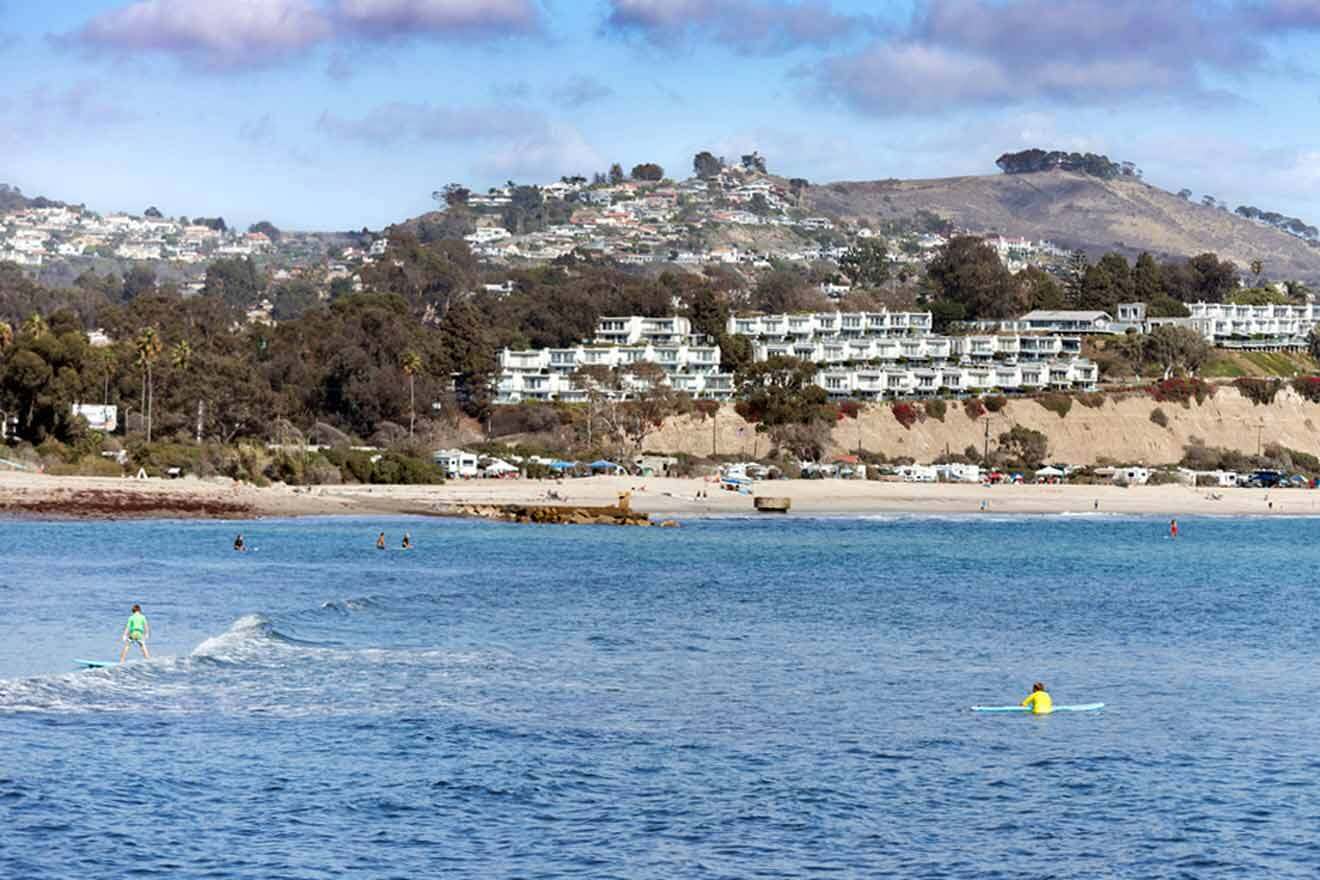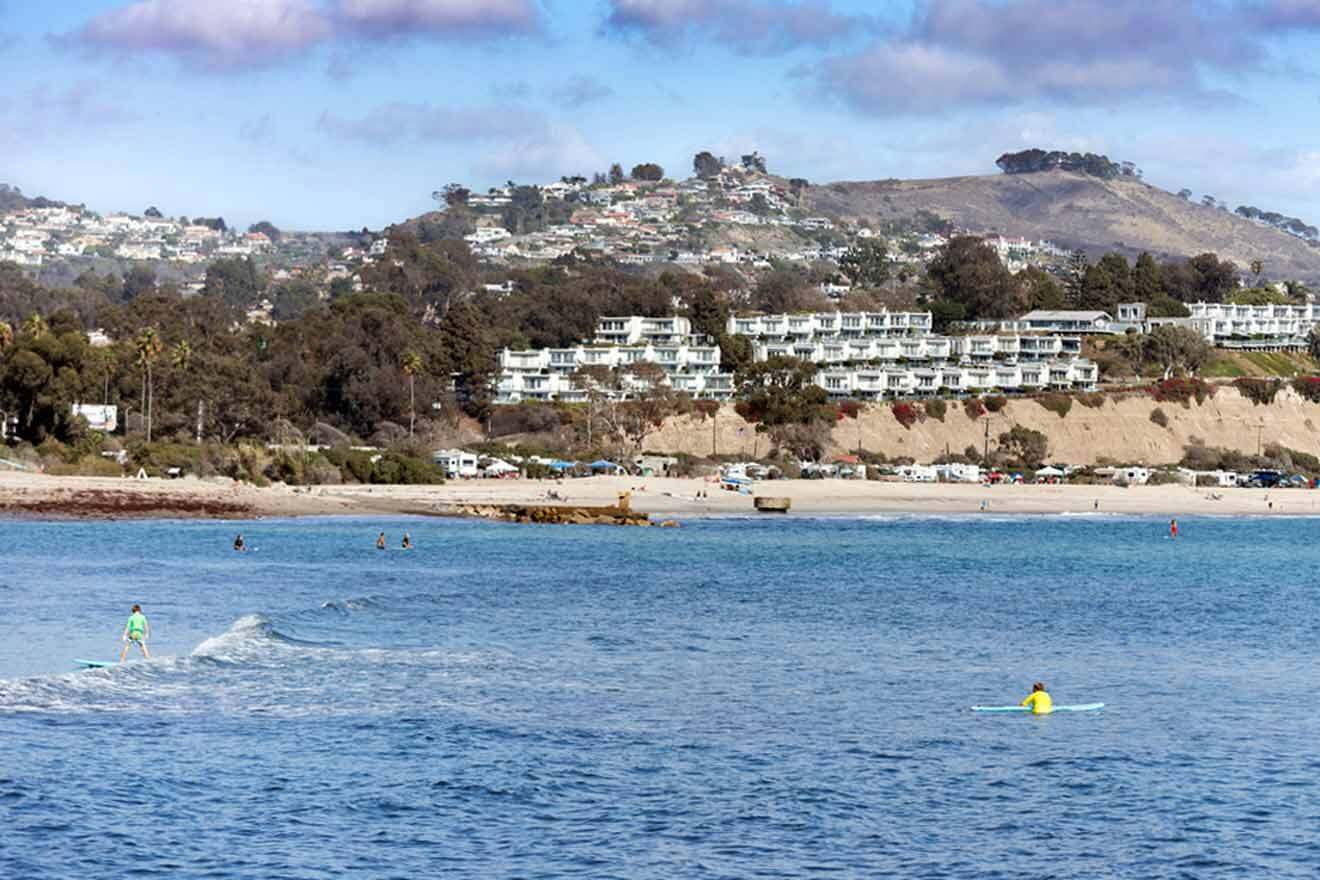 Doheny State Beach in Dana Point was founded as California's first state beach in 1931! Being the oldest and one of the most popular, it's a popular beach to go surfing, have a picnic, go fishing, and camping!
There are over 100 campsites, with ⅓ having beachfront views. It's a dry campground, so I recommend coming prepared with all the right equipment.
You can make reservations for your campsite up to 6 months in advance through the California State Park System.
PRICE: Beachfront campsites are US$60/night, and all other sites are US$40/night
FAQs about things to do in Orange County, California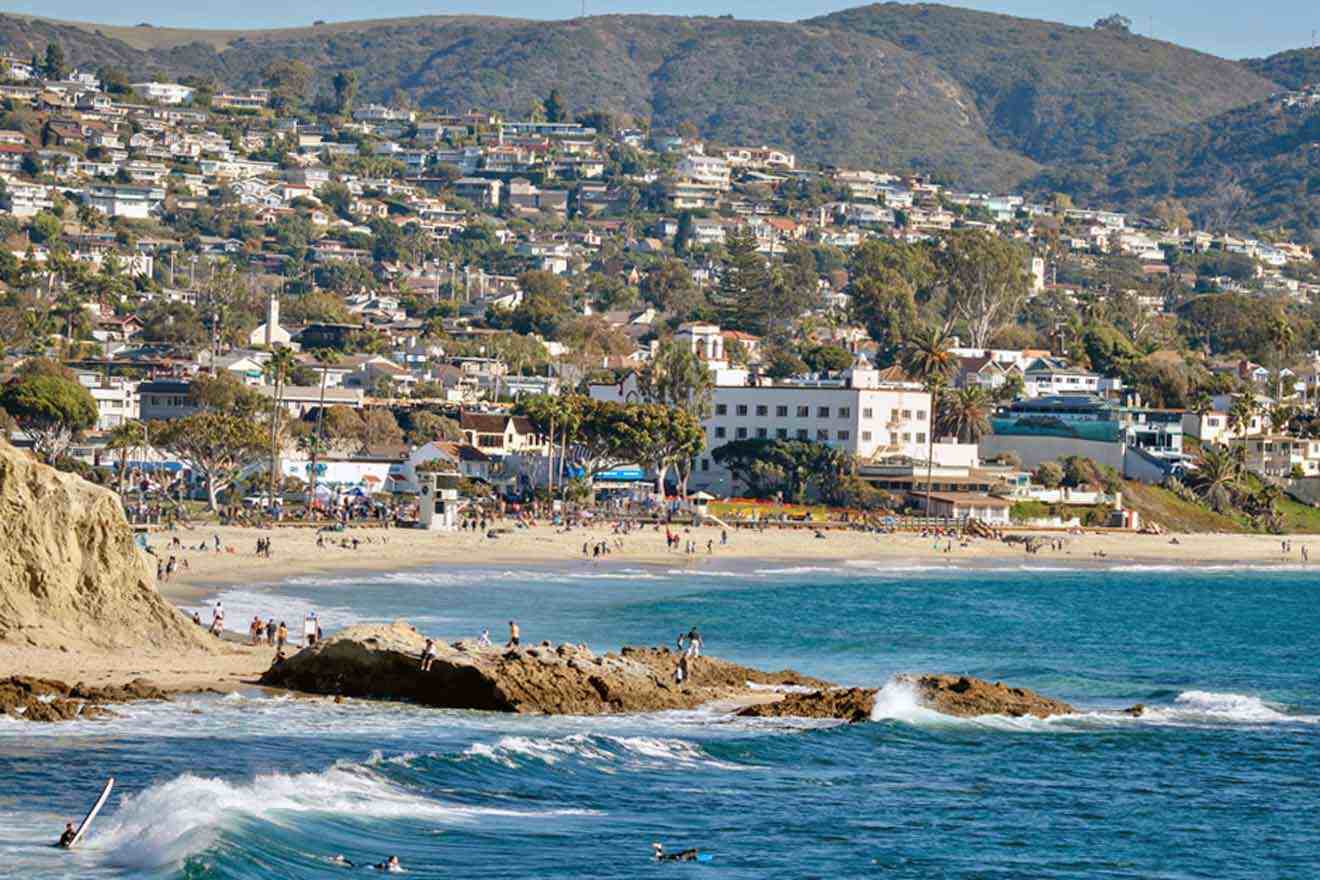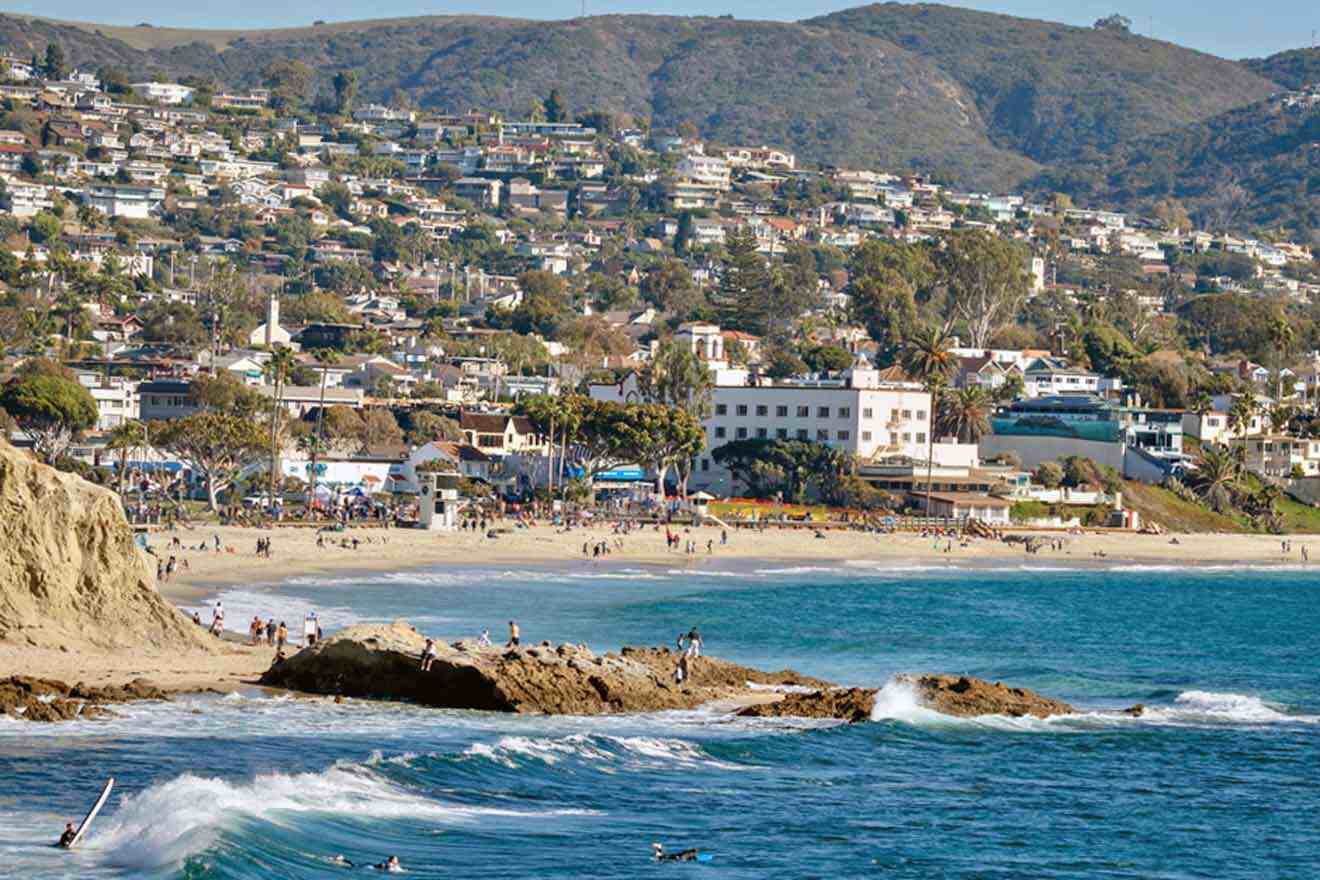 🍊 What is the most popular thing to do in Orange County among locals?
The most popular thing to do in Orange County among locals and tourists is going to Disneyland and California Adventure!
📙 What is Orange County, CA, popular for?
Orange County is known for its stunning beaches, whale-watching experiences, and amusement parks.
🧡 What makes Orange County unique?
A unique thing about Orange County is Calico Ghost Town! It's incredibly underrated and different from the other suggestions, being widely known and popular.
🌅 What are the best beach towns in Orange County?
The best beach towns in Orange County are San Clemente, Seal Beach, Newport Beach, and Huntington Beach! They all offer experiences for every type of person. Whether you're looking for a day at the beach, whale watching, hiking, and more.
Conclusion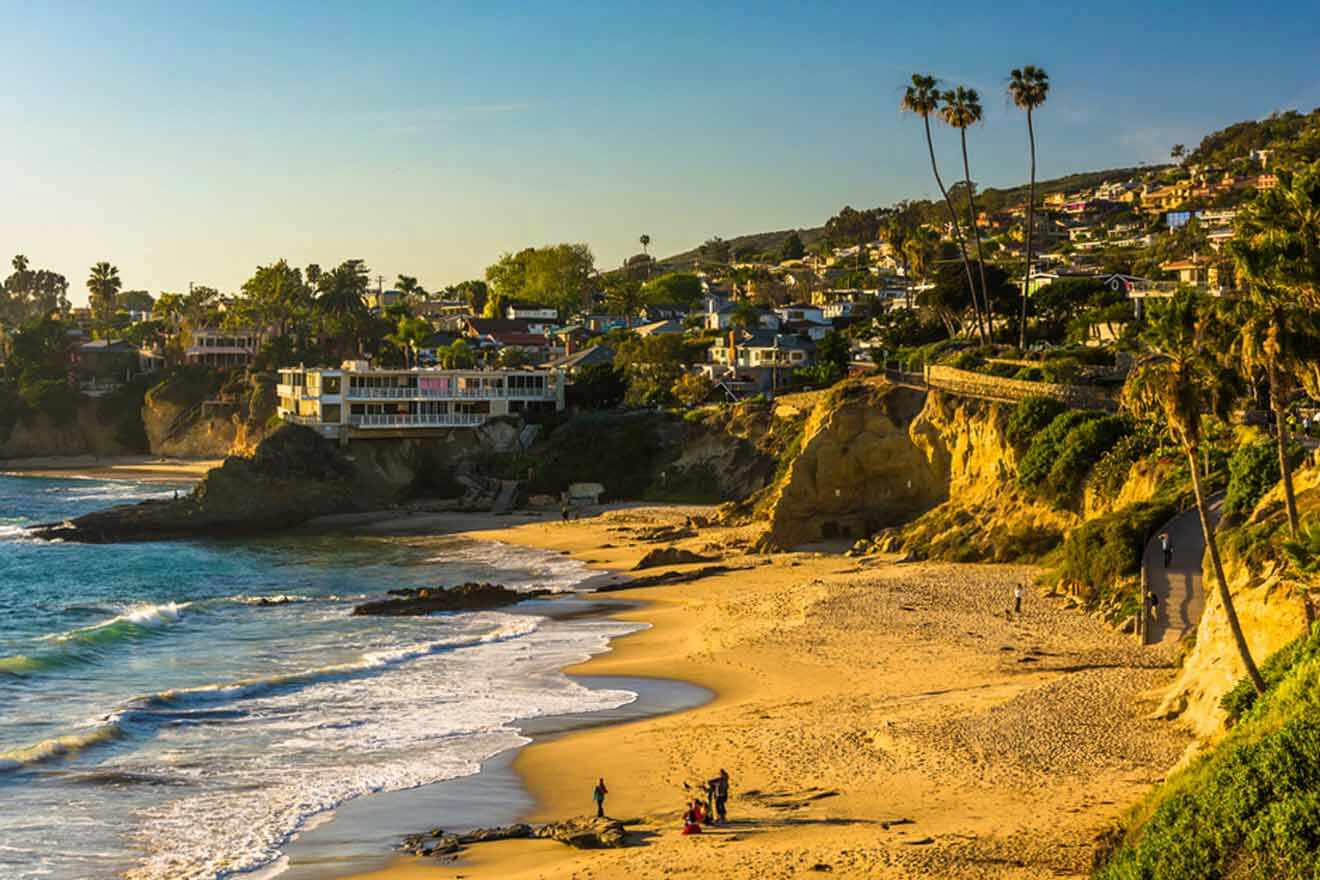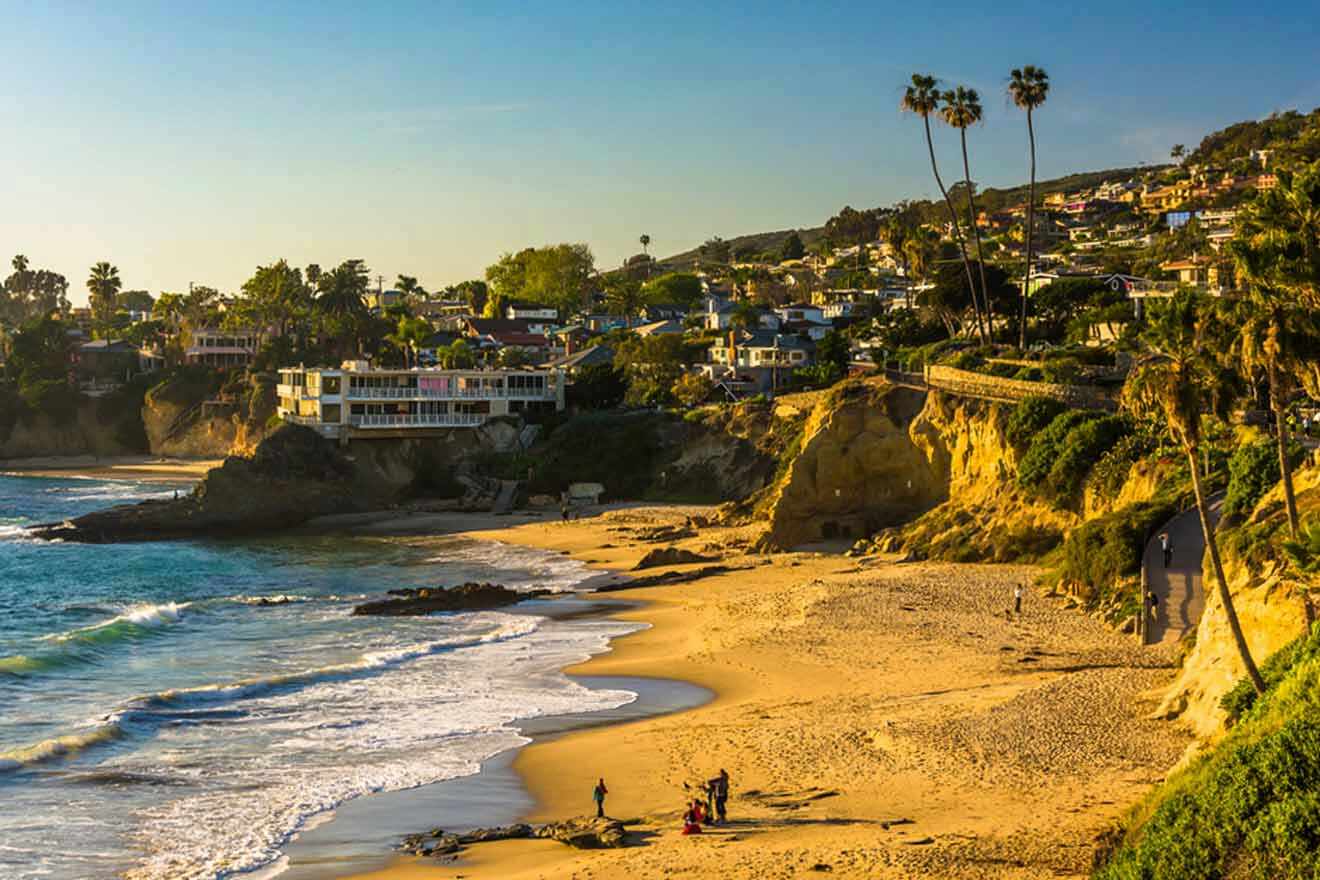 You've reached the end of your journey down the best things to do in Orange County, California. So, what do you think?
I personally LOVE whale-watching in Newport Beach and going to Calico Ghost Town when visiting Orange County. These 2 experiences are a true testament to what California is: the stunning Pacific Ocean bursting with amazing marine life and a mark in American history with a story waiting to be told.
If you end up visiting any of these places, do be sure to book your tours and hotels in advance to avoid any last-minute issues! Many of these tours were free, so make sure to hop on those opportunities, too.
Let me know if you have any questions by leaving a comment below. As always, I'm here to help!
Safe travels!
Xoxo,
Esabel S.
---
Pin it for later!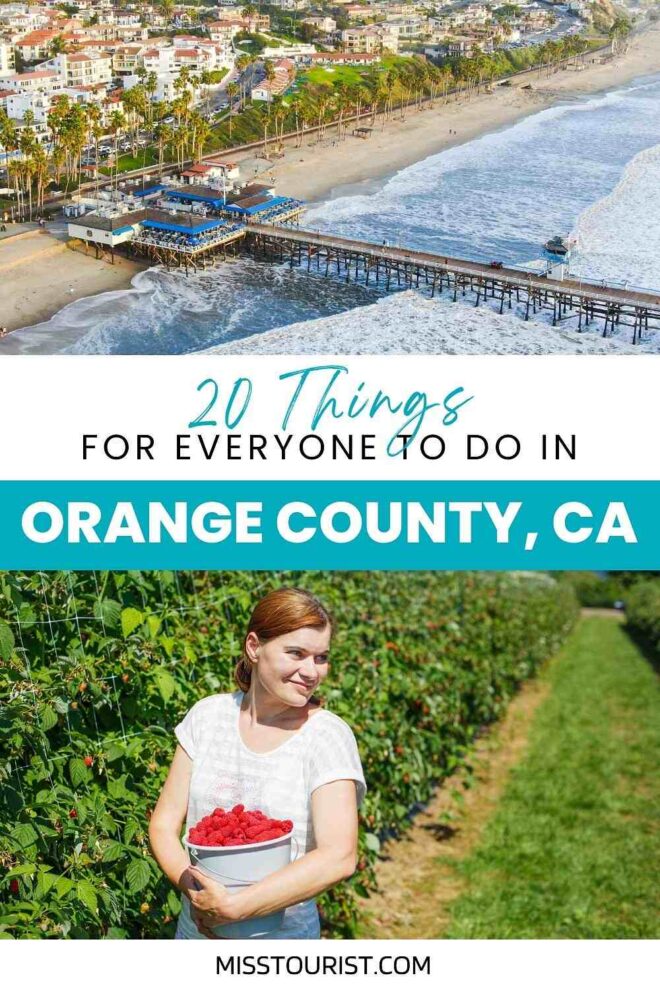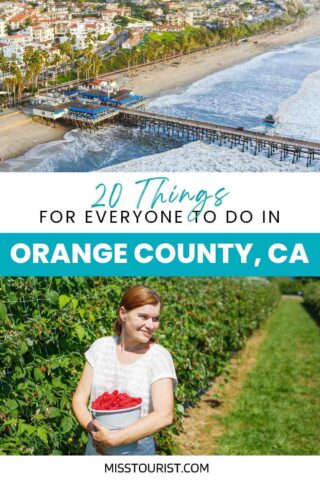 Pin it for later!