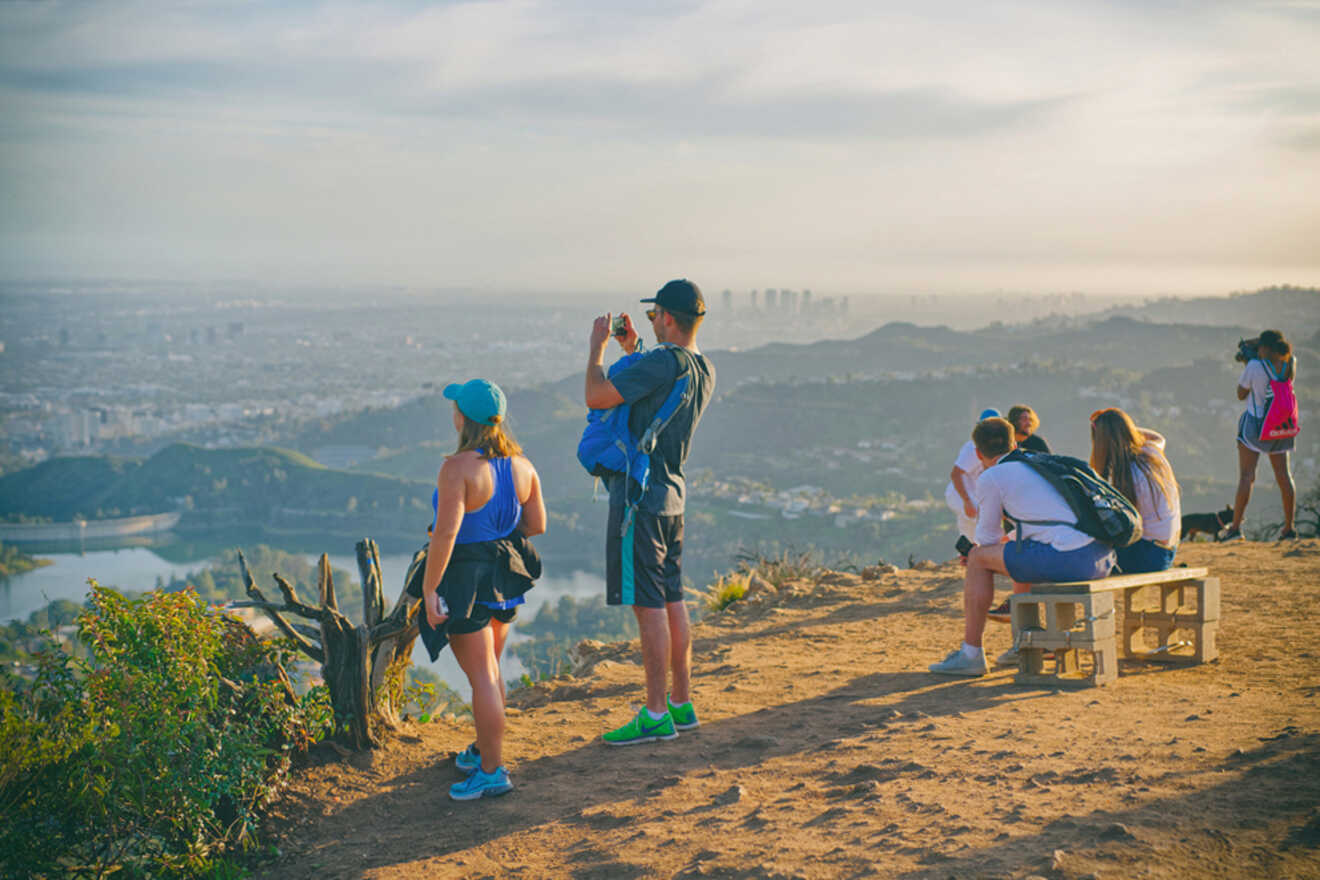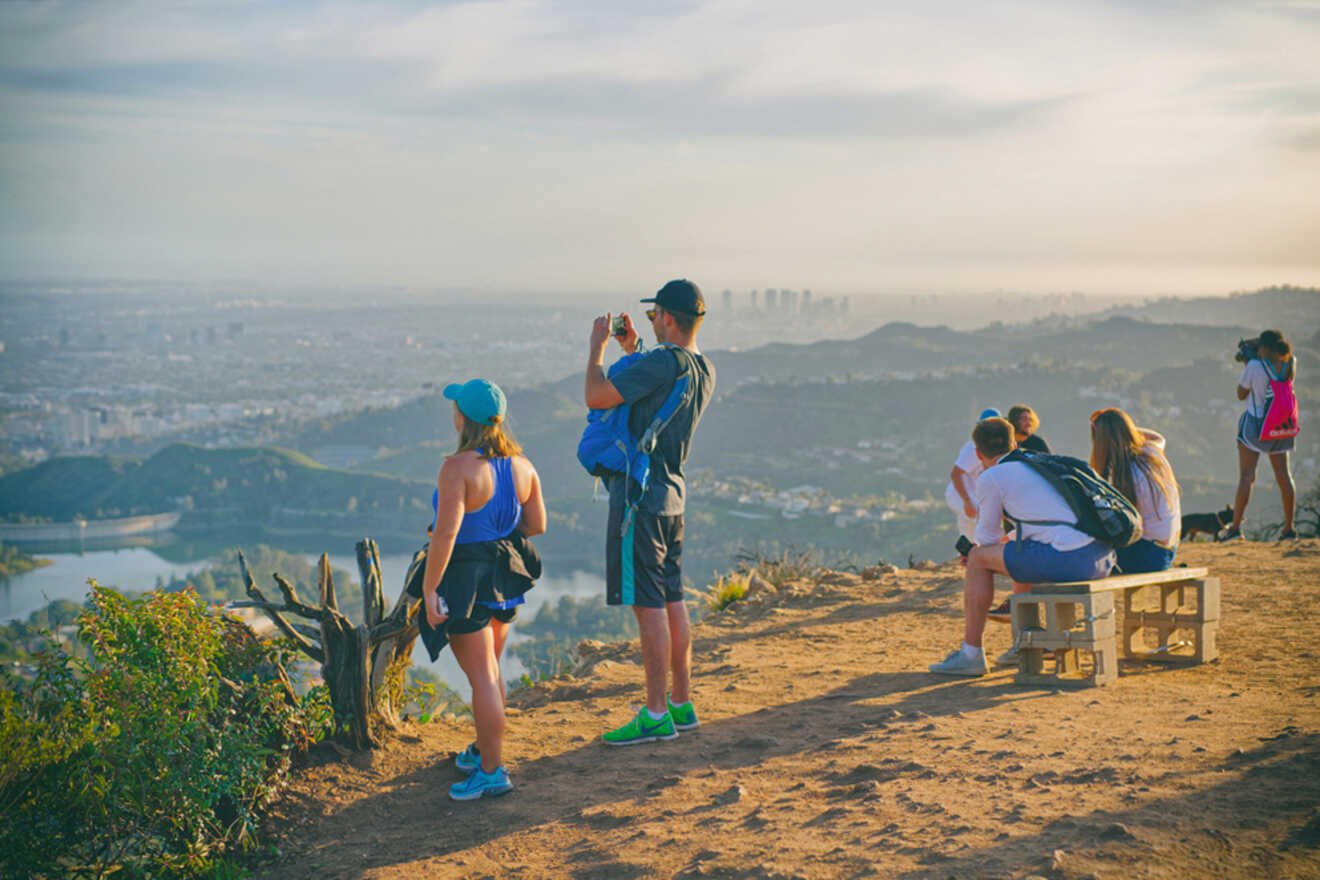 It's true – nobody walks in LA but everybody hikes, and no matter where you stay in Los Angeles, the opportunity for outdoor adventure isn't too far away.
Known as the entertainment capital of the world, the city's year-round warm weather makes it a haven for hikers. So, vow to get out of the traffic and onto the best hiking trails in Los Angeles! Just keep in mind that hiking boots are always helpful, it's a great idea to bring a water bottle and don't forget your sunglasses. This is sunny Los Angeles, after all!
I've spent hours researching and I can confidently say that hikers in Los Angeles are definitely spoiled for choice.
With so many options, choosing the best location to explore can be tricky. But look no further! From hikes to the Hollywood Sign to coastline views, mountain ranges, and even a few waterfalls, here are my picks for the 12 best hiking trails in LA.
NOTE: Some of the most popular trails in Angeles National Forest are temporarily closed due to the Bobcat Fire.
If you are in a hurry
Check out the top trails for the best hikes in Los Angeles!
Here's a map so you can see where all the best hiking trails in Los Angeles are!
1. Charlie Turner Trailhead at Mount Hollywood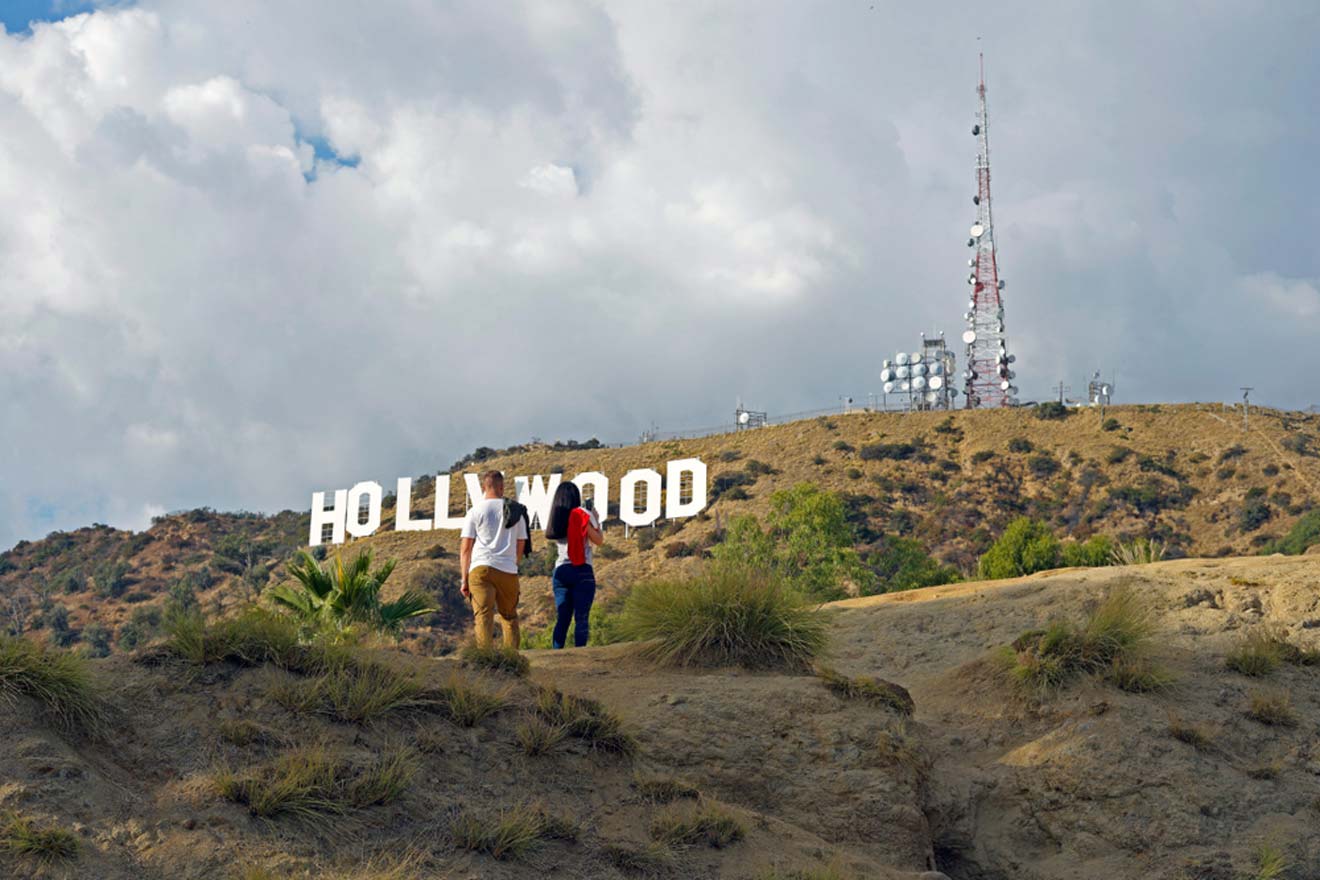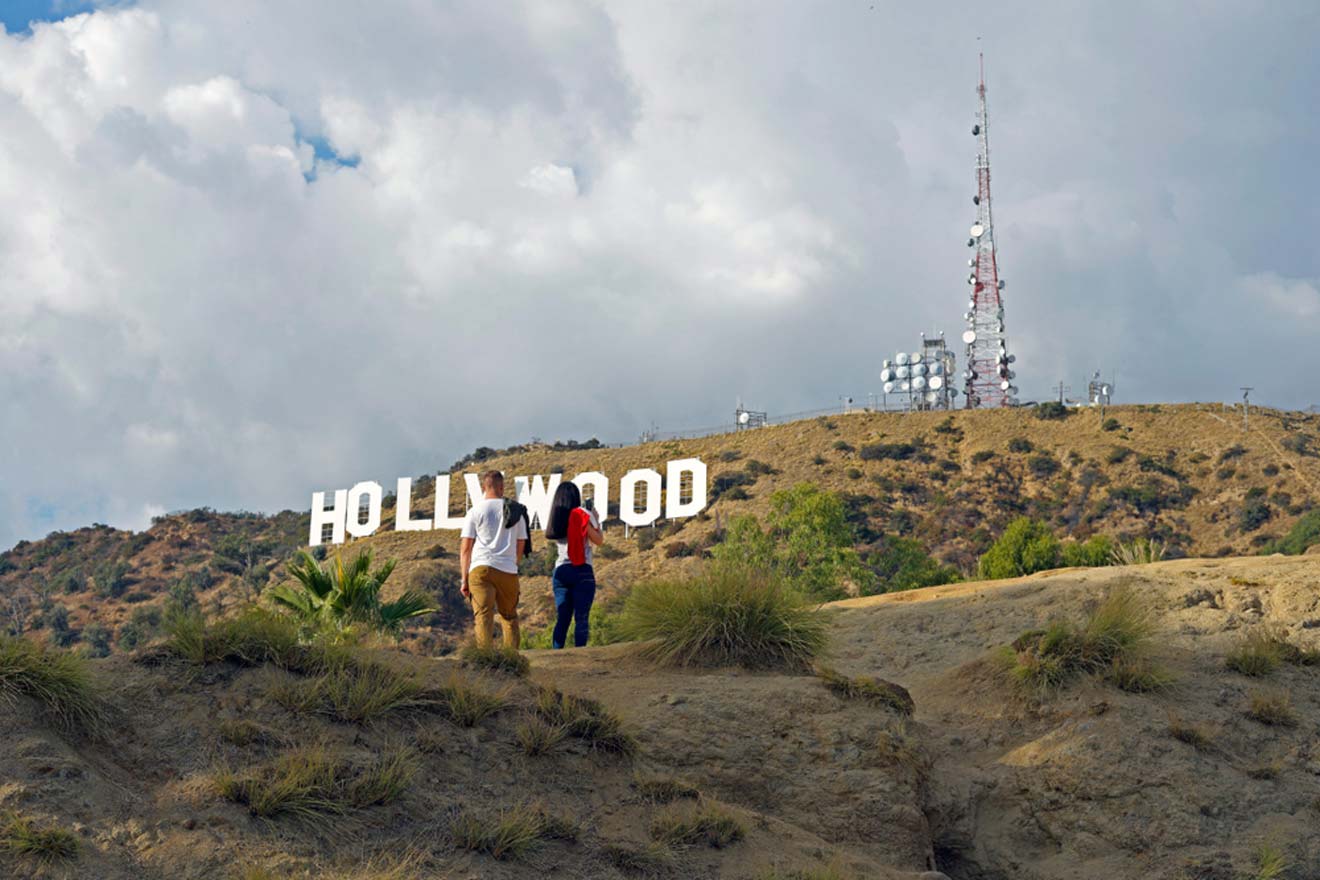 The summit offers absolutely incredible views, and beautiful scenery, possibly the best in Los Angeles.
Mount Hollywood is the hill behind the Hollywood Sign. The nearest trailhead to Mount Hollywood is the Charlie Turner Trailhead. The summit offers 360-degree views from the Verdugo Mountains to the Pacific Ocean and it's the highest point in Griffith Park.
The trailhead starts at the north end of the Griffith Observatory parking lot and it's about 3 miles (5 km) long which on average takes about 40 minutes and is well worth the climb. At the top, soak in the views of the Los Angeles basin and San Fernando Valley, and get the cameras ready – the iconic Hollywood Sign will be at eye level across the canyon. Expect to see lots of fellow hikers and lots of dogs.
Alternatively, I highly recommend taking a guided tour which will take you to all famous stops on the hike and more. You'll check out the Griffith Observatory, one of the most visited in the world with excellent exhibits, like a planetarium and an electricity-pulsing Tesla coil.
NOTE: Hiking trails close at sunset.
Getting there: If there's parking in the lot next to Griffith Observatory, go ahead and park here. If not, try street parking along Observatory Avenue. The cost for both starts at US$8 per hour. Alternatively, a Dash bus runs from 10 AM to 10 PM.
2. Mount Baldy Notch Trail at Mount San Antonio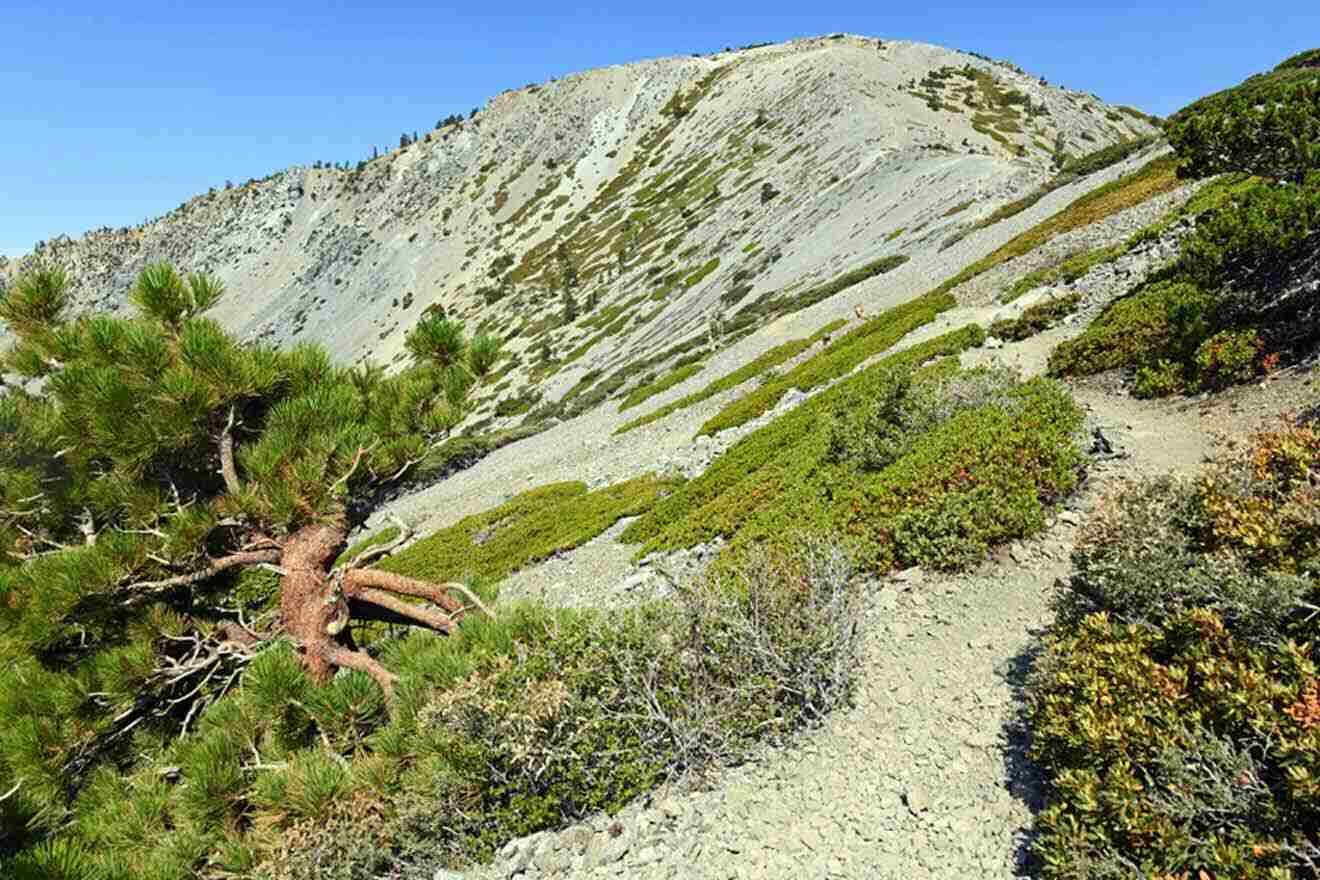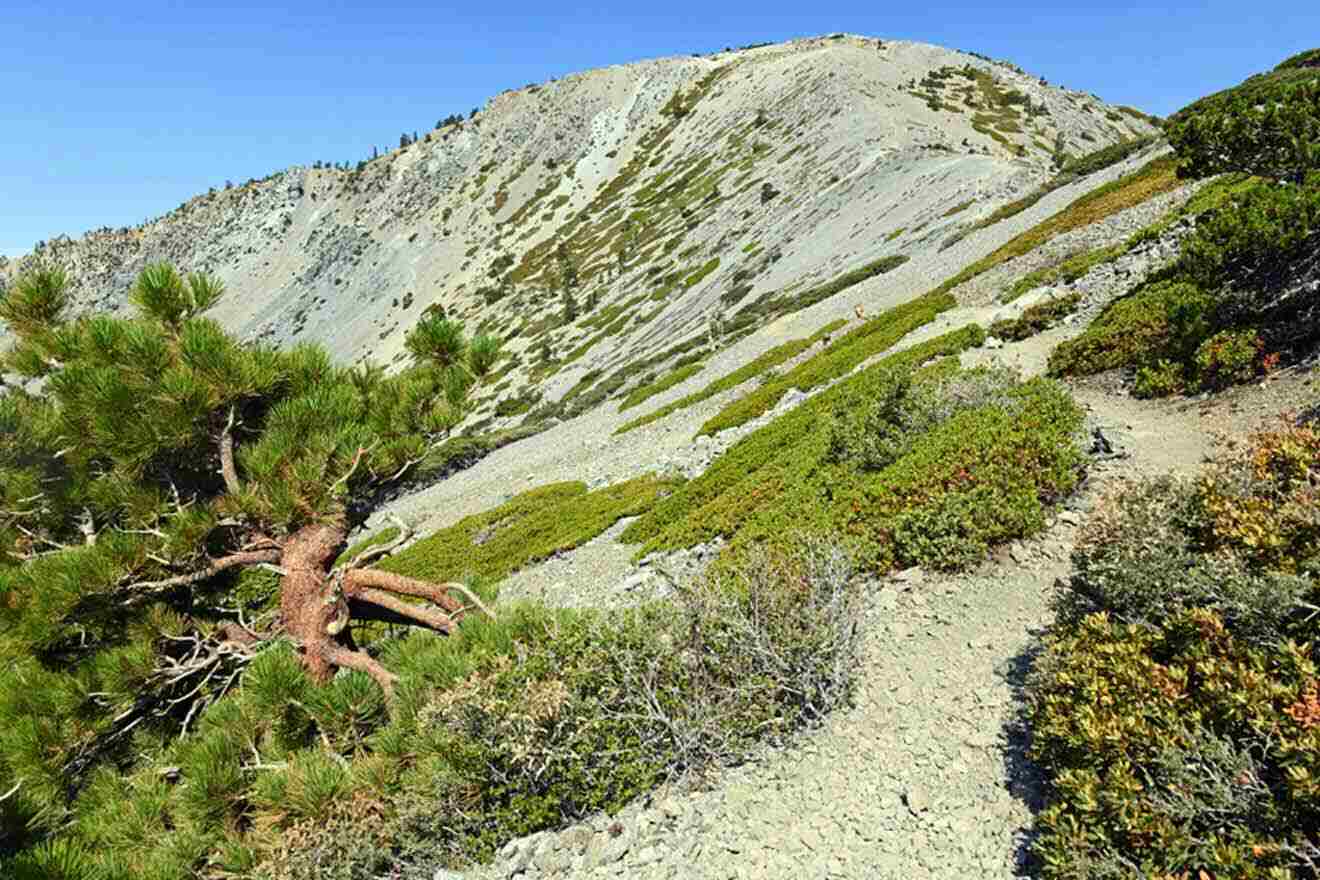 Why do they call it Mount Baldy, you ask? It's pretty self-explanatory. The mountain is bald, with no trees at all, and its real name is San Antonio.
The Mount San Antonio and Mount Baldy Notch Trail is an 11-mile (18 km) loop to the top of the highest peak in the San Gabriel Mountains. In fact, at 10,070 feet (3,070 m) tall, Mount Baldy is the highest peak in all of Los Angeles!
This hike is not for the faint of heart as it's possibly the toughest hike in Los Angeles. Start the loop at the Manker Flats Trailhead and take the fire road up Baldy Notch then hike Devil's Backbone to the summit. The views at the top are stunning, but it's very cold and windy, so fellow hikers created windbreaks out of stones on the peak. Cozy in and enjoy the views away from the elements.
To get down, there are 3 good options: go back the way you came, take the Bear Canyon Trail, or the Baldy Bowl/Ski Hut Trail.
PRO TIP: This strenuous hike is best in summer, as parts of the trail near the peak may be too icy in winter. Training and proper gear, like crampons and ice axes, are recommended for those hiking in winter. Call the Baldy Village ranger station for conditions before starting your hike at 909-982-2829.
NOTE: Parking to hike the forest requires an adventure pass.
Getting there: Drive up San Antonio Canyon until you get to the Mt. Baldy ski lift. Ride the ski lift to Baldy Notch, which sits at about 7,800 ft (2,380 m) elevation.
3. Temescal Canyon Viewpoint Trail at Topanga State Park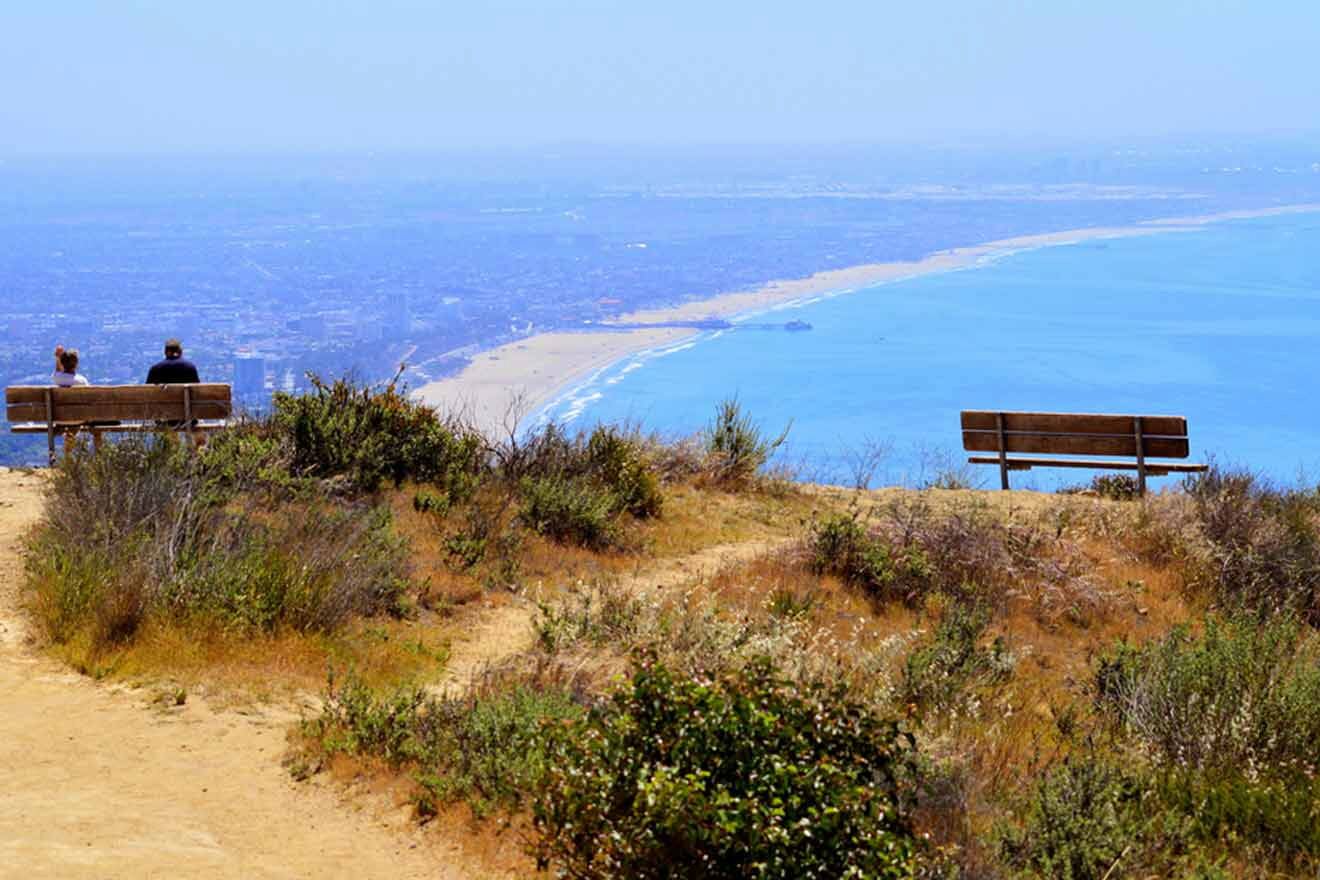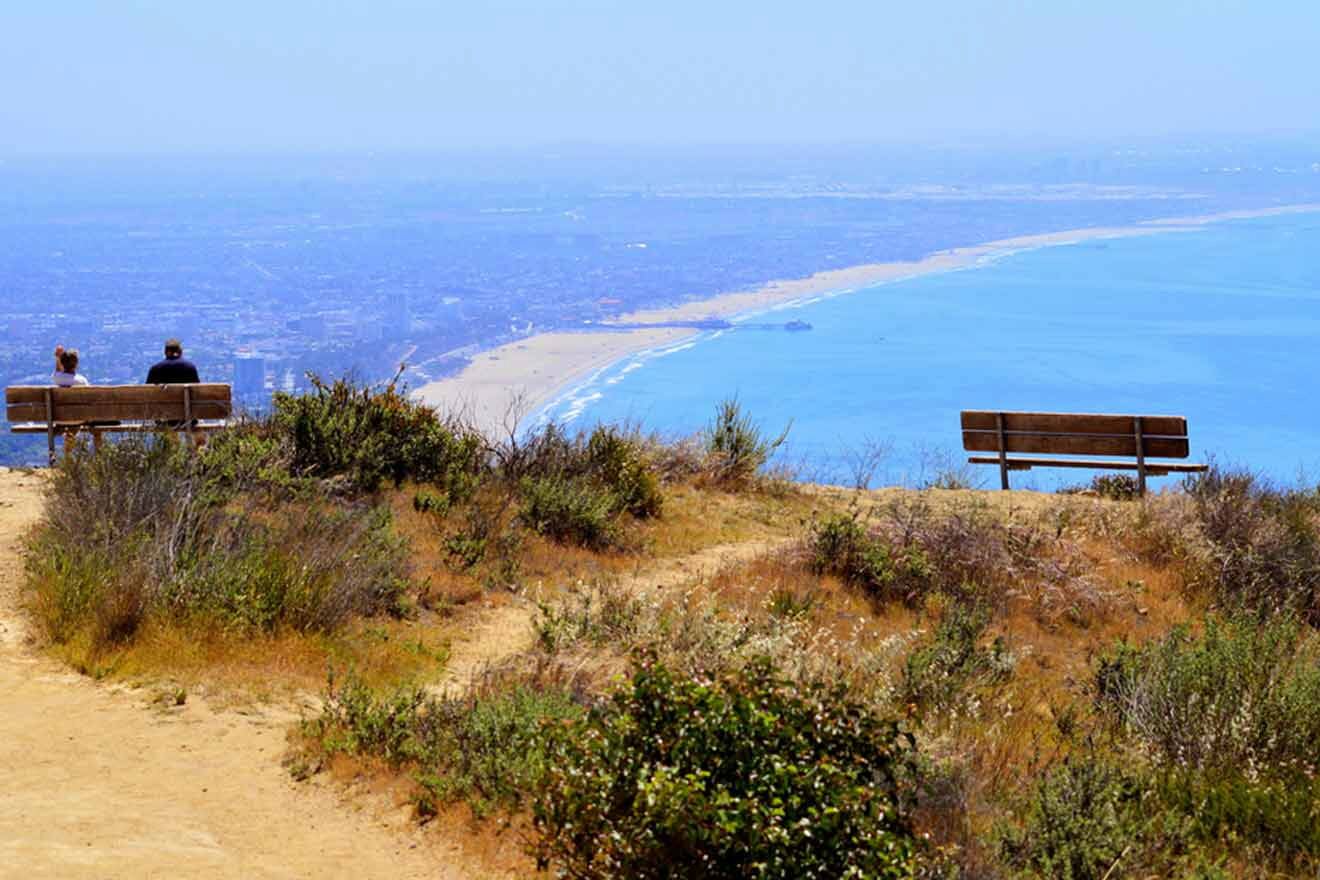 Tucked into the Los Angeles hills in the Pacific Palisades, Temescal Canyon is heaven for geology lovers because of Skull Rock and locals particularly love the trails here because of the enchanting ocean views.
The Temescal Canyon Viewpoint Trail is approximately 1 mile (2 km) long and starts at Temescal Gateway Park. This trail is moderately challenging (bring water!), and you'll get to see wildflowers and wildlife. If you decide to extend your hike and take the Temescal Ridge Trail you'll be rewarded with Skull Rock and stunning vistas which on a clear day can extend to San Gabriel Mountains and Catalina Island.
NOTE: Dogs are only allowed in Topanga State Park but much of the trail goes out of it in an area where dogs are prohibited.
Getting there: The trail starts at Temescal Gateway Park where you can park (US$12 fee) or alternatively along Temescal Canyon Rd. south of Sunset Blvd for free.
4. Runyon Canyon Trail at Runyon Canyon Park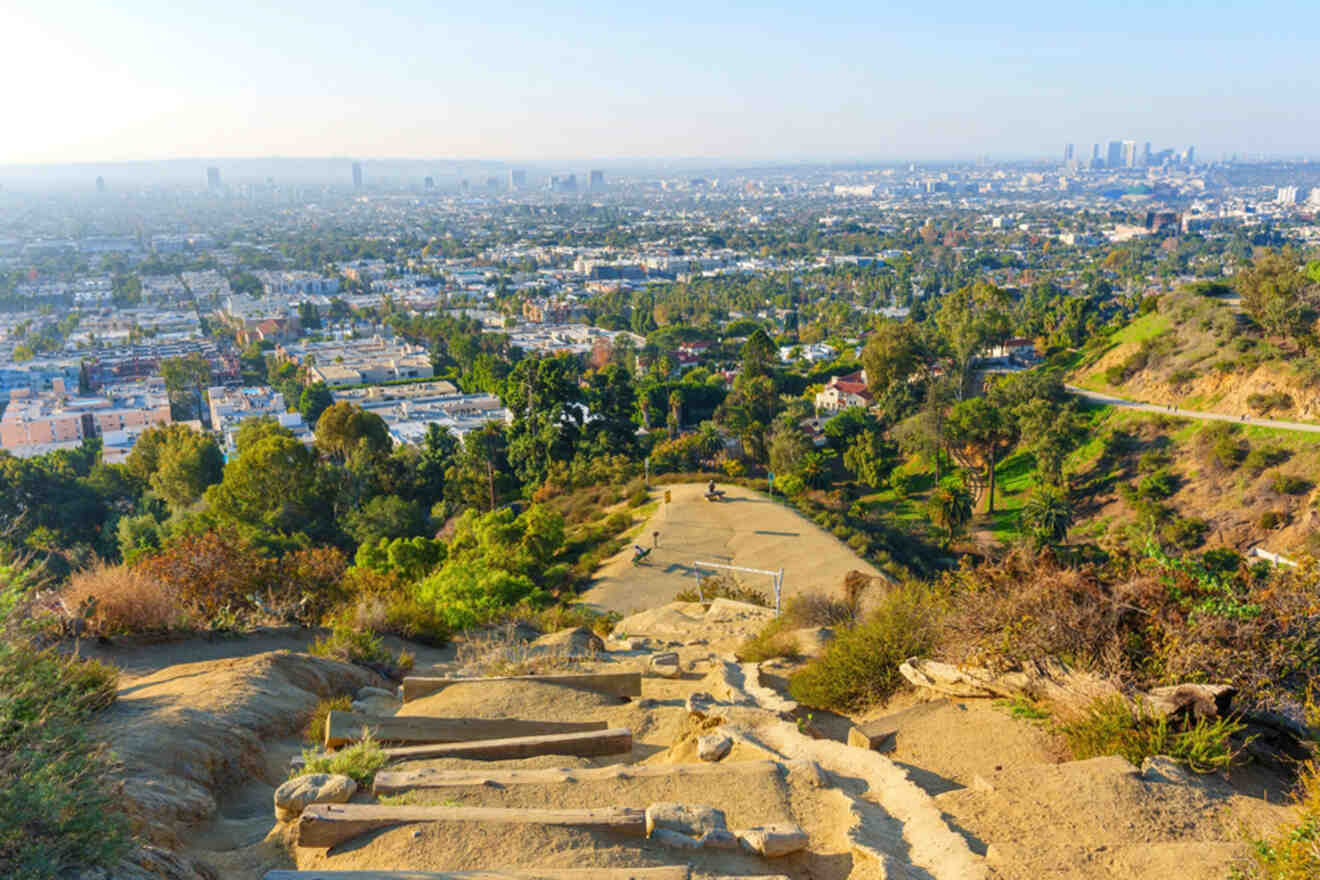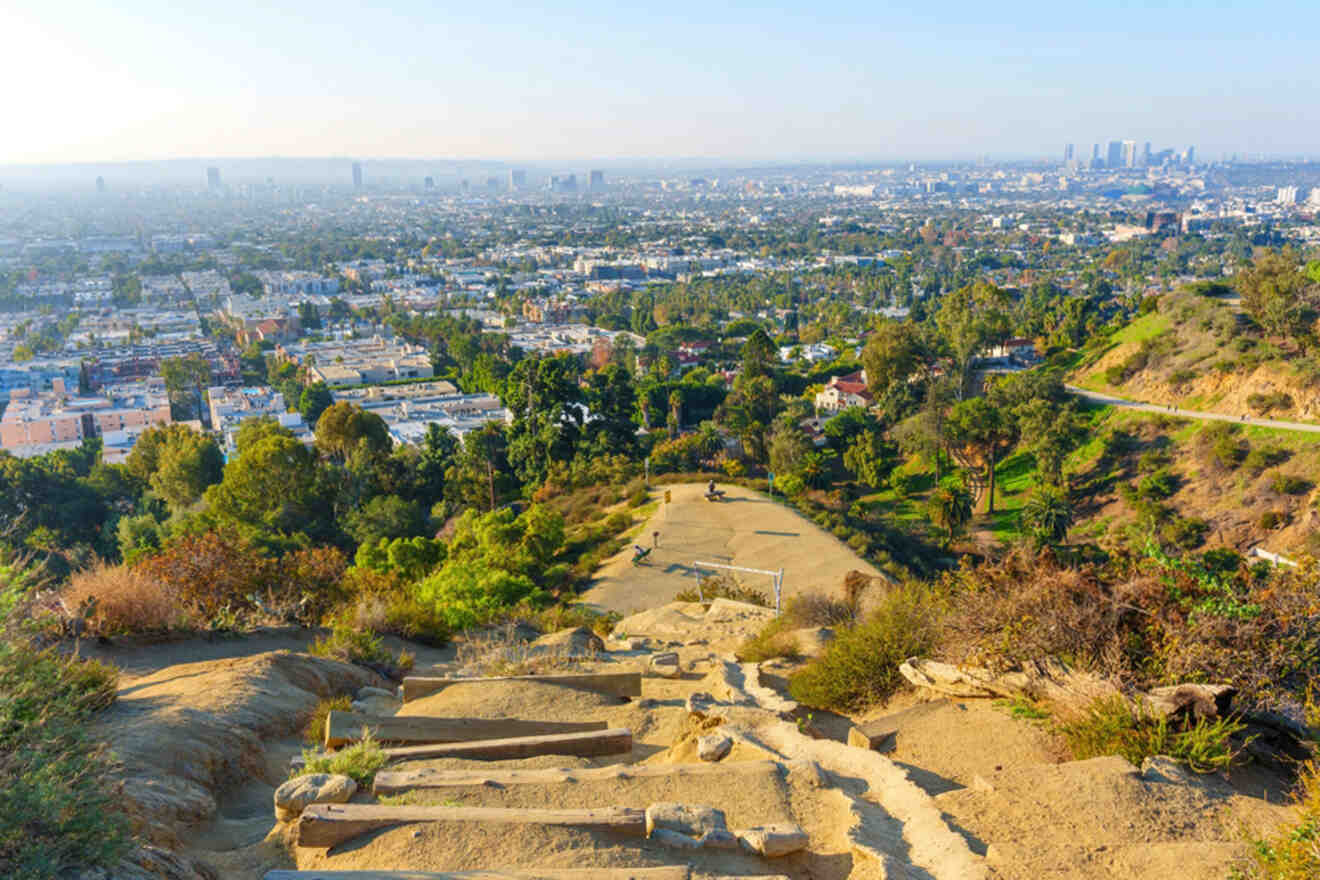 This is one of those rare places to hike that's just as good for exercise as it is for people-watching. Expect a very cool LA vibe, cute workout gear, toned muscles, big sunglasses, and lots of cute dogs.
Runyon Canyon Park is such a fun place to hike, and it's got one of the most famous hiking trails in Los Angeles. With over 160 acres (65 hectares) to explore, this spot is a favorite for Angelinos.
The Runyon Canyon Trail loop can start from either the east at the Fuller Avenue entrance or the west at North Vista Street. It's mostly a moderate trail with a gradual ascent until you get closer to the top.
It's only a 1.5-mile (2.5 km) hike, but you can make it longer. At the top, hikers are rewarded with gorgeous views of beautiful houses in the Hollywood Hills, the skyline of downtown Hollywood, and high-rises on Miracle Mile. This is also one of the popular hikes in L.A. for celebrities!
PRO TIP: To make this hike even shorter but still enjoy the views at the top, start at Mulholland Drive.
Getting there: You can enter the park from 3 points – the Fuller Avenue entrance and the Vista entrance is on the south side of the park, while the Mulholland entrance is on the north side. You should look for parking on the surrounding streets but a lot of the area is permit-parking only, so be careful to read the street signs.
5. Escondido Canyon Trail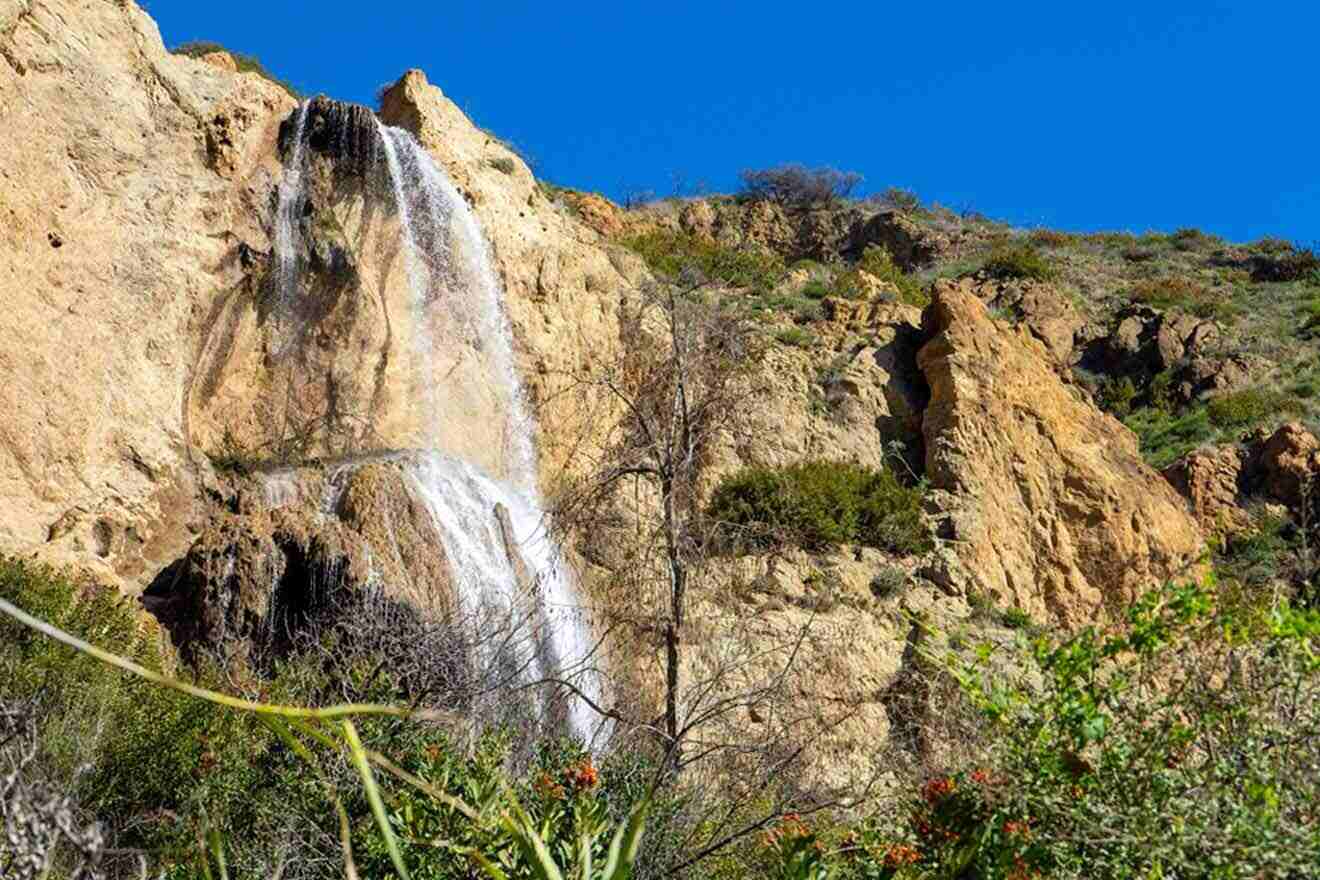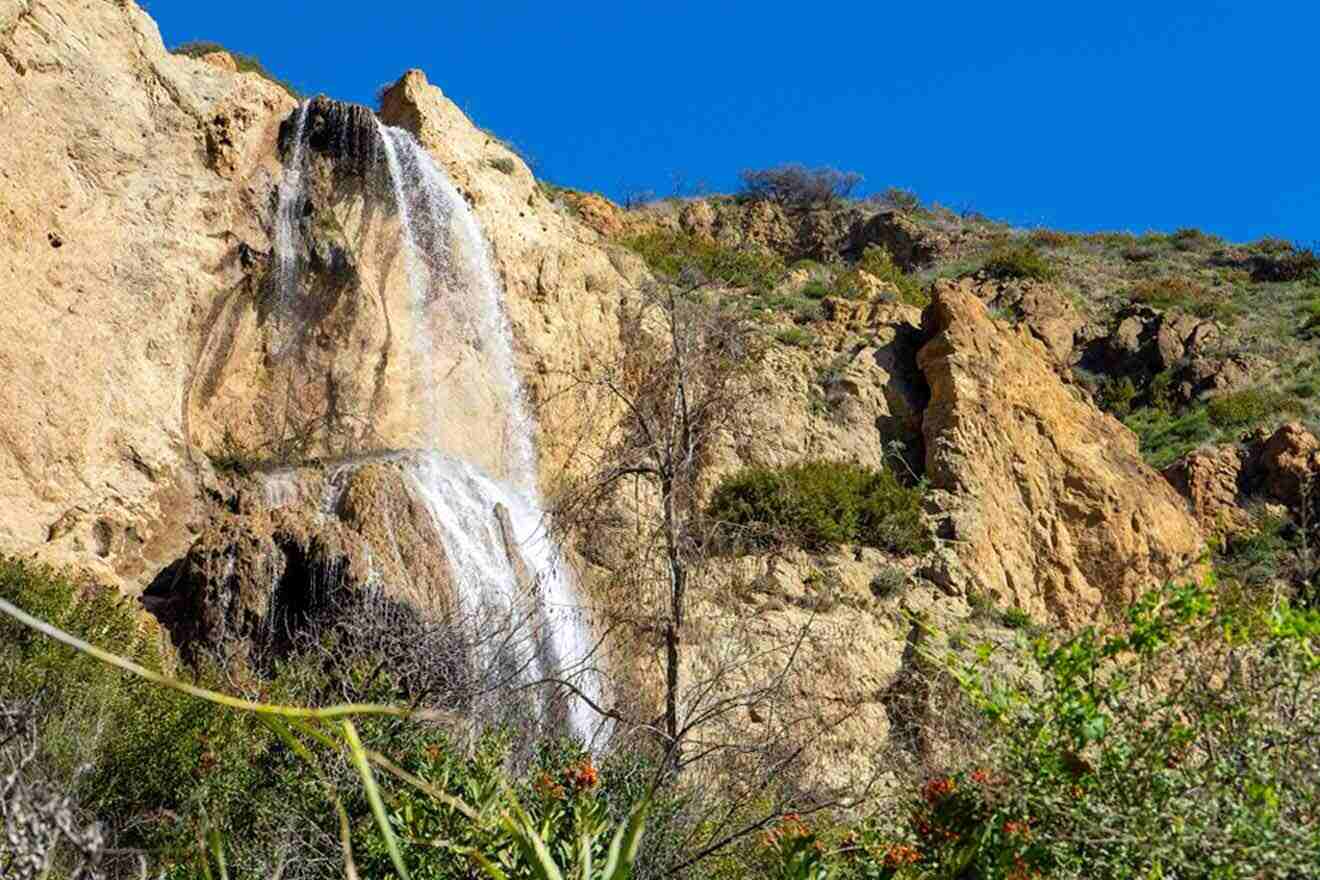 Malibu is a gorgeous place to hike, and this trek is pretty mellow. The path is around 4 miles long (c. 6 km) and goes through Escondido Canyon Park which has one of Southern California's biggest waterfalls. It will take you about an hour or two, but wait until you see it: 150 feet (45 m) of water cascading down limestone rock adorned with emerald moss. It's beautiful!
The trail starts on Winding Way East, a private road in the Malibu hills, and it leads uphill past beautiful ocean-view homes. Hike for about half a mile; the road will head downhill, and there's a marked path to the left. This is the Escondido Canyon Trail.
PRO TIP: Before you get to the biggest waterfall, you'll pass the lower Escondido Falls about a mile in. They're only 50 feet (15 m) tall but still worth seeing.
Getting there: Take the I-10 west to the Pacific Coast Highway. Head toward Malibu and turn right onto Winding Way. Park in the lot (it costs US$8) and follow the signs for the trail.
6. Bronson Caves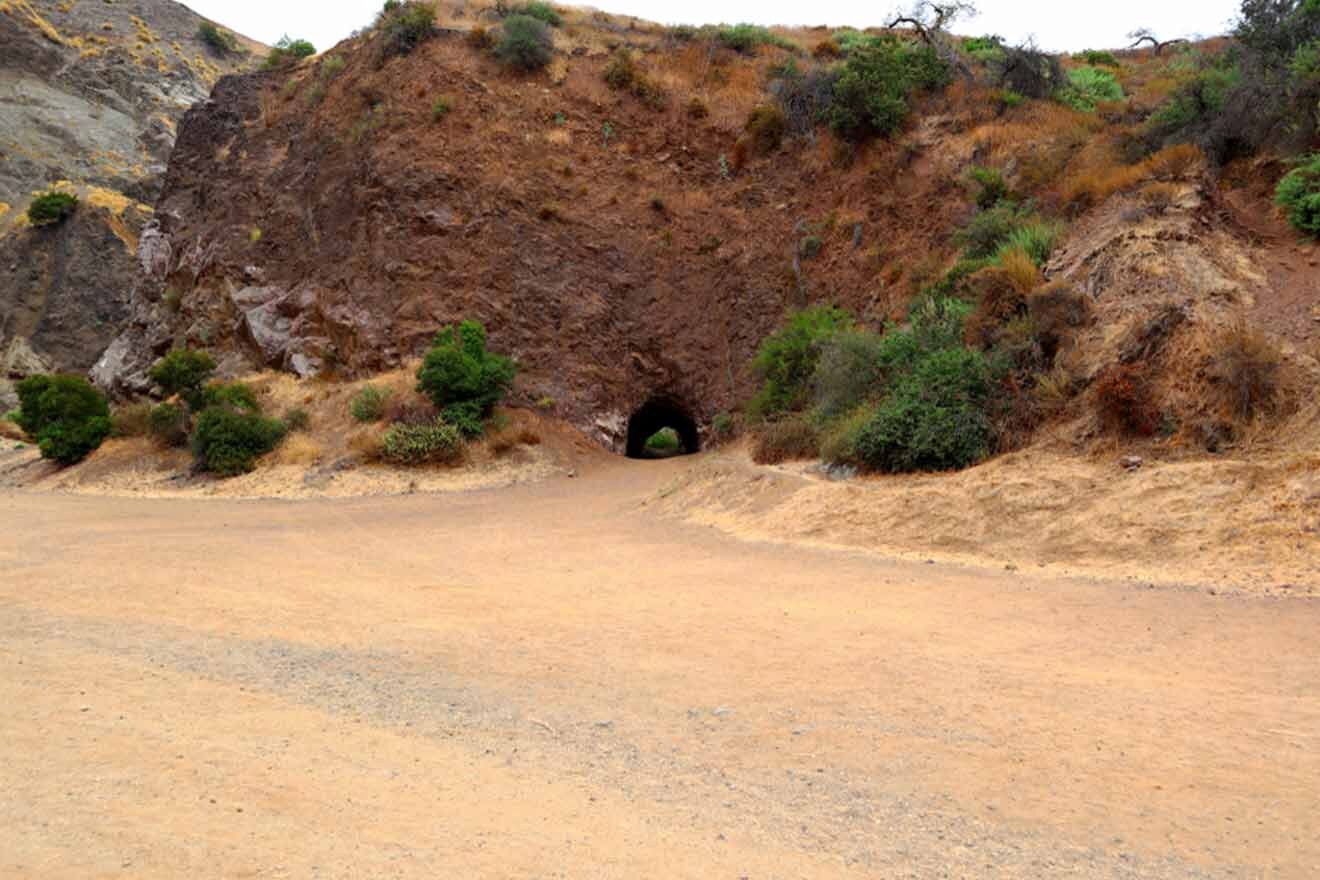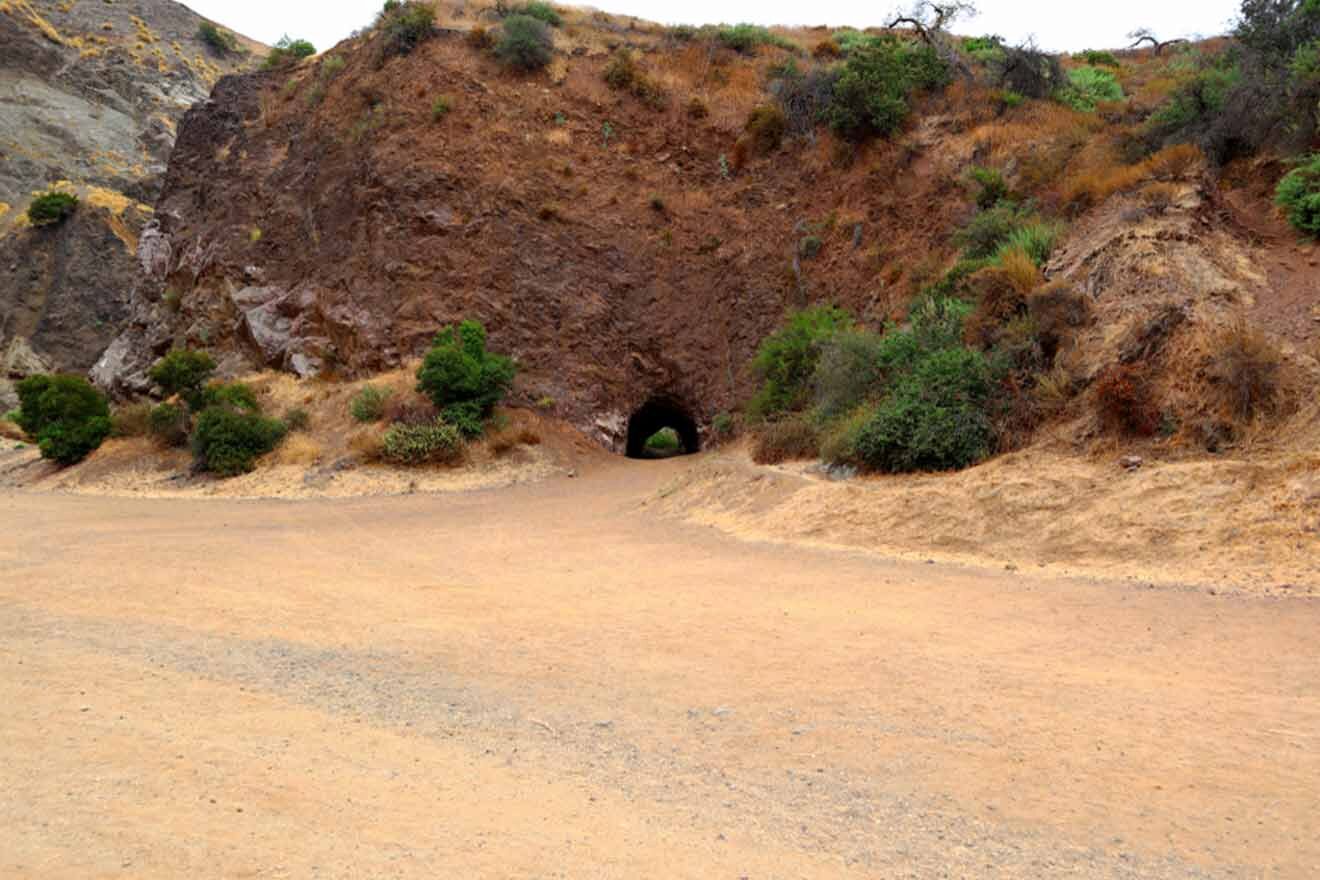 This quarter mile (1 km) out-and-back unique hiking trail and the Bronson Cave itself is a famous film sight for movies like Star Trek VI, The Searchers, Invasion of the Body Snatchers, and the 1960 Batman TV series.
Located in Griffith Park, Bronson Caves aren't actually caves at all, they're a 50-foot-long (15 m) tunnel, the remnants of a quarry from 1903. This place gets busy, almost as busy as Runyon Canyon. However, it's definitely worth a visit!
NOTE: There's free parking at Camp Hollywoodland from dawn to dusk, but the gate closes after sunset, so make sure you return in time.
Getting There: Go north on Canyon Drive from Franklin Avenue until you reach Camp Hollywoodland. Cross the small red-painted bridge on the east side of the road and follow the unpaved road into Bronson Canyon.
Alternatively, you can take north from Hollywood Blvd on Bronson Ave until the road ends right at the park entrance.
7. Echo Mountain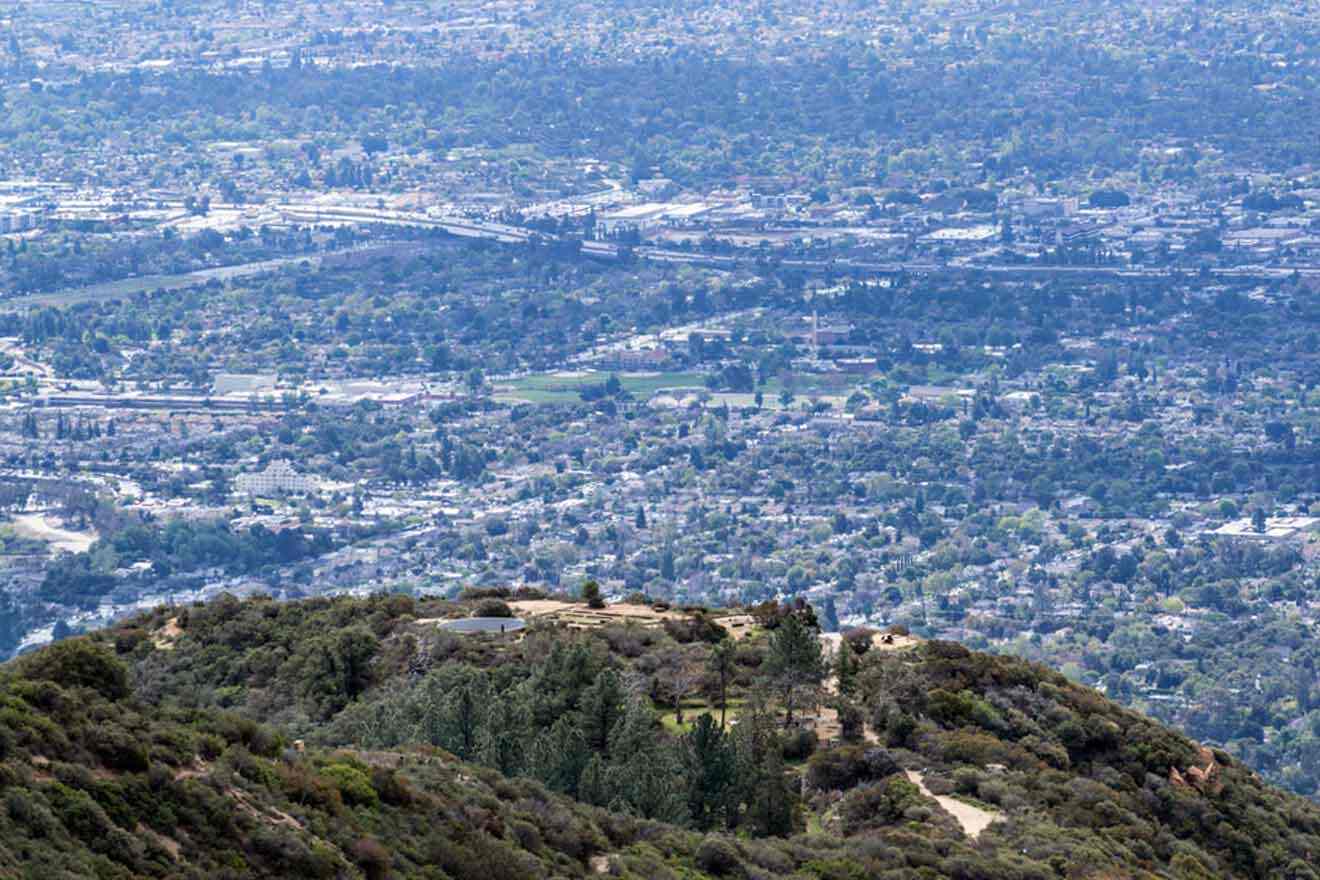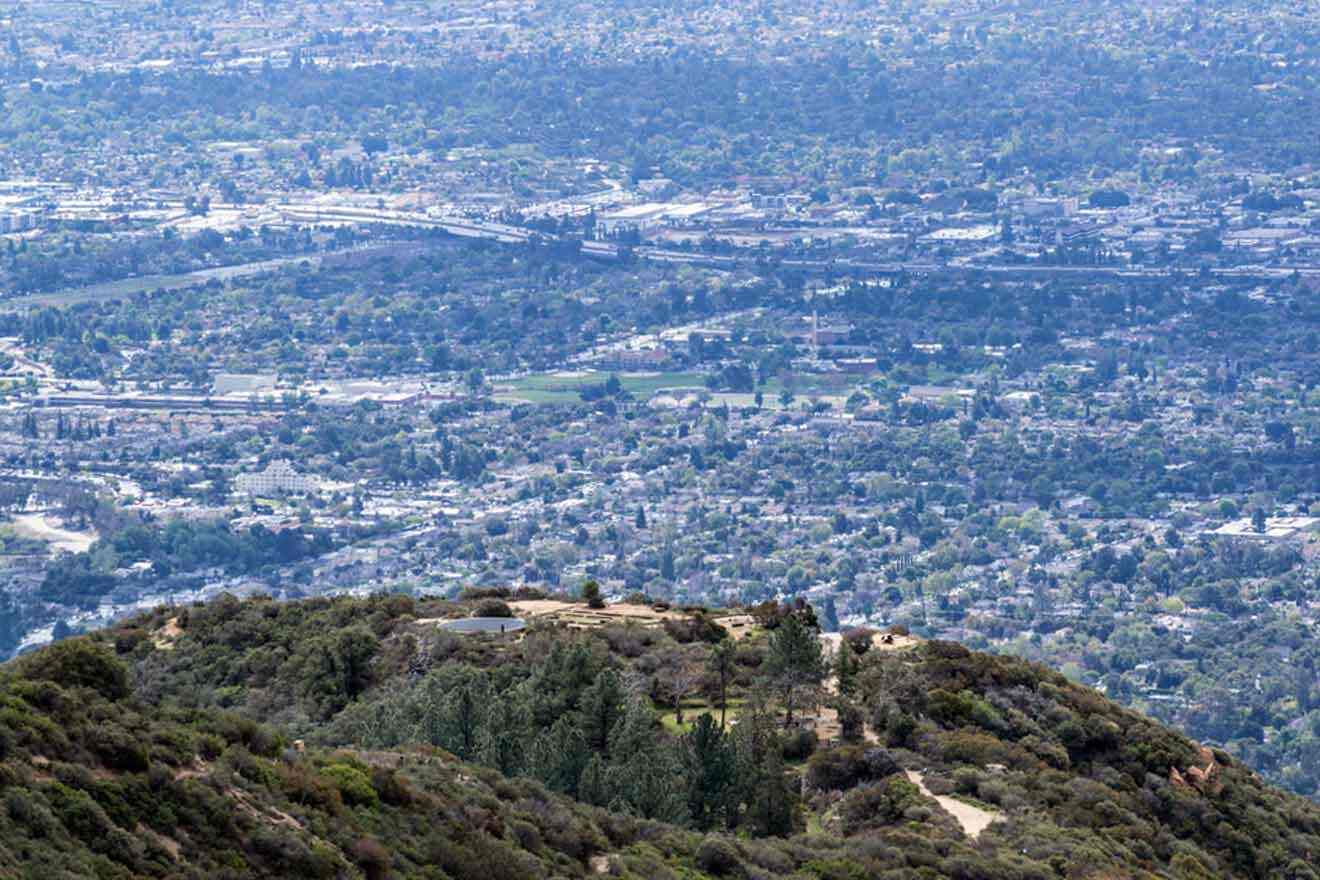 Start at the Sam Merrill Trail, where you'll spot a sign that says, "A quiet refuge from people and wildlife forever." This 5.5-mile (9 km) trail is out-and-back, and while it's not the most leisurely hike in the world, it's not too strenuous for the novice hiker. Most of the trail is along the side of the mountain, and even the low levels offer amazing views of downtown LA and the San Gabriel Valley.
PRO TIP: Keep your eyes peeled for old train tracks. A super steep railway once ran from Pasadena to the top of the mountain and an alpine resort. Fires burned everything to the ground, and now hikers can see the remnants of the tracks and the ruined foundations.
Getting there: About 30 minutes north of downtown Los Angeles, park (for free) at the entrance at E Loma Alta Dr. at Lake Ave. in Altadena.
8. Sara Wan Trailhead at Corral Canyon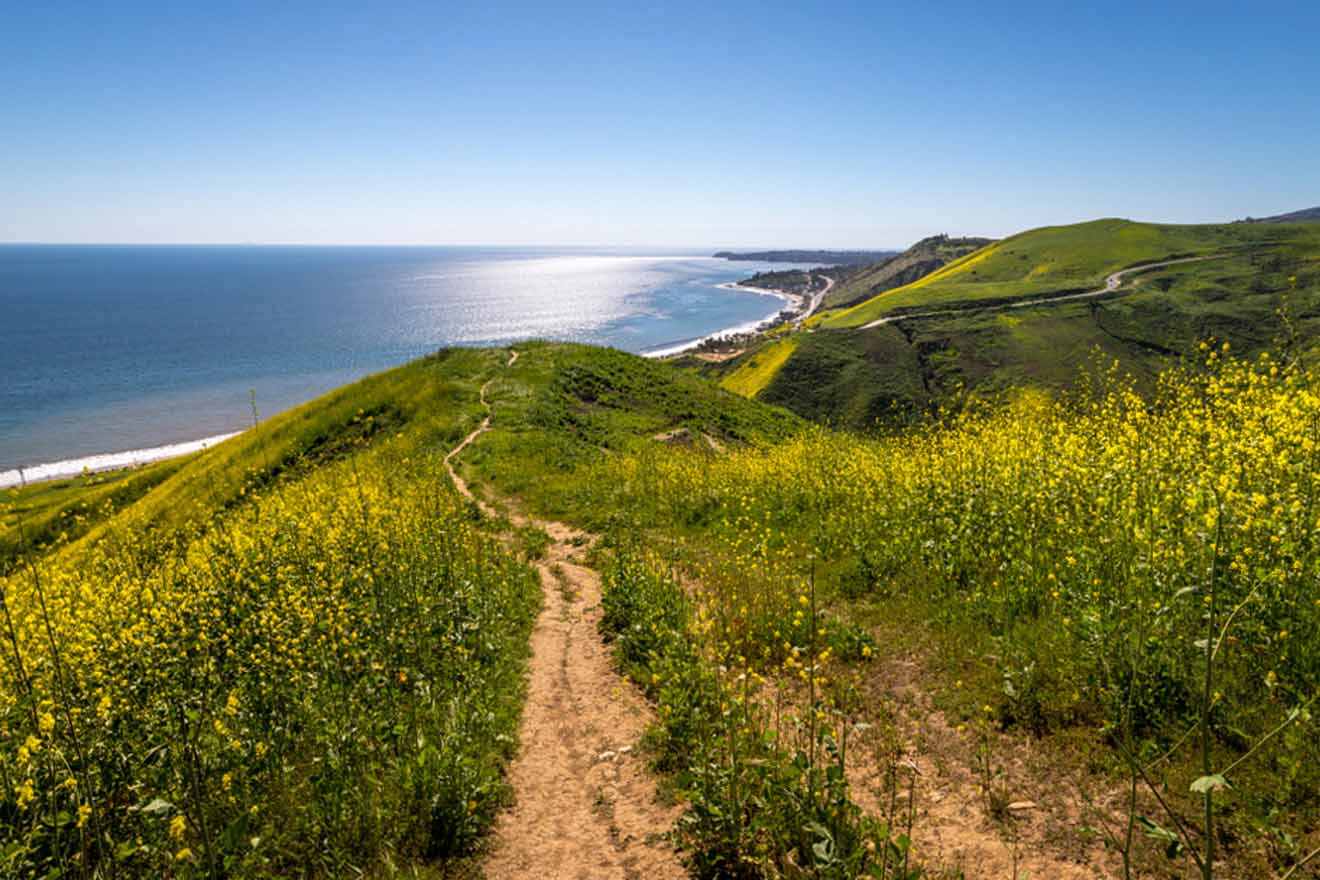 This is where the mountains meet the Pacific Ocean. It's the perfect setting for a southern California hike, and this one's not too strenuous. Near Malibu, the Sara Wan Trailhead at Corral Canyon Park is a 3-mile (5 km) hike through wildflowers, coastal sage scrub, and coastal bluff native grassland. The route is relatively gentle, but there's not a lot of shade on this trail. Bring a hat and remember the sunscreen.
PRO TIP: At the first fork, hang left. This way, you'll get the best views of the ocean.
Getting there: Parking at the trailhead is US$12 or opt for free parking on Pacific Coast Highway near Malibu Seafood (which is also a great place for a bite to eat after the hike).
9. Brush Canyon Trail and Mount Bell Loop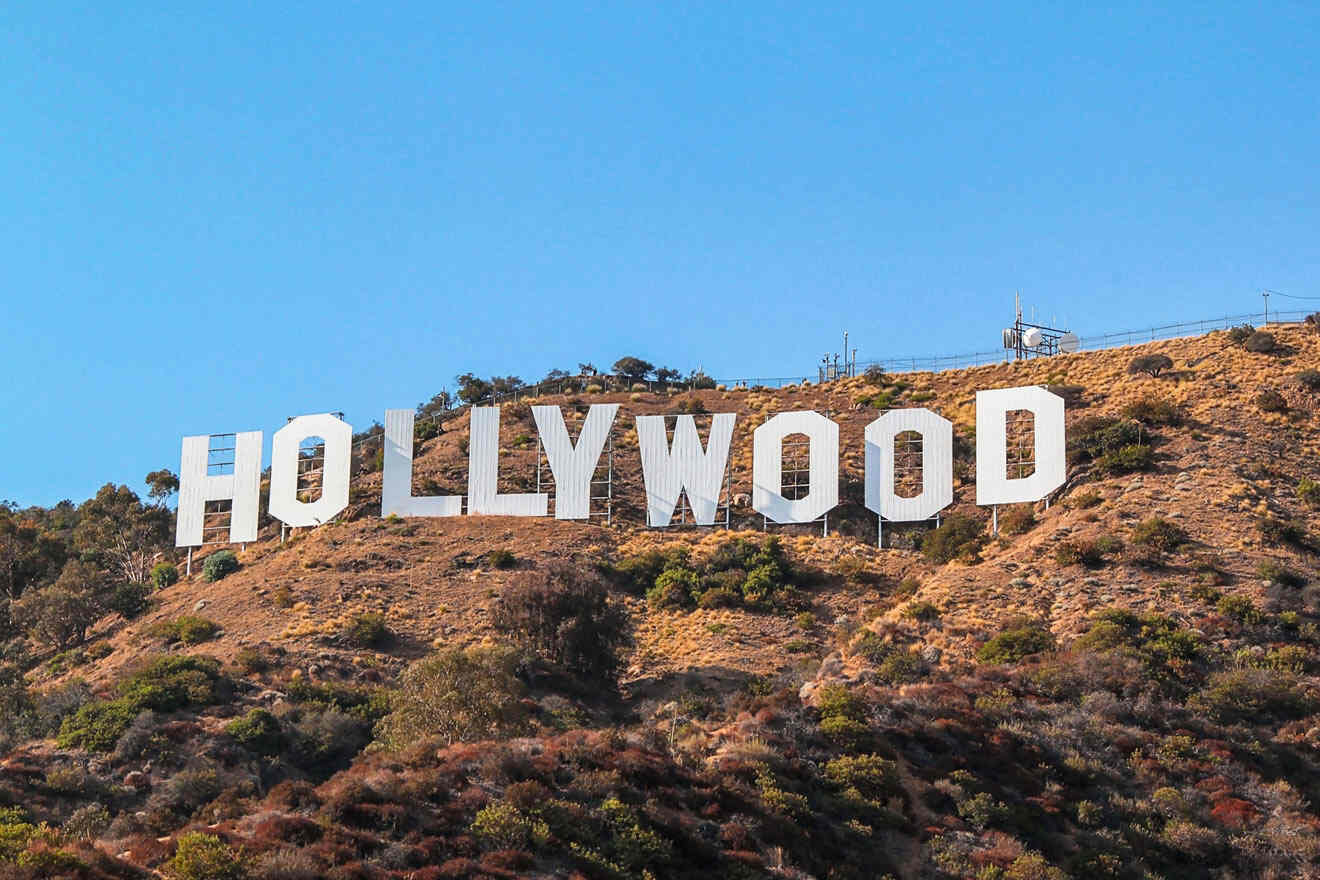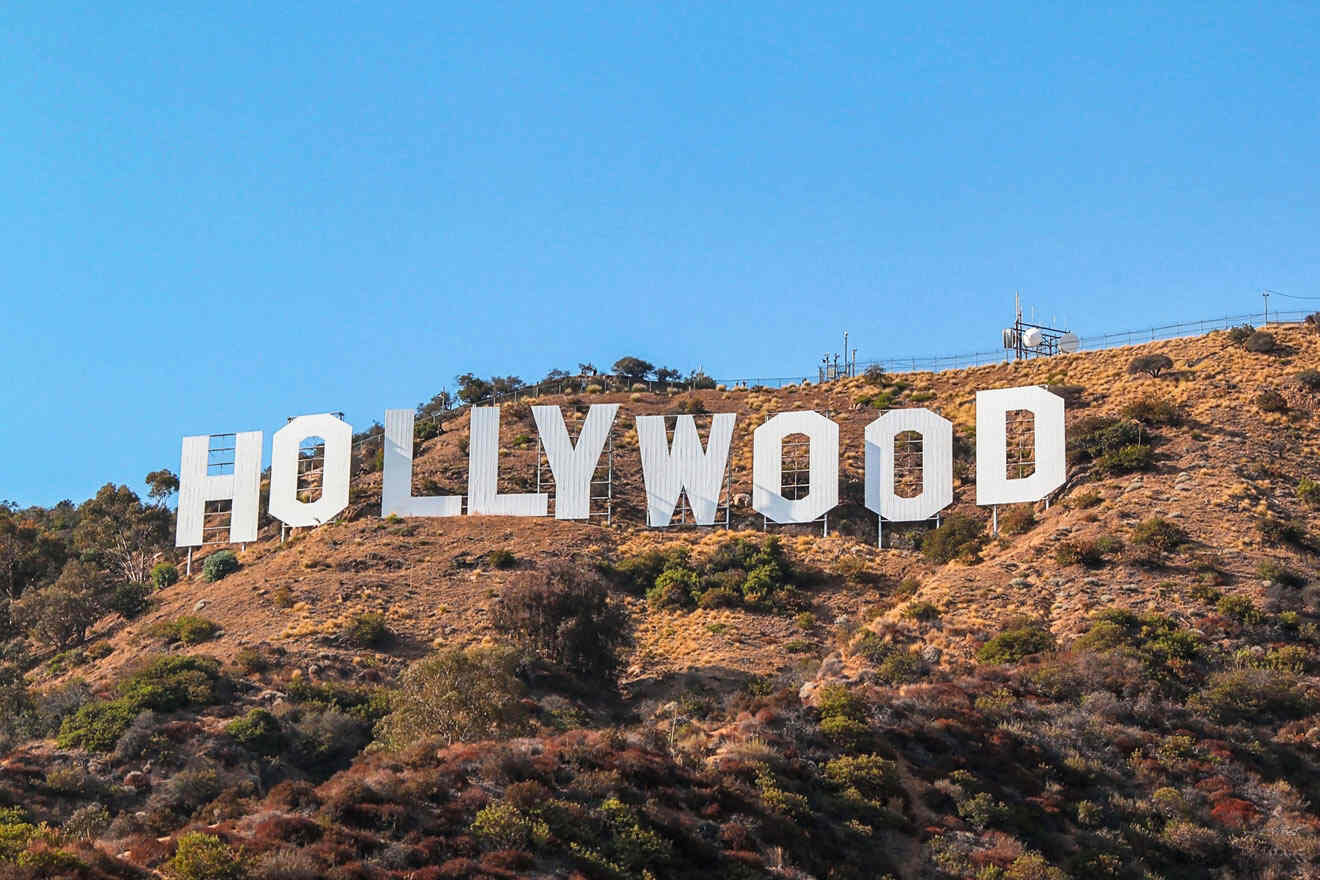 The Brush Canyon Trail and Mount Bell Loop is a moderately challenging c. 5-mile (8 km) loop. The hiking trail starts steep but then mellows down. Hikers will enjoy gorgeous views of the Hollywood Sign, the Griffith Observatory, and the city below.
Getting there: Pass Bronson Canyon Playground and park in the lot on Canyon Drive.
10. Wisdom Tree, Cahuenga Peak, and Mount Lee Summit Loop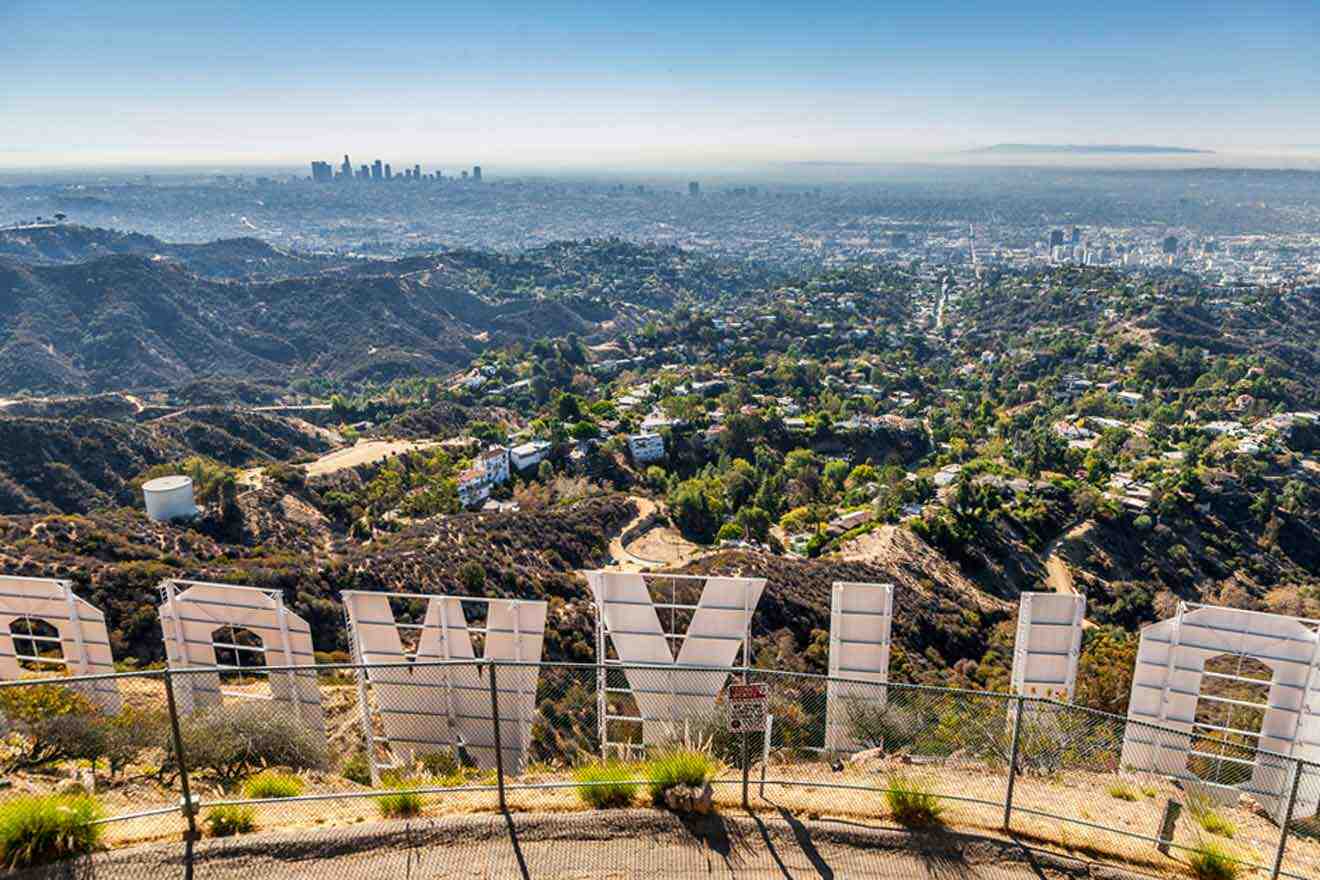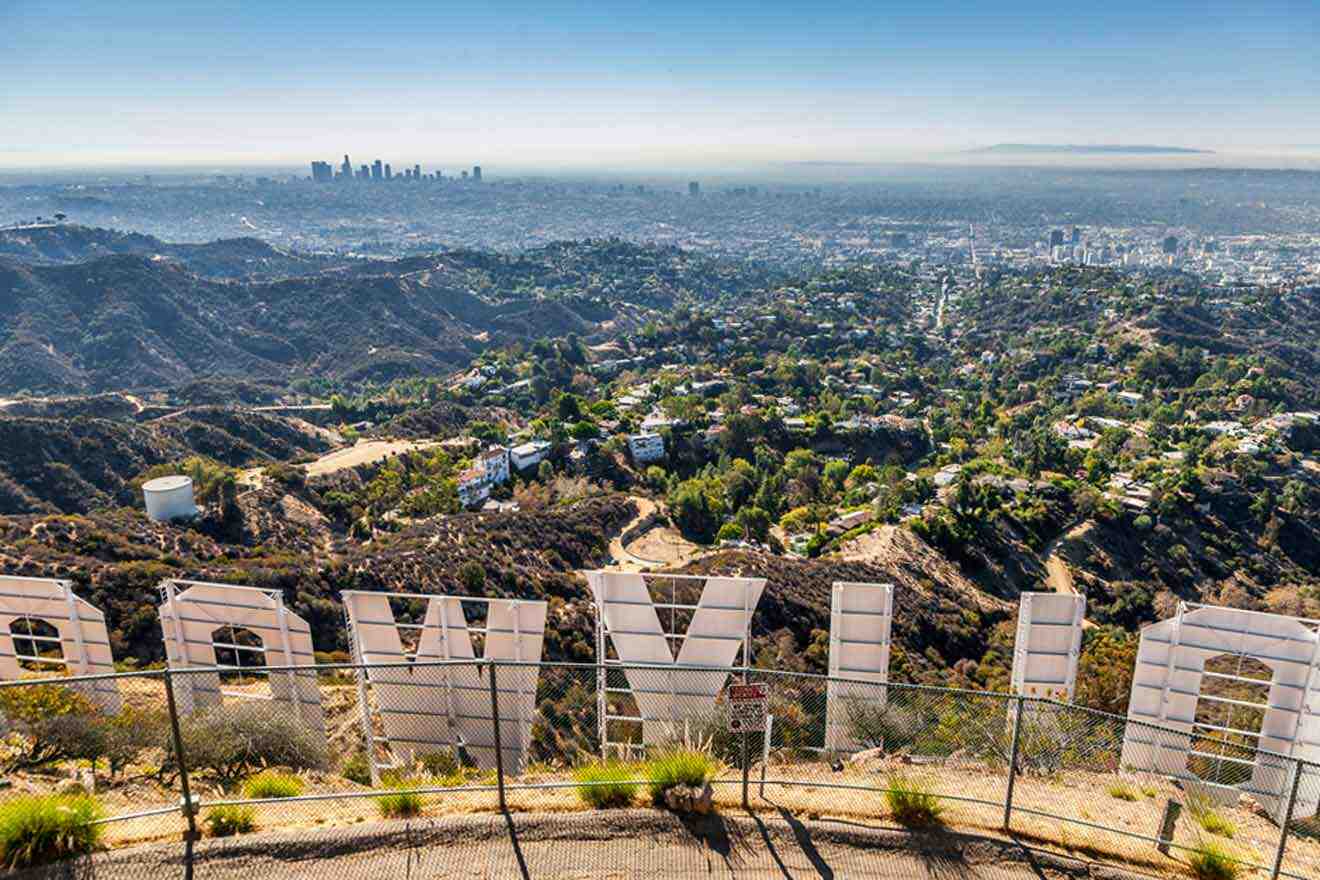 The approximately 4-mile (c. 6 km) loop is pretty steep. With over 1,000 feet (305 m) of elevation gain, be prepared for a serious workout! Trek to the Wisdom Tree (the only tree here to survive a fire in early 2007) to Cahuenga Peak and Mount Lee, ending right behind the iconic Hollywood Sign, and then loop back to where you started. This is one of the best views in Griffith Park.
Loose gravel and rocks can make this trail slippery, so wear good hiking shoes.
Free parking is available on Lake Hollywood Dr. as it descends toward the reservoir.
Getting there: From 134 E., take the W. Olive Ave. exit. Drive down Barham Blvd., turn left on Lake Hollywood Dr. Head east on Wonder View Dr. Hikers can find the trailhead at the gate at the end of Wonder View Dr.
11. Pacific Crest Trail & Foot Trail Loop at Vasquez Rocks Park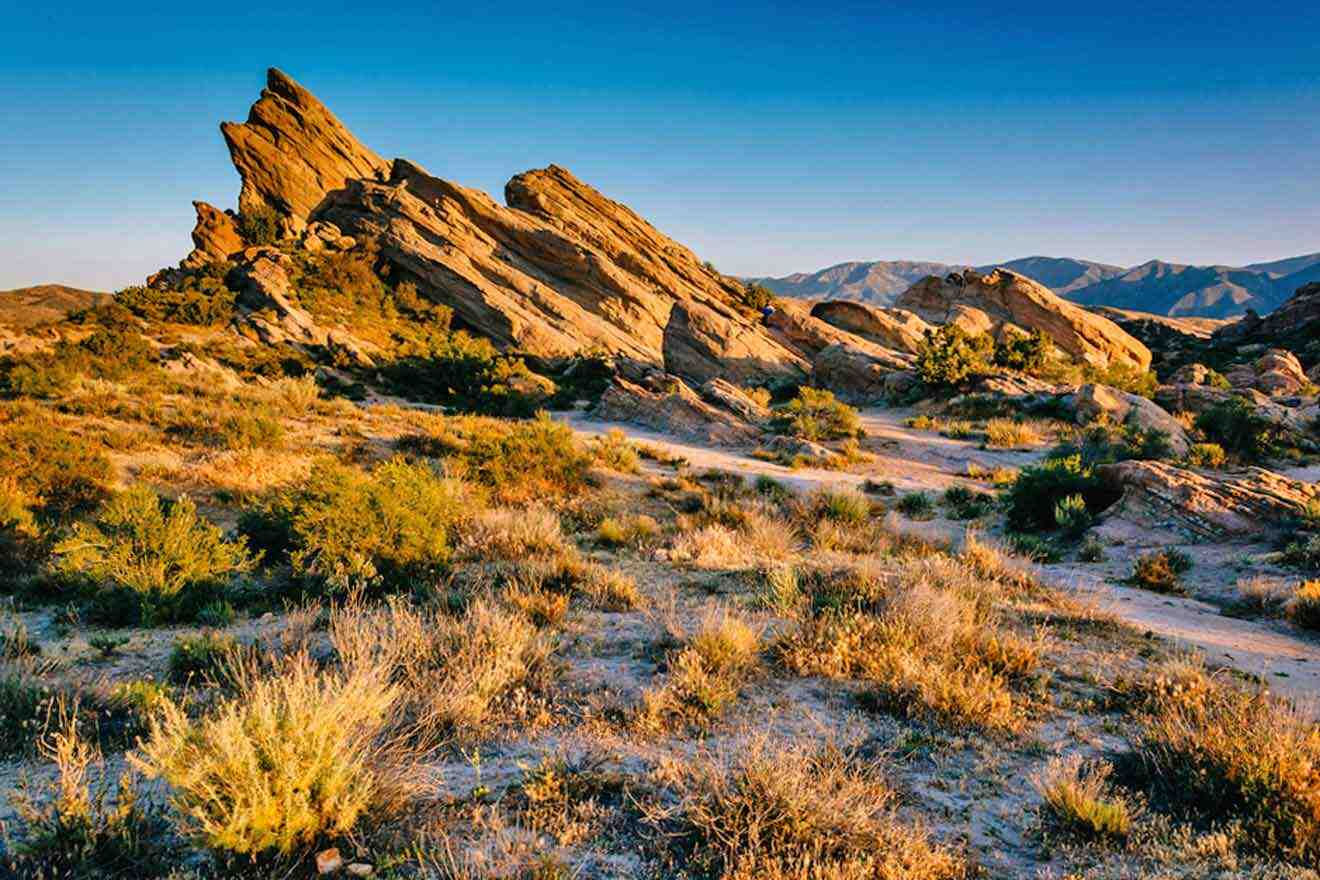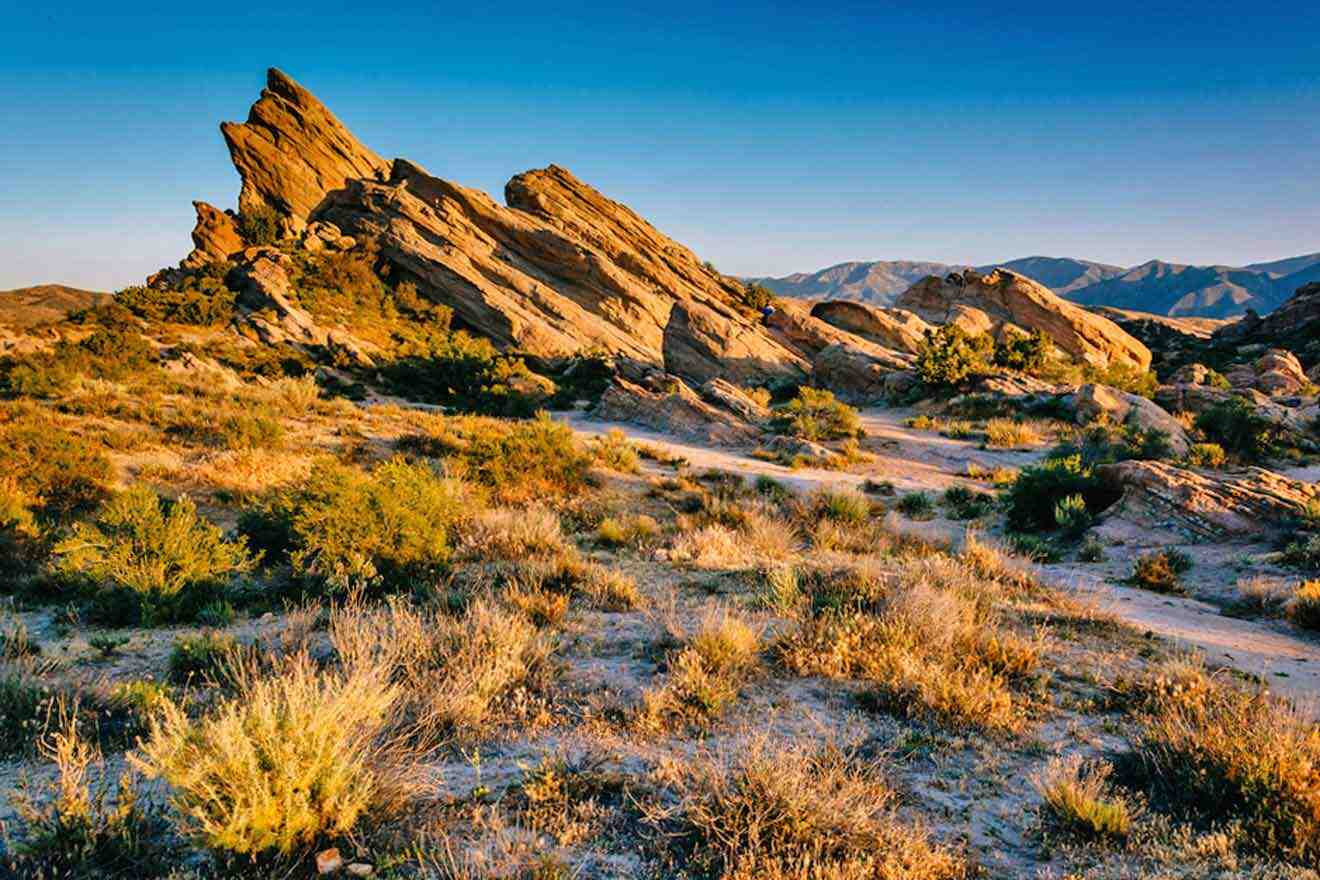 This cool 4-mile loop is moderately challenging, and the otherworldly rock formations along the trail may look familiar. They've appeared in many Hollywood movies, like Star Trek, Bonanza, The Twilight Zone, and Mission Impossible.
A perfect mix of adventure for movie buffs and exercise enthusiasts, the Vasquez Rocks Natural Area and Nature Center in northern Los Angeles is a fun spot to hike, and maybe snap a few photos! If you feel like exploring LA some more, check out these cool areas to stay in so you can spend a few days there!
Getting there: Parking lots are available near the Vasquez Rocks Natural Area and Nature Center.
12. Sandstone Peak in Santa Monica Mountains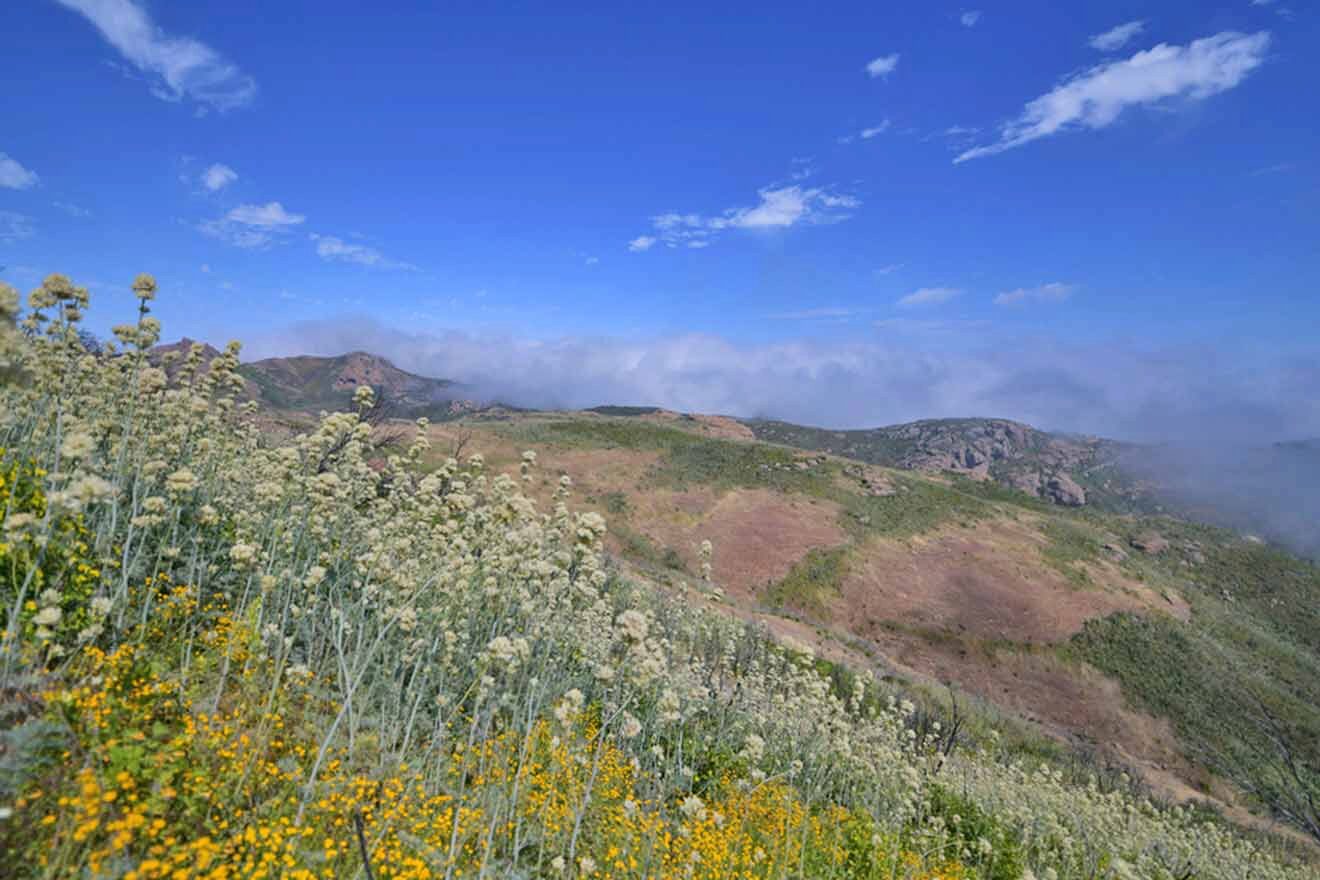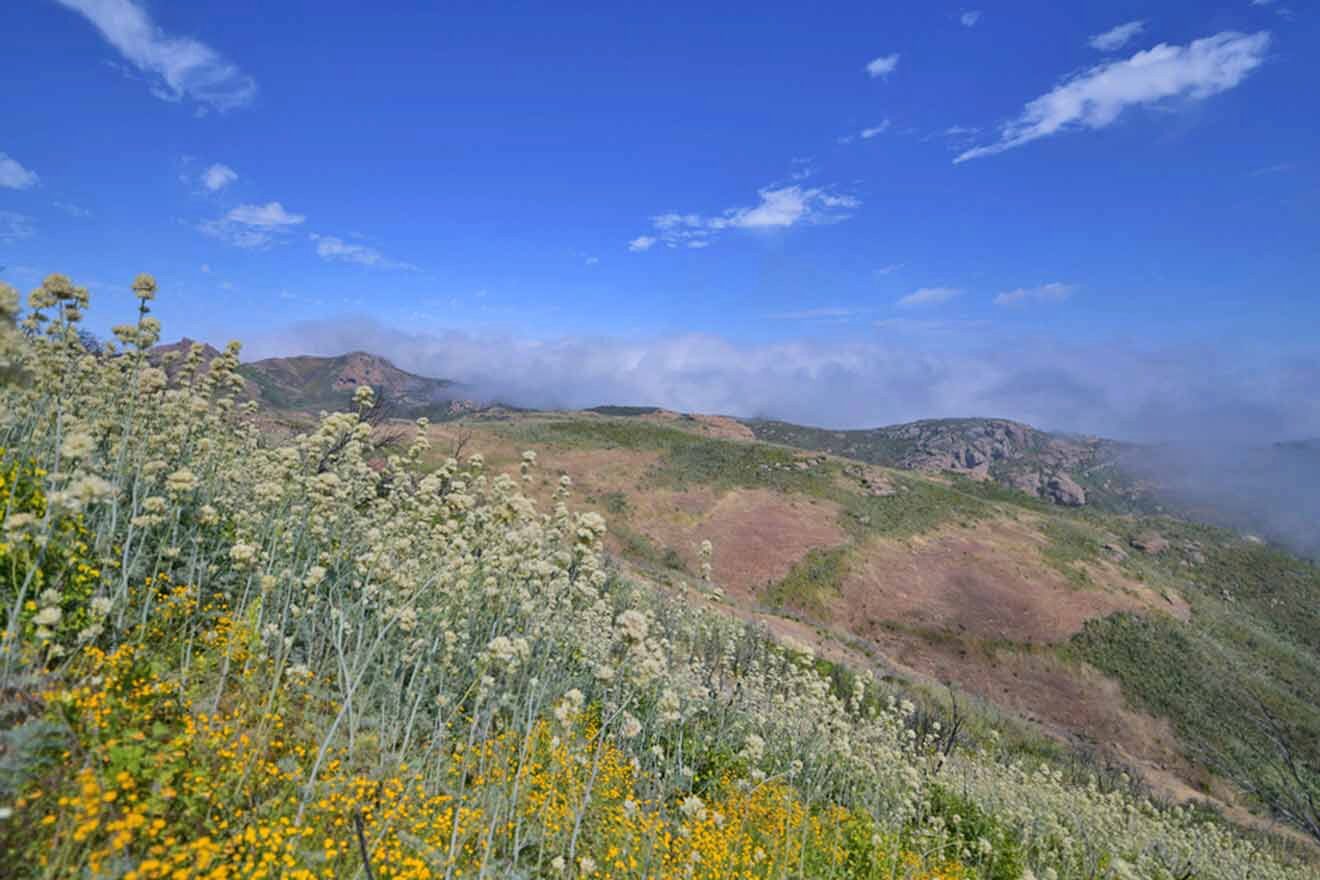 Hiking to Sandstone Peak is an amazing adventure with stunning views of Santa Monica Bay. You can take the Mishe Mokwa Trail which is a 6-mile (10 km) trail which can be completed in roughly 3-4 hours. Alternatively, you can take the Backbone Trail, a 6-mile (9 km) loop near Malibu, California. Both trails are considered moderately challenging.
Here you can encounter many birdwatchers, rock climbers, and hikers.
PRO TIP: It's advisable to have an offline map with you because some parts of the trail are not marked well and the reception may be weak at some points.
Getting there: From the Pacific Coast Highway, get onto Yerba Buena Road and drive up to Mishe Mokwa parking lot where the hike begins.
FAQs about the best hiking trails in Los Angeles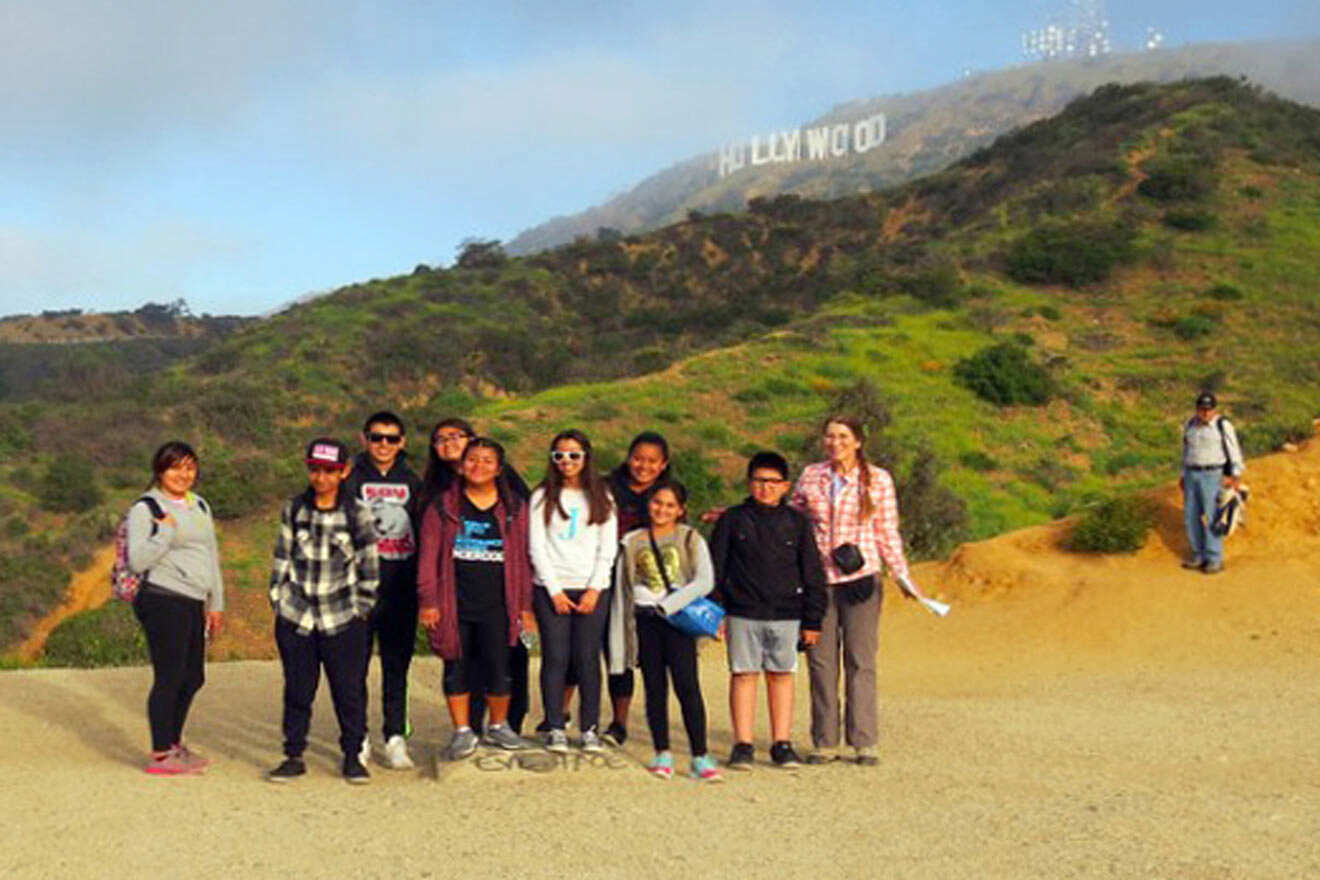 Conclusion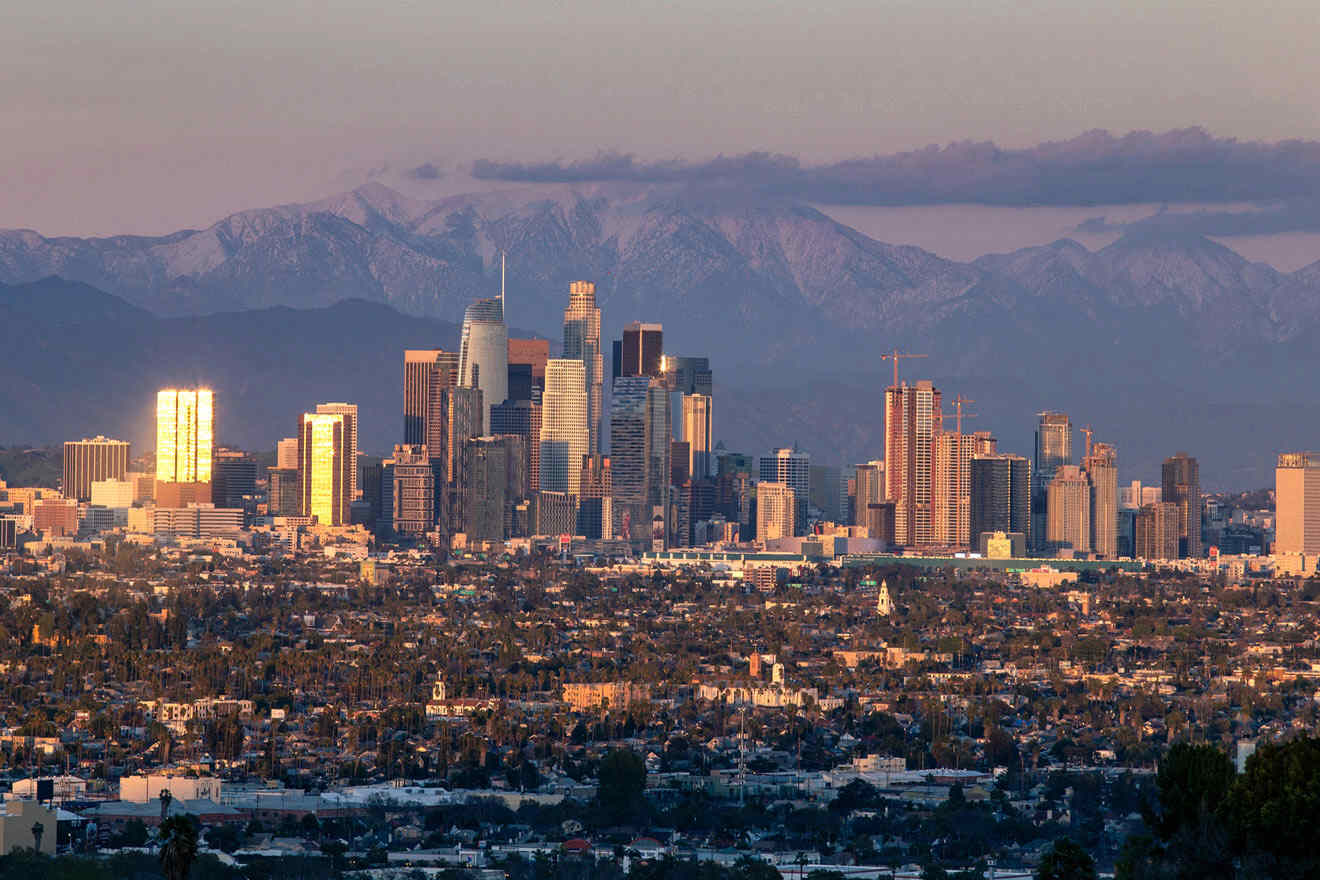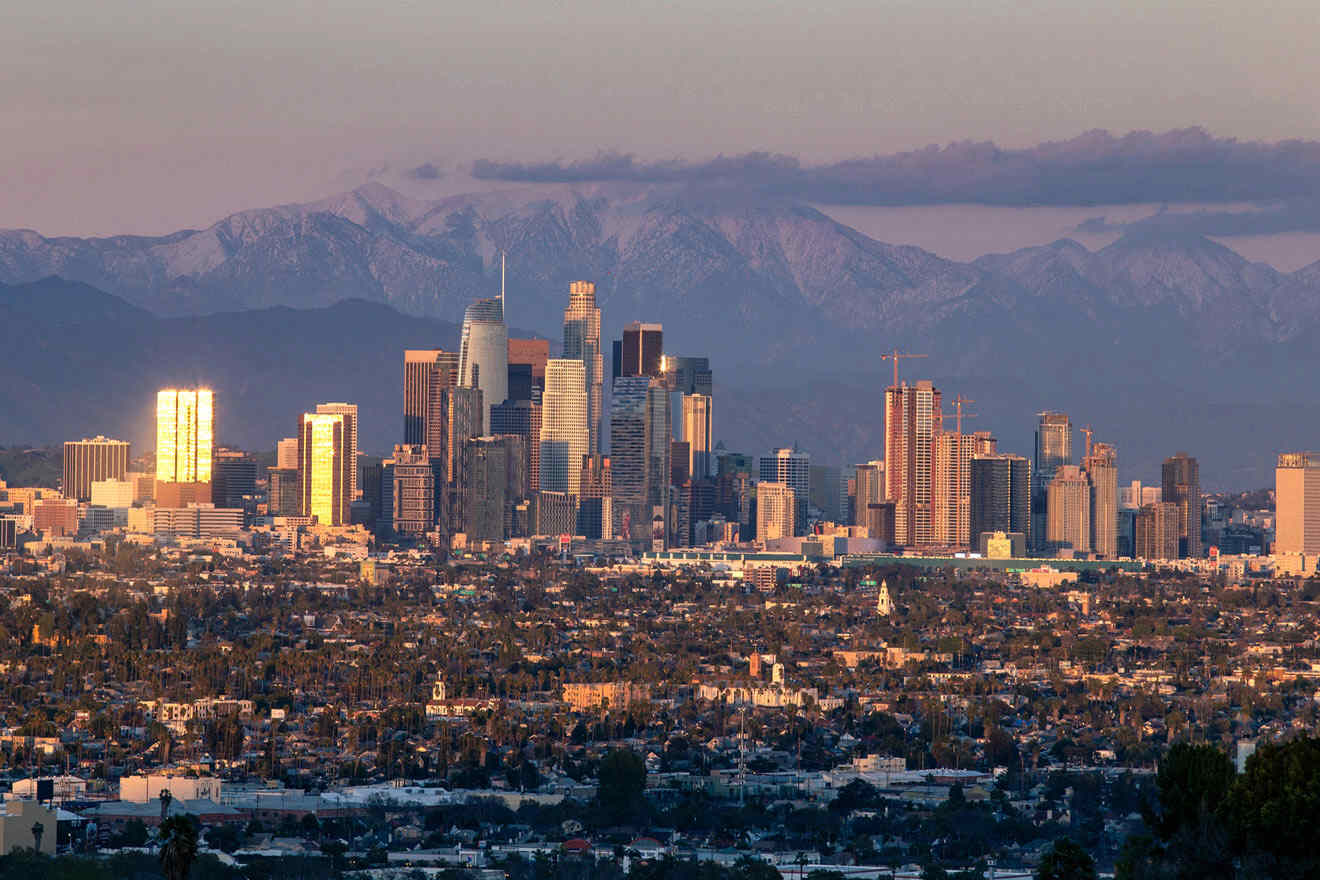 From sweeping ocean views, river crossings, and gorgeous waterfalls to steep ascents and the iconic Hollywood Sign, there are miles and miles of natural beauty to explore in Los Angeles.
This list contains a few fan favorites, and the best hiking trails in Los Angeles, as well as a couple of steep climbs. There's a perfect trail in Los Angeles waiting for every hiker.
Now that you have all the information, lace up your hiking boots and hit the trails! Just remember the water bottle, a hat, and sunglasses, and, of course, drop me a comment below.
Happy hiking!
Beti
---
Pin it for later!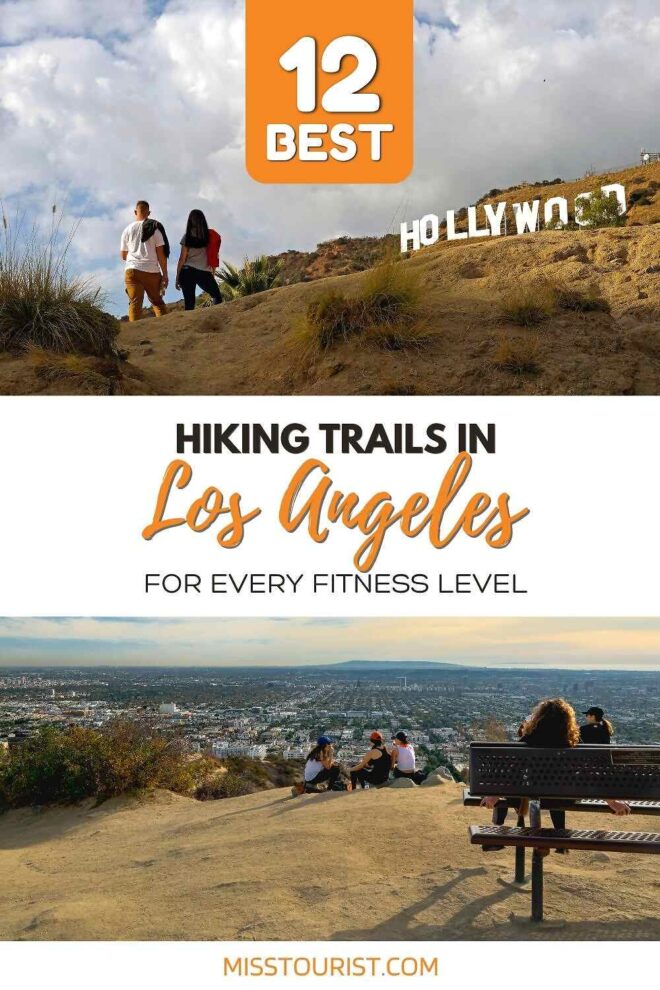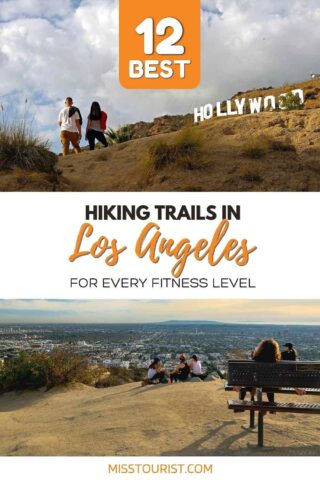 Pin it for later!