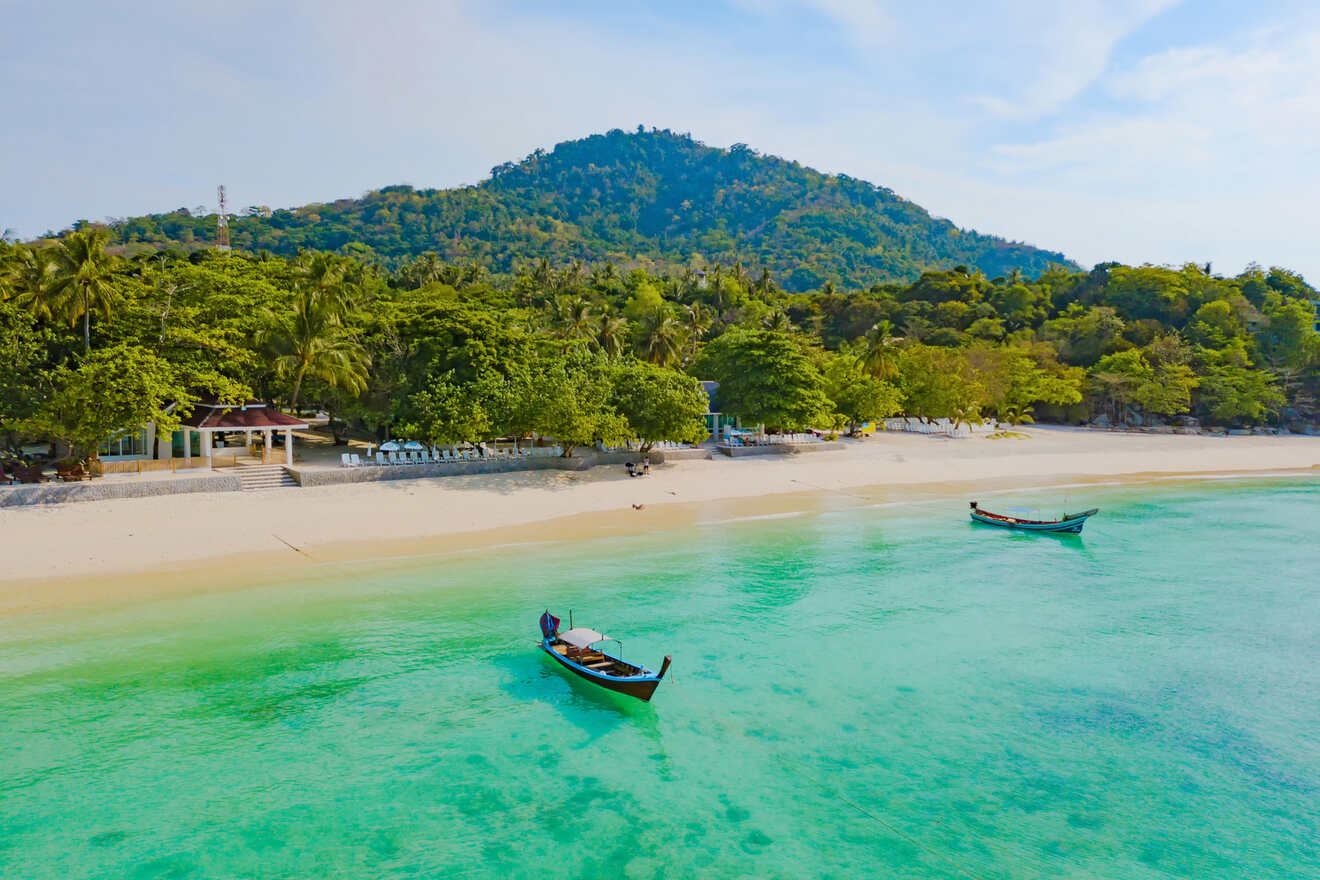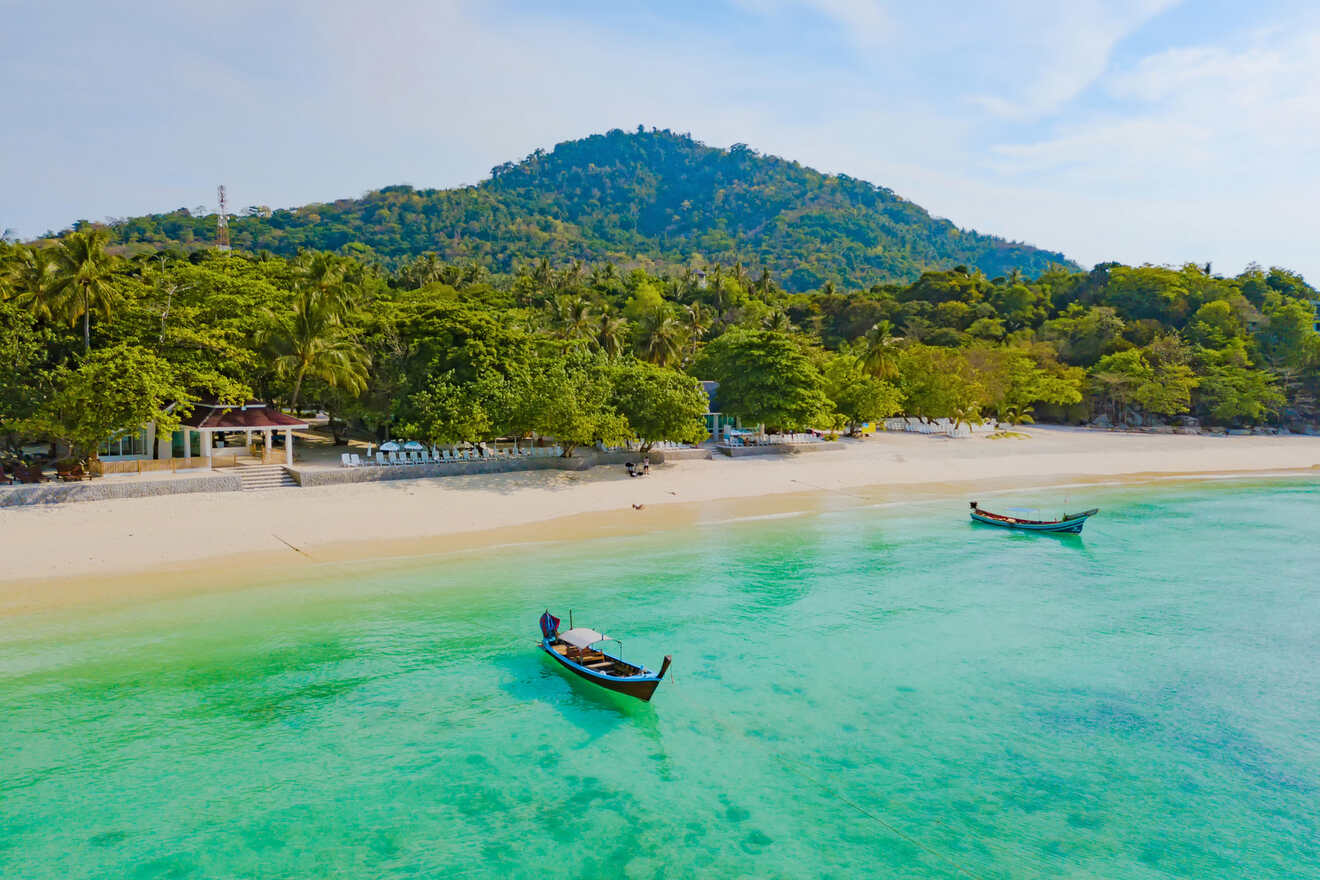 Palm trees, white-sand beaches, crazy parties, luxury beach resorts, delicious Thai foods… What more could you expect more from a tropical island? Phuket has it all!
Phuket is Thailand's most popular travel destination and is visited by all kinds of travelers including backpackers, honeymoon couples, families, and party people. It is a beautiful island that has a lot to offer for all tastes and I have found you the best areas to suit your personal preferences.
Thanks to a large number of accommodation options and being easy to get around on the island, it is not difficult to find a hotel for your budget in Phuket. This convenience and the beautiful climate all year round, make Phuket a very attractive traveler's destination. Doesn't this all make you want to jump on a flight right now!?
In this blog post, I will cover the 6 best areas and beaches to stay in Phuket with all kinds of accommodation options from luxury to budget. In Thailand, you can catch very good deals on hotels if you make a booking in advance. That's why I highly recommend you to book your accommodation as early as possible. Most of the hotels have a free cancellation policy, so do not worry if you change your mind!
If you are ready for a tropical getaway let's find out where to stay in Phuket!
If you are in a hurry
Here are some of the best places to stay in Phuket sorted by price (all of them have fabulous reviews and great locations too!):
Here is a map about where to stay in Phuket with all the 6 neighborhoods I will be talking about in this post, so you can easily visualize them:
1. Phuket Town – where to stay in Phuket for the first time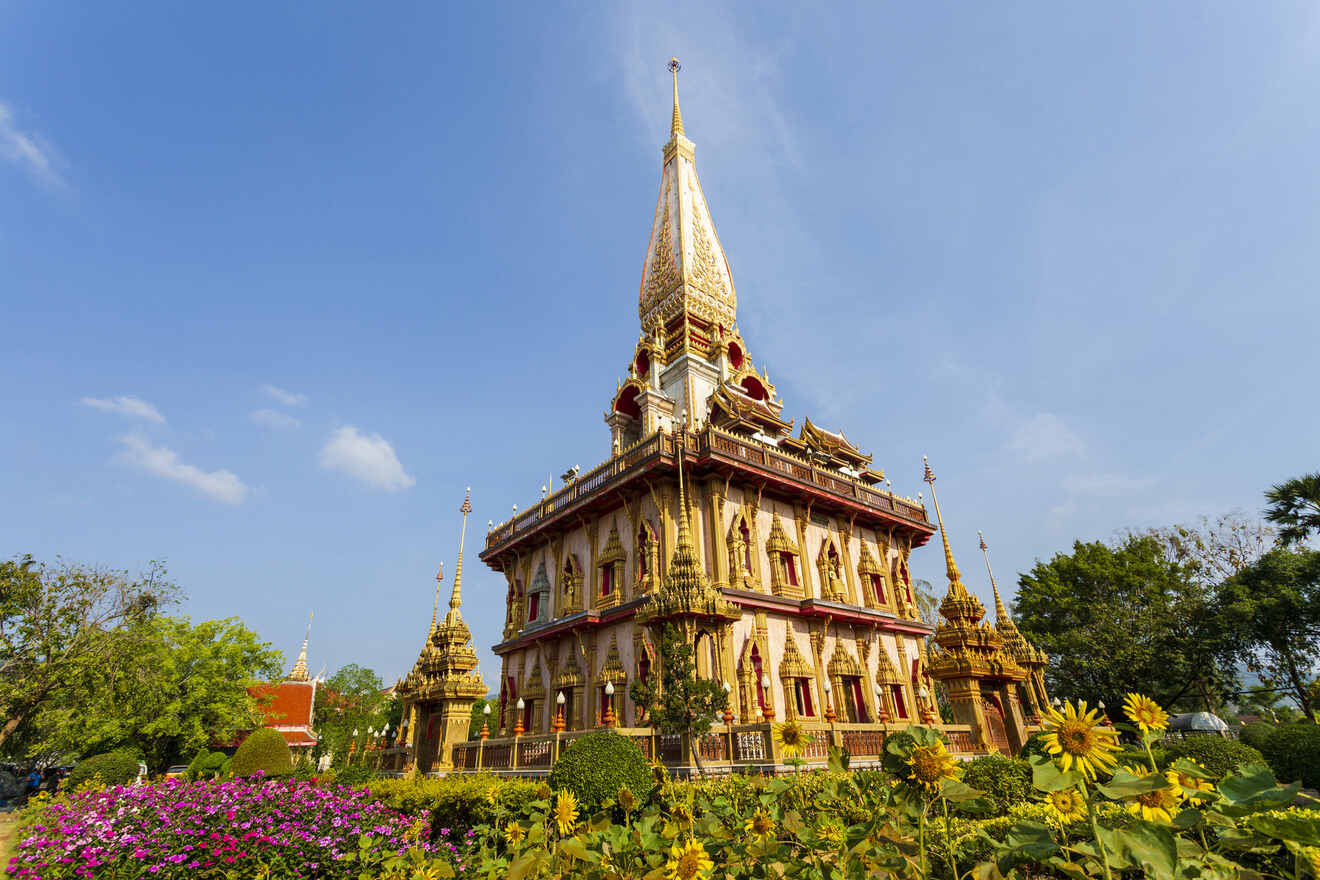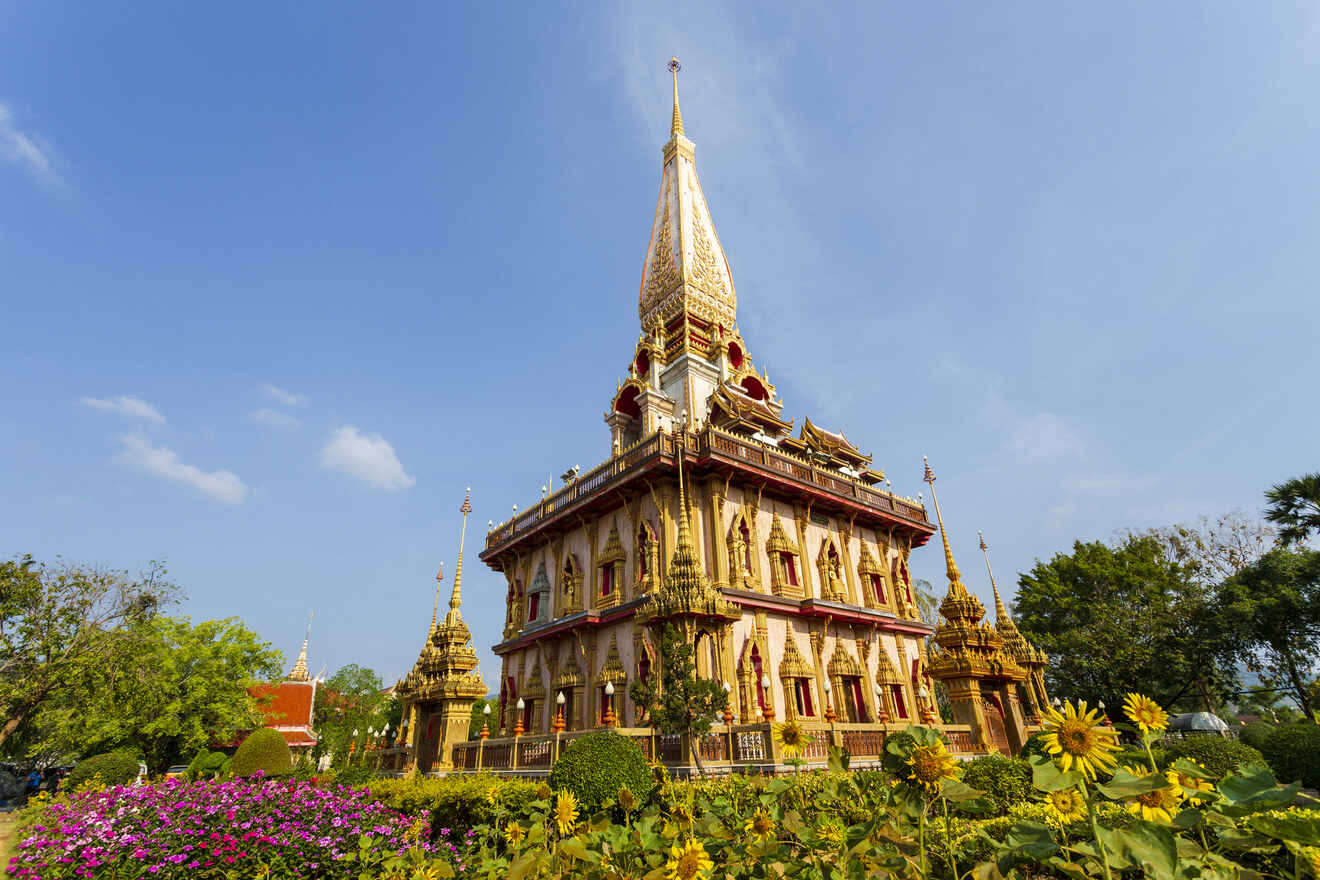 Located on the east coast, Phuket Town is the largest city on the island and also the capital of Phuket province. In Phuket Town, you will be exploring nice local restaurants, bars, and beautiful shops along the narrow streets.
Of course, you will have a great time at the white sand beaches of Phuket but if you are curious about Thai culture, Phuket Town is a great neighborhood to learn about the history of the area. You will be able to find many museums, colorful temples, and shrines here. That's why I recommend Phuket town for first-timers as this area offers many nice attractions as well as easy access to the beaches. What more could you want?
In Phuket Town, you will find many nice hotels from luxury to budget. Being a very popular holiday destination I highly recommend you to make a booking in advance if you don't want to lose your favorite place. Many places have free cancellation, don't worry if you change your mind.
If it's your first time visiting Thailand I actually recommend splitting your time between staying in Phuket, Bangkok and Koh Phangan so you can get a great overview of the entire country.
Now, let's check out the best places to stay in Phuket Town:
Other accommodation options in Phuket Town
Things to do in Phuket Town
2. Karon – where to stay in Phuket if you're on a budget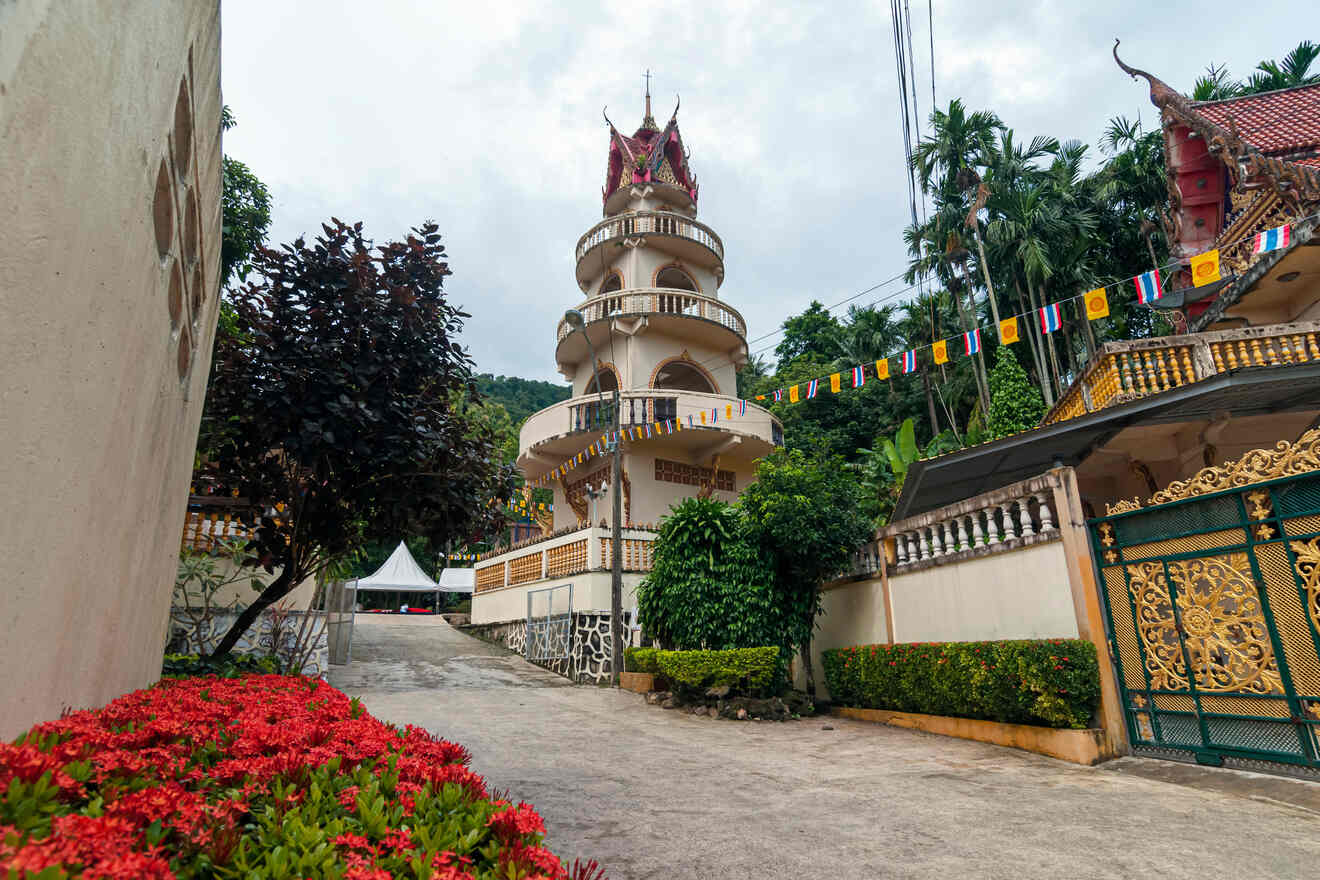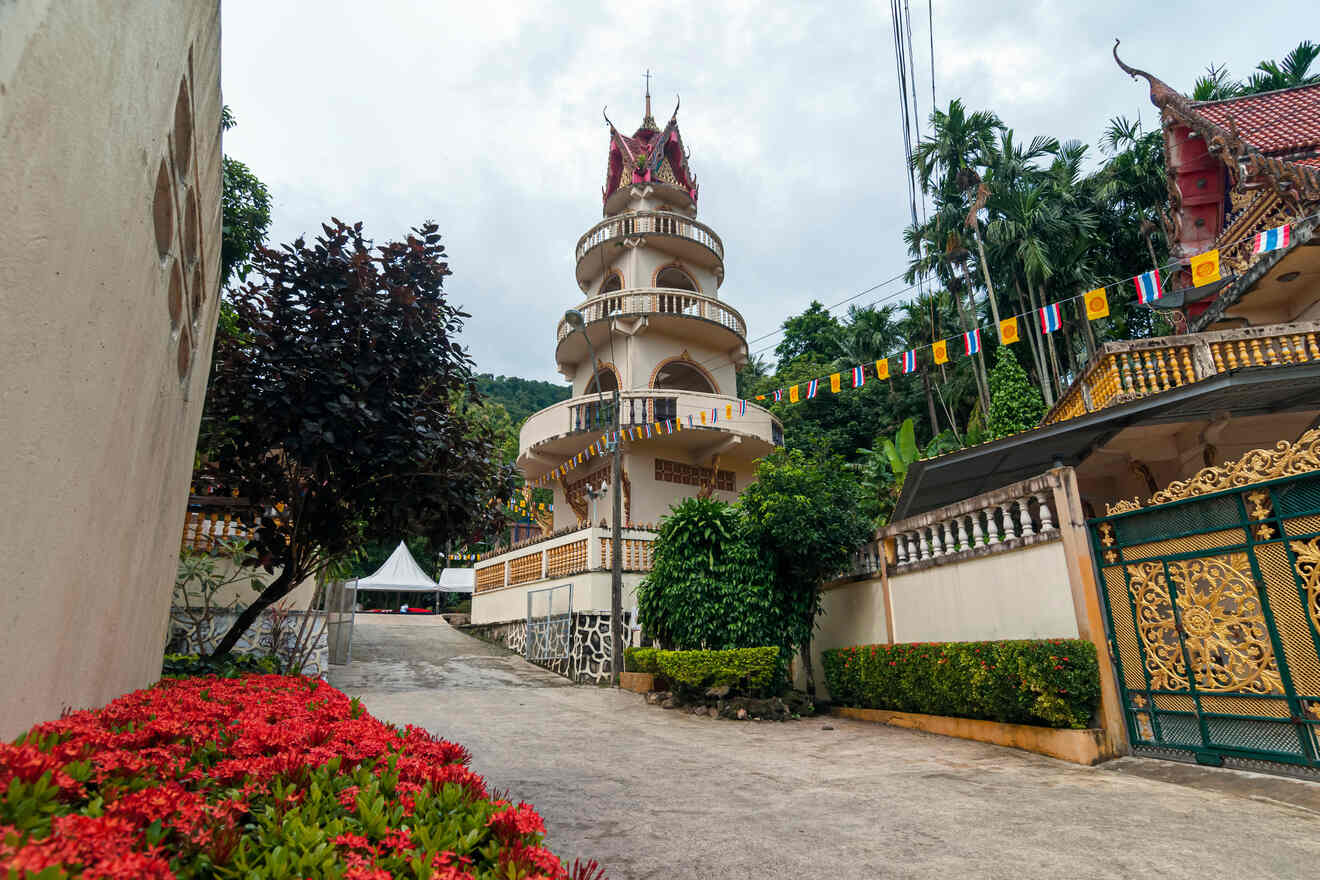 Located 10 km (5 miles) south of Patong, Karon is called the little sister of Patong because of its equally beautiful beaches and nature. In Karon Beach, you will find a postcard perfect white sand beach, crystal clear blue water, and cool restaurants and bars. You can enjoy 3 km (1 mile) of powdery sand in Karon Beach and snorkel to see a huge number of different colorful fish!
There are 2 nice local markets you should check out for shopping in Karon. You can visit Karon Market and Karon Temple Market on Tuesday and Friday for tropical fruits, clothes, and souvenirs. Karon is one of the best places to stay in Phuket as you won't be bombarded with so many tourist shows and you will be able to find nice accommodations for a better price compared to other parts of the island. Sounds tempting right?
Before jumping to the best places to stay in Karon I would like to remind you of the importance of making a booking in advance. Many hotels have free cancellations so it is better to be safe than sorry and booking early always gets you the best prices!
Other accommodation options in Karon
Things to do in Karon
3. Patong – best for nightlife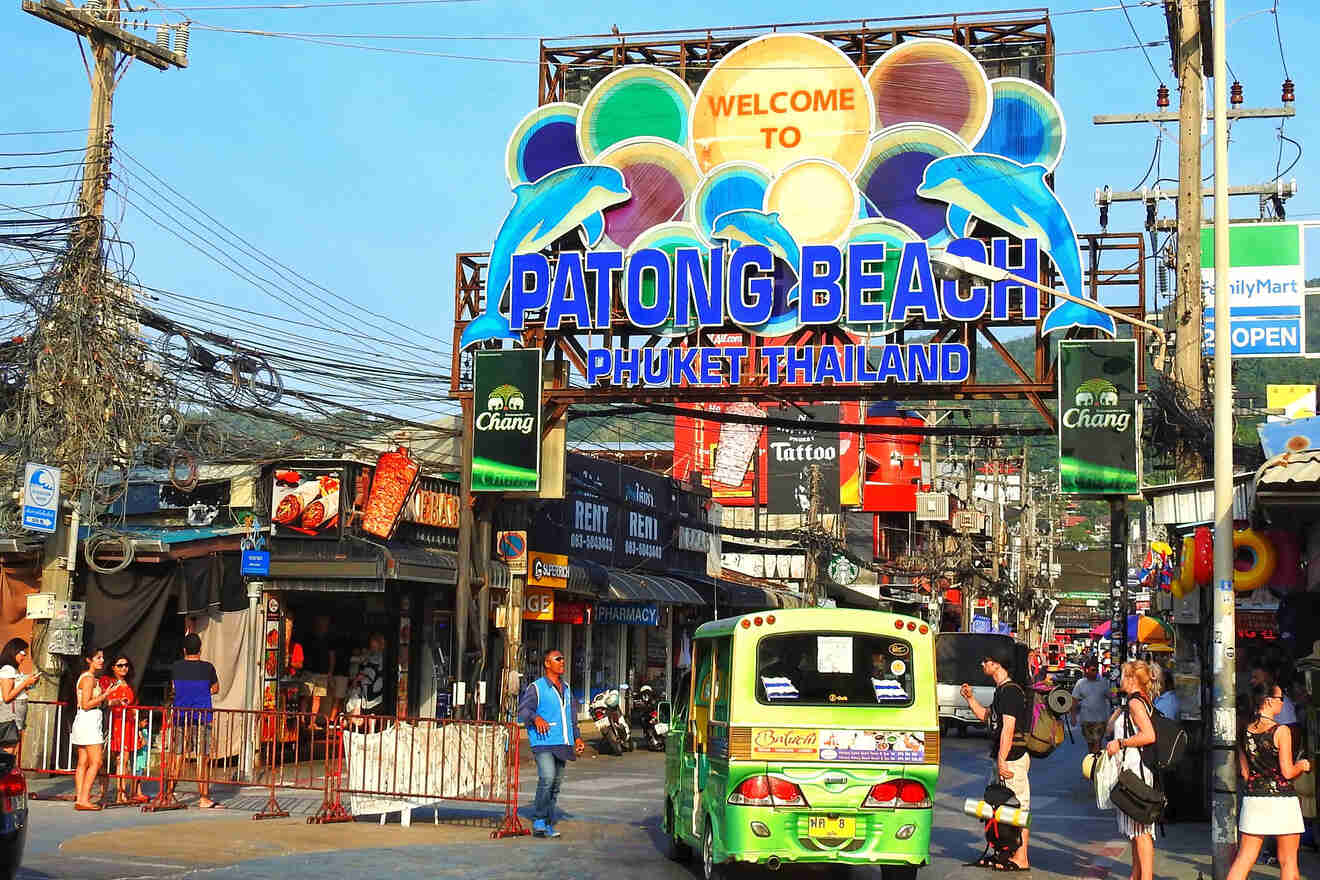 Patong is located on the west coast of the island and is a half an hour drive from Phuket Town. It is the most touristy area in Phuket but also the nightlife haven. In Patong, Bangla Road is the street where you will find all kinds of bars, clubs, and entertainment complexes to party all night long.
Here you can also spot the famous Thai Ladyboys (transgender women). These women are often even more beautiful than Thai women, so you can easily get mistaken!

Even if you are not into nightlife, you should definitely pay a visit to Bangla Road to see the world famous entertainment center and experience this different atmosphere by walking along the streets with colorful lights and all kinds of loud music.
Other than nightlife, you will find Patong Beach in this area. In Patong Beach, you can enjoy swimming in turquoise water and have a relaxing time during the day or join big beach parties in the clubs at night. Before you leave Patong Beach, make sure to stop by the market here, which is one of the best places to check out designer clothes, hats, and souvenirs!
Thanks to the world famous party scene, my answer to where to stay in Phuket for nightlife is definitely Patong. Here are some of the best places to stay in Phuket Patong for party people:
Other accommodation options in Patong
Things to do in Patong
4. Kata – the coolest neighborhood in Phuket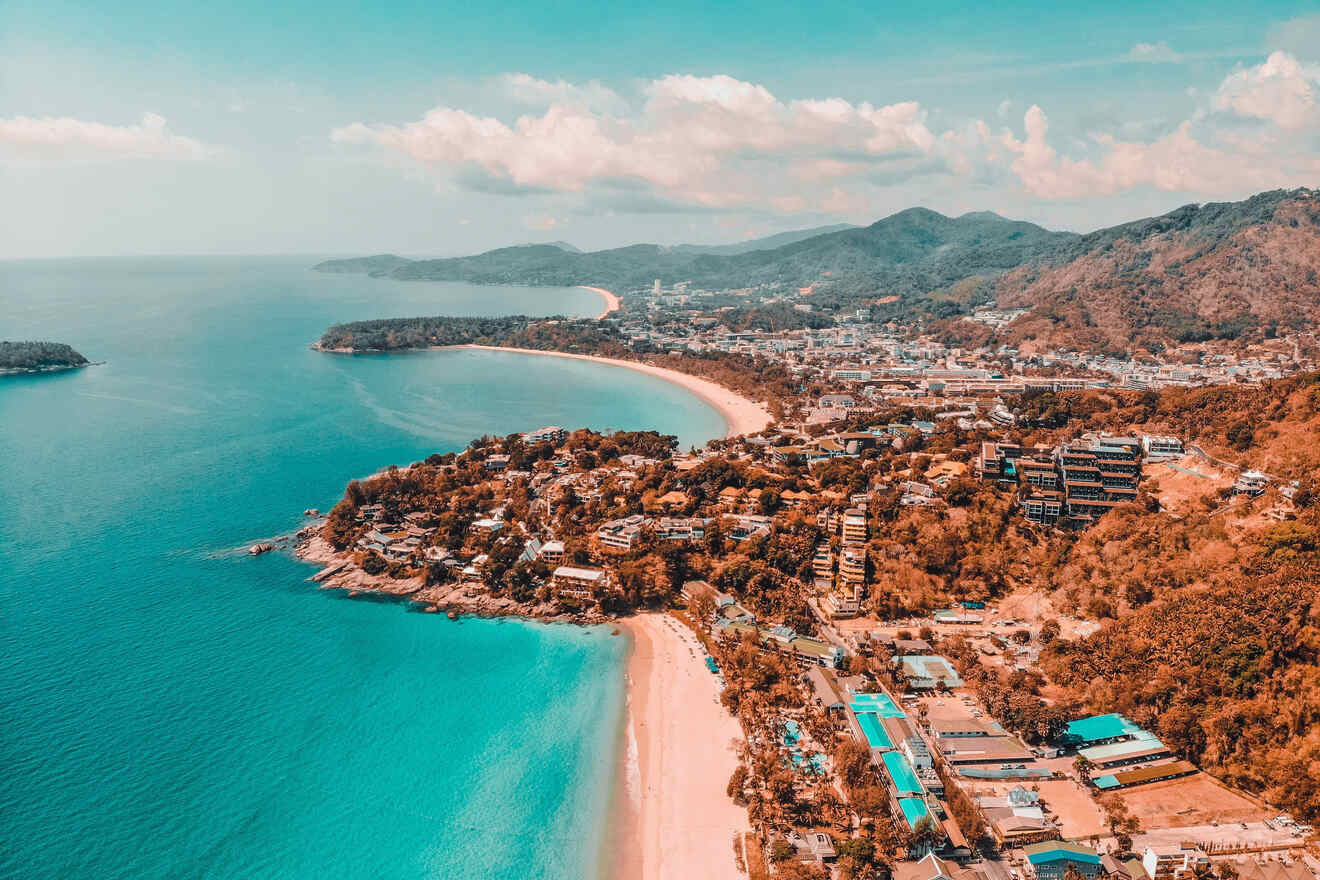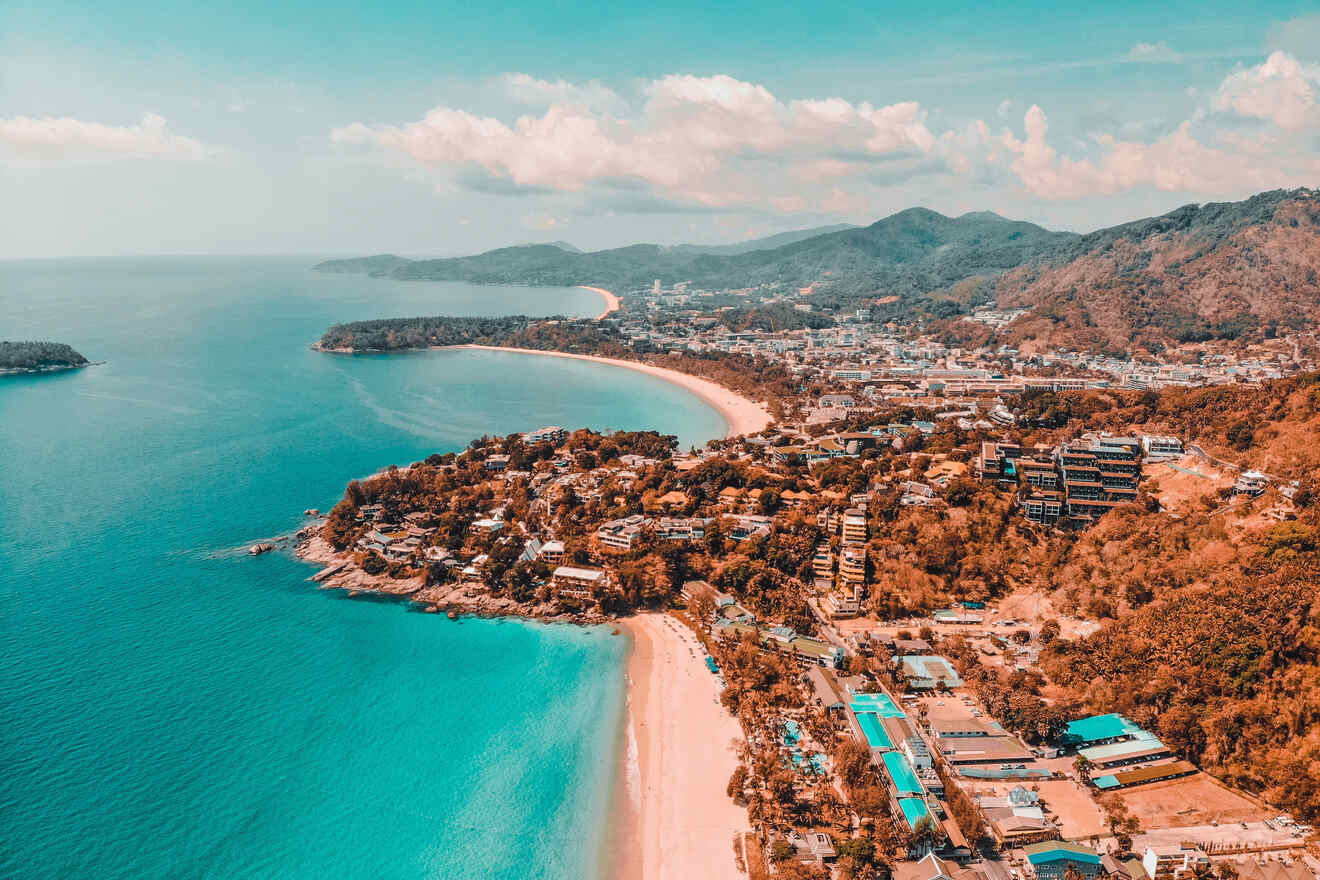 Kata is located on the west coast of the island, right next to Karon and 10 km (7 miles) from Patong Beach. It is the coolest neighborhood in Phuket thanks to its trendy restaurants, bars, beautiful beachfront spa resorts, and stunning white sand beaches with palm trees. If you want to stay in a cool area, Kata is where to stay in Phuket for you.
Kata is a great area where you will find a combination of chilled atmosphere, vibrant nightlife, and cool activities such as snorkeling and surfing, so if you're someone like me who is into a little bit of everything, Kata is a great choice for you.
There is a famous snorkeling spot at Kata Beach House Reef that enables you to see different kinds of fish, turtles, seahorses, and octopuses, then if you walk to the right of the Kata Beach you will see the best surf spot in Phuket! Could it get more perfect for beach lovers? Moreover, you will find great quality restaurants and coffee shops in Kata Beach.
If you are looking for a place with a mixture of different vibes and activities, Kata is my answer for where to stay in Phuket. Let me talk about the best hotels in Kata:
Other accommodation options in Kata
Things to do in Kata
5. Kamala – best family-friendly area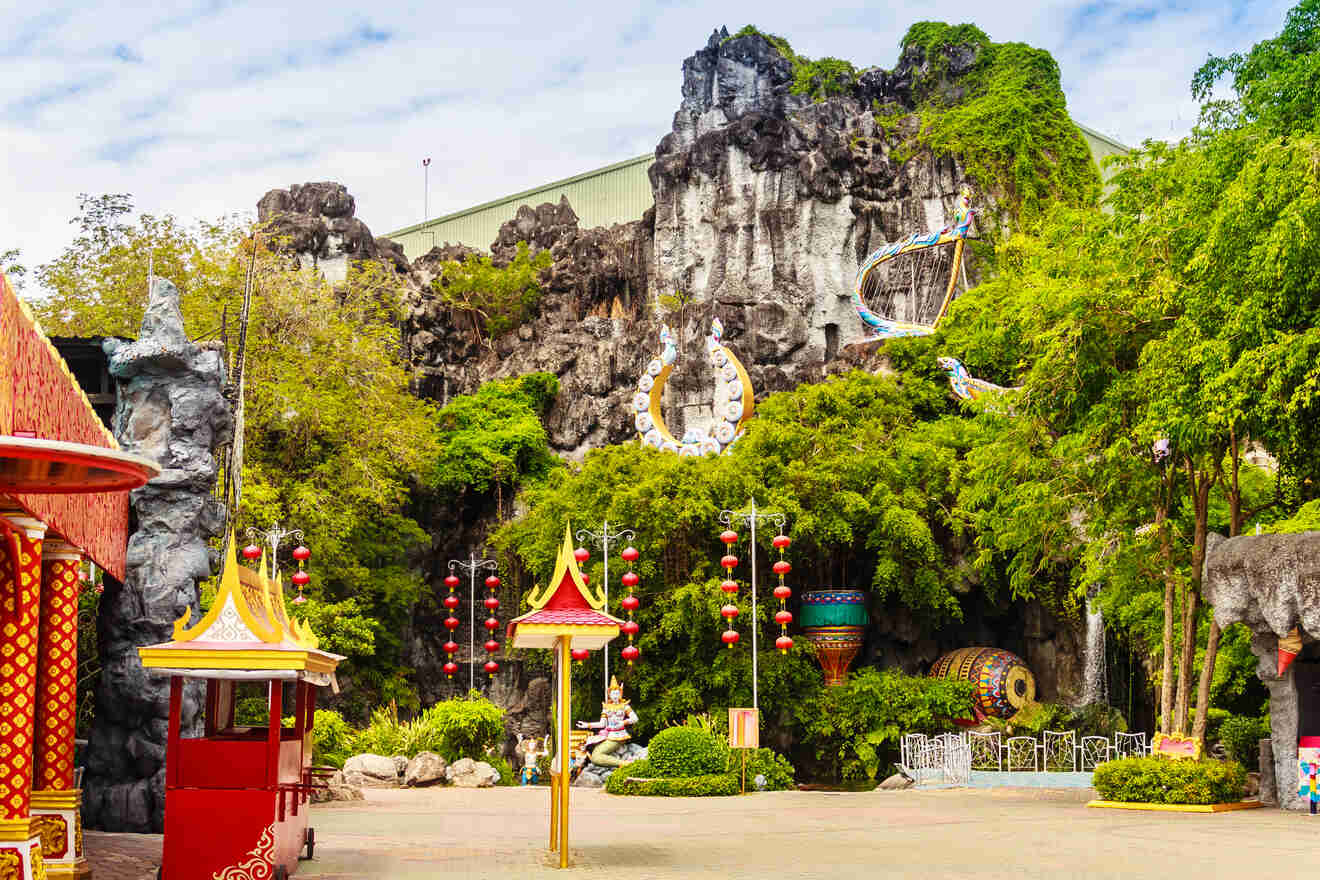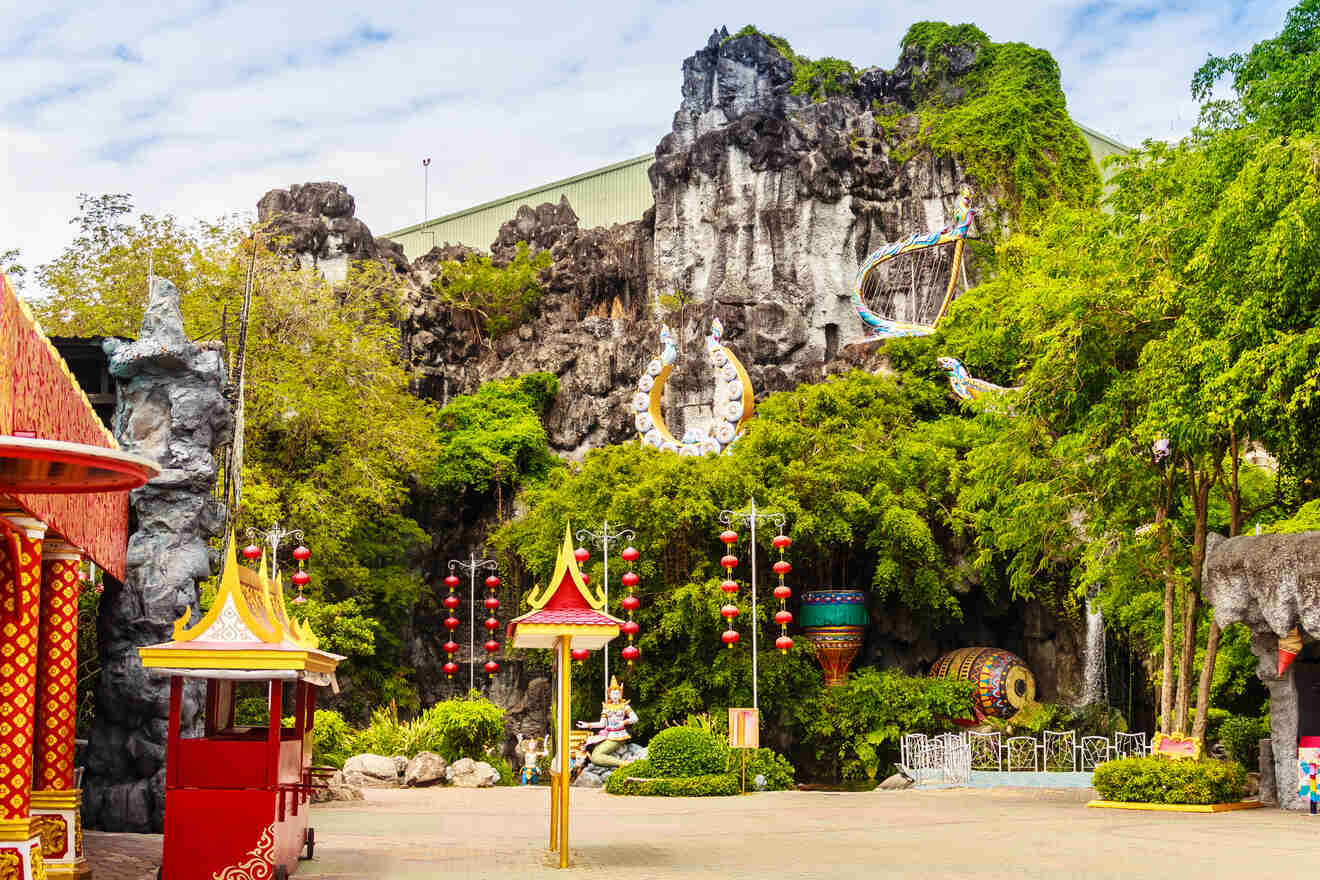 Kamala Beach is a 15 minutes drive to the north of Patong Beach. Here you will find a very beautiful and less hectic beach compared to Patong and thanks to its calm atmosphere it is a great area to stay for families. Here you will also be able to find a lot of family friendly activities such as Phuket's famous Cultural Theme Park Fanta Sea as well as sightseeing activities and great shops.
There are many nice resorts and world class spa centers in Kamala Beach too so after a beautiful day at the beach, don't forget to pamper yourself with a relaxing spa treatment! As Phuket is a very touristy destination in some areas you might be overwhelmed with crowds but in Kamala, you will be able to enjoy quiet white sand beaches with your families. Does it already sound exactly like how you have imagined it?
Other accommodation options in Kamala
Things to do in Kamala
6. Bangtao Beach – if you want to have a relaxed holiday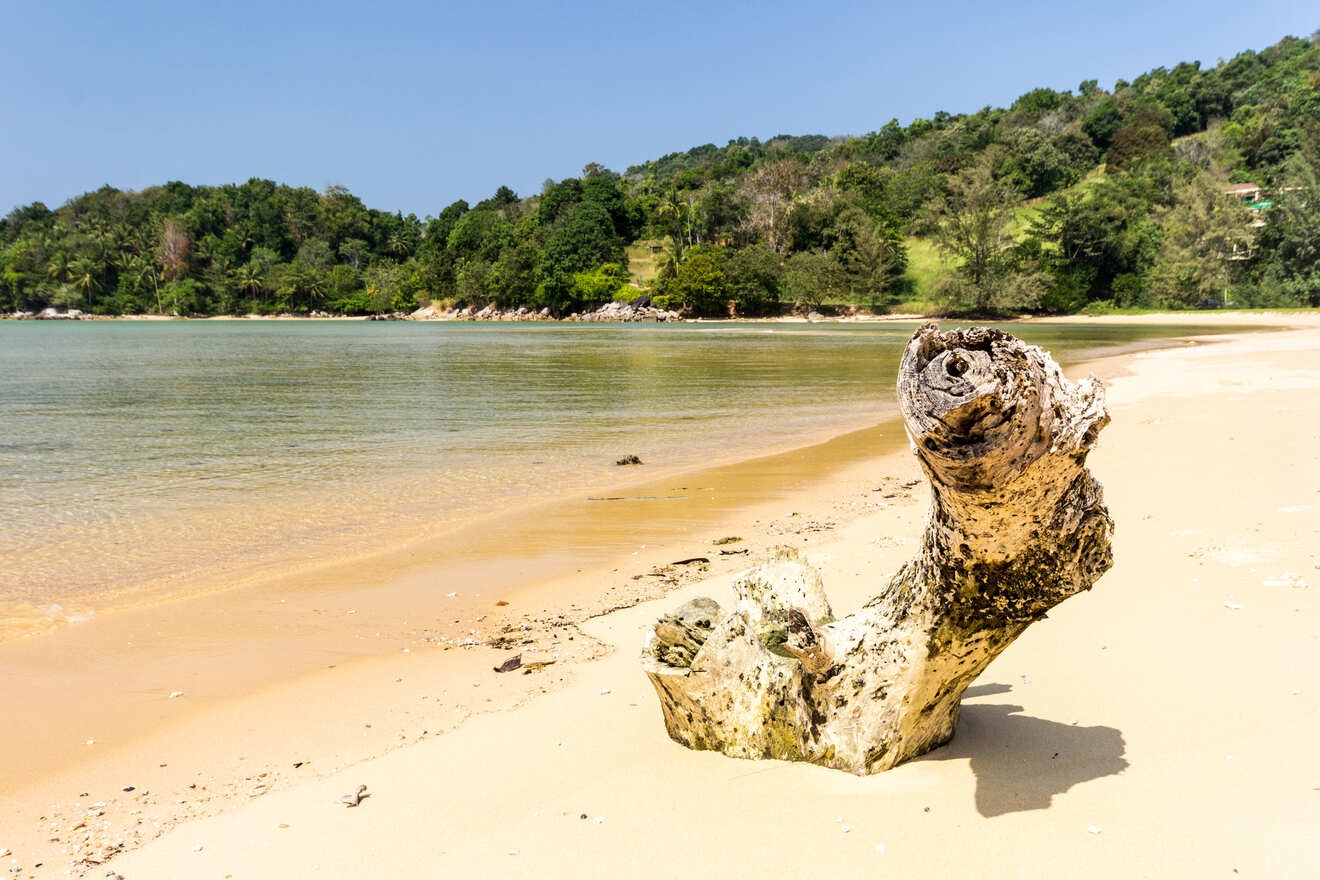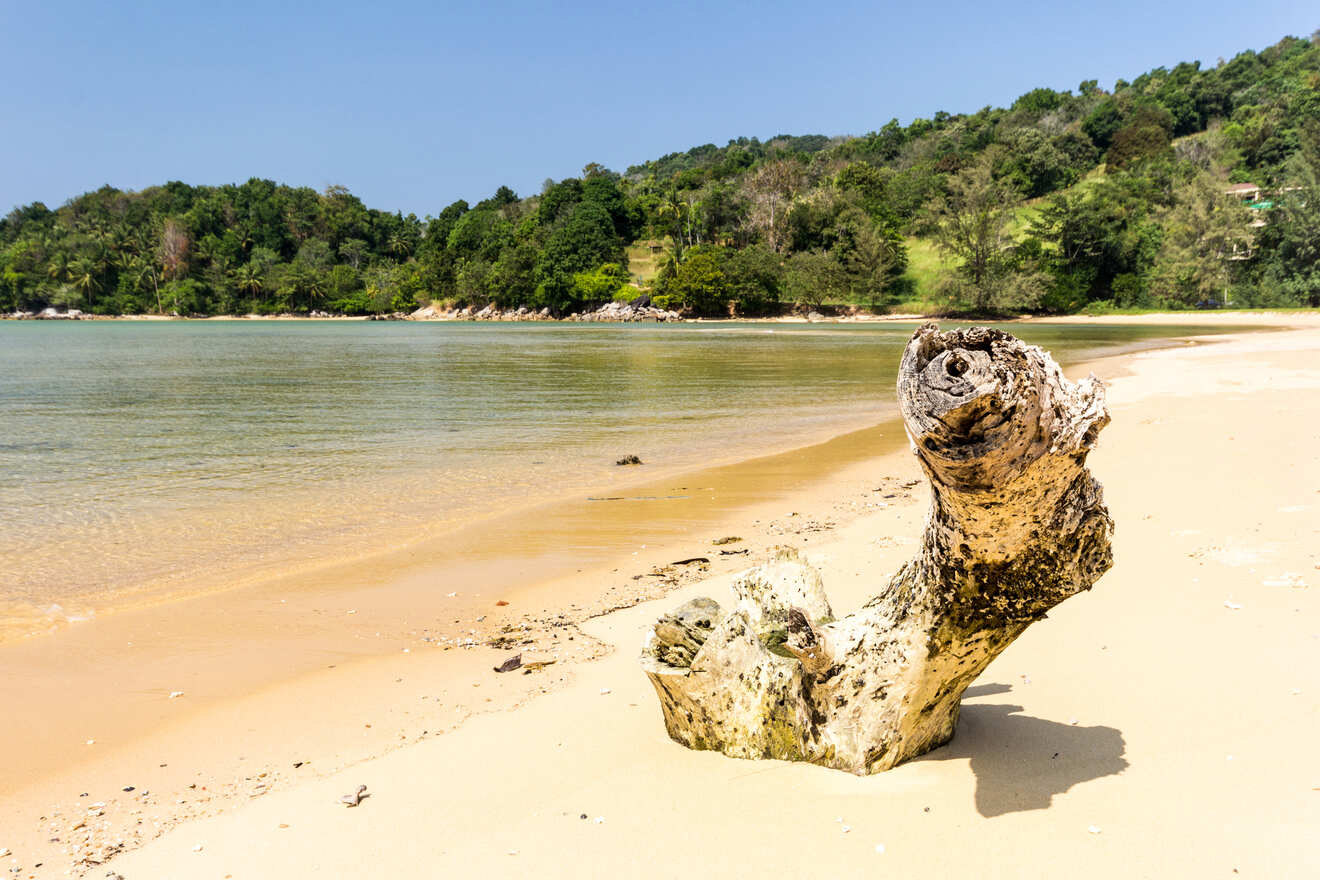 Located on the west coast of the island and just 5 km (3 miles) north of Kamala Beach, Bangtao is a very laid-back beach town. It is a less touristy area with beautiful quiet beaches and luxury beachfront hotels perfect for those who want to leave the hustle and bustle of the crowded towns behind. Bangtao Beach is also the second longest beach in Phuket, but that is not to say that you won't find some upscale restaurants and cafes in the center of Bangtao too.
If you go 15 km (10 miles) north of Bangtao Beach you can also reach Sirinat National Park where you can see turtles and many rare kinds of birds. It is an amazing national park to spend some time in nature to round out a perfect holiday.
If you want to spend your Phuket holiday with a chilled atmosphere and also want to have easy access to many attractions, I definitely recommend Bang Tao beach for where to stay in Phuket. In this area on the beachfront, there are some of the most luxurious hotels in Phuket, and in the southern part of the beach you will find budget accommodation options so there truly is something for everyone here.
Other accommodation options in Bangtao Beach
Things to do in Bangtao Beach
BONUS 1: How to get around in Phuket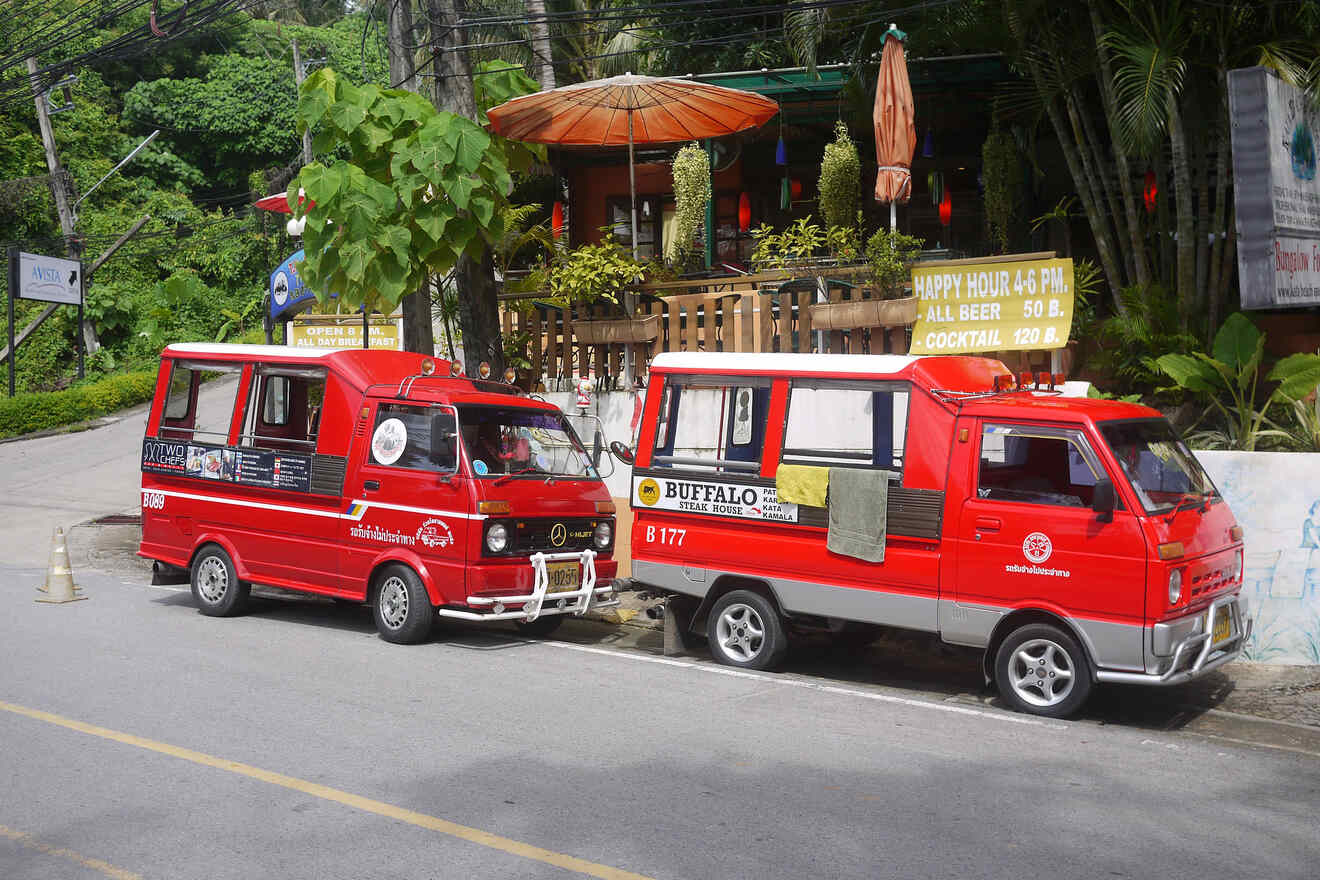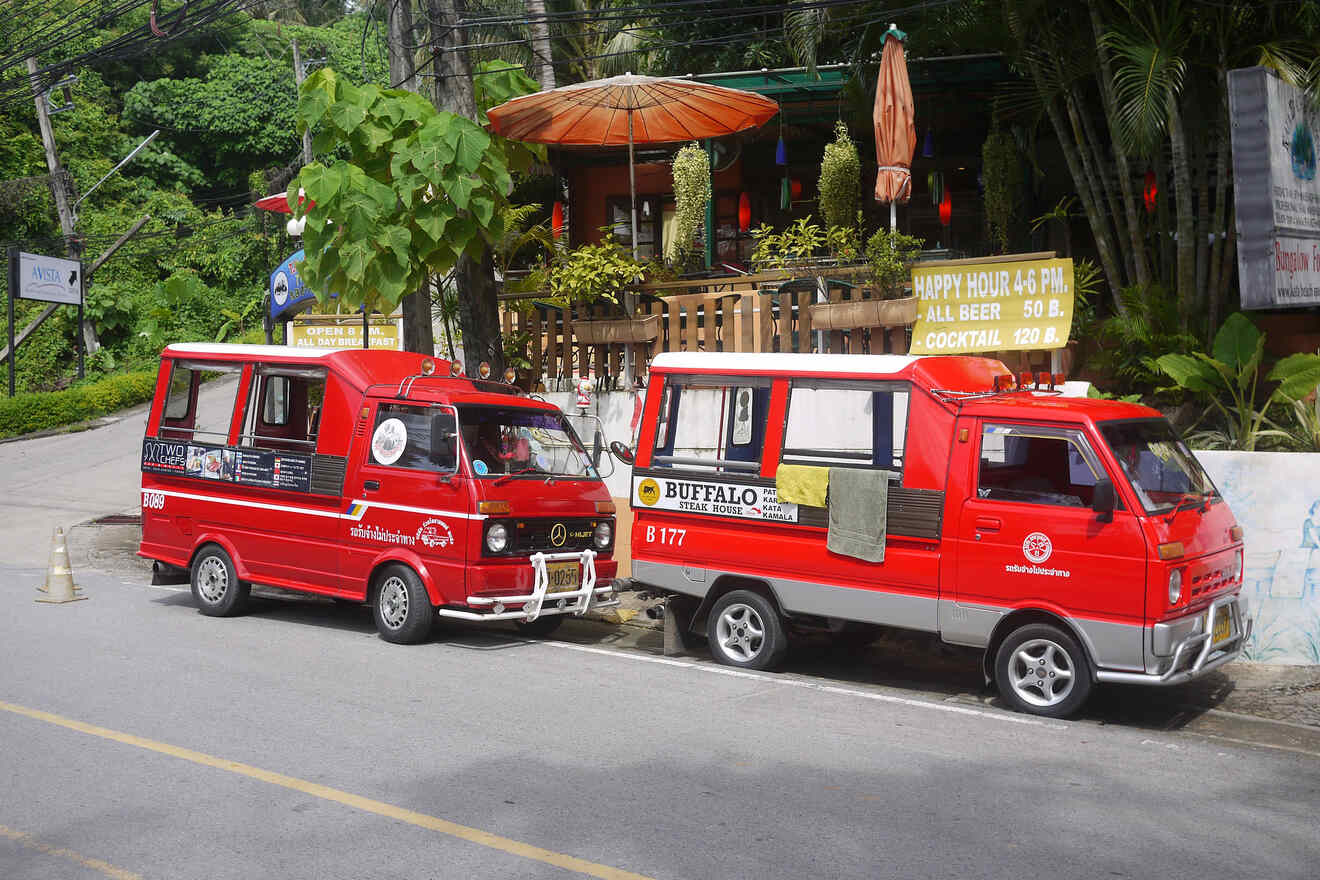 Since we found an answer to where to stay in Phuket, it is time to figure out how to get around the island. Thankfully it is easy to travel within Phuket thanks to its many transportation options. If you stay in a centrally located hotel you will probably be able to walk to the beach and town centers. However, if you feel like discovering different areas of the islands and making day trips, here are the transportation options you could use in Phuket.
Tuk-tuks in Phuket
Tuk-tuk is a three-wheeled motor vehicle and you can see it in many South Asian countries. It is a fun and unique vehicle that you should experience in Thailand. Tuk-tuk is usually cheaper than taxis however, as tuk-tuks do not have a meter you must agree on the price with the driver before your ride. It would be helpful to use your bargaining skills at this stage. To give you an idea, a 10-minute ride usually costs around 200 THB.
For long rides, tuk-tuk rides would be uncomfortable because of the hilly roads but for short distances, it is a very convenient transportation option.
Taxis and Grab
From Phuket International Airport there is a fixed taxi price of around $15 (570 THB), to Phuket town. Inside Phuket, you can use metered taxis but for longer distances, you should bargain on a fixed price with the driver to get a better deal.
If you don't trust taxi drivers or prefer to know exactly how much you are paying, you can use the Grab app. By downloading the Grab app to your mobile phone you can easily find a ride and see the fare in advance.
Local buses – Songthaews
Songthaews is the name of the open local bus in Thailand. You can easily recognize them from their bright blue painting. Destination names are written in English in front of the buses so you can easily spot them. But did you know that there are no bus stops in Phuket? You just need to wave them down on the road and they will stop for you. In the main areas of Phuket, buses run regularly between 7 am to 6 pm and the one round trip costs around 15–20 baht.
Car and motorbike rentals
Renting a car or motorbike would give you the flexibility to discover more areas in Phuket. You have to have an international driving license to rent a car and motorbike in Thailand and although many people (including the rental companies) often ignore this, if you get into an accident without the proper license you will not be covered.
Driving a motorbike is convenient in Phuket but in some areas of the island you can encounter crazy drivers and in rainy seasons the roads can be slippery. So, be careful and make sure to have insurance. If you want to rent a car you can easily do it at the airport, plus most of the hotels offer free private parking in Phuket.
BONUS 2: 3 best beaches in Phuket you need to see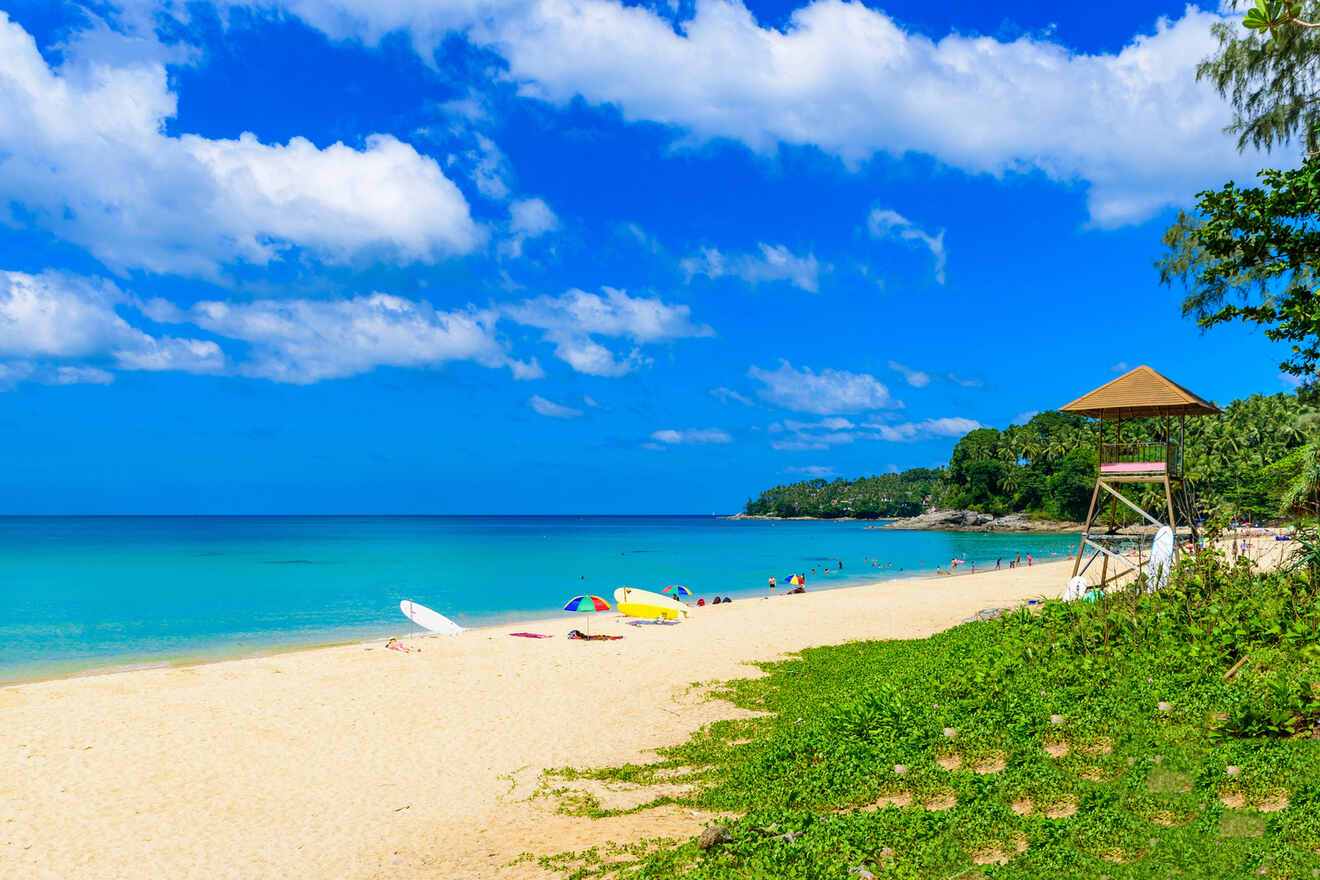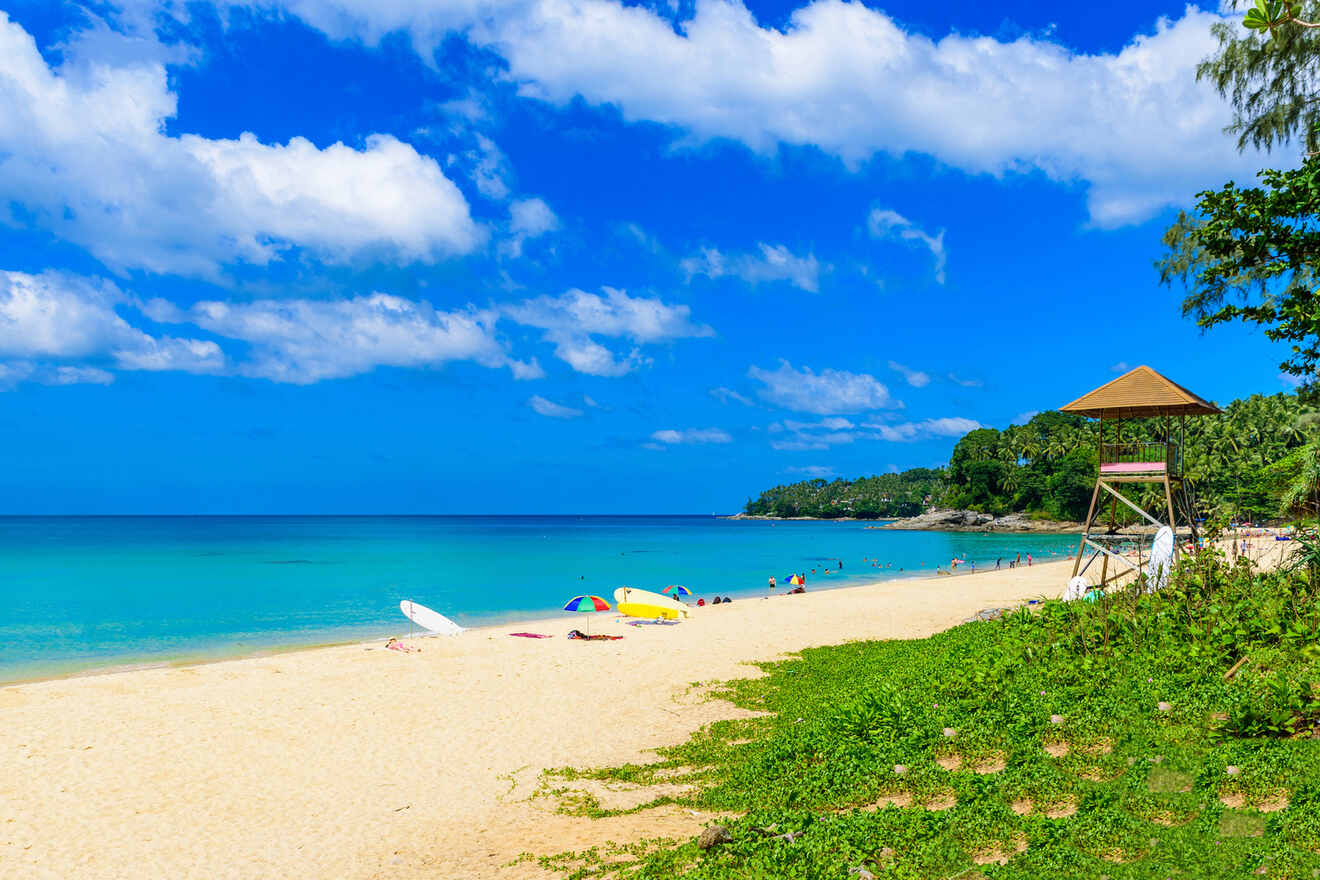 I already mentioned some of the best beaches in this post as places where to stay in Phuket. However, there are many more beautiful beaches which are absolutely worthy of day trips during your Phuket holiday.
Since it only takes 1.5 hours to drive across the whole island, these beaches are accessible within a day no matter where you stay. So don't forget to check out some of these powdery white sand beaches and crystal clear waters!
1. Surin Beach
Located on the west coast of the island and just next to Kamala Beach, Surin Beach is one of the most beautiful beaches in Phuket. Offering crystal clear waters of the Andaman sea and white powdery sand, Surin Beach is a great place for sunbathing and swimming.
You can also snorkel in the calm water and rent a kayak to explore the surroundings of the beach. In the low season (May – October), Surin Beach is also a great spot for bodyboarding and surfing. Around the beach, you will find facilities such as restaurants, cafes, and ATMs and a parking lot is available too. You should definitely spare a day to Surin Beach during your Phuket Holiday.
2. Mai Khao Beach
Mai Khao Beach is on the northwest coast of Phuket and half an hour drive from the town – Phuket. It is a 10 km (8 miles) beach inside the Sirinat National Park. You can simply enjoy a lazy day at Mai Khao Beach or if you are in search of action there are several attractions around. Make sure to visit the beautiful chapel, Wat Mai Khao, and have a stroll inside Sirinat National Park.
Being so close to the airport, Mai Khao Beach is also known as Airport Beach. Watching landing planes is another activity you can do when lying on Mai Khao Beach. How cool is that!? If you are looking for a less touristy beach with a lot of nature, you should add Mai Khao to your Phuket list!
3. Karon Beach
I already mentioned Karon as a place where to stay in Phuket but I would like to give some more highlights of this beautiful beach as it deserves to be on this list even if you are not staying there. Karon Beach is one of the longest white sand beaches in Phuket which means you will be able to easily find deserted areas on the beach Karon to enjoy some privacy.
Karon Beach is also home to turtles that come at night and leave their eggs on the beach so if you are here around February you might even get to see them hatch! Some other popular activities on the beach Karon are snorkeling, parasailing, and riding a Jet-ski. In terms of facilities, you will be able to find restaurants and cafes around and you can rent sunbeds and umbrellas on the beach.
Frequently asked questions about Phuket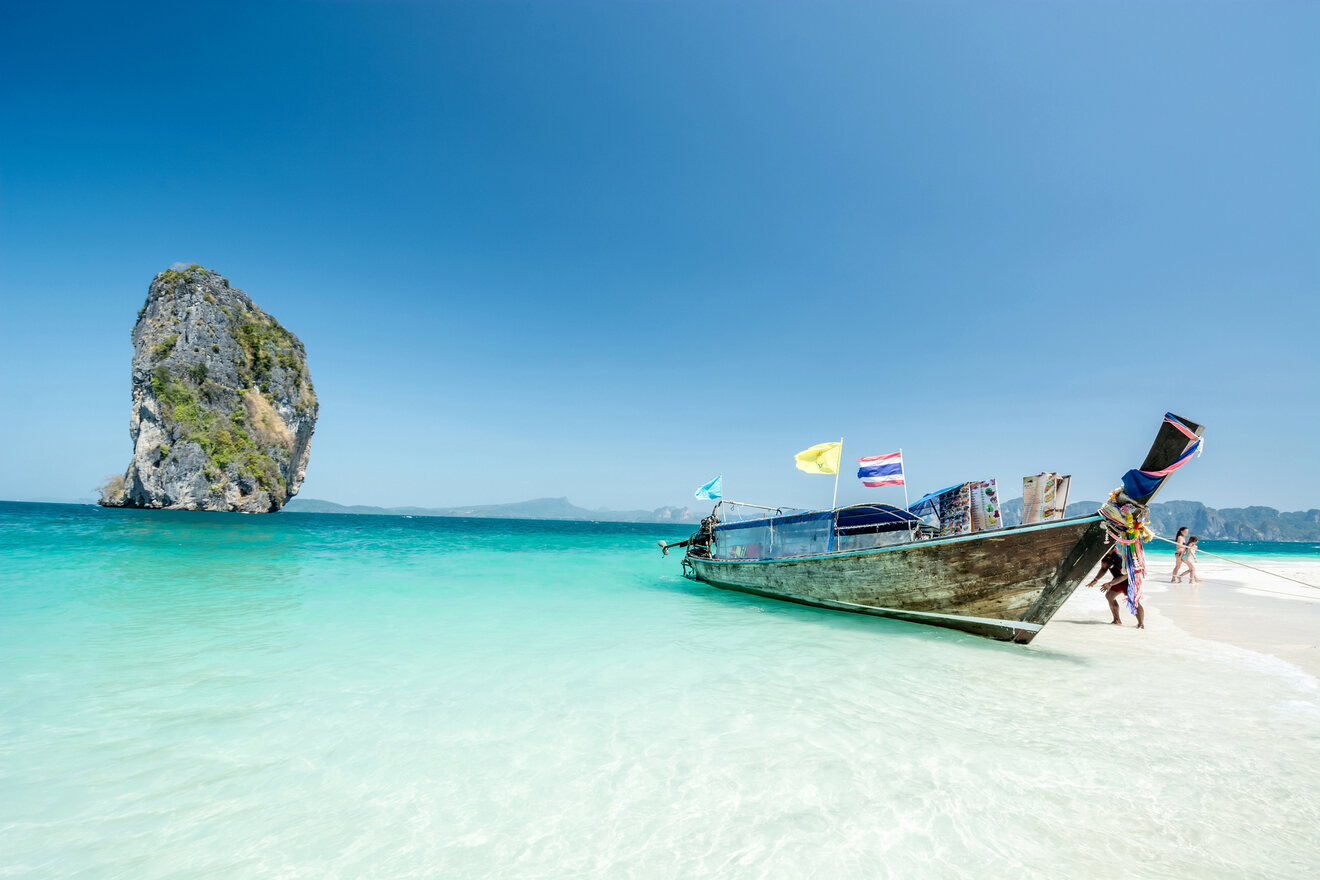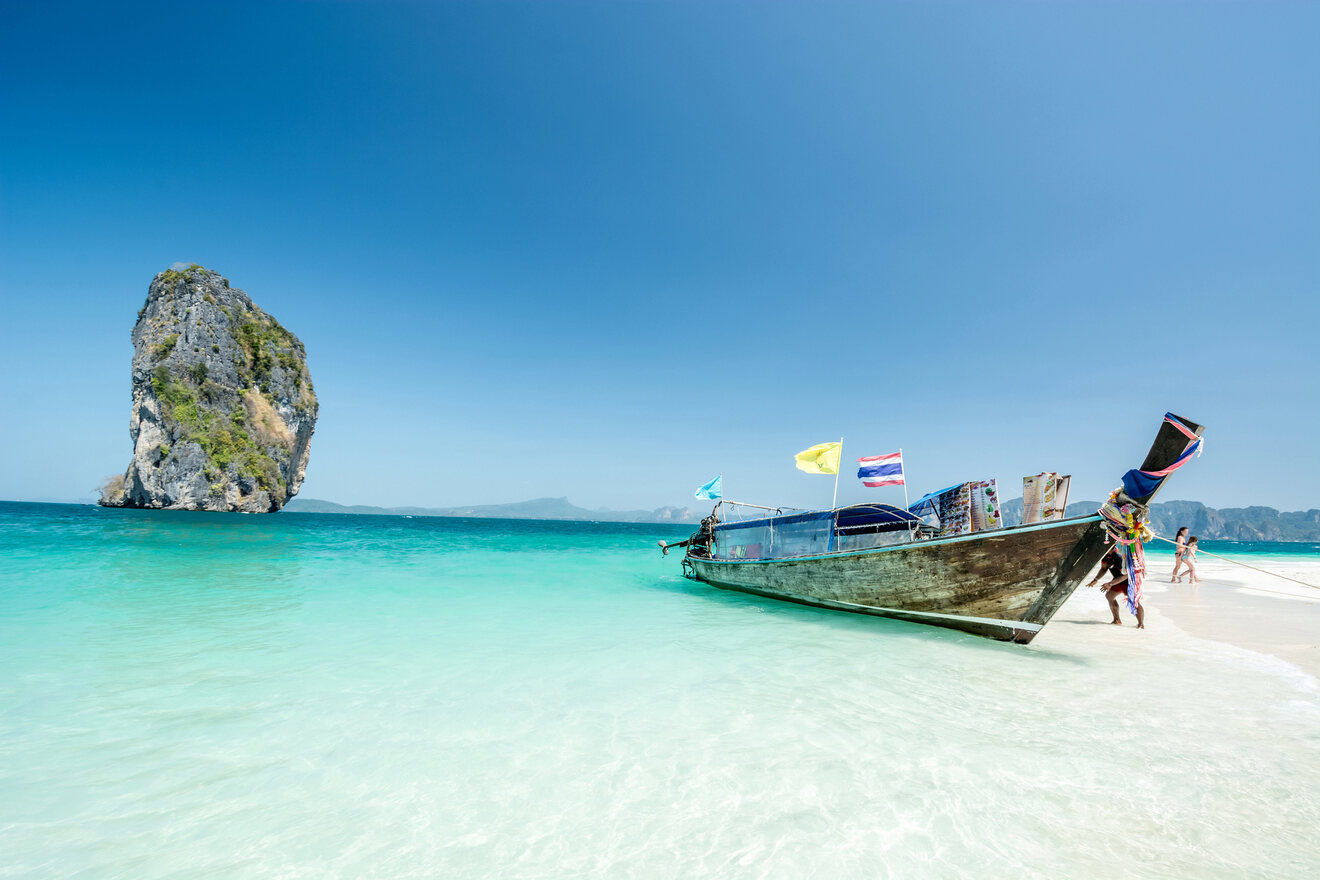 Conclusion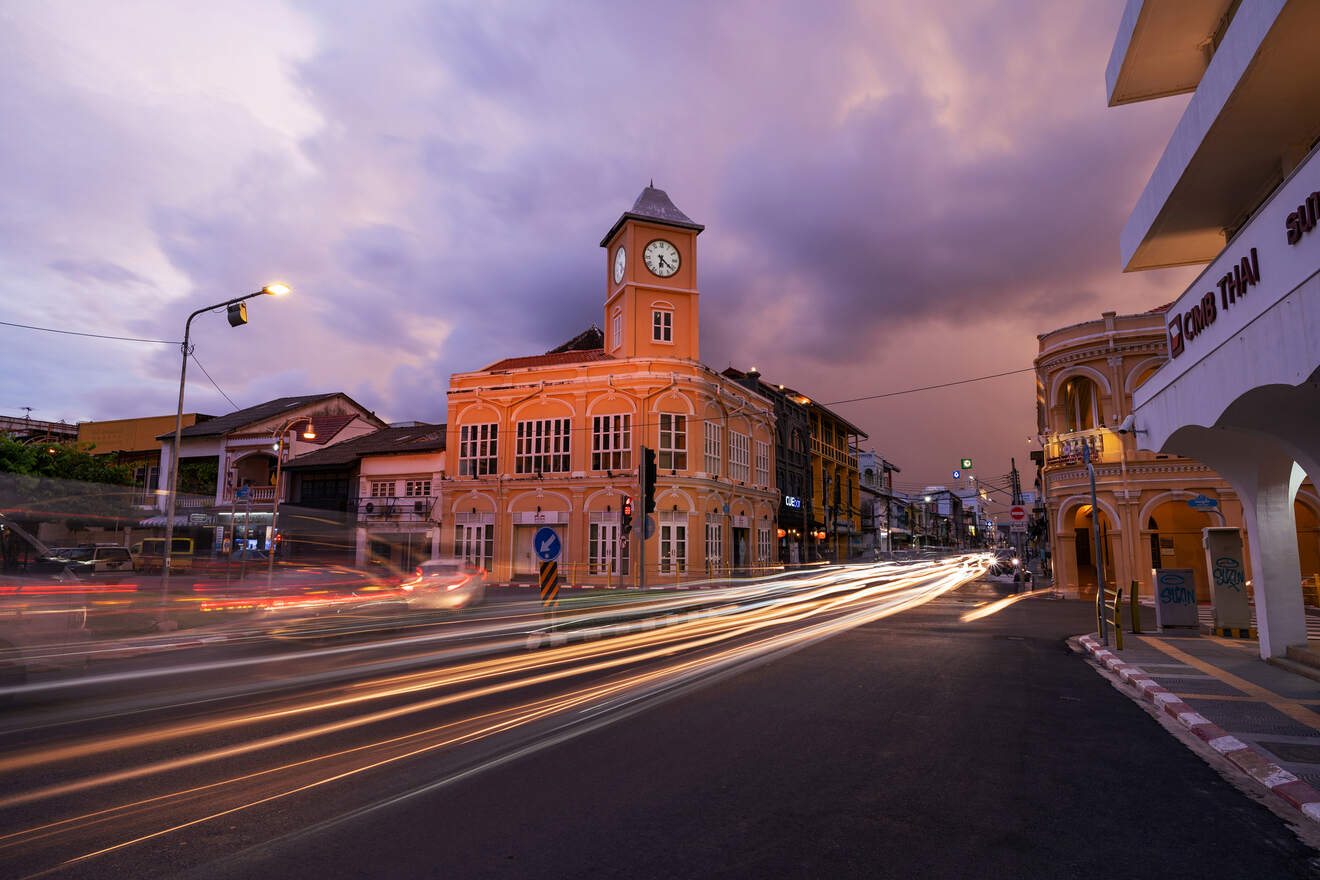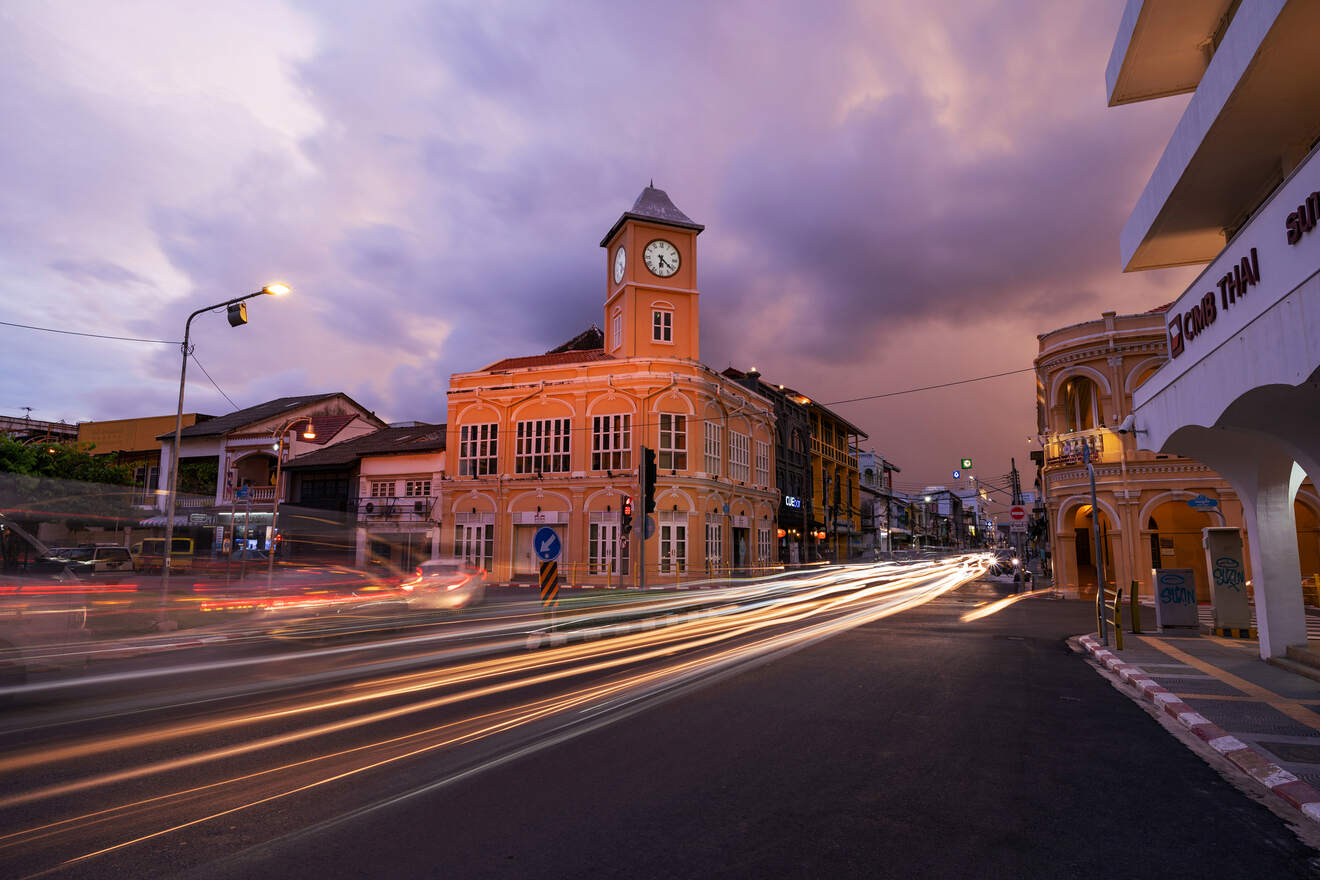 Phuket is one of the most popular holiday destinations in Thailand and I am sure you will have a great time on this tropical jungle island. I hope this blog post helped you find a nice place to stay in Phuket and you have already started packing!
In this blog post, I covered the best areas to stay in Phuket and mentioned the nicest hotels and thai style Airbnbs in each area. Phuket is visited all year round by travelers. That's why I highly recommend you make a reservation now if you have already found your ideal place.
If you are having difficulty deciding which coast of the island is better, I suggest you pick the hotel you like the most as it is very easy to travel within the island. Don't forget you can always take day trips to other parts of Phuket to discover more areas.
Here is a summary of where to stay in Phuket with the 2 best hotels with a convenient location and great reviews:
I would be glad to hear about your holiday experience in Phuket, so don't forget to leave a comment below if you have any other suggestions or questions about where to stay in Phuket or Thailand! I'll be happy to leave a reply!
Have a nice holiday,
Eylul
---