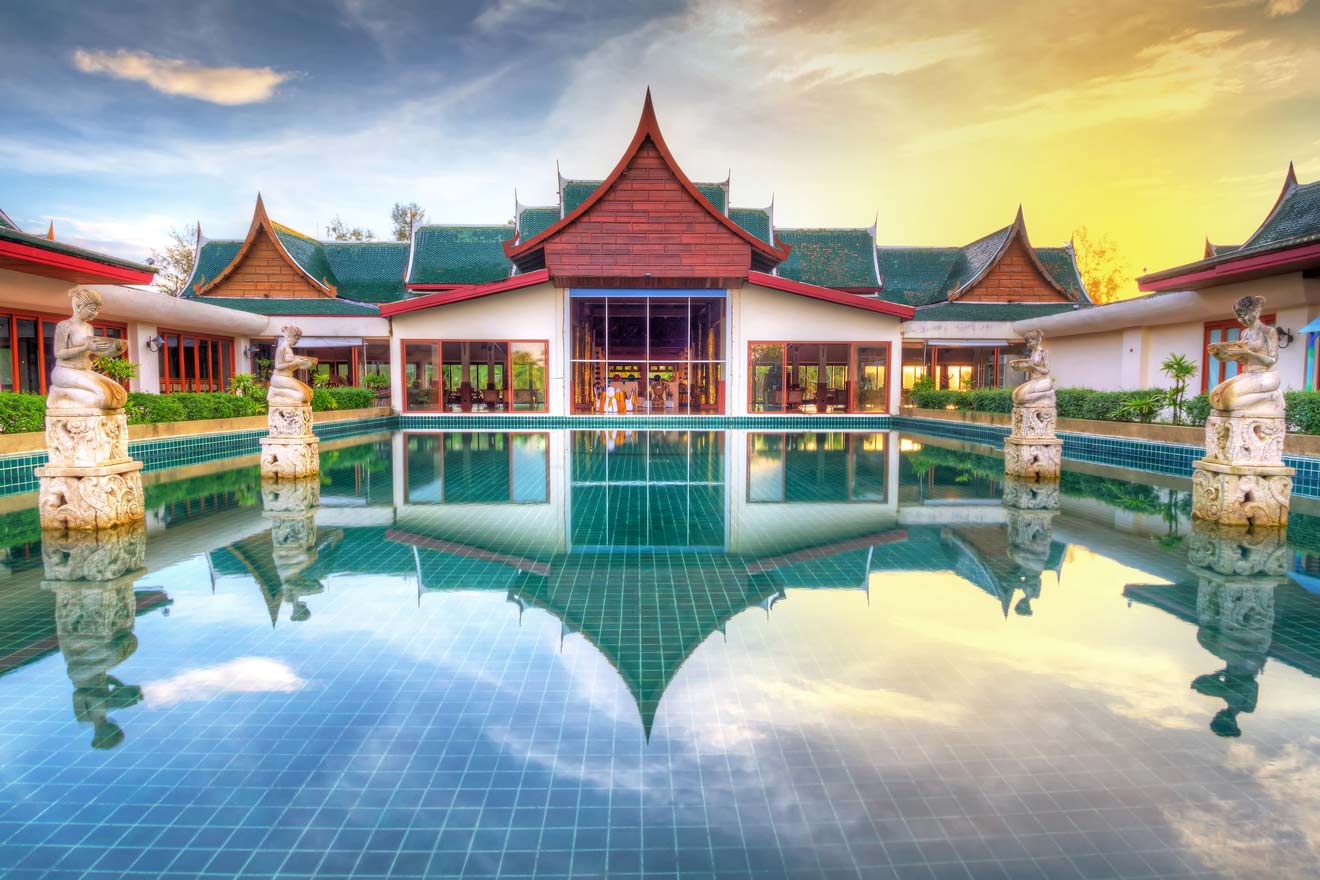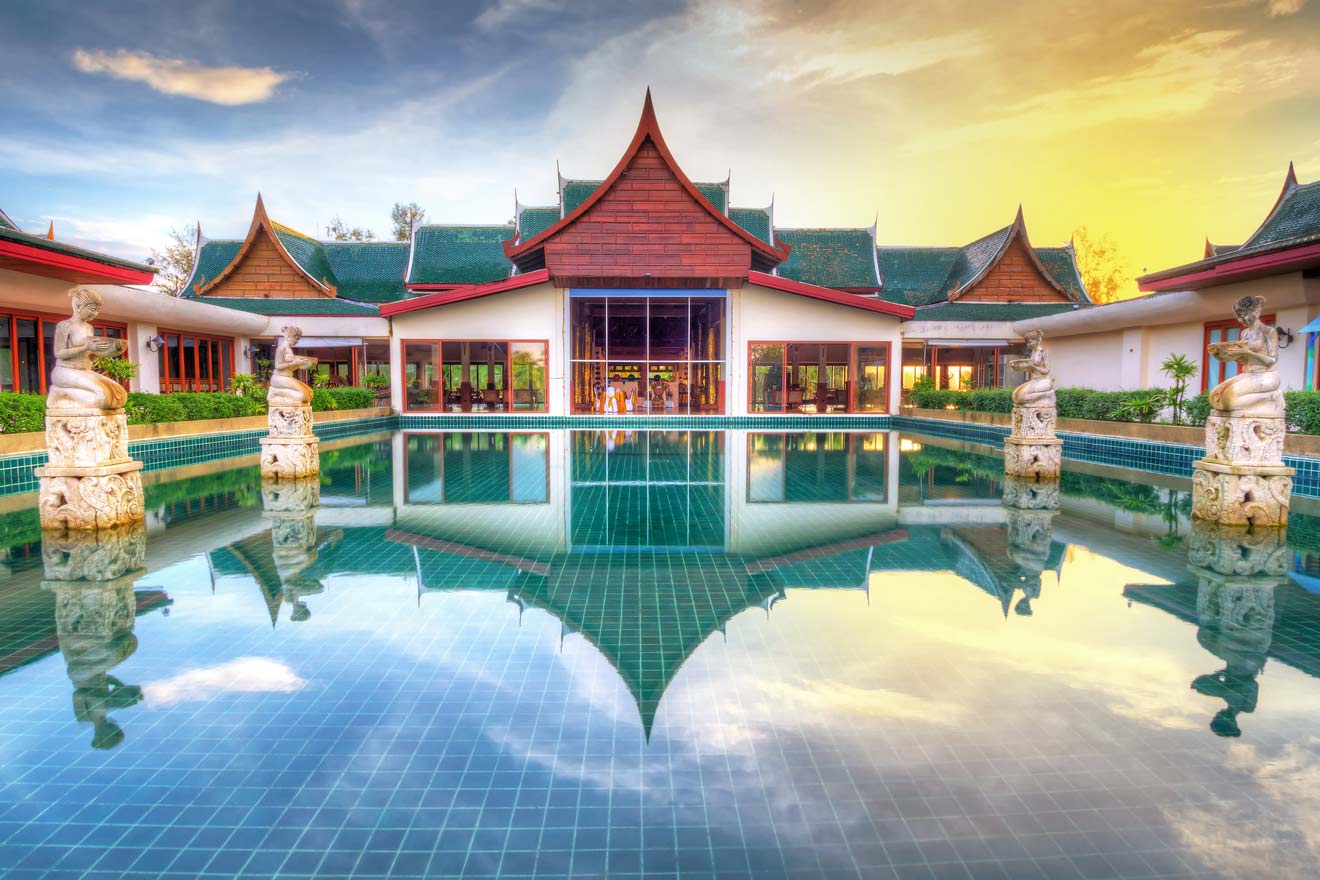 This country is full of surprises, and it never ceases to amaze me! If you're planning a luxurious getaway and looking for fabulous accommodation, follow me!
As in this post I'll talk about the best Thailand luxury hotels, which I've listed from most to least expensive ones so that you can choose wisely!
I added different types of places, from boutique hotels with four poster beds to fabulous resorts with outdoor showers and hotels that offer Muay Thai boxing lessons! Yep, everything is one-of-a-kind here, that's why I recommend booking in advance because they'll sell out super fast!
But I don't want to spoil all the fun by getting all technical, so let's see which are the best luxury hotels in Thailand!
If you are in a hurry
Yep, we've a got a long list ahead, so if you can't make it through the whole post, check out this small section below, it has the best luxury hotels in Thailand:
Having trouble trying to locate all the luxury hotels in Thailand? Then check out the map below, which will help you visualize all the places that I'll talk about in this post:
1. Four Seasons Koh Samui – oceanfront villas with infinity pools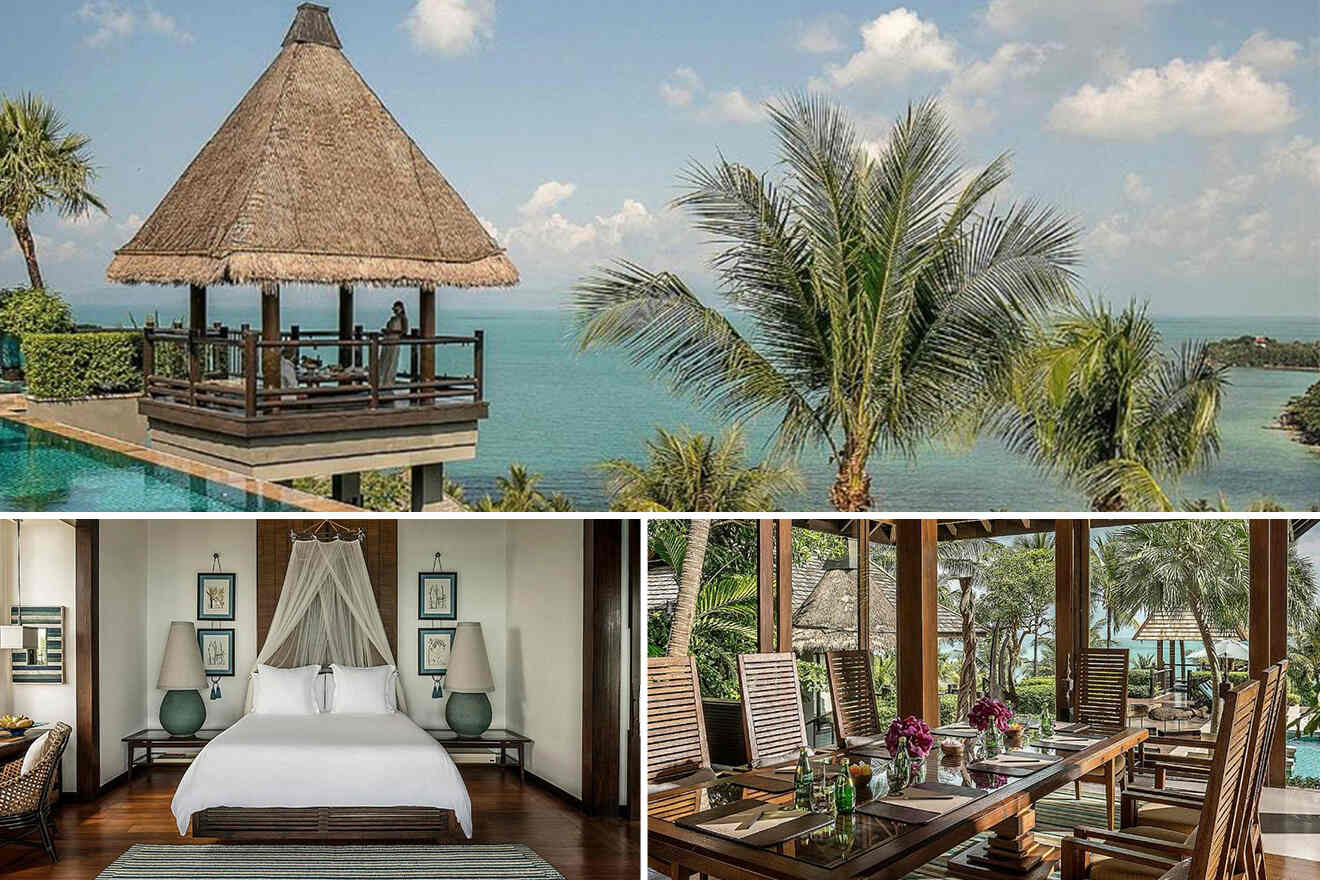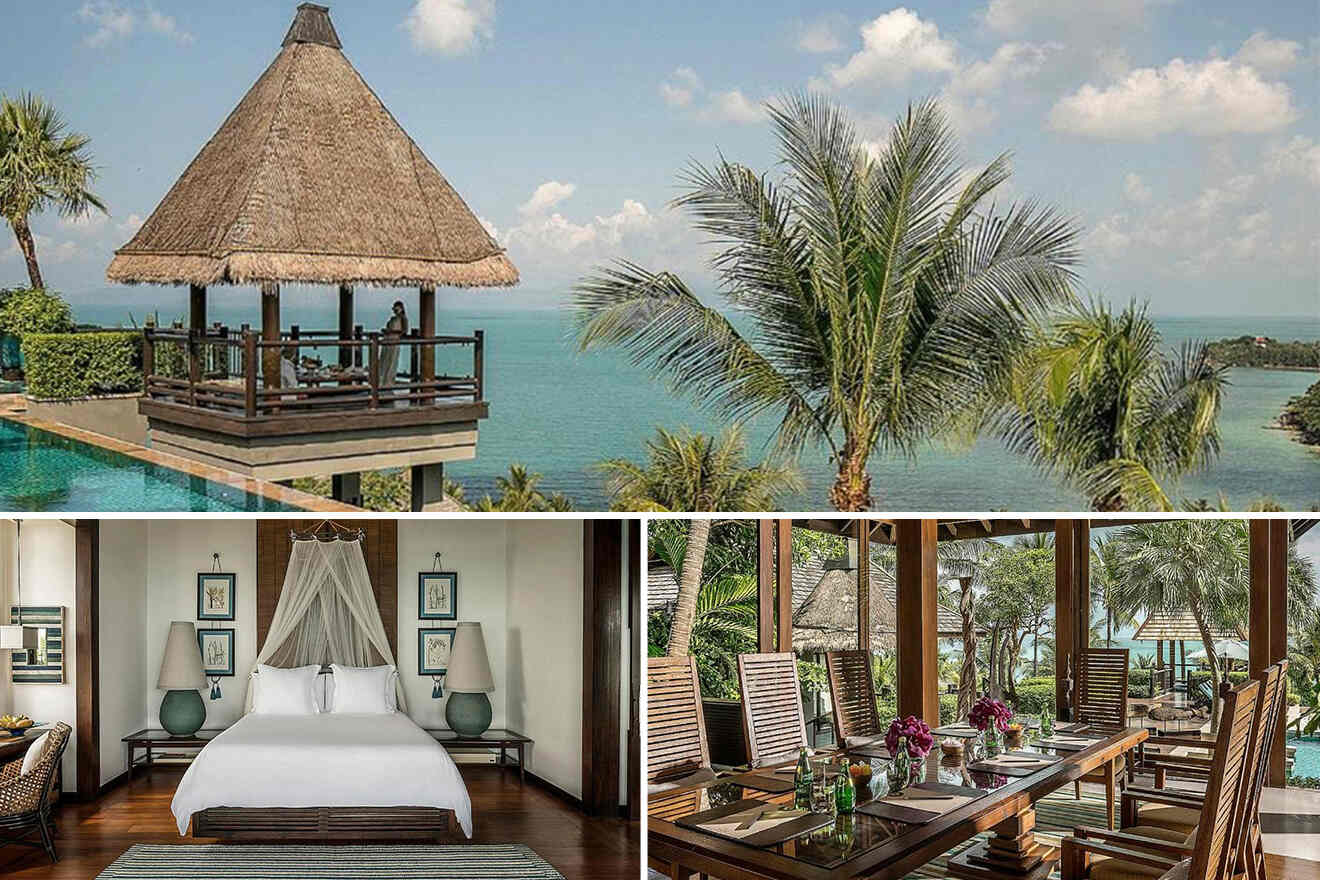 Live your Thailand dream holiday in one of the most exclusive resorts on Koh Samui Island! This quiet oasis on Laem Yai Bay offers traditional Thai villas, with spacious rooms, private infinity pools, and is surrounded by fragrant tropical gardens!
Disconnect and start every morning with a swim in your private pool, and order some breakfast to enjoy it with the view! The 3 restaurants on-site are ready to offer you the most incredible traditional dishes and drinks. After playing on the tennis court and snorkeling all day, you're sure to be super hungry (and tired). But that's why the sumptuous spa is at your disposal, so you can relax and get a long massage!
2. Six Senses Yao Noi – unique resort with an infinity pool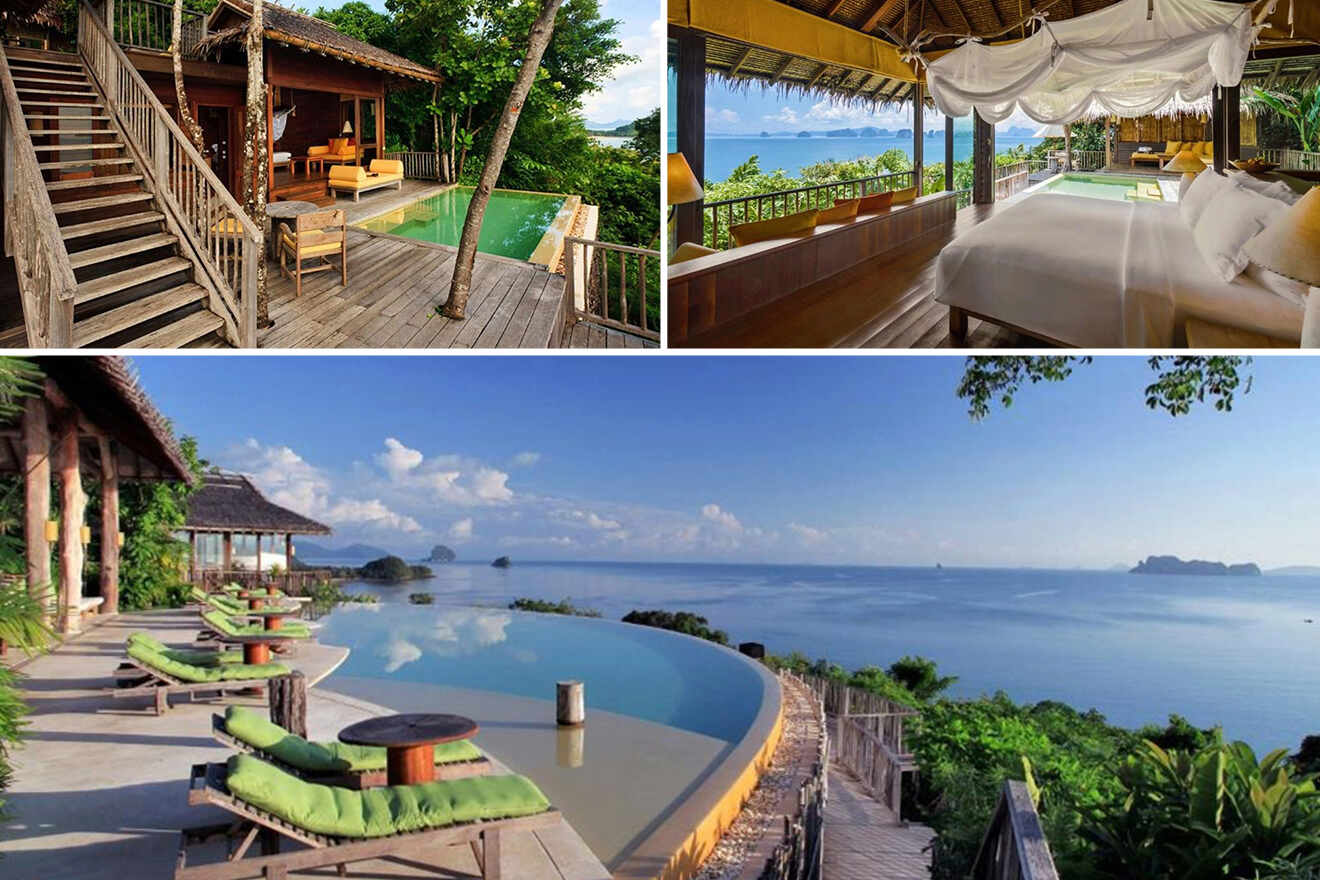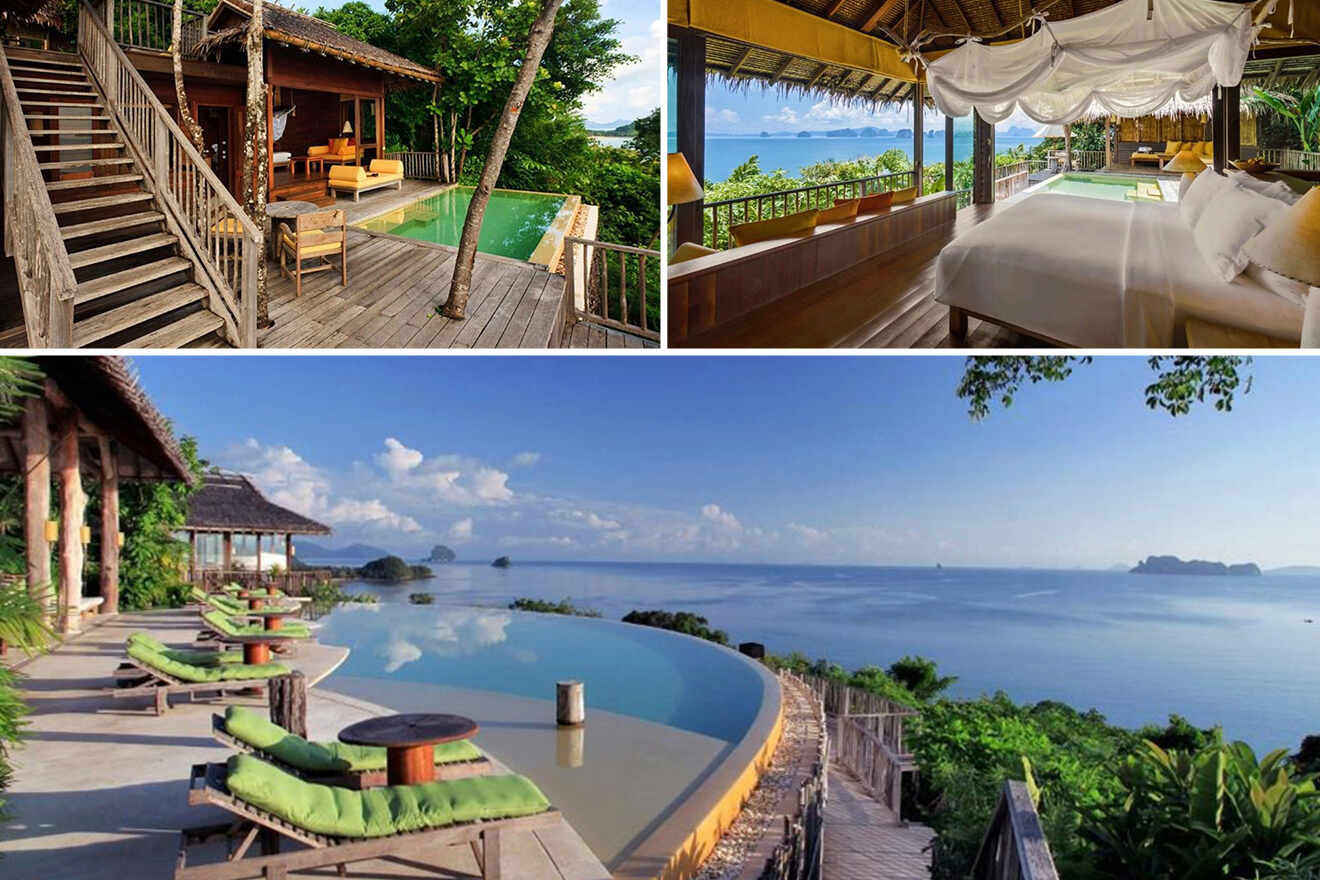 Set between 2 incredible islands, Phuket and Krabi, this Koh Yao Noi island resort is the perfect place for a relaxing getaway! Away from the city and set between lush gardens, the luxury resort will offer an unforgettable time in the Thai islands!
All the villas overlook the scenic Phang Nga Bay, and they come with private plunge pools and a little terrace where you can sunbathe all day long! Or you can move up to the private beach area if you're missing the ocean. Delicious food, great water activities, and nonstop fun! This dreamy resort promises all that and more! This is why I recommend booking it in advance, these ones never stay too long on the market!
3. Phulay Bay – 5-star resort with 5 restaurants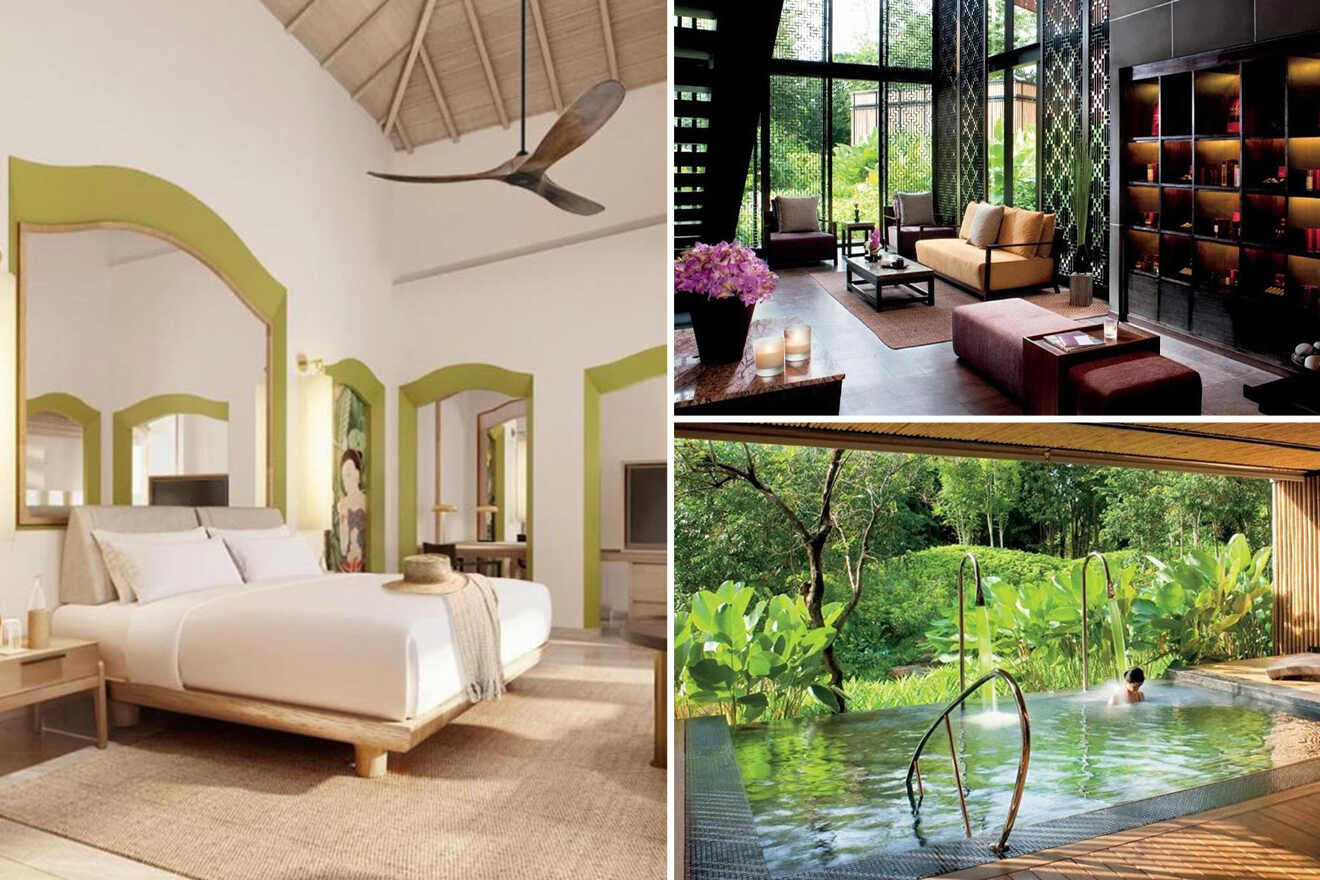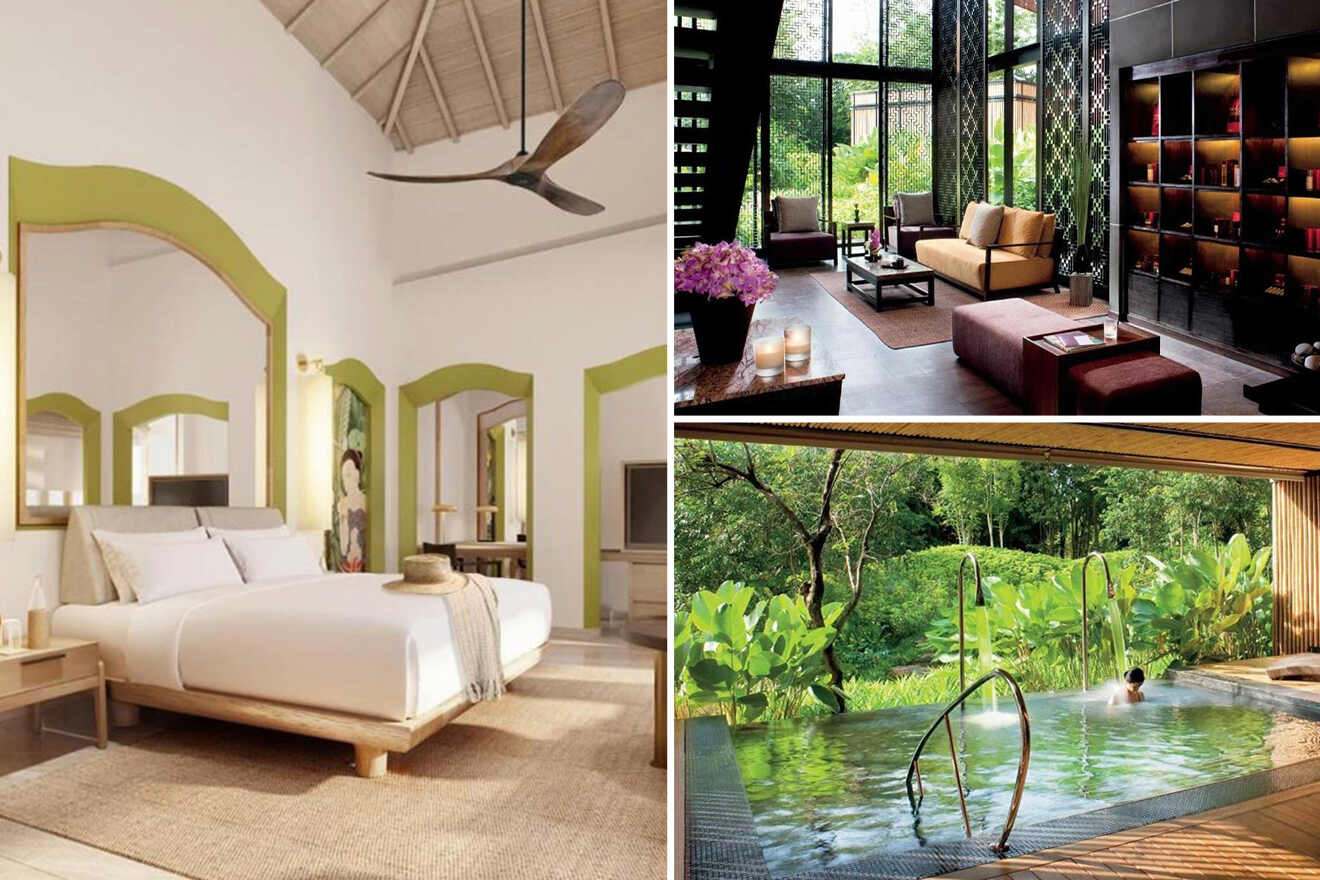 Who's ready for an unforgettable holiday in one of the best places to stay in Krabi? Set on Tab Kaek Beach, this fabulous 5-star resort offers breathtaking natural beauty plus many incredible services!
How would you like to have a 24/7 butler service at your disposal? Sounds pretty amazing, right? All that while staying in your beautiful private traditionally-decorated spacious suites with private balconies! Should I say more? I think you should at least know that Phulay Bay has private treatment rooms and an incredible infinity pool! I bet everyone wants a room here now! So book a room and get ready to be pampered while enjoying private beach access! .
4. Banyan Tree Samui – beachfront resort with a spa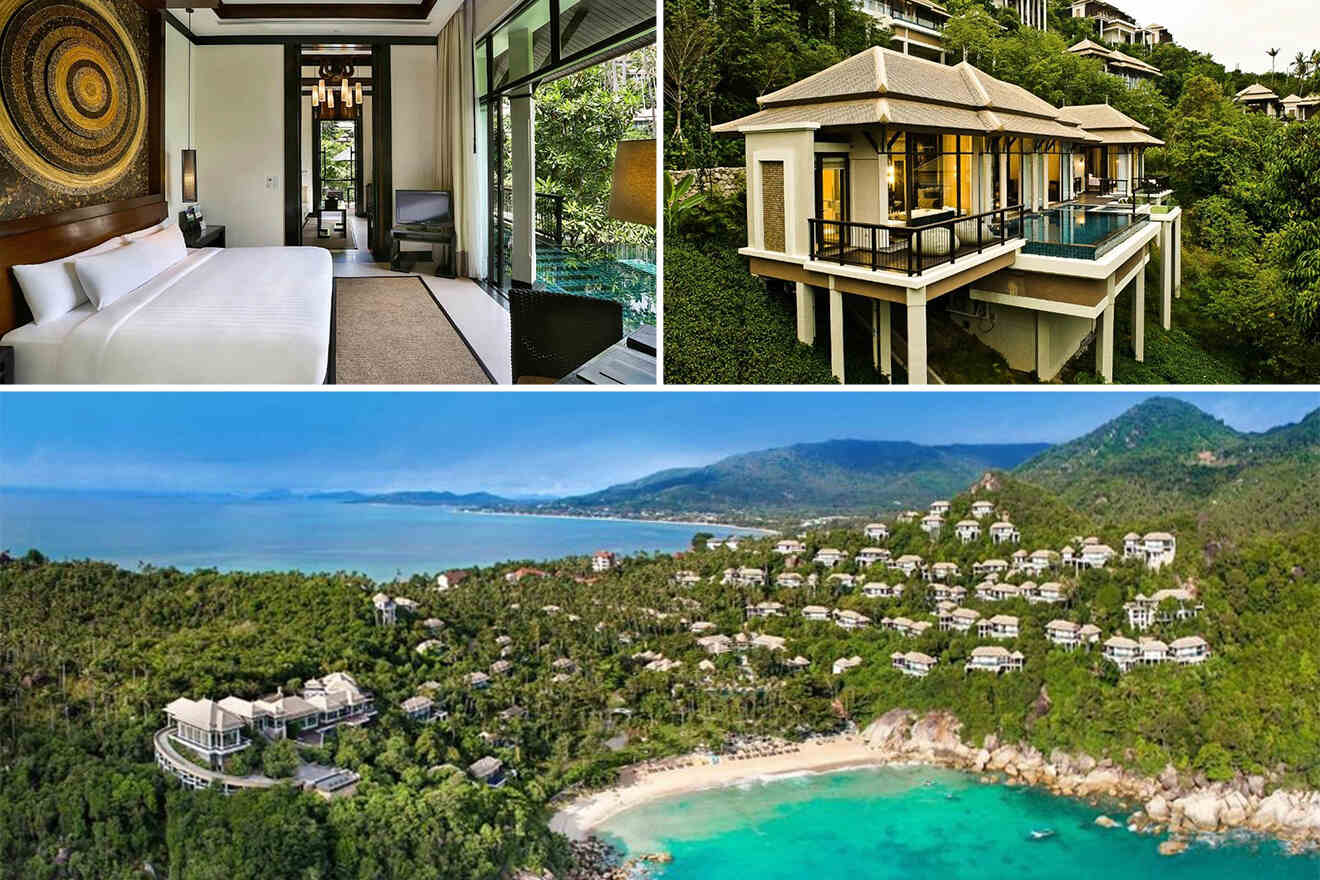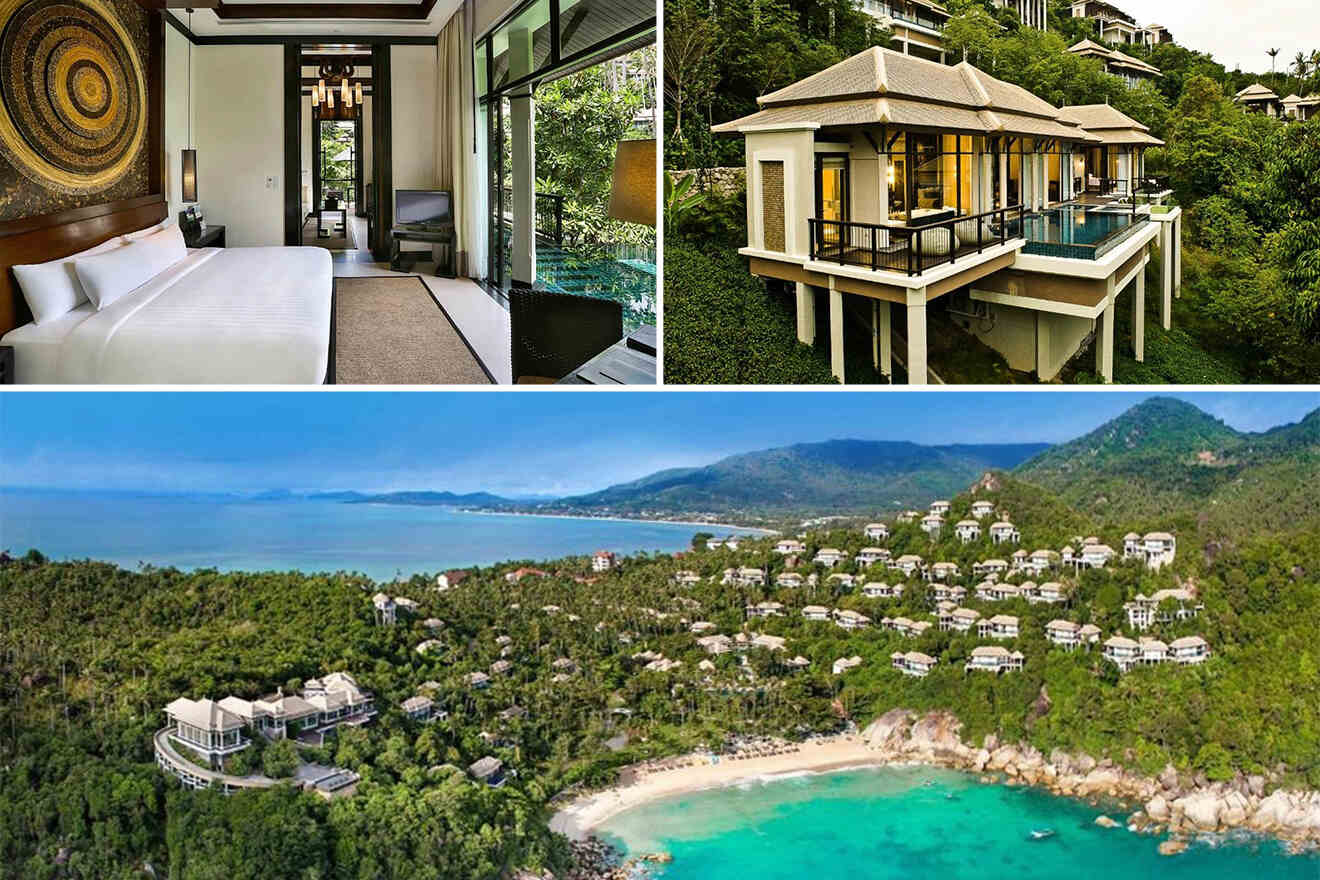 Nothing beats the scenery on the Thai islands like Koh Samui or its sister Koh Phangan! It's like landing in a paradise corner! And these luxury hotels sure know how to highlight that. Like this incredible place with oceanfront villas with the most amazing infinity pools and large bathrooms with floor-to-ceiling windows.
You'll never want to leave these stunning beaches in Koh Samui or this hotel! Enjoy a spa treatment at their world-class wellness center, and of course, try some fun activities they offer like diving and fishing. End your day with an unforgettable sunset on the beach, and then head for dinner at one of the 3 restaurants!
5. Mandarin Oriental Bangkok – stylish hotel with a great pool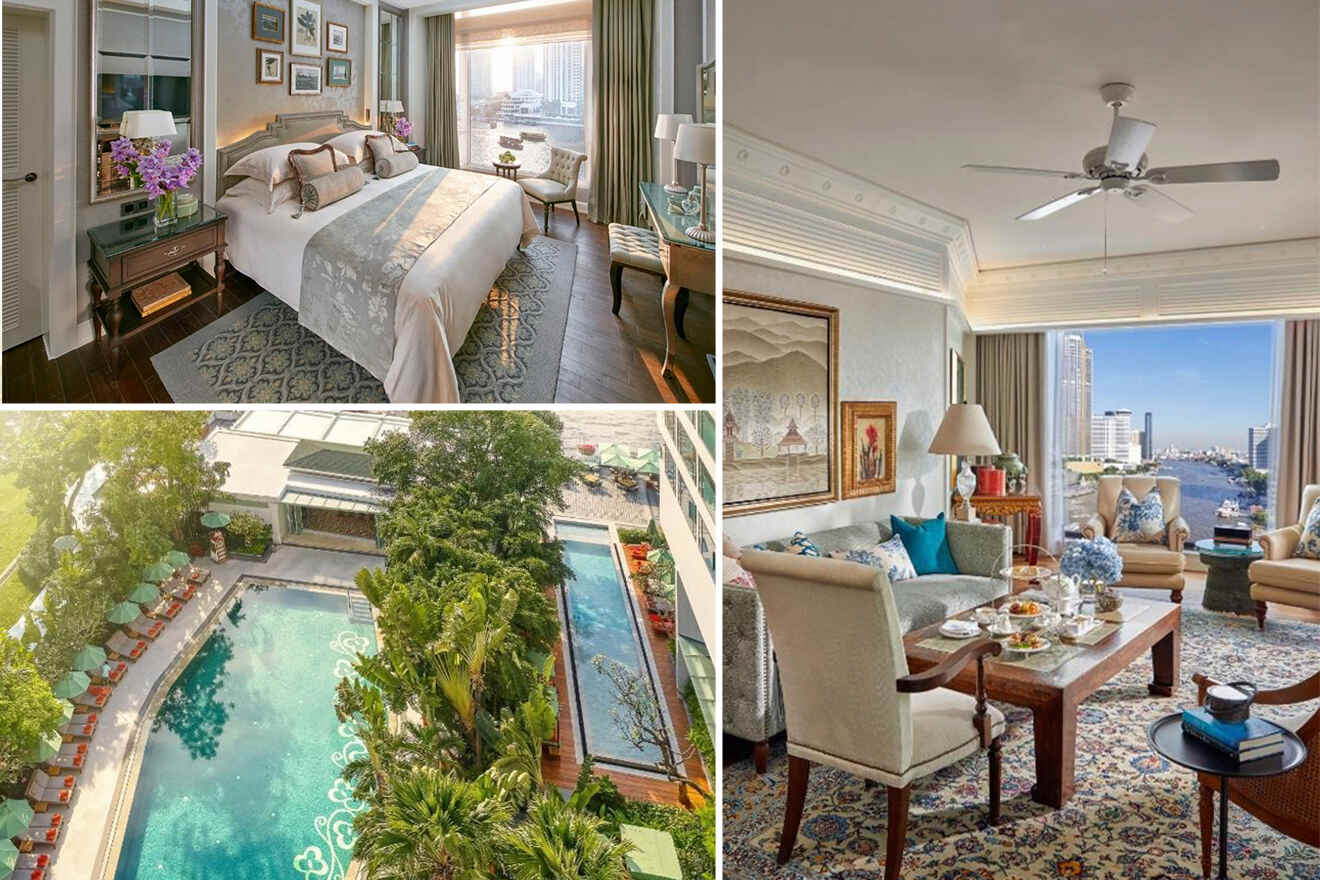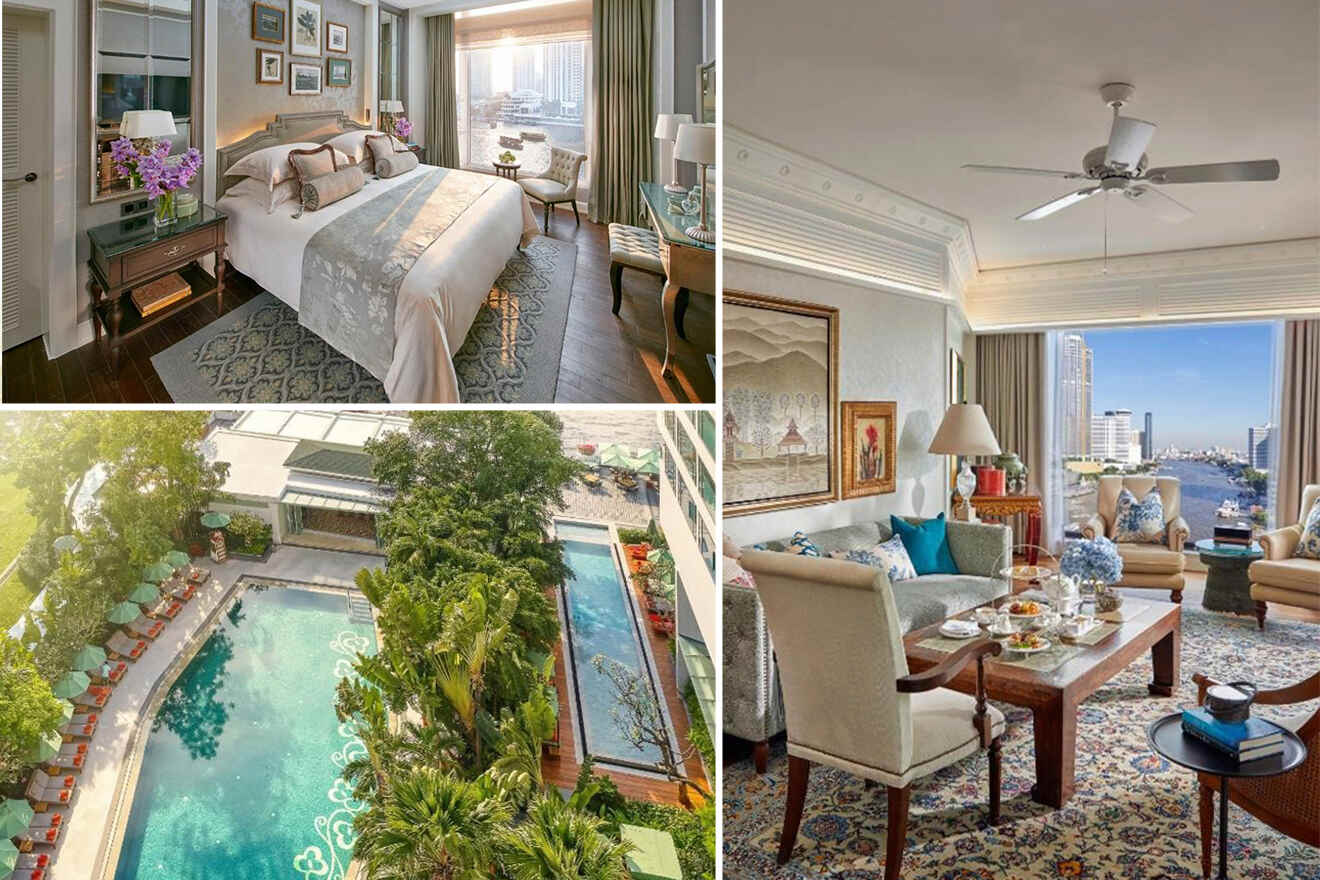 Looking for a fabulous hotel to stay in Bangkok? I've got you covered! Set just a short stroll away from all the attractions, this modern hotel has suites with floor-to-ceiling windows that overlook Bangkok city and impossibly chic furnishings that include some beautiful Thai silk!
When you're not out visiting all the attractions from your Bangkok itinerary, you can work out in the fitness center, take some yoga lessons, or go for a dip in the outdoor swimming pool. There's no end to the list of things to try at this hotel, and by the way, make sure to leave some time for the spa!
6. Como Point Yamu – modern hotel with 3 swimming pools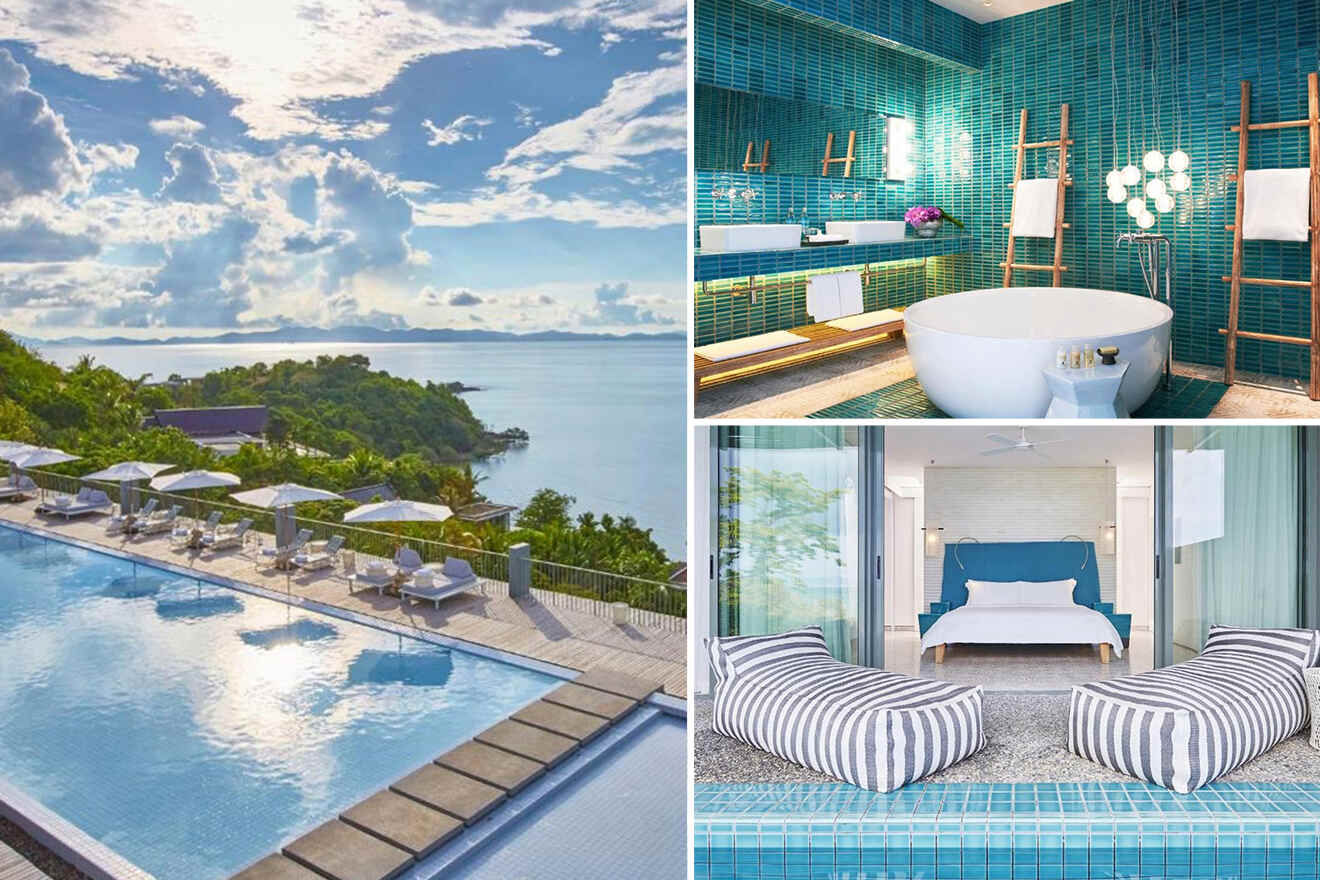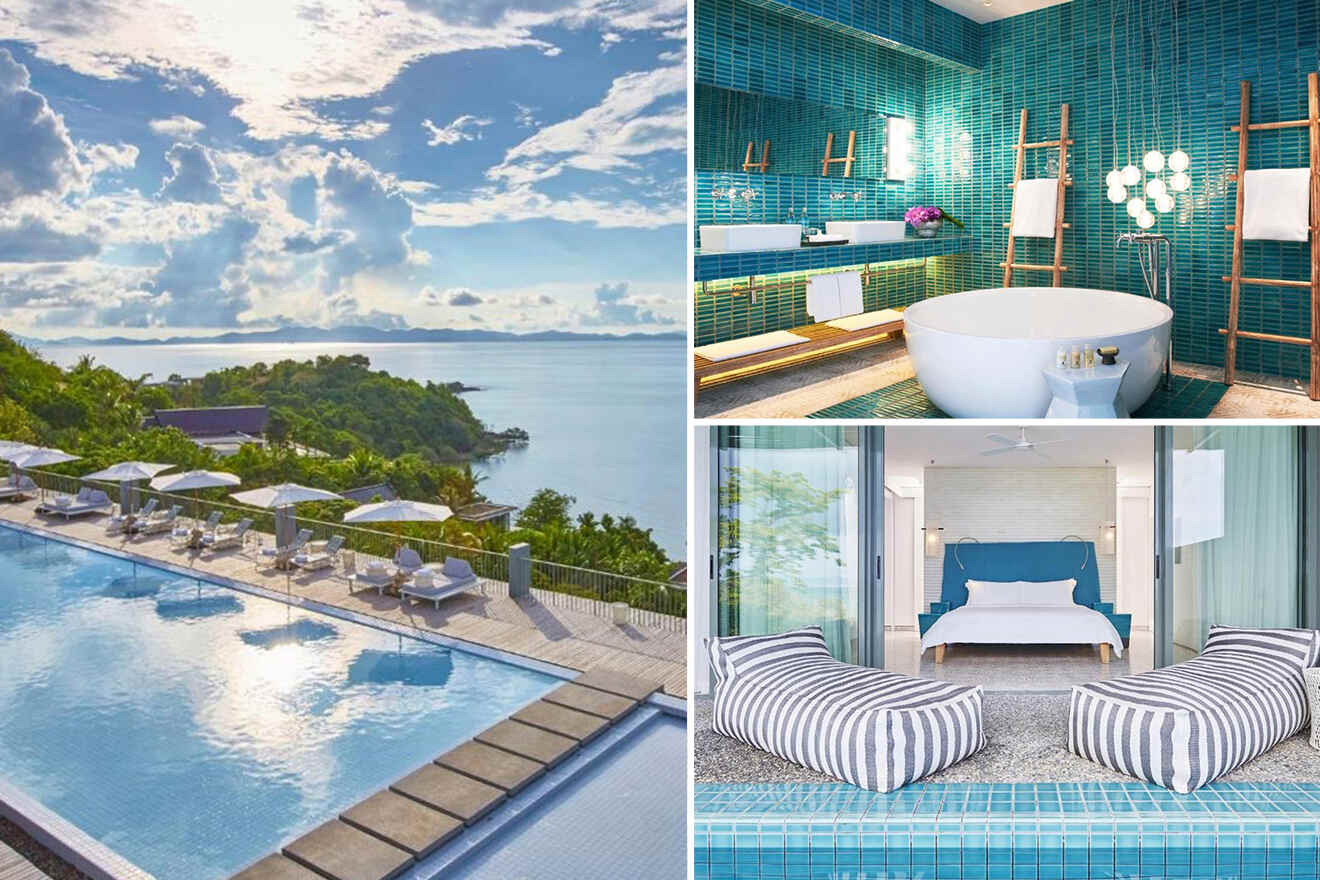 You can't beat the luxury hotels in Phuket! All of them are simply magical, and they offer the most incredible views over the Andaman Sea. Just like this one set at the tip of Cape Yamu overlooking Phang Nga Bay.
The modern architecture and interiors designed by Italian designer Paola Navone are incredible! You'll never want to leave your suite with this minimalist decor with fine-cut lines and floor-to-ceiling windows. Well, maybe you will, just to swim in one of the 3 swimming pools, drink cocktails at the beach club and enjoy a few yoga lessons to get in the perfect mood!
7. Four Seasons Chiang Mai – bungalows with mountain views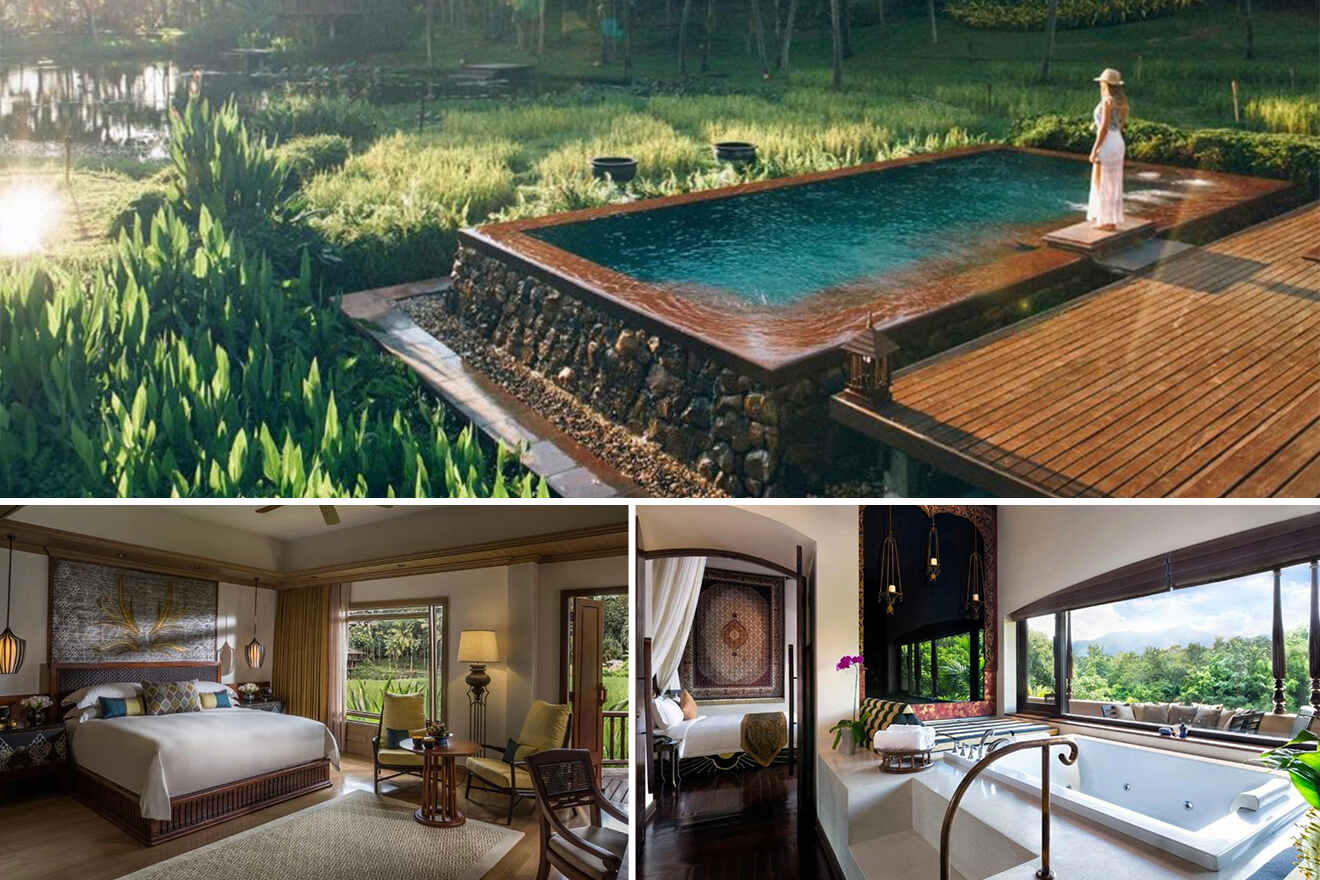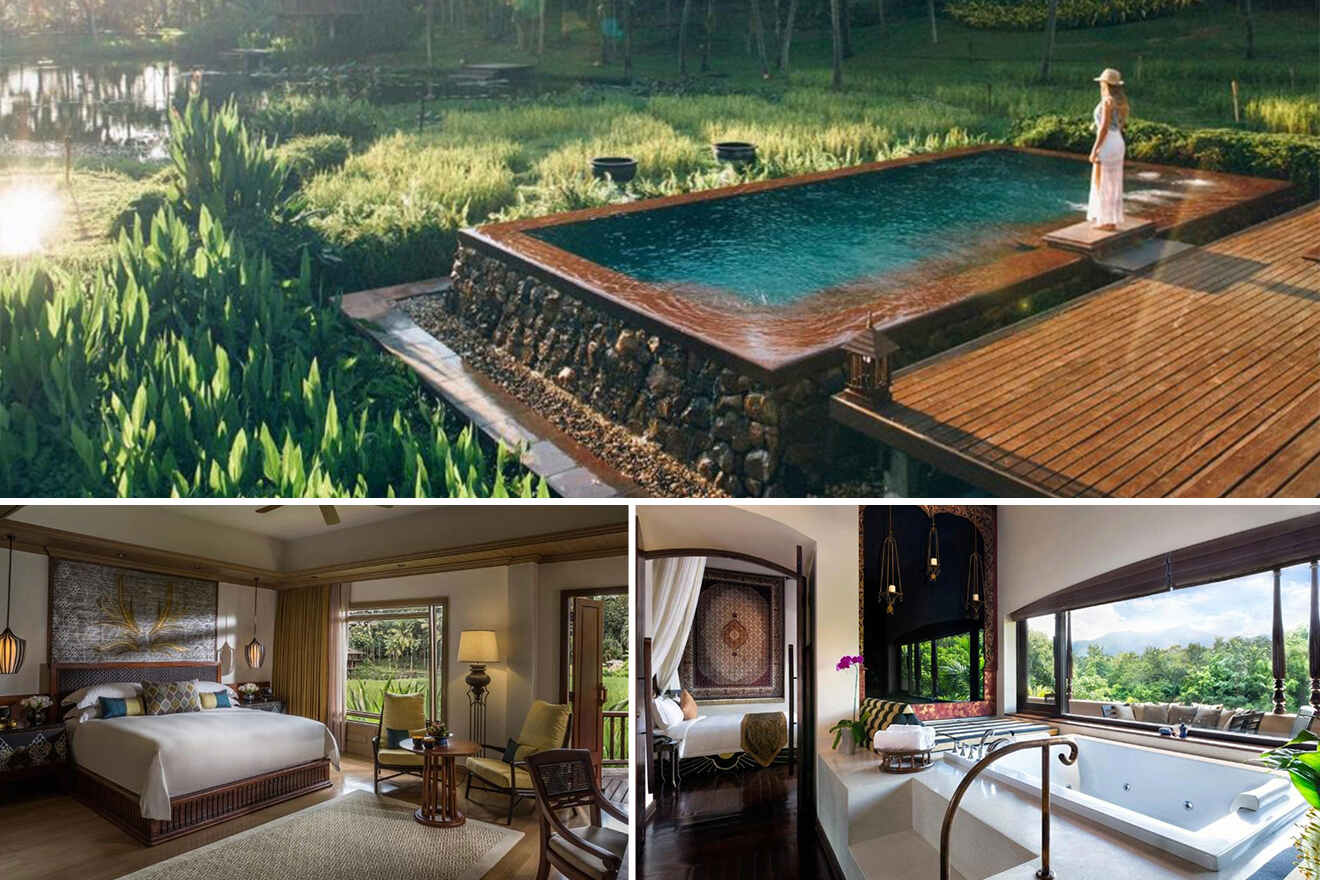 If you're planning a getaway to Northern Thailand, then I'd recommend exploring the beautiful areas in Chiang Mai and staying in one of the bungalows at this luxury resort. People from everywhere come to see the natural surroundings in this city, and Four Seasons Resort Chiang Mai has a great location, overlooking the rice fields and mountains in Mae Rim Valley.
Everything is so authentic here, even the bungalows are decorated with original paintings and Siamese art pieces! You'll feel like you're living in a traditional Thai village, but one where you can relax, enjoy the spa services, take cooking classes and go for a dip in the swimming pool wherever you want. In short, a good life!
8. Sala Samui Chaweng – a beach resort with pool villas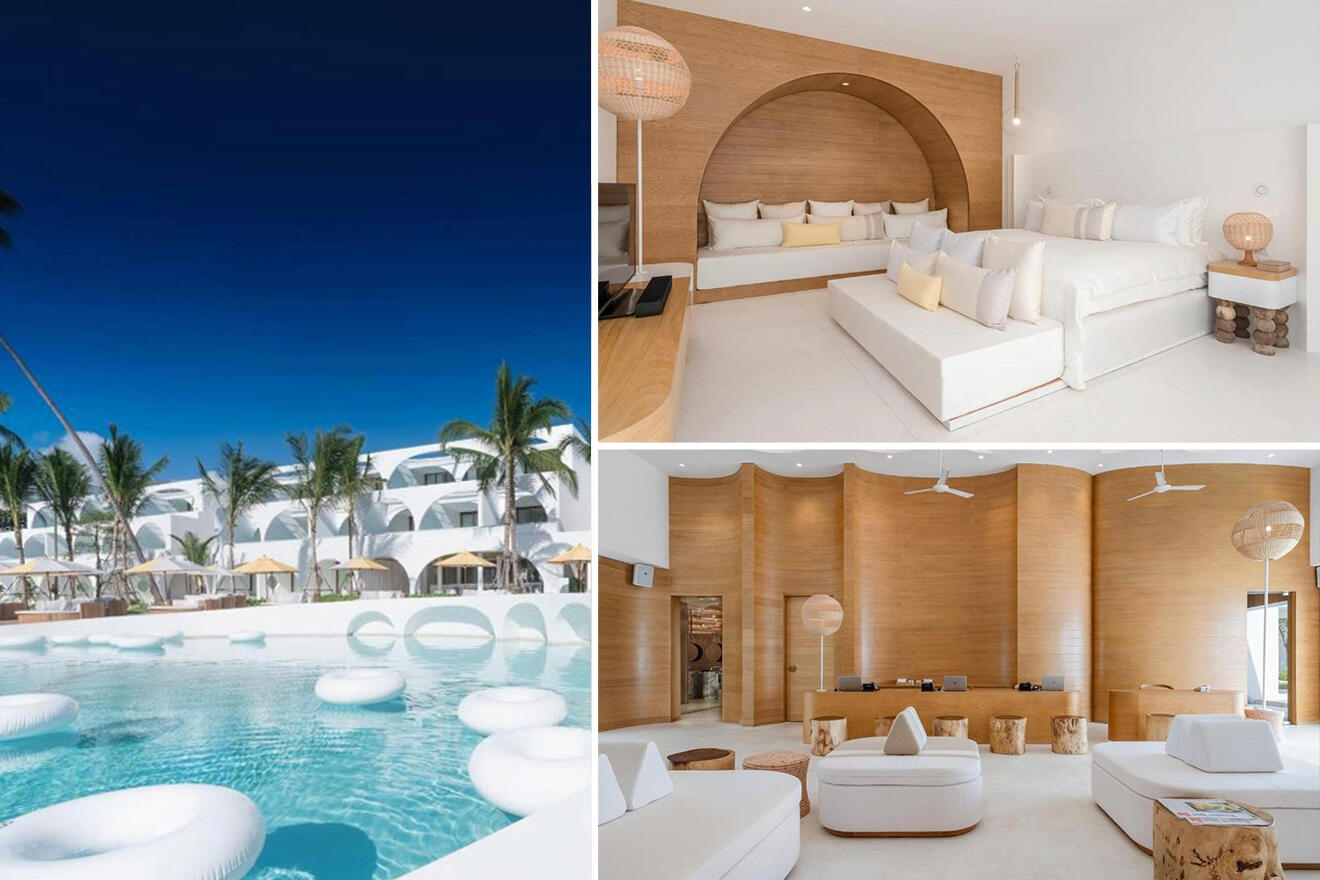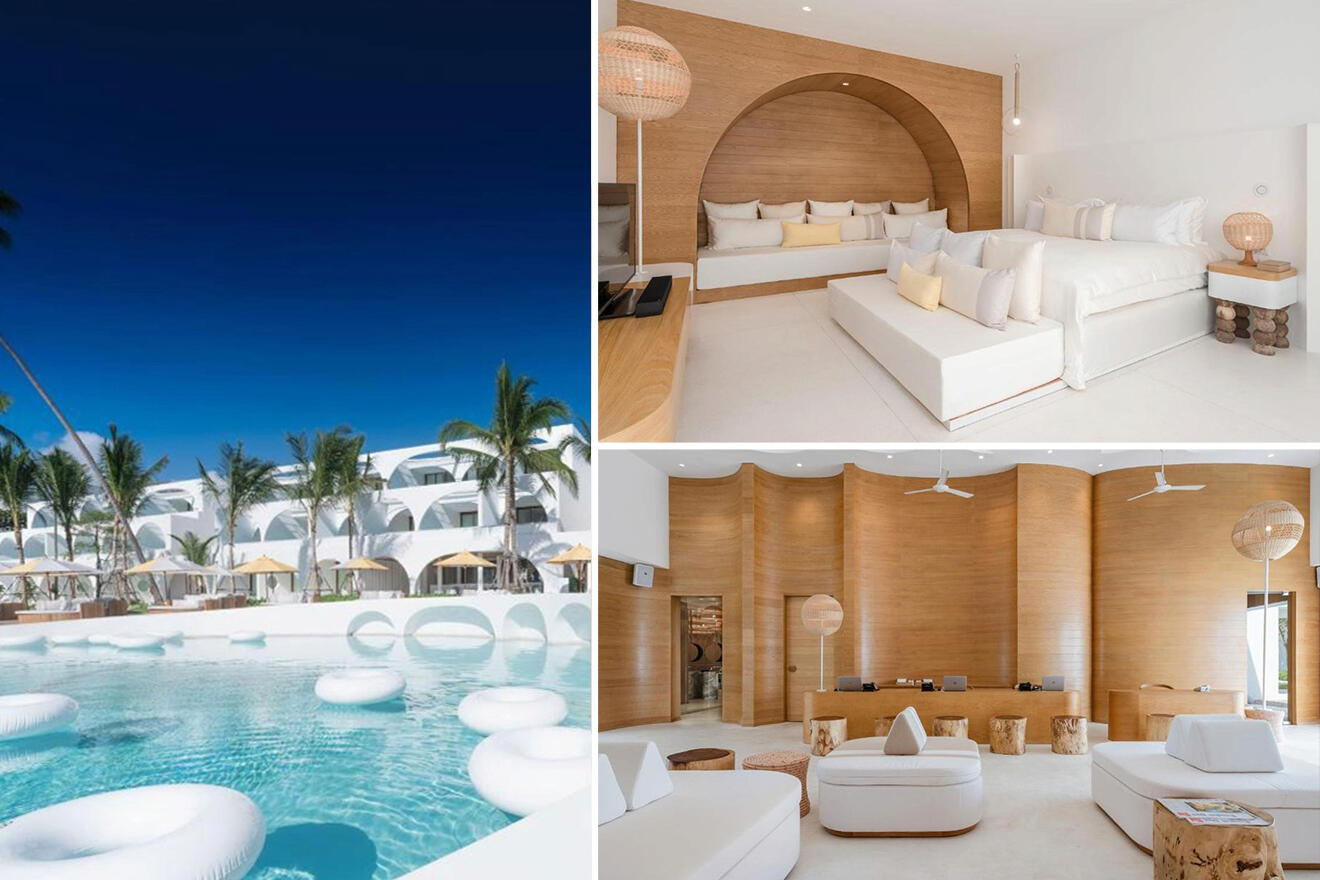 All-white decor, crystal blue water and a peaceful beachfront location on the white sandy Chaweng Beach! What more can you wish for? This modern-styled hotel features villas with private pools and suites, which are decorated with handcrafted Asian-inspired furniture and have air conditioning.
Sounds like perfection! And I can't wait for you to indulge in all the delicious fresh seafood at the open-air restaurant on-site and drink lots of colorful cocktails (I always like to pick mine, depending on the color I'm wearing that day). My favorite element is the 'moon pool' that overlooks the sea. It's so dreamy, just perfect for a night swim under the moon!
9. The Slate – amazing tropical resort with 7 restaurants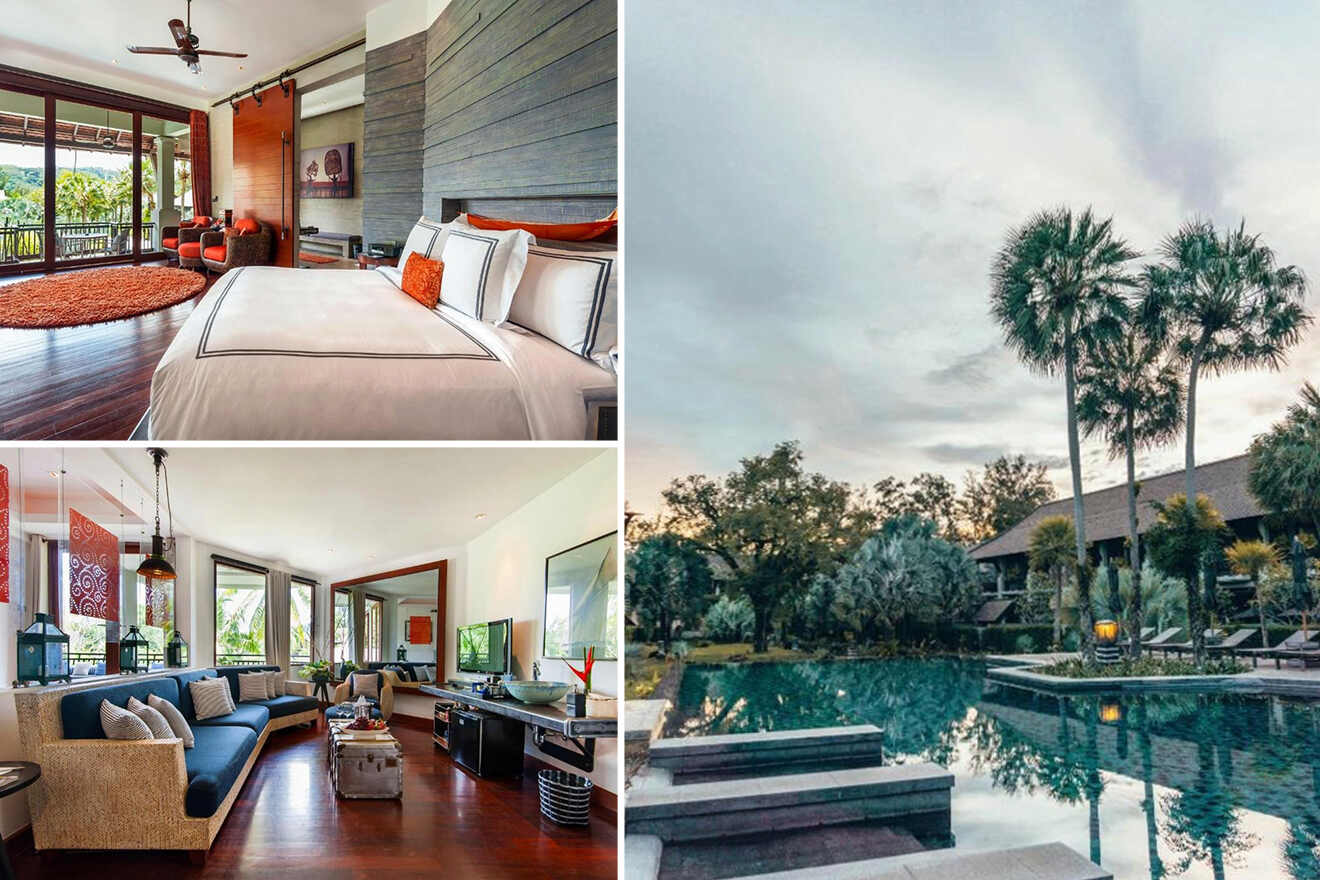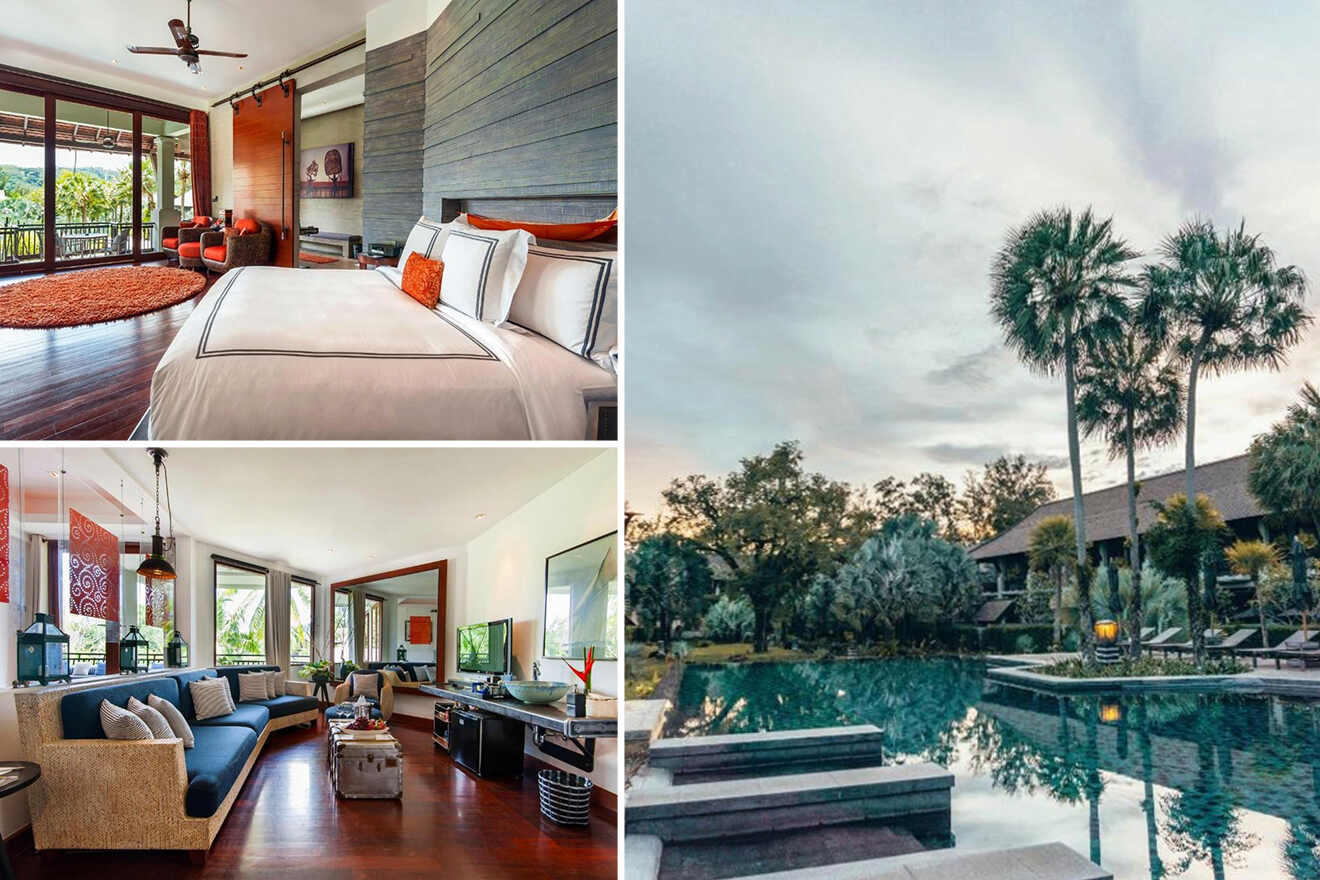 There are many unique places to stay in Phuket, which means there are many amazing luxury resorts as well! This one is set against the beautiful natural backdrop of Nai Yang Beach and the Andaman Sea.
The rooms at the resort complex have an authentic design, and they're decorated with original art pieces and locally crafted furnishings! All these elements used created the perfect ambiance here! And their rainforest spa, the 3 swimming pools, and 7 restaurants just add even more to that! So what are you waiting for? Book your place before you miss it!
10. Pullman Phuket Arcadia – elegant hotel with 2 pools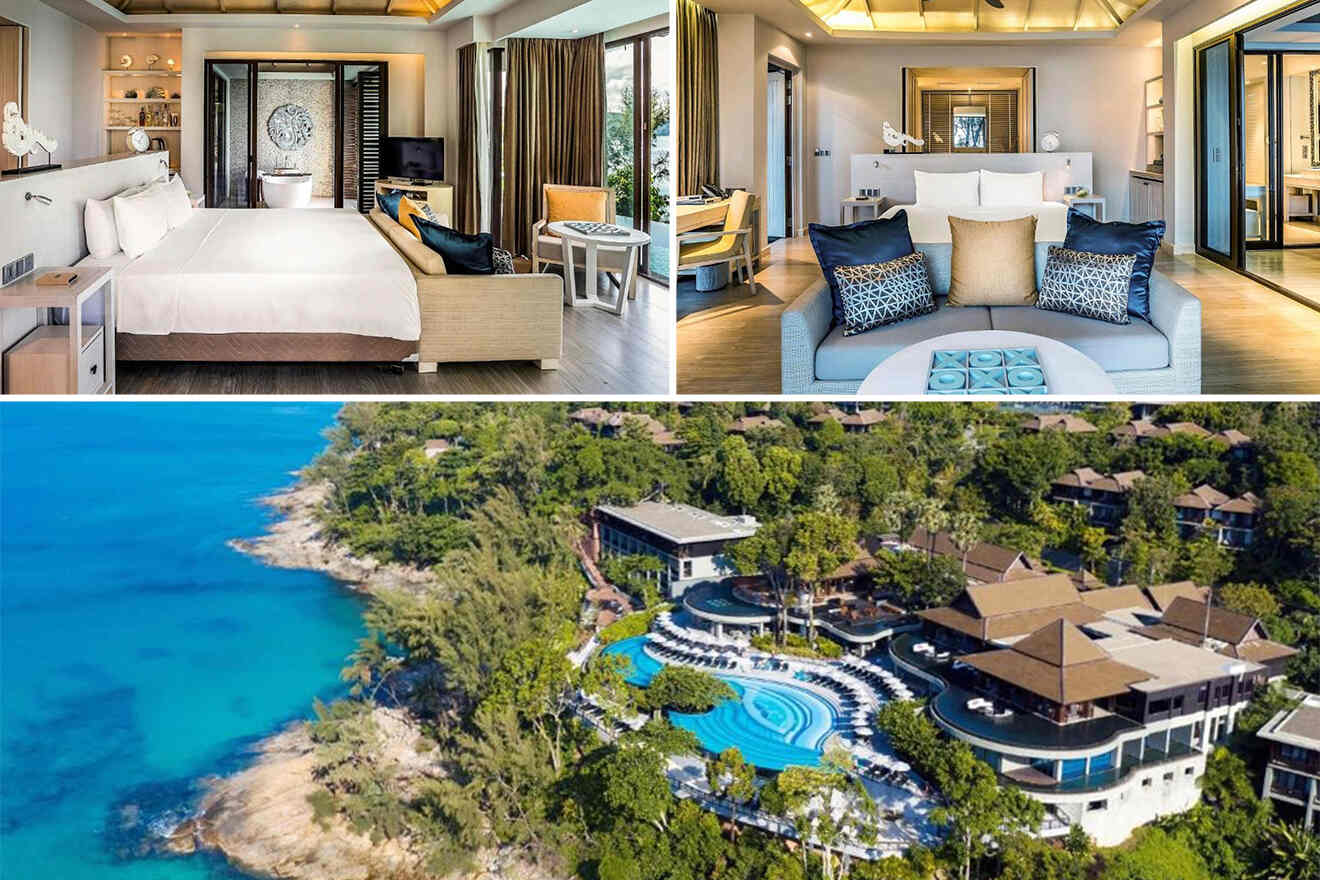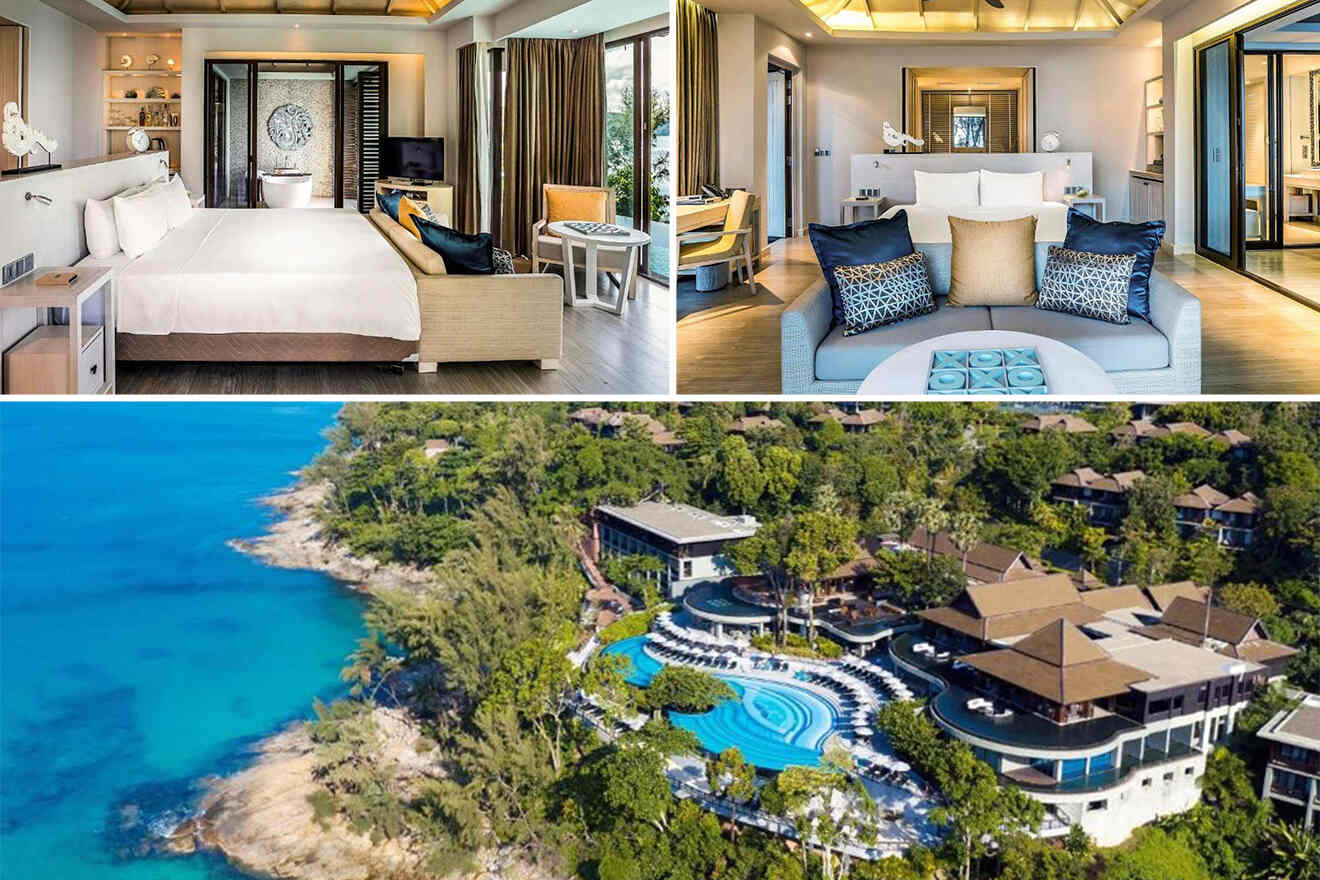 If you're looking for something a bit more modern on the beautiful island of Phuket, then this hotel set on a headland overlooking the Andaman Sea might be the right option for you! You can start your morning with a delicious coffee on the balcony while admiring the views!
Whether you're coming with your partner or the whole family, the resort has something to do for any age group or interest! There are indoor play areas, toys, plus other fun activities like movie nights, tours, and watersports. And of course, there are some for the adults as well, like spa services and evening entertainment! There's never a dull moment here!
11. U Pattaya – beachfront resort with an infinity pool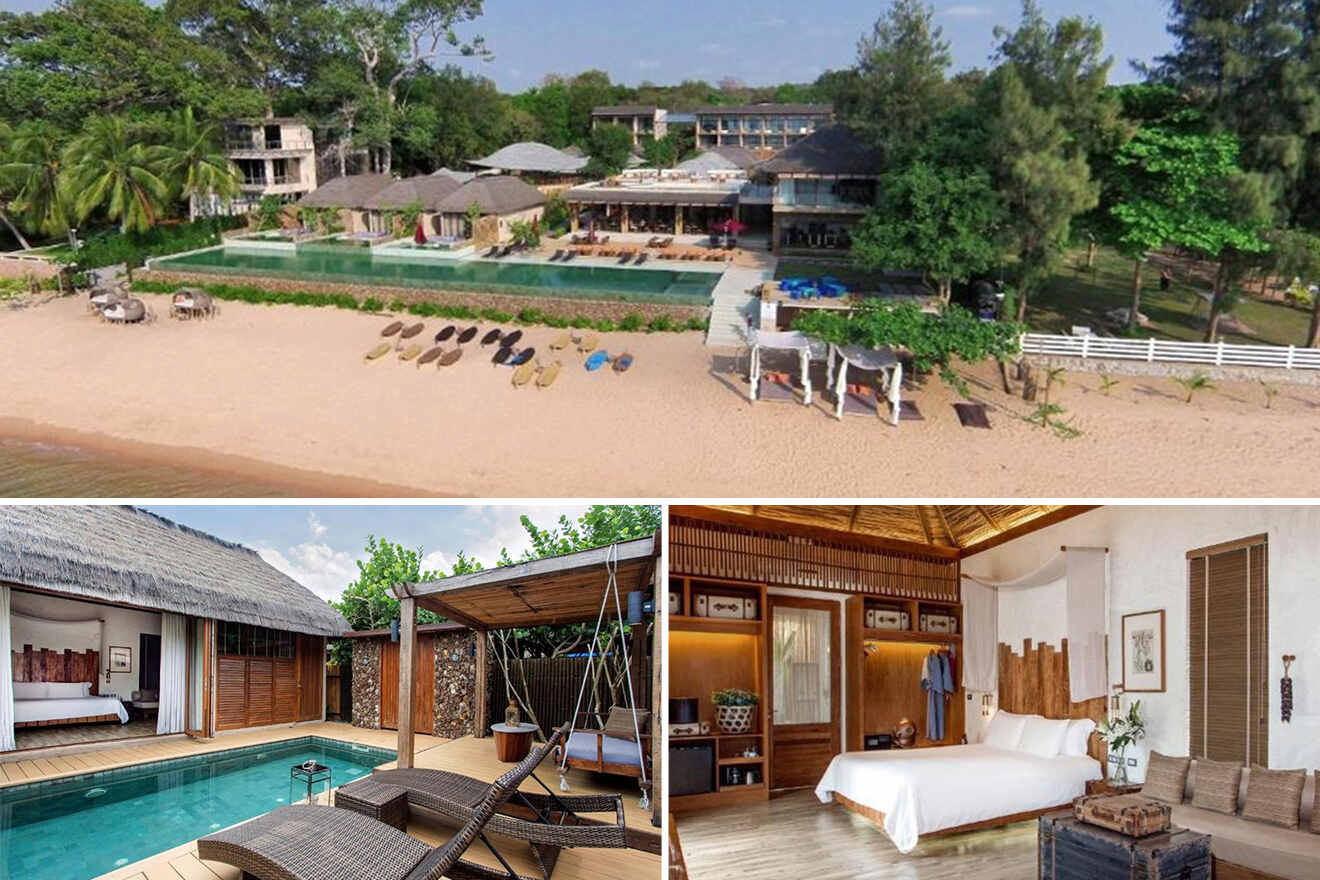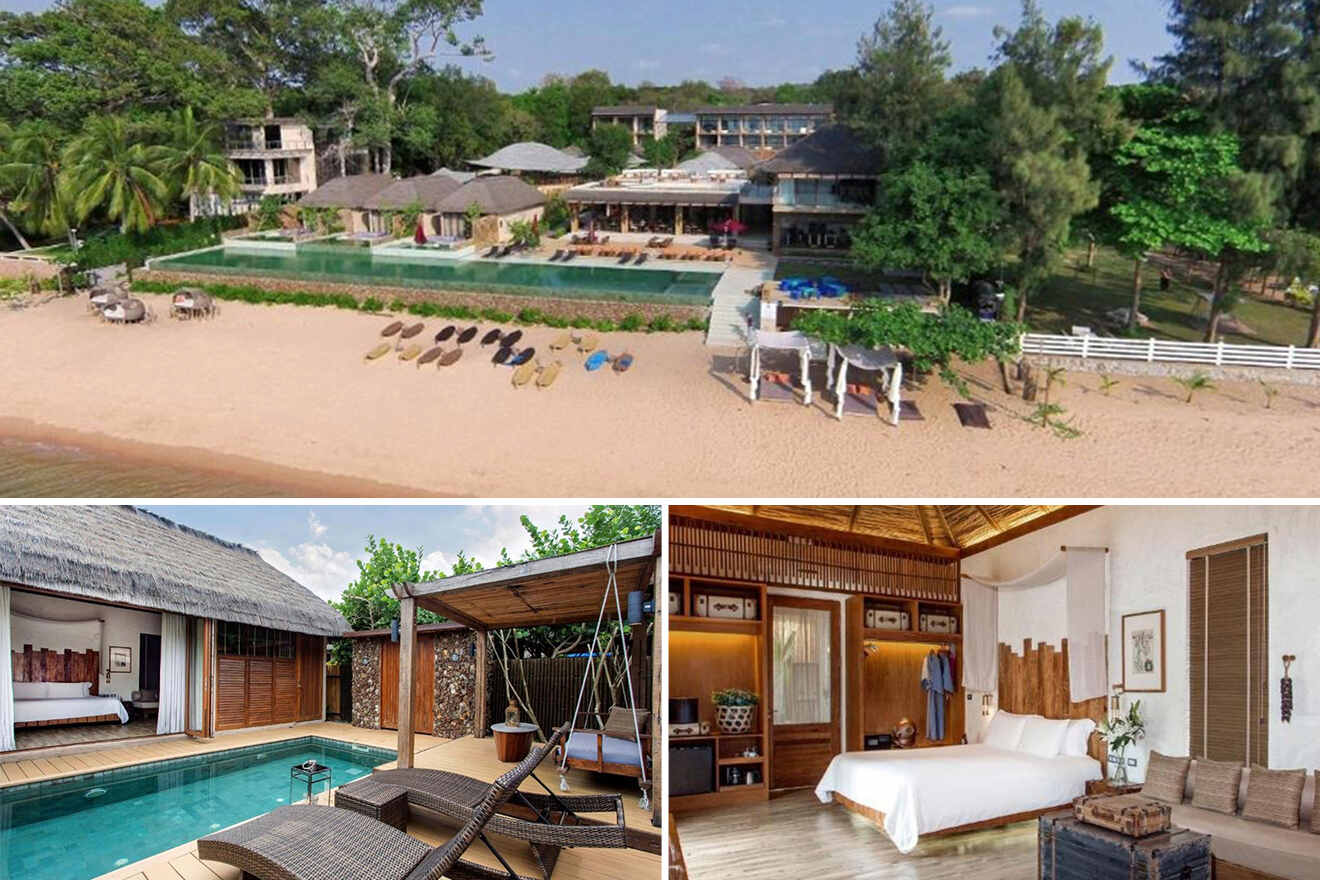 Hop from your bed straight on to the beach at this great hotel that's set on the beachfront in Na Jomtien. With its super relaxed atmosphere, stylish rooms, and villas with private pools, this luxury hotel will put you in a holiday mood the minute you arrive! This is for sure one of the best hotels in Pattaya!
Get ready for lazy days spent by your villa's private pool or by the beautiful infinity pool, delicious food, and lots of fun activities! And let's not forget about their spa center, which welcomes all guests to enjoy some yoga glasses and relax while enjoying their various treatments!
12. Hyatt Regency Hua Hin – a family-friendly resort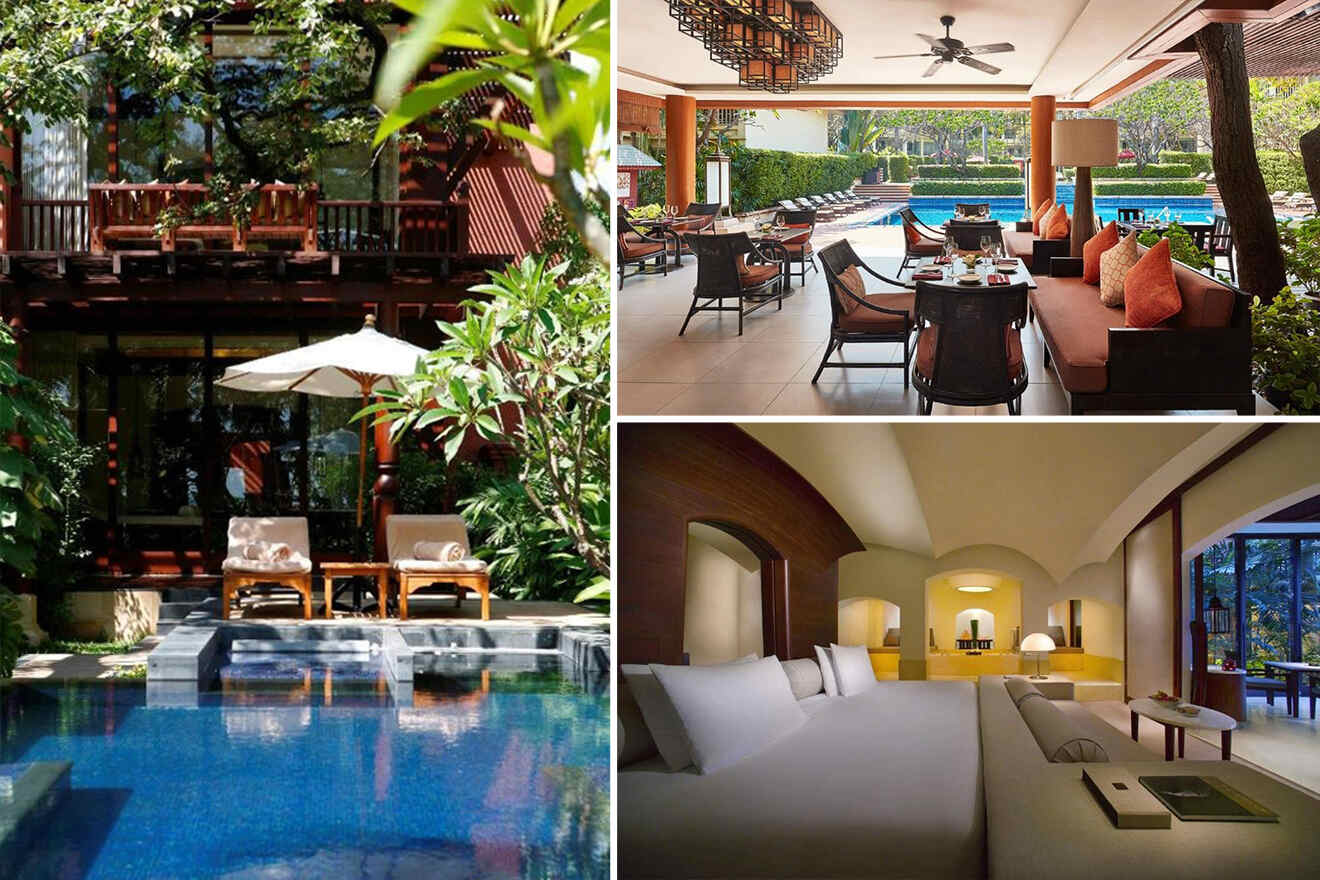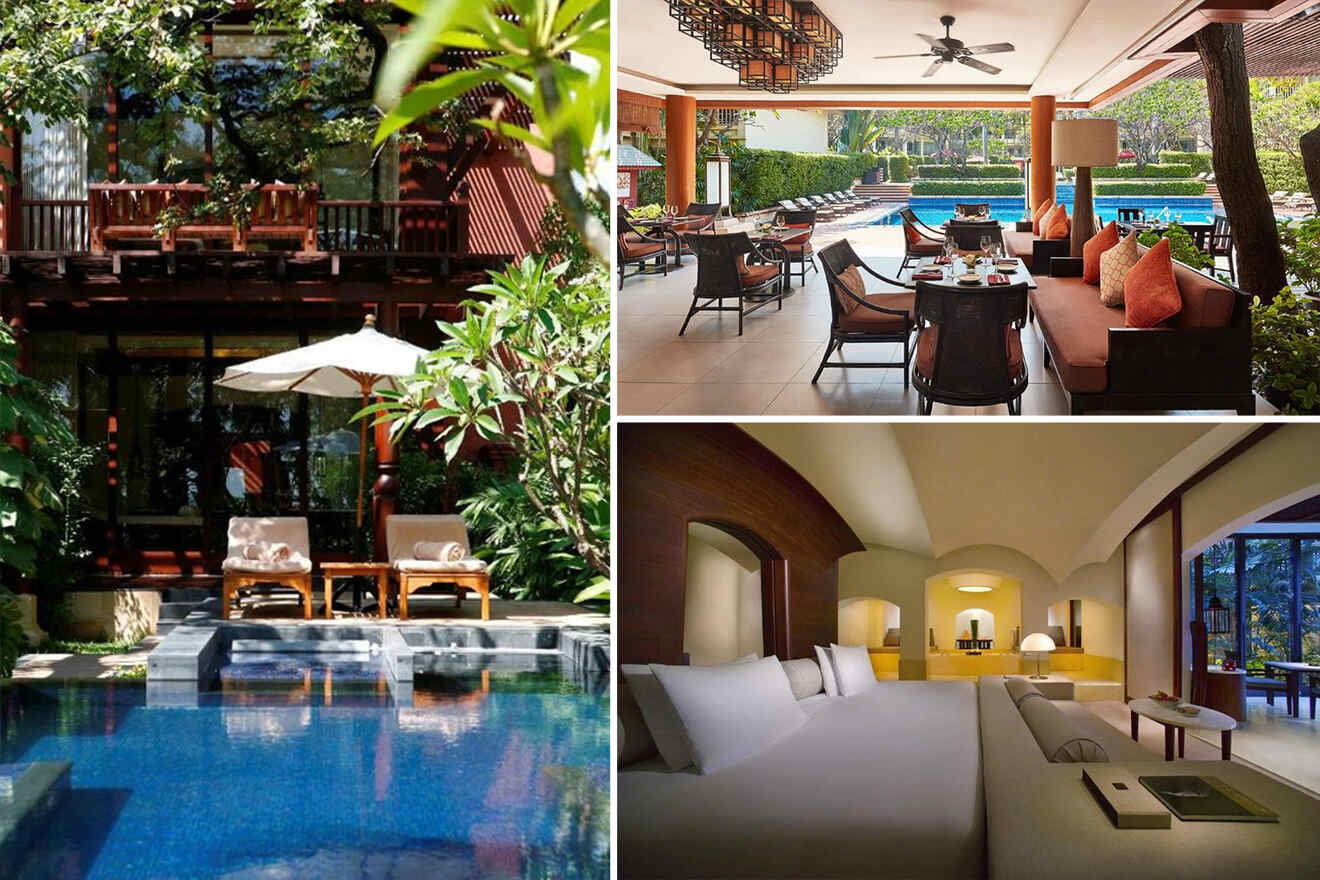 Planning a family trip to Thailand? This lovely resort is in Hua Hin, a town not too far from Bangkok, the Thai capital. This 5-star beachfront property features a large lagoon pool, 3 restaurants, plus many other great amenities for all family members.
The kids will be happy to know they'll have a playroom, waterslides, and many other activities you can sign up for, like archery classes, horse-riding, and tennis! But it's just them who'll love their time here. Parents are invited to relax in the spa, try some massages, yoga classes, and of course some of the activities that I mentioned above.
13. Hotel Indigo – contemporary hotel with an infinity pool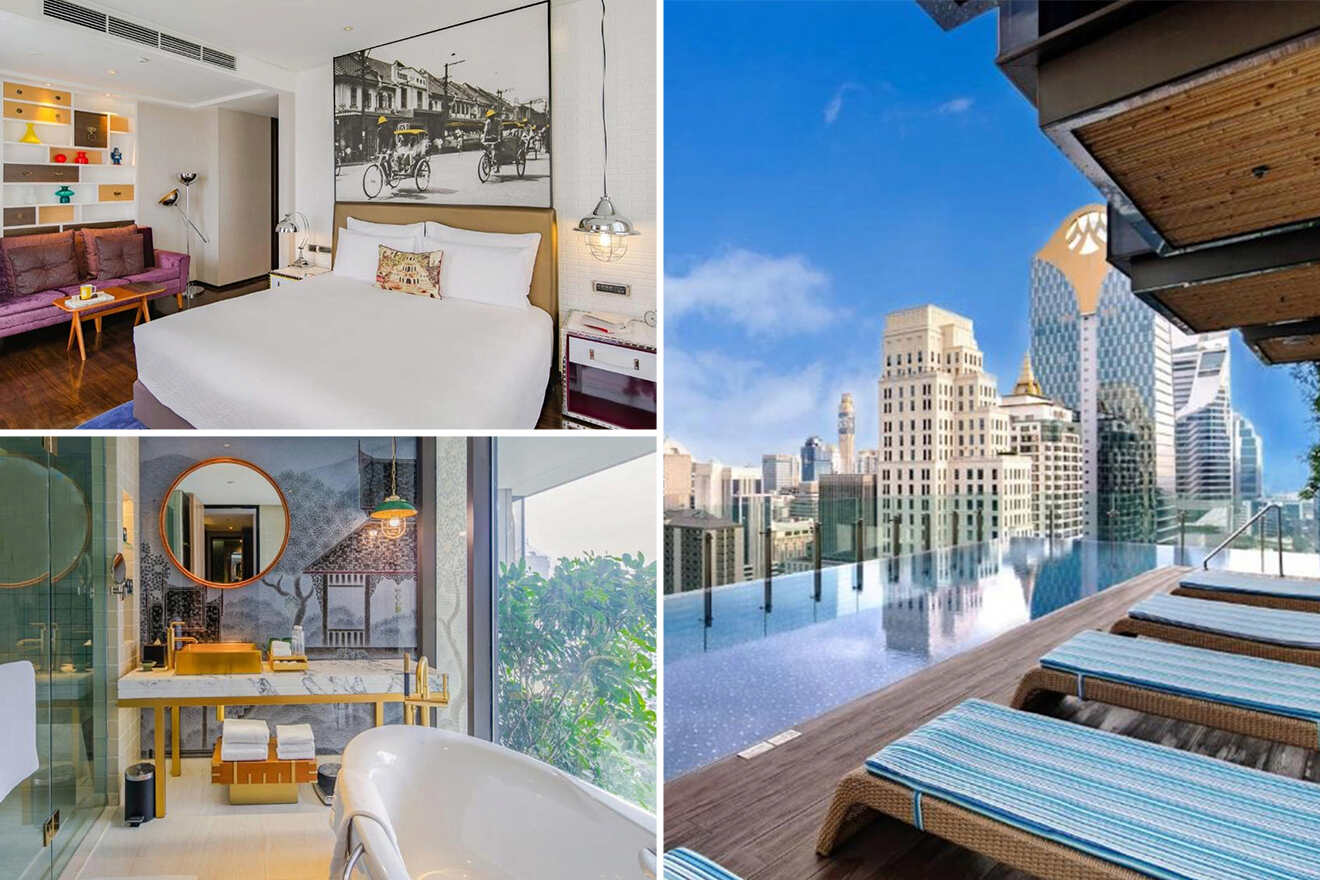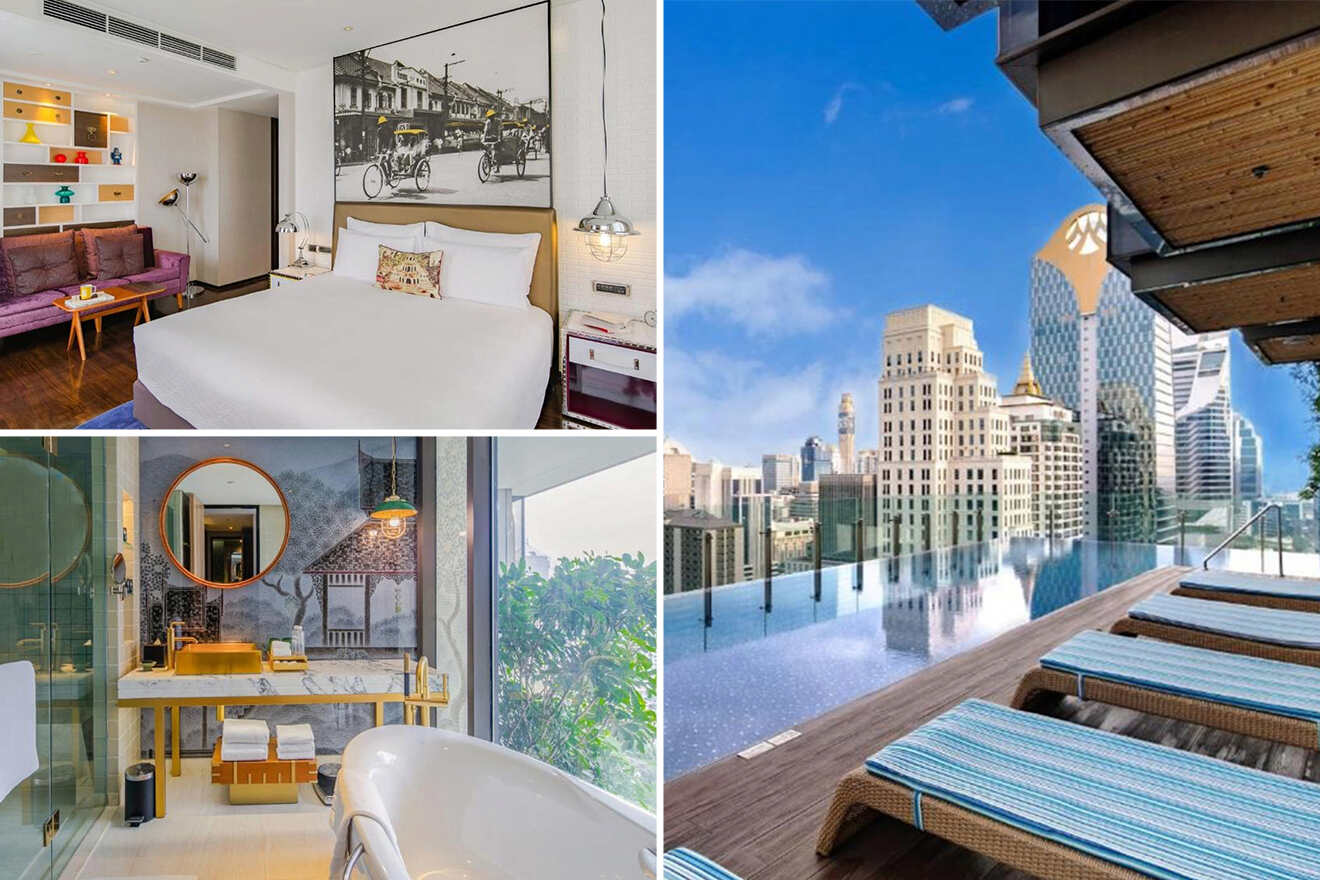 Enjoy the most amazing view of Bangkok's skyline from the rooftop infinity pool of this luxury hotel that's set in the city's business area. The accommodation is perfect for tourists who want to be close to many major attractions.
The rooms have ceiling-to-floor windows which offer views of the city's skyscrapers, so you can wake up every morning to the most glorious view! When you're not exploring all the important sites and admiring the Chao Phraya river, enjoy a day by the pool and try the food at one of the 4 restaurants on-site to end your day the right way!
14. Layana Resort & Spa – beach hotel with 3 restaurants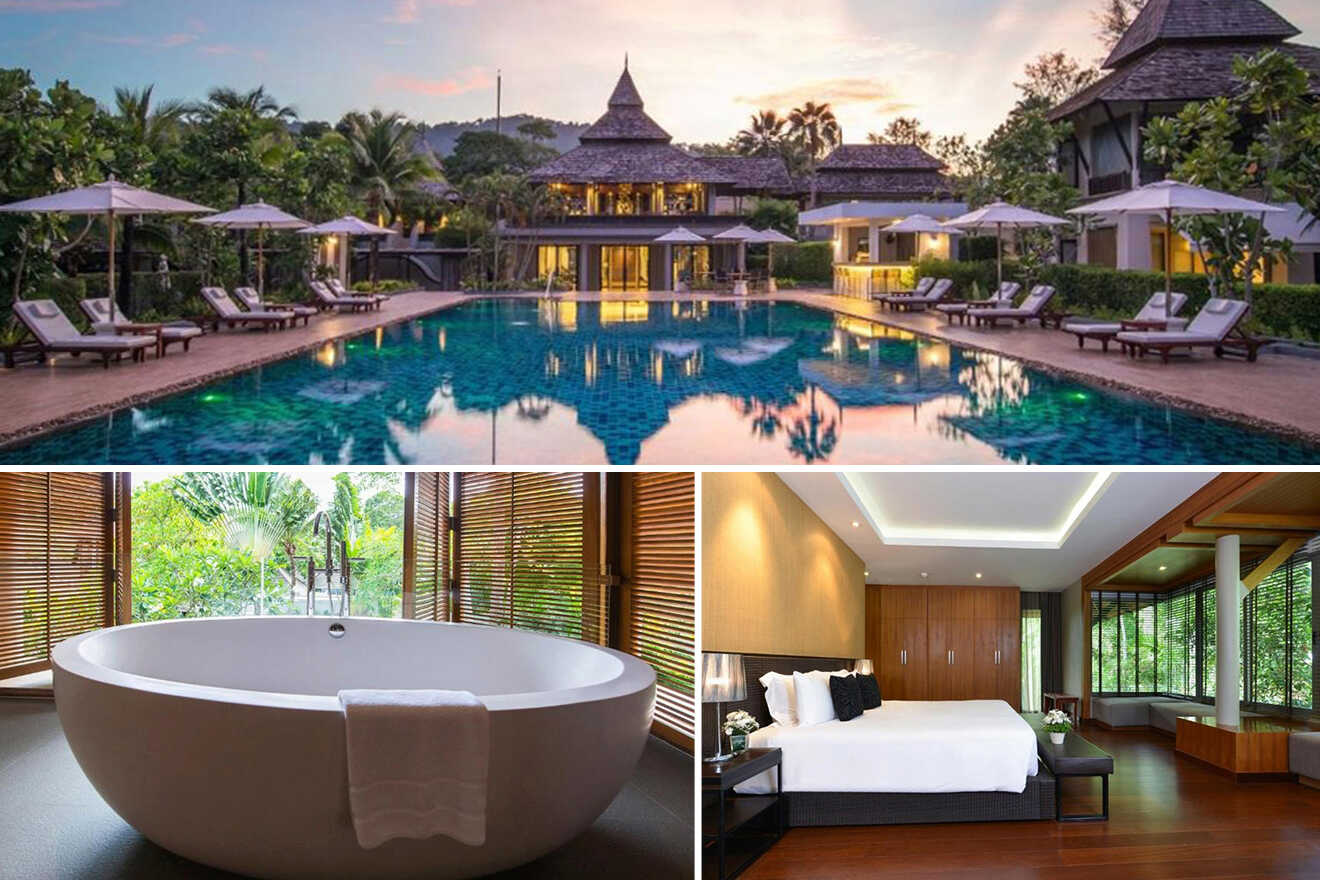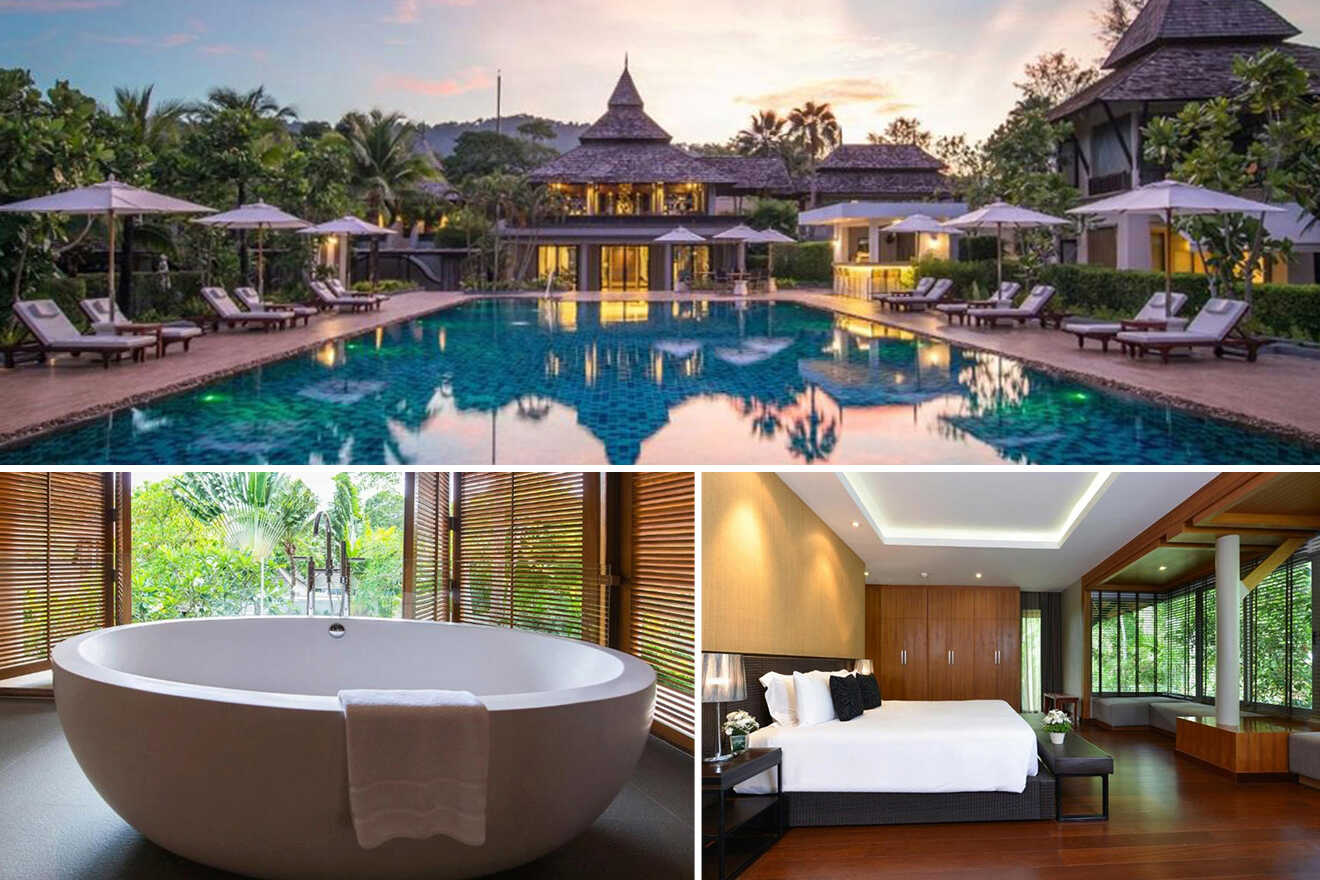 Ola travelers! Who's in the mood to escape the everyday routine and head for an unforgettable trip to Krabi, one of the most amazing places to stay in Thailand? This place has the best luxury hotels in the country and in such a unique spot like Krabi Marine National Park!
Set right on the beach, the resort features private gardens providing the perfect combo: trees and sandy shores! With beautiful Thai architecture, the rooms will offer the perfect sanctuary where you can relax and get a good night's sleep (or day, because what are holidays without day naps)? Swim in the outdoor infinity pool, get a massage, and immerse yourself in the beauty of this land!
15. Zeavola – tropical resort with a garden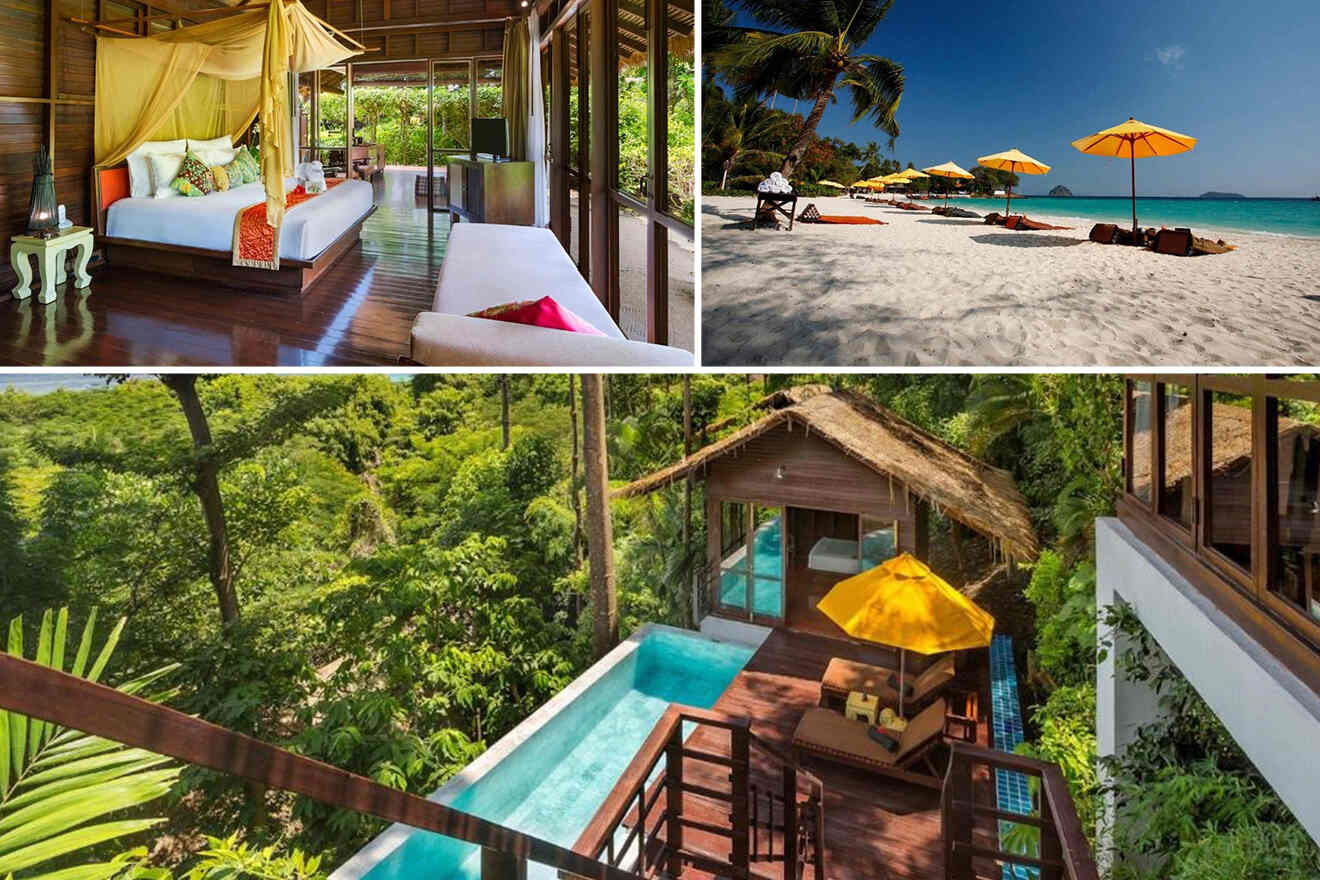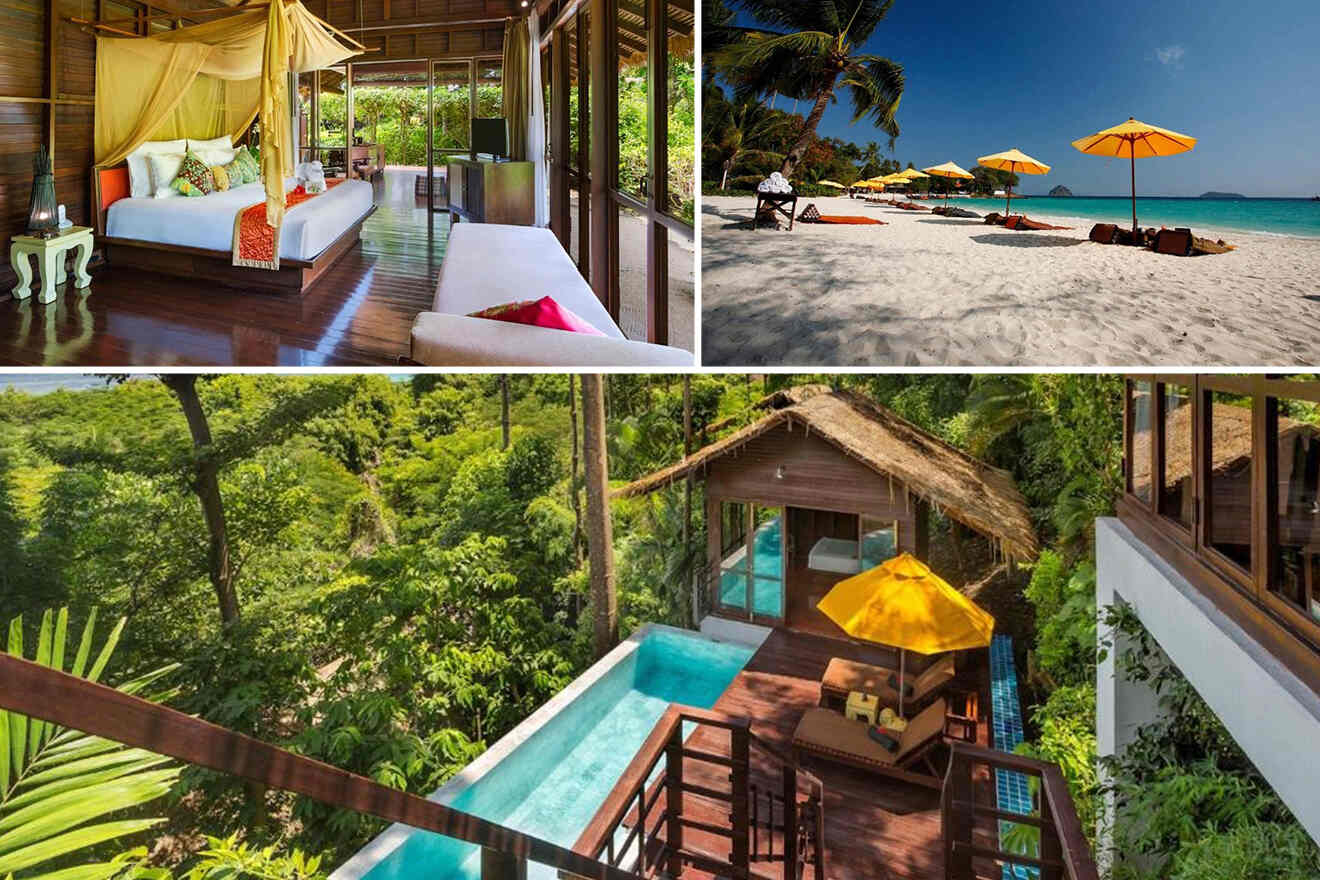 Looking for a fabulous place to stay in Phi Phi Islands? Then check out this fantastic resort! Set in a tropical hillside, the accommodation features rooms with Thai decor and wooden furnishings.
Wake up to the most amazing views of the gardens, from your ceiling-to-floor windows, which cover a whole wall section! The vibe is chilled, the food from the two restaurants is good, and oh yes there are many underwater adventures that you can sign up for like snorkeling and diving! On the days when you don't feel like playing Ariel, sit by the pool and enjoy the silence and nature!
16. Four Seasons Tented Camp – Thai villas with hot tubs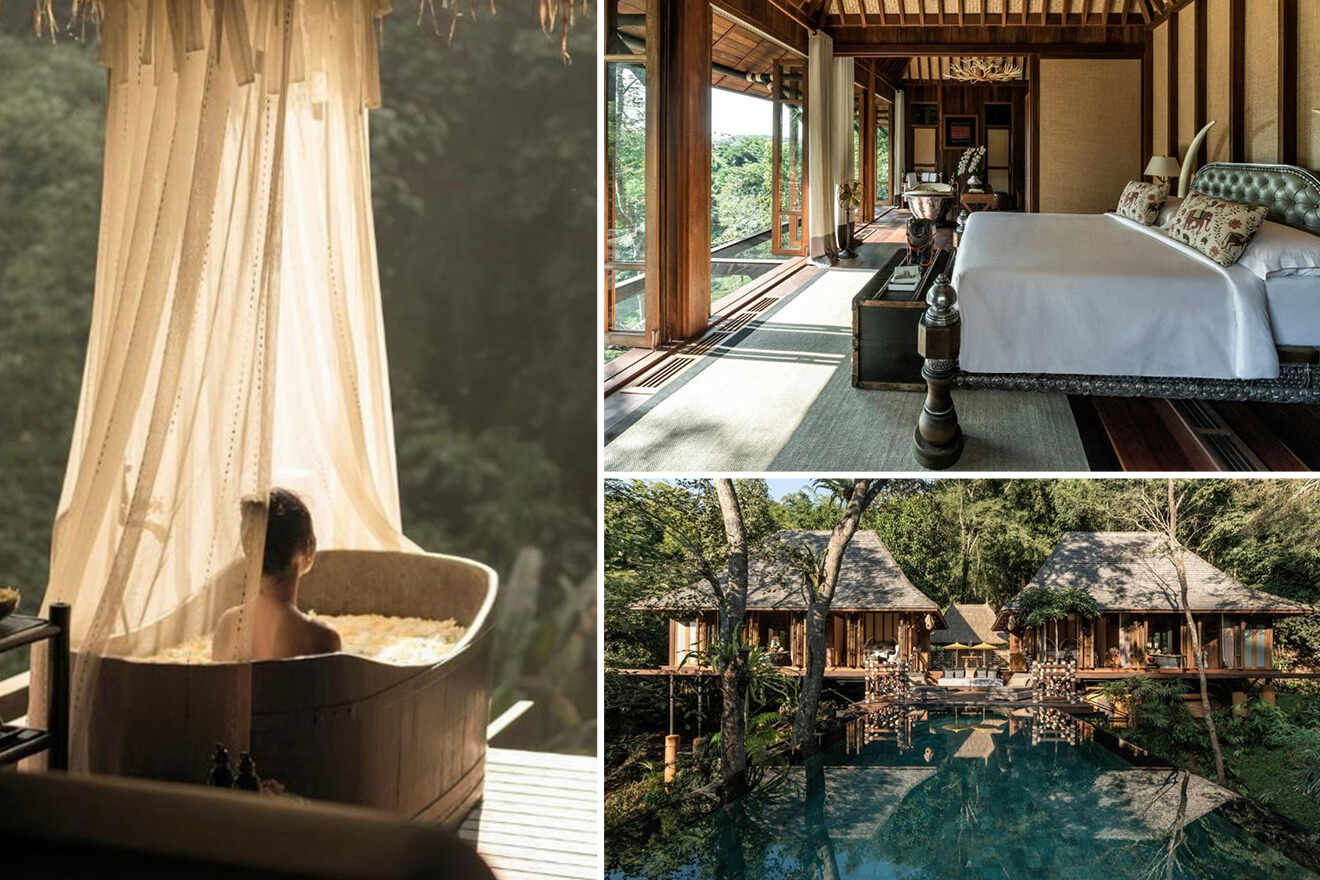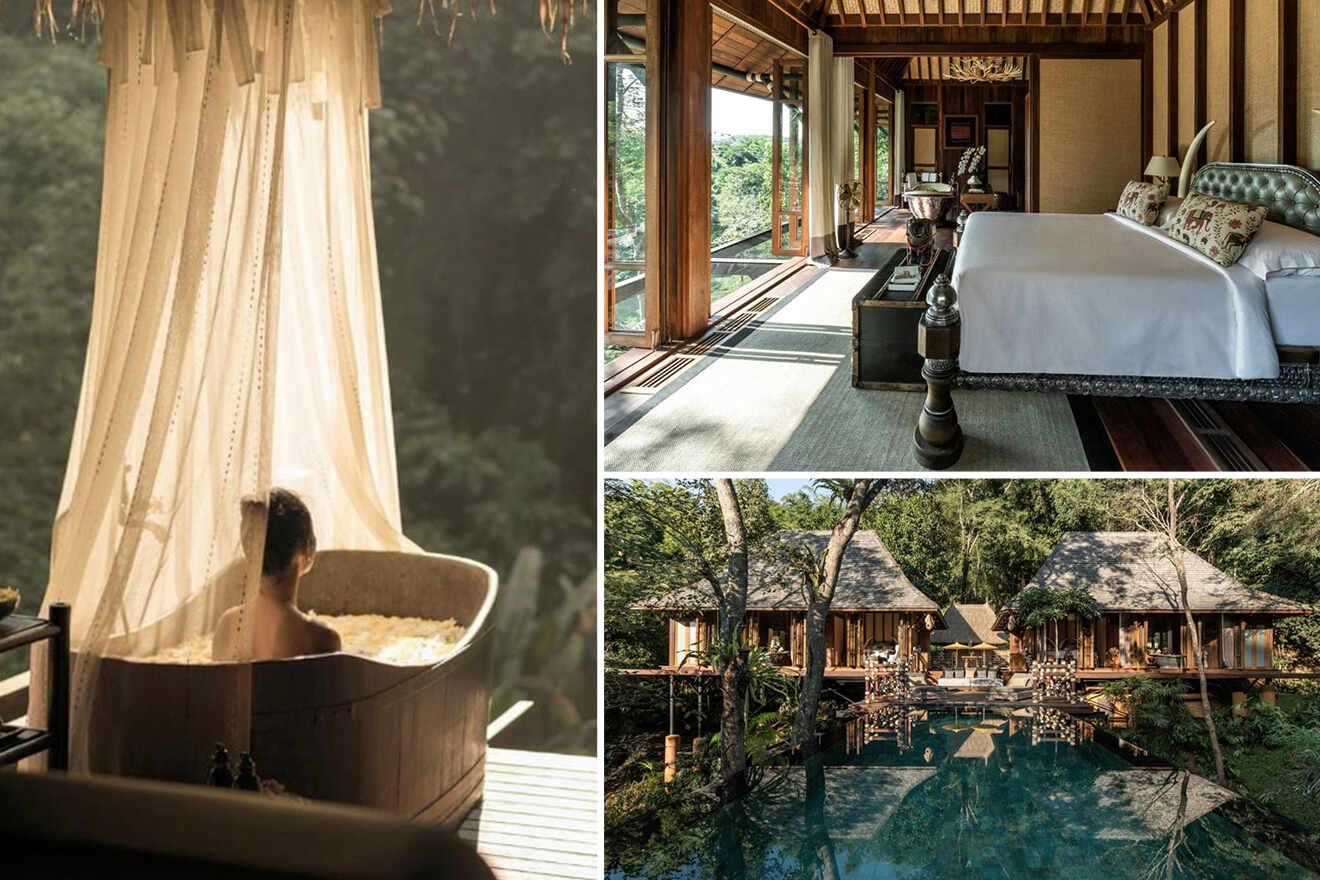 Forget all about city life and start an incredible adventure in Chiang Rai! This luxury glamp-like accommodation will offer you the most amazing experience! Perfect for outdoor enthusiasts and nature lovers this resort has authentic Thai villas with a custom-made wooden hot tub and a deck.
Nestled between the hills, the Four Seasons Tented Camp Golden Triangle has so many cool activities like elephant trekking, riverboat trips, and traditional craft classes. It'll be like living in your own little village! But a modern one, where you can eat yummy food while relaxing at the spa after a day out in the woods.
17. Keemala – celebrity hotel with private pools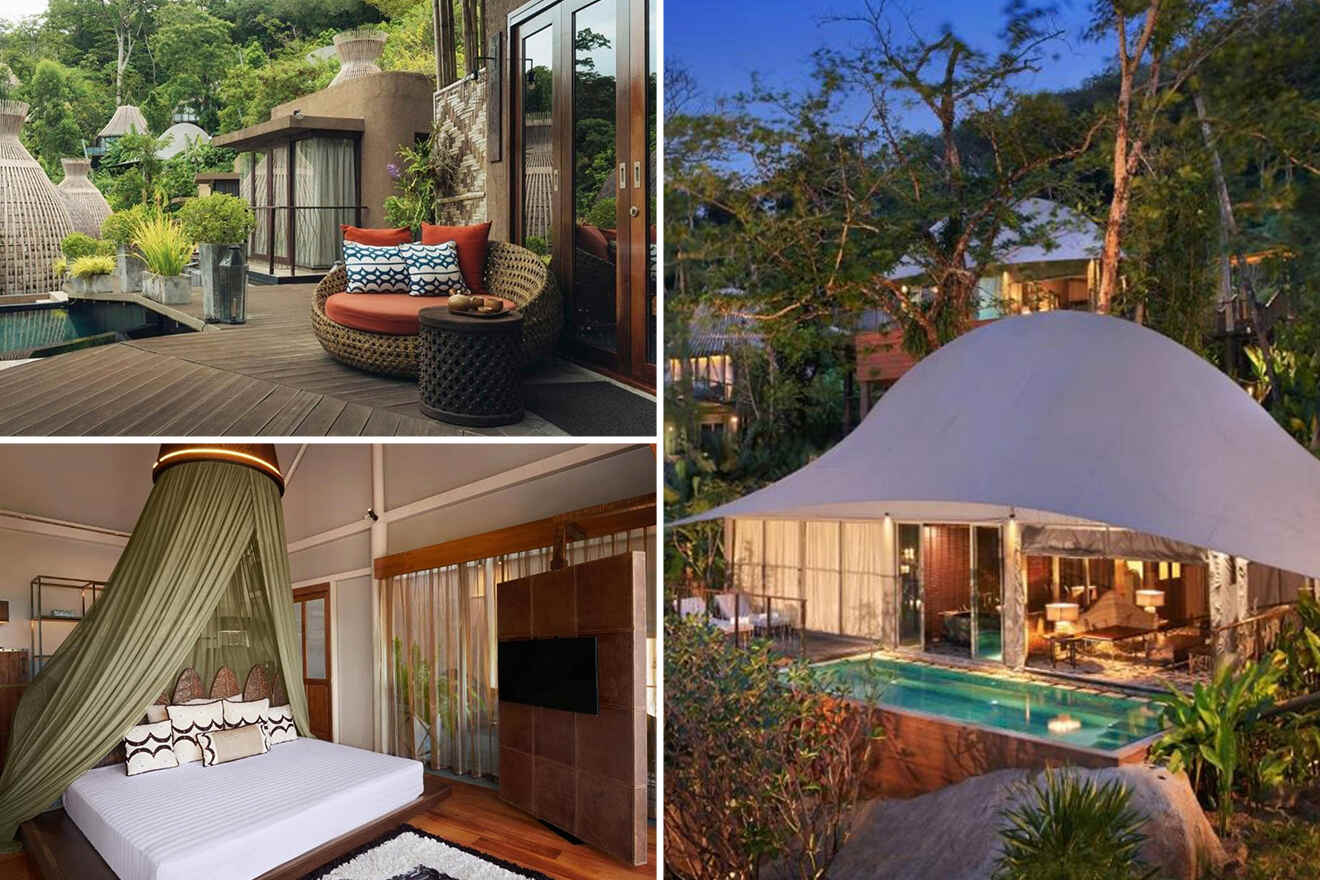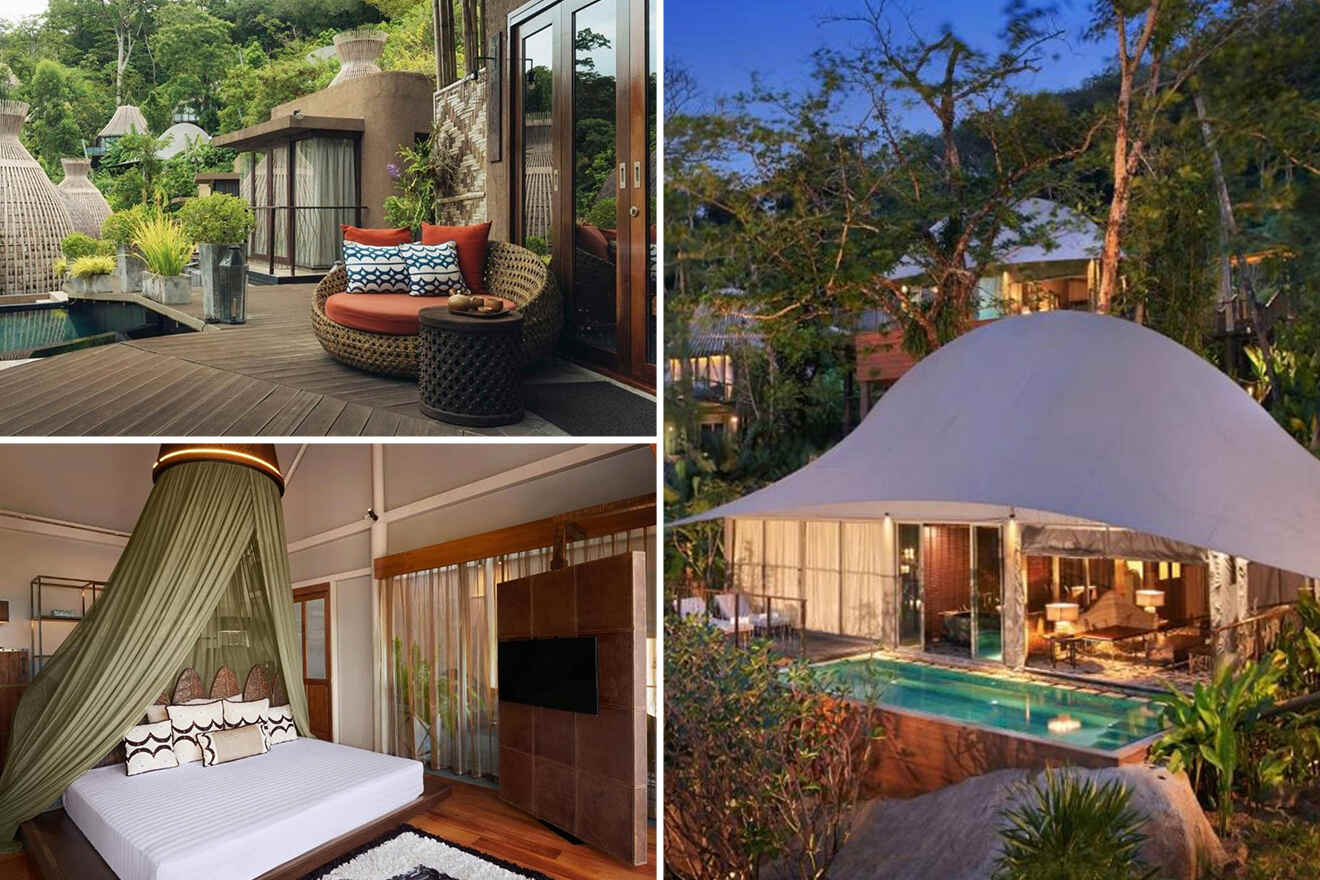 Fancy staying in the same villa or cottage that Rihanna or Rita Ora stayed at? This resort, set not too far from Kamala beach, is a favorite of many celebrities and we can't wonder why since it looks like a piece of heaven!
Nestled between tropical gardens and overlooking the Andaman Sea coast, this accommodation offers Thai villas and cottages with a private plunge pool and a spacious terrace where you can enjoy your morning coffee and the views. Start your day with some breakfast and then head over to the spa for some massages and other treatments.
| | |
| --- | --- |
| 📅 How many days: | 7-10 days |
| 🌞 Best time to visit: | November – early April |
| 💲 Most luxurious hotel: | Four Seasons Resort |
| 🤩 Unique attraction: | The Grand Palace Bangkok |
| 💵 Avg luxury hotel price: | $300 |
| 🍽️ Dinner for 2 with wine: | $50 |
| 🏨 Top family hotel: | Hyatt Regency Hua Hin |
| 📸 Celebrity hotel: | Keemala |
FAQs about luxury hotels in Thailand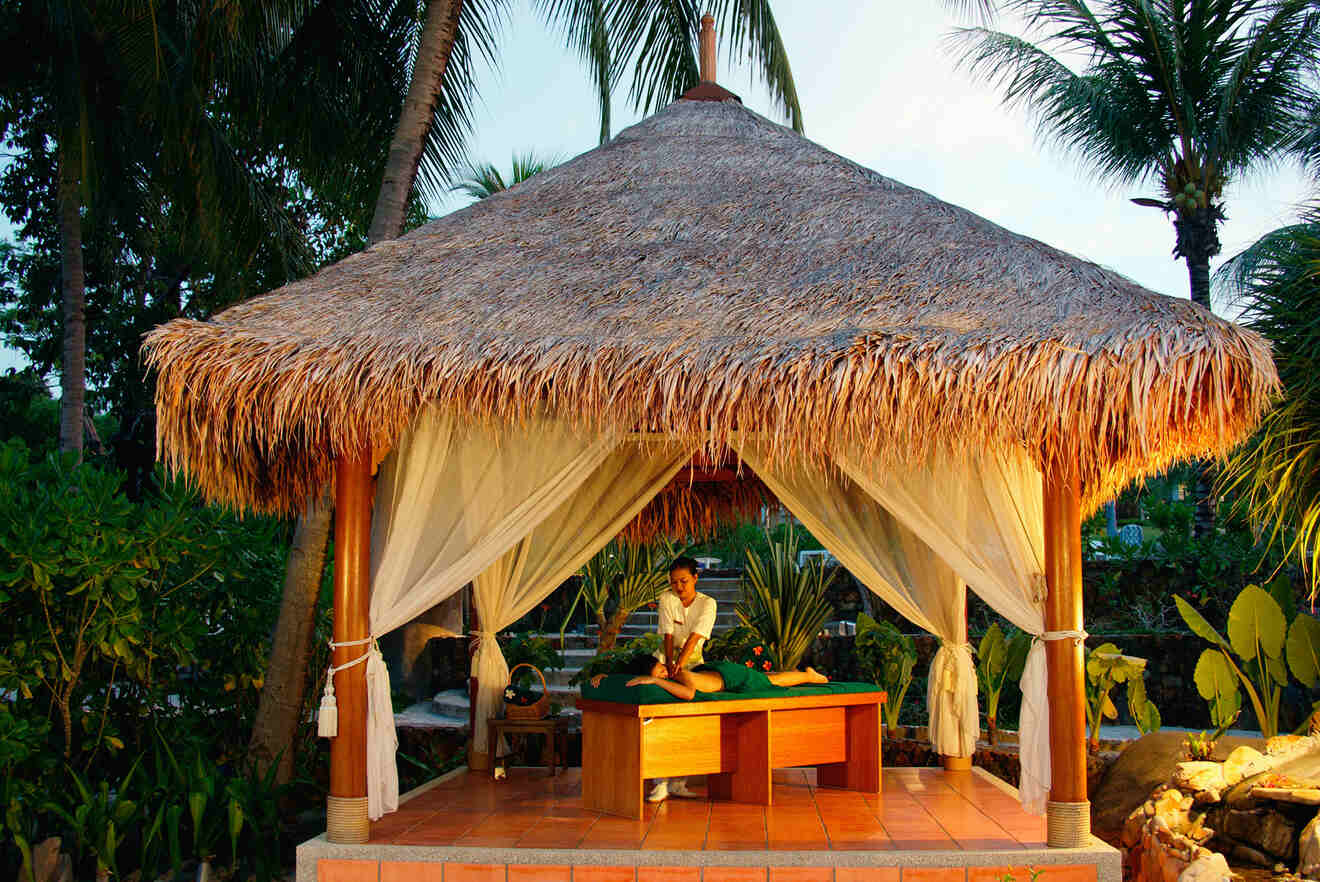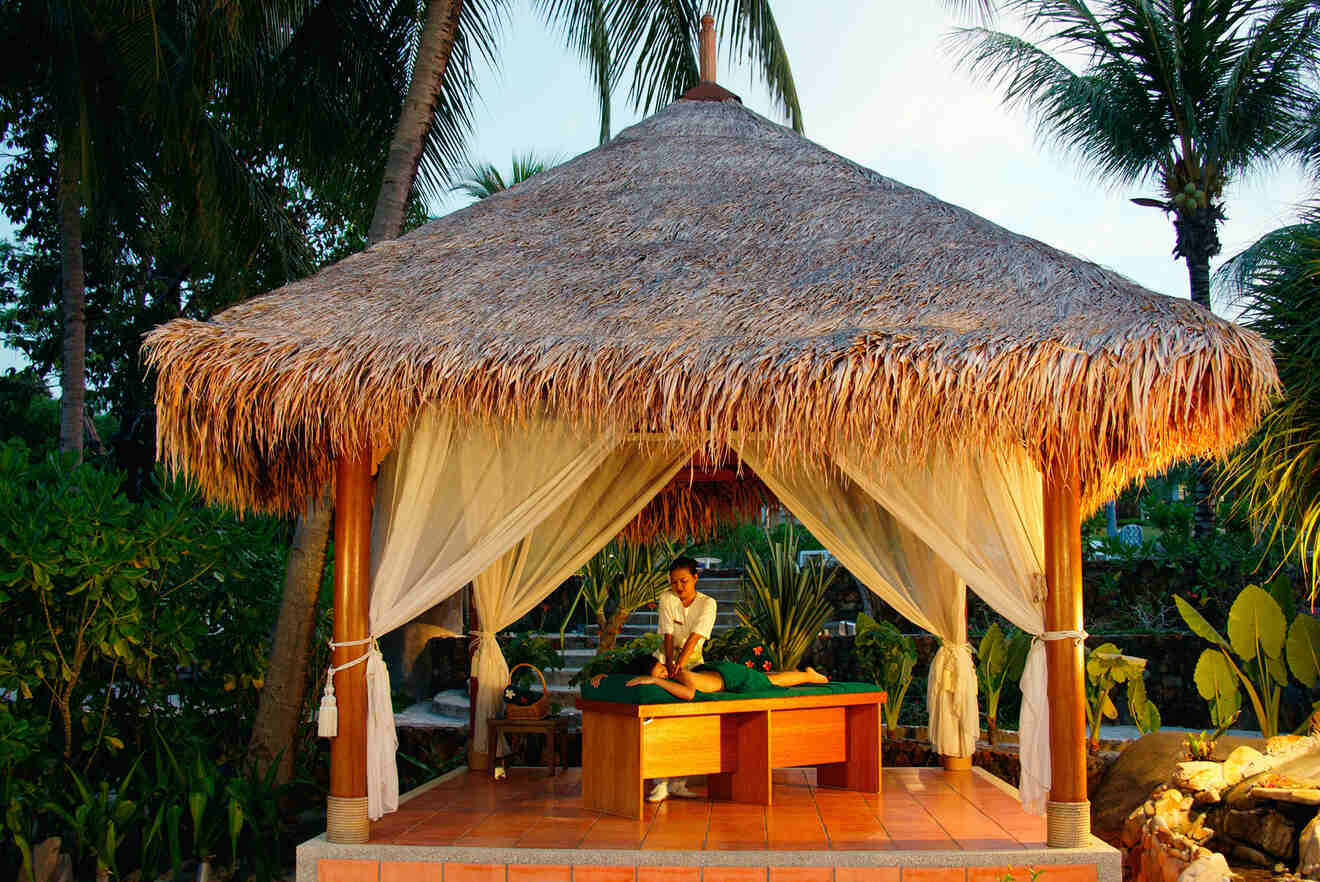 Conclusion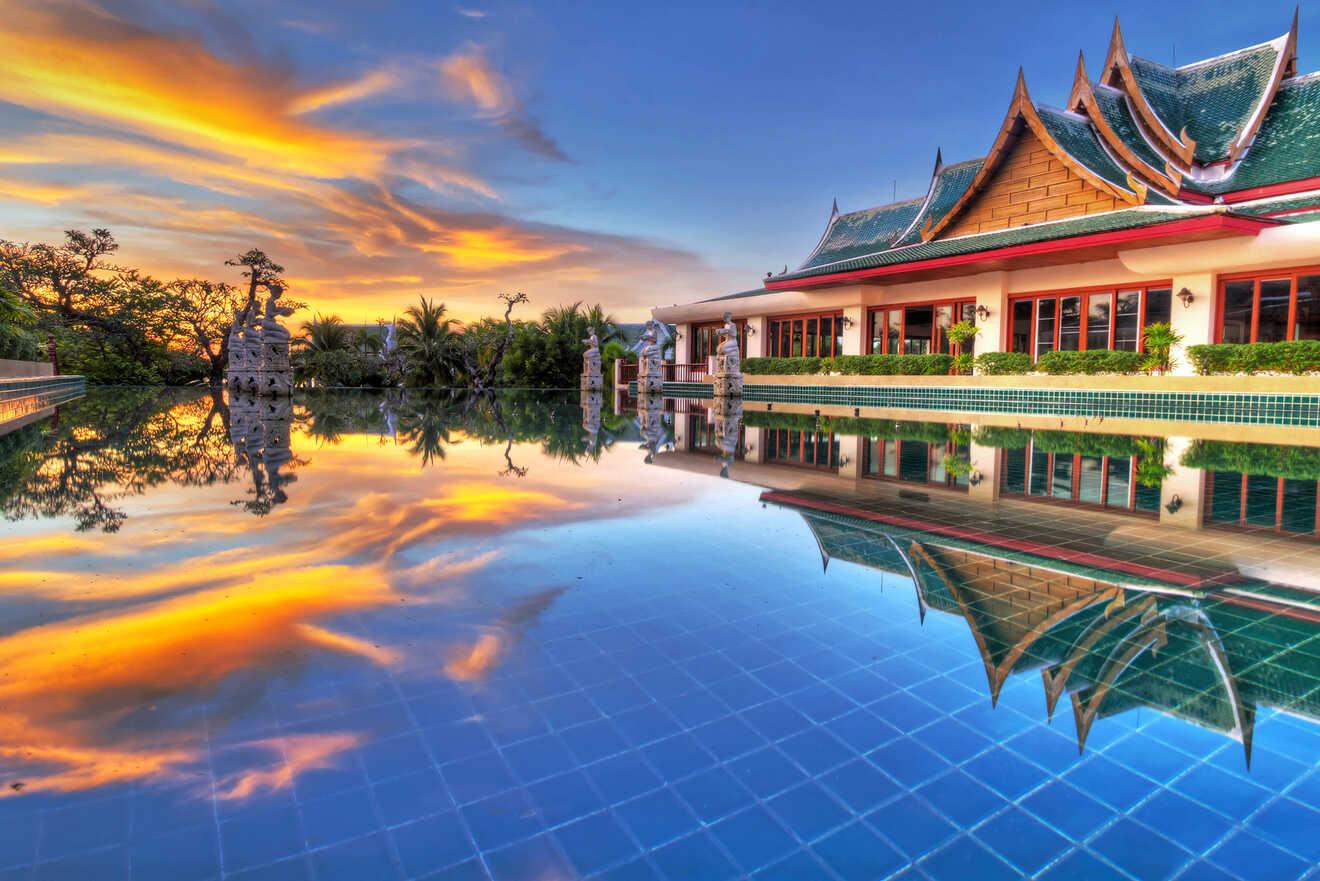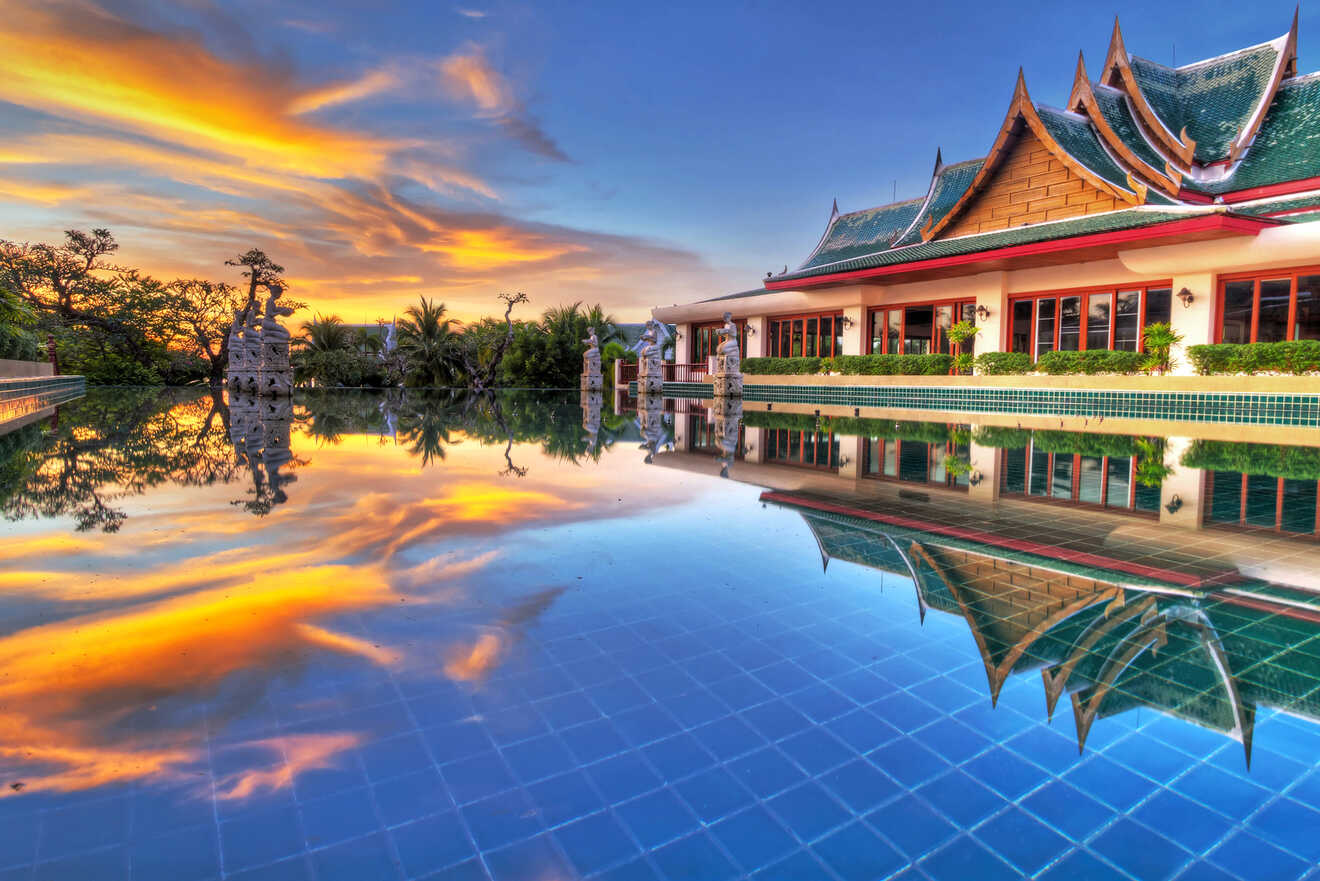 Who's already found the hotel of their dreams? I bet there are many of you! After all, these are the best hotels in the whole country!
As I mentioned, this post has the best luxury hotels in Thailand, listed from the most to least expensive ones.
I figured that way you can decide quickly what you want. Although I know that may be difficult since this list of hotels is pretty long and all of them are so amazing. So if you need a bit of extra help here are my 2 favorite luxury hotels in Thailand:
Four Seasons Resort Koh Samui – You'll never forget your stay here! Set between tropical gardens this dreamy resort features villas with private pools and 3 restaurants
Six Senses Yao Noi – One of the best hotels in Koh Yao Noi that offers a tranquil setting, a private beach area, and spa services
I'm sure many of you understand how important it is to book in advance! These are the best luxury hotels in Thailand and they won't stay on the market for too long!
Well, this is where our journey ends for now! But don't forget that I'm always here to answer questions on luxury travel or anything else that maybe you can't on the hotel website or online! So pop a comment below and I'll answer it!
Safe Travels,
Victoria
---
Pin it for later!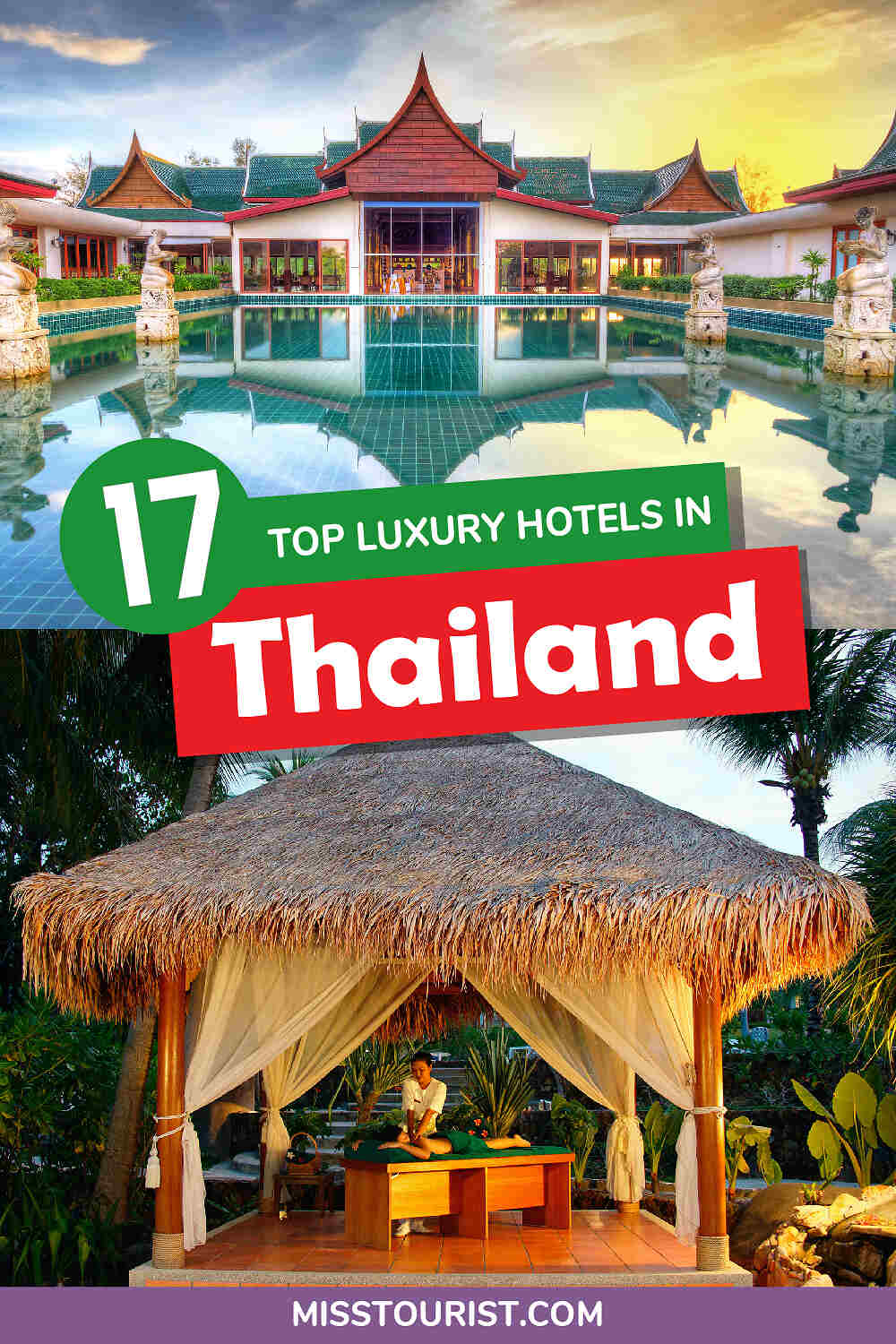 Pin it for later!