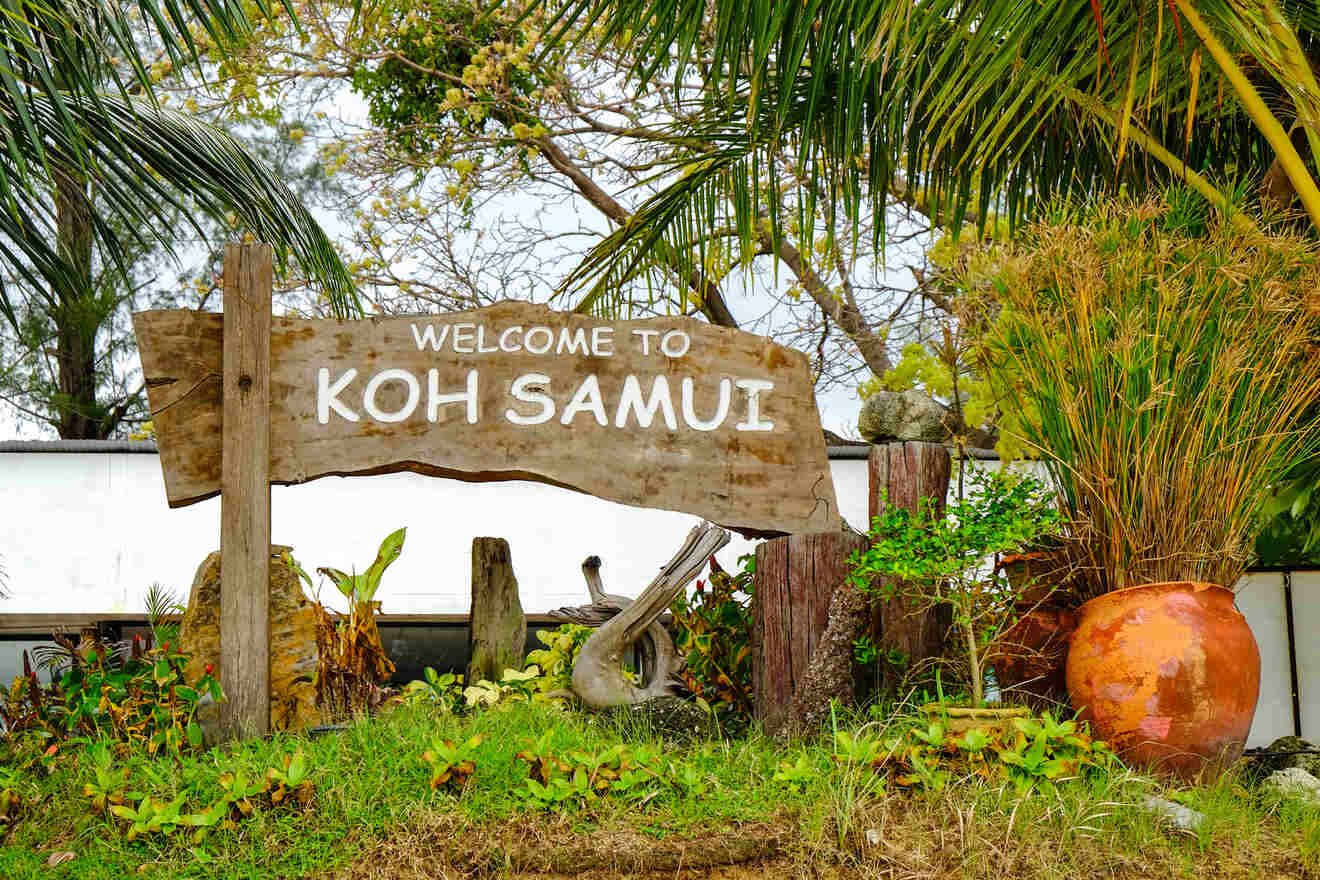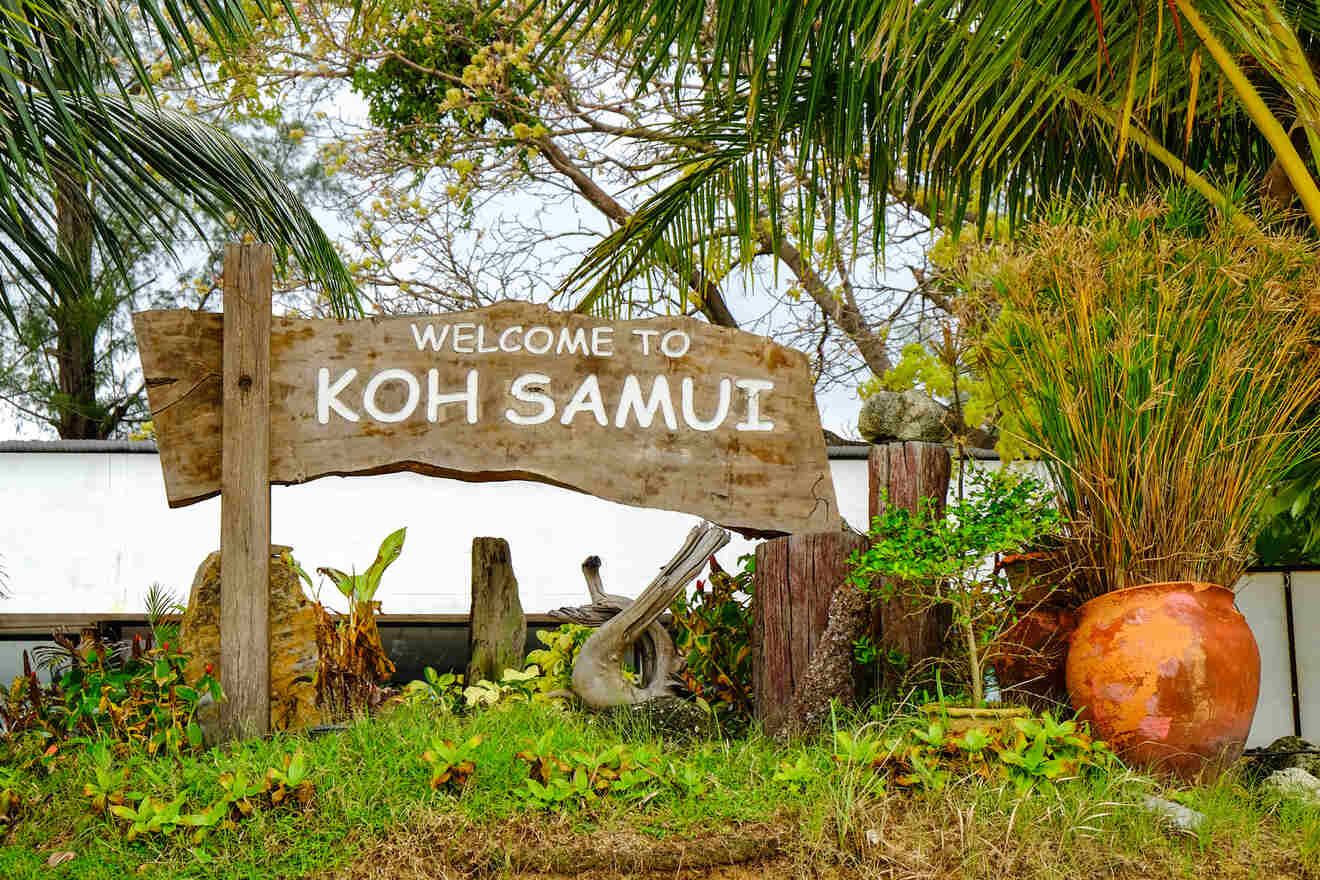 Koh Samui is Thailand's second-largest island, located in the Gulf of Thailand, and is a real paradise of white untouched beaches, green forests, crystal waters, and coconut groves!
For this reason, it became home to many luxury hotels, secluded resorts, and beach villas located on the many beaches and small towns of Koh Samui island.
Each of these towns has its own character and offers different attractions, so which one you'll choose can make a difference in your vacation… that's why I decided to write this guide with the best areas where to stay in Koh Samui, divided by interest.
Chaweng is perfect if you want to enjoy the nightlife, Lamai Beach for a romantic getaway with your couple, Maenam Beach to stay on a budget, Bophut for a vacation with the family, Choeng Mon for a luxury stay, or Taling Ngam to connect with nature!
I also included hotel options for any budget, so there's a choice for everyone, but don't forget to book them at least some months in advance… places here sell out super fast!
Well, let's start!
If you are in a hurry
If you don't have to read the whole post, check out this quick list of the best hotels to stay in Koh Samui, Thailand, divided by budget range:
Here's a map with the different areas where to stay in Koh Samui, Thailand, so you can easily visualize where are located in the island:
1. Chaweng – where to stay in Koh Samui for nightlife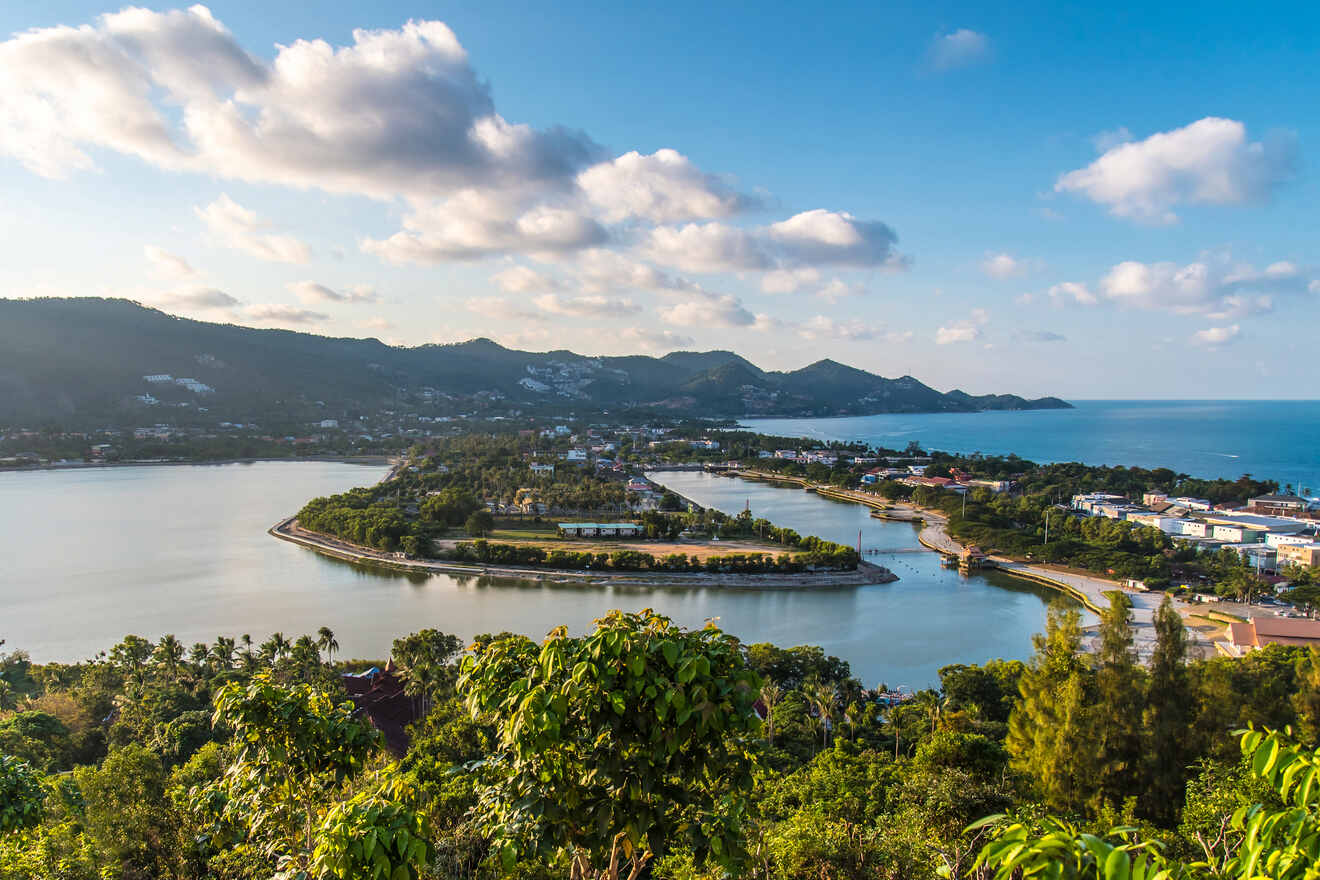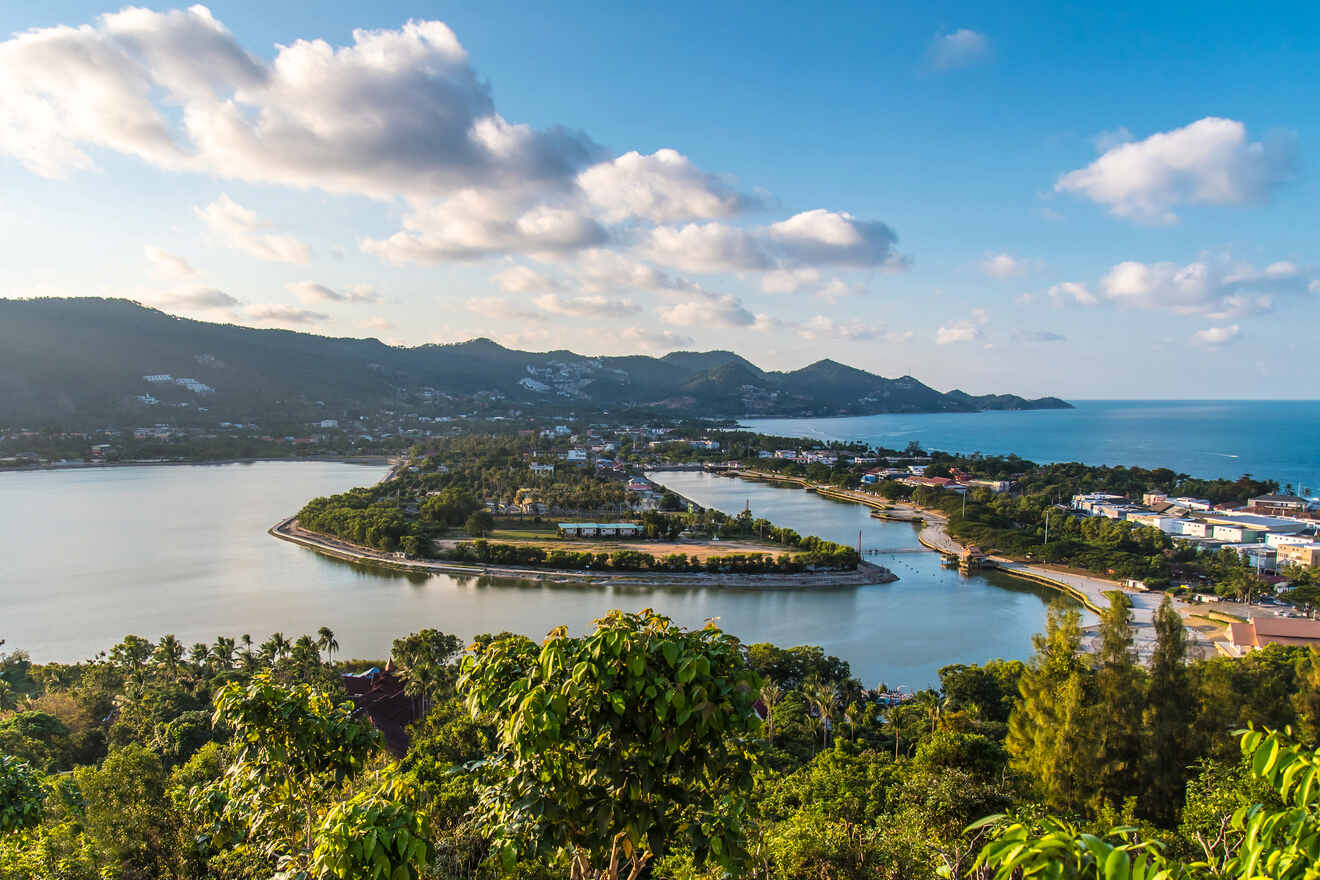 If you are looking for a mix between beach and party, you will like Chaweng Beach, located on the northeast coast of Koh Samui and considered the heart of the island.
Chaweng beach is a very long stretch of white sand, hosting many cool beach bars and restaurants: great to relax or engage in exciting water sports during the day, and dance the night away in nightclubs and bars in the area as the sun goes down.
Just keep in mind that Chaweng attracts lots of crowds due to the party scene, so if you prefer quiet areas, Chaweng Beach may not be not the place for you.
Chaweng Beach also offers many accommodation options for different budgets and interests: from luxury hotels to low-cost hostels and family-friendly accommodations… check out the best hotels in Chaweng here below:
Other accommodation options in Chaweng
Things to do in Chaweng
Just lie down soaking up some sun at Samui Chaweng Beach!
Discover Koh Samui's unspoiled beaches on this full-day cruise
Visit Wat Khao Hua Jook, a century-old Buddhist temple on the top of a hill
Have a shopping evening at the Chaweng Central Festival Samui
Go to Soi Green Mango for cheap drinks, loud music, and good times!
Try some delicious Thai food at Chaweng Walking Street outdoor market
2. Lamai Beach – where to stay in Koh Samui for couples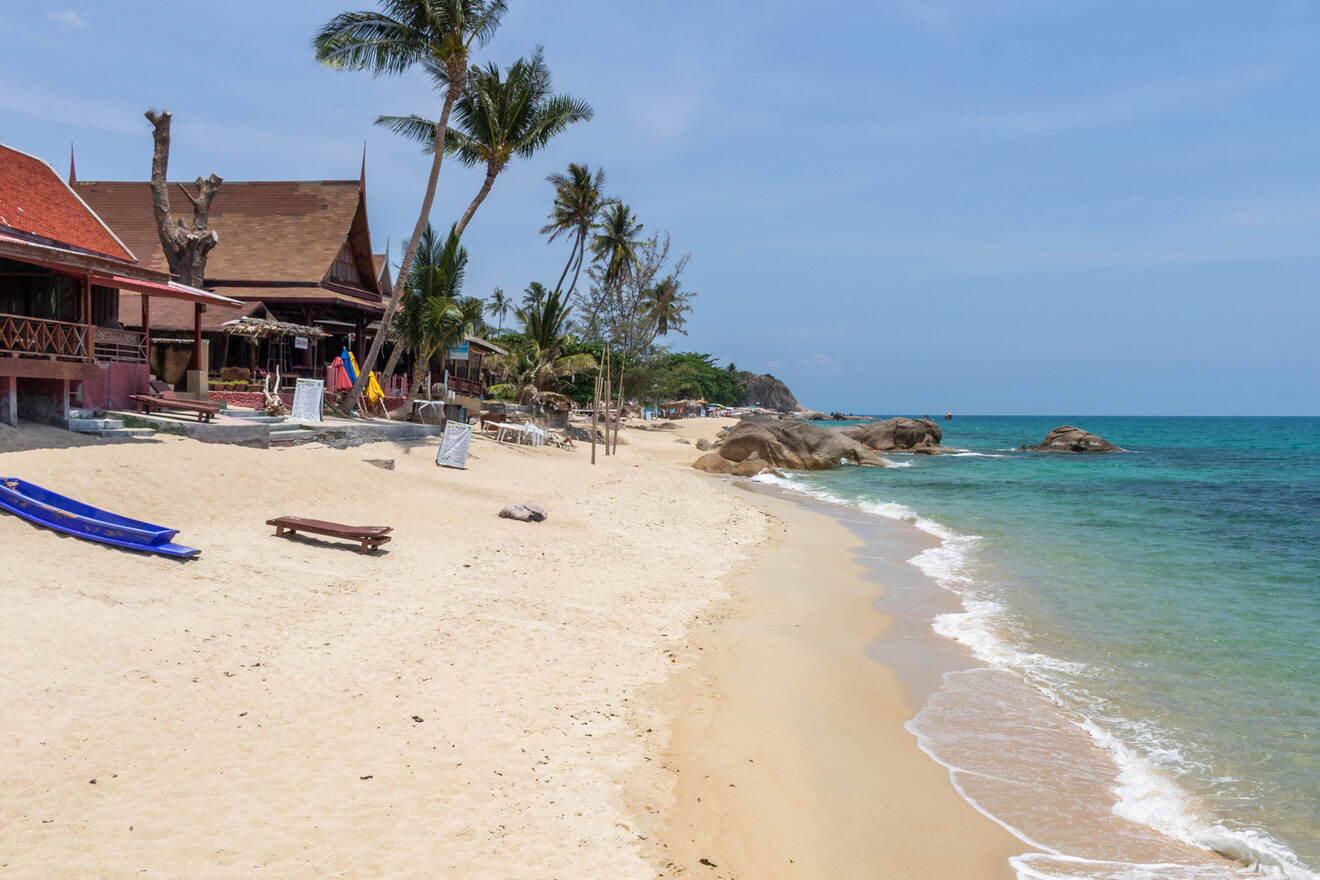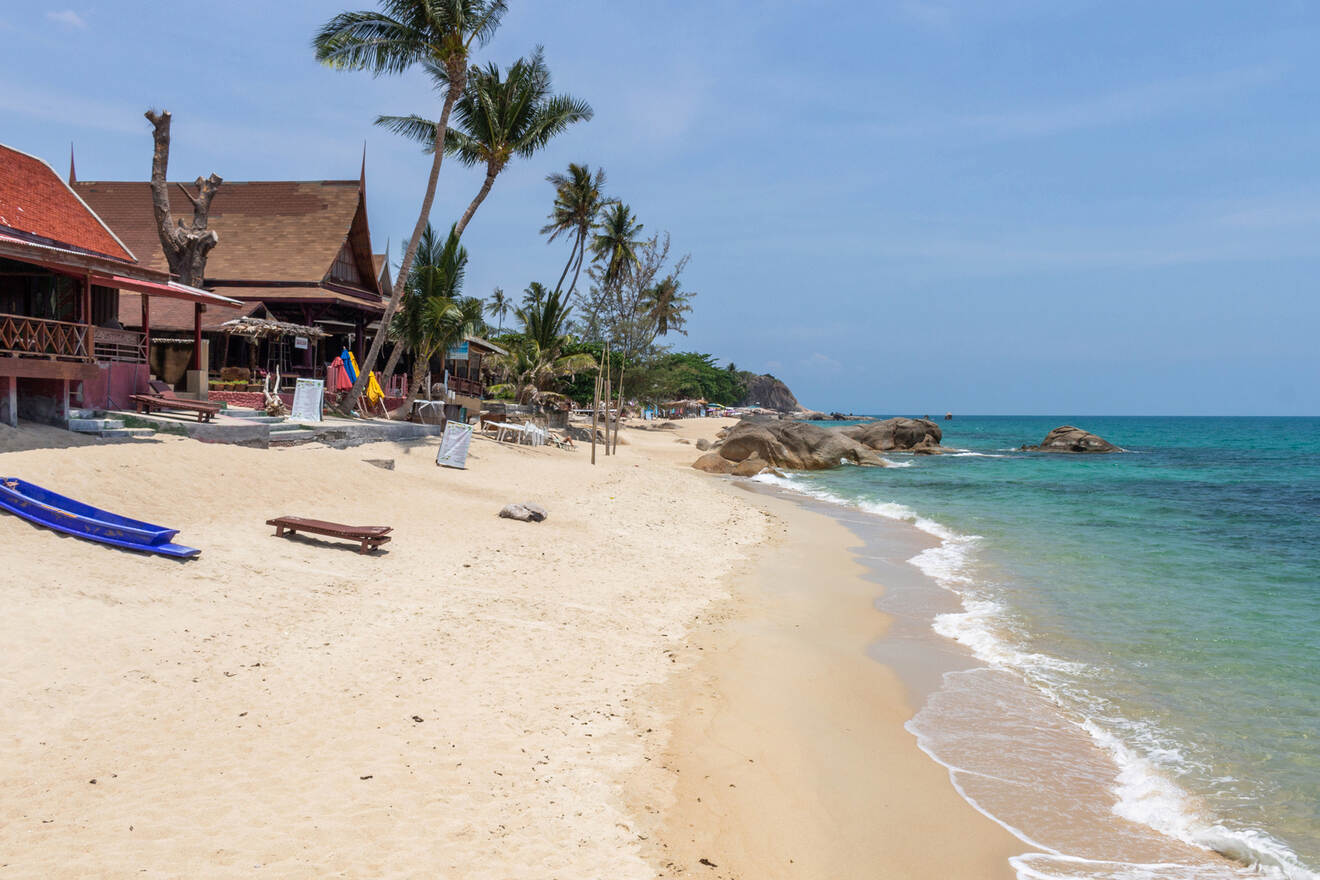 If you are looking for a place where to spend a romantic getaway or even a honeymoon, Lamai Beach is definitely where to stay in Koh Samui, located on the southeast side of the island!
This is one of the most popular sports in the Koh Samui offering incredible crystal waters, ideal for swimming, access to immaculate beaches, and the best sunrises you'll see in your life, one of the main reasons Lamai is famous!
But the cool thing about Lamai beach is that it still retains a laid back atmosphere, with most bars and restaurants owned and run by locals, so you won't find the crowds of Chaweng, and there's even a walking street market selling some delicious fresh food, at very cheap prices!
The area is home to many different accommodation options, from expensive hotels and beach resorts to more intimate properties… check them the best hotels in Lamai here below, and don't forget to book them as soon as you can:
Other accommodation options in Lamai Beach
Things to do in Lamai Beach
Embark on a relaxing cruise to Ang Thong National Marine Park!
Gaze at amazing views with an exciting ride at Lamai Viewpoint
Go snorkeling on the Silver Beach, secluded in a little bay
Check out Hin Ta and Hin Yai, some fascinating rock formations
Wake up early to see a breathtaking sunrise right on the beach!
Have the best views from the golden Pagoda Khao Chedi
Climb up to the Lamai Overlap Stone, a unique geological feature
3. Maenam Beach – where to stay on a budget in Koh Samui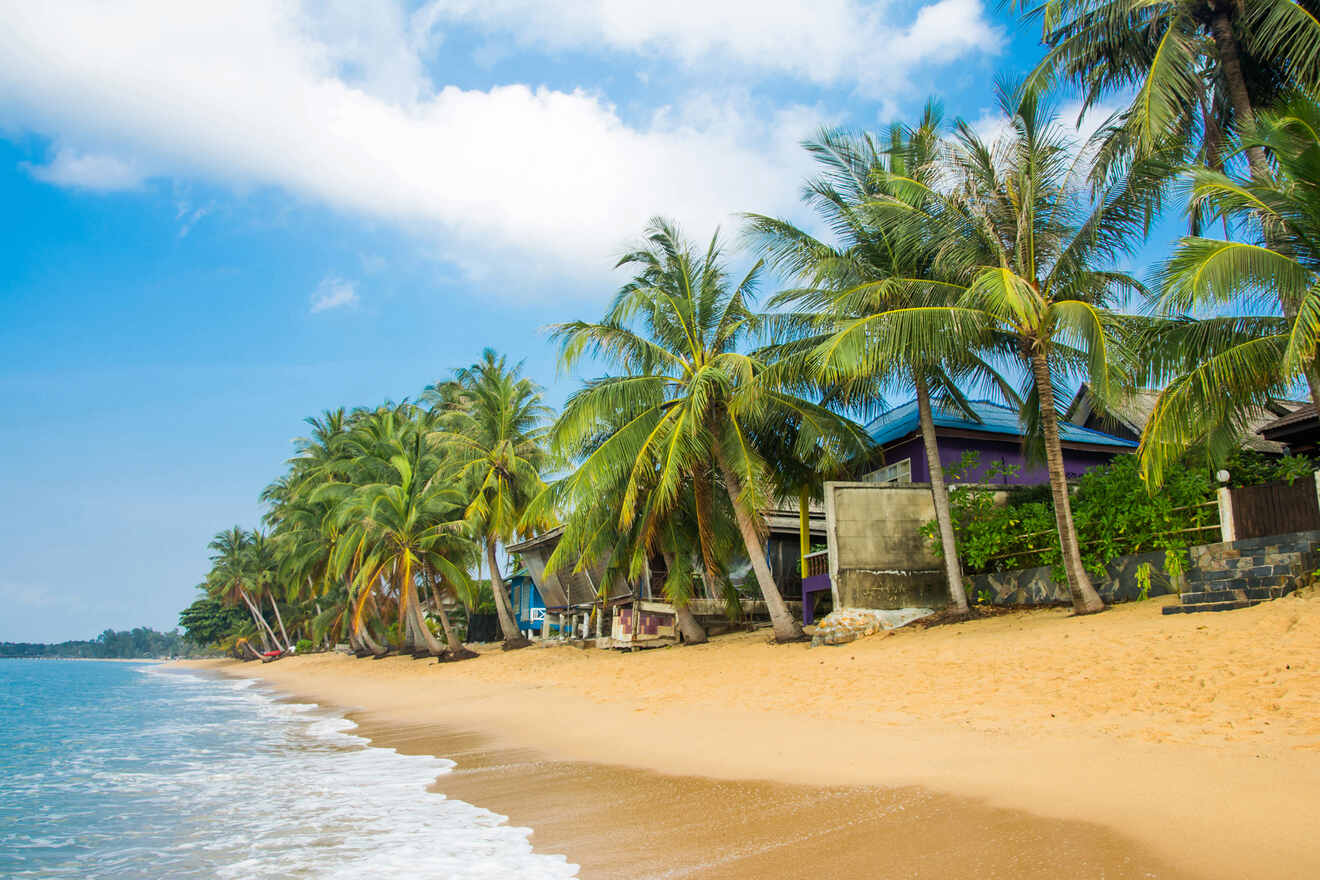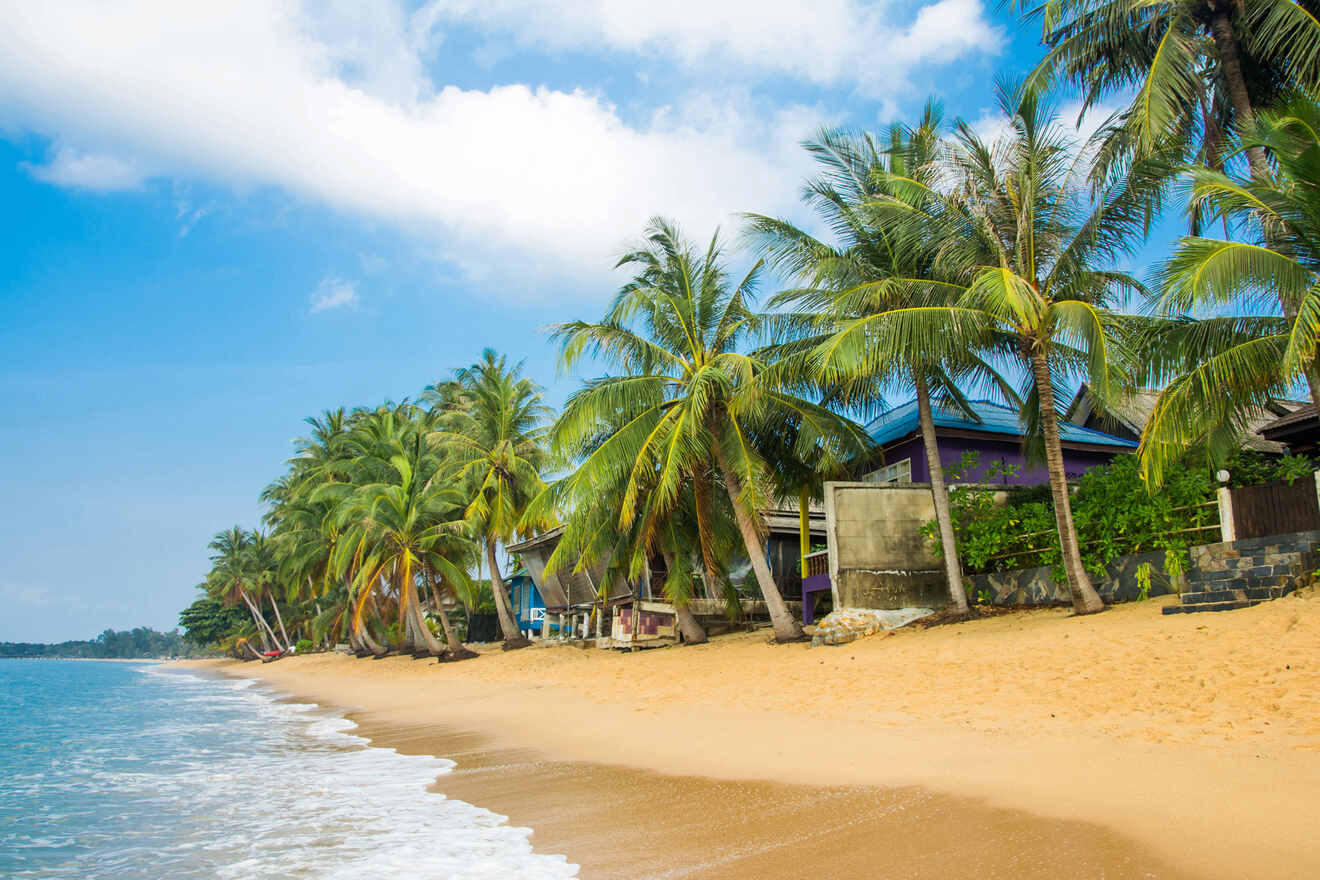 If you want to spend a quiet holiday far from tourists, you will love Maenam beach (meaning the "Mother of Water"), located off the beaten path right on the north of Koh Samui island.
In fact, Maenam's long and white sandy beach is one of the quietest on the whole island, perfect to have tranquil walks in complete peace and reconnect with nature!
Here there's something to do for anyone: you can spend the day sunbathing at the beach, eating fresh fish in one of the beach restaurants, or engaging in outdoor activities like kite surfing, tree climbing, zip-lining, etc.
Thanks to its very affordable prices, Maenam became popular with backpackers, so you'll find many cheap accommodation options as well as more elegant beach resorts and private villas for those who want more privacy.
Another backpackers' paradise in Thailand is Koh Phangan island, located close to Koh Samui, check out this blog about the best places to stay on Koh Phangan!
Other accommodation options in Maenam Beach
Things to do on Maenam Beach
Have a tranquil walk on the Maenam beach, 6 km long
Try kitesurfing or kiteboarding in one of the many schools in the area
Have an exhilarating day of fun at Samui Canopy Adventures
4. Bophut – the best area in Koh Samui for families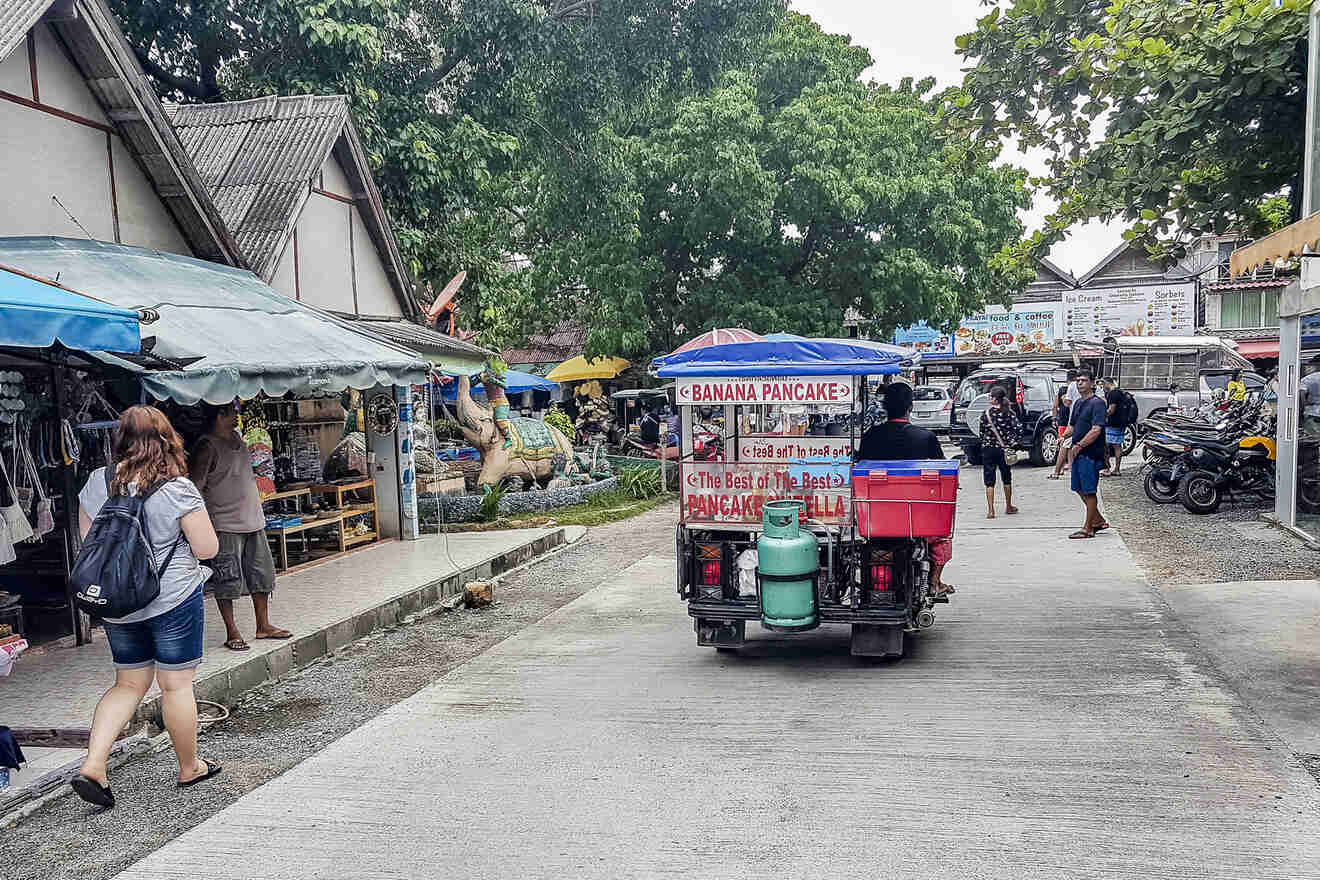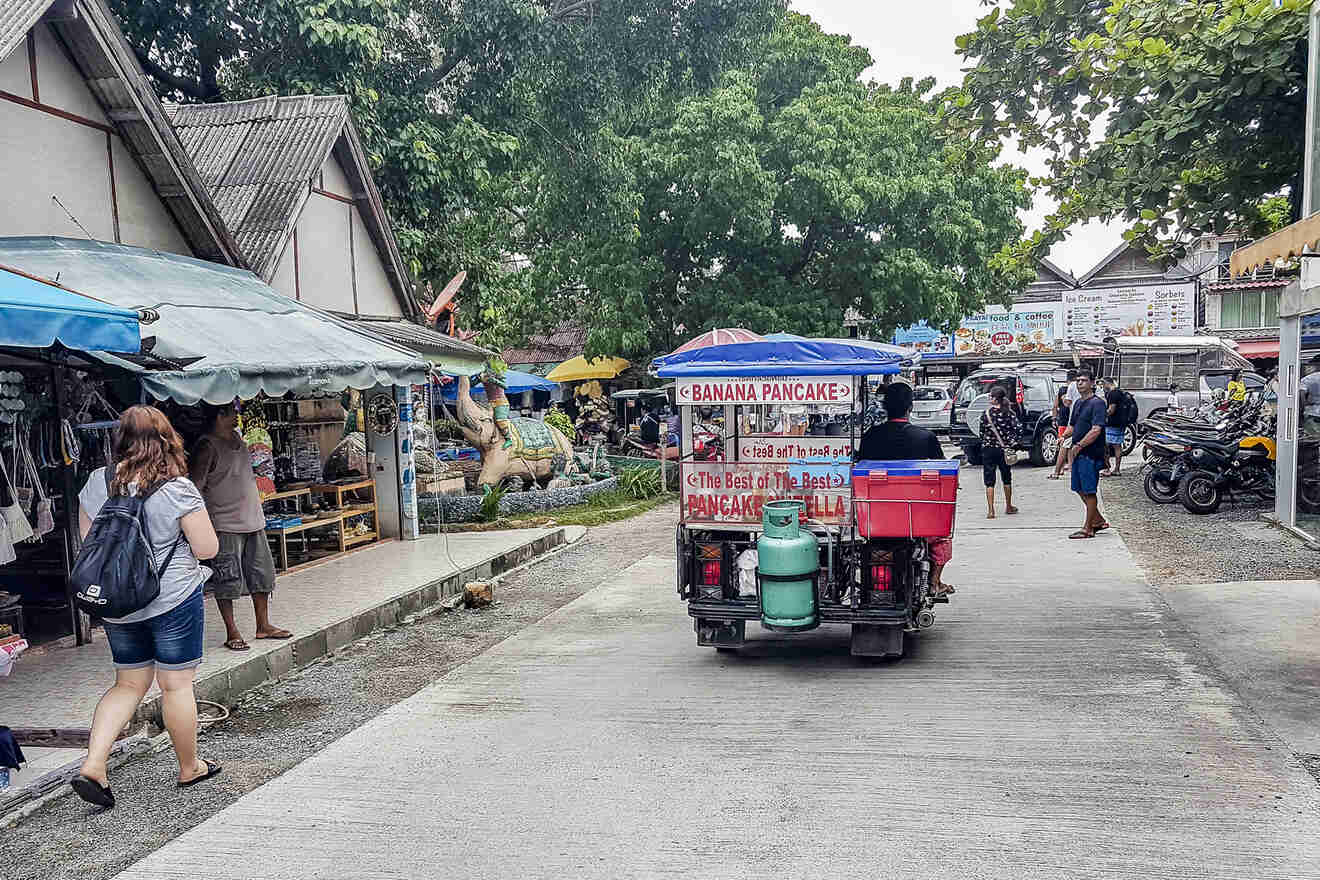 Located north of Koh Samui island, and east of Maenam Beach, you'll find Bophut, an old fisherman's village which feels like it got stuck in time. This is the perfect place for families, offering something interesting for any member of it!
In the center of Bophut, you'll find a charming, old, pedestrianized street running parallel to the beach, featuring many fine dining restaurants, chic bars with refreshing cocktails, and beachfront hotels and touristy shops… great to buy some souvenirs!
And when the sun goes down, the area gets more lively (without being too noisy and crowded) and hosts one of the best night markets in Koh Samui, which is actually called the Fisherman's village.
But one of the main highlights of Bophut is the famous Big Buddha statue, 12m tall, located at the Wat Phra Yai temple.
On the other hand, Bophut Beach is perfect to spend some quality time with the family: sunbathing, swimming, trying different fun water sports like scuba diving, or joining some cool boat tours… all of this with the best scenic views!
Another super quiet and remote area is Lipa Noi beach, on the west side of the island, half an hour from Lamai Beach. Lipa Noi is perfect if you want to spend a beach day almost without people (and there are no corals or rocks on this beach, so your kids can swim safely!).
Other accommodation options in Bophut
Things to do in Bophut
Go on the magical pig islands on this speed boat tour!
Enjoy swimming or scuba diving at Bophut Beach
Buy some cool souvenirs in Bophut Fisherman's Village
Relax on a tranquil sailing to Ang Thong Marine Park
Check out the Big Buddha statue, 12m tall, located in the Wat Phra Yai temple.
Go on a snorkel tour to the serene coasts of Koh Tao and Koh Nang Yuan
Bring your kids to Lipa Noi Beach for a chill beach day
5. Choeng Mon – the most upscale area in Koh Samui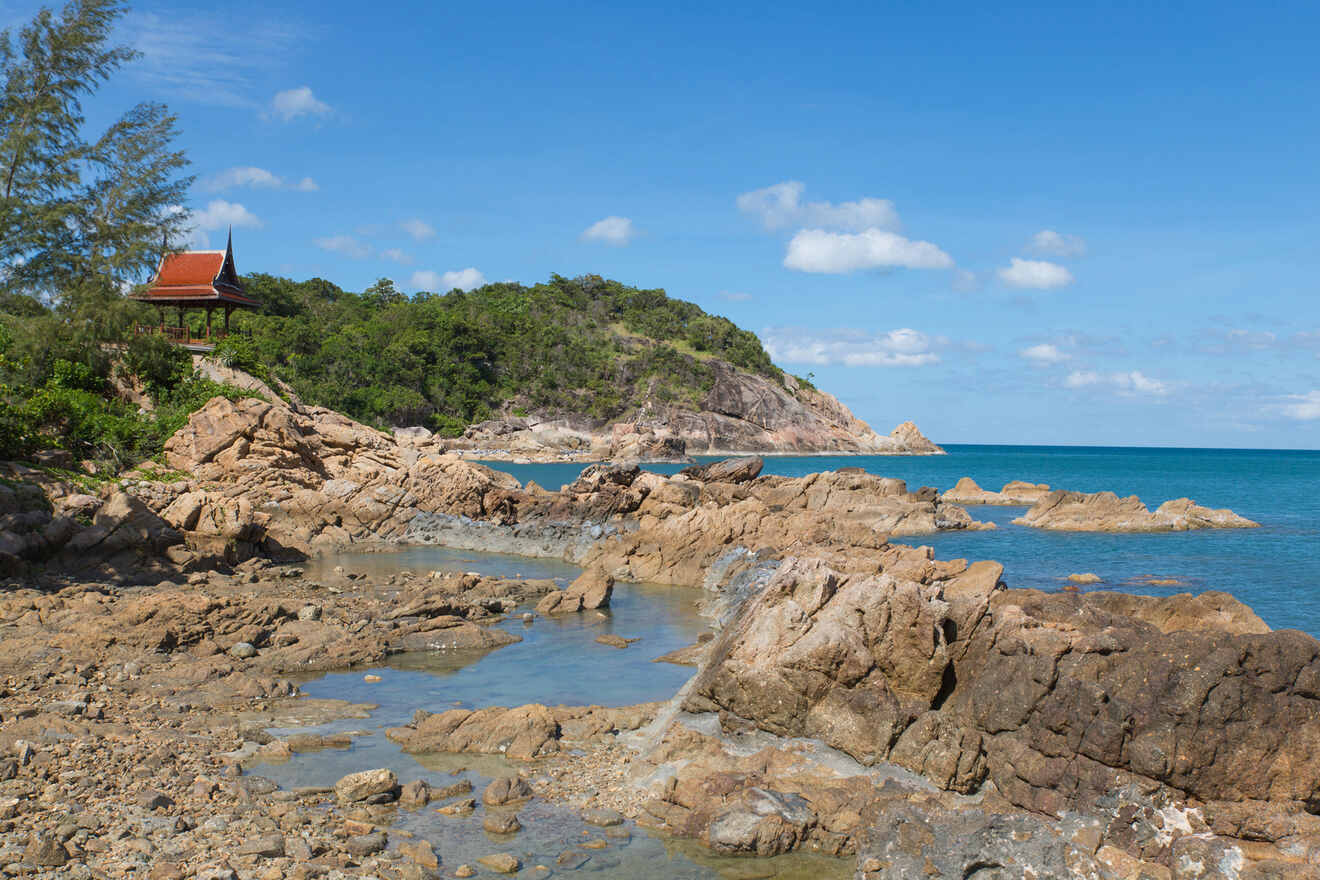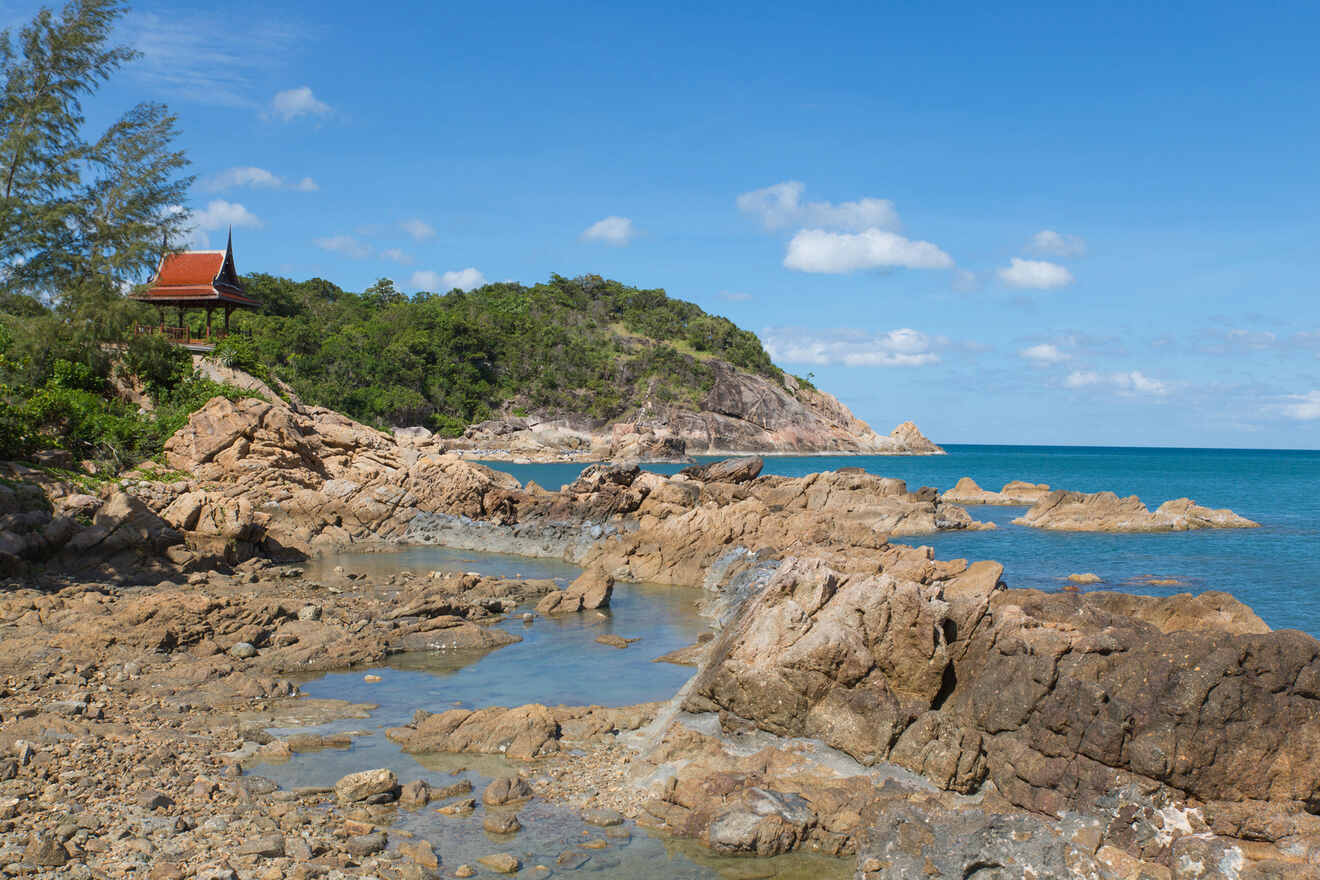 If you don't mind splurging a little to have access to secluded bays, white sand beaches, and crystal clear waters, you will love Choeng Mon, located northeast of Koh Samui.
This area is particularly loved by couples and families for its very peaceful vibe, but this doesn't mean there's nothing to do: here you'll find delicious restaurants, bars, and massage parlors and have access to Choeng Mon beach, one of the best beaches in Koh Samui island.
Another great thing about this place is its location, close to many popular sites like Chaweng, at just a 15 minutes drive (if you feel like partying), and the Big Buddha, literally five minutes away, a MUST for your vacation in Koh Samui.
As I said in the intro, Choeng Mon offers mainly high-end accommodation, from exclusive hotels to luxury resorts, check them out:
Other accommodation options in Choeng Mon
Things to do in Choeng Mon
Just relax and soak up some sun at Choeng Mon beach
At low tide, walk to Koh Fan Yai and Koh Fan Noi islands from Choeng Mon beach
Try authentic Thai Pasta at The Mother Restaurant!
Have the best happy hour in a cozy atmosphere at Bar Cocktail King
Have the best massages at SALA Samui Choengmon Beach Resort
6. Taling Ngam – for untouched nature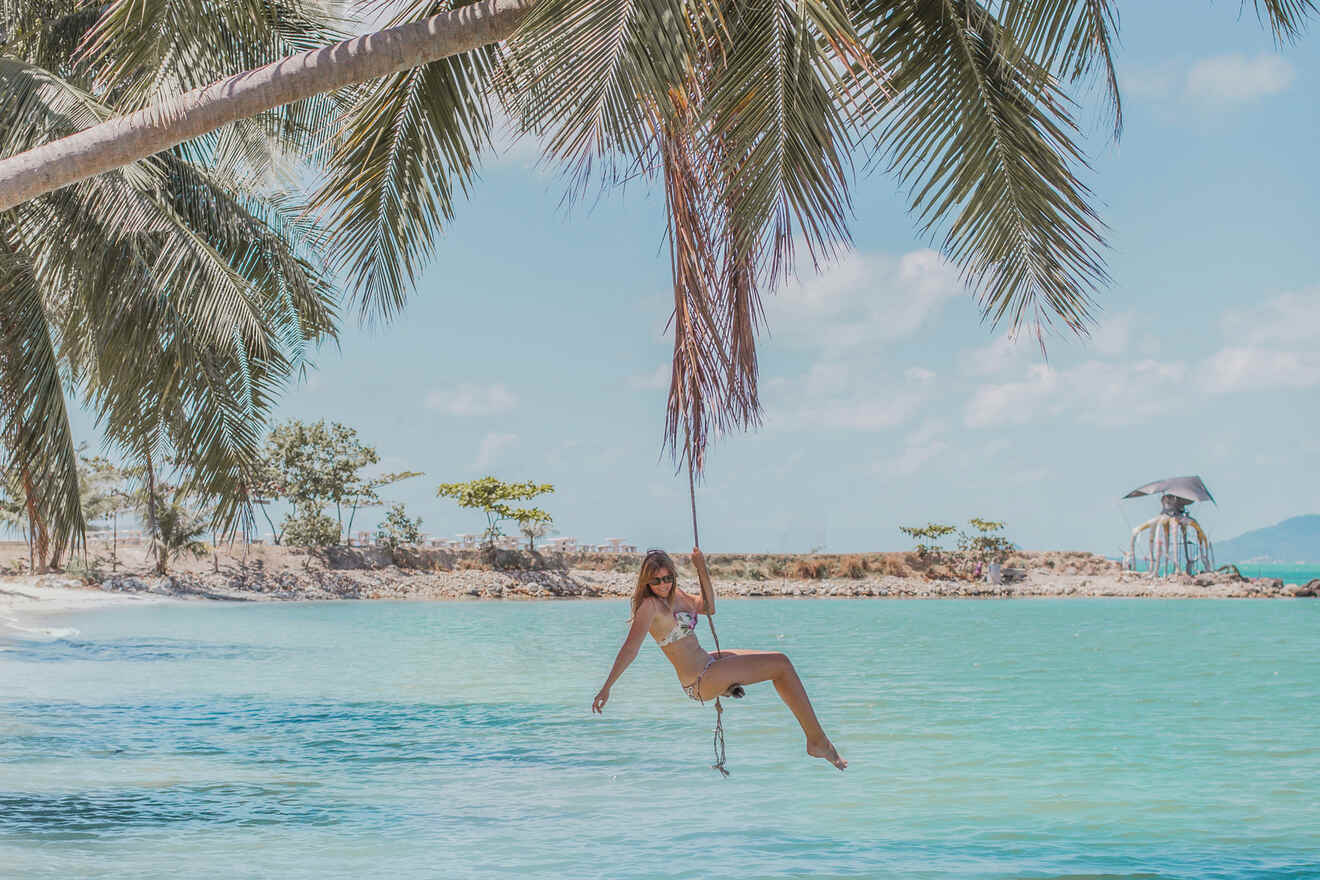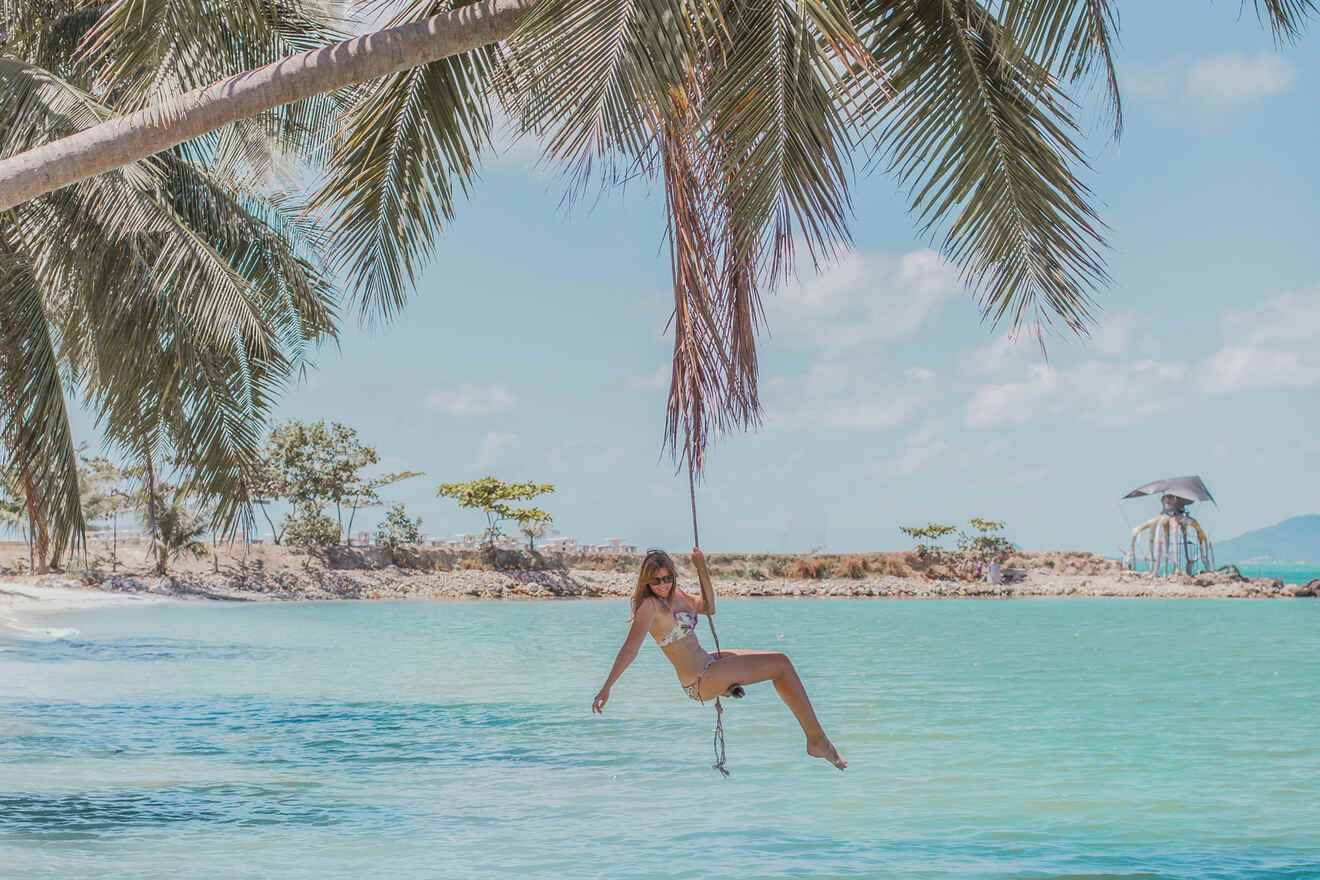 Located on the southern tip of the island, you'll find Taling Ngam: THE spot if you want to reconnect with nature on Koh Samui Island.
Expect to find picturesque coastline, pristine beaches, green jungles, and the best views of the Gulf of Thailand … most of the time directly from the window of your hotel!
Taling Ngam is also one of the quietest areas on the island, perfect if you want to just relax, be lazy and forget about everything! Another plus? Here you'll find the best seafood restaurants… so don't forget to try some fresh fish before you leave!
In Taling Ngam you'll find many different hotels and villas for any budget, from both affordable to expensive… check out the best ones in the area right below:
Other accommodation options in Taling Ngam
Things to do in Taling Ngam
Gaze at the best views of the Gulf of Thailand
Check out the magnificent Elephant Gate
Relax with a cold beer and authentic local food at French Kiss Thanos
Have the best Thai dishes at Mum-A-Roy restaurant!
Frequently asked questions about hotels in Koh Samui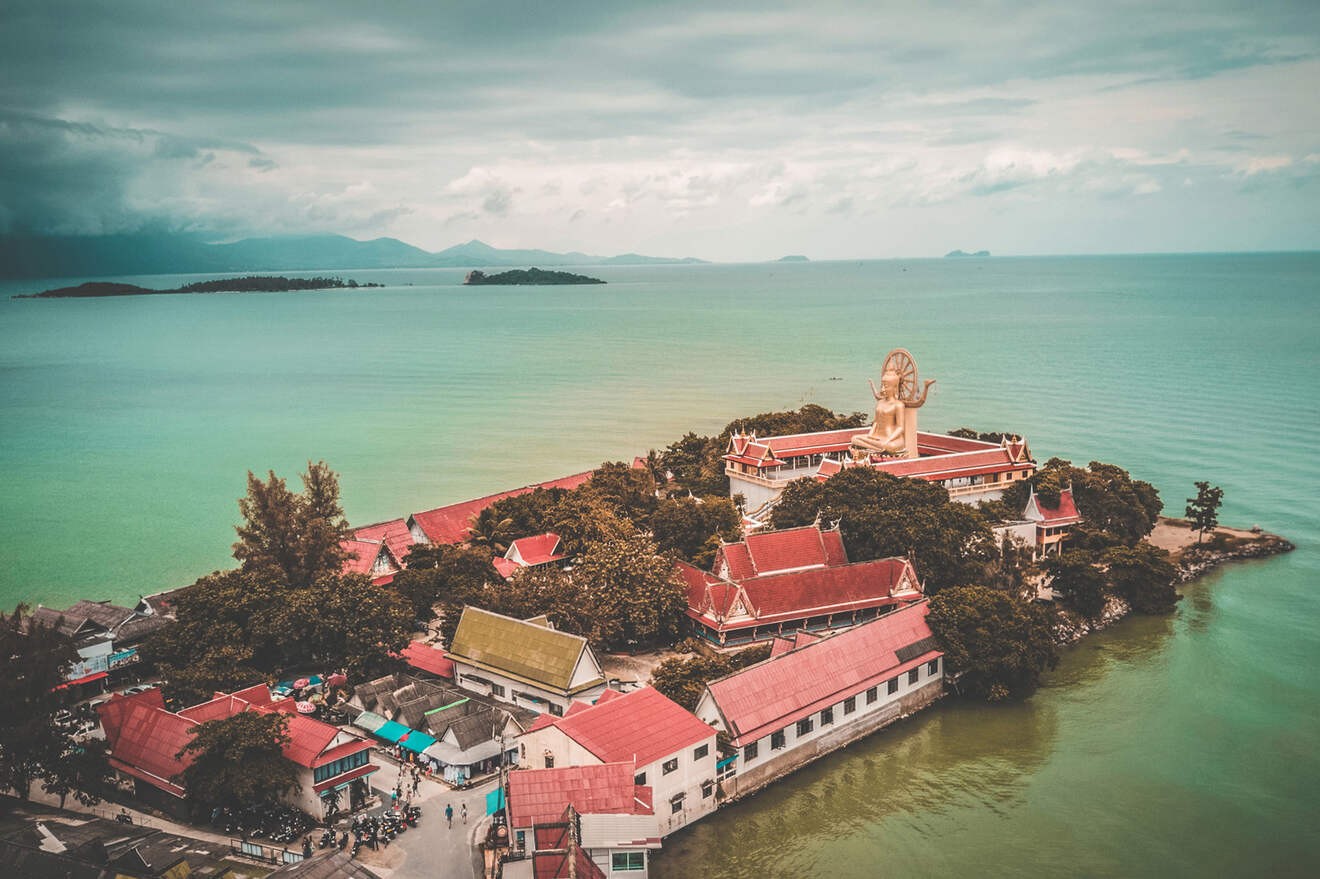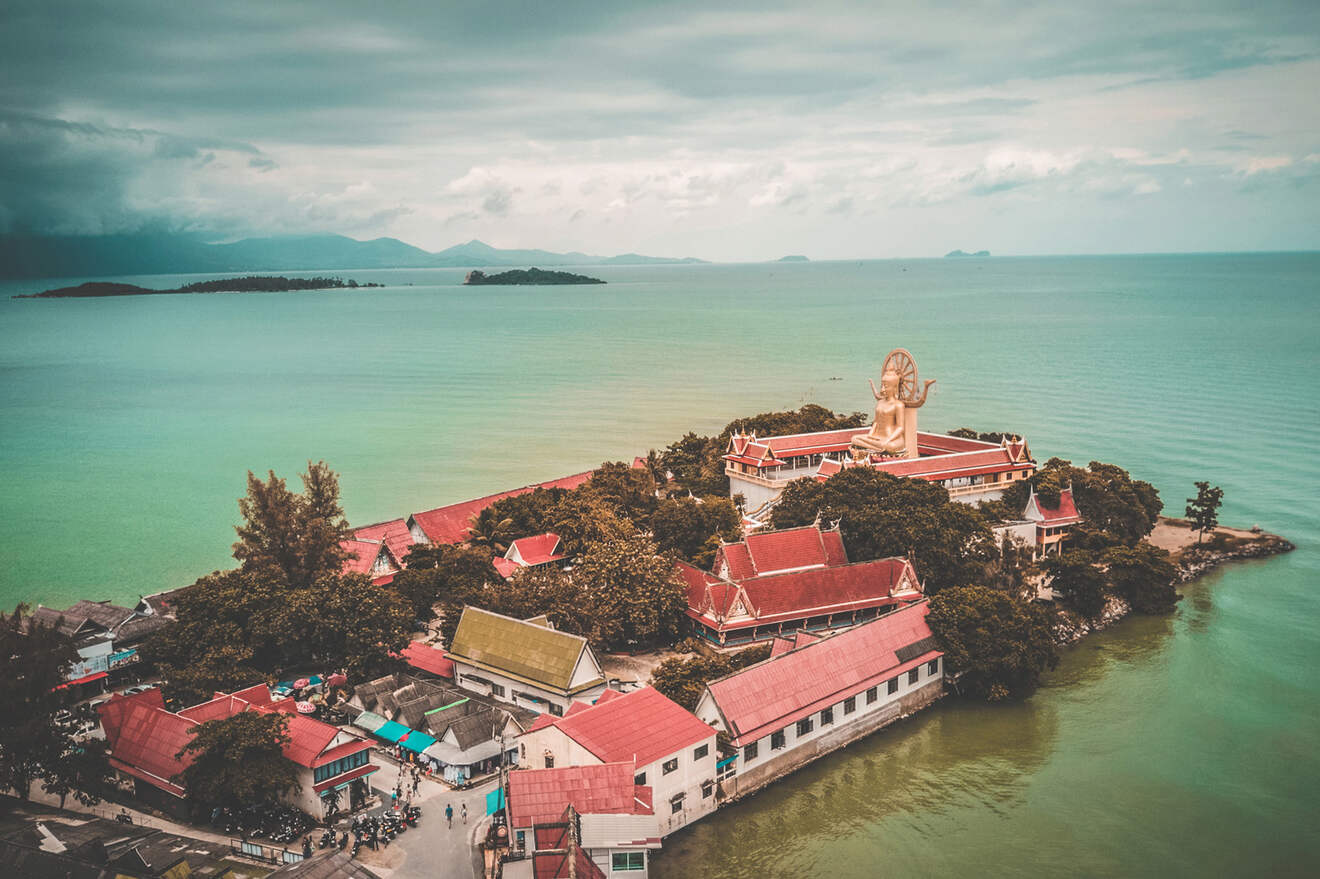 Conclusion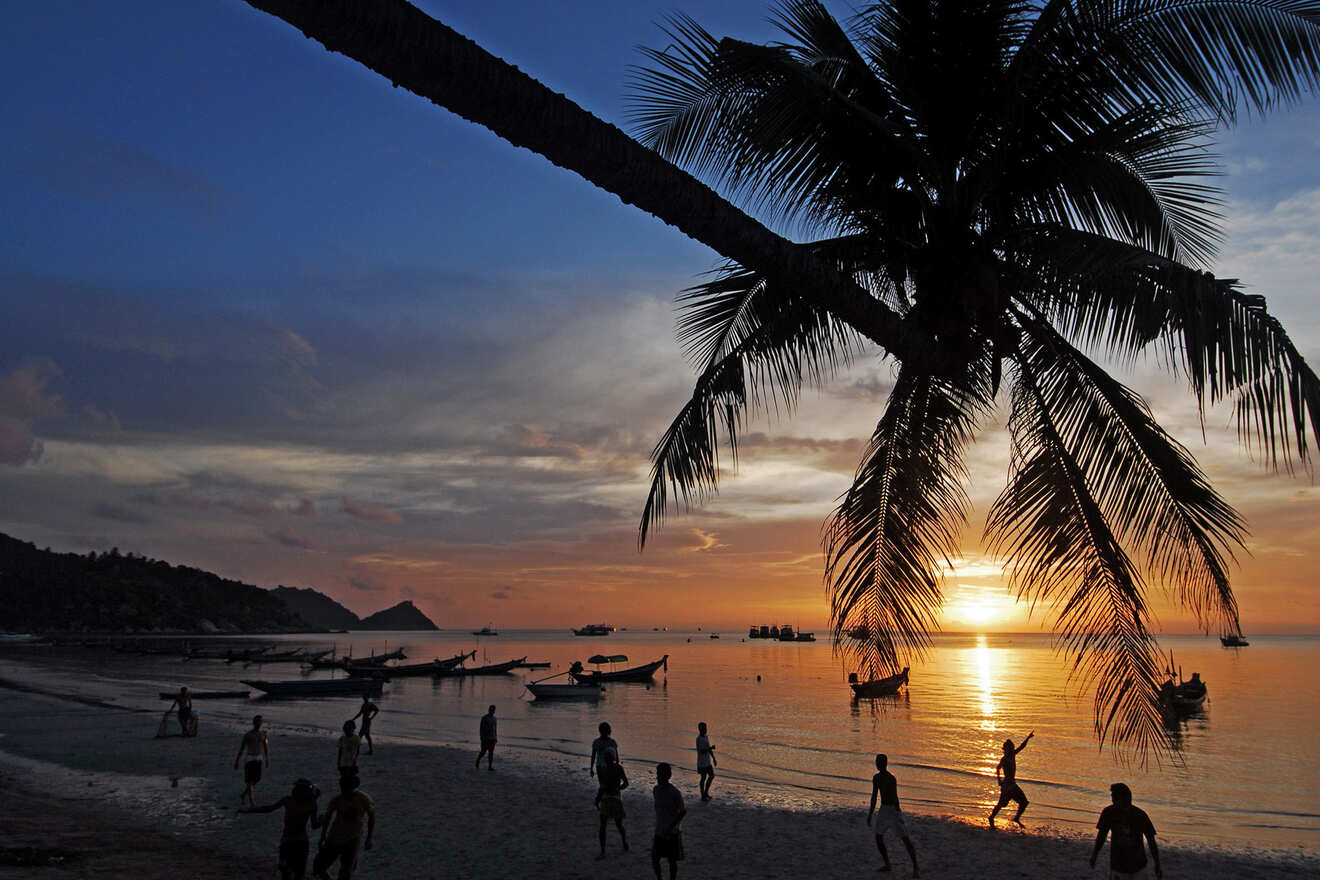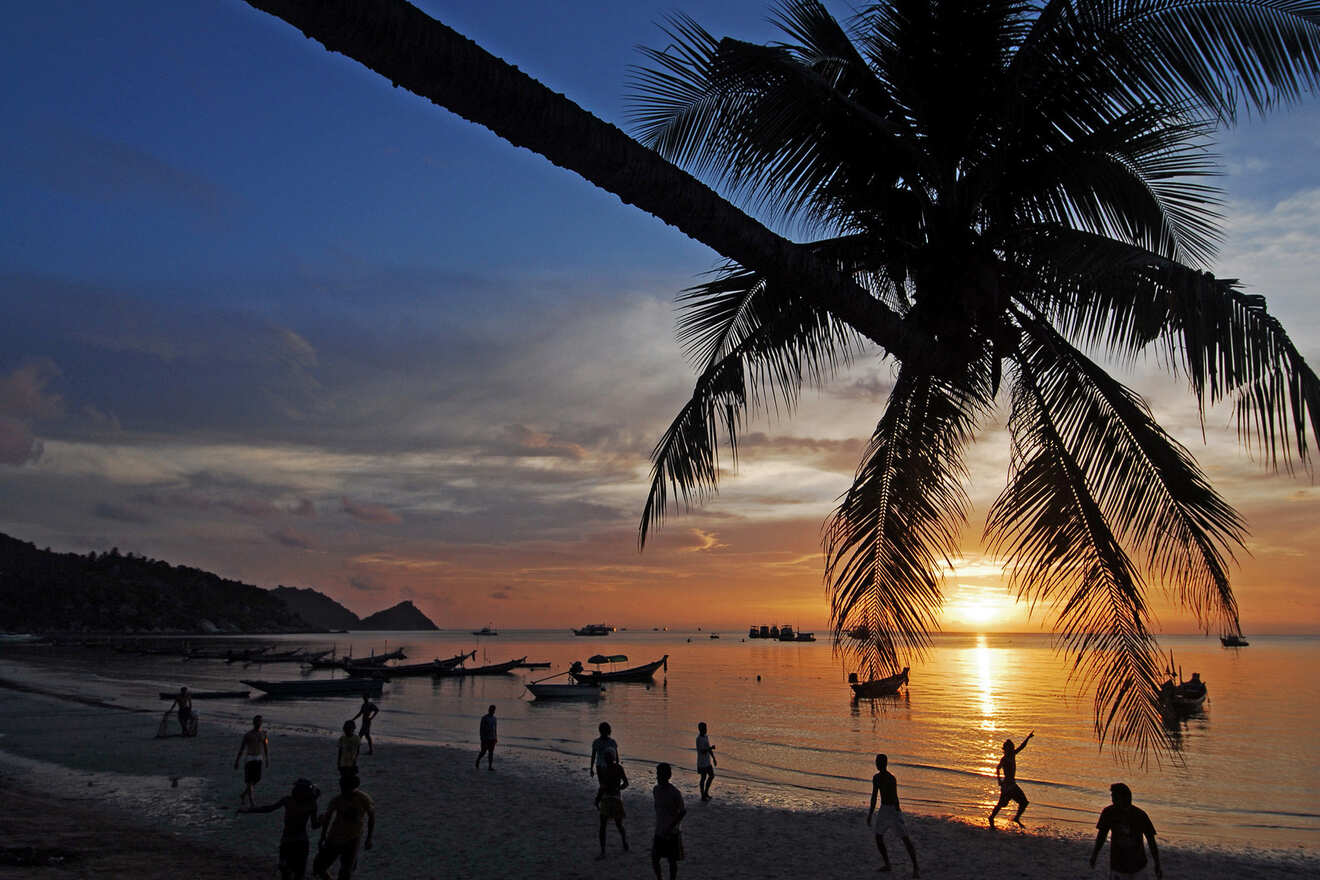 You finally reached the end of this very extensive guide about where to stay in Koh Samui, Thailand, including the best beaches and towns on this beautiful island!
We saw every kind of accommodation option in Koh Samui: from luxury hotels and resorts to budget hotels and beach villas if you want to enjoy your own privacy… so there's for sure the right place for your holiday here!
But if you still don't know which is the best option for your travel needs, check out these 2 amazing hotels in Koh Samui, with great location and value for the price:
Do you like these hotels? Then make sure you book them as far as you can… you don't want to lose the spot in this paradise!
I hope my guide will help you find the best hotel for your travel needs, and if you have any questions for me, please leave them in the comments below… I will answer you as soon as I can.
In the meantime, enjoy your holiday!
Elena
---