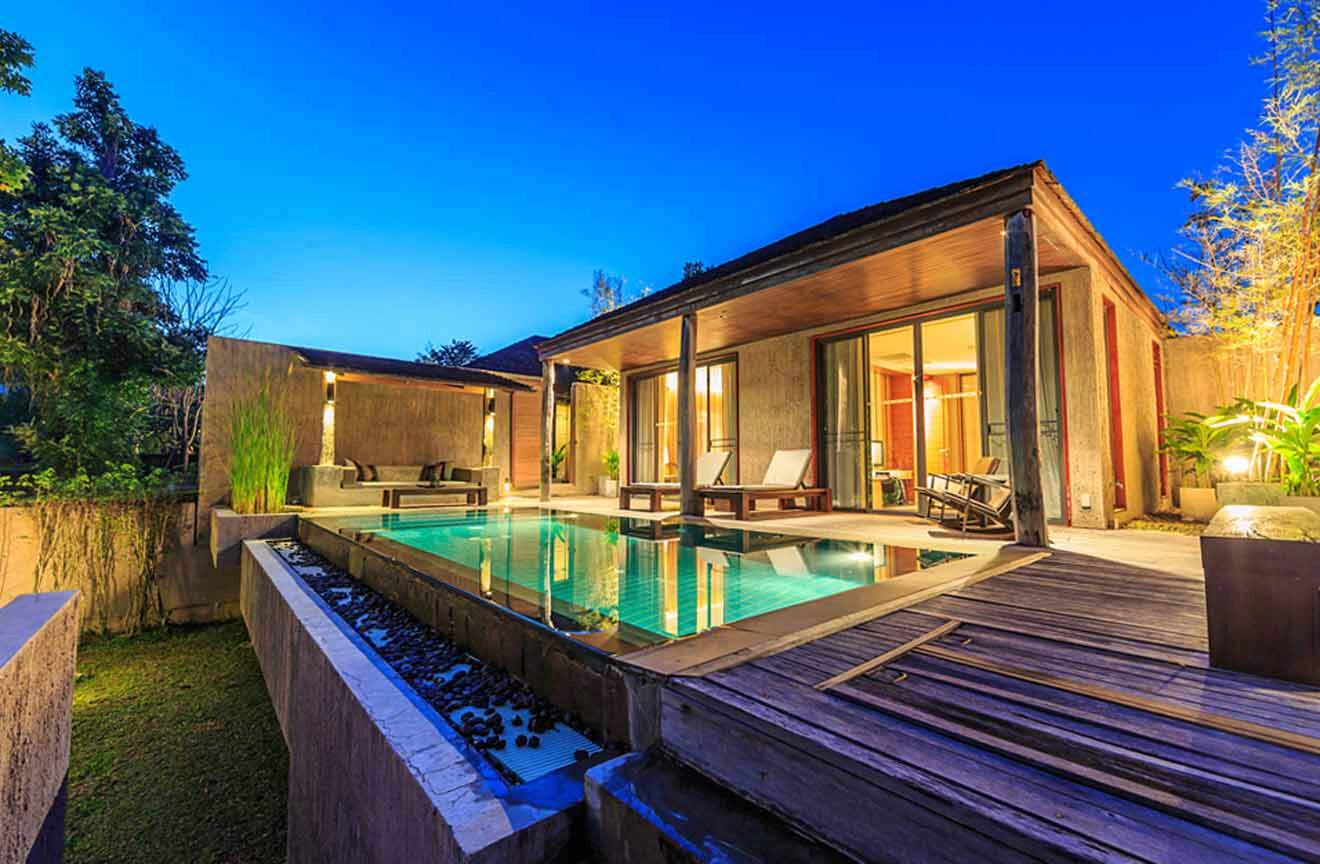 Are you looking for the best Thailand private pool villa for your next vacation? You came to the right place! I have done all the research for you reading reviews and comparing hotels, and finally picked the 20 most incredible private pool villas!
All the properties in this article are 5 and 4-star hotels with incredible amenities and nearby beaches and attractions – pretty much all you need for a comfortable stay when you visit Thailand!
Thailand's natural beauty attracts travelers from around the globe, so if you want to stay in a beautiful villa, you need to book in advance to secure your villa and have the best deals!
Are you ready to check out the best villas in Thailand? 😎
If you are in a hurry
If you need to book your Thailand private pool villa fast and don't have a lot of time to check the whole article, here you have the 3 best pool villas:
Since we are talking about the whole country, here's a map so you can see where each villa is located:
1. Soneva Kiri – experience traditional Thai design and luxury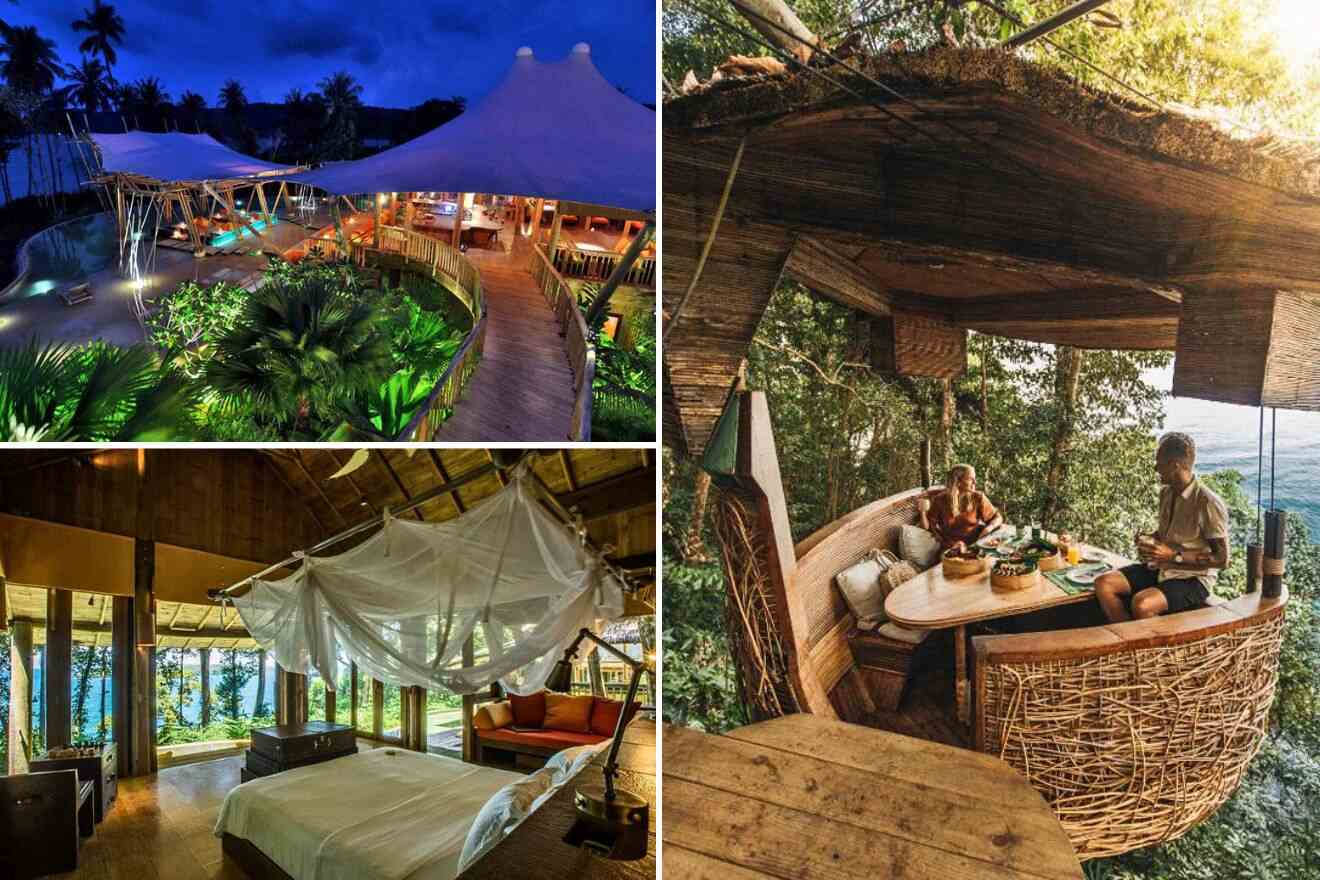 Situated in the perfect location on the south-east island of Koh Kood (learn about Thailand areas in this article), this resort comes with the most incredible traditional design that will make you feel close to nature while you enjoy modern amenities.
You can engage in tailored in-villa yoga sessions, sunbathe in the sun deck, refresh in the outdoor swimming pool, and relax by the beachfront in the private beach area. All the luxury villas come with private pools. You can relax with in-pool loungers and floating breakfasts, immerse in tropical gardens surrounding your villa, and savor in-villa gourmet Thai cuisine. The villas host from 2 to 11 guests and come with an outdoor hot tub.
2. Four Seasons – embrace jungle serenity in hillside retreats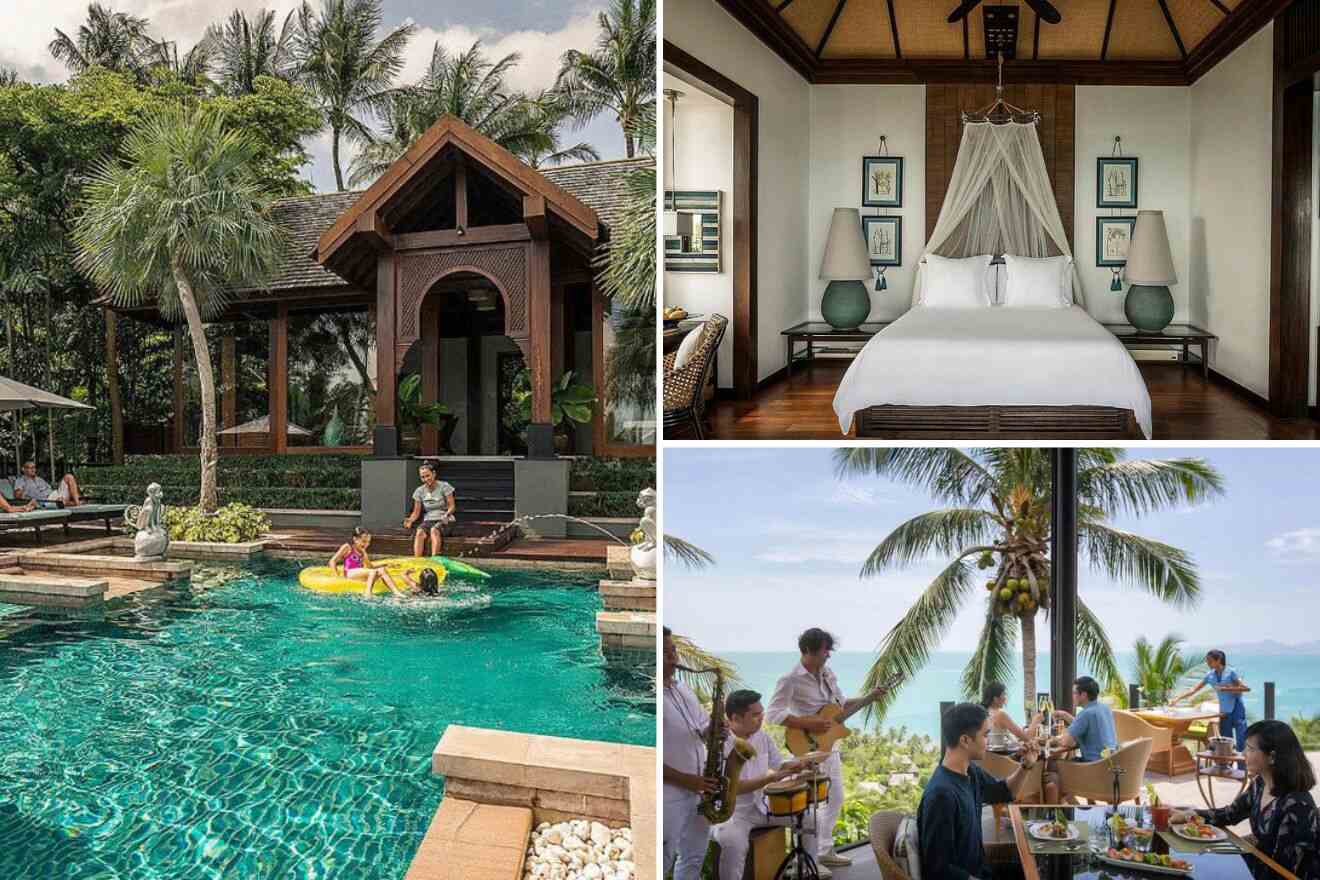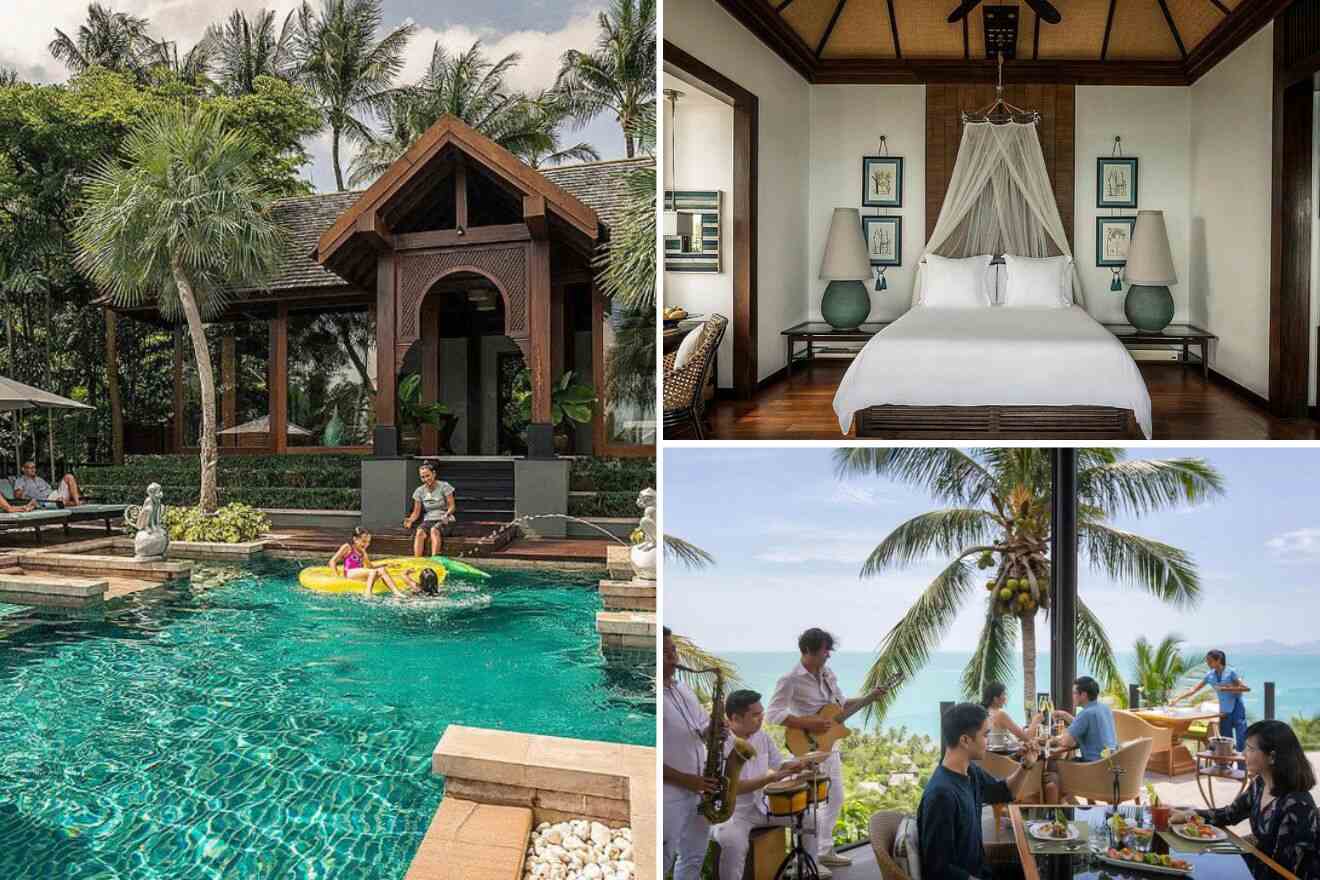 This paradise island Koh Samui resort presents the perfect landscape to enjoy modern amenities amidst tropical opulence! Soak up tropical views from your infinity-edge pool, and join Thai cooking classes for a fee. I highly recommend you indulge in luxury with poolside spa treatments and savor al fresco dining under tropical stars.
The accommodation has easy access to white sandy beaches and a private beach area with stunning views. The property is on Bang Makham Beach and only a 30-minute drive to Chaweng Beach. The resort is perfect for families where you can dive into family-friendly pools in villas with spacious living spaces and relish secluded moments on private sun decks! Some villas come with two bedrooms, making it perfect for families of 6 members.
3. Phulay Bay – enjoy panoramic views of the Andaman Sea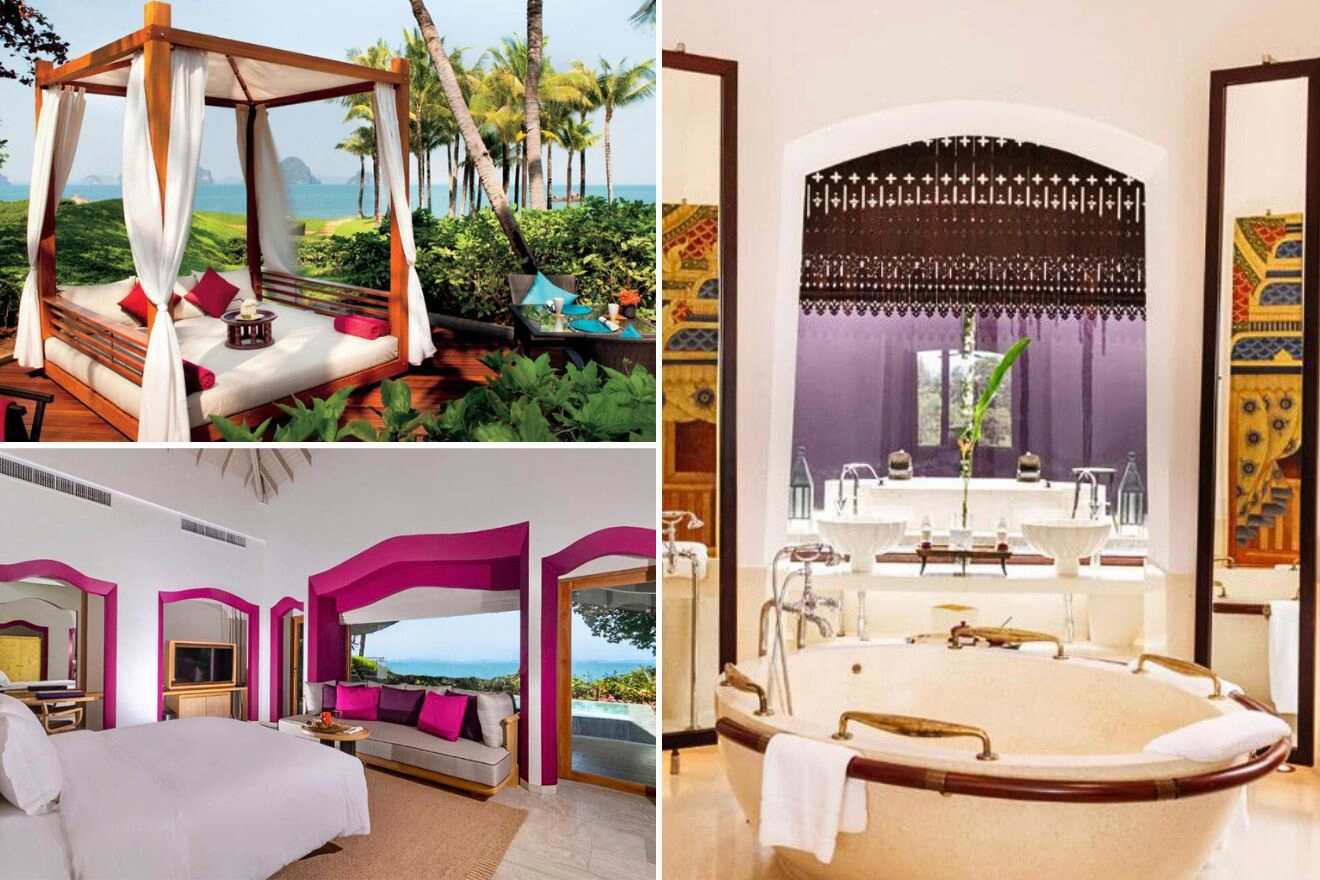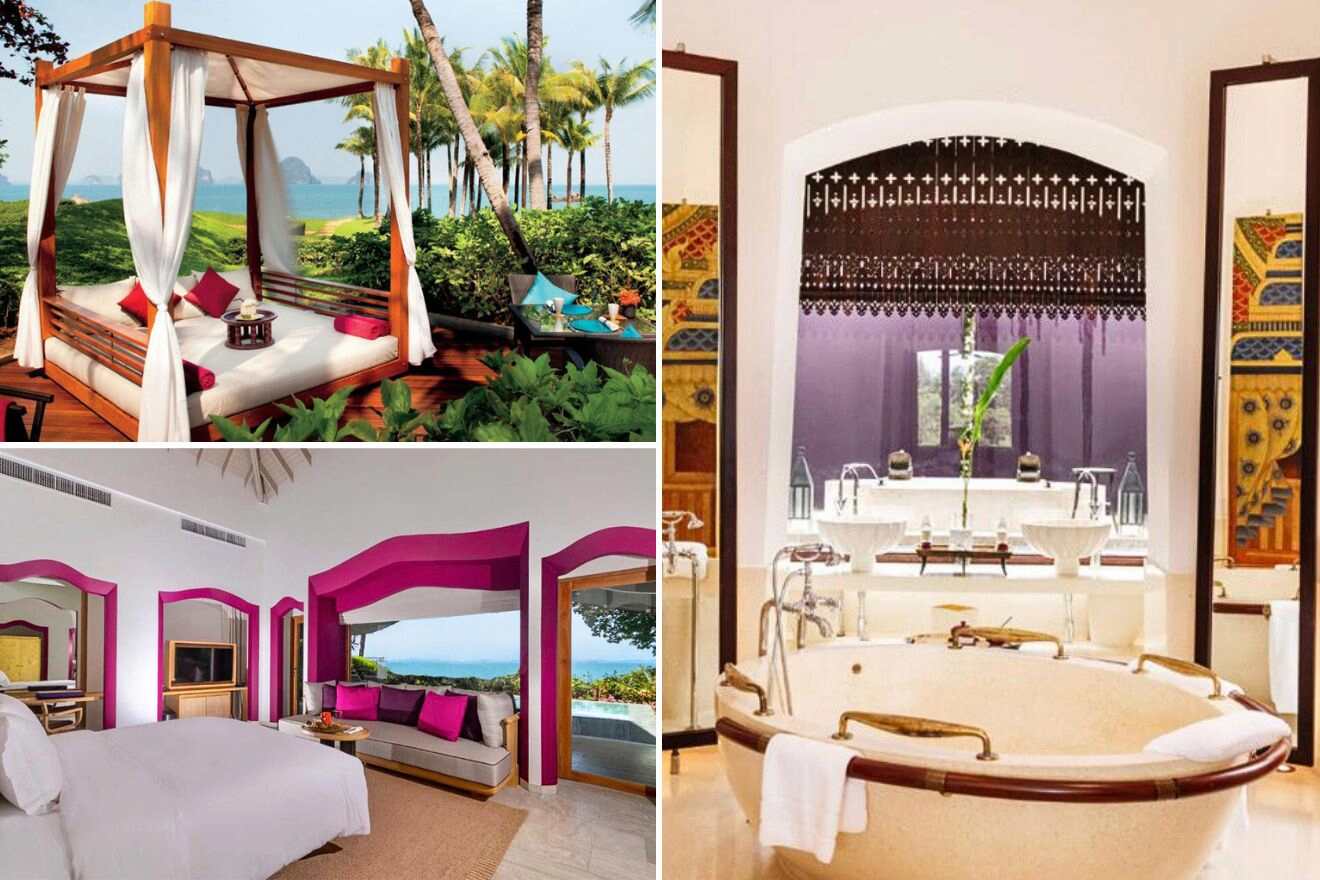 This stunning hotel is located in Muang and is the perfect place to experience Thai elegance with water features. Phulay Bay features a spa center where you can rejuvenate with personalized wellness programs. If you want to explore the surroundings, use the complimentary bike service and indulge in bespoke excursions and day trips.
From the stunning private villas, you can dive into tranquility in your own secluded pool and experience sunrises from a private terrace. Unwind in in-villa spa treatments and personalized service, and relish privacy with a romantic dinner by the poolside. All the villas can host a maximum of 3 guests.
4. Four Seasons Resort – with a tropical forest view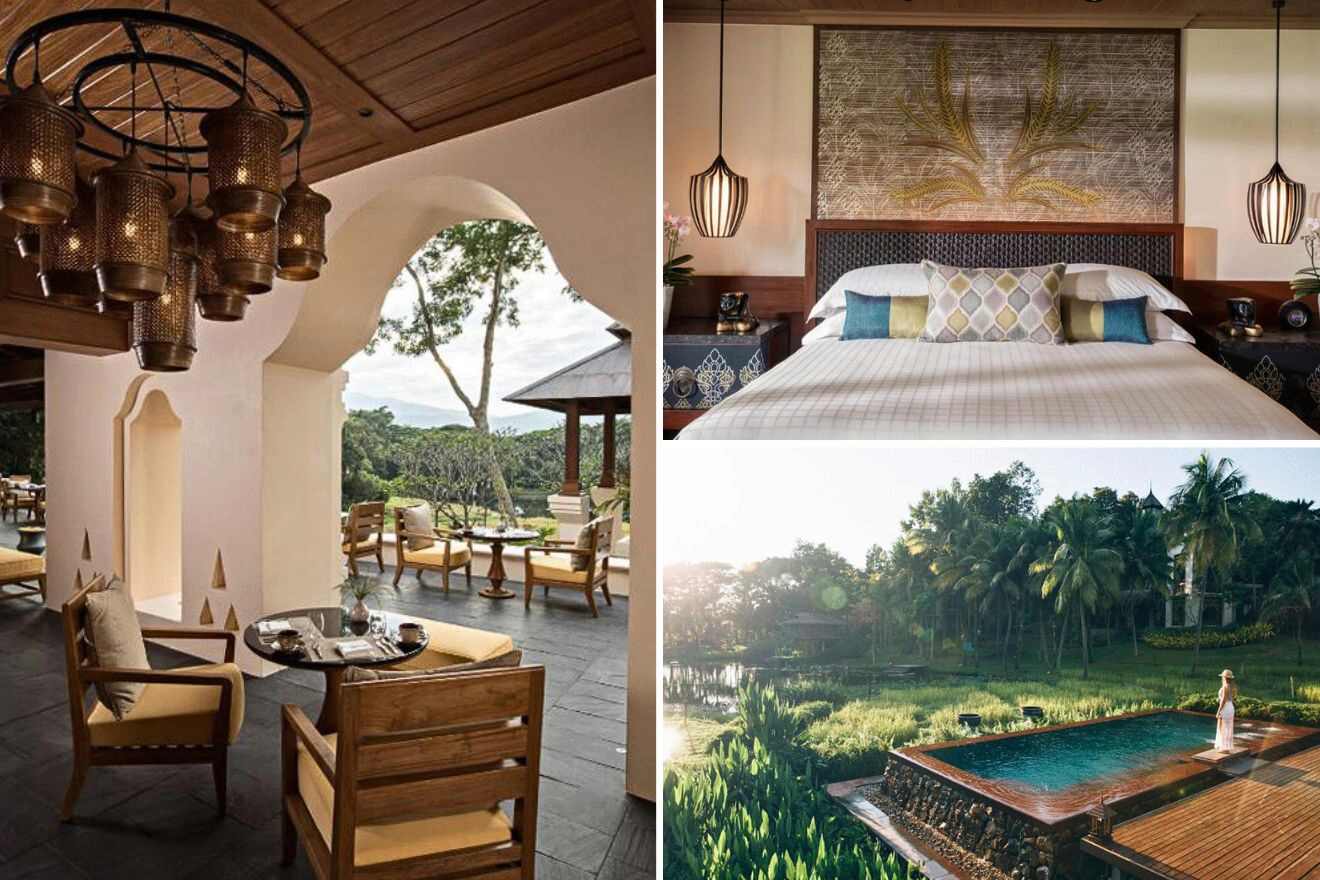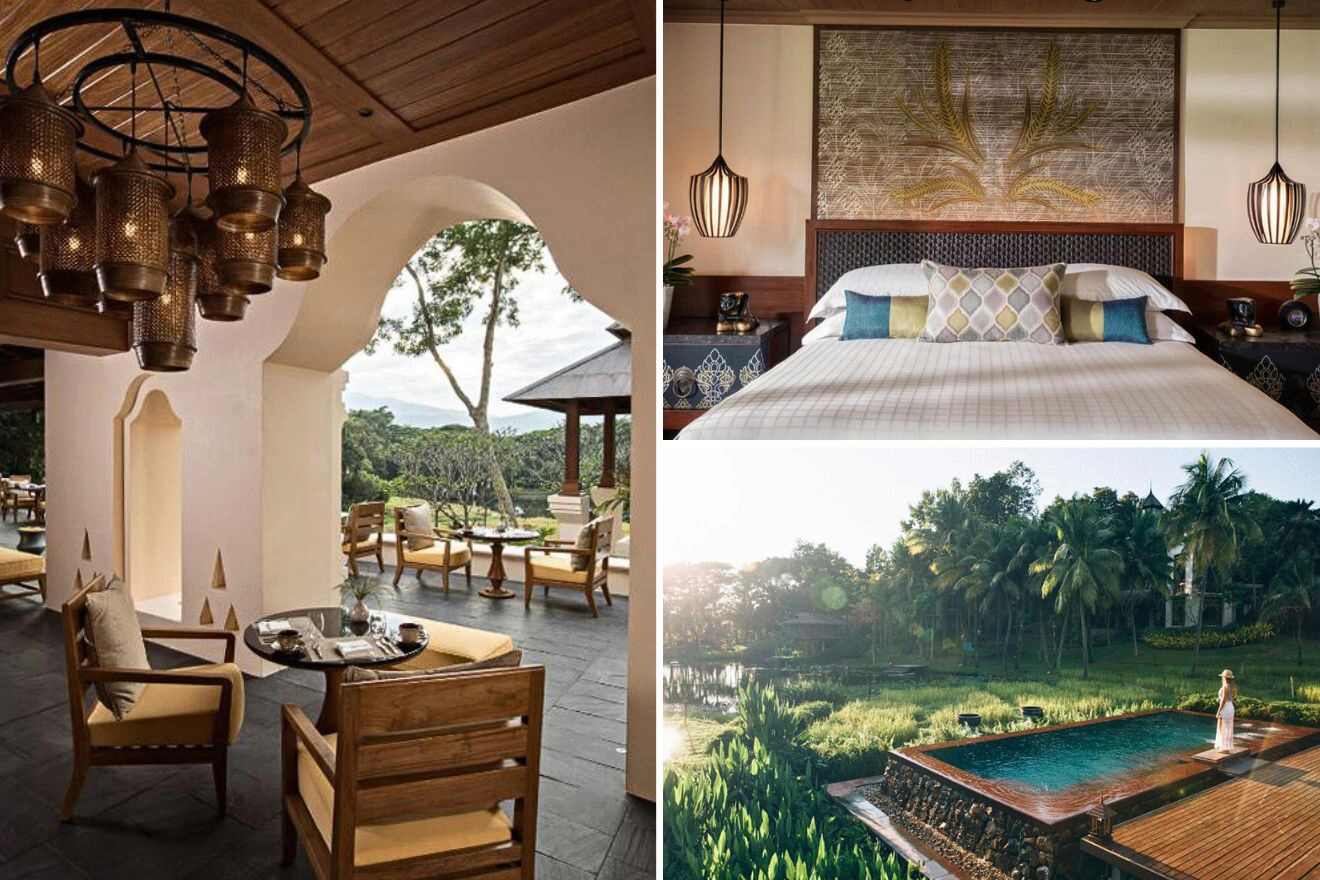 If you are looking for a resort surrounded by the most beautiful lush garden, this property will win you over with its stunning views of tropical forests and lagoons. Learn how to cook a traditional meal, learn about the local culture with the amazing classes the resort offers for a fee, and dine in any of the 4 upscale restaurants the resort offers.
Experience secluded luxury in your own private pool villa! Revel in privacy with enclosed courtyards and sip cocktails from your pool edge at sunset. All the villas come with elegant and natural decor that will make you feel one with Mother Earth with a stunning garden view. Some of the villas come with their own private plunge pool, and some with a private infinity pool.
5. Keemala – enjoy a secluded piece of paradise in Thailand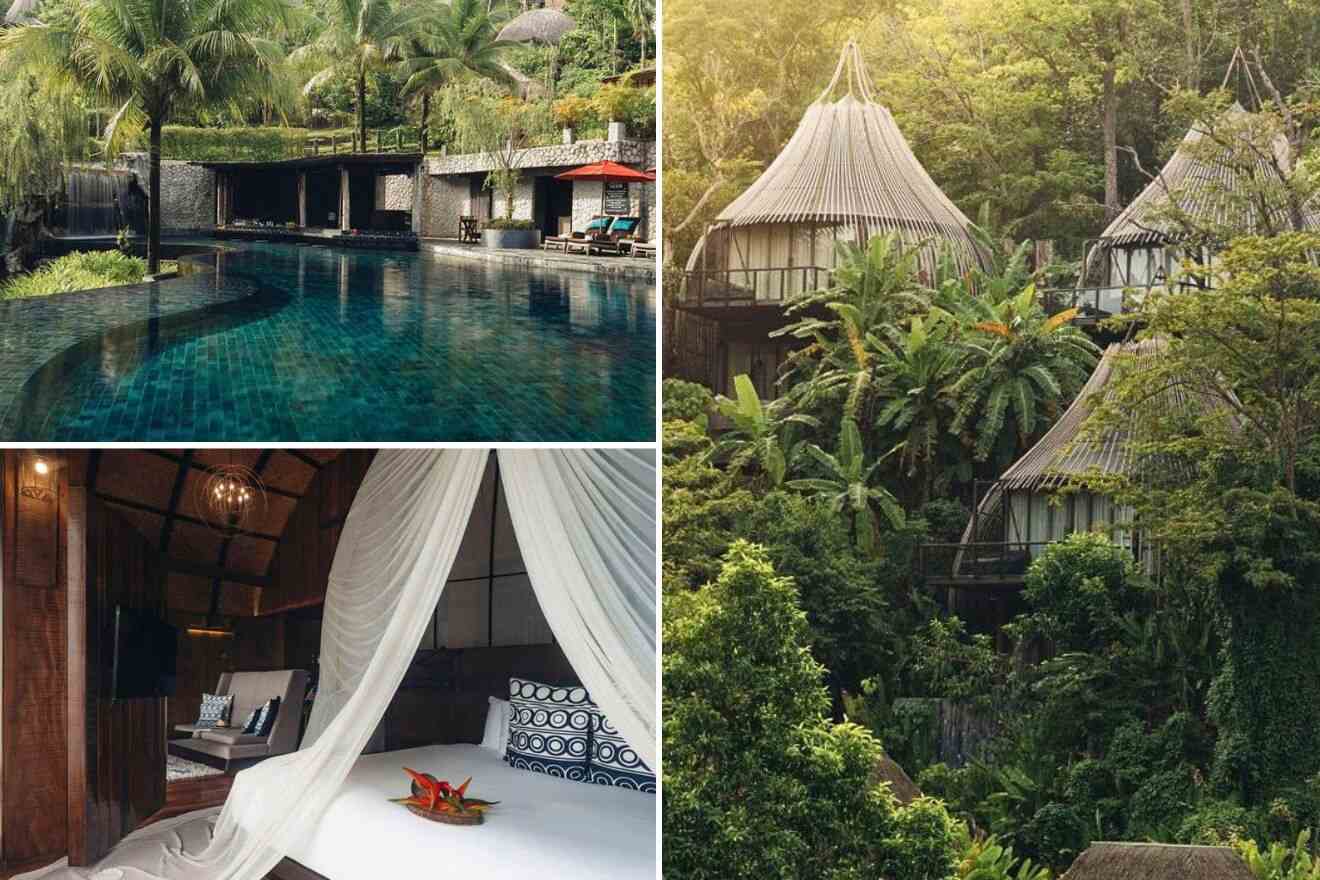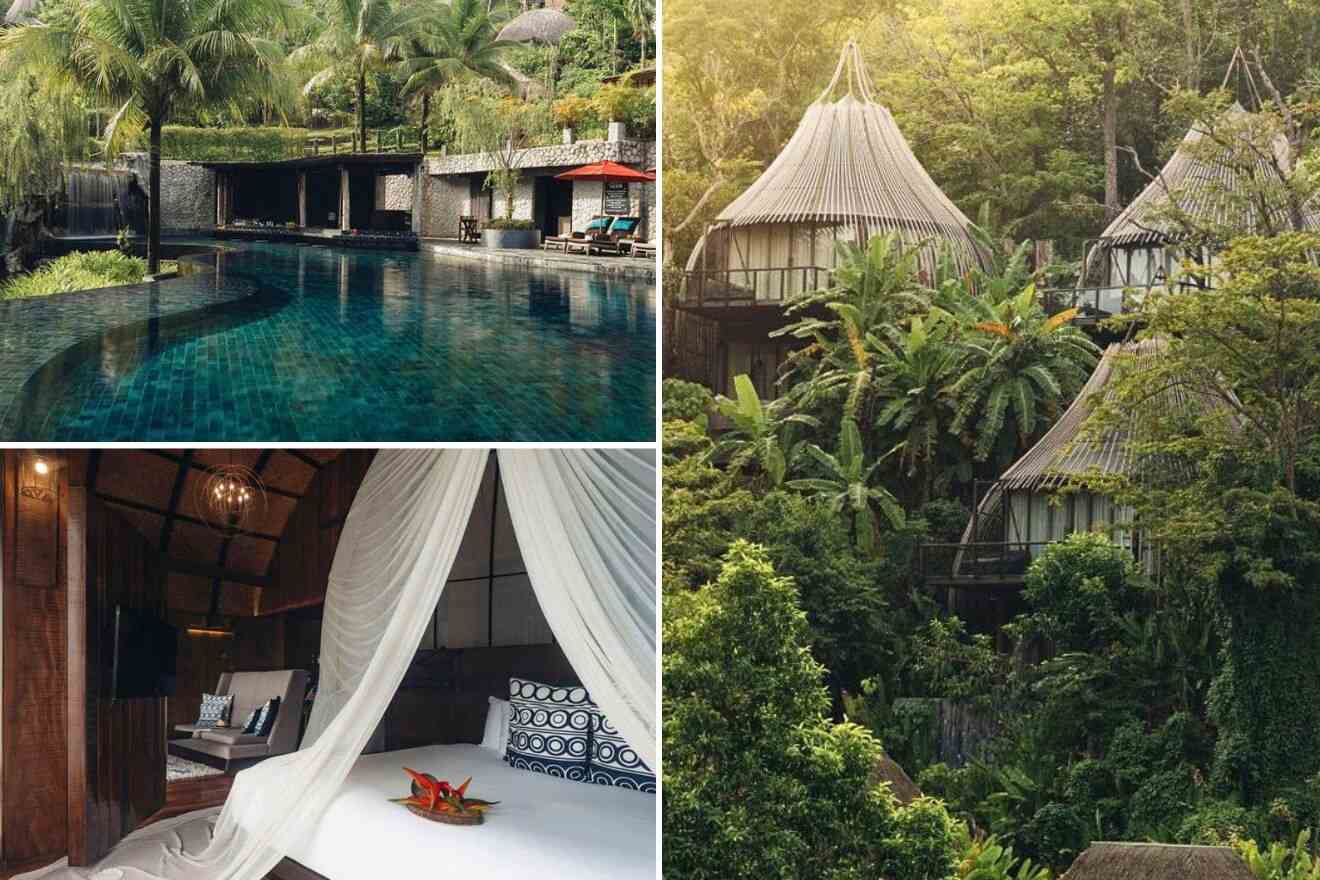 Wow! I am completely amazed by this resort's style! It's rustic and luxurious, with natural elements and upscale amenities. Located in the stunning area of Kamala, the resort offers a spa and wellness center with a wide range of treatments and an on-site restaurant offering Thai and international cuisine.
All the cottages and villas come with free Wi-Fi, private swimming pools, and great views. So you can dive into infinity pools overlooking lush landscapes. If you are looking for a romantic getaway that will provide you and your partner privacy and start treatment, you will love a stay at Keemala.
6. V Villas Hua Hin – get the star treatment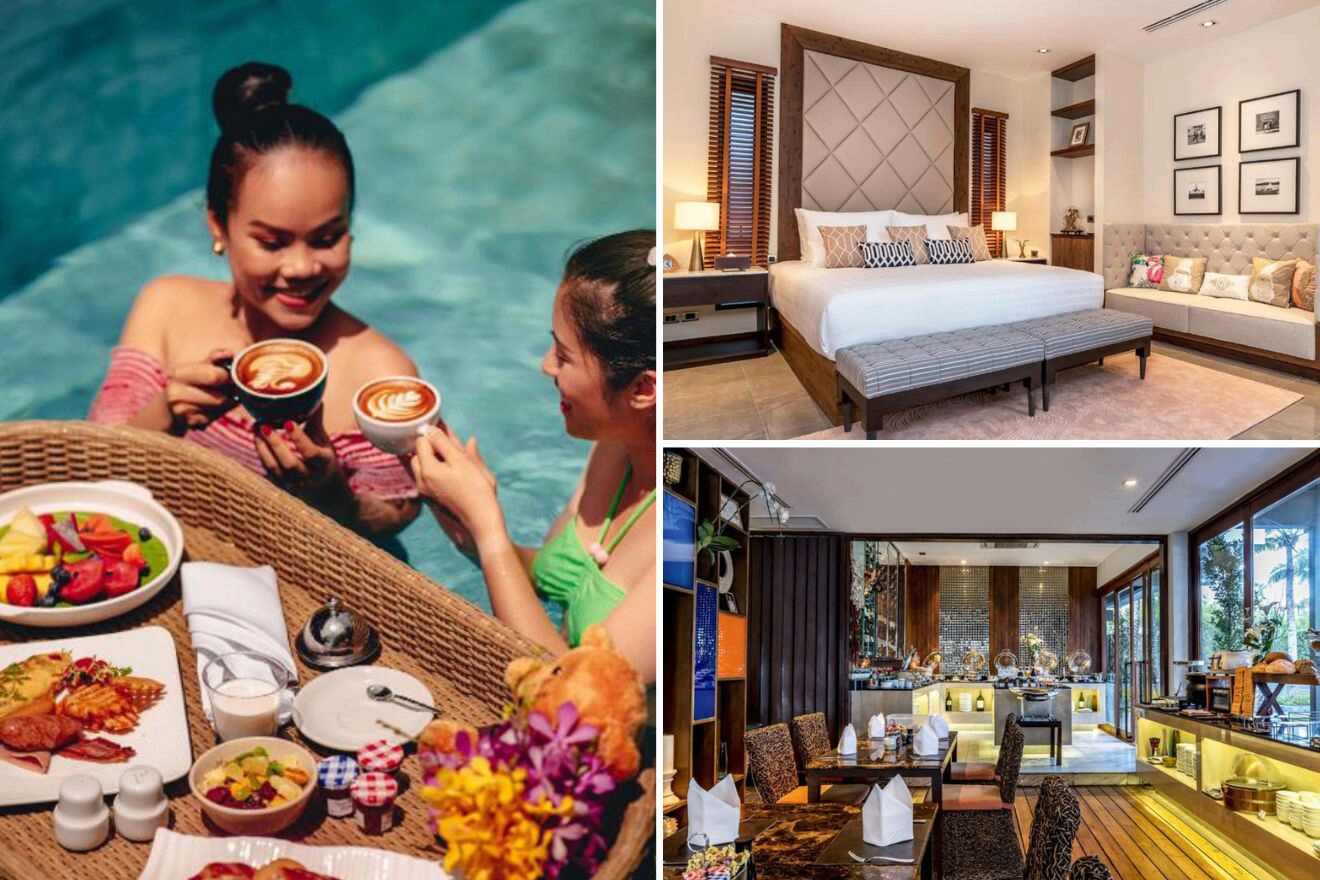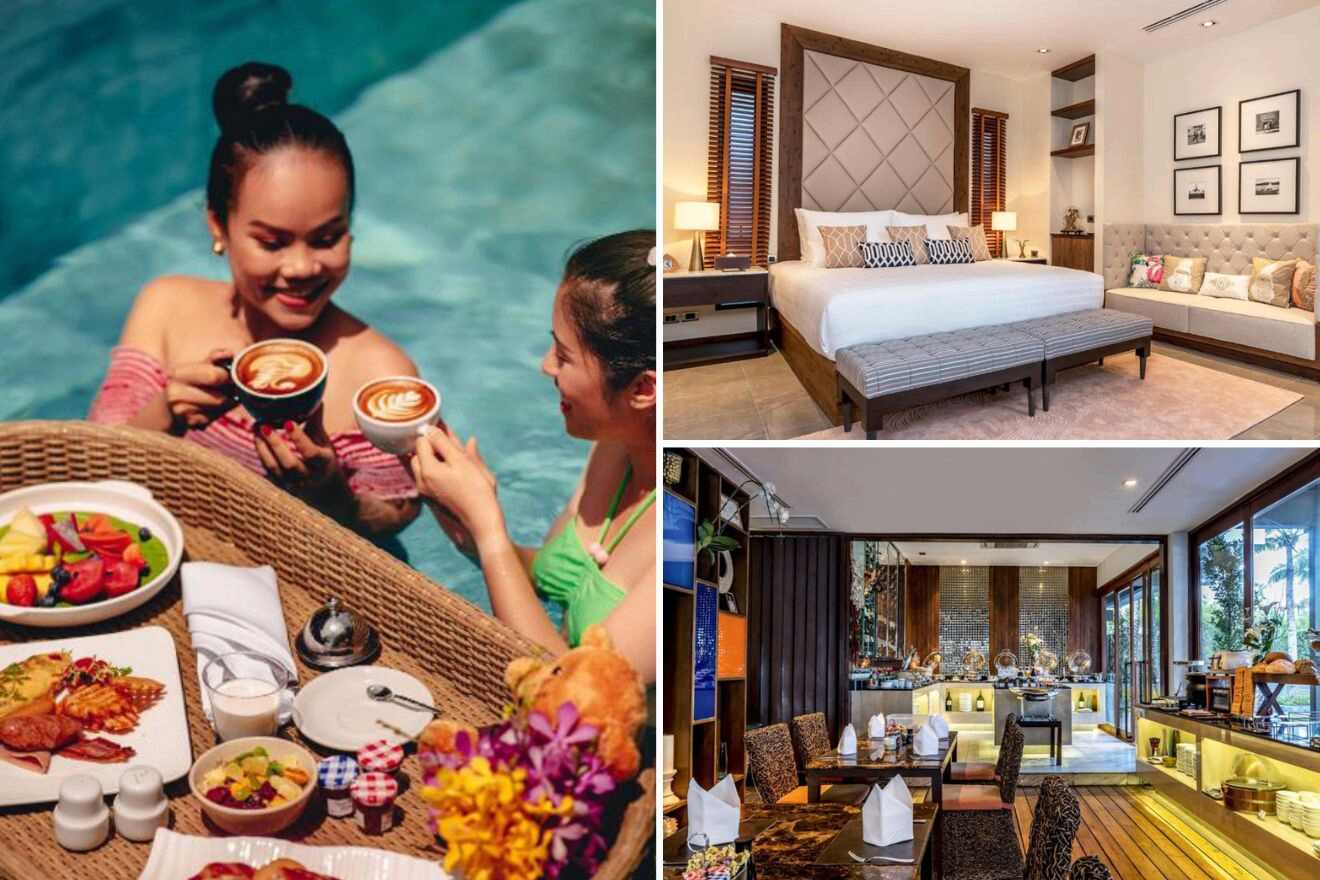 If you are looking for accommodation with staff that will pamper you and make you feel at home, I recommend this property with 24-hour front desk service that will help you with anything you need, even before checking into your room. The incredible location in Hua Hin offers not only amazing beachfront views but also incredible views of tropical gardens.
A short walking distance from your beachfront pool villa to the hotel's private beach area. All the villas come with a large swimming pool, a flat-screen TV with cable channels, a minibar, and a coffee maker. The villas can host from 2 to 6 guests.
7. Pimalai Resort & Spa – elegant and romantic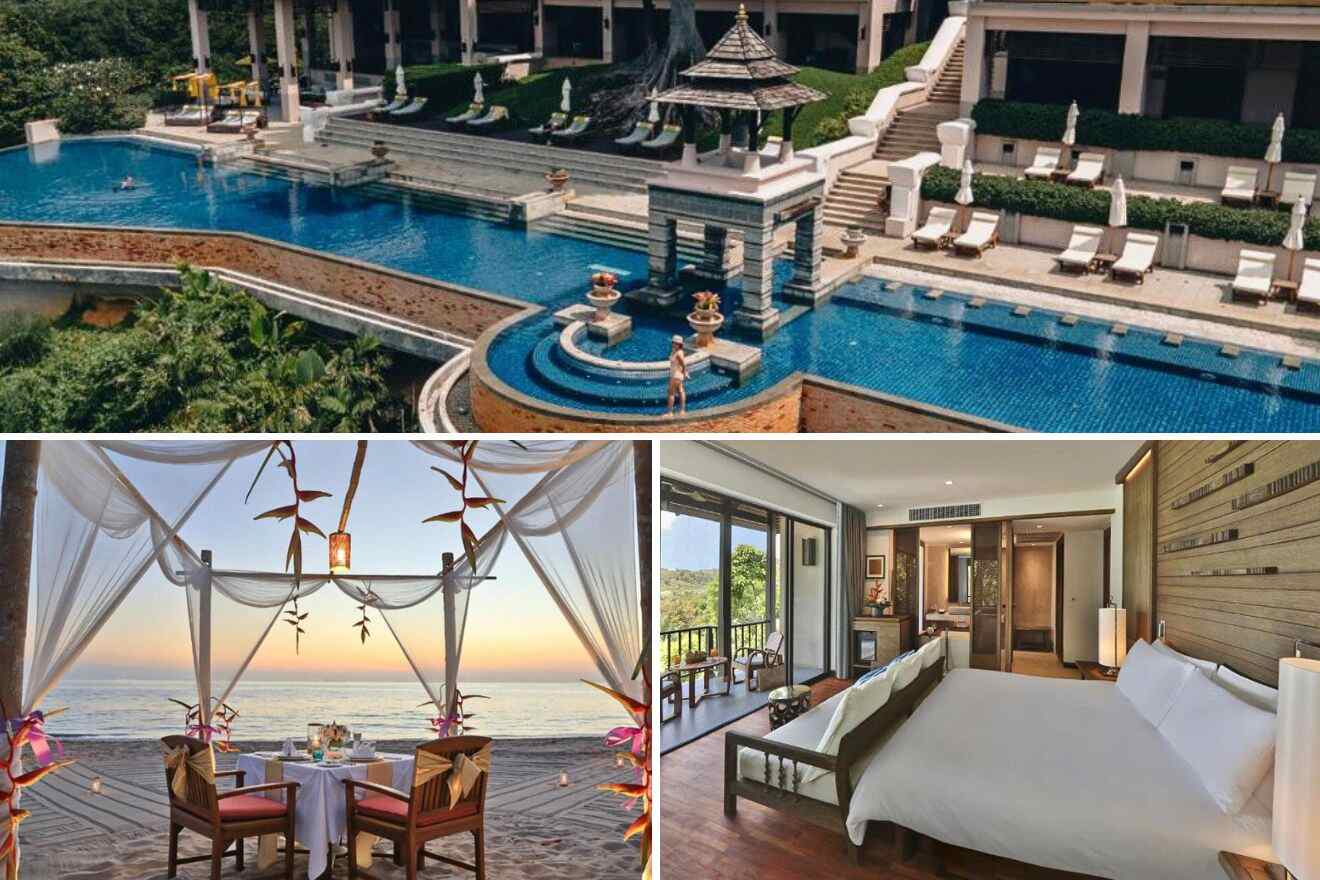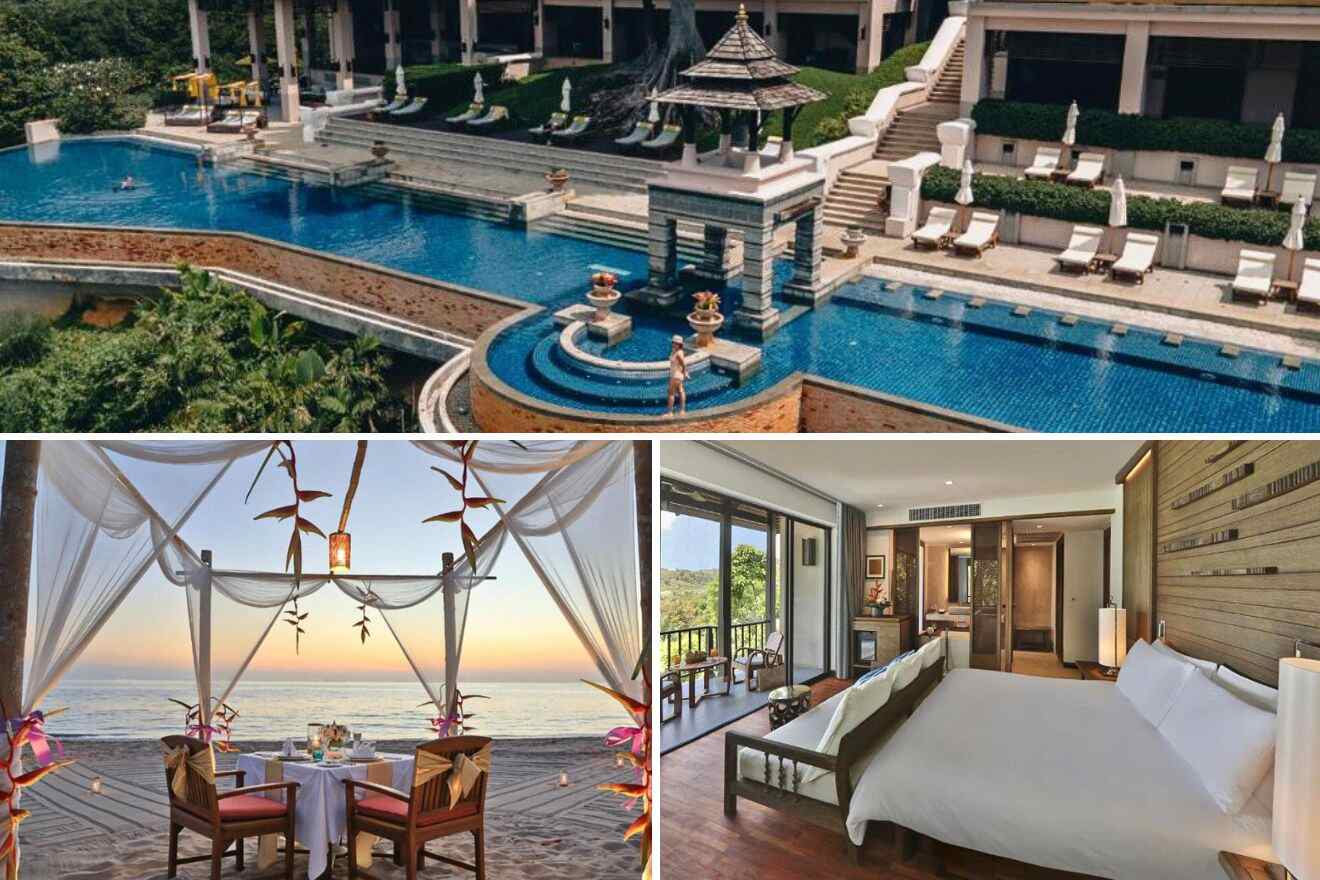 This Koh Lanta resort offers a wide range of amenities that will make your stay exciting! There is a tennis court available to all guests in the resort, and you can use the tennis equipment for free. If you wish, you can use the free bike rental service to explore the area or simply visit the private beach area in front of the property.
This property would be fantastic for couples looking for a secluded and romantic time surrounded by tropical beauty. Some rooms come with private pools, but I personally recommend the Hillside Oceanview Villa! The views from the property are movie-like, and it comes with a private pool and a fully equipped kitchen.
8. The Secret Pool Villas – a unique style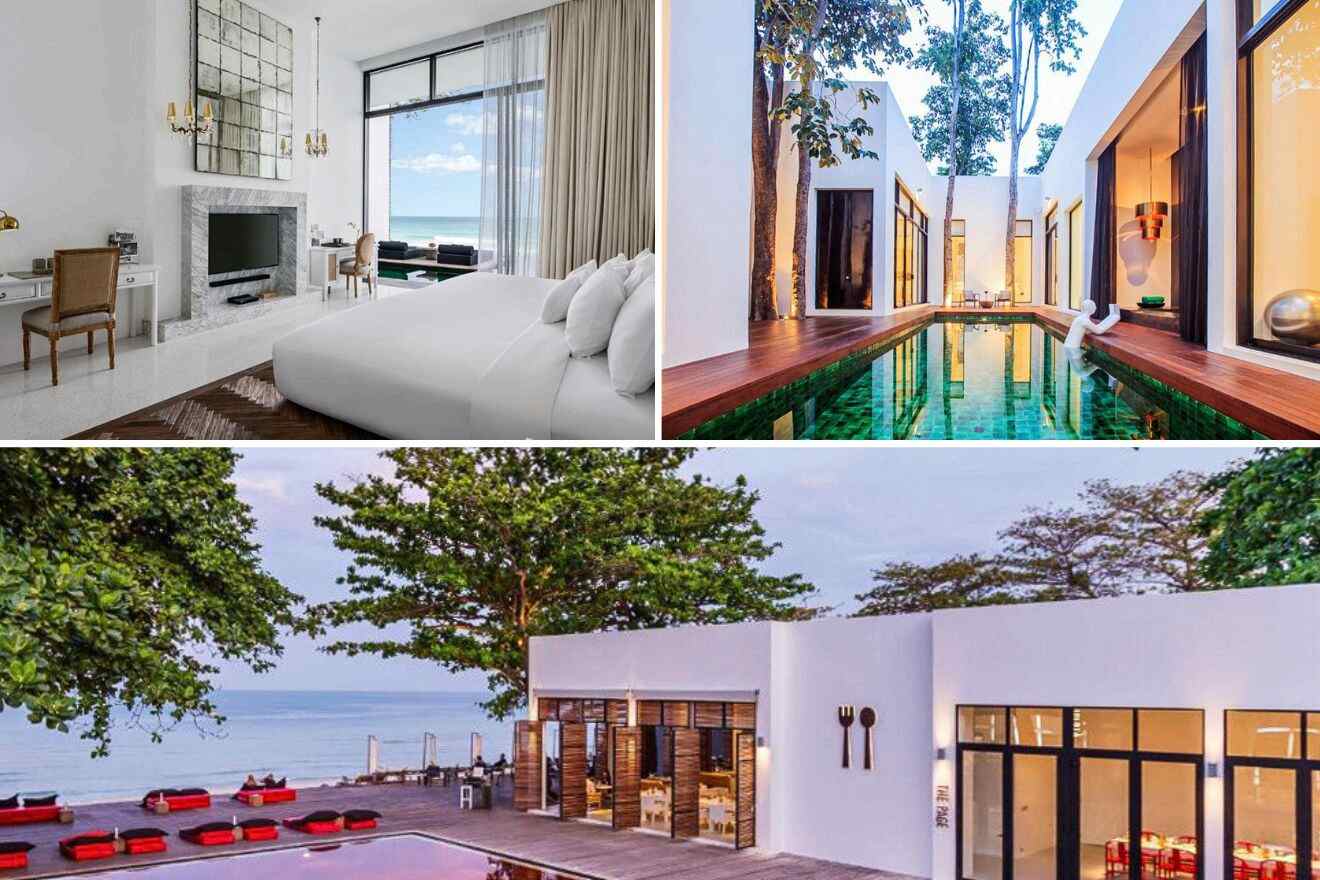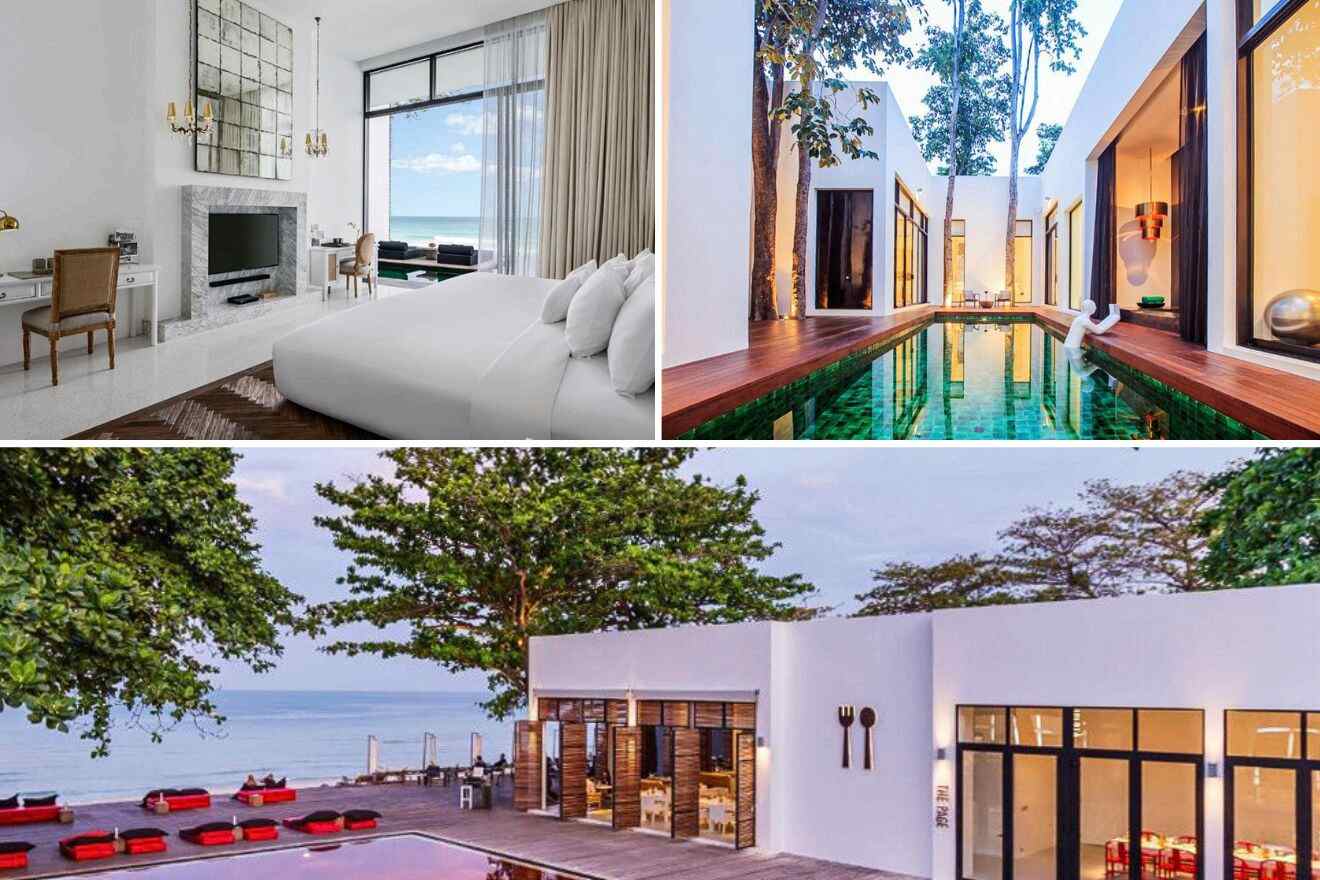 This amazing Bophut hotel will make you feel like royalty. It features the most exquisite style and upscale furniture, apart from gorgeous views of a tropical garden and a deep blue sea. The resort hosts live show events open to all guests, and if you like to party, I encourage you to visit the amazing nightclub at the hotel!
The fancy beachfront location offers an incredible opportunity to practice watersports on-site and go on a unique adventure during your vacation in Thailand! The villas come with a private garden and a terrace with your own private pool and stunning design. Some villas are open only to adults, such as, for example, the breathtaking The Writer's Villa.
9. Silavadee – celebrate romance with rose petal pool setups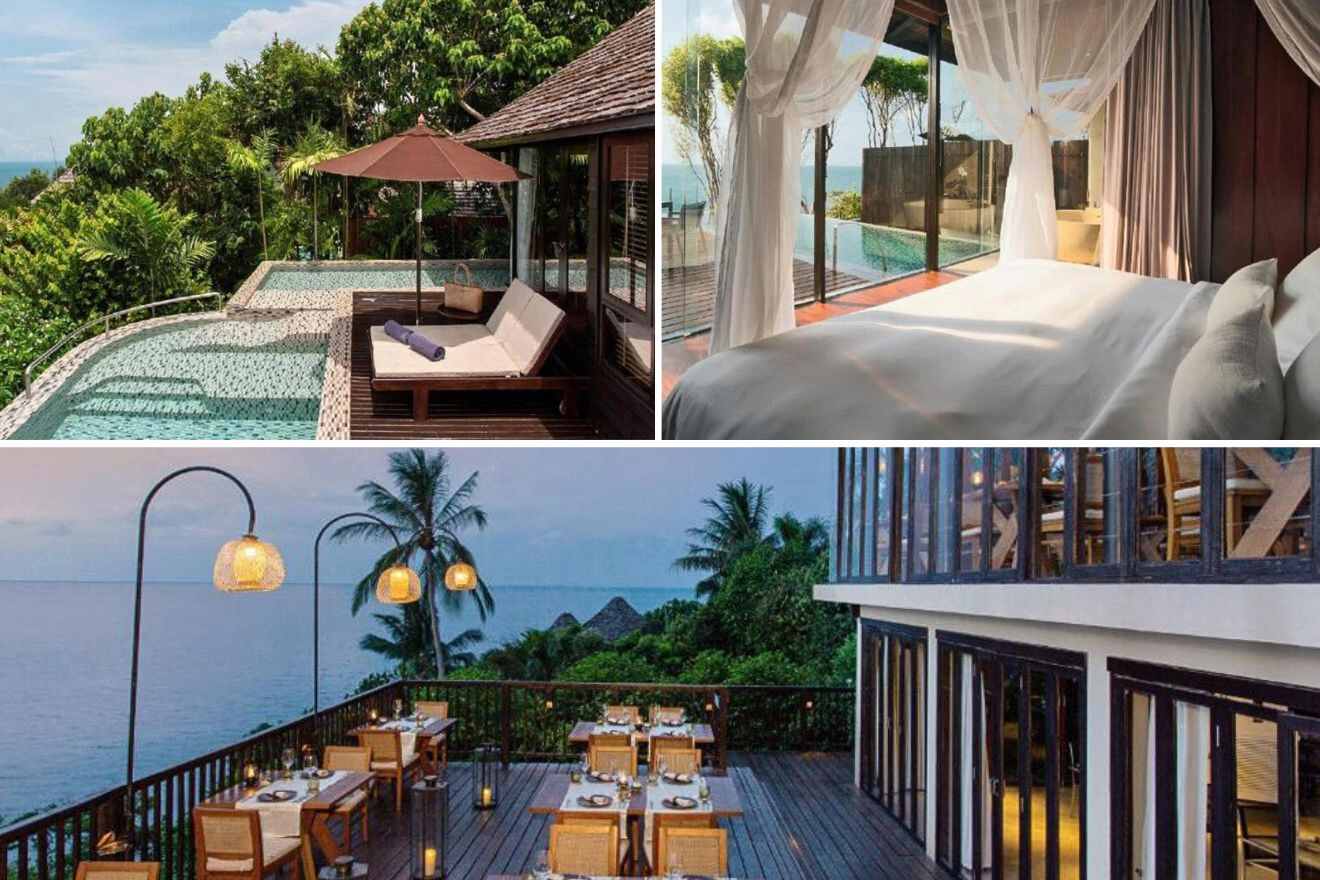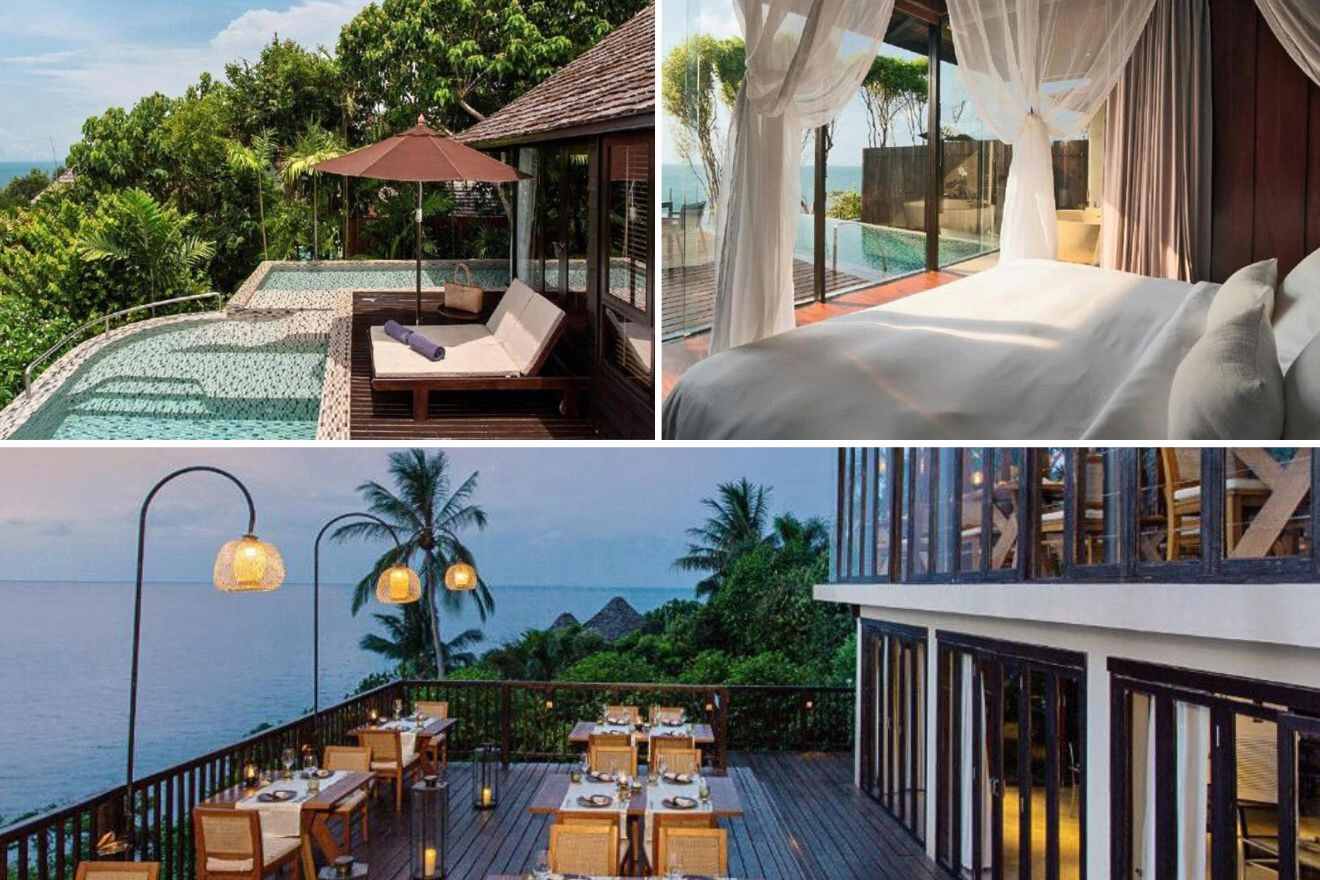 What an incredible option for those looking for a relaxing ambiance, but with many thrilling activities available on-site. This hotel comes with a wide range of amenities for guests, for example, the possibility to join wholesome yoga classes on-site, as well as martial arts classes. If you are into watersports, you can go canoeing or snorkeling on-site.
The resort is located by Lamai's beachfront and comes with a private beach area. All the villas come with plunge pools or a private swimming pool. I highly suggest the Scenic Ocean View Pool Villa to anyone planning a romantic getaway or a honeymoon trip. This villa comes with an excellent view, a spacious terrace with furniture, and a pool you can admire from the bedroom through the floor-to-ceiling windows.
10. Peace Resort Samui – amazing tropical feel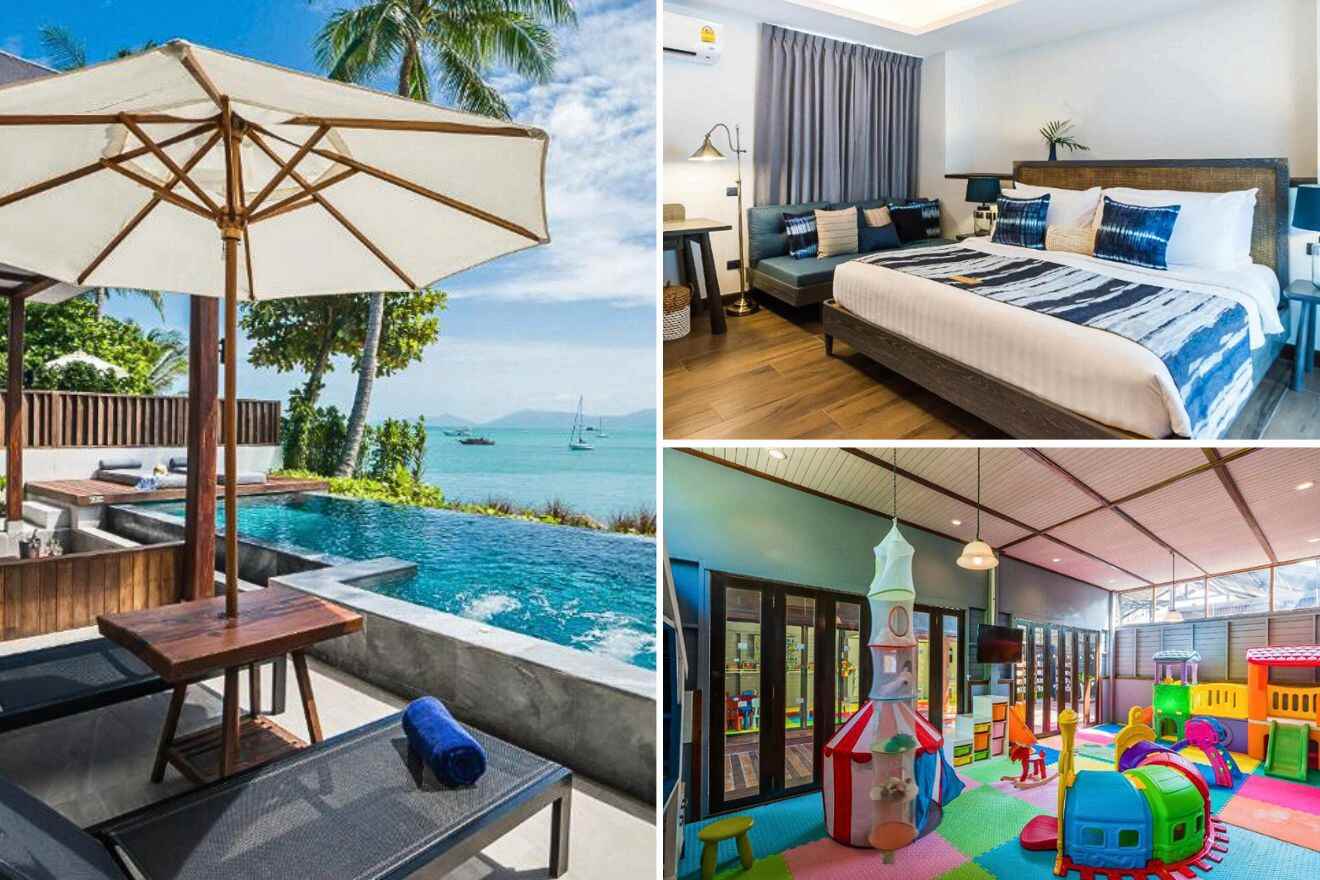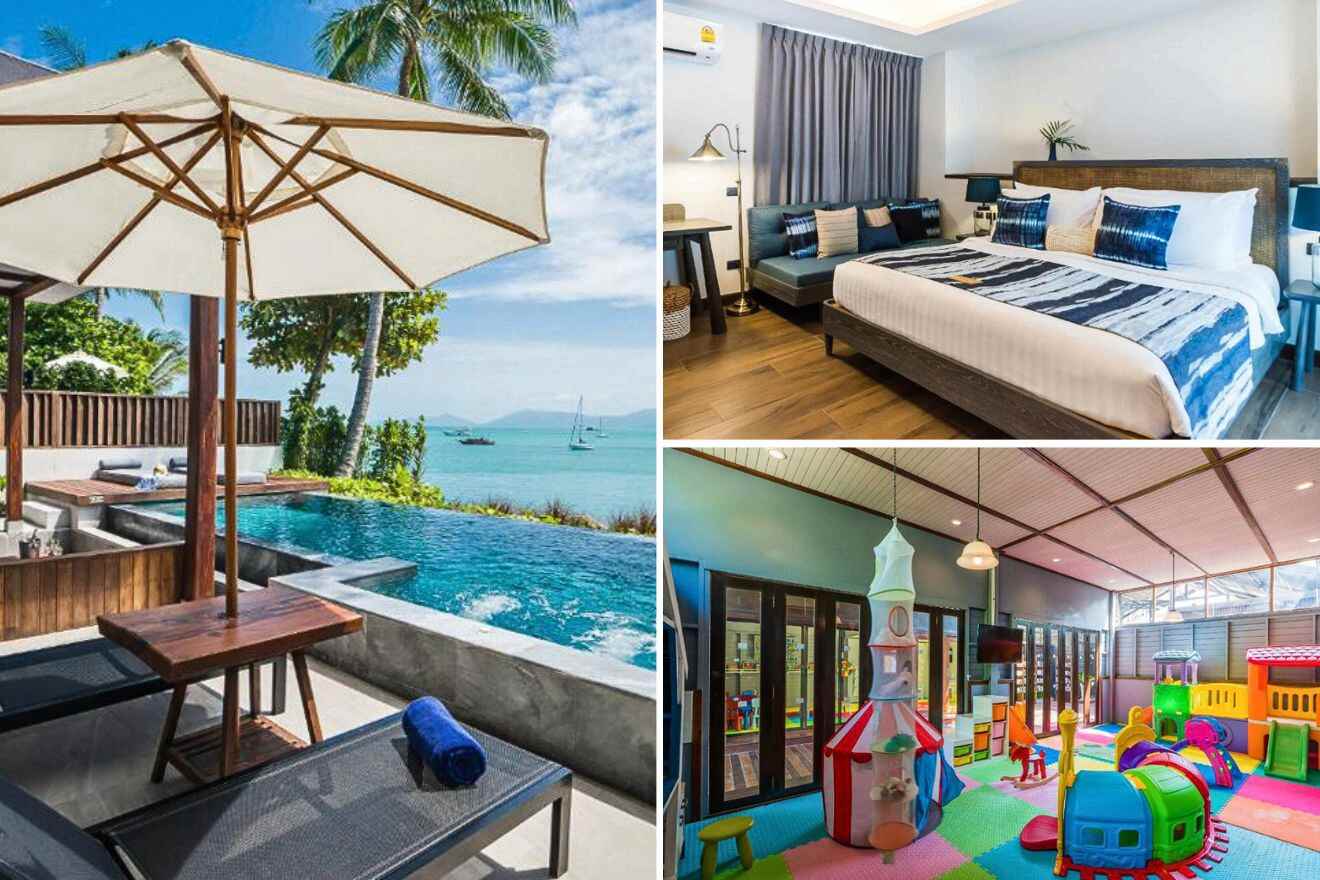 Wow! How amazing is this resort? It is located by the Bophut Beach and comes with a private beach area. The hotel also features an outdoor swimming pool on the beach – imagine going for a swim in the pool and stepping out to soft white sand and views of the stunning pristine waters of Thailand.
The hotel offers a complimentary breakfast to guests and hosts theme dinner nights, which I recommend to enhance your whole vacation. The villas are spacious and have a unique, elegant style, and the beachfront villas come with a private infinity pool overlooking the ocean.
11. The Shore – Thailand's beachfront paradise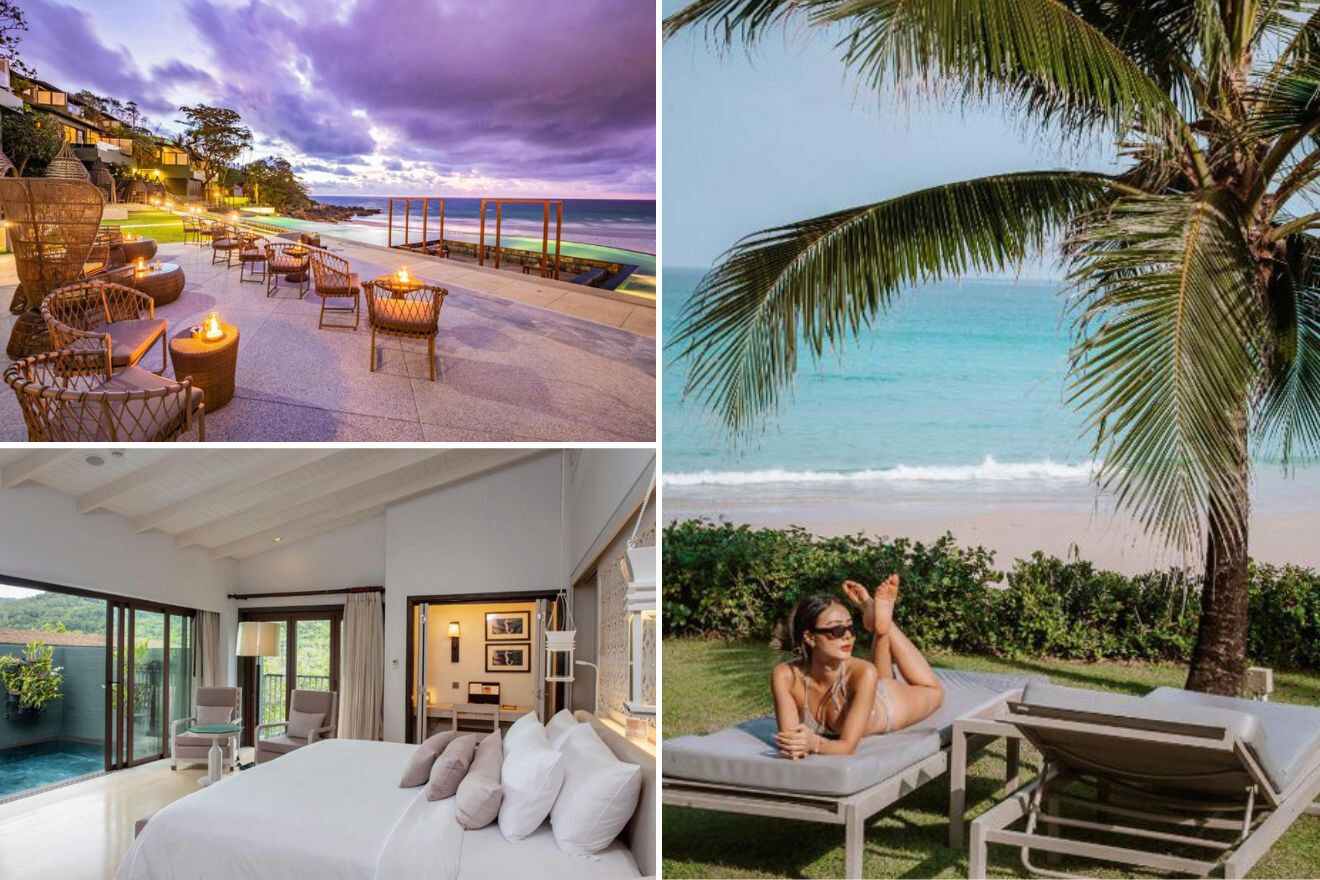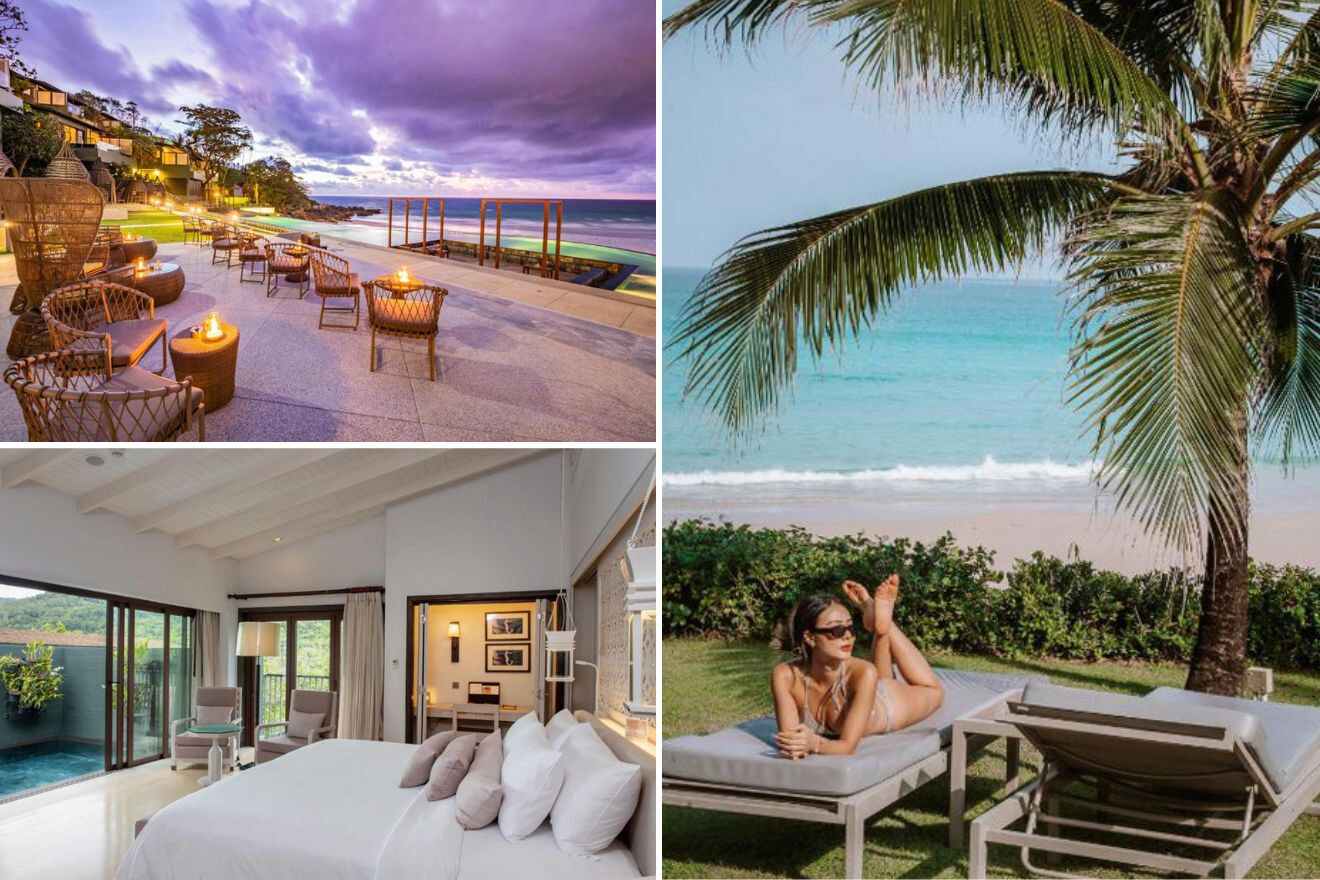 This stunning adults-only resort is located by Kata Noi's beachfront. Imagine waking up to the most beautiful views of the ocean every morning and the possibility of going for a swim first thing in the morning. The 2 on-site restaurants offer guests the chance to participate in a unique culinary experience with every meal.
The villas come with out-of-this-world views of lush tropical hills and blue oceans. The Inlove villa has an infinity pool with cabanas that will make you and your partner feel in another world with its scenic views. If you wish, you can enjoy an in-room floating breakfast every morning.
12. Devasom Khao Lak Beach – stunning scenery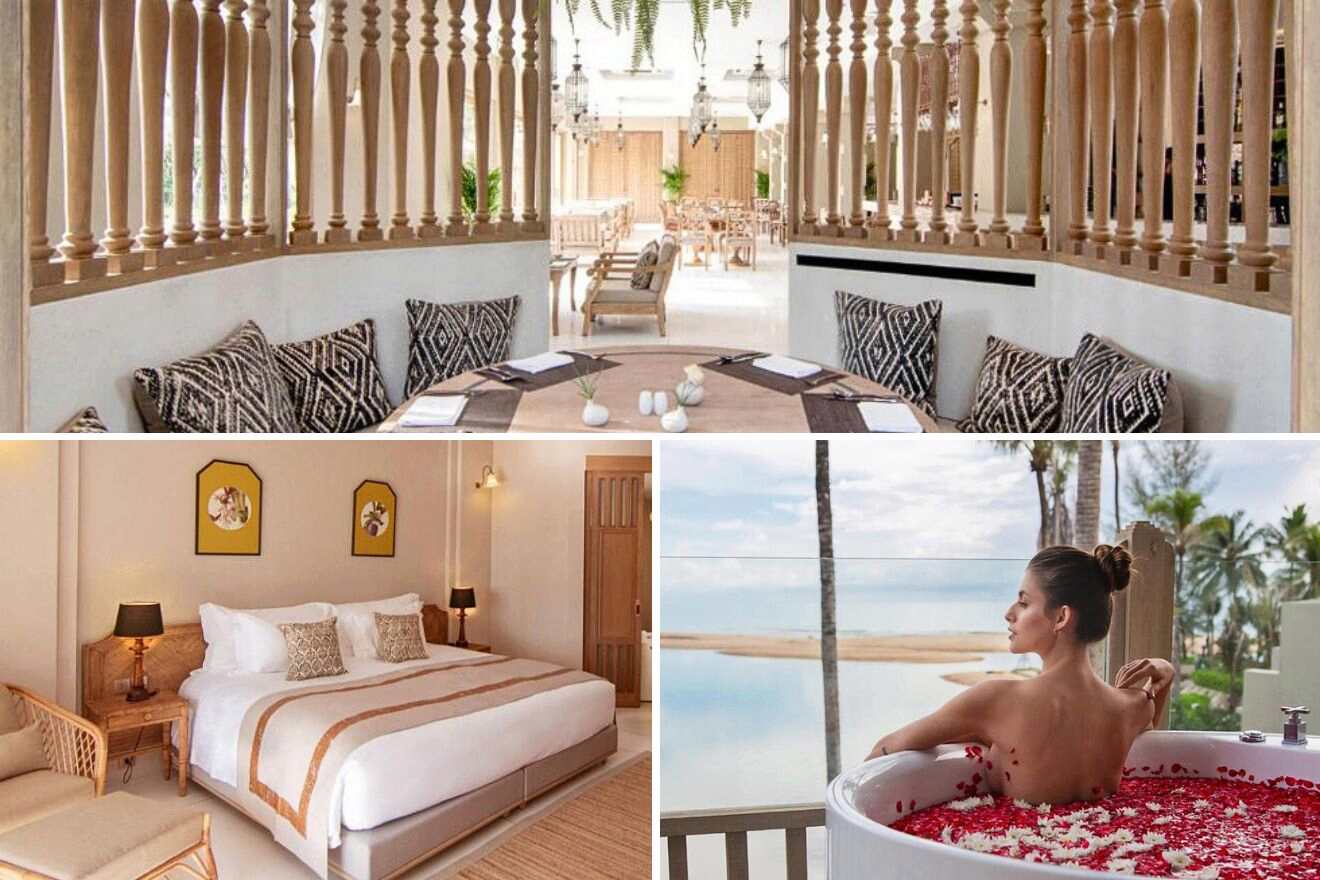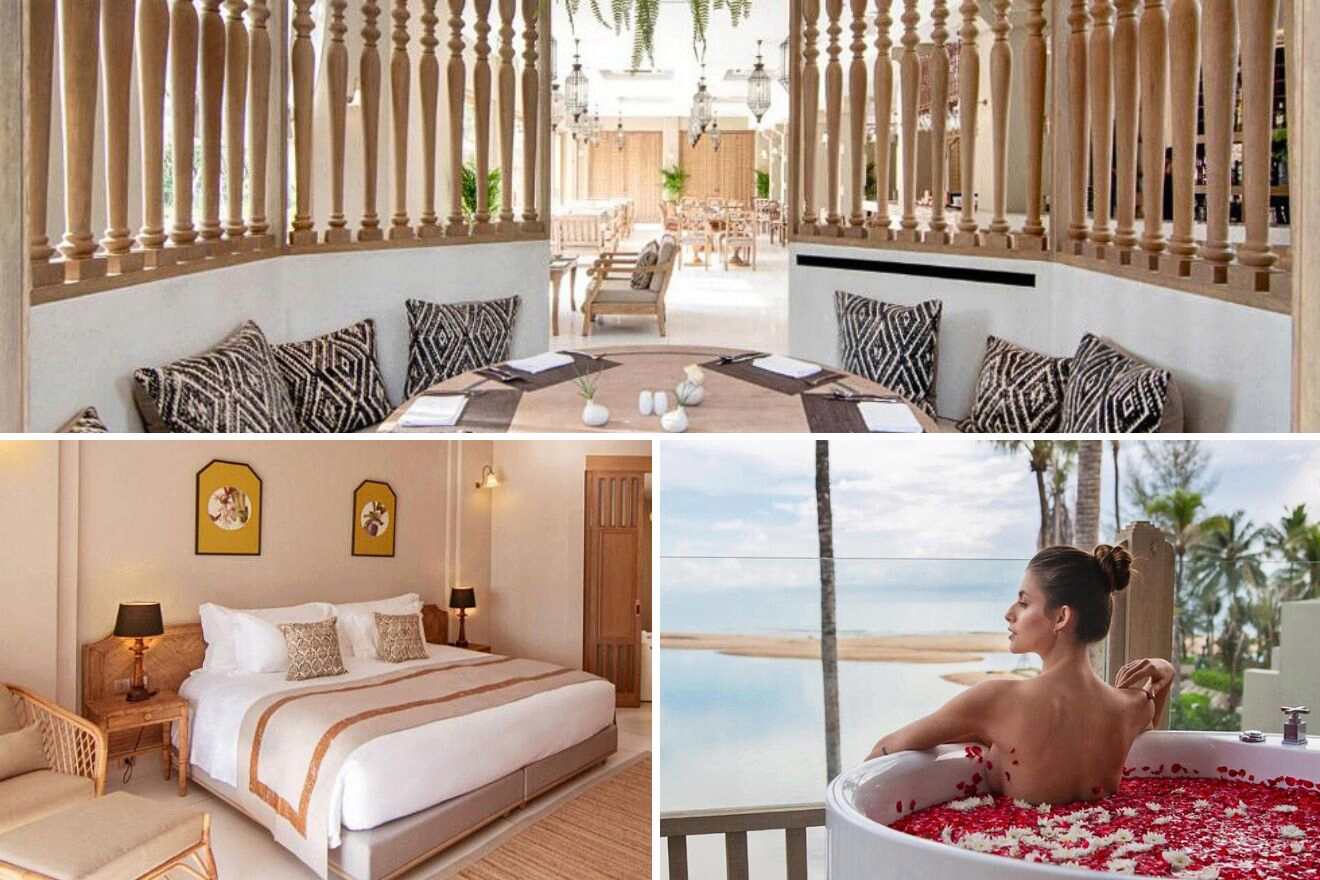 Tradition, modernity, and movie-like scenery converge to make your vacation in Khuk Khak Beach a memorable experience. This resort is surrounded by a tropical forest and a beach area with ocean lagoon areas, making the views and experience completely unique. The hotel has a free bike rental service so that you can explore the area by yourself, but if you wish, you can book a bike tour for a fee for the company of a guide.
The property offers a pool suite, which comes with a hot tub as well, and villas offer private pools and amazing views of the beach or the tropical forest. The biggest villa can host up to 6 guests and comes with 2 bedrooms and a separate living room – perfect for families!
13. Te Mata Glamping – with next-level tents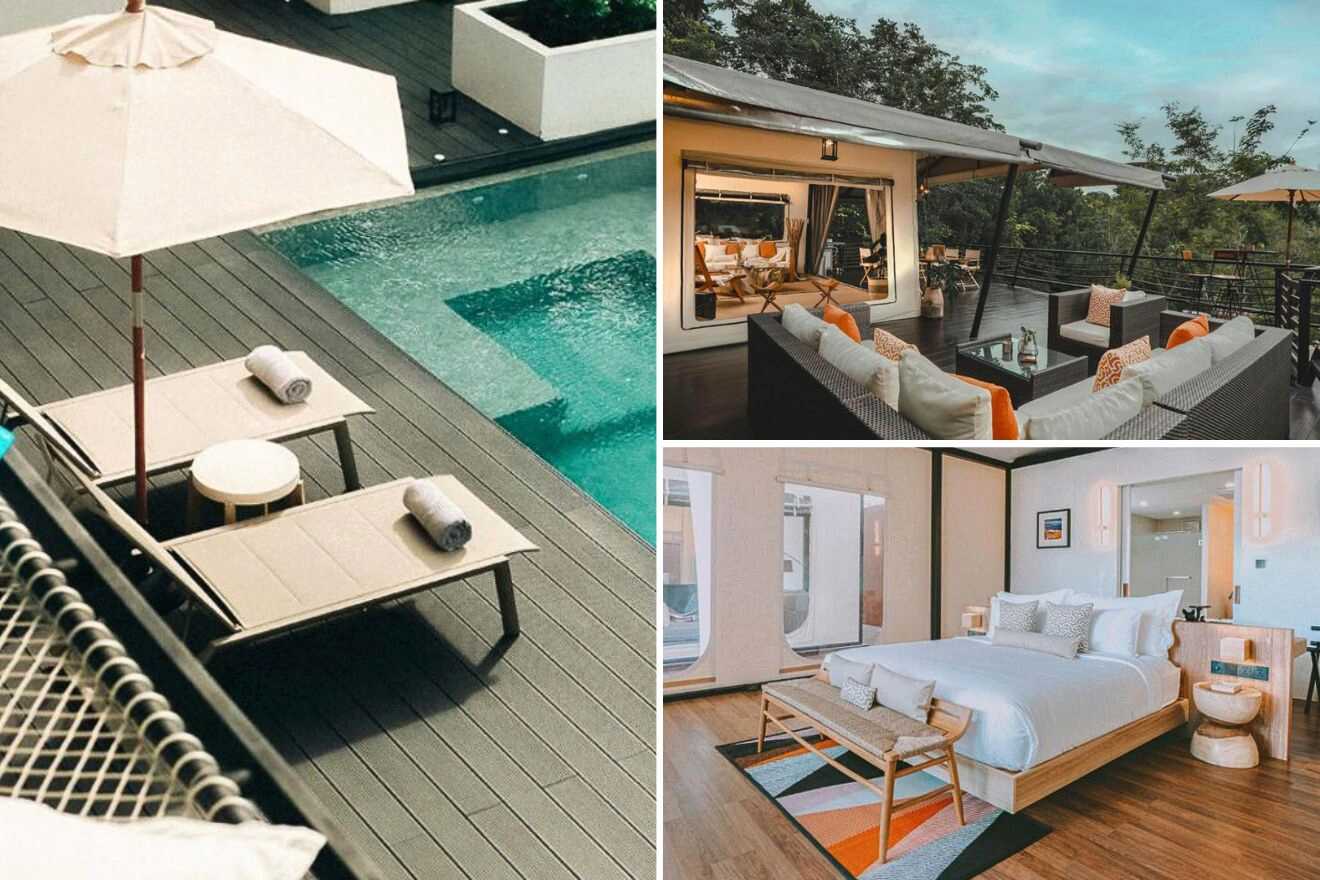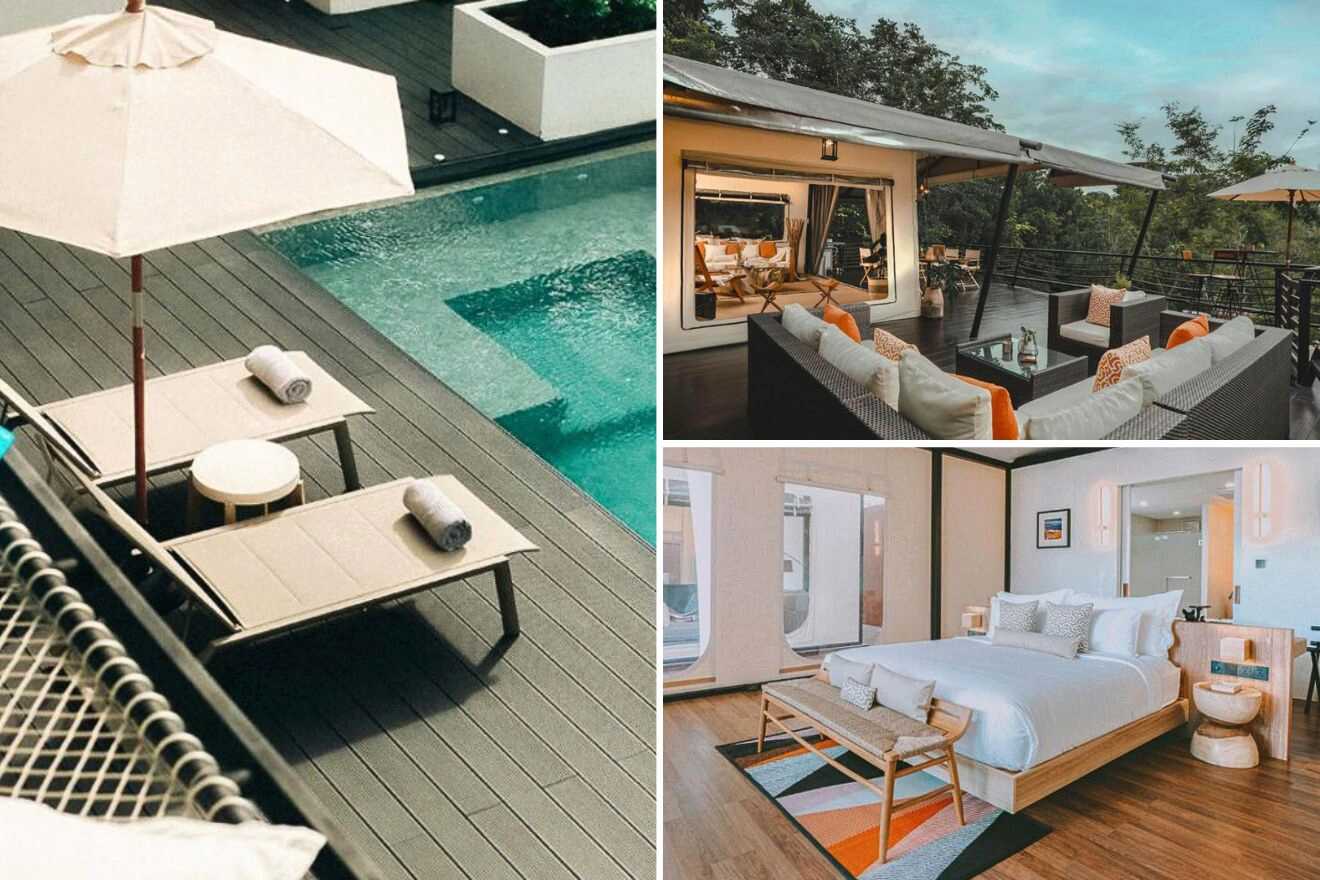 This incredible boutique resort offers guests the unique experience of staying in the middle of a tropical jungle in a luxurious setting. The tents come with everything you need for a comfortable stay and more. But the private pool villa comes with an infinity pool located on the terrace and above-ground views. It features a bedroom and separate living room, 2 bathrooms, and a kitchenette.
The Nong Nam Daeng resort features a relaxing spa and wellness center offering a wide range of treatments as well as an outdoor swimming pool open to all guests. There is a free shuttle service to the airport and a complimentary breakfast for all guests, which can be enjoyed in the privacy of your tent.
14. TreeHouse Villas – cozy and natural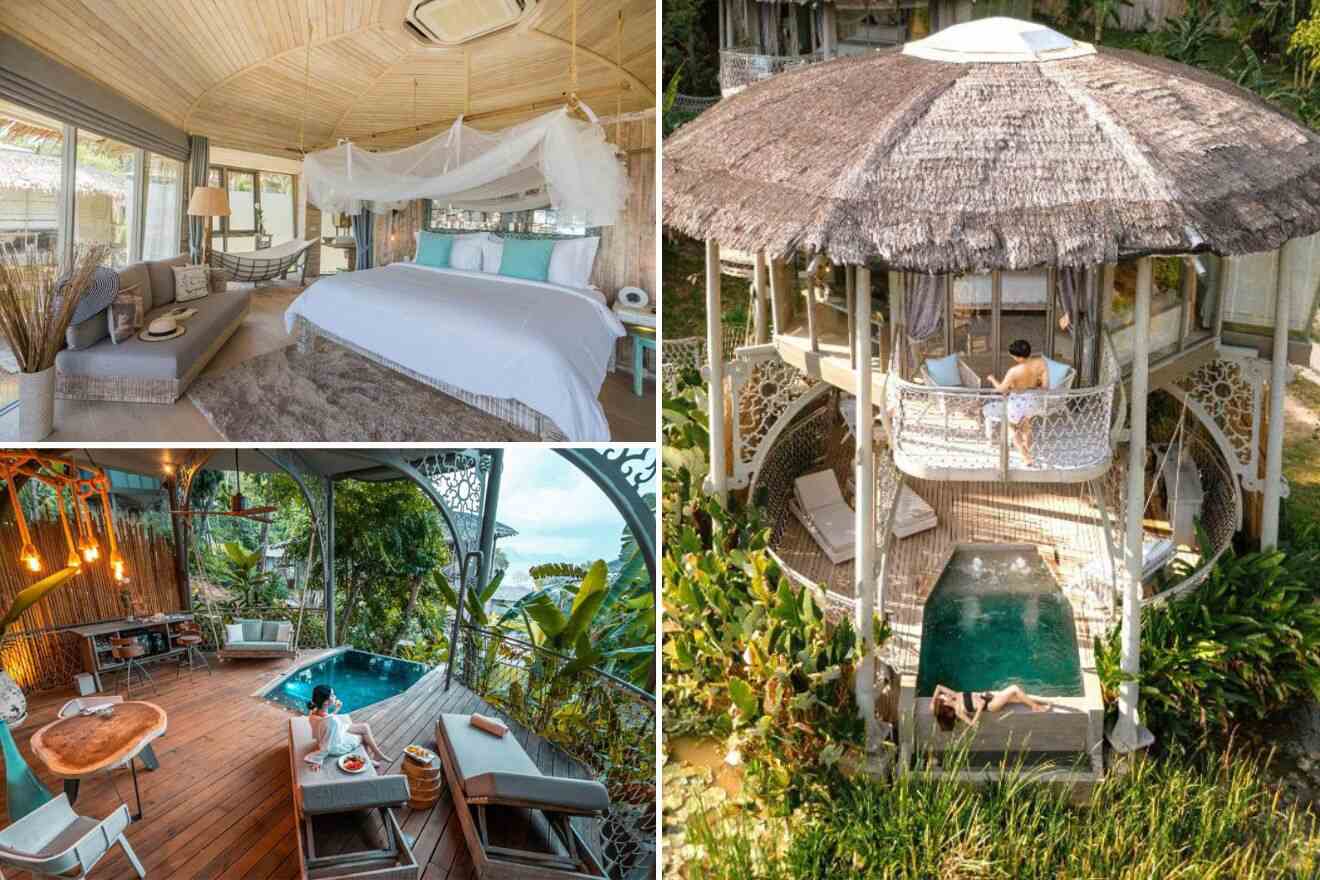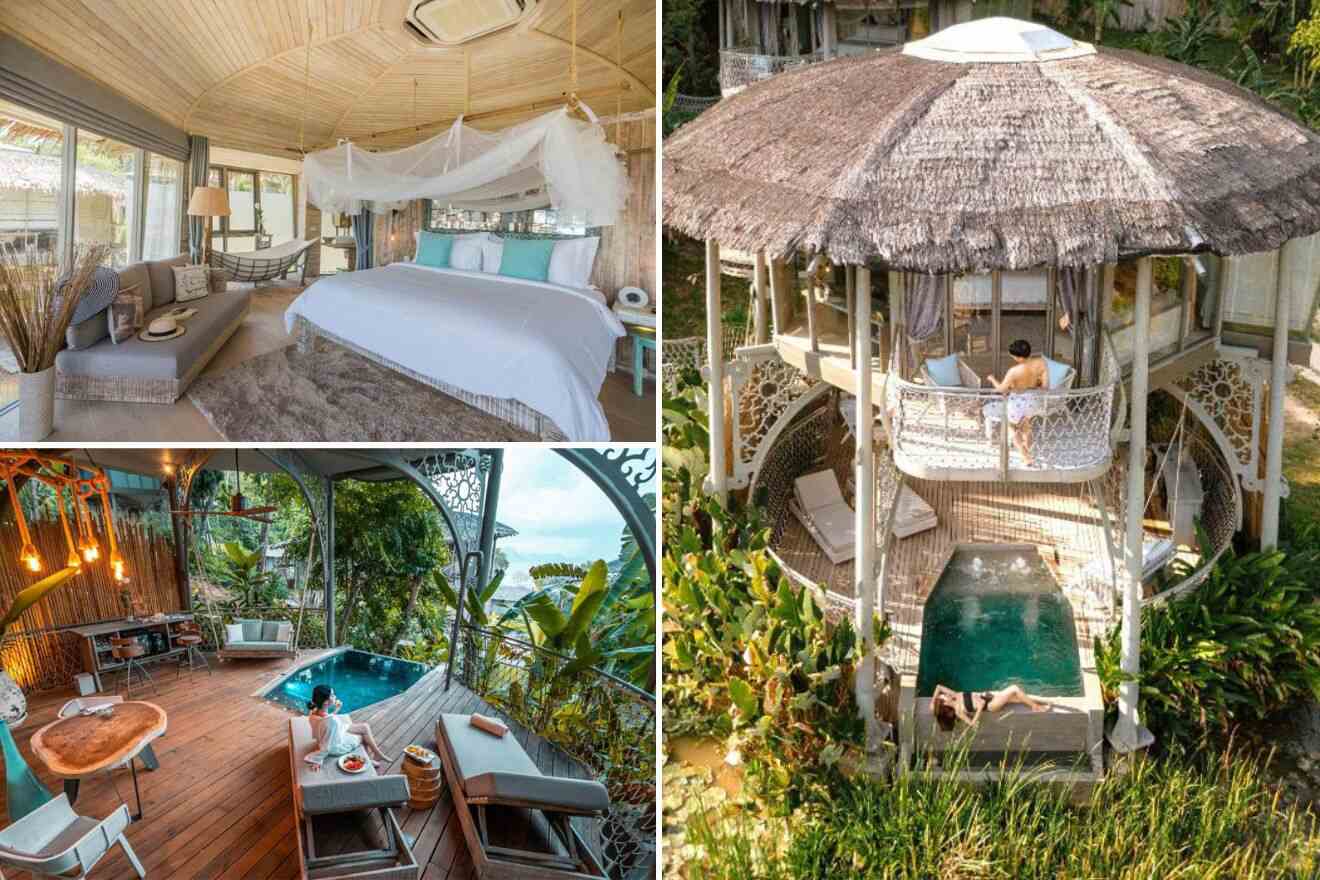 I am in love with these treehouse villas! If you want to stay in a cozy place that will make you feel like a forest fairy, this resort is the one! Located in Ko Yao Noi, this boutique resort offers the perfect landscape for relaxation and romanticism. All the villas have natural elements in their architecture and private swimming pools to indulge in the privacy of your accommodation.
Apart from being located by the beachfront and having a private beach area, the hotel has great amenities, such as a spa and wellness center offering yoga classes, steam rooms, and different packages you can purchase.
15. Anantara Layan Phuket Resort – with a deluxe setting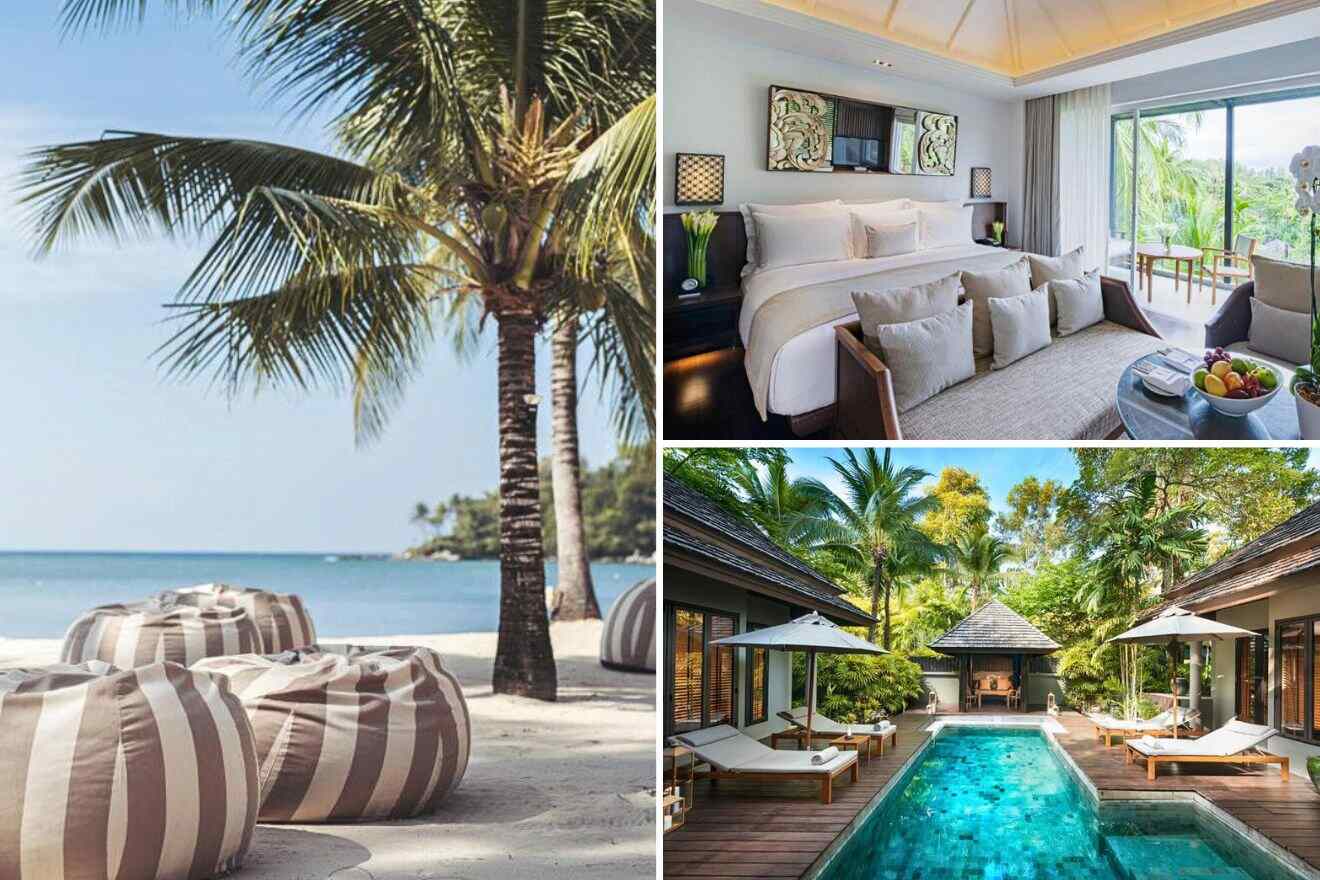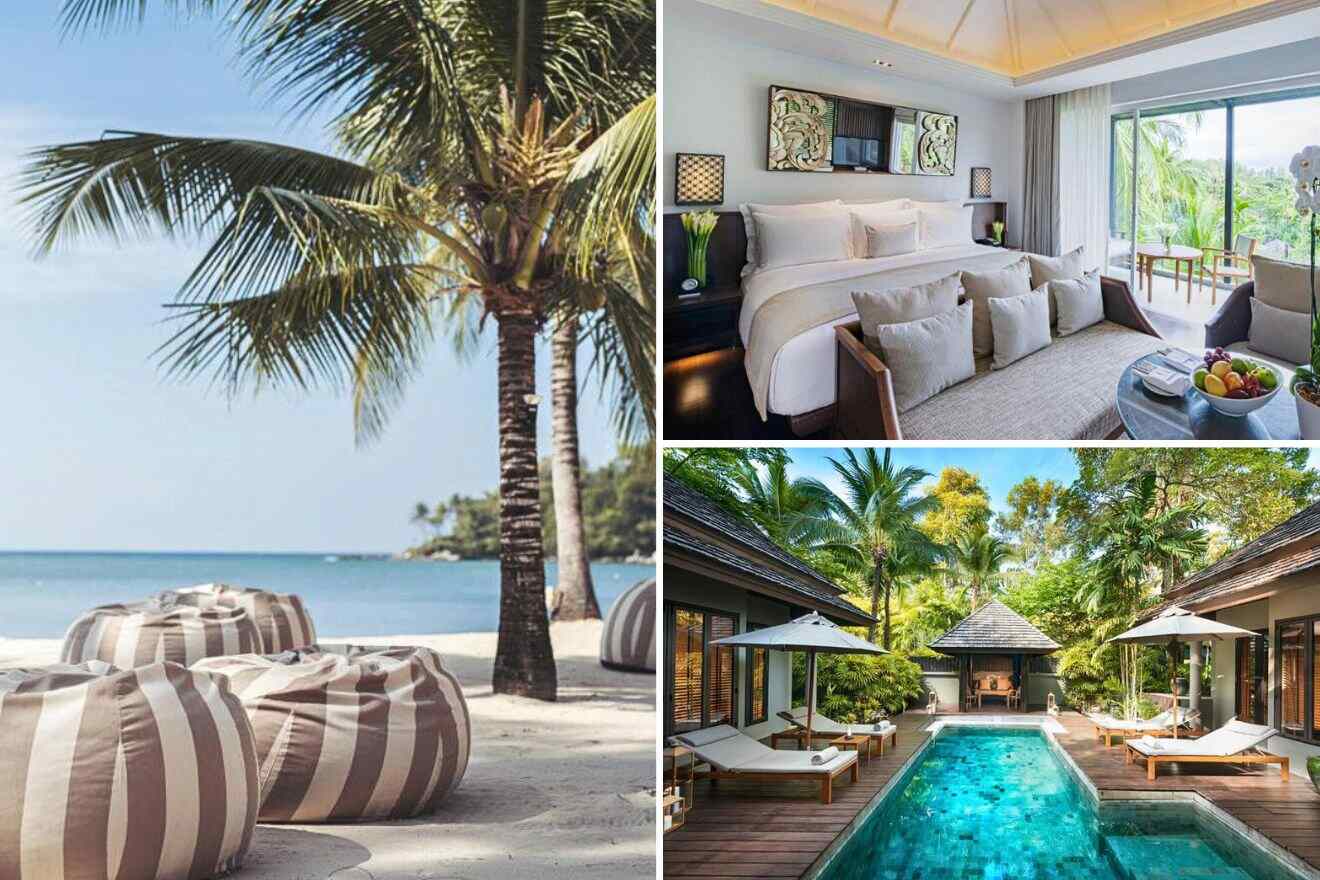 Located by Layan Beach front and with a private beach area, this resort offers a unique experience to all guests. From the moment you arrive, the staff will go above and beyond to make your stay the most memorable experience in Thailand. In the spa, you can indulge in beauty treatments and massages. If you wish, you can practice a wide range of water sports on-site, from windsurfing to canoeing.
The villas are perfect and feature the most luxurious style. The biggest villa is the 5-bedroom villa, which can host up to 15 guests and comes with floor-to-ceiling windows that overlook the private infinity pool and fabulous views.
16. MASON – a stylish and modern hotel in Thailand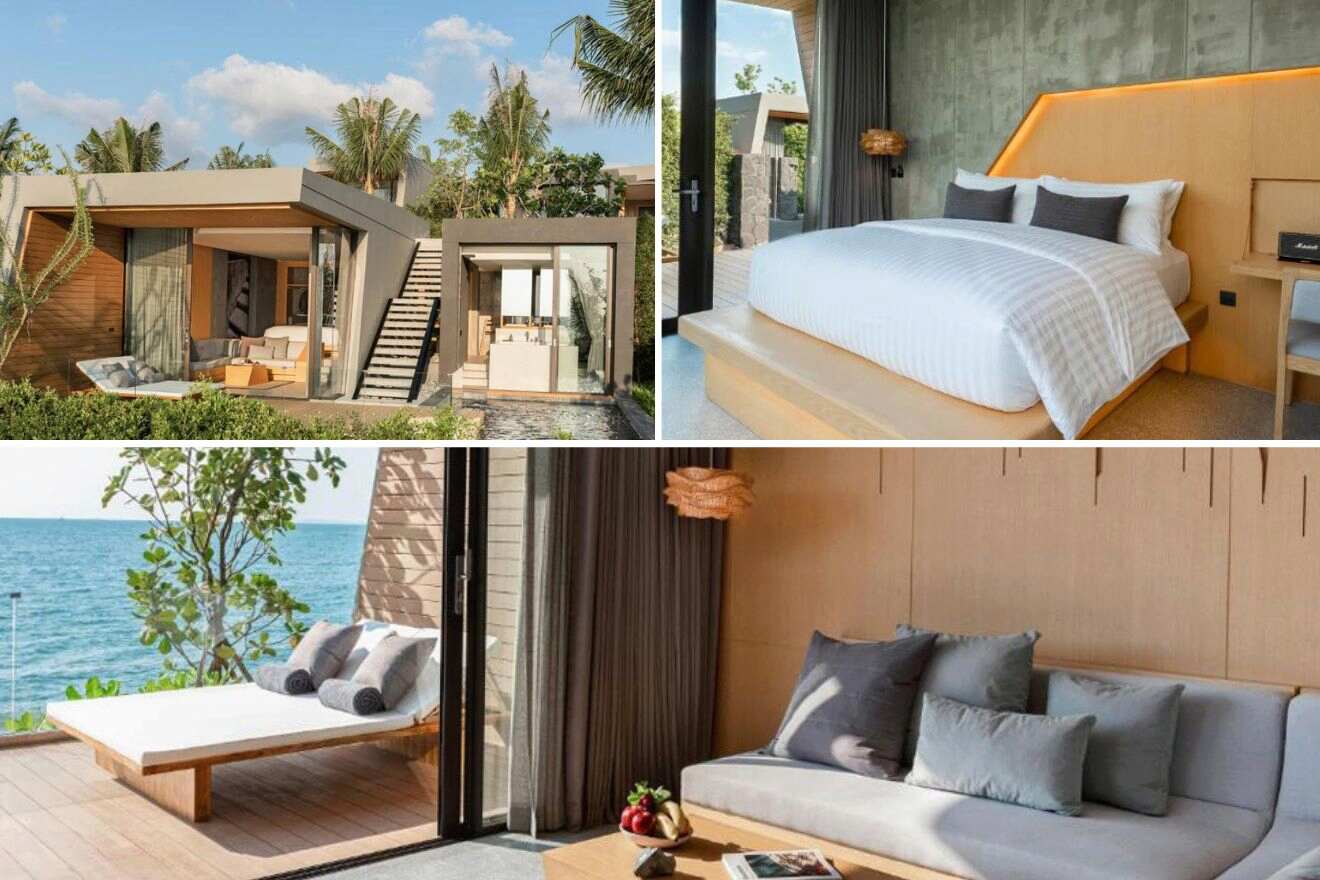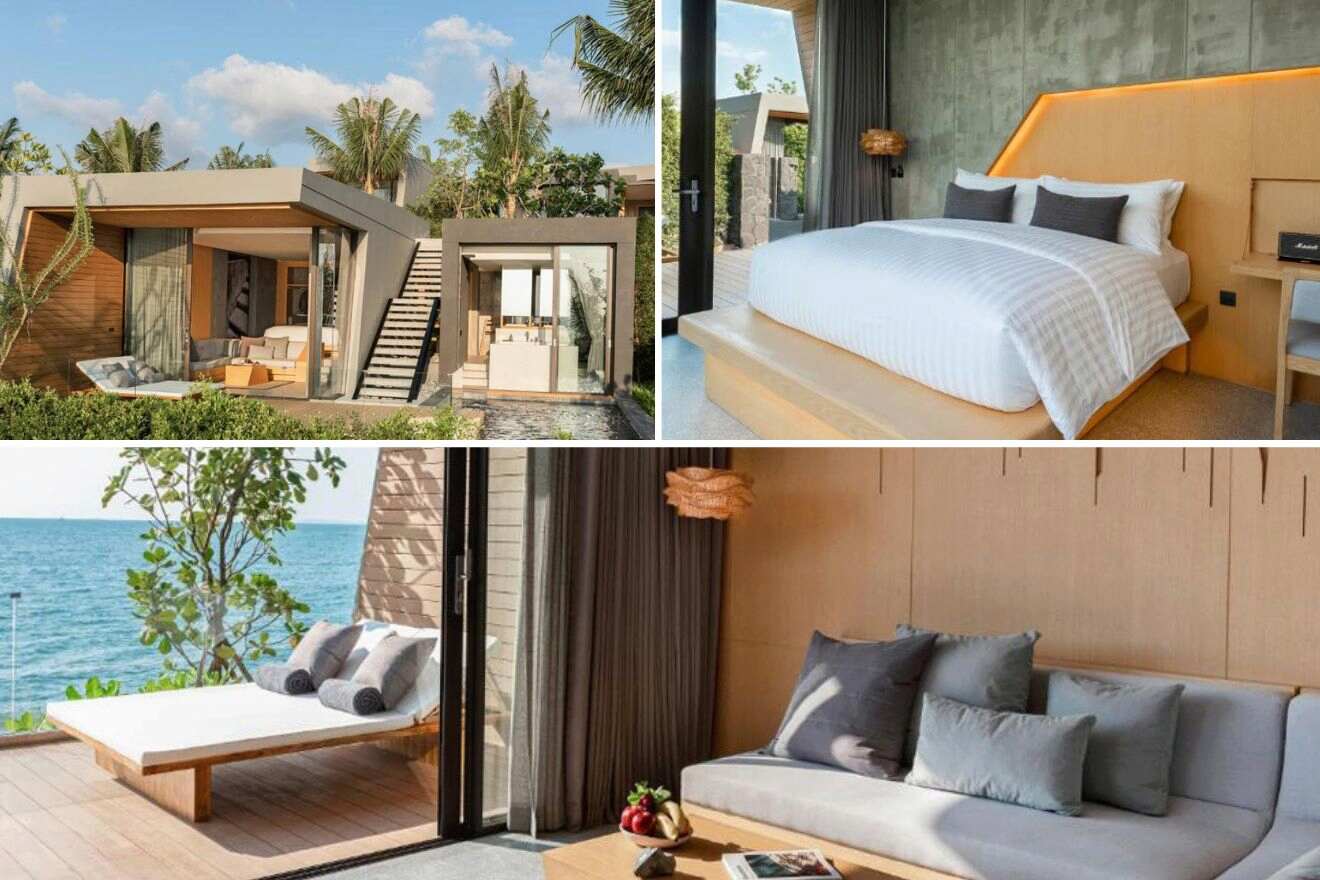 I am obsessed with this fantastic property on the Na Jomtien beachfront with a private beach area featuring a modern design with touches of industrial style. The resort comes with a wellness center with a fitness room and incredible body treatments. There is an on-site restaurant at the hotel, and every morning, guests can enjoy a complimentary breakfast.
The villas offer wonderful floor-to-ceiling windows, which make the accommodation bright and cozy. The Double Grand Pool Villa comes with 2 bedrooms and a separate living room, all the rooms overlooking the ocean so that you can watch the sunrise every morning from the comfort of your bed.
17. Banyan Tree Phuket – with traditional charm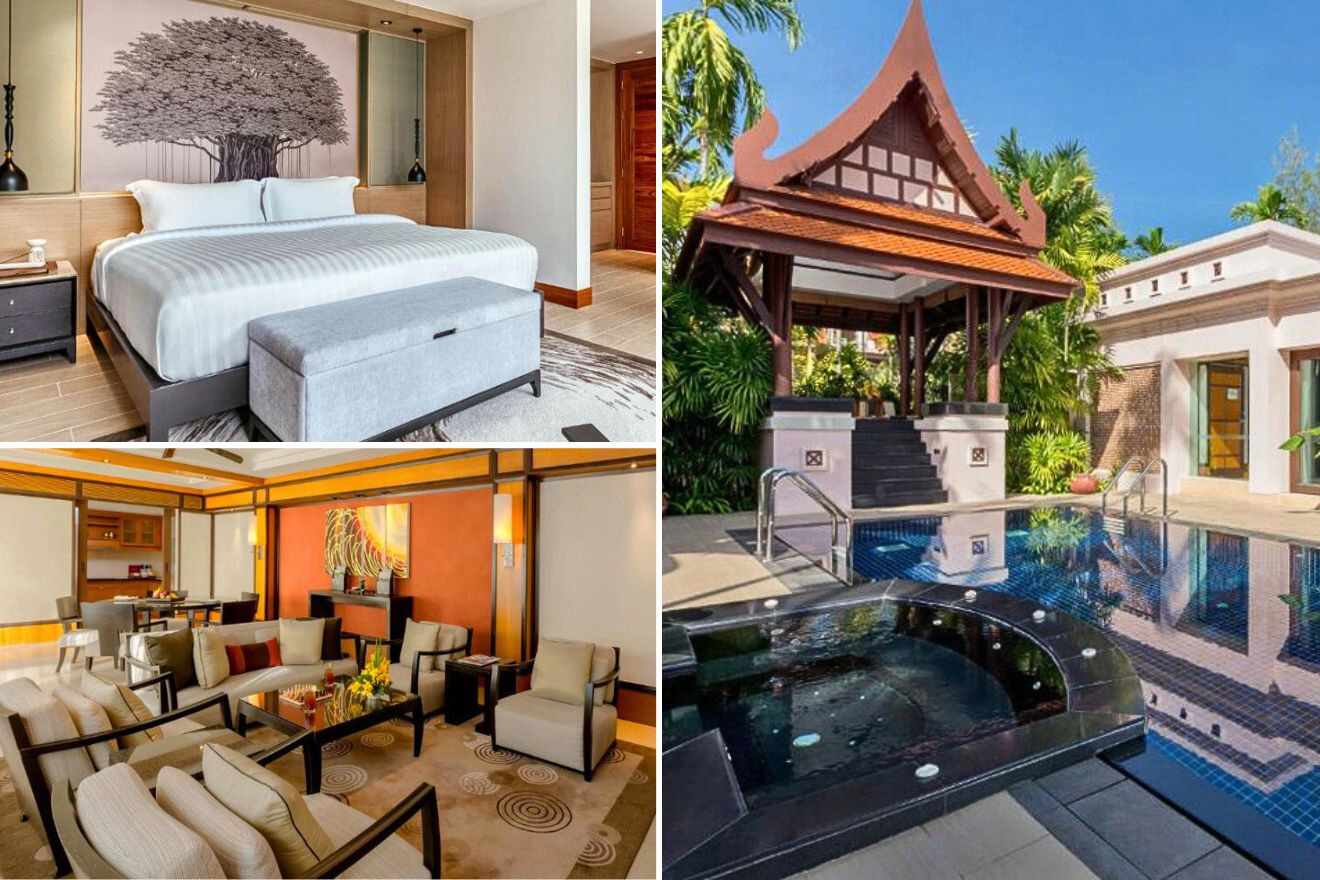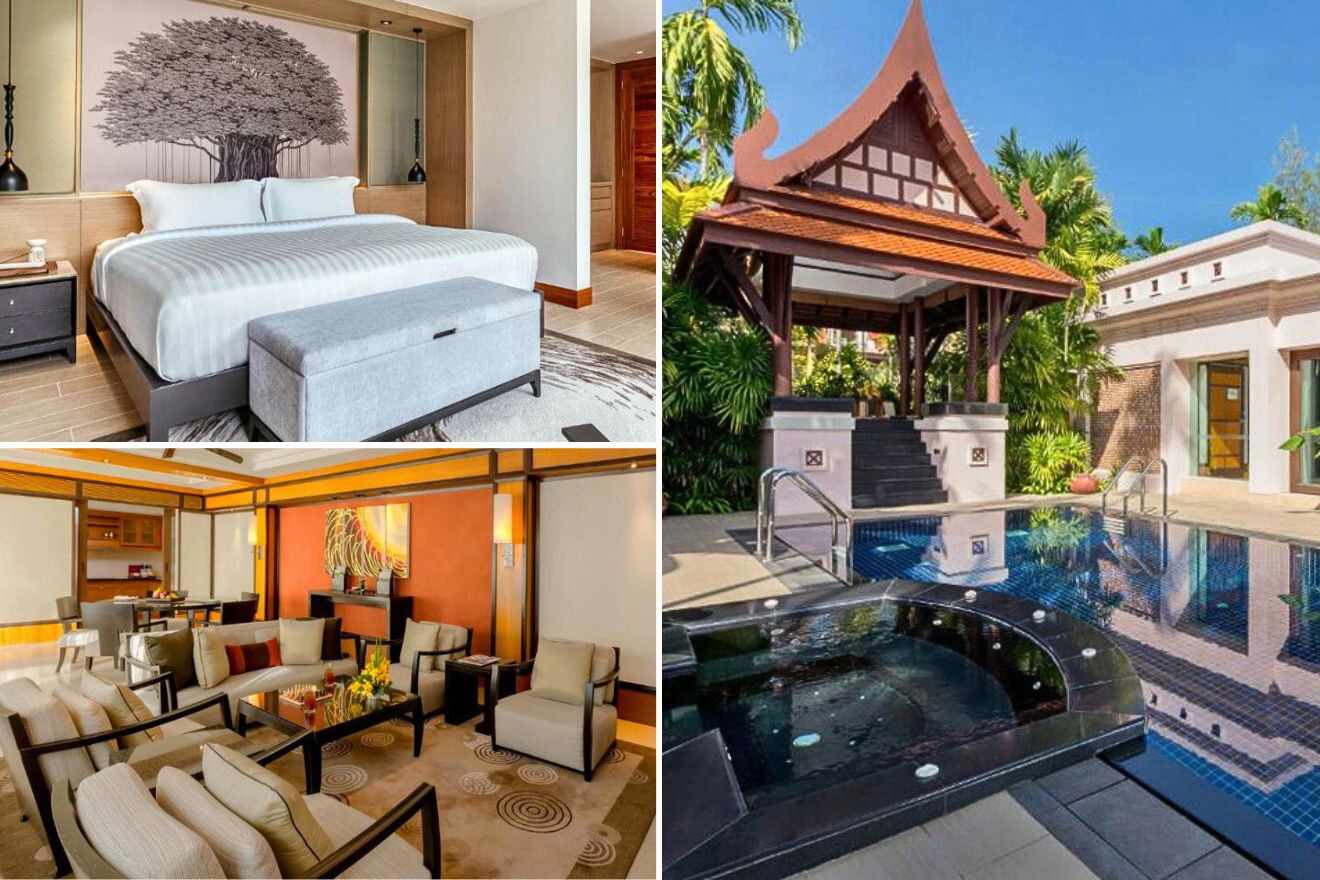 Oh, la la! This hotel looks fantastic! The facade features a distinguished traditional style that will make you feel one with Thailand. The same thing goes for the interior design, which is simply charming with its wooden furniture and open spaces. The property is in Phuket, and Bang Tao Beach is the closest one, only a few minutes away.
The accommodation comes with a spa and wellness center, a fitness room, and an outdoor swimming pool. The villas are spacious and elegant. Some of them come with a single swimming pool, and others come with a double swimming pool.
18. Mövenpick Asara – serenity and style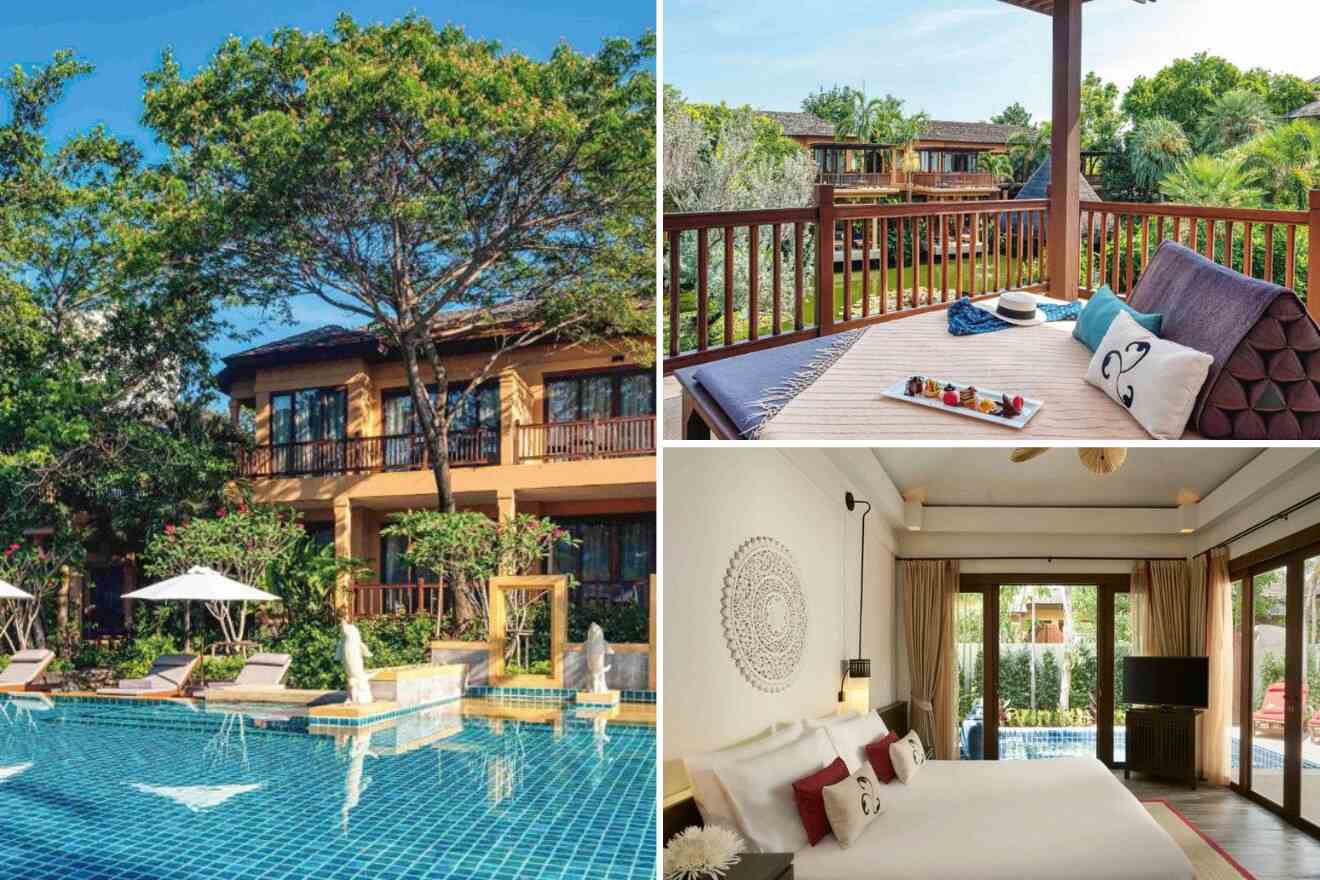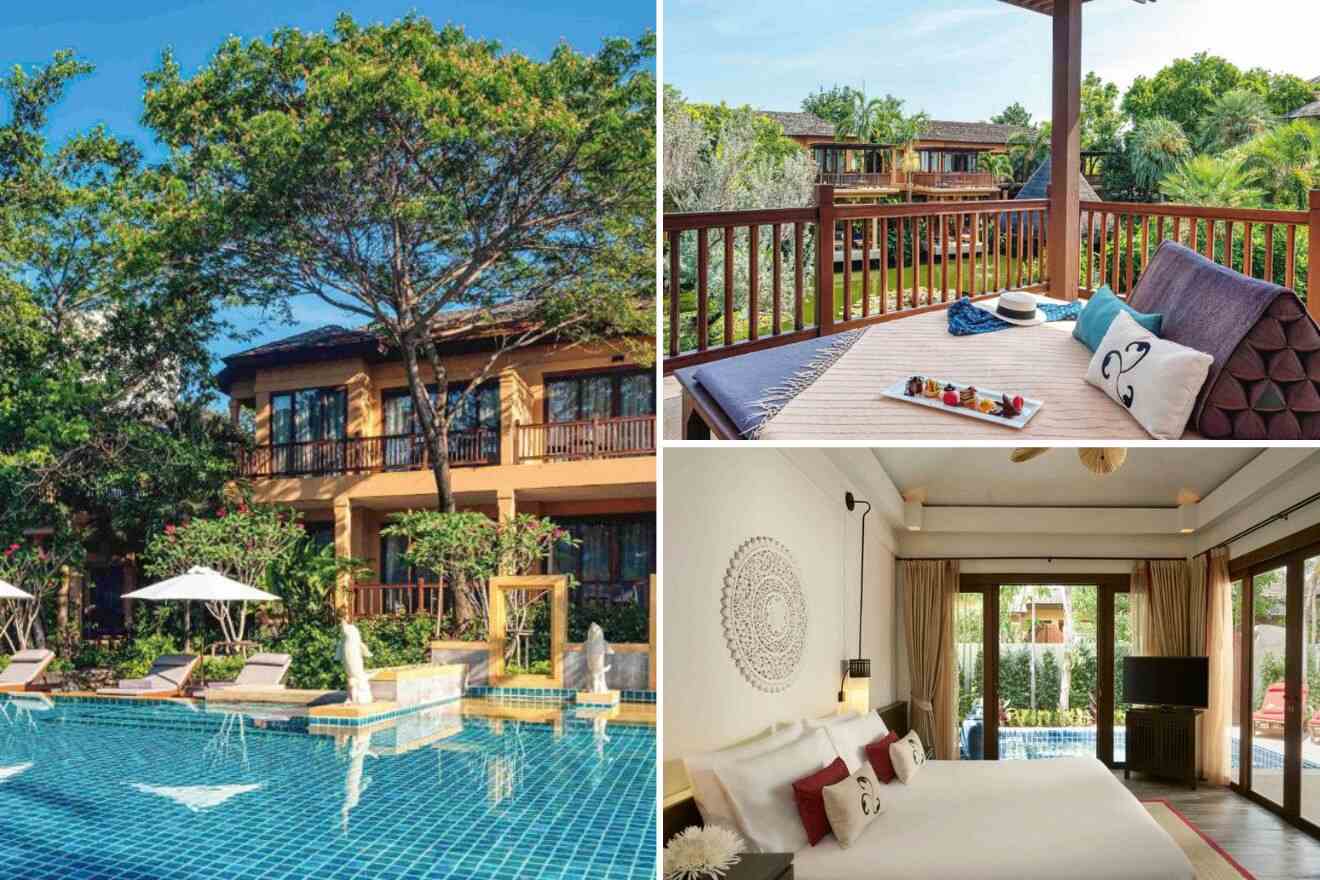 If you want to spend an easy, breezy vacation in Hua Hin, this hotel will provide you with everything you need to spend a vacation free of worries and full of relaxation. The hotel comes with a huge swimming pool with a lovely lounge area where you can lie down and enjoy the sun on your skin!
The villas come with a unique style, and all of them come with a great view. There is only 1 type of villa with an outdoor swimming pool. This one comes with a living room, a bedroom, a small garden, and a big terrace where the pool is.
19. Paradise Island Estate – feel at home in Thailand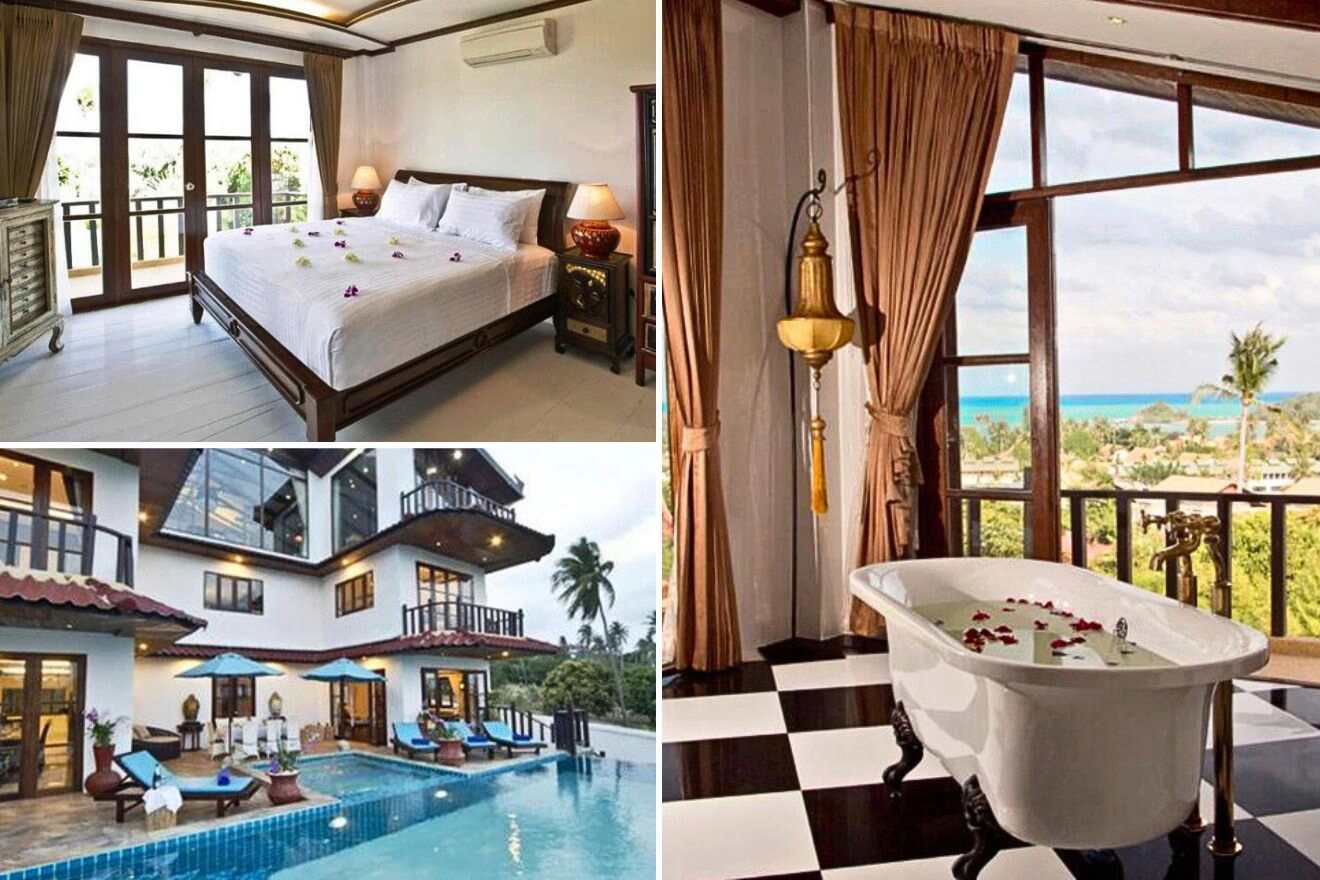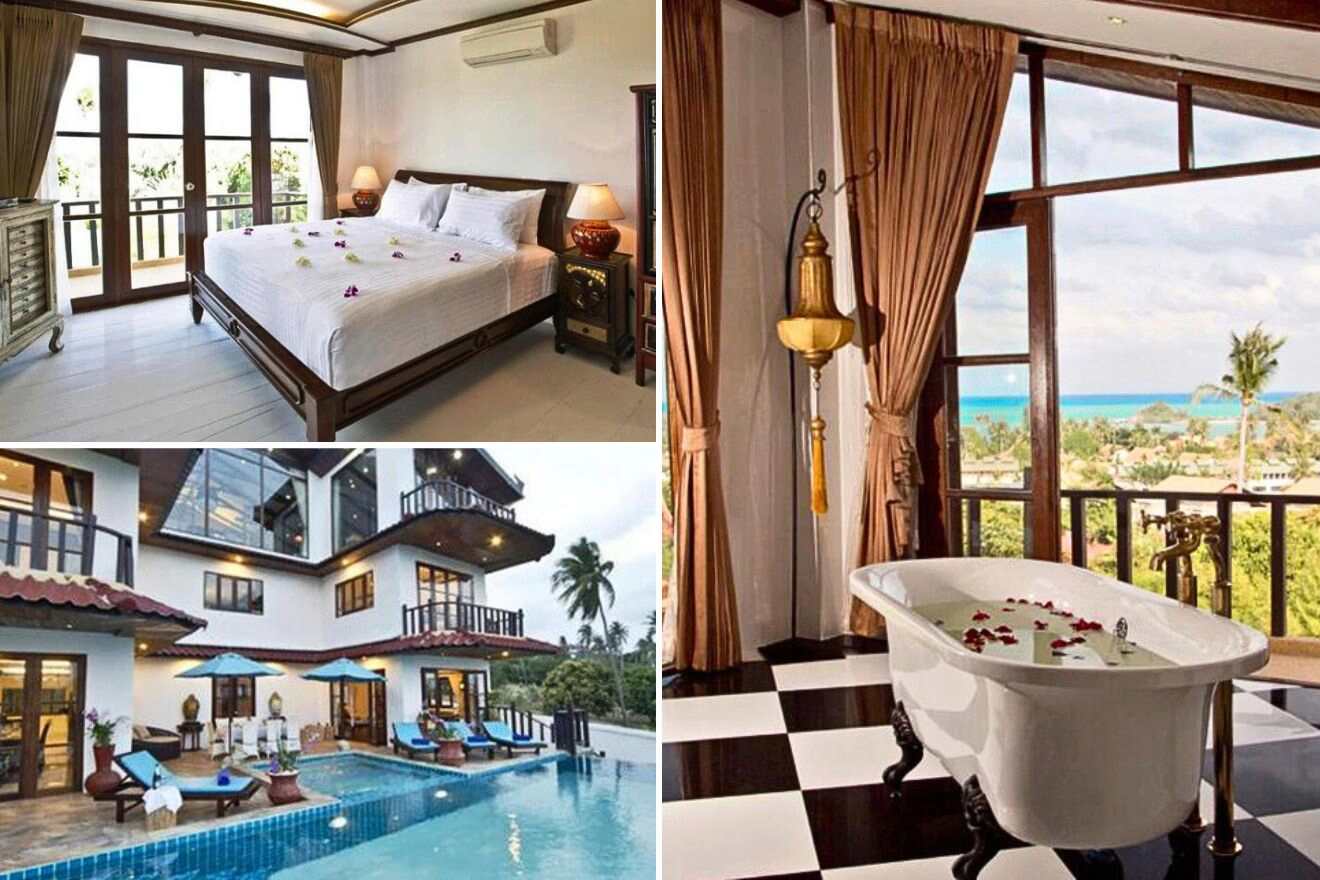 This beautiful estate is the perfect combination of tradition, coziness, and luxury! Choeng Mon Beach is just steps away from the property. From the moment you set foot on the estate, the warm staff will make you feel at home and help you with anything you need. There are 2 big swimming pools on-site, and you can enjoy a complimentary breakfast every morning.
Some rooms, like the honeymoon suite, come with an outdoor hot tub, where you can discover underwater lighting for nighttime swims. The villas come with a private outdoor swimming pool, and the biggest one can host up to 10 guests. It comes with 4 bedrooms and a separate living room.
20. View Point Resort – connect with nature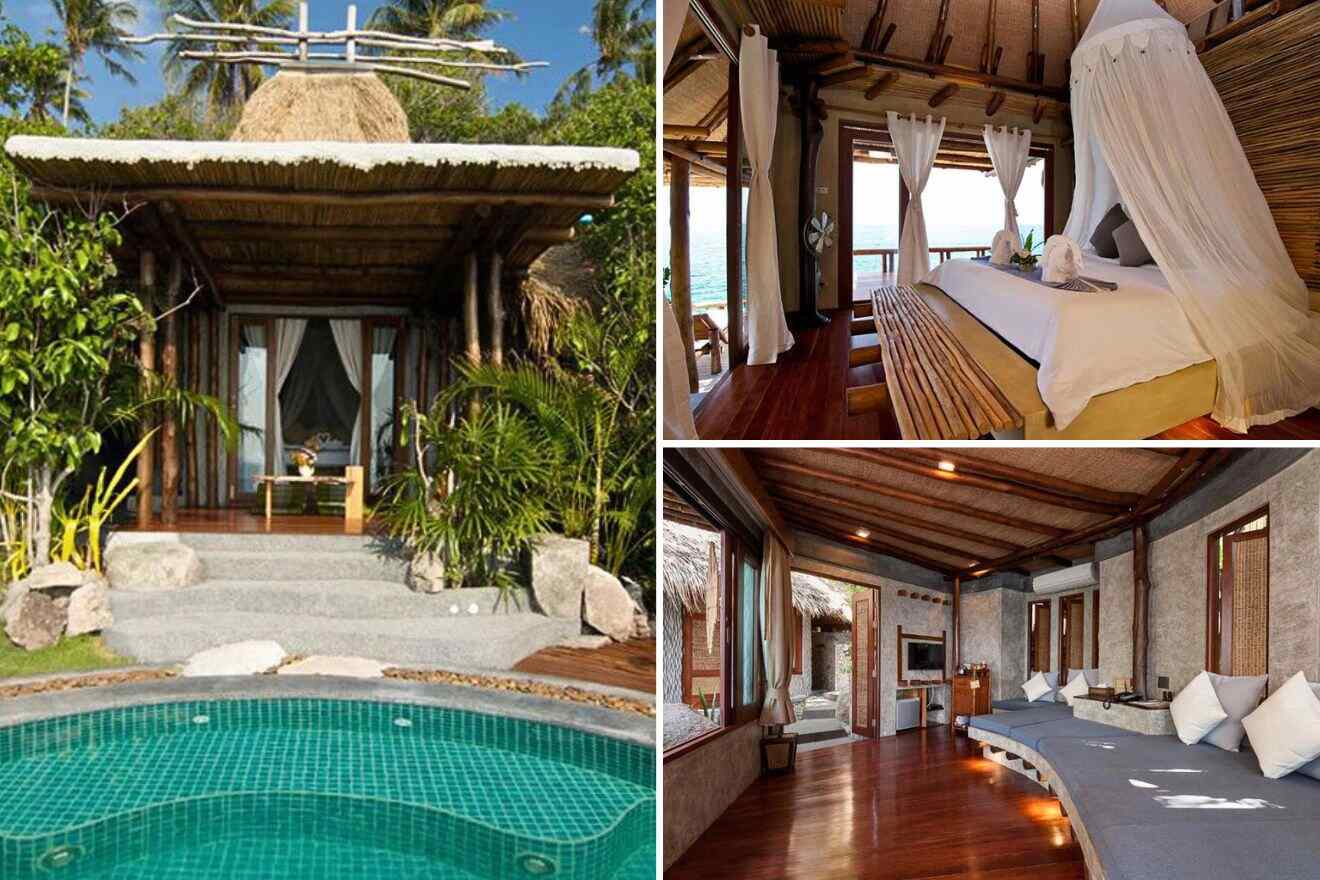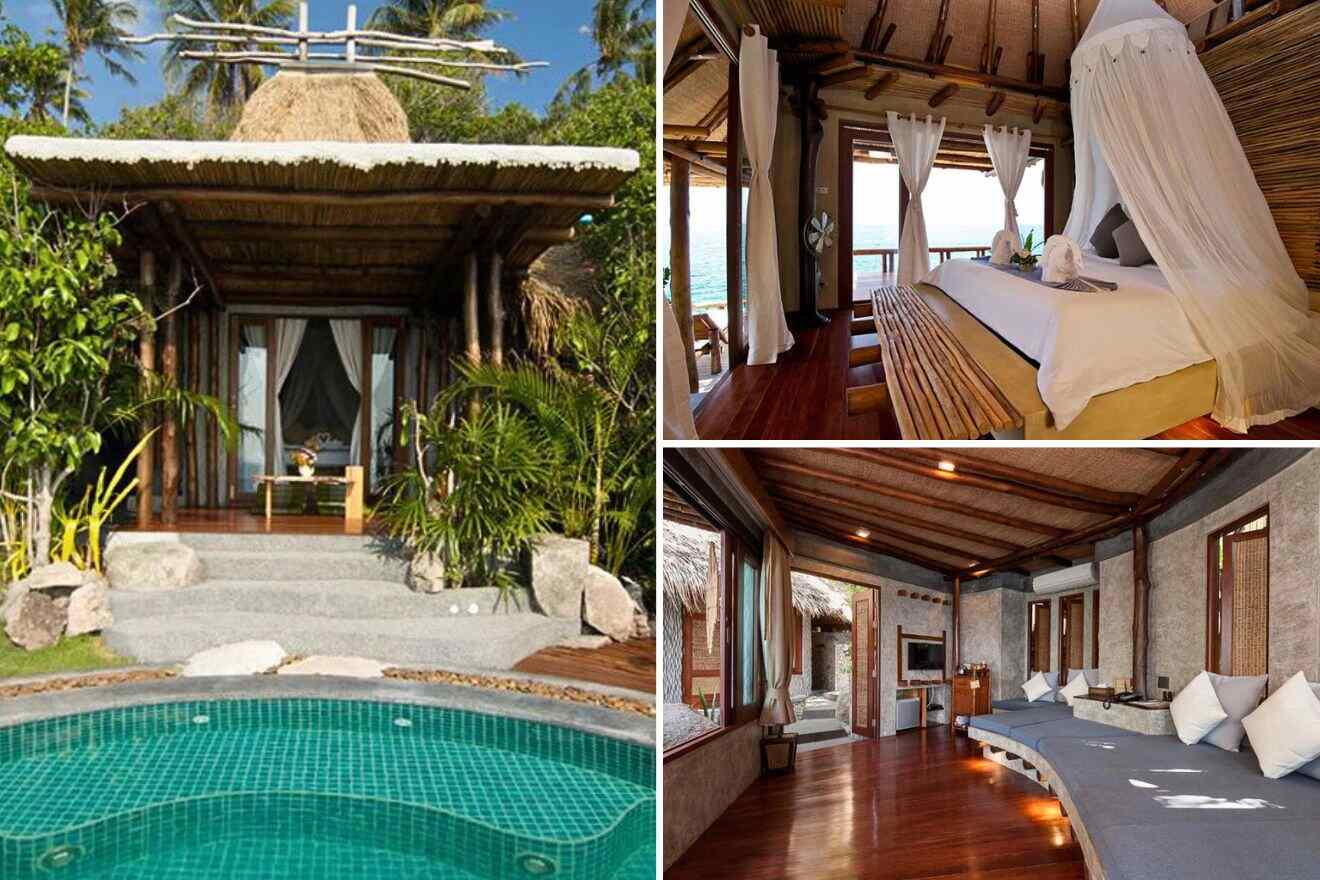 Discover Chalok Baan Kao and stay in one of the most luxurious resorts in Thailand featuring the most incredible styles and decorations, from wicker ceilings to wooden floors and rock walls. Here, nature plays an important role in relaxation! The hotel has amazing views of the beautiful beach due to its great location by the beachfront and comes with a private beach where you can sunbathe or play beach volleyball.
The rooms and cottages have a lovely style and even nicer views, but for the private swimming pools, you need to book one of the houses. Most houses can host up to 2 guests, except the 2-bedroom house, which hosts 4 guests.
FAQs about Thailand private pool villas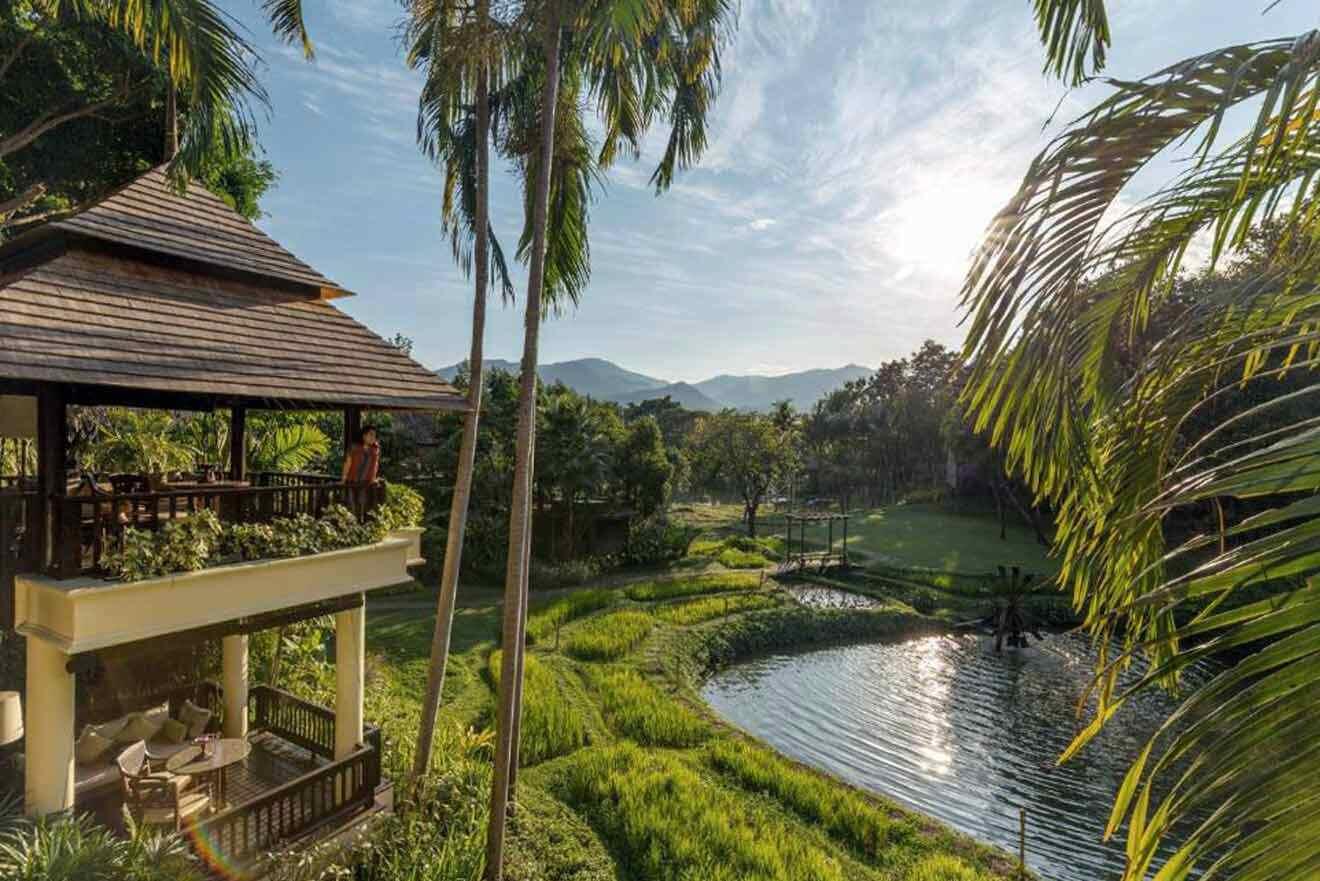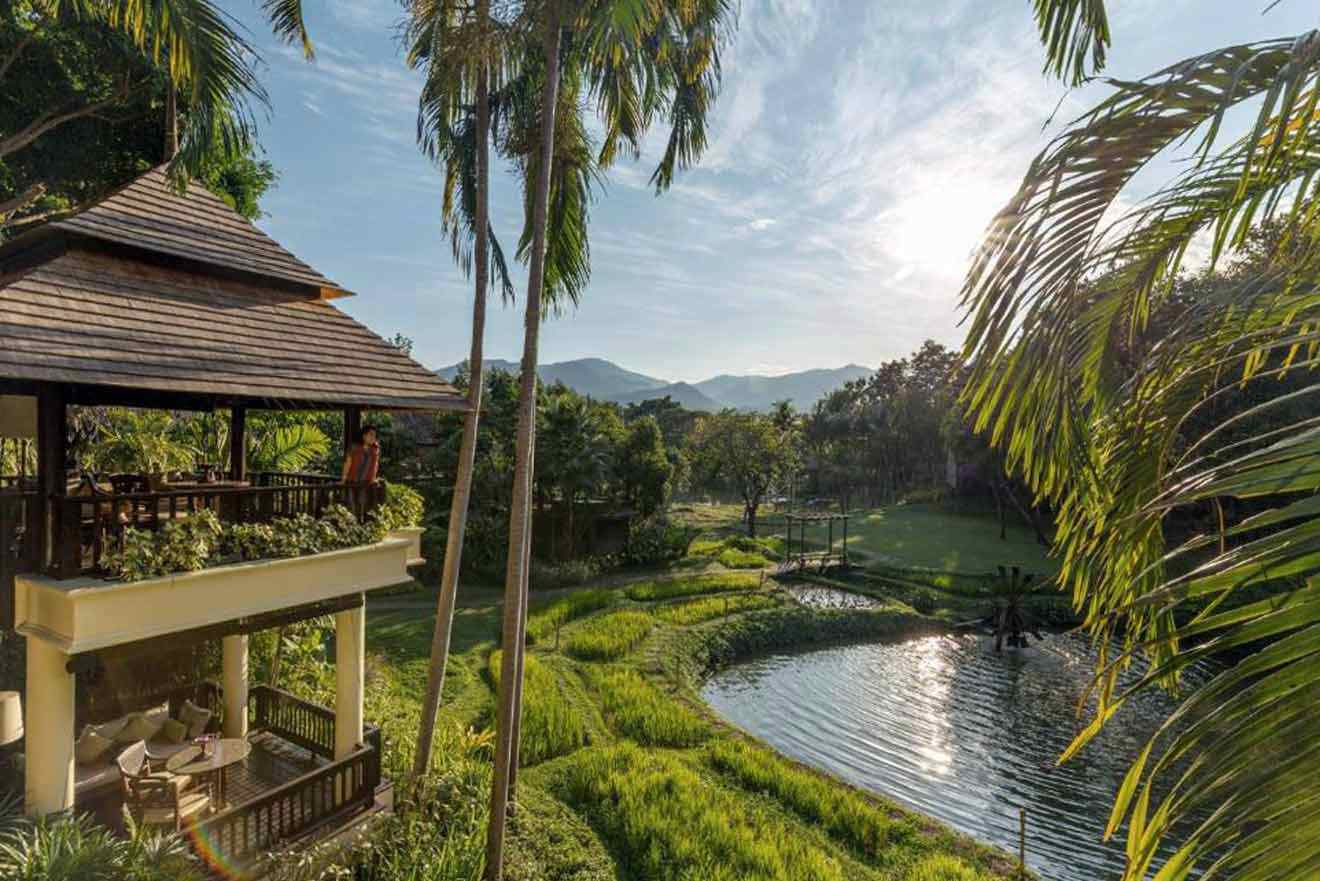 Conclusion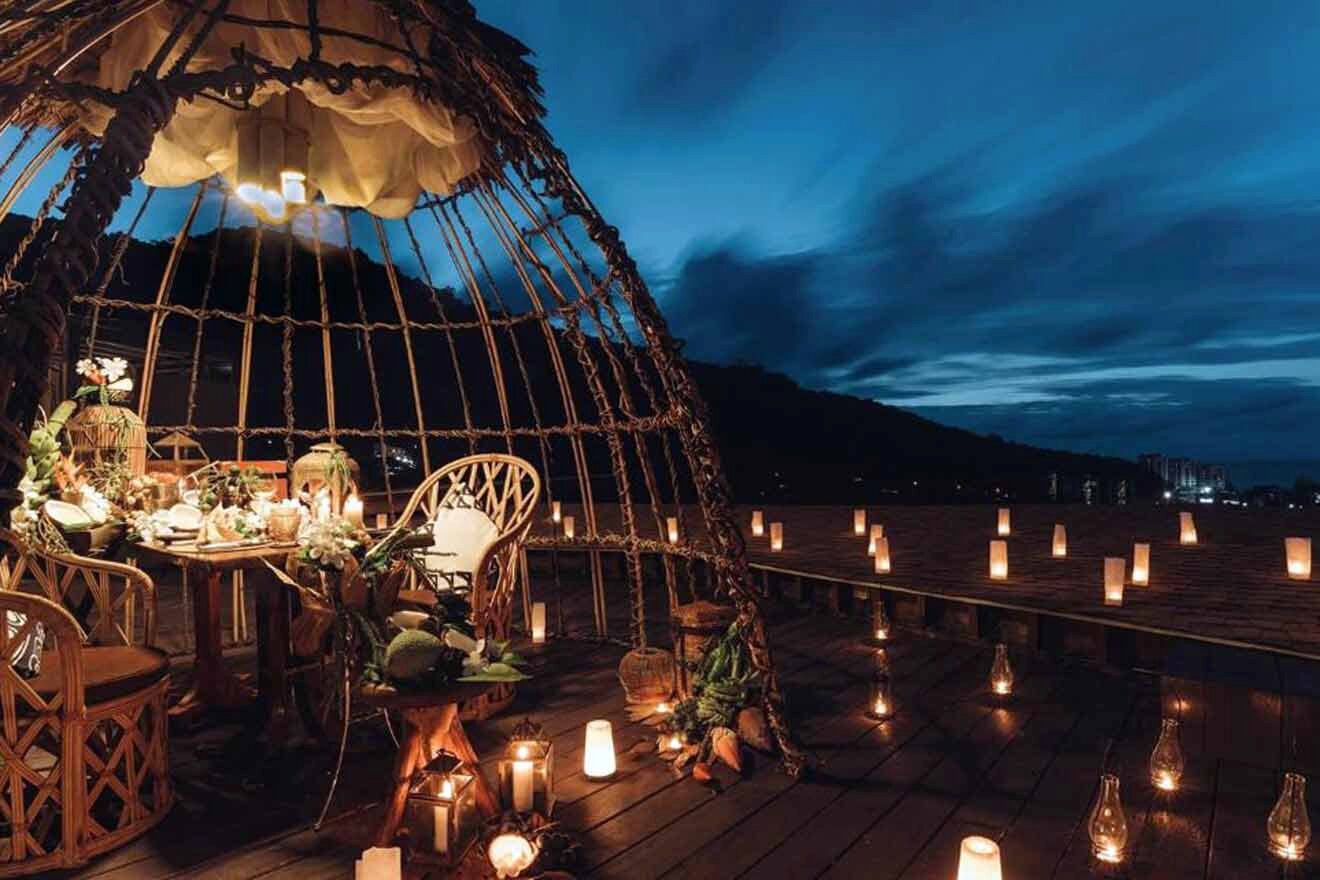 It is a wrap for today, my lovely people! Those were Thailand's private pool villas! I gave you 20 luxurious properties, so whichever you choose, you know you are staying in the best resorts in the country!
All the resorts featured in this article are fabulous, but if I had to choose my favorite Thailand private pool villa, I would go with:
TreeHouse Villas – I would love to stay in a treehouse that overlooks the tropical Jungle and the ocean. It's so stunning!
Soneva Kiri – looks like the perfect place to relax while enjoying the most luxurious amenities.
Which of these 20 incredible resorts in Thailand with villas with private pools was your favorite? Let me know in the comments!
On a final note, Thailand is one of the most popular destinations in the world, so if you want to get good deals for your vacation and secure the villa of your dreams, it is vital you book in advance.
Until the next paradise vacation,
Daniela
---
Pin it for later!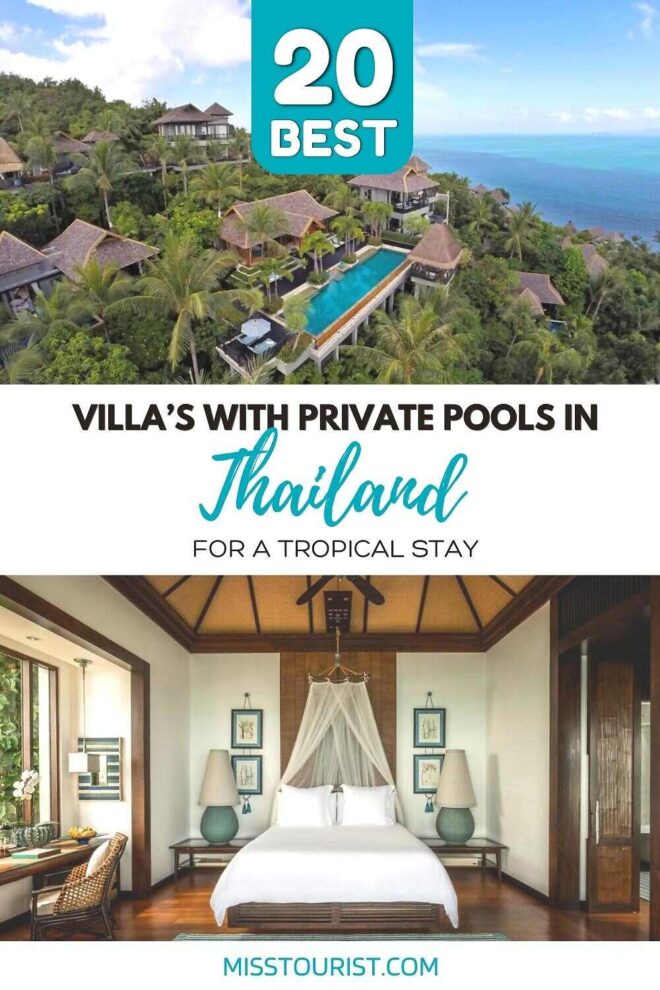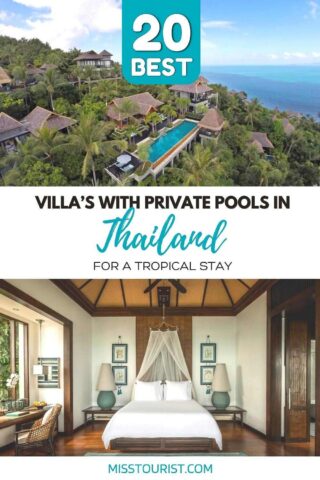 Pin it for later!