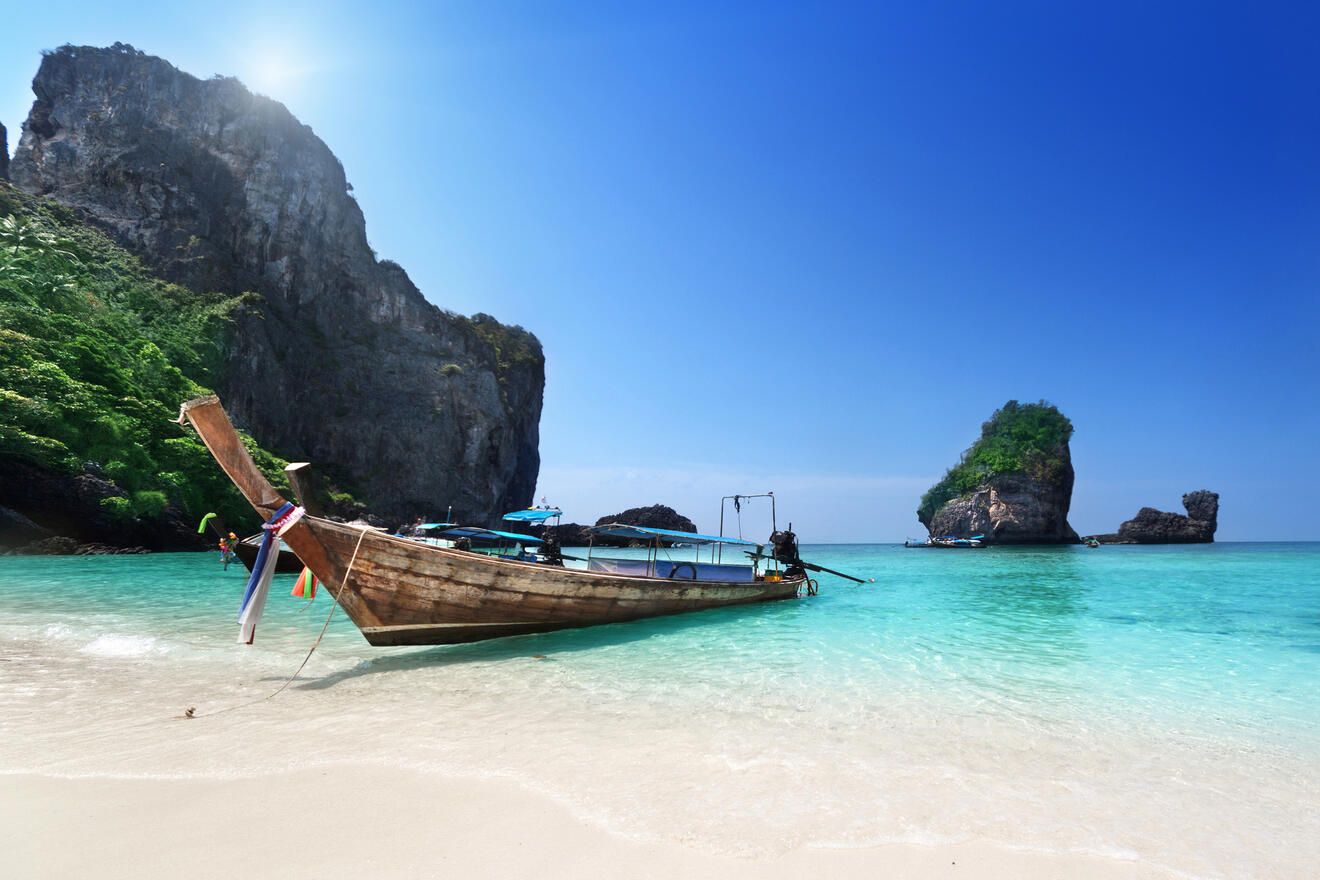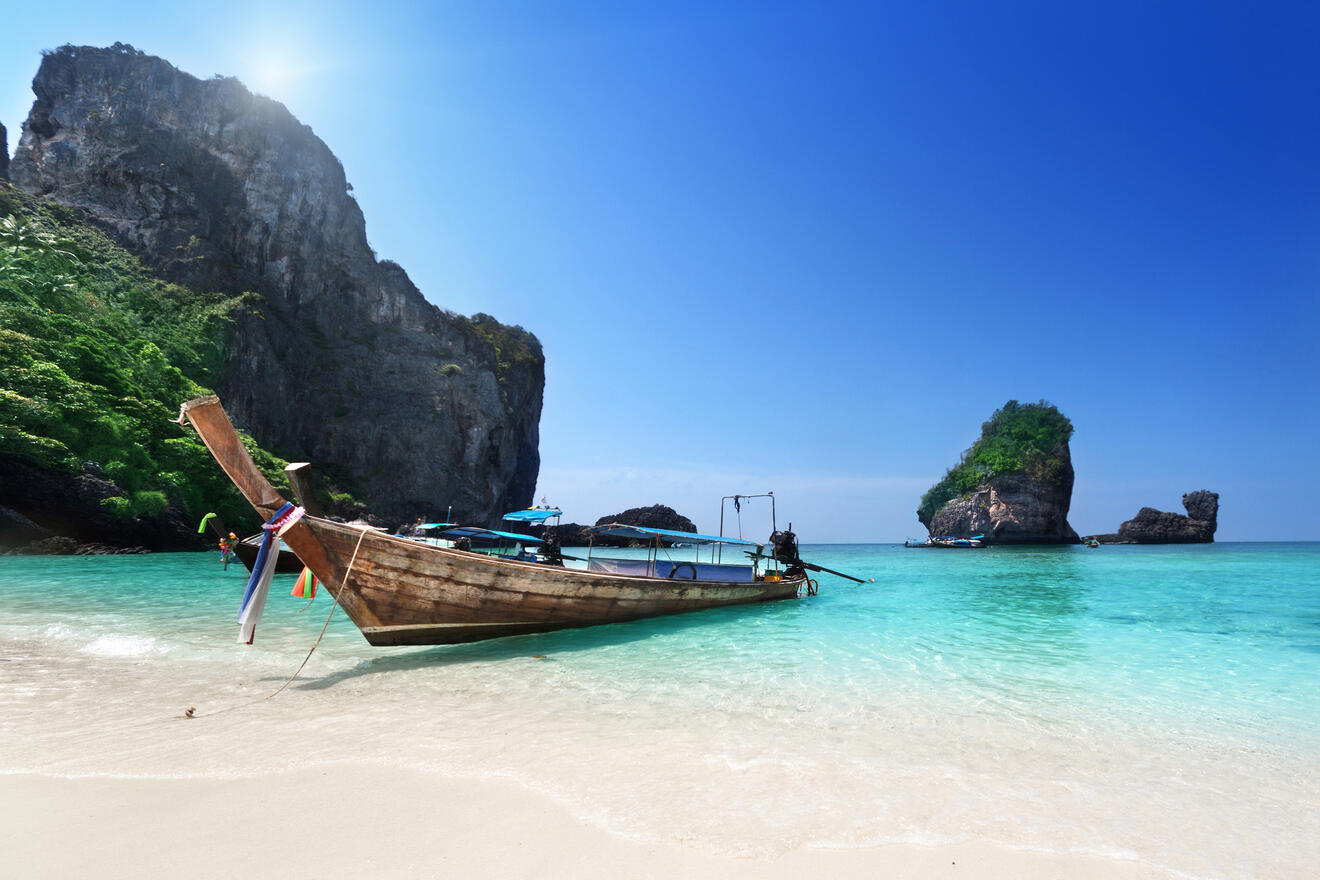 The Phi Phi Islands are a slice of paradise nestled between the famous island of Phuket and the Straits of Malacca coast, in the Krabi Province in Southern Thailand.
These are a group of six islands, with the largest being Koh Phi Phi, which is also the one offering more places to stay and attractions for a magical vacation. In order to find them easily, I made this guide with the best areas and hotels where to stay in Phi Phi Island!
From the affordable Loh Dalum to the touristic Ton Sai Village, the quiet Laem Thong and the fun Long Beach, you will find the perfect place based on your interests and budget where to enjoy palm-fringed white white beaches and warm waters!
NOTE: the hotels and areas are all located in the main Koh Phi Phi Island, but from here you'll have access to all the other ones if you'd like to explore some more. Anyways, I suggest you book your favorite choice as soon as you can if you don't want to miss the spot!
So let's stop talking and start this dreamy adventure among the most beautiful beaches, green jungles and crystal clear waters"
Ready?
Let's go!
If you are in a hurry
If you want to book now, then waste no more time, check out this quick list with the best hotels in Ron Sai Village, from Luxury to budget:
Here's a map to help you have a mental image of all the areas that I will be talking about in this post: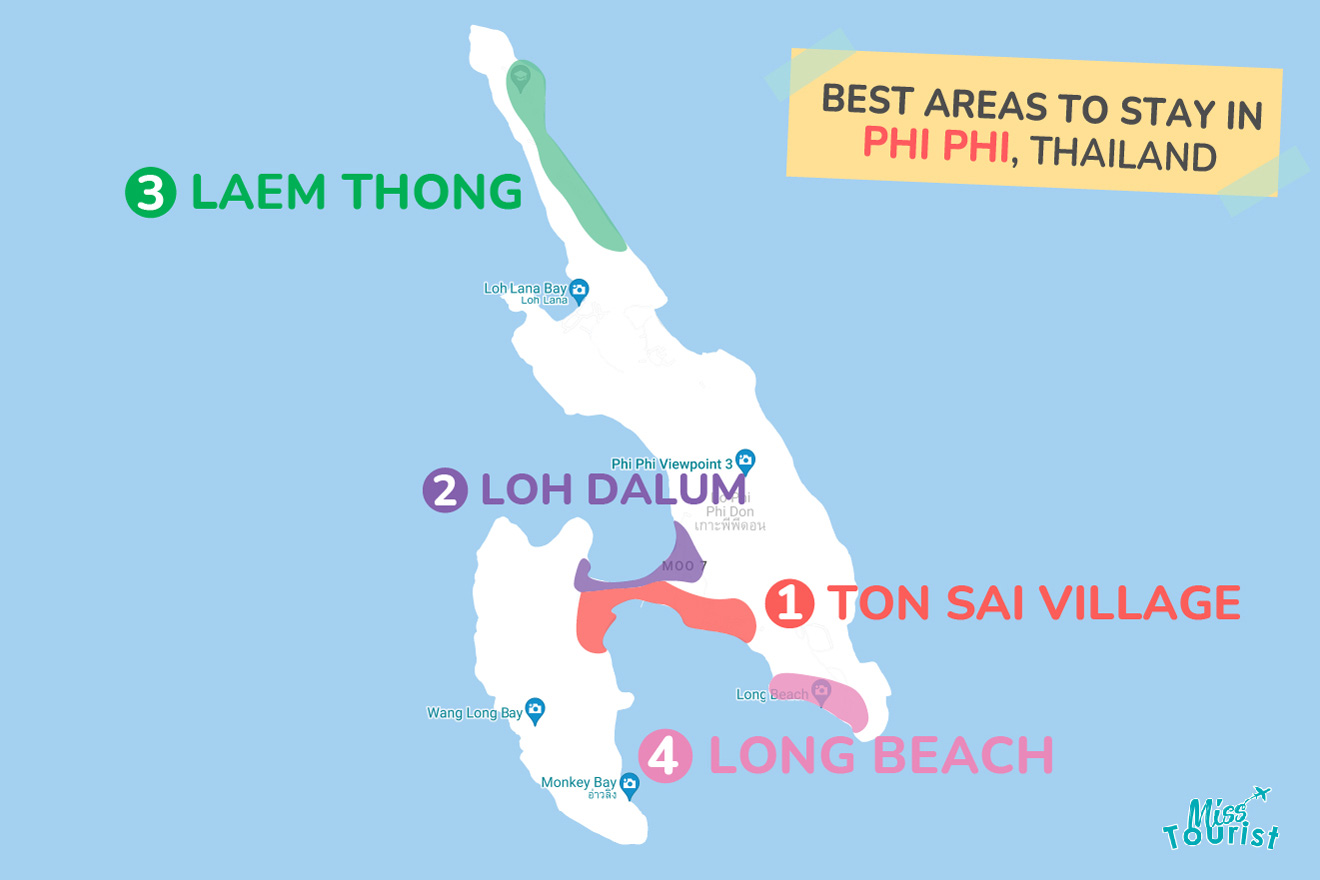 1. Ton Sai Village – where to stay in Phi Phi Island for the first time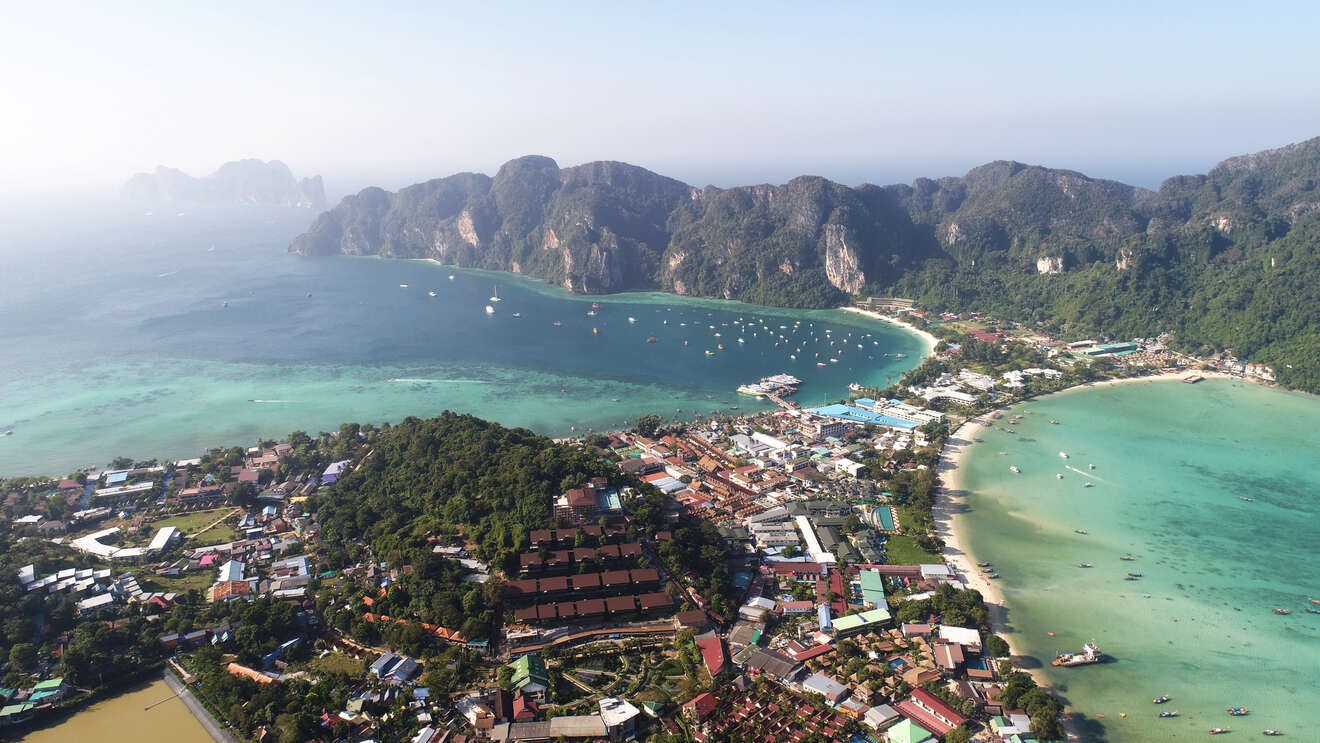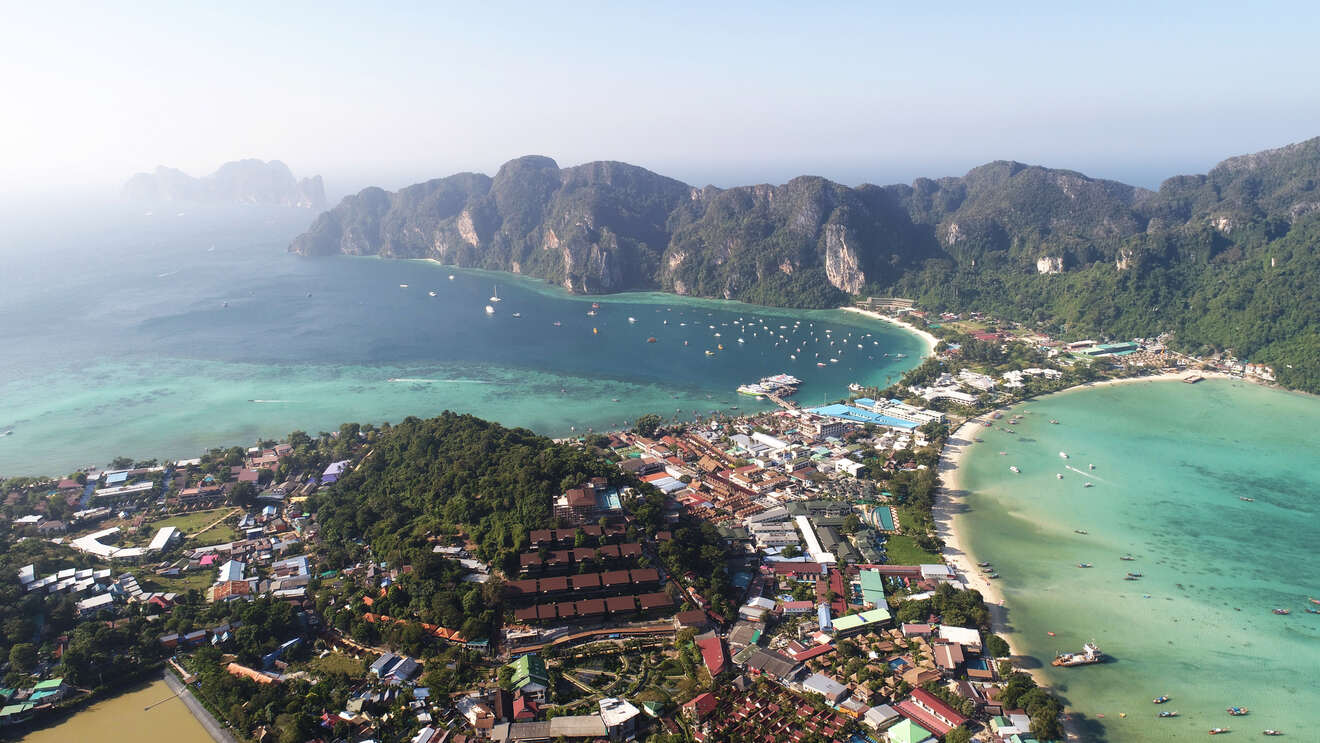 Ton Sai Village is the bustling heart of Phi Phi, located on a sandy stretch of land that connects the west and east part of the island.
The area is divided between Ton sai Bay, Tonsai Beach, and Ao Tonsai Pier… everything at walking distance (and that's a good advantage because there are no cars or roads here, only footpaths!).
In TonSai Village you'll find countless cheap restaurants, many hotel options, and shops offering anything from retro hippie clothing, jewelry, trinkets… you will feel like you're in Phuket (but with way lower costs!).
The turquoise waters of Ton Sai Bay are the starting/ending point of many incredible tours around the nearby islands, ferries, cruises etc, so it makes the area perfect also to explore the archipelago!
But don't worry: in Ton Sai beach you will not be overwhelmed by boats, if you go to the far west end of it (10 minutes walking from the Bay) you will find the tranquil soft sand beach, transparent waters, and corals.
And apart from soaking up some sun and being lazy, here you can also snorkel and climb the close-by cliffs! Well.. what else do you need? Ton Say is definitely the best neighborhood where to stay in Koh Phi Phi for the first time!
Luxury hotel
ChaoKoh Phi Phi Hotel and Resort- SHA Plus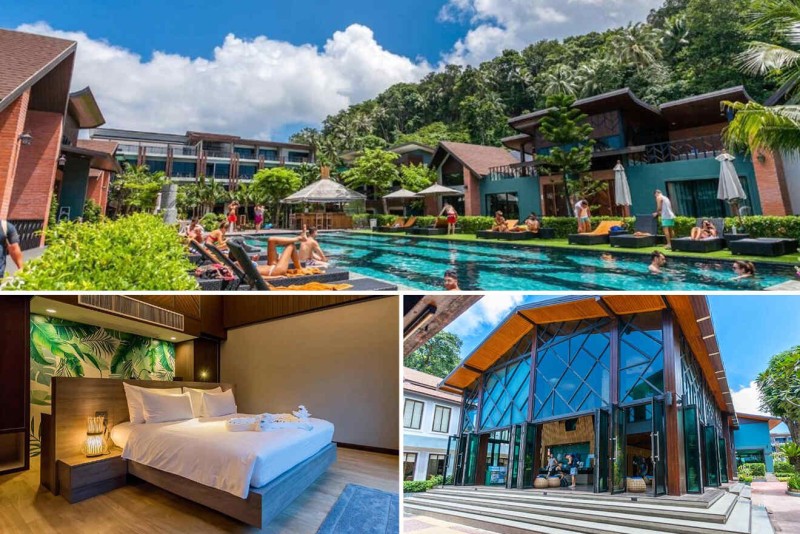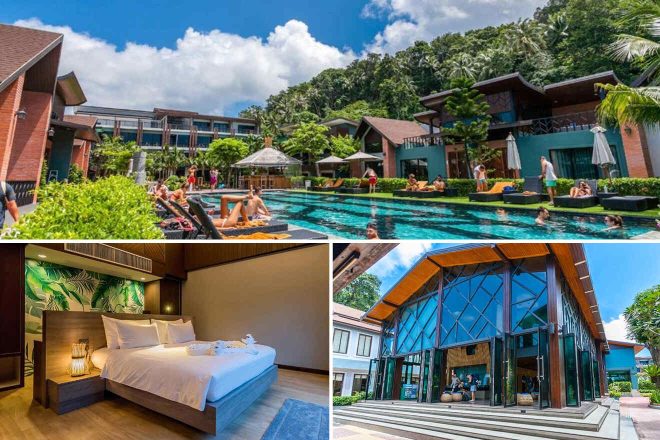 Are you looking for luxury and comfort in Phi Phi Island? Then check out this 4 stars beach resort, with an amazing location just a few minutes walking from the beach. Here you will start your day in the best way with a delicious buffet breakfast and enjoy panoramic views of the Andaman sea, while relaxing in the outdoor pool.
Other accommodation options in Ton Sai Village
Mid-Range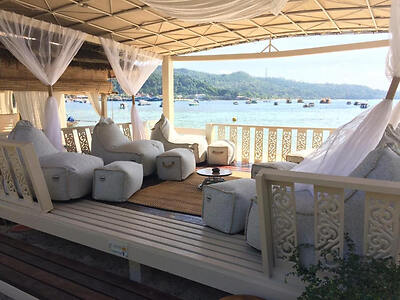 Enjoy air-conditioned rooms with much space of this residence with direct access to a beautiful beach
Budget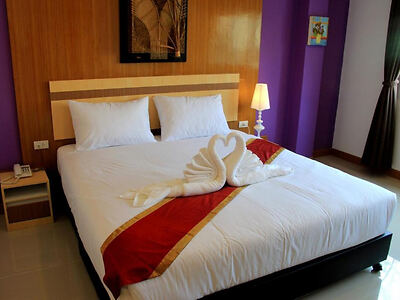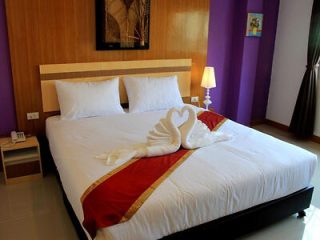 Panmanee Hotel is centrally located in the heart of the island, just a short walk from Loh Dalum Bay nightlife
Airbnb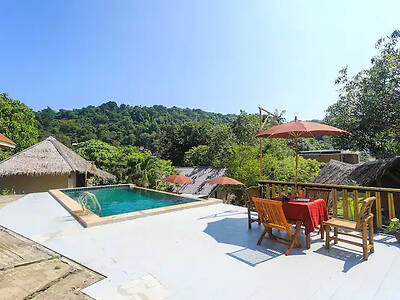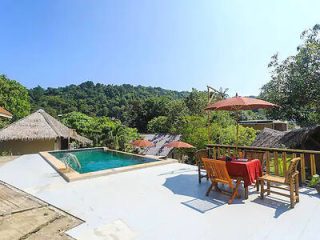 Enjoy the infinity pool of this beautiful bungalow, located about 10 minutes walk from the Tonsai Bay
Things to do in Ton Sai Village
2. Loh Dalum – where to stay on a budget in Phi Phi Island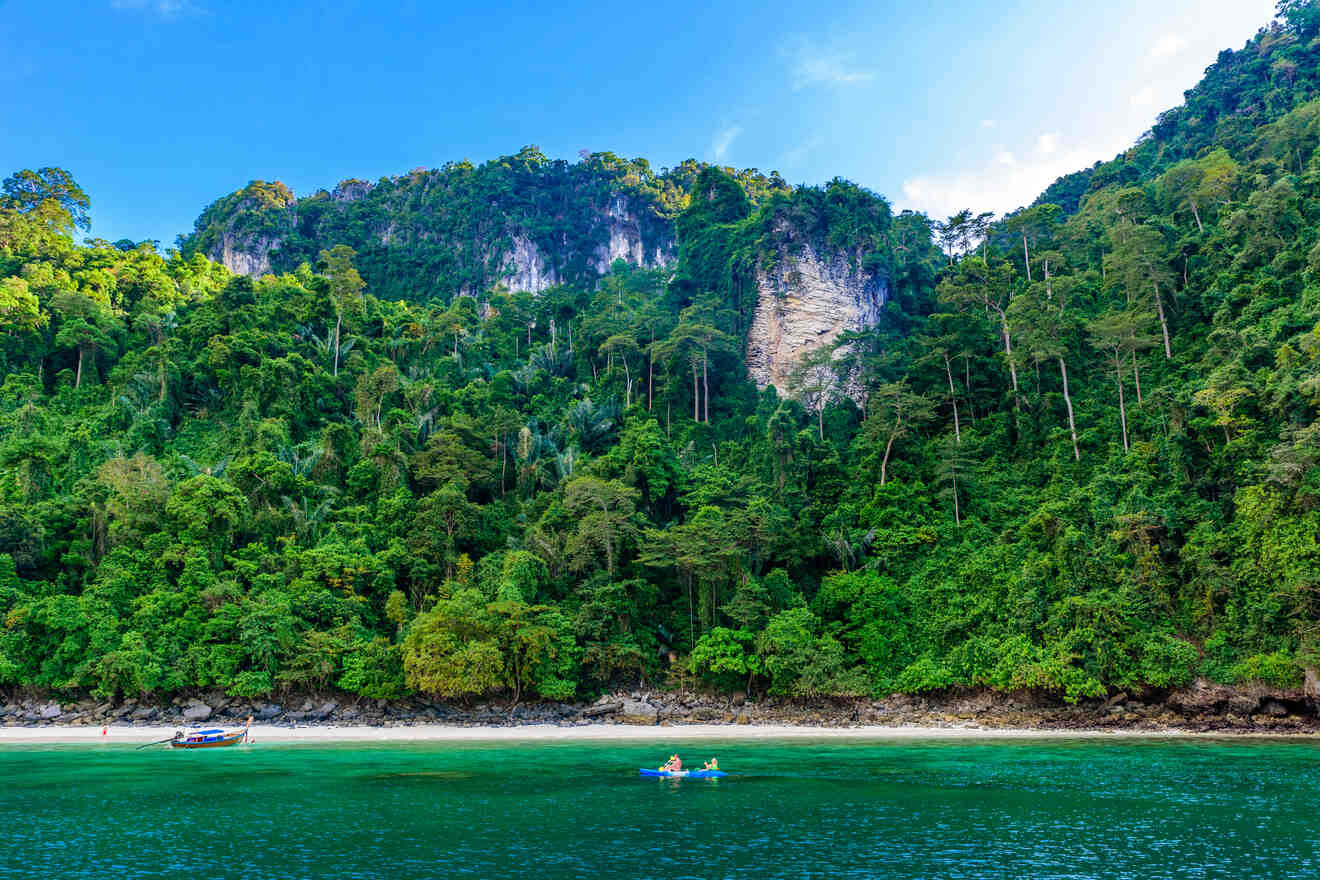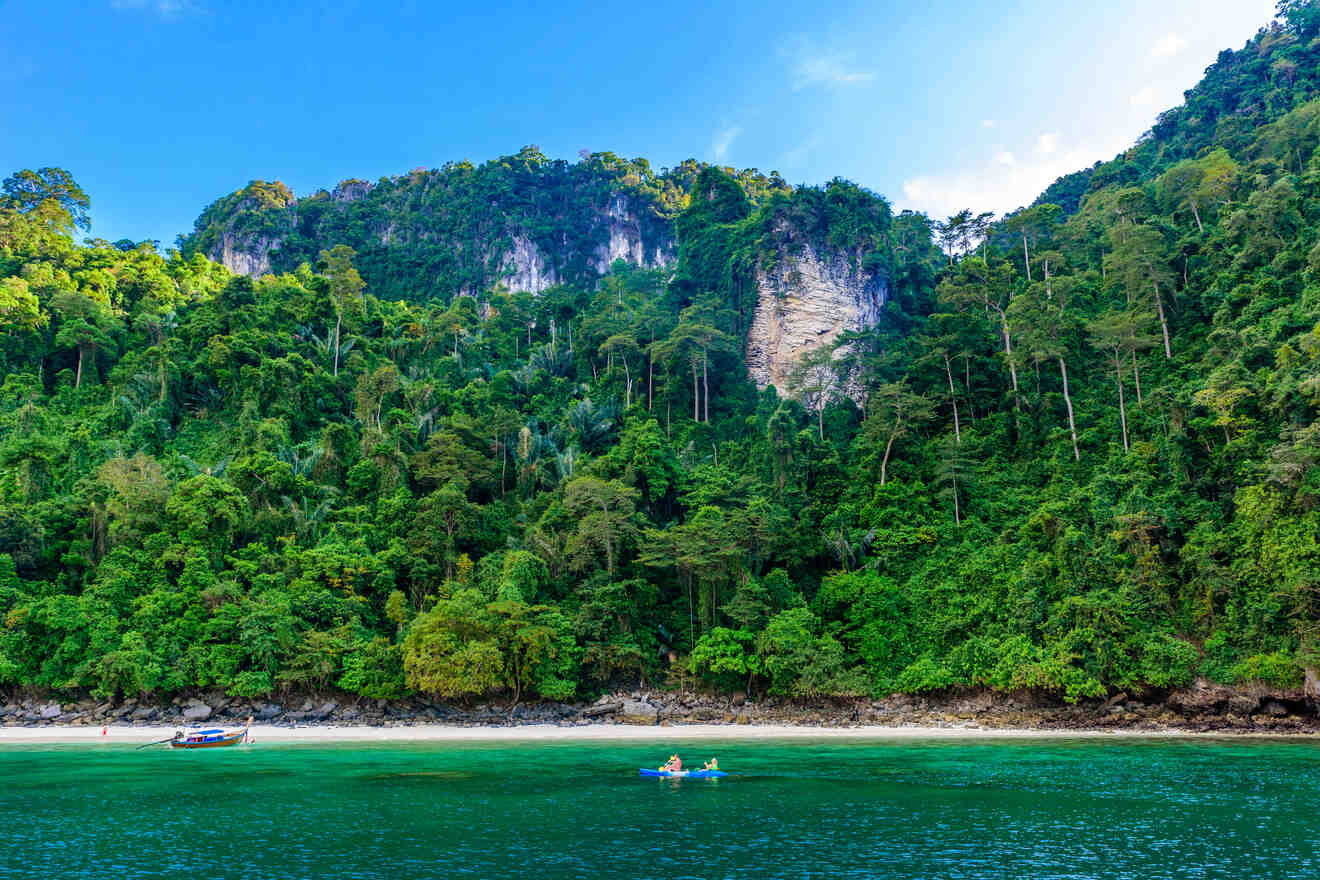 Loh Dalum Bay is located a few minutes walking north of the Ton Sai Village, completely enclosed by limestone cliffs.
Here is where you'll find the most beautiful white beaches in Phi Phi, the same ones that you can find in the southeastern island of Thailand Koh Phangan, featuring turquoise and shallow waters and soft sand: this is a true paradise!
The crazy thing about Dalum beach is that if you walk very far out to sea, the water will still reach the level under your waist, so you can "walk-around" and enjoy breathtaking views from the water!
On top of that, the area is also great if you're looking for a good nightlife scene, offering many cool bars, clubs and pool parties!
And what if I told you that you can have access to all this at very cheap prices? Yes, you heard it right: this is also one of the best affordable spots in Koh Phi Phi, perfect if you want to stay on a budget. Here you'll find maany accommodation options offering great value.
So don't waste more time and check out these amazing hotels, but don't wait too long to book them: places sell out super fast, especially during high season (November to April)!
Luxury hotel
Phi Phi CoCo Beach Resort – SHA Extra Plus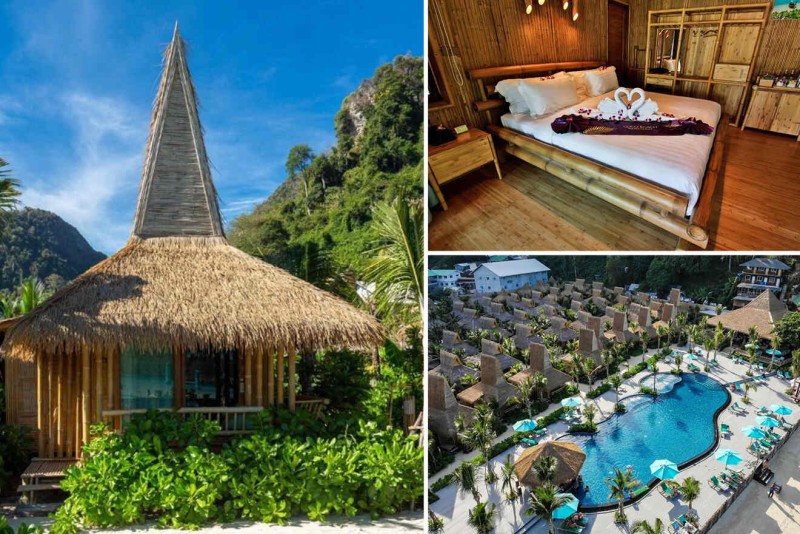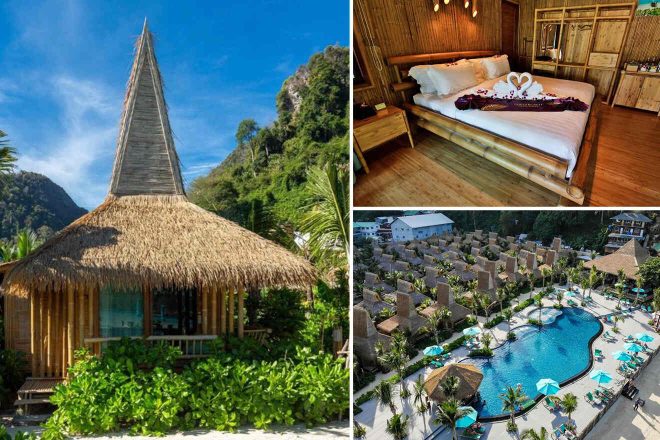 Are you ready to take your stay in Phi Phi Island to the next level? Then check out this luxurious beach resort, with amazing views on the dreamy beach. Here the modern rooms offer air conditioning, a comfy bed, free wifi and a daily buffet breakfast with international dishes from all over the world! A plus? There's a bar right in the pool!
Other accommodation options in Loh Dalum
Mid-Range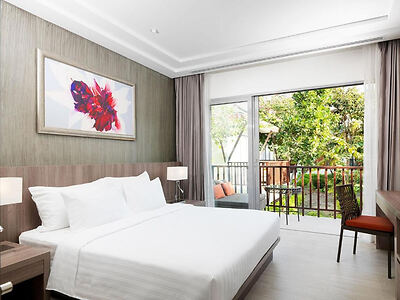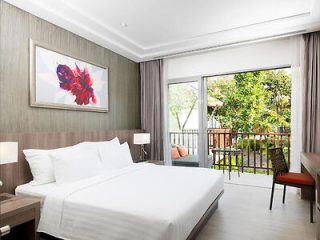 Incredible beach resort with a great location at just 1-minute walk from the beach and free wifi
Budget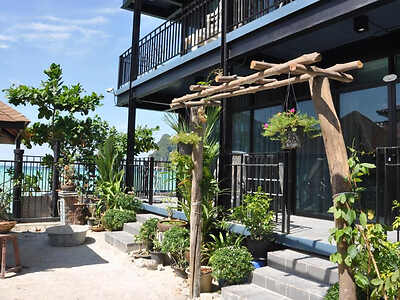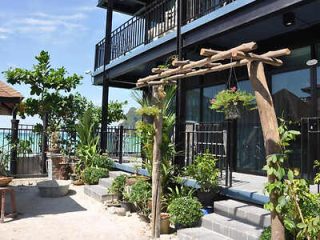 One of the best budget accommodations in the island, a 12-minute walk away from Tonsai Pier
Airbnb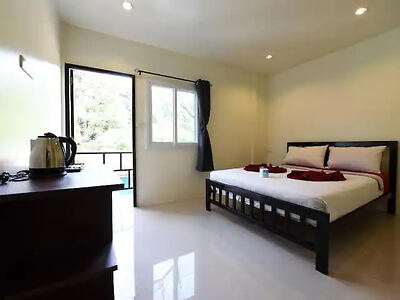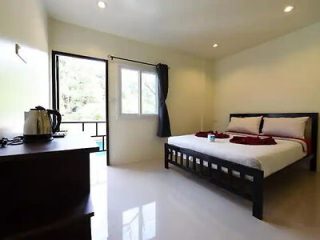 Super affordable clean and spacious room rental with a big bed. A plus? The host is super friendly!
Things to do in Loh Dalum
3. Laem Thong – the most laid back area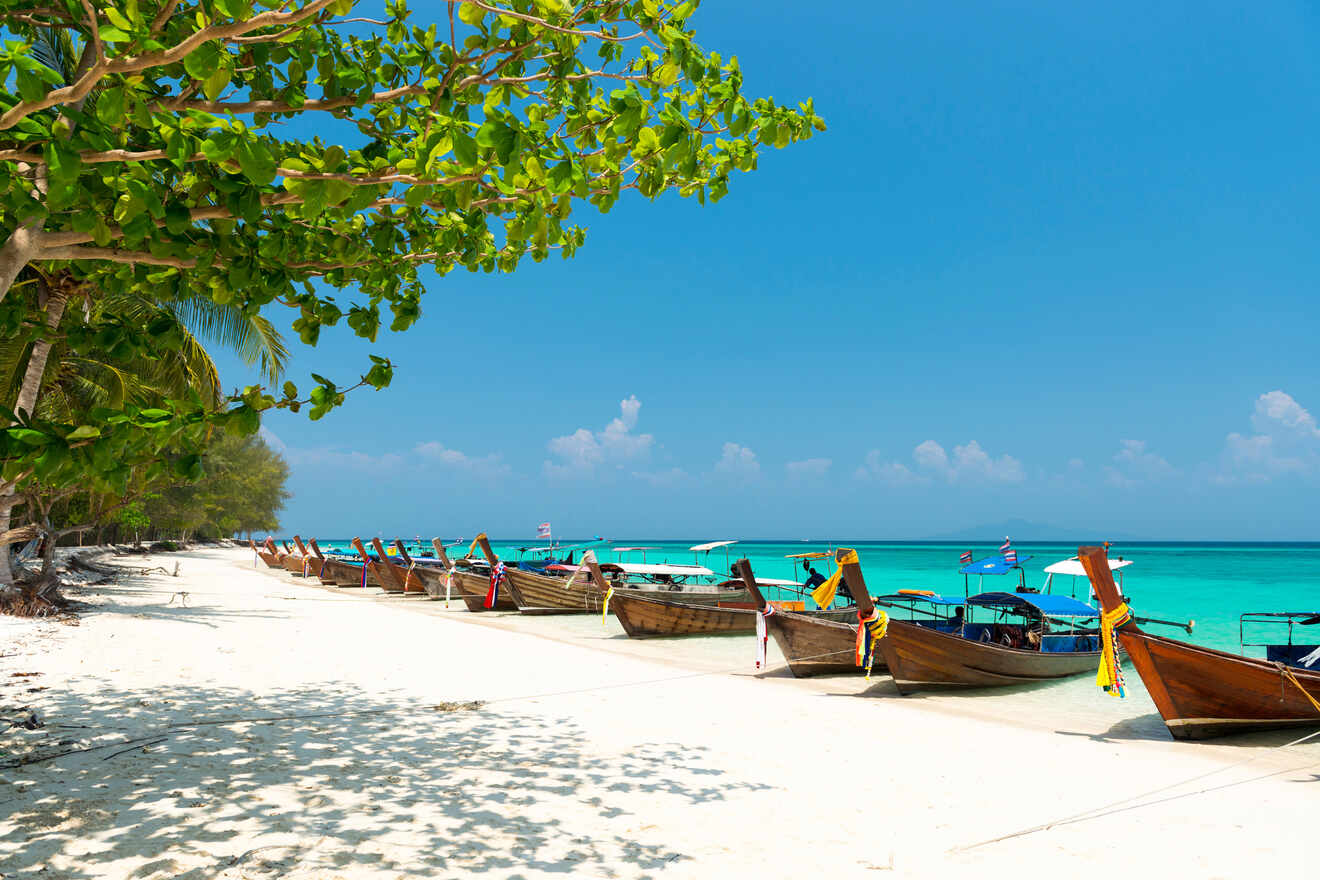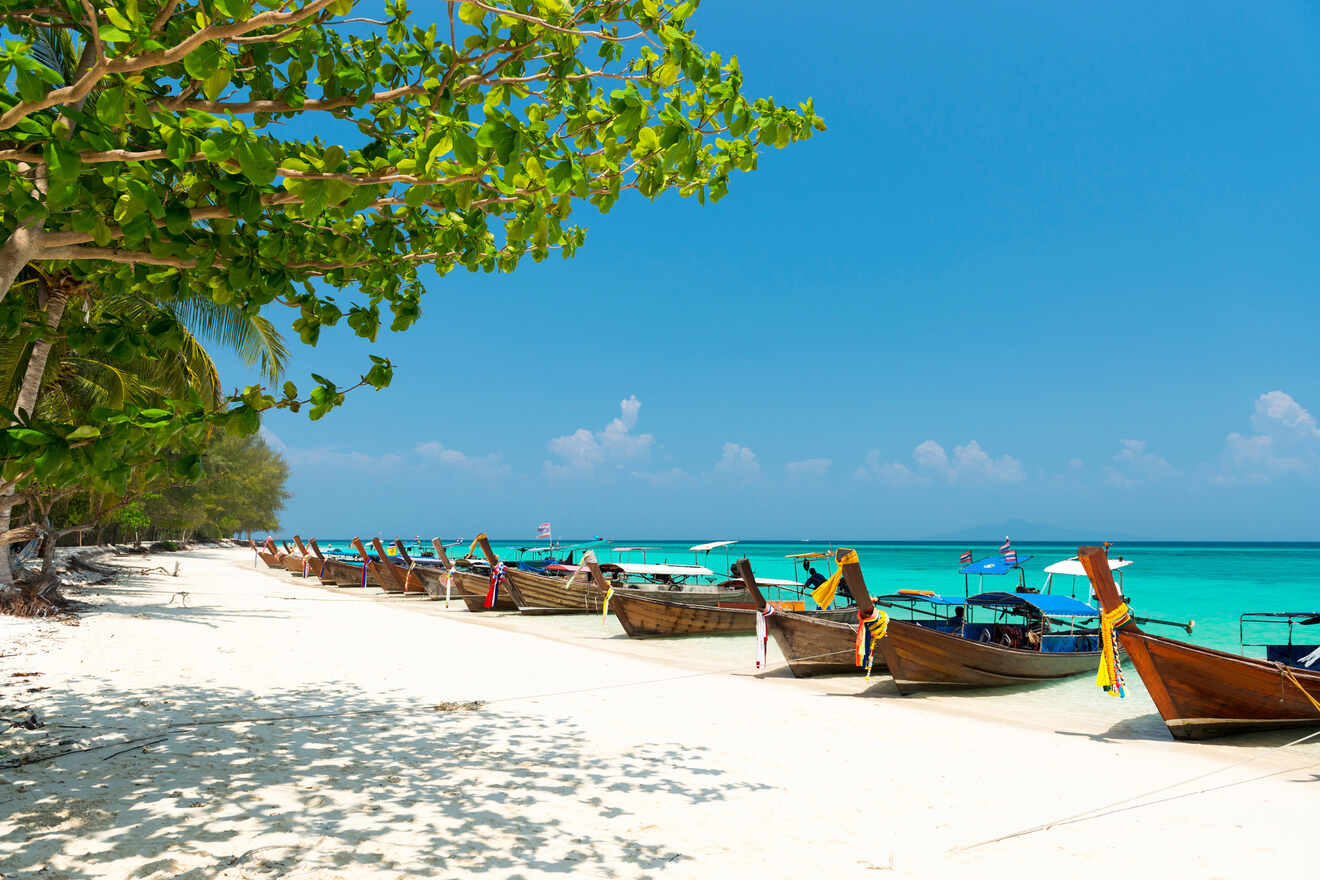 Laem Thong is Koh Phi Phi's most remote beach (to come here you need a boat!), stretching in the far northeast end of the Island.
In this small fisherman's village, you'll find just resorts and soft golden sand, making it the perfect place to enjoy some quietness far from the more touristic places like Ton Sai Village or Loh Dalum Beach! But you will still be close to some other amazing beaches, such as the Nui Beach!
Get ready to have long walks on Laem Tong beach, deep dive in the paradisiac waters, but especially to engage in some cool water sports!
In fact, from here you can reach some great snorkeling spots like Mosquito Island and Bamboo Island or even do kayaking!
Luxury hotel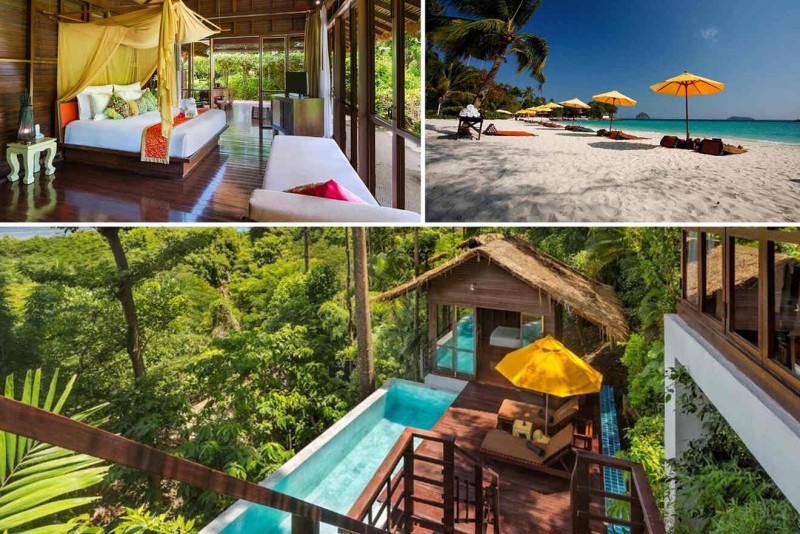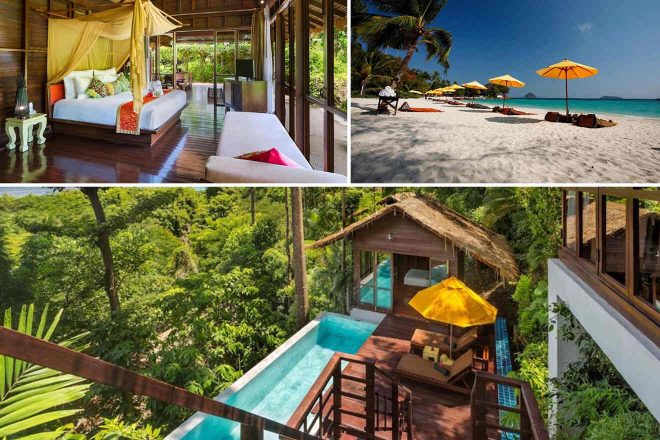 Get ready for the best of the best: this 5 stars resort is a 10-acre tropical retreat offering everything you could want and more! It has a private beach area, a therapeutic spa center, a fitness center and even rooms with private outdoor showers. The hotel gives guided island-hopping and shark-spotting tours… make sure you try one!
Other accommodation options in Laem Thong
Mid-Range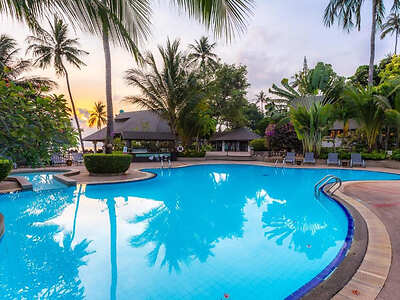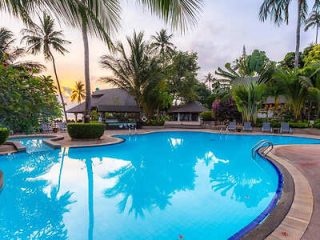 Enjoy a relaxing massage in this hotel featuring free wifi, 3 landscaped pools and a fitness center!
Budget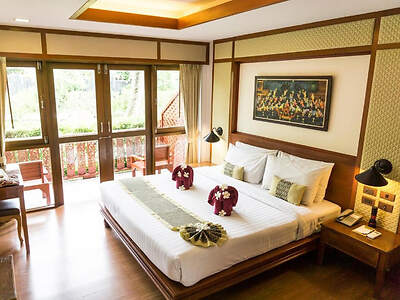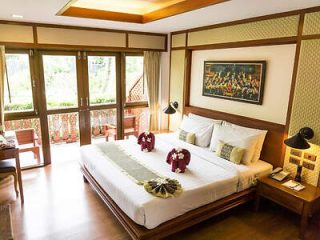 Erawan Palms Resort offers spacious rooms with air conditioning,an outdoor pool and a beachfront restaurant!
Airbnb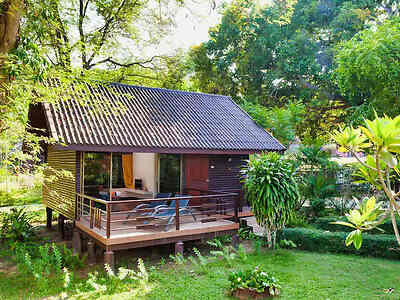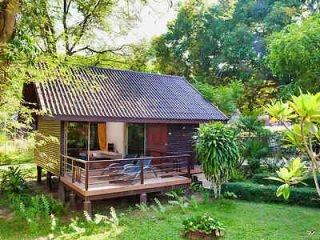 Wooden cottage with a balcony and spacious bedroom with great views… perfect for a cozy stay!
Things to do in Laem Thong
4. Long Beach – best area for families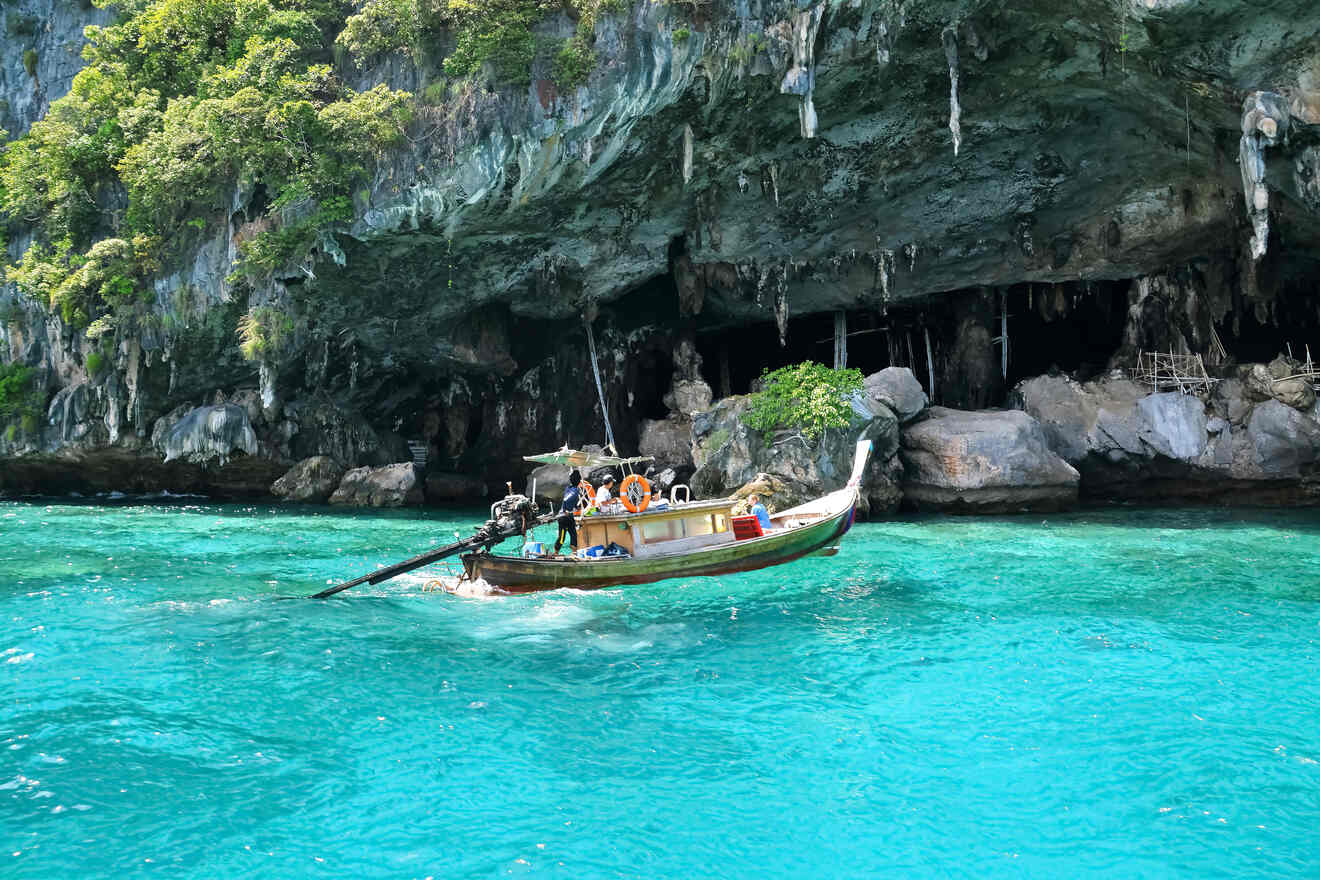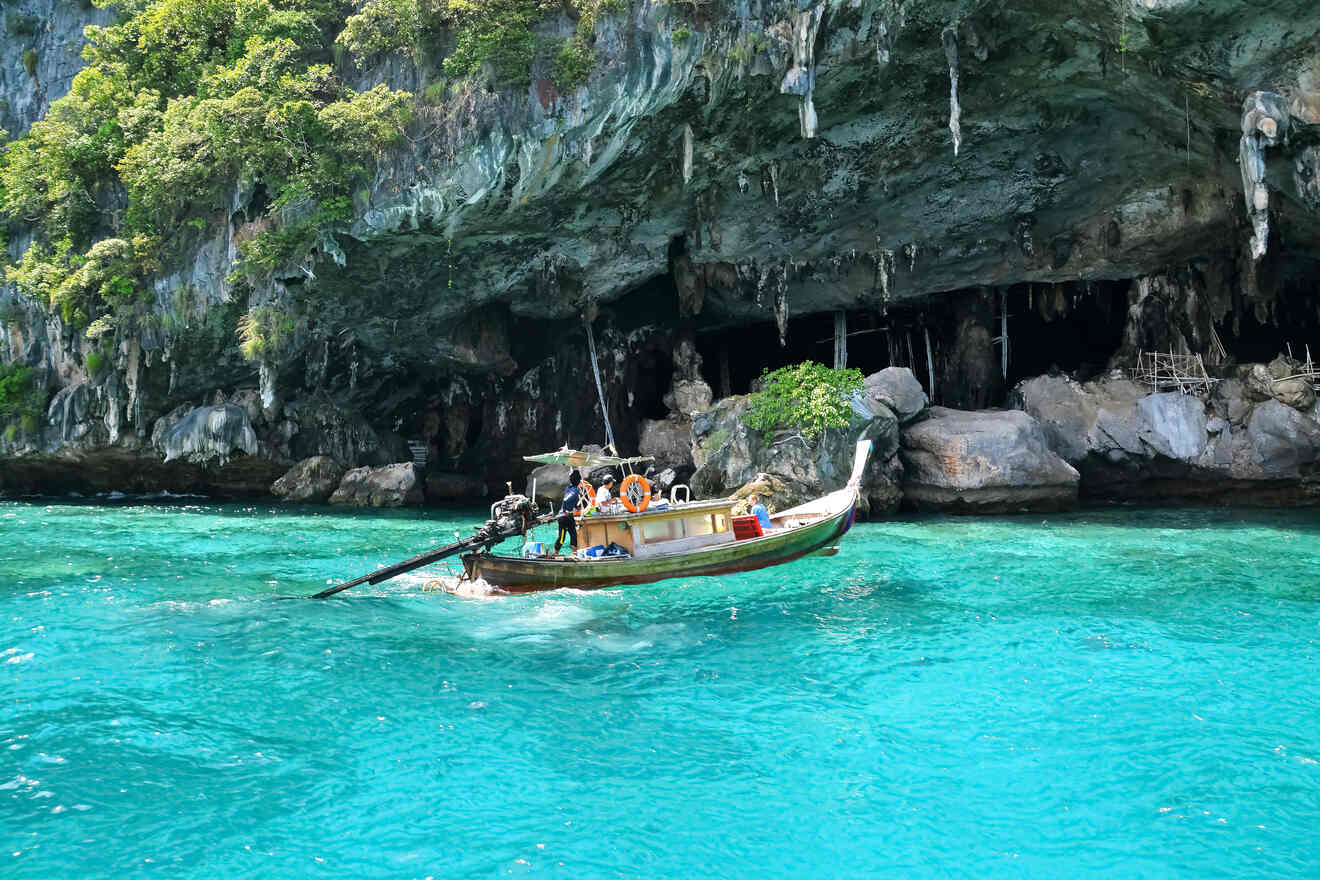 Located on Koh Phi Phi's southwestern shores, Long Beach offers the softest and the whitest sand in the island, and many many activities for all the family, like snorkeling and diving in its tranquil paradisiac waters!
Around 200 meters from the beach, there's also a big rock, called Shark Point, where you can see blacktip reef sharks, over a meter long (don't worry, they are harmless): a unique experience!
At night time Long Beach is pleasantly quiet, but if one day you feel like having a crazy night, you are only a short 5 minutes boat ride away from Tonsai village!
Unfortunately, I couldn't find any good luxury options in this area. If you really want to splurge and have access at the same time to the white sands and clear water of Long Beach, you can check out the accommodation options in Tonsai Village, just a short 5 minutes boat ride!
Other accommodation options in Long Beach
Mid-Range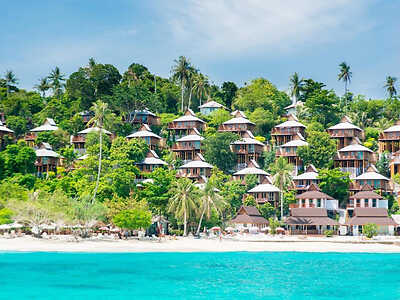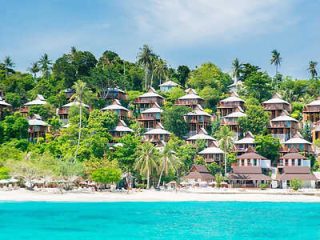 Great beach resort at only 4 minutes walking from the beach, offering rooms with beautiful ocean views
Budget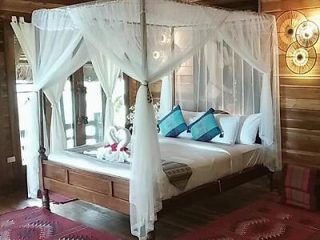 Have a stay nestled in nature: you will stay in a cool treehouse in the middle of the jungle!
Airbnb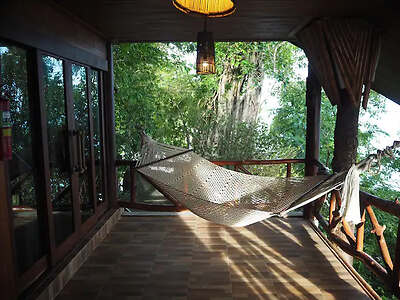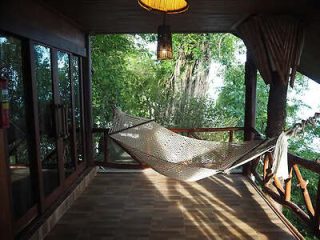 Have a romantic getaway in these beautiful unique villas just next to our main beach and restaurant!
Things to do in Long Beach
Frequently asked questions about Phi Phi Island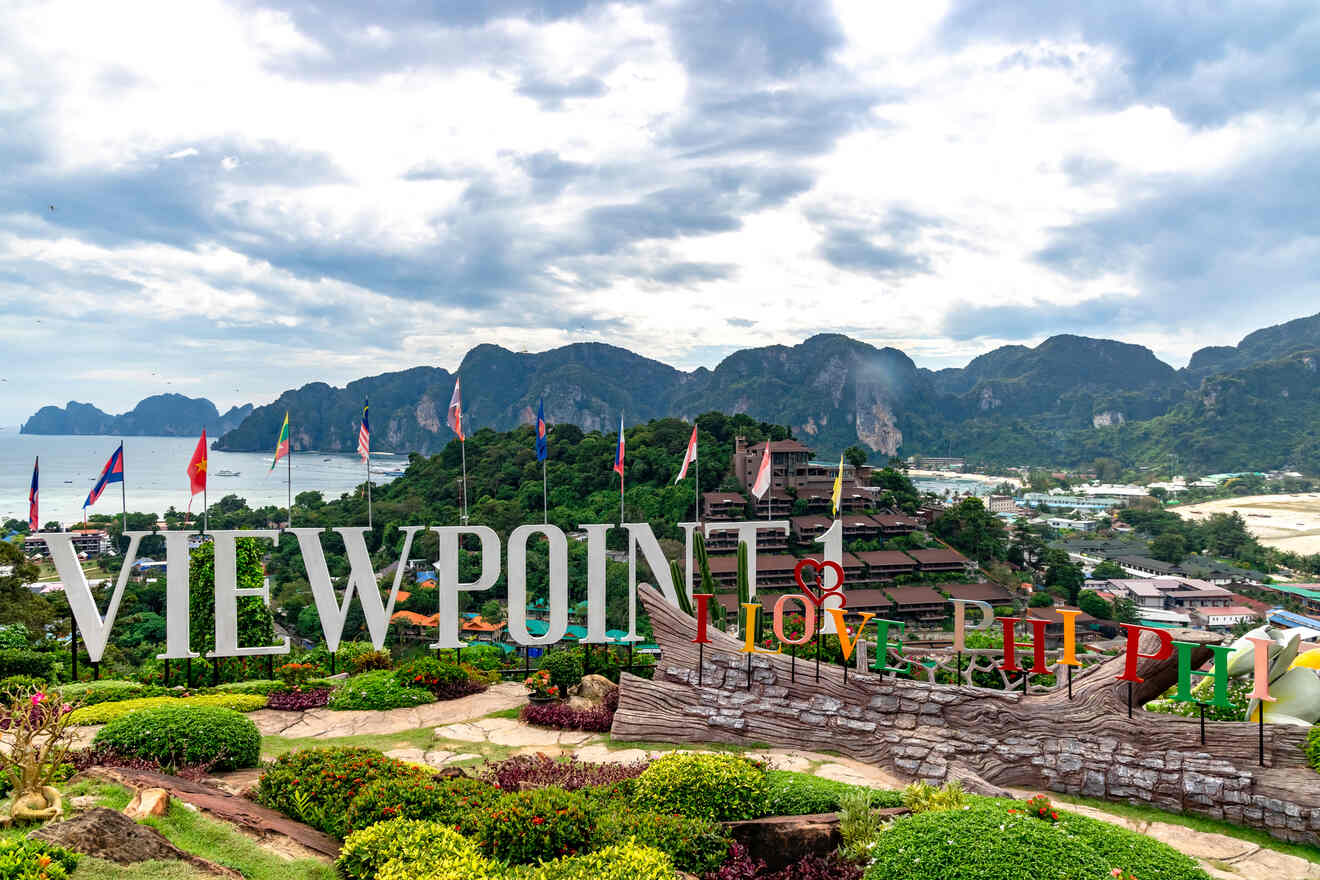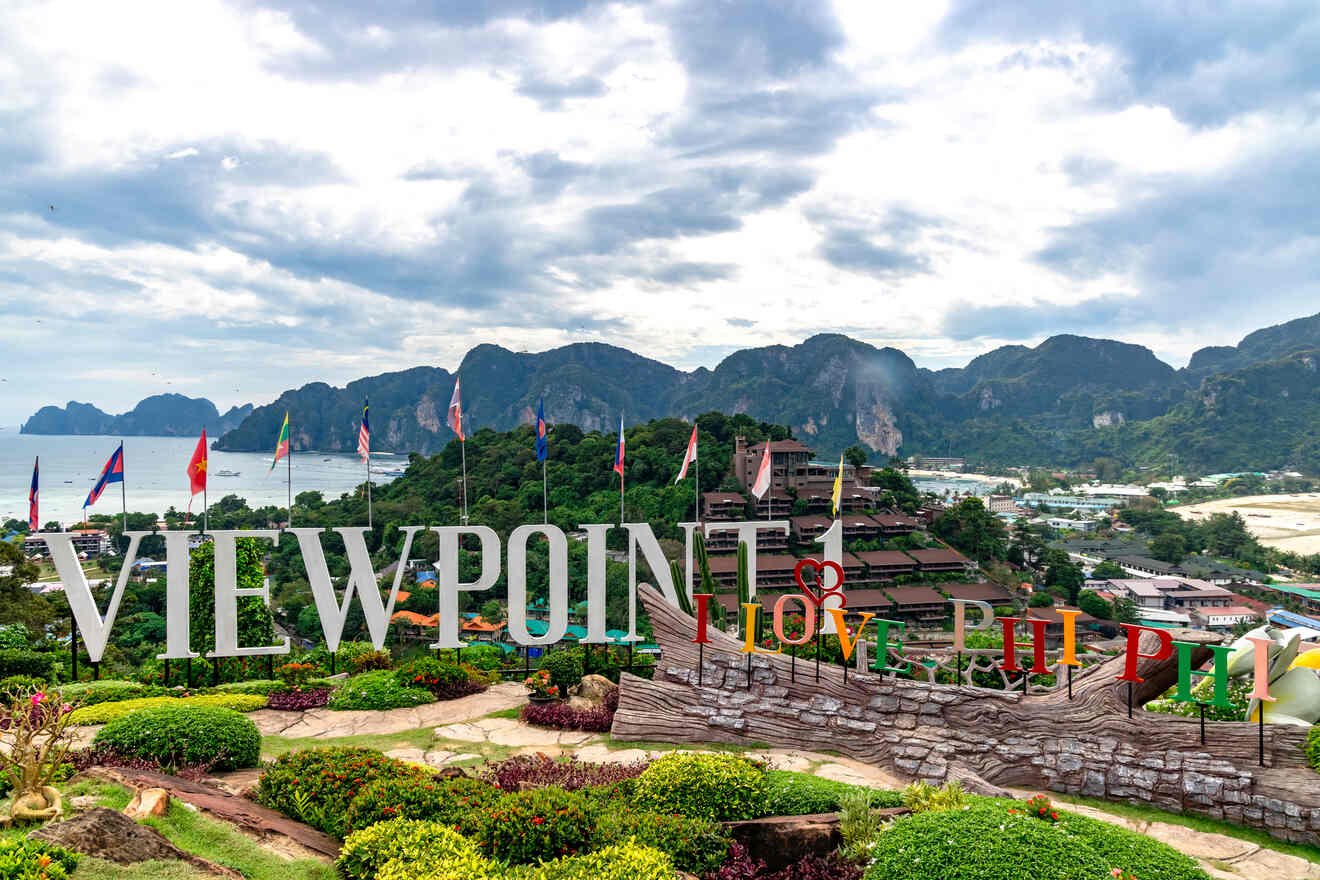 📍What is the best area to stay in Phi Phi Island?
💸 Which is the best area to stay in Phi Phi on a budget?
📅 How long should you stay in Phi Phi Islands?
Koh Phi Phi comprises six islands, so to enjoy them all, relax and engage in water activities you need more or less 5 days! Otherwise, you can even stay just in Koh Phi Phi for about 2 days.
💑 Which hotels on Phi Phi Islands are good for honeymooners?
Conclusion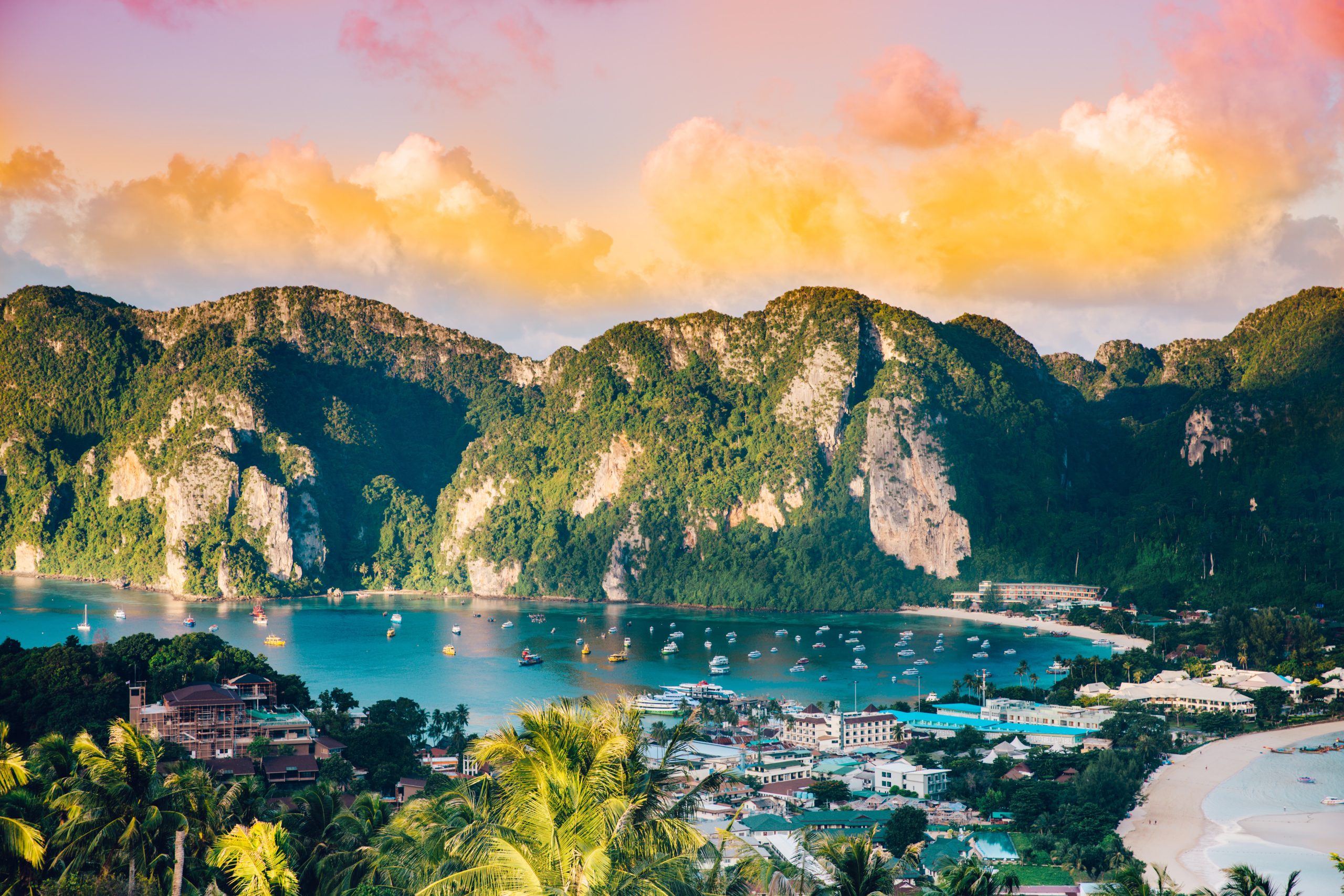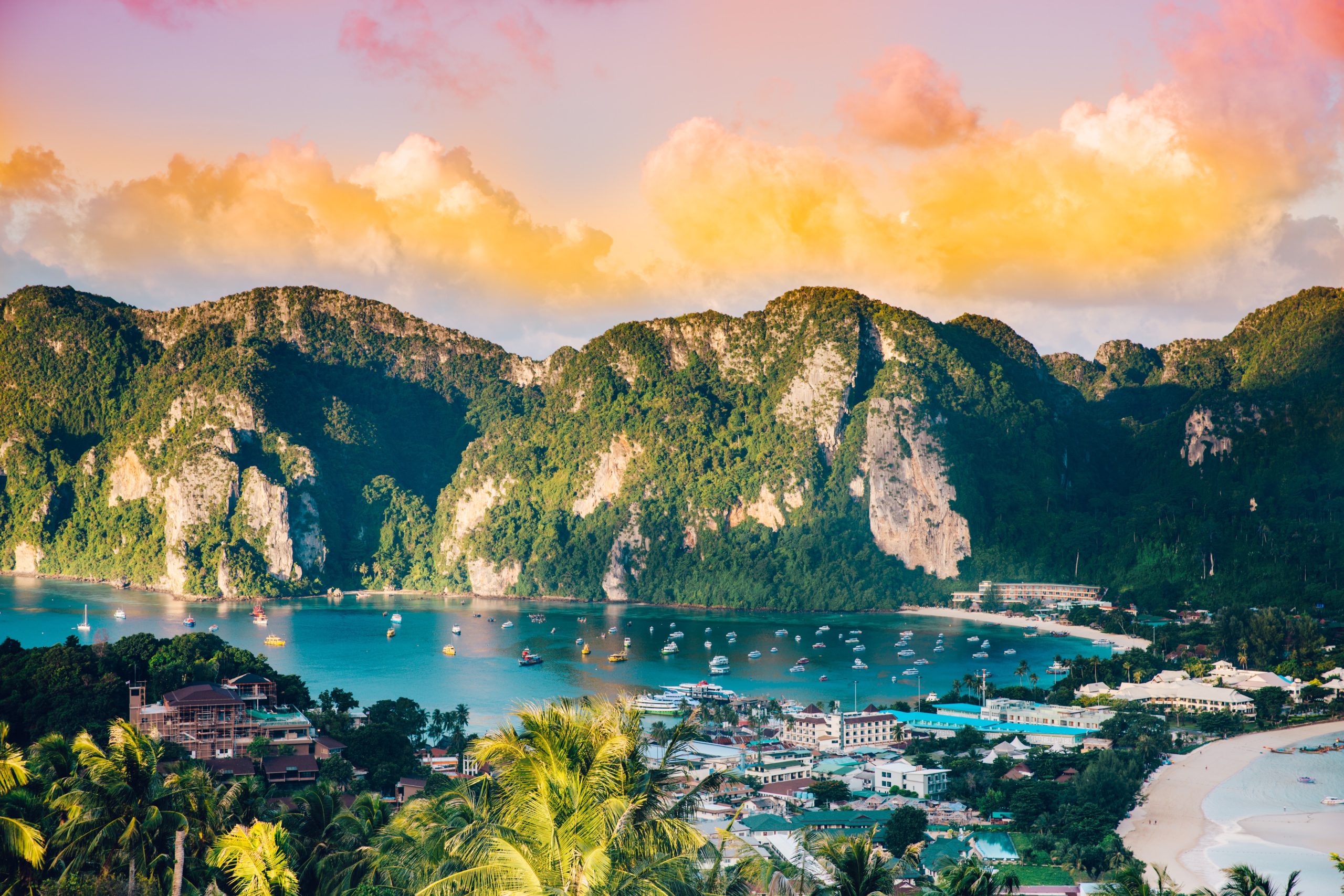 Here we are at the end of this paradisiac holiday in Phi Phi Island, one of southern Thailand's most popular destinations!
In this guide we went through the best places where to stay on the island with great hotel options, from budget hotels to luxurious beachfront resorts and treehouses nestled in the jungle.
I am sure at this point you know which is the best neighborhood for your travel needs, but if you're still undecided, let me give you my absolute favorite hotels, with a central location and great reviews:
I really hope this guide will help you have an unforgettable vacation on Phi Phi Island, and that you enjoyed reading it. If you have any questions or comments about the blogpost, please leave it in the comments, I am looking forward to answering you!
Have an amazing trip!
Elena
---
Pin it for later!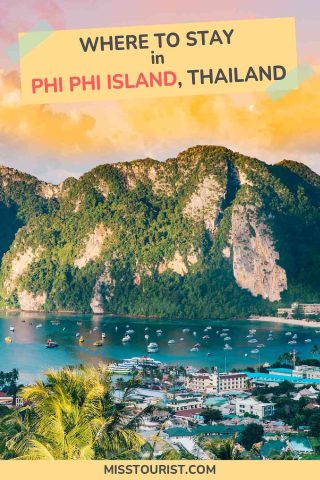 Pin it for later!