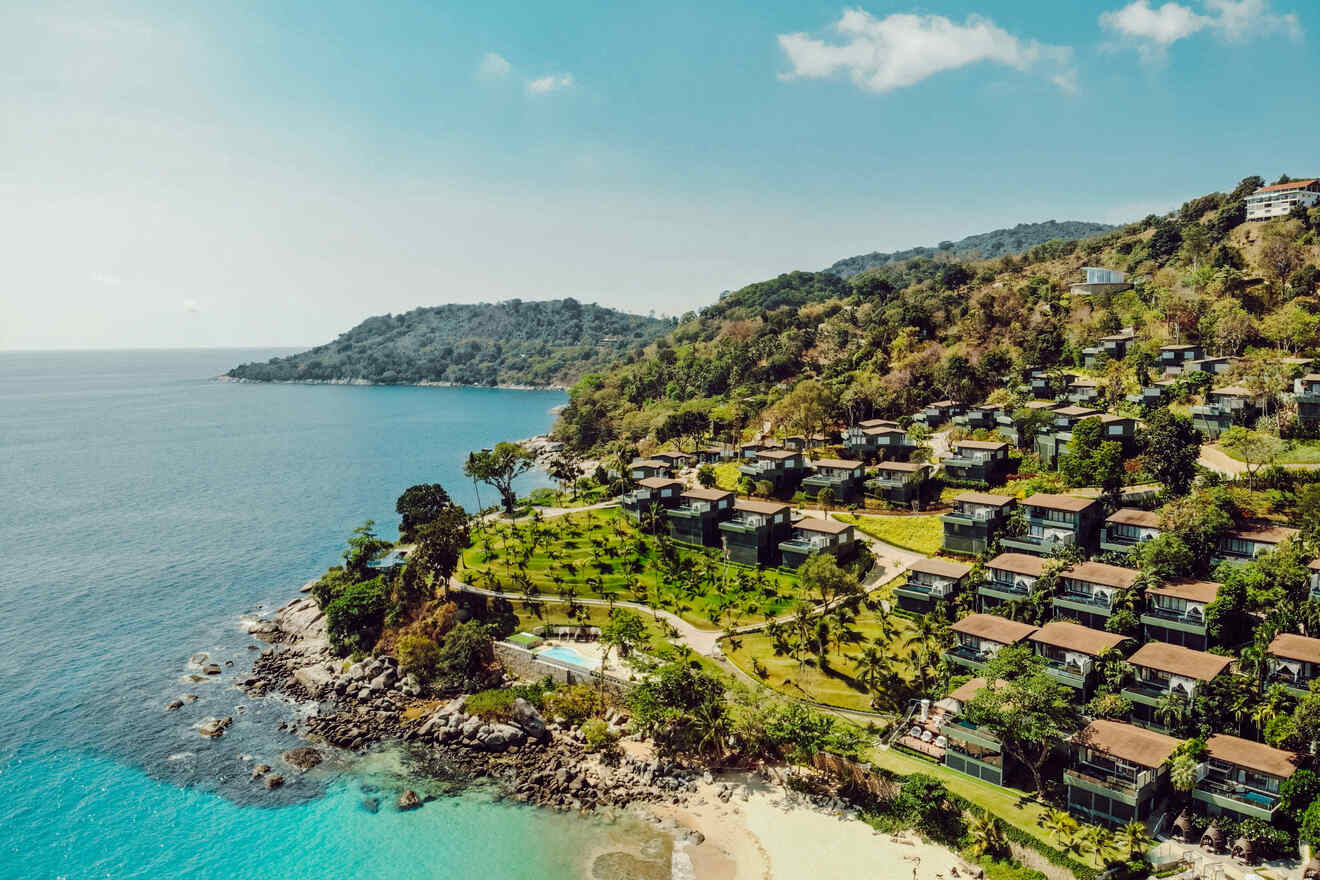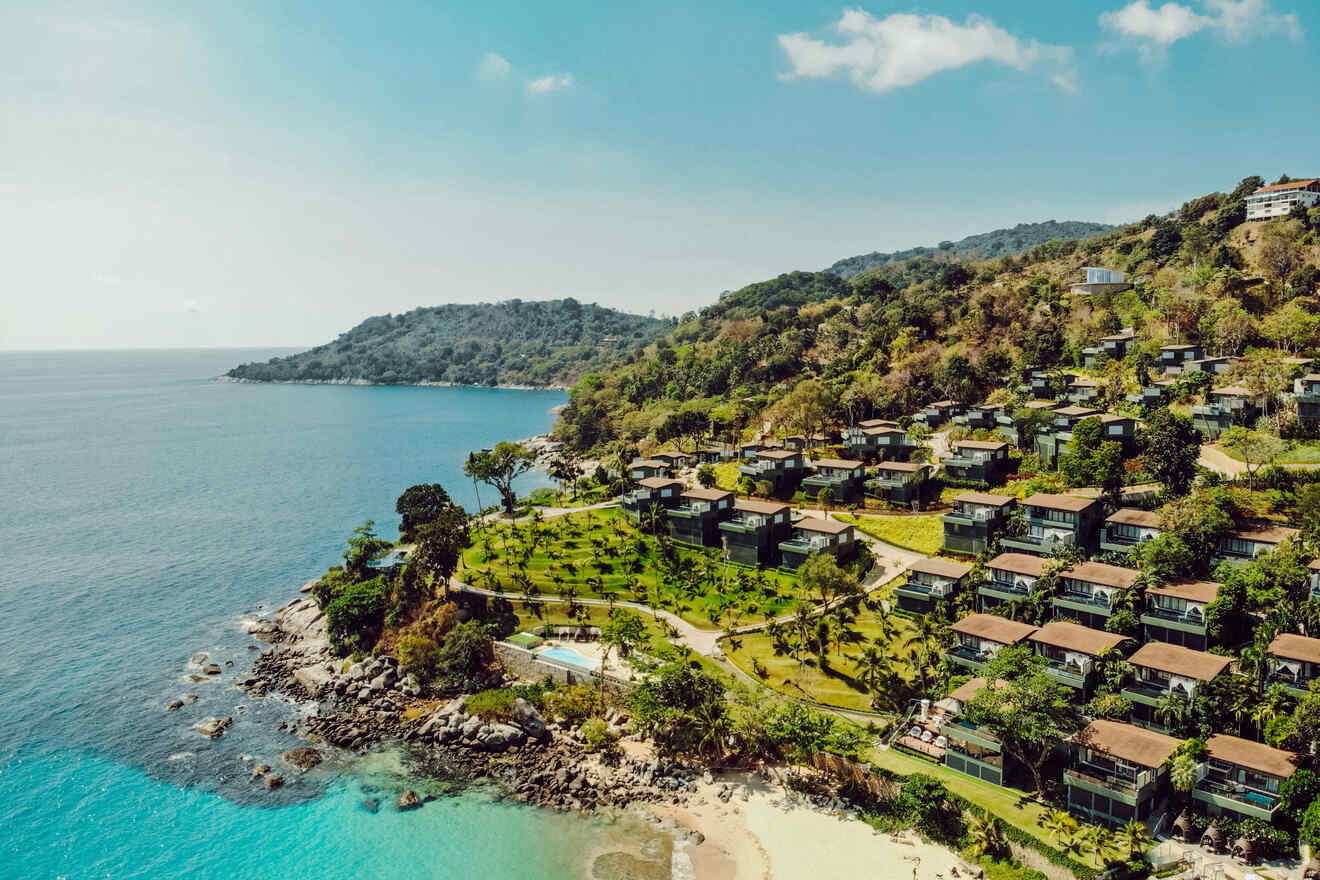 White sandy beaches, tropical surroundings, and crystal clear waters… it's fair to say that Phuket island, lying off the west coast of mainland Thailand in the Andaman Sea, has all the right ingredients for a fabulous vacation!
Follow me and let's discover the best luxury hotels in Phuket! In this post, you'll find the best of the best listed from most to least expensive, including some fantastic resorts with high-end amenities like private beaches, spas in the sky, and much more!
Curious?
Then I won't say anything else, besides that you'll need to hurry and book these luxury hotels in advance! Phuket is super famous and everything sells out fast, especially the amazing options I have for you here!
Let's go!
If you are in a hurry
Eager to book your luxury hotels in Phuket? Then have a look at this shortlist of the best accommodations on the island:
Here's a map that will help you visualize all the best luxury hotels in Phuket that I will be talking about in this post:
1. Keemala – fabulous villas with private pools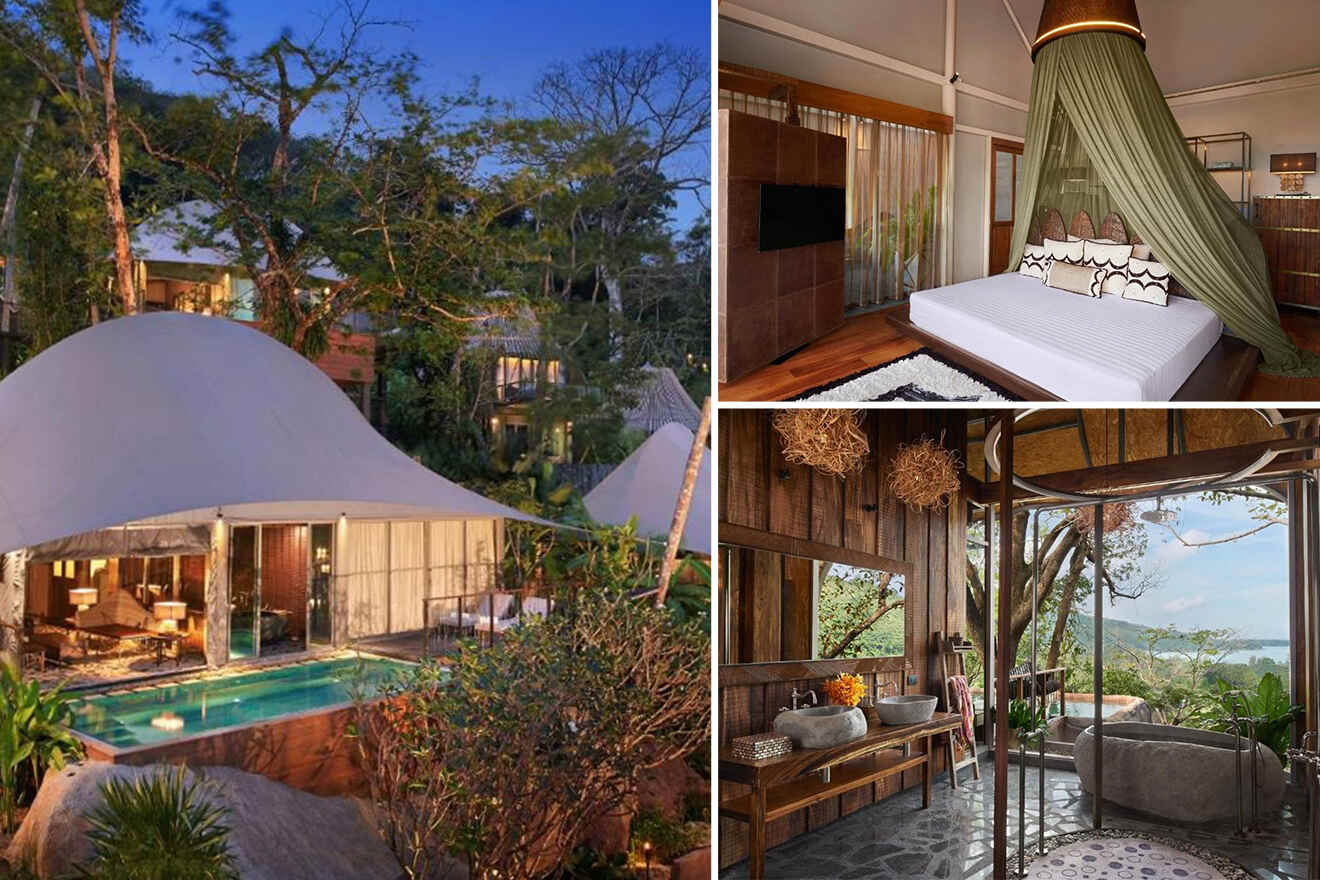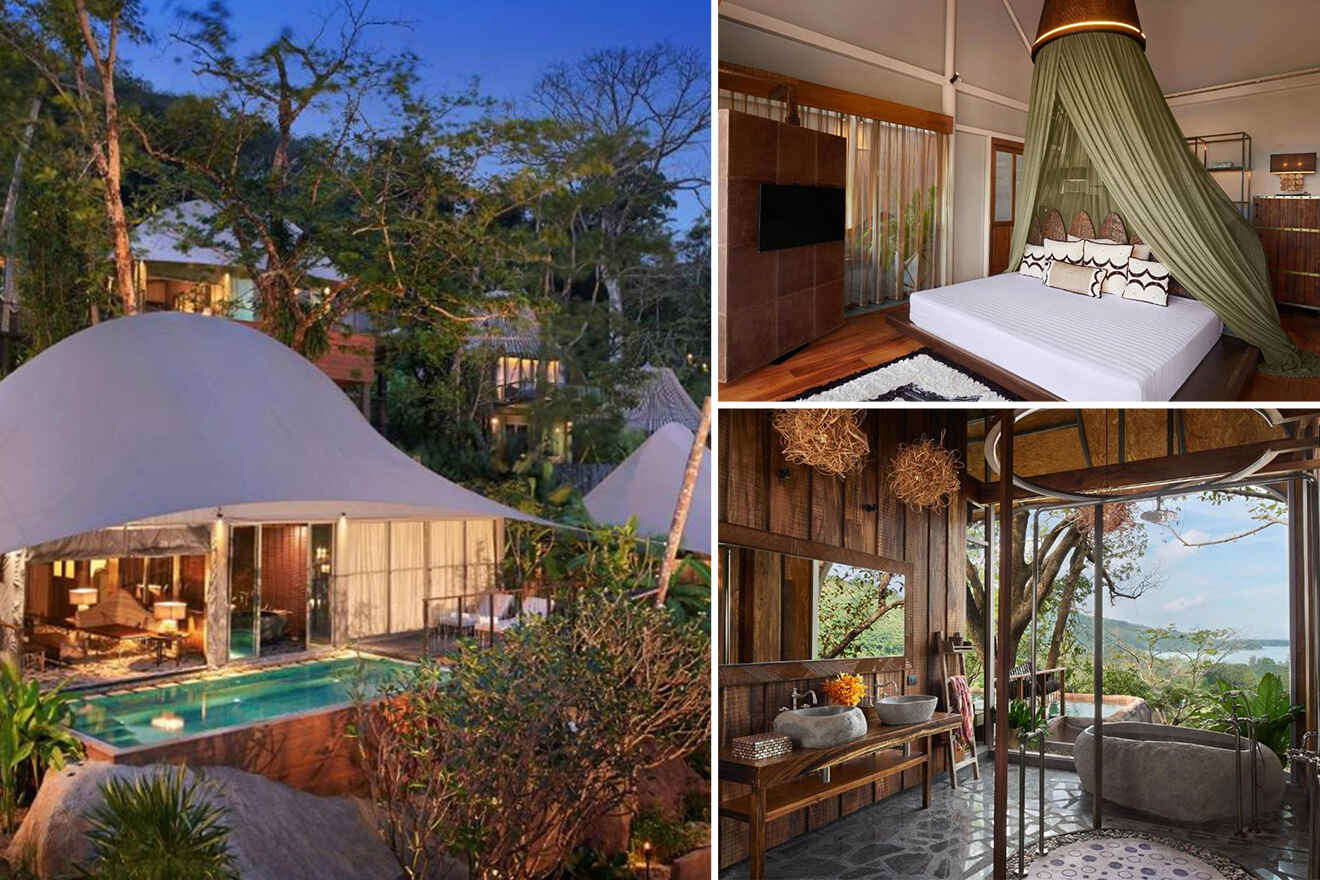 Hello, wilderness! Featuring views of the Andaman sea, set between treetops on the rolling hills of the Kathu District, this dream-like resort will leave you speechless! The villas and suites feature a fusion of modern elements and a unique Thai style.
Go for a dip in your private pool in the morning, catch a glimpse of those breathtaking Andaman Sea views, and then order some breakfast in your room. Guests will also have access to spa services and a restaurant but remember to book your hotels in Phuket in advance as these places will sell out in a heartbeat!
2. Six Senses Yao Noi – private villas with a personal butler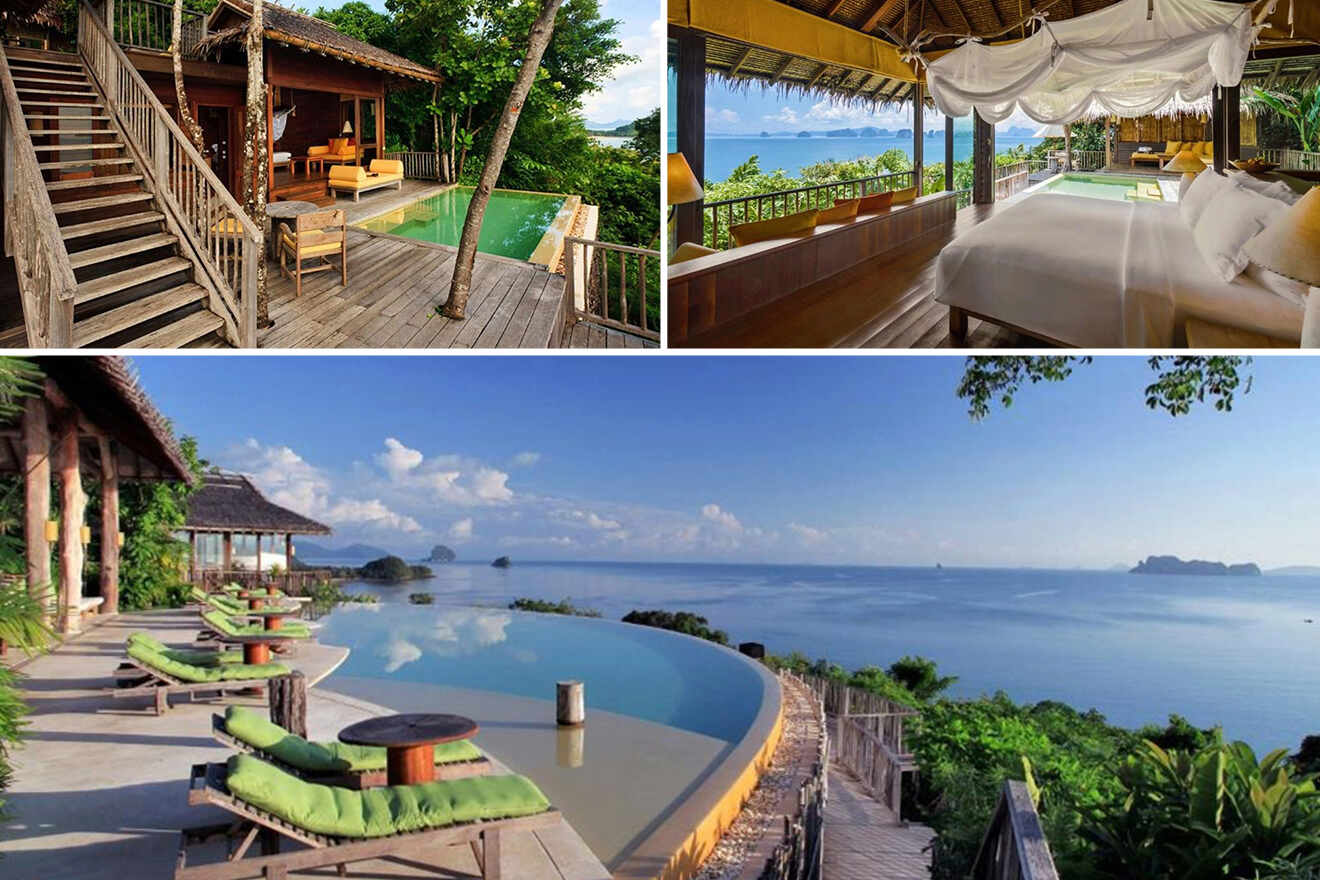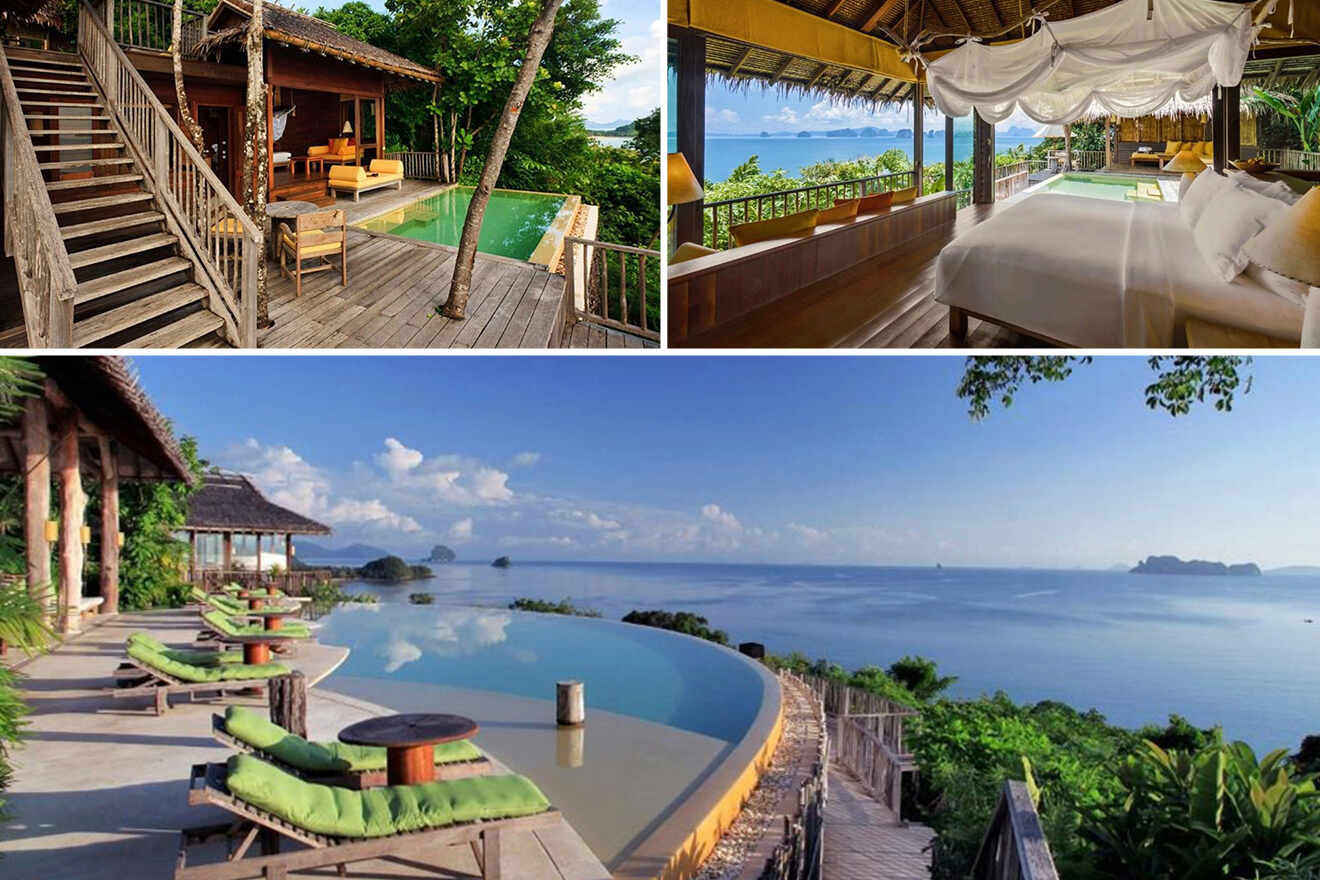 A place where the sky meets the ocean! Catch a vibrant sunset by the infinity pool of this resort that offers incredible views of Phang Nga Bay! Six Senses Yao Noi is a secluded spot where you can relax and be at one with Mother Nature! With a fusion of Thai design and modern elements, the villas come with a private pool and a personal butler.
Enjoy your coffee by the pool and the vistas of Phang Nga Bay! Then head to the spa and end your day with a fun movie night and bonfire on the private beach The hotel also has a bar and offers a free airport shuttle so all your holiday needs are met.
3. The Shore At Katathani – beachfront hotel with an infinity pool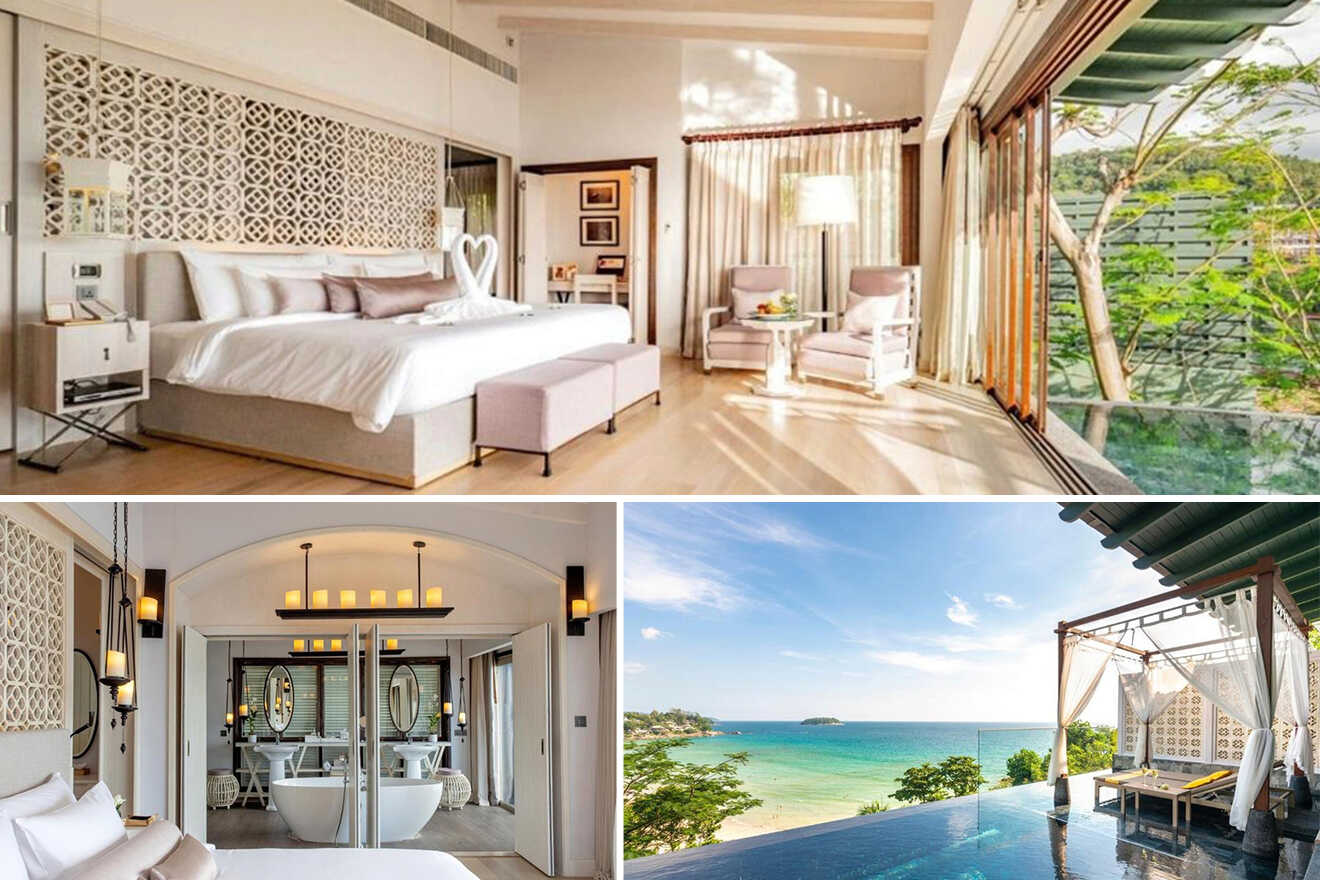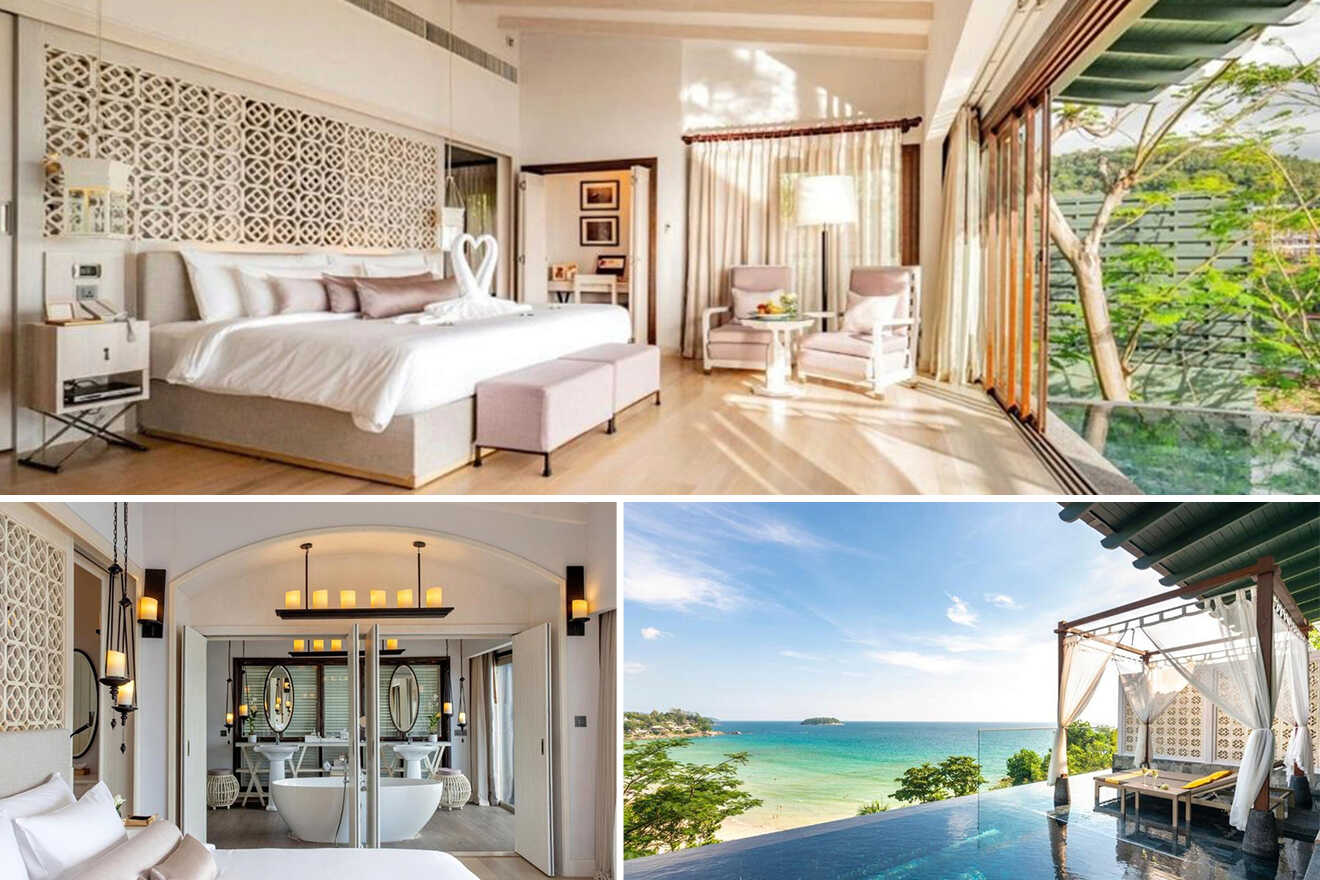 There's nothing like a holiday in a tropical destination to put you in a good mood! This incredible Kata Noi beach resort has villas with spacious rooms, a glass door that opens to a sundeck, and private pools (my favorite feature)!
Spend your days drinking cocktails by the infinity pool and catching scenic sunsets on Phuket Island. But I highly recommend trying all these amazing activities at the resort, like fruit-picking, yoga, and aqua aerobics. A yoga class will calm your mind, and then on top of that, you can go for a massage at the spa center and feel as light as a cloud!
4. The Naka – stylish villas with an outdoor pool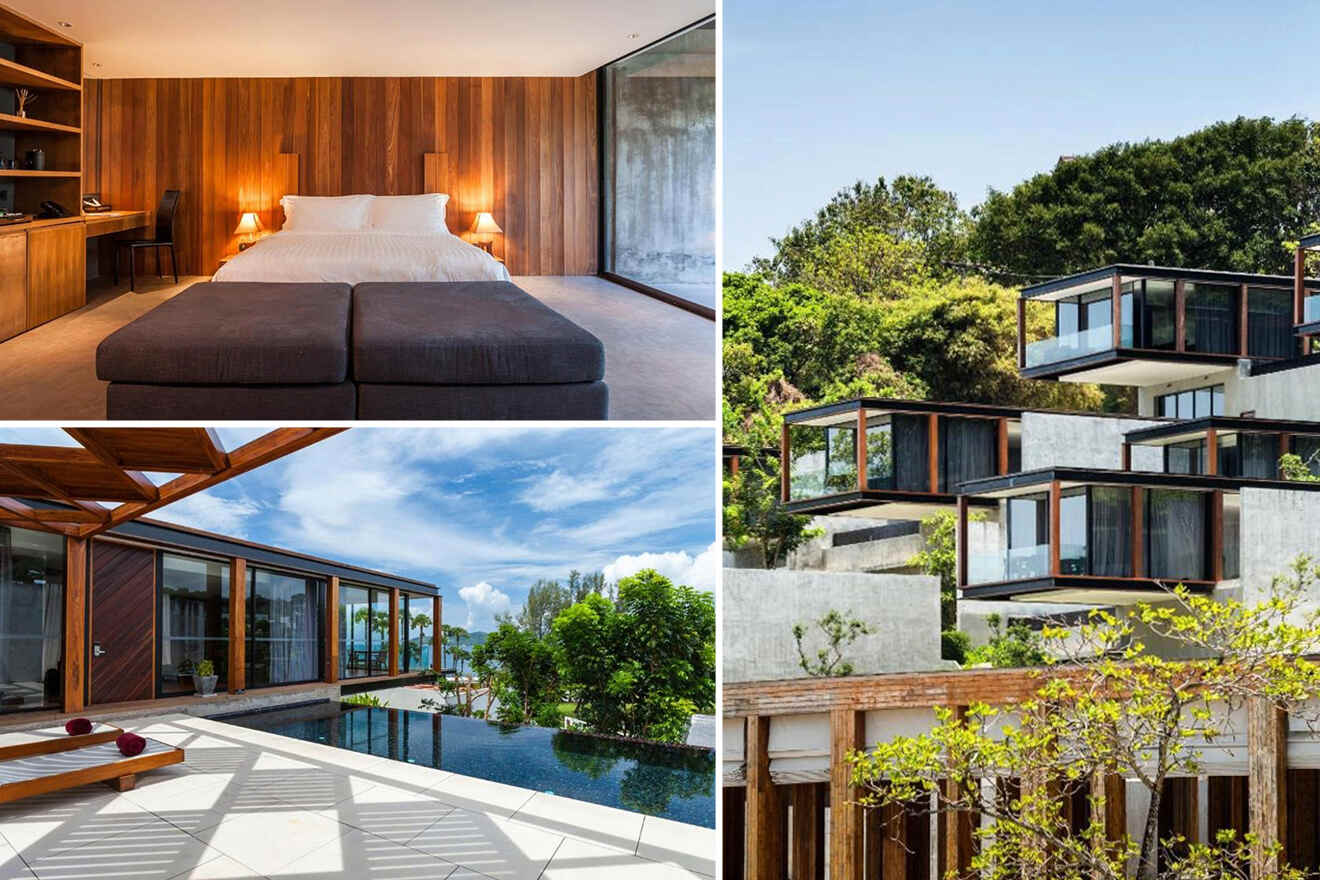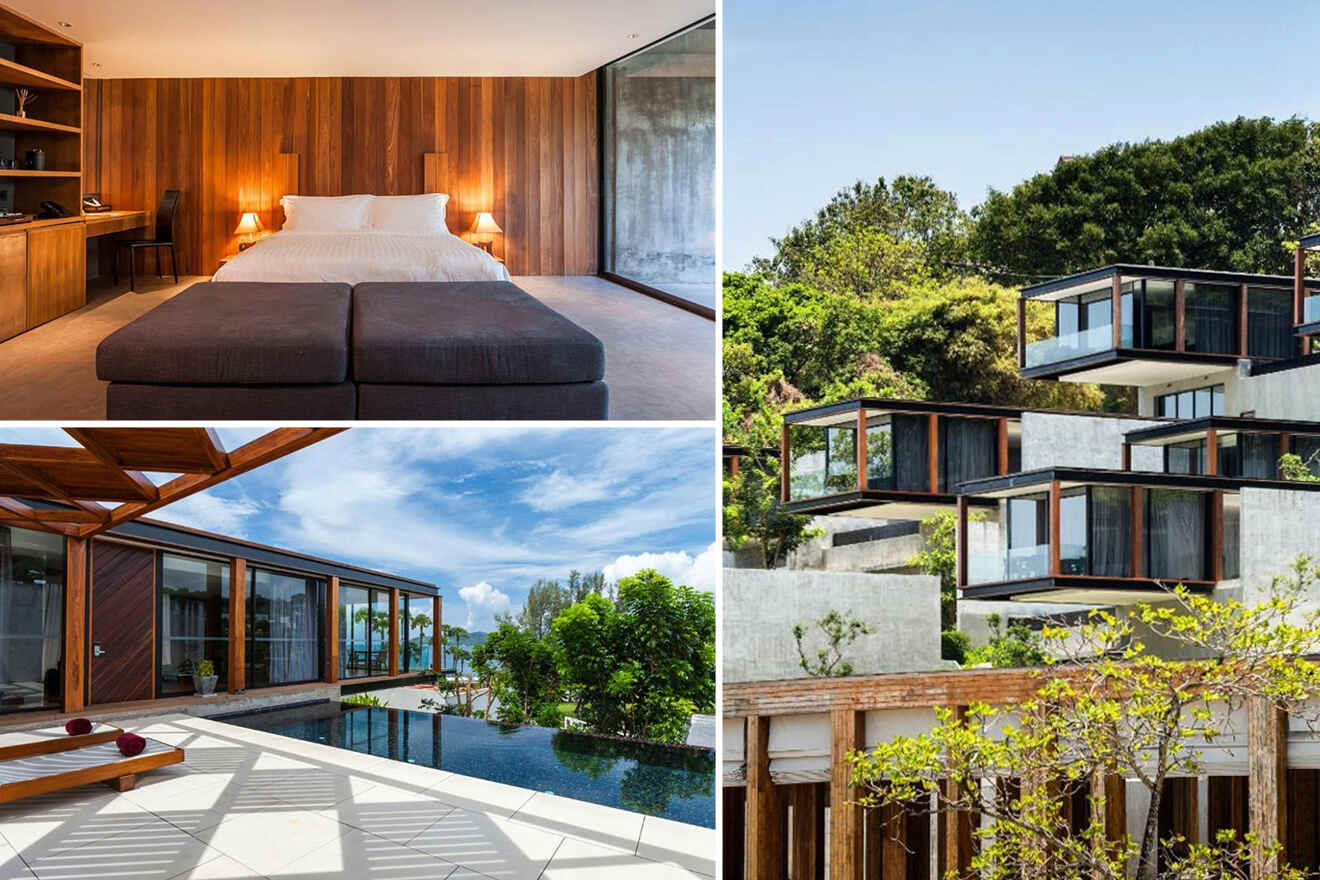 Villas with windows instead of walls in a location like this one on Kamala beach? Yes, please! Wake up to the most amazing view of the Andaman sea and start your day with a cup of coffee on the private balcony of your accommodation. Each villa is uniquely decorated and has a great style!
Guests will have access to a private beach area and a swimming pool plus many fun activities here like snorkeling! After all that exercise you'll be so hungry and maybe a bit tired. But don't worry, there are 3 restaurants on-site to keep you nourished throughout the holiday!
5. Sri Panwa Villa – resort with private infinity pools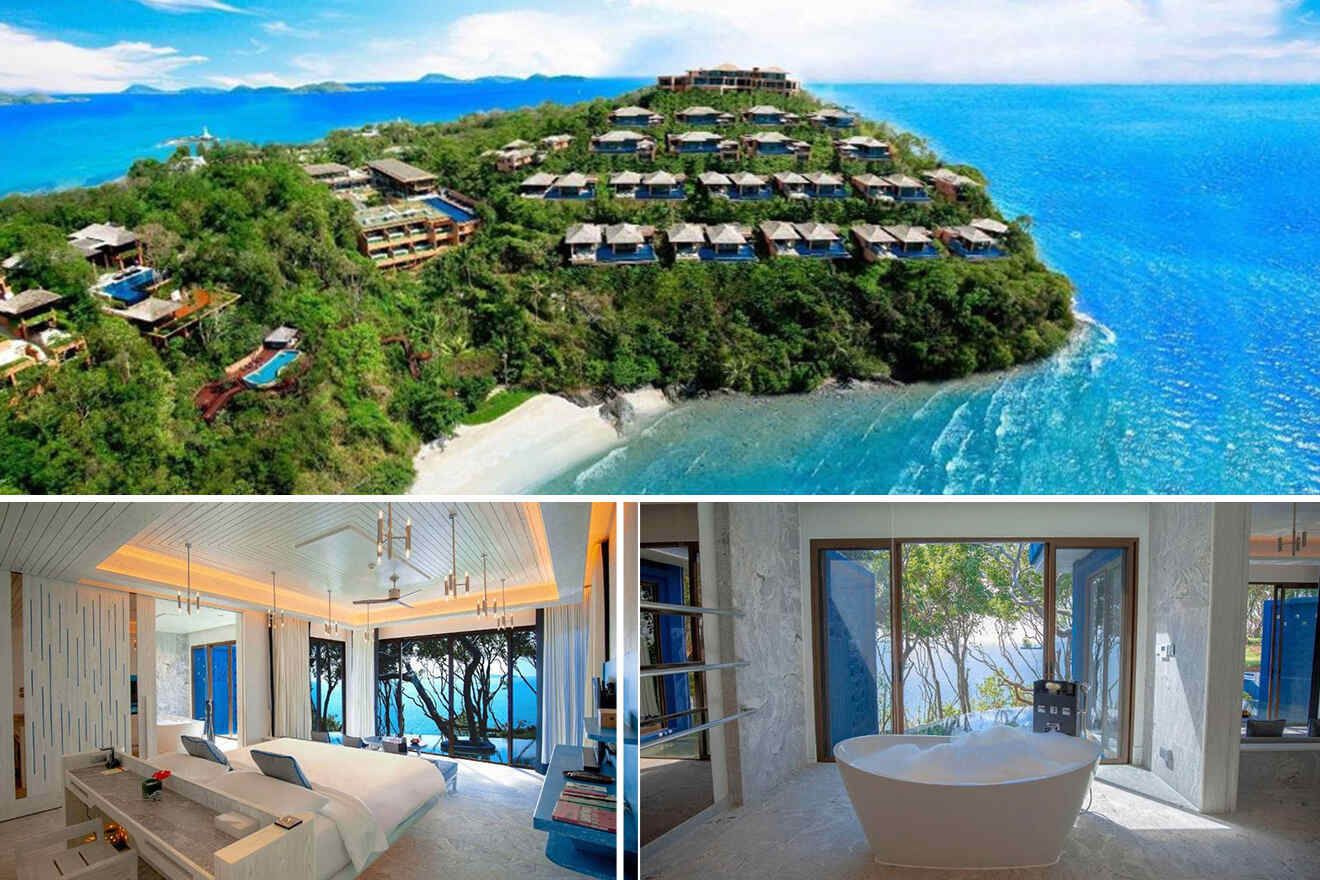 This has to be one of the best hotels in Phuket! The hotel offers a private beach area with a hilltop location in Cape Panwa, right near the Andaman Sea. Each villa has modern amenities and glass doors that open to a private infinity pool!
I would probably spend most of my time there, but hey, let's not forget that there are plenty of things to try at the resort-like kayaking and snorkeling by the beach. If you're looking for more tropical destinations, check out Krabi, an island on Thailand's West Coast.  
6. Como Point Yamu – an Italian-designed resort with a spa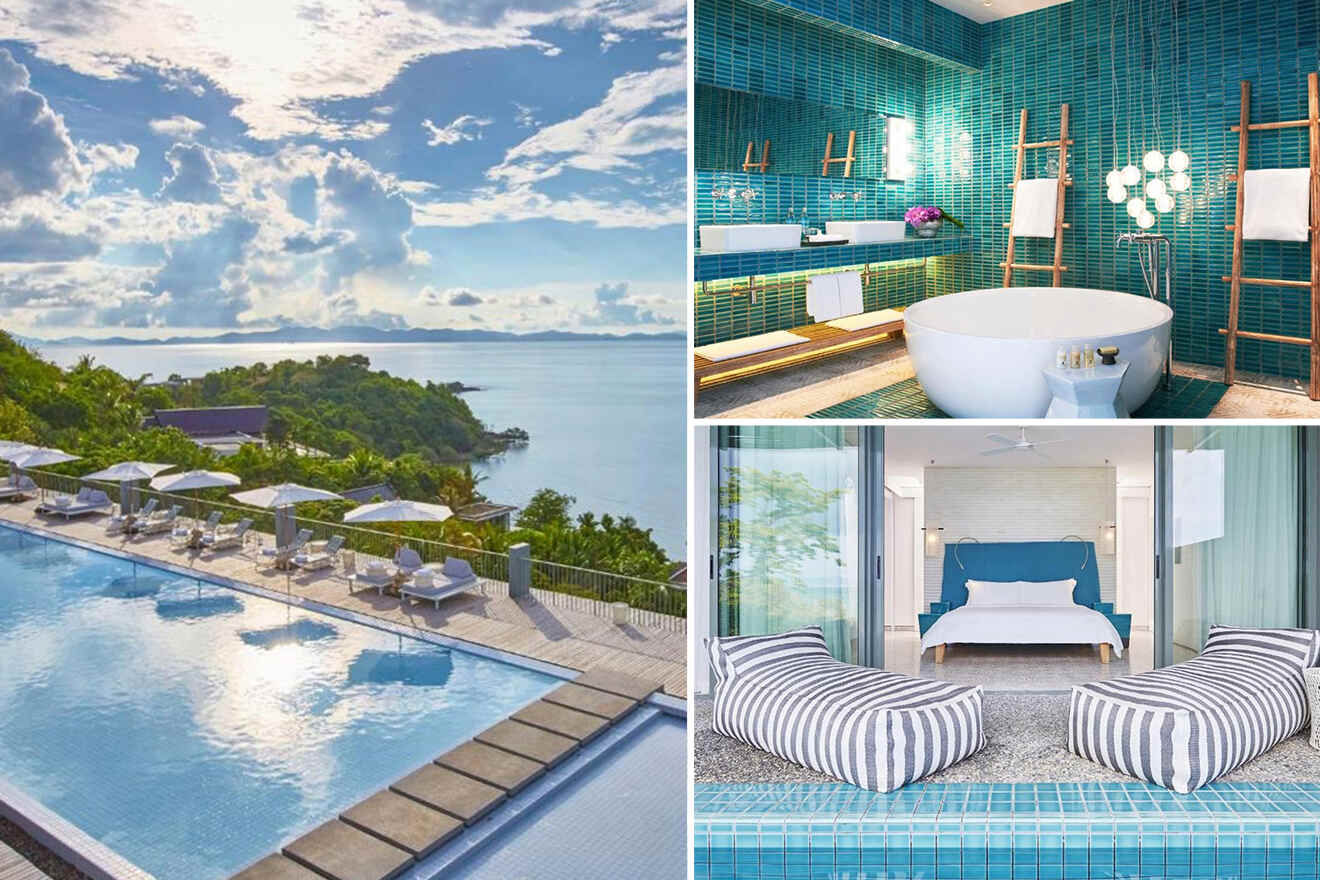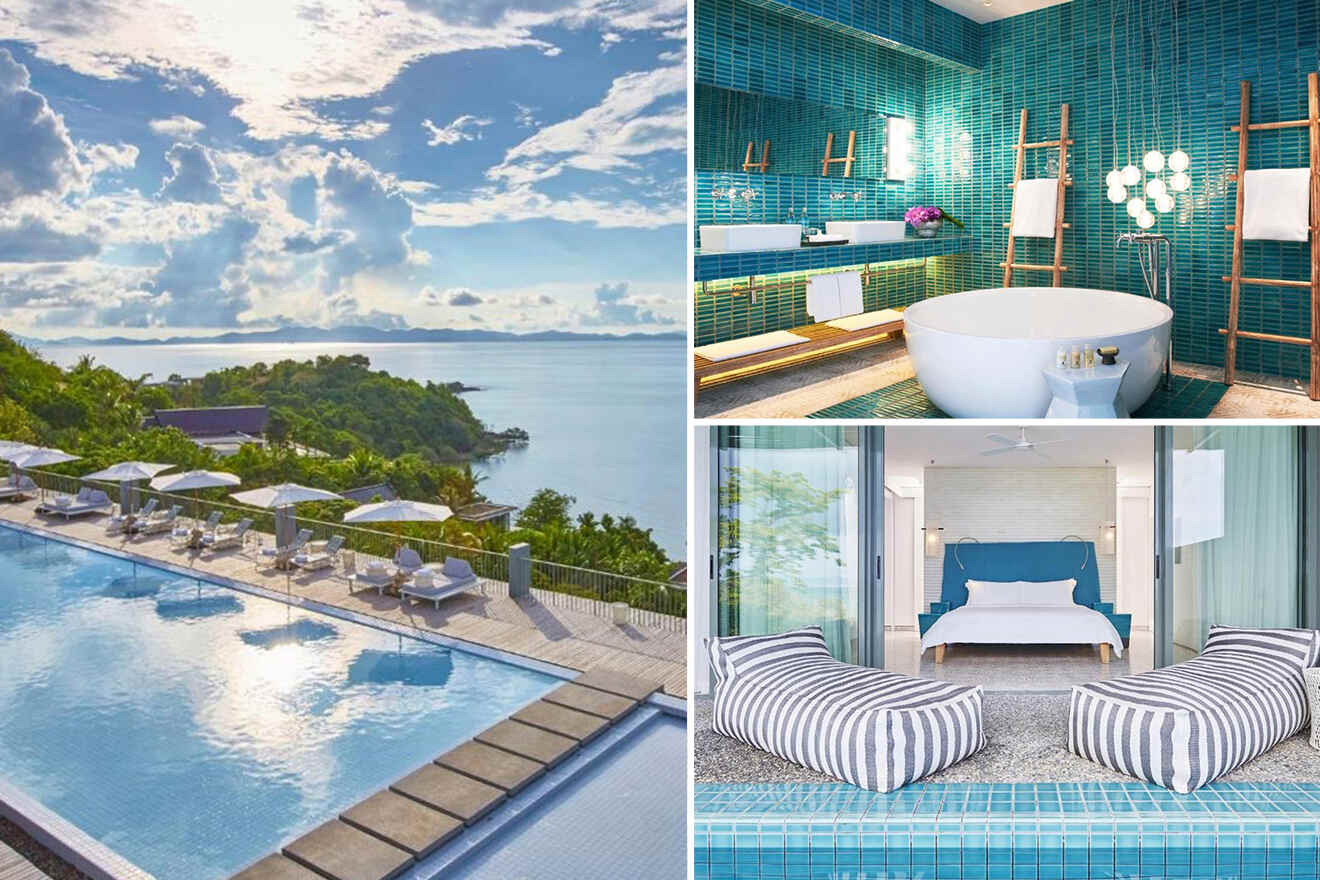 Start your day with a coffee on the private terrace of your villa, then hop into the private pool for a quick swim to freshen up! With a charming Italian design and incredible views of the Andaman Sea as well as the limestones of Phang Nga Bay, Como Point Yamu resort has already won my heart and I'm sure yours too!
The villas have ceiling-to-floor windows letting that gorgeous light come into your spacious room. Besides your private pool, guests will have access to 3 other pools and plenty of spa services like Thai massages. Lastly, remember to indulge in all the Italian and Thai food at the 2 restaurants and spend a fun night at the resort's beach club!
7. Banyan Tree – charming resort with 7 restaurants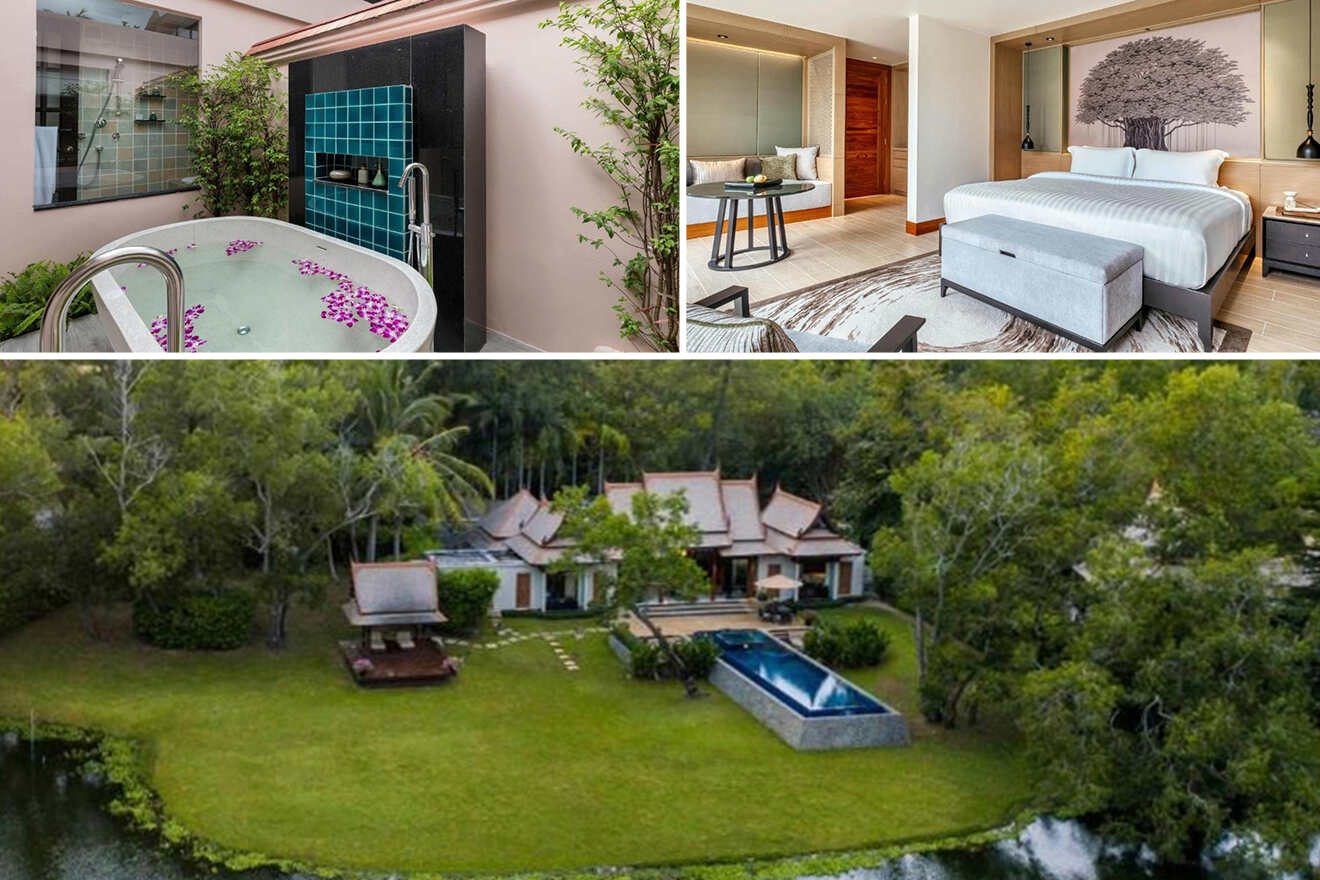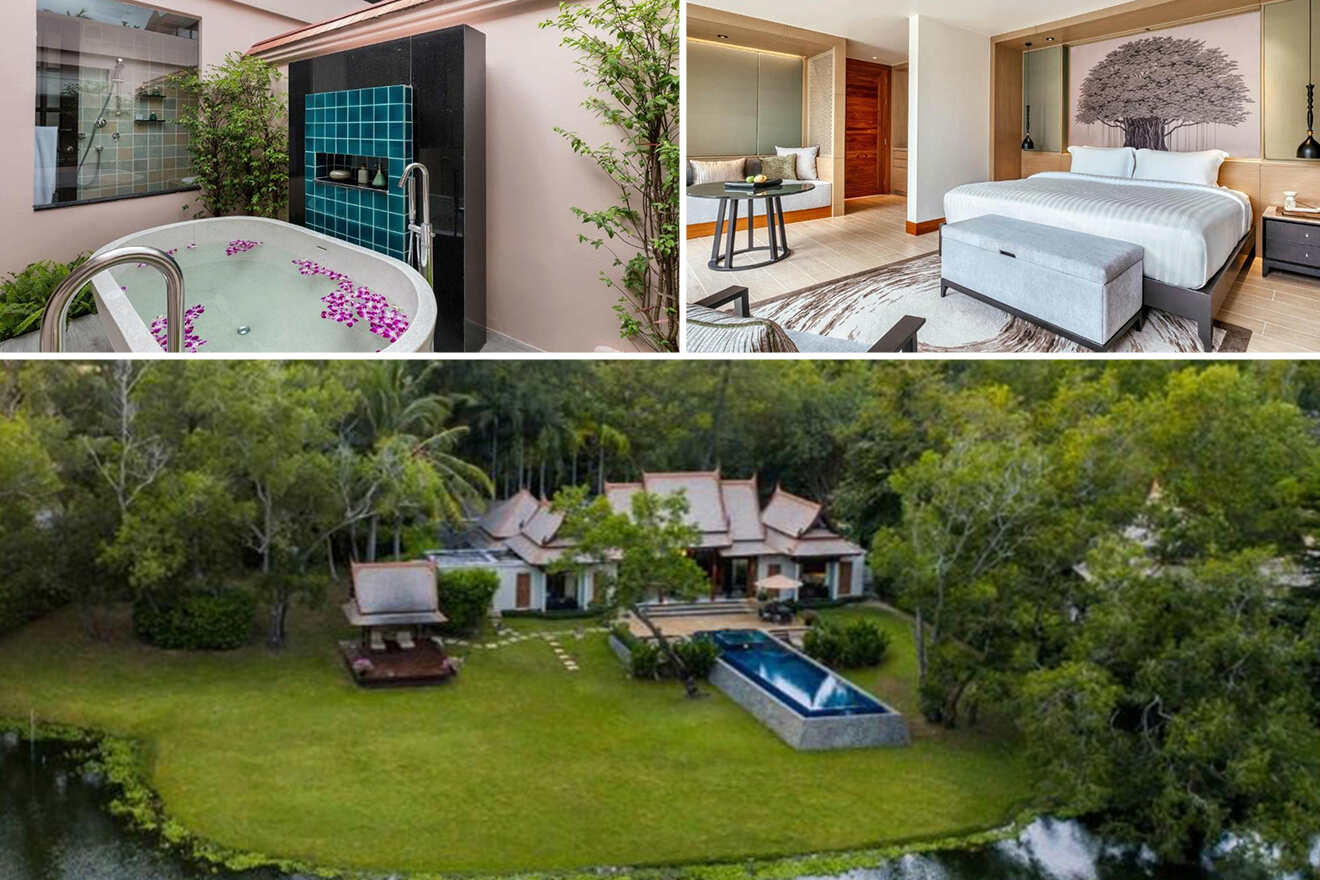 Featuring direct beach access, these pool villas offer world-class services and excellent facilities like a full-service spa and 7 restaurants! Surrounded by tropical landscapes, the villas and suites at Banyan Tree Phuket, set on Bang Tao beach are furnished with Thai art and woodwork.
Besides being super spacious, the villas come with a seating area and an open-air jet pool. Enjoy your days of relaxing in the enchanted gardens at Banyan Tree Phuket, swimming in the pool while admiring those incredible views, and eating their delicious dishes at one of the many restaurants! (But don't forget to explore the nearby beaches!)
8. Anantara Layan – peaceful resort with a private beach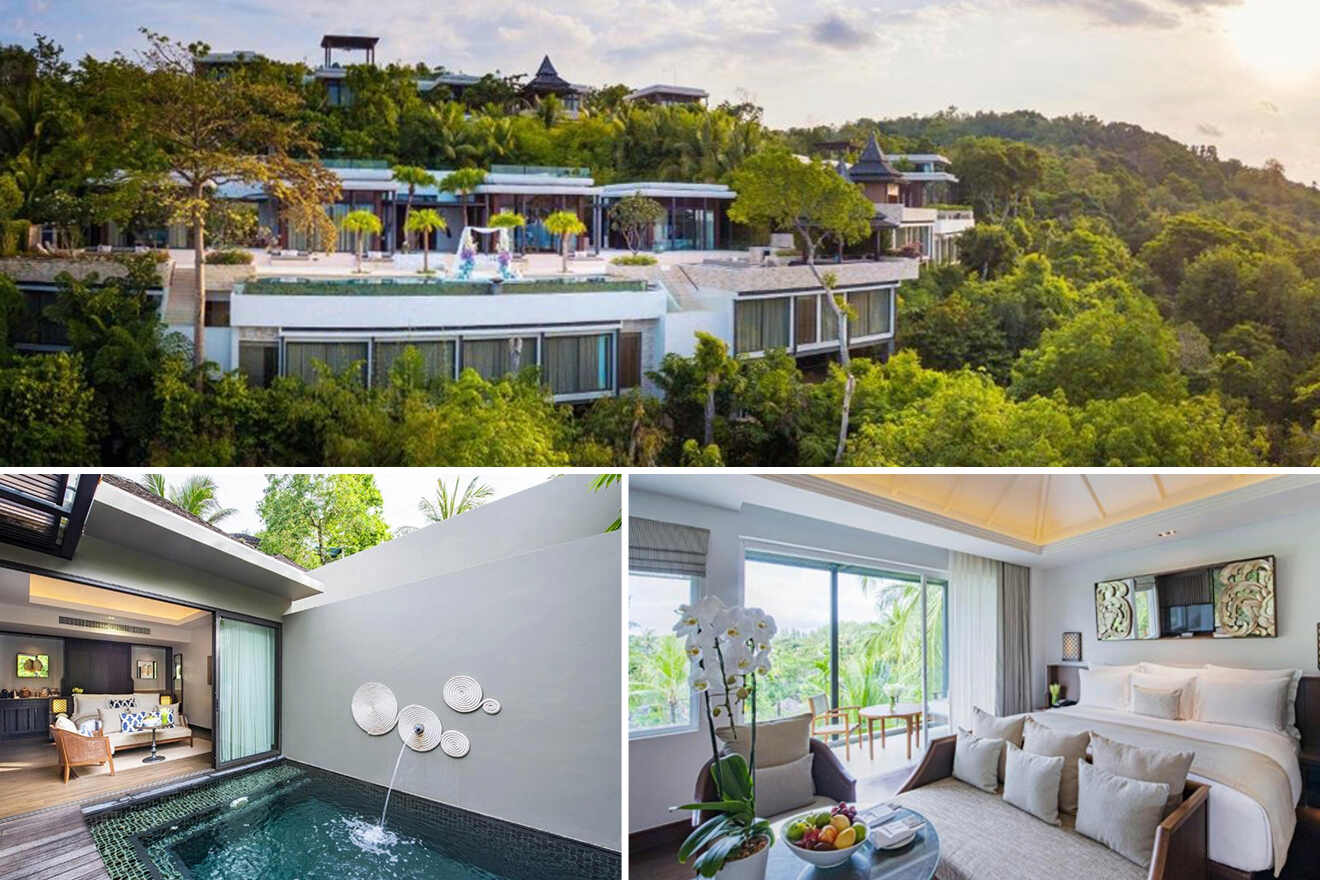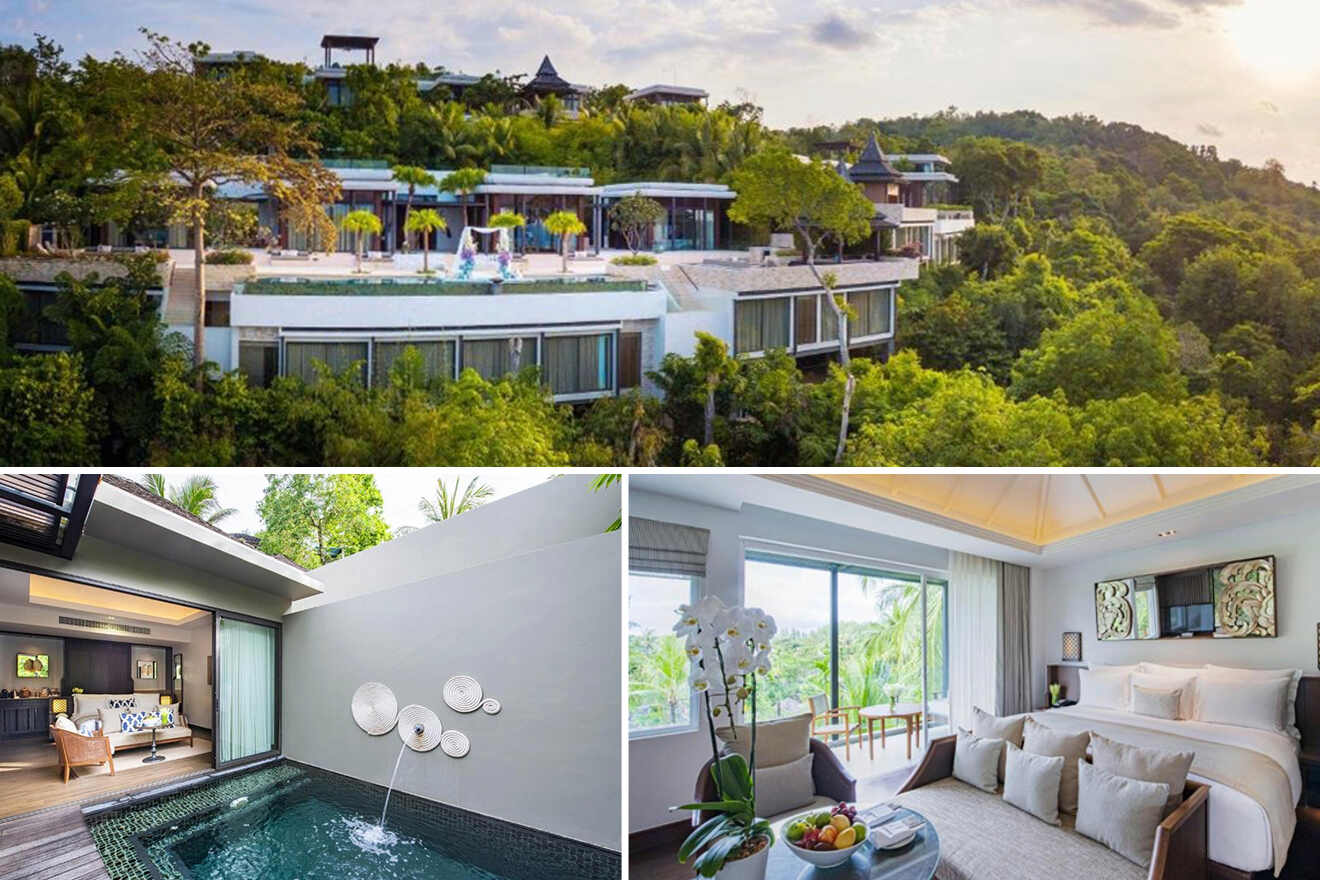 Tucked away on an area of private beach, this hotel will offer guests the most pleasant stay on the island! If you've been thinking about a holiday where you want to do nothing but relax and enjoy some tranquility, then this Layan Beach resort is for you!
Each pool villa has a modern style and comes with many facilities including a small patio and a private bathroom with a bathtub! I'm sure the tropical scenery and bay views will charm you instantly and you'll want to head over to the beach to swim or snorkel. But before you leave, grab a bite at one of the 5 restaurants on-site!
9. Twinpalms Phuket – beachfront hotel with library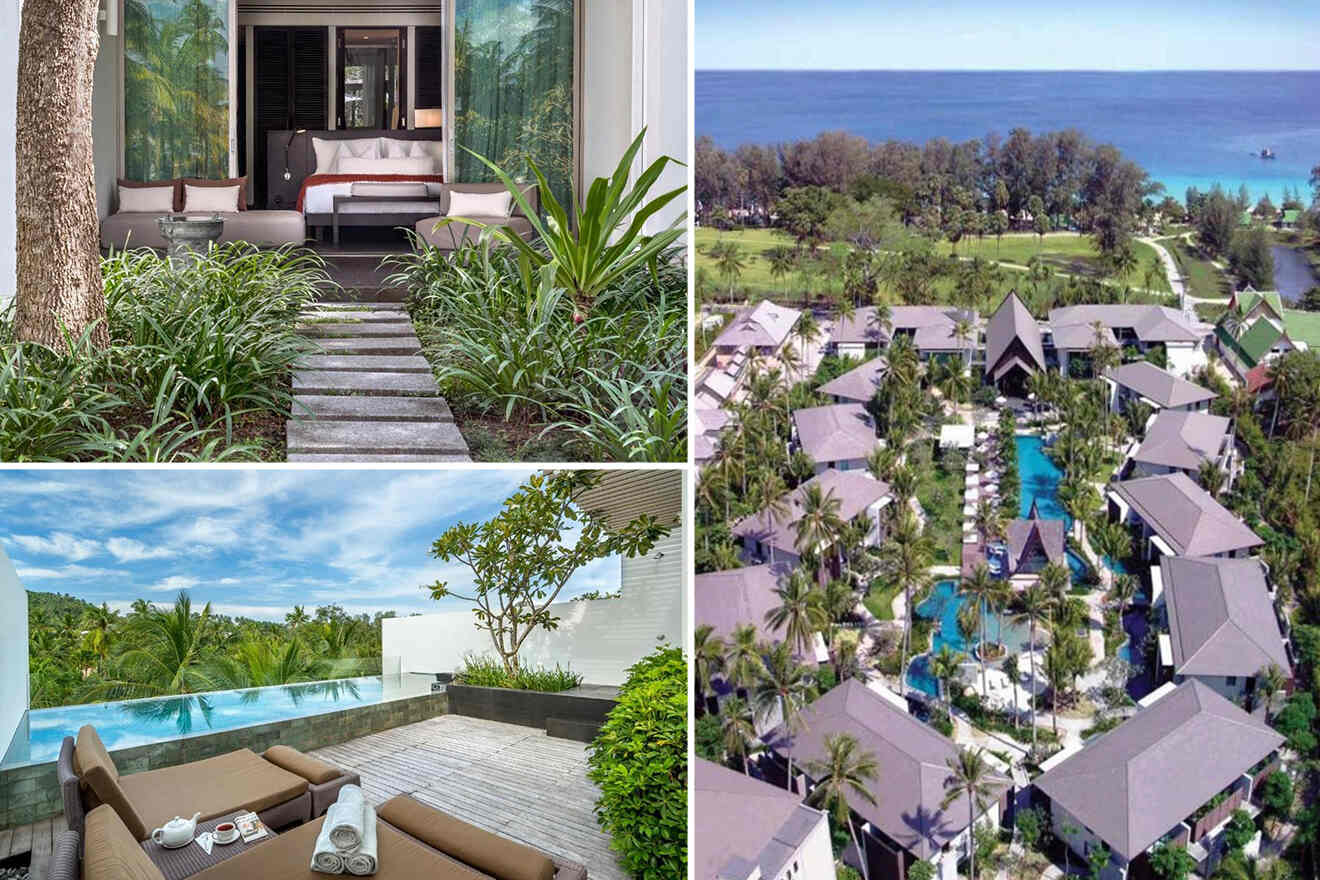 Book nerds, you will love this luxury resort set on Suring Beach! Besides the world-class facilities like villas with private terraces and lagoon pool views, this resort has a library open for its guests! I know you'll love this, but make sure you don't lock yourself there and go out to explore the tropical gardens!
Featuring beach access, the hotel has a restaurant on-site and a spa! And if you want a taste of the island's nightlife, you can even go to a club here! But if you dance a little too much, don't worry, there's nothing like a nice massage to make you feel better. The resort also offers a shuttle to Phuket International Airport, so you have everything you need here!
10. The Surin Phuket – amazing beach view rooms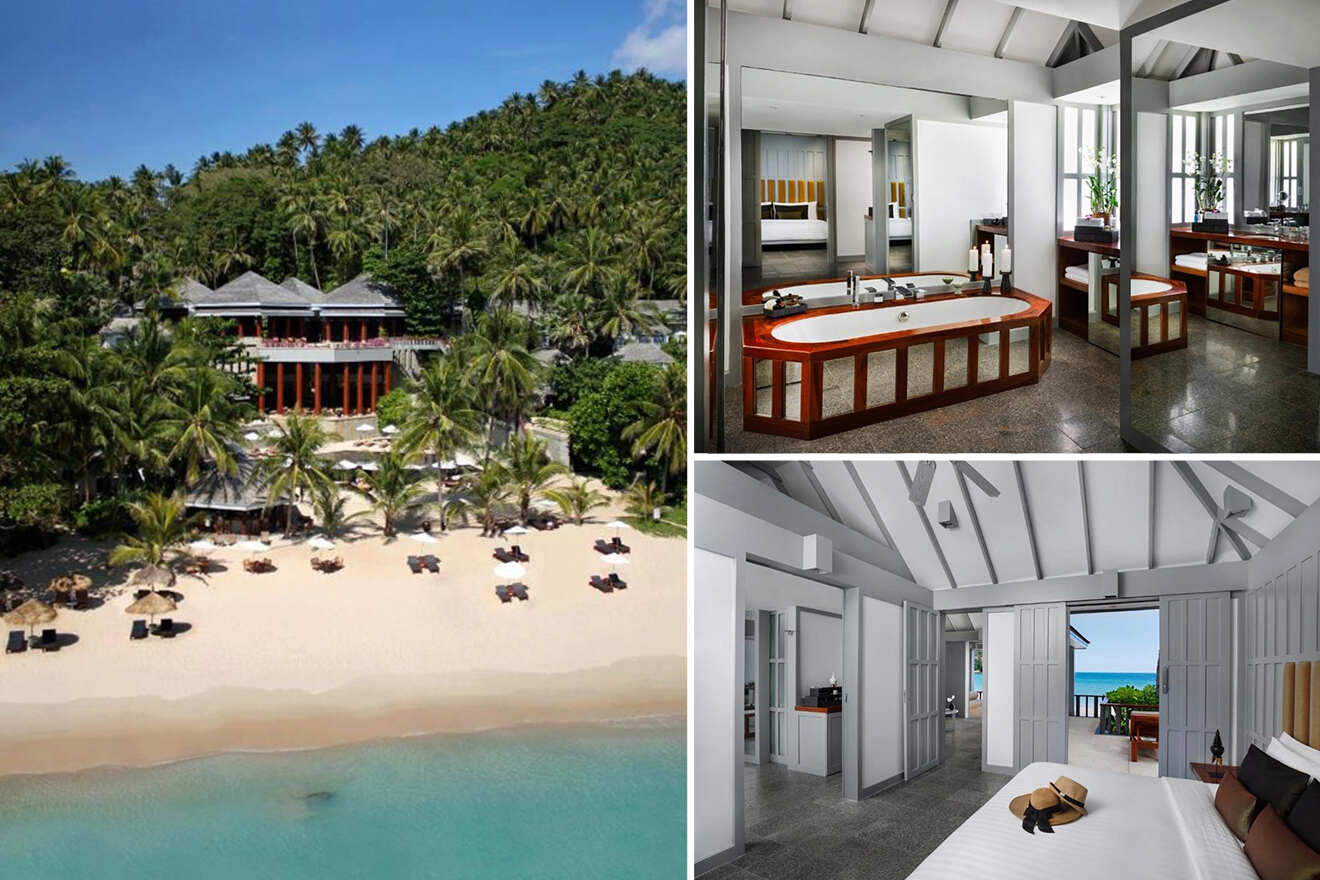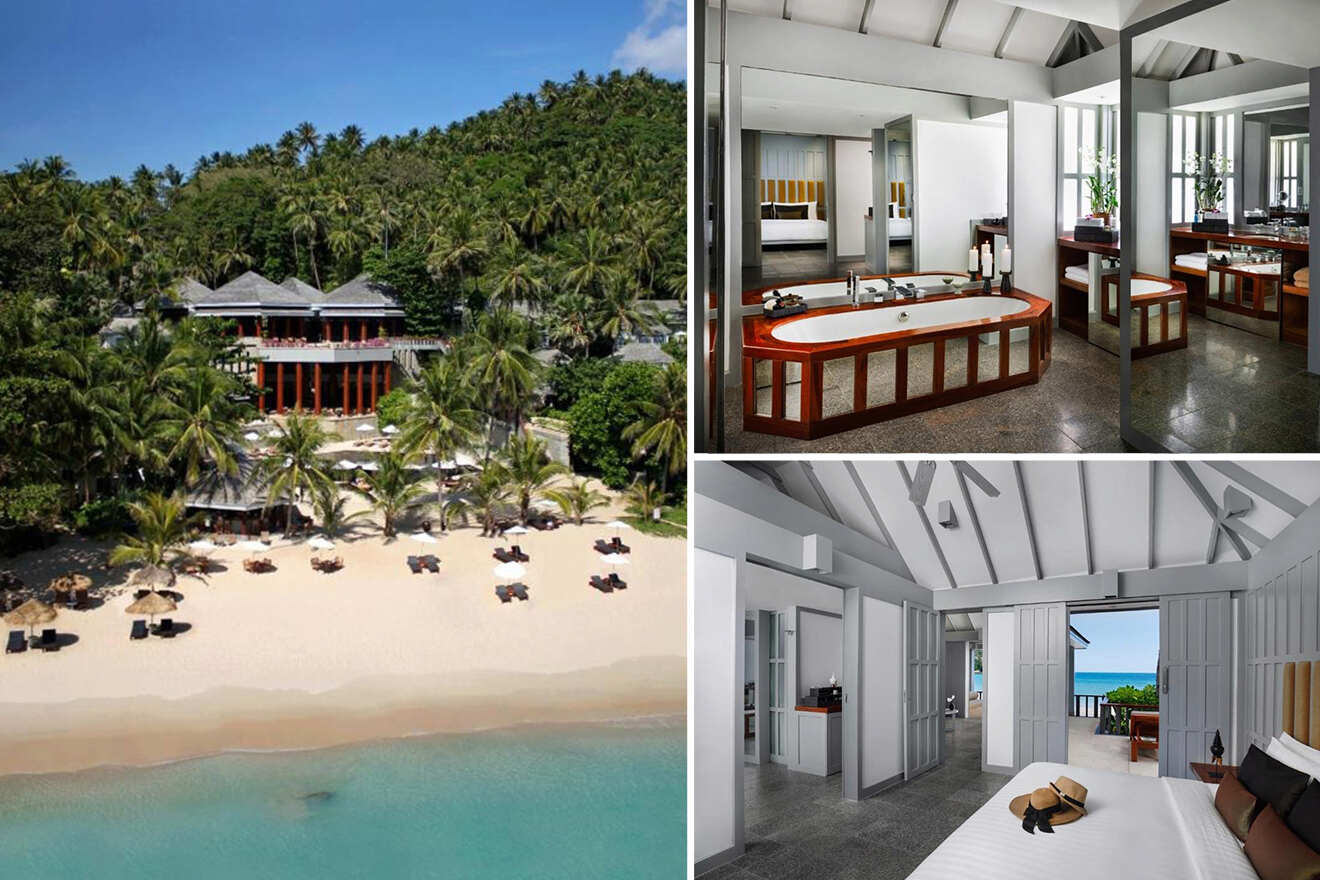 Set on a beautiful white beach in Pansea Bay, this luxury hotel offers cottage-style accommodations hidden away in the coconut tree gardens! Each morning you can admire the sun coming across the Andaman Sea from the comfort of your room that comes with a comfy lounge area.
Guests here will have access to billiards, diving, and tours about the local island culture. Chill by the swimming pools all day, and take a mental shot of those incredible bay views. The best part? You can end your day with a delicious dinner at one of the 3 restaurants and with a drink at the bar!
11. InterContinental – beautiful modern rooms with a hot tub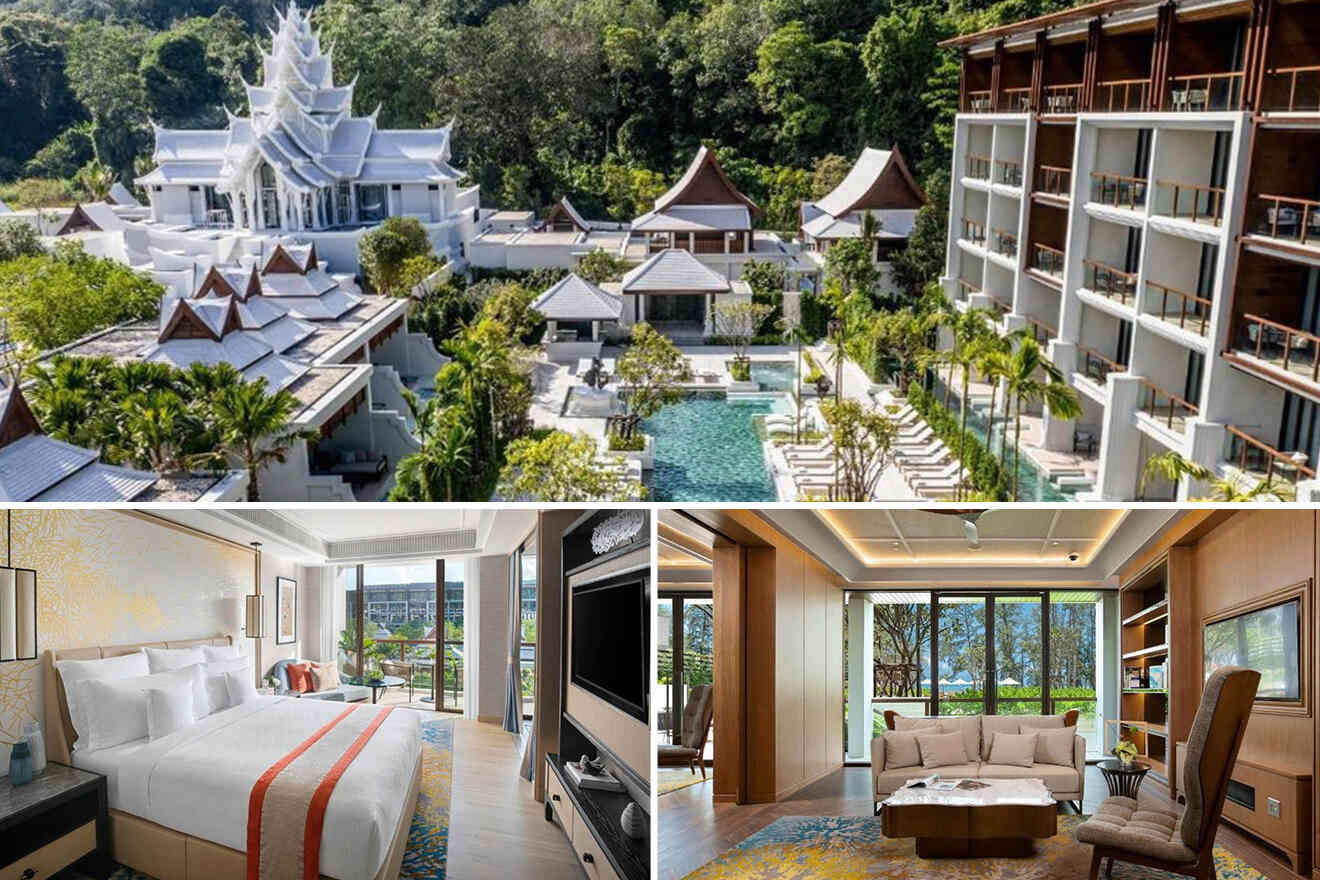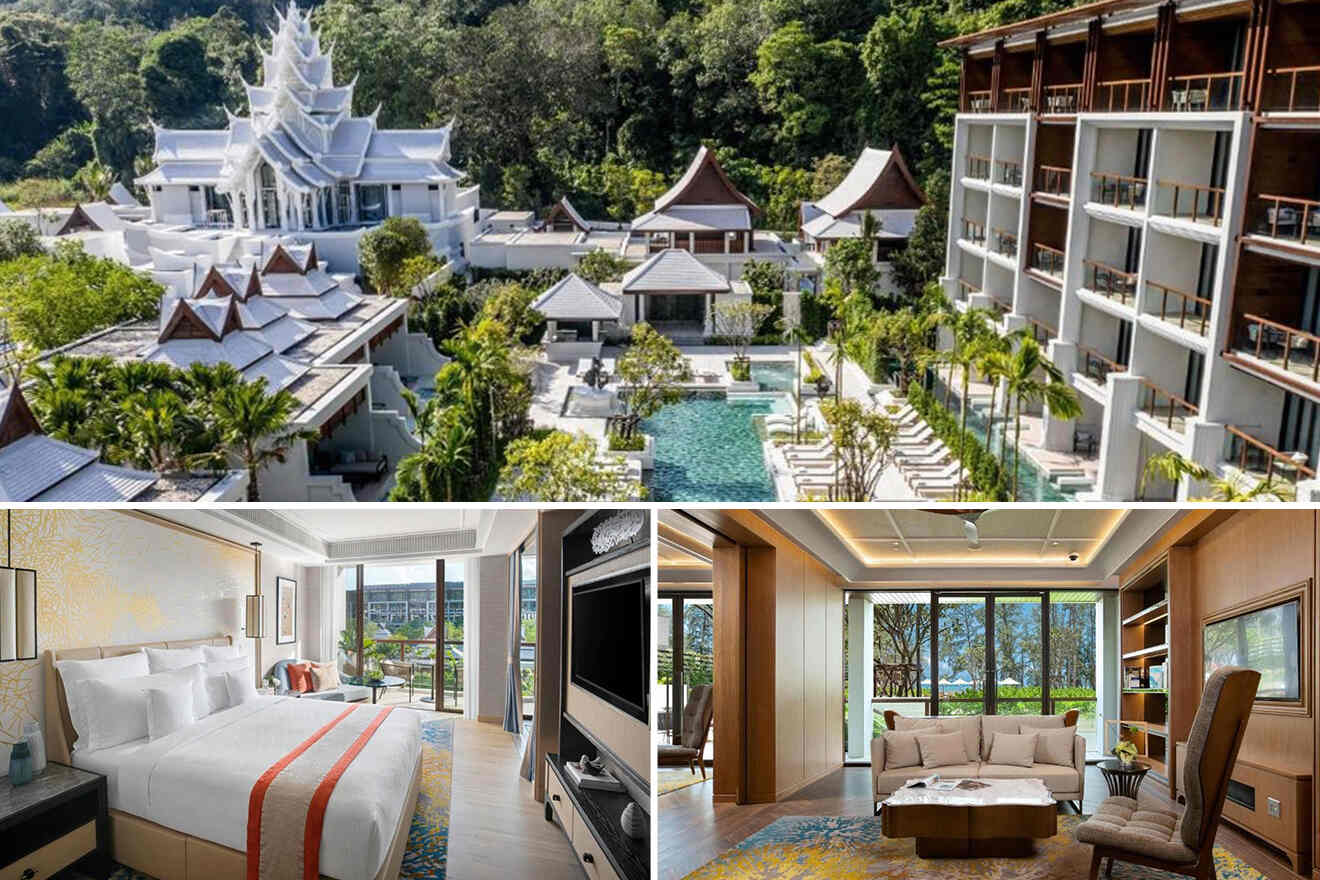 You'll fall in love with island life while staying at this beautiful beachfront resort that's surrounded by lush greenery and sea views! You can even pick a room with a hot tub and patio where you can enjoy the pool views!
Set on Kamala Beach, the island resort has 3 restaurants on-site and during the day there are plenty of things to try at the hotel like tennis, cooking classes, or hiking off-site if you want to explore the island. End your night with some evening entertainment or a relaxing massage at the spa… Simply bliss!
12. The Slate – family-friendly resort with a rainforest spa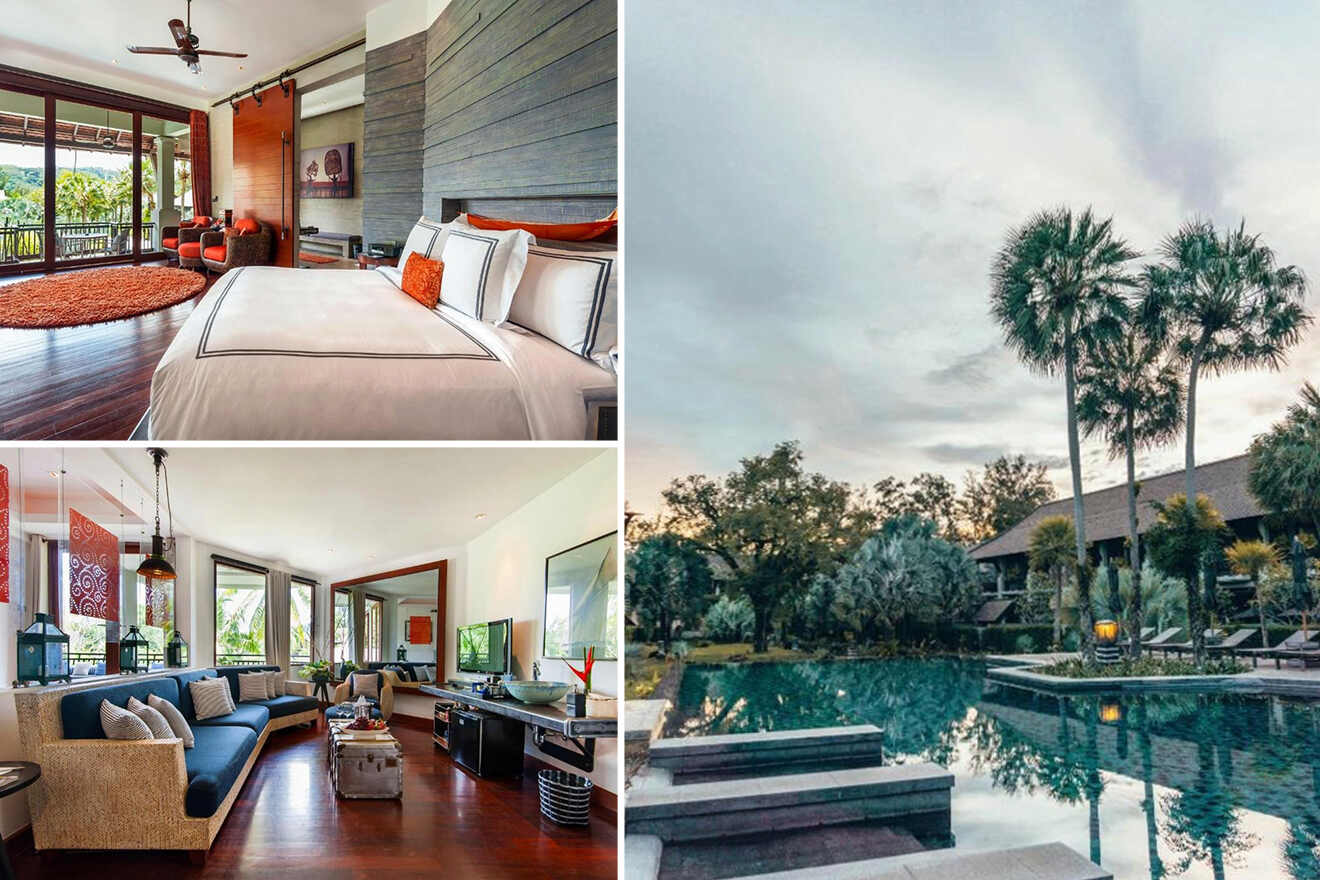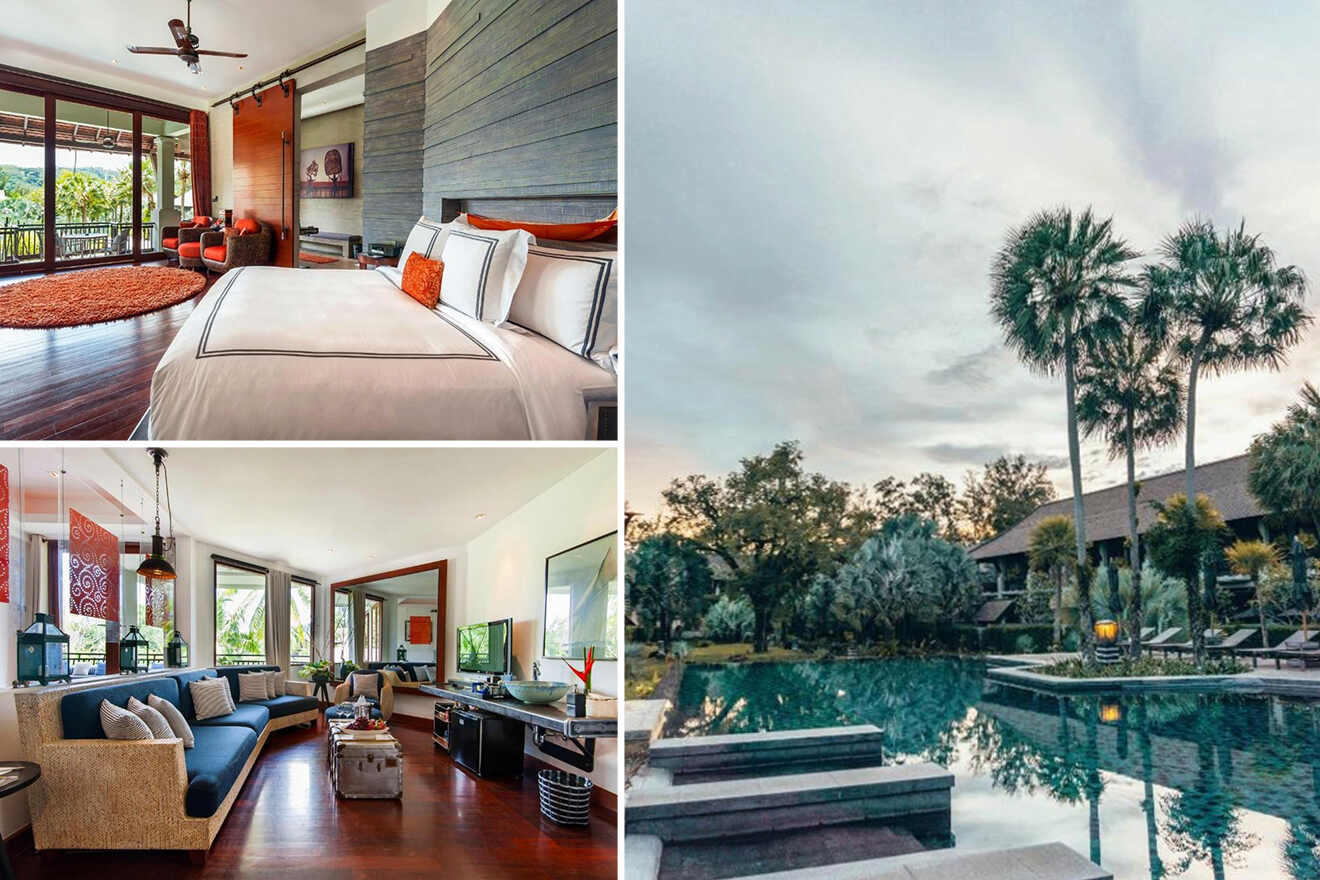 Planning your family island getaway? Then I think you'll love this Phuket hotel set near the fabulous Nai Yang Beach! The accommodation features a fantastic industrial-chic design and tropical elements. Offering facilities for all guests like massages in a private treatment room suspended mid-air like a bird's nest (wow) for the parents and a kid's club for the little ones.
Some rooms offer beach views and all of them are decorated with art pieces and locally crafted furnishings. The 7 (!) dining options will leave guests not knowing where to start, but I recommend the Thai restaurant! Plus, Phuket airport is located only a 5-minute drive away.
Frequently asked questions about luxury hotels in Phuket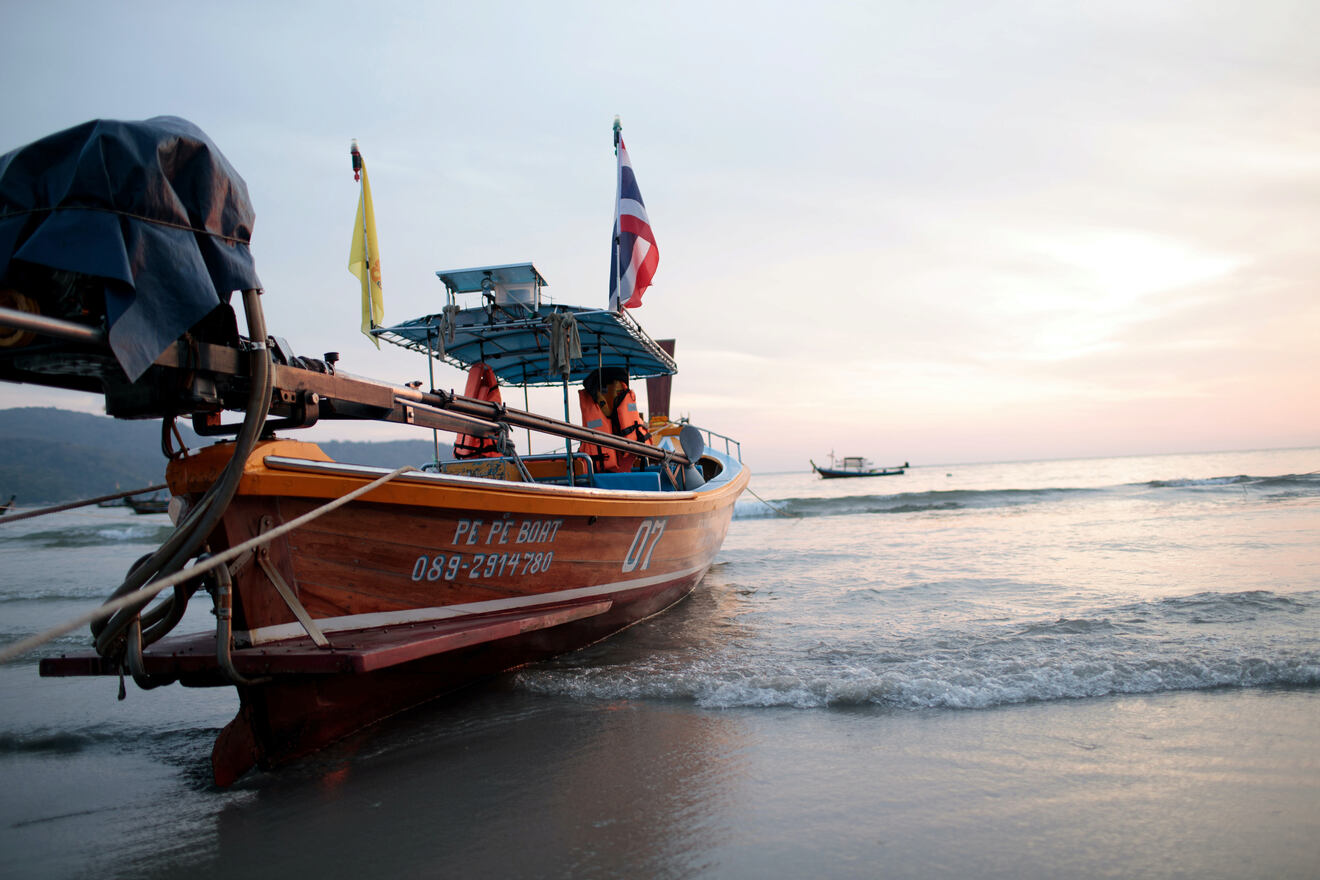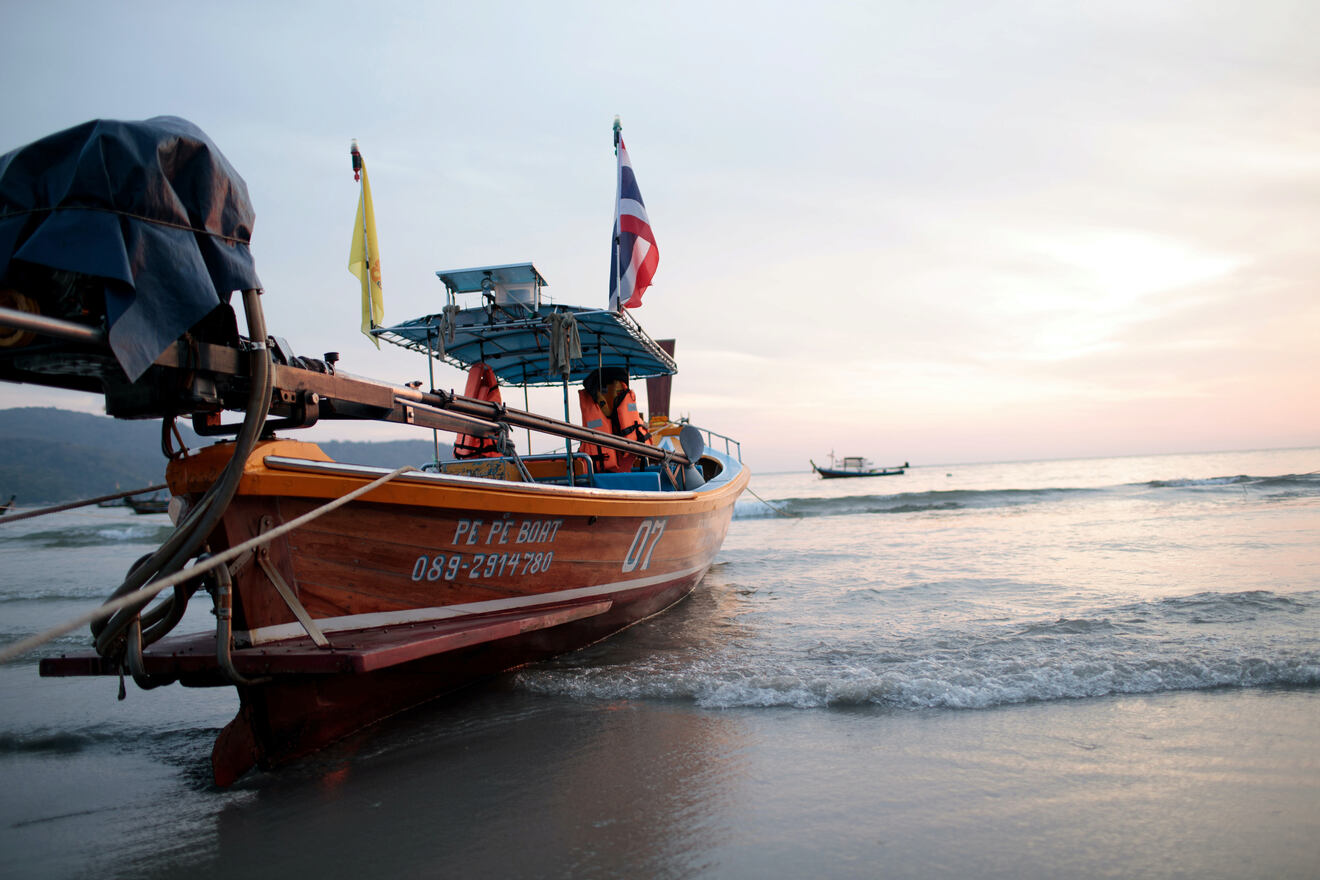 📸 Where do celebrities stay in Phuket?
🤩 What is the most luxurious hotel in Phuket, Thailand?
Keemala is the most luxurious hotel in Phuket, featuring villas with private pools located between the treetops and lush greenery.
🤔 Which part of Phuket is best to stay in?
Some of the best parts to stay on Phuket island are Nai Harn Beach on the West coast, Bangtao Beach, Patong Beach, Phuket Town, Kata Yai, and its sister Kata Noi Beach on the East coast.
👪 What is the most family-friendly resort in Phuket?
The Slate offers great amenities for families like spacious rooms, a kids club, and even 7 different dining options to choose from, satisfying even the pickiest of eaters.
Conclusion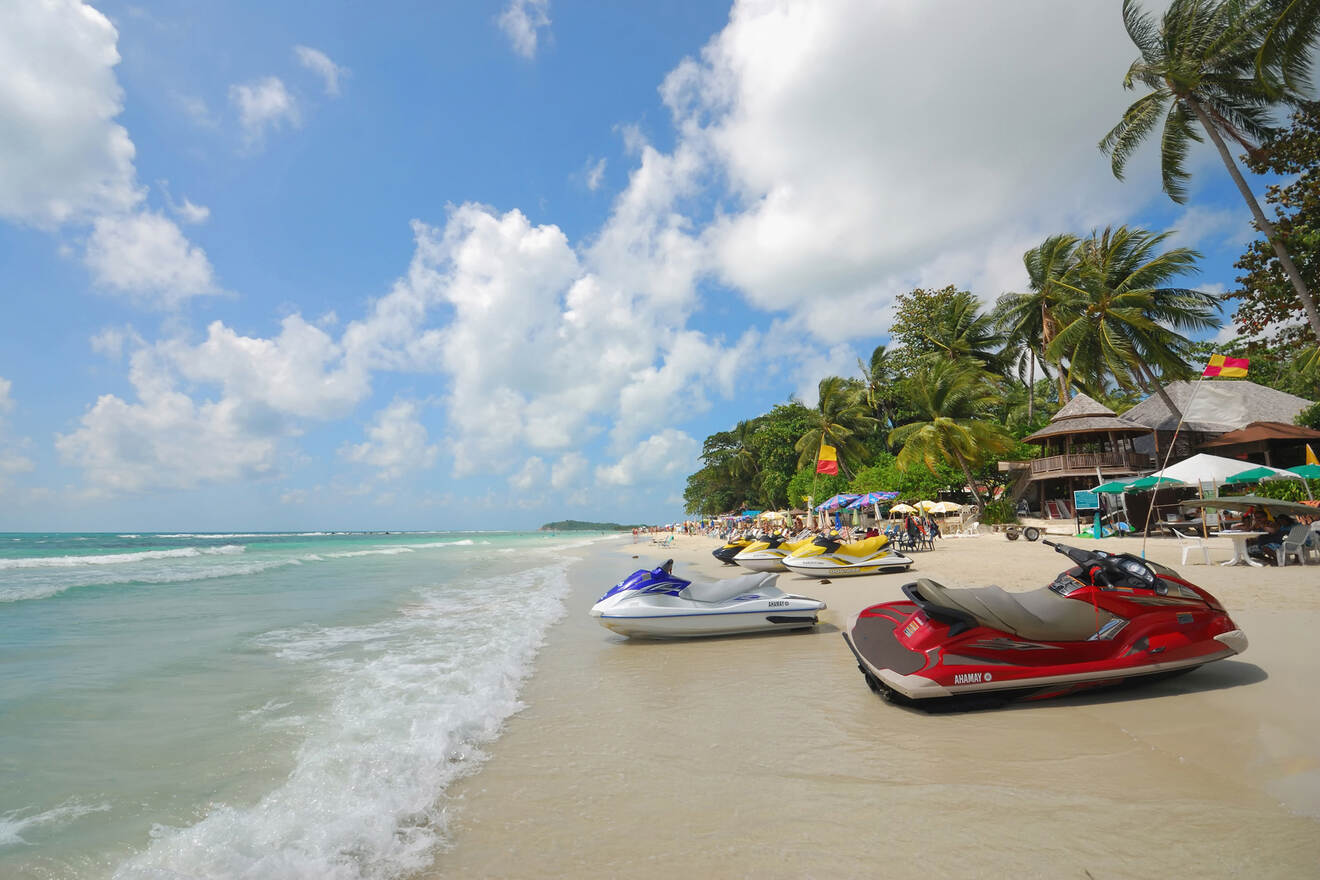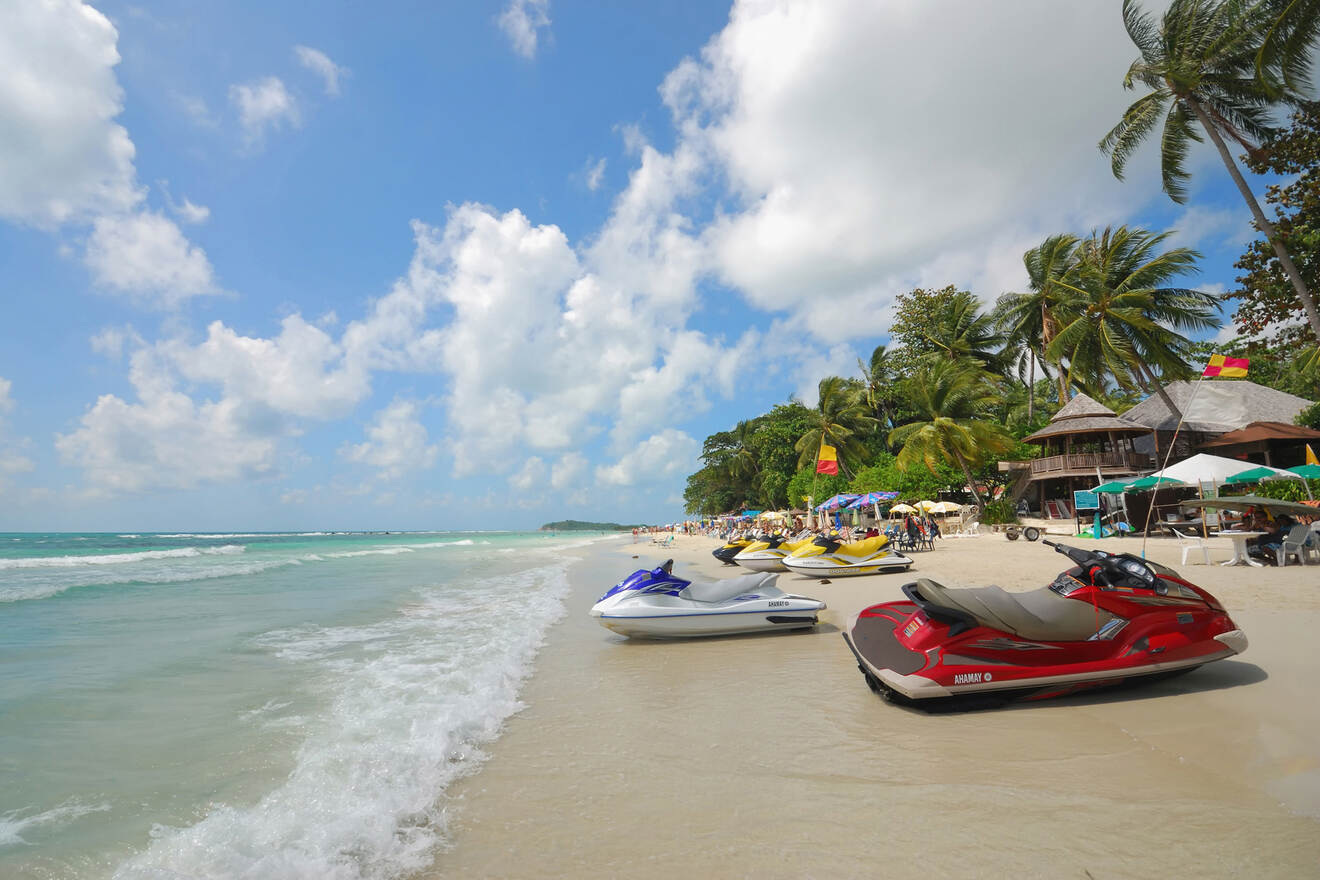 What an incredible island! I bet you're already daydreaming about relaxing on a fabulous white beach with a cocktail in your hand!
I hope this post helped you decide which are the best luxury hotels in Phuket and which one is the right fit for you! I've listed them from most to least expensive to help you make the best decision!
However, there are many resorts, and if you're finding yourself confused, here are my top 2 favorite luxury resorts on the island:
Keemala – featuring fantastic hills-side pool villas with a terrace and a spa center
The Shore At Katathani – A charming beachfront resort equipped with plenty of amenities including an infinity pool, and villas with sundecks
As I mentioned, you'll need to book these luxury resorts super early! They sell out super fast as this is a popular destination. So what are you waiting for?
Our journey ends here (for now)! Have a wonderful trip on this beautiful island and enjoy its beaches and tropical surroundings!
Safe Travels,
Victoria