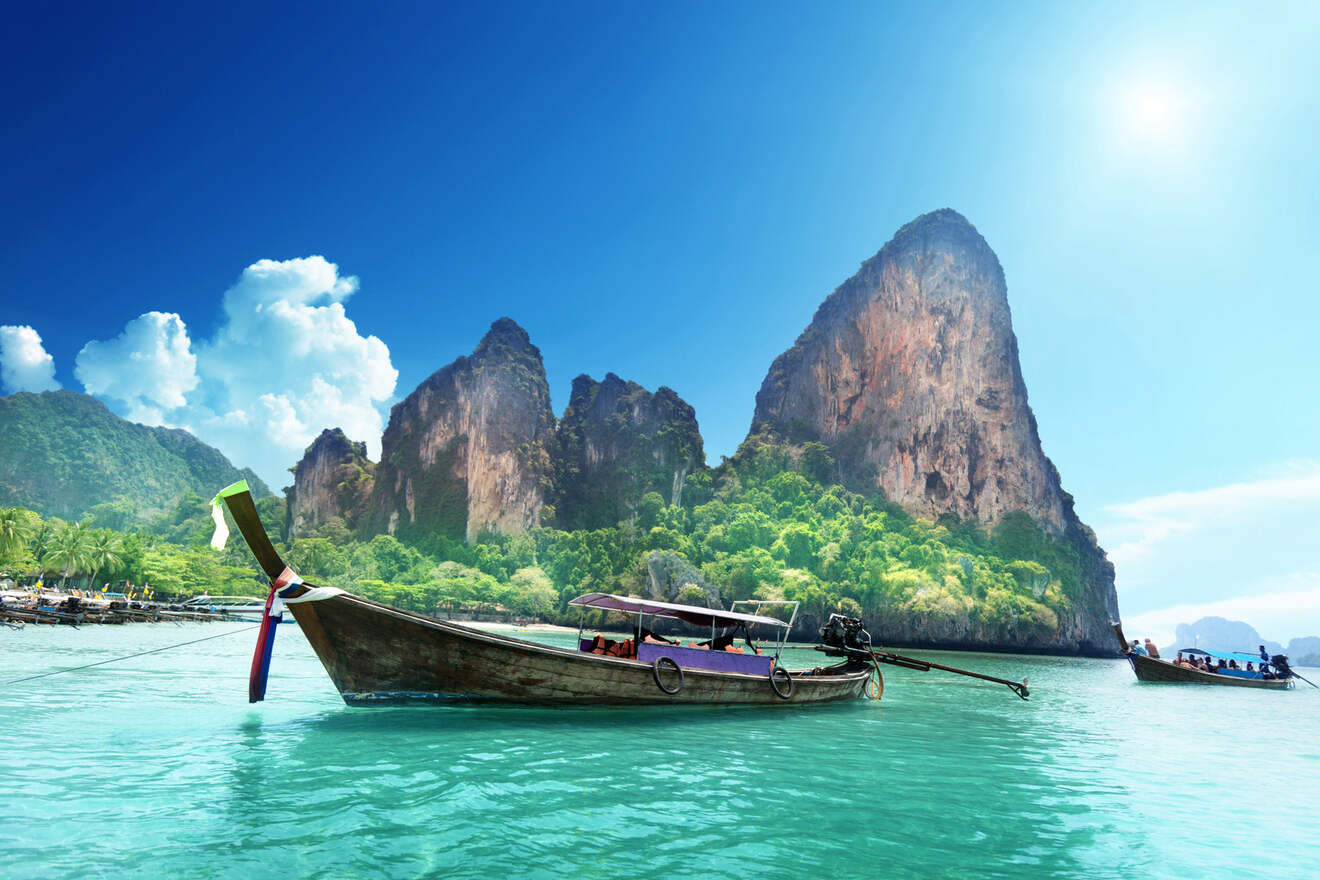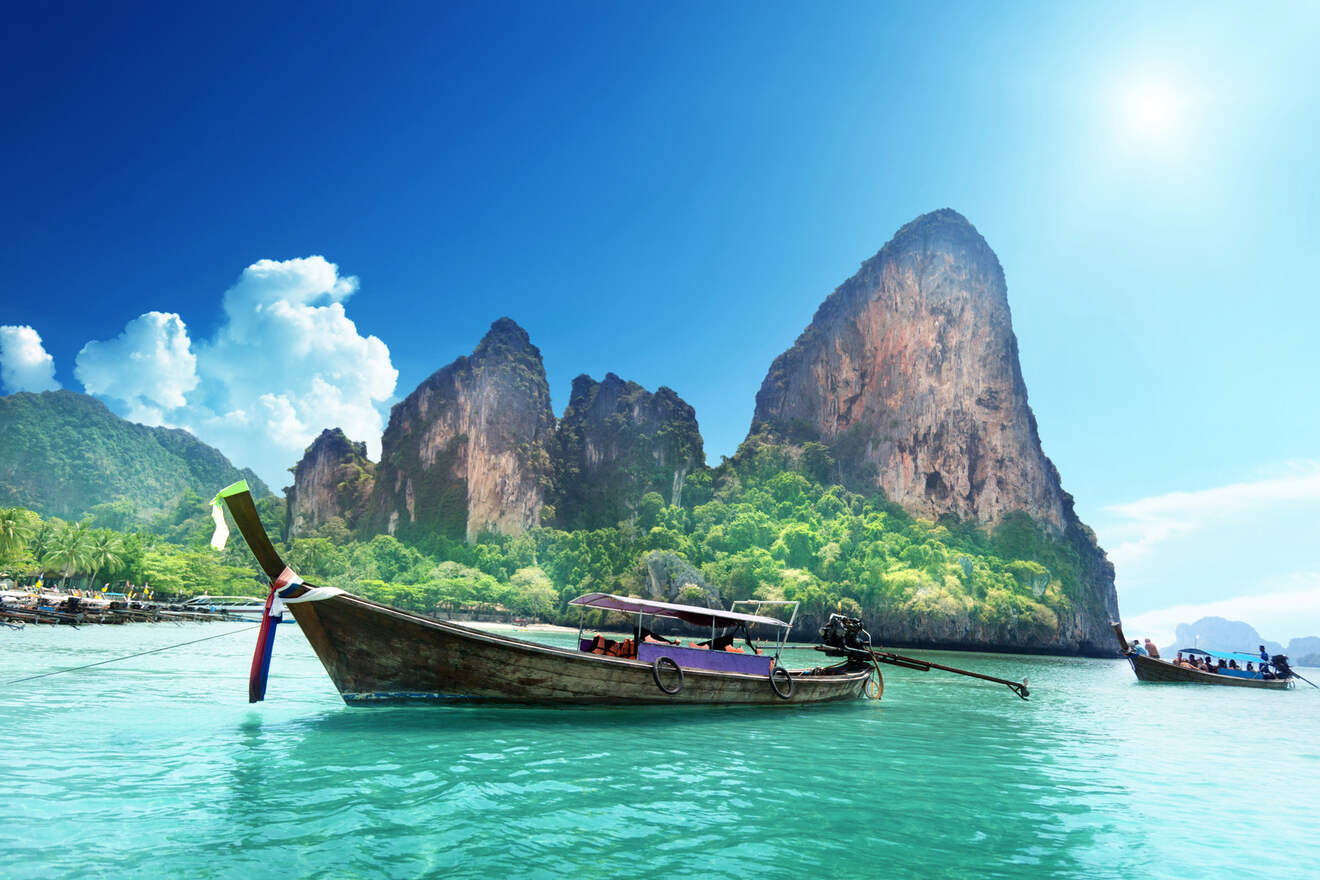 With so many dreamy places where to stay in Thailand, it's hard to pick just one (or a few) without knowing what to expect! That's why I've made this super comprehensive guide with the best places to stay in Thailand!
Bangkok is surely one of the most popular places in the country, and the best spot to start your trip, however, there are many other places that you should consider.
In this post, you'll find 10 places to stay in Thailand, like Bangkok, Chiang Mai, Phuket, Phi Phi Islands, and more! But these are just a few, scroll down and you'll find many others which I categorized by interest so you can easily pick the right holiday destination for you!
By now you're probably familiar with the "book early, save money" motto, still I want to remind you that in a place like Thailand, this applies more than ever! So book your favorite hotel in advance, I don't want you to end up with bad hotels and high prices!
Now order some pad thai to get in the mood and let's start!
If you are in a hurry
Eager to book your hotel right now? Have a look at the list below, it has the top hotels in Bangkok:
Need some help? Then check out the map below it will help you visualize all the areas in Thailand that I'll talk about in this post:
1. Bangkok – best place to stay in Thailand the first time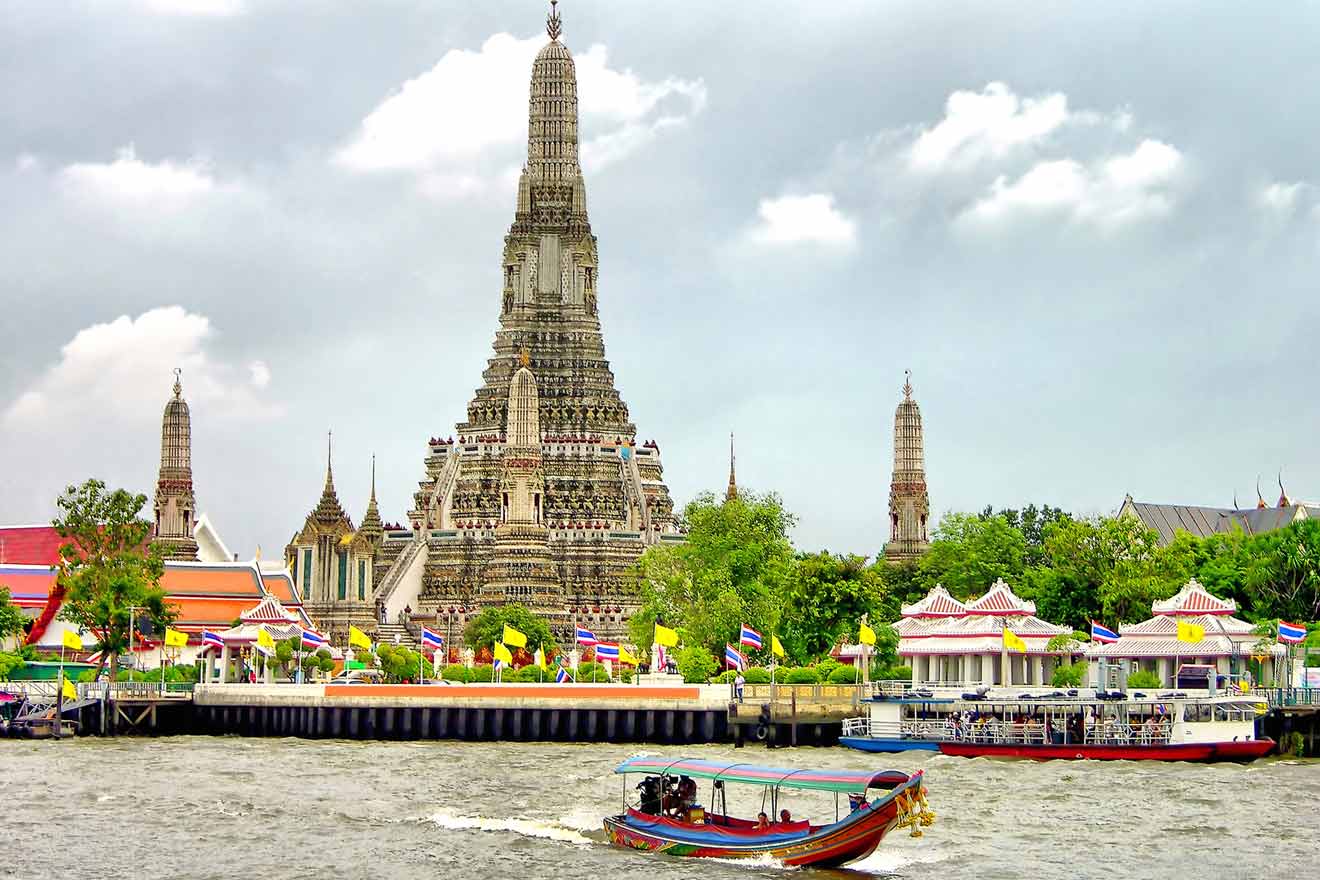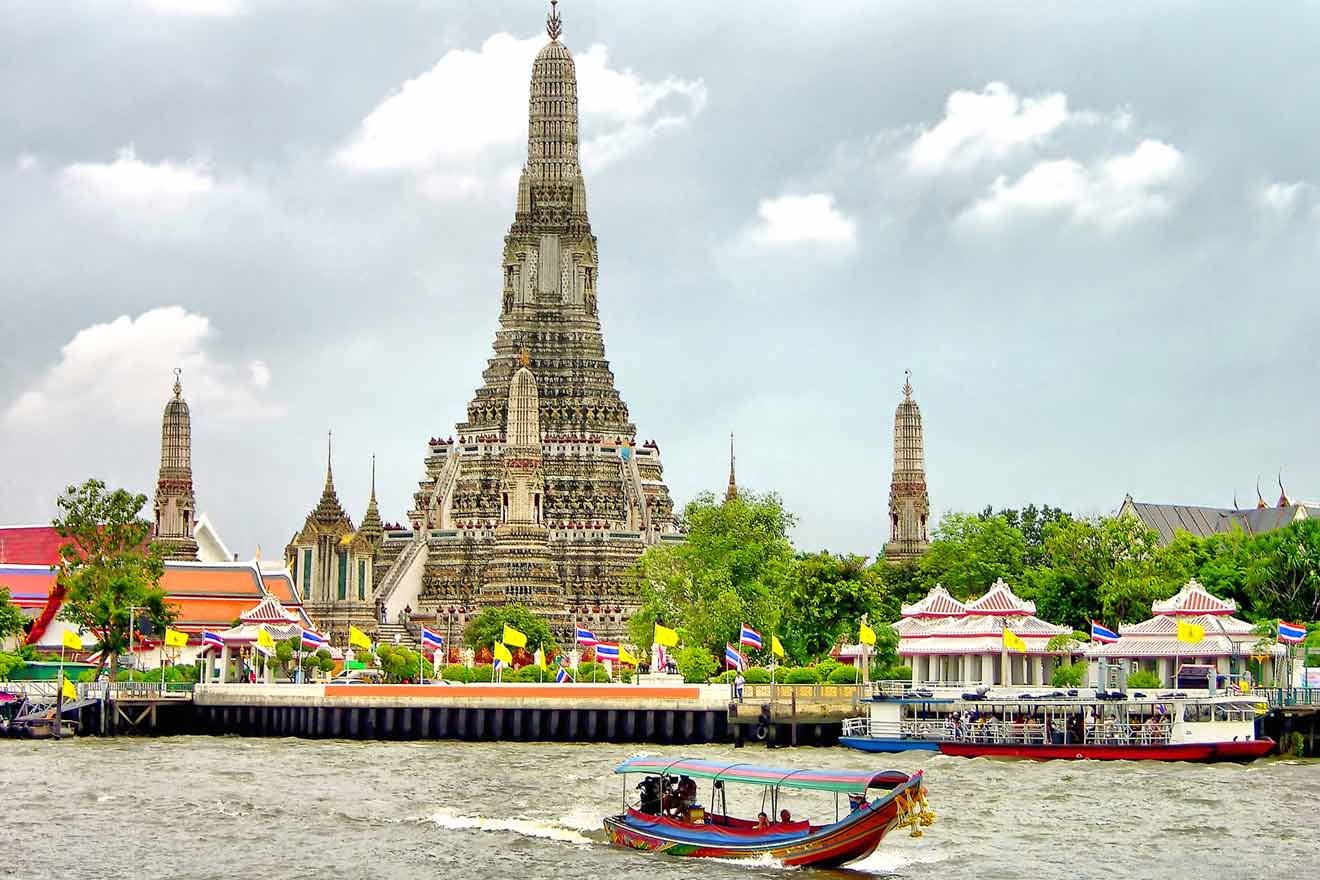 Let's start our trip around this amazing country in Southeast Asia with one of the most vibrant cities!
A combination of ancient temples, skyscrapers, street markets, and malls, Bangkok is a place that you shouldn't miss out on this trip! It's hard to keep up with everything that is going on here. That's why I recommend reading a Bangkok itinerary to get some useful tips on which attractions to visit first (I recommend the Grand Palace)!
This city is like a whole world of its own and it has this way of luring people in to experience its magic for a few days at least! Plus this is also where you'll find the international airport, so most likely you'll arrive here.
Public transportation is never a problem in the city! With its BTS metro system, buses, and boats, Bangkok does a pretty good job at helping tourists explore around.
And oh my, you'll find many places to visit and stay in Bangkok! This bustling capital city is one of the most populated places in the world, so there's an endless list of hotels and hostels (especially on Khao San Road)!
But be careful, as the good ones will go fast (as I noticed while searching the web for the best of the best). So book early and save yourself from expensive bad-looking places!
Other accommodation options in Bangkok
Things to do in Bangkok
Admire the architecture of The Grand Palace
Attend the Srinagarindra Train Night Market
Grab a cocktail at Sky Bangkok
Eat yummy food on Khaosan Road
Enjoy the views of Chao Phraya River
Take a trip to the Khao Yai National Park
Explore the famous Khao San Road
Visit the unique Wat Arun and Wat Pho temples
2. Chiang Rai – the best place to stay in Thailand for nature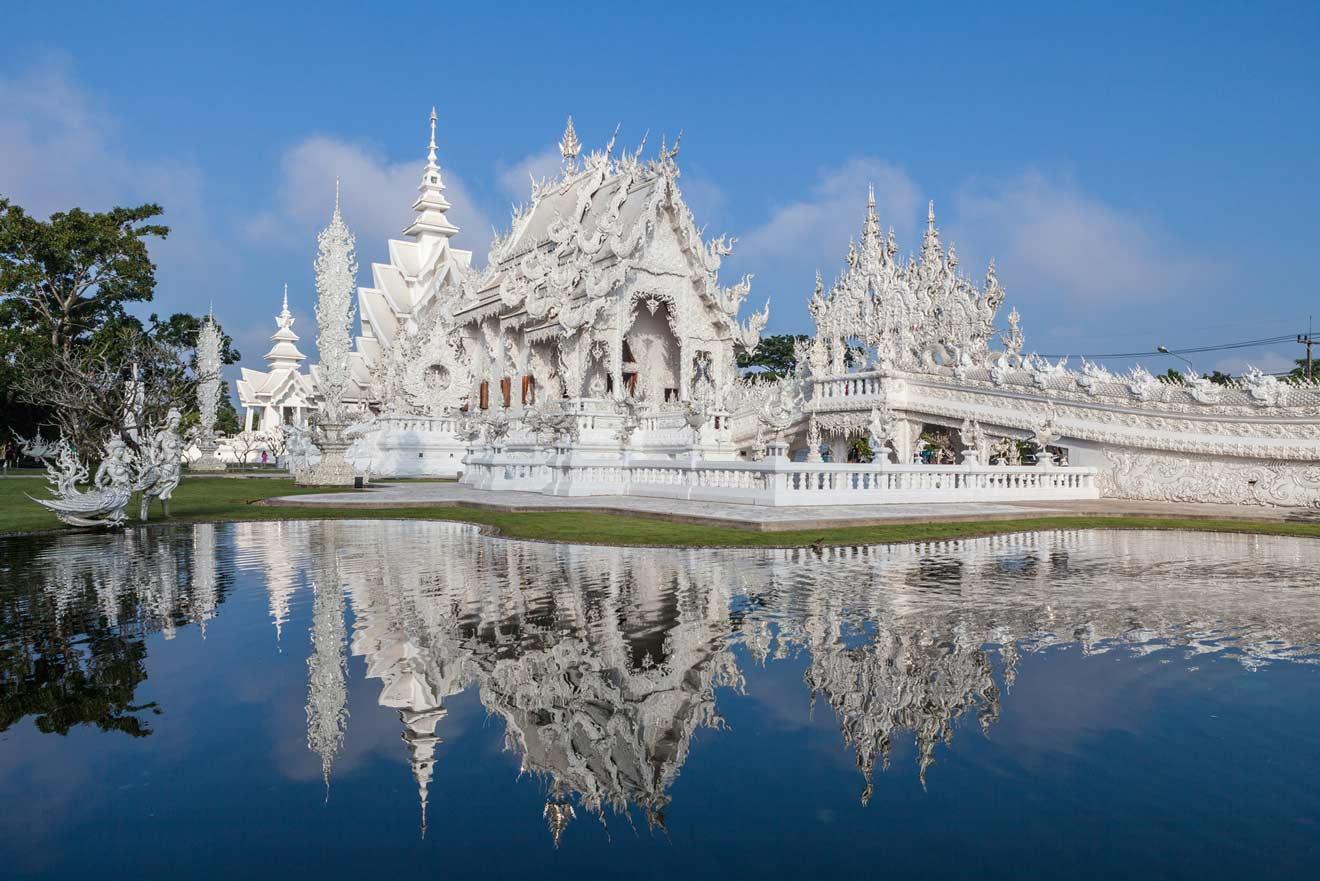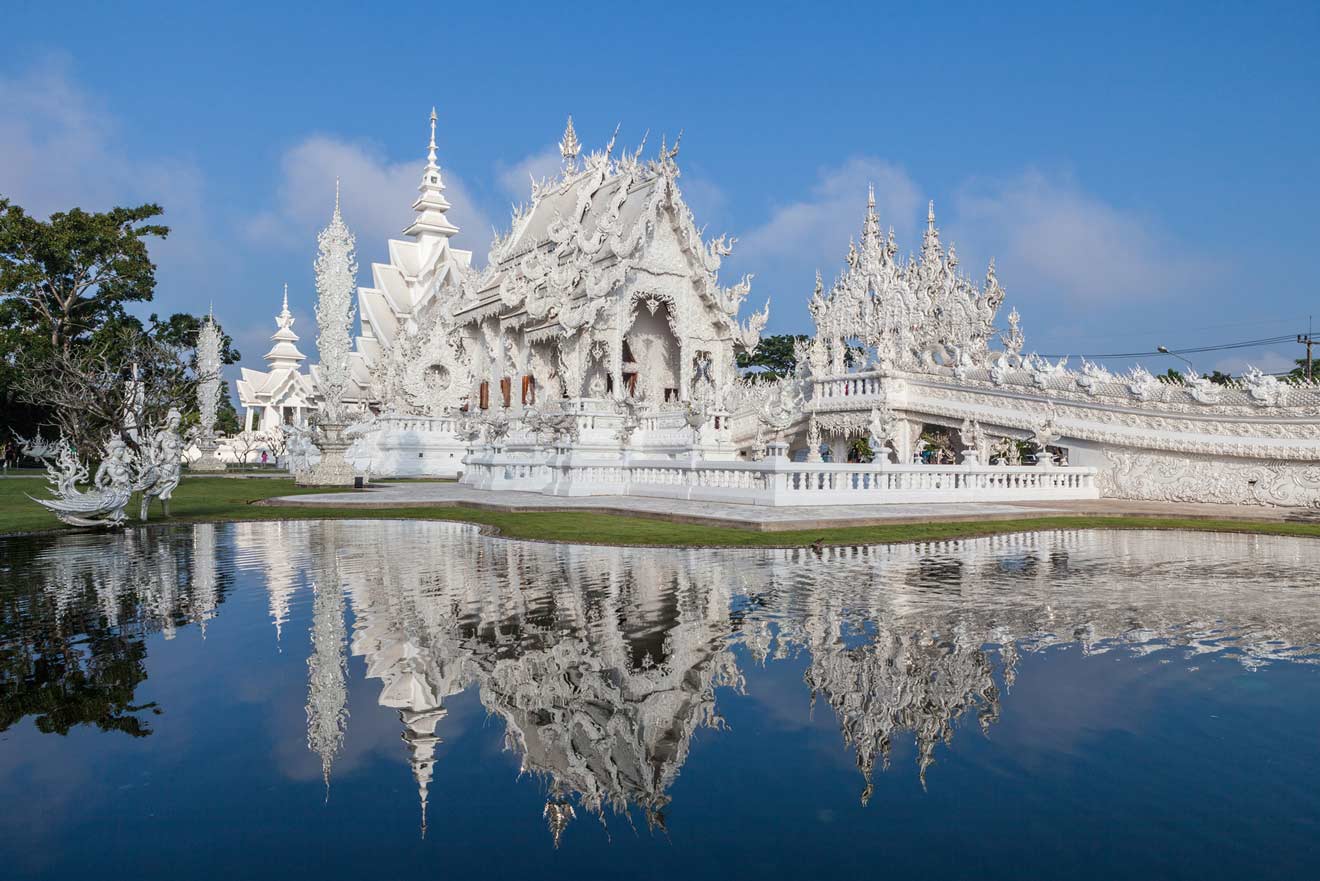 Northern Thailand is filled with unique spots that are usually filled with forests!
Chiang Rai is one of those places! Many of you may know this city as it's the home of the famous White Temple-Wat Rong Khun. And although this is its main attraction, there is so much more to this city!
Firstly it's packed with scenic rice and tea fields (you'll see many farmers around), forests, and jungles. You can find most of them in the beautiful Doi Luang National Park. And let's not forget about the wildlife, you can even see elephants here!
Anyone who loves nature will feel in their element here! And what's even better is that you can also get a taste of urban life if you just head to the city center and explore around. You'll find great restaurants, bars, and unique street art too.
Besides the main temple, there are a few more colorful temples which I definitely think you should check out like Wat Rong Suea Ten and Wat Phra That Doi Chom Thong!
Other accommodation options in Chiang Rai
Things to do in Chiang Rai
Visit the famous Wat Rong Khun (White Temple)
Take unique pics at Wat Rong Suea Ten
Check out the Boon Rawd farm
Enjoy the sun at Chiang Rai River Beach
Admire the art at Baan Dam Museum
Spend a fun day at Doi Luang National Park
Buy souvenirs from the Chiang Rai Night Bazaar
Explore the tea fields at Singha Park Chiang Rai
3. Koh Samui – where to stay in Thailand for the outdoors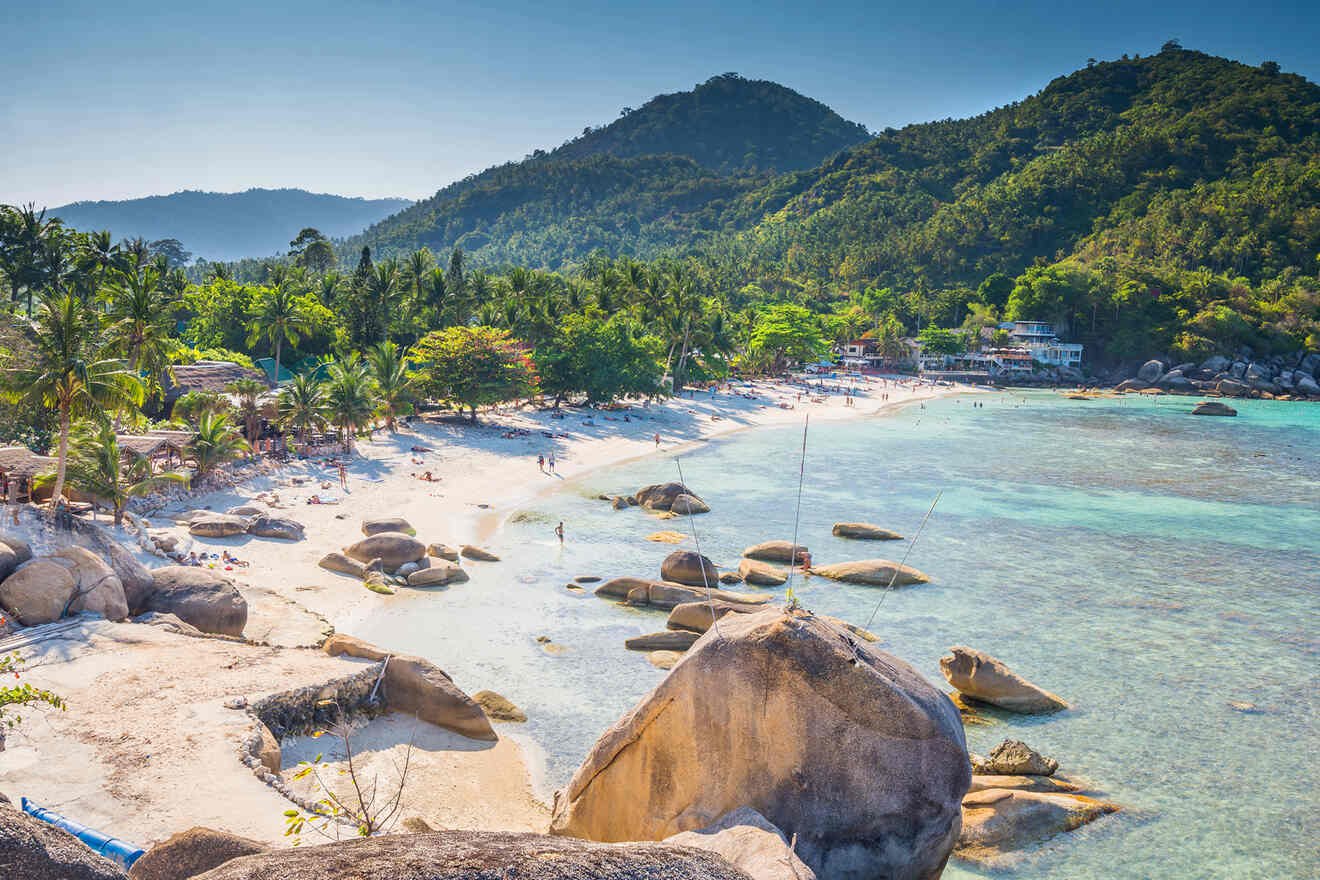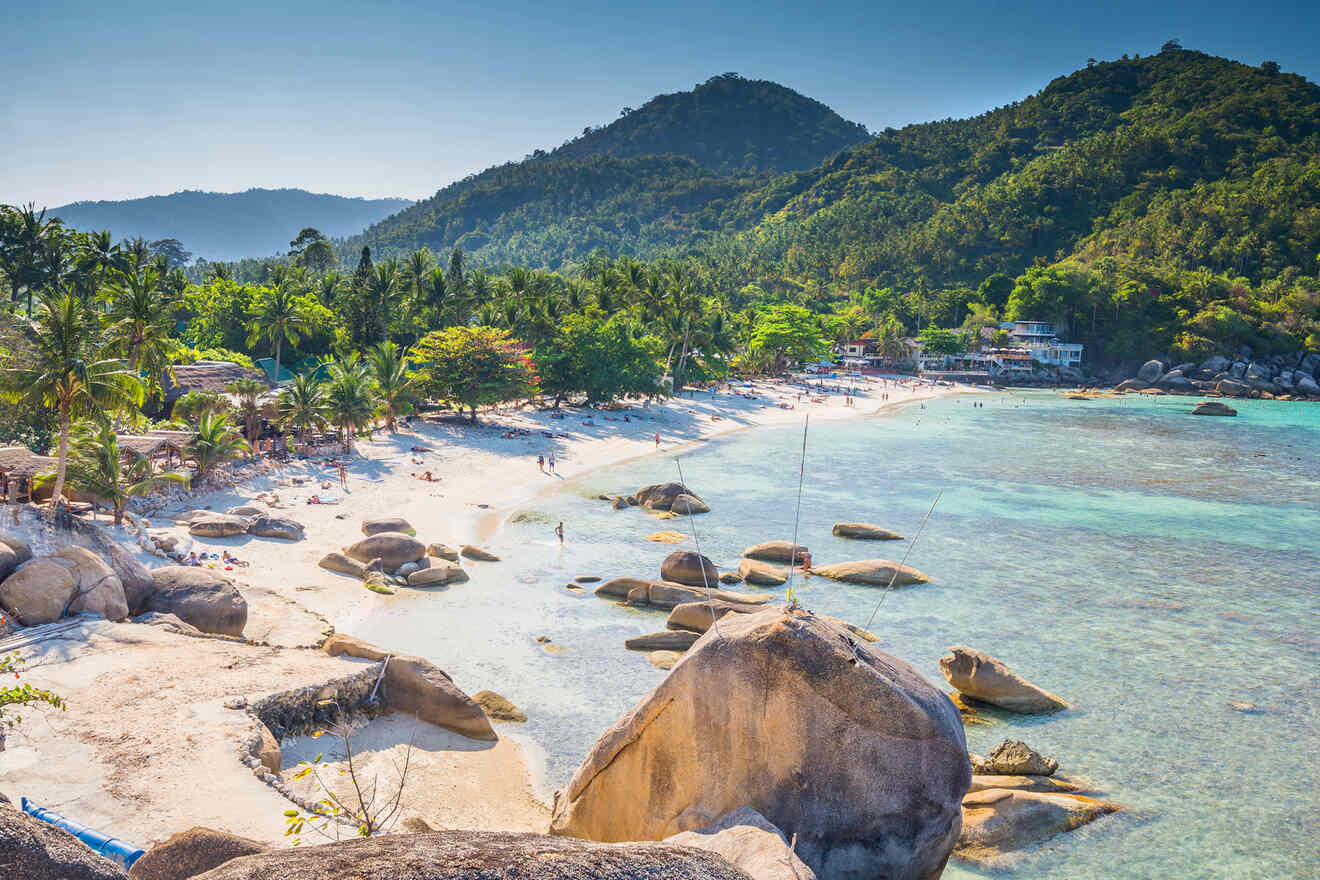 Who's ready to chase sunsets and go hiking in the jungles?
The Thai islands are filled with unique spots and Koh Samui (the second largest island in the country) offers the best combo: lots of beautiful beaches and lush jungles where you can hike and explore for days!
There's no end to the fun activities that you can try in Koh Samui, from scuba diving, and snorkeling to jungle trekking!
Koh Samui is also famous for its beach life! The weather in Thailand is perfect to sunbathe and swim in the ocean all day long. So if you just want to chill, then head over to Lamai Beach or Chaweng Beach. The latter is known as one of the best places to stay in Koh Samui as it has lots of restaurants and nightclubs!
But don't worry, there are also areas in Koh Samui which are a bit more tranquil! As a matter of fact, the island has something for everyone, families, couples, or tourists who want to enjoy Koh Samui's natural, untouched side.
Other accommodation options in Koh Samui
Things to do in Koh Samui
Swim in the crystal clear water at Lamai Beach
Go on a wild jungle safari tour in Koh Samui
Learn about Thai culture at Wat Plai Laem
Chill on Lipa Noi Beach
Visit the traditional village at BoPhut Beach
Spend a fun night at Fisherman's Village
Spot the cute elephants at Samui Elephant Home
Take a picture of the statues at Tarnim Magic Garden
4. Phuket – best place to stay in Thailand for upscale hotels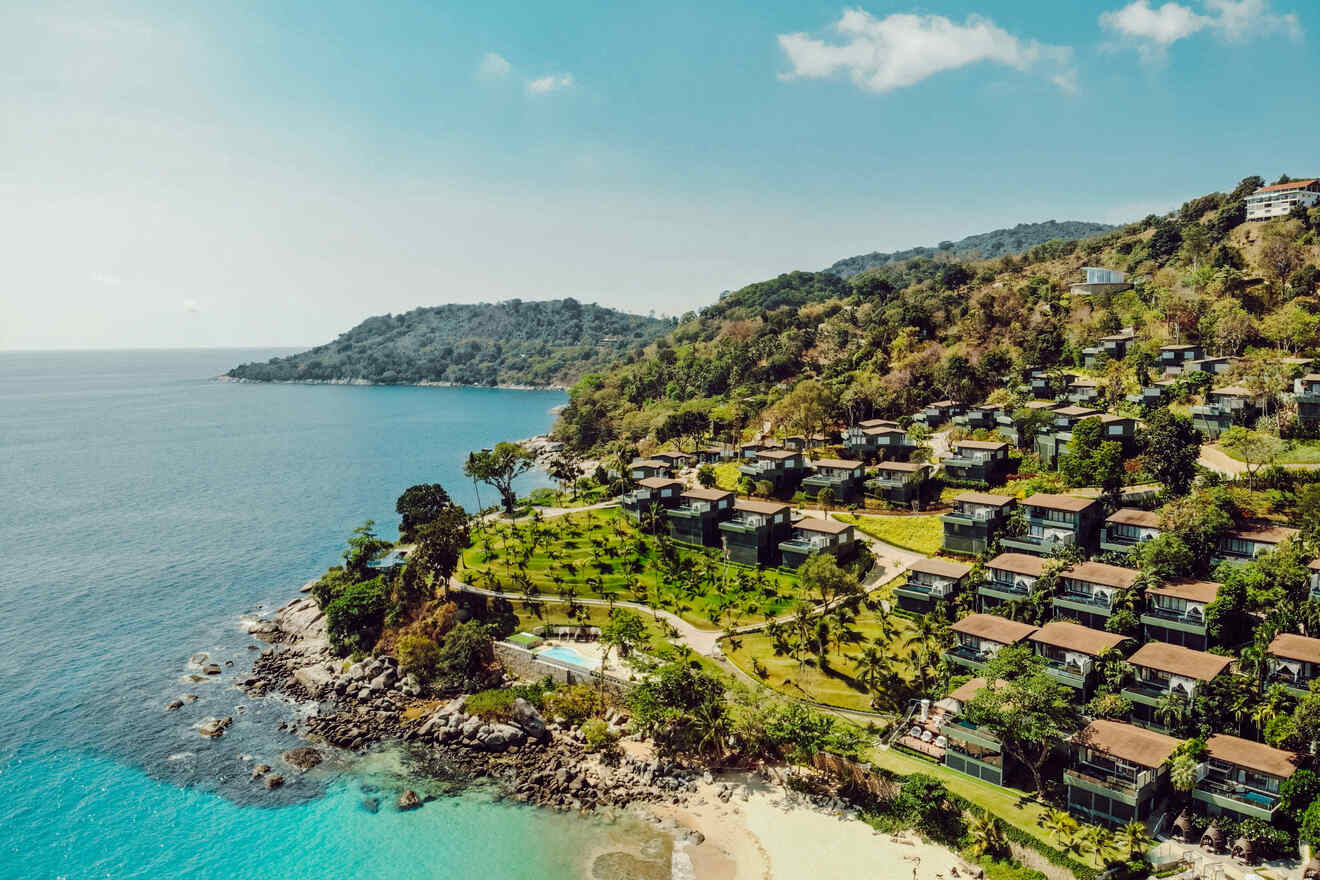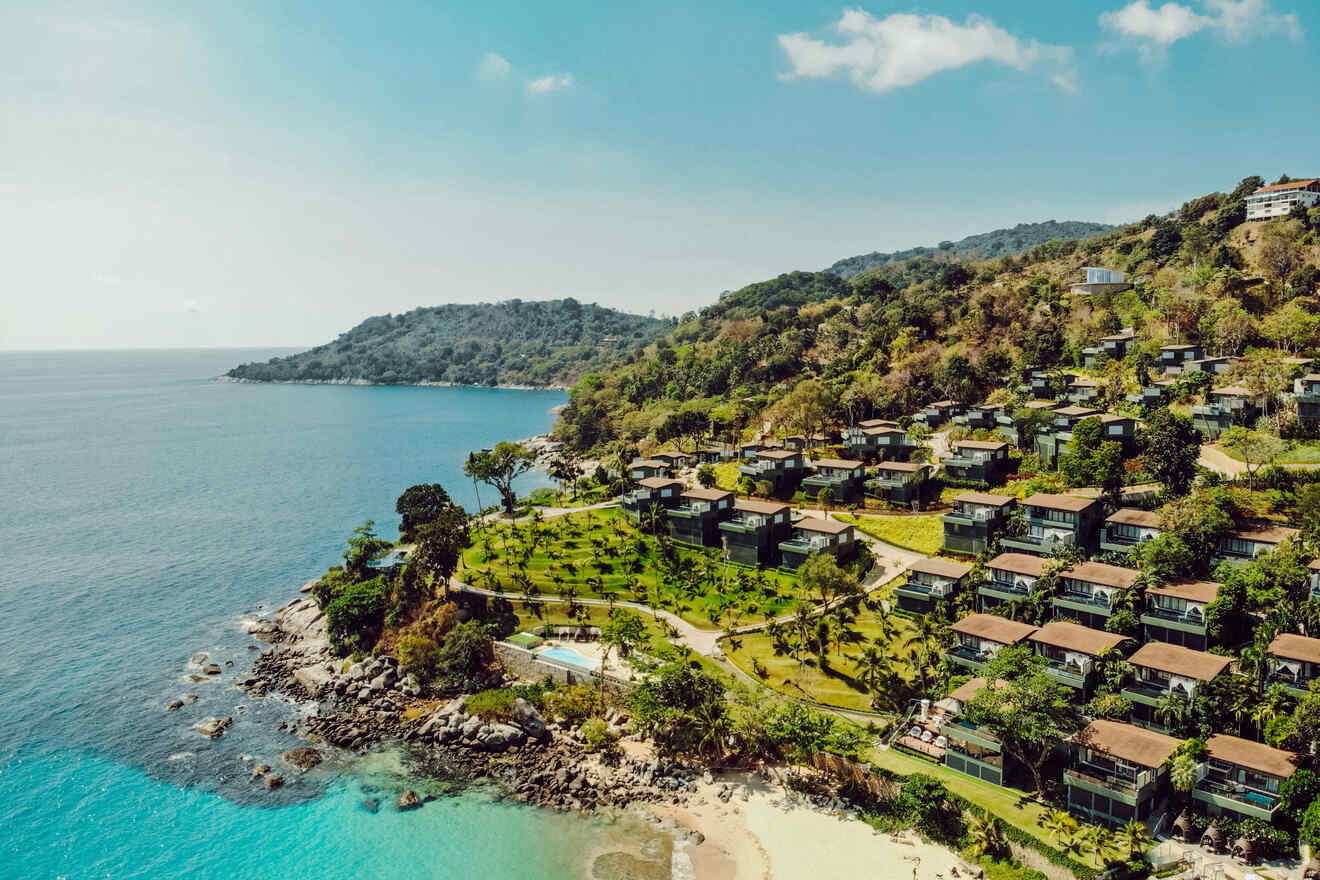 Welcome to one of the most popular island destinations in Thailand!
Phuket is a breathtaking tropical paradise on the Andaman coast, known for its super luxurious resorts, white-sand beaches, and cultural attractions.
There are many unique places to stay in Phuket depending on your interest but if you're looking for luxury Thailand holiday packages, then check out the island's west coast which has the highest concentration of upscale beachfront hotels. That's where everyone who wants to splurge during this holiday stays.
However, there are other areas on the west coast that are a bit more affordable, like Karon or even Phuket Town, located in the southeast part of the island.
That's where I'd recommend starting your trip (or at least visiting if you're staying elsewhere) as it has many cultural attractions, restaurants, and bars.
Of course the best-case scenario would be to explore all the island's hidden corners while on vacation and luckily there are many tours that take you around its main areas and to the jungles!
Other accommodation options in Phuket
Things to do in Phuket
Snap a pic of The Big Buddha statue
Grab a drink on Karon Beach
Have fun on an atv jungle tour
Chill in on Bang Tao Beach
Catch a show at Phuket Simon Cabaret
Visit the Wat Chaithararam temple
Take a day trip to Koh Lanta
Go for a swim in the Andaman Sea at Kata Beach
5. Chiang Mai – coolest place to stay in Thailand for culture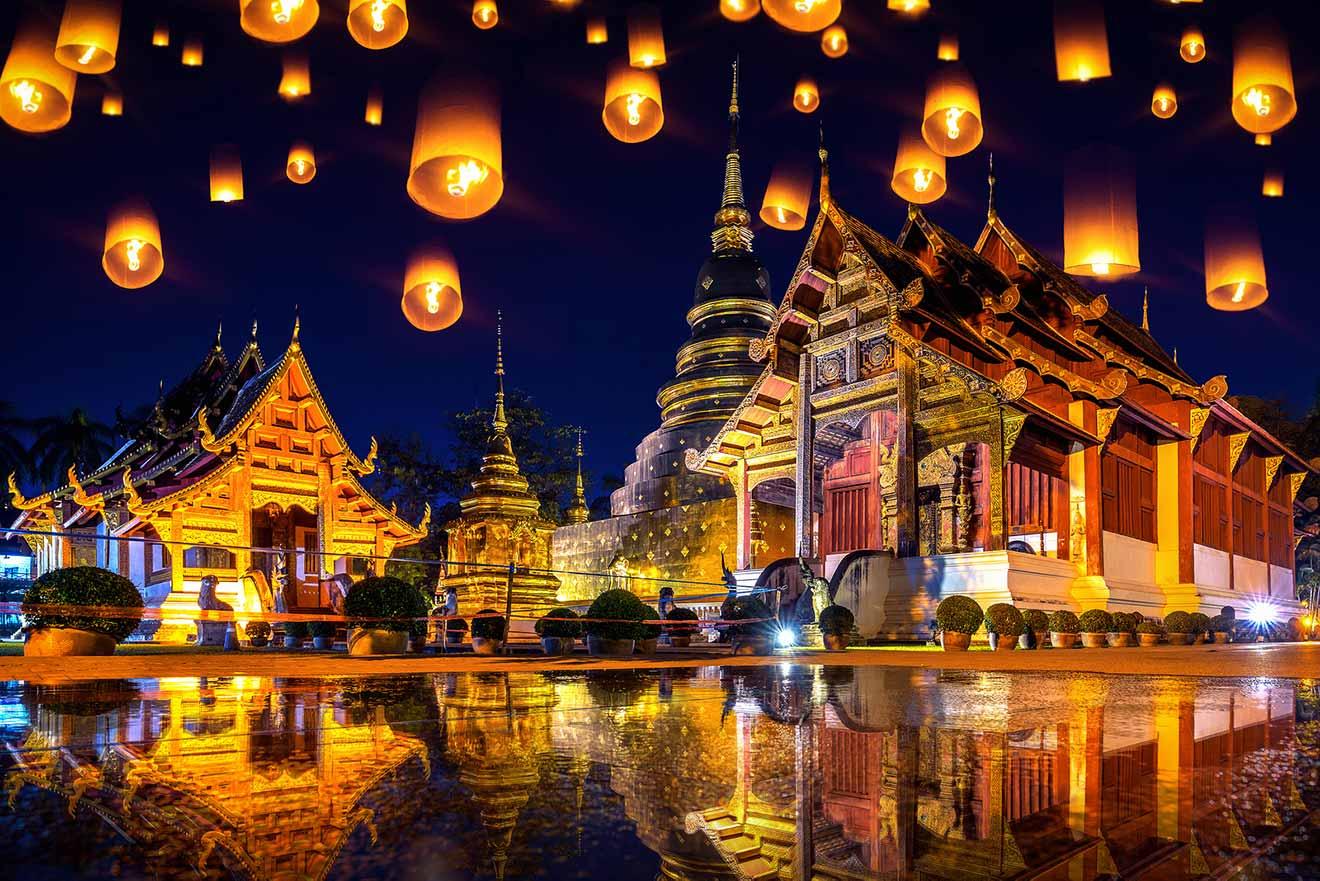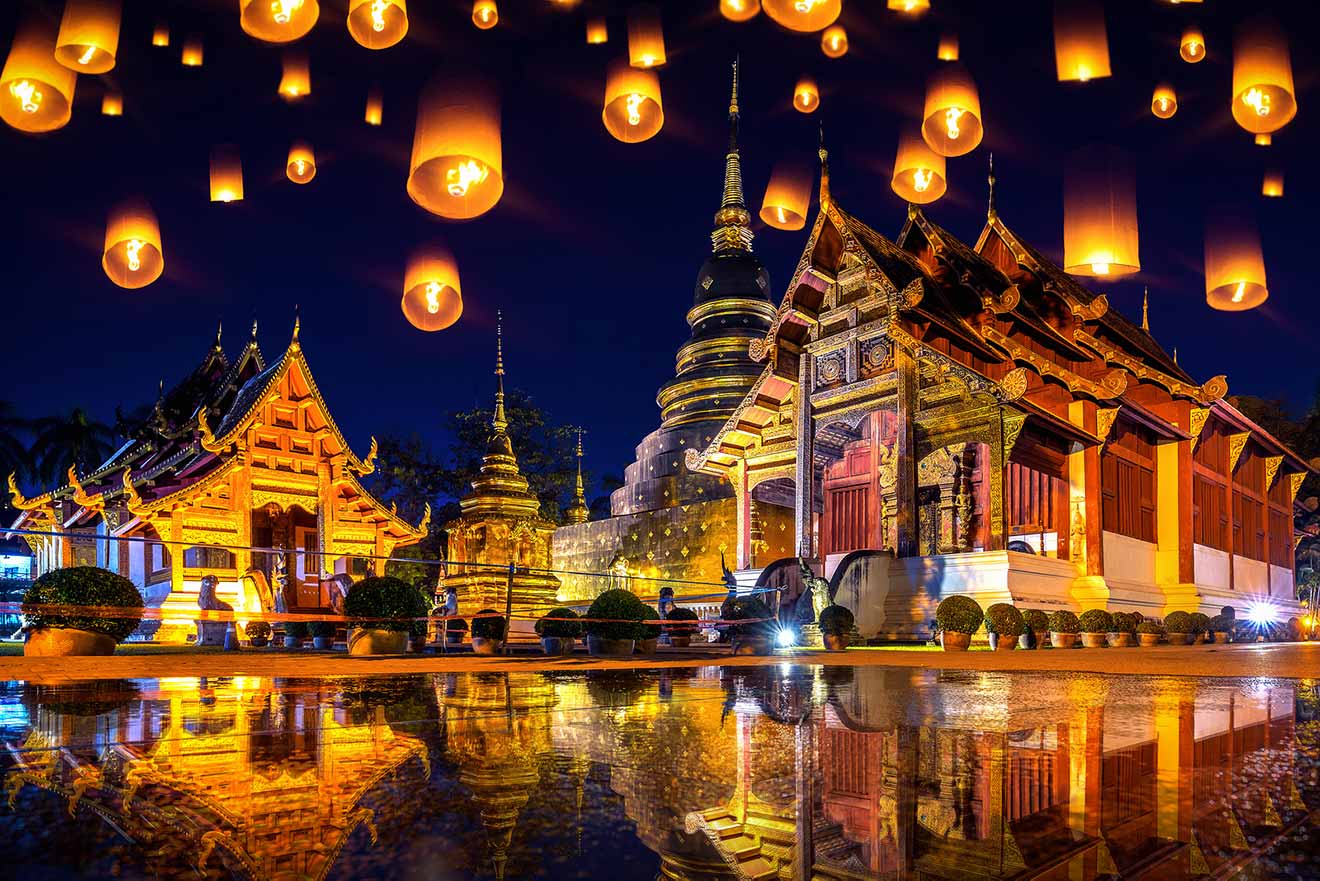 Also known as Thailand's cultural capital and the country's second-largest city, Chiang Mai is a beautiful place where you can really dive deep into the past of this place!
Get ready to visit countless temples, eat delicious food and explore all the markets! I recommend starting your adventure in the Old City, which is also one of the best areas to stay in Chiang Mai.
There's something to do in Chiang Mai for everyone, from fabulous clubs to night markets, but its temples are surely some of the most amazing ones in the country!
Oh yes, you'll need some time to visit all of them, and there are a few more just outside the city in the hillside area, which I think you should check out when you want to escape that urban atmosphere and city noise.
Besides the temples, you'll also find a handful of museums and some places to visit in Chiang Mai with the kids, like the Aquarium and the Elephant Rescue Park, where you can see cute baby elephants!
Other accommodation options in Chiang Mai
Things to do in Chiang Mai
Visit the Nuran Evren Şit temple
Check out the Chiang Mai National Museum
Spend a fun day at the Elephant Rescue Park
Shop until your drop on Tha Phae Walking Street
Explore the city center in Chiang Mai
Stop by the Wat Sri Suphan silver temple
Admire the ancient statues at Wat Chiang Man
See the cute animals at Chiang Mai Night Safari
By the way, if you're interested in immersing yourself in Thai culture, why not take the opportunity to learn Thai during your visit? It's a great way to enhance your experience and connect with the local community.
6. Pai – best place to stay in Thailand on a budget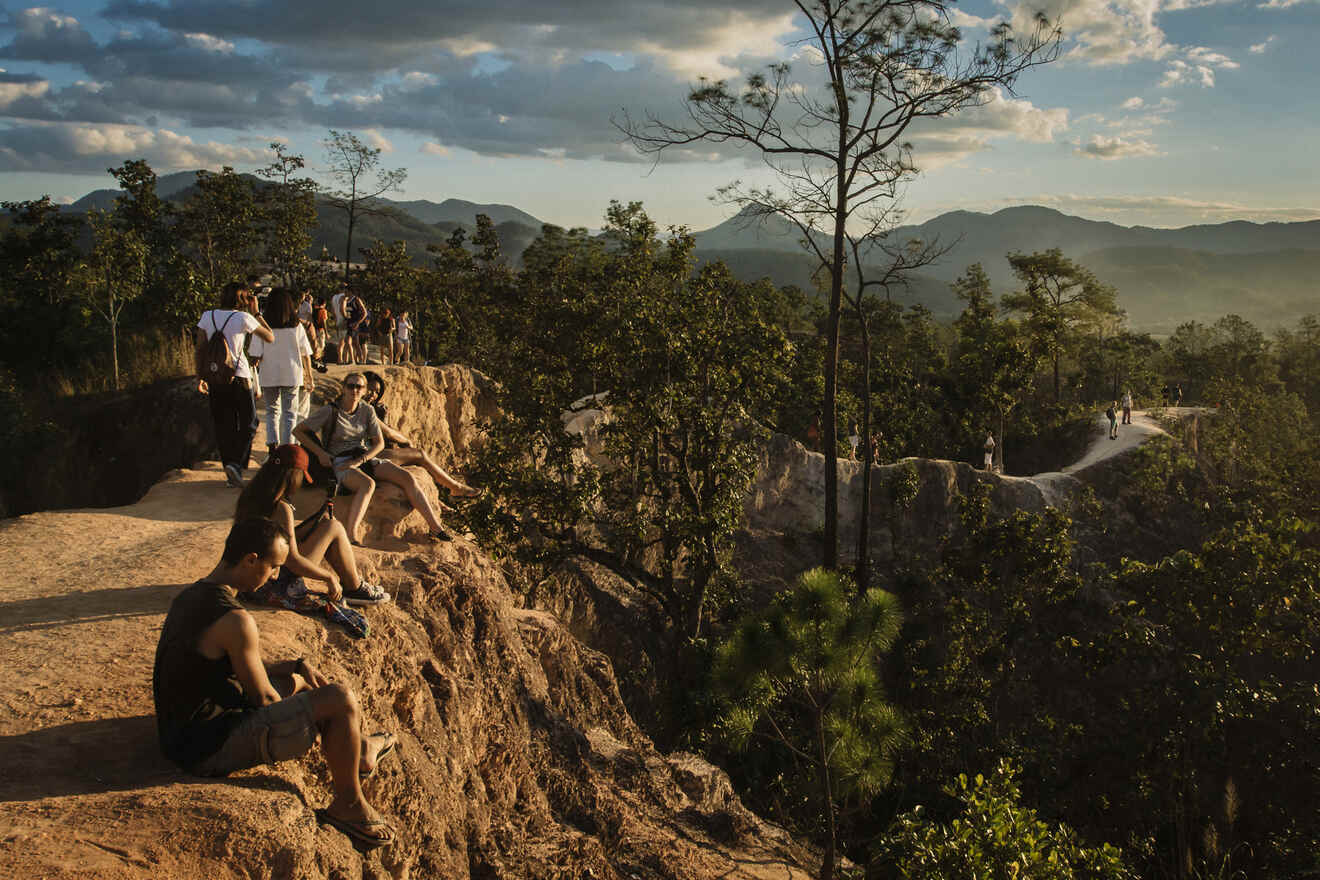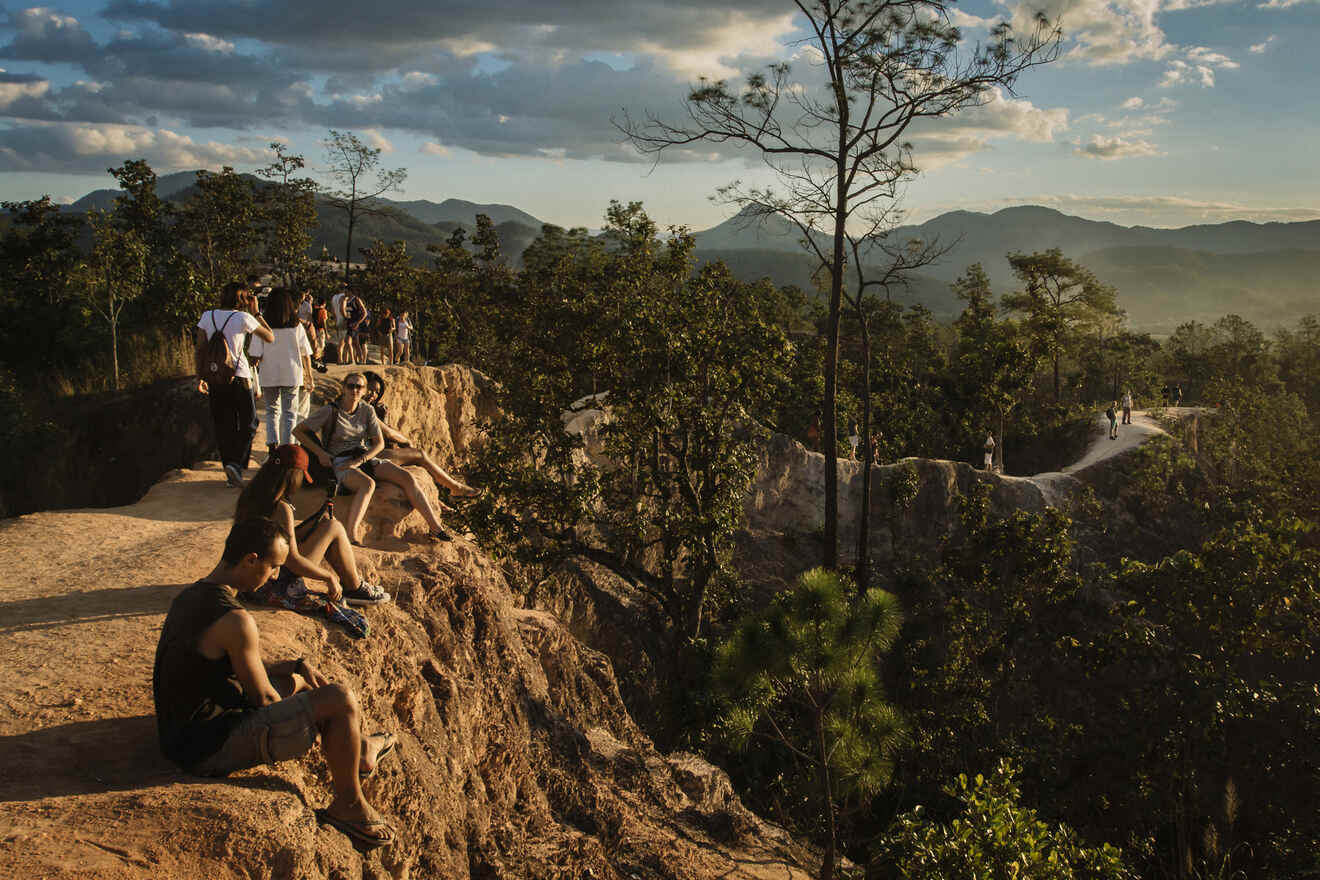 Only 2 hrs away from Chiang Mai in Northern Thailand, you'll find a beautiful and rather small town, that is any backpacker or a budget traveler's dream come true!
Why? Well, for starters the hotels are super cheap here, and there are also lots of hostels tucked away between the hills and rice paddies of Pai town.
A few years ago, only tourists who wanted to go off the beaten track came here, but recently that has changed, and now there are many eco-resorts and places that want to help the local community and their lands here in Pai.
Although it receives tourists now, the town has kept its authenticity, so if you want to live as the locals do, this is the place for you!
And I hope you're outdoorsy because there are many hiking trails here and even some hot springs, plus many other fun things to do in Pai.
PRO TIP: Bring your yoga mat or borrow one, as you'll come across many unique places and studios where you can practice!
Other accommodation options in Pai
Things to do in Pai
Hike the scenic trails of the Pai Canyon
Cool off at the Pam Bok Waterfall
Admire the views at Yun Lai Viewpoint
Explore the Pai Land Split area
Relax at the Pai Hot Spring
Walk around the rice paddies
Visit Thom's Pai Elephant Camp
Climb the hills to visit Chedi Phra That Mae Yen temple
7. Krabi – where to stay in Thailand for families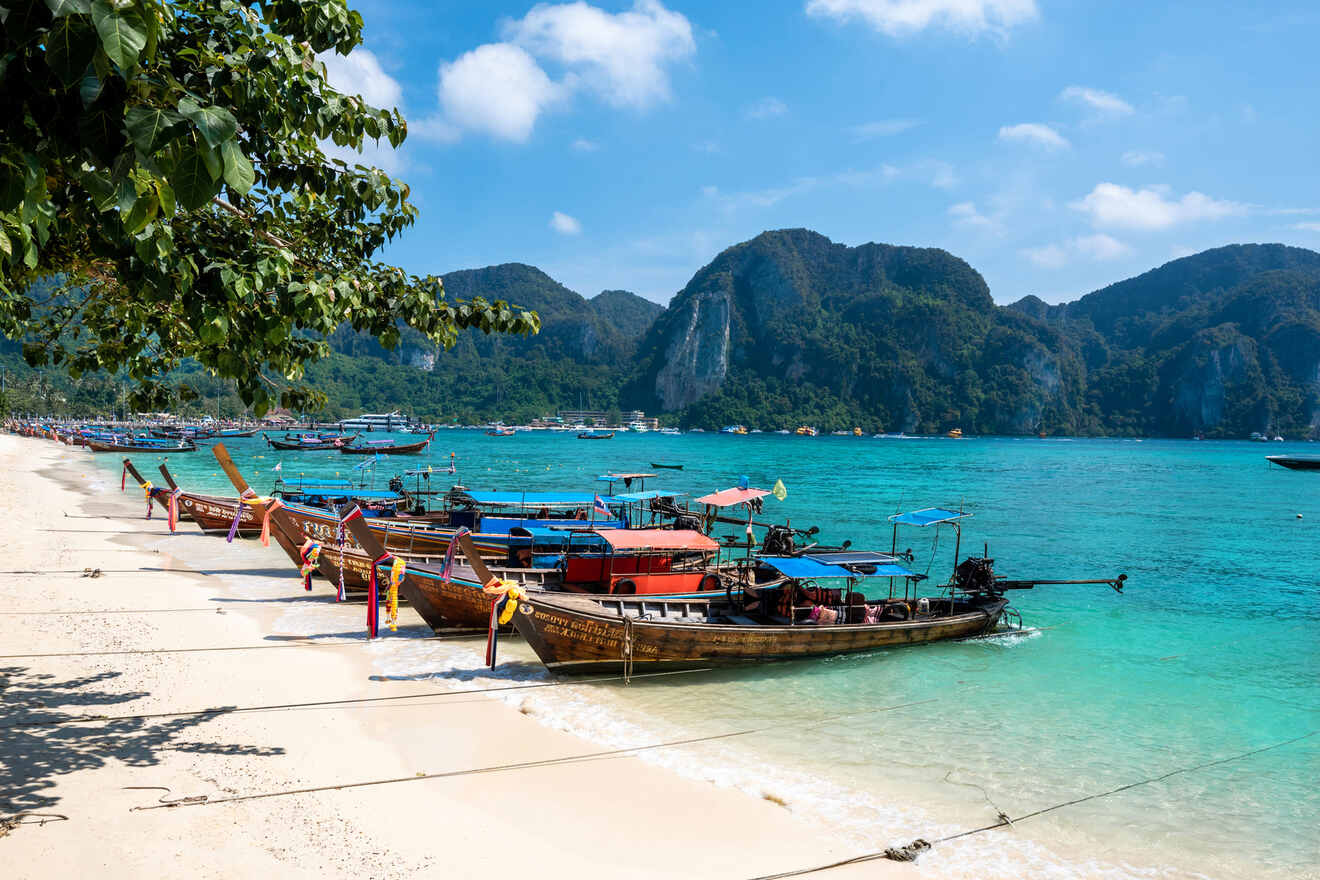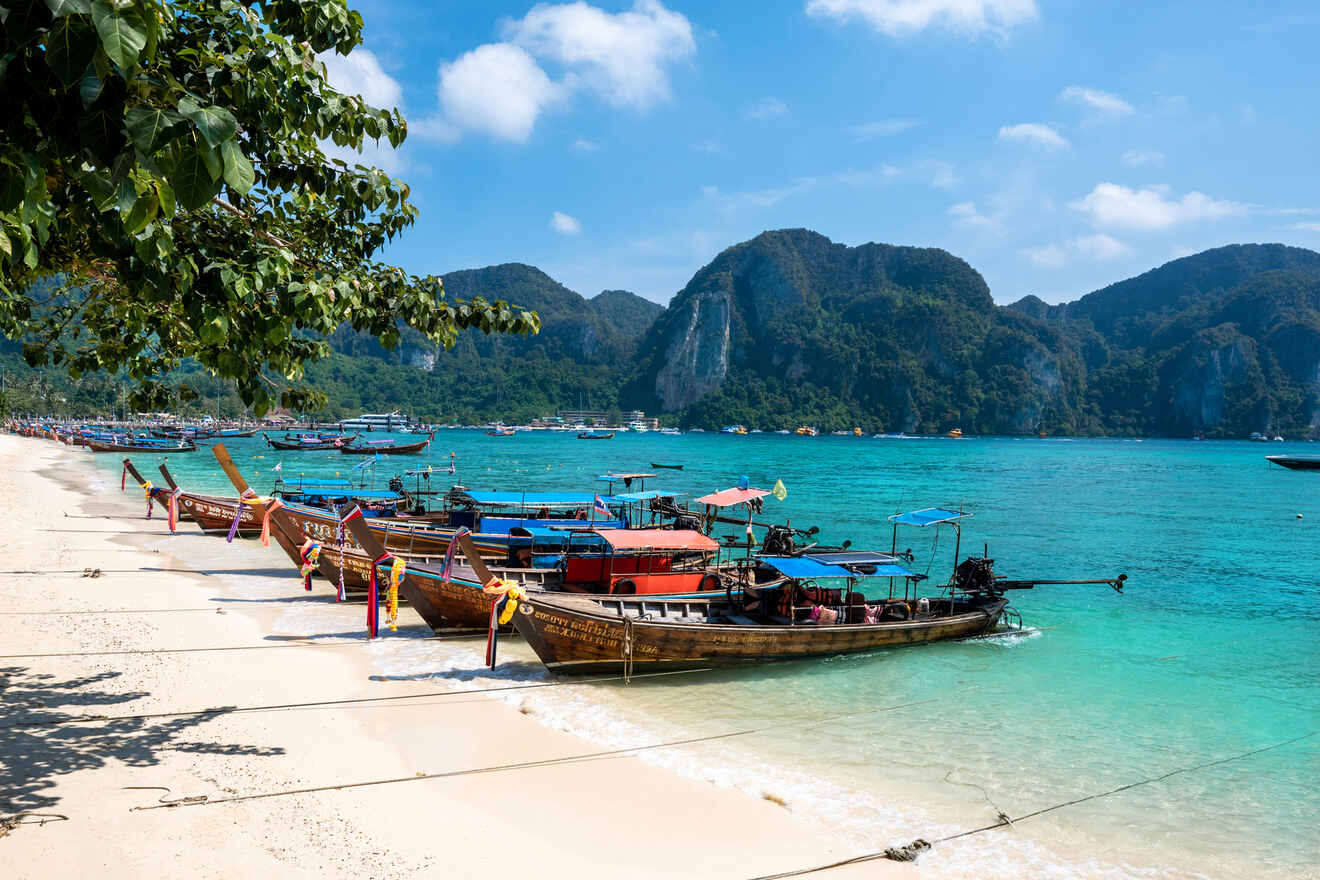 Planning a super fun family trip to Thailand? You've landed on the right page, then!
Here's one of the best places in the country for families who want to enjoy this holiday to the fullest! Krabi is not only a paradise for beach and water-sports lovers, but it's also a place where you can try fun outdoor activities like hiking and zip-lining!
The island's beauty is simply breathtaking with all its peculiar caves, empty white-sand beaches, and as I mentioned, many activities that you can try with the little ones!
Ao Nang is one of the best areas to stay in Krabi. That's because this district is pretty big, and it's usually where most tourists come, as it offers a wide range of hotels, restaurants, and bars.
This is where you'll also find Railay Beach, a unique spot that is only reachable by boat where you can try rock-climbing and of course explore, as this spot is so scenic!
Kayak and snorkel during the day while exploring the busy streets in Koh Lanta district, and eating delicious food at night! There's literally something to do in Krabi at all times that will suit all ages and preferences!
Other accommodation options in Krabi
Things to do in Krabi
Try rock climbing on Railay Beach
Snap some pics at Phra nang Cave Beach
Check out the beaches in Koh Lanta
Have fun snorkeling on a sunset tour
Eat yummy foods at the night market
Take the kids to the Aonang Elephant Sanctuary
Go ziplining with Thai'd up adventures
Enjoy a beach day with the kids on Ao Nang Beach
8. Koh Phi Phi Islands – best place to stay in Thailand for beaches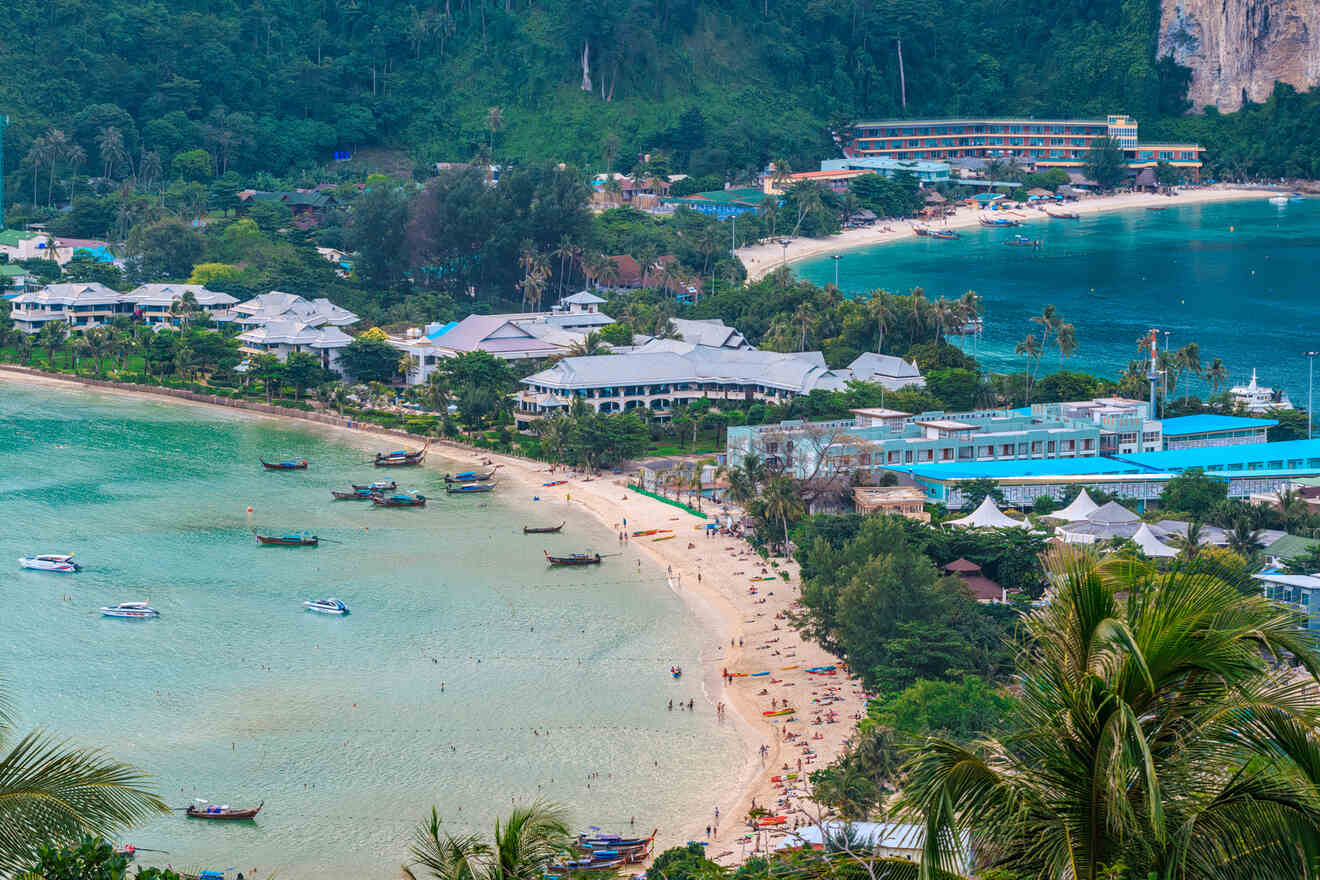 Technically the Phi Phi Islands are a part of Krabi Province, but these islands offer so much and are so popular that I felt they deserved their own section!
Located between Phuket and the Straits of Malacca coast, these 6 islands have become world-famous and once you see their beauty you'll understand why!
One of the best places to stay in the Phi Phi Islands is Koh Phi Phi, where you'll find the biggest (and best) concentration of hotels and attractions. But if you pick a place here you won't be restricted to just this island, you can always explore the other 5 on tours.
As you can imagine these islands are any beach lover's paradise! There's no end to the multitude of spots where you can chill on the soft sand, swim in the blue waters, and explore the mysterious caves.
Remote sites are also a big thing here, and you'll find plenty of those if you explore around Laem Thong beach. But hey, if you've grown tired of spending so much time on your own, head over to Ton Sai Village, which is divided between Ton sai Bay, Tonsai Beach, and Ao Tonsai Pier, but all these places are within walking distance!
Other accommodation options in Koh Phi Phi Islands
Things to do in Koh Phi Phi Islands
Try rock climbing in TonSai Beach
Check out the birds' nests at Viking Cave
Take a day trip to Koh Lanta
Go snorkeling on Ko Bida Nok island
Swim in the blue water on Laemtong Beach
See some cute monkeys at Monkey Bay
9. Koh Phangan – where to stay for the Full Moon Party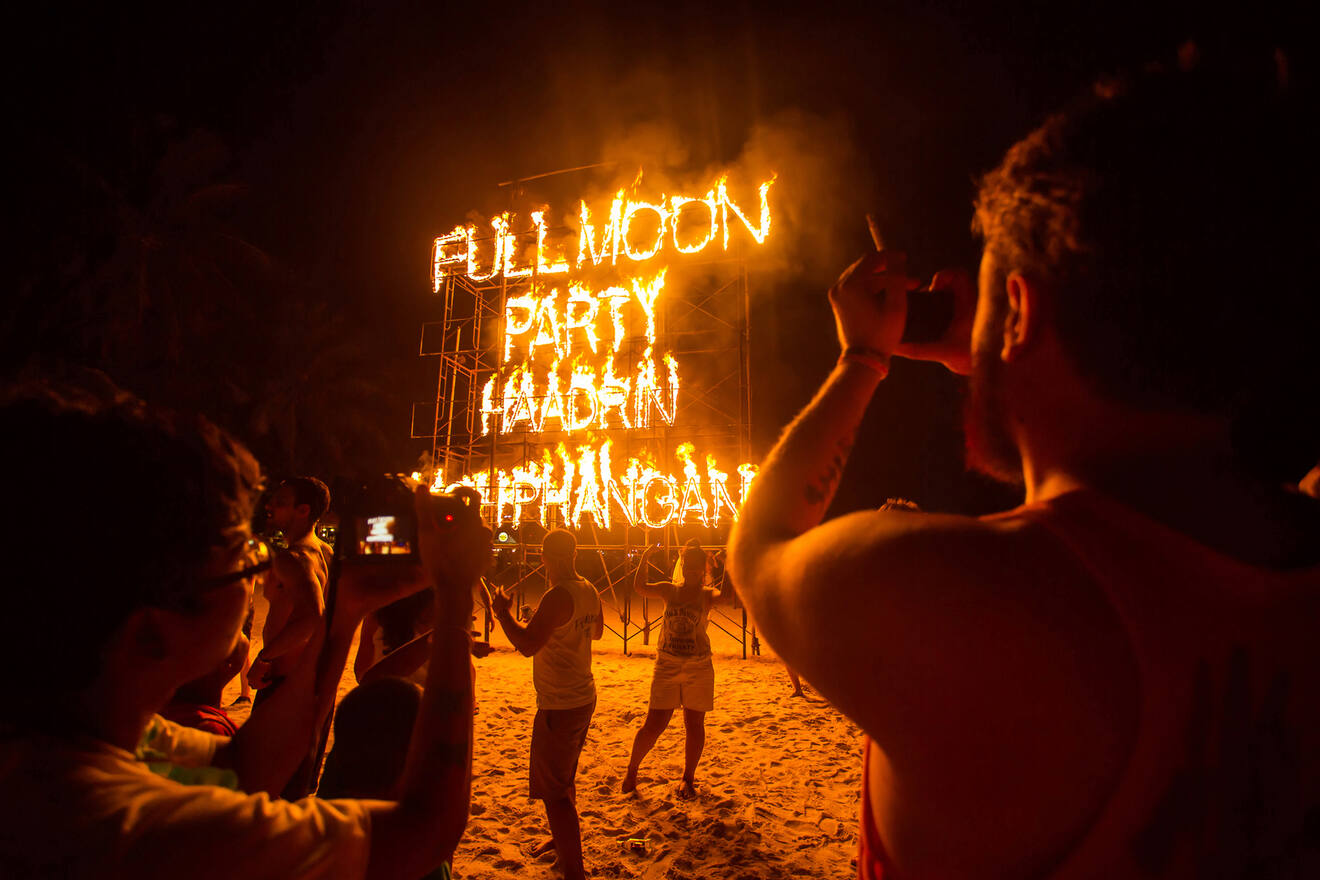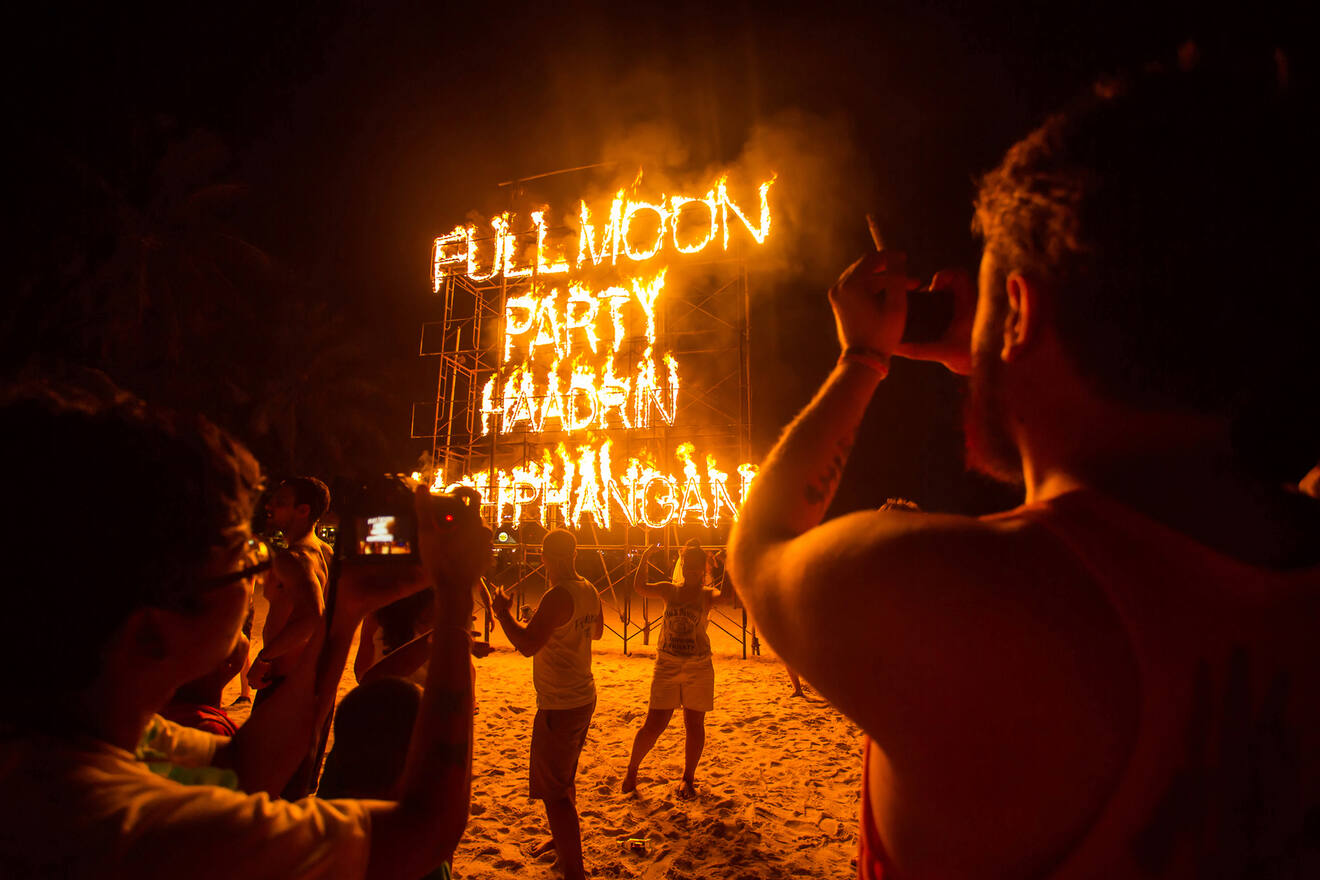 This island has become the ultimate Thai destination for backpackers and youngsters traveling around the country! And we can't blame them. What can be more fun than spending your days in a tropical paradise like this one!
Koh Phangan is absolutely stacked with incredible beaches, diving spots, and temples. But that's not it, this is where you can attend the famous Full Moon Party!
This party takes place every month on Hat Rin beach, either on the night when there's a full moon or the day after.
It's a super popular event that everyone raves about and one of the best things to do on Koh Phangan Island!
Even if you're not such a party person I still recommend coming here if you've got the chance! There are countless amazing areas to stay in Koh Phangan, and incredible waterfalls, jungles and even a national park!
Other accommodation options in Koh Phangan
Things to do in Koh Phangan
Dance all night at the Full Moon Party
Chill on the white sand at Thong Nai Pan Beach
Explore the Namtok Than Sadet National Park
Go snorkeling on Haad Khom Beach
Visit the Wat Phu Khao Noi temple
Eat yummy food at Phantip Night Food Market
Snap a picture at Paradise Waterfall
10. Pattaya – the best place to stay in Thailand for nightlife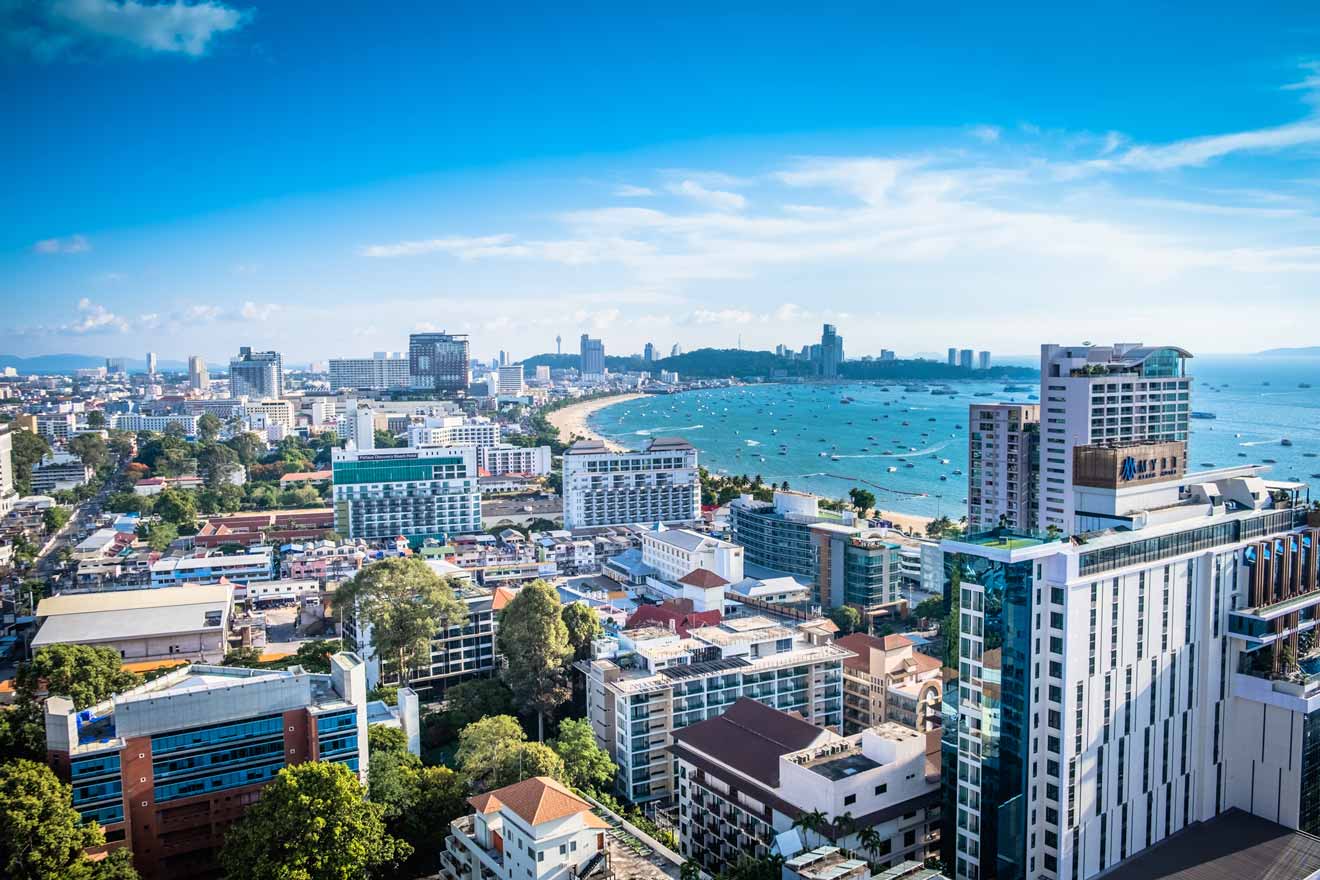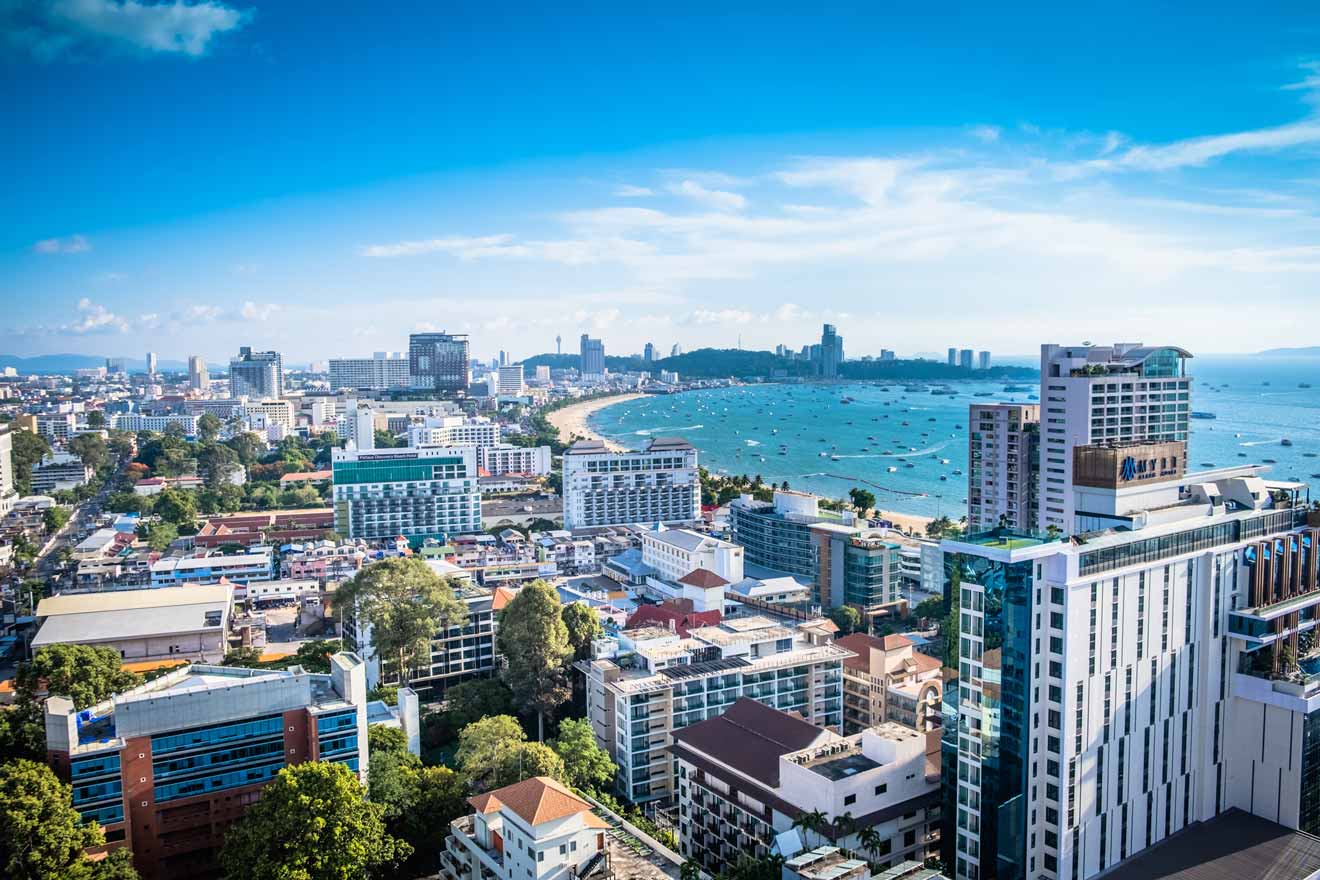 Looking to let loose and enjoy your holiday in Thailand to the fullest? Then book your ticket, because I've just found the perfect one!
Pattaya is the closest beach resort town to Bangkok, and it's famous for its neverending parties, and great beaches. So if you want to go out and check out the club scene in Thailand, Pattaya is the place for you!
The fun never ends here and no matter the time you can always find something to do in Pattaya.
But once (if) you've had your fair share of parties and you're ready to explore other parts of the city, then I'd recommend heading straight to the beaches. They are amazing and really, what better cure for a hangover than a swim in the ocean!
And of course, there are more attractions which I think are totally worth it like the temples, museums, and the aquarium. Plus many more that I'll mention below so let's get to finding your dream hotel here.
Other accommodation options in Pattaya
Things to do in Pattaya
Remain in awe of the Sanctuary of Truth Museum
Listen to live music at Hottuna bar
Go for a swim at Jomtien Beach
Eat yummy food at the Pattaya Floating Market
Dance all night at Raas Club
Visit the Art In Paradise Pattaya Museum
Shop for souvenirs at Pattaya Night Bazaar
Spot cute animals at Underwater World Pattaya
FAQs about hotels in Thailand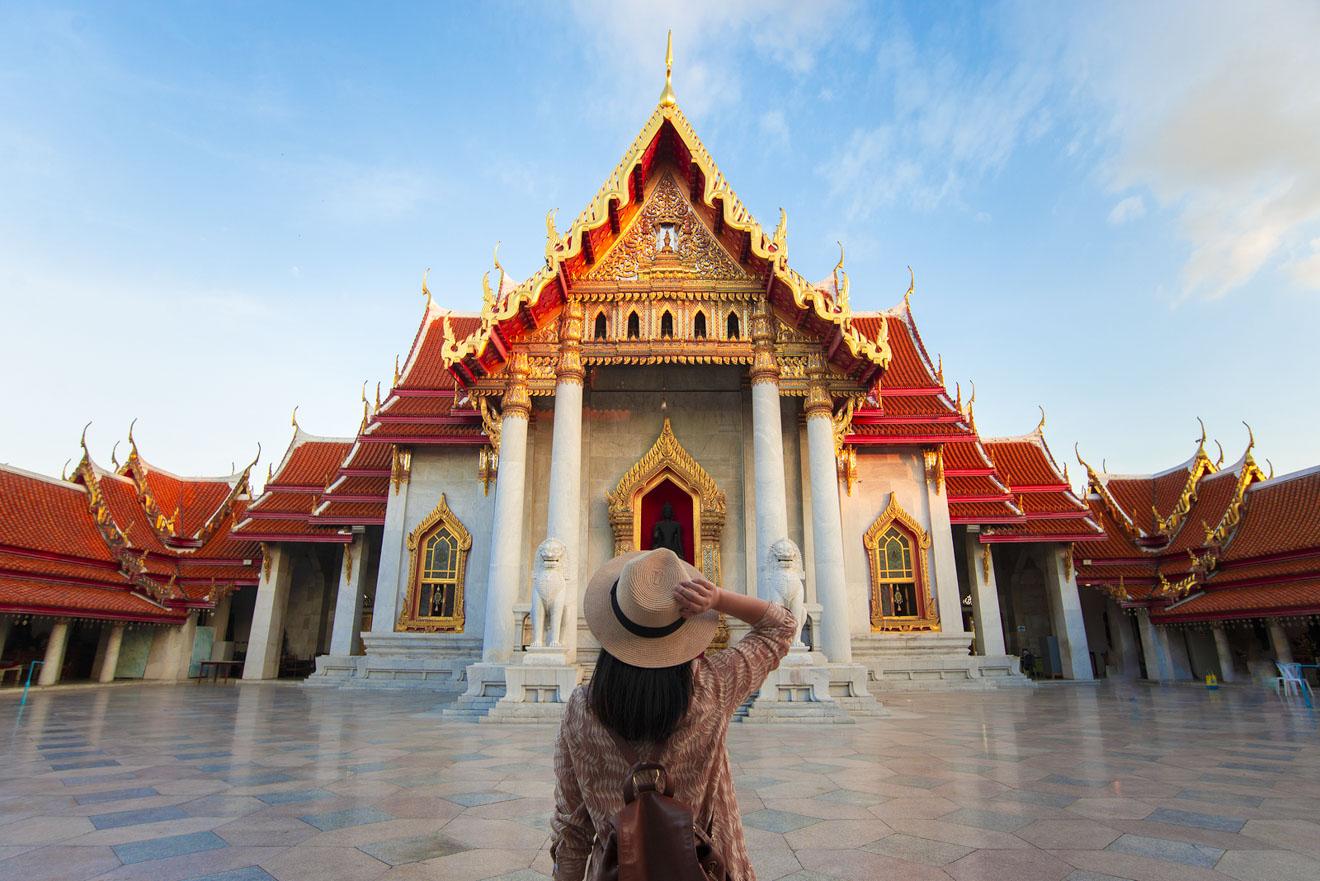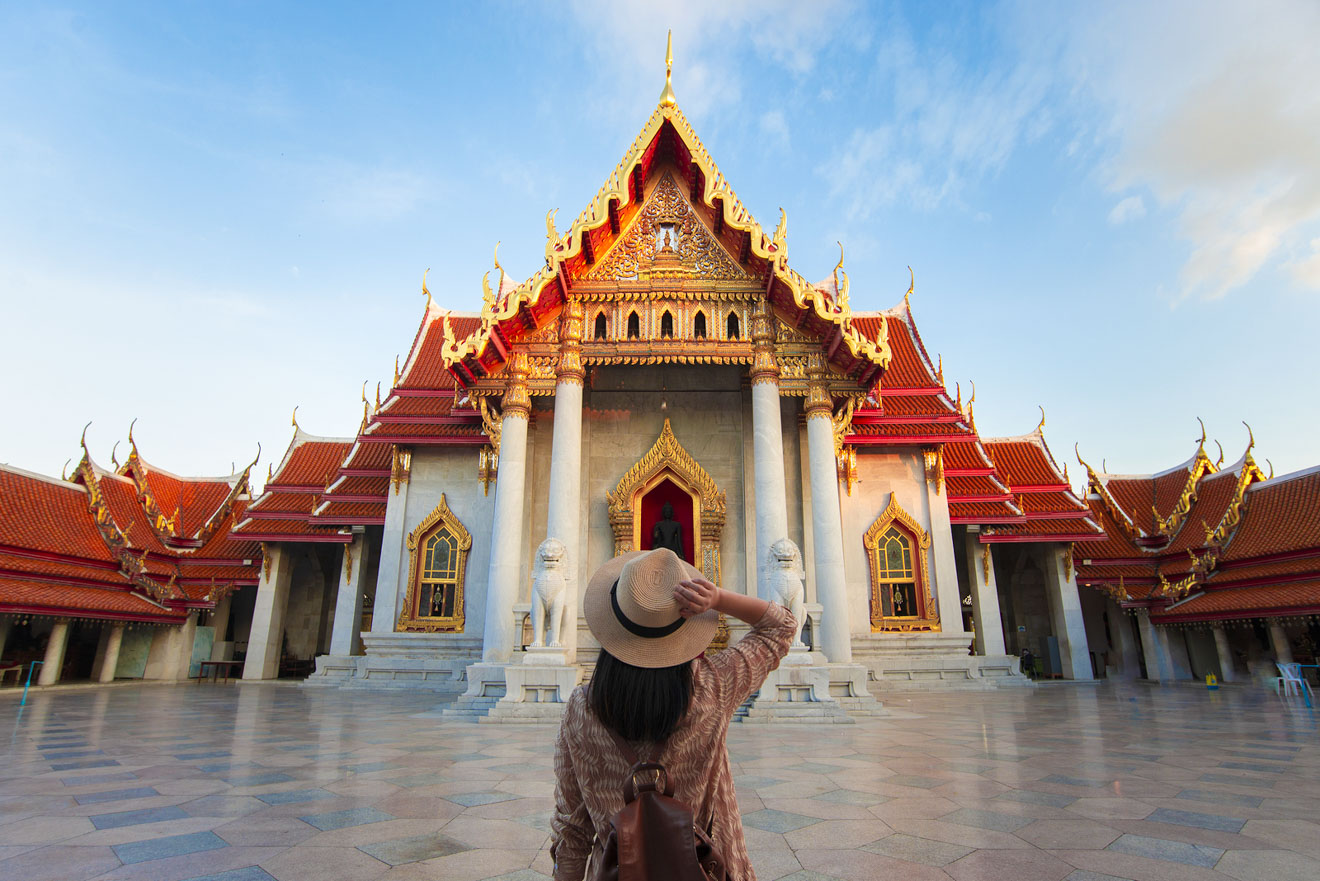 Conclusion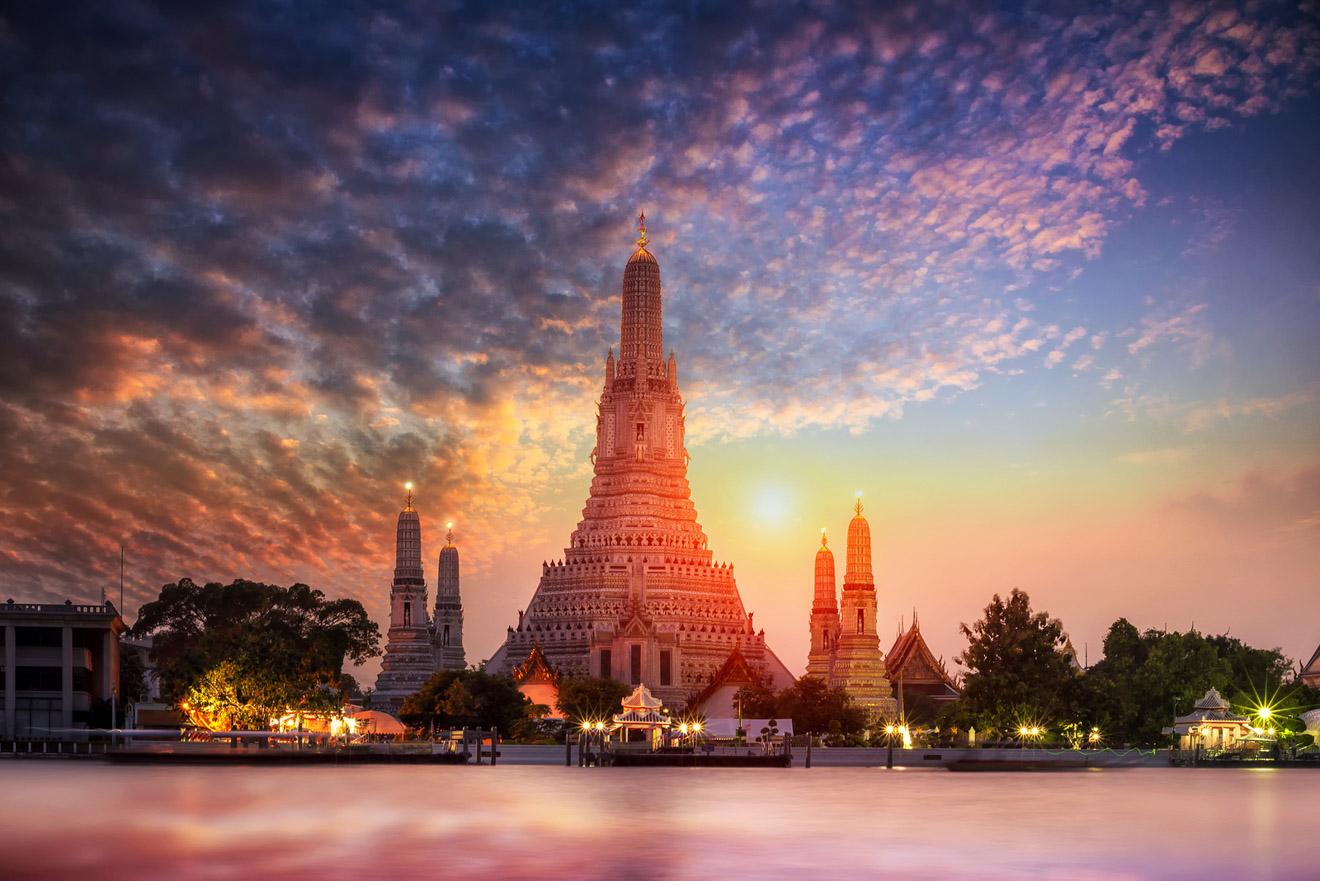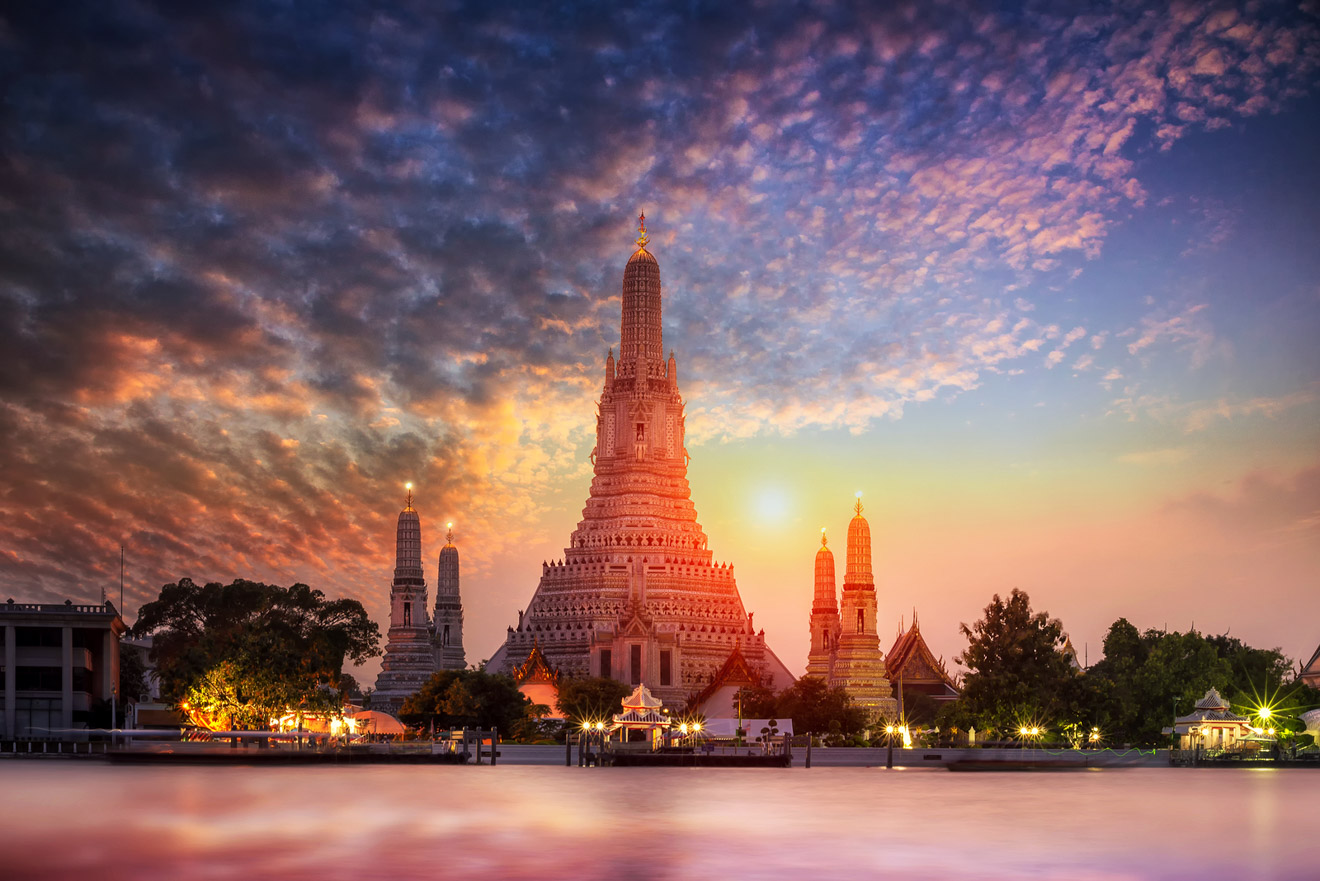 I bet some of you already decided to change your trip and add multiple destinations, right? That's the effect that Thailand has on people!
We've had such a great time virtually traveling around the best places where to stay in Thailand but I guess now the hard part begins (at least for you)… Deciding! But don't worry, I'm here to help all the way, and if anything comes to mind after reading the post just pop a comment below!
Until then, if you're still deciding which hotel to pick, then have a look at my top 2 favorite options, both located in Bangkok:
Sheraton Grande Sukhumvit – Set between lush gardens this amazing hotel offers an award-winning restaurant, a spa center, and rooms with breathtaking city views
Amara Bangkok Hotel – A fabulous accommodation that features a rooftop infinity pool, and rooms with ceiling-to-floor windows
Well, these look pretty unbelievable, right? Don't forget that these hotels are the best of the best, so make sure you book early!
And I'm sure that when you visit Thailand you won't want to leave this country! So enjoy your time to the fullest, take day trips and go on sunset cruises! You'll never forget it!
Happy Exploring,
Victoria
---